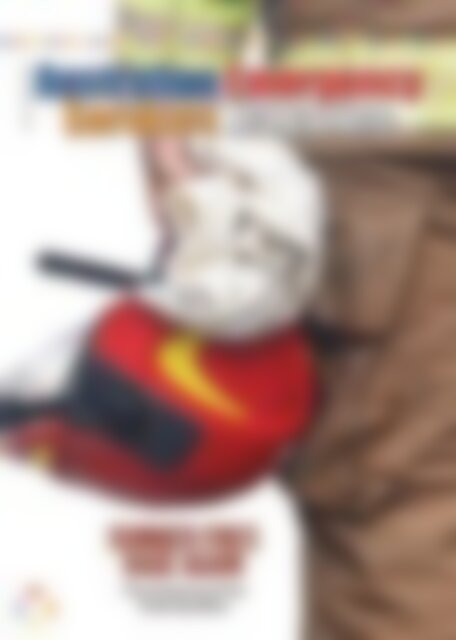 AESM Vol 22 Edition 1 2021
The latest Australian Emergency Services Magazine Vol 22 Issue 1 2021. The latest in emergency services news and events. Regular columnists Associate Professor Erin-Cotter Smith, Paramedic and author Tammie Bullard and Dr Michael Eburn for all things Emergency Law. Bushfire Natural Hazards CRC on the Risks of Floodwater, Paramedic Rasa Piggott's open letter to the board of Ambulance Victoria and subsequent information regarding the independent inquiry and the anatomy of the recent Perth bushfire and how it differed to the Black Summer fires. Free to subscribe through the website www.ausemergencyservices.com.au
The latest Australian Emergency Services Magazine Vol 22 Issue 1 2021. The latest in emergency services news and events. Regular columnists Associate Professor Erin-Cotter Smith, Paramedic and author Tammie Bullard and Dr Michael Eburn for all things Emergency Law. Bushfire Natural Hazards CRC on the Risks of Floodwater, Paramedic Rasa Piggott's open letter to the board of Ambulance Victoria and subsequent information regarding the independent inquiry and the anatomy of the recent Perth bushfire and how it differed to the Black Summer fires. Free to subscribe through the website www.ausemergencyservices.com.au
SHOW MORE
SHOW LESS
Create successful ePaper yourself
Turn your PDF publications into a flip-book with our unique Google optimized e-Paper software.
VOL 22: Isssue 1, 2021

SUMMER FIRES

RAGE AGAIN

The Anatomy of the

Perth Bushfire
---
We've got your back.

Emergency Services Health is a not-for-profit

health fund that exists to enhance the physical

and mental health and wellbeing of Australia's

emergency services community.

We do this by providing health insurance products,

support, information and services designed

exclusively for the needs of our members.
---
We treat our members like colleagues.

That's because they are.

Fire Response &

Recovery Sector

State Emergency

Response &

Recovery Sector

We're rallying for

everybody working and

volunteering to protect

our communities.

Ambulance & Medical

Response & Recovery

Sector

Water Response &

Recovery Sector

Why Choose Us?

Our simple products are

tailored to the lifelong needs

of our members.

We provide top quality cover, and

will stand beside our members

when they need us most.

Our approach is personal;

we care about our members.

We're run for the benefit

of members. We're a true

not-for-profit. We're not

driven by corporate investors

or overseas owners demanding

shareholder dividends.

Who Can Join?

Emergency Services Health is open to people across Australia who were

or are employed (including volunteering) in emergency services, and their

families. Our focus on the emergency services community means we make

sure we provide the most relevant products and best quality service for the

lifelong health and wellbeing of our members.

For more information:

PHONE

1300 703 703

EMAIL

enquiries@eshealth.com.au

VISIT

eshealth.com.au

Emergency Services Health Pty Ltd ABN 98 131 093 877
---
FEATURE

CONTENTS

FEATURE

Summer Fires Rage

in the West

As Perth suburbs burn

with a loss of over 80

homes, the rest of

Australia watches and

learns

17

PARAMEDIC

RASA PIGGOTT'S

OPEN LETTER

TO THE BOARD

OF AMBULANCE

VICTORIA

"

Paramedic culture is

in crisis. If Victorian

Paramedicine is to

fulfil its professionally

legislated requisites, we

need to dismantle the

oppressive, patriarchal

hierarchy that is

preventing us from

developing in to an

emotionally intelligent

and flexible 21st

century entity.

"

23

FEATURE

The Importance of

Mental Safety in the

Workplace

35

Do You Have a

Disaster Resilience

Action Plan?

You Wouldn't Drive

into a Bushfire so

Why Drive into a

Flood?

New research is delving

into why people enter

floodwater and what

can be done to change

this risky behaviour.

29

Stuart Taylor, CEO of

Springfox discusses

mental safety risks for

those in the emergency

services and the signs to

look out for

11

Australia's First Exit

Program for OMCG

Members

Australia's first exit

program for former outlaw

motorcycle gang members

wanting a lasting way out

of gang life.

www.ausemergencyservices.com.au

How the small town of

Tarnagulla in country

Victoria developed their

own RAP during the

challenging times of

bushfire and a pandemic.

37
---
THE REGULARS

• Editor's Note

• Recent Events

3

Trauma Related Training for Emergency Services

Personnel

High Tech Drones to Lift Victoria's Firefighting Capability

AFAC Conference 2021

• Emergency Law with Dr Michael Eburn

• Let's Talk Mental Health with A/Prof Erin Cotter- Smith

• The Good, The Bad & The Ugly Paramedic

• Emergency Breaks - Margaret River, Western Australia

• In the Spotlight - SES Mounted Section WA

5

6

7

9

22

33

41

45

DOWNLOAD THE

AESM APP

Stay connected and up

to date on all the latest

emergency services news

on the website PLUS have

access to the magazine via

our dedicated App on both

Apple IOS and Google

Android platforms

LET'S TALK MENTAL HEALTH

Associate Professor Erin Cotter-Smith

Course Coordinator of the School of

Medical and Health Sciences, Edith Cowan

University. Research Consultant at The

Code 9 Foundation.

EMERGENCY LAW

Dr Michael Eburn - PHD, Barrister

and leading expert in law relating to

emergency management & emergency

services.

MAGAZINE CONTACTS

Editorial Content

press@ausemergencyservices.com.au

THE GOOD, THE BAD &

THE UGLY PARAMEDIC

Tammie Bullard is a paramedic and

sessional lecturer based in Western

Australia. Author of The Good, The Bad

& The Ugly Paramedic

Advertising Enquiries

advertise@ausemergencyservices.com.au

Distribution Enquiries

distribution@ausemergencyservices.com.au

POSTAL ADDRESS:

Suite 112, Locked Bag 1

ROBINA TC, QLD 4230

IN THE SPOTLIGHT

EMERGENCY BREAKS

Each edition features a

profile on a person, team,

partnership, squad or unit

to showcase their unique

contribution to the Emergency

Services industry.

Explore local surrounds, or

new places that are only a

short plane trip or drive away,

so you can maximise every

minute of those days when

your name doesn't appear

next to a call sign on the roster

Scan Me

to download the AESM App

www.ausemergencyservices.com.au
---
EDITOR'S NOTE

Welcome to the first edition of the Australian Emergency

Services Magazine for 2021.

Our thoughts are with the communities over in Perth

as fire has raged through the Eastern Suburbs burning

over 10 000 hectares and destroying 86 homes. A huge

thank you to the firefighters who worked tirelessly to

save homes and protect lives. The Department of Fire

and Emergency Services in Western Australia has had

a difficult summer period with cyclones, heatwaves and

now fires occuring simultaneously. You can read more

in this issue about the anatomy of the fire and how it

differed from the Black Summer fires of 2019/20.

The independent review of Ambulance Victoria has

begun, with many confidential pathways for participation

open to both current and former employees. We have

published Paramedic Rasa Piggott's open letter to the

board of Ambulance Victoria. This letter triggered the

board of Ambulance Victoria to request the independent

review into the allegations of workplace discrimination

and sexual harassment within the organisation. If you

are a current or former employee of Ambulance Victoria

you will find information within this article on how to

take part in the investigation run by the Victorian Equal

Opportunity and Human Rights Commission. The

Australian Emergency Services Magazine will be following

the inquiry closely and will provide updates throughout

the year via our website and magazine.

We hope you enjoy this edtion of AESM,

Bianca Peterson

Editor in Chief

www.ausemergencyservices.com.au

DISCLAIMER

The Australian Emergency Services Magazine

is a community educational resource

publication and does not promote itself

as a charity or fund raising institution, nor

solicit on behalf of charities and is no way

financially supported by or associated with

any government or similar institution.

Distribution of the publication is Bi-Monthly

and is circulated via a database of interested

parties, including business, subscribers,

advertisers, volunteer organisations,

emergency service sectors, emergency

and disaster management, government,

universities, TAFE and council libraries. A

print and digital magazine is distributed to a

targeted database in each State & Territory.

Every effort is made to ensure that material

presented in the Australian Emergency

Services Magazine was correct at the time of

printing and is published in good faith, no

responsibility or liability will be accepted by

Boothbook Media.

The views and opinions expressed are

not necessarily those of Boothbook

Media and its employees. The content of

any advertising or promotional material

contained within the Australian Emergency

Services Magazine is not necessarily an

endorsement by Boothbook Media.

Published by Boothbook Media

ABN:72 605 987 031

BOOTHBOOK MEDIA

DIGITAL MEDIA & MARKETING

WANT TO CONTRIBUTE?

We are always looking for new

and relevant content that

our readers will enjoy. If you

would like to be featured in

the magazine there are many

options. You may have a story

you would like to share, or

perhaps be featured in our "In

the Spotlight" regular column.

Please submit all articles or

expressions of interest to the

Editor for consideration at:

press@ausemergencyservices.

com.au

Articles should be no more than

1000 words and be relevant

to the content within the

Australian Emergency Services

Magazine.

3

www.ausemergencyservices.com.au
---
Fixed or Portable

Internet for

Emergency Services

Activ8me Business Services offers remote

communications solutions for Emergency

Services' Crews & Facilities in regional and

remote Australia.

Solutions Available:

Unlimited data plans

Low contention rates

Ground or Vehicle-mounted hardware

Bespoke Design Options

Optional P2P, Extended Wi-Fi or Community Wi-Fi

Installation & Field Support Australia-wide

Our solutions overcome the limitations of

integrating data-hungry platforms, large

upload requirements and immediate, unplanned

deployment requirements of emergency services'

crews operating in isolated locations.

Our services facilitate fixed or portable businessgrade

internet connections anywhere in Australia.

For enquiries contact our Corporate Sales team

or visit: business.activ8me.net.au

Business Services

Contact Us

13 22 88

Major Partner
---
RECENT EVENTS

As part of the Australian

Government's Mental Health

Supports for Bushfire Affected

Australians package, the Department

of Health has engaged Phoenix

Australia – Centre for Posttraumatic

Mental Health to deliver training

programs to aid frontline workers in

order to better support community

members affected by the recent

19/20 bushfires across Australia.

This training has been designed to

equip and inform emergency services

personnel to:

• Support community members

recovery from bushfires

• Promote their own resilience and

psychological recovery from the

bushfires

• Support the resilience and

wellbeing of their teams and

organisations

To achieve these aims, two evidenceinformed

online self-paced training

packages will be freely available to

eligible staff:

• Trauma Informed Care (TIC)

resources and training programs

to aid frontline emergency

personnel. General information

about TIC can be found here.

• Psychological First Aid (PFA)

resources and training programs

to managers and supervisors of

frontline emergency personnel

affected by the bushfires in order

to support their employees

and their own resilience and

wellbeing. General information

about PFA can be found here.

Phoenix Australia will be making

direct contact with a number of

emergency services organisations

TRAUMA-RELATED

TRAINING FOR

EMERGENCY SERVICES

PERSONNEL

contacts in the coming weeks and

months.

You can also submit an Expression

of Interest form if you or your

organisation would like to be

considered for free access to these

programs.

Some organisations may be able to

access this training face-to-face in

2021.

For further information about the

training programs offered by Phoenix

Australia please contact Phoenix

Australia directly on 03 9035 5599 or

head to their website:

www.phoenixaustralia.org

5

www.ausemergencyservices.com.au
---
RECENT EVENTS

Victoria's firefighting capabilities

have been boosted with the

launch of a new aviation unit

and four new drones that will

gather aerial images of fires and

other emergencies to strengthen

emergency response efforts on the

ground.

Minister for Police and Emergency

Services Lisa Neville joined Fire

Rescue Commissioner Ken Block

today to announce a new Fire Rescue

Victoria (FRV) aviation unit based at

Burnley. The new unit will use cutting

edge drone technology, led by a

highly specialised team of firefighters.

Minister Neville spoke of the benefits

this latest technology addition

would have for firefighters and the

community,

"As we saw during last year's

devastating bushfire season, our

firefighters tackle some incredibly

complex and challenging fires – these

four new drones within Fire Rescue

Victoria's new aviation unit will

significantly add to their fire-fighting

arsenal."

"Thanks to this highly specialist

aviation unit and these new highly

specialised drones, our emergency

services will have greater access to

critical information and intelligence

to efficiently contain fires, respond to

emergencies and save lives."

HIGH TECH DRONES TO LIFT

VICTORIA'S FIREFIGHTING

CAPABILITIES

Featuring both high-definition

thermal imaging and live streaming

cameras, the unit's four new drones

are able to capture better quality

footage from the air to support

firefighting and other emergency

service purposes.

The drones represent a significant

uplift in capabilities for FRV's existing

drone service - known as its remote

piloted aircraft systems (RPAS) service

- because of their ability to stay in

the air for up to 30 minutes and to

withstand difficult wind conditions.

Importantly, the new drones can

carry both thermal and optical

cameras at the same time, an

advancement on existing aircraft

within the RPAS fleet which can carry

only one type of camera at a time.

The technology means firefighters

can better monitor fires and other

incidents from the air, and get a fuller

picture of complex fires, ultimately

increasing community safety and

contributing to saving lives.

Fire and Rescue Commissioner, Ken

Block said,

"This technology provides us with

much greater situational awareness

during a range of emergency

incidents and dramatically improves

timely decision making and

community and firefighter safety."

FRV's new aviation unit will be

staffed by four dedicated specialist

firefighters, including Civil Aviation

Safety Authority-qualified drone pilots

and specialist aviation accredited

personnel.

The unit, which became operational

last month, has already been

instrumental in supporting the

response to a recent industrial fire in

Laverton North.

FRV drones were used last year to

support rapid impact assessment

of fire-affected areas throughout

Victoria following the bushfires that

ravaged large parts of the state in late

2019 and early 2020.

www.ausemergencyservices.com.au 6
---
RECENT EVENTS

AFAC CONFERENCE 2021

BALANCING IMPACT AND EXPECTATIONS

As recent emergency events

have shown, there's an evolving

extreme that is producing new

challenges in terms of impact on

the community, environment and

economies. The community expects

the emergency management sector

to stay ahead of these events

but with resourcing challenges,

overlapping seasons here and

abroad, and the surge in reviews,

inquiries and recommendations, what

do agencies do differently?

AFAC21 will focus on how we manage

the consequences of major events

and meet the expectations of the

community and government. The

program will explore how the sector

can continue to learn and find

opportunities to deliver with new and

innovative approaches.

The committee is encouraging the

submission of an abstract for the

Research Day, AFAC Conference or a

Conference Poster under one of the

following supporting topics:

• new approaches

• embedding research into

practice

• looking after ourselves and

others

• communities

Don't miss out on the opportunity

to be part of Australasia's premier

emergency management conference

and exhibition. Abstract submissions

close on Monday 15 February 2021.

The Institution of Fire Engineers (IFE)

Australia national conference will be

held in conjunction with AFAC21. The

Conference will explore the theme

Vision 2021: Shifting the culture;

Enhancing safety, sustainability and

resilience.

The Australian Institute for Disaster

Resilience (AIDR) will once again be

co-locating the Australian Disaster

Resilience Conference with AFAC21.

The conference will explore the

theme Meeting in the middle:

community voices and complex

choices and more information is

available on the Australian Disaster

Resilience Conference website.

AFAC21 powered by INTERSCHUTZ

features a world-class exhibition

which attracted nearly two

hundred exhibitors in 2019, with

46 international exhibitors from

16 countries in attendance. The

exhibition attracts a comprehensive

range of exhibitors covering all

facets of emergency management

equipment, technology and services.

The exhibition features the popular

live demonstration zone and practical

expo stage presentations.

The conference will take place

between the 17th and 20th August

2021 at the International Convention

Centre in Sydney.

For more information visit

www.afacconference.com.au

7

www.ausemergencyservices.com.au
---
RTO 90003 | CRICOS 00591E | HEP PRV12049

MULTIAGENCY AIIMS

BUSINESS CONTINUITY

PLANNING FOR COMPLEX INCIDENTS

BE READY FOR

THE WORST,

BE TRAINED BY

THE BEST

CRITICAL INCIDENT MESSAGING

EXERCISE MANAGEMENT FOR EMERGENCIES

It's always the right time to prepare for an emergency situation. Whether it's improving your own personal resilience,

or supporting your team to be ready to adapt to the unique challenges of a crisis, the National Centre of Emergency

Management Studies can help.

The Centre offers a wide range of Incident Management, Crisis Leadership and Business Preparedness programs

suited to learners from emergency services, corporate and not-for-profit backgrounds. Courses are flexible,

connected and contextualised to the changing environments in which we work.

Be ready for the worst, be trained by the best at TAFE NSW's National Centre

for Emergency Management Studies.

EXPLORE.ENQUIRE.ENROL.

TAFENSW.EDU.AU/EMERGENCY-MANAGEMENT

1300 045 737

NATIONAL CENTRE FOR

EMERGENCY MANAGEMENT

STUDIES
---
AUSTRALIAN EMERGENCY LAW with Dr Michael Eburn

A DISCUSSION ON

THE LAW THAT

APPLIES TO OR

AFFECTS AUSTRALIA'S

EMERGENCY SERVICES

AND EMERGENCY

MANAGEMENT

MANAGING FATIGUE

IN COUNTRY

AMBULANCE

STATIONS

November 28th, 2020

PHD

Barrister

Leading expert in Law

relating to Emergency

Management & Emergency

Services

Follow Michael Eburn

Facebook- facebook.com/

EburnM/

Twitter - @EburnM

For his latest articles on

Emergency Law go to:

www.emergencylaw.wordpress.com

Today's correspondent has:

… some questions about the responsibility of the

employer vs employee in managing fatigue levels

at work.

I'm a Paramedic with an Australian ambulance

service. The branch/station that I work at works

a call roster with another Paramedic. As a

new staff member at this branch I have asked

management for some guidance around the

roster and call expectations in regards to fatigue

management and have been told on multiple

occasions that it is our individual responsibility

to manage our fatigue levels, and that we should

be taking uninterrupted breaks if we feel we are

too fatigued to remain on duty. My concern

with this is that 1) At certain levels of fatigue we

become unable to make unimpaired decisions

about our own fatigue levels and, 2) What

impact is compounded fatigue having on our

decision making ability?

We work a rotating roster of 4 or 5 dayshifts

0800-1900 with a call period from 1900-0800.

The expectation is that we would be at the

branch for our dayshifts and respond from

home in the ambulance if there is a case during

the on-call period.

We have two options for managing our fatigue.

At the end of a case during the on-call period

(where we have not already had a 10-hour

continuous break since the completion of our

dayshift) we would commence a 10-hour rest

break, where we return to our on-call state

(home) and are available to be dispatched to

further cases. If no case occurred in this time,

we would be expected back at the branch for

the remainder of our dayshift at the completion

of the 10-hour rest break. If this rest break

is interrupted for a case, we would then

recommence a new 10-hour rest break at the

completion of the case.

As we start our week in a call period it is not

uncommon that we can be 'chasing' a 10-hour

break for multiple days.

If we felt at the end of a case that we were too

fatigued to recommence call we can take an

uninterruptible rest break where we would sign

off and return home in our own vehicles for 10

hours. At the completion of this uninterruptible

rest break, we would then be expected to return

to duty, regardless of the time of day. This can

mean that we would be expected to return to

duty in the early hours of the morning.

Just a couple of other notes on this point.

* In the last few months, it has not been

uncommon for crews to be doing 30 or more

hours of call in a 5-day period.

* If we take an uninterruptible rest break, we

are expected to make our own way home,

unless someone else is at the branch and can

drive us home (generally daytime hours only).

Our branch doesn't have a staff carpark, so

staff don't leave vehicles on the street for the

5 days we are on call, and our town doesn't

offer an overnight taxi service. This means

staff are walking home at all hours of the day

and night if they require an uninterrupted

break, increasing crew reluctance to take

an uninterrupted rest break overnight or in

inclement weather.

* The staff that have been working at the

branch for a number of years have been

adjusting to the increasing workload and

despite them feeling that they are doing too

many hours, they also feel uncertain as to when

they should be taking uninterrupted breaks as

they have been able to meet the demands of

the town for a number of years. Additionally,

if a crew takes an uninterrupted fatigue break

in the early hours of the morning the town can

be uncovered for potentially 6 hours or more

until a replacement crew can be contacted in

the morning. When the staff all live in the town

there is an element of guilt around leaving the

town uncovered.

My concern around fatigue management

particularly relate to Paramedic liability if

something 'goes wrong' such as if we were to

crash the ambulance, or make a medication

mistake resulting in harm to one of our patients.
---
(My correspondent has not identified

the jurisdiction so I will assume the

model work health and safety (WHS) Act

applies. That is not the case in either

Victoria or WA but the answers will

not be significantly different in those

jurisdictions).

The short answer is that everyone has

responsibility for managing their fatigue.

The employer as Person Conducting a

Business or Undertaking (PCBU) has an

obligation to design the workplace to

minimise risks to health and safety of

staff. That requires a thought-out fatigue

management policy for a service that

operates 24 hours a day/7 days a week.

A WHS policy must have regard not only

to the safety of staff and patients when at

work but as noted, when making their way

to and from work.

Employees have a duty to take reasonable

care of their own safety, follow the

PCBU's work health and safety policies

and to raise WHS concerns through the

consultation processes in the workplace,

whether that's health and safety

representatives, the WHS committee or

via an industrial union.

In the heavy vehicle industry the fact that

everyone has responsibility for safety,

including fatigue management, is reflected

in the concept of 'chain of responsibility'

(see Greencap Understanding Transport

Chain of Responsibility (5 October 2018);

National Heavy Vehicle Regulator Chain of

Responsibility (2020)). Ambulance services

are not generally operating heavy vehicles

but the principles that give rise to chain

of responsibility still exist under modern

WHS and OHS legislation.

Who will be liable if 'something goes

wrong?'

It will depend on the circumstances of the

particular case, what went wrong and who

could have done something about it.

If it's a medication mistake harming a

patient the employer will be liable but a

registered paramedic my face professional

sanction both for their conduct in making

the mistake and for their conduct in not

taking steps to manage fatigue.

In a motor vehicle accident it will be the

compulsory third party insurer that will

meet any damages claim but the driver

may be subject to criminal prosecution –

see Meagan Dillon 'SA paramedic breaks

down on the stand as he explains rollover

which killed patient' ABC News (Online) (10

November 2020).

Where employees work out of loyalty

to the employer or the community,

pasting over the cracks left by inadequate

resourcing, they give the employer no

problem to fix – 'Everything's working fine;

no-one's complaining'.

To manage fatigue employees have to

actually insist on applying the policies

– take those breaks even if it leaves the

community un-serviced. And push to

have better policies by raising the matter

through your WHS committee, your

trade union and the relevant WHS/OHS

inspectorate.

This article originally appeared on the

blog Australian Emergency Law (https://

emergencylaw.wordpress.com/) and is reproduced

with the permission of the author.

As a blog post it represents the author's opinion

based on the law at the time it was written.

The blog, or this article, is not legal advice and

cannot be relied upon to determine any person's

legal position. How the law applies to any

specific situation or event depends on all the

circumstances.

If you need to determine legal rights and

obligations with respect to any event that has

happened, or some action that is proposed,

you must consult a lawyer for advice based on

the particular circumstances. Trade unions,

professional indemnity insurers and community

legal centres can all be a source for initial legal

advice.

www.ausemergencyservices.com.au 10
---
THE IMPORTANCE OF MENTAL

SAFETY IN THE WORKPLACE

Last year was a challenging one for all of us, but perhaps

especially for emergency service workers. From caring for

critically ill COVID-19 patients, to attending emergencies in

bushfire affected areas, all on top of routine callouts, emergency

service workers have had a physically and mentally demanding

year – putting many on the fast-track to burnout.

Yet one of the few silver linings of

this year is the way in which it has

underscored the importance of

mental safety in the workplace. The

pandemic's impact on our collective

mental health has forced leaders and

their teams to rethink organisational

well-being and recognise that

workplace health and safety includes

identifying and preventing not

only physical illness and injury, but

mental too.

While it's often easy to spot physical

risks or ailments, such as broken

piece of equipment or a co-worker

suffering from the flu, the impact of

repeated mental stresses is often

harder to identify. Despite this,

mental health risks can be just as

harmful to the well-being of the

individual – not to mention their

wider team, and importantly, the

patients in their care.

MENTAL SAFETY RISKS IN

EMERGENCY SERVICE WORK

Mental safety risks in the workplace

are often difficult to recognise. They

can be subtle, intangible, and vary in

severity from one person to the

next – meaning a mental health risk

to one worker may not be the same

for his colleague. This is what makes

them so harmful – many workers

and leaders don't recognise mental

safety risks until it's too late.

While mental safety risks are present

in every workplace and in every

profession, there are a few that

emergency service workers are

particularly vulnerable to. Repeated

exposure to trauma, violence or

physical danger, dealing with highpressure

and high-risk scenarios,

and a physically and emotionally

demanding occupation will inevitably

put strain on the mental wellbeing

of first responders. Other

factors such as poor leadership

from management, conflict or toxic

workplace culture, an excessive

workload or lack of job satisfaction

can also pose a risk to workers'

mental health.

IDENTIFYING THE SIGNS OF

SOMEONE AT RISK

In order to support someone at

risk of burnout or mental ill-health,

we need to know which signs to
---
look out for. While many will be

able to recognise symptoms like

panic attacks, overworking, or

breakdowns, more subtle symptoms

like mood changes and fatigue

will often go undetected. A lack of

focus, pessimism, change in eating

patterns, complaining of poor sleep,

isolation, difficulty making decisions

and emotional detachment are all

red flags of someone at risk.

If someone on your team is

displaying one or more of these

signs, it's important to take action

and reach out to them. But first,

consider your approach and

its possible outcomes. Are you

prepared to have an effective

and genuine conversation? What

steps can be taken to alleviate

the pressure this individual is

experiencing? Are you aware of your

boundaries and responsibilities?

Your readiness to ask the question

depends on these answers. Make

sure you have a plan in place before

starting the conversation to ensure

you can provide meaningful help

where it's needed.

BUILDING RESILIENCE TO

SAFEGUARD MENTAL HEALTH

One of the best ways to mitigate

against mental health risks in the

long term is to focus on building

personal resilience. Resilience is a

skill that can be purposefully built

and skilfully maintained, reducing

symptoms of distress and physical

vulnerability and enabling us to

better cope with stressful periods.

Building resilience begins with the

basics: a healthy, nutrient-rich diet,

regular exercise, and between 7-8

hours of restful, restorative sleep.

This forms the foundation of a

resilient lifestyle. In addition, positive

relationships, setting dedicated time

for rest and leisure, and practicing

mindfulness or gratitude will work to

enable a healthy, resilient mindset.

These seemingly insignificant habits

play a crucial role in promoting

well-being by forming, in effect, a

preventative scaffolding to support

us in times of trauma. Without

this structure to support us, we

are particularly vulnerable to the

emotional impact of a repeatedly

demanding, high-pressure

profession.

PROTECTING AGAINST WORKPLACE

MENTAL HEALTH 'INJURIES'

Embedding resilience practices into

the culture of your workplace will

help to build a safe and supportive

culture but it's important that this

goes beyond merely a box-ticking

exercise. Efforts to build a resilient,

mentally healthy workplace must be

led and modelled by the C-suite and

reinforced by everyday practices.

Leaders also have an important role

to play here, particularly when it

comes to building trust. According

to Springfox's recent report, The

Australian Workforce Response to

COVID-19, there is some discrepancy

between leaders' perceptions of

staff's level of trust versus actual

levels reported by staff – in fact,

leaders believed 16.5% of their staff's

level of trust in others decreased due

to COVID-19 in comparison to 32% of

staff who said their trust was lower

as a result of the pandemic.

For this reason, leaders must

prioritise building – or in some cases,

rebuilding – their staff's trust. When

leaders operate from a foundation

of honest and transparent

communication, underpinned by

compassion and care, they are

reminding staff that the organisation

values them and their well-being

beyond simply the role they perform.

Leaders have a responsibility to

protect workers from both physical

and psychological risks and ensure

that appropriate systems are in place

to reduce these risks and monitor

the health of workers and workplace

conditions. In addition, adequate

counselling and mental health

support services must be made

available, with staff encouraged to

make full use of them as needed.

While this line of work will always

come with its unique challenges, to

effectively operate in high-risk, highpressure

environments, emergency

services workers require a great

deal of personal resilience. Dealing

with trauma requires responders

to be equipped with the skills to

recognise, process and recover from

their experience, as well as to rebuild

resilience and prevent mental health

risks from reappearing in future.

Stuart Taylor

CEO and

Co-founder

of Springfox

For over a decade, Stuart has engaged and

inspired with his workshops, keynotes and

conference presentations to more than 20,000

people globally with measurable impact

achieved across many organisations.

His early career included periods of rapid

advancement within organisations as diverse

as the Royal Australian Air Force, KPMG,

and Heinz, developing his broad experience

in aerospace engineering, IT, finance and

psychology.

A potentially devastating diagnosis of brain

cancer in 2002 led Stuart on a personal

journey back to physical, cognitive,

emotional and spiritual health. The

experience gave Stuart a unique appreciation

of the tangible benefits of the practices that

helped him overcome a 2.5-year prognosis

and demanding cancer treatments.

Stuart became a strong advocate for

incorporating cultural practices into the

Australian workplace to nurture wellbeing

through the body, heart, mind and spirit.

Stuart formalised this resolve in 2003,

founding The Resilience Institute in Australia

- now Springfox.

Stuart's broadened perspective and empathybased

approach enables him to identify

challenges and customise effective strategies

for clients seeking optimal organisational

performance. Stuart's ultimate purpose is

helping people and organisations, typically

through leadership and senior teams, shift

into a more compassionate space in order to

reach sustainable high performance.

www.springfox.com
---
www.ausemergencyservices.com.au 14
---
RAPID, RESILIENT CONNECTIVITY

ANYWHERE, ANYTIME

From remote healthcare and disaster relief to search-and-rescue

operations, Australian emergency services organisations must be

ready to respond immediately without advance knowledge of where

or when in Australia their need will arise.

The unpredictable nature of

emergency services leads to a

reliance on ubiquitous, secure, highperformance

communications that

are both flexible and cost-effective, no

matter how remote the operation.

Access to reliable connectivity in remote

locations can often be the difference

between success and failure, even life

and death.

While organisations can maintain vast

communications networks, those chains

of command break down when teams

lack effective connectivity to send and

receive their communications.

Unanticipated "surge" requirements

often call for swift deployment of

forces into remote Australian areas

with no infrastructure to support their

connectivity requirements.

With the increasing use of advanced,

high-throughput applications for

frontline emergency services teams,

there is a growing need for fixed and

portable satellite communications that

can support the evolving requirements

for simultaneous data, voice, and video

communications for frontline crews

operating on the tactical edge, in places

with limited or no mobile or internet

coverage.

Activ8me Business Services' fixed and

portable satellite solutions provide

Australian emergency organisations

with immediate access to reliable

communications anywhere in Australia,

linking advance teams to information

and services essential to their mission.
---
Activ8me Business Services, along with parent company

Australian Private Networks, have been providing

business grade solutions for remote connectivity to

government and enterprise for almost two decades.

The Royal Flying Doctor Service is one of the largest

and most comprehensive aeromedical organisations in

the world. Their fleet of 71 specially equipped aircraft

provides 24-hour emergency medical care to people over

an area of 7.69 million square kilometres. In 2018/19

alone, 38,615 Australians were flown for emergency

treatment by the RFDS' aviation medical teams.

Activ8me Business Services remote communications

solutions ensure the RFDS remains at the forefront of

communications innovation.

Operating over vast distances and across harsh

landscapes, the RFDS requires communications solutions

that can connect RFDS crews working in remote areas.

Travelling to isolated towns with little phone and internet

connectivity is just one of the many challenges the RFDS

face in their day-to-day operation.

An Activ8me custom-built, solar-powered ground station at a remote airstrip in

Collarenebri, NSW, previously considered a communication 'blackspot'.

By installing custom-built, solar-powered ground stations

to remote airstrips frequented by the RFDS that are

considered communications 'blackspots,' Activ8me has

been able to offer remote crews' weather and navigational

aids for landing sites, as well as WiFi, emergency phone

access and external lighting for airstrips.

These ground stations reduce the risk of landing in

challenging conditions for RFDS pilots who previously had

to rely on weather reports from hundreds of kilometres

away.

"Applying their skills and prowess in technology and

connectivity, Activ8me are directly assisting the Royal

Flying Doctor Service in our continued work to bring

health services to areas that just don't have it," said Frank

Quinlan, Federation Executive Director of the RFDS.

"Connectivity for a remote clinic or a remote airstrip can

make all the difference in life and death."

Reliable, easy-to-use portable solutions from Activ8me

Business Services offer connectivity anywhere in

Australia, providing essential communications to frontline

teams, remote outposts or as a DRP solution, enabling

communications to-and-from remote operations critical

for mission success.

Above: The portable solution is available in various form-factors, including mounted to

a trailer or vehicle.

Below: For more extended deployments, the service can be mounted using a nonpenetrable

ground mount.

Available in a range of form-factors, including vehiclemounted,

ground-mounted or in a case, the portable

solution comes with a lightweight, protective skid-case

that houses the modem, WiFi router, LAN port, cabling

and auto-aligning controller (where applicable).

With the ability to develop bespoke solutions to meet

unique requirements of Australian emergency services

teams directly, Activ8me can tailor their satellite solutions

to meet a wide variety of use-cases.

To learn more about the solutions

Activ8me Business Services can offer,

visit business.activ8me.net.au or

email corporatesales@apn.net.au.
---
AS PERTH'S SUBURBS

BURN, THE REST OF

AUSTRALIA WATCHES

AND LEARNS

February has already been a bad month for Perth. Bushfire

has destroyed 81 homes and burned more than 10,000

hectares northeast of the city. Residents in the midst of a

COVID-19 lockdown were told to abandon their homes and

seek shelter as the bushfire raged.

Joe Fontaine

Lecturer, Environmental and Conservation Science,

Murdoch University

Lewis Walden

Research associate,

Curtin University
---
The disaster calls to mind the

unprecedented Black Summer

fires that devastated eastern Australia

last summer. But the tragedies are

very different beasts.

Obviously, the Black Summer fires

were much more widespread,

prolonged and lethal than what

Western Australia is experiencing. The

east coast fires were largely triggered

by lightning, while that's not thought

to be the case in the Perth fire. Wind

and temperature also played different

roles in the two disasters.

So let's examine the drivers of the

Perth fire, and consider what the rest

of Australia can learn as we face a

future of worsening bushfires.

Anatomy of a fire

The fire was first reported at noon on

Monday near the town of Wooroloo,

on Perth's fringe. Authorities don't

yet know how it began, but say "no

criminality" has been identified.

The absence of lightning at the time

of ignition, and the proximity to

residential areas, suggests the fire was

accidentally caused by humans. The

location of the fire near homes also

meant it destroyed property far more

quickly than if had begun in a remote

area.

Fire science breaks fire behaviour

into three main components: fuels,

topography and weather. And of

course, an ignition is needed to set it

off.

The bushfire started in an area of

large, privately owned blocks of land.

This area mostly consists of scattered

trees in grassy paddocks which, in

summer, are dry and burn easily.

Fences and trees then ignite and

winds carry embers forward, starting

spot fires.

The land area now burning is one of

the most hilly parts around Perth.

Fire spreads faster uphill, and the

slopes redirect winds, adding more

complexity to fire suppression. The

topography and location of the fire

on private properties also made firefighting

access difficult.

Weather played a major role. The

fire started during one of Perth's

typical summer easterly wind

Residents in fire-affected areas had been told to abandon lockdown and evacuate to escape the fires. AAP Image/Supplied by DFES, Evan Collis

Kadia

is an Occupational

Therapy practice supporting

the Eastern Suburbs of Melbourne.

We are dedicated to helping our clients

0400 121 513

accomplish their goals in living with a disability

daniel@kadia.com.au

because everyone deserves a chance to create. 5 Foulds Ct, Montrose Vic 3765

19

www.ausemergencyservices.com.au
---
events, involving strong gusts, high

temperatures and low relative

humidity. Most bushfires that burn

out of control near Perth begin during

these events.

To make matters worse, a tropical

low tracking down Australia's west

coast means the windy conditions

are expected to last up to six days –

longer than the typical two to three

days. This presents a major challenge

for emergency response personnel.

The areas burning today are well

known for their bushfire risk. In 2009,

a fire outside the town of Toodyay

destroyed 38 homes under similar

weather conditions.

How WA differs to the east coast

Along Australia's east coast, the

bushfire season can start as early

spring and in some parts, extend

into autumn. Last summer's horrific

conditions were a combination of

long-term drought and an intensely

hot, dry spring. In contrast, almost all

bushfires in southwestern Australia

have historically occurred in the dry

summer period.

Western Australia has more

pronounced seasonal rainfall than

the eastern states. In particular, the

southwest corner of Australia has

a Mediterranean-like climate. Every

summer is dry, increasing the bushfire

risk. In contrast, eastern Australia

typically has a wet, humid summer

with rain spread throughout the year.

La Niña conditions have brought

much rain to Australia's east in recent

months. Western Australia had some

La Niña moisture in November, but

winter rain was below-average and the

summer has so far been dry.

Career Firefighter Mick Dybac captured this powerful moment of fellow Daglish Senior Firefighter

David Ellis, in front of a home they had just saved in the Wooroloo bushfire. DFES Facebook

And as southwestern Australia

continues to warm and dry under

a changing climate, the period of

bushfire risk is now getting longer.

That means bushfires in spring and

autumn will become more common.

And the shifting climate will bring

make bushfires worse both in the

west and across Australia. Bushfires

may escape more quickly, burn more

intensely, resist control and occur over

a greater part of the year. Plants will

have drier foliage, further increasing

bushfire intensity.

Preparing for worse fires

Bushfire is a part of life in Australia

and these tragedies will happen again.

Fortunately for Perth residents, there

have been no fatalities and minimal

injuries so far.

Looking ahead in WA, new bushfire

knowledge hubs and universitygovernment

collaborations will

open important new conversations

about the future bushfire risk and its

management.

But we must continue to improve

land-use planning, building codes and

mitigation strategies to ensure we're

prepared for worse bushfires under

climate change.

This article was first published on "The

Conversation'

www.ausemergencyservices.com.au 20
---
Lets

'

Talk Mental

Health

with Associate Professor

Erin Cotter-Smith

WHY IT'S IMPORTANT TO "REBOOT"

OUR THINKING ABOUT MENTAL

HEALTH IN 2021

If you're anything like me, the end of 2020 couldn't come

quickly enough!

It was a year like no other. The catastrophic Black Summer

bushfires and COVID-19 pandemic challenged us as

individuals and communities in unprecedented ways – and

tested both our physical and mental health like neverbefore.

The ongoing anxiety, grief and loneliness can lead to

a spiral of negativity that is hard to break out of. And

while many people will not experience long-term impact,

COVID-19 has the potential to contribute to or exacerbate

mental ill health in the long-term.

That said, as challenging as 2020 was we can now look

forward to a fresh start with new goals.

An opportunity to "reboot"

For many of us, a new year is an opportunity to create

change. It is also an opportunity to re-assess our mental

health needs and "reboot".

So how can we approach 2021 and beyond with hope and

optimism?

An important first step is identifying and addressing

destructive habits. This can be difficult and confronting

and, in some cases, may initially mean forcing ourselves out

of our comfort zones and require us to do things that are

hard – but that will gradually make us feel better.
---
Evidence-based methods for "rebooting"

GET MOVING

Exercise has long been associated

with both better physical and mental

health.

Exercise has been linked with better

cognitive performance and improved

cardiovascular health and reduced

neurodegenerative disorders such as

depression.

People who exercise also live

longer! Even gentle exercise, such as

walking for 30 minutes per day, can

be beneficial for both physical and

mental health. Consistency is also

important, so make sure that you pick

something that you actually enjoy

doing so that you keep doing it!

EAT BETTER

This one is a no-brainer! The better

fuel we put into our bodies – the

better we will feel.

But sometimes it can be difficult to

make healthier choices – even though

we may want to.

The evidence on this is clear though;

food influences our mood.

If – like me – you find yourself

reaching for something sweet midafternoon

(hello donuts!), you're

certainly not alone! Many of us

find ourselves sneaking in a cheeky

"reward" or trying to boost our mood

with food.

Unfortunately, while a quick sugar hit

may be a good short-term fix, it can

actually end up making us feel worse

in the long-run.

Food can have a big impact on our

day-to-day mood changes and overall

well-being. So it's really useful to

understand what foods we should be

eating to support better health and

well-being.

Making changes can be challenging

– so try to start small and look for

simple swaps to improve your diet.

Little positive changes add up to a

healthier, happier you.

KEEP CONNECTED

Feeling lonely and isolated is

detrimental to both our physical and

mental health.

Throughout the pandemic we heard

the term "social distance" – however

– we needed to stay "physically

distanced" but remain socially

connected.

A recent study showed that there

was a negative relationship between

isolation and emotional cognition

during the COVID-19 pandemic – but

this effect was smaller in those that

stayed connected with others during

lockdown.

Keeping connected socially is also

associated with decreased risk of

mortality as well as a range of illnesses.

And connection is associated with

positive feelings and increased

activation in the brain's reward system

– so it actually makes us feel better!

So as we live through 2021, an

important way to help "reboot" our

mental health is to maintain our social

connections with family and friends

and expand your horizons by making

some new connections!

TRY SOMETHING NEW

Our brains change during critical

periods of development - but this

change is also a lifelong process.

When we experience new things, such

as trying something new or learning

new skills, we can actually modify both

brain function and structure – and

ultimately feel better! So try something

new – like taking up a musical

instrument or learning a new language.

Both of these activities have been

associated with changing the structure

of the human brain.

GET ENOUGH SLEEP!

Getting enough sleep is an essential

part of living a healthy life. Yet many

of us do not fully understand the

relationship between sleep and good

health.

When we are asleep our brain

recharge and toxic waste by-products

are removed, helping to maintain

normal brain functioning and good

overall health and well-being.

Sleep is also very important for

maintaining cognitive and emotional

function and reducing mental fatigue.

Studies of sleep deprivation have

demonstrated that not getting enough

sleep can disrupt our emotional

functioning.

Associate Professor

Erin Cotter-Smith

PhD, MPH, MClinEpi

Course Coordinator

Edith Cowan University

Research Consultant

The Code 9 Foundation

Sleep has also been found to exert

a strong regulatory influence on

the immune system. If you have the

optimal quantity and quality of sleep,

you will find that you have more

energy, better wellbeing and are

able to develop your creativity and

thinking.

WE MUST CHANGE HOW WE SEE MENTAL

HEALTH

As well as trying to implement

these evidence-based methods for

"rebooting" our mental health in

2021, we must also challenge the

idea that only the 'weak' struggle

with mental health, and that our

mental health is something fixed and

unchanging.

We CAN make changes!

We need to move on from framing

mental health in binary terms – "good

or bad", "ill or well."

Whether we are thinking about

ourselves or others, the language we

use when talking about mental health

matters.

So here's to a better, more mentally

healthy 2021 for everyone!
---
"OUR WORKPLACE

IS UNSAFE, AND

IT'S BREAKING

PARAMEDICS"

In a damning letter outlining

widespread allegations of

sexual harassment, bullying and

workplace discrimination occuring

within Ambulance Victoria,

Paramedic Rasa Piggott opened

the floodgates for other employees

to step forward with their own

experiences and set the ball in

motion for an independent inquiry

into workplace equality within

Ambulance Victoria.

Rasa Piggott

Image Credit: Penny Stephens/The Age
---
In her open letter to the board of

Ambulance Victoria, Ms Piggott

described the workplace as an

environment where 'sexual and

gendered harassment was woven into

the fabric of the organisation' and that

this systemic culture of abuse was

'breaking paramedics'.

The letter contains examples of the

very confronting reality facing female

paramedics within the service. This

includes being ogled at and regarded

as a sexual object whilst performing

duties. Physical abuse, threats of

sexual abuse and discrimination and

exclusion from higher roles within the

service based on plans to fall pregnant,

parental leave and age.

As a paramedic and educator, Ms

Piggott has spent the last three years

raising these issues of systemic

workplace discrimination within

Ambulance Victoria. She states in her

letter that she has been punished by

middle-management for doing so.

During this time she has spoken to

many other paramedics, both men

and women, documenting instances of

corruption, bullying and harassment.

The experience of victimisation and

bullying has not been limited to female

employees. Ms Piggott describes her

colleagues as exhausted and deserving

of a safe, equitable and inclusive

workplace.

In a series of articles published in

"The Age', Journalist Wendy Tuohy

spoke to many other paramedics who

were willing to come forward with

their own stories once the inquiry

was announced. The articles detail

a devastating, yet common, theme

of varied instances of bullying and

harassment.

Middle to upper management within

Ambulance Victoria has been described

as having a 'boys club culture', when

it comes to promotion and regard for

female employees. Five people told

The Age that the harassment was so

bad they considered suicide.

A study into the nature of workplace

discrimination conducted by

Swinburne University and RMIT

in conjunction with the Victorian

Ambulance Union (VAU) found that

amongst 663 Ambulance employees,

two thirds of them would prefer to

stay silent for fear of retribution. They

didn't feel confident that any change

would occur as a result of coming

forward or reporting discriminatory

behaviour.

After receiving Ms Piggott's letter

imploring Ambulance Victoria to take

action, Ambulance Victoria chair Ken

Lay and CEO Tony Walker announced

an independent inquiry into the claims.

Ambulance Victoria's CEO, Tony Walker

condemned the behaviour described

in Ms Piggott's letter and subsequent

allegations by a number of employees.

"Like many Victorians, I am distressed

and deeply disappointed to read

reports of bullying, harassment and

discrimination against women in my

organisation. I want to be very clear

that these behaviours and actions have

no place in the Ambulance Victoria I

lead. They will simply not be tolerated.

In a video statement to all employees

of Ambulance Victoria, CEO Tony

Walker shared his commitment to

addressing the issues within the

organisation and warned anyone who

thought that these behaviours were

acceptable that they should leave the

service.

These claims will now be subject

to an investigation by the Victorian

Equal Opportunity and Human

Rights Commission as requested

by Ambulance Victoria. In addition

to the inquiry being conducted by

VEOHRC, WorkSafe Victoria will also be

investigating claims of bullying within

the organisation.

The investigation by VEOHRC will be

ongoing for the next 3 years and will

include a review, implementation

of recommendations from the

commission by Ambulance Victoria

and an audit of how well these

recommendations have been

implemented.

In the review phase of the investigation

the Commission will examine the

nature, extent, drivers and impact of

discrimination, sexual harassment and

victimisation experienced by current

and former staff and volunteers.

Ambulance Victoria employ over 5000

staff including but not limited to; onroad

clinical staff, operation support

and managerial staff, MICA paramedics

and trainees, Community Emergency

Response Team volunteers, Ambulance

Community Officers and community

support officers. The inquiry is for all

staff.

The independent review will examine

what measures are in place to prevent

and eliminate discrimination, sexual

harassment and victimisation within

Ambulance Victoria and if these

measures are adequate. Current

strategies that are used to ensure a

safe, equal and inclusive workplace will

also be identified. You can download

the terms of reference for the review

from the Commission's website.

HOW CAN YOU TAKE PART?

In order to complete a thorough

investigation that will benefit all

Ambulance Victoria employees and

create a cultural change, all voices

must be heard regardless of gender

identity. Ambulance Victoria has issued

a limited waiver of confidentiality

obligations in order for as many people

as possible to come forward. Current

and former employees can come

forward in confidence with stories as a

witness to events, or as someone with

personal-lived experience.

There are a number of confidential

pathways for participants to choose

from.

• Complete an online survey

• Make a written submission

• Participate in a confidential

interview

• Participate in a focus group.

Current and former employees and

first responders/volunteers can

complete a confidential online survey

between 22 February and 19 March

2021. On 22 February 2021, current

employees and first responders/

volunteers will automatically receive a

unique link to the survey.

Former employees and first

responders/volunteers need to register

their interest in completing the survey

by emailing the Commission.

All links to these pathways can be

found at Victorian Equal Opportunity &

Human Rights Commission website.

The Commission will publish a public

report at the conclusion of Phase 1

detailing findings and outlining their

recommendations for Ambulance

Victoria. This report will be published

by 30th November 2021.

The Victorian Equal Opportunity &

Human Rights Commission will provide

regular updates throughout the

inquiry.

We have published Rasa Piggott's

open letter to the board of Ambulance

Victoria on the following pages. An

equal, safe and inclusive workplace

should be a fundamental right for all.

We applaud the courage and strength

shown by Rasa Piggot and others who

have come forward to share their

stories in the hope of igniting change

for the benefit of current and future

paramedics.

If this article has raised issues for you, or if

you're concerned about someone you know

call Lifeline on 13 11 14 or Beyond Blue

1300 224 636.
---
October 27, 2020

Mr. Ken Lay

Chairperson - Board of Directors

Ambulance Victoria

Victoria, Australia

Rasa Elizabeth Piggott

paramedics.victoria@gmail.com

Dear Mr. Lay and The Board of Directors,

Collective Paramedic experience confirms a culture of widespread bullying, gendered discrimination and micro aggressive

retribution in Victoria. Dangerous power gradients remain unhinged and facilitate a patriarchal system that defies

Employment Law, Public Sector Code of Conduct, health-professionalism and community expectation. An inarguable divide

between Ambulance Victoria's operational and corporate sectors inhibits necessary reform. Our workplace is unsafe, and it is

breaking Paramedics.

Sexual and gendered harassment is woven into the fabric of Ambulance Victoria. As a graduate, I had my breasts ogled and

was advised to use them to 'my advantage'. I was warned that you can't progress your career clinically and have kids at the

same time. I was sexualised whilst caring for Patients. It was assumed I would make 'cups of tea' at branch whilst senior male

colleagues sat in a circle sharing testosterone bathed war stories. As a junior Paramedic, I remember feeling lucky that 'at least'

I wasn't being referred to as the driver of the 'bra-mobile' or pressured to watch pornography at branch, as had been the case

for some of my predecessors. It wasn't until I began to outwardly express my career ambition that I realised the limitations of

our indoctrinated patriarchal system.

From gendered subtleties such as exclusion, to horrible instances of sexual misconduct, archaic norms continue to be

experienced at every level within operational Paramedicine. Accounts of gendered discrimination in Ambulance Victoria

include instruction to not get pregnant if wanting to pursue a higher role, exclusion from career pathways if planning on

becoming pregnant, and negative attitudes toward pregnancy post promotion. Women describe being pushed out of roles

because of their childbearing age, and report having to wean infants off breast milk at only a few months old to accommodate

for the lack of line management support. Women have recalled experiences of sexualisation in numerous settings, including

at cardiac arrests. When I embarked on a recent attempt to further my career, I was counselled about the inconvenience of

maternity leave for team settings and careers, asked to demonstrate my bed making skills and later, asked about my age. Male

colleagues around me have been permitted to progress their careers down the path I was intending, whilst I have been ignored

and sabotaged. Additionally, eye opening discussions pertaining to sexual harassment and sexual misconduct have confirmed

that some are not only experiencing active discrimination, but also instances of abuse.

Normalised gendered harassment can be seen in our every day. Women experience disempowering retorts and offensive

labelling in response to enthusiasm; e.g. 'she's an excitable puppy'; 'she's Miley Cyrus on the wrecking ball'. Women have been

told they 'don't listen' when seeking justification for decision making. Women have had their success attributed to fictitious

sexual relationships. Women have been instructed to 'just sit and listen' in meetings where men predominate. Women have

been told that they only perceive an issue because they 'are a woman, and women are emotional' or 'hormonal'. Women

have had their work credited to men. Women have received complaints for advocating for Patient safety. One of the most

toxic and limiting workplace interactions for female Paramedics is that of women disempowering other women secondary to

internalised misogyny.

Female Paramedic numbers are rising, but only because more women are completing the bachelor's degree. Women

overwhelmingly dominate the junior tiers of the Paramedic profession and are strikingly absent or excluded from clinical

decision-making tiers. When enquiring about Paramedic diversity data, I was told that access to such information would

require filing for freedom of information. I was then pulled aside and advised to not make such enquiries as doing so

questioned the capacity of certain members of staff. Despite my efforts, I have not yet received confirmation that policies

specifically supporting and ensuring gender equality relating to recruitment, retention, performance management processes,

promotions, talent identification, training and development exist. I've also not received confirmation of existing KPIS for

middle management relating to gender equality, and I've not been able to locate any process that regularly screens managers to

ensure the absence of favouritism and bias driven employee promotion. There appears to be nothing of substance in place to

assist female career advancement. There is a diversity strategy in place, but the strategy lacks a backbone given the apparent

absence of appropriate policy to turn strategy in to reality.

Unregulated influence in Ambulance Victoria has been facilitated by illegitimate promotion schemes. As a result, hierarchical

power plays prevent equal opportunity employment and merit-based selection. It is well known that if one is seeking

promotion, they need to appear nonthreatening to the patriarchal privilege that dominates the upper tiers of the Paramedic

world. In other words, keep your head down and stay silent. Ignore questionable clinical practice. Don't speak up about

any negligence you may witness. Don't advocate for your patient when working with an authority figure. Don't speak up

about intimidation. Ignore harassment. Tolerate abusive colleagues and stay quiet about your consequent PTSD. It is

widely understood that if you become known as someone who has spoken up or challenged the status quo, micro-aggressive
---
etribution sneaks in to your every day, and career growth grinds to a halt. A favourite intimidation tactic appears to be having

your 'fitness for duty' questioned.

Possession of unregulated decision-making power by a powerful few breeds employee silence through fear of career limiting

repercussions. Said employee silence reinforces that unregulated power. Our subsequent need to self-preserve via silence has

spawned a climate in which quality-assurance is often avoided. Why would anyone submit an incident report when there is

no internal process that allows for anonymity, and doing so risks both career progress and punitive repercussions? Coming

from a Nursing background where professional standards have ensured incident reporting is normalised, non-threatening and

encouraged, I find this cultural norm in the Paramedic community startlingly dangerous. It opposes our legislated requirement

to protect the public. Ambulance Victoria's steep authority gradients not only impact upon employee career advancement and

wellbeing, but also Patient safety.

Illegitimate promotion schemes also facilitate a culture of cronyism, further inhibiting merit-based selection. Examples include

the staff member agreeing to promote a candidate because of a phone call from a popular figure head requesting so. The staff

member refusing to promote a candidate because someone told them not to. Promotion being gifted to an employee because

'so-and-so said they were good', whilst others are made to jump through rigorous hoops that resemble bastardisation. Our lack

of appropriate process means that wherever there is a power imbalance, the potential for a junior employee to be denunciated

without justification exists, as does the potential to hide bullying in all forms. There is a Professional Conduct Unit, but

given some of its staffing incorporates rotating, operational Paramedics, it can be appreciated why many view this system as

orchestrating a perpetual conflict-of-interest, and thus avoid reporting any issues pertaining to misconduct or discrimination.

Bolstering our discriminatory workplace is the lack of flexibility within certain roles, and the reality that gaining flexible work

is akiin to forfeiting career prospects. For example, if you want to be an Intensive Care Paramedic with access to a funded

study-position, you must commit to working and studying full time for the duration of the course. This totals 80-hour work/

study weeks within a shift-work world. Despite our EBA limiting the number of months one can work a 'ten-fourteen' roster,

some Intensive Care students still find themselves having to fight for access to a safer shift pattern that will allow them to work

whilst also study, parent, partner and maintain their own health. If you cannot study and work fulltime, you can opt to pay for

the master's course yourself. Unfortunately, this is a culturally frowned upon education pathway, and it's not uncommon to hear

of these students having immense difficulty obtaining access to graduate positions. At present, there is no confirmation that a

Master's of Intensive Care completed outside of the one University commandeered by Ambulance Victoria will result in access

to employment. When I've worked with those in their study phase of the funded Masters of Intensive Care, I have witnessed

defeated and deflated individuals struggling to put one foot in front of the other. Intractable fatigue impedes decision making

on-road, mental health is shredded, physical health is obsolete. Nobody says anything because culturally, one risks victimisation

upon qualifying as an Intensive Care Paramedic if they become known as the graduate who disrupted the status quo. Men who

have children whilst undertaking this process barely make it out alive. Women often delay having a family. Lack of flexibility and

equitable access to education is literally forcing women into having geriatric pregnancies.

The argument that any role as a Paramedic cannot be done flexibly due to part-time hours limiting exposure to patients (and thus

skillset maintenance) is often made, but entirely flawed. All one needs to do is look at the disparity in exposure to cases between

rural and metropolitan Paramedics to confirm the invalidity of this argument. If lack of exposure within any role secondary to

reduced work hours is a genuine concern, then improved access to education and skillset maintenance to ensure equitable career

promotion is necessary.

Paramedic culture is in crisis. If Victorian Paramedicine is to fulfil its professionally legislated requisites, we need to dismantle the

oppressive, patriarchal hierarchy that is preventing us from developing in to an emotionally intelligent and flexible 21st century

entity. My greatest professional privilege has been to teach the Paramedics of the future. They possess the capacity-of-thought

and holistic perspective needed to modernise our industry. We need to create a system that seeks to benefit all by empowering

the individual to realise their potential.

Mr. Lay, in putting this letter together, I have spent time talking to women and men employed as operational Paramedics across

the state. My colleagues are exhausted. Through tears, they have shared their stories - some have experienced abuse beyond the

imaginable. I have been attempting to gain traction regarding the systemic cultural issues within our service for three years.

Earlier this year, I filed incident reports pertaining to corruption, bullying and harassment. I have been punished by middlemanagement

for doing so.

Without a safe, equitable and inclusive workplace, our capacity to serve the public will remain hampered.

I believe it is time for an Equal Opportunity and Human Rights inquiry.

Additionally, it would be my privilege to arrange a meeting so that we alongside others, can openly and honestly discuss

achievable, measurable and inexplicably necessary short and ling-term operational goals.

Warm Regards,

Rasa Elizabeth Piggott
---
Supporting the Wellbeing

and Resilience of

Australia's Emergency

Services
---
'After the Fires' is a national survey conducted by

The University of Western Australia (UWA), Flinders

University, The Road Home and Roy Morgan Research.

These organisations have been funded by the Australian

Government to study the impact of the 2019-2020 bushfires

on the resilience and wellbeing of fire and emergency

services personnel.

The 2019–20 bushfire season was one of the most intense

and sustained ever seen in Australia.

The impacts of major bushfires are substantial and

ongoing. Cumulative exposure to traumatic events can

negatively affect the wellbeing of those called on to

respond to critical incidents and emergencies.

We believe the unprecedented intensity and severity of the

2019–20 bushfires probably harmed the wellbeing of at

least some responders, many of whom are volunteers.

'After the Fires' will help to understand the health and

wellbeing of employees and volunteers in the emergency

sector so we can plan and provide better services and

support.

THE PROCESS

'After the Fires' has two parts. The first is a survey which

will be conducted in 2020 and again in 2021. The second

is a series of focus groups or individual interviews in

communities most affected by the fires.

UWA are working with fire and emergency service agencies

across Australia who will invite employees and volunteers

to participate in the online survey. The survey will focus on

the deadly 2019-2020 summer fires across Australia but

also the response to bushfires in general. The survey takes

around 25 to 30 mins to complete and can be done on any

computer, laptop, tablet or phone that has internet access.

Individuals who volunteered or worked in fire and

emergency services over the 2019-2020 bushfire season,

including those fighting the fires directly, those in call

centre roles, those in relief centres, peer supporters, and

those participating in mobilising community actions during

the crises etc., will be approached to participate in the

focus groups or interviews. Family members and support

people of emergency service personnel will also be invited

to participate.

Individual interviews will be approximately 1 hour and focus

groups 90 minutes in duration. Questions may include

how the person came to be in the role, their motivation for

working or volunteering in the sector, what role they played

and how it impacted them and those around them.

THE GOAL

Specifically, the study aims to:

• Understand the impact of direct and indirect exposure

to the 2019-20 bushfire events on the wellbeing and

resilience of emergency service personnel

• Assess the need for, and use of, support and support

services

• Identify factors associated with resilience and effective

coping, and

• Determine the best strategies to build resilience and

protect mental wellbeing

The main focus will be to provide timely information to

organisations and the volunteer community to aid in future

preparedness, response and recovery efforts. The study

data will provide a comprehensive picture of the impacts

of the 2019-20 bushfires. This information will help us

to understand what is needed to effectively support the

long-term wellbeing of our volunteer and paid emergency

service personnel, and how to foster their resilience and

ability to cope both now and into the future.

This research will build on the groundbreaking study,

'Answering the Call: the first National Mental Health and

Wellbeing Study of Emergency Services', which surveyed

more than 21,000 first responders, including more than

5,000 rural fire service and SES volunteers.

More Information

For more information, or to participate in the focus groups

or interviews, please contact Sharon Lawn on sharon.

lawn@flinders.edu.au or 0459 098 772.

For more information about the online survey please

contact Jenn Bartlett Jennifer.bartlett@uwa.edu.au or Anna

Hunt anna.hunt@uwa.edu.au or call (08) 6488 3631.

More information is also available on the website

www.uwa.edu.au/projects/after-the-fires

COLOSSUS PROPERTY SERVICES

Property Maintenance

All Carpentry Work

Minor Plumbing & Electrical

Gardening Services

Painting

Non Structural Welding

Lic No: 331106C M: 0423 306 788 E: manuel@colossuspropertyservices.com.au Picnic Point NSW 2213

www.ausemergencyservices.com.au 28
---
AUTHOR:

Radhiya Fanham

Bushfire and Natural

Hazards CRC
---
YOU WOULDN'T DRIVE

INTO A BUSHFIRE,

SO WHY DRIVE INTO

FLOODWATER?

New research is delving into why people enter

floodwater and what can be done to change this risky

behaviour.

It is widely agreed that entering floodwater, whether

by foot or in a vehicle, is highly risky. There is

usually little to no visibility of what is underneath

the surface of floodwater, and even seemingly shallow,

moderate flowing waters can sweep a person off their

feet or cause a vehicle to lose control.

Globally, floods are the highest cause of fatalities

from natural hazards, and the second highest in

Australia, so it makes sense that plenty of flood risk

communication campaigns have been instituted over

the years. The question is: are they effective?

Associate Professor Melanie Taylor, Occupational

Psychologist at Macquarie University and lead

researcher of the Bushfire and Natural Hazards CRC

Flood risk communication project, said that while

previous research has identified the reasons behind

flood fatalities, not enough research has investigated

the behavioural aspect of entering floodwater.

The project commenced in July 2017 to develop an

understanding of the motivations, beliefs, decisionmaking

processes and information needs of at-risk

groups for flood fatalities. State Emergency Services

(SES) from around Australia have worked closely with

the research team from the onset of the project, with

a particular interest in the behaviours of their own

personnel when it comes to risk taking and driving

into floodwater, as well as their attitudes to the public

entering floodwater.
---
Community Capability Coordinator

at the New South Wales SES, Mr

Joshua McLaren, said the changing

climate requires new and improved

communication strategies.

"What we've started to understand in

a changing climate is that we really

need to shift gears to think about

how we change the paradigm around

how we operate with communities,"

Mr McLaren said.

"If we have really effective

communication with members of our

community, we can potentially save

thousands of people through one

action."

DEFINING THE MESSAGE

In the early stages of the project, the

research team worked in consultation

with the NSW SES to develop a

working definition of floodwater on

roads to provide a clear idea of what

is being referred to in messaging

about driving into floodwater. This

was defined as an environment

where:

• water is across the road surface

• there is little to no visibility of the

road surface markings under the

water (i.e. uncertainty of the road

quality/integrity and possibly

depth)

• there is water on normally dry

land – either flowing or still.

As a psychologist, A/Prof Taylor

considered human nature in the

reasons why one might enter

floodwater despite the clear warnings

and communications against it. One

of the possible hypotheses, she

said, was that people are just not

engaging with the messaging and that

is why they are continuing to enter

floodwater.

"We have looked at how both

SES personnel and the public

conceptualise floods to try to gain

insights into why people might

be rejecting or dismissing the

messaging," A/Prof Taylor explained.

"If someone sees an advert that

shows deep, flowing water that's

clearly dangerous, that's the image

they have of what floodwater is in

the context of not to drive through

it. However, when they come across

water that looks quite benign, they

might not see that as 'floodwater' and

therefore, feel the message doesn't

apply."

Mr McLaren said communicating the

risk of driving into floodwater is a

particular challenge.

"Disasters aren't something that

people deal with every day," he said.

"The challenge for emergency

services, and this is where Mel and

the team's work is so important, is

how do we effectively engage people

when they are so busy with their

own lives, and how do we utilise

communication and messaging to

engage people who have never

experienced the risk?"

BEHAVIOUR

To look at the extent to which

entering floodwater is influenced

by behaviour, the research team

conducted extensive surveys

and quantitative research, which

investigated the specific conditions

and decision-making processes

involved when people drive through

floodwater.

A public survey was distributed

between December 2018 and January

2019, which was constructed to be

proportionally representative of the

adult Australian general population

by state, and balanced for age and

gender. The survey consisted of

eight main sections: driving details;

demographics; experiences of

entering floodwater, either on land or

in flooded rivers; willingness to drive

through water on roads; experience

of driving into floodwater; experience

of turning around in floodwater;

general attitude to risks; and flood

risk messages.

More than half of the 2,184 survey

respondents had driven through or

been driven through floodwater, and

ACTIVITY BEING UNDERTAKEN AT THE TIME OF DRIVING THROUGH FLOODWATER

Credit: Bushfire and Natural Hazards CRC

31

www.ausemergencyservices.com.au
---
YOU WOULDN'T DRIVE

INTO A BUSHFIRE,

SO WHY DRIVE INTO

FLOODWATER?

New research is delving into why people enter

floodwater and what can be done to change this risky

behaviour.

Damaged roads in Adelaide after the South Australia 2016 floods. Credit: South Australia State Emergency Service

41% had been through floodwater on

more than one occasion in the last

five years.

The central question is: why is it that,

despite advice and warnings, people

are still entering floodwater? What

are they doing at the time, and why

are they disregarding risk messages?

By understanding what people are

doing when entering floodwater, we

can find additional levers to influence

their behaviour and promote safety.

Of the 1,167 people who reported

driving into floodwater, a fifth were

returning home from work and a

further 17% were either on holiday,

sightseeing or on a leisure drive

(Figure 1). Also, the vast majority

of participants (90.7%) reported

that they drove through floodwater

without any negative consequences.

"It again speaks to behaviour that

people enter floodwater fairly often,"

A/Prof Taylor said.

"If you do it and get away with it,

there's this idea that you don't

have to be cautious the second

and third time, especially if it's the

same location. However, it can be

quite a different situation every time

and there could be a lot of danger

underneath in terms of obstructions.

You wouldn't drive into a bushfire, so

why drive into floodwater?"

The majority of contexts in which

people drove into floodwater related

to common or mundane situations

or activities and were therefore

not about 'urgent' or high-stakes

situations. Many people indicated

that they had carefully considered

the situation. This suggests that

decision-making is not sudden or

impulsive and means there is still an

opportunity to influence the decisionmaking

process.

CHALLENGING THE HIGH-RISK

BEHAVIOURS

"The theory tells us that to get

people to take protective behaviour,

in this case, not to drive through

floodwaters, the first thing is that

more needs to be done to make it

clear that there is a risk, especially

with more benign situations," A/Prof

Taylor said.

"Past behaviour often predicts future

behaviours, so we need to modify risk

communication and influence risk

perception. People have got to know

that it's a risk to start with if we want

them to engage with the messaging,

and then we need to provide them

with ways to manage the risk; this is a

fundamental aspect."

The NSW SES is currently reviewing

their messaging and flood risk

management procedures to look at

how they can better structure their

risk messaging.

"Over the last five to ten years,

we really didn't think much into

the complexities of driving into

floodwater," Mr McLaren said.

"Mel and the team's work has been a

trigger for us to understand that it is

really complex and it's probably time

for us as an agency to go back to the

table and look at how we can better

structure our messaging to use

behavioural insights and psychology."

In conjunction with AFAC and SES

research end-users, the results of

this research are now informing the

co-development of a set of public

communication guidelines and the

establishment of a set of national

community safety announcements

for use by the ABC in emergency

broadcasting.

To find out more about this research,

visit bnhcrc.com.au/research/

floodriskcomms.

www.ausemergencyservices.com.au 32
---
The Good, The Bad & The Ugly

DON'T WAIT TIL A DISASTER TO

PARAMEDIC

PLAN AHEAD

TIME TO TEACH

STUDENTS THE REALITIES

OF RAMPING

Tammie Bullard is a registered

paramedic and writer based

in Western Australia. Author of

The Good, The Bad & The Ugly

Paramedic

Ramping is real, and the sooner we set our students up for

success in navigating this new way of working, the better.

• Educate them to expect long hours in limbo.

• Train them to titrate treatment over extended periods.

• Give them guidelines to let them meet the standards we'd like

to see.

Priorities are changing in prehospital

care, with many paramedics now

questioning career commitment for

the future. In years gone by, joining the

world of emergency medical services

meant a high turnover of patients,

among a daily mix of unpredictable

emergencies. Part of the allure was in

expecting the unexpected.

The medically minded individuals

seeking ongoing patient contact

found a vocation in medicine, mental

health, nursing, midwifery and allied

health professions. Those drawn

towards more mobile, emergent,

autonomous roles found their place in

paramedicine.

Over time, training and education have

improved skillsets and knowledge. The

job has become more challenging and

enthralling in its demand for increased

intervention. New recruits are enticed

by opportunities to provide ever higher

standards of emergency care. They

dedicate years and deepening debt to

the academic qualifications required.

Student applications to universities

and employers continue to arrive

in droves. National industry insight

reporting from the Australian Industry

and Skills Committee suggests that, in

2019 alone, Australia wide, there were

over 4,500 enrolments in ambulance

and paramedic qualifications. AHPRA's

2019/20 annual report outlines a

14.5% increase in the number of

registered paramedics, over the

preceding year, to almost 20,000.

It's a fantastic career that can be

extremely rewarding, so these figures

make sense. But with so many new

clinicians joining our ranks, how

realistic are their expectations and how

well suited will they be to the current

way of working? The "hurry up and

wait" approach that we're not preparing

them for.

Recruitment campaigns by employers

and educational institutions promote

the frontline focus. Lifesaving skills;

prehospital paramedicine; clinical

challenges; emergency response;

community-based roles and making a

difference every day. Corporate social

media feeds are full of inspirational

stories, lives saved, and good deeds

done. Television screens cover cardiac

arrests, motor vehicle collisions, babies

being born and all the feel-good factors

that drive us to dedicate every effort, in

an attempt to join this job. Of course all

of this still exists, but there's so much

that they need to know.

We train them to drive using lights and

sirens, so they can respond rapidly

to patient emergencies and meet key

performance indicators on arrival. We

educate them in anatomy, physiology,

pathophysiology, pharmacology, mental

health emergencies, social studies,

determinants of health, epidemics,

pandemics, ethics, documentation

legalities, interprofessional

collaboration and more. We equip

them with a growing collection of skills

to include everything from basic life

support, right through to advanced

care. We teach them to use this

education in recognising disease states

for urgent intervention on scene, and

timely transport aimed at improving

patient outcomes. But what are we

teaching them about the realities of

care during several hours of ramping,

stacking, waiting or wall time?

No matter how much we want to treat

this issue as a temporary problem, the

very existence of these well-known

colloquialisms for the holding pattern

that gridlocks our ambulances indicates

otherwise. Even the term "corridor

care" frequently features in journal

articles, and evidence repeatedly

demonstrates that ramping has been

a painful reality, in Australia, since the

early 2000's. (See web-based article for

references.)

Adopting everything that we have

learned over this past 20 years of

waiting in line provides an ideal

33

www.ausemergencyservices.com.au
---
opportunity to educate and inform.

The more we begin to focus

recruitment and training on the "new"

realities of paramedicine, the more our

patients and our profession stand to

gain.

• Graduates will be well versed

and educated in risks associated

with ramping, and the proactive

measures they can take to

address patient comfort, care and

safety.

• Their knowledge will naturally

spread throughout a workforce

highly trained in emergencies,

but with minimal background in

hospital-based procedural care.

• Guidelines and protocols for

corridor care can be structured

purposefully, just like chest pain,

childbirth, and choking have been

in the past.

• These clear procedures can

inform every paramedic, intern,

nurse, doctor and patient care

provider of the expectations and

responsibilities on ambulance

staff.

• New recruits form realistic

expectations, rather than hit the

ground running with high hopes

of non-stop action, destined to

disappoint.

• Retention rates may increase,

and those satisfied students may

stay long enough to develop fresh

ideas for fighting ramping in the

future.

• Formally adopting the issue into

academia encourages evidencebased

research and access to the

untapped resources that specific

studies may reveal.

Nobody expects ambulance services

or educators to take ownership of

ramping; it's a multi-faceted problem

that calls for a multi-faceted solution.

But we can, as an industry, take

ownership of our recruits. The onus of

responsibility is on all of us in preparing

them to provide their best in patient

care, be it on scene, en route or on the

ramp.

As paramedics we take pride in our

ability to manage patients no matter

where we find them. Why not add

corridor care scenarios, guidelines and

assessments to the curriculum?

For more articles and "The Good, The Bad & The Ugly Paramedic" book series,

head to gbuparamedic.com or follow @gbuparamedic on social media

@gbuparamedic

@gbuparamedic

@gbuparamedic

Tammie Bullard

www.ausemergencyservices.com.au 34
---
AUSTRALIAN-FIRST OMCG

EXIT AND PREVENTION

PROGRAM LAUNCHED

Minister for Police and Corrective

Services and Minister for Fire and

Emergency Services, the Honourable

Mark Ryan MP, joined Commissioner

Katarina Carroll to officially launch

Australia's first exit program for

former outlaw motorcycle gang

members wanting a lasting way out

of gang life.

The Exit Program launch coincided

with the release of two videos

revealing the truth about associating

with OMCGs as told by former gang

members and families.

The former outlaw motorcycle gang

members featured in the videos tell

how they and their families continue

to live with the consequences of their

choice to join a gang. The message

they both share is, you wouldn't join

a gang if you knew the truth.

Commissioner Carroll said these

personal accounts expose the reality

of life inside these criminal networks

and the devastating impacts on

families.

"Police regularly see the terrible

personal outcomes for people drawn

into these gangs, and those featured

in the video chose to participate

because they want to highlight to

others the effect gang membership

has had on their health, families and

future," Commissioner Carroll said.

"For many ex-gang members, staying

out of gangs and criminal activity is

influenced by a range of factors and

motivators, which individuals find

difficult. It is these factors the Exit

Program are trying to address in

order to reduce gang-related crime

and the harm it causes families and

communities.

The Exit Program is an initiative of

the Queensland Police Service and

Queensland Corrective Services

for adult ex-gang members in

Queensland to access tailored

support services including drug

and alcohol issues, employment

and training, mentoring, family

relationships and mental health.

While QPS acts as a referrer, the

program is delivered and managed

through community organisations

and alongside government partners.

Minister Ryan commended police for

their innovative thinking in deterring

gang recruitment while staying tough

on OMCG activity.

"Police are continuing to use the

Queensland Government's tough

laws to target and disrupt criminal

networks and OMCG offenders,"

Minister Ryan said.

"Now, through the Exit Program and

the prevention videos, police are

expanding their focus on exposing

the truth of gang membership

delivered by ex-gang members

themselves and providing a pathway

from gangs.

"It is an opportunity for gang

members to change the course of

their life and their families.

"The Exit Program is an Australianfirst

and in fact the first of its kind in

the Southern Hemisphere, backed by

research that highlights the potential

for these programs to reduce rates

of re-offending."

Australian Federal Police (AFP)

National Anti-Gangs Squad (NAGS)

Detective Acting Superintendent

Jason McArthur said the AFP-led

NAGS was a strong supporter of

the new program, with the initiative

providing a positive solution for

OMCG members and their loved

ones to escape the reach of these

dangerous gangs.

"OMCGs are criminal gangs

motivated by greed and these videos

pull back the curtain and reveal the

harsh reality of membership and

association with these gangs using

the stories of real people," Detective

Acting Superintendent McArthur

said.

For more information, visit https://

www.police.qld.gov.au/initiatives/

omcg-exit-program.
---
The town of Tarnagulla. Credit: Linda Jungwirth

DISASTER SEASON IS HERE — DO YOU

HAVE A RESILIENCE ACTION PLAN?

How the small town of Tarnagulla built theirs

Mittul Vahanvati

Lecturer, School of Global, Urban and Social Studies,

RMIT University

Heatwaves, floods, bushfires:

disaster season is upon us again.

We can't prevent hazards or climate

change-related extreme weather

events but we can prepare for them

— not just as individuals but as a

community.

One way to do that is develop what is

known as a resilience action plan, or

RAP.

A RAP is a way for communities

(be they school-based, profession-

based, or neighbourhood-based) to

collectively assess their strengths

and weaknesses ahead of coming

disasters, identify priorities and build

an implementation strategy.

Recent work with Tarnagulla — a

small town that sits in a bushfire and

heatwave-prone part of rural Victoria

— offers an example. The community

got together, applied for funding and

co-produced with me (Mittul Vahanvati)

a tailor-made RAP for their town.

Their example highlights how small

scale, grass roots action trumps

waiting around for large scale, topdown

climate action to shape our

future.

The Tarnagulla story

Tarnagulla is about 180 kilometres

north west of Melbourne, and 40

kilometres west of Bendigo. Its

population and economic prospects

boomed during the 1850s goldrush,

but by the 2016 Census, its population

37

www.ausemergencyservices.com.au
---
had dwindled to just 133 people with a

median age of 61.

The town relies on agriculture and

animal husbandry, but faces myriad

challenges, including:

• deteriorating Federation-era

buildings, such as churches and

community halls, with about 30%

of houses unoccupied

• poor transport infrastructure,

including crumbling roads, only

one bus stop, a bus that goes

once a week to Bendigo

• declining economic activity, with

just one hotel, one post office and

little to attract visitors

• growing risk from storms,

droughts and bushfires

• a vulnerable population, with

approximately 60-70% people

living from pension to pension

• limited access to health care

facilities

• insecure power and water

infrastructure.

The town is at risk of disappearing.

Its people face real danger when fire,

heatwaves or other natural hazards

strike and there's precious little

disposable income to spend on futureproofing

homes.

The trajectory for Tarnagulla is not

unusual in Victoria. Determined

to save it from being engulfed by

climate-change related disasters,

the community applied for and got a

grant from the Victorian Department

of Environment, Land, Water and

Planning, through their Virtual Centre

for Climate Change Innovation.

They used part of the money to

engage one of the authors (Mittul

Vahanvati), to co-produce a RAP for

and by Tarnagulla community.

Increasingly frequent and harsher

heatwaves, bushfires and droughts

We held eight workshops over two

years in Tarnagulla, with project

leaders from the local community

meeting me (Mittul Vahanvati) monthly.

Establishing mutual trust and a sense

of collaborative design was crucial; the

process doesn't work when an outsider

parachutes in and starts telling locals

what to do.

We identified the town's existing

strengths (outlined in the table below).

We also talked about how climate

change-related disasters — such as

increasingly frequent and harsher

heatwaves, bushfires and droughts —

were causing problems locally such as

• power outages becoming longer

and more frequent

• the soaring cost of keeping the

house cool

• concerns the dam might burst in

a flood

• people going without water for

five days in previous disasters

and being forced to buy water to

survive.

The resulting RAP identified five main

goals. These can be seen in the table

on the following page.

Local councillors, and representatives

from the emergency management

sector and the health sector got

together to test out the RAP, its

feasibility and whether it would help

reduce loss and devastation of town

during hazards.

It became clear a complete emergency

evacuation plan would require

the town having a safer shelter,

improving key roads used to flee the

town and ensuring comprehensive

communication systems to help

vulnerable people (such as older

people, children or single people)

during a disaster.

The town also identified the need for

www.ausemergencyservices.com.au 38
---
5 MAIN GOALS IDENTIFIED BY RAP

a change in mindset about risk, and

better communication via social media.

The local Landcare group also resolved

to raise awareness abut conserving

and developing drought-tolerant

species.

What were some of the concrete

outcomes?

The resulting resilience action plan

was endorsed by the Tarnagulla

community and launched in

September 2020. Now, the town is

working towards implementing it.

Thanks to the RAP, Tarnagulla was

selected for a feasibility study looking

at using a microgrid to deliver reliable

and affordable energy, and assess

whether the town would survive

network faults due to extreme

weather.

Many households invested or are

investing in generators, solar panels,

battery bank and ways to cool their

house ahead of coming heatwaves,

due to awareness gained during

workshops.

Another win, separate but

complimentary to the RAP is the

Tarnagulla Primary School hall being

retrofitted to serve as a community

heatwave and bushfire safe shelter.

The school has provided out-ofhours

school access for members

of the local community who have

nowhere else to shelter when fires or

heatwaves strike.

The resilience action plan was endorsed by the Tarnagulla community in September 2020. Photo Credit: Mittul Vahanvati

The school community also raised

39

www.ausemergencyservices.com.au
---
Determined to save the town from being engulfed by climate-change related disaster, Tarnagulla applied for and got a grant from the Victorian Department of Environment, Land,

Water and Planning to build a RAP. Photo credit: Linda Jungwirth

funds to install a 12.6kW solar

system, with a goal of making the

school energy independent during

power outages or heatwaves.

The process of RAP also built

confidence and skills in community

members, some of whom have since

been elected in the local council or

part of the planning committees.

There, they are in a much stronger

position to push for urgent capital

works to improve footpaths, public

toilets and shops and support

retrofitting of homes.

There is still plenty to be done, much

of it needing extra funding (and

as is the case everywhere, COVID

has hindered progress). But now

the town has a clear, communityendorsed

plan to protect lives and

properties and enable citizens to

transition towards a resilient future.

Disaster resilience requires

collective action

Much of the discourse around

emergency preparedness focuses on

individual preparedness, which puts

the financial and physical burden

on each person to "be ready" when

disaster strikes. In reality, collective

action is required.

As one participant told us,

"We have realised that we are not

alone in facing the present and

anticipated challenges. There are new

opportunities on the horizon to work

together with other communities and

projects."

If we want to prepare for uncertain

futures, each one of us should

consider building a RAP with our

community.

This article was first published on "The

Conversation"

Rare and Beautiful, Gemstones

and Crystals, Exhibition and Sales

www.ausemergencyservices.com.au 40
---
TRAVEL

EMERGENCY

Breaks

In the hopes that as this

article goes to print, Western

Australia would have opened

back up again and once

again allows its state locals

and interstate visitors the

pleasure of immersing

themselves in its beauty,

we've decided to remain ever

optimistic and focus on the

wonder of Margaret River this

month.

While travel may be forever

changed, one thing that

hasn't is searching for a

great location for your next

Emergency Break!

Words: Brooke Turnbull

The mouth of the Margaret River, flowing into the Indian Ocean
---
Location:

Margaret River is located in the

bottom corner of Western Australia,

and is an easy drive of about three

and half hours from Perth. There is

also the Busselton Margaret River

Airport that has daily flights from

Perth and is about to launch direct

flights from Melbourne into the area.

This region is obviously famous for

its wineries and has some of the best

that Australia has to offer in regards

to wine. However, Margaret River has

plenty to offer for those that don't

enjoy a drop and once you've visited,

you'll find yourself wanting to come

back again and again.

Places to Stay:

Margaret River has a wealth of places

to stay while you enjoy your time in

the region. Often comfortable and

homely, with friendly and welcoming

locals, there is an abundance of

excellent accommodation to choose

from depending on what you fancy.

As is our usual way, we've chosen

a budget, mid-range and high-end

option to make this decision a little

easier for you.

Bridgefield Guest House is a place

of serenity in the Margaret River

area, and yet still located only about

10 minutes' walk from the absolute

centre of town. Its cosy, vintage

interior and stunning views of the

greenery surrounding it make it

especially perfect for couples looking

for a romantic getaway.

option. And what a place to hang our

hats!

The Margaret River region is a wine lovers paradise with over 150 vineyards

The Chalet's start from $225 per night

in low season and offer a peaceful

forest refuge away from the hustle

and bustle of modern life.

Each chalet has a fully equipped

modern kitchen, electric blankets

and private BBQ and some offer

incredible wood fireplaces to curl

up and enjoy an excellent book.

Definitely our kind of holiday! Set on 7

acres of forest, the Riverglen Chalets

are still only a 10 minute walk into

town and only 15 minutes away from

over 150 vineyards, 80 wineries and

70 restaurants and gourmet cafes

that the Margaret River region boasts.

Without doubt, if you're looking for

a mid-range budget but you've got

high-end tastes then the Riverglen

Chalets are for you. And if you're

lucky enough to visit in summer,

when the sun is shining and the

region is glowing with that summer

feeling then the azure blue waters

of Gnarabup Beach is only a 12

kilometers away. But if you want our

suggestion, go in winter, light the fire

and remember to pack some good

books and gorge on some excellent

The heritage feeling that the property

has, as well as the privacy that it

offers are particularly popular with its

guests. Starting from the extremely

reasonable $120 per night in low

season, this property is a stellar place

to begin your Margaret River journey

in.

Check in to your room that offers

heating/air conditioning, free Wi-Fi

and private facilities and relax in the

shared log fire room enjoying your

perfect Margaret River wine. Some

of the rooms at the Bridgefield also

have spa baths, so soak to your

hearts content while you unwind on

your perfect retreat from the world.

Riverglen Chalet's are where we're

hanging our hat for the mid-range

The famous Busselton Jetty at sunset
---
wine for us while you're there.

The Losari Retreat is our final accommodation

suggestion, and you best believe that starting at a cool

$672 per night in low season this is our high-end pick.

But is the money worth it? We definitely think so!

With luxurious apartments that come with a fully

equipped kitchen (including a cappuccino machine, yes

please!), hot tubs and rain showers the Losari Retreat

really isn't to be beat if you're looking for something

truly special.

Riverglen Chalet's set on 7 acres and only ten minutes to town

It's set on 66 acres and is bordered by National Park

which means, if you're not too busy imbibing you can

put on your boots and hike on site. It's a 10 minute

drive from the town centre and a 20 minute drive to

Prevelley Beach. With access to all that the Margaret

River region has to offer along with total luxury, you'll

never want to leave.

Things to do:

At its core, Margaret River is a wine driven region,

and with over 80 wineries to choose from it's nearly

impossible for us to decide where to tell you to go,

except to say try to go to all of them.

What can we say, we really love wine at Australian

Emergency Service Magazine! So, with that out of

the way, let's have a look at some places that aren't

wineries but are no less special.

The Jewel Cave. Look, we're not saying that Western

Australia have to do everything better, but sometimes

it just happens that way. In the case of the Jewel Cave,

with three massive chambers of crystal-encrusted

beauty, this is definitely true.

With incredible natural examples of delicate helectites,

cave coral and pendulites, as well as its famous large

stalagmite "Karri Forest", and flowstone such as "The

Frozen Waterfall" and "The Organ-pipes" the Jewel Cave

appeals to the geologist in all of us.

The magestic Jewel Cave with its delicate helectites, cave coral and pendulites.

The Jewel Cave will transport you back to those

moments from childhood when a rock found on the

43

www.ausemergencyservices.com.au
---
each could render you speechless with wonder. Fully

guided tours of the caves come in at $22.50 for adults

and $11.50 for kids.

Koomal Dreaming offers the opportunity for visitors

to experience the country through the eyes of the

traditional owners of the land, the Widandi and

Bibbulman peoples.

This tour walks you through the country and allows

you to experience native foods, bush medicine

and traditional fire lighting, all of which are unique

experiences to this land. The tour is operated by

Wadandi custodian, Josh "Koomal" Whiteland, who

brings you on an incredible journey through stories

of the Dreaming, as well as the intensely memorable

didgeridoo cave experience within the Ngilgi Cave.

The tours start from $65 for adults, and will provide an

experience you're not likely to forget.

If you're looking for a way to entertain the kids for the

day, or you're a bit of an adrenaline junkie yourself then

we've found the activity for you. The Forest Adventures

South West park offers a high rope adventure course like

no other.

Indulge at The Losari Retreat, set on 66 acres bordered by National Park

With 77 activities spread over 6 courses, it's sure to get

your blood pumping and your hands sweating…if you're

into that sort of thing. You'll find us at the wineries,

thanks! Still who are we to judge? And with courses of

varying height and difficulty there's something for the

whole family to be able to enjoy this adventure park

safely and with the maximum fun you can have hanging

off a rope in the middle of a forest.

High ropes and flying foxes will have you dizzy with

exhilaration and prices start from $44 per adult and $36

per child.

So whether you're looking for an adventure filled holiday

getting back to nature, or if you're happier curling up

near the fire with a good book and an even better glass

of wine, Margaret River is the place for you. Local or

interstate travellers can enjoy the best that this area has

to offer, all that we ask is that you have a glass of wine

for us.

The Forest Adventures South West park for a high rope adventure

SERVICES:

DIRECTIONAL DRILLING

PIT & PIPE

CABLE HAULING

CABLE LAYING

TRENCHING

EXCAVATION & CONSTRUCTION

EARTHWORKS

SITEWORKS

UNDERGROUND UTILITIES

POLYWELDING

PLANT HIRE

SERVICING THE MINING, ENERGY, OIL AND GAS INDUSTRY

www.tielemanexcavation.com.au haydn@tielemanexcavation.com.au 0400 502 695

www.ausemergencyservices.com.au 44
---
IN THE SPOTLIGHT

In each edition of the Australian Emergency Services Magazine we

feature a profile on a person, team, partnership, squad or unit

to showcase their unique contribution to the emergency services

industry. If you would like to be featured or know someone who

deserves some recognition get in touch with our team.

THE SES WA

MOUNTED SECTION

The WASES Mounted Section was formed in August 1987 by

Dave Emery, a member of the Armadale SES Unit. It is the

only mounted section unit in the SES. Early in 1988 Dave

Emery recruited a Training Officer, Helen Iles, who officially

joined the Service in February and commenced to develop

training suitable for mounted personnel and implemented a

training programme and leadership structure for the Unit.

In early 1997, the Unit was approached to assist with

the equestrian activities for the International Tattoo and

commenced selecting and training horses for the Kings

Troop Royal Horse Artillery and the Royal British Armoury.

This training continued for six months and culminated in a

month of working with the British contingent and taking a

role as safety riders and handlers for the whole of the event.

This included riding roles as Squires and unmounted roles of

Crash Team members and grooms. This was a major highlight

of the Mounted Section's non-operational activities.

In 2001 the Unit was handed the role of Animal Evacuation

and commenced training SES volunteers from across the

In 1991, after several searches in which the Mounted Section

were involved, it was decided the Unit should become a

Regional Resource and was taken over by Metro Region.

Helen Iles was nominated by the Unit for the position of Local

Manager, and was appointed to the position by WASES in

April 1990.

In the early years the Units meetings were held in hotels and

members houses while training took place at various venues.

The Unit's first official search was in February that year, at

Araluen, searching for Susan Elliot, an abducted schoolgirl.

Requests for the Mounted Section started to flood in,

including requests for displays and attending parades. The

Unit was invited to attend the Rockingham Anzac Parade,

which continues to the current day. Many musical displays

have been performed over the years, from Emergency Expos

to the Night of Stars.

Anzac Day Parade Rockingham

45

www.ausemergencyservices.com.au
---
Units. The Unit was a joint winner in the National Safety

Awards, in the Pre-Disaster Category, along with Animal

Emergency Group counterparts RSPCA and WA Rangers

Association.

Until the Introduction of ESL funding in 2001 The Mounted

Section was strictly self-funded. Apart from some help with

courses and the purchase of radios the Unit had to raise its

own capital to function. Doing pony rides, selling chocolates,

assisting at Skyshow and any other opportunity that arose,

raised money. Since the introduction the Unit has been

provided with an annual budget to assist in its running costs.

The Unit Budget is part of the Metropolitan Region Budget.

In 2001 thanks to Unit fundraising, applications for grants

and considerable lobbying and hard work by the then Local

Manager, Helen Iles, the Unit obtained its first vehicle.

Over the years the Unit's profile has evolved from simply

being a specialist search unit to include responsibility

for management of the SES Animal Rescue Unit and the

provision of operational support to Region and other units

during hazards such as storms, cyclones, floods and fires.

The uniform for the horses. Image: Facebook

Helen Iles writes of the joy of being a part of the SES

mounted section,

"From a mounted member who has been in the Unit since its

conception, it means a whole range of things – it means 'serving

your community', and what better way to do it than from the

back of your horse. It means 'taking on a commitment' but

that commitment is made easy and enjoyable because you are

committing your time with like-minded people, and the horsey

fraternity do gather together like a herd. It means 'making a

lot of friendships'. You cannot help that with the wonderful

group of people who join the Unit, and we bond probably more

strongly because of the work we do and knowing the sort of

things we are likely to encounter in our role of searcher, so we

support each other wholeheartedly, and we enjoy our horses and

riding without the need to be competitive. It means 'having fun'.

Although the role we take on is one of vital importance (I mean,

it's not every day you get called out to go and save someone's life,

which in effect is exactly what we do) being a mounted member

can bring many unforgettable memories and experiences that

you most likely wouldn't get elsewhere."

Horse and Rider assessment

In 2005 the Unit was challenged to prove its value to FESA

in roles other than Search and Rescue. A thorough review

of the Units skills, functions and members commitment was

held and the Unit was able to outline how it could expand

its support roles in area for which FESA was the Hazard

Management Authority as well as its specialist Search and

Rescue role.

The WASES Mounted Unit has a wealth of information about

training, duties and criteria for horses on their website. They

also have a great Facebook page where you can follow the

amazing work they do and check out the beautiful horses

that belong to this unique team.

Thanks to the SES WA Mounted Section webpage for

information and images.

www.seswamountedsection.com

The mounted section of the SES is such a unique unit to be

a part of. Mounted section members must have their own

horse and have gone through the normal SES training as any

other member. They must be proficient riders as the unit can

be called to all sorts of terrain. The horses themselves have

to meet quite a criteria in order to be accepted into the unit.

The age, breed and temperament of the horse are extremely

important. Horses must be fit enough to withstand all terrain

and long hours. They must be able to be led easily, work

alongside other horses and not be affected by such things as

helicopters flying overhead or cars alongside.

Missing Person Search in Midland 2019
---
Get

storm

ready.

Storms can strike at any time, that's why it's important

to always be prepared.

Prepare your home

Stay safe while driving

Trim trees and branches close to your house

Secure loose items in your backyard

Clear gutters, downpipes and drains

Get your roof checked for damage or corrosion

Make sure all shades, sails and awnings are

properly fitted

Get your insurance up-to-date

Always follow flood warning signs

Never drive through flood water

Shelter vehicles under cover, not under trees

Avoid driving when a storm is coming

Get your insurance up-to-date

Helpful hints:

You can ask the council or energy

company to check trees on your street

that may pose a threat to your property or

powerlines.

Even if you've cleared your gutters

recently, they can soon fill up with leaves

and other debris, especially after a

downpour. On average you should check

they're clear every couple of weeks.

If you don't already know your neighbours,

go and introduce yourself. They might

need a hand getting storm ready. Plus,

when bad weather strikes it's important to

be able to tell the SES who lives nearby.

Make sure everyone in your household

knows what to do in severe weather.

For tips on developing a house

emergency plan use the SES guide at

www.stormwise.com.au

If you do need help during a severe storm, call the Queensland State Emergency Service on 132 500

Principal Partner

G018213 11/16
---
ARE

THEY

TRIPLE

OK?

We're always there to help.

Let's make sure we help each other and ask R U OK?

ruok.org.au/triple-ok