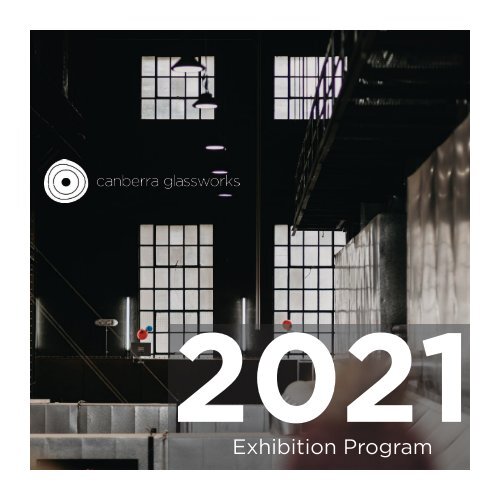 Create successful ePaper yourself
Turn your PDF publications into a flip-book with our unique Google optimized e-Paper software.
2021

Exhibition Program
---
Image credit: Scott Chaseling, Font (Red & Blue), 2020, glass. Photo by Brenton McGeachie for Canberra Glassworks.
---
Canberra Glassworks is Australia's national centre for artists who work with glass, a core cultural

asset at the heart of the Kingston Arts Precinct and a place where we embrace experimentation,

education and engagement.

Our 2021 program reflects our aspirations as a leading Australian cultural institution and the national centre

for glass making and recognises the role we have to play for artists, communities living and working in the

ACT and visitors to our nation's capital. We recognise the benefits of participation in the arts, the positive

impact this has on health and wellbeing, connectivity and inclusiveness and its role as a conduit to freedom

of expression and the building of bridges between cultures. Our commitment to First Nations Peoples is

embedded into all our work, acknowledgement of their culture is evident in our programming.

Image credit: Megan Cope & Canberra Glassworks, Process of Swedish overlay, 2020, blown glass

3 | EXHIBITION PROGRAM | 2021
---
THE

REDEMPTION

OF COLOUR

SCOTT CHASELING

Curated by Aimee Frodsham

14th January to 11th April

From architecture to fashion, has contemporary life

become too monochrome?

Chaseling investigates our complex relationship with

colour and what colour symbolises today. By using

transparent coloured glass in geometric formations, he

creates pieces that shift, change and evolve only through

physically experiencing them in person.

Image credit: Scott CHASELING, Sanctuary (detail), 2020, blown glass.

4 | EXHIBITION PROGRAM | 2021
---
UNBROKEN

CONNECTIONS

MEGAN COPE

Curated by Irina Agaronyan

20th May to 18th July

Unbroken Connections is the exhibition resulting from

Cope's residency at Canberra Glassworks in 2020 and

2021. During her residency, Cope worked with a variety

of techniques to produce a distinct body of work that

includes shield forms made from blown glass on which

the artist used the 'battuto' technique to carve away the

layers and 250 dugong bones cast from recycled television

screen glass.

Cope is a Quandamooka woman from Minjerribah

(North Stradbroke Island) in South East Queensland. In

this exhibition the artist explores the ongoing connection

her People have had with the island for thousands of years

and the unbroken connections between country, family

and nature.

Image credit: Megan COPE, The tide waits for no-one, 2020/21, kiln cast TV glass,

yungan (dugong) bones, minjerribah mineral sand, light box.

Photo by Brenton McGeachie for Canberra Glassworks

5 | EXHIBITION PROGRAM | 2021
---
LOCAL

CANBERRA

EMMA ELIZABETH ANDEW SIMPSON

TOM FEREDAY ANNA VARENDORFF

TOM SKEEHAN

Curated by Emma Elizabeth

29th July to 5th September

Local Canberra offers an opportunity to explore the

present and future of design through the work of

five designers – Emma Elizabeth, Tom Fereday, Tom

Skeehan, Andrew Simpson and Anna Varendorff. It will

acknowledge the importance of design in today's culture

and recognise those designers whose talent, vision and

desire to innovate, will set a standard for the future. The

imagination, diversity, and techniques on display will

attest to the crucial role these five designers have in the

ongoing construction of cultural heritage.

Image credit: Tom SKEEHAN, Milan HARU Glass Light (detail), 2019, blown glass

Photo courtesy of the artist.

6 | EXHIBITION PROGRAM | 2021
---
NET WORTH

LOUIS GRANT

JESSICA MURTAGH

MADISYN ZABEL

Curated by Aimee Frodsham

16th September to 24th October

Net Worth showcases three emerging artists working

in glass; Louis Grant (ACT), Jessica Murtagh (SA)

and Madisyn Zabel (ACT). Each provide a unique

commentary on today's expectations of self-worth,

perceived worth and financial worth, and how evolving

values may guide our future.

Image credit: Louis GRANT, Queer (vulnerability), 2019, neon, glass

Photo courtesy of the artist.

7 | EXHIBITION PROGRAM | 2021
---
UPENDING

EXPECTATIONS

CONTEMPORARY GLASS

Curated by Frances Lindsay AM

October to January

As the title Upending expectations: contemporary glass

implies, the focus of this exhibition is on artists whose

experimental, innovative and at times cross-disciplinary

practice, utilises glass and its properties of light,

transparency and reflection, through a diverse range of

approaches. The selection of artists has come from this

strong rationale and includes ten Australian artists;

Gabriella Bisetto, Cobi Cockburn, Nadège Desgenétez,

Mel Douglas, Rose-Mary Faulkner, Nicholas Folland,

Jonathan Jones, Kirstie Rea, Harriet Schwarzrock and

Brendan Van Hek along with international artist

Annie Cattrell (UK). The exhibition is scheduled to tour

from 2022 to 2024 supported by the Australia Council for

the Arts through the Contemporary Touring Initiative. Five

regional and metropolitan public galleries from Victoria

through to the Northern Territory have been confirmed.

Image credit: Brendan VAN HEK, Light Elevation, 2020, neon, wood

Photo by Brenton McGeachie 2020.

8 | EXHIBITION PROGRAM | 2021
---
ARTIST RESIDENCIES

CANBERRA GLASSWORKS residencies are awarded to emerging and

established artists who have achieved significant recognition for their technical

and artistic work. The residencies on offer provide a range of benefits such as

studio, materials and equipment access, in exchange for their contribution to

the cultural life of the Glassworks.

MEL DOUGLAS (ACT)

Art Group Creative Fellowship

ANNETTE BLAIR (NSW)

Flux Mentorship

New to 2021

KARENA KEYS

Thomas Foundation Mentorship

New to 2021

PATRICIA PICCININI (VIC)

CONSUELO CAVANIGLIA (NSW)

JOHNATHAN JONES (NSW)

NGAIO FITZPATRICK (ACT)

ROBYN CAMPBELL (ACT)

LIAMFLEMMING (SA)

JACQUELINE BREADLEY (ACT)

Artists In Residence

KIRSTIE REA (NSW)

MEL DOUGLAS (ACT)

2021 Intensive Professional

Workshop

CARMAN SKEEHAN (ACT)

JIANZHEN WU (SA)

Graduate In Residence

TBA

Writer in Residence

TBA

Creative Access Residency

TBA

ACT Region School Residency

2021 Residency program is supported by the Australia

Council for the Arts

Image credit: Brenden Scott French (Art Group Creative Fellow 2020), work in progress (detail), 2020, kiln form glass.

Photo courtesy of Canberra Glassworks.

9 | EXHIBITION PROGRAM | 2021
---
canberraglassworks.com

11 Wentworth Ave, Kingston ACT 2604

T 02 6260 7005

E contactus@canberraglassworks.com

opening hours

Wed to Sun 10am to 4pm

Government Partners

Canberra Glassworks is supported by the ACT Government through artsACT and the Australian Government through the Australia Council, its arts funding and advisory body.

Art Group Creative Fellowship

Creative Partner