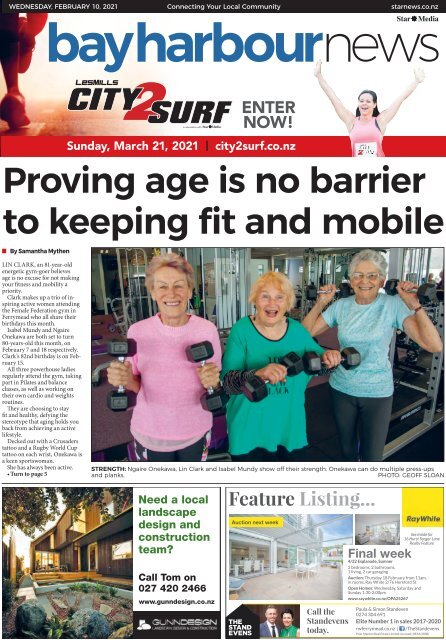 Bay Harbour: February 10, 2021
You also want an ePaper? Increase the reach of your titles
YUMPU automatically turns print PDFs into web optimized ePapers that Google loves.
WEDNESDAY, FEBRUARY 10, 2021

Connecting Your Local Community

starnews.co.nz

Proving age is no barrier

to keeping fit and mobile

• By Samantha Mythen

LIN CLARK, an 81-year-old

energetic gym-goer believes

age is no excuse for not making

your fitness and mobility a

priority.

Clark makes up a trio of inspiring

active women attending

the Female Federation gym in

Ferrymead who all share their

birthdays this month.

Isabel Mundy and Ngaire

Onekawa are both set to turn

80-years-old this month, on

February 7 and 18 respectively.

Clark's 82nd birthday is on February

15.

All three powerhouse ladies

regularly attend the gym, taking

part in Pilates and balance

classes, as well as working on

their own cardio and weights

routines.

They are choosing to stay

fit and healthy, defying the

stereotype that aging holds you

back from achieving an active

lifestyle.

Decked out with a Crusaders

tattoo and a Rugby World Cup

tattoo on each wrist, Onekawa is

a keen sportswoman.

She has always been active.

• Turn to page 5

STRENGTH: Ngaire Onekawa, Lin Clark and Isabel Mundy show off their strength. Onekawa can do multiple press-ups

and planks.

PHOTO: GEOFF SLOAN

Feature Listing...

Auction next week

Call the

Standevens

See inside for

16 Hurst Seager Lane

Realty Feature

Final week

4/22 Esplanade, Sumner

2 bedrooms, 2 bathrooms,

1 living, 2 car garaging

Auction: Thursday 18 February from 11am,

in rooms, Ray White 2/76 Hereford St

Open Homes: Wednesday, Saturday and

Sunday 1:30-2:00pm

www.raywhite.co.nz/OPA25267

Paula & Simon Standeven

0274 304 691

Elite Number 1 in sales 2017-2020

rwferrymead.co.nz | /TheStandevens

today.

Prier Manson Real Estate Limited Licensed ( REAA 2008)
---
2 Bay Harbour News Wednesday February 10 2021 Latest Canterbury news at starnews.co.nz

GENERAL INQUIRIES Ph 379 7100

CLASSIFIED ADVERTISING Ph 379 1100

Star Media, a division of Allied Press Ltd

PO Box 1467, Christchurch

starmedia.kiwi

NEWS

Samantha Mythen

Ph: 021 919 917

samantha.mythen@starmedia.kiwi

ADVERTISING

Jo-Anne Fuller

Ph: 364 7425

jo.fuller@starmedia.kiwi

Rob Davison

Ph: 021 225 8584

rob.davison@starmedia.kiwi

The best-read local newspaper,

delivered to 10,514 homes every week.

Brookhaven • Heathcote • Ferrymead

Redcliffs • Mt Pleasant • Sumner • Lyttelton

Diamond Harbour • Governors Bay • Akaroa

what's on

this week

Sumner Bridge Club

Monday 7.15pm, Wednesday 1pm

57 Dryden St, Sumner

For fun, friendly and competitive

bridge. If you have any questions,

send an email to sumnerbridgeclub@

gmail.com

Staying Safe – a refresher

driving course for older drivers

Tuesday, 9.30am-2.30pm

Trinity Church Hall, Rue Lavaud,

Akaroa

This free classroom based course

will help re-familiarise yourself with

traffic rules and safe driving practices.

It will also increase your knowledge

about other transport options and

help you remain independent for

longer. RSVP ph 304 8659

Limber Up Ladies

Wednesday, 2pm

Trinity Church Hall, Rue Lavaud,

Akaroa

Gentle, slow, balance, stretch and

move following a Canterbury District

Health Board programme. Nothing

strenuous, just keeping the body and

mind awake. Stay for a cup of tea if

you fancy. Every Wednesday.

New Parents Coffee Group

Wednesday, 11am

The Front Room Cafe, Mt Pleasant

Community Centre

Meet with new parents in your

community and make new friends

and connections with people who

are going through many of the same

things as you. Every Wednesday.

Floral Arrangement Workshop Friday, 11am-12pm, Mt Pleasant

Community Centre Garden. A fun and informative ideas workshop. Take

something from your garden to share (flowers or greenery), something to

take your creation home in (case or vessel), and they will supply everything

else. No charge, although a koha is appreciated. Register your interest,

phone 384 1656.

Free Hearing Test

Wednesday, 10am-4pm

39 Rue Lavaud, Akaroa

Free hearing test with Brenna

Sincock, organised by the Akaroa

Resource Collective Trust. To make a

booking phone 390 2332.

Wā Kōrero-Storytimes

Wednesday, 10.30am-11am

Matuku Takotako: Sumner Centre

Meet others in the community

when you and your pre-schooler join

in for a fun variety of stories, songs

and rhymes which foster children's

literacy. All whānau and caregivers

welcome. Free, no bookings required.

Create n Connect Art and

Craft Group

Thursday, 10am-12pm

St Andrews, 148 Main Rd, Redcliffs

Company and creativity. Take your

project to work on, or if you are stuck

from inspiration, the group can help

you find some. $3 per session. Phone

Beth for more info 022 678 1252.

Wā Pēpi-Babytimes

Friday, 10.30am-11am

Lyttelton Library

Meet others in the community

and join the relaxed, fun group

for interactive songs, rhymes, and

books that will delight and develop

your baby or toddler. All whānau

and caregivers welcome. Free, no

bookings required.

Little River Farmers Market

Sunday, 9am-1pm

4243 Christchurch Akaroa Rd, Little

River

A community run market with a

focus on produce from around Banks

Peninsula.

Sunday

21 MaRCh

#Areyouupforit?

14km, 6km

Community

Fun Run Event

SOIL AND

HARDFILL

DUMPING

WE NOW HIRE

LANDSCAPING AND

GARDEN EQUIPMENT

DIGGERS, TRUCKS, WOOD CHIPPERS, POLE SAWS,

BREAKERS, WATER BLASTERS, ETC.

PLUS WE SUPPLY THE BEST

LANDSCAPE & GARDEN SUPPLIES

•BARKS •COMPOSTS

•AGGREGATES - CHIP, ROUND & BASECOURSE

•SCHIST PRODUCTS •PUNGAS

•DECORATIVE STONE & LANDSCAPING ROCKS

•TRAILER HIRE - FIRST HOUR FREE WITH PURCHASE

•BAG & BULK - PICK UP OR DELIVERED

DYERS ROAD LANDSCAPE & HIRE

PHONE: 03 384 6540

183 DYERS RD, BROMLEY ● OPEN 7 DAYS

Weekdays 7.30am-5pm. Weekends 8.30am-3pm

www.dyersroadlandscape.co.nz

EntER now

www.city2surf.co.nz

www.bigbrothersbigsisters.org.nz
---
• By Samantha Mythen

AKAROA residents believe

there has been a reduction in

city council support due to the

village's service centre being

moved to a different building.

The service centre was

previously housed in the historic

1914 post office building.

However, what remains of

city council support is now

conducted out of the Akaroa

area school and community

library.

Akaroa Ratepayers and

Residents Association president,

Harry Stronach

believes this action

is detrimental to

the community.

He spoke at the

Banks Peninsula

Community Board

meeting last Monday.

"We don't have

a citizen hub like

they do in Halswell.

Instead, the Akaroa

Library cannot

provide the full

council service,"

Stronach said. He

wants the full service

centre back in the old post office

building.

The post office building was

previously damaged in the

February 22, 2011 earthquake.

In 2015, the city council

conducted a consultation

process with local residents on

whether to repair the building

Latest Canterbury news at starnews.co.nz

BUSY: The Akaroa area

school and community

library now hosts the

service centre that used

to be in the historic post

office building (left).

PHOTOS:

VICTORIA ANDREWS

or construct a completely new

service centre.

According to community

support officer Lee Harper, at

the time, a majority of 93 per

cent wanted the old post office

building to be reinstated.

At a cost of more than

$900,000, the building was repaired

and the service centre was

reinstated until now.

Stronach believes the subsequent

transition is inconsistent

and contrary to the 2015 public

consultation.

"It is as if the council have

deliberately gone out of their way

to prove that the consultation

process is a complete waste of

time, by not listening to what the

public have to say."

Although the city council

informed the Banks Peninsula

Community Board in December

that it was no longer cost

effective to continue the service

centre, the public were never

asked for their views.

"The council should have gone

through the proper process of

consultation and then actually

listen to the people," said Stronach.

"There is a widening gulf

between the community and the

council."

Akaroa resident Victoria

Andrews shared her concerns

in a letter to the Sustainability

and Community Resilience

Committee in December last

year.

The city council responded

Wednesday February 10 2021 Bay Harbour News

NEWS 3

Moving service centre concerns residents

to Andrews' concerns in a

memorandum written by Alicia

Wright, manager of operational

process and insights.

Said Wright: "As there has

been a seamless transition to the

library with no interruption to

the service offering, an approach

of informing rather than consulting

was taken."

She said the move of customer

service functions was due to the

challenges of the remote location

and was being conducted under

a trial period completed by June

30.

Stronach disagrees that the

transition has been anything

but smooth and argues the true

challenge is "getting the council

to understand that the 'one size

fits all' approach will not work in

Akaroa."

Andrews believes the new

space is too small to accommodate

the service centre facilities

as well as the library it already

houses.

"City council staff are simply

out of touch with what really

happens in the community,"

Stronach said.

The community board

has requested city council

staff provide an information

report in response to the

concerns raised by Andrews

and Stronach.

NUMBER ONE SUPPLIER

TO THE NZ JET BOATING

COMMUNITY FOR OVER

50 YEARS

• Part Boats & Hulls

• Turn Key Packages

• New Jet Units

• Custom Fabrication

• Expert Advice

SERVICING

Peter Tonkin

03 962 0505

peter.tonkin@hamjet.co.nz

• Spare Parts Retailer

• Jet Unit Refurbishment

• Engine Tune-Ups

• Insurance Repairs

• Impellor Reconditioning

oN sAle Now!

Now only

$35.80

Plus $5 P&H per copy

AvAilAble from stAr mediA:

Level One, 359 Lincoln Road

Addington, Christchurch

Phone 379 7100

your local...

friendly pharmacy

JOIN OUR

CUSTOMER

CLUB

AND SAVE EVERY

TIME YOU SHOP

Spend $150* and

receive a $10 voucher

*Excludes Prescriptions

www.ferrymeadpharmacy.co.nz

WE'RE HERE TO HELP YOU!

Brittany, Orla, Grant (Pharmacist/Owner) Lynley, Lil and Kellie

1005 Ferry Rd, Ferrymead | Ph 03 943 9635 | OPEN 6 DAYS (Closed Sun)

Care &

Compassion

We pride ourselves on the

very highest level of service

If you are thinking about the future,

we can help you explore pre-payment

and pre-planning options. Contact us

for a Free Information Pack.

Cosmetic

Injectables

Facial anti-wrinkle

treatment and dermal fillers

With Dr Lesley McCafferty BDS

MSc (Dent Inplant), BSc (Hons),

MJDF (RCS Lond).

We offer funeral information talks to

groups. Please call us for a speaker to

come to you.

Mark Glanville

Manager &

Funeral Director

(03) 379 0196 | www.simplicity.co.nz

Mike Chandler

Funeral Director

Nick Allwright

Funeral Director

FREE

consultation &

introductory offers

with code BAY20

9 Tussock Lane

Email: info@ferrymead-dental.co.nz

Call: 03 384 7170
---
4 Bay Harbour News Wednesday February 10 2021 Latest Canterbury news at starnews.co.nz

NEW RELEASES

GREAT

Summer

READS

INSTORE!

Saving Justice Truth, Transparency, and Trust

by James Comey

This will not come as a surprise to anyone, including even to the President's most

ardent defenders: Donald Trump lied to me from the start.

Saving Justice is James Comey's searing memoir and guide to reclaiming truth in

the institutions of justice, which have been so badly damaged under Trump. Trump

has managed to convince millions of Americas that our federal justice system

doesn't operate with integrity and that its leaders routinely fail to tell the truth. That

is a dangerous situation that must be addressed and corrected.

James Comey has worked in government in Republican and Democratic

administrations - as a line federal prosecutor, a US Attorney, Justice Dept official,

and Director of the FBI - and he shares stories from his career that illuminate

the indispensable core values of America's justice institutions and why we must

overcome and repair the corrosive damage Trump and his underlings have done

with deception, alternative facts, dishonesty, political payback, and amorality.

Oscar Garden A Tale of One Man's Love of Flying

by dr Annamaria Garden

One day in 1930, a man walked into a department store in London and bought

an aeroplane. Having just learned to fly, Oscar Garden dreamed of flying to

Australia. In his newly purchased aeroplane, he did just that. This adventure

and myriad of others this risk-taker embarked on are recounted in this book.

Oscar's love of flying saw him joy riding to many places in the world, including

New Zealand, South Africa, and up through Africa to Palestine. While based

in London, he joined British Airways and Imperial Airways flying flying boats

across the Empire. Finally, he came to rest in Auckland, New Zealand, after

delivering the Awarua, the second of New Zealand's flying boats, used during

World War II for communication and travel, reducing New Zealand's isolation.

He became Chief Pilot of TEAL, the New Zealand airline, for half of the war

years and beyond, and eventually resigned due to serious disagreement over

management and political agendas. This biography describes Oscar Garden's

fascinating journey through these episodes.

Kremlin Winter

russia and the Second Coming of Vladimir Putin

by robert Service

Vladimir Putin has dominated Russian politics since Boris Yeltsin relinquished the

presidency in his favour in May 2000. He served two terms as president, before

himself relinquishing the post to his prime minister, Dimitri Medvedev, only to return

to presidential power for a third time in 2012. Putin's rule, whether as president or

prime minister, has been marked by a steady increase in domestic repression and

international assertiveness. Despite this, there have been signs of liberal growth and

Putin - and Russia - now faces a far from certain future. Robert Service, acclaimed

biographer of Lenin, Stalin and Trotsky and one of our finest historians of modern

Russia, brings his deep understanding of that country to bear on the man who leads

it. He reveals a premier who cannot take his supremacy for granted, yet is determined

to impose his will not only on his closest associates but on society at large. It is a

riveting insight into power politics as Russia faces a blizzard of difficulties both at

home and abroad.

Sir Bob Charles - The Biography

Limited edition by Geoff Saunders

There are only 1963 copies of the Limited Edition available for sale. They

are individually numbered and signed by Sir Bob Charles, offering readers a

unique opportunity to own a piece of New Zealand's golfing history. 1963 is

significant, marking the year Sir Bob Charles became the first New Zealander to

win a golfing major. This is the first comprehensive biography of Sir Bob Charles.

He embarked upon a career that no New Zealander had chosen before - that

of a full-time touring professional golfer. He competed in the "golden age" of

professional golf in the 1960s and 1970s, and acquired the title of the "best

putter in the world". On the Senior PGA Tour from 1986 he became the man to

beat. With his 1999 knighthood and his elevation to the Order of New Zealand

in 2011 he has been honoured not only for his success as a golfer but also for

the way he has lived his life. The combination of the narrative with over 160

photographs makes Sir Bob Charles - The Biography, a stunning in-depth study

of the life and times of this great New Zealand sportsman.

Battle of Brothers

William, Harry and the Inside Story of a Family in Tumult

by robert Lacey

The world has watched Prince William and Prince Harry since they were born. Raised

by Princess Diana to be the closest of brothers, how have the boy princes grown into

very different, now distanced men? From royal expert and bestselling author Robert

Lacey, this book is an unparalleled insider account of tumult and secrecy revealing

the untold details of William and Harry's early closeness then estrangement. It asks

what happens when two sons are raised for vastly different futures. Were the seeds

of damage sowed as Prince Charles and Diana's marriage painfully unraveled for

all the world to see? What choices has Queen Elizabeth II made in marshalling her

feuding heirs? What parts have Kate Middleton and Meghan Markle played in helping

their husbands to choose their differing paths? And what is the real, unvarnished

story behind Harry and Meghan's dramatic departure? In the most intimate vision

yet of life behind closed doors, with the family's highs, lows and hardest decisions

all laid out, this is a journey into royal life as never offered before.

1005 Ferry rd

Ph 384 2063

while stocks last (see instore for terms and conditions)

Barry & kerry
---
Wednesday February 10 2021 Bay Harbour News

Latest Canterbury news at starnews.co.nz

NEWS 5

'It's a relief to find you're still strong'

• From page 1

The mother of three children,

seven grandchildren and 12

great-grandchildren, played

netball until she was 42. She

even competed against her own

daughters.

Clark has always found her

energy outdoors in nature; a keen

hiker, horse rider and gardener.

She owns a remote cabin in

Lewis Pass, and although is not

climbing the nearby mountain

heights, she still loves to wander

through the beech trees.

Mundy, who lives in Horotane

Valley, used to work in her

family's fruit and tomato

business which kept her strong

and fit. When she finished up

working, she decided to head to

the gym. She's been attending

three times a week for the past

four years.

Onekawa has kept up consistent

gym practice for more than 12

years. She now attends Female

Federation five times a week.

Onekawa can do multiple

push-ups, straight-backed

with her knees up. She also said

she can do side plank rotations

and dips, and has completed

200m within 15 minutes on the

ski erg.

Clark knows the importance of

rest days. She has been attending

the gym on and off since 1998,

and in spite of a hip replacement

CAMARADERIE: Lin Clark, Isabel Mundy and Ngaire Onekawa all attend the gym multiple

times a week, incorporating cardio, strength training, Pilates and balance exercises into

their practice.

PHOTO: GEOFF SLOAN

taking her out of the game for

a while, she is building up her

practice one again. Clark enjoys

chin-ups, the chest press and leg

press.

"It's a relief to find you're still

strong," she said.

When answering why they

attended the gym, Onekawa

promptly stood up from her

chair. "This is why," she said.

Mundy agreed: "To keep my

core strong!"

Clark said: "As you get older,

the physical stuff becomes

terribly important and you

become more aware of your body

and how it works."

"Coming to the gym is a

positive step to being a strong

and complete person."

For Clark, getting to the gym

is also important for the mental

benefits. Her life passions have

been education and theatre;

in 2019, she was awarded the

prestigious Drama New Zealand

President's Award, given to

someone who has significantly

contributed to the drama space

over their lifetime.

They all share the same goal:

To keep going.

There is strong camaraderie

between the three women,

and they love being part of

the community at Female

Federation.

Onekawa said she gets coffee

twice a week with her new found

gym friends.

"It's a sisterhood here," said

Clark.

Jill Kennedy, their personal

trainer is 64-years-old. She

only has glowing reviews of

the fitness levels of the three

women.

"I cannot wait til I retire to

be able to work out with them

all."

Clark said: "We are lucky

enough to be able to work out,

and so we choose to make the

most of this and continue to stay

fit."

JOIN US NOW!

See website for details

Way safer

We're making changes so it's

safer for everyone to get around

We're lowering speed limits in Lyttelton,

Akaroa and some rural areas in Banks Peninsula.

To find out more visit

ccc.govt.nz/haveyoursay

Open for feedback until

25 February 2021

Sign up to Smart Deals & be in the monthly draw for a $100 Dress-Smart gift card!

Open 10am-5pm, 7 Days 03 349 5750

CHRISTCHURCH 409 Main South Road, Hornby

www.dress-smart.co.nz
---
www.grcaudio.co.nz

2013 Volkswagen

Tiguan TSi

CAR AUDIO

h tp: /kaywa.me/8aVDQ

Download the Kaywa Qr Code reader (A p Store &Android market) and scan your code!

my Kaywa Qr-Code

w.valuecarswarehouse.co.nz

My Kaywa QR-Code

w.valuecarswarehouse.co.nz

Bay Harbour News Wednesday February 10 2021

CENTRAL

OTAGO

Apricots, Nectarines or

Peaches Loose

Product of New Zealand

$

6 49 kg

Hellers Fresh Burgers

4 Pack OR PRE–COOKED

SAUSAGES 1kg Plain

(excludeds Flavoured Variants)

$

8 99 ea

6

NEWS

Scholarships, award

to support locals

A NEW initiative of locals helping

Sumner Lifeboat Institute.

locals has started up this year.

"We welcome any request that

The Sumner Ferrymead

meets the foundation's criteria,

Foundation has launched a range

and that helps our people and our

of scholarships and awards to

community thrive," Taylor said.

support residents within its

The foundation focuses on

catchment area.

"locals helping locals," and the

Foundation chairman John Taylor

said: "It is time to add another Christensen two people with strong ties to the

John trustees were delighted when

string to our bow. The six scholarships

and awards – three university

fund two of the new scholarships.

Sumner community offered to

scholarships, two outward bound scholarships

and an environmental award – are "Looking to the future we would like to

Trustee John Christensen said:

an exciting new development."

be able to find other sponsors so we can

This is a new proactive approach for increase the range on offer.

the foundation as they have traditionally "We are open to any ideas, be it new

responded to requests for funding. scholarships and awards, or building on

Over the years the foundation has the concept – for example, a legal practice

helped purchase cycling gear for Olympic might fund a scholarship for a student

hopefuls and assisted others to compete studying law and then provide employment

over the summer holidays."

internationally.

They've also bought equipment for the Further information on the scholarships

and awards can be found on www.

local cricket, hockey and yacht clubs,

as well as supported local schools, and sumnerferrymeadfoundation.co.nz

the Sumner Volunteer Fire Brigade and Applications close on April 15th.

Readers react to last week's

article on plans for speed

limit changes in Banks

peninsula

more rural villages.

Keep up the good work – the Bay

Harbour News is always a good,

informative read – so a big thank you to

the team.

– K Poulsen

Pams Fresh Baby Leaf

Lettuce 100g OR Ready

To Eat Fruit 150g Prepack

$

3 49 ea

Galaxy Camembert, Brie

or Blue 100-125g or Mini

Cinnamon Sugar Donuts

13 Pack

Good

Good Good

Good

Sport

Sport

Sport

$200 $200

Summer $200 Summer

Hamper Summer Hamper * *

Hamper *

$200

Summer

Hamper *

$

3 79 ea

SEE INSTORE

FOR MORE

INFO

Pams Fresh NZ Chicken

Kebabs 8 Pack or Prawns

Cooked & Peeled 300g

$

8 49 ea

Famous Four Square

Pizzas or Mixed

Savouries 24 Pack

BE IN TO WIN

A UE WONDERBOOM

RRP

$

120

BUY ANY 2

V 500ML CANS *

FILL OUT AN

ENTRY FORM

PLACE IN ENTRY

BOX IN-STORE

$

12 99 ea

1 TO BE WON PER STORE

NEW

SEE

INSTORE

FOR MORE

INFO

I am a resident of Diamond Harbour

and I totally agree with

the proposals for all the

areas outlined in your

article.

I use most of those

roads weekly and vehicles

are just travelling too fast,

unsuited to the challenging

and complex driving

conditions.

Driving behaviour has

already improved on the

open road sections that

have had speeds reduced such as the

Teddington Straight and the surrounding

hillside roads between Diamond

Harbour and Lyttelton,

However, traffic is still too fast through

built up population areas such as

Diamond Harbour, Little River and the

I fully support the changes. However,

recent changes between

Cass Bay and

Rapaki are completely

ignored.

Boy racers scream

through at night, tyres

squealing and loud

exhausts.

Sunday sees the

motor-cyclists using

the road as a race

track.

There is

absolutely no point in changing the speed

limits if there is no monitoring of the

speed.

The police seem totally disinterested in

these flagrant law breakers.

Until the police act strongly the excess

speed will continue. – H Fraser

If you have an opinion on a local issue write to the Bay Harbour News.

Keep them to 250 words or less and put 'Letter' in the subject line.

Emails must be accompanied by a name and contact details. Nom de

plumes are not accepted. Email samantha.mythen@starmedia.kiwi

has motoring covered.

free

www.foursquare.co.nz

facebook.com/FourSquareNZ

Specials available South Island only from Monday 1st February until Sunday 14th

February 2021 or while stocks last. Wine and beer available at stores with an off

licence. Wine and beer purchases restricted to persons aged 18 years old and over.

Incorporating

ISSUE 667 | FrIday 20 novEmbEr 2020

The biggest range of vehicles

in one location!

2011 Jaguar

XF Premium

$18,999

See inside for this week's

4WD feature!

113 sherborne st, edgeware

32 Moorhouse Ave | P: (03) 366 7768 | www.valuecarswarehouse.co.nz

See page 4 for more info!

best motorbuys

Incorporating

ISSUE 668 | FrIday 27 NovEmbEr 2020

275 Colombo street, Christchurch

For more see their advert on pages 6 & 7

The biggest range of vehicles

Ce l 021 855 884

Incorporating

ISSUE 669 | FrIday 4 dEcEmbEr 2020

See inside for this week's

Classic Car feature!

PH 03 web

www.drivesouth.co.nz

One Owner!

40 Years Finance

Experience

Cannot be Beaten!

• Talk to us about finance for your next

motor vehicle purchase

Specialising in Finance for Private Purchases

Very quick approvals, sensational interest rates

• From no deposit (terms & conditions may apply)

Hiace spares

Cnr Main South Rd and Epsom Rd, Christchurch

Ph: 03 348 4129 | avoncityford.com

Now Available @ NZ Van Spares

2015 IsuZu D-mAX

4WD Ls D/CAb

NZ new, 3.0 intercooled turbo/dsl,

auto, rare flatdeck with ladder/pipe

racks, reverse cam, service history.

$34,995 $192pw

For more see their advert on page 31

free

best motorbuys

www.drivesouth.co.nz

See inside for this week's

marine feature!

free

best motorbuys

The South Island's leading

motoring resource, filled

with news, reviews and

dealer listings.

Magazine available for FREE

every Friday at a convenient

pick up point near you!

in one location!

www.drivesouth.co.nz

2.4 auto, alloys, ABS, twin airbags.

2005 toyota rav

AUDIO VISUAL

CAR SECURITY

$20,999

$9,990

2008 bmW 320i

2.0lt Petrol, 5 Dr Station wagon,

Climate Control, ABS Bra

Automatic

32 Moorhouse Ave | P: (03) 3

CELLULAR

MOBILE INSTALLAT

REVERSE CAMERAS

RADAR DETECTORS

PARKING SENSO

40 Years Finance

Experien

Can

$10,974 N
---
gardening In February

big range, low price, local advice

tIps For

February

gardenIng

Growfresh

Silverbeet 6 Pack

Assorted

188499

$3.89 each

3 for $ 10

Growfresh

Cauliflower 6 Pack

Assorted

188458

$3.89 each

3 for $ 10

Number 8

Fitted Hose 12m

4 Hose fittings included. Ideal for small- medium sized

gardens.

236445

1

Latest Canterbury news at starnews.co.nz

START

PLANNING YOUR

WINTER GARDEN! You

should think about what

you are planting, where you

are planting it. What beds

are you going to rest? Are

you going to grow a

green crop?

2 3

You can

start thinking about

harvesting your potatoes.

Only replant a crop if you

are sure of no frosts.

Also harvest your

stone fruit.

If you want

another flush of flower

from your perennials

clean up the dead

heads on them!

Now is the time to

fertilise your camellia,

azaleas and viburnums!

Watering is still the

priority for your

garden!

Wednesday February 10 2021 Bay Harbour News 7

Cells to plant

seeds to plant

Growfresh

McGregors

McGregors

Spring Onions 6 Pack

Assorted Carrot Seeds

Assorted Beetroot Seeds

Assorted

328927

139559

188502

$3 $3

$3.89 each

from

3 for $ 10

18

18

each

each

Growfresh

McGregors

McGregors

Endive 6 Pack

Assorted Turnip Seeds

Assorted Swede Seeds

188469

118504

119919

3 $3 18

$3

$3.89 each

for $ 10

18

each

each

tools to get the job done

Bloom

Number 8

Tui

Garden Hand Tools

Pruner

Vegetable Mix 40 Litre

Carbon steel hand. Comfortable TPR Grip.

8mm cutting width. Great

Provides your veges with the

320962, 320961, 320960, 320963, 320964

for precision cutting.

best possible start and sustained

233074

growth throughout the season.

142734

$10 98 $8 98

$13 98

each

4

Stop for a coffee at our:

Free Parking

Plenty of Seating

Fresh New Summer Menu

Great Coffee

Food Made Onsite

Use your airpoints

dollars to pay in

store on purchases

over $75

Mitre 10 MEGA Ferrymead

1005 Ferry Road. Christchurch

Phone: 366 6306

Find us at: /MEGAFerrymead

Opening Hours:

Monday–Friday:

7am–7pm

Saturday. Sunday & Public Holidays:

8am–6pm

www.mitre10.co.nz/local/MegaFerrymead

Ferrymead
---
Bay Harbour News Wednesday February 10 2021

8

NEWS

Latest Canterbury news at starnews.co.nz

Full steam ahead in Bill's backyard

• By Susan Sandys

BILL STANLEY, 67, has created a

model train lovers' fantasy land in

his backyard.

When he and wife Maggie

moved to their new home in Canterbury

five years ago, Stanley saw

"a blank canvas, just waiting for a

garden railway layout."

He set to work, and today has

eight model trains which run

on more than 200m of track, set

amongst a 27m diorama of buildings,

settlements, fields and bridges.

The trains pass through all sorts

of activity amongst the Playmobil

people, vehicles and buildings,

including a wedding outside

Lincoln Union Church, fields being

harvested, and a quarry being

mined.

Some of the buildings, including

the church, Stanley has made

himself, learning first through

the Canterbury Garden Railway

Group of which he is a committee

member, and then teaching himself

along the way.

The track and its impressive

setting, at the couple's home in Lincoln,

is complete with a pond and

real goldfish. It has been a labour of

love, and one that has its origins in

Stanley's childhood.

"Trains just fascinated me as a

child and they still do, we have

been from LA to New York by

train," he said.

His grandfather William Stanley

gave him a Hornby double O

railway set when he was about

five.

William had worked on the

railways, and Stanley has inherited

the whistle that William used

in his job, believed to be as an engineer,

and keeps it on his garden

railway key ring.

Stanley kept the passion for

trains and railways moving

down the generations; he and

Maggie bought their 29-year-old

son Richard his first engine when

he was a baby.

They continued to add to the

collection, and always incorporated

train travel in their overseas

trips. These were for professional

purposes in earlier years

as Stanley travelled as part of his

job as a pharmaceutical company

director.

The trip through the United

States was in the 1990s, while

they also lived in Thailand for

five years to 1998 and travelled

extensively through Europe.

"You can set your clock by the

trains in Switzerland," he said.

While trains in Thailand at

the time were substandard in

comparison, they had been just as

enjoyable to travel on as the country's

elephants and longboats.

Stanley sometimes has groups

come and view his backyard

garden railway creation, and it is

a hobby he enjoys with others in

the garden railway group, which

will be hosting the National

Garden Railway Convention

in Christchurch on Waitangi

Weekend.

He said setting up the train

track, which runs from a purpose-built,

life-size shed, takes 90

ALL ABOARD:

Bill Stanley has

transformed his

backyard into a

garden railway

enthusiast's

paradise.

PHOTO:

SUSAN SANDYS

minutes each time.

"It's quite a lot of work to have

them running to precision, it's

quite common to have derailments,"

Stanley said.

Obstacles such as stones or

grit on the track, or interception

by creatures such as the Stanley

household's pet cats or dogs, were

the cause of such frustrations.

One of the biggest challenges

had been securing the track in

ballast that wouldn't move when

a blower is used to remove pine

needles which have fallen down

from nearby trees.

The Avon-Heathcote Estuary Ihutai Trust

is a non-profit organisation formed to

protect one of New Zealand's most

important coastal wetlands. Each week,

board members will discuss matters

regarding the estuary, its rich history and

what makes it unique. This week Bill

Simpson writes about previous proposals

to mitigate flooding at the estuary

AMONG THE weird and

wonderful ideas for the estuary is

the concept of a dam or barrage.

Such a barrier would give us

control of tidal flows and cut the

risk of flooding of the city and

suburbs. Essentially, a "barrage"

is a dam with gates.

But each time the idea has

cropped up it has been turned

down because of the cost, financially

and environmentally.

ESTUARY MATTERS

Dam idea to help prevent flooding quashed

The chief engineer of the

drainage board suggested in

1963, that a barrage be built from

Moncks Bay to the Southshore

Spit.

This would stabilise the flow

of tidal water in and out of the

estuary and allow dredging of

the estuary channels.

It would stop tidal water

flowing in if there had been

high rainfall and the Avon and

Heathcote Rivers were running

high, thus stopping flooding of

housing areas when there high

tides and high river flows. The

estimated cost was £700,000.

In true Christchurch fashion,

the proposal caused much debate.

Committees were formed,

reports commissioned. Other

ideas popped up; a Commonwealth

Games rowing venue, a

Sumner-to-Spit bridge, an aquatic

playground.

In the end, science prevailed.

Canterbury University produced

a 358 report The Ecology of the

Avon-Heathcote Estuary in 1973.

It concluded that a barrier and

dredging would have detrimental

effects on the biology of the

estuary; in short, the estuary

would be destroyed.

But the idea did not die.

Following the earthquakes of 10

years ago, the city council and

Canterbury Earthquake Recovery

Authority staff were directed

to reinvestigate the barrage

concept for the same reason, to

control flooding.

They concluded the cost would

be $310m or more, and that other

options such as strengthening

stop banks would be cheaper.

Let's hope the idea has been

well and truly buried.

Purchase a

shower and

receive FREE

Enduroshield

coating
---
Latest Canterbury news at starnews.co.nz

Wednesday February 10 2021 Bay Harbour News 9
---
10 Bay Harbour News Wednesday February 10 2021 Latest Canterbury news at starnews.co.nz

LIMITED OFFER

2018

ONLY

$

12,990

AVAILABLE ON

1/3 1/3 1/3 NO INTEREST FINANCE OFFER

Here's the easiest way to get a smart compact car that's brimming with features. Simply make 3 annual payments and enjoy

the nimble and stylish Mirage XLS, along with 15" alloys, hands free Bluetooth, 5 star safety, economy of just 5.0L per

100km and one of New Zealand's best new car warranties.

So don't miss out on this unique opportunity to own a quality pre-owned Mirage for only $12,990.

Normal lending and credit criteria apply. $4,330 + $633.05 fees (which includes PPSR and documentation fees) are payable on delivery, $4,330 in 12 months and $4,300 in 24 Months from delivery date.

Total cost including Fees and ORC's $13,623.05. Offer available while stocks last.

CHRISTCHURCH MITSUBISHI

386 Moorhouse Avenue, Christchurch | 03 379 0588 | christchurchmitsubishi.co.nz

NAVARA

RUNOUT

PER

FROM $91WEEK*

48 MONTH | 10% DEPOSIT | 60,000KM | NFV

FUTURE VALUES VARY BETWEEN MODELS

+ HUGE RUNOUT BONUSES!

NISSAN 150,000 KM'S

FACTORY

5YR

WARRANTY

Finance ooer available to approved applicants of Nissan Financial Services. Ooer based on selected new Nissan models at a vehicle price of $35,990 plus on road costs of $1,240 for Navara 2WD RX-R Manual

(D23UMOP), $34,990 plus on road costs of $1,240 for Navara RX Double Cab 2WD Manual, $76,990 plus on road costs of $1,240 for Navara N-Trek Warrior 4WD. Financed over maximum 48 months with monthly

repayments for Navara 2WD RX-R Manual of $417.57, $3,599 deposit and a nal balloon payment of $19,000, Navara RX Double Cab 2WD Manual of $397.27, $3,499 deposit and a nal balloon payment of $19,000,

Navara N-Trek Warrior 4WD of $972.09, $7,699 deposit and a nal balloon payment of $33,429. Final balloon payment is based on the guaranteed future value of each vehicle (subject to adjustments) (NFV).

Total amount payable over the term $38,643.59 for Navara 2WD RX-R Manual, $37,671.64 for Navara RX Double Cab 2WD Manual, $79,587.28 for Navara N-Trek Warrior 4WD. Fixed Interest Rate 3.9% p.a. 15,000

per year kilometer allowance. This ooer includes an establishment fee of $375 and PPSR fee of $8.05 and $10 per month account keeping fee. If you choose to return your vehicle at the end of the term

Nissan will pay you the NFV (subject to meeting vehicle condition and servicing requirements and agreed km allowance and less remediation costs) which will be applied to your nal balloon payment.

Terms and conditions apply. Excludes all lease and some eet purchasers. Ooer available on eligible vehicles ordered and delivered by 28 February 2021 or while stock lasts. Nissan reserves the right to vary,

extend or withdraw this ooer. Not available in conjunction with any other ooer.

CHRISTCHURCH NISSAN, 321 Moorhouse Avenue, Christchurch

Ph: 03 595 6820

WITH NISSAN

FUTURE

VALUE

christchurchnissan.co.nz

nissan.co.nz

IT Custom www.christchurchnissan.co.nz

Ceiling Banners_Chch_2502x1000_FAem.indd 1 4/02/15 11:
---
Wednesday February 10 2021 Bay Harbour News

Latest Canterbury news at starnews.co.nz

CONTENT MARKETING

11

The first club building completed in 1892. Scows and 30 footers sailing in Moncks Bay, circa 1913.

Yacht club's century-plus of sailing

PROTECTED BY the rugged

hills, known today as Balmoral

Hill, to Englishman J L Monck

the picturesque and sheltered

bay that now bears his name

must have appeared the perfect

spot for establishing a sailing

club. And in 1891, that's just

what he did.

Bringing together a group

of like-minded people, Monck

set up the Christchurch Sailing

Club, becoming the club's first

Commodore. In the early days

the fleet was comprised of large

vessels, up to 24ft, with crews

of two to five keen sailors, who

competed against each other in

regular yacht races.

The early 1900s saw the

introduction of power boats to

the fleet, and in 1906, the first

two-level clubhouse was built.

The club's name was changed to

the Christchurch Yacht Club in

1935, then in 1938 the present

clubhouse was built; however,

age and earthquake damage have

now seen plans to rebuild the

clubhouse being developed.

One of the oldest yacht clubs

in New Zealand, the Christchurch

Yacht Club has operated

continuously since its establishment,

even during the two world

wars.

It has also proved to be a

breeding ground for international

success. Club members

Peter Mander and Jack Cropp

won gold medals at the 1956

Olympic Games in Melbourne,

the first time New Zealand had

entered a yachting team, then

at the Barcelona Games in 1992

club members Leslie Egnot and

Jan Shearer won silver medals in

SUMMER SANDAL SALE

Peter Mander and Jack

Cropp with wind in their

sails in Lyttelton Harbour.

the 470 class. Numerous other

national and world titles have

been won by club members over

the years.

However, you don't have to be

world-class to enjoy the sport of

sailing – anyone, of any age, can

participate, and as the current

Commodore Layton Martin says,

it's certainly not an elite sport.

"People can buy second-hand

yachts, and the club also has

a selection of yachts of different

classes that are available for

members to use," Martin said.

For young people starting

out, the club runs learn-to-sail

programmes, which are designed

to get them out on the water to

learn the various facets of sailing,

at the same time gaining confidence

and decision-making skills

as they move through a range of

classes.

"The juniors start off in the

Optimist, then they move on to

the P-Class yachts, which require

Sailors putting their skills into practice.

greater skills and understanding

of wind direction, after which

they move on to the 12ft Starlings,"

Martin said.

"Our experienced and youngminded

coaches are out on the

water with the youngsters to support

and guide them, and teach

them skills such as getting back

on the boat if it capsizes."

The club's range of programmes

for junior members

also includes a two-night camp

at Takamatua.

"The junior sailing programmes

CYC runs are generously

supported by the Rata

Fashionable

Functional

Summer

Footwear

Miles

Andrews

and Sophie

Gibson

of Mitre

10 MEGA

Ferrymead

on barbecue

duty.

Sick of late night tenant phone calls and being on call 24/7?

Tenants not paying their rent on time?

Can't find a tenant for your vacant property?

Foundation and other charitable

organisations with the aim of

getting kids out on the water,"

Martin said.

"The Ferrymead Mitre 10

Mega store also sponsors the

club and has been supplying it

with Mitre 10 branded sails for

CYC Optimists since 2017."

CYC also promotes and hosts

the Yachting New Zealand 'have

a go' programme through which

schools can book students in for

lessons, as well as running its

own 'elective days' for Redcliffs

School students to learn to sail.

The club offers adult learn-tosail

programmes, too, mostly attracting

the 30-50 age group and

giving people the opportunity to

try a new activity, build confidence

and learn new skills.

CYC has a strong fleet of the

one-manned Zephyr and Laser

class of yachts, which the senior

members sail and are the preferred

choices for competitive sailing.

"The club is particularly strong

in these," Martin said.

CYC holds regular sailing

events and on January 31, it put

on a very successful family fun

day, in which other club sailors

and local children took part.

"It was about kids having fun

and getting on the water we had

great feedback from parents,"

Martin said.

Said Mitre 10 MEGA Ferrymead

marketing manager

Miles Andrews: "The store has

been supporting the Christchurch

Yacht Club for a number

of years and it was great to see

plenty of smiling children on the

water at the family fun day on

Sunday.

"The club's learn-to-sail programme

is an excellent starting

point for people young and old

looking to develop their sailing

skills or simply gain confidence

in the water. The club has such

a welcoming group of members,

which is a testament to their

long-standing history in our

community," Andrews said.

Said Martin: "We are very

proud of our club and its long

history. We encourage people to

come down and give yachting

a go. Our members range in

age from eight to 80-plus, so it's

never too soon or late."

50 %

oFF

ALL SANDALS

From 9th – 15th February

Katrina Green

Operations Manager

027 606 0030

Let us take the stress out of owning a rental property.

Contact us for a free no obligation chat today.

Ray Hastie

Property Manager

027 448 8225

Morris & Co Property Management - Professional Property Management Services with a Personal Approach.

Fashionable • Functional • Footwear

Unit 3, 355 Riccarton Rd, Upper Riccarton

P. (03) 929 0927 E. info@theshoeroom.co.nz

www.theshoeroom.co.nz

We are local experts with

Canterbury-wide knowledge

providing professional Property

Management services with a

personal approach

Ray White Morris & Co Property Management Limited

03 331 6755 morrispm.nz@raywhite.com

canterburypm.co.nz
---
Bay Harbour News Wednesday February 10 2021

12

NEWS

CONTENT MARKETING

The billion-dollar screen opportunity

ChristchurchNZ

is helping identify opportunities for people to reskill and move into other sectors

• By Bree Loverich

FILM AND television

production is one of New

Zealand's largest export

industries.

How big? It's worth $3.5 billion

to the New Zealand economy

every year.

Huge right? And it's only

getting bigger as people consume

more and more content

on streaming platforms, with

growth fuelled by the global

pandemic unemployed. and more time spent

in the living room.

ChristchurchNZ is committed

to securing a larger share of this

industry and is home to Screen

CanterburyNZ, the regional film

office, whose goal is to attract

more – school productions, leavers, and tertiary support

screen business development and

local content creation.

We work with content creators,

service providers, infrastructure

investors and the education sector

to plan for growth, and collaborate

widely to fill gaps, de-

Māori and industry.

velop capabilities and attract new

business to the city. There is huge

potential here for screen production,

and we come to work every

day to fulfil this potential.

To date, Screen CanterburyNZ

has serviced inquiries from

small to large productions of all

formats, as well as supported

business inquiries and studio

infrastructure projects.

Canterbury has been the backdrop

to numerous productions,

most recently Netflix's Letter

to the King, Only Cloud Knows,

Disney's Wrinkle in Time and

Mulan.

However, only a small percentage

of market share in feature

film and television currently

comes to the region. Disney's

Higher unemployment impacts

more significantly on those in

lower skilled roles and our

vulnerable populations – Māori;

Pasifika; young people not in

employment, education or

training; and our long-term

And what are we doing?

We are supporting the journey

for labour market priority groups

graduates, NEET (young people

not in employment, education or

training), impacted workers,

To ensure work isn't duplicated,

tor in Canterbury

and to identify gaps, we are

mapping the support available

from iwi, central and local

government agencies, our

education providers, charitable

trusts, and other support groups.

Impact projects can then be

delivered to provide support

where needed.

It is critical we ensure our

community has access to the

information they need, and is

aware of the help available.

ChristchurchNZ is developing

regional information resources

and working to ensure this gets

into the hands of those who

need it.

Battle scene from Disney's Mulan, filmed in Canterbury.

Mulan, directed by Kiwi Niki

Caro, was partly filmed in Canterbury.

The $200 million film

brought an estimated $7 million

to the Canterbury economy, but

with stronger services and studio

infrastructure the region could

have benefited from a larger percentage

of this production.

James Cameron and Amazon

are currently filming some of the

largest productions in motion

picture history on our shores,

and there has never been more

attention on the country as a

Covid-free location.

These multi-year productions

will support the growth of

the national industry, and put

Christchurch and Canterbury in

the perfect position to provide

capacity for the national industry

to grow and meet unprecedented

global content demand.

One of our big wins from the

last 12 months is the creation of

the Screen Protocols, a guidelines

document making it easier

for productions to film here, and

we've changed local policy to

We are also developing a

Regional Workforce Plan that

identifies the skills available and

needed now and in the future.

This plan will inform central

government investment and

policy in education, immigration

and community interventions;

and will enable us to better

understand what skills

Christchurch's future economy

will require. That in turn will

allow us to work with education

providers to ensure the right

courses are offered.

In times of recession we generally

see an increase in people

choosing to study.

This is an opportunity to upskill

Canterbury's relatively

poorly-educated workforce for

our future economy, to generate

more and better jobs, to increase

productivity, and to raise living

standards and wellbeing.

make it easier to build production

studios in our city.

Home to rugged mountains

and wide-open plains, endless

coastlines, and a pool of talented

filmmakers, we are an ideal base

for productions to shoot whatever

they are looking for. We're

also serviced by an international

airport and the South Island's

largest seaport, as well as New

Zealand's newest and secondlargest

commercial centre.

There is a huge opportunity for

Christchurch to increase its market

share in film and television,

but our focus is much wider than

that. Screen includes high-value

jobs in AR, VR, VFX, animation

and gaming, and opportunities

exist not only for filmmakers, but

for our tech and gaming sector,

as well as traditional industries

like manufacturing, engineering

and construction.

These industries provide the

technicians and experts needed

behind the scenes.

The screen industry also uses

We are supporting Ngāi Tahu's

development of an iwi skills hub

that will create stronger pathways

for young Māori into tertiary

education and skilled jobs.

Among other projects, we are

working with education partners

and mana whenua to increase

aspiration and participation of

students in low-decile schools in

future-focused tertiary study that

will lead to careers in

high-growth areas. We are

seeking to future-proof

Canterbury's labour marke

- we know how vital it is to

new jobs to ensure people

employment options now

in the longer term.

We have invested in a cityinnovation

and entrepreur

ecosystem partnership to s

high-growth potential bus

and future job creation in a

of regional strength and glo

growth opportunity. These

Supernodes are Aerospace

Future Transport; Food, Fi

and Agritech; Health Tech

Resilient Communities; an

High-Tech Services.

Our business attraction tea

working to attract addition

businesses and jobs to the r

the services of tourism and

events suppliers who have been

impacted by Covid-19 and can

create a new customer base to

help diversify their revenue

streams.

While Most importantly, we expect a ongoing thriving

screen sector is the backbone

of a strong creative economy. A

city that prioritises its creative

economy is more vibrant and

attracts a younger generation

into jobs future proofed against

automation.

So keep your eyes fixed to the

silver screen, and you just might

catch a glimpse of our own backyard,

beamed economy. to billions around

future

the world.

economic disruption, there

are many green shoots and

opportunities – one of whi

to develop a workforce tha

highly skilled and can supp

thriving and globally comp

Karen Bree Loverich Haigh is manager a Talent

of Screen CanterburyNZ,

Specialist

the regional

for

film

Innovation

and office Business housed within Growth at

ChristchurchNZ.

Ethique advertisement shoot.
---
Latest Canterbury news at starnews.co.nz

Wednesday February 10 2021 Bay Harbour News

NEWS 13

Heart attack survivor returns

to ocean for Akaroa swim

MARK BONE should be dead.

He should have died in

Melbourne two years ago from

a cardiac arrest that left him

without oxygen for 20 minutes as

emergency workers scrambled to

bring him back to life.

"Normally they stop after six

minutes but for some reason

they kept working on me – I'm

not sure why," Bone said in a

disarmingly calm way.

"I was pretty fit. I used to run

ultramarathons so I guess they

realised I was pretty fit and there

were a lot of ambulance and

fire crew there and once they've

made the effort to turn up, they

want you to survive."

He did, but it has been a slow

return to normality for the

52-year-old wastewater engineer

who spent a week in a coma

before eventually returning

home to Christchurch.

He doesn't run these days,

unsure if his heart will cope

with the pressure and confident

his wife, Jane, doesn't want him

disappearing into the bush for a

five hour run. But he does swim

and will return to the Banana

Boat New Zealand Ocean Swim

Series on February 20 when he

again tackles the Generation

Homes La Grande Swim, a 5km

cross harbour swim from Wainui

to Akaroa.

"I want to do it in under two

hours," Bone said. "Last year the

bay was like a washing machine

and it was a really tough swim

and I finished in over two hours.

This time I want to be well

under."

Event director Scott Rice

said it is people like Bone who

make the Banana Boat New

Zealand Ocean Swim Series so

special.

"Watching how people

overcome adversity in their lives

and how our series plays a small

role in that is humbling and

inspiring," Rice said.

Bone knows he is lucky to be

alive, let alone up to swimming

5km, and admits it is only now

that he realises how big an

impact his cardiac arrest has had

on his life.

"I did suffer a significant brain

injury from the amount of time I

was without oxygen. I'd thought

I was 100 per cent (soon after he

was allowed to return home) but

now I know I was nowhere near

it," he said.

He knows now he had trouble

processing information, that his

memory was poor and that "I

CHALLENGE: Mark

Bone who had a

cardiac arrest two

years ago, plans to

swim 5km in under

two hours in the

New Zealand Ocean

Swim Series.

PHOTO:

GEOFF SLOAN

didn't know what I was doing to

be honest".

His employer, Hynds, kept

him on the books for as long

as they could but he was made

redundant during the Covid

crisis last year and now works for

himself designing rural domestic

wastewater systems.

Last year's Generation Homes

La Grande Swim was Bone's

first at such a long distance.

"I'd swum 3km in training and

thought I would be okay adding

the extra 2km on, on the day, but

it was a leap of faith really. This

time I'm a lot more confident."

The Generation Homes La

Grande Swim also offers a 2km

swim in Akaroa Bay, a 750m

swim and the Banana Boat

OceanKids 100m and 200m

swims for 7-10 year olds.

Are you ready to grow?

Kiwi Gardener is your practical

guide to gardening in New Zealand.

SUBSCRIBE FROM

$

20

SUBSCRIPTIONS FREEPHONE

0800 77 77 10

WWW.GARDENER.KIWI
---
14 Bay Harbour News Wednesday February 10 2021 Latest Canterbury news at starnews.co.nz

REAL ESTATE

Repair, Rejuvenate or Redevelop

16 Hurst Seager Lane, Sumner

Auction: Thursday 4 March

(unless sold prior) As Is - Where Is

5 bedrooms, 3 bathrooms, 4 toilets, 1 living,

2 car garage www.raywhite.co.nz/OPA24531

Enjoying an elevated position to take in

unrivalled coastal views and set on a substantial

parcel of land, this large family home tucked

away at the end of a quiet cul-de-sac on

Clifton Hill is offered to the market on "as is,

where is" basis. With both the interior and

exterior remaining true to its origins, the

property represents a unique opportunity for

a savvy buyer with vision and flair to repair,

rejuvenate and reap the benefits.

With double garaging on the ground floor, and

living and accommodation arranged over two

light-filled upper levels, the cleverly-configured

floorplan has been designed to take full

advantage of the spectacular outlook with

sweeping views across the Avon-Heathcote

Estuary to the Southern Alps from almost

every room. Incorporating five bedrooms,

three bathrooms plus a guest toilet, and a

generously proportioned interconnected

kitchen, dining and living space with adjoining

study, the home will accommodate modern

living with ease and with a multitude of flexible

spaces, will appeal to those seeking to work

from home.

Rich with bird life and featuring easy-care

plantings, the magnificent 1.8-hectare

section's sloping gradient ensures you'll never

be built out and imparts a sense of space and

seclusion while being just a few minutes' drive

from Sumner Beach and 20 minutes from the

central city.

Designed and built to our vendors' specifications,

this property has served as a very special family

home for many years but with the decision to

sell firmly made, this property is a must-see

for buyers ready to tackle a new project.

Auction: Thursday 4 March from 11am, in

rooms, Ray White, Level 2, 76 Hereford Street

(unless sold prior)

Open Homes: Saturday and Sunday 3.30-4pm

ADVERTISING FEATURE

RW Elite NZ Sales Performers

Simon and Paula Standeven

0274 304 691

thestandevens@raywhite.com

CRV still a force to be reckoned with

HONDA ISN'T going to be left

out of the main game.

The mid-size sport utility

vehicle market is crowded and

tempting models just keep getting

added into the mix, Mazda's new

CX-30 has just landed, Toyota's

RAV4 is ever present and there's

a host of others from most

mainstream manufacturers.

But Honda keeps ticking away

with its CRV, and sales of it are

healthy, which has a lot to do

with the upgrades that have

kept it fresh through the years

and for 2021 there are further

enhancements and refinements,

along with a greater emphasis on

safety across the range.

This evaluation focuses on

the five-seater, range-topping

Sport Premium that also has

four-wheel-drive mechanicals.

Interestingly, all CRV models now

get the 1.5-litre turbocharged

engine that was only available

previously in a few select models.

The naturally-aspirated 2-litre

engine has been dropped, but

that's not a bad thing the 1498cc

turbo is a beauty in terms of

refinement and economy, and it

has power outputs that match the

concept of CRV.

Honda has also made some

engineering alterations to make

the CRV more driveable, notably

steering response and stability,

the latter contributing to a solid,

secure feel on the road, the

CRV feels well-attached and

communicative.

More importantly, the majority

of buyers will be interested

in the user-friendly elements

that have been built into the

newcomer. There's a increased

focus on family travel and

what we carry with us, the

air conditioning system has

been improved, the USB ports

up-front are illuminated and

relocated for convenience and

are fast charging, while a wireless

charging pad is now included.

You'd expect nothing less from

Honda, it is a people-friendly

car builder and the CRV's

reputation has made it a class

leader for many years, today it is

still commanding sales, keeping

it near the top end of the leader

board.

The Sport Premium model has

all the kit you'd ever need, and

at $51,000 it is extending to the

price of premium models but

it is part of a value range that

HONDA CRV: Upgrades and enhancements for 2021.

starts at $39,990 and includes

four choices. In-between there's

a Sport 7 (seven seats) at $47,990

and AWD Touring at $43,990.

The Sport Premium wants

for nothing, it has full leather with

electric front seats (also heated),

satellite navigation, keyless entry

and ignition, electric sunroof,

electric tailgate, and 19in wheels,

just to name some of the features

that give you an indication of

where it sits in the market.

Drive is through a sevenstep

continuously variable

transmission, the engine and

gearbox work seamlessly

together, there is little to hinder

engine power, and response to

accelerator request is instant

and fluid. There's no suggestion

of turbo lag anywhere, and

movement is lively and

unyielding.

In terms of performance the

CRV is rated at 140kW and

240Nm, the latter figure available

all of the way from 2000rpm to

5000rpm almost meeting the point

of peak power at 5500rpm, they are

the key ingredients when it comes

to the constant supply of energy.

In Sport Premium form there

are paddle-shifters which will

offer the driver some input into

how the CRV gains momentum,

or for when speed needs to be

chiselled off, they are a great way

to enhance engine braking when

slowing for a corner or a long

descent through the hills.

The CRV is also a well-handling

SUV, it feels encouraging from

behind the wheel. That's the

benefit of what all-wheel-drive is

all about, even though the CRV

is effectively a front-driver, power

is directed rearwards if grip is

threatened or sensors dictate that

power rearwards is demanded.

Nothing has been compromised

in the area where Honda excels as

• Price – Honda CRV Sport

Premium, $51,000

• Dimensions – Length,

4635mm; width, 1855mm;

height, 1689mm

• Configuration – Fourcylinder,

four-wheel-drive,

1498cc, 140kW, 240Nm,

seven-step automatic.

• Performance –

0-100km/h, 8.5sec

• Fuel usage – 7.4l/100km

a car maker – fuel usage.

The CRV is rated with a

7.4l/100km combined cycle

average. During my time with

the test car it was constantly

listing an 8.1/100km average with

5l/100km showing on the readout

at a steady 100km/h, the engine

largely unstressed working over at

just 1900rpm.

Not only has Honda kept the

CRV fresh mechanically, it has

specification levels that will

constantly tempt, there's also

a refresh cosmetically just to

keep up with modern design

trends. The latter aren't quite so

noticeable but they do enhance

appeal.

That's something Honda has

been doing for 23 years with CRV,

and it's a formula that has been

very successful and serves to

prove that ideas and technology

just keep advancing. Today's CRV

is state-of the art, and represents

all that a family car buyer would

want.
---
h tp: /kaywa.me/8aVDQ

Download the Kaywa Qr Code reader (A p Store &Android market) and scan your code!

2

my Kaywa Qr-Code

w.valuecarswarehouse.co.nz

h tp: /kaywa.me/8aVDQ

Download the Kaywa QR Code Reader (a p Store &android Market) and scan your code!

My Kaywa QR-Code

w.valuecarswarehouse.co.nz

Latest Canterbury news at starnews.co.nz

Wednesday February 10 2021 Bay Harbour News 15

Classifieds Contact us today Phone our local team 03 379 1100

Public Notices

Consultation on the draft

Canterbury Regional Land

Transport Plan 2021-31

This is a Public Consultation in accordance with

section 82 of the Local Government Act 2002.

The Regional Transport Committee of the

Canterbury Regional Council (Environment

Canterbury) invites submissions on the draft

Regional Land Transport Plan 2021-31.

The draft Plan outlines an investment strategy

for developing the region's land transport

network over 10 years and we are consulting

to ensure the proposal is in line with the

aspirations of the Canterbury community and

users of the network.

The Plan sets out a vision and strategic

objectives, priorities for investment, and

a programme of transport activities to be

undertaken by Road Controlling Authorities.

It introduces headline targets for road safety,

transport emissions and moving more freight

by rail.

For more information go to haveyoursay.ecan.

govt.nz/regional-land-transport-plan or call

Customer Services on 0800 324 636.

Making a submission

You may make a submission on the draft plan:

• Online at haveyoursay.ecan.govt.nz/

regional-land-transport-plan

• By email to mailroom@ecan.govt.nz

• By post to Regional Land Transport Plan,

Freepost 1201, PO Box 345, Christchurch,

8140.

The closing date for submissions is midday

Friday, 5 March 2021.

Peter Scott

Chair, Regional Transport Committee

9 February 2021

Please contact

Environment

Canterbury with

any queries:

0800 324 636

Trades & Services

DIRTY TILES

& GROUT?

Our unique restoration

processes will make your

tiled areas look NEW again!

We specialise in professional

cost effective solutions for

all your tile & grout issues.

• Tiled shower makeovers

• Re-colouring old grout

• Mouldy silicone replacement

• Professional tile/grout

cleaning, sealing & repairs

Call today for a FREE quote on 0800 882 772

or email darryl.p@theprogroup.co.nz

Your local professional

FOR ALL YOUR

PLUMBING,

GAS &

DRAINAGE

• Bathroom repairs

• Renovations

• Leaks

• Blocked drains

• Gas and drainage

Carol and Chris

Phone 376 5322 or email

chcheast@laserplumbing.co.nz

Atkinson Construction Ltd

• Local qualified licensed builder

• Over 30 years experience

• Building alterations

• Maintenance

• No job too big or small

Dean: 021 480 093

atkinsonconstruction@xtra.co.nz

Trades & Services

PLUMBING & DRAINAGE

Gas FittinG & GuttER CLEaninG

High reach gutter cleaning machine.

No job too big or small.

Local family run Christchurch/

Redcliffs business for all plumbing,

drainage & gas work.

Free Quotes

Call Morgan 0223 758 506

Visit our website - www.mtpd.co.nz

Email - morgan@mtpd.co.nz

Services available from Ferrymead

to Taylors Mistake and Lyttleton

FOR ALL YOUR

★Garden Clean-ups

★Pruning

★Lawn Mowing

★Garden Maintenance

Call us today for a FREE quote

PH 0800 4 546 546

(0800 4 JIMJIM)

CARPET LAYING

Exp. Repairs, uplifting,

relaying, restretching.

Phone John on 0800

003181, 027 240 7416

jflattery@xtra.co.nz

ELECTRICIAN

JMP Electrical.

Experienced & registered..

Expert in all home

electrical repairs &

maintenance. Call James

027 4401715

ELECTRICIAN

Andrew Martin Electrical.

25 years experience.

Specialize in home

renovations, repairs and

maintenance. Call Andrew

0274 331 183

ELECTRICIAN

Andrew Martin Electrical.

25 years experience.

Specialize in home

renovations, repairs and

maintenance. Call Andrew

0274 331 183

PAINTING SERVICES

Mature, reliable,

conscientious &

experienced, reasonable

rates, no job too small!,

call Ron 027 434-1400

PAINTING SERVICES

Mature, reliable,

conscientious &

experienced, reasonable

rates, no job too small!,

call Ron 027 434-1400

PAINTING

&

DECORATING

All types of int/ext

painting undertaken. 30 +

yrs exp. Ph Michael 027

665 4654

PLAN ESTIMATING

Get your plans priced now.

All building projects E

mail eqcshedbuilders@

gmail.com

RENOVATIONS

Small jobs, second hand

kitchen installs incl stone

bench tops, sleepouts and

home maintenance. Call /

txt Greg 022 475 8227

SPOUTING &

GUTTER CLEANING

For a professional reliable

service call Greg at A1

Spouting Cleaning 027

616 0331

STONEMASON

BRICK

&

BLOCKLAYER,

Earthquake Repairs, Grind

Out & Repoint, River/

Oamaru stone, Schist,

Volcanic Rock, Paving,

all Alterations new & old,

Quality Workmanship,

visit www.featureworks.

co.nz or ph 027 601-3145

Trades & Services

WINDOW TINTING

tintawindow

advanced film solutions

99% uv block

fade protection

heat control

reduce glare

25 Years Experience

Free Quotes Canterbury and Districts

03 365 3653 0800 368 468

To Let

RENT ME!

Ideal as an extra

bedroom or office.

no bond required

privacy films

frosting designs

non-darkening films

Workmanship Guaranteed

Lifetime Warranties on Most Films

UV

block

Fully insulated and double glazed for warmth.

Three convenient sizes from $80 a week:

Standard 3.6m x 2.4m

Large 4.2m x 2.4m | Xtra-large 4.8m x 2.4m

Visit our website

www.justcabins.co.nz

for display cabin locations

www.justcabins.co.nz

Tuition

PIANO LESSONS

Catherine Bracegirdle

DipABRSM ATCL AIRMT

12 Ridgeway Pl, Richmond Hill, Sumner

PH. 021 044 5102

www.pianoandtheory.co.nz

catherine.bracegirdle@gmail.com

Wanted To Buy

AAA Buying goods

quality furniture, beds,

stoves, washing machines,

fridge freezers. Same day

service. Selwyn Dealers.

Phone 980 5812 or 027

313 8156

Wanted To Buy

fridge freezers. Same day

service. Selwyn Dealers.

Phone 980 5812 or 027

AAA Buying goods

quality furniture, beds,

stoves, washing machines,

313 8156

.nz

Incorporating

ISSUE 667 | FrIday 20 novEmbEr 2020

iggest range of vehicles

location!

2011 Jaguar

XF Premium

$18,999

See inside for this week's

4WD feature!

sherborne st, edgeware

se Ave | P: (03) 366 7768 | www.valuecarswarehouse.co.nz

See page 4 for more info!

CAR AUDIO

AUDIO VISUAL

free

best motorbuys

Incorporating

ISSUE 668 | FrIday 27 NovEmbEr 2020

275 Colombo street, Christchurch

For more see their advert on pages 6 & 7

The biggest range of vehicles

in one location!

2013 Volkswagen

Tiguan TSi

$20,999

CAR SECURITY

CELLULAR

32 Moorhouse Ave | P: (03) 366 7768 | www.valuecarswarehouse.co.nz

MOBILE INSTALLATION SERVICE

See page 5 for more info!

Ce l 021 855 884

Incorporating

ISSUE 669 | FrIday 4 dEcEmbEr 2020

See inside for this week's

Classic Car feature!

PH 03 web

REVERSE CAMERAS

RADAR DETECTORS

www.drivesouth.co.nz

40 Years Finance

Experience

Cannot be Beaten!

• Talk to us about finance for your next

motor vehicle purchase

Specialising in Finance for Private Purchases

Very quick approvals, sensational interest rates

• From no deposit (terms & conditions may apply)

Hiace spares

Cnr Main South Rd and Epsom Rd, Christchurch

Ph: 03 348 4129 | avoncityford.com

Now Available @ NZ Van Spares

PARKING SENSORS

AERIALS

0800 212 777

One Owner!

DASH CAMERAS

GPS/TRACKING

See our ad on page 2

2015 IsuZu D-mAX

4WD Ls D/CAb

NZ new, 3.0 intercooled turbo/dsl,

auto, rare flatdeck with ladder/pipe

racks, reverse cam, service history.

$34,995 $192pw

For more see their advert on page 31

free

best motorbuys

Ce l 021 855 884

www.drivesouth.co.nz

See inside for this week's

marine feature!

2.4 auto, alloys, ABS, twin airbags.

40 Years Finance

Experience

Cannot be Beaten!

• Talk to us about finance for your next

motor vehicle purchase

free

best motorbuys

www.drivesouth.co.nz

2005 toyota rav

$9,990

2.0lt Petrol, 5 Dr Station wagon,

Climate Control, ABS Braking,

Automatic. $34.63pw.

2008 bmW 320i

$10,974 NoW $7,974 + orC

has motoring covered!

Are you ready to grow?

The South Island's leading motoring resource,

filled with news, reviews and dealer listings.

Kiwi Gardener is your practical

guide to gardening in New Zealand.

From family cars to work trucks, and supercars

to SUVs. No matter what you're looking for,

you can find it all with Drivesouth.

Magazine available for FREE every Friday

at a convenient pick up point near you!

SUBSCRIPTIONS FREEPHONE

0800 77 77 10

SUBSCRIBE FROM

$

20

WWW.GARDENER.KIWI

Specialising in Finance for Private Purcha

• Very quick approvals, sensation

• From no deposit (term
---
16 Bay Harbour News Wednesday February 10 2021 Latest Canterbury news at starnews.co.nz

Make the most of warmer

days with our...

end of summer

Valletta 6 Piece Outdoor

Lounge/Low Dining Set

WAS $

2499

NOW

$

1999

SALE

SELECTED ITEMS – IN STORE & ONLINE

ENDS 01.03.21

SUPER DEAL!

ALL FAIRVIEW 3 Seater Recliner ALL MEMPHIS 7 Piece Dining Set

ALL MATTRESSES

NOW $

1299

NOW $

1389

ON SALE! ON SALE! ON SALE!

Queen Mattress

FROM $

269

All mattress

bases also

on sale!

ON SALE!

MALONE

Modular Sofa

ON SALE!

Ottoman NOW $ 549

1.5 Seater NOW $ 699

Corner NOW $ 749

Buy NZ MAde!

Snap up these SUPER DEALS before they're gone!

Lavender Outdoor

Dining Chair

WAS $

150

NOW

$

95

Dallas Queen Bed – Jet

WAS $

449

NOW

$

349

Clare 3 Seater

Mist Grey or Beige

WAS $

899

NOW

$

599

Sono Boxed Mattress – Queen

Medium Feel

WAS $

599

NOW

$

399

Shop

Online

Nationwide

Delivery

Finance

Options

more super deals online & in store!

END OF SUMMER SALE ENDS 01.03.21.

250 Moorhouse Ave, Christchurch

Ph: 0800 TARGET (0800 827438)

targetfurniture.co.nz

Offers and product prices advertised here expire 01/03/21.

Sale excludes Manchester and Accessories.