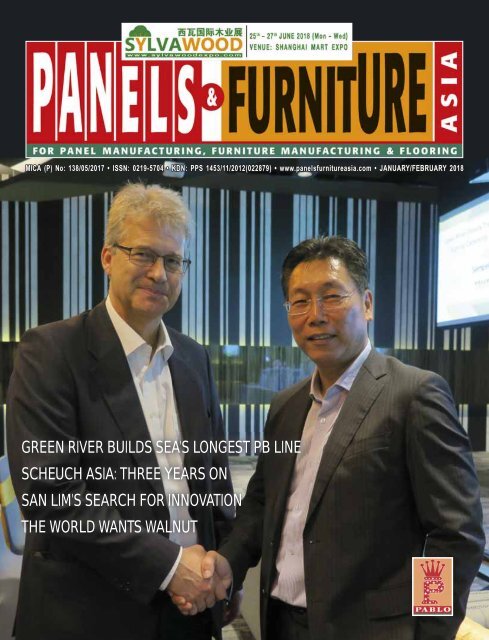 Panels & Furniture Asia January/February 2018
Panels & Furniture Asia (PFA) is a leading regional trade magazine dedicated to the woodbased panel, furniture and flooring processing industry. Published bi-monthly since 2000, PFA delivers authentic journalism to cover the latest news, technology, machinery, projects, products and trade events throughout the sector. With a hardcopy and digital readership comprising manufacturers, designers and specifiers, among others, PFA is the platform of choice for connecting brands across the global woodworking landscape.
Panels & Furniture Asia (PFA) is a leading regional trade magazine dedicated to the woodbased panel, furniture and flooring processing industry. Published bi-monthly since 2000, PFA delivers authentic journalism to cover the latest news, technology, machinery, projects, products and trade events throughout the sector. With a hardcopy and digital readership comprising manufacturers, designers and specifiers, among others, PFA is the platform of choice for connecting brands across the global woodworking landscape.
SHOW MORE
SHOW LESS
Create successful ePaper yourself
Turn your PDF publications into a flip-book with our unique Google optimized e-Paper software.
MICA (P) No: 138/05/2017 • ISSN: 0219-5704 • KDN: PPS 1453/11/2012(022879) • www.panelsfurnitureasia.com • JANUARY/FEBRUARY 2018

GREEN RIVER BUILDS SEA'S LONGEST PB LINE

SCHEUCH ASIA: THREE YEARS ON

SAN LIM'S SEARCH FOR INNOVATION

THE WORLD WANTS WALNUT
---
CONTENTS

14

4 EDITOR'S NOTE: Inspiration

PANEL MANUFACTURING

14 Next generation entrepreneurs

18 New Sandvik Quickdisc enables 'biggest ever'

belt repair at Arauco

20 Green River to build third PB line, featuring

SE Asia's longest continuous press

FURNITURE MANUFACTURING

24 To infinity and beyond

28 How robots will win over the future

24

IN PERSON

30 A life partner for clean air technology

34 Interview with James Xu,

National Hardwood Council,

Shanghai Timber Trade Association

MATERIALS

36 Hardwood Market Report

38 WWW: The world wants walnut

STRUCTURAL ELEMENTS

40 One of these is different from the rest

43 SHOW PREVIEWS

38

52 SHOW REVIEWS

COLUMNISTS

62 Wood Clinic

64 The Malaysian MDF Manufacturers Association Newsletter

65 Global Wood Resources

40

66 CALENDAR OF EVENTS

68 ADVERTISERS INDEX

January / February 2018 • Issue 1 • PANELS & FURNITURE ASIA
---
2018

by Panels & Furniture Group

4 th Edition

25 – 27 June 2018

Shanghai, China

ASIA'S SPECIALISED WOOD MATERIALS

WOOD PRODUCTS TRADE SHOW

ORGANISER

CO-ORGANISER

ENDORSED BY

Shanghai Pablo

Exhibition Co., Ltd.

Shanghai

Timber Trade

Association

French

Timber

American

Hardwood

Export Council

American

Softwoods

Softwood

Export Council

Canada Wood

Thai Timber

Association

Malaysian

Timber

Council

APA-

The Engineered

Wood Association

National

Hardwood

Lumber

Association

www.sylvawoodexpo.com
---
4

EDITOR'S

N O T E

Singapore MICA (P) No. 138/05/2017

panelsfurnitureasia.com

Editor | Lee Zhuomin

zhuominlee@pabloasia.com

Assistant Editor | Pang Yanrong

yanrong@pabloasia.com

Assistant Editor | Sarah Si

sarahsi@pabloasia.com

Lee Zhuomin | Editor

INSPIRATION

LOOKING back, 2017 felt like it never happened and yet it did. It was

hectic, and fruitful and fulfilling at the same time. For us, it marked

a couple of milestones, from posting our first photo on Facebook to

launching the new Wood in Architecture Asia. It was a year of many firsts

for our industry too.

Towards the end of last year, Green River Panels signed a new

particleboard line with Siempelkamp, featuring Southeast Asia's first

ContiRoll Generation 9. At 50.4 metres, it is the longest in the region

(p. 20). Tenants will soon move into JTC Launchpad @ one-north,

Singapore's first light industrial building made from engineered timber

(p. 40). (The building was completed in 2016.)

We also looked back at some of our learning experiences. Sylva Wood

launched three years ago amid some skepticism… The show turned out

to be a success and is now into its fantastic fourth year this June (p. 46).

Similarly, when Scheuch Asia started its regional office in Bangkok, things

were hard at first. It is now very well-established and has clinched some

big projects in the region (p. 30). It can't have been easy in the beginning,

as with every new baby, but this is what business is all about—taking risks.

In the hardwood market, James Xu from the National Hardwood

Council says things have more or less calmed down. The market has

stabilised and is now revving up for trade once more (p. 34). In the U.S.,

sawmills are also poised for a good year as conditions seem favourable

for solid results in 2018 (p. 36).

In the end, we may have lost quite a bit of sleep to jetlag and flight

delays while chasing down stories. But there is nothing like being right

at the centre of the action and witnessing history made before you. We

hope to inspire you with more fun facts and cool stories in the year to

come. Also, don't forget to like us on Facebook and Instagram if you

haven't already!

CONNECT WITH US:

Contributing Editor (Surface & Design)

Kenn Busch | kenn@kennbusch.com

Deputy Executive Editor

(Chinese Edition) | Wendy Wei

pabloshanghai@163.net

Graphic Designer | Edwin De Souza

edwin@pabloasia.com

Admin & Circulation Manager | Shu Ai Ling

circulation@pabloasia.com

General Manager,

Pablo Beijing & Shanghai | Ellen Gao

pablobeijing@163.com

Associate Publisher | Pamela Buckley

pamela@pabloasia.com

Publisher | William Pang

williampang@pabloasia.com

Panels & Furniture Asia is a member of

3 Ang Mo Kio | Street 62 | #01-23 | Link@AMK

Singapore 569139

Tel: (65) 6266 5512

E-mail: info@pabloasia.com

Company Registration No: 200001473N

All rights reserved. Views of writers do not necessarily refl ect the views of

the Publisher. No part of this publication may be reproduced in any form

or by any means, without prior permission in writing from the Publisher

and copyright owner. Whilst every care is taken to ensure accuracy of

the information in this publication, the Publisher accepts no liability for

damages caused by misinterpretation of information, expressed or implied,

within the pages of the magazine. All advertisements are accepted on the

understanding that the Advertiser is authorised to publish the contents of

the advertisements, and in this respect, the Advertiser shall indemnify the

Publisher against all claims or suits for libel, violation of right of privacy and

copyright infringements. Panels & Furniture Asia is a controlled-circulation

bi-monthly magazine. It is mailed free-of-charge to readers who meet a set of

criteria. Paid subscription is available to those who do not fit our terms of control.

Please refer to subscription form provided in the publication for more details.

Printed by Times Printers

@panelsfurnitureasia

Panels & Furniture Asia

is the offi cial publication of

Malaysian MDF Manufacturers Association

January / February 2018 • Issue 1 • PANELS & FURNITURE ASIA
---
6 NEWS

FAO: GLOBAL WOOD PRODUCTION GROWTH

ACCELERATES

GLOBAL production of major wood

products surged in 2016 for the seventh

consecutive year with a growth rate of

three to six per cent, according to new

data published by the UN Food and

Agriculture Organization.

The fastest increase in major

wood products (industrial roundwood,

sawnwood, wood-based panels, wood

pellets) occurred in Asia-Pacific, North

America and Europe driven by positive

economic growth, new manufacturing

capacities in Eastern Europe, particularly

for particleboard and Oriented Strand

Board (OSB), as well as growing demand

for bioenergy.

"Globally, production of all major

products gradually recovered in 2010-

2016 from the economic crisis of 2008-

2009," said Mats Nordberg, FAO Senior

Forestry Officer. "In 2016, the growth

pace in the wood sector doubled

compared to the previous year, and

this positive trend is likely to continue

through 2017-2018 due to global

economic development and higher

demand for renewable energy."

PARTICLEBOARD AND

OSB PRODUCTION GAINS

MOMENTUM

Global production of particleboard

and OSB commonly used in furniture

manufacturing and construction saw the

fastest growth among all wood product

categories. Particleboard production

growth rate soared from 0.3 per cent

in 2015 to eight per cent in 2016,

whereas global production of OSB grew

by 10 per cent last year compared to a

seven per cent increase in 2015. The

surge was mainly triggered by new

mills in Eastern Europe, including the

Russian Federation, as well as increased

production in China and North America.

Russia has recently overtaken

Canada and Germany to become the

world's third-largest producer and

consumer of wood-based panels after

China and the USA. Canada saw doubledigit

growth in production and exports

of wood-based panels in 2014-2016

thanks to increased sales to the U.S. due

to a recovering economy and housing

market. China registered the sharpest

surge of 42 per cent in production of

wood-based panels between 2012

and 2016.

"A rapid growth in wood-based

panel production means storing more

carbon for longer periods compared

with other wood product categories

such as pulp and paper or wood fuel.

This contributes to reducing carbon

emissions in the atmosphere. Another

positive trend is the increase of recycled

wood used in panels which also prevents

carbon release," said Nordberg.

WOOD PELLETS BOOM

CONTINUES

The production of wood pellets has

increased dramatically in recent years

to meet bioenergy targets set by

the European Union. In 2016, global

production grew by another six per cent,

reaching 29 million tonnes, more than

half of which was traded internationally.

Europe and Northern America

accounted for almost all global

production (58 per cent and 32 per

cent respectively) and consumption (81

per cent and eight per cent respectively).

An increase in the United Kingdom's

and the Republic of Korea's imports

and consumption by 0.7 million tonnes

accounted for the increase in the global

consumption and imports due to the

national renewable energy policies in

these two countries.

Consumption of wood pellets in

Asia increased by 17 per cent. The

Republic of Korea became the third

largest wood pellets importer after

the UK and Denmark, driving up wood

pellet production in Vietnam, Malaysia,

Indonesia and Thailand. Imports of wood

pellets also rose in Japan and China. ℗

Medium density fibreboard in a factory in Vietnam

January / February 2018 • Issue 1 • PANELS & FURNITURE ASIA
---
NEWS 7

ANDRITZ SUCCESSFULLY STARTS UP MDF

LINE IN THAILAND

INTERNATIONAL technology Group

ANDRITZ has successfully started up

Panel Plus' second MDF line based in

Hat Yai, Thailand.

The pressurised refining and chip

washing system supplied by ANDRITZ

is the centrepiece of the line. It has a

capacity of 30 bdmt/h and low specific

energy consumption, as well as excellent

reliability. The chip washing system using

the ANDRITZ sedimentation technology

is the first of its kind to be delivered to

Thailand and will be used mainly for

sand removal.

The scope of supply also includes a

maintenance-friendly ANDRITZ C-Feeder

that ensures low energy consumption,

higher system stability and longer refiner

plate lifetime.

Headquartered in Bangkok, Panel

Plus MDF Co. Ltd. was established

in 1990 and is a leading producer

of particleboard, medium-density

fibreboard and melamine-faced papers

for the production of wear and water

resistant panels.

The project adds to ANDRITZ's

success in Southeast Asia, now with over

10 references in Thailand. ℗

Teams from

both Panel Plus

and ANDRITZ

celebrate MDF

Line II's successful

start-up.

PANELS & FURNITURE ASIA • Issue 1 • January / February 2018
---
8 NEWS

CHINESE STUDENTS REIMAGINE THE

NATATORIUM IN TIMBER DESIGN COMPETITION

HOW about jumping into a pool and

coming up for air under a wood-framed

roof? This year's Chinese University

Timber Structure Design Competition

challenged students to re-enact that

experience—to design a swimming

complex that would wow the judges.

The competition, organised for the

second time, was held in Nanjing Tech

University on Nov 19. Liu Weiqing, vice

principal of Nanjing Tech University

delivered the opening remarks and

welcomed participating teams and all

judges. He also acknowledged Canada

Wood China for its strong support for

the competition.

The competition recognises

excellence in wood design and

encourages the academic body to

explore wood as a structural element

for their projects. The competition also

provides a platform for talented students

who would, in future, go on to further

their career in wood design.

Eric Wong, managing director

Southeast University came in first place at the second Chinese University Timber Structure

Design Competition

of Canada Wood China, said he is

looking forward to seeing more

student participation and learning

about wood-frame construction.

Canada Wood promotes the Canadian

lumber industry around the world. It

supports programmes favouring wood

construction, which will in turn increase

export opportunities for Canadian

lumber.

The first prize went to the team from

Southeast University. Tongji and Nanjing

Tech University came in second and third

respectively. ℗

UAE HOUSING BOOM TO DRIVE WOOD

MARKET GROWTH

WITH over 25,000 homes being added

to the UAE's residential market this year,

the wood and furniture market is likely

to witness solid growth.

Wood and wood products are

expected to get a solid boost from

the $2.4-trillion worth of construction

activities, especially when new home

owners start purchasing furniture and

interior décor accessories, industry

experts say.

In the Middle East, 70 per cent of

timber and wood products are used in

construction; the rest are used in real

estate, interiors, furniture and other

industrial applications.

With an average spend of $2,722

on wooden products per home, this

translates to $68 million spent this year

in Dubai alone.

However, with more than 35,000

residential units slated for delivery

in 2018, spend on wooden products

is expected to jump 40 per cent to

$95 million, according to a report released

ahead of the Dubai WoodShow.

"The growth in the housing market

will drive the wood, wood-related and

timber business across the region and

this creates a great opportunity for the

industry," said Dawood Al Shezawi, CEO

of Strategic Marketing and Exhibitions,

the event's organiser.

"As families move into their new

homes, they will require a fresh supply

of furniture. Most families will look for

authentic wooden furniture and products

– wherein lies the new demand."

Al Shezawi said in order to capture

the lucrative UAE market, more than 300

exhibitors from 100 countries are all set

to showcase their innovative solutions

at the next edition of Dubai WoodShow,

which will showcase new designs, style

and product innovation on managing

home space in innovative ways.

The demand for wood products is

also expected to be driven by new hotel

projects.

"Dubai will add 40,000 hotel rooms

and service apartments to meet the

growing demand of tourists as part of

the build-up to the Expo 2020, which

is less than three years away," stated Al

Shezawi.

Dubai's hotel sector has more than

100,000 hotel rooms and serviced

apartments. By October 2020, Dubai will

need to have a strong hotel inventory

of 140,000 hotel rooms and hotel

apartments.

"As we speak, a number of hotel

operators are floating tenders for

wooden beds, tables and wooden interior

products to offer greater comfort to

hotel guests. This is going to be a great

driver of demand for wooden products,"

he added.

The Dubai WoodShow will be held

from March 12 to 14, 2018, at the

Dubai World Trade Centre. ℗

January / February 2018 • Issue 1 • PANELS & FURNITURE ASIA
---
NEWS 9

WOOD IMPORTS THROUGH TAICANG EXCEED

10 MILLION CBM FOR THE FIRST TIME

WOOD products coming through Taicang

Port rose 27 per cent to 10.29 million

cubic metres between January and

November 2017, exceeding the 10

million mark for the first time according

to the Taicang Entry-Exit Inspection and

Quarantine Bureau.

Log volume soared 41 per cent yearon-year

to 7.26 million cubic metres;

sawn wood volume was up 10 per cent

to 3.04 million cubic metres.

Canada, New Zealand, Russia,

Australia and the USA were the top five

suppliers, accounting for 93 per cent

of total imports through the eastern

Chinese city.

Shipments from Australia more than

doubled. Imports from America increased

83 per cent; from New Zealand, 73 per

cent; from Canada, 10 per cent. Russian

imports, however, fell three per cent.

Timber imports through Zhenjiang

Port also rose 18 per cent to 1.15 million

cubic metres as at end November,

fueled by shipments from New Zealand,

Australia, Canada, the USA, Uruguay,

Japan, Estonia and Guatemala. The main

species imported were Radiata pine,

Douglas fir, Caribbean pine, Japanese

cedar and Hoop pine.

Zhenjiang, a city in Jiangsu province,

is also a major hub for wood processing.

The Xinminzhou Industrial Zone, a major

industrial park, was recently completed.

It covers over 300 hectares and was

specifically built for the timber sector.

Source: ITTO

PANELS & FURNITURE ASIA • Issue 1 • January / February 2018
---
10 NEWS

SARAWAK: ALL TIMBER CONCESSIONS

MUST BE CERTIFIED BY 2022

SARAWAK is making it mandatory for

all timber concessions to obtain forest

management certification by 2022.

The new law will be rolled out with

a phased approach and calls for industry

stakeholders to commit to sustainable

forestry management. Previously the

requirement was only implemented on

a select few, Sarawak's Deputy Chief

Minister YB Datuk Amar Haji Awang

Tengah Bin Ali Hasan said. He made the

announcement at the second Global

Timber Conference in November.

He said, "We are also set to reduce

our reliance on the natural forests for

raw materials to feed our timber mills.

Towards this end, we are investing in

R&D for a viable and robust industrial

forest estate in the state.

"My Ministry is setting clear

directions and committed to the

strengthening of our enforcement to

combat and eliminate illegal logging

activities."

The State Government has also

strengthened the Sarawak Timber

Legality Verification System (STLVS) by

providing a formal standard to include

independent third party verification

to ensure compliance of the legality

requirements in accordance with the

laws and regulations of Sarawak.

Datuk Amar, who is also Sarawak's

second minister of urban development

and natural resources, added that full

implementation of STLVS will effectively

address issues raised by environmental

groups, especially from the European

Union, pertaining to the legality of

timber and timber products sourced

from the state.

The national timber certification

scheme, Malaysian Timber Certification

Scheme (MTCS), is one of the 37

certified endorsed schemes under the

Programme for the Endorsement of

Forest Certification Scheme (PEFC).

MTCS is an internationally recognised

scheme and is the first in Asia Pacific to

have accorded international recognition

through its initial five-year endorsement

by the PEFC Council in 2009. It has

also been re-endorsed in July 2014 for

another five-year period.

To date, more than 4.66 million

hectares or about one-third of the

total permanent reserved forest in

the country has been certified under

the MTCS. This is equivalent to 9.6 per

cent of 44 million hectares of the total

certified tropical forest in the world.

The MTCS was also recently accepted

by the Dutch Public Procurement Policy,

opening up greater opportunities for

'Made in Malaysia' timber and timber

products to enter the European Union

market.

Malaysia's timber and timber

products exports was valued at RM22.1

billion in 2016. This accounted for 17.9

per cent of the total export earnings

by the commodities sector and almost

three per cent of total export earnings.

Exports from Sarawak accounted for

approximately 27 per cent of Malaysia's

total timber export, reaching RM5.9

billion in 2016. Timber products is a key

industry for the economy, providing

150,000 direct and indirect jobs. ℗

2017 NHLA ANNUAL CONVENTION BRINGS

HARDWOOD INDUSTRY TO NASHVILLE

THE National Hardwood Lumber

Association held its 120 th Annual

Convention & Exhibit Showcase from

Oct 25 – 27 in Nashville, Tenn.

The Convention brings the hardwood

industry together to form new

partnerships and strengthen existing

ones. It kicked off with a reception with

1,150 hardwood industry professionals,

representing more than 464 companies

and 14 countries.

The opening session on Thursday,

Oct 26, saw John Foley, former lead

solo pilot of the Blue Angels, outlining

steps that organisations and leaders

should take to change culture, avoid

complacency, manage problems and

achieve success.

Members also celebrated 30, 50

and 75 years of membership with NHLA

including a 100-year member, Robbins

Sports Flooring located in White Lake,

Wisconsin.

The second day featured the General

Session and Town Hall Meeting where

seven new members were elected to

the NHLA Board of Managers.

Yugon Kim, founding owner and

partner of IKD discussed the benefits of

building with cross-laminated hardwood

timber. Following Mr Kim, award-winning

speaker and author Eric Chester provided

insights on the lack of labour in the forest

products industry and provided ideas

and strategies for finding and keeping

great people.

There were also presentations on

family business relations, emerging

markets of thermally modified hardwood

and a panel discussion of tomorrow's

global markets presented by the American

Hardwood Export Council.

The NHLA Grading Rules Open Forum

also proposed hardwood lumber grading

rules changes for 2019. NHLA Active

Member companies will receive a ballot in

the next 30 days to vote on the proposed

rules changes. Results will be published

and announced, and any changes to the

NHLA grading rules will become effective

January 1, 2019.

The next NHLA Annual Convention &

Exhibit Showcase will be held Oct 2 – 4 in

Toronto, Canada. ℗

January / February 2018 • Issue 1 • PANELS & FURNITURE ASIA
---
NEWS 11

PANELS & FURNITURE GROUP

More than just a magazine, Panels & Furniture Group of Wood Magazines

delivers world-class stories from the global timber and woodworking sector.

We bring you analyses that power trends and shape opinion in the market.

With an extensive network, we connect you with the timber, panel and

woodworking sector in Southeast Asia and Greater China through our titles:

Panels & Furniture Asia and Panels & Furniture China.

Our readership is also made up of architects, builders, designers and

engineers. They will find ideas and resources that inform their next big

project in construction and fit-outs through Wood in Architecture.

Every year the group publishes American Hardwoods SEA and

American Hardwoods China. The annual periodical is a resource on

U.S. hardwoods and reaches all of Asia.

PANELS & FURNITURE ASIA • Issue 1 • January / February 2018
---
12 NEWS

DOMOTEX ASIA/CHINAFLOOR 2018

NOW OPEN FOR REGISTRATION

THE annual flooring show now invites

visitors to register for the 2018 event,

held from March 20 to 22. 2018 also

marks the 20 th anniversary and to

celebrate, 100 over pre-registered

visitors will be given signature VIP access

to conferences and festivities during

the show.

The show saw a 20 per cent increase

in number of international visitors in

2017, of which the top five countries

were: South Korea, Japan, the United

States, India and Australia.

"I expect our 2018 global visitor

registration and attendance to exceed

the previous edition's results," Shine

Liu, project director of VNU Exhibitions,

said. "The event continues to be the

industry's key meeting point in Asia and

the international fl ooring community

is noticing. We have signed on new

international pavilions (Croatia and

Iran) and hope to organise more country

pavilions to join the ranks of Canada,

Germany, Switzerland, the UK, USA

and Italy."

Highlights include:

InnovAcon

The InnovAction Flooring Campaign

empowers carpet, wood and resilient

flooring enterprises to launch new

products within custom showcases.

These flagship pavilions are designed

by Kostas Chatzigiannis and his team at

KCArchitecture Ltd. Companies looking

for an ideal platform to introduce their

products in the industry will have the

opportunity to reach over 55,000 visitors

at the upcoming show.

Sport Flooring Experience

In the next few years, Asia will host some

of the most important sporting events

in the world. The 2018 Asian Games

in Indonesia, 2018 Winter Olympics in

South Korea, and the 2020 Summer

Olympics in Japan will all require new,

state-of-the-art sporting facilities.

DOMOTEX asia/CHINAFLOOR 2018 is

following suit and organising experience

zones for companies specialising in

sport flooring. The sport flooring area

will host a Badminton Tournament on a

200sqm pitch of artificial sports turf, a

Snow + Ice Experience Zone, and open

the China Green Campus Construction

Forum to visitors interested in discussing

the future of green and eco-friendly

surfaces with municipal governments,

sports bureaus and school associations.

Luxury Brands

VIPs and invited guests can visit Luxury

Brands, a distinct display area presenting

15 renowned carpet design firms who

indulge visitors with a variety of new,

extravagant products. Luxury Brands is

co-organised and sponsored by COVER

Magazine, a key partner of DOMOTEX

asia/CHINAFLOOR. ℗

To register: www.domotexasiachinafloor.com

DOMOTEX Asia will run from March 20 to 22 this year

January / February 2018 • Issue 1 • PANELS & FURNITURE ASIA
---
14 PANEL MANUFACTURING

NEXT GENERATION

ENTREPRENEURS

What does the future of panel

manufacturing look like?

The answer may be found

in the young managers of

Thailand's Metro Ply Group.

t 28 and 26, Rangsinee and

Kanatuch (Ekky) Piyasombatkul

represent a new generation of

plant managers in Southeast Asia that will

one day take ownership of their family's

wood business.

Growing up, they were taught riches

do not endure forever and a crown is not

secure for all generations. They visited

the factory frequently, the value of hard

work, discipline and responsibility woven

into the fabric of their nature at a very

young age.

That this has always been in their

DNA meant Ekky "never really thought

of anything else except to step into the

role," he says.

"My father is a very serious man and

a personal motivation for me. He would

say 'no one is going to support you, you

have to support yourself and be the

family leader one day.'"

Stepping into the world of wood

panels with no experience or credibility—

and expected to manage it one day—is

a mammoth task. The learning curve is

steep and there is no hand holding.

The second of three children, Ekky

manages the particleboard and flooring

products business. He started learning

about machines first, from staff who have

worked in the factory for decades. In the

meantime, he also made the effort to get

to know them and their families.

Cousins Rangsinee and Kanatuch

(Ekky) Piyasombatkul have been tasked to

manage their family's panel business, and one

day grow it beyond its current capacity.

January / February 2018 • Issue 1 • PANELS & FURNITURE ASIA
---
PANEL MANUFACTURING 15

His cousin Rangsinee is in charge

of Advanced Fibre, the Group's fourth

and newest MDF line. The second of

five children, she returned to Thailand

after graduating with a degree in

mechanical engineering from Imperial

College London in 2011.

"Our parents were part of that

generation that struggled from

nothing into something. It was always

part of the plan that we continue

what they have built," she says.

She started shadowing her father

at meetings and through careful

observation, grew to understand the

panels business on a deeper level.

Subsequently, she found her place in

the massive conglomerate. In 2015,

when the Group decided to build

Advanced Fibre, it was like starting

from the beginning again. This time,

armed with experience, things began

to make more sense. She was involved

in the negotiations and personally

saw the project from start to finish.

PANELS & FURNITURE ASIA • Issue 1 • January / February 2018
---
16 PANEL MANUFACTURING

"I saw how my general manager

dealt with suppliers, how different

machinery came together, how boards

are produced successfully and how to sell

them," Rangsinee shares. As she gained

experience, people also started to ask for

her opinion, she adds.

EVERY PART IS IMPORTANT

The Metro Ply Group produces

plywood, and owns four MDF and

three particleboard lines. Its fourth and

newest MDF line, Advanced Fibre, is

The factory stresses safety and

cleanliness for the benefit of employees.

But there is also a practical reason

behind this culture. Firstly, for machines

to work at optimal level, they need to

fit like a jigsaw. And for that to happen,

excess residue and saw dust must be

removed, "otherwise you have to hit the

stop button and clean for hours. It's not

a job you outsource to a cleaning lady,

it's a lot of headache and it wears

down your people," Rangsinee

emphasises.

It is one of the reasons why the

factory was serious about having a

good dust extraction system to reduce

downtime and workplace accidents.

Ekky adds, "Scheuch is the innovator

in this field. The office* in Bangkok is

an advantage. We never thought we'd

have a local contact where we could

drop in anytime." The best thing he

likes about the partnership, he says, is

communication.

"Machines will always cause you

problems but if a supplier has set his mind

Dust extraction system delivered by Scheuch

a highly-automated, high speed thin

board line. It features a 28-metre long

CPS+ continuous press and equipment

from Europe.

Advanced Fibre has a total annual

capacity of 240,000m 3 . It sources

rubberwood and some eucalyptus from

the southern and eastern parts of Thailand.

Building began in early 2016 and the first

board was commissioned on July 4, 2017.

The 2mm MDF boards are now exported

worldwide and mostly used in indoor

furniture.

The smallest component, she adds,

makes a huge difference to the plant. For

example, dust extraction systems and

fibre sifters are often overlooked as vital

elements for success. But it helps create a

clean environment that allows the factory

to produce panels efficiently.

She says, "People always see the press

as the main star. At commissioning, it gets

the most attention. But I don't think any

part is insignificant or secondary because

in the end they all help production run

smoothly."

to solve that problem, it will be solved.

The best companies are not the ones that

make good machines. They are the ones

that help us along the way as well."

Yet it did take some convincing for

the company's shareholders to agree to

a premium suction solution since most

of them are not technically involved in

the factory's set-up. But the engineering

team persevered.

"We are not a newcomer that

dismisses machinery as 'unnecessary.'

We are operating on European standards

January / February 2018 • Issue 1 • PANELS & FURNITURE ASIA
---
PANEL MANUFACTURING 17

now. We want the best of the best

because we will have to live with the

decision for the next few decades,"

Ekky says.

KEEP GROWING

Today both Ekky and Rangsinee have come

a long way from Day One. There have been

good days and poorer moments but at the

end of it, they say it's about learning on

the job, coming back from failure, fixing

mistakes, going to bed and waking up

again, ready to face another day.

Rangsinee also runs Pink Berry with

her older sister on the side. Although

frozen yoghurt and wood have nothing

in common, she was able to apply her

management skills to the franchise

business.

"Be it frozen yoghurt or any field,

our parents want us to stand on our

own feet and be decision makers,"

Ekky says. As a hands-on person, he

spends most of his time in the

factory, giving him little else to think

about.

*Advanced Fibre is Scheuch's first direct

sales since it opened its regional office in

2015. It is located in downtown Bangkok

and headed by Managing Director

Andreas Köck. The Austrian technology

company has served the Southeast Asian

market for decades and is no stranger to

many plant managers in the wood-based

panel industry here.

Part of the Advanced Fibre factory in Kanchanaburi

There is also a sense of accomplishment

that comes from being recognised for small

milestones, such as successfully operating

machinery, merging old practices with the

new, building a team and managing it.

The journey does not end with them

as middle managers for their parents

want them to be entrepreneurs—an

undertaking that meant their experience

at the bottom was essential.

"You cannot hope to rise to the top

without first knowing how things work at

the very basic level," Ekky explains.

"In the end if you are always seeking

their approval, years down the road no

one will be telling you what the right

decision is."

Meanwhile, the company is now

planning ahead, filling up plots of land to

prepare for a day the board of directors

decides to build another line.

The next few years will see both

cousins improving the line's efficiency and

growing the business, realising the very

destiny they were meant for. ℗

Some key equipment featured in Advanced Fibre

Energy Plant

Buettner

Forming line, pre-press, Dieffenbacher

continuous press, star cooler

Dust extraction system Scheuch

Refiner

Andritz

Sanding machines

Steinemann

Finishing line (cut-to-size Anthon

saws, handling equipment)

Chemical preparation IMAL

Thickness gauge and GreCon

blow detector

PANELS & FURNITURE ASIA • Issue 1 • January / February 2018
---
18 PANEL MANUFACTURING

Damaged press belt on a

particleboard line restored to health.

Steel belt manufacturer Sandvik

recently used its new QuickDisc

Plus tool to complete its biggest

ever patch repair project: removing and

replacing a 480mm diameter area of a

damaged press belt for a particleboard

plant and restoring it to perfect working

order.

The work was carried out for Arauco

at its particleboard plant in Bennettsville,

South Carolina, USA. It was done with

such expertise that no trace of the repair

could be detected.

This is the first time the Sandvik

QuickDisc Plus 500 was employed for

a 'live' repair since it was launched at

LIGNA 2017. Arauco's maintenance team

was delighted with the result.

January / February 2018 • Issue 1 • PANELS & FURNITURE ASIA
---
PANEL MANUFACTURING 19

"We are highly impressed with the

outcome of the QuickDisc patch repair,"

Will Altman, maintenance supervisor,

said at the Bennettsville facility. "Our

concern was that the amount of welding

required would cause a deflection in that

area or an 'oil can' effect and possibly

affect heat transfer.

"However, since starting up, there's

no indication of a repair. There are

absolutely no marks or halos or

anything visible on the board."

The repair was carried out

by Sandvik service partner

Conny Neumayr. It involved the

replacement of an area that had

previously undergone several

repairs.

"Multiple repairs concentrated

around a single point creates

tensions and unevenness,"

explained Neumayr. "These

distortions make the area more

susceptible to cracking after each

repair."

PROFESSIONAL SERVICE

AND REPAIR

Sandvik's QuickDisc Plus 500 is a

self-contained cutting, welding and

grinding system based on a single

jig that attaches itself to the belt.

The press belt at Arauco is 2.7mm

thick and made from a high strength

Sandvik 1650SM grade steel ideal

for harsh conditions.

The first stage in the process was

to remove the damaged area using

the automatic carbide cutter. This

is replaced using a disc cut from

the extra length of belt supplied

together with all Sandvik press belts

for the purpose of repairs.

The cutter is then replaced in

the jig by a track-welding unit

that ensures accurate, semiautomatic

replacement of the

disc. Once welding is finished,

the weld area is ground

down and the repair, complete.

The work at Arauco took about

two hours once the equipment

had been set up, a major saving

compared to the over 10 hours it

can take to cut and replace an entire

belt width with an inserted section.

The development of the

QuickDisc Plus 500 has extended

Sandvik's service and repair

capabilities, an area the company

recognises as being of prime

importance.

Anders Köijer, Sandvik's Global

Product & Service manager, said, "Arauco

is the second largest panel producer in

the world and has invested heavily

in the North American and European

markets in recent years. Our role as a

belt supplier is only part of the story. We

are also there to help them maximise

the quality of their end-product and the

longevity of their belts."

He added, "Service is now a key

differentiator and we're committed to

taking the lead in wood-based panels.

Today, with the market moving towards

ever thinner boards – produced at

speeds up to 2000 mm/sec – the need

for near perfection in belt quality is

increasing. We will continue to invest in

the technologies necessary to deliver the

high standards." ℗

PANELS & FURNITURE ASIA • Issue 1 • January / February 2018
---
20 PANEL MANUFACTURING

Green River Panels is set to

build Southeast Asia's biggest

particleboard plant, boasting

a 50.4-metre continuous press—the

longest in the region. The new line,

which is Green River's third, will see

the company double annual production

capacity to over one million cubic

metres, making it one of the largest

production powerhouses in Southeast

Asia. It will be delivered by Siempelkamp.

"The negotiations took a long time

but I believe that this agreement will

provide a lot of value for us. We have

known [Siempelkamp] for more than

10 years," said David Huang, chief

executive officer of Green River, at the

signing ceremony in Hatyai witnessed

by representatives from both client and

vendor.

"All eyes will be on Green River for

this project," Mr Philipps said. Addressing

the Green River team, he added, "Your

project has our personal attention and

like a marriage, we welcome open and

frank communication between both

parties."

Although Green River is no stranger

to Siempelkamp's expertise, this is the

first time it is working together with

the Krefeld-based technology company

on such a massive scale. (PB Line 1

runs on Buettner's drum dryer while

Line 2 uses size reduction technology

from Pallmann.) Never before has

the Taiwanese-owned company sealed

such a historic contract, marking a

significant milestone for itself and a

benchmark for the panels industry in

Southeast Asia.

team were single-minded about Green

River's commitment to producing

green products. (Green River is named

for the company's environmental

philosophy.)

Waste from rubber plantations

and wood that is too poor for solid

furniture often end up in the backyard

of a particleboard line, which makes

the panel product 'green,' and "I am

sure there will be a demand for these

panels in future. I believe Siempelkamp

can support us in our vision for a green

production line," Mr Huang says.

He looks fitter than when I last saw

him three years ago, younger than all

his 57 years. Yet, he is still the visionary

businessman, steady and consistent,

making calculated moves before planting

resources in the right places.

The particleboard producer's latest decision

banks on the belief that Asia is overflowing

with opportunities, which makes now

a great time to invest in a new line.

Jurgen Philipps, speaker of the

Siempelkamp Management Board,

added, "We are happy and honoured

to be selected for this project. This is

our second success in three months

in Southeast Asia. It is a good sign as

it shows we are considered a market

leader in this area."

The new line also sees Siempelkamp

delivering its first ContiRoll Generation

9 continuous press to Asia. It will

also feature machinery by its subsidiaries:

Buettner, CMC Texpan and Pallmann.

Together the engineering team will build

the biggest drum dryer and energy plant

in Southeast Asia as well as the world's

biggest knife ring flaker.

The first board is expected to birth

in the last quarter of 2019.

BIG, BIGGER, BIGGEST

The upcoming line is based in Trang,

Thailand, over 200km away from Green

River's headquarters in Songkhla. It is

one of the best fits for a particleboard

line. Thailand's south is mostly agrarian,

providing an ample supply of rubberwood

to feed the factory. It is close to various

ports of call where products can easily

be shipped worldwide.

On the decision to seal the

agreement with Siempelkamp,

Mr Huang said he was pleased that

the management and engineering

He doesn't stop, it appears.

Decisions keep him busy and discussions

with European suppliers often see him

working late into the small hours. But

being busy is a good thing, he jests,

"otherwise the business is not moving."

The green field investment was

conceived over two years ago, even

before the second line was fully

operational. Mr Huang says the planning

phase involved a lot of research and

consulting. It was a slow and long-drawn

process, but necessary.

Green River's move to increase

production capacity comes at a time

where industry insiders observe a

difficult future for panel plants—fi rst

January / February 2018 • Issue 1 • PANELS & FURNITURE ASIA
---
Jurgen Philipps, speaker of the Siempelkamp Management Board (left) and David Huang, CEO of Green River Panels.

By Lee Zhuomin

an oversupply situation, followed by a lack

of raw materials. But this does not bother

Mr Huang. After all, these trends are cyclical,

almost normal.

Instead, he is looking forward to Asia's

bullish furniture market buoyed by a slow but

sure rising middle income class among the

region's four billion people. As standards of

living improve, so will robust buying, especially

that of 'green' products—the very thing Green

River offers. Rather than wait, he is keen to

capture this potential before others do.

"When we examined the numbers, Asia's

demand for boards per capita is still lower

compared to Europe. However, this will change

in the future. Demand will go up; the outlook

in the long run is positive," Mr Huang says.

Mr Philipps

presents a model

of the ContiRoll to

Mr Huang at the

signing ceremony

in Hatyai on

Nov 28, 2017.

PANELS & FURNITURE ASIA • Issue 1 • January / February 2018
---
22 PANEL MANUFACTURING

SUCCESS IN THE MAKING

Green River's ambitious plant will no doubt be another

challenge for Siempelkamp, which unveiled its star engineering

feat, the ContiRoll Generation 9, at LIGNA 2017. However,

Mr Philipps is confident of delivering on his service promise:

"We are aware of potential problems, what can happen

during installation and we have the right people to support

the project," he says. "So we will put this puzzle together and

deliver [results] for Green River."

Siempelkamp has supplied more than 350 continuous

presses around the world since 1985. What is heartening for

the company too, is that Green River has not only signed for

the core equipment—that is, the pre- and continuous press,

and finishing line—but the whole suite of innovations. Other

machines for the new line also include the new EcoDrive, SPC

and SicoScan measuring equipment—all launched at LIGNA

last year.

As the furniture industry trends towards a preference

for particleboard, both Mr Huang and Mr Philipps have high

hopes for the market. And being on the same page marks the

beginning of good things to come, as Mr Philipps concludes,

"We are definitely very pleased to be part of Green River's

success story.

"We started great and got along very well. We will continue

to bring this spirit of cooperation into the engineering and

installation phase." ℗

"

The negoaons took

a long me but I believe

that this agreement

will provide a lot of

value for us… I believe

Siempelkamp can

support us in our vision

for a green producon

line.

" CEO

- David Huang,

of Green River Panels

January / February 2018 • Issue 1 • PANELS & FURNITURE ASIA
---
PANELS & FURNITURE ASIA • Issue 1 • January / February 2018
---
24 FURNITURE MANUFACTURING

To infinity and

beyond

The relationship between WEINIG and San Lim Furniture

traces back to more than two decades ago when San Lim

Furniture (San Lim) purchased their first WEINIG machine

for their factory in Indonesia.

But it wasn't until two years ago when Tony Sulimro,

president of San Lim, and Antonius, his son and deputy general

director, started investing more in their machinery, that the

furniture manufacturing company became one of WEINIG's

biggest customers.

For San Lim, the choice was not a hard one to make. "For

the people in the furniture industry, if you're looking for good

machines in the solid wood area, WEINIG would be the one.

This is no secret," Antonius said.

DECISIONS, DECISIONS, DECISIONS

San Lim was established 15 years ago in 2003. The company is

based in Dong Nai province, Vietnam, and does mostly panels such

as veneer, plywood or MDF for its furniture, using species such as

poplar from the U.S., rubberwood from Vietnam, and pine from

New Zealand or Chile.

San Lim Furniture is constantly in

search for innovative ways to improve

their production line. Their search

ended with WEINIG, which provided

the furniture manufacturer tremendous

benefits: improved efficiency, cost

reduction and impeccable service.

"Our export market in the past was 100 per cent to the U.S.

But right now, it's about 95 per cent to the U.S., and about five

per cent to China," Antonius said. Some of San Lim's clients are

well-known brands such as Ashley, Rooms to Go, WSI, American

Drew, Holland House, Klaussner and Haverty's.

As of March 2017, the company ships an average of 600

containers per month and is still dedicated to continuous

improvement.

"This is not by luck because we make sure we keep our

quality good," said Antonius.

With a score card now given to most manufacturers in grades

of A, B, C and D, San Lim sees it as a benefit for them as it reflects

on how the company is doing.

For instance, business owners and top management are

able to look at the score cards and place orders with companies

who are scoring well.

January / February 2018 • Issue 1 • PANELS & FURNITURE ASIA
---
FURNITURE MANUFACTURING 25

Top: (From left) Antonius Sulimro,

deputy general director of San

Lim Furniture, and Tony Sulimro,

president of San Lim Furniture;

Bottom: High performance crosscutting

with WEINIG OptiCut

PANELS & FURNITURE ASIA • Issue 1 • January / February 2018
---
26 FURNITURE MANUFACTURING

WEINIG is able to train staff at San Lim Furniture with the ins and

outs of their machines to build a seamless production line

"It takes time and it's about

consistency," said Antonius.

About five years ago, a customer

initially gave them a D, but over the years,

San Lim has worked hard to overturn the

score. "And within that period of time, we

improved ourselves and actually became

an A-grade vendor," Antonius explained.

The result also reflects the different

demands of the customers and the trend

in the industry such as fast turnaround

time with better quality.

"Customers are paying more

attention to quality as well as punctuality

in shipping," said Antonius. "There is

also a trend now where customers are

requesting for lesser MOQ (minimum

order quantity)," he added.

For instance, "In the past, when we

said the MOQ is 100 pieces, they'll agree.

But now, we have customers requesting

for 50 pieces or fewer," said Antonius. "If

we do not use the CNC machine, we'll

have to use the jig all the time, which will

result in a longer downtime."

The increase in workers' salary each

year is also another challenge that San

Lim is facing. With higher costs and the

need for faster turnaround and punctual

shipments, the furniture manufacturer

needed to look into a long-term solution

to address these challenges.

PICKING WEINIG

"WEINIG is a good brand. There are a lot

of similar machines that are 50 per cent

cheaper but because we are focusing

on quality, we believe the investment in

WEINIG machines will help us achieve

that," Antonius explained.

"We used WEINIG machines 25 years

ago for our factory in Indonesia. Those

were the simple ones then. For the

current advanced machines, we bought

it two years ago and have since started

buying more," Tony said.

San Lim attended WEINIG tour for

the first time at the LIGNA show in 2015.

During the tour, the team was taken to

factories in Tauberbischofsheim (TBB),

Germany, where they were offered a

behind-the-scenes look of the production

lines in factories that were using WEINIG

machines.

Demonstrations were done to

showcase clear advantages and the

potential of the machines while providing a

platform for everyone to exchanges ideas.

"Before the show, they were already

explaining to us how we can link up the

different machines together and when we

saw it for ourselves, we said 'Yes, this is

definitely what we need' and bought it,"

said Antonius.

The team has since been on two tours

and each time it further affirms their

belief in WEINIG.

January / February 2018 • Issue 1 • PANELS & FURNITURE ASIA
---
FURNITURE MANUFACTURING 27

With customers' demands becoming

more complicated and stricter, the need

to digitalise has increased.

"With manual machines, it can take

about a year before a person is trained to

be good in handling a specific machine.

But with WEINIG CNC machines, you can

just put in a panel and press the 'Start'

and 'Stop' buttons. That's all. It doesn't

take much effort."

GOING THE EXTRA MILE

The recognition and commitment WEINIG

has to San Lim and all its customers is

reflected in its after-sales service.

Based in Dong Nai, San Lim is

generally located far from the city, offices

and help. But the company is still able to

acquire help from WEINIG's engineers

to train staff on the ins and outs of their

machines and to equip them with the

necessary skills.

In fact, engineers from Germany

were flown over before too to provide

assistance.

The furniture manufacturing company

is in constant contact with WEINIG – from

installation to maintenance to advising

on the production flow – such that it is

always equipped with valuable practical

knowledge for seamless production that

helps reduce costs.

For instance, after the wood has

been cut into smaller pieces, the WEINIG

Powermat can be used to smooth

the sides before the finger joints are

placed in.

"This is what WEINIG taught us on

how the flow needs to be. And so, we

always coordinate with them," Antonius

explained.

Another example is the Rondamat

tool grinding machine. By connecting it

to the Powermat, it will assist in adjusting

the position of the tool. After grinding,

the tool becomes shorter, which the

computer will then send the data to the

Powermat to adjust the height; since it's

shorter, the height needs to be lowered

to produce the same product.

"We do not need to do a lot of trial

and error anymore as the computer does

everything. We saw how this process was

done at LIGNA and so we bought the

whole package," said Antonius.

As San Lim continues to hit their

milestones, WEINIG will be steadfast by

their side, challenging themselves to help

San Lim to be even more efficient and

productive.

"We have a good relationship with

WEINIG and they are one of our most

trusted partners," said Tony.

Be it solid wood or panel processing,

the leading provider of solid wood

processing machinery is there to ensure

that San Lim is able to fully exploit their

machines' power and operate them to

perfection. ℗

PANELS & FURNITURE ASIA • Issue 1 • January / February 2018
---
28 FURNITURE MANUFACTURING

Today, the end-consumer's demand

for customised furniture is what's

making up most of the orders. The

number of furniture per order has also

gone down, forcing factories to shift

from mass manufacturing to producing in

small batches instead. At the same time,

the industry has had to deal with labour

shortage, increasing costs and the need

for process stability.

These trends have beleaguered

manufacturers all over the world; those

that have not reacted quickly enough

have paid dearly, driving some into

bankruptcy.

For others,

concepts such

as automatic

Production Data

generation (so-called Industry 4.0)

and automated Business Processes

have finally found their way onto the

management's agenda. It is a good thing,

but this is only half of the story.

By Bjorn Henseler, Schuler Consulting

How robots

will win over

the

future

Malaysia's furniture industry players spent

a day at ABB to understand how robotics

can facilitate challenges in production.

January / February 2018 • Issue 1 • PANELS & FURNITURE ASIA
---
FURNITURE MANUFACTURING 29

ABB, a robotics company, in Subang Jaya, Malaysia

ROBOTS ARE THE FUTURE

A panel furniture factory consists

manufacturing processes like Cutting,

Edge banding, Drilling, Packing with

Material Buffers and in between these,

other "Work in Progress." For example,

to make things easier, we can automate

transportation between two machines.

Within the buffer, we can also automate

the handling at a certain machine or cell.

Compared to a high tech factory

that operates without these buffer

areas, we cannot afford to give up on

them compared to a perfectly balanced

production line with fully automated

transportation and little variations in

product types.

Manufacturers today require a

highly flexible plant that can be adjusted

to build any type of furniture or design

that pops up on the blueprint. Balancing

the initial changes seems impossible. But

where can we go from here?

To answer this question, ABB, a

pioneer in automatic industrial robots,

and Schuler Consulting rounded up

some manufacturers and suppliers for a

seminar in Subang Jaya, Malaysia.

The task was to discuss struggles

in furniture manufacturing with the

robotics equipment supplier and share

some of the solutions applied in other

sectors such as automotive or consumer

electronics that deal with a variety of

parts and processes.

During the seminar, ABB also

discovered how much variety the

furniture industry works with. It suggests

that if robots are to handle Batch Size

One products, the technology required

should be visual recognition systems

achieved using cameras.

Notably, using robotics in furniture

making is not entirely new. For example,

loading CNC machines with robots or

handling devices, cutting complicated

chair shapes out of 3D forms, applying

lacquering in throughfeed lines as well

as packing are some processes currently

operated by robots in Asian factories.

INTEGRATING HIGH-TECH

SOLUTIONS

In the region's diverse furniture industry,

standard robot programmes that operate

the same task for prolonged periods are

not feasible due to the number of different

parts manufactured in a day. We need to

move from manually programming robots

all the time to one where automatic visual

recognition can be done with cameras.

We need a robot programme that

recognises parameters like "Length"

and "Width", one that is intelligent

enough to address and adapt to swift

production changes without much human

intervention. This is not new in Europe

where mobile pedestals for office desks

are already being fully assembled in one

production cell without involving any

manual labour.

Only when Asian factories take

bold measures to integrate high-tech

solutions will they be able to overcome

the challenges of today and those of the

future. ℗

PANELS & FURNITURE ASIA • Issue 1 • January / February 2018
---
30 IN PERSON

Andreas Köck,

Managing Director,

Scheuch Asia

January / February 2018 • Issue 1 • PANELS & FURNITURE ASIA
---
IN PERSON 31

A life

partner for

clean air

technology

Scheuch Asia is now

almost three years

in Bangkok. The

office may be new,

but Andreas Köck,

managing director,

says the company is

more than qualified

to support Southeast

Asia's panel industry

with technology for

clean air.

Bangkok, or anywhere in urban Southeast Asia, is nothing

like where he used to live, where the air is crisp and fresh,

a luxury for the lungs. And yet moving to the bustling

metropolis was his idea.

Three years ago, Andreas Köck saw that Southeast Asia

would become one of the fastest-growing markets for exhaust

systems and filters. His counterparts in the wood-based panel

industry recognised this too and were swooping in quickly. It

was obvious that Scheuch had to have a local office to match

up with intense competition in this field.

He said, "I worked out the business plan for Southeast Asia

and proposed someone willing to go there—me!"

At that time, the proposal was also in alignment with the

company's globalisation strategy. Scheuch was expanding

worldwide and had just made two acquisitions in North

America.

And Mr Köck was right. The decision was paramount to

securing a foothold in the region. In just two years since the

office opened, he had signed deals with most of the new panel

projects here—six and counting. According to him, it was a

combination of perfect timing and luck.

"All the investments in Thailand were coming up just as

we opened so we were able to clinch most of these projects."

PANELS & FURNITURE ASIA • Issue 1 • January / February 2018
---
32 IN PERSON

An installation for a wood-based panel line in Thailand

January / February 2018 • Issue 1 • PANELS & FURNITURE ASIA
---
IN PERSON 33

In Thailand, Advanced Fibre, Metro Ply, Wisewoods and

Vanachai have signed orders. A second ESP was delivered to

Panel Plus last November. In Vietnam, both Dongwha MDF 1

and 2 are running on Scheuch fibre sifters; Kim Tin has also put

in an order for filter systems. (Some older lines in the country

still feature Scheuch systems and they are still being serviced

with spare parts and advice.)

A GOOD START

The new lines have been running for over six months and

feedback is positive: high-performing filters, fans and rotary

valves mean little or no downtime for maintenance, which

means the factory can focus on its main goal—producing

panels.

"It is definitely a good start," Mr Köck says happily. "We

are capable of offering our customers more, not just technical

consulting but service as well. After all, they do demand a

certain standard of service, which we are more than happy

to provide. Our new service technician recently finished his

training and is ready to start."

The goal, he adds, is to work on a well-defined structure so

that Scheuch can support the wood-based panel industry here

on a daily basis. To up the ante, a fibre sifter expert from the

company's headquarters in Austria will pay a three-week visit

to several MDF installations in the region. As panel production

evolves overtime, the expert's 25 years of experience will be

more than necessary to address these changes.

The biggest sense of satisfaction for Mr Köck, however, was

being able to convince plant managers to trust in Scheuch's

technology, "and if you do so, you will see the benefits."

"In all my years in the panel board industry, you can say

I sell kilogrammes of metal. But it is now a personal mission

to tackle industrial waste emissions for the client, the people

and the environment.

"With all the experience and products we have, I think we

can give very good advice in this area. I'm really happy that we

were able to convince one customer here to invest in a wet

ESP system. My dream is to equip, one by one, all of these

lines with the same."

And it doesn't take a lot to be convinced. The 42-yearold

speaks with a kind of conviction that comes from a well

of knowledge, 22 years to be exact. In his early twenties, he

started as a shift operator in Kronospan, moved on to become

production manager for an MDF line in his hometown and went

on to Metso Panel Board as a process engineer before joining

Scheuch in 2007. He worked graveyard shifts, put in long hours,

travelled extensively and consulted for lines all over the world.

He has seen all and done much. He is warm, affable and comes

with a matter-of-fact candor that makes you feel like you have

known him a lifetime.

It is probably why the young office is so successful; the one

helming it has all the credentials. More importantly, he is also

serious about building long-term, meaningful relationships in

a region that values exactly that.

INVESTING IN INNOVATION

In hindsight, Mr Köck says that doing business here can be

complicated and not always easy to understand, but that "if

you can adapt, you will do fine."

In fact, he is doing more than fine. From a one-man set-up

in an 11sqm space, Scheuch Asia is now a family of five in a

100sqm office in Asoke.

Apart from supplying the wood-based panel sector, Scheuch

also services the energy, metal and cement industries as well as

those that require flue gas treatment systems. They have been

in the air and environmental technology business for 50 years.

But considering the machine is still the same as when it

was invented decades ago, exactly how innovative can such

technology be?

Mr Köck laughs. It is a fact, but also a massive endeavour

to stretch the equipment's efficacy beyond limits. And here

is where Scheuch has pushed through in product innovation

to a degree of success. Building technology for clean air is

their bread and butter after all. The company funnels huge

investments towards research on maintaining—and in some

cases, exceeding—machine performance at a lower cost.

"It is a tricky thing, being able to deliver quality at a lower

cost. But we have done it, improved versions with the same

service guarantee that we offer our customers."

Indeed, while the fi bre board has hardly evolved as a

product, what has, is the machinery that makes it. Now, the

modern lines are all expected to maintain longer uptime, run

faster, and consume less wood and resin. Some of them are even

being extended to produce value-added products, laminating,

coating or printing for decorative panels and flooring.

MEETING MILLENNIAL NEEDS

Today, children born in the 1990s—or the millennials—are

young adults with high demands on standards of living for

themselves and their children. Soon, there will be feedback

on a panel's carbon footprint—what are the environmental

and health consequences from using this panel? In turn, this

may translate into stricter controls on formaldehyde emission

limits on the panel itself.

Mr Köck also works with some of them who have recently

stepped up into their family's panel business.

His advice for these young managers is to follow their heart,

cliché as it may sound. "It is a huge responsibility stepping

into such big shoes but I'm very sure they will find their way

if they listen to the right people. There are so many different

voices, you just need to sift through all of it and make your

own decision.

"Then again, am I in a place to dish out advice?" he wonders.

He sure is, for he is a man who reflects often on what he

has done for himself, his family, the company or community.

And he never stops working. When the office lights go out, the

family comes in.

"You know kids, they keep this machine running all

the time." ℗

PANELS & FURNITURE ASIA • Issue 1 • January / February 2018
---
34 IN PERSON

January / February 2018 • Issue 1 • PANELS & FURNITURE ASIA
---
IN PERSON 35

Company relocations are considered rare in the timber

industry but recently this has happened to Shanghai

AM. It has moved a couple of times, first from downtown

Shanghai to Kemao Road and then to Malu.

Heavy industries have moved out of Beijing, bringing some

sunny days and fresh air this winter. The same is happening

in Shanghai. As wood processing and trading enterprises are

looking for new warehouses and factories, they are also trying

to enhance efficiency by reducing inventory and increasing

turnover. These reforms will improve the industry's overall

quality and efficiency, says James Xu from STTA's National

Hardwood Council.

Fortunately, the Yangtze River Delta region offers them

modern port facilities and a well-developed transport network

for doing business. These new industrial clusters in Taicang,

Ningbo and Zhenjiang will bring about higher output value per

unit area and new opportunities for the industry, especially as

inefficient companies get eliminated in the long run.

PRUDENT BUYING

According to the latest data from the American Hardwood

Export Council (AHEC), demand for North American hardwood

has been increasing. The hardwood market has calmed down

from the instability and turmoil two years ago. Chinese traders

are now more prudent and sensible, making fewer irrational

purchase decisions in 2017, a great relief to some nervous

American suppliers.

Under pressure from the

government, up to 60 million

square metres of factories were

forced out of Shanghai in 2017.

As the Chinese government

continues to invest in high-tech

industries, traditional industries

have, to some extent, limited

land use. What prospects are

left for Shanghai's timber trade?

By Wendy Wei

Black walnut and cherry rose in popularity while the

popularity and price of FAS red oak fell due to oversupply.

These minor changes are driven by market forces; they are

normal and will not upset the market as long as distributors

remain prudent, says Xu.

"Hardwood exports from the U.S. to China continues to

climb while warehouse space for distributors is decreasing.

This means efficiency has increased considerably," says Xu. "As

far as I know, no enterprise undersold or withdrew from the

timber market due to the new relocation and environmental

protection policies."

Nevertheless, Xu notes that market demand is on the rise

and stability is of vital importance.

CHALLENGES

Xu expects that market trends for this year will be similar to

last year's.

Viktor Leonldovlch Evtukhov, Deputy Minister of Ministry

of Industry and Trade of the Russian Federation, said his

ministry has imposed export quotas on unprocessed timber

exiting Russia's Far East and increased export tariff rates since

last December. According to the draft plan, export tariff rate

of goods within the tariff quotas will be reduced from 25 per

cent to 6.5 per cent but the additional export tariff rate will

gradually increase to 40 per cent in 2019; to 60 per cent in 2020;

and to 80 per cent in 2021. Export quotas apply to enterprises

with wood processing plants or experience in exporting wood

processed products. These policy changes will see fewer wood

supplies from Russia, providing greater opportunities for North

American wood traders to flourish in China.

However, data from AHEC indicate hardwood log exports

from the U.S. to China have grown significantly. In the past,

80 per cent of logs were used for veneer processing, yet large

quantities of logs are now sold to factories processing sawn

timber.

It is hard to say what effect these observations will have on

the market. But one thing is for sure: increased demand and

reduced shipping rates will inevitably contribute to intense

competition.

GROWING TOGETHER

"Wood is renewable and environmentally-friendly. As people's

living standards and tastes improve, wooden furniture will

become more popular," Xu says.

Although some have speculated that the home decor

market will be affected as real estate reaches saturation,

refurbishing old homes also require a large supply of wood,

he adds.

As one of the earliest companies to distribute North

American hardwoods in China, Shanghai AM is adept at tackling

risks and crises. Xu says that only enterprises that take a longterm

view on trends and cooperate to address crises can expect

growth and development opportunities. This is one of the

reasons the National Hardwood Council was established five

years ago. The Council will continue to live out this purpose

for members.

Xu concludes that the solution to rising costs is increasing

inventory turnover as well as improving work efficiency.

Moreover, it is also important to build and maintain

relationships with long-term suppliers and customers, and

improve internal management, so as to enable the timber

industry to develop smoothly. ℗

PANELS & FURNITURE ASIA • Issue 1 • January / February 2018
---
36 MATERIALS

Hardwood Market Report

Million Board Feet

Business momentum

for U.S. hardwood

lumber to carry over

into 2018

1100

1000

900

800

700

600

500

400

300

100%

90%

80%

70%

60%

50%

40%

30%

20%

10%

0%

1999 - 2006

US Furniture Manufacturing Shift to

China and US Housing Boom.

Business

By Judd Johnson, Managing Editor, Hardwood Market Report

200

1999-2006

100

Export volumes

increased 760%

*Projected

0

1999 2000 2001 2002 2003 2004 2005 2006 2007 2008 2009 2010 2011 2012 2013 2014 2015 2016 *2017

Source: USDA FAS

Figure 1: U.S. exports of hardwood lumber to China

Percentage Share of Volume

China

2006 - 2009

US Housing Bust and

Worldwide Economic

Turmoil.

Rest of world

US Exports to China in 2017 are

on Track to Exceed 1Billion Board

Feet and Surpass 2016 Volume by

18%.

2009 to Current: China's

Growing Middle and Upper

Classes Consuming US

Hardwoods

Graph: HMR

2005 2006 2007 2008 2009 2010 2011 2012 2013 2014 2015 2016 Jan -

Oct

Source: USDA FAS

Graph: Hardwood Market Report 2016

Figure 2: U.S. exports of hardwood logs to China and the rest of the world

2009-2017

Export volumes

pacing at an

increase of 400%

Jan -

Oct

2017

results for 2017 have U.S.

suppliers feeling optimistic about

2018. Exports of hardwood lumber

were trekking 13 per cent higher through

the first 10 months of 2017 compared

to the same period in 2016. The total

volume shipped through October was

the third highest of any full year (12

months); only 2016 and 2014 were

higher. With two months remaining,

there is little doubt U.S. hardwood

lumber exports will establish a new

record in 2017.

To no one's surprise, China is the

dominant force driving increased export

activity. While total hardwood lumber

shipments from the U.S. were up 13

per cent year to date, U.S. shipments to

China had increased 18 per cent (see Fig.

1). Exports to China accounted for 54 per

cent of the hardwood lumber volume

exported by the U.S. worldwide (see Fig.

2). In fact, the 10 month total exported

to China in 2017 surpassed the 12 month

China record high set in 2016, reaching

2,026,233m 3 compared to 2,006,701m 3

(see Fig. 3).

U.S. supplier optimism goes beyond

exports. The domestic U.S. marketplace

has grown consistently over the past

several years. Much of that growth is

closely aligned with economic expansion.

After a period of retraction, markets for

key industrial timber products have

rebounded and are currently energised.

U.S. DOMESTIC MARKET

Separately, the U.S. housing sector

has been expanding at an impressive

rate. New single family construction is

projected to increase year over year

by 10.7 per cent and 8.6 per cent in

2018 and 2019, respectively; these

increases follow a 7.5 per cent increase

in 2017. Also in 2017, expenditures

on single family housing refurbishing

projects surged 20 per cent over

2016 expenditures. Notably, new and

refurbishing single family housing

construction projects are significant to

demand for hardwood flooring, cabinets,

millwork, and furnishings.

January / February 2018 • Issue 1 • PANELS & FURNITURE ASIA
---
(Cubic Metres)

2,500,000

MATERIALS 37

Hardwood Market Report

2,000,000

1,500,000

1,000,000

500,000

0

China

2005 2006 2007 2008 2009 2010 2011 2012 2013 2014 2015 2016 Jan -

Oct

Source: USDA FAS

Graph: Hardwood Market Report 2016

Figure 3: U.S. exports of hardwood logs

Not only is demand for U.S.

hardwood lumber poised for further

growth, U.S. sawmills may have better

opportunity to respond to any business

upturn in 2018. The reason is that

demand is showing encouraging signs of

improvement for wood waste materials,

making them less of an impediment to

sawmill production and lumber supplies.

Indeed, keeping bark, chips, and sawdust

Rest of World

Jan -

Oct

2017

moved offsite has been a problem for U.S.

sawmills the last couple of years – enough

to prevent production from reaching its

potential in 2016 and to a lesser extent

in 2017.

It is imperative that all sectors of the

marketplace perform at healthy levels in

order to ensure a healthy U.S. hardwood

lumber supply base. Such has been the

case for most lumber items, and now this

includes industrial timber products and

byproducts from sawmill production.

By and large, U.S. hardwood lumber

business has been quite stable for most of

the past two years, and conditions seem

favourable for solid results in 2018. ℗

"

By and large, U.S. hardwood lumber

business has been quite stable...

conditions seem favourable for solid

results in 2018.

"

PANELS & FURNITURE ASIA • Issue 1 • January / February 2018
---
38 MATERIALS

WWW =

Fashion in hardwood for furniture and

interiors, often going in cycles, is wellknown.

Cherry, maple, ash, mahogany,

wenge and rosewood are all good examples

of high value species that have come and

gone over the years. But there are a few

that stay the distance. Several species

have endured long term in popularity. Now

we are seeing walnut join that elite group.

The

World

Wants

Walnut

By Michael Buckley

Oak is one of those species that has

remained popular throughout

history. It is seen as traditional,

ecclesiastical and associated with

academia and wealth. Oak has stayed

fashionable throughout time especially

in western markets. Teak is another,

particularly in eastern countries, for

its durability. It is also associated with

wealth. Walnut by contrast has come and

gone in fashion over the years although

it has never completely disappeared in

popularity, as cherry did a decade ago.

So what is the driver of walnut these

days that suggests its current popularity

will continue long term? The answer is

complex.

WHERE IT GROWS AND

GOES

First let's define walnut. The main source

of walnut in volume is in the USA where

American black walnut (Juglans nigra)

is exclusively native and grows in large

volumes across the States from the east

coast to Texas. The so-called European

walnut (Juglans regia) was originally

native to a stretch from Kashmir to Turkey

until introduced by the Romans to Italy

and France as well as other European

countries. The two species are different—

in colour and grain—and whereas

American black walnut is naturally

regenerated in forests and planted a little,

European walnut was mainly planted.

Then there are other substitute species

such as African and Rhodesian walnut,

so-called for marketing.

Estelle console table

in American black walnut

by Commune.

Image credit: Commune.

January / February 2018 • Issue 1 • PANELS & FURNITURE ASIA
---
MATERIALS 39

Availability is a main driver. Limited

supply and unquenchable demand in

recent years have driven prices high,

without the withdrawal of demand

that normally follows. Take the case of

cherry, for which prices peaked then

halved when markets rebelled; but not

so with walnut. Then there is China,

where walnut is valued aesthetically

along with many local similar hardwoods

and Chinese buyers have discovered the

"Well of Black Gold" in American forests.

Ease of travel and communication have

accelerated the Chinese market for

American walnut that appears insatiable.

Then there is taste. Culturally,

traditional furniture making and

particularly, chair making in China

favoured dark wood species that are

now rare. But not only China appreciates

walnut. The 2017 furniture shows

in Southeast Asia all featured many

collections of walnut furniture from

Saigon to Singapore. And the world's

hotel designers and fit-out contractors

love it. Last but not least, walnut is a

truly beautiful species that finishes to a

very fine surface. So—www—the World

Wants Walnut!

AVAILABILITY

Is walnut sustainable? That is an

interesting and probably unanswerable

question, for how high will the price go

and how much is growing? Neither of

those questions are easily answered.

Whereas there is very accurate data

now available for every commercial

hardwood species in the USA, walnut is

the exception. The forest inventory of

walnut is well-known and published, but

walnut unusually also grows naturally

on and around farms that are not

inventoried. Brian Brookshire, executive

director of the American Walnut

Manufacturers Association points out,

"American walnut is one of the only

species (maybe the only one) that the

entire log is sawn as useable lumber,

effectively stretching the utilisation

of the limited resource for furniture,

flooring and other uses, as compared

to oak and other hardwoods where the

centre of the log is generally left as a

block for industrial uses."

Furthermore, new techniques of

cutting ultra-thin veneer can also extend

the resource, so it is hard to say how

the resource balance will develop in

the future.

European walnut supplies are relatively

patchy and not well-documented. However,

American walnut supplies are transparent

and readily available through several

channels. The American Hardwood Export

Council has many members offering

walnut. There are importers and traders

in China and elsewhere specialising in

walnut. There is also the American Walnut

Manufacturers Association whose 20

members specialise in supplying walnut. ℗

Craft coffee table in solid

American black walnut by

JotterGoods, Star International.

Image credit: Star International.

PANELS & FURNITURE ASIA • Issue 1 • January / February 2018
---
40 STRUCTURAL ELEMENTS

ONE OF THESE

IS DIFFERENT

FROM THE

REST

Block 81 at the JTC

LaunchPad @ one-north is

the only building within

the campus built using

engineered wood. It stands

as a shining example of how

wood makes construction

quick, safe and efficient.

January / February 2018 • Issue 1 • PANELS & FURNITURE ASIA
---
STRUCTURAL ELEMENTS 41

New technologies in engineered wood have proven

to be safe and efficient in construction. Block 81 at

JTC LaunchPad @ one-north is one example of this

innovation. The three-storey engineered wood structure

in Singapore was completed in four months and achieved

10 – 15 per cent manpower savings compared to conventional

building methods.

This is possible because the glue-laminated timber and

cross laminated timber components are first pre-fabricated, then

delivered on-site. It is also safer and less labour-intensive as only

simple tools are required for assembly. It was one of the reasons

why engineered wood was chosen, since there was already an

existing community when Phase 1 of the 6.5-hectare site was

completed, said Heah Soon Poh, assistant chief executive officer

of JTC's Engineering & Operations Group. Overall, it results in a

cleaner work site, reducing noise and air pollution.

PANELS & FURNITURE ASIA • Issue 1 • January / February 2018
---
42 STRUCTURAL ELEMENTS

Block 81 is the fi rst light industrial building in Singapore built using engineered wood

Block 81 is part of the Phase 2 of the

JTC LaunchPad @ one-north, which offers

plug-and-play spaces for start-ups. It is

Singapore's first light industrial building

made from engineered wood. It is also

one of the few wooden mid-rise buildings

in Asia.

"

Block 81 was completed in

four months and achieved

10 – 15% manpower savings

"

Explaining how the team managed

to learn methods in wood construction,

Mr Heah shared that initial discussions

with the Building and Construction

Authority (BCA) led to a visit to Nanyang

Technological University which was

then building a new sports hall out of

engineered wood. The hall features a

72-metre continuous roof, the longest

in Asia.

"We also engaged one of our

contacts from an overseas study trip

to carry out a feasibility study using

engineered wood systems," he added.

BUILT TO LAST

To enhance fire resistance, the beams

and columns are designed to be

15 – 25mm thicker, forming a sacrificial

layer so that in the event of a fire, only

that outer layer will be charred.

To minimise termite attacks, the first

storey columns, beams and floor slabs

are made of concrete. An additional

steel mesh in the ground, treated to

repel termites, also acts as a physical

barrier. The CLT and glulam members

on the upper floors were also treated

against infestation. The engineered

wood is made from PEFC-certified

spruce, supplied by Austrian specialists

Hasslacher Norica and KLH. The

whole building uses about 450m 3

of wood.

Developer

Architect, Structural Engineer,

M&E Engineer

Main Contractor

SPEARHEADING

PRODUCTIVITY

This type of wood construction

technique in Block 81 is part of a

new approach known as Design for

Manufacturing and Assembly or DfMA.

This game-changing technology is

akin to stacking up pre-fabricated

components like a large Lego block.

It is transforming Singapore's built

environment, expediting construction

times and reducing labour.

The move to adopt new technologies

is part of Singapore's overall push to get

developers, contractors and planners to

raise productivity levels on an average

of 2 to 3 per cent annually till 2020,

according to BCA. This will be driven by

the use of advanced technology and a

skilled and competent workforce.

In recent years, the city-state is

at the forefront of wood construction

technologies with new buildings

springing up such as NTU's new sports

hall and the Singapore Sustainability

Academy. A few other schools in wood

are also in the construction pipeline. ℗

: JTC, Singapore

: WSP Pte Ltd

: Lian Ho Lee Construction

(Private) Ltd

Specialist Engineered Wood Consultant : Ronnie & Koh Consultants Pte Ltd

Engineered Wood Sub-Contractor : Venturer Pte Ltd

Completion Date : December 2016

January / February 2018 • Issue 1 • PANELS & FURNITURE ASIA
---
STRUCTURAL ELEMENTS 43

A ZONE FOR

CUSTOM FURNITURE

SUPPLIERS TO DEBUT

AT CIFM / INTERZUM

GUANGZHOU 2018

Set to take place in the southern Chinese city of Guangzhou, the

upcoming CIFM / interzum Guangzhou is poised to outperform

the last edition on various fronts with more brands, a wider

array of products, and an expanded series of fringe activities.

CIFM / interzum Guangzhou, set to

take place from the 28 th to 31 st of

March, 2018 alongside the second

Furniture Fair (CIFF), will be held at the

sprawling China Import and Export Fair

Complex, in Guangzhou, China.

More than 1,300 exhibitors hailing

from more than 30 countries and regions

such as Germany, Malaysia, Singapore,

and the United States will be spread

out across the 150,000m² exhibition

Machinery, Upholstery Machinery,

Materials and Textile, Fittings, and

Components.

Simultaneously, eight country and

United States and Canada, Turkey, French

Timber, American Hardwood Export

Council, Malaysian Timber Council,

Bureau – also from Canada – will showcase

wood materials, furniture hardware and

Global leading industry players

already sent in their applications to

including Biesse, Homag and SCM, among

many more.

Visitors can also expect a healthy

Cossla, UNGRICHT, and Debo Europe.

space usage, the custom furniture market has been

furniture among those who are concerned with the

focus to raw and auxiliary materials, such as wood

Custom Furniture Suppliers zone will be launched

custom furniture suppliers from abroad with

materials, furniture hardware, as well as upholstery

and accessories. Custom furniture manufacturers,

interior decor companies and interior designers

technology and the current trends in custom

furniture.

During the exhibition, a dedicated cocktail

PANELS & FURNITURE ASIA • Issue 1 • January / February 2018
---
44 SHOW PREVIEW

2 nd VIFA Woodmac

Vietnam 2018: The

woodworking show in

the heart of Vietnam's

furniture cluster

- Vietnam's wood products export turnover

expected to hit US$8 Bn in 2017

- Many factories eager to upgrade production

to obtain more orders

- New pre-event technical seminar series to

capture the right audience

Date : Oct 24 – 27, 2018

Venue : Expo Binh Duong,

Binh Duong Province, Vietnam

Vietnam's furniture industry is no doubt growing. Wood and wood products export

turnover is forecast to reach US$8 Bn in 2017, posting a 14 per cent year-on-year

increase and surpassing the target of US$7.6 Bn set earlier last year, according

to the Handicraft and Wood Industry Association of Ho Chi Minh (HAWA).

The two-digit growth rate this year is possible because companies invested in

technology and design, Huynh Van Hanh, deputy chairman of HAWA, said in an interview

with VietNamNet. Many are keen to make capital investments and expand production to

supply customers in U.S., Japan, EU, China and South Korea. A new generation of managers

is also kickstarting design teams and marketing them under their own brand.

Given the high growth potential of this market, VIFA Woodmac provides access to more

than 1,500 exporting companies in need of new technology to expand capacity. The show

is located in Binh Duong province, Vietnam's furniture and wood processing hub. It is near

Long An, Dong Nai province and Ho Chi Minh City where 60 per cent of factories are located.

PRE-EVENT TECHNICAL SEMINAR SERIES

This year, a new pre-event technical seminar series* will allow international exhibitors to

introduce machines tailored for the Vietnamese market. It is held one day in May and July

respectively with opportunities for networking. The audience will mostly be members from

the Binh Duong Furniture Association (BIFA) and HAWA, both of whom are co-organisers of

VIFA Woodmac Vietnam. Both associations represent a majority of Vietnam's 4,000 over wood

processing and furniture companies.

These two seminars lead up to VIFA Woodmac in October, where delegates will be able to

find out more about the machines and services offered.

Based in Binh Duong, VIFA Woodmac Vietnam 2018 is set to unlock endless possibilities for

your business in Vietnam and the region! ℗

*More details to be available soon.

January / February 2018 • Issue 1 • PANELS & FURNITURE ASIA
---
SHOW PREVIEW 45

24-27 October 2018

2 nd Edition

THE WOODWORKING

SHOW IN THE HEART

OF VIETNAM'S

FURNITURE CLUSTER

BINH DUONG

BINH DUONG — THE RIGHT LOCATION

Jointly organised by

HAWA CORPORATION

PANELS & FURNITURE Group

Enquiries For International Exhibitors

Pablo Publishing Pte Ltd

3 Ang Mo Kio Street 62 #01-23 Link@AMK

Singapore 569139

Tel: (65) 6266 5512

Email: williampang@pabloasia.com

Venue: Expo Binh Duong

Binh Duong Province, Vietnam.

www.vifawoodmacvietnam.com

PANELS & FURNITURE ASIA • Issue 1 • January / February 2018
---
46 SHOW PREVIEW

4

The fantastic

Asia's wood materials only show has come

a long way since small beginnings in 2015.

What was once a small cosy event has now grown

into a show well-known in the timber industry

for its special focus on wood. Sylva Wood was,

of course, always international with suppliers from as far

as Uruguay and Latvia crossing ocean and continent to

exhibit in Shanghai. It is the Carrefour du Bois of Asia, the

only annual trade show here for wood and wood products.

It has enjoyed endorsements from the American

Hardwood Export Council, American Softwoods,

Canada Wood, French Timber and Softwood Export

Council since Day One. As members return with positive

feedback about the show, their support grows with each

edition, heralding Sylva Wood's claim to fame.

2018:

th

January / February 2018 • Issue 1 • PANELS & FURNITURE ASIA
---
SHOW PREVIEW 47

"The show has been improving. It focuses on wood

materials and is very useful for our members. We've got

a pretty good number of visitors visiting and they are

professional timber trade people. The members are very

happy so I believe this is a quality show that is valuable

for us," John Chan, AHEC's regional director, remarked.

"It is always a pleasure to extend heartfelt thanks to

old friends who have helped make Sylva Wood possible,"

said William Pang, managing director of Shanghai Pablo

Exhibition.

This year, Sylva Wood celebrates its fourth edition.

It is one that marks multiple milestones, including

new endorsements from the Thai Timber Association,

Malaysian Timber Council and National Hardwood

Lumber Association. For the second time, the Russian

wood industry will also host a massive pavilion, as will the

Dongguan Veneer Alliance.

Chuck Chen, general manager of Dongguan V.M.

Trading, commented, "Sylva Wood is a platform for

exchange. It is what we need to meet old and new

customers and understand their needs. Veneer is a natural

product and it is through exhibiting here that we can share

with them the charm and value of this material."

The show is expected to gather more and more

industry people seeking to expand new opportunities

in one of the world's biggest markets hungry for wood.

Furniture and flooring manufacturers, as well as traders

and importers will also visit, providing ample fodder for

intellectual discussion and debate.

All the world will once again meet in Shanghai

from June 25 – 27. A full programme of workshops and

seminars will also be held over the three days—details to

be confirmed in the following months. ℗

PANELS & FURNITURE ASIA • Issue 1 • January / February 2018
---
48 SHOW PREVIEW

" This show is quite important to us simply because it

is very much wood focused, which makes it different

from other shows. Sylva Wood provides a one-stop

wood shopping experience for wood buyers so they

do not have to run around looking for vendors. This

is something my members and I very much enjoy and

that's why we are committed to coming back again.

"

– Xu Fang,

Director,

American Softwoods

" The show is very good even

though it is not big. It is very

specialised. We managed to

find interesting new partners,

hopefully this will give

us new clients and bigger

exposure. It is always good to

be at an exhibition in China,

something we seldom do, as

we already have a huge client

base here. We have been in

this market over 10 years.

"

Rodion Khlystun,

Representative,

Ilim Timber,

Russian Pavilion

" What we like most is that it's not just a show

but also a platform for [establishing contact].

"

- Nikolay Ivanov (Fourth from left),

Managing Director,

Segezha Group,

Russian Pavilion

Sylva Wood 2018

Dates : June 25 - 27

Venue

: 99 Xing Yi Road

Shanghai 200336

For more details :

www.sylvawoodexpo.com

January / February 2018 • Issue 1 • PANELS & FURNITURE ASIA
---
SHOW PREVIEW 49

PANELS & FURNITURE ASIA • Issue 1 • January / February 2018
---
50 SHOW PREVIEW

(Guangzhou) lays out new themes,

new experiences

The great countdown to March

begins as CIFF approaches, this

time promising new perks and

experiences.

January / February 2018 • Issue 1 • PANELS & FURNITURE ASIA
---
SHOW PREVIEW 51

March, the annual golden

season for trading will bring

the furniture industry to the

Pearl River Delta in China. The 41 st CIFF

(Guangzhou) is expected to welcome over

4,000 brands and 190,000 professional

visitors.

The 750,000sqm exhibition covers

products in the entire industry chain.

Held in two phases, March 18-21 and

March 28-31, the event will focus on the

latest trends in customisation, intelligence,

design and luxury, as well as optimise the

show's layout to bring the domestic

and international markets together.

CUSTOMISATION,

INTELLIGENCE, DESIGN

As the customisation trend picks up in

China's home furnishing industry, new

technologies such as the Internet of

Things, cloud computing and smart chips

have become part of home furnishing.

Phase 1 of the show will highlight some of

these trends in "Whole Customised Smart

Home" at Halls 6.1-8.1, Area A.

The organisers have also spared no

effort in turning Halls 4.1-5.1, Area A,

into a Design Hall. It integrates the solid

wood and neo-Chinese brands, and

brings together the current design trends

in the China market, effectively providing

exhibitors and audiences with a one-stop

matching service.

LIGHT LUXURY

To quote fashion guru Karl Lagerfeld,

"we live in an era when expensiveness

and inexpensiveness can co-exist well,

and this is the first time to happen in the

fashion circle."

This "expensiveness" and

"inexpensiveness" is now seen in

furniture where the demand among

young consumers now is for cosy,

personal and trendy products that raise

the quality of living. Halls 4.2-5.2, Area

A, will gather top-grade and affordable

luxury products.

The European & American Furniture

section will continue to be in Halls 9.2-

10.2, Area B.

SPECIAL HALLS TO BOOST

EXPORT OPPORTUNITIES

China's furniture exports from January

to August 2017 reached RMB126.34

billion (US$19.41 billion), up 6.2 per cent

year-on-year.

Halls 9.3-11.3 in Area B will host

the Dining Room/Living Room Furniture

and the Upholstered Sofa and Mattress

sections to serve exhibitors looking for

new export markets. These exhibitors

feature quality Made in China products.

For the overseas visitor, it makes their visit

more enjoyable and convenient as all the

key exporters are located in one place.

ENHANCING EXPERIENCES

This year, the Home Decor & Home Textile

section, together with the Lighting Hall,

comes under the theme of Zen.

The Outdoor & Leisure section will

use Hall 17.3 as the Outdoor Gardening

Experience Hall to introduce new outdoor

furniture products. It will work with the

third Global Garden Lifestyle Festival to

reinterpret garden lifestyle and recreate

the outdoor garden showroom.

Phase 2 of the 41 st CIFF (Guangzhou)-

Office Show, running from March

28 – 31, will include Medical & Healthcare

Furniture in Hall 5.1, expanding the scale

of the Smart Office - Hall 5.2 to attract

more brands.

CIFM / interzum Guangzhou will

further optimise themes and display

space for an enhanced visitor and

exhibitor experience.

The 41 st CIFF is held from March

18-21 and March 28-31 in Pazhou,

Guangzhou. ℗

PANELS & FURNITURE ASIA • Issue 1 • January / February 2018
---
52 SHOW REVIEW

2nd Global Timber Conference underlines

new strategies for sustainable growth

• Sarawak Deputy Chief Minister makes major announcement

• Wide range of topics covered under the theme,

"Innovation and Market Driven Strategies:

Keys to Sustainable Growth"

YB Datuk Amar Haji Awang Tengah Bin Ali Hasan,

Deputy Chief Minister of Sarawak, announced that

all forests must be certified by 2022.

he second Global Timber Conference, held in

Kuching from Nov 6 to 8, began with a study tour

followed by a conference programme that

covered six topics.

Guest speakers from the government, private

sectors and consultants presented a wide range of

topics: "Global Timber Outlook: Demand, Supply

and Prospects," "Genomics and Good Silvicultural Practices,"

"Standards, Certifications and Eco-Labelling," "Alternative Raw

Materials," "Urban Transformation" and "The next wave in

Wooden Furniture: Design, Material and Technology."

In his opening speech, YB Datuk Amar Haji Awang Tengah

Bin Ali Hasan, deputy chief minister of Sarawak, announced that

all timber concessions in Sarawak must be certified by 2022.

"We are set to reduce our reliance on natural forests for

raw materials to feed our timber mills. Towards this end, we are

investing in R&D for a viable and robust industrial forest estate

in the state," Datuk Amar said.

The conference, he added, is timely for industry members

to learn how to enhance performance and competitiveness.

Later, Richard Laity, Projects & Development officer at PEFC

International, gave an update on PEFC's growth in Southeast

Asia where several countries are now developing national forest

certification schemes for endorsement by PEFC.

Michael Buckley, wood industry consultant from Singapore, reviewed status

and prospects for Asian furniture manufacturers.

Traditional Sarawak dance opens the conference in Kuching

THE FUTURE OF FURNITURE IN SEA

With regard to furniture industries, Michael Buckley, a wood

industry consultant from Singapore, reviewed the current

status and prospects for Asian furniture manufacturers. He

concluded the industry, as always, is facing challenges, of which

raw material supply and increasing government legislation may

be the two most important.

But keeping up with trends is also vital. In the future this

is likely to focus on better furniture in the middle market, for

example, the increasing need for smaller space furniture. Ask

some American and European companies why they went out

of business, he suggested; while many will cite cheaper labour

in developing countries, falling behind on manufacturing

innovation and design may be nearer the truth. Finally online

shopping may become a big disrupter for the industry.

Roberta Mutti, from Italian Consulting Pte Ltd, discussed

the success of the Italian furniture industry and focused on

the importance of design and the future growth of middle

class consumption in Asia. The OECD predicts that in 2030,

59 per cent of the world's spending by the middle class will

happen in Asia – up from the current 23 per cent.

Ngo Sy Hoai, vice secretary general of VIFORES from Vietnam

presented two papers on species selection and on strategy for

the furniture industry in Vietnam. He discussed the challenges

of reliance on wood imports, low value-added products and

industry fragmentation.

However he also noted that Vietnam had made strides

in forest rehabilitation, land tenure reforms and market

development. With wood consumption running at 31 million

cubic metres annually with only 23 million cubic metres available

locally, and with over 100 countries supplying wood, traceability

is now an issue.

On design and construction with wood there was plenty to

inspire delegates as technological advances and use of Cross

Laminated Timber (CLT) offer exciting prospects in building,

especially in high-rise. ℗

January / February 2018 • Issue 1 • PANELS & FURNITURE ASIA
---
SHOW REVIEW 53

The 12 th International

Woodworking Industry Fair

The Bi-annual show

in Ho Chi Minh City

was held Oct 18 to 21.

Taiwanese and Chinese machinery exhibitors,

along with their Vietnamese

local agents, dominated the

12 th VietnamWood, held at the Saigon

Exhibition Convention Center. The biannual

show is exclusively endorsed

by Eumabois, representing European

manufacturers, but only a small group

of German and Italian manufacturers

participated.

Yet a majority of exhibitors—nearly

80 per cent—were from overseas,

demonstrating the importance of

Vietnam for those keen to penetrate

this growing market. The overall

sentiment was optimistic although

visitor traffic seemed a little slow over

the four-day show. Organisers estimate

the number of visitors at 11,470.

Mr Wei Chin Hsiang, president of

Lih Woei Carpentry Machinery, said, "The Vietnamese

market is still growing these past few years. The market

here has more opportunities compared to other countries in

Southeast Asia."

"The show was quite promising with quite a number of

good visitors. The quality of the visitors, I would say, was quite

promising as well. It's too early to say if we will be back in 2019,

but if we are able to, you will see us there!" Patrick Phua, general

manager of Weinig Asia, said.

Organisers estimate about 11,000 visitors visited the four-day show

Opening

ceremony

In the raw materials section, the American Hardwood Export Council

(AHEC) hosted an American hardwood pavilion with 31 members individually

exhibiting, and another seven U.S. exporters scattered around. "We are

always happy with this show," said John Chan, AHEC's regional director.

Other association pavilions were Swedish Wood, which represented

nine sawmills; the Quebec Wood Export Bureau fronted three Canadian

companies; while French hardwood exporters numbered to an

impressive eight under the umbrella of Business France, accompanied by

French Timber. Other overseas wood suppliers came from Australia, Croatia,

China, Germany, Malaysia and Spain.

Fringe events included a seminar on the first day held by AHEC in

partnership with HAWA and the Ho Chi Minh City Association of Architects

(HAA) at the GEM convention center. On the second day, Swedish Wood

introduced Swedish softwood species and its application in modern design

and architecture.

Vietnam is the fifth largest exporter worldwide, the second largest

in Asia and the largest in Southeast Asia. Its key export markets are USA,

China, Japan and the EU. The value of exports is climbing: US$7 Bn in

2016 and expected to reach US$8 Bn by the end of 2017 and a further

US$10 Bn by 2020.

The next VietnamWood is scheduled for Sep 18 – 21, 2019. ℗

PANELS & FURNITURE ASIA • Issue 1 • January / February 2018
---
54 SHOW REVIEW

AMERICAN HARDWOODS

– SETTING THE TREND

FOR SUSTAINABLE

DESIGN

The seminar was a

showcase of inspiring

projects done by AHEC.

Opening remarks were made

by Gerald H. Smith, Senior

Agricultural Attaché, U.S.

Consulate, Nguyen Chanh Phuong,

secretary general of the Handicraft

and Wood Industry Association of

HCMC (HAWA) and Truong Luu Nguyen,

president of the HCMC Association of

Architects.

Addressing the audience, AHEC

Chairman Dave Bramlage said, "You'll

learn a lot, see a lot and I hope you

will take home things said and we can

promote American hardwoods through

you."

John Chan, AHEC regional director,

added, "There is increasing interest in

the use of American hardwoods for the

interiors and building sectors within

Vietnam's rapidly-growing construction

industry. AHEC is hosting this event to

educate traders, architects and designers

on the U.S. hardwood resource, grading

systems, design potential, market trends

as well as its successful application in

prominent sustainable design projects

around the world."

Exports of U.S. hardwoods to

Vietnam reached over US$200 Mn in

2016, much of which was consumed by

the furniture industry.

Maggie's Oldham in the UK is the first

building in the world made of hardwood

cross-laminated timber.

Image credit: Jasmin Sohi.

January / February 2018 • Issue 1 • PANELS & FURNITURE ASIA
---
SHOW REVIEW 55

A SUSTAINABLE APPROACH

European Director David Venables

opened his presentation with the words,

"It's all about the trees" and focused

on the sustainability of U.S. hardwood

forests. At least 20 American hardwood

species are available in significant

commercial volumes but Vietnam does

not use them all.

Mr Venables said, "Sustainability is

also about the balance between what

we use and what nature produces which

behoves us to select from a wider range

of species and in various grades."

He also shared how AHEC is working

with European retailers to choose

a wider variety of species and with

initiatives such as the recent "Too Good

to Waste" campaign in Italy.

Sustainable forest management

by natural regeneration with growth

exceeding harvest and mortality is the

pillar by which American hardwood is

regarded as a 'safe' material. "Most

species in most states show net growth

– a real measure of sustainability,"

he commented.

This is supported by new online

interactive maps which provide data for

any commercial species at a national,

state or county level. He demonstrated

red oak as a case of under-utilised

material.

Only four per cent of American

hardwood forest is FSC- or PEFCcertified.

But low intensity selection

felling – most owners may harvest only

once in a generation – makes such

certification uneconomic. Hardwood

timber operators purchase from

hundreds of different landowners each

year, usually in small quantities and

there are four million hardwood forest

owners in the USA. AHEC's response to

lack of certification is not to defend but

to develop a broader, more effective

approach to demonstrate sustainability.

For many of AHEC's recent projects

it has been possible to calculate the

time in seconds taken for the forest to

re-grow the equivalent amount of wood

used in any single project. For example,

it takes 25 seconds to replenish the

500 cubic metres of American white

oak in a deck in Milan, as well as the

14.5 metric tonnes of CO 2

stored.

PERFORMANCE AND DESIGN

Mr Venables also shared trends in

American hardwoods with new and

innovative applications including

Thermally Modified Timber (TMT) and

Cross Laminated Timber (CLT). The latter

is now well-known for the Endless Stair,

The Smile and Maggie's Cancer Centre

in the U.K.—the world's first commercial

use of tulipwood CLT.

In a demonstration of structural

performance along with aesthetic

design, Mr Venables showed the

structural use of American white oak

for the barrel vaulted grid shell roof

over Portcullis House in London. With

strength class D50, it is roughly twice

the strength of high-grade softwood.

This enables more slender members to

be used due to its superior strength-toweight

ratio.

For the future he predicted that red

oak will become more widely utilised.

The seminar concluded with a

presentation on U.S. Hardwood Lumber

Grades by Dana Spessert, chief inspector

of the National Hardwood Lumber

Association. ℗

"

Sustainability is

also about the balance

between what we use and

what nature produces

which behoves us to

select from a wider range

of species and in various

grades.

"

- David Venables,

European Director,

AHEC

David Venables,

AHEC European Director

PANELS & FURNITURE ASIA • Issue 1 • January / February 2018
---
56 SHOW REVIEW

LARGE POTENTIAL FOR

SWEDISH WOOD IN VIETNAM

Swedish sawmillers gathered in a Swedish Wood pavilion and presented at a

seminar supported by HAWA, BIFA and the Forest Products Association of

Binh Dinh (FPA).

Swedish Ambassador Pereric Hogberg

opened the seminar by comparing

the size and population of Sweden

and Vietnam. Vietnam is two-thirds the

size of Sweden but has 100 million people

compared to only 10 million in Sweden. Their

relationship goes back to 1969 when Sweden

was the fi rst western country to establish

diplomatic ties with Vietnam. The ambassador

declared he was impressed with Vietnam's

economic development over the last 10 years

and equally impressed by the Vietnamese

people's concern for safety, sustainability

and quality of their air, water and food. Such

concerns would have an impact for wood too.

Vietnam is a major hub for wood

processing and is the world's fifth largest

exporter of wood products and wood

furniture with exports expected to reach

US$10 Bn by 2020. Mr Hogberg confirmed

Sweden's commitment to sustainable forest

management and with 70 per cent of the

country covered by forest, there are huge

opportunities for Swedish wood.

Swedish Ambassador Pereric Hogberg addressing the audience at the seminar

1

Photos 1 and 2: Discussions going on at Swedish Wood pavilion at the 12 th VietnamWood held Oct 18 - 21

January / February 2018 • Issue 1 • PANELS & FURNITURE ASIA
---
SHOW REVIEW 57

He said, "I think there is a large

potential for Swedish wood suppliers

to supply to Vietnamese manufacturers

so that high quality and sustainable raw

material is used for production."

Mr Huynh Van Hanh, vice president

of HAWA, said that Vietnam had to

import to supplement their production

needs not only because of resource

shortage but also to satisfy the diverse

needs of international customers.

In 2016 Vietnam imported US$1.7

Bn worth of wood. The demand for

legal wood is increasing since Vietnam

signed a VPA-FLEGT agreement with the

EU. Mr Hanh recognised that Swedish

Wood had been present in Vietnam for

more than 15 years but hoped they could

increase their marketing activity.

Mr Tran Le Huy from FPA observed

that Sweden produced excellent

softwood used for windows, doors and

panels but there were distance and

logistics issues so New Zealand and Chile

were closer alternatives.

Mr Luu Phuoc Loc (John), general

director of BIFA, stressed the importance

of Binh Duong province where his 180

members were based as it is close to

HCMC, the sea port and airport. These

enterprises need improved technology

and improved management, he said.

Most wood material is imported from

the USA – white oak, ash, beech, yellow

poplar while rubberwood and acacia

comes from Vietnamese plantations. He

Mr Huynh Van Hanh (far right), Vice President of HAWA

welcomed the participation of Swedish

Wood and hoped they could increase

their market share.

Ms Charlotte Dedye Apelgren,

director of Interior and Design, Swedish

Wood, revealed four trends in demand:

renewable materials; toxic-free

materials; healthy products to improve

well-being; versatile materials to adapt

to our changing needs.

She shared that Swedish wood

can respond to these demands as it is

renewable and non-toxic with research

from Canada and Europe finding that

time spent in a wood environment

lowers blood pressure, heart rate and

stress levels. Furthermore Swedish wood

can take many different shapes, textures

and colours.

Technical aspects of Swedish wood

were described and illustrated from

the difference between the two main

species: pine (Pinus slvestris) and spruce

(Picea abies).

Total softwood exports to Vietnam

increased over the past four years to

460,000 cubic metres in 2016, of which

44,000 cubic metres is from Sweden.

It is the largest European supplier of

softwoods to Vietnam consisting sawn

and planed timber. It also supplies glueedged

boards, profiles, glulam and cross

laminated timber to other markets.

East Asia now accounts for 15 per

cent of Sweden's total exports of sawn

and planed timber, a value reaching

US$500 Mn. Sweden's largest markets

are Japan and China but the demand

from Vietnam is also rising. Last year,

sales of sawn timber from Sweden to

Vietnam rose by 86 per cent. ℗

2

PANELS & FURNITURE ASIA • Issue 1 • January / February 2018
---
58 SHOW REVIEW

PEFC GETS SMART IN

HELSINKI AND LOOKS TO

THE FUTURE

Last November's PEFC Week in

Helsinki brought members together

to work on developing a new

global strategy for PEFC to promote

more sustainable forestry and tree

management, and on increasing the

value of the wood products supply chain

to society as a whole.

"We need a paradigm shift in how

society perceives the whole forest/tree

value chain," said Ben Gunneberg, CEO

of PEFC International, as he opened the

22 nd PEFC General Assembly. "Society

is at a crossroads and the strategic

direction we choose will provide the

opportunity for us to demonstrate the

real value of sustainable forests and their

contribution to society in achieving the

UN's Sustainable Development Goals."

He added that industry must

demonstrate how forests are part of

the solution to tackle climate change

and a growing urban global population.

"For too long, society has perceived

forestry as part of the problem

rather than the solution. By working

interdependently, PEFC can and will

change society's perception and place

forests at the heart of the solutions to

these challenges," Mr Gunneberg said.

The annual meeting typically sees

PEFC members gathering for meetings

and workshops on Monday and Tuesday,

followed by the General Assembly, held

on Wednesday. The last two days of the

Week is open to stakeholders registered

for the PEFC Stakeholder Dialogue. The

2017 event received 250 participants

from 57 countries worldwide including

delegations from Asia.

This year, under the Dialogue's

theme, 'Making Certification SMART',

delegates explored the potential

of technology innovation within

certification: From remote sensing

and mobile apps through to block-

chain and crypto currencies. Delegates

discussed how to approach technology

in a meaningful way that could increase

the value of PEFC to forest owners as

well as to supply chain actors.

"The incorporation of smart

technology could ensure that the full

extent of the sustainable development

Ben Gunneberg, CEO of PEFC International

Networking at PEFC Week in Helsinki

goals can be better delivered and

better communicated than in the past,"

Mr Gunneberg stressed.

In his concluding remarks, he added,

"By engaging collaboratively, we can

leverage the impact of the work we do,

and achieve so much more." ℗

January / February 2018 • Issue 1 • PANELS & FURNITURE ASIA
---
60 SHOW PREVIEW

BIESSE:

The race to reinvent

Held from Nov 2 to 4, Biesse's open house introduced

SOPHIA and helped visitors understand IoT.

Based in Selangor, Malaysia, Biesse Group Asia again opened its doors to visitors to discover innovative

wood, glass and stone-working technologies, and software solutions.

With the theme "The race to reinvent," visitors were invited to relish the Biesse experience

through a first-hand view and touch of the many innovations that will help them compete effectively

in the woodworking market.

BRINGING GREATER VALUE

TO MACHINES

Although the vast showroom has numerous

machines, it was SOPHIA visitors were

looking forward to.

SOPHIA, the acronym for Services

Optimisation Predictivity Human

Innovation Analysis, is a cloud-based

software management tool that helps

users achieve higher productivity by

providing them with an easy-to-use

dashboard containing real-time visibility

of machine status, performance and

functionality.

The game-changing IoT platform is

developed in collaboration with Accenture.

Together, Biesse aims to educate visitors on

the potential of IoT and the tremendous

benefits SOPHIA can bring.

A good example of SOPHIA is its

ability to predict an impending failure by

constantly looking out for abnormalities

in machines such as excessive vibration or

high temperature of a CNC router's electro

spindles.

As SOPHIA continuously accumulates,

monitors and analyses the machine's data

via a cloud-based computing network

in real-time, users can now prevent

downtime with the warning that is

triggered in a targeted and timely manner

before a bigger problem occurs.

"In order to better understand what

SOPHIA is, and before the introduction

and promotion of Sophia, we thought

that it will be interesting to go into details

Daniele Campetella,

Managing Director of Biesse Group Asia,

giving an introduction about the event

January / February 2018 • Issue 1 • PANELS & FURNITURE ASIA
---
From left: Visitors are invited to relish the Biesse's experience through a first-hand view and touch of the many innovations at the showroom;

A demonstration of the ROVER A EDGE

about the technology that Sophia is based on, specifically IOT,"

said Daniele Campetella, managing director of Biesse Group Asia.

UNDERSTANDING IOT

IoT has increasingly been mentioned in the past few years.

"It means that, in a tangible dimension, any object is connected

to the Internet and is inter-connected between themselves,"

explained Alessandro Puccio, manager of Sales Program

Management at Accenture.

This, for example, can be the building of sensors on top of

devices such as mobile phones and CNC machines.

"It is generated by a platform which brings data from all these

different sensors and allows us to get insights on how to take

action," said Puccio.

As the industry moves towards smart 'living' products and

services, with self-learning intelligence, connectivity and contextual

awareness, big transformations are set to be seen in the industrial

equipment landscape, said Puccio.

He also went on to explain how the adoption of IoT is able

to help clients become more insightful decision makers, hence,

generating the ability to implement impactful interventions to

improve business outcomes.

With the help of IoT, industrial equipment companies can now

increase their market capitalisation by doing things differently as

well as do different things.

Understanding this importance, Biesse is looking to connect

40 per cent of its 50,000 machines with 40 sensors each to drive

growth.

With the know-how, expertise and resources, Biesse is helping

its users to live the Biesse experience everyday.

SOPHIA will be available in Asia this year.℗

FROM THE GROUND

"

We are looking for a new

technology that can adapt to our

existing machines to increase their

capacity and quality, and to improve

our factory process. We are existing

customers of Biesse and we chose

Biesse because it is a well-known

brand in the world. Their machines

are excellent and we know it because

of our existing machines. It's our first

time visiting this showroom and an

event of Biesse. The first impression

we had is the warm welcome from

Biesse and how well the machines

are organised.

"

– Surasit Jiamjirungkorn,

Engineering Line Manager,

Index Interfurn Co., Ltd.

I am interested in their ROVER

machine.

"

I chose Biesse because

their machines are very good and

the technology is first-class.

"

– Boonchert Chuencharoen,

WAP Machinery Co., Ltd.

I came because I am interested

in one

"

of their machines. Yesterday,

I heard from my husband that they

have edgebanders here, so I came to

look at it. It is a very good show.

"

– Carla Junitaa,

Accounng,

Art Deezign

"

It's a great pleasure to be

here on behalf of Accenture and

to reinforce our partnership with

Biesse Group in Asia. Our colleagues

in Italy have been working hard on

a few projects and so it's good to

keep Asia as part of this initiative.

It's impressive to see all these

machines close up. I'm not used

to this environment and I think

Biesse did a great job in bringing

together visitors and stakeholders,

and hosting them in such a great

environment. Much much much

better than a conference room

right?

"

– Alessandro Puccio,

Manager,

Sales Program Management,

Accenture

PANELS & FURNITURE ASIA • Issue 1 • January / February 2018
---
62 WOOD CLINIC

Dear Mr Shim,

A READER'S EMAIL

Mr Shim (Shen Yuxin)

I have just joined a small carpenter's shop that makes bar counters and stools.

However, I do not yet know how to identify wood species. Can you offer some

tips on identification? Our bar counters are made using 5-inch thick slabs of

rift cut log and there are often large cracks. We use a mixture of ferrous glue

and sawdust to fi ll these cracks. However the patched area tends to bulge

after some time (Fig. 1). Can you advise us on these problems?

Yours Sincerely,

Mr Sarin

Indonesia

ASK MR SHIM

HOW TO IDENTIFY

INDONESIAN TIMBERS

AND FILL UP CRACKS

(I) Idenfying Indonesian mbers

1. Hardwood: Annual rings are

generally less distinct; cells mainly

consist irregular vessels, tracheids,

wood rays, parenchymas and fibres.

Hardwoods with medium or

high density are the most common,

although there are also low-density

species.

2. Sowood: Also known as coniferous

timbers, softwood's annual rings

are distinct; cells mainly consist

regular-sized tracheids, wood rays

and parenchymas. Wood is mostly

soft; there are some species that

have high density. Only two types

of softwood are common in

Indonesia: Merkusii pine and

Philippine Agathis.

3. Characteristics: Observing the

radial, lateral and cross section of

the wood can help identify its

species.

i. Colour: Wood species such as Kapur

has a light bluish yellow sapwood

and pink heartwood (Fig. 2).

ii. Odor: Timber such as kapur smells

of camphor when sawn apart.

Fig. 1: Glue line showing the patched area

bulging out after patching with a mixture of

ferrous glue and sawdust.

Fig. 2: When Kapur is sawn apart, the sapwood

is light bluish yellow, significantly different from

the pink heart wood.

iii. Specific gravity: Belain or Ulin, for

instance, has an air-dry density of

around 850-1100kg/m 3.

iv. Annual ring: Indonesian hardwoods

have less distinct annual rings, except

a few species such as the lacquer

tree (or Rengas). According to the

distribution of the vessels,

hardwoods can be divided into

diffuse porous hardwood and ring

porous hardwood. For example, Dark

Meranti and Merbau are ring

porous hardwoods.

January / February 2018 • Issue 1 • PANELS & FURNITURE ASIA
---
WOOD CLINIC 63

Fig. 3: The heart wood of Kapur contains

crystalline resin that is as white as borneol.

Fig. 4: Clear resin canals on a cross section of Dark Meranti under a magnifying glass.

v. Heart wood is usually brile. Some

species have more extract and are

heavier in weight. For example, the

heart wood of Kapur contains

crystalline resin that is as white

as borneol (Fig. 3). For some species,

the heart wood and the sapwood are

particularly distinct, such as Rengas.

vi. Sapwood is usually pale yellow or

white. Some species like rubberwood

display no difference in colour for

sapwood and the heart wood.

vii. Wood grain: Common wood grains

include straight grain (Belain); wavy

grain; spiral or diagonal grain;

interlock grain (Dark Meranti).

viii. Texture: The thickness of the texture

can be distinguished by observing

with the naked eye or touching

dressed wood surface.

ix. Wood rays: Observe the thickness,

colour and luster of dressed wood's

lateral section with a magnifying

glass.

x. Cell extract: Observe the dressed

wood surface with a magnifying

glass.

xi. Latex can be seen at the end of the

log for some species, such as

Merbau. During sawing, the band

saw blades will be stained by latex.

xii. Resin canal: Dark Meranti has clear

resin canals (Fig. 4), one of the main

features to help identify wood

species.

xiii. Oil may be found on the wood's

surface after being dressed, for

example, Keruing. The oil is more

obvious when seen from the cross

section.

xiv. Minerals contained in wood cells

may not be the same. For example, in

the vessels on the lateral or cross

section of Merbau, yellowish minerals

such as sulfur are obvious (Fig. 5).

(II) Patching up cracks in 5-inch thick

slabs of ri cut log:

When the log is cut into 5-inch thick

slabs, the moisture content in drying

wood is uneven or over 16 per cent.

In an air-conditioned room, for

example, the moisture content may

only be nine per cent, resulting in

wood drying and contraction. As the

mixture of ferrous glue and sawdust

is very solid, the glue film becomes

very hard and anti-solvent. As a

result, it cannot contract

simultaneously with the wood and

thus bulges. The moisture content

should be controlled at 10 ±2%.

I hope the above analysis helps.

Fig. 5: The vessels on the Merbau cross section contain many

small yellow dots of sulfur, visible to the naked eye.

f you encounter any problems with wood bonding in timber

Imanufacturing or wood processing, don'thesitate to ask

Mr Shen Yuxin immediately!

Mr Shen Yuxin was born in 1948 in Kuching, Sarawak,

Malaysia. In 1974 he graduated from the Department of

Forest of National Chung Hsing University in Taiwan, and

then worked in Taiwan Forestry Bureau. From 1975 to 1995,

Mr Shen engaged in wood processing and wood-based panel

industry in Malaysia, Singapore, Kalimantan island country, and

served as the engineering and technical personnel, production

director, production manager, as well as general production

manager. Mr Shen also entered world famous Asian Chemical

Company woodworking group in 1996, and worked as the

regional director of technical services.

PANELS & FURNITURE ASIA • Issue 1 • January / February 2018
---
64

NEWSLETTER

JANUARY/FEBRUARY 2018

THE MALAYSIAN MDF MANUFACTURERS ASSOCIATION (MMMA)

Medium Density Fibreboard:

A safe choice

Medium density fibreboard

(MDF) is an engineered

wood product made by

breaking down hardwood

or softwood residuals into

wood fibres, often in a

defibrator, combining it with wax

and a resin binder, and forming

panels by applying high temperature

and pressure. MDF is generally

denser than plywood. It is made up of

separated fibres but can be used as a

building material similar in application

to plywood. It is stronger and much

denser than particleboard.

Medium density fibreboard,

MDF, available in a variety of panel

dimensions and thicknesses, can

be cut easily and smoothly without

any breakage or splintering. It can

be profiled on edges and surfaces,

in a variety of deeply-etched shapes.

Its mirror-smooth surfaces are ideal

for painting, veneering, laminating,

grain printing and staining. A variety

of versions of MDF are available,

including standard, fl ame-retardant,

moisture resistant, exterior and high

density. None of its properties is

affected by cutting or machining. With

the attributes and advantages outlined

above it has proven to be an ideal

panel material for use in a variety of

industries, primarily furniture, building,

signage and shop fitting.

Benefits

• Is an excellent substrate for

veneers

• Some varieties are less expensive

than many natural woods

• Isotropic (its properties are the

same in all directions as a result

of having no grain), so no tendency

to split

• Consistent in strength and size

• Shapes well

• Stable dimensions (won't expand

or contract like wood)

• Easy to finish (i.e., paint)

So are there any disadvantages

to using MDF for the manufacture of

furniture and construction materials?

Some literature may state that

there are safety concerns about the

amount of dust and formaldehyde

emitted. When MDF is cut, a large

quantity of dust particles is released

into the air. It is important a respirator

is worn and that the material is cut in a

controlled and ventilated environment.

There is no evidence of any instances

of cancer in human beings related to

exposure to dust from MDF, a product

in use since the 1960s.

MDF contains a very low level of

formaldehyde. The amount emitted

from the board is not harmful and

begins to reduce as soon as the

board is produced. Moreover,

formaldehyde is a naturally occurring

chemical. Used industrially for nearly

a century, it is employed by at least

85 manufacturing sectors—for

products such as paint, varnish,

cosmetics, disinfectants, medicines

and adhesives. The amount of any

formaldehyde emitted from MDF

is tiny. It is certainly well below the

World Health Organization's guideline

figure for the amount of formaldehyde

that may be emitted

from all product

sources and that

may be present in

ambient air—inside

homes or outside—of

0.1 mg/cubic metre

(equivalent to 0.08

parts per million).

Most responsible

manufacturers

produce MDF under

controlled conditions

which comply with

the most stringent requirements for

formaldehyde content and comply to

regulations specific to those regions,

for example below are some of the

International Standards applied to

MDF material.

• European Standard EN13986 (i.e.

Class E1)

• Japanese Standard JIS/JAS F*

(one star) to F**** (four star)

• California State (California Air

Resources Board) Phase 2

standard

• Soon to be introduced US EPA

(Environmental Protection

Agency) Standard TSCA (Toxic

Substances Control Act) Title VI

Compliant Material

Customers or end users

of Malaysia manufactured MDF

will find that most producers are

already manufacturing to these high

standards and able to provide the

necessary data and certifi cation to

show compliance. Consumers should

also note that when MDF is coated,

painted, veneered or sealed, the

amount of formaldehyde leaching into

the environment is very negligible.

Prudent end users may even seal

the edges which would also give

additional protection against moisture

intake.

About the Author

Peter Fitch is the founder of

Segamat Panel Boards (Malaysia)

and is currently the Chairman of

the Malaysian MDF Manufacturers

Association (MMMA) and Executive

Committee Member of the Malaysian

Panel Manufacturers Association

(MPMA). Prior to working in Malaysia

he worked for Plantation Timber

Products (China) and Takeuchi MDF

(Malaysia). Peter has been based in

Asia for more than 25 years and has

been in the wood panel business for

more than 20 years.
---
GLOBAL WOOD RESOURCES 65

WHAT

CAN WE

DO TO

REDUCE

THE

ILLEGAL

TRADE OF

LOGS AND

LUMBER?

across Asia—in particular China, India and

Vietnam. These interested buyers seem

to have little concern about the legality

of these products.

Fortunately, there are still many of

us who place great importance on the

legality of wood. We have an important

role to play in reducing the illicit trade.

How can we do this?

1. Stop buying illegal wood products;

insist on PEFC- and/or FSC-certified

products only.

2. Ensure your company is PEFC- and/

or FSC-certified.

Top: Dubious logs for sale on Facebook.

Bottom: Illegal felling of rosewood.

Photo: Courtesy APP Timber

he trade of illegal logs and lumber seems to be

flourishing on the Internet. Each day one receives

online offers of wood products sourced from

Africa, Asia and South America. Facebook is a very good

example and there are many groups that offer such

products on a daily basis.

How can you tell these logs are illegally harvested?

One observation I made is that these sellers are often

individuals, not licensed companies. Look at the photos

and you will see, for example, that the square logs are

very roughly sawn which could indicate that cutting was

done by a chainsaw in the forest rather than by proper

band saws in a sawmill. The other giveaway is that

most of these square logs and/or large sawn lumber

are manually loaded piece by piece into the container,

which is rather unusual. Most proper sawmills will have

all material stacked, strapped and loaded by forklift.

Why do people still offer such products? The

answer is very simple: There is a huge market for

cheap wood regardless of its legality. Many Facebook

offers I received have very good responses from buyers

3. Conduct proper EUTR due diligence

even if the goods are not destined

for Europe.

4. Spread the message, alert other

potential buyers about the risks of

trading illegal wood.

5. Become an active member of any

Internet group offering wood

products and keep reminding such

groups that they must ensure the

legality of all products offered.

The future of the woodworking

industry is in our own hands. As users of

the forest, we must ensure that all our

wood resources are legal in accordance

with international laws. They should

come from well-managed and sustainable

sources that follow best practices in

accordance with well-known certification

programmes such as PEFC and FSC. ℗

ABOUT THE AUTHOR

Dutch-born Michael

Hermens is the

founder of APP

Timber and has

been involved in the

Asian woodworking

industry since 1987.

Over 20 years ago

he recognised

Asia's need for the

supply of imported

raw materials.

APP Timber is now a leading regional provider of

such products, focusing on advice and solutions for

buyers using imported raw materials. APP Timber has

operations across Asia and is in the process of building

a Wood Distribution & Training Centre in Indonesia.

Michael lives with his Singaporean wife in Kuala Lumpur,

Malaysia, and travels across the globe to meet potential

raw material suppliers.

PANELS & FURNITURE ASIA • Issue 1 • January / February 2018
---
66

CALENDAR OF EVENTS

2018

JANUARY

12 – 15 | DOMOTEX 2018 | Hannover, Germany | www.domotex.de

15 – 21 | IMM Cologne | Cologne, Germany | www.imm-cologne.com

MARCH

7 – 10 Vietnam Int'l Furniture &

| Home Accessories Fair | Ho Chi Minh City, Vietnam | www.vifafair.com

8 – 11 | Malaysian Int'l Furniture Fair | Kuala Lumpur, Malaysia | www.2018.miff.com.my

8 – 11 | IFFS | Singapore | www.iffs.com.sg

8 – 12 | India Wood | Bangalore, India | www.indiawood.com

9 – 12 | Export Furniture Exhibition | Kuala Lumpur, Malaysia | www.efe.my

11 – 14 | Indonesia Int'l Furniture Expo | Jakarta, Indonesia | www.ifexindonesia.com

12 – 14 | Dubai Woodshow | Dubai, UAE | www.dubaiwoodshow.com

18 – 21 | CIFF | Guangzhou, China | www.ciff-gz.com

20 – 23 | Domotex Asia/ China Floor | Shanghai, China | www.domotexasiachinafloor.com

28 – 31 | CIFM/ interzum guangzhou | Guangzhou, China | www.interzum-guangzhou.com

APRIL

2 – 5 | Wood Taiwan | Taipei, Taiwan | www.woodtaiwan.com

17 – 22 | Salone de Mobile Milano | Milan, Italy | www.salonemilano.it

MAY

25 – 28 | Qingdao Int'l Furniture Fair | Qingdao, China | www.qiff.net

30 – 1 Jun | Carrefour Int'l du bois | Nantes, France | www.timbershow.com

JUNE

20 – 22 | AHEC Annual Convention | Xi'An, China | www.americanhardwood.org

25 – 27 | Sylva Wood 2018 | Shanghai, China | www.sylvawoodexpo.com

SEPTEMBER

11 – 14 | China International Furniture Fair | Shanghai, China | www.ciff-sh.com

11 – 14 | FMC 2018 | Shanghai, China | www.fmcchina.com.cn

26 – 29 | IFMAC & WOODMAC 2018 | Jakarta, Indonesia | www.ifmac.net

OCTOBER

2 – 4 | NHLA Convention | Toronto, Canada | www.nhla.com

25 – 27 | VIFA Woodmac Vietnam 2018 | Binh Duong, Vietnam | www.vifawoodmacvietnam.com

Calendar is accurate at time of print. Subject to change.

January / February 2018 • Issue 1 • PANELS & FURNITURE ASIA
---
26-29

SEPTEMBER 2018

JIEXPO

Kemayoran

Indonesia

BOOK

YOUR SPACE

NOW!

TOP QUALITY

TECHNOLOGIES

for Indonesia's

Expanding

Furniture Industry

In Conjunction with: Exclusively Endorsed by: Organized by:

CONTACT INFORMATION: PT Wahana Kemalaniaga Makmur

Komplek Perkantoran Graha Kencana Blok CH-CI

Jl. Raya Pejuangan No. 88 • Kebon Jeruk • Jakarta 11530 • Indonesia

Tel: (62) 21 5366 0804 • Fax: (62) 21 5325 890/887

E-mail: ifmac@wakeni.com • Website: www.ifmac.net
---
ADVERTISERS'

INDEX

January / February 2018 • Issue 1 • PANELS & FURNITURE ASIA

COMPANY

American Hardwood Export Council

PAGE

OBC

Baillie Lumber Co 7

Domotex Asia 2018 27

Hardwood Market Report 37

IFMAC & WOODMAC 2018 67

IMAL SRL

IFC

IMEAS Spa 9

Interzum Guangzhou 2018 13

Jiangsu Baolong Electromechanical Manufacturing Co Ltd 59

Kuang Yung Machinery Co Ltd 19

Lesnaya Industriya Journal

IBC

Panels & Furniture Group 11

Sandvik S E A Pte Ltd 1

Siempelkamp Maschinen-und Anlagenbau GmbH 5

Sylva Wood 2018 3

Tong Fong Cutters Co Ltd 68

US Softwood Export Council 49

VIFA Woodmac Vietnam 2018 45

Wood Taiwan 2018 23

Scan to

download eBook