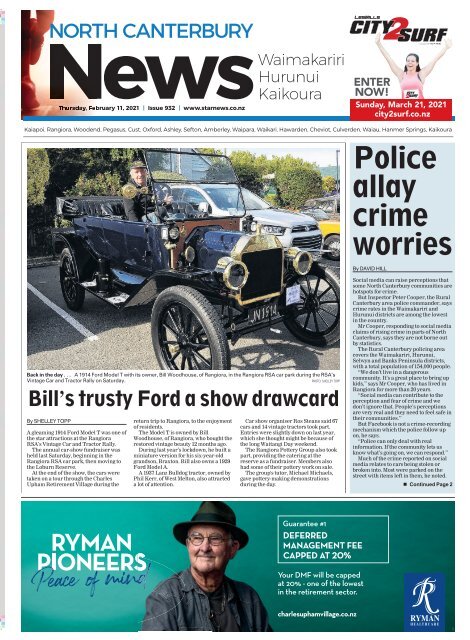 North Canterbury News: February 11, 2021
Create successful ePaper yourself
Turn your PDF publications into a flip-book with our unique Google optimized e-Paper software.
Thursday, February 11, 2021 | Issue 932 | www.starnews.co.nz

ENTER

NOW!

Sunday, March 21, 2021

city2surf.co.nz

Police

allay

crime

worries

By DAVID HILL

Back in the day ... A1914 Ford Model Twith its owner, Bill Woodhouse, of Rangiora, in the Rangiora RSA car park during the RSA's

Vintage Car and Tractor Rally on Saturday.

PHOTO: SHELLEY TOPP

Bill'strusty Ford ashow drawcard

By SHELLEY TOPP

Agleaming 1914 Ford Model Twas one of

the star attractionsatthe Rangiora

RSA'sVintage Car and TractorRally.

The annualcar­show fundraiser was

held last Saturday, beginning in the

Rangiora RSA car park,then movingto

the Loburn Reserve.

At the end of the show, the cars were

takenonatour through the Charles

UphamRetirement Village during the

returntrip to Rangiora, to the enjoyment

of residents.

The Model Tisowned by Bill

Woodhouse,ofRangiora, who bought the

restored vintage beauty 12 months ago.

Duringlast year'slockdown, he built a

miniatureversion for hissix­year­old

grandson, Braxton. Bill also owns a1929

Ford Model A.

A1937 Lanz Bulldogtractor, ownedby

Phil Kerr,ofWest Melton, alsoattracted

alot of attention.

Car show organiser Ros Steans said 67

carsand 14 vintage tractors took part.

Entries wereslightly down on last year,

which she thoughtmightbebecause of

the long Waitangi Day weekend.

The Rangiora Pottery Group also took

part, providing the catering at the

reserveasafundraiser. Members also

had someoftheirpottery work on sale.

The group's tutor, Michael Michaels,

gavepottery­making demonstrations

during the day.

Social media can raise perceptions that

some North Canterbury communities are

hotspots for crime.

But Inspector PeterCooper, the Rural

Canterbury area police commander, says

crimerates in the Waimakariri and

Hurunui districts are among the lowest

in the country.

Mr Cooper, respondingtosocial media

claims of risingcrime in parts of North

Canterbury, says theyare notborneout

by statistics.

The Rural Canterbury policing area

covers the Waimakariri,Hurunui,

Selwyn and BanksPeninsula districts,

with atotal population of 154,000people.

''We don't liveinadangerous

community. It'sagreat placetobring up

kids,'' says Mr Cooper,who has lived in

Rangiora for more than20years.

''Social media cancontributetothe

perception and fearofcrime and we

don'tignore that.People's perceptions

are very realand they needtofeel safe in

their communities.''

But Facebookisnot acrime­recording

mechanism whichthe police followup

on, he says.

''Police can only deal with real

information. If the communitylets us

know what'sgoing on, we can respond.''

Much of the crime reported on social

mediarelates to cars being stolenor

broken into.Most were parked on the

street with itemsleft in them, he noted.

Continued Page 2

Guarantee #1

DEFERRED

MANAGEMENT FEE

CAPPED AT 20%

Your DMFwill be capped

at 20% -one of the lowest

in the retirementsector.

charlesuphamvillage.co.nz

2013
---
NEWS

2 North Canterbury News, February 11, 2021

Grow

customers,

sales and

profits

with North

Canterbury's

best read

newspaper

Quarry hearing set for March

By ROBYN BRISTOW

Ahearingonaproposed

quarry at the Rangiora

racecourse is expected to start

in March.

Taggart Earthmoving Ltd has

applied to Environment

Canterbury (ECan) and the

Waimakariri District Council

for consents to establish,

maintain and operate an

aggregate quarry at the

racecourse, at 309 West Belt,

Rangiora.

However, the timeframe

couldbeextendedbythe

councilsifspecial

circumstances arisewhich

requiremore timetoconsider

and respond to requests for

furtherinformation, or if the

applicant decides to suspend

(place on hold) the application

process, according to ECan's

website.

The further information

requested fromTaggart by the

council is available on the

website.

It details how the company

proposes to mitigate dust and

flooding and how it proposes to

dealwith truck movements and

backfilling at the pit.

It also outlineshow much

water it proposes to use, and

how it willmonitor thesite,

dust and groundwater levels.

Submissionsonthe proposal

closedinNovember, withmore

than 170 submissionsreceived

by the councils.

Taggart is seeking approval

to quarry the racecourse land

in stagesover 15 years.

The proposal involves

topsoil stripping, aggregate

extraction to adepth of no

more than fivemetres below

groundlevel, and remediation

of the affectedareasby

backfilling.

Excavation and deposition of

material willmaintain at least

one metre of separation from

groundwateratall times.

No crushing, screeningor

washing of aggregates is

proposed at the site.

Accordingtothe application,

the quarrying will be done in at

least eightstagesofnomore

thantwo hectares each, over a

total areaof14.5 hectares.

The site will be accessed via

adedicatedaccess point from

River Road.

Good atmosphere at beaches

Readership: 47,000 weekly

Circulation: 30,150 copies delivered

to EVERY farm, RD, lifestyle block

and home inWaimakariri, Hurunui

&Kaikoura every Thursday.

news

Robyn Bristow

Managing Editor

027 312 1581

robyn.bristow

@ncnews.co.nz

Reporters

Neil Clarkson, David Hill,

Shelley Topp.

advertising

DaynaBurton

Sales Co-ordinator

027 312 0089

dayna.burton

@ncnews.co.nz

AmandaKeys

Advertising

027 536 6224

amanda.keys

@ncnews.co.nz

Kerryn Clark

Advertising

021 586 138

kerryn.clark

@ncnews.co.nz

RichardMcCombie

Advertising

022 024 3092

richard.mccombie

@ncnews.co.nz

getintouch

Editorial

info@ncnews.co.nz

Advertising

sales@ncnews.co.nz

Graphic Design

heather.hood@ncnews.co.nz

Distribution/Deliveries

03 314 8335

Rangiora: 03 313 2840 /03314 8335

14 Ashley St, Rangiora

Christchurch: 03 364 7460

www.starnews.co.nz

2353083

Vigilant ... Sumner Surf Life Saving

Club member Sam Bos on duty at

Waikuku Beach.

PHOTO: DAVIDHILL

Region'scrime statistics among lowest in country

From Page 1

''Wedoget stuff happening and alot of

crime we do get is totallypreventable.

WhenIfirst came to Rangiorayou could

leave your frontdooropen and go to

work.

''But we don't live in acommunitylike

thatanymore. We liveingrowing

communities and population change

creates achanged environment.

''Communitiescan help themselves by

parking carsoff the street andnot leaving

stuff in them.''

The growingpopulation has also

resulted in agrowinggangpresencein

North Canterbury.

Trafficoffences also takeupalot of

police time,and Mr Cooper saysthere is

By DAVID HILL

NorthCanterbury's life

guards have enjoyed aquiet

summer so far patrolling

the region's beaches.

Surf Life Saving New

Zealand regional manager

Stu Brycesays the mixed

weather has resulted in an

average season across the

region, with North

Canterbury beaches among

the busiest.

''Thesummer hasn'tbeen

the hottestand the surf

conditions haven't been

massive. Thewind does

create abit of aproblem,

but people have been

keeping to the flags,which

savesusalot of work.''

Whilethere havebeen

room forimprovement across all age

groups.

But most reported incidents relate to

thethings people do not like to talkabout

—family harm and mental health.

Sometimes,itmeanspolice haveto

prioritise,hesays.

''It'sthe differencebetween going to

where acar has been brokeninto and the

offenderhas alreadyleft thescene, or an

incidentwhere alife could be in danger.''

Sadly, family harmreportshave

increasedover thelastyear.

''Our demand beforeCovidwas pretty

steady andthenitvirtually disappeared

duringlockdown. Butwehaveseen it

steadily climbsince lockdown to the

point it'snow higher thanpre-Covid.''

Mr Cooper sayshehas heard the

Younger looking

skin starts here

Arevitalised you isonly a

consultation away.

Botox |Dermal Fillers |Micro needling for fine lines and scarring

Radiofrequency Surgery |Prescription Skincare products

All treatments completed by Dr Peter Aspell. Trust your face to aprofessional.

Contact Durham Health Cosmetic Clinic (03) 313 4659

www.durhamhealth.co.nz

some major rescues at

Sumnerbeach and Taylor's

Mistake, therehave been no

significant events at the

Waikuku, Woodendand

Pegasus beaches, aside

from ''minorfirst-aidand a

few assists'', Mr Bryce says.

''People have been

swimming between the

flags and looking after each

other,'' he says.

Waimairi Beach SurfLife

Saving Clubmember

Jackson Smith was patrol

captain at Waikuku Beach

for aweek last month and

says he enjoys coming to

Waikuku.

''A lot of people cometo

Waikukuonholiday and it's

agood atmosphere.

''It'sanawesome job

rumours thatNorth Canterburypolice

are under-resourced.

The Kaiapoi and Rangiora police

stationshave staff rostered on 24/7,while

the country station staff ''workavariety

of different rosters andtheyare always

on call''.

No decisionhas beenmade on the

future of the quake-damagedRangiora

policestation in HighStreet, but the

building has beencondemned.

Mr Cooper hopes to announceanew

temporaryRangioralocation soon, while

awaitinglonger-term decisions from

national policeheadquarters.

Incidentsneedtobereported by

calling 111inanemergency or 105for

non-urgent enquiries, or go onlineto

105.police.govt.nz.

2095268

whenit's busy, because you

get to help thecommunity

and,when the community

swims betweenthe flags, it

helps us out as well.''

The coolerweather

means there are fewer

''blue bottles'' to sting

unsuspectingswimmers at

Waikuku,MrSmithsays.

''Blue bottles''are small

jellyfishwhichcan swarm

in shallows on hotdays.

Week-day patrols were in

actionfor four weeks at the

Pegasus and Woodend

beaches, while at Waikuku

Beach the weekly patrols

completed asix-weekstint

at the end of January.

Weekend patrols will

continueatWaikuku Beach

until mid-March.

Kaiapoi Lodge

Residential Care

Nursing Home, Hospital and

Respite

Person Centred Care,

Care that's built

around you

6Cass Street, Kaiapoi

Ph 03 327 7235
---
NEWS

North Canterbury News, February 11, 2021

Buried tyres await removal

3

Caring for North Canterbury

Dr John Dehn

Full Mole Checks

using Dermoscopy

Surgical Management

and Aftercare

Comprehensive, Affordable, Convenient

Ph 03 9204060

52 Pegasus Main Street,Pegasus 7612

www.pegasusmedicalcentre.co.nz

Southern Cross

Affiliated Provider

For selected services

1890742

Major undertaking ... Angelique Hyde has worked long hours to bury the tyres, which will be removed after cooling.

PHOTO: ROBYN BRISTOW

By ROBYN BRISTOW

Amberley's tyre fire has been

smothered.

The charred remains of the

160,000 tyres are now buried

undertonnes of dirt, quelling

any smoke. The pile has been

compacted by a20tonne

digger.

Charred trees, which have

been cut down, and the burnt

remains of dismantled sheds

are the only indication of the

intense fire that occurred in

tyresonRacecourse Road on

January 29.

Once the site has cooled, a

Committee has high hopes for new music festival

By DAVID HILL

Adate has beenset forthe inaugural

Waimakariri Country Music Festival.

The festival,first conceived ayear ago,

will be held at the Rangiora Showgrounds

from February 11 to 13 next year.

Organisers are fundraising in earnest to

stage the first festival.

Festival committeechairman Kevin

Taylorsays the event is being timedto

form acircuit with the established Music

in the Mountains festival at Tapawera, in

the Nelson region, and the Buller Country

Music Festival.

''Thisisgoing to be great for the area, it

reallywill. We areexpecting200

motorhomes to come for the weekend, so

it will be good for local businesses.''

cover will be put overittostop

rainfrom washing

contaminants from the site.

Angelique Hyde, along­time

supporter of land­owner

Warren Hislop, has worked

non­stop to cover the fire, with

thehelp of friends.

Thecommunity was on

tenterhooks when the fire

broke out. They feared it would

spread or drop toxic wasteon

homes, crops, vineyards and

vegetable gardens, or affect the

contents of rainwatertanks.

No water or foamwas used

on the fire because of concerns

forthe local watersupply. Fire

breaksstopped it from

spreading.

Environment Canterbury,in

an update on its website, says

groundwater samples have

been sent for analysis. It is

hoped to have them back by

tomorrow (Friday).

Surface samples taken from

avineyard and several nearby

properties are also being

tested. Any residual air

pollution has generally been

low, according to readings at

the Broomfield Schooland

BloomfieldsPreschool.

Angelique says she

appreciates the kind thoughts

Committee members weredue to

attend the Buller festival last weekend to

see how the event is run and to

lineupsome artists for next

year, he said.

''We'vegot one artistalready,

but we want to get threeorfour

top New Zealand artiststhat

willattract people to come.''

The festival committee has a

fundraising concertatPines

Beach this Sunday, with

singers from north and south

Canterbury, as well as alocal

bandand localmusicians.

He says the committeehas had good

support fromVisit Waimakariri and the

Motor Caravan Association. He hopes

local businesses willalso get on board.

Kevin Taylor

and support she has been

given. Movesare afoot to set up

aGive aLittle page to raise

funds to remediatethe site.

ECanisalso working to find

funding to help shift all the

material for disposalatKate

Valley or asimilar site.

Funds raised would all go

intoatrustfund to pay for

remediation, Angelique says.

''I am workingtoremediate

the site for the community,and

for Warren.

''Itwill eventually all be

gone.''

Aman, 63, is accusedof

arson in relation to the blaze.

More sausage sizzlesand amini concert

are planned forlaterinthe year,asthe

committeeaims to reach a

$5000 goal to fund and promote

the firstevent.

Ashow with hypnotist Brian

Gee is alsoplannedfor May 22

at the Kaiapoi Club.

''We've got awee bitofwork

to do yet and, next, we will be

looking at sponsorship,'' Mr

Taylorsays.

''We've got afantastic, small

committeeand alot of

volunteers who are helping at

differentevents.''

For more information, or to get

involved, contact Kevin Taylor at

stkev30@gmail.com.

SUMMER

SALE

Hurry in...

they're

walking

out the

door fast!

Ending

soon

Kaiapoi Mill, Ranfurly Street, Kaiapoi

Monday –Friday 9am –5pm

Saturday 10am –1pm

Closed on Public Holidays

Ph 03 327 0576

2353140

Do you own 8.0ha +of

rural land in WDC?

+Subdivision rules are likely to change soon

+Secure your options for 5years now

+Contact us to discuss today

_ __________________________________________________________________________________

hello@survus.co.nz

www.survus.co.nz

0508 787 887

Request yoursite-specific

fee proposal today
---
NEWS

4 North Canterbury News, February 11, 2021

Bush awelcome home for rare mistletoes

Tiromoana Bush, alongside the Kate

Valley landfill, is providing the precise

conditions required for the growth of

three unusual native mistletoes, an

expert on the reserve says.

The mistletoes are among

more than 200 species of

native plants growing in the

bush.

What makes these

mistletoes so extraordinary is

that, unlike most plants, they

cannot germinate on the

ground.

Instead, they need their

seeds to be spread by birds to

the correct host tree where

their ''roots'', called

haustoria, grow into the

branches and extract all the water and

nutrients they need to survive from their

host species.

Under threat ... White mistletoe is

considered at risk and is considered to be

declining nationally.

David Norton

They are picky about the trees they

choose to live on.

Professor David Norton, from the

University of Canterbury's School of

Forestry and author of The Tiromoana

Bush Restoration Management

Plan, says it is pretty special to

have three mistletoe species in

Tiromoana Bush, considering

the exacting conditions

required for their growth.

"So many factors have to

come together to enable our

rare native mistletoes to

survive,'' he says.

"Birds are required to

spread their seeds, and

deposit them accurately on to

specific native hosts for them

to establish and grow. For example,

dwarf mistletoe only grows on kanuka,

making it incredibly rare, yet a

significant number are growing in

Tiromoana Bush."

The three species of mistletoe are the

dwarf mistletoe (Korthalsella

salicornioides)which occurs only on

kanuka, white mistletoe or tapia (Tupeia

Antarctic), which occurs on five­finger,

and green mistletoe or pikirangi

(Ileostylus micranthus), found on

mingimingi, matagouri and afew other

hosts.

Professor Norton says dwarf mistletoe

is the rarest of the three, nationally.

It appears to be anaturally uncommon

and biologically sparse species, and is

considered critically endangered.

It is ranked Nationally Critical, the

highest threat level in New Zealand,

because of concerns its main host

Rare sight ... Dwarf mistletoe, pictured growing in Tiromoana Bush, is considered

critically endangered.

PHOTOS: SUPPLIED

species, kanuka, might be affected by

myrtle rust.

White mistletoe is ranked as At Risk­

Declining nationally, and is also sparse

in many areas of New Zealand.

Green mistletoe is widely distributed

nationally and the most common species

in the bush.

Tiromoana Bush and the native forest

restoration project are owned and

funded by Transwaste Canterbury,

which owns and operates Kate Valley,

near Waipara.

The bush is open free of charge to the

public to experience aregenerating

lowland native forest.

For more information and visiting

hours, visit transwastecanterbury.co.nz

Hearing aids at

Specsavers prices

and no hidden fees?

Sounds good.

To find astore near you ortobook online visit specsavers.co.nz/hearing

NZ_CHRIST_HPH2
---
Council backs

plan for more

housing land

By DAVID HILL

The Waimakariri District

Council is backing aproposed

change to the Canterbury

RegionalPolicy Statement,

whichwill allow more

residentialland to be released

in Rangiora and Kaiapoi.

Councillorsvoted at last

week's council meeting to make

asubmission supporting

EnvironmentCanterbury's

proposed change to chapter six

of the RegionalPolicy

Statement.

The proposed change will

allowfor rezoningfor new

housing developments in

Rolleston, Rangiora and

Kaiapoi to support projected

populationgrowth over the

next 30 years.

The Waimakariri district's

populationisprojected to grow

from 64,700 (as at June 30, 2020)

to 78,400 in 2031, andhit

100,000 by 2051.

Growth at that levelmeans

around 4800 new houses need

to be built over the nextdecade

and more than 12,000 new

houses by 2051.

The change is likely to lead to

higher housing density in the

Waimakariridistrict, whichthe

council tentativelyagreedtoas

part of the Our Space 2018­2048:

Greater Christchurch Settlement

Pattern document in 2018, chief

executive Jim Palmersaid.

''Through the Our Space

document we did sign up to

higherdensities, from 10

householdsper hectare to 12

householdsper hectare. We

just didn'tspecify how that

would work.''

Development planning

manager Trevor Ellis said the

prospect of higher­density

housing is something which is

being constantly grappled with

as the populationgrows. ''We

are under continual pressure

aroundaway of thinking and of

providinghigher density

housing. At the momentit's

mainlyaround affordability,

but it's also coming with the

Climate ChangeCommission's

recommendations.

''We do have different zones.

We have different residential

zones and ruralzones and we

have recommendedminimums

which offer choice.

''But developersmay choose

to do somethingdifferent, by

offeringlarger lots or multiunits

on one section,

depending on what theythink

will sell.''

The proposed change was

notified on January 16 and

submissions close on Monday.

NEWS

North Canterbury News, February 11, 2021

5

Best friends

... Enzo Scott­

Richards, aged

8, of West

Eyreton, and

his sister

Poppy, 6, with

Zinzan, the

greyhound

Enzo,

fundraised for

two yearsto

buy fromthe

Greyhounds as

Pets charity.

PHOTO: SHELLEYTOPP

Zinzan settles into country life

By SHELLEY TOPP

ANorthCanterburyboy has

fundraisedfor two yearstoadopt

aretired greyhound.

The Greyhounds as Pets (GAP)

hound, whose kennel name was

Cracker, nowhas aforever home

with Enzo Scott­Richards, aged 8,

and his familyontheirWest

Eyreton lifestyle block.

Enzo began fundraising in 2018

to raise the $380 he needed to

adoptCracker from GAP.

Initially,hemade concrete

garden mushrooms to paint and

sell at the Oxford Farmers

Market during the summer

holidays. The nextyear he made

dog biscuits to sellatthe market.

''People were really generous,''

he said. ''Some even gave me a

donationtohelp.''

Enzo became interested in

getting agreyhound afterseeing

one duringaSkype sessionwith

an English friendwho owns one.

However, it was aftermeeting

someduring aGAP promotion at

the marketthat he decided to

begin fundraising to adopt one.

GAP dogsare rehomed from

threeGreyhoundNew Zealand

kennels, in Cambridge,Levinand

Rangiora,orfrom avolunteer

foster home. Eachperson

wantingtoadoptisscreened to

ensure agood match.

''They really work hardto

match the dog with the family,''

Enzo's mum, Amanda,said.

''Althoughgreyhoundsare big

dogsthey make great pets

because they are so gentle.''

Enzo, who also loves rugby,has

renamed his new pet Zinzan,

after former All Black great

Zinzan Brooke. Zinzanhas

settled into his new homewell.

ThisSaturday, from 12pm to

2pm,hewillbeoutside

SpecSavers in Rangiora's High

Street to help fundraise for other

GAP hounds.

is proud to bring

NIGEL LATTA

to Rural North Canterbury

WE HAVE

MOVED!

Rivers to Ranges is nowlocated at

9HighStreet

(nexttoThe Warehouse).

Wednesday 10 March (2 Sessions)

Kaikoura Memorial Hall,

32 Esplanade, Kaikoura

Arrive 11:45am for midday start,

light snacks after session

Omihi Community Hall,

9Reeces Road, Omihi

6.30pm, light snacks prior to session

commencing at 7.00pm

Nigelwill be doing what he does best

-talking about neuroscience and why

our brains do what they do, adapting to

changeand mitigating the lasting effects

of stress.

AFUN, FREE&EDUCATIONAL TALK THATISNOT TO BE MISSED!

Thursday 11 March (2 Sessions)

Rangiora RSA,

82/82Victoria Street, Rangiora

Arrive 12:45pm for 1:00pm start,

lightsnacks after session

Dunsandel Community Centre,

1456 Tramway Road,Dunsandel

6:30pm, lightsnacks prior tosession

commencing at 7:00pm

BOOK ONLINE for the free event in your area

https://events.humanitix.com/tours/nigel-latta

Book ababysitter and come along, secondaryschool students are welcome

to the evening sessions.

Any other enquiries to ncrst.coordinator@gmail.com

2352500
---
OPINION

6 North Canterbury News, February 11, 2021

Massive tyre blaze was

aconfronting sight

It would remiss of me not to

acknowledge the community of

Amberley, and beyond, in regard to the

recent tyre fire.

Iwas informed of the fire at 3.20pm

on the Friday and was on site by 4pm.

It was confronting to witness, and I

appreciate the concern of those close

by, for what they were experiencing.

Iwould like to pay tribute to the

firefighters from near and far who

placed themselves in the ''line of fire''

to protect property.

What Iobserved were the fire teams

working in unison under extreme heat

and difficult conditions.

Iappreciate that those who live and

work near the site have concerns in

regard to their own wellbeing, and that

of their animals.

Given that asolution was about to be

realised for the tyre removal, it is now

critical that you are aware of the

remediation details.

To provide an opportunity for

feedback, apublic meeting was hosted

at short notice on Saturday, January 30,

and asubsequent meeting will be held

on Thursday, February 11, at 6pm at the

Tin Shed in Amberley.

Itrust many of you will follow the

regular updates on the Hurunui

District Council website that are

received from Environment

Canterbury and the Canterbury District

Health Board.

Iattended the Canterbury Mayoral

Forum on February 5, where we met

with the chairs from each runanga

across Canterbury.

This was an opportunity to begin to

build, or further develop our

relationship with Ngai Tahu.

McALPINES MITRE 10 MEGA RANGIORA -OCEAN WATCH

This

Week

Sun

Fishing

Guide

Moon

Wind

STOP BIRDS

hail, leaves, snow &vermin from

blocking &damaging your spouting

Quality materials: BHP Colorbond steel mesh with unique

patented louvre will even keep out pine needles. Will not rust or

sag with age or load. 10 year warranty,range of colours.

Proven in Australia &New Zealand over the last 15 years.

FOR SAFE, PURE DRINKING WATER

FROM YOUR ROOF.

NOW AVAILABLE: STAINLESS STEEL MICRO MESH

Call Rohan anytime Mon-Sat for

ano-obligation assessment &quote

03 982 8850 0800 486 532 www.gumleaf.co.nz

Ok

Thursday Friday Saturday Sunday Monday Tuesday Wednesday

Feb 11 Feb 12 Feb 13 Feb 14 Feb 15 Feb 16 Feb 17

Rise 6:43am

Set 8:41pm

Best 12:42am

Times 1:09pm

Rise 5:25am

Set 8:44pm

Moderate Sturning

E

Ok

Rise 6:45am

Set 8:40pm

Best

Times

1637376

1:36am

2:01pm

Rise 6:34am

Set 9:16pm

Moderate SE

In the Hurunui, we work with both

takiwa –TeNgai Tuahuriri at Tuahiwi,

who cover south to the Hurunui River,

and Te Runanga oKaikoura, who cover

from the Hurunui River north.

The council is continuing to develop

the Long Term Plan.

This is an important piece of work

that will shape how the council will

provide the services ratepayers expect,

with alonger vision lens to cover the

10­year period from 2021­2031.

We are also keeping aclose eye on

the central government's three waters

reform and how this will impact on our

rural district.

The Canterbury Mayoral Forum will

meet next week in Timaru, and Cr

Michael Ward and Cr Pauline White

will join me at the Zone meeting in

Wanaka in March. Deputy Mayor Vince

Daly will accompany me to Wellington

for the rural and provincial meeting.

It is critical we attend these meetings

to keep abreast of the proposed three

waters reforms, the Resource

Management Act, and climate change,

to mention afew important topics.

We are working hard as acouncil to

reflect the desirable outcomes that you

all expect, and Iamgrateful to the

hard­working team that helps us

achieve this.

There is some great events coming

up, with Refill your Cup on February

24, the Rural support Trust

presentation by Nigel Latta on March

10 in Omihi, and the Waiau community

will host former television presenter

Matt Chisholm on April 10. During

March, the A&P shows in Amuri,

Cheviot and Hawarden will be held.

How lucky are we?

Collectors sought

Streetcollectors are needed for theChild

Cancer Foundation's annual appeal on

Friday, February26, andSaturday,

February27.

Two­hourshiftsare available for

volunteerson bothdays.

Formore information,go to

volcanmatch.com under thecategory

''public contact'', or phone

(03) 366­2442.

Ok

Rise 6:46am

Set 8:38pm

Best

Times

2:25am

2:49pm

Rise 7:43am

Set 9:44pm

Moderate Sturning

E

Ok

Rise 6:47am

Set 8:37pm

Best

Times

3:11am

3:34pm

Rise 8:49am

Set 10:08pm

Gentle SE becoming

moderate E

Ok

Rise 6:49am

Set 8:35pm

Best

Times

3:55am

4:16pm

Rise 9:53am

Set 10:30pm

Moderate Sturning

E

Good

Around the electorate with

STUART SMITH MP FOR KAIKOURA

Path to acleaner future

It was no surprise to anyone that the

Climate Change Commission's recent

report found that we are not meeting our

emissions targets.

As Ipredicted, the commission has

recommended that the government

introduce araft of new policies.

Iwrote before the release that it is

imperative that the Government does

not meddle with the freedoms of New

Zealanders and finds solutions to

achieving net zero carbon emissions

using effective and rational policy.

Fortunately, the commission's report

shows that with acarbon price of just $35

per tonne, we will be 85 percent of the

way to net zero by 2050, and with a

carbon price of $50 we get all the way to

net zero, including agriculture, for longlived

emissions.

The carbon price today is already at

$38 per tonne, so it is not an

insurmountable goal and shows the

effectiveness of the Emissions Trading

Scheme.

There is no need to pursue atop down

approach to reducing emissions as many

studies have shown it to be needlessly

costly and ineffective.

Some may be prepared to pay the cost

to run aseven­seat sports utility vehicle

for their large family; others will trade

them in for asmaller electric vehicle.

Rise 6:50am

Set 8:34pm

Best

Times

4:37am

4:57pm

Rise 10:55am

Set 10:51pm

Gentle SE becoming

moderate E

Good

Rise 6:51am

Set 8:33pm

Best

Times

5:18am

5:38pm

Rise 11:56am

Set 11:13pm

Gentle SE

strengthening

Some will invest in solar water

heating, while others will continue with

their Infinity hot water system. But there

is no need to ban things, or introduce

fees or rebates. The appropriate carbon

price will lead to everyday decisions to

lower emissions in response to cost.

There are always going to be ways to

lower emissions effectively that have not

occurred to the commission, and that is

why the Emissions Trading Scheme

should be left to do its work in the

background, rather than to expect Big

Brother to tell us what to do.

For example, it may well be more

efficient to heat water in some homes

with an existing gas system rather than

electricity, which may be generated by a

gas power plant with up to 12% losses

through the distribution network.

This is all about being practical and

finding the best solution, rather than

seeking ideological nirvana, that in the

end will always lead to an insecure

power supply and other such problems.

The agenda for the government has

now become quite clear, based on the

commission's statistics. Use acommonsense

approach, use the Emissions

Trading Scheme so that people can

make their own decisions, and don't

meddle with people's freedoms. It's as

simple as that.

Woodend lights celebrated

Themuch­anticipatedtraffic lights are

finally in useoutside WoodendSchool.

Waimakariri Mayor Dan Gordon was

joined by New Zealand Transport

Agency director of relationships Jim

Harland, Woodend School principal

AdrienneSimpson andstudentleaders

at aribbon­cuttingceremonylastweek.

Representatives from consultancy

company Beca and construction firm

FultonHogan also attended.

''It's great to see this in place justin

timefor schoolstarting back,'' Mr Gordon

said. ''It'sbeenalong time comingand

it'sfantastic there is finallyasafe way

across the state highway for school kids

and wider Woodend.''

The lightsand the crossingare partof

awider road safety improvementproject

along State Highway 1, led by the agency.

Mr Gordon says effective advocacy

❛ It's fantastic there is

finally asafe way across the

state highway.❜

—Waimakariri MayorDan Gordon

withthe agency wascentral to the

project's success. ''Thecommunity can

takehuge credit for this,including the

students and stafffromthe school.

"We now needNZTAtoconfirma

timetable for the remaining road

improvements through Woodend.

''These willbuildonthegoodwork

we'recelebrating todayandmake

walking and cycling amoreviable

option forthecommunity before they

hopefullycommittotheWoodend

Bypass.''

Swell

Pegasus Bay

Tide Chart

3

2

NE 1.1 m SE 0.8 m NE 1.0 m NE 1.1 m NE 0.7 m E0.6 m E0.8 m

3 6 9 NOON 3 6 9 3 6 9 NOON 3 6 9 3 6 9 NOON 3 6 9 3 6 9 NOON 3 6 9 3 6 9 NOON 3 6 9 3 6 9 NOON 3 6 9 3 6 9 NOON 3 6 9

1

0

Highs Lows Highs Lows Highs Lows Highs Lows Highs Lows Highs Lows Highs Lows

Waimakariri 5:08am 2.5 11:22am 0.5 5:58am 2.5

6:46am 2.4 12:32am 0.4 7:33am 2.4 1:19am 0.5 8:19am 2.3 2:05am 0.5 9:05am 2.3 2:49am 0.6 9:51am 2.2 3:34am 0.7

Mouth

5:27pm 2.3 11:42pm 0.4 6:18pm 2.3 12:12pm 0.5 7:07pm 2.3 1:00pm 0.5 7:56pm 2.3 1:46pm 0.5 8:44pm 2.2 2:32pm 0.6 9:30pm 2.2 3:17pm 0.6 10:15pm 2.2 4:02pm 0.7

Amberley 5:08am 2.5 11:22am 0.5 5:58am 2.5

6:46am 2.4 12:32am 0.4 7:33am 2.4 1:19am 0.5 8:19am 2.3 2:05am 0.5 9:05am 2.3 2:49am 0.6 9:51am 2.2 3:34am 0.7

Beach

5:27pm 2.3 11:42pm 0.4 6:18pm 2.3 12:12pm 0.5 7:07pm 2.3 1:00pm 0.5 7:56pm 2.3 1:46pm 0.5 8:44pm 2.2 2:32pm 0.6 9:30pm 2.2 3:17pm 0.6 10:15pm 2.2 4:02pm 0.7

5:17am 2.5 11:31am 0.5 6:07am 2.5

6:55am 2.4 12:41am 0.4 7:42am 2.4 1:28am 0.5 8:28am 2.3 2:14am 0.5 9:14am 2.3 2:58am 0.6 10:00am 2.2 3:43am 0.7

Motunau 5:36pm 2.3 11:51pm 0.4 6:27pm 2.3 12:21pm 0.5 7:16pm 2.3 1:09pm 0.5 8:05pm 2.3 1:55pm 0.5 8:53pm 2.2 2:41pm 0.6 9:39pm 2.2 3:26pm 0.6 10:24pm 2.2 4:11pm 0.7

5:19am 2.5 11:33am 0.5 6:09am 2.5

6:57am 2.4 12:43am 0.4 7:44am 2.4 1:30am 0.5 8:30am 2.3 2:16am 0.5 9:16am 2.3 3:00am 0.6 10:02am 2.2 3:45am 0.7

Gore Bay 5:38pm 2.3 11:53pm 0.4 6:29pm 2.3 12:23pm 0.5 7:18pm 2.3 1:11pm 0.5 8:07pm 2.3 1:57pm 0.5 8:55pm 2.2 2:43pm 0.6 9:41pm 2.2 3:28pm 0.6 10:26pm 2.2 4:13pm 0.7

5:10am 1.9 11:27am 0.4 6:02am 1.9

6:53am 1.9 12:34am 0.4 7:42am 1.8 1:24am 0.4 8:30am 1.8 2:13am 0.4 9:17am 1.7 3:01am 0.5 10:04am 1.7 3:48am 0.5

Kaikoura 5:31pm 1.7 11:41pm 0.4 6:24pm 1.7 12:18pm 0.4 7:15pm 1.7 1:08pm 0.4 8:04pm 1.7 1:57pm 0.5 8:52pm 1.7 2:45pm 0.5 9:39pm 1.7 3:31pm 0.5 10:25pm 1.7 4:17pm 0.5

*Not for navigational purposes. Wind and swell are based on apoint off Gore Bay. Maori Fishing Guide by Bill Hohepa. www.ofu.co.nz www.tidespy.com Graphic supplied by OceanFun Publishing Ltd.

2118223
---
SUMMER SALE

Selected savings in all departments

Manchester

Towels sets

from $30

All Duvet

inners

50% off

Menswear

Sales racks from $29

Selected from $69

Lingerie

Furnishings

Womenswear

50% off

50% off

Selected

from $39

All Lingerie and

Sleepwear

20% off

Selection of

bras

from $10

Footwear

Human Premium summer

sandals Were $79

Now $39

Selected styles 30% off

30% off

Boston rugs

Giftware

Selected framed art prints

down to $30

Dinnerware

from $10

Haberdashery

Up to 30% off Selected wool

50% off Selected buttons

and patterns

Cushions

from $19

150yearstrading inKaiapoi

Cnr. Williams Street &Raven Quay

Open 7Days |Phone: 03 327 8029

www.blackwellsdeptstore.co.nz

2348498
---
NEWS

8 North Canterbury News, February 11, 2021

Colt has big horseshoes to fill

By SHELLEY TOPP

It will be along day for Kaiapoi's Neil

Radford,aged 82, at Christchurch's New

Zealand National Standardbred

Yearling Sale next Wednesday.

Neil's royally bred colt, Sooner The

Bettor, is lot 410 in the sale's catalogueof

430 yearlings being soldover threedays,

with one day in Auckland and two in

Christchurch.

The colt is by leading sire Bettor's

Delight, from In The Pocketmare Lucky

Pocket, afull sister to Christian Cullen.

Christian Cullen was asuperstarpacer

of the late 1990swho wentontobea

champion sire after his retirement.

WhileNeil is not thrilled his colt is

selling so late in the auction, he hopes

the long day proves worthwhile.

He is preparing the colt for the sale

and owns him in partnership withhis

brother, Wally Radford,aged 86, and

Wally's wife, Diane, of Rangiora.

The partnersown LuckyPocket, who

was an embryo transfer foaland the

mother of threewinners to date.

They also owned Lucky Pocket's

mother, PleasantFranco, who diedin

Theft of new plantings in district arising problem

By SHELLEY TOPP

The theft of newlyplanted treesis

becoming asignificantproblem forthe

Waimakariri District Council's parks and

recreationstaff.

''Unfortunately it is agrowingtrendin

the district and elsewhere throughoutthe

country,''the council's parks and

Curious colt ... Neil Radford, of Kaiapoi, with Sooner The Bettor.

2018. Pleasant Franco ratesasone of

New Zealand'sall­time best broodmares,

havinggiven birth to Christian Cullen,

Auckland Cup winner Kate's Firstand

other big winners.

Soonerthe Bettor is her grandson and

community assetsofficer,Greg Barnard,

said.

Peopleeither steal them to sell, or for

landscaping projects.

''We've lost numeroustrees to theftover

the lastcouple of years andunfortunately

there is verylittle we can do to stop it.''

The councilistrialling some ideas they

hope may helpprevent the thefts.

PHOTO: SHELLEY TOPP

hasalot to live up to in his ancestry,but

hasthe looksand pedigree to do so.

More The Bettor, his full brother, was

boughtbyleadingtrainers Markand

NataliePurdon at the 2015 sale. He has

so far won more than$620,000 in stakes.

Meanwhile, he is asking the publicto

keep awatch on newly planted treeson

council land and reportthefts promptly.

''It is extremely disappointing when

trees and plants are stolen frompublic

reserves,'' he said.

Private gardens havealso been

targeted, he added, with treesand readylaid

lawn being stolen.

Rail safety

explained

The Hurunui District Council has

partnered with localagencies and

schoolcommunities near railway

crossings to promote track safety.

The council is working with Kiwi

Rail, TrackSAFE, the police,Fire and

EmergencyNew Zealand and St John

on the initiative.

Council road safety co­ordinator

Dean Eades says the interactive

education sessions, which coincided

with the firstcouple of daysback in the

classroom, enjoyedagreat turnout.

Studentsand caregivers learned

aboutsafe walkingand driving

behaviouraround railway crossings

and railway lines.

Coincidentally,during one of the

sessions, afreighttrain rolled by.

"It proves apoint thatyou need to be

awareatall times around railway

tracks," Dean says.

People could stay safe by remembering

afew important tips, he said.

Dean sayslargetrains travel at

various speeds depending on whether

they are in an urban or ruralsetting.

"Don't underestimate their poweror

speed. Trains can take along timeto

stop,whateverspeed they'regoing,

sometimes taking hundreds of metres

in some cases, depending on their

length."

Levelcrossings are there for a

reason, he says, and takingshortcutsis

neveragood idea.

"Lookand listen in both directions

and remember to wait until all warning

signsand bells havestoppedbefore

crossing –there may be asecond train."

Dean is lookingforwardtofurther

TrackSAFEeducationsessionswith

schools during the year.

PROPERTIES WANTED

YOUR RURAL REAL ESTATEPROFESSIONALS

After several recent successful sales in North Canterbury, we have anumber of unsatisfied

buyers still actively looking for properties. If you are thinking of selling your property and would

like aconfidential discussion, or just amarket update, please give Ben Turner or his Team acall.

Cheviot 732ha Culverden 243ha Domett 144ha Fernside 51ha Motunau 190ha

Oxford 153ha Oxford 40ha Sefton 12ha Waiau 413ha Waipara 572ha

For North Canterbury properties

contact us today.

Ben Turner

027 530 1400

ben.turner@bayleys.co.nz

TopRural Real Estate Agent in NZ

2019/2020 -REINZ Awards

Pete Foley

021 754 737

peter.foley@bayleys.co.nz

WHALAN AND PARTNERS LTD, BAYLEYS, LICENSED UNDER THE REA ACT 2008

Residential / Commercial / Rural / Lifestyle
---
Thinking of Building? Join Us!'

Nick and Sarah

designed and built

their home with

Build7 two years ago.

They loved the

experience, and the

beautiful home they

built somuch that

they ended up joining

the Build7 family as

North Canterbury

sales partners.

Come and see their home and experience what anauthentic client designed home

looks like! This is not ashow home, but areal family home designed with love and

care asall Build7 homes are.

SATURDAY 13TH AND

SUNDAY 14TH FEBRUARY

2021,

10AM UNTIL 4PM

Build7 is proud toshow their Build and

Design quality even two years on from

the finished build.

We are confident youwill be impressed

with the results.

We are changing the game

Nick and Sarah Hoffman

canterbury.build7.co.nz

E nick@build7.co.nz

M 0276352753
---
NEWS

10 North Canterbury News, February 11, 2021

Crowd gathers to mark Waitangi Day

Coming together ... The sun came

out as Kaiapoi onceagain gathered at

TrousselotPark to celebrate Waitangi

Day. KaiapoiHigh Schoolhead students

and kapa haka groupmemberstaught

the crowd how to do Tahu Potiki (a haka

calling the descendants) before amass

kapa haka later in the afternoon.

PHOTOS:DAVID HILL

Colourful duo ... He Ling, left, and Jin Yu Qu, both of

Christchurch, wait to join acultural dance performance.

Haka lessons ... Kaiapoi High School kapa haka group members,

clockwise from back left, Nikau van Pelt, aged 16, Nikora Wall, 15, Ataahua

Hona, 17, and Waiora Brooks, 18, wait to teach members of the public the

Tahu Potiki in preparation for amass kapa haka later in the afternoon.

Setting the scene ... The Kaiapoi Borough School kapa haka group performed to an appreciative crowd.

Youth leaders ... Kaiapoi High School head students Charlie Wicks, left, and Hunter

Henley reflect on the importance of Waitangi Day.

Cooking up astorm ... Hamish Bain, left, and Angus Watson were hard at work at the

All Together Kaiapoi barbecue.
---
NICOL'S

SUMMERSUPERSPECIALS

RED HOTDEAL

Beko Ceramic

Freestanding Oven

•8CookingFunctions •72LitresUsable

•5YearwarrantyViaRegistration•Stainless

•H900xW600xD600

LIMITED STOCK

Bosch Series 6

Dishwasher

• 14 Place Settings • 6 Wash Programs

• Upper Cutlery Draw

• H 845 x W 600 x D 600

+12 MONTHS

INTEREST

16 TH FEBRUARY |5–7 PM

343A Flaxton Road, Rangiora•Phone (03) 313 7886

RUGBY&FOOTBALL

HUGE DEAL

Sunbeam Copper

Infused AirFryer

• 3L Capacity • 1500 Watts

• Timer Control

• DuraCeramic Coating

ON PRODUCTS

FREE! $499&OVER *

*Terms&ConditionsApply

WHILE STOCKS LAST

$

1399 $

1488 $

159

$

1188

LG 335L Fridge Freezer

• Door Cooling System • Reversible Doors

• 4-Star Energy Rating

• H 1720 x W 595 x D 677

18 TH FEBRUARY |5–7 PM

NETBALL

Head over to

our Facebook

page for more

details!

20OFF

ALL ASICS RUGBY,

FOOTBALL, AND

NETBALL FOOTWEAR

% ON THE NIGHT ALSO ENJOY

Our guests Active Health and

Asics,who will be there to talk

about all your sporting needs.

Be in the draw to win back the

price of your footwear.*

thesportshop.co.nz

345a FLAXTON RD, RANGIORA |03313 7983

Discount off the original retail price. Only while stockslast.

Some exclusions apply.*Limit one pair.
---
NEWS

12 North Canterbury News, February 11, 2021

CENTRAL

OTAGO

Apricots, Nectarines or $

6 49

kg

Peaches Loose

Product of New Zealand

Pams Fresh Baby Leaf

Lettuce 100g OR Ready

To Eat Fruit 150g Prepack$ $ 3

Galaxy Camembert, mbert, Brie

or Blue 100-125g or Mini

CinnamonSugarDonuts

13 Pack

49 ea

$ 3

79 ea

Hellers FreshBurgers

4Pack OR PRE–COOKED

SAUSAGES 1kg Plain

(excludeds Flavoured Variants)

$

8 99 ea

Pams Fresh NZ Chicken

Kebabs 8Pack or Prawns

Cooked &Peeled 300g

$

8 49 ea

mous Four Square $ 12 99

ea

Famous Four Square

Pizzas or Mixed

Savouries 24 Pack

On aroll Skating action ... Askate jam will be held at this Saturday's Summer Festival,

afamily­friendly day organised by WaiYouth.

PHOTO: FILE

Festival the biggest

day yet for WaiYouth

By DAVID HILL

Waimakariri'syouth plan to begin2021

withabang.

After many eventswere cancelled last

yearbecauseofCovid­19,WaiYouthis

planning itsbiggest eventyet —afamilyfriendly

Summer FestivalatDudley Park,

Rangiora,this Saturday.

The festivalwill run from 12pmto9pm

and incorporateaskate jam,atalent

competitionand afilmscreening.

Waimakariri DistrictCouncilyouth

development facilitator SamRedman

saidthe ideacame aboutbecause

WaiYouth had to axeseveral eventslast

year.

''Wemanagedtofit in the All Night

Party,but it waslaterthannormal and

everything else had to be cancelled.''

WaiYouth had planned to hold askate

jam at Dudley ParkinMarch last year, but

it wascancelled as the country headed

towardslockdown.

The talentcompetitionreplacesthe

popular CentreStageteen talent

competition, whichisnormally heldin

October.

Local musician David Rea willagain

leadapaneltojudge the talent.

The skate jam, runbyCheap Skates,

willrun from 12pm to 3pm,followedby

local bands performing.

The talentcompetitionwillrun from

about4pm to 7pmand will be followed by

afilmonagiant screen.

TheWaimakaririYouthCouncil will be

supporting the event by runningasausage

sizzle and doingthe finalconsultation for

itsDudley Parkproject.

Therewill also be foodtrucks.

WaiYouth's nextevent will be during

YouthWeek from May8to16.

Both WaiYouth and theWaimakariri

YouthCouncilwill be recruiting over the

next fewweeks, withmoredetails on the

twogroups'Facebook and Instagram

pages,and at waiyouth.nz.

Peopleaged 12 to 24 make up about 15

percent of the district's population,with

around9000 Waimakariri youth identified

in the 2018census,Sam says.

''It's agrowingnumberand that'swhy

theplanningisimportant.Wewanted

everyonetoberepresented and to have a

voice, andmyjob is to keep the profileof

young people up aroundthe community.''

This yearSam willbeworking on a

YouthPolicyfor the council andaYouthfriendly

Community Plan, to sitalongside

thecouncil'sYouth Development Strategy

adopted in 2018,and theAge­friendly

CommunityPlan adopted in 2019.

Applicationsare still openfor thetalent

competition, but must be madebeforethe

event at waiyouth.nz/summer­festival.

Entry to theSummerFestival is free.

Thepostponementdate is Sunday.

Old Lanz Bulldog still on aroll

$200

Good

Spo

Sport

$200

Summer Summer

Hamper Summer Hamper * *

$200

SEE INSTORE

FORMORE

INFO

BE IN TO WIN

UE WONDERBOOM

A U

RRP

$

120

BUYANY 2

V500ML CANS *

FILLOUT AN

ENTRYFORM

PLACEINENTRY

BOXIN-STORE

1TO BEWONPERSTORE

NEW

SEE

INSTORE

FORMORE

INFO

www.foursquare.co.nz

facebook.com/FourSquareNZ

Specials available South Island only from Monday 1st February until Sunday14th

February2021orwhile stocks last.Wine and beer available at stores with an off

licence. Wine and beer purchasesrestricted to persons aged 18 years old andover.

Tractor talk ... A1937 Lanz Bulldog tractor drew admirers during the Rangiora RSA's

Vintage Car and Tractor Rally at the Loburn Reserve last Saturday. Pictured are its

owner, Phil Kerr, of West Melton, second from left, and friends, Cody Winter, from

Rangiora, left, Cody's father, Kieran Winter, from Rangiora, rear, and Mike Ross, from

Ashburton.

PHOTO: SHELLEY TOPP
---
LIMITED OFFER

2018

ONLY

$

12,990

AVAILABLE ON

1/3 1/3 1/3 NO INTEREST FINANCE OFFER

Here's the easiest way to get a smart compact car that's brimming with features. Simply make 3 annual payments and enjoy

the nimble and stylish Mirage XLS, along with 15" alloys, hands free Bluetooth, 5 star safety, economy of just 5.0L per

100km and one of New Zealand's best new car warranties.

So don't miss out on this unique opportunity to own a quality pre-owned Mirage for only $12,990.

N o r m a l le n d in g a n d c r e d it c r it e r ia a p p ly. $ 4 , 3 3 0 + $ 6 3 3 . 0 5 f e e s ( w h ic h in c lu d e s P P S R a n d d o c u m e n t a t io n f e e s ) a r e p a y a b le o n d e liv e r y, $ 4 , 3 3 0 in 1 2 m o n t h s a n d $ 4 , 3 0 0 in 2 4 M o n t h s f r o m d e liv e r y d a t e .

To t a l c o s t in c lu d in g F e e s a n d O R C 's $ 1 3 , 6 2 3 . 0 5 . O ff e r a v a ila b le w h ile s t o c k s la s t .

RANGIORA MITSUBISHI

321 High Street, Rangiora | 03941 3175 | rangioramitsubishi.co.nz

NAVARA

RUNOUT

PER

FROM $91WEEK*

48 MONTH | 10% DEPOSIT | 60,000KM | NFV

FUTURE VALUES VARY BETWEEN MODELS

+ HUGE RUNOUT BONUSES!

NISSAN

5YR

150,000 KM'S

FACTORY

WARRANTY

WITH NISSAN

FUTURE

VALUE

Nissan will pay you the NFV (subject to meeting vehicle condition and servicing requirements and agreed km allowance and less remediation costs) which will be applied to your nal balloon payment.

Terms and conditions apply. Excludes all lease and some eet purchasers. Ooer available on eligible vehicles ordered and delivered by 28 February 2021 or while stock lasts. Nissan reserves the right to vary,

extend or withdraw this ooer. Not available in conjunction with any other ooer.

RANGIORA NISSAN, 321 High Street, Rangiora

Ph: 03 941 3175

www.rangioranissan.co.nz

rangioranissan.co.nz
---
NEWS

14 North Canterbury News, February 11, 2021

New lower speed

limit approved

By DAVID HILL

Anew speed limitof60kmh is to

be imposed on Main North Road,

southofKaiapoi, in abid to

improve road safety.

Councillorsvoted to approve

the newlimit at last week's

Waimakariri District Council

meeting, after publicconsultation

late last year.

The new limit appliestoMain

NorthRoad from Kaiapoi to the

old WaimakaririRiver road

bridge.

It will also applyonDoubledays

Road,NeevesRoad,Wrights

Road and on the finalsectionof

Tram Road,from GreigsRoad to

Main NorthRoad.

Roading and transport manager

Joanne McBride said47

responseswere received from the

public and the feedback evenly

split.

More thanhalf of respondents

supported the new 60kmh limits,

except for the speed reductionon

Main NorthRoad between

Neeves Road and the Kaiapoi

town entrance, which was

opposed by 51%.

But Ms McBride said a

submission from the police

recommended imposing a60kmh

limitalong the entire route.

The Christchurch City Council

recently imposedaspeed change

to the last section of Marshland

Road,from 70kmh to 60kmh,

meaning the entireroute from

Kaiapoi to Queen Elizabeth Drive

in Christchurch will now be

60kmh.

Apetition backedby

WaimakaririMPMatt Dooceyhas

been launched to oppose the new

Marshland Road limit.

Deputy MayorNeville Atkinson

backed the new limit, as the area

was becoming increasingly built

up with industry.

The new cycleway wasalso too

close to Main NorthRoadasit

approached Kaiapoi formotorists

to safely pass at 80kmh, he said.

''The environmentrequires

taking the speed down and it's

close to the cycleway and

walkway, the bus stop and traffic

lights.

''We need to drop it to

something sensibleand Ithink

60kmh is sensible.''

While they backedthe changes,

Crs PaulWilliams and Kirstyn

Barnettexpressed reservations.

''I'm concerned about

constantly reducing speed limits

as it doesn't seemtobereducing

the road toll. Ithinkit's more

about educationratherthan the

speed limit,'' Cr Williams said.

Cr Barnettsaid there needed to

be consistency.

''The Rangiora­Woodend Road

is 80kmh, but there's lots of

intersections including the five

roads intersection which pose

dangers.''

The operating speedsonthese

roads will be surveyedwithin six

months of implementation,Ms

McBridesaid.

New look ... There are several new faces on the Hurunui Youth Council, which recently held its first

meeting of the year.

PHOTO: SUPPLIED

Busy year ahead for youth council

By ROBYN BRISTOW

Aconservation project at

Balmoral Forest will continue

under the new Hurunui Youth

Council.

The council will also

continue the work of the

previous council in

introducing new methods of

waste reduction at local youth

events.

Roderick Murchison was

elected chair at the council's

first meeting of the year. He is

in his first year at Lincoln

University.

"I'm looking forward to

working with the HYC to

create projects that will

positively impact the youth of

our district. Iknow the team

we have this year will be very

productive,'' he says.

Shanaya White, aYear 13

student at Rangiora High

School, was elected deputy

chair.

"I'm so excited for the

opportunities this will bring,''

she said.

''I can't wait to work

alongside everyone in HYC

this year.''

Millie­Jane Mcilraith,

Samantha Wayne, Natasha

Hoban, Tahlia Beck, Damien

Durand and Liam Eades also

attended the first meeting as

new councillors.

Mayor Marie Black is

delighted to have ayouth

council that is representative

of the district.

"The energy at the first

meeting was obvious, and they

are very committed, with a

genuine desire to apply the

principles of the Youth

Strategy and advocate for the

youth voice.''

IS YOUR LOG FIRE COMPLIANT?

Come in and talk to us

about replacing your

non-compliant fire with

a clean burning,

ULEB (Ultra Low

Emissions Burner)

We have a large

selection of clean air

fires to suit most types

of house

½ price Flue Kit on

selected fires

Metro

Ultra Tiny

Rad only

$ $19999

Call us for a free, no-obligation quote

Stockists of

quality Metro,

Woodsman,

Jayline and

Masport fires.

We specialise in

arranging full

installation,

including.g council

consent.

Clean air wet

back model

available.

Ph: 03 313 5563

360 Flaxton Road, Rangiora |www.kingsmowersheating.co.nz

The Widest Music Variety

2352355

JOIN US NOW!

See website for details

Sign uptoSmart Deals &beinthe monthly draw for a$100 Dress-Smart gift card!

Tune in nowtolistenon104.9 North Canterbury

and103.7 Hanmer Springs andKaikoura

Open 10am-5pm, 7Days 03 349 5750

CHRISTCHURCH 409 Main South Road, Hornby

www.dress-smart.co.nz
---
RANGIORA

RETAIL AREA

EXTENSIONWELL

UNDERWAY

CHECKOUT OUR

NEWTRADE AREA

RANGIORA

100% LOCALLY

OWNED &OPERATED.

If youfind alower priceonanidentical stocked productlocally,wewill beatitby15%

If youfind the same productfromanother Mitre10store or Mitre10website, we'll match thatprice. Excludes trade and special

quotes,stock liquidations and commercial quantities.The in-storeprice maybelower than thatadvertised.
---
RANGIORA

BIG TASKS

MADE EASY

WITH THE

RIGHT TOOLS
---
BRIGHTEN UP

THE BATHROOM

TALK WITH OUR

TEAM TODAY

RANGIORA

100% LOCALLY

OWNED &OPERATED.

If youfind alower priceonanidentical stocked productlocally,wewill beatitby15%

If youfind the same productfromanother Mitre10store or Mitre10website, we'll match thatprice. Excludes trade and special

quotes,stock liquidations and commercial quantities.The in-storeprice maybelower than thatadvertised.
---
18

ADVERTISING

New Nurse Manager

enjoys "person-centred

care approach toall

our residents"

NEWS

North Canterbury News, February 11, 2021

Ultimate Care Groupwelcomesnew

NurseManager Lorraine Murray to

Ultimate Care Karadean. Lorraine is

originallyfromthe Midlandsinthe

UK andwas workinginShakespeare

country. In 2009 she andher family

decideditwas time forachange and

immigratedtoNew Zealand. Since

arriving in NewZealand hernursing

career has involvedlooking after the

elderly in hospital,resthomelevel,

dementiaand palliativecare. Shesay's "I

am quitepassionate aboutprovidinga

highstandardofcareand encouraging

staff to treateveryoneastheyortheir

lovedoneswould want to be treated".

In describingKaradean,Lorrainestates

that "the wholecountryside is your view,

it is very picturesque, quiet, relaxingand

welcoming. Ourfacility is nottoo large

andnot toosmall,sowecan maintain a

person centred care approach to all our

residents. Weare happytogothe extra

mile to ensure everyday canbeagood

day".

"Wehaveavarietyofroomsfrom

units, large singlerooms andstandard

roomstoaccommodateresident's

requirements, says Lorraine. "All

residents areencouragedtomaketheir

room feel like their ownhome. There

areplenty of lounge andseating areasto

relaxand enjoythe viewsand ourhome

cooked meals".

Ultimate Care Karadean offers hospital

andresthomelevel care as well as

palliative care.Families areencouraged

to participate in planningthe care of

their lovedone andare keptuptodate

with anychange or changesincare

beingprovided. Oxford has averyclose,

community bond to assist in caring for

residents. The GP practice is localand

offersanexcellentservice andbackup

outside normal workinghours.

Thenursingteamisoverseenby

JameeGiles, ourknowledgeableclinical

managerwho has been with us for

almosttwo years. She provides ahigh

standard of care to your lovedones.

"Wealsohaveabrilliantdiversional

therapist on ourteamstatesLorraine,

sheisverypassionateabout hervocation

anddeliverssomethingspecial each day."

Formoreinformation on theservices

that Ultimate Care Karadean could offer

youorafamilymember contactLorraine

Murray on 03 312 4891, emailkaradean@

ultimatecare.co.nz or visit us at 5Queen

Street,Oxford. www.ultimatecare.co.nz

Upgrade ... Aproject to upgrade Flaxton and Fernside roads, near Southbrook, is

under way.

PHOTO: SUPPLIED

Road strategy aims

to cut congestion

By DAVID HILL

The WaimakaririDistrict Council is

continuing to investinroads as it looks

to reduce congestioncreatedbya

growing population.

The construction of bypasses for east

and west Rangioraisproposedaspart

of the council's 2021/31Long Term

Plan (LTP).

The bypasses will support effortsto

reducetrafficcongestion in

Southbrook, which is thoughtto

experience more than 26,000 vehicle

movementsaday.

Other effortstoreduceSouthbrook

congestioninclude abid to the New

Zealand Transport Agency(NZTA)for

aset of traffic lights whereTorlesse

and Coronation streetsintersect with

SouthbrookRd.

Council staff have also been

developing proposals with the

Rangiora­Ashley Community Board

and the Southbrookand Rangiora New

Life schools and the Kindercare

Learning Centretoimprove road

safety.

The proposed Skewbridge Road

bridgeupgrade has been pushedout to

later in the 10­year LTP period, with

the council hopeful it will receive

NZTA funding,Mayor Dan Gordon

says.

The Skew bridge upgrade is

estimated to cost $12 million.

''We continue to lobbyfor Skew

bridgeand the Woodendbypass, and

the reality is, if we can get NZTA on

board with the bridge replacement we

can bring it forward.

''But sometimes that'sthe choice we

have to make. Does the ratepayer fully

fund it or do we wait for NZTA?

''With Skew bridgeit's asignificant

sum of money, so our priority is for

NZTA to supportit.''

Work to upgradeFlaxton Road

throughthe Southbrookindustrial

area, and the construction of a

roundabout at the intersection of

Flaxtonand Fernside roads, beganlast

month.

Senior engineering adviser Don

Young says the projects will address

the many safety issuesaswell as cater

for the increasing amount of traffic

using Flaxton, Fernsideand Townsend

Roads to access westRangiora.

The work involves new kerbs,

parkingbays, footpaths and the

roundabout.This is creating delays

becauseofthe trafficvolumes, and the

councilencourages drivers to think

about using alternativeroutessuch as

Lineside Road.

FlaxtonRoad is closed to

northbound trafficbetween Fernside

Road and Kingsford SmithDrive.

Trafficisbeing diverted via

Townsend Road and South Belt, witha

temporary 30kmh speed limit in place.

Work will be completed in stages

until May,while the final asphalt

sealingisexpected to be completed

later in the year.

KARADEAN

Specialist Aged CareFacility

We offer:

• Rest Home Care

• Hospital Level Care

• Respite Care

• Palliative Care

• Day Programme

Contact Lorraine Murray

on 03 312 4891 oremail

karadean@ultimatecare.co.nz

5Queen Street, Oxford

www.ultimatecare.co.nz

Traffic concerns voiced

By DAVID HILL

Residents of Buckleys Road in

Southbrook fear for their safety

because of impatient motorists.

Apetition signed by 34 of the 40

households in the street was presented

to last week's Waimakariri District

Council meeting

It calls on the council to take action in

the face of increased traffic volumes

and speed.

Buckleys Road runs parallel to

Southbrook Road between Coronation

Street and South Belt, and is bearing

the impact of increased traffic

congestion in Southbrook.

''I really can't stress strongly enough

the depth of feeling of residents,''

resident Maryanne Rouse told

councillors during adelegation to last

week's council meeting.

''After the installation of traffic lights

at South Belt/Southbrook Road and

PAK'nSAVE/Southbrook Road

intersections, the 'cut­through' route of

Buckleys Road has increased

significantly.

''As long term residents, we have

watched the speed levels increase,

particularly in the evening, and we

want the relevant authorities to

acknowledge that there are issues that

should be addressed.''

She believes some motorists are

travelling at more than 80kmh.

Mrs Rouse and her neighbours, Grant

and Marg McAlpine, took apetition to

their fellow residents in November and

found all of the respondents were

concerned about the speed of vehicles,

as well as the safety of children and

pedestrians.

Mayor Dan Gordon asked council

staff to prepare areport on traffic in

Buckleys Road and Coronation Street.

The report would consider options

for slowing traffic, such as judder bars.
---
Professionals

in North Canterbury

WORK SMARTER

WELCOMING

NEW PATIENTS

Taxing time ...

Geoff White is busy

getting annual

returns completed

ahead of the March

31 deadline.

The caring and professional

health care team for you

and your family

NOT HARDER

2301753v1

Call Prosser Quirke Accountants

Chartered Accountants &Business Advisors

2299722v3

6Blake Street, Rangiora, New Zealand

ph. 03 313 7824

email. team@prosser-quirke.co.nz

Experienced Podiatrist;

New to Rangiora

022 1726 049

www.northcanterburypodiatry.co.nz

Abusiness year like no other

The 2020/21 financial yearhas proven to be

an unusual one for localaccountants.

Prosser QuirkeLtd director Geoff White

says an accountant'syear ''normally runs

the same'' from April to March,but Covid­

19 changed thingscompletely.

The lockdown changedaccountants'

workloads, with some clientsneedinghelp

with refinancing and factoring in wage

subsidies in theirfinancial planning.

It meant the normal workload has been

pushed back. Now the race is on to

completetax returns before March 31.

''While it'shard to take positives out of a

pandemic,overall North Canterbury as a

'sub­economy'isactually probably one of

the safer regionsbecause we don't rely

heavilyontourism.

''Butthere are stillpeople struggling.

We'vehad clients in the tourism industry

who are now completely closed.

''At the sametime we have building

companies who are the busiest they've

ever been, and in retail there's extra

moneybeing spent locally.''

The lockdown also had positives.It

allowed families to spendmore time

together and gave business ownerstime

for reflection. ''It allowed business people

to sit back, ratherthan being so involved in

their business day in and day out,and look

at whatthey weredoing.''

Getting back to relative normality has

allowed ProsserQuirkeLtd to getback to

supporting its localcommunity.

''It was pretty hard on the community for

awhile,with no sport or community

events. But I'm pleased and proud of how

resilient our businesses have been.''

Prosser QuirkeLtd recentlysigned on as

agold sponsor for the new MainPower

Stadium in Coldstream Road, Rangiora,

and the threedirectorsare all active in

supporting localcommunity organisations.

''It'sanopportunity to support the

community. It's really hard to support all

of ourclientsdirectly, outsideofour

normalrelationship. But if we do things

like that which supportthe community in

abroader sense it'sthe best way to do that.

''Withthe stadium,ifitbrings 1000

peopleinto the community, that supports

our businesses and allows them to thrive.''

Prosser Quirke Ltd can assist with farm

and commercialaccounting, estate

planning,cashflow projections, monthly

reporting, feasibilityand business

appraisal,GST adviceand succession

planning. Contact Prosser Quirke Ltd on

(03) 3137824 or go to prosser­quirke.co.nz.

2302329

237 High Street

Rangiora

Ph: 313 7877

03 314 7640 info@sasl.co.nz

5Beach Rd, Amberley

Providing proactive accounting

solutions to North Canterbury

Businesses.

Contact Ben Shore or

Tsarina Dellowfor afree

consultation on your tax

and accounting needs.

2298662v1

Over 135 yearsof

Beautiful

Funerals

2301633v1

Kaiapoi 118 Williams Street |Christchurch 15-19 London Street

03 327 7499 |www.johnrhind.co.nz
---
Enjoy the taste of

freshly produced

real milk in a

glass bottle

– Now $3.00 Litre

•Great milk -Great price •Sold on farm

•Purchase 1litre bottles from dispenser

or bring your own container

•CashOnly -365 Days

Self Service –7am to 9pm

2128254

027 630 2230

56 Ashley Gorge Road

www.facebook.com/CavanFarmFreshMilk

Betterfor you and the environment

Please contact Jason:

116 Harewood Road, Oxford

Business or A/H Ph: (03) 312-4016

Fax: (03) 312-4048

oxford@frewstransport.co.nz

Bookings Essential

•Cars, Trailers &Motorbikes

•4WD specialists

•All mechanical repairs

•Brakes and clutches

•Lube services

•Servicing Air Conditioning

•All makes and models

•Professional friendly service

183 Ohoka Road

Kaiapoi

Ph: 327 8780

www.kaiapoiautomotiveservices.co.nz

2252925

2352417

SUPER RUGBYAOTEAROA 2021 DRAW

ROUND 1

Bye:Chiefs

7:05pmFriday26February HighlandersvCrusaders ForsythBarrStadium,Dunedin

7:05pmSaturday27February HurricanesvBlues SkyStadium,Wellington

ROUND 2

Bye:Blues

7:05pmFriday5March ChiefsvHighlanders FMGStadiumWaikato,Hamilton

7:05pmSaturday6March CrusadersvHurricanes OrangetheoryStadium,Chch

ROUND 3

Bye:Hurricanes

7:05pmSaturday13March CrusadersvChiefs OrangetheoryStadium,Chch

3:35pmSunday14March BluesvHighlanders EdenPark,Auckland

ROUND 4

Bye:Highlanders

7:05pm Saturday 20 March Hurricanes v Chiefs Sky Stadium, Wellington

3:35pm Sunday 21 March Blues v Crusaders Eden Park, Auckland

ROUND 5

Bye: Crusaders

7:05pm Friday26March Highlanders vHurricanes Forsyth Barr Stadium, Dunedin

7:05pm Saturday27March Chiefs vBlues FMG Stadium Waikato, Hamilton

ROUND 6 (Easterweekend &Daylightsaving ends in NZ)

Bye: Chiefs

7:05pm Friday2April Crusaders vHighlanders Orangetheory Stadium, Chch

7:05pm Saturday3April Blues vHurricanes Eden Park, Auckland

ROUND 7

Bye: Blues

7:05pm Saturday10April Highlanders vChiefs Forsyth Barr Stadium, Dunedin

3:35pm Sunday11April Hurricanes vCrusaders SkyStadium, Wellington

ROUND 8

Bye: Hurricanes

7:05pm Friday16April Highlanders vBlues Forsyth Barr Stadium, Dunedin

7:05pm Saturday17April Chiefs vCrusaders FMG Stadium Waikato, Hamilton

ROUND 9 (ANZAC DAYWeekend)

Bye: Highlanders

7:05pm Friday23April Chiefs vHurricanes FMG Stadium Waikato, Hamilton

3:35pm Sunday25April Crusaders vBlues Orangetheory Stadium, Chch

ROUND 10

Bye: Crusaders

7:05pm Friday 30 April Hurricanes vHighlanders SkyStadium, Wellington

7:05pm Saturday1May Blues vChiefs Eden Park, Auckland

FINAL -SATURDAY 8MAY

–

–

–

–

–

–

–

–

–

–

–

–

–

–

–

–

–

–

–

–

–

7:05pm Saturday 27February v Hurricanes

3:35pm Sunday 14March (H) vHighlanders

3:35pm Sunday 21March (H) vCrusaders

7:05pm Saturday 27March vChiefs

7:05pm Saturday 3April (H) vHurricanes

7:05pm Friday 16April vHighlanders

3:35pm Sunday 25April vCrusaders

7:05pm Saturday 1May (H) vChiefs

7:05pm Friday 5March (H) vHighlanders

7:05pm Saturday 13March vCrusaders

7:05pm Saturday 20March vHurricanes

7:05pm Saturday 27March (H) vBlues

7:05pm Saturday 10April vHighlanders

7:05pm Saturday 17April (H) vCrusaders

7:05pm Friday 23April (H) vHurricanes

7:05pm Saturday 1May vBlues

7:05pm Friday 26February v Highlanders

7:05pm Saturday 6March (H) vHurricanes

7:05pm Saturday 13March (H) vChiefs

3:35pm Sunday 21March vBlues

7:05pm Friday 2April (H) vHighlanders

3:35pm Sunday 11April vHurricanes

7:05pm Saturday 17April vChiefs

3:35pm Sunday 25April (H) vBlues

7:05pm Friday 26February (H) vCrusaders

7:05pm Friday 5March vChiefs

3:35pm Sunday 14March vBlues

7:05pm Friday 26March (H) vHurricanes

7:05pm Friday 2April vCrusaders

7:05pm Saturday 10April (H) vChiefs

7:05pm Friday 16April (H) vBlues

7:05pm Friday 30April vHurricanes

7:05pm Saturday 27February (H) vBlues

7:05pm Saturday 6March vCrusaders

7:05pm Saturday 20March (H) vChiefs

7:05pm Friday 26March vHighlanders

7:05pm Saturday 3April vBlues

3:35pm Sunday 11April (H) vCrusaders

7:05pm Friday 23April vChiefs

7:05pm Friday 30April (H) vHighlanders

•Flexiblemembership options

•Great newmember care

•Gym noviceswelcome

•Freeinitial programmes

•Body Scans available

101 Williams St

Ph 327 7250

8High St

Ph 313 0909

Phone 03 313 7144

027 432 1534

Fax 03 313 2144

Allan Pethig

For all your electrical needs.

Residential &Commercial

rgrantelectrical@gmail.com

PO Box 69, Rangiora

www.rgrantelectrical.co.nz

New made to measure windows

with over 30 yrs experience.

• Supply &installation of brand new

custom made, double glazed aluminium

doors &windows in arange of styles.

• 5yrguarantee on all products &installation.

• Experts in the field of replacement joinery

for existing homes.

Contact our team for information on a

wide range of replacement options

Ph 03 977 1740

215 Waltham Road, Christchurch

www.windowmarket.co.nz

2352421

2353312

2074449

FINANCEOPTIONSAVAILABLE

24

or 12 MONTHS INTEREST FREE

on purchases$299-$798

MONTHS

INTEREST FREE

on purchases $799 &over

RANGIORA

20% deposit

Paycash priceonly

No booking or insurancecharge

Terms, Conditions &Credit Criteria apply

1Southbrook Rd,Rangiora

3138999

Opening Hours:

Mon-Fri: 7:30am–6pm Sat: 8am–5pm

Sun &Public Holidays: 8:30am–5pm

Rockgas NorthCanterbury

Wefill allsizeGas Cylinders

onsitewhileyou wait

If you're afterreliable deliveryof45kghomeLPG cylinders,trust the

locals with the experience. Arranging deliveryisaseasy as picking

up aphone.Sogiveusacall,we're heretohelp.

61 Williams Street,Kaiapoi

Hours 8am –5pm weekdays,9am –12noon Saturday

Checkout our newwebsite

www.rockgasnorthcanterbury.co.nz

2353416

WINDOW REPLACEMENT

SPECIALISTS

BEFORE

AFTER

NEW HOUSE AT THE

OLD ADDRESS

call now for afree measure

and quote

Contact Dave (Sales Consultant) 027 233 5221

from

Fairview Concepts Limited

26 Belfast Road, Belfast, Christchurch

03 323 8887 or 0800 Best Windows

www.fairviewwindows.co.nz

info@fairviewconcepts.co.nz

2352863

WANT SOMETHING NOW?

PayforitusingyourAirpointsDollars

Remember, 1 = $1

Whenyouspend$75ormore.Seein-storeforterms&conditions.

RANGIORA

1Southbrook Rd,Rangiora

3138999

Opening Hours:

Mon-Fri: 7:30am–6pm Sat: 8am–5pm

Sun &Public Holidays: 8:30am–5pm
---
TRUST YOUR

LOCAL EXPERTS

We've totally got you coveredwith awide

rangeoffarmbuildings, garages, sheds,barns,

commercial buildings and more.

"Enquire for a FREE on-site

visit & build quote!"

Visit us at Totalspan North Canterbury

127 Main North Road, Woodend.

Email: northcanterbury@totalspan.co.nz

0800TOTALSPAN TOTALSPAN.CO.NZ
---
Servant of the arts steps back

By SHELLEY TOPP

Rangiora'sBrianHoultis

scaling down his involvement

with the Waimakariri

CommunityArts Council

(WCAC) after more than 30

years.

He resigned as chairman

last December but will

continueasavolunteer on the

committee.

Fernside'sMirandaHales,

along­time volunteer on the

arts council,has replaced

Brianaschair and will

continueascurator of the

exhibition programme.

Brianbeganvolunteering

for thearts council in 1987

when it was called the Ashley

Community Arts Council.

Initially,hehelped

Christopher Marshall

organiseclassical music

concertsinthe district, but

eventually established the art

exhibition programme.

He was also instrumental in

establishing the Waimakariri

Art Collection Trustin1995

and last year received the

newlyestablished Mayor's

Awardfor exceptional service

to the Waimakariri

community.

Before joining the arts

council, Brian was aselfemployed

chemical engineer,

but afterhis parents died

within two years of each other

he sought achange of

direction.

Aboutthis time, Brian's

Stalwart ... Brian Hoult has provided decades of support to the localarts community.

wife,Judith,ateacher,

returned to university. She

subsequently graduatedwith

an art historydegree,with

honours, and later got ajob at

Christchurch's McDougall Art

Gallery as its first education

officer for schools. Brian later

joined Judith at the gallery,

training and working as a

guidefor 12 years.

''This was significant

because it exposed me to the

art world,'' he said. It also

gave him an insight intohow

art galleries function and how

exhibitionswere staged.

The experiencemade him

realise thatalthough there

weremany talented artists in

Waimakariri, the arts council

was not showcasing their

work. He wanted to change

thatsohebegan searching for

apermanent space for

regularexhibitions.

He thought abuilding in

PercivalStreet,which was

usedascouncil chambers

until 1966 and thenbecame

PHOTO:SHELLEY TOPP

partofthe Rangiora Library,

would be suitable, but it was

earmarked fordemolition.

The council, ledbythen

mayor JaniceSkurr, voted to

incorporate it in the new

Trevor InchMemorial

Libraryasanart exhibition

space. The new library

openedinDecember 1996

and the arts council heldits

first artshow, Connections,in

the Chamber Gallery afew

weeks later. It has since

hosted 232 exhibitions.

NEWS

North Canterbury News, February 11, 2021

23

Innovative

mower used

By SHELLEY TOPP

Arobot is being usedtoclear gorse,

blackberry bushes and otherunwanted

vegetation at Waimakariri's Tuhaitara

Coastal Park.

The Italian­made mower, ownedby

Deltaand based at the infrastructure

specialist firm's Rangiora branch in

NewnhamStreet, is operated by staff

member Joe Fraser.

The diesel­powered mower drives a

full hydraulicsystemand has a

13­functionremote control unit.

The machine is capable of operatingat

60­degree anglesinall directions, and

can be guidedfrom 100 metresaway.

The mower has also been used to

maintainthe grounds aroundthe historic

Kaiapoi Pa site.

''It completed atrial at Tuhaitara

CoastalPark last November and

everyone was so impressed with what it

coulddothatitisnow beingput to

regular use at thislocation,'' aDelta

spokesman said.

''It is robustand very hard­working. We

are proud to be working smarter and

utilising new technologytoincrease safe

and efficient work practices.''

Tuhaitara Coastal Park'sgeneral

manager Greg Byrnes said the park staff

maintained the Kaiapoi Pa on behalf of

the pa's trustees and it was there where

they first saw the mower in use last year.

''An area we wouldlikely have taken a

week to clearofblackberry and rank

grasswith scrub bars was completedin

around fourhours,'' he said. ''We could

not use atractor due to the sloping

nature of the terrain.'' It was the skill of

Mr Fraserthat made the use of the

mowersosuccessful, he added.

X2 Only

X5 Only

• Engine: 277cc MTD OHV

• PumpL 2 Stage Hydraulic

• Vertical or horizontal

• Cycle Time: 16 seconds

*All Prices Include Gst

*T's & C's Apply

*All Prices Include Gst

*T's & C's Apply

✓

✓

✓
---
e $25!!!

Hello there,

Yes, it's summer sale time again at Sally Mac's -

and we're bringing back the SHORTSHARP SALE,

where we have aloooooong rack of summer gear at

$59, or any 2for $99!

You'll find plenty of variety of styles, sizes and

colours, in knitwear, pants, skirts, dresses, cardis,

tops, shorts, shirts, jerseys, jackets...and all at $59!

IF it's fine on Saturday 13th February,we're having

it in the carpark outside Sally Mac's -plus we'll have

atrestle table for that day only where everything will

If you're coming to the Amberley Markham Street Festival, see us on the

way!

Just across the road behind the Blue Dairy, Julie stocks gorgeous gifts &

housewares at Out of the Bleu -she's also having acarpark sale, and there

will be some fantastic bargains for you!

That's adouble whammy - CAR PARK SALES at Sally Mac's and Out of

the Bleu!

There's plenty on offer in Amberley -for coffee &food to help your retail

therapy, drop in to our neighbours at Paris Bakery &Café, or zip across

SH 1toNor'Wester Café -we're spoilt for choice!

Sally Mac's SHORT SHARP SALE is on till Saturday 6th March - grab

your bestie and get here!

If you're on Facebook, check out our page -it'dbegreat if you liked it, and

shared our posts so your friends can find us too! We show ideas for real

women ...boobs, bellies, bums and all!

Get yourselves to Amberley on SH 1-for Sally Mac's SHORT SHARP

SUMMER SALE -join usinthe carpark on Saturday 13th February, and

in-store from Monday 15th February.

See you soon,

SALE STARTS SATURDAY

13 th FEBRUARY

NEWS

24 North Canterbury News, February 11, 2021

International relations ... In normal years, Waimakariri schools can expect to host

several visits from overseas groups, such as this party from Wuhan, China, to Rangiora

High School in 2019, as well as long­term exchange students.

PHOTO: FILE

Overseas students

await open borders

By DAVID HILL

Waimakariri schools expect an influx of

international students oncethe borders

reopen.

Whilemanystudents returned home

when NewZealandwentinto lockdown

lastyear,others optedtostay. Now, the

regionisbeingviewed as asafe

destination.

Oxford Area School has just one

international student at present, but

principal Mike Hart says there are many

in the pipeline.

Rangiora High School has eight

international students on campus, with

more than 60 waiting to come.

Kaiapoi High School has just two

foreign students, but international

manager Kristie Dutton anticipates

there couldbesignificant growth for

Canterburyschoolsinthe international

student market once theborders

reopen.

''We've had lots of interestcoming

fromoverseas, withenquiries from Asia

and Germany for both long­term and

short­term students.

''Iamexpecting an influx once our

borders open as NewZealandand the

Governmenthavedone so well.''

Meanwhile, communications are

continuing withagentsandprospective

students online, Kristie says.

Kaiapoi's two overseas students are

fromJapan.Theyare in NewZealand on

three­year programmes.

With the border being closed, the

students have been unable to return

home to visit theirfamilies,spending

thesummer in New Zealand.

''While they obviously misstheir

families,botharehappy andwell

❛We've got 60­odd students

waiting to come, mostly from

Germany and Japan, but we've

got no idea when we can let

them in or what quarantinewill

be required.❜

—Melissa Heyrick

adjusted withexcellent support from

hostfamilies, localfriends andthe

school,''Kristie says.

Rangiora HighSchool'sinternational

director, Melissa Heyrick, says the eight

students on campus are allonlong­term

stays.Theyare from Korea, Dubai,

Thailand, Japan and Germany.

''It's quite normal forusforour

studentstostaylocally overthe summer,

butit's quitechallengingfor them

knowingtheycan't go home.

''We'vegot 60­odd students waitingto

come, mostly from Germany and Japan,

but we've got no ideawhenwecanlet

themin or whatquarantine will be

required.''

For now, Melissa is running the

international department by herself,but

expectstobe able to increase staffing

again once the students return.

Before Covid­19, international

education was considered one of New

Zealand's biggest export earners.

As well as payingfees to their host

school, homestay families receive a

weekly sum to cover expenses, and

students and theirfamilies will often

spendmoney in the local community, as

wellasholidaying around New Zealand.

Gathering achance refill your cup

2354179

By ROBYN BRISTOW

More than 200 people are expectedto

attendthe 2021Refillyour Cup event at

Omihi.

It returns to the Omihi Community

Hall on Wednesday,February 24, after a

hiatuslast yearbecause of Covid­19.

Local sportswoman Eve Macfarlane, a

world rowingchampion and adouble

Olympian,will be one of two speakers.

Eve is alsothe co­author of abook on

health, hope and happiness.

She will be joined by Lindy Nelson, on

amission to empower and support

women.Lindy was Next magazine's 2013

Business Woman of the Year, founderof

the AgriWomen's DevelopmentTrust,

and has apodcast #AmplifyUs.

Refill your Cup aroseout of the

drought years in the Hurunui district,

and it has since become an important

dateonthe social calendar.

It provides the opportunity to listen to

inspirational speakers and connect with

friendsand neighbours awayfrom the

office, farmand home.

To book, visit events.humanitix.com/

refill­your­cup­2021.For more

information, phone Jen Le Pine on (021)

1404020 or visit the ''FillYour Cup —

Hurunui'' Facebook page.
---
Festival atrue family occasion

Amberley's Markham Street

hosts its second huge street

party on Saturday, February

13.

The family friendly

Summer Festival of the

Hurunui will run from 1pm to

7pm, providing fun,

entertainment, food, and the

chance to indulge in alot of

retail therapy.

Markham Street is the

oldest street in Amberley,

and was originally the heart

of the town.

It will be closed to traffic,

and about 60 stalls will line

the pavement for people to

enjoy.

AmberleyNZ spokeswoman

Claire Inkson says the

inaugural festival was

extremely popular last year.

This year the committee is

encouraging people to make

aday of it in Amberley.

Claire says the weekly

Farmers Market outside the

Hurunui District Council on

the main highway is

extending its hours, and

there are plenty of cafes and

shops for people to enjoy

before the festival begins at

1pm.

There will be live music,

including Assembly Required,

Willie McArthur and Epicenta.

The shops and cafes on

Markham Street will be open,

and people will be able to

enjoy craft beers, local wine,

and the market stalls.

There will be plenty of tasty

food on offer, with some

amazing food trucks

attending, including Base

Pizza from Christchurch.

Achildren's area, run by

the Hurunui Youth Council,

will provide plenty of fun and

games for the young folk

attending, and the local fire

brigade will have its trucks

on display. St John will also

have astall.

Claire says many stallholders

from last year sent

Kea kids. .. Grace Wilson, aged 10, of Amberley, left and Charlie Mahon, 11, of Waikari, raised $88.50

for kea conservation at their stall during during last year's festival.

PHOTOS: SHELLEY TOPP

messages of support for the

festival, expressing how

friendly it was and asking to

be involved again.

''Feedback was so

positive,'' she said.

The best part of last year

was seeing so many people

enjoying themselves, and

having so many volunteers

pitching in to help make the

day asuccess.

''It is easy to look at the

news and see so much

negativity, but when we hold

events like this, all of the

community spirit and

kindness just flows, and it's

that small­town spirit that I

love. Amberley has it in

bucket­loads.''

The AmberleyNZ

committee had always

wanted to get afestival

running, and now has the

blueprint to allow it to

become annual event, which

includes getting an

application in early to allow

the road to be closed.

Free­form dancing. .. Aubrey Ellery, from Sydney, is airborne

during her energetic dance routine to the beat of Christchurch band

Assembly Required last year.

MARKHAM STREET FESTIVAL

North Canterbury News, February 11, 2021

Markham St

Summer

Festival

2021

Markham St Summer Festival

25

1-7PM SATURDAY

FEBRUARY 13 2021

MARKHAM ST, AMBERLEY

The Widest

Music Variety

Tune in nowtolisten on

104.9 for North Canterbury

103.7 for Hanmer Springs

andKaikoura

design & gift

•Spot Prizes •Festival Specials •Open all day

See you there!

6Markham St, Amberley |03314 8847 |www.rubysix.co.nz

2349309

Promoting local wine. . Jack Hill and Rosalind Getty, of The Bone

Line winery in Waipara at the winery's stall last year.

Want to be

involved with

your next

local feature?

Email info@ncnews.co.nz

to find out how

Freight Free for purchases over $100.00

AUTHORISED NZ STOCKISTS OF LEADING POWER TOOL BRANDS

Amberley

Dancing for fun. .. Adalyn Bensemen, left, from Rangiora, and her

cousin, Aubrey Ellery, danced at last year's festival.

59 Carters Road

Ph 03 314 7007

amberley@thetoolshed.co.nz

www.thetoolshed.co.nz

2241178

"We are

passionate

about hair"

Offering excellent service

&the highest quality

products

96 Carters Rd, Amberley. Ph 314 7480

www.vintagerose.org

vintageroseamberley@gmail.com

2354172
---
Motoring

Guide

Your local motoring professionals

TYRE SALE

25% OFF selected sets of 2or4tyres *

SAVE

UP TO

PER

50 LITRE

MAX 50 LITRES

SUMMER

DOUBLE FUEL SAVINGS †

*25% offpromotion available on selected sets of two or

four Bridgestone and Firestone tyres only while stocks

last. †Double fuel savings available at selected stores

only. Promotions valid until 27-2-2021, conditions apply,

visit www.bridgestonetyres.co.nz for details.

ARTHUR BURKE LTD

2Markham Street,

Amberley

Phone 03-314 0137

FOR ALL YOUR LIGHT

AND HEAVY

TRANSPORT REPAIRS

Breakdown &

After Hours

Service

Available

Phone 03 313 6361

0275 200 711

307 Flaxton Road,

RANGIORA

brooktrucks@xtra.co.nz

2324381

One­stop shop ... Robbie and Judy Bruerton, with their son, Nick, right, at Sefton's

friendly garage.

Friendly faces, top service

SeftonGarage offersgood,old­fashioned

country service to its clients.

It is aone­stop­shopfor all your

mechanical andrepair needs.

The business offerseverythingfrom

warrants of fitness, tyre, brake andengine

repairs, to sharpening horse clippers,

hedge clippers, weed­eaters and

chainsaws.

Robbie andJudy Bruerton established

the garage on itshigh profile siteinthe

North Canterbury township in 1972.

Today, nearly five decadeslater, the

couplehavebeenjoinedinthe business

by their son,Nick, and continueto

provide acomplete, quality serviceto

clients.

Seftongarage hasthree permanent

workshop mechanicsand five front­ofhouse

staff, plustwo studentswho work

weekends,looking after clientsand

customers.Thereisalsoapostalservice

at the garage, including postboxesfor

Seftonresidents, and awell­stocked

convenience store.

Fresh cabinet food,hot andcolddrinks,

andsnacks are popular with passers­by

stoppingfor fuel, andfor stockingup

lunch boxesfor workersheading off to

work.

High and lowoctane petroland diesel

areavailableon­site,suppliedbyNelson

PetroleumDistributors(NPD).

Thegarageoffersa12c fueldiscountto

Gold Card holdersand acceptsall

supermarket fuelvouchers.

Thereisprovision forthosewith NPD

cards to access fuel24hours aday.

Robbieand Judycontinue to takean

activepart in the day­to­day runningof

thebusygarage,whileNick runs the

workshopwhichcaters for everything

from modern­day cars to farm implements

andequipment.

Theforecourt and shop are open from

7amto6pm on weekdays, 8amto5pm on

Saturdays, and9am to 5pm Sundays.

Theworkshop is open8am to 5pmfrom

Monday to Friday, and on Saturdays from

8amtonoon.

Petrol &Diesel

Use your SuperGold card or

supermarket docket for 12

cents off Petrol &Diesel only

COMPLETE AUTO REPAIR SERVICE

WOF

Light Engineering

Tune-ups

Repairs

Lube-Oil changes Ride-on Mowers

Full Diesel Service Pick up &Delivery

Brakes &Clutches

Sell &Sharpen

Motor Work

Horse Clippers &

Warranty Work

Sheep Shears

Oils &Automotive Accessories, Postal

Services, Hot Pies, Sandwiches, Rolls,

Groceries and Sweet Treats

For your convenience

Sefton Garage

571 Upper SeftonRoad, Sefton

North Canterbury.Ph03312-9713

We have a

Lineside Road Entrance

Between the AA service centre &the Wattyl Store

2318749v3

346a Flaxton Road

Phone 03 310 6666

0800 226 324 for 24/7 Service

Hours: Monday-Friday 8am-5.30pm

Saturdays 9am-12noon

Best Prices Guaranteed

Quality Brands

We will match any written

quote –conditions apply

WINZ Quotes Welcome

Cnr Ashley &Burt Streets,

Rangiora.

Phone (03) 313 73 23

2346898V1

WE ARE THE

SERVICINGEXPERTS!

No Need To Commute To Christchurch –

We Can Do It All! We canuse genuine parts,

so yourvehicle is still coveredunderwarranty.

We have the latest Diagnostic Computer

Systems thatare compatible with most vehicles.

Wheelalignments &tyres at

very

competitive prices.

CALL US NOW TO BOOK YOUR SERVICE

Discounts to Superannuates

77 Ivory Street,Rangiora Ph 313-5802

Mon-Fri8am-5.30pm•Sat 8.30am-12.30pm

COME AND SEE

US FOR

• Commercial&

fleet repairs

• Buses, caravans

&motor homes

• Trucks,trailers,

buses &boats

WE ARE

EXPANDING!!!!

Choose usfor all Panel

and Paint Repairs

Still providing our customers with everyday

crash repairs,bumps&scrapestomajor

smash work

Qualityworkmanship&fastest turnaround

Fleet of courtesycars available

Contact: John Ph 313 6966

639 LinesideRoad, Southbrook

www.ncrcc.co.nz

2190152-22/8

We Do It All!

Your One Stopp

Mechanical Shop

Courtesy Cars, Van, Automatics Available

One Stop WOF Shop

AllMechanical Repairsand Servicing, Tyres,

Exhausts, Automatic TransmissionService

Burbidge Automotive

325 Flaxton Rd

Ph 03 313 3344

Ample

carparking!

2254991v9
---
Splash outonyour

newhomewith

Summerset!

Summerset on Cavendish has arange of twoand

three-bedroom homes available nowfromjust

$480,000†.For alimited time,purchaseone of these

stunning cottagesorvillas and enjoy$5,000 to spend

on furnishing your newhome!*

Youmay want to get anew lounge suite,finally buy that

smartTVyou've alwayswantedorupgrade thefridge

or washing machine -it'scompletely up to youhow you

spend your $5,000!

Don't miss the chancetosecureyour firstchoice of

home in this stunning village,plus$5,000 to spend

on your newhome on us. To find out more,pop in and

take atouratatime that suits you. Or giveDeborah or

Cath acall todayon03741 3340.

Get in touch today

SummersetonCavendish

147Cavendish Road,

Casebrook

To find outmore, contact Deborah

or Cath on 03 7413340oremail

casebrook.sales@summerset.co.nz

†Licence to occupy.

*Terms and conditions apply.Ask the SalesTeamfor moredetails.

To learn morevisit summerset.co.nz/casebrook

SUM2817_37X8
---
EARTHMOVING

28 North Canterbury News, February 11, 2021

SHINGLE

SUPPLIES

• COW LANE ROCK

•AP20, AP40, AP65

•M4-40, M4-20

•SOAK PIT BOULDERS

• SAND PRODUCTS

• DRAINAGE METALS

• ROADING METALS

• MOBILE SCREENING

AND CRUSHING

Call Jon 027 432 8526

or Richard 021 115 3689

EARTHMOVING SPECIALISTS

•Rock &shingle supply

•Landscaping and building sites

•Trucks and trailers, transporters,

wheeled and tracked excavators,

8tonne to 23 tonne, roller,

grader, water cart.

2094046

Work continues on rockfall protection

The North Canterbury

Transport Infrastructure

Recovery (NCTIR) Alliance is

winding down itswork

around Kaikoura, more than

four years afterthe November

2016 earthquake.

Asmall NCTIR teamgot

back on the road in early

January to continue work on

the final majorproject,a

rockfallprotectioncanopy

and drapedmesh fence just

southofPeketa.

The State Highway 1night

closures associated with this

rockfallwork are continuing

from Sunday to Thursday

underthe same timetable

(visit nzta.govt.nz/p2c formore

information).

Work on the rockfall

protectionprojecthas

progressed over summer.

Crew havebeen undertaking

shotcreting work, using

sprayableconcrete, to

stabilise and strengthen an

existing shotcrete layer,

whichwill sit beneath the

canopy structure.

Smallamountsofshotcrete

were also sprayed around the

base of the plinths where the

canopy postswill sit.

All of the 14 upslope

anchors have been drilled

and will now undergo two

weeksofsafety testing.

Downslope anchors are still

undergoing drilling and

grouting.

Over the next month,

helicopters willbring in more

mesh for the draped mesh

fence, and concrete barrier

installation will begin north

of the canopy site.

Asmall but dedicated team

is overseeing the

demobilisation and removal

of the NCTIRVillage, which

has beensold to Smith Crane

&Construction Ltd after a

tender process in December.

Removal of the 96 buildings

beganinmid­January and

was due for completionbythe

middle of this month.

Matt Shepherd, who heads

the NCTIR villageremoval

project, says,inMay 2017, the

buildingshad to be trucked in

through theInland Rd.

He notes it is somethingof

an achievement for the

NCTIRteam that someofthe

unitsare now able to return to

Christchurch via SH1.

''Because NCTIRhas

standardised the heightand

widthofthe road tunnels

during the earthquake repair

works, it is now possible to

send these units back on

specialisedlow loader

trailers. ''It'sabig win.''

Once all of the buildings

have been removed, the land

will be reinstated.

Sincethe villagewas

established, more than3100

people have stayed there at

varioustimessince2017.

Kaikoura eateriessupplied

more than270,000 lunches

and dinners to the village

workers.

1996979

Phone: 0274 517 175

JOHN SHEPHERD CONTRACTING LTD

Contractor...

Earthworks...

Resealing ... The Waimakariri District Council's summer road resealing programme is

under way.

PHOTO: SUPPLIED

Roads being resealed,

aided by summer heat

By DAVID HILL

Trades...

Do you want to advertise

your services?

Contact us on info@ncnews.co.nz

to find out how we

can help you.

Roadsare being resealed around the

Waimakariri district.

The Waimakariri District Council is in

the midst of its summer road resurfacing

programme, with contractorsout and

aboutatOxford recently to chip­seal

several roads.

They included Bay Road betweenMain

Street and Wilsons Road,Oxford Road

west of Cust between Steffens Road and

Starvation Hill Road,High Street between

Harewood Rd and MainStreet, Kowhai

Street, Park Ave and Commercial Rd,

between Depot Roadand Bath Street.

Sealing continued last week in Bay Road

and KowhaiStreet in Oxford.

This weekcrews will turntheir attention

to asectionofWilliams Streetnorth of

Magnolia Boulevard in Kaiapoi, Swindells

Road and Kiwi Ave in Waikuku, and

HighfieldLane in Rangiora.

The area is swept within48hours of

sealing, but asmall amount of ongoingchip

loss can be expected over the next three to

six months.

Council staff warn that driving too fast

on freshlysealed roads can cause the chips

to scatter, damaging carsand the road

surface.

Drivingtoo slow may result in the

vehicle sinking into thenew seal,and

bitumen and chips stickingtowheels.

Heavyuse of brakes in anewlysealed

area can resultindamage to vehicles and

the road surface too.

Motorists are advisedtoget ready by

slowing downtothe posted temporary

speedlimit before reaching the new chip

seal.

They should leave space to allow an

extracar'slengthdistance to develop

between their car and the vehicle in front.

Motorists are urged to drivesteadily at

the temporary speedlimit and pay

attention to the signage —30kmh is an

appropriate speed on new seal.

Drivers should avoidridingtheir brakes

and avoid getting so close to the car in front

that they havetobrakesuddenly. Brakes

should be tapped lightly, but only if the

driver has to.

Motorists are urged to be patientand are

askednot to pick up speeduntil afterthey

have left the road works zone.

The strategies willreducethe likelihood

of damage to paintwork and windscreens.

Vehicles travelling at the temporary

speedlimit help pressthe new chipinto

the seal.

This is an ongoing programme and local

motorists are encouraged to keepupto

date by following the Waimakariri District

Council's page on Facebook.
---
RURAL LIFE

North Canterbury News, February 11, 2021

29

Courtesy urged on roads

Nursery crop

... Pines can

be the ideal

nursery crop

for native

species, local

farm foresters

say.

PHOTO:SUPPLIED

Pines part of solution

By DAVID HILL

NorthCanterbury farm foresters would

like to see the benefits of pine trees

recognised in efforts to meet New

Zealand'sclimatechange targets.

Respondingtolast week's Climate

Change Commission report, New

Zealand Farm Forestry Association

NorthCanterbury branchsecretary

Laurie Bennett says his branchis

concernedthat thepotential of radiata

pine has beenoverlooked.

The report setsnew emissionstargets

and makes recommendations, including

climate­friendly farmingpractices and

establishing more permanent forests,

predominantly natives.

''Radiata pine provides afast growing

solutionasashortand medium­term

carbon sink on land not suitable for

harvesting at acost far less than

establishing native forests fromscratch

on bare land,'' he says.

As afast­growing tree, pine trees

absorb carbon rapidly over 30 to 50

years, and pineplantations can grow on

andeventuallydecline to provide a

canopy to support the establishment of

native forests.

''Native trees can take hundredsof

yearsuntilthey get to thelevelofcarbon

sink required,'' Mr Bennett says. ''But

growing radiata pine in the right place,

at the righttime,provides multiple

benefits. It provides robust money to our

grossdomestic product compared to

otherproducts and works well alongside

otherfarming practices.

''As North Canterbury farmers are

increasingly finding, in the right

environment, sheep,beef and forestry

will do better per hectare thanjust

sheep and beef.''

University of Canterbury forestry

Professor Euan Mason says there is a

misconception that forest carbon

storage is ''impermanent''.

''What mattersisthe total area of New

Zealand in forest, not whether or not any

particular forest standblowsdown,

burnsorisharvested.

''If we commit to increasing the total

national area of forest and to ensuring

that the verysmall areas thatblow or

burn down, or those areas thatmay be

harvested, willbere­established, we can

enlargeavery stable, permanent carbon

store in forests.''

Rather than relying on native

plantings,Professor Mason advocates

using the more ''rapid sequestration

rates of exotics to fill gaps in our carbon

accounts''.

Harvest season is in full swing and

Federated Farmers is urging motorists

and the operatorsofagricultural

machinery to show each othersome care

and understanding.

Federated Farmers' transport

spokeswoman, KarenWilliams, says New

Zealand's$2.1 billion arableindustry is

an important part of the country's export

earnings, economyand employment.

During harvest,tractors towing

implementsand other big agricultural

vehicles oftenneed to use public roads.

''They're bulkyand of necessity —and

by law —move at lower speedsthan other

motorists,'' Ms Williams says.

Competition

at field days

An Amuri A&P Show initiative is set to

feature at this year's South Island

Agricultural Field days.

The Country Women Competition,

trialledbythe Dairy Women's Network's

North Canterburybranch at last year's

Amuri show, has been added to the lineup

for the field days being held at Kirwee

from March24to26.

Having acompetition which allowsthe

region'stalented rural women todisplay

their capabilities is acoup, says

Michaela McLeod, the organising

committee's firstchairwoman.

"The South Island AgriculturalField

Days has long been known for the place

to see harvesters,seeders, balers and

some of the newest agricultural

technology in action.But to be able to

highlight the skills and capabilities of the

women, whoare often the backbone of

the agricultural industry, is aspecial

additiontothe field days this year.''

The event revolvesaround challenges

designedtogive rural women achanceto

prove their mettle and talent.

Prospective entrants are encouraged

to keep an eye on the Dairy Women's

NetworkCanterbury page on Facebook.

''Farmersare askingother driversto

show abit of patienceand common sense.

If atractor or harvester doespull over to

the edge of theroad, takeyour

opportunity to passifyou can do so safely.

''Mostofthemwillbemoving no faster

than 30­40kmh or so, so it's not essential

to havethe same several hundred metres

of clear road ahead needed when

overtakingmuch faster moving vehicles.''

Refusing to pass can result in along

line­up of vehicles and that's when some

drivers' patience frays and theydo

somethingrisky, Ms Williams says.

She also urges the operators of farm

vehicles to keeptrafficflows in mind.

2309605

HOMEKILL

&Wild Game

Meat Processing

313 0022

MEAT2U.NZ

POST &RAIL FENCING

Looks great &makes life easy

for the Rural Lifestyler!

-Full range of specialised equipment for farm

fencing and lifestyle blocks, offers you the

complete land package.

-All types of fencing including:

deer,sheep and cattle yards

-Land blasting

Ashley: 0274 364 776 ah: 314 8541

e: A.Duckworth@xtra.co.nz

www.duckworthfencing.co.nz

"Quality fencing built to your budget"

2266722

RangioraToyota

2018 Highlander GX

•3.5LPetrol, 8-speed auto

•7-seater, Bluetooth

•Camera, 56,100km

$

42,995

2018 Highlander GXL

•3.5LPetrolAWD,Alloys

•7-Seater,Satnav, Leather

•29,700kms

$

47,495

2018 Highlander GX

•3.5LPetrol6-speedauto

•Bluetooth, camera

•Cruise control, 55,800km

$

42,995

2017 Highlander GXL

•3.5LPetrolAuto, Leather

•7-Seater,Satnav,Keyless

•29,000kms

$

47,995

2018 Highlander GXL

•3.5LPetrol8-Speed Auto

•Leather,Satnav

•59,500km

$

44,995

2010 LandRoverDiscovery SE

•3.0L TurboDieselV6

WAS$31,995

•Leather,7Seater

•Climate Air

NOW $ •Camera, Bluetooth

•Bluetooth

29,995

$

41,995 $ $

•Only 200kms

41,995

•Roof Rack

26,995

$

78,995

Percival Street,Rangiora • Ph (03) 313-8186any time • www.rangiora.toyota.co.nz

Signature

CLASS

2018 HiluxSR5 4x4

•2.8L Turbo Diesel Auto

•Satnav,Bluetooth

•51,250kms

2020 HiluxSRPrerunner

•2.8L Turbo Diesel Auto

2011 HiluxSR5 4x4

•3.0L TurboDiesel Manual

2018 PradoVX

•2.8L Turbo Diesel, Leather

•Satnav,Latest Shape

•32,200km

FINANCE &INSURANCE AVAILABLE

2348500
---
Make the most of warmer

days with our...

endof

summer

Valletta 6Piece Outdoor

Lounge/Low Dining Set

WAS $

2499

NOW

$

1999

SALE

SELECTED ITEMS –INSTORE &ONLINE

ENDS 01.03.21

SUPER DEAL!

ALL FAIRVIEW 3Seater Recliner ALL MEMPHIS 7 Piece Dining Set

ALL MATTRESSES

NOW $

1299

NOW $

1389

ON SALE! ON SALE! ON SALE!

Queen Mattress

FROM $

269

AlLmatTresS

baseSalso

onsale!

ON SALE!

MALONE

Modular Sofa

ON SALE!

Ottoman NOW $ 549

1.5 Seater NOW $ 699

Corner NOW $ 749

BuyNZMAde!

Snap up these SUPER DEALS before they're gone!

Lavender Outdoor

Dining Chair

WAS $

150

NOW

$

95

Dallas Queen Bed –Jet

WAS $ 449

NOW

$

349

Clare 3Seater

Mist Grey or Beige

WAS $ 899

NOW

$

599

Sono Boxed Mattress –Queen

Medium Feel

WAS $ 599

NOW

$

399

Shop

Online

Nationwide

Delivery

Finance

Options

moresuperdealsonline&instore!

END OF SUMMER SALE ENDS 01.03.21.

250 Moorhouse Ave, Christchurch

Ph: 0800 TARGET (0800 827438)

targetfurniture.co.nz

Offers and product prices advertised here expire 01/03/21.

Sale excludes Manchester and Accessories.
---
Rangiora Toyota

Percival St, Rangiora

(03) 313-8186

www.rangiora.toyota.co.nz

Proudly supportingsport

in North Canterbury

Southbrook sees sniff

of avictory evaporate

Amasterclass in how to chasealow score

saw Leeston­Southbridge overcome a

scrappy Southbrook in the lastweekend's

roundofcountry cricket.

Therewere wins for Leeston­Southbridge,

Ohoka, Cheviot and Oxford­

Rangiora as the CRV Ambreed Country

Premier One Day 2020/21 competition

heatsup.

Southbrook, which hasn'twon sincethe

opening round,was putinto bat by the

home sideatLeeston Park on Saturday.

Youngwicket­keeper batsman Hayden

Thornley and SouthbrookmainstayTony

Hancox got the visitors off to aflying start,

bringing up the 50­runopening

partnership in eightovers. But the freescoring

Hancox retiredwith ahamstring

injury afterscoring 21 off 25 balls.

Thornley brought up his half­century

before he fell with the score at 100/3.

Leeston­Southbridge's fight­back was

sparked by MainPower Oval head

groundsman Dave Evans,whose nagging

medium­pacers turned the match, picking

up three quick wickets.

The spin trioofDavid Neal,Tim

Gruijters and Will Macfarlane also

combined for five wickets and Southbrook

was out for just 150 in 37.5 overs.

Southbrook needed to strike earlyto

have any chance, and paceman Jono

Greendelivered. He rippedout opener

Rupert Young and Gruijters in the first

over,givingSouthbrook asniff of victory.

That hope was eroded by the composed

batting of Toby Doyle and Chris Beatson.

Unperturbedattaking 39 balls to get off

the mark, Doyle ground Southbrookout of

the match. He made an unbeaten 45 runs

off 117 balls, while Beatson compiled 66

not out from 98 balls,securing the eightwicketwin

with eightovers to spare.

Ohoka victorious

An unbeaten centurybyNew Zealand

under­19 star Rhys Mariuhelped guide

Ohoka to a15­run win overDarfield.

Mariu carried his bat through the first

innings, making 114 of Ohoka's 253 runs,

well­supported by WillHamilton (41 off46)

and Harry Fitzpatrick (46 off 66).

In reply, Darfieldwas sitting pretty at

92/1 in 19 overs, before fallingtobe117/5.

Ryan Hughes (38 off 40) and keeper

Alister Collins (48 off 45) gaveDarfielda

whiff of victory but fell 15 runsshort.

BigCheviotwin

At Weedons Domain, visiting Cheviot

thumped the home side by 115 runs.

AcenturypartnershipbetweenCheviot

openerTed Whelan (65 off 74) and George

Waddy (68 off 97) set up the commanding

first innings score of 251 in its 45 overs.

Weedons never threatened the big score,

to be all out for 136 in the 37th over.

Five­wicket win

At Pearson Park,Oxford­Rangiora

enjoyed afive­wicketwin over struggling

Lincoln,which managedjust 102.

CalvinScott led the chase, anchoringthe

innings with 35 off 61 balls.Sefton had the

bye.

Mayor opens the season withapitch over theplate

Mayoral wishes ... WaimakaririMayor Dan Gordon wishesthe Kaiapoi premier women's

softball team luck before the first official matchonthe new softball diamonds at Norman Kirk

Park in Kaiapoi. Mr Gordon threw the first pitch on the new diamonds, whichcatcherLayla

Bailey­McDowelldescribed as astrike on the inside curve.

SPORT RESULTS

Rangiora BridgeClub

Holiday match: North/South: Colleen

Adam/Joan Lloyd 1, DavidMcRae/David

Rainey2,Denise Lang/Julie Day 3. E/W:

GaynorHurford/Lynda Grierson 1,

Frances McDowell/HelenPaterson 2,

Dawn Simpson/HeatherWaldron 3.

Rimu pairs: N/S Peter Whitehead/Geoff

Swailes1,Derek Wilson/Alison Price 2,

Helen Mora/Pam McAlister 3. E/W:

Pauline Miller/BarrySmart1,Judith

Driver/JanRoose 2. Norm Shipley/Lesley

Shipley 3.

Mondayevening: N/S: Anne Bagrie/BB

1, Annette Caldwell/GailDunlop 2, Fons

Sanders/Ellis Sanders 3. E/W:Murray

Davis/Sharyn Davis1,Desley Simpson/

Judith Robinson 2, Liz Calder/Lindsay

Sigglekow3.

Wednesday summerpairs: N/S: Joyce

Gray/Dawn Simpson1,Richard Luisetti/

Sue McIlroy 2, Helen Mora/Lesley Smith

3. E/W JillAmer/Andrew Findlay1,Alison

Price/DerekWilson 2, Dave Tocker/Tony

Biddington3.

WaimakaririGorgeWomen's Golf

Stableford, 18 holes:LScott 39, J

Pottinger 35, JCollins 33, BThompson 32,

JBlatch 32, FNimmo 30, HChamberlain

30, SKing 29, LSmith28.

9holes: SFarra18, RBenny18, J

Stewart16.

CANTERBURY

AGAINST

measles

Measles is much more contagious than COVID-19.

Aged 15-30? Get your free immunisation

at GPs orparticipating pharmacies.
---
North CanterburyNews

PROPERTY

Gifts &Lotto Shop Lease for Sale -

Rangiora 77 High Street, Rangiora

Establishedbusiness withregular patronage. Current owner 10 years.

•High Street location in atown ofapproximately 20,000.

•Lotto store with gifts and cards. Potential and space for more

revenue streams.

•Latest figures available.

•Good lease with renew options for new owner tochoose from.

Call AaronClark 027873 5121 or Sally Davies 027359 5509 to discuss.

Price on application.

For Sale

by negotiation

For more information

contact:

Aaron Clark

aaronc@pb.co.nz

027 873 5121

Property Brokers Ltd

Website ID # RC81882

Arealchange in

real estate.

The Property Brokers and Farmlands partnership means

great things forprovincial real estate*

Together our combinedstrengths complement

eachother to createbiggernetworks, more

buyers andbetterresults.

For more informationcall0800367 5263

orvisit pb.co.nz/together

Proudtobetogether

2353647

*Farmlands will continue to administer its property management portfolioand its West Coast real estatesites, pendingCommerce Commission clearance.

Property BrokersLtd Licensed REAA 2008
---
North Canterbury

Rangiora 7/17 Ivory Street

Hawarden 27 High Street

Delightful Villa on Ivory

Perfectly locatedincentral Rangiora is this2bedroomvilla. Specially

designed for older persons. BuiltinOamaru Stone, it is doubleglazed,

has its own entranceway, attached garage. It is warm andsunny,with

good heating.The two bedrooms have wardrobesand easy access to

the well-appointedbathroom. It is part of aBody Corp development

so thereis monthly fees and charges.Deadline Sale Tuesday23rd

February 2021@3:00pm.

2 1 1 1

Deadline Sale closes Tuesday 23rd

February, 2021 at 3.00pm

View Sun 14 Feb 3.00 -4.00pm

Web pb.co.nz/RU82199

Bev Wright

M 027 434 2486

Raise your family in the country

Located in apicturesque rural towninNorth Canterbury. Commuting

distance to Amberley/Waipara/Culverdenthis property is coming on

the market for the first time in 28 years. The 4bedroom 1910s villa

has been refloored in most of the house.Kitchen and bathroom

upgrades, painting internallyand externally including the roof.Log fire

with wetback and aDVS system. Very liveable, but plenty still could be

done to enhance.The property has lots of shedsand asmallshearing

area. Ideally suited to horseswith paddocks of safegrass clover and

rye free. Several big treesfor stock shelter. Townwaterand sewer.

1.72hawith sealed road frontage. Easy walk to local schools.

1 1 2

Deadline Sale closes Thursday 4th

March, 2021 at 4.00pm, (unless sold

prior)

View Sun 14 Feb 1.00 -2.00pm

Web pb.co.nz/HSU82186

Janice Clyma

M 027 434 7090

Rolleston 27 Burford Way

Toomany

buyers, not

enough

properties

First home, family home, forever home?

Enjoy modernliving andcomfort in thisimmaculately presented 3

bedroom homewith shopping, cafesand dining optionsonly ashort

drive away.Families and dogowners will love the fully fenced yard,

while gardeners will appreciate being able to add their own personality

to the home. Providinggreat flow from the lounge to theprivate easycare

section,options for summer barbeques, backyard cricket and

entertaining are numerous. Comeand be part of theever-growing

suburbofFarringdon and make friends with like-mindedneighbours

seeking the step away from city life.

3 2 1

Auction 6.00pm, Thu 25th Feb, 2021

View Thu 11 Feb 6.00 -6.30pm

Sun 14 Feb 11.00 -11.30am

Tue 16 Feb 6.00 -6.30pm

Web pb.co.nz/RU80793

Letussellyours,call us today!

PropertyBrokers NorthCanterbury |P 03 313 8022

Dayan Muntz

M 021 432 926

Property Brokers Ltd Licensed REAA 2008 |pb.co.nz

Proudtobehere
---
Four SeasonsRealty
---
Four SeasonsRealty

Lets talk

real estate

with LizLewis

Arealprofessional with

over$105 million dollars

achievedsales.

LizLewis

027 453 0952|03 3275379

liz.lewis@harcourts.co.nz

harcourtsfourseasons.co.nz

Working out of our Kaiapoi office over

the past year, Liz has been able to help

both buyers and sellers achieve their

real estate goals. From first homes

buyers to retirement she comes highly

recommended and with over 30 years

experience with Harcourts she is well

versed in all matterswhen it comes to your

real estate decision. Liz loves nothing

better than success foryou as herclient.

Lets talk about ahiddengem of alifestyle.

Presently Liz is selling a lifestyle at

Riverlands Motor Camp – these self

contained homes are suitable for all ages

having over 200 permanent residents

who just love living there (speak to any

Four SeasonsRealty 2017Ltd |Licensed Agent REAA2008

of the long term residents and they are

morethan happytolet youknowthis). A

lifestyle which most will tell youonceyou

are there you never want to leave. With

three properties now available it gives an

opportunity for new owners tocome into

this unique location. Be mortgage free and

start anew wayofliving.

If youare buying OR selling giveLiz acall

today!

Four Seasons Realty
---
What's happening in your

community…

Council Supports Move to Rid Waste of

'Greenwashing'

Waimakariri District Council has voiced its support

for proposals for New Zealand to move away from

'greenwashed' and single-use plastics.

Greenwashing is the process of conveying afalse

impression or providing misleading information

about how acompany's products are more

environmentally sound.

The Ministry for the Environment late last year

asked the public how best to tackle problem

plastics and received more than 5000 submissions.

The first of the Government's proposals would see

regulations imposed to phase out certain hard-torecycle

plastics.

These include PVC food and beverage packing,

polystyrene packaging, as well as oxo-degradable

plastics. These are plastics that are designed to

break down quickly when oxygen is present, creating

microplastics that pollute the environment.

"There is so much unrecyclable plastic packaging

making it to New Zealand shelves," says Council's

Solid Waste Asset Manager Kitty Waghorn.

"Many producers claim their packaging products

are biodegradable or compostable when in reality

they aren't. They can't be composted in most

commercial composting facilities in New Zealand."

The second proposalidentifies sevensingle-use items

to phase out, including single-useplasticproduce

bags,tableware,non-compostable producestickers,

drinkstirrers, plasticcotton buds andstraws.

The proposed changes are expected to come into

force by January 2025 with some happening earlier,

depending on the type of packaging and item.

Woodend Celebrates aSafe

School Crossing

The ribbon was cut last week opening the longawaited

pedestrian crossing outside Woodend

School on State Highway 1.

Mayor Dan Gordon says, "It's great to see this

in place just in time for school starting back. It's

been along time coming and it is fantastic there

is finally asafe way across the State Highway for

school kids and wider Woodend."

The Mayor was joined by student leaders from

Woodend School, School Principal Adrienne Simpson,

Jim Harland from Waka Kotahi (NZ Transport Agency),

and representatives from Beca and Fulton Hogan who

worked on the project.

The lights andthe crossing are part of awider road

safety improvement projectalongthe State Highway.

He says effective advocacy with Waka Kotahi was

key to this project's success.

"The community can take huge credit for this,

including the students and staff from the school."

"We now need Waka Kotahi to confirm atimetable

for the remaining road improvements through

Woodend. These will build on the good work we're

celebrating today and make walking and cycling a

more viable option for the community before they

hopefully commit to the Woodend Bypass."

Kaiapoi Aquatic Centre Reopens

Scheduled maintenance at Kaiapoi Aquatic Centre

has been completed, meaning the full centre is

again open to the public.

Major maintenance takes place every two tothree

years and involves draining the pools, repairing

tiles and re-grouting. The work ensures the facility

will be in great shape for years to come.

More information on opening hours

and swim programmes can be found at

waimakariri.govt.nz/aquatics

If youhaveastreet treeoutside your house,we'd

love it if youcouldgiveitadrink. Over summer

we do watering rounds,but anywateryou can

givethe trees will helpthemget through thehot

dry summer. Abucket of water every three or

four dayswillmake all the difference.

Waimakariri Libraries preschool sessions return

in theweek beginning Monday 15 February 2021,

at the following times and locations:

Babytimes

RangioraLibrary: Monday15February,10.30am

Kaiapoi Library: Friday19February, 11am

Storytimes

Rangiora Library: Tuesday16February and

Thursday18February,10am

Oxford Library: Friday19February, 10am

Toddlertimes

Oxford Library: Tuesday16February,10.30am

Kaiapoi Library: Wednesday17February, 10.30am

libraries.waimakariri.govt.nz

We've developed adra Cemetery

Policy to guide how Council cemeteries

are managed day-to-day and want to

hear what you think.

It covers things like:

Pre-School Sessions

at the Waimakariri

Libraries Return

Come and join the fun!

ABOUT CEMETERIES

• Installation and maintenance of memorial

headstones

• Gravedecoration

• Gravesiteand cemetery maintenance

• Reservationofashes or burial plots

Shareyour thoughts.Feedback is openFriday

15 JanuarytoMonday15February 2021.

Find out more at waimakariri.govt.nz/letstalk
---
Give usyour

feedback

ADVISORY:

WaimakaririRiver

flood works

We arecarryingout flood protection

worksatMcIntoshs bend in Kaiapoi;

strengthening the riverbankrock

lining and placing stopbank rock

armouringalongthe riverbank.

Pegasus cycleway will be closed

from Ferry Rdtojust past the

oxidation ponds for the last two

weeks of February.

Fishing access remains open butwith

restrictedaccessmid-ApriltoJuly.

Formoreinformation:

ecan.govt.nz/flood-works

NEED FUNDING FOR A

LOCAL ARTS PROJECT?

Assistance is available for groups and

individuals who are keen to provide arts

and cultural activities in the Waimakariri

District from the Creative Communities

New Zealand Scheme.

The next CreativeCommunities round will close

Monday29March 2021,for events or activitiesthat

takeplace between1May2021 and 1May 2022.

The Application Form and Guide for Applicants is

available from Council Service Centres and Libraries or

from the Council website at waimakariri.govt.nz

If youhaveany questionsplease contact

the administrator, KarenLivingstone

Phone03311 8901or0800965 468

Email karen.livingstone@wmk.govt.nz

CHECK IT OUT

Sausage sizzle

Afundraising

barbecue willbeheld

for the Rangiora

Community Patrol on

Saturday, February 20.

Itwill be outside

Rangiora PAK'nSAVE

from 10am to 2pm.

Barbecueswill be held

thethird Saturday of

everymonth.

Night classes

Aseries of night classes

with MelEaton, of

Amberley'sNESTArts

Collective, is planned

forThursday nights

from6.30pm to 8.30pm,

starting on February11

andending on April 8.

Theclasses,for those

aged 16 and older,aim

to develop creative

talents through an

investigationof

differentart­making

techniques.The series

offersbeginner and

intermediateartists a

foundational

understandingoftools

andprocessestocreate

unique works.The cost

is $180for the fullterm.

Formore details contact

Mel at info@

nest.artscollective.nz

Journal workshop

TheNEST Arts

Collective in Amberley

is offering aseries of

workshops with

Belinda Osgood

demonstratinghow to

create ahand­made

customisedjournal.

Theskillsinclude book

binding, dyeing, paper

crafting,collage,

stencilling, sewing and

moretoproduce a

120­pagehard­covered

journal. TheThursday

morning (10am­noon)

workshopsstarton

February11and end

on April 8. All

materials are provided.

The cost is $200.Contact

Belinda at:info@

nest.artscollective.

Creativity classes

After­schoolclasses

with Laura Hewetson,

ofAmberley's NEST

Arts Collective, are

available for creative

children. Theywill be

every Tuesday from

3.45pmto5.15pm from

February9to March

30. It is tailored for

thoseaged8to14. The

cost is $140 for thefull

term.All materials will

be provided.

Cars Wanted

CASH 4CARS

and 4WD'S

Phone

Automotive

Parts

03 313 7216

MINI, 1100 /1300, Escort

or similar. Please phone 03

313 4795.

WANTED to buy Ford,

Holden, Chrysler, or

Chev's, classic cars. Any

condition. Please phone

Tony 027 313 5000.

CARS, vans, 4WD's

wanted for dismantling or

repair. Phone 027 258

8366.

Motorcycles

MOTORBIKE servicing

and repairs, quality service,

affordable rates. South

Pacific Motorcycle

Services, Mandeville.

Phone 03 312 0066. Or visit

www.motorbiketours.co.nz

ACTIVITIES AND CLASSIFIEDS

North Canterbury News, February 11, 2021

SeniorNet Internet Banking series

1: Introduction -Friday 19 February

2: Workshop -Friday 26 February

2354523

Each starts at 10.00 am in the Learning Centre

178 King Street, Rangiora

Information/enrolment with Bob on

03 312 8933 |jobo@gumbrell.net

KAIAPOI CHRISTADELPHIANS

"The Key of Knowledge .."(Luke 11:52)

"GOOD NEWS"

What the Bible says about Israel.

The Apostle Paul says " Brethren, my

heart's desire and prayer to God for Israel

is, that they might be saved". Rom 10:1.

Public Notices

Oxford A&P

Association

Easter Saturday 3April 2021

Entries Close: 28th February

No late entries accepted.

Schedulesavailableonline:

showday.online

SomeTrade and Art/Craft

sites stillavailable

Contact Christine Roberts

E: secretary@oxfordapshow.co.nz

oxfordapshow.co.nz

Grazing

GRAZING

AVAILABLE NOW

10 Acres well sheltered

pasture with water,

2354022

suitable for sheep or

calves in Tuahiwi.

Phone: 03 313 7223

Educational

TUITION available. Primary

and secondary up to

NCEA level 3. In centre

(Rangiora) or interactive

online from your home.

Each student onanindividually

tailored programme.

Kip McGrath Rangiora has

been serving the local community

for 30 +years. Give

us acall (03 313 3638) or

book your free assessment

online https://www.

kipmcgrath.co.nz/rangiora.

Livestock

TEXEL ROMNEY

CROSS Ram lambs. Suitable

for breeding & lifestyle

blocks. Please telephone

021 626 449 or 03

385 4966.

HOMEKILL

&Wild Game

Meat Processing

313 0022

2309602MEAT2U.NZ

SOUTH DORSET ram

sell. Good heavy meaty

ram. Phone 021 0834 6945.

Public Notices

RESPONSIBLE hunter

looking for large properties

to shoot rabbits, possums

and hares. Phone Richard

021 999 520.

2346688

2354727

Consultationonthe draft

CanterburyRegionalLand

TransportPlan2021-31

37

This is aPublic Consultation in accordancewith

section 82 of theLocal GovernmentAct 2002.

TheRegional TransportCommitteeofthe

Canterbury RegionalCouncil (Environment

Canterbury)invites submissionsonthe draft

Regional Land TransportPlan2021-31.

Thedraft Plan outlines an investmentstrategy

fordevelopingthe region's land transport

network over10years and we are consulting

to ensure theproposal is in linewith the

aspirationsofthe Canterbury community and

usersofthe network.

ThePlansetsout avision andstrategic

objectives,priorities forinvestment,and

aprogramme of transportactivities to be

undertakenbyRoad Controlling Authorities.

It introduces headlinetargets forroadsafety,

transportemissions and moving morefreight

by rail.

Formore information go to haveyoursay.ecan.

govt.nz/regional-land-transport-plan or call

Customer Services on 0800324 636.

Making asubmission

Youmay make asubmissiononthe draftplan:

• Onlineat haveyoursay.ecan.govt.nz/

regional-land-transport-plan

• Byemailtomailroom@ecan.govt.nz

• Bypost to RegionalLand Transport Plan,

Freepost1201,POBox345,Christchurch,

8140.

Theclosing date forsubmissions ismidday

Friday,5March 2021.

Peter Scott

Chair, Regional TransportCommittee

9February2021

Please contact

Environment

Canterbury with

anyqueries:

0800 324636

Creative Communities Fund

SINGLE older man, educ,

NS, witty, finance ok and

living on own locally.

Seeks to find a similarly

placed slim tallish vibrant

modern lady for company

and to do things with. Ph/

Txt 027 659 4425.

Personal

SEMI RETIRED kind,

romantic & caring man

looking for a loving

relationship. Seeking a

genuine, caring woman in

her 70's, who doesn't

smoke, light drinker. Please

phone 020 4129 5331.

Pets

BICHON HOMESTAY

for smaller dogs. We look

after your dog in our home.

"No kennels". Phone today

03 314 6110.
---
CLASSIFIEDS

38 North Canterbury News, February 11, 2021

Public Notices

NZMSM -North Canterbury

Community Instrument Demonstration Nights

2353422

19 th Feb. at 6:30 p.m.

Gospel Hall

22 High Street, Rangiora

Kaiapoi Christadelphians

"The Key of Knowledge .."(Luke 11:52)

THEHOPE OF ISRAEL -

IS IT GOOD NEWS?

Anti-Semitism sits just under the surface of most institutions.

How does the Bible speak of Israel and it's people? The Jews

have been in the forefront of God's purpose with the Earth,

Abraham being their father, the promises given to him by God

impact upon the nations -for good or not. Understanding

the Old Testament gives us the foundation for understanding

the New Testament. 'For Moses truly said unto the fathers,

Aprophet shall the Lord your God raise up unto you of your

brethren, like unto me: him shall ye hear in all things whatsoever

he shall say unto you. Ye are the children of the prophets, and

of the covenant which God made with our fathers, saying unto

Abraham, And in thy seed shall all the kindreds of the earth be

blessed. Acts 3:22, 25

DVD presentation -Sunday,14th February 7.00pm

Kaiapoi Community Centre -Sewell Street

Forinformation- phone 03 352 5453

Website -bibletruthandprophecy.com

Waimakariri Country Music

Festival

Fundraiser

Sunday 14 th February, 11am –4pm,

Pines Beach Community Hall.

$3.00 per person.

• Local country music singers

&musicians

• Raffle • Chocolate Wheel

• Sausage Sizzle • Cups of tea

Enquiries to Kevin Taylor 03 327 8920

Situations Vacant

FULL me AutomoveTechnician

Full me qualifiedAutomove

Technician is urgently requiredfor

our busy rural workshop.

MusthaveAVI-WOF licence and

be aqualified technician with good

diagnoscskills and customer

communicaon.

Please email cv or forfurther

informaon contact us via

Email: challenge@oxfordauto.co.nz

or phone 0276877219

Come and meet our teachers and get afeel for the

variety of instruments they teach.

We offer lessons for piano/keyboard, voice, guitar/bass

guitar, drums, ukulele, violin, woodwinds and brass.

For more information, contact Erin Grigson

at erin@grigson.org or 027-589-6131.

Check us out at nzmsmnorthcanterbury.blogspot.com.

Learning Support

Year 5/6

Southbrook School is looking for an amazing Learning

Support person to work in our Year 5/6Learning

Space.

This fixed term position is approximately 15 hours per

week over five days.

If you love working alongside children and helping them

to reach their potential, we would like to hear from you.

If you are interested in this position, please email

Julie Walls your CV -julie.walls@southbrook.school.nz

2355306

2352597

2346384

2354724

26 th Feb. at 6:30 p.m.

St. Patrick's Parish Church

61 Fuller Street, Kaiapoi

Situations Vacant

Events and Promotions

Administrator

• 12 month maternity leave contract

• 40 hours per week (MondaytoFriday)

Thisis an exciting opportunity to work withasmall

team to help promote the Waimakariri District

with anew brand and anew set of objectives.

This role offers agreat deal of variety with amix

of autonomy and direction. Overview is to assist

DistrictPromotions Manager withthe deliveryand

administration of projects. Source, create and post

content on social media platforms and administer

the Events Program Coordinating amonthly event

guideand administeringeventfunding.

Email for full job description

janine@visitwaimakariri.co.nz

Applications close

16 th February 2021.

Rangiora

High School

Cleaners

We are seeking to expand our pool of Cleaners for

both afternoon and/or evening shifts.

Please email your CV and acovering letter to:

vacancies@rangiorahigh.school.nz

Applications close on 15 February2021.

*** Customer Service Checkout

Superstars Required ***

Immediate Start

2351093

We are seeking outgoing, friendly and enthusiastic people

to join our Customer Service Checkout team.

We have opportunities for part-time, full-time, fixed term

and permanent roles.

Weekend work will be required.

If you are passionate about providing excellent

customer service, then we want to hear from you now.

The right person for the job will have:

• Ability to smile and relate to people

• Apositive andfriendly outlook

• Goodlistening skills

• Drive and enthusiasm

• Astrong customer service focus

• Beaneffective and reliable team member

• Anattention to detail

• Aquick and alert mind, with the ability to adapt and

be flexible

• A reasonable level of fitness as some heavy lifting

will be required.

Experience is preferred but not essential as full training

is provided.

McAlpines have an active drug &alcohol policy in

place, apre-employment drug test and medical will be

required.

If this sounds like you, send your application and CV to:

Customer Service Checkout Superstars Position,

Private Bag 1003, Rangiora 7440 or email:

applications@mcalpines.co.nz

2354955

2353650

Wanted To Buy

A FLAT WANTED to

buy, by local cash buyer.

Anything considered.

Please phone Yvonne 021

055 3751.

BUYING estate type old

china, crystal, collectables,

vases. Ph 027 350 3963, or

313 1878.

PRE 1990's vehicles suitable

for resurrection and

restoration, not wrecking.

Anything considered, dead

reg ok. Ph 021 227 6878.

$$$

Amalgamated Scrap Metal

Ltd. Specialists in farm

machineryand farm clean

ups, old vehicles etc.

100% locally owned.

Ph 0800 030 712 or

027 695 0480.

2312759

For Sale

CLAAS MERCURY

Header 10 foot cut, Ford

motor. Well maintained

and shed stored. Lifters,

sares, set up for barley.

$2500 plus GST. Ph 027

260 3063.

SURPLUS HORSE

EQUIPMENT

We have accumulated over the years alot of

horse gear including bits, saddles, covers,

blankets, and much, much more. We are

keen to let these items go for adonation to

North Canterbury Riding for the Disabled.

Items will be displayed at our facility,

4B Millton Avenue, Rangiora (the shingle

road past the show grounds leading towards

the stopbank and Ashley River) from

1o'clock on Saturday 13 th February 2021

ABEL &Prestige Chimney

Cleaning. Nth Cant owned

& operated. Covering all

areas from Waimak to Hanmer.

Professional, guaranteed,

service. Firebox

repairs, carry most parts. Ph

0800 661 244.

ALL TREE SERVICES,

chopping, pruning, firewood

cut. Affordable &

friendly service. Telephone

021 111 4322.

ARBORIST qualified.

Copper Beech Tree

Services. Tree removal,

pruning, height reduction,

hedge trimming, shaping,

tree planting, firewood.

Free quotes. Contact Angus

Edwards 027 259 6741

copperbeechtreeservices@gmail.com.

BRIAN'S Tree Services.

Tree felling, topping,

shaping, firewood cut, rubbish

removed, stump grinding,

branch chipping.

Affordable rates. Phone 03

327 5505 or 021 124 4894.

BRICK &blocklaying. All

types of work undertaken,

repairs. Phone Hamish

0272 386 003 or 313 5678.

PAINTERS

Reg Tradesman

Interior,exterior.

North Canterbury Painters

specialising in decorating for

over 65 at adiscount rate.

Free quotes.

Covering Nth Canty,Oxford,

Kaiapoi, Rangiora, Amberley.

Rob 03 327 7899

or 027 432 3520 2227597

Trade &Services

AFFORDABLE concrete

cutting with quality and

removal work. Free quotes.

No job too small. Ph 027

442 2219, Fax 03 359 6052

or A/H 03 359 4605.

Gardening

A+ GARDEN hedges cut

to perfection. Tree &arbor

work. Also spraying. Free

quotes. Ph 03 312 0668 or

021 111 4322.

Garage Sales

7 STANTON PLACE,

Woodend, Sat 13th Feb,

8.30am -12.30pm. Stereo

plus cabinet, tools, household

goods.

WAIKUKU BEACH 17

Collins Drive, 8am -1pm

Saturday 13th February.

Household items. Lots of

bargains.

For Sale

HONEY 4kg bucket

cooking honey, $30 special.

Available at Gracebrook,

Amberley. Telephone 03

314 7076.

FIAT DUCATO 2003, 2

berth campervan, toilet,

shower, sink, electric or

battery fridge, gas cooker,

electric microwave, off

road camping or power

turbo diesel motor, air conditioning

&power steering

$23,000. Phone 03 327

7533.

2355390

DIRTY TILES &Grout?

Professional tile cleaning,

tiled shower restorations,

mouldy silcone, shower

glass & we can even

recolour your old grout!

For all your tile and grout

issues call Grout Pro for a

free, no obligation quote.

Ph Darryl 0800 882 772.

FIRE GUARDS Custom

made with safety latch.

Phone 021 169 9066. E:

pjfabricators123@gmail.com.

KITCHEN, bathroom,

renovations, decking,

pergolas, fencing. Honest

reliable licenced builders.

Ph Don 027 727 9162.

METAL WORX. Flashing,

Sheetmetal Fabrication,

Wrought Iron,

Welding, Custom Trailers,

General Metalwork. No job

too big or too small. Ph 021

265 5428 or 03 314 6908.

Find us on facebook/

Glenmark Metal Worx.

glenmarkmetalworx.ltd@gmail.com.

PAINT & wallpaper

services. Wayne Bryant,

exterior, interior. Qualified

tradesman. Free quotes. Ph

313 5337 or 027 654 4568.

PAINTER & Decorator.

25 + years experience.

Interior /exterior, roofs &

waterblasting. For a free

quote, please ph Steve 03

314 4620 or 027 477 1930.

PAINTER. Qualified local

professional, Int / Ext,

roofs, wallpaper. Call or

text Corban 027 846 5035.

RANGIORA Rubbish

Removal and RRR skips.

Wheeliebins any frequency

and skips from 1.5 cube to

9cube. Skips and wheelie

bins for any use, rubbish,

greenwaste, building sites

or just cleanups. Give us a

phone call 313 6957 or for

skips 021 313 255.

Trade&Services

POWER TOOLS repairs,

parts &sales for over 40

years. All main brands serviced.

Grossman Trade

Tools, 23 Watts Road,

Christchurch. Ph389 9230.

SCREEN PRINTING.

For all your printing

requirements. T-shirts,

Hoodies, Hi-Vis vests and

polos, Overalls, Caps etc.

Please phone Heather 03

313 0261 or email heather.

norstar@gmail.com.

SHEARER. Hap's Farm &

Lifestyle Services. Shearing,

crutching, drenching,

tailing, feet trimming &

health check. Trailer, generator

&mobile handpiece

available. Experienced,

reliable and honest. Ph 03

4233713 or 021 267 4025.

SHEEP SHEARING,

drenching, feet trimming.

For Lifestyle blocks. Call

Stu 027 315 6916.

STONEMASON, Brick

and Blocklayer. Earthquake

repairs, grind out and

repoint, River/Oamaru

stone, Schist, Volcanic

Rock, paving, all alterations

new and old. Quality

workmanship. Visit

featureworks.co.nz or ph

027 601 3145.

SUMMERFIELD

FENCING

IN YOUR AREA NOW.

Lifestyle or farm, sheep, cattle,

horse, all types of animals.

Fences, yards, sheds, arenas,

shelters, runs.

30+ years contract fencing.

Steve is available to help with

your design &planning.

Ph office03312 4747

2091848

VALUATION -

Specialising in North Canterbury.

Contact Geoff at

Maxwell Valuation. Phone

03 310 8541 or email

geoff@maxval.co.nz.

ANTHONY SYMONDS

Forall your painting &

plastering requirements

Local with 30 years

experience

All workmanship

Guaranteed.

Phone 021 344 023

2220615

SEPTIC TANK

CLEANING

Bill's Liquid

Waste

Blair Tavendale

Ph 03 314 9371

0275 379-694

2354387

You dump it...

Blair pumps it...

Hancox -Thomson

Marie &David were

married at the

St Augustine's church

in Kaiapoi on the

4 th February1961.

Congratulations with

love from all the family

and their friends.

2353841

WINDOW TINTING

tintawindow

advanced film solutions

99% uv block

fade protection

heat control

reduce glare

25 Years Experience

2225862

privacy films

frosting designs

non-darkening films

Workmanship Guaranteed

Lifetime Warranties on Most Films

UV

block

Trade&Services

Pride &Quality Painting

&Decorating Services

20 yrs exp, fast and friendly

service. For all your painting

needs, phone: Martin 310

6187 or 021 128 9867

REMOVALISTS

Movemen Ltd

2Men &agood sized

truck. From $157 per hour

(incl gst). Kaiapoi based.

Call Gerard

027 668 3636

Log Fires

Pellet Fires

Heat Pumps

Sales

Service

Installations

Free Quotes

03 343 1651

472 Blenheim Rd

www.heatstore.co.nz

HOMEKILL

•Humane livestock slaughtering

•Independent, mobile service

•Operating locally

•Delivering to butcher

of your choice

Phone Adam 021 376 145

Free Quotes Canterbury and Districts

03 365 3653 0800 368 468

2316549

Diamond Wedding
---
Trusted Trades &

Professional Services

Guide

To book your spaceinthis guide,phoneAmanda Keys 313 2840 or email amanda.keys@ncnews.co.nz

Automotive &Recovery

Builder

Butchery

Computer Repairs

2070788

• WOF Cars &Trailers

• Vehicle Servicing &

Repairs

• Tyres &Punctures

• Jump Starts

•

Towing &Salvage

• Courtesy Car Available

Ph Aaron Rowlands

0272 588 366

13 Stone Eyre Place,

Swannanoa

Eftpos available Mon –Fri 8am –5pm, Sat 9am –1pm

OxfordButchery

Shane and Leanne Frahm

We cankill&process yourstock

FourGenerations of Frahms

since 1957

Ph 312 4205

Oxford

1680439

Number one

old-fashioned bacon

&ham curing.

A/H 312 4709

Bruce Evans

131 Ohoka Road

Kaiapoi

03 327 3111

021 293 6331

compucare@xtra.co.nz

www.compucare.co.nz

Computer Repairs &upgrades

Prompt professional services

2276525v2

Virus &malware removal

New &UsedPC's4Sale

Construction &Concrete

DENTURE CLINIC

Ear Health

All Construction & Concrete Work

•Driveways, patios &paths

•Bridges and Culverts

•Floors, foundations

•Sheds and buildings

•Dairy Sheds, Herd homes

•Silage pits, effluent ponds

•Excavation and cartage

•Precast concrete

•Insulated panels

Daryl Power

027 230 9401

concretepower@scorch.co.nz

www.concretepower.co.nz

Excavation &Cartage

• HORSE ARENAS -Cheap 0-6mm Screened sand

• Screened Soil • Boulders -Large suitablefor soak holes

Dean Hurley -Managing Director

Hurley Excavation &Cartage Ltd

Ph 0274 336 993 |hurleyexcavation@xtra.co.nz

•17metre spray

booth

•FullPaint &Panel

Service

•Insurance Work

Excavation &Cartage Ltd

Panel Beater

If it stands still

long enough we

will paint it

•Fullcoachbuilding service, fabricating

doors, lockers, windows, tanks

•PaintingMotorhomes, Caravans, Boats,

Trucks,Tractors&Cars

Now moved to 8Seven Mile Drive, Belfast

Phone (03) 323 4115

www.autobodyrepairs.co.nz

2354024

2273277

2352471

RANGIORA

DENTURE CLINIC

Garry WMechen

Registered Clinical DentalTechncian

Phone (03) 313-9192

38a Ashley Street, Rangiora

NEW N W DENTURES D ES

*RELINE * *REPAIRS

* I S

HOURS

8.30am -12noon

- Monday to Friday

FREE E CONSULTATION O

AND ADVICE

A V C

For a/h repairs

phone (03) 310-3044

Plumbing

For all

general

aspects of

plumbing

Discounts for over

65 years old

Fast friendly service

All work guaranteed

Aaron McCartney

Certifying Plumber

Cell 027 366 9091

A/H 03 310 2137

Free Call:

0508 44EVER

EMAIL:

plumber_27@yahoo.com

2172994

2089195v2-4/4-S

Scaffolding

Landscaping

STEWART CONTRACTING

Landscaping -Fencing

& Earthworks

ENJOYABLE STRESS FREE LANDSCAPING

03 313 9375 •027 369 3974

www.stewartcontracting.co.nz

contact@stewartcontracting.co.nz

•Edge protection

•Working platform

Phone

0274 366 901

Plans for pricing

jas.rangiorascaffolding@xtra.co.nz

North Canterbury wide

1783878

2136148

• Ear Health checks.

• Wax removal using Microsuction

• Removal of foreign bodies

• Basic hearing aid care

• ACC provider

• WarVeteran provider

• No medical referral

required

Clinics in Rangiora, Amberley and Kaiapoi

Rest homes/retirement villages, booking by prior arrangement.

Bookings: Online www.earcare.nz |Phone 020 4124 25 25

Email alison@earcare.nz | Ear Care Canterbury

2324849

Mechanical &Pipe Systems

•Upto2"pipethreading &fitting

•Oil lubricationpumprepairs&systems installation

•BulkDieselTank polishing (filtering)

•Industrialservicing andmaintenance

•Based inWaimakaririregion

Tony 027 243 5337

Email:Mpipesystems@gmail.com

AMPLIFY

YOUR

BUSINESS

AND BE THE

NAME THEY

REMEMBER

FIRST

Advertise with us

and get noticed

today!

Phone us today on 03 314 8335 or email

sales@ncnews.co.nz to find out how we can help!

2346458

Scrap Metal

CASH PAID FOR SCRAP

•Car Bodies •Scrap Steel•Specialists in Farm

Machinery•All non Ferrous

MAINLAND

METALS LTD

Ph (03)338 7000

Mike0274 818544 •Robbie 0274 818 027

Locally owned and operated

1902273

Trellis

Proud specialists in enviro-friendly

timber manufacturing trellis from

premium Macrocarpa &treated Pine

2351878

•Trellis •Outdoor Living

•Outdoor Furniture •Gates

331 CFlaxton Road, Rangiora |sales@kaiapoitrellis.co.nz

Ph 027 575 4511 |www.kaiapoitrellis.co.nz

Windows & Doors

WINDOW MARKET PLACE

• New & Used

• Timber & Aluminium

• Windows & Doors

8am-5pm Weekdays

8am-2pm Saturday

215 Waltham Rd, Sydenham

Ph (03) 379 6159 info@windowmarket.co.nz

Fax (03) 962 1012 www.windowmarket.co.nz

ncn1242200aa

To book your spaceinthis guide,phone Amanda Keys 313 2840 or email amanda.keys@ncnews.co.nz
---
Arthur BurkeLtd

Trusted in NorthCanterbury since1935

2016 Honda

HR-V

1.8P/CVT,44,000km,

Leather,HeatedFront Seats,

Towbar,NZNew

$27,995

2017 Mazda 3 GLX 2018 ToyotaCorolla GX

2.0P/6AT, 52,000km,

Parking Sensor's,

Reversing Camera,

Bluetooth, NZ New

1.8LPetrol,

54,000km,NZNew,

ReverseCamera,

Parking Sensors

2017 Mitsubishi Mirage XLS

1.2P, 80,000km,Alloy's,

NZ New, Airbags

2018Holden Trax

LTZ

1.4Petrol Turbo,

66,400km, Leather,

Heated FrontSeats,

Reversing Camera

$21,995

1995 Subaru Impreza

1.8P, 4wd, Manual,

Alloy's,Towbar,

Roof racks

$20,995

$19,995

2012 Suzuki Swift

LTD

1.4L Petrol,

51,600km, NZ New,

Alloys, 6Airbags

Was$11,995 NOW

$10,995

$12,995

$2,995

WANTED

Qualityused, latemodel cars,

SUV's and4WD's.Contact Timif

you'relooking to sell today!

Sales: Tim 03 314 0135 |Service: Michael 03 3140131|Bridgestone Tyres: Ash 03 3140137

Trade in

on NZ ' s

favourite

Farm Bike

Trade in your old farm bikeand we'll give you

at least $600 dollars. With minimum trade in

applied, payjust $4,695 +GST foranewSuzuki

DR200SE Trojan. Still made in Japan, with all the

quality features you'dexpect from Suzuki.

Be quick! Stock is limited.

Terms &conditions: $600 minimum trade includes GST and applies to new Suzuki

DR200SE only when you bring in your old farm or road motorcycle, going or not. Price

excludes GST after minimum trade in. Offer not available in conjunction with any other

promotion. Promotion period runs from 20 January –30April 2021 or while stocks last.

NO INTEREST

NO BRAINER

1/3 1/3 1/3

Not using interestfree

money makes no

sense. Buy aSuzuki

KingQuad now,

put it to work straight

away, pay it off

in 2023, all at 0%

interest. Ask the

boss, ask your

accountant, ask the

bank manager –it's

too good adeal to

miss. Pay 1/3 up

front, 1/3 next year

and 1/3 in two years'

time. Tooeasy.

2348475

Sales: John 03 3140132 |Service: Anton 03 3140134

MarkhamStreet,Amberley |Karaka Road, Waikari

www.arthurburke.co.nz

ARTHUR BURKELTD

Established 1935