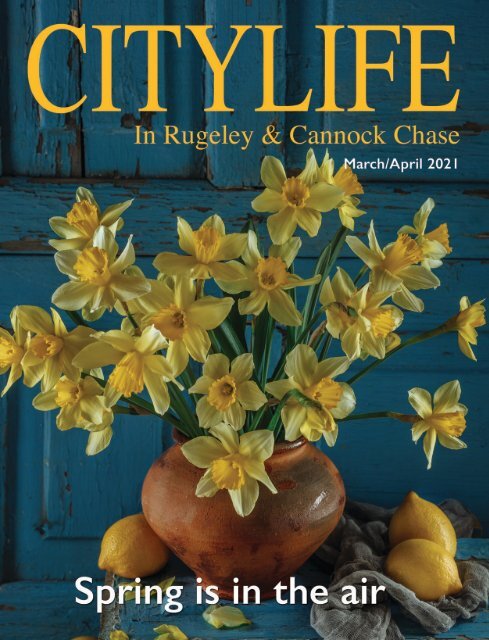 Citylife in Rugeley and Cannock Chase March April 2021
Our March and April 2021 Rugeley and Cannock Chase edition is full of the joys of Spring as we hopefully move towards a brighter 2021! We have the usual mix of local news, recipes, competitions, history features - and with plenty of ideas for those essential Mother's Day gifts it's a great way to unwind and relax as we start thinking of those warmer Spring days!
Our March and April 2021 Rugeley and Cannock Chase edition is full of the joys of Spring as we hopefully move towards a brighter 2021! We have the usual mix of local news, recipes, competitions, history features - and with plenty of ideas for those essential Mother's Day gifts it's a great way to unwind and relax as we start thinking of those warmer Spring days!
SHOW MORE
SHOW LESS
You also want an ePaper? Increase the reach of your titles
YUMPU automatically turns print PDFs into web optimized ePapers that Google loves.
3
---
Welcome to

CITYLIFE

Welcome to CITYLIFE in Rugeley & Cannock Chase, a

monthly magazine bringing you our pick of the area's news,

events and stories. Each month CITYLIFE in Rugeley &

Cannock Chase is delivered to businesses and homes in

Rugeley, Cannock Chase, Heath Hayes, Ravenhill,

Etchinghill, Slitting Mill, Armitage, Handsacre, Colton,

Hamstall Ridware, completely free of charge; bringing

you the best that the area has to offer.

Each issue features heritage stories exploring the rich

history of our area, plus competitions, interviews and the

latest in fashion and style.

Got a story or charity event you want to share with our

readership? Think you've snapped an image that captures

the spirit of the region? We want to hear from you!

CITYLIFE Contacts

Editor - Kristen Lackajis 07885 380632

kristencitylife@gmail.com

Features - Jono Oates 07785 757201 jonocitylife@gmail.com

Inside...

12 A Window on the Past

The history of 1st Rugeley Boy Scouts

Troop

.............................

18 Kim Nash Interview

The local author talks about her latest novel

.............................

24 Mother's Day Gift Guide

Find the perfect present for Mum

.............................

30 Tastes of the Season

Cook for Mum with Simon Smith

Advertising -

Steve Brown 07740 166497 stevebrowncitylife@gmail.com

Rebecca Hill 07970 513144 rebeccahillcitylife@gmail.com

Lorraine Hudson 078860 91933 lorrainecitylife@gmail.com

Production - Helen Smith 07967 154187

helencitylife@gmail.com

Citylife In Lichfield Ltd

PO Box 7126 LICHFIELD WS14 4JS

CITYLIFE in Lichfield and CITYLIFE in Rugeley magazines

are not connected to any other publication or publisher, and are

wholly owned by CITYLIFE in Lichfield Ltd.

Citylife In Lichfield

www.citylifeinlichfieldltd.co.uk

Citylife in Lichfield Ltd does not endorse any business or organisation

appearing in these pages, and the publication of any advertisement,

editorial, event listing or advertising editorial does not constitute an

endorsement by Citylife in Lichfield Ltd.

Your Local Magazine
---
Cannock &

District Ladies

Probus

By Alison Cardy

........................

Lockdown

restrictions

cannot prevent love or

joy because a Valentine's

theme was the order of the

day when the Cannock &

District Ladies Probus Club

met on Zoom.

After sharing news of the

Covid jabs, the mood was

lifted by Valentine's poems.

Margaret Thompson

The members then discussed

the news headlines, before

they were entertained by Margaret Thompson, who

shared the romantic story of how her Mum and Dad met

and married.

This wartime love story began with her Dad George,

who had joined the army as a boy soldier at 15-year's old,

and by the age of 17 was on 'a slowboat to China.'

Meanwhile her Mum Edna, from West Bromwich, at 19

years old was very poorly in hospital. The lady in the next

bed was upset as she was unable to write to her son in

the army. So, Edna wrote on her behalf. Correspondence

was returned and soon Margaret's Dad was writing

regularly, while the lads in his billet suggested he should

'save on ink.' Pretty soon the writing was on the wall for,

after exchanging photos in 1938, he asked his pen pal to

marry him. This made headline news on front page of

News of the World about 'the engaged couple who had

never met.' The Government in 1940 asked troops to

return to Europe and, despite his relative comfort in

China, George chose to return for these personal

reasons.

They finally met in Snowhill one Monday morning and

married within days, then he returned to his unit.

Obviously, there was a happy ending for they were

married for 53 years.

The Valentine's theme continued as the Chairman

taught the members to create a red heart using origami,

this caused giggles as some were more successful than

others but it was fun creating them. A short quiz followed,

to complete a varied, fun-filled morning.

Should anyone wish to join to share friendship, or to

obtain further information, please contact Membership

Secretary Barbara on 01889 882 168.

5
---
LOCAL NEWS

6

Staffordshire Firm's

First Anniversary

Directors Adam and Sally

Outdoor building firm, Roundpeg Outdoor

Buildings, has not only survived to celebrate its

first-year anniversary, but has thrived enough to

expand its operations by tripling its workforce.

Just one year ago two friends took the brave

leap to launch their own business – creating

handmade bespoke outdoor buildings.

But Adam Timmis and Sally Ann Smith could

never have predicted the major obstacles that

lay ahead for their new venture.

While all new start-ups expect to face a few

challenges during their first year of trading, the

duo has not only had to navigate a global

pandemic but also worldwide timber supply

shortages.

Yet, despite all the odds, Roundpeg Outdoor

Buildings survived.

In another impressive highlight, in November it

was also shortlisted in the Staffordshire

Chamber of Commerce's Business Awards in

the category of Most Promising Start-Up in the

county.

The pandemic has certainly seen Roundpeg

kept busy with a steady ongoing demand for

outdoor buildings for uses including home

offices, self-employed ventures like salons, gyms

and bars for customers across the West

Midlands.

Visit www.roundpegoutdoorbuildings.co.uk or

find it on Facebook and Instagram

@roundpegoutdoorbuildings.

...........................................

Footballers Back

#TalkSuicide Campaign

Stoke City players are throwing their weight

behind a new campaign to help reduce the

number of suicides in Staffordshire.

Sadly, 10 lives are lost to suicide each month

across the county, with men in their 40s and 50s

in the highest category.

Now, the club have partnered with local

councils and health partners to help raise

awareness of the issue and make it easier for

people to talk about it.

Players kicked off the campaign before Friday

night's game against Watford which included

messages from first team players, Tyrese

Campbell and Sam Clucas.

A dedicated webpage on the Club's website has

information and advice to help people spot the

signs and be comfortable to talk about it.

The #TalkSuicide campaign is calling on

individuals, communities, organisations and

businesses to show their support by signing up

to the campaign and taking action to help

prevent suicide.

People can find out more about the campaign

and sign up for more information on local

sources of support and training at

www.stokecityfc.com/community/campaigns/tal

k-suicide.

...........................................

Local Lollipop Lady

Retires after 35 Years

A Rugeley Lollipop Lady has retired after 35

years with the school crossing patrol. Marion is

pictured with a family of a mother and two

daughters, all three of which Marion has safely

and happily helped cross the roads during her

time in service.

...........................................

First Electric Taxi

in the District

Cannock Chase Council has licensed the first

electric taxi in Cannock Chase.

AJ's Taxis in Rugeley is the first firm to license

an electric vehicle for use as a taxi in the

District.

In common with many other local authorities in

the country, the Council is examining how to

tackle the many current and future challenges in

respect of our Environment. A motion was

approved at Council in July 2019, which

declared a Climate Emergency and committed

the Council to a vision of Carbon Neutrality by

2030, encouraging the transition to net zero

carbon emissions in the decades to come. One

of the biggest sources of carbon emissions is

road traffic.

As there are no dirty emissions directly emitted

from exhaust pipes of electric vehicles and they

are responsible for less carbon emission overall,

they are seen as the successor to petrol and

diesel vehicles. The Council is exploring ways in

which this transition can happen quickly and

smoothly.

...........................................

Make Testing Part of

Your Routine

People who must leave their homes to make

essential visits during lockdown are being urged

to get tested in one of Staffordshire's

Community Testing Centres.

The centres, one in each district and borough

are open seven days a week for people without

symptoms.

Being open over weekends will give people

having to make essential visits through the week

more options to get tested regularly.

1 in 3 people do not display any symptoms –

getting tested regularly provides peace of mind

that essential travellers are not unwittingly

spreading the virus to the vulnerable.

Getting a test is quick, simple, free and now

available seven days a week. Making it part of

your weekly routine may well protect the

people you interact with on a day-to-day basis

and the wider community at large.

Several lateral flow testing sites have been set

up in the area – these give results within 30

minutes.

These tests are only available for people who

do not have Covid symptoms. You can book a

test by visiting:

www.staffordshire.zipporah.co.uk/

trackandtrace.
---
7
---
LOCAL NEWS

Rugeley Student

Secures Oxford Place

The Hart School in Rugeley is celebrating its

first ever Sixth Form student securing a place to

study at Oxford University.

Budding criminal barrister, Anya Tregay of

Rugeley, is believed to be the first Rugeley high

school pupil to be accepted at the prestigious

university.

Subject to achieving her predicted A Level

grades, the teenager will study for a degree in

Law, with Spanish Law, at the university's

Hertford College, whose alumni includes

authors Jonathan Swift and Evelyn Waugh.

Headteacher, Rachael Sandham, said: "Anya's

impressive achievement is proof that anything is

possible with drive, hard work, determination

and the right support. But what is equally

important is that it shows that Rugeley students

are just as capable as the best and brightest at

other Staffordshire schools."

The Sixth Form is in the top 5% of Sixth Forms

in the area for student progress and has a wide

range of BTECs and A-Levels to choose from, in

any combination. It is now accepting

applications for its 2021-2022 intake. For more

information visit www.hartschool.org.uk/sixthform,

email Mr Brennan on

ben.brennan@hartschool.org.uk, or call 01889

802440.

...........................................

Extra Support as 2021

Census Approaches

The next Census

takes place on

Sunday 21st March

and to ensure its

success in Cannock

Chase District, the

Office for National Statistics (ONS) has

appointed a Census Engagement Manager to

support residents in the area.

Kirat Raj Singh, the area's Census Engagement

Manager, will help organisations, charities, faith

groups and community leaders within the

8

Anya Tregay with her Oxford letter

District raise awareness of the census and the

value to residents in taking part.

The census is a once-in-a-decade survey that

provides a snapshot of households in England

and Wales, helping to plan and fund public

services.

For the first time, the census will be run

primarily online, making it easy for most people

to complete the questionnaire on any device –

whether that be a computer, a mobile phone or

a tablet. Local Census support centres will be

offering help, while paper questionnaires will be

available for those who need them.

For more information visit census.gov.uk. Kirat

Raj Singh, as the local Census Engagement

Manager, can be reached at

kiratraj.singh91@field.census.gov.uk.

...........................................

St Giles Celebrates

TreeCycle Success

Socially-distanced TreeCycle volunteers

St Giles Hospice is celebrating the success of

this year's TreeCycle campaign after it collected

more trees and raised more funds than ever

before.

The environmentally-friendly recycling

collection picked up 4,428 Christmas trees

during the month of January in return for a

small donation to St Giles, raising more than

£65,000 for the hospice.

Last year's collection picked up 3,430 trees,

raising £35,000. All funds raised by TreeCycle

help to ensure that St Giles Hospice can

continue to support people and their families

living with a terminal illness.

Despite the ongoing Covid-19 crisis and the

challenges raised by the new lockdown, St Giles

was able to run the popular annual fundraiser

for the sixth year running thanks to collection

teams who followed the latest Government

guidelines as they hit the streets.

Working in same-household bubbles, 76

volunteers took part in a socially-distanced

operation which covered 3,176 miles between

Wednesday 6th and Wednesday 13th January

(2021). They collected trees from Lichfield,

Sutton Coldfield, Tamworth, Burton, Rugeley,

Burntwood, Uttoxeter, Swadlincote, Stafford

and surrounding areas.

New Free School

for Rugeley

More than 1000 children in Rugeley will have a

brand new school after the Government

announced a major building programme

recently.

The new Rugeley John Taylor School will open

to nursery, reception, and Year 7 pupils in

September 2023. Conservative MP for Cannock

Chase, Amanda Milling, welcomed the "great

news" for the area and said the school would

ensure that future generations get the skills

they need.

The new school, the first all-through school to

be built in Staffordshire, will be built on the

power station site and will be operated by the

John Taylor Multi-Academy Trust (JTMAT).

The John Taylor Multi-Academy Trust already

runs a number of schools in Staffordshire and

South Derbyshire and were announced as the

school sponsored by the Department of

Education.

The school will focus on Science, Technology,

Engineering and Mathematics (STEM) and will

help future generations leave school with the

skills they need to succeed.

The Free School programme has helped raise

educational standards across England, with

more than 80% of free schools rated good or

outstanding by Ofsted.

...........................................

Chimney Demolition

You may not have had

chance to watch the

recent demolition of the

Rugeley Power Station

chimney, with lockdown

restrictions in place.

However, you can watch

our video of this event if

you head to our

Facebook page at

www.facebook.com/citylifeinrugeley and click

on the 'videos' section.

Competition

Winner

Congratulations to Mr G

Painter of Rugeley who was

selected as the Just Granite

competition winner!

Well done!
---
9
---
Look after the

pennies… and the

pounds will come!

...............................

By Richard Winterton

As my Granny used to say: "Look after the pennies and the pounds will

look after themselves." I might also add 'look after the pennies and the

pounds will come'. Let me explain…

When I first go to a house, I say: "We are here to help you."

If the property is full, we will check everything – the house of course

and the attic, the cellars if there are any, garages, the gardens, any sheds,

outbuildings, greenhouses, conservatories, orangeries… you name it!

To some, those jam-packed garages, overgrown gardens and crowded

sheds might seem daunting – at best the spectre of a dozen or more

journeys to the tip.

And that's where we come in. We don't cherry-pick, we carefully sift

through everything, identify potential lots for sale at auction (realistically

most things) and then safely dispose of anything which needs to be

scrapped, such as items which do not meet current fire or electrical

regulations.

People do get concerned about sheds, gardens and garages – don't be.

Let us come to you and take away the stress along with the items in

question.

Over the years I have seen so many attics stacked floor-to-ceiling and

garages racked wall-to-wall and whether it's a bulging basement or

unloved outbuilding, these places are so often chock-a-block with

opportunity.

Heaving sheds and garages are teeming with interesting finds, from

vintage tools and equipment to automobilia and random curios which

ended up there by default.

As I say, we don't cherry-pick. We have a dedicated, very experienced

team and if there's something there, we will find it!

Many times, the whole clearance costs can be covered from items

thought only good for the tip until unearthed in those places by our

eagle-eyed team.

As the saying goes 'one person's trash is another's treasure' – should

it perhaps also be 'one person's collection is another's clutter'?

Whichever way, it's never more true than in our specialised field.

There could be one tiny gem in an entire property; equally there could

be dozens! And they could be anything from anywhere in the world. The

possibilities really are exciting.

Once we've done that initial clearance and all the sifting, identifying and

cataloguing, we can then also dress a house for sale should the client

wish. And once the sale completes, we come back again to clear it and

leave the property completely clean for its new occupants.

The contents of house/shed/gardens etc are transported back to The

Lichfield Auction Centre to go through the auction process.

In this respect I liken us to a one-stop shop! We take care of the whole

process and, although we sell many things for thousands and thousands

of pounds, we treat items worth perhaps £5 to £10 with equal care. To

us, everything is important.

Whatever the situation, we never forget that this is someone else's

home and belongings – possibly accumulated over an entire lifetime.

So, whether you are an executor clearing a deceased estate,

investigating downsizing options, administering probate, emigrating or

10

just keen to clear clutter (or should I say collection?), give us a call.

We're always happy to have a look with a free, no obligation home visit

and give you our honest opinion and free quotation upfront.

That same helping hand is available for all properties inside and out,

ranging from houses, bungalows and flats to schools, offices and factories

and I am so proud of our bespoke, sympathetic service.

When it comes to probate, we're especially adept at handling the

entire estate – as the National Association of Jewellers' newest approved

member for auction services, all members of our jewellery department

are certified gemmologists and diamond graders.

Whatever the items in question, we can handle probate valuations and

estate clearances in their entirety.

Just about anything you can think of can come through The Lichfield

Auction Centre, from watches, jewellery and furniture to specialist

militaria, coins, silver, stamps, ceramics, vintage toys, comics and Pokemon

cards – the ultimate modern-day collectable!

Everything from boxes of mixed lots to automobiles can – and does –

go under the hammer in our online-only auctions.

There's now so much detail with extra photos for every lot in the

online catalogues to help people all across the world buy in confidence.

We've also had so many lovely comments from clients about our

packing service and all the measures we have implemented with regard

to coronavirus.

So, from the back of a Lichfield shed to the front of a Hong Kong

collector's cabinet, perhaps… that's how it's done.

Look after the pennies and the pounds will come – and furthermore

we will look after you!

For a free home visit to discuss house clearances, downsizing, probate

assistance or large collections, contact The Lichfield Auction Centre on

01543 251081 or email richardwinterton@richardwinterton.co.uk.

Visit us online and browse our new website at

www.richardwinterton.co.uk.

Richard Winterton Auctioneers has a

dedicated and very experienced house

clearances team.

A recent house clearance at a

property overlooking Lichfield's

Stowe Pool.

Richard was delighted to discover this vintage Triumph Stag in a barn

earlier this year.
---
New Beginning for Forest

Hills Primary School

..............................................

After consulting with parents, staff, children and the local

community, the governing body at Western Springs Primary

School made the decision to change their school name.

The new name, Forest Hills Primary School was officially

launched on Monday 4th of January 2021 and marked a new

beginning for the school, who joined Perry Hall Multi-Academy

Trust on the 1st of November 2020. All who were consulted with

were in full support of a new school name which symbolises a

positive and exciting journey ahead for everyone in the school

community. Following consultation, children at the school were

fully involved in the re-naming process from the very beginning.

From deciding on the new name for the school to presenting and

discussing their logo design ideas to an external marketing

company commissioned by the school. The finished logo

beautifully incorporates the ideas of the children and represents

the surrounding natural beauty of Cannock Chase. The rebranding

process involved all children from across the school

engaging in lessons on the history of Western Springs Primary, the

surrounding area and interestingly, their connections to a school

across the globe in Western Springs, Illinois, USA. Children

produced a variety of suggestions for their new school name

which represented all they had learnt about their school. Forest

Hills Primary was by far the most popular with children and staff

alike. The school have purchased a new cardigan or jumper

displaying the new school logo for each child so they can wear

their new uniform with pride as soon as school opens again. Head

of School, Mrs Sarah Powell said, "As a school community, we

decided to rebrand our school to signify the fresh start that we

were embarking upon. We are excited to continue our journey as

Forest Hills Primary School and are very much looking forward to

our future successes".

Executive Headteacher, Mr Darryl Asbury said, "The decision to

change our school name was made by the whole community. It

represents our joint commitment to the new future of our school.

PHMAT is proud and excited to play it's part in supporting the

school community on a journey that will see our children

flourish".

11
---
A Window on the Past

Boy Scouts

The early years of the 1st Rugeley Troop

One August evening in 1910 two Rugeley youths, Reginald

Robinson and Harold Hough, met two Scouts from

Stafford whilst walking in Green Lane. They decided that it

would be a good idea for Rugeley to have a Scout Troop

and the 1st Rugeley Troop of Boy Scouts was founded a

few days later. Their first public duty was guarding for

three days and nights the bonfire built on Etching Hill for

the Coronation of George V in 1911.

They originally met in Taylor's Lane, the first Scout Master

being Harry Kelly. They bought a wooden hall for their

headquarters which was enlarged and erected on land

rented from the Earl of Lichfield, who opened it in 1923 as

a Memorial Hall. In 1937 the land on which the hall was

built was sold and the Troop appealed for funds to

purchase a plot to move the hall to.

1. Poster for an early fund-raising event for the 1st

Rugeley Troop, who had been founded three months

earlier.

2. R.C.J. Robinson at the Scout camp in North Wales in

1911.

3. Reginald Robinson, a founder member of the 1st

Rugeley Scouts obtained his Scout Master's Warrant in

1912.

4. The Scouts played an important role in the First World

War.

5. The opening of the new Scout hut in 1964. Scout Master

R.J. Pearce is on the far right.

During the 1914-18 war Scouts were involved in many

activities including helping at Ravenhill Red Cross Military

Hospital. They also collected magazines for hospitals in

France, collected several tons of waste paper, guarded

railway bridges, and those with bikes acted as messenger

boys for the police.

1

2

3

The Landor (local history) Society is a

focus for those who wish to learn more

about the history of Rugeley and its

surrounding parishes. It was founded in

1953 and was named in honour of

Walter Noble Landor, local and county

historian, who became the Society's

first President. More information is

available at www.landorlocalhistorysociety-rugeley.btck.co.uk

4

12

5
---
******COVID UPDATE********

In these testing times we have doubled our efforts to make your life as easy as possible while adhering

to the various restrictions. We can offer a live virtual guided tour of our stock yard and swiftly send

samples directly to your door, subject to availability.

There really is no reason to go anywhere else!

Win a Granite Chopping Board

If you require our services please do not hesitate

to call us on 01785 711096 or email your quote

request to stef@justgranite.ltd.uk

With the largest variety of natural stones in the Midlands, the

solid slabs are kept on-site and are available for a virtual viewing

from 9am-5pm on Monday to Friday. Located at The Stone

Works, Pillaton Hall Farm, Penkridge, ST19 5RZ.

We've got a bespoke Chopping Board (in the

colour of your choice) to give away! To be in

with a chance of winning this magnificent prize,

simply answer the following question correctly:

Where does the supply

of granite come from?

a) Spain

b) Italy

c) Germany

To enter, just send your name, contact details and answer to Just

Granite Competition at competitioncitylife@gmail.com or post your

entry to Citylife in Lichfield Ltd, PO Box 7126, Lichfield WS14 4JS by

the closing date of 23rd April 2021. One entry per household.

Multiple entries will be disqualified. No cash equivalent. Please note

you must be 18 or over to enter. All entrants' information is

processed in line with GDPR Data Protection Regulations and our

Privacy Policy (available at citylifeinlichfieldltd.co.uk).

Full t&cs on page 34.

13
---
Doxey Marshes by Colin Hayes

Launch of Rivers

Scheme in Stafford

.......................

Staffordshire Wildlife Trust is excited to announce the launch

of a £2.5 million scheme in Stafford that will alleviate flooding

around rivers in the area, as well as encourage a range of

wildlife such as otters and lapwing. Improving public connections

to nature is also a large part of the scheme by upgrading access

to sites and creating more green spaces for families to enjoy.

The scheme has been given a boost thanks to a £150,000 donation

from Highways England which will fund an environmental feasibility

study that is already under way to develop, plan and cost a five-year

Ragged Robin by Victoria Bunter

plan for the exciting Stafford Brooks Project.

In partnership with Staffordshire Wildlife Trust, Highways England,

Stafford Borough Council and the Environment Agency the project will

make vast improvements to habitats surrounding the Sow and Penk

Rivers. 25 sites will be identified which can be improved for

biodiversity, flood mitigation and water quality. Action will then be

taken to help join up some sites so habitats are more resilient and

wildlife less isolated.

The scheme that will restore and create new habitats across sites

including Doxey Marshes, Kingsmead Marsh and Radford Meadows

supports the launch of the Trusts recent appeal, 30 by 30 which aims

to have 30% of the county put aside for nature's recovery by 2030.

Restored sites could become home to a variety of wildlife including

otter, wading birds such as lapwing and snipe and a range of amphibians

as well as them acting as a key contributor in mitigating the effects of

flooding.

Soroptimist's Collect

Devices for Children

........................

Cannock Soroptimists have been getting involved in

collecting and distributing laptops and tablets to schools to

ensure that all children have access to a digital device so

that they can take part in online lessons and complete pieces of

work for school whilst at home.

The Coronovirus pandemic has highlighted the fact that there is a

'digital divide' - some families have plenty of access to a device and the

internet, others have none and this can widen the gap in terms of

education and so much more. Some families are trying to share a

mobile phone, or one other type of device: this is obviously nowhere

near ideal.

Over the last few months, the club carried out research, being

especially mindful that devices must be cleared of all data before they

are delivered to a school. Members were informed of an approved

programme that wipes data from devices, making them ready to be

used.

The first devices were taken to Bridgtown School and have already

gone out to children on loan, enabling more children and families to

Soroptimist June Bould presents laptop to Loren

Baker at Bridgtown School

access their education.

Further details about Cannock Soroptimists are available on the

club's website: www.sigbi.org/cannock-and-district.

14
---
15
---
The Great Haywood

Motor Fatality of 1905

By Jono Oates

............................

Great Haywood is a peaceful and picturesque village set in

lovely Staffordshire countryside and close to the

Shugborough Estate. In 1905 the village was in shock after a

tragic motor accident which resulted in two deaths - and reports

that the ghost of one of the victims still wanders the streets around

the village today.

In the early 1900s motor cars were still relatively rare, with only

23,000 cars on the roads in 1904, and due to the low speeds, accidents

were rare. One tragic accident occurred in Great Haywood on 9th March

1905 when a car plunged into the mill pond by the River Trent, throwing

two of its passengers into the murky depths.

The driver of the vehicle was James Roper, a chauffeur, who was taking

his passengers, Mrs Challinor and her 20-year-old niece Dorothy Notely,

from their home at Little Ingestre to Great Haywood. The car, a Frenchbuilt

Gladiator, was new and was owned by Mrs Challinor's husband who

was the Deputy Town Clerk of Hanley, Stoke-on-Trent.

As Roper approached the bridge crossing the River Trent there was a

sharp bend, and he turned the steering wheel accordingly. He quickly

realised that the steering assembly had broken and, despite his best

efforts, the car turned towards the bridge wall which was low and poorly

constructed. As the vehicle was about to strike the bridge Roper leapt

out of the car, it went straight through the wall, somersaulted and fell into

the deep waters of the mill pond, with the passengers still trapped in the

back street of the car. Roper ran to the nearby mill house and raised the

alarm and, returning to the scene, he saw Mrs Challinor in the water and

he was able to help her out. There was, however, no sign of her niece. Mrs

Challinor explained that she had gone under the water twice and on the

second time she heard her niece cry out twice… but she could not see

her anywhere in the water. More rescuers arrived and they all searched

around the mill looking for Dorothy but to no avail. It soon became

apparent that she must have drowned in the mill and, after underwater

divers had failed to find her, the Police decided to completely drain the

mill pond. Five fire engines, and dozens of volunteers, helped to pump the

water out of the pond but all that could be seen in the bottom of the

pond basin was a handful of bricks from the bridge – but no body.

A large crowd had gathered to watch the spectacle from the banks of

the pond and, as the crowds looked on, another tragedy was to strike the

scene. Mrs Henry Payne, of the nearby Haywood Brewery, was watching

16

Dragging the Mill Pond*

Fire engine draining the pond*

the pumping taking place when a frightened horse, attached to a furniture

van, bolted and knocked her to the ground. The van ran her over and she

was kicked by the horse which killed her instantly.

Three weeks later a village grocer, Reginald Gibbs, was walking along

the banks of the Trent to fetch corn from the mill, when he spotted a

body in the river, caught in the roots of a tree. Fetching the village

policeman, they dragged the body from the river which was then

identified as that of Miss Notely.

At the inquest the coroner ruled that the driver, James Roper, has acted

as many people would in that circumstance and that by throwing himself

clear he had managed to raise the alarm and save the life of Mrs Challinor,

if not Miss Notely. The fault on the steering gear was found to have been

a broken bolt which was confirmed by a representative of the Gladiator

Motor Company, although there was no claim for compensation, the

coroner ruled death from accidental drowning. After the inquest the road

was straightened and the bridge over the River Trent was rebuilt. Later

the mill was demolished and the mill pool permanently drained.

That, however, is not the end of the story as several local people have

witnessed the ghostly figure of a young lady, dressed in Edwardian clothes

and carrying a posy of flowers, seen by the nearby Essex Bridge and along

the riverbanks. Is this the ghost of young Dorothy Notely still trying to

find her way out of her watery grave?

The Great Haywood Motor Fatality of 1905 is one of the most tragic

and shocking accidents in the early years of British motoring history and

one that is still remembered in the village more than one hundred years

later.

Sources: The British Newspaper Archive; Staffordshire Past Track website;

Liverpool John Moores University Research Online.

*Photographs courtesy of Staffordshire Past Track at the Staffordshire County

Museum
---
17
---
10 Minutes With…

Kim Nash

..........................

Local author of heart-warming

fiction novels, Head of Publicity

for Bookouture and book blogger,

Kim Nash, caught up with Charlotte

Benton ahead of the publication of her

fourth novel, Moonlight Over

Muddleford Cove.

Hello Kim, firstly may I thank you for

taking the time to speak to me today, I

know you are very busy.

Not at all, it's my pleasure.

With the upcoming publication of your fourth novel, did you always

know that you wanted to be a writer?

Yes I did, ever since I was a little girl, however I thought to be a writer

you had to live by the sea and have a small desk by the window

overlooking the waves! An idyllic scene, but I know now that is not the

case.

I presume you have been writing during lockdown, how has this

experience differed from your normal writing schedule/experience?

I am lucky, lockdown has not had a great impact on my writing. A zap in

creativity perhaps, but aside from that I am used to writing as when I can

fit it in, I don't have a set routine. You can't wait for inspiration, you just

have to get on with it!

What inspired you to write this book?

Muddleford is a fictional place but it is inspired by my happy childhood

memories. I spent many summers in Mudeford in Dorset, travelling down

with my Nan to visit my Aunt. I haven't visited in five years now, but it is

a lovely place that I adore.

If you could meet any other author who would it be and why?

I have been inspired by so many great authors of women's fiction, but if

I had to choose one I would say Milly Johnson. She is best-selling author

of romantic fiction, with 18 best-selling novels to date. It was Milly who

inspired me to start blogging about books, she definitely inspired me and

gave me confidence.

What book is on your bedside table at the moment?

It is actually a book written by my friend Nicola May, I just started

reading it today, it is called Welcome to Ferry Lane Market. Nicola is one

of the many authors who was involved in the

Chase BookFest at the Museum of Cannock Chase in September 2019.

I helped to organise the event along with the ladies who work at the

museum, as avid readers themselves and with my connection to many

authors, it was a great opportunity for local readers to connect with local

authors. I am keen to run this event again once things are back to normal.

What do you like to do in your spare time to unwind?

I enjoy taking my dog Roni for a walk over Cannock Chase and spend

many hours watching my son play football for Hednesford Town under

13s. We also like to go and support the club's first team along with my

son's teammates and my friends, the other football mums.

How do you overcome writer's block?

I am fortunate that I don't really experience writer's block. I try to

always maintain a positive attitude towards writing, often reminding myself

that you 'can't edit a blank page'. I think sometimes we can convince

ourselves that we cannot do something, when in fact we can, it's just a

case of sitting down at the desk and giving it a go.

What is the most surprising thing you have discovered whilst writing

your books?

I have been amazed by how much my books have helped people

through lockdown. I have had numerous letters and messages sent to me

from strangers praising the power of my work during this unusual time.

One lady wrote how she had purchased my books for her Mum who had

sadly lost her friend to the virus, she spoke of how my books had helped

her Mum through the grieving process, enabling her to escape to another

world. My third novel is set in Portugal and at a time when we are unable

to travel, it has been lovely to hear how my books have been enjoyed by

many, leading them to feel as though they too have been on holiday,

offering an escape from reality.

What advice would you give to budding writers?

First of all, you have to make the time to do what you want to. If it

means sacrificing an hour in front of the television in the evening then that

is what we have to do. I always used to say, 'I'd love to write a book if I

had the time'. If you really want to do it, don't delay it.

Finally, what do you hope readers take away from this book?

I hope this book offers escapism to my readers, transporting them to

Muddleford with Nellie and Jack away from the current troubles of

everyday life.

Kim's books are all available to buy on www.amazon.co.uk (her latest novel

is available to pre-order) and you can find out more about Kim at her website:

www.kimthebookworm.co.uk.

Win a Copy!

We've got two copies of Kim Nash's

latest novel, Moonlight Over

Muddleford Cove, to give away to two

lucky readers!* Correctly answer the

question below and send your details

for your chance to win:

Which county inspired Kim's

latest book?

a) Dorset

b) Durham

c) Derbyshire

*One hard copy and one e-book. Please specify when entering

which version you would prefer.

To enter, just send your name, contact details and answer to

Book Competition at competitioncitylife@gmail.com or post

your entry to Citylife in Lichfield Ltd, PO Box 7126, Lichfield

WS14 4JS by the closing date of 23rd March 2021. One entry per

household. Multiple entries will be disqualified. No cash

equivalent. Please note you must be 18 or over to enter. All

entrants' information is processed in line with GDPR Data

Protection Regulations and our Privacy Policy (available at

citylifeinlichfieldltd.co.uk).

Full t&cs on page 34.

18
---
My Month in

Parliament

By Amanda Milling MP

........................

The battle against

Covid-19 has

continued into the new

year, with the start of

2021 feeling much like an

extension of 2020.

While there are some

aspects of 2020 that we

would rather leave behind, the community spirit that

came alive in 2020 is still with us. As always, our

community continues to pull out all the stops to help

those in need and you don't need to look far to see the

best of Cannock Chase, be it neighbours helping

neighbours, voluntary groups supporting those in need

or people volunteering at vaccination sites. As a

community we have so much to be proud about.

Over the past couple of months, I have regularly met

with officers from the local NHS Clinical

Commissioning Group, who are leading the Covid-19

vaccination programme. I know they have a clear and

well-resourced plan to deliver the vaccine to residents

across Cannock Chase so as many people in the

constituency as possible have received their first jab. I

have also volunteered at the Roman Way vaccination

site where it was truly fantastic to see so many people

receiving their first injection. I would like to thank

everyone involved in this huge national effort. There is

light at the end of the tunnel, but in the meantime let's

all work together to keep each other safe.

I have also tried to continue to do as many of the

normal things I would do as your MP, such as holding

surgeries and running events. Whilst everything these

days is virtual, it's been great to see so many of you on

screen. Recently, I held an event for local charities to

find out how they can access funding as well as an

event with local businesses about the Kickstart

scheme, which will help young people with getting jobs

in the area. A year ago I would not have expected to

have been holding these events from my kitchen, rather

than out and about in the constituency.

As always, if you have any issues you need my help

with, please email me on

amanda.milling.mp@parliament.uk, call 01543 877142

or visit www.amandamilling.com/contact.

19
---
Mountain of

Support for Charity

..........................

For many, coping with and recovering

from domestic abuse could be likened to

climbing a mountain.

How fitting, then, that one local man decided to

do just that!

Paul Wright scaled Mount Snowdon to not only

raise awareness about domestic abuse but also to

raise funds for New Era, the domestic abuse

service for Staffordshire and Stoke-on-Trent that

helped a close friend turn her life around.

As well as challenging weather conditions, Paul

had to overcome his fear of heights when he

tackled the 3,560-feet peak.

Paul, aged 39, who is Lichfield born and bred, is

chairman of Lichfield Social Community Football

Club and was joined by 17 friends, all of whom

had to conform to the social distancing measures

that were in place at that time.

Thanks to the generosity of friends, family and local businesses, the group has already

raised £3,000 - more than doubling Paul's original fundraising target. To donate, visit

www.justgiving.com/crowdfunding/paul-wright-760.

New Era's confidential helpline for victims of domestic abuse is available 24-hours on

0300 303 3778. Alternatively, a live webchat operates round-the-clock via www.newera.uk.

One Foot

Forward

Walking for Wellbeing

By Louise Morris

..........................

Due to the restrictions placed on our everyday

lives caused by the Covid-19 pandemic, we

are all experiencing increased levels of stress

and anxiety. During the spring and summer months

there are greater opportunities to spend time

outdoors, but during the autumn and winter, when

the days are short, our time spent outdoors is much

reduced, increasing our chances of suffering from

anxiety and stress.

No matter what time of year, spending time surrounded

by nature and being mindful of the natural world around

us can make you feel calmer and more relaxed. Taking a

walk in your local park, along a quiet country lane,

immersing yourself in nature at a nature reserve or in an

ancient woodland provides us with an opportunity to

relax and breath. Using our senses to touch, smell, see and

hear nature is extremely beneficial to our mental

wellbeing.

Transforming the Trent Valley is launching its Connecting

with Nature project in 2021, offering people the

opportunity to connect with nature to improve their

mental wellbeing. Participants will begin to understand the

river, wetlands and heritage of the Trent Valley through a

programme using 'forest school' type methods, including

community gardening, guided walks and bushcraft

activities.

For ideas on how to make your daily walk more mindful,

see our One Foot Forward page:

www.thetrentvalley.org.uk/walk_well.php.

If you are interested in finding out more about how

Connecting with Nature could help you, email us at

TTTV@staffs-wildlife.org.uk or visit

www.thetrentvalley.org.uk/cca.php?project=PrNature for

some interesting and useful videos on mindfulness.

20
---
21
---
The Tradition of

Mothering Sunday

Cakes of Wonderland

By Charlotte Benton

Mother's Day

Afternoon Teas available please see

Facebook/Instagram for details - Limited

Availability.

Whilst we dearly cherish them all year round, Mother's Day

is often regarded as the one day of the year in which

matriarchal roles are reversed - where Mum's are served

breakfast in bed and are treated to a day off from their usual

motherhood duties.

This year, Mother's Day will be celebrated on Sunday 14th March. The

significance of Mother's Day serves as a special day to honour mothers

and motherhood, acknowledging their hard work that encompasses every

day of the year.

I bet you are wondering where this celebration originated from?

Celebrations of motherhood can be traced all the way back to the

Ancient Greeks and Romans, who held festivals in honour of the mother

goddesses, Rhea and Cybele.

However, the early Christian festival, known as Mothering Sunday, is the

clearest modern precedent of what we celebrate today as Mother's Day

and can be traced back to the 17th century. The celebration of Mothering

Sunday traditionally fell on the fourth Sunday in Lent and was originally

seen as a time when the faithful would visit their 'mother church', this

being the main church in their local area, for a special service.

Gradually the tradition of Mothering Sunday has shifted towards a

more secular holiday in which children present their parent with gifts that

illustrate a token of their appreciation, such as chocolates and flowers.

Families also often celebrate by giving mothers a day off from the

everyday activities that the traditional notion of motherhood entails!

Versions of Mother's Day are celebrated worldwide, with traditions

varying between countries.

In Thailand, Mother's Day is always celebrated in August on the birthday

of the country's current queen, Sirikit; in Ethiopia, Mother's Day traditions

involve families gathering together in autumn to sing songs and eat a large

feast as part of a multi-day celebration; whilst in the United States

homage is paid to mothers in May.

Remember to treat your Mum this Mother's Day to a gift that will be

sure to make her smile! Take a look at our gift guide on page 24 for great

present ideas.

22

Mother's Day Cupcake Flower Bouquet - Can be tailored to

any colours you choose - Flavours: Vanilla, Chocolate and

Lemon. £15.00

Box of 6 Mother's Day cupcakes - £10 available in Nude and

Blush designs. Flavours: Vanilla, Chocolate and Lemon.

Booking is essential. Full payment required at time of enquiry.

Collection on 13th March, 1-3pm

Contact: 07516497165 or

hello@cakesofwonderlandlichfield.co.uk

Also message us on Facebook

@cakesofwonderlandlichfield

Make Mum

a Cocktail

Fruity and invigorating, Clive's Wines can be drunk on their own

or mixed to make some truly unique creations.

Elderflower & Rhubarb

Spritzer

Light and refreshing, this is the

perfect pre-dinner tipple!

100ml Elderflower Wine from

Clive's Wines

50ml Rhubarb Tonic

100ml Lemonade

25ml Dry Gin (optional)

Ice to serve

Visit www.cliveswines.co.uk for more inspiration and

to see the full range of drinks available.
---
Rugeley Power

Station

.........................

As many of you may recall, the Rugeley Power

Station chimney was razed to the ground on

Sunday 24th January this year. There are

further plans to demolish the remaining cooling

towers later on in 2021.

Local Brereton resident, Simon Wilberforce, sent in

these fantastic photos of the power station in all its glory!

End of the Road - By Simon

Wilberforce)

Before... By Simon

Wilberforce

After... By Simon

Wilberforce

23
---
Mother's Day

Gift Guide

.................................

Alockdown Mother's Day doesn't have to mean you can't spoil

your Mum - if anything, in fact, she should be made to feel even

more special! Take a look at our gift guide, packed with beautiful

items from local retailers, to delight and inspire you in time for

Mothering Sunday on 14th March.

Local author, Kim Nash, has her range of novels

available on www.amazon.co.uk.

A beautiful Cupcake Bouquet consisting of

seven individually decorated cupcakes finished

in a bouquet style.

Can be vanilla, lemon or chocolate.

Order through Facebook/Instagram

@CakesofWonderland or call 07516497165.

Beautiful matching Earrings, in Polished Sterling

Silver with Rose Gold Infinity & Heart detail

with Cubic Zirconia, priced at £118. Available

from Chatwin Jewellers Cannock, Cannock

Shopping Centre. Based in Cannock for nearly

30 years Chatwin Jewellers can now be visited

online at www.dentjewellers.co.uk where we

offer a wide range of beautiful jewellery, and

repair services with a personal touch.

Polished Sterling Silver Pendant with Rose Gold

Infinity & Heart detail with Cubic Zirconia,

priced at £88. Available from Chatwin Jewellers

Cannock, Cannock Shopping Centre. Based in

Cannock for nearly 30 years Chatwin Jewellers

can now be visited online at

www.dentjewellers.co.uk where we offer a

wide range of beautiful jewellery, and repair

services with a personal touch.

Remind Mum that you love her every time she

has a cuppa with this gorgeous printed mug

from Toni Belle Gifts. They're microwave and

dishwasher safe so Mum can enjoy it for years

to come!

Find more gift items on Facebook

@ToniBelleGifts, or order at

www.tonibelle.com.

Find something unique for Mum this year, such

as these vintage bottle vases. Not only do they

look great, but they're something no-one else

will have! Priced at £8 and available from The

Quirky Emporium, Overdale Farm, Colwich,

ST17 0XQ. Tel: 07773 783336. Find them on

Facebook, Twitter and Instagram!

Treat your Mum this Mother's Day with a

luxury scented candle from Haywood Candles.

With only the finest selection of fragrances,

these soy wax candles have delicious aromas

and long burning times. All Haywood candles

are handmade at home and sent gift wrapped

ready for a special treat.

You can order online at

www.haywoodcandles.com and follow us on

Facebook for the latest updates.

24
---
"Life doesn't come with a manual, it comes

with a Mother" (Unknown)

Just one of our beautiful gifts for that special

person. Visit our shop at

www.atthecedars.co.uk and go to our

Mother's Day Gifts' section where you can

see more of our collection.

Handcrafted affordable jewellery made in a home

workshop by Staffordshire artist, Julie, who's

inspiration comes from her love of jewellery. Each

piece is individually made, making each item

unique to the person wearing it. This is local

craftsmanship at its very best.

Visit www.etsy.com/shop/JulesUKByJulie or find

Jules UK By Julie on Instagram.

Based in Great Haywood, Claire at Myrtle Fox &

Maude has a passion for harnessing the natural

beauty and wildness of flowers, inspired by the

changing seasons and the landscape of Staffordshire.

Visit the website at www.myrtlefoxandmaude.com to

see more of Claire's stunning creations and to order.

Based in Penkridge, Lizzie Busy's Emporium

specialises in a range of bespoke gifts for your

loved ones, such as unique candles and wax

melts. They're all eco-friendly and vegan, plus

available for postage anywhere in the UK.

Visit

www.etsy.com/uk/shop/LizzieBusysEmporium

Handmade, vegan and high-quality wax melts.

Made locally in Staffordshire, Heathwax offers a

variety of shaped candles & wax melts at an affordable

price. With over 70 fragrances available,

there's something for everyone!

Pictured: 100g XL snap bars, £4.49.

Facebook: Heathwax

Instagram: @Heathwax

READER OFFER: 10% off orders over £10 with

code CITYWAXMELT (excludes delivery)

Give the gift of music this Mother's Day with a

piano from the superb range of upright and baby

grand pianos available at Lichfield Piano Centre,

Curborough Hall Farm, Watery Lane.

www.lichfieldpianocentre.co.uk

Polished and matt pendant set with square

amethyst. Priced at £138 and available online

from Allen Brown Jewellery at

www.allenbrownjewellery.co.uk or telephone

01543 481948.

Silver and 18ct gold 0.05ct diamond set

earrings. Priced at £285 and available online

from Allen Brown Jewellery at

www.allenbrownjewellery.co.uk or telephone

01543 481948.

These gorgeous mugs are created by local artist

Mandy Billington. This hand-drawn cow mug is

available in blue, pink and yellow and priced at £12.

Available from MB Designs at

www.etsy.com/uk/shop/MBDesignsEngland.

Tel: 07841 108207, or

email: m.b.designs@hotmail.com.

25
---
Bert Bostock

Another Old Contemptible!

By Cyril Cooper of Landor (local history) Society

..................................

Bert, or to give him full names, Herbert Thomas Scott Bostock, was born

in Millington Street, Rugeley on 1st June 1896 to Thomas and Beatrice

May nee Scott. The Bostocks were painters, decorators and plumbers

but Bert did not follow the family trade and became an office boy at Brereton

Colliery.

Beatrice May, Bert's mother, died in 1909 and Thomas, Bert's father, married Sarah

Ann Wright in 1911. Sarah Ann had a reputation within the family of being a very

good cook. She had worked in this capacity in the households of Fredrick Bonney

in Colton and the Scott family in Manchester. Mr Scott was the Editor of the

Manchester Guardian and the Scotts were well known in Manchester society.

By 1914, the family were living in Brereton Road from where Bert enlisted in the

army. On 30th December 1914 he became 61533 Sapper H T S Bostock in the

Royal Engineers. He was accompanied by a letter written by William Foggo, Colliery

Manager, on headed paper from the Earl of Shrewsbury the colliery owner; this

attested to Bert's good character and progress as an office boy and later moulder.

We are unaware of all the details of Bert's service career but know he was rated

as a skilled tradesman who served in France and was awarded the three campaign

medals which showed he was there in 1915. At some stage he learned to drive and

was discharged on 28th January 1919 having signed to say his service had left him

with no disabilities.

Bert married Elsie Violet Sutton, the girl next door as their addresses were 73

and 75 Brereton Road. They had no children and Violet passed away in 1959.

The family believed that he had been trained as a chauffeur at Rolls Royce and in

later life he was the driver for Mr Staley the Colliery Manager.

Bert had an outgoing personality and was a long-term member of the Royal

Antediluvians Order of Buffalo (The Buffs).

In later life he lived in the Samson Alms Houses in Brereton and died 1st January

1983 and was buried in Brereton.

Zero Carbon Rugeley

Have Your Say

........................

Zero Carbon Rugeley is a £3 million Innovate UK

project that puts the Rugeley community at the

forefront of the UK's green energy transition,

championing innovative solutions towards a sustainable

future for all. This will be achieved by designing lowcarbon

solutions for Rugeley and the surrounding area,

including the former coal-fired Rugeley Power Station

site.

At the heart of Zero Carbon Rugeley is the coproduction

of a Smart Local Energy System (SLES) to deliver

clean, affordable energy to the Rugeley community. It could

include AI-controlled, low-carbon energy generation, lowcarbon

transport and deep fabric retrofit of existing

buildings, as well as use of novel energy optimisation tools.

Recently launched 'Engage Zero Carbon Rugeley'

comprises of a series of online workshops, as well as

opportunities for people to express their views via social

media. You can find Engage Zero Carbon Rugeley on

Facebook, Twitter, Instagram and Linked In, or email them at

engagezcr@keele.ac.uk.

Zero Carbon Rugeley is looking to recruit community

ambassadors for this project. These will be local volunteers

that want to help with engagement and inclusion in the work

and whom might have an underlying passion for

sustainability. The role is flexible, requires no formal training

except a desire to make a local difference!

Upcoming Workshops

All workshops will be on Facebook - search Engage Zero

Carbon Rugeley/@ZCR

8th March

Trent Talk with Zero Carbon Rugeley

Introducing the project, what it's trying to achieve and how

people can get involved further!

Mr Staley's motor at Brereton Hall (c1950)

10th March

Who is Rugeley?

This workshop will ask participants to explore the local

heritage of Rugeley and its population, as well as how they

can come together to create a low carbon future for the

community.

13th March

Transport - The First and Last Mile

A chance to hear the community's perspective on local

transport in Rugeley, what the current key problems are and

to consider how they can be addressed with low carbon

solutions.

25th March

Sustainable Buildings in Rugeley: Myths and Realities

Focussing on 'retrofit' and how buildings can be made more

sustainable in Rugeley.

26

Newly refurbished Samson Cottages at Brereton
---
J HOWELL &

DAUGHTERS

FUNERAL DIRECTORS LICHFIELD

LICHFIELD'S LONGEST ESTABLISHED INDEPENDENT,

FAMILY RUN FUNERAL DIRECTORS.

SECOND GENERATION BUSINESS HERE TO ASSIST YOU

AND YOUR FAMILY.

24 hours a day

We are proud to be Lichfield's longest established family run funeral directors offering a wide range of

choices to suit all requirements. Horse drawn hearse, non religious ceremonies, floral tributes and

memorials are but a few of the services we offer.

Pre-paid funeral plans are also available.

For a truly personal service please call

01543 255776

Private Chapel of Rest 116 Netherstowe,

Lichfield, Staffs. WS13 6TS

27
---
Formidable duo,

P a u l i n e

Roberts and

Ruth Dewis, have

been running

Rugeley Dogs

Welfare for 14

years and rehomed

hundreds of dogs.

It all began when

the ladies, who met

at work, discovered

their shared passion

for dogs. Together,

they began donating

to, and fundraising

for, local dog welfare

Rugeley Welfare for Dogs

..............................

Before Christmas Ruth and Pauline raised

£353 to help with vet bills

charities in the area, and when a co-worker asked the pair to help them find a new home

for her dog, Ruth and Pauline knew exactly what to do and Rugeley Welfare for Dogs was

born!

The service that the ladies offer involves a 'dog matching' technique to ensure that

owners and dogs are perfectly matched to each other. Once a dog has been rehomed, Ruth

and Pauline will keep in touch with the new owners as much as possible to ensure that the

dog is thriving in its new home.

If you want to help Rugeley Welfare for Dogs by donating items to sell on, or simply giving

a small donation, please find out more from the website at

www.rugeleywelfarefordogs.co.uk or contact Ruth on 07900 090993.

Tales of a Private Chef

By Simon Smith

.......................

In the days when

we were allowed

to travel and I

worked in St Tropez

I used to meet up

with another private

chef for a drink

every so often.

These jobs tend to

be for a two-week

spell when people

hire villas, the work varies a lot.

On this occasion he arrived at the villa and saw the

clients in the drive with a taxi and suitcases. "Ah we've all

arrived together," he said. "No," replied the client, "we

are just leaving."

"Have I got the wrong date?" asked the chef.

"No, not at all," came the reply. "We are going away on

a yacht for a couple of weeks, you are here to cook for

the dog. You will find the menu on the back of the fridge

door. Any problems ask the butler."

There are many ways the uber-rich like to spend their

money and that is just one example.

28
---
What's On

March/April

.......................

John Louis Petit Lectures

There are two

u p c o m i n g

lectures about JL

Petit, in which

Philip Modiano,

author of Petit's

Tours of Old

Staffordshire, will

discuss his most

recent research

about this

talented Lichfeldian. On March 17th for the Johnson Society

AGM the lecture will focus on Petit's more unusual artistic

achievements as a unique pre-impressionist in mid 19th

century Britain; while on April 9th for the Staffordshire

Archaeological and Historical Society Petit's opposition to

Gothic and advocacy of what would later become

progressive-traditionalism will be the focus. Both lectures

will be on Zoom.

Contact the Societies for further details.

29
---
Tastes of the Season

By Simon Smith

Cooking for Mum!

Time to spoil the Mothers again and show

how much you love them after all the hard

work they put in raising a family. But this time

it's different.

You may have to cook a meal and deliver to

them so they can reheat it but it will still show

how much you care. If you don't feel like doing

that yourself there are lots of companies that

will be delivering this year and you can find a

list in this magazine on page XX. Many catering

companies have diversified to survive and it's

good to support them so that when things get

back to normal they are still there to go and

visit.

Mother's Day was always a quick seller in the

catering trade with many options for dining

but the most popular being the roast as it

always falls on a Sunday. Normally restaurants

take two or three sittings and you can feel a

bit rushed but this year it's time for a change.

If you are delivering at meal you have prepared

to reheat it will probably be in a foil container

with is quite hard to make attractive but a few

fresh flowers will lift the dish no end, or a

bunch of flowers on the tray.

For the first recipe I'm going to do a really

easy one so the youngsters can prepare it for

the Mum's or Grandparents, under the

watchful eye of an adult however.

Again, recipes are for two this month because

of lockdown restrictions.

Baked Chicken Breast Italian Style

2 x chicken breasts

1 x mozzarella ball

8 x cherry tomatoes

1 x bunch fresh basil

¼pt tomato juice

3tbsp double cream

Salt and pepper

Method

Lay the chicken breast in a tin foil baking tray

big enough to keep them side by side and not

too huge. Mix the double cream and tomato

30

juice and pour over the chicken. Tear the

mozzarella into strips and place on the chicken

breasts. Chop the cherry tomatoes in half and

place on the top. Season with salt and pepper.

Bake in a preheated oven for 20 minutes or

until the chicken breasts are firm and cooked

through. Sprinkle with chopped basil.

Chicken One-Pot Roast

½ chicken (or whole if you have a big

appetite). You can also use chicken portions

without skin if you prefer.

2 x carrots

½ celeriac

1 x parsnip

2 x white potatoes

2 x rashers smoked streaky bacon (or any

bacon you prefer)

2 x sage leaves

2 x bay leaves

1 x sprig rosemary

Salt and pepper to taste

Method

Peel the carrots, celeriac, potatoes and

parsnips and cut into one-inch chunks. Prepare

the chicken into joints of about two inches

(see photo). Mix the chicken and vegetables in

a bowl with the sage, rosemary and bay leaves,

and toss together. Put in a roasting dish and

season with salt and pepper. Cook in a

preheated oven at 190 degrees Celsius for 35

minutes (turn everything after 15 minutes so it

cooks evenly).

This is another ideal dish for children to do

for their mother's with dad supervising,

obviously!

Simon Smith runs a catering business from his

production kitchen in Lichfield, providing bespoke private

dinners plus wedding, corporate and event catering.

Simon also undertakes cookery demonstrations around

the country and with local businesses such as Arthur

Price and Tippers. During the summer months Simon

works for private clients both on superyachts and in

villas in St Tropez and Europe. If you are looking for

catering or a day of cookery skills go to

www.simonsmith-chef.com

*Please take extra care when preparing and handling

hot foodstuffs. Go to www.food.gov.uk for further details.
---
31
---
Spring Interiors

.............................................

There may still be a chill in the air, however with Spring officially beginning on 20th March

now is the perfect time to get the duster out, open the windows wide, and give your

house some much needed TLC! Our interior guide is filled with some of our favourite

local retailers and stylists, to bring you some fabulous inspiration for your home.

These stunning accent chairs are perfect to

bring a splash of colour to the bedroom. The

Turin Chairs, shown here in Malbec Red, are

available in six colours. Priced at £95, from

Peppermill Interiors, Burntwood.

www.peppermillinteriors.com.

The fantastic new showroom is now open

by appointment only. Please call 01889

576669 to check availability and to book.

Just Bathrooms & Panels, Unit 16 Trent

Valley Trading Estate, Rugeley, WS15 2HQ.

www.justpanels.co.uk

The fantastic new showroom is now open

by appointment only. Please call 01889

576669 to check availability and to book.

Just Bathrooms & Panels, Unit 16 Trent

Valley Trading Estate, Rugeley, WS15 2HQ.

www.justpanels.co.uk

Luxury velvet is the order of the day with a set

of two Velvet Phoenix Chairs in Blush Pink.

Available in seven colours. Priced at £120 for a

pair, from Peppermill Interiors, Burntwood.

www.peppermillinteriors.com.

Residence Collection with flush finish

outside and decorative square finish inside.

Available from Leamore Windows. Tel: 01922

473737. www.leamorewindows.com

Transform your kitchen with a new worktop

from Penridge-based Just Granite - authorised

fabricators of both Caesarstone, Silestone

Quartz and also Corian solid surface, benefiting

from the full backup and support of the after

sales team.

www.justgranite.ltd.uk

32
---
From the contemporary Solidor range

featuring a stainless steel pull bar. Available from

Leamore Windows. Tel: 01922 473737.

www.leamorewindows.com

With a high gloss finish, the light colour of these

Pamesa Reval 60x30 ceramic tiles in Perla bring

the natural look into your home.

Priced at £30 per metre inc vat. Available from

Tippers Rugeley.

www.tippers.com

Providing a neutral yet warm base for

any room is the Karndean Palio Core Montieri

flooring, with intricate knot and grain details.

Priced at £77.72 per

box including VAT. Box quantity is 2.184m2.

Available from Tippers Rugeley.

www.tippers.com

Root Hall Table. Priced at £399. Online service

available. Click & Collect available. Orders being

taken. Tel: 01543 481592. Available from Paul Martyn

Furniture, Heart of the Country Shopping Village.

www.paulmartynfurniture.co.uk

In a variety of different designs and materials,

the Kirk chair is the perfect fireside companion.

Priced at £699. Online service and Click &

Collect available. Orders being taken at Paul

Martyn Furniture, Heart of the Country

Shopping Village, Swinfen. Tel: 01543 481592.

www.paulmartynfurniture.co.uk

Blue Velvet Cushion. Priced at £65

and available from Needwood Living,

136 Main St, Alrewas.

www.needwoodliving.co.uk

Metallic Brushed Lamp.

Priced at £165 and available

from Needwood Living, 136

Main St, Alrewas.

www.needwoodliving.co.uk

Esse 100 Vista Multifuel Stove priced at

£1149. Available from Rugeley Fireplaces,

Forge Road, Rugeley.

www.RugeleyFireplaces.com

Individually designed pure woollen throws,

blankets, and accessories. Cushion (£30), throws

(£35), Britich sheepskins (Various prices). Available

from Little Flock, The Plant Plot Garden Centre,

Stafford Road, Lichfield. www.littleflock.co.uk

33
---
MAGAZINE

DISTRIBUTORS

WANTED

Earn extra money

delivering magazines in

Rugeley

Must be over 16

Call Marie

07548 682576

CLASSIFIED

To Advertise please

contact our classified

team on

07970 513144

This ad...

£35 plus VAT

DO HAVE

LEAFLETS THAT

NEED

DELIVERING?

Call REBECCA

07970 513144

Competition and Prize Draw - Terms and Conditions

1.Entrant's details will be held and processed in line with Citylife in Lichfield Ltd's Privacy Policy, which in turn adheres

to GDPR Data Protection legislation. For a copy of our Privacy Policy please email kristencitylife@gmail.com

2.By entering the prize draw/competition, you agree to the terms and conditions stated.

3.The closing date is stated on each individual prize draw or competition.

4.Entrants' details will be securely held by Citylife in Lichfield Ltd in accordance with our Privacy Policy. Details will be

held only until the closing date of the competition. After this date entrants' details will be securely destroyed/deleted.

Winners' contact details will be securely stored only until the winner has been informed of their win/prize. After this

details will be securely deleted/destroyed.

5.Entrants' details will never be shared with any third party. The only exception to this is the name (and if the prize is to

be posted) address of Competition/Prize Draw winners that will be communicated to the competition partner to allow

winners to securely claim their prize, after which all details will be securely destroyed. The initial and surname of

winners will be printed in our magazines – no other details will be published.

6.By entering the competition/prize draw, entrants agree to Citylife in Lichfield Ltd using or publishing materials provided

by the entrants (but not address or contact details apart from initial and surname) in any of their publications and online.

7.Citylife in Lichfield Ltd accepts no responsibility for any breach of copyright or breach of any other legislation entailed

by entrants in their creation or submission of materials.

8.Only one entry per prize draw/competition, per reader.

9.Except in the case of cash prizes, no cash equivalent will be offered and the prize is non-transferable.

10.All prizes are subject to availability and the prize suppliers' terms and conditions.

11.No purchase necessary.

12.Prize draws and competitions are only open to UK residents aged 18 years or over (unless otherwise stated).

13.Competitions and prize draws may not be entered by any employee of individual associated with any employee,

agent or third party of Citylife in Lichfield Ltd.

34

14.Winners will be selected at random in the case of applicable prize draws and competitions, or by an independent

judge in the case of photographic/art competitions from all entries received.

15.Winners will be notified by Citylife in Lichfield up to 28 days after the closing date of the competition/prize draw by

the contact details provided by the entrant.

16.A list of the surnames and county of residence of the winners will be available by writing to Citylife in Lichfield Ltd no

earlier than six weeks after the competition closing date.

17.When the prize draw/competition winner has been selected, this decision is final and no correspondence will be

entered into.

18.Citylife in Lichfield Ltd accepts no responsibility for the prize being lost, damaged or delayed in transit. When the

prize is provided by a third party, Citylife in Lichfield Ltd accepts no responsibility for any change to the prize, or for the

quality of the prize provided.

19.Competitions may be amended or withdrawn at any time.

20.By entering the competition or prize draw, you agree to having your name, (photograph, where stated) and city or

county of residence published in any of Citylife in Lichfield's publications and online.

21.Unless otherwise stated, the promoter is Citylife in Lichfield Ltd, PO Box 7126, Lichfield, WS14 4JS.

22. Citylife in Lichfield Ltd do not express any warranty or endorsement of any competition prize, information, service or

product provided in connection with a competition by printing or otherwise publicising any competition.

23.To the full extent of the law, Citylife in Lichfield Ltd shall not be liable for any loss, claim, punitive, indirect, incidental

or consequential damages of any kind incurred as a result of entering this prize draw or competition.

24.By submitting photos, text or artworks as part of competition/prize draw entries you agree that you own these photos

text or artworks, that it is your original work to which you own all rights to distribute, and that your entry is accurate,

moral and legal.
---
35