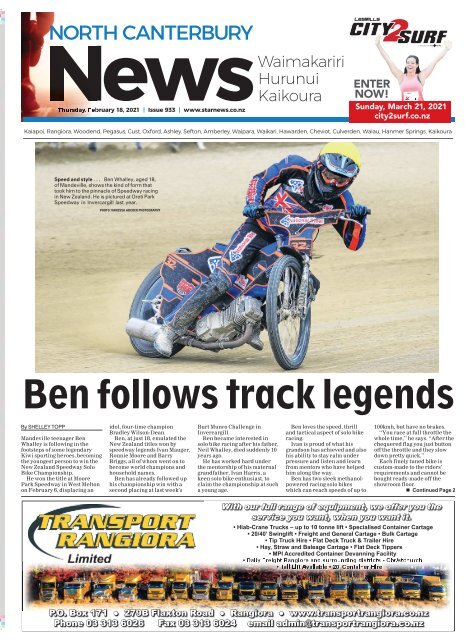 North Canterbury News: February 18, 2021
You also want an ePaper? Increase the reach of your titles
YUMPU automatically turns print PDFs into web optimized ePapers that Google loves.
Thursday, February 18, 2021 | Issue 933 | www.starnews.co.nz

ENTER

NOW!

Sunday, March 21, 2021

city2surf.co.nz

Speed and style ... Ben Whalley, aged 18,

of Mandeville, shows the kind of form that

took him to the pinnacle of Speedway racing

in New Zealand. He is pictured at Oreti Park

Speedway in Invercargill last year.

PHOTO: VANESSA ADCOCK PHOTOGRAPHY

Ben follows track legends

By SHELLEY TOPP

Mandeville teenager Ben

Whalley is following in the

footsteps of some legendary

Kiwi sporting heroes, becoming

the youngest person to win the

New Zealand Speedway Solo

Bike Championship.

He won the title at Moore

Park Speedway in West Melton

on February 6, displacing an

idol, four­time champion

Bradley Wilson­Dean.

Ben, at just 18, emulated the

New Zealand titles won by

speedway legends Ivan Mauger,

Ronnie Moore and Barry

Briggs, all of whom went on to

become world champions and

household names.

Ben has already followed up

his championship win with a

second placing at last week's

Burt Munro Challenge in

Invercargill.

Ben became interested in

solo bike racing after his father,

Neil Whalley, died suddenly 10

years ago.

He has worked hard under

the mentorship of his maternal

grandfather, Ivan Harris, a

keen solo bike enthusiast, to

claim the championship at such

ayoung age.

Ben loves the speed, thrill

and tactical aspect of solo bike

racing.

Ivan is proud of what his

grandson has achieved and also

his ability to stay calm under

pressure and listen and learn

from mentors who have helped

him along the way.

Ben has two sleek methanolpowered

racing solo bikes

which can reach speeds of up to

100kmh, but have no brakes.

''You race at full throttle the

whole time,'' he says. ''After the

chequered flag you just button

off the throttle and they slow

down pretty quick.''

Each finely tuned bike is

custom­made to the riders'

requirements and cannot be

bought ready­made off the

showroom floor.

Continued Page 2

With our full range of equipment, we offer you the

service you want, when you want it.

•Hiab-Crane Trucks –upto10tonne lift •Specialised Container Cartage

•20/40' Swinglift •Freight and General Cartage •Bulk Cartage

•Tip Truck Hire •Flat Deck Truck &Trailer Hire

•Hay, Straw and Baleage Cartage •Flat Deck Tippers

•MPI Accredited Container Devanning Facility

• Daily Freight Rangiora and surrounding districts - Christchurch

• Tail Lift Available • 20' Container Hire

P.O. Box 171 ● 279B Flaxton Road ● Rangiora ● www.transportrangiora.co.nz

Phone 03 313 6026 Fax 03313 6024 email admin@transportrangiora.co.nz

2301799
---
NEWS

2 North Canterbury News, February 18, 2021

Grow

customers,

sales and

profits

with North

Canterbury's

best read

newspaper

Readership: 47,000 weekly

Circulation: 30,150 copies delivered

to EVERY farm, RD, lifestyle block

and home inWaimakariri, Hurunui

&Kaikoura every Thursday.

news

Robyn Bristow

Managing Editor

027 312 1581

robyn.bristow

@ncnews.co.nz

Reporters

Neil Clarkson, David Hill,

Shelley Topp.

advertising

DaynaBurton

Sales Co-ordinator

027 312 0089

dayna.burton

@ncnews.co.nz

AmandaKeys

Advertising

027 536 6224

amanda.keys

@ncnews.co.nz

Kerryn Clark

Advertising

021 586 138

kerryn.clark

@ncnews.co.nz

RichardMcCombie

Advertising

022 024 3092

richard.mccombie

@ncnews.co.nz

getintouch

Editorial

info@ncnews.co.nz

Advertising

sales@ncnews.co.nz

Graphic Design

heather.hood@ncnews.co.nz

Distribution/Deliveries

03 314 8335

Rangiora: 03 313 2840 /03314 8335

14 Ashley St, Rangiora

Christchurch: 03 364 7460

www.starnews.co.nz

Early success for dragon boat crew

By SHELLEY TOPP

The PegasusDragonshad an

exciting start to racingatthe

Aoraki Open Dragon Boat

Regatta.

Despite the all­women team

beginningtraining onlylast

October,they finished second

in the 1km race at the regatta

on Lake Rua, Christchurch,on

January 24, in theirsecond

competitive event.

The crew had hoped to make

theirrace debut at home on

Lake Pegasus in the Ice

Breaker Regatta on December

7.

However,algal bloom meant

the event was moved to the

Avon River, near New

Brighton, in Christchurch.

Waimak Dragon Boat Club

manager Marie Childs coaches

and manages thePegasus

Dragons with her partner Rick

Smith, who is also the club's

coach.

Mariesaid it was apleasure

to be involved with the Pegasus

Dragons team.

''They are truly the most

amazing bunch of ladies. They

2353083

Ben wins

national

honours

From Page 1

The bikes are being

constantly fine­tuned to

achieve optimum

performance, and riders are

always seeking new

equipment that will give

their machines an edge over

their competitors.

''It is aprecision thing.

Everything has to be

perfect,'' Ben says.

His main bike is fitted with

anew GM engine which was

made in Italy and tuned in

England by Peter Johns

Racing.

Ben works full­time as a

diesel mechanic at

Truckstops in Christchurch,

but his ultimate dream is to

eventually head overseas to

test his skills against the

world on the international

solo bike circuit.

build each other up and are

fullofcompliments and

support for each other. We get

so much pleasurefrom their

enthusiasm. They havehuge

potential.''

The Pegasus Dragons team

was assembledafter Marie

advertisedfor peopletofill

spaces in amixed Waimak

Dragon Boat Club team called

Waimak Attack.

Younger looking

skin starts here

Arevitalised you isonly a

consultation away.

''I had afew ladiescontact

me but forone reason or

another they couldn'tcommit

to the training daysrequired

for the Waimak Attackteam,''

she said.

''I feltthere was areal need

for theseladies to connect with

each other and not miss out on

the opportunity to take partin

this fantastic sport.

''So Idecided Iwouldstart

National honours ... Ben Whalley with his grandfather, Ivan Harris, and the bike on which Ben

won his national title.

PHOTO: SHELLEY TOPP

Botox |Dermal Fillers |Micro needling for fine lines and scarring

Radiofrequency Surgery |Prescription Skincare products

All treatments completed by Dr Peter Aspell. Trust your face to aprofessional.

Contact Durham Health Cosmetic Clinic (03) 313 4659

www.durhamhealth.co.nz

Are you between 23 and 29, and

were living in the Canterbury area

during the earthquakes?

2355737

Team work ...

Members of the

Pegasus Dragons

Boat team

competing at the

Aoraki Dragon Boat

Regatta on Lake

Rua in

Christchurch.

PHOTO: JEAN WILLIAMS

Pegasus Dragons.''

Therewere nine paddlers at

the team's firsttraining session

last October. That has now

grownto36membersand they

compete as two teams. ''These

ladies stepped out of their

comfort zone to join and Iam

extremely proud of them for

that.'' The nextregatta they are

training for is the Akaroa 10s

eventonFebruary21.

Youare invited to take part in a

QuakeCoRE research project.

We are interested in hearing about if

and how you memorialise the earthquakes;

whetheryou take part inany,and what

meanings they may hold for you.

Participation involves a40minute interview

with amember of the research team,and is

rewarded with a30dollar voucher

forPak'NSave.

Please contact Jackson Wyndow at

jacksonwyndow@gmail.com

if you would like to take part
---
NCEA art bound for exhibition

By SHELLEY TOPP

Covid­19 has been the gift that keeps

giving for Amberley teenager Lana

Bonnett.

Lana, aged 18, made Covid­19 the

subject of her NCEA level­3 sculpture

portfolio during her final year at

Rangiora High School last year.

She first learnt about the virus in

January last year but never dreamt it

would become aglobal pandemic.

However, as the virus spread, it

provided Lana with arich vein of ideas

for her portfolio.

Her work earned an ''excellence in

visual art'' grading, the highest

achievement possible, from the New

Zealand Qualifications Authority

(NZQA).

Then, late last month she was invited

to submit her portfolio for this year's

NZQA Top Art Exhibition.

Lana is pleased her portfolio has been

received so well, and excited to have her

work included in the exhibition with 59

other students who also achieved an

''excellence in visual art'' (design,

painting, photography, printmaking and

sculpture) grading at level 3in2020.

The exhibition will tour later this

year.

The invitation surprised Lana, who is

grateful for the support from Rangiora

High School art teacher Jan Robertson.

''She is my favourite teacher ever.

Anything Ineeded she was always there

to help.''

Jan says she enjoyed teaching the

talented teenager.

''Lana is an empathetic, motivated

young woman who responded so well to

suggestions, and her maturity meant you

could chat to her, critique her work and

offer suggestions and she would then

respond to this,'' Jan says.

''She rightly deserved the grades she

received in these subjects as they are

demanding subjects which require a

high level of self discipline and

commitment.

''I know she will do well in whatever

Vine Run raises $25,000

Talentedteenager... The qualityofLana

Bonnett's artwork has been recognised.

PHOTO: SHELLEYTOPP

she does and Iwish her all the best for

her studies over the next few years.''

Lana says she has always had amind

for art and decided to study it at school.

She plans to be an architect and

headed to Wellington last Saturday to

begin studying for aBachelor of

Architectural Studies at Victoria

University. After she completes the

three­year degree, she is hoping to

continue her studies for aMasters at the

prestigious Delft University of

Technology in The Netherlands.

''That will depend on whether Covid­

19 is still around,'' she says.

Lana is keen to study at Delft because

it is rated as one of the world's top two

universities for architectural studies

and she has family there, as her mother,

Rianne, is from The Netherlands.

Quality effort... Part of Lana'sart portfolio.

NEWS

North Canterbury News, February 18, 2021

2095268

3

Kaiapoi Lodge

Residential Care

Nursing Home, Hospital and

Respite

Person Centred Care,

Care that's built

around you

6CassStreet,Kaiapoi

Ph 03 327 7235

LIMITED

EDITION

New Look -New You

Arecord crowd of more than

700 people took part in the

Pegasus Bay Vine Run

recently, raising $25,000 for

the New Zealand Brain

Research Institute.

Many people dressed up,

and alarge number stayed

to enjoy the relaxed postrace

festivities.

The run included an 18km

option, as well as 6km and

10km walk/runs.

The longer distance

included an 8km loop on a

neighbour's property, and

gave those taking part

stunning views out to sea

and over the Waipara

Valley.

The Pegasus Bay Winery's

Vine Run has now raised

close to $100,000 for the New

Zealand Brain Research

Institute over the past four

years.

Fun day ... Participants head through the vines.

PHOTO:KERRYN CLARK

White / Purple, Gold / Silver, Silver / Fuchsia,

Brown Animal /White,Champagne Leopard

Alternative plain laces included. Sizes 37 -41.

Kaiapoi Mill, Ranfurly Street, Kaiapoi

Monday –Friday 9am –5pm

Saturday 10am –1pm

Closed on Public Holidays

Ph 03 327 0576

2355868

2353157

JOIN OUR VOLUNTEER TEAMAT

ARTS IN OXFORDGALLERY

We have opportunities for volunteers to get

involved in sales and merchandising, installing

exhibitions, assisting with workshops or even

fundraising and administration.

Volunteersenjoy the changing exhibitions and

become knowledgeable about artforms and

local and national artists.

If you are able to commit to one or two 3hour

shifts in the Gallery per month and enjoy

interacting with Gallery visitorsthen join our

volunteerteam.

Arts in OxfordGallery isgoverned by anon-profit

Charitable Trust and our volunteer team are at

the heartofArts inOxfordGallery.

Getintouch and we can tell you more about

volunteering with us.

ARTS IN OXFORD GALLERY

Open: Thurs-Sun 10am -4pm Closed Mon -Wed &public holidays |www.artsinoxford.com

72 Main St, Oxford|Phone 03 3121639 |emailartsinoxfordgallery@gmail.com

FREE FLUE KIT WITH WOODSMAN FIRES

Woodsman

Coleridge fire

and flue combo

Only $2499

Latest ULEB can be installedin

any home in Canterbury

Get in before the11 st April price

rise and save $679 off the RRP

See us nowtoarrange your

FREE, NOOBLIGATION OBLIGATION quote to

have your log fire fully installed.

Wemanage the whole job,

including the council consent.

Offer valid until 7th March 2021

360Flaxton Road, Rangiora

Ph 03 313 5563

www.kingsmowersheating.co.nz

2356310
---
NEWS

4 North Canterbury News, February 18, 2021

MASTER BUILDER

Treasures to be showcased

2021055

By DAVID HILL

LocaltoNorth Canterbury.

CALL ARTHUR 027 2451601

arthur@robertsonbuilding.co.nz

www.robertsonbuilding.co.nz

BARNS/FARM BULDINGS•RIB RAFT FLOOR SYSTEM INSTALLATION

PROJECTMANAGEMENT•ADDITIONS•NEW HOMES

HOME MAINTENANCE•EQC REPAIRS•ALTERATIONS

FREE QUOTES

The Best Little

IndependentShoeStore

in NorthCanterbury

ProudStockists of

◆ Bresley ◆ BelleScarpe

◆ Minx ◆ TopEnd

◆ Django &Juliette ◆ Cassini

◆ Diesel ◆ Rieker ◆ Woden

◆ JosefSeibel ◆ Ecco ◆ Oli ◆ EOS

◆ Ziera ◆ Alfie &Evie

◆ Merrell ◆ Wild Rhino ◆ CAT

◆ Skechers ◆ Briarwood

TheHomeofGood OleFashioned Service

Open 7days&Online 24/7

162 High Street,Rangiora|03313 8444

rangiorashoelines.co.nz

Find us /Likeuson ff

2325946v1

Anew culturalmuseum is

being establishedtohouse

treasuresunearthedduring

Kaikoura's earthquake

recovery.

Te RunangaoKaikoura is

poised to openthe doorstoa

remarkable newwharetaonga

(museum) on the grounds of

the Takahanga Marae.

It willhouse more than 400

taonga tuturu(artefacts)

discovered alongKaikoura's

earthquake­damagedcoast

overthe courseofthe North

Canterbury Transport

InfrastructureRecovery

(NCTIR) project.

The 2016quakebrought

downabout amillion cubic

metresofrockand debris.

Ateamofupto42

archaeologistshas been

workingwith NCTIR andthe

runangatoco­ordinatethe

finds.

About 200archaeological

sites were identified between

Blenheim andCheviot, NCTIR

archaeologydirectorJeremy

Habberfield­Shortsays.

''Itbecame evidentquickly

thatthe sheerscale of the

project wasone of the largest

in the country to date. This

presentedauniqueset of

challenges to NCTIR in order

to minimiseimpacts to

cultural and historic places

while also achieving

construction milestones.''

NCTIR cultural monitorand

iwi adviserDarranKerei

Keepa saysanagreement was

Treasures ... Artefacts recovered during earthworks arising from Kaikoura's earthquake recovery

have been returned to the local runanga.

PHOTO: SUPPLIED

madeearly in theprojectwith

the NewZealandTransport

Agency(NZTA)and KiwiRail

to return anytaonga recovered

duringthe programme.

As aresult,the runangahas

beenable to build its own

museumtohouse the

collection.

''It's hardtoexplain. It'snot

justexciting –it'savery

emotionalthing to happen,

and Idon't know if it's

happenedanywhere else in

the country,''MrKereiKeepa

says.

''One thing aboutthis

collection thatmakes it so

unique is that it's actually

'provenanced'–which means

we can look at ataongaand we

canlookatour mapsand our

GIS(GeographicInformation

Systems) and sayitcamefrom

exactly thatposition.

''Havingaprovenanced

collection is amassive

achievementfor NCTIR,Te

RunangaoKaikouraand for

thecountry.''

Last December, NCTIR's

archaeologyteam and

representatives from NZTA,

KiwiRail andHeritageNew

Zealandundertookthe

repatriationofall artefacts

duringaspecialceremony at

Takahanga Marae.

Kaikoura runanga

kaikarakia Brett Cowan says

the return of theartefactshas

beenareal ''silver lining''

fromthe earthquake.

''Wehave over400 reasons

to celebrate our relationship

withNCTIR –and we have

uncovered so manyartefacts

thatwenow havethe ability to

developour ownmuseum.''

The museum is expected to

opennextmonth.

PROPERTIES WANTED

YOUR RURAL REAL ESTATEPROFESSIONALS

After several recent successful sales in North Canterbury, we have anumber of unsatisfied

buyers still actively looking for properties. If you are thinking of selling your property and would

like aconfidential discussion, or just amarket update, please give Ben Turner or his Team acall.

Cheviot 732ha Culverden 243ha Domett 144ha Fernside 51ha Motunau 190ha

Oxford 153ha Oxford 40ha Sefton 12ha Waiau 413ha Waipara 572ha

For North Canterbury properties

contact us today.

Ben Turner

027 530 1400

ben.turner@bayleys.co.nz

TopRural Real Estate Agent in NZ

2019/2020 -REINZ Awards

Pete Foley

021 754 737

peter.foley@bayleys.co.nz

WHALAN AND PARTNERS LTD, BAYLEYS, LICENSED UNDER THE REA ACT 2008

Residential / Commercial / Rural / Lifestyle
---
NEWS

North Canterbury News, February 18, 2021

5

Diamond couple ... David and Marie Hancox, of Kaiapoi, recently celebrated their 60th

wedding anniversary with friends and family.

PHOTO: SHELLEYTOPP

Couple in their 80s

still enjoy farming

NEED FUNDING

FOR ALOCAL

ARTS PROJECT?

Assistance is available for groups and

individuals who are keen to provide

arts and cultural activities in the

Waimakariri District from the Creative

Communities New Zealand Scheme.

The next Creative Communities round will

close Monday 29March 2021, for events or

activities that take place between 1May 2021

and 1May 2022.

The Application Form and Guide for Applicants is

available from Council Service Centres and Libraries

or from the Council website at waimakariri.govt.nz

By SHELLEY TOPP

Marieand David Hancox celebrated 60

yearsofmarriage withalunch dateatthe

Kaiapoi Club.

They were joined by 54 friends and

family membersattheir 2 1 ⁄2 hourlunch on

Sunday,January 31.

''We had alovely time,''Marie said. ''The

Kaiapoi Club caterers did afantastic job.''

The couplemet while working at the

Belfast freezing works in 1959 and married

at St Augustine's Church in Clarkville on

February 4, 1961, when Marie was21and

David24.

Mariewas attracted to Davidbecause he

was ''a nice, kind gentleman'' and David

thought Marie was ''pretty nice''.

It was alarge wedding, with more than

200 guestsattending. Athunderstorm

addeddrama to their special day.

The hard­working couplehave farmed

together all their marriedlife.

They began milking cows on ''good heavy

land'' where the Hellersfactory shop is

now located on Main North Road in

Kaiapoi.

They later sold thatproperty to make

way for the motorway and movedtoa

36­hectaredairyfarm in nearby Flaxton,

wherethey also raisedpigs.

''Marie would get up at 3am to milk the

cows,'' David recalls.

''I would lookafter the pigs and then go

to work at the freezingworks.''

The property was soldwhen they moved

to Kaiapoi, where they still livetoday.

Although both are in their 80s, they still

enjoyworking together on their 24habeef

cattle farm.

Marieand David also enjoy spending

time withtheir friendsand family,

including theirtwo daughters,Karenand

Wedding day smiles ... David and Marie

Hancox on their special day at St

Augustine's Church in Clarkville on February

4, 1961. PHOTO: SUPPLIED

Catherine, andtwo grandsons.

Marie is in charge of the couple's

finances.

''If Ineed any money Ijust put my hand

out,''Davidsaid.

They both enjoygoingtogarage sales

together, fossicking around for items of

interest.

David is akeen collector and the couple

own five grandfather clocks.

One was agift from their daughters for

their50th wedding anniversary and

another Davidboughtcheaply afterthe

Christchurch earthquakes. He then paid

$1200toget it working again.

He also likes old cars.''They go better

than the new ones,'' he said. The couple

own a1935 Dodge,a1959 Morris truck,and

two Mercedes Benz cars —a1957model

and a1986 model.

The Widest Music Variety

Tune in nowtolistenon104.9 North Canterbury

and103.7 Hanmer Springs andKaikoura

RIGHTPRODUCTS, RIGHT ADVICE

forall your buildingsupplies!

Pony Poles

3.6m (NZO) untreated

$23ea

1.8m Corrugated Iron

Mixed Colours, Bundles of 10 sheets

$160 per bundle

Wooden Gates

Standard or Made to order

3.6m Wide x1mHigh

$162ea

Wattyl Fence Finish

10 litre buckets

Available only in Ebony &Redwood

$48.95ea

200 x100 Macro Sleepers

Randomlengths available

$23p/m

Marley Spouting

1.5m lengths

Stormcloud or classic

$27.50ea

AllpricesGST inclusive.

Specialsavailableuntil12th March. T&C's apply

If youhaveany questions please contact the administrator,

KarenLivingstone Phone03311 8901 or 0800 965468

Email karen.livingstone@wmk.govt.nz

82 Carters Road, Amberley

T: 03 314 8311 |E:sales@bashersitm.co.nz

Hours: Monday -Friday 7am -5pm

Saturday 8am -12.30pm
---
OPINION

6 North Canterbury News, February 18, 2021

KAIKŌURA VIEWS

MAYOR CRAIG MACKLE

Let'ssupport each other

I've enjoyed working with our new chief

executive, Will Doughty, over the last

coupleofweeks.

Will has agood understanding of the

issuesfacing us and has quicklygot up

to speed with council projects.

I've been mightilyimpressed so far

and Iamlooking forward to working

with him and the rest of the council

team.

In the first stageofthe Government's

three watersreform programme, the

council will be spending $1.88 millionof

Crown funds to repair and upgrade

water supplysystemsinthe district over

the next 18 months.

Several projects are in the pipeline

(excuse the pun). Physical workshave

already startedtoreconfigurethe

suburban water scheme to connectto

the urbanwater supply network.

This will improve the water qualityto

suburban residents and enable us to

removethe boilwater noticethat has

been in place since the earthquakes.

Repairs to haulroutes on the

Kaikoura Flatsare well under way.

While theremay be someshort-term

inconvenience, the worksare agood

outcome and have been completely

fundedbythe New Zealand Transport

Agency as part of its commitment to

remediate the roads in the district after

the 2016 earthquake.

As well as projects on the ground, the

council team is working on all the

background planning and paperwork

requiredfor the Long-Term Plan (LTP),

covering2021 to 2031.

This includes planning the budgets

for the next 10 years and a30-year

infrastructure strategy lookingathow

we manage our assets, to ensure they

meet the needsofour community now,

and what we might need for the future.

At thisstage, formal consultation on

the LTP is scheduled for late May/June.

Ihave beentalking to afew of you on

the streets. It feels like everyone is

doing what they can to reassess and

adapt their businesses to life in

Kaikourawithoutinternational tourists.

While there are someactions that

people can take, Ithinkmany of us are

also waiting to see what is going to

happen, and where that willleave us as

acommunity.

Iknow these are tough times, so Iurge

you to support each other and buy local

wheneveryou can.

Hang in thereKaikoura. When one

door shuts, anotherone opens.

Students acknowledge

central role of treaty

By DAVID HILL

Waitangi Day was achance for Kaiapoi

High School'snew headstudents to

introducethemselves to theircommunity

and speak about the importance of New

Zealand's national day.

Charlie Wicksand Hunter Henley come

from different culturalbackgrounds but

both saidWaitangi Day was importantto

theirfamilies. The pair addressed those

who gathered in Kaiapoi to mark the day.

Charlie said her whanau came together

each year to markWaitangiDay and had

learned about thesignificance of the day

whileattending TuahiwiSchool.

''Growingup, Iwas fortunate to attend a

bilingualprimary school whichensured its

students learned about whathappenedon

February 6, 1840. When Ireached high

school, in Year 9insocial studiesI

realised most kids didn'teven know why

todaywas even calledWaitangi.

''It is crucialthat our tamariki and our

whanau are awareofwhat Waitangi Day

commemorates and acknowledges.

''We celebrate todaybyremembering

and acknowledgingthe signing of the

treaty just over 180 years ago.''

The treaty was signedbyQueen

Victoria'srepresentative,Governor

William Hobson, and Maori chiefs at

Waitangi.

''Waitangi Dayisn'tjust aholiday. It's a

day when we celebrate our country's rich

culturalhistorybyembracing and learning

Youth leaders ... Kaiapoi High School

head students Charlie Wicks, left, and

Hunter Henley.

from our past,valuing our indigenous

peopleand our multi-cultural diversity.''

Hunter, who talked of his Pakeha and

Japanese heritage,gave an emotional

address in which he spoke about his late

father, born on Waitangi Day.

''While Iwas writing this speech, mum

told me that my dad thought he was born

on this day for apurpose, to help bring

peopletogether,which is whatthe treaty

has done.''

Hunteradmittedhehad alot to learn

about Waitangi Day. ''I'membarrassed to

admit Iamone of those kidsCharlie has

mentioned in her speech, who hasn't been

taughtmuch aboutWaitangi Day, which I

regretand Iamslowly rectifying.''

But he was familiar with some of

Kaiapoi'shistory as agathering place for

Ngai Tahu,and its role in trade.

Local firms show resilience in aCovid-affected year

By DAVID HILL

There are plenty of positives

for North Canterbury's

economy, despite the ongoing

uncertainty of Covid-19.

Enterprise North Canterbury

(ENC) business

development manager Miles

Dalton says most local

businesses are in agood space,

despite the challenges of the

past year.

''I do think North

Canterbury has done so much

better than other regions

because we are not reliant on

tourism and we've come

through the earthquakes, so

most businesses have

processes in place to get

through.

McALPINES MITRE 10 MEGA RANGIORA -OCEAN WATCH

This

Week

Sun

Fishing

Guide

Moon

Wind

Good

Thursday Friday Saturday Sunday Monday Tuesday Wednesday

Feb 18 Feb 19 Feb 20 Feb 21 Feb 22 Feb 23 Feb 24

Rise 6:53am

Set 8:31pm

Best

Times

5:59am

6:20pm

Rise12:58pm

Set 11:36pm

Gentle SE becoming

moderate E

Fair

''We are more resilient.''

ENC interviewed more than

900 businesses seeking

assistance in the nine months

from March last year,

compared to the usual 250

interviews in ayear.

While asmall percentage of

businesses have closed, most

have come through, he says.

''There's still some fragility

in some industries, but on the

whole most businesses seem to

be doing reasonably well.''

Based on anecdotal

evidence, Mr Dalton says

while the official

unemployment rate is lower

than 12 months ago, people

working in part-time or casual

jobs appear to have suffered

the biggest impact.

Rise 6:54am

Set 8:30pm

Best

Times

6:42am

7:04pm

Gentle SE becoming

moderate E

Ok

Rise 6:55am

Set 8:28pm

Best

Times

7:26am

7:49pm

Rise 1:59pm Set 12:02am

Rise 3:01pm

Gentle E

strengthening

Ok

This year's North

Canterbury Business Awards

will be achance for businesses

to recognise what they have

achieved during an uncertain

12 months, he says.

''Covid will definitely come

into it.

''Everyone has astory to tell

from 2020. The awards are a

celebration, so this one will

essentially be about

celebrating surviving 2020.''

Over the past 12 months, Mr

Dalton has fielded more than

100 enquiries from people

interested in setting up a

business.

At present he is working

with 27 projects which are

likely to lead to new

businesses and several of them

Rise 6:57am

Set 8:26pm

Best

Times

8:13am

8:38pm

Set 12:32am

Rise 4:03pm

Gentle E

strengthening

Ok

Rise 6:58am

Set 8:25pm

Best

Times

9:03am

9:29pm

Set 1:09am

Rise 5:02pm

Gentle SE becoming

moderate E

Ok

are expected to create jobs.

Afree business start-up

course is being offered by

ENC, thanks to Ministry of

Social Development funding.

While priority is given to

those affected by Covid-19, out

of work or on abenefit, anyone

who is interested in starting up

abusiness can apply or contact

Mr Dalton to discuss their

business idea.

''The application form asks

'what do you have in mind?

What do you know and don't

know?' to ensure that people

have seriously thought about

it.

''It's not enough to start a

business if you're not getting

what you personally want to

achieve out of it.

Rise 6:59am

Set 8:23pm

Best 9:56am

Times 10:23pm

Set 1:54am

Rise 5:58pm

Gentle Sbecoming

moderate E

Ok

Rise 7:01am

Set 8:22pm

Best 10:50am

Times 11:17pm

Set 2:48am

Rise 6:47pm

Gentle Sbecoming

moderate E

''Some businesses can start

up and then grow organically,

but others will need alot of

capital and you need to make

sure you can pay it back, and

that it's actually going to pay

you aliving.''

There are several options

for setting up abusiness,

depending on what

prospective business owners

want to achieve.

The options include

charitable trusts, social

enterprises or commercial

enterprises.

Support in the form of grants

or low interest loans may be

available to assist in setting up

abusiness, and ENC can talk

through the options, Mr Dalton

says.

Swell

Pegasus Bay

Tide Chart

3

2

E0.7 m E0.5 m SE 0.6 m E0.7 m SE 0.4 m E0.5 m NE 0.8 m

3 6 9 NOON 3 6 9 3 6 9 NOON 3 6 9 3 6 9 NOON 3 6 9 3 6 9 NOON 3 6 9 3 6 9 NOON 3 6 9 3 6 9 NOON 3 6 9 3 6 9 NOON 3 6 9

1

0

Highs Lows Highs Lows Highs Lows Highs Lows Highs Lows Highs Lows Highs Lows

Waimakariri 10:37am 2.1 4:21am 0.7 11:24am 2.1 5:10am 0.8

6:01am 0.8 12:35am 2.1 6:53am 0.8 1:24am 2.1 7:44am 0.8 2:14am 2.1 8:32am 0.8 3:03am 2.2 9:19am 0.7

Mouth

11:01pm 2.1 4:49pm 0.7 11:47pm 2.1 5:36pm 0.8 12:12pm 2.0 6:24pm 0.8 1:00pm 2.0 7:11pm 0.8 1:49pm 2.0 7:58pm 0.8 2:36pm 2.1 8:45pm 0.7 3:23pm 2.1 9:32pm 0.7

Amberley 10:37am 2.1 4:21am 0.7 11:24am 2.1 5:10am 0.8

6:01am 0.8 12:35am 2.1 6:53am 0.8 1:24am 2.1 7:44am 0.8 2:14am 2.1 8:32am 0.8 3:03am 2.2 9:19am 0.7

Beach

11:01pm 2.1 4:49pm 0.7 11:47pm 2.1 5:36pm 0.8 12:12pm 2.0 6:24pm 0.8 1:00pm 2.0 7:11pm 0.8 1:49pm 2.0 7:58pm 0.8 2:36pm 2.1 8:45pm 0.7 3:23pm 2.1 9:32pm 0.7

10:46am 2.1 4:30am 0.7 11:33am 2.1 5:19am 0.8

6:10am 0.8 12:44am 2.1 7:02am 0.8 1:33am 2.1 7:53am 0.8 2:23am 2.1 8:41am 0.8 3:12am 2.2 9:28am 0.7

Motunau 11:10pm 2.1 4:58pm 0.7 11:56pm 2.1 5:45pm 0.8 12:21pm 2.0 6:33pm 0.8 1:09pm 2.0 7:20pm 0.8 1:58pm 2.0 8:07pm 0.8 2:45pm 2.1 8:54pm 0.7 3:32pm 2.1 9:41pm 0.7

10:48am 2.1 4:32am 0.7 11:35am 2.1 5:21am 0.8

6:12am 0.8 12:46am 2.1 7:04am 0.8 1:35am 2.1 7:55am 0.8 2:25am 2.1 8:43am 0.8 3:14am 2.2 9:30am 0.7

Gore Bay 11:12pm 2.1 5:00pm 0.7 11:58pm 2.1 5:47pm 0.8 12:23pm 2.0 6:35pm 0.8 1:11pm 2.0 7:22pm 0.8 2:00pm 2.0 8:09pm 0.8 2:47pm 2.1 8:56pm 0.7 3:34pm 2.1 9:43pm 0.7

10:51am 1.6 4:36am 0.6 11:39am 1.6 5:25am 0.6

6:14am 0.6 12:45am 1.6 7:03am 0.6 1:32am 1.6 7:51am 0.6 2:19am 1.7 8:38am 0.6 3:05am 1.7 9:23am 0.6

Kaikoura 11:11pm 1.6 5:03pm 0.6 11:58pm 1.6 5:48pm 0.6 12:26pm 1.6 6:33pm 0.6 1:12pm 1.6 7:17pm 0.6 1:58pm 1.6 8:02pm 0.6 2:43pm 1.6 8:47pm 0.6 3:27pm 1.6 9:33pm 0.5

*Not for navigational purposes. Wind and swell are based on apoint off Gore Bay. Maori Fishing Guide by Bill Hohepa. www.ofu.co.nz www.tidespy.com Graphic supplied by OceanFun Publishing Ltd.

2118223
---
Lingerie

20% off

all

Lingerie

and

Nightwear

Womenswear

from $39

Menswear

20% off all

Hats from $12

Falke Selected

socks now $15

Accessories

50% off all Goodnight Home toilet bags

and eye masks

Homewares

Home Furnishings

Solution dyed nylon cut pile

from $99mt

Flooring Vinyl from $75mt

James Dunlop Selected curtain

fabrics 15% off

20% off

all throws

150yearstrading inKaiapoi

Cnr. Williams Street &Raven Quay

Open 7Days |Phone: 03 327 8029

www.blackwellsdeptstore.co.nz

2350163
---
OUR TOWN KAIAPOI

8 North Canterbury News, February 18, 2021

PLASTERER

Matt Smith

PAINT FINISH • CORNICE

• GIB COVE

New Homes, Renovations

and Extensions

FREE QUOTES

Ph 027 436 1112

www.mattsmithplastering.co.nz

2324007

Revamped ...

Finishing touches

are being made to

the Kaiapoi Gray

Raven Scout Den

repairs.

PHOTOS: SUPPLIED

Matthews Roofing Limited

Specialists in Longrun Coloursteel

Roofing and Guttering Systems

We supply and install long run metal roofing,

fascia and spouting.

2305223

Bookings Essential

•Cars, Trailers &Motorbikes

•4WD specialists

•All mechanical repairs

•Brakes and clutches

•Lube services

•Servicing Air Conditioning

•All makes and models

•Professional friendly service

183 Ohoka Road

Kaiapoi

Ph: 327 8780

www.kaiapoiautomotiveservices.co.nz

PO Box54, Kaiapoi

Mobile: 027 245 8140

Email: J_amatthews@xtra.co.nz

2305626

Scout den repaired, ready for use

By DAVID HILL

The Kaiapoi Gray Raven Scout Den has

been reborn adecade after it suffered

serious earthquake damage.

The scout den suffered in the 2010 and

2011 Canterbury earthquakes, with one

wall slumping by 40 millimetres. The

building was deemed unsafe.

For the last decade the Kaiapoi keas,

cubs and scouts, as well as the Gray

Raven venturers, have been using rooms

at Blue Skies, but New Zealand's oldest

scout troop will finally have its own

scout den again next month.

''It's now astate­of­the­art building

PAINTERS

RegTradesman • Interior,exterior.

North Canterbury Painters

specialising in decorating for

over 65.

Discounts

for Seniors

Free quotes.

Covering North Canty,Oxford,

Kaiapoi, Rangiora, Amberley.

Ph Rob 03327 7899

or 027 432 3520

2289726

and it's probably the most modern scout

den in the southern hemisphere,'' group

leader Chris Thompson says.

The repair was along time coming, as

the scout group waited for decisions

from insurance, Scouting New Zealand

and the Waimakariri District Council.

''It was in 2019 when everything finally

fell into place and we got acouple of

builders on board, and then Covid

slowed things down,'' Mr Thompson

says.

But with the support of Scouting New

Zealand and the community, the repairs

have finally been completed.

The Kaiapoi Gray Raven Scout Group

Before ... The Kaiapoi Gray Raven Scout Den suffered damage in the 2010 and 2011

Canterbury earthquakes.

KAIAPOI COLLISION CENTRE

2146303

Your Vehicle

Your Choice

of Repairer

• Free Courtesy Cars

•Bake Oven

•Any Insurance or

Private Work

•Helpful, Friendly,

Professional Staff

•Fast Turnaround,

with High Quality

Service

•Off Street Parking

We can do any insurance

or private work.

Like usonFacebook

191E Ohoka Road, Kaiapoi.

Ph/Fax (03) 327-7143 •Open 8.00am -

5.30pm Mon -Fri &Sat by appointment

will host acommunity celebration on

Sunday from 11am.

The official reopening will be held the

day after, on February 22, which

coincides with Founder's Day —the

birth day of the scouting movement's

founder, Robert Baden­Powell.

The group will be joined by the other

Waimakariri scout groups for the

occasion.

''The official opening will be from

11am to 12pm and then it will progress

into aFounder's Day event and the

public can have alook around the den,''

Mr Thompson says.

New Zealand's first scout troop was

established in Kaiapoi in 1908, and

descendants of Kaiapoi's first scout

leader, Ted Mallasch, will be attending.

Christchurch family historian Kevin

White has been invited to speak about

his book David Cossgrove ­ALifetime of

Service,about the eccentric Tuahiwi

schoolmaster who became New

Zealand's first scout commissioner.

Waimakariri Mayor Dan Gordon, a

former cub, and former cub leader and

Kaiapoi­Tuahiwi Community Board

chairwoman Chris Greengrass will be

attending, along with representatives

from Scouting New Zealand.

Mr Thompson says the scout den will

cater for about 50 children and young

people each week, including seven to

eight keas, 15 cubs and 12 scouts.

There are about 15 members in the

Gray Raven venturer unit, which serves

the Waimakariri district, with the older

venturers looking at forming anew rover

scout group.

The scout den will be available for

hire by the community when not being

used by the scouts.
---
OUR TOWN KAIAPOI

North Canterbury News, February 18, 2021

Timber firm chalks up 100 years

By DAVID HILL

Kaiapoi's Sutherland familyiscelebrating

100 years in business.

Sutherland Timber wasestablishedin

Southlandafterbeing conceived by two

brothers corresponding during World

War 1.

The business remainsinthe same

family, withMurray Sutherland having

handed over the reins to the fifth

generation.

Eldest son Jonnieisnow managing

director, with second son Davie running

the Kaiapoi ITM timber yard and daughter

Amy Sherwinlooking after the marketing.

Sutherland Timber became

incorporated in 1920, but anniversary

celebrations were delayed because of

Covid­19, Amy says.

''It's pretty exciting times.We

acknowledged it as afamily last year, but

now it's time to celebrate it withour staff.

''It's apretty special story how it started,

with two brothers writing to each other

whiletheywere in the war, and they

started to plantostart something when

they came back.''

Whileone of the brothers was killedin

action, Murray's grandfather returned

home safely and persuadedhis father to

bankrollthe establishment of asawmillat

Tuatapere.

After12years, the sawmill was relocated

to the Caitlins on the Otago coast, with the

focusbeing on native timberproduction.

The business relocated to Cheviot after

WorldWar 2, with the focusmoving to

Pinusradiata timber. It later movedto

Kaiapoi in 1956, when Murraywas a

toddler.

Afterashort stintaway fromhome,

Murray returned to Kaiapoi withhis wife,

Annie, 38 years ago to take over the

running of the business.

''I've been here 38 years and in that time

we'veexpanded into the exportmarketin

the 1990s with furniture gradetimbers,

and our logs are all locally sourced from

Ashley Forest and Hanmer State Forest.''

In recent years, SutherlandTimberhas

established strong marketswith Douglas

fir.

Murray continues to be activeinthe

business, with eldest sonJonnie as

managing director.''You've got to have

one personsteering the ship,''Murray

says.

''Butit's very much ateam effort,''

Jonnie adds. ''I've been aroundthe place

sinceIwas akid and I've alwayshad a

passion for the timber andthe engineering

that goes with it.''

Family business... JonnieSutherland, left,is

continuing the family tradition at Sutherland

Timber with his brother,Davie Sutherland, and

sister Amy Sherwin.

PHOTO: SUPPLIED

KaiapoiITM was established in 2003,

with secondson Davietaking charge.

In recent years,SutherlandTimber has

embarked on amill upgrade to keep it

sustainablefor the future,Jonnie says.

''We process mostthings on site and we

have 75 people employed in Kaiapoi.

''It's agreat industry to be apart of.

There'ssomeamazing people in our

industry and the lifeexperiences you get

along the way, you can't replacethem.''

Amy says Sutherland Timber is looking

to the future.

''I love the fact thatit'srenewable and

sustainableand it's anaturalresource. I

think people are shifting backtorealising

that timber is agreat product.''

9

150years trading in Kaiapoi

UPHOLSTERY

SPECIALISTS

•All furniture Recoveries &Repairs

•Squabs, Cushions &Fabric Sales

•Antique and Loose Covers

•Cars, Boats, Caravans, Motor Homes

•Custom-made Bed Heads &Ottomans

FREE QUOTES, PICK UP AND

DELIVERY

32 years experience

03 327-0266

0274 840 159

72 Otaki St, Kaiapoi

recoveries@xtra.co.nz

The Widest

Music Variety

Tune in nowtolisten on

104.9 for North Canterbury

103.7 for Hanmer Springs

andKaikoura

Congratulations to

Sutherland &CoLtd on celebrating

their100 years of business.

Cnr. WilliamsStreet&Raven Quay |Open 7Days

Phone: 03 327 8029 | www.blackwellsdeptstore.co.nz

2321966

2356500

SUNDAY

7MARCH 2021

12.00pm to 3.00pm

Trousselot Park,

Charles Street, Kaiapoi

FREE ENTRY

Fun HQInflatables, Pedal Go Karts, and Paddleboats, MoveX Trampoline Mat,

Big Big Bubble Christchurch

Sport Suzy Show starts 12.45pm

*Fundraising activities provided byCommunity Groups*

Seftonian Battle Sports and Relay Rail Dog will also be joining us

Basketball games on the court with Local KHS Students

Bring ahelmet, scooter/skateboard and check out the skate park area

Food and drinks available to purchase, or bring apicnic lunch

2354528

https://www.facebook.com/kaiapoichildrensday/

SPOT

PRIZES

TO BE

WON!!

Organised by

For all your building materials, from

gardening and fencing right through to your

Frame and Truss, "We'll see you right"

"Proudly

family owned and

operated for 100 years

and servicing Kaiapoi

for over 60 years"

197 Ohoka Road, Kaiapoi

Phone 327 8829

Monday to Friday 7am –5pm,

Saturday 8am to 12 noon

sales@kaiapoiitm.co.nz

2356776
---
NEWS

10 North Canterbury News, February 18, 2021

Algal bloom

warning lifted

The algal bloom health warning issued

for Lake Pegasus on November 30 has

been lifted by the Canterbury District

Health Board's community and public

health unit.

Recent water testing at LakePegasus

has shown the quantity of potentially

toxic blue­green algae (planktonic

cyanobacteria) has reduced and

concentrationsare now below levels that

would be of concern to public health.

Canterbury medical officer of health

Dr Cheryl Brunton says sampling of Lake

Pegasus will continue weekly in summer.

"The public will be informed if testing

shows thatconcentrations have

increased and there is arisk to public

health again," she says.

HILUX, HIACEAND

EVERYTHING IN

BETWEEN

68 FalsgraveStreet,Woolston

W: nzvanspares.co.nz

E: nzvanspares@hotmail.com

Ph: 03 3793932/0508 698267

100% Canterbury Owned

NZ's favourite home for

Recycled Hilux &Hiace Parts

Tsunami zones updated

NorthCanterbury coastal

residents are being

encouraged to prepare for

afuture tsunami.

Whilethere is no needto

live in fear, there is aneed

to prepare.

EnvironmentCanterbury

commissionedGNS

Science to model the

impacts of various tsunami

scenariosfor coastal areas.

From thatdata,tsunami

evacuation zones for the

Hurunui and Waimakariri

districts wererevised.

The Hurunui District

Council has been working

closely with ECan,

neighbouring councils and

localemergency services to

revise evacuation zones

and response plans for the

southern Hurunuicoast.

For now, thereisno

change to tsunami

evacuation zones northof

the Waipara Rocks,several

kilometres north of the

Waipara River mouth.

LeithfieldVillage is the

only community in the

Hurunui with significant

evacuation zone changes.

Thereare three zones on

the revised map, with red

beingthe most likely to be

affected by atsunami,

orange lesslikely and

yellow the leastlikely. ''No

zone'' referstoanarea

outside the evacuation

zones.

''Overall, our message

has stayed the same. Know

what zoneyou are in and

Know your zone ... Tsunami evacuation zones have been

updated by Environment Canterbury.

IMAGE: SUPPLIED

whatitmeans.Ifthe

earthquakeislong and

strong, get gone,'' says Allan

Grigg, the Hurunui District

Council's emergency

management officer.

The Waimakariri

district's revised tsunami

evacuation zoneswere due

to be released today.

For more information go

to ecan.govt.nz/your­region/

your­environment/naturalhazards/tsunamis/tsunamievacuation­zones­andwarnings/.

Standardbred

sales delayed

The Christchurch sessionofthe 2021

National StandardbredYearling

Sale, scheduledfor earlier thisweek,

has been postponed.

The decision was made late on

Sunday afternoon after the

Government upgradedCovid­19 alert

levels.

The salewill nowbeheldon

MondaytoWednesdaynextweek,

providedalert levels are reduced.

The sale'sauctioneers,New

ZealandBloodstockStandardbred,

saidthe postponementwould give

northern buyers, trainers and agents

the opportunity to physically attend

the sale.

About 60 yearlings fromsouthern

areas of the SouthIslandwere

alreadyatthe sales venue,

Canterbury Agricultural Park, on

Sunday in preparationfor the first

day of thesaleonMonday,whenthe

postponementwas announced.

Christchurch­based auctioneer Cam

Braysaid someowners chosetotake

their yearlingshome.

Accommodation had beenfoundfor

theothersatvarious locationsaround

Christchurch.

''Whenweput thecall out we were

overwhelmed withoffers of

accommodation forthe horsesand

their owners,'' he said.

''The support has beenamazing. It

is veryhearteningtohave something

like this happen.''

Thefirst session of the salewas

held at Karaka, in Auckland,on

February 13 and14, withthe toppricedlot,

aBettor'sDelightfillyfrom

Major Reality, selling for $300,000.

Whenwecall, hundreds

of Kiwi businessesanswer.

At Fireand Emergency, 80%ofour people arevolunteers,many running or working at businesses

just likethis. In an emergency, their businesses proudly allow them to rush out and help.

LOOK FOR

THIS MARK
---
SUNDAY 28 FEBRUARY 9AM

Registration from 8am

"It's an indescribable feeling to knowthatyourchild canhearyou"

When Renee Cain learned her son

was born profoundly deaf she was in

shock. It was 2016, and little Jackson

was only days old when hewas given

ahearing test that all new babies

receive, but his results weren'twhat

they'd hoped for.

Renee says it took quite awhile for

the news tosink in, and it was heartwrenching

when it did.

"We tried hearing aids and we

thought hecould hear things, like

doors banging, but they weren't

working at all," says Renee, who lives

in Rangiora.

With alot of support and information,

Renee decided that cochlear implants

were the right option for Jackson and

their family. Acochlear implant is a

surgically-implanted electronic device

that restores hearing for those with

profound hearing loss.

At six-months-old

Jackson underwent

surgery to have the

implants fitted.

The surgery was

arranged by

the Southern

Cochlear

Implant

Programme

(SCIP) in

Christchurch.

Renee

remembers when

her little boy could

finally hear her voice.

"His face lit up and

he had abig smile when I

spoke. It brought tears to my eyes,"

she says.

"It's anindescribable

feeling to know that

your child can hear

you. When he heard

sounds for the first

time he had alook

of amazement on

his face."

Jackson, now

four, will start

at Southbrook

School in

Rangiora later this

year.

"I never knew about

cochlear implants

until Iwas in this

situation," says Renee.

"It's amazing what technology can do."

Established in 2003, SCIP is one of

two cochlear implant providers in

New Zealand.

The not-for-profit organisation

currently provides care to more than

950 adults and children throughout

the South Island and as far north as

Taupo. Its offices in Christchurch

and Wellington are complimented by

regular visiting clinics throughout the

catchment area.

SCIP performs all cochlear implant

assessments, arranges surgery,

activates the cochlear implant,

administers adjustments and provides

post-implant rehabilitation services.

RangioraLions Club Chooses SCIP forRamble

Following aspeaker from SCIP coming

to talk to members the Rangiora Lions

Club decided to nominate SCIP as the

cause for the Ashley River Ramble

2021.

This is the 5th year of the Ramble,

with previous recipients including Koru

Care, Diabetes NZ and the Ashley-

Rakahuri Rivercare group. The event

evolved out of the Lions Club Rangiora

-Kaiapoi Fun Run, and provides a

relaxed family friendly event with great

scenery ofthe river which is home to

some of NZ's rarest birds.

ARR coordinator Kirstyn Barnett

says the event is all about enjoying the

outdoors with family and friends.

"Every time Igotothe Ashley-

Rakahuri river Isee something new.

We are so lucky to have this national

treasure in our backyard, so easily

accessible for cyclists and walkers."

She is delighted that the funds raised

from the event will go towards helping

local people enjoy abetter quality of

life.

EVENT

INFORMATION

12km (approximately)

Proud to support Rangiora Lions

and the Ashley River Ramble

Aaron Clark

Residential &Lifestyle Sales Consultant

Call

Aaron

today!

M 027 873 5121

P 03 313 8022

E aaronc@pb.co.nz

Proudsupporterofthe Rangiora Lions&Ashley RiverRamble

PeterLawry

BusinessAdvisor |ExitAnd SuccessionConsultant

Ph:027 252 9796 |peter@bspnz.co.nz |www.bspnz.co.nz

Sunday28February 2021

Waikuku Beach North Oval (near river mouth)

Registration: from 8am

Event starts 9am -Cyclists, 9.10am -Runners/Walkers

Tickets canbepurchased on the day, CASH ONLY

$20 Adults, $10 Child(18 years and under)

On rain or shine–preparefor all weather

Two waterstops onroute

Bus forrunners/walkers returningtoWaikuku

leavesapprox. 12pm-$2 –thankstoTorlesse Travel

For more information see our websiteashleyriverramble.nz

or phone 021 312 230

Thankstoall our sponsors to date

–Hortons Signs, Wilson Print, Artisan Bakery, Mitre 10 Rangiora, Compass FM,

Aaron Clark Property Brokers, Vera Setz Audiology, Peter Lawry Business Success

Partners, TheMark, Hagley Kitchens, TheWarehouse Rangiora, River to Ranges

Rangiora, Stan's 7Day Pharmacy, Port and Eagle Kaiapoi, New World Rangiora,

Hanmer Springs Thermal Reserve and our major sponsor Anytime Fitness Rangiora

Proud to support the

Ashley River Ramble for the

Southern Cochlear Implant Programme

Hear, everytime

North Canterbury

Call: (03) 423 3158

Rangiora clinic: 83B Ivory St

Amberley clinic: 6Hilton Dr

verasetzaudiology.co.nz
---
BUYAPAMS LaRGE

Hot Cooked

CHICKEN

+ COCA COLA

1.5L foronly

AT SELECTED

STORES

$

14 49 AVAILABLE

NEWS

12 North Canterbury News, February 18, 2021

Tomatoes Loose

Product of New Zealand

PamsButter 500g

Fresh NZ

Ingham's

Butterflied

Chicken

1.1kg

$

8 99 ea

$ 3 49

kg

$

2 29

$

2 29 kg

Royal Gala Apples Loose

Product ofNew Zealand

Whittaker'sBlock $

Chocolate 250g

$

5 29

$

5 29 ea

$

4 79 ea

The Ned 750ml

(excludesPinot Noir)

$

14 99 ea

Wedded bliss ... Hamish, Camille, and their children, Charlie, rear, and Blade, during the

couple's Valentine's Day wedding at Amberley.

PHOTO: SARAHBLAIR PHOTOGRAPHY

Colourfultales of

Kiwis cominghome

By ROBYN BRISTOW

An Americanwho now calls Amberley

homewithher Kiwihusbandistelling the

storiesofthosewho returned to New

Zealandtoescape the ravagesofCovid­19.

Camille Solari, acomedian,writer,

actor and filmmakerwhoseworkhas

headlinedinmore than13countries,has

created, hosted, directedand produced a

television specialcalled Kiwis Coming

Home.

The documentary will air on TV3 on

Sunday,February28.

Camille, herhusband HamishDean,

and theirdaughters, Charlie, aged6,and

Blade, aged 3, are among those who have

settledinNew Zealandfollowing the

pandemic.

Theymoved to Amberley fromLos

Angelestoescape the virus earlier this

year. Hamish grew up in Woodend.

If moving to New Zealand was not

significantenough,Valentine's Day is now

an importantdateonthecouple's

calendar.

Theywere married last Sunday at their

home in Amberley by celebrant Jo

Retallick.

Camille is thecreator/director/actor

behind the hitchildren'stelevisionshow,

Charlie,whichisinits sixthseason on

AmazonPrime Video.

Sheisaregular performer andwriter

on Comedy Central,and got her break

beingacomedian on Arsenio Hall's

television series.

Camille has hosted, written and

produceddozens of televisionshowsand

feature films forcompanies suchas

UniversalStudios,Netflix, andAmazon

Prime.

In Kiwis Coming Home,Camillemakes

herway acrossNew Zealandtomeet

celebrities who havemovedback to their

homeland becauseofthe pandemic.

Shemeetswith celebrity dragartist

FelicityFrockaccino, whohas reinvented

herself as Otaki's DragBingo Queen.

Shethen hopsonaplane to meet

Broadway star Jonno Roberts, whohas

movedto''thebush''ofMatakana.

Camille has afinalrendezvouswith

world­renowned singer­songwriter

AmandaPalmer, of the DresdenDolls,who

hasfoundrefuge in HavelockNorth.

Theartists sharetheir unique stories of

leaving city lifeand falling in lovewith

their new­found lives in the small towns of

NewZealand.

Life ofRon

Photographs from the 60's&70'sbyRon Hazlehurst

ONE COOLER TO BE WON INEVERY STORE

SEE INSTORE FOR MORE DETAILS

www.foursquare.co.nz

facebook.com/FourSquareNZ

Specials available South Island only from Monday 15th February until Sunday 28th

February 2021 or while stocks last.Wine and beer available at stores with an off

licence. Wine and beer purchasesrestricted to persons aged 18 years old andover.

Ron Hazlehurst. Self Portait. 1971

Personal encounters with Christchurch townscape, environs and it's denizens.

28 January –14March 2021 Opening 3pm Sat 30January

Artist Talk 2pm Sun 31January

ARTS IN OXFORD GALLERY

Open: Thurs-Sun 10am -4pm Closed Mon -Wed &public holidays www.artsinoxford.com
---
New head for arts body

By SHELLEY TOPP

Fernside'sMirandaHales is enjoying her

new role as chairwoman of the

Waimakariri Community Arts Council

(WCAC).

''It gives me equal amounts of pleasure

to not only giveartists aplatform to

showcase theirwork, but alsofor the

public to be able to come and enjoy it,'' she

says.

Miranda replacedBrian Hoult,who

resignedaschairman last December.

''Brian did asuperb job for manyyears,''

she said.

Miranda's own involvementwiththe

council has also beenlengthy —''about27

years''.

She wanted to joinalocal organisation

that revolved aroundthe visual and

creative arts,and the artscouncilprovided

that opportunity.

Although Mirandahas no formal arts

background,she comesfrom acreative

family where art was an importantpart of

her life from an early age.

''I used to draw constantlyand Iamnow

part of alocal creative arts class which

explores arange of mediums, whichI

love.''

She has alsohad experience working as

avolunteer guide at the Christchurch Art

Gallery,where she was taught by Ann

Betts, whomshe described as awonderful

and insightful tutor.

Miranda beganaspresident last month

by curating the Black LivesMatter, Summer

of Protest photographic exhibition by her

London­baseddaughter, Fran,at

Rangiora'sChamber Gallery.

''It was apleasure and privilege to have

Fran's exhibition as my first as

chairwoman,'' Miranda says. ''Herwork is

poignant and moving, and highlights the

importance of awell­overdueglobal

discussionaroundracism thatisstill

Homecoming ... London­basedfreelance

photographer Fran Hales with her mother,

Miranda Hales, during the openingofFran's

firstsolo photographic exhibition, BlackLives

Matter, aSummer of Protest,inRangiora

Library's Chamber Gallery last month.

PHOTO: LOUISE JOHNS

prevalent everywhere.''

Although the Chamber Gallery at

Rangiora Libraryisthe council's venuefor

art exhibitions, it is also apopular setting

for livemusic concerts. The arts council

supports local artistsbut it also has an

open submission policy.

''We like to show adiverse range of

artworks,'' Mirandasays. ''It is great to see

artists fromfurther afield showing interest

in exhibiting their work with us.''

LOST AND FOUND

The followingpropertyhas been

reported as lostinNorth Canterbury.

Haveyou seen it?

Ablack leather wallet, six keys in a

leatherkey pouch with adog name­tag,

an old Motorola black cellphone, agrey

Velcro wallet, an electronic key with

two buttons on it, ablack pursewallet,

AlexPerry prescription glasseswith

blackedging, alightbrown wallet, a

blackSamsung Galaxy S9 with agold

back,10keys withanelectronic fob, an

air bud in acontainer, an orange

KonTiki fishing line, atan/yellow flip

phone, aSkoda car key and four house

keys,awhite Samsung Note 20, ablack

pocket phone,keys with abrass owl key

chain, afawn wallet, ablack remote car

key for aNissan with two otherkeys and

apink gel capitalG,ablack Suunto

Spartan Ultra titanium watch, agold

BOARDING ROAD SHOW

Visit stac.school.nz forfurther

information and to registeronline

NEWS

North Canterbury News, February 18, 2021

1March

WAIPARA

13

diamondsolitaire engagement ring, an

iPhone XR, ablack wallet phone case, a

greyiPhone X, agold wedding band

withfour diamonds, aNokia 6mobile

phone in ablack case, asmall black

Kogan camera in awaterproof case, four

rings (goldwith diamonds), two keys

withaWoolshed Gallery keyring, a

swimming bag with togs, goggles,

watershoes and atowel, aDominator

garage door remote,aSamsungNote 5

in aprotective case, ablack iPhone Max,

awhite envelope containing $244, a

black bumbag with belongings, a

Samsung Galaxy S10, an Apple iPhone

6S, an industrial box containing

documents,aWilson Hyper tennis

racket in ablack shoulder bag, a

Samsung S10 in aclear pinkcase with

blueonthe back, Bose headphones, and

adrone.

Eats &Beats

Victoria

Proudly

Park,

SponsoredRangiora

By

Saturday 13th March, 4pm -9:30pm

Fire Dancers

New World's Food Zone

Music Stage

Licensed Area

www.rangiorapromotions.co.nz
---
NEWS

14 North Canterbury News, February 18, 2021

Rawaah aprecious family member

By SHELLEY TOPP

WhenEnglish coupleAmanda

Scott­Richards and her husband,

Jeremy Richards, moved to New

Zealand in 2008,they paid £20,000

to bring ''a special equinefriend''

withthem.

''Atthat time £20,000 converted

to $60,000 in New Zealand

currency andwas the deposit for a

house,'' Amandasays.

It was ahuge cost for the young

couple but Rawaah, a

thoroughbredwho oncesold for

£750,000 as ayearling but was later

purchased by Amanda for only

£1000 afterhefailed to win arace,

''isincrediblyspecial for so many

reasons'', she says.

Before coming to New Zealand

the couple, who now live in West

Eyreton, ran an equestrianand

horse trekking business in West

Sussex, where Amanda says she

learnt alot workingwith Rawaah.

''I am pretty sure he thinks he is

aperson in ahorse'sbody,''she

says. And it is not justbecausehe

acquired ataste for gingernuts

after he began sharing Amanda's

biscuits duringher tea breaks. ''He

has beenanamazing teacher,''she

says.

WhenAmandafirst gotRawaah

as afour­year­old, he was an

institutionalised racehorsewho

had been stabled 24 hours aday,

having been trainedinastring of

100 otherhorses.

''Hehad never jumped or done

Soulmates ... Amanda Scott­Richards, with her daughter Poppy, aged 6, and their special English­born

thoroughbred Rawaah. Amanda and her husband, Jeremy, couldn't bear to leave him behind when they moved

to New Zealand in 2008.

PHOTO:SHELLEY TOPP

dressage andhad never run

aroundapaddock.

''I hadtoacquirealot of new

skillstoretrain him.''

However, after two years using

the new natural horsemanship

methods she had learnt, the

chestnut gelding, whoisnow 20,

was competing in dressage,

showjumping and leading out

treks.

He also helped Amanda run

therapysessions for amental

health charity calledMIND, which

is basedinBritain.

''Rawaahhas taken care of me

and my three children since Ihave

had him,with my youngestriding

him when she was only two years

old.

''I feel very fortunatetohave

suchaspecial horse in my lifeand

he reallyisone of thefamily, and

always will be.''

Sick leave

submission

Abill proposing to extend

sick leave entitlements

will be adouble­edged

swordfor rural

communities,Rural

WomenNew Zealand says.

The bill, introduced to

parliament last November,

wouldincrease annual

sick leave entitlements

from five to 10 days.

This month, Rural

WomenNew Zealand

askedparliament's

Educationand Workforce

Select Committee to

reconcile the need to

understand how to support

improved health and

mental well­being in rural

communities withthe

challenges that a

mandatory 10 days of sick

leavewould bring to rural

businesses.

''Whilst10days sick

leaveisgreat for

employees, it willalso be

challengingfor some rural

employers, and so it is

important forParliament

to consider both elements

to understand any adverse

effects on rural

communities if this is

made mandatory,''its

social issues convenor,

Sharron Davie­Martin,

said.

When your TV unexpectedly

walks out the front door,

it'snicetohavesomeone

on your side.
---
Don't get

C

CAA G

GHT

O

T! !

T

See the Good Sports.

$132.49

PER WEEK

$62.32

PER WEEK

$82.37

PER WEEK

$127.47

PER WEEK

2019 Nissan Qashqai ST 2.0

1997cc with 42,875kms, Auto Tiptronic, 6Airbags,

Air Con, 5Star ANCAP, AUX/USB/Bluetooth/CD,

Auto Lights, ESC, Cruise, Hill Start Assist, ISOFIX,

Reverse Camera, Alloy

Wheels, Traction Control.

$25,990

Balance of New Car Warranty!

2015 Toyota Corolla GX 1.8

1798cc, Auto Tiptronic, 5Star ANCAP, 7Airbags,

Air Conditioning, AUX/Bluetooth/CD Player, ESC,

Chain Driven, Remote Central Locking, Cruise

Control, Multi Functional

Steering Wheel, ISOFIX,

Trip Computer. $11,990

2019 MG 3Core

1498cc with 14,412kms, Auto Tiptronic, 6Airbags,

Alloys, Apple CarPlay, Bluetooth, Cruise, Emergency

Brake Assist, ESC, ISOFIX, Reverse Camera, Touch

Screen Media Interface,

Traction Control, USB Input.

Balance of New Car Warranty!

$15,990

2019 Hyundai Sonata Elite

Series 2 2359cc, 35,552kms, 5Star ANCAP,

Auto Tiptronic, Android Auto, Apple CarPlay, ESC,

GPS/NZ Sat Nav, Heated Leather Seats, Cruise,

Dual Zone Climate Control,

Wireless Phone Charging.

Balance of New Car Warranty!

$24,990

$83.87

PER WEEK

$98.91

PER WEEK

$142.51

PER WEEK

$73.85

PER WEEK

2012 Mazda Axela Sport 20S

SkyActiv 1990cc with 45,036kms, 6Airbags,

Auto Tiptronic, Aero Body Kit, Alloys, CD Player,

Chain Driven, Dual Zone Climate Control, Fog

Lights, ISOFIX, Smart Key,

I-Stop, Paddle Shift,

Traction Control, ESC. $15,990

2016 Subaru XV 2.0i

2000cc, Auto, Paddle Shift, 4WD, Alloys, CD Player,

Chain Driven, Cruise, Dual Zone Climate Control,

ESC, Factory Privacy Glass, Fog Lights, Power

Steering, Rear Spoiler,

Remote Central Locking,

ISOFIX, Traction Control. $18,990

2018 Holden Commodore RS

Wagon 2.0T 1998cc, Auto Tiptronic, 5Star

ANCAP, 6Airbags, Alloys, Android Auto, Apple

CarPlay, Auto Lights, Bluetooth, Cruise, Half Leather,

Lane Keep, Reverse Camera,

Traction Control, Turbo.

$27,990

Balance of New Car Warranty!

2013 Toyota AQUA S(Prius C)

Hybrid 1500cc with 16,857kms, Auto, Chain

Driven, CD Player, Centre Shoulder Belt in Rear,

Climate Air Con, Electric Mirrors, Electric Windows,

Factory Privacy Glass, ESC,

ISOFIX, Remote Central

Locking.

$13,990

$102.41

PER WEEK

$102.41

PER WEEK

$162.56

PER WEEK

$82.37

PER WEEK

2017 Nissan Qashqai ST 2.0

1997cc, Auto Tiptronic, 6Airbags, Air Con, 5Star

ANCAP, AUX/USB/Bluetooth/CD, ESC, Cruise

Control, Hill Start Assist, ISOFIX, Reverse Camera,

Daytime Running LED's,

Traction Control, Alloys,

Trip Computer.

$19,990

2016 Toyota Previa 8Seater

2362cc, 5Star ANCAP, 6Airbags, Auto Tiptronic,

AUX/USB/Bluetooth/CD, Climate Air Con, ESC,

ISOFIX, High Seating Position, Touch Screen Media,

Smart Key with Push Button

Start, Reverse Camera,

Traction Control.

$19,990

2019 Mitsubishi Outlander LS

7Seater 4WD 2360cc, 32,259kms, Auto,

7Airbags, Alloys, 5Star ANCAP, Cruise, Android

Auto, Apple CarPlay, AUX/USB/Bluetooth, ISOFIX,

ESC, Smart Key, Hill Start

Assist, Reverse Camera.

Balance of New Car Warranty!

$31,990

2016 Toyota Camry GL

2494cc, 5Star ANCAP, 6Airbags, Air Con, Alloys,

Auto Tiptronic, AUX/Bluetooth/CD, Chain Driven,

Cruise, Daytime Running LED's, Emergency Brake

Assist, ESC, Rev. Camera,

ISOFIX, Touch Screen Media

Interface, Traction Control. $15,990

$164.06

PER WEEK

$108.93

PER WEEK

$172.58

PER WEEK

$132.49

PER WEEK

2009 Toyota Landcruiser Prado

TX 4WD 2700cc with 68,617kms, Auto, ESC,

8Airbags, Alloy Wheels, AUX Input, CD Player,

Chain Driven, Climate A/C, Factory Privacy Glass,

Fog Lights, Side Mirror,

ISOFIX, Running Boards,

Smart Key, Traction Control.

$31,990

2013 Mazda Axela Hybrid-S

2000cc with 21,696kms, Auto Tiptronic, 6Airbags,

Alloys, CD Player, Cruise, ESC, Fog Lights, ISOFIX,

Power Steering, Remote Central Locking,

Smart Key with Push Button

Start, Traction Control,

Trip Computer.

$20,990

2018 Hyundai Imax CRDi

8Seater 2497cc, 52,986kms, 4Airbags, Alloys,

Android Auto, Apple CarPlay, Auto Air Con, Cruise

Control, AUX/USB/Bluetooth, Remote Central

Locking, Trip Computer,

ISOFIX, Reverse Camera.

$33,990

Balance of New Car Warranty!

2017 Toyota RAV4 GXL 4WD

2494cc, Auto Tiptronic, 5Star ANCAP, 7Airbags,

Alloys, AUX/USB/Bluetooth/CD, Blind Spot

Monitoring, Climate Control, Emergency Brake

Assist, NZ Sat Nav, ISOFIX,

Parking Sensors, Smart Key,

Lane Keep, Rev. Camera. $25,990

Stadium Cars Rangiora 03 310 7940 | stadiumcars.co.nz

609 Lineside Road, Waimakariri, Rangiora OPEN 6DAYS

*Conditions apply. Not available with any other offer. Finance offer subject to credit and lending criteria. Finance calculation

based on 60 month term. No deposit with an annual fixed interest rate of10.95%, includes an establishment fee of$370.

See our website for full disclosure.

*On road costs may apply to some vehicles
---
KAIKOURA A&P SHOW

North Canterbury News, February 18, 2021

17

Long-time exhibitor steps up as president

By DAVID HILL

Being closer to town has

allowed Colin Nimmo to

become more involved in the

Kaikoura A&P Show, but he

still enjoys the wide open

spaces.

This year's show president

has had along connection as an

exhibitor, but his involvement

was restricted because of the

relative isolation of Muzzle

Station in the Clarence Valley,

where he and his wife, Tina,

farmed for 35 years.

"I've been involved in the

show on and off for anumber of

years, but we lived in the

Clarence Valley, so our main

involvement was as an

exhibitor. We usually have

sheep, wool and horses in the

show."

The couple's daughter and

son­in­law, Fiona and Guy

Redfern, took over the running

of Muzzle Station about seven

years ago, with the Nimmos

moving to the Kaikoura flats.

"We are closer to town, but

we still can't see the

neighbours," Mr Nimmo said.

The Muzzle Station farming

operation has two finishing

blocks on the Kaikoura Inland

Road, with the Nimmos

responsible for one of those

farms, "so it keeps us busy".

The family runs 12,000 stock

units of Merino sheep and beef

cattle. It was all Herefords until

recently, with Angus­cross cows

gradually being added to the

herd.

The Merino sheep were a

It's show time ... Colin and Tina Nimmo are looking forward to the Kaikoura A&P Show.

proven performer on New

Zealand's most isolated high

country station, Mr Nimmo

said.

Most of the wool is supplied

on contract to the New Zealand

Merino Company.

"They suit our country and,

financially, they are the best

sheep for us to be in. Both the

wool and the meat have done

pretty well.

"The wool is still wanted and

Ithink anywhere where you can

run them, it's definitely worth

it. But they are probably abit

limited in terms of the country

you can run them on."

Conservation is important to

the Nimmos and Redferns.

"I think most people are

doing the best they can for the

land. It's important to look after

the land, but any work around

PHOTO: SUPPLIED

conservation and waterways

has got to be worthwhile from

an economic point of view

rather than legislation.

"The bulk of the station has

been farmed pretty

conservatively because that's

the best way to do it."

2324043

Proud to support

the

Kaikoura A & P Show

Crash Damage?

Failed aWOF? a Just Feeling Tatty?

All insurance or private work

taken care of - guaranteed!

Cars, Trucks, Trailers,

Agricultural Machinery

Onsite quotes -Panel Repairs

-Mig Welding -Painting

KEV'S PANEL &PAINT

196A Beach Road,

Kaikoura

Ph 027 288 8213

2350160

Fully Restored

Cast Iron Cookers

Repairs, Maintenance, Second Hand

Logfires &now stock Tiny Fires.

Come see us at the

Kaikoura A&P Show this weekend

Garry Ham

027 445 6534

Email: info@gmhcookers.co.nz

Website: www.gmhcookers.co.nz

2124875

Great bakery

Fresh baked goods

All goods baked on premises.

Open 7 days a week

69a Beach Road, Kaikoura

03 319 5200

2250124

108 th Kaikoura A&P Show

27 th February 2021

IT'S SHOW

TIME!

Entertainment for Everyone

Introducing... Silly Billy roving clown

andPEDALMANIA

•Harcourts Future Farmer Competition

Trades • Horses • Produce ...and much more!

Grand Parade: 2pm

Theme: Natural Fibre

Admission: $5, Children 12yrs & under & cars free

President: Colin Nimmo

Proudly sponsored by the team at Driftwood

Eco Tours www.driftwoodecotours.co.nz

2324015v2
---
KAIKOURA A&P SHOW

18 North Canterbury News, February 18, 2021

Local support for show buoys committee

By DAVID HILL

After the challenges of the past

year, the Kaikoura A&P

Association is hoping to get

back to grass roots.

As the association counts

down to its 108th annual show

at the South Bay Racecourse on

Saturday, February 27,

president Colin Nimmo said

the theme "back to grass roots"

seemed appropriate, given the

uncertain Covid­19

environment.

"It's what New Zealand is

getting back to in the current

environment. Ithink people

realise that producing food and

fibre is still very important in

New Zealand.

"A&P shows have always

been the gathering places and

it's probably moved away from

that abit in recent times, but

hopefully we can continue to

inspire people to come

together."

In line with the show theme,

the Kaikoura Museum will be

setting up adisplay of photos

from past shows in the main

marquee.

Show secretary Laura Page

said horse and sheep entries

were strong, while the

committee has been amazed by

the support from trade sites

and show sponsors.

Anticipating sponsorship

would be hard to obtain, given

that Kaikoura businesses are

affected by the absence of

overseas tourists, the

committee decided to organise

its own fundraising.

"Our president, Colin

Nimmo, decided to host a

fundraising trip to Quail Flat,

out the back of their farm

(Muzzle Station), and that was

awesome," Ms Page said.

"But after being worried

about getting any sponsorship,

we have probably ended up

with the biggest sponsorship

year we've ever had.

"I think, despite the

challenges they are facing,

local businesses realise the

importance of our show,

because most of the riders,

exhibitors and trades come

from out of town, as well as all

the visitors."

It makes achange from just

five years ago, when the

committee feared its 2017 show

would be the last because of a

lack of prospective committee

members and support.

The 2017 show was cancelled

because of the November 2016

earthquake, but the association

came back in 2018 and is now in

amuch stronger position.

Trade site bookings are

particularly strong, with

several new trade exhibitors

travelling from Christchurch,

Nelson and Blenheim.

"It comes back to there not

being many shows, so we've got

quite afew coming who have

heard that we've got quite a

cool wee show," Ms Page said.

Horse entries were slow

coming in, but jumped from 60

entries to 185 in the last two

days.

"We've even had to turn

people away because we don't

Well­supported ... Show secretary Laura Page says the organising committee has been amazed by the

support from trade sites and show sponsors this year.

have enough room in the

stables for them to stay

overnight," she said.

Sheep entries were up from

25 last year to 65, with strong

support from local sheep

farmers, while shearing is back

at the show after the committee

was unable to find sheep to

shear last year.

"We're very lucky to have Rob

Herbert join the committee. He

is alocal farmer and an exshearer

at the show and he's

agreed to be shearing convenor

and he's bringing the sheep,"

Ms Page said.

The novelty bicycle­powered

shearing is back and has been

moved to the bar tent, where it

will be held from 2.30pm, after

the grand parade, "to try to

keep people around for abit

longer".

PHOTO: FILE

The Kaikoura A&P Show

committee would like to thank

all its sponsors, especially The

Southern Trust, Driftwood Eco

Tours, Lobster Inn Tavern,

Rata Foundation, Ravensdown,

Road Metals/Kiwi Concrete,

Night'n Day Kaikoura,

MediaWorks Marlborough,

Smartlift Systems Ltd, PGG

Wrightson and Whale Watch

Kaikoura.

TRUST YOUR

LOCAL

EXPERTS

We've totally got you covered with awide

range of farm buildings, garages, sheds, barns,

commercial buildings and more.

"Enquire for a FREE on-site

visit & build quote!"

Visit us at Totalspan North Canterbury

127 Main North Road, Woodend.

Email: northcanterbury@totalspan.co.nz

0800 TOTALSPAN TOTALSPAN.CO.NZ
---
Whaleway

KAIKOURA A&P SHOW

North Canterbury News, February 18, 2021

19

Fun times ... Good­natured challenges, such as asack race, await Kaikoura's budding young farmers.

Fun challenges for children

By DAVID HILL

Budding young farmers are set

to feature at this year's

Kaikoura A&P Show.

The Harcourts Future

Farmers' Competition is being

introduced this year to

encourage school­aged

children to get involved in the

show.

''The idea is to have aseries

of challenges such as asack

race, an egg­and­spoon race,

gumboot throwing and bestdressed

farmer, which will be

added together to give the

competitor aseries of points,

designed to choose the best

future farmer,'' secretary Laura

Page says.

The competition will be open

to local children across three

age groups: under 7years, 7to

9, and 10 to 12.

The event will run at 10am

next to the main marquee.

For those who fancy

themselves as Robin Hood,

Bullock Road Bows from St

Anaud in the Nelson region will

be back at the Kaikoura A&P

Show this year. Bullock Road

Bows proved popular at last

year's show, giving participants

ataste of archery.

Gates open at 8am for the

108th annual Kaikoura A&P

Show at the South Bay

Racecourse, with tickets $5 per

person, with children under 5

free. Parking is free.

SHOW PROGRAMME

8am: Equestrian eventsstart.

8.30am: Stock and station

horse events start.

9.30am: Sheep judgingstarts.

10am: Harcourts Future

Farmer, beside main

marquee.

Butchery and cooking

demonstrations, main

marquee.

Judging starts:produce

sheds/dogs/flowers/wool and

poultry.

Horse shoeing

demonstration.

10.30am: Photography on

display, old totebuilding.

Entries close for baby show.

11am: FarmyardCorner

judging.

Entries close for Miss

Kaikoura competition.

Babyshow judging, followed

immediately by Miss

Kaikoura judging, marquee.

12pm: Shearingcompetition

starts at the shearing shed.

Produce sheds, school

displays open to view.

Poultry, wool and sheep

display, Farmyard Corner

marquee.

Horse shoeing

demonstration.

1pm: HarcourtsYoung

Farmer event, main

marquee.

Cooking demonstration,

mainmarquee.

2pm: Grand Parade withthe

Marlborough Pipe Band in

the main area. Thisisfollowed

by terrier racing in the

mainarena, and agiantlolly

scramble in the activityzone.

2.30pm: Noveltybikepowered

shearing

competition.

4pm: Produce shed closes,

exhibitors to collect items.

Prize money to be collected

fromthe secretary's office

until 5pm.

Other entertainment to see

and do:

Kaikoura Helicopters, Pedal

Mania, side shows, merry­goround,

chair­o­plane, ferris

wheel, bouncy castle, digger

fun,treasure hunt,Bullock

RoadBows,plus trade sites

and so much more.

Equestriantimetable

The ringprogramme willbe

subject to changethroughout

the day. Please listen to the

announcer for changes.

8am: Judging for hackand

parkhack, saddlehunter,

riding horse, group Aponies,

group B&C ponies,group D

ponies, and leadrein ponies.

8.30am: Stock and station

events at the eastern arena.

9.30am: Judging for

Standardbred and first

ridden combinationponies.

10am: Miniature horse

judgingatthe birdcage

arena.

11am: RAS Livermol

Thoroughbred Series Class.

After completion of ring

classes:

11.15am: Round the ring

hunter, northern end of the

arena.

Showjumping classes,

southern end of the arena.

2pm: Grand Parade (allprize

winners mustparade).

After Grand Parade:

2.30pm Showjumping classes

continue.

BREAKFAST

ALL DAY

OPEN 7DAYSAWEEK

10:00AM

TILL LATE

CALL FREE

0800 319 6362

PhoneOrders Welcome

9West End, Kaikoura

Beach RD

DINNER

Station Rd

West End

Phone: 03 319 5637 | 14WestEnd, Kaikoura

2352605

Christchurch
---
WOF | Servicing | Repairs

Tyres | Punctures

State-of-the-art

WheelAlignment

Suspension | Exhausts

Wipers | InsuranceRepairs

All Makesand Models

KAIKOURA A&P SHOW

20 North Canterbury News, February 18, 2021

83 Beach Road,

Kaikoura

Ph 03 319-6009

office@kaikouraautocentre.co.nz

2249138

South Island Wide Recovery

Dean Counsell

M:027 577 8555

E:dcarecovery@gmail.com

Proud to Support The Kaikoura A&P Show

THE

JOINER

SHOP

At the Joiner Shop we create high-quality

joinery and provide arange ofproducts and

commercial needs.

Let ushelp youwith your next project in

Kaikoura, Canterbury or Marlborough.

Novice hunter ... Annlise Graham guides Oakleys Dunit around the Novice Hunter course

during the Kaikoura A&P Show last year.

PHOTO:FILE

Two days of equestrian

competition planned

The Kaikōura Marine Development Project funded by the Provincial Growth

Fund (PGF) has now reached the design concept phase for the development

of Wakatu Quay.

PGF funds for the Kaikōura Marine Development Project are to;

Enhance economic development opportunities.

Create sustainable jobs

Boost social inclusion and participation

Build resilient communities

Recent engagement with the community has

gathered some great ideas which will feed into

the design proposal. The next step is to

engage the market for concept design.

Designs will be released in mid 2021 with

construction to start in late 2021/early 2022.

For more information contact

kmdp@kaikoura.govt.nz

Phone: 03 319 5562 | Mobile: 021 244 8005 | 19 Beach Rd, Kaikoura

Email: info@thejoinershop.co.nz | thejoinershop.co.nz

2352427

By DAVID HILL

Kaikouraispreparing for twodays of

showjumpingaction next week.

While horsesare set to be oneof the

mainattractionsatthe KaikouraA&P

Show,atthe SouthBay Racecourse on

Saturday,February27,the Kaikoura

Pony Club is also hostingacompetition

the following day at the samevenue.

While qualification has been

completed for the2021Horseofthe Year

Show,Kaikoura PonyClub secretary

Shona Harmonsaysthe Kaikoura A&P

Showand ponyclubday provide a

chance for riders to testtheiryounger

horses.

''Last year wehad about100 horsesfor

the second day. Some people will just

comefor the show, butothersmakea

weekend of it becauseit's suchagood

spot,'' she says.

''It'sanideallocation for people to

bringtheiryounghorses,campat the

grounds and head to the beach for a

swim.

''Andit's quite asocialevent for

people on the Saturdaynight.''

Riderscan also banksomeearly

points for the2022Horse of the Yearat

the KaikouraA&PShow, butnot at the

Sunday event.

❛Last year we had about 100

horses for the second day.

Some people will just come for

the show, but others make a

weekend of it because it's such

agood spot.❜

—ShonaHarmon

Sunday'scompetitionisamajor

fundraiser for theKaikoura PonyClub

andispartofthe Dunstan Horsefeeds

ShowJumpingCircuit with other North

Canterbury clubs.

''It's avery small club, but we havea

very competitive group of kidswho are

doing verywell andwewould love more

members,'' Ms Harmon says.

Whileshowentries have closed, riders

canstillenter theSunday jumping

competition by contactingShona on (027)

7743211 or emailpip@amuri.net.

Gatesopenat8.30amonthe Sunday

andentry is free for spectators.

''Wewould love somespectators.We

oftensee people bringtheir kidsandsit

on the rails andwatchfor theday,'' she

says.

Need aQuality Builder in Kaikoura?

Full Builds, Extensions and Repairs

Jobs Large and Small

We are happy to help!

• Weunderstand the building conditions -and the rules

and regulations in Kaikoura.

• Quality fittings and materials used on each and everyjob

• Wetake pride in getting the minor details RIGHT -soyou

• love the result

• Over 38 years experience -countless happy customers

• Full list of sub-contractors availableifneeded

• Wecan handle the whole project from starttofinish if that's

what you need

We have offices based in Rotherham and Kaikoura.

2304005

Contact us today for a

quote or to discuss

your next project

BGBeaven Builders

03 315 6346

www.hurunuibuilders.co.nz

wbeaven@amuri.net

SHOW WILL REQUIRE ARETURN TO ALERT LEVEL 1

The Kaikoura A&P Showcommittee

was due to make afinal decision about

whether to proceed with the 108th

show, as the North Canterbury News

went to print.

The stagingofthe annualshow will

be subject to the region returning to

MASSIVE DEWALT SALE

ON NOW!

+ REDEMPTIONEMPTION DEALS! *

Covid alert level 1.

Should the region remain at level 2,

the show is expected to revert to a

horse competition, with the public

excluded.

Stay up to date by visiting the

Kaikoura A&P Showpage on Facebook.

*

Saleand RedemptionOffers End 31 March2021.
---
RANGIORA

RANGIORA

100% LOCALLY

OWNED &OPERATED.

If youfind alower priceonanidentical stocked productlocally,wewill beatitby15%

If youfind the same productfromanother Mitre10store or Mitre10website, we'll match thatprice. Excludes trade and special

quotes,stock liquidations and commercial quantities.The in-storepricemay be lowerthan thatadvertised.
---
RANGIORA

TIME FOR AN

UPGRADE?

GET THE RIGHT

TOOL FOR

THE TASK

24

MONTHS

INTEREST FREE

on purchases $799 &over

FINANCEOPTIONS AVAILABLE

20% deposit,Pay cash priceonly

No booking or insurancecharge

or 12 MONTHS INTEREST FREE

on purchases $299 -$798

Terms, Conditions &Credit Criteria apply
---
Getstuck into

thoseprojects

with ourrange

of waterblasters

Give thegift

of choice.

Purchase in-storeoronline at mitre10.co.nz

RANGIORA

100% LOCALLY

OWNED &OPERATED.

If youfind alower priceonanidentical stocked productlocally,wewill beatitby15%

If youfind the same productfromanother Mitre10store or Mitre10website, we'll match thatprice. Excludes trade and special

quotes,stock liquidations and commercial quantities.The in-storepricemay be lowerthan thatadvertised.
---
Advertising feature ALLTECH EQUESTRIAN

24 North Canterbury News, February 18, 2021

Well regarded ... Alltech has arange of products to support horse health.

PHOTO: SUPPLIED

Mycotoxins ahidden

menace for horses

Is there ahiddenmenace in yourhorse

feed?

Horsescan be exposed to mycotoxinsby

eatingcontaminated feedingredients

suchasconcentrates(for example, grains

and proteinsupplements), hay and green

pasture.

The extent of mycotoxinexposure

depends on how much of the

contaminatedingredientisfed and the

mycotoxin concentration present in the

feed.

Any feed ingredientmay contain

multiplemycotoxins,whichcan become

moretoxic together than they would be

separately.

Mycotoxinsinhorses can cause awide

range of clinical signs, including

respiratory,gastronintestinal, neurologic

and reproductiveproblems.Obvious signs

may include tremors, fever, loss of

appetite,bloodyfaeces, and brownurine.

In extreme cases, it canleadtodeath.

Diagnosingmycotoxinexposure is abig

challenge.

Confirmation of adiagnosis usually

requires asample being tested by a

reliable,accredited laboratory.

The sample testedmay returnwith a

positive mycotoxin presence,but that

doesnot mean thewholebatchofhay or

feediscontaminated.

Mouldy feedshould be treated with

extremecare andpreferably notfed to

horses.

To minimise problems,itisbesttobuy

fromareputabledealer or producer.

The feedorhay should be stored so that

it is protectedfrommoisture andhas

space to allowair to circulate around the

product.

Thereisnoeasysolutionfor mycotoxin

prevention.

It has been said that mycotoxinsare

everywhere,and especiallywhenhumid,

hot, moist conditionsare present.

In research, some productshave been

showntoalleviatesomeofthe negative

effects of mycotoxinsinhorses.

It is common forpeople to add

mycotoxinbinders to their horse's ration.

However,careshouldbetakento

choose abinderthathas research

published in relation to horses.

Binders aremore effectiveifapplied at

thetime of feedproduction, but they can

also be added to the horse's dailyfeedby

theowner.

Idealmycotoxin binders shouldbind

multiple mycotoxins at low dosages and

should have strong peer­reviewed

research support.

Mycosorb fromAlltech is widely

respected in the equine communityand is

oneofthe very fewproductstoreceive

legalregistration for

useinanimal feeds. To

learnmore, visit

knowmycotoxins.com.

Alltech's areasales

manager for North

CanterburyisMatt

Cassineri.Hecan be

contacted on (027)

2084606.

—Alltech (NZ) Limited

Family affair ... Horses are central to the lives of sisters Eva, left, and Johanna Wylaars.

They are pictured with Tiffany.

PHOTO: ROBYNBRISTOW

Sisters dedicated to a

life involving horses

By ROBYN BRISTOW

Johanna Wylaars is out of bed at 5.30amon

school days.

The 14­year­oldmucks out the horse

paddocksonthe family's propertyin

Belfast, feeds her charges, and then heads

off to Marion College on the other side of

Christchurch.

When she getshome at 4pm, the Eyreton

Pony Club memberheads out to ride her

ponies, hoping to get in as muchtraining as

she can before it gets dark.

''I sometimes get caughtinthe dark in

the winter,'' she says.

Her hectic schedule and commitment is

matched by her 11­year­old sister, Eva,

who is also proving to be an adept rider.

Johanna is preparing to head northto

the Horse of the Year Show at Hastings

next month. Good results at qualifying

showjumping grand prix events has put

Johanna and her pony, Wembleybrook

Tiffany, in the hunt for atop finish.

''I am leading on points at the moment,

but it is really close at the top. Ihope to

amassmore at the Ponyofthe Year Grand

Prix,'' Johanna says.

Last year the pair did not do as wellas

hoped, withTiffany being alittle

overexcited by the atmosphere and being

in the mainring.

''I hope to go better thisyear,'' Johanna

says.

Tiffany isn't the easiest of ponies to

manage. She was bought unbroken as a

five­year­old.

''Shehas always been tricky to ride.She

is quitesensitive.''

She hopes to do wellatHastings, but

''anything can happen''. Tiffany willbe

joined by Blossom, andLara on the

journey north,making abusy schedulefor

Johanna.

Eva willbetheretosupporther older

sister and help prepare the three mounts.

''It is really neat at Horse of the Year

seeing all the differenttypes of riding like

games, showing and jumping,'' she says.

The trip north is afamilyaffair. Mum

will be driving theirhorse truck, ahomeaway­from­home,

whileJohanna and Eva

will be looking after the ponies.

Dad, ''whodoesn't know much about

horses'' willbegoing as well.

''He's our cook. He came lastyear and

made sure we had agood lunch and an

evening meal.You can't really just grab a

few lollies to keep you going. It is pretty

draining.

''It is important to eat well, and have

earlynights,when you are getting up early,

goingtoschool, and competingmost

weekends,'' Johanna says.

Oldersister Elizabeth,who is studyingto

be avet, willhopefully be theretocheer

Johanna on.

Johanna says it is greatthat mum and

dad are so supportive. ''But we have to

make sure we are on the ball, and doing

most of thework, doing our part and

making it happen.

''It is pretty full on, and you don't have

much of asociallife,''Johanna says.

The girls' mother, Pip Wylaars, who is

president of the EyretonPony Club, says

she does nothave to crack the whip too

much.''Just sometimesweneed areset,''

she says.

The family is on the road between 30 to

40 nights in the summer in their horse

truck. Theyhave had theirtruck for only a

year and have alreadyclocked14,000km in

pursuit of their passion.

Let Alltech® help

you with your team

• MINERAL NUTRITION

REQUIREMENT

• MYCOTOXIN THREAT

REDUCTION

• OPTIMUMGUT CONDITION

Leaders in equine nutrition

We arestarting our annual

targetedweed control program

• Aerial spraying for targetedweed control

• Kowhai, Waiau, Conway&Hurunui Rivers

• Frommid-Februaryfor about 2weeks (weather dependent)

Weed control measures in the open riverbed helpfloodflowspassthrough &enhance

biodiversity values.

Initial surveying will identify islands requiring weed control.Onlytargetedweeds

(willows, alder,poplar,broom &lupins) on theseislands will be sprayed.

Formoreinformation:

ecan.govt.nz/flood-works or call us on 0800 324 636

E21/8372

NATURCLEAN | MYCOSORB® | LIFEFORCE

newzealand@alltech.com |0800 ALLTECH

alltech.com/newzealand |

AlltechAP

www.ecan.govt.nz
---
Splash outonyour

newhomewith

Summerset!

Summerset on Cavendish has arange of twoand

three-bedroom homes available nowfromjust

$480,000†.For alimited time,purchaseone of these

stunning cottagesorvillas and enjoy$5,000 to spend

on furnishing your newhome!*

Youmay want to get anew lounge suite,finally buy that

smartTVyou've alwayswantedorupgrade thefridge

or washing machine -it'scompletely up to youhow you

spend your $5,000!

Don't miss the chancetosecureyour firstchoice of

home in this stunning village,plus$5,000 to spend

on your newhome on us. To find out more,ortotakea

tour,book aprivateappointment by calling Deborah or

Cath todayon03 7413340.

Get in touch today

SummersetonCavendish

147Cavendish Road,

Casebrook

To find outmore, contact Deborah

or Cath on 03 7413340oremail

casebrook.sales@summerset.co.nz

†Licence to occupy.

*Terms and conditions apply.Ask the SalesTeamfor moredetails.

To learn morevisit summerset.co.nz/casebrook

Forthe latestcriteria and information on visiting our villages

please call the village,orvisit summerset.co.nz/covid-19

SUM2817_37X8
---
NEWS

26 North Canterbury News, February 18, 2021

Students enjoy aday of fun and bonding

Fancydress ... KaiapoiHigh

School's sports day lastweek

was achancefor pupils to

bond and get to know their

new house mates. Pupilswere

encouraged to dress in their

housecolours and be creative.

Lift­off ... Amber Brownlee, left, and McKenzie Bailey­McDowell attempt to leap

over one of their challenges.

PHOTOS: KAIAPOIHIGH SCHOOL

Atest of skill ... There were some unusual sports on display

during the day.

Heave ... Kaiapoi High School pupils participate in the tug­o­war.

All red ... Rosa Caddie, left, Mia Doherty

and head boy Hunter Henley enjoy the day.

Everynew Volvo

nowhas aspeed cap

of 180km/h.

But speed is not all we've lowered.

The 2021 Volvo range. Now from $59,900.

#ForEveryonesSafety

38 Tuam St,

Christchurch

021 907 961 -Darren Griffith

archibalds.co.nz

For further information visit archibalds.co.nz/2021Volvo
---
RURAL LIFE

North Canterbury News, February 18, 2021

27

Local young farmers eye regional final

By DAVID HILL

North Canterbury young farmer

Dean Gardiner is hoping for

better luck this year.

The Amuri Basin Young

Farmers' Club member is one of

eight finalists in the 2021 FMG

Young Farmer of the Year

Tasman region final being held

at the Malvern A&P Show at

Sheffield on March 27.

After qualifying for last year's

regional final, which was

cancelled because of Covid­19,

Mr Gardiner and Oxford­born

finalist Jeremy Kilgour were

looking forward to finally

competing in their first final.

Mr Gardiner, aNgai Tahu

descendant, grew up on asheep

and beef farm near Waipara.

He completed adouble

diploma in agriculture and farm

management at Lincoln

University.

The stock manager from

Kaiora Downs,near Culverden,

manages 10,000 stock units on a

1400ha property.

One day he plans to head home

and help his sister run the

family farms and continue their

parent's legacy in coastal North

Canterbury.

Mr Gardiner says his goal in

the regional final is ''to gain as

much experience and

knowledge as possible''.

Mr Kilgour grew up on the

family pig farm at Oxford before

venturing overseas. He studied

business at Cayuga Community

College, part of the State

University of New York.

He later worked as acamp

counsellor and activity

instructor in New Hampshire in

the United States.

With experience in on­farm

systems in dairy, sheep, beef and

deer under his belt, he has also

travelled to China on asummer

scholarship to learn first­hand

about international

agribusiness and commerce.

He is now in his third year

studying for an agricultural

science degree at Lincoln

University.

He has also worked as an

agricultural contractor and

helped out on the family farm.

This year's Tasman regional

final convenor, Cheyenne

Wilson, has abusy schedule over

the next few months.

She works on adairy farm,

manages ayoung stock farm and

is studying for acommerce

degree at Lincoln University.

When she is not working and

studying, Ms Wilson is akeen

hunter and enjoys spending time

in the back country.

She is also passionate about

working with young people to

showcase the opportunities in

the rural sector.

''Encouraging future leaders

in the industry to develop their

skill­set this season is agoal of

North Canterbury finalist ... Dean Gardiner will

represent the Amuri Basin Young Farmers' club in the

Young Farmer of the Year Tasman region final.

mine,'' she says.

''I want to create an

environment that will allow

members in the region to grow

and understand more about the

contest while creating strong

connections and networks.

''I hope to help connect

members within the region with

industry leaders, potential

employers and mentors, while

building everlasting

friendships.''

Second time lucky ... Oxford's Jeremy Kilgour is

looking forward to competing in the Young Farmer of

the Year Tasman region final.

PHOTOS: SUPPLIED

Contest

convenor ...

Cheyenne

Wilson is

passionate

about

encouraging

future

leaders in

the farming

industry.

Haveyou seenanyofthese pest plants?

Credit:Weedbusters

bottom inset:TrevorJames

Credit:TrevorJames

Credit:TrevorJames

Knotweed

Fallopia japonica

• Perennial shrub(
---
RURAL LIFE

28 North Canterbury News, February 18, 2021

HIGH COUNTRY FENCING

HILL COUNTRY SPECIALIST -

Dozer and Digger

RURAL

STOCK YARDS

EARTHWORKS

2309605

FARMBIKE SPECIALISTS

Servicing North Canterbury for over 25yrs!

•Sales, Servicing &

Parts

•All Makes &Models

•Qualified Motorcycle

Engineers

(NCME, TRADECERT)

•Electrical &Mechanical

fault testing

•Quality 2nd Hand Bikes

&UTV's

•Repairs &Dismantling

•Insurance Repairs

2177981

HOMEKILL

&Wild Game

Meat Processing

313 0022

MEAT2U.NZ

163 Stokes Road, Balcairn

Ph (03) 312 9844 or 027 205 5724 (AH)

farmbikesnc@orcon.net.nz

www.farmbikeservices.co.nz

WE STAND

BY OUR

WORK

GEOFF ROGERS

021 640 748

www.highcountryfencing.co.nz

2209036

There's just no

substitute for

Experience &Local

Knowledge!

Barns &Stockyards Built

Fencing -All Types

Security Fencing

Noel 0274 330 980 or (03) 312-8666

preencontractors@gmail.com

1738815

Bid ... Hazlett

livestock general

manager Ed Marfell

accepts abid on

Romney two­tooth

ewes in pen two at

the Sheffield Ewe

Fair on Friday.

PHOTOS: DAVID HILL

Good summer lifts sheep farmers

By DAVID HILL

The sheep industry is in good

spirits in Canterbury after a

successful season of ewe fairs.

Canterbury stock agents,

speaking at the Sheffield Ewe

Fair last Friday, said local

farmers are in goodspirits

despite the challenges of the

last year.

Hazlett livestockgeneral

manager Ed Marfellsaid the

sheep industry was in agood

space.''SinceChristmas

there's beenregularrains

which has allowed the ewes to

pick up quickly after weaning,

and they presentedthemselves

well today.

''Whenyou think the world's

restaurantsare closed, Iwould

say the sheep industry has

done pretty well this summer.''

Peter Walsh &Associates

auctioneer Allister Orchard

had predicted asimilar

outcome at Sheffield to the

Hawarden Ewe Fair on

January 29 and he proved to be

close to the mark.

While the yardingof10,000

was lower thanexpected,the

day's top priceatSheffield was

$250 paid for apen of mixedaged

Suffolkewes, aheadofthe

$234 paid at Hawarden.

The top­priced Suffolk ewes,

offered by HillvueFarm

Partnership, of Rolleston, were

exceptional sheep,MrMarfell

said.

''They were big ewes. One of

them jumped over the fence

and Ihad to get it back in. It

had afair bit of weightonit.''

Overall, prices were pretty

consistent, with mixed age

ewes selling particularly well,

and there was afull clearance

at Sheffield, Rural Livestock

Canterbury livestockmanager

Donald Cooke said.

Good conditioned two­tooth

andmixed­ageewes fetched in

excess of $180, asimilarresult

to Hawarden, he said.

''It was agood result today

andthey've pretty much all

gone backontofarmsrather

than to be killed.''

While the sales of older ewes

were exceptional, there

appeared to be lessinterest in

two­tooth ewes, Mr Marfell

said.

''It's adifferent typeofbuyer.

Alot of guyswho buy 5­year­old

ewes are going to be breeding

one season of lambsand then

kill it and the lamb, whereas

with the two­tooths you tend to

get four or fiveyears out of

them.''

Ageneral trend in recent

seasons, in both the North and

South Islands, has been the

numberofbreedingewessent

to thefreezing works, which

was reflected in the smaller

yarding, Mr Orchardsaid.

Stockagents now turntheir

attention to the calf sales next

monthand then the winter bull

sales, which start in May.

Seeking bids

... PGG

Wrightson

auctioneer

Glenn Peddie,

who is

originally from

Waikari, sizes

up amob of

two­tooth ewes

during the

Sheffield Ewe

Fair.

2348360v1

Contact us today

Leeston 03 324 3791 Amberley 03 314 9055

Ashburton 03 307 8027 Timaru 03 688 2179

www.cochranes.net.nz
---
LIMITED OFFER

2018

ONLY

$

12,990

AVAILABLE ON

1/3 1/3 1/3 NO INTEREST FINANCE OFFER

Here's the easiest way to get a smart compact car that's brimming with features. Simply make 3 annual payments and enjoy

the nimble and stylish Mirage XLS, along with 15" alloys, hands free Bluetooth, 5 star safety, economy of just 5.0L per

100km and one of New Zealand's best new car warranties.

So don't miss out on this unique opportunity to own a quality pre-owned Mirage for only $12,990.

N o r m a l le n d in g a n d c r e d it c r it e r ia a p p ly. $ 4 , 3 3 0 + $ 6 3 3 . 0 5 f e e s ( w h ic h in c lu d e s P P S R a n d d o c u m e n t a t io n f e e s ) a r e p a y a b le o n d e liv e r y, $ 4 , 3 3 0 in 1 2 m o n t h s a n d $ 4 , 3 0 0 in 2 4 M o n t h s f r o m d e liv e r y d a t e .

To t a l c o s t in c lu d in g F e e s a n d O R C 's $ 1 3 , 6 2 3 . 0 5 . O ff e r a v a ila b le w h ile s t o c k s la s t .

RANGIORA MITSUBISHI

321 High Street, Rangiora | 03941 3175 | rangioramitsubishi.co.nz

ONLYAVAILABLEWHILESTOCKSLAST

NAVARA RX 2WD MANUAL

$

29,990

+ORC

NAVARA RUN OUT NOWON

*Price shown excluded On Road Costs. Offer only available while stocks last.

RANGIORA NISSAN, 321 High Street, Rangiora

Ph: 03 941 3175

www.rangioranissan.co.nz

rangioranissan.co.nz
---
SPORT

30 North Canterbury News, February 18, 2021

Diamonds are forever

Sports day ahit with pupils

By DAVID HILL

Kaiapoi can lay claimtohaving the best softball

diamondsinCanterbury.

Canterbury Softball Association board deputy

chairmanTony Hensen, speaking at the official

opening of new softball facilities at NormanKirk

Park in Kaiapoi's former red zone, said he was

impressed withthe new development.

The Kaiapoi Softball Club, founded in 2004, is the

only softball club in North Canterbury.

Mr Hensen said the clubboasted the newest

women's and men's premier sidesinthe

Canterbury competitionand couldnow claim the

best softball facilitiesinCanterbury.

''The first thing that'sobvious to me is it's

extremely spacious. You've got an awfullot of room

here. It'sgreat to see. You've got something here to

be very proud of.

''They've got enoughspace to host major

tournaments.You could have 10 diamonds playing

at once, so there's no reason why you couldn't host

anational tournament here.I'm sure Kaiapoi

would lovetosee that happen and Ican see the club

developing this into an internationalfacility.''

Waimakariri Mayor Dan Gordon threw the first

official pitch, beforethe Kaiapoi premierwomen's

team tooktothe field againstPapanui forthe first

match on the maindiamond.

While the mayor admitted to beingnervous about

the pitch, he need not haveworried as he threwa

strikeonthe inside curve, according to theteam's

catcher, Layla Bailey­McDowell, aformer Junior

White Soxplayer.

Mr Gordon said the councilhad spent$6million

developing Norman KirkPark, named after the

formerprime minister who also served as Kaiapoi

Mayor.The park has changingrooms,acar park, a

dog park and ashared pathway passing through.

Mayoral eye ... Waimakariri Mayor Dan Gordonfires

the first pitch overthe plate on the new softball

diamondsatNorman Kirk Park.

PHOTO:DAVIDHILL

Waimakariri District Council greenspace

manager Grant MacLeod, who plays for the Kaiapoi

Softball Club, described the flexibility of the park

set­up. ''Onaday like today they can have juniors

and seniorsheretogether, so it's good forclub days.

''Softball is certainly apopular sport and, with

havingteeball and junior teams, it'squite afamilyoriented

sportwith two, andsometimes three,

generations all playing for the club.''

The clubwas previously basedatthe Kaiapoi

Domain, sharing withrugbyand cricket.

Mr MacLeod saidconversationswere ongoing

with other sportsclubs about using the new park,

especially for winter sport.

Land skis ... Southbrook School pupils participatedinthe Sport

Canterbury Top Team Challenge last week. Pupils worked in teams

to completeaseries of 10 challenges.Principal Julie Wallssaid

''there was laughter,excitement, perseverance and encouragement

from all''.

PHOTOS: SUPPLIED

Set to go ... Southbrook School pupilstake partinthe sack race.

Haveyou seenanyofthese pest plants?

Credit:Weedbusters

bottom inset:TrevorJames

Credit:TrevorJames

Credit:TrevorJames

Knotweed

Fallopia japonica

• Perennial shrub(
---
endof summer

R

STOREWIDE

SALE

Primavera Outdoor 3 Seater

WAS $ 2799

NOW

$

2499

STOREWIDE SALE –INSTORE &ONLINE ENDS 01.03.21

ALL ALLESSA

ON SALE!

Chaise Sofa

NOW $

1999

ALL MATTRESSES

ON SALE!

Queen Mattress

FROM $

269

ALL PARKLANE

ON SALE!

Queen Bed

NOW $

799

Bedside

NOW $

325

AlLmatTresS

baseSalso

onsale!

Snap up these SUPER DEALS before they're gone!

Clare 3 Seater

WAS $ 899

NOW

$

599

Valletta Outdoor Lounge/

Low Dining Set

WAS $

2499

NOW

$

1999

Seychelles Double

Mattress

WAS $

549

NOW

$

399

Dallas Queen Bed –Jet

WAS $ 449

NOW

$

349

Chia 5Drawer –W60

WAS $

499

NOW

$

399

Sono Boxed Mattress –Queen

Medium Feel

WAS $ 599

NOW

$

399

Shop

Online

Nationwide

Delivery

Finance

Options

moresuperdealsonline&instore!

END OF SUMMER STOREWIDE SALE ENDS 01.03.21.

250 Moorhouse Ave, Christchurch

Ph: 0800TARGET (0800 827438)

targetfurniture.co.nz

Offers and product prices advertised here expire 01/03/21.

Sale excludes Manchester and Accessories.
---
North CanterburyNews

PROPERTY

Smart Buy -BeQuick!

146D High Street, Oxford

Just ashort walk from cafes, Mitre 10 Fitness Centre and ashort drive to the Waimakariri Gorge golf course, rivers and nature

walks. This classic brick low maintenance property would make the perfect first home, ideal investment or aretiree/downsizing

purchase.

This lovely modern home hosts three bedrooms (each withabuilt-in robe), asemi-ensuite bathroom (access from both master and

hallway) and an open plan kitchen/living/dining area that is bathed in natural light for the optimum amount of sunlight throughout

the year.Thanks toanarray of intelligent heating solutions (including aheat pump, double glazing throughout and awood burner),

the home easily maintains acomfortable temperature through all seasons. Sliding doors from the living area provide seamless

indoor/outdoor flow to abeautifully designed entertaining area (with spa) purpose built to enjoy the semi-rural surrounds. The

kitchen is perfectly positioned as the hub of the home providing an attractive setting and supplying all the modern conveniences of

ahome built 2015. The neutral decor throughout the home acts as asuperb blank canvas for new owners to easily express their

own personalities.

The internal access garage plays host to laundry facilities; the easy-care grounds are perfectly configured for all-day sun, and

the permanent materials which the home is constructed will provide lower maintenance costs for future peace of mind. If you are

looking for extra space to park aCampervan this property could potentially work for you.

The ideal location, the proximity to amenities and the easy-care nature of this very tidy home combine to create avery enticing

package indeed! Interest will behigh -contact Di now for more information. Auction day is 5th March, 6:00 pm.

Auction

5 th March 2021, 6:00pm

For more information contact:

Di Moreira

di@pb.co.nz

027 848 8020

Property Brokers Ltd

Website ID #RU81670

2352596

Over fifty twenty Houseand Land Packages available in

Kaiapoi, Rangiora andWoodend starting from

$422k!

MGH/0101/TN

Visit ourshowhomes in Townsend Fields &Ravenswood.

MikeGreer Homes, North Canterbury, Shop 1, 29 Huntingdon Drive, Rangiora.
---
North Canterbury

Rangiora 7/17 Ivory Street

Hawarden 27 High Street

Delightful Villa on Ivory

Perfectly locatedincentral Rangiora is this2bedroomvilla. Specially

designed for older persons (over 60). Built in OamaruStone, it is

double glazed, has its ownentranceway, attachedgarage.Itiswarm

and sunny, with good heating. The two bedroomshavewardrobes and

easy access to the well-appointed bathroom.Itispart of aBodyCorp

development so there is monthly fees and charges. DeadlineSale

Tuesday 23rd February 2021 @3:00pm.

2 1 1 1

Deadline Sale closes Tuesday 23rd

February, 2021 at 3.00pm

View Sun 21 Feb 3.00 -4.00pm

Web pb.co.nz/RU82199

Bev Wright

M 027 434 2486

Raise your family in the country

Located in apicturesque rural towninNorth Canterbury. Commuting

distance to Amberley/Waipara/Culverdenthis property is coming on

the market for the first time in 28 years. The 4bedroom 1910s villa

has been refloored in most of the house.Kitchen and bathroom

upgrades, painting internallyand externally including the roof.Log fire

with wetback and aDVS system. Very liveable, but plenty still could be

done to enhance.The property has lots of shedsand asmallshearing

area. Ideally suited to horseswith paddocks of safegrass clover and

rye free. Several big treesfor stock shelter. Townwaterand sewer.

1.9ha with sealed road frontage.Easy walk to local schools.

4 1 1 2

Deadline Sale closes Thursday 4th

March, 2021 at 4.00pm, (unless sold

prior)

View Sun 21 Feb 1.00 -2.00pm

Web pb.co.nz/HSU82186

Janice Clyma

M 027 434 7090

Greta Valley 18 Valley Road

Starvation Hill 456 Ashley GorgeRoad

Value with views!

Wherecan youfind avalue-for-money solidthree bedroomed family

home an hours' drive from Christchurch? Righthere in the delightful

surroundings of Greta Valley is where.Surrounded by established

gardens on an 1127sqmsection, this warm, robustly constructed

home represents the perfect balance betweenmodern convenience

and tried-and-truedurability.Inside, three good-sizedbedrooms (all

with built-in robes) are complementedbyawell-appointedbathroom

(completewith bath) and alarge, modern kitchen, while the separate

loungeisawarm andinvitingspaceand offersstunning views.

Recently redecorated, the neutral decorwill accommodate any style or

era of furnishing.

3 1 1 2

Deadline Sale closes Thursday 11th

March, 2021 at 3.00pm, (unless sold

prior)

View Sun 21 Feb 11.00 -11.30am

Web pb.co.nz/RU82177

Leigh Miller

M 021 308 202

Panoramic views!

After being in the same family for decades, this stunningproperty is

on the markettobesold. Elevated, withoutstanding views, excellent

building sites,gently rolling contour and extensive native and exotic

trees alongthe creekboundary, this would make an excellent larger

lifestyle block.There are two units of OxfordRuralwater, two 25000

litre tanks, power to the site already, athree-baybarnand cattleyards

already in place. All you have to do is chooseyour house site and build,

then enjoy panoramic viewsover your land to the surrounding

mountains.The productive soil is pahau and waterton silt loams and

the pasture rarely dries off in summer.

Deadline Sale closes Friday 12th

March, 2021 at 4.00pm, (unless sold

prior)

View By appointment

Web pb.co.nz/RL82702

Maurice Newell

M 027 240 1718

Hamish Anderson

M 027 678 8888

Property Brokers Ltd Licensed REAA 2008 |pb.co.nz

Proudtobehere
---
Four Seasons Realty

Four SeasonsRealty

WE'VE GOTTHE

BUYERSWHO WANT TO

LIVE WHERE YOULIVE.

Better living,better value.

NORTH CANTERBURY

Properties wanted in all priceranges forresidential&lifestyle.

Harcourts Four SeasonsRealty has a formidable presence in North Canterburywith 50+

sales consultants working out of fiveoffices.

Contact your local and most trusted realestateexperts to help youwith your next move.

We'vegot youcovered.

Your home forlocal property

Four SeasonsRealty2017 Ltd|Licensed Agent REAA 2008

0800789 1011

Four Seasons Realty
---
Golfers out in force for fundraiser

NEWS

North Canterbury News, February 18, 2021

35

By ROBYN BRISTOW

Arecord number of players

turnedout for the Glenmark

Lions CharityGolf Tournament

duringWaitangi weekend.

Atotal of 74 playerscompeted

on the Scargill Golf Clubcourse,

helping the Lions club raise

$7000 for Camp Quality.

Some of the Camp Quality

committeeattended to support

the club's fundraiser, enjoying

time cruising the greens and

being partofthe vibe.

The visitorssaid the dedication

and theenthusiasm of the Lions

Club members in running the

event meant alot to those from

Camp Quality, Christchurch.

The day endedatthe

clubhouse, where there were

raffles, an auction and the prizegiving.

Camp Quality aimstobring

fun, hopeand happiness into the

lives of childrenliving with

cancer, inspiring themtoget on

with being kidsagain.

Bugs andbiodiversity

Come join RuudKleinpaste, the

"Bug Man",atthe Waikari Hall on

Tuesday,March 2, from 6pm to 8pm.

His mission is to teach people how

insects play asignificantrole in the

health of soils and howtheir

diversity is key for ahealthy,

functioning eco-system. His talk is

sure to be entertaining and

educational for the whole family. A

$5 donationwould be appreciated.

Alight supper will be provided.

RSVP to hurunuibiodiversity@

gmail.com or via the Hurunui

Time for achat ... Glenmark Lions Club member George Loe stops mid­round to

chat with avisitor from Camp Quality.

BiodiversityFacebook pageby

February25.

Let's get fit

Anew fun, highenergy dance,

cardioand toning classstarts in

Rangiora on Monday, March 1. It

will be low impact, so no jumping

will be involved. Afriendly and

encouraging atmosphere is

promised.Itwill be heldon

Mondays from 9.30amto10.30am at

the RangioraMethodist Church,176

King Street. For more information,

call Miranda on (021)457 333.Itis$6

per class. The first class will be free.

Scottish dancing

Scottish countrydancing starts at

the Methodist ChurchHall, King

Street,Rangiora, on Mondays,

starting fromFebruary 22.Itwill

run from 7.30pmto9.30 pm. No

partnerisrequired and soft shoes

are easier. ContactBob on (03)313

0980.

Inge's War, by Svenja

O'Donnell

Astunning family memoir

of one woman's search for

her German

grandmother's history

during World War 2.

Cottage Gardens, by

Claire Masset

With climbing roses,

bright hollyhocks,

pathways edged with

honeysuckle, blossomfilled

orchards, and

wildflower meadows, this is the perfect book to

capture the idyllic British country garden and a

wonderful

companion for

all cottagegarden

enthusiasts.

Feed Me, Feed

Me, by Fran

Mazza

Fran Mazza is a

pastry chef who

is half-Italian

and half-

Australian and

lives in New Zealand. She and her husband, Aaron

Carson, have been the masterminds behind a

series of popular Auckland cafes. Their food is all

about three things —

family, food and

community.

These titles are

available in both

Waimakariri and

Hurunui libraries. Find

out more about recent

additions to the library by

going to the library

catalogue at waimakariri.

kotui.org.nz or hurunui.

kotui.org.nz, or contact

your local library.

NEW LISTING

Boundary lines are indicative only

Fernside 938 Oxford Road

Cheviot 2900 Parnassus Road, Hawkswood

Live the good life

Scope and scale

4 1 1 1

Don't miss youropportunity to ownthis great

bareland lifestyle block situated in Fernside.This

6.7536 hectareblockwith mountain views has no

covenants offering you the freedom to build the home

youwant. Domestic water is provided by awell

sourced private scheme and awater race running

through the property providesstock water to all four

paddocks. Ahalf hectare woodlot of 38 year old pine

treesisready to harvest. Only ashort drive to

Rangiora,and is avery easy commutetoChristchurch

city viathe new Northern Corridor.

Deadline Sale (unless sold prior)

1pm, Tue 9Mar 2021

251-253 High Street, Rangiora

View by appointment

Brook Yates 027 807 8093

brook.yates@bayleys.co.nz

Ben Turner 027 530 1400

ben.turner@bayleys.co.nz

WHALAN AND PARTNERS LTD, BAYLEYS, LICENSED REAA 2008

This 658ha property is presented to the market with a

range of options, which, if fully realisedwould provide

adiverse and productive farming operation, with the

potential for multiple income streams, including

forestry. While predominantly ahill country grazing

property, river flats and cultivatable terraces

complement the hill and make up around aquarter of

thetotal land area. There is atotalareaof

approximately150 hectares of river flats and terraces,

some of which is irrigated. Three houses, woolshed

and good yards round out this great property.

Price by Negotiation

View by appointment

Brook Yates 027 807 8093

brook.yates@bayleys.co.nz

Dean Pugh 027 335 6303

dean.pugh@bayleys.co.nz

WHALAN AND PARTNERS LTD, BAYLEYS, LICENSED REAA 2008

bayleys.co.nz/5514183

bayleys.co.nz/555923
---
What's happening in your

community…

All info onchanges to Council services and facilities can be found at waimakariri.govt.nz/covid19

Righting Rumours about the Proposed

Community Hub in Kaiapoi

Council is concerned to learn aleaflet containing

inaccurate information about the proposed

Kaiapoi community hub was distributed across

the community.

Community and Recreation Manager Chris Brown

says, "We're really happy people are engaged with

this project and want to have asay. Iwant to

reiterate the proposal is still in the early stages

and we have anumber of planned touch points for

people to get involved."

The proposed community hub site is on

regeneration land on the corners of Charters

Street and Courtenay Drive inKaiapoi. Community

hubs are flexible spaces that can be used for

different recreation, arts and hobby activities, and

social and cultural activities, similar to Northbrook

Studios in Rangiora.

Three local groups have expressed an interest

in locating at ahub -Kaiapoi Menz Shed, the

Kaiapoi Croquet Club, and Food Secure North

Canterbury. However, there would be additional

space available for community groups to use

through leases.

Directly affected residents have had an invite to an

info-session with the Community Board dropped

in their letterboxes, ahead of future and wider

engagement opportunities.

The Council want to address some of the issues

raised in the leaflet as well as questions by

residents onsocial media:

• The Council have not signed off on this project.

There is alot of work to do before acommunity

hub happens and it depends on community

support, adequate funding, resource consent and

the level of interest from community groups

• The project is at a'concept level' and Council

is exploring options for development. We

will beworking with the community as this

project develops

• Development stages include developing adra

master plan and guidelines for use. These will

be open to feedback from the community in the

next few months

• Council will also be seeking to allocate funding

through the dra 2021-2031 Long Term Plan

which is out for consultation in March-April 2021

• Aer these steps the project would need to go

through detailed design and resource consent.

Where do we want to be Waimakariri?

Council has finalised the dra 10 year budget –or

dra Long Term Plan –which goes out for public

engagement in March.

The Long Term Plan (LTP) is Council's key strategic

document and sets out projects and priorities, as

well as how much it will cost and how itwill

be funded.

Over the next 10 years the Council is focused on

making sure we keep up with growth, Covid-19

economic recovery, climate change/sustainability,

and the impact of the Three Waters Review.

We're specifically asking for feedback on:

• New community facilities for Pegasus and north

Woodend (Ravenswood)

• Upgrades to the Rangiora Library and wider

civic area

• Parking in Rangiora –including acar park building.

Mayor Dan Gordon says, "We're conscious that

this LTPtakes place following Covid-19 lockdowns

and changes in Alert levels, at atime of economic

uncertainty, and with possible changes to how

services like reticulated wastewater and drinking

water are managed.

"For these reasons we've had to carefully balance

what the community can afford and the impacts

on households, without delaying building core

community facilities which encourage and foster

business and growth."

The proposed rates increase if the dra LTPis

supported is 3.95 percent in the first year before

moving to 4.2 percent for the following years.

"There will be arange of events where you can

talk directly to acouncillor as well as ask questions

online. We want to hear your thoughts and

aspirations for the District."

The dra LTPisopen for feedback between

4March and 12 April.

Have you signed up for

the Waimakariri District

Council Newsletter?

To join visit:

waimakariri.govt.nz/subscribe

Neighbourhood

Barbeques

Come and join your neighbours for aBBQ.

Pink Elephant Park, Rangiora

Ohoka Domain, Ohoka

Gladstone Park, Woodend

Arlington Park, Rangiora

Baker Park, Kaiapoi

18 February 5-7pm

23 February 5-7pm

25 February 5-7pm

11 March 5-7pm

18 March 5-7pm

All ages welcome, for these free nights of fun.

Check the events website link belowfor any cancellation details.

Find out more information here:

waimakariri.govt.nz/community/community-initiatives/

neighbourhood-events

NEED FUNDING FOR A

LOCAL ARTS PROJECT?

Assistance is available for groups and

individuals who are keen to provide arts

and cultural activities in the Waimakariri

District from the Creative Communities

New Zealand Scheme.

The next CreativeCommunities round will close

Monday29 March 2021,for eventsoractivities that

takeplace between1May2021 and 1May 2022.

The Application Form and Guide for Applicants is

available from Council Service Centres and Libraries or

from the Council website atwaimakariri.govt.nz

If youhaveany questionsplease contact

the administrator, KarenLivingstone

Phone03311 8901or0800965 468

Email karen.livingstone@wmk.govt.nz
---
NEWS AND CLASSIFIEDS

North Canterbury News, February 18, 2021

Public Notices

37

Give usyour

feedback

ADVISORY:

WaimakaririRiver

flood works

We arecarryingout flood protection

worksatMcIntoshs bend in Kaiapoi;

strengthening the riverbankrock

lining and placing stopbank rock

armouringalongthe riverbank.

Pegasus cycleway will be closed

from Ferry Rdtojust past the

oxidation ponds for the last two

weeks of February.

Fishing access remains open butwith

restrictedaccessmid-ApriltoJuly.

Formoreinformation:

ecan.govt.nz/flood-works

Free Computer Classes

at Waimakariri Libraries

Smart Phones Introduction

Rangiora-Monday 22 February 10am-12pm

Kaiapoi-Tuesday 23 February 10am-12pm

EmailIntroduction

Kaiapoi -Tuesday2March10am-12pm

Rangiora -Wednesday3March1.30-3.30pm

Oxford-Thursday4March 10am-12pm

Google Drive

Kaiapoi -Tuesday9March 1.30-3.30pm

Rangiora-Wednesday 10 March10am-12pm

Bookings essential

Phone 03 311 8901

or at anyWaimakaririLibrary

libraries.waimakariri.govt.nz

Growing foodsecurity... Satisfy Food Rescue manager Stef Van

Meer visits the Oxford District LionsClub's planting site at Ohoka.

Focus turns to food

By DAVID HILL

Food security will be the

focusofacommunity forum

in Woodend next Thursday.

Food Secure North

Canterbury was established

during last year'slockdown

and is now hosting a

community forumon

Thursday nextweek to

develop asecure food plan

for the region.

It will be held at the

Woodend Community Centre

from 12pm to 3pm.

It came to life through

conversations at the North

Canterbury Food and

BudgetingForum, which

identified aneed to improve

food security in times of

crisis. The forum is a

partnership between

agencies,councils and local

food banks.

Funding of $690,000has

been secured from the

Ministry of Social

Development over two years

Annual

ramble

set to go

NewZealand middledistance

runner

Angie Petty will be a

guest of honour at the

AshleyRiver Ramble.

The Rangiora Lions

Club's annual 12km

run, walk or cycle

fundraiser is being

held on Sunday,

February 28, along

the Ashley­Rakahuri

River.

The event starts at

the Waikuku Beach

North Oval and

finishes atthe Ashley­

Rakahuri River

picnic grounds in

Rangiora.

Cyclists start at 9am

with walkers and

runners at 9.10am.

Angie, who

attended Rangiora

High School and

represented New

Zealand in the 800m

track eventatthe Rio

Olympics in 2016,will

arrive at Waikuku

Beachat8.30amto

talk to participants

anddoagentlewarmup

drill.

Allproceeds raised

will go to the

Southern Cochlear

Implant Programme.

Online ticket sales

are open now at

ashleyriverramble.nz.

19 th Feb. at 6:30 p.m.

Gospel Hall

22 High Street, Rangiora

PUBLIC NOTICE OF

APPLICATION FOR

ON-LICENCE

SECTION 101, SALE

AND SUPPLY OF

ALCOHOL ACT 2012

Five Kings Hospitality

has made application

to the District Licensing

Committee at Rangiora

for the renewal of an On

Licence in respect of the

premises situated at 2

Blackett Street known as

The Station Cafe &Shop.

The general nature of the

business conducted (or to

be conducted) under the

licence is Cafe.

The days on which and

the hours during which

alcohol is (or is intended

to be) sold under the

licence are Sunday to

Thursday 8am - 11pm ,

Friday to Saturday 8am to

midnight.

The application may be

inspected during ordinary

office hours at the office

of the Waimakariri District

Licensing Committee at

215 High Street, Rangiora.

Any person who is entitled

to object and who wishes

to object to the issue of

the licence may, not later

than15working days after

the date of the publication

of this notice, file anotice

in writing of the objection

with the Secretary of

the Waimakariri District

Licensing Committee

at Private Bag 1005,

Rangiora.

No objection to the

renewal of alicence may

be made in relation to a

matter other than amatter

specified in section 131

of the sale and supply of

Alcohol Act 2012.

This is the first publication

of this notice.

2357461v1

PUBLIC NOTICE OF

APPLICATION FOR

ON-LICENCE

SECTION 101, SALE

AND SUPPLY OF

ALCOHOL ACT 2012

A P Hospo Group Ltd

has made application

to the District Licensing

Committee at Rangiora

for the renewal of an On

Licence in respect of

the premises situated at

42/7 Silverstream Blvd,

Kaiapoi known as Indian

Lotus.

The general nature of the

business conducted (or to

be conducted) under the

licence is Restaurant.

The days on which and

the hours during which

alcohol is (or is intended to

be) sold under the licence

are Monday to Sunday

11.00am to 10.00pm.

The application may be

inspected during ordinary

office hours at the office

of the Waimakariri District

Licensing Committee

at 215 High Street,

Rangiora.

Any person who is entitled

to object and who wishes

to object to the issue of

the licence may, not later

than15working days after

the date of the publication

of this notice, file anotice

in writing of the objection

with the Secretary of

the Waimakariri District

Licensing Committee

at Private Bag 1005,

Rangiora.

No objection to the

renewal of alicence may

be made in relation to a

matter other than amatter

specified in section 131

of the sale and supply of

Alcohol Act 2012.

This is the first publication

of this notice.

2357463v1

SeniorNet Internet Banking series

1: Introduction -Friday 19 February

2: Workshop -Friday 26 February

2354523

Each starts at 10.00 am in the Learning Centre

178 King Street, Rangiora

Information/enrolment with Bob on

03 312 8933 |jobo@gumbrell.net

NZMSM -North Canterbury

Community Instrument Demonstration Nights

2353422

Public Notices

WOODEND Spring

Flower Show, AGM, 8th

March 2021, 1.30pm. Cotton

Residence Wai Ora

Lane, Waikuku. New members

welcome.

Educational

TUITION available. Primary

and secondary up to

NCEA level 3. In centre

(Rangiora) or interactive

online from your home.

Each student onanindividually

tailored programme.

Kip McGrath Rangiora has

been serving the local community

for 30 +years. Give

us acall (03 313 3638) or

book your free assessment

online https://www.

kipmcgrath.co.nz/rangiora.

to develop asecure food

plan,food provision, food

storage, education, and to

contribute towards a

community hub in Kaiapoi.

"This is about our

community beingselfsustainableinthe

face of

anothercrisis,'' Social

ServicesWaimakariri

facilitator Nicki Carter says.

The funding has enabled

the OxfordDistrict Lions

Clubtoplant, grow and

harvest freshproduce to

donate to Satisfy Food

Rescue for distribution to

local food banks.

Weeklyharvests are made

by the OxfordLions and, to

date, Satisfy Food Rescue

has collected more than

three tonnes of produce.

SatisfyFoodRescue is

working with 26 groups to

offer foodtothose in need,

manager Stef Van Meer says.

To attend the forum, RSVP

to Nicki Carter at

facilitator@sswaimak.nz.

KAIAPOI CLUB

INDOOR BOWLS

OPENING MONDAY

1 ST MARCH AT 7PM.

HELD UPSTAIRS AT

KAIAPOI CLUB,

RAVEN QUAY,KAIAPOI.

NEW MEMBERS MOST

WELCOME.

FOR MORE ENQUIRIES PLEASE

PHONE TERRY 327 5675 OR

MARY 327 8561 2356043

26 th Feb. at 6:30 p.m.

St. Patrick's Parish Church

61 Fuller Street, Kaiapoi

Come and meet our teachers and get afeel for the

variety of instruments they teach.

We offer lessons for piano/keyboard, voice, guitar/bass

guitar, drums, ukulele, violin, woodwinds and brass.

For more information, contact Erin Grigson

at erin@grigson.org or 027-589-6131.

Check us out at nzmsmnorthcanterbury.blogspot.com.

For Sale

AGMECH Grain Trailer,

$3,500.00. Please phone

027 558 7155.

FIAT DUCATO 2003, 2

berth campervan, toilet,

shower, sink, electric or

battery fridge, gas cooker,

electric microwave, off

road camping or power

turbo diesel motor, air conditioning

&power steering

$23,000. Phone 03 327

7533.

For Sale

HONEY 4kg bucket

cooking honey, $30 special.

Available at Gracebrook,

Amberley. Telephone 03

314 7076.

Wanted To Buy

A FLAT WANTED to

buy, by local cash buyer.

Anything considered.

Please phone Yvonne 021

055 3751.

BUYING estate type old

china, crystal, collectables,

vases. Ph 027 350 3963, or

313 1878.

Wanted To Buy

PRE 1990's vehicles suitable

for resurrection and

restoration, not wrecking.

Anything considered, dead

reg ok. Ph 021 227 6878.

$$$

Amalgamated Scrap Metal

Ltd. Specialists in farm

machineryand farm clean

ups, old vehicles etc.

100% locally owned.

Ph 0800 030 712 or

027 695 0480.

2312759
---
CLASSIFIEDS

38 North Canterbury News, February 18, 2021

Glenmark Lions Club Inc

Would like to thank the following companies and

businessesfor their supportofthe Charity Golf Match held

on February6.

Hole Sponsors

•Anderston Earthmoving Ltd

•Arawata Accountants

•Arthur Burke Ltd

•Geoff Basher Fishing Charters

•Brown Glassford Accountants

•Chapman Fencing

•Colliers Real Estate

•Sally Hargreaves &Mick Sidey

•J.L.L. Valuation

•Dave Hargreaves

•Craig Investments

•DwyerLewis

•Ellis Family Dorset Down Sheep Stud

•Ernst &Young –Brent Gray

•G.J. Gardner

•Henrikson Shearing

•Andy HornFencing

•Ile de France Sheep Stud

•Motus Health

•Motunau Ag Air

•Omihi Southdown Sheep Stud

•R.J. Preston Ltd Accountants

•Rural Livestock Ltd

•John Shepherd Contracting

•Survus Consultants

•Reuben Frizzell

•The Helping Hand –Alf Smit Waipara

•Waipara Downs Texel Sheep Stud

•Wilton JoubertLtd –Structuarl &Geotec Engineers

•G.V.T.Transport

Tournament Sponsors

•Amberley Truck &Auto

•Amberley Glass

•Amberleu Hire

•Amberley Pharmacy

•Arthur Burke Ltd

•Bax &Berg

•Dallington Downs Wines

•Hurunui Engineering

•Hydraulink

•Kell's Kitchen

•Little Vintage Cafe

•McAlpines Mitre 10

Mega Fitness Centre,

Amberley

•North Canterbury

Equipment

•Paris Bakery&Cafe

•Post Shop Amberley

•Railway Tavern

•Ravensdown

•Ruby Six

• Sefton Hair

• The ToolShed

•White Lily Hair Studio

•Reel Fish &Chips

•Sally Mac's

•Out of the Bleu

•Countdown Amberley

•Big Bites Pizza

•Vintage Rose

•Amberley Fruit &Vege

Shop

•CJ'sPlants

•Amberley Super Liquor

•PGG Wrightson

•Silver Fern Farms

•Bashers ITM

•Essential Nutrition

•North Canterbury

VeterinaryClinics

•KafalIndian Cuisine

•Carrfields

•Black Estate

•Dunnolly Wines

• Cochranes

• Farmlands

KAIAPOI CHRISTADELPHIANS

"The Key of Knowledge .."(Luke 11:52)

"GOOD NEWS"

What the Bible says about Israel.

"But regarding Israel, GOD said, 'All day long Iopened my

arms to them but they were disobedient and rebellious'.

Iask then,(says Paul) has GOD rejected HIS own people,

the nation of Israel? Of course not! Imyself am an Israelite,

adescendant of Abraham.....". Romans 10:21 –11:1.

2357499

NETBALL HAVE AGODAY!

OPEN TO ALL IN YEAR 1-6

SATURDAY20thFEBRUARY

TIME: 10AM -11.30AM

NORTH CANTERBURYNETBALL CENTRE

(BY DUDLEY AQUATIC COMPLEX)

COME ALONG AND HAVE FUN,

LEARN SKILLS AND PLAYAGAME.

THIS IS FREE TO ATTEND,PLEASE REGISTER

ONLINE AT HTTP://WWW.NCNC.ORG.NZ/HAVEAGO

Pets

BICHON HOMESTAY

for smaller dogs. We look

after your dog in our home.

"No kennels". Phone today

03 314 6110.

Garage Sales

Public Notices

2258492

2354729

RANGIORA 226 King

Street, Saturday 20th February,

8am-2pm. Household

goods, bric a brac,

toys etc.

MEETINGS NOTICE

The following meetings will beheld in March 2021.

All meetings will be held in the Function Room,

(upstairs) Rangiora Town Hall, 303 High Street,

Rangiora, unlessotherwise stated.

Waimakariri Zone Committee

Monday 1March at 3.30pm.

Council

Tuesday 2March at 1pm.

Oxford-Ohoka Community Board

Wednesday 3 March at 7pm at the Ohoka

Community Hall, Mill Road, Ohoka.

(The Public Forum section ofthe agenda will occur

from 7pm to 7.20pm.)

Woodend-Sefton Community Board

Monday 8March at 6pm at the WoodendCommunity

Centre, School Road, Woodend.

Rangiora-Ashley Community Board

Wednesday 10 March at 7pm.

Kaiapoi-Tuahiwi CommunityBoard

Monday 15 March at 5pmatthe RuataniwhaKaiapoi

Civic Centre, 176 Williams Street, Kaiapoi.

Audit and Risk Committee

Tuesday 16 Marchat9am

District Planning and Regulation Committee

Tuesday 16 Marchat1pm.

Utilities and Roading Committee

Tuesday 16 Marchat3.30pm.

Community and Recreation Committee

Tuesday 23 Marchat3.30pm.

Multi Sports Facility Steering Group

Thursday 25 March at 10.30am

District Licensing Committee –Hearing of Te Tino

Enterprises Ltd proposed operation at Woodend.

Wednesday 24 March, Thursday 25 March and

Friday 26 March(reserve day), commencingat9am

each day in the small theatre of the Rangiora Town

Hall.

Mahi Tahi Joint Development Committee

Tuesday 30 Marchat9am.

All meetings are open to the public. Agendas are

available two workingdays prior to meeting.

Agendas and minutes for meetingscan be found on

the Council's website:waimakariri.govt.nz.

Sarah Nichols

GOVERNANCE MANAGER

Situations Vacant

Casual vacancy for a

parent representative

2357584

Acasual vacancy has occurred on the school board

foranelected parentrepresentative.

The board has decided to fill the vacancy by

selection.

If 10% ormore of eligible voters onthe school roll

ask the board, within 28 days of this notice being

published, to hold aby-election to fill the vacancy,

then aby-election will be held.

Request for aby-election should be sent to:

Shane McLean (Chair)

Te Matauru PrimaryBoard

PO BOX708

Rangiora

by: 5pm April 8th 2021

Gardener Wanted

3hours per week

-involves

lawnmowing,

sweeping, spraying

and weeding.

Suit aRangiora

retired person

Ph 027 324-5573

2357170

2355888

RELIEF

TEACHERS

WANTED

Hurunui college is a

small friendly Area

School located in

Hawarden.We are currently

seeking (registered)

relief teachers

for years 1-13.

If you are interested

please send your CV to

hurunui.

office@hurunuicollege.

school.nz

SEPTIC TANK

CLEANING

Bill's Liquid

Waste

Blair Tavendale

Ph 03 314 9371

0275 379-694

REMOVALISTS

Movemen Ltd

2Men &agood sized

truck. From $157 per hour

(incl gst). Kaiapoi based.

Call Gerard

027 668 3636

2316549

You dump it...

Blair pumps it...

For all your

landscaping needs.

All Landscaping,

Retaining Walls

(Engineered and

Non-Engineered),

Timber Fences,

Landscape Structures and

more...Lifestyle Block,

Rural and Residential.

Phone Jeremy

021 169 9394.

www.blackhill.co.nz

Situations Vacant

*** Customer Service Checkout

Superstars Required ***

Immediate Start

We are seeking outgoing, friendly and enthusiastic people

to join our Customer Service Checkout team.

We have opportunities for part-time, full-time, fixed term

and permanent roles.

Weekend work will be required.

If you are passionate about providing excellent

customer service, then we want to hear from you now.

The right person for the job will have:

• Ability to smile and relate to people

• Apositive andfriendly outlook

• Goodlistening skills

• Drive and enthusiasm

• Astrong customer service focus

• Beaneffective and reliable team member

• Anattention to detail

• Aquick and alert mind, with the ability to adapt and

be flexible

• A reasonable level of fitness as some heavy lifting

will be required.

Experience is preferred but not essential as full training

is provided.

McAlpines have an active drug &alcohol policy in

place, apre-employment drug test and medical will be

required.

If this sounds like you, send your application and CV to:

Customer Service Checkout Superstars Position,

Private Bag 1003, Rangiora 7440 or email:

applications@mcalpines.co.nz

2354955

Kāiawhina, Guidance

Counselling Department

(Support Staff Position)

Rangiora High School is proud to be a caring,

community-based environment inspiring life-long

learning. Students are at the centre of our work.

We are seeking to appoint aKāiawhina to undertake

reception and administrative duties to support our

team of Guidance Counsellors. This is apart-time

permanent position working 10hrs/wk, with an

additional 10hrs/wk from 1March 2021 to 2July 2021.

Please see our website for an application pack

www.rangiorahigh.school.nz

Applications close on 22 February 2021.

Trade &Services

2225862

Log Fires

Pellet Fires

Heat Pumps

2355887

Sales

Service

Installations

Free Quotes

03 343 1651

472 Blenheim Rd

www.heatstore.co.nz

Trade&Services

ABEL &Prestige Chimney

Cleaning. Nth Cant owned

& operated. Covering all

areas from Waimak to Hanmer.

Professional, guaranteed,

service. Firebox

repairs, carry most parts. Ph

0800 661 244.

AFFORDABLE concrete

cutting with quality and

removal work. Free quotes.

No job too small. Ph 027

442 2219, Fax 03 359 6052

or A/H 03 359 4605.

ALL TREE SERVICES,

chopping, pruning, firewood

cut. Affordable &

friendly service. Telephone

021 111 4322.

BRIAN'S Tree Services.

Tree felling, topping,

shaping, firewood cut, rubbish

removed, stump grinding,

branch chipping.

Affordable rates. Phone 03

327 5505 or 021 124 4894.

BRICK &blocklaying. All

types of work undertaken,

repairs. Phone Hamish

0272 386 003 or 313 5678.

DIRTY TILES &Grout?

Professional tile cleaning,

tiled shower restorations,

mouldy silcone, shower

glass & we can even

recolour your old grout!

For all your tile and grout

issues call Grout Pro for a

free, no obligation quote.

Ph Darryl 0800 882 772.

FIRE GUARDS Custom

made with safety latch.

Phone 021 169 9066. E:

pjfabricators123@gmail.com.

METAL WORX. Flashing,

Sheetmetal Fabrication,

Wrought Iron,

Welding, Custom Trailers,

General Metalwork. No job

too big or too small. Ph 021

265 5428 or 03 314 6908.

Find us on facebook/

Glenmark Metal Worx.

glenmarkmetalworx.ltd@gmail.com.

PAINT & wallpaper

services. Wayne Bryant,

exterior, interior. Qualified

tradesman. Free quotes. Ph

313 5337 or 027 654 4568.

PAINTER & Decorator.

25 + years experience.

Interior /exterior, roofs &

waterblasting. For a free

quote, please ph Steve 03

314 4620 or 027 477 1930.

PAINTER. Qualified local

professional, Int / Ext,

roofs, wallpaper. Call or

text Corban 027 846 5035.

POWER TOOLS repairs,

parts &sales for over 40

years. All main brands serviced.

Grossman Trade

Tools, 23 Watts Road,

Christchurch. Ph 389 9230.

2354387

Trade &Services

ARBORIST

Copper Beech Tree

Services. Tree removal,

pruning, height reduction,

hedge trimming, shaping,

tree planting, firewood.

Free quotes. Contact Angus

Edwards 027 259 6741

copperbeechtreeservices@gmail.com.

KITCHEN,

renovations,

pergolas, fencing. Honest

reliable licenced builders.

Ph Don 027 727 9162.

SHEEP SHEARING,

drenching, feet trimming.

For Lifestyle blocks. Call

Stu 027 315 6916.

RANGIORA Rubbish

Removal and RRR skips.

Wheelie bins any frequency

and skips from 1.5 cube to

9cube. Skips and wheelie

bins for any use, rubbish,

qualified. greenwaste, building sites

or just cleanups. Give us a

phone call 313 6957 or for

skips 021 313 255.

ROOFER All roof repairs,

roof painting, water blasting,

moss treatment,

repointing, gutter cleans &

snow straps. And more.

Free quotes. Phone Nathan

027 516 6609.

SCREEN PRINTING.

For all your printing

requirements. T-shirts,

Hoodies, Hi-Vis vests and

polos, Overalls, Caps etc.

Please phone Heather 03

313 0261 or email heather.

norstar@gmail.com.

SHEARER. Hap's Farm &

Lifestyle Services. Shearing,

crutching, drenching,

tailing, feet trimming &

health check. Trailer, generator

&mobile handpiece

available. Experienced,

reliable and honest. Ph 03

4233713 or 021 267 4025.

STONEMASON, Brick

and Blocklayer. Earthquake

repairs, grind out and

repoint, River/Oamaru

stone, Schist, Volcanic

Rock, paving, all alterations

new and old. Quality

bathroom,

workmanship. Visit

decking,

featureworks.co.nz or ph

027 601 3145.

SUMMERFIELD

FENCING

IN YOUR AREA NOW.

Lifestyle or farm, sheep, cattle,

horse, all types of animals.

Fences, yards, sheds, arenas,

shelters, runs.

30+ years contract fencing.

Steve is available to help with

your design &planning.

Ph office03312 4747

2091848

ANTHONY SYMONDS

Forall your painting &

plastering requirements

Local with 30 years

experience

All workmanship

Guaranteed.

Phone 021 344 023

2220615

Pride &Quality Painting

&Decorating Services

20 yrs exp, fast and friendly

service. For all your painting

needs, phone: Martin 310

6187 or 021 128 9867

VALUATION -

Specialising in North Canterbury.

Contact Geoff at

Maxwell Valuation. Phone

03 310 8541 or email

geoff@maxval.co.nz.

HOMEKILL

•Humane livestock slaughtering

•Independent, mobile service

•Operating locally

•Delivering to butcher

of your choice

Phone Adam 021 376 145

WINDOW TINTING

tintawindow

advanced film solutions

99% uv block

fade protection

heat control

reduce glare

25 Years Experience

privacy films

frosting designs

non-darkening films

Workmanship Guaranteed

Lifetime Warranties on Most Films

UV

block

Free Quotes Canterbury and Districts

03 365 3653 0800 368 468
---
CASH 4CARS

and 4WD'S

Phone

Automotive

Parts

03 313 7216

Cars Wanted

CARS, vans, 4WD's

wanted for dismantling or

repair. Phone 027 258

8366.

MINI, 1100 /1300, Escort

or similar. Please phone 03

313 4795.

WANTED to buy Ford,

Holden, Chrysler, or

Chev's, classic cars. Any

condition. Please phone

Tony 027 313 5000.

Motorcycles

MOTORBIKE servicing

and repairs, quality service,

affordable rates. South

Pacific Motorcycle

Services, Mandeville.

Phone 03 312 0066. Or visit

www.motorbiketours.co.nz

Wanted To Rent

FARM COTTAGE or

house wanted to rent by

single working male, non

smoker, close to Rangiora.

Ph Dan 021 264 2077.

HOMEKILL

&Wild Game

Meat Processing

313 0022

2309602MEAT2U.NZ

Livestock

TEXEL ROMNEY

CROSS Ram lambs. Suitable

for breeding & lifestyle

blocks. Please telephone

021 626 449 or 03

385 4966.

CLASSIFIEDS

North Canterbury News, February 18, 2021

LAWNMOWING &

GARDENING

Lawns mowed,

Gardens weeded,

Lawn /Weed Spraying,

Hedge &Shrub Trimming

Rubbish Removal

Ph /Text 021 044 7578

Trusted Trades &

Professional Services

2357151

Gardening

39

A+ GARDEN hedges cut

to perfection. Tree &arbor

work. Also spraying. Free

quotes. Ph 03 312 0668 or

021 111 4322.

Firewood

BEECH firewood $140 per

cube, delivered. Please

phone 021 458 258.

Guide

To book your spaceinthis guide,phoneAmanda Keys 313 2840 or email amanda.keys@ncnews.co.nz

Appliance Repairs

Builder

Butchery

Chiropractic Services

•REGISTERED TECHNICIAN

•AUTHORISEDLOCAL SERVICE

F&P, Bosch, Smeg,

ASKO,Ariston, LG,Classique,

Haier, Samsung and more....

"For best resultsbesuretouseauthorised service"

NORTHCANTERBURY APPLIANCE SERVICES

Rangiora: 03 313 4420 Kaiapoi: 03 327 3810

Construction &Concrete

All Construction & Concrete Work

•Driveways, patios &paths

•Bridges and Culverts

•Floors, foundations

•Sheds and buildings

•Dairy Sheds, Herd homes

•Silage pits, effluent ponds

•Excavation and cartage

•Precast concrete

•Insulated panels

Phone 03 313 7144

027 432 1534

Fax 03 313 2144

rgrantelectrical@gmail.com

PO Box 69, Rangiora

Electrician

Daryl Power

027 230 9401

concretepower@scorch.co.nz

www.concretepower.co.nz

Allan Pethig

For all your electrical needs. Residential &Commercial

1913020

2273277

2089195v2-4/4-S

2269236

Engineering

For your Engineering needs

187d Ohoka Road, Kaiapoi

Phone 03 327 5246 |027 495 2821

toppeng@xtra.co.nz

OxfordButchery

Shane and Leanne Frahm

We cankill&process yourstock

FourGenerations of Frahms

since 1957

Ph 312 4205

Oxford

1680439

Number one

old-fashioned bacon

&ham curing.

A/H 312 4709

Injury,accidentsand maintenance

ACC Registered and Accredited

Monday-Thursday |03 313 0350

Libi McKinnon Physiotherapy

privatephysio@xtra.co.nz

027 868 2574

ACCRegisteredProvider | Tuesday &Friday

Select Health

51 Ashley Street, Rangiora

AMPLIFY

YOUR

BUSINESS

AND BE THE

NAME THEY

REMEMBER

FIRST

Advertise with us

and get noticed

today!

Phone us today on 03 314 8335 or email

sales@ncnews.co.nz to find out how we can help!

2344089

Excavation &Cartage

Excavation &Cartage Ltd

• HORSE ARENAS -Cheap 0-6mm Screened sand

• Screened Soil • Boulders -Large suitablefor soak holes

Dean Hurley -Managing Director

Hurley Excavation &Cartage Ltd

Ph 0274 336 993 |hurleyexcavation@xtra.co.nz

Thursday,August 2, 2018 | Issue 808 | www.ncnews.co.nz

HAVE YOU BEEN TO

OUR WEBSITE LATELY?

www.ncnews.co.nz

Visit now toview the paper online &more!

2352471

Mechanical &Pipe Systems

•Upto2"pipethreading &fitting

•Oil lubricationpumprepairs&systems installation

•BulkDieselTank polishing (filtering)

•Industrialservicing andmaintenance

•Based inWaimakaririregion

Tony 027 243 5337

Email:Mpipesystems@gmail.com

Scrap Metal

CASH PAID FOR SCRAP

•Car Bodies •Scrap Steel•Specialists in Farm

Machinery•All non Ferrous

MAINLAND

METALS LTD

Ph (03)338 7000

Mike0274 818544 •Robbie 0274818 027

Locally owned and operated

1902273

2346458

Scaffolding

•Edge protection

•Working platform

Phone

0274 366 901

Plans for pricing

jas.rangiorascaffolding@xtra.co.nz

North Canterbury wide

1783878

CAP 65

CAP 40

CAP 20

Shingle

SHINGLE SUPPLIES

Quarry Prices

DRAINAGE CHIP

from $40 per cube

from $23 per cube

from $25 per cube

from $30 per cube

all +gst

Plus all excavation and truck hire

house excavations, driveways, subdivisions

CONTRACTING

Ph: KEN 027 201 3302

Email: stress@xtra.co.nz

2009594

To book your spaceinthis guide,phone Amanda Keys 313 2840 or email amanda.keys@ncnews.co.nz
---
RangioraToyota

WANTED

Quality used late

modelToyotas.

Contactustoday

if you'relooking

to sell!

SOLD

SOLD

2015Nissan Leaf

•30Kw, 86%SOH

•ReverseCamera, Bluetooth

•28,100kms

2008 DaihatsuSirion

•1.3LPetrol5-Speed Manual

•Aircon, AM/FM &Radio

•128,890km

$

20,995

$

5,995

2013Toyota Aqua

•1.5LHybrid PetrolAuto

•ParkingSensors NOW

•Bluetooth

2006 Toyota Vitz

•1.3LPetrolAuto

•NZRadio, 5-Door

•94,750km

Signature

CLASS

S

WAS$15,995

$

8,995

2013Toyota Prius S

•1.8L Hybrid Petrol Auto

WAS$17,995

$ • Keyless

NOW

14,995 $

12,995

•5-doorHatch

SOLD

SOLD

2018 Toyota Yari ris GX

• 1.3L Petrol Auto

•ReverseCamera, Bluetooth

•40,400kms

$

18,995

2018 Corolla Sedan GX

•1.8L PetrolAuto, Alloys

•Bluetooth, ReverseCamera

•45,800kms

$

21,995

SOLD

SOLD

2009 Toyota Corolla GLX

•2.0L turbo diesel

•6-speed manual

•Only 31,100km

$

12,995

2009 MazdaDemio

•1.5LPetrolAuto

•Alloys, ReverseCamera

•91,350km

2019 CamryHybrid GX

•2.5LPetrolHybrid, Alloys

•SafetySense,Camera

•16,250km

$

8,995

$

36,995

2017 Corolla LevinSX

•1.8L PetrolAuto

•Alloys, Camera

•8,250km

2019 CamryGXHybrid

•2.5LPetrolHybrid, Alloys

•Bluetooth, Safety Sense

•15,250kms

$

24,995

$ 36,995

2010 Toyota Prius Silver

•1.8L Hybrid Petrol Auto

•Keyless,Bluetooth

•180,650km

2019 Toyota Yaris

•1.3Lpetrolauto

•Bluetooth, Reversecamera

•24,200km

$

8,995

SOLD

SOLD

$

19,995

2018 Corolla GX

•1.8L PetrolAuto

•Bluetooth, Camera

•20,850km

2018 Corolla GX

•2.0L PetrolAuto

•Satnav,Bluetooth

•Alloys, only 49,000kms

$

22,995

$

23,995

2020 Corolla SX Hybrid

•1.8L PetrolAuto, Satnav

•SafetySense Camera

•9,600kms

2014 Honda CR-V SportLtd

•2.4LPetrolAuto, AWD

2018 Highlander GXL

•3.5LPetrolV6

2018 Toyota C-HR AWD

•1.2LTurboPetrolAuto

•Toyota Safety Sense,Satnav

•Only 29,700km

2010 Mitsubishi Lancer VRX

•2.4LPetrolAuto

$

32,995 $ $ $

•Alloys, Leather

•Leather,Sat/Nav

•7-seater, leather, Sat/Nav

29,995

43,995

31,995 •80,750kms

$

12,995

•68,700km

•70,100km

2018 Highlander GX

•3.5LPetrol, 8-speed auto

•7-seater, Bluetooth

•Camera, 56,100km

$

42,995

SOLD

2010 LandRoverDiscovery SE

•3.0L TurboDieselV6

WAS$31,995

•Leather,7Seater

•Climate Air

2018 Highlander GXL

•3.5LPetrolAWD,Alloys

•7-Seater,Satnav, Leather

•29,700kms

$

47,995

2018 LandCruiser PradoVX

•2.8L Turbo Diesel

•Alloys, Leather

•Satnav,32,200kms

2018 Highlander GX

•3.5LPetrol6-speedauto

•Bluetooth, camera

•Cruise control, 55,800km

$

42,995

2016 HiluxSR5 4WD

•2.8L turbodieselauto

•Canopy, 3-bar roof rack $

•Towbar 41,995

2017Highlander GXL

• 3.5L PetrolAuto, Leather

• 7-Seater, Satnav, Keyless

•29,000kms

2020 HiluxSRExtra Cab

$

47,995

2018 Highlander GXL

•3.5LPetrol8-Speed Auto

•Leather,Satnav

•59,500km

2016 Rav4 GX 2WD

$

44,995

NOW •2.8L Turbo Diesel Manual4WD

•2.0L PetrolAuto

$

29,995

$ •Bluetooth

$ •Reversecamera, Bluetooth

78,995

$

•Only250kms 48,495 •49,550km 25,995

Percival Street,Rangiora • Ph (03) 313-8186any time • www.rangiora.toyota.co.nz

Signature

CLASS

2350165

FINANCE &INSURANCE AVAILABLE