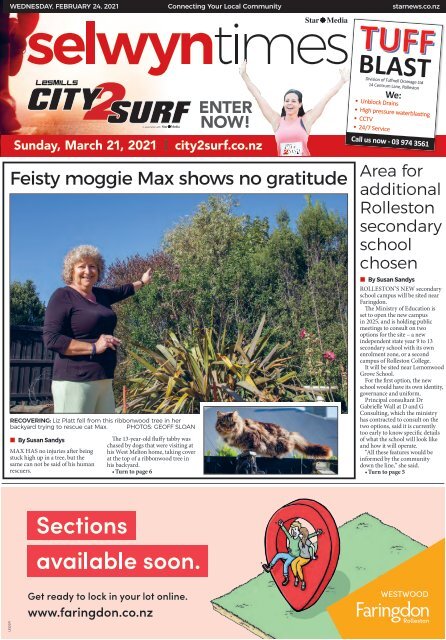 Selwyn Times: February 24, 2021
You also want an ePaper? Increase the reach of your titles
YUMPU automatically turns print PDFs into web optimized ePapers that Google loves.
WEDNESDAY, FEBRUARY 24, 2021

Connecting Your Local Community

starnews.co.nz

Division of Tuffnell Drainage Ltd

14 Centrum Lane, Rolleston

We:

• Unblock Drains

• High pressure waterblasting

• CCTV

• 24/7 Service

Call us now - 03 974 3561

Feisty moggie Max shows no gratitude

RECOVERING: Liz Platt fell from this ribbonwood tree in her

backyard trying to rescue cat Max. PHOTOS: GEOFF SLOAN

• By Susan Sandys

MAX HAS no injuries after being

stuck high up in a tree, but the

same can not be said of his human

rescuers.

The 13-year-old fluffy tabby was

chased by dogs that were visiting at

his West Melton home, taking cover

at the top of a ribbonwood tree in

his backyard.

• Turn to page 6

Area for

additional

Rolleston

secondary

school

chosen

• By Susan Sandys

ROLLESTON'S NEW secondary

school campus will be sited near

Faringdon.

The Ministry of Education is

set to open the new campus

in 2025, and is holding public

meetings to consult on two

options for the site – a new

independent state year 9 to 13

secondary school with its own

enrolment zone, or a second

campus of Rolleston College.

It will be sited near Lemonwood

Grove School.

For the first option, the new

school would have its own identity,

governance and uniform.

Principal consultant Dr

Gabrielle Wall at D and G

Consulting, which the ministry

has contracted to consult on the

two options, said it is currently

too early to know specific details

of what the school will look like

and how it will operate.

"All these features would be

informed by the community

down the line," she said.

• Turn to page 5
---
2 Selwyn Times Wednesday February 24 2021

from the editor's desk

GENERAL INQUIRIES Ph 379 7100

CLASSIFIED ADVERTISING Ph 379 1100

Star Media, a division of Allied Press Ltd

PO Box 1467, Christchurch

starmedia.kiwi

YOU HAVE to feel sorry for

the 30-odd miners and other

staff who will lose their jobs

when the mine at Bathurst

closes.

We talk to one of them

today (see page 5).

Rod Dowler is 62 and

as Rod sees it that is the

problem.

He is fearing for he

and his family's future as

Canterbury Coal in the

Malvern Hills prepares to

close.

He and wife Suzanne

are bringing up their four

grandchildren, aged 11 to 19,

and he needs an income to

support them.

"I have been working

in South Island coal mines

since 1975, where am I going

to get work doing bulk

earthworks, the job I love

so much, at the age of 62?"

Dowler said.

– Barry Clarke

NEWS

Susan Sandys

Ph: 021 914 742

susan.sandys@starmedia.kiwi

ADVERTISING

Lynette Evans

Ph: 364 7434

lynette.evans@starmedia.kiwi

our people

Life as a drag queen

Mark Jackson is a supermarket worker and business operator by day

and a drag queen by night.

Pages 8, 9 & 10

The best-read local newspaper,

delivered to 20,926 homes

every week.

Ladbrooks • Tai Tapu • Leeston • Lincoln

Southbridge • Prebbleton

Rolleston • Burnham • Kirwee

West 27 February Melton -• 23 Darfield March 27 February 2021 • Arthur's - 23 Pass March 2021

Environs & Environs Inspirons & Inspirons Environs & Inspirons

27 February - 23 March 2021

community events

Preserve food for winter

Head along to the Hororata Community Hall and learn all about

bottling and dehydrating food in a cost-efficient and safe way.

Tomorrow, 7-8.30pm.

Page 17

MartinCole JohnEmery

JohnEmery MartinCole MarkDimock

Environs & Inspirons

27 February - 23 March 2021

MarkDimock JohnEmery

Group exhibition at Little River Gallery - 27 February to 23 March

The revolution in heat pumps is here now!

Say hello to Fujitsu's latest lifestyle range

MarkDimock

John Emery Main Rd, Little River | 03 325 Main 1944 Rd, | art@littlerivergallery.com Little River | 03 325 are 1944 shaped | | art@littlerivergallery.com as much by Main the Rd, objects Little | littlerivergallery.com

used River as | 03 the 325 creature 1944 | art@littlerivergallery.com | littlerivergallery.com

"My painting process usually

begins with a single object.

Following several preparatory

sketches. I then start the

process of adding other images,

as well as fabricated bits and

pieces. Using a combination of

fabricated tromp l'oeil paper

objects and the underlying

painted surface, I hope to

create work that is both

completely familiar and yet

new again. Like life itself, each

work resonates with both the Black on Black - John Emery

story and history associated with some objects, and the

imagined potential of others. As an American down under

for more than 37 years, I realise I have become addicted

to the Southern Latitudes and the continuously changing

landscape of New Zealand. The bounteous flora, fauna,

landscape and weather provide a rich smorgasbord of

images, never static."

Martin Cole

Martin Cole's interest and

pleasure of the natural

world direct his themes and

his environmental concerns

led him to work with found

materials. His artworks,

referred to as assemblages,

Huia - Martin Cole

depicted. Cole's insects, birds and frogs come to life formed

from objects of a previous life, a doorknob, coin or cutlery.

Varying metals are skilfully welded together creating

interesting patinas and textures.

He studied Fine Arts at East Sydney

Technical College in 1989 and has been

working with metal for around 8 years

and lives in Lyttelton.

Mark Dimock

Mark's 3D pieces are made from found

materials. Old fence posts, provide the

timber for his bird bodies and rusted

steel form the wings and details. Pieces

of abandoned farm equipment have

sculptural qualities that are well used to

support the birds and form conceptual

contrast and physical support for

the sculptures. Mark has great skill

mimicking the natural stance and

movement of birds on the wing and as

they alight.

Mark Dimock has been living and

working in Eketahuna since 1980

where he has established a large studio

workshop and gallery.

He has exhibited widely in

New Zealand and held more than

40 solo exhibitions and many

group shows.

Kaka Eyeball

- Mark Dimock

HEAT PUMPS FROM $1999 inc GST INSTALLED!

2020

Heat Pumps

NEW ZEALAND'S FAVOURITE AIR ®

HEATPUMP PROFESSIONALS

Fujitsu's Catechin Filters are approved by the

Asthma and Respiratory Foundation NZ's

Sensitive Choice ® programme.

03 381 6950

info@pshc.co.nz

www.pshc.co.nz

FREE consultation

from your local

Accredited Heat

Pump Expert

MartinCole

JohnEmery

MarkDimock

Main Rd, Little River | 03 325 1944 | art@littlerivergallery.com | littlerivergallery.com
---
Wednesday February 24 2021 Selwyn Times

• By Susan Sandys

SPRINGFIELD station is a

picturesque stop on one of the

world's great train journeys, the

Tranzalpine.

But the station has been looking

a little tired lately, and in

need of a spruce-up.

Springfield

resident Simon

Williams has

come to the rescue,

getting in

touch with the

station's owner

KiwiRail to see

what could be

Simon

Williams

done.

He has long

been a fan of

the large 1966 pink Summerhill

stone gable building, as well as

the railway history it represents.

The area's first station harks

back to 1880 and in later years

became an important locomotive

depot.

"I believe we need to honour

the 140 years or so of railway

people who worked in Springfield,"

Williams said.

The refurbishment is well

under way, with builders on site.

Replacement of rotten window

sills, guttering and clear plastic

verandah roofing has been

undertaken, while gutter leaks

on the roof have been repaired.

Painters will be on site soon,

to attend to wooden window

frames and doors.

One of the more unusual jobs

of the refurbishment will be relocating

a colony of bees, believed

to have taken up residence in the

wall cavity of a locked switching

room.

Bees have been noticed flying

to and fro from holes in the

exterior of the room's windows,

Williams said.

Kirwee Bees was to relocate the

bees to another site, he said.

The large station was once

Latest Canterbury news at starnews.co.nz

Work to repair station under way

bustling with activity, and has

a refreshment room, station

master's office, ticket office,

waiting room and luggage and

parcels' room.

Williams said it was great to

see the station being preserved,

and it made it all the more valuable

to the community if it wanted

to use it in the future. He would

ultimately like to see a display of

memorabilia and artefacts there,

relating to the region's railway

history.

Various groups have utilised

the station's rooms over the

VALUED: The

Springfield

railway

station is

undergoing

a revamp.

years, including a play group,

craft group and gym, as well as

businesses such as a cafe and

plant shop.

The Transzalpine stops at the

station to pick up and drop off

passengers, which has not been

happening as much since the

Covid-19 pandemic.

Williams was looking forward

to the station becoming busier

again, once New Zealand's borders

opened.

"It will look great, and I'm so

pleased Kiwirail have done this

work," he said.

NEWS 3

In Brief

CROSSING INSTALLED

A pedestrian crossing has been

installed on Broadlands Drive in

Rolleston, to help people make the

most of new sport and recreation

services. The crossing has been

installed across the existing raised

platform between Foster Park and

the Selwyn Aquatic Centre. It will

support the links between the

Selwyn Aquatic Centre and Foster

Park, particularly the new Selwyn

Sports Centre, which opens

in autumn. It will also benefit

children and families walking to

and from schools in the area.

PEDESTRIAN INJURED

Lincoln Volunteer Fire Brigade

members responded to a car and

pedestrian incident about 2.30am

Sunday. A St John spokesperson

said one person received serious

injuries and was transported

to Christchurch Hospital. It

happened at the Springston end of

Ellesmere Junction Rd.

Bras and

shape Wear

ShOppING AT ITS BEST

• No underwires

• Straps do not fall down

• Full support from beneath the bust

• No shoulder strap pull

• Over 200 size combinations

• Outlasts other bras three to one

• Unique Shape Wear

FREE

CONSULTATIONS

& FITTINGS

Formerly

Jeunique Bra

Beauty Bra Prebbleton

Contact Esther Rokk 03 322 6590

www.beautybra.co.nz | esther@eru.co.nz

Canterbury

Timber & Hardware

Are now stockist of Laminata

Prefabricated timber fencing

WOF

Only $50

• Courtesy cars • oil changes • tyres & batteries

• Brake & clutch repairs • transmission flush service

• Full mechanical repairs • Petrol & diesel servicing

FitzgeRald MotoRs

PHONE 03 349 7813

Unit 8,193 Waterloo Road, Hornby

(6 doors down from our old site)

Feb 10 - March 7

Down

Down by the Liffey Gallery

Lincoln's Community by the Art Gallery, Liffey 1 James Gallery

Street, Lincoln

Lincoln's Community Art Gallery, 1 James Street Lincoln

CONNECTIONS:

Three generations of the Drury family combine in this exhibition using various media, celebrating people and places.

Open to Public: Wed - Thur 11.30am -2.30pm, Fri -Sun 10am - 4pm

CONNECTIONS:

THE DRURY FAMILY

EXHIBITION

Feb 10 – March 7

Three generations of the Drury

family combine in this exhibition

using various media, celebrating

people and places.

liffeygallery1@gmail.com

www.downbytheliffeygallery.com

Sustainably sourced, ethically produced

Kiwi construction systems from the

heart of Northland

www.laminata.nz

Call in today for your free quote!

NEW ENTRANCE: 167 Manion Road, Rolleston

Jason Pester P 03 347 7465 F 03 347 7032 E jason@cthl.co.nz

Mon-Fri: 7am-5pm Saturday: 8am-12pm

Canterbury

C T H Timber & Hardware

We are here
---
Selwyn Times Wednesday February 24 2021

4

NEWS

Sports centre to be

SELWYN SPORTS Centre

will be open in time for the

winter sports season, as flooring

installation reaches its final

stages and the first events are

confirmed.

Sports centre manager Dave

Tippett said the

district council

has begun

working with

key users of the

centre on bookings

for sports

including

basketball, futsal,

netball and

floorball and with the Selwyn

Sports Trust.

"We've had lots of interest and

excitement from sports groups.

Now it's just about working out

the jigsaw of who wants to use

the space when. But we've got an

exciting programme starting to

shape up," Tippett said.

The New Zealand Secondary

Schools Schick Southern Cup

basketball tournament in September

is the first tournament

confirmed, with discussions

under way around hosting other

possible tournaments including

regional and South Island wide

events.

The John F Reid Courts

are named after former New

Zealand cricketer, national

sports administrator and council

staff member John Fulton Reid,

who championed the building

and oversaw the early stages of

construction.

Reid was one of New Zealand's

Latest Canterbury news at starnews.co.nz

open in time for winter

Dave Tippett

CONSTRUCTION: Installation of sprung-wooden flooring at

the Selwyn Sports Centre is under way. ​

finest test batsmen and died of

cancer late last year, aged 64.

The sports centre

also features a hall with four

synthetic multipurpose courts,

an indoor walking track,

meeting rooms and a New

Zealand-first interactive digital

play wall.

Pupils prepare

for garden festival

PLANTS, FLOWERS and

vegetables are sprouting at

schools across the region as they

finalise their designs for the

Grow Ōtautahi garden festival

next month.

West Rolleston Primary School

and five others will be taking part

in the Rātā Foundation School

Gardens exhibitions at the threeday

festival from March 12.

It comes after the event was

cancelled last year due to the

Covid-19 pandemic.

Pupils have been sharing

unique stories of their communities

by creating special gardens.

The Rātā Foundation School

Gardens celebrate the best of the

local environment, with a view to

sustainability and education.

Festival director Sandi MacRae

said she was impressed at the

work and detail in the school

gardens.

"What I'm seeing in the leadup

to the event is really blowing

me away. The schools are not only

creating wonderful reflections of

their local communities, they're

also weaving the work into their

learning with a focus on community,

sustainability, creativity and

celebrating our environment,"

she said.

"The plants are growing well

and I can't wait to see them on-

SKILLS: West Rolleston

Primary School joins five

other schools across the

region in next month's Grow

Ōtautahi garden festival.

site in the Botanic Gardens.

"The commitment of the teachers,

children and local communities

involved is inspirational, and

I know visitors to the festival will

be delighted with what they have

created."

Rātā Foundation chief executive

Leighton Evans said the festival

provided a unique opportunity

to celebrate the Garden City

while increasing environmental

awareness.

It also supported educating

children about sustainable growing

practices.

"The Rātā Foundation School

Gardens provide a pathway for

building the next generation of

gardeners and eco-warriors,"

Evans said.

EcoCore AP25

Cooling 2.5kW | Heating 3.2kW

$2,299

INSTALLED

Basic back to back installation

* MSZ-AP25 indoor sound level on lowest

fan setting in Heating Mode

Enjoy a perfect night's

sleep with NZ's quietest

heat pump ever *

Call for your FREE quote!

0800 324 678

www.dcis.co.nz

MEARES WILLIAMS

LAWYERS

ROLLESTON OFFICE

78 Rolleston Drive, Rolleston

Over 10 Years

in Selwyn

Richard Gray

Anita Molloy-Roberts

Belinda Ferguson

Emma-Jane Moore

Kate Warren

W: www.meareswilliams.co.nz

T: (03) 374 2547

E: reception

@meareswilliams.co.nz

Offices also located at:

43 Gerald Street, Lincoln

225 Papanui Road, Christchurch

Thinking of

landscaping?

We deliver the complete landscaping package

FREE

QUOTES

• Landscape Design

• Plant Supply & Planting

• Decks, Paving, Pergolas

• Artificial, Hydro, Readylawns

• Irrigation Systems

• Digger/Truck Hire

• Garden Maintenance

www.greenscapes.co.nz | (03) 349 4363
---
• By Susan Sandys

ROD DOWLER fears for his and

his family's future as Canterbury

Coal prepares to close.

The 62-year-old is a heavy machinery

operator at the Bathurst

Resources mine, and is among

35 employees who will lose their

jobs within the next 12 months

as a result of the closure.

Dowler and his wife Suzanne

are bringing up their four grandchildren,

aged

11 to 19, and

he needs an

income to

support them.

"I have been

working in

South Island

coal mines

Rod Dowler

since 1975,

where am I going

to get work doing bulk earthworks,

the job I love so much, at

the age of 62?" Dowler said.

He said he and fellow employees

had been shocked to learn

of the closure, believing the

company had been on track in its

efforts to continue operating and

expanding the mine. They were

told by management at a full

staff meeting on February 10.

"Everyone was prepared for

another 10 to 12 years, but the

consent process just never happened

and this is the result," he

said.

"I don't blame the company,

they have tried their best. For

every one job lost in mining, a

further five jobs go in the community,

so when we stop working

that's another 175 people in

the community who have to look

for work as well."

Bathurst has blamed the cost

of regulatory processes for the

closure.

"I was planning on working til

68 or 70, that's when the youngest

of the grandkids have finished

school basically. Do I move

away and live in a caravan in a

campground and send money

home or do I go overseas?"

Dowler said if he was offered

a transfer within the company,

Latest Canterbury news at starnews.co.nz

Uncertain future for

worker when mine closes

this could be to Auckland or

Hamilton. His preferred option

would be to get heavy machinery

work locally, but he understood

such jobs were limited.

"I love my bulldozers, I love

my diggers, I will consider any

bulldozer or digger work, as long

as I'm busy," Dowler said.

Dowler's job at Canterbury

Coal is driving a 100-tonne digger

to take the overburden from

on top of the coal, and the stones

in seams, away and load it into

trucks. He does big days, leaving

his home at Rolleston at 5.45am,

being transported to Coalgate

for a 10.75 hour day, five days a

week, and getting home in the

evening about 6.15pm.

"I love working. What's that

saying – I don't work to live, but

live to work, that's me," he said.

NEWS 5

Meetings planned

to gather feedback

• From page 1

The current Rolleston College

home zone would be adjusted to

allow for the new school's zone. It

is likely that neither school would

take out-of-zone students, as is

current practice in the Rolleston

area. Out-of-zone students

already at Rolleston College and

their younger siblings could continue

to attend the college.

The southern area encompassed

in the new secondary

school zone is expected to experience

rapid growth due to residential

growth and the movement of

large cohorts into secondary year

levels. The school would have a

starting roll of about 500 pupils.

For the other option of two

campuses for Rolleston College,

one site would be a junior campus

and the other would be a senior

campus. The new proposed site is

about 2km from the college.

The first stage in this engagement

process showed a preference

for these campuses to be year 9

to 10 and year 11 to 13. Another

potential split is year 9 to 11 and

Wednesday February 24 2021 Selwyn Times

•HAVE YOUR SAY: What do

you think of the proposal

to build another secondary

school in south Rolleston.

Email susan.sandys@

starmedia.kiwi

year 12 to 13, which is the option

favoured by Rolleston College.

College management believe

this later would better align with

NCEA changes and would give

year 11 students leadership opportunities.

There will be three public

meetings to gather feedback

and answer questions. They are:

March 1, 7-8pm at Rolleston

Rugby Football Club, March

3, 7-8pm at West Melton

Community Centre, and March

4, 7-8pm at Rolleston Rugby

Football Club.

•People can also give

feedback via a ministry

survey at https://www.

surveymonkey.com/r/

RollestonSecondary

GROWTH: The

new college for

Rolleston will

be sited near

Lemonwood

Grove School

(left).

SAFER SPEED REVIEW

Templeton to Dawsons Road

kapo A

8

NOTICE OF HELICOPTER USE FOR

INSPECTION OF TRANSMISSION

LINES IN YOUR AREA.

Transpower, the owner and

operator of the National Grid is

carrying out joint testing on the

conductor (wire) on sections of its

220 Kv transmission line between

Springston and Twizel.

This work will involve a low

flying helicopter and testing

of conductor by a lineworker

suspended Tekapo below the aircraft

at specific locations along

the line as highlighted on the

8

accompanying map.

8

1

The Twizel work is Albury planned

to occur between Timaru

Friday 5 March and Monday 8 March 2021.

In the event of bad weather the work will be deferred until the following week.

It's important to us that you are kept informed and updated on our activities.

If you require further information, please 82 call Ron MacKenzie on 027 435 6240.

TPST2322321

Helicopter

operating zone

Substations

Other transmission

lines

Highways

Geraldine

1

Ashburton

Christchurch

Springston

Helicopter will be

operating at low

levels in around

the transmission

line within the

highlighted zones.

New permanent speed limit

– Canterbury

A new permanent speed limit will be in place from late February/early March

on a short section of State Highway 1 (SH1) from Templeton to Dawsons Road,

lowered from 100km/h to 80km/h.

VMS (variable message signs) will be on display and local police will be in the

area to help alert and remind drivers.

LOCATION

SH1 northbound: 275m from the end of the SH1

off-ramp exiting the Christchurch Southern

Motorway to 200m south of Trents Road.

SH1 southbound: from 200m south of Trents Road to

25m from the start of the SH1 on-ramp entering the

Christchurch Southern Motorway.

THANK YOU

The setting of the permanent speed limits follows

public consultation. We thank everyone who

provided feedback.

For more information, visit:

nzta.govt.nz/sh1templeton-dawsons

NEW PERMANENT

SPEED LIMIT

80km/h

80km/h
---
Selwyn Times Wednesday February 24 2021

AVAILABLE

AT SELECTED

STORES

$

14 49

BUY A PAMS LaRGE

Hot Cooked

CHICKEN

+ COCA COLA

1.5L for only

Fresh NZ

Ingham's

Butterflied

Chicken

1.1kg

$

8 99 ea

Royal Gala Apples Loose

Product of New Zealand

$

3 49 kg

•From page 1

His owner Liz Platt, and

then soon after the fire

brigade, responded to his

yowls for help. Platt was left

with concussion, while one

of the firefighters sustained

claw marks to his arm.

The incident began on

February 14, when Platt

had four dogs and their

owners over for a play date.

Max was sleeping away the

afternoon in bushes in the

backyard when the dogs

sniffed him out.

Platt said she saw some

sort of commotion in the

bushes, before Max escaped

and ran up the tree.

Once everyone had left

for the afternoon, Platt

applied herself to coaxing

Max down. However, he appeared

wedged between two

branches at the top, more

than 4m from the ground.

As Max meowed for help,

she was concerned for his

welfare, particularly with

his renal failure condition.

"He wouldn't have done

Get your Tickets Now

SUMMER CONCERT

www.selwynsounds.co.nz

Fall from tree leaves cat's

owner with concussion

too well if he had been

stuck up there overnight,"

Platt said.

Platt put a ladder against

the tree and climbed up.

"I don't know what I was

thinking," Platt said.

The ladder moved sideways

and she held onto

branches as her feet slid

off, then she lost her grip.

She hit her head along the

trunk of the tree as she slid

down, before falling the

rest of the way onto the

ground.

"And the cat didn't move,

the cat just looked at me,

no concern shown whatsoever,"

Platt said.

She phoned the West

Melton fire station. Soon a

fire appliance and several

firefighters were on the

scene.

A couple of the firefighters

climbed on top of a

nearby fence to access the

tree. Firefighter Tim Morris

got to the top. He managed

to extract Max, who was

hissing as he was passed

downwards, ultimately

into the grasp of firefighter

Bryan Saywood on the

ground.

"He stabbed me on the

way out," Saywood said,

explaining he was left with

claw marks on his left arm

as Max launched off him

and ran away.

Platt thanked the firefighters

before searching

high and low for Max,

finding him about one hour

later, about 5.30pm, hiding

under her bed.

Platt is recovering well

after the ordeal, taking one

week off work on doctor's

advice after she was diagnosed

with concussion the

following day. She said Max

was a little traumatised

after the ordeal, but otherwise

well.

Max was up to his antics

again late last week. He

wrenched himself from

Platt's arms, scratching her

finger and taking off over

the fence, when the Selwyn

Times visited.

Tomatoes Loose

Product of New Zealand

$

2 29 kg

Whittaker's Block

Chocolate 250g

$

4 79 ea

The Ned 750ml

(excludes Pinot Noir)

Pams Butter 500g

$

5 29 ea

$

14 99 ea

ONE COOLER TO BE WON IN EVERY STORE

SEE INSTORE FOR MORE DETAILS

www.foursquare.co.nz

facebook.com/FourSquareNZ

Specials available South Island only from Monday 15th February until Sunday 28th

February 2021 or while stocks last. Wine and beer available at stores with an off

licence. Wine and beer purchases restricted to persons aged 18 years old and over.

'Famous for their roasts!'

RESTAURANT & CAFÉ

Kid's SPECIAL

Two courses

Seniors SPECIAL

Two courses

$13

We are family friendly. Great Kids menu plus designated play area.

Soup/Roast or

Roast/Dessert

Special available lunch only

Monday - Saturday 12pm - 2.30pm

$23

Start your

day with us

We are open from 6.30am

Cooked

breakfasts

$19

Check out our extensive

breakfast menu from

Continental to Cooked

The

RACECOURSE HOTEL

& Motorlodge

118 Racecourse Rd, Sockburn,

Christchurch. Ph 03 342 7150

www.racecoursehotel.co.nz
---
Wednesday February 24 2021 Selwyn Times

SPRINGSTON resident Mike

Glover is more concerned than

ever about nitrates in drinking

water following the results of a

landmark study.

New Zealand's first study into

nitrate levels in

the country's

drinking water

has revealed

about 800,000

Kiwis – or one in

six – are drinking

water polluted

by nitrate

levels that can increase the risk

of getting colorectal cancer.

Glover's water has five milligrams

a litre of nitrate-nitrogen,

which is within "safe" limits in

New Zealand. However, much

lower levels have been linked to

bowel cancer in at least seven

international studies.

So two years ago, Glover

turned off his tap. Every week

since, he has driven up the road

to collect safe drinking water for

his family, he told Newshub.

"Studies suggest it's way higher

above a level that will potentially

cause cancer," Glover said.

"It's just not worth the risk.

"It's only going to get worse,

there's a hell of a lot more nitrate

to come down."

A testing site at Lincoln University

found others in the same

boat, Newshub reported, with

many people testing at similar or

higher nitrate levels to Glover.

Nitrate fertiliser is used in

intensive farming systems

and enhances plant growth.

It can sink into underground

waterways with rain and

irrigation, as well as through

animal urine.

Otago University health

Latest Canterbury news at starnews.co.nz

Concern over nitrates in water

Mike Glover

STUDY: One in six Kiwis are drinking water which puts them at higher risk of colorectal

cancer due to nitrate levels.

researcher Tim Chambers, a coauthor

of the study, said it was

one of the first pieces of research

to pull together a nitrate

contamination data set and look

at the issue.

"It's concerning because we

do have high levels of nitrates

in our drinking water, and

it's likely to get higher with

dairy intensification," he told

Newshub.

Fellow co-author Mike Joy

said New Zealand had the

highest rates of colorectal cancer

in the world, and the highest

rates within New Zealand

correlated to where those high

nitrate levels are in groundwater

and drinking water.

NEWS 7

Bus service

in doubt

THE SOUTHBRIDGE to City

Metro bus is in need of more

patronage if the service is to

continue.

The trial service is available for

anyone wanting to travel from

Southbridge to the city, stopping

at key locations along the way.

Environment Canterbury has

funded the trial to continue until

June, when the service will be

reviewed.

However, ECan says that the

service needs more passengers

and regular use if it is to continue

beyond June.

The bus runs Monday to Friday

for residents to commute to the

city from Leeston, Doyleston,

Irwell and Springston.

•You can find out

more at metroinfo.co.nz/

timetables/87-southbridgecity/

A KARAKA PINES VILLAGE

Be quick for your chance to buy the last one of our brand new

three bedroom, two bathroom homes with single garage.

Woodcroft Estate features high-quality homes with generous

living spaces and gardens.

When you can get value for money like this, plus the benefits

of capital gain too, it's easy to see why Woodcroft Estate is the

new standard in retirement living.

Contact us today to view and secure this one off opportunity

or to sign up for similar homes being built soon.

A special opportunity

tomorrow and Friday.

LAST ONE AVAILABLE NOW - UNDER $500,000

BRAND NEW 3 BEDROOM, 2 BATHROOM HOME

FOR LESS THAN $500,000 | ONE ONLY AVAILABLE

VIEW THURS 25TH FEB AND FRIDAY 26 FEB 11AM TO 1PM OR CALL FOR A PRIVATE TOUR

34 KENDON DRIVE LEVI PARK, ROLLESTON | 03 421 7796 | 021 292 1141 | 027 208 9515

woodcroftestate.co.nz
---
Selwyn Times Wednesday February 24 2021

8

OUR PEOPLE – MARK JACKSON

Life as a drag queen is all about being

Mark Jackson of Lincoln

bought his first pair of

heels seven years ago,

and has never looked

back. Having been

inspired to become

a drag queen by

the musical Priscilla

Queen of the Desert,

today the 32-year-old

supermarket worker

talks to reporter Susan

Sandys about his life as

Lady Bubbles

Tell me all about yourself

I was born and raised in

Lincoln. I'm quite a creative

person, like a big kid at heart.

As well as doing the whole drag

thing, I work full-time and I

run the largest bouncy castle

hire company in Christchurch.

I think it was maybe 2007 when

I came across Priscilla Queen of

the Desert, went to the musical

up in Auckland, with friends,

and we loved it so much we flew

to Sydney to see it again the next

year.

I started drag in 2014 when

I bought my first pair of heels.

I've always been able to walk in

a pair of heels without any kind

of practice, just like an absolute

natural. I sort of started off from

TRANSFORMATION: Mark Jackson is a supermarket worker and business operator by day,

and a drag queen by night.

there, collecting a few things,

trying it out and everything,

and then professionally doing

it from about three years ago. I

started really getting out there

and putting the money into it,

because it costs so much money.

It's like a transformation

for me in the art form, it's

something that I look at now

and I regret not doing drama

and stuff like that when I was at

school, like it could have helped

me a lot now.

When you put on the wig

and the eyelashes and stuff like

that, it's like you become just

a completely different person.

When you are so far through

your makeup, something all of a

sudden just clicks, for me it is the

art form and the performance,

you are just making people

happy.

Like on a Friday or Saturday

night I can not walk anywhere

near the Strip, you know Oxford

Tce, or anything like that, unless

I have a spare like hour . . . just

the amount of people that come

running up to you, somebody

gets a photo then somebody

else wants a photo. It just takes

up so much time.

What do you spend the

money on?

A decent wig will cost you

anywhere between $300 to $900,

and that's cheap. Otherwise you

can go right up to like $2500.

Just a simple pair of shoes and

everything like that, because I

buy my shoes locally, and I buy

a special brand of shoes called

Pleaser. They are a lot stronger,

they are performing shoes. I buy

those locally from a lady in West

Melton. She brings them in, they

can be anything from $100 to

$300 a pair. Basically by the time

I'm completely ready, when I've

got everything on, I could be

wearing an outfit that's $1000-

plus dollars.

Is there lots of sequins and

feathers involved?

Definitely lots of sequins and

feathers. Ninety per cent of what

I wear is made by myself or my

mother, because I am a little bit

bigger it is easier to make it, than

it is to buy it.

Is it solely a performance

identity, or are you transgender

yourself?

No, I identify as gay male, I go

with the pronouns "his, him, he."

As Lady Bubbles I am "her, she"

and I can't remember what the

other one is, I go by the female

pronouns.

NUMBER ONE SUPPLIER

TO THE NZ JET BOATING

COMMUNITY FOR OVER

50 YEARS

SERVICING

• Part Boats & Hulls

• Turn Key Packages

• New Jet Units

• Custom Fabrication

• Expert Advice

• Spare Parts Retailer

• Jet Unit Refurbishment

• Engine Tune-Ups

• Insurance Repairs

• Impellor Reconditioning

Peter Tonkin

03 962 0505

peter.tonkin@hamiltonjet.nz
---
Wednesday February 24 2021 Selwyn Times

Latest Canterbury news at starnews.co.nz

9

feminine, very loud and super campy

There's a difference between

transgender and drag. Drag is

performance, it's male dressing

up as female, which is cross

dressing and stuff like that, but

it is performance. Like I don't go

home and dress up or anything

like that for fun, because it takes

three hours to get ready, so I

don't have anything that I want

to be female or anything like

that. It is purely the art of drag

and the art of performance.

What do you like about it so

much?

It's like an escape from reality,

as I say, I put on the wig, put on

the eyelashes and the lipstick. I

generally have my nails done all

the time, I always have acrylic

nails. You put on an outfit, it's

the wow factor for me, you go out

and people say: 'Oh my god, it's a

drag queen.'

It's an escape for you, and for

them as well?

Yes, that's what I like, is being

able to make people happy.

Christchurch is not like

Wellington and Auckland, we

don't have a drag scene, there is

no drag scene in Christchurch.

So I work with another friend

of mine, he's just recently come

back from Sydney, and I own

a business called Drag It Out

Entertainment. So between him

and I, we are actually trying to

ESCAPE: Jackson has no background in performing, but as soon as he dresses in drag,

something just "clicks."

bring drag to the mainstream

here in Christchurch. So we run

a lot of bingo nights and stuff

like that, where people can come

along and win cash prizes and

things like that, we call it Balls N

Bingo. And we also have a show

coming up, like a massive big

show that we are actually pulling

queens down from Auckland

for, on the second of April called

Retro Glam, and we expect to run

drag competitions here.

You have the event, Drag

Queen Storytime, coming up

at Lincoln Library in March,

to celebrate Pride Week (for

children pre-school age and

older, featuring books about

diversity, acceptance, inclusion

and kindness). Did Selwyn

Libraries approach you for that?

(Selwyn Libraries) put a post

out on the local (Facebook)

community page, looking for

artistic people for some Pride

events and stuff like, I just put a

picture of me up there and said:

'If you ever need a drag queen for

anything, let me know,' and that's

how I got that. You've got to put

yourself out there, the harder you

work the more work you will get.

Rainbow storytime comes with

its pros and cons, you are always

going to get that one person who

doesn't agree with it and doesn't

see that it's okay.

Do you think acceptance

and diversity is an important

message to get across to

children?

I think it is, like – you be who

you want to be. You know, like

it is not up to somebody else to

mould that for you. I feel like

in this day and age if somebody

is trans or something like that,

people should be accepting of

everyone whoever and however

they want to express themselves,

it is super important.

Reading to children will be a

lot different to your adult drag

events?

So basically the bingo, yes it is

very, very . . . not filthy, but it's

pretty out there. It is for an adult

audience, they are not general

everyday calls, they are raunchy . . .

really it's like smut, but that's what

people want when they come and

see a drag queen. But for a kid (at

children's events) it's completely

visual for them, because they don't

understand. And that's where you

can teach them acceptance and

everything like that, because you

can't judge from what I look like on

the outside as to who I am on the

inside.

When I do rainbow storytime,

I'm going to have a humungous

wig on, a massive big pink dress,

like not polygraphic, but the

shiny latex pink dress, with the

big organza frill all around it, and

everything like that, it's going to

be a great day.

There's a quiz night that Selwyn

Libraries has as well (Drag King

and Queen Quiz Night, March 4,

Lincoln Event Centre), that I am

running with a friend of mine

called Tony Chestnut. He's a

drag king, so that's a female who

basically tapes down her boobs

and dresses up as a male.

• Turn to page 10

FINAL TICKETS

on sale now

6 MARCH

LINCOLN

2021

Get your Tickets now

www.selwynsounds.co.nz

SUPPORTED BY
---
Selwyn Times Wednesday February 24 2021

10

OUR PEOPLE

• From page 9

Was it specifically seeing

Priscilla Queen of the Desert

that motivated you to dress in

drag?

Yes, because when I saw it

on stage it was the art of the

queen coming on and wearing

all the different outfits, and the

glam and the glitter. And Lady

Bubbles loves to be glamorous,

and you know, also loves to be

fun and out there and really

bubbly, but very loud.

So that show completely

changed your life?

Yes, how I describe myself as

a drag queen, is very feminine,

very loud and super campy.

Camp is basically really

colourful. I like the old style of

drag, you know the big eyes,

the glitter, I'm not into the

mainstream drag that you see

now coming off RuPaul's Drag

Race.

Does Lady Bubbles have a

whole persona and life, do you

have to create some sort of

depth to the character?

No, I know that my friend

Tony Chestnut does, so he's

divorced and he has a whole

storyline. I haven't with Lady

Bubbles.

Your name in real life and

your day job is?

Mark Jackson, I'm 32, I work

in retail, at Prebbleton Fresh

Choice. I got made redundant

because of the Covid thing

(last year, from my former

job, at) Craddocks Car Storage

at the airport. I also operate

Around a Bounce bouncy

castle hire, Inflated Balloon

Decorating and Drag It Out

entertainment.

In being a drag queen,

do you have to be a bit of a

stand-up comic, you must be

a naturally funny person are

you?

I am to a point, but you know,

you have to be quick off the

cuff, like real quick. One of my

favourite sayings right now and

when I'm out in town is "All

Latest Canterbury news at starnews.co.nz

'You have to be quick off the cuff'

GLAMOUR:

Lady

Bubbles

loves to

socialise

with friends,

including

Miss

Shaniqwa.

noodles are straight until they

get wet."

You have that natural

performance ability, where do

you think that comes from?

I don't really know, because

everyone in my family, no-one's

really creative.

What high school did you go

to?

Lincoln High School.

And as you say you didn't do

performance or drama?

No, my main interest at high

school was horticulture. No,

nothing that I did at school

relates to anything that I do now.

BACKYARD CRITTERS

Mike Bowie is an ecologist who specialises in

entomology (insects and other invertebrates). Each

week he introduces a new species found in his

backyard at Lincoln. His column aims to raise public

awareness of biodiversity, the variety of living things

around us. Check out the full list of invertebrates

found at www.inaturalist.org/projects/backyardbiodiversity-bugs-in-my-lincoln-section

Slimy, predatory worm

TERRESTRIAL flatworms are

colourful, slimy, legless, slug-like

invertebrates found in moist

locations against the soil surface.

THey are easily differentiated

from earthworms as they are

smoother, flatter, and lack the

segments or rings along their

body. However, flatworms do

have the upper hand as they eat

earthworms.

New Zealand has many species

of native flatworms as well as the

Australian species Australoplana

sanguinea. This Aussie species is a

brownish red to buff colour on its

upper surface, and tinged with a

deep, peach to blood-red towards

its head.The species can reach

75mm in length and is slightly

domed in cross-section.

The narrow-pointed head end

is more extendable than the rear

end, and has a fine row of black or

brown dots that are light-sensitive

cells or primitive eyes. The pharynx

or mouth is on the underside,

about a third of its length from

the head. When feeding, this is

pushed out to engulf earthworms

and secretes digestive fluids to aid

consumption.

Eggs can be seen inside gravid

adults. Once laid, eggs develop

from a dull red to a shiny black

colour, when the chitinous

eggshell cures. One to four baby

flatworms emerge from each egg

and are paler in colour than the

adults.

Both Australoplana sanguinea

and a New Zealand species

(Arthurdendyus trianagulatus)

established in the British Isles in

the 1970s.

Their predatory nature is

having a detrimental effect on

the European earthworm community

and ultimately the soil

quality. There is some evidence

that earthworm-eating moles in

western Scotland disappeared

after the New Zealand flatworm

established there.

Check out our

Show Home

Village

Our Building Partners

Check out our new

Show Homes!

TWH/011/ST

Te Whāriki Show Home Village

Wednesday–Sunday,

We've teamed up

12pm

with some

till 4pm,

of

156–174

the finest builders in Aotearoa

Southfield to ensure Drive, all homes Lincolnbuilt at Te Whāriki complement our

tewhariki.co.nz

beautiful landscape and lifestyle.

Te Whāriki Show Home Village

Wednesday – Sunday, 12pm till 4pm

156 – 174 Southfield Drive, Lincoln

tewhariki.co.nz

Mō tātou, ā, mō kā uri ā muri ake nei — For us, and our children after us.
---
Wednesday February 24 2021 Selwyn Times 11

FINAL DAYS!

While stocks last. Selected lines only. Not in conjunction with any other offer or discount.

Stock varies by store. No Hassle Returns Policy not available on clearance items.

Mitre 10 MEGA Hornby

Ph: 03 349 8497

Mitre 10 MEGA Papanui

Ph: 03 359 5443

Mitre 10 Beckenham

Ph: 03 322 7557

If you find a lower price on an identical stocked product locally we will beat it by 15%

*if you find the same product cheaper from another Mitre 10 store of Mitre 10 website we'll match that price. Excludes trade and special quotes,

stock liquidations and commercial quantities. The in-store price may be lower than advertised.
---
12 Selwyn Times Wednesday February 24 2021

RURAL | LIFESTYLE | RESIDENTIAL

SPRINGSTON Leeston Road

Sought After in Springston

2.29 hectares of bare land provides you with options. Only 10

minutes drive to either Lincoln or Rolleston.

DEADLINE PRIVATE TREATY GST Inclusive

Closes 2.00pm, Wednesday 10 March

VIEW By Appointment Only

Build your dream home in this popular location. Family living can

easily be accommodated with the renowned Springston school close

by, as well as local rugby and netball clubs.

Don't hesitate - blocks of this size are extremely rare in this district!

Ron Ferguson

M 027 498 6256

E ron.ferguson@pggwrightson.co.nz

pggwre.co.nz/CHR33736

Supporting the Community

An exciting, new barbecue trailer has recently been designed and built,

with the Selwyn and Waimakariri communities in mind. Mark Terry

previously worked for PGG Wrightson Real Estate, in Blenheim and

relocated to PGG Wrightson Real Estate, Darfield in July 2020. Being

new to the area, the trailer was a brain wave idea, to help locals in our

community and in turn give Mark's business some profile. He engaged

with close friend, Glen McKay an engineer based in Oxford, to design

and build the trailer. Shortly after starting the process, Mark entered a

business partnership with Karen Hennessy, (who already works in real

estate, with PGG Wrightson Darfield) offering a unique male/female

team approach to real estate, in the Selwyn/Waimakariri districts.

The trailer is available for use to anybody in the Selwyn or Waimakariri

district – including clubs, individuals, companies, field days, shows, sports

events etc. Bookings must be made via Mark or Karen and a small bond will

need to be paid, which will be refunded upon the trailer returning in the

same condition as it was hired. All parties who make use of the trailer are

able to make a donation; any funds accumulated from donations will then

be distributed back into the local community on a regular basis.

To book the Trailer call

Mark Terry 027 572 2559 or Karen Hennessy 027 967 0186

PGG Wrightson Real Estate Limited, licensed under REAA 2008

Helping grow the country

1 Robin Mann Place, CHRISTCHURCH

Phone: 03 341 4301 | Email: christchurch@pggwre.co.nz

For more great listings, visit www.pggwre.co.nz

PGG Wrightson Real Estate Limited, licensed under the REAA 2008

Helping grow the country
---
Wednesday February 24 2021 Selwyn Times

Latest Canterbury news at starnews.co.nz

SPORT 13

Leeston-Southbridge still near top-of-table

AN ULTRA-aggressive Sefton

chased down an imposing

Oxford-Rangiora total to

highlight the latest round of the

Canterbury Country premier

one-day competition.

More than 500 runs were

amassed at Sefton Domain on

Saturday, while there were also

wins for Leeston-Southbridge,

Weedons and Cheviot.

At Darfield Domain, the home

side were skittled for 122 by a

cohesive Leeston-Southbridge attack,

with opener Liam Foulkes

the only meaningful contributor

with 45.

Dougald Munro's 2/16 from

nine overs summed up a disciplined

bowling display before

Leeston-Southbridge cruised to

a seven-wicket victory with more

than 15 overs remaining.

Oxford-Rangiora batted first

against Sefton and made 267/6

in their allotted 45 overs, thanks

largely to a swashbuckling innings

from Luke Waghorn.

Waghorn cracked 90 from 47

balls against the competition

leaders, a swashbuckling knock

studded with seven boundaries

and five sixes.

He was well-supported by

opener Calvin Scott (54 runs off

87), Lachie Stove (46 off 55) and

Dave Fulton's unbeaten 44.

Unfazed by the asking rate,

Sefton's chase got off to an ideal

start with openers McKenzie

Smith (54 off 44) and Chris

Warner (70 off 78) compiling to

post 110 in 15.3 overs.

Canterbury seam bowler

Fraser Sheat, batting at four, then

smashed 72 off 48 deliveries and

Matt Laffey made an unbeaten

64, the pair producing a 118-run

stand to get Sefton home by eight

wickets with four overs to spare.

At Weedons Domain, paceman

Jono Green bagged a five

wicket haul as Southbrook

bowled out the home side for just

IN CONTROL:

Leeston-

Southbridge

batsman Harry

Chamberlain

scored 34 on

Saturday. Seen

here playing a

straight drive

for Canterbury

Country last

year.

171, former Canterbury wicketkeeper

Paul Rugg top-scored

with an unbeaten 35.

Southbrook got off to a solid

start in their chase, and were sitting

pretty with ex-Black

Cap Shanan Stewart and Jack

Boyle, returning from Canterbury

duties and a long Super

Smash campaign, together at the

crease.

But when they fell relatively

cheaply, in quick succession,

Southbrook's hunt for just their

second win of the season faltered,

and eventually fell 15 runs

short.

Hamish D'Arcy led Weedons'

attack with an excellent haul of

5/37.

Cheviot thumped Lincoln on

home soil, thanks to a brilliant

century from Ted Whelan.

Whelan's superb 136 off 124

balls lifted the Magpies to 288

against Lincoln, Hugh Paterson's

admirable 6/49.

Paterson also contributed with

the bat, falling just short of a

half-century, while his brother

Arthur also weighed in with 48.

But the siblings had scant

support before Lincoln slumped

to a 105-run loss inside 35 overs.

Ohoka had the round 16 bye.

Short scorecards:

Oxford-Rangiora 267/6 (L

Waghorn 90, C Scott 54, L Stove

46, D Fulton 44no; J Roberts

2/48) lost to Sefton 271/2 (F Sheat

72no, C Warner 70, M Laffey

64no, M Smith 54) by 8 wkts.

Weedons 171 (P Rugg 35no,

D Nightingale 32, T Inness 32,

C Robson 20; J Green 5/29, J

Boyle 3/21) beat Southbrook 156

(L Blom 30, H Thornley 28; H

D'Arcy 5/37, D Nightingale 3/23)

by 15 runs.

Cheviot 288 (T Whelan 136,

A Redfern 43, C Burnett 35, W

Smith 23; H Paterson 6/49, A

Gulati 3/40) beat Lincoln 183/9

(H Paterson 48, A Paterson 48,

R Clark 26; C Cameron 3/24, S

Burnett 3/24, C Sidey 2/39) by

105 runs.

Darfield 122 (L Foulkes

45, C Moody 24; D Munro

2/16, T Gruijters 2/17) lost to

Leeston-Southbridge 123/3

(H Chamberlain 34, B Hill 32;

Gruijters 19no) by 7 wkts.

Points: Sefton 96, Leeston-

Southbridge 92, Ohoko 72,

Darfield 64, Weedons 64,

Oxford-Rangiora 56, Cheviot 48,

Lincoln 8, Southbrook 0.

Fun in the Sun

Come and join the Little Rakaia Boating

Club (LRBC) for a fun 'club day' in the

sun on Sunday March 7, 2021. The club

is once again holding an event to raise

funds and awareness for the local boat

ramp re-build.

Club Day is mainly about events on the

water, a giant slalom, the poker run and

the major draw card "– Alpine Airboats

– will be giving a demonstration of the

Airboat and taking passengers for rides

through-out the day.

There will be jet boat rides, bouncy

castle, BBQ food, a cake stall, coffee

and soft drinks along with the everpopular

chocolate wheel offering the

usual whitebait and chocolate, and

other more significant prizes to spin

for. Visitors are also reminded to bring

cash on the day as there is no EFTPOS

available.

Final stage for boat ramp rebuild

getting closer

Having completed the first and second

stages of the re-build in 2018, raising the

funds for the final stage has been the

priority for the club of the last two years.

The club has managed to raise 85%

of the funds required to date but still

requires another $40 to $50K to enable

them to begin and complete the final

stage.

The fundraising for the final stage was

given a great kick off when the club was

chosen as the recipient of the funds

raised by the Ellesmere Lions and their

annual charity golf day held at the

Ellesmere Golf Course. The $35,000

donated to the club from the Lions

Group was considered the catalyst to

start the next round of fund raising.

Further funds have come from the

RATA Foundation, $30,000 and the

Lotteries Grant Board, $145,000. The

club is grateful to these organizations

for their support with thanks also going

to Sarah Wylie Social Research. Sarah's

professional approach in helping the

club with the preparation of the funding

applications was outstanding.

The balance of the funds in hand has

come from the club member's annual

subscriptions, fundraising, member and

community donations.

The club is thankful that it exists in the

NZ environment where volunteers are

the life blood of communities and is very

grateful for all the help it has received.

Without the help and backing from

local businesses, the local and wider

community none of the funding would

have been possible.

The Little Rakaia Boating Club looks

forward to welcoming visitors to Little

Rakaia Huts to enjoy a day in the sun

and to watch or participate in the events

on offer for the day. If you have any

questions regarding the day, Graeme

Patterson on 027 577 2257 or email:

president@lrbc.co.nz
---
14 Selwyn Times Wednesday February 24 2021

Te Ara Ātea and town centre to

promote accessibility and inclusion

Te Ara Ātea, Selwyn's new library and community facility in Rolleston, will be a space that

promotes community, lifelong learning and meeting new people through a focus on inclusive

spaces and accessibility.

The name Te Ara Ātea was gifted to the Council by Te Taumutu Rūnanga, meaning the

'unobstructed trail to the world and beyond'.

The concept of unobstructed movement has been a key part of the design approach to the

building – with an emphasis on accessibility within its distinct spaces.

The surrounding area outside the building and on the edge of the Rolleston town centre will

contain a sensory space and garden which engages all the senses – sight, touch, sound, smell

and taste.

It will feature pergolas, raised gardens for easy access, sound and colour features and edible plants.

Council Landscape Architect Dylan Robinson says that it's about providing an enduring space

that the whole community can enjoy, including those with diverse needs.

"The sensory space and garden will be a special place for connecting and meeting new people.

There are a lot of possibilities there for our community."

Inside the building, the Council has partnered with Waitaha School in Rolleston to design suitable

bathroom facilities for people with disabilities.

The bathrooms at Te Ara Ātea will contain specialised equipment such as ceiling hoists and adultsized

change tables and provide space for those who require carers to assist them.

Council Property Project Manager Joanne Nikolaou says that the partnership is one component of

a wider approach to accessibility and inclusion at Te Ara Ātea.

"This work is really important to establish Te Ara Ātea as a place which promotes diversity and

equal access," says Joanne.

In addition to traditional library services, Te Ara Ātea will house the bookable community spaces,

a studio and workshop space, art exhibition areas and displays of historical items from across the

district including taonga from Te Taumutu Rūnanga.

The 2,200 square metre Tennyson Street building will open later this year.

Ten years on – a reflection from Mayor Sam

As Christchurch and Selwyn was dusting itself down in the wake of a 7.1 magnitude earthquake in the

heart of the Canterbury plains, tragedy struck at the very centre of Te Wai Pounamu's largest city.

Unlike the September 2010 earthquake centred on Darfield, damage was not limited to just bricks and

mortar. The events that unfolded on Tuesday 22 February 2011 at 12:51 pm are etched in our minds

and on our hearts and still show across the landscape and skyline of Christchurch today.

The challenges faced by so many in the minutes, hours, and days after the earthquake were enormous.

Through news stories the world watched as Christchurch battled courageously to save lives. For too

many the battle was lost and the challenges of moving forward without loved ones is something friends

and family still face a decade on.

On Monday this week I had the privilege of laying a wreath on behalf of the Canterbury Mayoral Forum

at the Canterbury Earthquake National Memorial, at a moving ceremony to remember the events of that

day and those who were lost. At the same time our Council staff took time to reflect on the events of

ten years ago by gathering for a simple moment of silence at our Council offices. I know that there were

many other people across New Zealand who took time, privately or with others, to mark the moment.

From piles of rubble on that day emerged great hearts, holding cups of tea, offers of spare rooms, or

simply a hug. Support and assistance was both national and global and Selwyn played its part with our

other neighbouring districts. It was this spirit and sense of community that set the foundations on which

the city of Christchurch was rebuilt.

Otautahi has risen to the challenge of rebuilding new lives as well as a new city. So as we continue the

reconstruction journey we do so remembering those who are not here but also celebrating progress

and looking to the future with optimism.

New modelling shows Selwyn

safer from tsunamis

A new report from GNS Science has shown that Selwyn is safer

from tsunamis than previously thought.

The Council has revised the district's tsunami zones in response to

the report, commissioned by Environment Canterbury.

As a result, a smaller number of households are now in the

evacuation zone. However, Civil Defence Manager Al Lawn says it is

still important for people to be prepared in case of tsunamis and of

earthquakes that can cause tsunamis.

"It's good news for us because we're safer from the wave than we

thought, but it's still important that people are ready. If you're near

the coast and there's an earthquake that's long or strong, get gone.

Get off the water, get off the beach and get to higher ground."

The Council has begun directly informing residents in the affected

coastal area between the Rakaia River and Banks Peninsula of the

new zones.

The report is a timely reminder of the risks we face and the need to

be prepared for all emergencies, including by signing up to Selwyn

Gets Ready at selwyn.getsready.net for email and text alerts in

case of emergencies, Mr Lawn says.

"A few simple steps can help make things much more comfortable

for you and your family in an emergency. Take the time now and

save yourself the stress later by having an evacuation plan and an

emergency kit including medications and food for pets."

For more information on the tsunami evacuation zones visit selwyn.

govt.nz/tsunami. For more information on emergencies in Selwyn and

being prepared visit selwyn.govt.nz/civildefence or getready.govt.nz.

Get together and connect

with your neighbours, on us

Meet your Street fund is available to anyone in the Selwyn

community who would like to host a local street gathering,

neighbourhood sports event or local kids treasure hunt.

There is up to $75* available to go towards the costs of you

and your neighbourhood getting together.

To apply go to Selwyn.govt.nz/meetyourstreet

Or get in touch with us at meetyourstreet@selwyn.govt.nz

*Conditions apply. Fund not available for the purchase of alcohol

$75

FUNDING

AVAILABLE

Council Call

Selwyn District Council

Norman Kirk Drive, Rolleston

Ph 0800 SELWYN (735 996)

Rolleston Library

Rolleston Drive, Rolleston

Ph 347 2880

Darfield Library & Service Centre

1 South Terrace, Darfield

Ph 318 8338 or 347 2780

CC240221
---
Wednesday February 24 2021 Selwyn Times 15

Notices

ALCOHOL NOTICES

Aashiyana Investment Limited has applied for an on licence. Objections to this application are open until

10 March. Jones Hansen Partnership has applied for an on licence. Objections to this application are

open until 11 March. For more information visit selwyn.govt.nz/alcholnotices

Meetings

Public Forums: Council,

Community Board and local

committees meetings are open

to the public. Time is available at

the start of meetings for people

to speak on matters of concern.

Please notify Therese Davel or

Bernadette Ryan if you wish to

speak at the Council meeting at

least five days before the meeting.

Township, Hall and Reserve

Committee meetings: To list or

make changes to meeting details,

email meeting.changes@selwyn.

govt.nz or phone 0800 SELWYN

(735 996) by 9am Wednesday the

week before publication.

COUNCIL & COMMUNITY

BOARD MEETINGS

Council Meeting *

Wed 24 February 1pm

Rolleston Council Offices

Audit and Risk Subcommittee *

Wed 3 March 9.30am

Looking after your home

ON THE

ROADS

Rolleston Council Offices

Council Meeting *

Wed 10 March 1pm

Rolleston Council Offices

*Livestreamed on the Council

website and YouTube channel

DISTRICT COMMITTEE

MEETINGS

Doyleston Community

Committee – Triennial meeting

Wed 3 March 7.30pm

Doyleston Hall, Osborne Park

Greendale Recreation Reserve

Management Committee

Tue 2 March 8pm

Greendale Pavilion

Kirwee Recreation Reserve

Management Committee

Mon 8 March 7.30pm

Pavilion, Kirwee Recreation

Reserve

Lincoln Community Committee

Mon 8 March 7pm

Fitzgerald Room, Lincoln Event

Centre

Rolleston Community Centre

Management Committee

Thu 25 February 7pm

Rolleston Community Centre

Sheffield-Waddington

Community and Township

Committee

Thu 11 March 7.30pm

Sheffield Hall

Southbridge Advisory

Committee

Mon 8 March 7pm

Southbridge Town Hall

Springfield Township

Committee

Tue 2 March 7.30pm

Tawera Memorial Hall

Whitecliffs Township and

Domain Committee

Mon 4 March 7.30pm

Glentunnel Community Centre

For most of us our home is our biggest single investment, so it makes sense to protect it by carrying

out regular maintenance.

Our building team provides seasonal advice to help you keep on top of maintaining your home.

First some simple tips:

· Get to know every aspect of your building. Regularly do a walk around, looking for changes and

address any issues at the earliest opportunity.

· Plan exterior maintenance such as painting for spring or autumn when the weather is settled but not

too hot.

· Document the maintenance you do, to help with planning what to do next, and provide useful

information for future owners. It is also a good way to keep up with the regular maintenance required

for any product warranties on cladding and the like. If you own a new home, all product warranties and

guarantees should have been provided to you upon completion of the build by the main contractor.

· Make sure you have the right gear for the job first and plan what you need to complete the job safely

and successfully.

For more information visit the Building Research Association of New Zealand website at

maintainingmyhome.org.nz

Summer tips

Do you have a log burner in your home? Get your firewood delivered early and make the most of

the hot weather to ensure your firewood is dry. Make sure you stack your wood in a shed or well

away from your home. Never stack firewood under the eaves of your home, particularly if you are

in a rural area – this is a significant fire risk especially in areas susceptible to wild fires.

On the Roads

Waka Kotahi New Zealand Transport Agency has advised that Hoskyns Road will be

closed at the intersection with State Highway 73 until 28 February for intersection safety

improvements. A detour via Sandy Knolls Road is in place.

Walkers Road is reduced to one lane between State Highway 1 and Two Chain Road for seal widening

work. Pavement repairs are taking place on Bealey Road, Te Pirita Road and West Melton Road. Traffic

management is in place for these works.

Dogs day out

Explore the new dog park at The

Willows and celebrate Parks Week 2021

with a sausage sizzle and doggie treats.

10–2pm, 7 March at The Willows, river

end of Thompsons Road, West Melton.

Selwyn Events

THURDSAY

25

FEBRUARY

THURSDAY

25

FEBRUARY

FRIDAY

26

FEBRUARY

SUNDAY

28

FEBRUARY

MONDAY

1

MARCH

TUE 2

AND

WED 3

MARCH

Introduction to Food

Preservation Workshop

Hororātā Community Hall,

7–8.30pm

In conjunction with Nourish and the

Two Rivers Community Trust, learn

how to preserve food in a costefficient

and safe way from our local

fruit preservationist. From bottling

to dehydrating, you will learn all the

techniques to store your food through

the winter and into the next season.

Free. Drop-in.

Burnham Picnic in the Park

Freyberg Domain, 5–7pm

Enjoy a summer's evening at the park

with the family, music, a free sausage

sizzle, face painting and more.

Lincoln Outdoor Movie:

Lego Movie 2 (PG)

The Lincoln Green, 7–9pm

Bring a seat, bean bag or blanket and

chill out in front of our huge screen at

our outdoor movies. Five years after

saving the world, Emmet sets out to

rescue his friends from the mysterious

planet Duplon and gets help from

newcomer Rick Dangervest. Free.

A Month of Sundays

The Lincoln Green, 1–3pm

This week's line-up features

entertainment from Al Park, Soul Star

Tribe and Roadcone.

There will be lots of fun activities

to see in the park and in the library

where there will be face painting,

and local author Tim Hennesy will be

reading his story "The Extraordinary

Adventures of Hector the Dolphin".

Board Games Club

Darfield Libraries, 3.30–4.30pm

Love board games? Head along to

Darfield Library to play a variety of

exciting games. Suitable for those

new to board games, as well as

regular players.

Splash Time

Selwyn Aquatic Centre, Tue

8–8.45am, Wed 2.30–3.15pm

Splash Time is a great way to introduce

your baby to the water. Run by a

qualified instructor, the session covers

the importance of water experiences

in child development, water safety

and provides a taster of what parent/

child swim classes are like. Tuesday

session for children aged 4–14 months,

Wednesday for children aged 15–36

months. Bookings essential. Email:

swimschool@selwyn.govt.nz

For information on listing a community event visit

selwyn.govt.nz/councilcall

Leeston Library & Service Centre

19 Messines Street, Leeston

Ph 347 2871

Lincoln Library & Service Centre

Gerald Street, Lincoln

Ph 347 2876

0800 SELWYN

www.selwyn.govt.nz

SelwynDistrictCouncil
---
16 Selwyn Times Wednesday February 24 2021

Bupa Ashford

Retirement

Village,

Prebbleton is

for sale now

and ready to

move into!

Open home - Wednesdays 10am-4pm

Or by calling Debbs for a viewing on 027 247 4250

Spacious

2 bedroom

villas from

$505,000

Our village will help you feel safe, secure and sociable. Our one and two bedroom

villas are designed for independent living. These are available now and are priced

from $445,000:

• Fitted 24/7 emergency alarm • Open plan living

• Full kitchens

• Heat pump/air conditioning unit

• Landscape gardens

• Internal access garage

• Community centre due for completion May 2021

• Serviced apartments and care home coming in late 2022

Our brand new villas are targeting a six star Homestar design rating, which helps create

a warmer, drier, healthier home.

Call Debbs on (03) 344 1422 today to register your interest

Stationmasters Way, Prebbleton

bupa.co.nz/ashford

Our viewings have strict COVID-19 protective measures in place
---
Wednesday February 24 2021 Selwyn Times 17

Email devon.bolger@starmedia.kiwi

by 5pm each Wednesday

Introduction to Food Preservation Workshop, tomorrow, 7–8.30pm, at

Hororata Community Hall. From bottling to dehydrating, you will learn all

the techniques to store your food through the winter and into the next

season at this drop-in event. In conjunction with Nourish and the Two

Rivers Community Trust, learn how to preserve food in a cost-efficient

and safe way.

Community Law Session

Today 11am-12pm

Hosted by qualified

lawyers from Community

Law, these drop-in sessions

aim to provide free advice,

assistance and guidance

in navigating the justice

system. The topic for

today's session is Law 101.

Leeston Library

Connections: The

Drury Family Exhibition

Today 11.30am-2pm

Three generations of the

Drury family combine

in this exhibition, which

runs to March 7, using

various media, celebrating

people and places. Open

Wednesday to Thursday,

11.30am-2.30pm, and

Friday to Sunday 10 am-4

pm.

Down By The Liffey

Gallery

Summer Skate Jam

Today 3.30pm-5.30pm

Head on down, have

a go and show off your

moves, or learn some

new ones. A great way to

introduce children and

young people to skating

with free gear hire, prizes,

music and coaching from

Cheapskates Skate Skool.

The Summer Skate Jam

series has been extended,

with a new date added at

Prebbleton Skate Park on

March 3.

Rolleston Skate Park

Picnic in the Park

Thursday 5pm-7pm

Spend a summer's

evening at Picnic in the

Park, set to feature music,

fun entertainment for the

kids, a free sausage sizzle

and more.

Freyberg Domain,

Burnham

Vintage car club rally

February 27, 12.30-2pm

The Canterbury

Vintage Car Club will

be rallying their way to

the Southbridge Domain

where the drivers will park

for a picnic lunch. People

are welcome to go along

to view the cars and talk

to club members who love

to share their passion and

stories about their cars.

The annual rally is part of

a two-day event.

Southbridge Domain

Lincoln Outdoor Movie

Friday 7pm–9pm

Lego Movie 2 (PG) –

Five years after saving

the world, Emmet sets

out to rescue his friends

from the mysterious

planet Duplon and gets

help from newcomer Rick

Dangervest.

The Lincoln Green

A Month of Sundays

Sunday 1pm-3pm

Relax, unwind and

recharge on your Sunday

afternoon with live music

on The Lincoln Green,

located behind Lincoln

Library. Bring a picnic to

enjoy while listening to

an outstanding line-up of

talented musicians at this

free event, to run every

Sunday in February. Keep

the kids entertained with a

range of activities.

The Lincoln Green

Felt Cup Holder

Workshop

Sunday 1pm–3.30pm

Learn how to make

a felt cup holder using

natural New Zealand wool

and traditional felting

techniques. Suitable for 15+

years, $10 library members,

$20 non-members.

Bookings essential –

selwynlibraries.co.nz/events

Glentunnel Community

Centre

Splash Time

March 2 and 3

Splash Time is a great way

to introduce your baby to

the water. Run by a qualified

instructor, the session

covers the importance of

water experiences in child

development, water safety

and provides a taster of

what parent/child swim

classes are like. Tuesday's

class is from 8am-8.45am,

Wednesday's class is from

2.30pm-3.15pm. Bookings

are essential – swimschool@

selwyn.govt.nz

Selwyn Aquatic Centre

Markets

Rolleston Farmers

Market: Sunday, 9am-

12.30pm, 96 Rolleston

Drive

Darfield Market:

Saturday, 9am-1pm,

opposite Challenge

Darfield, South Tce.

Market@254: Saturday,

9.30am-1pm, rain or shine,

254 Lawford Rd, West

Melton.

Lincoln Farmers and

Craft Market: Saturday,

10am-1pm, Gerald St.

Teaching that

changes lives

After a year like no other, the Prime Minister's

Education Excellence Awards recognise inspiring

work from across New Zealand. Teaching that benefits

children and young people, whānau and entire

communities. Teaching that changes us all.

ENTRIES CLOSE 16 APRIL 2021

Share your team's best practice.

Enter the 2021 Awards now at

pmawards.education.govt.nz

MOE0077_C
---
18 Selwyn Times Wednesday February 24 2021

Serviced apartments,

the best of both worlds

The best of both worlds: Independent retirement

living with support on hand

Our serviced apartments are some of the largest

available on the market, offering light and spacious open

plan living, a kitchenette and separate double bedroom

with a large ensuite.

Located in the heart of the village, Summerset serviced

apartments are designed to create the perfect balance

between independence and services to suit your needs.

Our serviced apartments are pre-selling now and will be

ready to occupy when the village centre opens this year.*

Open Day

Friday 26 February

10am - 4pm

Summerset at Avonhead,

120 Hawthornden Road,

Avonhead

Call Anne or Grace on 03 357 3202

*Licence to occupy.

Think this sounds like you or someone you love? Take a

tour of our stunning new show homes and learn more

about serviced apartment living at our Open Day!

Show homes open to view!

For the latest criteria and information on visiting our villages

please call the village, or visit summerset.co.nz/covid-19

SUM2816_FP
---
Wednesday February 24 2021 Selwyn Times

Latest Canterbury news at starnews.co.nz

FOOD 19

Versatile rice can be used many ways

Rice is very much a

staple food, these

recipes are simple yet

tasty and can be served

as pre-dinner nibbles

or as part of a meal.

Arborio rice could be

substituted for the

sticky rice. In spite of

its alternative name of

''glutinous rice'', sticky

rice does not contain

the form of gluten

dangerous to those

with gluten intolerance

Sticky coconut rice with

fresh mango

Serves 4

Ingredients

2 cups rice, (glutinous)

2 cups coconut cream, plus extra

for garnish

½ cup sugar

1 tsp Salt

2 pandan leaves, (optional)

2 mangoes, ripe, sliced

1 garnish sesame seeds

Directions

Rinse the rice well. Place in a

bowl and cover with water up to

6cm above the rice. Leave to soak

overnight.

Drain the rice and place in a

muslin-lined steamer (or a conical

Thai rice steamer).

Cover with a lid, then allow the

rice to steam over boiling water

for 30min until it is translucent,

softened and chewy. While the

rice is steaming, tip the coconut

cream into a separate saucepan

and stir in the sugar, salt and

pandanus leaves.

Simmer for about 10min over

a very gentle heat. Remove from

the heat, allowing the leaves to

flavour the sauce.

When the rice is cooked,

remove the leaves from the sauce

and pour most of it over the rice,

keeping a little for drizzling over

the completed dish.

When ready to serve, spoon

the rice onto individual plates,

arrange mango slices or cubes

beside it and garnish with a little

extra sauce and sesame seeds.

Sticky rice cakes with

cheese and herbs

Ingredients

Cakes:

1 cup sticky rice

1/½ cups cold water

2 each: shallots, garlic cloves,

diced

1 tbsp olive oil

¾ cup grated tasty cheese

½ cup finely grated parmesan

cheese

¼ cup chopped mixed

herbs such as thyme, basil,

oregano

Flaky sea salt and freshly

ground black pepper

2 large egg whites

Coating:

½ cup breadcrumbs

¼ cup finely grated parmesan

cheese

Rice and

mangoes

are a perfect

combination,

add a

coconut

sauce for

extra taste.

Directions

Put rice in a saucepan with

water. Bring to boil, cover

and simmer for about 15min

until rice is cooked and water

absorbed. Drain and cool.

Preheat oven to 220 deg C.

Lightly oil an oven tray.

Saute shallots and garlic in oil,

until softened.

Stir, together with cheeses,

herbs and seasonings into rice

mixture.

Whip egg whites until stiff

peaks form and fold in.

Form into large walnut-sized

balls. Coat in combined crumbs

and cheese, place on tray and

cook for about 20min until

golden.

Stand for 5min before

transferring to a serving platter.

Great with chutney. Serve warm

or at room temperature.

Makes 20

Feijoa and lime muffins

Serves 10

Ingredients

3 limes

60gm butter, (melted)

2 large eggs

200gm plain flour

2½ tsp baking powder

100gm sugar

1 cup feijoa, peeled and

diced(about 6-8)

Directions

Preheat the oven to 180 deg C.

Place paper cup liners in a muffin

pan.

Using a zester, take strips of

zest from one of the limes and

reserve for the top of the muffins.

Finely grate the zest of the other

two and squeeze the juice from all

three. Tip this into a large bowl

with the melted butter and eggs.

Whisk together until light and

fluffy. Sieve the flour with the

baking powder and fold gently

into the mixture with the sugar.

Finally, fold in the feijoas and

fill the muffin cups three-quarters

full.

Sprinkle the tops with a

little extra sugar and the reserved

zest.

Bake for 20-25min until

golden and firm to the touch

when patted.
---
20 Selwyn Times Wednesday February 24 2021

PETS & PAWS

Luxe loves pups

Luxe Doggy Day Spa are

professionally trained and

experienced groomers who love to groom

your fury family member, be it small,

medium or large.

Luxe like to get new puppies in as soon

as they have had their first vaccination;

their environment is sterile like a vets.

"The earlier the puppy is introduced to

the grooming process, the easier it will

be for the puppy, groomer and owner,"

says Loretta, owner of Luxe Doggy Day

Spa. "At Luxe, we gently train your puppy

to adapt at their pace, getting used to all

the noises, buzzing of clippers, brushing,

combing and nail clipping." The end result

will be a happy

puppy, groomer

and owner.

There is a myth that breeds like

Labradoodles and Spoodles should only

be groomed from one year onwards.

This is not the case. These non-shedding

breeds will matt up pretty quick and

90% end up totally shaved short due

to dense matting. Luxe will advise you

correctly how often your puppy will need

grooming.

Luxe offer gentle grooming for your

precious dog in Rolleston. They use

a warm bath, natural shampoo and

conditioner, gentle warm blow drying,

brushing, nail trim and haircut and/or

clip.

Luxe's modern purpose built salon is

located in Rolleston, bringing a relaxing,

friendly atmosphere for your doggy's

grooming experience. They also offer free

pick up and drop off for our elderly in

Rolleston.

Luxe are members of the National Dog

Grooming Association and supporters

of SPCA. Check out their Facebook or

website www.luxespa.co.nz. to book an

appointment or browse their clients'

gorgeous doggy photos! Luxe Doggy

Day Spa are located at 217 Brookside

Road, Rolleston.

Manufacturers of

Fine Natural Pet Food

Variety of 10kg

Mixes

for cats

and dogs

$45-$55

Phone (03) 347 0626

Shop 4, 855 Jones Road, Rolleston (opposite Redpaths)

Hours: Mon-Tue 9am-5pm, Wed-Fri 9am-5.30pm, Sat 10am-1pm

FOR ALL YOUR FARRIER SUPPLIES,

HOOF CARE PRODUCTS & ADVICE

SEE US FIRST!

Stockists of Mustad, Heller Rasps, Kelato

Products and Worlds Best Hoof Oil.

We are the specialists in shoes

and tools to get the job done!

Email order throughout the South Island

Open Monday to Friday 8am – 4pm

Cnr Main South Road and

4 Dawsons Road, Templeton

Phone – 03 348 7272

Email – rodger@austinsfarriersupplies.co.nz

We are

• Mobile

• Prompt

We provide

• Caring

• Reliable

• Full grooming and clipping

• Wash/dry

• Nail trimming

Your local professional

groomers, Jill & Sophie are

available now to book your

dog/s in for a pampering at

your own home.

Call now to seCure your appointment!

0800 454 654

www.jimsdogwash.co.nz

Dogs die in hot cars

It takes just 15 minutes. If it's hot

outside, it's sure to be like an oven in

your car and that heat could be fatal

for your dog...

If it's hot and you're likely to need to

leave your dog in the car, it's kinder

and safer to leave it at home. Animals

can sustain brain damage or even die

from heatstroke in just 15 minutes.

VEHICLE TEMPERATURE

OUTSIDE

TEMP (C)

21º

24º

27º

29º

32º

IN SIDE TEMP (C)

After 10 mins.

32º

34º

37º

40º

43º

After 30 mins.

40º

43º

46º

48º

51º
---
HOT, DRY conditions make

it a difficult time in the home

garden.

Fortunately pip and stone fruit

are now ripening, and there are

plenty of summer vegetables to

be harvested.

Latest Canterbury news at starnews.co.nz

Wednesday February 24 2021 Selwyn Times

GARDENING 21

The last few weeks of summer in the garden

Vege patch

Well maintained summer

vegetable gardens will reward

their owners with an abundance

of vegetables to harvest including;

aubergines, beans, cucumbers,

courgettes, corn, onions,

peppers, radish, tomatoes, and

pumpkin.

Remove summer vegetable

plants as they finish producing

crops and start preparing

the soil for the winter garden.

At the end of the month, begin

planting the first of your winter

vegetable seedlings such as broccoli,

brussells sprouts, cabbage

and cauliflower. This will ensure

a supply of winter vegetables in

May and June.

Successive plantings over the

next few months will help to

stagger winter harvesting time.

Prepare the soil thoroughly with

fresh compost before planting,

and rotate areas for a variety of

crops to be grown.

Summer flowering

annuals

For those summer annuals

that thrive in the heat of summer,

February provides the best

month for displays of flowers.

Every year, garden centres

increase the variety of seedlings

available so be adventurous and

try new flowering annuals in

your garden or containers. The

secret to continuous flowering

is deadheading (removal of the

finished flower). Keep this up

during the month and you'll be

rewarded with plenty of blooms.

Time to plant bulbs

You can begin planting bulbs

later in the month. Add plenty

of compost before planting –

especially if you have heavy

clay soils. Bulbs do best in a

well-drained soil and sunny

position. Plant them in clumps

to provide a stunning display

come flowering time. Mark

BUSY TIME: Strawberries will have finished cropping by now, runners can be detached and planted into new beds. It's

now time to plant bulbs for spring colour and trim herbs to stop them taking over the entire planting area.

the areas with a stake and label

for at least the first year in the

ground so you don't forget what

you've planted or accidentally

dig them up! Bulbs to be planted

include anemones, crocus,

daffodils, freesias, hyacinth, iris,

lachenalias, nerine, ranunculus,

tulips and watsonias.

Fruit tree care

Late maturing varieties of

plum and peaches can now be

harvested. Apples and pears are

also now ripening, especially

towards the end of the month.

Small fruit will now be appearing

on citrus trees so mulch to help

to maintain consistent moisture

levels and to prevent the fruit

from falling off trees. Regular

sprays with a copper compound

will help to prevent the outbreak

of any fungal diseases.

Strawberry runners

With strawberry plants having

finished cropping, you will start

seeing a multitude of stolons

or 'runners' growing from the

main plants. Each 'runner' has

a tiny baby strawberry plant

on it – some runners can have

several along their length. These

are your next season's plants and

can be detached and planted into

newly prepared strawberry beds

from May onwards.

Raspberries tasks

Raspberry canes need to be

tied up. Remove last season's

canes and be selective with new

seasons canes as they tend to

put on an enormous amount of

growth in February.

Rose care

It is a difficult month for roses

with black spot and rust now becoming

prevalent on many rose

varieties. Continue to 'deadhead'

and carry out a light summer

prune to encourage air movement

through the rose bush.

Towards the end of the month,

apply a light side dressing of rose

fertiliser. Mulch around rose

bushes with compost to prevent

the soil from drying out.

Let the lawns grow

Many lawns will look horrendous

this month – dry and

cracked! This is part of the yearly

cycle of lawns in many parts of

New Zealand. Where mowing

may be required, don't mow too

low. Leaving the lawn slightly

longer than normal cools the

grass roots and helps retain

moisture from rain or irrigation.

Only mow when it appears very

necessary.

Thriving herbs

Although many herbs thrive in

the heat of summer, some will go

to seed and should be replaced

with new specimens. Always

plant more than one specimen of

your favourite herb so you have

plenty on hand. With herbs like

basil, pinch out the growing tips

to encourage the development of

a bushy plant. Grow mint in pots

otherwise they will happily take

over the entire herb garden.

Making your great outdoors greater

HIre equIpment

1.7 ton Digger 3 buckets

and 2.5 ton electric tip trailer

Plate compactor

Log splitter

Concrete mixer

Lawn Dethatcher

Barreto rotary hoe

3" Water Pump

Wheel barrows

Hand tools

Concrete ball float/Screeds

Electric concrete vibrator

Check out the rest of our landscape supplies online

www.mainscapegardensupplies.co.nz

Contact us

mon - Fri

1543 Springs Road, Lincoln 8:00am - 5:00pm

021 241 7908

Saturday

sales@mainscape.co.nz 8:00am - 3:00pm

oN sAle Now!

Now only

$35.80

Plus $5 P&H per copy

AvAilAble from stAr mediA:

Level One, 359 Lincoln Road

Addington, Christchurch

Phone 379 7100

Landscape & Garden Supplies

As Kiwis, we do like a bit of DIY

home improvement. If you have a

garden or landscaping project on

the go, Intelligro has a great range

of products to get the job done.

• Barks & Woodchips

• Soil & Growing Medias

• Stones, Chips & Pebbles

• Sands & Construction

Mixes

• Garden Planter Boxes

& Tools

• Seeds & Seedlings

• Gardening fun for kids

• Trailer & Tool Hire

OPEN 7 DAYS 261 Manion Road, Weedons

P: 03 347 9012 | www.igro.co.nz @igro.co.nz
---
22 Selwyn Times Wednesday February 24 2021

MY PRIDE AND JOY

Traditional motoring

art thrives in Selwyn

Cam Albon enjoys the

challenge of creating

unique works of art

using his airbrushing

technique.

To say that Springfield local Cam Albon

creates unique works of art on vehicles

is something this talented pinstripe and

airbrush artist will not readily admit to.

He is not only humble in his talent but he

is also a person who generously shares his

passion and techniques with others too.

It all started some years ago when Cam

watched an airbrush demo at a hotrod

show. He then took an airbrush course in

Australia and when he came back to New

Zealand, Cam began teaching airbrushing

in Christchurch using a system developed

Advanced

Advanced

by his Australian tutor Tony Vowles.

Under Tony's guidance Cam also learnt

the art of pinstriping, a traditional form

of line art hand painted onto coaches,

trucks, hotrods and pony gigs. This meant

purchasing a range of purpose-designed

brushes, which have long flat brush heads

designed to apply the paint in precision

lines – a steady hand is essential.

His passion quickly took in lettering

and led him to attend a Letterheads

New Zealand event, where signwriters

and pinstripers come together annually

Service,

Upholstery

to share their love of the craft and their

experience. Attending the yearly event

soon boosted Cam's confidence in his

work – winning awards, one the first time

he attended: the Ace Pinstriper award

two consecutive years for being open to

sharing his knowledge and a Goldfinger

award for the application of gold leaf to a

panel.

"We had people coming from the US

and Australia," says Cam. "Our tutorials

were more a sharing of information and

good for those not actively in the industry

to learn from those who want to pass

on their knowledge. We'd often have the

old boys come out of the woodwork,

usually retired, to share their techniques."

However men aren't the only ones who

attend; a number of women also take part

in the events with some doing pinstriping

too.

"They're a great bunch of people," he

enthuses, "with a love and a passion to

keep the traditional techniques alive and

who also enjoy handing it on. It's very easy

to lose those traditions and you can only

teach yourself so much – everyone does

something different. Little tricks are often

learned from someone else."

Cam says that there is still a select

portion of people who want the traditional

artwork painted by hand as opposed to

A steady hand

is needed for

the delicate art

of pinstriping.

the digital options available. While he

enjoys coming up with designs for people's

cars, he also likes to extend his passion

for creating designs on rusty old saws,

well-used tool boxes, and most recently he

painted the back of his wife, Amy's, leather

jacket with his Southern Alps Pinstriping

logo.

While Cam's background is in

construction, he plans to make a living

from his passion and currently works

from his studio based in the Delray Auto

building at 21 McTeigue Road, Halswell.

He built the studio, with the help of his

dad, to look like an old shed with timber

from the old Annat police house. If you'd

like to know more about Cam's art work,

visit: www.southernalpspinstriping.com

Awards won by Cam

for openly sharing

his knowledge and

for the application of

gold leaf were won at

the yearly Letterheads

New Zealand events.

Auto & Marine

Upholstery

• Auto restoration

• Boat upholstery

• Caravan & motorhome

squabs & awnings

• Authorized agents for Cvana

awnings

• Machine, truck & ute covers

• Farms Covers & Much More!

3967 West Coast Road

(between Waddington & Darfield)

Tue, Wed, Fri 8am to 4.30pm • Thur 8am to 6.30pm

Sat 8.30am to 12pm

Phone 03 318 7378

www.advancedupholstery.co.nz

Jones Road auto

ALL YOUR

MOTORING NEEDS

› While You Wait WOF's

› Courtesy Cars

› Diagnostics

› Repairs › Servicing

› Batteries › Tyres

131 IPORT Drive (Cnr Hoskyns & IPORT drive)

Phone 347 4020 | www.jonesroadauto.co.nz
---
MOTORCARE PROFESSIONALS

Do you get your car regularly

serviced? You should.

Wednesday February 24 2021 Selwyn Times 23

Almost everyone has a car these days,

and some people have two or three. Others

adore classic cars and are keen to get them

up and running but not sure where to

start. Not everyone knows what they need

to be doing to take care of their vehicles

properly. Many people simply forget to

book a service, and because a quality

service can be expensive others think

that to save money they'll skip servicing

altogether, when that's the worst thing you

can do—and it can be costly.

Get the most out of your car

If you're after a one-stop shop for all

your car maintenance needs, Rolleston

Diesels and Petrols is the place to go.

Booking in for regular servicing can cut

the day-to-day running costs, improve

fuel efficiency, and reduce general wear

and tear. Modern vehicles require a good

deal more care (like manufacturers often

requiring specialist oil to run properly),

so a good plan is to book in for an annual

'big' service, with regular small services

in between to keep on top of things. And

preventative maintenance is better than

breaking down.

Experts who guarantee their

workmanship

Rolleston Diesels and Petrols can do

trucks, cars, servicing, fleet work, boats,

brakes, wheel alignments, suspension

work, batteries, cambelts and WOF's,

and they work with clients from all over

Christchurch and Selwyn. They're experts

at what they do, provide an honest and

reliable service—and they 100% guarantee

their workmanship.

If you want to know how they can help

or have questions about what you need

help with, call them on 03 347 7110 or

visit their workshop at 839 Jones Road,

Rolleston.

Organise a service schedule

Servicing your car isn't just changing the

oil and getting new filters. Your car needs a

proper look-over by trained professionals

who understand things like modern onboard

computers, and emissions gears.

Without it, you'll run into problems like

brakes wearing out or your car overheating

from a broken fan belt. Regular clients

at Rolleston Diesels and Petrols often

plan a servicing schedule that considers

the mechanics, and the cost. When cost

becomes the question, alternatives are

sourced—but they won't compromise on

quality. And they'll always provide options

and advice on the best solution that works

for you.

www.windscreensolutions.co.nz

ALL INSURANCE REPAIRS & REPLACEMENTS WELCOME

• Windscreen Repairs and Replacement,

replacing cracked or damaged

windscreens to the highest standard.

• We offer superior quality workmanship

for all Truck, Van, Bus, Motorhome, Car

windscreen repairs and replacement.

CANTERBURY BASED MOBILE WINDSCREEN SOLUTIONS

"For all your Bus, Truck, Motor Home, Car, Windscreen Repairs & Screen Replacements"

Phone: 021 399 917

• We can arrange all insurance work to make

the repair or installation as easy as possible

for our clients.

• If you are unsure what you need call us

today for some expert advice for the best

solution for your vehicle.

Email: info@windscreensolutions.co.nz

Get your automotive

business noticed

When you advertise your AUTOMOTIVE business in the

Motorcare feature in The Selwyn Times, your ad will reach

20,600 rural and residential households across the ENTIRE

Selwyn District.

The Selwyn Times is delivered FREE each Wednesday,

covering the latest local news and information with digital

editions also available to view online at www.starnews.co.nz.

CALL Lynette TODAY to discuss how she can help

PROMOTE YOUR BUSINESS to local Selwyn readers,

or to the entire Canterbury district.

Don't forget to ask about our "Support Local" packages to

assist the Covid Business recovery. We're here to help!

Contact Lynette DDI: 03 3647434 Mobile: 021 222 7831 Email: Lynette.Evans@starmedia.kiwi

3 TRUCKS

3 CARS

3 LUBES

3 SERVICING

3 FLEET WORK

3 BOATS

3 DIESEL INJECTOR &

PUMP SERVICING

3 ENGINE TUNING

Mon-Fri 7am-5pm

Sat 8am-12pm (WOFs only)

Full

workshop

available

• Brakes

• Servicing

• Cambelts

• Clutches

• Vehicle Scanning

3 BRAKES

3 MAXXIS TYRES

3 WHEEL

ALIGNMENTS

3 BATTERIES

3 WOFs

3 CAMBELTS

locally owned

and operated

Tyres & Suspension

• New Tyres

• Wheel Alignments

• Puncture Repairs

• Suspension

• Lowering Kits

• 4WD Lift Kits

• Alloy Wheels

We will match or better any genuine quote

on tyres in Canterbury - GuaranTeed!

AND MUCH MORE!

839 Jones Road, Rolleston P.O. Box 16 Rolleston

Phone Simon on 347 7110 or Mobile 027 272 9213

nOW

dOInG

WOF's

rOLLeSTOn

Tigers on Tyres... Pussies on price!

RANGER

AXLE

MUFFLER

*Terms & conditions apply

44 Hoskyns Road, Rolleston

Phone: 03 347-0929

Open 6 days: Mon-Fri 8am - 5pm.

Sat 8am - 12pm | www.kats.co.nz

Email: phil@katsrolly.co.nz
---
24 Selwyn Times Wednesday February 24 2021

LIMITED OFFER

2018

ONLY

$

12,990

AVAILABLE ON

1/3 1/3 1/3 NO INTEREST FINANCE OFFER

Here's the easiest way to get a smart compact car that's brimming with features. Simply make 3 annual payments and enjoy

the nimble and stylish Mirage XLS, along with 15" alloys, hands free Bluetooth, 5 star safety, economy of just 5.0L per

100km and one of New Zealand's best new car warranties.

So don't miss out on this unique opportunity to own a quality pre-owned Mirage for only $12,990.

Normal lending and credit criteria apply. $4,402 + $633.05 fees (which includes PPSR & documentation fees and a $6 per month account keeping fee) are payable on delivery, $4,402 in 12 months and

$4,402 in 24 Months from delivery date. Total cost including Fees and ORC's $13,839.05. Offer available while stocks last.

CHRISTCHURCH MITSUBISHI

386 Moorhouse Avenue, Christchurch | 03 379 0588 | christchurchmitsubishi.co.nz

ONLY AVAILABLE WHILE STOCKS LAST

NAVARA RX 2WD MANUAL

$

29,990

+ORC

NAVARA RUN OUT NOW ON

*Price shown excluded On Road Costs. Offer only available while stocks last.

CHRISTCHURCH NISSAN, 380 Moorhouse Avenue, Christchurch

Ph: 03 595 6820

www.christchurchnissan.co.nz

christchurchnissan.co.nz

T Custom Ceiling Banners_Chch_2502x1000_FAem.indd 1 4/02/15 11
---
Wednesday February 24 2021 Selwyn Times 25

All charged up over plug-in Mini Cooper

I'VE NEVER owned a Mini,

but my wife still talks about her

classic three-door with much

affection.

It was an original 60s

Morris Mini-Minor 850 that had

travelled more than 60,000 miles

when she bought it, however, it

gave her unfaltering service for

many years.

My wife is a bit ambivalent

about the new generation Mini,

she's not convinced it's true to the

concept of old, but she is excited

about the latest addition to the

line-up – a fully electric/plug-in

Mini.

We had the $59,900 Mini

Cooper SE – E for electric –

during four week days and looked

at the model as many would – an

urban commute. For that role it is

everything you would want from

today's electric vehicle and, what's

more, it has range, BMW claims a

233km distance between charges,

that's at best usage.

During our time with the

evaluation car, the discharge

graphic was true to the type of

use I presented it with, easily

completing our weekly commute

without charging. Of course, you

can add charge at any point, but

for the benefit of the batteries

letting them complete a full cycle,

a slow charge is best. However,

when the need arises it will take

36min to quick charge to 80 per

cent.

It's fair to say I get anxious

about range, I'm the type of driver

who likes to have a full tank, but

the EV Mini didn't discharge as

quickly as I was expecting it to,

I'm picking that's a lot to do with

its smallish stature and lack of

weight in the car. At 1365kg, it's

only around 150kg heavier than

its petrol-engined counterparts,

the motor isn't working hard,

consequently, there is less battery

drain.

Yes, the EV Mini is small at

under 4m, and with just two side

doors it represents the values

of old. It's a squeeze accessing

the rear seats, and once in there

there's only room for two, there

are only two seat belts and that's

the end of story. Also, with just

211-litres of cargo storage, those

who do travel will have to travel

light, the boot space wouldn't

house a Kiddie-family weekly

grocery shop.

However, the $59,990 Cooper

SE is all about the values that

people want in this age where

EVs are being touted as the

way of the future in automobile

production, it's a useful addition

to the part of the market where

EV purchases satisfy those

who feel they need to be doing

something for the environment.

As an aside, the 2020 New

Zealand Motoring Writers'

Guild car of the year award went

to an EV – Mercedes-Benz's EQC

400 sport utility vehicle to be

exact.

The Mini electric is also strong

from beneath the accelerator. The

motor is rated at 135kW with

270Nm of torque available from

MINI COOPER SE: Fully electric with plug-in recharging.

a zero point. From a standstill

it will reach 100km/h in 7.3sec

and will complete an overtaking

manoeuvre (80-120km/h) in

4.8sec.

These are quick figures, and

are indicative of the flow of

energy you get from battery

power. With that you get a feelgood

factor from behind the

wheel, it is lively and encourages

a spirited drive.

I also completed a highway

loop in the evaluation car and

enjoyed its athleticism and

immediate flow of power. It

also handles much like the

Cooper S of old, it is balanced

and tight in the chassis, it turns

directly into a corner and will

flow through a corner with

control and dignity.

True to its original design,

drive is sent to the front wheels,

yet it doesn't make that obvious,

• Price – Mini Cooper SE,

$59,990

• Dimensions – Length,

3845mm; width, 1727mm;

height, 1432mm

• Configuration – Electrosynchronous

motor,

135kW, 270Nm, automatic

• Performance –

0-100km/h, 7.3sec

the cornering feel is neutral and

the suspension is set up well for

placement. High quality Good

Year Eagle F1 tyres also help, at

205/45 x 17in there is a lot of

rubber on the surface and those

tyres feel delightful, I have them

on my own car and I relate to

their characteristics.

There's been a lot of hype lately

about the longevity of electric

vehicles and the cost of battery

replacement. I'm pleased to

report that the EV Mini has an

eight-year battery warranty. That's

most reassuring, and during that

time the car will give you a lot of

satisfaction.

There are some compromises

space-wise, but for two adults

on a daily basis it is a car which

competes well with the multitude

of electric-only models that are

reaching our shores.

The Cooper SE is smart and

has all the bling that BMW has

built into the Mini since it took

ownership of the brand, it tempts

with its level of specification and

safety elements, and that's most

definitely a must for 2021.

It's also a car for the Mini

purist, and for those who,

like my wife, still relate to the

cheeky Sir Alec Issigonis design

that took the world by storm in

1959.

Next generation clothing for women who love style and individuality.

!

New label to our store

AvonheadShoppingCentre

www.avonhead.co.nz

Cnr Withells Rd & Merrin St

Avonhead
---
26 Selwyn Times Wednesday February 24 2021

Classifieds Contact us today Phone our local team 03 379 1100

Boating Accessories

& Equipment

BOAT

SERVICING

& REPAIRS

Mercruiser & Volvo

New Parts,

Repairs & Sales

Phone 027 433 7431

Firewood

Select Services

Re Roofing

Roof Repairs

Spouting

Approved Age Concern provider

Over 30 years experience

Licensed Building Practitioner

N A BARRELL

ROOFING LTD

Ph: 0275 389 415

Email: nabroofing@xtra.co.nz

SHELTERBELT TRIMMING

Boundary

Trimming

Call Tony Dempsey

Phone 03 325 3256

Mobile 0274 323 943

Cars Wanted

$$ CASH PAID $$

Buying damaged cars for

wrecking. Ph / txt Zac 021

1056 797.

MACROCARPA

burns hotter

for longer

Kent: 021 325 661

SUPPLIES LIMITED

kent@macrocarpasupplies.co.nz

21 Manion Road, Rolleston

Funeral Directors

$$ CASH PAID $$

Buying damaged cars for

wrecking. Ph / txt Zac 021

1056 797.

No Service Cremation $2,000

Family Funeral with Cremation $3,950

Chapel - 35 people, casket, hearse, cremation fees

Full Funeral options and

Burial options available

Just Funerals, a family owned and

operated company with qualified,

registered and experienced staff.

Phone 0800 804 663 - 24 Hour Availability

Email: info@justfunerals.co.nz

christchurch.justfunerals.co.nz

For Sale

STEEL for sale all

sections, off cuts cut

lengths. siteweld@ xtra.

co.nz Phone 0274 508 785

Gardening

& Supplies

ellesmere

lions

Pea straw

now available

DELIVERING NOW

Small bales $6

Medium squares

(equivalent of

10 small bales)

$50

Contact

alex Hayward

03 324 4094

Heating

Log Fires

Pellet Fires

Heat Pumps

Sales

Service

Installations

Free Quotes

03 343 1651

472 Blenheim Rd

www.heatstore.co.nz

Select Services

Bookkeeping

Support

when you need it

Accounts

management

GST/Payroll & more

Bookkeeping

troubleshooting

Xero Certified Advisor

ICNZB Certified Member

Sue thomas

027 283 3448

businessroundup.co.nz

/businessroundup

ADD SOME

COLOUR

TO YOUR ADVERT!

Select Services

Need a hand?

✤ Lawns & Edges

✤ Landscaping

✤ Gardening

✤ Hedge Trimming

✤ Handyman Jobs

✤ Casual or One Off

Phone Mike Lineton

022 341 8848

Your local

Selwyn District

GARDENER/

HANDYMAN

Specialising in:

Driveways

Outdoor Areas

Patios, Pathways,

Residential

& Commercial Floors

Professional Advice

Free Quotes

Frank McWatt

03 423 9344

027 274 0342

allwaysconcrete@gmail.com

www.allwaysconcrete.nz

Hedge Trimming

& Landscaping

• Hedge Trimming/Garden Maintenance

• Trees and Shrubs Topped Shaped or Removed

• Arborist

• Trenching and Digging Buckets

• Landscaping/Water Systems

• Cleanups Available for Small and Large Hedges

• Wood Splitter for Hire

• Fully Insured

• Hedge Trimming/Garden Maintenance

• Trees & Shrubs Topped Shaped or Removed

• Arborist

• Trenching & Digging Buckets

• Landscaping/Water Systems

• Cleanups Available for Small & Large Hedges

• Wood Splitter for Hire

• Fully Insured

HEDGES

AND

MORE.

Stu Reid Owner Operator

Ph: (03) 325-4664 Mob: 021-500-519

hedgesandmore.co.nz

Select Services

STOP BIRDS

hail, leaves, snow & vermin from

blocking & damaging your spouting

Quality materials: BHP Colorbond steel mesh with

unique patented louvre will even keep out pine needles.

Will not rust or sag with age or load. 10 year warranty,

range of colours.

Proven in Australia & New Zealand over the last 15 years.

FOR SAFE, PURE DRINKING

WATER FROM YOUR ROOF.

NOW AVAILABLE: STAINLESS STEEL

MICO MESH

Call Rohan anytime Mon-Sat for a

no-obligation assessment & quote

03 982 8850 0800 486532

www.gumleaf.co.nz

Select Services

DRIVEWAYS

HARRIS

BULLDOZING LIMITED

RENT ME!

Ideal as an extra

bedroom or office.

no bond required

• Driveways

• Car Parks

• Lifestyle Blocks

• Site Clearing

& General

Earthmoving

Mark 021 345 571

or Paul 021 705 996

Email harrisbull@xtra.co.nz

www.harrisbulldozing.co.nz

All Work Guaranteed

Please phone for a free quote

To Let

Fully insulated and double glazed for warmth.

Three convenient sizes from $80 a week:

Standard 3.6m x 2.4m

Large 4.2m x 2.4m | Xtra-large 4.8m x 2.4m

Visit our website

www.justcabins.co.nz

for display cabin locations

www.justcabins.co.nz

Tours

Reid TouRS

Mesopotamia Station

- Sat 20th March, $45

Mt Cook - Sat 10th April, $55

Waipapa Station

- Sat 24th April, $45

Call Reid Tours 0800 446 886

Email: reidtours@xtra.co.nz www.reidtours.com

ReId TouRs

Hokianga Cape Reinga Bay of Islands

9 days - Departs 15th May

$2250 pp including flights

Early bird special save $150pp for

bookings by 28th February

Chatham Island 2nd to 9th November

Call Reid Tours 0800 446 886

Email: reidtours@xtra.co.nz www.reidtours.com

Trades & Services

Builder

Trades & Services

PEST CONTROL

SPIDER PROOFING

ALL OTHER PESTS

Office: 03 337 9553

Scott Warlow: 021 168 6118

Established 1987, Qualified

& Experienced Professionals

Member of Pest Management

Association of NZ

PROTEKT

SERVICES

Arthur's

Roof & Property

Moss Kill & Proof

Silicone Sealing

Roof Repairs

Gutter Clean/Repairs

Pest Control

Butynol Roof Repairs

Bird Proofing

03 347 2635

arthursroofandproperty.co.nz

BUILDers

"A local looking after locals"

• Licenced builder with 20 years

experience in renovations,

alterations and extensions

• A creative craftsman who is

attentive to detail

• Quotes the job, does the job

• Works with all budgets

Andrew Drewitt

Ph: 021 395 324

Email: ad_designs@hotmail.com

EST.

1979

FOR ALL YOUR

★Garden Clean-ups

★Pruning

★Lawn Mowing

★Garden Maintenance

Call us today for a FREE quote

PH 0800 4 546 546

(0800 4 JIMJIM)

Trades & Services

UDI PAINTING &

DECORATING

For all painting and

decorating services.

Fully Qualified

• Interior &

Exterior Painting

• Wallpapering

• Plastering

• Roof Painting

Quality Services

FREE QUOTES

Contact Udi Aale

Ph. 021 074 2075

BUTCHER

SERVICE

Watkins Home Kill

Processing Beef, Pigs,

Sheep, Deer & Fish.

Smoking Bacon, Ham

and small goods.

Please ring for mobile

slaughter service

124 Burdons Rd, Burnham

Phone Tim 347 6693

Jacko's

Lawn Mowing &

Gardencare Ltd

Lawn mowing

and gardening.

Hedge trimming and

small trees removed.

Gutters cleared.

Clean ups and odd jobs

and lifestyle blocks.

Free quotes.

Phone Jack on

03 322 9190 or

027 3290 195

ACE HIGH

PLUMBING

All Plumbing

Gasfitting

Drainlaying

Blocked Drains

Log Fires,

Wetbacks

Gas Hotwater

Phone

021 454 864
---
Wednesday February 24 2021 Selwyn Times 27

Classifieds Contact us today Phone our local team 03 379 1100

Trades & Services

GLAZING

TWISTY GLASS &

GLAZING LTD

• Mirrors • Pet Door Specialists

• Splashbacks • All Broken Windows

THE CAT DOOR MAN

Phone Cushla or Darren Twist

027 352 6225

• Irrigation • Drainage • Driveways

• Auger Hole Drilling

• Land Clearing & Development

• Culvert Installation • Construction Site Works

• Tree & Hedge Removal • Concrete Breaker

Trades & Services

DECORATORS

New Paint • Repaints

Wallpapering • Fences

Feature Walls

Floor & Roof Painting

Spray Painting

Light Commercial

Restoring Timber

* Finance available (T's & C's apply)

Selwyn based but service the whole of Canterbury

www.andertondecorators.co.nz

www.facebook.com/andertondecorators

027 724 6846 027 PAINTIN

WINDOW TINTING

tintawindow

advanced film solutions

99% uv block

fade protection

heat control

reduce glare

25 Years Experience

Trades & Services

privacy films

frosting designs

non-darkening films

Workmanship Guaranteed

Lifetime Warranties on Most Films

UV

block

Free Quotes Canterbury and Districts

03 365 3653 0800 368 468

Situations Vacant

TEAM MEMBER

Alex McDonald Ltd, require a

capable hands on person for our

Springston Packhouse.

Grading, Packing and general

duties with some heavy lifting.

Training provided, Fixed Term work

within a friendly environment and

experienced team.

Please contact Brent

on 03 329 5645

Phone Mike: 027 272 8058 OR 03 324 4323 A/H

g.m.contracting@xtra.co.nz

www.gmcontracting.co.nz

LIFESTYLE BLOCK MOBILE SHEARING

NO JOB TOO BIG OR TOO SMALL

• Shearing • Crutching • Tailing

• Drenching • Foot Trimming

• Single & Double Crutching Trailers

A professional, friendly service

Call Shaun Adams for a free quote

021 204 1274 or 03 960 3112

adamsshearing.com

• shearing contracting • mobile shearing trailer • mobile crutching trailer

• Driveways

• Trenching

• Section Clearing

• Demolition

• Tree/Stump Removal

• Truck/Digger Hire

• Post Driving

• Section/Lifestyle Block Development

C O N T R A C T I N G

Phone: 329 7165 or 027 616 1761

NEED A PROFESSIONAL

PLUMBING SERVICE?

Call us at Think Water Canterbury for all your

plumbing needs. Certified Plumber Available Now!!

Our services include:

• Residential Plumbing Services

• Installation & Upgrades

• Hot Water Installation & Repairs

• Leaks & Blockages • New Piping & Repairs

22 Station St, Leeston. Ph: 03 324 3880

Driveways

SWAINS

KIWI KERB

(Since 2005)

Over 22 Years Experience

Quality

Workmanship

• Driveways

• Kerb &

Channel

• Garden Edging

Freephone: 0800 081 400

swainskiwikerb@gmail.com

GARAGE DOORS

The Genuine

Custom Made Garage

Door Professionals

0800 661 366

info@custommade.co.nz

Auckland, Christchurch, Wanaka

www.custommade.co.nz

Trades & Services

landscaping

Landscape

Construction and

Garden Maintenance

You can have your gardens, trees,

shrubs, plants and lawns maintained to look their best

all year round, for a great price.

Residential & Commercial Landscaping

• Maintenance • Pruning • Reconstruction & Rejuvenation

• Rental Property and Commercial Maintenance

• Pre-Sale Tidy-Ups

New Home Landscaping

Lawns • Gardens • Decks • Paving • Water Features

• Quality • Value for money • Experienced • Punctual

• Professional • Flexible • Knowledgeable • Reliable

Call Ross Legg - 027 222 0388

Email ross@revivelandscaping.co.nz

www.revivelandscaping.co.nz

SCRAP METAL

Dominion Trading Co Ltd

• Scrap metal buyers

• Canterbury owned & operated

• Top prices paid $$$

• Open Saturday morning

Open Mon-Fri 8am – 4.30pm Sat. 8.30am-12.30pm

www.happyscrappy.co.nz

03 343 9993 333 Blenheim Rd

Trades & Services

BATHROOM TILER

wet area waterproofing,

underfloor heating, soap

boxes, old to new, for best

results, call Devon on 021

375-888 or 03 329 5511

BUILDER QUALIFIED

Decks, T & G Flooring,

Villa Restoring, New

Homes, Weatherboards.

Free Quotes. Bennet &

Sons Ltd Sam 027 496-

9362 or Tony 027 224-

0374

CARPET LAYING

Exp. Repairs, uplifting,

relaying, restretching.

Phone John on 0800

003181, 027 240 7416

jflattery@xtra.co.nz

CHIM CHIM CHIMNEY

SWEEPS

We'll sweep your

logburner's flue, check

firebricks, baffles, airtubes

& controls. We're experts

on coal-rangers, and can

sweep any sized open fire.

We quote & undertake

repairs, flue extensions &

install bird netting. 0800

22 44 64 www.chimchim.

nz

Bellamy's

Furniture

Furniture made to

order and restoration

by tradesman with

35yrs experience.

PH Stephen

021 073 2624

GUTTER CLEANING

Gutter cleaning special

from $99 plus gst for a

whole house clean"".

Free Quotes, call Morgan

Thomas today 022 375

8506

LANDSCAPING

Paving, Lawns, Irrigation,

Decking, Fencing.

Kanga & small digger

services. Check out Squire

Landscaping on facebook.

FREE QUOTES. Ph

Arthur 347-8796, 027

220-7014 Edwin 027 220-

7154

POWER CABLE

Our Cable or yours,

phone-fibre-water installs,

COC supplied, trenching

and cable locatingservice,

owner operator

FREE quote ph

Gerard 0272379742

POWER TOOLS

REPAIRS,

Parts & Sales for over 40

years. All main brands

serviced. Grossman Trade

Tools,23 Watts Road,

Christchurch. Ph 389 9230

Trades & Services

RJB PLUMBING

Renovations, New Houses,

Hot Water Cylinders,

Kitchens Bathroom

Upgrades, Laundries,

General Maintenance ,

Water Filters. Phone Mark

0278690026

STUMP GRINDING

Best price guarantee Tony

0275 588 895

TILING

Flooring - Splashbacks -

Wall incl tile removal, reg

master tiler, ph Dave 027

334 4125

WINDOW CLEANING

Brown & White Ltd.

Family owned since 2001.

Ph Paul 027 229 3534

Wanted To Rent

TWO bdrm unit / flat.

$250 - $300 pw. Ph Natalie

021 0838 1112

Public Notices

Selwyn Dog

Training Club

Annual General

Meeting & Prize Giving

Wednesday

17th March 2021

7:30pm

In the Club Rooms

649 Springston-

Rolleston Road,

Rolleston

All Welcome!

RELIEF TEACHERS

WANTED

(to cover sickness and annual leave)

More details available from:

Jessica Watson

Email watsonj@ellesmere.school.nz

To apply please send a CV and covering letter to:

Teacher In Charge of Relief

Ellesmere College

P O Box 52

Leeston 7656

School Bus Drivers Required

Would you like to earn extra income while still

having most of your day free and at the same time

do your community a service by helping to provide

a safe, high standard of school transport for our

region's children.

Torlesse Travel has positions available for part time

school bus drivers in Rolleston, Darfield, Oxford

and Rangiora.

If you have a Class 2 license, a Passenger

Endorsement and are interested in driving on a

part time basis then this could be for you.

Alternatively, if you are interested in becoming a

bus driver, we can provide assistance to help you

achieve the correct licencing.

If you are interested in this role or wish for more

information, please email.

customerservices@torlessetravel.co.nz

Phone: 021 198 7358

Vehicles Wanted

CAR REMOVALS

$$CASH PAID$$

CARS, VANS, UTES

& 4X4 WANTED

NZ OWNED

AND

OPERATED

FOR

24 YEARS

We use world class vehicle

depollution systems

0800 77 80 80

www.pickapart.co.nz
---
28 Selwyn Times Wednesday February 24 2021

end of summer

STOREWIDE

SALE

Valletta Outdoor Lounge/

Low Dining Set

WAS $

2499

NOW

$

1999

FINAL WEEK!! STOREWIDE SALE ENDS 01.03.21

ALL LOUNGE

ALL DINING

ALL BEDROOM

ALL OUTDOOR

ON SALE! ON SALE! ON SALE! ON SALE!

Snap up these SUPER DEALS before they're gone!

Elyse Armchair

– Marine or Steel

WAS $

549

Clare 3 Seater

WAS $

899

NOW

$

599

Jamie Single/Single Bunk

WAS $

699

NOW

$

399

NOW

$

599

Velvet!

Seychelles Double

Mattress

WAS $

549

NOW

$

399

Dallas Queen Bed – Jet

WAS $

449

NOW

$

349

Chia 5 Drawer – W60

WAS $

499

NOW

$

399

Sono Boxed Mattress – Queen

Medium Feel

WAS $

599

NOW

$

399

Shop

Online

Nationwide

Delivery

Finance

Options

more super deals online & in store!

END OF SUMMER STOREWIDE SALE ENDS 01.03.21.

250 Moorhouse Ave, Christchurch

Ph: 0800 TARGET (0800 827438)

targetfurniture.co.nz

Offers and product prices advertised here expire 01/03/21.

Sale excludes Manchester and Accessories.
---
Wednesday February 24 2021 Selwyn Times 29

Selwyn Times Guide to

6 MARCH

LINCOLN

2021

www.selwynsounds.co.nz

SUPPORTED BY
---
30 Selwyn Times Wednesday February 24 2021

How to make the best

2021

9.30am: VIP & EXPRESS PASS 10.00am

1.35pm: KIWI 7 3.10pm: AUTOMATIC 80s

Getting to Lincoln Domain Getting in Enjoying the day

CHECK IN IS

AT 9.15AM FOR

PRE-PAID BUS

TICKET HOLDERS

PARKING AVAILABLE

AT

LINCOLN HIGH

SCHOOL

MAKE SURE TO

PRINT OR DOWNLOAD

YOUR TICKETS

TO YOUR PHONE

BE PREPARED

FOR RAIN

OR SHINE

We want to make sure everyone has a great time on the day, and that there's nothing stopping you getting in.

To make sure there are no surprises when you arrive, take a few minutes to read our Conditions of Entry.

We recommend you aim to get to the venue well before the show starts to get yourself a good spot.

❖ Honeymoon Suite ❖ Studio

❖ 1 Bedroom Units ❖ 2 Bedroom Units

❖ Spa Bath Units available

GET CONNECTED WITH

Scorch Broadband

0800 726 724

www.scorch.co.nz

Proud to support Selwyn Sounds

21 Luxury Motel Units Book your accommodation now for weddings, conferences, functions & events.

Your Hosts

Colleen &

Craig Beswick

Enquiries

Phone

03 974 1620

For

reservations:

0800 001 689

4-6 Maurice Street, Lincoln www.lincolnmotel.co.nz

Proudly

supporting our local

community!
---
Wednesday February 24 2021 Selwyn Times 31

of this fantastic day out

: GA GATES OPEN 11.00am: HELLO SAILOR 12.15pm: THE CHILLS

s 4.40pm ZED 5.55pm JORDAN LUCK BAND 7.30pm STAN WALKER

SING-A-LONG, DANCE LIKE NO ONE IS WATCHING & ENJOY THE CROWD

HAT'S AND

SUNGLASSES

ARE ALWAYS

A GOOD IDEA

BRING A REUSABLE

WATER BOTTLE FOR

OUR FREE WATER

STATIONS

NO ALCOHOL

IS TO BE BROUGHT

INTO OR TAKEN

FROM THE VENUE

FANTASTIC FOOD

FROM OUR

HUGE RANGE

OF FOOD TRUCKS

WE DO NOT

ALLOW

PASS OUTS

Once again Lincoln Domain, 15 Meijer Drive, will be the perfect venue for fun in the sun, awesome

food and drink, and a stellar cast of music legends. As the sun goes down, an unforgettable day will

culminate with an awesome performance from the one and only ICEHOUSE!

WE SUPPLY

& DELIVER

firewood and all your landscape requirements

Curtains

Blinds

Shutters

BRAND NEW

SHOWROOM

Corner Main South Road and Epsom Road,

Sockburn, Christchurch

Ph: 03 348 4129 or 0800 655 551

Rangiora Service Centre, 78 Ivory St,

Ph: 03 313 7059

www.avoncityford.com

Open 7 days Mon-Sat 7am-5pm Sun 8am-4pm

4 Parkhouse Rd, Sockburn | Phone: 03 341 5688

www.gardenmakers.co.nz

Mobile showroom service

Unit 2 / 99 Sawyers Arms Rd

03 365 4666 or 0800 836 587

www.venluree.co.nz

Free

measure &

quote
---
32 Selwyn Times Wednesday February 24 2021

Your Checklist

Tickets - downloaded or

printed and in a safe place

Download Selwyn Sounds

Spotify to learn songs

Mates organised

Transport sorted

- dropped off, bus

or Lincoln High parking

Deck Chairs (Low or high)

Booked Hamper

Empty Water Bottle

Sunscreen

Sunglass and Hat

Dancing Shoes

Something warm

to wear after

Wallet: Cash or Eftpos card

Medications

Ready for Bag Check:

- no alcohol

- no glass

- no cheese knifes

- safe utensils

E

T

E

E

ACCESS WAY

W

BAR

H

H

H

ACCESS WAY

DECK

CHAIR

ZONE

ACCESS WAY

LOW

DECK

CHAIR

ZONE

DECK CHAIR

FREE ZONE

CORPORATE ZONE

ACCESS WAY

DANCE

ZONE

STAGE

DECK

CHAIR

ZONE

WHEELCHAIR ZONE

LOW

DECK

CHAIR

ZONE

DECK CHAIR

FREE ZONE

T

H

H

H

SMOKING

ZONE

BAR

E

ALCOHOL FREE ZONE

VIP

AREA

W

H

< POLICE

< FIRST AID

ACCESS WAY

ACCESS WAY

FOOD

CENTRAL

EFTPOS

ACCESS WAY

VIP + EXPRESS ENTRY

NORTH BELT

T

Q

Q

Q

Q

Q

Q

PATH TO

LINCOLN

HIGH SCHOOL

ENTRY

TICKETS

+ BAG

CHECK

ENTRY

TICKETS

+ BAG

CHECK

BACK STAGE TOLIETS

MEIJER DRIVE

KEY:

T

W

E

Q

H

WATER

EMERGENCY

EXIT

QR CODES

SANITISER

10%

OFF MEALS

FOR THE MONTH OF MARCH

WHen YoU PResent tHIs ADVeRt

*LIMIT 1 ADVERTISEMENT PER 2 PEOPLE AT A TIME

3 Market Street

Leeston

P. 03 324 4000

www.crateandbarrel.nz

• ACCOMMODATION

• FuNCTION ROOMS

• COuRTESY COACHES

• BOTTLE STORE

• POOL TABLE

• TAB POD

• RESTAuRANT

• GAMING ROOM

DAILY $7 BREAKFAST FROM 7AM | WEEKLY HOuSIE & QuIZ NIGHTS

FORTNIGHTLY POOL COMPETITION & POKER TOuRNAMENT