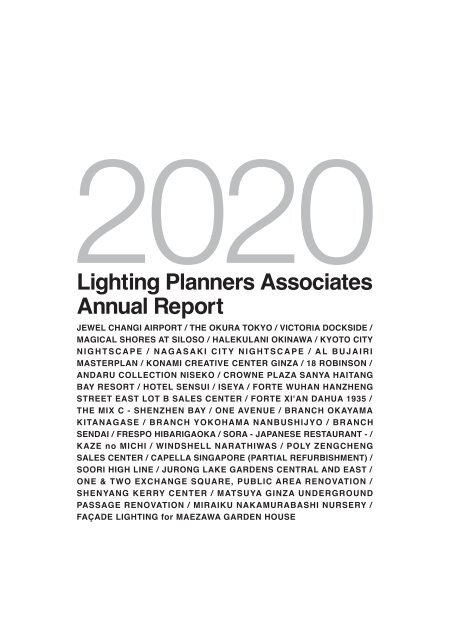 You also want an ePaper? Increase the reach of your titles
YUMPU automatically turns print PDFs into web optimized ePapers that Google loves.
2020

Lighting Planners Associates

Annual Report

JEWEL CHANGI AIRPORT / THE OKURA TOKYO / VICTORIA DOCKSIDE /

MAGICAL SHORES AT SILOSO / HALEKULANI OKINAWA / KYOTO CITY

NIGHTSCAPE / NAGASAKI CITY NIGHTSCAPE / AL BUJAIRI

MASTERPLAN / KONAMI CREATIVE CENTER GINZA / 18 ROBINSON /

ANDARU COLLECTION NISEKO / CROWNE PLAZA SANYA HAITANG

BAY RESORT / HOTEL SENSUI / ISEYA / FORTE WUHAN HANZHENG

STREET EAST LOT B SALES CENTER / FORTE XI'AN DAHUA 1935 /

THE MIX C - SHENZHEN BAY / ONE AVENUE / BRANCH OKAYAMA

KITANAGASE / BRANCH YOKOHAMA NANBUSHIJYO / BRANCH

SENDAI / FRESPO HIBARIGAOKA / SORA - JAPANESE RESTAURANT - /

KAZE no MICHI / WINDSHELL NARATHIWAS / POLY ZENGCHENG

SALES CENTER / CAPELLA SINGAPORE (PARTIAL REFURBISHMENT) /

SOORI HIGH LINE / JURONG LAKE GARDENS CENTRAL AND EAST /

ONE & TWO EXCHANGE SQUARE, PUBLIC AREA RENOVATION /

SHENYANG KERRY CENTER / MATSUYA GINZA UNDERGROUND

PASSAGE RENOVATION / MIRAIKU NAKAMURABASHI NURSERY /

FAÇADE LIGHTING for MAEZAWA GARDEN HOUSE
---
JEWEL CHANGI AIRPORT

SINGAPORE 2019 Jewel Changi Airport / Safdie Architects / RSP / Benoy / PWP / ICN

Jewel Changi Airport is a mixed-use development containing gardens and attractions, retail and dining, a

hotel and facilities for airport operations. A stunning ever-changing lighting experience within the gigantic

glass-dome with water voltex was created with the overall cocept of 24-hours amphitheater. As time passes,

expressions of light gradually change, to reveal the full 24-hours of pre-set lighting operations using daylight

and artificial lighting. Tunable white lighting was proposed for areas receiving daylight to provide a seamless

lighting colour temperature experience. This erases the impression of being in an enclosed interior space

as the lighting is constantly changing to blend with daylight color.
---
The Okura Tokyo

TOKYO 2019 Hotel Okura / TANIGUCHI and ASSOCIATES /

G A Design International / KKS / TAISEI

With regret, Hotel Okura Tokyo Main Building closed

its doors, but after renewal construction, reopened as

The Okura Tokyo. The main lobby, beloved by foreign

and Japanese guests, was faithfully recreated. The

lighting design uses LEDs to create a soft lighting

environment that beautifully adds a modern touch.
---
VICTORIA DOCKSIDE

HONG KONG 2019 New World Development Company / KPF

Two new iconic designed buildings, H2 and H3, built

in the Kowloon area of Hong Kong. The lighting design

aims to emphasize the architectural characteristics of

each building. Linear lighting is mounted along both

sides of a stone wall for H3, and similar to flood lights,

a smooth and dimmable light is used to highlight

vertical lines.
---
MAGICAL SHORES AT SILOSO

SINGAPORE 2020 Sentosa Development Corporation /

110 Inc. / Hexogon Solution

A grand scale of multi-sensory experience that

transforms Siloso Beach and its islets, on the resort

island Sentosa, into an interactive light installation

spectacle. The permanent installation along the 400-

meter sandy beach was set as a part of the island

revitalization program. Inspired by the rich biodiversity

of the island, visitors can enjoy the interactive lighting

and projections that respond to the weather and

movement of people.
---
Halekulani Okinawa

OKINAWA 2019 Mitsui Fudosan / Nikken Sekkei /

Champarimaud Design / Nikken Space Design /

Naoko Horii Design Concepts

A new resort hotel built near Inbu Beach in central

Okinawa. Details for the lighting design are

meticulously planned to emphasize the symbolic pool,

landscaping, white tones and timber motif of the

interior design, creating an atmosphere resembling

Hawaii`s beloved Halekulani.
---
KYOTO CITY NIGHTSCAPE

KYOTO 2019 Kyoto City

A community lighting mock-up tested in an area

designated as a model neighborhood by a nightscape

research survey completed in 2018. The mock-up

tested new possibilities of nighttime scenery and

reviewed brightness and color temperature for security

lighting in residential area.
---
NAGASAKI CITY NIGHTSCAPE

NAGASAKI 2019 Nagasaki city

Formulated in 2017, guidelines for the Nagasaki City

nightscape are steadily becoming a reality. The

neighborhoods near Heiwa Park has been maintained

and completed with Nagasaki-style light up of Peace

Statue.
---
AL BUJAIRI MASTERPLAN

Kingdom of Saudi Arabia 2019 Diriyah Gate Development

Authority / Benoy / Uncommon Land

Located next to a UNESCO site, this development is

expected to be the destination of both tourists and

locals. By virtue of the desert climate in the region,

the night-time experience is highly significant. The

lighting masterplan was planned to enhance the

character of history, traditions and geography of the

location as well as to create a luxurious and unique

night-time experience for visitors.
---
Konami Creative Center Ginza

TOKYO 2019 Konami Real Estate / SAKURAI

ARCHITECTURE DESIGN STUDIO ETHNOS

A new office building built in Ginza 1-chome to be used

as a hub for digital game development. The hall

comes furnished with the latest equipment; ready to

host e-sports events. At night a ring of soft indirect

lighting surrounding the top floor resemble the phases

of the moon. On a typical floor plan, a circle of light

surrounds round support columns creating a sense of

continuity throughout the building.
---
18 ROBINSON

SINGAPORE 2019 Tuan Sing Holdings / KPF / A61 /

Grant Associates

The lighting for a new office building is carefully

concealed to highlight the building volume and multifaceted

façade. It is a beacon glowing at the junction

of Market Street and Robinson Road, creating a

destination space for retail and office. The retail

spaces are framed by linear LEDs and 20 floors of

office space floating elegantly above the podium

gardens.
---
ANDARU COLLECTION NISEKO

HOKKAIDO 2019 Blue Waves Group / ISA Architects / Kuriso /

Hokkaido Zoen

A small-scale, six-villa resort was built on property

overlooking Mt. Yohtei in Hokkaido. The lighting

design aims to highlight the gambrel roof, characteristic

of this heavy snowfall area, and is respectful of the

Niseko lighting environment at night by minimizing

outdoor lighting. Through the glass windows, light

gently spills out from the interior.
---
亚

Crowne Plaza Sanya Haitang Bay Resort

SANYA 2019 Yanlord Land Group / WATG / Steve Leung

Design Group

A resort hotel built in Sanya, the southernmost part of

China. The architecture is shaped like a ship and

faces out to sea as if setting sail. The high ceiling in

the first floor lobby is a partial alfresco space and the

lighting design emphasizes the enormous feeling of

the space.
---
HOTEL SENSUI

HYOGO 2019 Yasushi Horibe Architect & Associates

Renovation of the public area and three types of guest

rooms at a 50 year old Japanese style hot spring inn in

central Kinosaki, Hyogo Prefecture. Beautiful timber,

plastered walls and vaulted ceilings were all replicated

in the renovation and the lighting design aims to create

a rhythm of soft lighting to wrap the space.
---
ISEYA

NAGASAKI 2019 ISEYA / SARC Arctectural and City planning

Institute

This project is the rebuilding of Iseya, an old Japanese

style inn. The inn is situated in the Obama hot spring

area, an area with beautiful views of the sunset over

Tachibana Bay in Unzen City, Nagasaki. Guests are

greeted by a soft and comfortable lighting design, a

reflection of the warmth of the staff and this familyowned

establishment.
---
汉 汉 销

Forte Wuhan Hanzheng Street East

Lot B Sales Center

WUHAN 2019 Forte Group / KPF

The sales center of large complex development which

locates in Wuhan city has just opened. Indirect lighting

highlights the various angles of terracotta brick used

in the unique shape of the façade design. Light also

naturally glows from the building interior without any

fancy color or changes. Wall-washers are used to

illuminate the architectural glass box structure as a

huge lighting fixture.
---
华

Forte Xi'an Dahua 1935

XIAN 2019 Forte Group

This project is located in Xian's oldest commercial

district. The current buildings were originally used as

a spinning mill factory since 1935 and is now renovated

into a commercial facility. The lighting design was

required to express the history of the buildings and the

cultural background of Xian. In order not to become a

monotonous array of large buildings, the lighting

changes according to area, with different design

themes for each.
---
The Mix c - Shenzhen Bay

SHENZHEN 2019 China Resource Group / Lead8 / Office Ma

A multi-use complex developed along the Shenzhen

Bay waterfront. The distinctive façade design for the

low-rise commercial area is a combination of several

boxes of different sizes and shapes. Lighting methods

are unified in the façade according to the type of box

and material. The interior design is very organic and

reflects aspects of the natural world. Light from a

the top changes to a very warm, low color temperature

at dusk and at night the lighting design appears to

wrap the setting sun in blue light.
---
One Avenue

SHENZHEN 2019 Excellence Group / Gemdale Dabaihui /

Callison / SWA

A shopping mall located in the center of Shenzhen's

CBD area.The interior design takes an organic approach

with a continuous curved profile. The lighting design

responds to the interior design language to create a

vibrant and timeless design. In contrary to the upper

floors, the basement takes a trendy approach with a

lot of visual impact to attract the younger generation.
---
BRANCH Okayama Kitanagase

OKAYAMA 2019 Daiwa Lease / E-DESIGN

A new shopping complex built near Kitanagase Station

in Okayama. The lighting design creates a comfortable

lighting environment for usage at night which is paired

with the lifestyle of local residents. A rhythm of light

and shadow is created along walking paths by facade

lighting and lanterns placed to softly illuminate small

alleyways winding through the rich landscaping.
---
BRANCH Yokohama Nanbushijyo

KANAGAWA 2019 Daiwa Lease / STGK / Open A

A new shopping complex built near Nanbu Shijyo

Station in Yokohama. The shopping complex aims to

recreate the energy of the nearby market. The

complex, mainly in tones of white, uses indirect lighting

to create gentle, but distinct lighting to draw a sharp

line between neighboring buildings. In order to fully

enjoy the Yokohama nightscape, lux levels gradually

decrease from the main building out into the landscape

behind the complex.
---
BRANCH Sendai

MIYAGI 2019 Daiwa Lease

A new shopping complex built in the suburbs of Sendai.

Plaster craftsman, Syuhei Hasado`s artwork, "Earth",

is on display at the entrance to the parking area. New

light fixtures were installed to recreate the lighting

environment when the work was on display at Ginza

Wako.

FRESPO Hibarigaoka

TOKYO 2019 Daiwa Lease

A new shopping complex built in Hibarigaoka, Tokyo.

Wooden louvers on the building exterior are indirectly

illuminated, creating an icon of light for this complex,

complimenting the lifestyle of local residents. The

lighting is designed to have low impact when viewed

from the surrounding high-rise condominiums.
---
SORA - Japanese restaurant -

NANJING 2019 odd

A luxury Japanese restaurant opened on the ground

floor of the Nanjing Marriott Hotel. A luminous ceiling

in the large public area is programmed to change color

temperature from day to night. Each private dining

room is designed to create a different impression and

the lighting design accommodates each individual

design. As viewed from each separate space,

expressions of a light wash on the lattice or in the rock

garden are all taken into account for a variety of light

scenes incorporated into this project.
---
KAZE no MICHI

AICHI 2019 YY architects

A multi-unit housing complex developed in a suburb

just outside of Nagoya. Interior indirect lighting

illuminates the distinctive shape of the roof, as it

emerges in the urban nightscape.
---
WINDSHELL NARATHIWAS

BANGKOK 2019 small projects

A 28-storey premium condominium located at the

border of Bangkok CBD area, containing 36 penthouse

units. Gentle lighting creates depth and reveals

another dimension visible through the ventilation

blocks. Pocket gardens in each balcony are illuminated

subtly to soften and juxtapose the concrete rigid

architecture. Lighting fixtures are purposely exposed

to echo the raw finishes of the development.
---
Poly Zengcheng Sales Center

GUANGZHOU 2019 Guangzhou Poly / Goettsch Partners / CCD

As a transit oriented development (TOD), this project

will play a major role in developing Zengcheng as a

city center of Guangzhou east. This project consists

of a residential area, office space, a hotel and retail

development. The sales center is the first platform to

reveal the new height of quality of light. Warm color

lighting and the contrast of light and shadow invite

visitors to rediscover the relationship between light

and the living environment.
---
CAPELLA SINGAPORE

(Partial Refurbishment)

SINGAPORE 2019 Pontiac Land Group

Lighting enhancement with subtle and delicate lighting

for the Capella hotel corridor. Warmer tones of light

have been selected to create the nice and welcoming

atmosphere. Some existing lights had been carefully

modified to enhance the character of the old building

with gentle and comfortable light.
---
SOORI HIGH LINE

NEW YORK 2019 W29 Highline Owners LLC / SCDA

A luxury condominium development in West Chelsea, NY, Soori High Line was designed with the resort

lifestyle in mind, meticulously crafted with thoughtful architecture, interiors, landscaping and lighting. Façade

lighting was kept very simple. Interior light spills out from tall windows, to express the luxurious urban life.

Each unit has pool at its balcony and uplighter in the pool reflects the ripple effect onto the timber ceiling,

which becoming the other iconic lighting element of the building façade.
---
JURONG LAKE GARDENS

CENTRAL AND EAST

SINGAPORE 2019 Nparks/ Salad Dressing / Landscape

Design / Liu & Wo Architects

Jurong Lake Gardens is a redevelopment of a national

garden located in the western region of Singapore. It

comprises a freshwater lake, reservoir, with both

Chinese and Japanese themed gardens. The lighting

masterplan has been carefully created to provide

comfort to the visitors as well as to conserve the

ecosystem. The Gardens will be open from 2021

onwards.
---
ONE & TWO EXCHANGE SQUARE,

PUBLIC AREA RENOVATION

HONG KONG 2019 HongKong Land / Inarc Design

Presently, the Exchange Square is an ideal office

environment in central Hong Kong. In combination

with the transition of the daylight, we applied a tunable

white lighting system to create a dramatic, but gradual

change in color temperature from early morning to late

night in the office public space. Color temperature

changes from 4000K to 2700K, creating the impression

of a natural and comfortable space for office workers

who use this area daily.
---
Shenyang Kerry Center

SHENYANG 2019 Kerry Properties / BTA / CL3 / AvroKO

This multi complex is located at the central area of

Shenyang city. The design reflects the history of the

Shenyang by using iron and brick materials in the

façade and interior spaces, a honorable homage to

the once-industrial city. An architectural glass box

glows like a lantern and a subdued lighting design with

lower color temperature and brightness emphasizes

the architectural and interior materials creating a

nostalgic atmosphere.

Matsuya Ginza Underground Passage

Renovation

TOKYO 2019 Matsuya / TSDO / Nomura

The underground passage between Ginza Subway

Station and Matsuya Ginza was renovated in honor of

the 150 anniversary of Matsuya Ginza department

store. The retro design has transformed the area into

the newest meeting spot for shoppers. The lighting

was also revamped and from morning to night lighting

operations slowly transition from bright, white light to

warm colored light.
---
Miraiku Nakamurabashi Nursery

TOKYO 2019 Miraiku / Ishijima Architects

A timber construction nursery building built in a

residential area. Spotlights in the hall and classrooms

were reconfigured to better serve various nursery

activities, including daily exercises and play events.

Windows, mirrors, and lighting decorate the hallways

and at dusk, beautiful natural light shines in through

the windows. Warm light also spills out from the

interior, creating a new vista in the middle of this

residential area.

Façade Lighting for Maezawa Garden House

TOYAMA 2019 YKK / APL design workshop

In conjunction with the opening of the Theatre Olympics,

a 40 year old architectural masterpiece by Fumihiko

Maki was renovated. The lighting design aims to

impress guests in attendance by highlighting

architectural characteristics of the building.
---
LPA TOPICS

Joint 3 Office Workshop / LPA Tokyo has Moved! / Exhibition & Lecture /

Award / Internal Workshop / Lighting Design Project for Reviving from

Disasters / Refreshing Time / Linkedin / LPA 2019 Activities & 2020

Goals / Major Contributions and Interviews
---
TOKYO

SINGAPORE

HONG KONG

Joint 3 Office Workshop

Oct.18

Staff from the Singapore and Hong Kong offices gathered in Tokyo for a joint 3-office workshop. We regularly

see each other during video conferences, but it has been a long time since we have gathered in person. The

workshop was very intense, including a group photo in the morning and a party and tour on a Japanese-style

house boat at night.
---
Exercise & Lunch

#Exercise

Singapore style exercise before lunch.

#Lunch

Full bellies from the lunch buffet and a little down time before the

start of the afternoon session.

Self Introduction & Group Discussion

#Self Introduction

Introductions were limited to presentation of

one minute and four slides per person.

#Group Discussion

Staff were divided into seven groups to discuss assigned topics.

Night Boat Tour

Night tour on a Japanese style house boat. Staff enjoyed the Tokyo nightscape and

fine dining on board.
---
LPA Tokyo has Moved !

After 25 years in our beloved Jingumae, we have moved to the historic neighborhood of Tsukuda, set along

the Sumida River, which is rich in culture from the Edo period. As we near the 30th anniversary of the

founding of LPA, we wanted to make a fresh start in a new place to rediscover ourselves.

New Neighborhood

New Address

SHIBUYA

TSUKUDA
---
Exhibition & Lecture

LPA was invited to and presented on lighting design at several conferences in and outside of Japan last year.

Also, an Ingo Maurer exhibit, supervised by Kaoru Mende, was held at the Matsuya Design Gallery. Mende also

had several sketches and a model of Tokyo Station on display at the 21_21 DESIGN SIGHT in the exhibit

"Secret Source of Inspiration: Designer`s Hidden Sketches and Mockups."

Kyushu Design Charrette 2019 in

Nagasaki Aug.27

IALD Great China Forum 2019 in

Shenzhen Sep.07

Exhibition "Ingo Maurer-high

technology with poetic expressions-"

Sep.11 - Oct. 07

Gallery Talk at Matsuya Ginza

Sep.18

eLicht Forum in Shanghai

Nov.17

Exhibition "Secret Source of

Inspiration" Nov.22 - Mar.08

Gallery Talk

at 21_21 DESIGN SIGHT Dec.07

Fukuoka Saga Shindo Workshop

Dec.11

Award

International Association of Lighting Designers (IALD), Lighting Design Award

Award of Excellence Mt. Fuji World Heritage Centre, Shizuoka

Illuminating Engineering Institute of Japan, Lighting Design Award

Award of Excellence Nihombashi Mitsukoshi

Illuminating Engineering Society of North America(IESNA), Illumination Award

Award of Merit Nihombashi Mitsukoshi

Award of Merit Mt. Fuji World Heritage Centre, Shizuoka
---
Internal Workshop

Expert Work

Nov.27

As expart activity, nightscape photography, the mechanics

of dimming systems, hotel lighting, train station lighting,

and fire are just some of the areas pertaining to light and

akari that LPA staff chose to study intensively. These areas

of expertise are researched and progress at one's own

pace, separate from daily work. We also held a small

outing to research on brightness in the city nightscape.

Workshop

LPA held internal workshops on technological

innovation in lighting, architecture, and IOT to keep

staff up to date on rapid progress in these fields.

Lighting Design Project for Reviving from Disasters

Designed for use during disaster relief by architect Shigeru

Ban and Voluntary Architects' Network, LPA borrowed a

section of this paper partition system, in order to research

useful lighting method possibilities at a evacuation center

after a disaster occurs.

Check for updates on our blog.

https://note.mu/lpa_revivng_pj
---
Refreshing Time

LPA also took time to relax at company events such as a full moon party and company trip.

LPA Open House

Oct.11

Company Trip HK Hakone

Oct.19

Company Trip Singapore Ise

Oct.19

Singapore Durian Trip to Johor

Jun.19

Find us on Linkedin!

https://www.linkedin.com/company/lightingplannersassociates/
---
LPA 2019 Activities & 2020 Goals

Numerous Projects Completion in 2019

We are featuring 34 projects that include 3 masterplans in this report, which more than our average year

of average 30 projects completion. In addition to large scale projects such as Jewel at Changi by the

airport in Singapore and The Okura Tokyo, one of the most symbolic hotels in Japan, we were also

fortunate to have worked on other unique boutique projects of a smaller scale.

Four projects have received renowned international lighting design awards.

Active Involvement in Urban Lighting / Masterplan Projects

Recently, we have been actively involved in urban lighting and lighting masterplanning, on top of our

conventional wide range of architectural lighting design projects.

In Japan, we are currently working with cities of Nagasaki, Kyoto and Yanagawa. In China, we are

involved with cities like Tianjin and Shenzhen.

Big Success at 15th Annual Transnational Lighting Detectives Forum

in Shenzhen, China

The annual Transnational Lighting Detectives forum in Shenzhen was a big success!

It was co-organized by the city of Shenzhen, China with the theme of "Shenzhen Nightscape 2030", there

were major exchanges of dialogue between Detectives members and participants, including students and

members of the public from various parts of China. How will nightscapes in rapidly-developing China

evolve in the next 10 years?

The Lighting Detectives are looking forward to being part of this exciting journey!

New Office for Tokyo

After 25 years of being stationed in the trendy Shibuya district, we have shifted our Tokyo office to the

historic downtown area of Tsukuda, Chuo district – near Tokyo station. It is located on the ground floor of a

skyscraper by the Sumida river which has a beautiful pedestrian promenade.

The new spacious office space has an open-plan concept with high ceilings.

Please do drop by if you find yourself in Tokyo!

Celebrating Our 30th Anniversary and beyond – A New Chapter for LPA

With highly anticipated Tokyo Olympics 2020 in Japan, LPA will celebrate our 30th anniversary since its

establishment alongside this exciting event. Founder Kaoru Mende will also be celebrating his 70th

birthday this year.

To rise to the occasion, we are all amped up to make a fresh start with a stronger team effort amongst our

three offices. Engaging our 60-strong creative manpower, we are committed to pursuing new areas of

work and projects to break new ground. Let us know if you have any challenge for us.
---
Major Contributions and Interviews

01.11

04.10

05.19

08.27

09.04

09.11-10.07

09.18

10.01

11.07

11.17

11.19

11.20

11.22-03.08

12.07

12.11

12.12

01.01

01.01

01.10

07.01

08.20

09.21

10.10

10.10

11.01

12.01

12.01

12.01

12.01
---
LIGHTING DETECTIVES

Transnational Lighting Detectives Forum 2019 in Shenzhen / Night Walk

Outside Tokyo / Lighting Detectives in Singapore / City Night Walk /

Regular Round Table Discussion / Lighting Detectives Survey / Children

Workshop / Annual Activities / Lighting Detectives Annual Gathering /

List of Sponsors
---
Transnational Lighting Detectives Forum 2019 in Shenzhen

世 界 照 明 探 偵 団 フォーラム 2019 in 深 圳

May.17-19

The 15th Annual Transnational Lighting Detectives

Forum was held over three days from May

17th-19th, 2019 in the rapidly developing city of

Shenzhen, China. The theme was "The Shenzhen

Nightscape in 2030."

Day1

Orientation

A total of 90 participants, mostly students, met together for an

orientation on city walk methodology and the lighting plan of

Shenzhen. Participants were broken up into six teams and

after introductions, team members discussed characteristic of

their assigned area and what they might expect on the walk.
---
Night Walk

Each team gathered together and went on a night walk in one of six

distinctive areas chosen around the city of Shenzhen.

Day2

Group Discussion

The next day, team members gathered to look over

pictures taken from the previous night`s walk and to

discuss heroes and villains of light in their assigned area.

Reasons for each hero and villain were also discussed

and narrowed down to keywords as work progressed.

Presentation &

Panel Discussion

Day3

After three days of workshops, the final presentations were

held at Harbin Institute of Technology. Each team gave a 15

minute presentation about their assigned area, describing the

existing lighting environment and proposals for the Shenzhen

lightscape of 2030. The panel discussion included seven

panelists who debated and discussed their expectations and

predictions for the nightscape of this cutting edge city as it

continues to develop.
---
Night Walk Outside Tokyo

Kyoto

Sep.27

After a four year break in the Kansai Area, we went on a city walk in the old city of Kyoto. Forty-four participants

broke into four groups to survey the nightscape, looking for Kyoto-style lighting in a city swamped by tourists

year round.

Orientation

Night Walk

Presentation & Dinner
---
Yanagawa

Boat Tour

May.09

The Lighting Detectives hosted a tour to discuss the

nightscape of Yanagawa, known for its canals.

Including a boat tour and a walking session, these

two events to search for heroes and villains of light

were well attended by local residents.

On the boat tour, participants loaded into two small,

flat-bottomed punts to view the nightscape from the

canal. With flashlights, we illuminated buildings and

bridges darkened by shadows to verify ideal

nightscapes for a more charming boat tour at night.

Various ideas and opinions were discussed.

Nightwalk

Jun.10

On land, we walked along the canal to verify what a

comfortable lighting environment might include to

please both residents and tourists.

Co-hosts : Yanagawa City, Institute of Decision Science for a Sustainable Society (IDS3), Kyushu University
---
@Street of Clans

Mar.08-10

Lighting Detectives participated in Singapore Design Week – Street of Clans @ Bukit Pasoh. Our installation titled Sea the

Light also included a kids lantern-making workshop and the transformation of the back-alley into a sea / lantern theme.

Jewel Changi Airport

Jul.17

We wanted to create an exclusive experience of

Jewel where participants can see the transition of the

architectural lighting in the quiet early morning hours.

So, detectives gathered at 5.30am and enjoyed

walking through Jewel to appreciate architectural

lighting and sunrise through the glass facade.

Golden Mile

Nov.01

On the theme of "iconic buildings", we decided to conduct

an active "re-imagining" session with participants at a

popular development in Singapore. Once called the "golden

gate" of Singapore, it now houses the bustling Thai community.

This session will be followed-up using the sketches created

in next year.
---
City Night Walk

Megurogawa-river Cherry Blossom Light-up

Mar.25

Megurogawa-river is a popular cherry blossom viewing spot in Tokyo. We

surveyed the area, illuminated at night, to see if the illumination increased the

appeal of the cherry blossoms and is a good addition to the custom of cherry

blossom viewing. We also observed the area for signs of light pollution or other

dangerous factors.

Bus Tour

Jul.26

Without fail, bus tour has always been a popular event. The double-decker,

open-air bus took us on a tour past the Tokyo Tower, Rainbow Bridge, Odaiba,

and other famous places in the Tokyo nightscape.

Ikebukuro

Nov.15

Freed from the dangers of becoming a neighborhood in demise, Ikebukuro

continues to redevelop, focusing on becoming a center of cultural dissemination.

We surveyed park lighting in several areas central to the redevelopment,

comparing them to Shinjuku and Shibuya.

Regular Round Table Discussion

Apr.17 & Nov.29

At the salons each group presents on opinions exchanged

during the city walks. Accompanying surveys and materials

based on the city walk theme are also shared.
---
Lighting Detectives Survey

Chongqing Jul.4-5

Amongst new urban development, the city of

Chongqing is dealing with how important historical,

cultural, and lifestyle elements, continuing from the

age of the Song Dynasty, should coexist, change or

be improved. We surveyed the city to see how the

lighting has evolved, and the effects on residential

activity and urban planning.

Sydney Sep.19-21

In a joint research effort, staff from the Tokyo and

Singapore offices traveled to Sydney to survey the

lighting masterplan being aggressively enforced and

implemented across the city. We consciously

compared changes in the nightscape from previous

surveys in 1998 and 2003 and focused our attention

on the rich waterfront of the city.
---
Saitama New Urban Center Apr.11

The Saitama New Urban Center, developed and finished in

2000, is a concentrated, multi-functional city center. It is

composed of large shopping complexes, a multipurpose arena,

government office buildings, and medical services, all centered

around the JR Saitama New Urban Center Station. Despite it

being a planned urban area, we could still survey it from the

lighting standpoint to observe differences.

Tsukishima Nov.18

Tsukuda is an artificial island and field developed during the

Edo Era for fishermen. During the Meiji Era the land of

Tsukishima was reclaimed and is now an area with many small

alleyways and several old row houses. As development in and

around Tokyo Bay continues, the area is now a mix of old

streetscape and tall high-rises. We visited the area to survey

the lighting environment.

Children Workshop

Sep.21

Nerima Shakujiikoen Furusato Museum

One of the largest ever, 53 children gathered together to craft

lanterns inspired by vegetables harvested in Nerima, the city in

Tokyo known for Urban Agriculture. It was adorable to see

children get excited when their lanterns got lit. We also held a

"Lecture on Fire and Light" around an "Irori", a Japanese hearth

in an old traditional Japanese style house.
---
Annual Activities

02.18

Interview with the Chief

World Lighting Journey : Summary of 2018

03.19

Lighting Detectives News Letter Vol.97

03.25

City Night Walk Vol.63Megurogawa-river

04.01

Web Column Vol.49

Education between Student and Staff

04.11

City Night Survey―Saitama New Urban Center

04.17

Salon Vol.61Review on Night Walk @Megurogawa-river

04.30

Web Column Vol.50 Environmentally Friendliness

05.08-10

Sea the Light in Singapore

05.09

NightwalkYanagawa Boat Tour Edition

05.15

Web Column Vol.51Into the Water

05.17-19

Transnational Lighting Detectives Forum 2019

in Shenzhen, China

05.21

Web Column Vol.52From Your Bed to Your Desk

05.22

Lighting Detectives News Letter Vol.98

06.10

07.04-05

07.17

07.23

07.26

NightwalkYanagawa on Land Edition

City Night Survey―Chongqing, China

Singapore Night WalkJewel Changi Airport

Lighting Detectives News Letter Vol.99

City Night Walk Vol.64Tokyo Skybus Tour

09.04

Lighting Detectives News Letter Vol.100

09.21

Lighting Detectives Jr. Lantern-making Workshop

09.19-21

City Night Survey―Sydney, Australia

09.27

NightwalkKyoto

10.21

Web Column Vol.53Self-Promotion as a Designer

11.01

Singapore Night WalkGolden Mile

11.01

Web Column Vol.54Understanding Millennials

11.07

Lighting Detectives News Letter Vol.101

11.15

City Night Walk Vol.65Ikebukuro

11.18

City Night Survey―Tsukishima

11.29

Salon Vol.62Review on Night Walk @Ikebukuro

12.03

Lighting Detectives News Letter Vol.102

12.06

Annual Gathering Party
---
Lighting Detectives Annual Gathering

Dec.06

The year-end activity report and party attended by Lighting Detective sponsors and members.

Lighting Detectives - List of Sponsors

The following 20 Lighting Industry Professionals financially sponsor Lighting Detective activities.

Lutron Electronics Co., Inc.

USHIO LIGHTING. INC.

Iwasaki Electric Co., Ltd.

Color Kinetics Japan Inc.

Lumenjapan Inc.

Endo Lighting Corp.

Panasonic Corp.

ERCO

DAIKO ELECTRIC CO.,LTD.

ModuleX Inc.

Koizumi Lighting Technology Corp.

YAMAGIWA CORP.

Toshiba Lighting & Technology Corp.

Martin Professional Japan. Ltd.

TOKI CORPORATION

Shonan Co., Ltd.

Yamada Shomei Lighting Co., Ltd.

Louis Poulsen in Japan

DN Lighting Co., Ltd.

Mitsubishi Electric Lighting Corporation
---
Alice Mak

Angkana Kongchatri

Atsushi Itakura

Brien Ng

Bryan Yan

Erina Hosono

George Guu Gran Li Hikaru Kimura Hu Lin

Karen Huang

Kentaro Tanaka Kouki Iwanaga Kyoko Takubo

Leon Hitsu

Mikine Yamamoto Misuzu Nakamura Momoko Muraoka Namiko Watanabe Natasa Wong

Raina Jiang Shan

Reiko Kasai Sachiko Segawa Satomi Yamaguchi Sherri Goh

Ye Yu

Yuhang Zhong Yuichi Anzai Yukiko Saito Yumeka Miyamae

Yumi Honda

Yusuke Hattori

Zooey Li
---
Catherine Wong

Chanyuan Zheng

Chia Xing Tang

Chika Makabe

Clement Lee

Irene Tan

Jada Hung Jio Yeung Junko Nagatomo

Kaoru Mende

Mami Kono

Mari Kubota Masafumi Yamamoto Masahiro Iwata Mayumi Banno

Niken Wulandari Noriko Higashi Phraporn

Kasemtavornsilpa

Quratuaini Bte Jamil

Raba'a Bte Tainy

Shosaku Takahashi

Shunichi Ikeda

Simeng Huang

Stin Liang

Sun Young Hwang

Lighting Planners Associates 2020 Annual Report
---
Lighting Planners Associates Inc.

1-11-8-1F Tsukuda, Chuo-ku, Tokyo 104-0051, Japan

Tel : +81 3 4500 6380 Fax : +81 3 4500 6383

E-mail : lpa@lighting.co.jp

Lighting Planners Associates (S) Pte. Ltd.

51B Neil Road, Singapore 088829

Tel : +65 6734 3086 Fax : +65 6734 2786

E-mail : singapore@lighting.co.jp

Lighting Planners Associates (HK) Ltd.

Unit G, 9/F Tung Kin Factory Building,

196-202 Tsat Tsz Mui Road, North Point, Hong Kong

Tel : +852 2578 9007 Fax : +852 2578 9116

E-mail : hongkong@lighting.co.jp

www.shomei-tanteidan.org office@shomei-tanteidan.org

www.lighting.co.jp