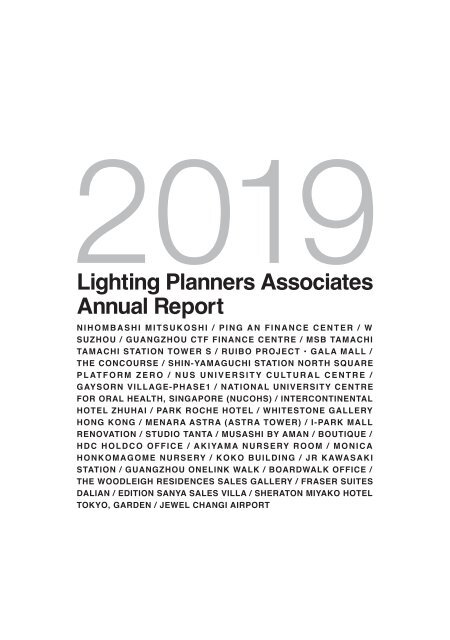 You also want an ePaper? Increase the reach of your titles
YUMPU automatically turns print PDFs into web optimized ePapers that Google loves.
2019

Lighting Planners Associates

Annual Report

NIHOMBASHI MITSUKOSHI / PING AN FINANCE CENTER / W

SUZHOU / GUANGZHOU CTF FINANCE CENTRE / MSB TAMACHI

TAMACHI STATION TOWER S / RUIBO PROJECT • GALA MALL /

THE CONCOURSE / SHIN-YAMAGUCHI STATION NORTH SQUARE

PLATFORM ZERO / NUS UNIVERSITY CULTURAL CENTRE /

GAYSORN VILLAGE-PHASE1 / NATIONAL UNIVERSITY CENTRE

FOR ORAL HEALTH, SINGAPORE (NUCOHS) / INTERCONTINENTAL

HOTEL ZHUHAI / PARK ROCHE HOTEL / WHITESTONE GALLERY

HONG KONG / MENARA ASTRA (ASTRA TOWER) / I-PARK MALL

RENOVATION / STUDIO TANTA / MUSASHI BY AMAN / BOUTIQUE /

HDC HOLDCO OFFICE / AKIYAMA NURSERY ROOM / MONICA

HONKOMAGOME NURSERY / KOKO BUILDING / JR KAWASAKI

STATION / GUANGZHOU ONELINK WALK / BOARDWALK OFFICE /

THE WOODLEIGH RESIDENCES SALES GALLERY / FRASER SUITES

DALIAN / EDITION SANYA SALES VILLA / SHERATON MIYAKO HOTEL

TOKYO, GARDEN / JEWEL CHANGI AIRPORT
---
日 本 橋 三 越 本 店

Nihombashi Mitsukoshi

TOKYO 2018 Isetan Mitsukoshi / Kengo Kuma and Associates

Renovation of the historical department store, which is

listed as an important cultural property of Japan. The

interior design concept is "a shining, white forest." A

pillar-supported "tree canopy" extends throughout the

first floor of the main building and is beautifully

illuminated with a gradation of light to provide a sense

of unity in the retail space. Downlights are mounted

in the geometrical ceiling pattern to emphasize paths

of circulation and host gathering areas for customers.
---
平 安 金 融 中 心

Ping An Finance Center

SHENZHEN 2018 Ping An Insurance Group Company of China / KPF

A 600m tall office building was developed for the headquarters of Ping An Insurance Company. As the

world's 4th tallest tower, it was designed as new icon in the Shenzhen cityscape. The lighting for this new

landmark avoids glitzy light elements, instead incorporating catholic and stately design. Also, light seems

to radiate down from the sky, creating a façade to be loved by residents for long years to come.
---
W 蘇 州

W Suzhou

苏 业 鸡 发

SUZHOU 2018 Suzhou Industrial Park Jinji Lake Urban Development / Nikken Sekkei / Rockwell Group / AB Concept /

nemaworkshop

W Suzhou is located in a newly developed area near Jinji Lake in scenic Suzhou, known internationally

as the "Venice of the East." The lighting design takes cues from Chinese garden design philosophy,

incorporating the idea of "concealment and surprise." Unique elements of Suzhou are also incorporated

into the interior design concept of "Levitating Garden." The lighting design emphasizes the idea that walls,

ceiling, furniture and everything else seems to be floating.
---
廣 州 周 大 福 金 融 中 心

Guangzhou CTF Finance Centre

GUANGZHOU 2018 New World Development Company / KPF

This new tallest building, 530-meter-tall, in the city, is located in Guangzhou which has eternal history and

dignity. Elegantly lit with gentle gradation of light, accompanied by the iconic sparkling light set back to the

top of the tower, it is our intention to enhance the three-dimensional quality of the architectural design. This

would help to achieve a sophisticated impression in the surrounding nightscape. Indirect linear lighting on

the terracotta fins bring out the rich and unique texture, highlighting this symbolic art and its craftsmanship

that is famed in Guangzhou.
---
msb Tamachi 田 町 ステーションタワーS

msb Tamachi Tamachi Station Tower S

TOKYO 2018 Mitsui Fudosan / Mitsubishi Jisho / KPF / Mitsubishi Jisho Sekkei / Nikken Sekkei

A concourse connects JR Tamachi Station with the completed, first phase of a redevelopment project,

including twin office towers, a hotel, and retail space. Façade lighting highlights the architectural concept

of the framed twin towers, and the flow of linear light emphasizes the building podium and lush landscaping.
---
瑞 博 项 目 ・ 尚 悦 湾

Ruibo Project GALA MALL

SHANGHAI 2018 CITIC Pacific Properties / KPF /

JATO Design Internatioal

A large-scale redevelopment at the site of an old ship

building yard in the center of Shanghai. The tower

interior is sophisticated with simple and modern

lighting design. The lighting design also highlights the

marine elements of the interior retail space. Slits in the

façade design are illuminated from inside and lighting

operations create a flowing waterfall effect from the

tower top to the podium.
---
THE CONCOURSE

SINGAPORE 2018 Hong Fok Corporation

One of Singapore's iconic skyscrapers, this 41-story

office tower designed by architect Paul Rudolph faces

the Kallang river, on the opposite side of Singapore

National Stadium. Façade, exterior and atrium lighting

has been refurbished, emphasizing the unique

octagonal profile of the building, increasing its

visibility from afar. The additional entrance plaza light

creates a welcoming and cheerful ambience when

viewed from the street level.
---
新 山 口 駅 北 口 駅 前 広 場 「0 番 線 」

Shin-Yamaguchi Station North Square

Platform ZERO

YAMAGUCHI 2018 Yamaguchi City / Plants Associates /

KMD / studio on site

The renewal of a station plaza, situated in the path of

a walkway that extends north and south of the station,

under the theme "connecting station and city." A

wooden lattice and deck are illuminated with indirect

light to create a warm and welcoming entrance for

people coming to the city and going back to the station.

We hope this kind of comfortable lighting environment

will be replicated throughout the surrounding area.
---
NUS UNIVERSITY CULTURAL

CENTRE

SINGAPORE 2018 NUS Centre For the Arts / Forum Architects

/ CPG

The renovation of a performing arts center owned by

the National University of Singapore. Ceiling uplights

in an atrium and a light wall-wash along the main

hallway extending east and west, warmly greet visitors

to the center. All original light sources in two multipurpose

halls were converted to LED and a soft,

vertical wall wash completed the transformation. Upon

the switch to LED, we addressed technical issues such

as incorporating the existing stage lighting controller

with DMX.
---
GAYSORN VILLAGE - PHASE1

BANGKOK 2018 Gaysorn Property / Hong Kong Land / Jerde

Architects / CL3 Architects / Architect 49 / Landscape 49 / APLD

Gaysorn Village, the extension of the existing

previously named Gaysorn Plaza located in the

Ratchaprasong area of Bangkok, is the building

complex includes Gaysorn Tower (office) and the

Amarin Plaza shopping center. Façade, exterior and

public interior lighting accentuates the architectural

design and creates a flow from the existing to the

new building.
---
NATIONAL UNIVERSITY CENTRE

FOR ORAL HEALTH, SINGAPORE

(NUCOHS)

SINGAPORE 2018 National University Health System /

National University of Singapore Faculty of Dentistry / Architects

61 / B+H Architects / ICN design international / Beca Carter

A new building for oral academics, medical, research

center and oral health therapist services. The modest

façade light-up was designed to highlight the building

form at night. Selection of light was with visual comfort

and maximum utility of natural daylight in the interior

space. Lighting helps to bridge the connection of the

nature in the landscape through the window.
---
珠 海 仁 恒 洲 际 酒 店

Intercontinental Hotel Zhuhai

ZHUHAI 2018 Yanlord Land Group / NBBJ / AB Concept /

CL3 Architects / YANG

A hotel in a large-scale complex, the Yanlord Marina

Centre, located adjacent to the entry of Hong Kong -

Zhuhai - Macao Bridge is opened. The external design

resembles a windward sail, making it an attractive

landmark. Interior design expresses the seascape

and culture of Song dynasty. The theme of space is

emphasized by the light integrated into the feature

motif, creating a subtle yet spacious lighting atmosphere.

Façade Lighting will be completed in Summer 2019.
---
PARK ROCHE HOTEL

PYEONGCHANG 2018 Hyundai Development Company /

Design Studio / Igong Geonchuk

Built at the base of the competition venue, this hotel

facility was set to be completed in time for the start of

Pyeong Chang Winter Olympics, on February 9th,

2018. The lighting design compliments a composed

interior color scheme with appropriate levels of

brightness where needed, while creating a homely,

mountain lodge atmosphere and lighting environment.
---
WHITESTONE GALLERY

HONG KONG

HONG KONG 2018 Whitestone Gallery / Kengo Kuma and

Associates / Ono Design

A gallery situated inside the H Queen building next to

Central Station in Hong Kong. Three-dimensional

fabrics form a thin membrane for a luminous ceiling

that creates ambient light for the entire space.

Spotlights are carefully mounted in the luminous

ceiling, being as inconspicuous as possible. Although

the design is very minimal, it lends an exceptionally

dynamic feeling to the space.
---
MENARA ASTRA (ASTRA TOWER)

JAKARTA 2018 PT Astra International Tbk / Nikken Sekkei /

AIRMAS ASRI

A new, 261m tall tower was completed in Sudirman,

the main business area of Jakarta. Flood lights mounted

on the podium wash two glass panels, named "Wing

Walls," shaped in the form of two people joined handin-hand,

for a very uniquely designed tower. Indirect

lighting is mounted along the edge of a large podium

overhang to create the feeling of volume and depth.
---
I-PARK MALL RENOVATION

SEOUL 2018 Hyundai Development Company / m_inks

The renovation of a shopping mall directly connected

to Yongsan Station, the starting point for major trains

like the Saemaeul train and the Mugunghwa train on

the Gyeongbu line. Indirect uplight gently washes the

curved ceiling, creating soft light and shadow along

the walkway connecting the station and mall. In front

of the station, linear light and colored light are

designed to reflect off the mirror ceiling of the grand

canopy, for a fresh, new look for the retail area.
---
Studio Tanta

TOKYO 2018 Studio Tanta / Taisei Design Planners Architects

& Engineers / Nihon Onkyo Engineering

Combined with restaurant and residential space, a

seven-story tall music studio with three underground

levels, was built at a convenient Tokyo location, with a

stunning view adjacent to Yoyogi Park. The silhouette

of the large concrete frame, a main architectural design

element of the building, beautifully emerges through

the glow of interior lighting.
---
武 蔵 by アマン

Musashi by Aman

TOKYO 2018 Aman Tokyo / Taisei / hashimoto yukio design studio

Aman Tokyo has opened a new sushi restaurant on its 34-floor, introducing traditional Edomae style

sushi in the highest quality. Master Sushi Chef is Mr. Musashi who had run "Sushi Musashi", a successful

sushi restaurant in Aoyama. The lighting design is based on a washi paper luminous wall that gently wraps

the sophisticated Japanese-style interior, complete with solid wood furnishings, stucco walls, and washi

paper, in a soft glow with limited shadowing.

ブティック

Boutique

TOKYO 2018 Aman Tokyo / Kerry Hill Architects

Library has been renovated into retail space on the

33-floor of Aman Tokyo, completed in 2014. The

lighting design makes use of the existing ceiling

fixtures to effectively illuminate Aman's unique, select

items. Elegant lighting and the sweeping Otemachi

nightscape, extending beyond the boutique's large

glass windows and high ceiling, welcome guests into

the space.
---
HDC HOLDCO OFFICE

SEOUL 2018 Hyundai Development Company /

Richards Basmajian

The renovation of an office on the top floor of a

building in the business district near Gangnam Station.

Lighting methods were designed to match the work

production of four different areas in the office; the

reception zone, the collaboration zone, the innovation

zone, and the leadership zone, with a suitable lighting

environment.
---
あきやま 保 育 室

Akiyama Nursery Room

TOKYO 2018 Medical Corporation Senjitsukai / Ishijima

Architects

This facility functions as a regular daycare, but with

additional areas for sick child care, nursing support for

children with SMID, and parenting support services.

We felt that it was very important to create a soft

lighting environment and comfortable atmosphere for

this daycare, which emphasizes the importance of "eat,

sleep, and play", and is used by a wide variety of

children and parents.

モニカ 本 駒 込 園

Monica Honkomagome Nursery

TOKYO 2018 Monica / Ishijima Architects

A pre-existing, 3-story building was remodeled into a

nursery school. The stairway leading to the second

floor classrooms is bright and fun with luminous steps.

Cutout letters and shapes can be stuck on for a playful

element. Nursery room lighting is flexible in order to

accommodate any room configurations when the

partitions are moved to create a large one-room space

for multi-age activities.
---
KO KOビル

KOKO Building

TOKYO 2018 Kotobuki Corporation / Environment Design

Institute

Built on prime real estate in the center of Tokyo, this

six-story high, glass-walled building faces a railway

track displaying a large, steel beam "K", the first letter

of the company name. At night the K is illuminated

and further highlighted, noticeable even from a

passing train. The lighting environment in the

children's play area on the 4th and 5th floors is brightly

illuminated, but with dim, shadowy areas, like a secret

hideout, allowing children healthy and lively play.

J R 川 崎 駅

JR Kawasaki Station

KANAGAWA 2018 East Japan Railway / JR East Tokyo

Electrical Construstion and System Integration Office

A new north exit opened at Kawasaki Station, a transfer

hub for three different train lines. Lighting operations

change color-temperatures and levels of brightness

throughout the day and night along the concourse, a

space filled with an abundance of natural light from

the above skylights. At night, ceiling uplights

emphasize the high, vaulted ceiling.
---
广 州 天 河 万 菱 汇

Guangzhou Onelink Walk

GUANGZHOU 2018 Onelink Industrial (Guangdong)

Renovation of façade lighting for a mixed use project. Initially opened in 2010, the building is located in the

Tianhe district and contains offices, a shopping mall and service apartments. Seemingly draped in a veil,

LED lighting is installed in the gently curved podium with each point of light delicately controlled. The design

creates an elegant expression of light, like golden fabric clinging to the wind.

BOARDWALK OFFICE

TOKYO 2018 BOARDWALK / Puddle / moyadesign

The relocation project for e-ticketing service

company BOARDWALK office. The lighting design

successfully reuses existing lighting equipment to

accommodate various situations with preset lighting

scenes, such as relax mood, party, or presentation

mode for lounge and conference space. Lace curtains

dividing work spaces are effectively illuminated with

indirect lighting to secure privacy and give the space

a unified feel.
---
THE WOODLEIGH RESIDENCES

SALES GALLERY

SINGAPORE 2018 Kajima Development / Singapore Press

Holdings / DP Architects / ILYA

The sales gallery of the integrated development with

residences, built above an MRT station has launched.

The show gallery is to experience the design concept

which encapsulates the Japanese essence of design

from maximizing the functional space, to the details

of seamless flushed flooring; evoking a sense of space

and freedom. Indirect lighting is used to create a moody

atmosphere with functional downlights mounted where

necessary. A luminous ceiling over a large model

mimics natural light from above.
---
大 連 輝 盛 閣 国 際 公 寓

Fraser Suites Dalian

DALIAN 2018 Frasers Hospitality / HBA

Service apartments located in a new business area

near the Dalian Port. A minimal lighting design

compliments the modern interior style of the guest

rooms. Although function is highly emphasized, the

glare-free environment creates a comfortable living

space for guests.
---
晋 园

Edition Sanya Sales Villa

SANYA 2018 Sanya Jinghope Real Estate / SCDA / Studio STAY

Three types of private villas, with a choice between

five interior schemes, are located on the property of

the Edition Hotel. Each one is designed within the

guidelines of the Edition brand, yet with different

themes. Minimal indirect lighting creates a calm and

cozy contrast, while warm, localized light generates a

homey atmosphere. The exterior and landscape

lighting creates an adequate natural accent, while at

the same time leaving the nightscape undisturbed, to

fully enjoy the sea, moon, and starry sky.

シェラトン 都 ホテル 東 京 庭 園 照 明

Sheraton Miyako Hotel Tokyo, Garden

TOKYO 2018 Miyako Hotels & Resorts / Iwaki

A famous, 6000 garden on the grounds of the

Sheraton Miyako Hotel Tokyo in Shirokane, is rich in

ginkgo trees, maple trees, and other seasonal foliage

enjoyed all year round. While refitting the lighting plan

to an all-LED system, we also resurveyed the shape

and placement of garden trees and shrubbery to create

a lighting environment with beautiful contrast of light

and shadow.
---
Coming soon!!

JEWEL CHANGI AIRPORT

SINGAPORE 2019 Jewel Changi Airport / Safdie Architects /

RSP / Benoy / PWP / ICN

Strategically located in the heart of Singapore Changi

Airport, Jewel Changi Airport (Jewel) is envisaged to

be a world-class multi-dimensional lifestyle destination

that comprises a myriad range of offerings including

gardens and attractions, retail and dining offerings, a

hotel and facilities for airport operations. The balance

of daylight and the use of light fixtures is well thought

out throughout the complex, and in the evening,

expressions of light are still gradually changing as time

slips by, for a full 24-hours of pre-set lighting operations.
---
LPA TOPICS

Lecture / Media Appearance / Award / Instagram / Lighting Design

Project for Reviving from Disasters / Internal Workshop / Refreshing

Time / LPA 2018 Activities & 2019 Goals / Major Contributions and

Interviews
---
講 演 活 動 ・メディア 出 演

Lecture / Media Appearance

Mende and other senior staff presented lectures on various themes concerning lighting design throughout the past

year.

受 賞

Award

Illuminating Engineering Institute of Japan,

Lighting Design Award

Award of Excellence GINZA SIX

Award of Merit Mt. Fuji World Heritage Centre,

Shizuoka
---
LPA now has an official Instagram account. We

hope to share project completion news in a timely

manner, reminisce with project archive playbacks,

and updates on office activities and news. Follow

us now!

@lpa__official Follow me!

復 興 プロジェクト

Lighting Design Project for Reviving from Disasters

We have continued our research on the application of

lighting design in each of the phases from when a disaster

hits to the long recovery. Last year, we attended

the Temporary Housing Conference and visited an

evacuation center (paper pertition system designed and

provided by Shigeru Ban Architects and Volantary

Architects' Network), set up after the Hokkaido Eastern

Iburi Earthquake of 2018, using this knowledge to

brainstorm for ideas on specific things or acts that can

be produced in a time of need.
---
Internal Workshop

エキスパート Expert Work

Each member of the staff selects a research topic of their interest for the continuous learning survey and research

project.

社 内 研 修 workshop

Internal training sessions are an opportunity to share the latest in lighting technology and the LPA design philosophy.

Manners of Architectural Lighting Design Lecture, Singapore

Aug. 28

Manners of Architectural Lighting Design Lecture, Hong Kong

Nov. 08

Sketch Workshop, Singapore

Dec. 18
---
リフレッシュメント

Refreshing Time

In between our busy working hours, our staff finds time to refresh.

T Tokyo

Sports Day

Dec. 25

Company Trip Tokyo Ishigaki

Nov. 21-23

S Singapore

LPA Open House

Sep. 28

Company Lunch

Feb. 09

Lumina Forest Night Walk

Jul. 13

Sentosa Trekking

Dec. 21

H Hong Kong

Sports Day

Oct. 08

Copany Trip HK Chiang Mai

May. 17-19
---
LPA 2018 年 の 概 況 と2019 年 への 展 望
---
LPA 2018 Activities & 2019 Goals

Strengthening Inter-office Collaboration

With Tokyo as the headquarter, LPA has two other offices in Singapore and Hong Kong. We have

projects all over the Asia and some in other region. Our multi-national team, with a total strength of 60

unique people, will improve interaction even further in the year 2019 to meet the client's expectations.

Activities of the Directors

In addition to Mr. Mende's numerous lectures around the world, our four other directors, also made

public appearances – Ms. Reiko Kasai talked about Singapore's urban lighting masterplan in Seoul. Mr.

Kentaro Tanaka on hospitality lighting in Shenzhen, and Mr. Atsushi Itakura gave a lecture about lighting

for the commercial space in Guangzhou. Ms. Mari Kubota contributed a series of articles on lighting design

to a Japanese architectural magazine. In addition to the Directors, our team is becoming even stronger

with newly appointed Associate Directors.

Numerous Project Completions and Awards

As many as 30 projects were completed in the year 2018. Completed projects include the ones in China

that we spent many years working on. Two projects "GINZA SIX" and "Mt. Fuji World Heritage Centre,

Shizuoka" in Japan received The Illuminating Engineering Institute of Japan Award. Throughout our 28

years of professional activities, we are truly grateful for receiving the total of 113 international design

awards.

Appointment as Lighting Advisor for the City of Shenzhen

Mr. Mende has been appointed as the Urban Lighting Advisor for the city of Shenzhen in China.

Shenzhen is a relatively new city that has been developing at a phenomenal rate over the last decade,

Unlike other major cities in China, Shenzhen is free from the traditional and historical constraints in its

progress, making its position truly unique. Mr. Mende is looking forward to the city's initiative and

leadership on developing a healthy urban lighting for the future. Our Transnational Lighting Detectives

Forum is scheduled to be held in Shenzhen in May 2019.

Website and Social Media / Developing Our Online Presence

It has been two years since we have renewed our website. The new website has been receiving positive

feedback.We have also launched LPA, Lighting Detectives Instagram account and LPA LinkedIn account,

hoping to interact more with our associates and partners. Please do visit our website, Instagram as well

as LinkedIn!
---
主 な 講 演 ・ 寄 稿 ・インタビュー・ 出 演 など

Major Contributions and Interviews
---
LIGHTING DETECTIVES

Transnational Lighting Detectives Forum 2018 in Santiago / Night Walk

in Singapore / Children Workshop / Lighting Detectives Survey /

General Assembly & Orientation / Night Watching Tour / City Night

Walk / Regular Round Table Discussion / Annual Activities /

Instagram / Lighting Detectives Annual Gathering / List of Sponsors
---
Transnational Lighting Detectives Forum 2018 in Santiago

Oct. 18-19

The 14th Annual Transnational Lighting Detectives Forum was

a 2-day event held on October 18th and 19th in Santiago, Chile.

As the first forum to be held in South America, the event was

well attended by the general public, with professional lighting

designers and architects, instead of the usual student population,

making up the central body. The forum kicked off with a relaystyle

talk session by the core members, focusing on the forum

theme, "Heroes and Villains of Light in your City," at the Chile

National Museum of Fine Arts. The forum wrapped up with

proposals to improve the lighting environment of Santiago at the

University of Chile.
---
Talk Event

Core members kicked off with a talk session focused on the

forum theme, "Heroes and Villains of Light in your City,"

reporting on the state of New York City, Taipei, Hamburg,

Stockholm, Belgrade, Singapore, and Bangkok. Each

presenter had only seven minutes to describe the challenges

and successes facing each city.

Night Walk

Participants were divided into groups for the night walk and

assigned to five unique areas of Santiago to look for heroes

and villains of light. Each group experienced difficulty finding

heroes of light.

Workshop & Presentation

Each group gave a presentation on the heroes

and villains of light discovered during the night

walk and proposals to improve their assigned

lighting environment. In-depth discussions

between professional lighting designers and

very knowledgeable students developed into

CG renderings and sessional drawings which

transformed into well-thought out slideshow

presentations.
---
Night Walk in Singapore

We started city night walk events in Singapore in 2018. Starting from the iconic night scapes in Marina Bay,

followed by Geylang Serai during Hari Raya Puasa, a Muslim festival, and Botanic gardens with landscape design

professionals, and lastly, again in Marina bay with lighting designers from all over the world in conjunction with

PLDC Singapore.

Marina Bay

Mar. 28

Geylang Serai

Jun. 08

Botanic Gardens

Oct. 11

Marina Bay during PLDC

Oct. 26
---
こどもあかりワークショップ

Children Workshop

夏 休 みワークショップ Jul. 26

Summer Workshop

24 energetic children and parents attended a heroes and villains

of light workshop along Omotesando and Cat Street in Tokyo. In

order for the children to take an interest in lighting design, we

went out into the city to observe light and find heroes and villains

of light. After finding what might be a hero or villain, the children

thought about the reasons why.

行 灯 作 りin 大 三 島 Sep. 08

Lantern Making Workshop in Omishima, Ehime

The Lighting Detectives were invited by architect Toyo Ito's

architectural school to hold a joint effort children's workshop to

create building-shaped lantern in the natural environment of

Omishima Island in the Seto Inland Sea. 35 children attended the

20-person capacity workshop for a very boisterous event.

Host: TIMA IMABARI (Toyo Ito Museum of Architecture, Imabari)

Collaboration: Lighting Detectives

Images: Ayumi Yoshino, Lighting Detectives

暗 闇 & 囲 炉 裏 体 験 @ 江 戸 東 京 たてもの 園 Dec. 01

Experience the Dark & "Irori" Japan style fireplace

@ Edo-Tokyo Open-Air Architectural Museum

Except for a few buildings, all of the museum lights were turned

off to really experience the dark, an irori, a traditional Japanese

sunken cooking fire, and light up. The children experienced how

the Japanese used to spend dark nights long ago and the

importance of just a small flicker of light.
---
照 明 探 偵 団 調 査 Lighting Detectives Survey

海 外 調 査 Overseas

Baku, Azerbaijan & Doha, Qatar Feb. 12-17

The Lighting Detectives traveled to the capital cities of big oil producing countries, Doha, Qatar and Baku, Azerbaijan, both

economically developed with oil money. Many may not be familiar with these two countries, but we surveyed the cityscape

to discover the lighting environment in these two cities with a large affluent population and unique culture and economics.
---
Zurich, Bern & Basel, Switzerland Apr. 12-17

We travelled to three cities, Zurich, Bern, and Basel, in Switzerland, a nation well-known for good design. During our survey,

springtime seemed to call to the young and old, men and women, who were randomly relaxing in plazas, along waterfronts,

and on side streets in the dwindling twilight and early evening.

Marrakish, Casablanca, etc.., Morocco Sep. 30-Oct. 08

Morocco is situated on the African continent, however neighbouring countries, Spain and France, seem to have had a large

influence over the formation of the country's distinctive culture. We experienced first-hand four elements, climate, culture,

life-style, and scenery, which formed the basis for our lighting survey, all seeming to bask in the Mediterranean Sea

atmosphere.
---
Rio de Janeiro, Brazil & Santiago, Chile Oct. 13-23

We surveyed the lighting environment of the international harbour city of Rio de Janeiro, a city where leisure and poverty

live next door. Next, we surveyed the lighting environment of Santiago, the largest city in Chile, a country surrounded by

its grandeur nature. The city is also endowed with bountiful natural light.

Colombo, Kandy & Galle, Sri Lanka Oct. 23-28

In Sri Lanka we travelled to three unique cities, Colombo, awakened in recent years with much development, and World

Heritage Sites, Kandy and Galle. We surveyed the relationship between light and lifestyle in this Buddhist country.
---
国 内 調 査 Japan

札 幌 & 函 館

Sapporo & Hakodate Apr. 16-19

Appealing to tourists, Hakodate was one of the first cities to build up and keep its image as a city with an incredible night

view. Sapporo has also followed suit with an increasingly, highly acclaimed nightscape. We surveyed these two cities in

Hokkaido just as the snow was starting to melt off the northern landscape.

照 明 探 偵 団 総 会 & 入 門 講 座

General Assembly & Orientation

May. 08

The general assembly is an opportunity for all Lighting

Detective members to gather together to share in good

food and drinks while listening to presentations outlining

activities for the upcoming year, highlights in Lighting

Detective history, and a review of city walk know-how.

Afterwards, we enjoyed several member introductions

leading to ecstatic open conversation.
---
Night Watching Tour

阿 智 村

Achi Village Jul. 21-22

How many stars are visible in the night sky of a place chosen as the most beautiful starry sky in Japan? The

Lighting Detectives traveled to Achi Village, Nagano Prefecture to experience firsthand the most beautiful starry

sky in Japan. For one night, 2000 visitors stretch-out on the grassy slopes of a local ski area to observe the starry

sky. Unfortunately, the night the Lighting Detectives reserved was a full moon so it wasn't quite as expected. But

with the use of laser pointer we found constellations and heard simple explanations of each. Time seemed to

disappear as we star gazed and were immersed in the evening. The next day we enjoyed walks through the

village in this refreshingly natural and mountainous environment.

DAY

15:00 Tenryu-gawa River

21:00 Achi Village Star Tours

DAY

09:00 Tsumago-juku

12:00 Akasawa Natural Recreational

Forest
---
街 歩 き

City Night Walk

研 究 会 サロン

Regular Round Table Discussion

自 由 が 丘

Jiyugaoka Apr. 06

Jiyugaoka is always had a high ranking as the

neighbourhood people want to live in. We walked up and

down streets radiating from Jiyugaoka Station in search

of hints to this stylish neighbourhood.

品 川

Shinagawa Sep. 25

The theme for this city walk was to study Shinagawa

Station and the surrounding area now, and fantasize

about its future. Shinagawa has experienced change

after change and we divided into three teams to survey

three different areas, Takanawa, Konan, and Kita

Shinagawa.

渋 谷 川

Shibuyagawa Nov. 16

This city walk took us to the recently redeveloped area of

Shibuya River, Shibuya Stream, and Shibuya Bridge.

From three different points of view, pedestrian, creative

worker life-style, and urban environment, we searched

from heroes and villains of light.

Apr. 16, Oct. 02, Nov. 29

After a city walk, members gather once again a few weeks later for a review. These gatherings develop into deeper

discussions, having had time to process, organize, and rethink ideas and opinions from after the walk.
---
照 明 探 偵 団 の 年 間 活 動

Annual Activities

01.12

01.12

02.05

02.05

02.12-17

02.20

03.13

03.19

03.28

04.06

04.12-17

04.16

04.16-19

04.24

05.08

05.15

05.16

05.29

06.08

06.13

07.21-22

07.26

09.08

09.13

09.25

09.30-10.08

10.02

10.02

10.11

10.12

10.13-23

10.18-19

10.23-28

10.26

11.02

11.16

11.28

12.01

12.03

12.25

12.28

City Night Survey―Tsukiji

Web Column Vol.43 Hair Style

Lighting Detectives News Letter Vol.85

Web Column Vol.44 Design Starting with Imitating

City Night Survey―Doha & Baku

Salon Vol.57 Review on Illumination Night Walk

Lighting Detectives News Letter Vol.86

Web Column Vol.45 Work Style Revolution

Singapore Night WalkMarina Bay

City Night Walk Vol.60 @ Jiyugaoka

City Night Survey―Switzerland

Salon Vol.58 Review on Night Walk @ Jiyugaoka

City Night Survey―Sapporo & Hakodate

Lighting Detectives News Letter Vol.87

General Assembly & Orientation

Web Column Vol.46 Lighting Designer VS Lighting Planner

Lighting Detectives News Letter Vol.88

Lighting Detectives News Letter Vol.89

Singapore Night WalkGeylang Serai

Lighting Detectives News Letter Vol.90

Night Watching Tour in Achi Village

Lighting Detectives Jr. Night Walk Workshop

Lighting Detectives Jr. Lantern-making Workshop

Lighting Detectives News Letter Vol.91

City Night Walk Vol.61 @ Shinagawa

City Night Survey―Morocco

Salon Vol.59 Review on Night Walk @Shinagawa

Web Column Vol.47 Playback!

Singapore Night WalkBotanic Gardens

Lighting Detectives News Letter Vol.92

City Night Survey―Rio de Janeiro & Santiago

Transnational Lighting Detectives Forum 2018 in Santiago

City Night Survey―Sri Lanka

Singapore Night WalkMarina Bay for Professionals

Lighting Detectives News Letter Vol.93

City Night Walk Vol.62 @ Shibuyagawa

Lighting Detectives News Letter Vol.94

Lighting Detectives Jr. Experience the Dark &

Japanese Fire Place "IRORI"

Lighting Detectives News Letter Vol.95

Lighting Detectives News Letter Vol.96

Web Column Vol.48Childhood memories which

influences you as a lighting designer
---
照 明 探 偵 団 年 間 活 動 報 告 会 Lighting Detectives Annual Gathering

Dec. 04

For 28 years, Lighting Detective activities have been financially supported by lighting industry professionals and

the year-end party is an opportunity to share our achievements of the past year. The event includes a quiz and

games for a relaxing and fun break from busy work days.

協 賛 社 名 リスト List of Sponsors

The following 19 Lighting Industry Professionals are the financial sponsors for Lighting Detective activities.

Lutron Electronics Co., Inc.

USHIO LIGHTING. INC.

Iwasaki Electric Co., Ltd.

Color Kinetics Japan Inc.

Endo Lighting Corp.

Panasonic Corp.

ERCO

DAIKO ELECTRIC CO.,LTD.

ModuleX Inc.

Koizumi Lighting Technology Corp.

YAMAGIWA CORP.

Toshiba Lighting & Technology Corp.

Martin Professional Japan. Ltd.

TOKI CORPORATION

Shonan Co., Ltd.

Yamada Shomei Lighting Co., Ltd.

Louis Poulsen in Japan

DN Lighting Co., Ltd.

Mitsubishi Electric Lighting Corporation
---
Alice Mak

Angeles Tan

Angkana Kongchatri

Atsushi Itakura

Brien Ng

Emiko Nagata Erina Hosono Genki Watanabe

Haruka Sakoda

Hikaru Kimura

Junko Nagatomo Kaoru Mende Karen Huang

Kentaro Tanaka

Kouki Iwanaga

Masahiro Iwata

Mayumi Banno Mikine Yamamoto Misa Fujii

Misuzu Nakamura

Quratuaini Bte Jamil Raba'a Bte Tainy Raina Jiang Shan Reiko Kasai

Ryan Valentino

Sun Young Hwang

Ye Yu Yuhang Zhong Yuichi Anzai Yukiko Saito

Yumi Honda

Yuri Araki

(former staff)

Yusuke Hattori

Zooey Li
---
Bryan yan

Catherine Wong Tang Chia Xing

Chika Makabe Clement Lee

Hu Lin Irene Tan Isao Nemoto Jada Hung

Jio Yeung

Kyoko Takubo Leon Hitsu

Mami Kono Mari Kubota

Masafumi Yamamoto

Momoko Muraoka Motoyo Yano Niken Wulandari Noriko Higashi

Phraporn

Kasemtavornsilpa

Sachiko Segawa

Sherri Goh

Shosaku Takahashi

Shunichi Ikeda

Simeng Huang

Lighting Planners Associates 2019 Annual Report
---
Lighting Planners Associates Inc.

5-28-10, Jingumae, Shibuya-ku, Tokyo 150-0001, Japan

Tel : +81 3 5469 1022 Fax : +81 3 5469 1023

E-mail : lpa@lighting.co.jp

Lighting Planners Associates (S) Pte. Ltd.

51B Neil Road, Singapore 088829

Tel : +65 6734 3086 Fax : +65 6734 2786

E-mail : singapore@lighting.co.jp

Lighting Planners Associates (HK) Ltd.

Unit G, 9/F Tung Kin Factory Building,

196-202 Tsat Tsz Mui Road, North Point, Hong Kong

Tel : +852 2578 9007 Fax : +852 2578 9116

E-mail : hongkong@lighting.co.jp

www.shomei-tanteidan.org office@shomei-tanteidan.org

www.lighting.co.jp