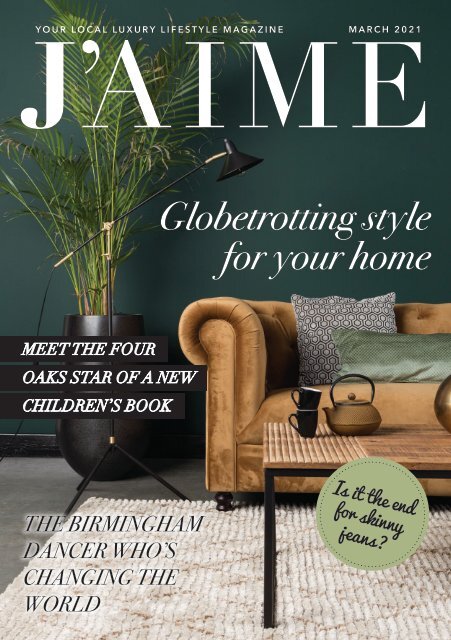 J'AIME March 2021
Your local luxury lifestyle magazine
Your local luxury lifestyle magazine
SHOW MORE
SHOW LESS
Create successful ePaper yourself
Turn your PDF publications into a flip-book with our unique Google optimized e-Paper software.
M A R C H 2 0 2 1

J'AIME

Y O U R L O C A L L U X U R Y L I F E S T Y L E M A G A Z I N E

Globetrotting style

for your home

MEET THE FOUR

OAKS STAR OF A NEW

CHILDREN'S BOOK

THE BIRMINGHAM

DANCER WHO'S

CHANGING THE

WORLD

Is it the end

for skinny

jeans?
---
Advanced technology

for superior hearing

Offering the latest in hearing technology, award winning local audiologists

Steven Hale Hearing are one of the very few hearing specialists qualified

to fit Lyric, the world's only 100% invisible hearing aid.

MAKE YOUR APPOINTMENT NOW AND

FIND OUT HOW LYRIC WILL TRANSFORM

YOUR QUALITY OF LIFE

0121 308 2550 info@stevenhalehearing.co.uk stevenhalehearing.co.uk
---
Welcome to J'AIME

The days are getting longer and the daffodils are

coming into bloom which signals that spring is very

definitely on the way. As signs of new life appear

all around us, we hope you'll feel a renewed sense

of optimism. Here at J'AIME we aim to add a little

positivity into your life. We hope that reading through

these pages brings a smile to your face and also some

much needed escapism.

2021 has brought exciting developments for J'AIME.

You'll see the address of our website across the

bottom of each page in this magazine and that's

because we've given www.jaimemagazine.com a

wonderful revamp. You can now visit the website to

read everything you see in the magazine plus much,

much more. The website is updated each day and

includes positive, uplifting lifestyle articles from right

across the Midlands.

As well as being delivered to homes in selected

postcodes J'AIME is now available to pick up free of

charge in major supermarkets around the Midlands.

You can also read a digital version of the magazine

free of charge at www.jaimemagazine.com

Within the March magazine you can read about an

inspirational dance teacher and meet the star of a new

children's book (who you may well have encountered

during your daily exercise).

Add to that our usual mix of interiors, property,

fashion, beauty, travel, fitness, what's on and food and

we hope we have something for everyone.

At the time of going to press we have no idea of when

coronavirus restrictions will ease in the region. We

hope our upbeat, positive content will bring a little

added cheer to your life.

Please don't forget to support your local independent

businesses. When you buy from a small business you're

supporting your community and helping to keep

people in jobs.

From everyone at J'AIME, may we wish you a happy,

sunny, cheerful March. Please stay safe.

EDITOR: AMY NORBURY

EDITOR@JAIMEMAGAZINE.COM

ADVERTISING: JAN ASHLEY

ADVERTISING@JAIMEMAGAZINE.COM

07388 335 931

DESIGN: DESIGN@JAIMEMAGAZINE.COM

CONTRIBUTORS: JENNY AMPHLETT, JASPREET

SHERGILL, OLIVER BROAD, DEBORAH MITCHELL,

RAUL ROMERO, STEVEN HALE, RICHARD

WINTERTON

J'AIME IS PUBLISHED BY ASHBURY

PUBLICATIONS LIMITED AND PRINTED BY KEP

LIMITED, TAMWORTH.

Check us out online at:

WWW.JAIMEMAGAZINE.COM

Find us on

/JAIMEMAGAZINE

@JAIMEMAGAZINE

@JAIMEMAGAZINE

SPONSORED BY

3
---
CO N T E N T S

InsideJ'aime this month...

6 Feature - The dancer who is changing the

lives of women across the world

10 Feature - Meet the Four Oaks rescue dog

immortalised in a new children's book

12 Property - Could this be the home of your

dreams?

14 Interiors - Globetrotting style

18 Interiors - Sweet pastel shades

22 Food and drink - Reducing food waste

23 Food and drink - A recipe from the founder of

Grubby

24 Food and drink - Embracing a vegan lifestyle

26 Travel - Your travel questions answered

30 Fashion - No more skinny jeans?

32 Beauty - How to cleanse your skin properly

34 Fitness - Why walking works

36 Health - The robotic future of surgery

37 Health - Simple hacks for a healthier you

38 Health - The link between hearing health

and Alzheimer's

40 In the news - A helping hand through the

darkest times

42 In the news - Setting a gold standard for care

homes

SPONSORED BY

4
---
SHOW SUITES

NOW OPEN

FOR PRIVATE

TOURS

New Luxurious Care Home

in Sutton Coldfield

Every aspect of our new care home has been planned with the people we care for in

mind – whether it is the personalisation of their care plans, the careful selection of the

décor in their room, their dining experience, hobbies or personal preferences...

At Sutton Park Grange, people will always come first.

To arrange a visit, please call 0121 392 667 9770 9761 or visit our website:

www.cinnamoncc.com/suttonparkgrange

TOP

20

AWARD 2020

Residential I Dementia Care I Respite

Sutton Park Grange Care Home

Birmingham Road, Sutton Coldfield, Birmingham, B72 1LY

t: 0121 667 392 9770 9761 | e: sutton.enquiries@cinnamoncc.com

To view other Cinnamon Care Homes in the West Midlands visit cinnamoncc.com/westmidlands
---
F E AT U R E

Dance can change the world

INTERNATIONAL DANCE ARTIST AND ARTISTIC DIRECTOR SONIA SABRI HAS HELPED TRANSFORM

THE LIVES OF WOMEN ACROSS THE WORLD. JASPREET SHERGILL MET HER TO FIND OUT MORE

This year is the 110th anniversary of

International Women's Day, which celebrates

the cultural, economic, social and political

achievements of women. The day is not only

to celebrate these achievements but also to

raise awareness of women's equality. Sonia

Sabri is an international dance artist and

artistic director of Sonia Sabri Company,

and amongst the most inspirational women

working in the arts today . She specialises in

traditional Indian folk dance in the style of

Kathak and through her artform has helped

women all over the world.

Wolverhampton-born Sonia was introduced

to dance by her father at the age of eight. He

wanted her to live his dream of becoming a

Bollywood actor. Sonia was encouraged to

enter this creative field despite being quite shy

as a child.

"It wasn't really something that I wanted to

do initially because as a child I was quite an

introvert. I used to get bullied quite a lot at

school so wasn't the type to go into spaces

where there were lots of people, so I think

dance helped because I was able to gain

confidence, but it was really for my dad," she

said.

"My parents come from working class families and I

think when you see Bollywood films all the glamour,

cars and the silver screen, it's success as one would

fantasise about and I think that was my father's

measure of doing good in the world and being

successful.

"So, he put me into dancing and LAMDA drama

training and I came to learn Kathak. I was actually

going into another classical dance style, but we ended

up at the MAC in Birmingham, he just said this looks

like something similar that I've seen in Bollywood

why don't you just enter this class and that was it, I

went into the Kathak class and never looked back."

After falling into Kathak, young Sonia came to

realise that this artform was so much more than just

dance and movement. She began to flourish and

discovered more about herself as a person.

"It was kind of a calling at quite a young age. When

we move we are able to express ourselves whether

that's through writing, dancing, playing musical

instruments or singing it's another way of expression.

It's not always about expressing through words so I

think I found my way of expressing.

"There's something about when I do Kathak, I

know myself, I am truly myself, I would recommend

dancing to anyone to feel that. It made me gain

friends as well as gain a skill that is very specialised

and one does feel good when you achieve something.

I would definitely say that dance or any kind of

artistic medium does support somebody's self-esteem

and self-confidence."

Sonia became recognised internationally and

performed on stages across the globe, winning

6 www.jaimemagazine.com
---
awards such as The ACTA Award for Best Dancer

2016, The National Indian Arts Award for Dance

2017 and Women in Dance Leadership 2018 Award.

As a freelance dance artist, she also worked for the

BBC.

"The only way to be taken seriously was if you had a

company or an organisation so it felt like that's what

I needed to do.

"I would have to give full credit to my husband,

Sarvar Sabri. He is a world renowned tabla artist

and composer and comes from a lineage of seven

generations of musicians from India and he said let's

start a dance and music company.

"Inherently our classical and Indian dance forms are

driven by music, so we wanted to really bring that to

the fore.

"Sonia Sabri Company is a dance and music

company. We wanted to bring both of those assets

into people's appreciation of the art and once we

started with the company, we began to get invitations

to tour internationally."

Sonia Sabri Company has collaborated with people

such as Sir Trevor Nunn, Rose English, Lincoln Soni

and Arlene Phillips.

Based in Birmingham, the company has had interest

globally, creating opportunities for people of all ages

and abilities to learn classical, contemporary and

urban dance.

Sonia has developed a distinct style of Urban

Kathak, taking inspiration from people and urban

settings and combining it with traditional dance from

the lands of the Indian subcontinent.

"We are proud to be located in Birmingham but we

do a lot of work outside of Birmingham as well as

internationally, so it's great to be in the city which

is so diverse, so young, so dynamic and I feel as a

company and as artists and independent artists like

myself we are placing Birmingham on the cultural

map if not on the international map."

Sonia Sabri company was invited by the

Hippodrome to join its associateship in 2018 and

has since developed and commissioned a new

production, Same Same But Different.

"Same Same But Different is a family show but

catered towards children who are aged five and

over and it looks at the curiosities and the fears they

have of being different. It creatively questions how

Kathak, contemporary, street and hip-hop dance and

physical storytelling can be used to explore themes of

identity, difference and belonging.

"We are looking at the diversity of our society and

how cultural differences make society more valuable

rather than it being seen as something that is

misunderstood."

The Hippodrome has also supported the music and

dance company in creating short pieces for festivals.

www.jaimemagazine.com

7
---
"We presented a preview at their 120th Gala

birthday celebrations and in 120 years Hippodrome

has never had culturally diverse artists so we felt

really proud to be the torchbearers of championing

Indian music and Indian dance.

"It was a milestone event. I got some of our young

students to perform as well, who are mainly young

Asian women. It's history for everyone and I hope

they will continue to bring in a more representative

programme for coming years."

It can be difficult to enter the arts industry and

even more so as a South Asian woman. There is a

lack of representation of women leading creative

organisations and Sonia stresses the importance of

working together.

"I think we've had to and we continue to fight for our

value and worth just being in existence in a female

soul in a female body and that's the first obstacle we

are still trying to overcome now.

"Being a South Asian woman in the arts is even

more important because the arts is a way to not only

understand ourselves in the context of our Asian

community but how the Asian community fits in the

context of mainstream society.

"We have to think about dance or South Asian arts

beyond what it is in its preliminary form. It's what it

does, it's how it makes us feel, it's what enables us to

conquer the obstacles.

"We don't have enough role models and I completely

understand why. I come from a background where

women aren't supposed to even laugh out loud let

alone dance so if I'm not able to express myself there

is a fear of what other people might say.

"We have to break away from this backward

thinking. It's not only about women

coming together, it's about the whole

society coming together for women."

This year's theme for

International Women's Day is

#ChooseToChallenge, to call out

gender bias and inequality. Sonia is a

huge supporter of this and is making

a change through her artform.

"I want to place a pledge on finding

out why we continue to have this

inequality and particularly for Asian

women and girls. It's imperative that

we continue with those discussions

and bring people on as part of those

discussions. As women and girls

we need to have a voice and come

together collectively but then also we

need to have our brothers, our fathers, our uncles

and everyone else in the community to be part of the

same focal point."

Due to the pandemic SSCo have transferred to

online dance classes and are also developing a

women-only project for those who are isolated, have

low self-esteem, are from busy households and who

need time for themselves. Sonia is doing workshops

attended by participants who have been referred by

their GP.

"I'm beginning to see change just within the women

and the girls who are attending the dance classes,

some of them have left very difficult home situations

because they found the confidence because of

the dance classes. They were alleviated from their

depression and their anxiety.

"Some of them are quite vulnerable and under the

mental health radar and what we're trying to achieve

with the dance is for them to feel human. Once

they've felt that feeling they can take charge of their

life and there have been such positive changes.

"They have understood that this is not something

about flaunting their body or about exhibiting their

physique; this is something much more spiritual

and emotional that strengthens women mentally. It

changes the emotional strength of somebody and

that is exactly what I want to promote."

"We have to feed our souls and that's what creative

arts does; if our soul feels good, if our soul feels

replenished, then we as people will become better

human beings and this is what the world needs right

now."

To find out more information about Sonia Sabri

Company visit https://www.ssco.org.uk

8

www.jaimemagazine.com
---
Walk away

from hip and

knee pain

At Spire Little Aston, we understand how frustrating

it is when joint pain holds you back. That's why we

provide fast access to expert care, when you need it.

We use the latest technology and techniques

wherever possible to get the best outcome for you.

From replacement surgery to joint injections, you can

be sure that you'll be treated by an expert – every

step of the way.

Our private treatments are often more affordable

than you think. There's even interest free finance

– 0% representative APR available on treatment.

Meet the experts

If you suffer from hip or knee pain, we are offering

free mini consultations* with one of our Orthopaedic

Consultants. During your Zoom appointment, you

will have the opportunity to discuss your symptoms

and get free expert advice on hip or knee pain/

injuries, how to manage them and the treatment

options available.

23

Mar

Walk away from hip and knee pain, from

4pm with Mr C Mcbryde and Mr J Arbuthnot

You will be offered a free 10 minute mini virtual

consultation between 4pm and 6pm on Tuesday

23 March.

Book to see an expert today

Search 'Spire Little Aston Hospital Events'

Call 0121 514 7034

*Mini consultations are an opportunity to ask any questions you have about surgery and are not a formal

outpatient consultation. If you wish to proceed to surgery or your consultant suggests that further treatment

may be necessary, a full outpatient appointment will be required to assess your suitability for surgery/treatment.
---
F E AT U R E

From bark to book

FOUR OAKS RESCUE DOG JAZZ HAS BEEN IMMORTALISED IN A NEW CHILDREN'S BOOK.

JENNY AMPHLETT FOUND OUT MORE FROM HIS OWNER, AUTHOR ANNE BLACKMORE

If you think you recognise the star of a new

children's book then you may well be right. You may

have spotted him during his daily exercise around

Sutton Park or perhaps he's kept a watchful eye on

you from a window while you've made a delivery to

his Four Oaks home.

Jazz, a rescue dog owned by children's author

and former teacher Anne Blackmore, has been

immortalised in her new book - Jazz's Window.

The beautifully illustrated work, aimed at three

to eight-year-olds, is all about the things Jazz sees

through his favourite window at the family's home.

"Jazz was my inspiration," said Anne, aged 66, a

former teacher at Old Church Primary School in

Darlaston. "He's always run upstairs to look through

the big landing window as it's quite low and he can

put his paws up onto it. We've always called it Jazz's

window.

"My husband, Paul, suggested I should write a story

about it, which is where it all started."

The book was several years in the

making, including various draft and

editing stages, finding a publisher and

commissioning illustrations.

"It was important to me to get it just

right. I wanted to try to portray Jazz

through the story and to have the reader

see the things that Jazz sees through his

window.

"There's the postman, a lady taking her

child to school, a delivery driver going to

the house next door. It's very gentle and

the children who read it will be able to

see it all through Jazz's eyes."

As a teacher of 37 years Anne has a keen

eye for what makes a successful children's

story. She's already receiving positive

reviews from parents and youngsters alike

and has been invited to read the book

in primary schools, including the school

she used to teach at, once coronavirus

restrictions have been lifted.

Anne believes Jazz is a Collie/Saluki

10 www.jaimemagazine.com
---
cross and his age is estimated to be around 12

years. The family rehomed him from a centre in

Northampton, although he was originally rescued

from Ireland.

"He's pretty laid back and takes everything in his

stride," said Anne. "He loves people and is extremely

friendly and sweet natured. He loves having a ball

thrown for him and is forever picking up logs that

he's determined to carry around with him even if

they're too big.

"He loves chasing crows, squirrels and other small

animals he comes across on our walks in Sutton Park.

He'd happily stay and play there all day."

Anne is already working through ideas for future

books, which may well include the further adventures

of Jazz.

Jazz's Window by Anne Blackmore is available from

Waterstones, bookshop.org or Amazon. You can find

out more about Anne at

www.austinmacauley.com/author/

blackmore-anne or www.facebook.com/

Jazzs-Window-107203421304972

www.jaimemagazine.com

11
---
P R O P E RTY

Property of the Month

EACH MONTH WE SHOWCASE ONE OF THE MOST LUXURIOUS PROPERTIES

CURRENTLY ON THE MARKET IN THE MIDLANDS. THIS HOUSE IS IN ONE OF

THE MOST SOUGHT AFTER SPOTS IN THE REGION

Applecross, Four Oaks Estate. £1.3 million.

On the market with Aston Knowles: 0121 362 7878.

THE AGENT SAYS: This wonderful five-bedroom

property is an ideal family home offering spacious living and

entertaining accommodation. The property is approached

via the block-paved driveway and surrounded by mature

trees. The porch entrance leads into the welcoming reception

hallway. The re-fitted kitchen/breakfast room features

a stunning range of cream shaker-style wall and floor

cupboards providing ample storage space. The home flows

from the kitchen into the dining room, ideally located, and

on into the drawing room. Both spaces offer ample space

for entertaining and are flooded with natural light. The

wonderfully appointed drawing room leads out onto a private

balcony via double doors and looks out over the rear gardens

and Sutton Park beyond. This is a lovely quiet spot where you

can fully enjoy the private position of the property close to

the Park. An inner hallway on the other side of the reception

hallway leads to the master bedroom at the far end, which

features a spacious en-suite bathroom with beautiful corner

bath and separate shower, all in a lovely neutral cream, as

well as a private balcony overlooking the garden. Double glass

doors and full-size windows ensure the master bedroom is a

light and airy space and built-in wardrobes allow for plenty

of storage. Opposite the master bedroom is the study, which

features a lovely bay window and front aspect. The study is

ideally situated away from the main living accommodation

and therefore is a perfect spot for working from home.

W E L O V E :

THE PRIVATE, GATED ACCESS ONTO

SUTTON PARK.

12 www.jaimemagazine.com
---
0121 362 7878

astonknowles.com

GUIDE PRICE £7,500 pcm

GUIDE PRICE £7,000 pcm

VIRTUAL

VIEWING

AVAILABLE

HARTOPP ROAD - Four Oaks Estate

An impressive five-bedroom family residence finished to an exceptional

specification in 0.66 acres and located on the highly regarded Four Oaks

Estate.

Reception hallway, drawing room, dining room, kitchen/breakfast/family room,

playroom, cinema room, guest cloakroom, utility boot room, additional WC.

Principal bedroom with dressing room and bathroom, guest bedroom with dressing

room and en suite, bedroom three with en suite. Bedroom four with en suite,

bedroom five, family bathroom. Double garage, gated private driveway, mature rear

garden.Approximate floor area 5,295 sq ft. EPC rating D.

THE DETAILS

THE COPSE - Four Oaks Estate

An exquisite six-bedroom family home located on the prestigious Four Oaks

Estate and featuring extensive family living accommodation.

Reception hallway, drawing room, dining room, kitchen/breakfast/family room,

utility, study, guest cloakroom. Principal bedroom with en-suite bathroom, guest

bedroom with en-suite bathroom, two further bedrooms, family bathroom. Two

further bedrooms to the second floor, one additional bathroom. Spacious private

driveway, double garage, landscaped rear gardens.

EPC rating E.

THE DETAILS

5 BEDS 5 BATHS

PRIVATE

6 BEDS

4 BATHS

PRIVATE

NEW

GUIDE PRICE £4,000 pcm

NEW

GUIDE PRICE £1,650 pcm

ST JOHN'S HILL - Shenstone

A spacious four-bedroom family home with extensive accommodation set in

an enviable position in the popular village of Shenstone.

Reception hallway, guest cloakroom, drawing room, dining room, snug, kitchen/

breakfast room, internal hallway, utility. Principal bedroom with en-suite shower room

and balcony, three further bedrooms, family bathroom, store cupboard. Integral

double garage, spacious driveway, landscaped front and rear garden, rear patio.

Approximate floor area 2,731 sq ft. EPC rating D.

THE DETAILS

CLARENCE GARDENS - Four Oaks

An outstanding four-bedroom family home set in a desirable location within

close proximity to Mere Green's amenities and excellent schooling.

Porch entrance, reception hallway, drawing room, dining room, kitchen/breakfast

room, guest cloakroom. Principal bedroom with en-suite shower room, three further

bedrooms, family bathroom.

Integral garage, block-paved driveway, rear garden with patio and garden storage.

Approximate floor area 1,163 sq ft. EPC rating D.

THE DETAILS

4 BEDS 2 BATHS

4 BEDS

2 BATHS

ASTON KNOWLES 8 High Street, Sutton Coldfield B72 1XA 0121 362 7878 enquiries@astonknowles.com

www.astonknowles.com
---
I N T E R I O R S

Globetrotting

style

WITH the restrictions of travelling over the past year, it is

important to still hold onto that globetrotting element of

our lives. Bringing a global influence into our home is a

perfect way to keep our nomadic dreams alive until we can

venture to far-flung shores once again.

Inspired by earthy color palettes and warm, natural

textures, global Influence is a key trend in interiors for

SS21. Its bold safari feel is influenced by the wilds of

Africa, and pairs perfectly with wooden, woven and rattan

home accessories.

With hints of burnt orange, ochre and khaki against a

monochrome backdrop, this is a bold scheme which is

brought to life by the addition of plenty of statement

greenery.

Accessories are key to pulling this look together; look out

for trinkets which evoke memories of exotic destinations

and travels of days gone by to tide you over until global

travel opportunities resurface.

DUTCHBONE JAFAR RUG IN DIAMOND PATTERN, £199,

WWW.CUCKOOLAND.COM

£110

YASMIN BOTTLE IN BLACK, DOBBIES.

WWW.DOBBIES.COM

LACEY WALL LIGHT, POOKY.

WWW.POOKY.COM

£39.99

£83

RAFFIA TABLE LAMP, AMARA.

WWW.AMARA.COM

£136

KUBU RATTAN HANGING LAMP,

WWW.CUCKOOLAND.COM

£149

TRANSYLVANIAN ROOTS ZOLD CUSHION

IN LINEN, MINDTHEGAP.

WWW.MINDTHEG.COM

14

www.jaimemagazine.com
---
£200 £78

SEAGRASS BASKET SET, FROM A SELECTION

AT AMARA. WWW.AMARA.COM

LARGE LEATHER AND WOODEN TILE WALL

ART, AMARA. WWW.AMARA.COM

£30

DEVYN TABLE LAMP, DAR LIGHTING

GROUP. WWW.DARLIGHTING.CO.UK

GLOBAL EXPLORER POM POM

EMBROIDERED CUSHION, AMARA.

WWW.AMARA.COM

£275

FLAT RATTAN WEBBING BEDSIDE TABLE,

COX & COX. WWW.COXANDCOX.CO.UK

£695

£220

£12.99

POPPY RATTAN SIDE TABLE, SWEETPEA &

WILLOW. WWW.SWEETPEAANDWILLOW.COM

GLOBAL EXPLORER BAMBOO COFFEE

TABLE, AMARA. WWW.AMARA.COM

GLOBAL NOMAD SPOT AND LINE PLANTER,

TKMAXX. WWW.TKMAXX.CO.UK

COCO THREE-SEATER SOFA, £969,

SOFOLOGY. WWW.SOFOLOGY.CO.UK
---
LILY PAD LEAF WALL ART, £136, AND LEOPARD

VASE, £55, AUDENZA. WWW.AUDENZA.COM

ORIGINS BUSHOONG KUBA WALLPAPER, £POA,

MINDTHEGAP. WWW.MINDTHEG.COM

CUBIK PAINTED ELECTRIC PENDANT IN

GOLD, £90, ICONIC LIGHTS.

WWW.ICONICLIGHTS.CO.UK

POOKY MERLIN PENDANT, £149, AND NED

FLOOR LAMP, £270, WITH 30CM PENDANT

SHADE IN RATTAN, £32, POOKY.

WWW.POOKY.COM

14
---
tatlowcarpets

& flooring

Quality flooring at affordable prices

Abingdon, Adam's, Associated Weavers, Axminster, Brintons, Brockways,

Cormar, Crucial Trading, Penthouse, Ulsters, Karndean & Project Floors

Free advice ✔ Free quotations ✔

Furniture moved ✔ Our own regular fitters ✔

THESE FLOORS PROVIDE YOUR HOME WITH A STYLISH AND

FULLY WATERPROOF SURFACE, PERFECT TO HELD ALL

CONDITION ALL YEAR ROUND. BRANDS SUCH AS KARNDEAN

AND DISTINCTIVE FLOORING AMONG MANY MORE.

Please see our website for further details www.tatlowcarpets.co.uk

Finance facilities available

Tel: 01543 264766

Open to the public. Mon-Fri: 9.00am - 5.00pm. Sat: 10.00am - 4.00pm

Unit 4, Europa Way, Britannia Enterprise Park, Lichfield, Staffs, WS14 9TZ

Based in the heart of Staffordshire in the picturesque

villages of Alrewas & Tutbury, our shops are packed

with ideas and inspiration for your home. Incorporating

Jo Raybould Interior Design within, for those who

require the services of a professional designer.

needwoodliving.co.uk

info@needwoodliving.co.uk

136 Main Street

Alrewas, DE13 7ED

01283 711 272

7A High Street,

Tutbury, DE13 9LP

01283 813 322
---
I N T E R I O R S

Sweet

shades

IT'S time to raid the sweet shop as hints of mint green,

light pink, aqua blue, soft peach and pale yellow are all the

buzz for spring and summer 2021. Pastels are a timeless

favourite when it comes to interior style at this time of

year, bringing a playful freshness after the darker hues

which tend to dominate throughout the winter months.

Paired with lots of whites and light wood, this colour

combo offers a soft and soothing way to celebrate the new

season, with a nod to Scandinavian style.

If your walls are in need of a refresh, go for pastels as a

stylish alternative to neutral shades - and don't be afraid

to mix and match your hues, with contrasting colours for

large furniture, light fittings and soft accessories.

For a contemporary spin style these creamy colours

with shiny metallics like copper and polished brass, and

add in some geometric prints and shapes for a bolder

interpretation of the trend.

CUBIK PAINTED ELECTRIC PENDANT IN GOLD, £90, ICONIC

LIGHTS. WWW.ICONICLIGHTS.CO.UK

HANDCRAFTED GLASS HANGING LAMP,

WAYFAIR. WWW.WAYFAIR.CO.UK

£107

£135 £990

LILY VELVET BAR STOOLS, SET OF TWO. PEPPERMILL

INTERIORS, BURNTWOOD BUSINESS PARK.

WWW.PEPPERMILLINTERIORS.COM

PASTEL BLUE STUDDED CHAIR, NEEDWOOD LIVING,

ALREWAS. WWW.NEEDWOODLIVING.CO.UK

£35

MINI PASTEL VASES SET OF THREE,

MINT & MAY. WWW.MINTANDMAY.CO.UK

18

www.jaimemagazine.com
---
£319

£29 £120

VOX VINTAGE CHEST OF DRAWERS,

WWW.CUCKOOLAND.COM

HOXTON PENDANT LIGHT IN PASTEL BLUE,

WWW.HOUSECOSY.COM

£44

PHOENIX VELVET DINING ROOM CHAIRS, SET OF TWO,

PEPPERMILL INTERIORS, BURNTWOOD BUSINESS PARK.

WWW.PEPPERMILLINTERIORS.COM

PASTEL CHECKED LUXURY THROW,

TOLLY MCRAE. WWW.TOLLYMCRAE.CO.UK

£132

£45

HOXTON TABLE LAMP IN PASTEL MINT GREEN,

WWW.HOUSECOSY.COM

£POA

SOPHIE ALLPORT DRAGONFLY BEDDING SET,

WWW.SOPHIEALLPORT.COM

TOGO FIRESIDE CHAIR AND

FOOTSTOOL, LIGNE ROSET.

WWW.LIGNE-ROSET.COM/UK

DORADO BED, £429.99, FURNITURE AND CHOICE.

WWW.FURNITURECHOICE.CO.UK
---
CHINTZ PASTEL GREEN WALLPAPER MURAL BY TASHI

TSERING, FROM £35/M2, WWW.WALLSAUCE.COM

PASTEL PINK AND BLUE TERRAZZO WALLPAPER,

£30/M2, WWW.WALLSAUCE.COM

MEDIUM PEGBOARD IN PINK, £40, BLOCK DESIGN.

WWW.BLOCKDESIGN.CO.UK

LARGE PASTEL LEAVES ART PRINTS, FROM £22,

WWW.CLAUDEANDLEIGHTON.COM

PASTEL BLUE KNITTED COTTON POUFFE, £29.99,

WWW.HOMESCAPESONLINE.COM

HAIRPIN TABLE IN PASTEL GREEN, FROM £170,

WWW.THEHAIRPINLEGCOMPANY.CO.UK
---
DENTAL IMPLANT OFFER

Reece Associates

refresh. revitalise. recreate

Reece Associates

refresh. revitalise. recreate

Get the smile

you deserve

Just £71.48 a month*

Free Consultation

Do away with gaps, bridges and ill-fitting dentures.

Dental implants are the long term solution to many

dental issues, and can provide you with a smile which

is as natural and well performing as your own teeth.

*Terms and Conditions:

Based Patient Finance, 36 month term, 9.9% APR

Subject to availability

Subject to suitability

Tel: 0121 355 5180

Email: hello@reeceassociates.co.uk

Refreshingly Different

A new door for the new decade

Visit our Stylish Showroom

11 Belwell Lane, Sutton Coldfield, B74 4AA - Tel: 0800 996 1241

Visit our fantastic website www.jmiwindows.co.uk - enquiries@jmiwindows.co.uk

Windows | Doors | Bi-Fold Doors | Garage Doors | Conservatories | Orangeries | Secondary Glazing | Window Repairs
---
F O O D & D R I N K

Make meals, not waste

LIMIT YOUR FOOD WASTE WITH THESE DELICIOUS IDEAS TO

MAKE THE MOST OF YOUR LEFTOVERS, WRITES AMY NORBURY

As a nation, we're working hard on reducing our

food waste. A recent report by the government's

advisory body, the Waste and Resources action

programme, says that household food waste has

dropped by around seven per cent per person over

the last three years - but that UK households still

waste around 4.5 million tonnes of food that could

be eaten every year, worth a staggering £14 billion.

Whether you've got a glut of veg that's past its best,

or want to make the most of every last scrap of

edible food, here are some tasty ideas to get you

started.

Potato peelings

Potatoes are the single most wasted food item - and

also one of the most versatile. If you like your crisps

on the really crunchy side, then look no further than

your potato peelings. The peel of potatoes is packed

with nutrients so instead of binning them, spread

them over a baking tray, drizzle with olive oil and

season with salt, pepper and spices before baking in

a hot oven for a tasty, nutritious snack.

Pumpkin seeds

If you're making pumpkin soup or pie, don't throw

away the seeds once you've scooped them out.

Roast them with a sprinkling of seasoning for a

healthy pick-me-up - a great alternative to nuts or

crisps.

Carrot tops

The leafy green tops of carrots are perfectly edible

and, in fact, make a great alternative to basil for

making a pesto - simply blend with nuts and a bit of

garlic.

Cauliflower leaves

You can use cauliflower leaves to make a delicious

alternative to kale crisps - just toss in some oil and

seasoning, then bake in a hot oven for about 30

minutes.

Broccoli stalks

If you usually use the leafy florets and chuck the

thick stems then stop! Broccoli stems are great for

bulking out soups, slicing into rounds to add to your

stir fry or even spiralising to create a super healthy

vegetable alternative to noodles or pasta.

Aquafaba

Strange as it may seem, aquafaba - the juice from

tinned chickpeas - is a great vegan alternative to

eggs when it comes to making meringues. Just whip

it up exactly as you would the egg whites and voila!

Perfect vegan meringues every time.

22 www.jaimemagazine.com
---
Not too Grubby

F O O D & D R I N K

MARTIN HOLDEN-WHITE, THE LICHFIELD-BORN FOUNDER OF NATIONAL

VEGAN RECIPE BOX COMPANY GRUBBY, SHARES A RECIPE FOR HARISSA

SWEET POTATO, RED PEPPER AND LENTIL STEW WITH BALSAMIC DRESSING

AND AVOCADO

Ingredients

400g sweet potato

1 red pepper

1/2 tbsp harissa spice blend

1 red onion

100g kale

140g cherry tomatoes

1 sachet tomato puree

1.5 tbsp agave syrup

1 tin lentils

Handful flat leaf parsley

1 avocado

1.5 tbsp balsamic vinegar

Salt & pepper

Olive oil

100% plant-based

Preparation: 25 mins

Serves: 2-3

Before you start:

Pre-heat the oven to 190 degrees/ 170 fan / gas mark

5. You'll need a chopping board, a large frying pan,

two large roasting trays and a sharp knife.

Method:

Peel and chop the sweet potato into small 2cm cubes

and slice the red pepper into 1cm strips. Put them onto

a large roasting tray, coat with half of the harissa spice

blend, a tablespoon of olive oil and a pinch of salt and

pepper. Roast for 15-20 minutes until soft.

Finely dice the red onion and fry in a tablespoon of

olive oil on a medium heat for 5-6 minutes until soft.

Next, on a separate roasting tray, lay out the chopped

kale and drizzle with a tablespoon of olive oil and a

good pinch of salt. Put in the oven for 8 -10 minutes

until the kale is turning crispy.

Chop the tomatoes into halves and add to the onion

pan followed by the remaining harissa spice mix. Then

add the tomato puree, the agave syrup, a pinch of salt

and pepper. Drain and rinse the lentils using a sieve

before adding to the pan followed by 200ml of water.

Turn the heat down low and gently simmer for 4-5

minutes. Roughly chop the parsley and stir into the mix

once chopped.

Thinly slice the avocado flesh lengthways and set aside.

Remove all the roasted veg from the oven once cooked

and add the sweet potatoes and peppers into the lentil

pan. Gently mix through off the heat. In a small bowl

mix the balsamic vinegar with 2 tablespoons of olive

oil. Spoon the veg mix into shallow bowls and serve

with the avocado and crispy kale on top and a drizzle

of the balsamic dressing.

www.jaimemagazine.com 23
---
F O O D & D R I N K

Let's go vegan

WITH VEGANISM BECOMING AN INCREASINGLY POPULAR CHOICE, AMY NORBURY LOOKS

AT THE BENEFITS OF GOING PLANT-BASED - AND HOW TO STAY HEALTHY WHILE DOING SO

The number of vegans in Britain quadrupled

between 2014 and 2019 from 150,000 to 600,000,

or 1.16% of the population and, as of 2020, every

one of the top UK supermarkets now has their own

vegan range.

It's not just compassion for animals which prompts

people to go - and stay - vegan, but it does remain

the key factor in the decision for many. Our own

health, and concerns for the environment are other

strong reasons why going vegan has become an

increasingly popular choice.

There are significant health benefits to adopting a

meat-free lifestyle, whether that's vegetarianism or

fully committing to a vegan diet. According to The

Vegan Society, research has linked vegan diets with

lower blood pressure and cholesterol, and lower

rates of heart disease, type 2 diabetes and some

types of cancer.

But, as with any major diet change, it's vital to

ensure you're still meeting all your nutritional needs.

Cutting out entire food groups, such as meat and

dairy products, can have a detrimental effect on the

levels of key vitamins and minerals you consume,

particularly iron and vitamin B12, which are mainly

found in animal sources such as dairy, eggs, fish,

meat and poultry or from foods which have been

fortified such as cereal.

Check My Health offers a Vegan and Vegetarian

Health check (£299) which provides a

comprehensive analysis of the key nutrients that

may be missing from your diet and which could lead

to serious health issues.

Director of clinical services for Check My Health,

Amelia Davies, says: "Today more people are

choosing to follow a vegetarian or vegan diet and it

is vital for them to understand the effect of lacking

certain nutrients which are difficult to obtain from

these diets, like vitamin B12. I recommend this

health check to those already following meat-free

and plant-based diets to find out whether they may

require supplements."

24 www.jaimemagazine.com
---
Mushroom and leek pie

The Vegan Society has shared this delicious recipe

for a mushroom and leek pie - courtesy of Aimee

Ryan of Wallflower Kitchen. Aimee says: "Not

enough people realise that animal agriculture is a

leading cause of global warming. If you want to

make one simple but effective change to help save

the planet - veganism is the way to go."

Ingredients

I tbsp olive oil

2 medium leeks, trimmed and sliced into discs

3 cloves garlic, minced

500g button mushrooms

1 tsp dried mixed herbs

For the sauce:

1 tbsp dairy-free butter

2 tbsp plain flour

350ml dairy-free milk

1/8 tsp ground nutmeg

A pinch of salt and pepper

1 roll vegan puff pastry

Method:

Add the olive oil to a large saucepan on medium

heat. Fry the leeks and garlic for 2 minutes.

Add the mushrooms, herbs, salt and pepper and

stir for a minute. Place the lid on top and cook for

8 minutes.

Meanwhile, in a small saucepan, melt the dairyfree

butter on medium heat. Add the flour and

stir until combined. Slowly add in the milk, a

tablespoon at a time and whisk, until you have

a smooth thick mixture. Stir in the nutmeg and

season with salt and pepper.

Combine the cooked leeks and mushrooms with

the sauce and leave to cool completely.

Make sure your puff pastry is at room temperature

(if using frozen, leave at room temperature

overnight) and preheat the oven to 200C.

Add the leek and mushroom mixture to a pie dish

and top with the puff pastry, cutting off any excess

pastry around the edges.

Crimp the edges using a fork and score a crisscross

pattern on the top with a sharp knife.

Finally, dip a pastry brush in a little dairy-free

milk and brush the top of the pie, to help it

brown.

Cook for 25 minutes until golden brown. Serve

straight away.

www.jaimemagazine.com

25
---
T R AV E L

2021 holidays - ask the experts

TRAVEL EXPERTS OLIVER AND NATHAN FROM RB COLLECTION OF LICHFIELD ANSWER YOUR

HOLIDAY-RELATED QUESTIONS AS WE ALL START TO THINK ABOUT OUR FUTURE PLANS

There is no doubt the latest round of travel

restrictions has meant pent-up demand for holidays

is growing even bigger than previously expected.

Will I need a vaccine passport to travel?

This is a really hot topic and, at the time of writing,

something the government is discussing. With a huge

percentage of the UK population already vaccinated,

this would allow safer travel and allow travel

corridors to re-open and holidays to recommence.

Some destinations such as Mauritius and the

Seychelles will welcome tourists from around the

world who can prove they have been vaccinated.

Qantas has also confirmed it will require passengers

to be vaccinated too. We expect more destinations

and airlines to follow suit.

A central system whereby a vaccine record could

be stored digitally with worldwide recognition

would be really welcomed by the travel industry

and consumers alike. Technology should allow this

and the travel industry is lobbying government to

implement such a scheme.

I want to go on holiday but can't quarantine

when I get back?

Just to be clear, hotel quarantine is only for arrivals

from certain red-listed countries and we hope the

government will allow safe travel corridors to holiday

destinations where the risk is low.

Last summer we focussed on arranging holidays for

clients where there were no quarantine requirements

in place when they departed. There were some

very last-minute decisions by the government which

gave some passengers short notice. We expect going

forward to have a more organised approach by the

authorities. The vaccine roll out should mean these

kinds of restrictions won't be quite as widespread or

even required.

Our advice would be to speak to a travel agent

instead of relying on websites which will just give you

the official word on that day and may not know what

may be coming up.

My wedding was postponed, where would be

a safe bet for a honeymoon later in 2021?

During the winter months you have a number

of idyllic honeymoon options. The Caribbean

and Indian Ocean are the obvious options. In the

Caribbean if you want pristine white sandy beaches,

Anguilla is just the ticket and the Belmond Cap

Juluca is stunning. Barbados has a more vibrant

atmosphere whilst St Lucia is more mountainous and

scenic with plenty of natural things to experience.

In the Indian Ocean, the Maldives is the most

popular choice for honeymooners. The picture

perfect over water or beach villas are a great way

to escape and offer privacy and space. If you are

worried about island fever and getting bored, there

26

www.jaimemagazine.com
---
how they clean between every flight with

robots, sprays and so on (see Airbus, United

Airlines and Emirates YouTube channels

for videos). They are worth looking up to

see the efforts they are going to in order to

keep you safe.

If you are traveling to a destination

that requires a Covid test, consider this

important too as all your fellow passengers

will have been required to show a negative

result before being allowed to travel.

Depending on the destination, you may

also find everyone, including the crew, have

been vaccinated too.

are plenty of bigger islands with lots of facilities

to keep you busy and entertained (see last month's

Maldives feature for more details).

Mauritius is a larger island and closer to the

Seychelles. There is a great selection of hotels

and it is generally lower in cost than the Maldives.

Mauritius is a great place to get married too and

there's much more than the beach to experience.

Scenic waterfalls, plantations, mountain hikes and

wildlife spotting on quad bikes are just some of the

things to see and do. One of the hotels we know well

is located on a very flat peninsula where you can

easily cycle up the coast to watch the kite surfers.

For something a little more unique, a safari is a great

option in our winter months, and you could combine

this with a drive through the winelands in South

Africa and a stay in Cape Town. Closer to home, the

Canary Islands are just four hours away and offer

year-round sunshine for a winter honeymoon.

I want to visit family in Australia,

they have one of the strictest entry

requirements, when do you think I can go?

This is a really popular question and for many with

relatives in Australasia they are understandably

anxious to see family again. We are looking toward

the end of 2021 and possibly even into 2022 based

on the latest information which can of course

change at any time. Should the world's vaccination

programme move along quickly we could see this

brought onward. Interestingly, Qantas have started to

schedule flights to the UK from this July so we will be

watching these closely.

I'm worried I won't have suitable travel

insurance?

It is true that insurance companies halted issuing

cover during the first lockdown but were quick to

come back on the market offering a variety of Covid

cover for different scenarios once holidays started

again in the summer.

If you have already amended your holiday, our

advice is to ensure you have updated the insurance

company of your new plans and had confirmation

your cover is still valid. If in doubt, always ask

them and never presume. We recommend checking

your insurance is valid from the date of booking or

amending. If it is an annual policy check when your

renewal is and if your trip is still covered.

What are airlines doing to make it safer to

fly?

There are lots of handy videos showing how airlines

filter around 99.9% of the air onboard using their

robust HEPA filter systems. Some airlines even show

www.jaimemagazine.com

27
---
limit cover for pre-existing medical

conditions so do keep that in mind

too.

The main difference which remains

affects your passports. You now need

a full six months validity on your

passport when visiting Europe, and

they won't count any additional

time beyond 10 years from issue. We

do strongly recommend checking

your passport early and renewing if

needed now. Once travel resumes

there will no doubt be a rush and you

could encounter delays for passport

renewals.

I want to travel with my parents and kids

as a family bubble for October half term,

where do you suggest?

Booking early for October half term is going to be

vital this year with so much uncertainty surrounding

summer holidays. We have already taken enquiries

for this autumn break and even for next Christmas

too as clients look to guarantee availability at

their favourite hotels and also early booking

prices. Airlines have also scaled back their

services which means availability during peak

times can get very challenging.

It is the end of the main Mediterranean

summer season so in Europe I would suggest

one of the further southern islands in Greece

such as Crete. The Canary Islands can be a

safe bet too if you don't mind flying a little

further (around four hours). Malta, Madeira

and Sicily are all also a little further south

which means potentially warmer weather

than Spain or southern France at this time of

year.

For more useful information we

suggest visiting our blog: rbcollection.com/blog.

To plan and book your trip with RB Collection call

01543 258631. Please note: all the details in this

article were correct at the time of writing. We always

advise checking the latest travel requirements at

www.gov.uk/fcdo and using the services of your

local ABTA or AITO specialist travel agent.

What has changed with traveling to

Europe post Brexit?

At the start of the year there were still a few

things to iron out but now a little more time

has passed there have been further updates.

For example, you won't need an international

driving license or a GB sticker if driving over

to Europe.

You should always arrange suitable travel

insurance, but you can also use your EHIC

card for medical assistance and if these have

expired you can apply for a new GHIC

card. Remember, these do not replace travel

insurance as you still need cover for other

scenarios as well as medical cover. They also

28 www.jaimemagazine.com
---
BAYLISS

creating bathroom envy since 1929...

Visit our extensive prestigious bathroom and tile showroom....

regarded as one of the finest in the Country!

Bayliss Limited, 23 Gate Lane, Boldmere, Sutton Coldfield B73 5TR

T: 0121 362 1800 www.baylisslimited.co.uk

DINE AT HOME | MARCH

OLI MARTIN FROM HIPPING HALL,

WHICH HAS AN iMPRESSiVE 4 AA

ROSETTES WILL TAKE OVER OUR

DINE AT HOME MENU ON 26/27TH

MARCH - ViEW THE MENU ONLiNE.

OLI RECENTLY WON 2020 FESTIVE MASTERCHEF: THE

PROFESSIONALS COOK OFF! HE WAS ADOPTED AS THE

SHOW'S CULiNARY 'WiZARD' WHO LiKES TO TAKE RiSKS!

HiS APPLE CRACKLiNG GOT ViEWERS AND THE JUDGES

RAViNG ABOUT HiS iNNOVATiVE STYLE.

SEE WEBSITE FOR ALL MARCH MENUS AND TO

BOOK YOUR DINE AT HOME EXPERIENCE!

26-27 mar

#staysafe #dineathome

T 01543 264050

E hello@saucesupperclub.co.uk

www.dine-athome.co.uk
---
FA S H I O N

No more skinny jeans?

IS IT TIME TO DITCH THE SKINNY JEANS FOR GOOD? SPRING'S LOVE AFFAIR WITH WIDE

LEGGED TROUSERS MIGHT JUST SEE THE ALL-CONQUERING SLIM STYLES KNOCKED OFF

THEIR PERCH, SAYS AMY NORBURY

SKINNY jeans. Beloved by women all over the world

for time immemorial, they've been getting somewhat

of a slating in the fashion world of late, thanks largely

to hundreds of thousands of videos which have popped

up on TikTok since the start of the year.

'No skinny jeans' has been the battlecry for Generation

Z users on the social media site, with many of them

decrying the once-ubiquitous fashion staple as

'outdated' and 'unflattering', and urging followers to

ditch them in favour of the less form-fitting style which

have soared in popularity in recent years.

When Hedi Slimane first introduced the world to

skinny jeans at a Dior Homme show back in 2005, it

was a watershed moment for fashion, changing the way

denim was marketed forever. Embraced by males and

females alike, the skinny jean was the key wardrobe

item for the Noughties boho babes and indie rock and

rollers. And over the past 15 years, Millennials and over

have taken skinny jeans to their hearts, with everyone

from popstars to politicians, movie stars to your mum

owning a pair. Even new First Lady Jill Biden has been

seen in recent weeks in her beloved skinny jeans, blazer

and ballet flats combo.

As a long-time advocate of the skinny jean, the thought

of saying goodbye to a trusty go-to is, quite frankly,

unthinkable. At least it would have been if they hadn't

been relegated to the back of the wardrobe in favour

of lockdown-friendly loungewear for much of the past

year.

So are the Gen Z-ers right? Is it time to consign our

skinny jeans to the fashion graveyard? Well, if spring's

hottest choice of trouser shape is anything to go by,

then the answer is perhaps a tentative 'yes'.

With the prospect of lockdown restrictions being

somewhat lifted as we head into spring proper, it's

time to prise ourselves out of loungewear and into

something a little more presentable; say hello to wide

leg trousers.

Bringing all the comfort of a loose-fitting jogger but

with a far more refined style, wide leg trousers are the

perfect solution to post-lockdown dressing for spring,

Go super luxurious in sumptuous silk, embrace springlike

patterns or go dressy with pleats, then team with

a simple T shirt or cami for casual chic or throw on a

blazer for when you need to up your sartorial game.

Working perfectly with trainers, sandals or heels alike,

wide leg trousers are a one-stop style solution - and

maybe one which will make us say 'ciao for now' to our

skinny jeans.

CHECK TROUSERS, £36, NEXT. WWW.NEXT.CO.UK

30 www.jaimemagazine.com
---
£24

£760

£140

GREEN TIE WAIST PALAZZO TROUSERS,

DOROTHY PERKINS.

WWW.DOROTHYPERKINS.COM

GEORGETTE SABLE CULOTTES,

MAX MARA AT HARVEY NICHOLS.

WWW.HARVEYNICHOLS.COM

IRIS TROUSERS, BOO PALA

LONDON AT HARVEY NICHOLS.

WWW.HARVEYNICHOLS.COM

£59.50

£425

PASTEL WIDE LEG SAGE TROUSERS,

OLIVER BONAS. WWW.OLIVERBONAS.COM

TAFFY-SILK SATIN TROUSERS,

JOSEPH AT HARVEY NICHOLS.

WWW.HARVEYNICHOLS.COM

JIGSAW FRONT PLEAT TROUSERS,

£140, HARVEY NICHOLS.

WWW.HARVEYNICHOLS.COM

WHITE WIDE LEG 55 TROUSERS,

£79, NEVER FULLY DRESSED.

WWW.NEVERFULLYDRESSED.CO.UK

PINK STRIPED FREYA TROUSERS,

£69, NEVER FULLY DRESSED.

WWW.NEVERFULLYDRESSED.CO.UK

33
---
B E AU T Y

Spring Cleaning

FORGET GIVING THE HOUSE A GOOD GOING OVER AND INSTEAD PAY SOME ATTENTION

TO YOUR COMPLEXION. AFTER MONTHS OF LOCKDOWN YOUR SKIN WILL BE IN NEED OF A

DEEP CLEAN, SO WE ASKED A-LIST FACIALIST AND HEAVEN FOUNDER DEBORAH MITCHELL

TO SHARE HER TOP TIPS

A cleanser is the essential first step in any skincare

routine. It removes make-up, dead cells, oil and daily

pollutants, unclogging the pores and preventing

breakouts.

Because the face is exposed to all sorts of

environmental aggressors, from UV light to

pollution, it sweats and becomes dirty faster than

any other part of your body. So if you don't cleanse

properly, you leave all that grime on your skin day in

day out.

HOW TO CLEANSE YOUR SKIN

Soak your face with warm water, making sure it's

not too hot as this can actually dehydrate your skin

and damage sensitive areas, before applying a small

amount of cleanser. Gently massage in a circular

motion, avoiding the eye area; rinse thoroughly and

pat, not rub, your face dry with a clean, soft towel.

Leaving your cleanser on your face for one minute

will save you time and money in the long run. You'll

find that your makeup goes on smoother and pores

will stay tightly closed.

New Edition Cleansing Cream,

£28: The first cleanser of its kind to

contain my patented ABEETOXIN®

formula, this not only deeply cleanses

the skin but it also controls facial

muscles for an immediate tightening

and firming effect. The addition of

vitamin A helps resurface and repair

cells.

Cleanse & Foam Wash, £20.80:

A non-abrasive exfoliator, toner and

cleanser in one, this will help improve

elasticity levels while balancing oil

levels to reduce shine on your T-Zone.

Thanks to the presence of organic

carrot oil – which contains healing

vitamin A – it also rejuvenates and

repairs the skin.

Hydro Cleansing Milk, £28: A real

multi-purpose must-have, my cleansing

milk hydrates skin and removes daily pollutants while

it cleanses. Created with delicate organic jojoba –

the closest match to our own natural oil – it helps to

balance and condition your complexion while being

gentle enough for all skin types.

DO THE DOUBLE CLEANSE

The most important thing you can do for your skin is

to ensure it is properly cleansed every morning and

every night and, for me, the most effective way to do

this is to do it twice.

The reason for this is that the first cleanse can simply

move the dirt and grease around your face and this

can lead to breakouts; by repeating your cleansing

routine means you get deeper into your pores.

This double cleanse method is particularly useful if

you live near a busy road or work in the city. Being

close to cars all day means dust and pollution literally

sticks to your skin and can be difficult to remove if

you just have a quick wash.

You can shop the complete range of cleansers at

heavenskincare.com.

32 www.jaimemagazine.com
---
We make it happen

Moving House

Family Matters

Wills

Cannock

01543 466 660

Lichfield

01543 263 456

Halesowen

0121 550 0010

Sutton Coldfield

0121 716 3716

Jean Lamb Wealth Consultancy

My offices are situated in the historic city of Lichfield and I have been providing personal

wealth management advice to my clients for more

than 25 years.

I specialise in the following key areas

and welcome your enquiry:

• Investment Planning

• InheritanceTax and Estate Planning

• Pre and Post-Retirement Planning

• Care Fees Planning and Funding for Care

Telephone: 01543 417342

Website: www.jeanlamb.co.uk

Email: jean.lamb@sjpp.co.uk

Office: 6A Market Street, Lichfield, WS13 6LH

Jean Lamb Wealth Consultancy is an Appointed Representative of and represents only St. James's Place Wealth Management Plc (which is authorised and regulated by the Financial Conduct Authority)

for the purpose of advising solely on the Group's wealth management products and services, more details of which are set out on the Group's website www.sjp.co.uk/products.
---
F I T N E S S

The Power of Walking

LICHFIELD PERSONAL TRAINER RAÚL ROMERO EXPLAINS THE HEALTH

BENEFITS OF WALKING AND SHARES SOME OF HIS FAVOURITE ROUTES

During the long, bleak days of lockdown my friends

and clients keep telling me about the one thing

keeping them sane - the simple yet powerful act of

walking.

So what are the benefits of the one daily permitted

lockdown walk that so many of us are enjoying?

Well there are a plethora of benefits of walking, not

only physical but also mental and psychological.

These include:

• Improved circulation:

Walking wards off heart disease, brings up the heart

rate, lowers blood pressure and strengthens the heart.

Post-menopausal women who walk just one to two

miles a day can lower their blood pressure by nearly

11 points in 24 weeks. Women who walk 30 minutes

a day can reduce their risk of stroke by 20% and

by 40% when they step up the pace, according to

researchers at the Harvard School of Public Health in

Boston.

• Shoring up bones:

Walking can stop the loss of bone mass for those with

osteoporosis, according to Michael A. Schwartz MD

of Plancher Orthopedics and Sports Medicine in New

York.

• Enjoying a longer life:

Research has found that people in their 50s and

60s who exercise regularly are 35% less likely to die

over the next eight years than their non-walking

counterparts. That number shoots up to 45% less

likely for those who have underlying health conditions.

• Lightening the mood:

Walking releases natural pain killing endorphins in

the body – one of the many emotional benefits of

exercise. A California State University study showed

that the more steps people took during the day, the

more their mood improved.

• Losing Weight:

There really is no excuse to not achieve the fitness

goal of losing weight during this pandemic with

walking being one of the few exercises permitted in

these difficult times. A simple, brisk 30 minute walk

burns 200 calories. Over time, calories burned can

lead to pounds dropped.

• Strengthening muscles:

Walking tones the leg and abdominal muscles – and

even arm muscles if you pump them as you walk.

• Improved sleep:

Studies have found that women aged 50 to 75 who

took one-hour morning walks were more likely to

sleep better than their non-walking counterparts.

• Supporting joints:

The majority of joint cartilage has no direct blood

supply. It gets its nutrition from joint fluid that

circulates as we move. Movement and compression

from walking 'squishes' the cartilage, bringing oxygen

and nutrients into the area.

As well as all of the above, those with a sweet tooth

will be glad to know that a simple 15 minute walk

can help curb cravings for chocolate and even reduce

the amount of chocolate that is consumed in stressful

situations! (According to a study carried out by the

University of Exeter).

Clients often ask me whether it is better to walk or

to run. In the walking v running debate, personally

I would go with running every time, but then I have

always been a runner and running is a great passion

of mine. However I have to admit that walking carries

a far lower risk of injury than running.

34 www.jaimemagazine.com
---
The difference between the two is not based on pace.

At any speed, walkers have one foot on the ground

at all times, but runners are entirely airborne during

some part of every stride. As the pace increases, the

percentage of each stride that is airborne increases;

competitive runners have 'hang times' of about 45%.

What goes up must come down. That's why running

is a high-impact activity. Each time they land, runners

subject their bodies to a stress equal to about three

times their body weight. In just one mile, a typical

runner's legs will have to absorb more than 100 tons

of impact force. It's a testament to the human body

that running can be safe and enjoyable. At the same

time, though, it's a testament to the force of gravity

that walkers have a much lower (1% to 5%) risk of

exercise-related injuries than runners (20% to 70%).

For those who regularly walk or who would

like to start getting out and walking more,

here are my top tips:

1. Don't underestimate the importance of warming

up. To help avoid injury it is always best to start

walking at a slower than normal pace for five

minutes or so before picking up the tempo of the

walk.

2. Enjoy the outdoors. Although it is easy to stay

indoors and exercise, be it on a treadmill or exercise

bike, nothing beats getting out in the grass, sand,

dirt and roads. These are never completely level so

definitely work the muscles a lot more effectively

than a treadmill would. As an added bonus, luckily

for us in this country with the weather, we are also

more likely to burn more calories running against

the wind.

3. Use a fitness tracker. Psychologically we are more

likely to increase our physical activity by about

27% if we track it according to a study by Stanford

University, which in real terms is about an extra

mile of walking per day.

4. Make it social. Even under the lockdown rules we

are allowed to exercise outdoors with one other

person from another household, so make the most

of it and make it social. It is a great way to kill two

birds with one stone and get the daily exercise in,

as well as having a catch up with a friend which in

turn is also great for our mental health.

5. Hit the hills! Walking on a hiking trail with hills is

one way to include intervals in our walking routine

without making it feel like torture. Walking uphill

also burns more calories and helps us build muscle

in the lower body, which in turn can help speed

up the metabolism. For those who don't have any

handy hills nearby, staircase workouts are great and

totally free to do from the comfort of your own

home.

6. Stretch, stretch and stretch! Remember to take

those all important few minutes at the end of a

walk to loosen warm, limber muscles which will

help ease some of the strain and fatigue our muscles

build up during exercise.

We are so lucky to have some of the most beautiful

parks and routes right here in this region. Here are

three of my favourite nature routes for gentle walking:

1. New Lichfield Canal Walk

This is a 2.4 kilometer loop trail located near

Waitrose in Lichfield that offers scenic views and is

good for all skill levels. The trail is primarily used

for hiking, nature trips and bird watching. You can

actually walk down the abandoned railway track.

2. Sutton Park - Bracebridge Pool

Sutton Park is an amazing place for walkers and

one of my absolute favourites. There are so many

different gates and routes that you'll never be bored

of it. One of my favourites is the walk around

Bracebridge Pool. It is probably less than a mile

long, but you can make it longer using other paths

and coming back to the pool.

3. Cannock Chase (Birches Valley Gate)

This is a very popular route thanks to the great

facilities that it boasts such as the Gruffalo trail

which is fab for kids, as well as facilities such as

toilets and a café. You can choose to meander

along and explore the different routes in your own

way or follow one of the specific walking trails.

For more information about walking or any fitness

related queries please feel free to get in touch with

Raúl at raul@ambitionpt.co.uk or through

Facebook or Instagram

@ambitionpersonaltraininguk.

www.jaimemagazine.com

35
---
H E A LT H

The robotic future of surgery

SURGEONS FROM SUTTON COLDFIELD'S SPIRE LITTLE ASTON HOSPITAL

EXPLAIN HOW ROBOTIC SYSTEMS ARE ALREADY TRANSFORMING JOINT

REPLACEMENT OPERATIONS

Surgical technology has brought the future into

everyday operations as robotic systems come

increasingly into use.

"Joint replacement surgery has changed and there is

no going back," said consultant orthopaedic surgeon

Mr Shiv Jain.

There can be few forms of surgery that have

developed so dramatically over the past 20 years as

knee and hip replacements. Now the Mako Robotic-

Arm system, which has been in operation for just

over a year at Spire Little Aston Hospital in Sutton

Coldfield, has raised the bar yet again according to

surgeons using the technology.

Mr Jain said: "This equipment provides amazing

precision which, in turn, results in a more natural

feeling and functioning joint and an increase in

patient satisfaction.

"It is certain that joint surgery technology will

continue to improve in the years to come but, at this

moment in time, the Mako system really is a gamechanger."

The Mako system uses CT scans to generate an exact

model of the patient's knee or hip. That information

is fed back through the robotic arm allowing the

surgeon to determine how much bone to remove and

to ensure accurate alignment and achieve optimum

soft tissue balancing.

Mr Mark Dunbar specialises exclusively on knees,

performing ligament and meniscal procedures as well

joint replacement and knee revision surgery.

He said: "I have found Mako to be an excellent

tool for translating the advances made in our

understanding of joint replacement technology into

practical excellence.

"Robotic assistance is a real step forward, allowing me

to deliver the best knee replacements that I can whilst

individually tailoring to my patients' anatomy. The

results, so far, speak for themselves."

Mr Jamie Arbuthnot, who started using the system

when it was first put into action at Spire Little Aston,

said: "I think the arrival of Mako put the hospital at

the cutting-edge of joint replacement surgery.

"It allows me to consistently optimise implant

placement which gives the patient a more naturalfeeling

knee and usually means a quicker recovery

time and much reduced post-operative pain.

"The best type of joint replacement is one that lets

you forget you actually have one and I really think

Mako enables surgeons to meet that goal."

Another orthopaedic surgeon to regularly use the

Mako system is Mr Callum McBryde, who specialises

in hip and groin problems.

He is keen to point out that surgery is not the answer

to every hip problem – but when surgery is the answer

patients are beginning to demand robotic technology

as the word of its success continues to spread.

"Hip replacement surgery started in the 60s and

became much more commonplace in the 70s and 80s

as both clinical knowledge and surgical technology

improved. However, the introduction of robotic

technology such as the Mako system has had a major

impact on the procedure and its outcomes.

"Recovery rates now are excellent, with most people

able to continue an active and energetic lifestyle after

their operation. Putting up with pain should no longer

be an option – in nearly all cases we can do something

to improve a person's quality of life."

Jamie Arbuthnot and Callum Mcbryde will be

offering free mini-consultations about joint

pain and surgical options on Tuesday, March

23 from 4pm. Book your place by calling

0121 514 7034.

36 www.jaimemagazine.com
---
H E A LT H

Easy peasy health hacks

GETTING FIT AND HEALTHY DOESN'T HAVE TO MEAN POUNDING THE

TREADMILL. AMY NORBURY TAKES A LOOK AT SOME EASY WAYS TO BOOST

YOUR HEALTH - WITHOUT STEPPING FOOT IN THE GYM

Leading a healthier lifestyle doesn't have to be

challenging, time consuming or expensive. These

easy-to-implement health hacks will make a big

difference with little effort required.

Take the stairs

One of the easiest changes you can make - and

especially effective if you work in a high rise office

building - is to ditch the lift in favour of the stairs.

The quick exercise you'll get from powering up stairs

will boost your heart rate - plus, it's a great glute

workout to boot!

Up your water intake

To stay properly hydrated, the NHS recommends

drinking at least six to eight glasses of water a day,

although some of us find that easier said than done.

Keep a water bottle on your desk so it's close at hand,

making it easier to track your water consumption.

Ditching fizzy drinks in favour of water will also help

to lower your calorie and sugar intake - a win all

round.

Portion control

Your parents probably always told you to finish your

dinner, but if your portions are on the generous side,

emptying your plate could mean you're overeating.

Easy ways to curb your excesses include pacing

yourself throughout your meal - put your cutlery

down between bites, and stop for a rest after eating

80% to see if you're still hungry or just eating out

of habit. Using a smaller plate will also help control

your portions.

Load up on veg

We've all heard the 'five-a-day' mantra - but how

many of us actually achieve that on a regular basis?

For an adult, one portion is 80g - about one apple,

orange or banana, two broccoli spears or four

tablespoons of cooked leafy greens - so make sure

you get your fill.

Stand up!

Research has shown that prolonged periods of sitting

down can cause poor posture, leading to increased

risk of chronic pain, as well as obesity, so if you

spend all of your working day sitting at a desk - stop!

A standing desk, if you can get one, can make a

huge difference but if you can't, make sure you stand

regularly - around every 20 minutes, even if it's just

for a minute or two.

www.jaimemagazine.com 37
---
H E A LT H

The link between hearing

health and Alzheimer's

STEVEN HALE, DIRECTOR OF AUDIOLOGY AT STEVEN HALE HEARING,

EXPLAINS THE SIGNIFICANCE OF RECENT MEDICAL RESEARCH

For years now, we as audiologists have wondered

if there is a link between poor hearing health and

Alzheimer's disease. Some recent findings in a

Lancet Commission article appear to confirm this

suspicion.

The discoveries explore the impact of sensory

deprivation on the brain - such as hearing loss - and

how this can affect other neurological functions.

The article cites "…modifiable risk factors such

as hearing impairment…" as one direct link to

susceptibility to Alzheimer's disease. While hearing

loss is held in context as one of 12 such risk factors,

it should most certainly be borne in mind that these

are accountable for some "…40% of worldwide

dementias, which consequently could theoretically

be prevented or delayed… it is never too early

and never too late in the life course for dementia

prevention…"

As tinnitus has been cited as a 'soft' sign of

neurological disease, it should also be considered a

contributory factor and included under the hearing

loss banner.

Another article on dementia also advises us "…

according to one study, people with mild hearing

loss are two times as likely to develop dementia, and

this increases to three times for those with moderate

hearing loss…"

Having experienced clients who have been

diagnosed with Alzheimer's, they and their

nearest and dearest often tell me that the sufferer's

confidence can be almost immediately impacted,

leading to a natural urge to withdraw – especially

in social situations. This, in turn, may create a form

of self-exclusion and isolation, which may impact

directly upon the neurological disease, as brain

stimulus is reduced.

Whilst we, as a profession, sadly cannot currently

boast that there is a cure for tinnitus, we are

certainly able to offer some assistance which will

help on a day-to-day basis - and possibly stave off

the development of other neurological issues.

In fact one hearing aid client of mine

recommended her son to me as his tinnitus was so

disruptive that he had told his wife he 'couldn't go

on'. In his case we were able to find a hearing aid

and tinnitus management therapies that reduced the

impact his tinnitus had on him, thereby reducing

the stress he was suffering from and creating less

negative impact on him and his brain functions –

ultimately changing his life.

I am certain that all of my fellow audiological

professionals will be able to recite countless stories

of clients they have been able to help with their

hearing health, just as I can. However, hearing loss

and tinnitus are conditions whose effects are wide

reaching.

We are continually striving to reduce these impacts

through research, evolving technology, treatments

and client feedback – and to ultimately prevent

one sensory loss from creating or enhancing a

neurological one. Until that day arrives, however,

we as a profession remain dedicated to providing

the very best lifestyles that we can – and to keeping

you safe, active and social.

38 www.jaimemagazine.com
---
OPEN

FOR NEW

RESIDENTS

WE

REMAIN

COVID

FREE

We are a trusted, local family, dedicated to providing

a truly personal service for those who need us

Burials, Horse-drawn Funerals, Bespoke

Funeral and pre-payment Funeral Plans available

The perfect 'Home from Home'

at Rosemary Lodge in Lichfield

Rosemary Lodge Care Home for

elderly ladies and gentlemen offers a

level of care, community and comfort

that is second to none. Situated a short

way from the bustling City Centre of

Lichfield and set in landscaped gardens,

Rosemary Lodge is light, spacious and

beautifully decorated, offering residents

just the right combination of interest,

activity and relaxation. It is a place that

encourages residents to retain their

independence and individuality whilst

being fully supported to live a fulfilled

and enjoyable life.

Rosemary Lodge Care Home is a family

run concern, and has been a highlyregarded

part of the community for

almost 30 years. Offering 24 hour care,

our fully trained staff work together to

communicate with residents and ensure

personal care needs are met in a fully

person-centred approach, thus building

an important relationship of trust and

friendship.

Our two qualified chefs offer a

nutritionally balanced and varied

menu, (catering for any special dietary

requirements) using fresh, locally

sourced produce and served in a

spacious dining room that offers views

out towards the Orangery and to the

gardens and fountain. The Orangery also

creates a perfect space for residents,

family and friends to meet up, chat,

enjoy coffee and snacks and take

advantage of the sunshine, no matter

the season! The on-site hair and beauty

salon also ensures that little bit of

pampering is always available.

All rooms are en-suite, and are

designed to comfortably accommodate

individuals and couples. There is full

WiFi connectivity throughout to allow

residents the opportunity of keeping in

touch with family and friends through

video link or FaceTime.

Regular activities and entertainment

such as movement-to music, musical

theatre groups, pet therapy, pub lunches

and visits to local events are regularly

organised, but privacy and peace-andquiet

is also ensured in this beautiful

'home from home'. Our close proximity

to Lichfield also means that shopping

trips and community activities are just

on the doorstep.

Our commitment to offering just the

right amount of care and support

has led to an excellent reputation

in the community and with the care

professionals who work with us. We

value our staff highly, and recognise that

their care and commitment are a great

part of our success.

We also offer respite care, holiday

stay and limited day care. To arrange a

visit or to learn a little bit more about

us, call Jane Evans, Registered Care

Manager or Shirley Kent Administration

Manager, please see contact details

below.

All-inclusive Funeral Packages for

Cremation with no hidden costs

Including Crematorium, Doctor and

Religious/Non-religious Celebrant

Simple - £2,300

Traditional - £2,650

(includes family car, service sheets and floral tribute)

16 - 20 North Street, Cannock, WS11 0BA

01543 529813 (Anytime)

Visit our web and Facebook sites to see our reviews

www.omalleyfunerals.co.uk • www.facebook.com/omalleyfunerals

CQC RATING GOOD

Rosemary Lodge Residential Home

191 Walsall Road, Lichfield. Staffs.

WS13 8AQ.

For more information please contact

Jane Evans (Registered Care Manager) or

Shirley Kent (Administration Manager).

01543 415223 - Email: roselodgehome@aol.com

www.rosemarylodgecarehome.co.uk
---
F E AT U R E

A helping hand through

the darkest times

AUCTIONEER RICHARD WINTERTON EXPLAINS MORE ABOUT HOW THE LICHFIELD

AUCTION CENTRE CAN HELP PEOPLE WHO HAVE SADLY LOST A LOVED ONE

A few years ago two sisters stood on a

beach at Torquay and held hands. It

was something of a bittersweet seaside

trip, following their own childhood

footsteps to mark the passing of their

mum.

Each would have worn a piece of her

jewellery but the daughters had very

different tastes and decided it would be

better to sell her 'treasure trove' – as

they had called it as girls decades before

– rather than it end up neglected and

inevitably gathering dust.

Instead they would use the money to

buy something else in memoriam. But

what?

Looking out to sea on that cold

afternoon the sun suddenly illuminated this scene so

evocative of their formative years. It was something

of a lightbulb moment.

Walking back through town they passed shops

selling local paintings at either end of the street.

Two very different takes on that evocative view;

each loved by one of the sisters. Those paintings still

hang pride of place in their homes!

That story has never left me and I've never

forgotten that philosophy. There are other ways

of using the money, whether it's another piece of

jewellery, a painting or even a holiday. It doesn't

mean you're unsentimental.

The death of a loved one or cherished friend is,

sadly, a heart-breaking fact of life.

As well as the emotional upheaval it can be a

particularly unsettling time because of all the

legalese and heavy-duty officialdom one is suddenly

faced with for the first time.

For tax purposes, when someone dies the total value

of their estate must be calculated – a process called

probate, usually the responsibility of the executor.

One less worry to have is knowing where to have

that all-important valuation for probate conducted.

RICHARD WINTERTON'S

FAMILY HAS BEEN

AUCTIONEERING IN

STAFFORDSHIRE FOR

ALMOST 160 YEARS.

Having a professional handle probate for you dots

the Is, crosses the Ts and makes the whole process

smoother at a time when ironing out even the

smallest complication can feel like the toughest test

in the world.

We take pride and infinite pains in offering

a professional, confidential service with

understanding, compassionate valuers, handling

estates of all shapes and sizes, each with their own

personal level of complexity.

It's the same approach for estate clearances.

What a colossal task clearing a property can seem

– and throw in that emotional, personal connection

and it can seem a gargantuan undertaking.

If the property is full, we'll check everything

– the house, the attic, any cellars, garages, the

gardens, any sheds, outbuildings, greenhouses,

conservatories, orangeries… we leave no stone

unturned.

Over the years I have seen so many attics stacked

floor-to-ceiling and garages racked wall-to-wall

and whether it's a bulging basement or unloved

outbuilding, these places are so often chock-a-block

with opportunity.

We don't cherry-pick. We never forget that this is

40 www.jaimemagazine.com
---
someone else's home and belongings – possibly

accumulated over an entire lifetime – and we treat

everything with respect, whether it's worth a tenner

or £10,000.

Our team caters for all properties ranging from

houses, bungalows and flats to schools, offices,

shops, even factories.

It means the day-to-day possibilities really are

exciting. There could be one tiny gem in an entire

property or there could be dozens – and they could

be anything from anywhere in the world.

Our dedicated team meticulously sift through

everything and if there's something there, we'll find

it!

It's the same scenario for jewellery.

In deceased estates there's always a box of jewellery

in a drawer and people don't know what to do with

it.

You would be surprised how often a load of old

scrap turns out to not be scrap at all!

So before you scrap, before you sell, before you do

anything, please get it checked.

Our firm is an associate member of the National

Association of Jewellers and all members of our

jewellery department are certified gemmologists and

diamond graders.

From mixed boxes of jewellery to top end finery, we

are comfortable dealing with the whole range – and

that equally applies to house clearances and probate

valuations. We're like a one-stop shop!

Whether you are an executor administering

probate, investigating downsizing options for

yourself or just keen to clear clutter, we're always

happy to have a look with a free, no obligation

home visit and quotation and give you some honest

advice.

Just about anything you can think of can pass

through The Lichfield Auction Centre, from

watches, jewellery and furniture to specialist

militaria, coins, silver, stamps, ceramics, vintage

toys, comics and Pokemon cards – the ultimate

modern day collectable!

Everything from boxes of mixed lots to automobiles

can – and does – go under the hammer in our

online-only auctions.

So even if everything seems dark now, give us a call

and let us help provide you with your own lightbulb

moment.

For a free home visit to discuss house clearances,

downsizing, probate assistance or large collections,

contact The Lichfield Auction Centre on

01543 251081, email richardwinterton@

richardwinterton.co.uk or visit

www.richardwinterton.co.uk

WHAT IS PROBATE?

METICULOUS CARE AND SPECIAL

EQUIPMENT GO HAND IN HAND

WHEN VALUING JEWELLERY.

Probate (or confirmation of will in Scotland)

is the handling of the estate of a deceased

person.

It is a figure on which Inheritance Tax

can be calculated and a valuation for the

purpose of probate is required to comply

with section 160 of the Inheritance Act

1984.

When probate is granted the executor has

the legal right to distribute the items in the

estate as the deceased wished.

Probate values reflect the condition the

property was in at the date of death and

represent the hammer prices likely to have

been achieved at public auction on the

date of death.

Probate reflects the hammer price at

auction and does not take into account any

commissions and/or premiums payable.

www.jaimemagazine.com

41
---
F E AT U R E

Setting a gold standard

for care homes

SUTTON PARK GRANGE, A LUXURIOUS NEW CARE HOME OPENING IN SUTTON COLDFIELD

THIS SPRING, WILL SET A GOLD STANDARD FOR SENIOR CARE IN THE WEST MIDLANDS

Luxurious facilities and first rate care will come as

standard at the region's newest care home.

The on-site show suite in Birmingham Road will

enable prospective residents and their families to

view the elegant, high-end facilities first-hand.

Sutton Park Grange will offer 56 large en-suite

bedrooms and four one-bedroom care suites, all

beautifully furnished.

The care suites include an en-suite bedroom, lounge

and kitchenette and although developed with

couples in mind, are ideal for those who are looking

for more space and privacy than a traditional care

bedroom.

The luxurious facilities will include a restaurant

with a head chef preparing delicious and nutritious

meals and an option for residents to celebrate a

special occasion in a delightful private dining room.

There will be vibrant lounges, a café and a bar for

socialising over morning coffee, afternoon tea or

pre-dinner drinks. Residents will be encouraged to

enjoy pamper sessions at the professional in-house

hair and beauty salon and can watch a film or the

big match in the purpose-built cinema room.

"We are passionate about delivering first class care

and creating a stimulating environment to help

older people to live happier, healthier and more

fulfilled lives and are very much looking forward to

showing families around our on-site show suites,"

says Kiran Chaggar-Smith, Sutton Park Grange's

Home Admissions Advisor.

Every aspect of Sutton Park Grange has been

meticulously planned to enhance the living

experience for residents. In addition to the

impressive facilities there will be an outstanding

level of individual care; for example, a dedicated

events and activities team at the care home will

be responsible for arranging a variety of social

activities to mirror the interests and hobbies of the

residents.

This new care home is part of the award-winning

Cinnamon Care Collection which has been voted

Top 20 Care Home Group for the last three

consecutive years.

For more information visit www.cinnamoncc.com

or to book a show suite visit please email Kiran at

sutton.haa@cinnamoncccom or call

0121 392 9761.

42 www.jaimemagazine.com
---
Discover that hidden gem with your local auctioneer

Probate and formal valuations

for inheritance tax purposes

Our reliable and sympathetic

team can assist all executors in the

administration of deceased estates

From jewellery and large

collections to cars, furniture and

household items, we handle

everything

Comprehensive, bespoke

clearance service and

downsizing solutions

We handle clearance of an entire

estate from houses, bungalows and

flats to offices and all

other buildings

We specialise in:

Antique and modern jewellery

Watches

Gemstones

Silverware

Coins, medals and militaria

Works of art

Whisky and wine

Vintage toys

Stamps and ephemera

Cameras and record collections

Scientific equipment

Antique and modern furniture

Modern toys and Pokémon

Musical instruments

Qualified

All members of our jewellery

department are certified

gemmologists and

diamond graders

Record-breaking

international sales

More than 3,800 bidders from

all over the world joined our

online auctions last month

Online services available

Virtual estimates, online auctions

and contactless collections.

'Click and collect' service

for consignments strictly by

appointment only

FREE AND SAFE SERVICES

Virtual valuations on everything from jewellery,

watches, pictures, furniture and all your antiques

Start the conversation by emailing images and details

of your items directly to our valuers via our website

Free contactless courier service available

Safe online auctions held most Mondays

Established – Professional – Transparent

The Winterton family name has been synonymous

with auctioneering in Staffordshire since 1864

HOUSE CLEARANCE

We don't cherry-pick!

Whole properties cleared including

garages, sheds and gardens.

"Look after the pennies and

the pounds will look after

themselves!"

01543 251081

www.richardwinterton.co.uk

richardwinterton@richardwinterton.co.uk

The Lichfield Auction Centre

Wood End Lane

Fradley Park

WS13 8NF

J'Aime Ad 190x280 - Feb and ideas 2021.indd 1 03/02/2021 15:55
---
44 www.jaimemagazine.com