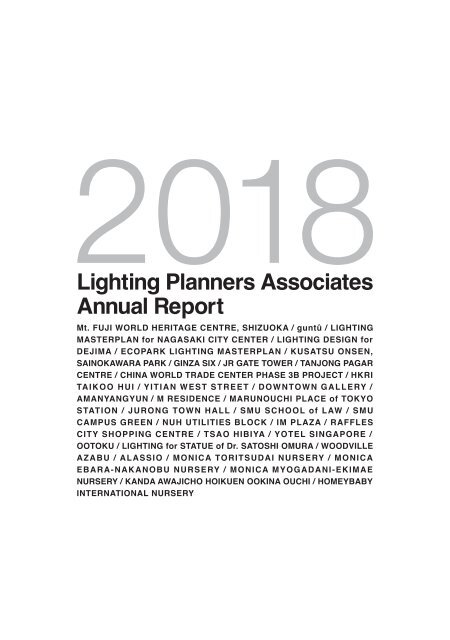 You also want an ePaper? Increase the reach of your titles
YUMPU automatically turns print PDFs into web optimized ePapers that Google loves.
2018

Lighting Planners Associates

Annual Report

Mt. FUJI WORLD HERITAGE CENTRE, SHIZUOKA / guntû / LIGHTING

MASTERPLAN for NAGASAKI CITY CENTER / LIGHTING DESIGN for

DEJIMA / ECOPARK LIGHTING MASTERPLAN / KUSATSU ONSEN,

SAINOKAWARA PARK / GINZA SIX / JR GATE TOWER / TANJONG PAGAR

CENTRE / CHINA WORLD TRADE CENTER PHASE 3B PROJECT / HKRI

TAIKOO HUI / YITIAN WEST STREET / DOWNTOWN GALLERY /

AMANYANGYUN / M RESIDENCE / MARUNOUCHI PLACE of TOKYO

STATION / JURONG TOWN HALL / SMU SCHOOL of LAW / SMU

CAMPUS GREEN / NUH UTILITIES BLOCK / IM PLAZA / RAFFLES

CITY SHOPPING CENTRE / TSAO HIBIYA / YOTEL SINGAPORE /

OOTOKU / LIGHTING for STATUE of Dr. SATOSHI OMURA / WOODVILLE

AZABU / ALASSIO / MONICA TORITSUDAI NURSERY / MONICA

EBARA-NAKANOBU NURSERY / MONICA MYOGADANI-EKIMAE

NURSERY / KANDA AWAJICHO HOIKUEN OOKINA OUCHI / HOMEYBABY

INTERNATIONAL NURSERY
---
静 岡 県 富 士 山 世 界 遺 産 センター

Mt. Fuji World Heritage Centre, Shizuoka

SHIZUOKA 2017 Shizuoka Prefecture / Shigeru Ban Architects /

Tanseisha / studio on site

A new facility to be used as a base for study and cultural

output for Mt. Fuji, recently registered as a UNESCO

World Cultural Heritage Site. The main gallery is clad

in timber latticework. At night, light softly washes the

gallery and the shape of Mt. Fuji is reflected in a pool

of water with light seeming to shine from the mountain top.
---
ガンツウ

guntû

HIROSHIMA 2017 Setouchi Cruise / Setouchi Holdings / Tsuneishi Shipbuilding / Yasushi Horibe Architect & Associates

A 19-cabin passenger boat, which cruises around the placid inland sea of Setouchi. Although there are

number of difficult restrictions for lighting fixture specifications due to Marine grade control, very high quality

custom light fittings were made as a result of close coordination between the design and construction team.

The large roof of the open deck is uplit, combined with torches to create a rhythmical effect. The exterior

look of the ship is completed with lights glowing from the interior of the passenger cabins. When anchored,

the ship adds a charming element to the nightscape.
---
環 長 崎 港 夜 間 景 観 向 上 基 本 計 画

Lighting Masterplan for Nagasaki City Center

NAGASAKI 2017 Nagasaki City

The Nagasaki nightscape has been certified as one of the new top three nightscapes around the world. In

order to increase the charm of the city, a lighting masterplan was formulated. Nagasaki is a city with sloping

topography, waterfront, Asian and western cultural elements, a history of Christian persecution, and is the

site of an A-bomb explosion. City lighting needs to be functional and comfortable, but also add a sense of

Nagasaki individuality to the nightscape where people want to stroll along.
---
史 跡 出 島 和 蘭 商 館 跡 ライトアップ

Lighting Design for Dejima

NAGASAKI 2017 Nagasaki City / Dejima Restoration Office

During the period of national isolation, the only port

open to foreign ships was Dejima. After hundreds of

years, these historical sites from the Edo period have

been restored. Soft light spilling out from the buildings

and street lights are reminiscent of life during this

period. The masterplan illuminates non-glary lanterns

along Chuo Street, creating a friendly nightscape, just

like it might have been a long time ago.
---
ECOPARK

LIGHTING MASTERPLAN

HANOI 2017 Viet Hung Urban Development and Investment

J.S.C (Vihajico) / CPG Consultants and others

Construction of a new 500-hectare area town,

"Ecopark", which is located about 20km from central

Hanoi City, started in 2009. The core concept for the

project is "Ecological Lighting Environment without

any Light Pollution." Set for completion in 2030, the

lighting masterplan and technical guidelines are

essential towards achieving this goal.
---
草 津 温 泉 西 の 河 原 公 園 灯 路

Kusatsu Onsen, Sainokawara Park

GUNMA 2017 Kusatsu town / Kitayama & Company /

Kojiro Kitayama + K Architect & Associates

A park with a flowing hot spring creek, rising steam,

and an outdoor bath. However, the park is not close

enough to the town center and seems like a lonely

place at night. In order to appreciate the park and its

seasonal, natural bueauty, light and shadow direct

visitors on a short and comfortable walk to the outdoor

bath, in this deam-like nightscape.
---
GINZA SIX

TOKYO 2017 Mori Building / RIA / Ginza 6-Chome Area Urban

Redevelopment Project Design Joint Venture (Taniguchi and

Associates, KAJIMA DESIGN) / PLACEMEDIA

Along 115m width city block, street activity reflect off

the sleek hairline finish overhangs with linear lighting

embedded in the edge. Lighting guidelines were set

for street-level commercial façade "Noren", or a shop

curtain, to allow shops to assert individuality within set

boundaries. At the rooftop garden, low illumination and

low positioned lighting design provide unobstructed

views of the nightscape.
---
JR GATE TOWER

AICHI 2017 Central Japan Railway / JR Central Building /

Kohn Pedersen Fox Associates / "Nagoya-eki new building"

Joint Venture / PLACEMEDIA

JR Gate Tower is a 46-story mixed development

directly connected to JR Central Towers, Nagoya

Station. As the development is seen as the new

landmark in center of the city, the external lighting

was planned to emphasize the consistency and

quality. In the shopping area atrium, visitors can

sense time transition by the lighting operation.
---
TANJONG PAGAR CENTRE

SINGAPORE 2017 GuocoLand / Skidmore, Owings & Merrill /

Architects 61 / Wilson Associates / Cicada

A large-scale and multi-use facility, that is the newest

and tallest tower in Singapore. The façade design is

led by a very impressive crown with architectural details

in each area finely illuminated for an overall dramatic

presentation. In the expansive outdoor public area,

color lighting for different events and moonlighting in

the plaza decorate the area for an exciting nightlife.
---
CHINA WORLD TRADE CENTER

PHASE 3B PROJECT

BEIJING 2017 China World Trade Center / Skidmore, Owings

& Merrill / 5+ / Stickman

A multi-use facility with a gross floor space of

230,000 located in the central business district of

Beijing. Finally completed, this mega project started

in 2013 with a comprehensive list including façade,

exterior, and interior lighting design. The architectural

structures built along the highway is treated with

façade lighting with uplifting graphics and animation.

The lighting design aims to create an entertaining

space for people to interact.
---
興 業 太 古 滙

HKRI Taikoo Hui

SHANGHAI 2017 Swire Properties / HKR International /

Wong & Ouyang (HK)

One of the large-scale project along Nanjing Road

in the Jingan District of Shanghai. The low-rise

commercial facility running north to south through the

development had made its grand opening. The 200m

long shopping plaza's skylight seems to flow like a

river. The skylight is covered by louvers, in the middle

and on both sides. At night, the louvers are illuminated

to imitate a blue night sky, and creating a dynamic

atmosphere.
---
益 田 西 街

Yitian West Street

GUILIN 2017 Yitian Group / P&T Architects and Engineers /

AECOM / WOODS BAGOT / GA Design

A low-rise, gable-roof style commercial complex built

in Yangshuo, a tourist hub in the scenic area of Guilin,

China. At night the town is bustling with tourist activity.

The façade and landscape lighting reflect off the

surrounding river, enticing and inviting people towards

the complex. Upon crossing the bridge to the property,

specially designed lanterns and luminous poles create

further excitement with transitions of light throughout

the evening.
---
DOWNTOWN GALLERY

SINGAPORE 2017 OUE / SCDA / AIM CREATE /

DP Architects / shma

A large-scale renovation of a commercial office building,

comprising two towers over a podium block, into a

mixed-use development. The retail podium has a glass

façade with aluminium mesh and the horizontal lighting

effects are emphasized. Interior lighting and color

temperature are different to complement the retail,

office and serviced apartment environments.
---
养 云 安 缦

Amanyangyun

SHANGHAI 2017 Shanghai Guyin Property /

Kerry Hill Architects / Dan Pearson Studio

A new Aman resort opened in the suburbs of Shanghai.

Houses from the Ming and Qing age were dismantled,

transported from all over China, and rebuilt as quaint

villas. The lighting is used so guests can sense the

history surrounding them without being too grand, but

at the same time creating a comfortable warmth.

Several decorative furniture lighting fixtures were also

specifically designed for the project.
---
M RESIDENCE

NEWPORT BEACH 2017 Mark Singer Architects

A private home in an exclusive west coast neighborhood.

The architecture is a beautiful blend of California ranchstyle

and Japanese minimalism. The lighting design

creates a comfortable environment that warmly

welcomes the owner upon returning home. The eaves

of the large roof, a distinctive feature of the structure,

are softly illuminated in pursuit of the ultimate, glarless

ambient lighting.
---
東 京 駅 丸 の 内 駅 前 広 場

Marunouchi Place of Tokyo Station

TOKYO 2017 East Japan Railway / JR East Tokyo Electrical

Construction and System Integration Office /

Nippon tetsudo Denki Sekkei

The renovation of Tokyo Station has a very detailed

lighting plan, aiming to create a "peaceful scenery."

The foreground emphasizes on this entire scenery.

Glareless lighting methods allow uninterrupted views

of the station and create a continuous atmosphere

along Gyoko Street. The lighting beautifully creates

a picturesque scene from both street and high level,

looking down from surrounding buildings.
---
JURONG TOWN HALL

SINGAPORE 2017 JTC Corporation / Forum Architects /

Coen Design International / Parsons Brinckerhoff

Jurong Town Hall served as office and town hall from

1974 and was designated as a national monument.

The new design, combining old and new, restored and

enhanced the quality of the building. The lighting

fixtures were carefully selected for additional and

alteration work for this heritage building. Subtle lighting

was designed to emphasize the architectural character

and reveal its charm at night.
---
SMU SCHOOL OF LAW

SINGAPORE 2017 Singapore Management University /

MKPL Architects

On the new School of Law campus at Singapore

Management University, a key feature of the new

building is the Kwa Geok Choo Law Library, named in

memory of the late Madam Kwa Geok Choo, wife of

former Prime Minister Lee Kuan Yew. All light fixtures

are integrated into the architectural detail, creating a

façade with a gentle internal glow, and the appearance

of a luminous beacon of knowledge.
---
SMU CAMPUS GREEN

SINGAPORE 2017 Singapore Management University /

ONG&ONG Architects

Lighting for the SMU Campus Green creates a sense

of orientation and connection between the National

Museum of Singapore and the Singapore Art Museum.

Instead of simply lighting the walkway, we proposed

to illuminate the beautiful heritage tree canopy with a

soft glow using concealed light sources. A series of

pole systems were proposed, with spotlights carefully

integrated, creating comfortable ambience at night.

Lighting defines the tree canopy with appropriate

brightness.

NUH UTILITIES BLOCK

SINGAPORE 2017 National University Hospital / Architects 61

NUH, the National University Hospital's new Utility

Block building contains staff offices and facilities.

Simple lighting, applied only when and where needed,

minimizes energy consumption and provides a

comfortable lighting environment.
---
盈 石 广 场

IM Plaza

NANCHANG 2017 Jiangxi BeiAo Investment / LEAD8

Built in Nanchang, China, this shopping mall's design

concept is inspired by the idea of discovering a

diamond in the rough. Surrounded by other buildings,

the central, polyhedral shaped building is cladded with

a curtain wall, resembling the facets of a diamond. All

the facets of the building glow and reflect light like a

"Sparkling Diamond".
---
RAFFLES CITY SHOPPING

CENTRE

SINGAPORE 2017 CapitaLand Singapore /

Laguarda.Low Architects / RSP Architects Planners & Engineers

Located in the heart of Singapore, Raffles City

Singapore is a premier integrated complex comprising

retail, commercial, hotels and convention centre. This

A&A project utilizes 100% LED technology to achieve

high levels of brightness and uniformity. The lighting

scheme is closely aligned with the existing architecture

and interior finishes to reduce visual clutter on the

ceiling. As a result, it creates a harmonious lighting

design and sophisticated shopping environment.

ツァオ 日 比 谷

Tsao Hibiya

TOKYO 2017 IMC JAPAN / TsAO & McKOWN Architects /

Kuroshima Architects

The lighting design aims to emphasize the sustainable

green wall at the office entrance to welcome guests.

The landscape lighting creates a comfortable walkway

and contributes to neighborhood safety.
---
YOTEL SINGAPORE

SINGAPORE 2017 Hong Fok Corporation / DP Architects /

Salad Dressing

Inspired by the first class airplane compartment, this

is the first location in Asia for the unique hotel brand,

Yotel, featuring a compact, but sophisticated guest

room design. Façade lighting accentuates the linear,

but elegant design of the architecture. In contrast,

its corporate purple lighting, accents the futuristic

lighting design in the interior, creating an extraordinary

experience for guests.
---
大 德 餐 厅

Ootoku

CHENGDU 2017 odd

A luxury sushi bar opened in the high-class shopping

area of Taikoo Li. Six luminous boxes frame private

dining rooms, also creating a charming restaurant

façade and dining atmosphere inside. At some

luminous elevations at box wall, lighting is set

intentionally uneven to avoid too artificial controlled

appearance.

幸 福 の 小 路 大 村 智 博 士 像

Lighting for Statue of Dr. Satoshi Omura

YAMANASHI 2017 Nirasaki City / Hiroko Tsuda

To commemorate Dr. Satoshi Omura on winning the

Nobel Prize in Medicine the "Kofuku no Komichi", or

Path of Happiness, was commissioned. Surrounded

by nature, a new bronze statue was dedicated for the

path, which the doctor walked on his way to school

as a child. To familiarize local residents with the statue

and path, the statue is highlighted even at night with

detailed lighting.
---
WOODVILLE AZABU

TOKYO 2017 ReBITA / Yokobori Architect & Associates /

Masui Junsuke Design Studio / Atelier Nanjo

This project is the renovation of a luxury condominium

complex looking to create new value in renewing and

reusing old, but valuable things for a long time. The

lighting design highlights new and distinctive textures

and materials along the approach from the entrance

gate to individual condominiums, in a display of

sequential lighting to greet residents on their return

home.
---
ALASSIO

HONG KONG 2017 Swire Properties / DLN / ALN / PLPL

A 50-story residential tower is located in Mid-Levels,

overlooking the Victoria Harbor and also surrounded

by abundant greenery and a vibrant neighborhood.

The facade is covered by champagne-colored trellis

and well grazed with subtle light to highlight its

geometry. Textured lighting design, utilizing the

interior materials and landscape design creates an

elegant and high quality environment.
---
モニカ 都 立 大 園

Monica Toritsudai Nursery

TOKYO 2017 Monica / Ishijima Architects

A string of Monica Nursery Schools opened in the

Tokyo area. We aim to create a warm and friendly

lighting environment for the children to spend their

nursery days. Indirect lighting softly illuminates the

classrooms through fixtures with interchangeable color

temperature. It allows to change atmospheres as the

room is used for play, learning, and napping. Our

design aims to create an inviting entrance area to

welcome parents and children every day.
---
モニカ 荏 原 中 延 園

Monica Ebara-Nakanobu Nursery

モニカ 茗 荷 谷 駅 前 園

Monica Myogadani-Ekimae Nursery
---
神 田 淡 路 町 保 育 園 大 きなおうち

Kanda Awajicho Hoikuen Ookina Ouchi

TOKYO 2017 Tokyo Jido Kyokai Social Welfare Corp /

Ishijima Architects

A project to reuse the 7-story building that was used

as temporary campus of a public nursery school. It

was renovated by a private nursery school and set for

opening. The theme for the nursery was decided "An

Old Railway Station", as crisscrossing train tracks are

visible from the windows and the old Manseibashi

Station is nearby. Warm light glows through transparent

bricks lining the entrance.

和 美 嬰 童 国 際 保 育 園

Homeybaby International Nursery

TIANJIN 2017 Zonebang Healthcare (Tianjin) /

Ishijima Architects

A renovation of a 2-story building with basement in an

upscale residential area. The new nursery school is

designed to surround with various play elements so

children can find a lot of fun inside and out. Light

fixtures in the basement hall were played with colors

and shape to create an exciting atmosphere.
---
LPA TOPICS

PLDC 2017 / New Publication Chinese Version of "LPA 1990-2015 Tide

of Architectural Lighting Design" / Lecture / Media Appearance / Award /

Internal Workshop & Refreshing Time / Moving
---
PLDC 2017 in Paris

Proffessional Lighting Design Convention

Master's Exhibition

"The Future of Urban Lighting – Eight

Visions from Masters of Light"

Organiser : VIA Verlag

Curator : Roger Narboni

Venue : Zumtobel Group showroom Paris

Oct. 30 – Nov. 04

LPA participated in PLDC (Professional Lighting Design

Convention) this year and exhibited our design proposal

for "The Future of Urban Lighting – Eight Visions from

Masters of Light"

PLDC Lifetime Achievement Award

Nov. 04

Mende received the PLDC Lifetime Achivement Award

for extensive individual and professional contributions to

the field of lighting design.
---
中 国 語 版 『 LPA1990-2015 建 築 照 明 デザインの 潮 流 』 発 行

New Publication Chinese Version of "LPA 1990-2015 Tide of Architectural Lighting Design"

LPA1990-2015 建 築 照 明 没 汁 潮 流

The Chinese version of our latest book "LPA 1990-

2015 Tide of Architectural Lighting Design" was

released on November in China.

Publisher: Phoenix Science Press

424 pages / Colour printed

Price: RMB 439

A symposium and autograph session was held in

conjunction with the book publishing in Shanghai and

Beijing.
---
講 演 活 動 ・メディア 出 演

Lecture / Media Appearance

LPA attended and presented at several lectures around the world, always with the goal of promoting lighting design.

i Light Marina Bay @Singapore

Mar. 09

IALD Great China Conference @Shanghai

Sep. 02

Kyoto City Symposium @Kyoto

Sep. 21

China Illuminating Engineering Society

Conference @Guangzhou Oct. 22

Thailand Lighting Fair @Bangkok

Nov. 17

eLicht 2nd Commercial Lighting Forum

@Shanghai Nov. 19

受 賞

Award

Illuminating Engineering Society of North America (IESNA) Illumination Awards

Award of Merit

Tokyo Garden Terrace Kioicho

Mediacorp Campus

The Sanya EDITION

CapitaGreen

International Association of Lighting Designers (IALD) LIghting Design Award

Award of Merit

National Gallery Singapore

Amanemu

The Illuminating Engineering Institute of Japan Award

PLDC Lifetime Achievement Award
---
社 員 研 修 &リフレッシュメント

Internal Workshop&Refreshing Time

LPA staff brushed up their skills by attending lectures about cutting-edge technology, and personally studied

various topics contributing to the LPA Internal Expert Series. We also attended internal events to foster

communication among staff.

Internal Workshop

Expert_Tokyo

Apr. 11

IDOBATA Masterplan Workshop_Singapore

Apr. 18

Expert_HK

Jul. 07

Refreshing Time

Chinese New Year Lunch

Singapore_Jan. 19

Office Retreat_HKIshigaki

Apr. 03-05

BBQ_Tokyo

Jun. 24

Sports Day_Tokyo

Jul. 20

Office Retreat_SingaporeBali

Aug. 02-04

LPA Open House_Tokyo

Sep. 08

Sports Day_HK

Sep. 22

Office Retreat_TokyoIse

Oct. 13-14

Moving

Hong Kong office has moved to a new address!

New Address

Unit G, 9/F Tung Kin Factory Building, 196-202 Tsat Tsz Mui Road, North Point, Hong Kong
---
LPA 2017 年 の 概 況 と2018 年 への 展 望
---
LPA 2017 Activities & 2018 Goals

Numerous Project Completions

As many as 31 projects were completed in the year 2017. One of LPA's company motto is: to oversee the site

well. Our designers spent long hours on site supervision work last year due to numerous project completions for

the Hong Kong office at last, after 5 years since its establishment, in which we continue to develop our working

collaboration internally between our offices.

An Outstanding Transnational Lighting Detectives Forum in Kyoto

The annual Transnational Lighting Detectives (TNT) forum was held in Kyoto in June 2017. The 4-day workshop/

lighting experiment and symposium, together with 4 local universities, was sponsored by the city of Kyoto. TNT

volunteer members, together with well- known lighting designers and educators, gathered from 10 different

countries and were all very satisfied with the stay. Our next TNT forum will be happening in Santiago, Chile in

October 2018. We look forward to seeing you there!

International Commendation of 6 projects

6 projects – "Amanemu" (a resort in Japan), "National Gallery Singapore", "Tokyo Garden Terrace Kioicho" (multiuse

redevelopment), "Mediacorp Campus" (a broadcasting complex in Singapore), "The Sanya EDITION" (a

resort in China) and "CapitaGreen" (an office building in Singapore) have been recognized and awarded by

international lighting design awards such as the Illuminating Engineering Society of North America, and the

International Association of Lighting Designers (IALD). With more awards than the past years, the appreciation

for LPA's work has grown throughout the world.

PLDC Lifetime Achievement Award and The Illuminating Engineering Institute of

Japan Award for Mr. Mende

Mr. Mende was humbled to receive the respected The Illuminating Engineering Institute of Japan Award as well as

the Lifetime Achievement Award at PLDC – Professional Lighting Design Convention during the PLDC conference

in Paris in November 2017. These awards are given to recognize not only his 40 years of dedication as a lighting

designer, but also his continuous 27-year effort in non-profit activities under the umbrella of Lighting Detectives.

Also, Mr. Mende is now appointed as the chairman of Japan Design Committee, and Representative Director at

IALD Japan.

Taking a part in an exhibition "The Future of Urban Lighting" in Paris

As a part of PLDC conference held in Paris last November, LPA was invited to take a part in an exhibition titled

"The Future of Urban Lighting" along with 7 other lighting designers. LPA's presentation focussed on 21 number

of future interactions of human and light under 7 themes: urban, street, underground spaces, disasters, park,

house and human. It was a further development of our travelling exhibition "Nightscape 2050" from 2015.

Chinese publication of "LPA 1990-2015 Tide of Architectural Lighting Design"

The Chinese version of "LPA 1990 -2015 Tide of Architectural Lighting Design" was published in November 2017.

Mr. Mende attended the book launch and autographed more than 300 copies of the publication.There were lectures

conducted by Mr. Mende in Beijing and Shanghai to commemorate the occasion and attendance was at full

capacity. Moreover, the first edition was sold out in a week. It was a great occasion to experience how enthusiastic

the Chinese were about lighting design.
---
主 な 講 演 ・ 寄 稿 ・インタビュー・ 出 演 など

Major Contributions and Interviews
---
LIGHTING DETECTIVES

Transnational Lighting Detectives Forum 2017 in Kyoto / The Lighting

Detectives Descend on Ueno Vol.1&2 / Light Up the Beat! / City Night

Walk / Night Watching Tour / Lighting Detectives Survey / Regular

Round Table Discussion / Annual Activities / Lighting Detectives

Annual Gathering / Lighting Detectives - List of Sponsors
---
Transnational Lighting Detectives Forum 2017 in Kyoto

世 界 照 明 探 偵 団 フォーラム2017 in 京 都

Jun. 08-10

2017 marked the 13th annual Transnational Tanteidan Forum, first

hosted by Tokyo in 2002. The Lighting Detectives, originating from

Tokyo, toured 12 cities around the world, and are now back on home

turf to host a forum in the historical city of Kyoto. Along with citizens

of Kyoto and university students, the forum was an opportunity to

contemplate Kyoto-style lighting in this historically and culturally

rich city. Over the three-day event several discussions were held

to discuss and debate about "Kyoto-style" lighting and lighting

proposals were prepared for the finale, Light Up Ninja.
---
Talk Events

プレゼンナイト『 京 都 + 光 の 文 化 遺 産 を 語 る』

Presen-Night"Kyoto+Heritage of Light"

@ 京 都 文 化 博 物 館 別 館 ホール The Museum of Kyoto Annex Hall

Jun. 08

The talk event started off with presentations of city walk

surveys by university students. The students discussed

heroes and villains of light, and presented ideas for

improvement. It was also a great honour to have Kyoto

City Mayor, Mr. Kadokawa, critic the student study of

Kyoto. He also commented on several lighting problems

within the city and stated his vision for the future of Kyoto.

Foreign members of the Lighting Detectives each gave a

short presentation on local homeland "Heritage Lighting."

トークイベント『 歴 史 都 市 の 光 −メキシコシティー、ベルグラード、マドリード、 京 都 』

Talk Event "Light of Historical City -Mexico City-Belgrade-Madrid-Kyoto"

@ロームシアター 京 都 パークプラザ ROHM Theatre Kyoto Park Plaza

Jun. 10

With much historical value attached to the cityscape of Mexico City, Madrid, and Belgrade, each member presented

on the current state, problems, and function of lighting in these respectable cities. How important cultural assets

are viewed at night was a notable topic of discussion and is a key issue for the nightscape of Kyoto.
---
Student Workshop

Jun. 09

Each light-up group met separately to discuss

Hero and Villains of Light and their ideas for

improvement. Students exchanged ideas on

what is Kyoto-style lighting and reflected on the

function of street lighting. The afternoon was

spent rehashing the morning discussion as

each group prepared for the light up event. In

the evening, each group made final on-site

adjustments to the initial lighting setup, focusing,

and staging methods.

1. 松 原 通 り

Matsubara Street

Kyoto University School of Architecture Housing and

Environmental Design + Ishida Lab

On the west side of Karasuma Boulevard, 3 places were illuminated with

vivid color lighting and on the eastside 2 places were illuminated with

warm color temperature lighting for a Kyoto-style design. Green and blue

lights shone on the street pole and an ocean motif was projected along

the shrine approach with Japanese Shinobue, a bamboo flute, singing in

the background for a surprising presentation.
---
2. 平 安 神 宮

Heian Shrine

Heian Shrine : Kyoto Institute of Technology Sakata Lab.

Otenmon Gate : Kyoto City University of Arts Environmental Design Lab.

On both sides of the vermillion-colored main shrine gate stand green pine

trees, inside blue lighting colors the shrine plaza and rows of candles

direct one`s eyes toward the main shrine hall for an installation with great

depth. The pillars of light radiating upward from the shrine grounds

attracted many visitors.

3. 疏 水 + 大 鳥 居 + 白 川

Sosui Canal + Otorii Gate + Shirakawa

Sosui Canal and Otorii : Kyoto University of Art & Design

Shirakawa River : Kyoto City University of Arts Environmental Design Lab.

The students felt that the canal and shrine gate were all part of the same

landscape and proposed a sequential lighting installation in conjunction

with the design laid out for the nearby Heian Shrine. Original and handmade

lanterns were proposed to line the bank for a relaxing lighting

installation. Using fiber optics to recreate nishijin-ori, a special style of

Kyoto dyed fabrics, with light in the Shirakawa River.

Co-Organizer: OKAZAKI LOOPS, MBS,

Matsubara Street Area Revitalization Project Committee

Supported by: Kyoto City

Sponsors: USHIO LIGHTING, INC., MAXRAY INC.,

ALTO CO., LTD., Luci Pte. Ltd., iGuzzini, We-ef Lighting,

Lamp, ERCO Lighting Pte. Ltd., Lutron Electronics
---
照 明 探 偵 団 上 野 公 園 に 現 る Vol.1&2 The Lighting Detectives Descend on Ueno Vol.1&2

Organizer : Committee for New Concept "Ueno, a Global Capital of Culture", Arts Council Tokyo (Tokyo Metropolitan Foundation for History and Culture)

Planning : Lighting Detectives

Day

1

Vol.

1

街 歩 きワークショップ

Night Walk Workshop

Jan. 28 & Feb. 3

The Lighting Detectives hosted a workshop titled "Ueno

Night Park." During the day the expansive park and its

several museums are bustling with people, but at night

there are very few park-goers and the area is far from

charming. The workshop was an opportunity to talk

about the park's problems with workshop participants.

During the second meeting, we created possible

proposals for the park lightscape at night, based on the

heroes and villains of light discussed in the first meeting.

Day

2
---
Vol.

2

Day

1

ライトアップ 計 画 & 器 具 演 習 ワークショップ

Lighting Plan & Lighting Fixture Experiment Workshop

Oct. 16

The volume2 of "Lighting Detectives in Ueno Park" was

held at the Tokyo National Museum. Even though it was

cold and rainy, the workshop was filled to capacity!

Participants developed lighting plans in preparation for a

scheduled light up in November by testing fixtures and

noting lighting effects.

ライトアップテスト

Light Up Test

Nov. 13

In October, previously developed lighting plans were put

to the test in three areas, the Japanese Gallery, Hyokeikan

Building, and the area from the main gate to the Gallery

of Horyuji Treasures. We worked through the rain on a

limited time schedule, but some teams were still not

satisfied with the lighting effects or outcome.

Day

2

ライトアップ 本 番

Presentation & Critic

Nov. 14

On the day of the light up, each group presented their

lighting concept and effects for critic to Chief Mende and

Mr. Kinoshita of the Tokyo National Museum. It was a

valuable experience to be able to present one's own

lighting plan and have an actual mock-up at the National

Museum. Even though this was the first time for many

participants, it was a great opportunity to think about and

discuss lighting.

Day

3

Sponsor Panasonic Corp. Collaboration with Tokyo National Museum
---
Light Up the Beat!

Singapore Night Festival 2017

@Waterloo Artsplace

In collaboration with Atsuhiro Ito Supported by Krislite

Aug.18-26

Lighting Detectives collaborated with Japanese visual artist

Atsuhiro Ito, who plays a fluorescent tube instrument called the

Optron, to create an installation celebrating 10 Magical Years of

the Singapore Night Festival. The unconventional interplay of

light and raw sound was realized through a light installation and

performance. Light up the Beat! takes inspiration from the history

of Waterloo Centre, with the humble domestic fluorescent tubes

as the main medium. Fully functional but in the process of being

displaced, the fluorescent tubes reflect the important heritage of

Waterloo Centre, in contrast with its rapidly developing modern

neighbours.
---
街 歩 き

City Night Walk

We carried out four night walks in 2017. Night walk planning committee discussed and selected four themes that

should be paid attention now.

すみだ 水 族 館

Sumida Aquarium Feb. 25

つくばエクスプレス 沿 線

Tsukuba Express Area May. 12

蒲 田

Kamata Aug. 25

クリスマスイルミネーション in 東 京

Christmas Illumination in Tokyo Dec. 20

Night Watching Tour

八 丈 島

Hachijojima Island Jul. 02

A tour planned to view natural light at the start of the summer in

Hachijojima Island. On the day of the tour, the plane took off and

was able to fly over the island, but unfortunately the clouds never

parted, therefore, we had to return to Tokyo. However, we did enjoy

a clear view of Tokyo from the aircraft.
---
照 明 探 偵 団 調 査 Lighting Detectives Survey

海 外 調 査 Overseas

Mumbai Oct. 02-07

It has been 13 years since our last survey of this

economically powerful city, Mumbai. In the

previous survey, Mumbai was a what-you-see-iswhat-you-get

kind of city. In recent years,

the development from China and Southeast Asia

is trying to transform the city. We compared and

contrasted Mumbai with the large-scale,

preplanned city of Navi Mumbai on this survey

trip.

Copenhagen & Stockholm Dec.02-09

Long nights await Scandinavian country. What

kind of lights do they use in their towns and

homes? We traveled to survey the city lightscape

and home life during long polar nights.
---
国 内 調 査 Japan

鹿 児 島

Kagoshima Oct.25-27

Kagoshima, represented by the silhouette of

Sakurajima Island, is a city formulated by the

unifying view of nature and city life. Sakurajima

Island, is not only the symbol of this city, but also

the main feature in the formation of a beautiful

landscape and a high-priority issue concerning

cityscape policies. We surveyed the area to find

out the lighting environment.

東 京 調 査 Tokyo

東 京 湾 クルーズ

Tokyo Bay Cruise Jul. 24

The Tokyo cityscape shows various expressions

depending on one`s point of view. We were

interested in what kind of urban lightscape we

would find from the Tokyo Bay. We surveyed

several elevations of Tokyo on the cruise including

Hinode-pier, Rainbow Bridge, Tokyo Gate Bridge,

and Haneda Air Terminal.

築 地

Tsukiji Dec. 15

Tsukiji Fish Market, the biggest wholesale market

in Japan and popular tourist stop, is set to move

to a new location in Toyosu. We surveyed the

lighting environment of this famous place and its

irresistible attractiveness to people.
---
研 究 会 サロン

Regular Round Table Discussion

Mar. 16 May. 29 & Sep. 06

City walks are not just about walking, but finish with a salon-style

discussion to rework what we saw, what we did not see, or what we

thought we might have seen.

照 明 探 偵 団 の 年 間 活 動

Annual Activities

01.28 & 02.03 The Lighting Detectives Descend on Ueno Vol. 01

02.07

Web Column Vol. 37

The Fashion of a Lighting Designer

02.15

City Night Walk Vol. 56 @ Sumida Aquarium

03.06

Web Column Vol. 38Scope of Lighting Design

03.16

Lighting Detectives Salon Vol. 49

04.25

Web Column Mende's NoteTwilight & Oil Lamp

04.27

Lighting Detectives News Letter Vol. 79

05.12

City Night Walk Vol. 57 @ Tsukuba Express Area

05.29

Lighting Detectives Salon Vol. 50

06.08-06.10 Transnational Lighting Detectives Forum 2017

in Kyoto

07.02

Night Watching Tour in Hachijo-Jima

07.03

Lighting Detectives News Letter Vol. 80

07.05

Web Column Vol. 39

Light Art and Lighting Design

07.21

Web Column Vol. 40

Favorable Lighting for Having Drinks

07.24

City Night Survey―Tokyo Bay

07.26

Lighting Detectives News Letter Vol. 81

08.18-26 Light Up The Beat!

08.25

City Night Walk Vol. 58 @ Kamata

08.31

Web Column Vol. 41Value of Time for Designers

09.06

Lighting Detectives Salon Vol. 51

09.21

Lighting Detectives News Letter Vol. 82

10.11

Lighting Detectives News Letter Vol. 83

10.02-07 City Night Survey―Mumbai

10.16 & 11.13-14 The Lighting Detectives Descend on Ueno Vol. 02

10.24

Web Column Vol. 42 Lighting Design Awards

10.25-27 City Night Survey―Kagoshima

11.29

Transnational Lighting Detectives Forum 2017

in Kyoto Symposium

12.05

Lighting Detectives News Letter Vol. 84

12.02-07 City Night Survey―CopenhagenStockholm

12.15

City Night Survey―Tsukiji

12.20

City Night Walk Vol. 59 @ Chiristmas Illumination
---
照 明 探 偵 団 年 間 活 動 報 告 会 Lighting Detectives Annual Gathering

Dec.09

The Annual Lighting Detective Gathering is an event to express our gratitude toward continual membership and

monetary sponsors with a year-end activity report and party. We are looking forward to and pledge to another

year of fulfilling activities.

協 賛 社 名 リスト List of Sponsors

The following 20 Lighting Industry Professionals financially sponsor Lighting Detective activities.

Lutron Electronics Co., Inc.

Iwasaki Electric Co., Ltd.

Color Kinetics Japan Inc.

Endo Lighting Corp.

Panasonic Corp.

ERCO

DAIKO ELECTRIC CO.,LTD.

YAMAGIWA CORP.

Maxray Inc.

USHIO LIGHTING. INC.

DN Lighting Co., Ltd.

Toshiba Lighting & Technology Corp.

Koizumi Lighting Technology Corp.

Martin Professional Japan. Ltd.

Louis Poulsen in Japan

Shonan Co., Ltd.

TOKI CORPORATION

Yamada Shomei Lighting Co., Ltd.

ModuleX Inc.

Mitsubishi Electric Lighting Corporation
---
Adam Lam

Angkana Kongchatri

Atsushi Itakura

Blanche Lam

Bryan Yan

Gerald Khoo Haruka Sakoda Hikaru Kimura

Hu Lin

Irene Tan

Karen Huang Kentaro Tanaka

Kouki Iwanaga Kyoko Takubo

Leon Hitsu

Mikine Yamamoto

Misa Fujii

Misuzu Nakamura Momoko Muraoka Motoyo Yano

Reiko Kasai

Rosana Choy

Shuk Ying

Ryan Valentino

Sachiko Segawa

Shaohua Chen

Tomohiro Mukaihira

Xu Xiao

Yin Yin Fung

Yuhang Zhong

Yukiko Saito

Yumi Honda Yuri Araki Yusuke Hattori

Yu Ye
---
Catherine Wong

Chika Makabe Clement Lee

Emiko Nagata Genki Watanabe

Isao Nemoto Jinmu Li Jio Yeung

Junko Nagatomo

Kaoru Mende

Mami Kono Mari Kubota Masafumi Yamamoto Masahiro Iwata Mayumi Banno

Niken Wulandari

Noriko Higashi

Phraporn

Kasemtavornsilpa

Quratuaini Bte Jamil

Raba'a Bte Tainy

Sherri Goh

Shosaku Takahashi

Shunichi Ikeda

Simeng Huang

Sun Young Hwang

Lighting Planners Associates 2018 Annual Report

陈 华

黃

颖 怀 雯
---
Lighting Planners Associates Inc.

5-28-10, Jingumae, Shibuya-ku, Tokyo 150-0001, Japan

Tel : +81 3 5469 1022 Fax : +81 3 5469 1023

E-mail : lpa@lighting.co.jp

Lighting Planners Associates (S) Pte. Ltd.

51B Neil Road, Singapore 088829

Tel : +65 6734 3086 Fax : +65 6734 2786

E-mail : singapore@lighting.co.jp

Lighting Planners Associates (HK) Ltd.

Unit G, 9/F Tung Kin Factory Building,

196-202 Tsat Tsz Mui Road, North Point, Hong Kong

Tel : +852 2578 9007 Fax : +852 2578 9116

E-mail : hongkong@lighting.co.jp

www.shomei-tanteidan.org office@shomei-tanteidan.org

www.lighting.co.jp