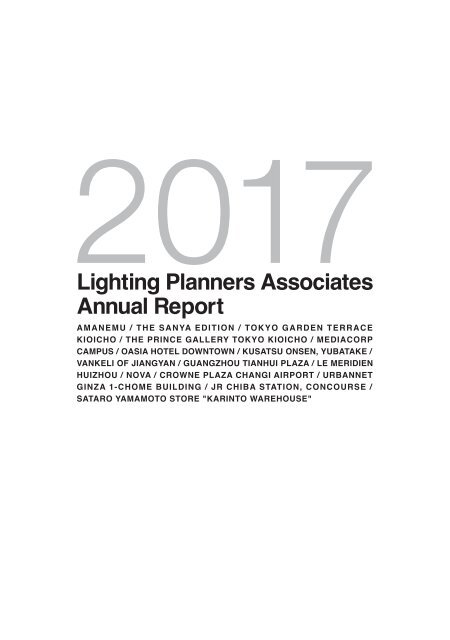 You also want an ePaper? Increase the reach of your titles
YUMPU automatically turns print PDFs into web optimized ePapers that Google loves.
2017

Lighting Planners Associates

Annual Report

AMANEMU / THE SANYA EDITION / TOKYO GARDEN TERRACE

KIOICHO / THE PRINCE GALLERY TOKYO KIOICHO / MEDIACORP

CAMPUS / OASIA HOTEL DOWNTOWN / KUSATSU ONSEN, YUBATAKE /

VANKELI OF JIANGYAN / GUANGZHOU TIANHUI PLAZA / LE MERIDIEN

HUIZHOU / NOVA / CROWNE PLAZA CHANGI AIRPORT / URBANNET

GINZA 1-CHOME BUILDING / JR CHIBA STATION, CONCOURSE /

SATARO YAMAMOTO STORE "KARINTO WAREHOUSE"
---
アマネム

AMANEMU

MIE 2016 Mitsui Fudosan / Kerry Hill Architects

This is a villa-style resort project situated in a richly

forested national park overlooking Ago Bay in Mie

Prefecture. Trying to achieve minimalism of light, a

key phrase for the lighting design is "dialog with

moonlight." The lighting environment aims to help

guest fully enjoy the bright display of moon and stars

on cloudless nights with subdued landscape lighting,

but also generate an atmosphere of high quality

darkness.
---
三 亚 艾 迪 逊 酒 店

THE SANYA EDITION

SANYA 2016 Sanya Jinghope Real Estate / SCDA / CAPC / SWA

The EDITION is a unique series of luxury boutique hotel under the lead of Ian Schrager and Marriott Group.

Being the first and ever largest scale resort hotel amount the collection, it embraces with a feature largest

private ocean in Asia. The lighting design concept was contemporary elegance in a tropical environment.

Sleek architectural elements and natural tropical tree forms are highlighted to create a fusion to be

appreciated both day and night. The guestrooms are warmly wrapped in light to create a relaxing atmosphere,

while restaurants and other public areas fill with contrast of light and shadow to establish a sense of luxurious

serenity.
---
東 京 ガーデンテラス 紀 尾 井 町

TOKYO GARDEN TERRACE KIOICHO

TOKYO 2016 Seibu Properties / Nikken Sekkei / Kohn Pedersen Fox Associates / Placemedia

This large-scale, multi-use, redevelopment project in the middle of Tokyo takes advantage of the surrounding

rich greenery and local history to create a nightscape with its own personality. This project has various faces

embedded into the facility, including office, hotel, shopping mall, residence, and walking paths. A suitable

color temperature plan is detailed for each function and various lighting methods are proposed according to

location. At night, each area is richly differentiated for a charming, mixed–use community.
---
ザ・プリンスギャラリー 東 京 紀 尾 井 町

THE PRINCE GALLERY TOKYO KIOICHO

TOKYO 2016 Seibu Properties / Prince Hotels / Rockwell Group

Europe / Nikken Sekkei

The entire site is thoroughly glare-free and planned

with high-color rendering light for a comfortable lighting

environment. In collaboration with the interior designer,

linear indirect lighting is designed to overlap when

reflected in the window, creating a luminous frame for

the Tokyo nightscape.
---
MEDIACORP CAMPUS

SINGAPORE 2016 Mediacorp / Maki & Associates / DPA

This is a new media complex for a Singapore TV

broadcasting station. The structure is comprised of

three large masses, divided into broadcasting center,

theatre, and office HQ. At night the volumes create an

edgy, stylish façade. The lighting plan is flexible to

adjust to various functions and working styles necessary

of a broadcasting station. However, lighting is not only

functional, but enjoyable for visitors in public areas, along

tour routes, and in the theatre.
---
OASIA HOTEL DOWNTOWN

SINGAPORE 2016 Far East Organization / WOHA /

Sitetectonix

This new hotel in central business area of Singapore

features a red screen as façade cladding with crawling

plants softly illuminated from the inner side. The

architecture stands out as a big lantern, creating an

iconic nightscape. Uplights in three sky terraces cast

silhouettes of trees onto the ceiling and also create

soft ambient light for public spaces.
---
草 津 温 泉 湯 畑

KUSATSU ONSEN, YUBATAKE

GUNMA 2016 Kusatsu town / Kitayama & Company /

Kojiro Kitayama + K Architect & Associates

Kusatsu Hot Spring is a very popular tourist location. In

the last few years the landscape has begun to change

as the surrounding infrastructure is upgraded. As part

of this, an upgrade in landscape lighting is planned for

the hot water fields and Sainokawara Park. In the first

round of construction, the after-hours lighting surrounding

the symbolic Kusatsu Hot Water Fields was upgraded.

The hot water beds are softly illuminated, coming to

form amongst the rising stream to delight visitors.
---
江 燕 路 ・ 万 科 里

VANKELI OF JIANGYAN

GUANGZHOU 2016 China Vanke / Gravity

A mix used development in the suburb of Guangzhou

including shopping mall and residential tower. Artwork

is scattered over the property creating a vibrant

shopping area. Architecturally integrated lighting

emphasizes the criss-crossing spaces and warm color

temperature lighting creates a relaxed atmosphere for

the residential tower.
---
广 州 天 汇 广 场

GUANGZHOU TIANHUI PLAZA

GUANGZHOU 2016 Sun Hung Kai Development / AGC Design /

AECOM

A mix used development built in the most active,

redevelopment district of Guangzhou, includes

shopping mall, office space, and a hotel. On the south

side, there is a large plaza open to the public and

used by locals for relaxation and recreation. Lighting

is integrated with the interlayers of the shopping mall

façade to balance individual store lights, resulting in

an opaque glow over the entire façade.
---
惠 州 艾 美 酒 店

LE MERIDIEN HUIZHOU

HUIZHOU 2016 China Resources (Holdings) /

Foster + Partners / AB Concept

This resort hotel is located at Shaolin Bay in the

suburb of Huizhou, an hour drive from Shenzhen. The

architecture seems to spread its wings, revealing

volumes of structure expressed by the guestroom

corridor lighting. The texture of interior finishes and

the dynamism of space are well illuminated, while

keeping the atmosphere cozy and relaxing.
---
岭 南 站

NOVA

FOSHAN 2016 Shui on Development / P&T / AECOM / KWP /

Benoy

A mix used development with shopping mall and

office opened in Foshan. The commercial façade was

carefully planned to balance lighting in accordance

with a nearby temple and old townscape preservation

district, but highlight the architectural features and

façade setback for a lively atmosphere. Inside the

mall, a large atrium adds natural light to the lighting

layout which highlights shop façades, creating a

sophisticated shopping environment.
---
CROWNE PLAZA CHANGI

AIRPORT

SINGAPORE 2016 OUE / WOHA

New 10-storey extension of the existing Crowne Plaza

Changi Airport Hotel next to Changi Airport Terminal 3,

developed by OUE to support the growth of Changi

Airport business. The lighting scheme highlights the

geometric shape of columns while emphasizing a

colorful flower bed along the guestroom balcony. The

unique mesh façade screen and the external wall are

gently washed to bridge with the existing hotel.
---
アーバンネット 銀 座 一 丁 目 ビル

URBANNET GINZA 1-CHOME BUILDING

TOKYO 2016 NTT Urban Development Corporation /

NTT Facilities

When possible, ceiling-mounted fixtures were reduced

and the ceiling is softly uplit to further create openness

in the spacious office entrance piloti. The rooftop is an

alfresco terrace and at night the calming atmosphere

creates a rich space to unwind and relax.
---
J R 千 葉 駅 コンコース

JR CHIBA STATION, CONCOURSE

CHIBA 2016 East Japan Railway / JR East Tokyo Electorical

Construction and System Integration Office / Nippon Tetsudou

Denkisekkei

After the 2011 earthquake disaster many cities were

expected to conserve electricity by turning off or

reducing lights. This included train stations, but we

started with a complete survey of the lighting

environment to rethink suitable station lighting.

Accordingly, we proposed a lighting environment with

moderate contrast and time-oriented lighting operations.
---
山 本 佐 太 郎 商 店 「かりんとう 倉 庫 」

SATARO YAMAMOTO STORE

"KARINTO WAREHOUSE"

GIFU 2016 Yoshitaka Ihara (YY architects)

A warehouse and working area for a young candy

maker and well-established confectionary of four

generations which makes a very popular Japanese

sweet, karinto. During the day, high sidelight windows

effectively take in natural light. At dusk, indirect lighting

softly spills outside through a filter of vertical lattice to

create a warm image in the nightscape.
---
LPA TOPICS

Travelling Exhibition "Nightscape 2050 - A Dialogue between Cities-

Light-People in the Future" / Lighting Design Project for reviving from

Earthquake Disaster / Night Festival 2016 / Website Renewal / Lecture /

Media Appearance / Award / Internal Workshop / Refreshing Time /

LPA 2016 Activities & 2017 Goals / Major Contributions and Interviews
---
Travelling Exhibition

"Nightscape 2050

-A Dialogue between Cities-Light-People in the Future"

From August 2015 – June 2016, the Travelling Exhibition of Light was hosted graciously in four cosmopolitan cities,

Berlin, Singapore, Hong Kong and Tokyo. This gave us the remarkable opportunity to animate thought and spark

off discussions with regards to the future interrelationship between cities, light and people, in the future. With

extensive coverage from the various media platforms and around 35,000 visitors to the exhibition, we greatly

appreciate the exposure and numerous reviews given. We send thanks to everyone, near and far, for realizing

our hopes of creating a wonderfully light and casual meeting of people through this travelling exhibition.

Tokyo

Temporary Contemporary

14th May - 10th June 2016

(4weeks)

The culmination of the travelling exhibition was in Tokyo.

After wrapping up activities in all four cities, we reflected

on our initial purpose and outcome of the exhibition. Along

with the original travelling exhibition contents, the Tokyo

venue also displayed items specific to Tokyo in a tour of

seven gallery rooms, each with different themes. Based

on visions of Tokyo's future, LPA also displayed themebased

proposals and held talk events.

Travelling Exhibition Sponsors ModuleX Inc. / ALTO CO., Ltd. / KOIZUMI LIGHTING TECHNOLOGY CORP. / DAIKO ELECTRIC CO., LTD. / Luci Pte.

Ltd. / Lutron Electronics / ENDO LIGHTING CORPORATION / TOKI CORPORATION / ERCO Lighting Pte. Ltd. / iGuzzini / Zumtobel Lighting GmbH /

Color Kinetics Japan Incorporated / Panasonic Corporation / WE-EF LIGHTING / Lumenpulse
---
1

About the Travelling Exhibition

2

Lighting Pavilion

4

3

2

1

5

6

7

Tokyo Exhibition Sponsors

Technical Support First Design System Inc. / Julia Japan Inc.
---
3

Lighting Model Workshop

In each city, children drew pictures of the future city. In

Tokyo this was taken one step further, children created

models of city lights. This workshop was held every

Saturday during the span of the exhibition for an

opportunity to not just see the exhibit, but also to

participate.

4

Learning from Children

5

Learning from Masters
---
6

Who is LPA?

7

Tokyo Nightscape 2050

LPA presented lighting proposals concerning the future of Tokyo exploring five different themes: "Tokyo",

"Sumidagawa River", the "Underground", "Convenience Stores" and "Disasters". Each proposal was presented

weekly by LPA staff and then critiqued by a special guest during the talks held. This provided a unique opportunity

for frank discussion of the Tokyo nightscape.

Tokyo

May. 13

With concerning Tokyo's individual neighborhoods that

present so diverse sceneries with refined sense of chaos, we

proposed an urban lighting rules and manners "Kaleidoscope

of light" for future Tokyo. Our special guest, Mr. Taro Igarashi,

suggested the need for a more daring and dramatic approach,

while special guest Mr. Kenya Hara hoped to see a nightscape

with more pianissimo light, soft and faint like a match flame.
---
Sumidagawa River

Jun. 9

How do we revive the banks of the Sumidagawa River, once a

thriving and vibrant center of everyday life during the Edo Period?

We focused our presentation on four elements representative of the

Sumidagawa River and created conceptual drawings using present

day images. Our special guest Mr. Hidenobu Jinnai appealed to

the reality of the proposal content, stating that unlike the river

embankments planned in European cities, like Paris or London, a

softer approach should betaken to protect the banks of the

Sumidagawa River.

Underground

May. 20

We want the underground in the year 2050 to be a place to shock

the senses! From this image we proposed new underground

spaces based on four different concepts: connect with the city, flow

of time, breathing nature, and enjoying darkness. During the talk

session we discussed how in the past detailed cave drawing were

created in dark caves. From there, the talk enthusiastically pounded

the necessity for an absence of light and now is the time to trigger

our innate capacity to enjoy faint light and darkness.
---
Convenience Store

May. 27

Think about convenience stores as centers for major city functions…

We proposed a lighting plan based on the time of day and city

functions to create regional or local community hubs. We presented

images of lighting changes throughout the day, an alternative to the

traditional convenience store with the same light 24 / 7. Our special

guest, Ms. Tomomi Ishiyama, expecting a futuristic presentation,

was surprised by the cozy feeling of the proposal and realized that

despite the continuous advancement of technology, the basic

concept of light rooted in human beings is unchanged.

Disaster

Jun. 3

"Life-saving light in times of crisis". In our daily lives, this lighting

system should be energy efficient and maintenance-free but a safe

and reassuring cornerstone in times of power outage. These ideas

were conveyed by a short movie based in Shibuya. Mr. Yoshiharu

Tsukamoto, our special guest, bluntly commented that prescribing

new law or infrastructure presented in the movie can be outdated

approach. However, by expanding the capacity of people to live with

lower amounts of light might be the key to surviving in times of

disaster; the eternal quest as lighting designers.
---
LPA 震 災 復 興 照 明 プロジェクト

Lighting Design Project for reviving from Earthquake Disaster

It has been 5 years since the start of the project and last year marked a new turn in our project activities. We

underwent hearing surveys concerning the lighting environment and other lighting issues around the time of the

earthquake by those effected in the disaster-stricken area of Kesennuma, Miyagi. Learning and knowing about the

lighting conditions during times of disaster and past-disaster are one way to attain hints in preparing for a disaster,

physically and mentally. When the results of our study are accumulated we plan to make the knowledge public.

With the help of local residents, the Akari Cafe reopened in the Koizumi area of Kesennuma. (The first visit was in

July 2012.) The Akari Cafe is just one part of the community revival process and an opportunity to witness the

beginnings of a community-wheeled project. In conjunction with the Kesennuma-Yokocho, temporary food stall

vendors setup to re-establish local economic activity, the Akari Cafe open in 2015 with a special event, in 2016 we

went back for a Christmas finale. The children made ornaments to decorate the previously used Yokocho lantern

wall and in the plaza nightscapes from all over the world were projected onto a screen.

Hearing

Akari Christmas December 3, 2016

Koizumi Akari Cafe August 14, 2016

Supported by : TOKI CORPORATION, Shonan Co., Ltd. and others
---
Night Festival 2016 in Singapore

Aug. 19-27 @National Design Centre

Using contemporary means to evoke the natural

phenomenon of Komorebi, chief Mende and our Singapore

Office collaborated with students of National University of

Singapore for Night Festival 2016 from 19th -27th of

August. Our installation explores the relationship between

nature and technology. Charming visitors with the play of

light and form, beautiful shadows were seen gently

dancing across the atrium of the National Design Centre.

Visitors were also encouraged to define Komorebi for

themselves through this experience.

In collaboration with National University of Singapore, Division of Industrial Design School of Design & Environment / Design Incubation Centre

Part of Singapore Night Festival 2016 Event Supporter Technolite
---
Attention!!

LPA WEBリニューアル

Website Renewal

LPA's long-waited website renewal has completed! The new design features our beautiful photos that are

continuously archived from past and ongoing projects. Our completed projects can be searched by map, project

type, completed year and other details. Our published books are also free to browse. News, exhibitions, and our

other activities are easy to access through the new website. Please feel free to visit and browse our updated

website!

www.lighting.co.jp
---
講 演 活 動 ・メディア 出 演

Lecture / Media Appearance

Lectures were held throughout the world.

受 賞

Award

Illuminating Engineering Institute of Japan, Lighting Design Award

Award of Distinction :

"Minna No Mori" Gifu Media Cosmos

Illuminating Engineering Society of North America (IESNA) Illumination Awards

Award of Distinction :

"Minna No Mori" Gifu Media Cosmos

Award of Merit :

SINO-OCEAN TAIKOO LI CHENGDU

National Gallery Singapore

International Association of Lighting Designers (IALD) Lighting Design Award

Award of Merit :

"Minna No Mori" Gifu Media Cosmos

Aman Tokyo
---
Internal Workshop

Expert Work

Each staff member picks a theme and is responsible for

study and research of the topic. Internal progress reports

and presentations are held to increase know-how about

light and lighting from various points of view.

SKI

At the Singapore office, staff participate in the training

workshop, SKISkill Knowledge Improvement, an

important tool for skill improvement and information

sharing.
---
リフレッシュメント

Refreshing Time

LPA also plans non-working events for internal team building and communication between the three offices.

Tokyo, Singapore & Hong Kong

LPA 25th Anniversary Internal Party

May. 14

Singapore

Singapore & Hong Kong

Chinese New Year Lunch

Feb. 17

Office Retreat Singapore-HK Tokyo

May. 12-15

Hong Kong

Tokyo

BBQ

Nov. 19

LPA Open House

Sep. 30

Office Retreat Tokyo Nagasaki

Nov. 22-24
---
LPA 2016 年 の 概 況 と2017 年 への 展 望
---
LPA 2016 Activities & 2017 Goals

Travelling exhibition on lighting completed.

"Nightscape 2050 – a Dialogue between cities - light - people in the Future". An exhibition commemorating LPA's

25th anniversary completed with the final show in Tokyo in June 2016 after Berlin, Singapore and Hong Kong.

The exhibition provided a platform for the discussion of visions on nightscape in 2050 in these cities. Each show

also offered considerations of its own localized issues. It was held for 5 months in total with around 35,000

visitors; workshops and symposiums organized during the exhibition also attracted an interested audience.

Numerous lighting design awards.

"Aman Tokyo", ""Minna No Mori" Gifu Media Cosmos", "SINO-OCEAN TAIKOO LI CHENGDU" and "National Gallery

Singapore" projects received awards/recognition from international lighting awards. Among the 4 projects, ""Minna

No Mori" Gifu Media Cosmos" received three awards: the Award of Distinction from the Illuminating Engineering

Institute of Japan (IEI-J), the Illuminating Engineering Society of North America (IESNA) and the Award of Merit

from International Association of Lighting Designers (IALD). We are grateful for the recognition of our work

excellence.

Website renewal – At last!

We have revamped our website after 13 years! It is completely new and with a user-friendly design. Showcasing

not only our lighting design work, the website also introduces non-project activities such as exhibitions, the Lighting

Detectives and publications.

Transnational Tanteidan Forum (TNT forum) to be held in Kyoto this June 2017.

Transnational Tanteidan – Lighting Detectives aka TNT forum was first held in 2002 in Tokyo and it travelled

around the world. The last 12th forum was in Mexico city. The forum will return to Japan to be hosted in the ancient

city of Kyoto in June 2017. The forum will be sponsored by City of Kyoto, and we will organize several lighting-up

workshops together with students from Kyoto University, Kyoto University of Art & Design, Kyoto City University of

Arts, and Kyoto Institute of Technology within the center of the city. Our Lighting Detectives friends/associates from

different parts of the world are also looking forward to taking a part in this exciting event in Kyoto. Please do check

it out!

Chinese version of "LPA 1990-2015 Tide of Architectural Lighting Design" to be

published.

Our latest monograph "LPA 1990-2015 Tide of Architectural Lighting Design" published in 2015 will also be available

in Chinese by Beijing eLicht Culture & Media Co., Ltd. after May 2017. The book introduces LPA's 101 projects

that represent the trend and technology of different eras within the last 25 years. It will be printed in high quality

with reasonable pricing. We hope that this translation will cater and connect with many professionals in China.
---
主 な 講 演 ・ 寄 稿 ・インタビュー・ 出 演 など

Major Contributions and Interviews
---
LIGHTING DETECTIVES

iLIGHT Marina Bay 2016 in Singapore / Light Up Ninja in Hong Kong /

Lighting Detectives Survey / Children Workshop / Transnational

Lighting Detectives Forum in Kyoto / Lighting Detectives in Nagasaki /

City Night Walk / Regular Round Table Discussion / Annual Activities /

Lighting Detectives Annual Gathering / List of Sponsors
---
iLIGHT Marina Bay 2016 in Singapore

@Fullerton Heritage

Mar.05-27

Lighting Detectives organized a workshop as a part of iLIGHT

Marina Bay 2016. The theme of this year was In Praise of Shadows.

This also coincides with our lighting design philosophy - being

sensitive and appreciating shadows. We made the gigantic lantern

comprised of little module artworks by participants and displayed

it as part of the event. Though this journey itself took an immense

amount of effort, we hoped that everyone could learn to appreciate

light and shadow through the workshop.

Organized by : iLIGHT Marina Bay

Event Sponsor : Krislite Supporter : Marina Bay Sands and Naumi Libra
---
Light Up Ninja in Hong Kong

@Kowloon Park

Feb. 19-20

This was the first Light Up Ninja in Hong Kong, held in conjunction with the Hong Kong Architecture Society

sponsored architecture and urban gallery event, "Bi-city Biennale of Urbanism \ Architecture 'Visions 2050:

Lifestyle and the Smart City'". The workshop took place in a warm afternoon in Kowloon Park with about 150

guests, including preregistered participants, college students, and passing tourists. The theme was

"Create Future City by Lantern!" and the participants used various materials to craft lanterns expressing their

dreams and images of the future. The lanterns were set between the trees creating a heartwarming futuristic

nightscape as they grew dark.

Organized by : Lighting Detectives Hong Kong, UABBHK

Supported by : Light In Motion(L.I.M)
---
照 明 探 偵 団 調 査 Lighting Detectives Survey

海 外 調 査 Overseas

Paris Oct. 16-19

It has been 12 years since the Lighting Detectives last surveyed Paris,

France. Boasting the highest number of foreign tourists annually, the

residents of this enchanting city have a sense of beauty which is

expressed in the lighting of their cityscape. We surveyed the city to

further understand how the charm of their historical buildings is

preserved in the face of rapid technological advancements in lighting.

London Oct. 19-22

With the shock of Brexit still fresh in the minds of people, we visited this

tumultuous country. The Lighting Detectives last surveyed London 14

years ago. With a medley of new and old buildings lined shoulder to

shoulder, unending developments along the Thames River and the

legacy of the London Olympics, we explored the city to find what new

lighting were colouring the London nightscape.

国 内 調 査 Japan

大 阪

Osaka Oct. 26-28

The largest city of Western Japan, impossible to encapsulate in one

word, is a sprawl of neighbourhoods and diverse lighting environments.

Nanba and Shintenchi are modest; Osaka Bay is surrounded by a band

of factories; Nakanoshima has a waterfront and is filled with famous

modern buildings; Osaka Station is the transportation hub of the city.

We surveyed this multi-faceted town from various angles to rediscover

the City of Osaka.
---
東 京 調 査 Tokyo

東 京 ドームシティ+ 周 辺 環 境

Tokyo Dome City + Ambient environment Sep. 26

Tokyo Dome City embraces various entertainment facilities such as

amusement park and shopping mall. How do these unique lighting

environments impact neighboring residential areas? We explored the

area to discover how contrasting light for entertainment and light for

daily life co-habituate is this pocket of Tokyo.

こどもあかりワークショップ

Children Workshop

東 京 川 巡 り 日 本 橋 川 ・ 神 田 川 ・ 隅 田 川 Aug. 03

Tokyo River Boat Cruise

This past summer vacation the Lighting Detectives invited children to join the cruise through Tokyo's

canals and rivers. We started at high tide, with waters 2 meters higher than at low tide. During

the cruise, historical background information of the Nihonbashi River, Sumida River, and Kanda

Rivers were presented for a fun tour and an opportunity to view Tokyo from a different perspective.

Coming Soon!

世 界 照 明 探 偵 団 フォーラム in 京 都

Transnational Lighting Detectives Forum in Kyoto

Area Research

Nov. 10

The Annual TNT Forum 2017 will be held in Kyoto, Japan. From June 8th,

for three days, we will discuss the impression of Kyoto-style lighting with

locals. On top of the regular night walk and symposium, we are planning

a Light-up Ninja event. In anticipation, we met with Kyoto locals and event

personnel to look for a suitable Lightup Ninja location. This TNT forum will

be the first in 15 years hosted in Japan and we hope to see you there!
---
照 明 探 偵 団 in 長 崎 Lighting Detectives in Nagasaki

Organizer : Nagasaki City Co-organizer : Lighting Detectives

Nov.24

The Lighting Detectives were invited by the Nagasaki City to hold a city walk in

November 2016, the first of three scheduled walks. The first walk centered around

the famous tourist neighborhood of the World Heritage Site, Glover Residence, and

the Oura Cathedral Church, registered as a National Treasure. Participants included

the Nagasaki Camber of commerce Junior Chamber, Urban Development Committee,

and many Nagasaki locals for an opportunity to discuss the state of the night environment.

18 : 00 オリエンテーション Orientation

At the orientation we introduced the Lighting Detectives and its main activities and

also explained the purpose, methodology, and route of the night walk.

18 : 4520 : 00 街 歩 き Night Walk

Participants divided into four groups and walked 1.6km. This area of Nagasaki is renowned

for its up and down, hilly terrain with many old western style buildings and park overlooking

the city. Participants looked for heroes and villains of light along their journey.

20 : 0021 : 00 懇 親 会 Sum Up

The post-walk discussion was held in a retro, western-style, historical building turned

café, Higashiyamate House 13. At the party, each group gathered to discuss, decided,

and presented three heroes and villains of light. Various opinions about the night

walk were brought up, some brick walls along the slopes could be illuminated to create

vertical luminance; pole lights are too bright near city viewpoints; there are bright

pole lights, but I can't see my own feet!; some of the unique architecture should be

illuminated; or the orangish sodium vapor lamps really accent the old streetscape.

We are looking forward to two more walks in different areas of the city and dynamic

post-walk discussion.
---
街 歩 き

City Night Walk

馬 車 道 & 伊 勢 佐 木 町

Bashamichi & Isezakicho Mar. 18

This city walk took members along two courses, east and west of

the JR train tracks to experience the contrast in lighting

environments between Bashamichi and Isezakicho. The walk in

Bashamichi was a time turn back to the era of the opening of the

Yokohama Port with preserved retro streetscape leading to the

more modern Isezaki Mall.

渋 谷

Shibuya Aug. 05

Shibuya is made up of a myriad of features. This August night

walk started at JR Shibuya Station with a north-west route angled

out from the Yamanote Line and Inokashira Line. We divided into

four groups, Tokyu Cultural Area, Parco Cultural Area, Center

Street, and the red-light district, to discover the difference in

nightscapes within Shibuya.

羽 田 空 港

Haneda Airport Oct. 21

This night walk is not the usual street setting, but the huge

transportation hub, Haneda International Airport. We divided into

four teams to survey Terminal #1 , #2 and the International

Terminal, renovated in 2014. We discovered old and new airport

lighting, but all members raved about the observation deck lighting

in all terminals.
---
研 究 会 サロン

Regular Round Table Discussion

Apr. 01, Jun. 23, Nov.30

We held three night walk review sessions in 2016. The night walk

group leaders prepared and presented a condensed, but concentrated

version of the walk followed by a lively discussion and exchange of ideas.

照 明 探 偵 団 の 年 間 活 動

Annual Activities

02.09 Web Column Vol.31

Language is difficult! But it is important.

02.19-20 Light Up Ninja in Hong Kong

03.05-27 iLight Marina Bay in Singapore

03.18 City Night Walk Vol.53

@ Yokohama Bashamichi & Isezakicho

04.01 Lighting Detectives Salon Vol.46

04.04 Web Column Vol.32 Draw shadow on white paper.

Draw light on blue paper.

04.21 Lighting Detectives News Letter Vol.73

07.05 Web Column Vol.33 Life Plan: To be active as a

professional after coming back from maternity leave

07.05 Lighting Detectives News Letter Vol.74

08.01 Web Column Vol.34 Home Lighting

08.03 Children WorkshopTokyo River Cruise

Nihonbashi RiverKanda RiverSumida River

08.05 City Night Walk Vol.54 @ Shibuya

09.01 Lighting Detectives Salon Vol.47

09.26 Tokyo City Survey―Tokyo Dome

09.29 Lighting Detectives News Letter Vol.75

10.16-23 World City Survey―LondonParis

10.20 Web Column Vol.35 Lighting Design Studies?

10.21 City Night Walk Vol.55 @ Haneda Airport

11.08 Lighting Detectives News Letter Vol.76

11.10 Transnational Lighting Detectives Forum in Kyoto

―Pre Research

11.26-28 World City Survey―Osaka

11.30 Lighting Detectives Salon Vol.48

12.07 Lighting Detectives News Letter Vol.77

12.09 Lighting Detectives News Letter Vol.78

12.20 Web Column Vol.36 Originality of Lighting Design
---
照 明 探 偵 団 年 間 活 動 報 告 会 Lighting Detectives Annual Gathering

Dec.09

Each year the Lighting Detectives invite those lighting manufactures which financially sponsor our activities to an

end-of-year party. To show our appreciation for continual support, a review of 2016 activities and vision for 2017

were the highlights of the night.

協 賛 社 名 リスト List of Sponsors

The following 20 Lighting Industry Professionals financially sponsor Lighting Detective activities.

Lutron Electronics Co., Inc.

Iwasaki Electric Co., Ltd.

Color Kinetics Japan Inc.

Endo Lighting Corp.

Panasonic Corp.

ERCO

DAIKO ELECTRIC CO.,LTD.

YAMAGIWA CORP.

Maxray Inc.

USHIO LIGHTING. INC.

DN Lighting Co., Ltd.

Toshiba Lighting & Technology Corp.

Koizumi Lighting Technology Corp.

Martin Professional Japan. Ltd.

Louis Poulsen in Japan

Shonan Co., Ltd.

TOKI CORPORATION

Yamada Shomei Lighting Co., Ltd.

ModuleX Inc.

Mitsubishi Electric Lighting Corporation
---
Angkana Kongchatri Atsushi Itakura

Blanche Lam

Bryan Yan Caesar Chang

Haruka Sakoda Hikaru Kimura

Hu Lin Isao Nemoto

Jinmu Li

Kyoko Takubo

Leon Hitsu

Mami Kono

Mari Kubota

Masafumi Yamamoto

Momoko Muraoka Motoyo Yano Noriko Higashi Phraporn

Kasemtavornsilpa

Quratuaini Bte Jamil

Shaohua Chen Sherri Goh Shosaku Takahashi Shunichi Ikeda

Simeng Huang

Xu Xiao

Yin Yin Fung

Yuhang Zhong

Yukiko Saito

Yumi Honda

Yuri Araki

Yusuke Hattori

Yu Ye
---
Catherine Wong

Chika Makabe Emiko Nagata Genki Watanabe

Gerald Khoo

Junko Nagatomo

Kaoru Mende

Karen Huang

Kentaro Tanaka

Kouki Iwanaga

Masahiro Iwata

Mayumi Banno

Mikine Yamamoto

Misa Fujii

Misuzu Nakamura

Raba'a -Bte -Tainy Reiko Kasai Rosana Choy

Shuk Ying

Ryan Valentino

Sachiko Segawa

Sun Young Hwang Tomohiro Mukaihira Verena Li Vicky Wu

Lighting Planners Associates 2017 Annual Report

陈 华

黃

尔 吳 啟 颖
---
Lighting Planners Associates Inc.

5-28-10, Jingumae, Shibuya-ku, Tokyo 150-0001, Japan

Tel : +81 3 5469 1022 Fax : +81 3 5469 1023

E-mail : lpa@lighting.co.jp

Lighting Planners Associates (S) Pte. Ltd.

51B Neil Road, Singapore 088829

Tel : +65 6734 3086 Fax : +65 6734 2786

E-mail : singapore@lighting.co.jp

Lighting Planners Associates (HK) Ltd.

Unit D 16/F, Wah Ha Factory Building No. 8 Shipyard Lane,

Quarry Bay, Hong Kong

Tel : +852 2578 9007 Fax : +852 2578 9116

E-mail : hongkong@lighting.co.jp

www.shomei-tanteidan.org office@shomei-tanteidan.org

www.lighting.co.jp