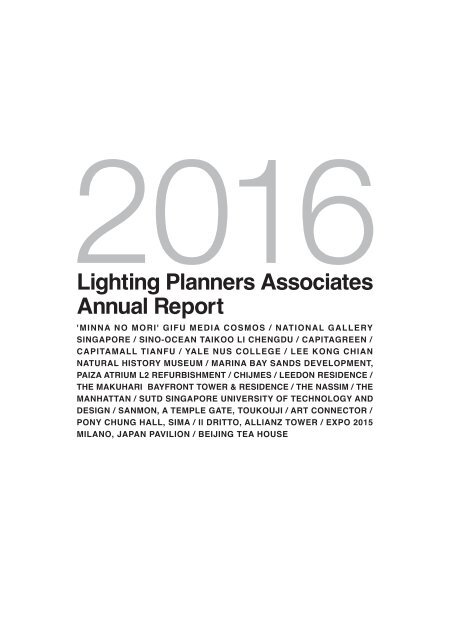 You also want an ePaper? Increase the reach of your titles
YUMPU automatically turns print PDFs into web optimized ePapers that Google loves.
2016

Lighting Planners Associates

Annual Report

'MINNA NO MORI' GIFU MEDIA COSMOS / NATIONAL GALLERY

SINGAPORE / SINO-OCEAN TAIKOO LI CHENGDU / CAPITAGREEN /

CAPITAMALL TIANFU / YALE NUS COLLEGE / LEE KONG CHIAN

NATURAL HISTORY MUSEUM / MARINA BAY SANDS DEVELOPMENT,

PAIZA ATRIUM L2 REFURBISHMENT / CHIJMES / LEEDON RESIDENCE /

THE MAKUHARI BAYFRONT TOWER & RESIDENCE / THE NASSIM / THE

MANHATTAN / SUTD SINGAPORE UNIVERSITY OF TECHNOLOGY AND

DESIGN / SANMON, A TEMPLE GATE, TOUKOUJI / ART CONNECTOR /

PONY CHUNG HALL, SIMA / Il DRITTO, ALLIANZ TOWER / EXPO 2015

MILANO, JAPAN PAVILION / BEIJING TEA HOUSE
---
みんなの 森 ぎふメディアコスモス

'MINNA NO MORI' GIFU MEDIA COSMOS

GIFU 2015 Gifu City / Toyo Ito & Associates, Architects

The new library-based, multi-use complex was built in

a centrally located downtown area. In the upper level

open-reading room, large umbrella-shaped "globes",

suspended from the timber ceiling, are actually interior

environment devices used to incorporate daylight and

circulate air. The globes are a central feature of the

forest-fantasy-like design. The lighting design also

emphasizes this connection to the natural world.
---
NATIONAL GALLERY SINGAPORE

SINGAPORE 2015 National Gallery Singapore / studioMilou

architecture / CPG Consultants

The largest art gallery in South-east Asia, the National

Gallery spans across the former Supreme Court

and City Hall of Singapore, linked together with new

connections and an ever changing interplay of natural

light and shadow. The exterior lighting is subtle, with

details along the façade gently lit and the windows

characterising a soft glow in the evening hours. The

interior lighting pays homage to the building finishes

and soft wash light with state-of-the-art exhibition

lighting illuminates the largest collection of Asian art

in a single complex.
---
SINO-OCEAN TAIKOO LI CHENGDU

CHENGDU 2015 Sino-Ocean Land / Swire Properties / the Oval partnership / Make Architects / AvroKO / Spawton Architecture

& Elena Galli Giallini Architecture & Design / Urbis

This large-scale development centered around the Daiji Temple, includes a low-rise commercial area, hotel

(THE TEMPLE HOUSE), and office tower (PINNACLE ONE CHENGDU). Several historical buildings remain

on the property, but the addition of a modern, gable roofed shopping mall helps in creating a cosmopolitan

streetscape. Vertical luminance washes the landscape, artwork and other elements and the eaves of the

gabled roof are strategically lit up to create comfortable ambience for shoppers.
---
THE TEMPLE HOUSE
---
PINNACLE ONE CHENGDU
---
CapitaGreen

SINGAPORE 2015 CapitaLand / CapitaCommercial Trust /

Mitsubishi Estate Asia / Toyo Ito & Associates, Architects /

Takenaka / RSP Architects Planners & Engineers

The lighting for the newest office tower in Singapore's

Central Business District was guided by the concept of

showcasing its innovative green façade. The color

temperature for the vegetation covering the façade

changes in gradation from incandescent to cool white

from ground floor to the top. A lighting control system

slowly and continuously varies intensity of the façade

lighting as if to suggest the building itself is a living,

breathing plant.
---
CapitaMall Tianfu

CHENGDU 2015 CapitaLand Mall Asia / WOHA

This large mixed use development in Chengdu,

CapitaMall Tianfu has a unique façade designed with

aluminum perforated panels. Lighting for the façade

highlights it's dynamism with a combination of linear

light, floodlight, and dotted light, wherein each element

operates in a different way throughout the night and

different seasons. Façade lighting represents the

theme of "Galaxy", with dynamic movements in space.
---
YALE NUS COLLEGE

SINGAPORE 2015 National University of Singapore /

Pelli Clarke Pelli Architects / Forum Architects

A large campus for the new Yale-NUS college, required

lighting that echoed the warm timber character of the

buildings found in the Yale campus in the United States,

yet be localized and sympathetic to the tropical context

of Singapore. Both architectural and decorative lighting

are fully LEDs, and specially designed custom fixtures

were fabricated for the high ceiling applications.
---
LEE KONG CHIAN

NATURAL HISTORY MUSEUM

SINGAPORE 2015 National University of Singapore /

W Architects

This museum for the display of natural and historic

species is located in the campus of the National

University of Singapore. Built to look like a rock with a

chamfered edge, the lighting intent is to highlight the

outer rock fascia with a cool white colour while the

innards of the building have a warm character. Lighting

fixtures are tightly integrated with the architectural

details so that they are not visible during the day.
---
MARINA BAY SANDS DEVELOPMENT,

PAIZA ATRIUM L2 REFURBISHMENT

SINGAPORE 2015 MARINA BAY SANDS / AB Concept

The Marina Bay Sands was developed by Las Vegas Sands and

is a high-end casino resort. The Level 2 VIP gaming rooms were

upgraded to provide a luxurious experience for the guests. The

lighting was designed to highlight artwork, interior design features

and to provide functional lighting for the guests. A custom made

family of chandeliers was also developed with the interior

designer to complete the gaming salons.
---
CHIJMES

SINGAPORE 2015 Perennial Real Estate Holdings /

Multiply Architects

This complex is an addition & alteration of a historical

building and chapel that is currently being used as a

F&B facility. The century old building is lit by warm

white light to show a dignified presence, while the new

elements such as a glass canopy are lit by cool white

or blue light to enhance the contrast between history

and the present. Trees are highlighted as a feature of

the space, blending nicely with the evening atmosphere

of the various restaurants and bars in the complex.
---
LEEDON RESIDENCE

SINGAPORE 2015 GuocoLand / SCDA Architects

Leedon Residences is a high-end development located

in a prime residential area of Singapore. Lighting is

concentrated to highlight this modern architecture with

linear lights and the tropical landscape with spotlights

and Lanterns. The drop-off area has "moonlight" that

gives residents a luxury welcoming experience.
---
THE 幕 張 BAYFRONT

TOWER & RESIDENCE

THE MAKUHARI BAYFRONT TOWER &

RESIDENCE

CHIBA 2015 Mitsui Fudosan Residential / Shimizu / Kajima /

Koichi Sone / Field Four Design Office / AA & SUN Associates /

Ishijima Architects / s(m)a Architects / Hanawa Landscape Design

This residential complex is the closest development to

the ocean in Makuhari Bay Town. On the grounds, a

lush, green inner garden is surrounded by the parking

building, residential block, and a high-rise tower. The

lighting creates a resort-like atmosphere to greet

residents as they arrive home.
---
THE NASSIM

SINGAPORE 2015 CapitaLand Singapore / W Architects

This is an exclusive condominium project in the prime

area near the Singapore Botanic Gardens. The

entrance green wall, soffit and an iconic sculpture are

emphasized with soft lighting. In the central landscape,

the lighting design approach for the swimming pool is

to create a "Flowing Light" effect to enjoy.

THE MANHATTAN

HONG KONG 2015 Manhattan Holdings / Mace / PDP London

Architects

A large-scale renovation project of landscape, low-level

exterior, and public areas for a high-rise condominium,

overlooking the Tai Tam Bay from a scenic spot on the

south side of Hong Kong. The original conservative

feel of the building was upgraded to a modern and

playful design. The lighting design harmonizes with

the new atmosphere of the building.
---
SUTD SINGAPORE UNIVERSITY

OF TECHNOLOGY AND DESIGN

SINGAPORE 2015 SUTD Singapore University of Technology

and Design / UNStudio / DP Architects

The SUTD Singapore University of Technology and

Design campus is the result of an international

competition and has a flowing academic block with a

contrasting residential area within the same site.

Lighting follows the architectural profile largely, with

emphasis on soft washes and creating an enjoyable

nightscape for the users to relax. The concept of high

level spotlights from the building roof to illuminate

public domain without using pole lights was largely

incorporated.
---
東 光 寺 山 門

SANMON, A TEMPLE GATE, TOUKOUJI

SAITAMA 2015 Toukouji / Takahashi Architect

A new temple gate built at the temple ground entrance.

Located in a residential neighborhood, the illumination

needed to be friendly and inviting, but also stately with

a sense of awe. The surrounding stucco wall is also

dimly lit to add a subtle glow to the front approach.

ART CONNECTOR

SINGAPORE 2015 National Gallery Singapore / FARM

The Art Connector is a unique public circulation space

that leads people to the newly opened National Gallery

Singapore. Along a busy public trafficable area, this

space is designed like a geological system that can be

enjoyed by all in an open environment. The lighting

scheme is to highlight the artworks on display, with

emphasis on reflections, changing contrasts and

varying lighting methods from large indirectly lit

surfaces to tiny microscopic stardust lights and create

a rich dynamic experience.
---
PONY CHUNG HALL, SIMA

SUWON 2015 Suwon City / Hyundai Development

South of Seoul, Korea, in the City of Suwon, the

Suwon IPARK Museum of Art was completed. Near

the entrance is an exhibit dedicated to following the

footsteps of an honorary chairman of Hyundai Motor

Company, Chung Se-yung, also known as "Pony

Chung." The lighting design incorporates fixtures with

reduced glare, while enhancing the exhibit by creating

contrast throughout the entire space.

Il DRITTO, ALLIANZ TOWER

MILANO 2015 Arata Isozaki & Associates / Andrea Maffei

Architects

Involved with this project up until the design

development phase, the Il Dritto, Allianz Tower is the

tallest of three towers set for completion for the

CityLife project, a large-scale redevelopment project

in Fiera Milano. In the entrance, based on the concept

of "endless tower," a simple lighting design is combined

with the geometric pattern to enhance the interior.
---
2015ミラノ 国 際 博 覧 会 日 本 館

EXPO 2015 MILANO, JAPAN PAVILION

MILANO 2015 Atsushi Kitagawara Architects / Ishimoto

Architectural & Engineering Firm

What is appropriate light to convey Japanese culture

and technology? There is a sense of subtleness and

profoundness in Japan that we wanted to express in

the lighting design. The façade is illuminated from

inside the timber latticework, with its silhouette visible

from outside. Depending on the angle, the lighting

changes as it comes in and out of the shadows.

We explored several ideas to light the elaborate

latticework, and finally used narrow beam spotlights.
---
BEIJING TEA HOUSE

BEIJING 2015 Kengo Kuma & Associates

A renovation project of a traditional courtyard type house, located very close to the Forbidden Palace, the

most famous tourist spot in Beijing. This innovative architectural structure is made of polyethylene stacking

blocks that also transmits light. The interior is filled with sunlight filtering through the blocks during day and

emits a soft glow at night. This corresponds well with the context of the area and also present a futuristic

atmosphere.
---
LPA TOPICS

Travelling Exhibition "Nightscape 2050 - A Dialogue between Cities

LightPeople in the Future" / Published: LPA 1990-2015 Tide of

Architectural Lighting Design / Lighting Design Project for reviving from

Earthquake Disaster / Lecture / Media Appearance / Award / Refreshing

Time / LPA 2015 Activities & 2016 Goals / Major Contributions and

Interviews
---
Travelling Exhibition

"Nightscape 2050

-A Dialogue between CitiesLightPeople in the Future"

This travelling exhibition of light will visit 4 cities worldwide, after its start in Berlin, August 2015. Set in the year

2050, the exhibition strives to get a feel for the shape and role of people and light in the future. From Berlin to

Singapore and then to Hong Kong, a total of 30,000 visitors have enjoyed the exhibition so far. Each venue was

a success and to top off the travelling exhibition, the final leg will visit Tokyo in May 2016.

This exhibition consists of seven components, with same unique to each of the 4 cities :

1.

Learning from Nature

2.

Learning from World Nightscapes

3.

Scenes from Nightscape 2050
---
4.

Learning from Masters

Toyo Ito

Ingo Maurer Toshiyuki Inoko

Architect

Lighting designer Creative director

"team lab"

William Lim Shuji Nakamura

Architect, Urbanist Physicist

Nobel prize recipient

5.

Learning from Children

6.

7.

Who is LPA?

Workshops and Symposiums in the Four Cities

Facebook
---
Berlin

Aedes Gallery

7th August - 1st October 2015 (8weeks)

V E N U E

The travelling exhibition by LPA debuted in Berlin in Aug.

2015. There was a great turnout for the grand opening, a

real boisterous and fitting celebration to kick off the

exhibition. Several media outlets also attracted attention

and called it an inspirational exhibition.

Travelling Exhibition Sponsors ModuleX Inc. / ALTO CO., Ltd. / KOIZUMI LIGHTING TECHNOLOGY CORP. / DAIKO ELECTRIC CO., LTD. /

Luci Pte. Ltd. / Lutron Electronics / ENDO LIGHTING CORPORATION / TOKI CORPORATION / ERCO Lighting Pte. Ltd. / iGuzzini /

Zumtobel Lighting GmbH / Color Kinetics Japan Incorporated / Panasonic Corporation / WE-EF LIGHTING / Lumenpulse

Technical Support First Design System Inc. / Julia Japan Inc.
---
Singapore

National Design Centre

24th October - 21st November 2015 (4weeks)

V E N U E

In addition to the original contents of the travelling

exhibition, the Singapore venue invited special guests for

two talk sessions and opened a Light Bar on the

weekends, successfully drawing crowds of visitors. In

conjunction with the 50th Anniversary of Singapore, a

14-meter long chronology of the Evolution of Singapore's

Nightscape showcased highlights in lighting technology

and design.

Singapore Sponsors Krislite Pte Ltd / Technolite (Singapore) Pte Ltd / BizLink Associates (S) Pte Ltd / Pacific Technical Products Pte Ltd /

LuxLight Pte Ltd / Million Lighting Company Pte Ltd / Schréder Singapore Pte Ltd / Strongly Lighting Pte Ltd / Relex Illumination Pte Ltd / FLOS /

Lightcraft Pte Ltd / Aristo Engineering Pte Ltd / Louis Poulsen Asia Pte Ltd / Maerich Pte Ltd / Creative Lighting Asia
---
Hong Kong

ArtisTree

8th January - 30th January 2016 (3weeks)

V E N U E

At the opening panel discussion, several local Hong Kong

designers and architects discussed the present and future

state of urban lighting in Hong Kong. Through thoughtprovoking

displays on the Hong Kong lightcsape and

interactive displays with light, visitors came away with a

hint of the importance between people and light and an

opportunity to think about the future shape of urban lighting.

Hong Kong Sponsors ENDO TRADE(BEIJING)CO.,LTD / Beijing Fortune Lighting System Engineering Co., Ltd / SPOTLIGHT (HONG KONG)

CO., LTD. / Traxon Technologies Ltd. / JOJO Lighting / LMJ Lighting / LiteMatrix Lighting / LUCITAG / MEGAMAN (HK) ELECTRICAL &

LIGHTING LTD. / Aero Lighting Co., Ltd. / VAS Lighting Co., Ltd. / VF Lighting / Creative Lighting Asia Ltd / Lamp Lighting / SPL Lighting (Hong Kong)

Company Limited / William Artists International Ltd. / Ricardo Lighting Co., Ltd. / Berkin Lighting Ltd. / OSRAM / PHILIPS
---
Coming Soon!!

Tokyo

Temporary Contemporary

13th May - 10th June 2016

(4weeks)

V E N U E

The final leg of the travelling exhibition will be held in

Tokyo, Tsukishima, May to June, 2016. The exhibition will

focus on lighting proposals for the future of Tokyo from

several different points of view. Each theme-related

symposium is also in the works. For those in the area,

please stop by!

TEMPORARY CONTEMPORARY

Asahi warehouse 2F, 1-14-7 Tsukishima, Chuo-ku, TOKYO, 104-0052

03-3533-0880

http://www.space-tc.com/
---
『 LPA1990-2015 建 築 照 明 デザインの 潮 流 』 出 版

Published: LPA 1990-2015 Tide of Architectural Lighting Design

The newest LPA publication "LPA 1990-2015 Tide of

Architectural Lighting Design" was released on 25th June

2015 by Rikuyosha. To celebrate 25 years of LPA, the

book traces the work of LPA through 101 important

projects with feedback from the original designers.

Included with a detailed lighting timeline, this is a book

one can thoroughly feel the impact of architectural

lighting design.
---
LPA 震 災 復 興 照 明 プロジェクト

Lighting Design Project for reviving from Earthquake Disaster

Nov.14

Now in the fourth year of this project, we teamed-up with Kesennuma-Yokocho, a temporary food stall vendor area

setup to reestablish local economic activity. Because of regrading construction, the food stalls will be closing in

October 2016. To rally the area for their last year of business, Akari café was expanded into Akari party. Luminous

Kotatsu, Japanese-style, heated tables covered with a blanket, were specially-made for this winter event. Also, at

the workshop, children created colorful lantern covers to be used along with the permanent lighting and a drawing

board for children was set up. In spite of rain on the day of the event, more than 40 children attended the festive

workshop, more than past events! Lighting devices made by the children will be on display during the last year of

business at the food stalls.

PREPARATION

Supported by : Kawakami Sangyo Co., Ltd., Luci Pte. Ltd., Color Kinetics Japan Inc., Shonan Co., Ltd. and others
---
PARTY

WORKSHOP
---
講 演 活 動 ・メディア 出 演

Lecture / Media Appearance

In connection with LPA's travelling exhibition, we had the opportunity for several lectures and media coverage.

Mar. 05

Oct. 19

Oct. 25

Nov. 03

Nov. 19

受 賞

Award

Illuminating Engineering Institute of Japan (IEIJ), Lighting Design Award,

Award of Excellence

- Otemachi Tower

Illuminating Engineering Society of North America (IESNA)

Illmination Awards, Award of Merit

- Aman Tokyo

- Otemachi Tower

- Victoria Theatre and Concert Hall

- d'Leedon
---
リフレッシュメント

Refreshing Time

Taking a break from daily work, LPA staff enjoy relaxing time together.

Tokyo

Singapore

BBQ

Sep. 26

Office Retreat Tokyo HK-Macau

Jan. 08-10 2016

Office Outing@Bettr Barista

Aug. 27

Singapore & Hong Kong

iGuzzini Cooking Session

Jun. 02

Office Retreat Singapore-HK Cambodia

Mar. 19-22

Hong Kong

Lunar New Year Picnic_a Grass Island

Feb. 21
---
LPA 2015 年 の 概 況 と2016 年 への 展 望
---
LPA 2015 Activities & 2016 Goals

Travelling exhibition on lighting is still ongoing...

2015 is a special year for LPA. To commemorate LPA's 25th anniversary this year, we organized an exhibition

"Nightscape 2050 – a Dialogue between CitiesLightPeople in the Future". It started in Berlin in last August,

moved to Singapore in October , and then to Hong Kong this January. Finally it will travel to Tokyo in May. The

exhibition is not just about lighting design, it is an experience composed of numerous programs such as a lighting

experiential booth, showcase of world nightscapes, interview with masters and innovators, workshops with children

and symposiums. The exhibition conducted in the three cities so far received positive feedback from the visitors

as well as from the media. Each city has its own local context of light and this helped to create a platform for

discussing Nightscape of the City in the year 2050. Our final destination, the exhibition in Tokyo will be held at

"Temporary Contemporary" gallery in Tsukishima, Chuo-ku in May. We look forward to seeing you there!

New monograph "LPA 1990-2015 Tide of Architectural Lighting Design" published

Our new monograph "LPA 1990-2015 Tide of Architectural Lighting Design" was published in English and Japanese

from Rikuyosha publishing in June 2015. The book looks into LPA's selected 101 projects within the last 25 years.

It is divided into 5 phases. Architectural/lighting design has matured rapidly with the various social phenomena

and development of architectural/lighting technologies. This 400 page book looks forward to our future with light

by reminiscing the starting point of architectural lighting design. You can see how lighting design has evolved by

browsing through the 8 page-long architectural lighting design chronology attached at the end of the book.

Numerous lighting design award

"Otemachi Tower", "Aman Tokyo", "Victoria Theatre and Concert Hall" and "d'Leedon" projects received awards

from the Illuminating Engineering Society of North America (IESNA). And Otemachi Tower project also received

Illuminating Engineering Institute of Japan, Award of Excellence. Illuminating Engineering Institute of Japan

lighting design award programs have revised their award standards and criteria two years ago, and we look

forward to more active lighting design criticism.

TNT forum goes around the world

TNT (Transnational Tanteidan -Lighting Detectives) forum was held in Madrid, Spain in 2014 , and was organized

again on a grand scale in Mexico city in November 2015. 2015 was dedicated as the year of light by UNESCO

and the four day workshop was fully supported by the the Universidad National Autonoma de Mexico, Museo de

la Luz and Palacio de Medecine. We have not yet determined the venue for the 2016 forum, we are looking at

several places in Asia.

Working towards next 25 years

The role and responsibility of the lighting designer surely evolves as time goes by. We at LPA as a professional

group of lighting designers will always strive to innovate lighting design through our years of experience and

teamwork. Our new journey for the next 25 years has begun.
---
主 な 講 演 ・ 寄 稿 ・インタビュー・ 出 演 など

Major Contributions and Interviews
---
LIGHTING DETECTIVES

Transnational Lighting Detectives Forum / Lighting Detectives Survey /

Lighting Detectives in Osaka / City Night Walk / Regular Round Table

Discussion / Lighting Detectives Annual Gathering / List of Sponsors
---
Transnational Lighting Detectives Forum 世 界 照 明 探 偵 団 フォーラム

@Museo de la Luz / Palacio de Medicina

Nov. 18-21

The world's most populous city, Mexico City. A city with a long history and lots of charm, this was the venue for the

12th annual Transnational Lighting Detectives Forum, the largest forum in the books yet. Architecture students from

the Universidad Nacional Autonoma de Mexico (UNAM) were the center of the 3-day forum focusing on SENSING

LIGHT - FEELING LIGHT. The Mexico City nightscape comes with many problems and we worked with local

students to examine how local residents asses the nightscape and addressed ideas for improvements or upgrades.

Nov. 20

Seven Lighting Detective members shared their unique

approaches about light and lighting at this dialog event.

Members of the audience included not only forum participants,

but also government officials and local media.

Nov. 18

The orientation was held at the Museo de la Luz, a building

over 400 years old. The workshop started by dividing into

6 teams of 10 participants and 2 TNT members.
---
Nov. 19

The next day, we broke into teams again to discuss the

previous night's walk. There seemed to be more time

at this workshop than previous years, so each group

discussed in depth the images taken on the walk. Several

shots were debated as heroes and also villains of light.

Finally, the groups came up with decisive keywords to

help in classifying and drawing conclusions.

Nov. 18

The night walk focused on six distinct areas in Mexico

City. 1. Plaza Santo Domingo, an area bustling with

people during the day. 2. Temple Mayor Area, an

area of Aztec ruins. 3. Madero Zocalo, a historical

area popular with tourists. 4. Alameda Park, the

oldest park in Mexico City is also a local oasis and

place of relaxation. 5. Revolution, the area near

the Monument to the Revolution. 6. Reforma, the

central business district. These are places people

seem to gather at night, but also have visible

problems with the nightscape.

Nov. 21

Each team put together a power point presentation and

3 large panel boards. The 20-minute presentations

including 3 heroes of light, 3 villains of light, problematic

points in the nightscape, and betterment proposals.
---
照 明 探 偵 団 調 査 Lighting Detectives Survey

東 京 調 査 Tokyo

銀 座

Ginza Jun. 16

In past surveys of Tokyo, no cases have focused on brightness.

From the viewpoint of "luminance", we selected Ginza to survey

because it is a leading downtown area in Tokyo. We surveyed and

recorded luminosity values to compared the brightness of Ginza.

目 黒 川

Meguro River Nov. 04

Meguro riverside is a famous spot in Tokyo for cherry blossom

viewing and shopping at its many stylish stores, in spite of the

surprisingly dim environment. Many people like this riverside street

because the dim environment does not feel like scary darkness.

We surveyed the Meguro riverside nightscape, which is different

from any other glittering neighborhoods in Tokyo, to search for the

secret to its endearing darkness.

国 内 調 査 Japan

北 陸

Hokuriku Sept. 01-04

The target of the first Hokuriku city survey was to see the difference

between 'city lights' and 'agricultural lights'. In this rural area, we

saw very functional and basic uses of light, such as insect light

traps for farming and sweeping beams from lighthouses. In Kanazawa

City, the city promotes the nightscape as one of its main tourist

resources and we surveyed this specially designed lightscape. The

soft illumination of castle walls and retro Japanese lighting elements

in the Chaya-machi neighborhood emphasize the calm image of this

cultural city.
---
照 明 探 偵 団 in 大 阪 Lighting Detectives in Osaka

Oct. 03

オリエンテーション Orientation

Osaka is a city of water and light. What is the charm of the neighborhood Naniwa?

What are the problems? Ten club members traveled from Tokyo to join Osaka

members in an eastern/western style walk. At the orientation, the Osaka City of

Light Masterplan was explained along with the walk route and points of interest,

after introductions from all the participants.

街 歩 き Night Walk

Participants were divided into two teams: the western Kansai Team and the eastern

Kanto Team. Participants were deliberately divided according to region for this walk

to see if there is a difference in perceptions of light. The walk started with a boat ride

down the Dojima River after sunset. The blue moment was settling over the city as

building lights, bridge and embankment illuminations started to shine. All along the

riverside was a stunning collaboration of light and water. From the Dotonbori

luminous signage to Hozenji Temple neighborhood gas lamps and lanterns to the

retro atmosphere of Shinsekai shopping area; all collective elements of the Osaka

lightscape, but also each neighborhood with its own unique lighting character.

懇 親 会 Sum Up Dinner

At the informal dinner, each team selected and presented 5 heroes and villains of

light. The Kanto team's No.1 hero was the famous Glico luminous sign, an iconic

sign and symbolic feature of the Naniwa nightscape. The Kansai team selected the

neighborhood of Tobita-shinchi with its uniformed signage and lantern lined streets.

It was hard to tell how much regional differences influenced the selection process,

but both east and west teams agreed that the No.1 villain is the bright new security

street lamps. Unfortunately, LED lamps are becoming standardized and bright

security lighting is found in many Japanese urban areas.
---
街 歩 き

City Night Walk

歌 舞 伎 町 May 29

Kabukicho

Near the Shinjuku Koma Theatre, several buildings have been rebuilt and Central Road and Kabukicho in general

has gotten a facelift during recent years. This city night walk centered on this newly redeveloped area to discover

if or to identify any changes to Kabukicho. Golden Street is still a retro atmosphere reminiscent of the Showa Era,

with most signage in warm-color tones for a comfortable and uniform nightscape. However, the main Neon Street

is bright with light. For better or worse, this is the attraction as well as the charm of Kabukicho. If this is what

draws people to the area and creates the vibrant atmosphere, maybe Kabukicho is a Hero of Light after all!?

研 究 会 サロン

Regular Round Table Discussion

Jun. 23

We discussed the Kabukicho city night walk, which was held in a

torrential downpour! We assumed that it would be one villain after

another, but to our surprise, many examples that regularly would have

been classified as villains, were actually debated as heroes. The

debate delve into cultural aspects and the historic background of

Kabukicho for an engaging conversation.
---
照 明 探 偵 団 年 間 活 動 報 告 会 Lighting Detectives Annual Gathering

Dec.11

Representatives from 19 sponsors and members of

Detectives gathered to listen to the yearly review of

activities. We celebrated its 25th anniversary and

Mr. Mende talked about prospects of future Lighting

Detectives.

協 賛 社 名 リスト List of Sponsors

The following 19 Lighting Industry Professionals financially sponsor Lighting Detective activities.

Lutron Electronics

Iwasaki Electric Co., Ltd.

Color Kinetics Japan Inc.

ENDO LIGHTING CORP.

Panasonic Corp.

ERCO

DAIKO ELECTRIC CO.,LTD.

YAMAGIWA CORP.

Maxray Inc.

DN Lighting Co., Ltd.

Toshiba Lighting & Technology Corp.

KOIZUMI LIGHTING TECHNOLOGY CORP.

Martin Professional Japan. Ltd.

Louis Poulsen Japan Ltd.

Shonan Co., Ltd.

TOKI CORPORATION

Yamada Shomei Lighting Co., Ltd.

ModuleX Inc.

Mitsubishi Electric Lighting Corporation
---
Ai Sohara Angkana Kongchatri Atsushi Itakura

Birrul Laila Nuryuadina Blanche Lam

Genki Watanabe Gerald Khoo

Haruka Sakoda Hikaru Kimura

Hu Lin

Kentaro Tanaka

Kouki Iwanaga

Kyoko Takubo

Leon Hitsu

Mami Ichida

Misa Fujii Misuzu Nakamura Momoko Muraoka Motoyo Yano Neo Kai Xiang

Reiko Kasai Rosana Choy Ryan Valentino Sachiko Segawa

Shaohua Chen

Yin Yin Fung

Yuhang Zhong

Yukiko Saito

Yuko Wong Mei Shan

Yumi Honda

Yuri Araki

Yusuke Hattori

Yu Ye
---
Candy Cheung Hiu

Man

Catherine Wong Chika Makabe Emiko Nagata

Gaurav Jain

Isao Nemoto

Jinmu Li

Junko Nagatomo

Kaoru Mende

Karen Huang

Mari Kubota

Masafumi Yamamoto

Masahiro Iwata

Mayumi Banno

Mikine Yamamoto

Noriko Higashi

Phraporn

Kasemtavornsilpa

Quratuaini Bte Jamil

Raba'a -Bte -Tainy

Raymond Lee

Shunichi Ikeda Simeng Huang

Sun Young Hwang Xiao Xu

Lighting Planners Associates 2016 Annual Report

陈 华

凯 黃

尔 黃
---
Lighting Planners Associates Inc.

5-28-10, Jingumae, Shibuya-ku, Tokyo 150-0001, Japan

Tel : +81 3 5469 1022 Fax : +81 3 5469 1023

E-mail : lpa@lighting.co.jp

Lighting Planners Associates (S) Pte. Ltd.

51B Neil Road, Singapore 088829

Tel : +65 6734 3086 Fax : +65 6734 2786

E-mail : singapore@lighting.co.jp

Lighting Planners Associates (HK) Ltd,

Unit D 16/F, Wah Ha Factory Building No. 8 Shipyard Lane,

Quarry Bay, Hong Kong

Tel : +852 2578 9007 Fax : +852 2578 9116

E-mail : hongkong@lighting.co.jp

www.shomei-tanteidan.org office@shomei-tanteidan.org

www.lighting.co.jp