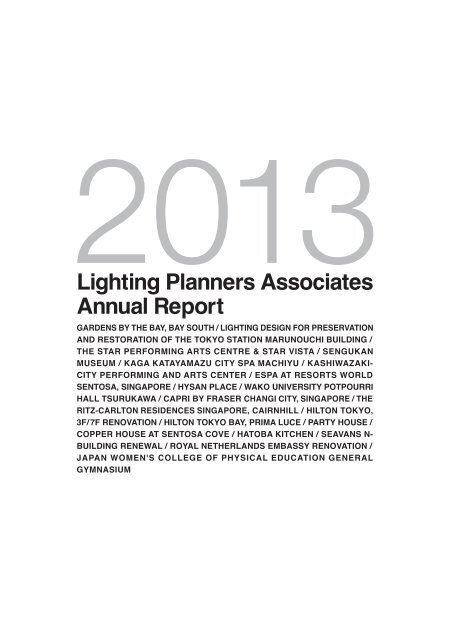 Create successful ePaper yourself
Turn your PDF publications into a flip-book with our unique Google optimized e-Paper software.
2013

Lighting Planners Associates

Annual Report

GARDENS BY THE BAY, BAY SOUTH / LIGHTING DESIGN FOR PRESERVATION

AND RESTORATION OF THE TOKYO STATION MARUNOUCHI BUILDING /

THE STAR PERFORMING ARTS CENTRE & STAR VISTA / SENGUKAN

MUSEUM / KAGA KATAYAMAZU CITY SPA MACHIYU / KASHIWAZAKI-

CITY PERFORMING AND ARTS CENTER / ESPA AT RESORTS WORLD

SENTOSA, SINGAPORE / HYSAN PLACE / WAKO UNIVERSITY POTPOURRI

HALL TSURUKAWA / CAPRI BY FRASER CHANGI CITY, SINGAPORE / THE

RITZ-CARLTON RESIDENCES SINGAPORE, CAIRNHILL / HILTON TOKYO,

3F/ 7F RENOVATION / HILTON TOKYO BAY, PRIMA LUCE / PARTY HOUSE /

COPPER HOUSE AT SENTOSA COVE / HATOBA KITCHEN / SEAVANS N-

BUILDING RENEWAL / ROYAL NETHERLANDS EMBASSY RENOVATION /

JAPAN WOMEN'S COLLEGE OF PHYSICAL EDUCATION GENERAL

GYMNASIUM
---
GARDENS BY THE BAY, BAY SOUTH

SINGAPORE 2012 National Parks Board of Singapore / Grant Associates / Wilkinson Erye Architects / CPG Consultants

Bay South Gardens is the first phase of Singapore's dramatic Gardens by the Bay project that opened to

the public on 29th June 2012. The 54-hectare US$820m project comprises of two 'Cooled Conservatories'

and 18 distinctively shaped vertical garden structures called 'Supertrees'. As it is a new form of outdoor

entertainment for the general public and visitors coming to Singapore, we sought to underline the concept

"Entertainment with Organic Lighting". While the lighting scheme ensures safety and entertains visitors, it is

also a carefully detailed "Organic Lighting" that dramatizes shadow, eschews excessive lighting and

harmonizes with the greenery and water.
---
東 京 駅 丸 の 内 駅 舎 ライトアップ

LIGHTING DESIGN FOR PRESERVATION AND RESTORATION

OF THE TOKYO STATION MARUNOUCHI BUILDING

TOKYO 2012 East Japan Railway / JR East Tokyo Electrical Consultation and System Integration Office /

JR East Design

Rapid development around Tokyo Station has continued in recent years, and lubricant at

the center of it all is the 100 year old Tokyo Station Building renovation. Surrounded by a

modern urban landscape of iron, glass, and concert, this red brick building is a slip in time.

The kind of nightscape needed here is not one of eccentricity, but careful and precise

execution of cutting edge lighting methods to reproduce the beauty of this historical

building. We stressed the importance of creating a tranquil and timeless evening scenery.
---
From design and layout to the lighting ceremony, this project spanned 3 years with

numerous models and on-site mock-up verifications. Red brick walls, decorative pillars,

balconies, slate roofs and dome roofs are all features of this lighting design that needed

special attention.

2009 2010 2011
---
2012
---
To improve the visual scene and conserve

energy, from twilight on the lighting

gradually fades into the night as time

passes. The lighting for the dome roof

resembles the phases of the moon and

the transition of time.
---
THE STAR PERFORMING ARTS CENTRE & STAR VISTA

SINGAPORE 2012 Rock Productions (Cultural Complex) / CapitaLand (Retail Complex) / Aedas

Built above an amusement and commercial complex, this performing arts center includes a 5,000 seat

theatre. In the theatre at night, special glass allows light from inside the architectural structure to glow and

from the main entrance the inside of the theatre seems to float above the complex. Lighting in the shopping

area is exciting, but with contrasting lighting effects for a refined shopping experience.
---
The foyer is a six story high

atrium, and like a curtain dropping

over a stage it is called the Bowl

Skin. The lighting dynamically

highlights the curved surface.
---
式 年 遷 宮 記 念 せんぐう 館

SENGUKAN MUSEUM

MIE 2012 Jingu Shikinen Zoueicho /

A.Kuryu Architect & Assosiates

In recognition of the 62nd rebuilding ceremony of Ise

Shrine a new museum was built. This traditional

Japanese style gable roof structure is home to part

of the main shrine building. This museum features a

sequence of galleries leading to the main display. After

several dimly lit spaces a luminous ceiling, simulating

a natural skylight, inspires sunlight reflecting off the

gilded detail.
---
加 賀 片 山 津 温 泉 街 湯

KAGA KATAYAMAZU CITY SPA MACHIYU

ISHIKAWA 2012 Taniguchi and Associates

This communal bathhouse was renovated into a new

Machiyu spa. Near the shore of lagoon Shibayama-gata,

the edge lighting of this modern glass structure is sharp,

but the building inherits the culture of Japanese hot

spring bathing. The new spa has become a community

center for citizens and tourists alike. Two unique bathes,

the lagoon bath and forest bath, both have large

windows to enjoy nature and the four seasons both in

day and night.
---
柏 崎 市 文 化 会 館 アルフォーレ

KASHIWAZAKI-CITY PERFORMING AND ARTS CENTER

NIIGATA 2012 Environment Design Institute

To support local arts and cultural activities a new performing arts center was built. A distinctively large red

brick wall in the auditorium is softly illuminated. In contrast the foyer and façade are bright and welcoming.

We hope this lighting design will help make the new center a symbolic feature of Kashiwazaki City.
---
ESPA AT RESORTS WORLD

SENTOSA, SINGAPORE

SINGAPORE 2012 Resorts World Sentosa / ESPA / MGA /

DPA / Peridian Asia

A SPA project in a Casino resort at Sentosa Island - the

southern part of Singapore. In contrast to the splendid

casino area it is designed with five modest lighting

(low illuminance, low colour temperature, low-positioned

light, low luminance and low power consumption)

strategies to achieve a beautiful gradation of light and

shadow. For the landscape area surrounding the ecopond,

candle lanterns and fire torches are also used as

lighting elements to create a natural warmth supported

by the concept of 'visualization of the breeze'.
---
HYSAN PLACE

HONG KONG 2012 Hysan Development / KPF / Benoy

This project is a mix used development with office and

commercial part which is located at Causeway Bay in

Hong Kong Island. It was intended to create a

sophisticated & mature appearance within an

unorganized surrounding environment. The building

was designed so that different functional boxes are

piled up, In order to emphasize this feature, each box

has unique characteristic in its lighting design.
---
和 光 大 学 ポプリホール 鶴 川

WAKO UNIVERSITY POTPOURRI HALL

TSURUKAWA

TOKYO 2012 Environment Design Institute

This multipurpose center includes an auditorium,

library, and lounge. In the middle is a four story high

"mega bookshelf". This huge wall is dramatically

illuminated to emphasize the open and sequential

design. In the library, ambient light creates a warm

environment for reading books.
---
CAPRI BY FRASER CHANGI CITY,

SINGAPORE

SINGAPORE 2012 Fraser Hospitality / eco-id / Aedas

A hotel project located within newly developed Changi

Business Park close to the international airport. The

public area is designed to cater a brighter and cheerful

ambience for 24 hours to support the business usage

by all the guests.
---
THE RITZ-CARLTON RESIDENCES

SINGAPORE, CAIRNHILL

SINGAPORE 2012 KOP Properties / eco-id / LTW Design Works

It was particularly designed to achieve the feel of

'champagne gold' by using champagne gold reflector

downlights, following the design principle of architecture

and the interior's colour theme. With carefully treated

feature walls and ceiling with a sparkling light, 'Jewel

Box' entrance lobby is attracting all visitors and guests.
---
ヒルトン 東 京 3 階 /7 階 リノベーション

HILTON TOKYO, 3F/ 7F RENOVATION

TOKYO 2012 Hilton Tokyo / Yukio Hashimoto Design Studio

This shell-shaped chapel is enclosed in glass with a

softly winding aisle to the altar. Fine detail for the

luminous floor creates the illusion of the bride walking

on waves or floating down the aisle. Ceiling lighting in

the banquet hall and public areas suggests the image

of confetti floating in the air and origami style indirect

lighting adds a Japanese essence.
---
ヒルトン 東 京 ベイ プリマルーチェ

HILTON TOKYO BAY, PRIMA LUCE

CHIBA 2012 Hilton Tokyo Bay / Design Studio Glam

The Prima Luce Chapel faces the Tokyo Bay with an

extraordinary view as the bride walks down the aisle

and picture perfect lighting to complete the scene.

Throughout the ceremony lighting transitions add to

the wedding ambiance. A luminous aisle and soft

indirect light create a special "luminous wedding".
---
PARTY HOUSE

SINGAPORE 2012 W Architects / Design Basis /

Salad Dressing

For this weekend house in Sentosa Island, the lighting

plan had to coordinated in early stage of project as the

architectural finishings are bare concrete and stone

and it is difficult to add light after the concrete has

casted. The 2nd floor has a few fritted glass box

rooms, and lighting makes the rooms and common

area separate softly glowing spaces. At the attic, the

lighting is planned not to disturb view of the ocean.
---
COPPER HOUSE AT

SENTOSA COVE

SINGAPORE 2012 Chan Sau Yan Associates

A residence in Sentosa Island has the design language

of triangle, which applied to the interior, landscape

and all over the architectural design. Our lighting plan

was to achieve both owner-required brightness of task

lights and comfortable contrast by highlighting this

unique character of the architectural design form.
---
はとばキッチン

HATOBA KITCHEN

SHIZUOKA 2012 Satoru Yamashiro + buildinglandscape + araa

The Hatoba Kitchen is a buffet-style restaurant and

multifunction space in the S-Pulse Dream Plaza.

Several spaces are partitioned with Japanese cedar

from Shizoka Prefecture for a warm interior feeling.

Each partitioned area has its own lighting plan and

design for variation within the larger space.
---
シーバンス N 館 リニューアル

SEAVANS N-BUILDING RENEWAL

TOKYO 2012 NTT Urban Development Corporation

This project is the interior renovation of a riverfront office building. The design in the smoking room is a

series of layers, including laminated glass walls. Light plays off this wall to catch the eye. From the elevator

hall on each floor and down the hallways to the refresh corner the path is brightly lit, but with warm colortemperature

for a relaxing atmosphere. (Photo Forward Stroke)
---
王 立 オランダ 大 使 館 公 邸 リノベーション

ROYAL NETHERLANDS EMBASSY

RENOVATION

TOKYO 2012 MasterMindKK

The ambassador's residence was built in 1927.

Original antique chandeliers and lamp stand were

reused and incorporated into the lighting design

consisting of architectural lighting, accent lighting,

and a new dimming system to create various scenes

needed for daily use and social functions. Soft façade

lighting provides a comfortable nightscape.

日 本 女 子 体 育 大 学 総 合 体 育 館

JAPAN WOMEN'S COLLEGE OF PHYSICAL EDUCATION GENERAL GYMNASIUM

TOKYO 2012 Environment Design Institute

This new sports center is on the grounds of the Japan Women's College of Physical Education. The lighting

design includes a multipurpose hall at the entrance of the complex. Indirect lighting along the ceiling and

wall wash lighting create a soft and warm atmosphere, with downlights to illuminate the main floor area.
---
LPA TOPICS

Lighting Design Project for reviving from Earthquake Disaster / Lecture

and Media appearance / Refreshing Time / LPA 2012 Activities & 2013

Goals / Major Contributions and Interviews
---
LPA 震 災 復 興 照 明 プロジェクト

Lighting Design Project for reviving from Earthquake Disaster
---
The mobile "Akari Café"

The LPA Earthquake Disaster Reconstruction Lighting Project is an opportunity to help improve, if only just a

little bit, the living situation at the temporary housing blocks in the quake-hit area by regenerating local

communication. Our goal is to lend beneficial light to this prolonged housing situation. In 2012 we opened the

mobile "Akari Café." All of the equipment, lanterns, chairs, tables, everything, was included in one big moveable

kit. The children had fun with shadow play and making lanterns and the adults relaxed under soft ambient light

to enjoy the summer evening. In conjunction with the Non-Profit Organization APCAS, Kyoto Institute of

Technology Sakata Studio, and LPA, the mobile café opened in July and August in the temporary housing blocks

and community centers in Kesennuma City, Miyagi Prefecture and again in October in Ishinomaki City Miyagi

Prefecture.
---
講 演 活 動 ・メディア 出 演

Lecture / Media appearance

Mr. Mende gave lectures on variety topics in and outside Japan. LPA drew attention of media especially this year

due to opening of Tokyo Station Marunouchi building which was restored to its original building state burned 100

years ago.

テレビ・ラジオ TV・Radio

Sep.15

Oct.10

Oct.24

講 演 Lectures

Apr.17

Oct.17

Nov.17

雑 誌 ・ 新 聞 Magazine・Newspaper

Oct. Issue

Oct./Nov. Issue

Oct.02 Issue
---
リフレッシュメント Refreshing Time

Having delicious food, all staff had regular casual talks about lighting and design, sharing some short videos or photos, called

"Mende Bar" and "Afternoon Tea". In Summer, we had BBQ and about 30 LPA staff and their family gathered and enjoyed.

Mende Bar

Jul.24, Aug.30, Oct.25

LPA Open House

Sep.21

Office Retreat1 Tokyo Tohoku

Feb.22-25

Family BBQ

Jul.28

Office Retreat2 Tokyo Kyoto

Nov.8-10

Bowling

Oct.19

Office Retreat Singapore

Kanchanaburi, Thailand

Mar.3-6

Kite-flying @marina barrage

Jul.20
---
LPA 2012 年 の 概 況 と2013 年 への 展 望
---
LPA 2012 Activities & 2013 Goals

LPA Interoffice collaboration

LPA established its 3rd office in Hong Kong in February 2012, and now we are able to collaborate on projects

among three offices- Tokyo –Singapore and Hong Kong by extensive internal discussions and workshops. It is to

our client's benefit now that such collaborative efforts using the latest technology available will provide the quick

and seamless services to our projects throughout Asia from as early as conceptual stage planning to the site

commissioning.

Completion of the historic Tokyo station restoration

Lighting up the conservation and restoration of Marunouchi station building at Tokyo station was completed in

October 1, 2012. LPA spent a good intensive three years including generating the concept, schematic design and

frequent mock-ups on site. We are happy that our lighting design concept to create "Tranquil and timeless evening

scenery" has been well received both by the authorities and the public. The 100 years old architecture of the

station is now clad with a sustainable lighting that can endure another 100 years of service.

New generation botanic gardens – Gardens by the Bay in Singapore

Singapore's latest landmark- "Gardens by the Bay" opened to the public in June 2012 with much fanfare and have

attracted both locals and visitors ever since. Being located on the equator, pleasant evening strolls are particularly

important in Singapore and our goal was to achieve a superb entertainment space full of wonders with its lighting

concept "Organic lighting". Hope you will enjoy the nightscape at this unique botanic gardens!

Setting up an temporary "Akari Café" at disaster area

LPA took a part in a rehabilitation project in Kesennuma district, one of the worst affected areas from the Great

East Japan Earthquake. Through discussions with a non-profit organizer on how we can contribute with a small

feasible idea to comfort the residents at temporary shelters, we set up a café called Akari café (Light café ) for

enjoyment of light during summer nights. In addition, we organized "Akari workshop" involving the local children.

It was a truly humbling experience as we recognized what lighting can do to help communication in such difficult

times and create comfort for the victims.

Four projects received international design awards

Three of our projects – Educational Resource center at National University of Singapore, The Ritz Carlton hotel

Hong Kong, Louis Vuitton at Marina bay Sands in Singapore received Award of Merit from Illuminating Engineering

Society of North America (IES), and St.Regis hotel Osaka received Award of merit from International Award of

Lighting Design (IALD). In recent years, we have applied many innovative architectural lighting design methods

for hospitality projects such as hotels, resorts and mixed commercial developments.

The year 2013- Acceleration of ecological lighting

We face the global trend of energy efficiency and the move towards a low carbon society. In Japan itself there is

a rapid shift to LED after the Great East Japan Earthquake. This trend has remarkably influenced the lighting

design practice as well. LPA however, still do not deny the usage of the incandescent lamp; what is important is

"Unwasted energy use". It is a time to consume a minimum amount of energy, and we believe authentic and

sophisticated lighting design techniques will be sought after more and more in the coming future.
---
主 な 講 演 ・ 寄 稿 ・インタビュー・ 出 演 など

Major Contributions and Interviews
---
LIGHTING DETECTIVES

Transnational Lighting Detectives / Candle Night @ Omotesando - Eco

Avenue / Candle Night @ Marina Bay, Singapore / Lighting Detectives

Survey / City Walking Tours / Regular Round Table Discussion / Children's

Workshop / Lighting Detectives - List of Sponsors
---
Transnational Lighting Detectives

世 界 照 明 探 偵 団

Vol 9

Transnational Lighting

Detectives Forum in Bangkok

""Bangkok Light Identity""

@Bangkok Code, King Mongkut's University

of Technology Thnoburi

City Survey

About 60 architecture students, young lighting designers,

and other artists gathered for a city walk in Bangkok.

Five areas in the city were divided among 5 groups with

at least one Bangkok native in each group to also act as

a guide.

Mar.01-03

The ninth Transnational Lighting Detectives

Forum was held in Bangkok, Thailand. Due to

great damage from the flood in the fall of 2011,

the forum, originally planned for December

2011, was postponed to March 2012. The

theme was "Bangkok Light Identity." The 3-day

event included a city night walk, workshop and

presentation with photo contest, and about 100

guests attended in the forum.
---
Workshop

Before the forum, each group gathered again to analyze

their data and impressions from the city walk. We were

looking for elements and clues that make up the

nightscape of Bangkok.

Forum

The forum was packed with crowds as a representative of each

group reported their findings and characteristics of each area

surveyed. The local charm of the Bangkok nightscape became

clearer and clearer as possible lighting proposals were also shared.
---
Candle Night

キャンドルナイト

@ OMOTESANDO - Eco Avenue

Candle Night @ Omotesando - Eco Avenue

Jun.23

Starting in 2003 on a small alleyway in Shibuya, Cat Street,

this year Candle Night @Omotesando-Eco Avenue marked

its 10th Anniversary. A total of 345 staff, including art

students and lighting detectives' members, decorated

Omotesando with candle installations and lanterns. We

also attempted an "Original Lantern Exhibition and

Competition" and "Takeyoi Matsuri" which is a local festival

using bamboo to hold candles.
---
キャンドルナイト

@ Marina Bay, Singapore

Candle Night @ Marina Bay, Singapore

Nov.05

This year, we marked the 3rd Candle Night event in

Singapore. The Lighting Detectives and students from

local schools created large-scale candle light installations

around the Merlion Park and One Fullerton, while members

of the public were invited to decorate lanterns to celebrate

the Merlion's 40th birthday. As Candle Night coincided

with the Mid-Autumn Festival, visitors also paraded

through the Merlion Park with their own lanterns and

enjoyed candles in a peaceful and relaxing atmosphere.
---
照 明 探 偵 団 調 査 Lighting Detectives Survey

ブダペスト・プラハ・ベルリン

Budapest, HungaryPrague, Czech

Berlin, Germany Oct.16-23

Three Light Cities of Central Europe

Innovation from Tradition

All three cities we visited attempt to increase their value

by illuminating historical townscape and architecture.

The nightscapes have become a valuable resource to

attract tourists. However, depending on climate or

economic status, all three cities showed great

differences. Compared to past surveys, we saw new

technologies like LEDs being implemented.
---
バンコク

Bangkok, Thailand Feb.29-Mar.02

Conjunction City of Prayer and Excitement

Bangkok, the city which keeps on growing as a leader in South

East Asia, is becoming more energetic with a bustling market

atmosphere, ancient Buddhism culture, and their bright modernity.

We found attractive nightscapes in this chaotic city.

新 橋 ・ 汐 留

ShinbashiShiodome, Tokyo Jun.05/07

Patchwork of Lighting

Shinbashi and Shiodome are known as the old and new business

districts. After office hours, this area is fueled by the energy of

business men and women leaving work. Nostalgic, red lanterns

hanging around this area at various drinking establishments

contrast with the sophisticated architectural lighting.

皇 居

Koukyo (The Imperial Palace), Tokyo Nov.05

Contrast between light and dark around Imperial

Palace

The area around the Imperial Palace or the center of Tokyo

attracts a number of runners and has become a most popular

running course in Tokyo. Exterior lighting in parks located in this

area is shifting to LED lamps. We surveyed the lighting on the

streets and parks surrounding the Imperial Palace which still

remains dark at night.
---
街 歩 き

City Walking Tours

「 住 宅 街 のあかり」 Apr.24

Residential Neighborhood Street District

Area Lighitng

Futako Tamagawa is an area which continues to develop.

Futako Tamagawa Rise shopping and residential complex

opened soon after the Great East Japan Earthquake in March

2011. We focused on "residential lighting," comparing new

and old areas.

「 台 場 の 闇 から 街 のあかりを 見 る」 Jul.24

View of Urban Lighting from Daiba in the Dark

Famous for its water-front, Odaiba is one exciting area of

Tokyo. This time we were in search of shadows and darkness

in order to view the skyline of Tokyo from across the bay.

「 浅 草 ・ 東 京 スカイツリー 界 隈 の 今 ・ 昔 」 Nov.13

Now and Past of AsakusaTOKYO SKYTREE

Since the opening of Tokyo Skytree in May 2012, we walked

the area to find any modern changes and search for reminders

of the Asakusa lightscape from the Edo period.

研 究 会 サロン

Regular Round Table Discussion

May.08 / Aug.20 / Nov.27

We held three salons this year, all very exciting with deep discussions

and reviews of our city walks.
---
こどもあかりワークショップ

Children's Workshop

行 灯 つくり& 暗 さ 体 験 ワークショップ

@ 江 戸 東 京 たてもの 園 Nov.23-24

Lantern Making & Experiencing Dark Workshop

@Edo Tokyo Open-Air Architectural Museum

At the Edo-Tokyo Open Air Architectural Museum, "Light

up Architecture and Autumn Foliage" was held during a

three day holiday in November. The first two days

included a children's lantern making workshop and walks

through the trees to experience darkness in the woods.

With children, we had a wonderful time enjoying old

houses, irori and a night without light.

照 明 探 偵 団 協 賛 企 業 Lighting Detectives - List of Sponsors

The following 22 Lighting Industry Professionals financially sponsor Lighting Detective Singapore chapter's activities.

Aristo Engineering Pte Ltd

Bizlink Associates Pte Ltd

Endo Lighting (Thailand) PLC

ERCO Lighting Pte Ltd

FLOS-Singapore

iGuzzini SEA Pte Ltd

Krislite Pte Ltd

LAMP LIGHTING

Lightcraft Pte Ltd

Luci:Proteras Co Ltd

Lutron GL Limited

Luxlight Pte Ltd

Martin Professional Pte Ltd

Million Lighting Co Pte Ltd

Osram Pte Ltd

Pacific Technical Products Pte Ltd

Philips Electronics Singapore Pte Ltd

Schreder Singapore Pte Ltd

Strongly Lighting Pte Ltd

Targetti Poulsen Asia Pte Ltd

Technolite (S) Pte Ltd

WE-EF Lighting Co Ltd
---
Ai Sohara Atsushi Itakura

Chika Makabe Emiko Nagata Gaurav Jain

Junko Nagatomo Kanon Fujimoto Kaoru Mende Kentaro Tanaka Kim Lai

Mayumi Banno Mikine Yamamoto Misa Fujii Misuzu Nakamura Momoko Muraoka

Raba'a -Bte -Tainy Rachel Nakayama Reiko Kasai Rosana Choy

Sachiko Segawa

Shuk Ying

Shuwen Chen Simeng Huang

Takafumi Kubo Tan Angkana

Tsutomu Nagatsu

Xiao Xu Yaeko Otsuka Yang Xiaoping

Yi Ju

Yukiko Saito Yumi Honda Yusuke Hattori
---
Genki Watanabe Haruka Sakoda Hiroyuki Miyake Hu Lin

Jun Biao Chang

Kyoko Takubo

Laya Eduardo Jr.

Domingo

Liwen Chen Maki Jung Mari Kubota

Motoyo Ogawa Natsuko Ueda Noriko Higashi Phraporn

Kasemtavornsilpa

Pum Montharthip

Vanichviroon

Sahatpon Leungarram

Sathish Kumar

Ananthachari

Shaohua Chen Shigeki Fujii Shunichi Ikeda

Lighting Planners Associates

2013 Annual Report
---
5-28-10, Jingumae, Shibuya-ku, Tokyo 150-0001, Japan Tel : +81 3 5469 1022 Fax : +81 3 5469 1023 E-mail : lpa@lighting.co.jp

51B Neil Road, Singapore 088829 Tel : +65 6734 3086 Fax : +65 6734 2786 E-mail : singapore@lighting.co.jp

17/F Union Park Tower, 168 Electric Road, North Point, Hong Kong Tel : +852 2578 9007 Fax : +852 2578 9116 E-mail : hongkong@lighting.co.jp

www.lighting.co.jp