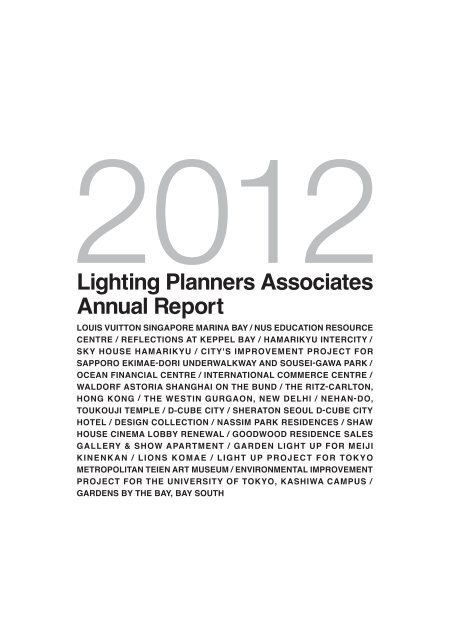 You also want an ePaper? Increase the reach of your titles
YUMPU automatically turns print PDFs into web optimized ePapers that Google loves.
2012

Lighting Planners Associates

Annual Report

LOUIS VUITTON SINGAPORE MARINA BAY / NUS EDUCATION RESOURCE

CENTRE / REFLECTIONS AT KEPPEL BAY / HAMARIKYU INTERCITY /

SKY HOUSE HAMARIKYU / CITY'S IMPROVEMENT PROJECT FOR

SAPPORO EKIMAE-DORI UNDERWALKWAY AND SOUSEI-GAWA PARK /

OCEAN FINANCIAL CENTRE / INTERNATIONAL COMMERCE CENTRE /

WALDORF ASTORIA SHANGHAI ON THE BUND / THE RITZ-CARLTON,

HONG KONG / THE WESTIN GURGAON, NEW DELHI / NEHAN-DO,

TOUKOUJI TEMPLE / D-CUBE CITY / SHERATON SEOUL D-CUBE CITY

HOTEL / DESIGN COLLECTION / NASSIM PARK RESIDENCES / SHAW

HOUSE CINEMA LOBBY RENEWAL / GOODWOOD RESIDENCE SALES

GALLERY & SHOW APARTMENT / GARDEN LIGHT UP FOR MEIJI

KINENKAN / LIONS KOMAE / LIGHT UP PROJECT FOR TOKYO

METROPOLITAN TEIEN ART MUSEUM / ENVIRONMENTAL IMPROVEMENT

PROJECT FOR THE UNIVERSITY OF TOKYO, KASHIWA CAMPUS /

GARDENS BY THE BAY, BAY SOUTH
---
ルイ・ヴィトン シンガポール マリーナ ベイ

LOUIS VUITTON SINGAPORE MARINA BAY

SINGAPORE 2011 LVMH Fashion (S) / Peter Marino Architect

Located at Marina Bay, Singapore, a hub of major development in recent years, the first Louis Vuitton

Maison store in Southeast Asia is housed in a glass pavilion with a distinct and sophisticated architectural

shape, laying the foundation for a unique shopping experience. The lighting concept for the project is that

of an "Elegant illuminated boat". Within the context of the Marina Bay Sands, the illuminated Crystal Pavilion

floats on the bay elegantly and exquisitely, its prominent location ensuring it becomes a distinct element of

the integrated resort.
---
シンガポール 国 立 大 学 エデュケーション リソースセンター

NUS EDUCATION RESOURCE CENTRE

SINGAPORE 2011 National University of Singapore / W Architects

The project sits in the heart of the new University Town development. Designed to be a 24/7 resource

centre for the under graduate and post graduate students living within the development, the lighting follows

the unique profile of the building. Most of the lighting is indirect for the public areas creating a soft lanternlike

glow. The internal illumination blends into the exterior illumination seamlessly.
---
リフレクションズ アット ケッペルベイ

REFLECTIONS AT KEPPEL BAY

SINGAPORE 2011 Keppel Land /

Studio Daniel Libeskind / DCA Architects

A landmark development on the waterfront of Singapore,

the requirement for the lighting scheme was to be distinct

yet soft enough for a residential ambience. Façade lighting

is minimal with emphasis on the iconic crowns and tapering

edges of the façade. Common areas have specially

integrated LED lighting that accentuates the strong graphic

character of the architectural skin and landscape features.
---
浜 離 宮 インターシティ / スカイハウス 浜 離 宮

HAMARIKYU INTERCITY / SKY HOUSE HAMARIKYU

TOKYO 2011 KOWA Real Estate / Nihon Sekkei

Hamarikyu Intercity is an office and residence complex located in the waterfront area. We cast soft light

beams on the ship-bottom shaped wooden wall, using spotlights mounted on mullions. This lighting creates

comfortable shadows at the gently curved entrance lobby space. Also these soft lights add an impressive

image to the facade with the glowing wall that remarkably shows up at nightfall.
---
札 幌 駅 前 通 地 下 歩 行 空 間 / 創 成 川 通 親 水 緑 地 整 備 事 業

CITY'S IMPROVEMENT PROJECT FOR SAPPORO EKIMAE-DORI

UNDERWALKWAY AND SOUSEI-GAWA PARK

HOKKAIDO 2011 Institute for General Urban Studies / A. Kuryu Architects & Associates / D+M

It was a part of the Sapporo city's large public space improvement project, in which we contributed to the

improvement of the Ekimae-dori Underground Walkway and Sousei-gawa Park. After many rounds of

discussions with city's design committee, both spaces were successfully transformed to enjoyable public

space. Key features in each space are the luminous walls with color lighting based on the city's "landscape

color guideline", and glare less fixtures in the underground walkway, and the energy efficient and glare less

LED lighting in Sousei-gawa park.
---
オーシャン フィナンシャル センター

OCEAN FINANCIAL CENTRE

SINGAPORE 2011 Keppel Land /

Pelli Clark Pelli Architects / Architects 61

A ship resembling shaped 43-story office building

project in Central Business District. In the curtain wall

structure wrapping entire building, RGB-W LED strip is

densely integrated and its lighting operation attempts

to express a ship cutting into wind from Marina Bay.

At the lobby, 12M high core wall is continuously wall

washed and the effect brings a sense of brightness to

the entire space and express dignity of the architecture.
---
インターナショナル コマースセンター

INTERNATIONAL COMMERCE CENTRE

HONG KONG 2011 Sun Hung Kai Properties / KPF / Wong & Ouyang / Isometrix

The 484m tall and 118 stories ICC tower is located in Kowloon and which is the highest building in Hong

Kong. The LED linear lights are integrated in the façade curtain wall horizontally from bottom to top. It can

be create various lighting scenes by programming. This new landmark of Hong Kong was designed as a

gate of Victoria Harbour with the IFC tower located on Hong Kong island side. It was designed to be dynamic

and elegance in Hong Kong's existing busy nightscape.
---
ワルドルフ アストリア 上 海

オン ザ バンド

WALDORF ASTORIA SHANGHAI

ON THE BUND

SHANGHAI CHINA 2011 New Union / Hilton / HBA /

John Portman & Associates

This is the first Waldorf brand high-end hotel project in

Asia within a restored/renovated 1910 heritage building

along the Bund. A new tower block is added to the existing

building. Lighting for the hotel strives for a harmony

and a contrast of the authentic lighting elements vs

modern architectural lighting at the same time.
---
ザ・リッツカールトン 香 港

THE RITZ-CARLTON, HONG KONG

HONG KONG 2011 Sun Hung Kai Properties /

LTW Interior Designworks

Dominating the city skyline of Hong Kong, The Ritz-

Carlton made a magnificent return with the world's

tallest hotel. The luxury interior spaces with glossy

materials are lit with meticulous approach to eliminating

glare and reflection of the light sources. Reflection in

the curtain wall is minimized by use of minimum

illuminance and well thought -out placement of light.
---
ウエスティン・グルガオン, ニューデリー

THE WESTIN GURGAON, NEW DELHI

GURGAON INDIA 2011 Vatika Hotels / Studio u+a /

Chhada siembieda / Super Potato / Tierra

The project was located in a suburb of New Delhi. The

area is developed as a new commercial and office

centre for multi-national companies. The hotel's principal

lighting feature is that it offers a calm yet vibrant

atmosphere. Traditional Indian elements and colors

are accentuated with modern lighting design leading

to a comfortable contrast.
---
東 光 寺 おおみや 涅 槃 堂

NEHAN-DO, TOUKOUJI TEMPLE

SAITAMA 2011 Toukouji / TAPIÉ /

Takahashi Architect

The Nehan-Do is a newly built charnel chapel during

the refurbishment of Toukouji Temple. Lighting for the

Nehan-Do was designed to enhance the experimental

sequence of a visit, walking from a lounge to a charnel

house, and to where the Nehan-zo Buddha statue stays.

The softly illuminated ceilings of plaster and carved

wood achieve a serene space for prayers.
---
ディーキューブシティー

D-CUBE CITY

SEOUL KOREA 2011 Daesung Industrial /

Oikosdesign

This is a new complex building containing theater,

hotel, department store, and residence in Sindorim,

Seoul. Lighting for the landscape in the complex

attempted to create contrasts between light and

shadow very similar to what we see in nature.
---
シェラトン・ソウル

ディーキューブシティーホテル

SHERATON SEOUL

D-CUBE CITY HOTEL

SEOUL KOREA 2011 Daesung Industrial /

GETTYS+SAMOO Architects & Engineers

The Sheraton hotel is located top part of tower in D-cube

City, and the guest enjoys the view of Seoul cityscape

during day and night. Atmosphere of the interior design

scheme is dramatically changed by day lighting or

sequence. The lighting design creates different scenes

in accordance with the time variation by a detailed

operation program.
---
デザインコレクション 松 屋 銀 座

DESIGN COLLECTION

TOKYO 2011 Japan Design Committee / MATSUYA /

Naoto Fukasawa Design / Taku Satoh Design Office

A pioneering select shop, Design Collection was

redesigned for the first time in a quarter of a century.

The store was refreshed with a soft and warm

atmosphere. The minimal shelving units contained

display light fixtures which were discreet. These

achieved the super-ambient lighting for the entire

space.
---
ナッシムパークレジ デンシーズ

NASSIM PARK RESIDENCES

SINGAPORE 2011 Kheng Leong / UOL / SCDA /

Christian Liaigre / Shunmyo Masuno +

Japan Landscape Consultants

Designed with the concept "Gradation", this condominium

is layered with beautiful and soft shadows. A pleasing

nightscape is created by 3 landscape elements – tree,

water and stone – illuminated with lights tightly integrated

in the landscaping. An unified external appearance of

the facades is created by the soft glow from the interior

public areas creating an atmosphere for luxury living.
---
ショウハウス シネマロビー 改 修

SHAW HOUSE CINEMA LOBBY

RENEWAL

SINGAPORE 2011 SHAW / DPA

A renovation project of an existing Cinema lobby located

at Orchard road -the heart of Singapore's world famous

shopping belt. The lobby is a flexible space designed

to be used for multi-purpose events. As the space is

filled with daylight, we planned various scenes for both

daytime and nighttime with different brightness level

and colour temperatures.
---
グッドウッドレジデンス セールス

ギャラリー & ショーアパートメント

GOODWOOD RESIDENCE SALES

GALLERY & SHOW APARTMENT

SINGAPORE 2011 Guocoland / WOHA /

Miaja Design Group

A sales gallery and show apartment for on-going

condominium project. The sales gallery equipping

daylight control and the models which simulates

daytime and nighttime lighting environments presented

in blackout condition. The visitors can also experience

the options of lighting effects created by the actual

lighting control system.
---
明 治 記 念 館 庭 園 ライトアップ

GARDEN LIGHT UP FOR

MEIJI KINENKAN

TOKYO 2011 Meiji Kinenkan

The project was to illuminate the 3300 square yard

garden next to the palatial building, Meiji Kinenkan. We

focused on the color of light that changes to enhance

the greenery of seasonal scenic change. The color

lighting is also to create a beautiful contrast in the

nightscape with moon light from the sky.
---
ライオンズ 狛 江

LIONS KOMAE

TOKYO 2011 DAIKYO / IKDS

Several elements of lighting are applied to illuminate

the bamboo inspired object in the long entrance hall,

enabling to create different scenes through a day. It

creates the welcoming atmosphere for the residents

come home.
---
東 京 都 庭 園 美 術 館 ライトアップイベント

LIGHT UP PROJECT FOR TOKYO

METROPOLITAN TEIEN ART MUSEUM

TOKYO 2011 Tokyo Metropolitan Teien Art Museum

The project was to celebrate the last of the art-deco

style museum built in 1933 which was just closed for

2-year renovation. Lighting expressed the time flow by

providing changing color light of purple red light to deep

blue light at the coach entrance and the shelter top,

inspiring the sunset scene together with the interior

lighting of the museum seen through curtain at the

windows.
---
東 京 大 学 柏 キャンパス 環 境 整 備

ENVIRONMENTAL IMPROVEMENT

PROJECT FOR THE UNIVERSITY OF

TOKYO, KASHIWA CAMPUS

CHIBA 2011 Environment Design Institute

The design brief was to improve nighttime campus

environment for the late night users. The dark

walkways were re-designed with tree uplight and new

pedestrian lighting, which led to the creation of an

elegant nightscape.
---
Coming soon!!

GARDENS BY THE BAY, BAY SOUTH

SINGAPORE 2012 National Parks Board /

Grant Associates / Wilkinson Eyre. Architects /

CPG Consultants

Located at the heart of Singapore's city centre, the

gardens with a total area of 54 hectares have been

designed with the principal theme of "Entertainment

with Organic Lighting". The construction of the

gardens is steadily progressing for the long-awaited

grand opening in June 2012. During the World Orchid

Conference held in November 2011 at Marina Bay,

the visually spectacular gardens were partially opened

to the public and received much acclaim for their scale

and delightful setting.
---
LPA TOPICS

SETSUDEN Lighting Environment Survey in Tokyo / In House Competition

on "Lighting Design Proposal in Times of Disaster" /Fixed points records

/ Open LPA Hong Kong Office / IALD INTERNATIONAL LIGHTING DESIGN

AWARDS 2011 / Lecture / TV appearance / Refreshing Time / LPA 2011

Activities & 2012 Goals / Major Contributions and Interviews
---
都 内 の 節 電 光 環 境 調 査 を 実 施

SETSUDEN Lighting Environment Survey

in Tokyo

In response to the disaster on March 11,

energy-saving campaign at different places

in Tokyo under different circumstances have

been taking place. Collaborating with Hiratelaboratory

at (Architecture Department ) the

University of Tokyo, LPA had a SETSUDEN

lighting environment survey at 23 places in

Tokyo in June. We had three different kinds

of areas to survey; public transportation

facilities street and public space

commercial areas. Not only actual

measured data of illuminance and the

percentage of lights that were switched off,

in order to evaluate SETSUDEN lighting

environment visually, we had a questionnaire

survey of 20 people. 80 % of people

answered Comfortableunder 70 % of

lights-out environment in some places.

This is the data that we should reflect on

overspending energy to date. On the other

hand, there were some places like the

national road that people thought ""This

cannot be acceptable"". As a result, we

came to know the current situation of

overeating of light and anorexia of light,

and the importance of vertical illuminance.

The results are to be released 8 times in a

series every Friday from 30 January in WEB

magazine by Kenplatz Nikkei BP.

「 節 電 光
---
定 点 記 録

Fixed points records

We have been tracking photos at fixed

points in total 8 areas, Tokyo, Akihabara,

Ginza, Shinjuku, Shibuya, Omotesando,

Roppongi and Yokohama.

2011.04.05 19:10

環 境 調 査 」

2011.06.23 19:40

2011.08.05 20:10

2011.10.26 19:40

2011.11.10 19:30
---
社 内 コンペ「 災 害 のための 照 明 」デザインプロポーザル

In House Competition on "Lighting Design Proposal in Times of Disaster"

「 災 害 の た め の 照 明 デ
---
After huge disaster on March 11, we decided to come up with design proposals on lighting design in times of

disaster and of recovery. First of all, we had an in-house competition and came up with 32 unique ideas. And then

we compiled into 4 proposals from them;

SOS Light Station Emergency Light Goods Urban Lighting system against Disaster

Hope to the future ~Lighting for Hope~

To initiate a number of discussions, we have opened up these proposals to the public.

ザ イ ン プ ロ ポ ー ザ ル」
---
L PA 香 港 オフィスを 開 設

Open LPA Hong Kong Office

LPALighting Planners Associates(HK)

Ltd. 2012217

Lighting Planners Associates (HK) Ltd. has been

established in February, 2012. From the office at 17th

floor, we have a great view of high density district and

Victoria Harbor.

[Address]

17/F Union Park Tower

168 Electric Road, North Point, Hong Kong

Tel : +852 2578 9007

Fax : +852 2578 9116

IALD 国 際 照 明 デザインアワード2011 受 賞

IALD INTERNATIONAL LIGHTING DESIGN AWARDS 2011

Aman New Delhi, a luxury hotel completed in India, received

an award of excellence at the IALD International Lighting

Design Awards ceremony held in Philadelphia.

レクチャー・TV 出 演

Lecture / TV appearance

In 2011, we gave many lectures in and outside

Japan. And after the earthquake hit the Northern

part of Japan, the number of interview offers on

"Setsuden" and "Eco" have increased and we

were on TV and radio many times in this year.

Light in GOA

Mar.17

May.25

Jun.25

Maxray "Linxrossing Tokyo"

Jul.06
---
リフレッシュメント Refreshing Time

We also like to have fun together once in a while between works. As such, we celebrated LPA's sports day event. In this

year, we did cycling and hiking in the mountains. We also went to our company trip together.

Sports Day1 "Cycling and Kickball"

Jun.03

Sports Day2 "Climbing Mt. Takao"

Oct.21

Office Retreat SingaporeJava

Mar.30-Apr.02

Office Retreat TokyoOkinawa

Feb.24-26

LPA Open House

Sep.09
---
LPA 2011 年 の 概 況 と2012 年 への 展 望
---
LPA 2011 Activities & 2012 Goals

An unforgettable year- tragedy on March 11, 2011

The year 2011 was another busy year for LPA, a total of 46 staff – 28 from Tokyo and 18 from Singapore officeworked

on number of challenging projects.Also, it was truly an unforgettable year for the Japanese. The Great

East Japan earthquake on the 11th of March shocked the world, and the unprecedented natural and man-made

disasters discouraged us tremendously. However, the incidents provided us with a unique opportunity to go back

to the starting point to re-think our approach to lighting design. – Consideration on energy savings, ban of nuclear

power, and reduction of excessive brightness. We believe we are at a tipping point wherein we can redefine to

society what lighting design can do.

Lighting survey and design proposals for disasters

Cities in Japan including our base Tokyo became substantially dark after the disaster due to the serious concern

about lacking enough electricity supplies, and "saving on electricity" became a national mantra. In order to identify

"appropriate saving of light" and "not appropriate saving of light", we embarked on series of surveys. Through the

surveys, we encountered the overdoing of energy saving exercises while there were still a number of overly lit

environments. We discovered "right light for the right place" and "vertical illuminance" are the most important

considerations in urban lighting. Also, the entire office worked on idea proposals, and compiled them as "lighting

design for disasters". We are hoping that such ideas can be used at such times of crises.

Contribution to lighting design societies

Mr.Mende was selected as a Board of Director for International Association of Lighting Designers (IALD)

headquartered in the USA. This is because of the society's greater expectation over Asia's regional activities with

the increasing number of IALD members from the regions. He is also now appointed as the head of its new

lighting design division at the Illuminating Engineering Society of Japan (IESJ).

Numerous lectures around the world

Mr. Mende was invited to give a series of international lectures in 2011, such as in Goa (India), Barcelona, New

Orleans and Beijing. He feels the interest in Japanese lighting design approach has been increased more and

more throughout the world.

Setting up new Hong Kong office

We have set up our new office, Lighting Planners Associates (HK) Ltd; and the office on the 17th floor in the citycentre

overlooking Victoria Harbour is now operational. We believe the new office will further increase LPA's

strength. Also, we are committed to further improve our service to clients and site coordination through close

cooperation among Tokyo, Singapore and Hong Kong offices.
---
主 な 寄 稿 ・ 講 演 ・ 出 演 ・インタビューなど

Major Contributions and Interviews
---
LIGHTING DETECTIVES

Transnational Lighting Detectives / Candle Night @ Marina Bay, Singapore

/ Candle Night @ Omotesando - Eco Avenue / Children's Lighting Workshop /

Lighting Detectives Survey / Lighting Detectives City Walking Tours /

Regular Round Table Discussion / Lighting Detectives - List of Sponsors
---
Transnational Lighting Detectives

世 界 照 明 探 偵 団

ウェブサイトリニューアル

WEB Site Renewal

Nov.01

http://tnt-lightingdetectives.org

Transnational Lighting Detectives launched a newly designed website. One can now see a lot of new interactive

content. We hope this site would be a platform to cultivate lighting culture around the world.
---
ワールドライティングジャーニー

World Lighting Journey

It is a photo library of nightscapes and

lighting environments from about 70 cities

worldwide. You can see nightscapes of cities

far from where you are. TNT encourages all

web viewers to send nightscape from your

hometown to add to our ever-expanding

photo library.

英 雄 と 犯 罪 者

Hero!! & Villain?

This is a fundamental lighting question. In

cities worldwide there are all types of

different lighting environments, some are

exciting, romantic or relaxing and some are

outright shocking or unpleasant. Is this a

Hero or a Villain? Anyone can vote to agree

or disagree. You be the judge.
---
Candle Night

キャンドルナイト

@ Marina Bay, Singapore

Candle Night @ Marina Bay, Singapore

Nov.05

For the 2nd Candle Night event at Marina Bay, Japanese

art university students worked with local students to create

candle installations along the promenade. Minister

Yamamoto, from the embassy of Japan was invited as

the guest-of-honor.The Singapore Lighting Detectives

conducted lantern-making workshops using recyclable

materials from F&B outlets along the promenade for the

public, with an estimated 1000 participants from young

children to adults turning up. After the candle parade, the

participants were encouraged to create their own

installation by placing their lanterns around the Merlion.

Sponsors;

Krislite Pte Ltd

Strongly Lighting Pte Ltd

Technolite (S) Pte Ltd

Bizlink Associates Pte Ltd

Lutron GL Ltd

Luxlight Pte Ltd

ERCO Lighting Pte Ltd

Million Lighting Co. Pte Ltd"
---
キャンドルナイト

@ OMOTESANDO - Eco Avenue

Candle Night @ Omotesando - Eco Avenue

Jun.17

We had a charity candle night this year to support victims

from the earthquake and flood last March 11. The theme

was "Let's bring warmth of the candle to victims". 452 artschool

students involved this event and engaged in fund

raising activities and selling hand-made candles, and all

sales went to the Red-Cross fund. The amount that they

could earn in three hours in this event was 214,709 JPY.

We were able to return to the original theme "turn off the

light" under the huge saving energy campaign.
---
こどもあかりワークショップ

Children's Lighting Workshop

夏 休 みワークショップ Aug.09

Summer Workshop

As a summer event for elementary school students, we

had a children workshop titled "Enjoy Light of Candle". 12

children joined this workshop and learned design

processes, and each of them designed and built their

own lantern. And after finishing their work, we enjoyed

a summer snoozing party at balcony.

暗 さ 体 験 ライトアップニンジャ

@ 江 戸 東 京 たてもの 園 Oct.22

Experiencing dark Light Up Ninja@

Edo-Tokyo Open-air Architectural Museum

It is located in Kodaira-city. In the museum, there are 30

buildings from edo-period that have been relocated or

reconstructed. In this unusual atmosphere in which

children might feel they are time-tripping, we had a

lantern making workshop and parade in the museum,

and having dinner sitting by "Irori", Japanese fireplace.
---
照 明 探 偵 団 調 査 Lighting Detectives Survey

吉 祥 寺 Kichijyoji, Tokyo Jul.12

The town with harmony of varitety of elements

It's a town which always achieves a high ranking of the most popular town

to live in. We looked for lighting rules for a town like Kichijyoji where private

& public sectors worked together to carry on urban development.

横 浜 Yokohama, Kanagawa Oct.14

Lighting identity grows in foreign country

China Town, the biggest in Japan, has established their living in Yokohama.

However, it is the place where you can feel differences in its atmosphere

from a Japanese one. We had a survey on lighting that expresses their

own Chinese identity even in Japanese society.

瀬 戸 内 Setouchi Nov.16-18

Town Light in scenery

It is recognized for its harmony of island-studded sea, nature and human

landscape. Its' Inland sea and islands show us their variety of faces

according to seasons and time. In that scenery, at sunset and sunrise, the

lighting from boats and towns will gradually appear and disappear. We had

a survey on enchantment of lighting atmosphere in Setouchi where a lot

differs from nightscape of bright cities.
---
照 明 探 偵 団 街 歩 き

Lighting Detectives City Walking Tours

「 日 本 橋 七 福 神 めぐり」 Jan.08

Visit to the Seven Gods of Good

Fortune in Nihonbashi

The collective theme for the Lighting Detectives last year

was "gathering". To start off the New Year, club members

gathered to visit the seven shrines of good fortune near

Nihonbashi,

「アジアンレストランあかりのフィールド

リサーチ」 Apr.09

Field research on Lighting Asian restaurants

At the Korean town in Shin-Okubo, we had a fieldwork on

"Lighting of Asian Restaurants".

「 東 京 駅 "エキナカ"」 Nov.14

Tokyo Station"Ekinaka"

We had a research on "Ekinaka" shopping area at Tokyo

station which more than one million people use everyday.

研 究 会 サロン

Regular Round Table Discussion

Feb.2, Apr.19, Dec.12

Tanteidan round table discussion once again came back to respond to requests from members that they would

like to have casual discussions of lighting.
---
「 岡 山 西 川 緑 道 」 Nov.23

Okayama Nishigawa Ryokudo

Nishigawa, the river, runs through the centre of Okayama

city. There is a green road goes along the river. What is

the atmosphere of this pedestrian route that people are

willing to take?. We walked with local people to find good

or bad points and discussed over casual dinner.

照 明 探 偵 団 協 賛 企 業 Lighting Detectives - List of Sponsors

The following 20 Lighting Industry Professionals of Japan financially sponsor Lighting Detective activities.

Lutron Electronics Co., Inc.

Iwasaki Electric Co., Ltd.

Color Kinetics Japan Inc.

Endo Lighting Corp.

Erco Lighting Ltd.

Panasonic Corp.

Philips Electronics Japan, Ltd.

Maxray. Inc.

Yamagiwa Corp.

Koizumi Lighting Technology Corp.

Targetti Poulsen Japan Ltd.

Toshiba Lighting & Technology Corp.

Martin Professional Japan. Ltd.

Shonan Co., Ltd.

Toki Corporation

DN Lighting Co., Ltd.

Ushio Spax Inc.

Yamada Shomei Lighting Co., Ltd.

Mitsubishi Electric Lighting Corp.

Moriyama Corp.
---
Atsushi Itakura Chika Makabe Elisa Geraldine Mesa Emiko Nagata Gaurav Jain

Jun Biao Chang Junko Nagatomo Kanon Fujimoto Kaoru Mende Kentaro Tanaka

Mayumi Banno Mikine Yamamoto Misa Fujii Misuzu Nakamura Momoko Muraoka

Pum Montharthip

Vanichviroon

Raba'a -Bte -Tainy Rachel Nakayama Reiko Kasai Sathish Kumar

Ananthachari

Shaohua Chen Shigeki Fujii Shunichi Ikeda Takafumi Kubo Tsutomu Nagatsu

Xiao Xu Yaeko Otsuka Yi Ju Yuiko Imoto

Yukiko Saito Yumi Honda Yusuke Hattori
---
Genki Watanabe Gita Listia Haruka Sakoda Hiroyuki Miyake Hu Lin

Kyoko Takubo

Laya Eduardo Jr.

Domingo

Liwen Chen Maki Jung Mari Kubota

Motoyo Ogawa Natsuko Ueda Noriko Higashi Phraporn

Kasemtavornsilpa

Lighting Planners Associates

2012 Annual Report
---
5-28-10, Jingumae, Shibuya-ku, Tokyo 150-0001, Japan Tel : +81 3 5469 1022 Fax : +81 3 5469 1023 E-mail : lpa@lighting.co.jp

51B Neil Road, Singapore 088829 Tel : +65 6734 3086 Fax : +65 6734 2786 E-mail : singapore@lighting.co.jp

17/F Union Park Tower, 168 Electric Road, North Point, Hong Kong Tel : +852 2578 9007 Fax : +852 2578 9116 E-mail : hongkong@lighting.co.jp

www.lighting.co.jp