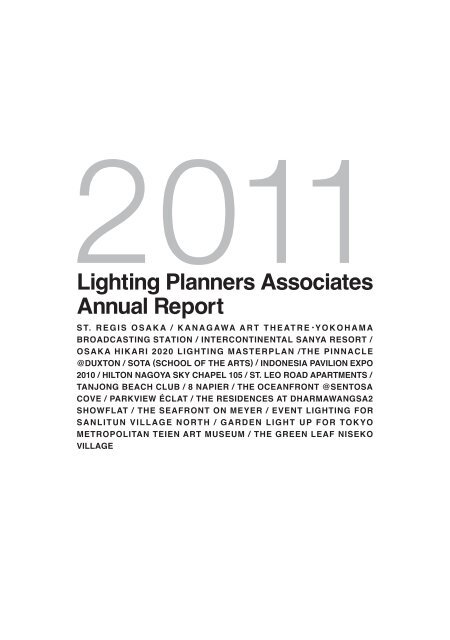 Do you know the secret to free website traffic?
Use this trick to increase the number of new potential customers.
2011

Lighting Planners Associates

Annual Report

ST. REGIS OSAKA / KANAGAWA ART THEATREYOKOHAMA

BROADCASTING STATION / INTERCONTINENTAL SANYA RESORT /

OSAKA HIKARI 2020 LIGHTING MASTERPLAN /THE PINNACLE

@DUXTON / SOTA (SCHOOL OF THE ARTS) / INDONESIA PAVILION EXPO

2010 / HILTON NAGOYA SKY CHAPEL 105 / ST. LEO ROAD APARTMENTS /

TANJONG BEACH CLUB / 8 NAPIER / THE OCEANFRONT @SENTOSA

COVE / PARKVIEW ÉCLAT / THE RESIDENCES AT DHARMAWANGSA2

SHOWFLAT / THE SEAFRONT ON MEYER / EVENT LIGHTING FOR

SANLITUN VILLAGE NORTH / GARDEN LIGHT UP FOR TOKYO

METROPOLITAN TEIEN ART MUSEUM / THE GREEN LEAF NISEKO

VILLAGE
---
セントレジスホテル 大 阪

ST. REGIS OSAKA

OSAKA 2010 Sekisui House / Nikken Sekkei / Glamorous / GA Design International

The architectural concept for this hotel takes the beauty of the Osaka culture and transforms it into "Light

and Shadow". The feeling of being invited into a distinguished home with grand hospitality completes the

image. Although the lighting is modest, each area is softly enveloped in comfortable light and shadow.
---
神 奈 川 芸 術 劇 場 ・NHK 横 浜 放 送 会 館

KANAGAWA ART THEATRE

YOKOHAMA BROADCASTING STATION

KANAGAWA 2010 Urban Renaissance Agency /

Hisao Kohyama Atelier / Architecture Planning and

Landscape Associates / Hidetoshi Ohno+Architecture

Planning and Landscape Design Workshop

The distinctive glass screen façade of this theatre

radiates 'welcoming light' for guests awaiting theatre

performances. Inside, a restrained lighting design for

the atrium, hall, and studios, uses a minimal amount

of lighting methods to illuminate each individual space.
---
インターコンチネンタル 三 亜 リゾート

INTERCONTINENTAL SANYA RESORT

HAINAN CHINA 2010 Luhuitou Tourist Area Development / WOHA

A sprawling development on the scenic Hainan island, Intercontinental Sanya Resort has a unique and

contemporary architectural and landscape scheme. Our lighting proposal was primarily a gradation of light

from the bright entrance areas to the soft and dim light of the private villas towards the beachfront. The

unique lattice façade was brightly lit to act as a landmark. Specially designed lanterns provided much of the

low-level illumination of the common areas.
---
OSAKA HIKARI 2020 光 のマスタープラン

OSAKA HIKARI 2020 LIGHTING MASTERPLAN

OSAKA 2010 OSAKA "City of Light" Planning & Promotion Committee

Since 2004, a lighting-based Community Development Planning Committee has become central to

coordinating the data used to formulate a master plan for Osaka. To maximize and use the charm of this

city to its fullest, the committee is tackling such issues as: How should Osaka lighting exist in 2020? or What

is Osaka- style lighting?
---
ザ ピナクル @ ダクストン

THE PINNACLE @DUXTON

SINGAPORE 2010 Arc Studio / Housing & Development Board

The first super hight-rise 50 storey public residential building in Singapore, The Pinnacle at Duxton Plain

offers panoramic views due to its unique layout and scale. The lighting intention is to provide maximum

visual comfort to the residents, and at the same time make the building appear as a landmark after dark.

Simple lighting methods and inexpensive fixtures using mostly fluorescent lamps were used all throughout

the project. Façade lighting was restricted to highlighting the horizontal character of the skywalks at the mid

and roof levels.
---
SOTA(スクール オブ ジ アーツ)

SOTA (SCHOOL OF THE ARTS)

SINGAPORE 2010 MICA (Ministry of Information, Communication & Arts) / WOHA

The first of its kind in Singapore, the School of the Arts (SOTA) offers pre-tertiary Arts education to students

from 13 to 18 years of age. The architecture of the facility was meant to inspire and nurture creativity, with

generous measure of scale and space. An emphasis on the vertical illumination aspect of light plays a

major role in enhancing the large volume spaces, textures, and providing enough illumination to the 'blank

canvas' – to be gradually filled in by the users with their works.
---
上 海 万 博 インドネシア 館

INDONESIA PAVILION EXPO 2010

SHANGHAI, CHINA 2010 National Agency of Export and Development, Ministry of Trade Republic of

Indonesia / Budi Lim Architects

During the six-month exhibition period 8 million people visited the Indonesia Pavilion. The four-story high

pavilion is built floor to ceiling with bamboo. Narrow spotlights create rhythm and contrast along the 600m,

exhibition route to effectively direct visitors visually. The roof line of uneven bamboo against the Shanghai

night sky became a trademark of the Shanghai EXPO.
---
ヒルトン 名 古 屋 スカイチャペル

ワンオーファイブ

HILTON NAGOYA SKY CHAPEL 105

NAGOYA 2010 Nippon Hilton / Yukio Hashimoto

Design Studio

The 28th and top floor of the Hilton Nagoya Building

was remodeled in the form of a 105 meter-high sky

wedding chapel. In the image of white feather wings,

the chapel is enveloped in sheer curtains. Each

individual curtain gently receives light and along with

highlights to the center aisle, the overall image is very

soft. The luminous cross is visible through a veil of cloth.
---
セントレオロード アパートメント

ST. LEO ROAD APARTMENTS

MUMBAI INDIA 2010 PN Writer / Khanna Schultz

This new apartment was built along St. Leo Road in a luxury residential area of Mumbai. The façade is

beautifully lit by light filtering outside from interior cove lighting, to reveal natural transitions of light along

the perforated metal paneling.
---
タンジョン ビーチ クラブ

TANJONG BEACH CLUB

SINGAPORE 2009 The LO+Behold Group /

Takenouchi Webb

Located in Sentosa Island on a beach, Tanjong Beach

Club is an idyllic getaway with beautiful vistas. The

lighting scheme was meant to be subtle and blend

with the retro style of the restaurant and bar, with an

emphasis to enhance the exteriors. Various dimming

settings create a soft transition of the lighting environment

from daytime onto the late evening.
---
8 ネピア

8 NAPIER

SINGAPORE 2010 Napier Properties / Aedas /

Tierra Design / Cream

This chalky white condominium lies in proximity to the

Singapore Botanical Gardens. The lighting design

compliments the well-proportioned landscape, with

light to the water feature, vegetation, and rocks, and

complete with reflections on the water's surface. A

scene control system is installed in the common use

area and transitions of light are centered around the

foyer, a sheltered, outdoor lobby.
---
ザ オーシャンフロント

@ セントーサ コーブ

THE OCEANFRONT SENTOSA COVE

SINGAPORE 2009 Squire Mech / Axis Architects

Planners / Cicada / City Developments Limited

Shaped like the sail of a yacht, this condominium is

built on a point that jets out into the ocean. This iconic

architectural form stands as a "lighthouse" and landmark

at the entrance to the marina. Like the waters on a

white-sand beach the pool lighting gradually changes

from an emerald green to a deep blue.
---
パークビュー エクラット

PARKVIEW ÉCLAT

SINGAPORE 2010 Stream Aread / James Adams /

Ong&Ong / HBA

This is a unique art deco style condominium built in

Singapore. The relief façade is continuously illuminated

to emphasize the stateliness of the building. Lighting

for strategically placed sculptures and luminous tile on

the pool bottom create glamour among the hard lines

of the landscape design.
---
ザ レジデンス アット ダルマワングサ2 ショーフラット

THE RESIDENCES AT DHARMAWANGSA2 SHOWFLAT

JAKARTA INDONESIA 2009 PT Etika Karya Usaha / KIAT Architect / Jaya & Associates / KUBU DAUN

This condominium showflat is built on the grounds of the Dharmawangsa Hotel in southern Jakarta. The

spacious living room, which can also serve as a multi-purpose hall, is equipped with a flexible slit lighting

system. The living area is connected to a large balcony with a dimming system incorporated to adjust both

the inside and outside lights for a fluid design that makes full use of the space.
---
ザ シーフロント オン メイヤー

THE SEAFRONT ON MEYER

SINGAPORE 2010 TSP Architects+Planners, Cox /

Capitaland Residential Singapore

This three tower condominium built on the east coast

is lush with vegetation. The vibrant landscape is

designed around a pool, but after 10pm the garden

shifts into a relax mode. Lighting helps to create a

cool atmosphere for enjoying an evening stroll among

the individually themed gardens.
---
三 里 屯 ビレッジ 北 区 イベント 照 明

EVENT LIGHTING FOR

SANLITUN VILLAGE NORTH

BEIJING CHINA 2010 Sunliton Village

This is a lighting design for a high-end shopping mall

situated in a very international area of Beijing. The

client was looking for a sustainable lighting system to

accommodate year-round events and celebrations.

Using a combination of permanent and temporary

lighting systems, LPA designed an elegant lighting

program suitable for the art culture status of the area.
---
東 京 都 庭 園 美 術 館 庭 園 ライトアップ

GARDEN LIGHT UP FOR TOKYO

METROPOLITAN TEIEN ART MUSEUM

TOKYO 2010 Tokyo Metropolitan Teien Art Museum

The Tokyo Metropolitan Teien Art Musuem (1933),

next to the Institute for Nature Study, is one place in

the metropolitan area where one can still experience

the four seasons. During a special one-month light up

event from November 20th, the autumn colors were in

full view. From the gate along the approach to the

museum and two separate zones in the Japanese

garden, illuminated fall leaves decorated the night.
---
ザ・グリーンリーフ・ニセコビレッジ

THE GREEN LEAF NISEKO VILLAGE

HOKKAIDO 2010 YTL Hotels / Niseko Village / Davis

Langdon & Seah / Champalimaud / NCM / Gensler

The famous ski resort, Higashiyama Prince Hotel was

remodeled and reopened in December 2010. The

interior, remodeled in the image of a forest, is a

comfortable and relaxed atmosphere with soft, warm

light used to create a cozy dimness. The lighting levels

are balanced with the natural setting for a lighting

environment that seems natural and not oppressive.
---
LPA TOPICS

Lighting Planners Associates 20th Anniversary / Facade Lighting for

Tokyo Station / President's Design Award 2010 / Assist Café Midori no

Kotonoha / Office Retreat / Full Moon Party
---
Lighting

Planners

Associates

20th Anniversary

『 陰 影 のデザイン』 出 版

Published: DESIGNING with SHADOW

"Designing with Shadow" was published by Rikuyosha on 24th May 2010.

As of 2010, LPA reached the 20-year mark since establishment. This book is an overview

of our works, categorizing various shadows in lighting design into 13 chapters, and

introduced through 39 projects from our 2005-2010 portfolio. Through this book we hope

our readers become more familiar with LPA's lighting design principles.

陰 影 のデザイン 出 版 記 念 会

"DESIGNING with SHADOW" Book Launch Party

LPA hosted a "Designing with Shadow" book launch party at Meiji Shrine Meeting Hall in Tokyo. A light and shadow

installation decorated the surrounding shrine forest in an accomplished representation of the backbone of LPA's 20-year

lighting design philosophy, shadow design. In spite of the scorching heat, 300 guests from various professional fields joined

LPA in this celebration.

New Book Launch Party @Singapore

The Singapore office also hosted a local "Designing with Shadow" book launch party in conjunction with its 10 year anniversary

at the National Museum of Singapore. The traditional Japanese Sake Barrel Ceremony "Kagami Biraki" kicked off the

celebration in front of guests, including architects, designers, clients, and lighting professionals.
---
Book Launch Party @Tokyo

A loud "Cheers" from Gonguji of Meiji Shrine,

Mr. Miyazaki.

Live preformance with a piano and cello.

Mr. Kazuhiko Namba also spoke kind words.

A collaboration of light and sound filled the hall.

Former LPA designers who worked in the

"earily days" of LPA.

Book Launch Party @Singapore

On stage, a traditional ceremonoy of celebration,

splitting open a sake

It was a lively party in a museum space with

sustained historical architecture within.

The low cello melody filled the air.
---
東 京 駅 丸 の 内 駅 舎 ライトアップ プロポーザルコンペ

Façade Lighting for Tokyo Station

A proposal by LPA was accepted for the renewal of the façade lighting design in preservation and restoration of Tokyo

Station, Marunouchi. The lighting design concept is [Tranquil Scenery.] LPA strongly feels that the lighting design should

aesthetically accentuate the timeless and stately style of architecture, but also create a soft appearance for all users to enjoy.

プレジデントデザインアワード2010

President's Design Award 2010

LPA project, Lighting Masterplan for Singapore City Centre was honored as the Design of the Year by the Singapore's

government-sponsored design award "President's Design Award 2010." As 2010 marked the 10th Anniversary for the

Singapore office, this was a well-timed honor.
---
アーシストCaf『 緑 のコトノハ』

Assist Café "Midori no Kotonoha"

Kaoru Mende was a guest on the BS Asahi TV program "Assist Café," which interviews a different earth-friendly professional

every week. Over the five-day period, Mende talked about lighting design and its place in this eco-friendly era by introducing

recent projects and a university student workshop.

社 員 旅 行 Office Retreat

シンガポール →→→ スリランカ

For a relaxing retreat, the entire Singapore Office visited

"Resplendent land" of Sri Lanka. The group visited several famous

architectural sites and enjoied leisurely resort life.

観 月 会

東 京 →→→ 北 海 道

For a fitting winter escape, LPA ventured to the arctic cold of

Hakodate, Hokkaido to enjoy the freshest of seafood and the

great outdoors. Heated snowball fights and table tennis matches

kept the frostbite at bay on this short, but event-filled retreat.

Full Moon Party

To mix things up, the annual LPA open house was dubbed the "Full Moon Party." Under a full

moon and starry, autumn sky, our guests enjoyed a [Korean Autumn Night] with buchimgae,

Korean-style pancake, samgyeopsal, grilled pork, and Makkoli, Korean rice wine.
---
LPA 2010 年 の 概 況 と2011 年 への 展 望
---
LPA 2010 Activities & 2011 Goals

Celebrating the 20th anniversary for LPA in Tokyo and 10 years in Singapore

Lighting Planners Associates Co. was established in Aoyama, Tokyo on 8 August,1990 and our Singapore

office, Lighting Planners Associates Pte Ltd started operations in the year 2000. To celebrate these memorable

occasions for both Tokyo and Singapore, we organized anniversary parties at Sanshu den, Meiji Jingu in Tokyo

and the National Museum of Singapore respectively. It was also a busy year for us; the LPA team in Tokyo has

grown to a staff of 26 while in Singapore we now have 15 staff on board. All 41 of us are motivated and challenged

to work towards innovative lighting design.

Recipient of numerous International Lighting Design Awards

Three of our projects - Tang Plaza Façade Enhancement in Singapore, Alila Villas Uluwatu in Bali, Indonesia, and

ION Orchard in Singapore, received Awards of Merit from the Illuminating Engineering Society of North America

(IES). Also, we received Singapore's President's Design Awards 2010 for working on the Lighting Masterplan for

Singapore City Centre. This was a large scale urban lighting planning project for five central areas of Singapore,

and we are truly honored and pleased that our work was considered worthy of the state annual design award.

Publishing of LPA's third monograph "DESIGNING with SHADOW"

To commemorate the company's 20th anniversary, we have compiled our new lighting design book "Designing

with Shadow" from Rikuyosha publishing Co ,Japan. It had been five years since our last book titled "Lighting

Design for Urban Environments and Architecture" published in 2005. The new book introduces 39 projects since

2005 through 13 keywords compiled along the concepts of light and shadow. We spent a year and half working

on the book which contains many insights of LPA's design philosophy. The book is available worldwide and we

hope you will have a chance to look at it.

Winning the lighting design competition for the historic Tokyo Station

We are proud to have been selected as the lighting designer for the conservation and restoration of Marunouchi

Station building at Tokyo Station. The three story brick building which is one of the historic landmarks of Tokyo, was

built in 1914. It is now undergoing a major facelift and is due to be completed in the spring of 2012. Our intention

is to reproduce this heritage building with the latest lighting technology to create a tranquil and timeless evening

scenery.
---
主 な 寄 稿 ・ 講 演 ・ 出 演 ・インタビューなど

Major Contributions and Interviews
---
LIGHTING DETECTIVES

Candle Night @ Marina Bay Singapore / City Walking Tours / Regular Round

Table Discussion / Children's Workshop / Lighting Detectives Survey /

Transnational Lighting Detectives Core-member Meeting in Lucerne,

Switzerland / Candle Night @ OMOTESANDO - Eco Avenue / Lighting

Detectives Sponsor's Benefit / Lighting Detectives Activities
---
Candle Night

@ marina bay

キャンドルナイト

@ マリーナベイ, シンガポール

Candle Night @ Marina Bay, Singapore

Oct.15

Hosted by the Singapore Lighting Detectives, this was

the first Candle Night event in Southeast Asia, held in

conjunction with the "i Light Marina Bay" at Marina Bay,

an area of Singapore under a large-scale development.

Japanese art university students worked with local art

school students, kindergarteners, and others for a total

of 500 participants. After a candle parade through

Merlion Lion Park, lanterns were placed in the bay, and

floating candlelight decorated the night waterfront.
---
Sponsors;

Krislite Pte Ltd

Technolite (Singapore) Pte Ltd

Strongly Lighting Pte Ltd

Million Lighting Company Pte Ltd

Bizink Associates (S) Pte Ltd

LuxLight Pte Ltd

Lighting Technologies Pte Ltd

Pacific Technical Products Pte Ltd

Martin Professional Pte Ltd

Lutron GL Limited

Philips Electronics (S) Pte Ltd

ERCO Lighting Pte Ltd
---
街 歩 き

City Walking Tours

「 川 崎 工 場 夜 景 バスツアー」 Jun.3

Kawasaki Industrial Area Night Bus Tour

The hottest night tour in recent years is the famous "Kawasaki

Industrial Night Bus Tour." The bus departed from Kawasaki station

and stopped at several viewing locations, including the Kawasaki

Rinko Warehouse for a rooftop view and East Ougishima Park. The

brilliant white, factory and warehouse lights shone bright in the still

night sky and we could almost feel the heat inside the bus from the

intense flare stacks.

「 日 本 橋 川 ・ 神 田 川 ・ 隅 田 川 / 東 京 川 巡 り」 Sep.16

Tokyo River Float on Nihonbashi River,

Kanda River, and Sumidagawa River

In the sprinkling rain, the house boat sailed from Hamamatsucho

Furukawa Pier with 40 Lighting Detectives aboard, to float down 3

rivers, all different sizes and with accompanying cityscape. During

the 3-hour tour, we sailed under the many illuminated bridges of

Sumida River, floated along under the elevated highway structure

covering Nihonbashi River, and were bright-eyed from the colorful

Akihabara reflections on the surface of Kanda River.
---
研 究 会 サロン

Regular Round Table Discussion

第 5 回 Enjoy Green Lighting 2

エコ・アイデアに 満 ちたオフィス 照 明 の 未 来

Enjoy Green Lighting 2: Eco Ideas for Fun Office Lighting

5

Feb.26

After extensive field research on the latest in eco office lighting, we discussed and further experimented as to

what constitutes comfortable, but enjoyable office light. Guest speaker and engineer, Kouichi Kaiho also presented

the latest in uses of natural daylight and future types of office lighting.

こどもワークショップ

Children's Workshop

Nov.16

Chief Mende held a children-based workshop, [Experiencing

Light and Dark], for 3rd graders at Kitayamata Elementry School

in Yokohama. The children first experienced a completely

darkened room and then the light of a single candle. The

children's honest reactions and unique answers to Chief

Mende's questions was a fresh, soul-cleansing experience.
---
照 明 探 偵 団 調 査 Lighting Detectives Survey

東 京 Tokyo, Japan Jun.24-25

Ueno: Night in the Forest of Culture

The Ueno Onshi Park is one of the few forested areas left in the

middle of Tokyo, but it is also a forest of culture with several

museums and historical sites on the grounds. While these facilities

are used mostly during the day, our survey focused on their face at

night. Although the park is surrounded by busy streets, the darkness

closes in on the trees with a bright, night sky visible between

branches and over tree tops. It is a place of stillness wedged

between bustling city life.
---
東 京 Tokyo, Japan Sep.24

Kagurazaka: Reserved Lighting for a Historical Streetscape

Modern Kagurazaka still conveys the atmosphere of the once

flourishing Edo streets. Old Japanese restaurants and bars line the

narrow alleyways with softly glowing lantern light and welcome

signs, one forgets that this is Shinjuku Ward in the middle of Tokyo.

In this historical neighborhood warm lantern light is all but a natural

presence.

上 海 Shanghai, China Oct.20-22

EXPO 2010 SHANGHAI CHINA

One new thing after another without regard to like or dislikes, this is

Shanghai. Daytime is heavy with humidity and the heat plays with

one`s mind, but at night the World Expo is an array of color and

energy. Color lighting and media walls decorate many pavilions for

a very entertaining and lively night life.

京 都 Kyoto, Japan Nov.17-19

Kyoto: Tour of Fall Colors

As a fitting survey for autumn, from morning to night, in the midst

of huge crowds we visited several Kyoto shrines to view fall leaf

illuminations. Whether using simple tricks or bold planning to

illuminate the trees, bright, colorful fall colors decorated the night

During the day, natural light also enhanced the play of fall colors.
---
Transnational Lighting Detectives

スイスでの 主 要 メンバー 会 議

Core-member Meeting in Lucerne, Switzerland

Nov.3-4

Instead of the annual Transnational Lighting Detectives Forum, the core

members stepped back to reevaluate the concept and reflect on 10 years

of history. Core members traveled to the old, lakeside town of Lucerne,

Switzerland to discuss the direction and role of the organization and forum

format in a productive 2-day conference. Each member is very passionate

about lighting and together we can channel this energy and results of this

meeting into Transnational Lighting Detectives activities.

キャンドルナイト @ OMOTESANDO - Eco Avenue

Candle Night @ Omotesando - Eco Avenue

Jun.19

Candle Night 2010 was held for 2 hours in Omotesando on the summer solstice. The theme was "Encounters with

Candles x LEDs." In contrast to candles used for hundreds of years, LEDs are the latest in optical technology, both

came together for hybrid installations along the zelkova lined street. A staff of 611 people, mostly Tokyo-area art

students, were recruited and collaborated to present a unified coexistence of warm candlelight and techno LED

installations. This year also marked the 10th Candle Night in the Omotesando area featuring a photo gallery and

an opening event talk between event supervisors, Shinichi Takemura and Taku Satoh.
---
照 明 探 偵 団 協 賛 企 業 Lighting Detectives Sponsor's Benefit

The following 19 Lighting Industry Professionals of Japan financially sponsor Lighting Detective activities. In appreciation for their

continued support, a benefit was held in December to report on 2010 club activities and reflect on the organizations 20 year history.

Lutron Electronics Co., Inc.

Iwaski Electric Co., Ltd.

Color Kinetics Japan Inc.

Endo Lighting Corp.

ERCO Lighting Ltd.

DN Lighting Co., Ltd.

Panasonic Electric Works Co., Ltd.

Philips Electronics Japan, Ltd.

Maxray Inc.

Yamagiwa corp.

Koizumi Lighting Technology Corp.

Targetti Poulsen Japan Ltd.

Toshiba Lighting & Technology Corp.

Martin Professional Japan Ltd.

Shonan Co., Ltd.

Toki Corporation

Ushio Spax Inc.

Moriyama Corp.

Yamada Shomei Lighting Co., Ltd.

照 明 探 偵 団 の 活 動 Lighting Detectives Activities

02.26

04.25

06.03

06.19

06.24-25

08.17

09.15

09.16

09.24

10.15

10.20-22

10.25

11.03-04

11.16

11.17-19

12.06

12.20

Lighting Detective Salon No. 39

Lighting Detective Newsletter Vol. 36

City Walk Tour No. 38: Kawasaki Industrial Night Bus Tour

Candle Night@OMOTESANDO-Eco Avenue 2010

Lighting Detective Survey: Ueno, Tokyo

Lighting Detective Newsletter Vol. 37

Lighting Detective Newsletter Vol. 38

City Walk Tour No. 39: Tokyo River Float /

Nihonbashi River, Kanda River, & Sumidagawa River

Lighting Detective Survey: Kagurazaka, Tokyo

Candle Night@Marina Bay, Singapore

Lighting Detective Survey: Shanghai World Expo

Lighting Detective Newsletter Vol. 39

Transnational Lighting Detectives Core-member

Meeting in Switzerland

Children's Workshop@Kitayamata Elementary School

Lighting Detective Survey: Kyoto

Lighting Detective Newsletter Vol. 40

Lighting Detective Newsletter Vol. 41
---
Atsushi Itakura Chika Makabe Eleine Ya - Lan Huang Elisa Geraldine Mesa Emiko Nagata

Junko Nagatomo Kanon Fujimoto Kaoru Mende Kentaro Tanaka Laya Eduarudo Jr.

Domingo

Misuzu Nakamura Momoko Muraoka Motoyo Ogawa Natsuko Ueda Noriko Higashi

Shaohua Chen Shigeki Fujii Syunichi Ikeda Takafumi Kubo

Tsutomu Nagatsu

Xiaoyi Li Yaeko Otsuka Yah Li Toh

Yuiko Imoto

Yukiko Saito Yumi Honda Yusuke Hattori
---
Gaurav Jain Genki Watanabe Gita Listia Haruka Sakoda Hiroyuki Miyake

Liwen Chen Maki Jung Mari Kubota Mikine Yamamoto

Misa Fujii

Phraporn

Kasemtavornsilpa

Pum Montharthip

Vanichviroon

Raba'a -Bte -Tainy

Rachel Nakayama

Reiko Kasai

Lighting Planners Associates

2011 Annual Report
---
5-28-10, Jingumae, Shibuya-ku, Tokyo 150-0001, Japan

Tel : +81 3 5469 1022 Fax : +81 3 5469 1023 E-mail : lpa@lighting.co.jp

51B Neil Road, Singapore 088829 Tel : +65 6734 3086 Fax : +65 6734 2786

E-mail : singapore@lighting.co.jp www.lighting.co.jp