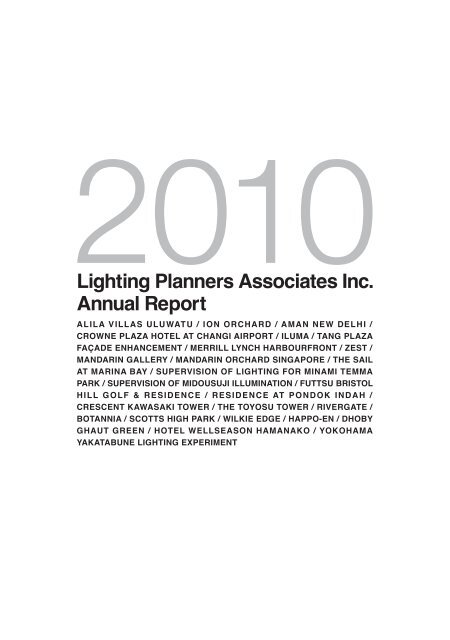 Create successful ePaper yourself
Turn your PDF publications into a flip-book with our unique Google optimized e-Paper software.
2010

Lighting Planners Associates Inc.

Annual Report

AL ILA V ILLAS ULU WATU / I ON ORCHARD / AMAN NEW DELH I /

CROWNE PLAZA HOTEL AT CHANGI AIRPORT / ILUMA / TANG PLAZA

FAÇADE ENHANCEMENT / MERRILL LYNCH HARBOURFRONT / ZEST /

MANDARIN GALLERY / MANDARIN ORCHARD SINGAPORE / THE SAIL

AT MARINA BAY / SUPERVISION OF LIGHTING FOR MINAMI TEMMA

PARK / SUPERVISION OF MIDOUSUJI ILLUMINATION / FUTTSU BRISTOL

HILL GOLF & RESIDENCE / RESIDENCE AT PONDOK INDAH /

CRESCENT KAWASAKI TOWER / THE TOYOSU TOWER / RIVERGATE /

BOTANNIA / SCOTTS HIGH PARK / WILKIE EDGE / HAPPO-EN / DHOBY

GHAUT GREEN / HOTEL WELLSEASON HAMANAKO / YOKOHAMA

YAKATABUNE LIGHTING EXPERIMENT
---
アリラ ヴィラズ ウルワトゥ

ALILA VILLAS ULUWATU

INDONESIA 2009 PT BUKIT ULUWATU VILLAS / WOHA / CICADA

This is a villa style resort in southern Bali based on the concept "Force of Nature" and five key elements,

wind, moonlight, fire, water, and trees to create a comfortable resort-style lighting design. We used not

only the natural warmth of incandescent lamps, but also specified fluorescent lamps and LEDs for a new

age of resort lighting, integrating the use of candles and LEDs.
---
アイオン オーチャード

ION ORCHARD

SINGAPORE 2009 ORCHARD TURN

DEVELOPMENTS / BENOY ARCHITECTS

A commercial complex opened with much anticipation

at a prime location along the most famous shopping

street in Singapore. The powerful curved form of the

glass façade is covered with LEDs, and at night the

view from the inside is as impressive as the media

art from local artists reflected across the façade.
---
アマン ニューデリー

AMAN NEW DELHI

INDIA 2009 LODHI PROPERTY COMPANY /

KERRY HILL ARCHITECTS

The first city hotel for Aman Resorts was completed.

Traditionally used as a sunshade or partition, the

geometric patterned jali has been rearranged in a

strikingly beautiful contemporary style. During the day,

bright sunlight falls on the jali creating artistic shadows

and at night its silhouette is visible through the warm

glow of light radiating from the interior.
---
クラウンプラザホテル, チャンギ 空 港

CROWNE PLAZA HOTEL

CHANGI AIRPORT

SINGAPORE 2009 LUM CHANG DEVELOPMENTS /

WOHA

The location of the hotel just connected to the Airport

Terminal made it unique. Architecture and lighting

complement each other, giving a tropical introduction

of Singapore to guests and patrons. Darkness is given

importance to create a resort-like ambience and the

textures of materials and patterns of surfaces are

emphasized.
---
イルマ

ILUMA

SINGAPORE 2009 JACK INVESTMENT /

WOHA / REALITIES: UNITED

In the midst of bazaars, food stalls, large

shopping mall, and art and cultural center of Bugis is

the new entertainment center with fashion, cineplex,

and theme-design restaurants. At dusk, the metal

façade is a colorful reflection of the media wall, a new

landmark in this chaotic district.
---
タン・プラザ ファサード 改 修

TANG PLAZA FAÇADE

ENHANCEMENT

SINGAPORE 2009 TANG HOLDINGS

This project is the renovation of the lighting of a

historic commercial building. The Orchard Road corner

lot is a prime location for this fine landmark, a massive,

but stately architectural structure with red eaves and

Chinese inspired motifs. Our energy-efficient lighting

plan specifies super - narrow high performance

spotlights and LEDs for a quality design.
---
メリルリンチ ハーバーフロント

MERRILL LYNCH HARBOURFRONT

SINGAPORE 2008 MAPLETREE INVESTMENTS /

DCA ARCHITECTS

This 6-story office building in the Harborfront district is

a simple glass curtain wall structure wrapped in five

bands of light. The lighting operation, representing

clouds and waves, are used to create a soothing and

fluid façade image. On the rooftop we have added

secret lighting that can only be seen from the ropeway

in transit above.
---
ゼスト

ZEST

INDIA 2009 SUPER POTATO

A bar, lounge, and dinning room restaurant with 6

open kitchens and spacious seating for 180, opened

on the top floor of the luxury shopping mall, DLF

Emporio Mall in New Delhi. Skylights and large

windows flood the lunch crowd with natural light, but

it was a challenge to transform the atmosphere to suit

the needs of a restaurant at night.
---
マン ダリン ギャラリー / マン ダリン オーチャード シンガポール

MANDARIN GALLERY / MANDARIN ORCHARD SINGAPORE

SINGAPORE 2009 OVERSEAS UNION ENTERPRISE / DP ARCHITECTS

Facade lighting for a mixed usage building including retail & a hotel along Orchard road. Not competing with

fancy colorful & moving facade lighting along this busy stretch, we aimed towards elegance, using not

colorful light, but variations of white. Platinum white light boxes for the retail area & champagne gold for the

hotel are randomly encrusted.
---
ザ セイル アット マリーナベイ

THE SAIL AT MARINA BAY

SINGAPORE 2008 TEAM DESIGN / NBBJ

One of the tallest residential buildings in the Central Business District, this development comprises of two

towers delicately poised to resemble sails. The lighting treatment attempts to frame this linearity, while not

disturbing the privacy and views of the residents. At the tower tops, the linear light dissolves into stardust

sparkle, a subtle celebration of the urban spirit.
---
南 天 満 公 園 景 観 照 明 監 修

SUPERVISION OF LIGHTING FOR

MINAMI TEMMA PARK

OSAKA 2009 OSAKA / IWASAKI ELECTRIC

In the center of Osaka and on the westside of

Nakanoshima, Minami-Temma Park is a popular spot

for cherry blossom viewing. A four season plan

to enjoy trees and flowers was selected through a

design competition. Near the waterfront, LEDs hidden

in the hand railing, "Turner Light" create a relaxing

atmosphere and a magical night waterscape.
---
御 堂 筋 イルミネーション 監 修

SUPERVISION OF

MIDOUSUJI ILLUMINATION

OSAKA 2009 OSAKA / LEM DESIGN STUDIO

A design competition called the "Urban Axis of Light"

was held for Osaka's main street Midousuji. The main

designer used the distinctive ginkgo trees lining the

street to express linear light. Some buildings along the

street are also lit up creating a 1.2 km long landmark

of light.
---
富 津 ブリストルヒル

FUTTSU BRISTOL HILL GOLF &

RESIDENCE

CHIBA 2009 RESORT VILLA FUTTSU /

DESIGN INDEX / ADH ARCHITECTS /

STUDIO ON SITE

Just through the tunnel is a new "gated community"

with golf course and residential homes. Inside the

gate is a quiet community surrounded by nature and

seemingly cut off from the rest of the world. The

entrance tunnel, leading to this extraordinary world,

reflects that anticipation and premium atmosphere.
---
レジ デンス アット プンドック インダ

RESIDENCE AT PONDOK INDAH

INDONESIA 2009 IAW COMPANY / CICADA

A project encompassing two low-rise residences for a

owner and his mother. The site faces a small stream

with a golf course on the opposite shore. We wanted

to create an environment where both reflections on the

stream and lights from the golf course are visible from

a large balcony. Also the lighting accents multiple

pieces of artwork and the minimalist design of the

residence.
---
クレッセント 川 崎 タワー

CRESCENT KAWASAKI TOWER

KANAGAWA 2009 MORIMOTO / NIKKEN SEKKEI /

CURIOSITY

Designed to offer "extraordinary hospitality," a sequence

of light transforms the public space, starting on the first

floor and continuing to the second, of a new tower

condominium near Kawasaki Station. Lighting changes

according to different belts of time so residences can

experience the transition of time throughout the day.
---
THE TOYOSU TOWER

THE TOYOSU TOWER

TOKYO 2009 MITSUI FUDOSAN / SHIMIZU

CORPORATION / YOSHIKI TODA LANDSCAPE &

ARCHITECT

This tower condominium was recently completed in

the fast-growing area of Toyosu. The small paths in

the green landscape are blanketed with a pleasant

rhythm of light and shadow and a cascade of light

leads residents to a brightly up lit canopy. This indirect

lighting creates a welcoming atmosphere around the

entrance. Inside, the lighting is warm and welcoming

for a comfortable, but classy touch.
---
リバーゲート

RIVERGATE

SINGAPORE 2009 CAPITALAND RESIDENTIAL

SINGAPORE & HWA HONG CORPORATION /

COX ARCHITECTS & PLANNERS / RSP ARCHITECTS

PLANNERS & ENGINEERS / SITETECTONIX

This new condominium is a three tower complex along

the Singapore River. The distinctive landscape follows

the natural bends of the river and lighting emphasizes

this geometry. Lighting also highlights lush suspended

gardens that dot the towers and simulated moonlight

falls on the main lawn.
---
ボタニア

BOTANNIA

SINGAPORE 2009 CITY DEVELOPMENTS LIMITED /

LEONIE COURT WEST COAST JOINT VENTURE /

MKPL ARCHITECTS / CICADA

This large condominium comprising of 11 buildings in

West Coast is surrounded by lush greenery. Serving

as the hub of the complex, the 7.5 meter thin, flat roof

cantilever of the clubhouse is highlighted, seeming to

float overhead. Also, light radiating from the inside out,

expresses the vitality of such tropical vegetation as the

Tenbusu tree, a gnarly work of art.
---
スコッツ ハイ パーク

SCOTTS HIGH PARK

SINGAPORE 2009 CAPITALAND RESIDENTIAL / MKPL ARCHITECTS

Glowing bollards dot the walkway and create a sense of welcoming along the narrow, but and deep

entrance. Indirect light reflecting from the expansive white architecture subtly lights up the surrounding

greenery in silent contrast to the busy and noisy adjacent Scotts Road.
---
ウィルキー エッジ

WILKIE EDGE

SINGAPORE 2008 WOHA

Wilkie Edge is a multi-complex with shopping, offices,

and service apartments on the corner of Selegie and

Wilkie Roads. After intensive study of the surrounding

environment, we selected the unique 'cut-outs' of the

architectural form into several parts for effective façade

lighting. The lighting defines each cut-out crisply to make

the concept of the architectural form even cleaner.

八 芳 園 庭 園 照 明

HAPPO-EN

TOKYO 2009 HAPPO-EN

This garden lighting project surrounds the widely popular wedding ceremony and reception facility. Using the beautiful

contrast of lighting and shadow, we added a sense of depth to the thickly forested garden. The trees are silhouettes

against the brightly lit walls of the chapel to create depth, but also a spiritual atmosphere. Light also highlights a

waterfall and shimmers on the surface of a small murmuring brook, welcoming guests to the garden.
---
ドービーゴート グリーン

DHOBY GHAUT GREEN

SINGAPORE 2009 URBAN REDEVELOPMENT

AUTHORITY / SCDA

A delicate intervention in the heart of the urban fabric,

the project is an invitation to the public for events, talks,

performances and offers itself as an open space,

gracefully framed by a lattice structure of aluminium

and timber. Lighting is selectively highlighting both

these materials, and the net reflected light is cast into

the seating space of the amphitheater.
---
ホ テルウェルシーズン 浜 名 湖 庭 園 照 明

HOTEL WELLSEASON HAMANAKO

SHIZUOKA 2009 NIWAAKI

Facing Hamana Lake in the middle of Kanzanji Hot Springs Resort, we were commissioned to design the

garden lighting of this new hotel expansion. In the center of the garden stands a large, stone wall fountain.

Our lighting design emphasis the contrasting features of the stone and flowing water. Also visible to guests

going to and from the hot springs bath, illumination of the surrounding trees reflects on the surface of the

water for a relaxing spa experience.
---
横 浜 市 屋 形 船 演 出 照 明 実 験

YOKOHAMA YAKATABUNE LIGHTING

EXPERIMENT

KANAGAWA 2009 URBAN DESIGN DIVISION,

CITY OF YOKOHAMA

Even in this modern day, traditional houseboats reflect

the elegant style of the Edo Era. The houseboats,

plucked from the past, now float and actually mesh well

with the urban nightscape of Minato Mirai. The goal of

this experiment was to create a romantic night scene

along the waterfront, but the soft glow from translucent

paper windows and reflections on the water actually

created a new image of traditional Japan.
---
LPA TOPICS

Guangzhou International Lighting Technology Symposium / Enlighten

Americas 2009 : Leading with Light / LIGHTING DESIGN FORUM 2009,

Seoul / LPA Committee / LPA Office Retreat / LPA Open House / Tokyo

ANNEX / LPA 2009 Activities & 2010 Goals / Major Contributions and

Interviews
---
Guangzhou International Lighting Technology Symposium

Kaoru Mende traveled to Guangzhou, China to present a lecture titled, "Iconic Lighting /

Lighting Design as a City Landmark". The lecture focused on the social role and

importance of iconic architecture in our modern cities with several examples from on-going

LPA projects in Shanghai and Singapore. Mende's lecture drew an explosive round of

applause from the audience, mostly Chinese, but with several other Asian countries in

attendance.

Photo : GAN Youzhi

Enlighten Americas 2009 : Leading with Light

As one of the main presenters, Kaoru Mende attended a conference hosted by the

International Association of Lighting Designers (IALD) in Sonoma, USA. Mende's

lecture, "Seven Recipes in Ecological Lighting Design" considered 7 lighting

design methods fit for this world rudely awaken by the eco boom in recent years.

Many lighting professionals from around the world expressed great appreciation

for Mende's views.

LIGHTING DESIGN FORUM 2009, Seou l

Kaoru Mende was invited to attend the Lighting Design Forum in Seoul,

Korea. Mende's keynote lecture, "Enjoy Lighting with Ecology," was not

limited to the general idea of ecology, but extended several hints for

enjoyable lighting design with attention to the environment. The lecture

was enthusiastically received, as many in attendance were seen furiously

taking notes.
---
LPAコミッティ LPA Committee

To backup our work as designers, the LPA Committee was formed last year

to standardize, accumulate data, and streamline internal material. Staff are

assigned to one of four committees, 1, Lighting Methods and Detail 2,

Presentation 3, New Technology Information or 4, Archive, to persue group

goals and post regular progress reports.

社 員 旅 行

LPA Office Retreat

The Tokyo office staff of 20 excaped from the bitter cold

winter in Tokyo for a retreat in warm and refreshing Okinawa.

We enjoyed traditional performing arts, awamori liquor, a

remote island excursion, and archological tours.

納 涼 会 LPA Open House

The summer open house has become an annual event. The

theme for the 2009 Summer Open House was American

Style with burgars and beer on the LPA roof terrace.

東 京 ANNEXのお 知 らせ

Tokyo ANNEX

Presently, the Tokyo office staffs 23 people, a crowd in our small office. From December 2009, 5-6 members of the staff will

be working out of the new "Annex," a small office rented in the vacinity. We are settling in nicely and appologize for an

future confusion.

1-20-22 Shibuya, Shibuya-ku, Tokyo 150-0002 KITAZAWA-KAN 401 TEL : 050-8881-1940
---
LPA 2009 年 の 概 況 と2010 年 への 展 望
---
LPA 2009 Activities & 2010 Goals

Busy year again!

We had anticipated the slowdown of our workload in reflection to the downward movement of the world economy.

To our surprise, we remained very busy despite facing some program changes and interruptions of ongoing

projects and we are very fortunate to come across numerous interesting projects. We certainly look forward to

more such projects in the year 2010.

Starting up internal design committees

In order to strengthen our design skill and work efficiency, we have started four internal design committees on

"design details" "new technology information" "LPA archive" and "presentation". The goal is to standardize

respective categories and to make full use of the company's organizational power. We will continue developing

the committee work this year.

Completion of numerous projects

Both our Tokyo and Singapore offices have been engaged by increasing numbers of overseas projects. Numerous

projects in various locations were completed in the year 2009. In 2010, we anticipate a number of project completions

in Japan.

"Eco" boom for lighting design

The year 2009 can be described as an "Eco boom" in the lighting design industry. Mr. Mende was invited to give

lectures in different cities under the theme on ecological lighting. Also, our Lighting Detectives forums and events

were organized along keywords such as "low- carbon", "green" or "environmentally friendly". Besides creating

comfortable and pleasant lighting effects and atmospheres, we all are well aware of these additional considerations

and responsibilities in our profession.

Recipient of international lighting design awards

Three projects;" Swarovski Ginza" in Tokyo, "Commemorating the 50th anniversary of the restoration of Meiji Jingu

AKARIUM", in Tokyo and " Alexandra Arch" in Singapore received prestigious international lighting design awards-

Awards of Merit from The International Illumination Design Awards (IIDA) instituted by the Illuminating Engineering

Society of North America (IESNA). Interestingly, each of the three projects have a very different nature and approachsleek

shop lighting with the latest energy saving light sources, a shrine that brought out the beautiful darkness

around it, and a civic structure with color changing light.

Non-profit cultural activities "8th Transnational Lighting Detectives Forum" held in Beijing

Since its inaugural forum in Tokyo in 2002, our annual transnational lighting detectives (Tanteidan) forum has been

held in cities of Stockholm, Hamburg, New York, Singapore, Copenhagen and Belgrade. The 2009 forum was held

in Beijing,- a city continuing to be transformed after the Olympics. Around 60 "detectives" went into the streets to

search the lighting environment and made "Eco charts". We enjoyed the interaction with local students and lighting

enthusiasts. We will continue interacting with our associates around the world!
---
主 な 寄 稿 ・ 講 演 ・ 出 演 ・インタビューなど

Major Contributions and Interviews
---
LIGHTING DETECTIVES

Regular Round Table Discussion / A Boat Ride with the Lighting Detectives

/ Transnational Tanteidan Forum 2009 in Beijing / Lighting Detectives

Survey / Candle Night / City Walking Tours / Lighting Detectives Sponsor's

Benefit / Lighting Detectives Activities
---
研 究 会 サロン

Regular Round Table Discussion

Last year, the 3rd installment of our salon series on Residential Lighting discussed the "future" of lighting and our

homes. After revising the overall theme to "Enjoy Green Lighting," the 4th installment also discussed the near

future and realistic possibilities with an environment-friendly twist.

第 3 回 住 まいのあかり 過 去 ・ 現 在 ・ 未 来 3

Residential Lighting: Past, Present, and Future

未 来 の 住 宅 照 明 を 展 望 する

Looking Forward into the Future of

Residential Lighting

3

LED is the light source; the home is the instrument; and the occupants of the

home are the benefactor. From these three angles the Lighting Detectives

investigated the future of residential lighting, dissecting it as not just

visionaries, but reflecting on current residential lighting and experimenting

with new possibilities. Guest speaker, interior designer, Mr. Yukio Hashimoto

presented his theory "that nature and light should have a natural presence

and fill a home with functional lighting, adapted for the occupant's needs."

第 4 回 Enjoy Green Lighting 1

住 宅 /エコ・アイデアに 満 ちた 楽 しい 住 宅 照 明

Residential Lighting: Eco Ideas for Fun Residential Lighting

4

Green energy, green electronics, Act on Promoting Green Purchasing…

Advocation for energy and natural resource conservation, has left the lighting

profession very vulnerable. The conception of "Saving Energy = Green" has

brought the industry to almost a stand still. Accordingly, this salon's theme

mixed the technical "Green" and the fun spirited "Enjoy" together for a discussion

on ecological, but enjoyable residential lighting. Guest Speaker, architect,

Mr. Kazuhiko Namba, shared his personal theory on ecological housing and

discussed the role of architecture in conservation.
---
A B o at Ride w it h t he

L ig hting D e t e c tiv e s

E x plor a tio ns of W a t e r f r o n t

L ig ht s c a p e s of S in g a p o r e

シンガポール 照 明 探 偵 団 トーク&ボートツアー

水 辺 に 見 るシンガポールの 光 景 観

The Lighting Detectives, Singapore organised Talk & Boat tour

as a part of "Archifest 09", an annual architectural festival

hosted by the Singapore Institute of Architects.Talk on the

theme of "Water and Light" is followed by a Boat tour along

Singapore River with 56 participants. The tour started from a

bright downtown, passed the bay area with many construction

sites and reached a quiet residential area in the east. The

participants observed the change of waterfront lightscape, as

well as lighting installations including bridge light-up, experiment

on pole light and floating light along the tour route.
---
第 8 回

Transnational Tanteidan Forum 2009 in Beijing

Oct.13-16 Central Academy of Art No.8, HuaJiaDi Nanjie, Chaoyang District, Beijing

The 8th Annual Transnational Tanteidan Forum was held in Beijing, a city still high on the excitement of the 2008

Olympics. Through workshops and forum, we discussed the theme "Enjoy Eco Lighting". Students from KTM

(Stockholm), Musashino Art University(Tokyo), and Tsinghua University(Beijing) also paticipated in the 3-days

workshop. From the Japanese and Western perspective, we were apprehensive about irregular happenings at the

Beijing event, but the new Beijing Chapter was a very passionate and dedicated host with several local volunteers

to help pull off a very productive workshop and forum.
---
照 明 探 偵 団 調 査 Lighting Detectives Survey

東 京 Tokyo, Japan Mar.24

Asakusa: Asakusa-style and the Shape of Light

One of Tokyo's most popular entertainment districts, Asakusa

flourished with kabuki, opera, and comic storytellers from the Meiji

Era to the end of WWII. The Lighting Detectives found a wide range

of decorative streetlights and a lighting atmosphere fitting for this

lively cultural spot.
---
ホーチミン・ホイアン Ho Chi Minh City & Hoi An Ancient Town, Vietnam Apr.07-11

Vietnam : OLD×NEW

Once known as "Paris of the Orient," traditional cityscape is

preserved, drawing many tourists to Hoi An. In contrast, Ho Chi Min

City is covered in construction sites, evident of a new economy.

These two Vietnamese cities reveal different characteristics as we

surveyed the lighting environment of each.

東 京 Tokyo, Japan Jul.31

Shimokitazawa: A calm lighting experience like a

still lakebed

Shimokitazawa is a neighborhood of small shopping streets and

alleyways, projecting a strange, but comfortable atmosphere, as

people crowd the backstreets until late in the night. However, plans

to replace this quaint neighborhood with arterial roads and high-rises

are underway. The detectives took what maybe a last chance to

survey this area before it is "defaced."

北 京 ・ 天 津 Beijing & Tianjin, China Oct.17-20

China: Post-Olympic bustle and bursting national pride.

From the 2008 Beijing Olympics to the 60th Anniversary as a nation,

China is a very vibrant place. For these big national events the

Beijing transportation network, including roads and subways, was

upgraded, altering the image of streets crowded with masses of

bicycles. To survey this rapidly changing cityscape, the Lighting

Detectives selected two cities, the capital, Beijing, and special

economic zone, Tianjin.
---
キャンドルナイト @ OMOTESANDO - Eco Avenue

Candle Night @ Omotesando - Eco Avenue

Jun.19

Starting in 2005, the 2009 summer solstice marked the

6th Omotesando Candle Night event. The theme, "Green,"

is a simple and friendly idea showing affection for the

earth and all natural environments. Last year the ban on

LED`s was lifted, leaving the designers with more design

options. A staff of 482 areaTokyo art students used

candles and LED`s side-by-side in colorful displays along

the zelkova tree-lined street. In cooperation with the

annual event, many boutiques along Omotesando also

participated, giving it a very local feel.

街 歩 き

City Walking Tours

「Tokyo City Kei ba トゥインクルレース」 Oct.23

Tokyo City Keiba: Twinkle Race

TV commercials featuring famous teenage heartthrobs are dissolving

the tough-boy image of horseracing, making it more accessible to

the public. For a change of pace, the Lighting Detectives gathered at

Tokyo City Keiba for the "Twinkle Race." Galloping full speed around

the track or walking gracefully in the paddock, lights blazed down on

the thoroughbreds during race operation hours.
---
照 明 探 偵 団 協 賛 企 業 Lighting Detectives Sponsor's Benefit

Lighting Detective activities are financially supported by 20 main

companies of the Japanese lighting industry. Every December we

pay appreciation to these contributors at a benefit with special

reports on recent detective activities, a Lighting Detective quiz,

and a forecast for upcoming events. Last year Chief Mende and

the detectives hosted the benefit at the Selan Resturant in Gaienmae.

照 明 探 偵 団 の 活 動 Lighting Detectives Activities

01.16

02.25

03.24

04.07-11

06.19

07.25

07.31

10.13-16

10.17-20

10.23

10.30

11.13

11.25

Lighting Detective Salon No. 37

Lighting Detective Newsletter No. 33

Lighting Detective Survey: Asakusa, Tokyo

Lighting Detective Survey: Ho Chi Minh & Hoi An, Vietnam

candle night@OMOTESANDO - Eco Avenue 2009

Lighting Detective Newsletter No. 34

Lighting Detective Survey: Shimokitazawa, Tokyo

Transnational Tanteidan Forum 2009 in Beijing

Lighting Detective Survey: Beijing & Tianjin, China

City Walking Tour No. 37: Tokyo City Keiba Twinkle Race

Lighting Detective: Singapore, Talk & Boat Tour

Lighting Detective Salon No. 36

Lighting Detective Newsletter No. 35
---
Atsushi Itakura Azusa Matsui Chiaki Tanikawa Chika Tanaka Daisuke Yano

Junko Nagatomo Kaoru Mende Kentaro Tanaka Laya Eduarudo Jr.

Domingo

Mari Kubota

Phraporn

Kasemtavornsilpa

Raba'a -Bte -Tainy Rachel Nakayama Reiko Kasai Syunichi Ikeda

Tsutomu Nagatsu Xiaoyi Li Yaeko Otsuka Yah Li Toh

Yuiko Imoto

Yuki Ogawa Yukiko Saito Yumi Komatsu Yusuke Hattori
---
Eleine Ya - Lan Huang Elisa Geraldine Mesa Emiko Nagata Gaurav Jain Hiroyuki Miyake

Mikine Yamamoto Misa Fujii Momoko Muraoka Motoyo Ogawa

Shigeki Fujii Takafumi Kubo Takeo Sugamata

Lighting Planners Associates Inc.

2010 Annual Report
---
5-28-10, Jingumae, Shibuya-ku, Tokyo 150-0001, Japan

Tel : +81 3 5469 1022 Fax : +81 3 5469 1023 E-mail : lpa@lighting.co.jp

51B Neil Road, Singapore 088829 Tel : +65 6734 3086 Fax : +65 6734 2786

E-mail : singapore@lighting.co.jp www.lighting.co.jp