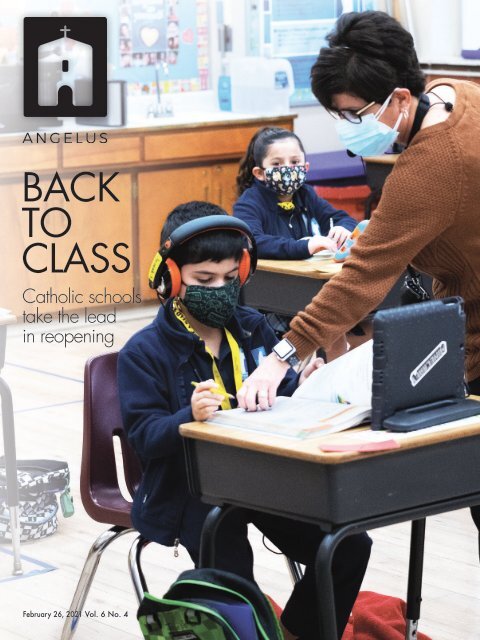 Angelus News | February 26, 2021 | Vol. 6 No. 4
Joseph Salinas, a first-grader at Holy Name of Mary School in San Dimas, gets a helping hand from teacher Maria Bartelt as classmate Elia Castaneda looks on. Holy Name is one of the more than 60 Catholic schools in the Archdiocese of Los Angeles that have opened for in-class instruction so far. On Page 10, Tom Hoffarth looks at how Catholic schools have largely led the way in safely returning to the classroom during the COVID-19 pandemic, and at what other schools can learn from their struggles and successes.
Joseph Salinas, a first-grader at Holy Name of Mary School in San Dimas, gets a helping hand from teacher Maria Bartelt as classmate Elia Castaneda looks on. Holy Name is one of the more than 60 Catholic schools in the Archdiocese of Los Angeles that have opened for in-class instruction so far. On Page 10, Tom Hoffarth looks at how Catholic schools have largely led the way in safely returning to the classroom during the COVID-19 pandemic, and at what other schools can learn from their struggles and successes.
SHOW MORE
SHOW LESS
You also want an ePaper? Increase the reach of your titles
YUMPU automatically turns print PDFs into web optimized ePapers that Google loves.
ANGELUS

BACK

TO

CLASS

Catholic schools

take the lead

in reopening

February 26, 2021 Vol. 6 No. 4
---
If you've ever wondered what will happen when

a loved one dies or how to plan for your own passing,

then don't miss this informative, FREE online seminar:

My Father's House

What to expect When a Loved One Dies,

How to Prepare for Your Own Final Needs...

From a Catholic Perspective

We'll walk you through the steps you'll take when

a family member passes and explain why preplanning

for yourself is so important.

Wednesday, March 10, 2021 * 7:00 PM * Q & A to follow

Saturday, March 13, 2021 * 11 AM * Q & A to follow

Pre-registration required at: CatholicCM.org/webinars

Questions?

Please contact Outreach@CatholicCM.org

or call 213-637-7810

¿Haz pensado alguna vez qué pasaría si alguno de tus

seres queridos muere y además cómo planearías

tu propio funeral? Si es así, no te pierdas este

próximo taller informativo, llamado:

La Casa de mi Padre,

Qué esperar cuando un ser querido fallece

y como praparamos nuestras necesidades del funeral

desde una perspectiva Católica.

Te mostraremos paso a paso que hacer cuando

tu familia se enfrenta a una situación así. También

explicaremos la importancia de Planear con anticipación.

¿Cuándo? Jueves, 11 de marzo, 2021 * Hora: 7:00 PM

O Sábado, 13 de marzo, 2021 * Hora: 2:00 PM

Continuaremos con una sesión de preguntas y respuestas.

World

El curso es gratuito pero requiere registrarse a:

catholicCM.org/webinars

¿Preguntas?

Email: Outreach@CatholicCM.org

o llama al 213-637-7810

05022021_CCM_Angelus_FP_March.indd 1

2/9/21 9:39 PM
---
ON THE COVER

Joseph Salinas, a first-grader at Holy Name of Mary School in San Dimas,

gets a helping hand from teacher Maria Bartelt as classmate Elia Castaneda

looks on. Holy Name is one of the more than 60 Catholic schools in the

Archdiocese of Los Angeles that have opened for in-class instruction so far.

On Page 10, Tom Hoffarth looks at how Catholic schools have largely led the

way in safely returning to the classroom during the COVID-19 pandemic, and

at what other schools can learn from their struggles and successes.

IMAGE:

Father Brian Nunes, vicar general and moderator of

the Curia of the Archdiocese of Los Angeles, gives holy

Communion to a young man at the annual World Day

of the Sick Mass celebrated at the Cathedral of Our Lady

of the Angels Feb. 13. The Mass was co-hosted by the

Order of Malta and included a special blessing for the

sick transmitted to viewers following via livestream.

VICTOR ALEMÁN

VICTOR ALEMÁN

Contents

Pope Watch 2 How college missionaries pulled off a COVID-proof annual conference 18

Archbishop Gomez 3 John Allen: Signs that the pope's periphery strategy is paying off in Myanmar 20

World, Nation, and Local News 4-6 Mike Aquilina: How a pandemic can help us get 'Lentier' than ever this year 22

Scott Hahn on Scripture 8

Kathryn Lopez: Why Lent is more than a feeling 26

Father Rolheiser 9

Greg Erlandson on pandemic instincts that don't change 28

Looking for God in the secular sermons of this year's Super Bowl 30

Heather King makes the case against 'contriving to be controversial' 32

9:39 PM
---
POPE WATCH

FOLLOW US

www.angelusnews.com

www.la-archdiocese.org

facebook.com/AngelusNews

info@angelusnews.com

AngelusNews

@AngelusNews

@AngelusNews

February 26, 2021

Vol. 6 • No. 4

3424 Wilshire Blvd., Los Angeles, CA 90010-2241

(213) 637-7360 • FAX (213) 637-6360 — Published

by the Roman Catholic Archdiocese of Los Angeles

by The Tidings (a corporation), established 1895.

Publisher

ARCHBISHOP JOSÉ H. GOMEZ

Vice Chancellor for Communications

DAVID SCOTT

Editor-in-Chief

PABLO KAY

pkay@angelusnews.com

Multimedia Editor

TAMARA LONG-GARCÍA

Production Artist

DIANNE ROHKOHL

Photo Editor

VICTOR ALEMÁN

Managing Editor

RICHARD G. BEEMER

Assistant Editor

HANNAH SWENSON

Circulation

CHRIS KRAUSE

Advertising Manager

JIM GARCIA

jagarcia@angelusnews.com

ANGELUS is published biweekly

by The Tidings (a corporation),

established 1895. Periodicals postage

paid at Los Angeles, California.

One-year subscriptions (26 issues),

$30.00; single copies, $3.00 ©

2020 ANGELUS (2473-2699). No part of this

publication may be reproduced without the written

permission of the publisher. Events and products

advertised in ANGELUS do not carry the implicit

endorsement of The Tidings Corporation or the

Archdiocese of Los Angeles.

POSTMASTER: Send address changes to:

ANGELUS, PO Box 306, Congers, NY 10920-0306.

For Subscription and Delivery information, please

call 844-245-6630 (Mon.-Fri., 7 a.m.-4 p.m. PT).

A season of hope

The following is adapted from Pope

Francis' message for Lent 2021, released

Feb. 12.

During this season of conversion,

let us renew our faith, draw from the

"living water" of hope, and receive

with open hearts the love of God,

who makes us brothers and sisters in

Christ.

Fasting, prayer, and almsgiving,

as preached by Jesus (cf. Matthew

6:1–18), enable and express our

conversion. The path of poverty and

self-denial (fasting), concern and

loving care for the poor (almsgiving),

and childlike dialogue with the Father

(prayer) make it possible for us to live

lives of sincere faith, living hope and

effective charity.

Lent is a time for believing, for

welcoming God into our lives and

allowing him to "make his dwelling"

among us (cf. John 14:23). Fasting involves

being freed from all that weighs

us down — like consumerism or an

excess of information, whether true or

false — in order to open the doors of

our hearts to the One who comes to

us, poor in all things, yet "full of grace

and truth" (John 1:14): the Son of

God our Savior.

In these times of trouble, when everything

seems fragile and uncertain,

it may appear challenging to speak of

hope. Yet Lent is precisely the season

of hope, when we turn back to God

who patiently continues to care for

his creation, which we have often

mistreated (cf. "Laudato Si'," 32–33;

43–44).

St. Paul urges us to place our hope

in reconciliation: "Be reconciled

to God" (2 Corinthians 5:20). By

receiving forgiveness in the sacrament

that lies at the heart of our process

of conversion, we in turn can spread

forgiveness to others.

Through recollection and silent

prayer, hope is given to us as inspiration

and interior light, illuminating

the challenges and choices we face in

our mission. Hence the need to pray

(cf. Matthew 6:6) and, in secret, to

encounter the Father of tender love.

Love is a gift that gives meaning to

our lives. It enables us to view those in

need as members of our own family,

as friends, brothers, or sisters. A small

amount, if given with love, never

ends, but becomes a source of life and

happiness, like in the case of the widow

of Zarephath, who offered a cake

of bread to the prophet Elijah (cf. 1

Kings 17:7–16).

It was also the case with the loaves

blessed, broken, and given by Jesus to

the disciples to distribute to the crowd

(cf. Mark 6:30–44). Such is the case,

too, with our almsgiving, whether

small or large, when offered with joy

and simplicity.

Love, following in the footsteps of

Christ, in concern and compassion

for all, is the highest expression of our

faith and hope.

To experience Lent with love means

caring for those who suffer or feel

abandoned and fearful because of the

COVID-19 pandemic. In these days

of deep uncertainty about the future,

let us keep in mind the Lord's word to

his servant, "Fear not, for I have redeemed

you" (Isaiah 43:1).

Papal Prayer Intention for February: We pray for women who are victims of violence,

that they may be protected by society and have their sufferings considered and heeded.

2 • ANGELUS • February 26, 2021
---
Trust in the Lord

NEW WORLD

OF FAITH

BY ARCHBISHOP JOSÉ H. GOMEZ

Lent is a good time to remember

what we are here for, and to once

again center our lives on our purpose.

"Be holy as your Father in heaven

is holy," Jesus commanded. And St.

Paul said, "This is the will of God —

your sanctification."

God wants us to be holy, to be

saints. This is God's will for you

and for me; this is his plan for every

person. And he orders his creation

according to his purposes, which is

our sanctification and salvation in

Christ.

It is simple. It is beautiful. It is the

whole truth about our lives. It is the

whole truth about the world and

about history.

Our challenge is to trust in Jesus, to

believe in his love for us, to believe

that he has a plan for our lives, and

to entrust ourselves totally to him,

seeking his will in all things.

We enter into Lent for a second year

now under the shadow of the coronavirus

pandemic. Since last Lent,

we have seen our lives disrupted and

disordered by this deadly disease.

Our faith has been tried and tested in

many ways.

My prayer this year is that we will

make this Lent a time to renew our

trust in the Lord, to strengthen our

confidence in God's personal love for

each one of us.

Through our prayer, our sacrifices,

and almsgiving, I hope that we can

come to a new awareness of God's

presence in this pandemic, to understand

that even through the suffering

and pain, God is carrying out his

plan of love. He is still working to

make us saints.

In the Scriptures, trust in the Lord

is the constant call and command

to believers. Trust in his holy name.

Trust in his word. Trust in his

steadfast love, his mercy, his saving

power. We cannot rely on ourselves.

God alone must be our rock and our

refuge, our help and our shield.

God's providence, his plan for

creation and his tender care for us, is

at the heart of Our Lord's teaching.

In the Sermon on the Mount, he

speaks of our heavenly Father feeding

the birds in the sky and causing the

wildflowers to grow.

Jesus teaches us not to worry about

our lives — not about what we will

eat, what we will drink, or what will

happen tomorrow.

Our Father knows what we need,

Jesus tells us. And if we seek his kingdom

first — "Thy will be done on

earth as it is in heaven" — we can be

confident that God will give us every

good gift.

Jesus teaches us to see that

everything comes from the loving

hand of God and there is nothing

that happens in our lives — including

the tragedies, disappointments,

and sufferings — that is not either

willed by our Father or permitted by

him for our sanctification.

These are hard truths, and many of

our brothers and sisters are haunted

by this question of how God can

permit suffering and somehow bring

some unseen good out of it.

But Jesus says that in our Father's

loving plan for creation, not even a

little bird falls from the sky that he

does not know about and care about.

And as he reminds us, each of us is

worth far more to God than the little

birds!

God is in charge, in the world and

in our lives. What we cannot understand

today, we will understand

tomorrow. The scandal of evil, the

innocent who suffer, the hardships

that we and our loved ones must

endure — in everything God is working

according to his mysterious and

loving purposes.

We need to grow in our trust in the

Lord. We need to entrust ourselves

more and more to his tender care and

seek more and more to do his will in

everything.

The best way to grow in trust is

through prayer. Learn to pray with

the psalms, especially. These are the

prayers of people who trust in God

and seek his will even in great trials

and sufferings.

You should make little acts of faith

often during the course of every day.

Pray: "Sacred Heart of Jesus, I trust

in you!"

Know that Jesus is with you, by your

side at all times. Know that he is

arranging everything out of love for

you. Trust in the Lord who will never

abandon you in your time of trial.

Pray for me this week and I will pray

for you.

And as we begin this second Lent

in a time of pandemic, let us entrust

ourselves again to the Immaculate

Heart of Mary, our Blessed Mother.

May she help us to receive everything

from the hand of God and to do his

will with joy.

To read more columns by Archbishop José H. Gomez or to subscribe, visit www.angelusnews.com.

February 26, 2021 • ANGELUS • 3
---
WORLD

SAINTE CATHERINE LABOURÉ CARE HOME/DAVID TAVELLA

France: COVID-19

no match for world's

oldest nun

At 117, Sister André Randon is the

second-oldest person in the world and,

as of this month, the oldest survivor of

COVID-19.

Sister André was one of 81 residents at

the Sainte Catherine Labouré care home

in Toulon, France, to test positive for the

coronavirus in January. The Daughter

Sister André Randon on Feb. 10. of Charity, who was isolated from other

residents during her illness, was asymptomatic and reportedly unaware she even

had the virus.

A spokesman for the retirement home noted that through it all, the sister, who

is blind, showed no fear of the disease.

"No, I wasn't scared because I wasn't scared to die," Sister André told France's

BFM television. "I'm happy to be with you, but I would wish to be somewhere

else — join my big brother and my grandfather and my grandmother."

After beating the virus, the nun celebrated her 117th birthday on Feb. 9 with a

feast that included foie gras, red wine, champagne, and cake.

A VOTE OF CONFIDENCE — Pope Francis

made history Feb. 6 when he named

Xaviere Missionary Sister Nathalie

Becquart one of two undersecretaries

of the Synod of Bishops, making her

the first woman with a right to vote at

synod meetings. Sister Becquart is the

former director of youth evangelization

and vocations for the French bishops'

conference. Synod Secretary General

Cardinal Mario Grech said the nomination

is part of the pope's desire "that women

be more involved in the processes of

discernment and decision-making in

the Church."

CATHOLIC NEWS SERVICE/PAUL HARING

Father Pedro Opeka with children housed by the Akamasoa Community.

Madagascar's landfill missionary

nominated for Nobel Peace Prize

A missionary priest known for his work serving the poor living on a landfill in

Madagascar has been nominated for the Nobel Peace Prize.

This year is the second time that Vincentian Father Pedro Opeka and his Akamasoa

Community, which has ministered to the poor in Madagascar for more

than 30 years, were nominated for the award by the prime minister of Slovenia.

Akamasoa began as a group of Malagasies leaving the slums and building their

own homes under Father Opeka's instruction, and has expanded into housing,

vocational, health, and educational support for thousands.

Pope Francis visited Father Opeka, who is from Argentina, during his 2019 trip to

Madagascar, where he called the community an example of "living faith translated

into concrete actions capable of 'moving mountains.' "

CATHOLIC NEWS SERVICE/BAZ RATNER, REUTERS

El Salvador prays for an

election season exorcism

El Salvador's Catholic cardinal is

asking his country to pray for its "liberation

from Satan" as political violence

threatens national stability ahead of

upcoming elections.

"The devil is running loose in El

Salvador, there are many demons on

the loose," said Cardinal Gregorio

Rosa Chávez during a Feb. 1 homily.

He connected the day's Gospel

reading, in which Jesus frees a person

from demonic possession, to the Jan.

31 shootings of a truck full of people,

including children, in which at least

two people died.

While accounts differ on how the attack

unfolded, the killings are believed

to have been politically motivated.

"Let's entrust to the Lord … this

country that has so many demons," the

cardinal said. "May God help us so we

can have a civilized campaign, as it

should be."

4 • ANGELUS • February 26, 2021
---
NATION

Former Navy

captain named

new Supreme

Knight

The board of directors for

the Knights of Columbus,

the world's largest Catholic

fraternal organization, Patrick Kelly

announced Feb. 5 that Patrick

Kelly, a retired Navy captain, would take over as Supreme

Knight and CEO of the organization.

Kelly, who came to the Knights after his 2016 retirement

from the U.S. Navy Judge Advocate General's (JAG) Corps

Reserve, takes over March 1 from Carl Anderson, who held

the role for 20 years before his mandatory retirement at age 70.

"I ask for prayers as I endeavor to advance the great history

and traditions of the Knights of Columbus in service to the

Lord, his Church, our brother Knights and their families,

our parishes, and our communities," Kelly said in a Feb. 5

statement.

KNIGHTS OF COLUMBUS

Fallen FBI agent praised for service, faith

An FBI agent killed while on the job in Florida this month

was lauded as a hero and an example of Catholic service.

Agents Laura Schwartzenberger and Daniel Alfin were

shot and killed while serving a federal warrant for a 55-yearold

man suspected of trading child pornography on Feb. 2.

Schwartzenberger was the mother of two young boys and

an active parishioner at her local parish, where she was a

religious education teacher.

"Your mom was a hero as is every agent, every law enforcement

member that puts on a badge and reports for duty,"

Miami Archbishop Thomas Wenski told the agent's two sons

in his homily at Schwartzenberger's Feb. 6 funeral Mass.

"She and all those who die in the line of duty are heroes because

in the face of evil they responded firmly and resolutely

to protect and serve the common good."

At a separate memorial service, FBI Director Christopher

Wray called Schwartzenberger's work on the agency's Violent

Crimes Against Children Squad "an act of faith."

"No matter how hard Laura's days were, no matter how

difficult protecting children from evil became, Laura kept

that faith," he said.

Biden lifts historically

low refugee limit

Last November, while he was still

president-elect, President Joe Biden

pledged at a Jesuit Refugee Service

event to radically expand U.S. refugee

aid.

He followed through on that promise

with a Feb. 4 executive order raising

the cap of refugees into the United

States from the Trump administration's

historically low 15,000 to 125,000.

Catholic advocates say the move

helps reestablish the U.S. as a leader in

refugee aid.

Ashely Feasley, director of policy for

Migration and Refugee Services for

the U.S. bishops, told Catholic News

Service, "I don't see them getting to

125,000 this fiscal year, but I do see a

rebuilding of the infrastructure."

"Opening our doors to refugees during

a global refugee crisis is the right

thing to do," Susan Gunn, director

of the Maryknoll Office for Global

Concerns, said in a Feb. 4 statement.

"As people of faith here in the United

States, we are called to create communities

of welcome."

ST. ALBERT THE GREAT CAMPUS MINISTRY/FACEBOOK

A SEASONAL SNOW CHAPEL — Locals attended the annual "Ice Mass" outside St. Albert The

Great University Church at Michigan Technological University earlier this month. Every year,

students and volunteers pitch in to build the temporary winter chapel from snow and ice amid

subfreezing temperatures. This year, the chapel allowed Massgoers to gather in compliance

with COVID-19 safety restrictions.

February 26, 2021 • ANGELUS • 5
---
LOCAL

Supreme Court

helps open California

church doors

Churches in California can legally

open for indoor services after the U.S.

Supreme Court overturned a state ban

on indoor worship during the COV-

ID-19 pandemic.

In a 6-3 decision announced Feb. 5,

the court ruled in favor of two SoCal

churches that sued Gov. Gavin Newsom

over the state's strict guidelines,

which limited worship to online or

outdoors.

The six majority justices agreed that

the state's regulations violate the First

Amendment protections for free exercise

of religion by treating churches

unfairly.

Unlike most of the rest of the state,

churches in LA County have been able

to hold Mass indoors since Dec. 19,

when county health officials released

new safety guidelines. But Ventura

and Santa Barbara, also part of the

Archdiocese of Los Angeles, still had to

hold Mass outside until the Supreme

Court's ruling.

While outdoor services are still

recommended, the archdiocese has

told churches in all three counties that

indoor services can now be held at

25% of church capacity.

Kathleen Domingo

VICTOR ALEMÁN

ARCHDIOCESE OF LOS ANGELES

ADLA pro-life

director named to

top CCC post

The head of LA's Office of

Life, Justice and Peace has

been hired to lead Catholic

public policy efforts in

California, the state's bishops

announced Feb. 9.

Kathleen Domingo will

take over as executive director

of the California Catholic

Conference (CCC) in July,

becoming the first woman to

ever hold the position. She

and her family will move

to Sacramento, where the

CCC is based.

"From immigration to legislative advocacy

to advising other archdiocesan

leaders around the United States, Mrs.

Domingo has provided outstanding

leadership and creativity in her role in

the archdiocese," said CCC President

Bishop Robert McElroy of San Diego

in his announcement.

During her time in LA, Domingo first

launched OneLife LA in 2015, the

largest annual pro-life gathering on the

West Coast.

New film to tell story

of SoCal's 'bishop of

the barrio'

A new documentary on Venerable

Bishop Alphonse Gallegos, a California

pastor and auxiliary bishop

of Sacramento, will air on EWTN

Feb. 20 at 2:30 p.m. LA time, just in

time for what would have been the

bishop's 90th birthday.

The documentary is part of EW-

TN's "They Might Be Saints" series,

about future saints from the U.S. and

the search for canonization miracles.

Filmed in 2019, it includes footage

of San Miguel Church in Watts,

where Bishop Gallegos grew up and

later served as pastor, and Cristo Rey

Church in Atwater Village. Archbishop

José H. Gomez is among those

interviewed in the film.

Bishop Gallegos died in a traffic

accident in 1991 in Sacramento. In

2005, the cause for his canonization

was opened, and in 2016, Pope Francis

named him venerable.

Episodes of "They Might Be Saints,"

including the one on Bishop Gallegos,

can also be watched at

ondemand.ewtn.com.

A BOOSTER FOR THE BISHOP — Auxiliary Bishop Alex Aclan receives the second dose

of the Pfizer COVID-19 vaccine at Providence St. John's Medical Center in Santa Monica

Feb. 11. Bishop Aclan and Archbishop José H. Gomez, who also received his shot that

day, celebrated Mass with hospital workers during their visit to the hospital. The Catholic

hospital has been offering vaccine appointments to priests of the Archdiocese of Los

Angeles 65 and over.

6 • ANGELUS • February 26, 2021
---
SUNDAY

READINGS

BY SCOTT HAHN

Gen. 22:1–2, 9–13, 15–18 / Ps. 116:10, 15–19 / Rom. 8:31–34 / Mk. 9:2–10

The Lenten season continues

with another story

of testing. Last Sunday, we

heard the trial of Jesus in the

desert. In this week's First

Reading, we hear of how

Abraham was put to the test.

The Church has always

read this story as a sign of

God's love for the world

in giving his only begotten

Son.

In today's Epistle, St. Paul

uses exact words drawn from

this story to describe how

God, like Abraham, did not

withhold his only Son, but

handed him over for us on

the cross (see Romans 8:32;

Genesis 22:12, 16).

In the Gospel today, too,

we hear another echo. Jesus

is called God's "beloved

Son" — as Isaac is described

as Abraham's beloved firstborn

son.

These readings are given to

us in Lent to reveal Christ's

identity and to strengthen us

in the face of our afflictions.

Jesus is shown to be the true son that

Abraham rejoiced to see (see Matthew

1:1; John 8:56). In his transfiguration,

he is revealed to be the "prophet like

Moses" foretold by God, raised from

among their own kinsmen, speaking

with God's own authority (see Deuteronomy

18:15, 19).

Like Moses, he climbs the mountain

with three named friends and beholds

God's glory in a cloud (see Exodus

24:1, 9, 15). He is the one prophesied

to come after Elijah's return (see Sirach

48:9–10; Malachi 3:1, 23–24).

"The Transfiguration," artist unknown, late 13th century,

Byzantine.

And, as he discloses to the apostles,

he is the Son of Man sent to suffer and

die for our sins (see Isaiah 53:3).

As we sing in today's Psalm, Jesus

believed in the face of his afflictions,

and God loosed him from the bonds

of death (see Psalm 116:3).

His rising should give us the courage

to face our trials, to offer ourselves

totally to the Father — as he did, as

Abraham and Isaac did.

Freed from death by his death, we

come to this Mass to offer the sacrifice

of thanksgiving, and to renew our

vows, as his servants and faithful ones.

Scott Hahn is founder of the St. Paul Center for Biblical Theology, stpaulcenter.com.

J. PAUL GETTY MUSEUM

8 • ANGELUS • February 26, 2021
---
IN EXILE

BY FATHER RONALD ROLHEISER, OMI

The triumph of good over evil

A colleague once challenged Pierre

Teilhard de Chardin with this question:

You believe that good will ultimately

triumph over evil; well, what if we

blow up the world with an atomic

bomb, what happens to goodness then?

Teilhard answered this way. If we

blow up the world with an atomic

bomb, that would be a 2-million-year

setback; but goodness will triumph

over evil, not because I wish it, but

because God promised it and, in the

resurrection, God showed that God has

the power to deliver on that promise.

He is right. Except for the Resurrection,

we have no guarantees about

anything. Lies, injustice, and violence

may well triumph in the end. That is

certainly how it looked the day Jesus

died.

Jesus was a great moral teacher and

his teachings, if followed, would transform

the world. Simply put, if we all

lived the Sermon on the Mount, our

world would be loving, peaceful, and

just; but self-interest is often resistant to

moral teaching.

From the Gospels, we see that it was

not Jesus' teaching that swayed the

powers of evil and ultimately revealed

the power of God. Not that. The triumph

of goodness and the final power

of God were revealed instead through

his death, by a grain of wheat falling in

the ground and dying and so bearing

lots of fruit.

Jesus won victory over the powers of

the world in a way that seems antithetical

to all power. He did not overpower

anyone with some intellectually

superior muscle or by some worldly

persuasion. No, he revealed God's superior

power simply by holding fast to

truth and love even as lies, hatred, and

self-serving power were crucifying him.

The powers of the world put him to

death, but he trusted that somehow

God would vindicate him, that God

would have the last word. God did.

God raised him from the dead as a

testimony that he was right and the

powers of the world were wrong, and

that truth and love will always have the

last word.

That is the lesson. We, too, must trust

that God will give truth and love the

last word, irrespective of what things

look like in the world. God's judgment

on the powers of this world does not

play out like a Hollywood film where

the bad guys get shot in the end by a

morally superior muscle and we get to

enjoy a catharsis.

It works this way: everyone gets

judged by the Sermon on the Mount,

albeit self-interest generally rejects that

judgment and seems to get away with

it. However, there is a second judgment

that everyone will submit to, the

Resurrection.

At the end of the day, which is not

exactly like the end of the day in a

Hollywood movie, God raises truth and

love from their grave and gives them

the final word. Ultimately, the powers

of the world will all submit to that

definitive judgment.

Without the Resurrection, there

are no guarantees for anything. That

is why St. Paul says that if Jesus was

not resurrected then we are the most

deluded of all people. He is right.

The belief that the forces of untruth,

self-interest, injustice, and violence will

eventually convert and give up their

worldly dominance can sometimes

look like a possibility on a given night

when the world news looks better.

However, as happened with Jesus,

there is no guarantee that these powers

will not eventually turn and crucify

most everything that is honest, loving,

just, and peaceful in our world. The

history of Jesus and the history of the

world testify to the fact that we cannot

put our trust in worldly powers even

when for a time they can look trustworthy.

The powers of self-interest and violence

crucified Jesus. They were doing

it long before and have continued doing

it long after. These powers will not

be vanquished by some superior moral

violence, but by living the Sermon on

the Mount and trusting that God will

roll back the stone from any tomb in

which they bury us.

Many people, perhaps most people,

believe there is a moral arc to reality,

that reality is bent toward goodness

over evil, love over hate, truth over lies,

and justice over injustice, and they

point to history to show that, while evil

may triumph for a while, eventually

reality rectifies itself and goodness wins

out in the end, always.

Some call this the law of karma.

There is a lot of truth in that belief, not

just because history seems to bear it

out, but because when God made the

universe, God made a love-oriented

universe and so God wrote the Sermon

on the Mount both into the human

heart and into the very DNA of the

universe itself.

Physical creation knows how to heal

itself, so, too, does moral creation.

Thus, good should always triumph

over evil — but, given human freedom,

there are no guarantees — except

for the promise given us in the

Resurrection.

Father Ron Rolheiser is a theologian, teacher, award-winning author, and president of the Oblate School of Theology

in San Antonio, Texas. Find him online at www.ronrolheiser.com and www.facebook.com/ronrolheiser.

February 26, 2021 • ANGELUS • 9
---
Finding an OPENING

First-graders at Holy Name of Mary School follow a lesson from teacher Maria Bartelt in one of the school's first-grade classrooms with 10 students.

10 • ANGELUS • February 26, 2021
---
When it comes to reopening

classrooms safely during COVID-19,

LA Catholic schools have some

valuable lessons to teach

VICTOR ALEMAN

BY TOM HOFFARTH / ANGELUS

February 26, 2021 • ANGELUS • 11
---
All things considered, Debbie

Marquez didn't realize how

much she missed certain

sounds.

"The giggles and the laughter.

Goodness, it is so nice to hear that

joy in the hallways."

They are sounds that Marquez can

once again enjoy at Holy Name of

Mary School in San Dimas, where

she is principal. For almost a year,

her school's nearly 350 enrolled students

were kept home by the COV-

ID-19 pandemic.

"It was so quiet and empty without

them here and, really, it was sad

to come to work. It just didn't feel

right."

Now, hers is one of the more than

60 schools in the tri-county Archdiocese

of Los Angeles that have been

allowed to reopen for in-class instruction

so far. As health officials begin to

loosen requirements for reopening,

more schools like Holy Name of

Mary are expected to rediscover the

sights and sounds of normalcy this

semester, or at the least a COV-

ID-19-approved version of it.

For the first half of the 2020-21

school year, the state set up a waiver

system by which schools would apply

to reopen, depending on virus case

rates and the colored tier rankings

they help determine. Those who

cleared the process by the Department

of Public Health could bring

rotations of students in transitional

kindergarten (TK) through second

grades.

Allowances had also been made

for students K through eighth grade

experiencing difficulty with distance

learning, as they could attend class

in person as part of modified smaller

cohort groups.

In January, the state discontinued

the waiver system and made it

simple: When a county drops below

25 COVID-19 cases per 100,000

residents, schools will be allowed to

bring back TK through sixth grade.

As of Feb. 15, the rate in both Los

Angeles and Santa Barbara counties

was 29 cases per 100,000; in Ventura

County, 38.

"Every week we have more and

more schools opening, bringing students

back in different cohorts, and

we are hopeful if the numbers keep

dropping, schools that aren't open yet

will see a clear path and can prepare

for reopening within weeks," said

Ryan Halverson, the Department of

Catholic Schools assistant superintendent.

Holy Name of Mary School principal Debbie Marquez with a collection of art made at home by students for religion class earlier this school year.

VICTOR ALEMAN

12 • ANGELUS • February 26, 2021
---
For a variety of reasons, reopening

classrooms has proven easier for

private schools than public ones until

now. But at a time when the federal

government is seeking to convince

reluctant schools that in-person

schooling can be conducted safely,

the reopening struggles and successes

of LA's Catholic schools may hold

some valuable lessons for the rest of

the region.

At schools around the archdiocese,

students are returning to

a learning experience different

from the one they last saw in March

2020.

Desks in classrooms are separated

by at least six feet of distance, some

encased in Plexiglas. Face coverings

are the newest additions to the school

uniform. Teachers are usually in the

classroom, but not always. In some

cases, they give class remotely, with

in-person aides — sometimes including

the school principal — helping

students follow along with classmates

shown on screens learning remotely.

Paul Escala, superintendent of

Catholic schools for the archdiocese,

knows firsthand as a parent what that

means.

Both of his sons attend St. Joseph's

School in Long Beach, which was

granted a waiver. His kindergartner

is back to going full days. His

third-grader is in the classroom twice

a week as part of one of those highneed

cohorts, learning and doing

school work in a class with 12 others

on their iPads.

The reopening application system,

the arrival of COVID-19 vaccines,

and the efforts of school staff to

make classrooms safe all give Escala

cause for optimism. But sometimes

overlooked, he said, is the support

coming from outside the classrooms.

"Parents are finding their voice

amidst the noise that's out there,

holding leaders and elected officials

accountable to figure this out," said

Escala. "That level of advocacy and

urgency is very promising. Schools

can't do it alone. We need parents

more than ever to be with us and

partners in not doing this alone."

It helps that the success stories Escala

has seen in his own district are part

Holy Name of Mary School first-grader Elia Castaneda during in-person class Feb. 10.

VICTOR ALEMAN

February 26, 2021 • ANGELUS • 13
---
of a nationwide trend: Around the

U.S., Catholic schools are showing

the country how to "keep classrooms

open while keeping COVID-19

at bay," wrote Wall Street Journal

columnist William McGurn, who

declared that "Catholic Schools Are

Beating Covid" in a Feb. 1 op-ed.

McGurn praised Catholic school

administrators around the country

who "have moved heaven and earth

to keep their classrooms open," even

amid a national enrollment drop

of 6.4% for Catholic schools since

COVID-19 started.

The article also pointed out that as

the nation's largest Catholic school

system, and 78% of its 70,000 students

being children of color, Los Angeles

has faced the added challenge of the

disproportionate toll the COVID-19

rate has taken on minority families,

especially in inner-city areas.

Crystal Pinkofsky is the principal of St. Paul the

Apostle School in Westwood.

SUBMITTED PHOTOS

A

big reason Catholic schools

have been more nimble in reopening

is that so many of their

teachers have been eager to do so.

At St. Paul the Apostle School in

Westwood, principal Crystal Pinkofsky

said the hard work of teachers

since last summer laid the foundation

for the school's first waiver

approval and reopening in August.

"It took very hard work and the

dedication by the entire staff, many

giving up their summer, to have our

plan implemented," said Pinkofsky,

who had to close the school for

several weeks when COVID-19 cases

spiked last November. "Our reopen

has been smooth, but to get grades

three-six back with the next tier,

that's the roller-coaster ride we've

also been on."

St. Paul the Apostle has been back

open since Feb. 1 for TK through

In Boyle Heights, two schools with different pulses

Resurrection second-grade

teacher

Jaclyn Cisneros

during class Feb. 1.

SUBMITTED PHOTOS

Two Catholic elementary schools separated by less

than two miles in Boyle Heights illustrate how in

the times of COVID-19, no two schools are the

same.

Resurrection School has been welcoming back students

grades TK through second since the end of January. During

their first days back, which coincided with Catholic

Schools Week, students were invited to dress as essential

workers while learning about vocations.

But the fourth-grade son of Catalina Saenz, the school

principal, was not among them.

"He's crazy to come back," said Saenz, who also has

daughters unable to return to their middle school or

high school. "He needs the interaction, and when you

see them starting to dislike school the way it is, you get

worried they're losing interest."

As long as Saenz can keep parents coming to training

sessions in order to get back as many of the 215 enrolled

students who want to return to campus, she sees the

payoff.

Saenz noted the case of one second-grader who was

back on the first day his class could do so, just days after

attending the funeral for his father, who was buried on his

51st birthday, a victim of COVID-19.

"Maybe the death of someone that close would cause

the family to be more fearful, and we have seen that and

14 • ANGELUS • February 26, 2021
---
second grade, with hybrid options

available in cohorts as well. Almost

half of the 558 enrolled students are

now able to come back to a school

with some 45 teachers. The next

challenge, Pinkofsky said, will be getting

grades three-six back, hopefully

in the coming weeks.

At St. Madeleine School in Pomona,

where total enrollment is

35 students for pre-K through fifth

grade, principal Maria Jimenez said

months ago they had already painted

angels and crosses on the sidewalk

to visualize distancing. Now she can

enjoy watching "my little people"

bound from symbol to symbol as if it

was a game of hopscotch.

"A Catholic school really isn't a

Catholic school without the children

present," said Jimenez, who

also teaches a kindergarten grammar

class. "I knew if we kept waiting for

Kindergartners at Holy Name of Mary School in

San Dimas have a snack in their numbered areas

on the school's basketball court. It is the only

time they are allowed to take off their masks.

VICTOR ALEMAN

the 'perfect time' to reopen, there

would never be a perfect time. We

have all the mandates in place, the

smart documents are there, parents

can come on campus and see and

have a level of comfort so when the

time came, there were zero questions."

Ashley Hobbs, the principal at

Notre Dame Academy in LA, where

66 of the 288 enrolled students have

returned to campus since Feb. 1, said

she continues to tell parents during

regular meetings that there are four

words defining the collaboration

in getting this school back open:

innovation, patience, flexibility, and

grace.

"Flexibility is huge, but it starts

with a growth mindset going in that

we've talked about for years, and now

it is the opportunity to live it," said

Hobbs.

respect that," said Saenz. "But here is a parent who just

lost her husband, and she feels it's important to have her

son back, not sad and at home focused on this new pain.

He gets classes and recess and engagement."

Resurrection Church pastor Msgr. John Moretta said

applying for the waiver required a "massive amount of

paperwork," but that the sight of children returning to

campus Feb. 1 made it worth every signature.

"I'm proud of what our school is doing as we keep taking

baby steps," said Msgr. Moretta. "What parent wouldn't

want their children at school?"

Five minutes away on the other side of the East Los

Angeles interchange, another principal with his own kids

enrolled at his parochial school faces different circumstances.

Our Lady of Talpa School expects to stick with remote

learning for the rest of this school year.

That means while principal John Rojas is at his school

office, his kindergarten son follows lessons from home.

Rojas said many factors played into the decision, including

the fact that his school is one of about 30 who partner

with Catholic School Collaborate.

The LA-based nonprofit focused on grade schools in

lower-income communities offers a software package of

lessons that allow even 4-year-olds to log onto an iPad and

click into their Zoom class. Adaptive software metrics also

allow teachers to track progress, perhaps more precisely

than if they were in the classroom.

"We have a consistency with our routine in place now,

so we opted to give our parents that peace of mind in

something we value," said Rojas, who said nearly a third

of the school's students have had either themselves or an

immediate family member hit with COVID-19.

Word of mouth about the software among parents led to

Talpa's enrollment increasing by 10 students during the

lockdown.

When Rojas held a Zoom meeting with parents last

month to talk about reopening, he was surprised to hear

so many asking if distance learning could continue.

"We expected pushback," Rojas said. "That surprised us.

This makes most of them feel safe."

"We know distance learning is not ideal, and won't be

forever, but the kids are still learning," he added. "It may

have forced us to evolve in a way that makes us more

sustainable in the years to come."

For Saenz, the key to making reopening decisions during

the pandemic rests in listening to parents, and understanding

the needs of each family.

"There isn't a perfect solution," she said. "It's knowing

the pulse of your own school."

— Tom Hoffarth

February 26, 2021 • ANGELUS • 15
---
Children in Maria Negrete's kindergarten class at Resurrection School in Boyle Heights say the Pledge of Allegiance on the first day of Catholic

Schools Week on Feb. 1. Students were invited to dress as essential workers in honor of their efforts during the COVID-19 pandemic.

"As a principal, it's also easy to want

to control everything, and you can't,"

Hobbs explained in a phone interview

with Angelus. "It has to be a

team, and this year, bringing parents

into that team more than ever has

been vital. You can never make

everyone happy, but it is about being

transparent."

At St. Ferdinand School in San Fernando,

principal Luis Gamarra saw

enrollment drop from 189 to about

100 over the last couple of years, with

the latest blow coming as a result of

COVID-19-related financial pressures

on families.

He saw a short burst of 10 students

return in December, but when one

of them tested positive for COV-

ID-19, things shut down and have

been since. They target March to

bring back at least two cohorts and at

least a quarter of the students.

"Personally, I'll be ecstatic when

that happens, because none of us

like being cooped up," said Gamarra.

"As much as I miss them, I can only

imagine how much they miss their

friends and all those things that make

learning fun. Learning face-to-face in

person, that makes us a family."

Holy Name of Mary principal

Marquez pointed out that the state's

waiver system was "really intended to

help those most in need, but it never

did that, because most of them have

the highest COVID-19 rates in their

communities and couldn't qualify.

There is an issue of inequity in our

demographics."

She finds comfort in that the time

of her students' return to the classroom

coincides with the start of Lent.

The parish's annual Lenten theme

this year is "Out of the Dust," a line

borrowed from the Grammy-winning

gospel song, "Beautiful Things."

"It's so appropriate for where we are

right now — we have this dust and

dirt in our lives but beautiful things

are coming," she said. "We need to

start centering people back on who

they are and who they want to be.

If you just focus on COVID, it can

overwhelm you."

Father Celso Marquez at Our Lady

of Guadalupe Church in Oxnard is

himself coming off a bout with COV-

ID-19 that sent his parish rectory into

quarantine and canceled Christmas

16 • ANGELUS • February 26, 2021
---
626.795.8333

140 South Lake Avenue,

Suite 208

Pasadena, California 91101

Hablamos Español.

Please call for a

free consultation in

our office or your home.

030520_ThornBeckVanniCallahan_Powell_Angelus_1-3pgH.indd 1

5/6/20 3:32 PM

VICTOR ALEMAN

services. Fallout from the stresses

brought on by the struggles of remote

learning led to the loss of several

school staff members.

"We are doing all we can do, but we

can't do miracles — those only come

from God," said Father Marquez,

currently functioning as the acting

principal and parish administrator

at Our Lady of Guadalupe, whose

115-year-old school has about 90

students enrolled.

"The founders of the school, the

Missionaries of the Holy Spirit, have

said that you 'Do your best and God

will do the rest.' That is still our

motto."

Tom Hoffarth is an award-winning

journalist based in Los Angeles.

The Annual Mary Milligan, R.S.H.M.

Lecture in Spirituality

"'Blessed Are Those Who Mourn': Depression, Anxiety, and Pain

on the Path of an Incarnational Spirituality"

RSVP:

bellarmine.lmu.edu/milligan

Featuring Susan Abraham, Ph.D.

Professor of Theology and Postcolonial Cultures

Pacific School of Religion

Thursday, March 25, 2021 | 6 p.m.

Virtual Event

Anna and the Blind Tobit, c. 1630 by Rembrandt van Rijn

February 26, 2021 • ANGELUS • 17
---
Participants gather at an outdoor prayer event at UC Santa Barbara's St. Mark's Catholic Center during the SEEK21 conference held Feb. 4-7.

COURTESY FOCUS

Keeping it personal

How a network of college missionaries pulled off a safe —

and successful — annual conference in a pandemic

BY EVAN HOLGUIN / ANGELUS

Each year, thousands of university

students and campus

ministers come together for

SEEK, the flagship conference of the

Fellowship of Catholic University

Students (FOCUS).

Billed as an opportunity to draw university

students — especially seekers,

or those just beginning their journey

of faith — into a deeper encounter

with Christ, the annual event centers

around real, in-person interaction.

For the planners of SEEK21, a central

event with its customary crowds

of thousands this year was out of the

question due to the COVID-19 pandemic.

But so was resorting to a 100%

online event.

The solution: combine the best of

virtual and in-person programming.

The result was more than 3,000

small groups, which met in person

Feb. 4-7 to participate in SEEK

programming while following local

health and safety guidelines.

When Christine Sarnow, senior director

of events for FOCUS, and her

team started planning almost a year

ago, they realized the event would

have to be "scaled up or scaled down

depending on specific group or parish

needs, restrictions, and local guidelines"

for FOCUS chapters around

the country.

In California, where COVID-19

rates soared over the holidays, it

seemed that "seekers" would have to

settle for SEEK's fully online option,

which tried to avoid becoming

another night of streaming video by

connecting online participants to digital

small groups and social events.

But in timing that seemed almost

providential, California lifted its stayat-home

order on Jan. 25 as COV-

ID-19 figures improved. That allowed

about half of the state's participants

to organize hybrid gatherings across

several campuses in a matter of days.

Students from Cal State University

at Fullerton and UC Irvine met in

small groups at Christ Cathedral in

Orange, while students from UCLA

joined UC Santa Barbara for outdoor

groups at its Catholic student center.

For these groups, in person meant

outdoor screenings of keynote talks,

small-group discussions at distance

and with facial coverings. Some were

able to have social activities like trips

to the beach.

"I was ecstatic and grateful that California

loosened restrictions and we

got out from our stay-at-home order,"

said Joshua Schroeder, a fourth-year

student at San Diego State University

who plans to serve as a FOCUS

missionary next year.

"We were able to have a lot of great

discussions and a lot of fun in what I

believe was still a very safe manner."

Central to the conference experi-

18 • ANGELUS • February 26, 2021
---
COURTESY FOCUS

ence was access to the sacraments,

including the Feb. 6 evening of

adoration, a prayer vigil that Sarnow

described as the "summit" of the

conference.

For students from UCLA and UC

Santa Barbara, the conference summit

converged with some long-awaited

good news: the reopening of the

campus chapel to the public.

Following the Supreme Court ruling

on Feb. 6, which overturned the state

of California's ban on indoor worship,

the chaplain at UC Santa Barbara's

St. Mark's Catholic Center informed

participants that adoration could be

held indoors, a change in venue welcomed

by students who had endured

weeks of outdoor liturgies in the mild

California winter.

"I really enjoyed having adoration

indoors," said Tristan Miller, a fourthyear

student at UC Santa Barbara.

"Outside, it's still Jesus. But inside,

with the music, too, it was just a lot

better."

Even students on campuses that

opted for virtual small groups — like

Claire Robertson, a second-year master's

student at USC, where groups

met via Zoom — benefited from the

Supreme Court ruling, as liturgies

and adoration returned indoors at

places like USC's Our Savior Church.

"I am a convert to the Faith, and

this church is my home parish, yet

I had no idea how much I missed

worshiping in the space until I was

Edward Sri, S.T.D., a founding leader of the Fellowship of Catholic University Students (FOCUS),

speaks about the power of the cross and what it can teach about forgiveness in a Feb. 5 keynote

during the SEEK21 conference.

able to return," Robertson said. "Our

staff and priests made it possible for

liturgies to be safe and reverent, and it

has been such a restorative experience

to receive the sacraments in person

with my community."

Though not all SEEK campuses

in California were able to move

adoration indoors, due to differing

regulations between parishes and dioceses,

outdoor access to the Mass and

adoration still allowed access to the

conference's central focus: encounter

with Jesus Christ.

"Fortunately, San Diego is famous

for being a place of temperate

climate," Schroeder said, "While it

was a bit brisk and may have been

more convenient to be inside, it was

still well worth attending in person

outdoors to strengthen our bonds with

our friends and Our Lord."

With the success of its hybrid

SEEK21 format and the fast-approaching

anniversary of the initial

lockdown, FOCUS is already looking

at how to continue bringing its

ministry past the virtual and back to in

person.

At the conclusion of the conference,

small groups were invited to participate

in a new FOCUS Bible study led

virtually by Curtis Martin, FOCUS

founder and CEO, and Edward Sri,

S.T.D. And hybrid models aren't just

constrained to FOCUS ministry —

the Archdiocese of Denver is planning

its middle-school conference, Mountain

Madness, following a similar mix

of the digital and in-person programming.

"FOCUS encourages us through

SEEK21 to bring prayer and the

gospel into our homes and local

networks," said Mark Haas, director of

public relations for the Archdiocese of

Denver, where FOCUS is headquartered.

"While nothing can replace being

able to fully gather together, the

SEEK21 format was certainly an

innovative and impactful solution for

the times."

CATHOLIC NEWS SERVICE/SCREENSHOT COURTESY THE FLORIDA CATHOLIC

SEEK21 participants pray in front of the Blessed Sacrament during an in-person prayer gathering

at St. Pius X Church in Fairfield, Connecticut, Feb. 7.

EVAN HOLGUIN

Evan Holguin is a graduate of the

University of Notre Dame. Originally

from Santa Clarita, he now lives in

New Haven, Connecticut. His work

has been featured on the website

Aleteia.com and on Ultramontane: A

Catholic News Podcast.

February 26, 2021 • ANGELUS • 19
---
Leading from the margins

He represents a tiny Catholic majority, but Myanmar's outspoken cardinal

could be key to saving democracy in the country

BY JOHN L. ALLEN JR. / ANGELUS

Cardinal Charles Maung Bo attends a 2017 interfaith prayer service in Yangon, Myanmar.

CATHOLIC NEWS SERVICE/SOE ZEYA TUN, REUTERS

ROME — Against long odds,

it's possible that one of the

most important players in the

ongoing drama in Myanmar may be a

religious leader whose total following

can be numbered in five digits, representing

less than 1% of the national

population: Roman Catholic Cardinal

Charles Maung Bo.

A Salesian, Cardinal Bo presumably

was especially pained that his country's

current coup d'état was launched

the day after the feast of St. John

Bosco, the legendary founder of his

religious order. As part of the military

takeover, civilian leaders, including

Nobel laureate Aung San Suu Kyi,

have been detained, and a state of

emergency imposed.

While Myanmar's military leaders

insist they acted in defense of democracy,

describing a November election

that saw the military-backed party

lose decisively as fraudulent, when

and how a return to civilian rule may

occur remains unclear.

Curiously enough, Cardinal Bo, who

was made a cardinal by Pope Francis

in 2015, has emerged in recent

years as the public face and voice of

religion in Myanmar, despite the fact

that almost 90% of the population is

Buddhist. All told, Christians make

up about 6% of the population of 53.5

million people, with Catholics just

1% at roughly 75,000 followers.

Yet, as I've often said, if there's one

thing the outside world understands

about the Catholic Church, it's the

difference between a cardinal and

everybody else. Cardinals are universally

perceived as big deals, so when

Cardinal Bo speaks in Myanmar, he's

seen as doing so not just on behalf of

75,000 locals, but 1.3 billion Catholics

worldwide, including the boss in

Rome.

That's enough to get the attention

not only of the Burmese population,

but also its military ruling class.

In effect, Cardinal Bo's prominence,

and the leverage it affords him in

national affairs, is one concrete payoff

from Pope Francis' strategy of distributing

red hats to the peripheries of

the world, because it's amplified the

Church's voice in a surprising number

of places like Myanmar.

Especially since his designation as

a cardinal, he is often called upon to

20 • ANGELUS • February 26, 2021
---
present joint statements of religious

leaders in Myanmar. Although it's

an overwhelmingly Buddhist society,

no single Buddhist sage has the

prominence or media platform of the

72-year-old cardinal, who was born

into a farm family in south-central

Myanmar (then known as Burma) in

1948.

Though spiritual leaders in Myanmar

generally tread lightly in commentary

on the military, Cardinal Bo

has been outspokenly critical of the

coup. In a Feb. 3 statement, just two

days after the military seized power,

he issued a statement saying the

coup had "shocked the world and the

people of Myanmar." He also called

for the release of the arrested political

leaders, and he gave special praise to

Suu Kyi.

Yet Cardinal Bo is no wide-eyed

dreamer, meaning he understands

there's no plausible exit strategy from

the coup that doesn't involve preserving

a significant role for the military

in national affairs. In the same

statement, he praised the army for its

willingness to hand over power to a

democratically elected government,

and also indirectly criticized Suu Kyi

for refusing to engage the military in

dialogue over its concerns about the

election results.

In a coda sure to win favor with the

domestic population in Myanmar,

Cardinal Bo also urged the international

community not to impose

sanctions on the country, saying such

measures in the past had proved "a

great blessing to those superpowers

that eye our resources" — a not-sosubtle

swipe at China, which already

has an economic stranglehold on its

smaller neighbor.

Speaking of China, one might wonder

if the Vatican has any concerns

about Cardinal Bo's outspokenness,

mostly for fear of fallout vis-à-vis

its own delicate relationship with

Beijing.

In reality, however, most observers

believe China isn't exactly thrilled

with the coup, since its top priorities

regarding Myanmar tend to be security

along the 1,300 mile border the

two nations share, as well as economic

and political stability in order that its

investments in the country will turn a

tidy profit.

In other words, right now China may

well be pleased to see Cardinal Bo

pushing for a negotiated return to the

status quo ante, freeing up the Vatican

to back its man on the ground without

worrying about impeding its desire for

full diplomatic relations with Beijing.

Going forward, Cardinal Bo may be

positioned to play a key role in brokering

a deal. The military needs him to

bestow some sort of moral legitimacy

on their actions, and the country's

civilian leaders need him to cajole the

generals into a strategic retreat.

If Cardinal Bo plays his cards right,

he could go down as the religious

leader who saved democracy in Myanmar.

The long-term consequences of

that are impossible to predict, though

it's worth noting that in another Asian

nation, South Korea, the dramatic

growth of Catholicism over the last

couple of decades is credited in part to

the role Church leaders there played

in the democratization of the country

after a long period of military rule.

For all sorts of reasons, therefore,

both humanitarian and evangelical,

many people inside Myanmar and out

are currently hoping — in a phrase

made famous by an advertising campaign

around American athlete Bo

Jackson — that "Bo Knows," in this

case meaning that he knows how to

bring his troubled nation in for a safe

landing.

John L. Allen Jr. is the editor of Crux.

TRANSFER YOUR

IRA, 401-K, CD

7.20 %

Guaranteed Annual Interest

No Market Losses Risk

GROWTH-Income-Protection

Demonstrators show a picture of Myanmar's Army Gen. Min Aung Hlaing with his face crossed out

during a Feb. 6 protest in Yangon against the military coup and to demand the release of elected

leader Aung San Suu Kyi.

CATHOLIC NEWS SERVICE/REUTERS

CALL TODAY

562-884-2346

English and Spanish

8060 Florence Ave.

Suite 120

Downey, CA 90240

February 26, 2021 • ANGELUS • 21

CA LIC 0F37509

07082020_24-Hr Insurance_Angelus_Rect.indd 15/28/20 3:27 PM
---
Getting

'Lenty'

once

again

How to make the

most of your second

pandemic Lent

BY MIKE AQUILINA /

ANGELUS

Last year Lent arrived with lockdown

and imposed severe disciplines

on everyone, regardless

of their level of religious observance.

The more devout, however, saw the

new hardships as suitable to the season.

The most popular meme bore

the caption: "This Is the Lentiest

Lent I've Ever Lented."

Most years we had faced simpler

choices of what to give up. Maybe

sweets or television. In 2020, however,

we learned to fast from unaccustomed

things, like social contact,

restaurants, and toilet paper. And we

had no choice in the matter. It was

"Lenty" indeed.

Now we enter our second pandemic

Lent, and it probably isn't looking as

"Lenty" as the last. We've adjusted

to the restrictions, at least somewhat,

and in some places conditions have

improved enough to allow greater

freedom.

We should nonetheless lean into

the season, in all its 2021 peculiarity.

Knowing what we learned from last

year, we should be intentional about

living a better Lent this year.

• • •

Lent and lockdown are related historically

and etymologically.

The word "quarantine" was coined

originally for the 40-day period a ship

was kept in isolation at port.

The policy arose during the Black

Death of the late 14th century, when

bubonic plague killed off around half

of the population in Europe. Ships

stayed in dock until the locals could

ascertain that there were no cases of

the disease on board.

"Forty days" in Italian is "quaranta

giorni," which yielded "quarantine"

in English.

Well, Lent, like quarantine, is

also a 40-day period, and in some

languages the roots still show. The

season is called "Quaresima" in

Italian, "Cuaresma" in Spanish, and

"Carême" in French. For people who

speak the Romance languages, Lent

and quarantine are obviously close

cousins. Each resembles the other.

And their purposes are similar. Both

Lent and quarantine are designed

to test us and improve our health —

quarantine, our physical health; and

Lent, our spiritual health.

Christian tradition defines spiritual

health as the preference for God over

all created things. It's not that the

things of the world are bad. They are,

in fact, very good, precisely because

God created them. He created them,

moreover, to serve us and delight us.

They pose problems when we

begin to prefer the creatures to their

Creator. We'd rather eat and drink to

excess than honor God. We'd rather

amass wealth than turn to the Lord in

prayer. We'd rather entertain our eyes

with sensual images than conform to

the commandments.

Our early Christian ancestors

designed the Lenten observance in

VANESA GUERRERO/CATHOPIC

22 • ANGELUS • February 26, 2021
---
A woman prays during Mass at St. Pius X

Church in El Paso, Texas.

A priest hears confession inside the cathedral of Valencia, Spain last May.

CATHOLIC NEWS SERVICE/TYLER ORSBURN

order to retrain our souls and our

bodies, our thoughts, and our senses.

By small hardships, freely endured,

we strive to recover the integrity that

God intended for us. At the beginning

of Lent, we pledge to conform

to the graces God gives us.

The means by which we do this are

three: prayer, fasting, and almsgiving.

Our Lenten observance should

include some resolution for improvement

in each area.

This year, in our second COV-

ID-19-conditioned Lent, we might

consider developing a personal

program that's different from those of

past years. We might think about the

needs and challenges of our pandemic

world and the unique Lenten

opportunities they present.

Prayer. This topic needs little introduction.

If you want prayer support,

you'll find it in many online groups

and email lists that have multiplied

in the Catholic world during the

pandemic. So many people are praying

daily together in virtual ways and

interceding for one another. Search

the term "quarantine" together with

"rosary" or "divine mercy" and you'll

begin to see the options available to

you. Your own parish may already

have something in place.

Fasting. There are many ways to

fast. Some people limit their media

consumption during Lent. Others

eliminate meat for the season or stop

eating between meals. For many,

Lent is primarily their annual effort

to lose the weight they gained from

Christmas overindulgence.

All of those are valid choices. But

we mustn't forget the reason why

we're fasting. It's not primarily to lose

weight. It's in order to make our lives

more like the life of Jesus, who fasted

in the desert and who freely accepted

suffering for our sake.

Right now is a good time for us to

consider where

we've found consolation

during

the lockdowns.

If we've been

looking for it

in places other

than God, then

perhaps we need

to redirect our

attention.

The Journal of

the American

Medical Association

reported

recently that alcohol

consumption

in 2020

increased 14%

for all adults. For

women, binge

CATHOLIC NEWS SERVICE/NACHO DOCE, REUTERS

drinking went up an astonishing

41%.

Alcohol is one way people have

found to exercise a preference for

something other than God. It is

perhaps the easiest to measure. But

there are other objects we may have

chosen, other creatures we've used

Students from Guerin Catholic High School in

Noblesville, Indiana, participate in an annual

all-school service day in 2017.

for the love and consolation that

only our Creator can give. In Lent

it's good for us to ask ourselves what

those indulgences might be, and

then strive, with God's help, to eliminate

them.

Almsgiving. In times of pandemic

we need to reevaluate our ideas of

poverty and need, so that we might

adjust our plan for charitable giving.

It's good for us to give money to feed

the hungry, clothe the naked, and

house the homeless. We shouldn't

stop doing that.

But we should also make personal

plans to relieve the forms of poverty

that are peculiar to times of quarantine.

So many people today are

experiencing painful loneliness and

isolation. The situation is especially

acute for elderly people who are

living far from family — or who have

no family — or who have outlived

their friends.

CATHOLIC NEWS SERVICE/BOB NICHOLS, CATHOLIC MOMENT

February 26, 2021 • ANGELUS • 23
---
Reaching out to them can mean

far more these days than writing a

check for millions of dollars. Can we

arrange socially distanced meetings

outdoors or in order-safe spaces?

Can we communicate more often

by videoconference or phone, or

even by writing letters in longhand?

Can we do something daily, or every

other day? Even something small and

simple can break the monotony of a

lonely person's day.

In these days, these can be heroic

and sacrificial acts of charity that

genuinely make a difference. They

require planning. They can be difficult

and frustrating because of the

limitations of age and circumstance.

But they fulfill a need that Pope

Francis has identified as urgent: the

need for us to "look into the eyes of

the poor."

Lent is not an ordinary time of year,

and this year it's made more extraordinary

by the pandemic. Make it

extraordinary in its effects by doing it

differently this year.

Mike Aquilina is a contributing editor

for Angelus and author of many books,

including "The Holy Mass: Sayings of

the Fathers of the Church" (Catholic

University of America Press, $19.95).

??????

Turn Lent 2021 into '40 Days of Trust'

The Archdiocese of Los Angeles

is offering a "40 Days of Trust"

digital campaign to help families

make the most of this year's Lent

in unprecedented times.

"By removing obstacles and learning

to fully trust in Jesus, we'll come to

experience his abundant love and find

healing and peace," the initiative's

website says.

Families can download a Lenten kit

with a 40-day calendar of activities

like fasting from the snooze button,

praying for religious sisters, and making

a meal for an elderly neighbor.

The kit also includes wallpaper for the

computer or phone with a reminder to

trust God throughout the Lenten season,

and a printable prayer card. The

full kit is available at LACatholics.org/

lenten-kit.

1 "

In

fo

a

P

6

24 • ANGELUS • February 26, 2021
---
DENTAL Insurance

Get the dental care you deserve.

Medicare does not cover dental care 1 . That means if you need dental

work done, it can cost you hundreds or even thousands of dollars out of

your own pocket.

Get Dental Insurance from Physicians Mutual Insurance Company. It helps

cover over 350 procedures — from cleanings and fillings to crowns and

dentures. Call today to get help paying big dental bills.

• See any dentist you want, but save more with one in our network

• No deductible, no annual maximum

• Immediate coverage for preventive care

Call to get your FREE Information Kit

1-877-460-1567

or visit dental50plus.com/angelus

1 "Medicare & You," Centers for Medicare & Medicaid Services, 2020

Includes the Participating (in GA: Designated) Providers and Preventive Benefits Rider. Product not available in all states. Acceptance guaranteed

for one insurance policy/certificate of this type. Contact us for complete details about this insurance solicitation. This specific offer is not

available in CO, LA, NY; call 1-800-969-4781 or respond for similar offer. Certificate C250A (ID: C250E; PA: C250Q); Insurance Policy P150 (GA:

P150GA; NY: P150NY; OK: P150OK; TN: P150TN); Rider kinds B438/B439 (GA: B439B).

6255
---
When nothing is

casual or small

The secret to living this Lent to its

fullest? Love for eternal life

BY KATHRYN JEAN LOPEZ / ANGELUS

GIME SALVATELLI/CATHOPIC

Thanks be to God for Lent!

I know what you might be

thinking: Haven't we been living

Lent for a year? With the COVID-19

pandemic keeping people at home,

sometimes without the sacraments and

often in fear and even despair, it has

felt a lot like Lent, even as liturgical

seasons have come and gone. But Lent

isn't a feeling. It is an invitation to

mercy and action.

All of that darkness all around that

seems to be suffocating and strangling

people? It's a clear call to be God's

light. Now is the time to take those

feelings and bring them to God with

a rededication to what it means to be

Christian.

Lent isn't giving up chocolate or

beer or even praying more. It's an

opportunity to finally become who we

are meant to be as Christians. That

requires vulnerability and rigor. Now is

the time to get to know what penance

and reparation are all about. They are

acts of faith and love. They help us live

"Jesus, I trust in you."

Here's how St. Caesarius of Arles

(A.D. 470-542), one of the lesser-known

of the Church Fathers, said

in a sermon that it is in fact "through

the mercy of God the season of Lent is

approaching."

The days of Lent, the French saint

told his flock, are "salutary for bodies

and healing for the soul" and are

meant to "lead to progress for us and

not judgment."

After a year in which instead of

slowing down, many of us tried to be

more productive, become indispensable

at work, demonstrate our usefulness,

looked for all kinds of escapes

from a reality we fear, his words are as

pertinent as they were when he first

preached them:

"For if we lead a careless life, involving

ourselves in too many occupations,

refusing to observe chastity, not applying

ourselves to fasting and vigils and

prayers, neither reading Sacred Scripture

ourselves nor willingly listening

to others read it, the very remedies are

changed into wounds for us. As a result

of this we shall have judgment, where

we could have had a remedy."

Lent is a time we can't afford not to

take advantage of. Get to be friends

with saints who will intercede for you.

Take a half-hour each day during Lent

to read the Catechism of the Catholic

Church, so you can talk about what

you believe with more confidence. But

most importantly, remember what it

means to be Catholic or learn it for the

first time by really meditating on Christ

on the cross.

Doesn't every kind of suffering make

more sense when we continuously

think about what Jesus did for us? We

complain about so many little things,

and can find the bigger ones unbeara-

26 • ANGELUS • February 26, 2021
---
le. But what did he bear? The greatest

injustice there ever was. God comes for

us in complete love and gets brutally

killed for it.

And yet that love is victorious. Do we

really truly believe that? If we do, we

have no reason to be afraid, because I

don't know about you, but I am plenty

afraid about many things. By giving our

fears — and ourselves — totally to God

this Lent, we can discover a peace that

only he can give.

I'm constantly reminded of a poem

by Father John Duffy on the Annunciation

that the late Archbishop of New

York Cardinal John O'Connor liked to

quote: "And nothing would again be

casual or small."

That phrase is what's on the back of

the medals worn by the Sisters of Life,

the community of women religious he

founded 27 years ago with a charism

for protecting life. It's an idea that

guides their charism: to take nothing as

casual or small.

Obviously, these sisters live this call

in a way that is vocational, as brides of

Christ called to this very specific life.

But treating nothing as if it is casual or

small would work toward undoing this

"throwaway culture" that Pope Francis

talks about so much.

How we ignore people on the streets,

or are transactional with the people in

our lives — always expecting something

in return for our love — are

symptoms of something deeper that

God wants to heal this Lent, by calling

us to prayer, to service, to make small

acts of faith.

Perhaps no one describes this better

than St. Caesarius, in his counsel

about Lent:

"Devoting ourselves to God out of

love for eternal life, during these days

let us with all solicitude strive to repair

and compose in the little ship of our

soul whatever throughout the year has

been broken or destroyed or damaged

or ruined by many storms, that is, by

the waves of sins. And since it is necessary

for us to endure the storms and

tempests of this world while we are still

in this frail body, as often as the enemy

wills to lead us astray by means of the

roughest storms or to deceive us by the

most voluptuous pleasures, with God's

help may he always find us prepared

against him."

After a year that has tested so many

of us, we have a chance to ask him to

burn away anything keeping us from

him. Look around in your life at the

things we say, do, and search for. Do

they belong to him? If someone followed

you around all day, would they

know that you are a Christian?

For our failings, we have the sacrament

of confession, which we can turn

back to during this Lent, too. We can

think of heaven, and how the pleasures

here are nothing compared to eternity

with God. Remembering that only

God can satisfy our deepest longings,

and that life is short, can help us reorder

the priorities in our lives. And our

Church. And our world.

Kathryn Jean Lopez is senior fellow at

the National Review Institute, editor-at-large

of National Review magazine,

and the author of "A Year with the

Mystics: Visionary Wisdom for Daily

Living" (Tan Books, $44.95).

GIME SALVATELLI/CATHOPIC

A woman wearing

a protective mask

prays during Mass

at the Church of

the Sacred Heart

in Amman, Jordan,

Dec. 6, 2020.

CATHOLIC NEWS SERVICE/MUHAMMAD HAMED, REUTERS

February 26, 2021 • ANGELUS • 27
---
INTERSECTIONS

BY GREG ERLANDSON

A plague of delusions

People wait in line to receive the Moderna COVID-19 vaccine in New York Jan. 29.

Reading about pandemics in the

midst of a pandemic may seem

an exercise in masochism, but I

would highly recommend one book:

"Apollo's Arrow: The Profound and

Enduring impact of the Coronavirus

on the Way We Live" (Little, Brown

Spark, $29). Written by Nicholas

Christakis, a physician and sociologist,

he brings to the discussion of

COVID-19 a scientific mind allied

with an eye for social and historical

context.

Christakis finished his manuscript

in the summer of 2020, I'm guessing,

yet he makes solid predictions about

the spread of the disease and does not

offer false hope of a quick solution or

a miraculous disappearance.

What he provides instead is both

background and context. Pandemics

are nearly as old as mankind. He lards

his book with historical accounts of

previous plagues, and he makes it

clear that viruses and the pandemics

they can cause are an enduring threat

to our species. Despite the success in

the last century of vaccines defeating

such diseases as smallpox, polio,

and — until recently — measles, the

threat of viral assailants will never be

eradicated.

Though most of us may have been

surprised by the arrival of the worst

pandemic (so far) of our lifetimes,

epidemiologists were not.

Nor are historians surprised by many

of our reactions to this crisis. Today

we blame the Chinese (and of course

they blame us). In Italy, people were

avoiding Chinese restaurants when

the coronavirus first made its appearance

there, and at one point early

in the pandemic, 38% of U.S. beer

CATHOLIC NEWS SERVICE/MIKE SEGAR, REUTERS

drinkers said they would not drink

Corona "under any circumstances."

There have been reports of verbal and

other assaults on Asian Americans

linked to anger about the virus.

All of which is better than what took

place in the Middle Ages during the

bubonic plague. In Strasbourg in

1349, 1,000 Jews were buried alive

because they were seen as responsible

for the disease. In Milan in 1630, four

Spaniards blamed for the disease were

tortured, maimed, and then burned at

the stake.

Our pandemic instincts are perhaps

less homicidal today, but the human

desire to blame anything other than

the virus itself is still around.

Likewise our desire to wish it away,

a particular failing of politicians. In

some states, legislators are behaving

as if they can simply decree the pandemic

over, even wanting to restrict

steps taken to minimize its spread.

Such self-defeating ignorance is

nothing new to our species. In the last

bubonic plague outbreak in Europe

in 1720, a doctor wrote: "Already the

public, prone to delude themselves,

and easy to believe what they wish to

be true, attributed to malady of these

persons to anything rather than to

the plague, and began even to joke

upon their own alarms. But the subtle

destroyer, mocking alike the precautions

of the wise and the jokes of the

incredulous was secretly insinuating

itself far and wide."

Such accounts call to mind the experience

of nurses today who recount

holding the hands of the dying who

still doubted that COVID-19 was real.

And while Americans ran after hoax

therapies, that too is predictable. In

the plague of Justinian in the sixth

century, people started throwing

pitchers out their windows in the belief

that the noise would scare death

Send __

Name __

Address _

City ____

28 • ANGELUS • February 26, 2021
---
Nicholas Christakis

WIKIMEDIA COMMONS

away. A witness said that for three

days the city rang with the sounds of

breaking pottery.

For Christakis, our symptoms of

pandemic avoidance are clear: "The

lack of scientific literacy, capacity for

nuance, and honest leadership has

hurt us."

We are fortunate, even in our ignorance,

however. We have drugs that

can moderate the symptoms. We have

vaccines produced in record time that

should — unless severe mutations

outrace our rush to herd immunity

— eventually protect us. The truth is

that masks and social distancing have

historically saved many lives as viruses

rapidly circulate. Despite how terrible

our death toll is today (450,000 and

counting), if not for the preventative

actions we've taken, it would have

been much higher. The Spanish Flu

killed 550,000 Americans (the equivalent

of 1,721,000 deaths today).

Yet our life expectancy is falling and

our inability to resolutely respond

as a community to this grave threat

portends a long denouement before

we feel safe once more.

Christakis says history suggests that

when we get the genuine "all clear,"

"consumption will come back with a

vengeance." He quotes an observer in

1348: When the plague subsided, "all

who survived gave themselves over

to pleasures: monks, priests, nuns,

and lay men and women all enjoyed

themselves. ... And everyone thought

himself rich because he had escaped.

..."

Pope Francis has urged us again and

again to see in this crisis an opportunity

to renew our society, to reach out

to our fellows, to renounce our false

securities. What will it be: Roaring

'20s or a reformation of society for the

common good?

Unfortunately, if history holds, that

answer may be predictable as well.

Greg Erlandson is the president and

editor-in-chief of Catholic News Service.

ORDER YOUR COPY OF THE NEW PRINT EDITION NOW!

2020-2021 Archdiocese of Los Angeles Catholic Directory

covering the counties of Los Angeles, Santa Barbara and Ventura

The new print edition of our award-winning Archdiocesan

Directory celebrates San Buenaventura elevated by Pope

Francis as the first mission basilica in the Archdiocese. The

spiral-bound, 272-page Directory includes September 1,

2020 assignments – along with photos of the new priests and

deacons serving the largest Archdiocese in the United States!

The cost of the Los Angeles Catholic Directory is $30 (shipping

included). Mail the form below with payment, or order online

at http://archla.org/dir2020. or call 213-637-7378.

Send _____ L.A. Catholic Directories @ $30 each = $ ________

q Payment Enclosed

q Bill my Credit Card

Name _____________________________________________________

Address ____________________________________________________

Card # ____________________________________________________

Exp. Date: ____________ Phone: ______________________________

City ____________________________ State _______ ZIP ___________

Signature: _________________________________________________

Mail form along with payment to: Tidings Directory, 3424 Wilshire Blvd, Los Angeles, CA 90010-2241
---
Secular sermons

Few things can bring Americans together anymore like the Super Bowl.

Did this year's blow its chance?

BY JOHN J. MILLER / ANGELUS

Bruce Springsteen in Jeep's Super Bowl ad "The Middle."

SCREENSHOT VIA YOUTUBE

Hours before Tom Brady won

the Super Bowl and raised the

Vince Lombardi Trophy for

the seventh time in his career, CBS

urged its audience to "tune in for a

special moment before kickoff." The

network teased the segment relentlessly,

and most football fans knew it

would involve the trophy's namesake,

the legendary coach who won championships

with the Green Bay Packers

in the 1960s.

When the "special moment" finally

arrived, between a tribute to COV-

ID-19 victims and a performance

of "America the Beautiful," viewers

entered the uncanny valley, that

strange place where the world's best

animation technologies try to render

people lifelike but instead make them

creepy.

Here was a CGI-generated Lombardi,

whose familiar visage looked

somehow alien as he walked city

streets and smiled at football-tossing

kids and parents.

The real Lombardi might have

stopped by St. Willebrord Church, a

red-brick Gothic revival structure in

downtown Green Bay. That's what he

did every morning before he went to

the Packers' office, a couple of blocks

away.

A marker that stands beside the

church explains: "A devout Catholic,

Lombardi would invariably arrive

minutes before 8 a.m. on weekdays,

park in the back lot, and enter the

church through a side door."

The Super Bowl segment didn't

include any such thing: Major media

and pro-sports leagues can be squeamish

about expressions of faith. They're

surely right to assume that few people

tune into the Super Bowl because

they want to hear sermons, even as the

broadcast featured a series of secular

sermons about patriotism and social

justice.

At any rate, the NFL's title game is a

rare, unifying event in our fractured

culture; 96 million people watched

it. Some came for the football, others

awaited the halftime show, and all

sought a spectacle of entertainment.

As CBS play-by-play man Jim Nance

said at kickoff, "Let's sit back as a

nation and enjoy."

Then there were the commercials,

always a main attraction. This year's

batch of ads, carrying a price tag of

more than $5 million per 30 seconds,

included the usual mix of celebrity

cameos, comic quips, and deadening

sobriety, and also a handful of references

to Christian faith.

The most explicit and earnest came

from Jeep, in a two-minute ad called

"The Middle" and featuring Bruce

30 • ANGELUS • February 26, 2021
---
Springsteen, the rock 'n' roll musician.

"There's a chapel in Kansas,

standing on the exact center of the

lower 48," says Springsteen, referring

to the U.S. Center Chapel, which

sits near the town of Lebanon, at the

geographic center of the contiguous

states. "It never closes. All are more

than welcome to come meet here, in

the middle."

Metaphor alert! Springsteen's line,

of course, refers to America's political

divide and the need to overcome it.

On screen, the rock star drives around

silos and train cars in a snowy landscape.

His Jeep's top is inexplicably

removed; during the filming, he must

have been freezing.

Meanwhile, his voiceover speaks of

bridging "red and blue" and "freedom

and fear." These are worthy sentiments,

and the ad decorates them

with faith-based visuals that include

not just the little chapel, but also

several crosses, Springsteen's kneeling

in a pew, and the lighting of a candle

as if for a prayer intention.

In a vaguely Christian conclusion,

Springsteen says, "Our light has

always found its way through the darkness.

And there's hope on the road up

ahead." Its final image is an outline of

the country (minus Michigan's Upper

Peninsula) with a slogan: "To the

ReUnited States of America."

Jessica Long at the 2016 Paralympics.

WIKIMEDIA COMMONS

A CGI-generated Vince Lombardi on the stadium big screen before Super Bowl kickoff.

The irony is that in trying to transcend

our politics, the ad reminds us

of them. Are we really more united today

than we were a year ago? Springsteen,

an outspoken Democrat, almost

certainly wouldn't have talked up

"light" and "hope" if Donald Trump

had won re-election.

The Jeep commercial seeks to

amplify the message of "unity" that

has emanated from President Biden's

White House, and it's willing to

deploy religious symbols in pursuit

of its purpose. Maybe if Springsteen

had entered the chapel and found the

hip-hop artist Kanye West, a onetime

Trump supporter who records Christian

music, it would have felt more

like a middle-ground meeting and less

like a manipulation.

A single bit of explicitly Catholic

imagery came during a 30-second

commercial for M&Ms, which pulled

together a string of short scenes in

which people offer the candy to make

up for perceived slights.

Outside a confessional, a man gives

a bag of M&Ms to his confessor and

says: "I wish you didn't have to hear

all that." It's genuinely funny, and it

depicts an element of Catholic culture

as ordinary rather than exotic. It

may even have the effect of reminding

Catholics to examine their consciences

and avail themselves of the sacrament

of reconciliation as we prepare

for Lent, at least giving God a chance

to work in mysterious ways.

Maybe even through a Toyota

commercial: The car company aired

what may be the most faith-filled ad

of all, telling a one-minute story about

Jessica Long, a swimmer who has won

13 gold medals at Paralympic games.

The ad dramatizes a phone call from

an adoption agency to Jessica's future

mother, who learns about a child in

an orphanage whose legs require amputation.

"Her life, it won't be easy,"

says the caller. Then there's a pause,

almost as if the caller expects Long to

back out. But instead she goes all in:

"It might not be easy, but it will be

amazing."

The ad doesn't say anything about

church, God, or Jesus, and it delivered

what may be the most pro-life

message ever seen during a Super

Bowl.

It also may have brought to mind the

deep-fake Lombardi and his pre-game

pep talk, which apparently was inspired

by words that the famous coach

once spoke: "After all the cheers have

died down, and the stadium is empty,

after the headlines have been written,

the measure of who we are is what we

do with what we have."

And sometimes this measure even

includes what we see on millions of

television screens, on the first Sunday

in February.

John J. Miller is director of the Dow

Journalism Program at Hillsdale

College, national correspondent for

National Review, and the author of

"Reading Around: Journalism on Authors,

Artists and Ideas" (Woodbridge

Press, $12.99).

SCREENSHOT VIA YOUTUBE

February 26, 2021 • ANGELUS • 31
---
THE CRUX

BY HEATHER KING

A person, not personalities

DARIA NEPRIAKHINA/UNSPLASH

I

have never much kept up with

Catholic "politics," if that's the

word. I depend upon Always Forward,

from our own Angelus, for daily

news of the Catholic world.

And I read one blog: Neal Obstat,

faithfully maintained by the wonderful

Tom Neal, Ph.D., husband, father,

and professor of spiritual theology

at Notre Dame Seminary Graduate

School of Theology in New Orleans.

In a recent post, he wrote of his

conscious choice to avoid being a

"controversialist." I couldn't agree

more.

IMAGE VIA FACEBOOK

Tom Neal

That doesn't mean you never say

things with which people disagree.

It means you don't make a career, in

or out of the Church, out of being a

provocateur and a hater.

I was once graced to attend Mass

with Tom, his wife, Patti, one of his

daughters, and the one and only

Austin Ashcraft, a dear friend and

teacher of Catholic high school boys

who introduced me to Tom in the first

place. We broke bread over a crazy

delicious NO meal afterward, outside

on the sidewalk, and I fell in love with

the whole lot of them.

32 • ANGELUS • February 26, 2021
---
Anyway, Tom often offers a story or

bit of wisdom or a reflection or an insight

that you can really chew on and

use. Just in the past week, he's issued

an invitation to pray as if we mean it,

wondered why we so seldom, if ever,

confess to our bad driving habits, and

reposted one of my all-time favorites:

"All Rind, No Meat."

In that piece, he describes a guy

who's talking to his confessor and

has all these very deep insights about

his very elevated prayer. The priest

listens patiently and after a while says,

"Unh-huh. So how's it going with that

sibling of yours to whom you haven't

spoken in months?"

I have always felt this kind of incredibly

useful reflection to be at the

heart of Catholicism, the Gospels,

and our relationship with Christ.

This effort to know ourselves, to see

ourselves clearly — in order both to

use our gifts and to work evermore

toward learning to love one another

as he loved us, and our neighbor as

ourselves — is the very point of our

ongoing conversion.

What good are our prayers, our

doctrines, and even the sacraments, if

they don't break us open and challenge

us to love the most difficult of

our friends, families, and neighbors?

Being conversant with every last

abuse scandal, attacking the current

pope, or currying favor with the

"movers and shakers" of the Catholic

world (itself a contradiction in terms:

our only mover and shaker is Christ,

nailed to the cross) are tacked-on

trappings that, unless you happen to

count a bishop or whoever as a dear

friend over and above the mere office,

are simply irrelevant to a life of faith.

For my own part, I sometimes joke

that I have 200 readers and know

each of them personally, which is not

far from the truth. It's not unusual,

for example, for someone to sign up

for one of my writing workshops, and

the next day to ask for my prayers on

behalf of a depressed colleague, sick

relative, or confused child.

My goal is to invite people to seek

truth, goodness, and beauty. I have

zero interest in debating, arguing,

or making a "point" and thus simply

block anyone on social media who

makes a willfully argumentative or

asinine remark.

One branch of the arbiters of Catholic

culture consists in just such haters,

naysayers, complainers, and snitches:

people who have succumbed to the

temptation to solicit the maximum

number of hits and likes by fomenting

controversy.

Another branch comprises Catholic

"personalities": people who host

"upbeat" afternoon talk shows, post

flirty conversations that supposedly

happened between them and Jesus in

prayer, and hawk their Catholic-empire

DVDs, T-shirts, and coffee mugs.

Christ never contrived to be controversial:

He was controversial because

his actions and words, his absolute

fidelity to the Father, his conscience

and his heart by definition subverted

every worldly system.

I'm always struck by the times he

told the people he'd just healed not

to tell anyone: the polar opposite of

social media, where we sometimes

willingly, wantonly prostitute our

integrity — both individually and

collectively — for the sake of clicks

and hits.

Could it be that the fewer people

who know about us, the better?

Whatever the case, if we're going

to spend time in front of a screen,

let's make it be to read material of

substance and quality, like Tom's.

Better yet, why not make our goal this

Lent, two or three days a week, to set

aside an hour and get away from the

screens altogether?

Why not view Lent as an opportunity,

as often as we can, to seek out the

nearest open church, drive or walk

there, and go inside to sit, in awe,

trembling and in silence, before the

Blessed Sacrament?

We want to invite the following of a

person, not a personality.

Heather King is an award-winning author, speaker, and workshop leader.

For more, visit heather-king.com.

February 26, 2021 • ANGELUS • 33

Flintridge Sacred Heart Academy,

a Catholic, Dominican,

independent, college-preparatory,

day and boarding school,

educates young women

for a life of

faith, integrity and truth.

440 St. Katherine Drive

La Cañada Flintridge, CA 91011

•

626-685-8500

01022021_FlitridgeSacredHeart_Angelus_1-3pV_Bleed.indd 1

2/4/21 7:48 PM
---
Receive ongoing support and a generous monthly compensation.

California's

Leading

Provider!

Contact Danika today! (626) 927-6356

www.MentorsWanted.com

24012021.CaliforniaMentor_Angelus_backpage.indd 1

2/1/21 6:26 PM

MAKE A DIFFERENCE IN THE LIFE

OF AN ADULT WITH SPECIAL NEEDS

California MENTOR is seeking families with an available bedroom in their home

to share with an adult with special needs.

Receive ongoing support and a generous monthly compensation.

Contact Danika today! (626) 927-6356

www.MentorsWanted.com

Ask about

our Referral

Program!

California's

Leading

Provider!

24012021.CaliforniaMentor_Angelus_backpage.indd 1

2/1/21 6:26 PM