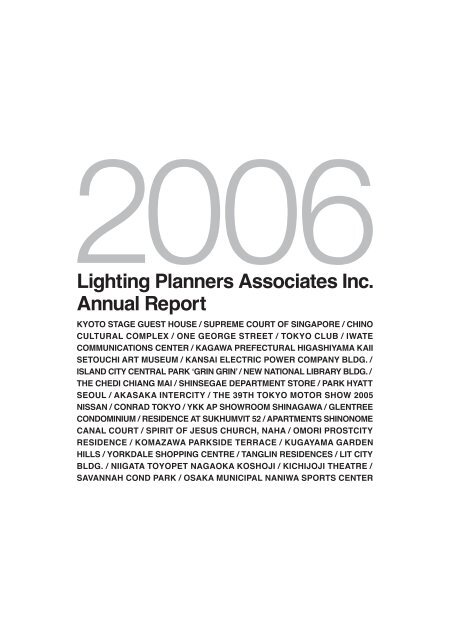 Create successful ePaper yourself
Turn your PDF publications into a flip-book with our unique Google optimized e-Paper software.
2006

Lighting Planners Associates Inc.

Annual Report

KYOTO STAGE GUEST HOUSE / SUPREME COURT OF SINGAPORE / CHINO

CULTURAL COMPLEX / ONE GEORGE STREET / TOKYO CLUB / IWATE

COMMUNICATIONS CENTER / KAGAWA PREFECTURAL HIGASHIYAMA KAII

SETOUCHI ART MUSEUM / KANSAI ELECTRIC POWER COMPANY BLDG. /

ISLAND CITY CENTRAL PARK 'GRIN GRIN' / NEW NATIONAL LIBRARY BLDG. /

THE CHEDI CHIANG MAI / SHINSEGAE DEPARTMENT STORE / PARK HYATT

SEOUL / AKASAKA INTERCITY / THE 39TH TOKYO MOTOR SHOW 2005

NISSAN / CONRAD TOKYO / YKK AP SHOWROOM SHINAGAWA / GLENTREE

CONDOMINIUM / RESIDENCE AT SUKHUMVIT 52 / APARTMENTS SHINONOME

CANAL COURT / SPIRIT OF JESUS CHURCH, NAHA / OMORI PROSTCITY

RESIDENCE / KOMAZAWA PARKSIDE TERRACE / KUGAYAMA GARDEN

HILLS / YORKDALE SHOPPING CENTRE / TANGLIN RESIDENCES / LIT CITY

BLDG. / NIIGATA TOYOPET NAGAOKA KOSHOJI / KICHIJOJI THEATRE /

SAVANNAH COND PARK / OSAKA MUNICIPAL NANIWA SPORTS CENTER
---
京 都 迎 賓 館

KYOTO STAGE GUEST HOUSE

KYOTO 2005 NIKKEN SEKKEI

Located in the traditional and culturally rich Kyoto, Japan, the new State Guest House is a glow with

Japanese Light. When visualizing "Japanese Light" we wanted to incorporate the following five elements

into the lighting environment: Express rich contrast, Use reflection and permeation, Value seasonal

and daily changes, Choreograph the field of vision along routes of circulation, and Utilize the charm of

natural light. All of these elements were realized through the design of high-level optical instruments and

elaborate integration of architectural and furniture details; All without exposing the advanced technology

used to secure comfort in this modern structure.
---
シンガポール 最 高 裁 判 所

SUPREME COURT OF SINGAPORE

SINGAPORE 2005 FOSTER AND PARTNERS / CPG CONSULTANTS

The futuristic exterior design of the New Supreme Court boasts a huge saucer-like object that has landed on

the roof. At night, the saucer is illuminated in white light and the six-story atrium below, glows symbolically

from the inside out. Inside, vertical plane luminance was important in the lighting plan to supplement natural

light entering the atrium, where key access escalators are positioned. In the courtrooms, through technically

meticulous lighting methods and coordination, care was taken in terms of facial appearances, desktop

luminance levels, and the use of glareless fixtures.
---
茅 野 市 民 館

CHINO CULTURAL COMPLEX

NAGANO 2005 NOBUAKI FURUYA / STUDIO NASCA

As dusk sets in, this new cultural center glows from the inside out, convincingly enticing visitors nearer.

While satisfying space functionality requirements, we sought to create a dynamic reversal of day and night

expressions within the building. After lengthy discussion, especially about color temperature, the glass

windows surrounding the L-shaped inner garden are illuminated with 4200K lamps, for a translucent effect.

However, we chose a more relaxing color temperature of 3000K lamps for enclosed areas such as the hall

and foyer.
---
ワン ジョージ ストリート

ONE GEORGE STREET

SINGAPORE 2005 CAPITALAND / SKIDMORE, OWINGS & MERRILL LLP / DCA ARCHITECTS

In terms of façade lighting we faced two challenges during this project: How to reflect light off the glass

and metal curtain wall, materials which are difficult to pick up light and How to illuminate the crown of the

building to emphasize the height of the structure? Another feature of this structure is a spacious piloti with

a curved glass wall surrounding the elevator core. In the elevator lobby, floor-recessed fixtures illuminate

the timber ceiling from below, insuring comfort in the lobby with only this reflected light.
---
東 京 倶 楽 部

THE TOKYO CLUB

TOKYO 2005 TANIGUCHI AND ASSOCIATES

Recessed uplights along the frosted glass façade create an elegant exterior for this clubhouse, while light also

softly spills out on to the street. The fixtures are virtually invisible along the gradation-applied glass façade,

as the focus becomes the natural-look of the lighting. Inside, the function of each space is given priority, but

without fuss over ornate details, and with the intent to create relaxing, but intimate spaces for the clientele.
---
いわて 県 民 情 報 交 流 センター

IWATE COMMUNICATIONS CENTER

IWATE 2005 NIHON SEKKEI / K.SONEENVIRONMENTAL DESIGN ASSOCIATES /

KUJI ARCHITECTS STUDIO

A combination of educational and cultural facilities, a vast atrium is the main architectural feature of this large

complex. Necessary amounts of light designed for specific niches help to create a relaxing and comfortable

atmosphere for this public complex. Interior lights filtering through the glass façade communicate to the city

and nearby Morioka Station a new landmark in the cityscape.
---
香 川 県 立 東 山 魁 夷 せとうち 美 術 館

KAGAWA PREFECTURAL HIGASHIYAMA

KAII SETOUCHI ART MUSEUM

KAGAWA 2005 TANIGUCHI AND ASSOCIATES

A small, serine art museum situated in a park on the

edge of the Seto Inland Sea. At dusk, the museum is

softly lit, appealing to both the park and seaside views.

Inside, to draw focus towards the artists special color

palette, we coordinated the color temperature of each

lighting environment. Light to present the beauty of the

artwork and light to enfold the architectural spaces were

important project aspects.
---
関 電 ビルディング / liv‐lit

KANSAI ELECTRIC POWER COMPANY BLDG. /

LIV-LIT (LIGHTING AS LIVE REFLECTOR)

OSAKA 2004 PRODUCED BY KANSAI ELECTRIC POWER COMPANY / NIKKEN SEKKEI / LIVING WORLD

Liv-lit is an inter-active lighting system atop the Kansai Electric Power Company Building of the Nakanoshima

Ward in Osaka. Through a lighting control system of programmed RGB fluorescent lights, this lantern

envisions the movements and directions of the wind in the form of light. This unique lantern, a new landmark

in Osaka's nightscape, is the first of its kind to appear on such a high-rise structure in Japan.
---
アイランドシティ 中 央 公 園 ぐりんぐりん

ISLAND CITY CENTRAL PARK

'GRIN GRIN'

FUKUOKA 2005 TOYO ITO & ASSOCIATES,

ARCHITECTS

'Grin Grin', designed to blend into the surrounding park

environment, is a structure with a beautifully curved,

landscaped roof, hovering over three exhibition areas.

At night, the long, continuous roofline is reflected in the

nearby pond. Kickoff operations started with The 22nd

National Urban Greenery Fukuoka Fair, but the structure

awaits the official grand opening.
---
シンガポール 新 国 立 図 書 館

NEW NATIONAL LIBRARY BLDG.

SINGAPORE 2005 T.R. HAMZAH & YEANG SDN. BHD. / DP ARCHITECTS / WOODHEAD WILSON

Built in a tropical climate, this architecture, termed "bio-climatic", is composed of two blocks connected by

an indoor-outdoor atrium and a façade with large, sunshade overhangs. As an ecologically built, community

structure, detailed calculations to conserve energy were a main component of the design, but as a new city

landmark, sensitivity was also placed on illumination of the exterior.
---
ザ チェディ チェン マイ

THE CHEDI CHIANG MAI

CHIANG MAI 2005 KERRY HILL ARCHITECTS

Through the concept of "Layers of Light," we tried to create

a superior balance between light and shadows along the

main architectural feature of this hotel, the guest room

corridor. Via the use of footlights and a freestanding

lamp, silhouettes of guests and other elements were

calculated to achieve a welcoming sense of light along

the corridor. Outside, lanterns positioned along the

Ping River also create a luxurious atmosphere, allowing

guest to forget the hustle and bustle of the outside world.
---
新 世 界 百 貨 店 新 館

SHINSEGAE DEPARTMENT STORE

SEOUL 2005 SHINSEGAE / SAMOO ARCHITECTS &

ENGINEERS / ARTERIOR / SUPER POTATO

The Shinsegae Department Store's new shopping

complex, opened in Seoul's Myong Dong. The façade

is illuminated with up lights and the brilliance of softly

flashing optical fibers adds elegance to the new building.

Gradually changing color illumination along the historical,

main building wall in the background helps to harmonize

the design of the old and new buildings.
---
パーク ハイアット ソウル

PARK HYATT SEOUL

SEOUL 2005 SUPER POTATO / HYUNDAI DEVELOPMENT COMPANY

The main visage of this hotel, the interior wall along the second floor kitchen, is a double-skinned curtain

wall with minimal space left for only articulate lighting detail. Also, the building crown, lighting was coordinated

with the client's other properties along the street, using similar expressions of light for all three of the piloti-type

structures.
---
赤 坂 インターシティ 外 構

AKASAKA INTERCITY

TOKYO 2005 NIHON SEKKEI

An exterior lighting plan for an office, commercial, and

residential complex in Tokyo's Akasaka. In the inner

garden, we tried to capture the fluctuation of the trees by

reflecting light onto the pond's rippling surface. Using the

pond as the centerpiece, lighting operations emphasize

daily and seasonal changes in the garden. Focal points

of light outline footpaths and create a stimulating view

from the ground floor restaurant.
---
第 39 回 東 京 モーターショー 日 産 ブース

THE 39TH TOKYO MOTOR SHOW

2005 NISSAN

CHIBA 2005 CURIOSITY

The Nissan Booth lighting design included many new

techniques, along with a design centered on warmcolored

lighting, a rarity at the Tokyo Motor Show. The

placement of luminaries was intensively scrutinized to

create a comfortable booth atmosphere through light

and shadow, but also emphasizing the contours of the

cars, as attractive presentation of the cars was priority

number one.
---
コンラッド 東 京

CONRAD TOKYO

TOKYO 2005 TAKENAKA CORPORATION

The Conrad Tokyo is the first premier-brand hotel of the Hilton group to be established in Japan. LPA lighting

responsibilities included the 1F entrance hall and wedding chapel, spa, and the 28F hotel lobby and restaurants.

After clarifying the task light functions for the overall project, we applied a design centered on vertical-surface

luminanous and ambient cove lighting, while also applying light to accentuate artwork and sculptures. To

create a sense of both spatial and temporal luxury, we paid particularly close attention to the sequence of

settings, the programming of lighting operations, and the dimming control system.
---
YKK AP ショールーム 品 川

YKK AP SHOWROOM SHINAGAWA

TOKYO 2005 POWER STATION

The initial challenge was how to attract visitors to the far end of this relatively large, but long and narrow

showroom, while incorporating an interior lighting system to simulate natural light. Lighting operations

modeling time changes from day to night were programmed for this underground showroom. The final

product was a unique presentation of light, but a necessary element to showcase exhibits in this residential

products showroom.
---
グレンツリー

GLENTREE CONDOMINIUM

SINGAPORE 2005 CAPITALAND RESIDENTIAL / MKPL ARCHITECTS / STUDIO STEED

This new condominium is about a 20-minutes drive from the city center situated in a highly Westernerspopulated

neighborhood. We integrated the lighting design with the six themes of the landscape design.

With an overall subdued lighting environment, the different areas feature theme lighting such as, blue LED

lighting along walkways, bug-like lights in the bushes, and mist lighting.
---
レジデンス アット スクンヴィット 52

RESIDENCE AT SUKHUMVIT 52

BANGKOK 2005 KERRY HILL ARCHITECTS

Near the entrance, a pool of water, almost even with

the surface of the floor, invites one into the core of

this residence. At night, LED lighting, installed near the

surface of the water, illuminates the back wall with

warm light that is designed to softly reflect onto the pool.

The light gradually changes with the passage of time,

creating a relaxing living space with sensitivity to the

element of water.
---
アパートメンツ 東 雲 キャナルコート

APARTMENTS SHINONOME CANAL COURT

TOKYO 2005 ADH / WORKSTATION JV

In order to clear maintenance and safety regulations, the implemented handrail lighting method for this apartment

complex went through a rigorous process of trial and error throughout the project. Comfortable, yet appropriate

lighting for the public corridor was the final product. Also, to give this structure a unique exterior appearance

in the middle of many housing complexes, pipe, shaft-like lighting was added to the large architectural voids.

那 覇 イエス 之 御 霊 教 会

SPIRIT OF JESUS CHURCH, NAHA

OKINAWA 2005 team DREAM

This newly built church is perched on a plateau elevated

above the rest of the City of Naha. Inside the round,

vaulted-ceiling sanctuary, a large ring suspended from

the ceiling seems to float above the pews. Ambient

light is a combination of ring uplights, illuminating the

ceiling and the characteristic structure of the members,

and ring downlights. The ring uplights on the all-white

ceiling fill this small church with a sense of poise and

loftiness.
---
大 森 プロストシティ レジデンス

OMORI PROSTCITY RESIDENCE

TOKYO 2005 TOKYU ARCHITECTS & ENGINEERS

Through the trees surrounding the property, one can catch glimpses of warm light spilling out from the lounge

and sunken garden. The lighting environment of this urban residence secures relaxation and luxury for the

generous common spaces.

駒 沢 パークサイドテラス

KOMAZAWA PARKSIDE TERRACE

TOKYO 2005 LIVCOM

Indirect lighting along the top and down one side of

both the north and south wings convey a unified lighting

design for this small tenant building in Tokyo's Setagaya

Ward. Overall, the project is composed of warm-colored

light, but colored lighting running from the basement

level up the side of the building adds a little character.

The lighting environment is calm and dignified, blending

well with the surrounding streetscape.
---
久 我 山 ガーデンヒルズ

KUGAYAMA GARDEN HILLS

TOKYO 2005 TARO ASHIHARA ARCHITECTS

The design concept for this new housing complex is "Great House." Within the amply designed building

layout and landscape plan, we proposed a lighting design consisting mainly of low-level lighting. While

securing roadway lighting, we also proposed accent lighting for flowerbeds, paved surfaces, and other rich

vegetation. Also, we devised ways to best show the beauty of the light emitted from the outdoor-stairwells.

ヨークデール ショッピングセンター

YORKDALE SHOPPING CENTRE

TORONTO 2005 MMC INTERNATIONAL

Innovative structural engineering for a vaulted skylight

made this indoor, yet seemingly open-air, 100m-long

shopping 'street' possible in the Yorkdale Shopping

Centre. For such a highly praised design, we wanted

to integrate the skylight lighting to blend with the natural

night sky. Key to this design was intricate coordination

of lighting detail and the architecture. To minimize

reflection of light on the glass skylight, that becomes

mirror-like at night, we proposed blue, colored lighting

to match the tone of the natural night sky.
---
タングリン レジデンス

TANGLIN RESIDENCES

SINGAPORE2005CAPITALAND RESIDENTIAL / W ARCHITECTS / TIERRA DESIGN

Just to the west of Singapore's shopping and entertainment district, Orchard, this new condominium was

completed in a simple, but elegant residential area surrounded in rich vegetation. The decorous architectural

design is composed of horizontal surfaces and straight lines. The lighting is integrated into the architecture

and landscape to highlight the characteristic of each design element.

リットシティビル

LIT CITY BLDG.

OKAYAMA 2005 TAISEI CORPORATION

Built in response to the re-development of Okayama

Station West Exit, this large complex contains office

and commercial space, hotel rooms, and a digital

museum. During the day, natural light finds its way

through the louver ceiling of a large galleria, cutting

north to south between the two buildings. At night,

spotlights gently light up the louver ceiling, creating a

comfortable pedestrian passage.
---
トヨペット 長 岡 古 正 寺 店

NIIGATA TOYOPET NAGAOKA KOSHOJI

NIIGATA 2005 MIYOSHI ARCHITECTURE INTERIOR OFFICE

To emphasize the beauty of this wooden structure, the entire showroom is lit by warm-colored indirect lighting.

Spotlights, with varying beam angles, highlight the showroom cars for visitors and those just passing by.

吉 祥 寺 シアター

KICHIJOJI THEATRE

TOKYO 2005 NAOMI SATO ARCHITECTS

A Musashino City public facility built for the advancement of the performing arts. The three-level façade,

covered with retro signage, is simply lit to create the most impact for this little theatre.
---
サバンナ コンド パーク

SAVANNAH COND PARK

SINGAPORE 2005 AXIS ARCHITECTS PLANNERS / CICADA

This new African Savannah themed condominium is located near Singapore's Changi Airport, in a familyoriented

neighborhood already filled with many high-rise condominiums. On the housing complex grounds,

150 bronze statues of different animals are positioned, and a volcano was built adjacent to the resort-themed

poolside. To compliment this environment, the lighting design is interactive with added exotic movements.

大 阪 市 立 浪 速 スポーツセンター

OSAKA MUNICIPAL NANIWA SPORTS

CENTER

OSAKA 2005 ENVIRONMENT DESIGN INSTITUTE

Pool, gym, and other sports facilities, a day service

center, and welfare facilities all in one large scale multicomplex.

Uplights for the large atrium, also a main path

of circulation, secured necessary luminous intensity

levels for this public area, but also helped to elevate a

dark impression, inevitable in such a large space.
---
LPA TOPICS

LPA 2005 Activities & 2006 Goals / "Lighting Design for Urban Environments

and Architecture" published / Party for "Lighting Design for Urban

Environments and Architecture" / LIGHTING INDIA INTERNATIONAL 2005 /

Design Channel / Major Contributions and Interviews
---
LPA2005 年 の 概 況 と2006 年 の 展 望
---
LPA 2005 Activities & 2006 Goals

Completion of numerous projects

In this report, we feature projects that were completed during the year 2005. Kyoto Stage Guest House (Nikken

Sekkei), Chino Cultural Complex, Japan (Studio Nasca), New Supreme Court of Singapore (Foster and Partners),

The Chedi Chiang Mai, Thailand (Kerry Hill Architects), Park Hyatt Seoul, Korea (Super Potato) are among some

highly acclaimed projects and hotels. In the year 2006, we look forward to even more elaborate works.

Recipient of International lighting design awards

Two of LPA's projects, Shiodome Sumitomo Building (Nikken Sekkei), Tokyo and W Seoul Walkerhill (Studio Gaia,

RAD), Korea have both received one of the most prestigious lighting design awards; The International Illumination

Design Award (IIDA) instituted by the Illuminating Engineering Society of North America (IESNA). We are very

pleased that a number of outstanding designs from the Asia pacific region, besides LPA, have also been

recognized for their excellent contributions.

Launch of our new publication

"Lighting Design for Urban Environments and Architecture"

Our new book, full-colored, English and Japanese bilingual, 208 page in A4 size was published by Rikuyosha. We

selected 39 projects among a number of works that LPA has participated in since 1990; they stand as a retrospective

of our 15 years of experience. The book was complied not to show beautiful completed pictures or our work, but

rather, to share the design process and struggles by showing collages of pictures, sketches and illustrations, models

and computer simulations. Our book launch held in Tokyo turned out to be a very exciting and memorable evening.

We also organized a casual gathering at our office in Singapore. We plan to continue our work on publications in

lighting design and its culture.

Annual Transnational Tanteidan Forum held in New York

Since its inaugural forum in Tokyo in 2002, our annual Transnational Tanteidan Forum has been held in Stockholm,

Hamburg and was held in New York City last September. The discussion theme for the fourth forum was "Lighting for

Main Streets(s)" and representatives from the 6 Lighting Detectives Chapters made presentations, respectively, with

their own insights. Besides our main website "www.tanteidan.org", local chapters have launched their own sites;

please also visit "www.lightingdetectives.dk" for the Copenhagen chapter, "www.lightingdetectives.sg" for Singapore,

and "www.lightingdetectives.org" for NY. Our fifth forum will be held in Singapore towards the end of the year 2006.
---
『 都 市 と 建 築 の 照 明 デザイン』 出 版

"Lighting Design for Urban Environments and Architecture" published

Through publisher, Rikuyosha Co., Kaoru Mende + LPA's

newest book, "Lighting Design for Urban Environments

and Architecture" went on sale May 25, 2005. This book

features 15 years of LPA projects, including photos,

sketches, and models from projects such as, Roppongi

Hills, Sendai Mediatheque, and the new headquarters for

China Central Television. Construction site and other

work-in-progress photos, also included in the collection,

tell a different story than the picturesque completion photos

taken of most projects. This added element takes the

understanding of lighting design to another level in this book.

『 都 市 と 建 築 の 照 明 デザイン』 出 版 を 祝 う 会

Party for "Lighting Design for Urban Environments and Architecture"

Surrounded by many old friends, architects, designers,

and clients, LPA celebrated the publishing of "Lighting

Design for Urban Environments and Architecture", July

1st, 2005. Guests enjoyed the view of Tokyo from the

49th floor of the Roppongi Hills Mori Building Library Café

and a projection slide show of LPA projects.
---
LIGHTING INDIA INTERNATIONAL 2005 講 演

LIGHTING INDIA INTERNATIONAL 2005

At the Lighting India International 2005 Conference in New

Deli, Kaoru Mende held a lecture centered on "Architectural

Lighting Design in Asia," introducing many of LPA's Asian

projects. The atmosphere at the lecture and conference

was intense, as the passion and demand for lighting design

in India increases.

Design Channel 面 出 薫 デザイン 特 講

Design Channel

The Design Channel, currently broadcast every Friday, is the first program in Japan to be devoted entirely to

design. Kaoru Mende made a special broadcast appearance to discuss urban and architectural lighting design

and Lighting Detective activities.
---
主 な 寄 稿 ・ 講 演 ・インタビュー

Major Contributions and Interviews
---
LIGHTING DETECTIVES

Light Up Ninja@Bali / Light Up Ninja@Singapore / Transnational Tanteidan

Forum 2005 in NYC / Candle Night / City Walking Tours / Regular Round

Table Discussions / Lighting Detectives Survey Trips / Lighting Detectives

Activities
---
Light Up Ninja @Bali

A transnational Lighting Detectives event, 'lighting up the

wind' was part of the annual kite festival held at Bali,

Indonesia from the 24th till the 26th of August, 2005.

Participants came from Japan and Singapore for the event

and worked with the active support of the locals. Kaoru

Mende conducted the workshop and also gave guidance

to the student participants from the Musashino Art

University, Tokyo.
---
Light Up Ninja @Singapore

This workshop was held in Singapore on the 19th and

20th of November 2005. It was organized by the

Lighting Detectives, Singapore in partnership with MICA

(Ministry of Information and Cultural Affairs, Singapore).

The workshop was the first of its kind in Singapore and

part of the inaugural Design Singapore Festival. Kaoru

Mende conducted this successful 2-day workshop that

had a total of 31 participants, and generous help from 5

sponsors (Martin Architectural, Erco, Flos, Color Kinetics

and Bacardi-Martini).
---
Transnational Tanteidan Forum 2005 in NYC

From around the world, the core members of the Lighting Detectives gathered once again to host the 4th Annual

Transnational Tanteidan Forum. Held on a beautiful autumn day in New York City, this year's topic: "Lighting for

Main Street (s)". The six presenters each gave a short talk analyzing the lighting environment along each city's

own "5th Avenue."

100 万 人 のキャンドルナイト

Candle Night

Candle Night, a biannual event held countrywide on the

summer and winter solstice, moved from Harajuku Cat

Street to the more visible stage of Omotesando. The

increased venue size allowed more people to get involved

in the candle installations along the tree-lined street,

including local elementary school and university students

during this festive event.
---
街 歩 き

City Walking Tours

On a cool March evening, with the moonlight to guide us in

our hike around the Imperial Palace, the Lighting Detectives

went in search of any deep and dark shadows remaining

in the middle of Tokyo. By contrast, July and November

walking tours took the group to light-filled Ginza and

Akihabara. Ginza, living proof of the importance recently

placed on the lighting environment in modern Japan,

provided many points for observation and study. While,

Akihabara, a conglomeration of light, façade lighting, and

overzealous neon signage, the changes in light are most

striking en route to the famous Electric Town from the new

Tsukuba Express Station and Cross Fields Complex.

Imperial Palace May. 25

Ginza Jul. 12

Akihabara Nov. 9

研 究 会 サロン

Regular Round Table Discussions

City walking tours, lighting surveys in many countries, Light

Up Ninja@ Bali, Transnational Tanteidan Forum 2005 in

NYC, and various lighting topics are reported at these table

discussions. It is valuable time for members to exchange

opinions.
---
照 明 探 偵 団 調 査

Lighting Detectives Survey Trips

福 岡 Fukuoka, Japan

While the streetscape and lighting environment are very individualistic, an overall unity exists throughout

Fukuoka. Throughout the city, a skilled balance between lighting for public and private areas is implemented.

フェアバンクス Fairbanks, U.S.A.

It was 1:30 in the morning. Overhead a banded of green light briefly danced into view and then was gone. We

met the fantastic aurora in Alaska on one of its allusive trips across the western sky.

ニューヨーク New York, U.S.A.

Frequently compared to Tokyo, New York City has two faces, one of glittery show lights, like in Time Square

and along Broadway, another of quiet composed lighting environments.

愛 ・ 地 球 博 EXPO 2005 AICHI JAPAN

The overall lighting plan did not bathe the entire site in a blanket of light, but highlighted features of the

individual pavilions, a fitting nightscape for such a cutting-edge event.

長 崎 Nagasaki, Japan

Nagasaki, a melting pot of cultures and people, this also describes the city lighting plan. The city is rainbow

colored, as streetlights emit white, orange, and green light from all different styles of poles and light fixtures.

横 浜 Yokohama, Japan

Although built-up with many large buildings, Yokohama is relatively open, relying on the waterfront as a place

of refreshment. The ferris wheel's continually changing point of view is a great way to observe the city.

ダラス・フォートワース Dallas / Fort Worth, U.S.A

Fort Worth, a city of worldclass culture and Dallas of commerce, both compete with the hot Texas sun.

Buildings are walls of heat-reflective glass with only edge, accent lighting that reflects onto nearby buildings.

神 戸 Kobe, Japan

Kobe, full of great pedestrian-friendly spaces like Flower Road, arcades, underground passages, and the Kobe

Meriken Park. While most of the light in this area is white light, Kobe Port Tower glows a brilliant orange.
---
照 明 探 偵 団 の 活 動

Lighting Detectives Activities

Lighting Detective Survey in Fukuoka, Japan

Lighting Detective Newsletter No.21

Lighting Detective Survey in Alaska, U.S.A.

City Walking Tour No.25 around the Imperial Palace, Tokyo

Lighting Detective Salon No.28

City Walking Tour with members from Copenhagen branch

Lighting Detective Survey in NYC, U.S.A.

Lighting Detective Survey at EXPO 2005 AICHI JAPAN

Candle-Night@Omotesando on the 2005 Summer Solstice

Lighting Detective Newsletter No.22

City Walking Tour No.26 in Ginza, Tokyo

Lighting Detective Survey in Nagasaki, Japan

Lighting Detective Salon No.29

Lighting Detective Survey in Yokohama, Japan

Light Up Ninja@Bali

Transnational Tanteidan Forum 2005 in NYC, U.S.A.

Lighting Detective Survey in Dallas, Fort Worth, U.S.A.

Lighting Detective Newsletter No.23

Lighting Detective Survey in Kobe, Japan

City Walking Tour No.27 in Akihabara, Tokyo

Lighting Detective Salon No.30 at ENDO SHOWROOM AOYAMA

Light Up Ninja@Singapore

Workshop with AA SchoolYokohama

Candle-Night@Omotesando on the 2005 Winter Solstice

照 明 探 偵 団 協 賛 企 業
---
Kaoru Mende

Hideto Mori

Mari Kubota

Kentaro Tanaka

Junko Nagatomo

Reiko Kasai

Chika Tanaka

Atsushi Itakura

Emiko Nagata

Saiko Tanuma

Ken Okamoto

Siti Zalwha Bte Abdul

Majid

Akiko Okunaka

Takeo Sugamata

Yosuke Hiraiwa

Gaurav Jain

Rachel Nakayama

Natsuko Ueda

Yukiko Saito

Momoko Muraoka

Tsutomu Nagatsu

Teruhiko Kubota

Yah Li Toh

Mikine Yamamoto
---
Lighting Planners Associates Inc.

2006 Annual Report
---
5-28-10,Jingumae,Shibuyaku,Tokyo 150-0001 Japan

Tel :81.3.5469.1022 Fax :81.3.5469.1023 E-mail : lpa@lighting.co.jp

68 Neil Road,Singapore,088836 Tel:65.6734.3086 Fax : 65.6734.2786

E-mail : singapore@lighting.co.jp www.lighting.co.jp