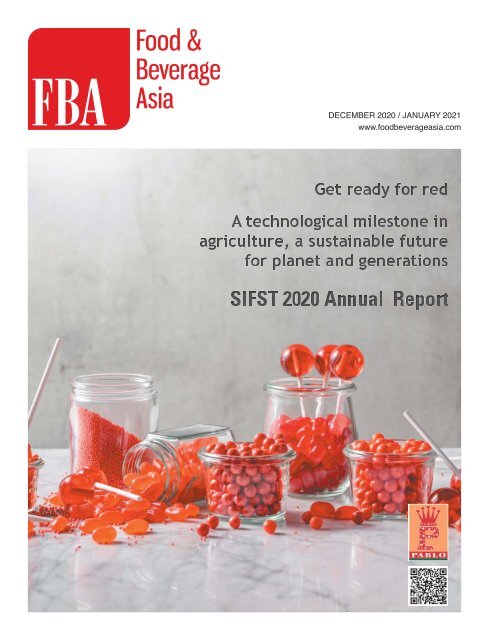 Food & Beverage Asia December 2020/January 2021
Food & Beverage Asia (FBA) is the leading source of food and beverage news in Asia since 2002. FBA delivers a comprehensive view of the food and beverage landscape, spanning across the latest health and nutrition trends and industry innovations in ingredients, recipe formulations, food science, sustainability, packaging, and automation, as well as advancements in agri and food-tech.
Food & Beverage Asia (FBA) is the leading source of food and beverage news in Asia since 2002. FBA delivers a comprehensive view of the food and beverage landscape, spanning across the latest health and nutrition trends and industry innovations in ingredients, recipe formulations, food science, sustainability, packaging, and automation, as well as advancements in agri and food-tech.
SHOW MORE
SHOW LESS
Create successful ePaper yourself
Turn your PDF publications into a flip-book with our unique Google optimized e-Paper software.
DECEMBER 2020 / JANUARY 2021

www.foodbeverageasia.com
---
Advertising is a

wonderful opportunity for you to widen

your reach, given our wide readership

across the Asia Pacific region, and online

presence that can be accessed from any

point across the globe.

For advertising enquiries, please contact

us at sales@pabloasia.com

Access Food & Beverage Asia on the go!

Download our electronic version

into your devices.

- eBook

- Website: www.foodbeverageasia.com

The official

publication of

@foodandbeverageasia

#foodandbeverageasia

Like us on Facebook!

Food & Beverage Asia
---
2

CONTENTS

16

12 28

CONT

BITING ISSUES

12 Beneo / Arla Foods Ingredients

13 Eat Just

14 Rousselot / Chr. Hansen

15 SweeGen / Aleph Farms

INGREDIENTS

16 Get ready for red

18 Five trends shaping the food

industry in 2021

20 Premiumisation of nut

and chocolate-based spreads

22 Protein: The vital nutrient for

active lifestyle

26 Healthy indulgence exists

ON THE TABLE

28 Creating South East Asian

flavours with a permeate twist

32 Friso TrackEasy takes parents on

a journey from grass to glass

34 A technological milestone in

agriculture, a sustainable future

for planet and generations

FOOD & BEVERAGE ASIA DECEMBER 2020 / JANUARY 2021
---
CONTENTS

3

37 47

49 52 70

ENTS

PROCESSING AND PACKAGING

37 Performance through

Understanding: Recovery signs

despite looming pandemic

40 SOMIC relies on AP05 electronic

position indicators from Siko

42 Making a business case for cold

aseptic filling

44 Accelerating F&B 4.0: How

automation and differentiation

can help move the industry

forward

FIRST LOOKS

46 Bühler

47 Igus

48 Datalogic / Krones

49 Stora Enso-Tetra Pak /

Munson Machinery

50 SIG / Mettler-Toledo

51 Key Technology

52 SIFST 2020 ANNUAL REPORT

SHOW PREVIEW

70 Food + Beverage Indonesia 2021

REGULARS

04 Editor's Note

05 News

71 Events Calendar

72 Advertisers' Index

FOOD & BEVERAGE ASIA DECEMBER 2020 / JANUARY 2021
---
4

EDITOR'S NOTE

a year like never before

In last year's final issue, we discussed the power of consumer's freedom of

choice and highlighted the possibility personalisation might bring forth in the

search for new flavours and tastes – in short, there were so much excitement

to look forward to and opportunities ready to be explored and tapped on as

the world enters a new decade.

Yet unknowingly, a virus was following closely behind us. In barely three

months into 2020, the virus took the world by storm, escalated across

countries, regions and continents, and was later declared the COVID-19

pandemic. This was soon followed by worldwide lockdowns – borders were

shut, and people were forced to stay home. Trade was halted, and consumers

went into panic buying of medical goods and perishables.

The pandemic merely took months to expose the weaknesses in the global

supply chains which governments and businesses took decades to build.

But as economies restart, supply chains will have to be reshaped to better

manage the current and other crisis the world might face in the future, and

more importantly ensure continuity for businesses and their customers.

PABLO SINGAPORE

Publisher

Publications Director

Senior Editor

Editor

Graphic Designer

Circulation Manager

PABLO BEIJING

General Manager

PABLO SHANGHAI

Senior Editor

William Pang

williampang@pabloasia.com

Jamie Tan

jamietan@pabloasia.com

foodbeverageasia@gmail.com

Pang Yanrong

yanrong@pabloasia.com

Josephine Tan

josephine@pabloasia.com

Liu Yu

liuyu@pabloasia.com

Shu Ai Ling

circulation@pabloasia.com

Ellen Gao

pablobeijing@163.com

Sharon Wu

pabloshanghai@163.net

Among the other things the pandemic might have taught us is, perhaps, eating

right. When staying home, consumers had more time to whip up their own

dish. This, in turn, empowers them to have more control over the ingredients

added to their food and the desire to balance health and nutrition. In page 18

of this issue, an ADM research found that 31% of consumers are purchasing

more items tailored for their health, and 50% reported a preference for foods

and beverages that naturally contain beneficial ingredients.

Trade events like ProPak Asia have also returned after a hiatus. One exhibitor

at the show was Sidel, which showcased its packaging innovations designed

in the spirit of circular economy. To find out the company's highlights at the

show and how it has adapted to ensure business continuity for its customers

during the pandemic, flip to page 37.

This issue also includes the Singapore Institute of Food Science and

Technology (SIFST) Annual Report, which highlights the initiatives and

programmes the organisation has launched over

the year. Find out more on page 52.

COVER CREDIT

GNT

HEAD OFFICE (SINGAPORE)

PABLO PUBLISHING & EXHIBITION PTE LTD

3 Ang Mo Kio Street 62 #01-23

Link@AMK, Singapore 569139

Tel: (65) 62665512

Email: info@pabloasia.com

Website: www.foodbeverageasia.com

Company Registration No.: 200001473N

Singapore MICA (P) No. 075/05/2019

Malaysia KDN: PPS1528/07/2013 (022978)

REGIONAL OFFICE (CHINA)

PABLO BEIJING

Tel: +86-10-6509-7728

Email: Pablobeijing@163.com

PABLO SHANGHAI

Tel: +86-21-52389737

Email: Pabloshanghai@163.com

2020 is never the same as the previous years the

world has had. But before we draw to a close, we

are eager to unveil our new look which you can see

from the front cover of this issue. The redesigned

logotype encapsulates our passion and verve for

providing news and market insights to you. In

coming months, we will also have a brand-new

website so stay tune!

LET'S CONNECT!

@foodandbeverageasia

Josephine Tan

Editor

Food & Beverage Asia incorporates the Official Publications of the

Singapore Institute of Food Science & Technology.

All rights reserved. Views of writers do not necessarily reflect the views of the Publisher.

No part of this publication may be reproduced in any form or by any means, without prior

permission in writing from the Publisher and copyright owner.

Whilst every care is taken to ensure accuracy of the information in this publication, the

Publisher accepts no liability for damages caused by misinterpretation of information,

expressed or implied, within the pages of the magazine.

All advertisements are accepted on the understanding that the Advertiser is authorised

to publish the contents of the advertisements, and in this respect, the Advertiser shall

indemnify the Publisher against all claims or suits for libel, violation of right of privacy

and copyright infringements.

Food & Beverage Asia is a controlled-circulation bi-monthly magazine. It is mailed freeof-charge

to readers who meet a set of criteria. Paid subscription is available to those

who do not fit our terms of control. Please refer to subscription form provided in the

publication for more details.

Printed by Times Printers Pte Ltd

FOOD & BEVERAGE ASIA DECEMBER 2020 / JANUARY 2021
---
NEWS 5

Rising food consumption drives Cargill's expansion of cold-water swelling

starch production in Indonesia

Cargill has planned to double its coldwater

swelling starch production capacity

at PT Sorini Agro Asia Corporindo, its

sweetener plant in Pandaan, Indonesia.

The expansion is aimed to better serve

food manufacturers, particularly in the

convenience and foodservice categories.

Furthermore, the Pandaan expansion

complements existing lines in North

America and Europe to further strengthen

Cargill's cold-water swelling starch

manufacturing capabilities worldwide.

Franck Monmont, managing director of

Cargill starches, sweeteners & texturisers

Asia, said: "Since the start of our coldwater

swelling starch line in Pandann three

years ago, we have provided customers in

the region with shorter delivery lead times,

increased supply reliability, and more costcompetitive,

Asia-focused specialty starch

products. Along with our announcement

of a US$100 million investment to build a

corn wet mill and starch dryer at the same

site, this latest development reaffirms

Cargill's confidence in Asia as a leading

food and beverage market, as well as our

long-term commitment to support both

Asian and global consumption needs as a

food ingredients company."

Derived from plant origins, cold-water

swelling starches are regarded as an

instant starch solution that give textures

to end products, while offering improved

Dressings and sauces contain starch to provide

mouthfeel and texture

viscosity, better dispersibility, and more

flexibility in processing. They can be used

for sauces and dressings, snacks, bakery

goods, as well as bakery fillings and cold

prepared dairy products.

The expansion is expected to be completed

in May 2021. ■

Givaudan refreshes FlavourVision consumer trend programme through

COVID-19 lens

Givaudan has refreshed its FlavourVision

consumer trend programme to reflect the

impact of the COVID-19 pandemic. The

FlavourVision update is poised to serve

as a tool to help Givaudan's customers

decipher and understand how consumer

With restrictions progressively eased, consumers

start to value physical human connection between

each other

behaviours and product development

in the food, beverage and nutraceutical

industries may be affected.

In the 2020 edition, the company

identified six shifts that have the potential

to shape a new normal in the long term.

For instance, the Human Connection trend

highlights the intensification of consumers'

need to interact with others, and the

priority given to finding ways to do so.

Technology and social media have been at

the centre of facilitating connection, and

have given businesses the opportunity to

forge more authentic, human relationships

with consumers. As restrictions gradually

begin to lift, people will be increasingly

selective about who makes it into their

trusted inner circle.

The other DelightFULL trend notes that

COVID-19 has shifted the focus from

the out-of-home experience economy to

novel, indulgent and comforting in-home

experiences – and foods. Furthermore,

people have turned to nature for a sense

of escape, and brands have responded by

evoking nature through sensorial cues in

their products and services. Economically

and otherwise vulnerable groups in both

developed and developing markets, on the

other hand, are focused more on safety

and survival than indulgence, comfort and

escape.

The 2020 refresh also pointed out six

other shifts, with a broad range in scale

and scape that are expected to outlast the

pandemic, shaping the new normal. From

home as sanctuary and hygiene and health,

to an insistence on increase corporate

accountability, these shifts are expected to

impact daily life in the future. ■

FOOD & BEVERAGE ASIA DECEMBER 2020 / JANUARY 2021
---
6

NEWS

Tate & Lyle acquires Sweet Green Fields

Tate & Lyle has announced the acquisition

of Sweet Green Fields (SGF), a global

stevia solutions business. The acquisition

will bring forth a broad portfolio of

the latter's stevia products and an

integrated supply chain to the former,

including leaf sourcing, leaf varietal

The addition of SGF to the Tate & Lyle family will

enable the latter deliver tasty food and beverages

with less sugar

development, agricultural programmes

and manufacturing.

It will also strengthen Tate & Lyle's

position as a provider of innovative

sweetener solutions with the capabilities to

create foods and beverages that are lower

in sugar and calories, and with cleaner

labels for consumers across the world. The

acquisition further extends the company's

presence in the Asia-Pacific region with

dedicated stevia production and R&D

facilities located in Anji, China.

Tate & Lyle began its partnership with SGF

in 2017, becoming the global distributor

of the latter's portfolio of stevia-based

ingredients and solutions, and then

acquired a 15% equity holding in SGF the

following year. Tate & Lyle's acquisition

of the remaining shares of SGF simplifies

the existing relationship by creating an

integrated supply chain and commercial

organisation, unified R&D capabilities,

and combined strengths to accelerate

innovation and optimise production

technologies.

Nick Hampton, chief executive of Tate

& Lyle, commented: "We're delighted to

take our relationship to the next level by

bringing SGF into the Tate & Lyle family.

This acquisition supports our strategy to

grow our sweetener solutions portfolio

and our purpose of Improving Lives for

Generations by helping us to deliver tasty

food and beverages with less sugar to

consumers worldwide." ■

AAK joins the MISTA platform to strengthen capabilities for plant-based foods

To accelerate innovation and drive

further growth within the plant-based

foods market, AAK has joined the MISTA

innovative platform, based in San

Francisco, California, the US.

Established in 2018, MISTA is an initiative

that brings together the expertise of

larger food and ingredients companies

and select start-ups to optimise ideas,

products, people and investments in order

to address current and future challenges

within the food and beverage industry.

The start-ups within the MISTA platform

include clean meat, plant-based, biotech,

and technology companies.

light on challenges in the current food

system. With our speciality oils and fats

knowledge and application expertise, we

very much look forward to collaborate with

the other MISTA members to respond to

the rapidly changing needs of consumers."

Scott May, head of MISTA, added: "We

are excited to welcome AAK as a MISTA

member and a key contributor to deliver

on our purpose to transform the global

food system and meet the needs of the

future. With its global presence and

focus on sustainability, AAK will have a

significant impact on delivering consumerpreferred

solutions that require speciality

oils and fats for optimal taste, texture and

appearance." ■

As a MISTA member, AAK looks forward

to collaborating with other members to

respond to changing needs of consumers

Niall Sands, president plant-based foods at

AAK, pointed out that beyond just a trend,

plant-based foods are rapidly becoming

a mainstream lifestyle of choice given its

growth trajectory. He continued: "Driven

by sustainability, nutrition, well-being, and

animal welfare concerns, it has also cast

FOOD & BEVERAGE ASIA DECEMBER 2020 / JANUARY 2021
---
Red alert! GNT Group predicts 2021's

top F&B colour trend

Red is set to shake up the food and beverage industry in 2021 due

to its ability to spark powerful emotions, according to EXBERRY

Colouring Foods supplier GNT Group.

Red has long been an iconic shade in the worlds of cosmetics,

beauty, fashion, film and design. As the world approaches 2021,

GNT predicted red is now ready to invigorate the world of food and

drink.

The global COVID-19 pandemic has taken consumers outside their

comfort zones, leading them to break free from old habits and

search for something new. GNT pointed out red can connect with

this desire for discovery, and help signal the start of a new era.

Associated with sporting dominance, red is a shade that signifies

power and energy. It is globally recognised as the colour of love,

too, with the ability to fire up strong feelings of passion and desire.

GNT also highlighted red's ability to add a sense of excitement

and exploration to food and drink, with its appeal among the

Instagram generation providing another key reason for the

shade's growing popularity.

Maartje Hendrickx, market development manager for GNT,

elaborated: "Red was the natural choice for our new Love Colour

with EXBERRY campaign. It epitomises human vitality, creating

energy, passion and positive action, and brings real excitement

to food and drink products. Red is well known for its ability to

command instant attention, and it's a colour you won't be able to

ignore in 2021."

With consumers demanding clean and simple ingredients in their

food and drink, GNT offers a range of red EXBERRY Colouring

Foods made from raw materials such as radish, carrot, sweet

potato, hibiscus and berries including elderberry and chokeberry.

Like all EXBERRY products, GNT's red shades are made from

fruit, vegetables and edible plants using physical manufacturing

processes and no chemical solvents. As a result, they can provide

the clean-label replacement for colourants such as the azo dye

Allura Red AC and carmine. ■

Gearing up for red? Flip to page 16 to find out more on meeting the

demand for red food and drink with clean-label colours.

FOOD & BEVERAGE ASIA DECEMBER 2020 / JANUARY 2021
---
8

NEWS

IMCD expands technical capabilities with opening of new pilot plant

IMCD has opened its meat, seafood and

plant-based analogues pilot plant in

Bangkok, Thailand, to support its Asia-

Pacific customers and suppliers with

the latest infrastructure and technical

expertise. This is part of the company's

plan to expand its technical capabilities

and presence in the region.

The facility is equipped with manufacturing

capability to provide its customers the

flexibility to run tests in an environment

similar to their own operations. The

technical team offers product concept

solutions in the area of yield optimisation,

food safety, shelf-life extension, and

improved texture. They will also focus

on nutritional solutions like egg white

and phosphate replacer in the seafood

applications.

attractiveness remains the utmost criteria

of choice, IMCD continues on developing

its offer in Asia-Pacific on flavours,

seasonings and clean label.

Emmanuel Colette, business group

director, food and nutrition, Asia-Pacific,

IMCD, commented: "With more than 45%

of consumers globally choosing food

and beverage products that enhance

their immune system, our new technical

infrastructure will support our partners'

R&D and marketing teams to co-create

nutritional and premium tasting solutions.

"With the opening of this new pilot plant,

IMCD aims to serve the Asia-Pacific food

market by helping its customers overcome

their challenges through agile ingredients'

testing and product reformulation."

In meeting the growing demand for

plant-based food alternatives, IMCD

also planned to embark on a co-creation

journey with its customers and suppliers to

go in-depth into the applications of plantbased

products to provide a healthier and

better tasting solutions for the region. ■

Through this facility, IMCD and its

partners can develop improved textures,

compatible with their processing and

matching consumers expectations on

firmness and juiciness. As taste and visual

A look into IMCD's new facility

FHA-Food & Beverage will reopen in March 2022

FHA-Food & Beverage is now scheduled to take

place from 28-31 Mar 2022 in Singapore

Informa Markets has announced that

FHA-Food & Beverage will no longer take

place physically in 2021. Instead, the

event will reopen in 2022 from 28-31 Mar

at its original location Singapore Expo &

Max Atria.

Meanwhile, FHA Match, the new virtual

series of FHA events, will kick off with

an F&B Series comprising six versions

to be held throughout 2021. Powered

by Saladplate.com, the virtual event

will run two days packed with artificial

intelligence (AI)-driven meetings to

match businesses, enabling them to

form new connections and unlock new

opportunities across markets. Attendees

can also catch demonstrations to discover

new and breakthrough products, and join

sessions that will discuss emerging trends

impacting their businesses.

Designed to be sector-focused, the first

edition of FHA Match will centre on meat,

with subsequent editions spotlighting

dairy, frozen food, drinks, sweets and

snacks, and fine food respectively.

Martyn Cox, event director, hospitality,

food and beverage – Singapore, Informa

Markets, said: "The launch of FHA Match

is just one example of our commitment

to creating fresh and meaningful

opportunities for our community in a

number of ways, so that individuals can

continue to stay engaged and businesses

can thrive all year long. We look forward

to working collaboratively with the

industry, to provide tailored solutions that

will deliver positive results and lasting

connections for all." ■

FOOD & BEVERAGE ASIA DECEMBER 2020 / JANUARY 2021
---
Barry Callebaut inaugurates new office

and Chocolate Academy in China

Barry Callebaut has

opened its fourth office

and the third Chocolate

Academy in China, at

Shenzhen. After Suzhou,

Shanghai and Beijing,

the Shenzhen office will

become the company's

The opening of Barry Callebaut's fourth office and operational hub in

third Chocolate Academy Centre in China, which

southern China. Barry

will better serve growing customers in South China

Callebaut currently

has a local factory in Suzhou, sales offices and Chocolate Academy

Centres in Shanghai, Beijing, to which it now adds Shenzhen.

food-safe

plastics

... for the food and packaging industry ...

Commenting on the opening, Ben De Schryer, president of Barry

Callebaut at Asia-Pacific, said: "The inauguration of the new

office and the Chocolate Academy Centre in Shenzhen is part of

our continuous expansion in China, and another milestone in our

successful growth story which started here 12 years ago. The

facilities will help us to meet the growing demand for high-quality

chocolate creations, and serve our customers in China better. We will

also continue to invest our business and strengthen our collaboration

with food manufacturers and artisanal customers in China."

The new Shenzhen office includes a Chocolate Academy Centre, the

third in China and the 23rd globally. Through inspiration, education

and personalised support, the Chocolate Academy Centres enable

artisans, pastry chefs, confectioners, bakers and caterers to create

the chocolate delights of tomorrow.

Over the last 12 years, more than 5,000 craftsmen in China have

attended training and demonstrations in the Chocolate Academy

Centres in Shanghai and Beijing. The centres have hosted several

online learning sessions in Mandarin on topics such as home baking,

which have attracted more than 130,000 viewers since February

2020.

Denis Convert, vice-president, gourmet for Barry Callebaut at Asia-

Pacific, conclude: "China is one of largest gourmet markets in the

world. Our Chocolate Academy Centres in China have become a hub

of experience, creativity and inspiration for both professionals and

chocolate lovers.

"And this extends online too. We support our customers and

empower chefs to be at their very own best. They can explore

chocolate science, innovative techniques, and inspiring recipes

together with chocolatiers, pastry chefs and bakers." ■

Food-safe and FDA-certified igus ® polymers for the food

and pack aging industry are lubrication-free, resistant

to temperature and corrosion-resistant. They have

lowest humidity absorption, are resistant to chemicals,

acids, resistant to alkaline and alcoholic cleaning

agents. Maintenance-free, with best wear-resistance

for your applications. igus-asean.com/food-industry

plastics for longer life ®

igus ® Singapore Pte Ltd 84 Genting Lane #06-03 Axxel Innovation Centre

Singapore 349584 Free Sample: Tel. +65 64871411 info@igus.com.sg

FOOD & BEVERAGE ASIA DECEMBER 2020 / JANUARY 2021
---
10

NEWS

Mintel launches annual Asia-Pacific Food and Drink Landscape

Mintel has launched Asia-Pacific: The

Food and Drink Landscape featuring the

latest market research, product innovation

insights, and consumer trends from across

the region.

The COVID-19 pandemic, social distancing

measures, and economic shutdowns have

resulted in new consumer habits and

attitudes towards food and drink. These

shifts have impacted and amplified the

development of global food and drink

industry.

Latest research from Mintel's food and drink

analyst team paints a picture of changing

consumer behaviours and attitudes brought

forth by the pandemic, trends shaping the

sector, and future opportunities for brands.

The Asia-Pacific Food and Drink Landscape

found that consumers across the region

have increasingly adopted products

and services that offer a higher level of

convenience, further accelerated by the

advent of COVID-19. Globally, consumer

interest in air fryers increased during the

COVID-19 period as people cook and bake

more at home amid the pandemic. According

to Mintel Global New Products Database, the

launches of food products globally with the

description of "air fryer" saw a five-fold rise

between June 2017 and May 2020, driven by

South Korea.

Other findings include the rising interest

in health and wellness. For instance, the

persistence of COVID-19 in the Indian market

has exposed critical truths related to health

and wellness, and put a spotlight on how

consumers' dietary and lifestyle choices

matter. Mintel's Global COVID-19 Tracker

showcased consumers' focus on preventive

health and mindful eating, indicating the

potential for disruption in the food and drink

space.

The 2020 edition of Mintel's Asia-Pacific Food and Drink Landscape features market research and innovation

insights, alongside consumer trend across the region

Furthermore, the preference for natural, simple

and flexible diets had led consumers to seek

more fruits, vegetables and other plant-based

ingredients within the products that they

purchase. The rise in plant-based diets can be

attributed to heightened concerns for animal

welfare, the environmental impact of intensive

animal farming and also health reasons. ■

Gelita acquires stakes in Turkish gelatine manufacturer

Gelita has acquired 65% of the shares

in the Turkish gelatine producer, SelJel.

The joint venture is part of the former's

growth strategy to meet the increasing

demand for gelatine, and in particular

for halal bovine gelatine. This is a critical

requirement not only in Islamic state but

also in large parts of Asia to extend market

share in this growth region.

Dr Franz Josef Konert, CEO of Gelita,

commented: "SelJel complements Gelita

perfectly. All their products have halal

status, which helps us to meet the growing

demand for these products. This will

further strengthen Gelita's global network,

now with 23 locations worldwide, and SelJel

will profit from Gelita's global presence."

With approximately 6,500 metric tonnes

of edible, pharmaceutical and technical

gelatine, SelJel supplies not only the

national market but also international

customers. The company was founded

in 1961 with an initial focus on the

production of technical gelatine. Since

2010, the product range has expanded

to include edible gelatine, and later also

pharmaceutical gelatine, all with halal

status.

The remaining 35% of the shares will

remain with the founding family Tezman,

who will also continue to manage the

company. ■

Gummy bears typically contains a mixture of sugar,

glucose syrup, starch, colouring and gelatine

FOOD & BEVERAGE ASIA DECEMBER 2020 / JANUARY 2021
---
NEWS 11

Azelis extends partnership in Corbion into Indonesian F&H market

Azelis has extended its distribution

agreement with Corbion, which will see

the company distributing Corbion's

portfolio for the markets of confectionery,

processed meat, savoury, and sauces and

dressings. This partnership is built upon a

collaboration between the two companies

in Asia-Pacific.

Laurent Nataf, CEO and president of Azelis

Asia-Pacific, said: "We strive to bring the

latest and best performing ingredient

solutions to our 11 markets throughout

Asia-Pacific, while expanding the market

reach for our principals. Thanks to our

long-term collaboration with Corbion in

the region, we can leverage and transfer

our expertise and formulations know-how."

Corbion's product range in food and

health includes biobased clean label

ingredients such as natural preservatives

and nutritional solutions, emulsifying

systems and lactic acid specialties for

confectionery, beverages, baked goods,

sauces, dressings, condiments, meat and

fish, and prepared food. The company's

product range will complement Azelis'

portfolio, offering new ingredient synergies

and solutions to the food and health

customers in Indonesia.

Antonius Prihantono, managing director

for Azelis Indonesia, added: "Corbion's

product range is a strong asset for Azelis

as it reinforces our innovative offering to

customers and enhances our ingredient

portfolio synergy. Furthermore, Corbion

offers solutions in line with the latest

market trends of label-conscious, healthier

lifestyle and safety focus."

In 2017, Azelis opened an office as well as

a Food and Health application laboratory

in Indonesia to deliver an optimum service

to its customers. Last year, the company

further acquired Primaditha, an Indonesian

local specialty food ingredient distributor,

to reinforce its position in the market,

demonstrating its dedication to grow both

organically with its partners and through

selected acquisitions. ■

Corbion's offers clean label ingredients for

confectionery, baked goods, prepared food and

more (Photo credit: Getty Images)

Tomra Food joins WBCSD

Tomra Food has joined over 200

companies as the newest project

member of the World Business Council

for Sustainable Development (WBCSD),

an organisation that aims to accelerate

the transition to a sustainable world.

Connecting with WBCSD's network of

businesses across a variety of sectors will

enable Tomra Food to continue to enhance

and implement its sustainability ambitions

in collaboration with like-minded partners.

Tomra Food's sorting and grading

solutions are designed to increase the

yield of produce by between 5-10%,

which, for instance, is equivalent to 25,000

trucks of potatoes every year, the company

claimed. This allows businesses to

maximise productivity and recovery rates,

while reducing food waste and improving

the overall quality of the produce.

Tomra Food is the newest member of the World

Business Council for Sustainable Development

(WBCSD)

Michel Picandet, executive vice-president

and head of Tomra Food, said: "To achieve

a sustainable future for the food industry,

governments, corporates and consumers

alike, must change the way in which we

produce and handle food – from farm to

fork. By 2050, food demand will increase

by 50%, so meeting these challenges is

vital to ensure food sector sustainability

for future generations. At Tomra Food,

we're committed to leading the resource

revolution through our technology, helping

improve yields, reduce food waste, and use

our food resources more efficiently – three

key factors in food sustainability.

"Tomra is already a member of The

Alliance to End Plastic Waste, and now

Tomra Food is taking the partnership with

WBCSD one step further to make the future

of food sustainable. We are proud to be

joining the prestigious list of companies

and institutions that make up the WBCSD.

We expect to learn, challenged, and

contribute to solutions for a healthier

planet for healthy people." ■

FOOD & BEVERAGE ASIA DECEMBER 2020 / JANUARY 2021
---
12 BITING ISSUES

Beneo

Beneo launches Remypure S52 P for clean label applications

Beneo has launched its new pre-cooked

functional native rice starch, Remypure

S52 P. It will allow food manufacturers to

produce clean label food preparations,

such as cold processed sauces, dressings,

dairy desserts and bakery fillings with an

instant functional native rice starch. Now

available worldwide, the new ingredient

delivers "soft and creamy" textures and

product stability, even under processing

conditions such as shear and acid.

Applications such as food dressings,

sauces and dips, bakery fillings, or dairy

desserts, traditionally have to withstand

acidity or high shear during preparation,

and can be challenging to maintain optimal

functionality under these conditions. The

Beneo's Remypure S52 P delivers "soft and creamy"

textures in applications such as food dressings,

dairy desserts and more

functional native texturiser Remypure

S52 P addresses this issue. This precooked

starch performs as modified

starches in cold processing conditions that

involve low pH and high shear, whilst being

clean label.

Benoit Tavernier, product manager specialty

rice ingredients at Beneo, said: "Remypure

S52 P has been developed for food

producers searching for an instant clean

label texturiser for food preparations that

can withstand harsh processing conditions,

whilst giving an additional creamy aspect to

the texture of the end product. It is the first

rice starch of its kind on the market for this

type of application, and has already been

well received in a range of taste tests.

"With the now extended Remypure range of

functional native rice starches, Beneo is well

set to support existing and potential new

customers in their development process of

various new clean label products." ■

Arla Foods Ingredients

Arla Foods Ingredients develops new organic solution for

cooking-stable cheese

Arla Foods Ingredients has launched

a new organic functional solution

for cooking-stable cheese products.

The solution is part of a new line that

empowers manufacturers meet the

growing demand for healthy, natural and

organic products.

Cooking-stable cheese products – such

as grilling cheeses and cheese fries – are

increasingly prevalent. They have been

used as protein-rich substitute for meat,

and have created new possibilities to cater

for the growing number of vegetarian and

flexitarian consumers.

and stability. The line includes Nutrilac

FO-7922 Organic, a new product for

cooking-stable cheese products. Designed

for grilling cheeses, cheese patties for

burgers, cheese sticks, cheese nuggets,

and cheeses for hot pot soup, it can

also be used to create recombined dairy

products that are just as delicious as those

made from fresh milk.

As well as being organic, Nutrilac

FO-7922 Organic is heat-stable in

processing, allows flexible levels of sodium

content, and has a pleasant taste. Other

advantages include 100% yield.

products in a variety of forms. At the

same time, ethical purchasing drivers are

increasingly important and the demand

for organic products is huge. Our new

solution meets all of these current market

needs. It combines functional benefits with

a natural, wholesome, organic positioning

that enhances consumer appeal." ■

Arla Foods Ingredients now adds an

organic line to its Nutrilac range of

functional protein solutions, which offer

multiple functionalities in dairy, including

improved taste, texture, creaminess

Claus Bukbjerg Andersen, senior category

manager at Arla Foods Ingredients, said:

"Contemporary ways of cooking and

eating cheese are increasingly varied,

and there's demand for cooking-stable

Nutrilac FO-7922 Organic joins Arla Foods

Ingredients' family of functional protein solutions

FOOD & BEVERAGE ASIA DECEMBER 2020 / JANUARY 2021
---
BITING ISSUES 13

Eat Just granted 'world's first' regulatory approval for cultural meat

Eat Just's cultured chicken has been (SFA), Singapore's regulatory authority

approved for sale in Singapore as an entrusted with ensuring a safe food supply.

ingredient in chicken bites. The San During this process, Eat Just complied with

Francisco-headquartered company has SFA's food safety requirements for the

developed other cultured chicken formats assessment of novel foods.

that will be an extension to this product

line.

Concurrent to the consultation and review

period, Eat Just formed partnerships with

The approval marks the "world's first" local manufacturers in Singapore to produce

regulatory allowance of meat created cultured chicken cells and formulate the

directly from animal cells for safe human finished product ahead of its sale to a

consumption, paving the way for a

restaurant and, ultimately, initial availability

forthcoming small-scale commercial to consumers. The company has been

launch in Singapore of Eat Just's new Good impressed with the calibre of local partners

Meat brand. The regulatory achievement helping to make Good Meat a strategic reality,

involved an iterative and extensive safety and further positioning Singapore as the

review by the Singapore Food Agency Asia-Pacific region's hub for food innovation.

Josh Tetrick, co-founder and CEO of Eat

Just, commented: "Singapore has long

been a leader in innovation of all kinds,

from information technology to biologics

to now leading the world in building a

healthier, safer food system. I'm sure that

our regulatory approval for cultured meat

will be the first of many in Singapore and

in countries around the globe.

"Working in partnership with the broader

agriculture sector and forward-thinking

policymakers, companies like our can help

mee the increased demand for animal

protein as our population climbs to 9.7

billion by 2050." ■

Eat Just

FOOD & BEVERAGE ASIA DECEMBER 2020 / JANUARY 2021
---
14 BITING ISSUES

Rousselot

Rousselot expands SiMoGel capabilities for centre-filled gummies

Rousselot, a Darling Ingredients brand,

has announced the development of

its latest SiMoGel concept for centrefilled

gummies. This gelatine-based

solution enhances process efficiency and

flexibility for a faster, cost-effective and

hygienic production of nutraceutical and

pharmaceutical gummies.

With this latest innovation within the

SiMoGel range, gummy manufacturers

will be able to develop centre-filled

soft gummies that combine consumer

preferences for chewable dosage forms,

with the ability to include a broad range of

nutrients at adequate dosage.

SiMoGel enables the production of

nutraceutical and pharmaceutical soft

gummies in optimal conditions. With

SiMoGel, the traditional starch moguls are

replaced by silicone moguls or blisters.

The starchless depositing, which can be

done in either silicone or metal moulds,

or directly in blister packs, prevents

cross-contamination of ingredients. This

technique also enhances application

possibilities in terms of shape and texture,

making an array of formats including 3D

and high-dimensional products possible.

Rousselot has been offering gelatine

for a wide range of nutraceutical and

pharmaceutical applications. Its gelatines

are known for their functional properties,

suitability for immediate release dosing

and versatility in format applications,

and are therefore used in several types

of delivery forms including capsules, soft

gels, chewable or coated tablets, and in

functional gummies. ■

Rousselot's SiMoGel gelatine-based solution allows

manufacturers to create new delivery formats,

including centre-filled gummy caps

Chr. Hansen

Chr. Hansen extends FreshQ bioprotection solution into the fermented

plant-based segment

At a time when fermented plant-based

products are experiencing increasing

popularity, Chr. Hansen launched FreshQ

DA, the food culture selected to help

strengthen fermentation of these products,

providing improved protection against the

spoilage caused by yeast and moulds.

Peter Thoeysen, director of bioprotection

at Chr. Hansen, explained that FreshQ DA

consists of lactic acid bacteria selected for

its ability to out-compete contaminants

through fermentation, and is able to work

in variety of plant bases to help keep

products fresh for longer. He continued:

"Bioprotection uses 'good bacteria' to

fight 'bad bacteria', yeast and mould, to

help keep food fresh from the inside out.

Using fermentation for this is a well-known

concept in the dairy world, and it offers

similar potential for the fermented plantbased

foods industry.

"With fermentation-driven bioprotection,

producers are better equipped to build

consumer trust in their brand by improving

product quality in a natural way. Improving

quality and shelf life can also help reduce

food waste at the global level, providing

consumers with an extended window

during which to consume the food they

purchase."

FreshQ is the newest addition to Chr.

Hansen's FreshQ line. The company first

introduced its bioprotective solution for

traditional fresh dairy products in 2012,

then launched the second generation in

2017, and now follows up with a version

aimed at the growing market for fermented

plant-based foods. Furthermore, producers

can look forward to improve supply-chain

sustainability with FreshQ as extending

freshness can allow them to optimise

production and logistics, thus reducing

waste in the value chain while also giving

consumers a longer window during when

to consume the food. ■

Fermenting with FreshQ DA in food culture solution

can help improve the robustness of fermented

products against spoilage throughout the value

chain, maintaining quality for longer to optimise

consumer satisfaction

FOOD & BEVERAGE ASIA DECEMBER 2020 / JANUARY 2021
---
BITING ISSUES 15

SweeGen commercialises new Bestevia Reb I

As clean-label zero-calorie natural

sweeteners continue to be attractive

to consumers, SweeGen announced

the expansion of its natural sweetener

portfolio with the commercial production

of Bestevia Reb I, a next-gen high-purity

stevia sweetener and flavour.

Reb I expands SweeGen's toolbox for

addressing the challenges of reducing

Reb I can be adopted in applications such as dairy,

beverages and savoury

sugar and delivering sweet taste solutions

to food and beverage manufacturers.

This newest edition to SweeGen's natural

sweetener portfolio works in product

applications across the spectrum, ranging

from dairy, beverages, nutritional bar,

confectionery to savoury.

Reb I is produced by a bioconversion

technology, starting with the stevia leaf.

This process was developed by Conagen,

a biotech innovator of sustainable

ingredients. SweeGen's portfolio of natural

Bestevia stevia sweeteners are produced

with Conagen's bioconversion technology,

and are classified as "next generation,

non-GMO, high-purity and clean tasting".

The Bestevia portfolio includes Rebs B,

D, E and M, and now Reb I. These Rebs

translate to clean-label, sustainable,

natural sweeteners that consumers seek.

Dr Casey Lippmeier, vice-president of

innovation for Conagen, said: "Conagen

is happy to support the successful

commercialisation of Reb I as the latest

offering from our pipeline of non-caloric

sweeteners. We are looking forward to

additional novel stevia sweeteners for

providing greater flexibility and options to

food and beverage manufacturers."

SweeGen added it has received the FDA

Generally Regarded As Safe (GRAS) no

objection letter, and achieved The Flavour

and Extract Manufacturers Association

(FEMA). Global regulatory is underway. ■

SweeGen

Aleph Farms unveils prototype of its first commercial cultivated

steak product

Aleph Farms has embarked on the journey

towards the transfer of its commercial

product – thin-cut beef steaks – into

platform suitable for mass cultivation. The

steaks, grown directly from non-GMO cells

of a living cow, are said to offer improved

Aleph Farms lays the foundation towards soft

launch of its cultivated beef steak

nutritional, culinary and sensory attributes

of meat in texture, flavour and aroma. The

company has developed five modules for

its mass production platform, with an aim

to bring the product to cost parity with

conventional meat at scale.

The prototype of its commercial product

was first introduced at the Asia-Pacific

Agri-Food Innovation Summit last month

in Singapore as part of a virtual cooking

demonstration.

Aleph Farms' platform for cultivating

steaks mirrors the natural process of

tissue regeneration processes that occur

in the animal's body, but outside of it and

under controlled conditions. The process is

designed to use a fraction of the resources

required for raising an entire animal for

meat, and without antibiotics.

To successfully grow whole pieces of meat,

the company mimics the extra-cellular

matrix found in animals with a plant-based

matrix that enables the cells to grow

and form structured tissues of meat. Its

"cell-banks" yield an unlimited source

of pluripotent, non-GMO cow cells' for

growing large quantities of meat without

the dependency on living animals.

Aleph Farms has designed tissue

cultivators to facilitate the biological

process occurring in vivo, providing the

warmth and basic animal-free elements

needed to build tissue in nature. This

includes water, proteins, carbohydrates,

fats, vitamins, and minerals.

The company has structured its product so

that it embodies the texture, taste, cooking

behaviour, as well as nutritional qualities of

conventional slaughter-based steaks. ■

Aleph Farms

FOOD & BEVERAGE ASIA DECEMBER 2020 / JANUARY 2021
---
16

INGREDIENTS

Get ready for red

Red is set to be the dominant colour trend in 2021. Victor Foo, general manager for GNT Singapore, explains

why it is crucial to meet the demand for red food and drink with clean-label colours.

In 2021, red is set to take the

world of food and drink by storm.

Red inspires a range of powerful

emotions, conjuring up thoughts of

love, passion and romance. At the

same time, it is also a highly stimulating

colour that evokes feelings of excitement

and invigoration.

With consumers across the world

searching for positivity after a difficult

2020, red is the perfect colour for the

moment. Epitomising human vitality,

it connects with that global desire for

uplifting and energising products. It is

also a huge hit on social media, helping

consumers create Instagram posts based

on a wide range of eye-catching red food

and drink delights.

THE RISE OF RED

The possibilities for creating stunning

red products are endless. For instance,

seasonal confectionery launches for

events such as Valentine's Day and

Christmas can be brought to life with

vibrant reds, giving inspiration to products

including gummies, lollies, jellies, hardboiled

candy and chocolate lentils.

Baked goods, too, can benefit from red's

eye-catching fillings, inclusions and

decorations. Dumplings are another great

option, particularly during the Chinese

New Year celebrations, with red providing

a twist on traditional classic.

In the world of snacks, red vegetables

inclusions such as beetroot can add a

touch of adventure as well as healthful

appeal to breakfast bars, popcorn,

crackers and crisps.

Meanwhile, the younger generation

is searching for something new and

different from their alcoholic beverages,

with striking colours and bold flavours

coming to the fore. Red botanicals and

'superfoods' such as hibiscus, berries and

pomegranate can provide a platform for

spectacular colours as well as elevating

innovation with exciting flavours.

Non-alcoholic beverages can benefit

from red as well. Consumers are seeking

out convenient ways to improve their

health, with immunity becoming a key

area of focus as a result of the COVID-19

pandemic. In addition to red superfoods,

red vegetables are now a popular addition

to these functional drinks, from juice shots

to probiotic drinks.

Vibrant reds can also bring the best out

of many 'meaty' plant-based products,

providing that intensely appearance to

hamburger and ground beef substitutes.

Reds can even be used to help bring highly

realistic colour to the new wave of plantbased

fish.

CLEAN APPEAL

While red can ensure products have real

visual appeal, it is equally important

to only use colouring ingredients that

consumers can trust. Shoppers are

increasingly seeking out natural products

and, for many, that means nothing

artificial 1 .

GlobalData research shows 45% of

Asia-Pacific consumers associate the

term 'clean label' with 'free from artificial

ingredients' 2 . When it comes to artificial

colours, Nielsen research has found

that nearly two-thirds of Asia-Pacific

consumers make an effort to avoid them 3 .

FOOD & BEVERAGE ASIA DECEMBER 2020 / JANUARY 2021
---
INGREDIENTS

17

Even some so-called 'natural' red

colouring ingredients fail to meet

expectations. Many are produced using

chemical solvents, while carmine is made

from the cochineal insect.

Modern shoppers increasingly want to

know exactly what goes into their food and

drink, and to feel a sense of reassurance

when they turn to the label. In fact, Innova

Market Insights has named transparency

as its top trend for 2021, with six in 10

consumers worldwide indicating they are

interested in learning more about where

foods come from 4 .

PLANT-BASED COLOURS

With shades covering the whole rainbow,

EXBERRY Colouring Foods are made from

fruit, vegetables and edible plants without

any chemical solvents. The raw materials

from red products include radishes,

blackcurrants and carrots, ensuring they

are instantly recognisable when shoppers

look at the ingredient list.

The EXBERRY Shade Vivid Red, for

example, could be described on the label

as 'Colouring Food (concentrate of carrot

and blackcurrant)', which can also help

underline the healthful appeal of products

such as vegetable-based snacks.

GNT takes pride in using only the best

raw materials for its Colouring Foods,

too. The company is vertically integrated

and monitors the entire supply chain,

from selection of seeds to cultivation and

harvesting of raw materials, all the way

through to finished products. Regardless of

the crop, GNT's materials are cultivated to

deliver exceptional colour performance.

The entire process is controlled by GNT's

agronomists, who conduct quality checks

at regular intervals. GNT conducts regular,

full-coverage screening tests to ensure that

the products are GMO-free and take steps to

control the use of pesticides and fertilisers.

GNT's vertical integration has also enabled

the company to ensure it can provide a

consistent, year-round supply of Colouring

Foods. While the pandemic has created

challenges throughout the industry, GNT has

been able to maintain sufficient inventory of

raw materials and finished ingredients for all

its customers.

A FUTURE-PROOF SOLUTION

While consumer expectations can

evolve quickly, EXBERRY Colouring

Foods are designed to be a future-proof

solution. They are made from plantbased

ingredients using simple, physical

processing methods such as chopping,

boiling and filtering. Still based on the

company's founding principle of colouring

food with food, they can deliver vibrant

shades for almost any application.

EXBERRY Colouring Foods are the ideal

choice for 2021. For anything from hibiscus

cocktails to plant-based beef burgers,

EXBERRY can deliver head-turning reds

with clean and clear labels. FBA

REFERENCES

1. Ipsos MORI 'Natural: What does it mean to

consumers?' (April 2018)

2. GlobalData 2017 Q1 Consumer Survey

3. Nielsen 'What's In Our Food And On Our

Mind: Ingredient And Dining-Out Trends

Around The World' (2016)

4. Innova Market Insights 'Innova Identifies

Top 10 Food and Beverage Trends to

Accelerate Innovation in 2021' (October

2020)

Red botanicals in beverages can provide a

platform for spectacular colours as well as

elevating innovation with exciting flavours

FOOD & BEVERAGE ASIA DECEMBER 2020 / JANUARY 2021
---
18

INGREDIENTS

Five trends shaping the food industry in 2021

From heightened anxiety and stress, to changes in social connectivity, to a more holistic approach to wellness,

consumer needs are transforming at a rapid pace. Understanding foundational macrotrends, human tensions

and consumer behaviour is key to ensuring a sustainable future for food and beverage businesses. Through

ADM's OutsideVoice consumer insights platform, the company identifies five global trends that will shape the

food industry in 2021.

ADM has released its view on

the five food and beverage

trends that will impact the

way consumers eat and

drink in the new year. Based

on research from ADM's OutsideVoice

consumer insights platform, the report

provides a breakdown of each trend that

will come to the fore in the 12 months

ahead. Each of these trends is influenced

by behavioural and societal changes that

have emerged since the beginning of the

COVID-19 pandemic, including heightened

feelings of anxiety and stress, shifting

priorities, changes in social connectivity,

and the adoption of a more holistic

approach to wellness.

Leo Liu, Asia-Pacific president of ADM,

commented: "The coming year will be one

of significant change and innovation for

the food and beverage industry in the Asia-

Pacific region. Driven by the global health

crisis and sustainability trends, consumers

are looking for products that naturally

contain beneficial ingredients, and have a

more healthy and positive impact on the

environment.

"We will see more transparency in labelling

as consumers look for products that meet

these expectations, and much stronger

demand for plant-based protein in their

diet. It will be a dynamic market and one

in which we look forward to assisting

customers meet the challenges and

opportunities ahead."

ADM's prediction on the five trends that will

spur innovation in the new year, include:

1PROACTIVE APPROACH TO

NOURISHING THE BODY AND MIND

ADM research found that 31% of

consumers are purchasing more items

tailored for their health, and 50% reported

a preference for foods and beverages that

naturally contain beneficial ingredients 1 .

The desire to influence health and wellness

through foods and beverages will create

new opportunities for nutrient-dense

products with functional health benefits

aimed at supporting immune systems,

enhancing mood, and sustaining energy.

Sensory factors like flavour and colour also

play an increasingly crucial role. Consumers

are gravitating towards foods and

beverages with bright and exciting colours

that indicate citrus flavours, with their

naturally occurring vitamin C, as well as

products with familiar, nostalgic flavours

during these stressful times.

2

SUSTAINABILITY TAKES

CENTRE STAGE

Over two-thirds of consumers want to

have a positive impact on the environment

through their everyday actions 3 . This is a

key reason why 32% of consumers buy

sustainably produced items 4 . The growing

awareness of the collective impact on

the environment has elicited increasing

demand for companies to demonstrate

their sustainability commitment beyond

just the end product to responsible

sourcing and operating standards.

Specialised feed to reduce methane

emissions in livestock, for example, has

helped to address consumer interest in

more eco-friendly protein sources. New

farming practices, such as regenerative

agriculture, are being used to enrich

soil, resulting in carbon drawdown

FOOD & BEVERAGE ASIA DECEMBER 2020 / JANUARY 2021
---
INGREDIENTS

19

and improvements to the water cycle.

Renewable plant-based materials such

as corn starch and even seaweed are

appearing in consumer packaging to

reduce landfill waste.

3

GUT MICROBIOME – THE

GATEWAY TO WELLNESS

Approximately 25% of global consumers

suffer from digestive health issues 2 . Of

those, 50% claimed that it has a moderate

or severe impact on their overall health 2 .

The pandemic has accelerated consumer

interest in a more holistic approach

to health, which includes a greater

understanding of the foundational role of

the gut microbiome on each individual's

health.

Products targeting the microbiome have

been shown to help address specific

metabolic conditions and issues such

as weight management, immune system

support, and better emotional well-being.

This provides fertile ground for food

and beverage innovation with functional

solutions like prebiotics, probiotics and

postbiotics that support microbiome

function.

4PLANT-BASED FOOD GOES

BEYOND THE BUN

Globally, 56% of plant consumers are

trying to eat more plant-based foods

and beverages, pushing alternative

proteins into an increasingly mainstream

phenomenon 1 . Demand for plant-based

protein products is rapidly expanding

beyond just burger analogues to new

and novel products, including alternative

seafoods like shellfish and shrimp, plantbased

cheeses, ready-to-eat protein

snacks and more. Alternative meat

products also continue to evolve, with new

technologies like 3D printing and protein

fermentation playing a role in driving

innovation. New plant-based meats on the

horizon include whole-muscle products

like steak and chicken breast, lunch meat,

bacon and more.

The dairy alternative category, an early

leader in the plant-based nutrition space,

is growing to encompass other formats

such as yoghurt, ice cream, butter,

spreads, and creamers. To stand out in the

dairy aisle, products must deliver more

protein than traditional dairy, and feature

a nutritional label fortified with vitamins

and minerals or functional ingredients like

probiotics.

5

TRANSPARENCY BUILDS

CONSUMER TRUST

Consumers now expect food labels to

provide greater transparency around

the entire product lifecycle. This, in turn,

helps drive the demand for locally sourced

products as consumers seek greater

clarity on where the ingredients in food

and beverages come from. In fact, 26% of

global consumers look for the country of

origin on food and drink labels 5 .

The quest for cleaner ingredients extends

to flavour and colours, with many seeking

natural alternatives, whether it be

elderberries to give a product a rich blue

hue or peppermint and mint to elicit an

energising burst of coolness in foods and

beverages. Sweeteners, such as monk

fruit and stevia, are growing in popularity

as consumers seek out natural ways to

reduce their sugar intake.

The global pandemic has drastically

changed consumer perceptions of the

world, including the way consumers eat,

drink and connect with one another. With

these nutrition trends gaining steam in

2021 and beyond, ADM is positioned

to provide brands with the innovative

solutions required to meet customer needs

in an ever-changing marketplace. FBA

This article is provided by ADM.

REFERENCES

1. ADM OutsideVoice

2. Euromonitor, The Rise and Potential of Gut

Health.

3. The Hartman Group. SUST2019.

4. Euromonitor International Lifestyles

Survey, Fielded Jan-Feb 2020.

5. Euromonitor International Health +

Nutrition Survey, fielded February 2020

as reported in "Local Vs Global: How

Ingredient Trends Reflect Cultural Shifts"

FOOD & BEVERAGE ASIA DECEMBER 2020 / JANUARY 2021
---
20

INGREDIENTS

By DHEERAJ TALREJA

The global sweet spread

market is forecasted to grow

at a CAGR of 3.2% during

the forecast period 2019-

2024, according to a Mordor

Intelligence report. The growth within

this market can be attributed to the rising

popularity of quick and healthy morning

meal replacements among office goers and

younger population.

Chocolate and nut spreads are referred to

as sweet chocolate or nut-based flavoured

pastes which are mostly used on bread,

toasts, pancakes and other grain products.

These spreads have become an integral

part of breakfast and evening snacks.

Resurging interest in home baking and

cooking due to COVID-19 pandemic led

lockdown has increased the frequent

consumption of sweet spreads across the

globe.

The market for chocolate and nut spread is

growing due to the rise in consumption of

chocolate spread over a piece of bread for

breakfast, and children are more inclined

towards it. Consumers crave for indulgent,

luxurious chocolate and nut experiences

that combines flavour with emotional

satisfaction.

The use of chocolate spreads is no longer

restricted to being an accompaniment

for traditional desserts and treats such

as waffles, toast and crumpets, it has

expanded into new culinary areas such as

a melted dipping sauce for fruit and as a

versatile baking ingredient.

During the lockdown, consumers used

chocolate or nut spreads for cakes, cookie

fillings and ice-cream toppings as part

of their home-baking indulgence. Major

brands in India like Hershey's and Nutella

witnessed a sharp increase in their sales

as home-baking were one of the major

trends during the lockdown period. People

bought in more volumes as the frequency

of visiting stores had declined. Besides,

the value of the purchase had also gone up

as consumers were spending more time in

the kitchen.

With consumers becoming increasingly

aware of a healthy diet and lifestyle,

the list of ingredients, particularly with

chocolate, is cleaner with no additives, no

preservatives and with natural flavours,

and the choice of free from products is

increasing. Classic flavours such as nuts,

caramel or dessert are always popular

among the consumers. But coffee spread

is a new flavour profile that is gaining

popularity along with other exotic

preferences such as unusual fruits and

even vegetables.

The premium trend remains strong with

fine flavours and single origin claims have

become popular among consumers. There

is also some interest for sweet and salty

combinations; for example, salted roasted

almonds spread.

FOOD & BEVERAGE ASIA DECEMBER 2020 / JANUARY 2021
---
INGREDIENTS

21

Nut butter or spreads fit into the health

and fitness revolution, and is gathering

momentum as people recognise the

wholesome goodness and nutritional

benefits of nut butter or spreads. This is

because the concept of healthy eating

has been invented, following COVID-19.

With many eating fewer carbohydrates,

protein and fats are in demand. Nut butter

and spreads are rich is both and also low

in carbohydrates. Peanut butter has led

the way for other nut-based spreads like

almond, cashew, macadamia nut, coconut,

and walnut to enter the industry and offer

a wider variety of spreads for consumers to

choose from.

sweet spreads. Various spread companies

have introduced sweet-based spreads

that can deliver both health and taste

requirements, after the popularity of jam

and jelly, among which chocolate, peanut

spread, and almond spread flavours are

gaining popularity, especially among the

youth population.

The increasing trend for snackification

is fuelling the growth of chocolate

and nut-based spreads market during

the forecast period. The availability of

regional products at a convenient price is

creating competition in the market. Another

important fuelling growth into the market is

low-sugar and low-fat alternatives, especially

in the form of natural or organic spreads,

with functional attributes. It is important for

marketers to have the right selection of oil

and fat in delivering good quality product

and various companies like AAK help create

solutions which adhere to this segment and

providing value to their business. FBA

Dheeraj Talreja is president – India, AAK Group.

Nut-based spread industry is highly

competitive with private labels providing

competition to major brands, in terms

of product innovation as well as price.

Higher competition is also forcing many

established international brands to

differentiate their products from its local

producers, leading to product innovation in

the market.

Consumers are constantly looking

for healthy snacks made from natural

ingredients. Hazelnut butter brings great

opportunities for manufacturers who

are looking for protein-rich foods from

a plant-based source. Furthermore,

hazelnuts contribute significantly to the

chocolate and nut spreads taking over

the market, with a continued promise of

growth. Versatility in chocolate hazelnut

spreads has put it among all breakfast

menus or dessert item in equal measure.

Nutella shakes, sandwiches, pizzas are

extremely growing demands among young

consumers.

With the rise in the working-class

population around the world and to

cater the needs for various breakfast

and snack food for children, the easy-tomake

category of breakfast will always be

trendy and consumers always up to try

new tastes and innovations, in terms of

Chocolate spread – a spread for all occasions

FOOD & BEVERAGE ASIA DECEMBER 2020 / JANUARY 2021
---
22

INGREDIENTS

Protein:

The vital nutrient

for active lifestyle

Protein is one of the macronutrients needed by

the human body to survive, and is contained

in different combinations and quantities in the

food people consume. Dr David Heber, chairman

for Herbalife Nutrition Institute, writes more on

the importance of necessary dietary support,

including an ideal meal plan and consumption

of protein for both health and sports enthusiasts

alike.

As the world slowly eases out

of the COVID-19 pandemic,

it has become even more

crucial to maintain a strong

immunity and healthy body

through an active lifestyle coupled with

balanced nutrition.

In a survey conducted by Herbalife

Nutrition in Asia-Pacific with 5,500

consumers, respondents indicated that

they were more knowledgeable about

dietary carbohydrates and fats, and

significantly less informed about protein.

In addition, more than a third of the

respondents in the Herbalife Nutrition

survey said they were most interested in

credible advice on enhancing sports and

physical performance through nutrition.

The survey also highlighted the fact that

healthcare professionals (HCPs) were

the most trusted source of nutritional

information for consumers in the region.

Physically active individuals, as much as

athletes, need a balanced diet and healthy

active lifestyle. A good balance needs to

be maintained to ensure bodies are well

fed, nourished and prepared for immune

challenges. This is where HCPs can advise

and help with the necessary dietary

information that can fuel a healthy and

active lifestyle.

THERE IS NO ONE SIZE THAT

FITS ALL

For an average person, the daily caloric

intake ranges between 1,800 to 2,000

calories. On the other hand, a typical

marathoner could consume additional

2,500 calories on top of those needed to

power basic metabolism, implying some

runners will need to eat 5,000 to 6,000

calories a day. Even more, an elite cyclist

might consume 8,000 calories a day on a

long-distance ride.

According to world swimming champion

Michael Phelps, his workouts are powered

by drinking energy-dense nutritional

shakes and mind-boggling quantities of

food. Based on his self-reports, his diet

racks up about 12,000 calories a day, to

power his five-hours-a-day, six-day-aweek

training regimen. On the contrary,

the ideal diet for a gymnast is a mere

2,000 calories; low in fat, high in complex

carbohydrates and high in fibre, according

to USA Gymnastics. In other words, to

power those gravity-defying tumbling

passes, a gymnast does not eat much

more than an average individual.

The lean body mass, which includes

organ and muscle proteins, determines

the number of calories burned at rest and

the number of grams of protein required

per day to maintain the lean body mass.

Protein is the most abundant substance in

the body other than water.

One kilogram of lean body mass burns

about 30 kilocalories per day at rest. For

very active athletes such as elite cyclists,

additional calorie burn due to exercise

can be highly significant or even greatly

exceed the resting calorie burn. For

most individuals, the resting energy burn

represents about 75% of the total calories

burned. For both athletes and average

individuals, the protein in the body must

be maintained daily as it is a dynamic

nutrient that is broken down and rebuilt

between meals and after exercise.

When adequate protein has been

consumed to maintain the lean body mass,

additional calories for intensive exercise

can be supplied by fats and carbohydrates.

Whenever more calories are consumed

than burned, the excess will be stored

as fat. Protein not only helps to build

muscle when combined with resistance

exercise but also helps to control hunger

for overweight and obese individuals who

need to lose excess body fat. Therefore,

when restricting calories, it is important

to maintain protein to support lean body

mass.

FOOD & BEVERAGE ASIA DECEMBER 2020 / JANUARY 2021
---
INGREDIENTS

23

AN IDEAL MEAL PLAN

Active nutrition is a complex and scientific

approach to defining nutrition and meal

plans for sports enthusiasts. The approach

is not limited to only defining the calorie

value of food intake but also various other

elements like the right timing to consume

macro nutrients and body types.

An athlete with an ectomorph body type

may require a completely different type of

meal plan from an endomorph athlete but

this depends on the differences in a lean

body mass.

Protein plays a key role in muscle repair

and growth that is integral to maintaining

an athletic body geared for endurance.

Once the total protein required for

maintaining the lean body including

the muscles each day is determined by

bioelectrical impedance or estimated from

a height and weight chart, then the protein

needs to be distributed at each meal and

after exercise. Not just total protein but

protein at each meal is important since

muscles do not store protein but take up

amino acids from the blood stream after

meals and release them into the blood

between meals. Muscle protein synthesis

and breakdown follows this 'ebb and flow'

pattern between meals and after exercise.

For average individuals, exercising five

times per week for 30-60 minutes, a

protein shake with at least 20g of protein

should be consumed within 30 minutes to

one hour after exercise.

Carbohydrates serve as the primary

source of energy during activities of higher

intensity. Eating a load of carbohydrates

right before a strenuous activity or run

is essential to keeping the fast emission

of energy and prevention of burnout.

Dietary fat also plays a key role in helping

individuals meet their energy needs as

well as supporting healthy hormone levels.

PROTEIN – THE ARCHITECT OF

MUSCLE POWER

In general, exercise has profound impact

on human bodies, as any form of physical

activity results in structural, metabolic,

hormonal, neural and molecular

adaptations that increases the level of

force or power that is sustained by the

muscles. Protein is an invaluable nutrient

for muscles growth and recovery. In

a research published by the American

College of Sports Medicine, it is indicated

that muscle mass is built when the net

protein balance is positive, in other words

when muscle protein synthesis exceeds

muscle protein breakdown. Research

also shows muscle protein turnover is

the greatest after people are engaged in

workouts.

Dietary protein for athletes plays an

integral part in growth and repairing

of their damaged cells and tissues,

synthesising hormones and enabling a

variety of metabolic activities in their

body. Protein can also improve metabolism

as protein has a higher thermic effect

than carbohydrates and fats, which

further escalates the metabolism rate of

an athlete. Like carbohydrates, protein

FOOD & BEVERAGE ASIA DECEMBER 2020 / JANUARY 2021
---
24

INGREDIENTS

consumption, if timed rightly, can produce

desired results. The ingestion of protein

immediately after exercise and throughout

a prolonged recovery period is essential to

stimulating muscle protein synthesis rates

to facilitate remodelling and repair.

Muscle protein remodelling, or the dynamic

process of synthesis and breakdown, is

required to remove and replace damaged

proteins with new muscle proteins. It is

these exercise-induced increases in protein

remodelling that provide the basis for

training adaptations that lead to improved

physical performance. While both protein

synthesis and breakdown are relevant

for muscle mass remodelling, exercise

and feeding-induced protein synthesis

provide the greatest contribution to the net

anabolic response at the muscle level in

healthy adults.

PROTEIN SUPPLEMENTATION

Experts revealed that the consumption

of good quality protein supplements,

can produce benefits for both health

and sporting performance. Sciencebased

evidence backs the idea that

protein supplementation can help to

minimise the loss of muscle mass in

old people or help those who practise

sports in which strength is important

to achieve an optimised level of muscle

performance. The most common form

of supplementation would be protein

powder and whey protein, and plant-based

proteins such as soy or pea have been

shown to most effectively promote muscle

growth and recovery. Protein shakes are

convenient and useful for active individuals

and athletes who are on-the-go, especially

post-exercise when real food sources of

protein tend to be less accessible.

It is critical for people engaging in sports

to take in high-quality protein as they

contain all the essential amino acids that

are rich in branched-chain amino acids

(BCAAs). Leucine, one of the BCAAs, is

known to play a major role in growth and

recovery after resistance and or endurance

training. High-quality protein exists in

animal-based foods – such as lean poultry,

beef, fish, dairy, egg products, and whole

eggs – and plant-based options like

soybeans and tofu. Then, there is also

the choice of dietary supplements. In

today's world, dietary supplements that

are NSF Certified for Sport Programme are

rigorously tested, and are readily available

to support elite and everyday athletes in

achieving their personalised fitness goals.

The most critical knowledge about

protein and protein supplementations is

to understand the science behind BCAAs.

As stated, earlier, BCAAs play a major

role in muscle growth and recovery after

workouts. Unlike other amino acids, BCAAs

are broken down in the muscle, and not in

the liver, as a study published by Oxford's

Journal of Nutrition confirmed. This makes

them a much more readily available source

for protein synthesis, which is the process

of creating muscle. These amino acids

also act as markers of the initiation of

protein synthesis, thus activating enzymes

responsible for building muscle. BCAA

increases the rate of protein synthesis and

decrease the rate of protein degradation

in the muscles. In the end, it's a simple

equation – if protein synthesis is greater

than protein degradation, muscles grow.

Taking BCAAs during exercise can help

limit the entry of another amino acid –

tryptophan – into the brain. Tryptophan

is converted into serotonin, a brain

chemical that contributes to fatigue during

exercise. Furthermore, a study published

by the Journal of Exercise Nutrition and

Biochemistry found that BCAAs also help

preserve our stores of glycogen, which

is our muscles' preferred fuel source to

produce energy. Having a reliable source of

energy while working out can help athletics

go stronger for longer. BCAAs are beneficial

for anyone involved in strength-training or

prolonged exercise.

ROLE OF HCP IN THE NEW NORMAL

Time is one of the factors that is a critical

enabler for imparting any form of advisory;

in this case about nutrition and active

lifestyle. Consumers in Asia-Pacific lack

knowledge on nutrition in general and, look

up to HCPs for credible nutrition advice.

This is one of the most prominent insights

of the Herbalife Nutrition Myth Survey

conducted in May 2020, which revealed

that nearly one-third of the consumers

find HCPs as the most credible sources of

nutrition information.

The pandemic has changed the world

around us, and HCPs have emerged as

playing a very significant and impactful

role. Their involvement in the consumers

fitness and wellbeing has also increased.

Consumers in general are more concerned

about issues and information related to

food safety, nutrition, fitness and building

healthy immune function. While social

media replete with health and nutrition

information, is widely followed, according

to the Herbalife Nutrition Survey, it is

certainly the least trusted. HCPs with

expert information can fill this knowledge

gap amidst the consumers by moving

beyond medication into nutrition, fitness

and community support. A few simple

steps like, talking about nutrition during

their sessions; including nutrition checklist

or pamphlets and creating nutrition

communities on WhatsApp or social media.

HCPs are the most critical hub in this

pandemic, and their enhanced role will be

looked up for years to come.

These are testing times and the times of

going beyond medication. HCPs in their

new role of acting as a counsel, must adopt

the "whole person" approach where, the

patients are treated holistically - catering

for their physical, mental and social needs.

Attempting to better understand not only

the patients' sickness, but also their social,

cultural and economic profiles and, above

all, their expectations can greatly help the

doctors in this new role. FBA

FOOD & BEVERAGE ASIA DECEMBER 2020 / JANUARY 2021
---
Your Gateway to the Great Show on Food Additives and Ingredients

FOOD INGREDIENTS CHINA 2021

March 16-18,2021

National Exhibition and Convention Centre

NECC (Shanghai)

4.1H/5.1H/6.1H/5.2H/6.2H

4.2H

5.2H

3H

6.2H

Exhibition Area

Exhibitors

International Exhibitors

4.1H

5.1H

Countries and Regions of Exhibitors

Professional Visitors

Countries and Regions of Buyers

5.1H

6.1H

Pavilions from Countries & Regions

Technical Seminars

Summit Forums

Organizers:

China Food Additives and Ingredients Association

China Food Additives Journal

CFAA Convention & Exhibition Company

Rm. 1402, Tower 3, Vantone, No. 6A, Chaowai St., Beijing 100020, China

Tel: +86-10-5979 5833 Fax:+86-10-5907 1335 5907 1336

Emailcfaa1990@126.com

CCPIT Sub-Council of Light Industry

22B, Fuwai Dajie, Beijing 100833, China

Tel:+86-10-6839 6330, 6839 6468

Fax:+86-10-6839 6422

E-mail:ficchina@126.com, info@fi-c.com

Scan and download the FIC App.

November 10 ~ 12, 2021

Guangzhou Canton Fair

Pazhou Complex, China
---
26

INGREDIENTS

Healthy indulgence exists

By CHRISTIAN PHILIPPSEN

Obesity has become a

growing health concern.

Drivers of the disease

are a range of interlinked

factors such as rising

incomes, urbanisation, shifting lifestyles,

and genetic factors. The pressure is now

on for organisations and governments

to address and fight non-communicable

diseases arising from obesity, including

type 2 diabetes, cancer, and cardiovascular

disease amongst others.

In 2019, almost 39% of those aged

18 and above were overweight 1 , and

between 2010 and 2014, South East Asian

countries – including Vietnam, Thailand,

Singapore, the Philippines, Malaysia and

Indonesia – saw the biggest rise in the

number of obese adults 2 . Moreover, the

number of overweight and obese adults

globally have also shown a marked

increase over the past four decades 3 . What

is even more worrying is that South East

Asia now accounts for about 88 million

diabetics, almost 20% of global cases 4 . If

nothing is done to counter act this issue,

this number will rise to 153 million by

2045.

In response to these worrying

developments, weight management trends

are also shifting every few years. While

there have been many different diets

and habits one can follow to maintain a

healthy weight, no one can dispute the

effectiveness of healthy eating habits,

including keeping a check on one's calorie

intake and maintaining an active lifestyle.

Diets have been identified as the gamechanger

to managing that healthy number

on the scale – but how can consumers

indulgence in their favourite food in a

guilt-free way? Thankfully, there are

various options with less calories to

choose from.

LOW-FAT AND TASTY? THAT'S NOT

IMPOSSIBLE!

Consumers are surrounded by temptations

every day, and know how hard it is to resist

a slice of delicious cake on the counter.

Foods like ice cream, yoghurts, milk and

cakes pile on the calories with their highfat

content. Creating low-fat foods might

be easy, but the challenge lies in creating

fat-reduced food products that feel and

taste as good as the full-fat versions.

However, innovative food ingredients today

can mimic the mouthfeel of fat with lower

calories, thus making it possible to enjoy

calorie-reduced indulgence.

Asian consumers are increasingly concerned on

the issue of weight management

FOOD & BEVERAGE ASIA DECEMBER 2020 / JANUARY 2021
---
INGREDIENTS

27

Orafti Inulin can be used in applications like baked goods, dairy products and cereal bars

Apart from increasing the fibre content,

Beneo's chicory root fibre, Orafti Inulin,

helps to reduce the fat content in a

wide range of food products. Due to its

molecular structure, inulin can stabilise

water into a creamy structure to mimic

the texture of fat. Compared to the calorie

content of 9kcal/g in fats, inulin contains

only 1.5kcal/g. Its mild, natural taste and

soluble nature makes it easily incorporated

into many popular products including

baked goods, dairy products, and cereals

bars to make healthier versions of snacks

that busy people can have on-the-go.

ENJOY YOUR SWEET TOOTH WITH

LESS CALORIES

Sugar is emerging as the bogeyman in the

obesity crisis. While intense sweeteners

– no matter whether natural or artificial

– very often come with an undesired offtaste,

there are possibilities to cut calories

while maintaining a sugar-like sweetening

profile.

This is particularly important for indulgent

food items such as confectionery,

chocolate, cakes, cookies and other sweet

goods. As consumers become more healthconscious

and aware of the impact food

has on them, the time has come to look for

alternatives to treat the sweet tooth.

Sugar replacers are such a thing. While

they provide the bulk in recipes also needed

when sugar is reduced, they only have half

the calories of sugar. Isomalt is particularly

interesting as it is the only sugar replacer

derived from pure sugar beet. This is why it

has a similar sweetening profile to sucrose.

As a result, isomalt has become the top

sugar replacer in hard candies worldwide.

The World Health Organization

recommended that within a healthy

carbohydrate-based diet, low-glycaemic

foods are preferred. The replacement with

isomalt not only results in a lower caloric

product, it also brings a lower blood glucose

response because isomalt is very low

glycaemic.

Health-conscious and weight watching

consumers in Asia are driving the trend for

sugar- and fat-reduced as well as lowcalorie

foods. Fortifying foods with Beneo's

multifunctional ingredients from natural

sources allow manufacturers to pass

these benefits onto their consumers while

maintaining the same good taste and

texture that they enjoy. This will enable

individuals to enjoy their favourite foods

and manage their weight at the same time.

The need to promote good nutrition cannot

be ignored, especially when managing with

a major health inhibitor such as obesity.

Manufacturers can play a key role in this

fight, by incorporating Beneo's functional

ingredients that can help to provide a

variety of guilt-free, healthy options for

consumers in the region. FBA

Christian Philippsen is managing director

for Beneo Asia-Pacific.

REFERENCES

1. Percentage of people worldwide who were

overweight as of 2019, by age

2. The Asean Post – Obesity on the rise in

ASEAN

3. World Health Organization – Global Health

Observatory Data

4. mClinica - Southeast Asia's Growing

Diabetes Epidemic

FOOD & BEVERAGE ASIA DECEMBER 2020 / JANUARY 2021
---
28

ON THE TABLE

Creating South East Asian flavours with a

permeate twist

The dairy industry is undergoing a series of transformation. For instance, technology is more widely adopted

by farmers to provide insights into milking data, and along the distribution chain to ensure transparency and

traceability. Consumers, too, are increasingly looking for healthier and sustainable alternatives, bringing forth the

rise of plant-based dairy alternatives. And on applications, dairy offers an expanded product portfolio covering

beverages, savoury, desserts and more. Martin Teo, technical director – food applications, South East Asia,

US Dairy Export Council (USDEC), tells more to Food & Beverage Asia on the opportunities for dairy permeate,

and how the region is becoming a destination for US dairy exports.

RIDING THE WAVE OF PERMEATE

How exactly is permeate obtained, and

how this ingredient complements to the

larger dairy products already available in

the market? Can you also rate the level of

demand of permeate-added products in

Asia-Pacific?

Martin Teo: Dairy permeate, which includes

whey permeate powder and milk permeate

powder, is a versatile, multifunctional

ingredient that is taking off and taking root

in the global food and beverage industry. It

is a high-lactose, mineral rich co-product

of whey and milk protein concentrates,

produced through the removal of protein

and other solids from milk or whey via

physical separation techniques.

Permeate's growing popularity can be

attributed to its wide usage possibilities

across various end-use categories to

enhance product quality and cost savings.

It delivers benefits such as flavour

enhancement, nourishing minerals, Maillard

browning, sodium reduction and more.

Demand for permeate in Asia has

been climbing, as more manufacturers

increasingly recognise its potential.

According to tracking data from Innova

Market Insights, Asia's share of total global

new product launches rose to 10.2% in

2019, up from 9% in 2018 and 5.6% five

years ago in 2015. In fact, the Philippines is

ranked as the fifth largest market globally

in 2019 for tracked new product launches

containing permeate.

What are the challenges food and

beverage manufacturers face when

adding permeate into their recipes and

products, and how is the US Dairy Export

Council (USDEC) helping them to address

these issues?

Teo: Among the key benefits of permeate

is that the advantages far outnumber any

challenges. For instance, alongside its

cost-savings, functionality and sensory

benefits, permeate can be used in a wide

range of applications including bakery

and confectionery products, dairy foods,

beverages, snack foods, prepared meals,

desserts and more. It's no wonder that

tracked global new product introductions

around the world have climbed sharply

over the past 10 years, consecutively

achieving new records year after year.

One challenge is simply lack of familiarity

with the product, particularly how to utilise

permeate in Southeast Asia-friendly food

and beverage applications. For example,

permeate can match locally popular

flavours and foods, such as pandan or gula

melaka for cookies and cakes. It can also

be used as a seasoning for snacks and

instant noodles, in various flavours such

as curry.

We as USDEC are here to provide

manufacturers with both the ideation

inspiration of ways to utilise permeate

in local-friendly applications, alongside

technical support for how to optimise

its usage in various food and beverage

formulations. We can also provide

assistance with connecting manufacturers

with US suppliers of permeate.

One tip we have for customers new to

using permeate is to experiment with how

much to add into formulations, tweaking

the formulation based on trials at different

usage levels to get the desired flavour and

sodium reduced level. Another advice,

depending on the specific application, is

knowing the total amount of lactose within

a food product or recipe which may affect

the taste and texture of the food product.

This isn't an issue in bakery products

where the lactose in permeate provides a

desirable Maillard browning effect, or in

seasoning formulations where permeate

acts as a flavouring carrier. However, in

dairy formulations like cheese sauce or

ice cream where the solubility of lactose

becomes important, all the ingredients

in the application that contribute

lactose need to be considered in order

to determine the optimal amount of

permeate that can be added to prevent

a gritty cheese sauce or ice cream. The

recommendation is not more than 14%

lactose in the water phase.

What are the economic incentives behind

the use of permeate in applications like

bakery and confectionery and as salt

substitute? More particularly, how are

taste, appearance and nutritional values

being maintained?

FOOD & BEVERAGE ASIA DECEMBER 2020 / JANUARY 2021
---
ON THE TABLE 29

Teo: A reality of the food industry,

especially in South East Asia, is that cost

is an important factor when determining

ingredient usage. The more functionality

a food processor can get for the same

cost, the better. First, permeate has

the potential to directly reduce cost as

an economical ingredient substitute to

replace other carbohydrates as well as

to reduce the use of more expensive

ingredients like cocoa powder, thanks to its

flavour enhancement possibilities.

Second, permeate offers value for money

through advantageous functionality such

as colour and flavour development and

shelf life extension. As a bakery study

USDEC conducted in collaboration with

Singapore's Food Innovation and Resource

Centre (FIRC) on cookies revealed,

this can even transcend into shorter

processing times in bakery applications

which uses less resources and increases

production speed, all of which ultimately

impact the bottom line.

Third, permeate can improve the nutrition

label – without sacrificing on taste –

which similarly offers value for money

by helping formulators meet nutritional

targets. For instance, permeate use can

contribute to the nutritional content of

beverages through the addition of a natural

source of valuable dairy minerals, and

can also support a clean label such as by

reducing the use of artificial colourings.

Specifically, permeate provides natural

Maillard browning during cooking without

having to add brown or caramel colouring.

Permeate use can also help reduce sodium

in application categories such as bakery,

snacks, seasonings and soups. In general,

approximately 10g of permeate will replace

1g of salt.

It is recommended to balance the addition

of permeate by reducing other macroingredients

such as flour, fat, eggs,

granulated sugar and other carbohydrates.

For example, one approach to creating a

softer texture for cookies is to increase the

fat content, which may not be healthy. With

permeate, this can be replaced thereby

reducing the less healthy aspect of the

reformulation but getting the right result of

softer cookies. In many instances, a total

cost-reduced formula can also be achieved

as permeate replaces other more costly

ingredients.

Milk permeate is a coproduct of the production of milk protein concentrate, milk protein isolate, and ultrafiltered

milk manufacturing

SE ASIA: A LEADING DESTINATION

Can you provide us an outlook of US dairy

export into Asia-Pacific, and what are the

strategies you have developed to drive

growth in this region?

Teo: South East Asia is a leading

destination for US dairy ingredient exports

and a rising destination for US cheese, with

tremendous, yet-untapped future growth

potential. With an export value of US$934

million in 2019, South East Asia ranked

as the second largest destination for US

dairy exports by value, second only to

Mexico. Exports of major US dairy products

to South East Asia reached a new record

volume of 450,000 metric tonnes in 2019,

up 2% over the prior year. Dairy ingredients

such as milk powder, whey ingredients and

lactose accounted for 95% of that volume,

and cheese the remaining 5%.

FOOD & BEVERAGE ASIA DECEMBER 2020 / JANUARY 2021
---
30

ON THE TABLE

In terms of major markets, the Philippines,

Indonesia and Vietnam accounted for

nearly 75% of the ingredient export

volume to South East Asia last year. While

Singapore is a relatively smaller market,

it represented 9% of total US dairy

ingredient exports to South East Asia in

2019.

The region's large middle class buoyed

by higher purchasing power is certainly

an important reason why South East Asia

shows such promising growth potential

for US dairy. Additionally, the dynamic

food and beverage industry sector in the

region alongside rising consumer health

consciousness are also critical factors

supporting a continued upward growth

trajectory. Customers in the region are also

increasingly recognising the advantages

of partnering with the large network of US

dairy suppliers for a sustainably-produced,

advantageous portfolio of nutritional and

functional dairy ingredients.

A key focus of USDEC's strategy in the

region is to help jump-start ideation

and innovation potential with US dairy

ingredients in local-friendly products that

meet the taste preferences and lifestyle

desires and habits of South East Asian

consumers. The emphasis is on health and

wellness products that nourish consumers,

as well as delicious snacks and treats

that delight consumers. USDEC conducts

a range of activities to achieve this aim,

including providing one-on-one or group

technical training and ideation support,

alongside sharing information on topics

such as nutritious research, consumer

insights, product functionality and

market dynamics via seminars, webinars,

marketing materials and videos.

In terms of other key markets in Asia,

China, South Korea and Japan are also

major destinations for US dairy exports,

with shipments volumes of $374 million,

$332 million and $283 million respectively

in 2019.

How will you summarise the year 2020

for the dairy and milk industry, and what

trends do you foresee having a sustained

impact on the industry in 2021 and

beyond?

Teo: The COVID-19 pandemic has had

many untold effects across all societies

and the business world, which is not

unique to the dairy industry. With many

countries moving into various stages of

lockdown, it has impacted restaurant

operations and food manufacturing

capabilities.

Despite the pandemic, US dairy exports

to South East Asia have remained strong

in 2020, up 72% or the equivalent of just

under 87,000 metric tonnes additional

volume shipped through July this year.

Expanded US skim milk powder exports

has been a significant driver of this sharp

rise in 2020, alongside whey ingredients

as well.

On one hand, one of the effects of

COVID-19 has been an increased focus

on healthy food consumption, which

includes nourishing products made with

US dairy ingredients. The pandemic has

led consumers to be more aware of what

Permeate is a dairy ingredient produced through the removal of protein and other solids from milk or whey

FOOD & BEVERAGE ASIA DECEMBER 2020 / JANUARY 2021
---
ON THE TABLE 31

they choose to put into their body in a

quest to stay healthy. Plus eating healthy

is something consumers can have direct

control over at a time of much uncertainty

in their lives.

This health consciousness will increase

even more over time, which puts the

onus on ensuring food products meet the

evolving needs and desires of consumers.

This is where innovation with US dairy

ingredients can help out, and USDEC and

US dairy suppliers can collaborate with

South East Asian manufacturers to create

winning delicious and nutritious new,

local-friendly products.

At the same time, more staple and

indulgence-oriented products such as

baked good, confectionery and snacks

which use dairy ingredients like permeate

and milk powders have also been soughtafter

during these challenging COVID-19

times. Also, as consumers cook more

frequently at home or order takeaway

instead of dining in restaurants, this is

also a new opportunity area for US dairy

ingredients like whey proteins.

Looking ahead, we as USDEC will continue

to focus on supporting food and beverage

manufacturers' supply and innovation

needs to create nutritious, delicious and

sustainable foods that appeal to wideranging

consumers. This also includes

enhanced focus on ready-to-eat or readyto-prepare

meals that can be consumed

at home.

US Centre for Dairy Excellence opens in Singapore

The US Dairy Export Council (USDEC) has

unveiled a new chapter for its presence

in South East Asia with the opening of

the new US Centre for Dairy Excellence

(US CDE). As its first overseas physical

investment by USDEC, the US CDE in

Singapore is funded by US dairy farmers

and processors, and envisioned as a

gateway for collaboration between the US

dairy community and South East Asia's

food and beverage stakeholders, the

culinary sector, health professionals, and

other partners.

Joining the virtual opening event was Tom

Vilsack, president and CEO of USDEC,

who commented: "The US CDE creates

an education hub and meeting place

where relationships can be developed

and strengthened, where we can share

market intelligence and insights, spark

ideation, lead research, and share the

story of US dairy's sustainable production.

It represents a long-term commitment by

the US dairy industry to the region and

exports, and recognition of the importance

of South East Asia as an innovation hub."

As today's technological and societal

changes continue to drive and reshape the

food and beverage industry, the US CDE

will focus on inspiring regionally tailored

nutrition and innovation solutions with

US dairy ingredients and cheeses to meet

evolving consumer needs. The investments

in the centre will also pave the way

towards the Future of Food, committing

to sustainability, deploying technologies,

strengthening collaborations, and applying

the latest consumer research.

Dalilah Ghazalay, regional director, USDEC

South East Asia, added: "US dairy has

played a crucial role in the food ecosystem

and economy of South East Asia over

the past two decades. Its versatility and

adaptability to South East Asian food and

beverage applications is unparalleled.

As a key part of our programmes, we will

focus on glocalisation by innovating with

local ingredients to better suit local taste

preferences." FBA

The new US CDE facility solidifies US dairy industry's in-region base, elevating customer-centric, innovation-approach to collaboratively seize Future of Food

opportunities

FOOD & BEVERAGE ASIA DECEMBER 2020 / JANUARY 2021
---
32

ON THE TABLE

Friso TrackEasy takes parents on a

journey from grass to glass

The launch of Friso TrackEasy marks FrieslandCampina's attempt to lead the trend of greater transparency in

the food industry worldwide. David Naidu, general manager for FrieslandCampina Singapore, shares more with

Food & Beverage Asia on the importance to providing traceability over the formula of milk products, and the

advantages of bringing in control of the entire supply chain from start to end.

The issue of food safety has

gained increased visibility

across the world against the

backdrop of disrupted global

supply chains, and growing

consumer concerns about food sourcing

and security. Organisations such as the

Food and Agricultural Organization of the

United Nations have stepped up efforts

to promote food safety around the world

to address consumers' needs to access

timely, clear and reliable information to

make food choices.

In an attempt to enable mums track

source of formula milk, Friso, a brand

under FrieslandCampina, launched Friso

TrackEasy, a smart packaging innovation

that allows mums to experience the full

journey of Friso's formula milk – starting

from their Dutch-owned farms to its arrival

in Singapore – as they hold the tin in their

palms.

Friso TrackEasy is built on FrieslandCampina's

140-year Dutch dairy expertise and its endto-end

control of its entire product journey

to provide mums with batch-specific

information around Friso's dairy farming,

milk collection, production process, quality

auditing, and export. This offers mums a

higher degree of transparency over the

formula milk products, empowering them

to make well-informed nutrition choices for

their children.

David Naidu, general manager for

FrieslandCampina Singapore, told Food &

Beverage Asia: "We have an integrated fullchain

control of every stage of production

of our formula milk, from grass to glass,

which ensures that the full chain journey of

Friso products is seamlessly managed and

rigorously monitored for product quality

and safety assurance. As we are one of the

few dairy companies which owns the entire

product journey, we are then able to

provide parents with complete visibility of

the production process and journey of our

formula milk via Friso TrackEasy."

Friso TrackEasy was first launched in

Hong Kong in August 2019, and followed

closely by Mainland China, Malaysia, and

now Singapore. It will be further expanded

to other countries including Vietnam,

Saudi Arabia, the Netherlands, Greece and

Mexico.

Naidu pointed out that parents in Singapore

have been paying more attention to food

FOOD & BEVERAGE ASIA DECEMBER 2020 / JANUARY 2021
---
ON THE TABLE 33

Arriving at the landing page of Friso

TrackEasy, parents can click on icons

to learn more about milk source and

every level of the journey of their formula

milk tin

Friso TrackEasy also showcases Friso's

representative farms and quality checks done at

the farm level

Friso TrackEasy takes parents through the processes

of milk collection, packaging, final quality checks

and more

sourcing and safety, and those with young

children are naturally especially concerned

about the source and production of

formula milk. He continued: "By combining

our wealth of expertise in the dairy

industry and our full supply chain control,

we are well-positioned to deliver an

industry-first smart packaging innovation

that allows parents to experience the full

journey of Friso's formula milk."

With a simple act of scanning a QR code

on the tins of Friso Gold with 2'-FL or

Frisomum milk powder, parents can

journey through Friso's milk farming,

production and quality processes. For

instance, parents can view information and

photos of the farms, as well as when and

what farm quality checks were done, such

as farm audits, cow health checks, and

milk quality checks via Friso TrackEasy.

"QR codes have been around for a long

time, and many industries have tried

to utilise the technology for a variety

of applications beyond food tracking.

However, as with any form of new

technology, one of the key challenges is

getting users to try, and eventually adopt

the technology," Naidu said. "The ubiquity

and sophistication of smartphones

in recent years have led to QR codes

becoming widely used across a variety of

applications. Previously, consumers have

to download an app on their smartphones

to scan a QR code; today, consumers can

easily scan a QR code with their phone

cameras to access a variety of information

from e-payments, tracking food sources

and checking-in to locations digitally."

In addition, parents can browse the

full-chain information of the Friso tin,

including when the milk was delivered to

the factory, when the Friso tin was packed,

relevant quality checks conducted, as well

as the date in which the approval of the

Netherlands Controlling Authority for Milk

and Milk products is received, and finally

the arrival in Singapore.

"Through the full breakdown in the

production and delivery process, we hope

to give parents a peace of mind and the

information that they need to make the right

purchasing decision," he concluded. FBA

FOLLOW US

@foodandbeverageasia

FOOD & BEVERAGE ASIA DECEMBER 2020 / JANUARY 2021
---
34

ON THE TABLE

A technological milestone in agriculture,

A sustainable future for planet and generations

Farming is dubbed one of the oldest professions in the world, yet it plays a critical role in our everyday life –

from what we wear and use to what we eat, almost everything came from a plant or an animal. Over centuries,

mankind explored many ways to modernise farming, and with today's advancement in technology innovation,

farmers can be equipped with better tools in planting and harvesting their crops. Briony Mathieson, CMO for

Olam Food Ingredients, tells Food & Beverage Asia how digital technology is transforming the Asia-Pacific

agricultural industry.

Marking two years since

the launch of AtSource,

Olam has leveraged

on this sustainability

insights platform for the

agricultural supply chain to drive social

and environmental change for farmers,

communities and ecosystems. For

instance, a wider sustainability programme

triggered by the findings on AtSource

can be found in the central province of

Dak Lak in Vietnam, where the company

engages and trains over 1,500 farmers on

responsible farming practices, the impact

of coffee production on the climate, and

ideal applications of farm inputs.

Through Olam's Rainforest Alliance

programme, the company has also been

training coffee farmers on intercropping

their farms with non-coffee trees such

as pepper, durian, avocado and passion

fruit, among others. To help build further

resilience to unstable coffee prices, Olam

further supplied 34,000 non-coffee

sapling and facilitated market access for

these crops by connecting the farmers

with buyers.

Speaking with Food & Beverage Asia,

Briony Mathieson, CMO for Olam Food

Ingredients (OFI), said: "We have seen real

the impact that AtSource has had on the

lives of our suppliers from testimonies of

farmers around the world. The platform

has allowed us to invest further in our

suppliers, offering training and courses to

develop their skills, which have been highly

appreciated and have made a quantifiable

difference to the work our suppliers are

doing."

Olam's AtSource is designed to help brands

and businesses shape change on the ground

and meet multiple social and environmental

targets, thus increasing resilience in supply

chains. By connecting businesses directly

to the source of supply at each stage of

the product's journey, traceability is better

ensured. With AtSource, users can access

a range of data from their supply chain,

including insights into how to influence

sustainability elements for the better. The

app provides end-to-end metrics, action

plans and corresponding narratives,

which can be used by businesses to meet

sustainability requirements, build confidence

in their brand, and ultimately transform their

sustainability initiatives and supply chains.

"Digital platforms like AtSource are rapidly

transforming the agricultural landscape in

Asia-Pacific," Mathieson claimed. "Our first

trial of Olam Direct took place with OFI cocoa

farmers in Indonesia in 2017, for example,

and our rate of technological advancement

in the area is always expanding. From

many of our suppliers not having access to

technology such as mobile phones, to being

able to make use of platforms like AtSource

and our supply chain apps, is an incredible

step."

Another platform he highlighted was the

Olam Farmer Information System, which

collects data to work out the yield gap

on growth against capacity, and makes

recommendations for the farmers to

improve efficiency. The platform is also

able to collect information about local

schools, transport, clinics and other

amenities to inform Olam potential

areas where it can support its suppliers

further through education and training

programmes to ensure prosperous farmers

and food systems.

"At the end of the day, the goal is to open

up our technology pursuits to as many

collaborators as possible so that we can

help farmers and reduce environmental

impacts such as land use issues and

carbon emissions," he said.

Olam has also established partnership with

the Wildlife Conservation Society (WCS) to

address forest encroachment in the Bukit

Barisan Selatan landscape in southern

Sumatra, Indonesia. The collaboration

enables the latter to leverage on the Olam

Farmer Information System to survey

participating farms on the forest frontier,

recording and monitoring data on farm

boundaries, coffee yields and productivity,

the number and age of coffee trees;

economic, social and health infrastructure;

and the surrounding ecosystem. This

also allows the partnership to deliver

training and incentives to farmers for the

FOOD & BEVERAGE ASIA DECEMBER 2020 / JANUARY 2021
---
ON THE TABLE 35

Photos credit: Olam Food Ingredients

Olam Direct was developed in 2016/17 to provide smallholder farmers with

a platform to sell their products while offering greater transparency and

traceability to support more sustainable sourcing in the agri supply chain

AtSource, Olam's sustainability insights platform, is currently providing roughly 500,000

farms with sustainability support, including access to training

production of legal and deforestation-free

coffee. At the same time, this enables

participating companies to reduce their

risks of sourcing from the National Park,

while supporting solutions in priority

areas.

"TRANSPARENCY KEY IN DRIVING

CHANGE"

Earlier in January this year, Olam

reorganised its diverse business portfolio

to create two new coherent operating

groups – Olam Global Agri (OGA) and

Olam Food Ingredients (OFI) – that are

positioned for further growth in line

with key consumer trends and market

opportunities. Particularly the latter, it

offers sustainable, natural, value-added

food products and ingredients so that

consumers can enjoy the healthy and

indulgent products they love.

OFI consists of Olam's businesses of

cocoa, coffee, edible nuts, spices and

dairy. It has built a global value chain

presence including its own farms, farmgate

origination and manufacturing

facilities. OFI also partners with customers,

leveraging its portfolio of on-trend food

products, to co-create solutions that

anticipate and met changing consumer

preferences as demand increases for

healthier food that is traceable and

sustainable. For instance, where spices

can replace salt or sugar; where nuts can

replace animal derived proteins, or where

dairy products can be fortified further so

that consumers can get maximum nutrition

and taste, at minimal cost to the planet.

Mathieson elaborated: "To achieve this

requires attention to every aspect of the

production process, from understanding

what consumers want and how they live,

to ensuring our production techniques,

mechanisms and supply chain are as

sustainable as possible. You have to look

at the big picture and consider all the

factors from the first to the last mile of

the supply chain. For us, creating and

maintaining a successful and sustainable

food system relies on building an onground

presence with our suppliers and

farmers, high and low tech across the

supply chain, and trust and collaboration

at all levels of the system."

The first mile is where most sustainability

pain points occur, he pointed out, as the

farmer base is usually remote, highly

fragmented, and most farmers have low

literacy rates with little or no access to

technology, poor infrastructure, and limited

financing facilities. On the other hand,

the supply chain is complex with multiple

intermediaries in play.

"We estimate that across its five business

units – cocoa, coffee, nuts, spices and dairy

– OFI is sourcing directly and indirectly

from 3.5 million smallholders. Of these, OFI

is providing around 500,000 farmers with

sustainability support including training in

good agricultural practices, access to inputs

like fertiliser, healthcare and education.

Of course, scaling that is the biggest

challenge," he added.

Driving progress in this first mile is

through digital innovation, where

Mathieson reported that the group has

been able to facilitate "positive change"

through technology such as AtSource and

Olam Direct. He explained that OFI was

increasingly able to transact with farmers

who were hard to reach, and provide

educational text message outreach with agri

advice, or more recently COVID-19 health

advice.

He said: "Olam Direct, for example,

empowers farmers to get prices and

FOOD & BEVERAGE ASIA DECEMBER 2020 / JANUARY 2021
---
36

ON THE TABLE

The Olam Farmer Information System makes data-driven recommendations

to improve farm efficiency, enhance supply chain transparency and support

wider sustainability initiatives

Thanks to new technologies such as Olam Farmer Information System, AtSource and

Olam Direct, Olam can transact with farmers and provide targeted agri advice and

support to those that were previously difficult to reach

transact directly with us rather than going

through intermediaries, which yields not

only higher prices for farmers but cost

savings on their expenses, but provides

greater transparency and traceability to

the agriculture supply chain to support

more sustainable sourcing."

And on sustainability, the world is less

than a decade away from the deadline

set out on the Agenda 2030 Sustainable

Development Goals (SDGs). Within OFI's

five business units, Olam Coffee introduced

Coffee LENS – standing for 'Livelihoods,

Education and Nature at Scale' – which

maps the unit's sustainability targets for

2025 across its global, direct coffee supply

chain. Coffee LENS covers 18 origins and a

sourcing network of an estimated 424,000

farmers.

Aligned with the United Nations' SDGs,

Coffee LENS focuses on four priority

areas to improve economic opportunity,

education and skills, climate action and

ecosystems in the coffee sector, with the

following goals:

• 200,000 households benefitting from

improved productivity and incomes;

• All children of coffee farmers in

Olam's supply chain have access

to education and young people are

engaged in vocational training;

• Greenhouse gas emission intensity

from Olam Coffee's global footprint is

reduced by 15%; and

• All Olam's coffee supply chains are

deforestation-free with improved soil

health and biodiversity at landscape

level.

The strategy will be achieved through

collaboration with partners, and builds on

a decade of sustainability experience, with

over 60,000 coffee farmers across Africa,

Asia and South America already receiving

sustainability support from Olam Coffee.

OFI's another business unit, Olam Cocoa,

also unveiled its sustainability ambition

for the future of the cocoa sector in 2019.

Named Cocoa Compass, the strategy

is aimed to support the creation of an

environmentally positive, professionalised

and quality focused cocoa supply chain

comprising farmers earning a living

income and whose children have access to

education.

Commenting on OFI's efforts to ensuring

the SDGs are met, Mathieson said: "It

can't be denied that 2020 has served

as an inflection point; not just because

of COVID-19, but also through global

civil society movements. The result

of this, however, is a real impetus for

dynamic change. The 2030 deadline

will be a challenge to achieve, but it is

not impossible. It's large companies,

organisations and government bodies

who need to be collaborating and

constantly working towards these goals.

Transparency will also be key in driving

change – as being clear about both

the good and bad in supply chains will

encourage others to do the same, enabling

interventions at greater scale.

"OFI is committed to working towards

the Agenda 2030 SDGs, but using our

digital platforms like AtSource and Olam

Farmer Information System, we can take

advantage of the data at our disposal and

transform it into tangible results for our

suppliers, communities and consumers.

Using coffee as one example, the Ecocalculator

on AtSource reveals the total

environmental footprint for the ingredient,

broken down into carbon, water and landuse,

at each stage of its journey – on the

farm, in processing, and transport to the

destination port." FBA

FOOD & BEVERAGE ASIA DECEMBER 2020 / JANUARY 2021
---
PROCESSING AND PACKAGING

37

The Sidel Super Combi Compact

Performance through Understanding:

Recovery signs despite looming pandemic

In a year loomed under the COVID-19 pandemic, travel and supply chains are among some of the most

heavily impacted. From lockdowns to event postponements and the struggle to stock-up necessities on empty

supermarket shelves – the pandemic exposed almost all the weaknesses in supply chains for businesses.

Food & Beverage Asia speaks with Dominique Martin, vice-president for beverage equipment sales, South East

Asia and Pacific, Sidel, who recently concluded a physical exhibition at ProPak Asia after a hiatus, and how the

company has adapted to ensuring business as usual for its customers during the pandemic.

After a brief hiatus, physical

trade events like ProPak Asia

finally made its return on

20-23 Oct 2020 in Bangkok,

Thailand. One exhibitor

at the show was Sidel which showcased

its sustainable end-to-end packaging

innovations, designed in the spirit of

circular economy. For instance, the nextgen

Super Combi Compact is said to allow

for a footprint reduction of up to 30%

compared to the previous Super Combi

model. At the same time, this solution

also features efficiency enhancement for

still drinks production due to the new

filling technology of the Sidel EvoFILL HS

Still, which ensures a 30% faster filling

performance.

Super Combi Compact is integrated with

five process steps – preform feeder, blower,

labeller, filler/capper and cap feeder –

into a compact and smart system that

delivers continuous performance of up to

54,000 bottles per hour. Furthermore, the

new Sidel EvoFILL HS Still filler is packed

with with proportional filling valves,

controlled by electro-magnetic actuators,

thus ensuring hygiene and control of the

complete filling cycle. EvoFILL HS Still

can also be equipped with an Internal

Cleaning System (ICS), minimising water

and chemical consumption for internal

cleaning.

Another highlight at the Sidel booth was

the Combi BD. The system incorporates

features of the Sidel EvoBLOW and

EvoDECO technologies with an integrated

configuration for fast, safe manufacturing

and decoration of premium or lightweight

polyethylene terephthalate (PET)

packaging at up to 48,000 bottles per

hour.

FOOD & BEVERAGE ASIA DECEMBER 2020 / JANUARY 2021
---
38

PROCESSING AND PACKAGING

Dominique Martin, vice-president for

beverages equipment sales, South

East Asia and Pacific, Sidel, told Food &

Beverage Asia: "We see ProPak Asia as the

most important and largest trade event

for food and beverage, pharmaceutical

processing, and packaging technology

in the region. It is the place where the

roadmap for the industry in South East

Asia over the coming years is decided

upon driving business and innovation. It is

success-oriented, pragmatic, and dynamic.

Here, brand owners, manufacturers and

converters can get a glimpse of the future

of the packaging industry, and in the case

of Sidel, the new solutions that we are

developing."

Sidel also brought along the ecopackaging

AYA, which reinforces the

company's commitment to sustainability,

offering a new packaging alternative for

still water. AYA is a 220ml water bottle

with a targeted weight of just 5g. It is

blown from recycled PET (r-PET) preforms,

and comes with a snap-on tethered cap

to additionally reduce plastic pollution.

The bottles' V-shape offers packaging

alternatives in terms of compactness

and reduction of secondary and tertiary

packaging materials to optimise logistics.

"The show provides an excellent live

platform to explain our promise of

Performance through Understanding, and

understanding the strategy behind it,"

he added. "With ground-breaking new

technologies, products and solutions

presented here, ProPak Asia is recognised

as the leading platform for innovation

within the beverage and liquid food sector

in South East Asia. It is proving the ideal

stage where to showcase our markettailored

technologies, powered by Agility

4.0 and complemented by performancebased

services."

BUSINESS AS USUAL DURING A

PANDEMIC

During the COVID-19 pandemic time, Sidel

has been able to provide support and keep

contact with its customers via the Sidel

Service Online. Available in six languages,

the e-platform is a web interface that

provides operators with a personalised

overview of their installed base and

real-time information on parts pricing

and availability. It also offers a one-stop

shopping for ordering Sidel original spare

parts, together with faster delivery times

on offers and orders.

The web interface provides operators

with a full overview of their installed Sidel

equipment, including all relevant technical

documentation and detailed e-catalogues,

for intuitive navigation, spare parts search

and identification. Information about

the availability and price of spare parts

is accessible online to maximise uptime.

Long-term maintenance plans and safety

lists will secure critical parts to ensure

continuous line productivity. In addition,

Sidel's Parts Administrators are available

to provide support when operators wish to

speak with a company expert.

Martin elaborated on the after-effects

COVID-19 has had on the company and

summarised the year for the food and

beverage industry. He said: "The situation

is actually similar to other companies or

businesses, such as prolonged investor

pending or delayed decision making,

etc. Private sector companies put more

concerns on new investments, whereas

global companies normally keep the

investment as planned in the budget.

"Before COVID-19, the overall forecast

of South East Asia and Pacific (SEAP)

beverages consumption should have

increased by 2% in the next three years.

Nevertheless, owing to COVID-19,

everything becomes very unpredictable.

It is assumed that consumption of

carbonated soft drinks might decrease, not

just because of the pandemic but also due

to taxation on sugary in several countries

and general awareness of healthy

lifestyles. The demand for health and

daily consumer goods is still increasing

such as water, vitamin water, liquid dairy

product or beer – especially in Vietnam

and Cambodia."

Sidel Combi BD blow-moulding system combines bottle production and labelling in a single machine

He explained the crisis first hit the sale

of alcoholic drinks and carbonated soft

drinks category, as these are the main

beverages sold in restaurants and bars, in

addition to the already shifting consumers'

interest to healthy products. This is

followed by premium and brands products

due to decrease of purchasing power, and

FOOD & BEVERAGE ASIA DECEMBER 2020 / JANUARY 2021
---
PROCESSING AND PACKAGING

39

lastly beauty and personal care industry as

people spent more time at home.

The less affected markets, according to

Martin, are juices, nectars, soft drinks,

isotonics and teas (JNSDIT) and water

as well as all products of first necessity

and home cleaning products. He

continued: "Reduced disposable income

among consumers is expected to shape

their beverage purchasing behaviours,

prioritising value for money purchases

rather than products with sustainable

packaging.

"Sidel has a portfolio of solutions for

the production of different beverages.

So far, we are favoured in the region for

our aseptic filling in the JNSDIT market.

A positive sign that we experience this

year is more recognition within the beer

and water markets. All in all, we position

ourselves as a sustainable partner in

packaging, line design with agile solutions,

market-tailored innovations and services.

By providing complete line solutions

answering our customer needs – we call

it Performance through Understanding,

and this is our key drivers for continuous

improvement."

Sidel and Elettric80 enter strategic alliance to provide

combined packaging line and intralogistics solutions

Sidel and Elettric80 have commenced

a strategic alliance to provide

comprehensive services ranging from

production to warehouse, distribution

centre and logistics management for

beverage and food, home and personal

care (FHPC) producers. Both companies

will act as a one-stop source, allowing

producers to be more flexible, safe and

sustainable with Smart Factory tailored

solutions.

Today, beverage and FHPC producers

are influenced by different factors that

are challenging their performance.

Among others, due to the growing

e-commerce markets, the need for

automated warehouses and logistics

management becomes critically crucial.

Sidel and Elettric80 have paired up their

expertise in packaging and automated

and intralogistics solutions to enable

producers stay competitive and meet the

demand of the market worldwide.

company that shares the same values as

we do, and I believe that the synergy and

great teamwork between us will bring

added value not just to our customers,

but also to ourselves by opening space for

learning and innovating together."

Elettric80 specialises in integrated,

automatic intralogistics solutions for highvolume

manufacturers and distribution

centres, mainly in the food, beverage

and tissue sectors. With 300 integrated

factories across the world, Elettric80

installed over 2,000 robotic systems,

5,000 automatic laser-guided vehicles,

and 35 automated warehouses.

Enrico Grassi, president at Elettric80,

concluded: "Packaging lines with highly

automated and integrated intralogistics

areas at the end of the line will be the

future of any production site. Along with

Sidel, we are taking the next step in

expanding our business opportunities by

increasing our customers' operational

efficiency and sustainability. We are ready

to complement this alliance with strong

expertise in logistics processes." FBA

Monica Gimre, CEO for Sidel, said: "A

strategic alliance with Elettric80 is our

approach towards achieving our goal of

providing A to Z services to our customers,

including intralogistics solutions. We

are happy to be in a partnership with a

The alliance between Sidel and Elettric80 will provide producers with Smart Factory solutions for their

warehousing and distribution needs

FOOD & BEVERAGE ASIA DECEMBER 2020 / JANUARY 2021
---
40

PROCESSING AND PACKAGING

SOMIC relies on AP05

electronic position

indicators from Siko

When companies need packaging machines

for their products – from coffee capsules,

cough sweets to batteries or plasters – one of

the most important aspects of the investment

is the search for a flexible solution that has

the ability to manage a wide range of package

sizes and formats. However, this requires

intelligent sizes changeovers in order to be

able to provide such flexibility. Electronic

position indicators from Siko simplify the

changeover process on SOMIC packaging

machines, and ensure simple operator

guidance and greater process reliability.

Lid-tray packer SOMIC 424 DT for collecting, grouping and packaging

products in open cartons or in lid-tray packs

German packaging company

SOMIC is known for its

solutions in end-of-line

secondary and tertiary

packaging machines.

These include wraparound packers, tray

packers or tray lid packers as well as

machines for display packaging presented

to consumers in the supermarket. Here,

either the wraparound carton has a typical

tear perforation or, in the tray lid version,

the lid is removed and the product is

presented in the tray.

SOMIC machines are characterised

primarily by the respective carton

folded around the product in its primary

packaging. As a rule, a packaging machine

consists of a product infeed, through

which the individual products are fed

into a collection group. Typically, this is

a compartment file, which groups the

products in the way they are to be placed

in the box later. Depending on whether it

is a one-piece or two-piece package, a flat

carton blank is transported from one or

two carton magazines until the grouped

product can be pushed onto the flat blank.

This is finally folded around the product

protected by the folding head, which

showcases that the product is being

handled gently. In the next station, the

product is then lidded or individually

sealed, depending on whether it is a

wraparound or lid tray machine.

SIKO POSITION INDICATORS: CLEAR

AND EASY TO READ

Siko mechanical position indicators

are installed in all SOMIC machines for

possible size changeovers to different

product or packaging sizes. As a Siko

user for about nine years, SOMIC has

been using the electronic, bus-compatible

Siko displays, first the AP04 and now the

successor model AP05.

Dr Johann Härtl, head of construction

at SOMIC, highlighted that the solutions

are compact, easy to integrate into

the machine control system, and very

user-friendly in terms of readability and

clarity. Elaborating on the adjustment

on SOMIC customer machines, he said:

"There are machines with only one format

setting, so-called Highrunner lines. Other

customers, on the other hand, have up to

20-30 formats on the lines and make full

use of the flexibility. Some even produced

wraparound and tray packaging on a

single machine, where a wide variety of

products need to be packaged."

PROCESS RELIABILITY WITH RED/

GREEN SYSTEM

The advantages of monitored size

changeover, as made possible by the

integration of the electronic Siko position

indicators, are faster changeover times,

ergonomic operation, and high process

reliability, Siko reported. The operator

can select the respective format, which is

stored as a recipe in the machine control

system, and the machine control system

will send the new set values to the displays

to be adjusted. The backlit LCD displays

are easy to read, and feature green and

FOOD & BEVERAGE ASIA DECEMBER 2020 / JANUARY 2021
---
PROCESSING AND PACKAGING

41

red status LEDs. When the correct value

is reached by turning a crank, the LED

changes to green: Position reached.

Otherwise, the LED will continue to light

up in red, and readjustment is necessary.

In addition, arrows also conveniently

indicate the direction in which adjustment

is required.

As the communication interface of the Siko

position indicators in the machine control

provides the current position information,

it is able to ruled out incorrect settings

that might lead to quality problems or

even damage to machine parts when

the machine is restarted. Adjustment

with electronic displays is more efficient,

according to Siko, especially on machines

with many adjustment points and frequent

changes. The machine has stored all

default values; target positions no longer

have to be manually selected from format

lists.

MONITORED SIZE CHANGEOVER AND

"QUICK CHANGE PRINCIPLE"

With SOMIC, the factors of time savings

and efficiency are not only ensured by

Siko's electronic position indicators when

changing formats, but also by the Quick

Change Principle. Here, format parts are

changed in their entirety in the machine.

All that is needed to achieve this is a

quick-release fastener, which means that

no further tools are required. Integrated

together, SOMIC packaging machines can

be converted to new dimensions more

efficiently.

Dr Härtl shared that the customers'

responses to the electronically monitored

size changeover was "positive", and

elaborated: "The AP05 is optional;

mechanical Siko meters are installed as

standard. However, the trend is clearly

moving towards electronically monitored

indicators, especially since around

90-95% of our machines require size

changeovers."

He further predicted an increase in

demand for the solution, as about 50% of

SOMIC customers have already deployed

the electronic version. He added: "The

digitalisation of machines continues to

increase, and the AP05 is one more sensor

that helps me record machine data. For

example, I know when I have driven which

batch with which setting, and can save the

data."

NEXT STEP: FULL AUTOMATION

The next expansion step would be the

full automation of size changeover via

actuators. The first concepts are already

being tested at SOMIC, as the demand

for increasing machine flexibility while

simultaneously maintaining high process

reliability is strong, in order to be able

to map as many different formats as

cost-effectively as possible. The more

adjustment points there are, and the more

often the formats have to be changed, the

more automated adjustment becomes.

SOMIC is already in discussion with Siko

on fully automated actuators.

Moritz Müller, PositionLine product

manager at Siko, concluded: "We are

happy to provide support for further

developments and new projects. This

includes, for example, the integration of

IO-Link interfaces to simplify integration

into the machine control system or full

automation via our add-on-compatible

compact actuators." FBA

The Siko position indicator AP05 with green status LEDs shows a correct

machine setting

The AP05 electronic position indicator ensures correct machine settings and

fast changeover times

FOOD & BEVERAGE ASIA DECEMBER 2020 / JANUARY 2021
---
42

PROCESSING AND PACKAGING

Making a business case for cold aseptic filling

In recent years, aseptic technology has become well-established in the food and drink sector as a filling technique.

Yet some businesses are still unaware of its benefits or do not believe that it can be used with their products.

Matt Hale, sales and marketing director at HRS Heat Exchangers, decodes the stages across an integrated aseptic

filling line, and makes a business case for aseptic filling.

As consumers have become

more health conscious,

the demand for food and

drink products without

preservatives has increased.

However, traditional methods of combining

sterilisation with hot filling have not

been suitable for products which are

increasingly sold on their 'fresh' and

'natural' characteristics, due to the effect

on product quality.

Most aseptic filling solutions combine

pasteurisation, sterilisation and filling in

an integrated solution

In most cases, hot filling sterilises the

container as the product, which is still

hot from cooking or sterilising, is filled.

However, the temperatures required often

have unwanted effects on the quality of the

product, and the heat imposes restrictions

on the type of container which can be used

– for example, hot filling of lightweight

plastic drink bottles can lead to distortion

of the plastic.

Consequently, cold aseptic filling has

become a common technique with drinks

manufacturers for products including UHT

milk, fruit juices, and sports and energy

drinks. Its flexibility means that it is

suitable for a wide range of products from

fresh fruit dices and purees to marinades

and dairy products. This diversity has also

seen the development of a wide range of

fillers and packaging types, from pouches

and lidded trays through to bulk bags and

intermediate bulk containers (IBCs).

Aseptic filling systems generally combine

a number of elements into a single

integrated production line. This integrated

approach helps to ensure microbiological

safety throughout the process from initial

treatment through to the sealing of the

finished product. The steps included in an

integrated aseptic filling line, such as the

HRS Asepticblock, typically include:

1THERMAL TREATMENT

Although in theory this can be

any thermal treatment which reduces

harmful bacteria such as pasteurisation,

sterilisation or cooking, in practice, the

types of product which are most likely to

benefit from aseptic filling are those which

are pasteurised or sterilised. This step

usually comprises a suitable tubular heat

exchanger, such as the HRS MI, DTA or AS

Series.

2

COOLING WHERE NECESSARY

Depending on the product,

production process and packaging used,

it may be necessary to cool the product

following pasteurisation or sterilisation. In

some situations, such as the production

of cooked items like soups and sauces,

this step may actually form the first part

of the integrated aseptic line, receiving

hot cooked product from elsewhere in

the factory. In such cases, the AS Series

heat exchanger will be used. If cooling the

product is likely to increase its viscosity,

then a scraped-surface unit, such as the

Unicus Series or R Series heat exchanger,

may be used.

3STERILISATION OF THE

PACKAGING

Prior to filling, packaging is normally

sterilised using thermal or chemical

methods like peroxyacetic acid or

hydrogen peroxide, although in many

production environments the packaging

is supplied pre-sterilised in aseptic

packaging that can be put into the filling

line without contamination. However,

the packaging is sterilised, it is vital that

aseptic conditions are maintained between

sterilisation and sealing, and this is

FOOD & BEVERAGE ASIA DECEMBER 2020 / JANUARY 2021
---
PROCESSING AND PACKAGING

43

The HRS Aseptic Block Series is a packaged steriliser and aseptic filler

another reason for adopting an integrated

aseptic processing solution.

4

FILLING AND SEALING UNDER

ASEPTIC CONDITIONS

There are numerous systems of aseptic

filler on the market, but all try to balance

speed, accuracy of operation and flexibility

of filling when working with different

products and containers, while maintaining

the microbial integrity of the product and

the sterility of the containers – including

suitable cleaning-in-place (CIP) systems

before, during and after production.

Depending on the product and how it is

packaged, filling may be based on weight

or volume and appropriate sensors – such

as weigh cells of flow meters – and control

systems will be included in the filler

machinery. The AF Series of aseptic fillers

meet all of these criteria, and is suitable

for both high and low acidity products.

Once filled, there are many ways that

aseptic packaging can be sealed; from

screw-capping bottles to heat sealing

pouches or putting lids on bulk containers.

These mechanisms may also include some

form of tamper-evident system to alert

customers or consumers if the pack has

been opened since filling.

THE BUSINESS CASE FOR ASEPTIC

FILLING

There is of course a financial investment

required to install aseptic filling

technology, but when considering a cost

and benefit analysis, some of the factors to

consider include:

• Volume: Aseptic filling lines normally

operate on a continuous basis and

therefore are much faster than batch

cooling operations.

• Quality: Probably the biggest

driver towards aseptic filling is the

improvement in product quality. Any

heat treatments can be driven by

product requirements, rather than the

need to sterilise the container, making

high temperature, short time (HTST)

pasteurisation feasible in many

cases. This preserves key quality

characteristics like taste, nutrient

content and colour.

• Flexibility: Most aseptic filling lines

can be configured to supply a

range of products and fill a range

of containers include polyethylene

terephthalate (PET), high-density

polyethylene (HDPE), low-density

polyethylene (LDPE), glass, cans, foil

and more. Not only does this increase

flexibility, but also helps to futureproof

installations.

• Packaging: Although there may be an

increase in costs associated with the

need to purchase sterile packaging,

many packaging types used in aseptic

filling are generally lighter than their

hot-fill equivalents.

When considering aseptic filling,

companies need to weigh up the safety

of the proposed solution with capital

and operating costs, operational safety

considerations, and the effect on product

quality. In most situations, the business

case to adopt cold filling quickly becomes

apparent. FBA

FOOD & BEVERAGE ASIA DECEMBER 2020 / JANUARY 2021
---
44

PROCESSING AND PACKAGING

Accelerating F&B 4.0: How automation and

differentiation can help move the industry forward

The concept of digitalisation is more than the deployment of technologically-advanced equipment and solutions

to streamline operations. Instead, a successful digital transformation goes beyond to encompassing the people

and their mindsets, shifting the way they work with new tools towards success. Andrew Dalziel, vice-president of

F&B industry and solution strategy at Infor, shares more with Food & Beverage Asia on his vision for Food and

Beverage 4.0, and the urgent need to embrace digital tools at each stage of the food supply chain.

In your opinion, how do you see

the pace of digitalisation in the

Asia-Pacific food and beverage

space compared to other regions

and industries? More particularly,

how will digitalisation support

businesses' transformation in

the face of the Fourth Industrial

Revolution?

Andrew Dalziel: The Asia-Pacific food

and beverage market remains one of

the world's largest, fastest growing, and

most diverse industries. The industry is

deeply rooted in human connections that

have typically been delivered through

service front liners, with a strong heritage

in traditional processes designed to

maintain high standards of service quality.

Digitalisation can be challenging, as

transformation hasn't been top-of-mind

for many industry players. However, ongoing

trade tensions, crises and rampant

uncertainties in the market are forcing the

sector to rethink its daily operations and

strategies for the future.

Today, Industry 4.0 is no longer a pipe

dream or far-off idea for the food and

beverage sector. Instead, it is encroaching

a lot faster and sooner than businesses

realise. Even in traditionally labourintensive

sector such as agriculture,

farmers are now looking to the likes of

autonomous vehicles, drones, the Internet

of Things (IoT) sensors, image processing

and artificial intelligence to sort raw

materials. Further down the distribution

chain, IoT devices and GPS tracking are

also being introduced to manage reusable

bins, crates and vehicles. And to support

these processes while managing and

maximising the use of data, food and

beverage players are looking to cloud

platforms to address their needs.

Across the food and beverage value

chain, organisations are now pressed to

either lead the charge in technological

advancement and innovation or fall by

the wayside. So, it is now imperative

that food and beverage players look to

digitalise their operations and embrace

the integration of technology across all

layers of the business. From forecasting

changes in supply and demand with

changing consumer buying patterns,

to employing robotics and automating

production cycles, digitalisation has and

will continue to be a strategic enabler for

food and beverage organisations, enabling

them to pivot nimbly, innovate quickly,

and capitalise on market opportunities.

And this isn't just applicable in the face

of on-going crises and challenges, but in

navigating a changing business landscape

as well.

With other technologies like

blockchain and cloud, how do you

see them fit into each stage of the

food supply chain?

Dalziel: I see technologies like cloud

being relevant and readily applicable

across every stage and segment of the

food supply chain. Cloud offers immense

capabilities that go beyond providing

storage for one's data, but it can

transform the way F&B players approach

their operations – empowering them to

simplify and streamline processes to

work faster and more intelligently across

their organisation, respond faster to new

developments and capitalise on new

opportunities.

For starters, cloud-based enterprise

resource planning (ERP) systems equip

businesses with the means to map out

their operations efficiently and effectively,

with an end-to-end overview of their

people, products and processes. This

enables food and beverage players

to forecast potential changes and

disruptions, right from their sources

of supply and producer, to the end

customer. With this information stored

in a single, unified platform in the cloud,

and integrated with networked business

intelligence, enterprises are better able

to analyse and anticipate how changes

may impact their value chain and adapt

accordingly. Ultimately, having this

insight empower organisations to stay

adaptable to evolving developments and

disruptions in the market, and keep ahead

of the curve. This will be a key priority for

FOOD & BEVERAGE ASIA DECEMBER 2020 / JANUARY 2021
---
PROCESSING AND PACKAGING

45

organisations as they look to navigate an

economic landscape rife with uncertainty.

Cloud software also enables employees

to access their systems to perform

transactions or gain insights into data,

wherever they work – which supports

today's remote work requirements as

well. In addition, a cloud-native solution

allows a food and beverage organisation

to continually receive and adopt new

innovations, so that they can stay

competitive and differentiated without the

need for major software upgrades every

few years.

Ultimately, what sets businesses apart

from others in their transformation efforts

is a deep understanding of how cloud

technologies can move the needle for their

organisation; and this includes having the

expertise to deploy it intelligently. The food

and beverage industry is incredibly diverse.

So, having a sector-specific software

stack that caters to various segments of

the market can be a gamechanger for

enterprises. What this allows them to do is

to adopt industry best practices and drill

down into the nuances of their businesses,

to better tailor technology to their

operational needs.

For instance, dairy producers or

manufacturers of perishables benefit

more from tighter shelf life and product

seasonality management, while the

protein industry needs deep capabilities

to manage yield and catch weight. These

agile methodologies can also scale with

businesses as they evolve and expand

into new geographies. Instead of a oneoff

digitisation exercise, businesses are

thus empowered and equipped with the

agility to tailor and tweak one's cloud

infrastructure in accordance with changing

industry needs – which gives them a

strategic business advantage.

technologies such as blockchain, mainly

around food traceability for food safety and

transparency. I believe that for blockchain

to become more widely adopted, it will need

to be driven by retailers.

What are some of the key concern

companies have when embracing

digital tools in their workflow,

and how is Infor helping them to

overcome these challenges?

Dalziel: Companies are often war of the

costs associated with digitalisation, but

more so long-drawn implementations, and

the risks of operational disruptions in the

process. It is not uncommon for companies

to only see the fruit of their transformation

a few years after the implementation has

begun.

At Infor, we aim to lower these barriers to

tech adoption and address the challenges

with implementation head-on, with our

Agility 60:30:10 approach. Our business

cloud solutions are tailored to industry

needs from the get-go, which enables

organisations to utilise out-of-the-box

pre-configurations that deliver on 60%

of their business needs – the core of their

offerings. This shaves significant time off

the implementation timeline, as less time

is spent on customisation, and enables

organisations to keep delivering on their

operations, with less risk for disruptions.

The remaining processes are the

reserved for flexibility and customisation

to businesses' specific needs. Thirty

percent is allocated to processes that are

differentiators for our customers, which

we spend more time on – with specific

guidance on configuration options that

they can tailor and configure to best

fit their business needs. This could be

suggestions on how to operate a process,

tweak an output document or interface.

The final 10% is then allocated to

processes that are highly differentiated

and unique to our customers – this is

often the gamechanger for the enterprise,

which helps them make dramatically

better decisions, and deliver on greater

experiences in their customer supply

chain. By reducing the work within the

60% that makes up core processes,

we free up customer time and Infor

resources to hone in on the 30% and

10% processes, which help our customers

strategically to deliver better business

outcomes.

This approach has worked tremendously

well for us. Our Clash of the Titan

industry report shows that across

the board, our customers report the

shortest implementation times and

operational disruptions, while seeing

significant differences in their operations.

Digitalisation doesn't always have to be a

costly and cumbersome task to undertake,

and I believe we are changing this

perception with every customer at Infor. FBA

Aside from cloud, some food and beverage

organisations are experimenting with

FOOD & BEVERAGE ASIA DECEMBER 2020 / JANUARY 2021
---
46 FIRST LOOKS

Bühler

Bühler launches new Arrius grinding solution for the milling industry

Bühler has unveiled a new age in milling

technology with the launch of Arrius, an

integrated grinding technology for milling

wheat, durum, rye, barley, corn and spelt.

The launch follows a rethink of the

traditional grinding methods that lie

at the heart of the milling process. By

redesigning each technology component,

Bühler has produced an integrated and

self-adjusting grinding system that

empowers millers with greater control

over the quality and consistency of their

product.

Arrius has an integrated drive and gearbox, resulting in energy cost savings of up to 10%

At the heart of the Arrius step change lie

the sensors in the feeding module and

the roller pack enabling control of the

product flow and grinding process. It

allows Arrius to automatically adjust to

the characteristics of the raw material.

Double-sided sensors in the new roller

pack allow millers to continuously measure

the grinding force of the rollers. This

feature also allows the miller to control the

grinding process closely and thus optimise

product characteristics for their specific

market.

Besides the particle size distribution,

starch damage is a parameter that can

be improved. According to Bühler, Arrius

allows millers to better control the grinding

process of the product and increase starch

damage by up to 10% if required. And on

energy, Arrius has also been designed with

an integrated drive and gearbox, resulting

in energy cost savings of up to 10%, the

company added.

Commenting on the new technology, Dan

Dye, CEO of Denver-based Ardent Mills,

who has been working as a development

partner with Bühler on the project, said:

"Arrius is a perfect fit and our people

are excited about it. Arrius will enable

A remote app allows operators to control all grinding parameters from anywhere within the mill's network

us to deliver the best flour quality to our by enabling under-machine cleaning.

customers through precision milling. With Furthermore, an electronically lockable

Arrius, Bühler is setting a new industry cover and hand guard protection provides

standard for high-end flour milling

operational safety to protect staff.

applications."

Stefan Birrer, head of business area milling

Arrius' new features include a remote app solutions at Bühler, concluded: "We have

that can be loaded on smartphones or been building mills for decades and we

tablets from which an operator can control realised that if we wanted to keep running

all grinding parameters from anywhere them in the same way, then we had maxed

within the mill's network.

out on most of the existing concepts.

Fully leveraging the potential of digital

Other features include a feeding module technologies, while also transferring

designed for total product discharge. methods from other industries demanded a

A streamlined design and increased complete restart. It meant we had to embark

aspiration in the grinding chamber

on green field engineering. High-precision

also cut product deposits. The hygienic autonomous milling is not a luxury, it will

levelling feet that support the machinery become key to remaining successful in a

are designed to improve food safety tough market environment for millers." ■

FOOD & BEVERAGE ASIA DECEMBER 2020 / JANUARY 2021
---
FIRST LOOKS 47

Igus linear guides for a quick movement in spice vending machine

Igus

Igus drylin W linear guides have been

deployed for the development of a vending

machine for packaged spices. The vending

machine was developed by five students

from Heubach, together with engineers

and trainees from EMAG LaserTec. With the

assistance of the young engineers support

(yes) from igus, the young inventors opted

for the drylin W linear modular system for

the mechanics.

Jens Gruber who supervised the project

at EMAG LaserTec, said: "The students

quickly decided to construct a spice

vending machine for supermarkets in order

to speed up selection and shopping. In

order for the system to be able to take the

right spice out of the machine, we needed

long-lasting and smooth linear guides are

the axes. So, the students contacted igus."

A total of three linear guides from the

drylin W modular system are used in the

machine to ensure that all compartments

are easily accessible, so that the

appropriate spice can be taken out and

delivered.

In the guide carriages of the linear

rails, igus relied on wear-resistant,

high-performance polymers. The triboplastics

in the sliding elements are free

of lubricants, and are suitable for use in

the food sector. As there is no lubricating

grease, no dirt can stick to the linear

carriage and block the guide.

A belt drive was chosen to drive the z-axis.

The issue here was the high vibrations,

which the guides were able to successfully

absorb. The drylin technology is used not

only in innovative spice machines, but also

in other machines such as ATMs, drinks

machines and even in automated order

picking systems in pharmacies. ■

Igus' drylin W linear guides ensure lubrication-free

adjustment in the spice vending machine

FOOD & BEVERAGE ASIA DECEMBER 2020 / JANUARY 2021
---
48 FIRST LOOKS

Datalogic

Datalogic develops compact HandScanner

Datalogic, an automatic data capture and

process automation solutions provider,

has introduced HandScanner, a hands-free

wearable scanner. Capable of scanning

from 10-150cm, HandScanner can be

deployed for a broad range of tasks

in transport, logistics, warehousing,

manufacturing, retail, and healthcare

industries.

Weighing 40g and measuring

50x45x16mm, the HandScanner

complements Datalogic's range of

advanced industrial scanning equipment

designed to deliver efficiency, accuracy,

reliability and ergonomic benefits to

demanding industries. It is integrated

with LED indicators, acoustic and haptic

feedbacks, allowing it to be used in

different environments. The hand trigger

can be used with or without gloves, and

is available in different sizes, right or left

hand, with an optimum fit provided by the

variable Velcro fastener.

HandScanner has a scanning range between 10-

150cm, allowing it to support tasks in logistics,

warehousing, manufacturing, and more

Stefano Pistis, product manager for

Datalogic, explained: "Compared to ring

scanners, the HandScanner is thinner

and is positioned on the back of the

hand, therefore it is less intrusive and

less exposed to hits than a ring scanner

that stays on the fingers of a worker.

This durable, practical and ergonomic

design results in up to a 20% reduction

in scanner damage. A fully-charged

HandScanner battery can last almost two

working shifts, running up to 15 hours and

10,000 scans. With a two-slot charging

station, the battery can be fully recharged

in two hours."

Equipped with a megapixel sensor, the

HandScanner captures 1D/2D barcodes,

and is available in two models – a standard

range designed for close range scanning

between 10-80cm for manufacturing,

retail and healthcare applications; and a

mid-range model with a scanning range

of 30-150cm, which covers applications

in transportation and logistics such as

warehousing, plant floors, docks, and stock

yards.

Datalogic's HandScanner is designed to

work with static, semi-static, and dynamic

workstations. With Bluetooth connectivity,

it is able to communicate with mobile

and industrial computers, smartphones

and tablets. It can also be paired with

Datalogic's hand-held and vehicle-mounted

computers to provide workings with a full

data collection solution for all applications. ■

Krones

Krones employs deep learning for empty bottle inspection

Krones has scaled up its inspection

technology with the integration of a

deep learning software in its Linatronic

AI to automatically detect and classify

anomalies.

The foundation for deep learning is an

artificial neural network (ANN). The ANN

can be described as a complex system of

multiple consecutive filters. The images

captured during the inspection process are

fed through these filter layers, one after

the other. Each layer extracts a different

characteristic of the image. Since one

filter's output becomes the input for the

subsequent filter, the complexity of an

image's characteristics can be increased

"almost infinitely". The chain ranges

from identifying dark or light pixels to

classifying specific objects such as water

droplets.

To ensure that the Linatronic AI applies

these filters with the necessary precision

in practice, it is trained ahead of time

with pre-classified example images. In

this way, its neural network learns to

filter out and interpret the relevant image

characteristics. Krones continually finetune

the Linatronic AI's neural network

using thousands of example images until it

could accurately distinguish water droplets

from other anomalies.

As a result, waste of material due to false

rejects is minimised. Furthermore, the

neural network does not require manual

calibration to local conditions. Instead, the

Linatronic AI is delivered fully trained and

ready to start work. ■

The new Linatronic AI employs deep learning

technology for automatic image detection

FOOD & BEVERAGE ASIA DECEMBER 2020 / JANUARY 2021
---
FIRST LOOKS 49

Stora Enso and Tetra Pak to explore the building of a recycling line for

used beverage cartons

Stora Enso and Tetra Pak have joined

forces to explore the possibility of building

a new recycling line to increase the

recycling of used beverage cartons (UBC)

in central and eastern Europe.

The two partners have initiated a study to

assess the viability of building a largescale

recycling line for UBC at Stora Enso's

Ostrołęka Mill in Poland. In the model,

Stora Enso will pulp and separate the

fibres from UBC at the facility, and use the

recycled fibres as raw material, while Tetra

Pak will secure the recycling and reuse of

polymers and aluminium which shall be

processed by a dedicated partner.

If realised, the annual capacity of the new

recycling line would be 50,000 tonnes

of UBC. This will increase the recycling

capacity for beverage cartons across

Europe, raising the European beverage

carton recycling rate from the current

51%. In the first stage, the recycled postconsumer

beverage carton material will

come from countries in central and eastern

Europe.

Markku Luoto, spokesperson for Stora

Enso, commented: "A new line would

be the next step in the circularity of

packaging materials, in helping make

our customers' brands circular. Beverage

cartons are widely recycled in Europe

today, and we want to use our knowledge

of fibres and board to promote and

accelerate the recycling and collection of

beverage carton materials.

"Our process at Ostrołęka Mill already uses

recycling materials. We are interested in

developing the already well functioning

recycling system and using high-quality

UBC fibres."

Munson introduces new Rotary Batch Mini Mixer

Munson Machinery has developed a new

sanitary Rotary Batch Mini Mixer on a

mobile frame, which can de-agglomerate

and blend up to 142 litres of dry bulk

ingredients with or without liquid additions

at multiple plant locations.

The mixer, model MX-5-S316L, is able to

achieve total uniformity in 2-3 minutes,

regardless of disparities in the bulk

density, particle size, flow characteristics

or ratio of batch ingredients down to one

part per million, the company claimed.

For dry materials, it is down to 15% or

21 litres of rated capacity, meeting varied

production requirements, while allowing

small-scale testing prior to blending at full

capacity or scaling up to high-capacity

Rotary Batch Mixers.

Mixing flights within the rotating vessel turn,

cut, fold and tumble material onto a rotating

intensifier that reduces soft agglomerates

into discrete particles. The 0.75kW gearreduced

drive of the vessel and 1.5kW drive

of the intensifier are wash-down rated, and

adjusted by variable-frequency controls

housed in an IP 66-equivalent stainless

steel wash-down enclosure.

The mixer is equipped with a product inlet

slide for ease of feeding from bags or boxes,

and an inlet-mounted spray line that allows

liquid additions to be spread over a wide

bed of moving materials in large or trace

amounts for rapid, uniform distribution.

Blended batches can be discharged

completely through a breech-lock plug gate

with no segregation or residual waste.

A Tetra Pak carton package

folded for recycling

The study is expected to be completed

in six months, after which the possible

decisions about the project and timeline

will be confirmed. ■

The unit can be rolled to a cleaning station,

and accessed through a hinged door on the

vessel side wall for unobstructed wash down

and visual inspection of all interior surfaces.

Munson offers six Rotary Batch Mini Mixer

models with maximum batch capacities of

7-425 litres or 1-544kg. ■

Munson's Rotary Batch Mini Mixer, model MX-

5-S316L, blends up to 142 litres of dry bulk

ingredients, with or without liquid additions, in 2-3

minutes, fully evacuates the batch and sanitises

rapidly with no tools

Stora Enso - Tetra Pak Munson Machinery

FOOD & BEVERAGE ASIA DECEMBER 2020 / JANUARY 2021
---
50 FIRST LOOKS

SIG

SIG secures 100% of its paper board as FSC-certified

Starting January 2021, 100% of the paper

board used in SIG's packs will be procured

as Forest Stewardship Council (FSC)

certified, and matching FSC's standards

for responsible sourcing.

FSC certification, backed by NGOs

such as the World Wildlife Fund (WWF),

helps forests and the communities

that depend on them thrive. To achieve

certification, forestry operations must

meet the standards for responsible forest

management to support biodiversity,

prevent deforestation and degradation,

and respect the rights of local

communities and indigenous people.

Samuel Sigrist, chief financial and

commercial officer for SIG, said: "We

now aim to go even further in supporting

sustainable forests – and the climate

benefits they bring – as we partner to

create a net-positive food supply system

that puts more into society and the

environment than it takes out."

By sourcing 100% of its paper board as

FSC-certified, SIG affirms its commitment

to supporting the United Nations

Sustainable Development Goals, the

Paris Agreement on climate change, the

European Union (EU) Biodiversity Strategy,

and the forthcoming EU Forestry Strategy.

Kim Carstensen, director general at the

FSC, concluded: "Forests play a critical

role in supporting the world's ecosystems

and regulating the climate. By sourcing

100% FSC-certified board, SIG is helping

to protect our forests – and the planet –

for future generations and setting a strong

example for others to follow." ■

100% of the paper board used in SIG's packs will

be procured as FSC-certified (Photo credit: SIG)

Mettler-Toledo

Mettler-Toledo adds AR Customer Support to raise the bar on product

inspection uptime

Mettler-Toledo Product Inspection has

introduced an Augmented Reality (AR)

Customer Support service the enables

remote identification of the cause of

product inspection equipment issues and

facilitates Mettler-Toledo engineers to

instruct on-site manufacturing staff to

rectify the problem. This helps to maximise

production uptime, save costs and

comply with COVID-19 social distancing

requirements.

The service allows manufacturers to

connect remotely to the Mettler-Toledo

Service Team to deliver diagnostic and

repair services for both hardware and

software. In addition, it can be used to

support the delivery of Remote User

training and equipment start-up. AR works

by enabling the users to interact with

objects by placing virtual spatial markers,

AR Customer Support protects production uptime

and costs irrespective of manufacturing location

highlighting aspects and adding text

annotations to a live video stream of the

product inspection equipment.

Fabian Kramer, service product manager,

Mettler-Toledo Product Inspection, said:

"AR Customer Support is a slick, intuitive

and interactive tool that will set new

standards in fast break-fix support times,

putting our engineers right there, next to

our customers, wherever they may be in

the world. Most importantly, customers will

benefit from significantly less downtime,

helping them to operate at peak performance

for longer. Plus, AR makes social distancing

measures easier to maintain." ■

FOOD & BEVERAGE ASIA DECEMBER 2020 / JANUARY 2021
---
FIRST LOOKS 51

Key Technology introduces new VERYX BioPrint hyperspectral sorter

Key Technology, a member of the

Duravant family of operating companies,

has introduced the VERYX BioPrint digital

sorter. Combining near infrared (NIR)

hyperspectral detection with colour

cameras, VERYX BioPrint analyses a richer

set of data about the materials it is sorting

to improve detection performance and

maximise process yields. Key's VERYX

BioPrint C140 sorter for nuts removes

shells, foreign materials (FM) and product

defects, as well as shape sorts and colour

grades to maximise product quality while

virtually eliminating false rejects.

to identify and move difficult-to-detect

FM and defects, without the yield loss

generated by inadvertently directing good

product to the reject stream, even when

defect loads are high.

Marco Azzaretti, director of marketing

at Key, explained: "Our new BioPrint

hyperspectral imaging system gives us

superior flexibility to tailor optimal sort

solutions for each customer application.

Nut customers are already using VERYX

BioPrint in their operations and have

proven its success – they're experiencing

outstanding product quality and ease of

"complete removal" of shell and FM wit the

highest good product yield.

Sorting up to 8 metric tonnes of product

per hour, VERYX BioPrint C140 can be

deployed for sorting nuts from preselection

to final grading. It works as a

standalone sorter, either in line or batchfed,

and in a cascading line of multiple

sorters, depending on the needs of the

processor.

"We plan to develop VERYX BioPrint

sorters for other applications where

chemometric detection offers performance

Sorting walnuts, almonds, pistachios,

cashews and other nuts, VERYX BioPrint

removes shells, rocks, sticks, glass,

plastics, moisture-related defects, insect

and other surface damage, rot, mould

and more while colour grading and shape

sorting to meet strict product quality

specifications.

use."

The accuracy of the BioPrint detection

system is complemented by VERYX's

high-resolution ejection system, which

features minimal spacing between air

nozzles to better target objects identified

for removal. Intelligent software manages

the air nozzles' actuation strategy to

and customer value. The next frontier

of optical sorting is improving the

identification of internal defects and

other conditions that are not discernible

by inspecting the surface of objects,"

Azzaretti added. "Hyperspectral imaging

also has tremendous potential to

select product on the basis of its taste

properties. For example, VERYX BioPrint

VERYX BioPrint C140 can be equipped with

front- and rear-mounted hyperspectral

imaging sensors for all-sided inspection of

each object in the product stream. It can

be configured with colour cameras and

Key's new Bio Fusion detection technology,

which fuses information from both sensor

types to identify and remove a wide

range of FM and defects from the product

stream.

suit the objects' size, shape and weight.

The combined precision of VERYX's

detection and ejection systems results in a

C140 can help processors of Spanish-style

almonds detect individual so-called bitter

almonds." ■

Key Technology

Hyperspectral imaging utilises more

wavelengths of information than other

NIR inspection systems to detect the

chemometric and biological properties of

objects. Multi-channel, high-resolution

colour cameras facilitate "precise" colour

grading and shape sorting. On the other

hand, Bio Fusion combines pixel-level

data from the hyperspectral sensors and

colour cameras to produce a "signature"

associated with each material substance

that passes the sorter. This enables VERYX

The VERYX BioPrint digital sorter

from Key Technology

FOOD & BEVERAGE ASIA DECEMBER 2020 / JANUARY 2021
---
SIFST Annual 2020

The Singapore Instute of Food Science and Technology (SIFST) is a member of both the Internaonal Union of Food Science

and Technology (IUFoST) and the Federaon of Instutes of Food Science and Technology in ASEAN (FIFSTA). SIFST is also an

allied organisaon of the Instute of Food Technologists of USA and a co-operang society of the Instute of Food Science and

Technology (UK).

FOOD & BEVERAGE ASIA DECEMBER 2020 / JANUARY 2021
---
Annual Report 2020 SIFST

Dear SIFST Members,

I am very honoured and humble to be re-elected once again as the President of the Singapore

Institute of Food Science and Technology (SIFST) at the 44th Annual General Meeting on 28 Sep

2020. I would like to record my sincere appreciation to the past and present SIFST Council members

for their contribution of their precious time and efforts to ensure the smooth operations of SIFST and

the major events that we have organised. I am also grateful to Mr Lim Chee Kian, Dr Lee Kim Lian, Mrs

Irene Tan and Mrs Ser-Low Wai Ming for providing their priceless advice and strong support to SIFST.

It has not been as easy and smooth year for many industry sectors, including the food industry.

Therefore, it has been very difficult to organise events and activities for members since the beginning

of 2020. We have tired our best to keep members abreast with online webinars organised by various

organisations and therefore, we will continue to think of other virtual activities that might benefit the

members.

On behalf of the 44th Council, I would like to sincerely thank all SIFST members who have, in one way

or another, contributed to and supported SIFST's events. The continued growth and success of SIFST

would not have been possible without your support.

Richard Khaw

President, SIFST 44th Council

2019/2020

The 44th Council Members

Immediate Past President

Mr Koh Boon Liang, HLRB Food Pte Ltd

President

Mr Richard Khaw Min Cheh, Nanyang Polytechnic

Vice-President

Ms Tan Yan Ling, 13 Honey (S) Pte Ltd

Honorary Secretary

Dr Gabrielle Koh, Ingredion Singapore Pte Ltd

Council Members

Ms Tan Ai Tsing, Ingredion Singapore Pte Ltd

Dr Matthew Zhao, Big Ideas Venture Asia Pte Ltd

Dr Ong Mei Horng, National University of Singapore

Dr Yang Hongshun, National University of Singapore

Advisors

Mr Lim Chee Kian

Dr Lee Kim Lian

Mr Yeoh Guan Huah

Mrs Irene Tan Ek Ek

Honorary Treasurer

Mrs Joanne Chia, ALS Technichem (S) Pte Ltd

FOOD & BEVERAGE ASIA DECEMBER 2020 / JANUARY 2021
---
SIFST Annual Report 2020

Singapore Institute of Food Science and

Technology (SIFST) Annual Report 2020

SIFST MEMBERSHIPS

Memberships 2018/2019 2019/2020

Fellows 21 21

Associates 119 137

Licentiates 84 125

Corporate Members 36 35

Student Members 102 113

NEW CORPORATE MEMBERS OF 2019

1. Friesland Campina Development Center

2. Ingredion Singapore Pte Ltd

3. U.S. Dairy Export Council

44TH ANNUAL GENERAL MEETING

Due to the COVID-19 restrictions, the 44th Annual General

Meeting was held via the Zoom video conferencing platform on

28 Sep 2020. Mr Richard Khaw presented highlights of the events

held for the period of the 43rd Council. A new Council was elected

in, and Mr Richard Khaw was elected as President of the 44th

Council.

REPRESENTATION IN STATUTORY COMMITTEES AND

PROFESSIONAL ORGANISATIONS

The following members represented the Institute in various

committees of government and professional bodies:

1. Mr Richard Khaw, SIFST President

• IUFoST Competition and Award Sub-Committee Member

• IUFoST Voting Delegates for SIFST

• SPRING Singapore Accreditation Council (SAC)

Technical Committee (TC) for Chemical and Biological

Testing – From July 2012

• SPRING Singapore Accreditation Council (SAC)

Technical Committee (TC) for Proficiency Testing

• Singapore Food Standards Committee 17th Term

Member – SIFST Representative

• Singapore Food Standards Committee Guidelines for

Delivery of Ready-To-Eat (RTE) Food Working Group Co-

Chairman – SIFST Representative

• Singapore Food Standards Committee Co-Chairman

for Food Safety Technical Committee Member – SIFST

Representative

• Singapore Food Standards Committee, Technical

Committee for Milk and Milk Products Member – SIFST

Representative

2. Mr Koh Boon Liang, SIFST Immediate Past President

• Singapore Food Standards Committee Guidelines

for Developing Food Products with Functional Food

Ingredients and Health Claims Working Group Member –

SIFST Representative

• Singapore Food Standards Committee Guidelines for

Ready-To-Eat (RTE) Edible Raw Fish Working Group

Member – SIFST Representative

• Singapore Food Standards Committee Hazard Analysis

and Critical Control Point (HACCP) System and Guidelines

for its Application Working Group Member – SIFST

Representative

• Singapore Food Standards Committee Food Safety

Management System (FSMS) Working Group Member –

SIFST Representative

• Singapore Meat Traders' Association – Honorary Advisor

3. Dr Lee Kim Lian, SIFST Past President and Honorary Advisor

• Institute of Food Science and Technology (IFST), UK –

Liaison Person

4. Mr Lim Chee Kian, SIFST Past President and Honorary Advisor

• International Union of Food Science and Technology

(IUFoST) - serves as a "Special Invitee" to the IUFoST

Council to represent the ASEAN region

• Fellow of IUFoST

• Institute of Food Technologists (IFT), USA - Liaison Person

5. Mrs Ser-Low Wai Ming, SIFST Past President and Fellow

Member

• Australia Institute of Food Science and Technology (AIFST)

– Liaison Persson

6. Mrs Tan Yan Ling, SIFST Vice-President

• International Union of Food Science and Technology

(IUFoST) – Voting Delegate

7. Mrs Jeanette Wong-Chan Mei Hong, SIFST Honorary Treasurer

• SPRING Singapore (FSC) Technical Committee (TC) for

Fishball Products

FOOD & BEVERAGE ASIA DECEMBER 2020 / JANUARY 2021
---
Annual Report 2020 SIFST

Team SP, Champion of SIFST Quiz Bowl with Mr Richard Khaw, SIFST President

Our inter-IHL student committee, the party planners

8. Prof Zhou Weibiao, SIFST Fellow Member

• International Association for Engineering and Food (IAEF)

SIFST SOCIAL MEDIA

The revamped SIFST website continues to serve as a source of

updates for members, particularly announcements and reports

on events organised by SIFST. Food-related professionals and

students who wish to join SIFST as members can also use the

online registration features. Other information available include

the SIFST's Profile, Council and Constitution; Annual Report and

Publications; The SIFST-HACCP Consultants Registration Scheme;

and other relevant food industry links and news.

SIFST Facebook and Instagram pages were set up to constant

update members on the various events involving SIFST, and to

attract the younger members.

HACCP CONSULTANTS REGISTRAR SCHEME

Ensuring food safety and upholding the ethics and integrity of

the profession are among the objectives of the SIFST. SIFST 44th

Council plans to revise the existing SIFST-HACCP Consultants

Registration Scheme to SIFST – Food Safety Consultant Registration

Scheme to include more food safety standards including ISO

22000. Applications are assessed and registered as SIFST – Food

Safety consultants based on the Terms and Conditions and Criteria

of Competence laid down in the Scheme.

FOOD & BEVERAGE ASIA MAGAZINE

SIFST continues to incorporate SIFST news in the Food & Beverage

Asia magazine, published by Pablo Publishing & Exhibition Pte

Ltd. The magazine is circulated to about 15,000 food industry

professionals in Asia, including SIFST members. Its features include

updates on new members, announcements of upcoming events,

and reports about SIFST activities as well as a Corporate Member's

profile in each bi-monthly issue.

members, reporting the Institute's news and publishing quality

technical papers of interest. The Editoral Board comprised Assistant

Professor Yang Hongshun (Editor-in-chief), Mr Koh Boon Liang, Dr

Lee Kim Lian, and Professor Zhou Weibiao.

STUDENT AWARDS AND SCHOLARSHIPS

SIFST-NUS Best Student Award-cum-Scholarship went to Ms Tan

Xin Yi Jolynn of the National University of Singapore (NUS) for her

outstanding performance in the Food Science and Technology degree

programme.

SIFST Rintoul Scholarship was awarded to Mr Yang Hong Keat from

Singapore Polytechnic. He is a student in the NUS Food Science and

Technology programme.

Student Activity – Quiz Bowl 2019 cum Student Party

Held on 22 Mar 2019 at SIT@Dover, the Quiz Bowl was well

participated by 63 students from the following IHLs: ITE College

East, NYP, NUS, RP, SIT, SP and TP. After three challenging rounds,

the winners were Team SP as Champion, Team TP as First Runner

Up, and Team NUS as Second Runner Up. Apart of the cash prize

received by the Champion team, they will also be representing

Singapore at the 16th ASEAN Food Conference Food Quiz Bowl.

Spanning the areas of Basic Food Science, Applied Food Science,

Food Safety, and Nutrition, this year's quiz was administered entirely

online. All participants also received a certification of participation

along with a goodie bag of healthier snacks kindly sponsored by

Camel Nuts, Meiji Singapore, Mr Bean Singapore, and First Food

Industries Pte Ltd. The event concluded with a party of fun and

games organised by an inter-IHL student committee.

Student Essay Competition 2019

Essay competition was held to select three best essays for the

ASEAN Food Heritage book:

The SIFST Annual 2019 was also co-published with Food &

Beverage Asia. The Annual offers a means of communication to

Topic 1: Re-inventing Singapore Food

Winner: Ms Low Ze Ying, Temasek Polytechnic

FOOD & BEVERAGE ASIA DECEMBER 2020 / JANUARY 2021
---
SIFST Annual Report 2020

Mr Richard Khaw presenting the awards to the winners of the Student Essay Competition 2019

Topic 2: Technological Transformation of Singapore Food

Businesses

Winner: Ms Tay Jingxin Uma, National University of Singapore

Topic 3: Alternative Food Supply for Sustainability

Winner: Mr Craig D' Souza, National University of Singapore

Plaza at Scotts with the support from Workforce Singapore (WSG).

11 participants from local companies and multinational companies

learnt about the different important and export regulations in

different countries, understand more about food safety, standard

development and key consideration for products export during the

masterclass through sharing and panel discussion sessions.

Student Postgraduate Research Paper Symposium 2019

Postgrad Research Paper Symposium was organised to select the

representative from Singapore to ASEAN Food Conference 2019

(AFC19) competition in Bali, Indonesia.

Winner: Mr Craig D' Souza

1st Runner Up: Ms Huang Min

2nd Runner Up: Ms Li Xinzhi, Ms Yang Dongying

SIFST invited industry speakers who have many years of

experience in import and export businesses. The speakers include

Mr Marc Goh, Singapore Chamber of Commerce and Industry in

China, Chongqing, who shared about setting up food businesses

in China; Mr Milton Jiang from Kitchen Lifetime, shared about

innovation for better taste; and Mr Azhar Md Salleh from Zhoul's

Corner, who shared about strategy in bringing halal food into

China.

Winner, Mr Craig D' Souza represented Singapore to compete

in the Graduate Student's Research Paper Competition during

AFC19.

FOOD INNOVATION PRODUCTIVITY AND

INTERNATIONALISATION MASTERCLASS

SIFST organised a two-day Food Innovation Productivity and

Internationalisation Masterclass on 23-24 May 2019 at Royal

The participants had a great knowledge sharing and networking

session.

BANGKOK TECHNICAL TOUR

SIFST jointly organised a technical tour to Bangkok with the e2i on

27 May-2 Jun 2019. A total of 20 members, comprising industry

practitioners and academia, led by the President of SIFST and CEO

of e2i Mr Gilbert Tan participated in the study tour.

Participants and guest speakers of Food Innovation Productivity and

Internationalisation Masterclass

Bangkok trip participants with representative from Thai Airways Catering

FOOD & BEVERAGE ASIA DECEMBER 2020 / JANUARY 2021
---
Annual Report 2020 SIFST

Mr Richard Khaw presenting the awards to the winners of Food Product Awards 2019

Thailand is known for its rich agricultural resources and food

industry. The country is well developed in food science and

technology, especially in the field of manufacturing technology

and R&D. Government supports and business develop incentives

are in place, and there is a good potential for business ventures

and developments.

The SIFST Food Product Award Presentation 2019 was held in

conjunction with SIFST seminar series on 11 Oct 2019 at Nanyang

Polytechnic.

Mr Richard Khaw, SIFST President, presented the awards to the

winners as follows:

The technical tour covered factory visits to Thai President Food

factory (Instant Noodle), Cerebos (Thailand) Factory (BRANDS

Chicken Essence and BRANDS Bird's Nest), CP Interfood Thailand

factory (Chili Sauce), "Tanland" Ichitan Green Factory (Green

Tea Drink), and Thai Airways Catering. The participants were

impressed with the fully automated food factory, high standards

of hygiene and food safety, and the minimal waste policies

implemented in the food factories.

SIFST Best Product Award

Winner: The Cookie Museum Handmade Floral Cookies by The V

Pte Ltd

Merit: AsiaFarm Purple Tea by Asia Farm F&B Pte Ltd

SIFST Innovation Award

Winner: Nutrixin Appeal – Apple Peel Essence by InnovFood Pte

Ltd

The group also visited ThaiFex 2019, a food and beverage

trade show. Exhibitors at the show include food manufacturers,

distributors, food technology companies from all over the world.

The members also took the opportunity to build a closer

relationship amongst the participants as well as exploring

collaboration opportunities. An informative and enjoyable learning

journey for the participants.

FOOD PRODUCT AWARDS 2019

The 14th SIFST Food Product Awards had a total of eight products

from seven companies. All the products were independently

judged by a delicately selected panel of industry experts to award

the winner for SIFST Best Product Award and Innovation Award.

All the award-winning products were showcased at AFC19 from

15-18 Oct 2019.

ASEAN FOOD CONFERENCE 2019, BALI, INDONESIA

The 16th ASEAN Food Conference (AFC) 2019 was successfully

held from 15-18 Oct 2019 at Grand Inna Bali Hotel, Bali,

Indonesia. The 16th AFC was hosted by the Indonesia Association

of Food Science and Technology (IAFT), and co-organised with

Federation of Institutes of Food Science and Technology in

ASEAN (FIFSTA). With a theme "Outlook and Opportunities of

The judgement was conducted on 1 Oct 2019 at Nanyang

Polytechnic and the following judges graced the event.

Chef Andy Gibb

Nanyang Polytechnic

Dr Ong Mei Horng

National University of Singapore

Chef Jeromy Phang Food Drinks and Allied Workers

Union

Mr Lee Huan Tiat

Standards Development

Organisation

Ms Sharon Tan Yee Ling Consumer Representative

All the Singapore delegates in AFC19 at Bali, Indonesia

FOOD & BEVERAGE ASIA DECEMBER 2020 / JANUARY 2021
---
SIFST Annual Report 2020

Food Technology and Culinary for Tourism Industry", the event

drew more than 700 participants, including delegates from the

International Union of Food Science and Technology (IUFoST) and

FIFSTA.

SIFST was represented by the 43rd President Mr Richard Khaw

and Fellow Member Professor Zhou Weibiao. Mr Richard Khaw also

represented SIFST to exhibit the Food Product Awards winning

products at the ASEAN Food Product Awards exhibition held in

conjunction with the Conference. All three products from Nutrixin

Appeel, Cookie Museum – The Floral Collection, and Asia Farm

Purple Tea were recognised and received the ASEAN Best Food

Products Award certification.

Agency (SFA), National Centre for Food Science (NCFS) on 16 Oct

2019. We were very grateful for both SFA and SIFST teams who

had worked hard to organise this rare, truly exceptional event.

The response from our members was extremely positive. The

packed agenda for the afternoon included four presentations by

SFA and following by NCFS Lab tours of:

1. Pesticides Residues;

2. Inorganics Contaminants;

3. Food Microbiology;

4. Authenticity and Traceability; and

5. Foodborne and Natural Toxins.

Professor Zhou was invited as one of the plenary speakers at the

conference. The title of his plenary presentation was "Reinventing

Food Engineering to Achieve Global Food Security". Mr Richard

Khaw and two other postgraduate students from NUS also

presented four oral presentation papers at the conference.

Singapore was represented by Mr Craig D' Souza for the

Graduate Student's Research Paper Competition. He presented

his graduate paper on "Comparison between white and red-blue

LED treatments on physiological development and antioxidant

properties of Choy Sum (Brassica rapa var parachinensis)".

A total of eight student teams participated in the Quiz Bowl

Competition, and the Singapore team was laced 4th position

during the preliminary round.

PROFESSIONAL VISIT TO SINGAPORE FOOD AGENCY –

NATIONAL CENTRE OF FOOD SCIENCE

SIFST has organised a Professional Visit to Singapore Food

A/Prof Joanne Chan, NCFS Centre Director had personally

welcomed the SIFST members, and shared the newly created

SFA organizational structure and their missions to support the

food sectors in Singapore. This was followed by Dr Gerald Chung,

Scientist, Research and Risk Assessment Department, who was

also the SFA coordinator for the visit, had presented the Singapore

Food Story – the three food buckets and grow local foods – and

Singapore Food Story R&D Programme for:

a. Sustainable Urban Food Production

b. Future Foods: Advanced Biotech-based Protein Production

c. Food Safety Science and Innovation

Dr Renuka Selvaraj, Scientist Risk and Situation Reporting, had

shared the Food Hygiene Trends in Food Services from 2008-

2018, and followed by Dr Justina Leo's, Scientist Virology,

presentation on New Technologies in Microbiology. Dr Leo who had

led the tour for the Food Microbiology lab, had also elaborated the

new automated rapid sampling microbiological tests in the lab.

Photo with Centre Director, A/Prof Chan (front row, 6th from left), Dr Gerald

Chung (back row, 3rd from left), Dr Renuka Selvaraj (front row, 1st from left),

and Dr Justina Leo (front row, 5th from left)

Postgraduate Mr Craig D' Souza presenting in Graduate Student's Research

Paper Competition

FOOD & BEVERAGE ASIA DECEMBER 2020 / JANUARY 2021
---
Annual Report 2020 SIFST

Mr Richard Khaw presenting token of appreciation to Dr Milan Shah

SIFST Vice-President of 42nd Council, Mrs Ngan presenting token

of appreciation to Dr Athina Tziboula – Clarke

Our members enjoyed the presentations and tour very much. We

were impressed by the level of dedication and scientific strength of

NCFS. We had not only witnessed how our foods, agriculture and

aqua produces – local and imported – were being studied, tested

and approved by the SFA Scientists and Food professionals. The

opportunities to exchange ideas within members, and with the SFA

teams had demonstrated the values of the visit.

SIFST had sent an official note to thank SFA for the Professional

Visit. We hope to have more mutual engagements in the future.

SIFST PROFESSIONAL TALK SERIES

Title: Novel Application of Plant-based Ingredients

Speaker: Dr Athina Tziboula - Clarke, Head of Division, Division of

Food & Drink, Abertay University, Scotland

Date: 28 Feb 2019

Venue: Singapore Polytechnic

Title: Practical Approach to Allergen Management

Speakers: Mr Richard Khaw, NYP/SIFST, Mr Richard Leung,

Neogen, USA and Mr Valentino Tan, Grow FST Consultancy Pte Ltd

Date: 26 Mar 2019

Venue: Nanyang Polytechnic

Title: Formulating Sugar-free Foods – Overview of polyols

properties

Speaker: Damien-Pierre Lesot, Trend and Innovation Consultant,

South East Asia

Date: 14 May 2019

Venue: NTUC Centre

Title: Industry 4.0 and Potential Impact on Singapore Food and

Agri Industry

Speaker: Dr Milan Shah, Development and Operations Expert

(McKinsey's Digital Capability Centre (DCC) Singapore

Date: 6 Jun 2019

Venue: Nanyang Polytechnic

Title: What is the Hype with Clean Label?

Speaker: Chr. Hansen

Date: 16 Jul 2019

Venue: The Cavendish

Title: Industry Meet Science – Development in Human Milk

Oligosaccharides (HMO) for Infant Nutrition, Food and Beverage

Application

Speaker: Dr Stephan Saum, Head of Global Technical Marketing

Date: 28 Aug 2019

Venue: Singapore Polytechnic

Title: Workplace Hygiene Programme – Mark of Trust

Speaker: Mr David Horlock, Managing Director Global Food &

Retail Supply Chain, British Standards Institution (BSI)

Date: 28 Sep 2020

Venue: Zoom Video Conferencing Platform

Title: Food Formulation – When Art Meets Science

Speaker: Dr Wong Shen Siung, Global Ingredient Technology

Manager, Texturants, Tate & Lyle

Date: 30 Nov 2020

Venue: Zoom Video Conferencing Platform

Upcoming Events:

• Short Courses

• Professional Talk Series

• Overseas Technical Tours ■

FOOD & BEVERAGE ASIA DECEMBER 2020 / JANUARY 2021
---
SIFST Technical Article

Sugarcane fibre: A sustainable ingredient to reduce

glycaemic response in white bread

By CHIA KAI FENG and DU JUAN from Singapore Institute of Technology – Food Technology Programme, Cluster of

Chemical Engineering and Food Technology

INTRODUCTION

White bread is a staple and widely consumed processed

carbohydrate-rich food (Ishida & Steel, 2014). Majority of

the starch in white breads are rapidly digested, absorbed and

metabolised starches that can stimulate postprandial blood

glucose increase as well as poorer insulin sensitivity (Wee &

Henry, 2020; Augustin et al., 2015). This has been linked to major

adverse health effects particularly hyperglycaemia, and type 2

diabetes (T2D) mellitus which was reported to have a continuous

and shocking rate of increase globally (Wee & Henry, 2020).

In local context, an article by Singapore Biodesign – Agency for

Science, Technology and Research (A*STAR) reviewed that in

2019, Singapore has the world's highest rate of diabetes, primary

to kidney failure (Chou et al., 2019). Furthermore, prevalence of

diabetes had increased over the years and was even forecasted

to double amongst Singaporean adults (aged 18-69) from 7.3%

in 1990 to 15% in 2050 (Phan et al., 2014). This agreed with

the National Health Survey 2010 by Singapore Ministry of Health

(2020), where the prevalence of diabetes, among the Singaporean

adults, have increased from 8.2% in 2004 to 11.3% in 2010

(Singapore Ministry of Health, 2020).

Having said that, carbohydrates are primarily a source of energy

as they provide energy to all cells in the body, making them an

important part of a nutritional diet. Hence, it is not recommended

to remove carbohydrates completely in the diet or implement lowcarbohydrates

diets as impairment of other health functions may

occur (Wee & Henry, 2020).

Apart from the amounts of carbohydrate consumed, the rate of

starch digestion also varies depending on their resistance to

digestion; mainly rapidly digestible starch (RDS), slowly digestible

starch (SDS) and resistant starch (RS). As mentioned by Englyst et

al. (1992), a decreased rate of starch digestion could potentially

reduce or delay the postprandial glucose and insulin responses,

thereby aiding in the reduction of glycaemic response in foods.

Found in starchy foods, such as breads and potatoes, RDS consists

mainly of amorphous and dispersed starch and is converted,

within 20 minutes of enzyme digestion, to the constituent glucose

molecules (Sajilata et al., 2006). This RDS are rapidly digested

and absorbed in the duodenum and proximal regions of the

small intestine, leading to numerous bodily implications through

rapid elevation of blood glucose and subsequent episodes of

hypoglycaemia (Zhang & Hamaker, 2009).

As opposed to RDS, SDS are digested slowly with prolong,

sustainable and progressive release of glucose throughout the entire

small intestine (Zhang & Hamaker, 2009; Englyst et al., 1992), and

are converted to glucose after a further 100 minutes of enzyme

digestion. Such slow rate of starch digestion is due to its physically

inaccessible amorphous starch and raw starch constituents, with

a type A and type C crystalline structure, either in granule form or

retrograded form in cooked foods (Sajilata et al., 2006).

RS, on the other hand, is the starch not hydrolysed after 120

minutes of incubation (Englyst et. al, 1992). Be that as it may, RS

is that fraction of dietary starch that escapes digestion in the small

intestine owing to its ability to be fermented by the gut microflora

(Sajilata et al., 2006). This agrees with Zhang and Hamaker (2009),

claiming that RS foods can produce short chain fatty acids (SCFAs)

from the microbial fermentation in the colon, rather than being

digested in the upper gastrointestinal tract. According to Sajilata et

al (2006), RS can be chemically measured as the difference between

total starch (TS) and the sum of RDS and SDS as shown in

Equation 1.

Equation 1:

RS = TS – (RDS + SDS)

Figure 1: Prevalence of diabetes in Singapore over the years of 1998, 2004, and

2010 (Source: Singapore Ministry of Health, National Health Survey 2010 [2020])

Therefore, some studies suggested the improvements of

carbohydrate quality, in addition to reducing the carbohydrate

FOOD & BEVERAGE ASIA DECEMBER 2020 / JANUARY 2021
---
SIFST Technical Article

quantity, would be an effective approach or strategy towards

managing the prevalence of T2D (Wee & Henry, 2020). This

further prompted the efforts and interests of many studies to

lower the Glycaemic Response (GR) and Glycaemic Index (GI) as

well as boosting the nutritional values, of white bread through

the incorporation of dietary fibres. Apart from that, high dietary

fibre intake has also been widely reported to be beneficial for

the overall human health as it prevents and protects against the

development of chronic diseases such as cardiovascular disease,

colorectal cancer, and degenerative diseases (Augustin et al.,

2015; Sangnark & Noomhorm, 2004; Sangnark & Noomhorm,

2003).

In agreement with many studies, one holistic approach to reduce

GR in white bread applications could be the use of dietary fibres

owing to its ability to increase food viscosity, which therefore,

functions to reduce eating rate gastric emptying rate (Zhu et

al., 2013), or intestinal glucose absorption rates as reported by

previous studies (Russell et al., 2013; Martínez-Bustos et al.,

2011).

WHAT ARE GI AND GR?

Carbohydrate quality is measured by Glycaemic Response

(GR) and Glycaemic Index (GI). According to the International

Organisation for Standardisation (ISO 26642:2010), GR is the

change in blood glucose concentration or incremental area

under the blood glucose response curve (iAUC) elicited for 2-3

hours after consuming a carbohydrate-containing food or meal.

On the other hand, GI is based on an equal amount of available

carbohydrate (standardised GR) and the relative to a referent food

(relative GR), usually glucose solution, white wheat bread, or white

rice (Wee & Henry, 2020; Augustin et al., 2015; Monro & Shaw,

2008).

For GI testing in Singapore, according to the Health Promotion

Board, which follows the ISO's standards, at least 7.5g of

glycaemic carbohydrate must be required in per serving of the

tested food product (Health Promotion Board, 2020). After which,

depending on the GI values on the glucose scale, foods can be

classified into different level depending on the rate of digestion,

absorption and metabolization of carbohydrates. For instance,

high GI foods of ≥ 70 have a rapid rate and vice versa, low GI

foods of ≤55 have a slower rate.

WHAT IS SUGARCANE FIBRE?

Sugarcane fibres are a type of lignocellulosic material classified as

an insoluble dietary fibre (Poran et al., 2008; Gould et al., 1989).

They are main by-products derived from sugarcane processing

(Sangnark & Noomhorm, 2004), and these fibrous residues are

claimed to be one of the world's largest agriculture residues

(Loh et al., 2013). Due to its low fabricating costs and abundancy,

which makes them a sustainable and high green end material these

sugarcane fibre wastes are ideal raw material with multiple utilities,

especially in the manufacturing of polymeric composite materials

(Loh et al., 2013). Apart from that, fertilisers and cattle feeds were

reported to be one of the more common use of sugarcane fibres as

well (Sangnark & Noomhorm, 2004).

As mentioned earlier, sugarcane fibres are ideal candidate to be

utilised in the health food formulations due to its dietary fibre

components which comprises mainly cellulose, hemi-cellulose

and lignin (Martínez-Bustos et al., 2011). Between a couple of

studies, the cellulose, hemi-cellulose and lignin constituents of

sugarcane fibre varies slightly, from 55-58%, 26-32% and 19-22%,

respectively to 45%, 26% and 19%, respectively (Sangnark &

Noomhorm, 2004).

EFFECTS OF SUGARCANE FIBRES ON GLYCAEMIC

RESPONSE AND OTHER HEALTH BENEFITS

According to Dhital et al., (2015), the presence of cellulose was

demonstrated to reduce the hydrolysis of starch by α-amylase

owing to its ability to have rapid binding interaction of α-amylase to

cellulose, as opposed to α-amylase to granular starch. Through this

mixed type inhibition mechanism, the α-amylase enzymatic activity

would thus be inhibited. Moreover, cellulose, being a polysaccharide

is undegradable by α-amylase as the β (1 → 4) glucan linkages of

cellulose is unhydrolysable by the enzymatic activity. As proposed

by Adedayo et al., (2018), such inhibition mechanism is vital in

controlling the amount of glucose release, and thereby, forming the

foundation of GI reduction.

Other benefits of sugarcane fibres, apart from the glycaemic

response of food, include the exhibition of second-meal effect,

through a mechanism related to colonic fermentation, which could

improve blood glucose regulation and tolerance for subsequent

meals, as well as increased satiety levels post-meal that may result

in modest weight loss and thereby, reducing insulin resistance and

the risk of developing T2D (Weickert & Pfeiffer, 2018). Additionally,

previous research has indicated that insoluble fibres have effects on

increasing fermentative activity by bacteria in the colon, resulting

in the production of propionic acid (a type of short chain fatty

acids) and thereby, moderate hepatic glucose and lipid metabolism

(Russell et al., 2013; Björck & Elmståhl, 2003). Since sugarcane

fibres are mainly composed of insoluble fibres, it is possible to use

sugarcane fibre to modulate fermentative activities in the colon, but

more research is needed to verify it.

IMPLICATIONS OF USING SUGARCANE FIBRES IN BREAD

FORMULATIONS

Apart from the benefits of sugarcane fibre on reducing glycaemic

FOOD & BEVERAGE ASIA DECEMBER 2020 / JANUARY 2021
---
SIFST Technical Article

Figure 2: Physical appearance of sugarcane enriched white bread with 0, 5, 10 and 15% (w/w flour basis) sugarcane fibre addition, from left to right

response and many others, the unprocessed lignocellulose

materials in sugarcane fibre were reported to cause problems

when formulating into baked goods as they do not soften or

incorporate well with the dough or batter due to their poor

hydration properties. As a result, many negative implications,

such as the loss of baked volume and undesirable mouthfeel such

as dry and gritty texture, were typically observed (Wee & Henry,

2020; Sangnark & Noomhorm, 2004; Sangnark & Noomhorm,

2003). Evidently, these implications were observed to be more

prominent with increasing concentrations of sugarcane fibres

added into the bread formulation of 0, 5,10 and 15% (w/w flour

basis), respectively, as shown in Figure 2. However, hydration

properties of sugarcane fibres can be improved through the

treatment of alkaline hydrogen peroxide (AHP) and stirring.

Furthermore, modifications to the white bread formulation, which

include the addition of other food additives such as sucrose

ester and gums as well as substitution of high protein flour, could

potentially improve the dough rheological properties and quality

of sugarcane fibre enriched bread.

ALKALINE HYDROGEN PEROXIDE PRE-TREATMENT OF

SUGARCANE FIBRE

As reviewed by Niju & Swathika (2019), alkaline hydrogen

peroxide (AHP) pre-treatment was found to be the most effective

process for delignification of lignocellulosic materials. Due to its

oxidative action, ester linkages of the lignin present in the cell wall

are cleaved, resulting in less sugar degradation and increased

digestibility with negligible formation of secondary products

(Gould et al., 1989).

The effects of AHP treatment on sugarcane fibre were investigated

by a number of previous studies. Mdletshe (2019), reported

that untreated sugarcane fibre showed sheets of clustered

fibres whereas the structures of the treated sugarcane fibre

were strongly damaged because of the pre-treatment, resulting

in modifications to the surface and consequently, dissolving

the hemicelluloses that surrounded the cellulose skeleton

(Arsène et al., 2017). Moreover, after AHP treatment, there is

also a possibility that the sugarcane fibres might completely be

unattached into individual fibres (Rezende et al., 2011).

CONCLUSION

White bread, a type of staple food, is considered and classified

to be a relatively high GI food, of >70, due to the various

processing on the raw material, including high RDS content of

white wheat flour, dough formation as well as baking process of

bread. Undoubtedly, there is a need of solutions to reduce GI

of white bread. One effective approach to reduce the glycaemic

response of white bread would be the addition of sugarcane fibre

in bread applications owing to their ability to bind and interact

with α-amylase, and thereby reducing the hydrolysis of starch.

FOOD & BEVERAGE ASIA DECEMBER 2020 / JANUARY 2021
---
SIFST Technical Article

Furthermore, sugarcane fibres are unhydrolysable by the enzymes

such as α-amylase, therefore adding bulk to the system without

increasing the available carbohydrates content while controlling

the rate of glucose release.

However, there are drawbacks of using sugarcane fibres in bread

applications due to their insolubility and hydration properties.

These drawbacks include weakened dough, reduced processing

tolerance and loss of baked volume, thereby compromising the

textural and sensorial properties which are important aspects and

criteria of a bread. Therefore, pre-treating sugarcane fibres with

AHP could improve the solubility as well as increasing the water

holding capacity of sugarcane fibres, allowing easy incorporation

of sugarcane fibres into the dough system. ■

REFERENCES

1. Ishida, P., & Steel, C. (2014). Physicochemical and sensory

characteristics of pan bread samples available in the Brazilian market.

Food Science and Technology (Campinas), 34(4), 746-754.

2. Wee, M., & Henry, C. (2020). Reducing the glycaemic impact of

carbohydrates on foods and meals: Strategies for the food industry

and consumers with special focus on Asia. Comprehensive Reviews in

Food Science and Food Safety, 19(2), 670-702.

3. Augustin, L., Kendall, C., Jenkins, D., Willett, W., Astrup, A., & Barclay,

A. et al. (2015). Glycaemic index, glycaemic load and glycaemic

response: An International Scientific Consensus Summit from the

International Carbohydrate Quality Consortium (ICQC). Nutrition,

Metabolism and Cardiovascular Diseases, 25(9), 795-815.

4. Chou, A., Rauff, S., Wong, S., Zhang, H., & Greene, W. (2019). Diabetes

in Asia: Insights on the Patient Journey and Opportunities for Digital

Health Innovation. Retrieved from https://www.a-star.edu.sg/sb/

resources.

5. Phan, T., Alkema, L., Tai, E., Tan, K., Yang, Q., & Lim, W. et al. (2014).

Forecasting the burden of type 2 diabetes in Singapore using a

demographic epidemiological model of Singapore. BMJ Open Diabetes

Research & Care, 2(1), e000012.

6. Ministry of Health, Singapore (2020). National Health Survey 2010.

Moh.gov.sg. Retrieved 29 October 2020, from https://www.moh.gov.

sg/resources-statistics/reports/national-health-survey-2010.

7. Englyst, H. N., Kingman, S. M., & Cummings, J. H. (1992). Classification

and measurement of nutritionally important starch fractions. European

Journal of Clinical Nutrition, 46, S33–50.

8. Sajilata, M., Singhal, R., & Kulkarni, P. (2006). Resistant Starch–A

Review. Comprehensive Reviews in Food Science and Food Safety,

5(1), 1-17.

9. Zhang, G., & Hamaker, B. R. (2009). Slowly digestible starch: concept,

mechanism, and proposed extended glycaemic index. Critical reviews

in food science and nutrition, 49(10), 852-867.

10. Sangnark, A., & Noomhorm, A. (2004). Effect of dietary fiber from

sugarcane bagasse and sucrose ester on dough and bread properties.

LWT - Food Science and Technology, 37(7), 697-704

11. Sangnark, A., & Noomhorm, A. (2003). Effect of particle sizes on

functional properties of dietary fibre prepared from sugarcane

bagasse. Food Chemistry, 80(2), 221-229.

12. Zhu, Y., Hsu, W., & Hollis, J. (2013). The Impact of Food Viscosity on

Eating Rate, Subjective Appetite, Glycaemic Response and Gastric

Emptying Rate. Plos ONE, 8(6), e67482.

13. Russell, W., Baka, A., Björck, I., Delzenne, N., Gao, D., & Griffiths, H. et

al. (2013). Impact of Diet Composition on Blood Glucose Regulation.

Critical Reviews in Food Science and Nutrition, 56(4), 541-590.

14. Martínez-Bustos, F., Viveros-Contreras, R., Galicia-García, T.,

Nabeshima, E., & Verdalet-Guzmán, I. (2011). Some functional

characteristics of extruded blends of fibre from sugarcane bagasse,

whey protein concentrate, and corn starch. Ciência E Tecnologia De

Alimentos, 31(4), 870-878.

15. International Standards Organisation. ISO 26642–2010. Food

Products—Determination of the Glycaemic Index (GI) and

Recommendation for Food Classification; International Standards

Organisation: Geneva, Switzerland, 2010.

16. Monro, J., & Shaw, M. (2008). Glycaemic impact, glycaemic glucose

equivalents, glycaemic index, and glycaemic load: definitions,

distinctions, and implications. The American Journal of Clinical

Nutrition, 87(1), 237S-243S.

17. Health Promotion Board. (2020). Healthier Choice Symbol. Health

Promotion Board. Retrieved 5 November 2020, from https://www.hpb.

gov.sg/food-beverage/healthier-choice-symbol.

18. Poran, S., Goburdhun, D. & Ruggoo, A., 2008. Effects of adding

cellulose on rheological characteristics of wheat flour dough and on

bread quality. University of Mauritius Research Journal, 14, 112–128.

19. Gould, J. M., Jasberg, B. K., Dexter, L. B., Hsu, J. T., Lewis, S. M., &

Fahey, G. C., 1989. High-fibre, noncaloric flour substitute for baked

foods. Properties of alkaline peroxide-treated lignocellulose. Cereal

Chemistry, 66(3), 201-205.

20. Loh, Y., Sujan, D., Rahman, M., & Das, C. (2013). Sugarcane bagasse—

The future composite material: A literature review. Resources,

Conservation and Recycling, 75, 14-22.

21. Dhital, S., Gidley, M., & Warren, F. (2015). Inhibition of α-amylase

activity by cellulose: Kinetic analysis and nutritional implications.

Carbohydrate Polymers, 123, 305-312.

22. Adedayo, B., Adebayo, A., Nwanna, E., & Oboh, G. (2018). Effect of

cooking on glycaemic index, antioxidant activities, α-amylase, and

α-glucosidase inhibitory properties of two rice varieties. Food Science

& Nutrition, 6(8), 2301-2307.

23. Weickert, M., & Pfeiffer, A. (2018). Impact of Dietary Fibre

Consumption on Insulin Resistance and the Prevention of Type 2

Diabetes. The Journal of Nutrition, 148(1), 7-12.

24. Björck, I., & Elmståhl, H. (2003). The glycaemic index: importance of

dietary fibre and other food properties. Proceedings of The Nutrition

Society, 62(1), 201-206.

25. Niju, S., & Swathika, M. (2019). Delignification of sugarcane bagasse

using pre-treatment strategies for bioethanol production. Biocatalysis

and Agricultural Biotechnology, 20, 101263.

26. Mdletshe, G. P. (2019). Extraction and characterisation of cellulose

nanocrystals (cncs) from sugarcane bagasse using ionic liquids.

Durban University of Technology.

27. Arsène, M. A., Bilba, K., & Onésippe, C. (2017). Treatments for

viable utilisation of vegetable fibers in inorganic-based composites.

In Sustainable and Nonconventional Construction Materials using

Inorganic Bonded Fiber Composites (pp. 69-123). Woodhead

Publishing.

28. Rezende, C., de Lima, M., Maziero, P., deAzevedo, E., Garcia, W., &

Polikarpov, I. (2011). Chemical and morphological characterisation

of sugarcane bagasse submitted to a delignification process for

enhanced enzymatic digestibility. Biotechnology for Biofuels, 4(1), 54.

FOOD & BEVERAGE ASIA DECEMBER 2020 / JANUARY 2021
---
SIFST Technical Article

Singapore's war on sugar:

Sugar substitute as a weapon

By ZHU YIMING and MI JIAQI, Department of Food Science and Technology, National University of Singapore

Nature made sugar hard to get; man made it easy.

The Singapore government is aware of the threat

of added sugar on public health and healthcare

costs. Singapore has begun the war with sugar since

2001, when the Healthier Choice Symbol (HCS) was

introduced to help consumers identify lower-sugar foods. War on

Diabetes was launched in 2016.

The fact in Singapore is that the related non-communicable

disease (NCD) accounted for 74% of deaths in 2008. Diabetes is a

serious health concern in Singapore, with the highest prevalence

of diabetes among developed nations. A Health Promotion Board

survey in 2018 reported Singaporeans consumed 12 teaspoons

(or 60g) of sugar daily, more than the five teaspoons limit

recommended by the World Health Organization.

In Dec. 2018, the Ministry of Health (MOH) conducted a public

consultation to seek views on four possible measures to reduce

sugar intake from pre-packaged sugar-sweetened beverages

(SSBs), including total ban, tax on high-sugar drinks, mandatory

labelling and ban on advertisements on all platforms; However, the

results have yet to be announced. Compared with such tough action,

recognise and promote the use of sugar substitutes seem to be a

gentle way.

THE TOXIC TRUTH ABOUT SUGAR

A lot of epidemiological evidence indicated that excessive

sugar consumption affects human health beyond simply adding

calories. Importantly, sugar induces all of the diseases associated

with metabolic syndrome 1 . The unhealthy influence includes

hyperlipidaemia (high triglycerides and insulin resistance through

the synthesis of fat in the liver); diabetes (increased liver glucose

production and insulin resistance); hypertension (fructose increases

uric acid, which raises blood pressure); and aging (Maillard reaction

and its production between reducing sugar and protein).

THE RISING USE OF SWEETENERS

Sugar substitute is a group of food additives that duplicates the

effect of sugar in taste, but usually has less calories and low

glycaemic index (GI). Some sugar substitutes are natural while

some others are synthetic. Especially, the synthetic sweeteners

can be divided into artificial sweeteners (produced from the

non-sugar-structure compound), sugar alcohols (occur naturally

in many fruit and vegetables, but they are produced from other

carbohydrates), and rare sugar (occur naturally in extremely low

ratio, produced from enzymatic conversion).

Chemosynthesis artificial sweeteners

The chemosynthesis artificial sweeteners are approved in

Singapore are acesulfame-K, saccharin, cyclamates, neotame,

sucralose, and aspartame.

With zero calories and non-GI effect, chemosynthesis artificial

sweeteners seem to be the most health and economic way to

fight traditional sugar. In general, it can be concluded that sugar

Sweeteners

Acesulfame

potassium

(Ace-K)

Calories

(kcal/g)

Sweetness

Compared to

sucrose

GI

0 200 0

Aspartame 3.65 200 0

Sucralose 0 600 0

Neotame 0 7,000-13,000 0

Cyclamates 0 40 0

Saccharin 0 300 0

Beverage shelves at a supermarket in Singapore

Table 1: Main chemosynthesis artificial sweeteners' nutrition value (adapted

from Chattopadhyay 2 )

FOOD & BEVERAGE ASIA DECEMBER 2020 / JANUARY 2021
---
SIFST Technical Article

substitutes have no untoward effect on the short-term health

and carcinogenicity risks of an individual under the food matrix

and regulation dose. Hence, these chemosynthesis artificial

sweeteners are currently approved for use in most countries.

But this illusion is partly because there were few epidemiological

studies have specifically assessed exposure to a single sweetener.

Currently, there were some debates about these sugar substitutes.

The thermal decomposition of sucralose produces polychlorinated

dibenzo-p-dioxins and dibenzofurans. Bladder cancer-inducing

effects of saccharin were reported from animal studies in the rat.

Also, current scientific evidence indicates that daily consumption

of beverages with chemosynthesis artificial not only fails to

prevent disease but is associated with increased risks for the

same health concerns associated with sugar beverages, including

type 2 diabetes, cardiovascular disease, hypertension, and stroke.

Acesulfame potassium, saccharin, and sucralose even performed

strong bacteriostatic effects to change the intestinal flora, which

is closely related to the long-term immunity and metabolism of

the human body. Pre-clinical studies have provided plausible

biological mechanisms of these negative health effects 3 .

Besides, considering the unpleasant aftertaste, allergen

(Aspartame), the properties for cooking or baking. The use of

chemosynthesis artificial sweeteners still needs to be regulated

and identified.

Sugar alcohols

Sugar alcohols were found in plants, such as fruits, especially

berries. Now, sugar alcohols normally are produced by

corresponding sugar with chemical or biological pathways. Sugar

Sweeteners

Calories

(kcal/g)

Sweetness

compared to

sucrose

Xylitol 2.5 100 13

Maltitol syrup 3 75 53

Maltitol 2.7 75 36

Erythritol 0.2 70 0

Sorbitol 2.5 60 9

Mannitol 1.5 60 0

Isomalt 2.1 55 9

Lactitol 2 35 6

Polyglycitol 2.8 33 39

Table 2: Main sugar alcohols' nutrition value (adapted from Grembecka 4 and

Serra-Majem et al. 5 ). All of these sugar alcohols are available in Singapore

GI

alcohols have slightly lower calories and GI than regular sugar

(sucrose has GI of 60 and 4cal/g calories).

Sugar alcohols are normally partly absorbed into the blood from

the small intestines which usually results in a smaller alter in

blood glucose than sucrose (table sugar). Erythritol is actually

absorbed in the small intestine and excreted unchanged through

urine, so it contributes no calories even though it is rather sweet.

In China, a sparkling water with erythritol added only has been

a huge success in recent years, Yuanqi Forest (Yuanqi Senlin),

its parent company now valued at more than US$2 billion. This

company also plans to add erythritol more in milk tea and fruit

wine.

However, it is important to note that most sugar alcohols do not

have 0 GI and 0 Cal. So, for many products labelled "sugar-free"

or "no sugar added" in fact contain sugar alcohols, diabetics

cannot consume them with no limit 6 .

Besides, just like others incompletely digestible substances,

overconsumption of sugar alcohols can lead to bloating,

diarrhoea, and flatulence as they are incompletely absorbed in the

small intestine.

Natural sweeteners

Natural sweeteners are approved in Singapore including steviol

glycosides and Siratia grosvenorii (swingle) (Luo Han Guo, Monk

fruit) extract.

Stevia glycosides are compounds extracted and refined from the

leaves of the Stevia rebaudiana (Bertoni) Hemsl. The US Food

and Drug Administration (FDA) considers only high-purity stevia

glycosides to be safe for current human consumption with ADI,

while the Monk fruit extract was listed in FDA GRAS with no limit 9 .

Monk fruit has been used as a traditional medicine in China for

centuries. Following the trends of natural sweeteners, it has been

approved as a sweetener in many countries. This fruit contains

compounds called mogrosides to perform sweetness. Among more

than 60 mogrosides identified, the content of different mogrosides

are various depends on the maturity stage.

Sweeteners

Calories

(kcal/g)

Sweetness

Compared to

sucrose

Steviol

glycosides

0 210-300 0

Luo Han Guo 0 500 0

Table 3: Main natural sweeteners' nutrition value (adapted from Hellfritsch et

al. 7 and Cicek et al. 8 )

GI

FOOD & BEVERAGE ASIA DECEMBER 2020 / JANUARY 2021
---
SIFST Technical Article

As a natural compound or extract, these natural sweeteners

were also have shown that it is non-toxic and exert hypotensive,

cardiotonic, anti-diabetic, anti-carcinogenic, anti-inflammatory,

anti-viral, and anti-bacterial actions. The Monk fruit extract is

considered as the only natural product with a sweet taste that can

help one lose weight.

The bitter aftertaste of steviol glycosides is another barrier for

the large-scale applications of steviol glycosides. Coca-Cola

launched a sugar-based beverage product, Coca-Cola Life, in

2017, but is not doing well in the market because of the slightly

bitter aftertaste, even though they have added some sucrose

to neutralise the bitterness. In 2018, considering the failure of

previous Coca-Cola Life, Coca-Cola launched their new steviasweetened

Coke with specific Reb M glycoside, which has no

unappealing aftertaste.

So far, most of the sweetener plants have yet to be approved for

use, even though they are traditionally used in countries where

they appear naturally. The highest values were received for

miraculin, obtained from Synsepalum dulcificum (400,000 times

sweeter than sucrose, induced by citric acid); thaumatin (1,600-

3,000 times sweeter), monatin (1,200-3,000) and pentadin

(500-2,000 times sweeter). Some of these substances can also

modify the taste, like changing sour into sweet taste (miraculin

and neoculin) 10 .

Rare sugars

With the increase of consumers' health awareness of sugar

reduction, rare sugar has gradually become a hot topic in the

food industry. It is a type of monosaccharides and sugar alcohols

that exist in nature but have very little content. It tastes similar

to sucrose, but has more advantages such as low calories, high

stability and non-carcinogenicity. This can make up for the lack

of typical sweeteners and play an important role in improving the

diet of special populations.

At present, there are more than 50 kinds of rare sugars such

as allulose, arabinose and tagatose. In addition to low-calorie

features, they also have many functional activities, such as

scavenging free radicals, protecting nerves. Also, they are

functional sweeteners used by the people with diabetes and

obesity. However, rare sugars exist in a small amount in nature

and are difficult to purify and obtain. At the same time, chemical

synthesis is expensive. Therefore, the use of biotransformation

technology to develop functional rare sugars has become a

hotspot in international research 11 .

Allulose is a very popular rare sugar, which has sucrose functions

such as browning reaction and provide bulkiness while reducing

The application of sugar substitutes in the food and beverage market in

Singapore. (A). Rare sugars (D-psicose, D-allose, D-mannose) were utilised

in beverage Life Jasmine Green Tea - Less Sugar. (B). Artificial sweeteners

(sucralose, acesulfame-K) were applied in Coca-Cola Bottle Drink - No Sugar.

(C). Sugar alcohol (maltitol) was used in Gullon Choco Chip Biscuit - Sugar Free.

sugar. Therefore, it is also evaluated as the "most potential

sucrose substitute".

The sweetness of allulose is about 70% of sucrose, but its

calories are far lower than sucrose. It is only 0.4kcal/g. Because

allulose cannot be metabolised by the human body and has low

fermentation availability to intestinal microorganisms, it will not

cause gastrointestinal discomfort like sugar alcohol.

In terms of taste, allulose has a soft and delicate sweetness. It has

a pure sweetness that is very similar to sucrose. And there is no

bad taste after consumption. Its sweetness will not change with

temperature.

Furthermore, allulose has very good physical and chemical

properties. It is mixed with egg albumin can not only form a better

cross-linked structure through Maillard reaction, but also generate

substances with higher antioxidant effects, which reduces

oxidation loss in food processing and storage. In the industry,

allulose is often used to partially replace sucrose to make cakes.

At present, D-psicose-3 epimerase is often used in industry to

achieve mass production of allulose. It is also widely used in

beverages, baked goods, candies, condiments, dairy products,

jams, processed meats and syrups. Duncan Hines uses allulose

to make a keto friendly birthday cake mixing cup. Each serving

contains only 5g of net carbs and no added sugar 12 .

D-tagatose is an isomer of D-fructose. Its sweetness is about 92%

of sucrose, and its calories are only 1/3 of sucrose. The metabolic

pathway of tagatose is similar to fructose but the efficiency is

FOOD & BEVERAGE ASIA DECEMBER 2020 / JANUARY 2021
---
SIFST Technical Article

lower than fructose. Only 20% of tagatose is metabolised and

absorbed in the liver. The other 80% tagatose will stimulate the

growth of lactobacillus, and promote the production of butyric

acid in the intestine, which is beneficial to intestinal health. At

present, the industry mainly uses D-galactose as the raw material

to produce D-tagatose on a large scale. Meanwhile, tagatose

has been widely used in health drinks, yoghurt, juice and other

products in the US 13 .

Arabinose is also a common rare sugar. It can reduce the

absorption of sucrose and prevent blood glucose rising by

inhibiting sucrase 14 . Meanwhile, undecomposed sucrose can enter

the large intestine to provide rich nourishment for the beneficial

bacteria in the digestive system. However, the high price may be

the main obstacle to the wide application of arabinose. Therefore,

exploring simpler and safer biosynthetic methods is a hot research

topic in the future.

CUSTOMER INSIGHT

As the demand for health increases, sugar substitute products

will undoubtedly leave a good impression on consumers. But it is

difficult to have both deliciousness and health.

Artificial sweeteners have been controversial since their inception.

Various studies have proved that long-term intake of highintensity

artificial sweeteners such as saccharin, sucralose, and

aspartame can cause health risks, although these negative effects

also need to be considered dose.

But this is still affecting consumers' attitudes. Many consumers

remain cautious about this, which has caused many sugar-free

products using artificial sweeteners to fall into controversy.

Natural sweeteners such as steviol glycosides began to replace

artificial sugar substitutes, and gradually became consumers'

favourite sweeteners.

The indigestibility of steviol glycosides prevents the increase in

blood glucose after consuming, and it is a natural sugar suitable

for diabetic patients. But the bitter taste of stevia also makes

product development more difficult. This led scientists to study

how to use technical methods to remove the bitter taste of stevia.

At the same time, the pace of exploring new sweeteners has not

stopped. The rare sugar allulose, which is more similar to sucrose,

has begun to enter the eyes of consumers. More stable properties

and cleaner production process make allulose a healthy sugar

substitute besides stevia.

But for companies, how to choose sugar substitutes should

consider not only health issues, but also cost and consumer

preferences. Therefore, before choosing the suitable sugar

substitute, the most important thing is to determine the target

consumers of the brand. Can sugar reduction resonate with them

and which sugar substitute is more acceptable to the target

population?

There is no doubt that sugar reduction in food and beverages

has become a hot topic in product development. Consumers'

interest in sugar reduction and demand for natural and safe

sweeteners will promote the development of better-tasting natural

sweeteners. ■

REFERENCES

1. Lustig RH, LA Schmidt, CD Brindis. The toxic truth about sugar. Nature.

2012, 482(7383): 27-29.

2. Chattopadhyay S, U Raychaudhuri, R Chakraborty. Artificial

sweeteners - a review. J. Food Sci. Tech. Mys. 2014, 51(4): 611-621.

3. Swithers SE. Not-so-healthy sugar substitutes? Curr Opin Behav Sci.

2016, 9: 106-110.

4. Grembecka M. Sugar alcohols-their role in the modern world of

sweeteners: a review. Eur. Food Res. Technol. 2015, 241(1): 1-14.

5. Serra-Majem L, et al. Ibero-American consensus on low- and nocalorie

sweeteners: Safety, nutritional aspects and benefits in food

and beverages. Nutrients. 2018, 10(7): 31.

6. Park YC, Oh EJ, Jo JH, Jin YS, Seo JH. Recent advances in biological

production of sugar alcohols. Curr. Opin. Biotechnol. 2016, 37: 105-

113.

7. Hellfritsch C, Brockhoff A, Stahler F, Meyerhof W, Hofmnann T. Human

Psychometric and taste receptor responses to steviol glycosides. J.

Agric. Food Chem. 2012, 60(27): 6782-6793.

8. Cicek SS, T Esposito, U Girreser. Prediction of the sweetening effect

of Siraitia grosvenorii (luo han guo) fruits by two-dimensional

quantitative NMR. Food Chem. 2021, 335: 8.

9. Vinkx C. Opinion of EFSA on steviol glycosides: what's next? Heverlee:

Euprint Ed. 2010, 45-57.

10. Swiader K, Wegner K, Piotrowska A, Tang FJ, Sadowska A. Plants as

a source of natural high-intensity sweeteners: a review. J. Appl. Bot.

Food Qual. 2019, 92: 160-171.

11. Hadipernata M, S Hayakawa, R Rachmat. The utilisation of rare sugars

as a functional food. Int Soc Horticultural Science: Leuven 1. 2013,

369-374.

12. Mu WM, Hassanin H, Zhou L, Jiang B. Chemistry behind rare sugars

and bioprocessing. J. Agric. Food Chem. 2018, 66(51): 13343-13345.

13. Roy S, Chikkerur J, Roy S, Dhali A, Kolte A, Sridhar M, Samanta

A. Tagatose as a potential nutraceutical: Production, properties,

biological roles, and applications. J. Food Sci. 2018, 83(11): 2699-

2709.

14. Li Y, Pan H, Liu J, Li T, Liu S, Shi W, Sun C, Fan M, Xue L, Wang Y, Nie

C, et al. L-Arabinose inhibits colitis by modulating gut microbiota in

mice. J. Agric. Food Chem. 2019, 67(48): 13299-13306.

FOOD & BEVERAGE ASIA DECEMBER 2020 / JANUARY 2021
---
SIFST Member List

SIFST Members in 2020

HONORARY FELLOWS

Emeritus Prof Ang How Ghee

Mr Theng Chye Yam

Dr Ngiam Tong Tau

FELLOWS

Mr Chou Kai Chih

Ass. Prof Karunanithy Ramasamy

Mr Lodge, Norman

Dr Perera, Anne

Dr Chua Sin Bin

Dr Lien Wen Sze

Mr Lim Chee Kian

Mr Lim Kay Kong

Mrs Ong Kim Lian

Dr Pho-Tan Lay Koon

Mrs Ser-Low Wai Ming

Mrs Tan Ek Ek, Irene

Ms Tan Tiat Siang, Connie

Mr Wong Mong Hong

Mr Yap Giau Cheng, Eugene

Mr Yeow Kian Peng

Mr Yeoh Guan Huah*

Prof Zhou Weibiao

CORPORATE MEMBERS

Abbott Laboratories (S) Pte Ltd

ALS Technichem (S) Pte Ltd

Borregaard SEA Pte Ltd

Chop Hup Chong Food Industries

Pte Ltd

Chr. Hansen Singapore Pte Ltd

Coca-Cola Singapore Pte Ltd

Covance Asia Pte Ltd

CP Kelco Singapore Pte Ltd

Delfi Ltd

F&N Global Marketing

Faesol Pte Ltd

Foodfare Catering Pte Ltd

Foodxervices Inc Pte Ltd

Friesland Campina Development

Center

Gardenia Foods (S) Pte Ltd

Givaudan Singapore Pte Ltd

Gourmet Food Safety Consultancy

Huber's Pte Ltd

Ingredion Singapore Pte Ltd

Jumain Sataysfaction Pte Ltd

Kikkoman (S) Pte Ltd

Lam Soon Singapore Pte Ltd

Malaysia Dairy Industries Pte Ltd

Nestle R&D Center Pte Ltd

NTUC Fairprice Co-operative Ltd

Prima Limited

Superbean International Pte Ltd

Symrise Asia Pacific Pte Ltd

Synergy Asia Training & Consulting

Pte Ltd

Tatgu Pte Ltd

The V Pte Ltd

Thong Siek Food Industry Pte Ltd

U Market Place Enterprise Pte Ltd

U.S. Dairy Export Council

Unicurd Food Co Pte Ltd

LICENTIATE MEMBERS

Ms Ang Cai Ling

Ms Aw Ling Zhi Christine

Ms Aisyah Shakira Binte Abdul Jalil

Ms Calista Foo Jun Yi

Ms Calistal Ang Si Min

Mr Chan Cheng Num

Mr Chan Jun Rong Samuel

Ms Chan Mei Hui Jenny

Ms Chan Wan Ting

Ms Ching Hui Kheng

Ms Chong Sin Yee

Mr Choo Zhi Wei

Mr Chow Jun Yan Eldrid

Ms Chua Jia Hui

Ms Chua Xinying

Ms Chung Hui Yu Audrey

Ms Dayna Ong Shu Min

Ms Elaine Yeow Yee Ling

Ms Elysia Sutislio

Ms Eunice Lee Meei Huey

Ms Evelyn Lau

Ms Felicia Liow Ker Ching

Ms Goh Ai Ting

Ms Goh Hwee Kwang Chris

Ms Goh Pei Xuan

Ms Goh Xue Zhen Audrey

Ms Goh Yi Qian

Ms Heng Siying Lynette

Ms Ho Shu Qi

Mr Hoo Kin Hoe

Ms Joyce Chung

Ms Kee Mandy

Ms Koh Huann Rong

Mr Koh Tian Haw

Ms Kok Chui Lin

Ms Kwah Yan Sin

Ms Lai Fang Yin

Ms Lai Howe Ling Daisy

Mrs Lai Jia Chee

Ms Lee Cai Yin

Ms Lee Pei Xuan

Ms Lee Seu Lan

Ms Lee Shi Fen Elaine

Mr Leon Khoo

Mr Leung Jing Yin

Ms Liew Samantha

Mr Lim Chai

Ms Lim Hui Pheng

Ms Lim Jin Min

Ms Lim Pei Jun

Ms Lim Shi Yi

Mr Lim Siang Wee

Ms Lim Wan Ting

Mr Lim Wei Chin Marcus

Ms Lim Yu Mei Joanne

Ms Lim Yu Zhen Bellarie

Ms Lin Hui Fang Vivian

Mr Lin Weixiang Willis

Ms Lin Yan Ting Elaine

Ms Loh Hui Lin

Mr Low Poh Seng Gaven

Mr Matthew Koh

Ms Mcferson Maureen Hadden

Ms Minardo Franceline Gladys

Ms Miranda Maru Angeli Calinisan

Ms Nah Jin Nim Adelyn

Ms Ng Hui Ling

Mr Ng Tai Hiang Jeremy

Ms Ng Wei Ting Felicia

Ms Nur Filzah Nadiah

Ms Nur Syahirah Binte Amirruddin

Ms Nurul Ayu Nafisah Binte Hussain

Ms Ong Anica

Ms Ong Cai Fen Esther

Ms Ong Shu Min Joan

Ms Ong Xue Li

Ms Ow Pei Jun

Mr Poh Kai Keng

Ms Poh Shih Yin

Ms Quek Si Yi

Ms Qurratu Ain Bte Mohd Fadzil

Ms Radyiatul Mardyiah Binte

Othman

Ms Rinny

Ms Salwah Bte Abdul Rashid

Ms Sarah Chia Jia Ning

Ms Seah Xin Hui

Ms Sim Hui Yu

Ms Sin Si Min

Ms Siow Phei Ching

Ms Siti Aishah Bte Ismail

Mr Soh Chin Yi

Ms Soh Jin Chen

Ms Soh Jun Ru

Ms Soon Hui Yi Vivienne

Mr Tan Ban Yang Alvin

Ms Tan Bi Xue

Ms Tan Kai Chin

Ms Tan Peh Ling

Ms Tan Shi Ying

Ms Tan Su Shan

Ms Tan Xiao Ping

Ms Tan Xuan En Georgina

Mr Tan Yong Seng

Ms Tan Yue Ting

Ms Tan Zi Hao Crystal

Mr Tay Chuan Long Dennis

Mr Tay Siang Hong

Ms Tay Xin Mei Daphne

Ms Tay Xin Ying Mandy

Mr Teng Bryan

Ms Teo Kai Zhi

Ms Teo Wan Ling

Ms Then Chew Siew Gertrude

Ms Toh Chin Hwee, Iris

Ms Toh Kai Ning Clarine

Ms Tong Xiuying Jean

Ms Wang Yi Jin

Ms Wong Yun Xiao

Ms Wu Manchao

Mr Yap Jie Sen

Mr Yeo Bin Hui

Ms Yeo Hui Jun

Ms Yeo Poh Cher

Mr Yeon Liang Jun

Ms Yuliana

ASSOCIATE MEMBERS

Ms Alessandra Macri

Dr Anh Linh Nguyen

Mr Aw Cheng Soon Samuel

Mr Chan Cheng Num

Mr Chan Joy Seng

Ms Chan Yong Jiet

Ms Chan Yuen Mun Carmen

Ms Chek Yvette

Mr Chew Keng Guan

Ms Chia Say Yen Joanne

Ms Chloe Chan

Dr Cho Kian Sai

Ms Choa Wai Boey Eunice

Mr Choo Chong Kwong Frank

Mr Chow Li Chong Eric

Mr Chu Sin-I

Ms Chuah Ai Mey

Ms Clarisa Sibulo

Mr Cyrus Yeong

Dr Dharmawan Jorry

Dr Diono H. Beatrice

Dr Du Juan

FOOD & BEVERAGE ASIA DECEMBER 2020 / JANUARY 2021
---
SIFST Member List

Mrs Erh-Ho Guek Keow Cynthia

Dr Gabrielle Lee Wah Koh

Dr Gan Heng Hui

Dr Geetha Bansai

Prof Goh Kelvin

Ms Gwee Choon Nghee

Mr Hooi Kok Kuang

Mr Huan Chee Meng

Dr Huang Dejian

Dr Izabela Gladkowska Balewicz

Mr Jorry Dharmawan

Mr Justin Li

Mrs Kalpana Bhaskaran

Ms Kang Cecilia

Ms Kaur Ravinder

Ms Ker Seok Luan Luana

Mr Khaw Min Cheh Richard

Ms Khoo Poh Li

Mr Kiran Paithankar

Mr Koay Feng Ling Gregory

Mr Koh Boon Liang

Mrs Koh Siok Im

Ms Kong Siew Peng Sharon

Ms Kuah Lay Hong Evelyn

Mrs Ku-Chong Lee Fong

Mrs Kwa Biauw Ling

Dr Kwok Kian Sze

Mr Lam Nen Ying Ken

Mr Larry Chia Yew Boon

Ms Lau Kum Yee

Ms Lea Fe Tejado Bandiola

Ms Lee Chooi Lan

Ms Lee Lay See

Mr Lee Liat Sneah

Dr Lee Ming

Ms Lee Soo Min Evelyn

Ms Lee Yoke Ching

Dr Lee Yuan Kun

Ms Leong Woon Ying Jasmine

Dr Lim Allan

Dr Lim Bee Gim

Ms Lim Kim Lian Petrina

Mr Lim Ren Hann

Ms Lim Seok Bee

Mr Lim Swee Ling

Mr Lim Wen Sheng

Mr Lim Ye Sen

Ms Lin Zhiyin

Dr Liu Meihui

Dr Liu Shao Quan

Dr Liu Yeting

Ms Loh Pei Li Lynette

Dr Loke Wai Mun

Mr Loo Alvin

Mr Low Kai Fong Lawrence

Dr Low Mei Yin

Mr Low Teng Yong

Mr Lwe Kai Wen

Dr Molamma Prabhakaran

Ms Neo Geok Tin

Ms Ng Ann Go Cheryl

Dr Ng Cher Siang

Mr Ng Kok Keong Alex

Mr Ng Mien Nee

Ms Ngan-Loong Mann Na

Prof O'Brien Gerard Michael

Dr Ong Mei Horng

Dr Oni Yuliarti

Dr Patane Michael

Mdm Phang Choon Seng Helen

Mr Phay Tat Guan Sam

Ms Priyaporn Choonde

Ms Quek Seow Chiang Linda

Mr Roni Wiguna

Dr Serene Choo

Mrs Ser-Low Wai Ming

Ms Shyamala Raja Segar

Ms Sim Theng Theng

Mr Sin Fook Choy Paul

Ms Sze Wee Ping

Ms Tai Mee Yin

Mr Tan Ah Bah Albert

Ms Tan Ai Tsing

Mr Tan Boon Hwa Jasper

Mrs Tan Chong Min

Mr Tan Keng Beng

Mr Tan Sen Min

Ms Tan Siew Yan

Ms Tan Yan Ling

Dr Tay Hong Soon Ryan

Mr Tay Li Wen Wesley

Mrs Tay Sion Yeh

Mrs Tay-Chan Su Chin

Mr Tee Ai Ben Albert

Ms Teng Yee Meau

Ms Teo Siew Guat Margaret

Mr Tham Keng Leong

Mr Tham Whye Pin Allen

Mr Ting Heng Luan

Ms Toh Hui Kheng

Dr Wang Rong Mabel

Ms Wendy Lee

Mr Wong Chiang Siang

Mr Wong Jie Long Jerome

Mr Wong Siew Fai

Mr WONG Weng Wai

Mr Wong Yow Fook Jack

Mrs Wong-Chan Mei Hong Jeanette

Dr Yang Hongshun

Mr Yau Hean Tong Victor

Mr Yeo Thiam Soon Eric

Mr Yeoh Phiak Hong

Ms Zhang Yu

Dr Zhao Junyu, Matthew

Prof Zhou Weibiao

STUDENT MEMBERS

Aaron Pwoh

Al Ho

Ang Yu Xi

Angela Goh

Angeline Goh

Arulchandran Arulmalar

Audrey Chua

Chan Jia Xin

Chen Lin

Chen Qimin

Chian Huey

Chng Lie

Chook Win Yan

Chow Jing En

Chu Crystal

Chu Hui Ting

Chun Xuan Po

Clarence Tan

Craig D'Souza

Esther Ong

Felicia Lie

Germaine Thong

Goh Christine

Goh Mei Hui

Goh Yi Qian

Goh Zhi Yan

Gomes Gared

Grace Foong

Hanny Putri Pranata

Ho Melia

Ho Nha

Ho Zhi Qing

Hoong Qi Rong

Huang Min

Isaac Lim

Kang Yan

Kek Yan Ting

Koh Jia Yu

Koh Si Hui, Audrey

Koh Xin Ying, Bernice

Kuan Christal

Kuan Jing Yi Nicole

Kwek Marcus

Lee Si Kai

Lee Yi En, Jayne

Leo Hui Yuan

Li Miaozi

Li Xinzhi

Li Zhaojie, George

Lim Jing Mun

Lim Jun Kai, Renfred

Lin Yi

Liu Yang

Liu Zhi Yun

Loh Wen Wei

Loitha Preksha Nidhi Kohir

Low Ze Ying

Ma Xiying

Manfred Ku

Mao Yihan

Mardiana Puteri

Muhammad Aiman B Hassan

Muhammad Aizad B A Rahim

Nadia Farah

Neo Jeralyn

Ng Celine

Ng Kaicheng, Aaron

Ng Wan Xuan

Ng Wanyu

Nicholas Ng

Nur Yannie Mohd Sapri

Nurul Helydia

Ong Poh Lay

Ong Su Xin, Esther

Ong Wai Peng

Peggy Ng

Poornima Vijayan

Quek Xing Yu

Rohaizad Khairah

Ryan Yow

Samantha Chia

Sean Tan

Servina Chan

Sew Shu Wen

Shaun Loo

Sherilyn Ho

Shivadarrshini, D/O Kaurnanethi

Shraddha Mundra

Soh Yuyan, Tammy

Tan Han Sheng

Tan Jia Wei

Tan Si Jia

Tang Xin Yi

Tao Junrui

Tay Ji Juan, Venus

Tay Kovis

Tay Ming Kiat

Ten Mei Zhen, Michelle

Teo Jiamin

Teo Xin Yan

Teo Xuan Wei

Vanesa Chia

Wong Hui Qi Kimberly

Wong Yen Yen

Yan Li Hui

Yang Dongying

Yang, Liu

Yeo Jiamin, Charmaine

Yeon Liang Jun

Yong Hon Keat

Yu Xi

Zhou Yige

Zhou Yu Ying, Eunice

FOOD & BEVERAGE ASIA DECEMBER 2020 / JANUARY 2021
---
70

SHOW PREVIEW

Food + Beverage Indonesia 2021: Driving Indonesia's

food industry growth with modern technologies

High market demand

makes food processing

and beverage production

attractive as a manufacturing

sector. This industry is

poised to provide great opportunities

for suppliers of raw materials as well as

providers of food and beverage solutions.

Food + Beverage Indonesia will return

for its second edition with a new date

from 13-16 Oct 2021 at the Jakarta

International Expo (JIExpo) Kemayoran,

Jakarta, Indonesia. The event is set to be

the ideal sourcing venue for Indonesia's

food-related business with opportunities

to meet domestic and foreign food

processing technology suppliers, food

raw materials and ingredient producers,

product distributors, and service

innovators.

The four-day exhibition will expand the

food and beverage industry into six subevents.

They are Coffee and Tea Expo;

Sweet and Snack Expo; Organic Food

Expo; Wine, Spirit and Gourmet Festival;

International Indonesia Seafood and Meat

(IISM) Expo; and Indonesia Gold Chain

Expo.

Food + Beverage Indonesia will be held

concurrently with Chef Expo and Kitchen

+ Bathroom Indonesia Exhibition, which

will produce a great synergy and will be

the gathering place for specialists and

professionals in the culinary sector, food

and beverage producers, restaurant owners,

the hospitality sector, tableware suppliers,

end-product sellers, entrepreneurs, to end

consumers.

Through this exhibition, visitors will also

explore the world of food innovation through

cooking competitions, demonstrations by

celebrity chefs, and other events. FBA

Food + Beverage Indonesia will be held from 13-16 Oct 2021 at the Jakarta International Expo

FOOD & BEVERAGE ASIA DECEMBER 2020 / JANUARY 2021
---
EVENTS CALENDAR

71

2021

JANUARY

25 – 28 Sustainable Food Summit (NA Virtual Edition)

www.sustainablefoodssummit.com/northamerica

FEBRUARY

2 – 4 Vitafoods Asia (Virtual Event)

www.vitafoodsasia.com

3 – 5 PackEx India

Bombay Exhibition Centre

Mumbai, India

www.packexindia.com

3 – 5 Anutec Ingredients India

Bombay Exhibition Centre

Mumbai, India

www.anutecingredientsindia.com

9 - 12 FoodEx Japan

Makuhari Messe

Chiba, Japan

www.jma.or.jp/foodex/en/

25 – 3 interpack

(Cancelled) Messe Düsseldorf, Germany

www.interpack.com

MARCH

4 – 6 Sino-Pack

Area A, China Import and Export Fair Complex

Guangzhou, China

www.chinasinopack.com/GPAC21/idx/eng

16 – 18 Food Ingredients China

National Exhibition and Convention Centre (NECC)

Shanghai, China

www.en.fic.cfaa.cn

APRIL

7 – 10 Food Pack Asia

Bangkok International Trade & Exhibition Centre (BITEC)

Bangkok, Thailand

www.foodpackthailand.com

22 – 24 FoodTech Krasnodar

Expograd Yug, Krasnodar, Russia

www.foodtech-krasnodar.ru/en-gb

MAY

18 – 20 SIAL China

Shanghai New International Expo Centre (SNIEC)

Shanghai, China

en.sialchina.com

JUNE

1 – 4 FOOMA Japan

Aichi Sky Expo

Aichi Prefecture, Japan

www.foomajapan.jp/english

16 – 19 ProPak Asia

Bangkok International Trade & Exhibition Centre (BITEC)

Bangkok, Thailand

www.propakasia.com

23 – 25 Hi & Fi-Asia China

National Exhibition Convention Centre (NECC)

Shanghai, China

www.figlobal.com/china/en/home.html

JULY

28 – 30 ProPak Vietnam

Saigon Exhibition and Conference Centre (SECC)

Ho Chi Minh City, Vietnam

www.propakvietnam.com

SEPTEMBER

15 – 17 Fi Asia

Bangkok International Trade & Exhibition Centre (BITEC)

Bangkok, Thailand

www.figlobal.com/asia-thailand

22 – 23 Vitafoods Asia

Sands Expo and Convention Centre

Singapore

www.vitafoodsasia.com

28 – 30 Asia Fruit Logistica

AsiaWorld Expo, Hong Kong

www.asiafruitlogistica.com

30 – 2 ProPak India

Bombay Exhibition Centre (BEC)

Mumbai, India

propakindia.com

OCTOBER

11 - 13 Health Ingredients Korea

Hall D, COEX

Seoul, South Korea

www.hi-korea.net/en/main/main.php

13 – 15 FoodTech Japan

Makuhari Messe

Chiba, Japan

www.foodtechjapan.jp/en-gb.html

13 - 16 Food + Beverage Indonesia

Jakarta International Expo (JI Expo)

Jakarta, Indonesia

www.foodbeverageindonesia.com

21 – 23 Food Japan 2021

Suntec Singapore

Singapore

oishii-world.com/en

27 – 30 AllPack Indonesia

Jakarta International Expo (JI Expo)

Jakarta, Indonesia

allpack-indonesia.com

FOOD & BEVERAGE ASIA DECEMBER 2020 / JANUARY 2021
---
72

ADVERTISERS' INDEX

COMPANY

PAGE

COMPANY

PAGE

Anuga 47

Heat and Control 7

Fi China 25

Igus 9

Flexicon

OBC

Solar Turbines 1

Food + Beverage Indonesia

IBC

SweeGen 13

Why wait?

Get your

brand out

there now!

@foodandbeverageasia

For information, visit us www.foodbeverageasia.com or contact us at sales@pabloasia.com

FOOD & BEVERAGE ASIA DECEMBER 2020 / JANUARY 2021
---
Boosting Indonesia's

Food Industry

with Technology

Organized by:

BOOK YOUR

SPACE NOW!

PT WAHANA KEMALANIAGA MAKMUR

Perkantoran Graha Kencana Blok CH-CI Jl. Raya Pejuangan No. 88 Kebon Jeruk • Jakarta 11530 • Indonesia

Tel: (62) 21 5366 0804 • Fax: (62) 21 5325 890/887 • Email: info@foodtechinternational.net