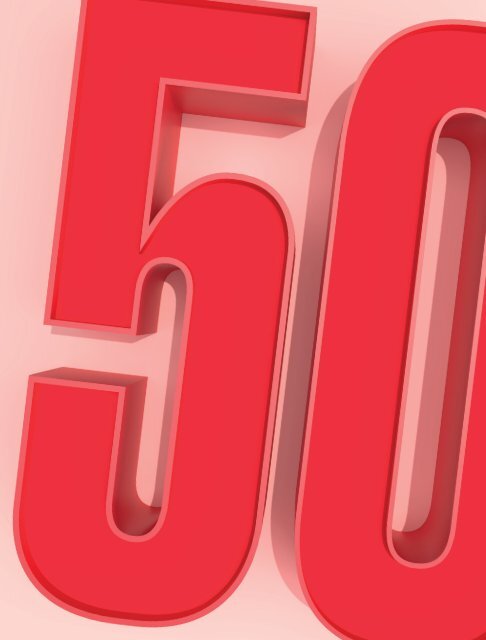 Boxoffice Pro Q1 2021 Giants of Exhibition
You also want an ePaper? Increase the reach of your titles
YUMPU automatically turns print PDFs into web optimized ePapers that Google loves.
industry GIANTS OF EXHIBITION

18 Q1 2021

18-33_Giants-Of-Exhibition.indd 18 12/02/2021 12:26
---
GIANTS OF

EXHIBITION

The Top 50 Domestic Circuits

of 2020

After five consecutive years of

more than $11 billion in revenue at

the domestic box office, the exhibition

market came to a violent halt in March

2020. The biggest crisis in the industry's

history wasn't brought about by familiar

threats like home entertainment or

piracy; instead, it was a global pandemic,

of a scale not seen in at least a century,

that plunged exhibition into the sort of

existential crisis it had managed to avoid

for generations. A promising start to

the year sputtered to an alarming $2.25

billion in ticket sales, an 80 percent

year-over-year drop.

While there remains to be a full

accounting of the long-term damage

caused by the pandemic's economic

disruption, changes to the traditional

theatrical exclusivity model have already

been felt at circuits across the nation.

Yet despite the myriad challenges that

exhibition faced in 2020, the industry

rallied to persevere. Concession stands

opened at theaters that were otherwise

closed nationwide, pop-up drive-ins

helped keep moviegoing alive during

the summer months, and gift card drives

provided a small respite for cinemas

waiting to reopen.

The reopening effort was fractured

and presented its own challenges. After

closing in March, major markets like

New York City and Los Angeles never

came back online, while other locations

went through a series of openings and

lockdowns with little to no warning for

the business community. Those cinemas

that could open were limited by a scarcity

of new releases from major studios.

With the odds stacked against them,

exhibitors have been strikingly resilient,

despite the mounting woes of 2020. This

year's Giants of Exhibition ranking stands

as a testament to the industry's flexibility

and resolve.

Presented By

Q1 2021

19

18-33_Giants-Of-Exhibition.indd 19 12/02/2021 12:26
---
industry GIANTS OF EXHIBITION

SPONSOR

PROFILE

1

AMC THEATERS

Location: Leawood, KS

Founded: 1920

Screens: 7,800 ↘ -3%

Locations: 600 ↘ -5%

What was supposed to be a festive year

for AMC Theatres quickly devolved into

a nightmare scenario. The circuit entered

2020 ready to celebrate its centennial

anniversary but was forced to focus

its energies on making it through the

biggest economic crisis in its history.

The circuit was among the first major

circuits in the United States to cease

operations, announcing on March 16 that

it would voluntarily close all its domestic

locations for six to 12 weeks. It would

take considerably longer than expected

for AMC to get back to business, waiting

until August 20—five months after

closing its doors—to resume operations

at 100 of its 600 locations.

The closures didn't mean AMC was

quiet during the spring and early summer.

In April, the circuit was the first to speak

out against Universal's decision to adopt

a dramatically shortened theatrical

exclusivity window, vowing not to

book any of the studio's titles under the

policy. By July, it reversed its stance

and welcomed back Universal titles by

agreeing to a deal that would give the

circuit a portion of the films' digital

streaming revenues. In June, the circuit's

decision to suggest, though not require,

the wearing of face masks for patrons

returning to their theaters helped spark

a national debate about mask-wearing

policies at businesses reopening during

the pandemic. The circuit reversed

course a week after announcing its

original policy, citing public demand, and

required face masks at all their locations

once they reopened. In both instances,

AMC effectively used its position as the

country's and world's leading cinema

chain to influence the reopening effort.

It was also one of the first circuits in the

nation to announce a comprehensive

series of health and safety protocols

ahead of reopening, AMC Safe & Clean,

developed in collaboration with current

and former faculty members of Harvard

University's School of Public Health and

in partnership with The Clorox Company.

AMC weathered significant stress in

instituting policies and changes that

will reverberate throughout the industry

for years—decisions that weren't easily

made but were necessary to ensure its

survival. The circuit enters 2021 as the

only cinema chain in North America with

over 7,000 screens.

Kevin Shepela

EVP, Chief Commercial Officer

Fandango

It's been an incredibly challenging

time for everyone involved in

theatrical moviegoing. Today, we

honor the Giants of Exhibition,

who, we know, with their leadership

and unwavering dedication to the

industry, will help us go back to

the movies bigger and better than

before. At Fandango, we remain

steadfast as your partner in helping

film fans return to your theaters at

the right time, with exuberance,

confidence, and peace of mind.

We are proud of the work we've

done together over the past year

to offer moviegoers new health and

safety content and product features

on Fandango, including social

distance seat maps, occupancy

guides, search filtering for reopened

theaters and access to more than

100 health and safety protocols,

provided by theaters. With

Fandango's mobile ticketing, we're

also able to help reduce the number

of contact points for moviegoers

and cinema employees at the box

office and throughout the theater.

When new movies, event screenings,

and showtimes are scheduled at

your theaters, we will make sure

millions of moviegoers nationwide

are the first to know, so they can

grab tickets for their favorite seats in

your auditoriums.

Our industry is resilient. There's

nothing like the thrill of watching

a film on the big screen with an

appreciative audience in a safe

environment. We are optimistic

about the future as we work together

to ensure that the moviegoing

experience will always be the first

choice in entertainment, with fans

more excited than ever to return to

your wonderful theaters. We can't

wait to get back to the movies!

20 Q1 2021

18-33_Giants-Of-Exhibition.indd 20 12/02/2021 12:26
---
Q1 2021

21

18-33_Giants-Of-Exhibition.indd 21 12/02/2021 12:26
---
industry GIANTS OF EXHIBITION

your future

our commitment

introducing SP2K Series 4

projectors for smaller screens

We make laser accessible for every screen.

With four new SP2K models ranging from 6,000 to

15,000 lumens, the next-generation Barco Series 4

family is available for all screens, big and small. All

Series 4 are now within reach for more theaters than

ever before. Your future is our commitment.

Discover more at www.cinionic.com/Series4

22 Q1 2021

18-33_Giants-Of-Exhibition.indd 22 12/02/2021 12:26
---
industry GIANTS OF EXHIBITION

SPONSOR

PROFILE

Wim Buyens

Chief Executive Officer

Cinionic

The past year has challenged our

industry like never before, forcing us

to confront old questions at a time

when tomorrow, and even today,

can seem uncertain. But it has also

reminded us that we are strongest

when we come together, connecting

over digital platforms to share

stories, encouragement, and ideas

about what business might look like

when life returns to the new normal.

Cinionic is proud to work closely

with you, our partners in exhibition,

to shape the next generation of

moviegoing with future-ready

solutions and services. We salute

our friends across exhibition. As a

community, we are seeking new,

innovative solutions to support our

recovery while keeping the legacy

of exceptional cinema alive. It takes

giants to forge a shared path to a

brighter future

2

REGAL CINEMAS

Location: Knoxville, TN

Founded: 1989

Screens: 6,989 ↘ -3%

Locations: 527 ↘ -3%

The final days of 2019 gave the exhibition

industry a sneak peek at what was

likely to be the sector's biggest story

of 2020: the acquisition of Cineplex by

Regal's corporate parent, Cineworld. The

resulting deal was to be the culmination

of a major international expansion by

the U.K.-based Cineworld, only two years

removed from its acquisition of Regal,

and would supplant AMC as the largest

circuit in North America and the world. By

combining Regal and Cineplex under the

same ownership, Cineworld would have

essentially created a mega-circuit in North

America, with nearly 10,000 screens. The

pandemic derailed those plans, however,

leaving Regal and Cineplex as separate

entities in this year's ranking. The

companies are instead sorting out the

broken pieces of the failed merger in court.

Cineworld's corporate office in the

U.K. led Regal's strategy throughout the

economic turbulence of 2020. The circuit

was one of several to voice its concerns

regarding Universal's unilateral decision

to dramatically shorten the theatrical

exclusivity window for its titles; unlike

its competitors, however, it has yet to

announce a subsequent deal with the

studio—reflecting its corporate parent's

staunch positioning on windows. The

circuit has remained similarly noncommittal

in reacting to Warner Bros.'

controversial day-and-date release

strategy for 2021.

Regal suspended operations in mid-

March along with other top U.S. circuits,

reopening select locations on August 21 in

anticipation of what was expected to be a

consistent studio slate. Tenet's performance

at the box office did little to bolster studio

confidence in the newly reopened market,

however, prompting a slew of additional

schedule changes from top distributors and

leaving exhibitors with few programming

options. The last straw for Cineworld came

in the fall with the sudden rescheduling

of the James Bond title No Time to Die,

prompting the circuit to suspend operations

in the U.K. and U.S. until further notice—or

at least until it could depend on a consistent

slate of films. The majority of Regal screens

in the United States remained closed

through the end of the year.

Once it reopens, the circuit will be

taking a case-by-case approach to which

titles—and under what terms—it programs

in the nearly 7,000 screens it operates in

North America.

Q1 2021

23

18-33_Giants-Of-Exhibition.indd 23 12/02/2021 12:26
---
industry GIANTS OF EXHIBITION

SPONSOR

PROFILE

Stan Ruszkowski

President

The Boxoffice Company

3

CINEMARK

Location: Plano, TX

Founded: 1984

Screens: 4.517 ↘ -2%

Locations: 331 ↘ -4%

Cinemark entered 2020 from a period

of growth, with 2019 marking its fifth

consecutive year of record revenues.

Covid-19, obviously, sent the chain in a

different direction. On March 18, Cinemark

closed all its U.S. locations in response

to the pandemic. June 19 saw the chain

embark on the first part of its phased

reopening, which began with five theaters

in the Dallas-Fort Worth area. Initial plans

to have all of Cinemark's U.S. theaters open

by July 10 were pushed back as infection

rates continued to rise and the theatrical

debut of major tentpoles continued to

be delayed. The main part of Cinemark's

summer reopening effort took place

throughout August, leading up to the

September 3 release of Warner Bros.' Tenet.

With 2020 offering up an extremely

limited slate of studio tentpoles, starting

in July Cinemark turned to private

cinema rentals, driving customer

awareness and interest with giveaways

tied to Halloween, Thanksgiving, and

Christmas. By December 9, more than 1.3

million moviegoers had participated in

one of Cinemark's 100,000 Private Watch

Parties. Private cinema rentals accounted

for 17 percent of Cinemark's Q3 2020

U.S. admissions revenues. In Cinemark's

Q3 2020 investor call, CEO Mark Zoradi

underscored the importance of private

rentals as a way for customers who had

not been to the movies since the start of

the pandemic to experience Cinemark's

enhanced safety and cleanliness

procedures firsthand.

November saw Cinemark join AMC in

signing its own agreement with Universal

to distribute the studio's films under a

shortened theatrical exclusivity window.

Under Cinemark's "Dynamic Window"

arrangement, Universal and Focus titles

will have five weekends (31 days) of

theatrical exclusivity if they open to $50M,

or three weekends (17 days) if they do not;

certain films will receive a five-weekend

window regardless.

Cinemark's deal with Universal

extends over multiple years, echoing

Cinemark CEO Mark Zoradi's belief

that the shifting nature of theatrical

exclusivity will continue past the

cessation of the Covid-19 pandemic.

A difficult year for our entire industry

was also one of unprecedented

innovation and creativity, as

movie theaters found new ways

to engage with their audiences.

From mobile ordering to take-out

concessions, and even at-home

viewing experiences and private

watch parties—exhibitors have been

at the heart of finding new ways to

redefine the moviegoing experience.

This year's Giants of Exhibition list

is a reflection of the resilience and

commitment to innovation of our

entire industry. We are honored

to count many of these circuits as

partners and clients of The Boxoffice

Company.

We thank you for your trust and

leadership during this difficult time.

Your insights and collaborations

have helped us reinvent our

focus on solutions that can help

exhibitors get through the pandemic

and bounce back faster once

their cinemas reopen. Our latest

projects include contactless digital

ticketing and concessions; customer

awareness through SEO, emailing,

and social media; and co-watching

streaming services.

We look forward to getting out of

this crisis together stronger, offering

a better customer experience than

ever before.

24 Q1 2021

18-33_Giants-Of-Exhibition.indd 24 15/02/2021 15:14
---
THE

COMPANY WEBEDIA GROUP

Like you, we like results:

We'll quickly set you up on our

world class mobile app with

flexible pricing. When our product

boosts ticket sales and moviegoer

retention, we both win.

Send an email to Michelle.Coull@boxoffice.com to learn more

Q1 2021

25

18-33_Giants-Of-Exhibition.indd 25 12/02/2021 12:26
---
industry GIANTS OF EXHIBITION

jun

ce21-24

ce2021

convention & tradeshow

CCIB/BARCELONA

CELEBRATING

30

YEARS OF

CINEEUROPE

CENTRE CONVENCIONS INTERNACIONAL BARCELONA (CCIB)

CINEEUROPE.NET

OFFICIAL CORPORATE SPONSOR

26 Q1 2021

CE21_PRINTAD_BOXOFFICE.indd 18-33_Giants-Of-Exhibition.indd 26 1

12/02/2021 2/3/21 5:58 12:26

PM
---
industry GIANTS OF EXHIBITION

SPONSOR

PROFILE

Film Expo Group

On behalf of the entire Film

Expo Group family, we'd like to

congratulate this year's Giants of

Exhibition. Like everyone else in

this industry, Film Expo Group has

weathered the challenges of the

Covid-19 pandemic by innovating

while maintaining our commitment

as champions of the moviegoing

experience. Despite not hosting

any of our traditional conventions

in person in 2020, we found it

important to keep in touch with

the exhibition and distribution

communities by launching digital

editions of CineEurope, ShowEast,

and CineAsia. Their success would

not have been possible without your

continued support.

In 2021 we are looking forward to

seeing everyone once again in

person. We hope that you will be

able to join us in Barcelona, June

21–24, for CineEurope. We will be

back stateside, October 18–21 in

Miami, for ShowEast. And last but

not least, we are excited to finish the

year in Bangkok, December 6–9, for

CineAsia. We remain confident that

together we will all be able to come

back better and stronger.

4

CINEPLEX

Location: Toronto, ON (Canada)

Founded: 2003

Screens: 1,657 ↘ -2%

Locations: 161 ↘ -2%

Canada's leading exhibition circuit found

itself in the midst of several transitions

in what proved to be an eventful 2020. Its

acquisition by U.K.-based Cineworld, first

announced in December 2019, was expected

to be finalized in the second quarter of the

year. Instead, the circuit resorted to legal

action once Cineworld abandoned its plans

to acquire the chain in June.

With the matter headed to court,

Cineplex turned its focus to the reopening

effort—effectively becoming the first major

circuit in North America to reopen its doors.

Cineplex welcomed moviegoers back to

their screens in late June, followed by a

progressive nationwide reopening over

the rest of the summer. As with cinemas

elsewhere, the chain had to contend with

new rounds of localized closures amid a

surge of cases throughout the year.

Cineplex joined AMC and Cinemark

in accepting Universal's proposal to

shorten the theatrical exclusivity window,

signing on to the agreement in late

November. The dynamic window gives the

Canadian chain at least three weekends

of exclusivity for any Universal or Focus

Features title before it becomes available

on home entertainment platforms.

Strategically, the decision could help

Cineplex further expand its own videoon-demand

channel, the Cineplex Store.

The circuit reported positive growth for

its home entertainment division in 2020,

reaching 1.8 million registered users by

the end of Q3—a 41 percent increase over

the previous year.

By not relying solely on the studio

release slate through its diversified

entertainment offerings, Cineplex stands

apart from other major North American

circuits in the recovery effort, as vaccines

begin to make their way across Canada.

More than a cinema circuit, Cineplex

has come to be known as an out-of-home

entertainment destination for Canadians,

which has helped launch Scene, one of

the most successful loyalty programs in

the country. Redemptions from its loyalty

program already include discounts on

digital rentals and concessions items, free

standard and premium-format movie

tickets, and vouchers eligible at the

circuit's entertainment centers, the Rec

Room and Playdium.

Q1 2021

27

5:58 PM

18-33_Giants-Of-Exhibition.indd 27 12/02/2021 12:26
---
industry GIANTS OF EXHIBITION

5

MARCUS

THEATRES

Location: Milwaukee, WI

Founded: 1935

Screens: 1,097 ↘ -1%

Locations: 89 ↘ -2%

Like many of its exhibition

colleagues in North America,

Marcus Theatres shut down

in March and embarked on a

phased reopening throughout

the summer months, in the

interim investing in drive-ins

as a way to keep the (projector)

lights on even as indoor

theaters had to remain closed.

The Marcus Corporation,

parent company of Marcus

Theatres, was affected in

unique ways by the Covid-19

pandemic compared with

other North American

exhibitors. For one thing,

The Marcus Corporation is

involved in both theaters and

hospitality, two industries

particularly hard hit by the

pandemic and its shutdowns.

On the more positive side, the

company's real estate holdings

include most of its cinema

locations, a distinct silver

lining in a year when chains

nationwide were engaged

in difficult conversations

with landlords. "We believe

this remains a significant

advantage for us relative

to our peers, as it keeps our

monthly fixed lease payments

low and provides significant

underlying credit support for

our balance sheet," said Greg

Marcus, president and CEO of

The Marcus Corporation, in

the company's Q3 earnings call.

Though Q3 2020 attendance

was (understandably) down

considerably from the same

period in 2019, the average

concession spend per person

increased by 28 percent. In

a call with investors, CFO

Douglas Neis attributed

this growth to shortened

lines and an emphasis on

advance online and mobile

ordering. "While the first

reason will eventually go

away as attendance increases,

the second reason has the

potential to be long-lasting,

which is very encouraging."

6

HARKINS

THEATRES

Location: Scottsdale, AZ

Founded: 1933

Screens: 501 ↘ -3%

Locations: 33 ↘ -3%

"There is no question that this

has been the most difficult

time in my 50-plus years in

the business," said Harkins

Theatres owner Dan Harkins,

in a statement announcing

the circuit's initial wave of

reopenings in August. The

Scottsdale, Arizona–based

circuit weathered a difficult

year by instituting initiatives

like gift cards, takeout

popcorn, and a strategically

priced private rental program

to mitigate the economic

downturn. Like other circuits,

it even opened its doors to

digital delivery apps like

DoorDash and GrubHub to

deliver movie theater popcorn

to audiences at home to bolster

concessions sales.

In its open theaters, the

circuit extended discounts

on select concessions and

implemented $5 admission

nights tied to classic film

series. Themed programming

strands like Tuesday Classic

Movie Night, Girlfriends Movie

Night, Hispanic Heritage

Film Fest, and October

Fright Nights helped recreate

part of the communal

moviegoing experience

throughout the year, while

still adhering to reducedcapacity

guidelines. That

targeted outreach through

programming included the

circuit's Open Caption Films

series, a pair of evenings each

month dedicated to playing

accessible-format new releases

for hard-of-hearing audiences.

Harkins enters 2021 as one of

only five U.S. circuits with over

500 screens, a notable screen

count considering its presence

throughout four Western states

as opposed to its competitors'

national footprint.

28 Q1 2021

18-33_Giants-Of-Exhibition.indd 28 12/02/2021 12:26
---
7

B&B THEATRES

Location: Kansas City, MO

Founded: 1924

Screens: 429 ↗ 3%

Locations: 49 ↗ 2%

Family-owned B&B Theatres

was among the first major

circuits to close all its

locations in mid-March,

just as the full scope of the

pandemic began to come into

view. Days after announcing

the closures, film director

Christopher Nolan cited the

chain by name in a call for

support of the beleaguered

industry, published in The

Washington Post.

While the majority of their

locations remained closed

throughout the summer, B&B

was able to get back in touch

with moviegoers at their three

drive-in screens—a crucial

lifeline for the circuit during

the pandemic. While drive-in

revenue didn't fully replace

income lost at its closed

theaters, it helped contribute

to other efforts like takeout

concessions and gift card sales

during the most difficult period

of the pandemic.

Once its theaters reopened,

B&B expanded inclusive initiatives

like its nationwide Sensory

Backpack program. The

program, developed with the

guidance of Variety – the Children's

Charity of Kansas City,

makes backpacks containing

sensory aids like weighted lappads,

noise-cancelling headsets,

dark glasses, and fidget

cubes, available to borrow at

the box office at no cost.

Even with all the disruption

caused by the pandemic,

B&B was nevertheless able

to expand part of its circuit

in 2020. The circuit unveiled

its newest location, a totally

renovated 14-screen multiplex

in Jackson, Mississippi, in

September, just days before the

U.S. release of Tenet.

8

MALCO THEATRES

Location: Memphis, TN

Founded: 1915

Screens: 363

Locations: 35

Like other chains in North

America and overseas, Malco

Theatres responded to the

challenges of the coronavirus

pandemic—specifically a

lack of content from major

Hollywood studios—by offering

private screenings for small

groups of up to 20 people,

branded under the name Malco

Select. The circuit introduced

Malco Select in early October,

following a phased reopening

throughout the summer. Said

Malco president and COO David

Tashie at the time: "While we

have always offered packages

for mid-sized and large groups,

this new program is geared

toward guests who want to be

able to select a movie and have

their own private screening for

themselves, family, and friends."

During the early spring

months of the pandemic,

Malco stayed connected with

its customers with trivia

nights, bulk popcorn sales,

and revamped social media

initiatives; it also welcomed

moviegoers to its Summer

Drive-In Theater starting in

mid-May. The four-screen

drive-in theater, located in

Malco's home city of Memphis,

remained in operation

through the autumn and

winter and into early 2021.

Moving into the latter part of

2020, November saw Malco add

a video game component to its

Malco Select program, inviting

those interested in a private

auditorium rental to bring their

own console and games.

Reflecting the challenges

theaters in general have faced

throughout 2020, the final

month of the year saw Malco

close its indoor Memphisarea

theaters in accordance

with local health guidelines;

Malco locations that remain

open ended the year with

a combination of recent

releases, older classics, and

specialized programming.

Q1 2021

29

18-33_Giants-Of-Exhibition.indd 29 12/02/2021 12:26
---
industry GIANTS OF EXHIBITION

9

CMX CINEMAS

Location: Miami, FL

Founded: 2016

Screens: 341 ↘ -17%

Locations: 31 ↘ -23%

CMX Cinemas, the U.S. arm

of Mexico's Cinemex, quickly

established itself as one of the

top movie theater chains in

the North American market

after opening its first location

in 2017. A combination of new

sites and major acquisitions

thrust the company into a

market leadership position,

one it expected to capitalize on

in 2020. A planned takeover of

Texas-based dine-in chain Star

Cinema Grill was announced

in mid-March, unfortunately

timed just as the Covid-19

pandemic started to storm its

way through the country. The

deal was abandoned within

a matter of weeks as CMX

became the first major circuit

in North America to file for

Chapter 11 bankruptcy due to

the pandemic. Rather than

grow in size with its latest

acquisition, the pandemic

threw both circuits into court

to resolve the failed merger.

As CMX emerged from

bankruptcy in September,

the circuit quickly moved to

restructure its existing sites

and business operations in

order to make it through the

pandemic. It has also been one

of the most vocal entities in

calling for a renewed business

model amid studios' rush

to shorten or eliminate the

theatrical exclusivity window.

In an open letter published in

Boxoffice Pro in December,

the circuit's CFO expressed

a flexibility in programming

titles with early streaming

debuts, as long as the

percentage of theatrical ticket

sales going back to studios

is decreased to account for

the resulting loss of revenue

from admissions. Despite the

bankruptcy, CMX plans to get

back to growth in 2021 with the

addition of three new locations.

10

LANDMARK

CINEMAS OF

CANADA

Location: Calgary, AL (Canada)

Founded: 1965

Screens: 334 ↗ 4%

Locations: 36 ↗ 2%

Celebrating its 55th birthday

in 2020, Landmark Cinemas

of Canada is owned by multinational

exhibitor Kinepolis,

which owns MJR Digital

Cinemas in the United States.

Canada's second-largest theater

chain, it operates in six of

the country's 10 provinces.

After announcing its temporary

chain-wide closure on

March 16, the chain kicked off

a phased reopening on June

26 with the reopening of six

locations in Alberta. Additional

theaters reopened their

doors throughout the summer,

though moving into the early

weeks of 2021 all but a handful

of its theaters were temporarily

reclosed due to rising Covid

numbers.

Through its reopening

and closings, Landmark

Cinemas of Canada

maintained connections

with its moviegoers by way

of a robust social media

presence, as well as private

auditorium rentals (offering

both new and classic films for

up to 20 guests) and takeout

concessions sales through

Uber Eats, SkiptheDishes,

and DoorDash. Starting in

July it opened applications

for the Landmark Cinemas

Community Advertising

Grant, offering digital preshow

advertising to small and

medium-sized businesses

within 15 kilometers of one

of its locations. Late 2020

saw the completion of a new

location in the Tamarack

neighborhood of Edmonton,

Alberta, boasting its branded

Laser Ultra technology.

30 Q1 2021

18-33_Giants-Of-Exhibition.indd 30 12/02/2021 12:26
---
THE

COMPANY WEBEDIA GROUP

Like you, we like results:

Within our new low risk pricing

model, we'll initiate our SEO

specialists who can deliver up to

100:1 ROI for cinemas. When

your website traffic and ticket

sales boost, everyone wins.

Send an email to Malcolm.Macmillan@boxoffice.com to learn more

Q1 2021

31

18-33_Giants-Of-Exhibition.indd 31 12/02/2021 12:26
---
industry GIANTS OF EXHIBITION

11-50

11

16

21

26

NATIONAL AMUSEMENTS

(SHOWCASE CINEMAS)

Location: Norwood, MA

Founded: 1936

Screens: 321 ↘ 11%

Locations: 24 ↘ 11%

SOUTHERN THEATRES

Location: New Orleans, LA

Founded: 2003

Screens: 266

Locations: 18

READING CINEMAS USA

Location: Culver City, CA

Founded: 2000

Screens: 238

Locations: 24

UEC THEATRES

Location: Maple Grove, MN

Founded: 1993

Screens: 191

Locations: 22

12

ALAMO DRAFTHOUSE

CINEMA

Location: Austin, TX

Founded: 1997

Screens: 317

Locations: 41

17

(Tie)

GEORGIA THEATRE

COMPANY

Location: St Simons Island, GA

Founded: 1992

Screens: 263

Locations: 25

22

PACIFIC THEATRES/

ARCLIGHT CINEMAS

Location: Los Angeles, CA

Founded: 1993

Screens: 234

Locations: 17

27

GALAXY THEATRES

Location: Sherman Oaks, CA

Founded: 1998

Screens: 186 ↗ 9%

Locations: 16 ↗ 7%

13

STUDIO MOVIE GRILL

Location: Dallas, TX

Founded: 2000

Screens: 294 ↘ -17%

Locations: 27 ↘ -23%

17

(Tie)

NCG (NEIGHBORHOOD

CINEMAS GROUP)

Location: Owosso, MI

Founded: 1983

Screens: 263

Locations: 27

23

REGENCY THEATRES

Location: Agoura Hills, CA

Founded: 1996

Screens: 206 ↗ 5%

Locations: 28

28

LARRY H. MILLER

THEATRES (MEGAPLEX

THEATRES)

Location: Sandy, UT

Founded: 1999

Screens: 176 ↘ -3%

Locations: 15 ↘ -6%

14

CARIBBEAN CINEMAS

Location: San Juan, PR

Founded: 1968

Screens: 281 ↘ -5%

Locations: 32 ↘ -6%

19

PREMIERE CINEMA CORP.

Location: Big Spring, TX

Founded: 1993

Screens: 259 ↘ -14%

Locations: 23 ↘ -18%

24

LANDMARK THEATRES

Location: West Hollywood, CA

Founded: 1974

Screens: 201 ↘ -20%

Locations: 40 ↘ -22%

29

MJR DIGITAL CINEMAS

Location: Bloomfield Hills, MI

Founded: 1980

Screens: 164

Locations: 10

15

CINÉPOLIS LUXURY

CINEMAS

Location: Dallas, TX

Founded: 2011

Screens: 276 ↗ 5%

Locations: 28

20

EMAGINE

ENTERTAINMENT

Location: Troy, MI

Founded: 1997

Screens: 255

Locations: 21

25

GQT MOVIES

Location: Grand Rapids, MI

Founded: 2020

Screens: 200 ↘ -29%

Locations: 25 ↘ -17%

30

MARQUEE CINEMAS

Location: Beckley, WV

Founded: 1979

Screens: 163 ↘ -7%

Locations: 15 ↘ -12%

32 Q1 2021

18-33_Giants-Of-Exhibition.indd 32 12/02/2021 12:26
---
31

36

41

46

BOW TIE CINEMAS

Location: Ridgefield, CT

Founded: 1900

Screens: 156 ↘ -29%

Locations: 20 ↘ -38%

CELEBRATION CINEMA

BY STUDIO C

Location: Grand Rapids, MI

Founded: 1944

Screens: 145 ↘ -11%

Locations: 11 ↘ -8%

R/C THEATRES

Location: Reisterstown, MD

Founded: 1932

Screens: 119

Locations: 13

MITCHELL THEATRES

Location: Elkhart, KS

Founded: 2005

Screens: 107

Locations: 15

32

(Tie)

CINEMA WEST

Location: Petaluma, CA

Founded: 1984

Screens: 154 ↘ -8%

Locations: 14 ↘ -18%

37

(Tie)

EPIC THEATRES

Location: Deltona, FL

Founded: 2003

Screens: 144

Locations: 12

42

(Tie)

IPIC THEATERS

Location: Boca Raton, FL

Founded: 2007

Screens: 116 ↘ -1%

Locations: 15

47

SOUTHEAST CINEMA

ENTERTAINMENT

Location: Charlotte, NC

Founded: 2003

Screens: 104

Locations: 9

32

(Tie)

CINEMA ENTERTAINMENT

CORP.

Location: Waite Park, MN

Founded: 1964

Screens: 154 ↘ -4%

Locations: 19 ↘ -5%

37

(Tie)

PHOENIX THEATRES

Location: Knoxville, TN

Founded: 2001

Screens: 144 ↗ 24%

Locations: 14 ↗ 8%

42

(Tie)

ALLEN THEATRES

Location: Las Cruces, NM

Founded: 1912

Screens: 116

Locations: 17

48

(Tie)

R.L. FRIDLEY THEATRES

Location: Des Moines, IA

Founded: 1972

Screens: 98

Locations: 18 ↘ -5%

34

COMING ATTRACTIONS

THEATRES

Location: Ashland, OR

Founded: 1985

Screens: 153

Locations: 18

39

CINÉMAS GUZZO

Location: Terrebonne, QC

Founded: 2003

Screens: 133

Locations: 9

44

SANTIKOS

ENTERTAINMENT

Location: San Antonio, TX

Founded: 1948

Screens: 115

Locations: 9

48

(Tie)

KERASOTES SHOWPLACE

THEATRES

Location: Chicago, IL

Founded: 1909

Screens: 98

Locations: 7

35

FLAGSHIP PREMIUM

CINEMAS

Location: Cambridge, MA

Founded: 1995

Screens: 149 ↘ -7%

Locations: 19 ↘ -5%

40

CLASSIC CINEMAS

Location: Downers Grove, IL

Founded: 1978

Screens: 131 ↗ 8%

Locations: 15

45

XSCAPE THEATRES

Location: New Albany, IN

Founded: 2013

Screens: 108

Locations: 8

50

PICTURE SHOW

ENTERTAINMENT

Location: Colorado Springs, CO

Founded: 2003

Screens: 96

Locations: 11

Q1 2021

33

18-33_Giants-Of-Exhibition.indd 33 15/02/2021 15:15