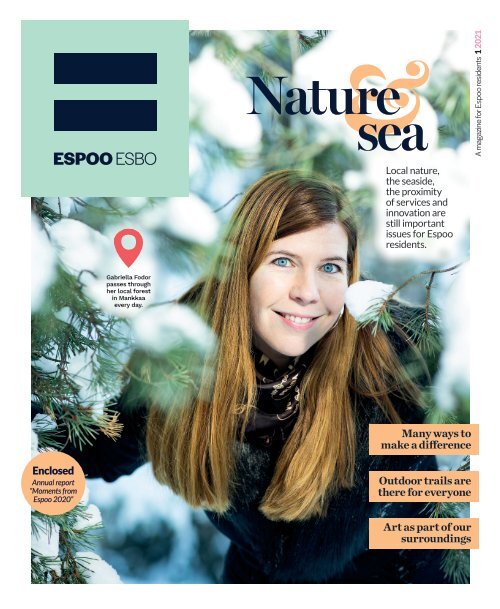 ESPOO MAGAZINE 1/2021
A MAGAZINE FOR ESPOO RESIDENTS
A MAGAZINE FOR ESPOO RESIDENTS
SHOW MORE
SHOW LESS
You also want an ePaper? Increase the reach of your titles
YUMPU automatically turns print PDFs into web optimized ePapers that Google loves.
ESPOO ESBO

&

Nature sea

Local nature,

the seaside,

the proximity

of services and

innovation are

still important

issues for Espoo

residents.

A magazine for Espoo residents 1 2021

Gabriella Fodor

passes through

her local forest

in Mankkaa

every day.

Many ways to

make a difference

Enclosed

Annual report

"Moments from

Espoo 2020"

Outdoor trails are

there for everyone

Art as part of our

surroundings
---
editorial

In the editorial,

Jukka Mäkelä takes

a stand on issues of

current interest in

the City of Espoo.

Jukka Mäkelä is the Mayor of Espoo.

Thank you for

your feedback!

Home, local nature, the sea, safety, comfortable,

multiple centres, growth and vitality. This is what

hometown means to us Espoo residents. We

received a record number of responses and map

entries to the My Espoo surveys, which will serve

as a basis for updating the city's strategy.

Based on a national survey on municipal and

city services, we know that the services offered in

Espoo are high in quality. In your opinion, what

Espoo has been most successful at is making its

digital services accessible. What you want to see

improvements in are renovations, urban planning

and housing supply. You want construction

quality, not quantity. You also want improved

public transport connections.

We listen carefully to your feedback. It is

inspiring to me that you see the Espoo

of the future as a comfortable, safe and

vibrant city that is growing, modern and

innovative. Resident orientation, tolerance

and caring for residents also came

to the fore. Three out of four respondents

thought the city residents are

Espoo's best asset, and the vast majority

recommend Espoo to their friends and

acquaintances.

With this magazine, you will

receive Espoo's annual report.

We want to be transparent

and share information with

the residents about the work

we do to develop the city's

operations.

Jukka Mäkelä

Mayor

8

Sisältö

3 Calendar and Picks

Municipal elections

are approaching.

8 Theme

My Espoo is green, vibrant and safe.

14 At your service

Lawyer as City Council secretary.

15 What's on

Self-organised and virtual

events on offer.

20 Right now

Alternatives for influencing.

23 Encounters

Sitting by a campfire.

24 Pearl

A bear in the streetscape.

26 Espoo people

Safe in Tuomarila.

24

28 Swedish in Espoo

We want to build a reading culture.

30 Us

Most people live in

apartment buildings.

31 My Espoo

Proud to be an Espoo resident.

2
---
1 March

The application period for boat berths

is underway and will end on the last

day of September. You can submit

your application using an electronic

application form that you can find

on the City of Espoo's website. The

applications are processed on a first

come, first served basis.

7 April

The joint application period

for vocational education and

upper secondary schools ends

at 15:00. Possible entrance

exams and aptitude tests will

be held in April and May.

9 March / 6 April / 20 April / 4 May / 18 May

Apartment search info at Iso Omena Service Centre in rooms Meri

and Kari on 9 March from 12:00 to 14:00 and on 6 April, 20 April, 4

May and 18 May from 13:00 to 15:00. Service is provided on a first

come, first served basis. We recommend you arrive no later than

half an hour before the end of the event. Apartment search info is

intended for customers who need help and support in applying for

an apartment and filling out housing applications.

You can request to have an interpreter present by contacting

asumisneuvonta@espoo.fi

1 April

The application period for annual grants

for cultural activities for 2022 begins.

The application period for cultural

professionals and cultural associations

ends on 15 May at 15:45. The application

period for local heritage societies ends on

30 September at 15:45.

calendar Mar-Jun/21

Check the calendar

for the main events

and key dates of

the spring.

1 April

The application period for

professional artists' working

grants for 2022 begins. The

application period ends on 30

September at 15:45.

18 April

Election day

for municipal

elections.

29 May

Publication of the

next issue of

Espoo Magazine.

7–13 April

Advance voting

in municipal

elections.

At the time this

magazine goes

to press, there

are discussions

under way about

the possibility

of postponing

the municipal

elections.

A magazine for Espoo residents

Public bulletin to all households. FEEDBACK AND SUGGESTIONS: espoolehti@omnipress.fi

PUBLISHER City of Espoo, PO Box 12, 02070 City of Espoo, 09 81 621, espoo.fi,

firstname.lastname@espoo.fi EDITOR-IN-CHIEF Satu Tyry-Salo, Communications Director

EDITORS Omnipress Oy, espoolehti@omnipress.fi MANAGING EDITOR Kimmo Kallonen

LAYOUT Oona Kavasto/Hank PRINTED BY Punamusta DISTRIBUTION SSM

NOTIFICATIONS jakelupalaute@omnipress.fi COVER Timo Porthan ISSN 1798-8438
---
Picks

According to preliminary data, Espoo's population grew by approximately

3,200 people in 2020, which is 2,900 fewer than in 2019.

Protecting yourself against

the coronavirus is important

Protect yourself and your

loved ones by wearing a

face mask when moving

about in places where

there are other people.

The city provides free

face masks to people

who have a low income

and are unable to buy

masks.

Take care of hand and

coughing hygiene and

don't forget to keep a distance

of more than two

meters to other people.

It is important to reduce

close contact with other

people in order to slow

down the spread of the

epidemic.

Download the Koronavilkku

contact tracing

app to help you find out

if you have been near a

person with COVID-19.

Large groups of people

should not get together.

The coronavirus is known

to have spread at parties,

get-togethers between

friends and when spending

time in shopping

centres. At the moment,

private events are also

not recommended.

Coronavirus tests are

available to everyone who

has symptoms that suggest

a coronavirus infection.

Even if your symptoms

are mild, please

book an appointment for

a coronavirus test. You

can book an appointment

yourself using the Coronabot

service at koronabotti.hus.fi/en

or by calling

Espoo's coronavirus

helpline, tel. 09 816 346

00 (Mon–Fri 7:00–18:00,

Sat–Sun 9:00–15:00). At

other times, call the Medical

Helpline, tel. 116 117.

You can find up-to-date

information about the

coronavirus and instructions

in different

languages at espoo.fi/

coronavirus

Redesign of Espoo.fi

website continues

THE new espoo.fi website will be

launched in 2021. The current espoo.fi

website will continue to serve residents

until enough content has been fed into

the new platform.

On the basis of the wishes expressed

in the residents' survey and interviews,

the improvements made to the new

website concern, in particular, the

quality of the content and the usability

of the website.

The goal is to provide improved

search features on the new website and

better ways to present information on

services and opening hours, as well as

to make it easier to find information

about your own district and decisionmaking.

In the future, news about Espoo

and events in the city can be accessed

from the home page of the new website.

The survey responses also highlighted

the desire to find information about the

city's activities more easily, and this has

also been taken into account.

To explore the beta version of the

new website, go to beta.espoo.fi. You

can influence the way the new website

works right from the start by answering

a survey about the beta version.

Planning and entering new content

is at an early stage, and therefore the

beta version is just a technical framework

with hardly any content.

Espoo on

social media

Facebook

Espoo – Esbo

Posts from different parts

of the city and news from

various City of Espoo actors.

Twitter

@EspooEsbo

Timely updates and quick responses.

Bulletins, answers to

questions and discussions.

Instagram

@espooesbo

Great moments, events and

landscapes through the eyes

of Espoo residents.

#espoohetki

Air quality monitoring station in Matinkylä

THERE are 11 air quality monitoring

stations in the Helsinki metropolitan

area, four of which have been moved

to new places for the duration of the

current year. One of these changing

stations is now located in Matinkylä,

near the Länsiväylä motorway. The

measurements provide information

about the effects of this busy road on

air quality.

In Espoo, air quality is measured

on a permanent basis in Leppävaara

and Luukki. You can follow air quality

in the Helsinki metropolitan area in

real time at hsy.fi/en/air-quality-andclimate/air-quality-now/.

4 A magazine for Espoo residents
---
Vuo sculpture

on Vaakunatori

CHECK

THIS OUT!

In this section of the

magazine, we introduce

interesting sites all

Espoo residents have

free access to.

ARTIST Vesa-Pekka Rannikko's artwork

Vuo – virrat yhdistyvät (Flow –

streams come together) is the latest

public work of art commissioned by

the City of Espoo. This large sculpture

is located on Vaakunatori in Espoon

keskus and is part of the EMMA collection.

It is made of four different-coloured

structures of steel wire mesh.

The colourful wire mesh is layered

and the work appears to be a different

colour depending on where you

stand.

When spoken aloud, the word 'vuo'

(and also 'flow') sounds soft and gliding

and, in fact, the sound refers to

the form of the work. The wire mesh

of this brightly coloured sculpture is

wave-like and forms a channel reminiscent

of a brook inside that you can

walk through.

Vuo reflects the activities of its surroundings, such as the traffic flow,

and the many meanings of the administrative centre, such as democratic

decision-making that involves a unified outcome made up of many voices.

Q & A

In this section of the

magazine, we answer

the most often asked

questions received by

the city at the time the

magazine is published.

?

What is a a summer job voucher

and how can I apply for one?

The City of Espoo will pay EUR 300

to all employers who hire a young

Espoo resident between 1 May and

30 September using a a summer

job voucher. The minimum duration

of the summer job is 10 working

days and 50 working hours, either

consecutively or divided into several

periods. The employer cannot

be a private household, a family or

a private person.

How to apply for a summer job

voucher: www.espoo.fi/en-US/

Youth/Jobs_for_Youth/Summer_

Job_Voucher.

?

I would like to book a spot for a

market stand in a market square,

how can I do that?

There are six marketplaces in the

Espoo city area, located in Espoon

keskus, Tapiola, Leppävaara (Sello and

Läkkitori), Karakallio and Matinkylä.

The marketplaces are managed by the

Espoon torikauppiaat association.

There are two types of spots for

market stands available: one is booked

for a single day and the other for a

month. The day spots are intended for

occasional use, such as for travelling

vendors of goods or individuals selling

second-hand items. You can ask the

market manager of the marketplace in

question about day spots. Long-term

spots are intended for those engaging

in full-time market trade. Applications

for long-term spots are to be

submitted in writing. To find the contact

details of market managers and

the application form for a spot, go to

espoontorikauppiaat.fi (the website and

form are in Finnish).

A magazine for Espoo residents 5
---
Picks

At the end of December 2020, there were a total of 17,796 unemployed

people in Espoo and the unemployment rate was 12.2%. The national

unemployment rate was 13.6%.

Sortti Stations open

on three Saturdays

HELSINKI Region Environmental Services,

i.e. HSY, will be testing weekend

opening hours at the Konala

Sortti Station from 10 April onwards

on both Saturdays and Sundays. In

addition, all Sortti Stations will be

open on three Saturdays this spring:

17 April, 24 April and 8 May from

10:00 to 17:00.

HSY will first test the new opening

hours at just one station for a period

of one year and then make a decision

on the future. The locations of

the Sortti Stations and instructions

for sorting waste can be found at

hsy.fi/en/waste-and-recycling/sorttistations/.

The municipal

employment

trial was launched

THE Finnish municipal employment

trial was launched in Espoo on 1

March. The trial involves transferring

the customer accounts of 18,000 jobseekers

in Espoo from the TE Office

to the City of Espoo. The TE Office

will inform all the customers whose

accounts are transferred individually

about the change, and no action is

required from the customer themselves.

The accounts of all jobseekers

under the age of 30, all jobseekers

with an immigrant background

and all jobseekers receiving labour

market subsidy or basic unemploy-

ment allowance will be transferred to the

municipality.

Unemployed persons receiving earnings-related

unemployment allowance

will continue to be served by the TE

Office. In the future, the TE Office will

carry out certain tasks, such as registering

all unemployed jobseekers.

The purpose of this trial is to improve

access to the labour market, education

and services, especially for jobseekers

who have been unemployed for a long

period and who are in a vulnerable position

in the labour market, are young and/

or speak a foreign language as their native

tongue. In principle, statutory employment

services and municipalities' own

services will continue to be offered as

before, but the aim is to also create new

solutions for the employment of jobseekers

and the availability of skilled labour

for companies.

The municipal employment trial is

being carried out by the Espoo Employment

Services. The name of the experiment

in Espoo is simply Employment

Espoo and the offices from which it is

run are located on the same premises

as the Espoo TE Office on Upseerinkatu,

Leppävaara.

Have your say in the municipal elections

BY voting in the municipal elections, you

can influence who will be representing

Espoo residents on the City Council

and other representative bodies of the

city and deciding on matters that affect

the everyday lives of the city residents.

In the elections, 75 councillors will be

elected to serve for the next four years.

As this magazine goes to press, there

is talk about the possibility of postponing

the municipal elections due to

the coronavirus. If the elections are not

postponed, the election day is Sunday

18 April 2021. Advance voting in Finland

Please

bring your

own pen!

will be held from 7 to 13 April 2021 and

abroad from 7 to 10 April 2021. Due to

the coronavirus pandemic, voters will be

asked to bring their own pen (preferably

a ballpoint pen) to the polling station, to

wear a face mask and keep an adequate

safe distance to other people.

You can vote in advance at any general

advance polling station. There are

11 advance polling stations in Espoo,

and you can find their addresses and

opening hours at espoo.fi/en-US/

City_of_Espoo/Influence/Elections/

Municipal_elections_2021. On election

day, you will only be able to vote at the

polling station that has been assigned

for you in the voting register and that is

given in the notification sent to you by

post. On election day, polling stations

are open from 9:00 to 20:00.

In certain cases, for example, if the

person entitled to vote has a limited

ability to move or act and they cannot

get to the polling station without

undue difficulty, they may vote in

advance from home. You must register

with the Espoo Central Election Committee

at the latest by 16:00 on 6 April

2021 if you need to vote from home.

Contact details: tel. 09 8167 3928 or

vaalit@espoo.fi.

6 A magazine for Espoo residents
---
According to the COVID-19 safety report issued by the City of Espoo, Espoo residents feel that

they have received sufficient information about the coronavirus and are able to act according to

the instructions. Of the respondents, 77% said they follow the instructions given.

The presentation of this year's

sports awards took into account

the safety measures resulting

from the coronavirus. The award

for the Espoo Sports Team of the

Year went to Elecstreme.

Joonas Kukkonen,

three-time Finnish

champion on rings,

trains between

20 and 25 hours a

week.

Nina Elfvengren

Olavi Kaljunen

Awareness of

gymnastics is growing

Espoo Athlete of the Year andSports Team of the Year

2020 were elected by public vote. In both categories,

the winners were protégés of Espoon Telinetaiturit.

ESPOO Athlete of the Year and Sports

Team of the Year 2020 were elected

by public vote. In both categories, the

winners were protégés of Espoon Telinetaiturit.

The Espoo Athlete of the Year award

was the climax of Joonas Kukkonen's

year. Kukkonen, who won gold on rings

in the Finnish Championships for the

third time running, is grateful for the

recognition.

"It's especially rewarding because the

choice was based on public votes. People's

awareness of gymnastics in general

has clearly grown, and this award is an

indication of that right here in my hometown,"

Kukkonen says.

Unlike in other years, the Finnish

Championships for men's artistic gymnastics

were not held until November,

and the European Championships –

where Kukkonen made it to the finals –

took place in December.

"Apart from a break in the spring, we

have been able to train in a balanced

way despite the coronavirus. At first, of

course, it was a bit difficult when competitions

were being cancelled and we didn't

know what to prepare for. It soon became

clear, though, that the major competitions

of the spring would take place at the end

of the year," Kukkonen says, recalling the

exceptional circumstances.

Joonas Kukkonen started gymnastics

as a little boy. After moving to the men's

series in 2015, he decided to focus on

rings. He won his first Finnish championship

medal (bronze) in 2017 and has won

gold three years running since then.

His main goal for this year is to compete

in the World Cup competitions, of

which there are two scheduled for June.

"I'm aiming for a medal there too," Kukkonen

says.

As a protégé of Espoon Telinetaiturit,

he is also delighted that the sports club's

team of gymnasts received the Espoo

Sports Team of the Year award. Called

Elecstreme, the team won the Finnish

TeamGym Championships last year.

A magazine for Espoo residents 7
---
theme

The Espoo Story, or the city's strategy,

will be updated in September.

What Espoo residents think about their

hometown has not changed much.

Updated every

four years, the

Espoo Story

outlines a plan

for what the city

will focus on in its

operations.

Text Tiina Parikka Photos Timo Porthan

The story

continues

SERVICES

i

nearby. Half

of those who

would recommend

Espoo as

a place to live

highlighted the

fact that services

are nearby here.

"Everything you

need is close."

Of the people

recommending

Espoo, 49% mentioned

its nature,

forests and natural

parks.

Local nature, the sea, safety. The

same priorities arose again when

Espoo residents were asked what

their hometown means to them.

Carried out every four years, the

My Espoo survey serves as a basis

for updating the city's strategy.

"The results were surprisingly similar to

those obtained four years ago. In the survey

conducted in 2012, the residents put a lot of

weight on local nature. In 2016, safety became

another priority alongside local nature, and

it seems the residents continue to value the

same things now," says Strategy Director

Jorma Valve about the recent results.

The strategy is always updated at the beginning

of a new council term. To support new

decision-makers, information is not only collected

from the My Espoo survey, but also

from discussion events organised for special

groups and from other studies.

"Based on a national survey on municipal

and city services, Espoo's services are very

high in quality," Valve says with satisfaction.

What Espoo has succeeded best at is

the accessibility of digital services.

More than half (57%) of the respondents

considered the accessibility of digital services

good or very good. The same proportion of

respondents thought that the city residents

were Espoo's best asset.

High-quality services eat up a large portion

of Espoo's tax revenue. At the same time,

though, investments have been needed to

provide services for the growing population.

The survey results show that the city residents

are aware of the imbalance in the city's

economy.

"Throughout the 2010s, Espoo has grown

by an average of 4,600 inhabitants every

year. This translates into new kindergartens,

schools and roads," says Pia Ojavuo, Director

of Financial Planning.

In order to remedy the economic situation,

a programme for an economically sustainable

Espoo for 2021–2025 has been drawn up

to halt the continuous increase in operating

expenditure. ›

8 A magazine for Espoo residents
---
Amanda and Elina

like to spend their

free time outdoors.

A sunny Friday at

the beginning of

February brought

them out to the

playground.

Lots of opportunities

outdoors

Amanda and Elina like to do things outside. In the

Olari open playground, the girls like the swings and

the climbing frames the best. Amanda's grandparents

live nearby, so she knows the playground well.

"I like to skate, ski and go sledging. Many schoolyards

have a skating rink in the winter, and you can

do indoor sports at many schools in the evening,"

Amanda says.

Elina also goes sledging and plays tennis with her

father.

"Before the coronavirus, we used to go and play

golf at the golf lounge sometimes," Elina says.

In the My Espoo survey, young people highlighted

shopping centres as good places to spend time with

friends. Amanda and Elina aren't very interested in

hanging out in shopping centres yet.

"We used to spend time in the library before the

restrictions," Elina explains.

A magazine for Espoo residents 9
---
theme

,, 73%

gave Espoo a rating between

7 and 10 as a place to live that they

are happy to recommend to others.

"I would love to be able to

visit the archipelago more

easily, without having to own

a boat. I could just pop over

to an island for some fresh air

and exercise, or take a day trip

somewhere further. Nature is

Espoo's trump card!"

Based on the responses to

the My Espoo on the Map

survey, we have put together

images of ideas that describe

the wishes expressed by the

respondents.

image: Rasmus Rosenbland

IN Espoo

i

residents'

views, the

areas that need

improving the

most are construction,

urban

planning and

the price level of

housing. Some

feel that the

strong growth

and construction

are out of control.

"We are looking at the cost-effectiveness of

our services. There are no plans to reduce the

quality of the services or make cuts to them,"

Ojavuo says. ›

The aim is to improve the utilisation rate

of the city's premises, create larger units for

teaching and reduce the cost of premises, for

example, by using private-sector daycare services.

Additional income will be sought by increasing

property taxes and the fees for sports services,

among other things.

Construction will be the city's number

one development target. Espoo residents

want improvements in renovation construction,

urban planning and housing supply. They

also feel that there is too much construction

and that it is getting out of control. Rental housing

supply in Espoo is considered limited and

expensive.

Residents also hope for improvements

in public transport connections, especially

towards Helsinki and in cross-town traffic in

Espoo.

The same issues also came up in the answers

to the question, 'which issues should the City

focus on in its operations'.

Espoo is home. The Espoo of the future is

seen as a comfortable, safe and vibrant city that

is growing, modern and innovative. Resident

orientation, tolerance and caring for residents

also came to the fore. People want to preserve

the city's lush greenness, forests and nature.

On a scale from one to ten, 73% gave Espoo a

rating between 7 and 10 as a place of residence

they are happy to recommend to others. Here,

women were slightly more positive than men,

although women listed more development

needs than men. Young people under the age of

35 are also eager to recommend Espoo.

10 A magazine for Espoo residents
---
Gabriella Fodor

occasionally goes

to the nearby forest

simply to hug

trees. "I love the

beauty of the forest,

the tall trees

and animals."

"Almost like living in

the countryside"

The small forest in Mankkaa close to

Gabriella Fodor's home is a part of her

everyday life.

"I walk through the forest when I

go to work, the gym and to the shop.

I take my children there for picnics

and we go there to pick berries," Fodor

smiles.

Fodor appreciates the tall trees and

animals. There are squirrels in her

home yard too, which is a source of

great pleasure for her.

"It's almost like living in the countryside."

Gabriella Fodor also enjoys the rugged

landscapes of Nuuksio, but she

doesn't go there as often as to the forest

near her home. In the summer, she

likes to take her children to the beach.

"Matinkylä has a very nice beach

area. My children also like to go to Oittaa,

where there are plenty of activities

to do."

A magazine for Espoo residents 11
---
theme

,, Young

people see the

Espoo of the future as

clean, tidy and green, as

well as safe and peaceful.

i 6,037 Espoo

residents

responded to

the My Espoo

survey. Most of

the respondents

(49%) used the

espoo.fi website

to answer the

survey, while

others answered

using popup and

text messages

(22% each).

As regards specific, individual matters, satisfaction

varied by age group and gender. For the

first time, the results were also grouped according

to the language in which the responses

were given. People who answered the survey in

English were clearly the most satisfied and those

who responded in Finnish were the least satisfied.

"Good service is a subjective concept. For

example, many immigrants have chosen Espoo as

their city of residence because they receive good

services here. Yet, we can't unequivocally assume

that immigrants have responded in English," says

Development Manager Niko Ferm.

The way young people saw their city was

a surprise. This year, the survey had more

respondents than in previous years, which is

partly due to the fact that that schoolchildren also

participated in the survey.

"Especially children aged 12 and 15 respondedactively,

but there were also other age groups,"

Valve says.

Schoolchildren answered two questions: how

would they like the city to reform its operations

and what does My Espoo of the future look like to

them?

Perhaps surprisingly, their answers highlighted

cleanliness, waste management and comfort in

general. In addition to facilities for the young,

such as schools and youth centres , they valued

shopping centres.

Young people saw the future Espoo as not only

clean, tidy and green, but also as a safe and peaceful

living environment with good facilities for

sports and exercise.

Lots of information on the map

In addition to the traditional My

Espoo survey, the City conducted

an extensive map-based survey last

autumn in cooperation with Aalto

University.

"As far as I know, a survey of a

similar scale has not been carried

out in Finland before," says Planning

Manager Johanna Palomäki.

In the survey, city residents

marked places on the map that

were meaningful to them.

"After they had marked these

places, we asked how often they

visit the place, what role it plays in

their everyday lives, what vehicle

they use to get there and whether

the experience is positive or negative,"

explains researcher Laura

Malm-Grönroos.

The respondents were also given

the opportunity to add development

proposals.

Some 6,600 residents responded

to the My Espoo on the Map survey,

one third of whom were schoolchildren

and students. The result was

70,000 places marked on the map.

"I want to thank all the respondents.

They really thought about the

questions and were generous with

their time. This will provide us with

a huge amount of valuable information,"

Palomäki says.

It will take quite some time to

analyse the answers. Malm-Grönroos

is already eagerly waiting to

tackle the material, which will also

be analysed at Aalto University.

"We will publish the results bit

by bit as we make progress. The

data will also be taken into account

in urban planning, where the

results, of course, will take longer

to implement," Palomäki says.

The survey is being carried out

as a NordGreen research project

with funding from NordForsk.

12 A magazine for Espoo residents
---
Invigorating the mind and the body

For Helena Wallo, who moved to

Espoo from Vaasa in the early 1990s,

proximity to the sea is important.

"When my children were small, we

lived in Matinkylä and spent a lot of

time on the beach. Now I live in Olari,

and the beach is still within walking

distance," Wallo says.

The Waterfront Walkway is a beautiful

and well-maintained outdoor trail

with good services along the route.

When taking a walk with a friend, you

might be tempted to stop off for a

coffee.

Helena Wallo met Leena Kaalamo

through their children's hobbies soon

after she first move to Espoo.

"When you go for a walk with a

friend, you get some exercise and

some therapy at the same time," Wallo

says.

Leena Kaalamo

and Helena Wallo

are both entrepreneurs.

They

see their walks

together not just

as exercise, but as

therapy.

A magazine for Espoo residents 13
---
at your service

In this section

of the magazine,

meet employees

and close partners

of the City

of Espoo.

Text Mia Weckström Photo Timo Porthan

Focusing on

legal matters

Jouni Majuri has worked as the town

clerk of the City of Espoo and the secretary

of the City Council since 2009.

"

Preparations for the City Council's

meetings begin a week and a half

beforehand. I review all the matters

that have been passed to the Council

from a legal point of view and try

to take into account all the issues that may

arise when handling the matter.

My job involves great responsibility,

because sometimes I have to interpret very

complex legal issues. I can contribute to

ensuring that the decision-making process

proceeds flawlessly in terms of the law when

the Council makes decisions with the aim of

making Espoo a good place for everyone to

live, study, work and run a business.

Good cooperation in the Council is

extremely important, and it has always been

very good. We have a team of professional

translators and technical secretaries to help

us, and their role is even more important

during the coronavirus pandemic.

Many people may not know this, but

alongside my work for the City Council, I

also work as a traditional lawyer. Being a

lawyer for the city is incredibly complex

work – after all, the city is quite a conglomerate

with 14,000 employees.

Don't forget that the municipal elections

are approaching and that by voting you can

influence the direction in which Espoo is

being developed. Elected by the residents,

the City Council is the municipality's highest

decision-making body and makes decisions

on matters that affect all of us living in

Espoo."

"Voting in the

municipal

elections is a

genuine tool

of grass-roots

democracy,"

Jouni Majuri

points out.

Espoo City

Council

› The City Council has 75 councillors

and 76 substitute councillors

› The Council handles

approximately 200 matters a year

› The Council has

12 meetings every year

› The City Council's meetings are

broadcast live. You can also watch

recordings of the meetings at

mediaserver.fi/live/espoo

14 A magazine for Espoo residents
---
15 In situ 16 Things to do 19 Exercise tip

Things to do

in Espoo

Strong roots

Events and

activities from

March to June.

Träskända Manor has played an important role in Finnish history.

You can sense the times gone by in its magnificent park.

Träskända Park is known for

its sturdy, old trees. Having

stood still for centuries, the

trees have witnessed a great

deal.

"The oldest trees are at least 300

years old. You can sense the history this

place has lived through," says Terhi

Mäkinen.

The landscape park surrounding the

buildings dates back to the 19th century,

when the mansion was owned by

Aurora Karamzin. Reportedly, she had

close ties to the Russian imperial family,

who are believed to have made conditions

easier for Finns on many occasions.

After Karamzin, the manor was

owned by docent of medicine Adolf

Törngren, who played a significant

role in Finland's independence negotiations.

He is also remembered for his

important role in reducing infant mortality

rates in Finland.

The City of Espoo has owned the

manor since the 1920s.

The surroundings of the Glimsinjoki

river are known for their abundant and

noteworthy birdlife and and other animals.

"Once on a walk in the forest, I encountered

a grey heron as it emerged from the

river. It was an awe-inspiring experience.

People have also reported seeing a wild

boar, otter, stoat and fox here, which you

rarely get to see in the Helsinki metropolitan

area," Mäkinen says.

The façade of the manor building

is under renovation. Mäkinen has

studied Träskända's history and environment

as part of her master's degree

in service design at Laurea University of

Applied Sciences.

"The goal is to find practical use for

the buildings that are standing empty

at the moment, so that the full potential

of this magnificent area can be realised,

while being respectful of the landscape,"

says Mäkinen, who is a native of Espoo.

Text Tiina Parikka

Photos Terhi Mäkinen

The seasons offer delightful experiences

in the park. In the spring,

the lively twitter of birds welcomes

visitors to the area. At the edge of

the landscape park, under the hazel

shrubs, you can find a meadow of

wood anemone in bloom.

A magazine for Espoo residents 15
---
Things to do

in Espoo

✱

Music • Visual arts ♥ Theatre ✘ For children ✓ Cinema = Espoo ♦ Something else

434,000 city residents participated in events offered by the Exhibition Centre

WeeGee, Sellosali, Espoo Cultural Centre, Children's Cultural Centre Aurora,

Karatalo, Kannusali and City Events Espoo at home and in public city spaces in 2020.

Children's Virtual

Museum Festival ✘

CHILDREN'S Museum Festival will be held

virtually from 6 to 7 March at 11:00–15:00.

Captain Futuro's spacecraft has landed

in WeeGee's backyard. The captain brings

along his cosmic friends from space, who

will delight the festival-goers with musical

performances, workshops and art experiences.

The Children's Museum Festival will

feature Sisidisko, led by Vuokko Hovatta

and Kalle Chydenius, as well as ventriloquist

Sari Aalto's Kosminen Show.

lastenmuseofestarit.fi

Meet a city employee =

ARE you wondering about ways you could

participate and make a difference in

Espoo? Do you have ideas on how we could

increase or develop opportunities for participation

in the city? Meet Development

Manager Marion Ticklén, who is in charge of

resident participation. These meetings take

place online over Teams, and the idea is to

get together and chat. Welcome!

Tue 23 March at 17:00–18:00, Tue 13 April

at 17:00–18:00 and Tue 11 May at 17:00–18:00

Further information and a link to the event

at espoo.fi

Virtual tour of a waste

water treatment plant ♦

TO end the week that starts with World

Water Day on a high note, an HSY expert

on municipal water supply will present the

operations of the Viikinmäki wastewater

treatment plant using a virtual platform

with 360-degree panoramic images. Join

this Teams event to see what kind of treatment

the waste water produced by more

than a million inhabitants in the Helsinki

metropolitan area goes through before the

water is released into the Baltic Sea.

Saturday 27 March at 11:00–12:30

Further information and a link to the event

at hsy.fi

Experience culture

digitally ♦

URBAN Espoo is a digital cultural centre

designed to provide digital cultural services

and to develop them. It is produced

by the City of Espoo Event and Cultural

Services and the Children's Cultural

Centre Aurora, along with various other

actors. The content is presented digitally,

but Urban Espoo also encourages you to

experience things without a smartphone.

urbanespoo.fi

This year, the Children's

Museum Festival will be

held virtually.

The content of the Urban

Espoo website is updated and

developed monthly.

1 2 3 4 5 6

LISTEN

Espoo Talks

podcast: Puhetta

Espoosta (Talk

about Espoo)

bit.ly/

Linkki_1

VIEW

Guided tour: Metro

architecture

bit.ly/

Linkki_2

VIEW

Documentary series

Super Duper

bit.ly/

Linkki_3

PLAY

Sensory excursion

for young children

bit.ly/

Linkki-4

PLAY

Colour bathing for

babies and parents

bit.ly/

Linkki_5

LISTEN

Espoo Adventure

Radio

bit.ly/

Linkki_6

16 A magazine for Espoo residents
---
WeeGee's museums attracted

approximately 240,000 visitors in 2020.

In 2019, there were 404,901 museum visitors.

For more tips:

espoo.fi/

tapahtumat

Espoo City Museum is

constantly creating new

historical content online.

You can explore Elmgreen &

Dragset's 2020 exhibition with the

help of a mobile exhibition guide.

A Thousand Stories about Espoo

is the Espoo City Museum's

permanent exhibition that delves

into the city's history.

Museum tours from the

comfort of your home •

EMMA'S remote tours bring the museum's

exhibitions to wherever you are. Your

group will be accompanied by a guide who

is present at EMMA to take you through

the exhibitions. The remote tour allows

you to experience the current art exhibitions

in conversation with an expert guide.

The tour will be adapted to the specific

wishes of your group. During the one-hour

guided tour, you can experience a single

exhibition or a customised selection of art

and design from different exhibitions.

More information: emmamuseum.fi

Tapiola Sinfonietta

on YouTube ✱

YOU can now watch the Tapiola Sinfonietta's

free concert recordings on the

orchestra's YouTube channel. The channel

offers a wide range of content, such

as orchestral works, chamber music,

children's concerts, Sydänten tahdissa

introductions of musicians, Know Your

Orchestra lectures and the Bach Sketches

presented on Facebook in spring 2020.

A Thousand Stories

about Espoo 360 =

THE Thousand Stories about Espoo 360

virtual exhibition takes the audience on a

journey through five different eras, in five

different places: Stone Age seal hunters in

Bosmalm, farmers from the Middle Ages

in Mankby, gentry and common people in

Alberga, factory workers in Kauklahti and

urban life in the suburbs. The exhibition

reveals how Espoo came into being, who

the residents of Espoo are and how Espoo

became what it is today.

The virtual exhibition: bit.ly/Espoo360

Glims Farmstead

Virtual Museum ♦

THE heart of Glims – its lovely old farmhouse

– is now available as a virtual

museum with 360-degree panoramic

images. The images allow you to explore

this 200-year-old inn and residential building

even when the museum is closed or

you can't be there in person. You can also

pop over to do some old-fashioned shopping

in a modern virtual way at the Tilkki-

Vihtori cottage, which has been furnished

as an early 20th century village store.

Check out the virtual museum:

bit.ly/glims360

7 8 9 10 11 12

VIEW

Documentary

series: Taiteen

lyhyt oppimäärä

(Introduction to Art)

bit.ly/

Linkki_7

VIEW

Amateur artists'

photographs of

Espoo today

bit.ly/

Linkki_8

VIEW

Artist interview:

Tacita Dean

bit.ly/

Linkki_9

LISTEN

EMMA Talks:

Elmgreen & Dragset

bit.ly/

Linkki_10

VIEW

Documentaries

about artists:

Rut Bryk & Ernst

Mether-Borgström

bit.ly/

Linkki_11

LISTEN

ARTPOD podcast:

Ihminen ja luonto

(Humans and

Nature)

bit.ly/

Linkki_12

A magazine for Espoo residents 17
---
Things to do

in Espoo

✱

Music • Visual arts ♥ Theatre ✘ For children ✓ Cinema = Espoo ♦ Something else

The Pentala Achipelago

Museum's area consists of more

than ten buildings.

Admire architecture by Kaija and Heikki

Siren in the virtual museum and on Espoo

City Museum's YouTube channel.

The urban adventure game Portti

gives you the opportunity to solve

puzzles and mysteries in Karakallio.

Pentala Archipelago

Virtual Museum =

PENTALA Archipelago Virtual Museum

will take you on a tour of this fisherman's

estate from a bygone era located

on the island of Pentala in Espoo. The

virtual exhibition makes the museum

more accessible, as you can explore

what it has to offer remotely without

worrying about how to cross the sea

to get there. The Archipelago Museum

is only open in the summer, whereas

the virtual museum welcomes visitors

all year round. In the virtual museum,

you can tour the Pentala fisherman's

cottage, the storage shed by the shore,

Gurli's House, Villa Rosergård, Lilla Villan

and the cowshed.

Check out the virtual museum:

vreal.fi/vtours/pentala

Access a museum

at the click of a mouse =

YOU can explore Espoo's historical sites

with the help of the museums' mobile

tour guides either in situ or from the

comfort of your own sofa. The mobile

guides of the Espoo City Museum will

help you immerse yourself in the history

of the Pentala Archipelago Museum,

the Villa Museum Villa Rulludd, the

Träskända Manor Park, the Tapiola

urban centre, or places in Leppävaara

where some of the battles and other

events of the Finnish Civil War of 1918

took place.

Mobile guides: tarinasoitin.fi/

espoonkaupunginmuseo

Espoo City Museum offers

treasures on YouTube =

ESPOO City Museum's YouTube channel

is a treasure trove of fascinating and

enjoyable videos about Espoo's history,

such as a guided tour of the exhibition

Everything and Nothing – Architects

Kaija + Heikki Siren. There are playlists

that include lectures from afternoon

events for seniors and the lectures from

the Espoo Treasures (Espoon Helmet)

lecture series.

Historical material

in one search =

WHAT did Espoo use to look like? To

explore selected pieces of the Espoo

City Museum's collections, go to the

Finna.fi search service. Finna regularly

publishes new photographs and other

material. In Finna, you can examine,

for example, the housing foundation

Asuntosäätiö's materials on Tapiola,

Kivenlahti and Soukka. The material

published in Finna is freely available.

finna.fi

Creative activities

to do at home ♦

EMMA'S website includes a wide range

of creative activities that you can enjoy

at home. The website includes, for

example, documentaries about artists,

exhibition-specific interviews of artists

and podcast episodes.

emmamuseum.fi

Architecture by

the Sirens virtually ♦

ESPOO City Museum's latest exhibition

Everything and Nothing – Architects

Kaija + Heikki Siren is now available

virtually. The virtual exhibition provides

the opportunity to visit, for example,

the Otaniemi Chapel, designed by the

Sirens, and admire its distinctive altarpiece,

which changes with the seasons.

The chapel is normally closed, so a

virtual museum tour is an easy way to

explore it.

Check out the virtual exhibition:

vreal.fi/vtours/siren140

Urban adventure Portti

begins at Karatalo ♦

CAN you solve the mystery? Portti (The

Gateway) is an urban adventure game

that will take you to the streets and

paths of Karakallio where you will need

to solve puzzles and mysteries with the

help of clues. You can move from one

place to the next at your own pace.

To solve the mystery, you need a

mobile device, perceptiveness, wit and

solid teamwork. To play, you need to

download the free Actionbound app.

Scan the QR code on Karatalo's outdoor

noticeboard and start your adventure.

The game is suitable for people

of all ages, and you can play it alone

or with a group. The recommended

group size is 2 to 4 people. The game

has been created and implemented by

Room Escape Running Rabbit.

18 A magazine for Espoo residents
---
Fitness trails

in Espoo:

l Espoonlahti (2.1 km)

l Hanikka fitness trail (2.5 km)

fitness equipment available

along the trail

l Haukilahti fitness trail (0.8 km)

fitness equipment available

along the trail

l Kalajärvi fitness trail (1.5 km)

fitness equipment available

along the trail

l Karakallio fitness trail (1.4 km)

fitness equipment available

along the trail

l Kauklahti fitness trail (1.3 km)

fitness equipment available

along the trail

l Central Park (4.3 km)

l Laaksolahti fitness trail (1.4 km)

l Lahnus shooting range (1.5 + 1.1 km)

- 1.5 km crushed stone trail,

illuminated with LED lights

- 1.1 km additional trail on varied

terrain without lighting

l Latokaski fitness trail (2.5 km)

fitness equipment available

along the trail

l Leppävaara fitness trail and

Kuntokihara (5.4 km)

- fitness equipment available

along the trail

- Kuntokihara (1.0 km)

- fitness equipment available

along the trail

- suitable for wheelchair users

l Matinkylä fitness trail (1.0 km)

fitness equipment available

along the trail

l Oittaa fitness trail (4.7 km)

l Olari fitness trail (4.7 km)

l Siikajärvi fitness trail (1.5 km)

Fitness trails can be

found on the Helsinki

metropolitan area

service map at

palvelukartta.hel.fi

Hiking routes with

room for everyone

Getting around by bike or on foot is

easy with so many tracks and routes

available. The Leppävaara hiking route

is available all year round.

Espoo has a total of 1,400

kilometres of pedestrian

and bicycles ways. About

500 kilometres of them are

hiking routes and fitness

paths of various kinds.

According to Outdoor and

Recreation Manager Tapio

Taskinen, Espoo residents have

quickly learned to make the most of

the trails and routes available, also

when travelling to work and school.

In fact, they have taken to them so

well that many people have been

annoyed that ski tracks have prevented

them from using their normal

routes for walking or cycling

this winter.

"To ensure that everyone can

move about in the wintry landscape

without trampling on ski tracks, we

have built parallel trails for walkers

and cyclists alongside the busiest

routes," Taskinen says.

One of these routes runs alongside

the Leppävaara fitness trail.

From the Leppävaara sports park

to the Alberga Manor, this five-kilometre

route makes for a very pleasant

walk or bicycle ride. You can

also continue along the route north

all the way to Nuuksio and south

towards Tapiola.

"The trails are illuminated and

maintained also in the winter,"

Taskinen promises.

In winter 2019–2020, fitness

trails were used for walking and

cycling throughout the season

because there was no snow, but this

winter the new parallel trails have

been very well received.

"We have received a lot of positive

feedback," Taskinen says happily.

The actual fitness trail consists

of three tracks of different lengths:

2 kilometres, 2.7 kilometres and 5.4

kilometres. The terrain is varied,

thus providing a good workout. In

addition, from the sports park you

can take an even, asphalted fitness

trail known as Kuntokihara, which

is suitable for wheelchair users and

roller skating, among others.

"If you start from the sports park,

the Kuntokihara route is about two

kilometres long," Taskinen explains.

There is also outdoor exercise

equipment next to the park, which

is freely available to outdoor enthusiasts.

Exercise in Espoo

Walking, on wheels

or even skiing.

There are plenty of

trails available, all

you have to do is

choose one!

Text Tiina Parikka

A magazine for Espoo residents 19
---
ight now

Espoo is a city

designed for its

residents. There

are plenty of

avenues available

to influence

how things are

done. How do you

participate in the

development of

your hometown?

Text Tiina Parikka

Meet the City

Meet the City is a new

kind of opportunity for

residents and city employees

to meet each other.

The meetings organised

by the City of Espoo have

no predetermined subject.

Instead, the idea is to meet

others and discuss things.

During the coronavirus

pandemic, the meetings take

place online. For this spring's

events, see page 16.

Many

avenues for

participation!

Find out how

you can make a

difference!

Join the

discussion

There are several different

groups on social media

where you can discuss the

services on offer in Espoo.

Some of the groups also

include city employees, who

participate in the discussion

and try to respond and guide

residents to the right city unit,

depending on their idea or

suggestion.

The Hello Espoo group for

all English-speaking residents

of the city is an example of

the groups maintained by the

city. In the Hello Espoo group,

you can share news and

events and obtain information

in English about the city's

services and living in Finland.

Our Park

The aim of Espoo's Our Park

project is to remove any

obstacles that prevent residents

from having an influence

on the condition and

maintenance of their surroundings.

For example, you

can mow the lawn, clear small

thickets, remove invasive alien

species, or cut reeds near

your home. Clearing trees

within the Our Park system is

limited to thickets that can

be cut down with gardening

loppers. The area to be maintained

must be distinguishable

from yards or gardens.

In other words, the city will

not enter into any Our Park

maintenance agreements in

which a garden or yard area is

extended into the city's park.

espoo.fi/meidanpuisto

Tools for

influencing

The City Council outlines the big-picture policies for the city.

Residents have many avenues available to them to influence

how things are done in the city at grass roots level. And, of

course, they have the power to choose who the people are

who outline the big-picture policies.

20 A magazine for Espoo residents
---
Residents' Forums

Residents' Forums are open to

everyone and organised at the

initiative of a preparation group.

The city's own working groups

for seven districts (Espoonlahti,

Kauklahti, Leppävaara,

Matinkylä, Pohjois-Espoo,

Tapiola and Vanha Espoo) have

been selected by the umbrella

organisation of residents' associations,

which means that

they are 100% chosen by the

residents. The city provides a

framework for the residents'

forum activities, such as

facilities and a small grant for

organising the activities.

On request, city employees

will come to a forum to talk

about a topic requested by

the forum and to hear the

views of the residents.

espoo.fi/asukasfoorumit

Town Hall Meeting

Espoo Town Hall Meetings

are interactive events where

various, changing themes

related to the development

of the city are discussed in

English. The aim of the events

is to increase the possibility

of international residents to

influence matters relating to

the city and to promote a

sense of togetherness.

The events increase the city's

understanding of the needs

and wishes of foreignlanguage

residents.

Town Hall Meetings are

workshops that include a short

introduction by a city employee

on a topic chosen by the

Town Hall Meeting. During

the coronavirus pandemic,

these events take

place online.

Partnership

Forum

The Partnership Forum

is an open forum for the

City of Espoo and various

organisations and

its objective is to find

and share solutions for

promoting well-being.

The forum meets

twice a year. The theme

is always a topical issue.

The City Council is the highest decision-making

body when it comes to

matters in your surrounding neighbourhood.

It outlines the priorities of

the city's operations and decides how

money is spent.

For this reason, it is not insignificant who sits on

the City Council.

The city's decision-makers – 75 councillors – are

elected in municipal elections.

"In the previous municipal elections, there were

731 candidates in Espoo, and I'm sure there will

be plenty of candidates to choose from in the next

election too," says Town Clerk Mari Immonen.

In a city the size of Espoo, the Council's role is to

see the big picture and steer the city accordingly.

As regards individual matters, it has given the committees

of different sectors a framework within

which to make decisions. Some of the members of

the committees, including the chairmen, are also

members of the City Council.

"The contact details of all the councillors and

committee members can be found on the city's

website. You can contact them directly and share

your wishes and suggestions. Active councillors

and committee members also participate in

various residents' events to hear city residents'

thoughts and views on current issues," Immonen

says, encouraging residents to communicate

actively.

You can check on the city's website which councillors

live in your extended residential area.

Residents too can put forward an official

initiative on city affairs. An initiative submitted

to the Registry Office will be directed to the

office holder concerned, who is obliged to reply to

the person who submitted it. If you want broader

›

A magazine for Espoo residents 21
---
Direct feedback

You can submit feedback and development

proposals through the city's electronic feedback

system, but also directly to employees in different

sectors. For example, Espoo´s Public Works

Department uses a map service where you can

accurately mark the place your feedback concerns.

Information

available

In order to improve residents'

access to information, the city is

developing a newsletter platform

that will be shared by the city

sectors. The goal is to enable

residents to subscribe to all

the email newsletters they find

interesting in one place. The

city's joint newsletter platform is

expected to become available in

late 2021.

Residents'

Helpers

If you have an idea or development

need, please don't hesitate

to approach an office holder of

the city sector in question.

If you don't know who to

contact, Development Manager

Marion Ticklén will be happy

to connect residents and city

employees and to give advice

on how to proceed.

You can get help for implementing

your development ideas

for your neighbourhood by contacting

one of our participation

designers by email at

asukkaidenapurit@espoo.fi.

Volunteering

A resident can organise an event

or, for example, a community

work day for volunteers in order

to make an area of their choice

look better. The city supports

such activities by sharing information

and making facilities

available for the event.

Various associations, such as

residents' associations for a particular

neighbourhood, parents'

associations from schools and a

wide range of sports and cultural

organisations, are an important

channel for influencing matters

that are important to you.

There's power in cooperation!

›

support for your cause, you can also put

forward an initiative online at kuntalaisaloite.fi

and start collecting support

for it. If at least 2% of the municipality's

residents support the initiative, the

Council must take up the matter within

six months of the initiative being submitted.

"Initiatives with more than one person

behind them that have recently

been put forward concern issues such as

asphalting, making use of an old health

centre and free parking," Immonen says.

Residents can voice their concerns

at residents' evenings. In addition,

the city commissions residents' surveys

on many topics, and feedback can always

be submitted through the electronic

feedback system.

"We receive some 20,000 feedback

messages a year, half of which are proposals

for action," says Immonen.

In addition, various influencing bodies

are heard in decision-making.

"The influencing bodies required

by the Local Government Act include

the Youth Council, the Elderly Council

and the Disability Council. The Youth

Council organises its own elections for

young people. The members of the councils

are appointed by the City Board

and they include representatives of

local organisations, councillors or other

members of committees, as well as city

office holders," Immonen explains.

Separate residents' panels are also

assembled for individual development

projects and experts-by-experience are

invited to them to share their views.

"I recommend volunteering for these

groups," Immonen says.

22 A magazine for Espoo residents
---
Sitting by a campfire

When club activities for young people had to be suspended due to the coronavirus,

new ways of keeping in touch were needed. Members of the woodworking

club have been catching up with their instructor in the glow of a campfire.

encounters

› Something special is going on in the Gräsa

industrial area on Luomanportti. A fire is blazing

merrily inside a concrete manhole ring. Logs are

crackling, and sparks fly all around. A man and a

boy are pottering about around the fire, chatting

happily.

Youth Worker Juha Mattila invites his

9–23-year-old metal and woodworking club

members round for some non-alcoholic mulled

wine, gingerbread biscuits and a chat by the

campfire while cooking sausages on a stick. Due

to the coronavirus, these get-togethers take place

individually, while club activities are suspended.

"I started these campfire get-togethers so

I can catch up with my club members and see

how they're doing. How are they coping with the

restrictions? Some of them are studying from

home, so I wanted to cheer them up. One week, I

met eight club members," Mattila says.

Tino Westerholm says he likes to do things in

nature.

"It was nice to come here for a barbecue."

Westerholm is a little annoyed that the club

has been suspended. His unfinished woodwork –

fingerboard skate ramps – are in the woodshop,

waiting for the restrictions to be lifted. His lessons

at school currently include handicrafts, which has

made him miss woodworking even more.

"Every year, we get handed brochures at school

about what's going on in Gräsa. I spotted the

woodworking club there and joined at the beginning

of the summer holiday."

During the coronavirus

epidemic,

Espoo's Youth

Services has

developed various

options for meeting

young people

face-to-face.

Text Heli Koivuniemi Photo Timo Porthan

Youth Worker Juha Mattila dug out

the campfire site from the blanket

of snow that a storm had left there.

Toni Westerholm is one of the young

people from Mattila's woodworking

club who has joined his instructor by

the campfire during the restrictions.

"When club activities resume, we

won't need to have these campfire

get-togethers anymore," Mattila says.

A magazine for Espoo residents 23
---
pearl

Art is for

everyone. In Espoo,

art has been

made a part of the

streetscape, along

residents' daily

routes.

Text Mia Weckström Photo Timo Porthan

Art as part of the streetscape

Over the past year, art museums have

been closed, and most people have

not had a chance to view art indoors

at all. But you don't always have to go

to a museum to enjoy art – you can

find and explore art all over Espoo;

for example, on a school wall.

The façade of the Otaniemen lukio

upper secondary school, which was

opened in August 2019, has been

decorated with images of a bear in a

work called Otakarhu by artist Jussi

TwoSeven, who is known for his animal

figures. The bear mural has been

received with enthusiasm by students,

staff and visitors to the school.

EMMA's art is also displayed all

over the city, and many of the works

in the EMMA collection are accessible

to all Espoo residents. Art can

be found both outdoors and in public

spaces, such as schools, hospitals,

swimming pools and metro stations.

You can explore Espoo's versatile

street art at bit.ly/Katutaide and on

the Urban Espoo website, where you

will find EMMA's public art paths in

Espoon keskus and Tapiola. Along the

art paths, you can enjoy works of art

from the neighbourhood.

24 A magazine for Espoo residents
---
Saana Kaidesoja,

Matias Varjonen and

Elle Hietanen stopped

to admire Otakarhu.

Numerous artworks

have been made a part

of people's everyday

lives in Espoo.

A magazine for Espoo residents 25
---
Espoo people

The history of

Tuomarila began

in 1903, when the

railway line from

Karis to Pasila was

completed and the

farms near the Espoo

Church began to make

way for new housing.

Text Hanna Ojanpää Photo Timo Porthan

Kati Leskinen moved to Tuomarila two

years ago. As well as being the ideal suburb

for an outdoor person, the area also has

great transport connections.

Life tastes like

champagne

When Kati Leskinen started

looking for a new home, she

had two criteria: it had to

have a south-facing garden

and be close to the sea or

a forest. She knew nothing about Tuomarila

before then, but she feels her new home at

the end of a terraced house in a small housing

company is perfect for her and her dog Max.

"The sun shines into my garden from

morning till night, starting from early spring

and far into the autumn. The Central Park is

just 300 metres away," says Leskinen, who

works in the sports sector.

Her other criteria included excellent

transport connections. Although

Leskinen's commute is now longer in terms

of kilometres, it takes her less time to get to

work than it did from her previous home:

she can get to the centre of Helsinki by train

in just half an hour. Once a week she goes to

Leppävaara or Kauniainen, just ten minutes

away, to get most of her groceries, but otherwise

the small local shop has everything she

needs.

The housing company has proved very

peaceful. The same goes for the entire

Tuomarila area. Kati Leskinen gives a short

laugh and says that her real estate agent told

her that, in proportion to the number of

inhabitants, there are more police officers

living in Tuomarila than anywhere else in the

city. That means that peace is assured!

Leskinen can often be seen raking or clearing

snow in the housing company's yard. She

has also got to know many other outdoor people

when walking her dog. She thoroughly

enjoys her new lifestyle and calls her new

residential area Domppala, which could be

translated as Dom Pérignonville.

"My new life tastes like champagne!"

Tuomarila

• called Domsby in

Swedish

• roughly 3,000

residents

• located in the

Espoon keskus area

between the Central

Park and Kasavuori

in Kauniainen

• consists of

detached and

semi-detached

houses, terraced

houses and low-rise

apartment blocks

• has expanded,

especially to the

west towards Suna

and Suvela

New technology in an old setting

THE TUOMARILAN KOULU primary

school, designed by Aura Meller

and Veikko Rauhala, was

built in 1958. The plastered

stone building is considered

a good representative of early

1950s school architecture,

which is why the building is

protected under the local

detailed plan. The protection

applies to the building's

exterior, colouring, roof shape,

materials and the original

structures of the entrance hall.

"Meeting today's requirements

within the framework

of an old building has brought

its own challenges. Nowadays,

a higher frame is required to

make it easier to fit in the

technology needed," says

developer Jorma Mansikka.

The floor area of the old

school is approximately 1,548.5

square metres. The new extension,

which will include most

of the teaching facilities, i.e.

the learning villages, will be

considerably larger with a floor

area of 4,476.0 square metres.

"The plot, however, cannot

extended. Although the

old teachers' hall of residence

has been demolished to make

room for the new building, the

design has had its challenges,

such as fitting in adequate

parking and play areas," Mansikka

explains.

Work is currently under

way to finish the interiors of

the part under renovation and

the new building. The project

was delayed because the

builders came across bedrock

in the base floor of the old

school building's basement

and because more hazardous

materials had to be removed

than expected. The goal is

to finish the work in time for

pupils to start using the refurbished

Tuomarilan koulu at the

beginning of the spring term in

2022.

Tiina Parikka

26 A magazine for Espoo residents
---
Kati Leskinen

and her dog Max

live right next

to the Central

Park, where they

have plenty of

excellent paths

for walking.

A magazine for Espoo residents 27
---
Swedish in

Espoo

Preschool pupils at

Rödskogs skola primary

school ponder

the tasks of the Joy

of Reading project

together.

Project

Lukuinto awakens

children's interest

in books.

Text Sebastian Dahlström Photo Eemeli Sarka

"We want to inspire

and create a reading

culture"

At a time when children and young people's fascination

with reading is fading, the Lukuinto (Joy of Reading)

project wants to breathe life back into immersing oneself in

books. Both pupils and teachers have been inspired by this

initiative, which will run until the end of the academic year.

28 A magazine for Espoo residents
---
Second-graders read Karin Erlandsson's

'Nattexpressen' (The Night Express) as a

Christmas calendar, and did tasks related to

the 24 chapters of the book.

"We have been doing crafts and drawing

keys," Oskar Ekström enthuses.

Reading is a hobby. During the workshops

arranged for the school staff during

the project, Therese Dahl has received good

feedback.

"Children think it's fun to do the tasks.

And teachers have appreciated the monthly

inspiration letter we send out," Therese says.

In addition, tips for teachers are collected

on the project website, which will remain

available after the project has ended.

Therese Dahl says that the Joy of Reading

project has not suffered because of the coronavirus.

"We have had to rethink, develop ourselves

and find new ways of working. Many

of the new things will remain permanent

even after the pandemic."

Ordering and collecting books is possible

despite the libraries being closed and the

mobile library is touring the countryside.

"The libraries also arrange author visits,

book clubs and storytelling hours digitally,"

says Dahl.

The best thing about reading is

that you learn things," Rasmus

Ekström says.

Rasmus and his brother

Oskar are in the second grade at

Rödskogs skola primary school in Espoo.

Books have been the brothers' hobby for

years – ever since they learned to read at

the age of four.

"We mostly like to read nonfiction

books," Rasmus says.

The Ekström brothers' favourite book

is called Jordens fantastiska fakta (Earth's

Fantastic Facts) a collection of several nonfiction

books within the same cover.

"It's about the extinct animals of the

earth and underground places," Oskar

explains.

"And the lost treasures of the earth,"

Rasmus adds.

When the brothers aren't reading nonfiction,

it's all about comic books.

"Donald Duck is our favourite," Rasmus

says.

Bookworms Rasmus and Oskar are

exceptions. Studies show that children's

appetite for reading has decreased in recent

years. This trend is to be reversed, and

hence the initiative for the project Joy of

Reading was born.

"We want to inspire and awaken the

fascination with reading," says project coordinator

Therese Dahl.

She works with the Joy of Reading project

within Espoo's Swedish Education and

Cultural Services.

Joy of Reading is a nationwide government-funded

project running during the

academic year 2020–2021. The focus is on

pupils attending pre-primary education

and the first two years of basic education.

During Nordic Literature Week, pupils

attending pre-primary education were

allowed to participate in a digital storytelling

session and a digital crafts session.

First-graders have been doing exercises

based on a book that they've been gifted by

the libraries.

"

Children

think it's fun

to do the

tasks.

29
---
us

The share of apartment buildings within the housing stock is growing

Espoo's population

grows by an

average of more

than 4,000

inhabitants each

year. Growth also

requires new

construction.

Crossword

puzzle

There were

139,884

homes in Espoo

at the beginning

of 2020.

Of all apartments,

60% were in

apartment blocks

26% were detached

houses, 14% were

terraced or semidetached

houses.*

* The figures are from

the statistics for 2017.

4,297

new homes

in 2019,

of which

On average,

Espoo residents

occupy

36 m 2

per

inhabitant.*

80

were in

apartment

blocks.

69

percent of

households have

1 to 2 people

living in them. *

Test your

Finnish with this

crossword puzzle!

Book prizes!

Write the letters from the orange boxes (1–14) below and send the answer with

your name and address by e-mail to espoolehti@omnipress.fi by 31 May 2021.

30 A magazine for Espoo residents
---
together

Awarded annually, this

year the Espoo Medal was

presented to 14 people in

recognition of their work

to promote Espoo. One

of the award winners is

musician and managing

director Tommi Koistinen,

also known by the stage

name Setä Koponen.

The Espoo Medal,

designed by Kauko

Räsänen, has been

awarded as recognition

of praiseworthy

action for

the benefit of the

city since 1972.

Proud to be an Espoo resident

Surprised and grateful. These are the words

Tommi Koistinen, a rap musician and managing

director of a small brewery, used to

describe his reaction when he heard he is

one of the people to be awarded the 2020

Espoo Medal.

"It feels particularly good to think that rap music

and the microbrewery business are considered worthy

of recognition. I would have imagined that official

symbols of recognition would be given to people

in more conservative sectors."

Koistinen grew up in Olari where certain subcultures,

such as rap music, skateboarding and graffiti,

were very strongly represented. For all these reasons,

he wants to thank Espoo for its open-mindedness.

"Receiving recognition like this shows Espoo's

courage and modern approach, which I find very

welcome qualities. This is a great thing for the subcultures

I represent too."

"I'm sure being an Espoo resident means

something different to everyone. For me, it

means roots and home. I'm proud to be an Espoo

resident."

Even though he currently lives in Helsinki,

Koistinen still spends a lot of time in the city of his

childhood and youth.

"The best outdoor and sports places are in Espoo.

In the winter, I head to the ski tracks of Espoo and,

in the summer, I cycle the length and breadth of the

Waterfront Walkway."

According to Koistinen, Espoo is among the

top places in Finland in terms of the microbrewery

scene.

"The Olarin panimo brewery has Espoo in its

genes, as well as its name. Our values are rooted in

the history and today of Olari."

In addition to beer, Olari is also known for its

rap music, although Koistinen himself has slowed

down his pace of releasing music. Setä Koponen has

recently produced new material together with rap

artist Edu Kehäkettunen.

"I used to make music whenever the mood struck

me, but nowadays I find that it strikes less frequently.

However, the sound and uniqueness of Olari are still

there."

Text Mia Weckström Photo Timo Porthan

Other Espoo medallists 2020: Restaurant owners Lea Rantala and Tom Aschan / Member of Parliament Tiina Elo / Chairperson of Espoon

Perinneseura (Espoo Heritage Society) Martti Hellström / Bishop Kaisamari Hintikka / Infection Control Nurse Laura-Maria Lehtonen / Member of the

Board of Espoon Sotaveteraanit ry (Espoo War Veterans' Association) Helena Luukkonen / Director of Social and Health Services Juha Metso /

Competitive Sailor Oskari Muhonen / Development Manager of Espoon Diakoniasäätiö Jyrki Myllärniemi / Executive Director of Espoon Jääurheilun

Tuki ry (Espoo Ice Sports Support Association) Jari Nyberg / Squash player Emilia Soini / CEO of Pohjola Hospital Markus Torkki

A magazine for Espoo residents 31
---
CORONAVIRUS

VACCINATIONS IN ESPOO

Check the current vaccination

situation and whose

turn it is to get vaccinated at

espoo.fi/coronavaccination.

The vaccines provide effective

protection against the coronavirus

disease, especially severe

forms of the disease. The City of

Espoo offers the vaccine free of

charge to everyone who wants it.

Residents are being vaccinated

in phases based on age and risk

groups, in accordance with the

national recommendation of the

Finnish Institute for Health and

Welfare (THL).

According to the recommendation,

the first ones to be

vaccinated are the people with

the greatest risk of developing a

severe or fatal form of the coronavirus

disease and people with

a significant risk of encountering

the virus at work. The rest of the

population will be offered the

vaccine after these groups.

We will send, in phases, a vaccination

invitation letter and

appointment booking instructions

by post to all Espoo residents

who turn 70 this year or

are older than 70.

Although coronavirus vaccinations

have begun, it is still important

to protect yourself and others

and follow good hygiene

practices. Information on current

recommendations and restrictions is

available at espoo.fi/coronavirus.