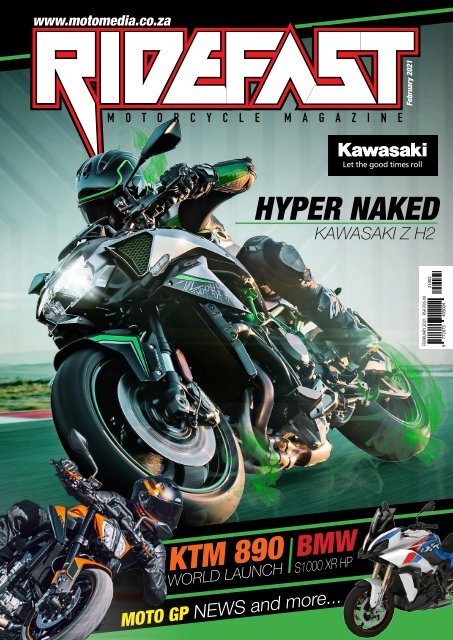 You also want an ePaper? Increase the reach of your titles
YUMPU automatically turns print PDFs into web optimized ePapers that Google loves.
www.motomedia.co.za

February 2021

HYPER NAKED

KAWASAKI Z H2

FEBRUARY 2021 RSA R35.00

9 772075 405004

21002

KTM 890

WORLD LAUNCH

BMW

S1000 XR HP

MOTO GP NEWS and more...
---
Please make no attempt to imitate the illustrated riding scenes, always wear protective clothing and observe the applicable provisions of the road traffic regulations!

The illustrated vehicles may vary in selected details from the production models and some illustrations feature optional equipment available at additional cost.

SHOEI® NXR BLACK

NEW GRAPHICS AVAILABLE

Photo: R. Schedl

KTM 790 ADVENTURE / R

PHILOSOPHER TC-1

PHILOSOPHER TC-2

PHILOSOPHER TC-5

HARMONIC TC-10

MARQUEZ POWER UP! TC-1

Get your FREE QUICKSHIFTER and CRUISE CONTROL with your new

KTM 790 ADVENTURE and KTM 790 ADVENTURE R

KTM 1290 ADVENTURE / R

Get your FREE TRAVEL PACK ( Quickshifter+,Motor SlipRegulation and Hill Hold Control ) with your new

KTM 1290 ADVENTURE and KTM 1290 ADVENTURE R

STAB TC-4

STAB TC-8

EQUATE TC-10

SHOREBREAK TC-2

ZORK TC-7

THE ESSENCE OF RIDING

Visit your nearest Shoei dealership or contact us on 011 259 7752 or email DanielleH@yamaha.co.za

ADVENTURE MORE

KTM brought out the big guns when considering the most hardcore, long

distance adventurers. They packed 1301 cc, 140 Nm of torque and 160

hp (119 kW) into the world's most advanced travel enduro chassis. Ready

to take on any terrain, this mile-munching weapon is the ultimate offroad

travel enduro for exploring the trail less traveled and beyond.

Phone 011 462 7796 for your nearest dealer.
---
Intro. Keeping the wheels turning...

This month has been a bit frenetic to say

the very least - it seems as though - even

after last years lockdown, the motorcycle

industry as a whole took awhile to hit first

and get going.

But our team put fire under saddles and

managed to get together all sorts of

interesting stuff that you need to know - and

indications are that 2021 is going to be great!

Sad is the fact that we know of so many

people who have contracted COVID, are

battling against it and who have lost loved

ones to the disease.

It's a very real thing. Do the social distancing

thing and look after yourselves.

Of course, the best way to social distance is

on your bike - so go forth and ride a lot!

AND - if YOU own or know of an interesting

bike out there - please get in touch! We'd love

to feature it in the magazine.

Who knows? We might just make you

famous!

Have a great Feburary. Be lekker!

Feedback queries, etc -

foleyg@mweb.co.za

Pic of the month:

FEBRUARY Edition 2021

PUBLISHER:

Glenn Foley

foleyg@mweb.co.za

ADVERTISING AND EDITORIAL:

Sean Hendley

sean@motomedia.co.za

071 684 4546

OFFICE &

SUBSCRIPTIONS:

Anette

anette.acc@ mweb.co.za

011 979 5035

ONLINE &

DESIGN LAYOUT:

Kyle Lawrenson

kyle.lawrenson@icloud.com

011 979 5035

Cape Town

Lorna Darol

lorna@motomedia.co.za

PHOTOGRAPHY

Stefan van der Riet

CONTRIBUTORS

Shado Alston

Donovan Fourie

Michelle Leppan

Mieke Oelofse

Kurt Beine

Videos and more

available online...

Africa ' s

Widest range of Motorcycle parts

RACETECH Caters for MX, ENDURO, TRAIL RIDING, SUPERMOTO, FREESTYLE, SPORT & RECREATIONAL

ATVS, ROAD RACING, SPORTS BIKES, TOURERS, VINTAGE BIKES, CRUISERS AND HARLEYS

Spring Kits Available

WISECO PISTON KITS Wiseco leads the aftermarket performance kits by producing the

highest quality pistons on the highest quality forgings.

HOTRODS CRANKS AND RODS HOT RODS HAS BEEN MAKING THE BEST AFTERMARKET

CRANKSHAFTS AND CONNECTING RODS SINCE 1993.

KPMI® PRODUCT BRAND COVERAGE INCLUDE:

HARLEY DAVIDSON'S, SPORT BIKES, DIRT BIKES,

ATV/UTV'S, TOURERS, CRUISERS, CUSTOMS AND

CLASSICS

PIVOT WORKS BEARING KITS FOR MX,

ENDURO, ATV AND STREET BIKES. WHEEL BEARINGS,

SWING ARM BEARINGS AND LINKAGE.

Copyright © RideFast Magazine: All rights reserved. No part of this publication may be reproduced, distributed,

or transmitted in any form or by any means, including photocopying, articles, or other methods, without the prior

written permission of the publisher.

WWW.MOTOMEDIA.CO.ZA

no 4 Fifth avenue

Northmead Benoni

Email:G124@mweb.co.za 011 425 1081/4

www.gameservices.co.za
---
All the NEWS proudly brought to

you by HJC HELMETS

All the NEWS proudly brought to

you by HJC HELMETS

Tork Craft's new glove range.

Budget gloves for the work shop, and

offroad riding.

Tork Craft now has a comprehensive range that covers all these

markets at very affordable prices what's more and they look

pretty cool.

The guys from Tork Craft are avid Motocrossers and they have

been instrumental in developing the kit. The Blue Air Mesh and

the Spandex Red gloves are ideal and on a par with anything

out there. Testers were very impressed, with the range. The

palms are reinforced and padded and the closures are on the

bottom side which makes a lot of sense. One cool thing on the

red ones is the terry cloth on the back of the thumb which is

handy to give your goggles a quick wipe on the fly, or even to

wipe away sweat when you stop for a break.

CAPE TOWN

Sho! Sho! Sho! Cape Town is super busy with more and more motorcycle

stores opening, seemingly almost on a daily basis. Our lady in the Cape,

Lorna, has been run off her feet trying to keep up with everybody. If she has

not made it to you yet and you would like a mention in our magazines please

give her a call or drop her a mail and she will definitely drop in for a chat. Also

ask her about some of our great advertising rates and social media exposure

rates. Here are some of the great bike shops she has visited on the Peninsula

You can contact here on email lorna@motomedia.co.za

They have been designed by multiple SA Motocross legend,

Ryan Hunt, who certainly knows about good gloves after his 30

years of racing and his recent comeback after a 10 year layoff,

to attempt to win 3 SA National titles over 3 decades.

They fit very comfortably, are very reasonably priced and offer

an impressive value for money package. Tork Craft also offer

"Work" and "All Purpose" gloves which are great for anything

from working in the garden, the workshop to working on your

motorcycle, these are made more robustly and offer great

protection and a good grip on tools.

As you may be aware Tork Craft is a leading brand of

accessories in the Vermont Sales operation and are available

at all leading specialist stores countrywide for more information

talk to your retail outlet or

www.vermontsales.co.za -

Trade enquiries welcome

CBR 1000RR-R SP

What you see here is the best of the best, the most

exclusive, feature-rich open-class sportsbike that Honda

has ever built under the CBR banner. Introducing the

CBR1000RR-R Fireblade SP. Street legal, but track ready.

The bikes offer a degree of performance and refinement

you've likely never experienced - unless you've had a

factory ride.Available to only a handful of lucky riders. And

it still offers Honda's famous CBR refinement, build quality

and rideability.Get ready to find out why world champions

like Marc Marquez ride red, and why you should too.

NOW AVAILABLE
---
All the NEWS proudly brought to

you by HJC HELMETS

All the NEWS proudly brought to

you by HJC HELMETS

Bike Tyre Warehouse

keeping the wheels turning…

The BTW Group have been busy sourcing stock and securing

deals with international suppliers for a wide range of products

from brake pads, brake disc's, chain & sprocket kits, batteries,

aftermarket adventure bike accessories, wheel & spoke kits

and a wider range of tyre related accessories.

Boss man Bruce reckons, "… due to the ever growing national

retail foot print we are finding there are different product needs

in different regions, as well as different price scales. So we

have looked at these requirements and based our developing

product ranges on regional market demands.", basically Bruce

and his team are listening to the buying public and are finding

better ways to best serve the motorcycle market. Head down to

one of their 5 stores around the country, to find the one nearest

to you go to www.biketyrewarehouse.com

Cape Bike Travel - Rentals –

Tours – Workshop,

Triumph Dealer.

Cape Bike Travel has been renting out

motorbikes since 2005. Situated at 125

Buitengracht Street they offer a large fleet of

latest BMW, Harley-Davidson and Triumph

motorcycles for long and short term rental.

Also available for rental are panniers and topboxes,

GPS units as well as rider gear. They

do arrange motorbike tours from 1-14 days

through South Africa and Namibia with different

guided and supported as well as self-guided

options available. They also arrange several

off-road riding courses and track days every

year. The Workshop is open to all makes of

motorbikes and being in the city centre offers

the convenience of a "while-you-work" service to

commuters.

The mechanics have wide experience with all

major brands as well as in racing. The Workshop

does stock a wide variety of spares, tires and

accessories. You can visit Cape Bike Travel at

125 Buitengracht street, Cape Town or you can

give them a call on 021 424 5013 or drop them a

mail at info@capebiketravel.com, They are also

your point of call for anything Triumph in Cape

Town as they are the agents for Triumph on the

Peninsula.

Suzuki Motorcycles South Africa

Prices include VAT. Terms and Conditions Apply.

VISIT YOUR NEAREST

Way_of_Life!_With_Outline

SUZUKI DEALER

www.SuzukiMotorcycles.co.za
---
All the NEWS proudly brought to

you by HJC HELMETS

All the NEWS proudly brought to

you by HJC HELMETS

Motorcycle World Cape Town:

Motorcycle World is one the oldest and most well know

Motorcycle stores in Cape Town. Established in 1993 and more

than 28 years of experience in the Industry. They claim to have

a huge client base stretching all over South Africa & beyond.

Their clients are like family and have been dealing with them

from Grandfather to Son and now Grandson`s. They offer a

large range of clean pre-owned motorcycles from Sport,

Adventure and Cruisers.

Finance is available through all the major banks with their onsite

F&I. Their store also has a big range of riding gear and apparel

and they have recently added an online store. They have a fully

equipped workshop for all services and repairs and their parts

department carries a wide variety of spares. Situated at 220

Voortrekker Road Parow Cape Town where you are more than

welcome to pop in for a cup of coffee and a chin wag or you can

find them on the net at www.motorcycle-world.co.za you can

also call them on 021-9305917 and chat to their sales

executive Ryan Neves.

No Limit Quads

No Limit Quads is situated in Kuilsriver in the northern suburbs

of Cape Town. It was established in May 2006 by owners Jan

and Salome Du Plessis and continues to be run as a family

business. Although No Limit Quads is a small enterprise it is

driven with a lot of passion and commitment to their customers

as far afield as Namibia. No Limit Quads as the name would

suggest specialises in Quads of all makes and sizes.

As the business and their customer base expanded they had to

cater to a bigger market.

Currently they are a official dealers for South

African Motorcycles (Pty) Ltd, housing brands like BIG BOY,

JONWAY and GOMOTO. They also offer a workshop ready to

work on all makes of motorcycles and quads as well as a wide

array of spares, tyres and consumables. Visit them at 44a Van

Riebeeck Road, Kuilsriver, Cape Town or contact them on

021-9035985 or 0835824947 or e-mail them on

nolimitsquads@mweb.co.za

FLYING BRICK

MOTORCYCLE ACCESSORIES

Why the name Flying Brick?

The story BEHIND the name….

Back in the day, Suzuki, Yamaha, Honda and Kawasaki ALL had

water-cooled 4 cylinder bike motors and BMW was under pressure

to bring the same to its home market (…and the World!)

BMW thus approached Peugeot for help with a car-based 4

cylinder water-cooled motor; Peugeot had an unused development

model sitting 'on the shelf', but had no plans for it, BMW

took over the development, and then the designers rotated it 90

degrees to fit into a bike frame! It was NOT what the Germans

were wanting, was something of an "ugly duckling" and was

'affectionately' known as the "FLYING BRICK" … OK, UN-affectionally!

Chris owned a Café'd BMW K100, the original 'Flying Brick', so

the name has always resonated with him. At the same time he

developed a luggage bag, dual compartments; a mentor helping

out with design input commented it looked like an Air Brick

(used in building…), and again, the name 'Flying Brick' stuck.

Why open a motorcycle accessory store?

They never actually wanted to Retail because "Its bloody hard

work!" Chris, however needed an outlet to display his newly

designed Flying Brick Luggage System and an opportunity presented

itself inside a Yamaha store in Cape Town.

No sooner had he started; when other requests came in for

alternative soft luggage items and accessories and the need to

supply, and just maybe be better and bigger was triggered! So

the little monster was born and 9 months later, they then moved

into their own premises; surrounded by complimentary businesses

and the area is now affectionately known as Gasoline

Alley. 10 years on, the business employs 8 people, and it has

expanded twice since it started. This is their 10th full year in

business, and to celebrate ,they will be re-designing their logo

for some products/items, and this redesigned logo should provide

some smiles/laughs! Watch out for it around mid-year!

They have a FITMENT CENTRE where they fit whatever they

sell, they have a qualified motorcycle electrician on call for

installation of after-market electrical/electronic items, such as

indicators, hooters, GPS's, etc. They cater primarily for the

Adventure Market, with some overflow into road/scooter and

commuters.

They are also an EXPERIENTIAL Store: you can TRY the spotlights

out, you can borrow a windscreen spoiler for 72 hours,

free-of-charge, you can try out their comfort seat cushion – their

emphasis is on DO touch!

If you are on the peninsula experience Flying Brick Motorcycle

Accessories for yourself at 8 Shropshire Street, Paarden Eiland,

Cape Town info@flyingbrick.co.za www.flyingbrick.co.za
---
All the NEWS proudly brought to

you by HJC HELMETS

Craig's Motorcycle Fitment Centre – Parow.

"The trusted name in motorcycle tyres in Parow." This shop is massive with a

huge range of accessories, parts and a proper workshop. These guys Carry a

huge stock of tyres across all the popular brands. They fit and balance all tyres

purchased from them for free using the correct tools to make sure all nuts and

bolts are re-torqued properly and they include free chain cleaning, lubing and

tensioning as part of the deal. Their friendly and knowledgeable staffare also

happy to give you a free assessment on the condition of your chain, sprockets,

brake pads and discs and etc and they are also quite happy to source

whatever you are looking for.

Visit them at 79 Voortrekker rd, Parow, Cape Town or give them a call on

021 939 8916.

BMW Motorrad

West Rand.

S1000 XR , 2020

3 000km Tob Box, Radiator Guards

R259 000

R9T 2020

50km

R145 000

C400X, 2019

8 000km

R89 000

Mad Macs opens a

second store in Cape Town

This is Mad Macs' second dealership in the Western Cape, having

branched out from Somerset West to Cape Town. They are very active in

the racing scene and they organize and participate in lots of adventure

rides. Led by some industry legends Rob Cragg, Stewart Thom, David

McFadden & Harry Clifton.

Official Dealers for 'Suzuki', 'SYM' & 'Kawasaki'; They also trade in

Pre-Owned motorcycles, do scooter rentals, sellaccessories, spares and

parts and have a very experienced mechanic managing their Workshop.

Shop 10, 2 Long Street, Cape Town, City centre

021 488 9997 wafieka@madmacs.co.za or k@MadMacsCityCentre

S1000RR Motorsport 2020

3 000km - Akrapovic Slip on

R339 000

C400X 2020

3 000km

R109 000

HONDA VFR1200X ADVENTURE, 2013

56 000km - Top Box - Panniers

R99 000

G310 GS 2018

2400km

R75 000

R1250 GS Exclusive, 2019

13 500km - Lower Crash Bars, Full

Exhaust, Headlight Guard, Spotlights

R259 000

K1600GT, 2012

36 000km - Top Box

R145 000

R1250 GS Adventure, 2020

8 500km - HP Rally

R279 000

R1250 R 2020 HP

2 500km - 2 to Choose from

R209 000

R1250 RS, 2019

2,500km

R209 000

R1250 GS Adventure, 2019

65 00km - HP Rally, Power Protection

Plates

R215 000

F850 GS Adventure 2020

1 700km - Nav ready

R195 000

S1000RR, M WRAP 2020

2,000km

R309 000
---
All the NEWS proudly brought to

you by HJC HELMETS

QUATTRO TECHNIC MOTORCYCLES

His name is James Mundey, and he is a lifelong biker, who built

his first motorcycle engine thirty years ago as a school kid. He

initially qualified as a Porsche technician but later moved into the

Harley-Davidson realm thirteen years ago where he qualified as a

factory trained Harley-Davidson Master Technician.

As we are all too well aware, Covid 19 brought forth many

challenges in working environments and in our lives. People and

businesses went through tough times and made some drastic

changes. Ultimately, for James, it was to step away from

dealership life and into his own business. The next step was how

and where. He eventually decided to join forces with a lifelong

friend and fellow ex Porsche technician and successful car

workshop owner Kobus. Quattro Technic is a specialist Audi

& VW workshop with a subdivision, Carrera Technic which

specializes in Porsche. So a few months ago he joined in and

established Quattro Technic Motorcycles within the company

as a specialist Harley-Davidson workshop with focus on quality

workmanship at competitive pricing. They do also work on most

other brands of motorcycles as well but specialise in Harleys.

James aims to provide quality service while keeping a close and

personal relationship with customers. Give him a call on 078 521

8572 when you next need to service or repair your pride and joy.

Guzzi, Aprilia now in Cape Town:

Italian Motorcycle Importers have opened their new Lifestyle

store on the boundary of Milnerton and Montague Gardens.

They've created a unique concept of combining their love for

motorcycle's at their new Aprilia and Moto Guzzi Dealership,

with a great meeting place where you can enjoy a true Italian

culinary experience in their authentic Italian deli / pizzeria which

serves awesome wood fired pizza's and a range of other culinary

delights.

All the NEWS proudly brought to

you by HJC HELMETS

Pocket Bikes for your Man Cave

Now here is a very cool little something, something for your Man Cave. The guys at Pocket Bikes down in Cape Town have a mate

that can custom paint any of the pocket bikes to any livery you could ever imagine, obviously for a little bit of extra cash on top of

the purchase price. So if you want a Rossi Replica or a mini version Binders bike in your pube… give them a shout.

From what we have seen, the quality is superb and the pricing does seem very reasonable.

Donovan also imports a bunch of go faster bits for these little pocket bikes. For more info:

www.pocketbikesa.co.za they deliver nationally.

All this whilst being surrounded by their own version of

motorcycle art- both on wheels and on the walls. You don't even

need to be a biker to join them, or even remotely interested in

biking It's a great spot to kill some time. They are open 7 days

a week and it's a great place to watch live SBK or Moto GP on

Sundays - normally accompanied by a lunch time special.

In their workshop, technician Brendan Schulz has a longstanding

love for the Italian brands of motorcycles. The aim at

their workshop is for customers to bring their prized motorcycles

and enjoy an "open" workshop policy experience (without holding

up Brendan!!!). This way you'll get to see the naked details of

your bike being treated and worked on, while enjoying an

espresso. They also have a "pre-owned" section that offers consignment

sales services and retails of all brands of motorcycles.

But they insist that the bikes need to be very, very well loved.

Go visit them at Shop 11 – 13 Marconi Center, 460 Koeberg Rd,

Milnerton, Cape Town or give them a call on 021 206 5034.

Wrench Monkey Cape Town times two.

This is a father & son business run by Grant & William Rossouw. They opened their bike

shop a little over 7 years ago fuelled, they say by a passion for bikes & the love of everything

bike. They are based in Cape Town Southern Suburbs on two separate sites to service all

their clients.

Wrench Monkey Bike Sales & Accessories is at 460 Main Road Lakeside Cape Town and

you can call William on 061 658 7121. Wrench Monkey Service & Repairs, Bike Customs &

Engineering is at 7 Celie Road Retreat CapeTown and Grant is available on 074 361 0546.

Qualified mechanics & engineers, they love their Custom Bike's at Wrench Monkey and If

you can imagine it they would love to build it for you .If it's a Cafe Racer, Tracker, Chopper or

full Bike Restoration you are looking for – these are the guys to chat to in The Cape.

www.wrenchmonkeyworkshop.co.za

Email: wrenchmonkeyworkshop@gmail.com
---
HYPER

NAKED

The Kawasaki Z H2.

You need to ride it to understand…

We often say that a good motorcycle needs to move your soul. Not only your

body. Kawasaki's ZH2 does just that and then some. It's a fearsome

competitor in the Hyper bike stakes and yet can be oh so civilized to ride. Our

lot had the opportunity to give this bike a good thrashing. And we frikken loved

every second!

By Glenn, Sean and Kyle…

Pics By Stefan.

If you are a regular reader of this here quality publication, you'll know that we have

ridden and tested this bike before – and we've included it in some of our naked

features. For this one, we did what most people would do – and took the bike for a

proper spin on all the fast, flowing back roads that we know. Roads where we hope

like crazy that the constabulary does not know about – because if they were to catch

us – we reckon it could get really expensive.

Where do you take a bike like this to stretch her legs then?

The roads between Benoni out to Bronkhorstpruit are just perfect. Still in great

condition and if you get on to some of the side roads they are still quiet, safe and you

can wring a bike without scaring the shorts of other road users.

We set out early morning in the middle of the week. What a pleasure! The roads were

quiet – just us and the whistle of one of the fastest production motorcycles known to

man.
---
Whistle?

Yup! Standing on the side of the road taking pics – you

hear the supercharged whistle long before the soft hum

of the 1000cc engine. It's quite weird – futuristic and

ever so cool!

The H2 Naked features the same 998cc supercharged

powerplant as the H2 SX line, with a few notable

changes to fit this naked bike application. An all-new

chassis, comfortable ergonomics, and an updated

electronics package is what makes this bike so user

friendly.

Changes to the engine from the H2 SX gives the bike

more low-end and mid-range oomph. On this one,

Kawasaki engineers developed new model-specific fuel

maps, and an entirely new exhaust system with longer

header pipes, that prioritize low-end and mid-range

power whilst still meeting Euro 5 emissions standards.

The final piece of the puzzle is shorter final-drive

gearing.

Ride-by-wire throttle tech allows for three preset and

one customizable ride mode. Once behind the

handlebar of the Z H2, riders will have the choice of

Sport, Road, Rain, and Rider modes all displayed on

the really neat TFT display. This compact TFT is shared

across several Kawasaki models. It works and looks the

part, relaying everything you'd ever need to know at a

glance, in or out of direct light. Racers will love the lean

angle indicator.

The modes adjust the levels of traction control, throttle

response, and all other electronic aids. Sport and Road

share a throttle map, which is a sporty pairing well

suited with the H2's personality. TC is bumped down to

the lowest setting in Sport, giving you plenty of leeway;

Road reigns it in a bit. Rain cuts power and softens the

throttle considerably, while also jacking up TC to its

maximum settings.

Rider mode allows you to customize the Z to taste. As

linear and easy to control as the supercharged engine

is, it's still good to have state of the art technology

watching over your shoulder. Standard features assisted

by the six-axis Bosch IMU include cornering ABS,

three-level lean-angle-detecting traction control, wheelie

control, slide control, cruise control, and launch

control. Also, three power modes are available—

Full (full power),

Middle (75 percent power), and Low (50 percent) to let

you tailor the maximum output to your needs.

Naturally, we rode her mostly in full power mode…

You'd expect a bike like this all to be about superbike

speed and scrunched up ergonomics. But it's not. The

Z H2's upright position make riding around town, hitting

the freeways, or even the track, a relaxed affair. The

bars are noticeably taller than the H2 SX platform,

creating a sporty, yet neutral riding position. The seat

height is accessible for most, and we could all get our

boots on the ground. It's actually a really comfortable

motorcycle – that if you have the means you could use it

all day every day. But like we say – you need to ride it to

understand.

In comparison to the H2 SX, the Z H2 has more snap.

It's so easy to hoik the wheel while pulling out of a

corner, this bike can be manic, naked hooligan.

Riding the bike, the Z H2's supercharged powerplant is

incredibly smooth. It does not hesitate. It does not rattle

or vibrate.

The gearbox on the Z H2 feels perfect,

with its precise, easy shifting.

You'll never need to use light clutch

unless you're coming to a stop, thanks

to the quickshifter that works well in either

direction. Kawasaki says that you

should only utilize it when the engine is

spinning above 2500 rpm. On this bike,

that's easy.

It delivers a smooth, refined ride. This

bike proves that 197 horsepower at

10,500 rpm and 101 ft-lbs of torque at

9500 rpm can be calm. Power is everywhere,

and it builds in a

predictable, linear fashion. Like a Siren

of old, it can lull you into a false serene

bubble – until you need to open that

throttle and the unbelievable acceleration

will stretch your arms and crack

your face into a smile as you scream

with joy into your helmet.

Fully adjustable Showa suspension

keeps things in check. There is a

43mm SFF-BP fork with a linkage-assisted

shock. Together, they do well to

soak up the rough stuff. The setup on

this bike leaned towards comfortable.

For what we did it felt really, really

good. The blend of a good chassis,

excellent suspension and great tyre

choice in the Pirelli Diablo Rosso 3

rubber that is fitted standard inspires

much confidence in the rider. Just so

well balanced – and although it's fast

as F… it just feels so lekker.

Slowing things down swiftly are dual

Brembo 4-piston M4.32 calipers clamping

onto the 320mm floating rotors.

Adjustable levers are also in the mix.

Out back, a dual-piston caliper grabs

onto a 250mm rotor and has an equally

good feel. No complaints here, but we

wonder why Kawasaki has not fitted

braided brake lines on such a high

spec bike?

Yes, the Z H2 is as happy plodding

along through suburbia as it is running

at flat taps through the Karoo.

We have to be honest. We ran out of

guts and road long before the bike ran

out of steam…

Sean Says:

I really do like crazy motorcycles, bikes

that you just know that if you

disrespect it, will kick you solidly in the

nuts and the Kawasaki Z H2 supercharged

hypernaked is possibly the

most insane naked bike out there.

Bolting a supercharger to an already

insanely fast 1000cc motor and then

sticking it in an unfaired street fighter

style bike sounds like an idea born out

of snorting way too many coffee beans,

but it really works and works extremely

well.
---
Initially I was not keen to ride any of the Kawasaki H2's

because I had watched the video of Kenan Sofuoglu

breaking a world record on the Kawasaki Ninja H2R over the

Osman Gazi Bridge, Turkey. He took the bike from 0-400kmh

in a record breaking 26 seconds … I know myself and know

that I would try some foolish stunt like that, so I have avoided

the H2 and the H2-R on purpose. However, when the SX,

(touring version), came out and I gave it a go and was mildly

underwhelmed by it. Yes it was frikkin' fast and super sexy,

but it was too refined for me, too polite and had too many

good manners and just did everything so very well, but …

you know what I mean.

The Z-H2 is a different beast all together now. Firstly, for

such a compact bike it is surprisingly comfortable even for

someone of my length and weight. I love naked bikes, I love

being able to look down and see the front wheel, I love the

feeling of freedom of the wind on me and particularly love the

open, exposed look of naked bikes, they just look meaner

and tougher than fully faired bikes. Hitting the starter button

on the Z and hearing that engine come to life you just know

you are about to have a lot of fun. Blip the throttle a bit too

enthusiastically and the Squirrel mincer will whistle at you

as a warning of what is about to happen. Clicking it into first

gear I pulled away slowly a little bit nervous about the front

coming because I can't wheelie for sh!t and the pleas of our

publisher to please behave still ringing in my ears.

Once I got moving at speed I rolled on the gas, knocked

the Z into 2nd using the powershifter, then 3rd all the while

laughing like a demented Bond villain in my helmet. Fortunately

we were on a fairly deserted road, because once that

Supercharger kicked in the Z suddenly became the

Millennium Falcon, turning the landscape into a blur and

narrowing the road ahead down to a pin prick. Then there

was no more road and I had to make a plan to bring myself

and the Z to a stop and preferably both at the same time.

Grabbing a handful of brake, stomping on the brake pedal

and kicking down through the gears with the powershifter

the Z … and I came to a very elegant stop. In my mind to the

onlookers it must have looked like the 'Back to the future'

DeLorean appearing out of nowhere and screeching to a halt

with noise coming from the supercharger. The rest of the ride

was spent playing with the supercharger and diving in and

out of corners and just generally being a hooligan.

Looking around the cockpit everything is very easy to understand

and use. The TFT screen is a neat compact unit that

displays all the pertinent info you need at a quick glance and

is easy to read, even in bright sunlight and without my

reading glasses. As I mentioned earlier, the Z is very

comfortable with not a huge amount of stress on wrists,

shoulders and lower back. The lack of any significant form of

wind protection was not a problem to me, besides the

aforementioned reasons, I also like the fact that the wind

creates a cushion under you taking even more weight and

stress off your wrist, shoulders and lower back. Yes it does

possibly slow you down a bit, but that is a good thing because

you can get yourself into some quite precarious

situations if you become too relaxed on the Z-H2. Flicking

through the electronics package you can feel definite

difference between the rider modes, going from 'OH MY

FFffuuu … GOSH!!" to a sensible day to day commuter in

rain mode. The Kawasaki Traction Control system is equally

as effective and the powershifter is incredibly smooth at any

speed or load on the motor and as I said the brakes are very

good and really up to the task at hand. And in parting, YES!

It did move my soul.

You really need to ride one to understand…

At your Kawasaki dealer.

KAWASAKI Z H2

Engine 998cc, Transverse 4 cylinder

Bike Specs...

DOHC; 16-valves; Supercharger Cebtrifugal; Scroll-type

Max Power 197hp / 147 kw @ 11000rpm

Torque 137Nm @ 8500rpm

Transmission 6-speed; Return; Dog-ring

Final Drive Chain

Suspension Front Showa SSF BP Forks

Suspension Rear Showa Shock - Uni Trak

Seat Height 830mm

Wheelbase 1455 mm

Fuel Capacity 19 Litres

Wet Weight 239kg
---
harp

JUST GOT SHARPER

More cubes, power and tech for 2021 KTM 890 Duke:

The other evening we were invited along to the launch of the 2021

890 Duke. Not a traditional launch in the usual sense of the word, but

a digital launch where KTM presented the bike on a digital platform

riding the twisties in what looked like Spain.

It looks like it's going to be a good one – and when it gets here, we'll

grab one and take it out for a solid spin…
---
About the Bike:

KTM has transplanted the motor and much of the firepower from the 890

Duke R into the 790 Duke, creating a new standard 890 Duke and really

mixing it up in the middleweight road bike class.

The Austrian firm entered middleweight naked battle in 2017 after years

of domination by bikes like Yamaha's MT range, bringing superbike levels

of tech to more affordable bikes.Three years on, there are a bunch of new

bikes fighting it out in this segment, so it was time for KTM to update things.

KTM seems to have delivered a reason to smile, announcing the new 2021

890 Duke as the replacement for the outgoing 790.

It's positioned as a slightly more street-oriented (and more comfortable)

scalpel than its 890 R sibling. The 890 Duke sports the 890 R's 889cc parallel

twin that KTM says is good for 10 more horsepower and almost 4 more

pound-foot of torque than the 789cc mill that powered the 790 Duke. It now

shares the 890 R's 6D lean angle sensor to complement its cornering ABS

(with Supermoto ABS mode), two-axis MTC (traction control), Sport, Street,

and Rain ride modes, and optional MSR (controlled engine-braking). The

entry-level 890 Duke features a TFT display

Optional equipment includes a Track ride mode with nine-level adjustable

MTC, launch control, and disabled wheelie control, and Quickshifter+ for

clutchless up- and downshifting.

The biggest change is the motor, which has grown in both bore and stroke to

799cc from 889cc. The result is a decent growth in power (just over 8bhp) as

well as modest bump in torque (up 3.7lb.ft to 68lb.ft).

Just like the growth from 790 to 890 on the Adventure, this increase in

displacement has also been met with an increase in rotating mass in the

engine. KTM says that this helps to smooth out the throttle response at low

rpm and improves cornering stability through increased inertia.

Helping you bring all this to a stop is an updated Brembo braking system

that features new calipers and pads for improved stopping power. The

300mm dual floating front discs benefit from what KTM describes as

"improved" four-piston calipers, and though the 43mm WP Apex USD

cartridge-style fork contains new, lighter springs and a new base valve for

better high-speed damping, it is still not adjustable. The WP Apex rear shock

remains adjustable for preload only.

Other changes include improved suspension in the form of 43mm WP Apex

forks and Continental ContiRoad tyres which, KTM says provide excellent

wet weather performance and - warm up quickly.

Last but not least it's worth noting that KTM have brought the 890 Duke

bang up to date and it meets the latest restrictive Euro5 standards, while

keeping the dry weight to the exact same figure as it was before.

The bike arrives in dealers soon, and will give extra options for any

middleweight motorcycle buyer.

It sure looks very cool!

www.ktm.com
---
Keeping

the old wheels

turning…

The other day we were loafing about as we often

do when we got word that Jaco Gous would be

out testing his classic GSX-R's at The Redstar

Raceway. If you grew up in the 80's or 90's you'll

appreciate how good these bikes were. We

asked if we could pop in and have a chat about

them.

Jaco and his Brother-in-law Michael Smit have

a long racing pedigree – from years of national

supermotords and the ZX10 Cup. Jaco was just

about ready to call it quits when he got word about

the classic series, the CSRA and his curiosity was

piqued:

A fun series that's affordable – and something new.
---
This led to all sorts of enquiries and the

procurement of a rather used GSXR 750 Slingshot

from Gary at Viper bikes. Jaco's dad Kobus, a

medical doctor by profession and an avid enthusiast

was tasked with getting the bike race ready for

the Formula 1 class.

Kobus started in bikes with names like Dave

Hiscock way back in 1976. He became the

technical consultant for what MSA was back then

and he helped to write the white book. Being a

doctor, he was also roped in to the medical commission.

His passion is building bikes – and he is known as

one of the top ECU Flashing experts in SA working

with top motorcycle peeps like Clubhouse Motorcycles

Alain and Aerocanon's Steve - so he knows

his way around a motorcycle.

We chatted about the bikes and you can see the

enthusiasm coming through.

These are GSXR 750 Slingshot chassis fitted with

1100 engines.

Chassis:

• The guys like the 750 chassis because

the swingarm is shorter and it has a dif

ferent fork rake to the 1100 chassis which

results in sharper, more agile handling.

• The bikes use longer 1100 Suzuki forks.

• The bikes roll on early model ZX10

wheels.

• Both are fitted with steering dampers.

• Rear shocks are from the early K7 and

K8.

• Donovan from ACC billet is responsible

for the rear sets, the shock adaptors and

the triple clamps.

• Older bikes need a bit more work and the

tanks were starting to corrode so Kobus

had the insides epoxy lined to prevent

gunk from the tank ruining play.

• Standard ZX10 brakes and calipers on

both bikes with Brembo levers and

reservoirs.

Engine and performance:

• The engines are GSXR 1100 slingshot oil

cooled mills. Suzuki's 1100 Bandit came

with the same engine.

• Kobus leave the bottom ends alone. The

only performance part is a slipper clutch.

On the one bike – Kobus has actually

had an extra spacer made in order to

house a heavy duty clutch of his own

making.

• The barrel is bored to 81mls – 1216cc's.

They have found this to be a very reliable

performance configuration.

• The cylinder head is where the magic

happens. Anthony Taylor skims and flows

them – and they have worked

a bit of magic on the Cams. But Kobus

points out that the standard cams are

very good – and they have learnt to de

gree them to perform at different

altitudes.

• Fuel is supplied by 40 mm Smooth Bore

Carbs. One bike is fitted with

Mikuni's. The other is lucky enough to

have a set of Yoshi TMR's that are just a

little bit more trick.

If you rode or raced in the 90's you'll

know that those were absolutely the

carbs to own. The ram induction pipes

are still fitted but because there is no

airbox – cool air is forced from the

front to the back of the cylinders.

• The standard oil cooling on

the GSXR's was not up to

scratch – so Kobus

has mounted two separate

oil coolers

– one for

the cylinder head – and the

other for the barrel

downwards.

• Total loss Ignition replaces

the bikes standard charging

system.

Basically this means that the bikes

alternator is removed removing any

excess drag from the engines.

• The exhausts are manu

factured locally by Stealth

pipes in Pretoria.

The cost to build a bike like this, including

purchase works out to around

150k – and Kobus assures us that

you can build them for cheaper.

"There are so many guys with bits

lying around that you don't have to

spend a fortune to go racing" he says.

"And I have to compliment Suzuki.

We have never had a hassle sourcing

new parts – even though these bikes

are now getting on a bit."

Jaco and his Brother-in-law Michael
---
And they go as good as they look.

They tell us that the lap times are comparable with

modern superbikes. Jaco has managed a two minute

flat at Redstar. AJ Venter pulled 1.59 on a similar

machine… that's good enough for a fourth place in the

ZX10 cup. On 30 year old motorcycles.

Sadly for them on the day of testing the weather came

in and Redstar made the call to cancel practice. We got

there really early to get started and the guys were at

least lucky enough to get in an hour of riding…

These old bike sound amazing – and it was so cool to

watch them out there.

One and then 2:

"The plan was to only build one bike – but a visit from

the UK's Don Hill, who was also instrumental in

developing the bikes led to two. The plan was to take

part in the world championship classic endurance race

– but that has been postponed. Hopefully it will happen

later this year. If a guy comes to race from abroad, they

can use one of our bikes. When we go there – then they

supply us with a similar bike" says Jaco.

But we are going to race them locally in the local CSRA.

About CSRA

South Africa enjoyed a "heyday" of production bike

racing in the 1980's and the equipment that this was

based upon remains reasonably affordable today. There

was a "sea change" of superbike specs between the

mainly air-cooled bikes of the late 70's and early 80's

when the oil cooled Suzuki GSXR burst onto the scene

around 1985/6. Many of our members run both 750 and

1100 "Gixxers" of this period.

As a result of this phenomenon, and the performance

gap it entailed, we have adopted 2 racing categories for

the CSRA:

Formula 1 – Bikes from 1984 – 1989

Formula 2 – Bikes from 1975 – 1983

Close racing, full grids and friendly pits at the best

racing circuits in the country offer riders and spectators

a memorable taste of racing from the past. Motorcycle

racing in any class is immeasurable safer on today's

closed circuits than it was in the past. Racing on closed

circuits still lives on and there's no shortage of brave

riders willing to risk it all in their quests for glory.

The CSRA was formed by like-minded potential

competitors, who, in the main, prepared racing bikes for

the Annual SA "TT Races". The logic was to organise a

series of races in SA that would culminate with the TT

races each year.

Should sufficient members come forward wishing to

race older machinery this will be accommodated, but

with rider safety coming first.

They have tried to be as non-prescriptive as possible

with regards to the technical regulations, allowing

members to fettle their machines as best as practical,

taking into consideration the age of their machinery,

once again safety considerations upper mind.

The Association has embarked upon efforts to try to

pass on skills to the next generation of potential bike

racers, partnering with SA tracks with education

initiatives involving youngsters from townships, where

they would not generally have such opportunities.

Sponsorship efforts linked to this project are on-going.

More info – classicsuperbikeracing.co.za
---
ADVERTORIAL

Triumph South Africa

committed to the S.A. Motorcycle market..

In the turmoil of the past 10 months or so there have been

very few good news stories going around. Amongst all the

doom and gloom there is a little company quietly and fastidiously

just getting on with business and steadily getting

stronger each day. Bruce Allen and his team at Triumph

South Africa's head office and flagship store have

recently gone through a major revamp of the premises and

we popped in for a quick chat and a look around. They truly

do have good reason to be proud. Here are some

interesting stats about Triumph SA, they have doubled their

market share in Johannesburg in the 500cc plus category

since taking over the brand. Within 5 months of opening

their Cape Town store in August 2020, they are back up

to the same market share for 2020 which Triumph had

previously in the Cape. It has been just on 11 months since

launching the all-new Triumph Rocket 3 and an

unbelievable 50 exceptionally happy Rocket 3 owners are

enjoying their machines. Largely thanks to our great feature

on the bikes in RideFast Magazine. The new Tiger 900

(MCN 2020 Bike of the Year), is also seeing impressive

sales – we hope you read our features in Dirt And Trail

Magazine.

On Triumph's global customer satisfaction ratings, Triumph

SA is proud to be rated in a close second out of Triumph's

26 global markets. This is testament to their truly customer

centric approach to doing business. In a retracting market

in 2020, Triumph has managed to maintain their sales volumes.

And how have they managed to do that? Well, since

the business started, there has had virtually no change to

the friendly faces. The team has a great working relationship

with each other and with their customers, creating a

welcoming, familiar and friendly environment. Bruce says,

"You will be warmly greeted the minute you walk through

the door by one of the team, they may even catch you in

the parking lot. We have a strong team of skilled, qualified

and attentive technicians in the workshop keeping each and

every Triumph in top running condition".

Triumph's steady progress is largely due to truly loyal

customer support, the opening of Cape Town and some

exciting new models. Triumph JHB and Cape Town have a

demonstrator bike for every single model in the line - bums

in saddles sell bikes, and every single one of the brand passionate

team believe that once you have ridden a Triumph

you will be hooked. Couple that with good value for money

and better pricing than you might expect for their bikes

and services, and you have a winning formula. Walking

around the newly revamped store you get a sense that it is

designed to make the shopping experience so much easier

with the clothing and protective wear being incorporated

into the motorcycle sales floor. The brand, being premium is

now being represented correctly, yet it still has that Triumph

familiarity and passion. A lot of brands make the mistake of

becoming too cold and sanitised when they revamp or

modernise their corporate identity or upgrade their dealerships.

Bruce as CEO of Triumph South Africa sits on the sales

floor in a glass walled office and the door wide open and

welcoming, the new workshop is also walled in glass so

you can sit and watch them work on your bike.

Leather couches, TV's, a well-stocked fridge, great coffee,

free WiFi and a long table to sit and work at while waiting

for bike to be serviced, encourage you to park off for a

bit and just absorb the atmosphere and the essence of

Triumph.

Get down to the corner of South & Dartfield roads Eastgate

Ext 13 in Sandton and experience it all for yourself.

They also have a very slick online apparel store at www.

triumph-store.co.za if you are a bit too far away for a quick

pop in, otherwise give them a call, their number is super

easy.

011 and a lot of 4's ... 011 444 4444 ...
---
Triumph

Speed Triple 1200 RS
---
Moto Guzzi

Celebrates 100 Year Anniversary with Special Models

Pics by Meghan McCabe

This one is the The Moto Guzzi V7 Carbon…

2021 is an important time for Moto Guzzi as it celebrates its 100th birthday. A century of tradition, passion, great

commercial and sporting success; One hundred years of great motorcycles that have always been built in Mandello

del Lario. Since 1921, these have been Moto Guzzi values.

With continuous production since 1921, Moto Guzzi has been wowing the biker world with its innovations. Started

by 3 aircraft pilots in Italy, Moto Guzzi draws upon its aeroplane heritage even today with its use of aircraft engine

inspired heron head pistons.
---
We are told these pistons draw upon the history and

heritage of the Moto Guzzi rotary WWI and WWII

fighter engines with flat heads for maximum low RPM

torque. In fact, the first Moto Guzzi V-Twin engines

were "cut" from these very same rotary

aviation engines to create motorcycle engines.

From the first bike to reach the Arctic Circle in the

20's to the racing successes of the 1930's such as

the 1935 Isle of Man TT. To developing 4-stroke

engines in the 1940's and even a V8 engine in the

1950's.

Every time we take out one of these V7's, without fail some old

timer will come wandering over and spend an hour reminiscing

about back in the day when he was still riding or some youngster

or bunch of youngsters will crowd around it with camera's

out using words like "cool" or "sick" and etcetera.

Even the young ladies come over to say hello and have their

pic taken with the bike.

Like I said …

"The epitome of cool".

You too can own a little bit of Moto Guzzi history.

www.italianmi.co.za

Moto Guzzi's served in WWII as well on the front lines

during that time. In the 1960's the iconic transverse

V-Twin was introduced and continuously developed

and is still found in today's newest Moto

Guzzi bikes.

The 1970's brought about even more innovation with

the 850 Le Mans and "small block" gyroscope effect

engine. In the 80's, motorcycle company Benelli

acquired Moto Guzzi and sold to Aprilia in the 2000's

with Aprilia investing billions into the company before

the company stumbled and Ducati stepped in to buy

Moto Guzzi, along with Kymco and BRP but the

ultimate owner of Moto Guzzi would be Piaggio in

2004.

Late 2008 brought about the classic Moto Guzzi

models we know today.

To celebrate, for 2021 Moto Guzzi has produced a

limited series of their models in a special Centennial

Livery, which will be available on V7, V9 and V85 TT.

The local Guzzi Importers IMI, hope to host a centenary

ride soon. We will keep you posted – if everyone

drags out their old Guzzi's, it will be quite something

to take part in.

To celebrate the milestone, Sean Hendley took the

Limited Edition V7 Carbon for a ride.

This bike is the definition of "Old School Cool". It still

looks and feels like an old 80's bike when I was a

teenager, but just sooo much cooler in its blacked out

and red paint job. It is undeniably Italian with form

taking precedence over function, you have to ride one

to understand, but that has always been the Guzzi

way and that is what makes them so

appealing to ride.

The V7 is not fast by any stretch of the imagination,

nor is it a track or mountain pass carving weapon.

What it is however, is the epitome of 'Cool' or 'Suave'.

This is the bike you trundle along on to your favourite

sidewalk Cafe or breakfast run venue and strike a

pose and wait for everyone to pull out their

smartphone camera's. It is nostalgic to ride as well,

sitting in the breeze with the 750cc V-twin throbbing

along between your legs, its single analogue/digital

display giving you all the basic info you need. The

sunshine on your face, the wind in your beard, (in

my case anyway), and bugs in your teeth astride an

ultra-cool retro bike built for the modern day rider.

We did crank it over in a couple of corners and twist

its ear a bit on the straights and yes it does get

along quite enthusiastically and is fun in the bends,

particularly when the motor tries to stand you up in a

left hander or push you further down in a right hand

corner, but that is why we love Guzzi's.
---
Suzuki's

Bruiser Cruiser

Words: Sean Hendley;

Pics: Stefan vd Riet (Black Rock CS)

Sean gets his mitts on Suzuki's mega chopper and

shares his thoughts…

Honestly, I am quite embarrassed to admit that I have

never ridden a Suzuki M109R Boulevard before, don't

know why… I just never had the opportunity I suppose

and unknowingly my life has be lacking this little bit of

pure bliss.

I think my 'spirit animal' is a grumpy bad ass biker that

moonlights as a front man for hard rock band because

swinging my leg over and dropping into the saddle and

feeling that big V-Twin growl into life through some very

load and throaty pipes I felt like 'Big Dad Ritch' of Texas

Hippie Coalition and spent the rest of the day singing,

"♪Well I guess you've heard about it ' I'm pissed off and

mad about it 'let me scream and shout about it ♪"

Within 30 seconds I understood why there are so many

of these Bad Boys on the road, it is loud, brash and in

your face with such a road presence that all other traffic

merely slinks out of your way.
---
Or that is the way I felt riding it anyway.

The big Suz isn't all show and no go, yank on the

throttle and this big MoFo snaps off the line with

alarming alacrity that catches you almost unawares as

you claw to keep a grip on the bars.

The 1800cc's of Japanese Twin tech just explodes into

life and accelerates at eye watering pace.

Fortunately it is a long and heavy beast so, even though

the forks stretch out a bit the front wheel stays firmly

planted on terra firma while it warps the landscape

into a blur. Several Tupperware torpedo's were properly

rattled not being able to keep up with the massive

Boulevard between traffic lights, where the 109 takes

off straight and true because of its mass and length,

they all end up pointing their front wheels at the Angels.

Long sweeping bends are the Boulevards natural

habitat, admittedly the really tight stuff does get it a bit

out of shape and grinds it foot pegs into the tarmac with

an impressive display of sparks and howling steel.

But get it up straight, tuck in like a Hidden Dragon,

Crouching Tiger behind the bar give it big horns and

suddenly you are aboard a manually guided cruise

missile and passing the 200kmh mark with stupid ease,

I eventually saw 225kmh flying past the other bikes on

the ride with us very much to the bewilderment of the

other riders.

This is INSANE! It is after all – a Cruiser? Right?

There was not even a twitch or anything to suggest that

the Boulie might not be meant to be ridden this hard,

just the pure exhilaration roaring along at mad speeds

astride an-other worldly creation. Man I just love Hot

Rod motorbikes, they really to appeal to the most primal

part of my soul and make me feel like the king of the

world.

For a big bike the handling is that good.

Slowing this monstrosity down to civilised speeds and

sitting back and admiring our beautiful countryside doesn't

make it any more conservative or turn it into a fading wall

flower.

The big 1786cc motor still grumbles loudly through the

throaty pipes this particular unit was fitted with, but it

does become a bit calmer. More of a hard rock ballad than

thrash metal, relaxing in the big comfy seat and just feeling

the essence of this bike throb through you. The sitting

position has a bit of a lean forward bias that just makes

you want to crank on the gas but is more than comfortable

enough the wile away the hours in the saddle crossing

your favourite desert.

I do think I would like to ride this bike through the Karoo

and then down the length of the West Coast with a little

detour along Clarens drive before turning back into the

Karoo and aiming back towards Gauteng.

As far as electronic gadgets are concerned there are none!

And even though I am a fan of little luxuries like power

shifters and cruise control I think they would actually detract

from the pure riding experience on this bike.

Maybe I might sing a different song if I ever get to ride one

through the Karoo and along the West Coast but for now I

really do like the fact that there are no gadgets on it, just

you and your steel horse riding into the sunset.

Hmmm … I wonder if the bank manager is in a generous

mood.

Glenn says …

Big. (Like MASSIVE). Strong. Brash and loud.

Over the last couple of years, we have ridden and tested quite a

few Chopper offerings on the market and if there is a cruiser that

has a presence on the road, it's this Boulevard.

I love the fact that it is a thoroughly modern motorcycle designed

for real riders. It is comfortable, smooth and powerful right off the

bat. On a few of the bikes we've ridden, it feels as though the

manufacturers deliberately make their cruisers uncomfortable so

that you are forced to spend money to make them rideable. Or

maybe they have tiny people wholly unsuited to the SA market as

testers.

And as far as I can remember, it hasn't always been like that.

A cruiser, in my opinion should be made for comfortable hours in

the saddle. And this one fits the bill perfectly.

We accept the fact that cruisers are not for everyone – but on

any Sunday just have a look around you, they are out in force at

all the breakfast run venues and we understand why. They have

been made for the cool factor – and they make sense for riders

who no longer want to crouch over the tank of a GSXR and blitz

through the twisties.

It's a case of chilled (or in this case, not so chilled) cruising to

enjoy the routes on offer in absolute comfort. This bike is so well

appointed – and unlike some of the "Nakeds" that we have used.

This one arrived with one of the best designed screens on the

planet that makes it easy to travel at warp speeds without getting

blown out of the saddle – or stealing from the overall lines of the

motorcycle.

GET YOUR

KIDS ONTO

THE REAL

"PLAYSTATION!"

Perhaps I'm not quite mature enough to rush out and buy a

cruiser just yet… but I have to confess that this bike was one

hell of a lot of fun to ride.

This one was loaned to us by Suzuki East in Boksburg

(Thanks Guys).

SUZUKI Boulevard M109

Engine Four Stroke 54 0 V Twin

Capacity 1786cc

Max Power 92kw @ 6200 rpm

Max Torque 160Nm @ 3200 rpm

Transmission 5 Speed Manual

Final Drive Shaft

Seat Hight 705mm

Wet Weight 347kg

Fuel Capacity 19 Litres

WHERE IT ALL BEGINS!

MOTOGP

REPLICA POCKET

BIKES! CALL

FOR PRICING &

AVAILABILITY!

We are Official Importers, Retailers and Wholesalers of 50cc 2 Stroke Air-Cooled Petrol Driven Mini

Pocketbikes, Mini Bikes, Pocket Rockets, Mini Quad Bikes (ATV), Mini Scramblers (Dirt Bikes), Performance

Parts and Spares for the past 10 years and through our Dedication, Experience and Consistency WE have

managed to relatively keep our prices constant and competative throughout the years.

R5500 for plain colours.CUSTOMS SPRAY P.O.A

2021 KXD 50cc 2T 3hp AUTO

PRICES INCLUDE FREE SHIPPING

NATIONWIDE

Visit our website

for full range of

exciting products

WE COURIER NATION-WIDE!

163 Voortrekker Rd, Goodwood, Cape Town

(021) 202-7583 - VISIT OUR ONLINE STORE

50cc 2-Stroke Air-Cooled Petrol

Driven 3HP Automatic

Mini Quads & Dirtbikes

NOW ONLY R5795

PRICES INCLUDE FREE SHIPPING

NATIONWIDE

Kiddies helmets R550-R650 each

WWW.POCKETBIKESA.CO.ZA

Wide range of spares & performance

parts always available!
---
Moto GP 2021

Our Racing man Donovan Fourie peers into his crystal ball and shares his

thoughts on what might – and might not be for the 2021 season…

A plague infested calendar…

Already, COVID is playing havoc with the 2021 calendar as we see dates being

thrown around desperately while Dorna figures out where they can go and where

they cannot.

From all this, we've learned that the MotoGP circus is going to be very sick of

Qatar. Malaysia has seen a rise in cases and a newfound fondness for lockdowns,

so the traditional two Sepang tests have been called off.
---
And so, Dorna does what it always does – plays it safe. Qatar

is a desert with about three people living there, so the paddock

needs only to stay away from those three people, and they

should be fine.

Therefore, instead of a two-day test at Qatar to follow the four

days at Sepang, MotoGP riders can look forward to Qatar's six

days. They then can look forward to the two opening rounds,

on back-to-back weekends, at Qatar, something that has been

described by riders as "really boring" while isolated to the hotel

between weekends.

Fun times.

The rounds in Argentina and Texas, originally due to follow the

single round in Qatar, have been put on hold with Portimao

making a return to the calendar for 2021 after the second Qatar.

With two more rounds added to the calendar already, it seems

unlikely that we will return to Argentina and Texas this year.

The good news is that, so far, the rest of the calendar remains

as is.

Testing all in one place:

MotoGP riders will have to make do with six days of testing happening

in quick succession at Qatar. Logistically, it makes all the

sense in the world because everything need be at one place at

one time, instead of being carted all over the world three times.

Logistics Managers can spend a half-day getting it all together

and then go on Holiday until April.

For the riders and engineers, it's a terrible idea. Yes, they get

through their packed testing schedule more easily over six

straight days in the same place, but it's more quality than quantity

they are after.

The problem, we suspect, is worse for Yamaha who are traditionally

very good at Qatar. This means that problems they may

encounter throughout the calendar may be covered up somewhat

by Qatar's favourable conditions.

KTM has a strong team this year with Miguel and Brad

We have seen this before, especially in 2016 when Maverick

Vinales absolutely dominated throughout the Qatar tests, only to

be snubbed later in the year as previously unseen flaws in the

bike came to light at other circuits.

Testing not with one man:

Sticking with Yamaha, Lin Jarvis, the head of the Yamaha

MotoGP project, has stated that they will still be listening to

Valentino Rossi's input even though the Italian is no longer in

the factory team after making the change to Petronas.

The problem there is the word "still". For years, Yamaha has

apparently discarded Rossi's advice, seemingly opting more

for the likes of Vinales even though he seems to constantly be

wrong and Rossi constantly right.

With some luck, VR46 fans might see The Doctor's resurgence

in 2021 now that he is under the umbrella of a private team that

is possibly more interested in individual rider needs instead of

the factory agenda.

KTM and Aprilia advantage:

KTM has seen their new concessions revoked, after a bunch

of podiums and three race wins in 2020. The concessions are

designed to give new or smaller manufacturers a development

boost with less technical freezes and more testing opportunities.

One concession KTM can overcome is the design freeze for

2021, meaning Team Orange can introduce an entirely new motorcycle

for this year where Honda, Yamaha, Suzuki and Ducati

must keep much the same machine.

That means that Brad Binder might have a good deal more

testing to do at Qatar than many of his peers. Binder has stated

only that there are new things to try for 2021, evading saying a

completely new bike.

This can only be an advantage as the worst thing that could

happen is none of the new parts work, and they use the old bike

again for 2021.

After all, it was good in 2020.

Aprilia is the other manufacturer

that benefits from concessions,

something Aleix Espargaro will

undoubtedly look forward to after

being critical of the Noale factory

for making very little progress in

2020.

Jack Attack:

Jack Miller's form has found him

in a Ducati factory seat for the first

time in his premier class career.

The Australian put on a helluva

show in 2020 aboard the satellite

Pramac Ducati, and now finds

himself with an entire factory at his

disposal.

The benefit will be him leading the

way in bike development and having

a larger bank for knowledge

behind him with some of the best

engineers in the world dedicating

all their thinking prowess to him.

The challenge is dealing with the

pressure of performing in a factory team, something not to be

taken likely and has been the demise riders in the past.

Jack has been through hell to get where he is. It's doubtful he

will let anything get to him.

Will Suzuki still work?

Here's the thing about Suzuki's success in 2020 and, ultimately,

Mir's championship win – it sort-of relied heavily on the fact that

the season was topsy-turvy.

Races were held when races shouldn't, or Michelin brought

tyres designed for a different time of year when the track wasn't

a veritable ice-rink and tended to be a touch on the slippery

side. Ducati and KTM were worst off with this predicament, with

their strengths only working when the tyres can be kept up to

temperature.

Suzuki, on the other hand, thrived, and along with consistency,

they often benefitted from other's downfall. Literally.

The problem is that, so far, the calendar is mostly running as

usual, so tyres should work out with no geology anomalies. Will

Suzuki still manage when everyone else is not having

problems?

Getting on Pol:

Most of the Honda headlines are about Marc Marquez. He's

injured and is still wearing an arm brace seven months after

his initial injury. He probably will not make it to the tests, and

there's a good chance he will miss the first races. After that,

who knows?

On the other side of the Repsol garage sits the mostly smiling

Pol Espargaro. He is venturing where many others have failed,

and the Honda so far is a Marc Marquez only machine.

Pol has some things going for him – he's an aggressive, late

braking rider much like Marquez, so maybe his style already

matches what the Honda asks.

Plus, Honda has spent a year without Marc Marquez, and the

influence of input solely from the other riders might have softened

the Honda bite and made the bike more rideable.

Where Pol might suffer is with the new one-track testing schedule.

Like we mentioned earlier, testing the new bike at one track

may not highlight every flaw of the Honda, and may give the

rider a false sense of what is required of him.
---
The Shez Show should be electric:

Team Marc VDS is withdrawing their entry

from the MotoE class after failing to find a

rider to replace the departing Mike Di Meglio.

We have a suggestion – Sheridan Morais.

The amiable South African racer is famous for

getting on with motorcycles that are not

traditionally meant for racing, such as the

extremely heavy MotoE electric racers.

Thus far, the class has been a destination for

retired Grand Prix racers, and other oddball

entries, the sort of competitors Morais would

have no problem challenging.

Like most things for South African racers, the

problem here is that Marc VDS undoubtedly

wants a big cheque to accompany potential

racers.

South African Rands just don't cut it…

Let's see. The season starts at the end of

March. It must hurry up.
---
BMW's S1000XR HP

If you have read our features on BMW's S1000 XR's, you'll

know that we like them. A lot. And we cannot understand

why there are not an awful lot more of them on SA's streets.

Well. BMW just released an updated 2021 version of the

same. We borrowed a bike from BMW Fourways and headed

out into the great beyond.

After BMW announced several changes to the potent inline

four powerplant in its S 1000 RR superbike in 2019, we

figured it was only a matter of time before the tech trickled

down to its flagship sport tourer. And we were correct. We

went along to the launch of the bike in Spain and discovered

that the bike is lighter, faster and more versatile than ever

before. Oh and it vibrates or buzzes a whole lot less than the

earlier models.

We weren't personally completely sold on the battleship blue

colour scheme – but – hey it proved to be a great bike so you

could overlook the very conservative detailing.
---
The big news of course was the RR-derived engine, which

pumps out a claimed 165 horsepower at 11,000 rpm and

84 lb-ft of torque at 9,250. Fourth, fifth and sixth gears

were given longer ratios to reduce noise, fuel consumption

and engine speed.

The bike features what BMW calls engine drag torque

control (MSR), which reduces rear wheel hopping under

hard deceleration.

The suspension, frame and swingarm were all been

tweaked to reduce weight, and coupled with the lighter

engine the 2020 S 1000 XR weighs in at 226KG's

The list of standard features on the bike is long:

Dynamic ESA (electronic suspension), four ride modes

(Road, Rain, Dynamic and Dynamic Pro), Dynamic Traction

Control (DTC) with wheelie control, ABS Pro (cornering

ABS) with Dynamic Brake Control (DBC), 6.5-inch TFT

display, LED lighting and Hill Start Control Pro. Options

include Dynamic ESA Pro with two damping modes and

automatic load compensation, HP Shift Assistant Pro (up

and down quickshifter), Headlight Pro with DRL and cornering

lights, and electronic cruise control.

And it all works perfectly. It is one hell of a lot of bike. But

all of that aside – the XR is blisteringly fast, comfortable

and most importantly a really fun bike to ride. Especially in

countries like ours where we love to hit the long roads on

the weekends.

Fast forward to 2021 and BMW unleashes the X1000R

XP…

Ok now we'll forgive you if you, like us start getting all

confused – but the most obvious update is the beautiful

colour scheme.

The new Style Sport package adds some performance

enhancements to the sport-touring the 2021 BMW S 1000

XR.

It features a titanium sports pipe, a sport windshield and

an additional Core Screen on the dash that includes a lap

timer.

The bike comes with an M Endurance chain, and that new

color combo.

If you don't want the entire Style Sport package, the

titanium muffler and M Endurance chain are both available

as solo accessories. The bike has a new luggage rack to

carry either a 30- or 49-liter top case. Also new is a USB

charging port. Both the luggage rack and the charging port

can be had independently as accessories.

The one we rode was fitted with a top box that is unobstrusive

and practical for everyday use. Stefan popped all of

his photographic equipment in there – and forgot about it.

And its still a marvelous thing. If you are looking for a bike

that is supremely comfortable for hours in the saddle and

that will get you to your destination faster than you can sat

Beee Em Double Youuuuu then this is a bike that you need

to look at.

Sean says:

Possibly one of the most comfortable, stupidly powerful

and best handling bikes I have ridden in a long time. I went

on the S.A. media launch when the lock down regulations

were relaxed a bit last year and was immediately infatuated

with the 1000XR, so when we got the opportunity to

grab it again I made sure I was around to give it another

whirl.

I am a big fan of the upright sitting position, being an old

school rider, old moto-x'er and mostly an adventure rider

this is the sitting position I am most comfortable with.

I will say this though, the seat does take a bit of getting used to, it is

a moulded bucket type seat so when you are up and going it is really

comfy with nice lower lumbar support, but when you stop and put your

leg down it does put a bit of point pressure on your bum cheek.

As expected the TFT screen, the electronics package, system nav

wheel and etc are all pure BMW quality. With the seat, the fuel tank is

also sculpted for you to tuck into, the fairing and the screen provide

more than enough protection form the elements. The relationship

between the footpegs, seat and handlebar sets you up for long

comfortable days in the saddle, but also allow you to move around on

the bike when attacking corners and long sweeping bends.

You also sit quite high, so when you are lane splitting between

traffic you can see over most of the vehicles and are very visible to the

drivers.

As expected, based on the legendary S1000RR, the power from the

motor is more than most of us can use in any of the rider modes. The

suspension and chassis are beyond reproach in any circumstance

from your daily commute, to that tour down to Clarens and through the

Golden Gate national park and even as a track day bike. We kept the

1000XR in 'Dynamic' mode and switched off as many of the electronic

nannies as we could and spent a great afternoon carving up corners

and bulleting down long straights, then when it was time to go home it

was simply a case of dialing in the cruise control and pointing the XR in

at the sunset an watch the miles fly by.
---
This is undoubtedly a brilliant all

round bike and something that

you could live with everyday

if you had only money for one

bike but wanted three bikes, a

commuter, a tourer and a track

bike …

I'm certainly keeping an eye on

the classifieds just in case a

bargain comes up that I could

afford. This one came from BMW

Fourways.

Go and take it for a spin. We

think that you will like it. A lot.

BMW S1000 XR

Engine 999cc, Transverse 4 cylinder

DOHC; 4 Cylinders per valve

Max Power 165hp / 121 kw @ 11000rpm

Torque 114Nm @ 92500rpm

Transmission Constant mesh 6-speed

Final Drive Chain

Suspension Front 43mm Dynamic ESA

Suspension Rear Dynamic ESA Eletronic

adjustment

Seat Height 840mm

Wheelbase 1552 mm

Fuel Capacity 20 Litres

Wet Weight 226kg

GET IT.

READ IT.

LOVE IT!

www.go-mx.co.za

Specialists Say no more... in motocross gear and accessories

SA'S MOST LOVED

ROAD & TRACK MOTOR-

CYCLE MAGAZINE.

READ IT AT

www.motomedia.co.za

173 Blaauwberg Road, Table View info@go-mx.co.za

079 270 8958

@go_mx @GO.MX.CT
---
VALUE

FOR MONEY

Quick Ride: Honda's 2020 NC750.

Some of the best value for money on the road…

Words and most pics by Stefan VD Riet

Being the new guy at RideFast Magazine, our

photographer Stefan is often gobsmacked by the

beautiful machines that trundle through our gates.

He is often more gobsmacked when we give him the

values of some of the bikes and we have to explain

why we would prefer him not to ride supercharged

stuff just until he get a little more experience.

When Honda offered us an NC, we decided that we'd

give him the task of doing the feature, here is his

take on the bike…

The guys do exaggerate a bit, luckily they have allowed

me to ride quite a few of the bikes that come through

the gates. This one really appealed to me because my

Dad has an NC 750, with the DCT gearbox. So when

the friendly guys at Honda Wing Centurion lent us this

beautiful blue NC to test our riding endurance, I jumped

at the opportunity.

We took off on the long open road past Bapsfontein for a

full day semi-local scenic adventure.
---
As soon as you get on the bike you feel

comfortable. It's not too high, with a seat

height of 830mm, just low enough for

me to place both my feet firmly on the

ground (and I'm not so tall). The

handlebars are what you would expect,

in a nice raised position for upright riding

with all the controls you need in easy to

reach places including a toggle switch for

the traction control, which can be set to

1, 2 or off.

The footpegs are at a very comfortable

spot relatively high off the ground so you

shouldn't scrape when having a nice lean

through corners unless you see

yourself as Rossi in your head. On the

long straight roads, the Honda glides like

a dream with a comfortable soft seat that

you could sit on all day, for both rider and

pillion, and the suspension soft enough

to iron out those bumps and potholes

that we know all too well.

The bike has a relatively quiet exhaust

with a nice-sounding low hum so you

shouldn't bother your neighbours when

you start your bike to begin your 6 am

commute to work. Half commuter and

half mid-sized adventure machine, the

NC750X is a stress-free motorcycle

with all-round appeal that toes the line

between sensible daily runner and

thrill-seeking tourer perfectly.

Powered by a bullet-proof 745cc

liquid-cooled parallel twin engine that

produces just over 51 horsepower, it might not be the fastest

bike but what the NC750X lacks in top end performance it

makes up for with practical low to mid-range torque. It has a

smooth dual-clutch 6-speed gearbox that shifts very smoothly

with an even and easy to use clutch, making it as fun as ever to

work through your gears around corners and cruising through

the straights.

The engine delivers very nice linear torque through the whole

rev range and is gentle on power for a 750, making it a very

easy bike to ride.

Im not trying to be disparaging, because the 750 has more than

enough power and lean angle to make for an entertaining ride

through corners and twisty roads and can reach up to 180km/h

on a straight road if you push it a bit.

If you find yourself pushing too hard , the bike is fitted with

Nissin brakes which deliver plenty of stopping power, and the

standard ABS ensures safe deceleration.

The 2020 NC750x has funky angular styling with a very beaky

front end that makes it look very much like an adventure tourer,

and the nice little low profile visor keeps most of the wind out of

your hair.

It is fitted with a bright modern LED headlight and LED brake

lights, and the particular one that we tested has a beautiful blue

paint job that my photos cannot do justice.

In my opinion, the front storage compartment is what makes the

NC one of the best bikes in its class. It is located in the hump

where the petrol tank would typically be found and can fit a fullface

helmet – or most of my camera equipment with ease.

The petrol tank is then located underneath the pillion seat, and

both the tank and the trunk are unlocked by the same keyhole,

turning the key left or right respectively to open each.

After the scenic day ride, we came home to JHB traffic that we

all enjoy so much.

Lane splitting is no issue as the bike is narrow enough to fit

through most traffic and the low-end torque makes it easy to

get out of cramped situations on the road. The seat became the

saviour of the day as I could sit through stop light after stop light

without any complaint. It's easy to find neutral while waiting and

easier still to get going from the green light.

Speaking about traffic lights…

I pulled up to a light near Snake Road and noticed a guy in Full

colours on a bike in front of me. Riders wearing colours are

usually a fierce looking bunch who ride Fireblades 'Busa's and

Harleys.

This guy was on… you guessed it, an NC750. This really is a

bike for everyone.

All in all, it's a fantastically convenient and comfortable bike that

you could point in any direction and it will do what you ask with

pleasure. It's everything that you need in a bike, including great

fuel efficiency and a very nice price in a world where things are

getting so pricey.

I hope that when Honda SA has the new 2021 model in their

demo fleet we'll get a call.

I enjoyed every second on this one.

Honda Wing Centurion: 012 643 1017

Bike Specs...

HONDA NC750X

Engine Four Stroke Parallel twin, SOHC,

4 Valves per Cylinder

Capacity 745cc

Max Power 40.3kw @ 6250 rpm

Max Torque 68Nm @ 4750 rpm

Transmission 6 Speed Manual

Final Drive Chain

Frame Rigid tube steel diamond

Seat Hight 830mm

Wet Weight 220kg

Fuel Capacity 14.1 Litres
---
HERO NOW IN SA

HERO Eco 150 and 100

5 Year/100,000km warranty.

Now In SA.

Story: Donovan Fourie, Sean Hendley

Pics: Meghan McCabe

So, what does the worlds biggest producer of

motorcycles and the HERO Moto Corporation

have in common?

Well, they are one and the same. As we sit here

writing this article on the 21st of January 2021

the 100 millionth Hero motorcycle is rolling off

the production line … say that slowly O.N.E.

H.U.N.D.R.E.D. M.I.L.L.I.O.N … that is a monumental

number in anybody's book and even

more astounding is that the HERO Moto Corporation

is a relative youngster in the motorcycle

market, first seeing the light of day in 1984.

What the hell are bikes like these doing in Ride-

Fast Magazine?

Well they are here. We need cost effective, entry

level bikes in order to get more bums in saddles.

And our job is to let people know what is

available on the market.
---
1984 seems to be one of the best years around, think about your

favourite 80's song … go Google it's year of first release … don't

be surprised if it is 1984. So, here is a quick history of the HERO

Moto Corporation:

1984 - The company is founded by a visionary young man by

the name of Dr. Pawan Munjal

1985 - The first production facility starts producing the iconic

CD100 under licence from Honda

1987 - They achieve their first milestones with the 100 thou

sandth unit rolling off the production line

1994 - They introduce the world to the 'Splendor' model and

achieve their next milestone, their 1 millionth unit rolls off

the line … let that sink in for a bit … 1 million units in 10

years

1997 - They start opening new plants around India

2000 - They are now the biggest manufacturers of motorcycles

2004 - Their 10 millionth unit rolls off the production …

10 million units in 20 years!!!

2011 - By now they have opened 8 plants in total including a

tech R&D plant in Germany.

2015 - 2018 - They participate in the DAKAR Rallye and win

Rookie of the Year title with Oriol Men in 2018.

2021 - The 100 millionth unit rolls off the production line, 100

million units in 37 years, that is an average of around

7,400 units per day give or take and assuming they work

a full 365 day year, which they probably don't, so bend

your mind around that!

A couple of years ago the HERO Moto Corporation struck out on

their own and is now the biggest motorcycle producer around. We

were chatting to Craig of Hero Motorcycles South Africa and he

mentioned having visited a Hero dealership in New Delhi.

He says the entire dealership was about the size of an average

double garage with a couple of bikes on the floor. Most notably

however was a lean to built around the dealership, which

reminded him of government department waiting area here in

S.A. with people shuffling along from chair to chair, waiting for

their turn to order and pay for their very own Hero motorcycle and

waiting for delivery thereof in around 2 months' time.

EXCUSE ME, a queue around the building waiting for their turn to

order and pay for a bike and quite happy to wait two months for

delivery???

And that is just one small little dealership. To top it all as part of

a Licensing agreement, Hero MotoCorp will develop and sell a

range of premium motorcycles under the Harley-Davidson brand

name.

And now they are on their way to South Africa.

Yes, it might not be a big, exciting superbike, but it is a very

important bike, especially in emerging economies, to get bums in

saddles and the nation mobile. Craig invited us to ride the Hero

Eco 150 and the 100.

The 100.

The 100 has hardly changed since it first hit a production line in

1994, yet people still choose it from a shelf of alternatives. There

must be something to it.

It shares a motor with the Honda Super Cub, the most successful

motorcycle ever. The air-cooled single has 97cc and thumps out

8hp and 8Nm of torque, a modest amount for RideFast but more

than enough to take on India's harshest streets.

Or the streets and potholes of Industria in West Jo'burg.

It is capable of 100km/h at a push, but speed isn't the objective

here. The projected lifespan of that motor is twenty years and has

a stop/start feature that cuts it when at robots. This, and

generally frugal petrol sipping, has seen it achieve a fuel

economy of 70km/l.

We didn't get that during our test, partially because we spent

the day revving the mammaries off it with a rider that probably

weighs three times more than the average Indian. Yet, with this

uneconomical abuse, we got 40km/l.

The componentry of the 100 is simple and basic, and probably

won't win any major motorcycle design awards, yet are all

sturdy, strong and well-made. The brakes are drum units activated

by an old-school cable, something that has been resigned

to the sports bike skip since 1969. It's a laughable attempt at

stoppage were we attempting to break Kyalami lap records, but

through the streets of New Delhi, or Industria, strewn with potholes,

dirt, old, diesel and organic fluids, anything more would

be suicidal.

It also means no pads and disks that require replacing.

Have you spotted the theme yet?

It weighs just 110kg and is good for dodging lorries trying to

reverse out of warehouses, and Karens driving SUVs in Pick 'n

Pay parking lots.

Some facts:

The Hero 100 is now the biggest selling single motorcycle

model in the world.

In 2020, during the height of the pandemic, Hero sold 2.6 million

of this model.

Read it again – 2.6 million!

To better understand this number's enormity, Hero sold more

units of just this model in 2020 than BMW, KTM, Ducati,

Triumph, Harley-Davidson and Indian combined. In three years!

Price is yet to be confirmed, but we are looking in the region of

R13,000 or R14,000. That's all for a well-made, economical,

cleverly-build city run-around.

The 150:

Walking around the 150, the bike it is very reminiscent of Hero's

partnership with Honda in styling and in quality of build. Starting

the motor, we had to rev it to make sure it was running. It is so

silky smooth that it has barley any vibration at all, this is due to

the motor incorporating counterbalance shafts into the design

we are told.

Hero uses a full frame design mounting the motor into the frame

and not having it form part of the chassis and with that smooth

motor there is almost no vibration through the bars or the

seat. The chain is completely enclosed, and they use an extra

strength chain, so maintenance only needs to be done at the

3,000km service intervals.

The other thing we noticed is how light and soft the clutch operation

was. Some of the units come with "Stop/Start" technology

to further decrease the emissions and increase fuel economy

emphasising the brands commitment to sustainability.

Then there is the fuel efficiency at claimed 40 to 60 km's per

litre around town obviously dependant on economical riding

styles and habits… we did not do that, we kept the little 150cc

Hero pinned against the red line the whole day and our resident

hooligan spent a fair amount of time on the back wheel, completely

contrary to what they were designed for and we easily

saw around 30 kays to the litre before we chickened out and

filled up

So, what is it like to spend a day in the saddle? We hear you

ask.

Although these are real entry level commercial bikes, we had

some fun. The seats are kind to your tush, the angle of your

hips and ankles in relation to you shoulder position is really

comfortable even for my 6 foot plenty bod, so the ergonomics

are really good.

The clocks sport a speedo, rev counter and fuel gauge, all

analogue. Almost zero vibration from the counterbalanced motor

significantly reduces rider fatigue. The gearing is quite low

which gives it plenty acceleration off the line… and according to

our crash test dummy makes it really easy to wheelie.

In the real world though it means it gets off the line really well

and can haul reasonably heavy loads and still maintain a

reasonable speed up and down hills, as was evident lugging my

115kg mass around most of the day.

The 150 can be ridden on the freeways legally and can reach

120kmh, but the engine is really working hard at those kind of

speeds at around 9,000rpm but it is more comfortable around

the 90 to 100kmh mark.

You sit quite high on a nice narrow bike with good acceleration

and decent enough top speed, so whipping between traffic

and shooting off from a traffic light and getting ahead of traffic

is really easy. During the course of the day, we must have

been approached by 6 or 7 delivery riders who were extremely

interested in the bikes and our opinions thereof, a lot of them

being foreign nationals have experienced the Hero brand in

their home countries and were really excited to see them on the

streets of Joburg, all boding well for the local importers.

The big take away from the ride for us was the great quality, the

very reasonable price tag of just under R20,000.00 for the Eco

150, the service intervals, and the cheap servicing price, so cost

of ownership is low.

5 year/100,000km warranty as well as their 3000km service

intervals at a mere R599.00 per service.

For more information send an enquiry to

info@heromotorcycles.co.za
---
TYRE TECH TALK

Festive Season Tyre Combo Specials!

ALL THE PREMIUM BRANDS

THAT COUNT UNDER ONE ROOF

by Bruce de Kock, owner of Bike Tyre Warehouse Group

Great Giveaways with these Combos...

Metzeler Sportec M9 RR

Hi Peeps

Well January is done & dusted I am sure many are really happy it is over and now with some cash

in those riding jeans if you are in the market for a new set of tyres then consider the below as

possible options.

I have already covered some of these tyres when they were released last year but these

outstanding tyres really stood out in the market in 2020 so I am revisiting some of them for those

Scoop these limited that missed offer the various Giveaways press releases at & Bike journo Tyre scribbles Warehouse,

last year.

SA's leading motorcycle and ATV tyre supplier. Save BIG on our

Michelin Power 5

Tyre Combo Specials, now available at 4 branches nationwide.

The Michelin Power 5 targets sports motorcycle owners who

use their bikes intensively on public roads. The priorities of

these riders range from long tyre life and good grip performance,

whatever the conditions but more especially in wet

weather – to efficient traction and reassuring handling under

braking. The wet weather grip provided by the Michelin Power 5

is PIRELLI exceptional. Angel GT: (Pictured)

• 120/70R-17 & 160/60R-17, R3,400, SAVE R350

CHIEF • 120/70R-17 CHARACTERISTICS & 180/55R-17, R3,500, OF THE SAVE MICHELIN R700 POWER 5:

• Innovative compound, incorporating silica and carbon

120/70R-17 & 190/50R-17, R3,600, SAVE R600

black,

120/70R-17 & 190/55R-17, R3,600, SAVE R700

• MICHELIN 2CT technology (front tyre) and MICHELIN

• (A) 120/70R-17 2CT+ technology & 180/55R-17, (rear R3,700, tyre), SAVE R1,000

• (A) 120/70R-17 A sea-to-land & 190/50R-17, ratio of R3,775, 11 percent SAVE front R685and rear,

• (A) 120/70R-17 A new design & 190/55R-17, and sidewalls R3,820, SAVE that feature R740 Michelin's

Premium Touch Technology.

PIRELLI Angel GT 2: (Not Pictured)

Michelin • 120/70R-17 Power & 160/60R-17, GP R4,060, SAVE R610

• 120/70R-17 & 180/55R-17, R4,170, SAVE R625

The • 120/70R-17 Michelin & Power 190/50R-17, GP targets R4,300, motorcyclists SAVE R650 who use their

sport • 120/70R-17 bikes on & public 190/55R-17, roads R4,370, but occasionally SAVE R655take it to circuits for

track • 120/70R-19 days or & tuition, 170/60R-17, for example. R4,480, SAVE The Michelin R550 Power GP offers

high performance levels in these situations.

• (A) 120/70R-17 & 180/55R-17, R4,399, SAVE R640

CHIEF CHARACTERISTICS OF THE MICHELIN POWER GP:

(A) 120/70R-17 & 190/50R-17, R4,500, SAVE R630

• A compound that incorporates silica and carbon black

• (A) 120/70R-17 MICHELIN & 190/55R-17, 2CT technology R4,590, SAVE (front R640 tyre) and

MICHELIN 2CT+ technology (rear tyre) conceived to

deliver superior performance on public roads

and racetracks alike.

• 'Slick zones' on the sidewalls for track use,

• A sea-to-land ratio of 6.5%,

• Sidewalls that feature Michelin's Premium Touch

Technology.

• Offer valid from 01/12/2020 – 31/12/2020 or while limited stocks last.

• We ship tyres and accessories overnight to your door

* Please wear a face mask on arrival.

BUY ANY PIRELLI ANGEL GT COMBO &

GET A FREE PIRELLI LTD EDITION T-SHIRT

BUY ANY METZELER KAROO 3 STREET COMBO

& GET A FREE DIGITAL PRESSURE GAUGE

METZELER Karoo 3 Street:

• 90/90-21 & 150/70R-17, R2,680, SAVE R1,400

• 90/90-21 & 150/70R-18, R2,680, SAVE R1,400

• 110/80R-19 & 150/70R-17, R2,800, SAVE R1,375

• 120/70R-19 & 170/60R-17, R2,900, SAVE R1,780

The SPORTEC M9 RR is the latest super sports tyre from Metzler,

replacing the SPORTEC M7 RR. It is designed for owners of super

sports and naked bikes with a sporty DUNLOP riding style, ADVENTURE that use their RANGE: bikes

every day and in all weather conditions: BUY from ANY the TRAIL urban MAX jungle MISSION to the 50/50 COMBO

fast runs of the weekend excursions. & GET A FREE FOLDABLE COOLER BAG

• 90/90-21 54T & 150/70-17 69T R3,200, SAVE R350

The old M7 RR was instantly impressive and always at the pointy end

• 90/90-21 54T & 150/70-18 70T R3,200, SAVE R350

of sports tyre comparison tests. You could throw them on a superbike

and grind out a track day. They excelled • 110/80-19 in the dry, 59T wet, &150/70-17 were durable 69T R3,500, SAVE R350

and offered a velvety ride over the road • 120/70-19 surfaces 60T too. & 170/60-17 72T R3,700, SAVE R350

As you'd expect from a new generation tyre, the Sportec M9 RR is

all-improved with new dual compounds front and rear, construction, and

a bigger footprint. But what immediately impresses the second you turn

a wheel is the new front tyre.

Sat between sports touring and fast road /track day rubber the

Metzeler's new Sportec M9 RR is a one-stop-shop DUNLOP ROAD tyre RANGE: for the sporty

riders amongst us and a step on from BUY the ANY superb COMBO M7 RR & and GET that's A FREE just DUNLOP COOLER BOX

about the best compliment you can give • GPR300 them. 120/70R17 &160/60R17 R2,500, SAVE R350

Metzeler Roadtec 01 SE • GPR300 120/70R17 &180/55R17 R2,600, SAVE R350

• GPR300 120/70R17 &190/50R17 R2,700, SAVE R350

The Metzeler Roadtec 01 SE puts the • sport ROADSMART3 side back 120/70R-17 into sports & touring

an evolution of the multi award winning • ROADSMART3 Roadtec 01, 120/70R-17 it has become & 180/55R17 R3,580, SAVE R400

160/60R17 R3,250, SAVE R400

one of the benchmarks for wet handling, • ROADSMART3 grip and mileage 120/70R-17 for super & 190/50R17 R3,750, SAVE R400

sport and naked motorcycles. • ROADSMART3 120/70R-17 & 190/55R17 R3,750, SAVE R400

Metzeler's Roadtec has been at the top • SPORTMAX of the sports Q3+ touring 120/70R-17 tree & for 180/55R17 a R3,780, SAVE R390

decade now, firstly the Interact Z8 version, followed by the 01 in 2016 –

• SPORTMAX Q3+ 120/70R-17 & 190/50R17 R3,895, SAVE R390

both offering class-leading levels of all-weather grip, but now there's a

new one: the Roadtec 01 SE.

• SPORTMAX Q3+ 120/70R-17 & 190/55R17 R3,895, SAVE R390

The new tyres still have single compound • SPORTMAX front but Q4 features 120/70R-17 a thirdgeneration

dual compound rear. Metzeler • SPORTMAX has tweaked Q4 120/70R-17 compounds, & 190/55R17 R4,165, SAVE R400

& 180/60R17 R3,985 SAVE R400

tread pattern and there's more 'slick' • rubber SPORTMAX on the Q4 edges 120/70R-17 for improved & 200/55R17 R4,280, SAVE R400

dry cornering confidence and sharper steering.

On the road it's hard to get enough heat into a tyre for it to work

properly, especially if it's cold, or after you've been coasting through

town but just like the original Roadtec 01 the new SE warms up quickly,

so you can get onto the throttle much

quicker.

For all-weather, long distance riders looking for a tyre to look after them

BUY in all ANY conditions, BATT HP the SERIES new Metzeler 11 COMBO Roadtec & 01 SE carry on from their

GET predecessor A FREE DIGITAL as being PRESSURE the new GAUGE go-to sports touring tyre.

BATT

So, a

HP

few

Series

options

II:

to think about if you are planning on heading into a motorcycle tyre fitment center soon.

• 120/70R-17 & 160/60ZR-17, R2,700, SAVE R1,100

You are most welcome to pop into any one of our Bike Tyre Warehouse stores nationwide and our friendly and professional technical

•

staff

120/70R-17

can run

&

through

180/55ZR-17,

these

R2,800,

options

SAVE

in more

R1,150

detail, give you the opportunity to touch and feel to make sure you are choosing the right

• tyre 120/70R-17 for your & bike 190/50ZR-17, and riding R3,000, style. SAVE R1,150

• 120/70R-17 & 190/55ZR-17, R3,300, SAVE R1,200

• Stay 120/70R-17 safe & & enjoy 200/55ZR-17, our open R3,500, roads. SAVE R1,200

Bruce de Kock

CEO – Bike Tyre Warehouse Group Holdings

• Facebook @BikeTyreWarehouse • Twitter @biketyrewhse

Tel: 011 205 0216 • Cell: 073 777 9269 / 083 467 1349

www.biketyrewarehouse.com

Unit 9 Sable Park, 997 Richards Drive, Midrand

* Combo Specials and Give-aways available exclusively from Bike Tyre Warehouse branches:

Midrand Branch:

073 777 9269 / 083 467 1349

sales@biketyrewarehouse.com

East Rand Branch:

082 878 6091 / 082 878 6089

eastrand@biketyrewarehouse.com

Cape Town Branch:

079 735 2951 / 063 146 0086

cpt@biketyrewarehouse.com

Port Elizabeth Branch:

083 267 2685

pe@biketyrewarehouse.com

George Branch:

079 981 0377

npl1964@hotmail.com

GRAPHICWERX ADVERTISING & DESIGN CC
---
TOLEDO 2.0 AIR

R2,850

For all makes of:

Motorcycles Scooters Quads

SHADO ALSTON

ADVENTURE

TOURING

The Toledo 2.0 Adventure-Touring

jacket has been given a significant

update ensuring it is perfect for

summer riding and high-mileage

riders who want maximum

performance but with massive

air-flow through the jacket.

WET WEATHER

The polyester mesh jacket now

features tough nylon overlays on

the shoulder and elbows, creating

a very durable jacket for summer

use. It also has a removable

waterproof liner just in case of

inclement weather which also

can be used as an over-jacket,

meaning you don't have to

refit the liner to the inside of the

jacket if you're caught out in wet

weather.

It has a fully adjustable rolled

Neoprene collar and soft-edged

cuffs for maximum comfort and

features handwarmer pockets

and an outside Napoleon pocket

plus adjustment points on arms

and hips. A Mandarin collar

keeps the rider cool around

the neck.

Subtle black reflective elements

give the rider full visibility when

riding in low light conditions,

giving the rider a full humanoid

shape to other road users,

ensuring the Rider is fully

registered.

The Toledo 2.0 Air has CE

Level 1 protectors to shoulders

and elbows as standard and

provision for Oxford level 1 or 2

back protectors.

Contact DMD on 011 792 7691 or visit www.dmd.co.za for a dealer near you. Prices shown are recommended retail pricing including VAT. E&OE.

FEBRUARY 2021

HONDA

DOES IT AGAIN

Kevin Benavides and Honda

claim victory at the 2021

Dakar Rally

HONDA

TAKES 1ST AND 2ND

AT DAKAR 2021

Looking for motorcycle parts or accessories

Phone 011 395 2553 - 082 756 1008

MORE RIDE FOR YOUR RAND

BIG BOY, STILL OFFERING

THAN ANY OTHER BRAND.

For daily commuting, business deliveries or recreation, Big Boy have a model

for you. With a 3 Year Warranty on road legal models and 80+ dealers nationwide,

Big Boy are geared to offer unmatched value-for-money across our range.

For more info on these and other models, visit our website or an

authorised dealer for a closer look at the model of your choice.

CRUISING

Mustang 250

R35,999.00

Swift 125/150

R15,999.00

Optional Extra Fibreglass Top Box R1,950.00

SCOOTING

COMMERCIAL

Velocity 150- R15,999.00

For the full scooter, motorcycle, ATV and commercial range visit: www.samotorcycles.co.za

ON

SPECIAL!

SAVE

R600 00

WHILE STOCKS

LAST!

Revival

125/150

R18,999.00

ON/OFF ROAD

Adventure

125/150RS

R17,999.00

TTR125S R15,999.00

TTX125J R14,699.00

TSR125 R23,299.00

TSR250 R26,999.00

CRX110F

R17,399.00

MULTI MID WEIGHT ADVENTURE TEST

GAS GAS , KTM, HUSQVARNA 300TPI TEST

HUSQVARNA TEAM LAUNCH - NEWS AND LOTS MORE...

FEBRUARY 2021 RSA R35.00

Email : info@nickscycles.co.za

082 756 1008

Mon - Tues 8am to 5pm Wed 10am to 5pm

Thurs - Fri 8am to 5pm

Closed Saturdays/Sundays & Public Holidays

IMPORTED AND DISTRIBUTED BY

* All advertised prices include VAT, excludes On-The-Road costs & Govt. Levy.

Join Big Boy on

GraphicWerx Advertising & Design cc
---
TRACK

ROAD

DIRT