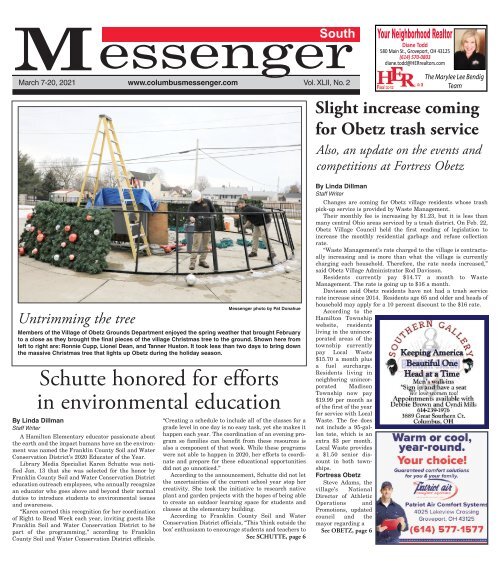 South Messenger - March 7th, 2021
You also want an ePaper? Increase the reach of your titles
YUMPU automatically turns print PDFs into web optimized ePapers that Google loves.
Messenger

South

March 7-20, 2021 www.columbusmessenger.com Vol. XLII, No. 2

Your Neighborhood Realtor

Diane Todd

580 Main St., Groveport, OH 43125

(614) 570-0803

diane.todd@HERrealtors.com

The Marylee Lee Bendig

Team

Slight increase coming

for Obetz trash service

Also, an update on the events and

competitions at Fortress Obetz

Untrimming the tree

Messenger photo by Pat Donahue

Members of the Village of Obetz Grounds Department enjoyed the spring weather that brought February

to a close as they brought the final pieces of the village Christmas tree to the ground. Shown here from

left to right are: Ronnie Cupp, Lionel Dean, and Tanner Huston. It took less than two days to bring down

the massive Christmas tree that lights up Obetz during the holiday season.

Schutte honored for efforts

in environmental education

By Linda Dillman

Staff Writer

A Hamilton Elementary educator passionate about

the earth and the impact humans have on the environment

was named the Franklin County Soil and Water

Conservation District's 2020 Educator of the Year.

Library Media Specialist Karen Schutte was notified

Jan. 13 that she was selected for the honor by

Franklin County Soil and Water Conservation District

education outreach employees, who annually recognize

an educator who goes above and beyond their normal

duties to introduce students to environmental issues

and awareness.

"Karen earned this recognition for her coordination

of Right to Read Week each year, inviting guests like

Franklin Soil and Water Conservation District to be

part of the programming," according to Franklin

County Soil and Water Conservation District officials.

"Creating a schedule to include all of the classes for a

grade level in one day is no easy task, yet she makes it

happen each year. The coordination of an evening program

so families can benefit from these resources is

also a component of that week. While these programs

were not able to happen in 2020, her efforts to coordinate

and prepare for these educational opportunities

did not go unnoticed."

According to the announcement, Schutte did not let

the uncertainties of the current school year stop her

creativity. She took the initiative to research native

plant and garden projects with the hopes of being able

to create an outdoor learning space for students and

classes at the elementary building.

According to Franklin County Soil and Water

Conservation District officials, "This 'think outside the

box' enthusiasm to encourage students and teachers to

See SCHUTTE, page 6

By Linda Dillman

Staff Writer

Changes are coming for Obetz village residents whose trash

pick-up service is provided by Waste Management.

Their monthly fee is increasing by $1.23, but it is less than

many central Ohio areas serviced by a trash district. On Feb. 22,

Obetz Village Council held the first reading of legislation to

increase the monthly residential garbage and refuse collection

rate.

"Waste Management's rate charged to the village is contractually

increasing and is more than what the village is currently

charging each household. Therefore, the rate needs increased,"

said Obetz Village Administrator Rod Davisson.

Residents currently pay $14.77 a month to Waste

Management. The rate is going up to $16 a month.

Davisson said Obetz residents have not had a trash service

rate increase since 2014. Residents age 65 and older and heads of

household may apply for a 10 percent discount to the $16 rate.

According to the

Hamilton Township

website, residents

living in the unincorporated

areas of the

township currently

pay Local Waste

$15.70 a month plus

a fuel surcharge.

Residents living in

neighboring unincorporated

Madison

Township now pay

$19.99 per month as

of the first of the year

for service with Local

Waste. The fee does

not include a 95-gallon

tote, which is an

extra $3 per month.

Local Waste provides

a $1.50 senior discount

in both townships.

Fortress Obetz

Steve Adams, the

village's National

Director of Athletic

Operations and

Promotions, updated

council and the

mayor regarding a

See OBETZ, page 6
---
PAGE 2 - MESSENGER - March 7, 2021

www.columbusmessenger.com

LIST YOUR

PALM SUNDAY, GOOD FRIDAY AND

EASTER WEEK SERVICES

ON OUR EASTER CHURCH PAGE

in The Groveport or South/Canal Winchester Messenger

The page will print in our March 21st issue

The deadline for the Easter Church Page is

Friday, March 12th at 2:00 pm.

Call or email Kathy

for More Information

614-272-5422

or

kathy@

columbusmessenger.com

God Bless Everyone

& Stay Safe at Home

Malek &

ATTORNEYS AT LAW

Malek

WORK INJURIES

WORKERS'

COMPENSATION

SAFETY VIOLATIONS

WRONGFUL DEATH

PERSONAL INJURY

SLIP & FALL INJURY

DOG BITE INJURY

Grace Ministries

464 Rathmell Rd., Columbus, OH 43137

Visit us at www.graceministries.org

Easter Sunday, March 27th

Sunrise Communion Service - 7:00 am

Easter Service - 10:30 am

Easter Egg Hunt immediately following 10:30 service

with over 5,000 eggs and prizes

Douglas, Ed, Jim

and Kip Malek

Ben Churchhill

"Hablamos Español"

FREE Initial Consultation

www.maleklawfirm.com

614-444-7440

1227 S. High St., Columbus, OH 43206

Messenger photo by Linda Dillman

American Pie Party organizer Tony Sobony takes a few pies to the face during a pie party fundraiser.

Fighting cancer with humor

By Linda Dillman

Staff Writer

Tony Sobony believes in taking on cancer with pie

in the face humor by helping donors raise money

through American Pie Party fundraisers to battle the

disease.

In the late 1970s, Sobony was a teacher at

Hamilton Township High School when he asked his

mentor and fellow teacher, Carol Lowe, "What should

I do? I am not sure if I want to teach the rest of my

life. She replied, 'Specialize in something.'"

When he went home that night and watched "The

Tonight Show's" Johnny Carson describe humor as

often being the extreme of something, Sobony was

diagnosed with throat cancer five years ago and skin

cancer a few months ago. Also, his father passed away

from lung cancer.

Sobony believes God planted the seed that would

become the American Pie Party.

"A pie in the face is the extreme physical comedy

act," said Sobony. "It is funny, therapeutic, and sometimes

magic. Cancer is the extreme physical tragedy.

It hurts in many ways and it kills. By combining the

laughter of pies in the face and the sorrow of cancer,

unlimited amounts of money can be raised for the war

on cancer. My friend Carol later passed away from

breast cancer. Now I am a frustrated fundraiser."

Sobony said people donated more than $100,000 over

the years through pie party events where–in non-pandemic

years–individuals line up with a cream-filled pie

plate to throw at designated recipients.

"We have held pie parties at Columbus City Hall,

the Statehouse lawn, parking lots, backyards, living

rooms, churches, schools, and restaurants," said

Sobony. "We recruit celebrity PiePals–people who

celebrate life–to raise funds and accept a whipped

creme paper plate pie in the face from a cancer survivor,

preferably. On National Cancer Survivor Day,

the first Sunday in June, we hold SpeedPie.

Approximately 600 pies are tossed at me in a minute.

I have accumulated over 70,000 in 40 years with notarized

signatures."

Pie parties are also held at birthday parties, family

reunions, auctions where participants can bid for the

opportunity to throw a pie in the face, and a Human

Checkers game where whoever gets jumped gets a pie

in the face and if you get "kinged," you get to throw a

pie at anyone.

Five years ago, American Pie Party TAG was

launched with the premise that 90 percent of the

money raised during an event goes to a celebrity's

chosen cancer agency. Since the pandemic hit, the

organization started promoting Virtual Pie Party

TAG to benefit children's families who are going

through treatment.

"We direct the funds for co-pays, medications, and

supplies," said Sobony. "With Virtual Pie Party TAG,

we ask the volunteer to video the event and TAG

another with the tagline, 'What's the cure for cancer?

Tag! You Are It' We hope the concept goes viral."

A fish fry benefitting the American Pie Party is

scheduled on May 5, from 11 a.m. - 1 p.m. at River Vista

Health and Wellness, 1599 Alum Creek Drive,

Columbus. This event is sponsored by StoryPoint Senior

Living in Grove City, River Vista, Bickford Senior Living

of Bexley, and Oasis Senior Advisors. People can preorder

meals ($10) or donate at the event.

"The American Pie Party is a 501c3, quintessential,

diamond in the rough, faith-based nonprofit that

fights cancer with Pie-in-the-Face humor," said

Sobony. "Joe Virgin, real estate agent with E-Merge

is scheduled to play Virtual Pie Party TAG in March,

probably Pi Day, (3.14). StoryPoint Senior

Community will have an American Pie Party on

March 15 and we are inviting Youth Ministers of various

local churches to play American Pie Party TAG

in April."

Visit www.theamericanpieparty.org or on

Facebook at TheAmericanPieParty for information.
---
www.columbusmessenger.com

Renovated Scioto Southland bigger and better

By Rick Palsgrove

Managing Editor

Let the fun and fitness begin!

Columbus Mayor Andrew

Ginther recently officially opened

Columbus Recreation and Parks

Department's renovated Scioto

Southland Community Center (formerly

Indian Mound Recreation

Center), located at 3901 Parsons

Avenue (south of Williams Road,

north of I-270).

The renovated community center

and park includes a 34,000

square-foot, multi-purpose wellness

and activity space.

"Our community centers are a

vital resource for residents, and it's

important that we continue to

invest in our facilities so we can

meet the changing needs of our communities and prepare for the

growth we're expecting to see in our city and region," Ginther said

in a press release. "We're excited to enhance the experience for residents

in the community."

The recreation center has undergone renovations over the past

few years, including its gymnasium, lobby, and classrooms. Plus

air conditioning was installed. During the renovations, the space

was nearly doubled, allowing for the addition of these new features:

demonstration/teaching kitchen; auxiliary gymnasium;

additional classrooms and restrooms, including a family restroom;

walking trails; and playground.

The new space allows for new and expanded programming,

such as toddler childcare and after school programming as well as

senior programming, some of which will take place during early

center hours. The new art room features pottery wheels, a slab

wheel and kiln, and the center offers dedicated spaces for boxing

and weightlifting.

According to the city of Columbus, the renovations are part of

Columbus Recreation and Parks' capital improvement plans

designed to continue to enhance the facilities and amenities available

to residents. The department partnered with Hardlines

Design to complete this project.

"Indian Mound Rec Center was built in 1970 and was designed

to save on utility bills," said Charissa Durst, president of

Hardlines Design Company and who was the lead architect. "The

facility had no exterior windows and low ceilings. Administrative

space was limited, the locker rooms were in poor condition, and

there wasn't enough space for the programming the city wanted to

do in this facility. The city of Columbus has been gradually updating/replacing

their older recreation centers and at the end of 2015

Indian Mound was next on the list."

Durst said the city's original plan was the demolish the existing

12,000 square foot building and construct a replacement, similar

Image courtesy of Hardlines Design Company

This is a front view of the renovated Scioto Southland Recreation Center (formerly Indian Mound

Recreation Center.)

to what had been done with Glenwood Recreation Center.

"Unfortunately, the available construction budget was insufficient

to build an entirely new facility," said Durst. "After a series

of public meetings, senior programming was added to the facility,

which made the new building larger and more expensive."

According to Durst, Hardlines Design Company persuaded the

city to retain the original building, renovate it, and construct an

addition, which would meet the construction budget and incorporate

the senior programming.

"The updated facility has a brightly lit interior, expanded

administrative space, new locker rooms, a main and auxiliary

gym, rooms dedicated to fitness room, art, ceramics, and computers,

as well as a commercial kitchen and several multi-purpose

rooms for flexible programming," said Durst.

"It's important that our centers represent the community and

are tailored to the needs of the neighborhood," Paul Rakosky,

interim director of Columbus Recreation and Parks Department

said in a press release. "We asked residents to share what features

and programming are important to them, and for their help in

selecting a new name for the center that better represents the

community."

To limit the spread of the coronavirus, the Scioto Southland

Community Center is open to registered participants and staff

only. Community members can see the facility by visiting

youtu.be/_Huc_bG5PcM.

To advertise

in the

Messenger,

call 614-272-

5422

March 7, 2021 - MESSENGER - PAGE 3

ink spring - Groveport

Community Garden

Interested in gardening, but don't have

enough space at your residence? If so, you

may want to consider gardening at the

Groveport Community Garden.

The garden is in Heritage Park, 551

Wirt Road, Groveport, just a one mile

drive from the Groveport Recreation

Center. Dozens of plots available. On-site

water available as well as fertile soil. Cost

is $10 per plot. Groveport residents and

persons who had a plot in 2020 may register

beginning Feb. 1. Non-resident registration

begins March 1. Planting begins in

early April. The garden closes on Nov. 1.

For information, visit

www.groveportrec.com/259/Community-

Garden or call Kyle Lund at 614-836-1000.

OH License #20692

Rohr Road project

Groveport City Council is considering a

request for an amendment to the plan for

the development at 2400 Rohr Road near

the intersection with Alum Creek Drive.

The original plan by BSTP Midwest,

LLC was approved by council in 2019 for

its lots 1, 2, and 3. According to Groveport

City Administrator B.J. King, a turn lane

is needed to access lots 1 and 3, but Pizzuti

Companies now possesses the 20.75 acre

lot 2, which by itself does not need a turn

lane. Pizzuti is requesting the turn lane

requirement for its lot be removed from the

plan. Pizzuti intends to build two industrial

buildings on the lot. The plan shows two

proposed warehouses on lot 2 at the north

end of the site. One is proposed to be

157,500 square feet the other is proposed

to be 195,000 square feet.

According to a Dec. 21 letter from BSTP

Midwest, LLC in support of Pizzuti's

request, Pizzuti plans to develop its site

prior to the development of lots 1 and 3

(about 12 acres), of which BSTP Midwest,

LLC has retained ownership. The letter

states BSTP Midwest, LLC's plans for its

lots have not changed, but its development

schedule is not yet determined. According

to the development plan, BSTP Midwest,

LLC plans to build a fuel center and convenience

store on lots 1 and 3

Groveport Development Director Jeff

Green said there is a 15 year property tax

abatement on this property.
---
PAGE 4 - MESSENGER - March 7, 2021

A

PAID ADVERTISING

www.columbusmessenger.com

INSTRUCTIONS: This is the Ox xford Capacity Analysis Te est (OCA)

).

Answer every question as to how you feel RIGHT NOW. Do not stay too long with any one qu estion, but answer as soon as you uy

understand and then go on to

the next question. The accuracy

depends on the truthfulness of

your answers. Each question may

be answered one of three ways s, by marking one of the boxes nex xt

to each column:

(+) means definitely yes or mostly yes

(m) means maybe or uncertain. Not a definite yes or no.

(-) means definitely no or mostly no

This is a free public service and there is no obligation. This is done

with the idea that people can know and improve themselves.

NAME: ____________________________________________________

_

ADDRESS: ______________________________________________

CITY: _______________________ STATE: TE: ______ ZIP: ___________ _

EMAIL: ________________________________________________ _

PHONE:_______________________ A GE:____ DATE: ___________

(+) (m) (-)

m m m

m m m

m m m

m m m

m m m

m m m

m m m

m m m

m m m

m m m

m m m

m m m

m m m

m m m

m m m

m m m

m m m

m m m

m m m

m m m

m m m

m m m

m m m

m m m

m m m

m m m

m m m

m m m

m m m

m m m

m m m

m m m

m m m

m m m

m m m

m m m

m m m

m m m

m m m

m m m

m m m

m m m

m m m

m m m

m m m

m m m

m m m

m m m

m m m

m m m

m m m

m m m

m m m

m m m

m m m

THE OXFORD CAPACITY ANALYSIS TEST

1. Do you make thoughtless remarks or accusations which later you

regret?

2. When others are getting rattled, do you remain fairly composed?

3. Do you browse through railway timetables, directories, or

dictionaries just for pleasure?

4. When asked to make a decision, would you be swayed by your like

or dislike of the personality involved?

5. Do you intend two or less children in your family even though your

health and income will permit more?

6. Do you get occasional twitches of your muscles, when there is no

logical reason for it?

7. Would you prefer to be in a position where you did not have the

responsibilities of making decisions?

8. Are your actions considered unpredictable by other people?

9. Do you consider more money should be spent on social security?

10. Do other people interest you very much?

11. Is your voice monotonous, rather than varied in pitch?

12. Do you normally let the other person start the conversation?

13. Are you readily interested in other people's conversations?

14. Would the idea of inflicting pain on game, small animals or fish

prevent you from hunting or fishing?

15. Are you often impulsive in your behavior?

16. Do you speak slowly?

17. Are you usually concerned about the need to protect your health?

18. Does an unexpected action cause your muscles to twitch?

19. Are you normally considerate in your demands on your employees,

relatives or pupils?

20. Do you consider that you could give a valid "snap judgment"?

21. Do your past failures still worry you?

22. Do you find yourself being extra-active for periods lasting several

days?

23. Do you resent the efforts of others to tell you what to do?

24. Is it normally hard for you to "own up and take the blame"?

25. Do you have a small circle of close friends, rather than a large

number of friends, speaking acquaintances?

26. Is your life a constant struggle for survival?

27. Do you often sing or whistle just for the fun of it?

28. Are you considered warm-hearted by your friends?

29. Would you rather give orders than take them?

30. Do you enjoy telling people the latest scandal about your

associates?

31. Could you agree to "strict discipline"?

32. Would the idea of making a complete new start cause you much

concern?

33. Do you make efforts to get others to laugh and smile?

34. Do you find it easy to express your emotions?

35. Do you refrain from complaining when the other person is late for an

appointment?

36. Are you sometimes considered by others a "spoilsport"?

37. Do you consider there are other people who are definitely unfriendly

toward you and work against you?

38. Would you admit you were wrong just to "keep the peace"?

39. Do you have only a few people of whom you are really fond?

40. Are you rarely happy, unless you have a special reason?

41. Do you "circulate around" at a social gathering?

42. Do you take reasonable precaution to prevent accidents?

43. Does the idea of talking in front of people make you nervous?

44. If you saw an article in a shop obviously mistakenly marked lower

than its correct price, would you try to get it at that price?

45. Do you often feel that people are looking at you or talking about

you behind your back?

46. Are you "always getting into trouble"?

47. Have you any particular hate or fear?

48. Do you prefer to be an onlooker rather than participate in any active

sport?

49. Do you find it easy to be impartial?

50. Have you a definitely set standard of courteous behavior in front of

other members of your family?

51. Can you "start the ball rolling" at a social gathering?

52. Would you "buy on credit" with the hope that you can keep up the

payments?

53. Do you get an after-reaction when something unexpected such as

an accident or other disturbing incident takes place?

54. Do you consider the good of all concerned rather than your own

personal advantages?

55. When hearing a lecturer, do you sometimes experience the idea that

the speaker is referring entirely to you?

(+ ) ( m) (-)

m

m

m

56. Does "external noise" rar

rely interfere with your concentration?

(+) (m) (-)

m

m

m

135. Do the "petty foibles oibles" of others make you impatient?

m m m 57. Are you usually "up-to-date" on everyday affairs?

m m m 136. Do children irritate you?

m m m 58. Can you confidently plan

and work towards carrying out an event

in m m m 137. Are you less talkative than your associates?

six months time?

m m m 138. Do you usually carry out assignments promptly and systematically?

m m m 59. Do you consider the modern "prisons without bars" system doomed

m m m 139. Would you assist a fellow traveler rather than leave it to the

to failure?

officials?

m m m 60. Do you tend to be careless?

m m m 140. When voting, do you vote the same party ticket straight rather than

m m m

61. Do you ever get a "dreamlike" feeling toward life when it all seems

s

studying the candidates

and issues?

unreal?

m m m 141. Do you frequently dwell on your past illnesses or painful

m m m 62. Do you speedily recover from the effects of bad news?

experiences?

m m m 63. When you criticize, do yo ou at the same time try to encourage? m m m 142. Do you get very ill at ease in disordered surroundings?

m m m 64. Are you normally considered "cold"?

m m m 143. Do you usually criticize a film or show that you see or a book that t

m m m 65. Are your opinions insufficiently important to tell other people?

you read?

m m m 66. Are you so self-assured that it sometimes annoys others?

m m m 144. When recounting some amusing incident can you easily imitate th he

m m m 67. Do you keep "close contact" on articles of yours which you have

mannerisms or the dialect in the original incident?

loaned to friends?

m m m 145. In subjects about which you are not expert, are your own ideas of

m m m 68. Do you enjoy activities of your own choosing?

sufficient importance as to tell others?

m m m 69. Does emotional music have quite an effect on you?

m m m 146. Do you have a tendency to tidy up a disorder of somebody else's

household?

m m m 70. Do you completely cond emn a person because he is a rival or

opponent in some aspect of your relations with him?

m m m 147. Can you accept defeat ea asily without the necessity of "swallowing

your disappointment"?

m m m 71. Do you often "sit and think" about death, sickness, pain and sorrow?

m m m 148. Do you often feel depressed?

m m m 72. Are you perturbed at the idea of loss of dignity?

m m m 149. Are you ever ill at ease in the company of children?

m m m 73. Are you always collecting things which "might be useful"?

m m m 150. Do you get frustrated at not being able to do something rather than

m m m 74. Would you criticize faults and point out the bad points on someone

finding a substitute activity or system?

else's character or handiwork?

m m m 151. Are you sometimes completely unable to enter the spirit of things?

m m m 75. Are you openly appreciative of beautiful things?

m

m

m

152. Do you rarely express your grievances?

m m m 76. Do you sometimes give away articles which strictly speaking do not

belong to you?

m m m 153. Do you work in "spurts," being relatively inactive and then furiously

active for a day or two?

m m m 77. Do you greet people effusively?

m m m 154. Does the number of uncompleted jobs you have on hand bother

m m m 78. Do you often ponder on previous misfortunes?

you?

m m m 79. Are you sometimes considered forceful in your actions or opinions? m m m 155. Do people enjoy being in your company?

m m m 80. Do you accept criticism easily and without resentment?

m m m 156. Could you allow someone to finish those "final two words" in a

m m m 81. Are you usually undisturb bed by "noises off" when you are trying to

crossword puzzle without interfering?

rest?

m m m 157. Do you consider the best points of most people and only rarely

m m m 82. Are you likely to be jealous?

speak slightingly of them?

m m m 83. Do you tend to put off do oing things and then discover it is too late? m m m 158. Do you laugh or smile quite readily?

m m m 84. Do you prefer to abide by the wishes of others rather than seek to m m m 159. Are you definite and emphatic in voice and manner?

have your own way?

m m m 160. Are you effusive only to close friends if at all?

m m m 85. Do you find it easy to ge t yourself started on a project?

m m m 161. Are your interests and fields of knowledge so important as to give

m m m 86. Do you bite your fingernails or chew the end of your pencil?

little time for anything else?

m m m 87. Do you "turn up the volu me" of your emotions just to create an m m m 162. Would you like to "start a new activity" in the area in which you live?

effect?

m m m 163. Would you take the necessary actions to kill an animal in order to

m m m 88. If we were invading another c

ountry, would you feel sympathetic

put it out of pain?

towards conscientious objectors in this country?

m m m 164. Is it easy for you to relax?

m m m 89. Are there some things about yourself on which you are touchy? m m m 165. Do you have little regret on past misfortunes and failures?

m m m 90. Do you have few interest ts and activities that are your own choice? m m m 166. Does the idea of fear or apprehension give you a physical reaction?

m m m 91. Do you ever get a single thought which hangs around for days? m m m 167. Can you trust the decision of your judgment in an emotional

m m m 92. Are you a slow eater?

situation in which you are involved?

m m m 93. Can you be a stabilizing influence when others get panicky? m m m 168. Could someone else consider that you were really active?

m m m 94. Would you stop and find out whether a person needed help even

m m m 169. Do you find it hard to get started on a task that needs to be done?

though they had not dire ectly asked you for it?

m m m 170. Are you opposed to the "probation system" for criminals?

m m m 95. Are you prejudiced in favor of your own school, college, club or m m m 171. Do you spend much time on needless worries?

team, etc.?

m m m 172. In a disagreement do you find it hard to understand how the other

m m m 96. Do you pay your debts and keep your promises when it is possible?

person fails to see your side, and thus agree with you?

m m m 97. Do you sleep well?

m m m 173. Do you cope with everyday problems of living quite well?

m m m 98. Would you use corporal punishment on a child aged ten if it refused m m m 174. Are you usually truthful to others?

to obey you?

m m m 175. Would you rather "wait for something to happen" as opposed to

m m m 99. Do you prefer to take a passive role in any club or organization to

you causing it?

which you belong?

m m m 176. Do you spend too freely in relation to your income?

m m m 100.Are you logical and scientific in your thinking?

m m m 177. Can you take a "calculated risk" without too much worry?

m m m 101. Does the youth of today have more opportunity than that of a

generation ago?

m m m 178. If you were involved in a slight car accident, would you really take

the trouble to see that any damage you did was made good?

m m m 102. Do you throw things away only to discover that you need them

later?

m

m

m

179. Do others push you around?

m m m 103. Would you give up easily on a given course if it were causing you a

m m m 180. Do you make allowances for your friends where with others you

considerable amount of inconvenience?

might judge more severely?

m m m 104. Do you "wax enthusiastic" about only a few subjects?

m m m 181. Do you often ponder over your own inferiority?

m m m 105. Do you rarely suspect the actions of others?

m m m 182. Do people criticize you to others?

m m m 106.Do you sometimes wond der if anyone really cares about you?

m m m 183. Are you embarrassed by a hearty greeting such as a kiss, hug, or pat

on the back, if done in public?

m m m 107. Do you turn down responsibility because you doubt your fitness to

cope?

m m m 184. Do you frequently not do something you want to do because of

other people's desires?

m m m 108. Do you sometimes feel compelled to repeat some interesting item

or tidbit?

m m m 185. Are you sometimes convinced of the correctness of your opinions

about a subject even though you are not an expert?

m m m 109. Do you tend to exaggerate a justifiable grievance?

m m m 186. Do you often find yourself "going off in all directions at once"?

m m m 110. Is your facial expression varied rather than set?

m m m 187. Do your acquaintances seem to think more of your abilities than

m m m 111. Do you usually need to justify or back up an opinion once stated?

you do?

m m m 112. Do you openly and sincerely admire beauty in other people? m m m 188. Is the idea of death or even reminders of death abhorrent to you?

m m m 113. Would it take a definite effort on your part to consider the subject m m m 189. Having settled an argument out do you continue to feel disgruntled

of suicide?

for a while?

m m m 114. Would you consider your rself energetic in your attitude toward life? m m m 190. Are you friendly in voice, attitude and expression?

m m m 115. Would a disagreement afffect your general relationship with another m m m 191. Does life seem rather vague and unreal to you?

person?

m m m 192. Do you often feel upset about the fate of war victims and political l

m m m 116. Does a minor failure on your part rarely trouble you?

refugees?

m m m 117. Do you sometimes feel that you talk too much?

m m m 193. Do "mere acquaintances" appeal to you for aid or advice in their

m m m 118. Do you smile much?

personal difficulties?

m m m 119. Are you easily pleased?

m m m 194. If you lose an article, do you get the idea that "someone must have

m m m 120. When met with direct opposition would you still seek to have your

stolen or mislaid it"?

own way rather than give

in?

m m m 195. If you thought that someone was suspicious of you and your

m m m 121. Provided the distance were not too great, would you still prefer to

actions, would you tackle them on the subject rather than leaving

ride rather than walk?

them to work it out?

m m m 122. Do you ever get disturbe ed by the noise of the wind or a "house m m m 196. Do you sometimes feel that your age is against you (too young or

settling down"?

too old)?

m m m 123. Is your opinion influenced

by looking at things from the standpoint m m m 197. Do you have spells of being sad and depressed for no apparent

of your experiences, occupation or training?

reason?

m m m 124. Do you often make tactless blunders?

m m m 198. Do you do much grumbling about conditions you have to face in

m m m 125. Are you suspicious of people who ask to borrow money from you?

life?

m m m 126. Are your decisions swaye ed by personal interests?

m m m 199. Do you tend to hide your feelings?

m m m 127. Can you get quite enthusiastic over "some simple little thing"? m m m 200. Do you consider you have many warm friends?

m m m 128. Do you frequently take a ction even though you know your own

good judgment would indicate otherwise?

m

m

m

129. Are you in favor of color bar and class distinction?

Bring or mail to the Church of

m m m 130. Are you aware of any habitual physical mannerisms such as pulling

your hair, nose, ears or such like?

Scientology Central Ohio

m m m 131. Can you quickly adapt and make use of new conditions and

situations even though they may be difficult?

1266 Dublin Road

m m m 132. Do some noises "set your teeth on edge"?

m m m 133. Can you see the other fellow's point of view when you wish to?

Columbus, OH, 43215

m m m 134. Do you go to bed when you want to, rather than "by the clock"?

© 2021 Church of Scientology of Central Ohio. All Rights Reserved. OXFORD CAPA CITY ANALYSIS, SCIENTOLOGY, and THE SCIENTOLOGY SYMBOL are trademarks and service marks owned by Religious Technology Center and are used with its permission.
---
www.columbusmessenger.com

entertainment

A main character to be loathed and liked

With so many

awful people living

among us on this

planet, it is no wonder

why those who are seeking an escape through

film, television, or literature shun fictionalized

works that feature morally reprehensible topics

or morally reprehensible characters. And while

I do respect their point of view, and even agree

with it to a certain extent, I also feel that those

who disengage completely are shutting

The Reel Deal

themselves out of opportunities for complex

discourse with real-world implications or

depriving themselves of immersive art

through rich text and fascinating on-screen

performances.

Dedra

Cordle

For example, one such work that is currently being debated to

the entertainment sphere is "I Care a Lot," a film that touches

upon the exploitation of senior citizens or those deemed "unfit in

mind," made possible by the collusion between government institutions

and corporate and criminal enterprises. When it debuted

last week on Netflix, it sparked a frenzied discourse as it arrived

with a strange intersection of current, real-world events — one

where interest in court-appointed conservatorship is at an all-time

high due to articles and documentaries related to the case involving

Britney Spears and one where society is reckoning with how

little oversight is given to some facilities housing our country's elders.

In addition to this discourse, which has been eye-opening,

informative, and enraging and depressing, the film also critiques

the #GirlBoss mindset, reminding those that just because a

woman is in a powerful position does not mean she is not abusing,

or cannot abuse, her authority just as much as any #BoyBoss.

But while "I Care a Lot" wants to delve into these topics, it does

not go too far into its murky depth; instead, it prefers to skim the

waters, pointing out things here and there in favor of a more

entertaining and fast-paced movie. And to be sure, it is just that,

but I also think it would have been better served had it remained

focus on a singular plot rather than lose it halfway through for

more entertainment value.

In the film, the fabulous Rosamund Pike (or Amazing Amy from

"Gone Girl") plays Marla Grayson, a court-appointed guardian

who specialized in elder care. Working legally through the system

but with the assistance of shady doctors and nursing home executives,

she finds seniors who either have no family or family members

willing to take them in, puts them into an assisted living

facility and proceeds to drain them of every asset they have

acquired throughout their lives.

Having amassed a small fortunate (but not enough, it is never

enough) through her business venture, Marla and her work/nonwork

partner, Fran (Eiza Gonzalez), set off to find their next mark,

er, ward after their latest unexpectedly dies. Upon the recommendation

of a shady doctor, they establish a route in the life path of

Jennifer Peterson (the equally fabulous Dianne Wiest) who they

caustically refer to as a "cherry." A cherry, they gush to the doctor

who is set to declare Jennifer as a ward due to a dubiously diagnosis

of "rapid mental decline," is someone who has no living spouse,

no living children, and no living relatives to get in their way. So,

with all of this information on her status, and with a healthy bank

account to her name, they believe Jennifer is ripe for the picking.

They soon discover they should have picked another mark.

In a surprising turn of events for Marla and Fran, the whole "no

living relative" turns out to be a mistake — and quite a big one.

This long-held secret, or so we are led to believe at first, puts them

on the path of some hardcore people, led by the fearsome Roman

Lunyov (Peter Dinklage). At first, Roman respects their hustle and

asks Marla to release Jennifer from her care immediately.

Stubborn to a fault and unwilling to heed to the threats of any

man (it also doesn't help that he denied her request for millions of

dollars to do so), she digs in, uncaring of anything but her need for

more money and control. Later, as she is caught in their own tightly

spun web, she laments that they are not playing fair. And while

you hate to agree with her on anything, you kinda do from a viewer's

perspective.

While Marla meets Roman, the film, once a cutting look at the

shady side of elder care, turns into an adventure-thriller complete

with rapid-fire montages set against electro-music. It makes for a

complete tonal shift and one cannot help

but to think of Marla's comment about

wanting her rival to play by her rules. Just

think of how great it could have been had

Jennifer's friends, all senior citizens like

her, banded together to fight Marla and the

system through legal and dubiously legal

means. But instead of that twist, we get

something altogether interesting but inconsistent

with the rest of the film.

But despite the complaints about the

drifting plot, "I Care a Lot" is an engaging

film with some terrific performances, most

notable from Pike. With her sharp, blonde

bob, power suits, killer heels and outward

projection of false kindness, Marla is an

unabashedly deceitful human, not caring

about who she hurts and how it hurts them

as long as she gets her slice of the sweet life.

Pike plays her so subtly and serenely menacing

and it is so, dare I say, fun to watch.

While in the real world, you would (hopefully)

loathe a person like this, but in a fictionalized

setting it's just a delight to be able to

catch a performance like this and to be able

read the discourse on a multi-faceted character

and a multi-faceted topic.

Grade: B

Dedra Cordle is a Messenger staff writer

and columnist.

"Working: A Musical" at CATCO virtually April 29-May 9

CATCO focuses on work and the people behind the

jobs in its upcoming production of, "Working: A

Musical," April 29-May 9.

Based upon Studs Terkel's 1974 bestseller,

"Working: People Talk About What They Do all Day

and How They Feel About What They Do," the musical

shares actual workers' words from the book and gives

voice to their hopes and aspirations.

Truckers, waitresses, stay-at-home moms, hedge

fund managers, laborers, millworkers, project managers,

delivery people and other workers tell their stories

through music written by songwriters Craig

Carnelia, Micki Grant, Lin-Manuel Miranda, Mary

Rodgers, Susan Birkenhead, Stephen Schwartz and

James Taylor.

Auditions for six actors are under way. For information

visit www.catco.org/auditions/

Tickets (one per device) are $20 each, and are available

at www.catco.org/working/

Directing "Working: A Music," is Daniella Wheelock

and the music director is Jeremy Ramey.

The musical has undergone several revisions since

its premiere in 1977 and on Broadway in 1978. CATCO

will present the 2012 version.

Visit catcoistheatre.org for information.

March 7, 2021 - MESSENGER - PAGE 5

eastside

Messenger

(Distribution: 16,822)

Rick Palsgrove................................South Editor

eastside@ columbusmessenger.com

Published every other Sunday by

The Columbus Messenger Co.

3500 Sullivant Ave., Columbus, Ohio 43204-1887

(614) 272-5422

Lockbourne Council

Lockbourne Village Council meets the

second and fourth Mondays of each month

at 7 p.m. Until further notice, council will

meet virtually through Microsoft Teams.

To join the meeting, go to the village website

at www.lockbourneohio.us and click on

the link to the meeting.

Obetz Village Council

Obetz Village Council meets the second

and fourth Mondays of each month at 6

p.m. in the Council Chambers at 4175

Alum Creek Drive, Obetz, to review and

pass legislation and hear concerns from

the residents. Call (614) 491-1080.
---
PAGE 6 - MESSENGER - March 7, 2021

SCHUTTE

Continued from page 1

use an outdoor space for instruction,

takes the goal of supporting opportunities

for lifelong learning, beyond the Media

Center. Additionally, Karen has shared

Franklin Soil and Water's SWIFTlet lessons

with the classes in her building. Her

consistent commitment to bridging the

gap between science and language arts is

commendable."

One year Schutte organized a recycling

campaign for her entire school building

for 30 days during Earth Month. Students

decorated cardboard boxes and made

them into classroom recycle bins. At the

end of the month, everything was

"I decided to create a landfill in a

terrarium so the kids could see the

various layers of how a landfill operates."

- Karen Schutte

brought to the library so kids could see

how much accumulated in just four

weeks.

"Boy that was fun cleaning up," said

Schutte in looking back at the project.

"That same year I decided to create a

landfill in a terrarium so the kids could

see the various layers of how a landfill

operates and how quickly some things

decompose while other items take years

and years. Kroger donated paper sacks to

us one year and I had the kids draw/create

messages about recycling, helping the

earth, etc. We then returned them to

Kroger to be passed out to the customers.

Another year we collected Pennies for the

Planet during Earth Month and then

donated that money to the Wildlife

Organization."

In addition to receiving an award from

the soil and water district, Schutte also

received books on the environment which

will be put into circulation in the elementary

school library. She said it has been a

pleasure developing a relationship and

working with the Franklin Soil and

Water Conservation District and she

encourages all educators and home

school families to take advantage of the

organization and resources within the

community.

OBETZ

Continued from page 1

fast-filling schedule at Fortress Obetz for

the rest of 2021.

"There's literally only two Saturday-

Sunday combinations open," said Adams as

he highlighted a calendar already packed

with events including Ohio State

University soccer games, a potential hosting

of the first and second round of men's

and women's NCAA soccer, an after-hours

www.columbusmessenger.com

Photo courtesy of Franklin County Soil and Water

Franklin County Soil and Water Conservation

District environmental educator Linda Pettit,

left, presents Hamilton Elementary library

media specialist Karen Schutte, right, with the

district's 2020 Educator of the Year award.

Good Guys related event, Q FM 96 Bike

Nights, Hamilton Township's 2021 graduation

and several football camps.

The village is conducting movie nights

in June, July, and August and the

Cleveland Browns are holding their youth

football camp. Other events are the

OHSAA Cross Country Showcase and high

school cross country championship.

Are you or a loved one approaching

Medicare Decisions

Soon?

M ed icare Annual Enroll

ment Period

Oct. 15

th

Dec. 7

• I hear on TV about dental, vision, hearing benefits are offered.

Are they available to me?

• Medicare Senior Insulin Program 2021 - Find out if your plan participates.

• Do I qualify for Low Income Subsidy (LIS) to reduce my Rx copays?

You may apply anytime during the year, I can help.

Call me t

Consultatio n $0 Fee

Call me t

Consultatio

$0 Fee

Terri

Curcio

6

14-460-060460

060

01

Terri

Curcio

614-460-0601

0601

Resident

of Ohio, a representative that i

an 800#! I can mail

you

Local repre your esentative, choice of carrier(s) I can mail

information you your preferre or we can ed carrier(s) meet via Zoom informca

all. ation And, to review. I can enroll

Also, a

I can enrol client l a without client without a face-to-fac a face meeting to face meetin or sched ngdule or schedule a personal a mee one-on-one eting if you meeting prefer. if

you prefer.

OHIO IN. #43449 Available year round to answer questions, or

to help resolve an

issue. NO FEE

Offering different types of plans with top-rated carriers. I will work for you to find the

plan that

Review

fits your

different

needs

types

and

of lifestyle, Medicare

while

plans

offe

with

ring top-rated

the lowest

carriers

copays.

. I work for you to

find the

plan that fits your needs and lifestyle,

while offering low

copays.

Do I qualify for

Low Income Subsidy (LIS) to reduce my Rx copays?

Turning 65 and new to Medicare

Or over 65 and

still working

needing answers.

Grove City Chamber Member

th
---
www.columbusmessenger.com

March 7, 2021 - MESSENGER - PAGE 7

Newspapers remain a valuable resource

Newspapers have been in circulation for centuries. Ancient Romans produced government

announcements and posted them in prominent locations around the city. In ancient

China, news sheets were circulated among court officials to share government news. However,

it wasn't until use of the printing press became widespread that the new media of

newsprint became available to the general public. The 17th century was the first time

much of Europe and other areas around the world began to produce something similar

to what we now know as newspapers.

Nowadays, many newspapers are still being printed on a daily or weekly basis, but publishers

also understand the benefits of digital content. That is why newspapers are now

supplementing their print copy with digital and interactive versions online. Should a person

desire to read a printed version, he or she can do so. Others can access content online,

which is typically updated regularly as newsworthy items become available.

Newspapers have frequently been the first source people turn to for information on various

subjects, including current events and sports. Even now, despite the prevalence of

television news, people still look to the newspapers for in-depth coverage of hot topics.

Additionally, some newspaper content is mirrored online or offered in some other complementary

form. For example, fans of comics in the newspaper may not realize they're

a major source of syndication revenue. In an effort to snag a bigger chunk of key demographics,

comics not only are being run in the newspaper, but also are being adapted into

"apps" that can be viewed on tablets, computers and smartphones to further their visibility.

The Internet may be creating a dramatic shift in the business model and the products offered

by newspapers, but that isn't necessarily a bad thing, presenting new opportunities

for newspapers to expand on their offerings in unique ways. Many papers now enable

readers to express their comments about news stories online, which fosters a global discussion

that can bring people from various parts of the world together.

Newspapers also are shifting the mix of stories they offer to provide a stronger balance of

entertainment, lifestyle and other subjects that are more relevant to people's daily lives

than politics and international affairs may be. In turn, newspapers are attracting new

readers both offline and online.

Few can argue about the validity of newspapers for current events. Students exploring

current topics and presenting them in school are frequently urged to look to newspapers

for content. Editors are largely apprised of up-and-coming trends and are given first-see

information before the general public, which they later share in their publications. Local

newspapers truly offer the best window into what makes a community unique. When

searching for local jobs, events or merchandise, newspapers and their respective Web sites

remain a reliable resource for their readers.

Despite the ominous forecasts projecting the demise of newspapers, many publications

are still going strong and proving just how valuable a resource they can be.

WANTED

SW CITY SCHOOLS

SCHOOL BUS DRIVERS

The South-Western City School

District is currently hiring drivers

for the 2020-2021 school year

$16.55/HR

Available positions are for substitute drivers

that can develop into "Regular" positions with

benefits. Interested individuals should submit

an application on our website at swcsd.us.

Follow the employment link. Applicants should

have an excellent driving record and must

submit to drug, alcohol, and background

screening. A high school diploma or equivalent

is required.

EOE

CDL A & B Drivers

Having just celebrated our 60th Anniversary, we find

ourselves growing again to meet the diverse needs of our

customers. We are seeking Class "A" Flatbed Delivery Drivers

AND Class "A" or "B" Drivers to drive and operate Pump Trucks

to service septic tanks, grease interceptors and car wash pits.

Clean driving history desired. Entry level or experienced.

Competitive Wage & Family-Friendly Schedule

To Apply:

E. C. Babbert, Inc.

7415 Diley Road, Canal Winchester, OH

employment@ecbabbert.com

EOE

EARN EXTRA

INDEPENDENT

$$$ $$$

CONTRACTORS

MONEY

The Advertising Department at the

Columbus Messenger Newspapers

is seeking a Salesperson.

No Experience Necessary.

Base salary plus commissions, auto allowance.

Seniors welcome to apply.

Please send your resume or call:

Doug Henry, Advertising Manager

Columbus Messenger Newspapers

3500 Sullivant Ave.

Columbus, Ohio 43204

614-272-5422

or

e-mail to doughenry@columbusmessenger.com

BE YOUR OWN BOSS!

WANTED

If you have a reliable

car and would like to

earn extra money,

then why not deliver?

• Deliver 1 or 2 days a week

• Flexible delivery hours

• Work close to home - often

in or near your neighborhood

CONTACT US

1-888-837-4342

www.thebag.com

• Deliver 7 days a week

• Delivery before dawn

• Work close to home - often

in or near your neighborhood

CONTACT US

614-461-8585

www.dispatch.com/delivery
---
PAGE 8 - MESSENGER - March 7, 2021

www.columbusmessenger.com

The Clippers and the restructuring of the minor leagues

By Rick Palsgrove

Managing Editor

The Columbus Clippers will face some

new opponents this year following Major

League Baseball's structural shake up of

the minor league system.

Major League Baseball - in an effort to

streamline, cut costs, and increase revenues

- shrank the number of minor league

teams from 160 to 120. It also revamped its

top level Triple-A by eliminating the names

International League and Pacific Coast

League and creating a new 20 team league

called Triple-A East and 10 team league

called Triple-A West.

The Columbus Clippers are long time

members of the International League, a

league that begin in 1884. The Pacific

Coast League started in 1902. Now both

league names are gone.

However, Clippers President and

General Manager Ken Schnacke said the

quality of baseball being played at the

Triple-A level will remain the same.

"It's a bit of a change," said Schnacke.

"But players change every year anyway

and this new format will eliminate some

travel."

The Clippers' 2021, 142-game schedule

will include a combination of six game and

four game series against opponents. The

Clippers will compete in Triple-A East in

the Midwest Division along with traditional

rival the Toledo Mud Hens as well as the

Indianapolis Indians, Louisville Bats, St.

Paul Saints, Omaha Storm Chasers, and

the Iowa Cubs.

Schnacke said each six game series will

be followed by an off day, usually a

Monday.

"We lose Memorial Day, Labor Day, and

Flag Day because of that, but we've got to

roll with it," said Schnacke, who said Dime-

A-Dog nights will still be held on Tuesdays

and Dollar Days will be on Wednesdays.

Schnacke said, due to the ongoing corornavirus

pandemic, that, as of now, the

state has instituted a 30 percent capacity

limit at the 10,000 seat Huntington Park.

That number could increase as the year

goes on and the state lifts some restrictions.

The Clippers' home opener is April 13

against Louisville and Schnacke said pandemic

precautions will include a buffer

area along the dugouts and bull pens and

fan seating of pods of six people or less.

"It's a lot to get ready for," said

Schnacke.

Regarding the demise of the name

"International League," Schnacke said

that, though the name will not be prevalent

this year, there are efforts that the name

be maintained at some point.

Schnacke added there will be no league

all-star game this year nor will there be a

Triple-A national championship game as in

the past.

"These could return in 2022," he said.

Historical perspective

Author and historian James Tootle, who

wrote the book, "Baseball in Columbus,"

which documents the history of professional

baseball in the city, said it is disappointing

to see the name International League,

with its rich history come to a close.

"The league's roots go back to the 1880s

and it has produced countless players and

managers who made their mark in the

minor league cities where they played on

their way up to outstanding careers in the

majors," said Tootle.

He noted that, before Jackie Robinson

broke the color barrier with the Brooklyn

Dodgers in 1947, he prepared for that

breakthrough by honing his skills in 1946

on the International League's Montreal

Royals.

"Baseball greats Red Schoendienst,

Walt Alston, Jim Rice, Wade Boggs,

Chipper Jones, Columbus' Billy

Southworth, and others are enshrined in

both the IL Hall of Fame and in

Cooperstown," said Tootle. "Columbus has

a long history in the International League

with the Jets (1955-70) and the Clippers

(1977-present), and has won many championships.

The history of the IL deserves to

be remembered and preserved."

Tootle said that, while Columbus may

lose several traditional opponents like

Syracuse and Rochester, this season, fans

will probably not miss playing teams with

geographically ambiguous names such as

Lehigh Valley.

"Columbus will continue to play familiar

rivals Toledo, Indianapolis, and

Louisville," said Tootle. "These teams are

not only International League opponents,

but also the teams Columbus played

against during the half-century (1903-

1954) when the Columbus Senators and

Red Birds were in the old American

Association with those same cities.

Columbus also resumes playing St. Paul,

another rival from the American

Association era. It is my understanding

that the 2021 schedule, which has

Columbus mostly only playing teams in its

own division, is due to travel restrictions

caused by the pandemic and the Clippers

may resume playing more of the old

International League rivals in 2022."

Tootle believes most fans will adjust to

the restructuring. To them, a summer

night at Huntington Park with an office

group after work or with family will look

about the same.

"However, to the knowledgeable fan who

keeps a box score and is accustomed to following

the team's progress in the standings,

the changes will be significant," said

Tootle. "When we think about why MLB

did away with the historic International

League name, and all the other league

Photos courtesy of the Columbus Clippers

Adam Rosales of the Columbus

Clippers waves to the fans.

names throughout minor league baseball,

we need look no further than the new

name: Player Development League. MLB

seems to be making a statement that the

purpose of minor league games is to develop

the skills of individual players to

advance to the major league level, rather

than for the local team to win games and

league championships. It is always nice to

win, but the main purpose of PDL games

will be to provide an opportunity for players

to achieve individual rather than team

goals. Triple-A games will continue to provide

an opportunity for an established

MLB player to pitch a few innings or get atbats

while rehabbing an injury. Fans may

like this since it is an opportunity to see a

famous MLB player."

He said none of this is new.

"We have seen this trend in minor

league games for several decades - to give

more attention to preparing individual

players for the majors than building a winning

team," said Tootle. "When doing

research in newspapers from the early to

mid-20th century, one notices the greater

See CLIPPERS, page 9

Huntington Park, home of the Columbus Clippers.

Teammates mob Columbus Clipper Yandy Diaz as he touches home plate after slugging

a home run.
---
www.columbusmessenger.com

March 7, 2021 - MESSENGER - PAGE 9

Truck crash

Messenger photo by Pat Donahue

Help is on the way for an overturned semi-truck that tipped over just off the Alum Creek Drive entrance

ramp to I-270 West on the morning of March 1.

CLIPPERS

Continued from page 8

number of column inches and photos devoted to the

local team rather than the MLB teams. In the past, the

local team generally used the same starting lineup

throughout the season with few roster changes. Some

stayed at Triple A for two or three seasons and fans got

to know 'their players.' In recent years, players typically

move back and forth between the majors and minors

on a daily basis and fans have difficulty learning the

names of the players."

He said the Player Development League is a more

accurate reflection of the relationship between the

majors and minors.

"But for those in the stands who care about which

team wins the game and have an appreciation for the

history of the national pastime, the elimination of

International League and all the other traditional

league names creates a sense of loss," said Tootle.

He believes Columbus is an excellent position to

adjust, with its fine Huntington Park, experienced

organizational leadership, continuing popular MLB

affiliation with Cleveland, and history of community

support.

"Once we get past the pandemic and crowds can

return in larger numbers, Columbus should be fine,"

said Tootle. "Columbus is an exceptionally strong

franchise in every way."

He said the real adjustment challenges will be felt

in the 40-plus cities that lost their teams when the

restructuring plan reduced the total number of minor

league clubs from over 160 to 120.

"Empty ballparks and no baseball–a sad circumstance

for any town," said Tootle. "We may see the creation

of new teams and leagues not associated with

organized baseball to serve these communities which

have suddenly lost their teams. We may see an

increase in the popularity of college baseball as players

who would have signed professionally out of high

school may now choose to play on college teams as a

way to get a shot at a professional career."

He said the best hope for successful adjustment is

the game itself.

"The atmosphere on a beautiful summer evening at

the ballpark will always be magical," said Tootle. "It is

hard to beat that experience no matter what the name

of the league might be. Baseball is a resilient game.

Even with this total restructuring of the minors, somehow

the game is always able to adjust and keeps going

on–but perhaps diminished this year by the absence

of the traditional league names that have been part of

the fabric and history of professional baseball for generations."

For information on how to purchase James Tootle's

book, "Baseball in Columbus," visit www.arcadiapublishing.com.

columbusmessenger.com

Keep tabs on the news in Canal

Winchester and Hamilton Twp.

Look for South Messenger on

Become a fan!

Letters policy

The SOUTH MESSENGER welcomes letters to the editor.

Letters cannot be libelous. Letters that do not have a signature,

address, and telephone number, or are signed with a pseudonym,

will be rejected. PLEASE BE BRIEF AND TO THE

POINT. The Messenger reserves the right to edit or refuse

publication of any letter for any reason. Opinions expressed in

the letters are not necessarily the views of the Messenger.

Mail letters to: SOUTH MESSENGER, 3500 Sullivant

Avenue, Columbus, OH 43204; or email eastside@columbusmessenger.com.
---
PAGE 10 - MESSENGER - March 7, 2021

www.columbusmessenger.com

CLASSIFIED ADS

Deadlines: Groveport and West editions, Wednesdays at 5 p.m., • South/Canal Winchester, Grove City, Madison editions, Tuesdays at 5 p.m.

All editions by phone, Tuesdays at 5 p.m. • Service Directory, Tuesdays at 5 p.m.

xCome & Get It!

INFORMATION

xPublic Notice

It's Coming Back!!!!

Come and Get It!

Come & Get It will resume in our April 4, 2021 Issue.

Get your ads in by March 30, 2021 to be included.

Have many copies of Opera News

& some New Yorker Magazines

to give away

CS-Columbus (614) 000-0000

Sample Only

Have many copies of Opera News

& some New Yorker Magazines

to give away

PD-Columbus (614) 000-0000

Sample Only

Come and Get It! is a bi-weekly column that offers readers an opportunity to

pass along surplus building materials, furniture, electronic equipment, crafts,

supplies, appliances, plants or household goods to anybody who will come

and get them - as long as they're FREE. NO PETS! Just send us a brief note

describing what you want to get rid of, along with your name, address and

phone number. Nonprofit organizations are welcome to submit requests for

donations of items. Send information to The Columbus Messenger,

Attention: Come and Get It, 3500 Sullivant Ave., Columbus, OH43204.

Deadline is Tuesdays by 5 pm for following Mondays publication. Messenger

Newspapers is not responsible for any complications that may occur. Please

contact us when items are gone. 272-5422

Come & Get It!

xMisc, for Sale

Misc. for Sale

INFORMATION

WORRIED? STRESSED

OUT? DEPRESSED?

There are answers in this

book. BUY AND READ

Dianetics The Modern

Science of Mental Health

by L. Ron Hubbard. May

you never be the same

again. $25 Call (614)221-

5024 Or come to 1266

Dublin Road, Columbus,

Ohio

The Church of Scientology

of Central Ohio at 1266

Dublin Road, Columbus,

Ohio, extends an invitation

to you to be tested free of

any charge. Your intelligence

and apititude have

everything to do with your

income, your future, your

personal relationships and

your life. Such tests would

ordinarily cost you $50.

They are offered to you

free of charge if you bring

this slip with you. If you

are not happy with life you

can find out why.

Have Something

To Sell?

Need To Rent

That Property?

Try The

Messenger!

For Info On Placing

An Ad Call

614-272-5422

See...

You Looked!

Newspaper

Ads Catch

The Eye!

Call

272-5422

For Info. &

Pricing

ASSOCIATION ADS

DISH TV $64.99 190

Channels + $14.95 high

speed internet. FREE installation,

Smart HD DVR

included. Free Voice Remote.

Some Restrictions

apply. Promo Expires

7/21/21. 1-833-872-2545

READER

ADVISORY

The National Trade Association

we belong to has

purchased the following

classifieds. Determining

the value of their service

or product is advised by

this publication. In order

to avoid misunderstandings,

some advertisers do

not offer "employment"

but rather supply the

readers with manuals, directories

and other materials

designed to help

their clients establish mail

order selling and other

businesses at home. Under

NO circumstance

should you send any

money in advance or give

the client your checking,

license ID or credit card

numbers. Also beware of

ads that claim to guarantee

loans regardless of

credit and note that if a

credit repair company

does business only over

the phone it's illegal to request

any money before

delivering its service. All

funds are based in US

dollars. Toll Free numbers

may or may not

reach Canada. Please

check with the Better

Business Bureau 614-

486-6336 or the Ohio Attorney

General's Consumer

Protection Section

614-466-4986 for more

information on the company

you are seeking to

do business with.

TO

ADVERTISE

YOUR

LEGAL/

PUBLIC

NOTICES

CALL

THE

COLUMBUS

MESSENGER

NEWSPAPERS

614-272-5422

ASSOCIATION ADS

GENERAC Standby

Generators. The weather

is increasingly unpredictable.

Be prepared for

power outages. FREE 7-

year extended warranty

($695 value!) Schedule

FREE in-home assessment.

1-844-334-8353

Special financing if qualified.

HERNIA REPAIR? DID

YOU RECEIVE A HERNIA

MESH PATCH between

2009 and present? Did

you suffer complications

from removal surgery,

bowel perforation, infection,

abdonminal wall

tears, puncture of abdominal

organs or intestinal fistulae

after placement of

this deivce? You may be

entitled to compensation.

Attorney Charles Johnson

- 1-800-535-5727

Public Notice

Place Your Ads on Line @

classified@columbusmessenger.com

Just send us your ad, your name and phone #

and we'll call you to get your Visa/MC #.

ASSOCIATION ADS

HEARING AIDS!! Bogo

free! High-quality rechargeable

Nano hearing

aids priced 90% less

than competitors. Nearly

invisible! 45-day money

back guarantee! 833-

669-5806

Attention: If you or aloved

one worked around the

pesticide Roundup

(glyphosate) for at least 2

years and has been diagnosed

with non-Hodgkin's

lymphoma, you may be

entitled to compensation.

855-341-5793

Thinking about installing

a new shower? American

Standard makes it

easy. Free design consult.

1-888-674-3005 today

to see how you can

save $1,000 on installation,

or visit www.newshowerdeal.com/display

ASSOCIATION ADS

AUTOMOTIVE

Get cash for your used

or junk car today. We

buy all cars, trucks &

SUVs. Free pick up. Call

888-368-1016

Train online to do medical

billing! Become a

Medical Office Professional

at CTI! Get trained

and certified to work in

months! 888-572-6790.

(M-F 8-6 ET)

SELL YOUR ANTIQUE

OR CLASSIC CAR.

Advertise with us. You

choose where you want

to advertise. 800-450-

6631 visit macnetonline.

com for details.
---
Great downtown location

Expansive floor plans

Hardwood flooring

Rooftop deck with grills

Community entertainment room

Stainless steel appliances

with 12-month lease

when you mention this ad

Limited-time offer!

1234 WASHINGTON STREET

SOMERSVILLE HEIGHTS

000-000-0000

WWW.NAMEWEBSITE.COM

List details, terms and conditions here. List details, terms and conditions here.

List details, terms and conditions here. List details, terms and conditions here.

List details, terms and conditions here. List details, terms and conditions here.

List details, terms and conditions here.

www.columbusmessenger.com

xFocus on Rentals

Ashville Senior Apts.

100 Abby Court, Ashville, OH 43103

Income Restricted

Senior Housing for 55 plus

2 BR, 1 BA, w/attch. gar.

Rent: $665/mo.

740-983-2222

This institution is an

equal opportunity provider

ASSOCIATION ADS

Wants to purchase minerals

and other oil and gas

interests. Send details to

P.O. Box 13557, Denver,

CO. 80201

Attention oxygen therapy

users! Inogen One G4 is

capable of full 24/7 oxygen

delivery. Only 2.8

pounds. Free info kit.

Call 877-929-9587

VIAGRA & CIALIS! 60

pills for $99. 100 pills for

$150 FREE shipping.

Money back guaranteed!

1-844-596-4376

READY TO BUY, SELL

OR RENT YOUR

VACATION HOME OR

HUNTING CAMP?

Advertise it here and in

neighboring publications.

We can help you. Contact

MACnet MEDIA @

800-450-6631 or visit our

site at MACnetOnline.

com

Pest Control

Find Pest Control Experts

Near You! Don't let

pests overtake your

home. Protect your loved

ones! Call to find great

deals on Pest Control

Services - 833-872-0012

[CARS/TRUCKS

WANTED!!!]

All Makes/Models 2002-

2019! Any Condition. Running

or Not. Competitive

Offer! Free Towing! We're

Nationwide! Call Now: 1-

888-368-1016

Life Alert. One press of a

button sends help fast

24/7! At home and on

the go. Mobile Pendant

with GPS. Free first aid

kit (with subscription).

877-537-8817 Free brochure

HughesNet Satellite Internet

- Finally, no hard

data limits! Call today for

speeds up to 25mbps as

low as $59.99/mo! $75

gift card, terms apply. 1-

844-863-4478

ASSOCIATION ADS

DISH TV $64.99 FOR 190

Channels + $14.95 High

Speed Internet. Free Installation,

Smart HD DVR

Included, Free Voice Remote.

Some restrictions

apply. Promo expires

7/21/21. 1-855-270-5098

DENTAL INSURANCE-

Physicians Mutual Insurance

Company. Covers

350 procedures. Real

insurance - not a discount

plan. Get your free

dental Info kit! 1-888-

623-3036 . www.dental50plus.com/58

#6258

The Association of Community

Publishers (ACP)

is searching for an Executive

Director. If interested,

visit afcp.org or

ifpa.com and click on the

"Executive Director

Search" link for more details

NEED IRS RELIEF

$10K-$125K+ Get Fresh

Start or Forgiveness.

Call 1-844-431-4716

Monday through Friday

7am-5pm PST

VIAGRA and CIALIS

USERS! 50 Generic pills

SPECIAL $99.00 FREE

Shipping! 100% guaranteed.

24/7 CALL NOW!

888-445-5928 Hablamos

Espanol

AT&T Internet. Starting

at $40/month w/12-mo

agmt. 1 TB of data/mo.

Ask how to bundle &

SAVE! Geo & svc restrictions

apply. 1-888-796-

8850

The Generac PWRcell

solar plus battery storage

system. Save money,

reduce reliance on

grid, prepare for outages

& power your home. Full

installation services. $0

down financing option.

Request free no obligation

quote. Call 1-855-

270-3785

ATTENTION

APARTMENT MANAGERS

Advertise Your Apartment Listings Today!

Our Eastside Messenger

is now covering

Canal Winchester!

Our Southeast Messenger will still

serve our Groveport, Obetz,

Madison Twp and SE Columbus areas.

Reaches over 35,000 households in

these two areas!

simply the Best Place to Live

Example

Claremont

Towers

Luxury Studio & 1-Bedroom Apartments

Rentals

One Month Free Rent

&NoApplicationFee

ASSOCIATION ADS

New authors wanted!

Page Publishing will help

self-publish your book.

Free author submission

kit! Limited offer! 866-

951-7214

IMPORTANT

NOTICE

The following states: CA,

CT, FL, IA, IL, IN, KY,

LA, MD, ME, MI, MN,

NE, NC, NH, OH, OK,

SC, SD, TX, VT and WA

requires seller of certain

business opportunities to

register with each state

before selling. Call to

verify lawful registration

before you buy.

Cars and Trucks Wanted!!!

2002 and Newer! Any

Condition. Running or Not.

Competitive Offer! Free

Towing! We're Nationwide!

Call Now: 1-888-416-2330

Directv Now. No Satellite.

$40/mo 65 Channels.

Stream news, live

events, sports & on demand

titles. No contract/

commitment. 1-866-825-

6523

Looking for auto insurance?

Find great deals

on the right auto insurance

to suit your needs.

Call today for a free

quote! 866-924-2397

CASH FOR CARS: We

Buy Any Condition Vehicle,

2002 and Newer.

Nationwide Free Pick

Up! Call Now: 1-800-

864-5960

Elminate gutter cleaning

forever! LeafFilter, most

advanced debris-blocking

protection. Schedule

Free Estimate. 15% off

Purchase. 10% Senior

& Military Discounts. Call

1-855-995-2490

CALL KATHY

TODAY!

614.272.5422

kathy@columbusmessenger.com

ASSOCIATION ADS

Want Faster & Affordable

Internet? Get internet

service today with

Earthlink. Best internet &

WiFi Plans. Call us Today

to Get Started. Ask

about our specials! 866-

396-0515

INSURANCE

Medicare, Health & Life

Insurance 614-805-1084

HELP WANTED

Carpenters &

Masons wanted!

Good Pay, Start NOW!

614-946-8871

Handyman Needed

Residential Rentals

West - 614-226-6767

WANT TO BUY

We Buy Cars & Trucks

$300-$3000.614-308-2626

WE BUY JUNK CARS

Call anytime 614-774-6797

We Buy Junk Cars &

Trucks. Highest Prices

Paid. 614-395-8775

RENTALS

1 BR 1 ba condo near

Rickenbacker airport

Features updated kitch, ba

& util rm. $700/mo $700/

dep, No past evictions.

Call John 614-205-3407

HILLTOP RENTAL

2BR, $750/mo, dep $750

Bill Weygandt Realtor

614-226-6767

VACATION RENTALS

Englewood, Florida

Palm Manor Resort

Within minutes of white

sand Gulf beaches,

world famous Tarpon

fishing, golf courses, restaurants/shopping,

Bush

Gardens. 2 BR 2 BA

condos with all ammenities,

weekly/monthly, visit

www.palmmanor.com

or call 1-800-848-8141

March 7, 2021 - MESSENGER - PAGE 11

xClassified Services

INFORMATION

NEED

SOMETHING

DONE THIS

SPRING?

CHECK OUT OUR

CLASSIFIED

SERVICES!

FOR

ADVERTISING

INFO. CALL

(614) 272-5422

THE COLUMBUS

MESSENGER

APPLIANCE REPAIR

Washer, Dryer, Stove &

Refrig. Repair 875-7588

BASEMENT

REMODELING

AFFORDABLE

BASEMENT

REMODELING

Get the Quality

you deserve

at a price

you can afford.

Call Now

3/28 A

For a Free Est.

614-302-4603

CARPET CLEANING

DIRT BUSTERS

WINTER SPECIAL!

Any 5 areas ONLY $75.

614-805-1084

Specializing in Pet Odors

CLEANING

Looking for Mrs. Clean?

For excellent cleaning serv

at reas. rates w/great refs,

dependable. 10% Senior

Disc. Free Est. Gwen

614-226-5229

CONCRETE

EDDIE MOORE

CONSTRUCTION

Quality Concrete Work

Lt. Hauling & Room Add.,

Block Work & Excavation

Stamp Patios,

Bsmt. Wall Restoration

35 Yrs Exp - Lic & Ins.

Free Ests. 614-871-3834

AJ's Concrete,

Masonry

Good Work - Fair Prices

Block Foundations

Driveways • Sidewalks

Epoxy/Overlay Floors

Bonded-Ins. • Free Ests.

614-419-9932

3/14 A

CONCRETE

www.hastingsnsons.com

Driveways & Extensions

Patio & Walkways,

Porches & Steps,

Garage/Basement Floors

Hot Tub/Shed Pads,

Stamped/colored concrete

Sealing of new &

existing concrete.

Contact Adam

614-756-1754

hastingsandsons.

columbus @gmail.com

HAULING

DEAN'S HAULING

614-276-1958

HEATING

HEATING

Complete System Clean & Check

$49.95

Free Carbon

Monoxide Testing

Gas-Oil-Electric Heat/Pumps

All Makes • All Models

43 yrs exp. • Sr. Discount

614-351-9025

HOME

IMPROVEMENTS

SINCE 1973

Phil Bolon Contr.

Windows & Siding

Decks, Kitchens, Baths

Room Additions,

Flooring, Roofing

Bsmt Waterproofing

Deal With Small Non-Pressure Co.

47 Yrs. Exp. - Refs. Avail.

Lic.-Bond-Ins.

Free Est. - Financing Avail.

Member BBB Of Cent. OH

O.C.I.E.B. ID #24273

614-419-3977

or 614-863-9912

C&JHandyman

Services LLC

Minor Plumbing

& Electric

Install Hot Water Tanks,

Dishwashers & Disposals

Also Fencing &

Interior/Exterior Painting

Free Est. ~ 18 Yrs. Exp.

CDC/EPA Approved Guidelines

614-284-2100

KLAUSMAN HOME

IMPROVEMENT

Siding-Windows-

Doors-Roofing-Soffit-

Fascia-Gutters-Trim

Earn FREE Seamless

Gutters with Siding Over

1000 Sq. Ft.

FREE Shutters with

Soffit & Trim

EPA Certified

Member of BBB

Financing Available

3/14

A/M

Over 20 yrs exp. • Free Est.

Licensed-Bonded-Insured

Owner & Operator

James 614-419-7500

3/14 A

3.28 A

3/28 A

HOME

MAINTENANCE

JOE'S HOME MAINT.

Home Repairs, Roofing,

Siding, Gutters, Soffits,

Misc. Int. Repairs

Int. Painting

Call Joe 614-778-1460

37 Years Exp.

HOME

REMODELING

Handyman Remodeling

Over 35 yrs exp.

Larry 614-376-7006

ONLY

$50.00

For This Ad In Our

South & Groveport

For Info Call

272-5422

LAWN CARE

LET US MAINTAIN

YOUR LAWN & GARDEN

FOR YOU

Summer, Spring,

Winter or Fall

WE DO IT ALL!!!!

Lawn Cuts, Edging,

Trees & Shrubs, Garden,

Mulching, Hauling,

Garden Pond &

Home Maint.

Free Ests. Low Rates

$20 & Up

Kevin - 614-905-3117

MOVING

Aaron Allen

Moving

Local Moving since 1956

Bonded and Insured

614-299-6683

614-263-0649

Celebrating

over 60 yrs

in business

PAINTING

A Job Well Done Again

A lic. General Contractor

Some Skilled Services

Incl: Painting • Stucco,

Repair•Carpentry•Exterior

Drainage & Home Maint.

Call Today! 614-235-1819

AMOS PAINTING

Interior/Exterior Painting

Call Jim 614-323-7819

INFORMATION

LOOK TO

THE PROFESSIONALS

IN OUR

SERVICE DIRECTORY

For Service

"That Is Out Of This World"

Classified Services

3/14 A&M

PLASTERING

DRYW

YWALL &

PLASTER

3/28

A&M

REPAIR

AIR

Textured Ceilings

614-551-6963

Residential/Commercial

BIA

PLUMBING

ALL IN ONE

PLUMBING LLC

"One Call Does It All"

$25 OFF LABOR

3.28

With This Ad A

614-801-1508

All Major Credit Cards Accepted

CHRIS'

PLUMBING

"Plumbing & Drain Professional

That You Can Count On"

24 Hrs., 7 Days/Week

No Overtime Charges

24 Yrs. Exp. in Plumbing &

Drain Cleaning Field

Call For A Free Phone Estimate

$100.00 For Any Small Drain

614-622-4482

30% OFF with AD

All About Drains & Plumb.

Will snake any sm drain

$125 + tax. 614-778-2584

ROOFING

Robinson roofing & repairs

30 yrs. exp. Lifetime Cols.

resident. Lic./bonded/Ins.

Reas rates. Member of

BBB. Dennis Robinson

614-330-3087, 732-3100

SEWING MACHINE

REPAIR

REPAIR all makes 24 hr.

service. Clean, oil, adjust

in your home. $49.95 all

work gtd. 614-890-5296

TREE SERVICES

Brewer & Sons Tree Service

• Tree Removal

• Tree Trimming 3/28

A&M

• Stump Grinding

• Bucket Truck Services

Best Prices • Same Day Service

614-878-2568

INFORMATION

3/28 A/M
---
PAGE 12 - SOUTH MESSENGER - March 7, 2021

www.columbusmessenger.com