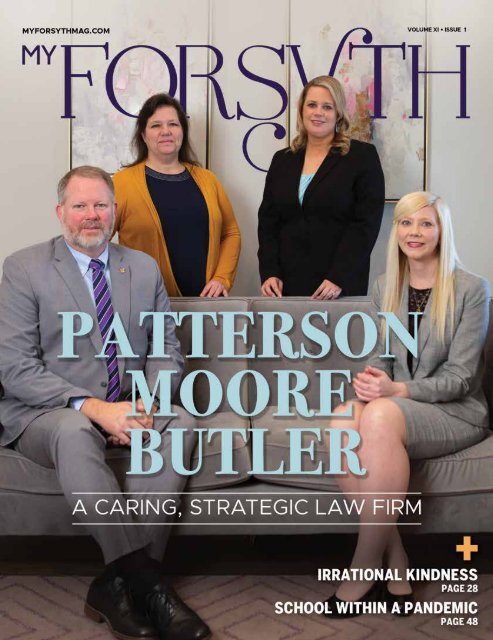 My Forsyth_March 2021
Sit back and read the latest edition of your community magazine. The law firm of Patterson Moore Butler introduce their partners and lawyers, while our intern Ava Clavijo shares a few thoughts about school during extraordinary times. Check out how Irrational Kindness can make a difference in your live and the importance of knowing what to do before losing self-sufficiency. Food, health, wellness, home, life and faith are a few of the topics in this issue of My Forsyth magazine. Happy reading! Stay well
Sit back and read the latest edition of your community magazine. The law firm of Patterson Moore Butler introduce their partners and lawyers, while our intern Ava Clavijo shares a few thoughts about school during extraordinary times. Check out how Irrational Kindness can make a difference in your live and the importance of knowing what to do before losing self-sufficiency. Food, health, wellness, home, life and faith are a few of the topics in this issue of My Forsyth magazine. Happy reading! Stay well
SHOW MORE
SHOW LESS
Create successful ePaper yourself
Turn your PDF publications into a flip-book with our unique Google optimized e-Paper software.
12

CONTENTS

VOLUME XI • ISSUE 1

31

26

COVER STORY

31 PATTERSON MOORE BUTLER

A CARING, STRATEGIC

LAW FIRM

FEATURES

28 IRRATIONAL KINDNESS

46 FROM CRISIS TO RESOLUTION

48 SCHOOL WITHIN A PANDEMIC

HOME AND LIFE

12 How Realtors Save You Money

14 Optimist Day

16 The Sensitive Truth About Losing

Self-Sufficiency

18 Choose Love

22 Dumb Jokes for Smart Folks

24 5 Things I've Learned

50 Walking a Different Beat

52 Don't Waste Your Time

on Resolutions

58 5 Brilliant Ways You Can Save Money

FORSYTH FOODIE

26 Sara Y Jose

HEALTH & WELLNESS

34 Treating Pain: It's a Joint Effort

36 COVID-19 Vaccine: Act Now!

38 The Importance of Prenatal Care

40 Zen and Wellness

42 Lentigines

BUSINESS

44 Forsyth County Chamber of

Commerce News

FAITH

60 Help When You are Hurting

BURGESS MUSINGS

54 Is Your Vehicle's Software

Out of Date?

IN EVERY ISSUE

10 Forsyth County Government

11 Forsyth County Government |

News Around Forsyth

20 Book Review: Orbiting the Giant

Hairball By Gordon MacKenzie

56 The Country Preacher

"DON'T MISS A THING"

WE'RE MOBILE...

myforsythmag.com
---
CONTRIBUTORS

VOLUME XI • ISSUE 1

MY FORSYTH

PUBLISHER

Market Complete LLC

Larry Brown is a retired

journalist. Larry is a member

of the Sawnee-Cumming

Optimist Club and a mentor

with Mentor Me North

Georgia. A community

volunteer and sought-out

writer, he may be reached at

browntrust@bellsouth.net.

Tom Burgess is the owner

and operator of Christian

Brothers Automotive in

Cumming. Tom retired from

the United States Air Force

in 2009, after serving his

country for over 22 years.

He may be reached at

Tom.Burgess@cbauto.net.

Ava Clavijo is a student

at Forsyth Central. She

may be reached at

AvaClavijo@gmail.com.

julie@marketcomplete.com

678.614.8583

GRAPHIC DESIGN

Samantha Angeli

samantha.angeli74@gmail.com

770.310.4486

PHOTOGRAPHY

Adam Pendleton

Pam Evans is an

Associate Broker with

Century 21 Results. She

may be reached at

678-778-6551.

Jacqueline Thompson

Graves is a freelance

media developer, writer,

and the author of the book

review blog The Book

Buffet. She may be reached

at thegraves@yahoo.com.

Rev. David Hill, a long-time

Cumming resident, may

be reached at davidkhill@

comcast.net. A retired

preacher, Hill lives in North

Carolina where he is enjoying

spending time with his

beloved grandchildren.

678.208.7077 • www.adampendleton.com

SPECIAL REPORTS/VIDEO

Michelle Hall

904.386.0417

WEB CONTENT STRATEGIST

Matt Coutu

matt@marketcomplete.com

STAFF WRITER

Amy Lyle lives in Forsyth

with her husband, four

teenagers and a large dog.

Her first book, The Amy

Binegar-Kimmes-Lyle Book

of Failures is a top eBook on

Amazon.com.

Tracy Ann Moore-Grant

has been practicing family

law since 2002. She's a

partner at Patterson Moore

Butler. She may be reached

at 770-889-0846.

Maria I. Morgan is an

inspirational writer and

speaker. She is the awardwinning

author of Louie's BIG

day! She may be reached at

maria@mariaimorgan.com.

Katielee Kaner

katielee.myforsyth@gmail.com

PRINTING AND MAILING SERVICES

Power Marketing & Printing

678.990.3618 • smccaffrey@powermp

Narendra Singh, MD,

FRCP(C), FACC, FAHA is the

Director of Clinical Research,

Atlanta Heart Specialists LLC,

Atlanta, GA.

He may be reached at

info@heartdrsingh.com or

www.heartdrsingh.com.

Mira Sivan is a family

practice optometrist with an

emphasis on ocular disease,

contact lenses fitting and

pediatrics. She may be

reached at 678-648-5185.

Hannah Testa is 17 years old

and a student at West Forsyth

High School. She may

be reached at

hannah4change@gmail.com.

www.hannah4change.org.

The mission of My Forsyth magazine, a publication of

Market Complete LLC, is to provide readers with stories and

information about their communities and its people. 22,000

copies of your community magazine are distributed via

direct mail and throughout local businesses as part of our

rack distribution. We welcome your comments, stories and

advertisements. Subscriptions are available for $25 per year.

The viewpoints of the advertisers, columnists, and submissions

are not necessarily those of the MarketComplete LLC. The

Publisher makes no claims as to the validity of any charitable

organizations mentioned. My Forsyth is not responsible

for errors or omissions. No part of this publication may be

reproduced or transmitted without written permission from the

Publisher. All rights reserved. ©Copyright 2021

My Forsyth | www.myforsythmag.com

5485 Bethelview Road, Suite 360-135

Cumming GA 30040

(p) 678.614.8583 | (f) 770.888.1511
---
My Little Loomers

Unexpected. That is the best way I can describe the gift of meeting

Ava (age 10), Addy (age 8), and Aubrey (age 6). The Little Loomers are

remarkable young girls who, encouraged by their parents, decided they

needed to do something other than being "stuck at home" during the

shelter in place order.

In early 2020, as COVID-19 made life as we knew it suddenly come to a

stand-still, kids and their parents had to stay home. Education, religion,

playtime – everything had to be done from the comfort of home.

"The girls came to us with the idea of making loom band jewelry and

accessories, rings, bracelets, necklaces, keychains, fidget toys and mask

lanyards," explained Lisa, their mom.

The inventory grew quickly, and the young entrepreneurs decided it was

time to sell their wares.

If and when that happens, I can just imagine them talking through it all.

The way we adults should.

A respectful conversation.

I look forward to seeing the girls every Saturday, and have started my

own collection of looms, which I had no idea what they were when I

was first introduced to this product. A year has passed since the Little

Loomers started their business venture.

By weaving small rubber bands together, the girls have created their

brand. For me, they have created a reason to believe in the power of

another day.

Perhaps it is simply a matter of weaving together thoughts and ideas to

create patterns of hope and peace. Unexpected looms.

For over five months, Little Loomers have been a staple at the Vickery

Village Farmers Market, creating a following of their own.

So, what is unexpected about that?

The joy of seeing three young girls determined to never give up. This

dynamic trio makes my heart smile. Their smiles are contagious and their

dedication to their craft is commendable.

To watch them talk with their customers, the joyful manner in which they

present their items as customers curiously stop by to take a look at their

loom jewelry, and how they work together is a treat. I am certain there

are times when the girls may not feel like working. Or they may be mad

at each other.

JULIE BRENNAN

Publisher

julie@marketcomplete.com

LITTLE LOOMERS support various ministries, including Grace

Fellowship of South Forsyth, Samaritan's Purse, SEND Relief,

and Water@Work, to name a few.
---
VOLUME XI | ISSUE 1 | MYFORSYTHMAG.COM 9
---
FORSYTH COUNTY GOVERNMENT

WHAT'S NEW

2021 FORSYTH COUNTY BOARD OF COMMISSIONERS

District 1:

District 2:

District 3:

District 4:

District 5:

Molly Cooper (Vice-Chairman)

Alfred John (Secretary)

Todd Levent

Cindy Jones Mills (Chairman)

Laura Semanson

Find Board of Commissioners' meeting information and videos (streamed live

and On Demand), commissioner biographies and more by visiting the Board of

Commissioners page at forsythco.com.

.

RECYCLING CONVENIENCE CENTERS

CAN HELP WITH SPRING CLEANING

Start your spring cleaning early! The

Forsyth County Recycling and Solid

Waste Department operates three public

convenience centers for recycling and

disposal of bagged household trash. The

centers are open from 7:30 a.m. to 5 p.m.,

Monday through Saturday (Closed on

Sundays and county holidays).

Locations:

Tolbert Street- 351 Tolbert St.

Old Atlanta- 3678 Old Atlanta Road

Coal Mountain- 3560 Settingdown Road

For more information on acceptable items

call 770 205-4573 or visit the Recycling &

Solid Waste Department page at

forsythco.com.

KEVIN TANNER

BEGINS POSITION AS

COUNTY MANAGER

On Jan. 11, Kevin Tanner began his

role as Forsyth County Manager.

The county manager provides

leadership for Forsyth County

government by working with the

Board of Commissioners and other

management to establish

long-range goals, strategies,

plans and policies.

The position also supervises the

county's administrative offices

and senior management, oversees

county programs and activities;

interprets county goals and policies

and ensures county administration

and senior management are

making decisions consistent with

the Board of Commissioners'

planning and policy initiatives.

Tanner brings over 30 years of

public service experience, including

five as Dawson County manager.

Most recently, he was a four-term

State Representative for District 9,

which includes Lumpkin County as

well as portions of Dawson

and Forsyth counties.

10 MYFORSYTHMAG.COM VOLUME XI | ISSUE 1
---
FORSYTH COUNTY GOVERNMENT

WHAT'S NEW

GET THE LATEST

FORSYTH COUNTY

GOVERNMENT NEWS

There are more ways than ever to

receive the latest Forsyth County

government news!

FILE BY APRIL 1 FOR 2021 HOMESTEAD EXEMPTION/AGE

65 SCHOOL TAX HOMESTEAD

A Homestead Exemption is one way to reduce the amount of property

tax you pay on your residential property. In Forsyth County, if you own the

property, reside on that property and are a legal resident of the County, all as

of Jan. 1 of the tax year, you may qualify for the homestead exemption.

Residents may apply for exemptions year-round, however, they must apply

by Thursday, April 1, to receive the benefits for 2021. Regular and Floating

homestead applications and information on how to apply are available on the

Board of Assessors page at forsythco.com.

FOLLOW FORSYTH COUNTY

GOVERNMENT ON SOCIAL MEDIA

for the latest news, upcoming

events, videos and information

(Facebook, Twitter, Instagram,

YouTube and NextDoor)

READ, AND SUBSCRIBE to receive

by email, the latest news at

forsythco.com

Homeowners who are 65 years of age on or before Jan. 1 are entitled to a full

exemption in the school general and school bond tax categories, as well as

the Homestead Exemption.

For more information or for questions regarding these exemptions, visit the

Board of Assessors page at forsythco.com or call the Tax Assessors Office

at (770) 781-2106.

NEWS AROUND FORSYTH

COTTON HOOK CREATIONS

From booties to hoodies, Cotton Hook

Creations is steadily increasing its crochet

offerings. Adapting to an ever-changing

environment, Savannah Hunter took time to

learn new skills. "I was laid off my job, things

were changing rapidly and I figured I needed

to stay ahead of the game."

Hunter taught herself how to crochet and the

rest is now a Facebook and Etsy story.

WATCH TVFORSYTH to watch live

and recorded County meetings, see

the latest news and feature videos

(AT&T ch. 99, Comcast ch. 23 and

online at forsythco.com)

READ THE MONTHLY

NEWSLETTER Your Forsyth for

monthly news highlights and for a

look ahead at upcoming events

FOLLOW OTHER COUNTY

GOVERNMENT SOCIAL MEDIA

CHANNELS including Parks &

Recreation and the Animal Shelter

on Facebook

"I am a fast learner and enjoy working, and now I

get to do so as a business owner," Hunter added.

When life throws you a curveball, start a new

game, or in Hunter's case, a new adventure.

www.etsy.com/shop/Cottonhookcreations

VOLUME XI | ISSUE 1 | MYFORSYTHMAG.COM 11
---
By Pam Evans

If you're a fan of less stress, and holding on to more dollars, hiring a Realtor to help you Sell or Purchase a home is

an excellent idea. The truth of the matter is that it takes a lot of work and professional knowledge to get a home through

the selling process, which is worth remembering when putting up a "For Sale by Owner" sign seems like a great idea.

If you are thinking how hard can it really be,

consider the advantages of working with a

Realtor who works in Real Estate every day

and closes more transactions in one year than

most people do in two lifetimes. It is a Realtors

job to understand the local market, trends and

make recommendations that will help you

capitalize. That plus be an excellent negotiator

and problem-solver.

Buying or selling a home is a major financial

transaction that can be a disaster when placed

in the wrong hands—even your own. To offer a

cliché analogy, if you broke your leg would you

try to fix it yourself or see a Doctor? Making

a Real Estate decision that could impact your

financial future for years to come is no different,

so consider the following benefits the next time

you're tempted to go it alone.

How Realtors

SAVE You Money

PROFESSIONAL

MARKETING

When it comes to selling, marketing is

everything. Effective sales strategies include

professional materials, presentation, and a

sound online strategy. It's simple to get your

listing in the MLS service, but not as simple to

get Buyers flocking to your home. Ideal is to

target both other Realtors representing Buyers,

as well as Buyers directly, with effective and

strategic purpose.

PROFESSIONAL STAGING

Living comfortably in your home is one thing

and staging your home to appeal to the camera

and buyers may be another. Working with a

professional who can help you accomplish

both is critical. Homes that present well usually

sell well.

IT'S ABOUT WHO YOU

KNOW

An experienced Realtor will have a solid

team working behind them, which includes

everything from trustworthy lenders,

plumbers, electricians, inspectors, contractors,

landscapers, etc. Whether selling your home

requires a fresh coat of paint or some more

extensive repairs, your Realtor can recommend

people who will do a great job at a fair price.

Plus, your Realtor will help you prioritize – what

really needs to get done, and what doesn't.

MORE MONEY AT CLOSING

While you may not always understand the

ins-and-outs of what a Realtor does, a great

Realtor will approach the home selling process

with a strategy, which means they're going to

work their magic to get you the most money

for your home by appealing to the largest

number of Buyers.

PURCHASING WITH A

REALTOR

Bringing your own Realtor to the table,

including when purchasing New Construction,

is wise. The Realtor in the Sales Office represents

the Builder, not you. Same with a Realtor listing

a property. Their professional responsibility is

to their Client, and they will do what is in their

Client's best interest. Have your own Realtor

in your corner to help you navigate properties,

assess value, negotiate, and win. Best part is, the

Seller is usually the party paying the Brokerage

fee, not you. So why would you go it alone?

TIME IS MONEY

Plain and simple, the longer your property

sits on the market, the more expensive it is for

you in terms of "holding costs". Chances are

if you are ready to sell, you are ready to move

on to your next chapter. So, have a solid game

plan with your Realtor, and don't give Buyers a

reason to wonder what may be wrong with your

property, as it hasn't sold.

Ask a friend if they can recommend an

experienced Realtor with an excellent track

record. Or do some research. Read Reviews. See

what other Sellers or Buyers have said. Making

the right choice whether you are Listing your

home or Purchasing will absolutely save you

stress, time and money.

Pam Evans is an Associate Broker with Century 21 Results, and can be reached at HelloPamEvans@gmail.com or 678-778-6551.

12 MYFORSYTHMAG.COM VOLUME XI | ISSUE 1
---
VOLUME XI | ISSUE 1 | MYFORSYTHMAG.COM 13
---
Optimist

DAY

By Larry Brown

Mayor Brumbalow presented the Optimist Day in the City of

Cumming proclamation to Janna Shacklett (right), president of

the Sawnee-Cumming Optimist Club; and Elisabeth Kearney,

president of the West Forsyth High School Junior Optimist Club.

CUMMING MAYOR TROY BRUMBALOW recognized Optimist Clubs proclaiming

February 4 Optimist Day in the City of Cumming. The proclamation read in part: May

this day instill pride in our city's Optimists for all of their accomplishments and for

the impact they have to truly make a difference in others' lives. The two local clubs

are the Sawnee-Cumming and the Forsyth-Cumming Optimist Clubs.

"With the global pandemic continuing to affect the lives of

people around the world, Optimists are choosing optimism,"

Sawnee-Cumming Optimist Club president Janna Shacklett

said. "Now more than ever, we recognize the need for optimism. And

our number one priority is helping children in our community, fulfilling

the motto of Optimist Clubs: Bringing Out the Best in Kids."

"Optimist members remind us of optimism by reciting the Optimist

Creed at every meeting," she added. "The Creed is nearly a century old

but continues to define our goals and values. It is a promise that we make

to ourselves - to be so strong that nothing can disturb your peace of mind;

to talk health, happiness, and prosperity to everyone you meet; and to

press on to the greater achievements of the future, to quote a portion of

our creed."

Shacklett said that some of the programs and service projects of

the Sawnee-Cumming Club include the Student Oratorical Contest,

Law Enforcement Officer of the Year, Student of the Year, Student

Essay Contest, Expressing My Passions program for special needs

students, Communication Contest for the Deaf and Hard of Hearing,

Childhood Health & Wellness, and sponsoring Junior Optimist Clubs

in Forsyth County.

"We are grateful to the city of Cumming and Mayor Brumbalow

for recognizing Optimist Clubs through this proclamation. This is

a proud day for Optimists thanks to the leadership of Cumming,"

Shacklett said.

Call Janna at (678)446-2846 for Optimist information.

Mayor Brumbalow (center) welcomed to City Hall members of the Sawnee-Cumming Optimist Club and the West Forsyth High School

Junior Optimist Club to proclaim February 4 Optimist Day in the City of Cumming.

14 MYFORSYTHMAG.COM VOLUME XI | ISSUE 1
---
VOLUME XI | ISSUE 1 | MYFORSYTHMAG.COM 15
---
The Sensitive Truth About

Losing Self-Sufficiency

"WHO'S GOING TO CARE FOR YOU?"

By Kurt Arseneau, Investment Advisor Representative, Registered Financial Consultant

As we moved passed 2020, a lot of us had to change not only our working habits, but some had

to take care of older parents. With the fear of contracting COVID-19 and the effects that it may

have on older individuals, we found ourselves taking care of and protecting our parents. This

change started to make me think, who will take care of you or me when I am older?

16 MYFORSYTHMAG.COM VOLUME XI | ISSUE 1
---
"

When you were growing up, your parents were strong and

stubbornly independent. You always admired that about

them. Now they are aging and need a lot more help than ever before.

You are not sure how much help they will need from you and what will

happen when your help is no longer enough."

I realize you love your parents dearly,

and you are certainly willing to support

them in times of need. But each time your

parents ask you for help, you probably wonder,

"Who will do this for me?" It makes your heart

sink thinking about your spouse or kids doing

certain "dignity tasks" you never want them to do.

A chunk of your heart breaks off each time you

see a tiny piece of their independence fall away.

When you were growing up, your parents

were strong and stubbornly independent. You

always admired that about them. Now they

are aging and need a lot more help than ever

before. You are not sure how much help they

will need from you and what will happen when

your help is no longer enough.

I know that this is a sensitive subject, but

If you have ever had to watch a loved one

lose their capacity for living independently,

you know how difficult it is for the whole

family. Becoming impaired often starts with

unexpected challenges, like the inability to

stand up after using the bathroom or getting

out of bed. Over time, it gets worse. All too

often, struggles with normal activities of daily

living are accompanied by the loss of dignity

and rapid depletion of savings. You need

assistance but might not want members of your

family to handle more delicate tasks.

Here are Four Sensitive Truths that

we must all know, while we still have

time to prepare.

SENSITIVE TRUTH #1 – WE

ARE ALL AT RISK OF LOSING

OUR FUTURE INDEPENDENCE

Genetics could get in the way of the life you

want in your upcoming years. Preparing a

roadmap now to provide necessary care later

will help you feel less anxious about the risks.

It also helps you navigate sensitive situations.

In the 21st century, Americans can live a very

long time. The average U.S. woman who is

now 65 can expect to live to approximately

age 86 and men on average to 83. If your

relatives outlasted their peers, you, too, cold

live significantly longer than average.

SENSITIVE TRUTH #2 –

UNFORESEEN EXPENSES

In Your Later Years Could Empty Your Wallet

Even with government programs such as Social

Security and Medicare, the costs of living as

an elder adult can come on suddenly and all

at once. In fact, nearly a quarter of Medicare

costs are spent in the last year of life. For

example, the median cost of a nursing home

is over $90,000 per year—and could be much

higher depending on where you get care.

SENSITIVE TRUTH #3 – LIVING

INDEPENDENTLY TOMORROW

REQUIRES PREPARATION

TODAY

Most people want to live independently for

as long as possible, including staying in their

home. Right now, especially if you are watching

self-sufficiency slip away from a loved one, you

may be worried about what will happen to you

when the time comes.

If you need care, who will provide it? If you

have children, they are a potential resource.

That is assuming that they live close enough to

you and do not have to disrupt their standard of

living. On the other hand, you might not want

your children to change your diaper as you

changed theirs. Bottom line is, knowing what

you want for your later years is key in making

these decisions. Designing your blueprint for

eldercare now will help you make cost-effective

choices you might not be able to access later.

SENSITIVE TRUTH #4 –

THE OPPORTUNITIES YOU

HAVE TODAY MAY NOT BE

AVAILABLE TOMORROW

When it comes to paying for care, a number of

options are available to those who are currently

healthy. Bu you may not be eligible for them

past a certain age. One common choice for

covering costs is to self-insure or pay expenses

out of pocket. The risk is that you will run

out of money or hurt your spouse's lifestyle.

It is sadly common for children to receive

diminished legacies or none at all, because the

money was spent on the parent's care.

An alternative to that is to buy what is

called an asset-based policy, typically a life

insurance or annuity contract with a long term

care rider. Each insurance company structures

them somewhat differently depending on

the state. Bottom line, you have got options,

especially if you start planning early.

You already know what kind of independent

lifestyle you want when you age, but you may

not understand how to pay for it without

draining your wealth.

We can help you shield your financial

plan from excessive health care costs by

consulting with an expert to plan your

golden years. We can help you determine

if you can afford to pay these expenses from

your exiting assets and whether you should.

We will guide you with the right questions

to ask quickly so your available options do

not slip away.

It is up to you if you want to manage

your costs in the future. Your next step

is to call us today at 470-839-9001 to

schedule your Self Sufficiency Session.

Investment Advisory Services offered only by duly registered individuals through AE Wealth Management, LLC(AEWM). AEWM and Arseneau Advisory Group are not affiliated companies.

VOLUME XI | ISSUE 1 | MYFORSYTHMAG.COM 17
---
CHOOSE

Love

By Berni Leonard

"To laugh often and much; to win the respect of intelligent people and the affection of children: to earn the appreciation of

honest critics and endure the betrayal of false friends; to appreciate beauty; to find the best in others; to leave the world a bit

better, whether by a healthy child, a garden patch or redeemed social condition; to know one life has breathed easier because

you have lived. This is to have succeeded." - Ralph Waldo Emerson

The horizon of A new year brings fresh perspective,

a new slate, and open opportunities. 2020 made me

pause and reflect on how I do life. I realized if you

yearn for more, you have to grow more—constantly

investing in yourself. If you want love, you must give

love. What you put out into the world is what you will

receive in return. Your surroundings are a mirror of

how you choose to give and react in life.

SO, HOW DO YOU GIVE AND CHOOSE LOVE?

ASK YOURSELF THESE QUESTIONS:

WHO AM I?

In both my business and personal life, I seem to always get asked these

questions. What is at my core? What is my foundation? What is the one

thing that grounds me?

For me, it is always "treat others the way I would want to be treated."

I know this is a common phrase and principle, yet it is so rarely seen and

recognized. To serve and treat others to the best of my ability, I strive to

incorporate integrity, servitude, and truth into my core foundation.

Integrity is one of the greatest gifts that you can give; it is keeping

your word and letting your actions be in alignment with what you have

said. Servitude is having a servant's heart, finding, and losing yourself in

the service to others. And truth; straying from any gossip and spreading

only love and honesty with one another. Though this is easier said than

done, sometimes it takes time to choose the honorable and honest

path. But once you are upon it, the reward is priceless. Find what drives

you and ask yourself what you value - it is in these questions you will

discover who you are and what you represent at your core.

HOW AM I IMPACTING OTHERS?

At the end of the day, it is not the material things that make us, but

rather knowing you have given your all and made a difference in even

one person's life. Write down five people that have shared wisdom with

you, helped you grow, been a mentor or helped you through change and

adversity. By acknowledging those who have influenced your life, you can

think about who you have impacted through wisdom, encouragement and

unconditional love. You learn from those who give to you, so you can give

to others.

WHAT DOES MY DAILY AGENDA LOOK LIKE?

You will not change your life just by thinking about it. You must do

something and do it daily. The secret of success is found in daily routine.

Take a moment to reflect on how you spend a typical 24 hours. Are you

investing in yourself? Are you consistent? Are you intentional with your

routine? We must put time into our own personal care if we are to give

back to others. Be sure to start incorporating moments to reflect and

recharge in your day. You are what you put in. Be mindful of what you

read, who you listen to, what your friends embody - for these will all

influence you. Fuel yourself with good thoughts and tools that will help

you grow personally. You must learn to love yourself first, and by doing

that, you will represent and offer unconditional love to others. Choose

yourself so you can change others.

Reflecting on these questions made me take a good look at my choices

and how they impact those around me. I know that if I am going to lead

others with positivity and maintain lifelong relationships, it starts with

me. I must continue to grow in all areas of my life spiritually, financially,

professionally and health wise. It is our choices that show who we truly

are. You can choose to read 15 minutes a day on a healthy lifestyle; you

can choose friends wisely; you can choose to accept and give love. Love

can be spread and given in the smallest of ways. Sending flowers, saying

thank you, paying for someone's coffee, giving a compliment, making

a meal for a loved one—these are all simple and small acts that give

love. Spreading love can change hearts, it just starts with you. We can

all make a difference one heart and one act of kindness at a time if we

consciously make it a priority. Choose love this year. Leave the world a

little better than you found it.

Berni Leonard is a beauty salon owner and coach. She

is passionate about adding value to the lives around her,

continuous growth and personal relationships.
---
VOLUME XI | ISSUE 1 | MYFORSYTHMAG.COM 19
---
OK, Readers. This month let us take a little quiz together.

1. Would you rather choose which restaurant to visit on an outing or

have your date/friend surprise you?

2. If you are on a trip and see a sign at a highway exit advertising

something that sounds wonderful, do you get off the highway and

explore or keep to your schedule?

3. Would you choose a potentially high paying job where half the pay

is bonus money that might or might not happen or a much lower

but guaranteed salaried job?

4. Are all your friends so predictable that you know pretty much what

their opinions are about any given topic before you have a

discussion, or are you constantly surprised by what comes out of

their mouths?

BOOK REVIEW

Orbiting the Giant

Hairball

5. Do you order the same meal every time you visit your favorite

restaurant, or have you tried pretty much everything on their

menu that seems promising?

By Gordon MacKenzie

Review by Jacqueline Thompson Graves

It is pretty easy to tell what my

quiz is after, isn't it? Are you a

person who seeks safety and

security, or are you always

looking for a challenge, for wide,

open spaces?

In MacKenzie's book, Orbiting

the Giant Hairball, he describes an old

Garfield cartoon where the naughty cat

goes into a pet store, opens all the cages

and yells, "Freedom! Freedom!" Much to

his surprise, none of the animals run out,

but instead hover in the backs of their

tiny cages. Garfield runs back down the

aisles, slamming cage doors and yelling,

"Security! Security!" Then he gives us all

that look.

It is important to know yourself.

How many writers have written that advice—know thyself—in a million

words when two will do? MacKenzie believes, and so do I, knowing whether

you value security or freedom is an essential part of succeeding, of being

happy. If you are one of those who answered "choose", "keep driving", "lower

salaried", "yes" and "yes" to the quiz above, you probably will not appreciate

Orbiting the Giant Hairball, except maybe to laugh at the pictures. But if you

are a person who is part of the second group – those who chafe against rules,

who butt up against boundaries, who look for loopholes to get out of doing

stupid things required by management—you are MacKenzie's person. You

will not just laugh at the pics; you'll get them.

"

MacKenzie believes, and so

do I, knowing whether you

value security or freedom

is an essential part of

succeeding, of being happy.

Gordon MacKenzie worked for 30 years at Hallmark Cards. He uses

Hallmark, unabashedly, to bash as the quintessential corporate behemoth

with rules for making rules. He shares with readers Hallmark's beginnings

when an 18-year-old Hall began a "card company" in 1910 when there was

no such thing as a card company. You feel MacKenzie's frustration as he

shares how this company began as an innovator, then became a structured

place where answers like "we've always done things this way" became the

norm. Because Hallmark's product requires creative people, the company

ends up with frustrated souls who churn out crazy good ideas that are not

how "we've always done things". MacKenzie, hired as an illustrator, somehow

managed to carve out a place for himself, constantly reinventing his role

at Hallmark. He eventually became a bridge between the creatives and the

linear thinkers in management, accounting, and administration.

He tells how he brainstormed with a team of creatives who were designing

a new workspace and discovered they all wanted – wait for it – rolltop desks.

A couple weeks of combing antique stores led to an individualized space

for each person at a cost below budget, a solution thrilling both the creative

team and the accountants.

Very few of us can just jump ship and go live in wide, open spaces with

no boundaries. MacKenzie describes how he learned to coexist, even thrive,

and understand, balancing the worlds of safety vs freedom. Hallmark is

his metaphor for the world and how we all relate to it. His book is filled

with stories and anecdotes. His doodles litter the pages like someone's notes

during a conference call – elephants, lines of ducks, stairs climbing up the

page. If nothing else, his art is worthwhile. MacKenzie's line drawings look

like something a very clever kindergartener might doodle. You think, "Hmm.

If this kid got some lessons, he could really draw and paint someday," except

his lifetime goal is to keep drawing like a fairly talented kindergartener.

By the end of the book, he gets pretty serious. He has been at Hallmark

30 years. He shares his vision of a company pyramid vs a company tree, and

it is pretty convincing. Then he tries to get us to see what God saw way back

when we were just a zygote floating in fluid. "Would you take this artist's

canvas with you and paint a masterpiece for me?" God asks the baby just

before it is born. "I'd really appreciate that."

Whether you are a security lover or a freedom lover, no one else can

paint your masterpiece. MacKenzie does a good job reminding us of that.

What you have to decide is whether or not you color inside the lines

Orbiting the Giant Hairball. A Corporate Fool's Guide to Surviving with Grace

By Gordon MacKenzie, c. 1996

Published by Viking/Penguin Putnam Group, Available at Amazon

For more book reviews and even stuff that isn't, visit Jacqueline's

blog: www.thebookbuffet.wordpress.com

"

20 MYFORSYTHMAG.COM VOLUME XI | ISSUE 1
---
VOLUME XI | ISSUE 1 | MYFORSYTHMAG.COM 21
---
INTERVIEW

How do you poach an egg?

You just take it when the chicken isn't looking.

AL: What has been the response to your book?

JD: The response has been awesome. Lots of good feedback and support. The

book was a number one bestseller Kindle on Amazon last week for puns and

wordplay and broke the top 100 for paperback, and is the bestselling book of

Humorist Books, my publisher. So those are all nice things.

AL: Can you see the humor in any situation?

JD: I can see the humor in any situation. But sometimes I don't want to see

it. I'm like a person who can see ghosts, but sometimes I'd like to just not see

them. Being able to see the humor in every situation is a blessing, but it can

also get you into trouble in a big way with friends, family, the law, etc. With

great humor comes great responsibility.

DUMB JOKES for

SMART FOLKS

An interview with Jessica Delfino By Amy Lyle

AL: Describe your experience as a stand-up comic.

JD: When I was younger, I had a lot of stuff to get off my chest—about

sexuality and being a woman. I lived by the Mae West quote, "Those who

are easily shocked should be shocked more often." Kristen Schaal, Chelsea

Peretti, Andrea Rosen, and Laurie Kilmartin were comedians I enjoyed

sharing the stage with; at the time I felt like had similar sensibilities. I had

a show I ran monthly with my friends Diane O'Debra and Stephanie Sabelli

in New York City (NYC), and comedians like Jim Norton and Colin Quinn

dropped by often. It was a really fun time for comedy in NYC.

In 2016, I had a baby and my whole world changed, and my sense of

humor and comedy perspectives changed, too. Then I had new things to

talk about, mostly about parenting. The new things I wanted to talk about

appeared to be lesser mined areas. And the cycle continued.

After 40, women age in dog years.

AL: What compelled you to write Dumb Jokes for Smart Folks?

JD: I worked in comedy in NYC and as a touring comedian until 2016,

when I had my son. I assumed I would keep doing comedy, but he

provided a very rude awakening that I wouldn't be getting to stay out on

stages until 2 am for a long time to come. I had a hard labor and had Post-

Partum Depression afterwards which was a big spiritual ouchie. Writing

was a saving grace for me. I wrote about parenting at first and then slowly

re-discovered my voice as a new mom and a changed person. I've been

primarily focusing on writing satire with a parental slant and had the idea

to write a joke book of "bad mom jokes" which was mostly one brand of

the kind of writing I'd been doing, though a little different. I guess I was

inspired by the idea that dads get to be the funny ones and that moms are

the mean, tired ones, and I wanted to have fun with that idea. Moms can

tell bad dumb jokes, too. Let me prove it.

"Of all the literary greats,

Jessica is my favorite. Jessica

Delfino is the best writer to walk

this planet! Wait, is it Jessica or

Jennifer? How do I know you

again?"– Jim Gaffigan, Comedian

AL: On a scale of 1-10 how important is laughter during a crisis?

JD: Laughter during a crisis is a solid 10 or beyond, it's off the scale. Of

course, there is a time and place for everything, but even inside our own

minds or to our close friends, we might find comfort by sharing a laugh in

the middle of crisis. My close pals and I, and of course all of my invisible

friends, laugh a lot together.

What do you call eggs that have reached

enlightenment?

An Ohm-lette

From Dumb Jokes for Smart Folks

AL: What's up next for you?

JD: My next project is a compilation book called Moms Who Kill. It's a

book of true funny stories by comedian moms about being parents, and I am

really excited about that. However, a lot of really awful things come up if you

Google Moms Who Kill, so I'm going to have to work on that algorithm a bit.

AL: Where can we find you and your

book?

JD: My book is on Amazon and some

bookstores.

Visit DumbJokesForSmartFolks.com

for more information. My publisher is also

giving away some free copies to anyone

who tells a really good joke (are available

on our website).

22 MYFORSYTHMAG.COM VOLUME XI | ISSUE 1
---
VOLUME XI | ISSUE 1 | MYFORSYTHMAG.COM 23
---
5 Things

I've Learned

By Debra Stipe

My 90-year old mother passed away earlier this year. I regret not asking her this great question:

'What are five things you've learned?' But I would certainly echo her sentiments in saying that

'surely goodness and mercy have followed me all the days of my life.' Psalm 23.

I have always loved

alliteration so here it goes!

I believe the following '5

things I've learned' sum

up well the heartbeat

of my philosophy and

mindset on life and love.

PASSION: FIND YOUR

LANE.

Your heartbeat. What you are good at and what

fires you up.

"The only way to be truly satisfied is to do

what you believe is great work. And the only way

to do great work is to do what you love. If you

haven't found it yet keep looking." Steve Jobs

Find your great work and stay there. I

literally had a nightmare once—that I had been

assigned to be a bookkeeper. Now that is a

nightmare.

When asked as a 13-year old girl what I

wanted to be when I grew up, I quickly responded,

'a mix of Julie Andrews and Carol Burnett'. The

hardwiring does not change that much.

Strive to stay in your lane.

PREPARATION:

EXCITEMENT HAPPENS

WHEN PREPARATION

MEETS OPPORTUNITY.

Put in the work. Be Ready. Yes, I had some raw

talent as a young girl, but it was the training

and years of time on the stage and in lessons

and rehearsals that opened the doors for me in

Los Angeles. Do not forsake the work; when the

time is right, the right doors will open.

If you love your work, keep the training going

for a lifetime.

PEOPLE: RESIST THE

TEMPTATION TO PURSUE

100 PENNIES OVER FOUR

QUARTERS.

The masses are tempting—especially for the

performer in me. The allure of the audiences. But

I have lived long enough to know that it is the '4

quarters', those closest to you, that know you on

your worst day, that love you enough to tell you

the truth, and who you need closest beside you on

life's journey.

They will be there to pick you up on the

darkest of nights. Value them. They are priceless.

PRESENCE: THE POWER

OF PRESENCE.

I am always on the go—if not physically at least

mentally. But the value of being simply present in

your current environment, blooming right where

you are planted, giving people the gift of your

presence and genuine listening ear is an invaluable

thing to offer people. I know when I am on the

receiving end of this, it's a life-giving gift. Real

connection happens here.

Listen. Doors have opened for me because I

was interested, I was listening; I asked the question.

PRINCIPLES: WE ALL

HAVE THEM: WHAT ARE

YOURS?

We all live by them, whether we acknowledge it

or not. Define yours.

Personally, I believe that there is a God and

'His ways work'. His ways are for our good and

for our protection and for our joy. I believe no

one has my absolute best interest at heart more

than my Creator.

Remember, if we do not stand for something,

we are apt to fall for anything. His ways have

carried me, and I have found Him to be worthy

of my complete trust.

Debra Stipe is an actress, writer, and acting coach. She owns Stipe Studio and is the co-owner of Airbnb

Stay Dahlonega. She may be reached at debrastipe@gmail.com. @staydahlonega

24 MYFORSYTHMAG.COM VOLUME XI | ISSUE 1
---
VOLUME XI | ISSUE 1 | MYFORSYTHMAG.COM 25
---
FORSYTH FOODIE

Sara y Jose

"THERE IS NO MORE SINCERE LOVE THAN THE LOVE OF FOOD"

A little over three months ago I came across a Facebook page for baked goods

where I could place an order and pick-up the goods within a few days of

ordering. It peaked my interest, so I reached out and ordered some goods.

I am so glad I did! I met Sara and Jose via ZOOM.

The dynamic couple loves cooking, with baked goods being their specialty. Jose is a graduate of the

Johnson & Wales University College of Culinary Arts. Sara, his wife, is a culinary expert. The duo

is amazing at baking some elaborate and tasty treats.

I ordered several items so I could try a few things – and I loved them all.

• Pan con Queso – Bread with Cheese

• Pan con Queso y Guayaba – Bread with Cheese and Guava

• Sourdough Bread

• Jalapeño Cornbread Mini-Muffins

The taste of all of the items I ordered was phenomenal. An unexpected culinary treat where

ingredients were masterfully mixed to create tasteful breads. Not doughy or chewy – simply perfect.

I decided to try another offering - Apple Strudel. As expected, it did not disappoint.

Sara y Jose showcase their baking abilities on Facebook, with videos and pictures. Their weekly

offerings are listed on their social media pages, which I regularly check. Perhaps you should too.

If you are in the mood

to try something new

and delicious, give Sara

Y Jose a try.

Mr.mrs.epicure@gmail.com

@mr.mrs.epicure

saray.jose.988

26 MYFORSYTHMAG.COM VOLUME XI | ISSUE 1
---
VOLUME XI | ISSUE 1 | MYFORSYTHMAG.COM 27
---
You see, Kevin was the quiet, humble guy

with a big smile that was always willing to help. I

never imagined he would take his knowledge and

put it together into a book – a great book. And

that is how IRRATIONAL KINDNESS: The Crazy

Pursuit of an Extraordinary Life movement began.

The word extraordinary has always been of

interest to me. I read it as two words – extra and

ordinary. I know that is incorrect, but that is how I

have always seen it. Perhaps it is partially because

English is my second language. I started thinking

of another way to look at the word extraordinary – so

I began to rethink extraordinary. Slowly the word

made sense as one word – and then Kevin's book

'showed-up' and it all made sense.

Without giving away all the great material in

the pages of this bestseller, here are some of the

premises that the book discusses, in an anecdotal,

beautiful way. As described by the author himself,

the book is a "fast food entrepreneur's crazy pursuit

of finding beauty in failure, your originality,

renewing your mind, people and persistence."

Perhaps you will consider taking a look at

your own definition of kindness and your actions

for demonstrating so. And, I humbly suggest,

peruse the pages of IRRATIONAL KINDNESS,

a book that I believe may turn your thoughts a

little upside down.

Or maybe just validate the things you are

already doing, one irrational kind act at a time.

www.irrationalkindness.com

Kindness:

MORE THAN A BUZZ WORD

By Julie Brennan

A list of the top 20 buzz words for 2021 should include

the word kindness. We see it everywhere and hear

it often. Billboards, speeches – the word kindness

continues to steadily rise in significance and actions.

I met Kevin Williams in 1999, as we joined other leaders in our community as part of a leadership

program. Over the years I would visit his business—Chick-fil-A—and kept in touch somehow. When

I found out that he had written a book, I had to buy it as soon as I could.

28 MYFORSYTHMAG.COM VOLUME XI | ISSUE 1
---
VOLUME XI | ISSUE 1 | MYFORSYTHMAG.COM 29
---
30 MYFORSYTHMAG.COM VOLUME XI | ISSUE 1
---
COVER STORY

EXPERIENCE &

KNOWLEDGE:

A CARING, STRATEGIC LAW FIRM

by Julie Brennan

Jennifer D. Patterson began serving the communities of Forsyth and North Georgia in 1992, when

she opened her first office in Cumming. One of the few female attorneys in the area at the time,

she began focusing on family law matters from divorce and child custody to domestic violence

and contempt issues.

"I am the mother of four kids. I understand when decisions have to be made when parents are

dealing with custody issues," Patterson explained. "No one wants conflict in their lives, particularly

as it relates to children. But it happens. My goal is to serve the best interest of my clients and

advocate for what is best for their children and their families."

In 2015, Patterson was joined by attorney Tracy Ann Moore-Grant and the law firm Patterson

Moore was formed. The pair decided to purchase the Merritt House on Kelly Mill Road which

had been sitting abandoned since the death of local attorney Johnny Merritt in 2013. "Our goal

was to do something different than being in the standard office complex. We wanted to create a

comfortable environment for our office."

Continued on page 32

VOLUME XI | ISSUE 1 | MYFORSYTHMAG.COM 31
---
JENNIFER D. PATTERSON

TRACY ANN MOORE-GRANT

E. LOGAN BUTLER E. LAUREN DUCHARME

The people visiting us are going through stressful

situations and we wanted to create an environment that

is both professional and comforting, stated Moore-Grant.

The original goal was to renovate the original structure into an office;

however, the team learned a few months into the project this would not

be possible. Termites had taken over major structural beams and so a

decision had to be made.

"We decided we unfortunately had to tear down the original

house, but we rebuilt it to look exactly the same. Most people don't

understand it isn't a renovation." The new building kept the southern

touches of the original building including the high ceilings, oversized

doors, and corner fireplaces. The original sink is in the kitchen and

the doorknobs from the original house have been turned into a

centerpiece in one of the conference rooms. Photographs from the

Historical Society are featured in the lobby.

During construction, E. Logan Butler joined the firm adding his

practice areas of criminal defense, employment law, civil litigation, will and

probate and Patterson Moore Butler Attorneys & Mediators was founded.

Patterson Moore Butler is a law firm that specializes in clientfocused

solutions. The firm specializes in Criminal Defense, Family

Law, Business and Civil Litigation, Employment Law, Wills and

Probate, Mediation, and Parent Coordination. Of the six attorneys

with the firm, five are mediators. With an understanding that every

case and situation is different, members of the firm focus their

attention on each client and work with them in developing a plan to

address their best interests and goals.

Recently, E. Lauren Ducharme joined the firm as a partner.

THE ATTORNEYS

JENNIFER PATTERSON

Patterson regularly handles matters which may be high conflict, including

cases involving psychological custody evaluations, family owned businesses

and retirement division. Patterson's background in accounting gives her

an elevated level of experience for complex matters. Patterson has a true

understanding of the heart wrenching decisions that have to be made in

custody and parenting matters and has guided her clients as they make

those decisions. She is also a mediator, arbitrator, guardian ad litem and

parent coordinator.

TRACY ANN MOORE-GRANT

Moore-Grant has practiced exclusively in the area of family law in the

North Georgia area since 2002. After years of complex litigation work, she

focuses her practice on uncontested and amicable divorces, is a mediator,

arbitrator, and guardian ad litem, does divorce coaching for attorneys

and other professionals, case review, and does amicable divorce training,

seminars, and public speaking across the country on the topic of amicable

divorce and family law. In 2019 she founded the Amicable Divorce

Network and was awarded a Georgia Legal Award in 2020 for developing

the Georgia organization and its positive impact on the Georgia family law

system.

E. LOGAN BUTLER

Butler dedicates his practice to Criminal Defense, Business and Civil

Litigation, Employment law, and Probate, Estates, and Trusts. Butler

has previously served as an Assistant District Attorney in the Piedmont

Judicial Circuit (Barrow, Jackson, and Banks Counties) and in the Bell-

Forsyth Judicial Circuit (Forsyth County). Butler has served on the board

for the Bald Ridge Boys Lodge and works with the Chamber of Commerce.

He is an active member of Lanier Forsyth Rotary.

E. LAUREN DUCHARME

Ducharme, who grew up in Forsyth County, has focused her practice on

Family Law since 2007 and is a registered mediator with the Georgia Office of

Dispute Resolution. Since 2007, she has practiced in the metro-Atlanta and

northern Georgia counties as an attorney, mediator, and guardian ad litem.

ORIGINAL BUILDING

32 MYFORSYTHMAG.COM VOLUME XI | ISSUE 1
---
MATTHEW VAN DYKE

NEENA SAXENA

Associate attorneys Matthew Van Dyke and Neena Saxena

complete the Patterson Moore Butler team. Mr. Van Dyke grew up in

Forsyth County and is a graduate of the Citadel. He practices in the areas of

criminal defense, small business litigation and wills and probate. Ms. Saxena

grew up in the Johns Creek area and also returned to her roots to practice.

She is a mediator and focuses her practice in the area of family law.

THE FIRM

The firm is passionate about being involved in the local community and

all members are involved in various civic organizations. The firm handles

many areas of law including uncontested, amicable, and contested divorce

and family law matters, criminal defense, employment law, wills and

probate, small business representation, mediation, arbitration, and parent

coordination. The firm's goal is to handle all matters that may face a family

and to be a resource in the Forsyth County community.

The firm offers online mediation booking and various fee

structures, including flat fees and retainers, to address the various

financial circumstances of individuals needing legal assistance.

THE DIFFERENCE

"When you retain our firm, we work diligently and efficiently to achieve

your desired outcome," Patterson explained. The firm is offering phone,

Zoom and in person meetings so all clients feel comfortable meeting with

their attorney during COVID-19 For clients who do not have the needed

technology for the new online hearings and mediations, the firm has set

up a client workstation in their office for client use.

From serving on local service organizations, Rotary Clubs and several

non-profit organizations' board of directors, the attorneys are part of

the community. For the past 12 years, Ducharme has participated in the

Georgia High School Mock Trial Program as an attorney coach and regional

competition coordinator. Patterson Moore Butler serves as the attorney

coaches for Alliance Academy and has a high school intern from the school.

"We are active members in our community and serve on numerous

boards of directors, including Mentor Me North Georgia, Rotary Club of

Lanier Forsyth, and Mock Trials," Butler added.

No one looks forward

to conflict. But

knowing that you can

count on trustworthy

and knowledgeable

attorneys is vital

when life, as you

know it, takes an

unexpected turn.

Available 24 Hours a Day

770.889.0846

www.pattersonmoorebutler.com

213 Kelly Mill Rd

Cumming, GA 30040

Office Hours

Monday-Friday: 8:30am - 5pm
---
Treating

Pain:

IT'S A JOINT EFFORT

By Miranda Reed Cleaver, D.O.

Pain is an unfortunate part of life for

many people. Chronic pain, defined

as pain that lasts for longer than three

months or pain that lasts beyond the

routine time expected for healing,

can be debilitating for thousands of

people. Chronic pain can keep people from

enjoying daily activities such a playing with

children or grandchildren, attending functions

such as weddings, or even enjoying a walk.

Fortunately, with advancements in medicine,

not everyone has to live in constant pain.

Yes, it is true pain is an unfavorable part of

life, but suffering does not have to be. There are

many advanced techniques that physicians, in

particular pain management physicians, can

help perform to get people back up and running

to help increase their quality of life. Most

patients associate pain management physicians

with medications, and this could not be further

from the truth.

Yes, as pain management physicians we

prescribed opioids, as well as non-opioid

medications to help control pain. However,

this is not the only type of service we provide

for patients.

Pain management physicians will

recommend multiple modalities for managing

pain. These modalities vary and are extremely

specific to the patient's individual needs and

diagnosis. Some of these recommendations

can include, non-opioids, formal and homebased

physical therapy, massage, chiropractic

care, TENS (Transcutaneous Electrical Nerve

Stimulation) Units, heat, and ice.

What do you do as a patient if

you have tried and failed these

things? What is next? How do you

approach your pain?

This is where your pain management physician

will usually step in to help. If you are not a

surgical candidate, or you are wanting to

avoid surgical treatments, your physician

may recommend treatment options involving

injections. Often, people hear the word needle

and injection and will shutter with fear. Even

though every procedure comes with risks, most

procedures are relatively safe and carry a lower

risk profile. These risks and benefits are well

discussed between the patient and physician at

office appointments.

As a patient, your physician wants you to feel

comfortable and ask questions. Ultimately you

are responsible for your own healthcare and you

need to be well informed of what is going on with

your body. Your physician is happy to answer any

questions to help put your mind at ease.

What type of injections are we talking about?

Depending on your diagnosis, your physician

may speak to you about epidurals, facet

injections (nerve blocks) or radiofrequency

ablations, and trigger point injections, to name

a few. These injections can be performed in the

neck, upper, and lower back, as well as for knee

or shoulder pains.

If you have tried and failed the previously

mentioned treatment options, where do you go

from here?

This is where neuromodulation or spinal

cord stimulators come into play for many

patients. These are sophisticated and FDA

approved implantable devices that help

change the way your brain perceives pain by

interrupting signals from the area of your body

that hurts to your brain. Do stimulators take

away all your pain? No they do not.

Unfortunately, being pain free is not a

realistic option for most people. However, spinal

cord stimulators can help keep you up and

functioning at an improved capacity without

putting medications into your body.

You have more control over your pain

because you as the patient can control your

therapy settings to adjust for what you as an

individual needs for your pain. Spinal cord

stimulators are also trialed beforehand, so you

know exactly how your body will respond before

you decide to move forward with having your

physician implant them. Spinal cord stimulators

are not usually first line treatment for chronic

pain, but they are a wonderful option for many

patients in which other modalities have failed.

Nothing we do as physicians can fully reverse all

chronic pain issues but helping you as a patient

enjoy your life to the fullest and increase your

daily quality are what we strive for every day.

Miranda Reed Cleaver, D.O., specializes in Pain Management

Physician/Anesthesiology. Her professional interests include low back pain,

cervical pain, complex regional pain syndrome, thoracic pain, knee and shoulder

pain. She may be reached at 770-800-3455.

34 MYFORSYTHMAG.COM VOLUME XI | ISSUE 1
---
COVID-19 VACCINE. ACT NOW!

By Narendra Singh, MD

The COVID-19 coronavirus pandemic is now entering its second year with no signs of abating. Our death

tolls are rising and many business restrictions are returning. Hospitals are overwhelmed delaying access to

treatment for all medical conditions. Multiple new mutations have emerged around the world that appear

to spread more easily but fortunately to date are not more lethal.

The strategies to prevent the spread of

the virus have not changed. Wearing a

facemask in public, social distancing at least

6-feet apart, maintaining good hand hygiene

and avoiding crowded poorly ventilated areas

are key, personal and public health measures.

Sadly, we still have a way to go in improving

compliance with these measures.

For persons with medical conditions

including heart disease the effects of the virus

can be more severe. Elderly individuals and those

who are immunocompromised are at increased

risk. Maintaining your health with a diet rich in

fresh fruits and vegetables is important. Daily

exercise, even if it is only in the confines of your

own home, helps maintain strength.

The one new tool we have for combating

the pandemic is vaccines. The collective efforts

of government and industry have led to the

development of multiple vaccines against the

coronavirus worldwide in record time. Here

in the United States, we have three approved

vaccines – Ntech, Moderna and Johnson &

Johnson. All three vaccines were tested in

well-conducted clinical trials and showed

more than 90% efficacy.

Although the vaccine rollout strategy has

been slower than hoped for the process is

improving and accelerating. As a healthcare

worker, I was fortunate to get the Pfizer vaccine

early. I had the usual common side effects of mild

injection site tenderness with the first shot and

a little more tenderness with the booster shot

along with a low grade fever and generalized

muscle aching. All my side effects were gone in

48 hours. With millions of individuals already

being vaccinated the short term safety of the

injections has been confirmed. When you get

your injections, a 15 minute on site observation

period is recommended. Only individuals with

a history of severe allergic reactions are being

advised not to take the vaccine.

For all others, I would strongly urge you

get vaccinated as soon as you are given access.

Sadly, there has been much misinformation

about the vaccine. We all need to make an

informed decision, but I would recommend

resources such as the CDC https://www.cdc.

gov/coronavirus. Many have raised concerns

regarding long term safety which is valid but c

an only be answered with time. The vaccines

are free of eggs, preservatives, and latex. The

mRNA technology means that the vaccine has

no actual virus in it. If you already have had a

COVID 19 infection and developed natural

immunity the vaccine is still recommended to

bolster the strength of the immune response. At

the present time we have limited knowledge of

how long the immunity will last. I suspect that

with the multiple mutations we may be needing

a shot annually similar to the flu vaccine. The

good news is that the vaccines are free to you

and many more vaccination centers will open

up shortly.

We yearn for life to return to "normal" but

that means a global collective response that

starts locally. So please, act now. Get vaccinated

to protect yourself and those around you. We

will all reap the benefits of a better 2021!

NARENDRA SINGH, MD,

FRCP(C), FACC, FAHA

Clinical Assistant Professor, Medical College

of Georgia at Augusta University,

Director, Clinical Research

Director, Clinical Research, NSC Research,

Atlanta, GA

Director, Canadian Collaborative Research

Network

Affiliated with North Atlanta Heart and

Vascular Center

1400 Northside Forsyth Dr. | Suite 340

Cumming GA 30041

5400 Laurel Springs Pkwy. | Suite 1401

Johns Creek GA 30024.

(770) 887-3255

DrSingh@nsccardiology.com

heartdrsingh.com

36 MYFORSYTHMAG.COM VOLUME XI | ISSUE 1
---
VOLUME XI | ISSUE 1 | MYFORSYTHMAG.COM 37
---
The Importance of

Prenatal Care

By Nuria Nelkin, CNM

Pregnancy is a beautiful part of the life cycle and

most pregnancies progress healthily and safely during

pregnancy and birth.

Although this is a normal process, it is also a whole new world of

feelings and physical changes. Prenatal care helps educate and guide

women and their families through these changes. Some pregnancies

will have higher risk issues or develop problems that will best be

identified and managed by routine prenatal care.

Prenatal screening tests can identify a host of issues and help

determine if there needs to be interventions to help maintain the

pregnancy and keep the pregnancy healthy for both mom and baby.

At every visit we are always screening to make sure that women have

normal symptoms, labs, and vital signs. We evaluate and intervene when

there are problems, and we refer to a higher level of care, when necessary,

to ensure women get the best and most appropriate care possible.

Even when everything is progressing with no concerns, prenatal

care is the best place to learn about safe and healthy recommendations

of lifestyle, diet, supplements, medications, and ways to help with

discomforts of pregnancy. We also are there to help you adjust to the

huge transition of growing your family.

Pregnancy is not only a great physical change, but also a huge

mental and emotional change for a woman and her family, whether

preparing for first time parenthood or adding to one's family.

Navigating this with a knowledgeable team helps this transition

be easier. Getting to know your team over the course of several

months helps you form a relationship of mutual trust with your

providers. This helps us know you and your individual needs.

Our goal is to work with you as a team to help you take care of

yourself and your baby, having the healthiest pregnancy and

birth possible.

Modern OBGYN has three convenient office locations. Visit our newest office at Avalon in Alpharetta located at

2710 Old Milton Parkway Suite 100, Alpharetta, GA 30009. For more information on our practice and providers,

visit www.reyesobgyn.com.

Nuria Nelkin, CNM, is nationally certified by the American Midwifery Certification Board (AMCB). She is also a member

of the American College of Nurse-Midwives (ACNM). She maintains her license as both a registered nurse and Certified-

Nurse Midwife in the state of Georgia.

38 MYFORSYTHMAG.COM VOLUME XI | ISSUE 1
---
HOME SPACES STYLED FOR

ZEN AND

WELLNESS

By Lanada Chanel Duncan

If 2020 taught us anything, it was that our homes really are

safe-havens and should be the one place we devote time and

attention to making safer and suitable for peaceful leaving.

It's true now more than ever that having a place to shelter into isn't

enough. But having a space in which we can escape to and unwind for

self-care is crucial to our wellbeing.

While a garage or attic can be a life saver when you share living

quarters with others but need time alone, there are more areas in your

home that can also be retreat zones to infuse calm and tranquility into

your day and enjoy the benefits of Zen time.

• BATHROOMS are the perfect getaways. In most cases, they allow

for privacy and less interruptions, and you have built-in excuses to

stay awhile if necessary. Adding spa-like elements like Eucalyptus,

bath salts and candles is the secret to creating an indoor oasis

conducive for relaxing.

• SUNROOMS, PATIOS, AND PORCHES are the best spaces for

quiet moments before the world awakens. Style comfortable sitting

areas where you can capture a glimpse of nature and get a little

vitamin D all at once. Incorporate side tables to hold coffee mugs

and cozy throws for quiet time moments had during chilly evenings.

• UNUSED ROOMS are perfect for redecorating into dad or

mom-caves. A mom with her own retreat space is a happier woman,

and this helps keep others in the home happy too. You know the

saying, "If mom is not happy….

Using a tranquil color pallet, functional décor, and accessories to personalize

the space so that it fits your personality and caters to your usual self-care

practices, are key to getting the most out of your retreat cave.

Remember that hiring a professional decorator will help eliminate stress

and indecision from your decorating project and equip you with ideas and

guidance for spending so you get the best results for your budget.

b.e. decors is a full-service interior design firm that offers onsite and virtual

decorating services to professionals who prefer to dwell in an environment

that caters to their living style and total wellbeing.

Lanada Chanel is the Principal Stylist with b.e. decors, an

interior design company that offers design, decor, and details

to evoke peaceful living & wellbeing.

Lanada Chanel Duncan, b.e. decors

678.951.9210

info@bedecors.com

www.bedecors.com

40 MYFORSYTHMAG.COM VOLUME XI | ISSUE 1
---
VOLUME XI | ISSUE 1 | MYFORSYTHMAG.COM 41
---
Lentigines:

DO I HAVE THEM?

By Dr. Weston Waxweiler

Ever wonder what those flat brown spots on your face

are? They might be small "lentil" shaped benign lesions fittingly

known as lentigos or lentigines. The name of these lesions refers to its

lentil-like appearance:

Lentigos are also sometimes referred to in common-vernacular

as "liver spots", -which is a bit of a misnomer as their presence does

not indicate an underlying liver pathology. These lesions tend to

occur on the sun-exposed areas of the body such as the cheeks

(pictured above) as well as backs of hands, face, and upper trunk.

These lesions typically range in size from 2mm up to 20+ mm and

have well defined borders. Colors of lentigos range from sand/tan

to darker brown.

Of note, if you see a lentigo that has an irregular border, multiple

colors (e.g., tan and black), is changing in color/size, or is growing

thicker you should consult your dermatologist. Occasionally lentigos

can develop over time into a type of melanoma called lentigo maligna.

These require treatment as melanoma is a deadly cancer. Please be

careful and wear sunscreen.

Lentigos are primarily caused by the sun or tanning beds.

Interestingly, a history of radiation exposure can also cause lentigos.

Treatment for lentigos includes watchful waiting (they are benign

but must be monitored for malignant transformation), alpha hydroxy

acids, azelaic acid, hydroquinone, vitamin C, retinoids, chemical

peels, laser, intermittent pulse light (IPL laser), and cryotherapy.

Sunscreen, hats, and sun avoidance will all help to lighten these

lesions. Lentigos usually persist if not treated and may increase in

number with age and sun-exposure.

Dr. Weston Waxweiler, MD, FAAD is a board certified dermatologist with the Cleaver Medical Group.

His clinical expertise and interests include skin cancer, pediatric dermatology, diseases of the hair and

nails, and cosmetics.

42 MYFORSYTHMAG.COM VOLUME XI XI | | ISSUE 1 1
---
VOLUME XI | ISSUE 1 | MYFORSYTHMAG.COM 43
---
Value of Business Investment

in Forsyth County Increases

by $527 Million

By Laura Stewart

The Forward Forsyth economic development partnership announced the results of a recent analysis of

the Forsyth County tax digest. The analysis reviewed changes in the tax digest from 2017 to 2019, the

period since the Forsyth County Chamber and Forsyth County Board of Commissioners initiated a new

economic development plan for the community.

With only 10 percent of Forsyth

County's tax digest composed of businesses

comprising 24 percent of the total assessed

value of the tax digest, the remaining

burden of local taxes falls to homeowners.

The average homeowner in Forsyth County

uses more in services than they pay in taxes.

Local leaders knew that there would be

difficult choices to make in the future unless

we can increase new business investments

and new jobs to lift the proportionate

burden from homeowners.

The county's new Economic Development

Strategic Plan and the creation of the

Forward Forsyth economic development

partnership are the result of an initiative by

the Chamber and the Forsyth County Board

of Commissioners to aggressively focus on

increasing business investment in Forsyth

County and balancing the tax digest.

From 2017 to 2019, there has been an

increase of $527 million in assessed value

of properties owned by businesses. The 19

percent increase in assessed value is driven

in part from adding 208 acres of land now

zoned for new businesses (a 1.5 percent

increase from 2017).

"While this is a long game that will take

many years to implement, it is exciting to

see these initial results." said James McCoy,

President & CEO of the Forsyth County

Chamber of Commerce. "We are performing

well ahead of the goals set back in 2017. It

speaks well of the partnership and leadership

of the community."

Forward Forsyth is executing tactics

described in the Forsyth County

Economic Development Strategic Plan

to encourage developers to build new

buildings for target companies to lease and

marketing the community and availability

of those buildings to target industries:

technology, data services, e-commerce and

distribution, advanced manufacturing, and

professional services.

Forward Forsyth's efforts in 2020 contributed to the creation of 528 new jobs

and $110 million in new capital investment. Forward Forsyth took action to move

the community's unemployment rate (which was 10.4 percent at the end of April,

2020) to 2.8 percent by the end of November, 2020. To learn more about Forward

Forsyth's progress in 2020 visit www.focoeconomicdevelopmentsummit.com.

44 MYFORSYTHMAG.COM VOLUME XI | ISSUE 1
---
Absolute Pool

& Spa Care

Turns

20

FOR THE PAST 20 YEARS, ABSOLUTE

POOL & SPA CARE HAS TAKEN CARE OF

CUSTOMERS IN FORSYTH COUNTY AND

NEIGHBORING COMMUNITIES.

Owned and operated by Mark Thompson,

customer service and care are of utmost

importance.

"The bottom line is we provide more than just

a paycheck for our employees. We train them

on how to improve their skills at the workplace

and in life. We also give them opportunities to

experience serving others and the gratitude

that comes with it," Thompson explained.

"When they work on a career, customers

will enjoy experienced technicians. When

customers enjoy experienced technicians, they

enjoy working with Absolute Pool & Spa Care.

It's the cycle of a successful relationship!"

As time passed, customers asked for more

services and Thompson complied.

"It can be summed up by our Mission

Statement: "To eliminate the negative

perception of the service industry by

creating a positive experience the

customer will always remember!"

"I can go on and on about why Absolute Pool

& Spa Care is different than other pool service

companies. Instead of a list, I prefer that you,

the customer, understand our beliefs and our

core values," Thompson stated.

OUR PRODUCTS

AND SERVICES

Hot Tub Service

Weekly Pool Maintenance

Renovations & Remodel

Pool Opening & Closings

Vinyl Liner Replacement

Remote Automation

Acid Cleans

Crack Repairs

Emergency Service

Green Pool Recovery

Leak Detection

Pool Cleaner installation

Pool Equipment Set-up

"Pool School" / Training

Pool Inspections

Commercial Pools Service

VOLUME XI | ISSUE 1 | MYFORSYTHMAG.COM 45
---
From Crisis to

Resolution

A FAMILY IN CRISIS. A DISTANCED

TEENAGER. A CRY FOR HELP.

WHEN A TIME OF INTENSE DIFFICULTY,

TROUBLE, OR DANGER IS WHAT DEFINES ONE'S

EXISTENCE, A CRISIS WILL LIKELY ENSUE. HOW

TO DEAL WITH THAT CRISIS IS WHAT WILL

LIKELY HELP US SURVIVE THAT CRISIS.

"Getting to the root of the problem is imperative when dealing with a crisis situation,"

explained Jeff Mogan, owner of Corner Farms Forsyth. "Our goal is to provide immediate

crisis Intervention and assistance to teens and families in need."

Healthy communication is key to facilitating a candid and healthy discussion that can

ultimately lead to conflict resolution and strengthening relationships.

"Setting realistic goals to help families work together while encouraging respect and

balance is something I work alongside those who come to us for help," Mogan added.

"He is an attentive listener, blessed with a wisdom that results in being able to quickly

and accurately assess the primary root of a problem. He is articulate and creative with his

evaluations, being able to deliver a straightforward and understandable demonstration to

both the adult and the adolescent/child with whom he is working," stated one of Jeff 's clients.

The un-tangling of the "unimportant" to get to the root of the problem, and practical

life skills that promote unity and healing in a relationship guide Jeff 's work.

Corner Farms recently launched Corner Farms RESPONDS (CFResponds), a private

foundation dedicated to helping families and non-profits fund projects and obtain the

necessary financial help to overcome challenges.

RESPONDS

For more information about Corner

Farms and CFRespons, visit

www.cornerfarmsforsyth.com,

email info@cornerfarmsforsyth.com,

or 770-355-2577.

JEFF MOGAN,

CRTC, CPLC

Jeff is a Certified Professional

Communication Coach (AACC),

Certified Professional Crisis

Response & Trauma Care Specialist

(CRTC) in Suicide Prevention,

Assessment & Recovery. Jeff

works with the Forsyth County

School System as a crisis

intervention specialist and is a

member of the Board of Directors

of Mentor Me North Georgia and

Community Connection.

46 MYFORSYTHMAG.COM VOLUME XI | ISSUE 1
---
VOLUME XI | ISSUE 1 | MYFORSYTHMAG.COM 47
---
School within a

Pandemic

By Ava Clavijo

Quarantines left and right everywhere you turn,

an empty table that was once filled with students.

Throughout the past seven months at school, there is never a fully

normal week. It is always "wow look how empty that table is", as

much as school can start to feel normal, there is always a reminder

that it is not yet. This is why we need to remain diligent with masks,

social distancing, and sanitation. As we can reach normality, we

are not there yet, and will not be soon. The schools are consistently

cleaning and contact tracing to limit the spread of the virus, but it is

ultimately up to the students to prevent the spread by wearing masks

and hand sanitizing. Working and learning during a pandemic has

never proven easy, but we should always remember that we are all

living through this, and to be kind and considerate. Through the

twist and turns of going to school while COVID-19 is running

rampant, we need to remain diligent in cleaning and safety along

with giving ourselves and everyone else grace.

Almost everyone I know has been quarantined at least once.

You get the call, and the next thing you know, another two weeks

before you see your friends again. As much as students may feel

safer at home, there is still no way to not get behind, no matter

how much online work is completed. There is no replacement for

education through an in-person class. As understanding teachers

are about quarantines, it is hard to maintain test integrity when

some of the students are taking the test in person when others are

at home, causing the quarantined students to fall behind. As much

as quarantine is the appropriate response to a COVID-19 exposure,

those quarantined deserve a grace period if they fall further behind.

The in-school experience makes it enjoyable, being able to form

a relationship with teachers and peers. The best part of the day is

being able to socialize. Without that socialization that makes school

enjoyable, completing the work itself seems unbearable.

The more we wear masks and sanitize, the sooner we will get the

normal we all long towards. But normal will not come easy. We all

must take safety measures seriously. As the pandemic drags on, we

begin to get lazy with masks and sanitation and start to get more

comfortable with the thought of getting the virus and getting over

it. I do not recommend getting the virus, it is not fun. Especially as

teenagers, we take our health for granted, but it is always important

to remember our elders and those with weakened immune systems.

Watching my grandmother contract the virus and fight for her life in

the hospital was heartbreaking even though she is now recovering, it

is terrifying to think about losing a loved one as I know many have.

As a community, we have lost so much. We need to work to not lose

anymore by wearing our masks and social distancing.

Overall, life in a pandemic is something no one could have

predicted or known how to deal with, and we have made the best of

it. As it is tiring for all of us, as long as we keep wearing our masks

and social distance, we can soon go back to normal. We just need to

remember to give ourselves and everyone grace because of the impact

the virus can have on our families and mental health.

48 MYFORSYTHMAG.COM VOLUME XI | ISSUE 1
---
49 MYFORSYTHMAG.COM VOLUME XI | ISSUE 1
---
INTERVIEW

Q. Gio, how did you go from being a beat cop

to a drummer?

A. Actually, the irony of my career is that I was

a drummer before becoming a cop. I began

drumming in the 4th grade in Paulsboro, NJ, a

small industrial town very close to Philadelphia,

PA on the Delaware River.

Q. Ok, then why law enforcement?

A. I grew up in a large law enforcement family. It

was a way of life. In fact, the Gloucester County

Police museum in New Jersey has a display

of myself and all my family members (in law

enforcement) in their museum. My grandfather

and his brother were both cops as were most of

their kids, my uncles. My uncle Steve was a New

Jersey state trooper and also the uncle responsible

for keeping me on the straight and narrow. As a

teenager he got me involved in the NJ state police

youth academy. At the time I was in a high school

band called E.S.P playing gigs in local pool halls

and parties. Our band won two talent shows in

high school and I won an individual talent show

for drumming. I really thought I would go on to

be a musician.

Walking a different BEAT

AN INTERVIEW WITH MIKE GIORDANO

By Katie Kaner

Mike Giordano retired from the Forsyth County Sheriff's Office after 20 years of

public service. He began his career as a beat cop and worked his way up to Chief

Deputy before retiring in January of 2017. He is now a professional drummer, who

prior to the COVID-19 pandemic was touring with an international act and playing in

a couple of local rock and roll bands.

I had the pleasure of sitting down one on one with Mike "Gio" Giordano to talk about

his new "beat".

Q. So, how did you end up at the Forsyth

County Sheriff's Office?

A. After High School our band members went

their own ways. I ended up going to a local college

in NJ and working loss prevention at Sears. I was

looking for a job in law enforcement, but because

of the nepotism rules up north and having a large

majority of my family in the profession, it was

proving difficult to get hired on in my local area.

I had family who relocated to the Forsyth County

area. I came to visit here for a relative's graduation

party. While visiting I stopped by the Sheriff 's

Office and visited with one of the command staff

in early 1996. The conversation went better than

expected and I was ultimately offered a job as a

deputy in the jail.

Q. Did you move right away?

A. Pretty much. At that time, I was dating my wife

Michelle, for about a year. I was ready to leave NJ

and had a long conversation with her when I got

back from my visit. At first, I moved down alone,

but within a few months she enrolled at North

Georgia College and she joined me here.

Q. What happened to your drums and your

drumming career?

A. I had to leave my drum kit in NJ and put my

drumming career on hold while focusing on

my law enforcement career. Although, I was a

50 MYFORSYTHMAG.COM VOLUME XI | ISSUE 1
---
cop working my way through the ranks, leading

our county SWAT team and enjoying my law

enforcement career, I never stopped drumming.

Once we got married and bought a house, I set up

a drum room in the basement. Every opportunity

I had while not working, I would be in my

basement drumming and practicing. It was stress

relief and always something I never gave up on.

Q. How did you make the transition from cop

to drummer?

A. In early 2017, I had 20 years in with the

Sheriff 's Office and had the opportunity to

retire at the top of my law enforcement career. I

looked into buying a music store at one point but

decided against it at the time. My wife Michelle

encouraged me to pursue a career in drumming

since it was a passion of mine. When we were

dating and subsequently married, she always

joked with people that she thought she was

marrying a drummer. I spent the next 12 months

or so refining my drumming skills and I decided

to get serious about drumming. I worked in my

basement for about 5-8 hours a day 7 days a week.

I then went online and started looking for bands

to join to play live. I found a company in Atlanta

searching for a drummer to play weddings,

festivals and corporate events. I played with that

organization for almost a year. I played the annual

Owl-O-ween hot air balloon festival in Kennesaw

in 2018 to a crowd of about 6000 people, countless

weddings and other private events.

Q. I understand you were touring with an

international group before COVID-19 hit. Tell

me about that experience.

A. In mid-2019, I was contacted by a representative

of a popular 1980's, funk, new wave and dance

punk band called E.S.G. They formed in the late

70's in the South Bronx and enjoyed international

success for several decades touring the world.

They were looking for a drummer to go back

on tour with them in June of 2019. I was given

their songs and audition tracks on a Thursday

and asked to audition the following Tuesday. I

spent the entire weekend mastering the 12 songs

they gave me. I packed up my drum kit, drove

to Atlanta and I ran through the entire set list

with the band and returned home to Forsyth. A

couple days later they called and said they were

interested and asked me to come back to play

the rest of their song list with them. I worked on

the remainder of their songs over the ensuing

few days and repeated the trip to Atlanta. Upon

arriving, I set up my kit, sat behind my drums and

Rene Scroggins the lead singer of E.S.G walked

up to her mic and introduced herself to the empty

audition room and we proceeded to play the full

set list as if it were a concert. Once we finished,

Rene looked back at me with a smile and said I

had the job. To my surprise, she grabbed her

computer, booked me on a flight to Philadelphia

and told me we were playing a sold out show at

the MANN Center in a few days.

Q. Was that wild or what?

A. To say the least, it was wild. I learned their

entire set list in less than 10 days and was about

to play before 14,000 fans. Unknown to me

at the time, 5 time Grammy nominated and

International recording artist ROBYN, who

hails from Sweden and is extremely popular in

the dance pop culture around the world is a big

fan of E.S.G and asked the band to open for her

extended U.S Tour. Philadelphia was the next

show and I had days to prepare.

Q. How did that work out for you? Were you

nervous?

A. Yes, I was nervous, but I could not let it show.

I just concentrated on my timing and did the best

I could. I relied on my experience and dedication

to my craft. My years in law enforcement and

time as a SWAT commander taught me a great

deal of patience. Combined with my 35+ years'

experience of drumming I felt I was prepared, but

yes, I was nervous.

Q. What do you remember about your first

show with E.S.G?

A. Very little! I was excited and nervous all at the

same time. Sitting backstage with the headliner,

producers and all the activity, I wondered how

the heck I ended up here so fast. I wasn't nervous

about the crowd and playing in front of people, I

was nervous about screwing up. I take my music

and my reputation serious and I didn't want to

disappoint the band or the audience. Thankfully

it went very well.

Q. How did the rest of the tour go?

A. After Philadelphia we played the world famous

Barclays Center arena in Brooklyn, New York.

This venue is essentially considered the bands

"backyard" and we played for about 15,000 fans.

After New York, we played Detroit and it was

in Detroit when I finally started to settle in and

get comfortable with it all. From there we went

to Columbus, Ohio, and then to Dallas for our

last show with ROBYN. We finished out the year

in Asheville for a record label anniversary bash

and finally a gig in San Francisco. That is when

COVID-19 began to become an issue in the

United States, and everything got put on hold.

Q. What have you been working on since

COVID-19?

A. I've been playing with a local band called

Highway 20 Rock-N-Roll Band. It's a group of us

that got together in January of 2019 playing small

venues around the Forsyth/Cherokee county

area. I continue to play and practice several hours

each day. I keep in touch with E.S.G and we hope

to get back on tour as soon as it is safe to do so.

I truly play because I love music and playing the

drums. It is my new beat now.

Mike lives in Forsyth County with his wife and

two kids, both students at Alliance Academy.

YouTube: Gio's drum experience

Facebook: Mike Gio

VOLUME XI | ISSUE 1 | MYFORSYTHMAG.COM 51
---
Don't Waste Your

Time on Resolutions!

By Christine Roberts

I DO NOT BELIEVE IN RESOLUTIONS.

I do believe in:

• evaluating our lives,

• determining where we want to improve,

• thinking about why, what end result I am

looking for, and

• reverse engineering how to make it happen.

If you start the setting a lot of unrealistic

expectations without thinking things

through, that's why your resolutions

don't last through January.

You can end up in a worse place than where you

started when you beat yourself up over it, and

feel defeated and that's the end of it.

Does this sound familiar? Do you know

anyone who does this? Or is this you?

Well, if it's you, try not to feel bad. That is a

waste of time.

Treat yourself as a cherished friend, so

when you have that internal dialogue going in

your head, speak kind words.

I have worked in the personal growth industry

with Disney Institute, The John Maxwell Company

and have been a student of human behavior practically

my whole life. I am fascinated by what we as humans

do and why we do it so I'm constantly paying attention

to others and especially to my own behavior.

Every New Year, I start a process of

reflecting and evaluating the previous year

and then determine what I want to achieve in

the upcoming year. Then I constantly check in

throughout the year to see how I'm doing.

This is an ongoing process of trying to be

better today than I was yesterday...therefore

NO resolutions. I hope that when you think of

yourself, that thinking provides a sigh of relief.

Here are the steps that work for me;

give them a try.

• Plan a specific time to go and think – do

this as early as possible. It's never a bad time

bad time to map out our lives.

• Have a systematic way to evaluate where

you are and where you want to go. I use the

Create Your Best Life Wheel as a quick gauge.

• Determine what areas you want to focus

on and WHY. Think about what outcomes

you would like, then back into specific

actions that will get you there.

• Document it! When you document it, your

chances of achieving are increased

dramatically, so write it down.

• Now go make it happen! (You can download

the Create Your Best Life Wheel at

www.christinemroberts.com/CYBLGuide )

Most people put more effort into

planning a vacation than they do

planning their lives.

Just do it! Don't overthink things and make it a

priority.

There is that saying, "No one plans to fail,

they just fail to plan." Or another one I love

is from Yogi Berra: "If you don't know where

you're going, you'll end up someplace else."

So true, huh?

One thing we will not get back is time. We

must live intentionally, so when we are lying

on our deathbed, we can look back and

know we did the best we could with the life

we had. Maybe that's morbid, but it's the

truth, right??

Make 2021 the most intentional year ever

starting now with the Create Your Best Life

Wheel. Visit: www.christinemroberts.com/

CYBLGuide and check it out.

Would love to hear from you, leave a comment or connect on FB and Instagram

@ ChristineMRoberts10 and/or LI @ Christine-M-Roberts with your thoughts, or

visit ChristineMRoberts.com

52 MYFORSYTHMAG.COM VOLUME XI | ISSUE 1
---
VOLUME XI | ISSUE 1 | MYFORSYTHMAG.COM 53
---
IS YOUR VEHICLE'S

SOFTWARE OUT OF DATE?

By Tom Burgess, Owner, Christian Brothers Automotive, Cumming GA

IF YOUR

VEHICLE

WAS MADE

AFTER THE

YEAR 2000,

CHANCES ARE

THE ANSWER

IS YES.

Here is an interesting fact

(well, interesting to me); the

modern car has around 100

million lines of code - when

Apollo 11 went to the moon

it had about 145K lines. In

essence, your car is a large

rolling computer platform

with nearly everything

influenced by a computer

in some way. The average

modern-day car has from

30 to 50 computers (with

high-end cars closer to 100)

and an equal number of

sensors to provide the data

all those computers require

to operate.

Nearly all functions of your car have inputs from these computers and microchips,

from incredibly complex code monitoring engine and transmission performance, to the

mundane such as turning on and off the headlights. So just as your home computer,

I-Phone or Apple watch requires software updates from time to time to fix issues

discovered by the developer, your car's software requires updates to keep everything

running as it should. The problem is, your laptop repeatedly tells you not to power

down so it can load the latest software update, your car however, cannot do the same.

Although some very recent cars are able to receive an updated patch from the

manufacturer over-the-air or by USB, most vehicles only receive software updates or rewrites

when they go to the dealer for an issue. The majority of independent repair shops

do not have the factory scan tools, tablets and licenses required from all the different

manufacturers to perform updates, so they cannot perform the download even if they

are aware one is available. We have the scan tools and licenses but are often frustrated by

the lack of information in the manufacturer bulletins on what a patch will improve or fix.

Chrysler does a good job relaying updated functionality, GM is the worst.

What types of things can an update or re-flash (which wipes out existing software

and replaces it completely) correct or improve? Nearly everything - from actual

issues a driver is experiencing to improving the functionality of a component. The

manufacturer cannot predict operational issues years down the road, and it isn't until

owners begin to complain of a problem that the developers know a fix is required. With

computers controlling everything from the dashboard functionality to shock absorber

settings, it is incredible what can be fixed with a software download.

One situation that comes to mind is a customer's car which had a horrible air

conditioner belt squeal on cold starts. It would seem logical the problem had to lie with

the belt, the air conditioner compressor, or the belt tensioner as those are the only three

components involved, right? Wrong.

Our technician hooked up the scan tool and was directed to download a software

update and the problem was solved. So how did software fix a belt squeal? It turns out

the air conditioner compressor was so low on the engine that the oil in the freon was

collecting in the compressor and on cold start-up the compressor could not pump the

oil out fast enough so the belt would have to slip until the oil was out.

The new software told the engine not to start until the starter had turned the

compressor a few revolutions and the oil was out. Then when the engine fired the

resistance was not too great and the belt would not slip. Without the scan tool, many

shops would have replaced components only to find the issue could not be solved

without a software update.

Transmission issues are also often fixed by updates because the software controls

how hard the transmission shifts, when it shifts, and even vibrations as it hesitates

between shifts. Another common problem we saw during 2020 when folks were not

driving their cars as much was dead batteries. Your software controls when and how all

those computers in your car go into sleep mode. And it appears many versions were not

working properly and were staying on long enough to drain the battery.

In the past, we have also installed updates that help reduce oil consumption,

prevent overheating, improve the heater so the cabin warms up faster, improve gas

mileage, radio reception and Blue Tooth functionality, the list goes on and on.

As your vehicle ages, a software update will change the acceptable parameters from

things like your O2 sensors, which means that Check Engine Light will not illuminate

because the manufacturer knows an 8-year-old engine will naturally have more

unburned fuel.

Bottom line – if your vehicle has not had an update recently, there is a good chance

one is available.

54 MYFORSYTHMAG.COM VOLUME XI | ISSUE 1
---
VOLUME XI | ISSUE 1 | MYFORSYTHMAG.COM 55
---
The Country Preacher

By Rev. David Hill

The Bible encourages us to take a

"selfie". With this past year still fresh in our

memory, how do you look? It has been amusing

to watch as my grandchildren use their cell

phones as a camera hoping to capture unique

moments. Who could have envisioned using

a phone to take a picture? In the old days we

went into a booth, put in a quarter, and pulled

the curtain to get a picture with a friend.

Public figures, especially preachers and

politicians, are tempted to use older pictures

from their school, college, or marriage

when they looked slimmer and younger.

Often it is difficult to know who the person

in the picture is. The scripture in James 1:

22 – 25 reminds us that what people see us

do should reflect what we have read in the

Bible. "Be doers of the word and not hearers

only, deceiving your own selves". To hear

and not do ". . . is like unto a man beholding

his natural face in a glass . . . straightway

forgetteth what manner of man he was".

The Old Testament in Exodus 30:18 and

38:8 gives instructions for the priest to offer

sacrifice in the Tabernacle for daily sins

picturing Christian prayers for forgiveness and

one-time forgiveness symbolizing a new birth.

The Tabernacle was in three parts reflecting

the Trinity. It was in the midst of the tribes of

Israel. Jesus is identified as the true tabernacle

(Hebrews 9:11). To enter the tabernacle the

priest must visit a laver of brass where the basin

was lined with the women's looking glasses and

filled with water for washing. On behalf of the

people, the priest must be cleansed before he

can approach the door of the Holy Place. At the

laver of brass, the priest would see himself while

washing before taking in the sacrifice for sins.

These symbols (Hebrews 8:1-6) are part of the

Old Testament teaching that God is too holy to

be approached without cleansing. Revelation

4:6 describes the Laver of Brass as a Sea of Glass

(looking glasses) before the entrance to the Holy

Place along with the Ark of the Covenant. The

pattern shown in the Old Testament tabernacle

is seen in some of the description of Heaven

found in Hebrews and Revelation.

The Old Testament emphasis on the

Ten Commandments and the holiness of

the tabernacle give us a glimpse of God the

Father that human effort cannot cleanse us

enough to wipe away our sins and live in

the presence of God. We must have a sinless

sacrifice to do what we cannot do ourselves.

The New Testament Gospels (the life of Jesus

in the flesh) gives us the Lord Jesus Christ as

the sinless sacrifice doing what we can't do. II

Corinthians 5:21, "For he hath made him to

be sin for us, who knew no sin; that we might

be made the righteousness of God in him".

The New Testament from Acts to Revelation

shows us the power of God in redemption by

the Holy Spirit. How is your selfie?

56 MYFORSYTHMAG.COM VOLUME XI | ISSUE 1
---
WeR1 Exclusives aims to provide

fashionable eyewear, with a positive

message. Quality Eyewear, at an

Be cool, be fashionable, and be a

part of the invaluable movement

towards inclusiveness.

WE ARE 1!

#LOVEOVERFEAR #STRONGERTOGETHER

My Forsyth

20% OFF

WITH CODE

20FORSYTH

Maddy

WE R 1 EXCLUSIVES

www.wer1exclusives.com • 678.929.2992

Owned and Operated in Marietta, GA

Join us for a glamorous and glitzy night of formals and tuxedos,

paparazzi on a red carpet, jazz by renowned musicians, a

reception of cocktails and hors d'oeuvres, a Georgia inspired

dinner like no other and so much more!

Come celebrate the end of a pandemic and the passing

of the torch of The Forsyth BYOT Benefit!

Saturday, November 6, 2021

Metropolitan Club

VOLUME XI | ISSUE 1 | MYFORSYTHMAG.COM 57
---
By Maria I. Morgan

What do we do when suffering tries to swallow us whole? From

Adam, who lived through the death of his son, Abel, murdered by

his firstborn, Cain, to believers in the New Testament persecuted

for their faith, God's Word is full of examples that give us insight

and direction. Even Jesus Christ experienced the same trials and

hardships we do:

Hebrews 4:15 For we have not an high priest which cannot be

touched with the feeling of our infirmities; but was in all points tempted

like as we are, yet without sin.

Think about it. Jesus experienced grief and was tempted to despair,

just like us. Remember Lazarus? He was Jesus' close friend. The day

came when Jesus got the news that Lazarus was extremely sick. By

the time Jesus and his disciples got to Bethany, Lazarus was already

dead. We see the shortest verse in the Bible that speaks volumes about

Jesus's love for his friend:

John 11:35 Jesus wept.

Jesus's grief was real. He was devastated by the loss of his friend. You

probably know the end of the story – because Jesus was also God,

he raised Lazarus to life. Since we are not God, we cannot perform

miracles that erase our suffering. But we can take note of what else

Jesus did:

He prayed to his Father:

HELP

When You Are Hurting

By Maria I. Morgan

If there was a sign-up sheet for suffering, I am

sure no one would rush to add his/her signature.

Difficulties that bring hurt and heartache are not

what we are after. But the last year has brought

both – whether it is the loss of a job, health, or

a loved one; it seems pain and heartache have

been close companions.

John 11:41 Then they took away the stone from the place where the

dead was laid. And Jesus lifted up his eyes, and said, Father, I thank

thee that thou hast heard me.

Prayer gives us access to the Father, too. We are invited to come

"boldly unto the throne of grace, that we may obtain mercy, and find

grace to help in time of need." (Hebrews 4:16) His grace gives us the

strength we need moment by moment to navigate our trials. And he

can use every hard thing in our lives to make us more like Him:

Romans 8:29 For whom he did foreknow, he also did predestinate to

be conformed to the image of his Son…

In our world, suffering is inevitable. Instead of grieving to the point

of despair, cry out to your Heavenly Father in prayer. He will give you

hope and will not allow even one trial to be wasted.

Can I pray for you?

Heavenly Father, the past several months have been hard. You know

every heartache and loss we have experienced. We are coming boldly

to ask you for mercy and grace for this day. Carry our burdens for

us. And help us move from despair to hope. In Jesus's name, Amen.

58 MYFORSYTHMAG.COM VOLUME XI | ISSUE 1
---
VOLUME XI | ISSUE 1 | MYFORSYTHMAG.COM 59
---
ADVERTISER DIRECTORY

AUTOMOTIVE/CAR REPAIR

SERVICES

Christian Brothers Automotive – pg. 55

470-253-7376 | www.cbac.com/cumming

BREW PUB/TAPROOM

Cherry Street Brewing Taproom – 19

770-205-5512 | www.cherrystreetvickery.com

CYBER SECURITY/

TECHNOLOGY SOLUTIONS

Critical Path Security – Inside Back Cover

770-224-6482 | www.criticalpathsscurity.com

CRISIS INTERVENTION

Corner Farms– pg. 47

770-355-2755 | www.cornerfarmsforsyth.com

DANCE ACADEMY/

INSTRUCTION

Cumming Dance Academy – pg. 5

770-781-4922 | www.CummingDanceAcademy.com

EMBROIDERY

Amigo Embroidery – pg.61

404-216-5740 | www.amigoembroidery.com

FINANCIAL PLANNING

Arseneau Advisory Group – pg. 15

470-839-9001 | www.arseneauadvisory.com

Vickery Creek Capital Management – pg. 23

866-571-5818 | www.vickerycreek.net

HEATING/VENTILATION/

AIR CONDITIONING

Shelnutt HVAC – pg. 55

706-265-5854 | www.shelnutthvac.com

HOBBY STORE

Atlanta Hobby – pg. 3

678-513-4450 | www.atlantahobby.com

JEWELER/JEWELRY

STORE

Gems In Art – Inside Front Cover

770-844-8005 | www.gemsinart.com

Lance's Jewelry –Back Cover

770-781-5500 | www.lancesjewelry.com

PHOTOGRAPHY

Adam Pendleton Photography – pg. 49

678-208-7077 | www.adampendleton.com

Bryan White Photography + Art – pg. 62

770-889-3202 | www,braynwhitephotography.art

MEDIATION

Fairway Mediator.com – pg. 61

678-769-6729 | www.fairwaymediator.com

PHYSICIANS/MEDICAL

SERVICES

Apollo Spine and Pain Center – pg. 41

678- 771-8266 | www.apollospineandpain.com

Advanced Center for Joint Surgery – pg. 44

470-839-9200 | www.advancedcenterforjointsurgery.com

Cleaver Medical Group – pg. 35

770-800-3455 | www.cleavermedicalgroup.com

Modern OBGYN – pg. 39

404-446-2496 | www.reyesobgyn.com

Narendra Singh, MD – pg. 37

678-679-6800; 770-622-1622 | www.heartdrsingh.com

POOL AND SPA CARE

Absolute Pool & Spa Care, Inc. – pg. 45

770-886-7870 | www.absolutepoolandspacare.com

REAL ESTATE

Hello Pam Evans Real Estate – pg. 13

678-778-6551 | www.hellopamevans.com

The Dinsmore Team – pg. 41

770-712-7789 | www.dinsmoreteam.com

RESTAURANTS /FOOD

SERVICES/CATERING

Casa Nuova Italian Restaurant – pg. 19

770-475-9100 | www.casanuovarestaurant.com

Cork & Glass – pg. 19

678-694-8812 | www.corkandglass.com

CSB Home of Rick Tanner's – pg. 19

770-205-5512 | www.cherrystreetvickery.com

Lenny's Subs – pg. 23

678-947-0336 | Fax orders: 678-947-5343

Palapa's Bar and Grill – pg. 21

770-889-1002 | www.palapasbargrill.com

Tam's Backstage – pg. 30

678-455-8310 | www.tamsbackstage.com

Tam's Tupelo– pg. 30

470-839-2024 | www.tamstupelo.com

TOY STORE

Wheezy's Toy Boutique – pg. 29

713-516-3985 | @WheezysToys

TRANSPORTATION/

NON-EMERGENCY

ABW MedTrans Solutions – pg. 13

678-567-6644

60 MYFORSYTHMAG.COM VOLUME XI | ISSUE 1
---
Brilliant Ways You

5Can Save Money

By Chrissy Knepshield

FORGET CLIPPING COUPONS, SHOPPING CLEARANCE BINS, OR EVEN GOING ON A SPENDING

FREEZE. THESE MAY BE FRUGAL WAYS TO SAVE SOME MONEY, BUT IF YOU WANT TO SAVE

SERIOUS CASH, YOU NEED TO CHECK OUT THESE TRIED AND TRUE METHODS.

1. GET ON A BUDGET!

I know, I know, I know. "Who has time to budget?" you ask. And my

question back to you would be, "Who doesn't have time to budget?"

With the countless apps and budgeting tools available on the internet,

you are bound to find something that works for you.

The thing about a budget is that it shows you how much you earn

and how much you spend weekly, bi-weekly, or monthly. A budget takes

the guesswork out of personal finance. Using a budget will allow you to

give, save, and spend within your means.

2. PAY YOURSELF FIRST

The best way to build wealth is to pay yourself first. Sadly, most people

pay themselves last. When you make a habit out of paying yourself first,

you learn to live on less than you make and place a cushion between

you and life's emergencies.

One way to determine how much to pay yourself can be percentagebased.

A budget will show you how much you are making, and based

on that number, you can put away 10%,15%, or even 20% of your

monthly net income into savings and Investments. Be sure to figure

out living expenses as well so that you do not go overbudget.

3. AUTOMATE YOUR BILL PAY

Many companies make it easy for you to pay your bills on time and

online. They receive your payment by the due date, and you avoid

a late fee. You can set up automatic bill pay through your service

providers by visiting their company website or calling their business

customer service.

By automating monthly bill payments, you save both time and

money. You avoid paying postage and writing out a check. When you

automate paying your monthly bills, you also free up time to do more

important things.

4. GET RID OF CONSUMER DEBT

For the past several years, my family has been on a journey to debt

freedom. We are almost there. We became tired of living with tens of

thousands of dollars of debt. Due to the high debt to income ratio, we

were living paycheck to paycheck. The only wayto stop the cycle was to

get rid of consumer debt.

According to the U.S. Treasury, the National Debt for 2020 so far

exceeds 21 trillion dollars. The numbers show just how much of a

financial crisis the nation is in. Focusing on eliminating consumer debt

will help you save more money long term.

5. LIVE ON LESS THAN YOU MAKE

By far, this is the simplest way to save money and lots of it. When

you learn to be content with what you have, it does not matter

when the latest and greatest shiny, bright object comes out

to market.

I admire people who live on less than they make. To me, they are

all the wiser for having self-control and valuing what they already own.

When you live on less than you make, you have room to financially

reach other goals. Living this way is a choice and offers way more than

financial returns.

Chrissy is the founder and creator of the personal finance blog a plan to prosper. She is a stay at home Mom of three and

the household CEO. Chrissy has a passion for sharing with other Moms about mindful spending, intentional saving, and

practical debt elimination. As her family journeys towards debt freedom, her goal is to inspire others along the way.

VOLUME XI | ISSUE 1 | MYFORSYTHMAG.COM 61
---
62 MYFORSYTHMAG.COM VOLUME XI | ISSUE 1
---
64 MYFORSYTHMAG.COM VOLUME XI | ISSUE 1