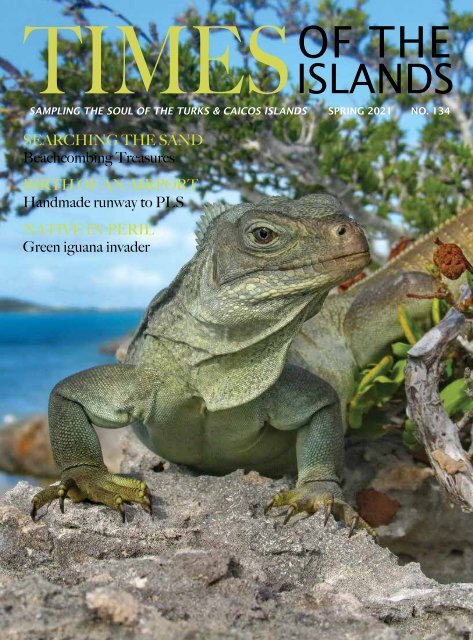 Times of the Islands Spring 2021
Presents the "soul of the Turks & Caicos Islands" with in-depth features about local people, culture, history, environment, real estate, businesses, resorts, restaurants and activities.
Presents the "soul of the Turks & Caicos Islands" with in-depth features about local people, culture, history, environment, real estate, businesses, resorts, restaurants and activities.
SHOW MORE
SHOW LESS
You also want an ePaper? Increase the reach of your titles
YUMPU automatically turns print PDFs into web optimized ePapers that Google loves.
TIMES

OF THE

SAMPLING THE SOUL OF THE TURKS & CAICOS ISLANDS SPRING 2021 NO. 134

SEARCHING THE SAND

Beachcombing Treasures

BIRTH OF AN AIRPORT

Handmade runway to PLS

NATIVE IN PERIL

Green iguana invader

ISLANDS
---
Comfort Food Just Went A-list.

If your idea of comfort feels like

cashmere, you will find its culinary

equivalent at Almond Tree,

the Shore Club's deliciously

decadent new eatery.

Golden, crusty wood-fired pizza.

Savory skillets, bubbling over with flavor

and just oozing with temptation.

Salads and sides that give new meaning

to the word "indulgence."

These days, we're all hungry

for contentment and satisfaction.

Almond Tree at the Shore Club

simply takes it to a whole new level.

Reservations 649 339 8000

theshoreclubtc.com

ALMOND TREE

COURTYARD BAR

Dinner 6 –10:30pm

5pm – Midnight
---
JAMAICA'S

ULTIMATE

VOTED WORLD'S BEST

23

YEARS IN A ROW AT THE WORLD TRAVEL AWARDS

5 DISTINCT VILLAGES TO

CHOOSE FROM

Key West Italian

1. Village 2. Village

3. Caribbean

Village

4. French

Village

5. Seaside

Village

TM/© 2021 Sesame Workshop

EVERYTHING'S INCLUDED FOR EVERYONE!

Unlimited fun and entertainment is all-included

at Beaches® Turks & Caicos. And now with our

Platinum Protocol of Cleanliness, our already

industry-leading safety and health practices are

even more enhanced, guaranteeing the peace of

mind you need to enjoy your time with us. Stay at

one village and play at all five choosing from every

land and water sport imaginable, an awe-inspiring

waterpark with a SurfStream® surf simulator, or simply just splash,

swim and sip the day away with new friends at a sparkling swim-up

pool bar. Pamper yourself in a world of tranquility at our Caribbeaninspired

Red Lane® Spa and then enjoy an all-included feast at one of

21 incredible 5-Star Global Gourmet restaurants and enjoy non-stop

bars and entertainment all for the price of one vacation. With all of this

activity at your fingertips, it's no wonder Beaches Turks & Caicos has

held the top spot at the World Travel Awards for over two decades.

21 RESTAURANTS

@beachesresorts

FOR MORE INFORMATION, VISIT BEACHES.COM, CALL 1-800-BEACHES

OR CALL YOUR TRAVEL ADVISOR

*Visit www.beaches.com/disclaimers/timesoftheislandsspring2021 or call 1-800-BEACHES for important terms and

conditions. Beaches ® is a registered trademark. Unique Vacations, Inc. is an affiliate of Unique Travel Corp., the worldwide

representative of Beaches Resorts.
---
contents

Departments

6 From the Editor

17 Remember When

The Birth of an Airport

Story & Photos By Bengt Soderqvist

24 Island Life

TSA Tales from the Out Islands

By Jody Rathgeb ~ Photos By Tom Rathgeb

30 Talking Taíno

Pandemic

By Lindsay Keegan, Betsy Carlson,

Michael Pateman and Bill Keegan

68 Resort Report

A Phoenix on North Caicos

By Jody Rathgeb

73 About the Islands/TCI Map

77 Subscription Form

78 Where to Stay

80 Dining

82 Classified Ads

Feature

46 An Osprey Day

Story & Photos By Lorna Rae Daniel-Dupree

50 In Plain Sight

Treasures on the Beach

By Melissa Heres

Green Pages

36 The Green Invader

By B Naqqi Manco

39 Sunsets and Island Time

Story & Photos By Ben Farmer

43 Study Abroad

By Anna Handte-Reinecker

TIMES

OF THE

ISLANDS

SAMPLING THE SOUL OF THE TURKS & CAICOS ISLANDS SPRING 2021 NO. 134

On the Cover

Marta Morton, owner/operator of Harbour Club Villas

(www.harbourclubvillas.com) took this photo of the

native Turks & Caicos rock iguana on Bay Cay. This

endemic animal is being threatened by the invasive green

iguana. See article on page 36.

Astrolabe

58 People of the Islands

Telling "A Caicos Sloop Story"

Story & Photos By Michael P. Pateman and

Vanessa A. Forbes-Pateman

62 Selective Packing

By Matthew Matlack

68

RAMONA SETTLE

4 www.timespub.tc
---
TurksAndCaicosProperty.com

Beachfront 5 Acre Mandalay Estate, Long Bay Beach

Nestled along coveted Long Bay Beach, Turks and Caicos Islands, Mandalay Estate offers a discerning

buyer an idyllic private retreat with 300 ft. of pristine, white sandy beach and brilliant turquoise waters.

Mandalay features 7 bedrooms and an award-winning architectural design capturing the essence of

open Caribbean living with a masterful layout that revolves around the spectacular multi-level pool.

US$18,500,000

Bernadette Hunt

Cell ~ 649 231 4029 | Tel ~ 649 941 3361

Bernadette@TurksAndCaicosProperty.com

Bernadette has lived in the Turks and Caicos

Islands for over 21 years and witnessed the

development and transition of the islands

into a significant tourist destination. Based

on independent figures her gross transaction

numbers are unrivalled. Bernadette

has listings on Providenciales, Pine Cay,

Ambergris Cay, North and Middle Caicos

and is delighted to work with sellers and

buyers of homes, condos, commercial real

estate and vacant undeveloped sites.

Beachfront Sunrise Villa, Emerald Point

Sunrise Villa is a stunning two-storey 5-bedroom, 6 and a half bathroom beachfront residence located

in Emerald Point, one of the most prestigious developments in the Turks and Caicos Islands. This

newly built (2018) magnificent property offers nearly 9,000 sq. ft. of luxury indoor/outdoor living

space, is set on .72 of an acre and boasts just over 100 ft. of beautiful white sandy beach frontage.

US$7,250,000

Turks and Caicos Property is the leading

independent real estate firm in the Turks and

Caicos Islands with offices located at Ocean

Club West Resort and Ocean Club West

Plaza on the Grace Bay Road.

Bernadette's reputation and success has been

earned over time through her dedication,

enthusiasm and passion for real estate. Her

personal experience as having practiced law

in the islands for more than 10 years together

with owning and renovating a number of

properties means she is well-placed to advise

her customers and developers on what to

anticipate in the purchasing and construction

process.

Bernadette delights in working in the real

estate industry and her humor and energy

make her a pleasure to work with.

Beachfront Crystal Sands Villa, Sapodilla Bay

Crystal Sands Villa is a luxury beachfront villa in Sapodilla Bay, one of the Turks and Caicos most

coveted locations to reside. With its westerly exposure, you will enjoy the most magical sunsets the

islands have to offer. The 4 bedroom, 4,200 sq. ft. property is perfect for large family gatherings. Each

bedroom features an ensuite bathroom and breathtaking views of the tranquil beach and turquoise waters.

Please contact Bernadette if you would like

to find out more about owning real estate in

the Turks & Caicos Islands.

US$4,250,000
---
from the editor

MARTA MORTON–WWW.HARBOURCLUBVILLAS.COM

This image of a nest of osprey chicks represents how we may feel in early 2021.

Under His Wings

He will cover you with His feathers, and under His wings, you will find refuge. Psalm 91:4

The image of a nest of osprey chicks above symbolizes how many of us may feel in early 2021—vulnerable,

needy, raw. We're one year into the pandemic. The dream-like days of lockdown are over, reserves—literally and

emotionally—are nearly gone and life is not even vaguely back to normal.

This issue of Times of the Islands—the first in print for widespread distribution since last Spring—feels a bit like

these delicate chicks. We're putting it out there, even though the business community that supports us is struggling.

While tourist arrivals are finally starting to gain momentum, the market is not the same. There are fewer vacationers

and more long-term visitors; high-end real estate is booming as the wealthy seek to escape reality. How will this affect

the average TCI resident? How will the country adjust?

What you'll see as you turn these pages is our unrivaled quarterly chronicle of TCI nature, history and culture—

seeking to glorify one of God's most wonderful creations. We never stopped, you know. In 2020, we produced three,

all-new, outstanding issues of Times of the Islands, available on-line in flippable format. I can't thank enough our

contributors who kept on writing, researching and shooting photos, and our staunch advertisers, without whom we

would not be here.

It hasn't been so bad to let my "soft down" show. When I stop trying to have all the answers, solve every problem,

and simply let go, seek refuge and trust, a funny thing happens. The shadows disappear and a brilliant Light filters

in under those loving wings. With it, hope for better days ahead.

Kathy Borsuk, Editor • timespub@tciway.tc • (649) 431-4788

6 www.timespub.tc
---
14 Boathouses are already

reserved or sold

1, 2, or 3 bedroom layouts

available

Construction targeted to

commence this summer 2021

Prices starting from $795,000

Register interest today at

livesouthbank.com

For more information contact

Nina Siegenthaler at 649.231.0707

Joe Zahm at 649.231.6188

or email: nina@tcsothebysrealty.com

The Boathouses, set around a landscaped park and pool, offer a vibrant village-style

atmosphere on the marina waterfront. Every residence has a private boat dock offering

instant access to life on the water, with peaceful terraces to enjoy sunsets over Juba Sound.

Developed by Windward: www.windward.tc

Managed by:

Brand partner:
---
TM/© 2021 Sesame Workshop
---
The Last of the True Exotics

IsFIRST

For

FAMILIES

MORE QUALITY INCLUSIONS THAN

ANY OTHER RESORTS IN THE WORLD

Beaches ® Turks & Caicos has held the top spot

at the World Travel Awards for two decades by

offering families more of everything on the world's

best beach. Stay at one village and play at all five

villages—Key West, Italian, Caribbean, French and

Seaside —featuring every land and water sport*, an

awe-inspiring waterpark with surf simulator, 5-Star

Global Gourmet dining at 21 incredible restaurants,

and non-stop bars and entertainment—all for the

price of one vacation. Also included are tips, taxes,

and Beaches transfers.* And with trend-setting

food trucks, live entertainment, and family-sized

accommodations…the World's Best Family Resorts

include everything families want and deserve.

Best For Families

Readers' Choice winner

Best Hotel in

the Caribbean

Kimonos

Beaches Turks & Caicos

is on the world's

TOP 5 BEST BEACHES

by tripadvisor ®

For more information visit BEACHES.COM

1-800-BEACHES or call your Travel Advisor

@beachesresorts

BEACHES VOTED WORLD'S BEST

23

YEARS IN A ROW AT THE WORLD TRAVEL AWARDS

*Visit www.beaches.com/disclaimers/timesoftheislandsspr2021 or call 1-800-BEACHES for

important terms and conditions. Beaches ® is a registered trademark. Unique Vacations, Inc. is an

affiliate of Unique Travel Corp., the worldwide representative of Beaches Resorts.
---
For the fun of it.

More Choices with

Restaurants

Trendy

Food

Trucks

For the great selection.

THE WORLD'S BEST SERVES THE WORLD'S BEST!

ROBERT MONDAVI

TWIN OAKS ® WINES

Only Beaches ® Resorts includes Robert

Mondavi Twin Oaks ® wines. With six

varietals to choose from, selected

exclusively for Beaches, guests can

savour an endless pour of the best

wines at every meal and at every bar.

JAMAICA BLUE MOUNTAIN

BLEND COFFEE

The world's finest and most

sought-after coffee beans are

grown on the misty slopes

of Jamaica's soaring Blue

Mountain range. A blend of

Jamaica Blue Mountain coffee

is brewed fresh and served

complimentary at

Beaches Resorts. Only the

best for our guests.
---
World-Class

Master Chefs

5-Star Global Gourmet dining at

Beaches Resorts brings new sights,

sounds and tastes to each meal with

authentic dishes from around the globe.

Internationally trained chefs create

innovative dishes that are a fusion of

the freshest ingredients. Recipes from

around the world are as delicious as

dining in the country of origin. We

accommodate all dietary requirements

and restrictions to ensure a worry-free

vacation for you and your loved ones.

For the

taste of it.

Everyone has different tastes, and that's why Beaches Turks & Caicos

includes anytime 5-Star Global Gourmet dining at 21 outstanding

restaurants. That means you can dine when you want, where you want,

and enjoy as much as you want, choosing from an unprecedented variety

of cuisines from around the world. From the Southwest to Asia, Italy to

France, and from Great Britain to the Caribbean, every delicious morsel

at every incredible restaurant offers a new chef-inspired taste—all

perfectly paired with unlimited pours of Robert Mondavi Twin Oaks ®

wines. Plus special menus and restaurants for the kids!

More Quality Inclusions

Than Any Other Resorts In The World

Beaches ® is a registered trademark. Unique Vacations,

Inc. is an affiliate of Unique Travel Corp., the worldwide

representative of Beaches Resorts.

Caribbean's Leading

All-Inclusive Family

WORLD'S LEADING ALL-INCLUSIVE Resort

FAMILY RESORTS

2

0

2

0

BEACHES.COM

1-800-BEACHES or call your Travel Advisor

23

@ beachesresorts

YEARS IN A ROW AT THE WORLD TRAVEL AWARDS
---
TIMES

MANAGING EDITOR

Kathy Borsuk

OF THE

ISLANDS

ADVERTISING MANAGER

Claire Parrish

CONTRIBUTING WRITERS

Kathy Borsuk, Bengt Soderqvist, Dr. Betsy Carlson,

Lorna Rae Daniel-Dupree, Ben Farmer, Anna Handte-

Reinecker, Melissa Heres, Dr. Bill Keegan, Lindsay Keegan,

Bryan N. Manco, Matthew Matlack, Claire Parrish,

Dr. Michael P. Pateman, Vanessa A. Forbes-Pateman,

Jody Rathgeb, Lisa Talbot.

CONTRIBUTING PHOTOGRAPHERS

Bottle Creek Lodge, Lorna Rae Daniel-Dupree, Ben Farmer,

John Galleymore, Anna Handte-Reinecker, Melissa Heres,

Heidi Hertler, Bryan N. Manco, Matthew Matlack,

Marta Morton, Vanessa A. Forbes-Pateman, Tom Rathgeb,

Sand Dollar Images, Ramona Settle, Bengt Soderqvist,

iStockphoto.com, Lisa Talbot.

CONTRIBUTING ARTISTS

Wavey Line Publishing

PRINTING

PF Solutions, Miami, FL

Times of the Islands ISSN 1017-6853 is

published quarterly by Times Publications Ltd.

Copyright © 2021 by Times Publications Ltd. All rights reserved

under Universal and Pan American Copyright Conventions.

No part of this publication may be

reproduced without written permission.

Subscriptions $28/year; $32/year for

non-U.S. mailing addresses

Submissions We welcome submission of articles or photography, but

assume no responsibility for care and return of unsolicited material.

Return postage must accompany material if it is to be returned. In no

event shall any writer or photographer subject this magazine to any

claim for holding fees or damage charges on unsolicited material.

S A V E O V E R 5 0 %

O N Y O U R P O W E R B I L L

W I T H S O L A R E N E R G Y

Call us today for a renewable energy consultation

+1 649 332 1393 or +1 649 431 4242

While every care has been taken in the compilation and reproduction of

information contained herein to ensure correctness, such information is

subject to change without notice. The publisher accepts no

responsibility for such alterations or for typographical or other errors.

Business Office

Times Publications Ltd., P.O. Box 234,

Providenciales, Turks & Caicos Islands, BWI

Tel 649 431 4788

Advertising 649 431 7527

E-mail timespub@tciway.tc

Web www.timespub.tc

www.greenrevolutionltd.com

16 www.timespub.tc
---
emember when

This 1967 photograph shows the original airstrip after it had been extended to 1,200 feet. The Kew Town roundabout is approximately where

the 90º turn in the track road is. Walkin Marine's current location is left of the standing water at the top of the picture.

The Birth of an Airport

Providenciales' international airport started out as a handmade runway.

Story & Photos By Bengt Soderqvist

Pre-COVID-19, the Providenciales International Airport was bustling with flights from around the world,

especially on weekends during the busy winter/spring months. In 2019, nearly half a million visitors

arrived on the 9,199-foot runway and passed through the singular terminal building. International airlines

currently serving the Turks & Caicos include American Airlines, Delta, United, jetBlue, Air Canada, West

Jet, British Airways and InterCaribbean Airways. Travel is slowly increasing as visitors crave the peaceful,

natural beauty the country has to offer. The TCI Assured program helps ensure the health and safety of

travellers and residents.

But 60 years ago there were no airports, no flight infrastructure and bush was cleared away to create

an airstrip.

Times of the Islands Spring 2021 17
---
In the 1960s before development started on

Providenciales, the TCI Government had a work program

run by the district constables. This made it possible for

some of the residents to earn money. At that time, most

families made a living farming the land and fishing the

sea, but cash was needed to buy a few staples—flour, oil,

sugar, for instance.

In Blue Hills the main work was to build a road in front

of the settlement tracing the beach. Rocks were carried

from the bush and placed in the sand. Other rocks were

broken up into smaller pieces using a hammer, then

placed in the voids between the larger rocks. After that,

sand was hauled up in buckets from the beach and sprinkled

over the rock base to make a smooth surface.

Another work project had been to build a 700-foot

long airstrip located in the valley where Kew Town is

today. The bushes were cleared and the largest rocks

removed.

In 1966, Fritz Ludington formed Provident Limited

and made a lease purchase agreement with the TCI

Government to develop 4,000 acres on the eastern part

of Providenciales. In October 1966 Fritz, together with

his friend Tommy Coleman and me arrived by boat on

Providenciales to start the development. The boat was a

65 foot workboat named the Seven Dwarves. I was hired

as a surveyor/engineer but the true job description was

more like "to do anything that was needed."

Fritz understood that to have an efficient operation,

we needed to be able to come and go in a faster way

than by boat. We took a look at the 700 feet that had

been cleared and Fritz decided that his wife's plane could

probably be used to land there, even if the surface was

pretty rough. Chris Ludington's plane was a Cessna 180

with US registration number 74C, "74 Charlie" in pilot

lingo. Fritz needed to get back to the mainland and a few

days later 74 Charlie showed up for the historical landing.

(I was told that one or two airplanes had landed on the

strip prior to our arrival on Providenciales. I could never

get that confirmed so I don't know if we were watching a

"first" landing or not.)

For the next six months we used the air strip quite

a lot. I think Chris wound up with the short end of the

stick because Provident more and more took over the use

of her plane. During this time Fritz hired Embry Rucker

as a pilot (among other things). Embry recently published

a book, Coming in for a Landing, where he tells

about flying in the Islands in the early days. The book is

available on Amazon and is also for sale at the Turks &

Caicos National Museum. (See https://www.timespub.

tc/2019/03/up-up-and-away/).

Fritz Ludington himself was an experienced pilot,

as were many others in the Provident group. Aviation

was very important in the early development of

Providenciales.

When the heavy equipment arrived in April 1967,

the first priority was to improve on the existing airstrip.

Provident had chartered Margaret of Exuma, a self propelled

barge fully loaded with heavy equipment. The

Bahamian captain entered through Sellar's Cut, then zigzagged

between the coral heads up to the beach where

This 1966 image shows "74 Charlie" on take-off from the original 700-foot airstrip.

18 www.timespub.tc
---
The Leading Private Bank in the Turks and Caicos Islands

Where values are growing

Wealth Management • Bonds/Fixed Income

Investment Strategies • Foreign Exchange

Stocks/Equities • Precious Metals

Fixed deposits/CD's • International Transfers

Turks & Caicos Banking Company Ltd.

The Regent Village, Unit H102, Grace Bay Road, Providenciales

Tel: +649 941 4994

Email: services@tcbc.tc • www.tcbc.tc

Times of the Islands Spring 2021 19

Regulated by the Financial Services Commission, Turks & Caicos Islands
---
This photograph shows Junior Rigby with the heavy equipment used to clear the "new airport" in 1967.

the National Park is today. The bow ramp was lowered

onto the beach and Provident's brand new Caterpillar D8 people in government in those days. We were mostly

Walkin May2017_Layout 1 5/28/17 5:45 PM Page 1

tractor crawled ashore with Billy Dodson at the controls. dealing with the Administrator Tony Golding, Magistrate

Fritz had hired Billy to head up Provident's heavy equipment

division.

Once the D8 was ashore, it could drag the rest of the

load onto the beach, even if some of it got stuck in the

loose sand. With the D8, a grader and a roller available it

was time to start improving the airstrip. Billy, with Fritz

riding on the armrest, headed west through the bushes

with the D8 and made a narrow track all the way down to

the airstrip.

While this was going on I was still in Sweden finishing

off the topographic map that was needed to properly

plan our road system and subdivisions. Only part of that

original track became part of the final road system, but

it served the purpose of getting the equipment to the

airstrip. Billy very quickly added 500 feet to the east,

which brought the eastern end of the runway closer to

what today is Walkin Marine. With the grader and roller

he created an even, compacted surface—1,200 feet and

no loose rocks, luxury!

Part of the agreement with government was that

Provident construct a 4,500 foot runway with a coral surface

and the location should be outside the 4,000 acres

that was to be developed by Provident. Since we now had

the equipment, we wanted to get going on fulfilling our

obligations, so we asked the TCI Government where they

wanted us to build the runway. There weren't that many

DISTRIBUTOR DISTRIBUTOR FOR FOR EVINRUDE && MERCURY MERCURY

OUTBOARDS, PURSUIT WORLD CLASS CAT, CAT,

SUNDANCE AND BOSTON WHALER BOATS

Lures and Live Bait

Marine Hardware & Gear

Fishing Gear & Supplies

Marine Paints & Varnish

Marine Batteries

Sebago Docksiders

& Sperry Topsiders Shoes

BLUE

BLUE

HILLS

HILLS

ROAD

ROAD

PROVIDENCIALES

PROVIDENCIALES

TURKS

TURKS

& CAICOS

CAICOS

ISLANDS,

ISLANDS,

B.W.I.

B.W.I.

PHONE: 649-946-4411

FAX: 649-946-4945

20 www.timespub.tc
---
PROVEN IN PROVO

435' on Grace Bay Beach, a perennially acclaimed Caribbean destination.

30 years of construction development and hotel operations success.

A decade of travel industry awards and consistently high guest ratings.

10 years of strong ROI and very satisfied owners.

Where will you invest?

Windsong Resort Residences

Imaginative Phase II Resort Condominiums

Pre-Construction Pricing Available.

_____________________________

1-649-946-3766 • Toll Free (US/Canada): 1-855-WINDSONG (946-3766)

Stubbs Road, Grace Bay • Providenciales, Turks and Caicos Islands

www.windsongresidences.com • realestate@windsongresort.com
---
This is a very early picture (1967) of the "new" runway, when we could only use the small, white portion on the eastern end. You can also see

the 1,200 foot strip to the north (arrow).

Finbar Dempsey and Gus Lightbourne, who was the

elected representative for Providenciales. Planning and

survey departments were still to be formed.

The government suggested that we extend the location

where we had the 1,200 feet. As we now had the

proper topographic map available, I could show Fritz

that we could build a 4,500-foot runway there, but there

would be no room for future extension because we would

be jammed in between two hills. The map clearly showed

that if the runway was moved about half a mile south it

would be more suitable, because in that location there

was a lot of flat ground.

We were having a lot of discussions about where the

best location for the Providenciales airport should be.

Both Fritz and I agreed that the ideal location for an east–

west runway would be just south of North West Point.The

noisy approach and take off areas would be over water.

But this was 1967 and North West Point was about as far

away as the moon!

South Caicos District Commissioner Ben Bolt came

over on behalf of the government to inspect the location

for the runway that we were suggesting. First, I showed

him on the topo map why this was a good location. Then

we walked on the footpath from Blue Hills to Five Cays

which was flanked by a stone wall. When we reached

the proposed location, we jumped atop the wall to see

above the bushes. It was obvious there was a lot of flat,

level ground stretching far to the west. Ben Bolt agreed

that this looked like a good location, so the decision was

made then and there that this was where we were going

to build the runway for Providenciales and that's where

we are still landing today!

The Providenciales International Airport underwent a major expansion/redevelopment program in 2011.

22 www.timespub.tc
---
I marked out the new runway, set up grade stakes and

Billy Dodson got to work with the D8 tractor. Billy had

also given Junior Rigby on-the-job training, and Junior

became an excellent operator, first on the D8 and later on

the grader. (In fact, many of the roads we are driving on

today were originally built by Junior.) We reserved 1,000

feet in width for the new runway, thinking of possible

future taxiways, but we originally only cleared 500 feet in

width. Very soon, Billy and Junior made a small area in the

northeast corner ready for landings and takeoffs. Once

we started operating from there, the original handmade

airstrip was never used again.

Even if Provident's obligation to the government was

to build 4,500 feet, we originally cleared 6,000 feet. By

the early 1970s, the entire 6,000 feet had been built out

with a coral surface. Around 1977 the entire runway was

surfaced with a sealcoat.

Starting in 1981, a major upgrade was undertaken by

Johnston Construction, financed through a British grant.

This was part of Club Med's deal, which required an airport

up to FAA standards. The runway was extended to

8,000 feet. The limestone base was recycled and reinforced

through cement stabilization, while the runway

was surfaced with a triple sealcoat. A new terminal was

built in the present location, replacing the original one

that Provident had built further east. In the 1990s, the

runway was resurfaced with hotmix asphalt. That work

was done during the nights to avoid interruption of operations.

The 2011 expansion took the runway to 9,200

feet. a

Author's note: The D8 was a very important piece of

equipment and at least one of the guys on my survey

crew agreed. In the spring of 1969 there was a lot of talk

about the upcoming moon landing. I had told the guys

that this was just the beginning. In the future they would

shoot rockets from the moon so they would need something

like an airport. One of the guys said, "But how are

they going to get a D8 up there?" I think we agreed that it

would take many trips bringing up a small piece at a time.

In those days we got news via shortwave radio so we

knew that the moon landing would be shown live on TV.

We didn't want to miss this event, so when the day came,

five or six of us in the Provident group flew to Puerto

Rico to watch the landing. Luckily, the Spanish commentator

was quiet for a few seconds so we could hear Neil

Armstrong's famous words. A few years back, I was fortunate

enough to meet Buzz Aldrin, the second man on

the moon. He got a kick out of my story.

Times of the Islands Spring 2021 23
---
island life

People who live or have homes on North and Middle Caicos don't pack the normal vacation items like sunscreen or swimwear. They're more

likely to fill their bags with household supplies that are hard to find on the outer islands.

TSA Tales from the Out Islands

The things we carry (or not).

Somewhere in a drawer at my North Caicos home is a collection of notices from the Transportation

Security Administration, telling me that my checked luggage has been inspected. These inspections have

become so regular that I now expect them, so sometimes I leave my own notes for TSA, letting them

know what is in some carefully-packed fragile parcel and asking them to re-package just as carefully. This

"correspondence" has been going on for years; I have a lot of notices.

24 www.timespub.tc

By Jody Rathgeb ~ Photos by Tom Rathgeb
---
Other homeowners on North and Middle Caicos

understand completely: We all bring weird stuff with us

to the Islands. Aware of what we might not find on the

outer islands and often unable or unwilling to shop in

Providenciales on our way to the ferry, we schlep it along

. . . plumbing connections, art supplies, specialized tools

and kitchen utensils, favorite foods, car parts and more.

I often bring construction glue, grout and glass mosaic

tiles, all of which apparently look suspicious on x-ray

(thus the inspections).

And then there are the TSA checkpoints scrutinizing

carry-on luggage. These are particularly vexing for

North and Middle Caicos folk, not because we're trying to

break the rules, but for other various reasons: brain blips

during packing, innocent ignorance, simple forgetfulness

and (not least) the confusing capriciousness of TSA itself.

All lead to bewildering confiscations, comic explanations

and a never-fail conversation starter at island gatherings.

Death by butter

For Joe and Denise Ashcraft, an attempt at keeping to

the allowable weight in their checked bag led to a loss

of flatware. Even though Joe had researched whether

their set would be allowed in his backpack (and was told

yes, as long as the table knives were rounded and blunt

instead of sharp), there was a butter-knife bung-up. The

line agent at the TSA checkpoint was inclined to allow the

knives, but her supervisor said no. "The people aboard

our plane will be happy to know that they have been

saved from being buttered," Denise commented later in

a Facebook post.

The post brought out others who have had items confiscated,

along with tales of some of the exchanges and

explanations. When TSA took some drill bits from Howard

Bartels of Major Hill, he was told that with them he might

be able to disassemble the plane. Of course, without the

drill itself, it would take a very long time to do any sort

of damage during a flight, even if that was intended!

Other drill bits have been taken from Nestor and Dina

Fernandez and me, though with less amusement.

Joe and Denise Ashcraft bought a set of table utensils from Target, intending them for their North Caicos home. The knives were confiscated

by TSA, even though Joe had been told that rounded butter knives were allowable in carry-on luggage.

Times of the Islands Spring 2021 25
---
The longest established legal practice

in the Turks & Caicos Islands

Real Estate Investments

& Property Development

Immigration, Residency

& Business Licensing

Company & Commercial Law

Trusts & Estate Planning

Banking & Insurance

1 Caribbean Place, P.O. Box 97

Leeward Highway, Providenciales

Turks & Caicos Islands, BWI

Ph: 649 946 4344 • Fax: 649 946 4564

E-Mail: dempsey@tciway.tc

Cockburn House, P.O. Box 70

Market Street, Grand Turk

Turks & Caicos Islands, BWI

Ph: 649 946 2245 • Fax: 649 946 2758

E-Mail: ffdlawco@tciway.tc

john redmond associates ltd.

architects & designers

construction consultants

project management

p.o.box 21, providenciales, turks & caicos is.

tel.: 9464440 cell: 2314569 email: redmond@tciway.tc

Peanut butter is an oft-confiscated item at TSA checkpoints. That's

because it is viewed as a liquid, and only 3.4 ounces (100 ml) of a

liquid is allowed. Since the blob of peanut butter shown here is of

the proper amount, it doesn't make sense to bring an item that is

available everywhere.

In general, according to the TSA website, tools longer

than seven inches are prohibited in carry-on bags,

although that does not explain the drill bits. A deep reading

of the site does explain, however, some of the strange

"yeas" and "nays" of what is allowed; if someone in TSA

decides something can be used as a weapon, it is banned.

And so you cannot take a cutting board with you on the

plane. We suppose that is so you cannot whack someone

with it. Pots and pans are allowed except for cast iron

skillets. (It seems someone was watching "Fried Green

Tomatoes" while drafting the list.)

A liquid by any other name

Liquids seem to be the most-confiscated items, with people

reporting hot sauce, hand cream, luxury hair products

and gourmet honey going into the relinquishment bin

(it's always the expensive stuff). But the definition of "liquid"

is, well, fluid. For TSA, peanut butter is a liquid. So is

glue (including pipe cement) and caulking. And a Magic

8-Ball—that fortune-telling toy from Mattel—is definitely

a liquid. Actually, all those things, except the 8-Ball, are

allowed in a carry-on bag as long as they do not exceed

3.4 ounces or 100 milliliters. The key is in the amount.

The line between liquid and solid puts other foodstuffs

in jeopardy as well. The "liquid" in fresh eggs is,

yes, less liquid than that in the Magic 8-Ball, but the egg

26 www.timespub.tc
---
is easier to break open. Yet fresh eggs are on the okay

list. You can carry on a home-baked pie, but not a container

of piecrust filling. Soft cheeses are forbidden, but

hard cheeses are allowed. Don't count on an agent knowing

the difference, though. Cheryl Coffin was stopped for

a wedge of Parmesan (hard and grateable) and got it to

North Caicos only after explaining the location of North

and her passion (no, NEED) for good Parm.

Powder power

"Powder-like substances greater than 12 oz./350 ml must

be placed in a separate bin for x-ray screening," states the

TSA website. This does not mean they will come through

the other side of the line with you. Many travelers have

been relieved of baby powder, containers other than

individual packs of artificial sweetener and DampRid, a

moisture-absorbing product. Check 'em, everyone!

Are you a bit confused by all this? You can find a lot

of info at www.tsa.gov, or put a question to www.facebook.com/AskTSA.

But even if one scrupulously follows

the regulations, there's no telling what will happen at the

checkpoint, where logic, science and common sense have

little pull. As you pack your carry-on bag, remember that

the best thing to bring with you is a sense of humor. a

Mattel's Magic 8-Ball is a definite no-no at a TSA checkpoint, even

though its liquid (alcohol and dye) is likely within the 3.4-ounce limit

and it is sealed within the plastic.

Times of the Islands Spring 2021 27
---
You can't make this up

Just for the fun of it, here is a direct quote from the

TSA website: "A live lobster is allowed through security

and must be transported in a clear, plastic, spill

proof container. A TSA officer will visually inspect

your lobster at the checkpoint. We recommend that

you contact your airline to determine your airline's

policy on traveling with your lobster before arriving

at the airport."

Glug, glug, glug!

By now everyone knows that you can't take a water

bottle with you through a TSA checkpoint, and most

people who forget they've been carrying one simply

shrug and ditch it. But the full metal water bottle

B Naqqi Manco of North Caicos was holding was a

customized gift made by his sister-in-law, featuring

photos of his niece and nephew. He relates the story

of its near-confiscation: "They were holding it over

the bin and I told them I can drink the water and they

were wavering on it, and someone else (no idea who,

I'm thinking another agent) shouted, 'Awww, let him

drink it, look at those precious babies.' The agent

doubtfully asked me if I could down the full liter and

I made an 'Oh please' look, and pretty much downed

it in one gulp. I was allowed to keep my bottle." a

28 www.timespub.tc
---
Building Your Vision, Delivering Excellence, and Exceeding Expectations -

Time After Time.

Projetech offers turnkey Construction Management and General Contracting

Services for Residential, Commercial and Hotel & Condominium Projects in the

Turks & Caicos Islands. Our depth of experience is unrivaled and our

commitment to quality shows in the hundreds of projects we've completed in the

Turks & Caicos since our beginnings in 1996.

E S T A B L I SHE D 1 9 9 6

C O N S TRUCTI O N M ANA G E M E N T & S E R V I C E S L T D

PO BOX 659 | PROJECT HOUSE | LEEWARD HIGHWAY | PROVIDENCIALES | TURKS & CAICOS ISLANDS

T: 649.941.3508 | F: 649.941.5824 | INFO@PROJETECH.TC | WWW.PROJETECH.TC |
---
ISTOCKPHOTO.COM
---
talking taíno

Opposite page: Although we are thick in the midst of dealing with COVID-19, the first pandemic in the Americas may date to the arrival of

Christopher Columbus.

Above: This vintage etching circa 19th century by Ivan Konstantinovich Aivazovsky depicts the landing of Christopher Columbus.

ISTOCKPHOTO.COM

Pandemic

How much of Taíno depopulation was the result of disease?

Today's "Talking Taíno" is brought to you by the letters R and N. First R—not the pirate's favorite letter

(which actually is the C)—but R 0 ("R naught"), the mathematical term that indicates how contagious an

infectious disease is. We invited Lindsay to join us because she wrote her dissertation on R 0 , and has

spent her young career modeling infectious disease transmission, including COVID-19, malaria and zika.

The arrival of vaccines will help us to "turn the corner," but unfortunately, we're still a long way from the

end of the coronavirus pandemic.

By Lindsay Keegan, Betsy Carlson, Michael Pateman and Bill Keegan

Times of the Islands Spring 2021 31
---
Wear a mask, wash your hands,

socially distance, get vaccinated

The epidemiologists had warned us. The virologists told

us it was lethal, and we had no immunity. The modelers

predicted dire consequences. Front-line doctors and

nurses showed us overflowing hospital wards; refrigerator

trucks were parked out back. And Johns Hopkins kept

count: 2,000,000+ deaths worldwide. How could we let

this happen? Especially since this isn't our first rodeo. In

fact, the first pandemic in the Americas may date to the

arrival of Christopher Columbus. More about Columbus

in a bit, but first back to R 0.

The density of a population is key to the speed of

disease spread. R 0 describes that spread if everyone is

immunologically naïve (totally susceptible) in the absence

of interventions (such as social distancing or mask use).

In a nutshell, R 0 is the average number of individuals that

a contagious individual will infect. Granted, not everyone

who is contagious will infect someone else, but there are

individuals whose physical response (excessive shedding

of the virus) or personal actions (ignoring sanitary behavior)

are "superspreaders," who infect far more than their

allotted R 0 .

For COVID-19, the current pandemic apparently

began in Wuhan, China in December 2019 and first

appeared in New York in early 2020. Epidemiologists

estimate the R 0 for the original SARS-CoV-2 virus ranges

from 2 to 3 (meaning one individual will infect two to

three other individuals). In comparison, the new variants

that have emerged recently are 60% more contagious (R 0

= 3.2–4.8). Smallpox is estimated to have an R 0 = 3.5–

6, which means it is 1.75–2 times more infectious than

COVID-19 has been. Pandemic influenza, including the

1918 "Spanish flu" (R 0 = 1.8–3.6) is on par with COVID-19,

while seasonal flu is considerably lower (R 0 = 1.2–1.4). In

gallows humor, diseases spread because of density and

density: Population density—in particular how spatially

clustered susceptible people are and the "dense-ity" of

the population—or how much they bury their heads in the

sand in response to disease.

Wear a mask, wash your hands,

socially distance, get vaccinated

Back to Columbus, and the phenomenon known as the

Columbian Exchange—the transfer of plants, animals,

people (and diseases) between the Old and New Worlds.

In historian Alfred Crosby's study of the Exchange, he

gave the name "virgin soil epidemics" to diseases in which

a population had no previous contact and are therefore

immunologically defenseless. In this regard, the politics

of disease, what David Jones has called "rationalizing epidemics,"

has been used both to blame the source ("China

virus") and absolve those who transmit the disease by

blaming the victim (in this case the Native peoples of the

Americas) for lacking immunity and being genetically

naïve.

By this logic the fault did not lie with the Spanish

and other Europeans who came to the New World,

even though it was Old World diseases that caused the

demise of Indigenous societies. Indeed, accounts from

the British settlement of New England in the mid-1600s

clearly describe the horrific impact of European diseases,

especially smallpox, which decimated the Narragansett,

Massachusett, Wapanoag and other Indigenous communities.

The colonists' sentiment was, "God hathe consumed

the natives with miraculous plague," and "cleared our

title" to New England.

It is surprising that there are no similar descriptions

of Taíno mortality during the initial Spanish invasion.

Why not? Were pathogens, unwittingly transmitted by the

Spanish invaders, responsible for the rapid collapse of

Taíno society? Conversely, did pathogens transmitted by

the Taíno cause the death of numerous Spaniards in the

early years of Spanish settlement in the Caribbean? To

find the answers, we need to examine the different potential

diagnoses of the Columbian Exchange with respect to

disease symptoms and etiology.

The Columbian Exchange went both ways and sometimes

it was the colonizers who got sick. Historically, little

attention has been paid to dead Colonial Spaniards, yet

die they did and at alarming rates. Within a week of landing

at La Isabela, the first Spanish settlement in the New

World established on the north coast of the Dominican

Republic in 1493, at least one-third of the 1,200 men

Columbus brought with him on his second voyage fell

sick, half were incapacitated soon after, and an unspecified

number died. When newly appointed Governor

Nicolas Ovando replaced Columbus in Hispaniola in

1502, the 1,000 men he brought with him fell sick and

the majority died. Bartolomé de las Casas (the principal

eyewitness chronicler) blamed a new disease—syphilis—

but syphilis does not kill quickly, taking on average of

10–30 years from exposure to death. The culprit was certainly

not syphilis.

Wear a mask, wash your hands,

socially distance, get vaccinated

32 www.timespub.tc
---
This llustrated panel from the 16th-century Florentine Codex depicts a Mesoamerican infected with smallpox.

Fever was the only symptom mentioned at the time.

Illness was attributed to the change of climate, diet and

hard work; but since more than eleven weeks had passed

since they left the Canary Islands, scurvy could be implicated.

Scurvy is a debilitating disease caused by a lack of

vitamin C in the diet; symptoms can appear in as little as

a month and left untreated it can quickly lead to death

from infection or bleeding. Or maybe the illness afflicting

the Spaniards was an indigenous form of malaria?

Another possibility is a type of influenza that starts

in pigs (H1N1). Pigs were first brought to the Americas

on Columbus's second voyage. The close association of

pigs and humans in confined ship spaces could implicate

"swine flu" as an epidemic agent. (The transmission of

disease from infected animals to humans is called "zoonotic

spillover.") It is possible that the Spaniards who

died at La Isabela succumbed to the flu, perhaps even a

variant of swine flu, which they could have introduced to

Hispaniola as early as 1493. We may never know which

diseases were introduced by the Spanish, although recent

advances in ancient DNA research have identified the

genetic signatures of some diseases in human skeletons.

Wear a mask, wash your hands,

socially distance, get vaccinated

In recent centuries, modern Indigenous communities in

tropical South America have suffered the highest mortality

(circa 25%) from measles, malaria and influenza

epidemics. However, the first reported case of measles

in the Americas dates to 1765, so measles is an unlikely

candidate for a late 15th century epidemic. Less virulent

strains of malaria were present in the pre-Colonial

Americas. If present in the Caribbean, then the Taíno

may have developed some level of immunity. People

who live in highly endemic malaria settings develop

immunity to symptoms by puberty. Its main symptom is

"cyclical" fevers, where the fevers rise and fall as parasites

move between the liver and the blood stream to

reproduce. This would explain how malaria might have

had a greater impact on Spanish health and potentially

deaths. Nevertheless, the most deadly malarial parasite

(Plasmodium falciparum) was first transported to the

Americas with enslaved Africans beginning in the mid-

1500s. Here again, malaria is not a good candidate for

an earlier epidemic among the Taínos.

Times of the Islands Spring 2021 33
---
This vintage illustration features Christopher Columbus in 1492 standing among his crew aboard the Santa Maria with the distant view of an

island on the horizon. Interestingly, the Columbian Exchange went both ways and sometimes it was the colonizers who got sick. Historically,

little attention has been paid to dead Colonial Spaniards, yet die they did and at alarming rates.

Influenza virus, a pathogen with known pandemic

potential, was possibly introduced in the early years of

Spanish contact. However, the first reliable report of

influenza involved transmission from Africa to Europe

in 1510, and flu does not spread very well in equatorial

regions. We now know that influenza is particularly

good at "escaping" our immune system through frequent

viral evolution of the part of the virus that interacts with

our immune system. Despite recent claims to the contrary,

flu is a deadly disease that is today held in check

by vaccines, therapies and other medical interventions.

In addition, mask wearing and social distancing during

the current COVID-19 crisis contributed to a significant

decline in influenza and other respiratory infections and

deaths this year.

The most stunning example of a deadly flu is the

"Great Influenza" of 1918. It occurred before a viral agent

had been identified and spurred remarkable scientific

efforts to develop a vaccine. Our modern Public Health

Service was created to counter its spread. John Barry

described how the initial outbreak in an army camp in

Kansas blossomed into a global pandemic that killed as

many as 100 million people worldwide. Although com-

monly known as the "Spanish flu," it did not originate

there. Rather, Spain had the only press in which the

epidemic was accurately reported. In the United States,

where the virus originated, press coverage was tightly

restricted at the height of World War I. The first victim in

the politics of disease was any "real news" coverage of

this pandemic.

Wear a mask, wash your hands,

socially distance, get vaccinated

We have saved the most deadly virgin soil pathogen

for last: smallpox. Smallpox is estimated to have killed

around 500 million people worldwide in the last century

alone. Although "completely eradicated" in 1980, it has

recently reappeared in some rare cases. With distinctive

symptoms (red pustules or "pox"), it is rather unlikely to

be misidentified even by non-medical personnel. The first

smallpox pandemic in the Americas began in 1517, so it

could not have been responsible for initial high mortality

among the Taínos. Nevertheless, it was the final nail in

their coffin. A recorded Taíno population of 28,000 in

1514 was reduced to only 250 by 1540.

In the British colonies of North America, smallpox

34 www.timespub.tc
---
TWATIMES_Layout 1 2/16/17 7:49 AM Page 1

is infamous as the first biological weapon, with British

colonists infecting local Natives and American soldiers

reportedly distributing infected blankets out west. The

disease ravaged Native communities in the United States

until the 1880s, long after an effective vaccine had

become available. In fact, attention to smallpox waned

only after it was superseded by tuberculosis as the principal

scourge of Native Americans.

The histories of those lethal diseases (smallpox 1517,

malaria 1550, measles 1765) show that they could not

have been responsible for a virgin soil epidemic during

the first decades of European contact. This leaves influenza

as the last remaining candidate, but the evidence is

not conclusive.

We'll close this essay with the letter N, a mathematical

notation used to indicate the size of a population.

Columbus's brother Bartholomew supposedly counted a

Taíno population of 1,100,000 in 1494. Often repeated

in 16th century accounts, Las Casas eventually decided

that the N was too small for the purposes of his polemic

against the mistreatment of the Natives. Within 30 years

he first tripled and then quadrupled the N to 4 million

souls. Although the numbers were obviously inflated to

serve a "moral" agenda, historians felt a need to explain

the rapid demise of thriving Caribbean societies, and they

did so by proposing virgin soil epidemics caused by Old

World diseases.

Bottom line: It is unlikely that disease was the major

factor in the depopulation of Hispaniola and demise of the

Taínos at the dawn of the 16th century.

In a future essay we'll explore exciting new genetics

research that could dramatically improve our ability

to calculate past population numbers. By knowing how

many people were susceptible, we can better appreciate

the historical impacts of infectious diseases. There is still

a lot to be learned about the letters R and N. In the meantime,

wear a mask, wash your hands, socially distance

and get vaccinated. a

Dr. Lindsay Keegan is Research Assistant Professor in

the Division of Epidemiology (University of Utah); Dr.

Betsy Carlson is Senior Archaeologist at Southeastern

Archaeological Research (SEARCH, Inc.) in Jonesville, FL;

Dr. Michael Pateman is former Director of the Turks &

Caicos National Museum and currently Curator/Lab

Director of the AEX Maritime Museum on Grand Bahama;

and Dr. Bill Keegan is Curator of Caribbean Archaeology

at the Florida Museum of Natural History (University of

Florida).

Serving international & domestic clients in real estate, property development,

mortgages, corporate & commercial matters, immigration, & more.

TEL 649.946.4261 TMW@TMWLAW.TC WWW.TWAMARCELINWOLF.COM

Taino Paintings

by Theodore Morris

tainopaintings.weebly.com

mail:morristheodore@hotmail.com

3910 Longhorn Dr - Sarasota, Fl34233

Times of the Islands Spring 2021 35
---
green pages

Newsletter of the Department of Environment & Coastal Resources

Head office: Church Folly, Grand Turk, tel 649 946 2801 • fax 649 946 1895

• Astwood Street, South Caicos, tel 649 946 3306 • fax 946 3710

• National Environmental Centre, Lower Bight Road, Providenciales

Parks Division, tel 649 941 5122 • fax 649 946 4793

Fisheries Division, tel 649 946 4017 • fax 649 946 4793

email environment@gov.tc or dema.tci@gmail.com • web https://www.gov.tc/decr/

B NAQQI MANCO

When compared to the green iguana, native Turks & Caicos rock iguanas have stouter, heavier bodies with a tail only as long as the body

and a dark khaki-green or blue-grey colour.

The Green Invader

New reporting hotline for green iguana sightings.

By B Naqqi Manco, Acting Assistant Director of Environmental Research & Development, DECR

Our very special endemic Turks & Caicos rock iguanas Cyclura carinata was recently down-listed on

the International Union for the Conservation of Nature (IUCN) category from Critically Endangered to

Endangered. This is due largely to decades of hard work by numerous institutions, including the San

Diego Zoo, Caribbean Wildlife Foundation, Royal Society for the Protection of Birds, Turks & Caicos

National Trust, Department of Environment & Coastal Resources, Department of Agriculture, Department

of Environmental Health, Ports Authority and others.

36 www.timespub.tc
---
green pages newsletter of the department of environment & coastal resources

While their numbers have increased in some areas, a

new threat to the rock iguanas has come to the Turks &

Caicos Islands in the form of a distant relative. The green

iguana Iguana iguana has already become widespread on

many other Caribbean islands where it is a serious threat

to wildlife and infrastructure.

Green iguanas are invasive in the Turks & Caicos

Islands and differ from our endemic Turks & Caicos rock

iguanas by being overall larger with much longer bodies

and tails, and usually a brighter green colour. Native to

Central and South America, they pose a serious threat

to our unique ecosystems and especially to the endemic

rock iguanas. They carry a bacterial infection that is lethal

to rock iguanas, they can cause genetic pollution to rock

iguanas by hybridization, and they can also outcompete

rock iguanas for food and resources. Unlike our rock

iguanas which breed once a year and only lay 6–8 eggs,

green iguanas breed year-round and can lay over 70 eggs

in a clutch.

Green iguanas have been sighted on Providenciales in

in Grace Bay, as well as near Venetian Road, Leeward and

South Dock and on Grand Turk around the airport and

South Base. For years the Cayman Islands have been battling

green iguanas, which severely threaten their endemic

blue rock iguana Cyclura lewisi and Little Cayman rock

iguana Cyclura nubila caymanensis. Unfortunately, the

speed at which green iguanas breed has been hard to

overcome. In 2019, over one million green iguanas were

culled in a massive conservation effort, but over 100,000

are believed to have remained, so they still outnumber

the native iguana species by 1000 times.

Green iguanas find their way into TCI mostly through

imported materials—especially live plants—from south

Florida and Hispaniola, where they are also problematically

invasive. Their eggs, laid in the loose, moist potting

mix around plant roots in nurseries in other countries,

can hatch after the plants arrive in TCI.

SAND DOLLAR IMAGES

When compared to the native TCI rock iguana, the Invasive green

iguanas have an overall longer and more slender shape, a tail much

longer than the body, and usually a bright green colour.

Times of the Islands Spring 2021 37
---
green pages newsletter of the department of environment & coastal resources

G r e e n

iguanas don't

just threaten

our natural

heritage. Due

to their climbing

habits, they

are also known

to cause damaging

power

outages by

climbing utility

poles and

severe vehicle

damage by

falling out of

trees. They can also strip agricultural crops and garden

flowers bare, and foul swimming pools with their waste,

which they tend to release when swimming.

The TCI Department of Environment & Coastal

Resources (DECR), the Department of Agriculture, and

Turks & Caicos National Trust request assistance from

the general public for reports of sightings of invasive

green iguanas in the Turks & Caicos Islands, especially

Providenciales and Grand Turk.

Invasive green iguanas can now be reported to the

TCI Iguana Hotline by email at tciiguana@gmail.com or

WhatsApp at +1649 344 8296. Photos and locations of

sighted green iguanas help our response team find them

more easily. a

B NAQQI MANCO MARTA MORTON–WWW.HARBOURCLUBVILLAS.COM

38 www.timespub.tc
---
green pages newsletter of the department of environment & coastal resources

Sunsets mark a satisfying conclusion to the end of the day.

Sunsets and Island Time

A perfect pairing.

Story & Photos By Ben Farmer, Waterfront Assistant, The School for Field Studies

"Is it pretty tonight—the sunset?"

"I've never seen a bad one."

This is a dialogue between two characters in Carl Hiaasen's novel Skinny Dip. One character, Joey, is

temporarily blind after a harrowing experience at sea, and Stranahan is describing the evening Florida

Keys scenery to her. The concise acknowledgment by Stranahan that he has never seen a bad sunset is a

concept that stuck with me. I began the book while living and working in the Turks & Caicos Islands and

ever since then, I have been much more aware of the sunsets that the TCI has to offer.

Times of the Islands Spring 2021 39
---
green pages newsletter of the department of environment & coastal resources

Sunset viewing is a popular custom around the world,

especially in areas near the water. Crowds gather for

drum circles on the beaches of Tel Aviv, Israel; sunset

torch lightings and conch-blowing ceremonies are held

on Honolulu beaches in the United States; Hindu people

make pilgrimages to Kanyakumari, the southernmost tip

of India, where the sun sets over the confluence of three

seas. Film-makers have long used sunsets to portray

emotion in films and for good reason. The very nature of

viewing a sunset is romantic and speaks to humans on an

innate level—it marks a satisfying, deep conclusion to the

day.

In my experience, sunsets have a unique power to

bring people together. When I worked at The School for

Field Studies (SFS) on South Caicos, I saw it happen with

two different semesters of students. Gathering for sunsets

became a nightly ritual, treated with excitement and

respect. For some of us, this was an intentional commitment.

For instance, we had a student who never missed a

sunset in her time on South. For others, sunset-watching

was a sort of unspoken routine.

"When the sun has set, no candle can replace it."

~ George R.R. Martin

Sunsets invoke a sense of awe and ultimately, this

is what gives them the power to bring people together.

Research shows that people feel more patient, satisfied

with life and willing to volunteer time for others after

experiencing the emotion of awe. Additionally, awe

expands our concept of time, making us feel that we have

more time available in our lives. Considering the many

awe-inspiring natural moments that happen daily in the

TCI, perhaps scientists would consider "island time" as

more than merely a saying.

Light plays an essential role in many of such natural

phenomena: sunsets, rainbows, mirages and even green

flashes. But what is the science behind these beautiful

tricks of the light?

There are a few unseen phenomena that allow you to

watch a sunset. To understand them, first consider how

humans perceive light generally. Light travels in a straight

line and only deviates from that path if an object, such as

a tiny molecule or particle, gets in its way. When we look

up at the sky during the day, we see blue. This is because

as the light from the sun enters Earth's atmosphere,

nitrogen and oxygen molecules are in the light's way.

Light hits these molecules and then scatters in many different

directions. All of the colors of the rainbow, which

ANNA HANDTE-REINECKER

Viewing the daily sunset is a ritual for students and staff at The School for Field Studies in South Caicos.

40 www.timespub.tc
---
green pages newsletter of the department of environment & coastal resources

From top: As the sun dips below the horizon, colors with longer wavelength fill the sky. Rainbows are visible due to refraction within raindrops

and subsequent reflection between them.

make up the light spectrum, are scattered. However, blue

and violet light have the shortest wavelengths and highest

frequencies, so they are scattered most intensely by

nitrogen and oxygen molecules. If that were all though,

we would simply see purple-ish skies all the time. We see

blue skies because human eyes are not able to perceive

the violet hue in a combination of blue and violet, and

instead we see just a mixture of pure blue and white light

—or simply, blue.

As the sun approaches the horizon, the angle of the

sun relative to your vantage point on Earth changes. This

mean that light rays must travel farther through the atmosphere

to reach your eyes. Blue light scatters out by this

point, and the colors with longer wavelength—yellows,

MELISSA HERES

Times of the Islands Spring 2021 41
---
green pages newsletter of the department of environment & coastal resources

floating islands on the horizon

due to scattering between layers

of air with different temperatures.

Green flashes, one of the

most revered and elusive phenomena

on Earth, are sometimes

visible with very clear conditions.

A combination of the mirage

effect and the sun dipping below

the horizon bring about this otherworldly

sight.

The common theme with each

of these phenomena is that light

bends in fantastic ways to produce

an image that humans can

witness. Sunsets, however, are

the most reliable and can almost

always be planned for—especially

when you are on island time.

Darrell's Sunset Cafe, Cox Hotel

and East Bay Resort are all excellent

locations on South Caicos to

see the beautiful oranges, pinks

and purples of a TCI sunset.

I worked on South Caicos

for only a year, but that year

has left an indelible impact. My

coworkers became some of my

closest friends, the community

welcomed us with open arms, and

we embraced island time wholeheartedly.

From the high school

There are many excellent locations on South Caicos to witness a beautiful TCI sunset.

basketball tournaments, to the

oranges, and pinks—fill the horizon. Some of the most Christmas tree lighting ceremony, to the lively Saturdays

vibrant red sunsets in the world are found in Hawaii, due that included community swim lessons and marine crafts

in part to the large amount of volcanic dust in the atmosphere

as well as high humidity there, which intensify well-being. That feeling became even clearer every time

at SFS, there was always a sense of strong community and

the scattering effect. In the Caribbean, red sunsets can we settled in for another sunset together.

result from huge dust plumes coming in from the Sahara

Desert, as they did this past summer.

"Never waste any amount of time doing anything

Rainbows, ocean mirages and green flashes are all important when there is a sunset outside that you

caused by different forms of scattering, or refraction, as should be sitting under!" ~ C. JoyBell C. a

well. Rainbows are visible due to refraction within raindrops

and subsequent reflection between them (but only For additional information about The School for Field

when rainclouds don't block the light, such as right after Studies, visit www.fieldstudies.org or contact us on

a rainstorm subsides), and mirages create the illusion of South Caicos at hhertler@fieldstudies.org.

42 www.timespub.tc
---
green pages newsletter of the department of environment & coastal resources

Staff and students at The School for Field Studies station on South Caicos use learning and research to address environmental challenges.

Study Abroad

Celebrating three decades of learning and research.

By Anna Handte-Reinecker, Program Assistant, The School for Field Studies

Photos By Heidi Hertler, Director, The School for Field Studies

The School for Field Studies (SFS) is a US-based, non-profit study abroad program for university students

with field stations around the world. Its mission is to "create transformative study abroad experiences

through field-based learning and research." SFS operates through a multidisciplinary approach that incorporates

social and ecological learning to address environmental challenges.

Times of the Islands Spring 2021 43
---
green pages newsletter of the department of environment & coastal resources

The first cohort of 75 SFS students was sent into

the field in the summer of 1981. These students traveled

to different countries around the world from Kenya

to Belize. In the spring of 1985, the Center for Marine

Resource Studies (CMRS) was first opened although it was

not where it is today on South Caicos. It was originally

located on St. John at the Virgin Islands Environmental

Resource Station on Lameshur Bay. In 1989, Hurricane

Hugo devastated the Virgin Islands leading to the evacuation

of students and staff. As a result of this hurricane,

there was a strong shift in class topics and discussions

with an emphasis on the impacts of the storm. Made possible

by years of baseline data collection by SFS students

and staff, this final cohort of students on St. John was

able to evaluate the damage of the hurricane on both

reefs and seagrass beds.

Soon after, SFS purchased a small hotel on South

Caicos in the Turks & Caicos Islands—the Admiral's Arms

Inn. CMRS relocated to its new home on South Caicos in

the early 1990s. With funds provided by the Laurance S.

Rockefeller Foundation, the center was able to upgrade

its research equipment as well as provide scholarships.

Upon arrival, SFS researchers began to focus on

the conch and lobster exports of South Caicos, which

had been decreasing significantly at the time. Research

focused on understanding the potential causes of this

decline, mapping marine habitats and generating species

lists for the proposed Admiral Cockburn Land and Sea

National Park.

In the 30 years since SFS first arrived on South Caicos,

students and staff have worked on countless research

projects and have documented changes in marine life and

habitats. In 2006 one of our current faculty, Dr. Caitlin

O'Brien was a student at SFS TCI. As a student, Dr. O'Brien

spent time working on shark and turtle tag and recapture

projects in the waters near South Caicos. Long term projects

such as these document the natural history of South

Caicos' reefs, seagrass beds and shores. Other projects

include monitoring queen conch and lionfish populations

and coral communities. Faculty and research partners also

bring their experience and interests to SFS. All research is

presented to the community of South Caicos on a semester

basis.

In 2017, SFS was once again faced with the devastating

effects of hurricanes in the Caribbean. Hurricanes

Irma and Maria hit the TCI back to back, leaving much of

the island and center destroyed. SFS students and staff

were evacuated, with some joining the SFS Panama center

for the rest of the semester. It took many months

of hard work and dedication from staff to rebuild CMRS.

Eventually, the center was able to reopen and welcome a

new group of students.

Just like in 1989 on St. John after Hurricane Hugo,

long-term data collection has offered important insight

into the effects of these hurricanes on the marine systems

off South Caicos. In addition to hurricanes, global

warming and diseases have impacted the coral reef

around South Caicos. With the historical data that has

SFS students regularly interact with the South Caicos community with a variety of educational (and fun!) events.

44 www.timespub.tc
---
green pages newsletter of the department of environment & coastal resources

been collected, these changes can be tracked and better

understood.

Today, students spend their time at CMRS pursuing

coursework, conducting research and being involved

with the community. SFS offers a Spring and Fall semester

as well as two summer sessions. Classes such as

Environmental Policy, Resource Management and Marine

Ecology are held during the fall and spring semesters. In

the summer, Fundamentals of Marine Conservation and

Marine Megafauna are offered.

Much has changed since SFS sent its first students

into the field in 1981. SFS has grown significantly and now

operates field stations in Australia, Bhutan, Cambodia,

Chile, Costa Rica, Kenya, Panama, Peru, Tanzania and

here in the Turks & Caicos Islands. Throughout moves

across the Caribbean and difficult re-builds following

hurricanes, CMRS has stayed strong. What has remained

constant over the years is the dedication and enthusiasm

of students and staff to work with the community

of South Caicos to document and research the marine

ecosystems which make the TCI "Beautiful by Nature." a

For additional information about The School for Field

Studies, visit www.fieldstudies.org or contact us on

South Caicos at hhertler@fieldstudies.org.

Right: SFS students snorkel in the beautiful waters off South Caicos,

often documenting the natural history of the marine world.

Below: The school's pool is often the site of swimming lessons for

local children.

Times of the Islands Spring 2021 45
---
feature

Opposite page: This pair of osprey call home a nest perched on a rock tower above Pirate's Cove on the southwest point of Providenciales.

Above: The author/photographer was lucky enough to see the male osprey bringing a freshly caught fish to feed the chicks in the nest.

An Osprey Day

Ready for the unexpected.

Story & Photos By Lorna Rae Daniel-Dupree, Lorna Rae Photography

Broken away from the mainland at West Harbour Bluff tands a sheer, sharp faced coral rock—a 30-foot

high tower protruding out of the ocean. Nestled on top, safe from human intervention, perches an osprey

nest complete with a pair of chicks.

Times of the Islands Spring 2021 47
---
It is January 1, 2021. The day started as an excursion

to see the Pirate Cove with my mum, dad and brother.

This is my fourth visit to Providenciales, but the first time

I am going to the cove. To say the least, 2020 was a

strange year for everyone. After being separated from

my family for an entire year, across three different countries,

we were finally able to reunite over Christmas in the

Turks & Caicos Islands. I was only supposed to stay for a

week, but that week has turned into a month.

I grew up in South Africa but now live in Los Angeles

with my husband. We are both photographers and filmmakers

who love going on adventures and being in nature

observing wildlife. I have been fortunate enough to photograph

many amazing creatures and it is a thrill every

single time.

There is nothing better than starting the year with

a thrill. We arrive at the coordinates on the map. A stoic

osprey is perched on a nearby rock. Admiring the sight, I

think it is just a lucky coincidence. We continue towards

the path to the cove when my dad points out in the distance

a nest with a bird in silhouette. I think to myself,

"That's beautiful. I wonder how far that is?"

We are exploring the cove when curiosity gets the

better of my mum and me. We decide to venture towards

the nest. Ill-prepared for hiking, we make our way over

the coral rocks in flip flops, fighting 24-knot winds.

There it is. The nest atop its tower.

Looking across the 20-foot gap are the nesting birds

and below them is the tumultuous turquoise ocean. I

must admit, I am nervous as I approach the edge. It is a

far drop and I surmise it would not be a pleasant fall. I get

down onto my stomach and rest the camera against the

ledge so that the lens is completely cantilevered.

It takes a few minutes for the mother osprey to accept

my presence. I wouldn't say she appreciates it much, but

it's probably a comfort for her knowing that I can't get

any closer. The chicks chirp and fluff their feathers as the

mother keeps a beady eye on me.

Suddenly, she starts calling out—loud and aggressively.

I wonder, "Is she calling a mate? Or is she telling

me to back off?"

As I lift my head from the eyepiece, I notice something

in the distance. A wide-winged bird is flying towards us.

It takes me a second to realize that it is the male carrying

a fish in his talons. In a flush I keep repeating in shock, "I

can't believe this! Mum! He has a fish!! He has a fish!"

He lands in a majestic swoop to chirping chicks. He

hands the fish off to the mother who inspects it as he

stands aside looking around the nest. As quickly as he

landed he takes off, on the hunt again.

We receive a phone call from our hungry father and

brother waiting patiently at the car. I pack up my camera

The mother osprey carefully breaks off small

bits of the fish to feed the hungry chicks.

48 www.timespub.tc
---
The author is a wildlife photographer and has learned never to leave

her camera behind.

and crawl to a safer area before standing. One last look

over my shoulder helps me absorb the beautiful moment.

Lo and behold, the osprey mother is now feeding the

chicks.

"I can come back," I say to my mum. She convinces

me to seize the moment and without much persuasion, I

am back on the ledge with my camera.

I am being squawked at feverishly, but I stay still.

With what seems like a puff of frustration mama osprey

stops and side-eyes me while continuing to pick at the

fish. The chicks are demanding their servings in turns

while the mother sneaks a piece for herself every now and

then.

The phone rings again. I've lost track of time and now

my family's bellies are grumbling for some food too. I say

goodbye and thank you to the birds. It seems cheesy but

it's important to me. We make our way back down the

path, excitement and exhilaration running through our

veins from what we just witnessed.

If there is one thing I have learnt over the years, it

is: Always expect the unexpected. It can seem laborious

to lug camera equipment around for what seems to be a

quick excursion but honestly, it's worth it every time.

Hopefully on my next trip to Providenciales, the nest

will still be there with a new family to photograph. a

To see more of my adventures around the world, visit my

Instagram @LornaRaePhotog.

Times of the Islands Spring 2021 49
---
MARTA MORTON—WWW.HARBOURCLUBVILLAS.COM
---
feature

Opposite page: The beach is a place that links land to sea; nowhere more beautiful than in the Turks & Caicos Islands.

Above: Taking a close look into shallow waters reveals a treasure trove of tiny discoveries.

MARTA MORTON–WWW.HARBOURCLUBVILLAS.COM

In Plain Sight

Treasures on the beach.

By Melissa Heres, Waterfront Assistant, The School for Field Studies

The beach has always been a special place for me, linking the land we traverse every day and the incredible

ocean environment that looms below. This link, if it could talk, could share so many stories. The

stories of how rocks have eroded over their journey from mountain tops to the beaches to create sand.

Or the story of how parrotfish gnaw at coral and leave behind digested white limestone, creating beautiful

mounds of white sand beaches like those found in the Turks & Caicos Islands.

Times of the Islands Spring 2021 51
---
Walking along these beaches, we can find little clues

that can tell their story, if we only stop to listen. This

includes anything from shells and coral skeletons to cameras

and plastic. This is a journey you can take at any

time and at your own pace. Let's stroll along one of the

Turks & Caicos Islands' beautiful beaches and explore the

wonders we can find.

Our journey begins with the beautiful white sand.

Although our sand doesn't come from faraway mountain

tops, its journey is no less extravagant. Those beautiful

beaches that are so characteristic of the Caribbean are

likely composed of calcium carbonate, or limestone, and

weathered-away bits of the limestone islands. As rain and

storms wash over the land, they slowly erode away the

rocks and minerals that make up these islands, which can

end up as sand on the beaches.

But how does limestone find its way onto the beach?

This limestone actually plays a huge role in our oceans

and is one of the magical links between those mysterious

depths and our morning beach walks.

Animals such as corals, mollusks and echinoderms

(think sea stars, sea biscuits and sand dollars) rely on

calcium carbonate to build their shells or skeletons. After

these organisms die, their shells or skeletons can be

eroded by wave energy and end up as sand. More inter-

Above: Unlike live sand dollars which have hair-like projections, a

sand dollar test (skeleton) will be smooth.

Below: Dead and dried out gorgonians, the main prey of flamingo

tongue snails, are often found along TCI's beaches.

MELISSA HERES

MELISSA HERES

52 www.timespub.tc
---
MELISSA HERES

Scallop shells come in a variety of colors and sizes.

estingly, parrotfish actually use their specialized beaks

(hence their names) to eat live corals as a snack, digesting

the coral tissue and processing the now-pulverized

coral skeleton as waste. Those of you coral lovers, like

myself, might be wondering if parrotfish are bad for coral

reefs, considering they spend all day eating coral. In fact,

they also eat a lot of macroalgae, which is detrimental to

reef health, and allowing parrotfish to thrive is vital to

keep our reefs beautiful.

Moving down the beach, we can keep finding treasures.

The most obvious find for a beachcomber might be

the beautiful shells of gastropods. Although the following

list is far from comprehensive, it will give you some

insight into what you might find on the beaches of the

TCI and the stories they can tell.

Conch

Perhaps the most well-known and identifiable shell you

might stumble upon is the queen conch shell. With its

recognizable rosy pink interior and flamboyant flared lip,

this conch isn't just good eating—it's featured prominently

on the TCI's national flag. Many of the conch you

will stumble upon are likely "knocked," where a hammer

and chisel have been used to open a rectangular mark in

the spire to extract the conch meat.

Easily confused with queen conch are milk conch, as

their exteriors might look similar to someone unfamiliar

with conch. Milk conch, however, tend to have thicker lips

that don't flare quite as much. These conch also lack the

characteristic pink interior and instead have a milky white

interior, hence their name.

Scallops

Scallops can come in all kinds of beautiful color variations.

They can be differentiated from other shells by

their distinct auricles, or ear-like projections on the right

and left sides of the shell ligament.

Flamingo Tongues

Flamingo tongues are beautifully orange and white colored

creatures underwater. Once dead, however, their

shells are a stark white because their coloring comes

from their mantle, a thin layer of tissue that covers the

shell.

Times of the Islands Spring 2021 53
---
will lack this hairy tissue and will feel like a hard bonelike

material. Also, live sand dollars tend to be dark grey,

whereas their tests will be a lighter grey color.

You might also come upon coral skeletons during

your walk. Live coral is always attached to a sturdy substrate

and is covered by a thin layer of tissue, with their

skeleton underneath it. Corals are actually animals and

are also carnivorous! When these corals die, however,

their tissue disappears and all that is left is their skeleton.

Small indentations, or corallites, were the backbone

that protected the coral's polyps. Oftentimes it is actually

possible to identify a coral species based on its skeleton.

MELISSA HERES

Conch shells can be turned into musical instruments. This conch horn

is being played by its creator, Anna Handte-Reinecker.

Tests & Skeletons

Besides shells, there are a variety of other links between

land and sea that can be found. One example are tests.

Tests are the interior, calcified skeletons that are created

by sea urchins, sand dollars and sea biscuits.

Especially when finding sand dollars, it's important to

make sure that they're not alive! Live sand dollars often

have hairy projections, while dead tests of sand dollars

Sea Glass

Sea glass is a common sight on TCI's beaches. Varying

in color from green to brown and even the occasional

purple, this sea glass is sought-after for jewelry and other

decorations.

As a staff member at The School for Field Studies

Center for Marine Resource Studies (SFS CMRS) on South

Caicos, I'm met with a lot of questions concerning what

students find on beaches, rocky shorelines and in the

water. One of the most fulfilling aspects of this job is

watching these students grow. As the semester progresses,

students become more aware of what they might

find in the marine environment. Not only are they learning

about what they find, but they are becoming invested

in preserving the wonderful world that lies beneath the

waves and they begin educating each other about marine

life. My hope is that they take the knowledge they've

gained from the small island of South Caicos and spread

it back home to their family, back at school to their peers,

and around the world—just like ocean currents would

carry a shell.

54 www.timespub.tc
---
MARTA MORTON–WWW.HARBOURCLUBVILLAS.COM
---
A final thought to those of you inspired to find your

own treasures on the beach. Please respect the ocean

and marine life and return your collection to the sea after

your walk (except sea glass, which can be brought home

without any negative effects on the environment). Shells

can provide homes to different marine creatures, so it's

important to assure they have protection from predators.

Also, make sure that whatever shells you pick up aren't

inhabited by anything, such as a roaming hermit crab. If

there is a stowaway, place the shell back where you found

it in order to let the creature continue its day. a

MELISSA HERES

MARTA MORTON–WWW.HARBOURCLUBVILLAS.COM

MELISSA HERES

56 www.timespub.tc
---
astrolabe

newsletter of the Turks & Caicos National Museum

Front Street, PO Box 188, Grand Turk, Turks & Caicos Islands, BWI TKCA 1ZZ

tel 649 247 2160/US incoming 786 220 1159 • email info@tcmuseum.org • web www.tcmuseum.org

VANESSA A. FORBES-PATEMAN

Video recording is a crucial tool in recording irreplaceable memories. Here, former Museum Director Michael Pateman interviews TCI centenarian

Alton Higgs.

The Turks & Caicos Islands are like a beautifully woven tapestry of rich histories, cultures and traditions.

However, many factors—from climatic events such as hurricanes and floods, to the death of traditional

practitioners, to time itself—threaten the very existence of these irreplaceable, intangible aspects of the

heritage. Video recording is one of the crucial tools in the permanent recording of TCI's unique culture

and history for generations to come.

In this edition of the Astrolabe, we discuss the process of using video to dive into heritage. In Telling

a Caicos Sloop Story, I and Vanessa Forbes-Pateman explain the People of the Islands Video Project,

including the launch of the trailer, and provide details into the methodology used. In Filming the East

Caicos Expedition Documentary, Matthew Matlack discusses his experience of filming on East Caicos, a

project discussed in articles in the Spring 2020 Astrolabe. Both projects will be submitted to the Turks

& Caicos Film Festival 2021.

On Candid Camera

Do you have an artistic, historic or cultural research question or article you would like to submit to

the Astrolabe? Contact us at info@tcmuseum.org. a

Dr. Michael P. Pateman, Ph.D., former Director, Turks & Caicos National Museum

Times of the Islands Spring 2021 57
---
astrolabe newsletter of the Turks & Caicos National Museum

This is one of James Dean's boats in Blue Hills, Providenciales. James notes that his grandfather, father, uncles and brothers were all boat

builders, a skill that has been passed down to his sons and nephews.

People of the Islands

Telling "A Caicos Sloop Story."

Story and Photos By Michael P. Pateman, Ph.D. and Vanessa A. Forbes-Pateman

In the Summer 2019 Astrolabe, we introduced "People of the Islands." This project seeks to tell the story

of "Islanders" through a first-person narrative. The various interview topics include boat building, food/

cooking, bush medicine, island migration, cultural traditions, music, dance, story-telling and much more.

After many delays, including the COVID-19 pandemic and a new job, we are excited to launch the first

video documentary for People of the Islands, A Caicos Sloop Story.

This article is our narrative of the experience and reactions from filming the interviews on traditional

boat building in the Turks & Caicos Islands. We will switch the first-person narrative between Michael and

Vanessa, as our personal experience is vital to telling the story.

58 www.timespub.tc
---
astrolabe newsletter of the Turks & Caicos National Museum

When Michael first arrived in the Turks & Caicos as

director of the national museum, he was amazed with

how similar but different the cultural traditions of the

Turks & Caicos Islands are compared to The Bahamas.

One of his main goals as director was to explore and

experience these cultural traditions so that the museum

can do a better job of presenting them to residents and

visitors to the Islands. One of these traditions is the building

of native Caicos sloops.

This journey started on February 16, 2019 at the

annual Valentine's Cup, hosted by the Middle Caicos

Co-op on Bambarra Beach, Middle Caicos. The Valentine's

Cup is a regatta using model Caicos sloops enjoyed by

locals and visitors of all ages.

While waiting for the event to begin, I walked around

to interview attendees. Fortunately, the first people I met

are both members of different TCI boat building families,

Wing Dean and Brodie Forbes. They both spoke with

fondness of childhood memories of building model boats

out of gum elemi trees with their friends. Historically,

children would gather logs from the gum elemi tree and

carve smaller versions of Caicos sloops, complete with

sails and rigging, and race them in sheltered waters.

That evening I called Vanessa excited about the

information I had gathered that day. I expressed shock

that we didn't have something similar in The Bahamas.

However, Vanessa was surprised as she thought it was

a common childhood practice. While both of us are from

The Bahamas, we had different childhood experiences.

Similar to most Bahamian families, we can trace our familiar

history to various family islands, Michael (Cat Island

and Berry Islands) and Vanessa (Andros and Exuma).

However, multiple generations of Michael's family were

born on New Providence whereas Vanessa's parents were

both born on Andros.This is similar in that many children

who grow up in Providenciales do not have the same cultural

experiences as those from the other islands.

Vanessa recounts stories similar to Wing and Brodie's.

She recalls, "The most exciting part of getting my own

model boat was choosing the tree it would be sculpted

from. I excitedly watched and helped my uncle, knowing

upon completion the best part of the summer is the

model boat regatta and I always wanted to win—which

child doesn't? Model boat regatta day was the highlight,

nobody slept the night before and you kept your eye on

your boat in case one of the cousins tried to sabotage

Top: Pastor "Gold" Williams sails his model sloop.

Above: "Wing" Dean (left) and Brodie Forbes speak with fondness of

childhood memories of building model boats.

you. We barely ate breakfast since we were so excited to

get down to the bay to race our boats. There's nothing

quite like seeing the wind catch your sails and your boat

take off; you couldn't hear much from all the excitement,

sound, colour, smell of the food and the sea. The buildup

to the regatta made summering on the family islands

the best part of getting sent there from the capital of

Nassau."

Times of the Islands Spring 2021 59
---
astrolabe newsletter of the Turks & Caicos National Museum

This historic photo shows the last sloop built by Hedley Forbes. Note the sharp point of the bow.

Before continuing we decided a to get a historical

perspective on the Caicos sloops by interviewing David

Douglas from the Turks & Caicos Sailing Association.

David is involved in the Caicos Sloop Heritage Project,

whose mission is revitalizing the building of Caicos

sloops through "One Design," a method that allows

the boats to be built and raced on a regular basis. He

described how historically, the local sloops were the

lifeblood of the Islands. Small boats were used to fish,

and catch conch and other seafood, while larger vessels

were used to trade those products mostly with Hispaniola

(Haiti and the Dominican Republic). They were also used

to carry cargo around the Islands (similar to trucks today),

as ambulances to move the sick, and as "water taxis" to

move passengers from island to island.

David provided us with background on the differences

between the Caicos and Bahamian sloops. The

Caicos sloops were more weatherly, designed to travel

further distances than their counterparts in The Bahamas.

Also, the Caicos sloops were created as work vessels,

especially on Grand Turk and Salt Cay, to move salt from

the islands to the larger vessels anchored offshore.

Next, we went back to Middle Caicos to interview

Hedley Forbes, the last of the senior boat builders living

on Middle Caicos. Hedley is Brodie's father. We met

Hedley at his home in Bambarra. (Of note, Hedley was

involved in the Caribbean Research Foundation's project

to document traditional boat building in 1984 on Grand

Turk. More details of this project can be found on the

Turks & Caicos National Museum's website.)

Although considered one of the foremost boat buildings

in the Turks & Caicos, Hedley does not identify as a

boat builder, but as a carpenter. Both skills he learnt from

his grandfather.

Hedley described how the skills he developed building

boats informed his carpentry skills and vice versa.

For example, he learnt that a sharp-hulled boat moves

through the wind and waves of the ocean easier than one

with a wider hull. He took this design element and incorporated

it in the construction of his roof, which he states

has received very little damage through the various hurricanes

that have impacted the country.

Our next stop was Blue Hills, Providenciales to meet

with the Deans, a prominent boat building family of

Bermudian descent. First, we interviewed James Dean Sr.,

the patriarch of the family. James notes that his grandfather,

father, uncles and brothers were all boat builders, a

skill that has been passed down to his sons and nephews.

60 www.timespub.tc
---
astrolabe newsletter of the Turks & Caicos National Museum

He fondly recalled memories of looking out to the bay in

Blue Hills and seeing the masts of numerous anchored

Caicos sloops. James also spoke about the regattas,

especially his competitions with Carl Ewing, Hilly Ewing,

Hedley Forbes and "Hearts" Capron. An interesting design

note—the Dean vessels have a wider hull when compared

with the designs of Hedley Forbes. Both builders

claim their technique is the best for speed and control

in the water. Over his career James built over 50 Caicos

sloops of various sizes, the last in 2009, which he named

Wildfire.

After the interview, we were shown some of the Dean

fleet that were destroyed in 2017 by Hurricanes Irma

and Maria. Wing Dean told us that he was building a new

sloop at his home and invited us to view his work. We

were excited by this opportunity because although many

sloops were lost during the 2017 hurricanes, we could

not find anyone building a new Caicos sloop.

A few months later, Michael visited Wing, to interview

him and observe him building his new sloop. The interview

focused on the differences between the traditional

(historic) and contemporary methods for building sloops.

Traditionally, boat builders would go into the forests and

harvest the locust tree to build the frames and Caicos

pine for the planking, masts and spars, with the entire

vessel being constructed with hand tools. Today, lumber

is purchased from hardware stores with metal masts,

and construction is almost exclusively with power tools.

Although the tools and techniques have evolved, modern

builders follow the traditional design techniques.

The final documentary will be submitted to the Turks

& Caicos Film Festival 2021. Follow peopleoftheislands.

com and our social media channels to be kept up to date

on the release of the trailer for a Caicos Sloop Story, full

interviews, and the release of the full documentary.

The 2017 hurricane season was devastating for traditional

Caicos sloops. Many were lost and the traditional

regatta grounds in South Caicos were destroyed. With

projects like this documentary, the One Design program

and the programs launched by the TCI Department of

Culture, we hope that this art can be revitalized. a

Thanks to Martin and Donna Seim, Director's Welcome

Grant for Projects (purchased Camera gear) and Brian

Riggs, donation from Quiz Night to the museum.

Not every interview made it into this article. Others interviewed

include: Cardinal Arthur, Middle Caicos; Kendal

Butler, Bahamas; George Dean, Providenciales; "Pringle"

Dean, Providenciales; Elbert Higgs, North Caicos; JJ

Parker, Providenciales; Timothy "T-boy" Robinson, Middle

Caicos; Wilton Selver, Salt Cay; Curtis Simmons, Grand

Turk; Eustace and Alfred Williams, North Caicos; and

Pastor Goldstein Williams, Providenciales.

"Wing" Dean constructs a new sloop at his home.

Times of the Islands Spring 2021 61
---
astrolabe newsletter of the Turks & Caicos National Museum

Documentary photographer Matthew Matlack had to carry everything on the plane to ensure the equipment wasn't delayed in transport. He

had to be extremely selective of what he'd take. These are the tools he used to do the job.

Selective Packing

The nitty-gritty of filming the East Caicos Expedition documentary

By Matthew Matlack ~ Photos by Matthew Matlack and John Galleymore

Filming the East Caicos Expedition documentary was a thrilling endeavor. I had not been camping in

years, I had just one experience under my belt filming in caves (which had a gift shop with snacks at the

entrance), and the film's budget was modest to say the least. It sounded like a perfect adventure!

62 www.timespub.tc
---
astrolabe newsletter of the Turks & Caicos National Museum

I blame John Galleymore for my involvement. I first

met John several years ago through our combined love of

Potcake dogs and our dedication to helping them. John

helped my family with the adoption of our first Potcake

which began our friendship. John's history is worth an

article all on its own, but his exploration of the Turks &

Caicos Islands has led him on many adventures. (Follow

Beyond TCI on social media.)

I also met Turks & Caicos National Museum Director

Michael Pateman through John. My wife and I were on a

two-day excursion to Salt Cay by way of Grand Turk. Of

course, we stopped by the museum on Grand Turk to

explore and shoot some photos and videos, and Michael

was kind enough to show us around.

When the museum gave the go-ahead to explore East

Caicos, Michael knew John Galleymore, and other local

guide masters, Agile and Daniel LeVin, would be critical

to the success of the mission. John knew that I was a documentary

filmmaker and requested that I come along to

document the expedition. I was excited to be invited and

the logistics began to come together.

I think we had to postpone the trip a couple of times

John Galleymore and Mat Matlack are packed up and ready to launch

the East Caicos Expedition.

until October 2019 due to weather conditions. The last

thing we wanted was to be on an uninhabited island

during a tropical storm or worse, and Hurricane Dorian

ravaged the Bahamas in early September. We knew it

would be a very hot and mosquito laden time to be on

East Caicos, but we forged ahead with the adventure.

This is the audio and video gear used on the East Caicos expedition. In addition, a laptop computer was brought along on the journey.

Times of the Islands Spring 2021 63
---
astrolabe newsletter of the Turks & Caicos National Museum

Mat Matlack films former Museum Director Michael Pateman on the beach at East Caicos.

Gear

When necessary, I travel light. Very light. I was the sole

member of the film crew. This would be run-and-gun

documentary filmmaking. Since the film's budget didn't

allow for extra days of travel, I had to carry everything

on the plane to ensure the equipment wasn't delayed in

transport. I had all the typical things like clothes and toiletries

with me, but also cameras, tripods, microphones,

drones, etc. So, I had to be extremely selective of what I'd

bring. Here is the list of equipment I chose.

Sony A7iii with Tamron 28-74mm Lens

This was my primary camera. It takes great photos and

great video. There are cameras that do better photos and

ones that capture better video, but this Sony does a fantastic

job at both. The lens is a great all-around zoom that

has a 2.8 f-stop allowing it to capture decent images in

low light conditions like inside a cave.

Canon G7Xii

This is a small point and shoot camera. It's perfect for

vlogging and I keep it on my belt for quick access like a

gunslinger with his holster. Throw this camera into automode

and it's hard to miss the shot. This is critical while

on a documentary, especially when the travelling is part

of the experience you are documenting.

GoPro Session

This is an even smaller camera. It's a little 1.5-inch cube. I

had to make a very hard decision to leave my underwater

housing for the Canon camera at home. There just wasn't

room in the carry-on bags. I thought, "I'm going to one of

the most beautiful ocean locations in the world and I'm

not going to take my underwater camera housing. What?"

But, the GoPro Session was going to have to suffice for

any underwater filming. It does a decent job, and I knew

99% of our time would be on land.

Energen Dronemax

This is the unit that took up the space of my underwater

housing. We'd be on East Caicos without any power for

three days. I have several batteries for the cameras, but

not for three days of filming, especially flying a drone.

It's heavy and it's bulky, but it would allow me to charge

64 www.timespub.tc
---
astrolabe newsletter of the Turks & Caicos National Museum

all my batteries at least once and perhaps a couple times

during the trip. It proved most helpful!

DJI Mavic Pro

This is the drone I took. It wasn't my best drone, but it

was my smallest drone. I knew that a long, hard hike

would probably be part of the expedition. I didn't want

to carry a large, heavy drone for miles across treacherous

terrain, not to mention space in the travel bags.

Microphones

One Rode VideoMic Pro and two Tascam DR-10L lapel

mic/recorders made up my audio capture equipment. I

feel that audio is the most important part of any video,

so ensuring we had decent audio capture was essential—

while keeping things simple. This proved to be difficult

regardless of the equipment. Usually, you'd have an

audio person focusing on just the audio. But again, I was

a one-man crew doing run-and-gun shooting. You have

to keep it simple.

I had some issues with the DJI Mavic Pro drone, with

it operating a bit sporadically and changing how it was

capturing video randomly. I thought I was going to lose

control of the drone a couple times when it was being

unresponsive. Some of the footage was very hard to

recover with strong color changes being applied in-camera

to the video. But, the aerial footage ended up adding

some majestic imagery to the documentary.

The GoPro was a bit disappointing. Most of my underwater

filming with this camera had been in open water

Accessories

There were many other accessories needed too. A Lume

Cube light, a small travel tripod, memory cards, extra batteries,

portable hard drives, a stabilization gimbal, plus

a MacBook Pro laptop and all the charging cables needed

for the cameras and computer.

Travel

Once I had my bags packed to the max, I was ready

for the expedition to begin. My travel from the U.S. to

Providenciales was fairly uneventful. John and I packed up

the camping gear after I landed, along with all the camera

equipment, and we were ready for an early morning

start to the adventure. We took a car to the ferry dock,

the ferry to North Caicos, a rental car to Middle Caicos,

then two flats boats to get us and the gear to East Caicos.

We'd also use the boats to get from basecamp to various

places on the island to begin hiking to the caves and

other points of interest.

Mat Matlack enjoys fresh fish caught by boat captain, Leif Erickson,

and vegetables prepared by guidemaster, Daniel LeVin

with lots of sunlight coming through. The darkness of

the cave proved a bit too much for this small camera to

handle and I really missed my underwater housing for the

Canon. But, having the Energen battery bank in lieu of the

housing due to the lack of space in the luggage was the

right choice.

Filming

I was very happy with my choice of equipment. The

Sony A7iii performed fantastically. It's low-light capability

worked great in the caves for both photos and video

capture. The Canon G7Xii kept its spot as the most convenient

camera I own and was there to capture many critical

moments of the story.

Releasing the documentary

We had plans to submit the film to the Turks & Caicos

International Film Festival in 2020. But, due to the pandemic,

it was postponed until 2021. With our eyes set on

several festivals in the coming months, the film will be

released as those come to fruition. Keep up to date with

the release of the film at EastCaicosExpedition.com. a

Times of the Islands Spring 2021 65
---
astrolabe newsletter of the Turks & Caicos National Museum

Museum Matters

Volunteers needed in Providenciales

The Turks & Caicos National Museum Foundation is

seeking the help of volunteers to assist with the running

of the existing Providenciales museum facility in

The Village at Grace Bay.

Duties will include conducting short tours and assisting

with gift shop sales. We hope to assemble a team

of three to four persons so a roster can be established.

Full training will be given. We would like to be able to

open three or four days a week for several hours to give

both tourists and locals the ability to visit and enjoy the

museum on Providenciales.

The National Museum Foundation is also establishing

a committee on Providenciales to assist with raising

funds for the new museum building designed by globally

renowned architect Ron Shaw. The committee will

consist of representatives from the TCI Government,

Turks & Caicos Hotel & Tourism Association (TCHTA),

two existing board members and a number of volunteers

from the wider community. The objectives are to

create public awareness for the new national museum

building and to work on various fund-raising initiatives

to cover the construction cost.

Interested persons should contact National Museum

Manager Lisa Talbot at info@tcmuseum.org or (649)

247-2160 or Seamus Day at seamus.day@tcmuseum.

org or (649) 431-2849 or visit the national museum's

website: www.tcmuseum.org a

Lucayan educational materials

The museum recently received educational materials

donated by the project Stone Interchanges Within

the Bahama Archipelago (SIBA). This is a University of

Oxford project supported by the UK's Arts & Humanities

Research Council. The Lucayans were the indigenous

people of the Turks & Caicos and the Bahamas. The

illustrations and content are based on archaeological

investigations in the region and selected artifacts in

museum collections from the: National Museum of The

Bahamas; Turks & Caicos National Museum; National

Museum of Natural History, Smithsonian; National

Museum of the American Indian, Smithsonian and

Peabody Museum of Natural History.

The project resulted in the creation of beautiful

illustrations by artist Merald Clark that reflect the lifeways

and material culture of the Lucayans. The Turks

& Caicos National Museum received, at no cost, 45

sets of posters and teacher's guides along with 180

image booklets. The guides provide for in-depth teaching

with visual interpretation that will assist teachers in

providing children with a better appreciation of original

inhabitants and their lifestyle. Once schools return

to in-classroom learning we will be working with the

education department to distribute these to the various

schools.

PowerPoint presentations have also been created

so that schools can take advantage of this information

now. As well, educational presentations can be

offered by the museum to other interested individuals

or groups.

To learn more about this project visit the SIBA website

https://siba.web.ox.ac.uk/home or contact the

museum at info@tcmuseum.org. a

Refurbishment of the bird drive

The Turks & Caicos Islands—which include coral reefs,

tidal flats, mangroves and marshlands—provide excellent

environments for wildlife. The salinas and ponds on

Grand Turk have been called "internationally important

for birds" by the UK Overseas Territories Conservation

Forum (UKOTCF). The ponds offer the unique ability to

get close to the birds without directly disturbing them.

Those of us who live here are spoiled by seeing the

beautiful flamingos, comical pelicans and many other

species up close on a regular basis.

The Bird Walking and Driving Tours on Grand Turk

were originally developed in 2011 by former Turks &

Caicos National Museum Director Pat Saxton in part-

66 www.timespub.tc
---
astrolabe newsletter of the Turks & Caicos National Museum

nership with the UKOTCF. The development of the

tour was initially made possible by a grant from the

Carnival/TCInvest/TCIG Infrastructure Fund. Signs and

guides were developed as part of the project. Years

of island weather, including several hurricanes, took a

toll on the signs and some of the poles installed. The

TCNM was able to obtain a grant from the governor's

office to update the signs and poles for the walking

and driving tours.

Over the last few weeks, new informative signs have

been added to the start of each tour and all the numbered

signs for each stop are being replaced. The new

signs have revitalized the tour. There are two different

tours available—a walking tour and a driving tour with

signs to indicate the stops for each. The signs together

with the printed guides lead you to the best viewing

places. A map and description of what you can expect

to see at each stop are included in the guides.

We hope that the new signs will encourage appreciation

for the bird life and our ability to witness it so

easily. Guides for both the driving and walking tour are

available for sale in the museum gift shop on Grand

Turk. We also sell five guidebooks with information

about the wildlife and heritage of each of TCI's main

islands at both of our locations. a

Museum visits

The museum on Grand Turk can be visited by appointment.

We have had success during the pandemic with

opening by request. This practice will continue until

normal operating hours can return. The Providenciales

location, which includes the Caicos Heritage House,

should be reopening this Spring. Please check our website

or contact us for updates on the reopening. Email

info@tcmuseum.org or call (649) 247-2160 to schedule

your visit or for updated information.

TCNMF is a registered not for profit organization

aimed at recording, interpreting, preserving,and celebrating

the history of the Turks & Caicos Islands and

its people. The museum on Grand Turk is housed in

the historic Guinep House, an iconic structure in the

nation's capital. The new, expanded Providenciales

museum building will be adjacent to the existing

museum facility and heritage house in The Village,

Grace Bay. a

Story & Photos By Lisa Talbot

Times of the Islands Spring 2021 67
---
esort report

The new Bottle Creek Lodge, under the ownership of Jim and Melanie Lee-Brown, overlooks Bottle Creek in the Readymoney area of North

Caicos.

A Phoenix on North Caicos

Bottle Creek Lodge opens again.

By Jody Rathgeb~ Images Courtesy Bottle Creek Lodge

Here's a new adage for the Islands: You can't keep a good tourist site down. Proof? Bottle Creek Lodge

on North Caicos, which has opened to guests for the third time in nearly 30 years.

Times of the Islands Spring 2021 69
---
The new Bottle Creek Lodge,

under the ownership of Jim Brown

and Melanie Lee-Brown, overlooks

Bottle Creek in the Readymoney

area of North Caicos. The

site offers two open-concept

cabanas—named Seaside and

Treehouse—each of 225 square

feet, with furnished kitchenette,

dining space, bathroom and private

screened porch. While there

is no air conditioning—ceiling

fans, floor fans and the breeze off

the creek provide plenty of comfort.

Another accommodation,

the two-room, 450-square-foot

Elizabeth's Cabana, is currently

undergoing renovation.

The Bottle Creek Lodge buildings

descend from the main road

to the edge of the creek along

paths lined with trees and plants

that explain North Caicos' reputation as the Garden

Island. Planted and enhanced by previous owners, they

include aloes, sea grape, papaya, banana, sour orange,

limes, coconut and sugar apple: a cornucopia of vegetation.

At the base of the property, a dock provides access

to Bottle Creek. Kayaks, snorkeling gear and bicycles are

available for guests.

Seaside was home to the Browns while they renovated and improved the Bottle Creek Lodge

property.

Discovery and deliberation

As Jim Brown tells the story, "In October 2006 we were

looking for a plot of land to buy here on North Caicos,

a place to eventually build our retirement home." They

enjoyed a stay at Bottle Creek Lodge, then owned by

Sandy and Jay Johnson. "Two years later was the one-two

punch of hurricanes Hanna and Ike. Bottle Creek Lodge

At the base of the Bottle Creek Lodge property, a dock provides access to Bottle Creek. Kayaks are available for guests.

70 www.timespub.tc
---
sustained significant damage from

the storms and never reopened. Jay

occasionally came back and worked

on liquidating some assets […] but

otherwise the place was abandoned

and hurricane damage was left unrepaired.

Over the years we would drive

past when we were on visits to North

Caicos, and reminisce about our

great stay there."

On one of those trips, in 2015,

Jim and Melanie saw a "For Sale" sign

on the gate. Jim continues, "Melanie

and I are biology professors in North

Carolina, and we were both feeling

increasingly burned-out and ready

for a change. We agreed that we were

at a 'fork in the road' in our careers;

we could either change now or run

out our careers until full retirement.

So when we saw the 'For Sale' sign, Treehouse is one of two open-concept cabanas for guests to stay at Bottle Creek Lodge.

we looked at each other and thought

the same thing."

After much thought and discussion, the Browns completed

a purchase in the summer of 2016 and began in good enough shape for us to live in while we worked

Creek Lodge, one of the cabanas (we call it Seaside) was

renovations. There was much to be done, and much history

to both honor and build on.

call it Treehouse) was in much greater need of repair,

on it and the other buildings. The other small cabana (we

both inside and out. The roof of the larger two-room

Hilton-Gibbs-Johnson

cabana (we call it Elizabeth's Cabana) had a flat roof

The main stone-and-frame structure on the property which also served as the deck for the main house. It was

was built as a private home by Englishman Fred Hilton. in very poor condition. The roof had been leaking for

When Howard Gibbs bought it in 1997, some time after eight years, the siding was rotten, and there was standing

water inside. The main house also had a leaky roof on

Hilton's death, he focused on turning the property into

an eco-lodge. He expanded the main house (adding a the incorporated spaces of the front and back porches,

restaurant), built the cottages and a workshop, and but was generally sound. The workshop was also in good

worked extensively in the gardens. His vision was to keep shape, except that water blown in under the open eaves

the lodge ecologically sustainable and small; Gibbs even had soaked all the remaining fixtures, tools and hardware,

converting them to rust. Everything that had been

installed composting toilets in the cottages, hoping to

draw tourists who wanted to live lightly while exploring at the waterline, including the boathouse and elaborate

another land and culture.

dock and boardwalk, had been destroyed by the hurricanes."

When the Johnsons purchased the place in the early

2000s, the focus shifted toward fishing. Sandy and Jay The Browns set to work in the summer of 2016, doing

built a boathouse, dock and boardwalk and ran fishing what they could themselves, but hiring Kenny Higgs and

charters out of the property while maintaining it as a Kenneth Hall for most of the renovations: replacing the

guest lodge and restaurant. The hurricanes, however, put roof, wiring and plumbing; re-doing interior walls; repairing

cisterns; and doing renovations to the kitchen and

an end to their efforts.

According to Brown, "After Hanna and Ike in 2008, the bathroom. Seaside and Treehouse renovations have been

place was empty and continued to succumb to weather completed, and there is a new, smaller dock. Work is still

and damage for eight years. When we bought Bottle under way on the larger cabana, workshop and gardens.

Times of the Islands Spring 2021 71
---
1 (649) 342-3180

North Caicos Island, TCI

BottleCreekLodge.com

BottleCreekLodge@gmail.com

pandemic. Bottle Creek Lodge opened again for the 2021

season, with the pandemic keeping rates at lower levels.

The challenges of hurricanes and a virus were joined

by those of meeting requirements for doing businesses

in the Turks & Caicos, compounded by the timing of trying

to open during a pandemic. The Browns credit many

people in both the US and TCI for help in hurdling those

hoops, including Karen Preikschat, "Poacher" Missick,

Tekarrah Williams, Gordon Kerr, Sarah Knight, Eve and

Ernie Quant and Janet and Ron Holmes. Preikschat has

even become their manager as they wait for permanent

resident certificates.

Recognising that Bottle Creek Lodge belongs as much

to the island as to them, the Browns decided to keep

the name instead of trying to come up with a new one.

Melanie notes, "[W]e decided that [the] history and identity

of Bottle Creek Lodge were too important. People

are always interested in the story of the evolution of this

property from humble abode to a thriving business on a

beautiful ocean creek. We see bits of everyone who lived

and worked there, and keeping those memories alive was

important to us. The name also invokes feelings of tranquility,

adventure and comfort. We hope every guest feels

all of these at some point during their visit with us."

Open/closed/open

Rising Phoenix

When Seaside and Treehouse were ready for occupancy, Renovations at Bottle Creek Lodge will continue, and

the Browns set a soft opening of the lodge for February guest services will expand. Jim says they hope to begin

2020. A month later, it was closed due to the COVID-19 serving breakfast to guests in 2022, and they are working

on those approvals as

well as prepping Elizabeth's

Suite. As this tourist phoenix

rises again, the Browns

say they want to involve as

much of North Caicos as they

can in the new Bottle Creek

Lodge. "Our intention is to

focus on creating a space that

is relaxing and friendly," he

says. "We want to involve as

many Islander businesses as

possible for non-self-guided

activities that guests may

want. We want to be a hub .

. . give people a place to stay,

and then provide them access

to local folks who already provide

these services and can

Bottle Creek Lodge is now a thriving business on a beautiful ocean creek.

benefit from the business." a

72 www.timespub.tc
---
about the Islands

Map provided courtesy Wavey Line Publishing. Their navigation charts and decorative and historic maps of the Turks & Caicos Islands, The

Bahamas, and Hispaniola are available in shops throughout the Islands. Visit www.amnautical.com.

Where we are

The Turks & Caicos Islands lie some 575 miles southeast

of Miami — approximately 1 1/2 hours flying time —

with The Bahamas about 30 miles to the northwest and

the Dominican Republic some 100 miles to the southeast.

The country consists of two island groups separated

by the 22-mile wide Columbus Passage. To the west are

the Caicos Islands: West Caicos, Providenciales, North

Caicos, Middle Caicos, East Caicos, and South Caicos. To

the east are the Turks Islands: Grand Turk and Salt Cay.

The Turks & Caicos total 166 square miles of land

area on eight islands and 40 small cays. The country's

population is approximately 43,000.

Getting here

There are international airports on Grand Turk,

Providenciales, and South Caicos, with domestic airports

on all of the islands except East Caicos.

TCI Assured is a quality assurance pre-travel program

and portal, to assist visitors and returning residents when

the country reopened its borders on July 22, 2020. The

TCI is now requiring a negative COVID-19 PCR test result

from a test taken within five days of travel. Children under

the age of 10 are not required to be tested. Additionally,

travelers must have medical/travel insurance that covers

medevac (insurance companies providing the prerequisite

insurance will be available on the portal), a completed

health screening questionnaire, and certification that they

have read and agreed to the privacy policy document.

Times of the Islands Spring 2021 73
---
These requirements must be completed and uploaded

to the TCI Assured portal, which is available on the TCI

Tourist Board website (www.turksandcaicostourism.

com), in advance of their arrival.

Once travelers register on the TCI Assured portal and

complete the requirements as outlined, a travel authorization

notification will be given. The TCI Assured travel

authorization should be presented at the time of check-in

to the appropriate airline; airlines will not be able to

board passengers without this authorization.

Language

English.

Time zone

Eastern Standard Time (EST)/Daylight Savings Time

observed.

Currency

The United States dollar. The Treasury also issues a Turks

& Caicos crown and quarter. Travellers cheques in U.S.

dollars are widely accepted and other currency can be

changed at local banks. American Express, VISA, and

MasterCard are welcomed at many locations.

Climate

The average year-round temperature is 83ºF (28ºC). The

hottest months are September and October, when the

temperature can reach 90 to 95ºF (33 to 35ºC). However,

the consistent easterly trade winds temper the heat and

keep life comfortable.

Casual resort and leisure wear is accepted attire for

daytime; light sweaters or jackets may be necessary on

some breezy evenings. It's wise to wear protective clothing

and a sunhat and use waterproof sunscreen when out

in the tropical sun.

Entry requirements

Passport. A valid onward or return ticket is also required.

Customs formalities

Visitors may bring in duty free for their own use one carton

of cigarettes or cigars, one bottle of liquor or wine,

and some perfume. The importation of all firearms including

those charged with compressed air without prior

approval in writing from the Commissioner of Police is

strictly forbidden. Spear guns, Hawaiian slings, controlled

drugs and pornography are also illegal.

Returning residents may bring in $400 worth of

merchandise per person duty free. A duty of 10% to

60% is charged on most imported goods along with a

7% customs processing fee and forms a major source of

government revenue.

Transportation

A valid driver's license from home is suitable when renting

vehicles. A government tax of 12% is levied on all

rental contracts. (Insurance is extra.) Driving is on the

left-hand side of the road, with traffic flow controlled by

round-abouts at major junctions. Please don't drink and

drive! Taxis and community cabs are abundant throughout

the Islands and many resorts offer shuttle service

between popular visitor areas. Scooter, motorcycle, and

bicycle rentals are also available.

74 www.timespub.tc
---
Telecommunications

FLOW Ltd. provides land lines and superfast broadband

Internet service. Mobile service is on a LTE 4G network,

including pre- and post-paid cellular phones. Most resorts

and some stores and restaurants offer wireless Internet

connection. Digicel operates mobile networks, with

a full suite of LTE 4G service. FLOW is the local carrier

for CDMA roaming on US networks such as Verizon and

Sprint. North American visitors with GSM cellular handsets

and wireless accounts with AT&T or Cingular can

arrange international roaming.

Electricity

FortisTCI supplies electricity at a frequency of 60HZ,

and either single phase or three phase at one of three

standard voltages for residential or commercial service.

FortisTCI continues to invest in a robust and resilient grid

to ensure the highest level of reliability to customers. The

company is integrating renewable energy into its grid and

provides options for customers to participate in two solar

energy programs.

Departure tax

US $60. It is typically included in your airline ticket cost.

Courier service

Delivery service is provided by FedEx, with offices on

Providenciales and Grand Turk, and DHL. UPS service is

limited to incoming delivery.

Postal service

The Post Office and Philatelic Bureau in Providenciales is

located downtown on Airport Road. In Grand Turk, the

Post Office and Philatelic Bureau are on Church Folly. The

Islands are known for their varied and colorful stamp

issues.

Media

Multi-channel satellite television is received from the U.S.

and Canada and transmitted via cable or over the air.

Local station WIV-TV broadcasts on Channel 4 and Island

EyeTV on Channel 5. People's Television offers 75 digitally

transmitted television stations, along with local news

and talk shows on Channel 8. There are also a number of

local radio stations, magazines, and newspapers.

Medical services

There are no endemic tropical diseases in TCI. There are

large, modern hospitals on Grand Turk and Providenciales.

Food for Thought provides free daily

breakfast to government school students.

A donation of $300 will provide breakfast

to one child for a whole school year.

To donate or learn more please

email info@foodforthoughttci.com

or visit foodforthoughttci.com

Food for Thought Foundation Inc. (NP #102)

Both hospitals offer a full range of services including:

24/7 emergency room, operating theaters, diagnostic

imaging, maternity suites, dialysis suites, blood bank,

physiotherapy, and dentistry.

In addition, several general practitioners operate in

the country, and there is a recompression chamber, along

with a number of private pharmacies.

Immigration

A resident's permit is required to live in the Islands. A

work permit and business license are also required to

work and/or establish a business. These are generally

granted to those offering skills, experience, and qualifications

not widely available on the Islands. Priority is given

to enterprises that will provide employment and training

for T&C Islanders.

Government/Legal system

TCI is a British Crown colony. There is a Queen-appointed

Governor, HE Nigel John Dakin. He presides over an executive

council formed by the elected local government.

Hon. Charles Washington Misick is the country's new premier,

leading a majority Progressive National Party (PNP)

House of Assembly.

Times of the Islands Spring 2021 75
---
The legal system is based upon English Common

Law and administered by a resident Chief Justice, Chief

Magistrate, and Deputy Magistrates. Judges of the Court

of Appeal visit the Islands twice a year and there is a final

Right of Appeal to Her Majesty's Privy Council in London.

Taxes

There are currently no direct taxes on either income

or capital for individuals or companies. There are no

exchange controls. Indirect taxation comprises customs

duties and fees, stamp duty, taxes on accommodations,

restaurants, vehicle rentals, other services and gasoline,

as well as business license fees and departure taxes.

Economy

Historically, TCI's economy relied on the export of salt.

Currently, tourism, the offshore finance industry, and

fishing generate the most private sector income. The

Islands' main exports are lobster and conch. Practically

all consumer goods and foodstuffs are imported.

The Turks & Caicos Islands are recognised as an

important offshore financial centre, offering services

such as company formation, offshore insurance, banking,

trusts, limited partnerships, and limited life companies.

The Financial Services Commission regulates the industry

and spearheads the development of offshore legislation.

People

Citizens of the Turks & Caicos Islands are termed

"Belongers" and are primarily descendants of African

slaves who were brought to the Islands to work in the

salt ponds and cotton plantations. The country's large

expatriate population includes Canadians, Americans,

Brits and Europeans, along with Haitians, Jamaicans,

Dominicans, Bahamians, Indians, and Filipinos.

Churches

Churches are the center of community life and there

are many faiths represented in the Islands including:

Adventist, Anglican, Assembly of God, Baha'i, Baptist,

Catholic, Church of God, Episcopal, Jehovah's Witnesses,

Methodist and Pentecostal. Visitors are always welcome.

Pets

Incoming pets must have an import permit, veterinary

health certificate, vaccination certificate, and lab test

results to be submitted at the port of entry to obtain

clearance from the TCI Department of Agriculture, Animal

Health Services.

National symbols

The National Bird is the Brown pelican (Pelecanus occidentalis).

The National Plant is Island heather (Limonium

bahamense) found nowhere else in the world. The

76 www.timespub.tc
---
National Tree is the Caribbean pine (Pinus caribaea var.

bahamensis). The National Costume consists of white cotton

dresses tied at the waist for women and simple shirts

and loose pants for men, with straw hats. Colors representing

the various islands are displayed on the sleeves

and bases. The National Song is "This Land of Ours" by

the late Rev. E.C. Howell, PhD. Peas and Hominy (Grits)

with Dry Conch is revered as symbolic island fare.

Going green

TCI Waste Disposal Services currently offers recycling

services through weekly collection of recyclable aluminum,

glass, and plastic. Single-use plastic bags have been

banned country-wide as of May 1, 2019.

Recreation

Sporting activities are centered around the water. Visitors

can choose from deep-sea, reef, or bonefishing, sailing,

glass-bottom boat and semi-sub excursions, windsurfing,

waterskiing, parasailing, sea kayaking, snorkelling, scuba

diving, kiteboarding, stand up paddleboarding, and

beachcombing. Pristine reefs, abundant marine life, and

excellent visibility make TCI a world-class diving destination.

Tennis and golf—there is an 18 hole championship

course on Providenciales—are also popular.

subscription form

TIMES

OF THE

ISLANDS

SAMPLING THE SOUL OF THE TURKS & CAICOS ISLANDS

One year subscription

$28 U.S. addresses/$32 non-U.S. addresses

The Islands are an ecotourist's paradise. Visitors can

enjoy unspoilt wilderness and native flora and fauna in 33

national parks, nature reserves, sanctuaries, and areas of

historical interest. The National Trust provides trail guides

to several hiking trails, as well as guided tours of major

historical sites. There is an excellent national museum on

Grand Turk, with an auxillary branch on Providenciales. A

scheduled ferry and a selection of tour operators make it

easy to take day trips to the outer islands.

Other land-based activities include bicycling, horseback

riding and football (soccer). Personal trainers are

available to motivate you, working out of several fitness

centres. You will also find a variety of spa and body treatment

services.

Nightlife includes local bands playing island music

at bars and restaurants and some nightclubs. There is

a casino on Providenciales, along with many electronic

gaming parlours. Stargazing is extraordinary!

Shoppers will find Caribbean paintings, T-shirts,

sports and beachwear, and locally made handicrafts,

including straw work and conch crafts. Duty free outlets

sell liquor, jewellery, watches, perfume, leather goods,

crystal, china, cameras, electronics, brand-name clothing

and accessories, along with Cuban cigars. a

VISIT WWW.TIMESPUB.TC TO VIEW CURRENT ISSUE ON-LINE!

Name____________________________________________________________________

Date ____________________

Address__________________________________________________________________

City _____________________________________________________________________

State/Province____________________________________________________________

Country/Postal Code_____________________________________________________

E-mail address (not required)_____________________________________________

r New Subscription r Renewal

r U.S. Cheque/M.O. enclosed

Mail with payment to:

Times Publications Ltd., c/o Kathy Borsuk,

247 Holmes Ave., Clarendon Hills, IL 60514

Please allow 30 to 60 days for delivery of first issue.

Times of the Islands Spring 2021 77
---
where to stay

78 www.timespub.tc
---
where to stay

Times of the Islands Spring 2021 79
---
dining

80 www.timespub.tc
---
dining

Times of the Islands Spring 2021 81
---
classified ads

REJOUVENANCE

Hand Crafted

Skincare

Spring -Summer

SPECIALS

rejouvenancespa.com

+ 1 - 6 4 9 - 4 3 2 - 7 5 4 6

TC Safari_Layout 1 8/9/18 3:33 PM Page 1

Community Fellowship Centre

A Life-Changing Experience

Sunday Divine Worship 9 AM

Visitors Welcome!

Tel: 649.941.3484 • Web: cfctci.com

Vacation Villa Rentals

Joanne Phillips, Turks & Caicos Safari

www.tcsafari.com

Call: 1-904-491-1415

Email: tcsafari@tcsafari.com

Ocean Breeze_Layout 1 4/8/19 10:34 AM Page

D&Bswift_Layout

1

1 5/8/18 7:24 AM Page 1

Our cleaning solutions are made

from biodegradable materials that

aren't harmful to the environment.

Find our products throughout the

Turks & Caicos Islands.

FOR ALL YOUR

RELIABLE AND

AFFORDABLE

RENTAL NEEDS

Call 244-2526

or 241-5584

649-941-8438 and 649-241-4968

SCOOTER HOUSEHOLD AND BOBS_Layout COMMERCIAL CLEANING 1 8/8/18 PRODUCTS 10:57 AM Page GBC2017_Layout 1 2/16/17 9:10 AM Page 1

autorental@dnbautoparts.com

www.oceanbreezetci.com

We're here to

make your holiday

the island way...

DEPENDABLE VEHICLE HIRE

SERVICE OFFERED:

Provo & North-Middle Caicos

Office: 946-4684

Amos: 441-2667 (after hours)

Yan: 247-6755 (after hours)

Bob: 231-0262 (after hours)

scooterbobs@gmail.com

www.scooterbobstci.com

Grace Bay Road across from Regent Street

Fun Friendly People

Appreciating Your Business!

941-8500

www.gracebaycarrentals.com

82 www.timespub.tc
---
SUSTAINABLE

ENERGY

You Can

Count On

R-NETS: A roadmap for

TCI's energy future

Solar integration

to the FortisTCI grid

We're building partnerships to deliver a more sustainable

energy future for the Turks and Caicos Islands.

With the Resilient National Energy Transition

Strategy (R-NETS) serving as a roadmap, and with

new and ongoing investments in solar energy

generation, solar plus battery pilot project, and

an electric vehicle and charging station project,

FortisTCI is working every day to deliver resilient,

cost-effective and environmentally sustainable

energy, to fuel growth and development.

Solar + battery storage

pilot project

Electric vehicle

pilot project

www.fortistci.com | 649-946-4313 |
---
For Those Who Seek An

Exceptional Vacation Home & Lifestyle

We Are Available To Help You

Navigate The Real Estate Process

THE FINEST COLLECTION

Condominium | Home & Villa | Land | New Development

649.946.4474 | info@tcsothebysrealty.com | turksandcaicosSIR.com

Venture House, Grace Bay | Resort Locations: Grace Bay Club and The Palms

Each franchise is Independently Owned and Operated.