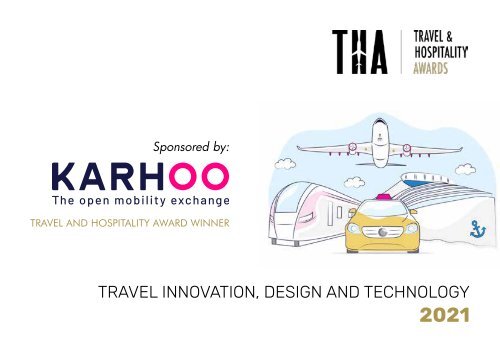 Travel & Hospitality Awards | Travel Innovation, Design & Technology 2021 | www.thawards.com
You also want an ePaper? Increase the reach of your titles
YUMPU automatically turns print PDFs into web optimized ePapers that Google loves.
Sponsored by:

TRAVEL AND HOSPITALITY AWARD WINNER

TRAVEL INNOVATION, DESIGN AND TECHNOLOGY

2021
---
TRAVEL & HOSPITALITY

AWARD WINNER

2020

The global B2B mobility marketplace

for travel and hospitality.

Create a door-to-door experience for

customers by offering ancillary car

services on your sites and apps.

Visit: www.karhoo.com
---
Sponsor and

Partners
---
TEAM

CEO

Robert Bruce

EDITOR-IN-CHIEF

Katherine Lozell

ART DIRECTOR

Marcs Bacera

DIRECTOR OF SALES

Stanley Lucas

AWARDS DIRECTOR

Brian Anson

EDITORIAL LIAISON MANAGER

David Hyde

DIRECTOR OF MARKETING

Azim Aftab

SENIOR WRITERS

Tasmai Dave

Jacqui Irvine

Joseph Wilton

SENIOR DESIGNERS

Antoine Jackson

Hafiz Arslan

AWARDS MANAGERS

Adam Cole

Zach Ford

Peter Clement

Joyce Lee

RESEARCH MANAGERS

Jerald Jaime

Mukul

CONTRIBUTING WRITERS

Tracy Morgan

Joseph Malabanan

Aisha Ahmed

Contents

Foreword 6

Criteria 7

The B2B Mobility Marketplace 8

Travel Technology

& Innovation 16

Key Events For 2021 18

The Rise of App Makers 24

Hotel Room Innovations 28

Travel and Blockchain 32

Travel Innovation Trends for the Next Decade 36

Gearco - True Extended Stay 40

GoodiePack 42

GuestTalk 44

TripX.Tech 46

Pax2Pay 48

Profitroom 50

TAXI BUTLER 52

TouchingCode 54

Design & Architecture 56

Architectural Marvels 58

Beautiul Interiors Restaurants 62

Hospitality Lighting 68

Impact of the Covid-19 on Interior Design 72

Doyle Collection Co. Ltd 76

MM+ Interni e Architetture 78

Touch Architect 80

4 5
---
Foreword

Criteria

This edition of the guide is special and one I will look back

on for the rest of my life. This is the first awards programme

and guide that took place during the lockdown brought

on by the Covid-19 pandemic. This time last year Covid

had yet to become a global catastrophe; however things

escalated quickly and it wasn't long before the whole

travel sector was brought to a standstill as everyone

scrambled to find ways to adapt to a near contactless

world. Fast forward to today and things have picked up.

While recovery takes time, I like many am grateful for the

position I find myself in.

It goes without saying that we will touch on the pandemic

more than a few times. We look at its influence on the

events industry for key events in 2021 (p18). We examine

innovations in hospitality technology - some of which are

a direct consequence in the battle against Covid (p28,

p36), and we have dedicated a whole piece to the impact

of Covid-19 on interior design industry (p72).

The past few months have seen the return of

cryptocurrency to the mainstream and brought with it

the conversation of blockchain technology - a topic we

discuss in relation to travel and hospitality (p32). We also

bring you our picks of beautifully designed hotels (p58)

and restaurants (p62) so you can begin planning those

luxury getaways that we have all been starved of over the

past 12 months.

Finally, I want to end this note by saying big thank you

to the sponsors of this edition, Karhoo, for letting us

sit down and have a chat with Vanessa Heydorff, Chief

Commercial Officer (p8), a piece not to be missed.

Robert Bruce,

CEO

Marketing and Branding

Consistency is key here, with so many media

platforms out there it's important that the

correct and informed image is the one being

relayed.

Environmental Consideration

This should be on the radar of all organizations.

Sound eco-Friendly and sustainable

approaches to all facets of a business is

important today more than ever.

Customer Service

No matter how good the product is the

provision of customer service is vital. Timing,

speed, and appropriateness of response across

all mediums is necessary for every company.

User-Friendliness

This is especially important with technology

companies as end user ability is sometimes

overlooked to focus more on perfecting the

technology.

Reviews and Feedback

What better way is there to know about an

organization than by getting first-hand reviews?

For many this is the first port of call.

Innovation

New and fresh ideas built better products and

services. The need to innovate should always

be at the forefront.
---
The B2B Mobility

Marketplace

MOBILITY FOR EVERYONE!

In today's world of new wave mobility disruption, we are seeing the

rise of open mobility marketplaces. One technology provider, Karhoo,

is leading the charge. Karhoo's plug-and-play, open API-based mobility

exchange platform connects travel and hospitality brands with a

network of 1.8m taxis and private hire vehicles around the world. All you

need to do is simply integrate the Karhoo marketplace into your website

or app, then customers can log-in and select a ride from a list of local

taxis (with the option of pre-booking or e-hailing).

Karhoo works invisibly to direct the request,

process the payment, and track the journey.

You benefit from seamless integration and

access to a huge network of fleets, allowing

you to build your own sleek, branded mobility

services to increase revenues and customer

relevance. In addition, local operators

benefit from price protection and access to

customers, helping them to compete with

consumer-facing e-hailing apps.

We have been lucky enough to sit down with

Vanessa Heydorff, Chief Commercial Officer

at Karhoo to find out more about this new

innovative platform.

Vanessa joined the Karhoo

Executive Management

Team in 2020 as the Chief

Commercial Officer. She is

responsible for the business

development team, with

a mission to develop

the portfolio of partners

in travel, hospitality,

transport, healthcare and

assistance who want to

provide seamless mobility

to their clients, using the

Karhoo platform.

Vanessa brings over

15 years' experience of

managing commercial

teams within the travel

industry and expanding

international technology

companies. Prior to

joining Karhoo, Vanessa

was Managing Director

for Western Europe at

Booking.com, where she

led a 500+ team supporting operations across

the region. Vanessa also held several other

senior positions including, Vice President of

Global Sales at AccorHotels and Key Account

Director at Arval.

As a woman and a leader, she regularly delivers

talks on diversity at work, particularly within

technology companies.

8 9
---
In a nutshell, what is Karhoo?

"Karhoo is a cloud platform allowing travel and hospitality

operators to resell mobility services, such as first and last

mile connections and in-stay journeys. For that purpose we

aggregate thousands of mobility providers around the world,

starting with taxi and private hire vehicle companies, and make

them available in the form of a marketplace delivering choice

and fair market price to end-customers.

Our product comes with various integration options. An API

provides the most complete way of embedding mobility into

websites and apps, for example as add-on in the checkout flow.

Alternatively, we offer an SDK to speed up mobile development

and a pre-built fully customisable microsite supporting rapid

deployment within a few days or weeks.

To sum up, we're a business and technology enabler for travel

and hospitality operators. We help them enhance their offers,

build "one stop shop" apps and generate ancillary revenues. My

previous 12-year experience with Accor and Booking.com tells

me that mobility is very relevant for the travel and hospitality

industry when addressed through digital solutions to create

seamless experiences for clients."

Karhoo started as a taxi comparator app. What's the model now?

"The previous Karhoo team learnt the hard way about client

acquisition in e-hailing, one of the most competitive markets.

We realised that channeling established brands was a wiser

alternative to coupons. Hence we moved to a B2B model

allowing brands to act as distribution channels for their clients

while leveraging our valuable connections to thousands of taxi

and PHV fleets.

We now focus on developing the most complete and robust

mobility exchange platform, capable of managing trips from

the initial booking to the final settlement between brands and

fleets, at a global scale.

Our model creates a win-win situation. On one side, travel and

hospitality operators can very easily offer seamless mobility to

their clients and quickly build new ancillary revenue streams.

And on the other side, our fleet partners grow their business

and compete with disrupting e-hailers by distributing their

service through the most powerful brands in the world!"

10 11
---
Has this new platform model

proven successful?

"We started the platform development back in 2017

and launched our first major project with the French

Railways SNCF mid-2019. The service is called "Mon

Chauffeur TGV Inoui" and allows clients purchasing a

high-speed train ticket to seamlessly book a ride to

the departure station and from the arrival station.

We observe increasing attachment rates (i.e.

adding a taxi ride to the ticket) showing the interest

of such an offering by SNCF.

The success of this initial implementation triggered

more partnerships with railways (Thalys, Renfe,

Trainline), hospitality companies (AppartCity),

online travel agencies (Booking.com, Fareportal,

Ctrip...) and mobility-as-service apps (SNCF,

Moovizy, Uppli, Mobee Travel).

We've also signed a contract to be the global

mobility platform for a major hotel chain, to

be announced in 2021. We're very excited

about this."

How has Covid-19 impacted the

growth of the company?

"Badly. Like the rest of the travel industry our

transaction volumes dropped by 90% at lockdown:

when people are refrained from leaving home, they

are not taking taxis. That said, our recovery was

strong as soon as restrictions were lifted and our

volumes in July and August were up 50% year-onyear.

So we are still growing fast ! This is because we

are a young company in the scale-up part of its life and

our products are attractive. It is also because more

people prefer being driven in a socially distancing

environment than taking public transport. Of course,

we had some delays in the implementation of a few

large projects with airlines and hotel groups that will

go ahead in 2021.

So all-in-all, we would say that 2020 was a tough

year but we made it through. We were delayed but

our growth is intact. We're also lucky to have Groupe

Renault as a majority shareholder. They supported

us in these difficult times, showing their strong

commitment to become a major player in the field of

new mobility services."

12 13
---
What does the future

hold for Karhoo?

"Mobility-as-a-service and shared

mobility powered by micro-mobility

and autonomous vehicles is just at

its beginning. Our mobility exchange

platform is built to aggregate all new

options as they become available,

and also provide value-added

features like passenger pooling

and optimised demand-responsive

itineraries.

We're building the future-proof

backbone to support the open

distribution of smart mobilities by

companies which own the client

reach and hold the ambition of

creating end-to-end experiences

by embedding mobility into their

package."

How does that apply to the travel

and hospitality sector?

"By definition, clients in the travel and hospitality

context are on the move, hence our proposition is

particularly relevant. Travel operators can enhance

the traveller experience with first and last mile

mobility, lifting the pain of organising transfers

to airports, stations and harbours. Hospitality

companies can do the same by creating a "door to

spinning door" experience for guests, and provide

self-service trip booking on apps, kiosks and inroom

interactive systems.

Karhoo makes all of this possible and fast to

implement by aggregating trustworthy mobility

providers throughout the world and standardizing

the booking to billing process. Hence mobility

becomes easier to manage at scale for travel and

hospitality companies: the sourcing of providers,

price negotiations, billing of guests and settlement

with partners, loyalty, identity, ancillary revenue

reporting and analytics… The Karhoo platform

streamlines it all so partners can grow this line of

business in the most efficient way."

What's your favourite holiday

destination, and why?

"My favorite destinations are islands, wherever they are, close and

far. They offer a spectacular scenery mixing unusual landscapes,

surrounding seas and a beautiful nature. I feel rejuvenated, away from

the continent."

14 15
---
Travel Technology

& Innovation

16 17
---
Key Events

For 2021

The Covid-19 pandemic has been a

challenging time for the travel industry

and as a result the much-loved events

sector has suffered the most, with key

events such as the ITB Berlin and Arabian

Travel Market being cancelled early in the

pandemic. However, with the availability of

new technologies and some determination

a few events have been able to go ahead in

the form of a "virtual event".

Virtual events are an opportunity to hold

anything from a trade show, summit,

workshop or product launch online and

attend from the comfort of your own desk.

At these virtual events you can expect oneon-one

live chats, live or recorded seminars,

video conferencing, brand booths, sponsor

areas and network lounges. Virtual

events are convenient, time saving and

much cheaper to run. They offer a sound

alternative for event companies should any

more restrictions arise.

With this in mind, we've picked out some

key travel events to keep in your calendar

for 2021.

ITB Berlin

9 th – 12 th March | Virtual

The cancellation of the

ITB Berlin in 2020 sent

shock waves throughout

the travel and hospitality

industry. Despite the

cancellation, many

exhibitors and travel

professionals travelled

to the city anyway to

network, close deals and

sit meetings. For a lot of

people, the cancellation

was too late in the day

to get refunds on any

travel bookings. For 2021

this needn't be a concern

because the whole show

will be virtual.

You can expect four days of focused travel insider knowledge, smart matching,

meeting tools and inspiring exhibitor showcases.

Find out more: www.itb-berlin.com

18 19
---
Arabian Travel Marker

16 th – 19 th May | Physical, Dubai | 24 th – 26 th May | Virtual

One of the major casualties of the pandemic, the Arabian

Travel market, returns as a hybrid show where a live event

will take place at the Dubai World Trade Centre from the

16th - 19th of May followed by a virtual event taking place

a week later from the 24th - 26th of May.

Hotel 360

15 th – 16 th June | Physical, London

Running directly alongside Hotel and Spa Tech Live and the

Hospitality Design show, this superb event is one not to be

missed. This show is a fantastic opportunity to learn about the

latest innovations, solutions, advancements, and services on

offer in the hospitality industry.

London

Summit of the Americas

5 th – 9 th April | Virtual

A unique live five-day event with content available

24 hours a day and exhibitor content available for a

staggering 30 days after the event is over. This event

builds on the Virtual Travel Retail Expo held in October

2020 and both these events are a direct response to the

challenges posed by the Covid-19 pandemic.

Online visitors will be able to view videos, download

literature and chat with exhibitors in real time as well as

attend keynote presentations and panel discussions.

Find out more: virtualamericassummit.com

The live event will of course follow government rules

in terms of density, safety, and attendance numbers

whereas the virtual one is free of such restrictions of

course. Visitors to either event will be able to enjoy great

seminars, talks and sit meetings.

Find out more: www.wtm.com/atm/en-gb.html

Those lucky enough to attends will be treated to over 300

exhibitor stands, 150 seminars, panel debates and access to a

specialised networking area.

Find out more: www.hotel360expo.co.uk

20 21
---
ASTA Global Convention

23 rd – 25 th August | Physical, Chicago

The American Society of Travel Advisors annual global

convention is one that was held virtually in 2020 but is

back with a bang in the windy city for 2021. This is where

prominent and influential members of the travel industry

convene for inspiration, education, and entertainment.

Find out more: www.my.asta.org/AGC

HITEC

27 th – 30 th September | Physical, Dallas

The Hospitality Industry Technology Exposition and

Conference (HITEC) has been smartly pushed back from

June to September to allow the hospitality industry to

build a bit of momentum and recover. Visitors will receive

an insightful four-day education presented by industry

experts and access to over 300 exhibitor companies from

the hospitality technology industry.

Find out more: www.hftp.org/hitec

WTM London | Travel Forward

1 st – 3 rd November | Physical - London

Both events take place at the Excel in London and are put on by Reed Exhibitions. The WTM (World Travel Market) is

the biggest travel event of its kind and should be on any serious travel professional's radar. With thousands of visitors,

hundreds of exhibitors, networking events, seminars and talks the WTM is a hub of travel ideas and possibilities.

Travel Forward on the other hand is a relative newcomer on the travel events scene and will run alongside the WTM.

There will be over 5000 travel executives and 100+ innovation solution providers in attendance for three days of forward

insights, roundtables, and unique networking opportunities.

Find out more: www.wtm.com/london | www.wtm.com/travel-forward

22 23
---
The Rise of

App Makers

When the internet was first launched early websites

were rudimentary. It took a few years before

companies started launching their own landing pages and

even then, it was only those organisations with the technical

IT departments at their disposal that were able to do so. Back

then website designers and developers needed to be fluent

in HTML, JavaScript, flash and/or CSS. However, this all

began to change in 2003 with the launch of WordPress, when

suddenly the ability to design a website became much more

of possibility for the average person. Of course, it still requires

a degree of technical ability but today almost anybody can

make their own website. This was the first of many "websites

to build websites".

Mobile apps are on a similar path. Despite being around since

1997, the first use of apps as we know them today was when

the Apple Appstore launched in 2008. Since then apps have

become so ingrained in our day-to-day mobile experience,

that we often wonder how we managed without them. Much

like the early years of websites, the design and development

of apps was left to trained professionals and coders. But times

are changing and now the opportunity for the average person

to create an app is a very real possibility. This can either be

through mobile app builders that help design, distribute, and

manage Native apps, or through progressive web apps.

Mobile App Builders

There are several mobile app builders currently on the market. Many have common features such as pre-designed templates

to choose from, a variety of pricing packages, allow for push notifications, are e-commerce enabled, include a content

management system and offer analytic tools to understand how your app is performing.

24 25
---
Progressive Web Apps

Progressive Web Apps are websites that have the usability

and feel of an app. They can be opened on a web browser on

any mobile device and are designed to give you most of the

features from a native app. These are a fantastic, inexpensive

alternative to native apps; they are easy to access as

accessing a website is easier than installing an app. However,

the drawback here is navigating to a website is more time

consuming than tapping an icon. They also lack access to

the operating system for added features such as access to a

calendar or contacts etc.

What it means for travel?

These "app for apps" if you

will, have opened a whole new

world of possibilities for travel

and hospitality businesses

who once thought that

creating an app would be too

costly or time-consuming.

Hotels and travel agencies

can now easily create apps

that push messages, work

across multiple platforms,

take payment, are affordable

to build and are user-friendly.

These apps can then become

a one-stop-shop for guests.

Customers can reserve

rooms, amend/cancel a

booking, purchase extras,

organise transport and checkin

all in one place. Many big

brands already have apps in

place but now the little guys

can get in on the act.

Our Pick | Apmato

A create-your-own-app system with several unique features and

the opportunity to combine different modules, designs, and layouts.

Tailored to the hospitality industry with special consideration for

challenges faced by tour companies, hotels, museums, sports clubs

and tourist boards.

26 27
---
Hotel Room

Innovations

For many of us hotel rooms are

a home away from home, a

sanctuary where you can unwind

at the end of a long day, a place to

base yourself while you explore a new

city or laze about and enjoy all the

amenities and frills a property has to

offer. However, a hotel room is never

"finished", and it is a science yet to

be perfected as there are always

improvements, innovations, and

new ideas around the corner. With

advancements in technology, artificial

intelligence, and the internet of things,

any good hotelier should always be

on the lookout for ways to enhance a

guest's in-room experience.

Here we look at some innovations that

may shape hotel rooms over the next

few years.

Voice Control

We know this already exists in hospitality to some degree, but the technology is not quite there yet and hence has not been

rolled out quite as extensively as many had initially hoped. However, there are always strides being made in this area and with

the growing popularity of Siri, Alexa, and Google Assistant, it will not be long before voice control in hotel rooms is common.

The most likely way this will happen is through mobile phones syncing up with in-room technology. Ordering room service,

adjusting the lights, opening the blinds, or turning on the TV. will all be just a voice command away.

28 29
---
Smart Rooms

The use of smart technology in shaping a guest's experience

is on the verge of becoming commonplace. Guest data can

now be used to better accommodate needs. For frequent

travelers, especially those loyal to certain brands, this is

game changing. Using data from previous visits, smart

technology can predict and personalise guest preferences to

create fully customised experiences. Lighting, background

music, media favorites, room temperature, bedding, room

type, energy management, and meal preferences call all be

adjusted to suit the guest pre-arrival.

The Contactless Experience

Contactless is a common payment method when it

comes to small cash transactions; in fact the use of

contactless cards, mobile wallets, and wearable tech

payments are on the rise. In the wake of the Covid-19

pandemic these contactless payments have become

more of a necessity rather than a convenience. While

some hotels already accept contactless payment, the

notion of "contactless" is expected to spread to other

parts of the hotel experience.

Contactless hotel check in is now possible through

company websites and mobile apps, much like with

airline check in. The same goes for room access;

technology is now available where key cards can be

programmed on to mobile phones or smart devices.

Robot Servers

This one sounds like something

from an 80's science fiction film

or the hobby of an enthusiast,

but it is actually so much

more than that. This in part

enhances the "contactless

experience" mentioned overleaf.

The technology is improving

rapidly and there are frequent

examples of hotel having robots

greet guests on arrival, provide

real-time tourist information,

clean floors, transport luggage,

provide room service and even

wait tables at restaurants. The

technology has taken on a more

relevant position in a Covid-19

secure world. As robots become

more reliable, better equipped,

and capable of machine learning

expect to see this much more

often.

30 31
---
Travel and Blockchain

Blockchain technology is poised to make

a dramatic and long-lasting change to

almost every single sector of business and

governance - including travel and hospitality.

Blockchain will alter the way in which data

is utilised and stored while enhancing

transparency, increasing security, and

improving the data transaction process. Here

we look at the potential impact of Blockchain

technology.

The technology is relatively straight forward.

It's a list of public records known as a ledger

where transactions between individual or

parties are listed. Each record is a block

within blockchain technology that is secured

using cryptography. The data is decentralised

with details shared across a peer-to-peer

network. Transaction information on each

block is time stamped and can only be altered

by consensus from the entire network which

will then alter all subsequent blocks. The

time stamped, decentralised, enduring, and

unchangeable nature of the date stored

in the block chain means it's more secure,

distinguishable, trackable, and transparent

than any other method out there.

What does this mean for the travel industry?

The biggest benefit for the travel industry is the security of data and information. The nature of blockchain means that

data can never be lost on accident or on purpose ensuring transactions are always trackable. The travel industry relies

heavily on information passing between different companies, across borders, continents, and languages. Blockchain can

make accessing and storing important data easier and much more reliable.

32 33
---
The commercial upside is huge. By now most of us have

heard of bitcoin and its benefits as a potential global

currency. Financial transactions are a key part of the

travel industry and through blockchain technology travel

companies can benefit from secure payments, quicker

transactions times, and cheaper transaction fees. This is

especially important as overseas payment are a core part

of the travel industry.

Current Uses of Blockchain Technology in Travel

Winding Tree

With its native LIF token, Winding Trees' goal is to ultimately

replace the middlemen like Expedia by connecting

travellers directly with service providers such as airlines,

hotels and tour companies, thus eliminating hefty fees.

The company's use of smart contracts delivers better

savings and its position as a non-profit means there are

no unnecessary fees added during the booking process.

TUI Group

The TUI Group is one of the worlds leading travel companies

and is now one of the first to integrate blockchain

technology into its infrastructure. Currently the groups

accommodation inventory has been transferred to a block

chain in order to manage it more efficiently and to utilise

a yield management system that swaps beds to wherever

there is higher demand.

Accenture

To combat the high cost and time of airport security,

customs and passport control queues Accenture have

teamed with the World Economic Forum to develop the

Known Traveller Digital Identity System.

The goal of this blockchain project is to gather and store

identifying data of frequent international travellers and

allowing a freer flow of this data between travellers and

customs agents therefore improving the clearance

process. Benefits of this are shorter airport queues, better

security, and traveller control over their digital identities.

34 35
---
Travel Innovation

Trends for the

Next Decade

Innovation in any field is key - stand still for

too long and you'll get left behind. While

some innovations are borne out of pure

necessity, such as that developed because

of Covid-19, others are a reaction to new or

improved technologies.

We've picked innovations in technology that

will come to shape the hospitality industry in

the next decade.

Virtual Reality in Marketing

The use of virtual reality in tourism has always

been in the pipeline. Virtual reality has come

leaps and bounds over the last 10 years and

most people can access the technology

through their smartphone.

The option to virtually experience a

destination, hotel, landmark, or attraction is a

potential game changers in where one might

decide to go or where a person will stay. With

the Covid-19 pandemic severely damaging

the travel industry, many tourism boards and

hotels have been forced to turn to virtual

reality to keep travellers interested and their

brand relevant.

The Internet of Things and the

Hotel Experience

The Internet of Things (IoT) basically

encompassing everything connected

to the internet. It is made up of a

network of devices connected together

with automated systems to gather

information then analyse it and perform

necessary action.

Current examples of use include

contactless hotel check in, keyless room

access, smartphone control of lights,

temperature, and TVs. Furthermore, any

data collected on a guest can be stored

and utilised for future check in. Benefits

include a Covid-19 safe hotel setup,

a decrease in operating costs and a

smoother guest experience.

IoT has also been used in airports

for luggage tracking, security, and

navigation. The use of the technology

not just in hospitality but several

industries is expected to grow of the

next five-to-10 years.

36 37
---
3D Modelling in Heritage

Preservation

A novel use of modern technology

has been to preserve the past. This

is primarily by using 3D modelling

to piece together and reconstruct

damaged historical sites and artefacts.

One famous example is the use of

3D modelling on the project to finish

Gaudi's famous Sagrada Familia in

Barcelona. It has also been used to

give visitors a complete picture of how

a significant heritage attraction once

looked in its heyday, either digitally

(tablet, smartphone etc.) or through

printed form (small scale models).

Although this technology has been

widely used by engineers, architects,

and archaeologists for some time, the

market is expected to develop over

the next decade as the technology

becomes more accessible, user

friendly and in demand.

Augmented Reality

Tour Guides

Augmented reality (AR) is

one of the more available and

user-sociable developments

of recent times. The use of

the technology in tourism is

simple, point your smartphone

camera at a landmark, building

or attraction to get more

information. Gone is the need

for a personal tour guide or

physical map and in comes the

freedom to visit a place at will,

at your own pace, in multiple

languages and even offline. The

fun doesn't stop at attractions

- AR technology can by used

to help you decide where to

eat by bringing up restaurants

menus or offers. While there are

so many possibilities, it's early

days for this tech so it may take

a few years before its properly

implemented.

38 39
---
Suwanee, Georgia

USA

Gearco -

True Extended Stay

USA | Hospitality Management System

Long-term stays have never been so easy!

Tel +1 866 984 3277

Extended stay hotels, also known as serviced apartments, have increased

significantly in numbers in recent years. Today they are an important and

specialised segment of the hospitality industry which present their own

challenges in guest data, operations, services and planning, especially when

faced with guests who are unsure of their departure date.

These unique challenges have been met by Gearco and its adapted cloud

property management system, True Extended Stay. True Extended Stay is

a solution that elevates and enables extended stay operations to meet the

market demand and operational needs, as well as excelling in compliance

requirements related to operations, taxes, and other local government

regulations.

www.gear.co

True Extended Stay is designed

for properties where guests can

stay from seven nights to forever.

This in itself presents a very

real operational and compliance

challenges because longer stays

are impacted by rules for lodging

and housing ordinances.

Extended stays on average last

more than 90 days and are more

operationally focused than sales

focused. To assist in this, automated

solutions are deployed to improve

how the front desk provides

services to customers and how the

property functions in areas such

as property revenue collection,

customer transactions, security

control, inventory management,

maintenance tasks, tax tracking,

daily audits, as well as more

automated controls and workflow.

With over 20 years' experience in

this ever-changing industry it's fair

to say you will be in safe hands with

Gearco's True Extended Stay.

40 41
---
Hojbro Plads 10, 1200

Copenhagen, Denmark

Tel: 45 717 47571

www.goodiepack.dk

GoodiePack

Denmark | Travel Technology Start Up Firm

GoodiePack has one modest aim - to make sales and service easy for the

service industry. So far, it is safe to say that this innovative Denmark-based

firm has achieved that goal. Thousands of companies have benefited from

using the GoodiePack platform - a platform that has built a reputation as one

of the most effective and user-friendly sales tools in the tourism and hospitality

industry. The easy-to-use nature of the platform means companies can add

their own relevant guest information at will and create a unique link to be pushed

automatically to guests before arrival. The link is a way for guests to buy, view

and access any hotel extras before they've checked in, as well as find out more

information about their stay. This is a simple yet effective way to give guests a

personalised experience, while at the same time generating sales. Extras can be

changed, tailored and adapted at any time!

Guests won't ever need to download

the app or set up a login to access

this service- all they needs to do is

click their personalised link to begin

browsing extras or find out more.

Research shows that one-inthree

guests are purchasing extras

through GoodiePack ,with each

guest on average spending €35. At

the other end the guest feedback on

the platform is excellent; GoodiePack

essentially acts as a one-stop-shop

that provides anything a guest

might need for their stay.

The continued data gathering

element of the platform means

GoodiePack is constantly improving

with the behind-the-scenes team

always innovating.

Thousands of properties have

benefited from using GoodiePack.

Want to give it a go? You can try it

for free.

42 43
---
info@guesttalk.co.uk

www.guesttalk.co.uk

GuestTalk

United Kingdom | Innovative Hotel Technology

Designed especially for hotels and hostels, GuestTalk is the ideal tool to

connect hoteliers with their guests. Gone are the days of waiting at

reception or being on hold; with GuestTalk guests can speak to reception staff

wherever they go.

A simple, user-friendly application, GuestTalk allows guests to contact reception,

for any purpose, with the click of a button through their smartphones, tablet or

laptops. At the same time, hotels can reply, keep track of room requests, offer

extras, run surveys, manage staff tasks and invite past guests to visit again.

Technology, if used right, can improve any industry - and this is certainly the

case with GuestTalk.

You can contact your staff via

instant team messaging to pass

along guest requests and keep staff

in the loop.

Guests are updated throughout

their stay via automated SMS

notifications with important

information and offers, helping you

to upsell to your customers.

Through GuestTalk's integration

with smart-lock management

systems, guests can easily access

their rooms with automated door

codes that send straight to their

mobile.

GuestTalk integrates with a range

of property management systems,

so your guests booking information

fluidly transfers to GuestTalk.

Spend a week with GuestTalk,

and you'll wonder how you ever

managed without it.

44

Features of GuestTalk include a marketing booster to create and send

promotional emails using an easy-to-use template builder. Additionally, the

ability to create a pre-arrival health survey to screen guests for Covid-19 helps

ensure a safe environment for guests and staff alike.

45
---
info@tripx.tech Tel +44 7722 9999 65 www.tripx.tech

TripX.Tech

United Kingdom | Travel App

TripX Tech enables B2C travel and hospitality providers, including tour

operators, travel agents, destinations and resorts, to provide an excellent

client experience, promote brand loyalty and generate new revenue streams

from post booking services.

The TripX Tech platform provides flexible and customisable native mobile and

web solutions to meet the digital expectations of today's travel consumer.

Powered by a robust, industry-specific Content Management System,

each solution is tailored to meet exact requirements. Key to a successful

implementation is the ability for TripX Tech to integrate with existing reservations

and data management software.

Core functionality includes but is

not limited to:

- Trip/itinerary planning

- The ability to search and book

accommodation, day trips, activities,

tours, restaurants

- In destination mapping and directions

- Offline access to booking information

and electronic documents

- Reviews

- Seamless payment management

- Consumer facing functionality backed

up by an easy to use management

dashboard

Contact the team at Mayfair Technology

Partners for a demo to understand how

TripX Tech can benefit your business.

46 47
---
Holländargatan 13

111 36 Stockholm, Sweden

Tel +46 (0)8 12 133 700

www.Pax2pay.com | www.Paxport.com

Pax2Pay

Europe | Digital Payment Solution Platform

Pax2Pay Ltd is a wholly owned subsidiary of Paxport Group. The product

portfolio includes PaxShop (merchandising platform), Pax2Pay

(virtual card payments), PaxCache (data caching), PaxManagement (leisure

operations) and PaxFaB (flight & hotel aggregation).

Pax2Pay was founded in 2019 in an effort to modernise and simplify payments.

It offers a platform linked to multiple key virtual payment providers.

Easy to reconcile, multiple currencies, and high security – the new way to

manage the payments.

Paxport creates new revenue streams

for airlines, tour operators and travel

agents as well as improving the

passenger experience using modern

digital technology. Their solutions

consist of cloud based and outsourcing

services that are designed to solve

a wide range of travel management

challenges, increasing travel content,

adding revenue and reducing costs.

Paxport was founded in 1994 and now

has 100 employees with offices in

Stockholm, Sweden and the UK. Paxport

serves over 80 airlines and 250+ travel

resellers in Europe. Paxport is IATA NDC

level 3 certified.

48 49
---
Franklin Roosevelta 9

60-829 Poznań, Poland

Tel +48 61 840 23 80

www.profitroom.com

Profitroom

Poland | Cloud based Solution Specialist

Since its inception in 2008, the goal of Profitroom has purely been to

increase the profits of hoteliers. With a whole host of tools, services,

dedicated professionals and industry experts, Profitroom has been able to

fulfil this promise on a consistent basis.

The software acts as the ideal interface between the hotel and its wholesalers,

online travel agencies, global distribution systems and property management

systems. Solutions are mobile friendly, cloud based, fully secure, compliant

and optimised for hospitality, all with 24-hour, seven days a week support

service.

Profitroom tools and services available are:

- A Booking Engine | An adaptive and clever system that

guarantees an increase in bookings

- Channel Manager | An easy to use and connective tool that

enables management of prices and availability of rooms

across several sales channels

- CRM | An effective marketing and sales platform catering to

the hotel at all the stages of acquiring a guest

- Website | A tailormade website designed to increase

bookings created specifically to incorporate a hotels brand

with a modern design

- Web Assistant | Perfect for easily and quickly maintaining a

website while also offering automatic updates

- Marketing Services | Expertly managed online campaigns

designed to increase visibility and brand awareness.

All the tools are effortlessly managed and integrated within

the Profitroom Suite. A unique user-friendly platform for

which the customer decides which tools are included.

With over 3,500 international hotels on board and 150

partners it's no surprise that Profitroom are one of the world's

market leaders in this sector.

50 51
---
Keizersgracht 127,

1015 CJ, Amsterdam

Tel +44 2036089088 | +31 208943897

www.taxibutler.com

TAXI BUTLER

Netherlands | Transport and Mobility Solution

A simple taxi booking service.

TAXI BUTLER is the one-stop-shop taxi booking device that enables hospitality

establishments like hotels, bars, and restaurants to order a taxi for their guests

with just one simple click.

As a proprietor you need not worry about the quality of service from the

taxi, as only licensed taxi companies you trust can place the devices at your

establishment. The device is compact, easy to use and allows for multiple taxis

to be ordered from a single TAXI BUTLER. You will also receive live updates,

driver details, arrival time and have the option to cancel anytime if needs be.

For a taxi company benefits of

TAXI BUTLER are that it is directly

connected to their dispatch system,

it provides easier booking for loyal

venues, allows venues to receive

regular updates and complete

control through an admin panel

and management portal. Value

for money is excellent and the

monthly fee includes connectivity,

guarantee and service.

Currently there are over 750

taxi companies and apps taking

advantage of the fantastic TAXI

BUTLER products and service. On

average over 1.5 million taxis are

booked every month in over 45

countries. Its fair to say if you're

a taxi company or run a private

vehicle fleet then TAXI BUTLER will

take your company to the next level.

52 53
---
Fidicinstraße 28, 10965

Berlin, Germany

Tel +49 30 55578555

www.touchingcode.com

TouchingCode

Germany | App and Web Development Specialists

TouchingCode is a global technology company specialising in the design and

development of applications for mobile devices. The experienced team, made

up of Clemens Grossman, Simone Belfi and Detleft Rupp, are experts in carrying

out complex tasks where multifaceted technical expertise and integration within

existing IT processes are crucial.

Customers can expect fast, efficient, dedicated and reliable app development

combined with the flexibility, comfort and workflow support found in web CMS

systems.

The latest development from TouchingCode comes in the form of an exciting

content management system named Apmato. Apmato is an authoring tool

and content management system for mobile apps. A so called "App for Apps"

designed with the hospitality industry in mind. Museums, tourism boards, leisure

centres, hotels and tour companies are more than welcome to take advantage

of Apmato to help stay in touch with clients and deliver up to date information.

Apmato is perfect for those looking to

create an app without the hassle of

coding or worrying about complicated

updates. It is affordable and allows you to

personalise to your needs, whether that is

by yourself or with the help of a developer.

You can create many different apps while

also working on the go anywhere in the

world. Push messages are a great bonus

that allow you to directly reach out to your

audience.

It's a simple four step process; first the

concept, second the build, third the test

and finally you publish. Throughout the

whole process you're more than welcome

to test run the app as many times as you

like and continually make changes.

Why not check out Apmato for yourself :

www.apmato.com

Or get in touch with the developers:

www.touchingcode.com

54 55
---
Design & Architecture

Gardens by The Bay, Singapore

56 57
---
Architectural

Marvels

A

hotel's exterior is like the front cover of a

book; it's the first impression and for most

travellers it forms an early opinion of the hotel.

While a beautiful country mansion invokes images

of classical elegance, a futuristic skyscraper hotel

implies a modern and smart interior - whereas a

grey Brutalist block may imply a functional hotel

with no frills. Obviously, this isn't always the case

(some tame exteriors house the most exquisite and

unique hotels in the world!). Here we pick out five

stunning hotels deemed "architectural marvels".

Park Hyatt Bangkok | Thailand

The first Park Hyatt to open in Thailand and a crowning

achievement of contemporary architecture. The

hotel's bottom floors are occupied by the stunning

Central Embassy shopping centre, while the upper

floors house a five-star luxury hotel. The innovative

curved shape is clad in unique aluminium tiles to

create a beautiful shimmering pattern inspired by

traditional Thai Architecture. Because of the curved

shape, almost every one of the 222 rooms has a

unique floorplan, offering panoramic views looking

out across magnificent Bangkok skyline.

Hotel Marqués de Riscal | Spain

It's no surprise that the Marqués de Riscal has made it onto this list - you will find it on many lists that praise stunning

architecture. Built by the legendary Frank Gehry in the Rioja wine country, this hotel is an architectural feat. The façade

is made up of rolling titanium ribbons coloured in silver, gold and pink, a reflection of the spirit and significance of wine

in the region. It was designed to give the feel of foil covering a wine bottle's cork and mimic the mesh that is used to

decorate all Marqués de Riscal bottles.

58 59
---
Hotel Metropole Monte-

Carlo | Monaco

A beautiful hotel that

radiates elegance, the Hotel

Metropole Monte-Carlo was

originally opened in 1889

and designed by prominent

Danish architect Hans-

Georg Tersling. Since then

it has undergone two major

refurbishments, once from

1980 to 1988 and then again

from 2003 to 2004. The hotel

is one of Monaco's defining

'Belle Epoque' facades and,

despite the renovations, has

retains its original charm. The

pool area was designed by

the late Karl Lagerfeld, famed

creative director of Chanel.

Fogo Island Inn |

Newfoundland, Canada

What originally began as an

innovative artist residency

programme in a remote

part of the planet, has

flourished into one of the

most spectacular boutique

hotels in the world. Designed

by Canadian architect Todd

Saunders, the Fogo Island

Inn is uniquely set above

the North Atlantic Ocean

and is designed in tribute to

the region's fishing culture.

Sitting atop stilts, the hotel

boasts unique furnishings

made by local craftspeople

and cosy and welcome

interior design touches such

as vintage quilts.

Marina Bay Sands |

Singapore

This iconic urban resort

is one of the standout

structures in Singapore's

glittering skyline. Architect

Moshe Safdie was said to

have been initially inspired by

decks of cards; the building

features three towers, each

with two asymmetric legs,

linked together at the top by

a yacht-shaped structure

that houses the world's

highest swimming pool.

The hotel boasts over 2,000

rooms, a casino, a shopping

centre, two cinemas, over

50 restaurants, rooftop night

clubs and a science museum.

60 61
---
Beautiful Interiors

Restaurants

Some would say that

interior design is

an art form. And when

it comes to first-class

restaurants, interior design

is just as important as the

menu. Executed properly,

a stunning interior design

can help heighten the

dining experience by

complementing the food

and encouraging diners

to engage fully with all

their senses. To this end,

we highlight our favourite

interior restaurant designs

across the world; in these

establishments, art doesn't

exist merely on the plate.

Kaiseki Yoshiyuki and Horse's Mouth | Singapore

A restaurant and bar located in a basement of a shopping

centre in Singapore doesn't sound like an enticing

prospect, but it has to be seen to be believed. Kaiseki

Yoshiyuki, a Japanese restaurant, and the adjacent

Horse's Mouth (a speakeasy style bar) and a are design

aficionado's dream. Designed by Singaporean design

firm Asylum, the interiors boast tiled walls and cut-out

windows that showcase thousands of origami flowers

among stylish leather seating and dark wooden tables.

62 63
---
Spice and Barley Restaurant | Thailand

The brainchild of Enter Project Asia, Spice and Barley is what many would argue to be one of the most beautiful restaurants in

the world. Using 3D modelling, Enter Project Asia created large sculptures that weave through the restaurant like giant waves.

Spice and Barley specialises in imported craft beers from Belgium - and the fluid geometric shapes were inspired by foaming

beer as it hits the glass. Not only beautiful, the sculptures are also highly practical - gold in colour as a tribute to Thailand's

temples, they cleverly hide beer pipes and air conditioning.

The structures are built using rattan as a nod to traditional Thai culture and for its excellent sustainability value. All the

furniture is local and handmade to complement the stunning colour palette .

Veronika Restaurant | USA

A stunning and elegant 150-seat

restaurant, Veronika is located

inside the Swedish photography

museum, Fotografiska, in New

York. Located on the second

floor of the museum, the

restaurant is decorated with

hand-painted murals, brass

chandeliers, a rescued stainedglass

window, blackened brass

arch doorways, oaked floors,

and custom-made lights.

Stephen Alesch and Robin

Standefer, the husband and wife

duo who led the project, wanted

to focus on a variety of interior

design styles and how those

styles progressed from the 19th

to mid-20th Century. One of the

cornerstones of Veronika is the

inability to put your finger on any

particular time period - you're

simply surrounded by historic

beauty.

64 65
---
The Alchemist Restaurant |

Denmark

The excellent 50-course tasting

menu of this Copenhagen

restaurant is matched only by its

innovative approach to interior

design. The secondary dining room

is topped with an 18-metre diameter

dome that can be projected with

moving images. These images,

which range from a starry night sky

aurora to a swarm of jellyfish, when

combined with the delicious and

unusual menu, takes diners on an

artistic and emotional journey.

When renovating The Alchemist,

head chef Rasmus Munk turned

to London-based design studio

Duncalf to create an eccentric

space. The design brief was to

enhance the culinary experience by

creating an extraordinary physical

environment that includes visual

and audio stimulation. It is fair to

say this has been achieved.

The Alchemist Restaurant

66 67
---
Hospitality

Lighting

A

big element of hospitality

is first impressions - what

a person thinks about their hotel

room when they first enter, or

the sound and aroma of a spa

when first walking through the

doors. There are several factors

that influence a first impression,

but none can have a more

noticeable and surprising impact

than lighting. The right lighting

can give any room a bright and

friendly ambience, set the scene

for a relaxed evening or give the

feeling of prestige and elegance

... whereas the wrong lighting can

spoil even the most beautifully

decorated interior.

Proper lighting requires

dedication to the little details, and

an appreciation for the brand or

message to be conveyed. Here

we look at the benefits of proper

lighting in the hospitality industry.

Enhanced Interior Features

The biggest benefit of proper lighting is the

improved overall aesthetic of a space. A well and

appropriately lit space can create an atmosphere

or ambience and set the tone, whether it be a hotel

room, spa retreat, restaurant, or bar.

Lighting can change the colour of a room and it's

possible today to add different shades of lighting

to suit different needs. For an event space or

restaurant, this invaluable tool can create differing

atmospheres based on occasion and client need.

Lighting can also help highlight focal point of

any interior design,such as a piece of artwork or

particular piece of furniture. Direct lighting can

draw guests' attention to a point in the room so it

will become the first thing they notice.

Conversely, bad lighting can make a space look dull

or dirty, despite it being spotless. Additionally, bad

lighting can also make a space feel much smaller

than it is.

68 69
---
Improved Guest Experience

Good quality and proper lighting have huge advantages in terms of individual

wellness. Common issues cited are improved mood, reduced eye fatigue,

alleviation of headaches, enhanced quality of sleep, reduction of stress, and

improved circadian rhythm. With this in mind it is easy to see why it should be

of utmost importance for hospitality companies to get lighting right.

For hotels and guest houses this can be made much simpler through the use

of in-room lighting control systems. It's important that guests can adjust the

lighting to their needs and desired ambience. This can go a long way in making

a guest feel at home, relax, and have an overall better experience. To further

improve on this dynamic, in-room lighting can be applied using sensors to

respond to guest movement especially during the night to slowly and lightly

illuminate the room thus avoiding any negative impact on sleep.

Brand Benefit

There are brand benefits to good lighting that aren't

always apparent. The obvious one is the opportunity

to embrace eco-friendly and green technology which

always reflects positively on a brand. This presents

a unique opportunity to draw in guests who are

environmentally conscious and want to spend their

money in a responsible way. Hospitality businesses are

some of the biggest energy consumers in the world

and a green energy initiative is a sound approach.

Lighting designers and experts are well versed in

being more eco-friendly without sacrificing aesthetics

and functionality.

The overall colour scheme of a brand can play a huge

role in the type of lighting and approach, specifically

to emphasise the ambience and convey the overall

message. It's important to think about the type of

mood or ambient lighting to use - for example hanging

chandeliers might work in a high-end restaurant to

add a touch of elegance but won't work in an artisanal

coffee shop, where natural lighting would be more

applicable. For luxury hotel lobbies directional lighting

is key to drawing guests' attention to specific spaces.

70 71
---
Impact of the Covid 19

on Interior Design

Considered the most influential and

devastating event of this generation,

the Covid-19 pandemic has changed the

world forever. Right now, while we are (at

time of writing) a year into the pandemic,

we consider the effect of Covid-19 on the

interior design industry, especially in relation

to hospitality.

It's interior designers and design firms that

have been tasked with innovating spaces

to suit the "new normal". The challenges

posed by limited customers numbers, the

need to be socially distanced and adherence

to government safety measures, means

hospitality spaces must be developed in a

way to allow for efficient and safe movement

for both customers and staff, while at the

same time ensuring designs remain loyal to

brand, trends, and styles. For an industry

that thrives on creativity, these constraints

and limitations present a unique test.

One innovative way to ensure

social distancing while being on

point in terms of design is the use

of mannequins, stuffed animals,

plexiglass, and dining pods that help

ensure patrons in restaurants remain

socially distanced. These trends

aren't expected to last - except for

the pods, which can add a layer of

elegance and romance to a dining

experience. Another way to overcome

this challenge is to not focus too

much on the interior but reevaluate

the use of exterior space which

many restaurants, cafés, and pubs

have done. Outdoor space allows for

more customers, especially if indoor

numbers are limited. One unique

example of this is the Hassler Hotel in

Rome ,which converted its seventhfloor

suite terrace into the Michelinstarred

Imago restaurant, formerly

housed on the hotel's bottom floors.

72 73
---
Colour trends have been impacted

by the Covid-19 pandemic and

this is something designers may

have to get used to for years to

come. Colours reflect consumer

and societal attitudes, with the

difficulty, despair, anxiety, unrest,

and grief experienced during the

pandemic many consumers postpandemic

will want colours that

offer comfort, hope, positivity, and

reassurance. Many expect to see

more biophilic design concepts

to be used as the colours give

the impression of being in nature,

promote internal peace, relieve

stress, and increase productivity.

Spas are known to utilise biophilic

design but expect restaurants

and hotels, especially those in big

cities, to follow suit.

The final and biggest impact of

the pandemic on the interior

design industry is the simple fact

that companies are spending

much less. Many design firms

have seen their business drop

massively over the second half

of 2020. Hospitality is one of the

hardest hit sectors; numbers

have fallen across the board

and so expenditure on design

has fallen to the bottom. Interior

designers will need to look to

adopting new, innovative trends

to help encourage people to

travel and dine out. Safety will

be top of the list.

74 75
---
Ebisuminami, 1 Chome−20−3

Shibuya City, Tokyo, 150-0022, Japan

Tel +81 3-5734-1508

www.doylecollection.jp

Doyle Collection Co. Ltd

Japan | Interior and Architecture Design Studio

Doyle Collection is commercial and industrial design studio specialising

in stunning interiors and beautiful architecture. Located in the heart of

Tokyo, the studio was founded in 2011 by the enigmatic Aiji Inoue, who is also

the current CEO of the company.

Aiji Inoue was born in Yokohoma, Japan in 1977. With an early interest in

design and a keen architectural eye, Aiji made his way to the prestigious Meiji

University. It is here where he laid his foundations to begin his career and after

graduating, he spent 11 years working as an interior architect. These 11 years

would prove to be important for Aiji as he honed his craft, learned the ropes

and eventually made the decision to establish the Doyle Collection. Since then

he's never looked back and the company has gone from strength to strength

with a regular string of projects.

The company portfolio has moved past

Japan with projects in other parts of

Asia and Europe. There is no doubt

that this boutique studio is expected to

become a major player in years to come.

Aiji Inoue's work has been widely praised

and renowned for his method of utilsing

unique methods, ideas and materials.

Popular work includes the stylish

InterContinental Yokohama Grand, the

La Coquina Cerveceria, the stunning

Delirium café and the award winning &

Dough Donut Café.

More examples of his work can be found

at: www.doylecollection.jp/works

76 77
---
Via Marzolo 1, 31100

Treviso, Italy

Tel +39 0422 1581715

www.mmplus.it

MM+ Interni e

Architetture

Italy | Architecture Firm

"Less is More…"

Founded in 2013, MM+ Interni e Architetture has been a mainstay in the beautiful

city of Treviso. With several projects spread across Italy it is no surprise that this

is one of the country's premier architecture firms.

To better understand MM+ Interni e Architetture one must delve into the

background and experience of the visionary founder, Marco Marchesi. Born in

Bergamo, 1972, Marco's family moved to Treviso in 1975, a city renowned for

its stunning architecture and one which Marco still calls home today. Marco's

love of architecture saw him attend the Iuav University of Venice, one of Italy's

first and most famous architecture schools. It is this learning experience that

laid the groundwork for much of Marco's career. Immediately after graduating

Marco began freelancing with his work attracting plaudits from all corners of the

community, including Italy's association of architects.

The next stage of Marco's career saw

the establishment of Fedro achitetti

associati in 2001, a boutique

architecture firm specialising in

several projects including building

restoration, designing schools,

industrial design and interior design.

During this time Marco also worked

as a teacher from 2003 to 2008 at

his Alma Mater, the Iuav University

of Venice.

In 2013 Marco branched out on his

own, his experience culminating

in a philosophy of elegance,

contemporary architecture that is

pragmatic, functional and most of

all sustainable. Principles rooted in

sustainability, minimalism, natural

light and order are visible in much

of the MM+ Interni e Architetture

portfolio.

Popular works include the beautiful

RoVo's house and Villa Meg. The

restoration of Villa Agnolin is a

great example of a modern interior

upgrade without compromising on a

building historical exterior.

78 79
---
170/48 Kanchanaphisek Rd., Bangkuvieng,

Bangkruay, Nonthaburi, Thailand, 11130

Tel +662 077 9108

info@toucharchitect.com

Touch Architect

Thailand | Boutique Architecture

Founded in 2014 by prominent architects, Setthakarn Yangderm and Parpis

Leelaniramol, Touch Architect is a boutique design studio based in Bangkok.

Since 2014 it has grown to become one of the most well-known studios in

Thailand, with continued improvements and a comprehensive approach that

fully encompasses various elements such as design, construction, innovation,

and management.

The name "touch" comes from the founder's values and philosophy which is

to respect client needs and preferences and to make a client's imagination a

reality with a touch of their own magic. The approach to design is multi-layered,

focusing on basic human needs combined with culture, environmental concern,

and context experience alongside a dedication to sustainability. The goal is to

create functional and practical homes, hospitality spaces and interiors.

The full scope of design

services includes handling a

project at all stages, including

project research, concept,

design drawings, regulatory

permission, construction,

inspections, and overall

technical supervision.

A recent project is the work on

the Double S café in Bangkok.

The space was finished to a high

degree despite building limits

on replacing and modifying the

walls, floors, glass doors and

windows. Another successful

project was the modern and

minimalist Option Coffee Bar

in Udonthani. Currently in the

design development phase

is the improvements on the

Novotel Hua Hin, a fantastic

property in need of a fresh and

innovative perspective.

80 81
---
TRAVEL & HOSPITALITY

AWARD WINNER

2020

The global B2B mobility marketplace

for travel and hospitality.

Create a door-to-door experience for

customers by offering ancillary car

services on your sites and apps.

Visit: www.karhoo.com
---
Sponsored by:

TRAVEL AND HOSPITALITY AWARD WINNER

thawards.com