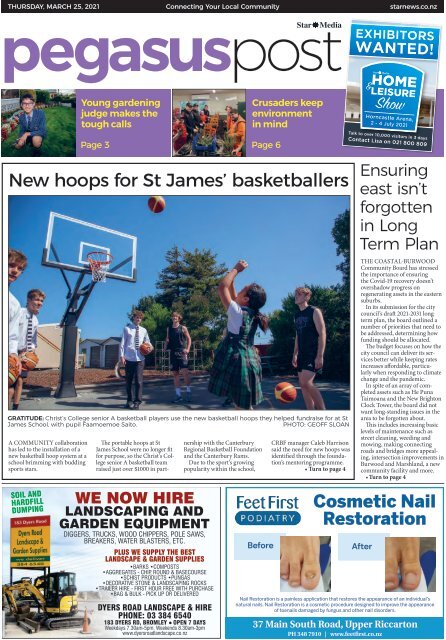 Pegasus Post: March 25, 2021
Create successful ePaper yourself
Turn your PDF publications into a flip-book with our unique Google optimized e-Paper software.
THURSDAY, MARCH 25, 2021

Connecting Your Local Community

starnews.co.nz

Young gardening

judge makes the

tough calls

Crusaders keep

environment

in mind

Page 3 Page 6

Talk to over 10,000 visitors in 3 days

Contact Lisa on 021 800 809

New hoops for St James' basketballers

GRATITUDE: Christ's College senior A basketball players use the new basketball hoops they helped fundraise for at St

James School, with pupil Faamoemoe Saito.

PHOTO: GEOFF SLOAN

A COMMUNITY collaboration

has led to the installation of a

new basketball hoop system at a

school brimming with budding

sports stars.

SOIL AND

HARDFILL

DUMPING

WE NOW HIRE

LANDSCAPING AND

GARDEN EQUIPMENT

DIGGERS, TRUCKS, WOOD CHIPPERS, POLE SAWS,

BREAKERS, WATER BLASTERS, ETC.

PLUS WE SUPPLY THE BEST

LANDSCAPE & GARDEN SUPPLIES

•BARKS •COMPOSTS

•AGGREGATES - CHIP, ROUND & BASECOURSE

•SCHIST PRODUCTS •PUNGAS

•DECORATIVE STONE & LANDSCAPING ROCKS

•TRAILER HIRE - FIRST HOUR FREE WITH PURCHASE

•BAG & BULK - PICK UP OR DELIVERED

DYERS ROAD LANDSCAPE & HIRE

PHONE: 03 384 6540

183 DYERS RD, BROMLEY ● OPEN 7 DAYS

Weekdays 7.30am-5pm. Weekends 8.30am-3pm

www.dyersroadlandscape.co.nz

The portable hoops at St

James School were no longer fit

for purpose, so the Christ's College

senior A basketball team

raised just over $1000 in partnership

with the Canterbury

Regional Basketball Foundation

and the Canterbury Rams.

Due to the sport's growing

popularity within the school,

Cosmetic Nail

Restoration

Before

Ensuring

east isn't

forgotten

in Long

Term Plan

THE COASTAL-BURWOOD

Community Board has stressed

the importance of ensuring

the Covid-19 recovery doesn't

overshadow progress on

regenerating assets in the eastern

suburbs.

In its submission for the city

council's draft 2021-2031 long

term plan, the board outlined a

number of priorities that need to

be addressed, determining how

funding should be allocated.

The budget focuses on how the

city council can deliver its services

better while keeping rates

increases affordable, particularly

when responding to climate

change and the pandemic.

In spite of an array of completed

assets such as He Puna

Taimoana and the New Brighton

Clock Tower, the board did not

want long-standing issues in the

area to be forgotten about.

This includes increasing basic

levels of maintenance such as

street cleaning, weeding and

CRBF manager Caleb Harrison mowing, making Nail Restoration connecting

is a painless application that

said the need for new hoops Cosmetic was Nail restores the appearance of an individual's

roads and bridges natural nails. Nail more Restoration appealing,

intersection

is a cosmetic

identified through the foundation's

mentoring programme. Burwood and disorders. Marshland, a new

Restoration

procedure designed

improvements

to the appearance

in

of toenails damaged by fungus and other nail

• Turn to page 4 community facility and more.

• Turn to page 4

Nail Restoration is a painless application that

restores the appearance of an individual's

natural nails. Nail Restoration is a cosmetic

procedure designed to improve the appearance

of toenails damaged by fungus and other nail

disorders.

Before

Cosmetic Nail

Restoration

After

Nail Restoration is a painless application that restores the appearance of an individual's

natural nails. Nail Restoration is a cosmetic procedure designed to improve the appearance

After of toenails damaged by fungus and other nail disorders.

37 Main South Road, Upper Riccarton

PH 348 7910 | www.feetfirst.co.nz
---
2 Thursday March 25 2021

Latest Canterbury news at starnews.co.nz

PEGASUS POST

GENERAL INQUIRIES Ph 379 7100

CLASSIFIED ADVERTISING Ph 379 1100

Star Media, a division of Allied Press Ltd

PO Box 1467, Christchurch

starmedia.kiwi

NEWS

Bea Gooding

Ph: 021 911 576

bea.gooding@starmedia.kiwi

ADVERTISING

Frank Greenslade

Ph: 364 7441

frank.greenslade@starmedia.kiwi

Your local community news

delivered to 17,598 homes

within The Star each week.

Linwood • Avonside • Richmond • Shirley • Bexley

Burwood • Dallington • Wainoni • Bromley

Aranui • Avondale • New Brighton • Northshore

Queenspark • Parklands • South Brighton

what's on

this week

SeniorNet

Thursday, Tuesday, Wednesday,

10am-noon

202 Marine Pde, New Brighton

Go along and learn how to use

modern technology and the internet,

such as smartphones, tablets, laptops,

cameras and more. Bookings

required. Phone 382 6048 to register.

JP Clinic

Friday, noon-2pm, at Parklands,

Tuesday, 10am-1pm, at Shirley and

Linwood

Linwood, Parklands and Shirley

libraries

A justice of the peace will be

available to witness signatures

and documents, certify document

copies, hear oaths, declarations,

affidavits or affirmations, as well

as sign citizenship or rates rebates

applications.

Lions Club Fundraiser

Saturday, March 27, 9am-1pm

104 New Brighton Mall

The Lions Club of New Brighton

will be selling pea straw and compost

next month, with 100 per cent

of proceeds going towards Lions

projects in the eastern suburbs. In

the meantime, you can place a phone

order with Neil at 021 169 7293 or

Sharon at 027 223 1227. $10 per bale

of pea straw, $10 per bag of compost.

Free delivery.

CSO Music Trails, Wednesday, 10.30-11.15am, Shirley Library. Join the

musicians of the Christchurch Symphony Orchestra as they travel around

the city's libraries for a series of fun performances filled with song, dance

and storytelling. Catered for two to six-year-olds. Performances start at

10.30am. Free, no bookings required. ​

Rotary Market

Sunday, 8.30am-12.30pm

Woolston Club, 43 Hargood St

A variety of stalls will be available,

including fresh produce, jams and

preserves, and recycled clothing,

books and tools. Every fine Sunday,

with all proceeds supporting the local

community. For site inquiries, phone

Vance at 022 382 0086.

Laurel and Hardy Club

Monday, 6pm

New Brighton Museum

A new Laurel and Hardy club for

fans of the classic comedy duo has

been established. Quintin Sumner

and Jim Insull will speak about the

pair's history and will show a film. $2

donation.

Citizens Advice Bureau

Tuesday, 11am-2pm

Linwood Library

Citizens Advice Bureau provides

free and confidential advice. They

take the time to listen and equip you

with the information, options and

support that fit your needs. Phone 366

6490 for more information.

North Beach Bridge Club

Wednesday, 1-4pm

St Andrews Anglican Church, Marriott's

Rd, North New Brighton

Go along and join other friendly

members of the bridge club. Every

Wednesday. Phone Margaret Keall at

382 0274 for more information.

South Brighton Voices Choir

Wednesday, 7.30-9.30pm

New Brighton Methodist Church

If you love singing, go along

and join the friendly choir each

Wednesday. New members, especially

tenors and basses, are welcome.

Reading music is helpful, but not

essential. Phone 388 3727 for more

information.

Not-for-profit organisations

can send their What's On

listings to pegasus@starmedia.

kiwi

"To the south east, Christchurch has two extinct volcanoes

(though they wobble occasionally) which are broken up with

bays, harbours, pockets of bush and farmland which has a

sparse road network and a strong sense of isolation in parts.

A fantastic area of exploration and a playground which I enjoy

and paint, sometimes from afar and sometimes from within.

I particularly enjoy painting the dry summer tussock colours

against the blues and greens of the sea water and the low sun

sparking off the water which deliver contrast and warm vibrant

colours.

I hope some of these paintings remind you of some adventure

you have had on Banks Peninsula, the smells and tranquillity

when you can sit for a moment to rest and enjoy the view."

Born in 1959 in Christchurch New Zealand where he lives

and works, Philip works in oil, water-colour, dry-point and

monotype. His immediate environment is Christchurch, where

he lives, with its cityscapes, the Canterbury plains, the Southern

Alps and Banks Peninsula - all sources of subject matter and

inspiration.

Philip Beadle's exhibition runs from March 27 – April 27

at Little River Gallery.

Towards Sumner Head

Akaroa from Stony Bay Road

Philip

Beadle

PENINSULA LIGHT

27 March – 27 April 2021

Main Rd, Little River | 03 325 1944

art@littlerivergallery.com
---
PEGASUS POST Latest Canterbury news at starnews.co.nz

Thursday March 25 2021 3

Gardening competition's youngest ever judge

• By Bea Gooding

AT JUST 14-years-old,

Sea-am Thompson is the

youngest ever Christchurch

Beautifying Association summer

garden competition judge.

Joining a panel of judges who

are decades in age older, he was

asked to lend his vast horticultural

expertise to judge contenders

of the Betty Hart Memorial

and Peter Lawrence Challenge

trophies.But he was barred from

considering his own pride and

joy – the eye-catching gardens at

Avon City Motel, on Main North

Rd, Redwood, owned by his

parents won the Galey Trophy

for colour impact.

These gardens were also partially

responsible for the production

of nearly 60,000 swan plants

and seeds he donated to people

who also desired to save the

monarch butterfly population.

The year 10 St Andrew's College

student helped judge about

20 gardens across the city, covering

secret gardens and retirement

villages.

"I feel really lucky and proud

because I'm not the normal person

to be a judge," he said.

Determining an awardwinning

garden was a huge task

itself, up against strict criteria:

Ground cover and lawn, cultivation

and maintenance, annuals

HIKING BOOTS

& SHOES

For men, women

and children

From

$79.95

to $250

and perennials, trees and shrubs,

and design and harmony.

But Sea-am was prepared,

knowing "a lot for someone my

age."

"I didn't want to judge them

because they were all so good,

but I knew I had to do the job, I

couldn't be too kind on them."

Trevor Tubman, the association's

head of media and events,

said the 14-year-old was the

youngest judge the competition

invited to participate "by a long

shot."

The motel, where he got to

know Sea-am, often won awards,

PARENTS

Do you have a son or daughter

interested in horse riding?

✭ Courses every weekend.

✭ 2, 5 & 7 day School Holiday courses.

✭ Private lessons available

Monday to Friday

✭ One day / one night $90 child

✭ Opportunity to compete on our horses.

✭ ½ day lessons and treks available.

so Tubman got thinking.

"I suggested to his dad that he

comes along to see what we do

and how we do it, and he jumped

at the opportunity. He's got

wonderful plant knowledge - it's

amazing the amount of knowledge

he has," he said.

Sea-am has been pottering

about the garden since he was

2-years-old. Born opposite the

ocean, his name in reverse - "I

am the sea" – roughly reflects his

Kaikoura upbringing.

Aside from swan plants, he

favoured butterbeans and tuberous

begonias.

JOIN US NOW!

WHIZZ KID:

Sea-am

Thompson,

14, is a

top flight

gardener,

a garden

competition

judge and

budding

musician.

PHOTO:

GEOFF

SLOAN ​

"It's been longer than I remember

because I can't remember

when I started."

His father Terry reckoned

family roots got his son into

it, being keen gardeners

themselves.

Said Sea-am: "Our motel is

really mainly about our garden,

without it, I wouldn't have done

it as much. In Kaikoura when I

was young, I did a lot of vegetable

gardening and I was really

proud to pick all the veges and

give them away."

When a teacher introduced

monarch butterflies at primary

See website for details

school in Kaikoura, it sealed the

deal for good.

Knowing they were plummeting

towards extinction due to

factors like climate change and

farming, he planted swan plant

seeds to encourage monarch butterflies

to reproduce.

Since then they have grown

in size and number, attracting

hundreds of butterflies to the

motel gardens and at the original

Kaikoura garden.

In three years, he has donated

thousands of plants and seeds.

Each pod sometimes contained

80 seeds.

"Butterflies can smell the scent

of swan plants from over 2 miles

away."

Sea-am may be the youngest

gardening judge, but he also

might be one of the youngest

to keep the tradition of organ

playing alive at a time when

the number of players dwindles

nationwide.

His love for choral music

landed him a scholarship at

Cathedral Grammar and later

St Andrew's College, resulting

in a family move to Christchurch.

Between gardening, sport,

homework and flying lessons,

Sea-am wouldn't give any of it

up, even if it means being out of

the house 12 hours a day.

47c Garlands Road, Woolston

Phone 389 3431

www.thefootwearfactory.co.nz

711 Island Rd View Hill, OXFORD 7495

03 312-4309 www.kowhai.co.nz

Hon Poto WILLIAMS

MP for Christchurch East

2264064

For information and advice:

P 03 382 0288

E poto.williams.mp@parliament.govt.nz

Electorate office:

Level 1, Eastgate Shopping Centre.

Sign up to Smart Deals & be in the monthly draw for a $100 Dress-Smart gift card!

Open 10am-5pm, 7 Days 03 349 5750

Authorised by Poto Williams, Parliament Buildings, Wellington

CHRISTCHURCH 409 Main South Road, Hornby

www.dress-smart.co.nz
---
4 Thursday March 25 2021

Latest Canterbury news at starnews.co.nz

PEGASUS POST

Sense of pride

wanted in area

• From page 1

"With the New Brighton street

scaping almost completed, the rebuild

of two local surf clubs under

way and the red zone regeneration

team about to launch, there is a lot

to be grateful for and excited about

in the days ahead," the submission

read.

"We feel this has started in

earnest, but it is important that

the Covid-19 recovery plan doesn't

overtake our long-awaited earthquake

recovery.

"However, we acknowledge the

current financial situation that

the council finds itself in with the

Covid-19 pandemic."

The board wants the community

to feel a sense of pride in the area

and will encourage the tidying up

of gateway roads to New Brighton.

"The community board has

consistently heard that the community

feels the council has forgotten

about the east side, and that

current maintenance levels are

not sufficient, creating a negative

perception of the area," the submission

read.

"There were is still a real sense

of concern in the community that

the current journey into the area is

unappealing and off-putting and

would like to see this rectified."

Submissions on the proposals

close on April 18.

Pupils benefit from community input

SKY HIGH: Christ's College student Hunter Adam

jumps over year 6 pupil Fetu Fenika, for a slam dunk.

PHOTOS: GEOFF SLOAN

• From page 1

"Through the CRBF mentoring

programme, Rams player Joe Cook-

Green identified there was a need

for a new basketball backboard and

hoop at St James School," he said.

"It has been great seeing the

Christ's College senior A basketball

team run a fundraiser to support

this initiative and Home donating

all of the install costs and labour.

"It has been a community collaboration

which the keen St James

basketballers will enjoy in the coming

years."

St James principal Jo Barlow said

the initiative has helped give the

pupils a "great area" to practise their

skills and develop what they learned.

"They were so excited when they

arrived at school and saw them set

up," she said.

"We are very grateful for this

incredibly generous support of our

students and our community."

The school also wanted to

acknowledge Home's building partners

who have supported the installation,

including Safety First Service

Locators, Small Excavation Services

and Allied Concrete.

The CRBF mentoring and Rams

in-schools programmes at St James

involves Rams players and foundation

mentors running weekly basketball

sessions.

Firstly, with a smaller group of 10

AIM: Year 6 pupil Pearl

Mumuta takes a shot.

to 12 pupils in the mentoring programme,

and another group with

35 participating in the in-schools

programme.

The CRBF was looking forward

to installing more hoops in schools

around the city so young people

have the equipment to foster their

enjoyment of basketball and to grow

their skills.
---
PEGASUS POST Latest Canterbury news at starnews.co.nz

Thursday March 25 2021 5

Strength

in numbers

How we're rolling out the COVID-19 vaccine

We have secured enough doses of the Pfizer vaccine for everyone

16 years and over in Aotearoa. Any vaccine's strength is in numbers.

The more of us who get vaccinated, the stronger and safer we'll all be.

It will give us more freedom in our daily lives, and more options for our

whānau, our businesses and our country. Because when we roll up our

own sleeves, we're helping to protect all of us.

Here are the key facts about the Pfizer vaccine:

It's safe

It has been approved by our own

Medsafe experts. It's also already

been used successfully all around

the world by millions of people,

and by thousands here in

New Zealand too.

It's effective

The Pfizer vaccine is 95%

effective when you receive

both doses.

It's free

The vaccine will be free for

everyone in the country. We have

secured over 10 million doses of

the Pfizer vaccine. That's enough

for all of New Zealand.

New Zealand's vaccination rollout plan

The rollout plan for the Pfizer vaccine is simple. Everyone in the country aged 16 and over falls into

one of four groups. Firstly, we'll protect those most at risk of picking up the virus in their workplaces

– and then those most at risk of getting seriously ill or dying from COVID-19.

NOW FROM MARCH FROM MAY FROM JULY

Group 1 Group 2 Group 3 Group 4

Border and MIQ workers

Frontline workers and

people in high-risk areas

65+ and people with

underlying health

conditions or disabilities

Everyone else

aged 16 and over

More strength. More freedom. More options.

We'll let you know when it's your turn for the vaccine. Until then, please

keep using the NZ COVID Tracer app, and stay home if you're sick.

Covid19.govt.nz/vaccine
---
6 Thursday March 25 2021

Latest Canterbury news at starnews.co.nz

PEGASUS POST

Crusaders keep environment in mind

PRE-TRAINING rituals were a

little different for some Crusaders

players who kept both the

community and the environment

in mind during a visit to Trees for

Canterbury.

Crusaders sponsor Aotea Electric

Canterbury invited players

George Bridge, Tom Sanders and

Nathan Vela along with them

during a visit to the non-profit

charity.

The players rolled up their

sleeves in the potting shed and

set about planting saplings ready

for the next community tree

planting events.

They also helped water the new

plants and moved them out into

the nursery.

Trees of Canterbury has a

strong ethos to employ, educate

and regenerate.

It has established a community

for people with disabilities and

at-risk youth, providing an environment

of acceptance as well

as support and training for selfdevelopment

and self-esteem.

Decked in Crusaders shirts,

the Trees For Canterbury team

were "very excited" to meet and

work with the three visiting team

members.

There was lots of laughter,

friendly questions and happy

banter.

"You can't believe how excited

everyone has been this week

about the Crusaders visit. It will

literally make the year for some

of these guys," manager Steve

Bush said.

Bush explained to the players

how the charity worked and

about the 12 community planting

events arranged throughout the

year, with the ultimate goal of

planting 2,000,000 native trees

across Canterbury.

The players were shown around

the site, with the team eager to

take photos and engage with

players. New friendships were

made and the visit ended with

hugs and signed shirts.

Aotea Electric Canterbury

sponsor both the Crusaders and

Trees for Canterbury charity. It

was heart-warming to involve

both parties in such a positive,

upbeat and memorable visit.

REGENERATE: Crusaders

Tom Sanders (second from

left), Nathan Vela and

George Bridge help Trees for

Canterbury volunteers plant

saplings. ​

ATTENTION BUSINESS OWNERS

Do you sell products that are eco-friendly or sustainable?

You could feature in the Eco-Zone at the 2021

Star Media Home and Leisure Show this July

and reach over 10,000 attendees across 3 days!

Beeswax Wraps • Reusable Products • Natural Cleaners • Skincare &

Make-Up • Organics • Compost • Upcycled Furniture • Recyclable Products

If this sounds

like you,

Contact Lisa now on

021 800 809 or email

lisa.lynch@starmedia.kiwi

for a no obligation quote.

Payment options available.

Terms & Conditions apply.

We chose Cameron because of his sales record as No1 in NZ and he was

recommended to us. We were not disappointed with our decision. He

treated us as though we were his only customer. Always giving us time to

consider everything and not once did we feel rushed when he was phoning

or visiting us.

We feel privileged to have had Cameron sell our property

and are delighted with the outcome.

- Tricia & Lindsay Lumsden -

Phone or text 027 555 7079

REINZ Salesperson of the Year across all brands in NZ

cameron.bailey@harcourts.co.nz

No.1 Harcourts Canterbury 2012-2020

No.1 Harcourts New Zealand 2017-2020

www.cameronbailey.harcourts.co.nz No.1 Harcourts International 2017-2020

Licensed Sales Consultant REAA 2008
---
PEGASUS POST Latest Canterbury news at starnews.co.nz

Thursday March 25 2021 7

Our Values

School Update

ALOFA

MAANAKITANGA

HANGA WHARE

SERVICE

SUCCESS

Compassion,

commitment and love

ignite action

• For the learner

• For teaching and learning

• For self and others

He kai kei aku ringa

There is food at the end

of my hands

The first term of our Haeata journey

in 2021 is focussed on an exploration

of hautūtanga/leadership. Every akonga

at Haeata is expected to show

hautūtanga/leadership, but what does

true hautūtanga/leadership look like?

In the first instance it looks like a

person who knows, understands,

exhibits and personifies the Haeata

values of Alofa, Manaakitanga, Hanga

Whare, Service and Success.

Term 1 also sees a focus of the "reset," a complete review of what

works well at Haeata and what needs revision and review. We know

that positive relationships work well, we know that absenteeism and

disengagement doesn't. We know that curriculum underpinned by our

cultural narrative and based on local knowledge and content works well.

We know that curriculum underpinned by social media and fake news

content doesn't. The reset has challenged us to unpick our assumptions

about how ākonga learn and focus on curriculum delivery that first and

foremost demands accountability and commitment from all participants.

A Haeata leader will take the stage in the 21st century when they leave

this kura as captains of industry, professionals, business people, politicians,

entrepreneurs, parents and providers. By focussing on personal

success, on being the best versions of ourselves, on ensuring we have the

skills and expertise required to lead we will set ourselves apart. Haeata

acknowledges that future leaders in the 21st Century require more

than an NCEA qualification, they require a keen sense of self belief, they

require cultural competencies that allow them to walk in multiple worlds

with confidence, but most importantly they must understand the importance

of hautūtanga/leadership as service.

It is in the service of others that true leadership is observed.

Kia kaha, kia toa, kia manawanui.

Dr. Peggy Burrows

Manukura

Every learner having a

sense of belonging

• Learners are at the heart of

what we do

• Mana, well-being and identity

are valued

• Every learned is welcome,

engaged and heard

Building the foundation

for ALL learners to leave

our school MORE curious

than when they arrived

• Enterprise, innovation &

curiosity provide the framework

for the daily life of our school

• We redesign constantly to meet

our changing environment

• Connected locally & globally

All learners mindful

of their unique role in

making a difference

• All learners are leaders and role

models

• All learners act with

responsibility and respect

• All learners are mindful of their

influence on the environment

• We learn from our community and

our community learns from us

Every learner crossing

the stage with dignity,

purpose and options

• High expectations of self and

others

• Is defined by Whanau, school

and students to meet the

unique needs of each learner

• We are responsible for

individual and collective

success

Polyfest 2021 Haeata Performed Proudly

Polyfest exploded on the stage in The Red Zone this year, March 13th, with

what was arguably the best performances yet. To be there was a sensational

experience of Pasifika culture. Haeata only had 10 days to practice and perform

their Pasifika routine and it was amazing to see their perseverance, skill, discipline,

inner strength and musicality under the stunning leadership of Haeata's Head Boy,

Meshach Faafoe, along with Year 12 student Letty Senituli, and dedicated teacher,

Omai Mailei. If you have never been to Polyfest, then mark it on your calendars for

next year because it is a spectacular cacophony of rhythm, beats, singing, stomping,

hand clapping, slapping, dancing and graceful wonder. The hula is so beautiful to

Manukura Kōrero

watch and Ashburton College girls excelled in their execution. A comic shout was heard

"Bring back the girls!", after their performance! Here we saw all that is authentically good in

our young people today. The fabulousness of skill and music, fun and talent was showcased by

schools from all over Canterbury, and Malborough.

It was not a competition in essence, but it was evident that each school was reaching new

heights of excellence and entertainment, as Shirley Boys High so ably showed with their

stunning, exuberant and highly skilled performance. They roared on stage, lifting the roof with

their routine. It was a joy to be there to witness such unity and super fast hand actions, and

choreography. The screams, shouts and applause from the audience echoed the tremendous

appreciation we all felt for their hard work and skill. But it was not only them, but

every single school that took that stage were outstanding. Every student who confidently

stood up showed mana and pride. The colour of the costumes, the excellence of the routines

and the sheer joy these youth exhibited, all point to a deep community effort that is raising

our strong and bold Pasifika tamaiti.

Helen Lord

Photo Credit: Michelle McConnell

Ko Haeata Tatou!

Taking enrolments, please email enrol@haeata.school.nz for any enquiries or phone us on 03 930 0110

Haeata Community Campus

240 Breezes Road, Wainoni

Reception Hours: Mon - Fri 8am - 3pm

Contact

03 930 0110 • enrol@haeata.school.nz

www.haeata.school.nz
---
8 Thursday March 25 2021

Latest Canterbury news at starnews.co.nz

PEGASUS POST

ATTENTION

BUSINESS OWNERS

Do your services make homes

warm and cosy?

You could feature in the Cosy Zone at the 2021 Star

Media Home and Leisure Show this July and reach over

10,000 attendees across 3 days!

Central Heating • Diesel Heating • Fires • Curtains

+ Blinds • Underfloor Heating • Double Glazing • Solar

Bedding • Merino • Heat Pumps • Airflow Solutions

If this sounds like you,

contact Lisa now on 021 800 809 or email lisa.

lynch@starmedia.kiwi for a no obligation quote.

Payment options available. Terms & Conditions apply.
---
h tp: /kaywa.me/8aVDQ

Download the Kaywa Qr Code reader (A p Store &Android market) and scan your code!

my Kaywa Qr-Code

w.valuecarswarehouse.co.nz

PEGASUS POST Latest Canterbury news at starnews.co.nz

Thursday March 25 2021 9

Chorus gears up for extravaganza

FOLLOWING a successful

recruitment drive earlier this year,

with the aim of providing women

from across the Canterbury the

opportunity to perform on stage,

internationally-acclaimed

a cappella group the Christchurch

City Chorus is looking forward

to presenting their next show on

April 10.

Joined by special guests such

as the Woolston Brass, the show

Broadway, Barbershop & Brass

with be an extravaganza of toetapping

songs from movies such

as Mission Impossible and Broadway

shows.

Songs such as Happy will

bring a smile to the faces of

young and old and be sure to

lighten hearts.

The chorus has been working

on putting the show together

since January with master director

Virginia Humphrey-Taylor and

Richard Marrett (musical director

of Jersey Boys which was in season

recently at the Court Theatre) as

their in-house coach.

Said Humphrey-Taylor: "This is

a wonderful opportunity for our

newest chorus members to join

our seasoned members on stage

for an exciting performance. We

just love sharing our musical craft

with the people of Christchurch

and all over the world through or

live stream as well."

Tickets are available now for

Broadway, Barbershop & Brass

at www.humanatix.com to come

along in person or by live stream.

The show will be followed

just weeks later (April 29–May

1) by the National a cappella

competitions which will be held

in Christchurch this year.

New Zealand is the only Sweet

Adeline's region in the world

which is able to hold such an

event this year.

Nominations open

to recognise special

people with awards

FOR 25 years, community

boards across the city have been

celebrating inspirational people

who help make local areas a

better place to live.

Five community boards

are now looking for new

nominations in order to

recognise those special people

who go "above and beyond,"

giving their time and energy

freely to help and support

others.

Nominations are open for the

2021 Community Service Awards

in the board areas covered by

Banks Peninsula, Spreydon-

Cashmere, Linwood-Central-

Heathcote, Halswell-Hornby-

Riccarton and Coastal-Burwood.

As the boards mark the silver

anniversary of the awards, city

council head of community

support, governance and

partnerships John Filsell

believes that it is "important to

acknowledge those often unsung

people."

"We are asking local

communities to put forward the

names of those people who make

outstanding contributions to

their area through their actions

and willingness to look out for

others," he said.

"Many people have really

stepped up over the past

year during one of the most

challenging periods in recent

history.

"We want to recognise those

amazing volunteers who often

support the more vulnerable,

young people and families by

taking on an extra role within

their community."

Nominations are now open and

close at 5pm on April 16.

The five community boards

will host awards ceremonies in

June and July.

•To find out more or

apply for the community

service awards, visit https://

ccc.govt.nz/culture-andcommunity/communityawards/csa

Nomination forms are

also available from city

council libraries and service

centres.

NUMBER ONE SUPPLIER

TO THE NZ JET BOATING

COMMUNITY FOR OVER

50 YEARS

• Part Boats & Hulls

• Turn Key Packages

• New Jet Units

• Custom Fabrication

• Expert Advice

SERVICING

• Spare Parts Retailer

• Jet Unit Refurbishment

• Engine Tune-Ups

• Insurance Repairs

• Impellor Reconditioning

We've got your

Motoring

Covered!

The South Island's leading motoring

resource, filled with news, reviews

and dealer listings.

From family cars to work trucks, and supercars

to SUVs. No matter what you're looking for,

you can find it all with Drivesouth.

Incorporating

ISSUE 667 | FrIday 20 novEmbEr 2020

See inside for this week's

4WD feature!

free

best motorbuys

drivesouth.co.nz

www.drivesouth.co.nz

One Owner!

2015 IsuZu D-mAX

4WD Ls D/CAb

NZ new, 3.0 intercooled turbo/dsl,

auto, rare flatdeck with ladder/pipe

racks, reverse cam, service history.

$34,995 $192pw

FREE

magazine

out every Friday

at pick up

points near

you!

free

Peter Tonkin

03 962 0505

peter.tonkin@hamiltonjet.nz

113 sherborne st, edgeware

The biggest range of vehicles

in one location!

2011 Jaguar

XF Premium

$18,999

32 Moorhouse Ave | P: (03) 366 7768 | www.valuecarswarehouse.co.nz

See page 4 for more info!

Incorporating

ISSUE 668 | FrIday 27 NovEmbEr 2020

275 Colombo street, Christchurch

For more see their advert on pages 6 & 7

Ce l 021 855 884

Incorporating

ISSUE 669 | FrIday 4 dEcEmbEr 2020

See inside for this week's

Classic Car feature!

best motorbuys

PH 03 web

For more see their advert on page 31

40 Years Finance

Experience

Cannot be Beaten!

• Talk to us about finance for your next

motor vehicle purchase

Specialising in Finance for Private Purchases

Very quick approvals, sensational interest rates

• From no deposit (terms & conditions may apply)

Hiace spares

Cnr Main South Rd and Epsom Rd, Christchurch

Ph: 03 348 4129 | avoncityford.com

Now Available @ NZ Van Sp

www.drivesouth.co.nz

See inside for this week's

marine feature!

free

best motorbuys

The biggest range of v

in one locat

2.4 au

www

2
---
10

Thursday March 25 2021

Latest Canterbury news at starnews.co.nz

PEGASUS POST

If you want more information about an item or to contact a

seller, visit www.postanote.co.nz and search the ID#

Chrysler 300C

Hamilton Jet 52 Hull

with Outboard

2012 Holden Cruze

Haier Top-loading 5.5kg

Washing Machine

Honda Mobilio Scooter

Viking Profish 440

$25,000

ID 37467

$10,000

ID 37282

$5,000

ID 37501

$129

ID 37276

$450

ID 37508

$1,100

ID 37324

Wool Winding Machine

Honda TRX 250

Mazda Demio Sports

Bus Xylophone

Macrocarpa Slabs

for Tables, Bartop

Race Car Transport Trailer

$20

ID 37319

$4,000

ID 37385

$5,995

ID 37490

$15

ID 37019

$250

ID 37120

$30,000

ID 37403

Bird Netting

Subaru B4 TT

Spirit E-Glide Cross Trainer

Heavy Duty 4x4 Car Ramps

Trojan Load Levellers

1987 Mitsubishi Cordia Turbo

$400

ID 32914

$3,500

ID 37453

$1,500

ID 37479

$100

ID 37205

$150

ID 37399

$10,500

ID 34548

Desk: 3-drawer Writing/

Craft/Study

Aquamax 10.10 Online

Snowpowder Jacket

Honda CR-V

Ford Telstar GL

2004

VW Passat

S/W 2.0

Honda 110 Ride On

(Transmission light on)

$25

ID 37459

$150

ID 37290

$4,995

ID 37486

$1,800

ID 36887

$500

ID 37432

$1,500

ID 37455

Ford Mondeo

2007 Toyota Corolla

Axio Luxel

42inch

Panasonic TV

Revolving Chair

Perfect Condition

Cooking Sets

1995 Nissan Atlas Diesel

150 Truck

10 years old

$6,500

ID 37196

$7,900

ID 36922

$120

ID 37458

$15

ID 37025

$200

ID 37007

$6,500

ID 37186

2014 Subaru Impreza

Yamaha XT400

Outdoor Folding Pocket Knife

2004 Peugeot 206 Cabriolet

Musical Phone +

Musical Toys

Couch & 2 Armchairs

$12,500

ID 37068

$800

ID 37514

$49

ID 37299

$6,000

ID 36049

$10

ID 37020

$5

ID 34040

Honda Stream

2 Folding Camp Chairs

2012 Chery J1

Oil Heater & Fan Heater

2 Stroke Engine

1994 Ford Festiva

$3,750

ID 36731

$40 FOR BOTH

ID 37388

$2,000

ID 37130

$25

ID 37005

$200

ID 25140

$1,600 ONO

ID 37343

0321h11
---
PEGASUS POST Latest Canterbury news at starnews.co.nz

Thursday March 25 2021 11

Classifieds Contact us today Phone our local team 03 379 1100

Community Events

Community Events

Trades & Services

Trades & Services

Trades & Services

ALCOHOLICS

ANONYMOUS, If you

want to have a drink that's

your business. If you want

to stop, we can help. Phone

0800 229-6757

Pets and Supplies

Discover Christchurch's

best priced pet

accommodation

• Daycare - all breeds

• Boarding

• Long stay/short stay

ALCOHOLICS

ANONYMOUS, If you

want to have a drink that's

your business. If you want

to stop, we can help. Phone

0800 229-6757

Call now to book

in your cats &

dogs, inspections

welcome anytime!

aLameDa

kenneLs & cattery

271 Dyers Road

Ph 384 1297 or 0274 587 067

www.alameda.nz

Trades & Services

GLAZING

TWISTY GLASS &

GLAZING LTD

• Mirrors • Pet Door Specialists

• Splashbacks • All Broken Windows

THE CAT DOOR MAN

Phone Cushla or Darren Twist

027 352 6225

TREE SERVICES

CRAIGS

TREES

Our services include:

Tree felling

Branch chipping

Trimming and pruning

Crown reduction

Stump grinding

P: 027 2299 454

E: craigstrees@xtra.co.nz

www.craigstrees.co.nz

Fully insured

ROOF REPAIRS

Locally owned & operated with

over 30 years experience.

• Extensions & repair • Roof coating

• Concrete & clay tiles • Butynol

• Malthoid • Asbestos Certified

• Coloursteel • Old iron • Guttering

Phone Dave 981 0278

or 021 223 4200

E: dave@beaumontroofing.co.nz

BEAUMONT ROOFING LTD

FOR ALL YOUR

★Garden Clean-ups

★Pruning

★Lawn Mowing

★Garden Maintenance

Call us today for a FREE quote

PH 0800 4 546 546

(0800 4 JIMJIM)

BRICKLAYER

George Lockyer. Over

40 years bricklaying

experience. UK trained.

Insurance work, EQC

repairs. Heritage

brickwork & stonework

a speciality. No job too

small. Governers Bay.

Home 329 9344. Cell

027 684 4046. E mail

georgelockyer@xtra.co.nz

CARPET LAYING

Exp. Repairs, uplifting,

relaying, restretching.

Phone John on 0800

003181, 027 240 7416

jflattery@xtra.co.nz

ELECTRICIAN

Prompt & reliable

registered electrician

with 24 years experience

for all residential and

commercial work, new

housing and switch board

replacements. Phone Chris

027 516 0669

LAWNMOWING,

reliable service, call / txt

022 172 0870 for a free

quote

VHS VIDEO TAPES

& all camera tapes

converted to DVD or

USB. Video taping

special occasions, www.

grahamsvideo.co.nz ph 03

338-1655

PAINTING

older painter

for older houses

50 years in trade

"All the skills"

GST FREE

Contact Jimmy Bell

0211221487

Wanted To Buy

TOOLS Garden,

garage, woodworking,

mechanical, engineering,

sawbenches, lathes, cash

buyer, ph 355-2045

ADD SOME

COLOUR

TO YOUR ADVERT!

ADVERTISE YOUR BUSINESS HERE

Phone for further details

(03) 379 1100

growing with you Three Time winner of NZCNA Best Magazine | July 2020 | 100%

Our shrub

Of the month

Why you need a

smoke bush

Gardening

in Glass

The art of

making

terrariums

Start your

StrawberrieS

Priming for sweet

success this summer

Are you ready

to grow?

Kiwi Gardener is your

practical guide to gardening

in New Zealand.

SubScriBe FrOM $20

$7.90 incl. GST

Pass the

Potato

A Canterbury family

keeping one special

variety growing

stars of the winter staGe

daphnes, camellias, hellebores & more

SubScriptionS

Freephone 0800 77 77 10

www.Gardener.kiwi
---
12

Thursday March 25 2021

Latest Canterbury news at starnews.co.nz

PEGASUS POST

Richmond discount FuRnituRE

The Best Little Furniture Shop in Town

BEDS TALLBOyS MIRRORS CABINETS CHESTS STORAGE SHELVES

BOOKCASES BuFFET uNITS DINING TABLES HALL TABLES SIDE CABINETS & MORE!

Ther-a-pedic Mattress & Base

Reversible pillowtop innersprung.

Single

$549

King Single/Double/3/4

$649

Queen

$749

Queen

Frame &

Pocketspring

Mattress

ONLY

$699

Sleepyhead Base & Mattress Sets

Legacy Single

Frame Bed

Mattress not included.

Single

$399

Queen

$599

ONLY

$300

Bedside Cabinet

With metal runners.

Also available in Black.

7 Drawer

Scotch Chest

1140x800x410.

Also available in black.

Midi 7 Drawer

Scotch Chest

975x760x410. With metal runners.

Also available in Black.

Lowboy 6 Drawer

1130x410x820.

Legacy

Duchess

with

Mirror

Duchess

with

Mirror

1090x410x820

NZ made.

Large

690H x

460W x

410 D

$179

Small

510H x

460W x

410 D

$140

ONLY

$329

ONLY

$299

ONLY

$499 eaCh

ONLY

$599

ONLY

$599

Jumbo 4

Drawer Chest

1140x800x400. NZ made.

Metal runners. Also available in black.

Tallboy 4 Drawer

600x400x900.

Towerboy 6 Drawer

1260x460x410.

With metal

runners.

Also available

in Black.

headboards - Padded

7 Piece

Dining

Suite

1500x900

emma 5 piece

dining suite

ONLY

$299

ONLY

$220

ONLY

$249

King & Super King

ONLY

$499

Queen Size

ONLY

$399

ONLY

$749

ONLY

$549

White Shelving units

Tall 1980H x 800w x 300

Medium 1600H x 800w x 300.

Zig Zag

Large

Bookcase

Bookcase

7 Drawer

TV/

DVD

Chest

760x1140x410.

(Gap 150)

entertainment Unit

1530W x 660H x 520D

Medium

$199

Tall

$249

1100x

330x

2000H

ONLY

$499

$269

ONLY

$329

ONLY

$549

Bedside Cabinet

620H x 400 x 320

Legacy Bedside

Cabinet

Coffee Tables

1200 x 650 x 400H

ONLY

$199

White hall Table

1050 x 760H x 420.

Butcher's Block

Work bench with wheels & cupboard

+ drawer. 680 x 580 x 870H.

Student Desk

Available in black or white.

1000w x 690h x 500d

ONLY

$99

$129

1200 x 550 x 430H

ONLY

$149

ONLY

$349

ONLY

$399

ONLY

$349

Legacy

6

Drawer

Chest

entertainment Unit

1100x400x480.

Glass

entertainment

Unit

1000x380x450H.

Tundra

entertainment Units

White 2 Drawer

entertainment Unit

1115 x 480H x 400D

$499

ONLY

$299

ONLY

$199

1600x420x450

$599

233 STANMORE ROAD • PHONE 03 389 0536

WE ACCEPT EFTPOS, VISA AND MASTERCARD... PARKING AT REAR

OPEN MON-FRI 10AM–4.30PM SAT 10–1PM

ONLY

$299