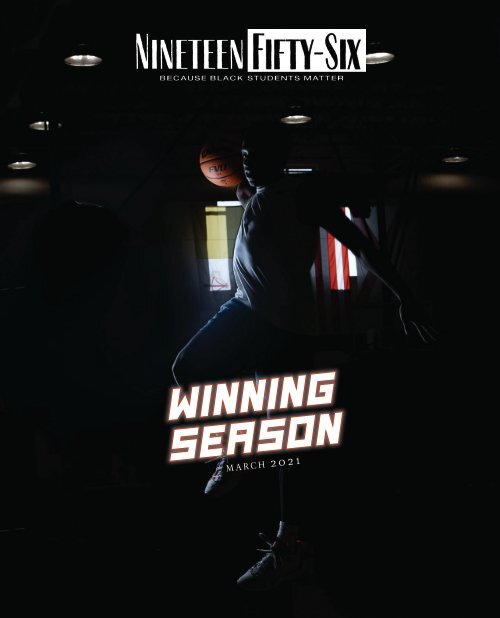 Nineteen Fifty-Six Vol. 1 No. 5 Winning Season
This is the March Issue of Nineteen Fifty-Six magazine. The theme, Winning Season, highlights sports along with the success of Black athletes.
This is the March Issue of Nineteen Fifty-Six magazine. The theme, Winning Season, highlights sports along with the success of Black athletes.
SHOW MORE
SHOW LESS
Create successful ePaper yourself
Turn your PDF publications into a flip-book with our unique Google optimized e-Paper software.
WINNING

SEASON

MARCH 2021
---
DEAR BLACK

STUDENTS,

You do matter. The numerous achievements and talents of Black

students deserve to be recognized. As of Fall 2019, 10.50% of students

on campus identified as Black or African American. Black students

are disproportionately underrepresented in various areas on campus.

Nineteen Fifty-Six is a Black student-led magazine that amplifies

the voices within the University of Alabama's Black community. It

also seeks to educate students from all backgrounds on culturallyimportant

issues and topics in an effort to produce socially-conscious,

ethical and well-rounded citizens.

1 NINETEEN FIFTY-SIX MAGAZINE

MARCH 2021

2
---
A LETTER FROM THE EDITOR

MARCH 2021

TIONNA TAITE

BRADLEY COATS

A'NESHIA TURNER

ASHTON JAH

ALEXIS BLUE

ZAHREA SMALL

FARRAH SANDERS

REENA MILLER

NICKELL GRANT

JAVON WILLIAMS

JEFFREY KELLY

MONIQUE FIELDS

JULIE SALTER

TERRY SIGGERS

WRITERS

PHOTOGRAPHERS

ENGAGEMENT

EDITOR-IN-CHIEF

MANAGING EDITOR

VISUALS EDITOR

ASSISTANT VISUALS EDITOR

PHOTO EDITOR

VIDEO EDITOR

CULTURE AND LIFESTYLE EDITOR

ASSISTANT CULTURE AND LIFESTYLE EDITOR

ENGAGEMENT EDITOR

WEBSITE MANAGER

WEBSITE MANAGER

FACULTY ADVISOR

ASSISTANT ADVERTISING DIRECTOR

DIGITAL MEDIA MANAGER

JAVON WILLIAMS, JASMINE HOLLIE, RACHEL PARKER,

KAYLA BRYAN, ASHLEE WOODS

MADISON CARMOUCHE

KENDE'LYN THOMPSON, MALLORY WESTRY, MA'KIA

MOULTON, CASSIDY BURRELL, MADISON DAVIS,

GABBY ADAMS, JOLENCIA JONES, ARMYLL J SMITH,

ASIA ANDERSON , BRADLEY COATS

Nineteen Fifty-Six is published by the Office of Student Media at The

University of Alabama. All content and design are produced by students in

consultation with professional staff advisers. All material contained herein,

except advertising or where indicated otherwise, is copyrighted © 2020 by

Nineteen Fifty-Six magazine. Material herein may not be reprinted without

the expressed, written permission of Nineteen Fifty-Six magazine. Editorial

and Advertising offices for Nineteen Fifty-Six Magazine are located at 414

Campus Drive East, Tuscaloosa, AL 35487. The mailing address is P.O. Box

870170, Tuscaloosa, AL 35487. Phone: (205) 348-7257.

EDITORIAL STAFF

CONTRIBUTORS

C O P Y R I G H T

F

lorence Griffith Joyner aka Flo-Jo

is one of my inspirations for more

reasons than one. For those of you

who don't know, Flo-Jo is the fastest

woman of all time. Both of the world

records she set in 1988 for the 100-meter

dash and the 200-meter dash still stand

today. She is not only a track and field

legend, but also a fashion icon who

captured the attention of the crowd with

her fashionable track uniforms, beauty,

and of course her long nails. Growing

up, I looked up to her because she dared

to stand out. Flo-Jo truly exemplified

what it meant to have a 'winning season'

throughout her life and athletic career.

I believe it's important to define what

I mean by a winning season. Of course,

a winning season can involve the large

amounts of success and wins that a team

experiences during the sports season.

However, a winning season is so much

more than that. In fact, it is not limited

to just sports or athletes. A winning

season is a mindset. The same mindset

that Flo-Jo described as "know[ing]

what [you] have to do… do[ing] whatever

it takes…[and] com[ing] out a winner."

Your mindset is the driving force to

helping you win and achieve your goals.

When trying to overcome obstacles

and walk into your winning season it's

important to not compare yourself to

others. Instead, focus on what you can

do and go from there. Take a look at

your overall goals. What are your shortterm

goals? What are your long-term

goals? This is essential because it allows

you to figure out the first steps that you

need to take in order to walk into your

winning season. If you keep your head

in the game and focus on what you can

accomplish daily, you can transform your

lifestyle into a long-lasting winning

season.

I am delighted to present the fifth

issue of Nineteen Fifty-Six. I hope this

magazine issue inspires you to walk into

your winning season with confidence

that you have what it takes to truly

come out a winner

I know what I have to do, and I'm going to do

whatever it takes. If I do it, I'll come out a winner,

and it doesn't matter what anyone else does.

- Florence Griffith Joyner

TIONNA TAITE

3 NINETEEN FIFTY-SIX MAGAZINE

MARCH 2021

4

E D I T O R - I N - C H I E F
---
CONTENTS

CHASING CHAMPIONSHIPS

TOO GOOD TO BE TRUE

WATCH PARTY EATS

THE SIDE HUSTLE

PATH TO THE OLYMPICS

THE EXPLOITATION OF BLACK

ATHLETES FOR WHITE DOLLARS

BLACK SOLIDARITY IN SPORTS

MYSOGNY MADNESS

08

09

12

14

16

18

20

21

5 NINETEEN FIFTY-SIX MAGAZINE

MARCH 2021

6
---
JAVON WILLIAMS

CHASING

CHAMPIONS

C U L T U R E

U

ndoubtedly, the University of Alabama men's

basketball team is continuing to elevate and make

their presence known in the NCAA Division I

conference. The team has come from ranked below 25 in

2019, to ranked top 25, to number six, and now winning

the SEC Championship.

Even though Alabama lost one of its star players, Kira

Lewis Jr., who was drafted by the New Orleans Pelicans.

That did not stop the powerhouse from returning and

dominating this season. Players such as John Petty Jr. and

Herb Jones are household names due to their drive and

ambition throughout their time at Alabama. Jones, who

holds a career-high of 21-points, completed his fourth

double-double of the season against the Tennessee Vols

on Saturday afternoon.

Of course, the success of the team does not completely

stand on the shoulders of its outstanding players, but

also on its head coach, Nate Oats.

Since Oats' arrival in 2019, his promise to elevate

the team so far has not let the Crimson Tide down.

During Oats' first season, the Crimson Tide went

16-15 in the regular season and 8-10 in conference.

Unfortunately the team was unable to reach the

SEC tournament last year due to the pandemic

which resulted in game cancellations.

For Oats and the Crimson Tide, there was

no time to be upset. This only meant that

the overtime would start. In this current

season, Alabama is 23-6 in the regular

season and 16-2 in conference play. Not only that but the

team is ranked number six in NCAA and is projected to be

the number two seed in March Madness.

On March 14, the Crimson Tide made its first appearance

in the SEC Championship game since 2002 against LSU.

With that the team ended Alabama's 30-year drought

and brought home the title of SEC Champions,

making it the seventh in program history.

7 NINETEEN FIFTY-SIX MAGAZINE

MARCH 2021

8
---
RACHEL PARKER

TOO GOOD

TO BE TRUE?

COLLEGE ATHLETES &

COMPENSATION

The return of EA Sports' NCAA Football series has set the video game world on fire. Many

fans have patiently waited for it's return while others are concerned about one of the

main reason it left: The Name, Image, & Likeness dispute. Do college athletes deserve to

profit off of their NIL like their institutions do?

T

he debate over college athletes

receiving compensation has been

a hot topic for quite some time.

From NBA player LeBron James to

Senator Bernie Sanders, the issue

has been brought up by athletes as

well as politicians. The influence

that is associated with a player's

jersey number or name becomes

synonymous with the university

team and sometimes even a brand

by itself. As the likeness of athletes

is distributed to thousands or even

millions of fans through collegiate

merchandise, the student-athletes

themselves receive no monetary

reimbursement.

This is explained in greater detail by

former NBA player Jerome Williams

in a 2020 Vox article.

"For years, student-athletes, especially

those from minority communities,

have been disadvantaged from

monetizing their image, or what we

call 'player intellectual property,'

said Williams. "There's an ongoing

revenue stream college athletes are

not a part of."

During April of 2020, the NCAA

Board of Governors announced their

support concerning the rights to

name, image and likeness for college

athletes along with the athletes

being able to take advantage of these

rights. As outlined in an article from

CBS Sports, within the guidelines

college athletes would be able to

receive payment from endorsements

by social media, third-party product

promotion, autograph signing, meet

and greets, and their own business

endeavors.

Along with the guidelines come

restrictions that prohibit athletes

and third parties from using

school or conference logos in

their endorsements. The school

or conference can not seek out

endorsements on the athletes behalf,

make endorsement payments, nor

allow outside involvement (boosters)

to utilize endorsements to pay for

athlete enrollment.

Additionally, the NCAA emphasizes

the importance of student-athletes

"maintaining the priorities of

education and the collegiate

experience." The addition of payment

would be the next logical step for

student-athletes who have already

established brands for themselves

in connection with their respective

university.

Athletes bring in large revenue for

their schools. They are often the

driving force for school spirit and

sometimes draw in more students

or fans. Without compensation

they merely contribute to a campus

culture that views and treats them

as indispensable until their college

career is done. The cycle then

continues when they are replaced by

another group of athletes who are

given almost identical treatment.

Out of the top three athletic divisions,

many athletes have a greater

probability of earning a college

degree than leveraging their college

athletic career into the professional

field. As presented in a 2020 NCAA

report, graduation success rates are

86% in Division I, 71% in Division II

and 87% in Division III. Athletes are

steadily excelling academically while

receiving the education promised

to them when they first committed.

However, they still encounter

roadblocks regarding compensation

for the use of their likeness and

name.

Many students agree that studentathletes

should be paid salaries. In

a 2019 CNBC article, College Pulse

surveyed 2,501 students about their

stance on student-athletes being

compensated for their likeness.

77% were in favor or strongly

favored payment being given. When

surveying student-athletes, 81% were

in favor or strongly favored payment

being given.

In the College Pulse survey, racial

demographics were also included. An

estimated 61% of Black students said

they favor or strongly favor paying

student-athletes a salary, followed

by 56% of Asian students, 52% of

Hispanic students, and 51% of white

students.

The highest percentage coming from

Black students is not surprising,

considering Black student-athletes

make up the largest percentage of

athletic teams. Their images are

typically the most prominent amongst

fans and media consumption. A

2019 NCAA report states that Black

male and female student-athletes

comprise 60% to 68% of college teams

in football and basketball alone.

With Black students often composing

the majority of a university team in

a high-earning revenue sport, their

talent and value as student-athletes

goes beyond winning championships.

Attaining a quality education with

scholarships to cover tuition and

additional school expenses should not

be the sole form of reimbursement

for student-athletes.

Additional compensation for their

image and likeness adds the icing

on the cake and begins to cover the

layers of race, gender and economic

reasoning. Athletes contribute

to the economic success of their

university's sports programs. Yet,

without compensation they rarely

ever receive a slice of the cake.

9 NINETEEN FIFTY-SIX MAGAZINE

MARCH 2021

10
---
KAYLA BRYAN

WATCH

PARTY

EATS

L I F E S T Y L E

11 NINETEEN FIFTY-SIX MAGAZINE

I

t's March and you know what

that means…March Madness! For

those of you who don't know,

March Madness is the NCAA Division

I basketball tournament. It is a singleelimination

tournament of 68 teams

that compete in seven rounds for

the national championship. The final

round is known as the Final Four, so

only four lucky teams are left.

Of course here at The University

of Alabama, we're a championship

school. Therefore, we have to

celebrate. March Madness isn't March

Madness without some delicious

game day eats. Food options will

vary at every socially distanced

watch party. Chicken wings and

fries are the popular food option for

many; however, it never hurts to try

something new. Let's dive into some

tasty and fun recipes that you can

make with your family and friends.

Even if cooking isn't your specialty,

trying new recipes can offer new and

exciting memories.

MARCH 2021

Here are some game day recipes

that can easily be whipped up in the

kitchen!

BUFFALO CHICKEN DIP

The first thing on the menu is buffalo

chicken dip. This dip is perfect for

game days. It's hot, cheesy, and spicy.

What more could you ask for?

DIRECTIONS:

First, preheat the oven to 425°F. Then,

get some shredded rotisserie chicken.

Mix the shredded chicken with cream

cheese, sour cream, cheddar cheese,

scallions, and — of course — buffalo

sauce. Once that is all good, place it

in the oven until it is nice and bubbly,

taking no more than ten minutes.

HOMEMADE QUESO OR

GUACAMOLE

The next dip on the menu is queso

or guacamole. These two recipes are

virtually the same, one just has cheese

and the other just has guacamole.

12
---
Pre-made guacamole and queso from

the store are easy and just as good,

but nothing is better than a fresh

dip. Pre-made guacamole and queso

from the store are easy and just as

good, but nothing is better than a

fresh dip.

DIRECTIONS:

For the queso, you'll want some

cheddar cheese, green onions, garlic,

diced tomatoes, cayenne pepper, and

cilantro. Sautee everything first to

get the most of your seasoning then

add in the cheese. Mix well until the

cheese melts.

For the guacamole, you'll want

avocados, lime juice, cilantro,

tomatoes, garlic, and cayenne pepper.

Get all those ingredients and mash

them up together until it is a nice

paste.

Now to the real food. Watch parties

come with a variety of different meals

depending on the appetites of the

people attending. Finger foods are

the best food option because you can

eat and still socialize while watching

the game. Some good recipes include

pizza and of course chicken wings.

HOMEMADE PIZZA

When it comes to pizza, feel free

to add whatever toppings you or

the crowd likes. The best part

about making pizza from scratch is

everyone can come together to help

out. Pizza dough is also pretty simple

to make, surprisingly!

DIRECTIONS:

Follow this step-by-step recipe to get

the best results.

Combine bread flour, sugar, yeast,

and kosher salt in the bowl of a stand

mixer. While the mixer is running,

add water and two tablespoons of oil.

Beat until the dough forms into a ball.

If the dough is sticky, add additional

flour in one tablespoon increments

until the dough forms into a solid

ball. If the dough is too dry, add

additional water in one tablespoon

increments. Scrape the dough onto

a lightly floured surface and gently

knead into a smooth, firm ball.

After your dough is all good to

go, grease a large bowl with the

remaining 2 teaspoons of olive oil,

add the dough, cover the bowl with

plastic wrap, and put it in a warm

area to allow it to double in size for

about an hour. Lay the dough onto a

lightly floured surface and divide it

into 2 equal pieces. Cover each piece

with a clean kitchen towel or plastic

wrap and let them rest for 10 minutes.

Add the pizza sauce and toppings

then pop it into the oven at 475°F for

10-15 minutes.

CHICKEN WINGS

Chicken wings are also easy to make,

especially if you own a fancy air fryer!

You just need some frozen chicken

wings and seasoning of your choice.

DIRECTIONS:

If you want breaded wings, get some

eggs and flour. Then, dip each wing

in that mixture and drop the wings in

oil or stick them in an air fryer.

Traditional (non-breaded) wings are

typically the watch party favorites.

Follow the steps above without

adding eggs or flour. Once the wings

are golden brown and crispy, it's time

to eat.

Regardless of your plans for March

Madness, these recipes are sure to

come in handy! They are fun and

easy to cook and will also make your

taste buds smile. As always, you can

add your own twist to any of these

recipes. Just make sure to enjoy the

good times.

JASMINE HOLLIE

THE SIDE HUSTLE: SMALL JOBS TO

MAKE BIG MONEY

Due to the pandemic, businesses and families around the world have been affected economically. The sudden spread of COVID-19

and the panic that followed greatly impacted non-essential businesses as well as small businesses. In recent years, the spirit of

entrepreneurship has been praised and encouraged in society, especially amongst young adults. In order to combat financial

hardships, many people search for quick and creative ways to gain some extra cash. Here are a few side hustles that have begun to

trend.

DOORDASH

DoorDash has become one of the

most popular food delivery service

apps since the rise of COVID-19

in March 2020. Users who wish

to stay home and avoid public

interactions are able to order food

from local restaurants and have

it delivered to their home within

minutes. Contactless deliveries

have been added to many delivery

services as a health and safety

precaution. DoorDash provides

the option to become "Dashers,"

which is someone who delivers

food to the users' addresses. As a

Dasher, you could make up to $100

a day plus tips.

UBER & LYFT

Similar to DoorDash, Uber and

Lyft are another service that has

seen a spike in use during the

pandemic. With a sudden spike

in job loss, many people are in

search of a steady income. People

who aren't eligible to drive due to

health or disabilities occasionally

need rides to the grocery store or

to a doctor's appointment. College

students also rely on these rides

to get to the airport or travel in

unfamiliar cities. This service

was pretty popular before the

pandemic amongst the younger

generation and provides a quick

income for drivers.

SELF-EMPLOYED HAIR

& BEAUTY SERVICES

If you are skilled in doing hair,

makeup or even nails, there is an

opportunity for you to make some

pretty good money. For years,

people have started their own

businesses and catered to their

community simply by using their

natural talent and skills. Not only

is this a quick way to potentially

make hundreds of dollars daily,

but it's also a great way to perfect

your skills with new clients.

BABYSITTING & DOG

SITTING

If it's not broken, don't fix it. The old

school hustle of babysitting and

dog sitting is a pretty steady way

to earn yourself some extra cash

on the side. Most people benefit

from a babysitter or dog sitter

at some point in time. As long as

you're a responsible, honest and

caring sitter, this job is an easy

and (sometimes) fun way to earn

money.

DIY CRAFTS,

CLOTHING, &

ACCESSORIES

Etsy is a popular site that people

use to sell handmade crafts and

items. Items vary from jewelry,

clothing, paintings and even

furniture. Anything you can

imagine could probably be found

on this site. Not only is this a

great way to earn money, but it's

also a great way to finance your

small business and showcase your

creativity to potential buyers

across the world.

EVENT & PARTY

PLANNING

Event planning is a great and

exciting way to earn some extra

cash. This hobby could also turn

into a possible career path. There

are always events to be held

whether it's for a birthday, baby

shower or graduation. Decorating

and organizing a celebratory

event can be a bit of a hassle.

Therefore, many people will hire

planners to take over some of the

responsibilities of throwing the

perfect event or party. While you

work as the hired event planner,

all the clients have to do is show

up, sit back, relax and of course

pay you for putting together the

event of their dreams!

13 NINETEEN FIFTY-SIX MAGAZINE

MARCH 2021

14
---
TIONNA TAITE

PATH TO THE OLYMPICS: Q&A

WITH SHELBY MCEWEN

F E A T U R E S

O

riginally from Oxford, Mississippi, Shelby McEwen

began as a basketball player at Northwest Mississippi

Community College. Along the way, he realized his

growing passion for track and field, particularly when it

came to high jump.

After enrolling as a student-athlete at the University

of Alabama, he became a First Team All-American,

SEC champion, and First Team All-SEC for both

indoor and outdoor high jump.

He is now an alumni with big plans for his future.

In 2019, he signed a pro contract with the goal of

taking his talents to the Olympics after making

the world team.

In this Q&A, McEwen offers insights into

his background, inspirations, future goals

and so much more.

When did you first begin competing

in track & field?

I started track & field my sophomore year

of high school.

What event(s) do you compete in?

I competed in High Jump, Long Jump, and 300

Hurdles in high school. But, I strictly compete

in High Jump now.

Who was your biggest supporter

growing up?

My parents were my biggest supporters. They

were at every game and track meet. I can

count on one hand how many competitions

they missed, if they missed any.

When did you realize track & field

was something you wanted to do

for a career?

After my two years of playing junior

college (juco) basketball, I started jumping

at track meets unattached to a team. I was

beating college competitors even though

I had no training or coach at the time. I

knew then I wanted to further my career

in track and field.

How did you work to become a better athlete?

I did the right things on and off the track. Rest is key to

a good performance. I also focused on the small things to

be successful when the big track meets and other things

came. I've always been open to fixing things in my track

and field event to make me better as an athlete and person.

Who are your role models and sources of

inspiration?

I would most definitely say my mom. She motivates

and pushes me to be great at everything I do. Mom

always tells it how it is. She lets me know if I'm

complaining and making excuses. She just can talk

to me in general about whatever.

Do you have any particular song(s)

you play to get hype before your

events?

I don't really listen to music before

competing, but if I do I'll listen to Lil

Durk, Meek Mill, and some gospel music.

What goals do you have moving

into the future?

Moving into the future I have goals of opening

my own business with my clothing brand,

Superior Marks, which is currently going pretty

good. Another goal is making the 2021 Olympic

team, winning a medal at the Olympics, and

winning other major championships in the

future!

What has been the biggest lesson

you've learned so far?

The biggest lesson I've learned is to always

work hard and never give up on your dream.

It's left up to you to go and make it happen.

Relax, have fun, and there's no pressure.

The older you become the more mature and

wiser you get.

Is there anything else you would

like people to know about you?

Basketball was my first love. In 2014, I was

the champion of Michael Jordan's First to

Fly High School Dunk Contest.

15 NINETEEN FIFTY-SIX MAGAZINE

MARCH 2021

16
---
ASHLEE WOODS

THE EXPLOITATION OF BLACK

ATHLETES FOR WHITE DOLLARS

E X P E R I E N C E S

C

ollege athletics provide an outlet

for students of color to continue

their educational journey while

also playing the sport that they love.

Or so they are told.

Behind the mask of education and

athletic paradise is a dark history of

using Black athletes for monetary

gain. Black students from different

backgrounds are lured into a system

that seldom looks different than the

slavery that existed in this country

hundreds of years ago. American

universities and colleges preach

about being diverse, equitable and

inclusive. Yet their words don't match

their actions.

Their money is not put where their

mouth is, either.

For far too long, Black athletes have

been used for revenue at the expense

of their body, mind and soul. The

issues that they face are not cared for

like their nonminority counterparts,

and Black dominated sports are often

the first to be defunded if the river of

revenue is not flowing.

Athletes are now speaking out. From

creating social media movements

to protesting at their respective

schools, these athletes are pushing

their grievances to the forefront.

With this, they have challenged their

respective institutions to face a past

of exploitation and work to a future

of support.

A DARK PAST

The recent demonstrations of Black

athletes from the University of

Alabama to UCLA reflect a history

of struggle dating back to the

1960s. Since the integration of Black

athletes into previously all-white

collegiate sports, Black students have

pushed back against the exploitative

system they were in.

The first known instance of this

was in the late 1960s. Black athletes

were used for their athletic talent,

but were still excluded on campus

and no faculty within the athletic

departments looked like them. These

athletes began airing grievances

about the hostile environment they

were put in. Simply put, Black athletes

did not want to be regarded as token

symbols. They were people that were

dealing with real issues.

The landscape of collegiate sports

has changed dramatically since the

1960s. Yet, the problems still remain.

Nevertheless, Black athletes are

poised to shift the culture around

college athletics. With the power

of social media, athletes across the

globe can connect and fight together

with a simple hashtag. Black athletes

are understanding the depth of

their power and are using it to push

back. With the complexities around

college sports expanding to TV deals

and sponsorships, it is now more

critical than ever for athletes to

fight for their true worth. They must

establish themselves as students at

a university, as the title "studentathlete"

suggests. Their worth is not

just reduced to their athletic abilities

and labor.

The question is are colleges and

universities willing to see their true

worth?

Recent actions suggest otherwise.

WE WANT TO PLAY

The statement "We Want To Play"

gained notoriety leading up to the

2020 NCAA Football season. Several

athletes--- including former Alabama

quarterback Mac Jones--- pushed

NCAA officials to let the season

happen.

This statement can hold a different

weight when it comes to Black

athletes.

A few hours north in Clemson, South

Carolina, Athletic Director Dan

Radakovich announced the removal

of Clemson University's Men's Track

and Field Program after the 2020-2021

season. The sport produced several

Olympic athletes and medalists.

The sport also consisted of

predominantly Black athletes.

In an open letter, Radakovich

discussed the reasoning behind the

decision.

17 NINETEEN FIFTY-SIX MAGAZINE

MARCH 2021

18
---
"After a long period of deliberative

discussion and analysis, we concluded

that discontinuing our men's track

and field program is in the best longterm

interests of Clemson Athletics,"

Radakovich said. "While this decision

comes during the significant financial

challenges due to the ongoing

pandemic, those challenges are just

one of many factors that led to this

decision. We will continue to honor

all student-athlete scholarships and

provide them with support as they

work towards earning their degrees."

Radakovich also stated that the

$2,000,000 saved from cutting this

program will help the university

financially for the future and will be

invested in other athletic programs.

During a global pandemic, Clemson

University decided that saving money

was more important than fostering

the goals of their Black athletes in

the men's track and field program.

Clemson also limited the outlets to

create diversity within their athletic

program by cutting a diverse program

that did not generate enough revenue

to please the athletic department.

In order to promote a diverse

environment, a University should

create avenues for students from

different backgrounds to do what

they love. Getting rid of this program

signaled to Black athletes that they

were expendable at Clemson. They

were only seen as tokens to cash in

more money for the university.

The athletes did not appreciate that.

Shortly after, athlete turned activist

Russell Dinkins started a movement

called #SaveClemsonXCTF. The

movement included a core team of 11

people and several others around the

country working to garner support

for the cause. The unionized feel

of this movement is something the

sports world rarely saw. Typically, the

difficulty to come together under one

cause in NCAA sports squandered

any hopes of bonding together.

This time was different.

After Radavokich's announcement,

Dinkins stated how this move shows

how Clemson feels about Black

athletes.

"You're taking away admissions

opportunities you're taking

away admissions slots, and those

opportunities can be life-changing

especially from those who come from

backgrounds where they otherwise

may not have that opportunity,"

Dinkins said.

Dinkins, along with his band of

supporters, filed a complaint against

Clemson, citing racial bias.

A movement like this was prevalent

across the country. Athletes

everywhere were fighting for not

only the privilege to compete, but

also for their values as students on

campus to not be reduced to what

they contribute through athletic

labor. The foundation laid by Black

athletes in the 1960s is now being

used to build pillars for the future.

A LOCAL BATTLE

Last August, athletes at the

University joined together to protest

against racial injustice issues in

America. Former Alabama running

back Najee Harris stated the purpose

of this march on his Twitter account

days before the event.

"We want our voices to be heard as we

strive to enact social change and rid

our world of social injustices," Harris

said.

The march happened. Students and

residents came out to show their

support for these athletes. Tears were

shed.

But what happened after that day?

Some student athletes appreciated

that the athletic department was

showing support for Black issues. One

student athlete said that they liked

how the march created conversations.

"I liked that it opened a conversation

on social media," one student athlete

said. "It's actually more than just

sports. You can't just sit here and

shout 'Roll Tide' but then go be a

racist. That's not how it works."

The struggle of Black athletes to

be seen as more than just objects

for entertainment has existed for

years. The march at first seemed to

be a turning point at the University

to create lasting change for Black

athletes.

Then, nothing else happened.

The Alabama football team completed

a historic season in 2020. Soon, other

athletic programs got their season

underway. The conversation that

started in August seemed to end

just as it began and the excitement

around the conversations quickly

dissipated.

There lies the issues.

In order for change to happen,

pressure must be consistently applied.

Black issues do not go away with a

simple march to Foster Auditorium.

There must be transparency and

authenticity to the movements on

campus.

Otherwise, the cycle just continues.

I

n August of 2016, former NFL

quarterback Colin Kaepernick

and his teammate, Eric Reid,

made national headlines and sparked

a revolutionary movement. Both

players decided to take a knee at one

of their pre-season games during the

national anthem. According to Reid

and Kaepernick, the act of kneeling

during the anthem was in protest

against police brutality and injustice.

Immediately following the incident,

Kaepernick specifically faced great

backlash, which eventually led to

his departure from the 49ers team.

Kaepernick has since continued his

work as a civil rights activist and

influencer. Many fans, athletes and

celebrities have shown their support

for the former NFL star.

It is important to note that Kaepernick

wasn't the only athlete to publicly

support the Black community on

sports grounds. Other athletes have

made headlines for making strong

political statements on the field.

Before kneeling at sporting events

became a controversial trend, two

JASMINE HOLLIE

BLACK

SOLIDARITY

IN SPORTS

African American men famously

raised their fists in the "Black Power"

salute at the 1968 Olympics. John

Carlos and Tommie Smith saluted the

Black-led social movement during

the national anthem, similar to

Kaepernick's protest. The bold act of

these men was a symbol of solidarity

for Black and oppressed people

around the world.

This iconic moment was captured in

a photograph which shows Smith,

Carlos and Australian runner Peter

Norman standing on a podium after

the 200 meter race. Controversy

surrounded track and field stars

Carlos and Smith once the photo

made national headlines. Norman

was also under media scrutiny for

standing alongside them on the

podium. Though Norman didn't

salute the Black Power Movement, he

fully supported Carlos and Smith's

protest. The three men suffered

loss in their professional careers

but gained support from the Black

community for their efforts in

promoting equality and justice.

19 NINETEEN FIFTY-SIX MAGAZINE

MARCH 2021

20
---
T

he NCAA has kicked off their

annual basketball tournament,

which is famously referred to

as March Madness. The tournament

generates great attention and

excitement from sports fans across

the country. However, the highly

anticipated tournament had a rocky

start as the NCAA encountered a

brief backlash in the media. On March

18, 2021, Stanford University sports

performance coach Ali Kershner

posted a photo on her Instagram page

showing the distinct differences in

weight room amenities at the NCAA

tournament.

MADNESS

UNFAIR TREATMENT IN WOMEN'S BASKETBALL

In the post, Kershner shared her

thoughts on the women's weight

room in comparison to the men's

weight room. Kreshner pointed out

that the two weight room setups

were noticeably different. The men's

teams were supplied with almost

triple the amount of workout space

and equipment compared to the

women's teams.

Following Kershner's post, Sedona

Prince, a current member of the

University of Oregon's women's

basketball team, posted a viral TikTok

speaking on the unequal weight

rooms at the NCAA tournament. In a

follow-up Twitter post on March 19,

2021, Prince reposted the TikTok with

a tweet acknowledging the irony of

the weight room situation occurring

during Women's History Month.

"If you aren't upset about this

problem, then you're a part of it,"

Prince said in the viral TikTok video.

The news quickly spread across social

media with both female and male

athletes expressing their disapproval

of the NCAA's negligence. NBA

players like Kyrie Irving and

Steph Curry came to the women's

basketball team's defense and said

that the unequal treatment at the

NCAA tournament was "unfair" and

"unacceptable." Vannessa Bryant, wife

of the late NBA star Kobe Bryant, also

shared the controversial story on her

Instagram while asking for helpful

ways she could get involved.

The University of Alabama's women's

basketball team has been gearing up

for their own competitive season.

The team provided their input

on the NCAA tournament weight

room situation in a pre-game press

conference before they played

against North Carolina on March 22,

2021.

According to Kristy Curry, head coach

of Alabama's women's basketball team,

she and her team often have open

discussions regarding basketball and

how their team can help promote

positivity and inclusiveness. Curry

also said that the girls are focused on

keeping their heads in the game.

"There are some areas [in which] we

need to improve and we need to be

on an equal playing field with men's

basketball," Curry said. "We want to

focus on the things we can control,

but we will also continue to speak and

create a platform for every little girl

who wants to be treated exactly the

same [as their male counterparts]."

The conversation about men's

basketball in comparison to women's

basketball arose again in a post-game

press conference on March 23, 2021.

Alabama women's basketball players

Jordan Lewis and Hannah Barber

gave their thoughts on whether they

believe women's basketball receives

less attention in the media compared

to men's basketball during March

Madness.

"In my opinion, I think it's just how

you look at it [considering] the

things that have been talked about on

social media," Lewis said. "The most

important thing is to come here and

win games and continue to strive to

be the best you can be. I think as we

continue to perform on the court the

awareness will grow and more people

will want to watch."

Barber agreed with Lewis' views by

adding that performing well on the

court will ultimately result in good

feedback from fans and media.

"By putting good product on the

floor, [we're] going to attract more

fans and spectators," Barber said.

"So, that's what we're really focused

on— just continuing to play hard,

bringing a lot of energy, and putting

on a good game out there for people

to watch."

The unfair treatment at the NCAA

tournament extended beyond the

weight rooms as more pictures

surfaced online. The viral photos

compared other accommodations

between the two teams, such as

prepared and catered food, swag

bags and more.

The NCAA has since released a public

statement apologizing for initially

"dropping the ball" in their recent

accommodations for the women's

basketball team.

"We fell short this year in what we've

been doing to prepare in the last 60

days for 64 teams to be here in San

Antonio, and we acknowledge that,"

said Lynn Holzman, NCAA vice

president of women's basketball.

The NCAA upgraded the

women's weight room

amenities shortly

after the backlash.

N C A A

senior vice

president of basketball Dan Gavitt

also apologized for the organization's

error in the following statement:

"We have intentionally organized

basketball under one umbrella [at

the NCAA] to ensure consistency

and collaboration. When we fall

short of these expectations, it's on

me," Gavitt said. "I apologize to

women's basketball student-athletes,

coaches and the women's basketball

committee for dropping the ball on

the weight rooms in San Antonio."

The NCAA weight room controversy

has since sparked a greater

conversation surrounding sports,

gender and equality. It has now

become even more apparent that

inequality still remains an issue in

sports and must be addressed sooner

than later.

21 NINETEEN FIFTY-SIX MAGAZINE

MARCH 2021

22
---
STAY CONNECTED

1956magazine.ua.edu

@1956magazine

@1956magazine

1956 Magazine

1956 Magazine