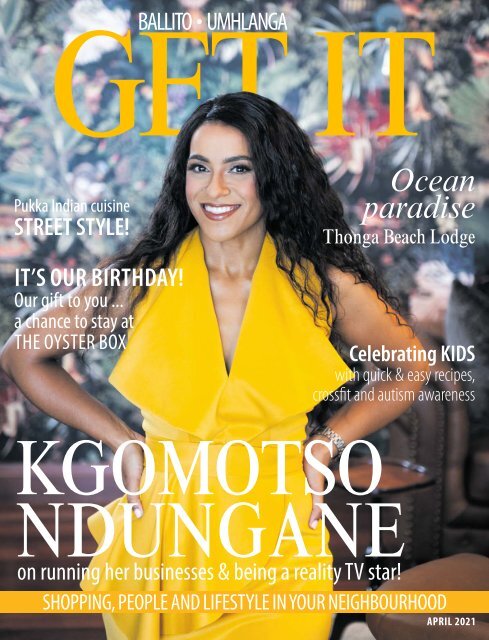 Apr 2021 Ballito Umhl
It's our Birthday month - 15 wonderful years! Meet Kgomotso Ndungane of Real Housewives of Durban fame! Umdloti's Graeme Brunt behind Oceaneye - a website featuring 24-hour live feed cameras on popular beaches in our country. We've a strong focus on health, with useful tips for exercising through each stage of your life and some recipes for those embracing a plant-based lifestyle. A spice and curry roundup as well as some delicious recipes from the Indian street food experts. Plus our first, exciting monthly Get It Kids supplement is featured in both our mag and Get it Highway Berea Durban North. Such value for our advertisers!
It's our Birthday month - 15 wonderful years! Meet Kgomotso Ndungane of Real Housewives of Durban fame! Umdloti's Graeme Brunt behind Oceaneye - a website featuring 24-hour live feed cameras on popular beaches in our country. We've a strong focus on health, with useful tips for exercising through each stage of your life and some recipes for those embracing a plant-based lifestyle. A spice and curry roundup as well as some delicious recipes from the Indian street food experts. Plus our first, exciting monthly Get It Kids supplement is featured in both our mag and Get it Highway Berea Durban North. Such value for our advertisers!
SHOW MORE
SHOW LESS
Create successful ePaper yourself
Turn your PDF publications into a flip-book with our unique Google optimized e-Paper software.
BALLITO • UMHLANGA

Pukka Indian cuisine

STREET STYLE!

It's our birthday!

Our gift to you ...

a chance to stay at

the Oyster Box

Ocean

paradise

Thonga Beach Lodge

Celebrating KIDS

with quick & easy recipes,

crossfit and autism awareness

KGOMOTSO

NDUNGANE

on running her businesses & being a reality TV star!

SHOPPING, PEOPLE AND LIFESTYLE IN YOUR NEIGHBOURHOOD

APRIL 2021
---
GET IT

Editorial

Phone 032 946 0276

Email leah@getitnc.co.za

Ballito Business Centre • Ballito Drive

Ballito • KwaZulu-Natal

Like our Facebook page:

Get It Magazine Ballito.Umhlanga

Follow us on Twitter: @GetItMagNC

Follow us on Instagram:

@getitmagnc

www.getitmagazine.co.za/ballito

Editor Leah Shone

leah@getitnc.co.za

Layout and Design

Nicole von Metzinger

ads@northcoastcourier.co.za

Advertising Natalie Bertram

Natalie@getitnc.co.za | 082 434 3442

Sales and Online Support Lisa Smith

lisa@getitnc.co.za

GET IT NATIONAL

National Group Editor and National

Sales Kym Argo

082 785 9230 | kyma@caxton.co.za

Distribution

10 000 copies monthly

Get It Ballito • Umhlanga is distributed

free of charge in Ballito, Salt Rock, Umhlali,

Umdloti, Umhlanga Rocks, Umhlanga

Ridge and Gateway

Published by The North Coast Courier

Competition rules

The judges' decision is final. Prizes cannot be

transferred or redeemed for cash. Competitions

are not open to the sponsors or Caxton

employees or their families. Get It Magazine

reserves the right to publish the names of

winners, who will be contacted telephonically

and need to collect their prizes from Get it Ballito

branch within 10 days or they will be forfeited.

Prize winners' names are published on our

Facebook page monthly.

Cover: Kgomotso Ndungane

Shot by: Chris Allan Photo, 083 441 3144,

www.chrisallanphoto.co.za

Makeup: Volenti Laurentina, @volentim, 0835532700

Dress: Kathrin Kidger Designs,

@kathrinkidgerdesigns, www.kathrinkidger.co.za

Location: Seaton Manor House, @seaton_manor_

house, www.seatonestate.co.za/events

contents

Wish List

6 Pampering bliss, yummy wine ... oh, and you could win

a fabulous pair of kicks!

People

8 Meet Durban's 'real housewife' ... the beautiful, bubbly and

ambitious Kgomotso Ndungane

10 All eyes are on the ocean, thanks to Umdloti's Graeme

14 Happy birthday to us ... we're turning 15!

health & beauty

16 Kate Lovemore talks permanent hair removal

18 Exercise through the ages - what should you be doing?

23 Get beautiful brows that stay that way

26 Embracing a meat-free lifestyle? Read on ...

food

30 One of KZN's hardest-working baristas - Sbu is owner of the

Coffee Lab at the Lifestyle Centre Ballito

34 From working in the scullery of a Durban restaurant to being a top

chef at a 5-star London hotel ... meet Chef Themba

36 Our favourite new Indian food hotspot is Umhlanga's Bachao

Home & decor

40 Sometimes going faux is a great idea

42 Here's what we're planting this month ...

44 Take a peek inside this beautiful nature-inspired home

kids

50 She's ambitious, strong-willed and published ... and

she's only 13 years old!

54 It's autism awareness month and we're sharing some

important facts

56 Crossfit for kids - healthy and so much fun!

57 Easy tasty treats your little ones will love

58 WIN! A light-up scooter worth R3300

pets

60 All the poshest pooches are wearing Kinglsey & Gray

62 Read about the hottest new pet management app called TAME

travel

66 We've found a piece of coastal paradise at Thonga Beach Lodge

APRIL 2021

10293 copies distributed (Oct - Dec2020)

April 2021 Get It • Ballito Umhlanga 01
---
14

YEARS

EXCLUSIVE MANDATE

R 12 000 000

SHEFFIELD BEACH | LOOKING FOR A SPECTACULAR

VIEW?

Literally on the beach. Beach gate onto a private and picturesque beach.

Position par none with magnificent sea and coastline views of note from this

solidly built family home situated in a cul-de-sac.

3

3

300m 2

SIMBITHI ECO ESTATE | AN ELEGANT HOME WITH

SWEEPING VIEWS!

A perfect home for the discerning buyer. An eco-friendly home offering

spacious living and entertainment areas on the lower level.

4 3.5 2

613m 2

R 12 795 000

SIMBITHI ECO ESTATE | EXCEPTIONAL HOME WITH

BREAKER SEA VIEWS!

A spacious home to suit large families or for those who work from home.

R 12 950 000

5 5 2

580m 2

Fiona Crago

082 551 2607

fiona@fionacrago.co.za

Jackie Futter

083 326 7958

jackie@fionacrago.co.za

Bea van der Merwe

072 756 7753

bea@fionacrago.co.za

Tania Evert

Rental Specialist

073 106 6010

rentals@fionacrago.co.za

Invest. Intelligently.

02 Get It • Ballito Umhlanga April 2021

032 946 1439 | www.fionacrago.co.za
---
If you have a date for the Get It diary page, email the info at least a month in advance to leah@getitnc.co.za

A hot date!

A ladies tea, live music & train rides this April ...

02

It's time to get your sweet tooth on

… Durban's sweetest festival is back!

The Durban Dessert Festival 2021 is set to

take place in Park Square in Umhlanga from 2

to 4 April. There promises to be a wonderful

assortment of yummy treats to indulge in

(with over 25 dessert and food stands), as

well a live music and dj's and a fun Instagram

wall! The festival runs from 11am to 9pm on

Saturday and 11am to 7pm on Sunday. Tickets

range from R50 (adults) and R20 (kids) to R65

(adults) and R40 (kids). Kids under 12 are free

and tickets are available on www.quicket.

co.za. Details: FB @DurbanDessertFestival, IG @

durbandessertfestival

23

The North Coast Courier Orphan

Fund is hosting a wonderful 'denim

& diamonds' ladies tea and it's the perfect

excuse to get dressed up and get out … for

a good cause! The tea takes place at 9am

on 23 April at The Waterberry in Ballito and

the theme is 'Thrive'. Hosted by ECR's Minnie

Ntuli, the event includes talks by specialist

orthopaedic and women's health physio

Tarryn Graham and specialist obstetrician and

gynaecologist Dr Nombuso Mthethwa. There

are great prizes up for grabs too. Details:

Tickets are R190 and booked via fundraising

coordinator Mpume: orphanfund@

northcoastcourier.co.za, 032 946 0276.

25

It's choo-choo time! The Umgeni

Steam Train is back on its tracks after

a long lockdown rest and we can't wait to

hop aboard! Watch autumn roll past your

window on this much-loved train, which

runs the last Sunday of each month and on

select holidays. It departs from and returns to

Stokers Arms in Kloof, with a stop at Inchanga

Station where you can browse around the

Inchanga community market. Bookings

are open and there are trips planned for

the Easter weekend as well. Details: www.

umgenisteamrailway.com (If you're looking

to combine your trip with other things to

do in the area visit the Valley of a 1000 Hills

Community Tourism Organisation website:

www.1000hillstourism.co.za)

3

We're spending the Easter weekend at Gateway! Autumn is here

and it's time to get out and enjoy warm balmy afternoons and

lazy sundowners (while most of the country cools down and

heads indoors). Adding to the glorious outdoor vibes at Gateway

Theatre of Shopping, there will also be live entertainment in the

Palm Court over the Easter weekend ... and we can't wait!

The lineup is as follows: Saturday 3 April - 6 to 9pm; Sunday 4

April – 6 to 9pm and Monday 5 April 12 to 3pm.

Details: For more details, keep an eye their website:

www.gatewayworld.co.za and social media

FB: @GatewayVIP; IG: @gatewayumhlanga

April 2021 Get It • Ballito Umhlanga 03
---
IT'S JUST

THE BEGINNING

What does your fresh start look like? For many, it's a mature lifestyle village in a glorious

location, surrounded by state-of-the-art security, lush indigenous gardens and completed

by forest or ocean views. It could also be freedom of choice when it comes to activities,

home types and purchase options that suit every need. Then, there's the convenience

factor of a single monthly levy that ensures everything is taken care of. Because when it

comes to a new adventure, why should you settle for anything less than all of the above

and then some?

To see how you can live the holiday from as little as R1.6 million, book a private tour of

Renishaw Hills, Scottburgh today. Email sales@renishawhills.co.za to get started or take

our virtual tours on www.renishawhills.co.za

THE START OF A NEW ADVENTURE

Julieann: 084 514 8028 | sales@renishawhills.co.za | www.renishawhills.co.za
---
Book club

A little heartbreak, happy endings and a great celebratory win!

Rocking

back-to-back

double gold

medals,

including one

in the Rosé Rocks

competition, FAT

bastard ROSÉ 2020

is a gorgeous salmon pink

wine which tastes of fresh

berries. Delicious and affordable

(R95 a bottle), it's the perfect choice

for these last days of Summer.

Details: fatbastardwine.co.za

Romance. Friendship. Joy. And the possibility of happy endings. What more do you want in

a feel-good read? In the latest Katie Fforde (love her) release, Lizzie's mother is keen for her

to have A Wedding in the Country, to a suitable chap chosen, obviously, by mum. And to

learn how to be a 'good wife', she's sent off to cookery school in London. It's 1963 … and

London is swinging! Lizzie cuts her hair, buys a mini dress and moves in with two great

friends. All of her mum's plans are forgotten. She's going to have fun … even if that entails

falling in love with someone who appears to be engaged to someone else. The perfect

read for a lazy Easter weekend. • Dodging doctor's orders, 17-year-old Lenni, who's living

in the terminal ward, joins an art class where she bumps into fellow hospital patient

Margot, a rebel-hearted 83-year-old from the next ward. Their bond is instant as they

realise that together they have lived an astonishing one hundred years. To celebrate

their shared century, they decide to paint their life stories … of growing old and staying

young, of giving joy and receiving kindness, of losing love and finding the person who

is everything. Fiercely alive, disarmingly funny and brimming with tenderness, The One

Hundred Years of Lenni and Margot by Marianne Cronin unwraps the extraordinary

gift of life, even when it is about to be taken away, and revels in our infinite capacity for

friendship and love when we need them most. Keep the tissues at your side. • Was there

a single book club in the late 1990s which didn't have The Notebook on the must-read

list? Impossible. And now, 25 years after its first release, Nicholas Sparks' love story to

end all love stories is being released. It's the story of Noah Calhoun, who returns from

war and, in an attempt to escape the ghosts of battle, sets his mind and his body to

restoring an old plantation home to its former beauty. But he's haunted by memories of

the beautiful Allie, who he'd met years before … a girl who stole his heart at the funfair,

whose parents didn't approve, a girl he wrote to every day for a year. When she turns up

on his doorstep, he has a chance to win her back. Small problem … she's engaged to

someone else. You've seen the movie … you may have read the book … but read it (and

weep) again anyway. It's not called a classic heartbreaker for nothing. And to celebrate

the 25th anniversary edition, we've got a special giveaway … three people can win a

copy of The Notebook plus a case of Fat bastard Rosé … your next book club

get-together's going to be very special indeed. To enter, visit Get It National Magazines

on Facebook and enter on The Notebook's post.

April 2021 Get It • Ballito Umhlanga 05
---
Wish list

Go on, spoil yourself this month ...

Pampering bliss with Tata Harper at the Oyster Box

There are few things as indulgent and pampering as a trip to the Oyster Box spa. It is

like stepping into a little bliss bubble. The dedicated, trained staff deliver the highest

levels of spa therapy and pampering in the most exquisite, contemporary treatment

rooms, there is even a plunge pool and tranquillity lounge. And now it's even more

sensational. An ideal partner for the Red Carnation Group in their commitment to the

environment and sustainability, the Tata Harper range was recently introduced in the

spa (the first on the continent to offer this renowned range of skincare products and

treatments) and, after experiencing a wonderful 60-minute facial for ourselves, we

can honestly say we are hooked. Tata Harper introduce as many organic ingredients

into their products as possible in order to get the desired effect, and their botanical

ingredients have pioneered the 'farm-to-face' trend, offering a premium, sustainable

line of products and accompanying treatments. Each Tata Harper product contains

biodegradable ingredients and is packaged in fully-recyclable and sustainable materials.

The Oyster Box spa (as well as The Twelve Apostles Hotel and Spa and Bushmans Kloof

Wilderness Reserve & Wellness Retreat) now offers a range of treatments which focus

on hydration and nourishment and encompass Tata Harper face, body and massage

rituals as well as combined treatments. Highlights include a restoring honey cocoon

body ritual, restoring remodelage facial using face cupping techniques, and a men's

skin solution facial. We highly recommend booking yourself a little spoil this month …

Details: 031 514 5074, thespa@oysterbox.co.za

06 Get It • Ballito Umhlanga April 2021

Stylish sauvignon debut

The first Steenberg Sauvignon Blanc crafted by

Cellarmaster Elunda Basson has stepped out

in style with a refined new look. The vibrant

Steenberg Sauvignon Blanc 2020, and the more

nuanced Steenberg Rattlesnake Sauvignon

Blanc 2019, are the first of this estate's wines to

show off their new sophisticated labels that

give prominence to the wine farm's iconic swan.

The zesty Steenberg Sauvignon Blanc has a

seductive bouquet of fresh Cape gooseberries,

nettles, capsicum and white blossom, and is all

grapefruit zest and elderflower while maintaining

a distinctive mineral core. On the other side

of the spectrum is the beautifully textured, lightly

wooded Rattlesnake Sauvignon Blanc ... rich

and alluring, elegant and comforting … an ideal

choice for enjoying on cooler days. Elderflower

- the hallmark of top tier Constantia white wines

- fresh asparagus and Cape gooseberry marry

on the nose and palate enlivened by hints of

capsicum, nasturtium and lime. Details: R145 and

R170 respectively, from steenbergfarm.com.
---
Bee-licious Body Balm…

We can never get enough of heavenly body

products, and with autumn in full swing,

we've found our new skin doctor… Bee-licious

Body Balm by Lulubee - a local artisan

brand that has embraced wildcrafting (harvesting

whole plant allies), zero waste and

natural dyeing principles into all of their skin

and health product offerings. Ultra-luxurious,

this Bee-licious Body Balm revitalises dry skin

like never before. Infused with wildcrafted

plant allies of Cape Snowbush, Pennywort

(Skin Elixir) and blended with beeswax, it creates

a deep-penetrating conditioner which

leaves your skin feeling soft and supple. It's

perfect for soothing those over sanitised

hands, cuticles, knees, elbows, feet or any

part of your body that needs some nourishment.

Details: R210 from lulubee.co.za

Boost your immune system ...

with a health shot

We're all about keeping our immune systems as

strong as possible, so are happily taking a shot a

day .... the new Sir Juice Immunity Booster Shots

are packed with good stuff. Using a combination

of cold pressed juices, extracts and added vitamins,

the shots contain cold-pressed orange, apple, ginger,

turmeric and lemon, and are filled with a good

dose of Echinacea and vitamins to ensure each

health one is packs a punch. There's Vitamins B3,

B5, B6 and B12, as well as Vitamin C and D. Details:

Available at grocers for R21.99 or home delivery

from sirfresh.co.za, FB@welovefruit, IG @sirfruit_

Walk away a winner!

Running has just gone so much more high tech. No longer can you just pop on any old trainers, do a couple of

stretches and hit the road. Nope, now it's all apps and traction and strategic support. Which is all - and so much more

- you get when you invest in a pair of Under Armour Trainers. These are from the Infinite 3 range ... and are aimed at

pro distance runners wanting energy return and efficiency. And that, apparently, is exactly what UA HOVR Infinite 3

delivers. That and real-time Form Coaching. So before you go on your morning jog ... read this. You can connect your

shoes to UA MapMyRun for personalized tips to help you run better. This app tracks & analyses your running metrics to

help make you a better runner. We've got an R3000 voucher from Under Armour to give away. To enter, simply like us

on Facebook, @GetItMagNC, find our fitness post and tag a fellow jogger. Entries close, April 19.

win

April 2021 Get It • Ballito Umhlanga 07
---
Meet the 'real' housewife

Text: Leah Shone | Photos: Chris Allan Photo | Location: Seaton Manor House | Makeup: VOLENTI LAURENTINA | Dress: KATHRIN KIDGER DESIGNS

08 Get It • Ballito Umhlanga April 2021
---
From the pain of losing loved ones to the excitement of

launching a new brand during lockdown and the whirlwind

of landing a role on one of SA's hottest reality TV shows …

we chat to the beautiful, bubbly Kgomotso Ndungane.

She may be a striking celebrity with two successful businesses, but Kgomotso

values family above all else. "I chose an oak tree as the logo for my business for a

reason," she says, smiling. "Oak trees are strong and their roots run deep. I am who

I am today because of my roots."

Kgomotso is married to former Springbok rugby player, Odwa, and the couple

have two children, Amahle (8) and Anathi (4). She is also the owner of wellknown

Mount Edgecombe-based wedding, events and floral company, Oak

Celebrations, and recently launched a home, bath and body brand called LeLapa.

Her most recent claim to fame however, is landing a role on The Real Housewives

of Durban (RHOD), currently airing on Showmax.

"I wasn't sure about it when they first approached me to be on the series. I didn't

know why they chose me because Odwa and I don't live a flashy, luxurious

lifestyle. I decided to go on to showcase my brands and along the way I learned a

lot about myself," she says.

A truly self-made entrepreneur, Kgomotso is passionate about the brands she

has built over the years. Creating her own success has always been a priority for

her and something she says she learnt from her family.

Raised in a township in Potchefstroom, Kgomotso comes from a tight-knit

Tswana family. She was brought up by her grandparents, both strong, respected

members of their community and who passed away recently, five months apart.

"I was privileged to have grown up surrounded by educators. Both my

mother and grandmother were educators and played an important role in

the community. My grandfather was a high-ranking member of the police

force. Everyone knew and loved him. I spent my childhood learning from my

grandparents and I was broken after losing them both last year."

After school Kgomotso did a B.Com degree at the University of Pretoria before

getting a job at an IT company. She later started her own IT consulting company

in Johannesburg. It was while she was studying at TUKS that she met her future

husband.

"Odwa was playing rugby for the Blue Bulls. I knew nothing about rugby and

when he invited me to watch him play against the Brumbies at Loftus, I didn't

know what I was getting into," she laughs. Around the same time that they met,

Odwa moved to Durban to play for the Sharks.

Although Kgomotso made the decision to pursue her career and remain in

Johannesburg, the couple's romance continued to blossom and she remembers

fondly the first time Odwa invited her to meet his family in East London. "It was

quite a culture shock, which I had to embrace, get to know and love. Xhosa

people are extremely proud of their culture, Tswana people are also proud but

not too vocal (so it's vice versa)," she says. "We realised we had a lot to learn about

each other and had to work together to find our middle ground. Family has

always been important to both of us and I was truly gifted with Odwa. He keeps

me calm and grounded."

The couple were married in 2011 and Kgomotso moved to KZN in 2012. "We

wanted to settle and start a family. There is just something different about

Durban and I think it's similar with most coastal towns and cities. Living near

the ocean and spending time in nature grounds you as a person and gives

perspective. People are very family-orientated here."

Having always had a natural creative eye and appreciation for the finer things,

Kgomotso left the IT world and started an events and floral business called

Oak Celebrations. Her most recent

business venture - a home, body

and bath brand called Lelapa (which

means 'family' in Tswana) - was

inspired by her late grandparents and

fine-tuned last year during lockdown.

"I think my talents manifest in quieter

moments and lockdown gave me

time to focus on the business."

Authenticity and staying true to who

she is have always been important

to Kgomotso, who says this was

something she set out to hold onto

from the moment she decided to go

on the RHOD.

"It's been quite an experience being

on the show! I only get to see the final

I was truly gifted

with Odwa. He

keeps me calm and

grounded

cut of each episode when everyone

else does, so I live a 'normal' life for

four days a week until the show airs

on Showmax at midnight and then

social media takes off! It has definitely

been character-building!"

Finding balance with her businesses,

motherhood and the show has been

a challenge. "I don't think balance

just happens. It has to be carefully

and intentionally crafted. For me,

balance is about going on holiday

with my family or a date night or

playing golf once a week with my

husband. Structure and routine are an

important part of finding balance and

family forces you to have structure. I

have to consciously step away from

work every now and then and slow

down to gain some perspective."

One of the most positive things

to come from the show, she says,

has been the number of young

entrepreneurs who have reached out

on social media asking for guidance

and mentorship. "I love inspiring other

'doers' in this life."

Details: @kgomotso_ndugane, @

lelapa_brand, @oakcelebrations

April 2021 Get It • Ballito Umhlanga 09
---
Eyes on the ocean

Sometimes you just want to sneak a quick peak at the ocean and check out

the conditions before grabbing your board, fishing rod or beach bag and

heading out, right? Well now you can …

The creator of oceaneye.co.za

is Umdloti's Graeme Brunt

Text: Leah Shone | Photo: tyanderi.com

All you have to do is switch on your

computer, navigate to Umdloti local

Graeme Brunt's website and voila

… you can view live streams from

high quality cameras that have been

carefully positioned at some of the

most popular beaches around the

country.

Graeme had no idea, when he set

out to start oceaneye a few months

ago, what an incredible response

there would be. In fact, within the

first 24 hours more than 22 000

people logged on to check out the

cameras, which were positioned to

overlook beaches in KZN, the Garden

Route and Cape Town. "It's been

phenomenal," says Graeme. "We had

220 000 views within the first two

weeks and we are anticipating over

10 Get It • Ballito Umhlanga April 2021

400 000 views in the first month."

Born in Zimbabwe and raised in Pietermaritzburg, 35-year-old Graeme has

always loved the ocean. The former Northwood boy spent many weekends

on the beach and surfing as a child and, while 'messing around' and making

fun surf films while at school, he discovered his passion for film. Although he

initially started studying marketing, Graeme says it wasn't for him and instead

he decided to follow his passion and study film, which he did for three years at

Durban University of Technology. He then spent more than two years working

on yachts overseas, with the goal of saving enough money to stock up on video

and film equipment. When he returned to SA Graeme moved to Cape Town

(where the film industry is quite big) and that is where he met his now wife and

business partner, Justine. He and Justine have lived back in Durban for five years.

They have a three-year-old daughter named Ayla and another baby on the way.

While living in Cape Town, the couple started a wedding video business, which

was very successful. "We were doing loads of weddings every year, and I was

working on my surfing and 'passion projects' on the side." But then, like for so

many people, Covid arrived and changed everything.

Graeme is a surfer who is also passionate about ocean conservation. He says

he saw a gap in the market for a well-maintained website with high quality live

stream ocean-facing cameras and lots of good ocean-related content.
---
An example of one of the

camera views in Durban

He decided to give it a go. "It took us eight months just to figure out the livestreaming

process and make sure we had the correct bandwith, etc. It's like

having our own little TV channel and there is a lot of technical work that goes on

in the background."

Graeme says they had no idea there would be quite so much traffic so quickly

and they've had to scramble to update and iron out problems caused by the

massive surge of traffic. "It's been a trial and error process and we've been fixing

and updated cameras and their positioning, but we are so excited about where

this business is going."

One of his biggest goals, Graeme says, is to use the website as a voice for

conservationists and 'ocean people' who don't have a voice. "Our high quality

camera feeds will draw people to the website, but we want to make sure we

have great, relevant and interesting

content to keep them coming

back. There are so many things and

people to focus on – from surfers

and paddlers to board shapers and

conservationists, all of whom have

great stories and wisdom to share."

Graeme says they are hoping to 'uplift'

ocean sports and destinations around

South Africa with their website, which

although is free at the moment, might

become subscription-based.

"We want to get to a place where we

can live-stream surfing and fishing

events and make them great again.

We have so many big ideas and

visions, but there is a still a long way

to go."

For now though, oceaneye.co.za is

a great place for surfers, fishermen,

paddlers, SUP boarders, divers (and

even parents who just want to take

their kids down to the beach) to log

on and check out the conditions

before heading down to the beach!

In KZN, there are currently cameras at

Umdloti Point, Umhlanga, Addington,

New Pier and Bay of Plenty.

Details: www.oceaneye.co.za, info@

oceaneye.co.za

Home based care now offered to

residents of Somerset Valley Estate

• Assisted Living for adults of all ages

• Care of the Aged and the Infirm

• Frail Care

• Alzheimer and Dementia Care

• Palliative Care

• Step down/post Hospitalisation Care

• 24-hour Nursing

• COVID-19 Screening in place

Call us for

tariffs and information

031 940 1601
---
Celebrating 15 years

It seems like just the other day we decided to start a glossy, lifestyle magazine on

the North Coast. In fact, our first (rather clumsy) edition came out in April 2006. This

month, as we celebrate Get It Ballito.Umhlanga's 15th birthday, editor Leah Shone

reflects on a decade-and-a-half of fun, hard work and success.

Text: Leah Shone | Photograph: TASH, stories by goya

Not everyone gets to wake up each

day and do a job they love. Fifteen

years later though, I still do. The entire

process of creating a publication, from

conceptualizing themes and ideas

to meeting, interviewing and writing

stories about intriguing people and

fascinating new places and spaces is

food for the soul.

No two days are the same in this

industry. As journalists, we are

fortunate enough to be invited into

the homes and lives of inspiring

humans, taste marvellous cuisine and

experience incredible destinations

- and then we get to present and

communicate it all to our readers in

the form of a beautiful, high quality

publication.

There is stress too, of course.

Deadlines can be hair-raising at times

and there are those sneaky errors

that creep in (and somehow only

become visible after 20 000 copies

have already been printed!). There

are late nights and long hours and

there is the responsibility of ensuring

that our advertiser's needs are met

and their brands showcased in the

best possible light and to the highest

standard. But … the pleasure of

holding a brand new edition, hot off

the press, in your hands, and seeing

people actively engage with your

online content far outweighs all the

challenges.

The power of print

We are incredibly proud of the growth

we've made in our digital offerings

over the past year. We have grown

both our social media following

and our e-magazine readership

exponentially. It's wonderful to

engage with our readers and see the

immediate, tangible effect our digital

The Get It Girls, from left, Lisa Smith, Natalie

Bertram, Leah Shone and Nicole von Metzinger

content has on people's lives. Our e-mag is read by over 20 000 people monthly

and we have over 25 000 Facebook and 8 000 Instagram followers.

It must be said that there is still an indisputable physical intimacy created

between an advertiser and customer in print that just cannot be matched on a

screen. Print allows you to connect offline and organically with your customer

and we take pride in creating a product we know will linger on coffee tables and

in offices, allowing readers to enjoy the longevity that print brings.

14 Get It • Ballito Umhlanga April 2021
---
I recently read an article, which said, due to the huge

amount of misinformation online and sheer quantity of

content out there, the demand for quality, trustworthy

content is higher than ever. Similarly, our determination to

create an authentic, quality print edition is stronger than

ever as well, and our advertisers and readers continue to

prove to us the incredible power that print still holds.

Meet the team

Of course, it takes team to do what we do, and we are

incredibly lucky to have a great one. With the support of

our sister brand, The North Coast Courier, as well as the

Caxton group, our team works closely every month, each

playing our role, doing what we love.

Nicole, our talented graphic artist, joined the company

four years ago. She is the lead designer for the whole

group, which means she designs everything for The North

Coast Courier, Wordsmiths Marketing, The Fast Finder and

Get It. Nicole has won two two big Caxton awards and

still gets excited when she she sees the magazine around

town! Definitely the fittest member of our team, Nicole

does all kinds of exercise, including a lot running. She

loves animals (she asks us to put one on the cover every

month), cooking and eating (especially potatoes!).

Always smiling and happy-go-lucky, Lisa provides our

team with invaluable sales and online support. She was

born in the UK and grew up in SA and has a background

in design and newspaper ad sales. She has been with

Get It for nearly three years. Lisa is passionate about the

industry and the marketing opportunities it presents and

says she loves the diversity that comes with working in a

media company. She enjoys DIY, gardening and animals.

Oh, and she's still on the lookout for her soul mate!

Our advertising rep, Natalie, is the newest member of our

team. She joined us just 7 months ago. Natalie was born in

Joburg and studied interior design. She started her career

as a visual stylist in London and was then made store

manager where she oversaw 150 staff members. Natalie

loves linking local businesses to readers and finds great

reward in helping them achieve success. In her downtime

she enjoys trail walks, the beach and eating her way

through the North Coast's great restaurant offerings! She

also paints and draws occasionally.

As for me, I have worked for the Wordsmiths Group for

18 years, 15 of those as the editor of this great magazine.

When I'm not writing, editing and collecting copy, you'll

find me on the beach or travelling with my husband and

my two favourite humans (my sons) … usually enjoying a

glass of good red wine!

Our gift to you

As our way of saying thank you to our

readers for your loyalty and support over

the past 15 years, we have collaborated with the

Oyster Box Hotel to bring you an amazing birthday

prize! We're offering one reader the chance to win a

night's stay at the Oyster Box for two people, including

breakfast and dinner (valued at R10 500). Enter on our

social media pages @GetItMagNC. Good luck!

win
---
Make it permanent

Hair removal trends have changed through the years and, for a number of reasons,

more and more people are opting for the permanent route. We spoke to Ballito

electrolysis specialist Kate Lovemore Baker who is passionate about what she does.

Text: Leah Shone

Zimbali-based Kate has always

been passionate about beauty and

health and helping others feel good

about themselves. Which is why she

decided, after trying it for herself,

to start her own aesthetic business

specialising in electrolysis.

A born and bred Durban girl, Kate is

married to South African big wave

surfing champion Grant Twiggy Baker

and the couple have a five-year-old

daughter named Billi. After pursuing

a career in marketing and advertising,

Kate joined her family interior design

business to allow her flexibility to

travel internationally with her surfing

husband. She decided she needed a

change of direction and decided to

go the beauty route.

"I had tried laser but it never worked

for me because my hair is too light.

I started looking into electrolysis

and, fast forward 18 months to

August 2019 and I started Lovemore

Aesthetics!" Kate says she realised

there were a lot of other women in

the same boat as her, struggling to

find a truly permanent hair removal

solution. Her business now offers

one hundred percent progressively

permanent hair removal for all skin

colours and hair types, from blonde

to grey and ginger, as well as dark

hair. "I also remove unwanted skin

tags, cherry angiomas, spider veins,

unwanted piercings and the list goes

on."

Asked what the difference is between

laser hair removal and electrolysis,

Kate says, "the obvious difference

between the two is that laser uses

light and pigment in the hair, whereas

with electrolysis we use a tiny probe

to go into each hair follicle to destroy

the 'food factory' that allows the

hair to grow." She says often laser

treatments are every four to six

weeks and you have to shave before

your appointments. "You can book

electrolysis appointments as often as you need, which really helps my clients

who are battling with chin hairs, which seem to grow really quickly. In fact, I

would say sixty percent of my clients are women battling with chin hairs. So,

ladies, you are not alone!"

It's important to note, Kate says, that electrolysis is not a once-off treatment and

you have to go back for a few sessions before the 'food factory' is fully removed

and then the hair will never grow back. "Electrolysis is the only one hundred

percent permanent hair removal technique approved by the FDA."

We asked Kate about some of the most common misconceptions when it comes

to hair removal in South Africa? "Everyone thinks laser is the only way to go. Yes,

it will reduce your hair growth quite a lot but it will not permanently remove it.

Don't get me wrong, if someone comes to me with a lot of hair on their legs,

bikini or underarm, I recommend them going for a few laser treatments to save

them money beforehand, to reduce the hair growth. But I often see people who

have had laser, who have stubborn hairs that just won't stop growing.

Kate shares her top tips when it comes to hair removal. "Firstly, shop around for

what suits your budget and ask for advice from friends. Then, for the moms with

daughters out there - the best gift you can give your 18-year-old is electrolysis

treatments - especially for bikini and underarm. They will thank you later in life

when they no longer have to wax or shave! Lastly, give electrolysis a try, you

won't be disappointed."

Details: Kate Lovemore Baker, 072 143 0322

16 Get It • Ballito Umhlanga April 2021
---
Exercise

for life

If we've learnt anything from the pandemic,

it is that our health is the most important

thing we have. Regular exercise is one of the

best ways to ensure you stay healthy, both

physically and mentally. Ballito biokineticist

Nic Acampora shares some advice on

moving your body at different stages of life.

Text: Leah Shone

As a biokineticist, Nic spends his

days helping people, young and

aging, optimise their bodies. "It is

incredible to see what improvements

can be made by following an

exercise plan that's suited to the

individual's age and skill level. Apart

from physical improvements such

as increased cardio-vascular fitness,

increased musculo-skeletal strength,

co-ordination and overall body

awareness; people who make exercise

a habit see improvements in their

mental well being too. Time and

finances vary exponentially but I may

be able provide guidance choosing

exercise for your age-group." Nic uses

the analogy of being a home owner

and the responsibilities associated

with the building and upkeep of your

home (your body). "It's important to

remember, though, that you are an

individual and should listen to your

body's warning signals like niggles,

pain and chronic fatigue."

First up, find the optimal building site and draft the plans (children,

teens and young adults):

Exercise is essential for healthy development, not only physically but socially

too. In today's technological world kids are spending less time playing outdoors,

exploring their body's boundaries. At this age, the best exercise is anything

that incorporates elements of play - body-weight, functional movements and

proprioception challenges – even and especially for the 'non-sporty' children.

Incorporate at least three sessions of 30 to 45min per week to improve coordination,

self-confidence and physical ability. Make sure to keep activities fun

and ever-changing to encourage continued participation.

Laying the foundation (in your 20's)

These are foundational years to a long and prosperous active lifestyle. Here our

bodies respond rapidly to new stimulus and improvements are easily seen,

although, it's also here where we feel 'bulletproof, pushing our bodies to their

maximum limits and treading the fine-line between performance and injury.

Injuries impact our longevity, but fortunately, these bodies are resilient and

forgiving and most people who experience set-backs stand a high chance of

making complete recovery. Focus on establishing a balanced and consistent

exercise regime, do things that you enjoy as well as those that challenge you.

Take up a hobby that you can enjoy as you age such as running, swimming,

cycling or a team sport. Supplement aerobic type exercise with a minimum of 2

to 3 45 minute to one-hour long strength training sessions per week. Focus on

fundamental movements that build strength in your bones, muscles and joints.

18 Get It • Ballito Umhlanga April 2021
---
Build from the ground up (30's to 50's)

During this wide-ranging period, the most common mistake made is

trying to build up too quickly, especially if there's been a long period

of inactivity (anything more than six consecutive months). Instead of

chasing times that you used to set as a 20-year-old, focus on building

your training from the foundation up and you will see the long-term

benefits. That said, you can teach an old dog new tricks! Find an

activity you enjoy and make sure to read up or get some professional

advice on how to do it. Download a running program or join a group

fitness class - but be mindful of any previous or existing injuries and

always seek your doctors' approval if you have any serious conditions.

It's essential to include strength training into your routine - I'd go as

far as saying it's non-negotiable. Two to three sessions a week will

help keep your frame structurally sound. As we age our supporting

structures deteriorate and our bones, joints, muscles and connective

tissue rely on weighed/resistance training to maintain their integrity.

Diligent maintenance (50 to 65)

If you've built a structurally sound home on a solid foundation, it is

during this period where you'll reap the rewards, whilst others suffer

the aches and pains of inactivity you'll be the one picked first for the

team of family lawn sports. If you're the one with aches and pains, it

is possible to start living a better life today but take caution knowing

that your body has gone through many years of neglect. Look

to be physically active 3 to 4 times per week, starting slowly with

20-minute sessions and build from there. Be sure to include strength

and proprioception work in your routine. Add outdoor activities such

as walking to boost cardiovascular health.

Structural reinforcements (65 and older)

At this age focus on preserving what you have.

Improving your muscular strength and coordination

will improve your balance and reduce

the risk of injury due to falling. A little, more often,

goes a long way. Keep sessions short (15 to 30

minutes) and focused. Try to establish a daily

routine, like a morning stretch or balance on one

leg whilst brushing your teeth. "I'll leave you to

consider this quote from Jim Rohn, 'Take care of

your body; it's the only place you have to live'."

Details: Nic Acampora, head biokineticist, SA

Biokineticists Inc, IMF Ballito, 071 253 7668, nic@

imovefitness.co.za

NEW WAY

Now

open in

Umhlanga

Treatment administered and

monitored by trained Doctors,

Anaesthetists and Nurses

PRN1418386

087 813 7778

Ground floor, 5 Pencarrow Crescent,

La Lucia Ridge, 4051 Durban KZN

Clinics also in Hilton (KZN) and Bedfordview (Gauteng)

A member of:

The Society of Ketamine Practitioners of South Africa (SOKePSA)

and The American Society Ketamine Physicians
---
Promotion

Keep fit with

Cornubia Mall

Health and fitness have never been as top of mind as they are right now. Offering a safe,

open space for people to move their bodies and stay healthy, Cornubia Mall is the perfect

place to get fit (before ticking off all the other things on your 'to do' list!).

20 Get It • Ballito Umhlanga April 2021
---
Never before has there been a shopping centre in Durban so perfectly designed and

positioned to encourage the merging of health, lifestyle and shopping.

The layout of Cornubia Mall allows shoppers and visitors to enjoy open space, natural

sunlight and designated green zones, as well as giving them the opportunity to enjoy

a host of health and fitness offerings.

While most shopping centres and malls suffered during the Covid pandemic,

Cornubia performed exceptionally well comparatively. The reason for this is

undoubtedly the functional layout and design of the mall, as well as its accessibility

to the neighbouring mountain bike trails and free outdoor yoga and aerobic class

offerings.

The strict measures placed on gyms during lockdown, created an opportunity for the

mall to form partnerships with Virgin Active, Love 2 Ride, Bounce, East Coast Cycling

Club, Fives Futbol, Cycle Lab and Thule which everyone has benefited from the

outdoor (or large underground basement parking area) activities and classes.

There are even rewards for participants, which Virgin Active memberships for the

most transformed bodies and gear from some of the many active wear outlets at

Cornubia Mall. People are encouraged to take advantage of the mall's accessibility

to the nearby Ethekwini Mountain Bike Association (EMBA) managed mountain

bike trails. There are organised rides from the mall on various days of the week.

Alternatively, arrive early (parking is free) pop on your running shoes and take a walk

around the circumference of the centre (it's a 1.1km uninterrupted loop) to get your

steps in for the day!

Apart from these incredible offerings,

the mall also has a wide variety of

tenants to compliment and further

encourage this outdoor, healthy

lifestyle. From the likes of Basil Manning,

Cycle Lab and Thule to the extensive

range of footwear and sporting apparel

stores on offer, there is something for

everyone.

Cornubia Mall is a wonderful alternative

to a traditional shopping centre. It's a

place where you can get everything

you need, including your dose of health

and fitness, in a unique environment,

unseen anywhere else in Durban.

For more information and bookings:

Road & MTB Riding:

Noel- 0837991075.

Spinning, Yoga & Kick Classes:

Sicelo – 061 032 7183

April 2021 Get It • Ballito Umhlanga 21
---
eautiful brows ... forever!

Maintaining your eyebrows is an important part of a woman's beauty regime and we often

underestimate the difference a well-maintained set of brows can make.

Not only do your eyebrows frame

your face and enhance your features,

but they also accentuate your

eyes and play an important role in

communication.

A great solution, says make-up artist

Debbie Jean, is to get cosmetically

tattooed eyebrows. This way your

brows will be in a great shape and

have more definition - no need to

spend time filling them in and trying

to balance the shape and colour

Debbie has worked as a top make-up

artist, both locally and internationally,

for 29 years. She started specialising in

eyebrow 'makeovers' using cosmetic

tattoo techniques eight years ago and

has a strong following in Cape Town

and Knysna. She recently settled in

Salt Rock and has a brow studio in

Ballito.

"Cosmetic tattoo eyebrows are

an ideal time saver for ladies with

fading eye sight, thinning brows,

sports women or anyone wanting to

enhance, define and re-shape their

brows and spend less time in front

of the mirror drawing on brows and

more time living life," she says. "There

are many terms used to describe

cosmetic tattoo brows: micro blading,

3D or 6D brows, micro pigmentation,

permanent make-up, hair stroke

brows, ombre and powder brows. I choose not to micro blade as I feel using a

machine and needles delivers a superior result to using a blade, with less trauma

to the skin. I feel the colour is also more stable and lasts longer." Debbie's number

one tip, if you decide to add pigment to your eyebrows? Choose your artist

carefully. "Look at their social media pages and decide if you like what you see. I

would encourage choosing an artist that does cosmetic tattoo full time."Although

there are various different terms used for cosmetic tattoo eyebrows, Debbie says

it's important to remember that they are all, essentially, tattoos. "Pigment (similar

to tattoo ink) is implanted 1.5mm to 2mm under the surface of your skin and is

therefore a tattoo. Even micro-blading is a tattoo."

What to expect

It's important that you have time to chat to your artist at the appointment about

the colour, technique and your expectations. Normally, Debbie says, this is done

while your brows are numbing. "Your artist should draw a suitable shape that you

get to approve before they start. The first appointment is usually two hours and a

touch up about one and a half hours. You'll need to allow 7 to 10 days to heal. No

perspiring (heavy exercise) during this time as the pigment needs to take hold and

you also want to avoid infection. Your artist will give you after-care products to use

as well." It's important to wait a full month before you see the full outcome. There

might be small scabs and the pigment can go quite dark at first. Do not pick at

your brows. Sometimes, after the first week, your eyebrows can look quite light. The

colour needs time to resurface and develop. "Having your eyebrows done is a two

(sometimes three) part process. You are then good to go for at least a year or more

before you need a freshen up. (Also, if you do need to touch up with a pencil when

it starts to fade, you'll have the pigment under the skin to guide you, making it

easier.)" Debbie says touching up after the main procedure is important to deliver a

second layer of pigment into the skin to give a longer lasting finish. Touch ups are

generally 6 to 8 weeks after the first session or when you see fading. At the touch

up appointment the colour can be deepened if needed and the shape refined."

Details: Debbie: 082 804 2748, email: makeupartistdebbiejean@gmail.com, www.

eyebrowmakeovers.com, FB @DebbieJeanMakeup, IG @makeupartistdebbiejean

EYEBROW MAKEOVERS WITH

Debbie Jean

EYEBROW RECONSTRUCTION SPECIALIST

Effortless Eyebrows

Cosmetic Tattoo

ENHANCE DEFINE RESHAPE

sterile equipment

medical grade numbing cream

no rushed appointments

PCASA

Approved Artist

makeupartistdebbiejean

Eyebrows With Debbie Jean

082 804 2748 makeupartistdebbiejean@gmail.com
---
Text: Kym Argo

26 Get It • Ballito Umhlanga April 2021

&

We've mastered meat-free Mondays. Now let's take it a step further.

Love plants

Embracing a plant-based lifestyle

The daughter of a goat farmer, Tammy Fry saw

how, day after day, the goats were sold for

slaughter. But she realised that if she named

the individual goats, they crossed the line from

being 'units of currency' to pets. So she started

naming as many of them as possible.

The same goat farmer, many years later, swore

off meat forever, and in the early 1990s, he and

his wife started The Fry Family Food Company,

known internationally for its range of plantbased

food products.

Tammy, recently named as one of the top eight

women changing the world through food,

and founder of Meat-Free Mondays here and

in Australia, knows all too well the challenges

of choosing a plant-based lifestyle … and

discusses them, and the solutions, in her first

book Made with Love and Plants. More than a

recipe book, it's full of really useful, thoughtful

information … from why you should choose a

plant-based diet to transitioning (don't go cold

turkey!), answering questions – where do you

get your iron (beans and legumes and broccoli

and dates), and giving essential tips (navigating

the supermarket and decoding labels).

There are nearly six dozen really great recipes,

that quickly dispel the idea that this diet is

boring or restrictive.

There's a breakfast carrot cake (Carrot cake.

Breakfast. Swoon) and glazed, grilled fruit

skewers with chocolate sauce to get your

day off to a sweet start, the prettiest, tastiest

Vietnamese rice paper rolls with hoisin-peanut

dipping sauce or loaded homemade nachos

for midday Summer snacking, and a West

African coconut curry that'll have you dishing

up seconds in no time.

Tammy suggests you milk coconuts, not cows,

and so there are recipes for rice, coconut,

almond and cashew nut milk, and a whole

section on treats and lunch box ideas.

If you're thinking of going the plant-based

route, we bet this book will sway you; if not, it's

worth a buy for recipes for you to keep meatfree

Mondays interesting. Simple. Delicious.

Healthy. All you want, really. For more from

Tammy, visit seed-blog.com.

Vanilla nice cream with cookie crumble

This one makes the nice list. Nice to eat, nice to make, nice 'n' healthy too.

You'll need: 3 frozen bananas; 1 Tbsp maple syrup; a few drops natural

vanilla extract; 1 Tbsp cocoa powder (optional for making chocolate ice

cream); quarter cup coconut milk (if necessary); crunchy oat and choc

cookies (recipe in the book, or use any other vegan cookie, crumbled)

To make: Add the bananas, maple syrup, vanilla extract and cocoa

powder (if using) to a powerful blender and blitz until smooth. Add

small amounts of the coconut milk, if required for a smoother texture.

Serve in a bowl or a cone, topped with crumbled cookies.
---
Breakfast carrot cake

Not all puddings are equal. Take this one for example, technically a

cake, eaten at breakfast, no refined sugar, no dairy and nutrition in

every spoonful. Breakfast doesn't get better than this. This makes

enough for two. You'll need: 1 cup each of coconut milk, water

and rolled oats; 2 cups peeled and grated carrots; 2 bananas,

mashed; 4 Tbsp raisins or dried goji berries; 2 Tbsp maple syrup; 1

tsp each of ground cinnamon and vanilla spice/essence; half a tsp

each of ground ginger, ground nutmeg, ground cloves; and half

a cup coconut cream For the toppings, you'll need: shaved coconut;

maple syrup (to taste); and pineapple pieces

To make: In a small pot over a medium heat, bring the milk and

water to a simmer. Add the oats and bring to a slow boil, then

reduce the heat and allow to simmer for 3 minutes. Add the

grated carrots, bananas and raisins or berries, as well as the maple

syrup, vanilla essence and spices. Cook for another three to five

minutes. Pour in the coconut cream and stir well, allowing to

simmer for approximately five minutes until the liquid is absorbed

and a thick consistency is reached. Add the toppings and

decorate as desired. Enjoy the 'cake' warm.

We admit. We've

taken the three

sweetest options

from Made with

Love and Plants.

But trust us …

there are loads

of savoury dishes

that are equally

as delicious.

Yum. Yum. Yum.

Penguin, R290.

Cinnamon not only tastes amazing when added to desserts,

smoothies and savoury dishes, but it's one of nature's superfoods.

This spice has powerful medicinal benefits as a potent antioxidant

and anti-inflammatory. Just a quarter teaspoon a day can lower

the risk of some chronic diseases. Tammy admits she might be

trying too hard here to make muffins look like health food. But

who could blame her? These cinnamon and walnut muffins take

less than half an hour from start to finish … you're meant to leave

them to cool on a rack before eating. We didn't. Get the recipe on

getitmagazine.co.za. You're welcome.

SPECIAL OFFER!

R2000 FOR

10 PRIVATE SESSIONS

METAFIT DURBAN | SATURDAY 17 TH APRIL

LAUNCH MARATHON - HIIT IN ITS PUREST FORM

Private Personal Training Sessions in your very own Fitness Studio

No Gym Fees! Pay only for your Workout

Centrally Located at Prime Human Performance Institute, Moses Mabhida Stadium

WE OFFER:

Specialized Functional Fitness Training for Athletes

Metafit classes - 6am & 6pm daily (R100 per class)

Total Body Transformation Programs

Focused Fitness Training for Longevity

Yoga & Pilates

Boxing Fitness

Brendan - 078 081 3869

Brendan@FunctionalFitnessWorkouts.com

INCREASE RESTING

METABOLIC RATE

BURNS FAT

BUILDS MUSCLES

YOU'LL BE BURNING

CALORIES FOR THE

REST OF THE DAY!

VENUE: OLD SNAKE PARK,

NORTH BEACH (GRASS PATCH)

TIME: 7AM - 10AM

CONTACT DETAILS:

LATASCHA: 0731623710

BRENDAN: 078 081 3869

BRENDAN@FUNCTIONALFITNESSWORKOUTS.COM

@METAFITDURBAN
---
Promotion

So long summer

We're ready for an awesome autumn at Gateway Theatre of Shopping!

With restrictions down to Level 1

and Durban heading into 'awesome

autumn', Gateway Theatre of

Shopping is gearing up for a bumper

Easter holiday season.

"It feels like it's time to get out more

to enjoy warm balmy afternoons and

lazy sundowners, while most of the

rest of the country cools down and

heads indoors," says Gateway Theatre

of Shopping marketing manager,

Michelle Shelley.

"The outdoor Palm Court is a popular

precinct, especially for families," says

Shelley. "There's space to roam and be

out in the open air, something we're

appreciating even more lately. Kids

have also fallen in love with the new

Lighthouse and Ocean Play area, right

in the heart of Palm Court."

28 Get It • Ballito Umhlanga April 2021

Whether diners are eating out, or

calling and collecting, Gateway

is launching an exclusive holiday

promo to make the mall's food and

entertainment even more enticing.

"The Secret Deals promo is not limited

to the Palm Court and, with over

70 places to eat in the mall, there is

something for everyone … including

fun entertainment activities along the

way."

An array of awesome deals are

available from 1 – 30 April. To get in on

the action, readers should WhatsApp

"GWSecretDeals" to 031 514 0500 or

scan the QR code to the right.

The specials are redeemed by

producing the WhatsApp response

message to the vendor.

Gateway visitors can choose from sit

down restaurants in the Palm Court,

to casual coffee and cake spots and

family venues like Food Republic on

the second floor, where the whole

family can eat together but choose

meals off different menus.

Get Gateway's secret deals by

scanning this QR code.
---
Name and win

"We are running a competition to find

names for our hammerhead shark

and yellowfin tuna at the children's

lighthouse and ocean play area in the

Palm Court," explains Shelley. "These

creatures were chosen, along with

the iconic uMhlanga lighthouse, as

typical species found off our coast.

They've been beautifully replicated

and we've grown quite attached to

them. The natural progression is for

them to have names," says Shelley.

Entry forms for the competition will

be available from the restaurants in

the Palm Court. There are great prizes,

including Gateway gift cards and

tenant hampers up for grabs if they

get 'hooked' by your suggestion!

Live entertainment

Adding to the glorious outdoor vibes,

there will be live entertainment in the

Palm Court over the Easter Weekend.

Details: Keep an eye out on their

website: www.gatewayworld.co.za,

well as Facebook and Instagram pages.

Gateway's bot-in-training, Sam, is also

ready to answer any other questions on

the WhatsApp number: 031 514 0500.

Gateway Theatre of Shopping is

Covid-compliant. Among other

measures taken to ensure visitors'

safety, the wearing of masks, frequent

use of hand sanitiser and physical

distancing are supported.

April 2021 Get It • Ballito Umhlanga 29
---
Bold brave barista

For the past three months, self-taught barista Sbusiso Nkolothi has been whipping

up cappuccinos and lattes while simultaneously winning the hearts of all those who

meet him at his Ballito coffee shop. We got to know the man behind the counter of the

Coffee Lab at the Lifestyle Centre.

Text: Leah Shone | Photograph: Mary-Ann Palmer

People, personality and a positive attitude are the things that 33-year-old Sbu

says have gotten him to where he is today … and he's determined to help others

find the same success.

Life hasn't been easy for the Zimbabwe-born barista, who ended up living on the

streets of Durban after moving to South Africa in 2010. Despite the adversities

he's faced though, Sbu has managed to use every opportunity afforded to him

over the past 11 years, in pursuit of his dream of owning his own coffee shop.

Sbu grew up in Victoria Falls and was exposed to the hospitality and tourism

industry from a young age. He worked as a golf caddy and waiter and 'hustled'

curios in his youth. When he heard about the World Cup, he decided to take a

chance and come to South Africa. But things didn't turn out as planned. "That's

how life goes. Sometimes you make plans and they don't work out. I ended up

in Durban, knowing no one and with nothing. I had a choice - I could go home

with nothing, or make it work here."

Sbu spent five, hard months living on the streets, but says he learnt so much

about himself and others during this time. "Most people who on the streets have

bigger hearts than you realise. They aren't all bad people. Life and situations have

led to them being where they are and doing things they don't want to in order

to survive. It's easy to point fingers until you're in that same position," he says.

When he finally landed a job at a takeaway spot called Gallito's, Sbu's life finally

30 Get It • Ballito Umhlanga April 2021

started to turn around. "I had been so

desperate and was grateful to wake

up and have a purpose every day."

Within weeks he earned the owner's

trust and was given a key to open

up the restaurant. "I was living in a

shelter at the time and kept getting

sick because it was so dirty, so I

started living in the restaurant without

anyone knowing."

Doors started to open for him and

when Sbu landed a job as a runner at

well-known Durban North restaurant,

Mamma Lucianas, his life started

improving. "I had friends and a

community. Marco, the owner, helped

me change my life by pushing me to

do better and building me up."

Sbu was soon made barman and it

was then that he started discovering
---
more about coffee. He learnt how to use the machine and read books about

coffee. It was also here that Sbu met chef Ray Friedman. "Ray spent time teaching

me and, everything I know about food, I learned from him."

Sbu was offered a barista and management position at The Sett, a shared

workspace in Umhlanga, by owner Travis Gale. Here, he says, he was given access

to a computer and discovered Youtube. "That was a game-changer for me. I

watched videos about and taught myself to be a barista.. I realised that coffee is

about building community and connecting with people." When The Sett closed,

Sbu joined the Private Property team as their in-house barista. Then Covid hit and

he was retrenched.

"Last year was actually really good for me. It brought me opportunities like never

before. I started working on my real dream – of opening my own coffee shop

and simultaneously offering barista training to people who need it the most.

The guys who haven't finished school and have no opportunities lined up. I am

passionate about helping others grow now.

A friend put Sbu's photograph on

Facebook offering his barista services

and his phone rang off the hook!

Despite being offered tons of jobs,

Sbu was determined to start his own

brand. Then he got a call from Murray

Loader at the Lifestyle Centre. The

next day he got another call from

artists Jane Digby. The team were

launching a pop-up art gallery at the

Lifestyle Centre and were looking

for a someone run a coffee shop.

"From the moment I met Jane I knew

this was right for me. Her passion is

contagious. It was the perfect space,

the perfect time and the perfect

person. She is a believer and she

helped me to set up the Coffee Lab.

I don't think I could ever thank her

enough."

That was three months ago and Sbu

and his Coffee Lab have grown from

strength to strength. Although the

Gallery has now closed, Coffee Lab

will remain in place and become

a part of The Studios, a space that

will incorporate an eclectic mix of

bespoke stores and personalised

shopping areas. ""I am where I am

because of the people who have

come into my life. So many people

have impacted me and given me

opportunities and believed in me. The

Gallery was amazing for me and gave

me such great exposure. Things are

changing now, but I'm very excited

and I know it's going to be good fun!"

Details: Coffee Lab, Lifestyle Centre

Ballito @coffeelab2020
---
Promotion

32 Get It • Ballito Umhlanga April 2021
---
Food & family

Community, family and wonderful food ... welcome to The Fig Tree!

The Fig Tree Restaurant is the heart

of Simbithi Eco-Estate. Located at the

Simbithi Country Club, the glass-walled

eatery overlooks the exquisite Simbithi

Golf Course and serves a variety of

mouth-watering dishes.

The Fig Tree Restaurant is open to the

public; no access code needed.

Come and enjoy a breakfast with family,

lunch with friends and a romantic

dinner with your beloved… join us for

our famous Wednesday Curry Night,

or indulge in our legendary Sunday

Carvery, with all the trimmings. Booking

is essential. COVID-19 protocols apply.

Please call 032-946 5403 to book.

We cannot wait to host you.

www.simbithi.com |

enquiries@simbithi.com

April 2021 Get It • Ballito Umhlanga 33
---
Chef stepping up

From washing dishes in the scullery at a Durban restaurant, to heading up his own

team and being made junior sous chef at a five-star hotel in London, Chef Themba is

now bringing his talents and more than 20 years of culinary experience to North Coast

homes as a private chef for intimate dinner parties and cooking classes.

Text: Leah Shone

While plating is important to him, Chef

Themba says flavour always comes first!

34 Get It • Ballito Umhlanga April 2021
---
Chef Themba worked at the five-star

Soho Hotel in London for three years

The first thing Thembinkosi Mngoma learned to cook was a chicken curry. He

was a young boy and his father was his teacher. "I will never forget how he taught

me to cook so that I wouldn't burn myself," Themba laughs. "He told me that

when the oil was hot, I should chuck the onions in and then run!"

Now a 40-year-old father of two, Chef Themba has come a long way from his

humble childhood in Umlazi. He has been on a whirlwind journey for the past

20 years that has taken him around the world and back ... and it all started when

he landed a job as a dishwasher in the scullery of a restaurant called El Cubano,

owned by Martin Lombaard.

"Four weeks after I started I was given a small space of my own and taught how

to grill calamari and fry up sides to go with the main courses. I'll never forget

the day I met well-known restaurateur Marco Nico. He walked into the kitchen

wearing a chef's uniform and, for the first time, I realised that you could be a chef

and a businessman at the same time. That was the day I started taking my job

seriously," says Themba. He decided then that he would own his own restaurant

one day.

After working for Martin for a year and a half, it was time for Themba to start

pursing his dream. He applied to the International Hotel School. "When I told

Martin my plan he made a few calls and, before I knew it, the forms had been

faxed and I being interviewed."

After three years of hotel school and working in hotels and lodges around the

country, Themba set his sights on another big goal – to live and work in London.

"I have always wanted to be the very best chef I can be. The culinary standards

are incredibly high in London and that was where I wanted to further my

learning."

Three days after arriving in London, Themba applied for a job as a chef at the

five-star Soho Hotel in London. "I had to do a practical interview and cook three

things - risotto, the thinnest ribeye steak I've ever seen (medium rare) and a

bearnaise sauce!" Themba got the job as de partie, meaning he had to head up

a station and oversee other chefs. He was later promoted to junior sous chef. It

was an experience he will never forget. "The first six months were really hard. It

was 'old-school' and strict and I had to adapt quickly. I think this was where I truly

learnt about responsibility."

Themba made a commitment to himself to visit and eat in as many Michelin Star

restaurants as he could during his time in the UK. And that's just want he did. He

travelled to Ireland and Scotland ... and always booked a table for one!

Three years later, Themba returned to South Africa and got a job with his old

boss and mentor Martin, at his restaurant Havana Grill at Suncoast. From there he

moved to Granny Mouse where he met Precious, the woman who would later

become his wife.

Over the years, Themba has pursued various avenues in the culinary world,

including opening his own catering company called King's Cuisine, where

People want to enjoy

restaurant quality

food in the comfort

of their own home ...

and that's what I can

do for them.

he did mass-catering for mostly

government events, and helping with

the setting up and opening of various

restaurants.

He spent some time in Franschhoek

where he was head chef at the wellknown

Roca at Dieu Donne Vineyards.

When it was time to settle down

and get married Themba came

back to Durban, working seasonally,

at Martin's new Little Havana in

Umhlanga. His final role, before the

pandemic hit, was as banqueting sous

chef at the Elangeni Hotel. Forced to

take voluntary retrenchment after

lockdown, Themba used the time to

focus on what he really wanted to do.

"People want to enjoy restaurant

quality food in the comfort of their

own home and that's what I can do

for them. If you're wanting an intimate

dinner part for 10 or 20 people, I will

buy all the ingredients and come

in (with a waiter) and cook for you

in your kitchen. I also offer cooking

classes, where I can teach you to

make a variety of dishes, including

your own pasta from scratch, sauces,

seafood, red meat and dessert."

Asked what sets him apart from

other chefs, Themba says it's his

eye for detail and the fact that taste

always come first. "Presentation is

very important to me, but flavour

always comes first." He also pays close

attention to who he is cooking for.

"I made a conscious decision not to

limit myself and have a 'signature

style'. I love so many types of food,

from Italian and French to Zulu and

Asian flavours. I'm generous with

my portions and I understand my

market. I think it's really important to

remember who you are cooking for."

Details: Contact Themba on:

kingscuisinechef@yahoo.com, 076 604

1959, IG: @privatechef_sa

April 2021 Get It • Ballito Umhlanga 35
---
Indian cuisine …

street style!

Vibey, loud, colourful and unapologetically themselves … we absolutely love

everything about Bachao, especially their food! Situated at the Umhlanga Arch,

this Indian street food takeaway spot is full of fun, flavour and authenticity. Owner

Tarannum agreed to share some exciting recipes with our readers …

Bachao (which means 'save me!' in

Hindi) all about is bringing a real taste

of authentic Indian street food to

the North Coast. Having grown up in

India, and eaten food from different

street corners around India, Tarannum

is determined to introduce the local

community to a new way of thinking

about Indian street food. "We want

people to taste and appreciate foods

from all corners of India and urge

them to experiment with different

textures and flavours and challenge

their taste buds. Indian food can be

delicious and nutritious (very often

completely vegetarian) and does

not necessarily have be soaked in

oil or burn a hole in your cheek!"

The food at Bachao is served in

bespoke packaging made to look like

newspaper print and all their spices

and chutneys are made completely

from scratch from old, traditional

recipes.

The menu changes seasonally, so

keep an eye out for their autumn and

winter specials which are sure to keep

away the chills! In the meantime, why

not try recreate one these yummy

dishes at home?

Details: Bachao, Umhlanga Arch,

FB: @bachaostreetfood, IG: @

bachao_indianstreetfood, deepak@

bachaostreetfood.com

Text: Leah Shone

Mozzarella Pakode

You'll need: 2 large onions, sliced length-ways,

thinly, 100g chickpea flour, 1/2 tsp ground

coriander, 1/2 tsp cumin, 1/4 tsp red chilli

powder, 1/4 tsp turmeric, 1 tsp salt, 20 curry

leaves, roughly sliced, 2 to 4 green chillis, thinly

sliced, 200g cooking mozzarella, 6 to 8 tbsp

water, 2L oil for deep frying.

To make: Heat the oil to 180°C in a large

saucepan. The oil shouldn't come more than

halfway up the sides of the pan. Cut 12 x 1,5cm

squares from the mozzarella and grate the

rest. Cut the onions in half and top and tail

them, and remove the outer skin. Slice thinly,

length-ways. Mix the gram flour and powdered

spices together. Add the sliced onions, chillies,

curry leaves and grated mozzarella and mix all

together. Add a few tablespoons of water so that

the flours stick to the vegetables. Take a spoonful

of the mixture and put a square of mozzarella on

it, then top with more onion batter mix so the

cheese is covered. Gently drop it into the hot

oil. Add one or two more pakode depending

on the size of your pan: don't crowd it. Cook

for a few minutes until golden brown, turning

occasionally if needed. Drain on kitchen paper

while you cook the rest. Serve immediately, with

either Mrs Balls Chutney or a chili/tomato sauce.

36 Get It • Ballito Umhlanga April 2021
---
Kerala Paneer Pepper Fry

You'll need: 2 tablespoons coconut oil (or sunflower oil), ½ teaspoon

mustard seeds, 1 large onion or 1 cup thinly sliced onions, ½ teaspoon

ground ginger and garlic, 200g 1 inch paneer cubes, 1 medium

green pepper, sliced thinly, 1 green chili, sliced or chopped, 10 curry

leaves (chopped) or 2 teaspoons chopped curry leaves, can also add

1 teaspoon curry leaves or 4 to 5 curry leaves (chopped), 1 tsp black

pepper + 1 tsp fennel seeds, crushed to a coarse powder in a small

grinder, ½ tsp coriander powder (ground coriander), ½ tsp cumin

powder (ground cumin), 1 pinch of turmeric powder, salt as required, 2

tablespoons chopped coriander leaves (cilantro leaves)

To make: Grind black pepper and fennel seeds in a dry grinder or a

coffee grinder to a coarse powder. Slice the onions, green peppers, and

green chillis. Making mushroom pepper fry: Heat 2 tablespoons coconut

oil in a pan. Add 1/2 teaspoon mustard seeds and let them crackle. After

the mustard seeds crackle, add the thinly sliced onions. Mix the onions

very well and sauté on a low to medium flame, till they start to turn light

golden. Then add 1/2 teaspoon ginger-garlic paste and sauté till the raw

aroma of ginger-garlic goes away. Now add the paneer. Mix very well

and sauté on a medium flame. Then add 1 cup sliced peppers and mix

well. Sauté the pepper slices till they are half cooked. They should have

some crunch in them. Then add 1 green chili, sliced or chopped and 2

teaspoons chopped curry leaves and mix well. Now add the coarsely

powdered black pepper and fennel seeds along with 1/2 teaspoon

coriander powder, 1/2 teaspoon cumin powder and a pinch of turmeric

powder. Mix all the spices very well with the paneer and pepper

mixture. Season with salt. Mix again and then switch off the flame. Check

the taste and add more salt if required. Add 2 tablespoon chopped

coriander leaves. Stir. Serve paneer pepper fry hot with rotis/parathas.

Bachao owners, husband and wife team

Deepak Parbhoo and Tarannum Banatwalla

April-Bachao.indd 2

2021/03/17 11:33:21 AM
---
Promotion

Spicing

38 Get It • Ballito Umhlanga April 2021

things up

Autumn is here and with its arrival comes the

(very welcome) cooler weather. As things cool

down outside, we're heating them up indoors with

some of our favourite spicy North Coast hot spots!

MIHAR SPICES

As you step in through the doors of Mihar Spices

you are greeted with the aromatic fragrance of a

wonderful range of spices. Wafting through the

air you will also be met with the fragrances of

their tasty savouries and snack platters, which are

freshly prepared to order. Mihar Spices is a one

hundred percent vegetarian store and they stock

a wide range of grains, spices, frozen vegetarian

foods and prayer goods. Details: Mihar Spices,

Unit 6, Richard Park, Wimble Close, Ballito Business

Park, 087 460 0189, miharspices@gmail.com

MARIGOLD

Marigold Progressive Indian Cuisine. Recognized as "Ballito's hidden gem!"

This stunningly vibey quintessential destination venue is where memories

are made and the beautiful Indian inspired decor with its magnificent mural

will captivate your imagination. Treat your palette to their signature succulent

Prawn or Crab curry or delight in a host of other items such as their Butter

Chicken curry or a wide array of mouth-watering vegetarian dishes. Their team,

Shabnum and Pranav are ever ready with their hands-on approach from the

kitchen to the table to ensure that guests receive the full 'Marigold Experience'

Dine & Dance every Weekend where the party does not stop until midnight.

It's where families go to celebrate life! Located at 13 Moffat Drive Ballito. Get in

touch by contacting us on 032 940 5472 or WhatsApp us on 083 280 9786

SASOL SALT ROCK

The Bunny Chows served at SASOL Salt Rock

are famous … and once you've taste them,

you'll understand why! Run by Praveena

Thukanum, a few years ago, this particular

SASOL has managed to break the record for the

longest bunny chow ever made. With a wide

range of bunnies, curries and rotis on offer

(including mutton, beef, chicken and beans),

this is a must-visit spot to enjoy the perfect

taste of KZN curry! Details: SASOL Salt Rock, Old

Fort Road, Salt Rock, 032 525 5108, Open 24/7
---
We're all about natural, but sometimes

we let a little faux flow. Be it when

your fingers aren't as green as

you'd like, that you need a touch

no-maintenance prettiness in a dark

corner where nothing will grow, or

you want tulips on your desk all year

round … faux's the way to go. And

when you find flowers and plants as

realistic as these from Biggie Best …

win, win. This latest range of lovely

botanicals from olive trees to

orchids, pincushions to alliums,

bougainvillea to proteas, get our firm

nod of approval. You'll find them

online at volpes.co.za

Compiled by: KYM ARGO

Bloom

40 Get It • Ballito Umhlanga April 2021
---
For quiet evenings or slow weekends, a puzzle's a

great way to wind down. We love this Cultivated 1000

piece puzzle, drawn from the stunning debut book

by celebrated floral designer, writer, and photographer

Christin Geall, which captures her floral style in a

rich, detailed puzzle. Hours and hours of blooming

gorgeous fun. R363 from Exclusive Books.

How clever is this?

For those of us who

struggle to construct a

perfect arrangement, this

Vase Buddy is a silicone,

flexible grid, that stretches

over the rim of your vase,

holding flowers in place.

It's reusable, washable,

and fits vases between

12 and 20cm. Buy online for

R140 from vasebuddy.com

We're massive Cape Island fans

… and although we wouldn't

sniff at any one of the six scented

fragrances, our firm favourite, up

until now, has been Clifton Beach

– think sun-warmed coconut,

opulent tolu balsam and a zest of

lime. But we've just had a heady

whiff of the new scent … and

it's completely swept us off our

feet. Wild Coast – in its luscious

raspberry pink packaging – is all

elegant iris, enticing black currant

and wild jasmine along with

rich praline and patchouli. This

newest scent is in the mini and

classic medium candle so far – as

well as a rather desirable Wild

Coast Scented Candle Ornament,

which has a mini candle inside

and makes for a gorgeous

inexpensive gift. R195 to R320.

Details: capeisland.co.za

April 2021 Get It • Ballito Umhlanga 41
---
PLANT

Indoor plant of the month

We're massive fans of the white anthurium, a lovely Easter

flower. As the blooms age, they often develop a soft green

tinge … really pretty. The combination of lush green

leaves and glossy white 'flowers' – which are in fact really

coloured leaves – lighten and brighten a room, improving

and purifying the air as well. Anthuriums thrive anywhere

with good light and a little water once a week. A good

plant for beginners, they forgive neglect and are almost

indestructible. And if you feed them with liquid fertiliser

once a month, except in winter, you'll encourage them to

keep on pushing out flowers. Details: lvgplants.co.za

Compiled by: KYM ARGO and ALICE Coetzee.

We're planting…

Osteospermum Serenity Coral Magic is a

really wonderful, neat, compact plant, that's

always covered in flowers and is great for

tucking into the front of a border, and is a

breathtakingly beautiful patio plant. With its

soft coral blooms with a glowing inner ring

and deeper pink or lilac centre, they're at

their best in Autumn … and as the flowers

mature they change colour, hence the 'magic'.

We like it alone, but if you want some added

colour, it combines well with Osteospermum

Blue Eyed Beauty – which has a purplishblue

centre and yellow petals. Plant these in a

sunny spot, in well-composted soil that drains

well. They are not water-hungry but will bloom

better if the soil is kept moist while they are

flowering. They are easy to grow, reliable and

vigorous … flowering a little less during the

very cold months but bouncing back with a

great Spring flush. Details: ballstraathof.co.za

Take off the gardening wellies, kick up your heels

and give your hard-working feet a refreshing dose

of moisture with this Burt's Bees Peppermint Foot

Lotion. The cooling lotion will revive tired feet, and

the glycerin and coconut oil will soften rough calluses,

leaving your feet smooth and ready for the next day

in the flower beds. 99 per cent natural, it's R200 from

takealot.com or Dis-Chem.

42 Get It • Ballito Umhlanga April 2021
---
Led by nature

Text: Leah Shone | Photographs: Chris Allan Photo

Sometimes the true

beauty of a home lies in its

simplicity ... and its ability

to seamlessly blend with

the natural environment

surrounding it. Careful

planning and space usage,

along with practical,

functional architectural

principles, make this a

wonderful, nature-inspired

North Coast family home.

44 Get It • Ballito Umhlanga April 2021

When you build a home in one of the most beautiful parts of our country,

surrounded by wetlands, forest and indigenous landscape - and the ocean just

a stone's throw away - it's hard not to allow your surroundings to influence the

look and feel of your home. And why wouldn't you?

Designed by Phillip Thornhill and Tyren Els of TCRPV Architects, this practical,

stylish home is situated within the Zululami Luxury Coastal Estate. Together with

landscape architect Bernice Rumble and interior designer Samantha Clayton, the

design team have managed to create an easy-living home that would suit almost

any North Coast family. And it truly is a case of the landscape leading - and the

architecture and décor following.

Blending with nature outside

When you live in a climate like ours, planning your outside area (or areas) is

almost as important, if not more so, than the inside of the home. North Coast

families spend hours in their pools and gardens and, as is the case here, the

interior and exterior often blend into one usable space.

Landscape architect and director of Land Art Studios Bernice Rumble headed up

the landscape planning of this home. Having spent the last few years working

with the Zululami team to rehabilitate and transform the estate, Bernice has a

solid understanding of the natural environment here.

For this particular site, Bernice says the goal was to maximise the use of different
---
outside areas, depending on the

homeowner's needs. A popular way of

achieving this is the use of courtyard

spaces. Not only do they allow for lots

of natural light and air movement in

the home, but courtyards also give

you another option when spending

time outdoors.

"Courtyards are a popular trend,

especially for families who want to

close off and use different areas at

different times. It allows them to

take advantage of the views while

still having protection from the wind

and is a great option for families with

smaller children, who may want to

allow them to play outside away from

the swimming pool area."

In keeping with the theme of

blending in with the environment,

Bernice used screen planting with

natural, lush vegetation to offer

privacy and separate the garden

from the neighbours. "The goal was

to keep the outside as simple and

practical as possible while building

within the natural lay of the land and

maintaining the environmentally

friendly ideology of the estate."

Exquisite views of the estate

from the main bedroom

The beautiful high ceilings make this home feel bigger

than what it is and the courtyard gives you an additional

outdoor area that is protected from the wind

Landscape architect

Bernice Rumble

Phillip Thornhill

and Tyren Els of

TCRVP Architects

African interior influences

Interior designer Samantha Clayton of Cotton Properties was tasked with

furnishing this beautiful, three-bedroom family home. Her focus, she says, was to

furnish it in a way that inspires the homeowners to live well.

"As an interior designer and decorator, I often draw inspiration from the exterior

of the space I'm working in. Flow is one of the most important functions of any

interior. The estate set the tone for a natural interior so the use of raw wood,

bamboo wallpaper, bold colours and lots of natural light were a must!"

Choosing to celebrate rather than shy away from an African-inspired look and

feel, Samantha managed to bring in texture using feather art pieces and carved

wooden headboards, alongside an earthy colour pallet. "I wanted to create a

homey, soulful and on-trend African-influenced home. As Africans, we often

tend to shy away from animal prints, tribal art pieces, local crafts and authentic

textures of Mother Nature, but it is possible to find a good balance between

these raw elements and elegant luxury. The result is a timeless, unique interior

style that's proudly our own."

Samantha used bold, statement furniture pieces such as the 4m soiled oak,

live edge table - the perfect addition to this family home. "In a world filled

with uncertainty why not choose to live your best life in an inspiring interior

surrounded by nature..."

Details: TCRPV Architects: 031 502 3625, dbn@tcrpv.co.za; Land Art Studio: 087 702

6498, bernice@landartstudio.co.za, @land_art_studio; Cotton Properties: info@

cottonproperties.co.za, www.cottonproperties.co.za, 0833822557; Zululami Luxury

Coastal Estate: www.zululamiestate.co.za

April 2021 Get It • Ballito Umhlanga 45
---
Promotion

Reaching Their Potential

Helping students fine-tune their skills and tap into their sporting potential, Ashton International

College's High Performance Programme aims to create well-rounded young sportsmen and women.

Launched in the Senior College at the

end of January this year, the Ashton

High Performance programme is aimed

at guiding, supporting and providing

each student with the necessary

tools to reach his or her full potential

within their sporting code. A total of

78 students from five sporting codes

(cricket, football, hockey, netball and

rugby) were identified to be part of this

programme.

The programme kicked off with sport

scientific testing to identify weak and

strong components within the different

sporting codes. It provides students

with specific team programmes, which

are implemented once a week, and

the students have the opportunity

to attend individual training sessions

where the focus is on improving their

weaker components and maintaining

stronger ones. The High Performance

programme also focuses on mental

skills coaching and nutritional planning

which, along with the training

programmes, contribute to athlete

management, injury prevention and

overall improved performance.

To develop an interest and love for

sport from a young age, Ashton's

sports department starts working with

students from Grade 0000, where the

emphasis is on learning through play. At

the same time, the students are working

on improving their motor and social

skills development with their sports

lessons, which consist of fun games and

activities. As the students move through

the Ashlings Early Learning Centre, their

skills base increases and the sporting

codes are introduced in the Foundation

Phase.

The Foundation Phase students are

introduced to the different sporting

codes and participate in mini matches

and tournaments against other schools,

fostering an ethos of fun, enjoyment

and sportsmanship. This trend of

development continues into the

Intersen Phase and the students are

taught leadership skills and team work,

in addition to the more competitive

rules of the sporting codes. Once the

students are in the Senior College

and compete in leagues, the High

Performance programme is introduced.

These stages of sport development

allow the students to be exposed to a

variety of sports on offer at Ashton and

to participate in sport and develop a

love for a healthy and active lifestyle.

Details: Ashton International College Ballito, Albertina Way / 032 946 2096 / marketing@ashtonballito.co.za

46 Get It • Ballito Umhlanga April 2021
---
Kids

This April we're talking ...

Why Autism awareness

is so important

A recipe your toddler

will definitely love

Crossfit for kids

(yes, really!)

WIN!

A SCOOTER

WORTH R3300

happy

easter!
---
Text: Bronwyn forbes-hardinge

&

Teen author

top achiever

Emily Briggeman is a 13-year-old with extraordinary talent. Strong-willed yet caring,

she is a South African gold medallist Judo champ, an achiever on the school sports field

and a skilled piano player. Remarkably, she is also a published author!

Last year, during the COVID-19

quarantine, Durban North teen Emily

put pen to paper to write her first

book. The result is a captivating debut

novel called Tribes, which centres

around a 13-year-old named Grace

Millar, who thinks she is invisible,

but finds a note that leads her on a

journey of self-discovery into a secret

world that changes everything she

thought she knew about herself and

her family. As Grace looks for answers

about what really happened to her

father and questions whether her

secret admirer is who he says he is

and what her mother is hiding from

her, she discovers that her life will

never be the same again.

The motivation for writing her book,

Emily says, was the fact that she loves

reading and always wanted to write a

book of her own.

"I had no idea it would end up being

published. I'd never written a book

before, but I think lockdown gave me

the opportunity for my imagination

to go wild. I had a plot and worked on

the characters from there, and then I

just got stuck in. The more I wrote, the

more I became invested in this fantasy

adventure."

Emily has been immersed in the

world of travel from a young age.

Being home-schooled for most of

her primary school career gave Emily

and her family the time to explore

several countries. She believes

this provided her with countless

learning opportunities and character

shaping possibilities as well as world

experience and making memories

with her family – all of which have

moulded her into the kind and

determined young girl she is today.

50 Get It • Ballito Umhlanga April 2021
---
"Although my favourite places to visit are Switzerland and France, my book is

set in Canada. Grace, who is the same age as me and in her first year of high

school, has been a character I have really loved drawing out. The book is aimed at

readers between nine and 14, however feedback has proven that everyone who

reads it enjoys it! Creating the story has been really fun. The last month or so of

writing was very intense, but seeing the results has made it all worthwhile."

It seems whatever Emily puts her mind to, she achieves. She believes in living a

healthy, colourful life, putting a hundred and ten per cent effort into everything

she does and living life to the fullest.

Emily loves dogs and has three of

her own and she also has her own

YouTube channel, EmilyB. She believes

in giving back to the community and

teaches underprivileged people to

bake.

"I love to bake, paint, play the piano,

dance, write and spend lots of time

with my family and friends. Growing

up I also spent countless hours

participating in community work

with underprivileged children. This

is something very close to my heart.

Last year I was teaching children

to bake and this year I've started

teaching adults and tweens, Covid

protocols in place of course! We could

all do with a little more consideration

for others, as well as self-love. Take the

time to do things that matter to you,

be kind and don't stop believing in

yourself."

Tribes was published by Reach

Publishers in Durban and is available

on Amazon and on in bookstores for

R200.

Details: Follow Emily on IG:

emilyabriggeman and FB:

EmilyBCreations

from

R150

from

R110

April 2021 Get It • Ballito Umhlanga 51

082 720 8399 sarah.whitaker@live.co.za
---
Promotion

Bub & Co

Mum and Baby Lifestyle

A place where moms can laugh and cry together

Mom's and mom's-to-be are missing

out if they have not yet experienced

the great environment at Bub & Co

Mum and Baby Lifestyle. Everything

within this beautiful Kloof home centres

around motherhood, babies and tots,

with one of the main attractions being

the popular Bub Club SA.

You will find practitioners and beautiful

spaces, providing goods and services

Bloom Baby and Mom

Boutique

Meet the friendly and energetic owner

of Bloom Jo Crilley, whose heart

and soul is in her beautiful shop. Jo

is extremely excited and proud to

announce the launch of her new Bloom

online website, where she is now able to

offer even more bespoke clothing, toys,

gifts and décor, all with babies, moms

and moms-to-be in mind.

Herself a mom and wife, Jo is a pillar

of support and inspiration to women

suffering from post natal depression,

Having walked the path herself, she has

never been shy to talk about PND with

the aim of helping others experiencing

PND symptoms.

Jo was initially introduced to Bloom

Baby and Mom Boutique while

attending one of the wonderful Bub

Club classes offered at the Bub & Co

Mum and Baby Lifestyle centre. 'When

Bloom came up for sale I grabbed it

with both hands and have never looked

back.' Since becoming the business

owner the boutique has been blooming

with all Jo's love and dedication.

Bloom offers everything from baby

clothing, maternity clothing, baby

décor, baby sleep aids, educational

books and toys, organic skin products

for mom and baby and feeding aids.

There are also many accessories such as

nappy bags, baby donuts and nests, cot

bedding, everything you can imagine

52 Get It • Ballito Umhlanga April 2021

especially geared towards moms and

their babies. From boutique shopping,

a baby clinic, a dietitian, a sleep

consultant, a registered counsellor, a

salon, a slimming clinic, physio and

chiropractor, to a relaxing coffee parlour

and the popular Bub Club SA. Read on

to discover what other gems you can

find within the lifestyle home.

Whether you are an expectant or new

for baby, moms-to-be and moms.

Jo is assisted by lovely Busi Phetha and

they are both eager to meeting new

moms and dads, while introducing

you to their beautiful merchandise. If

you are looking for something special

for Easter, don't miss out on Bloom's

brilliant easter range, which you can

view right now on their new website

www.bloombabyboutique.co.za

Win a Bloom hamper

Bloom is giving away an amazing baby

and mom hamper valued over R2 500!

The hamper includes:

Set of 3 bandana Bibs - CARMELO BABES

Storybook from BOOKS ALIVE

A dress from LOVE PAIGE MATERNITY

WEAR

mom Bub & Co Mum and Baby Lifestyle

offers support with any motherhood

hurdles. Participate in the various clinics,

workshops and classes with your bubs,

or just come out and have some fun

with other moms in a beautiful and safe

environment.

Details: Bub & Co Mum and Baby Lifestyle

open weekdays from 8am to 4pm situated

at 1 Igwababa Road, Kloof. 073 276 9924.

Scatter cushion from ROSA'S

COLLECTION

Voucher from SHE SHIRTS

Mom and baby matching turban from

SUMMERY.com

Bamboo plate by KIFF KIDS

Breast shells from MAMMA MOO

Toiletry baby from BAO BAGS

To enter for this hamper, like and share

the bloom page, and comment 'done'.

The winner will be announced on 30

April.

Details: Bloom Baby and Mom Boutique –

083 641 4142 Email:

bubnbloom@gmail.com Website:

bloombabyboutique.co.za Facebook and

Instagram: @bloombabyboutique
---
The Bub Club SA

Founded by Natascha Elsmore-Cary

and Samantha Salter on the mutual

belief that mother's need support and

evidence based advice, the two pooled

their expertise in birth-work and early

education field, to create Bub Club! This

is your tribe!

Natascha and Samantha are childbirth

educators, WOMBS Doulas, IAIM

Infant Massage Instructors and Early

Childhood Teachers.

Through the Bub Club you will find

support, advice and empowerment

on your parenting journey. From fun,

interactive and practical antenatal

classes through to Mum & Baby and

Mum & Toddler classes.

Details: Natascha 073 276 9924

Samantha 076 329 0217 www.

bubclubsa.com - info@bubclubsa.com

Megan Marshall

Registered Dietitian

Megan is a registered dietitian with

a special interest in paediatrics. She

has worked in some of UKs biggest

children's hospitals gaining valuable

experience in paediatric cardiology,

type 1 diabetes, childhood obesity,

picky eating and allergy. Megan

provides empathetic, evidence based,

child friendly and child focused

nutrition advice for babies and children.

A mother of two, she knows that the

growth and development of your child

is an exciting yet daunting prospect.

Details: 060 757 6350

www.teenitummies.com

Simply Tipped

This nail salon offers everything from

tips to toes - gel nails, pedicures, eyelash

extensions and spray tans - all in a fun

and relaxed environment.

Details: 082 565 2965

Dr Shoshanna Dunn,

Registered Chiropractor

Shoshanna is a registered Chiropractor

with over 15 years experience in private

practice. Her favourite quote is "If you

listen to your body when it whispers,

you won't have to hear it scream" and

finds this to be true on a daily basis in

practice! She recently relocated from

Ballito to the Upper Highway where

she lives with her husband and twin

daughters. Shoshanna enjoys treating

patients of all ages and has a passion

for working with babies and pregnant

moms (treating the usual pregnancy

aches and pains as well as helping the

body to prepare for a natural delivery).

Shoshanna believes in the benefits of

restoring and maintaining normal joint

movement and of treating the body

as a whole. She treats a wide range of

conditions and combines chiropractic

adjustment techniques with soft tissue

work, dry needling, postural advice,

kinesio tape, stretching and core

strengthening. Details: Dr Shoshanna

Dunn 076 562 8231 or shoshanna.

dunn@gmail.com

Nicole De Klerk -

Registered Counsellor

Nicole is herself a mom of four children

and understands the stress, joy, and

challenges of raising a young family.

She holds a Masters Degree in Health

Promotion and has worked in the

educational sector, the NGO sector and

consulted for the corporate world. Now

in private practice, Nicole's areas of

interest are families, couples, parenting,

trauma and women's health. As a

Registered Counsellor, Nicole believes

that her role is to facilitate a journey

of learning and empowerment with

her clients. If you are experiencing any

stress, trauma or want a confidential,

non-judgmental space to speak,

contact Nicole today.

Details: Tel: 061 428 4212

nicole.h.deklerk@gmail.com

Coffee Parlor Cafe

Exuding old-world charm and character,

this family run business, owned by

Melissa Cordier, specialises in delicious

coffees, milkshakes, smoothies and

freezos. It serves light meals and has

a kiddies menu. It is the ideal place

for moms and friends to relax on the

veranda and take in the peaceful

scenery or just enjoy the garden.

Come meet the team Melissa Blindell,

Beauty Mbatha and Ntokozo Sibisi.

Details: Mel 078 793 9870

April 2021 Get It • Ballito Umhlanga 53
---
Autism …

awareness and acceptance

The aim of World Autism Awareness Day, on 2 April, is to spread

awareness and kindness and promote acceptance. Imbalito

Hope College founder Nirasha Dhaniram shares some basic

facts about kids and autism that everyone should know.

Nirasha is a psychologist and the

founder of the Ballito and Umhlangabased

Imbalito Hope College (IHC)

program. IHC is an assessment

and therapy centre as well as an

educational service provider for

children and adolescents with special

needs, focusing on autism. Nirasha is

also a mother to a child with autism.

We asked her to share some basic

information about the diagnosis and

different levels of autism with us.

"Autism spectrum disorder (ASD) is a

neuro-developmental disorder that

can cause social, communication

and behavioural challenges. It

also includes restricted repetitive

behaviours, interests and activities,"

says Nirasha. "The symptoms of

autism are usually present in the early

developmental period of childhood

and can cause significant impairment

in important areas of everyday

functioning; this can cause significant

strain on families caring for a child

with autism."

Levels of Autism

According to Nirasha, the severity

levels for autism spectrum disorder

are looked at mainly in terms of

social communication as well as

challenging behaviours. She explains

the three main levels of diagnosis.

Level 3 severity: this child requires

substantial support and, even with

the support, the impairments will

be very noticeable especially in

the areas of verbal and nonverbal

social communication. The child will

experience extreme behavioural

challenges in times of change; Level

2 severity: this child also requires

substantial support, without which the deficits cause noticeable impairment;

Level 1 severity: this child may require some support.

"Teachers and parents may often use the term 'high functioning' (synonymous

with a level 1 child) or 'low functioning' (similar to a level 3). Children may also

be also be referred to as moderately functioning (level 2). It is important to keep

in mind that whilst autism might be an incurable disorder, with the correct

treatment and interventions, children can move along the spectrum, for example

from level 3 to level 2."

Signs and symptoms

Nirasha says there are two main categories of symptoms to look out for, should

you suspect your child may have autism. The first is social communication and

interaction (for example, failing to respond to his/her name, prefers to play alone,

doesn't point or wave by 14 months old, loses language skills or social skills at

any age, repeating words and phrases, doesn't bring objects to others to share

interest). The second is patterns of behaviours (for example, performing

54 Get It • Ballito Umhlanga April 2021
---
epetitive movements such as rocking, spinning or hand flapping, activities

that could cause self harm such as biting or head banging, develops specific

routines or rituals and becomes disturbed at the slightest change, problems

with coordination and odd movement patterns such as walking on toes,

fascinated with details of an object such as spinning wheels of a car but does not

understand the overall purpose or function of the object, unusually sensitive to

light, sound or touch, yet may be indifferent to pain or temperature, has specific

food preferences or refusing foods with certain texture and doesn't engage in

imitative or make-believe play). "It is important to note that people with autism

display the above symptoms in different combinations and that no two persons

with autism are alike."

About Imbalito Hope College

Founded by Nirasha and her husband, Dr Basil Dhaniram after their son Mikhail

was diagnosed with autism, Imbalito Hope College (IHC) is an assessment

and therapy centre as well as an educational service provider for children and

adolescents with special needs. The two branches are in Ballito and Umhlanga,

and the programme offers tailor made educational and therapy for children

from 2 to 21 years of age. IHC incorporates a multidisciplinary, dedicated team of

professionals and the main goal and aim at IHC is to focus on a holistic approach

in the treatment and education of children with developmental challenges and

they cater for children with all levels of autism, as well as children with remedial

needs. They also have online academic programs. Understanding the unique

challenges each family living with special needs faces, IHC also has a strong

support forum called Connect Special Needs as well as a youth vocational

programme with focus on baking, gardening and crafting for learners aged 17

and older (the Mikhail D iHope Foundation, named after their son). Details: 032

586 0200, info@imbalitohopecollege.co.za, www.connectspecialneeds.co.za,

FB: @imbalitohopecollege

April 2021 Get It • Ballito Umhlanga 55
---
Text: Leah Shone

Crossfit for Kids

Being good at sports and loving all-things-exercise

comes naturally to some kids … but not to all kids. It's

these children, the ones who don't believe they are any

good at sport, that Ballito-based kids crossfit instructor

Ivan Forbes hopes to help with his newly launched kids

training facility.

"Although I enjoy working with athletes and kids who are naturally good at

sport, my real passion lies in helping those who don't get picked for the teams

and can't find their comfort zone when it comes to exercise," says former school

teacher Ivan. "I want to show them that there is an element of fitness to suit

everyone and help them fall in love with fitness."

Originally from Johannesburg, Ivan qualified as a teacher 15 years ago and spent

the past three years (before the pandemic) teaching physical education in Saudi

Arabia. He was forced to move back to South Africa when Covid hit.

Having identified what he believes to be a worldwide problem of children not

receiving thorough enough physical development and education in schools,

Ivan completed a 'crossfit for kids' training certification before he left Saudi. "My

goal was to take what I learned into schools there. Now I'm bringing it to South

Africa."

Ivan's Ballito-based business, Ready Set Fit, offers gym classes that are centred

around the crossfit principles, which teach you to focus on your own personal

goals rather than competing against each other. It's all about competing against

yourself. "Crossfit for kids is huge in the USA," says Ivan. "I'm not sure if SA is ready

for us, but we are here. There is already a big adult crossfit community on the

North Coast and now the kids can enjoy the benefits from this kind of training as

well."

Crossfit is all about strength and conditioning training. Sounds quite serious and

boring for kids, right? Ivan's goal, he says, is to ensure they are having fun while

exercising at the same time. "We play games like 'the floor is lava' and do obstacle

courses. I want them to be excited and feel positive about fitness. We slowly

introduce a range of body weight exercises to the kids and teach them how to

do each one properly. Importantly,

they learn how to engage their core

from early on. This is so important for

body awareness and prevents injuries

later in life."

Ivan trains kids from the age of three

years old right up to 15. "I can work

with older kids, but then we are

usually correcting problems rather

than preventing them." A father of

two himself, Ivan understands the

importance of keeping kids focussed

and interested. He changes the

routines and exercises all the time

and, when they get older, he even

introduces lifting weights. "We start

out with just lifting light PVC pipes

until I'm confident that they have

the right technique and know what

they are doing. Then we'll slowly add

appropriate weights and progress

from there."

One of Ivan's current students, he

says, is a shy little girl who was very

introverted. "After just a month of

training her parents say they can't

believe the improvement in her selfconfidence.

She does all the exercises

really well and has truly found a little

'niche' for herself."

From hurdles and lifting tyres to

battling ropes and balancing, Ivan's

workouts include all sorts of fun

things and the kids love them. He is

also currently working with some of

the teams at Ashton International

with pre-season training.

"The most important thing to me is

that they focus on their own workout

and their own plan and work to

improve on themselves … while

having lots of fun!"

Details: 072 532 0071, trainer@

readyset-fit.co.za

Ready Set Fit owner Ivan

56 Get It • Ballito Umhlanga April 2021
---
Easy, tasty treats

Versatile, easy to make and healthy … recipes for tasty treats like this are exactly

what every mom needs to have up her sleeve.

A passionate cook, traveller and mother of two boys, Danielle du Toit knows

what it takes to keep small people happy and well fed. Her company, Pheka,

offers a range of services, including cooking courses for domestic workers and

kids, private lessons and catering. Danielle was inspired during lockdown to post

daily recipes, share inspiration and help out during a challenging time for all. Her

criteria for the recipes were that they had to be healthy, have simple ingredients

and be easy to follow. The response was phenomenal. As a result, she recently

launched a cookbook, Pheka: fresh simple cooking. She shared a recipe from her

book with us.

Chewy energy bars

These bars have a chewy texture and

are loaded with dried fruit. Perfect for

a tea-time treat or a burst of energy for

the school lunch box!

You'll need: 125g butter, ¼ cup of

honey, 1 cup raw oats, ¼ cup of raisins,

¼ cup of cranberries, ¼ cup of chopped

dried peaches or mango (or whatever

you have at home), ¾ cup of self-raising

flour, ½ cup of brown sugar, a handful

of your choice of seeds and/or nuts

(sunflower seeds, pumpkin seeds or

chopped almonds, etc.)

To make: Pre-heat the oven to

170ºC and prepare a baking tray

(approximately 20x20cm) line the

tray with tin foil or baking paper and add a gentle spray of non-stick spray melt the butter and honey in a small pot (or

microwave) and set to one side in a big mixing bowl mix the oats, raisins, cranberries, chopped dried fruit, flour and sugar

and chosen nuts/seeds add the melted butter and honey and mix with a wooden spoon using a spatula press the mixture

into a prepared baking tray to a thickness of about two centimetres until the surface is smooth (if your tray is too big, rather

just use the one side of the tray as you don't want the energy bars to be too thin as they'll break when you them cut later

on) bake for about 20 to 25 minutes or until golden, but not too brown. Remove from the oven and allow them to cool in

the tray. Then lift out of the tray, peel off the foil or baking paper and place the whole bake onto a paper towel to absorb

the extra butter or honey. After that cut into even-sized bars or squares. Don't try and cut too soon when still warm, as the

bars will be too soft and fall apart once the energy bars are completely cool, store in an airtight container Note If you're not

a fan of certain dried fruits just leave them out, as with the selection of seeds and nuts. Both the sugar and honey can be

cut back a little if you find the bars are too sweet for your taste.

Details: www.pheka.co.za, 072 261 5192, danielle@pheka.co.za, FB: phekadurban, IG: phekafood

April 2021 Get It • Ballito Umhlanga 57
---
Treat

April

It's every little girl's dream … a bright pink scooter with light-up wheels!

This deluxe LED edition Micro Scooter from Keachea is absolutely on our treat list this month ... and we've got

one to give away! The scooter, which glows with motion-powered LED wheels generated through dynamo

mechanics, is dazzling and exciting and sure to bring hours of fun to any little girl (aged between 5 and 12

years old). The scooter weighs 2.5kg and is cast in high-quality clear 120 mm Polyurethane for a super smooth

ride. The best part is that you don't need batteries because of its inductive charging method! This awesome

spoil is available at Keachea in Kloof. Keachea has been operating for six years and stocks a wide range of top

quality kids and babies brands and products, including Melissa And Doug educational wooden toys, Mum

To Mum bibs, 4 A Kid safety products, Bags of love, BabyMoov, Hooligan Kids Clothing, Sock ons, Mock ons,

Baby Bans and loads more! To stand a chance to WIN this awesome treat (valued at R3 3000), enter on our

social pages @GetItMagNC. Bring this page into the Keachea store to get 30% off selected products. Details:

Keachea: 98 & 99 Oxford Village, 9 Old Main Road in Kloof, 031 765 2354, 082 829 0796, info@keachea.co.za

58 Get It • Ballito Umhlanga April 2021
---
GET IT KIDS DIRECTORY

April-Paul Derby Wade.indd 1

3/17/2021 April- Pheka.indd 2:50:47 PM1

3/12/2021 1:58:18 PM

GET

LOCAL MAGAZINES

IT& GET IT KIDS

pril-Get It Kids Filler.indd 1

3/17/2021 AApril-Jennifer 3:25:35 Gaul.indd PM 1

3/8/2021 2:38:09 PM

Mechanical Bull

Super Tube Slide Sumo Wrestling

Rocket Jumping Castle Zorb balls

Strict COVID 19 Protocols in place

Phone us NOW!

Contact Linda 082 789 3966

Email - jumpingmaniacastles@gmail.com

www.jumpingmania.co.za

Kids Pares

Adult Pares

School Fun Days

Team Building
---
Posh pooches

Most people regard their pets as more than just pets. They are members of the family.

With this in mind, and driven by her love for her dogs and entrepreneurial spirit, Karen

Burnett launched her online pet boutique store for posh pets, called Kingsley & Gray.

It's not unusual these days to see dogs

visiting coffee shops and restaurants

or going on holiday with their families

- some even attend and are the ring

bearers at their humans' weddings!

It stands to reason then, that these

beloved fur-babies should have their

own selection of accessories and

wardrobes, right? After 25 years in

advertising and marketing, Karen

decided to follow her bliss and do

something completely different.

Tell us about Kingsley and Gray

and how and when it was born?

Kingsley & Gray started as a luxury

boutique for stylish dogs but, after

receiving requests from a number

of customers, we added a range

for posh kitties too. We design

and create beautiful, exclusive pet

accessories, all of which are sold

online and at various stockists. We

launched the 'online boutique' in

June 2019 and have absolutely loved

the journey it has taken us on thus

far. It's the most incredible feeling

wrapping up our parcels each day

for excited customers – and then we

receive gorgeous photographs of

their doggies or kitties wearing our

products!

Are people spending more time (and money) on their pets these days? I

believe that people have always loved their pets, however we have seen a trend

towards pets becoming a bigger focus in people's lives and becoming more

'involved' with the family. I'm not sure whether people are having less children

and more pets instead, or more hotels and restaurants becoming pet friendly,

but people definitely go out – and on holiday - with the dogs more.

What is the biggest pet accessory trend you're seeing at the moment? Our

biggest seller is the classic collar with matching bow tie. They can be worn

every day at home or when going out. Our customers don't just buy one collar

and then that's it … they want a different one for different occasions. We have

also more dogs attending their humans' weddings as the ring bearers. We don't

make doggie clothes, but the gorgeous collars with bow tie and matching lead

and harness are smart enough to wear to a wedding. Another product that our

customers are really loving at the moment, are our K&G Snuggle Pods. These are

very luxurious pet beds in a range of fabrics that are truly 'interior décor' inspired.

Text: Leah Shone

Tell us about your pets? I am currently the very proud mum of three beautiful

fur-babies. I've raised five dogs in my lifetime and my favourite breed of dog

is the Golden Cocker Spaniel (all five were Spaniels). My five fur-babies were

named, in order of age, Honey, Stirling, Jenna Wade, Kingsley and Grayson Heath.

I named our brand after the youngest two. Kingsley is almost six years old and

our 'baby' of the pack is Grayson Heath, who is three. It would be remiss of me

not to mention my special girl, Jenna Wade, who will be turning 17 in June and

who is our oldest brand ambassador and dog model.

Details: Kingsley & Gray is available online: www.kingsleyandgray.com or at The

Oyster Box Hotel Gift Shop or Collar & Comb Grooming Boutique in Ballito, enquiry@

kingsleyandgray.co.za

60 Get It • Ballito Umhlanga April 2021
---
Promotion

Meet the PET people

There is absolutely no question that we are a pet-loving community - and we all

know it 'takes a village' to raise a child ... even a furry one! From passionate vets and

dedicated groomers to pet boutique owners and animal rescue specialists, meet some

of our favourite North Coast 'pet people'!

COLLAR & COMB

The team at Collar & Comb focus on

giving your four-legged friends the

best possible grooming experience.

Specialists in breed scissor cutting,

they will ensure your doggy looks

its best and has the right cut for

his or her breed, skin and hair type.

They have an open groom room

and big play pens as holding areas,

are all friendly and believe in TLC

and patience. Collar & Comb also

sell selection of dog food, treats

and beautiful accessories. Details:

WhatsApp to book:

082 319 3437, Collar & Comb,

3 Preash Park, Garlicke Drive,

www.collarandcomb.co.za, FB:

collarandcombZA IG: collarcombza

2CK QUALITY PET PRODUCTS

Because we love our pets so much, their diet

is an important part of keeping them healthy

and happy. Why not try some raw love for

your pets? CK Quality Pet Products' quality raw

food for dogs and cats come prepared and

conveniently packed as frozen meals. They are

made with fresh, raw, free range, minced meat

and veggies and all you have to do is thaw

and serve - no hassle, no fuss! They also have

a range of carefully selected high-quality toys,

treats, remedies and accessories available. Visit

them at their Ballito store for a chat and free

treat sample or check out their online store

(they deliver!). Details: CK Quality Pet Products, 4

Lozi Park, Phezulu Drive, Ballito, 032 946 0572/3 -

082 444 2086, www.ckpets.co.za

FB:@ckpets.co.za, IG: @ckqualitypetproducts,

info@ckpets.co.za/justine@iafrica.com

3

1

ULTIMATE PET CARE

BALLITO

Here to groom all of Ballito's

animals, the vision of Ultimate

Pet Care is to serve as exclusive

hands, in the busy life of dog

owners. The Ultimate onestop

pet solution service, they

boast an exclusive mobile

grooming unit and will gladly

come to your house to provide

a professional dog grooming

service in the comfort of your

own home. Their grooming

packages are all inclusive and

there are no hidden costs.

Ballito owners Angelé and

Clayton are passionate about

bringing the best care to

'man's best friend' and look

forward to meet your fourlegged

children soon!

Details: 071 201 1503,

010 021 0222,

www.ultimatepetcare.co.za

April 2021 Get It • Ballito Umhlanga 61
---
Perfect for

pet parents

From Irish wolfhounds to lions and porcupines, Umhlanga

business owner Kyne Lupini has been surrounded by animals

her entire life. Spotting a gap in the market, she recently

launched a pet management system app that allows you to

ensure your best friend is always safe, healthy and happy.

Text: Leah Shone

62 Get It • Ballito Umhlanga April 2021
---
tore your pet's medical

records, set reminders,

search through a list of

carefully vetted services

or choose an adventure

for you and your fourlegged

babies. These are

just a few of the things pet owners

can do using Kyne and her business

partner Shannon Sweetman's new pet

management app, called TAME.

Kyne owns Wolf & Women, an online

store specialising in high quality,

natural treats and grooming products

and Shannon is a pet photographer,

author and owner of Dog Meets Girl, a

pet focused ad agency that also offers

a subscription box service.

Although she's lived in Umhlanga

for five years, Kyne spent much of

her childhood at a game lodge in

Limpopo. It was here, she says that

her love for animals and wildlife was

ignited. After school, Kyne started a

wildlife rehabilitation centre at the

lodge. "It started with two Barn owls

and, within a month, we had six owls,

a whole reptile area and were building

large encampments," she says.

It was here, Kyne says, that she

realised how important the 'treats'

she gave to the animals were. They

allowed her to work with, heal and

form a bond with the animals. "When

we moved to Durban I knew I needed

to do something that was close to

my heart. Wolf & Women is all about

the bond and the moments that a

treat can bring to you and your pet.

The treats are healthy and wrapped

individually in biodegradable

packaging and we also sell amazing

grooming products."

When she saw a gap in the market for

a pet app, Kyne and Shannon decided

to go for it. The app is aimed at

making pet parent's lives a little easier,

from allowing them to stay on top of

their pet's vaccinations and have their

medical history on hand, to keeping

abreast of food and health trends,

being able to shop online and even

have a video consultation with a vet.

There is a list of vetted services which,

whether you are home or away on

holiday with your animals (thanks to

geotagging) includes vets, groomers,

daycare services, pet sitters, dog

walkers and behaviourists and a shop

section, where you can buy local,

high quality products. "The amount of

quality artisanal brands we have in South Africa is positively astounding and the

world needs to see more of them," says Shannon.

In addition to the above services which are all free, users have the option of

upgrading to premium (R59.99 per month), which opens up another whole

offering, including the 'adventure' section, which helps you find pet-friendly

restaurants, accommodation and events according to your location, the 'advice'

section and even 'find me a pet', where you can connect with breed-specific

shelters. "Find Me A Pet is our passion project and our way of giving back.

We have tried to make the process as easy as possible with our online match

assessment which will give the rescue organisation great insight when placing a

pet," says Kyne. The TAME pet app is available on Android and IOS.

Details: www.tame.org.za, IG: @tameapp, FB: @tamepetapp

April 2021 Get It • Ballito Umhlanga 63
---
Tango's turnaround

Tango, a two-year old Africanis began life in misery,

infested with ticks and worms. A Facebook page, one man's

commitment and a Swiss supplement changed his fate.

His owner, Daryl, explains: "Two years back, a sick puppy was

brought in a little blue bucket to KZN Valley Dogs' weekly

feeding station in the KwaNgcolosi township. The pup's

condition was dreadful, hundreds of ticks hung like grapes

from his ears and between his toes. He had scabs on his

body from tick bites and the beginnings of mange. Given

his severe malnutrition, the vet could only estimate he was

between six and eight weeks old. KZN Valley Dogs named

him 'Bucket Boy' and began looking for an adoptive family

through Facebook.'

"When I saw the photos, I thought 'That's my dog,' so I

adopted him. Wanting to honour the little guy's fight

against all odds, I decided to give him a name worthy of

his struggle, and so 'Bucket Boy' was renamed 'Tango' (well

actually, his full name is Tango Sunshine Bucket Boy).

Tango was lethargic and weak. Adamant to make a

difference in his life, my immediate action was to get some

weight on him. He improved in the first few weeks but was

nothing like a normal pup, despite being fed premium

puppy food. I worried there might be some underlying

problem. A friend suggested Anima-Strath, saying it would

improve his condition and build his immune system. So

Tango started getting Anima-Strath four times a day. This

was the tipping point. In about a week, Tango changed into

a playful, inquisitive pup. Within four weeks, he started filling

out and developed a shine to his coat. He still takes it today

and the dog I feared wouldn't live is my happy, healthy,

content best friend. In fact, 'Bucket Boy' soon fell off his

name, just like the last dead tick. Now he's simply 'Tango',

the 'Sunshine' to our lives." - Daryl

Support your pet's recovery

with a boost, from nature!

We're for the life in your pet. In order for your pet to feel

healthy, happy and full of life, they need to be well. Their

immune system plays an integral part in maintaining health

and wellbeing.

Anima-Strath ® acts directly on the immune system,

strengthening it before and during infection, and promoting

a quicker recovery. It creates a state of homeostasis which

helps protect the body against the negative effects of

stress, exercise and ageing, and improves physiological

functioning. Anima-Strath ® is also proven to significantly

improve the uptake of dietary micronutrients, ensuring that

your pet is absorbing and able to process the goodness from

their diet better.

Anima-Strath ® assists with:

• Strengthening the immune system before and during

infection and disease.

• Convalescing and ageing animals.

• Physiological stress such as training and performance.

• Recovery time reduction.

• Breeding.

• Maintaining health

and wellbeing.

ENHANCES + MODULATES

www.anima-strath.co.za AnimaStrathSA

Available from your nearest vet.
---
GET IT DIRECTORY

Wide range of hand soaps & body creams in a

variety of yummy scents and pretty colours…

GENERAL PRACTITIONERS

• Dr. Leon Ehlers & Partners

• Dr. Natasha Colia

• Dr. Francois Ehlers

• Dr. Rochelle Rautenbach

031 566 7000
---
Coastal

paradise

Miles and miles of pristine, untouched

beaches, wild coastal forest bustling

with bird life and the warm Indian

Ocean full of colourful fish ready to

be explored. This is paradise.

Text: Leah Shone

There's a marvellous sense of

excitement as you make your way

along the rural, sandy roads towards

Thonga Beach Lodge. The lodge is

situated near the village of Mabibi

on the remote Maputuland coast of

KZN and, as you approach, glimpses

of Lake Sibaya, South Africa's largest

freshwater lake, peep through the

forest, adding to the anticipation.

It's not an easy drive (a 4 x 4 transfer

from Sodwana is available and

recommended), but the reward at the

end of the bumpy journey is more

than worth it.

Situated in the Isimangaliso Wetland

Park (a UNESCO World Heritage Site),

Thonga is a hidden treasure and one

of Isibindi Africa's most sought-after

destinations. This 12-room luxury

beach lodge has every lavish comfort

you could want, while still maintaining

a wonderful sense of contemporary,

rustic 'wildness'. It really is, as the

sign at the entrance says, 'a civilised

distance from civilisation'.

Creature comforts

From the moment you arrive at

Thonga you are welcomed into

The ocean view rooms, with open plan

bathroom and private deck, are magnificent

a world of five-star service and wonderful spoils. The lodge manages to be

indulgent without being pretentious and the staff are friendly and available

without being intrusive, allowing you space to truly relax and enjoy your getaway

at your own pace. Tucked away in the indigenous coastal bush, just metres

from the ocean, the thatched rooms are positioned for maximum privacy and

minimum environmental impact, each one built on a raised platform and kitted

out with everything you could want or need on a beach holiday. There are both

ocean and forest view rooms and the deluxe ocean view rooms even have

their own private plunge pools. The family rooms have two separate bedrooms,

perfect for those travelling with younger children. It truly does feel like a forest

hideaway and the wooden pathways that lead from the main lodge and

66 Get It • Ballito Umhlanga April 2021
---
Kayaking on the magnificent Lake

Sibaya is just one of the many activities

on offer at Thonga Beach Lodge

restaurant area to the rooms, plunge pools, spa and marine centre offer a

wonderful opportunity to spot the odd little turtle hiding away in the bush or

magnificent golden orb spider weaving its massive web. As one would expect

from a lodge of this calibre, the food is both plentiful and of an excellent quality.

Every meal feels like an occasion and every effort is made to ensure all dietary

requirements are met. Beautiful platters of fresh fruit, cheeses, cold meats and

pastries adorn your table each morning, serving only as a precursor to the

hearty full breakfast with all the trimmings that is to come. Lunch on the deck

is a wonderful mini buffet served on individual tiered stands at your table,

comprising a variety of hot and cold dishes, and dinners are glorious threecourse

affairs, with a choice of two starters, mains and desserts. Children, too, are

given a choice between two main courses and desserts and parents can choose

to let them eat earlier or at the same time as them.

Adventures and experiences

Whether you are looking for adventure or relaxation – or a little of both – there

are activities and experiences aplenty. Wake up early, grab a coffee and saunter

down to watch the sunrise on the beach (or lie-in if you prefer) and thereafter it's

up to you how much you would (or wouldn't) like to do. Regarded as one of the

best snorkelling sites in South Africa, snorkelling in Mabibi is a must. The lodge's

rockpool is vast and filled with thousands of species of tropical fish, octopus,

moray eels and electric rays and their PADI dive centre is stocked with all the

equipment you need. The staff are knowledgeable and helpful and everyone is

welcome, from beginner to veteran. If you prefer to stay on land, a phenomenal

evening turtle tracking experience is available (during turtle season) as well as

bird watching and forest walks. Sundowners can be enjoyed alongside Lake

Sibaya (6km from the lodge), where you can watch hippos frolic and pied

kingfishers chase down their dinner with a G&T in hand. The more adventurous

can enjoy an early morning kayak trip on the lake or an open ocean experience

complete with exciting surf launch (there is an additional cost for this). Of course,

no luxury holiday is complete without a little pampering … and the spa at

Thonga offers a wide variety of treatments and seaside spa spoils to rejuvenate

and relax.

A sense of community

One of the most remarkable things about this particular Isibindi Africa lodge,

though, must be its incredible, heart-warming connection to the village of

Mabibi. It is a wonderful example of a development that has successfully married

local community and private sector

and it is clear, when you speak to

them, that the staff who live in the

village and work at Thonga (more

than 80% of the lodge's staff are from

the community) are incredibly proud

of their home and the work they

do here. Isibindi does a significant

amount of relief work in the area

(including launching a massive

feeding programme during Covid-19

lockdown), as well as assisting with

teaching staff and upgrading and

maintenance of the local primary

school.

Whether you're taking the short drive

from Durban or are travelling from

further up-country, a visit to Thonga

Beach Lodge should be on everyone's

beach holiday bucket list. There is no

doubt that during these uncertain

times, trips to remote, untouched,

hidden gems like this are invaluable

and, with all the correct Covid

protocols in place, you'll feel safe and

secure as you escape and relax in this

piece of coastal paradise.

Need to know

Thonga is currently running a

wonderful special offer for SA

residents (40% off selected room

types until November 2021). Rates

include accommodation, three meals

and two safari drives a day (excluded:

park fees, Isibindi Foundation levy,

gratuities, spa treatments, bush walks

and items of personal nature).

Details: Rates and further specials:

https://www.thongabeachlodge.co.za/

rates/, res@isibindi.co.za, www.isibini.

co.za, 035 474 1473

April 2021 Get It • Ballito Umhlanga 67
---
Spoil

April

It's our 15th birthday and

we want to SPOIL you

Anyone who has been there will agree … not a single minute spent at the Oyster Box is wasted. Standing

majestically on Umhlanga's prestigious beachfront, with sweeping views of the ocean, The Oyster Box is one

of South Africa's most distinguished hotels. With its 86 individually-decorated rooms, suites and exquisite

villas, each equipped with the latest state-of-the-art amenities and facilities (and a magnificent doublestoried

Presidential Suite), a visit to the Oyster Box is the ultimate spoil. Renowned for generous hospitality,

passionate service and excellent cuisine, there is no shortage of beautiful spots for wining, dining and

relaxing at this beautiful destination. From the casual Ocean Terrace, the legendary fine-dining Grill Room

and the colonial-inspired Palm Court to the Oyster and Lighthouse Bars, there is nothing not to love. The

Oyster Box Spa offers the ultimate in luxury pampering and the hotel itself is a wonderful destination for

weddings, honeymoons and conferences. In celebration of our 15th birthday this month, we are offering

one reader the chance to win a night's stay for two people in a luxury sea-facing room at the Oyster Box! The

prize, valued at R10 500, includes a full breakfast buffet with sparling wine and fresh oysters and a burger

or pizza dinner for two at the Ocean Terrace Restaurant. Enter on our social media pages @GetItMagNC. True

luxury awaits! Details: The Oyster Box: 031 514 5000, info@oysterbox.co.za, www.oysterboxhotel.com

68 Get It • Ballito Umhlanga April 2021
---
BEAUTIFUL ESTATE SHUTTERS

Trellidor has made it even more affordable to get gorgeous, custom-designed, aluminium louvre shutters for your home

at a price you can afford. All without compromising on strength. Our brand-new shutters in a colour of your choice will

add style and elegance to your interiors, so fit them to all your doors, windows and around your patio.

CONTACT TRELLIDOR TO FIND OUT MORE ABOUT THIS BEAUTIFUL NEW ADDITION TO OUR SHUTTER RANGE.

BALLITO / DURBAN WEST / NORTH DURBAN 031 569 5000

DURBAN CENTRAL & SOUTH 031 201 7927 | HIGHWAY 031 765 3567

www.trellidor.co.za | Trellidor and The Ultimate Crime Barrier are registered trademarks of Trellicor (Pty) Ltd.