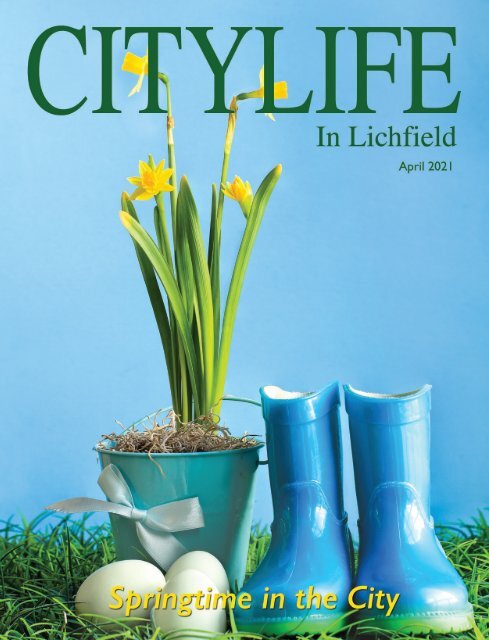 Citylife in Lichfield April 2021
Spring is finally here with our Easter special April edition magazine! It's packed with all our usual mix of recipes, competitions, local news, history features and events. So why not sit out in the garden, put your feet up, pour yourself a refreshing drink and enjoy a read of our community magazine - it's the perfect way to relax and unwind this Spring here in Lichfield!
Spring is finally here with our Easter special April edition magazine! It's packed with all our usual mix of recipes, competitions, local news, history features and events. So why not sit out in the garden, put your feet up, pour yourself a refreshing drink and enjoy a read of our community magazine - it's the perfect way to relax and unwind this Spring here in Lichfield!
SHOW MORE
SHOW LESS
Create successful ePaper yourself
Turn your PDF publications into a flip-book with our unique Google optimized e-Paper software.
3
---
Welcome to

CITYLIFE

Welcome to CITYLIFE in Lichfield, a monthly magazine

bringing you our pick of the city's news, events and stories.

Each month CITYLIFE in Lichfield is delivered to

businesses and homes in Lichfield, Kings Bromley, Fradley,

Alrewas, Hill Ridware, Whittington, Stonnall, Shenstone,

Hammerwich, Burntwood and Longdon, completely free

of charge; bringing you the best that the city has to offer.

Each issue features heritage stories exploring the rich

history of our area, plus competitions, interviews and the

latest in fashion and style.

Got a story or charity event you want to share with our

readership? Think you've snapped an image that captures

the spirit of the city? We want to hear from you!

Our business is bringing you Lichfield's city life.

CITYLIFE Contacts

Editor - Kristen Lackajis 07885 380632

kristencitylife@gmail.com

Features - Jono Oates 07785 757201 jonocitylife@gmail.com

Advertising -

Steve Brown 07740 166497 stevebrowncitylife@gmail.com

Rebecca Hill 07970 513144 rebeccahillcitylife@gmail.com

Production -

Helen Smith 07967 154187 helencitylife@gmail.com

Citylife In Lichfield Ltd

PO Box 7126 LICHFIELD WS14 4JS

CITYLIFE in Lichfield and CITYLIFE in Rugeley magazines

are not connected to any other publication or publisher, and are

wholly owned by CITYLIFE in Lichfield Ltd.

Citylife In Lichfield

@citylifelichfield

@lichfieldcity

www.citylifeinlichfieldltd.co.uk

Citylife in Lichfield Ltd does not endorse any business or organisation

appearing in these pages, and the publication of any advertisement,

editorial, event listing or advertising editorial does not constitute an

endorsement by Citylife in Lichfield Ltd.

Your Local Magazine

Inside...

6 Local News

Read what's happening in and around Lichfield

.............................

14 Sunbeams & Elgar

Jono Oates explores the bicycles of Lester's

Garage

.............................

30 10 Minutes With...

Local artist Molly Beard is in the spotlight

.............................

38 Easter Gift Guide

Find the perfect Easter gift for your loved one

.............................

From the Editor…

Welcome to the April issue of Citylife in Lichfield.

The world is poised to begin opening up once again and

emerging from lockdown and, while we're excited, there's also an

air of trepidation. Will all our well-known and loved local

retailers be able to open up or will some have, sadly, not

survived? It's a very bittersweet feeling.

In this issue, we've focused on the festivities surrounding Easter

and put together an Easter Gift Guide, filled with wonderful,

locally made items, as well as an Easter Treats Guide to ensure

you have something delicious on the table this year! There's also

a recipe from top chef Simon Smith in case you fancy cooking

yourself!

There's also pages filled with local community news, history

features, plus an interview with a local artist and illustrator.

So sit back, have a read and look forward to the brighter days

ahead!

Krissy
---
5
---
LOCAL NEWS

Primary School's

Easter Trail

New Dance & Theatre

Networks Launched

For a map of Lichfield city centre car parks

managed by Lichfield District Council, visit

www.lichfielddc.gov.uk/carparkmap.

.......................................................................................

Floral Tributes for

Loved Ones

Willows Primary School is excited to announce

its Easter Trail event whereby schoolchildren

will be decorating Easter egg posters around

Lichfield. The children will be displaying their

Easter artwork in their home windows with the

hopes of locating a golden ticket!

Lichfield-based Cakes of Wonderland has

donated golden ticket prizes and will be

supplying some amazing treats for the lucky

winners.

Easter is a magical time of year and a great time

to explore the advantages of planting seeds and

watching them grow. Willows Primary School is

looking for help and support, and also trying to

raise funds, to create an exciting allotment

space where the children can be actively

involved.

If any local gardening companies or enthusiasts

would be willing to offer their help or volunteer

their time, or if anyone wishes to make a

donation, please contact the school on 01543

421830.

Happy Easter from all at Willows Primary

School!

.......................................................................................

Bird's Eye View of

Abbots Bromley

Citylife reader, Simon Wilberforce, sent in this

fantastic image of Abbots Bromley from the air!

Have you snapped an image of the local area

you wish to share? Send it to

kristencitylife@gmail.com for consideration in

the next issue of Citylife.

6

Two new community art networks have been

created in Lichfield and Burntwood.

Supported by The Hub as part of its artistic

response to the pandemic, the networks have

been set up to bring together anyone and

everyone interested in dance or performing

arts to generate ideas and projects, explore

new ways of working, identify any gaps in local

provision and help to kick start the local arts

scene following the pandemic.

Lichfield and Burntwood Dance Network

(L&BDN), and Lichfield and Burntwood Theatre

and Performance Network (L&BPN), are both

run by experienced professional artists to find

opportunities to create and see high quality

dance and performance work on local stages.

The network is a space to easily discover new

friends and to connect with other artists,

performers, actors, choreographers and

teachers, as well as opportunities for

professional development and training.

Both networks can be found on Facebook at

www.facebook.com/groups/lichfieldtheatre and

www.facebook.com/groups/lichfielddancenetw

ork.

.......................................................................................

Transfer of Car Parks

Since 1st March, Backcester Lane car park and

Gresley Row car park in Lichfield city centre

have been operated by Three Spires Shopping

Centre. This means city centre car park season

ticket holders are no longer able to use their

passes for Backcester Lane car park.

Lichfield District Council has managed the two

car parks on behalf of Three Spires Shopping

Centre since they were first built, however

Three Spires has now decided to take them inhouse.

Although season ticket holders can no longer

use them in Backcester Lane car park, the

passes are still valid in all other long-stay city

centre car parks managed by the district

council.

As well as ticket machines, Three Spires is

setting up Connect Cashless for both car parks.

This is a pay by phone or pay by app scheme. It

will allow users to pay for their parking either

for the duration of their stay or they can buy a

season ticket for as long as is needed.

Families in Lichfield can remember their loved

ones at a special St Giles Hospice memorial

garden this spring.

Relatives and friends are being invited to

dedicate a unique Celebrate Lives Lived orange

Gerbera peg, which is personalised with the

name of their loved one, in return for a

donation which will help to fund the work of St

Giles supporting patients living with a terminal

illness.

The Gerbera pegs will then be placed in one of

the beautiful memorial gardens created at the

hospice sites in Whittington and Sutton

Coldfield.

The gardens will create a colourful display of

Gerbera pegs dedicated to the memory of

loved ones, whether they have been cared for at

St Giles Hospice or not, which will then be

open to visitors throughout May, following the

current Government Covid-19 guidelines.

To dedicate your Celebrate Lives Lived

Gerbera,

visit

www.stgileshospice.com/celebrateliveslived or

call 01543 432538. The closing date for

Celebrate Lives Lived dedications is midday on

Friday 16th April.

March

Competition

Congratulations to S Woods

and S Prince who both receive

a copy of Kim Nash's latest

novel, Moonlight Over

Muddleford Cove.

Well done!
---
Advertising Feature

Does the man down the pub know better?

Do you usually take financial advice off the man down the pub or the women off the number seven bus?

Did your mate once have an ISA, which makes him an expert on all things financial?

Are you happy to trust your investment decisions to a non professional?

Should you really be seeking advice from a fully qualified, experienced financial adviser?

Many of us are starting to think about our savings, investments and pensions. Others are thinking of moving house, taking out life assurance,

booking holidays or just waiting to see what will 2021 bring. You may not have had your vaccine yet but hopefully it shouldn't be too long before

things are getting back to normal.

I would suggest that looking at your life assurance, savings, investments and pensions should be on your list of priorities for 2021. Your financial

future and that of your families is important so please don't neglect it. I am still taking on new clients and if you feel that you need advice then

please give me call so we can have a chat.

I look after over 100 households advising on their pensions, investments, savings and inheritance tax amounting to circa £27,000,000. My clients

get a personalised service and I see them

once or twice a year depending upon their

circumstances.

At Four Oaks Financial Services I am

supported by in-house research, client

liaison and administration teams. I spent

most of 2020 working from home using

online meetings to great effect, keeping in

contact with my clients and advising them

during a very strange year. For the first part

of 2021 this is likely to continue but it

shouldn't be too long before face to face

meetings are the norm.

Our first meeting will be at my cost and

there is no obligation to proceed any

further. Financial Advisers get paid in a

variety of ways and I will explain this to you

when we speak. If you do decide to be a

client then you will get a personalised

service that matches your needs, whatever

they may be, as we are all individuals.

I will carry out a full fact find of your

circumstances and discuss with you your

priorities, where you want to be financially

in the future and how I may be able to help

you get there. I will speak in clear terms and

do my best to try and help you achieve your

goals.

As an experienced Financial Adviser I

work with clients, at all stages of their life, to

help them achieve their financial goals. My

clients are mainly in the Burntwood,

Lichfield and greater Wolverhampton areas,

although I do have clients much further

afield. You can find me on the Independent

rating sites Unbiased and Vouchedfor, via my

website - www.financialadviser.me.uk or the

Four Oaks website – www.fouroaksfs.com

It is often said that people deal with

people, particularly local people, so please

give me a call or drop me an email. We can

have a chat and can take it from there if you

wish.

I hope to hear from you soon.

Robin Place DipFA, CeLTCI, MLIBF

Financial Adviser

0121 323 2070, 07968 504805

robin@fouroaksfs.com

7
---
LOCAL NEWS

8

Christmas Tree

Delights Locals

The Bank Coffee

House in Alrewas has

been keeping local

residents entertained

during lockdown with

its Christmas tree,

which has been

standing since

November last year!

Having stayed fit and

healthy, the Coffee

shop owners thought that it would be a shame

to take it down, and instead decided to make a

feature of it. Recently, Alrewas Crochet Club

have been adorning the tree with beautiful

handmade decorations to mark different

occasions, such as Burns Night, St David's Day

and St Patrick's Day!

.......................................................................................

Activate Create

Project for Young

People

Broken Lightbulb is a

community interest

company based in

Lichfield working to

create creating

accessible and vibrant

arts events and creative opportunities that

disrupt and break down inequalities of access in

local communities and focuses on developing

opportunities for young people, women, and

minority and disadvantaged groups through

bespoke learning experiences and the creative

arts.

As well as cultivating arts engagement and

creative opportunities, the organisation

provides coaching and mentoring, consultancy,

workshops, and training to help individuals or

organisations to build their capacity, skills, and

knowledge through our provision of

professional expertise and best practices.

Recently, a new project called Activate Create

has been launched with the age group of 12-16

years old in mind. The project will create an

online platform as a space for young people to

develop networks, skills and confidence

through fun, creative opportunities aimed at

increasing local young people's social action

engagement.

A modular programme will offer meaningful

opportunities to affect and drive real change in

the area and foster a sense of belonging and

being heard, accepted and valued in the district.

Broken Lightbulb is looking for young people

aged 12-16 to get involved in the project, as

well as local groups, companies and individuals

who wish to contribute or collaborate on this

project.

If you feel you could help, or if you are a young

person/parent who wishes to find out more,

visit www.brokenlightbulb.org or email

activatecreate@brokenlightbulb.org.

.......................................................................................

Covidsecure

Voting

Ahead of the elections in May, residents are

being urged to sign up to vote by post or proxy

if they would prefer not to vote in person this

time round.

On Thursday 6th May 2021 residents across

Lichfield District will go to the polls to have

their say on who is Staffordshire's next Police,

Fire & Crime Commissioner and who

represents them at Staffordshire County

Council.

The Burntwood Neighbourhood Planning

referendum, a by-election for the district ward

of Summerfield & All Saints, and a by-election

for the city ward of Stowe, which were delayed

due to Covid-19, will also take place.

Lichfield District Council is busy making plans

to help people stay safe while casting their vote.

There are a number of ways to have your say in

the May. Voters can cast their vote in a polling

station, by post, or by appointing someone they

trust to vote on their behalf, which is known as

a proxy vote.

The deadline to apply for a postal vote is 5pm

on 20th April, and for a proxy vote the deadline

is 5pm on 27th April. To find out how to apply

for a postal or proxy vote visit

www.lichfielddc.gov.uk/elections, email

elections@lichfielddc.gov.uk or call 01543

308125.

If you have not yet registered to vote at your

current address, apply online at

www.gov.uk/registertovote by midnight on

Monday 19th April.

.......................................................................................

Lottery Boost for

LHCRT

Lichfield's canal

trust has already

benefited from a

local Community

Lottery which

launched at the beginning of March.

The Lichfield Community Lottery is a weekly

lottery that raises money for good causes

across the Lichfield District.

Tickets cost just £1 each, with a top prize of

£25,000, and for every ticket sold, 60% goes to

local good causes, including Lichfield and

Hatherton Canals Restoration Trust, with 50%

going to the chosen cause and 10% to other

causes in the area of Lichfield District.

Within a week of the Lottery launch the Trust

had already sold 33 of its initial 50-ticket target,

which means it had reached £858 of its £1,300

annual target.

The first draw for the big prize of £25,000 takes

place on Saturday 10th April.

To support Lichfield and Hatherton Canals

Restoration Trust and buy Community Lottery

tickets, visit

www.lichfieldcommunitylottery.co.uk.

.......................................................................................

School Named in

Honour of Local Lady

The Gurkha Welfare Trust has recently decided

to name a new school

building in memory of former

Rugeley resident and Rugeley

& Armitage Camera Club

member, Margaret Cross.

Margaret worked tirelessly

for more than 20 years with

husband Rob to support

former Gurkha soldiers and

their families, raising nearly

£110,000. Rob, a member of

Rob and Margaret

Cross

Lichfield St. Chad's Rotary Club, is a keen

photographer and former chairman of Lichfield

Camera Club. Both he and Margaret have given

talks about Nepal and the Gurkhas to

community groups, illustrating their

presentations with some stunning photographs

of their lives in and travels to Nepal and other

far-flung places. Their efforts were

acknowledged with the award of an MBE to

Rob in the 2021 New Year's Honours List.

Sadly, Margaret passed away last August and it is

entirely fitting that she will be given a

permanent memorial in a community she did so

much to support.

.......................................................................................

Beacon Park

Trees Felled

A beech tree and a lime tree

in Beacon Park were felled in

March after an inspection

highlighted concerns with

their long-term health.

After carrying out a health

check of the trees in Beacon

Park, an external tree

inspector instructed Lichfield

District Council to remove two of its larger

trees within six months after finding they both

had fungal pathogens.

The lime tree, which is next to the herbaceous

garden, had Ganoderma. This is an aggressive

form of fungus that will decay the tree quickly.

The beech tree, which is next to the pool, had

Ganoderma and Meripilus. Both forms of

fungus are deadly for a tree.

Two new trees are to be planted in their place.
---
9
---
LOCAL NEWS

Award for Cathedral's

Organ Scholar

Lichfield Cathedral's Organ Scholar, Liam

Condon, has been awarded the second most

senior organ playing diploma from the Royal

College of Organists.

Liam has attained his Associateship of the Royal

College of Organists diploma following

assessments of his playing together with

written and aural examinations.

The Precentor of Lichfield Cathedral, Canon

Andrew Stead, who oversees the Cathedral's

music and worship said: "We are very proud

indeed of Liam, who has gained this notable

diploma despite the challenges offered by new

COVID regulations and technological hurdles."

Liam graduated from Royal Holloway,

University of London, in July 2019. He regularly

accompanies the choir at Lichfield Cathedral

and helps to train new choristers. He has played

live on BBC Radio 3 and BBC Radio 4.

.......................................................................................

New Biking Trails to

Boost Tourism

Cllr Victoria Wilson with Gary Kelsey, Forest Centre

Manager for Cannock Chase Forest, and Richard

Scott, District Civil Engineer for Forestry England.

New mountain biking trails being built on

Cannock Chase Forest will boost the local

tourism economy and help more people stay

active.

The project, being developed by Forestry

England, will see the construction of a highquality

off-road mountain bike trail. A family

bike play facility and a new regional centre of

10

excellence for safe, off-road cycling are also

part of the plans.

The new trails will also be used as a venue for

the mountain bike races during the Birmingham

2022 Commonwealth Games.

Staffordshire County Council has provided

£50,000 towards the costs of the project.

.......................................................................................

School Children Give

Books to Community

Jackie, from Project Pathway, with Greywood MST

CEO, Pat Hunt, and schoolchildren.

The pupils of Greywood Multi-School Trust

(Henry Chadwick Primary, Queens Croft and

The Friary), spent World Book Day in March

celebrating their love of books by taking part in

an exciting project which demonstrated the

true meaning of the event.

Pupils from Early Years to Sixth Form were

asked to recommend their favourite book. Of

these recommendations, 12 books were chosen

to form a hamper of well-loved stories. The

books vary in age range and interest but the

commonality is that they were chosen by

children for children in the local community.

These hampers have now been donated to the

charities Project Pathway and Family Support

Services (Staffordshire).

Greywood MST would like to thank the pupils

of the Trust, Spalding Books for their support

with the initiative and Project Pathway and

Family Support Services for the work they do

supporting local families.

.......................................................................................

Leisure Centre Gets

Greener with Grant

Lichfield District Council has been awarded

over £1.3 million for energy efficiency

improvements at Burntwood Leisure Centre,

the Beacon Park pavilion and the District

Council House in Lichfield following successful

bids to the Public Sector Decarbonisation

Scheme.

Over £1 million of improvements will be made

at Burntwood Leisure Centre including fitting

solar panels along with energy storage

batteries, installing an air source heat pump to

heat the building and the pool more efficiently,

energy saving light fittings, and a range of other

improvements that will make the building more

energy efficient and reduce its impact on the

environment. It is estimated that these

measures will reduce the amount of carbon

dioxide produced by Burntwood Leisure

Centre by more than 260 tonnes per year.

Work at the Beacon Park pavilion and District

Council House will target reductions in energy

usage and the increase of the thermal insulation

of the buildings at both sites.

.......................................................................................

Lichfield Walker's

Charity Fundraiser

A local lady donned her walking boots and

raised more than £300 by walking for charity.

Tina Hart Prieto, of Lichfield-based business

Capture 24 Photography, recently undertook

the 10,000 steps a day challenge in February in

aid of the charity Brain Tumour Research.

This involved walking a total of 10,000 steps

each and every day throughout February, and

Tina enjoyed strolls across Cannock Chase, as

well as walks in her hometown of Lichfield.

Tina set out to raise money for the cause

following her friend's diagnosis of inoperable

brain tumours in 2018 and, although she took

on the challenge by herself, there were many

others across the country who decided to walk

Brain Tumour Research.

Throughout the month, Tina covered a total of

325,062 steps and raised a total of £315.
---
11
---
LOCAL NEWS

12

Hospice Hopes for

Spring Cycle Event

St Giles Hospice is hoping to relaunch its

programme of summer fundraising events

starting with Cycle Spring which is planned to

take place on Sunday 23rd May, with COVIDcompliant

measures in place.

This year's event, which will be starting from St

Giles Hospice in Whittington for the first time,

introduces three new routes through the

beautiful Staffordshire countryside with varying

degrees of difficulty. The 27-mile route is open

to all cyclists aged 10 and above and the more

challenging 52-mile and 76-mile routes are open

to riders aged 16 and over.

Arrival times will be staggered from 7.30am to

ensure that social distancing can be complied

with, and bookings are restricted to a maximum

of six people from the same household or

support bubble.

Cyclists booking a place before midnight on

Wednesday 31st March can enjoy an early bird

offer of £25 (instead of £27) with entries

closing at midday on Thursday 20th May.

To sign up, or for further details, visit

www.stgileshospice.com/cyclespring.

.......................................................................................

Double-Whammy for

Fundraiser

Gladys Crowe,

78, is a long-term

supporter of St

Giles Hospice and

has helped raise

funds for more

than 20 years. Like

many other people

during the

pandemic, Gladys

has been shielding

and every day activities have had to be put on

hold.

Unhappy about not being able to fundraise

Gladys decided to take up the

#GiveItUp4StGiles challenge in February and

have a 'dry' (no-alcohol) month. However, not

content with this, Gladys also joined the

#Miles4StGiles challenge and set herself a

personal target of walking a minimum of five

miles every day during February!

Each morning Gladys donned her trusty

boots and set out, encountering snow, gales,

rain, fog and, eventually, some sunshine on her

walks around the local countryside.

Gladys walked an amazing 320 miles over the

month (an average of 11 miles per day) and

smashed her original target of raising £1,000,

instead bringing in more than £3,000 for the

cause.

Her family would like to say thank you to

everyone who has supported and sponsored

Gladys along her way.

.......................................................................................

Free Survive Service

Launches

A free countywide service for Staffordshire is

helping victims of sexual assault and abuse – and

their family members and partners – recover

from the impact of the crime and cope with the

harm they have experienced.

Survive, the Sexual Assault and Sexual Abuse

Service, provides free tailored, confidential and

effective support for victims, from reporting the

crime or recognising they need support, to

exiting the service.

Victims can seek support whether they report

the crime to the police or not. Services include

a local helpline, counselling and a specialist

support and advocacy service for victims, as

well as support for close family members and

significant others.

The service will operate across Staffordshire

(not including Stoke-on-Trent) for two years,

with an opportunity for a further two 12-

month extensions after this.

If you would like to talk to someone about

accessing the Survive service, or would like to

make a referral, please call the 24-hour helpline

on 0300 330 5959 or email

referrals@staffordshirewomensaid.org.

.......................................................................................

Council Grant

Scheme for Start-Ups

Lichfield District Council is offering business

start-up grants of £3,000 to local residents who

have been made redundant or are out of work

and planning to start a business over the next

year.

In total the council has set aside £200,000

from the Additional Restrictions Grant funding

it received from the Government, to invest in

new local businesses.

To be considered for support, prospective

applicants must first go on a start-up

masterclass workshop provided by Enterprise

for Success before applying for a grant. This

two-day interactive session will be a useful way

to get expert advice to help create a sound

business plan.

The four applications rounds are: 28th May,

27th August, 26th November and 28th January

2022.

The scheme will run until January 2022, or

when all the funding has been allocated.

To find out more visit

www.lichfielddc.gov.uk/startupgrants.

.......................................................................................

In Memory of

Mark Farrant

Mark Farrant

died peacefully at

home on Thursday

18th February

2021 aged 94.

Much loved

husband of his late

wife Elaine Farrant

(nee Price Evans).

He was very much

loved and will be

sadly missed by his nieces, nephew, great nieces,

great nephews and friends.

Mark was a devoted member of Lichfield

Cathedral for over 50 years and during that

time he was a regular attendee, got married

there, volunteered there, was a speaker, donor,

and a member of the Guild of Cathedral

Welcomers. He and his wife Elaine were also

actively involved with the annual Lichfield

Festival.

Donations if desired to SSAFA may be sent to

F M & J Wait Funeral Directors, 25 Bird Street,

Lichfield, Staffordshire, WS14 6PW.

.......................................................................................

Local Beauty Spots

Receive Funding

Cannock Chase and Chasewater Country

Park are set to receive £450,000 funding to

improve and develop facilities, enhance the

visitor experience and increase tourism to the

area.

The funding comes after Staffordshire

County Council allocated funding from the EU's

European Agricultural Fund for Rural

Development and committed money raised

from car parking fees at the two local parks.

Lichfield District Council is also contributing

towards improvements at Chasewater Country

Park.

Amongst the developments, there will be new

areas for children to play plus exciting new

walking, path improvements and upgrades to

the visitors' centres.

The country parks will also see new

interpretation panels, multi-media displays

inside the visitors' centres and a new walking

route linking the two.
---
13
---
Sunbeams & Elgar

The Bicycles of Lester's

Garage

By Jono Oates

................................

In the March issue of Citylife in Lichfield I requested our readers to

'Ask Jono' and challenge me to research the people, the places and

the locations of Lichfield that they wanted to know more about. I

received several requests last month and one in particular caught my

attention, setting me off on a voyage of discovery which led me to a

golden era of bicycles, a long-forgotten Lichfield garage, and the

composer of one of the most recognisable, and frequently sung,

musical works in Britain's history.

The request came from Bob Cordon Champ, a Lichfield resident, who

asked me if I knew where the garage belonging to J Lester had been located

along Tamworth Street. Bob had in his possession a catalogue, dated 1911,

featuring a vintage bicycle, the Golden Sunbeam, with the name J Lester,

Tamworth Street, Lichfield on the front cover. Something in the back of my

mind told me that I had heard that name before and I was very confident

I would be able to find the exact location. A quick check of J P Gallagher's

book 'Trades of a City' and the British Newspaper Archive told me my

intuition was correct and I was able to confirm that J Lester's garage had

been on the site of a very well-known, and much debated, building in

Lichfield – the former Regal Cinema, more recently the Kwik Save

supermarket and now the Old Picture House residential apartments.

My next point of call was the census records, which told me that John

Lester had been born in a small village near Oxford in 1863 but by 1881

was living at 25 Lombard Street, with his sister and brother-in-law, and he

was an apprentice tinplate worker. By 1891 he was living at 14 Tamworth

Street, now the site of The Crown Inn, with his wife Emma and was a

locksmith and cycle maker. John ran his business from his own home

address and later expanded to have a Cycle Depot, then Motor Depot and

Garage on Tamworth Street, numbers 21-25, close to the junction of

Lombard Street.

John Lester sold a variety of bicycles from his cycle depot with

household names such as Raleigh, Royal Enfield, Swift and Triumph, and

including the Sunbeam, one of the most expensive and sophisticated

bicycles of the day. The Golden Sunbeam, as featured in the catalogue, was

launched in 1907 and was the 'top of the range' model, with real gold-leaf

in its trim, and the three-gear model cost £17, the equivalent today of

£2,000.

Bob is a respected authority on Sunbeam cycles being the author of the

book The Sunbeam Motorcycle and owns a Golden Sunbeam which is

14

Lester's Garage photo credit 'You're Probably From Lichfield If...' Facebook page

Golden Sunbeam from the 1911 Catalogue

Bob Cordon Champ's own Golden Sunbeam

currently on display at the Edward Elgar

museum near Worcester. Elgar was the owner

of two Royal Sunbeam bicycles and was a very

keen cyclist, covering many miles over the

Malvern Hills and beyond. His cycling

companion would say that he would often fall

silent on their cycling expeditions and she

would not disturb him as she knew he was

working on a new musical composition! In 1901

Elgar's Pomp and Circumstance marches were

published including the music for Land of Hope

and Glory, with words added in 1902. This

quickly became adopted as a patriotic piece and

is still sung with much fervour at the Last Night

of the Proms, under usual circumstances.

Lester's also sold and hired out motor cars

and motorcycles as well as providing servicing

and tuning for cars and bikes. In April 1930 John

Lester died and the garage, and associated

buildings, were demolished. In July 1932 the

Sunbeam Catalogue 1911 J

Lester of Tamworth Street

Regal Cinema opened its doors, becoming the first fixed cinema in Lichfield,

with the opening films being The Beggar Student, a 'scintillating musical

comedy,' followed by The Old Man, a baffling mystery drama, written for

the screen by Edgar Wallace.

The building later became a bingo hall and then the Kwik Save

supermarket before remaining empty for several years. The Old Picture

House apartments are now nearing completion, with the apartments

bearing the names of famous actors of the day.

If you have any questions about the buildings, people or locations from

Lichfield's history then why not be like Bob and Ask Jono?! Email Jono at

jonocitylife@gmail.com and your question may be featured in next month's

issue!

Sources: The British Newspaper Archive; Trades of a City by J P Gallagher;

www.ancestry.co.uk; www.nationaltrust.org.uk

*Vintage catalogue images courtesy of Bob Cordon Champ
---
15
---
16

A Mouseman dining table and chairs.

Tom Winterton setting up the annual

Garden Sale.

Home Sweet

Home

...............................

By Tom Winterton

Setting up your own home is one of life's defining moments.

Securing your own space, your own floors, walls and doors for the first

time expands and redefines the old saying 'home sweet home'.

But it also usually provides the new occupant with the ultimate blank

canvas – and that can be just as exciting or daunting whether they're a

first-time buyer, renting anew or a serial doer-upper, repeatedly renovating

and moving in a perpetual quest for property perfection.

From painting or papering the walls to prepping the floors, there's

always so much to do. And we haven't even talked about the garden!

Putting one's own stamp on a new abode can be incredibly exciting –

and financially frustrating.

Yet there is a wonderful world of furniture widely available at auction,

spelling both tremendous variety and affordability, with reasonable prices

to suit all pockets.

Plenty of antiques of course, but also mid-century design classics in teak,

up-to-the-minute modern oak and retro statement pieces.

Our furniture department is an ever-revolving Aladdin's cave of home

and interior inspirations.

From Victorian dressers to designer dining suites, modern light oak to

much-loved mahogany, vintage vinyl settees and leather sofas to 18th

century stools, marble-topped tables to metalwork chairs, all rooms are

covered.

There's also plenty of scope for upcycling too, reusing resources and

breathing new life into well-loved but now rather 'distressed' items

through restoration and renovation.

In fact, the whole concept of the wonderful world of auctions sits bang

on trend with the ethos of recycling.

Our popular Antiques & Home Sales take place at least twice a month

and the quantity and quality of furniture catalogued never ceases to amaze

me.

From 1960s and 1970s designs, with its signature clean lines by wellknown

names such as Robin Day for Hille, John and Sylvia Reid, Ib Kofod-

Larsen, McIntosh and G Plan to high quality modern reproduction style

furniture such as that crafted by Titchmarsh and Goodwin, it is, as they say,

all there.

Auctions are great place to pick up superb desks and that perfect office

chair, plus other practical equipment, if you're working from home rather

more these days.

And of course we all have a soft spot for the fine art furniture, which

just makes you go 'wow' when you check out the level of work and detail.

Even ultra-modern homes can accommodate carefully chosen period

antiques from Georgian through to Victorian and Edwardian times.

Modern light oak furniture

such as this sideboard comes up

regularly at auction.

This oxblood leather

armchair sold at auction for

£210.

Just with personal interior design taste, everyone has their favourite.

It goes a little further than furniture, too – wave goodbye to those blank

walls and choose from a huge selection of pictures ranging from original

oils and limited edition prints to vintage posters and decorative art.

Whatever your vibe or colour scheme, you can find a unique piece at

auction which will make you smile every time you look at it.

Mirrors of all shapes and sizes and superb quality rugs can be picked up

reasonably at auction along with other home furnishings such as vases,

dinner services and canteens of cutlery.

In fact, pretty much anything you would find in someone's home is being

sold at auction nowadays.

It's a clean sweep which even covers the bathroom – one of our

auctions last month included an array of boxed vanity units, basins, taps,

sinks, shower trays and doors, panels, toilets, a roll top bath and lighting

mirrors.

We won't be leaving out the kitchen either – we sell white goods of all

shapes and sizes, often in superb condition, including fridges, freezers,

tumble driers, washing machines, vacuum cleaners and power tools along

with other electricals such as televisions, vintage record players and

modern hi-fi sound systems. And we PAT test them all.

It's perfectly possible to pick up a nearly new Samsung, LG or Sony LED

TV at auction for just £100.

As we're talking entertainment, the furniture department also handles

pianos from the most prestigious grand to homely uprights.

A sale last month featured bagatelle boards and a brilliant foldaway bar

billiards; a full-size billiards table sold earlier in February and we've handled

games tables incorporating chess, backgammon and even a roulette wheel.

As this magazine was going to press our current auction included a

superb table football game.

And still we haven't even talked about the garden!

Let's step through our imaginary conservatory – yes, we handle all the

furniture you need for in there, too! – and survey the outdoors.

From maintenance of your lawn and borders to decorating the patio,

you can access it all at auction.

Although we feature outdoor items in our regular Antiques & Home

Sales throughout the year, a specialist garden sale is an annual spring event

for us.

Our last dedicated garden sale in June 2020 became what's known as a

'white glove sale', meaning every single lot sold.

The 2021 Garden Sale on Monday 19th April, features 200 lots including

more than 20 lawnmowers, a ride on mower, benches, garden tables and

chairs, statues, stoneware, troughs, ladders, tools, potted external shrubs

and trees – even beehives!

So auctions really do have it all, from antiques to apiaries. After all,

there's nothing like home sweet home!

For furniture enquiries, email tom@richardwinterton.co.uk.

The Garden Sale on Monday, April 19, starts at 11am at The Lichfield

Auction Centre, Wood End Lane, Fradley Park. If the Government's road

map out of lockdown continues as planned, bidders will be allowed to view

outside before the sale – check www.richardwinterton.co.uk for up-todate

details, email office@richardwinterton.co.uk or telephone 01543

251081.
---
17
---
Supporting Lichfield

Businesses to Reopen

..........................................

Businesses across Lichfield District are

being urged to seek advice and help as

they prepare to reopen in April.

Lichfield District Council is working with local

businesses to make sure they have the support

they need to get back up and running in

readiness for non-essential retail reopening

from 12th April. This follows the Government's

announcement in February of the roadmap for

the phased lifting of lockdown measures.

This will include distributing Restart Grants to

non-essential retail businesses and hospitality,

accommodation, leisure, personal care and gym

businesses, as soon as the Government issues

guidance on how the grants will be paid.

In the meantime, businesses are being

encouraged to check they have Covid-secure arrangements in place for

their staff and customers and that all their risk assessments are up to

date.

With venues only permitted to serve food and drink outside in step

2 of the roadmap, hospitality venues are being encouraged to take

advantage of changes in legislation to the process of applying for a

pavement licence. It takes just ten working days to process a pavement

license for al fresco dining. Find out how

to apply at

www.lichfielddc.gov.uk/pavementlicence.

The council's information officer will

be reaching out to businesses to offer

them support as they plan to reopen. This

is through the Reopening High Streets

Safely project, which is funded by the

European Regional Development Fund.

As part of this, the council is re-issuing

the free #LoveLocal resources pack,

which includes posters, social distancing

floor stickers and a shop window vinyl.

The council also produces LDC

Business News, which is a monthly email

newsletter to promote local business

news, grants and initiatives. To sign up for it, go to

www.lichfielddc.gov.uk/businessenews.

For business support and advice, visit

www.lichfielddc.gov.uk/covidbusinesssupportadvice.

To request a #LoveLocal resources pack or a meeting with the

information officer, email economicdevelopment@lichfielddc.gov.uk.

Got a story or

charity event you

want to share with

our readership? Think

you've snapped an

image that captures

the spirit of the

region? We want to

hear from you!

Contact Citylife at

kristencitylife@gmail.com

18
---
Doors opening

on 12th April

19
---
20

The Mysterious Case

of the Chasewater

Drowning

By Jono Oates

............................

In February 1974, Wolverhampton businessman Ronald Milhench

emerged from the waters of Chasewater, near Brownhills, having

swum to the bank after his car had crashed into the lake. There

was, however, no sign of his wife who had been in the passenger

seat of the car. His wife's lifeless body was later recovered from the

lake, starting a series of events that involved police investigations,

court appearances and the forgery of one of Britain's Prime

Ministers. For the following 12 months, Ronald Milhench and

Chasewater were very much front-page news in the local and

national press.

On Wednesday 27th February 1974, Ronald Milhench, an insurance

broker, had been water skiing at Chasewater with friends from the

Chasewater Power Boat Club. Later in the day he returned to the club

with his wife, Kathleen, to look for some equipment he had left behind.

Driving a hired car, Milhench allegedly lost control of the vehicle and it

powered in to the lake submerging the occupants below the wintry icycold

waters. Ronald managed to escape from the vehicle, was unable to

locate his wife, and swam to the water's edge before running half a mile

to raise the alarm. Rescuers could not locate her though and the

following morning when light came police divers eventually found her

body under 25 foot of water.

During the inquest, which was held on 14th March, a number of

surprising issues emerged which added intrigue, and the attention of the

media, to the tragedy of the incident. The hired Toyota car had caused

problems previously and had been checked by the garage a few days

before the incident. Mrs Milhench had described the car as a 'veritable

death trap' when it had surged uncontrollably across the road as she was

reversing out of their drive. It also emerged that she was planning a trial

'marriage' with her lover, although Ronald described their own

relationship as amicable and he was aware that she may leave him to live

with her lover on a trial basis. It was then disclosed that Milhench, a few

weeks before the fatal drowning, had doubled the insurance value on

Kathleen's life – from £20,000 to £40,000.

Despite this potentially damning information the resulting inquest

ruled, by a majority verdict, that Kathleen's death had resulted from

accidental drowning

although the coroner

did express the

concern that the car,

even with a potential

mechanical issue, had

had enough velocity to

surge over a bank at

the side of the lake and

then be carried a

significant distance

across the water.

Milhench was

therefore a free man

and was able to claim

the £40,000 life

insurance pay out.

However, this was not the end of Milhench's story as in April 1974 he

was arrested and charged with numerous forgery and firearms offences

dating back to 1973. Milhench had become involved in a land

development case, regarding the purchase of 90 acres of land at Ince-in-

Makerfield, near Wigan, to provide a housing estate which would, he

estimated, net him a £1,500,000 profit over seven years. When the

project looked as though it might fail, Ronald obtained some officiallyheaded

notepaper and forged the signature of the then Prime Minister,

Harold Wilson. The letter indicated that Wilson was giving his full backing

to the venture, which Milhench hoped would sway the outcome of the

deal in his favour. He then, bizarrely, attempted to sell the forged letter to

a newspaper journalist for £25,000 and his plot was subsequently

uncovered.

In November 1974 Ronald Milhench was sentenced to three years

imprisonment at Stafford Crown Court for eight offences including

forgery, deception and firearms, one of which was the ownership of a

sten machine gun. News of his conviction made the national press as well

as local newspapers, and the case was even featured in the New York

Times.

Milhench was released on parole in March 1976, having served 16

months of his sentence, and in 1979 he headed off to Manila in the

Philippines to set up a water sports centre.

The Milhench case was a very unusual, and mysterious, one and the full

truth behind the accidental drowning and the court cases that followed

will probably never be known – but for a short period in the middle of

the 1970s the eyes of the country, and the national press, were firmly

fixed on the usually peaceful and tranquil lakes of Chasewater.

Sources:

The British Newspaper Archive; BBC Home On This Day website
---
21
---
Fun Facts About

Greyhounds

By Lauren Hirst

........................

When we went to find a rescue dog many years ago, we

were initially looking for a terrier. The lady at the rescue

asked: "Have you thought of a greyhound?" I remember

looking at her aghast and saying: "Don't they needs lots of

exercise?" at which she laughed and told me they are actually very

lazy, gentle dogs. She introduced us to Jasper who looked so fed up

being surrounded by yapping terriers.

Jasper came home with us a week later. That was almost 20 years ago,

and I have been volunteering for Greyhound Trust Hall for almost as long.

So here are some fun facts about this ancient breed if you are considering

getting a dog and have never thought about a greyhound.

Greyhounds are the fastest land mammal (after the cheetah) but only

have short bursts of energy and then they need a long nap. Two 30-minute

walks a day and 'zoomies' around the garden is all they require.

Greyhounds wear muzzles while racing during the excitement of the

race and to make it easier to determine the winner in a photo finish but

by nature are very gentle, placid dogs. Many can live quite happily with

children of all ages.

Greyhounds are an ancient and noble breed. They are named in the

Bible and have been found in Egyptian tombs. Only royalty were allowed

to own greyhounds in the middle ages and they are mentioned 17 times

in Shakespeare plays.

Greyhounds have more red blood cells and bigger hearts and lungs

than other breeds to circulate more oxygen. They have a universal blood

type and are ideal blood donors with their placid nature.

Greyhounds have a 270-degree range of vision. They can see objects

behind them and over ½ mile in front of them.

There's no doubt that greyhounds are unique and make wonderful pets

- it's a secret that all greyhound owners know. If you want a high energy

dog to go jogging with, one that will play fetch for hours or catch a

frisbee, then a greyhound is probably not the dog for you. But if you want

a gentle, loving, companion to share strolls in the park with, then consider

a greyhound. You may be pleasantly surprised.

Greyhound Trust Hall Green has kennels in Shenstone and Stourbridge.

Visit www.greyhoundtrusthallgreen.org.uk or the Facebook pages for

more information.

Opportunity

for a Sales

Executive

Citylife in Lichfield

Ltd is expanding!

We currently have an opportunity

for a Sales Executive to work on our

two magazines – Citylife in Lichfield

and Citylife in Rugeley & Cannock

Chase. You must be self-motivated

and comfortable speaking to clients

on the phone as well as face-to-face.

The post is commission only and a

car is essential.

For further information and a full

job description, please email

helencitylife@gmail.com

22
---
23
---
City VIEW

The Newsletter of Lichfield City Council - April 2021

LICHFIELD CITY COUNCIL

Local Government Act 1972 S.127, and the General

Disposal Consent 2003.

Notice is hereby given that in respect of land currently held

as public open space at Festival Gardens, the City Council

proposes (subject to certain conditions being met, including

being satisfied as to the merits of the proposed works) to

dispose of approx. 253m 2 of land adjacent to the A51

Western Bypass/Friary Junction to Staffordshire County

Council to facilitate junction improvements.

Any person wishing to object to the proposed disposal must

do so in writing to be received by the Town Clerk at the City

Council Offices, Donegal House, Bore St,. Lichfield WS13

6LU or by email to enquiries@lichfield.gov.uk no later than

9.00am on Tuesday 6 April 2021.

A PDF version of the plan below that allows for more

detailed viewing is available by emailing

enquiries@lichfield.gov.uk

Further Information

The transport assessment supporting the St John's

residential development identified a requirement for an

increase in traffic capacity at the A51 Western Bypass/Friary

junction. Staffordshire County Council (SCC) have

requested that approximately 253m 2 of land at Festival

Gardens be transferred to SCC to facilitate these

improvements.

The preferred option, detailed below, consists of a

segregated left turn lane. The approximate land required by

SCC is shaded pink; the remaining 'hatched' area is the

associated visibility splay and can remain in City Council

ownership but must be kept free from obstructive

vegetation. Several trees would need to be removed to

facilitate these improvements, notably within the 'hatched'

area; initial discussions with SCC confirm replacement

specimens to be planted nearby will be funded if the scheme

progresses. A plan highlighting which trees are likely to

require removal is available by email to

enquiries@lichfield.gov.uk

The City Council is consulting with residents and requesting

further discussions with SCC as to the appropriateness of

this proposal and its evidence base prior to making any firm

commitment on the matter. All comments received in

response to this consultation will be considered by the

Council at its meeting of 19 April 2021, at which time the

Council's decision is scheduled to be formalised.

24
---
Re-opening

12th April

25
---
Lichfield Chef Appears in

BBC TV Show

..............................

Liam Dillon, chef and owner of

award-winning local restaurant,

The Boat Inn, is making his mark on

the BBC TV Show – The Great British

Menu 2021.

The Lichfield chef is starring in the new

series of the television show The Great

British Menu which started on Wednesday

24th March on BBC TV 2 at 8pm.

Born and raised in Lichfield, Liam has cut

his teeth in several notable kitchens in the

UK, such as Marcus Wareing at The

Berkeley, Five Fields in Chelsea, and Story

by Tom Sellers in Bermondsey, London.

Travelling further afield, he's also had stints

at Quay in Sydney, Noma in Copenhagen and other experience at Eleven

Maddison Park, New York.

Returning to his hometown, Liam opened The Boat Inn, based in

Lichfield, in 2017 and transformed this tired road-side pub into a Michelin

School's Out – in Nature!

By Nicola Lynes & Kathryn Kavanagh

..............................

Throughout the pandemic, Transforming

the Trent Valley have been providing lots

of opportunities for people to continue

to connect with their local nature. Our Trent

Talks, Wildchild videos, downloadable

resources from our website have all been

available for families and adults to help them

explore the outdoors in their daily exercise or

home schooling.

Now that pupils are back in school, we are excited to announce new

resources to continue supporting teachers and community groups in exploring

and learning about nature. As children have returned to schools, it is recognised

that ensuring the wellbeing of children is just as important as catching up on

curriculum they have missed – with our mini school packs you can do both!

There are three mini school packs that will be available to download from

the Transforming the Trent Valley website; 'Recreation and Relaxation',

'Landscape Evolution' and 'Role of the River'. Each pack consists of a master

teacher booklet and a children's activity booklet, and can be completed in and

around your school grounds or home. These packs are aimed at KS1 and 2.

For older school years or community groups who would like to find out

more about the wildlife in the Trent Valley area, we have developed our 'Wildlife

Monitoring Survey pack' and 'Wildlife Identification Guide'. These two printed

resources are designed to be used to contribute towards the monitoring and

reporting of key wildlife species in the Trent Valley, and contain instructions on

where to spot and how to report your wildlife sightings. You can request

printed packs, or download your own copy from our website. This pack will be

launched on Monday 19th April.

All the resources will be added to our website during April and will be free

to download thanks to our funding from The National Lottery Heritage Fund.

You can find the links to register here:

www.thetrentvalley.org.uk/downloads.php

26

recommended, three AA rosettes restaurant (the only place in

Staffordshire to hold this accolade).

Drawing on his experiences from across the globe, Liam's menu at The

Boat Inn is modern, honest, and focuses on British flavours with locality

at its heart. Known for quality-driven dishes, coupled with his

progressive approach to cooking, Liam's menus shine a spotlight on the

Midlands dining scene.

Liam said: "I grew up watching the programme, dreaming of being a

chef so it's a bit surreal, but also an honour, that here I am, years later, a

professional on the show.

"I enjoyed every single second. It was exciting, stressful... I was

surrounded by some amazing fellow chefs...it was actually a privilege to

be part of the programme.

"I am also extremely proud to be flying the flag for Staffordshire, and

representing my home town of Lichfield.

"It's been a tough year for everyone, especially those working in the

hospitality industry. Here at The Boat Inn, we've made many changes both

to the decor and the menu. We've also invested heavily in outdoor dining

and I and the team can't wait to

open the doors again and welcome

people back."

Liam's menu for the Great British

Menu is creative, innovative and pays

homage to local pioneers such as

Lichfield born Samuel Johnson, who

wrote the early Dictionary of the

English language.

Bestselling Author's Collection

Comes Home to Auction

...........................

The life's work of a local

man and international

bestselling author,

credited as creating the technothriller,

is coming to auction in

Lichfield.

Craig Thomas' 1977 landmark

Firefox was made into the 1982

Hollywood blockbuster of the

same name directed by and

starring Clint Eastwood.

Copyright to the book and the

former English teacher's 17 other

Craig and Jill Thomas with Clint

Eastwood (courtesy of the Estate

of Jill Thomas)

novels – including two published under the pseudonym David

Grant – will be sold together as one collection by Richard

Winterton Auctioneers on Monday 12th April. A notice of

copyright assignment will be provided to the new owner.

Mr Thomas lived in Whittington with his wife Jill for many years.

He taught at Lichfield's King Edward VI School and Shire Oak

School in Walsall Wood before the success of his debut novel Rat

Trap allowed him to move to writing full-time.

Fans regard Mr Thomas as the true inventor of the technothriller,

with his run of meticulously researched novels revolving

around cutting-edge technology.

Appropriately, the sale will be hosted online with live

international bidding through the internet.

Copyright to the 18 novels will go under the hammer at 9.30am

on Monday, April 12, as Lot 1 in Richard Winterton Auctioneers'

Antiques & Home Sale from The Lichfield Auction Centre.

For bidding and other enquiries, email

office@richardwinterton.co.uk or telephone 01543 251081.
---
Staffordshire Pie Drop

.........................

Staffordshire Pie Drop is a home delivery

service bringing you award-winning pies,

handmade in Melton Mowbray using locally

sourced meat and produce, straight to your door!

Pies are frozen and can be cooked from frozen. You

can choose from a variety of meat/fish/vegetarian/fruit

and gluten-free pies in family size (600g) and individual

(300g). There is also the famous Melton Mowbray pork

pie available!

Deliveries are weekly and with your first order you

receive a free pie! Visit www.piedrop.co.uk to see

the full range.

27
---
Your Garden in April

By Byron Lewis

Can you believe it's just over a year since Coronavirus took hold of

us, and garden centres (and everyone else) had to close? We adapted

pretty quickly here at the Garden Centre, offering home delivery to

allow our customers to carry on 'as normal' while they were locked

down. Hopefully, we won't have to repeat this again - it was a little bit

manic at times! The garden centre is now back open pretty much as

normal, with Covid-safe rules in place, of course.

The Coronavirus has also meant that, for various reasons, some plants

and products are already in short supply - there are few fruit trees,

ornamental trees and roses available at the moment as the demand last

year was so great. Many growers sold all the stock they had and were

unable to pot on plants in time for this year. In 2020, everyone

clamoured for compost like it was going out of fashion - this year already

it's the turn of chicken manure! Adding to this is Brexit, which is causing

some delays to plant imports with more paperwork and checking in

place. The best advice at the moment is: if you see it - buy it! You may

not find it later on in the year!

But gardening continues as normal and as we get into spring it's time

to get those grow-your-own patches full of seeds, seed potatoes and

seedlings. All are now available, so if you caught the gardening bug last

year and dabbled with growing your own food, you can carry on this

year too - your food will be fresher and taste better!

More tender veg, such as runner beans, are best left until the worst of

the frost and wind is over, and hold fire on putting tomato plants outside

until May (they are fine in greenhouses and conservatories though).

If your spring bulbs are almost over, remember not to chop off the

leaves - you can cut the flower stalks down, but allow leaves to die back

naturally, putting food back into the bulb for next spring. We recommend

adding a few handfuls of bonemeal around your bulb clumps too, to

enhance flowering in the future. Bedding plants will shortly be ready to

take their place but don't be tempted to plant too early - it only takes

a night with a sharp frost to kill them off!

Byron Lewis runs Lichfield Garden Centre at

Curborough Countryside Centre,

Lichfield. Telephone 01543 254306. Visit

www.lichfieldgardencentre.co.uk or find the garden

centre on Facebook, Instagram and Twitter.

28
---
29
---
10 Minutes With…

Molly Doodle Dandy

.......................................

Local artist and illustrator Molly Beard (aka Molly Doodle

Dandy) caught up with Charlotte Benton to discuss

everything from how her creative flare has been present

since childhood to her proudest and most challenging

commission piece to date - an exquisite drawing of Lichfield

Cathedral.

When did you first realise that you had this extraordinary talent?

Art was definitely my go-to subject at school, I took both art and

textiles at A level and my teachers encouraged and guided my work. As

a child I was constantly drawing, my Mom remembers how I always had

a pen or pencil in my hand and even took to drawing on the walls with

a felt tip pen! I specifically remember the wooden train set that I had,

Brio, I coloured in the whole thing. Art has always kept me entertained

for hours.

Did you always want to be an artist?

Whilst at school I had always wanted to go to university, I had planned

to study animation, but as time went on I began receiving more and more

commissions. By the age of 17 I already had a strong client base, I was

able to continue developing my own style and I started to get a taster of

where this could go. I always knew whatever I ended up doing it would

be creative. I like to say this has been a happy accident!

What does your typical work day look like?

I am very fortunate that I have a wooden log cabin in the middle of a

field that is my studio so thankfully lockdown hasn't affected my daily

routine very much. I get up before 7am everyday to look after my horse

before heading to the cabin and settling down at my desk. I make a todo

list everyday and like to keep my work varied, often spending the

morning working on commissions and the afternoon focusing on

creating new ideas. I think it can be unhealthy to only work on one thing.

I also have my little Jack Russell, Luna, to keep me company in the cabin,

she likes to have my undivided attention, so she definitely keeps me busy

too. Every so often clients come to the cabin to pick up their

commissions, of course this is socially distanced at the moment, but it is

always so rewarding to see my customers.

What are the main influences that inspire your current work?

At the moment it is the smallest of things. Just yesterday I was inspired

30

on my commute to

the studio when I

spotted a lady walking

her dog, she was

frantically waving at a

fellow dog walker on

the opposite side of

the road. It appeared that they knew one another, both waving excitedly,

but neither of them crossed the road. This small encounter has given me

lots of inspiration for a whole new range. I often draw inspiration from

the smallest things that are part of everyday interactions. I am also

inspired by architecture, particularly buildings in Lichfield. I like to take

my time to stop and take in the intricate details of each building, we so

often overlook them. For me the older the building the better. I love the

uniformity of small, quirky cottages, they are my favourite.

Do you collect any specific artwork for your own home?

I have several illustrators whose work inspires me. I love the work of

Jade Fisher, I love her use of bold colours and how her work is so

instantly recognisable. I also like Kareena Zerefos' work and her use of

delicate watercolours. From a young age I have been inspired by the

work of L.S. Lowry. I remember a particular painting of his that caught

my attention as a child in my Grandma's house, since then I have been

both inspired and intrigued by his work. I don't tend to draw inspiration

from one certain style, the artwork that I like is very varied.

Do you have a favourite piece that you have created or a piece that

you are most proud of?

My most rewarding piece has to be the Cathedral. It was my most

challenging and intricate piece to date. I was commissioned by a family in

Lichfield to create the piece and I am so grateful to them. It definitely

pushed me out of my comfort zone. As an artist you have the option to

choose how much detail you want to include, when drawing the first

spire I chose to capture the most intricate of details that the building has

to offer, I knew there and then that there was no going back!

Find more of Molly's fantastic work at

www.mollydoodledandy.co.uk or follow her on

Facebook and Instagram.
---
31
---
Interiors

...................

There may still be a nip in the air,

however with the clocks having

'sprung forward' and British

Summer Time officially beginning, now

is the perfect time to give your house

some much needed TLC! As everything

begins to open up once again, we've

put together an interior guide filled

with some of our favourite local

retailers and stylists to bring

inspiration for your home.

Upcycled Floor Tom Drum Drinks Table

Stands on four chrome legs with a choice of

your pictures on top. Priced at £60.

All products are hand finished and are all

completely unique. Collection available in person

from Brownhills or can be delivered for cost of

fuel. Take a look at more items on Facebook and

Instagram @rockhardupcycling.

"Moonlight drowns out all but the brightest

stars" (JRR Tolkien, Lord of the Rings)

Once again, Gingko come up with something a

little bit different but a lot more special. The

magical levitating and rotating Smart Moon

Light elevates any room.

Visit www.atthecedars.co.uk for further details.

The Galleria is a top-quality Wilton rug with

advanced construction and an exceptionally

high density pile, resulting in a beautifully

textured surface which really enhances this

modern floor covering. Priced at £250 for 1.6m

x 2.3m size. Available from Tatlow Carpets &

Flooring, Lichfield. Tel: 01543 264766.

www.tatlowcarpets.co.uk

On 12th April the Interior Choice showroom

will be back open, offeing over 8,000 options

covering curtains, blinds, wallpapers, shutters and

awnings, and top brands such as Iliv, Prestigious,

Romo, Villa Nova, Bill Beaumont,Voyage, Luxaflex,

Silent Gliss, Blendworth.

Three year Guarantee and professional fitting.

Book online for your exclusive appointment at

www.interiorchoice.net.

This beautiful pure wool primrose throw (£70)

and gorgeous rustic steel profiled sheep (£35) will

bring a luxurious country feel to any interior.

Available from Little Flock, The Plant Plot Garden

Centre, Stafford Road, Lichfield.

www.littleflock.co.uk

A beautiful piano, such as this upright model, is the

ideal addition to any home! All pianos are sold

guaranteed with free local home delivery. There's

lots of different models to choose from at Lichfield

Piano Centre, Curborough Craft Centre, Watery

Lane, Lichfield.

www.lichfieldpianocentre.co.uk

32

The fantastic new showroom is now open

by appointment only. Please call 01889

576669 to check availability and to book.

Just Bathrooms & Panels, Unit 16 Trent

Valley Trading Estate, Rugeley, WS15 2HQ.

www.justpanels.co.uk

Re-opening 12th April, Ebben & Yorke specialises in

the best of British and Scandinavian wood and gas

stoves, stone fireplaces and R9 window systems.

Currently quoting and installing, get in touch now

on 07375 224378 to get your summer project

started.

www.ebbenandyorke.co.uk
---
******COVID UPDATE********

In these testing times we have doubled our efforts to make your life as easy as possible while adhering

to the various restrictions. We can offer a live virtual guided tour of our stock yard and swiftly send

samples directly to your door, subject to availability.

There really is no reason to go anywhere else!

Win a Granite Chopping Board

If you require our services please do not hesitate

to call us on 01785 711096 or email your quote

request to stef@justgranite.ltd.uk

With the largest variety of natural stones in the Midlands, the

solid slabs are kept on-site and are available for a virtual viewing

from 9am-5pm on Monday to Friday. Located at The Stone

Works, Pillaton Hall Farm, Penkridge, ST19 5RZ.

We've got a bespoke Chopping Board (in the

colour of your choice) to give away! To be in

with a chance of winning this magnificent prize,

simply answer the following question correctly:

Where does the supply

of granite come from?

a) Spain

b) Italy

c) Germany

To enter, just send your name, contact details and answer to Just

Granite Competition at competitioncitylife@gmail.com or post your

entry to Citylife in Lichfield Ltd, PO Box 7126, Lichfield WS14 4JS by

the closing date of 23rd April 2021. One entry per household.

Multiple entries will be disqualified. No cash equivalent. Please note

you must be 18 or over to enter. All entrants' information is

processed in line with GDPR Data Protection Regulations and our

Privacy Policy (available at citylifeinlichfieldltd.co.uk).

Full t&cs on page 42.

33
---
On 12th April the Interior Choice showroom will be

back open, offeing over 8,000 options covering curtains,

blinds, wallpapers, shutters and awnings, and top

brands such as Iliv, Prestigious, Romo, Villa Nova, Bill

Beaumont,Voyage, Luxaflex, Silent Gliss, Blendworth.

Three year Guarantee and professional fitting.

Book online for your exclusive appointment at

www.interiorchoice.net.

The fantastic new showroom is now open

by appointment only. Please call 01889

576669 to check availability and to book.

Just Bathrooms & Panels, Unit 16 Trent

Valley Trading Estate, Rugeley, WS15 2HQ.

www.justpanels.co.uk

Transform your kitchen with a new worktop

from Penridge-based Just Granite - authorised

fabricators of both Caesarstone, Silestone

Quartz and also Corian solid surface, benefiting

from the full backup and support of the after

sales team.

www.justgranite.ltd.uk

Ted Todd Almond Engineered 15mm Flooring

(2.812m2 Project Pack) priced at £117.94 inc

VAT. With FSC certification (the environmental

gold standard of the timber industry) and a

hardened oil finish that combines a natural look

with a subtle sheen. Available from

www.tippers.com.

The Avento Shower Room Suite consists of a

basin and basin unit, pan, cistern and seat,

shower and screen, heated towel rail, mirror

and wall and floor tiles. Full suite is priced at

£3,192.00 inc VAT. Available from

www.tippers.com.

The Luxe collection features a time-tested design

with modern and contemporary accents.

Sumptuous, soft-touch velvet fabric with quilted

accents and the addition of studded detailing

ensure the Luxe will bring luxurious flare to any

modern living space. Priced at £799 (usual RRP

£1,299). Available from Half Price Furniture

Warehouse, Lichfield.

www.halfpricewarehouse.co.uk

34

No more untidy shoes cluttering up your

doorways! This gorgeous hall settle is a best seller

from Paul Martyn Furniture.

Available in new or reclaimed pine, they can be

made to measure to fit any space in your home. In

a wide selection of colours and finishes.

www.paulmartynfurniture.co.uk

The Galleria is a top-quality Wilton rug with

advanced construction and an exceptionally

high density pile, resulting in a beautifully

textured surface which really enhances this

modern floor covering. Priced at £250 for 1.6m

x 2.3m size. Available from Tatlow Carpets &

Flooring, Lichfield. Tel: 01543 264766.

www.tatlowcarpets.co.uk

This bespoke corner cupboard looks lovely

with contrasting paint colours.

For over 33 years Paul Martyn have been

specialising in made to measure furniture in a

variety of timbers and colours.

Customers can chose fixed or adjustable

shelves and all sizes can be tailored to their

specific needs.

www.paulmartynfurniture.co.uk
---
Win a Fruit Wine

Gift Set!

.................................

Experience three very different locally

made fruit wines in a gift set from Clive's

Wines of Burntwood.

Clive's Wines are made from real fruit and

are not mixed with a grape wine. They contain

no sulphites, artificial colours or preservatives

and only British sugar is used. The fruit used in

the wine is locally sourced wherever possible

and the elderflowers are picked by Clive

himself from around Burntwood and Lichfield!

We've got one gift set, containing three

187ml bottles, courtesy of Clive's Wines,

to give away. To be in with a chance of

winning, simply correctly answer the question below:

Where is Clive's Wines based?

a) Lichfield

b) Burntwood

c) Burton

To enter, just send your name, contact details and answer to wine Competition

at competitioncitylife@gmail.com or post your entry to Citylife in Lichfield Ltd,

PO Box 7126, Lichfield WS14 4JS by the closing date of 23rd April 2021. Full

t&cs on page 42.

Win a Molly Doodle

Dandy Cushion!

................................

Enhance your home interior with a

stunning cushion created by talented local

artist and illustrator, Molly Beard (better

known as Molly Doodle Dandy).

Embellished with a print of Twilight

Walkies, from original artwork by Molly

Doodle Dandy, these vegan-suede cushions

are handmade in the UK and feature soft

faux-leather with a plump fibre insert.

Measuring 43x43cm, these beautiful and unique cushions are perfect for

sprucing up your home!

We've got one cushion, courtesy of Molly Doodle Dandy, to give

away. To be in with a chance of winning, simply answer the following

question correctly and send your contact details.

What is Molly Doodle Dandy best known for?

a) Her Art

b) Her Photography

c) Her Writing

To enter, just send your name, contact details and answer to cushion

Competition at competitioncitylife@gmail.com or post your entry to Citylife in

Lichfield Ltd, PO Box 7126, Lichfield WS14 4JS by the closing date of 23rd April

2021. Full t&cs on page 42.

J HOWELL &

DAUGHTERS

FUNERAL DIRECTORS LICHFIELD

LICHFIELD'S LONGEST ESTABLISHED INDEPENDENT,

FAMILY RUN FUNERAL DIRECTORS.

SECOND GENERATION BUSINESS HERE TO ASSIST YOU

AND YOUR FAMILY.

24 hours a day

We are proud to be Lichfield's longest established family run funeral directors offering a wide range of

choices to suit all requirements. Horse drawn hearse, non religious ceremonies, floral tributes and

memorials are but a few of the services we offer.

Pre-paid funeral plans are also available.

For a truly personal service please call

01543 255776

Private Chapel of Rest 116 Netherstowe,

Lichfield, Staffs. WS13 6TS

35
---
Lichfield Camera

Club Takes to the

Water

..........................

In its latest competition members of Lichfield Camera Club had to apply their talents

to the theme 'River Landscapes.'

1. The winner of the Advanced Section was Rob Ings with his image of Ashness Bridge

above Derwentwater in which the moody sky contrasts beautifully with the orange tones

of the mountainside.

2. Tim Wayne took first place in the Intermediate Section with his impressive drone shot

of the River Trent at Essex Bridge.

3. Graham Slight captured beautiful evening light in his image "River's End, Day's End."

4. Richard Ell's "Water Mill" evokes a scene of tranquillity that reminds one of Constable

Country.

5. "Lower Falls" by Darron Matthews captures lovely Autumnal colours in this delightful

composition.

6. The stunning colours of a Dublin sunset feature in Anne Anderson's shot "River Liffey,

Dublin."

7. Debra Dingley's "The Golden Hour" was another image to capture the beautiful, warm

colours of Autumn in an image that included a lovely reflection.

8. The brilliant colours of a sunset over the Thames at London were brilliantly captured

by Kevin Terry in his image "Thames at Night."

9. A much more sombre mood is created in Annette Keatley's atmospheric image "Misty

Valley."

10. Liz Thomas captured magnificent mountain scenery with her image "Glacier Ends,

River begins."

3.

4.

5.

6.

1.

9.

7.

2. 10.

8.

36
---
The Memory Café

.........................

Home Instead offers the Lichfield and Tamworth

Community the Memory Cafe - a place where

individuals with memory loss and their caregivers

can get together in a safe, supportive and engaging

environment. It is somewhere people can interact, laugh,

cry, share concerns and talk openly about their problems

without feeling embarrassed or misunderstood. The cafe

encourages friendship, provides emotional support and

reduces the isolation often felt by people with memory

loss. The cafe provides the opportunity to meet regularly

with others in similar circumstances. By talking and finding

out how others deal with things people can better manage

their own situations. Members feel they belong and find

recognition and acceptance.

The social side is probably the most important aspect of the

cafe. It provides a chance to have a cuppa and chat with

friends. Appropriate, fun activities are available for everyone to

take part in if they want but there is no obligation or pressure

to do so. By remaining involved and active, a person living with

dementia can maintain their skills and independence for longer.

As well as the Memory Cafe Home Instead also run an

exercise class called Love to Move. It's specially designed to

get older people functioning better, as well as this, there are

other benefits that can help to improve the lives of people

living with the effects of memory loss or mobility problems.

For more information visit

www.homeinstead.co.uk/tamworth-lichfield/news-events/ or

contact Karen Wilkinson at

karen.wilkinson@homeinstead.co.uk or 01543 625002.

37
---
Easter Gift

Guide

...................

Easter isn't just about giving

chocolate eggs. Show that special

someone you care by choosing a

thoughtful, unique gift from one of the

many local artists, producers and

retailers in the area. Take a look at

some of our favourites...

"It always seems impossible until it's done"

(Nelson Mandela)

Can be just like getting up in the morning so you

need the Edge Alarm clock from Gingko. Inspired

by the cutting edge of bamboo, its unique design

incorporates a clock and a light in one. See

www.atthecedars.co.uk.

Emily Jane is a creator of handmade jewellery

inspired by nature. She is passionate about

creating her pieces as much by hand as possible;

making each piece truly unique, just like you. Her

tagline is Jewellery With Life because that's what

you're getting.

Discover more and shop on her website

www.jewellerywithlife.co.uk or join her

community on Instagram @emilyjanedesigner

Give an egg with a difference to a nature

lover, such as one of these hand painted replicas

of birds eggs. As well as being an ethical gift, it's

one they'll want to keep forever. Priced at £13

and available from www.odonatastudios.co.uk.

Based in Penkridge, Lizzie Busy's Emporium

specialises in a range of bespoke gifts for your

loved ones, such as unique candles and wax

melts. They're all eco-friendly and vegan, plus

available for postage anywhere in the UK.

Visit

www.etsy.com/uk/shop/LizzieBusysEmporium

These gorgeous local mugs by artist Mandy

Billington incorporate the beautiful buildings of

the city, including Lichfield Cathedral,

Dr Johnson's Birthplace and the old clock.

Priced at £12 each and available from MB

Designs at

www.etsy.com/uk/shop/MBDesignsEngland.

Tel: 07841 108207,

Email: m.b.designs@hotmail.com.

38

Easter isn't just about chocolate so give a gift

they can keep forever with these life-sized

porcelain eggs to hang in the home. Priced at £6

each with three designs to choose from.

Available from www.odonatastudios.co.uk.

Silver, rainbow moonstone set pendant priced

at £119.00 available online from Allen Brown

Jewellery www.allenbrownjewellery.co.uk

01543 481 948

These gorgeous mugs are created by local artist

Mandy Billington. This hand-drawn cow mug is

available in blue, pink and yellow and priced at £12.

Available from MB Designs at

www.etsy.com/uk/shop/MBDesignsEngland.

Tel: 07841 108207, or

email: m.b.designs@hotmail.com.
---
Easter

Treats

...................

Why not plan an Easter feast

this year? Take a look at

what a few of our favourite

local producers, bakers and retailers

have on offer to make it a really special

celebration as lockdown starts to ease

and everything begins to open up

again.

Celebrate Easter in style with vintage china

hire from Time for Tea Lichfield. Whether you're

planning an Easter tea or garden party, birthday

or baby shower, make your event look stunning

with elegant fine bone china, sparkling glassware

and other accessories.

For further information visit

www.timefortealichfield.co.uk, email

tea@timefortealichfield.co.uk, or take a look on

Instagram @timefortealichfield.

With a degree in Decorative Arts, Laura Webb

expresses her passion for the finer details,

aesthetics and pastels, through her incredible

luxury treat boxes and buttercream cakes.

Lockdown has provided Laura with the chance

to combine her two great loves – art and food!

Find more of Laura's work on Instagram

@cake_and_crumbs_by_laura_webb, email

Laura at Laurawebb02@outlook.com, or

telephone 07812 056599.

The Vegan Baker provides a taste of plant based

joy delivered directly to your door! Using only

the freshest of ingredients ensures these plant

powered bakes are an absolute treat for vegans

and non-vegans alike. Local and postal delivery is

available.

Visit theveganbakergifts.etsy.com, or find on

Instagram @the_vegan_baker1 and Facebook at

www.facebook.com/theveganbaker.co.uk.

Simply Prosecco offers a gorgeous Prosecco van

for hire at weddings, parties and events.

Prosecco is also available by the bottle and

themed hampers can be ordered with free

delivery locally. The Skinny and Rosé Skinny, at

only 68 calories a glass, is causing a stir too!

Visit Simply Prosecco at Barton Marina Artisan

Market on 17-18th April or find out more at

www.simplyprosecco.co.uk.

Based in Burntwood and specialising in quality

bespoke homemade cakes, bakes and fudge, Tina's

Temptations and Fudging Lovely has something for

everyone. Ranging from luxury celebration cakes

to treat boxes comprises of a variety of different

tasty items, you'll find the perfect nibbles to help

you celebrate Easter in style!

Find out more on Facebook

www.facebook.com/tinastemptationscakes.

Why not try something a little different? Dove's

Delights offers gourmet graze boxes, platters and

tables for any occasion. Plus, there's also rustic

cheese and ice cream carts to hire for your

wedding or event! Vegan and vegetarian options

available. Visit www.dovesdelights.co.uk to see more

or place an order.

*£3 off orders with code VOUCHER3 at checkout

(exp 31/5/21 - t&Cs apply, some products excluded).

Something a little different that hits the chocolate

spot are these Scotch Egg Cupcakes from Cakes

of Wonderland, filled with your choice of Crème

Eggs, Oreo Eggs or Caramel Eggs and covered in

sugar sprinkles – but hurry, the last day for

ordering in time for Easter is 28th March! Visit

www.facebook.com/cakesofwonderlandlichfield.

Nothing marks a special occasion quite like a

little bit of bubbly! Why not try something

different this year like this sparkling rhubarb wine,

or Rhubling, as it's known? Made using the

traditional method to create natural bubbles,

Rhubling is the perfect, light fizz to enjoy with a

loved one. Available from Clive's Wines of

Burntwood. Tel: 07972 269 620.

www.cliveswines.co.uk

39
---
Tastes of the Season

By Simon Smith

A Feast for Spring!

Now we are in

springtime at last, the

sun is supposed to be

shining and lockdown

is gradually lifting so

that we can meet

friends in the garden

(at least that was the

theory at the time of

writing!)

This time of year is certainly one of my

favourites as far as food is concerned as some

of the finest ingredients all come together at

the same time. There is spring lamb, Jersey

Royal potatoes, English asparagus (due in May)

and garden mint peeping through the soil. The

dish I am doing this month will combine all of

these for a stunning Easter feast.

I would always recommend going to a local

butcher for meat as you will get exactly what

you want rather than to a supermarket where

you will only get what is available. For this dish,

I'm using a six-bone rack of lamb from

Russell's, Shenstone, who also have an outlet at

The Deer Park, Hoar Cross.

The spring lamb is always lean and tender but

expect to pay a bit more at this time of year.

That being said, it's worth every penny.

Rack of Lamb with Spinach and Mint

Mousseline (for two people)

1 x 6 Bone rack of lamb

1 x chicken breast

2oz fresh spinach

10 x leaves fresh mint

1 x egg white

8oz Jersey Royal potatoes

3oz butter

1 x bunch fresh asparagus

2tbsp redcurrant jelly

2tbsp fresh peas

Method

Take the fat off the lamb round the flesh as in

the photo. Roughly chop the chicken breast

and put into a food processor with the egg

white, 8 x mint leaves and spinach. Season with

salt and pepper and whizz together until you

have a smooth green paste. Spread this neatly

40

on to the back of the lamb where the fat was.

This will not only give you a lovely flavour but

it will also stop the lamb from drying out.

Thoroughly wash the Jersey Royals and cook

in salted water with the skins on, drain and put

into a bowl with 1oz butter, the two other

mint leaves roughly chopped and season with

salt and pepper. Lightly crush with a spoon and

mix together. Form in a pastry ring.

Cook the peas in boiling water and then put

into iced water once they have come to the

boil.

Cut the bottoms off the asparagus leaving you

about four inches from the tip down and

gently fry these in 1oz of the butter until just

giving way to the touch.

To cook all of this, preheat the oven to 190

degrees Celsius and put the lamb in for 20-25

minutes. For the last 10 minutes put in the

little cakes of potatoes.

In a frying pan melt the last 1oz of butter and

stir in the redcurrant jelly. At the last minute

add the peas and asparagus and stir until warm.

Serve with the sliced lamb rack and potato

cake.

This may all sound a bit complicated but in fact

is quite simple if you do it by stages. Don't try

and do the whole thing together as you could

do the potato cakes in the morning and reheat

later on.

Tales of a Private Chef

I was asked to do a last minute job in St

Tropez which was for the following day so not

much notice. I asked my agent what it was and

she said she couldn't tell me any more other

than it was at Chateau St Tropez to support

the resident chef for a week. She was not at

liberty to say who the client was but could I

please take Maltesers as the chef couldn't find

any there and the client was very specific.

When I arrived the next morning I was shown

round the chateau. I was told that I was there

to cover the midnight until midday shift as the

client kept LA time. There are many tales from

the week but one that sticks in my mind was

on night three when the clients had booked a

private room for 12 in a restaurant for 8pm.

The body guard had been to the restaurant to

check out safety and privacy issues to make

sure the client could escape from the back

door if anything went wrong.

That evening I got to the chateau at quarter to

midnight to start my shift, went through

security and saw both blacked out limos and

the bodyguards in front of the chateau.

I went down to the kitchen and the other chef

told me they hadn't yet been out to the

restaurant and were still round the pool

partying! His shift was at an end so he went

home and I started work on breakfast prep,

however at 1am the butler came and informed

me that the guests were not going to the

restaurant now as it was too late, and would

instead like me to serve a three-course dinner

as soon as possible as they are all starving!

The one thing about working for celebrity

clients is that plans always change at the last

minute - It doesn't matter how organised you

think you are, there will always be a curve ball

heading your way!

Simon Smith runs a catering business from his

production kitchen in Lichfield, providing bespoke

private dinners plus wedding, corporate and event

catering. Simon also undertakes cookery

demonstrations around the country and with local

businesses such as Arthur Price and Tippers.

During the summer months Simon works for

private clients both on superyachts and in villas in

St Tropez and Europe. If you are looking for

catering or a day of cookery skills go to

www.simonsmith-chef.com

*Please take extra care when preparing and handling

hot foodstuffs. Go to www.food.gov.uk for further details.
---
41
---
Competition and Prize Draw Terms and Conditions

1.Entrants' details will be held and processed in line with Citylife in Lichfield Ltd's

Privacy Policy, which in turn adheres to GDPR Data Protection legislation. For a

copy of our Privacy Policy please email kristencitylife@gmail.com

2.By entering the prize draw/competition, you agree to the terms and conditions

stated.

3.The closing date is stated on each individual prize draw or competition.

4.Entrants' details will be securely held by Citylife in Lichfield Ltd in accordance

with our Privacy Policy. Details will be held only until the closing date of the

competition. After this date entrants' details will be securely destroyed/deleted.

Winners' contact details will be securely stored only until the winner has been

informed of their win/prize. After this details will be securely deleted/destroyed.

5.Entrants' details will never be shared with any third party. The only exception to

this is the name (and if the prize is to be posted) address of Competition/Prize

Draw winners that will be communicated to the competition partner to allow

winners to securely claim their prize, after which all details will be securely

destroyed. The initial and surname of winners will be printed in our magazines –

no other details will be published.

6.By entering the competition/prize draw, entrants agree to Citylife in Lichfield Ltd

using or publishing materials provided by the entrants (but not address or contact

details apart from initial and surname) in any of their publications and online.

7.Citylife in Lichfield Ltd accepts no responsibility for any breach of copyright or

breach of any other legislation entailed by entrants in their creation or submission

of materials.

8.Only one entry per prize draw/competition, per reader.

9.Except in the case of cash prizes, no cash equivalent will be offered and the

prize is non-transferable.

10.All prizes are subject to availability and the prize suppliers' terms and

conditions.

11.No purchase necessary.

12.Prize draws and competitions are only open to UK residents aged 18 years or

over (unless otherwise stated).

13.Competitions and prize draws may not be entered by any employee of

individual associated with any employee, agent or third party of Citylife in Lichfield

Ltd.

14.Winners will be selected at random in the case of applicable prize draws and

competitions, or by an independent judge in the case of photographic/art

competitions from all entries received.

15.Winners will be notified by Citylife in Lichfield up to 28 days after the closing

date of the competition/prize draw by the contact details provided by the entrant.

16.A list of the surnames and county of residence of the winners will be available

by writing to Citylife in Lichfield Ltd no earlier than six weeks after the competition

closing date.

17.When the prize draw/competition winner has been selected, this decision is

final and no correspondence will be entered into.

18.Citylife in Lichfield Ltd accepts no responsibility for the prize being lost,

damaged or delayed in transit. When the prize is provided by a third party, Citylife

in Lichfield Ltd accepts no responsibility for any change to the prize, or for the

quality of the prize provided.

19.Competitions may be amended or withdrawn at any time.

20.By entering the competition or prize draw, you agree to having your name,

(photograph, where stated) and city or county of residence published in any of

Citylife in Lichfield's publications and online.

21.Unless otherwise stated, the promoter is Citylife in Lichfield Ltd, PO Box 7126,

Lichfield, WS14 4JS.

22. Citylife in Lichfield Ltd do not express any warranty or endorsement of any

competition prize, information, service or product provided in connection with a

competition by printing or otherwise publicising any competition.

23.To the full extent of the law, Citylife in Lichfield Ltd shall not be liable for any

loss, claim, punitive, indirect, incidental or consequential damages of any kind

incurred as a result of entering this prize draw or competition.

24.By submitting photos, text or artworks as part of competition/prize draw entries

you agree that you own these photos text or artworks, that it is your original work

to which you own all rights to distribute, and that your entry is accurate, moral and

legal.

42
---
43