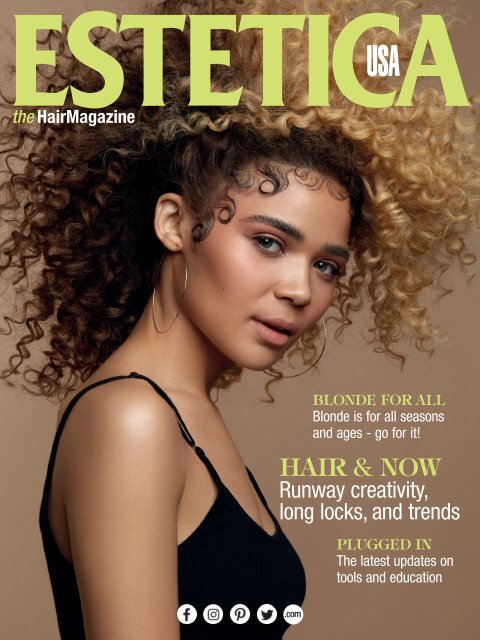 ESTETICA Magazine USA (1/2021)
Estetica Magazine is the world's leading hairdressing magazine. Founded in Italy in 1946 and published today in over 60 countries around the world, it is a global reference point for professionals working in the hair and beauty industry. Techniques, fashion, education and trends are at the core of every issue of Estetica Magazine. Further information about both the printed and digital versions of the magazine is available at www.esteticanetwork.com
Estetica Magazine is the world's leading hairdressing magazine. Founded in Italy in 1946 and published today in over 60 countries around the world, it is a global reference point for professionals working in the hair and beauty industry. Techniques, fashion, education and trends are at the core of every issue of Estetica Magazine. Further information about both the printed and digital versions of the magazine is available at www.esteticanetwork.com
SHOW MORE
SHOW LESS
Create successful ePaper yourself
Turn your PDF publications into a flip-book with our unique Google optimized e-Paper software.
USA

the HairMagazine

BLONDE FOR ALL

Blonde is for all seasons

and ages - go for it!

HAIR & NOW

Runway creativity,

long locks, and trends

PLUGGED IN

The latest updates on

tools and education
---
Dedicated

to perfectly toned

blonde hair

BLONDME ®

BLONDE TONING

- pH neutral toner mixture with

integrated Bond Enforcing

HydroLock Technology

- Deep Toning for optical dimension

on previously lightened dark bases

- Versatile application for brush

and bottle
---
editorial

Recently a word has been rattling around in my brain for what I think are most likely

obvious reasons: zeitgeist - or the defining spirit of mood for a particular period of

history. Certainly the past year and the months that lie ahead will leave their mark on

global culture, societies, and economies. During lockdowns and with limited travel

Hair: Maggie Hancock

Schwarzkopf Professional USA

Digital Artistic Team

Photo: Vera Maslieva

"Optimism doesn't wait on

facts. It deals with prospects."

Norman Cousins

opportunities, we have had to adapt to working at home and online shopping, likely

buying only the indispensable, and learn to rely on digital platforms for information,

and social contacts. So it stands to reason that the pandemic

zeitgeist will reflect a renewed

appreciation for personal contact with

friends & family, as well as services like

hairdressing and beauty treatments.

And now, with several Covid vaccines finally being distributed, this spring is

delivering hope and a sigh of relief for both hair salons and their clients, all of whom

are clambering to return to normal. These are the reasons why this issue contains

trend and salon tool updates, as always, as well as Maggie Mulhern's special feature on

education – everything salon pros need to successfully reopen.

Marie Scarano

Keep up with the buzz at

www.esteticamagazine.com
---
NEW 2021

COLOURS

Nordic Ice &

Russian Grey

What's NEW at

DENMAN?

Precision Colouring Tools

with Jack Howard

AWARD WINNING

Power Paddle

NEW

D93M Monochromes

To discover our full range of professional offerings

visit www.denmanbrushus.com and sign up for a professional account
---
Estetica n. 1/2021

contents

PUBLISHER AND

MANAGING DIRECTOR

Roberto Pissimiglia

EDITOR-IN-CHIEF

Marie Scarano

esteticausa@estetica.it

INTERNATIONAL

EDITOR-IN-CHIEF

Laura Castelli

l.castelli@estetica.it

INTERNATIONAL

EDITORIAL COORDINATOR

Serena Monachesi

s.monachesi@estetica.it

INTERNATIONAL ADVERTISING

COORDINATOR

Monica Tessari

m.tessari@estetica.it

LAYOUT

Manuela Artosi

m.artosi@estetica.it

Davide Cardente

d.cardente@estetica.it

ADVERTISING & P.R.

Nives Carena

nivescarena@estetica.it

ESTETICA USA

EDITOR-AT-LARGE

Maggie Mulhern

ESPAÑA

Bel M. Dolla

Elisabet Parra, Cristina Hernández

DEUTSCHE AUSGABE

Michaela Dee

FRANCE

Marie Coccoluto

UK

Gary Kelly

ITALIA

Lucia Preziosi, Glorianna Vaschetto

DIGITAL

Erica Balduini, Ludovica Cavalli,

Erika Marchese, Wilma Sommariva,

Valentina Stella

Photoshoot Cover Story 6

Fashion Catwalks Spring/Summer 2021 8

Looks Luscious Lengths 14

Education Just do it! 20

Vision Do your own thing! 24

Tools Cool news... 82

Products 89

international trends

Hair now inspired by then 33

How Hime are you? 34

Spring comes with a yearning

for more color and fresh

fashions.

Rétro Inspire 44

Inspired by the classics,

but with contemporary

touches - pure creativity.

Our Schwarzkopf

Professional cover story

and lots of looks for

long locks.
---
USA

139

the HairMagazine

USA

Cover Image

Hair: Schwarzkopf

Professional USA

Digital Artistic Team

Photo: Vera Maslieva

BLONDE FOR ALL

Blonde is for all seasons

and ages - go for it!

HAIR & NOW

Runway creativity,

long locks, and trends

PLUGGED IN

The latest updates on

tools and education

Cover Story

1/21

cover USA Spring 21 OK.indd 1 19/03/21 11:14

The Schwarzkopf Professional 2021 Generational Blonde

campaign showcases formulas for blondes of all ages!

There's a saying that every woman should be a blonde at least once in her life and now it is possible for even those who were

hesitant to make such a big change or were convinced they had just put it off for too long. Thanks to the gen-crossing vision

of colorists Maggie Hancock (@MaggieMH) and Linh Phan (@BeScene), and of course Schwarzkopf BLONDME lightener,

color and care products, stunning results can be created on all hair types! The Generational Blondes campaign will run on
---
all Schwarzkopf Professional's USA social media channels, starting with a YouTube

documentary that follows four women on their journeys to become blonde and

culminating with step-by-step tutorial videos that teach stylists how to formulate

color for each age range and replicate each of these fashionable look.

"I have used BLONDME products on clients of all ages, and the result is always the

same," said Maggie Hancock, of Phan Hous Salon in Scottsdale, AZ. "When I spin

that chair around and the client sees her hair in the mirror, I witness a complete

transformation that isn't limited to just her hair. No matter what her age, the client has

more confidence, feels sexier, and walks out with more swagger. It's my favorite part

of what I do each day."

The Generational Blonde campaign is all about making a woman's blonde

dreams come true while remaining true to her own self and lifestyle.

photoshoot

7
---
Bronx Banco PO

Dior

Chanel

Chanel

Catwalks

Fantasy. Culture. Flexibility:

Three keywords to define Spring.

Ready, steady, flourish and go!

Laura Castelli

Bora Aksu

Catwalks Photos: IMAXtree.com/Andrea Adriani

Francesca Liberatore

Hugo Boss

Ports 1961

Dolce&Gabbana
---
Chanel

Etro

Etro

Max Mara

Valentino

Everyday life seems all uphill when it's made

up of lockdowns. But it is "when the going

gets tough that the tough get going"

and hairstylists are winning the

battle. They know how to stay close

to their clients, even from afar,

by offering online advice and

tips. Sometimes it's just

a scarf, some moisture

to tame unruly hair,

clips or a strategic

ponytail!

Chanel

Drome

Tommaso Aquilano

Ports 1961

Fendi

Versace

Versace

Isabel Marant

Valentino

fashion

9
---
Max Mara

Francesca Liberatore

Etro

Milano Moda Graduate

Ethnic is a style defined by its differences and the

beauty of contrasts. This season has seen it

triumph in its textures, super-sized and

mini-braided versions. Beauty is at the

root: to highlight, texturize, enhance.

Even with the emergence of the

hijab, beauty is still there, for

everyone to see.

Valentino

Gauchere

Salvatore Ferragamo

Gauchere

Balmain

Balmain

Maitre Pierre

Ports 1961

Ports 1961

Dior

Koche

Fendi
---
Dolce&Gabbana

Valentino

Yamamoto Ports 1961 Dolce&Gabbana

Blumarine

Dior

'

Blumarine

Dolce&Gabbana

When time is on hold,

we always look to the

past, searching for magic

and yearning for the

desire to dream, always

aspiring towards

beautiful hair. The idea

of dedicating time to

crimping or cropping

à la 1930s, or riding on

a whim and wearing

the iconic mullet,

immortalised by David

Bowie but so easy to

update for the present.

fashion

11
---
Enfants Deprimes

Enfants Deprimes

Kenzo

Alexandre Mattiussi

Versace

Milano Moda Graduate

Balmain

Completely at ease in their renewed

guise of the metropolitan dandy, men

are the protagonists of the season,

more than eager to test themselves

and gamble in the fashion stakes

after rediscovering themselves

in the lockdown bathroom

mirror, they live and

breathe the

opportunity to

thrive on

change.

Salvatore Ferragamo

Kenzo

12 fashion
---
Dolce&Gabbana

Max Mara Balmain

Ferretti

Valentino

If hair is the language of choice, then the fringe is a

declaration, a unwritten code for those with courage. Once

done it is irreversible, in substance and in principle. An important

statement, it's proclamation is made and no discount is offered.

It's how and why she always knows when to be her own woman; be she

romantic with gentle and soft curls and ringlets, fragmented and broken

by indecision, or resolutely Japanese, clean and super short.

Vien

Vien

Vien

Vien

Valentino

Drome

Drome

Hermes
---
Luscious Lengths

The world is embracing longer hair, either by choice or

necessity! Here's a look at how lengths are trending...

Gary Kelly & Marie Scarano

Long months of on-and-off lockdowns has made it difficult to clinch a hair appointment. So hair has definitely been

getting longer and clients are demanding that those lengths they nurtured through lockdown be kept in absolute top

condition and looking their best. We've brought together the hair expertise of salon professionals to take a closer look

at this growing trend.

EFFORTLESS BEAUTY

"I love this look because the embossed detail on the hair it lifts the whole feel of the image, adding an extra dimension without taking

anything away from the simplicity of long beautiful hair shining in the sunshine. The image is about conveying effortless beauty, it's that

feeling of carefree yet perfectly polished hair."

Paul Falltrick, GFC Hairdressing (UK) and Artistic Ambassador for Revlon Professional

Hair: Sharon Malcolm

COOL GLAM

"The inspiration for this image came from visiting the Isabella Blow collection at Somerset House a number of years ago.

She was a true fashionista and I was inspired by her creativity. I love working with long hair and this model already had really

well conditioned hair. This image shows that you can take long, straight hair and turn it into something more glamorous for

a night out or a special occasion. Whether it's glamorous or casual, long hair looks healthy and beautiful if you always use a

good shampoo and conditioner, regularly use conditioning masks, drink plenty of water and eat your greens."

Sharon Malcolm (UK)

Hair: Paul Falltrick

14 looks
---
LUSTROUS CLASSIC

"The sheer simplicity of this look is what makes me love it so much. Sometimes less is more and

this look epitomizes healthy hair in a classic style. Inspired by the long hair styles of the 70's and

a nod to Agnetha from ABBA, the look showcases a long, lustrous hair with a face framing flick

on the curtain fringe, which is hugely popular at the moment".

Tim Scott-Wright @ The Hair Surgery, (UK)

Hair: Tim Scott-Wright @ The Hair Surgery

Hair & Photo: Michael Haase @ Platinum Black by Michael Haase

TRENDING LENGTHS

"This look is from a collection which shows the diversity of the year ahead and the consequential

diversity of the lengths of colours and designs to come. I believe shorter haircuts will not only be

changing, but the technical aspect of hair will change, requiring more cutting methodology for accurate

execution."

Michael Haase Platinum Black (USA)

trends

125
---
CHIARO-SCURO

"The darkness and light of the Old Masters' paintings have always intrigued me. The extreme texture

on the lengths adds incredible depth and dimension, with heightened chiaro-scuro contrasts."

Detra Smith @ Olivia Garden (USA)

Hair: Detra Smith@Olivia Garden; Photo: Kim Alexander; Make-up: Olivia Sparks

Hair: Louise Jenkins, Kirby Blythe, Maria Vaughan; Make-Up: Sally Rowe; Dress: Joanna Leigh Couture; Photography: Joseph Scanlo

TEXTURED PONY

"Ponytails are becoming an increasingly on-trend choice for brides who are looking for something a little

different to a traditional updo. Glammed up versions of undone styles are also perfect for those who want

cool glamour for their big day – and ponytails also provided a perfect way to showcase trending hair

accessories like bows and clips. This textured ponytail was created using Great Lengths tapes, available in

natural, rooted, fashion and limited-edition shades."

Great Lengths

124 trends trends 125
---
ETHEREAL ROMANCE

"This look is sexy yet effortless, with a strong focus on volume and texture. I used the "ghd curl styler" and Oribe styling and

texturizing products to create dramatic curls and exaggerated volume, with a va-va-voom effect. Freedom, movement and confidence

are the key words for this stunning look that is on this season's "Bring back the layers" hair trend. The modern simplicity of layering,

together with femininity, creates an overtly romantic and sophisticated style. It translates to combine a classic femme fatale look,

seductive but elegant."

Marco Chan (Hong Kong)

Hair : Marco Chan @marcochanpro; Make-up: Elaw Wong; Photo: Ricky Lo; Styling: Janet Ho

Hair: Daniele De Angelis

VERSATILE FEMININITY

"I love long hair, it can be modern and expressive or soft and luxurious. The client should wear their long hair, rather than allow their

long hair to dominate them. It should always be beautiful and the center of attention, and today's product technology keeps hair soft

and feminine. The great thing about hair is its versatility - you can wear it smooth and straight one day and the next textured and

loose. This image epitomizes the modern women who wants to look effortless but on trend."

Daniele De Angelis (UK)

looks

17
---
TAILORED, BUT SEXY

"For this look, I really wanted to step outside the box. Typically men's hair is very tailored and clean. Barbering shows a lot in men's

editorial work. I wanted to express clean, tailored and sexy hair by showing how long hair can still have all those characteristics and be

professional. It's fashion-forward; it's taking old grunge looks and making them cool, yet business ready."

Marilyn Vendittelli (USA)

Hair: Marilyn Vendittelli; Photo: Kale Friesen; Make-up: Meaghan Gregory Bell; Styling: David Vendittelli)

Hair/Colour: Sam Villa/Geneva Cowen; Photo: Roberto Ligresti; Make-up: David Maderich; Stylist: David Widjajac

SMOOTH SUNBURST

"The blunt ends brought forward in contrast to the rounded volume on top may pay homage to the mullet, but in a version that is

light years ahead of the original 1.0. The ultra-smooth finish adds the right shine while subtle balayage colour gives a sunburst effect

that illuminates the face."

Sam Villa (USA)

18 looks
---
FREE SPIRIT

"Color Space is a new, scientifically driven hair colour line just founded in 2020 by industry veterans,

Ray Civello and Lupe Voss, who dished up a splendid ginger red in a naturally, air-dried wavy texture

for a free-spirit aspiring to Lady Godiva."

Color Space Hair (USA)

Hair: Color Space Hair

Hair: Nicki Ting @K11 Hair Corner Model: Wing Wong

SOFT & SILKY

"It's all about 'soft shape' and 'silky shine', so beautify the overall shape with simple, soft, naturally-curled ends.

By having layers through the hair some subtlety is built-in and hair is given an even more flawless look. This

style is the peak of glamour and gives a big boost to confidence. Less is more, so strip away the excesses and

going back to basics. Find a harmonious balance and stick to what is essential in hair, colour and style."

Nicki Ting (Hong Kong)

124 trends trends 125
---
Just do it!

Ah! There is a light is at the end of the tunnel! Now that

people are getting vaccinated and heading back to salons for

professional services, it is full steam ahead for everyone. Maggie Mulhern

Fortunately, many salon pros have used this past year to perfect existing areas of expertise or add new skills to their

arsenal. Brands and community leaders have been offering plenty of virtual education throughout this year-long ordeal

and many pros have tapped in. For example, a surprise hit for the Goldwell community was projected virtually from the

Kao Salon Academy in New York. The 3-hour, hands-on Virtual Blonding course, featuring International Goldwell Artist

Rebecca Hiele, sold out in just one day and was so popular the brand is offering it again this spring (visit Goldwell.

com). Charles Elias, Director of Education, Kao USA Salon Division, commented, "When salons reopened last summer,

we anticipated demand for Corrective Color classes on our Virtual Education platform[...] We added Blonding as well

because we knew that during these uncertain times, many clients would want low maintenance color services with a

more forgiving grow-out like balayage, partial highlights or a smudged root." Goldwell, along with other companies, will

continue with virtual programs during the coming year. Check out these pages and just do it!

SCHWARZKOPF PROFESSIONAL

Schwarzkopf Professional and Alterna joined forces and offered a digital Look and Learn

event called "Reignite Your Passion". Hosted by Ian Mayer-Marszalek – SKP Senior National

Corporate Trainer, the event was designed to invigorate stylists with new techniques

that can be utilized immediately on their clients. Because of the success of this program,

Schwarzkopf Professional will be offering Look and Learn Technique Driven Digital seminars

throughout the year to feature new products. new techniques, and tricks & tips, taking

their craft to the next level. Seminars are available in English and Spanish, and can be found

at Schwarzkopfprofessionalusa.com.

Goldwell

Schwarzkopf Professional
---
Photo courtesy of R+Co

Hair: Amber Marie Compian - Photo: Mohammed F.Ghanayem

FAROUK

SYSTEM

Since the beginning of the

pandemic, Farouk Systems

Inc. has been offering a

variety of educational

opportunities including

webinars, Zoom, and live

social media events, reaching

thousands of professionals

from specialty classes with

as few as 15 attendees,

to larger events offering

education to well in the

1,000's.While color trend

and color correction

education was popular, one

of the greatest hits was the

formulation and application

class called "Karmic Blonde",

which was taught by colorist

Amber Marie Compian.

R+CO

R+Co offered a very popular

social media VIRTUAL

SALON SERIES course that

they have made available

on demand. This four-part

business course is designed

to help salon owners,

managers and stylists learn

how-to effectively sell retail

and streamline the potential

profit center. Structured

to support a brick-andmortar

salon, the series

offers information to help

create additional revenue

opportunities by establishing

a virtual salon business that

drives around-the-clock sales

— even during non-business

hours.

F L U I

Photo: Cyda King and Larry Wright, courtesy of Andis

D

Above: Alison Alhamed,

R+Co VP of Community,

preparing for an R+Co

Virtual Salon Series session,

which teaches salons how to

create additional revenue

streams, establish a digital

footprint, and maximize

social media by creating

content that drives converts.

,

FF

ANDIS

The most popular virtual classes offered by Andis are techniques

offered in FLUID Volume 2: Embracing Heritage & the Natural

Beauty of Multi-Cultural Textured Hair. Andis Creative Leads and

International Educators, Eric Cheek and Kenny Duncan, featured stepby-step

guidelines to the five looks using classic and new Andis tools.

Professionals have the opportunity to dive into detailed sessions with

smaller class sizes, one-on-one instruction and tailored feedback. These

courses are designed to be hands-on, with mannequins recommended to

maximize the experience during the step- by-step class. Visit andis.com

education

21
---
Hair: Keisha Mines - Photo: Lo Garcia

WELLA PROFESSIONALS

Wella Professionals celebrated Black History

Month this past February by shining the

spotlight on hairstylists of color, offering

content geared towards texture education

and advancement of Black hairstylists, all

culminating in a contest where 5 Black

licensed salon professionals won a scholarship

to the Wella Professionals education course of

their choice. To continue the energy, the brand

announced that the 2021 North American

Beauty Envision Awards is now open to all

beauty pros - at all levels of their careers.

Thirteen categories include Color, Creative,

Natural Texture, Total Transformation, Barber,

Nail Artist, Bridal, Future Star, Editorial, Salon

Team and Elite Artist, and are invited to enter

by May 20, 2021.

For more info: www.beautyenvisionawards.com

Above: Kevin Hughes,

Moroccanoil Artistic

Director, on set.

Far right: The Wahl

Disruptour team surrounds

National Director of

Education, Lisa Finucane

and includes: Standing:

Zach Ramsey, videographer

Jeo Calero, Josh Carmona,

and Trevor Moots. Sitting:

Creative Consultant Byrd

Mena, Nieves Almaraz,

and Kevin Nguyen.

The Moroccanoil Livestream

Summits have been such a hit that

the brand will continue to offer

them on its academic platform.

Open to the entire professional

salon community, the Spring

Summit, scheduled for April

19, 2021, will offer a full day of

interactive education, artistry and

business-building techniques.

What makes this summit unique

is that each segment is interactive,

allowing the audience to ask

questions in real time and engage

with the facilitators. Moroccanoil

is offering the Estetica audience

a 50% annual, paid in full

subscription discount (use code

EST100). Visit Moroccanoil.com

"Today virtual events,

contests, and courses

keep you in the loop"

22 education MOROCCANOIL

SAM VILLA

The Sam Villa brand has bulked up

its team with renowned and

diversified artists, making it possible

to diversify educational offerings

beyond cutting, styling, wellness and

business, to now include barbering,

color, texture, social and so much

more. One of the first brands to jump

on the virtual education bandwagon

- even before the pandemic - Sam

Villa continues to offer weekly LIVE

education for free! A full calendar

of educational offerings can be found

at www.samvilla.com/educationcalendar.

WAHL PROFESSIONAL

Lisa Finucane, National Director of Education, took this time to

reorganize the Wahl Professional Education Team to support the

different creative needs of the barber and cosmetologist communities.

As more doors open, the members of the Disruptour team will provide

high-end education in intimate settings across the United States with

a combination of a "look and learn" stage presentation followed by a

hands-on experience where attendees will learn the Disruptour Trend

Cuts, styles and creative social media content. Visit wahlpro.com/
---
Photo: Claudia Paul

MATRIX

Matrix held its first global virtual

trade show, Matrix Synergy 2021,

featuring 36 classes, 30 Global Matrix

Artists and Ambassadors, 4 virtual

main stages with access to 20 brand

"moments" in the Matrix Playground.

The show offered a variety of courses,

like "Big Blonde Energy", "Diversity

Matrix" and "Foliage in 30 Minutes".

One highlight of the show was the

introduction of the brand renovation,

interaction with the "M-Team" and

additional inspiration from artist

network industry superstars like

George Papanikolas, Tabatha Coffey,

Michelle O'Connor and Eric Vaughn.

Visit Matrix.com

COSMETOLOGISTS

CHICAGO

Cosmetologists Chicago (CC) is

making mandatory Continuing

Education Units (CEU) easier to

earn during the pandemic. Licensed

beauty professionals, nail technicians,

cosmetology educators and estheticians

can train virtually through CC's

on-demand education, all found at

AmericasBeautyShow.com. Areas of

education include technical education

in color, cut, texture, skin care and nail

artistry; as well as business including

management, business operations,

leadership and sanitation. Below:

Gunny Hastings, Reverie Salon,

Chicago, IL, perfects her skills through

CC's Continuing Education program.

Photo: Nicole Strykowski

JOHN PAUL MITCHELL SYSTEMS

"Culture. Identity. Hair – Texture Training" was designed by John Paul Mitchell Systems

and Paul Mitchell Schools to update their curriculum for schools and salons, including

education on Black history and culture, the importance of language and terminology, as

well as skill development for cutting, color, styling and barbering on natural texture. Paula

Peralta, Artistic Director, notes, "Whether the format is live or virtual, when educators are

masters at their craft and deliver thorough information, the attendees are engaged from

start to finish and walk away empowered and excited to create." Visit PaulMitchell.com

EUFORA

Eufora chose to offer specialized education in their "Live Your Art" curriculum, devoting

an entire learning segment to the service in the "Live Your Art" series, focusing on

advanced color placement on highly textured hair. National Trainer, Lisa Vann, tackles all

strong texture in this class, demonstrating the importance of placement for a gentle shift

in color or a powerful finish, and also shares shade selection and formulations for desired

results. www.eufora.university

Hair: Lisa Vann, Assistant

Hair: Aspen Day-Flynn

Makeup: HannahVann

Photo: Duncan Star-Boszko
---
Don't fight it... just go with

the flow. Wild and wooly or

elegantly sculpted.

(Left) Color Space Hair Team

(Right) Hair: NAHA 2021 Finalist,

Stephen Moody, Company N.A.

Education Director

Photo: Nick Berardi

Make-up: Eric J. Allen & Collette Silva

Styling: Chase Moody

Do your

own thing!
---
Best of

USA

"Texture is key. Curls

are in. Volume's a must.

The rest is up to you"

25 vision
---
"Flaxen and honey

mop-top or a spiky

turquoise crest -

poetry in hair"

26 vision
---
Best of

USA

A wide range of blond nuances

lend themselves to getting the

contrasts you seek. Warm honey

and earthy tones for him. Icy

platinum and turquoise for her.

(Left) Hair: NAHA 2021 finalist,

Dana Caschetta @ Blonde and Co

Photo: Richard Monsieurs

Make-up: Victoria Ceccio

(Right) Collection by Wahl's Disruptour

Team Collection
---
Long and luxurious... or

pointedly chopped? Why not?

Time to be yourself.

(Left) Hair: Maggie Hancock

(@MaggieMH) Schwarzkopf Professional

USA Digital Artistic Team

Photo & Make-up: Vera Maslieva

@vera.maslieva.art

(Right) Hair&Photo: Michael Haase

@PlatinumblackaMichaelHaaseSalon.

#MMHAASE
---
Best of

USA

"Gray is the new

black; platinum

is the new gray... ipso

facto: gen-crossing

for any age, length,

or look"

29 vision
---
30 vision

"Class is not

always synonymous

with classic"
---
Best of

USA

Taking texture and style up

a notch... grooming can also

be defined by a distinctive

and personalised style.

(Left) Hair: Marilyn Vendittelli

Photo: Kale Friesen

Make-up: Meaghan Gregory Bell

Styling: David Vendittelli

Products: Goldwell & KMS

(Right) Hair: Andis Creative Lead,

Eric Cheek & Kenny Duncan

Photo: Cyda King & Larry Wright
---
PRESENTED BY

JAPAN &

YOKOHAMA

26-28 SEPT 2021

www.omchairworld.com
---
MODA

INT'L

HAIR NOW

INSPIRED BY

THEN

Estetica is celebrating its 75th anniversary this year - and the best way of doing so is recognise the constant evolution of beauty. A combination

of passion, research and artistic inspiration, the image is a link between past, present and future. Throughout the following pages, we showcase

those parallels which celebrate current trends - from the hime cut emerging from Japanese origins through to retro-looks with a totally modernist

slant. Every detail, shape and movement remains part of an entity forever in constant transformation.

Il 2021 si apre con un anniversario importante per Estetica: 75 anni... Il modo migliore per festeggiarlo è sottolineare quanto la storia della bellezza

sia in costante sviluppo. Fatta di grande passione, ricerca continua e ispirazione artistica, l'evoluzione dell'immagine è liaison d'autore tra

passato e presente, con lo sguardo rivolto al futuro. Nelle pagine che seguono, i parallelismi estetici che celebrano l'attualità di tendenza. Dall'hime

cut di origini nipponiche al rétro in chiave modernista. Perché ogni dettaglio, forma o movimento è parte di un tutto, in perenne trasformazione...

Estetica feiert dieses Jahr sein 75-jähriges Bestehen - und am besten zelebrieren wir das, indem wir die stetige Weiterentwicklung der Schönheit

begleiten. Eine Symbiose aus Leidenschaft, Forschung und künstlerischer Inspiration gehalten durch ein Band zwischen Vergangenheit, Gegenwart

und Zukunft. Auf den folgenden Seiten zeigen wir die Parallelen zu aktuellen Trends - vom Hime-Cut japanischer Herkunft bis hin zu

Retro-Looks mit einer ultramodernen Note. Jedes Detail, jede Form und jede Bewegung bleibt Teil einer sich ständig verändernden Einheit.

2021 est une année marquante pour Estetica qui fête ses 75 ans ! La meilleure manière de célébrer cet anniversaire est de mettre en avant l'évolution

de la beauté. Construite autour de la passion et de la recherche en continu de l'inspiration, la beauté est le lien qui unit passé et présent. Avec

toujours un oeil tourné vers le futur ! Dans les pages qui suivent, une célébration de la beauté en lien avec les tendances actuelles. Du Hime Cut,

originaire du Japon, au Rétro, réinterprété en clé moderne. Parce que chaque détail, chaque forme et chaque mouvement constitue une partie

indissociable d'un tout. Pour un ensemble en perpétuelle évolution...

Estetica celebra este año su 75º aniversario, y la mejor forma de hacerlo es reconociendo la constante evolución de la belleza. Una combinación

de pasión, investigación e inspiración artística, la imagen es un vínculo entre el pasado, el presente y el futuro. A lo largo de las siguientes páginas,

mostramos esos paralelismos que celebran las tendencias actuales: desde el corte hime que surge de los orígenes japoneses, hasta los looks retro

con un giro totalmente actual. Cada detalle, cada forma y cada movimiento forman parte de una entidad en constante transformación.
---
A

R

E

Y

H

O

W

H

I

M

E

O

U?
---
'Hime' is a SS21

style sensation:

rooted in

Japanese royal

tradition but

bang on-trend!

Left:

Hair: Chung-Yang Su

@ Chiseled Hair

Colour: Sanja Scher

Photo: Chung-Yang Su

Make-up: Ann Stevens

Styling: Jessica Jade

On this page:

NAHA 2021 Finalist Haircutting

Hair: Chris Baran

Photo: Babak

Make-up: Marie Laure Larrieu,

Servonne Ku, Frederick Smiths

Styling: Pascal Et Jeremie

Courtesy of PBA
---
H

O

W

A

R

E

Y

H

I

M

E

O

U?

NAHA 2021 Finalist Makeup Artist of the Year

Hair: Derrick Rutherford

Photo: Ema Suvajac

Make-up: Dejana Pogrmilovic, Callie Cabral

Courtesy of PBA
---
NAHA 2021 Finalist Student Hairstylist of the Year

Hair: Madison Pollick

Photo: Kristen Correa-Flint

Make-up: Samantha Lemon

Styling: Dallan Flint

Courtesy of PBA
---
Hair: Chung-Yang Su

@ Chiseled Hair

Colour: Sanja Scher

Photo: Chung-Yang Su

Make-up: Ann Stevens

Styling: Jessica Jade

NAHA 2021 Finalist Haircutting

Hair: Matthew Morris

Photo: Kevin Alexander

Make-up: Katelyn Simkins

Styling: Matthew Morris

Courtesy of PBA

With or without a

fringe, Hime is now

a ubiquitous style in

teen pop culture -

rippling out from

Japan, then Korea.
---
H

O

W

A

R

E

Y

H

I

M

E

O

U?

Hair & Art Direction: Tom Connell

Colour: Ashleigh Hodges

Hair Assistant: Mathew Gavin,

Grace Gebbie, Giuseppe Stelitano

Photo: Jon Gorrigan

Make-up: Jose Bass

Styling: Steph Stevens

Products: Davines
---
Hair: Christopher Byrne

@ Sloans of Lane Cove

Photo: Jarred Stedman

Make-up: Chereine Waddell

Styling: Christopher Byrne,

Isabella Holder

Right:

Hair: Viktoriia Vradii

Photo: Tony Le-Britton

Make-up: Evgeniya

Spiktorenko

Styling: Irina Dzhus
---
H

O

W

A

R

E

Y

H

I

M

E

O

U?
---
H

O

W

A

R

E

Y

H

I

M

E

O

U?

Hair: Cos Sakkas

@ Toni&Guy London

Photo: Jack Eames
---
Sidelocks can be feathered

or layered from mouth level,

but the cheekbones always

remain an emphatic feature.

Above:

Hair: Mode Hair Artistic Team

Photo: Richard Miles

Make-up: Lan Nguyen-Grealis

Left:

Hair: Elie Valière

Photo: Pascal Latil

Make-up: Alexandre Gloaguen

Styling: Caroline Bonnin
---
Photo Getty Images

RÉTRO INSPIRE
---
Hair: Candice McKay

Photo: Justin Dingwall

Make-up: Lynn Kendedy

Styling: Thomas Van Dyk

Courtesy of FPA
---
If present &

future are only

extensions

of the past, then we

must also look behind us

to uncover the inspiration

to evolve new trends

and creative

opportunities.

[Art Déco,

Nude in Color; 1926]

Photo Getty Images

[Queen

Marie of Romania;

1926]

[Liza Minnelli; 1972]
---
Hair: Bill Tsiknaris @ Tsiknaris Hair

Colour: Chris Tsiknaris, Anna Dahlin

Photo: David Mannah

Make-up: Pablo Morgade

Styling: Josie McManus

RÉTRO

INSPIRE
---
[Ada May; 1931]

Photo Getty Images
---
Hair: Joana Neves, Sabrina Dijkman

Colour: Yngve Thon, Monica Dorati

Photo: Jack Eames

Make-up: Sabrina Dijkman

Styling: Mira Uszkureit

Products: Alterna

RÉTRO

INSPIRE
---
Screen to

streetwise

Even the most unconventional

hairstyling vibes can

probably trace their origins

back to somewhere in the

20th Century, with the

golden age of the silver

screen providing a huge,

almost limitless resource to

ensure those creative

juices are free-flowing.

Anche le acconciature

più anticonvenzionali

affondano le loro origini

nel XX secolo, e l'epoca

d'oro del grande schermo

è una risorsa enorme, quasi

sconfinata, che continua

a far fluire liberamente la

creatività.

Selbst unkonventionellste

Hairstyling-Vibes können

ihren Ursprung im 20.

Jahrhundert haben.

Das goldene Zeitalter der

Leinwand bietet eine

riesige, fast unbegrenzte

Ressource, um sicherzustellen,

dass der kreative

Fluss nie versiegt.

Même les coiffures les plus

anti-conformistes trouvent

leurs inspirations dans le

XXème siècle. L'époque en

or du Grand Ecran comme

inspiration, pour permettre

à la créativité de suivre son

chemin en toute liberté.

Hair: Jude McEwen

for Toni&Guy Australia

Photo: David Mannah

Make-up: Chereine Waddell

Styling: Belinda Morton

Incluso los peinados menos

convencionales pueden

tener su origen en algún

momento del siglo XX, ya

que la edad de oro de la

gran pantalla es un recurso

enorme y casi ilimitado que

sigue permitiendo que la

creatividad fluya

libremente.

[Ingrid Bergman, 1948]

Photo Getty Images
---
Hair: Christopher Byrne

@ Sloans of Lane Cove

Photo: Jarred Stedman

Make-up: Chereine Waddell

Styling: Christopher Byrne,

Isabella Holder

RÉTRO

INSPIRE
---
RÉTRO

INSPIRE

Art Director: Juri Coppari

Hair: La Biosthétique

Artistic Team Italia
---
Photo Getty Images

[The Sisters G; 1925]
---
RÉTRO

INSPIRE

Hair: Salone Firriolo

Colour and Cut: Andrea Firriolo

Hair Styling: Marco Firriolo

Photo: Riccardo Giordano

Make-up: Claudia Zambello
---
Photo Getty Images

[Marjorie Holmes; 1938]

[Bette Davis; 1939]

The legacy of classic

Hollywood:

Curls, waves & undulating

beauty that is a timeless

spring-board for

contemporarary looks.

[Grace Kelly; 1955]

[Ginger Rogers; 1935]
---
[Ruby Miller; 1928]

Photo Getty Images
---
RÉTRO

INSPIRE

Art Direction, Photo & Styling:

Magic Owen

Hair: Anne Veck

Make-up: Morgan Defre

:

Hair: Lorem et Ipsum

A. Pistorius. R. Ipsumer

Photo: Austerea Raltiun

Make-up: Makka Palluas

Styling: Imlore Mispst
---
RÉTRO

INSPIRE

Hair: Kapera Team

& Aveda Education Team

Colour: Greg Zakrzewski,

Aveda Color Artist

Products: Aveda
---
Photo Getty Images

[Mary Pickford; 1925]
---
RÉTRO

INSPIRE

Hair: David Corbett @ David Corbett Hairdressing/Photo: John Rawson

Make-up: James O'Reilly, Lan Nguyen-Grealis/Styling: Jared Green, Marika Page

Tarantino

[Elsa Martinelli; 1966]

Fast forward into

the cool 60s

and 'transition'...

when fashion went bi-polar

& all the rules were swept

under the carpet,

never to re-emerge.

Photo Getty Images

[Claudia Cardinale; 1965]
---
NAHA 2021 Finalist

Hairstylist of the Year

Hair: Julie Vriesinga

Photo: Paula Tizzard

Make-up: Florencia Taylor

Styling: Julie Vriesinga

Courtesy of PBA

RÉTRO

INSPIRE
---
[Gloria Swanson; 1934]

Photo Getty Images
---
RÉTRO

INSPIRE

NAHA 2021 Finalist

Styling and Finishing

Hair, Photo & Styling: Keith Bryce

Make-up: Marie Fuentes

Courtesy of PBA
---
RÉTRO

INSPIRE

Hair: Cos Sakkas

@ Toni&Guy London

Photo: Jack Eames
---
Photo Getty Images

Aimées et admirées pendant

des décennies, les années 20

sont de nouveau remis au

goût du jour en cette année

2020 ! Des égéries, mais

surtout des coiffures. Qui a

dit que l'obsession pour les

Root-lift est un phénomène

actuel ? On le retrouve

depuis des années.

Revuelto y adorado durante

todo un siglo, el 2020 ha

recuperado un elemento

básico de los años 20. No, no

se trata de las chicas guapas,

¡sino de su cabello! ¿Quién

dijo que nuestra actual

obsesión por la elevación de

raíces es algo vanguardista y

contemporáneo? Llevamos

años con ello...

Hair: David Corbett

@ David Corbett Hairdressing

Photo: John Rawson

Make-up: James O'Reilly,

Lan Nguyen-Grealis

Styling: Jared Green,

Marika Page

Spanning

the years

[Hermione

Baddeley; 1926]

Swept up and adored

throughout an entire century,

with a 2020s reprise of a

1920s staple. No, not the

gorgeous gals, but their hair!

Who said our current

obsession with texturised

root-lift is a cutting-edge and

contemporary? We've been

at it for years...

Stravolto e adorato per

tutto un secolo, il 2020 ha

riportato in auge un

caposaldo degli anni '20.

Chi ha detto che l'attuale

ossessione per il root-lift

materico è all'avanguardia

e contemporanea?

È presente da anni...

Ein ganzes Jahrhundert liegt

zwischen diesen beiden

Looks. Die 2020er haben

diesen wunderbaren Style

aus den 1920ern wieder

aufgegriffen. Wer hat gesagt,

dass der Hype um texturierte

Ansätze super modern ist?

Den gibt es schon ewig...
---
RÉTRO

INSPIRE

Hair: Lisa Schoor

Photo: Brian Gould

Make-up: Tannis Legary

Styling: Linda Nelson
---
Photo Getty Images

[Audrey Hepburn; 1961]
---
[Woman with Daisy; 1961]

[Claudia Cardinale; 1960]

Photo Getty Images

Just how high

can you

really go?

Tease it up, smooth it down

and... repeat! The bouffant

was THE ultimate

in feminine style.

[Raquel Welch; 1960]
---
RÉTRO

INSPIRE

NAHA 2021 Finalist

Master Hairstylist of the Year

Hair: Matthew Morris

Photo: Alec Tremaine

Make-up: Katelyn Simkins

Styling: Matthew Morris

Courtesy of PBA
---
[Barbra Streisand, 1970]

Photo Getty Images
---
Hair: Cos Sakkas

@ Toni&Guy London

Photo: Jack Eames

RÉTRO

INSPIRE
---
RÉTRO

INSPIRE

Hair: Thierry Lothmann

Photo: Jules Egger

Make-up: Émeline Marret

Styling: Christelle Santabarara
---
Photo Getty Images

International Creative Director: Simon Ellis

Cut: Tyler Johnston/Colour: Jack Howard

Photo: Simon Emmet

Make-up: Helge Branscheidt, Lisa Breitfeld

Styling: Lucy Manning, Giovanna Louise Balivo

Products: Schwarzkopf Professional

It's the one hair feature that

really can be taken to excess:

micro, almost non-existent or,

as is the case here, almost

so incredibly long so as not

to hardly be called a fringe at

all. Flatteringly demure, it

can transform Lolita into a

sophisticated lady - all in the

sweep of brush!

È l'unica caratteristica dei

capelli che può davvero

essere portata all'eccesso:

cortissima, quasi inesistente

o, come in questo caso, così

incredibilmente lunga da non

rientrare più in canoni

prestabiliti. Piacevolmente

discreta, può trasformare

Lolita in una signora

sofisticata, grazie allo styling!

Das einzige Frisurenmerkmal,

das wirklich übertrieben

werden kann: als micro, also

fast nicht vorhanden, oder

wie hier so unglaublich lang,

dass man es kaum als Pony

bezeichnen kann. So

schmeichelhaft zurückhaltend,

dass er im Nu aus Lolita

eine edle Dame zaubert!

Hair: Lorem et Ipsum A. Pistorius. R. Ipsumer/Photo: Austerea Raltiun

[Rolling Stones; 1973]

The fabulous

fringe

C'est certainement l'unique

style qui peut être porté à

l'excès. Du très court au très

long, ces coupes cassent

tous les codes existants !

D'un style discret, le styling

peut transformer une jeune

Lolita en une femme

sophistiquée. En seulement

quelques gestes !

Es el único rasgo del cabello

que realmente puede llevarse

al exceso: micro, casi

inexistente o, como en este

caso, tan increíblemente

largo como para no llamarse

flequillo. Es un flequillo muy

discreto que puede convertir

a Lolita en una dama

sofisticada, con un solo

cepillado.
---
[Stella Stevens; 1965]

Photo Getty Images
---
RÉTRO

INSPIRE

Art Direction: Stéphane Brassart

Hair: Mak Angel

Photo: William Cerf

Products: Wella
---
RÉTRO

INSPIRE

Hair: Giovanni Iovino for Cotril

Photo: Pasquale Abbattista
---
Photo Getty Images

[Farrah Fawcett; 1975]

[Jane Fonda; 1970]

Seventies girl?

Yes please...

for the sex appeal!

The flick, the feather,

the wedge, the shag:

in demand, always hot

property and totally

en vogue ever since.

[Britt Ekland; 1970]
---
[Brigitte Bardot; 1960]

Photo Getty Images
---
RÉTRO

INSPIRE

Hair: Claude Tarantino

Photo: Jules Egger

Make-up: Émeline Marret

Styling: Etienne Jeanson
---
DISCOVER

ESTETICAEXPORT.COM

A new digital way to enhance

international business is

now available!

An editorial and digital

service supporting hair & beauty

product manufacturers in enterprises

into new international markets.

JOIN US TODAY!

www.esteticaexport.com
---
Art Director&Hair: Geneva Cowen for Sam Villa Photo: Shalem Kitter

Cool news...

Take time to browse the latest innovations in hardware

and software being proposed by leading brands and see

how they can make a difference in your salon business.

Hairdressers are living through unprecedented times, when lockdowns and health care regulations have stymied and

complicated the salon business. Yet the hair care industry has been moving forward, developing new trends, products, and

all sorts of innovative tools for optimizing both in-salon services and salon organisation with cutting-edge hardware and

software. Such breakthroughs can make enormous differences in the lives of salon professionals in terms of occupational

ergonomics and comfort while working long hours, facilitating greater precision in cutting, coloring and styling, and

reducing overhead costs through improved efficiency. Marie Scarano
---
SAM VILLA SIGNATURE SERIES TEXTUR PROFESSIONAL Texture promises to be key for

2021 and this tool can get you the looks your clients are craving. From carefree texture

to Insta-worthy braids and updos, texturize all over or just underlying sections for

hidden lift and volume. Volume and texture are increased threefold! The flexible plates

feature tiny round ridges that compress hair for long-lasting body and texture, and

a ceramic-core with a titanium coated surface to distribute heat evenly for safe and

consistent styling.

SURETINT TECHNOLOGIES COLOR

CONVERSION technology is a

groundbreaking system designed

to effortlessly translate client

formulas created in one color

brand to a matching formula in a

different brand instantly and with

unprecedented accuracy. Seven years

in the making, Color Conversion

is enabled through SureTint's LaRu

Color Management Software and

can be used on a mobile platform,

through a salon's LaRu dispense

station or combined. In seconds,

you have a precise, accurate new

formula in the brand of your

choice! Moreover, inventories are

optimized and formulation errors in

conversions are reduced.

WAHL DISNEY/PIXAR SOUL CORDLESS SENIOR is a limited edition clipper, fruit of a collaboration between Wahl Professional -

leader in grooming products in the salon and barbering industry, and Disney-Pixar to promote the movie "Soul". The Cordless

Senior is a one of a kind clipper with its metal bottom housing and cord/cordless capabilities. The clipper's powerful rotary

motor cuts thick hair with ease and its 2191 precision fade blades are adjustable, including zero-overlap capabilities. The 5 Star

Cordless Senior offers a high quality lithium-ion battery featuring an 80 minute run time per charge and it's ergonomic design

fits comfortably in hand for easy maneuverability. This is just the kind of precision tool you need to create personalised looks

for each and every client.

tools

83
---
DENMAN BRUSH continues on their mission to develop and innovate one of the salon professionals' most basic tools, offering an

impressive range of brushes, each designed for a specific purpose and hair type. For example, the D93M detangling brush (top

left) is now available in either a new sleek monochromatic black or white style that's perfect for professionals. To help keep your

tools color coded and as colorful accents in your salon, the D83 (right) and D3 (far right) are now available in new fashion colors

– Russian Grey and Nordic Ice. The D83 Paddle Brush is a classic for detangling, blow drying, and styling, especially for longer

lengths, while the D3 Original Styler features 7 rows of pins, making it the perfect option for defining curls, detangling while blow

drying, and even styling hair.

OLIVIA GARDEN a global leader in high-quality,

innovative tools for the professional hairstylist,

has extended their OG Essentials line with new

Thermal and Styling brushes – expanding the

OG Essentials Collection that debuted in 2020

to supply essential PPE to hairstylists who

continued work during the COVID-19 pandemic.

Shown here are the Essentials Thermal Brushes,

including four new diameters: 1", 1 1 / 4

", 1 5 / 8

",

and 2 1 / 8

". Moreover, Olivia Garden is so sure

of their superior manufacturing that a limited

lifetime warranty against defects is included

with all products.

UNIMIX HAIR COLOR MIXER is a revolutionary hair color mixing system that helps reduce

irritation and sensitivity while giving you faster processing times. UNIMIX creates a safe mixing

environment and minimizes ammonia inhalation for both you and your clients, while helping to

achieve evenly blended and perfectly textured color at a comfortable temperature for clients.

One UNIMIX system can be used by 4-6 colorists. Color Space also offers ergonomically designed

custome hair color brushes, aluminum bowls, capes, and other color service accessories.
---
L'Oréal Professionnel Yelasai

L'ORÉAL PROFESSIONNEL'S STEAMPOD is an innovative flat iron and styler powered by steam. Although we might associate steam-power

with the locomotives of yesteryear, this tool can launch hairstyling into the future. Thanks to the extra power of steam, hair can be

twice as smooth and twice as fast compared to Steampod heating plates alone. Breakage can also be reduced up to 91% thanks to the

integrated comb, which also serves to keep hair in place when waving. Depending on your preference, the comb can also be removed.

These unique features boost the performance of the heating plates to effortlessly glide through hair without tugging or dragging,

helping to reduce split ends for a shiny, healthy looking finish. Perfect for all hair types providing long-lasting hairstyles, from straight

to wavy. Unique integrated steam and comb technology delivers .

Any of these tools can be considered an investment in the future of your business, starting with colorful brushes and combs

for a relatively low-cost easy boost to your morale or colorful accents for your work station. And the more efficient your

styling tools are, the more you can in time and energy, not to mention money on your electric bill. More efficient coloring

systems can help save money on inventory and space at your color bar, all while optimizing color mixes and matches for the

pleasure of your clients and your professional satisfaction. Traditional hot tools are being upgraded with new materials and

systems to keep hair healthier than ever before, with no compromising on beautiful styling. And salon software and apps

can optimise your appointment times and keep you updated on products and education. And while there may be an initial

financial investment to be made, you should also be prepared to take some time for education, learning how to get the most

out of your new acquisitions with a view to getting a quick return on your investments.

tools

85
---
CHI

Olaplex

OLAPLEX PRO APP is a completely reimagined and modernized app available for download on the App Store and Google Play Store. Designed exclusively

to provide hairdressers with added benefits, including online OLAPLEX certification, a professional tool kit for hair health diagnosis, an Ask A Pro instant

messaging feature and an affiliate program that will transform the way salon professionals interact with the brand globally in real time.

CHI LAVA 2.0 HAIRSTYLING IRON is a unique combination of American Ingenuity and Hairdresser Expertise and German Engineering.that styles hair in just one

pass, featuring tool power increased by 20% and the surface area of Lava increased by 10%. This brand-new ergonomic design also features a touch sensitive

display with 31 different heat settings and an incredible heat up time of just 40 seconds. With the ability to adjust the temperature setting with ease, its Lava

Mineral floating plates will produce ions every time the plate is heated, resulting in healthier stronger hair, reduced frizz, and amazing shine enhancement.

These are the times that try hairdressers' souls, and many salons worldwide are currently facing unprecedented challenges,

many of which may continue, hopefully not for long, into the foreseeable future. So now is the time for salon professionals

to do the research, analyze needs, and decide which innovations can guarantee the greatest return in your salon business,

depending on your client demographics, current organization, and the skill sets available. Be prepared to welcome your

clients back to your salon with renewed inspiration and expertise. Be ready to show them what they've been missing while

under lockdowns and making do with home-made solutions: quality products, personalised pampering, and the expert

hair care only a salon professional can provide.
---
CRICKET'S SIMPLY MARBLELOUS

COLLECTION is available in three

sleek marble finishes: Rockin'

Rosie, Jaded & Judgy, and

Granite so you can pick and

choose which hue best accents

your style. The Shear Xpressions

Japanese stainless steel shears

are marblized on the front, but

chrome-finished on the back.

These 5.75" shears are the

ultimate stylist accessory while

supporting the creating/cutting/

styling hair process. The Amped

Up teashing brushes are perfect

for focusing on detail styling

and perfecting finishing touches.

And the SX Simply Marblelous

Combs come in four must-have

styles to keep your station and

your clients looking their best

even after they've left the salon.

ANDIS has always been a one-stop shopping spree for barbers, offering tools and accessories that keep the work flow running

smoothly and clients in the chair groomed spot-on. For example, the Barber Cape is lightweight and breathable, anti-static and water

repellent, and can be machine-washed. The Spray Bottles deliver an even mist, either as a single pump or a continuous spray, and

in any position! And now Grip Accessories fitted for different lines of Andis clippers and trimmers are available. These little gems

facilitate control of the tool while in use, thereby reducing fatigue and boosting precision.

tools

87
---
PRODUCTS

R+CO

Lighten up! With the On a Cloud family of Baobab Oil Repair Shampoo and Repair

Masque to help repair damaged hair, then finish up with the Baobab Oil Repair Splash-On

Styler that helps rebuild bonds all day and seals the cuticle to smooth hair and fight frizz.

Nioxin

Infused with Aloe Vera,

the Nioxin Scalp Relief

System Kit is a 3-part

hair care regimen that

soothes sensitive, dry,

and itchy scalp and

thickens hair instantly.

Free of parabens,

sulfates, and colorants,

special ingredient

Soothex also reduces

stinging and irritation.

Schwarzkopf

Professional ®

Schwarzkopf

Professional's SalonLab

Smart Analyzer takes

the guesswork out

of which products

and services best suit

a client's hair type by

analyzing hair at a

molecular level. This

lightweight, comfortable,

hand-held device

provides haptic feedback

and instant results.

Color Space

This new brand

offers vegan ammonia

and ammonia-free

permanent color lines

and more. All are

scientifically calibrated

on a true color scale,

allowing stylists and

colorists to get the

exact color they want

every time, optimising

precision and inventory.

Goldwell

Goldwell's NUWAVE is a revolutionary, in-salon semi-permanent shape

change service that creates cascading waves. Goldwell's Smart Control

Bond System ingeniously stops the waving process once hair reaches its

desired shape so you get the wave you want.

Eufora

Eufora's Reform Professional Waving

System is a plant based phenom

containing proprietary, naturally derived

technology that utilizes sugar-based

Dimethyglucamine, Hyaluronic Acid, and

Aloe Vera to maintain the integrity of the

scalp and hair during the waving process.

products

89
---
Riding out

the storm

Remodelling around

Salon Emotion

principles and

leveraging social

media helped this

business navigate the

pandemic storm.

W

hen Luke Huffstutter

bought a struggling

salon in 2007, he was

floundering to get his

sea-legs. That was until he

stumbled upon the Summit

Salon Business Center

(SSBC) and the consequential

exposure to L'Orèal Professionnel's

Salon Emotion program. Now

Annastasia Salon in Portland, OR is

going full sail ahead and growing

annually (with the understandable

exception of 2020 when they were

closed for 10 weeks). "Everyone

needs an extra edge right now to

increase the value of the guest

experience without breaking the

bank," Luke observes. "Salon

Emotion allowed us to re-evaluate

our entire guest experience to

understand what was missing and

what to do about it." Moreover,

with the points earned from Level

Loyalty Rewards, he was even able

to invest in the tools to take the

experience to the next level!

THE DIGITAL EDGE

Luke is convinced that the 4-part

Summit Digital Ecosystem and Salon

Emotion has pushed the digital

As a fourth-generation salon industry

professional, Luke Huffstutter believes in the

power, prosperity and autonomy the salon

business can bring to his employees and

indirectly benefit the community at large.

90 business
---
footprint to another level. Firstly,

intense focus is on being the first

search to show up online, backed by

strong Google reviews. Then there

is a team content manager to help

increase the staff's Instagram

presence. Third: each staff member

has their own mini webpage on the

Annastasia site so that their social

platforms link directly to the salon

webpage. making it easy to book

online, buy products, and read the

blog. Finally, Phorest software brings

even more digital enhancements to

the in-salon guest experience.

By having their phones all the time,

staff can text guests directly through

the Phorest App, do online video

consultations, and create beautiful

portrait photo sessions.

THE NEW LUXURY?

Safety, of course. "Tapping into the

essence of Salon Emotion has

allowed us to shout from the digital

rooftops that we are doing

everything to protect our guests and

our staff," explains Luke. "Note that

SSBC was a leader in producing

systems and support for the salon

owner to get ahead of Covid

regulations and get back to work

stronger than ever. We relied heavily

on their free resource page

https://summitsalon.com/get-

prepared/ to make sure we were

taking every step necessary to thrive

in this unprecedented time." But the

best is always the Consultation.

"Wow Me!" he exclaims. "The time

we spend with our guests asking

questions, listening to their goals and

concerns, and diving deep into how

we can help them feel their best, not

only locks in the special relationship

a service provider shares with their

guest, but also gracefully sets up

90% of the sales opportunities to

come. Our retention is up and our

average ticket is up. That is genuine

proof that you can have it all in the

salon business."

"We really see the digital screens

- iPads, LP apps, and TVs - as an

extension of the salon experience"

Luke
---
Lilac Aura

introduced

as Goldwell's

Color of the Year.

by Maggie Mulhern

There is already

something to celebrate

in this new year.

Goldwell has just

announced its Color of

the Year for 2021:

Lilac Aura. The modern,

fresh shade of pastel purple is

launching today to colorists and

beauty professionals around

The color of a cluster of flowers that bloom in spring, exuding

a delightful perfume, will evoke a flood of sensations leading to

optimism and the sense of a new beginning.

Lilac-love

for spring

the world. "It's sophisticated,"

says John Moroney, Global VP

of Creative & Communications,

Kao Salon Division. The midrange

lilac, "has one foot in the

past, and one foot in the future.

There is an inclusion of a blue

element, making it softer rather

than brighter. It is a shade that

speaks to calm and serenity."

Moroney and the Goldwell

International Artists including

Rebecca Hiele (US), Agnes

Westerman (Netherlands) and

Salome de Wet (South Africa),

met at a workshop in Berlin

(pre-pandemic) with several

Zoom follow-ups and came up

with the inspired formula, which

was refined at a pre-covid

photoshoot. Offering guidance to

the team was Colour Trend

Forecaster Jane Boddy who agrees

with the selection, pointing out

that the shade is "modern, fresh

and electric, adding an element

of comfort. It's between bright

and pale," she says, "and gender

neutral. It's nostalgic, inspired

by the retro shades from the

70's, with a touch of tech. It's A.I.

fashion." There is a sense of

optimism, not just about the color

itself, but about the fact that

Goldwell is even introducing a fun

shade as its "Color of the Year" for

2021. "With so many of us on

lockdown, we've been confronted

with ourselves," Moroney says.

"There's been a lot of

introspection. We have asked

ourselves what is essential, what

is necessary." This gentle pastel

gives the feeling of peace with just

enough, needed, "happiness and

pleasure. We are all in a new

world," Moroney adds." Lilac Aura

is hopeful and uplifting."

Moroney, his team and Goldwell

are counting on the universal

appeal of Lilac Aura. With an eye

on the international market,

Moroney expects the European

and Scandinavian countries to

start using the color right away,

and anticipates colorists from the

far east to embrace it quickly,

adding that the nano dab of black

in the formulation makes it

"smokey enough for the asian market."

The shade is part of the 2021

Goldwell palette as a member of

the Essentialism Collection.

"It is a formula for anyone to use

in Elumen Play," Moroney says.

A true semi-permanent, Lilac

Aura is designed to fade on tone,

with beautiful results as the color

loses intensity after each shampoo.

Moroney is excited to see how

Goldwell colorists plan to

celebrate the introduction.

US based Goldwell International

Artist Rebecca Hiele says,

"This cool nostalgic bright shade

has strength and transcends its

metallic hue from light pearl

violet to cool lavender.

Lilac Aura is the perfect new

cool for my client canvases that

are light and dimensional."

"The color has so much commercial

potential," Moroney adds. "It will

look great in just about everyone's

hair." To prove the point, Moroney

had his own natural white hair

colored with Lilac Aura to help kick

off the launch.

products

93
---
Our time

to shine

Josh Woodman is a London based

hairdresser that works on a number

of leading UK celebrity TV show.

He is also the current Denman

Stage Star competition winner.

Josh Woodman: "The

pandemic has given us

hair professionals a

chance to show off our

value and our skills."

dressing. So now it's crucial to show textures only a professional can

94 tools people why they need to ditch the achieve: add some graduation to

home hair dye, stop chopping their a bob; add texture or directional

bangs and get back to the salon. layering to straight bangs. Show

After 5 years of training and them what a good haircut looks

honing my techniques to become like. Third - professionals

a senior London stylist, no home understand base shades, blending,

hair kit or online tutorial can ever skin tones and have a vast arsenal

match my skills and experience. of color techniques to create rich,

And now is the time to prove it by vibrant and natural hair colors

showing our clients what they've that you just can't get from a box.

been missing. First off, nothing in Even a small amount of the right

Covid-19 has impacted the world beats a good shampoo color, in the right place, can really

nearly every hairdresser with quality products and a

enhance and bring a haircut to life.

and salon worldwide with relaxing head massage. Simple Lastly, even with all the mousses,

fewer customers and extras like using a D6 Be-Bop scalp brushes and electrical stylers in the

mandatory closures. brushes to massage the scalp world, your clients can't make their

Our profession has been during conditioning can really hair shine, move and radiate like

hit hard and now it's time enhance the experience. Then, after you can. So let's remind our clients

to show our worth. Let's get

creative! With clients unable to visit

salons, understandably there's been

a huge increase in home hairmonths

of making do and chopping

bits off, clients need a good cut,

something much more than just a

'tidy-up'. Focus on the shapes and

of who we are and what we do.

If you want a good meal go to a

good restaurant; if you want good

hair, go to a salon.

"A lot of clients have grown their hair over the last year, so we've been working on creating gorgeous shiny bouncy

curls on longer hair with Denman Head Huggers." Whether it's using Head Huggers for creating shapes and textures, a

D81 for finishing, or a D6 for a scalp massage, professionals give people an experience that can't be recreated at home.
---
Color as a

dimension

Color Space focuses

on superior product

development, groundbreaking

educational

methods, and unparalleled

precision in hair color.

Ray Civello and Lupe Voss founded a brand featuring ammonia and

ammonia-free permanent color lines, powder lighteners, developers,

a bonding & restructuring treatment, and an oxidization stopper

cuticle sealant.

C

utting-edge scientific

developments, an

immersive education

program and products

specifically designed by

industry veterans Ray

Civello and Lupe Voss

to generate better value for salon

owners and professionals are what

make up Color Space: a brand

that will fundamentally alter the

way salons and their clients

experience color. An in-depth

study by Professor Alessandro

Rizzi at a leading Italian University

identified numerous challenges

faced by colorists every day,

including a lack of benchmarks

for color precision and a distorted

perception of color due to poor

lighting. This research proved

to be fundamental in defining

the Color Space mission.

Color Space is the first line to

be introduced under Collective

Beauty Brands, founded by

Civello, which brings talented

industry notables together to

incubate meaningful brands.

"We believe in doing business

differently," said Civello, "We are

embracing a holistic approach,

ranging from developing

innovative offerings to looking at

how we can help salons maximize

their profitability. Weathering the

challenging times of 2020, like

never before the industry needs to

band together and support each

other in meaningful ways – a

movement Color Space is excited

to help influence." Vegan ammonia

and ammonia-free permanent

color lines and more, are all

scientifically calibrated on a true

color scale, allowing stylists and

colorists to get the exact color they

want every time, optimizing

precision and inventory. "Color

Space isn't just a gorgeous product

– it's calculated and calibrated,"

said Lupe Voss, Co-Founder of

Color Space. "The quality is truly

unbeatable, and we are so excited

to share this line with the stylist

and colorist community."

Find more information at:

colorspacehair.com

@colorspace_hair

products

95
---
Meet the

ColdBrush

BaBylissPRO's

The ColdBrush is the

only conditioning

tool applying the benefits

of cryotherapy to hair.

B

aBylissPRO has

launched the innovative

BabylissPRO CryoCare

("The ColdBrush").

A cryotherapy hair

tool, that improves the

health and beauty of hair.

The ColdBrush can be used on wet

or dry hair, allowing for easier

styling and blow drying, all while

delivering conditioning, resulting

in an extraordinary finish and shine.

WHY CRYO?

The ColdBrush joins BaBylissPRO's

current lineup of professional tools

including straightening irons,

curling irons, shaping tools, dryers,

clippers, trimmers, and shavers.

The ColdBrush actually is able to

add moisture back into the hair,

improving the overall look,

feel and condition. By reaching

freezing cold temperatures,

moisture is transferred right into

the hair shaft, while the metal

bristles detangle and align each

strand, making hair smoother,

shinier and softer. The more use,

the more long-lasting results.

Through ongoing product use,

customers will see:

• reduced frizz

• easier styling

• increased hydration, resulting in

noticeably more shiny and smooth hair.

The BaBylissPro ColdBrush retails

for $190.

This sophisticated technology

is designed around a beautiful,

durable, stainless steel housing

that operates with an easy to use

on/off button. A deluxe black

clutch, included with purchase,

ideal for travel and storage.

96 tools
---
Estetica n. 1/2021

ad index

ESTETICA ITALIA

EDIZIONI ESAV

Via Cavour, 50

10123 Torino (Italy)

Tel.: +39 011 83921111

Fax: +39 011 8125661

www.estetica.it

ESTETICA USA

HEAD OFFICE

ESTETICA USA CORP

13499 Biscayne Blvd Ste TS-1

North Miami, FL 33181 USA

Tel. +1 305 608 7107

www.esteticamagazine.com

West Coast Sales Rep.

Marlena DuRon -

1564 Seabridge Lane,

Oxnard 93035 (USA)

Tel. + 1 3104153360

mduron@att.net

AHS 92

www.alternativehair.org

BABYLISS PRO

www.babylisspro.com

96/OBC

COLOR SPACE 2/95

www.colorspacehair.com

DANCOLY COSMETIQUE 81/88

www.dancoly.fr

GOLDWELL 93

www.goldwell.com

L'ORÉAL SALON EMOTION 90-91

www.salonemotion.com

OMC 32

www.omchairworld.com

SCHWARZKOPF PROFESSIONAL

www.schwarzkopf-professional.com

FC-1

DENMAN 4/94

www.denmanbrushus.com

PRINTED IN ITALY BY

Tipo Stampa srl

Estetica USA "ISSN 2239-7213" (USPS # 12220) is published quarterly for $ 49.00 per year by

EDIZIONI ESAV SRL- Via Cavour 50, 10123 Torino. Distributed in the USA by Tri State

Magazine NY, Inc, 1209 Oakpoint Ave, Bronx, NY 10474 POSTMASTER: Send address changes

to Estetica USA c/o Tri State Magazine NY, Inc, 1209 Oakpoint Ave, Bronx, NY 10474

Registration n. 435 of 7.4.49, Turin Law Court. All rights reserved. Reproduction in

whole or in part of texts or photography is prohibited. Manuscripts, photographs and

art are selected at the discretion of the publi sher free of charge (advertising exclu ded).

Whether published or not, no material will be returned and remains the property of the

publishing house, which may make use of it as seen fit. This may include the withdrawal

of publication rights to other publishing houses. Estetica requires exclusive publication

rights in the hairdressing sector for all photography submitted which must not therefore

be offered for publication to other magazines in the hairdressing trade or industry.

Notice to subscribers (Art. 13 of EU Regulation 679/2016)

Pursuant to Art.13 of EU Regulation 679/2016, our company will proceed with

the processing of the personal data you provide in compliance with current

laws in force concerning the protection of the processing of personal data and

in keeping with the obligations and guarantees of the legal, contractual, and

regulatory standards. Subscription information may be known only bny

subjects specifically authorised and instructed by our Company and by third

parties subjects authorised to carry out the orginasational and economic

activities connected with the subscription (ex. Shipping management,

enveloping, sending correspondence) and will not be communicated to third

parties for purposes not allowed by law or without explicit consent; they will

be stored for teh purpose of sending our publications and for the time

necessary to complete the purposes of professional updating for which the

same information was collected.

Data process controller is the company Edizioni Esav S.r.l. - Via Cavour 50,

10123 Turin.

The person whose information was processes may, at any time, exercise the rights

established by the EU Regulation (Art. 15 Right to access; Art.16 Correction;

Art. 17 Cancellation) by writing to Edizioni Esav - edizioniesav@pec.it.

TO SUBSCRIBE

e-mail: customercare@estetica.it.com - online: www.esteticamagazine.com
---
THE ColdBrushTM

REPAIR YOUR

HAIR

WITH ACTIVE

HYDRATION

The COLDBRUSH transfers

moisture from the air into the hair

shaft, conditioning the hair, making

it softer, smoother, shinier and easier

to style with each use.

©2021 BABYLISSPRO 21BA077693

www.babylisspro.com

@BaBylissPROUSA Facebook.com/BaBylissPROUSA