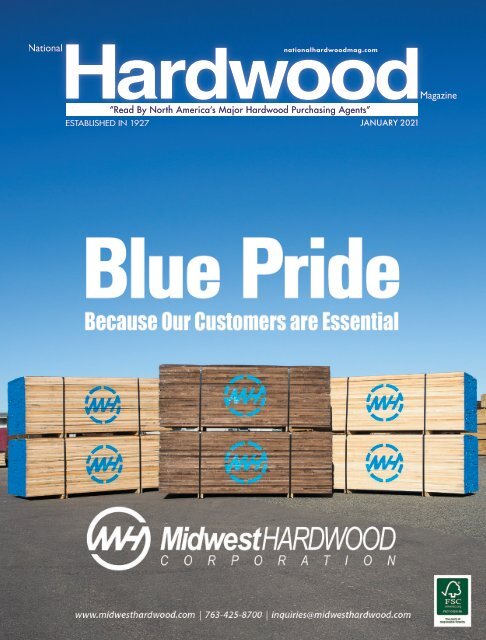 National Hardwood Magazine - January 2021
In this issue of National Hardwood Magazine, get to know the team at Hardwood Floors of Hillsboro, see predictions for the 2021 Wood Products Industry, and check out the graduating class of the NHLA Inspector Training School.
In this issue of National Hardwood Magazine, get to know the team at Hardwood Floors of Hillsboro, see predictions for the 2021 Wood Products Industry, and check out the graduating class of the NHLA Inspector Training School.
SHOW MORE
SHOW LESS
You also want an ePaper? Increase the reach of your titles
YUMPU automatically turns print PDFs into web optimized ePapers that Google loves.
JANUARY 2021 n NATIONAL HARDWOOD MAGAZINE 1
---
We do.

Call it unconditional, all-encompassing, you name it.

As a software developer committed solely to the lumber and

building materials industry, DMSi has every corner of your

operation covered. From inventory and sales to production

and procurement, we make sure no corners are cut

and no detail is left out. And that's a promise we'll hold true.

HARDWOOD I SOFTWOOD I DECKING I MILLWORK IPE DECKING

WIDELY

DIVERSE

INVENTORY.

THAT'S

TROPICAL.

We understand what is good for your

business and what is important for the planet.

That is why we keep one of North America's

largest inventories of tropical wood, ready to

be promptly shipped worldwide. Products with

traceability from the forest to your company.

All certified by the most reliable company in

the market. Visit our website.

tropicalforestproducts.com

One of the most diverse inventories

and fastest deliveries in North America

Customized profiles on

Ipe Deck, just made for you

Responsibly sourced tropical wood

Visit DMSi.com

2 JANUARY 2021 n NATIONAL HARDWOOD MAGAZINE JANUARY 2021 n NATIONAL HARDWOOD MAGAZINE 1
---
About The Cover

MIDWEST HARDWOOD CORPORATION

Contents

National Hardwood Magazine JANUARY 2021 Volume 94 No. 13

Midwest Hardwood Corporation

is a vertically integrated hardwood

lumber manufacturer dedicated to

serving the needs of customers

globally, forest to finish. This dedication

is demonstrated by our priority

on safety, quality, and value—

Blue Pride. Our teams of people

strive, with this philosophy in mind,

to serve the customer. Midwest has

changed with the times to; add more

value, offer more services, deliver

more products. Why? Because our customers are essential.

To learn more about our customer specific programs

and solutions, go to www.midwesthardwood.com. You can

also contact us at 763-425-8700 or email at inquiries@mid

westhardwood.com.

www.midwesthardwood.com

Features & Industry Events

18

Hardwood Floors of Hillsboro

LLC: Quality Flooring and

Relationships

20 PWD Inc. Serving the

Hardwood Industry For

Over 30 Years

22

Equipment and Services

Providers Continue Offering

Solutions

Departments

26

30

32

34

If History is an Indicator, the

Hardwood Market Will Rise to

Meet the Demand

Poised for Growth, the Wood

Products Industry Leans into

2021

EnSafe Encourages Risk

Analysis For Hardwood

Companies at ALC Meeting

The Graduation of the 193rd

Class of the NHLA Inspector

Training School

Founded in 1927 by: O.L. Miller – 1894-1963

Publisher: Paul J. Miller – 1963-2010

• Forest Products Export Directory • Imported Wood Purchasing Guide

• Import/Export Wood Purchasing News • Hardwood Purchasing Handbook

• Green Books's Hardwood Marketing Directory

• Green Books's Softwood Marketing Directory

• The Softwood Forest Products Buyer

Paul J. Miller Jr. – President

Terry Miller – Vice President

Zach Miller – Sales

Sue Putnam – Editor

Matthew Fite – Staff Writer

Rachael Stokes – Graphic Artist

Pamela McFarland – Graphic Artist

Tammy Daugherty – Production Manager

Jennifer Trentman – Green Book Market Sales

Lisa Carpenter – Circulation Manager

Lexi Hardin – Subscription & List Services

ADVERTISING OFFICES:

5175 Elmore Rd., Suite 23, Memphis, TN 38134

901-372-8280 FAX: 901-373-6180

Reach us via the Internet at: www.nationalhardwoodmag.com

E-mail addresses:

ADVERTISING: tammy@millerwoodtradepub.com

EDITORIAL: editor@millerwoodtradepub.com

SUBSCRIPTIONS: circ@millerwoodtradepub.com

EDITORIAL CORRESPONDENTS:

Chicago, Los Angeles, High Point, Grand Rapids, Portland, Toronto

Controlled circulation postage paid at Memphis, TN

(USPS #917-760)

4 Coming Attractions

6 U.S.A. Trends

8 Canadian Trends

10 News Developments

12 HMA Update

14 AHEC Report

15 Hardwood Federation

Info

16 WCMA Insights

17 NHLA News

41 In Memoriam

43 In Memoriam

52 Who's Who

56 Trade Talk

62 Classified Profit

Opportunities

64 Advertisers Index

The NATIONAL HARDWOOD MAGAZINE (ISSN 0194-0910) is published

monthly, except for two issues in December, for $55.00 per year and

$65.00 (U.S. dollars) per year for Canada by National Hardwood Magazine, Inc.,

5175 Elmore Rd., Suite 23, Memphis, TN 38134. Periodicals Postage paid at

Memphis, TN, and at additional mailing offices.

POSTMASTER: Send address changes to National Hardwood Magazine,

P.O. Box 34908, Memphis, TN 38184.

Publications mail agreement No. 40739074.

Return undeliverable Canadian addresses to:

P.O. Box 503, RPO W. Beaver Cre., Rich-Hill, ON L4B 4R6.

The publisher reserves the right to accept or reject editorial

content and Ads at the staff's discretion.
---
COMING ATTRACTIONS

Fred Netterville Lumber Co.:

Upholding 70-Year Legacy of

Quality Lumber Production

The Original

w w w. G r a f B r o . c o m

World's Largest Manufacturer

of Rift & Quarter Sawn

White Oak Products

Read all about it in our February issue of National Hardwood Magazine!

WHITE OAK

Rift | Quartered | Plain Sawn | Width Sorted

Wishing You a Happy and Properous 2021

Prime | Common and Better - Rough Lumber

44" to 13W" Available

4S2S & S4S Available as an additional service

Log Sales

4All Species

4# 606-932-2435

T & G Flooring

4Solid and Engineered

43" - 12" Widths

4All Lengths Available

• Industry Leading Kiln Controls

• Installation Services & Turn-Key Packages

www.nyle.com - kilnsales@nyle.com - (800) 777-6953

Q U A L I T Y | L O YA LT Y | T R A D I T I O N

606-932-3117 | sales@grafbro.com

4 JANUARY 2021 n NATIONAL HARDWOOD MAGAZINE JANUARY 2021 n NATIONAL HARDWOOD MAGAZINE 5
---
U.S.A. TRENDS

Supplier news about

sales, labor, prices, trends,

expansions and inventories

LAKE STATES

NORTHEAST

SOUTHEAST

WEST COAST

The Hardwood lumber market in the Lake States region

is good or improving, depending on the lumber provider

with whom you talk. "Very good" is how a source termed the

market in Michigan. "We had a really, really big October,"

he remarked, "So it's good." In fact, the market was better

than six months earlier. The month of October was their

best month in 10 years. The establishment carries Hard and

Soft Maple (which are selling well), Red and White Oak,

Walnut, Hickory, Cherry, Basswood, and Poplar in 4/4 to 8/4

and some 10/4 and 12/4. He sells to end users and distributors,

with both groups of customers being "pretty busy." He

noted, "Transportation is a little tough but it's not crazy. It's

a little tough getting logs in."

A Wisconsin lumber provider stated that the market is

"improving slowly but surely, but there's a supply issue right

now. That's the only problem." The market is better than

it was six months before, he remarked. He handles Hard

and Soft Maple, Silverleaf Soft Maple, Red and White Oak,

White Ash, Black Ash, Yellow Birch, White Birch, Aspen and

Basswood. The hot species are Red and White Oak, Soft

and Hard Maple and Basswood. The Wisconsin source

sells to both end users and distributors. "We had a meeting

this morning, and all indications are the customer base is

in good shape," he noted. The only problem he mentioned

was supply.

The market is good, in the opinion of a lumber provider

in Illinois. "Prices are decent, and demand is really good,"

he remarked. The market is "definitely better" than it was

six months ago, he said. He sells Ash, Cottonwood, Red

In the Northeast, prospects are looking up for the Hardwood

lumber industry. For example, a lumber provider in

Pennsylvania stated that the domestic and export markets

combined plus scarcity of kiln-dried supply are contributing

to a "very strong" market. It is a market that is better than six

months ago. Species carried include Cherry, Red Oak, Ash,

Soft and Hard Maple and Poplar. Grades include FAS and

No. 1 Common. The best sellers are Soft and Hard Maple.

The lumber provider sells to distributors, and he noted that,

"Their sales are going well." Transportation is an issue, he

observed, as transportation costs are increasing 10 to 15

percent, "maybe almost 20 percent."

The market in Maine is "very brisk, very strong, very active,"

according to a lumber source there. "There seems to

be a lack of supply due to many factors," he stated. "This

has created a void in the supply for many people, because

everybody was used to just-in-time inventories. All of a sudden,

there's not as much lumber in the pipeline to keep everyone

happy. So, the last three to four weeks have been

some of the best we've seen in many years."

When interviewed, the lumberman said the Hardwood

lumber market was "absolutely better" than it was six

months earlier. Species handled by this source are Hard

and Soft Maple, Yellow Birch and Ash in industrial grade to

FAS. The best seller, he said, is Maple.

The Maine supplier remarked that he sells to wholesalers,

distributors and end users. "I think their sales are going

strong. The industrial end is busy. The economy is rolling

along a little bit. Customers are having a hard time find-

As 2020 moved toward an end, two sources in the Southeast

found the market to be booming, but one observed a

market that was "spotty."

In Mississippi, a lumber provider said, at the time of this

interview, that his business was "booming right now." But it

wasn't that way earlier in 2020. Starting out, and for much of

the year, it was "the worst year we've had since we started

in 1999, and we only worked two months in 1999."

Through July, his sales were down 80 percent – "not

down to 80 percent, but down 80 percent," he remarked.

The tide began to turn in August, which was a strong month

for sales. In September through November, the company

was "back on high-end standards," leading to the boom.

This was "exponentially better" than it had been six months

earlier, he noted.

"We handle any grade of Hardwood, any species, all species

indigenous to the United States," the Mississippi lumber

provider stated. "We buy it in Mississippi, Pennsylvania,

New York – anybody who can sell us something that we can

ship somewhere, we're going to buy it." Red Oak flooring

grade was in great demand and limited in supply at the time

of the interview. The most desired thicknesses were 4/4 and

5/4. "Thicker is not our forte," the lumber supplier said.

Asked about how his customers' businesses – end users

– are faring, he replied, "I haven't talked about sales

with them, but getting people to work is the most common

problem. We see that on the sawmill side and the manufacturing

side." Transportation, he observed, has been interesting

this year. "Rates are up, then down," he said. "If

On the West Coast, lumber providers described the Hardwood

lumber market as no less than "order-to-order" and,

on the upper end, "very good."

A California lumber provider observed "it's order-to-order.

The business is there, but they're not going to commit

until the last minute. That seems to be the way it is.

It's steady but it's order-to-order. If you have inventory, you

have a good chance of selling the species you have. If you

don't, you're not going to sell much." It was the same way

six months earlier, he said. He sells Walnut, Hickory and

White Oak in uppers No. 1 Common, No. 2 Common, all in

4/4. White Oak is hot, he noted. He sells to end users and

distributors, and their business is picking up. Trucking is not

an issue, he stated.

An Oregon lumberman stated that the market is "very

good. Commercial work is dead but residential work is very

hot. My customers have all the work they need." He sells 80

different species, some in a number of grades. Best selling

are Poplar, Ripped White Oak, Walnut and Maple. He sells

to distributors and end users.

A provider of lumber to Washington summed up his market

as "better than expected." He recalled that COVID hit

in April, and the governor shut everything down except for

essential companies. "Business really tanked in Washington,"

he recalled. "Our business was off in Washington

about 55 percent from March to April, but it has been kind of

a square-root recovery. It dropped dramatically, then went

back up dramatically, then leveled off (approximating the

shape of a square-root sign). We had a terrible April; then

Please turn to page 42

Please turn to page 42

Please turn to page 42 Please turn to page 44

6 JANUARY 2021 n NATIONAL HARDWOOD MAGAZINE JANUARY 2021 n NATIONAL HARDWOOD MAGAZINE 7
---
ONTARIO

CANADIAN TRENDS

QUEBEC

News from suppliers

about prices, trends,

sales and inventories

AVAILABLE NOW!

Experience the power of using

our upgraded "GREEN BOOKS"

as the sales tools that provide

endless opportunities!

The Online Hardwood Marketing Directory

NOW SORTED BY GRADES!

As we moved away from the American Thanksgiving

holiday, hunting season and headed towards the Christmas

Holiday season, the industry saw many changes

and faced many challenges, yet it feels they have much

to be grateful for. It saw a rebound in activity since the

summer. With the housing demand being good on both

sides of the border, it boosted flooring, cabinet, millwork,

moulding, and furniture demand. Secondary manufacturers

are being kept busy in filling orders. The slowdown

that was expected by COVID-19 did not happen. Instead,

there was a surge in the renovation and home repair

markets which caused a strain on supply chains. Businesses

are continuing to operate despite tight demands,

even though we are in a second wave of COVID cases

across the country, with Ontario and Quebec having the

highest number of cases.

The industry looks forward with cautious optimism to

the new President in the United States and hopes that

trade relations will improve for both countries as the new

president steps in. Only time will tell how the softwood

lumber agreement will play out, and what lies ahead for

those in the Hardwood sector.

Contacts note that demand for Soft and Hard Maple,

Red and White Oak is strong, with some shortages being

felt in certain areas contacted. It was noted that supplies

of pallet material were not meeting buyers' needs. There

is also the ongoing concern of finding qualified workers

in the forestry sector. It was felt that logging activity would

Some contacts commented business was more challenging,

with new customers harder to acquire depending

on areas contacted. There is concern heading into early

winter of low log decks and more difficulty finding various

grades and thicknesses for certain species while there is

ample supply for others. Species identified in short supply

include Walnut, Maple and Red and White Oak.

Demand of Red Oak from cabinet manufacturers is

good; the species is selling well to makers of mouldings

and millwork. Sales are strong to the remodeling sector.

Solid Oak flooring is still a strong seller with designers

and consumers. Demand on international markets is also

doing well. Inventories of this species are, therefore, low

and the same for kiln-dried inventories, pressuring prices

higher. Poor logging conditions in many areas has put

a strain on logging activity and limited log decks. White

Oak production was reported as low but demand was

strong. This is causing prices to increase. The demand

for wooden pallets has picked up, with mills struggling to

keep up to buyers' needs.

The regionally important species Hard Maple is in demand

on a variety of markets, but cabinet and cabinet

components remain the top buyers. With the renovation

market rising due to COVID-19, and consumers renovating

their homes, sales of this species are doing very

well. With demand being high, supplies are tight for some

sawmill and drying operations who are trying to produce

more Hard Maple. Soft Maple demand continues its

Please turn to page 44 Please turn to page 46

"I don't want people to know

how good it is."

Jordan Dery, Tropical Forest Products

Mississauga, ON ❚

Leading North American lumber suppliers know the best sales leads are

found in Miller Wood Trade Publications' Green Book Hardwood Marketing

Directory. Tailored to help you grow your business, the "Green Book" features

over 6,300 listings of lumber buyers with their purchasing requirements.

Our Hardwood Marketing Directory also lists buyers of particleboard,

plywood, hardboard, fiberboard, veneers, squares and dimension.

❚ New Look! ❚ Same Great Information! ❚ Easier to Use!

❚ Sorted by Grades! ❚ Convenient Links to Websites, Emails & Maps!

Lease the Hardwood and Softwood "Green Books" today by calling Jennifer Trentman

at 800-844-1280 or email her at jennifer@millerwoodtradepub.com.

8 JANUARY 2021 n NATIONAL HARDWOOD MAGAZINE JANUARY 2021 n NATIONAL HARDWOOD MAGAZINE 9
---
NEWS DEVELOPMENTS

NEWS ABOUT NORTH AMERICAN INDUSTRIAL

HARDWOOD CONSUMERS INCLUDING MERGERS,

PLANT EXPANSIONS & ASSOCIATION ACTIVITIES

AHF TO EXPAND SOMERSET FACILITY

Pennsylvania-based Hardwood flooring manufacturer

AHF Products plans to invest $2.5 million and create

20 full-time jobs at its Somerset, KY facility in Pulaski

County in early 2021. According to published reports, the

RUGGED | DEPENDABLE | INNOVATIVE

10 JANUARY 2021 n NATIONAL HARDWOOD MAGAZINE

investment enables AHF to manufacture a new line of

durable end-grain Hardwood flooring. Work on the expansion

commenced before the end of 2020.

"We continue to invest in our Somerset plant due

to the quality of the products and dedication to future

growth that we see from employees," said Brian M. Carson,

CEO of AHF Products. "Our

customers continue to see value in

U.S.-manufactured products, and

this new development not only creates

new-to-the-world technology

but continues our commitment to domestic

manufacturing and grows our

share of U.S.-manufactured wood

products."

Headquartered in Mountville, PA,

AHF Products employs over 2,250

people across its seven manufacturing

locations – six in the U.S. and

one in Cambodia. AHF purchases

over 110 million board feet annually.

AHF buys 4/4 green and kiln-dried

Red and White Oak, Hickory and

Maple mostly in Nos. 2 and 3 Common

grades. AHF will also purchase

over 38 million square feet of HDF

and over 68 million square feet of

veneer to operate in its engineered

wood flooring facility.

AHF carries solid and engineered

wood flooring and a full line of accessory

products, including trim,

cleaners and adhesives. The flooring

products include a wide variety of

species, grades and sizes to fit the

customers' needs.

To encourage the investment in

the community, the Kentucky Economic

Development Finance Authority

(KEDFA) last fall preliminarily

approved AHF Products for up

to $80,000 in tax incentives through

the Kentucky Enterprise Initiative Act

(KEIA). KEIA allows approved companies

to recoup Kentucky sales and

use tax on construction costs, building fixtures, equipment

used in research and development and electronic

processing.

For more information on AHF Products, visit www.

ahfproducts.com.

BEST HOME FURNISHINGS

GROWS

Paoli, Indiana-based Best Home

Furnishings, which purchases Soft

Maple and Poplar in upper grades,

recently announced plans to expand

its operation here, creating approximately

125 jobs. The announcement

comes after Best Home Furnishings

received grants from the Town of

Paoli secured in collaboration with

Orange County Economic Development

Partnership and the Indiana

Economic Development Corp.

According to a company statement,

despite a pandemic, nationwide

furloughs and supply chain

disruptions, Best Home Furnishings

boasted unprecedented growth in

demand for its residential furniture

products. The company, headquartered

in Ferdinand, IN, saw an 85

percent increase in September,

2020 orders over the same time the

previous year and from August 30

- September 5, 2020, the company

set a record for orders received.

The increase in demand has necessitated

rapid expansion and hiring.

More details are available at

www.besthf.com.

BRITISH MANUFACTURER

TO OPEN OPERATIONS IN

PENNSYLVANIA

Pennsylvania Governor Tom

Wolf recently announced that Wren

Manufacturing Inc., a British manufacturer

of custom kitchen cabinets,

will establish its North American

headquarters and a manufacturing center in the Hanover

Industrial Estates in Hanover Township and Sugar Notch

Borough. This will create a combined 360 new jobs at

both locations in Luzerne County, PA.

According to the company's website, Wren incorpo-

Please turn to page 48

UPGRADE YOUR

OPTIMIZATION EXPERIENCE

BIG enough to support your operation; small enough to care.

09 Members on

the software team

13 Members on

the controls team

24/7Support

with experts

in 3 time zones

across the globe

40+Optimization

systems

700+ Control

Systems installed

worldwide

704.200.2350

sales@automationelecusa.com

automationelecusa.com

JANUARY 2021 n NATIONAL HARDWOOD MAGAZINE 11
---
HMA UPDATE

INDUSTRIES

CONTROLS

CLEEREMAN LUMBER COMPANY 1930's CLEEREMAN INDUSTRIES 1955 CLEEREMAN CONTROLS 2019

AT THIS MOMENT IN TIME …

TODAY

Happy New Year! (I hope!)

You're reading this in January of 2021.

However, to meet publication deadlines,

this column was submitted in November

2020, as the world was knee deep in its

battle with COVID-19, and the question

on everyone's lips was, "What's next?"

So as you read this, I ask that you

keep in mind that back in November, I

was 'shooting from the hip' regarding what might be happening

in our world as the New Year begins, because my

crystal ball was (and still is) on the 'fritz,' and a clairvoyant

I am not.

But like all of you, I remain hopeful - hopeful that as we

traverse the weeks and months ahead, we'll be free of fear

and again living, working and traveling safely. That being

said, HMA planning has begun for NatCon 2021. Yes,

plans are in the works for our 2021 National Conference

and Expo, March 24-26, at the Hyatt Regency

Austin.

The theme of our event is "Resilience."

Such a wonderful word and one that describes

the Hardwood industry so, so

well. At this moment in time, a hybrid

event is being formulated – live and virtual

presentations, unique exhibit space,

safe, socially distanced networking

events, and more.

Regarding the Expo, I am happy to report that this portion

of the event is on the fast track to being sold out. That's

because so many industry suppliers, rather than have their

2020 National Conference and Expo Registrations, Booth

Fees and Sponsorships refunded, asked HMA to apply

those funds toward participation in our 2021 event. (Now

Please turn to page 51

CLEEREMAN

For optimal efficiency. . .

knows what a sawmill needs:

Now, TWO ENTITIES TO SERVE YOU BETTER!

CLEEREMAN the newest name in sawmill controls and optimization

BY LINDA JOVANOVICH,

EXECUTIVE VICE PRESIDENT,

HARDWOOD MANUFACTURERS ASSOCIATION,

PITTSBURGH, PA

412-244-0440

WWW.HMAMEMBERS.ORG

CLEEREMAN The most trusted name in carriages

n Over 1175 Carriages sold

n Lowest cost of ownership

n All parts in stock and reasonably priced

n In-house engineering department

n Everything from single piece equipment to

turn-key mills

12 JANUARY 2021 n NATIONAL HARDWOOD MAGAZINE Sales

JANUARY 2021 n NATIONAL HARDWOOD MAGAZINE 13

STEFAN DRACOBLY

President Of

Controls

PAUL CLEEREMAN

VP Cleereman

Industries & Controls

DAN TOOKE

Senior Optimization

& Controls Engineer

n Simple easy to use touch

screen with additional

tactile buttons

n Remote access for

troubleshooting

n No custom electrical

hardware, all parts are

off-the-shelf components

n Industry Standard

JoeScan X6 heads

n 3D data used for

opening the log and

estimating the back of

log profile

n Realistic views of the log

n Sure Grip Joystick

handles

n Operational statistics and

reports

Cleereman Industries

and Cleereman Controls

715-674-2700

www.cleereman.com

info@cleereman.com
---
AHEC REPORT

HARDWOOD FEDERATION INFO

PLEASE SIT HERE:

AHEC SHOWCASES THERMALLY MODIFIED AMERICAN HARDWOODS

AT DUBAI DESIGN WEEK

OUR COMMITMENT TO REPRESENTING THE

HARDWOOD INDUSTRY REMAINS STRONG

AS A NEW YEAR BEGINS

As a response to the need for behavioral

change brought about by the pandemic, AHEC

challenged three prominent Emirati designers

to develop versatile public seating solutions in

thermally-modified American Hardwoods.

Social distancing – a captivating oxymoron

coined to reference the space we need to leave

between each other – has begun to dominate

the way we live and the decisions we make.

While incredibly important in the fight against

the spread of the virus, it also curbs our freedom

of choice and forces us to behave in an

unnatural way. People are social by nature and

regulations that inhibit normal social behavior do not come

naturally.

In response to this, three prominent Emirati designers - Aljoud

Lootah, Khalid Shafar, Hamad Khoory and their teams

- were invited by the American Hardwood Export Council

(AHEC) to each design and develop a Hardwood bench for

outdoor use in a public space. The bench needed to be designed

in such a way that people who sit on it are forced

to separate by the current social distancing minimum of 2

meters. This would negate the need for warning

signs and allow for people to sit in a relaxed

way without having to think about whether they

are too close to the next person. However, the

design of the bench would also allow for conversion

to accommodate more people, closer

together, as and when the time comes for social

distancing regulations to be relaxed. This

will ensure that the benches retain a legacy as

functional public seating in the future.

Please Sit Here draws inspiration from the

AHEC's many high-profile and ambitious collaborations

to date, in the UAE and also in

Europe, Australia and South Africa. These projects have

included multiple design teams, imaginative briefs, innovative

designs and the very best of wood craftsmanship,

to celebrate the beauty, performance and sustainability of

American Hardwoods.

Because the benches are for outdoor use, the Maple

and Red Oak offered was thermally-modified, involving

high heat in a vacuum, carried out after normal kiln drying.

Thermally-modified timber (TMT) is ideal for exterior appli-

No matter your political persuasion,

the seemingly endless 2020

Election is over. Now the votes are

cast, and the people have spoken, although

it took some time to figure out

exactly what they said. Regardless

of how your preferred candidates fared, we as a country

will go on. And the Hardwood Federation will continue to

work across the aisles in our nation's Capital to move legislation

that supports the U.S. Hardwood industry and defend

against negative policies that threaten to harm our sector.

While most professional pollsters in the days leading up to

the elections predicted a Democratic wave to take the White

House and the Senate, as well as add seats to the Democratic

majority in the House, it appears that voters had other

ideas. The election was much closer than expected. Former

Vice President Joe Biden will be sworn in as the 46th

President but it was a much tighter race than anticipated.

Republicans unexpectedly gained seats in the U.S. House

of Representatives, but Democrats will retain control of the

House; however, they will have the smallest majority since

World War II which will make for some interesting policy maneuvering

for their leadership.

The Senate will remain in Republican

hands, although only very narrowly,

until at least early January

when both Georgia Senate seats

head for a run-off election. Election

trends and history seem to point to Republicans maintaining

at least one, and probably both seats, but this is not a guarantee

in the least. Should both seats go to the Democrats,

this scenario will change and Democrats will have control,

but only by virtue of the tie-breaking role held by incoming

Vice President Kamala Harris. All eyes will be on Georgia

until the election and it is anticipated that it will be the most

expensive Senate race in history. It is important to keep in

mind that, whoever controls the Senate, the party's margin

will be very slim. Typically, 60 votes are needed to move

legislation in the upper chamber which requires opposing

party support to pass any legislation. There are parliamentary

ways around this, but historically the 60-vote requirement

has been honored. In order to move any legislation,

some compromise, on both sides, will be necessary. We

will again most likely be working with a split government

Please turn to page 51

Please turn to page 59

BY MICHAEL SNOW,

EXECUTIVE DIRECTOR,

AMERICAN HARDWOOD

EXPORT COUNCIL,

STERLING, VA

703-435-2900

WWW.AHEC.ORG

BY DANA LEE COLE,

EXECUTIVE DIRECTOR,

HARDWOOD FEDERATION,

WASHINGTON, DC

202-463-5186

WWW.HARDWOODFEDERATION.WILDAPRICOT.ORG

14 JANUARY 2021 n NATIONAL HARDWOOD MAGAZINE JANUARY 2021 n NATIONAL HARDWOOD MAGAZINE 15
---
WCMA INSIGHTS

NHLA NEWS

WCMA LOOKING FORWARD TO 2021!

TIME FOR A CHANGE

Well 2020 did not turn out quite as we had

hoped! Our plans for a European Plant Tour

Event, Regional One-Day Event, and of

course our signature Fall Conference and

Plant Tour Event all changed. The European

Plant Tour Event and Regional One-Day

Event have been postponed, but we were

successful in hosting a virtual Fall Conference

and Plant Tour event in November.

Changing to a virtual event for the Fall Conference had

its challenges, but by the time we went live I was proud of

our offering to members. The plant tour hosts were excellent,

and we had three dynamic speakers on topical issues.

Tours included Unalam in Unadilla, NY, Baillie Lumber's

Smyrna, NY plant, and Inova in Altamont, NY. Each tour

gave a behind the scenes look at the hosts manufacturing

facility, an interview with the tour hosts, and participants had

a chance to have their questions answered live.

Our speakers included Jeff Finney, with Ultimate Cabinet

Components, who spoke on Practical Lean. Jeff shared with

attendees the pillars of lean, how to get started and keep it

going, and gave great examples of Lean Manufacturing in

his plant. We also had an update from the Real American

Hardwood Promotion Coalition on their efforts to promote

American Hardwood to consumers over substitute materials.

Our final speaker was Taylor St. Germain, with ITR Eco-

nomics, who gave an economic update,

including, economic forecasts, economic

indicators of utmost importance to watch,

and time-sensitive events of public concern.

The event was recorded for those that

were unable to participate live. If you are

interested in viewing the Virtual Fall Conference,

please contact the WCMA office.

I am now looking forward to 2021, and cannot wait until

we can all get together in person again. The WCMA Board

of Directors is meeting this month to work on our strategic

plan for the upcoming two years, and we will have exciting

things to announce after those sessions. Our board cares

about the members and wants to continue to offer excellent

programs and services to help our members be successful.

WCMA Membership – If you are NOT a member, you

are missing out!

If you are a manufacturer of wood components or dimension

stock, membership in the Wood Component Manufacturers

Association is now more important than ever. The

association remains committed to becoming a progressive,

nationally recognized association whose focus is on meeting

the needs of its members. One of the main reasons that

members join and stay with the WCMA is because of the

access that it provides to a wide range of industry experts.

In 1948, NHLA "borrowed" a one room garage

area from Nicky Brothers Lumber Company

to house the first class of the NHLA Inspector

Training School. At that time, no one

could know that history was being made. The

first class graduated 46 NHLA students, most

of whom were veterans returning from World

War II in pursuit of a career that would support their families.

The next year, the first permanent classroom was built

on donated land. At that time, classes were five months in

length and often included 40 plus students.

My how times have changed.

As the years progressed, the industry changed, School

attendance became smaller, learning strategies evolved

dramatically, and it became more costly to send students

to the School for a prolonged length of time. Chief Dana

Spessert, ITS Instructor Roman Matyushchenko and the

NHLA Inspector Training School Committee have been

working on creating a new approach to make the School

more accessible, effective, and affordable. Included in the

plan is the adaptation of the delivery of the ITS curriculum

to accommodate the learning styles of a new generation of

students.

For example, we have introduced virtual learning in the

classroom thanks to the generosity of the Inspector Training

School Educational Foundation (ITSEF). The electronic

whiteboard donated by ITSEF allows educators from all

over the industry to conduct seminars on topics

of importance streamed directly into the

ITS classroom. We are also thankful to IT-

SEF for playing a key role in obtaining new

lumber for training and board run testing.

We learned from member surveys and

from one-on-one feedback that the cost of

attending the School has become too high for many members.

After a great deal of research and additional conversations

with industry leaders, NHLA held a beta test over

the summer to determine the effectiveness of a modified

curriculum and seven-week time period class. We learned

a great deal from the experience. Most importantly, class

graduates achieved grade point averages on par with our

"traditional" 12-week program.

After careful deliberation, the decision was made to keep

to the shorter format, but to extend the class to eight weeks.

Much of the curriculum was influenced by the member survey

results. Our first eight-week class will begin on January

5, 2021. Students will continue to memorize all of the definitions,

general instructions, and standard grades. And while

the requirement to memorize species exceptions will be relaxed,

students will be required to pass proficiency tests.

School hours have also been increased to allow students to

receive a higher number of classroom hours.

Prior to the new eight-week class, students would spend

approximately a month memorizing the Rules during class

Please turn to page 60

Please turn to page 61

BY AMY K. SNELL, CAE,

EXECUTIVE DIRECTOR,

WOOD COMPONENT

MANUFACTURERS ASSOC.,

LINDSTROM, MN

651-332-6332

WWW.WCMA.COM

BY LORNA D. CHRISTIE,

EXECUTIVE DIRECTOR,

NATIONAL HARDWOOD

LUMBER ASSOC.,

MEMPHIS, TN

901-377-1818

WWW.NHLA.COM

16 JANUARY 2021 n NATIONAL HARDWOOD MAGAZINE JANUARY 2021 n NATIONAL HARDWOOD MAGAZINE 17
---
Pictured left to right are: Kent Barnes, co-owner, Salena Ball, co-owner and Marty Ferguson, production manager.

Hardwood Floors of Hillsboro LLC:

Quality Flooring and Relationships

By Deborah Wilbrink

Photos by Michael Mowbray

Hillsboro, WI–"We don't have a website. That's a

non-compete courtesy to the wholesalers who buy

flooring from us to re-sell," said co-owner Salena Ball of

Hardwood Floors of Hillsboro LLC (HFH), located here. Ball

emphasizes the relational approach for sourcing, production

and sales at HFH. She and her husband, Kent Barnes,

are co-owners who lead the company's production of unfinished

Hardwood flooring from random widths of Northern

Hardwood kiln-dried lumber.

HFH purchases 3 million board feet yearly of Red and

White Oak, Ash, Cherry, Birch, Red Elm, Hickory, Hard Maple,

Black Walnut and Rift/Quartered Red and White Oak.

The majority of purchases are 15/16-inch, No. 1 Common,

No. 2A Common and special sorted/graded rustic character.

The Northern Hardwoods are the preferred species. Ball

explained the purchasing strategy. "Suppliers typically are

within a 250-mile radius, reducing shipping costs. These are

trusted suppliers who are vertically integrated which means

the supplier typically owns the timber land, sawmill and kiln

operation caring for the wood every step of the way. HFH

favors vendors who offer consistent quality and quantity.

"When you are growing a business, you do everything you

can to help grow the relationship with suppliers. We pay our

"We provide a quality

product for a fair price.

Our work is the proof in

the pudding. Our

customers know that we

are going to take care of

the product and be

consistent. We make it the

best we can every day."

–Salena Ball, co-owner,

Hardwood Floors of

Hillsboro LLC

HFH produces unfinished Hardwood flooring from random widths of

Northern Hardwood kiln-dried lumber.

bills on time, which seems to increase our ease of access to

the lumber they have. We buy based on their great supply

of lumber and on the relationship."

When Salena Ball moved to Wisconsin in 2000, she

thought her floors would someday need refinishing. She

clipped out an ad and taped it inside a kitchen cabinet door.

Not unusual for Ball, who had worked for Wolohan Lumber

in Rockford, IL, in the softwood framing and cabinet department.

"I was in the right place at the right time in the 1990s,

when the wood trades were opening up to women," she recalled.

"I find wood very interesting. Even within the same

wood species one board can look completely different than

another. It's a very interesting thing Mother Nature can do.

If you take the time to smell the roses and really look at a

piece of wood, you can find unique characteristics usually

in each board. The same thing comes through in a piece of

lumber or wood flooring, if we take the time to slow down

and notice! That's sometimes hard to do in life. I try not to

take that for granted."

Two years later, Ball called the number of the ad and Kent

Barnes arrived to estimate. Barnes told the homeowner that

nothing was needed and what to watch as the floor aged.

In the course of their conversation, he learned about her

background in lumber. Barnes and his partner soon hired

Ball for additional administrative help. Later, the company

converted from installation to manufacturing. When Barnes'

partner was ready to retire in 2007, Ball bought his share.

Please turn to page 35

HFH's custom orders vary in thickness, as in floors for

log cabin lofts. Custom plank options and micro-bevel

milling options are also available.

HFH purchases 3 million board feet yearly of Red and White Oak,

Ash, Cherry, Birch, Red Elm, Hickory, Hard Maple, Black Walnut

and Rift/Quartered Red and White Oak. The majority of purchases

are 15/16-inch, No. 1 Common, No. 2A Common and special sorted/graded

rustic character.

18 JANUARY 2021 n NATIONAL HARDWOOD MAGAZINE JANUARY 2021 n NATIONAL HARDWOOD MAGAZINE 19
---
"We are continually striving to bring the best

combinations of quality, service and price to

our business partners. We know relationships

require trust and dependability. So, we continue

to work hard building and improving

upon past experiences."

– CEO Russell Rucker

PWD Inc.

SERVING THE

HARDWOOD INDUSTRY

FOR OVER 30 YEARS

By Michelle Keller

ewton, KS–Wholesale distribution yard PWD Inc.,

located here, carries Hardwood lumber, Hardwood

plywood, decorative panels, and solid surface

products.

The company purchases approximately 2 to 3 million

board feet annually of: Alder, Aspen, Yellow Birch, White

Birch, Cherry, Hickory, Pecan, Northern Red Oak, Appalachian

Red Oak, Southern Red Oak, White Oak, Red Leaf

Soft Maple, Silver Maple, Hard Maple, Poplar, Walnut and

Glacierwood Thermal stabilized wood. Grades purchased

and sold are upper quality FAS, No. 1 and 2 Common, kilndried

and surfaced/straight lined. The majority of lumber

stocked at their facility is 4/4 thickness with some 5/4, 6/4,

8/4 and thicker material less prevalent.

Established in 1965, CEO Russell Rucker said PWD Inc.

operates under the philosophy of creating good partnerships

with their customers and suppliers. "We are continually

striving to bring the best combinations of quality, service

and price to our business partners," he explained. "We

know relationships require trust and dependability. So we

continue to work hard building and improving upon past experiences.

We realize that our prosperity is linked directly to

that of our customers and we take pride in contributing to

their success."

Red Oak is among the 2 to 3 million board feet of lumber that

PWD Inc. purchases annually.

From a 50,000-square-foot warehouse with average on-hand inventory

of 100,000 to 200,000 board feet, CEO Russell Rucker said the

company transitioned into Hardwood lumber during the 1980's. "We distribute

our Hardwood lumber and products mostly to cabinet, millwork,

OEM, RV and lumber yards in the central United States," he explained.

Other decorative products such as the company's outdoor living products

like Glacierwood or Diamond Surfaces are sold nationally.

The majority of the operation's Hardwood lumber stocked and sold

comes from Northern mills with Appalachian Red Oak and a small

amount of Southern lumber, all coming from the United States. "We sell

some imported species, but the vast majority is American produced,"

Rucker said. PWD's Hardwood lumber is kiln-dried at a standard of 6 to

8 percent moisture content with very little being air dried.

When asked what advantages there are to the species of wood he

purchases, Rucker said, "Color, quality and consistency are always the

goal. We use species like Aspen for drawer sides instead of Maple for

example. Alder as a Cherry replacement is an example of balancing

the value of cost vs. quality. Generally the influx of imported lumber

and plywood combined with the quick changes in trends from television,

has created a desire for upscale designs on shoestring budgets.

So balancing expectations with reality is a consistent theme throughout

our industry."

The company's surface products include Flagstone, rocks and boulders.

Available in several colors including tan, calico, salmon, red and

mixed reds, Flagstone is offered by single pallet or full truckload quantities.

Rocks are sold in several different sizes by a one ton bag or a truckload.

Great for accenting outdoor environments, the operation's Mossy

Boulders are also available in single pallet or truckload quantities.

PWD Inc. is also a distributor for Diamond Surfaces USA. Products

available include industrial and residential surfaces such as countertops;

backsplashes; workstations; islands; breakfast bars; furniture tops

and window sills. Vertical offerings include tub walls, shower walls and

Please turn to page 36

Logistics Coordinator Rusty Hartley, left, and CEO Russell Rucker are pictured.

Soft Maple is one of the many species carried by

PWD Inc. of Newton, KS.

The majority of the operation's Hardwood lumber

stocked and sold comes from Northern mills.

PWD's Hardwood lumber is kiln-dried at a standard

of 6 to 8 percent moisture content with very

little being air dried.

20 JANUARY 2021 n NATIONAL HARDWOOD MAGAZINE JANUARY 2021 n NATIONAL HARDWOOD MAGAZINE 21
---
Equipment and Services Providers

Continue

Offering Solutions

By Matthew Fite

Companies providing equipment and other services to the Hardwood lumber industry saw challenges in the

economy in 2020 but pushed ahead. These firms also have seen challenges in the trajectory of the industry – but

have pushed ahead. For 2021, equipment manufacturers and chemical producers see opportunity. Adding hi-tech

solutions to sawmills can help the mills' bottom line – and enable these equipment and services providers to

continue pushing ahead.

George Barker

Biolube

Fort Wayne, IN

Biolube Inc., provides trouble-free Lubie® spray application equipment, saw lubricants, moulder bed

lubricants, grinding coolants, pitch cleaners and other specialty products that allow sawmills to increase

their bottom lines with the most environmentally friendly products available.

For 2021 the Lubie bandsaw lubricant line, both Hardwood and softwood, is being reformulated to

give higher performance without increasing cost. A new line of lubes for guided gang saws will be introduced.

We continue to see strong growth in the pallet industry with emphasis on longer band life with higher

feed speeds. n

Lance Johnson

ISK Biocides, Inc.

Memphis, TN

George Barker

I consider 2020 to have been a very successful year for us because we were able to attain respectable results in a tough

environment. I expect the industrial side of our business should only get better in 2021. It may be tough to repeat the strong

sales we had in our retail products in 2020 as many consumers took the opportunity to work on their house while they were

supposed to be working from home.

We held our own with our industrial (lumber treating) products, but our retail products really thrived.

In 2020 we launched a new anti-sapstain chemical called 22 Express. We are very pleased with the

results, although the roll-out was slowed somewhat by COVID-19 travel restrictions early in the season.

The LTL carriers stayed busy and filled to capacity almost immediately at the start of the recovery, so

we did experience more delays than normal in our LTL shipments this year. We had no major issues

with international shipments, neither in raw materials coming in nor in finished goods going out.

Our angle on this is as an importer rather than exporter. While additional tariffs are a concern and

would be painful, I personally see them as a short-term issue and have much more concern over our

reliance on China in the long term. The chemical industry is reliant on China for many components, and

I believe the trade issue as well as some global shortages incurred in the last couple of years have

Lance Johnson

shed some much-needed light on the situation. I hope it will bring some changes to the global supply

chain. n

Paul Cleereman

Cleereman Industries

Newald, WI

Cleereman Controls offers Proportional Controls, Linear Controls, 3D Scanning Optimizer, Stave Mill Controls, Trimmer

Controls, Edger Controls, Auto Saw Guide, Start/Stop Console, MCC Electrical Starter Cabinets, Debarker Controls and

Automated Log Lines.

Cleereman Industries is a solution-based company that offers everything from single piece equipment sales to turn-key

style sawmills. We have our own in-house engineering department for both Cleereman Industries and Cleereman Controls

which allows us to handle everything from start to finish. We can custom build our equipment to meet our customer's

needs. With the recent addition of the controls company we have been able to design a lot of the electrical control panels

and starters into our equipment packages and save our customers a lot of money and time on their electrical costs. The

combination of Cleereman Industries and Cleereman Controls has taken us to another level of customer service.

Cleereman Industries is constantly striving to make improvements on our current lines of equipment, and our research

and development department is always working on new or improved equipment for our industry. Just in the last few years

we have added Cleereman Controls Company along with our new Stave Mill equipment lines and Debarker lines.

Cleereman Industries is in the final design stages of our new Cleereman Optimized Edger system for the smaller to midsized

sawmills. Cleereman Controls division has been working on a new type of scanning system for our optimized edger

that will fit in existing mills. Our new design will fit into existing Edger locations at a price point that the smaller to mid-size

sawmills can afford. This should be quite appealing to a lot of sawmills in this industry.

We observed mills looking for more of a "turn-key" type project rather than looking after the project themselves. Whether,

the project is a complete, new mill project or an upgrade to an existing mill, owners have relied on the supplier to do most

or all of the project, from design to start-up. Customers appreciate the ability to do "one stop shopping" and it helps projects

run smoother with a lot less people directly involved. Cleereman Industries can provide everything from start to finish to

our customers.

Stefan Dracobly, president of Cleereman Controls is constantly looking at the latest technology available to the sawmill

industry. Stefan says the research and development department at Cleereman Controls is constantly testing new products

and technology. Stefan lists some of his thoughts below:

• Scanning: Newer scanners are coming out with higher density scan data. In conjunction with faster, newer computers,

this data can be more easily utilized to increase our accuracy of the scan and minimize mistakes created by nebulous scan

data.

• Reporting: With report databases the norm, getting the data to sawmiller is important. This can be done by printing,

emailing or texting.

• PLC: With internet access in the sawmills, engineers can remotely attach to control systems for remote monitoring,

troubleshooting and upgrades from anywhere in the world. This saves the customer the cost of an in person service trip.

• PLC: More and more remote IO devices are being created to minimize the need for multiple runs of cables. These new

devices allow multiple sensors and valves to be connected to a local centralized device that then has a minimal amount of

cabling back to the main cabinet.

Cleereman manufactures: Carriages -- Air Setworks, Hydraulic Setworks and Linear Positioning;

Carriage Drive -- Hydraulic Drives, Hydrostatic Drives, AC Regenerative Drives; Log Turner – Standard,

Bottom Pivot, Versa Turner, Cornerless Operators Cabs/Control Booths, Track Frames, Carriage

Rail (30#, 40#, 60#, 80#), Cable Tightener and Sheaves, Airbag Tightener, Hydraulic Tightener, Cable

Sheaves, Saw Husks, Arbors and Mandrels, Saw Guides, Log Decks, Stop and Loaders, Log Troughs,

Drop Belts, Husk Offbearer Belt, Chain Transfer Deck, Rollcases, Belt Conveyors, Unscrambler, Transfer

Deck, Semi-Circle Systems. The firm also offers: Resaw Systems—Runarounds, Infeed Tables,

Outfeed Tables; Edger Line -- Board Edger Feed Systems, Accu-Cut Trimmer, Double End Trimmer,

Carriage Power Units, Log Turner Power Units, Custom Power Units, Conventional Sawmill Packages,

ST54 Lumber Pro Thin Kerf Bandmill, ST64 Lumber Pro Thin Kerf Bandmill, and Debarker. n

Paul Cleereman

Please turn the page

22 JANUARY 2021 n NATIONAL HARDWOOD MAGAZINE JANUARY 2021 n NATIONAL HARDWOOD MAGAZINE 23
---
OFFERING SOLUTIONS Continued

Frances Cooper

Cooper Machine

Wadley, GA

2020 has been a year of highs and lows for Cooper Machine. The beginning of the year was slower

than normal with machine sales, while part sales and upgrades were up. But since the summer, machine

sales have really increased.

COVID-19 has definitely been a challenge for us. Since the pandemic started, we had employees

and their families affected by COVID-19, including the Cooper family, but fortunately everyone was Frances Cooper

able to weather the storm. It slowed down production a bit, but with safety protocols in place we are

full steam ahead.

Our biggest seller is of course the Scraggs that we are best known for. You get so much more life out of a Cooper Scragg.

We've had orders for both our Tandem Sharp Chain Scraggs and Overhead Scraggs. We now have several options for the

controls including A&E's PLC and optimization. We are also busy building Edgers and have great reviews on our Optimized

Edgers, which for the price, have a payback of 1-2 years depending on your mill layout.

In 2020, we introduced an Optimized Slab Edger with hogging heads. We can also mount chipping heads on it as well.

Using A&E optimization and controls it gives you the recovery that you need. We anticipate that our customers will continue

to want to automate equipment to minimize labor. This is why we are doing more automation of our equipment.

For the rest of 2020 and 2021, we expect the pallet industry to continue to improve. While there are quite a few mills going

out of business, as you can see with all the auctions happening, we are seeing several new pallet and softwood mills

(especially larger pine) being started up in certain pockets of the country. We expect this to continue into 2021.

The Cooper name stands for quality and service, and as more customers are looking at ways to optimize their mills, cut

down on labor and get more out of every log, we expect business to continue to be good.

For more information on our offerings view our website at www.coopermachine.com, contact Frances Cooper at 478-

252-5885 or email us at info@coopermachine.com. n

Dan Mathews

SII Dry Kilns

Lexington, NC

Mario Godbout

AUTOLOG

Blainville, QC

AUTOLOG offers: Tally system with backup/failure protection, Stacker, Carriage Optimizer and a full

set of optimizer and control systems for the sawmill.

New equipment includes R-TRAC Rotation Tracking System, a revolutionary non-contact rotation

measurement system that measures the rotation of a log in real time without interacting with an optimizer.

The R-TRAC sends the total rotation measurement to a PLC every 10ms and the PLC can

control the log turner in a close loop based on these measurements. R-TRAC allows for you to turn the

Mario Godbout

logs within five degrees every time, the first time. No after correction is needed.

Carriage optimizer upgrades were more common in 2020 and we expect that trend to continue as equipment currently in

use is outdated. The new optimizer version gives more flexibility and has a better log modeling, resulting in more recovery.

People tend to under-evaluate the return on updating software, but software usually has an improvement rate faster than

that of a mechanical upgrade. Updating a 10- or 15-year-old software can give a very good ROI.

Our GEN3 technology provides the users with more tools to help them in their day-to-day tasks. GEN3 was developed

with two goals in mind. The first one was to build a better software with best practices, and the second goal was to help the

customer with their daily tasks. This provided tools (such as live simulation, keeping previous solution, simulation capacity,

display zones, faces measurement, etc.) that help with quality control, testing product basket and minimizing downtime by

allowing more offline tests that do not impact production. We also worked on a better modeling of the log (more accurate)

which offers a higher yield and a shorter payback. n

Steve Hoagland

Pantron Automation Inc.

Belmont, NC

Pantron Automation, Inc. is the North American distributor of high-powered infrared photoelectric

systems that are manufactured by the German manufacturer Pantron Instruments, GmbH. The incredibly

powerful photoelectric sensors (photo eyes) are used in the most challenging areas of sawmills for

detection, measurement, sorting and placement of logs and also for sensing the level of sawdust or

pellets in bins.

IO-Link technology is the newest advance in sensors, light grids, measuring grids and proximity sensors.

Pantron Automation offers a variety of these IO-Link products where automation in a mill can be

Steve Hoagland

all tied in together.

Pantron Automation was and is considered an essential business because of its ties with the wood industry and many

other essential manufacturing facilities. We are a small office in Belmont, NC and have managed to do quite well this year

and plan to continue this trend.

Again, Pantron Automation offers the new IO-Link technology through the distribution of Contrinex, EGE and Disoric

sensors. n

For over 50 years we have put our experience to work for our customers while building long-term

relationships. SII is a full-service dry kiln manufacturer offering custom designed package kilns, track

kilns, large capacity center fan wall package kilns, heat treaters, cross flow pre-dryers and fan sheds.

We also offer vacuum and thermal modification kilns through WDE Maspell, the world's most respected

name in vacuum drying. All of these products are designed to help you improve your bottom line.

We continue to develop solutions to optimize your dry kiln performance with products such as the

SII "Kiln Dry" Computerized Control System and the most widely used in-kiln weight-based monitoring Dan Mathews

system, "Sample Watch." Additionally, we have recently totally redesigned our steamers to eliminate

Stacy Mellott

run-off and utilize closed loop steaming with little or no live steam spray required.

Mellott Mfg. Co., Inc.

It is no secret that the Hardwood industry has faced many challenges over the past few years. Capital expenditures for

Mercersburg, PA

drying equipment were very limited for the first half of 2020; however things began to loosen up somewhat in the last half of

the year. Tight markets traditionally mean refurbishment of existing equipment versus buying new, and 2020 has certainly

Mellott offers a full line of quality log and lumber handling equipment and system designs to provide

seen much of that. We have seen continued interest in replacing outdated systems from other manufacturers and expect

the best solution for the application. Included are: 6 foot Bandsaw and 7 foot Bandsaw with either vertical

or 17- degree tilt, Band Linebar Systems, Tie Dapper, Two Saw Trimmer for Ties and Large Mat

that trend to continue into 2021. Some markets such as staves and pallets were still active in purchasing new drying equipment.

In the southern states we have seen Hardwood mills purchasing equipment for drying yellow pine and/or utilizing

Timbers.

Hardwood kilns for drying pine. We expect that this trend will continue into 2021.

We offer replacement equipment by repeat customers and custom machinery projects. Also, due to

The SII Computerized Control System provides you with the tools for real-time kiln management utilizing in-kiln moisture

customer demand we have made upgrades and expanded our tie and timber handling product line.

measurement with "Sample Watch" our integrated weight-based platforms and/or moisture probes. "Utility Watch" as a part

Stacy Mellott

Recent 2020 installations include a Drop Saw Trimmer designed to trim up to 8 inches and pass 12-inch

of your control system is a powerful tool to help you manage your energy load when approaching "peak load" thereby reducing

your electrical costs. Operating in the background, the SII "Steam Management" system allows you to prioritize the

There is optimism that business will continue in this direction through 2021. Mellott looks to remain strong in manufactur-

material, Two Saw Trimmer, Tie Dapper and End Plating and Tie/Timber Sorting systems.

steam load for your kilns, which in turn allows you to maximize your drying operations when available steam drops below

ing through our diverse product line of quality machinery.

your normal operating range. These systems combined with the support offered by SII Dry Kilns provide you with the tools

Mellott uses the latest "off the shelf" control components from Rockwell Automation and Delta Computer Systems. Machine

troubleshooting and logic changes are provided remotely via the internet. n

you need to improve your profitability and maximize product quality. n

Please turn to page 37

24 JANUARY 2021 n NATIONAL HARDWOOD MAGAZINE JANUARY 2021 n NATIONAL HARDWOOD MAGAZINE 25
---
If History is an Indicator, the Hardwood

Market Will Rise to Meet the Demand

By Sue Putnam

Hardwood Market Report Editor David Caldwell recently

presented the Hardwood Market Update during a complimentary

webinar hosted by the Hardwood Manufacturers

Association. To follow are excerpts of Caldwell's presentation.

How 2020 Began...

2020 started out with such great promise. On January

15th, China rolled back tariffs on U.S. produced Hardwood

lumber. Hardwood lumber sales to China increased in January

to the highest monthly level since May of 2019.

Domestic business was clipping along at a nice pace too,

led by the longest housing boom since the U.S. Census began

tracking housing data.

And, industrial markets were performing well.

In January, Eastern U.S. sawmill production recorded the

highest level of output since October of 2019 and remains

the monthly highest rate this year.

COVID-19 changed all of that. As we know, the virus

started in China, and that country's economy was hit first

and hit hard.

In February and March

of 2020, exports to China

fell to the lowest pace

since December of 2011.

In fact, all countries have

experienced a downturn

in economic activity from

the pandemic.

The result of 2020's

turbulence has been dramatic.

GDP hit an all-time

low in the second quarter

of 2020 at -31.4%.

The Hardwood industry

has not been spared.

David Caldwell

Through the first half of the year, industrial markets fell

1.1BBF; exports were off 159MMBF, and domestic grade

lumber usage tumbled 723MMBF. Total consumption is

down almost 2.0BBF in 2020 from 2019.

The main takeaway here is that industrial product consumption

grew as a percentage of the total in 2020: 57.6%

in 2019 to 58.9% in 2020, which means grade lumber consumption

declined as a percentage of total consumption

from 42.4% in 2019 to 41.1% in 2020.

Production follows demand. In the first quarter of 2020,

Billion Board Feet

3.5

3.0

2.5

2.0

1.5

Hardwood Lumber Consumption by the US Furniture Industry

© 2020 HMR

sawmill output held up well, but as demand for lumber fell,

so did production, to the tune of 35%. We are on pace to

produce 1.8BBF less Hardwood material in 2020 than the

previous year. That is 2020 in a nutshell.

But, even more concerning is the Hardwood industry is

experiencing a longer-term trend in contracting demand

and production. •••

In this time series, consumption peaked

in 1997 at 3.0 billion board feet (BBF).

The 2020 annualized mid-year estimate

is .331 BBF. That is a loss of 2.669 BBF

of domestic grade lumber usage.

1.0

2019 Hardwood Consumption

2020 Hardwood Consumption

0.5

*Mid-year estimate

57.6%

0.0

1991 1997 1999 2000 2001 2002 2003 2004 2005 2006 2007 2008 2009 2010 2011 2012 2013 2014 2015 2016 2017 2018 2019 *2020

42.4%

© 2020 HMR

Grade

Pallet

Lumber,

Cants,

Ties,

Board

Industrial Products: 4.786BBF

Grade Lumber: 3.518BBF

Total: 8.304BBF

41.1%

Grade

Lumber

Pallet

Lumber,

Cants,

Ties,

Board

Road/Mat

58.9%

Industrial Products: 3.709BBF

Grade Lumber: 2.588BBF

Total: 6.297BBF

Long -Term Adjustments to the U.S. Furniture Industry

The U.S. furniture industry is the most notable example of

the longer-term contraction of grade Hardwood lumber usage.

It is estimated that 70% of furniture manufacturing has

moved out of the U.S.

In 1999, the U.S. furniture industry used 3.0BBF of Hardwood

lumber. In 2020, consumption was 331MMBF. That is

a loss of almost 2.7BBF of grade lumber consumption.

Lumber prices have been affected from offshoring fur-

niture manufacturing. Green 4/4 No. 1 Common Red Oak

prices were fairly steady between 1992 and 2001, following

U.S. housing market trends. As demand from the U.S. furniture

industry decreased, lumber manufacturers were more

reliant on foreign business or non-traditional markets, such

as the solid wood flooring industry as outlets for 4/4 No. 1

Common Red Oak. The rapid rate of price change makes

it difficult for primary and secondary manufacturers, as well

as yards to plan for the future.

Please turn the page

26 JANUARY 2021 n NATIONAL HARDWOOD MAGAZINE JANUARY 2021 n NATIONAL HARDWOOD MAGAZINE 27
---
HARDWOOD MARKET UPDATE Continued

Moulding, Millwork, Cabinetry Trends

From 1997 through 2003, the moulding/millwork industry

consumed 1.3BBF of Hardwood lumber. During the current

trend to painted mouldings and millwork, non-wood products,

softwoods, and imported species have taken market

share from U.S. Hardwoods. Through the first half of 2020,

Hardwood lumber consumption by the moulding and millwork

industry was 386MMBF, much of which was Poplar.

That is a loss of almost 1BBF of domestic Hardwood consumption

from the peak. It seems to me that if we were promoting

Hardwood show woods, we could increase higher

value Hardwood species usage significantly.

Consumption by the cabinet industry peaked in 2005 at

1.6BBF. Granted that was at the height of the U.S. housing

market. The 2020 annual estimate is 270MMBF. The sharp

drop in Hardwood lumber usage by the cabinet industry in

2020 is heavily tied to COVID-19 shutdowns.

But, the longer-term trend has more to do with style shift

and cabinet imports.

Over the past few years, there has been a shift to painted

cabinets – light colored cabinets, light walls, and dark

floors. This consumer preference shift is problematic for

the Hardwood industry. You can put almost anything under

paint. There is more plywood, MDF, and HDF being used in

cabinet manufacturing. And, the painted cabinet trend has

opened the door for more imported species and imported

cabinets.

In the late 1990s, cabinet imports were low, with Oak cabinets

favored over other species. Even during the U.S. housing

boom in the early 2000s, imports were not extremely

high. But, as show woods became less popular and painted

cabinets more popular, cabinet imports spiked from 2014

through 2019. In 2018, imports were over 1.8 billion dollars.

But wood kitchen cabinet imports declined in 2020. Data

through July shows total imports were off 21.9% from 2019

to just shy of 1.1 billion dollars.

Obviously weaker demand the first half of the year was

part of the reason for the decrease in imported cabinets in

2020, but the U.S. Dept. of Commerce imposed duties on

Chinese cabinets, which stalled imports from China.

In 2018, China accounted for over 70% of cabinet imports.

Through July of 2020, China shipped only 4.7% of

cabinet imports.

Opportunity?

Is this an opportunity for U.S. manufacturers to regain lost

market share from imported cabinets? I think so. But, the

window of opportunity is narrow. Other countries, such as

Vietnam, Malaysia, Indonesia, and Mexico are producing

more cabinets to fill the void left by the decline in Chinese

cabinet imports.

And, those countries are not necessarily using U.S. produced

Hardwood lumber.

What about Solid Hardwood Flooring?

HMR's flooring consumption numbers include residential

solid wood flooring, truck trailer flooring, and sports flooring.

The truck trailer flooring industry uses about 22.4% of Hardwood

lumber consumed by all flooring manufacturers. This

industry experienced a sharp downturn in business the second

half of 2019 compared to the first half and is beginning

to see some improvement in business. In fact, this industry

is looking for a decent upturn in 2021.

The sports flooring industry is the smallest segment at

about 3.2% of total Hardwood lumber consumption, and

business for sports flooring manufacturers has held up better

than the other two sectors. This sector is wrapping up

projects that were planned a year or longer ago. New orders

are slower.

The residential solid wood flooring sector is the largest

consuming flooring market at about 74.4%.

Flooring shipments followed a similar trajectory to housing

until after the housing bust. From 2012 until now, housing

starts rose 73.8%, while solid wood flooring shipments

fell 4.4%.

Why aren't Flooring Shipments Keeping Pace with

Housing?

A number of competing flooring products are designed

to look like wood, and manufacturers have become really

good at imitating the wood look. Even worse, their promotional

campaigns tell consumers non-wood products are

better and more environmentally friendly than the real thing.

These products are taking market share from solid wood

flooring.

To a lesser extent, so have solid flooring imports. But,

solid wood flooring imports declined during the pandemic to

the tune of almost 45% in 2020 from 2019.

Imports comprised just 6.1% of total U.S. solid wood flooring

consumption in 2020 compared to 35.7% in 2005. Most

troubling is that even with imports down, U.S. shipments

to U.S. markets have declined over 185MMSF since 2005.

That equals about 300MMBF of lost lumber consumption.

The good news is flooring shipments are improving. After

extremely low shipments in April and May 2020, they

rebounded, rising each month after May. September 2020s

flooring numbers surpassed September 2019 by 7.2%.

Pallet, Railroad Ties and Board Road/Mat Timber

Trends

The wooden pallet and container industry consumes, by

far, more Hardwood material than any other sector. This industry

consumed 69.4% of all industrial material and almost

41% of all Hardwood production in the first half of 2020.

From 1991 to 2019, Hardwood pallet cant and lumber

consumption by the pallet industry declined 23.3% or

1.1BBF. I did not include 2020 numbers because those are

expected to increase before the end of the year.

The Hardwood consumption numbers are not going down

because fewer pallets are being made.

So why has Hardwood consumption declined over time?

Pine and other softwoods have taken market share as well

as plastic and other non-wood materials.

Estimates show the global market for pallets should increase

to $88.69 billion by 2026, with a compounded annual

growth rate of 5.1%.

Wood pallets are expected to account for the largest

share of the global market, but plastic pallets are expected

to grow the fastest.

The railway tie industry is the only Hardwood consuming

market that has grown since 1991. Hardwood usage has increased

over 31% since 1991. From 2012 through 2017 the

railroad industry consumed over 1BBF of Hardwood material

per year. There is a very easy explanation as to why we

have seen this level of growth. The Railway Tie Association

began the 2 cent per tie program in the early 1980s that

provides funding for research and development, as well as

promotional campaigns for wood railroad ties. These efforts

have proven wood is the best option for ties.

Longer term, rail shipments are expected to increase

even more. The U.S. Department of Transportation projects

1999 Hardwood

Consumption

Grade

Lumber

Pallet

Lumber,

Cants,

and Ties

59.6% 40.4%

Industrial Products: 5.21B bd. ft.

Grade Lumber: 7.7B bd. ft.

rail traffic to rise 24% over the next 30 years. With higher rail

traffic comes more tie installations.

Even with green 4/4 No. 2A Red Oak prices increasing,

there is certainly incentive for sawmill operators to saw railroad

ties. Not even taking into account the yield and production

advantages of cutting ties, prices for ties are substantially

higher than for green 4/4 No. 2A Red Oak.

Railway Tie Association Data shows a 4.9% decrease in

purchases this year from 2019. But purchases are expected

to regain some of those losses in 2021, up 2.8% to over 18

million ties.

What about the Board Road/Crane Mat industry?

These are some of the demand drivers for board road

and mat timbers.

• Transmission Lines

• Pipelines

• Drilling

• Roads and Bridges

• General Construction

• Board road and mat timber consumption is down. Estimates

for the first half of 2020 show usage is off 18.0% from

2019 to an annual rate of 346MMBF. With high inventories

and weak demand, it is likely this industry will not see much

improvement in 2021. •••

41.1%

2020 Hardwood

Consumption

Grade

Lumber

Pallet

Lumber,

Cants,

Ties,

Board

Please turn to page 38

58.9%

Industrial Products: 3.709BBF

Grade Lumber: 2.588BBF

Total: 6.297BBF

28 JANUARY 2021 n NATIONAL HARDWOOD MAGAZINE JANUARY 2021 n NATIONAL HARDWOOD MAGAZINE 29
---
POISED FOR GROWTH, THE WOOD

PRODUCTS INDUSTRY LEANS INTO 2021

By Sue Putnam

Jalbert made his comments during the North American

Wholesale Lumber Association Exchange meeting. His presentation

was titled Outlook for the North American Wood

Products Market: An Assessment of the Short- and Long-

Term Impacts of COVID-19.

"I think what is important to keep in mind is that single

family homes use about three times as much wood as

multi-family uses," he explained. "So that's the big question

of where the market is going to be in the coming years. A

one percent share shift in the total housing starts – from

multi-family to single family – increases demand incrementally

by about 125-150 million board feet annually of softwood

lumber. In our industry we have to keep in mind if

that work from home share increases five to 10 percent

points, that could be substantial in terms of the housing

space we need going forward. Even pre-COVID, we

expected a migration trend out of cities. COVID may be

accelerating that. Realistically, our single-family share

of projected housing starts is going to rise probably to

72-73 percent, which compares to 68-69 percent of

starts for single-family from about 2015 to 2019.

"Regardless of your view on COVID, demographics

are strong for the housing market. We are in a tailwind

in this industry."

Fastmarkets RISI Senior Economist Dustin Jalbert recently reminded

attendees during a virtual meeting that post-COVID – after the vaccinations

are distributed plus society and the economy have adjusted to life

with COVID – the possibility of more people permanently working from

home may accelerate a trend being defined in the housing market. That

trend, he noted, includes "more people having the flexibility to choose

where to live and where they can work, such as the suburbs. You will

see more home buying and bigger homes as a result, which I think is

obviously very, very bullish for the wood products industry overall."

Dustin Jalbert

Game Changers in this Future Market?

Affluent Millennials will make a significant impact in home

purchases the next few years, in large part due to the anticipated

migration post-COVID out of cities. "There is some

strong data available now that points in the direction that

affluent Millennials who were considering buying a home

anyway in a year or two from now, may be more prone to

do so and COVID is the catalyst to accelerate this process,"

said Jalbert.

COVID as a Market Disruptor

At the time of this writing, as COVID's next surge in cases

was exponentially increasing in the U.S., the pandemic's

disruption on the market was undeniable. Reviewing the injury

to the economy and the lumber industry, Jalbert noted,

"This COVID-related recession has actually occurred in

about a quarter of the time as compared to the Great Recession

of 2008 and 2009. But, it also has doubled in terms

of the depth of the decline – doubled what we saw during

the Great Recession. This has been immensely disruptive

for the economy for many reasons."

Jalbert cited the current unemployment numbers as concerning

even though they have declined from the 25 million

during the spring. Unemployment levels included both temporary

and permanent job losses early in 2020. "I do think a

Please turn to page 39

30 JANUARY 2021 n NATIONAL HARDWOOD MAGAZINE JANUARY 2021 n NATIONAL HARDWOOD MAGAZINE 31
---
1. Peter McCarty, TS Manufacturing, Lindsay, ON; Jeremy Pitts, Nyle Dry Kilns, Hickory, NC; Joe Savery,

Mountain City, TN; BJ Snyder, Poplar Ridge Hardwoods, Trade, TN; and Brandon Reavis, New Bern, NC

EnSafe Encourages Risk Analysis For

Hardwood Companies at ALC Meeting

By Tom Inman

John Evans, Ontario Hardwoods, Keysville, VA; Brett Brown,

Linden Lumber Co., Linden, AL; and Jeff Dougherty, Ally Global

Logistics, Jacksonville, FL

Steve Moore, Havco Wood Products, Vonore, TN; Dave Kocher,

Justin Laws, and Jason Powers, Southern Forest Products, Appalachia,

VA

Johnson City, TN – Appalachian Lumbermen's Club

members learned at a recent meeting here to evaluate

the risk of every action before taking it.

A representative of EnSafe, a leader in providing environmental,

health and safety services, spoke to the group at

the Carnegie Hotel. The company uses risk assessment to

streamline processes and customize solutions for companies

committed to safety.

Mike Palmer, EnSafe spokesman, said many companies

use generic training

programs that meet

applicable regulatory

training requirements.

EnSafe's approach is

to customize training

to address the specific

concerns of a particular

facility or group.

He said the programs

help employees

become familiar with

the workplace, aware

of hazards and assess

the risk involved

in actions. The EnSafe

team reviews material

safety data sheets,

process technology,

facility layout, and ex-

isting company standard operating procedures and develops

a procedure to train employees on conditions of the job

site.

The EnSafe model sends safety management experts

to clients to determine how companies can safely manage

highly hazardous equipment and chemical processes and

maintain compliance with Occupational Safety and Health

Administration (OSHA) and U.S. Environmental Protection

Agency (USEPA) requirements.

The company encourages

clients to

have a COVID-19

response plan, policies,

programs and

practices based on

current Occupational

Safety and Health Act

(OSHA) requirements,

as well as recommendations

from the Centers

for Disease Control

(CDC), and other

applicable agencies.

A systematic CO-

VID-19 Gap Assessment

should evaluate

and offer recommendations

for:

2. Bill Graban, Prime Lumber Co., Lexington, NC; Marty Cope, Associated

Hardwoods, Granite Falls, NC; and Bill Perry, Powell Valley Millwork, Clay City,

KY

Please turn to page 40

Tim Thornburgh and Wes Byler, Accord Lumber Co., Weymouth,

MA; and Andy Nuffer, DMSi, Kernersville, NC

Greg Pappas, Collins Hardwoods, Cove City, NC; Eddy Phillips,

Phillips Lumber & Farm Supply, Mountain City, TN; and Tyler

King, New River Hardwoods Inc., Mountain City, TN

Wayne Law and David Bailey, New River Hardwoods Inc., Mountain

City, TN; and Brian Ballard, Tioga Hardwoods, Claremont,

NC

Ray Hunt, Austin Hunt Lumber, Statesville, NC; Andrew Robinson,

Penn-Sylvan Inc., Spartansburg, PA; and Lance Johnson,

ISK Biocides, Memphis, TN

32 JANUARY 2021 n NATIONAL HARDWOOD MAGAZINE JANUARY 2021 n NATIONAL HARDWOOD MAGAZINE 33
---
HILLSBORO Continued from page 19

Seated left to right: Sean D. Powell, Roman Matyushchenko (Instructor), Benjamin Nicholas

Todd; and standing left to right: Michael Andrew Snider and Austin Andrew Wuesten.

The Graduation of the 193rd Class of the

NHLA Inspector Training School

Memphis, TN – The National Hardwood Lumber

Association celebrated the graduation of the

193rd class of the Inspector Training School

recently. Four students completed the 12-week traditional

program.

Dana Spessert, NHLA Chief Inspector and ITS Dean of

Education, welcomed and thanked the families, friends, and

employers who supported the students during their time

away from home.

Gary Snider, father to Class President Michael Snider

and himself a graduate of the 96th Class of the Inspector

Training School, gave the keynote address. "You are going

to leave the NHLA Inspector Training School with a unique

opportunity. It doesn't make any difference if you deal in

square inch Hardwood lumber, or if you deal in dimensional

lumber, panels, ties, or cants, the one common denominator

is grade. They're all marketed by grade, and that is what

you have learned here. You now have a skill that the industry

is clamoring for." He then congratulated the graduates

and challenged them to "take what you've learned at

NHLA Inspector Training School and apply it in an industry

at a company where you can not only make a difference but

where you can grow as an individual."

Class President Michael Snider addressed his fellow students,

following his father's remarks. "My grandfather built

an amazing career through the lessons he learned at the

NHLA Inspector Training School, and he laid the foundation

for my father and my uncle to come here and also build

great careers," he stated. "I have no words to explain how

proud I feel that I've been able to carry on the legacy of being

a lumber inspector and being trained by the great minds

at this School. I hope that one day I can give back to the

NHLA all the things it has given my family and me over the

course of the past three generations of Sniders."

Graduates of the 193rd class were:

• Sean Powell, B&B Sawmill

• Michael Andrew Snider, Independent

• Nick Todd, T.J. Moss Lumber

• Austin Wuesten, Superior Hardwood, LLC

School Instructor Roman Matyushchenko presented the individual achievement awards.

Outstanding individual awards recipients were as follows:

• Michael Andrew Snider, ITS Educational Foundation Award for Highest Overall Average

• Benjamin Nicholas Todd, Howard Hanlon Award for Second Highest Overall Average

• Michael Andrew Snider, Westside Hardwood Club Award for Highest Board Run Average

Please turn to page 50

In 2016, Barnes and Ball had a Mayan

wedding ceremony in Mexico, which she

said, fit their unorthodox personalities. "It was

supposed to be a small wedding," laughed

Ball, "but the conch shell call sounded like a

foghorn! Curious people at the resort rushed

to their balconies and to the beach, so we had

almost 1,000 uninvited wedding guests."

Today the co-owners work as a team. Both

handle purchasing and have a deep knowledge

of product. Ball is on top of the trends.

"White Oak material has been superhot the

last two years. It's a very durable and superversatile

wood species. It stains well or can

be used in it's natural color and you can get

a lot of looks just by the grade chosen. Red

Oak is a second choice. It's like having milk

and bread at home –everybody knows what

that is! A builder of condos or tract homes

may use Red Oak because of its familiarity to

potential buyers. When people want a naturally

dark floor without stain, Black Walnut is

the choice. We are near the Mississippi River

corridor, which is well known for producing

this high quality dark wood."

Fourteen employees work in the climate-

HFH moulds the raw material to a perfect,

smooth face.

The team at Hardwood Floors of Hillsboro (HFH), located in Hillsboro, WI.

Fourteen employees work in the climate-controlled 12,000 square foot manufacturing

building. With such a large manufacturing facility, climate control ensures

that lumber stays in the same condition in which it was kiln-dried to 6-8 percent

humidity.

controlled 12,000 square foot manufacturing building. With such a large

manufacturing facility, climate control ensures that lumber stays in the

same condition in which it was kiln-dried to 6-8 percent humidity. The building

uses radiant heat and air conditioning to prevent any changes from

storage to deliver to customer environments. There are two additional storage

facilities of 7,900 and 16,000 square feet, where overhead heaters and

dehumidifiers control temperature range and humidity.

HFH moulds the 15/16-inch raw material to a perfect, smooth face at

3/4-inch thickness. This is the most common size of Hillsboro's lumber,

which is sold to wholesalers, who resell to the installers and contractors.

Please turn the page

34 JANUARY 2021 n NATIONAL HARDWOOD MAGAZINE JANUARY 2021 n NATIONAL HARDWOOD MAGAZINE 35
---
HILLSBORO Continued

The end user will cut the flooring to length, sand it and finish

the flooring with stain and seal or a topcoat product. Custom

orders may vary in thickness, as in floors for log cabin lofts

No. 1 Common Birch, such as pictured, is among the lumber species

purchased by HFH.

which double as ceilings, or to match a layered flooring level

in an older home. Custom plank options and micro-bevel

milling options are also available.

"We provide a quality product for a fair price," said Ball.

"Our work is the proof in the pudding. Our customers know

that we are going to take care of the product and be consistent.

We make it the best we can every day."

With some of their wholesale customers within 60-70

miles, the company's goal is to grow the wholesale business,

not direct sales. Ball stated, "We want to continue to

service the customers we have and help them grow. Our

growth will mirror their growth. We want to have that small

business feel and personal relationship with our customers,

vendors and suppliers. It helps us stay grounded and we

know our customers and suppliers very well. Each has a

name, not just a number."

HFH is a member of the National Wood Flooring Association.

n

To contact company co-owner Salena Ball, email her at

hardwoodfloorsnmore@mwt.net.

Bob Jones, purchasing agent

years. Key personnel at PWD include CEO Russell Rucker,

Purchasing Agent Bob Jones and Logistics Coordinator Rusty

Hartley. As for the future of PWD Inc., Rucker stated, "Over the

years our business has changed in many ways and we continue

to plan for the future with respect for the past."

The average inventory at PWD is 100,000 to 200,000 board

feet of lumber.

PWD Inc. is a member of the Mid-America Lumbermens

Association (MLA), Architectural Woodwork Institute

(AWI) and the International Surface Fabricators

Association (ISFA). n

PWD Continued from page 21

bases; and bathroom partitions and wainscoting. Architectural

products such as chair rails; crown mouldings; casings;

and base mouldings are among other products offered

through Diamond Surfaces USA.

Rucker has been in the Hardwood lumber industry for

many years. "It is very interesting to look at where our business

started and the changes in technology that have made

our work lives very different," he said. "If you are younger

and have older co-workers, ask them about giving prices

over the phone and following up with paper mail days later;

making calls on rotary phones; typing on unforgiving typewriters;

and keeping actual hand-written inventory books."

When asked about the company's strong points he noted,

"Local ownership creates quicker response time and action

to be able to adjust to customer needs. Many years of experience

in the ranks lets us draw on past business successes

and failures to arrive at better solutions."

Rucker also said PWD Inc. is built around relationships.

"Long-term relationships with customers is what we strive

for and we do very well at it," he explained. "We have some

relationships that span over 30 years. Above all, we are

people who care about doing the right thing."

Rucker said recent changes include increased sales of

European Beech and that tariffs are affecting many businesses.

"Paying tariffs on Chinese products are hindering

sales of those products and lowering profits," he said.

"Americans are paying for the tariffs and only prolonged tariffs

will affect Chinese companies. Many OEM companies

have transitioned away from import plywoods because of

the unpredictable market."

He continued, "The changes in large truck regulations on

exhaust emissions have hurt every company who moves

freight. The large increase in breakdowns and truck life expectancy

is taking its toll. The new changes that will go into

effect requiring special schools to train CDL drivers is sure

to create a shortage of drivers and hurt many businesses

who depend on delivery of goods.

"I can see the pressure to deliver goods will add to the autonomous

truck race to bypass human drivers in the future.

Not a good thing in my opinion. Some of the hardest working

people ever have been truck drivers and they represent

the backbone of our country."

The company employs approximately 14 people, many

of which have been employed at the operation for many

Eric Michaud

Carbotech

Plessisville, QC

For more information visit www.pwdks.com.

OFFERING SOLUTIONS Continued from page 25

We provide innovative solutions to the sawmill industry (softwood and Hardwood) for log and lumber

handling or any other material handling. We can offer simple projects such as unique equipment supply

to complete turn-key solutions. For log handling, we can provide log decks, log conveyors, log feeders

(our well-known Sream Feeder) or a complete log merchandiser. For lumber handling, we have the

optimized trim line for sawmills and planer mills, stackers, grading lines for Hardwood, vertical and tray

sorters, lumber decks and conveyors and others. Mechanical and electrical installation can be offered

as well as the automation and the optimization of our processes.

Eric Michaud

We plan to expand our offerings in the log handling area by adding optimized log merchandising

systems to it.

The trend for equipment purchases will be positive and will continue to increase throughout 2021. The forest products

business has been good in 2020 for many sawmillers, I think they will spend some of their profits on the modernization of

Please turn the page

36 JANUARY 2021 n NATIONAL HARDWOOD MAGAZINE JANUARY 2021 n NATIONAL HARDWOOD MAGAZINE 37
---
OFFERING SOLUTIONS Continued

their operations in order to be ready for the next downturn.

With so many different technologies involved in sawmill processes now and the challenges of finding qualified people in

this industry, I think that many suppliers will have to develop tools for mill managers to monitor their operation so that they

can be sure that their equipment is performing the way it's supposed to. Real-time dashboards for key indicators of their

different production lines and dashboards and cameras for monitoring equipment status are some examples of software

that will need to be developed to help managers do a better job with their processes, operations and maintenance-wise.

Also, Artificial Intelligence will soon become a must and a reference for improving the scanning of logs, cants and boards.

Finally, and probably as important as bringing new technologies to the sawmill world, manufacturers will need to find a

way to simplify their equipment so that sawmillers can deal with it with the people they have in their mills. Sophistication is

good but, to a certain point, we're not in the aerospace industry with unlimited resources. n

WOOD PRODUCTS INDUSTRY 2021 Continued from page 31

better view of the employment market is actually to look at

permanent job losses, which are reported by the U.S. Bureau

of Labor of Statistics," commented Jalbert. "The unemployment

claims data and the unemployment rate masked

the true underlying employment impact from this recession

because of all the temporary jobs lost that have come back."

How did the Wood Products Industry Respond?

"It's pretty clear that the wood products industry from the

get-go early on in this crisis anticipated the worst," Jalbert

said. "Also, when you look at another impact from COVID,

we saw this historic level of curtailment in the industry, particularly

in late March through May.

HARDWOOD MARKET UPDATE Continued from page 29

In summary, in 1999, grade lumber markets comprised

almost 60% of total Hardwood consumption or 7.7BBF, and

industrial products were about 40% of Hardwood usage or

5.2BBF.

Those percentages have almost reversed and grade lumber

consumption was 2.6BBF in 2020, and industrial usage

was 3.7BBF.

That is a loss of 5.1BBF of grade lumber consumption,

and these numbers include exports.

Production follows demand.

Currently, Eastern U.S. sawmill output is 3.56BBF below

the 59-year average and 6.83BBF below the peak in 1999

to an annual rate of 5.79BBF, which is 1.1BBF short of projected

consumption.

Each of the major events pictured in the accompanying

graph caused sawmill output to fall, but as you can see,

production recovered and as the yellow arrows illustrate,

production recovered fairly quickly.

If history is an indicator of the future, production will rise to

meet domestic and global market needs. •••

Please turn the page

14,000

Eastern US Hardwood Production

13,000

© 2020 HMR

Million Board Feet

12,000

11,000

10,000

9,000

8,000

7,000

6,000

5,000

4,000

1990

1991

Gulf

War

1992

1993

1994

1995

1996

1997

1998

1999

Terrorist

Attack

2000

2001

2002

2003

2004

Housing

Bust

2005

2006

2007

2008

2009

Great

Recession

2010

2011

2012

2013

2014

2015

US-China

Trade

War

and

Pandemic

To connect with the Hardwood Market Report, visit www.hmr.com. •

2016

2017

2018

2019

2020

In the midst of it all, though, DIY projects began flourishing

as people were working from home and many had disposable

income due to income freed up as vacations were

cancelled. Then a generous federal stimulus program was

dispersed throughout the country. "People then invested

very heavily into their homes," explained Jalbert. "This was

a huge support to the economy and in particular the wood

products industry. It's really important to acknowledge how

impactful the federal stimulus has been on household personal

income."

Jalbert said the pace at which this tailwind from DIY projects

took off wasn't initially expected. That was followed, he

noted, by the rebound in residential construction in tandem

with rock bottom mortgage rates.

In regard to existing home sales, the story is a little dif-

ferent. "What is key here is the monthly supply of existing

homes on the market is extremely tight," Jalbert explained.

"People are still very cautious to put their homes on the market

in the middle of a pandemic, despite home price growth

increasing 10 to 15 percent year-over-year. So that lack of

inventory on the resale market has resulted in a massive

tailwind for the new construction side of the market."

The remodeling industry has enjoyed robust growth as

well.

In summary, Jalbert noted that COVID-19 has been massively

destructive to the North American economy. However,

the American wood products industry has been resilient

and while demand could be sluggish in 2021 with some of

the lingering challenges in the economy, it is poised for accelerating

growth. n

38 JANUARY 2021 n NATIONAL HARDWOOD MAGAZINE JANUARY 2021 n NATIONAL HARDWOOD MAGAZINE 39
---
ALC MEETING Continued from page 32

9. Brett Bollinger, BOLDesign, Hickory, NC; Jimmy Clay, Parton

Lumber Co., Rutherfordton, NC; Karl Schmertzler, Yoder Lumber

Co., Hickory, NC; and Jeff Cowley, BOLDesign

11. Shannon Garland, ATI International, Roanoke, VA; CJ Struyk,

TMX Shipping, Morehead City, NC; and Jay Reese, Penn-Sylvan

Inc., Spartansburg, PA

• Determinations of highest areas of concern for risk of

virus contraction or transmission

• Sensible engineering controls to isolate, contain, and

protect workplaces of highest concern

• Personal protective equipment (PPE) recommendations

based on task and locations

• Administrative controls regarding interaction of personnel

• Decontamination plans based on equipment, task, location,

etc.

10. Gale Keener, Mullican Flooring, Ronceverte, WV; Allan Robinson,

PLM Insurance Co., Philadelphia, PA; and Steve Leonard,

Lawrence Lumber Co. Inc., Maiden, NC

12. Gale Keener, Mullican Flooring, Ronceverte, WV; and Larry

Cockram, Griffith Lumber Co., Woolwine, VA

• Identifying Indoor Air Quality (IAQ) concerns with shared

HVAC systems

• Identifying "deep clean" best practices for COVID-19 affected

or suspect areas

• Conformance with CDC COVID-19 prevention, containment,

and response guidelines and protocols

EnSafe is headquartered in Memphis, TN, and has offices

in nine states.

The next meeting of the ALC is Jan. 12, 2021 at the Grove

Park Inn in Asheville, NC. n

For more information, visit www.lumberclub.org.

William Milton "Milt" Cole

William Milton "Milt" Cole

William Milton "Milt" Cole, age 85, Logansport, IN,

passed away recently in his residence.

Born Sunday, January 20, 1935, in Drummonds, TN,

he was the son of Cliff and Jessie Embry Cole.

On December 3, 1955, in Tennessee, he married

Jean Rhodes, who survives.

A 1952 graduate of Munford High School in Munford,

TN, Milt served his country in the Tennessee and later,

Indiana National Guard.

Also surviving are three children: Suzy (Brad) Thompson,

Tennessee, Keith (Carmella Ricci) Cole and Randy

(Candy) Cole, all of Logansport; grandchildren, Leigh

Ann Garst, Hannah Ruth Thompson, Nathan Thompson,

Tyler (Sarah) Cole, Brittany (Nick) Burke, Brad

(Ashley) Gleitz, Sabra Wilson, Tori (Aaron) Wagoner;

great grandchildren, Jonah Garst, Elijah Garst, Cooper

Cole, Tucker Cole, Ryder Wagoner, Cruz Wagoner,

Liam Wilson, Haley Gleitz, Brayden Gleitz, and Makenna

Gleitz.

Also surviving are siblings, Bettie (JM) Cole, Goodin,

TN, Patrick (Janelle) Cole, Patsy (Tommy) Turner, all

of Tennessee; sisters-in-law, Marlene Cole, Cincinnati,

Peggy Cole and Cathey Cole, both of Tennessee; numerous

nieces, nephews, great nieces and great nephews.

Preceding in death are brothers, sisters, brothers-inlaw

and sisters-in-law, Rachel and William Cole Ferguson,

Mary Glen Cole, Charles and Mary Cole, Carolyn

Faye and Howard Cole King, Calvin Cole, James Cole,

and Maynard Cole; and several nephews.

In 1956, Milt moved to Logansport for a job with John

I. Shafer Hardwood Company. After serving as general

manager, he bought the business and renamed it Cole

Hardwood.

When fire destroyed the lumberyard in 1988, Milt

stood before his workers and promised them that no

one would miss a paycheck. He rebuilt the business,

overcoming damages worth $14 million.

Milt and Jean established the Cole Family Scholarships

at Indiana University Kokomo. In 2005, Milt received

an honorary Doctor of Laws degree from Indiana

University.

Along with being a successful business leader, Milt

tried his hand in the early 1970's at a hobby… farming.

His first introduction was overseeing a Christmas

tree farm. His two sons, Keith and Randy, planted, hand

trimmed, and sprayed 10,000 Christmas trees yearly

for Milt. As they reached maturity, the customers would

walk the tree farm and pick out their Christmas trees.

Jean and the boys would then cut the trees while Milt

entertained the customers with his joyful spirit and

handed out apples.

The money from the Christmas trees helped Milt

purchase his first crop field from the Dawson farm. He

began with a small patch of land and an old, cabless

tractor. Milt's combination of hard work and strong faith

turned a hobby into a successful farming production

over the years.

Although work and hobbies were important to Milt,

nothing was as important as his family in Logansport, IN

and Tennessee where he grew up. He often made trips

to Tennessee to visit his siblings and other family in the

area, stressing the importance of gathering.

As his grandchildren were growing up, Milt would often

stop by their homes to play a quick game of Dominos

and discuss their daily school news. Usually staying

for a bite to eat at the dinner table, the conversations

always led to life lessons.

Always teaching, Milt would express the importance

of a positive attitude, a strong work ethic, and giving

back, no matter how big or small. He believed the more

you give, the more you receive. Another valuable lesson

shared with his sons, grandchildren, and great-grandchildren

included, "Show me, don't tell me."

Philanthropic-driven, Milt always wanted the best for

his community. Traveling for the lumber yard, Milt was

able to visit nearly every state and continent in the world.

These experiences opened his eyes to how special the

state of Indiana was, especially where Milt spent most

of his life - Logansport. He often said, "There is no better

place to live than in Logansport, Indiana."

Please turn the page

40 JANUARY 2021 n NATIONAL HARDWOOD MAGAZINE JANUARY 2021 n NATIONAL HARDWOOD MAGAZINE 41
---
Cole Continued

Throughout his life, even to the end, Milt kept a very

strong faith. Always remaining positive, he felt incredibly

blessed and grateful for the life he lived, the people he

loved, and the community that shared such a special

place in his heart.

His recognitions include receiving the Logansport Exchange

Club's "Book of Golden Deeds" award, Chamber

of Commerce "Man of the Year", "Sagamore of the

Wabash" conferred by Governor Frank O'Bannon and a

story featured in a book written by Fox News Channel's

Neil Cavuto entitled, "More Than Money: True Stories of

People Who Learned Life's Ultimate Lesson."

Milt's local past and current affiliations include Board

of Directors of Salin Bank & Trust, Board of Directors

of the Farmers and Merchants State Bank, Logansport

Rotary Club, Logansport Elks Lodge BPOE #66, Calvary

Presbyterian Church where he also served as

Elder, Treasurer of the Logansport Economic Development

Foundation, IUK Foundation Advisory Board, Logansport/Cass

County Chamber of Commerce, Cass

County United Way Fundraising Chairman and the

Board of Directors of the Logansport Memorial Hospital

Foundation, Chairman of the Board of the Sangralea

Valley Boys Home, President of El-Tip-Wa Building

Trades program, Board member of the Northern Indiana

Community Foundation (predecessor of the Cass County

Community Foundation) and Cass County Coordinator

for Senator Lugar's Re-election.

In the Hardwood industry, he was CEO of Indiana

Dimension, Inc. (sister Company of Cole Hardwood),

Lumberman's Underwriting Alliance Advisory Board,

Hardwood Manufacturers Association Executive Board,

National Hardwood Lumber Association Board of Directors,

Purdue University School of Agriculture Dean's

Advisory Board, Purdue University Forestry Department

Steering Committee, President of the Hardwood Distributors

Association and President of the Indiana Hardwood

Lumbermen's Association.

Memorial contributions may be made to the Cass

County Community Foundation, PO Box 441, Logansport,

IN 46947, Calvary Presbyterian Church, 701

Spencer Street, Logansport, IN 46947 or the Ivy Tech

Foundation for the Cole Family Scholarship, PO Box

1373, Kokomo, IN 46903 or online at https://connect.

ivytech.edu/kokomo.

Due to COVID-19 restrictions, a private, family-only

service and burial in Mount Hope Cemetery, Logansport,

was held and a public Celebration of Milt's Life is tentatively

scheduled for June, 2021.

Memories or messages of condolence may be posted

at www.kroegerfuneralhome.com. n

LAKE STATES Continued from page 6

and White Oak and Poplar. "Pretty much everything is

selling well right now for us," he noted. Thicknesses are

4/4 through 8/4. He sells primarily to distributors, and he

observed, "It seems like they are doing well."

He stated, "Transportation isn't bad right now. Six

months ago, it was a problem. It's definitely a lot better

right now."

"Overall," he stated, "we were blessed through all this

year. We had a steady market for Cottonwood."n

NORTHEAST Continued from page 6

ing material. All our customers are busy." He noted that

the "competition for trucks" is tough. "Being in Maine, the

softwood business is prominent in our part of Northern

Maine. There are a lot of softwood trucks. With the demand

for softwood lumber and the high prices they are

able to pay, we're kind of getting the short end of the stick

when it comes to finding trucks. It's been a little bit of a

challenge lately."

The market in New York State is "pretty good, mostly

driven by supply shortages," according to a lumber provider

there. The market is "much better" than it was a half

a year ago, he said.

He sells "any and all North American species," he remarked.

The best seller is 4/4 White Oak. Thicknesses

of lumber range from 4/4 to 12/4. He sells to distributors

and end users, and both sets of customers are faring better

in the marketplace than six months earlier. Trucking,

he said, is difficult on the domestic side of things.n

SOUTHEAST Continued from page 7

I rated transportation 1-10, 10 being great, I'd rate it at

6-1/2 to 7."

In Arkansas, a flooring manufacturer said the market

for his product, nationally, is "very strong" and better

than six months earlier. He utilizes Red and White Oak,

Hickory and Walnut in flooring grades, No. 1, No. 2 and

No. 3A. Red and White Oak are the hottest species. He

sells to wholesale distributors. These customers are doing

well, he said, because the housing market is strong.

The Arkansas source noted that transportation is "not bad

right now."

"Spotty" is the word used by a North Carolina lumber

provider to describe the market there. He attributed that

to the presidential election and "all the decibels of that."

Asked whether the market was better or worse than six

months previously, he replied, "2020 has been such a

long year. Back then, the wheels were about to fall off

because of COVID. Now there are other contributing fac-

Ford A. Frick

Ford A. Frick

Brimfield, IN— Ford A. Frick was born on June 27,

1940, and passed into the hands of his Savior on Nov.

19, 2020.

He was the second child of Harold Herman Frick and

Virginia Mae (Savoie). They both preceded him in death.

Ford graduated from Rome City High School in 1958

and attended the National Hardwood Lumber Association

(NHLA) Inspectors School in Memphis, TN. After

graduation, he returned to the Brimfield area and began

working at Frick Lumber Company Inc., becoming the

lumber grader and working side by side with Harold, his

father. He became the president years later and continued

to serve in that position.

He married Brenda Frazier Sutton on June 13, 1959.

They have two sons, Ford A. Jr. and Holly (Lash) and

Christopher Benton and Teresa (Nesbitt).

He attended Merriam Christian Chapel, sang in the

choir, was director of AWANA Pals, and was a member

of Gideons International and Brimfield Lions Club.

Ford was a lover of the Lord, servant to the church

tors." One of those, he said, was a supply-driven market.

"We have a different dynamic now. COVID is part of it but

less so. Supply is short. There's not as much kiln-dried

available as there was." He handles No. 1 Common and

Better in Red and White Oak, Ash, Walnut, Cherry and Soft

and Hard Maple. "Without question, White Oak is selling

best," he noted. "Red Oak sales are strong."

The North Carolina lumber provider sells to end users

and some to distributors. "I think more recently, their sales

and a diehard Cubs fan. He enjoyed spending time with

his family and friends, was never far from the love of his

life "Ben," and their latest dog, Woody. He enjoyed annual

travel excursions with his siblings, family reunions

and gatherings for holidays and birthday parties, and

several years of Lake Cumberland boat trips with special

friends.

He worked at the family-owned Frick Lumber for 61

years alongside his dad, wife, son, son-in-law, sister,

brother-in-law, granddaughter, grandsons and greatgrandsons.

He was fiercely devoted to every employee

and treated them like members of his extended family.

In his younger days, he spent the summers coaching

little league teams for his sons and many aspiring baseball

stars. No destination was too far when attending a

Chicago Cubs game with Brenda, Ford Jr. and Chris.

He enjoyed watching all his grandchildren play games,

sing, dance and play instruments. He was a talker and

truly never met a stranger.

He is survived by his wife Brenda; sons, Ford, Jr. and

Chris; siblings Sharon and Bill Snyder, Harlan Frick

and Linda (Smoots), and Carolyn and Marvin Heller.

Grandchildren: Elisha and Austin Hess, Elizabeth and

Travis Knox, Erin and Chase Sprouse, Jared Frick and

Lindsey (Peak). Great grandchildren: Travis Jr. (TJ) and

Lilly Knox, Nolan and Gage Hess, Chloeann and Elaina

Sprouse and Noble Frick.

Visitation and funeral services were held at Merriam

Christian Chapel in Merriam, IN with Pastor John

French officiating.

Graveside services and burial were at Orange Cemetery

in Rome City.

In lieu of flowers, please make donations in his name

to Noble County Camp of Gideons International, P.O.

Box 863, Kendallville, IN 46755 or Merriam Christian

Chapel.

Arrangements were entrusted to Hite Funeral Home. n

have been softer as well for a broad variety of factors," he

stated. "Key among them has been the fallout from COVID

and the uncertainty surrounding the election."

Transportation is not an issue, he said, as, "We have our

own fleet of trucks within a certain radius and, beyond that,

common carriers. The availability of common carriers is

pretty good at the moment." n

42 JANUARY 2021 n NATIONAL HARDWOOD MAGAZINE JANUARY 2021 n NATIONAL HARDWOOD MAGAZINE 43
---
WEST COAST Continued from page 7

we were above last year's numbers in June, then it kind of

leveled out. The market is still improving. Everyone thought

it was going to be a long haul coming back, but it just wasn't.

Many companies let people go because they felt it would

be a long haul, and you had to get your expenses down to

where you have a chance to make a profit. Getting employees

back was difficult.

"The softwood industry is in chaos out here. They reacted

to COVID, and many don't have people to run production.

It is affecting associated industries including us. Hardwood

companies are later in the process. There's just way more

demand now. With COVID happening, we can't meet the

demand.

"I'd say most companies are doing about the same in the

Hardwood industry as six months ago," he noted. "Our customers

have plenty of business, but their ability to get the

work done is holding the market back. If we can get COVID

behind us, I believe the future is bright for our industry, that

there will be more lumber consumed than we've seen in a

while. Housing starts are so good, and people are moving

to suburbs. These people had homes in the city that were

pretty nice. When they move to the suburbs, they want nice

homes, too. The remodeling industry is phenomenal right

now in Washington and Oregon. When people stay home

for COVID, they do projects.

He stated that he sells "a lot of species." White Oak is the

hottest species and Poplar is very strong. More Walnut and

Hickory are being moved than in prior times. "This seems

to be a bit of a change in what people are preferring," he

observed. He added that he sells a lot of Alder. He sells in

thicknesses from 4/4 to 12/4 but sales are about 85 percent

4/4.

In Washington, this lumber provider sells to businesses

that make cabinets, furniture, moulding and millwork as well

as to a lot of contractors. "Most of them have a backlog of

work," he said. "You put COVID behind us, and the market's

ready to really be brisk on the West Coast, including Washington

and Oregon. It's going to be brisk."

Transportation is definitely an issue, according to this

lumber provider. "Transportation is probably a few days longer

in almost every situation to get it lined up. Transportation

is a factor in getting product."

Overall, he stated, "I think we've got some good times in

front of us. We've just got to get through COVID and get the

vaccine. I'm very optimistic." n

ONTARIO Continued from page 8

improve as we headed into winter with ground freezing,

thus improving sawmill production as well.

Some reported their log decks were limited for Ash as

there is very limited volume being harvested, and green

production is down for this species. Sawmills and wholesalers

are selling total Ash output. Prices were reported

to have firmed, but market interest in kiln-dried Ash is

not good. Sales are dependent on additional width and

length sorts.

Hard Maple sales for most grades and thicknesses are

reported to be doing well. Mills have no difficulty getting

orders for total production. Some contacts note that competition

for No. 1 Common and Better is driving prices

higher. Color designation is also driving prices, they comment.

Demand for kiln-dried upper grades is strong with

supplies being low, which is causing prices to rise as well.

There has been increased interest in Soft Maple for

most grades and thicknesses, especially for No. 1 Common

and Better. Sales of kiln-dried stocks are also reported

as doing well to solid.

Sales of Aspen have been steady and keeping in line

with its production, with No. 1 Common and Better and

low-grade markets absorbing developing supplies, and

prices being stable. Sales and shipments of kiln-dried

stocks were steady as well. Log decks of Basswood were

reported as being down, with sawmills focusing on higher

valued species over Basswood, such as Hard Maple,

Walnut, Soft Maple, Red and White Oak. Basswood supplies

are sufficient to meet buyers' needs. It was anticipated

that whitewoods production would increase during

the end of November into December.

Due to the rise in demand since June for Birch and low

sawmill production through most of the year, kiln-dried

inventories have been reduced and prices have firmed.

Green Birch output is not keeping pace with buyers'

needs. Demand from cabinet, wood component, millwork

and moulding manufacturers has put a strain on supplies

of 4/4 No. 1 Common and Better.

The federal government announced late November the

new Canada Emergency Rent Subsidy program for businesses

struggling to pay bills because of COVID-19. It

replaces an earlier rent-support program for businesses

introduced in the spring that saw little pickup because it

relied on landlords to apply for help. The new program

covers up to 65 percent of rent or commercial mortgage

interest on a sliding scale based on revenue declines,

with an extra 25 percent available to the hardest-hit firms.

The Canadian Federation of Independent Business,

which represents thousands of small companies across

the country, welcomed the new rent program as long

overdue for firms hard hit by COVID-19.

Canada and Britain struck a new interim trade deal

on November 21st, that beat the looming December

31 Brexit deadline, replacing Canada's current agreement

with Britain under the European Union that covers

trade between the two countries. The interim pact gives

Canada and Britain another year to reach a more comprehensive

agreement while also warding off a no-deal

scenario that would have triggered new tariffs on a range

of Canadian exports on January 1st. There are not many

details known at this time.

"This is a good moment," said Prime Minister Justin

Trudeau as he announced the deal during a video news

conference with his British counterpart, Boris Johnson.

"Free trade is an important part of the way we're going

to bounce back from COVID," Johnson said. "And using

that, this is a moment in which to tackle climate change,

but also to create hundreds of thousands of jobs in green

technologies."

With Britain's decision to leave the EU after its Brexit

referendum means that the Comprehensive Economic

and Trade Agreement (CETA) will no longer apply to the

OUR TEAM

Our ability to find the right products quickly is made possible by our team of experienced and dedicated people

working to deliver exactly what you need.

SPECIES:

Aspen • Yellow Birch • White Birch • Red Birch

Birds Eye Maple • Hard Maple • Soft Maple

Red Oak • White Oak • White Ash • Walnut

Beech • Cherry • Hickory

LUMBER

RESOURCES

ALL YOUR ESSENTIALS

country at the end of the year.

The new deal preserves CETA's key provision — the

elimination of tariffs on 98 percent of Canadian exports

to Britain — until a more comprehensive agreement can

be reached later. Britain is Canada's fifth-largest trading

partner, with $29 billion in two-way merchandise trade in

2019.

International Trade Minister Mary Ng said legislation

would be introduced in Parliament soon so the interim

deal could be ratified.

The Conservative trade critic, the Canadian Chamber

of Commerce, and the Business Council of Canada all

said they want government to publish the full details of

the agreement. Canada's business community offered

a mixed reaction, welcoming the economic certainty the

interim deal offered while asking for more specifics. It is

hoped details will be made available soon.

We wish everyone a happy, healthy, and prosperous

2021! Stay safe! n

THICKNESSES:

4/4 • 5/4 • 6/4 • 8/4 • 10/4

PRODUCTS:

Hardwood Lumber • Industrial • Pallet Components • Flooring

866-815-0404

1627 Bastien Blvd.

Quebec, Quebec G2K 1H1

www.rlumber.ca

44 JANUARY 2021 n NATIONAL HARDWOOD MAGAZINE JANUARY 2021 n NATIONAL HARDWOOD MAGAZINE 45

LUMBER RESOURCES NHM HALF HOR REV 7-22-2019.indd 1

7/22/19 2:13 PM
---
QUEBEC Continued from page 8

steady pace, although it hasn't gained as much market

momentum as other species. Cabinet and wood components

plants are the main buyers, and it has shown that

there are some shortages in certain areas, particularly

for the No. 1 Common and Better grades.

The low production of Ash over the past couple of

months has been exacerbated by the shrinking timber

availability due to the Emerald Ash Borer in the U.S., as

well as by log exports. With the Chinese market improving,

this has also contributed to improved Ash business.

Demand for this species on domestic markets is relatively

low. Sawmills, however, are having little difficulty

moving developing green No. 2A and Better Ash output.

Basswood sales are improved as well due to the remodeling

frenzy going on both here and in the U.S. for mouldings,

shutters and blinds. Secondary manufacturers have

worked down their inventories and are now placing more

orders. Sales to wholesalers have also trended up.

Cherry business has improved slightly, note contacts.

Wholesalers and end users in the Chinese market are

buying more volumes to support ongoing demand and

safeguard against potential shortages. In Canada, demand

is somewhat improved, most producers are prioritizing

other species like Red and White Oak.

Sales of Hickory remain solid, comment contacts.

Some even say that demand is outpacing supply. Flooring

manufacturers in the U.S. border states have ramped

up their demand and would like to get more. Exports are

also strong for this species. Plank flooring producers are

also looking to ramp up their supplies, as are cabinet and

millwork companies.

Poplar sales remain brisk according to contacts in all

regions for both domestic and international markets. Production

is readily moving for green No. 2A and Better,

and No. 2B is easy to sell because of the recovery in

the pallet sector. As a result, prices are firming. Sales of

kiln-dried Poplar to the U.S., China, Mexico and Vietnam

markets are strong, with prices having risen accordingly.

Since the onset of the COVID-19 crisis, the Québec

government has rolled out varying measures to address

the realities of individuals and businesses. The fall 2020

Update on Québec's Economic and Financial Situation

summarizes the measures planned and taken to date to

strengthen the province's health care system, support

Quebecers and restart the province's economy amount

to $12.7 billion. They represent economic interventions

amounting to $35.2 billion, or 8 percent of Gross Domestic

Product (GDP).

The second wave of COVID-19 is creating great uncertainty

and difficult, but necessary, decisions are again

called for in order to protect Quebecers, continued the

report. The government is thus continuing its efforts to

strengthen the health care system during the pandemic,

support Quebecers and the economy as well as accelerate

economic recovery.

In this regard, measures totalling $5.8 billion have

been announced since last June: $1.8 billion for new initiatives

announced in the fall 2020 Update on Québec's

Economic and Financial Situation; $4.0 billion for measures

rolled out since the June 2020 snapshot, Québec's

Economic and Financial Situation.

The actions taken are producing results. The economic

and fiscal outlook for 2020-2021 is rosier than in June.

Québec's real GDP is now projected to contract by 6

percent, compared to a 6.5 percent contraction forecast

in June. The budgetary balance for 2020-2021 is stable

relative to the situation forecast in June and amounts

to −$15.0 billion. A provision of $4 billion is still made to

offset risks related to the health crisis and fund support

and recovery measures. The outlook is improving and

shows gradual deficit reduction. The budgetary balance

will show a deficit of $7 billion in 2022-2023. Of all the

Canadian provinces, Québec has injected the most into

its economy to tackle the public health crisis.

The fall 2020 Update on Québec's Economic and Financial

Situation presents the initial concrete actions

being taken by the government to accelerate economic

recovery and improve Québec's economic outlook. The

actions aim to: help Quebecers get back into the labour

market; spur economic growth; ensure a greener recovery;

promote Québec production and buying local.

We wish everyone a happy, healthy and prosperous

New Year! Be safe! n

Jeremy Peachey, Paul Peachey, and Josh

Peachey with 4/4 FAS POPLAR

MANUFACTURERS OF HIGH QUALITY APPALACHIAN BANDSAWN LUMBER

WHITE OAK • RED OAK • WALNUT • POPLAR • HARD MAPLE • ASH • MIXED HARDWOODS

10,000,000′ ANNUAL PRODUCTION • ALL GRADES OF LUMBER • RAILROAD TIES

HT BANDING GROOVED EXPORT DUNNAGE • INDUSTRIAL TIMBERS

LOGS SOLD/LOADED INTO EXPORT CONTAINERS • THICKNESSES 4/4-12/4

LUMBER/LOG SALES

JOSH PEACHEY

270-405-6424

Ask us about custom width and length sorts. . .

EAGLE

L U M B E R C O. L L C

GREENSBURG, KY

2195 GABE ROAD

GREENSBURG KY 42743

FAX: 270-932-4451

Sales - Tom Armentano

Purchasing - Andy Dickinson

sales@siriannihardwoods.com

46 JANUARY 2021 n NATIONAL HARDWOOD MAGAZINE JANUARY 2021 n NATIONAL HARDWOOD MAGAZINE 47
---
NEWS DEVELOPMENTS Continued from page 11

rates Oak into some of its kitchen products. Wren received

a funding proposal from the Department of Community

and Economic Development (DCED) for a $1.25

million Pennsylvania First grant, $392,400 in funding for

job training through the WEDnet program and $720,000

in Job Creation Tax Credits to be distributed upon creation

of the new jobs. The company may also be eligible

for DCED's Manufacturing Tax Credit program.

More information is available at www.wrenkitch

ens.com.

CANADA'S FINAL RULING ON DUMPING

AND SUBSIDY ISSUES WITH CHINA DUE

In Ottawa, Ontario before the end of 2020, the Canadian

International Trade Tribunal (CITT) initiated an inquiry

to determine whether the dumping and subsidizing

of decorative and other non-structural plywood exported

from the People's Republic of China caused or threaten

to cause injury to Canadian plywood producers.

Initiation of the CITT's final injury inquiry followed the

Canada Border Services Agency's (CBSA) fall preliminary

determinations that sources of Chinese plywood

panels, including those used in the manufacture of fur-

Northern KD Hardwoods

• Aspen • Basswood • White Ash • Hard & Soft Maple

• Red Oak • Birch • Cherry • Black Ash

Export Packaging / Container Loading

Joe Francois

Joe.Francois@snowbelthardwoods.com

Brady Francois

BFrancois@snowbelthardwoods.com

www.snowentities.com

Phone: 715-561-2200 • Fax: 715-561-2040

niture and cabinets, are being sold into Canada below

normal market value. The CBSA reported it would immediately

subject the vast majority of Chinese plywood

import sources with provisional duties ranging up to

203.08%. Also, the CBSA failed to find significant evidence

of dumping or subsidies to impose any provisional

duties on five Chinese companies.

The CBSA announced it would issue a final dumping

and subsidy determination by Jan. 21, 2021. The CITT's

final injury determination is expected by Feb. 19, 2021.

Learn more at www.cbsa-asfc.gc.ca.

Snowbelt Hardwoods, Inc. • 345 Ringle Dr., Hurley, WI 54534

John Hilgemann

JHilgemann@snowbelthardwoods.com

Tyler Francois

Tyler@snowbelthardwoods.com

FOREST SERVICE OFFERS 5TH GRADERS

FREE ACCESS TO NATIONAL FORESTS AND

GRASSLANDS

The USDA Forest Service in Washington, DC, announced

it will expand its Every Kid Outdoors program to

offer fourth-and fifth-grade students and family members

fee-free access to more than 2,000 sites on national forests

and grasslands for the remainder of the 2020-2021

school year. A new voucher is available for download

now through August 31, 2021.

"The year's events have made it harder for many students

to get out to their local National Forest and to use

their Every Kid Outdoors Annual 4th Grade Pass as intended,"

said Forest Service Chief

Vicki Christiansen. "We hope the

added time will encourage millions

of families to use their free pass to

get out to their National Forest, connect

with nature, and experience the

mental and physical benefits of the

great outdoors."

Every Kid Outdoors is a federal

public lands partnership created to

inspire fourth-grade students and

their families across America to

recreate, explore cultures, discover

connections to nature and spark a

lifelong passion for America's great

outdoors. The program focuses on

children ages 9–11 who, research

shows, are beginning to understand

the world around them, and are

uniquely receptive to engaging with

nature and the environment. By focusing

on this age group year after

year, the program aims to ensure

every child in the United States has

the opportunity to create a life-long

connection to America's big backyard.

To obtain a free 5th Grade Voucher,

visit the Every Kid Outdoors website,

click on the "Hey, fifth graders!"

banner, and download a voucher.

The voucher is valid through Aug.

31, 2021 to correspond to the traditional

school year.

Learn more at: www.fs.usda.

gov. n

READ EVERY ISSUE ONLINE

nationalhardwoodmag.com

48 JANUARY 2021 n NATIONAL HARDWOOD MAGAZINE JANUARY 2021 n NATIONAL HARDWOOD MAGAZINE 49
---
Our Classified

Advertising Works!

for information

call:

800-844-1280

Email: editor@millerwoodtradepub.com

Quality Appalachian Hardwood Lumber

900,000 B.F. Kiln Capacity

Quentin Moss, KD-Lumber Sales/

GR-Lumber Sales/Purchasing

quentin@gfhardwoods.com

Joey Dyer, GR-Lumber Purchasing

joey@gfhardwoods.com

9880 Clay County Hwy. Moss, TN 38575-6332

PHONE: 1-800-844-3944 FAX: 1-931-258-3517

www.gfhardwoods.com

NHLA GRADUATION Continued from page 34

• Sean D. Powell, NHLA Award for

Best Attitude/Citizenship

• Austin Andrew Wuesten,

Lumberman's Club of Memphis

Most Improved Award

• Michael Andrew Snider,

Willard Scholarship Award

Enrollment is now open for the 194th class, which begins

on January 5, 2021. To learn more

about the program, please visit www.

nhla.com.

The NHLA Inspector Training School

has a proud and rich 70+ year history,

graduating more than 7,500 students

since its conception. The Program

teaches the rules and applications of

the NHLA grading system and prepares

students for a career in the

Hardwood industry. This unique program

has earned worldwide respect,

consequently attracting students from

throughout the United States, Canada,

Europe, Africa, South America,

and Asia.

The world's largest and oldest

Hardwood industry association,

NHLA represents companies and

individuals that produce, use, and sell

North American Hardwood lumber or

provide equipment, supplies, or services

to the Hardwood industry. It was

founded in 1898 to establish a uniform

system of grading rules for the measurement

and inspection of Hardwood

lumber. Since 1979, its headquarters

have been in Memphis. n

To learn more

about NHLA,

please visit

www.nhla.com.

HMA UPDATE

Continued from page 12

that's what I call resilient!)

All industry stakeholders are welcome to participate. So,

please visit www.HMAmembers.org for updated information

on Conference details, Registration, and a look at which

companies will be exhibiting. And of course, contact me,

ljovanovich@hardwood.org, should you have a specific

question.

I've been told that "there is never a dull moment in Austin."

And that goes for the rest of the U.S. and the world!

All we can do is just keep on being hopeful, doing our jobs

as best as possible, working to be part

of the solution, and keeping in mind

that the by-word for us all is flexibility.

There is strength in numbers! Let's

keep in touch.n

AHEC REPORT

Continued from page 14

cation, as it has both increased durability

and dimensional stability. Thermally-modified

American Hardwoods

are suitable for applications such as

cladding, decking and shading structures,

as well as in outdoor furniture

and their environmental impact is extremely

low. While this material is not

yet used widely in the Middle East, it

has so much to offer as a natural and

low-environmental impact alternative

to many other wood and non-wood

products.

Using material volume data collected

by the UAE-based manufacturers

- Urban Studio and Alfa Interiors &

Furniture - and based on AHEC's Life

Cycle Assessment tool, it has calculated

that all the Maple and Red Oak

used to make the three benches would

be replaced in the U.S. Hardwood forest

through natural regeneration in

just 5.8 seconds. At the same time,

for the duration of their existence, the

three benches will keep approximately

1 metric ton of CO2 equivalent out of the atmosphere.

For more information on AHEC and its global promotion

programs for American Hardwoods, please visit

our website at www.americanhardwood.org or contact

International Program Manager Tripp Pryor at tpryor@

ahec.org. n

SYSTEMS &

SOLUTIONS

Mellott Solves Your

Debarking Systems

Log Trough with Metal Detection

Lumber Conveyor Systems

Mat Drilling, Tie Dapper,

Sorting & Stacking Systems

Mellott Manufacturing Co., Inc.

13156 Long Lane

Mercersburg, PA 17236

FAX: 717-369-2800

sales@mellottmfg.com

MILLERWOODTRADEPUB.COM

LOG &

LUMBER

From Concept

to Blueprint,

Manufacturing

to Production

Handling Challenge!

Band Headrig and Resaws

Resaw Run-Around Systems

Trimmer and Grading Systems

Tilt Hoist Systems

717-369-3125

www.mellottmfg.com

50 JANUARY 2021 n NATIONAL HARDWOOD MAGAZINE JANUARY 2021 n NATIONAL HARDWOOD MAGAZINE 51
---
WHO'S WHO

IN HARDWOOD PURCHASING

A BRIEF SKETCH

OF THE LEADING

PURCHASING EXECUTIVES

IN THE HARDWOOD INDUSTRY

WHO'S WHO

IN HARDWOOD PURCHASING

JOHN KESTLY is vice president

of Boehm-Madisen Lumber

Co. They operate three facilities

in southeast Wisconsin

with the main offices located in

Waukesha, WI.

Boehm-Madisen purchases

approximately 5.5 million board

feet annually of domestic and

imported Hardwood lumber. The

firm is first and foremost a Hardwood

distribution yard that is

John Kestly

heavily into remanufacturing and

offers the following services: planing, gang ripping, double

end trimming, sanding, resawing, gluing and moulding.

Kestly has been with Boehm-Madisen for 34 years and in

his current position for the last 20 years. During his career in

the forest products industry he has filled the roles of stacker,

machine operator, truck driver, and worked in sales and

finally purchasing.

A graduate of the University of Wisconsin, located in Oshkosh,

WI, he has been married to Laura for 30 years and

has two sons, Jake and Trevor. In his spare time Kestly

enjoys golf, fishing, and cars.

Boehm-Madisen is a member of National Hardwood

Lumber Association, the Lake States Lumber Association

and is FSC certified.

For more information visit www.boehm-madisen.

com.

MATT SHAW is in lumber purchasing and industrial

sales for Mill Creek Lumber, located in Oklahoma City,

OK.

Mill Creek purchases approximately 300,000 board feet

of lumber annually. Products are as follows: 4/4 S/B Soft

Maple; 4/4 S/B PS, Rift, and Quartered White Oak; 4/4 S/B

Rift White Oak; 4/4 S/B Walnut;

4/4 FAS Poplar; 4/4 FAS Red

Oak; 4/4 Knotty Alder; 4/4 African

Mahogany; 4/4 Pecky Cypress;

and 4/4 Moulding Grade

Ponderosa pine.

Among the unique services

and value-added processes offered

at Mill Creek are custom

mouldings, wood arches, edgeglue

and fingerjoint capabilities.

Matt Shaw

Shaw has been in his current

position at Mill Creek Lumber for over a year. He has been

in the forest products industry for nearly 20 years, having

most recently worked for a building products wholesaler for

seven years. His first job in the industry was working at his

family's business and selling wood mouldings.

Shaw graduated from Choctaw High School in Choctaw,

OK and studied at Hillsdale FWB College in Moore, OK.

He has been married to Melissa for four years. They are

parents of one son and one daughter.

In his spare time, Shaw enjoys sports, hunting and outdoor

grilling.

Learn more about this company at www.millcreek

lumber.com.

DARREL JONES is vice president and co-owner of Custom

Plastic and Wood LLC, located in Benton, AR.

Custom Plastic and Wood (CP&W) is a manufacturer

of custom solid Hardwood mouldings, one-piece cabinet

doors, five-piece cabinet doors, as well as commercial

and high-end residential cabinets. The company pur-

Please turn the page

P.O. Box 16767

Greensboro, North Carolina 27416-6767

Call Us or Fax Today

1-800-234-3343 • 1-336-378-1265

Fax: 1-336-379-0863

web site: www.beardhardwoods.com

Complete export preparation at our

wholesale distribution yards with

milling facilities at Greensboro, NC.

Distribution Warehouse in

Long Beach, CA

"Everything You'll Ever Need From The Forest "

MERIDIEN HARDWOODS OF PA., INC.

45,000 ft. steamer loaded with 4/4 Face &

Better Walnut

Shade-Dri® Protection

n 18 Acre Concentration Yard

n 2 Trim Lines (50 Sorts)

n Straight Line Ripping and S2S Facilities

n We Offer Export Preparations, Container Loading,

Mixed Species & Thicknesses

n Custom Walnut Steaming Available

n 800,000' Dry Storage • Dry Kiln Capacity 250,000'

n All KD lumber pick-a-pack tallied

BUILD YOUR OWN LOAD

Specializing in Poplar, Red Oak, White Oak and Ash

Mixed Truckloads

Surfacing S2S

Dry Kilns (400,000 ft cap)

®

We now have a distribution

warehouse in Long Beach,

CA to better serve our West

Coast customers.

SALES

JOHN BEARD jbeard@beardhardwoods.com

DERICK SHULAR dshular@beardhardwoods.com

WALT LANCASTER wlancaster@beardhardwoods.com

PURCHASING

DAVID LEONARD dleonard@beardhardwoods.com

AARON FOUTS afouts@beardhardwoods.com

4/4 Face & Better Walnut ready

for shipment

Brandon Ferman

Dan Ferman

Office: 814-563-4614 Office: 814-563-4614

Cell: 814-688-6691

Email: brandonferman@hotmail.com

Michael Songer

Office: 814-486-1711

Cell: 814-594-0827

Email: mjs@zitomedia.net

(800) 780-3187 FAX: (800) 292-5773

Website: www.meridienpa.com • Email: meridien@penn.com

Yard Address: Old Pittsfield Rd., Pittsfield, PA 16340

Jeff Childs

Office: 740-392-7727

Cell: 740-398-3474

Email: jeffchilds7@yahoo.com

52 JANUARY 2021 n NATIONAL HARDWOOD MAGAZINE JANUARY 2021 n NATIONAL HARDWOOD MAGAZINE 53
---
WHO'S WHO

CONTINUED

chases 125,000 board feet of

Hardwood species per year,

including Maple, Alder, Knotty

Alder, Poplar, Red Oak, Hickory,

Cherry, and Beech (mostly

FAS, S2S and 13/16). Some

pine is also purchased for use

in manufacturing.

Lumber is straight-line ripped

on-site and the company also

offers CNC services.

Darrel Jones

Jones and his business partner

Curtis Lowry founded CP&W approximately 20 years

ago. Jones and Lowry combined their skills in drawing and

CNC design and Jones stated, "The long days soon formed

into a company."

Jones is a graduate of Gurdon High School, located in

Gurdon, AR, and Southern Arkansas University Tech, located

in Camden, AR. His first job in the forest products

hurch 14_Layout 1 4/17/18 3:43 PM Page 1

industry was in 1986 working as a summer hire at the plywood

division of International Paper, also in Gurdon. Other

positions held include MDF moulding manufacturer at Nickell

Moulding, previously called NMC Finishing, and sawmill

machinery design at USNR. In his current position Jones

handles lumber purchasing, estimating, tool design, planning,

customer service, project management and product

design.

In his spare time, Jones enjoys fishing for crappie, SEC

football, college baseball and hunting. He has been married

to Elizabeth for 31 years and the couple has one daughter.

For more information visit www.cpandw.com. n

your wood working plant?

Do you purchase a minimum

of 100,000 board

feet of No. 2 Common

and Better domestic

Hardwoods annually for

If so, National Hardwood Magazine would like to feature

you– FREE–in our Who's Who in Hardwood Purchasing!

Our news item will highlight your career and feature

pertinent information about your company's products

and services.

For more information, email our Who's Who Coordinator, at

whoswho@millerwoodtradepub.com.

We at Bryant Church Hardwoods, Inc., located in Wilkesboro, NC, are proud of our modern Hardwood

concentration yard facility that we constantly update to better serve our customers with the finest

Appalachian Hardwood and Eastern White Pine lumber available. Call us at (336) 973-3691 when we can

be of service.

This is an aerial view of our modern

Hardwood concentration yard where we

process quality Appalachian Hardwood

and Eastern White Pine lumber.

Some facts about our company are, we:

•Have a 30 acre Hardwood and Eastern White Pine lumber concentration yard

that exclusively represents one sawmill.

•Specialize in all thicknesses of kiln dried Eastern White Pine lumber.

•Deal in Appalachian Hardwood species such as Red and White Oak, Poplar,

Ash, Hard and Soft Maple, Steamed Walnut, Cherry, Basswood, Beech and

mixed Hardwoods.

•Market our Appalachian Hardwood lumber in 4/4 through 8/4 thicknesses that

is green, air dried and/or kiln dried.

•Specialize in mixed truck loads.

•Have 9 steam dry kilns that have a combined dry kiln capacity of 630,000 bd.

ft. per charge.

•Own a Newman 382 planer.

•Usually carry about 4,000,000 bd. ft. on our air drying yard.

•Usually carry about 1,500,000 bd. ft. of kiln dried lumber in inventory.

•Offer export preparation, container loading and package tally.

•Offer the service of sorting lumber at special lengths, widths and grades

according to customer specifications.

•Use our own trucks and contract trucks for prompt delivery of your orders.

•Have over 75 years of combined experience in the lumber business.

Tim Church

Mason Church

Bus.: (336) 973-3691

FAX: (336) 973-7993

(800) 973-3380

Web site: http://BCHI.com

P.O. Box 995 • Wilkesboro, NC 28697

Distribution Yard: 683 Buck Road • Wilkesboro, NC 28697

Because we've been in business since 1953, we have many years of experience that helps us to ship your orders right the first time.

Contact:

Mike Tarbell, Sales Manager

Rus Gustin

(814) 697-7185

FAX (814) 697-7190

25,000,000 BF of Quality Bandsawn Pennsylvania Hardwoods

1,500,000 BF Kiln Capacity

Export Packaging & Container Loading

SPECIALIZING IN ASH, RED OAK, HARD MAPLE and CHERRY

"We welcome your inquiries and look forward to serving your needs."

Mailing Address

1716 Honeoye Road

Shinglehouse

PA 16748

E-mail: mtarbell@ramforestproducts.com

54 JANUARY 2021 n NATIONAL HARDWOOD MAGAZINE JANUARY 2021 n NATIONAL HARDWOOD MAGAZINE 55

Ram half Converted Oct 2018.indd 1

9/26/18 2:02 PM
---
TRADE TALK

AN UPDATE COVERING

THE LATEST NEWS ABOUT

HARDWOOD SUPPLIERS/VENDORS

EXPERIENCE QUALITY DEPENDABILITY

975 Conrad Hill Mine Rd. ~ Lexington, NC 27292

Phone 336-746-5419 ~ Fax 336-746-6177

www.kepleyfrank.us

Facilities:

3 Sawmills Processing 50 Million' • 750,000' Dry Kiln

Capacity • 600,000' Fan Shed Capacity

2 382 Newman Planer Mills • 50 Bay Bin Sorter

Products Available:

4/4-8/4 Appalachian Lumber • 6/4-8/4 Ship Dry Capacity

Crossties (100,000 BF per week) • Timbers up to 18'

1,000,000+ Average KD Inventory • 12,000,000+

Average AD Inventory

Species:

White Oak • Red Oak • Poplar • Ash • Hickory

Elm • Beech • Gum • Hackberry • Pecan

Jimmy Kepley, owner, and Bart

Jenkins, lumber sales

The firm manufactures 4/4 through 8/4 thicknesses.

Sales:

Bart Jenkins

bjenkins@kepleyfrank.us

Jimmy Kepley

jkepley@kepleyfrank.us

AKRON, IN— Marcus Banning

was recently named to a

sales position for Pike Lumber

Company, based here. Pike

manufactures kiln-dried Appalachian

Hardwoods including

Red and White Oak, Red

and White Oak R/Q, Walnut,

Hickory, Hard and Soft Maple,

Poplar, Basswood, Ash and

Cherry.

Marcus Banning

Banning is responsible for

helping to sell the increased lumber volume with the addition

of the company's third sawmill in Indiana. Banning

has worked for Pike for 1 ½ years. He started in the production

side of the company for over a year in the management

training program and was moved to the sales

force.

He previously worked in education for 12 years, as a

teacher and athletic director. He graduated from Purdue

University with a degree in education. In his spare time,

he enjoys spending time with his wife and two daughters,

sports, and spending time at the beach.

For more information, you can visit www.pikelum

ber.com.

NEWALD, WI— Cleereman

Industries, headquartered

here, recently performed

these installations:

• A Cleereman Linear LP-38

Carriage at Windy Ridge Lumber

in Crockett, VA;

• A new Cleereman 848

Debarker at MO PAC Lumber

Company in Fayette, MO; and

• A new Cleereman Controls

Paul Cleereman

3-D carriage scanning system

at Grezinski Forest Products in Stevens Point, WI.

Rich in logging and sawmill history, Cleereman Industries

has developed and manufactured sawmill machinery

for over 60 years using three guiding principles:

• Manufacture high quality products built for high production,

increased yield and years of trouble-free operations.

• Use simple yet highly functional designs to minimize

the number of moving parts while maximizing the perfor-

mance and functionality.

• Provide unequaled service and support to our customers.

For more information, please visit www.cleereman.

com.

BASTIEN, QC— Lumber Resources, headquartered

here, was recently successful in renewing its FSC mixed

credit certification. According to the FSC website, FSC Mix

products are made with a combination of FSC virgin fiber

and controlled virgin fiber. Lumber Resources thanks their

supply chain partners/suppliers for participating in the collective

effort.

According to the Lumber Resources website, Lumber

Resources, with over 15 years of industry experience, has

acquired a reputation for its know-how, efficiency, quality

and relationship-based partnerships with its customers.

From the beginning, one of the strengths of Lumber

Resources has been attracting experienced sales talent

who are specialized in the company's areas of expertise:

pre-cut pallet components, industrial wood products, Hardwood

lumber and flooring.

For more information, you can go to www.rlumber.

ca.

EAU CLAIRE, WI— In the

late 1890s, Frank McDonough

invented the Travelling Bed

Feed, now known as the Linebar

Resaw, that revolutionized

the sawmill industry. More than

120 years later, McDonough

Manufacturing Co., headquartered

here, is once again reimagining

what the Resaw can

be.

Matt Tietz

Available as a new installation

or as an upgrade to any existing resaw, the McDonough

AutoMAXX resaw system combines physical controls with

a visual operator interface, high-quality digital imaging and

vision optimization to maximize yield of grade and throughput.

Using vision optimization to suggest the best face to

the operator, the AutoMAXX AI framework will build a database

of decision-making processes based on operator decisions

that will decrease dependency on the operator and

Please turn the page

HICKORY

ANOTHER SPECIES OFFERED

IN A VARIETY OF WAYS

PLAINSAWN

4/4, 5/4, 6/4, AND 8/4

FLAT, STRAIGHT, AND STAIN FREE

OFFERED IN 3 COLOR SORTS

LIVE SAWN RUSTIC GRADING

4/4 SORTED EVERY INCH, 6-10"

RIFT AND QUARTERED

sales@devereauxsawmill.com

989-593-2552

devereauxsawmill.com

56 JANUARY 2021 n NATIONAL HARDWOOD MAGAZINE JANUARY 2021 n NATIONAL HARDWOOD MAGAZINE 57

4/4
---
WOOD TRADE PUBLICATIONS

EST 1927

Miller Wood Trade Publications proudly

serves the Forest Products Industry

with the following publications and

online directories

National Hardwood Magazine

www.nationalhardwoodmag.com

Import/Export Wood Purchasing News

www.woodpurchasingnews.com

Softwood Forest Products Buyer

www.softwoodbuyer.com

Imported Wood Purchasing Guide

www.importedwoodpurchasing.com

Forest Products Export Directory

www.forestproductsexport.com

Hardwood Purchasing Handbook

www.hardwoodpurchasinghdbk.com

Greenbook's Hardwood Marketing Directory

www.millerwoodtradepub.com

Greenbook's Softwood Marketing Directory

www.millerwoodtradepub.com

Forest Products Stock Exchange

www.millerwoodtradepub.com

P.O. Box 34908, Memphis, TN 38184-0908

(800) 844-1280 or (901) 372-8280

info@millerwoodtradepub.com

www.millerwoodtradepub.com

PLEASE VISIT US ONLINE FOR MORE INFORMATION

ABOUT OUR PUBLICATIONS

TRADE TALK Continued

allow the machine to run in "auto-mode" without pause, in

turn improving operator decisions and reducing responsibility

on the operator for productivity.

Allowing the operator to see four faces simultaneously,

and identifying white spots, blond knots, low contrast color

variation, etc., system overrides will be rare, according to

a company statement. As the AI framework processes and

stores information over time, the AutoMAXX will begin to

utilize max available grade estimates to influence cutting

solutions several cuts ahead.

Providing a significant increase in grade/value recovery,

as well as reducing operator responsibility, error, injury

and fatigue, the AutoMAXX optimizer provides estimated

'max grade', SM and value of each face with high accuracy.

Also, Matt Tietz, vice president/owner of McDonough,

recently announced the following equipment installations.

McDonough is a family-owned and operated manufacturer

of custom sawmill machinery.

Recent installations include:

• Norton Lumber, Spooner, WI: a complete McDonough

horizontal resaw system to renovate their sawmill.

• Robinson Stave, East Bernstadt, KY: a McDonough

54-inch custom stave resaw system.

• RJ Lumber Co., Drakesville, IA: a McDonough 7-foot

slant band mill.

McDonough Manufacturing also operates a manufacturing

facility in Mactaquac, NB.

Learn more at www.mcdonough-mfg.com.

U-C Coatings, LLC serves the logging, lumber, construction,

and wood products industries. Their high-quality

products and unmatched customer service help customers

achieve higher yields and less waste, advancing the

company's mission to protect, enhance, and conserve forest

resources. Learn more at www.uccoatings.com. n

HARDWOOD FEDERATION INFO

Continued from page 15

MARS HILL JUNE 2014_Layout 1 5/19/14 2:24 PM Page 1

with both parties exerting some control over pieces of the

legislative process.

The first order of business in the new year for the Hardwood

Federation staff will be to connect with new Members

of Congress and the Administration to educate them

about the U.S. Hardwood industry and its contributions to

the economy at both the state and federal levels. Early in

the year we will be touching base with returning Committee

Chairs and making ourselves known to new leadership.

Identifying those in positions to help us, what points

of agreement exist and who we need to win over to our

way of thinking are at the top of our to-do list.

To prepare for 2021, the Hardwood Federation Board of

Directors provided both the Trump and Biden campaign

teams a list of our priorities for the new Congress. This

list serves as our starting point for advocacy efforts and

will also be shared with Senate and House leaders. Unexpected

issues will inevitably arise, but these are the issues

we hope to focus on over the next year. The Federation

Board recommends that the new Administration:

• Enter into international agreements that promote free

and fair global trade systems, grow the demand for U.S.

Hardwoods around the world, and avoid the kinds of punitive

retaliatory tariffs that have devastated the U.S. Hardwood

industry.

• Maintain and increase USDA funding that supports

growing global markets for U.S. Hardwood and Hardwood

products, specifically USDA's Foreign Market Development

Program and Market Access Program.

• Implement policies that promote and foster strong domestic

markets for U.S. Hardwood and Hardwood products

including new funding to research the environmental

and home health benefits of Hardwood products.

• Support public and private green building initiatives

by extending a sustainable tax credit to building and construction

projects, including U.S. wood products, used in

these projects.

• Increase government purchases of U.S. structural and

finished wood products for federal building and transportation

projects and for U.S. military truck beds.

A 60+ Year Tradition of Excellence

Serving architectural woodworkers, cabinet and fixture

manufacturers with vast inventories of premium quality

domestic and imported hardwoods, from Alder to

Zebrawood, 4/4 through 16/4 in many species. When you

need Hardwood, think MacBeath. . . a name synonymous

with fine quality and prompt, reliable service.

Corporate Office &

Concentration Yard:

Edinburgh, Indiana

800-322-9743

Reload:

Northern California:

Golden State Reload Berkeley: 800-479-9907

Perris, California

Stockton: 844-490-5051

800-322-9743

Utah: Salt Lake City: 800-255-3743

Mars Hill, Inc.

at (866) 629-9089 for obtaining the

best looking White Poplar

you've ever seen.

We like to say "It's so white, it'll blind you!"

We offer our White Poplar in 4/4 through 8/4 thicknesses

in Sap 1F & Btr, 1 Com and/or FAS/1F grades in truck

load or container load quantities only.

ATT: PALLET - STAKE - INDUSTRIAL MFRS!

Hardwood Lumber Rough Green

4/4xRWxRL • 4/4x6xRL • 8/4xRWxRL • 6/4xRWxRL

SYP Heat Treated

1x4x40 • 1x6x40 • 2x4x40 • 2x6x40

2x4x48 • 1x2x12"-36" SYP KD Stakes

Other sizes from can to cant! All inquiries welcome!

Dense HDWD Stakes, Chisel Point

1 1/8x1 1/8

Truckload lots available, quoted F.O.B. your yard.

(866) 629-9089

Fax: 601-671-0736

e-mail: mwood@marshillinc.com

www.marshillinc.com

We accept major credit cards

BUFFALO, NY— U-C Coatings,

LLC., headquartered

here, welcomes Brian Bila as

their Midwest Territory Sales

Representative covering Ohio,

Indiana, Michigan, Wisconsin,

Iowa, and Minnesota. Bila, a

graduate of Michigan State

University College of Agriculture,

has over 20 years of experience

in the forestry industry.

Bila brings to the company Brian Bila

a wealth of industry knowledge

having worked as a procurement forester, log buyer and a

veneer buyer for several Hardwood companies including

Oakley Hardwoods, Hardwoods of Michigan, American

Stave Co., Buskirk Lumber, Meister Log & Lumber, Post

Hardwoods, and Manthei Veneer.

A Michigan native, Bila, along with his wife, Lisa, and

two daughters, live in Laingsburg, MI, located near Lansing.

He enjoys hunting and fishing when he is not traveling

across the country with his daughters to play travelsoftball.

Please turn the page

58 JANUARY 2021 n NATIONAL HARDWOOD MAGAZINE JANUARY 2021 n NATIONAL HARDWOOD MAGAZINE 59

Contact

MacbeathREV 12-2018.indd 1

Arizona:

Phoenix: 602-504-1931

Tempe: 480-355-5090

Tucson: 520-745-8301

macbeath.com

6/21/19 10:13 AM
---
"Looking for Premium Appalachian Hardwood?

Harold White Lumber, Inc. is the supplier

you can trust!"

HAROLD WHITE 2016-2.indd 5

HWL

HAROLD WHITE LUMBER

Founded in 1968 by Harold White, we offer:

• Bandsawn lumber

• Excellent color and texture

• 500,000 b.f. kiln capacity

• Planing mill facility

• On-site container loading

• Dimension plant specializing in paneling, flooring,

casing, doors and finger-joints

For lumber and prompt worldwide shipping,

contact Ray White: rwhite@haroldwhitelumber.com

For dimension and/or millwork requests,

contact Lee White: lwhite@haroldwhitelumber.com.

Harold White Lumber, Inc.

2920 Flemingsburg Road

Morehead, KY 40351

(606) 784-7573 phone

(606) 784-2624 fax

www.haroldwhitelumber.com

6/6/16 2:40 PM

HARDWOOD FEDERATION INFO

Continued

• Recognize the benefits and fully fund the programs

that support active forest management on federal and

private forest lands, including sustainable timber harvest,

restoration, maintenance of forest roads and fire prevention.

These programs are vital to the health and sustainability

of not only the forests themselves, but also the surrounding

communities.

• Finalize the EPA rule recognizing combustion of biomass

derived from sustainably managed forests as carbon

neutral. Forest based biomass is renewable and

sustainable and bioenergy produced from biomass helps

keep our forestlands as forests and not converted to other

non-growing uses.

• Expand the pass-through deduction enacted as part of

the Tax Cuts and Jobs Act (TCJA) and make it permanent.

Most businesses in the Hardwood sector are organized

as S-Corporations and other pass-through structures. The

TCJA provided favorable tax treatment for large companies

that are eligible for C-Corp status, but small and medium

sized businesses are taxed at a higher rate. This has

created an unlevel playing field that skews against main

street businesses in rural communities.

• Fully fund and enforce the Lacey Act, which was

amended in 2008 to combat illegal logging around the

globe. The Hardwood Federation actively supported this

amendment and is committed to fair, equitable and legal

trade in forest products.

Elections are a powerful reminder of why organizations

like the Hardwood Federation exist and are important to

you as a leader in the Hardwood industry. Although elected

officials, administrations and political appointees may

come and go, it is important to have consistent representation

in Washington, DC to represent your interest no matter

who sits in the White House or speaks from the House

or Senate floor. We remain dedicated to pushing federal

policies that help sustain and grow the Hardwood industry

in the United States and look forward to reconnecting with

returning Members of Congress and educating those new

to Washington. n

WCMA INSIGHTS Continued from page 16

look forward to hearing from you!

Working with WCMA Members

The benefits of working with WCMA member companies

are clear. Manufacturers that outsource components

are more profitable than those that do not, period. All independent

studies since 1970 prove it. It's just good business

to outsource.

Finding a supplier that can consistently produce quality

components and be responsive to your needs is easier

than ever before. Just give us a call at 651-332-6332 or

visit our source guide at www.wcma.com/source_guide.

html. You will be provided with a list of WCMA Member

Companies that will meet your exact requirements for dimension

and component products made from Hardwoods,

softwoods, and engineered wood materials. It's that easy!

We look forward to hearing from you! n

LIKE US ON

Social Media

facebook@millerwoodtradepub

instagram@millerwoodtradepub

NHLA NEWS Continued from page 17

time. In the new format, they study on their own, in the

evenings and on weekends. This new approach leaves

more classroom time for hands-on training, lectures on

a mix of new and different aspects of the industry such

as safety, lumber stacking, supervisory skills, and transitioning

to an inspector position. The new curriculum also

includes virtual classes on Species ID and kiln drying by

renowned professor Adam Taylor. Classes on upgrading

lumber and stacking lumber will also be included.

Students are also required to complete multiple Board

Runs beginning earlier in the program. This hands-on "applied

learning" approach is more in keeping with modern

educational strategies. They will also practice and be tested

on a green chain to duplicate real world work environments.

While the school's curriculum may change with the

times, NHLA will never waver in its commitment to fill the

critical need for NHLA trained lumber inspectors. Please

consider sending an employee to NHLA's first eight-week

class in its history. The new eight-week class starts on

January 5, 2021, so be sure to call Carol Mcelya, ITS

Administrator at 901-399-7563, or visit nhla.com to learn

more.

Just one more example of how NHLA is evolving to

MANUFACTURER OF QUALITY BAND SAWN

NORTHERN APPALACHIAN HARDWOODS

RED OAK WHITE OAK CHERRY SOFT MAPLE

POPLAR WHITE ASH HARD MAPLE WALNUT

500,000 B.F. Dry Kiln Capacity 2 Million B.F. Dry Storage

Container Loading

2240 Shermans Valley Road, Elliottsburg, PA 17024

Phone: 717-582-4122 Fax: 717-582-7438

Jason Twigg: (Cell) 717-514-2224

Toll Free: 1-800-253-0263

E-mail: sales@tuscarorahardwoods.com

Website: tuscarorahardwoods.com

Your colleagues are often your best source for in-depth

insight and ideas. The WCMA gives you the opportunity

to connect with industry professionals across the United

States and Canada. For a list of additional member benefits,

go to www.wcma.com/member_benefits.html.

I would love an opportunity to discuss membership in

more detail with you. Please call me at 651-332-6332 or

email me directly at amy@wcma.com. You can also see

more about membership and all the activities that the

WCMA is working on at our website, www.wcma.com. I

meet your needs. n

60 JANUARY 2021 n NATIONAL HARDWOOD MAGAZINE JANUARY 2021 n NATIONAL HARDWOOD MAGAZINE 61

Mixed TL's

S2S, Ripped to Width, Cut-Length & Finger-Joint

Lumber Measured & Inspected after Kiln Drying
---
CLASSIFIED

PROFIT OPPORTUNITIES

ALL CLASSIFIED ADS MUST BE PAID IN ADVANCE

• $45.00 PER INCH • BLIND BOX NUMBER FEE: $10.00

• DEADLINE • 30 Days Preceding Publication Month

FOR INFORMATION CALL: 800-844-1280

HELP WANTED • EMPLOYMENT WANTED • BUSINESS OPPORTUNITIES • USED

WOODWORKING MACHINERY & SAWMILL EQUIPMENT • USED MATERIAL HANDLING

EQUIPMENT • PANEL PRODUCTION EQUIPMENT • SERVICES

SEEKING TO PURCHASE FACILITY

Seeking Hardwood concentration yard or millwork

facility that has its own dry kilns in Northeast Ohio,

Northwest PA, or New York.

Please send any responses to

nhm@millerwoodtradepub.com. Subject: CMP #3576

SERVICES

The Team Leader, Business Development and Sales is to ensure McDonough Manufacturing achieves/exceeds

its quarterly and annual sales targets by securing new business and growing existing business.

SPECIFIC ACCOUNTABILITIES

• Build and manage a sales team to meet annual sales targets

• Identify new market opportunities

• Execute sales activity to meet and exceed pre-defined new

sales targets annually

• Develop and maintain positive client relationships

• Develop proposals and work with the operations team to en

sure competitive profitable quotes and winning bids

• Facilitate professional communications between McDonough

Manufacturing and its clients throughout projects

• Participate in industry forums/shows/events specific to

McDonough Manufacturing's target markets

• Travel for in-person meetings with customers and partners

and to develop key relationships

• Monitor key customer and market activities

McDonough Manufacturing

Team Leader, Business Development and Sales

SKILLS AND KNOWLEDGE

• Knowledge of the sawmill machinery industry

• Knowledge of manufacturing sales, project negotiating, and

change management

• Results oriented with exceptional sales ability

• Strong written and oral communication interpersonal and

presentation skills

• Ambitious, highly motivated, and competitive

• Works collaboratively with others to accomplish team and

company objectives

• Effective organizational, time management skills and followthrough

ability

QUALIFICATIONS

• Post-secondary education degree, desirable study concentra

tions in engineering, business, economics, finance, account

ing (or equivalent combination of education and experience)

• Proven sales ability

• 7+ years' experience in similar capacity

• Work requires flexibility and the ability to travel and/or work

remotely for sometimes extended periods

For additional information, or to apply, visit www.mcdonough-mfg.com/careers

or email resume and cover letter to Matt Tietz at mtietz@mcdonoughmfg.com.

Classified advertising will not be accepted for

Hardwood products such as lumber, dimension, turnings,

veneer, carvings, new dry kilns or dry kiln equipment, etc.

To: Anyone involved in the sawmill controls industry

There are many stories and people that have been

involved in the sawmill controls industry.

This fascinating history should be preserved. I want to write

a book about this industry and would appreciate any stories

or comments you might want to add. I am willing to meet in

person if needed.

Please contact me, Jeff Hurdle, at:

hurd2575@gmail.com

What are you

up to now?

Expanding your facilities,

adding personnel or

equipment, holding a

meeting or convention?

National Hardwood

Magazine would like

to know so we can

publish your

announcement.

Send your news to:

editor@

millerwoodtradepub.com

62 JANUARY 2021 n NATIONAL HARDWOOD MAGAZINE JANUARY 2021 n NATIONAL HARDWOOD MAGAZINE 63
---
ADVERTISERS

INDEX

Abenaki Timber Corporation...............

Air Systems Mfg. of Lenoir, Inc...........

Ally Global Logistics............................

American Wood Dryers, LLC................

Atlanta Hardwood Corporation...........

Autolog Sawmill Automation...............

Automation & Electronics USA....... 11

Beard Hardwoods............................ 52

Beasley Forest Products, Inc..............

Bingaman & Son Lumber, Inc..............

BioLube, Inc.........................................

Breeze Dried Inc..................................

Buckman Laboratories Int'l., Inc.........

Carbotech International......................

Cardin Forest Products LLC................

Church, Bryant, Hardwoods, Inc..... 54

Clark Lumber Co..................................

Cleereman Controls......................... 13

Cleereman Industries...................... 13

Cole Hardwood, Inc.............................

Collins..................................................

Cooper Machine Co., Inc......................

Corley Manufacturing Co.....................

Cramer, W.M., Lumber Co....................

Cummings Lumber Co., Inc............... 3

Deer Park Lumber, Inc.........................

Devereaux Sawmill, Inc................... 57

Distribution Management Systems,

inc. (DMSi).......................................IFC

Eagle Lumber Co. LLC..................... 46

Eberl Trocknungsanlagen GmbH.........

Fitzpatrick & Weller Inc.......................

GF Hardwoods, Inc.......................... 50

Graf Bros. Flooring & Lumber........... 5

Graf & Thomas Lumber, Inc................

Granite Hardwoods, Inc.......................

Granite Valley Forest Products.......BC

GTL Lumber Inc...................................

Hardwood Forestry Fund................. 60

Hardwood Manufacturers Assoc.........

Hartzell Hardwoods, Inc......................

Hermitage Hardwood Lumber Sales,

Inc.................................................... 49

HHP, Inc................................................

Hurdle Machine Works Inc..................

Irving, J.D., Limited.............................

ISK Biocides, Inc.................................

JoCo Lumber, Inc.................................

Jones, Ron, Hardwood Sales, Inc........

Josey Lumber Co., Inc.........................

Kentucky Forest Industries Assoc......

Kepley-Frank Hardwood Co., Inc..... 56

King City Forwarding USA, Inc............

King City/Northway Forwarding Ltd....

Kretz Lumber Co., Inc..........................

Lawrence Lumber Company Inc..........

Lewis Controls, Inc..............................

Lewis, Dwight, Lumber Co., Inc..........

Limbo...................................................

Lucidyne Technologies Inc..................

Lumber Resources Inc..................... 45

Lussier, Simon, Ltd..............................

MacBeath Hardwood Company....... 59

Maine Woods Company........................

Mars Hill, Inc.................................... 59

Maxwell Hardwood Flooring................

McDonough Manufacturing Company...

Mellott Manufacturing Co., Inc........ 51

Meridien Hardwoods of PA., Inc...... 53

Midwest Hardwood Corporation..... FC

Miller, Frank, Lumber, Inc....................

MO PAC Lumber Company...................

Mueller Bros. Timber, Inc....................

Neff Lumber Mills, Inc.........................

Netterville, Fred, Lumber Co...............

North American Forest Foundation.....

Northern Hardwoods...........................

Northwest Hardwoods, Inc.................

Nyle Systems, LLC............................. 4

Oakcrest Lumber, Inc..........................

OHC | Overseas Hardwoods Company...

O'Shea Lumber Co...............................

Pantron Automation, Inc......................

Pennsylvania Lumbermens Mutual

Insurance Company.............................

Peterson, Keith D., & Co., Inc.......... 61

Pike Lumber Co., Inc............................

Prime Lumber Company......................

Primewood...........................................

Ram Forest Products, Inc................ 55

Rosenberry, Carl, & Sons, Lumber,

Inc........................................................

Sawmill MD..........................................

SII Dry Kilns.........................................

Sirianni Hardwoods, Inc.................. 47

Smithco Manufacturing, Inc................

Snowbelt Hardwoods, Inc............... 48

Southern Forest Products Assoc........

Stiles, A.W., Contractors, Inc..............

Taylor Machine Works, Inc..................

Thompson Hardwoods, Inc..................

Tigerton Lumber Co.............................

TMX Shipping Co., Inc..........................

Tropical Forest Products.........1 & IBC

TS Manufacturing............................ 10

Tuscarora Hardwoods, Inc.............. 61

U-C Coatings, LLC................................

USNR....................................................

Western Hardwood Association..........

Wheeland Lumber Co., Inc...................

White, Harold, Lumber, Inc.............. 60

Williams, R.J., Inc................................

WE MAKE

POSSIBLE

WHAT

NATURE

MADE

PERFECT.

PREMIUM EXOTIC WOOD

FROM SUSTAINABLE FORESTS

ALL OVER THE WORLD.

We go deep into the world's largest and most

bountiful tropical forests to search for

remarkably unique trees. And when we find

them, it's time we carefully craft them into

fine pieces of lumber, ready to be shipped

worldwide, at any time.

Call now and get to know Tropical, your

number one exotic lumber supplier for North

America.

tropicalforestproducts.com

905 672-8000 | 855 344-4500

Note: Advertisers with no page number carry an alternating Ad schedule.

64 JANUARY 2021 n NATIONAL HARDWOOD MAGAZINE JANUARY 2021 n NATIONAL HARDWOOD MAGAZINE 65
---
The Granite Valley Difference

Our

Sawmills

Our sawmills in

Wisconsin prepare

raw timber for delivery

to our finishing mills.

Quality

Processing

We "rough grade" our kiln-dried

woods to ensure the best appearance.

Quality assurance on every load.

Custom

Work

To help you streamline your

production process, we

can supply custom-cut

pre-production blanks

to your specs.

Ready

Inventory

Our average on-hand

kiln-dried supply is

10 million board feet.

Get the wood you need,

with quick turnaround.

Granite Valley Forest Products keeps growing as a single-source supplier to

better serve you. We sell rough, S2S, straight-line ripping, and offer

NHLA grades and customer-proprietary grading based on NHLA guidelines.

Custom products are available to your exact specs for width, length and color.

Visit our website to learn more or email us at sales@granitevalley.com.

Offices in Wisconsin, Indiana

& Colorado

sales@granitevalley.com

granitevalley.com

Alder | Aromatic Cedar | Black & White Ash | Aspen | Basswood

Beech | White & Yellow Birch | Bitternut | Butternut | Cherry

Grey & Red Elm | Hard Maple | Hickory | Red Oak | White Oak

Norway Pine | White Pine | Poplar | Red & Silver Soft Maple | Walnut

White Cedar | Rift & Quartered Red & White Oak

66 JANUARY 2021 n NATIONAL HARDWOOD MAGAZINE