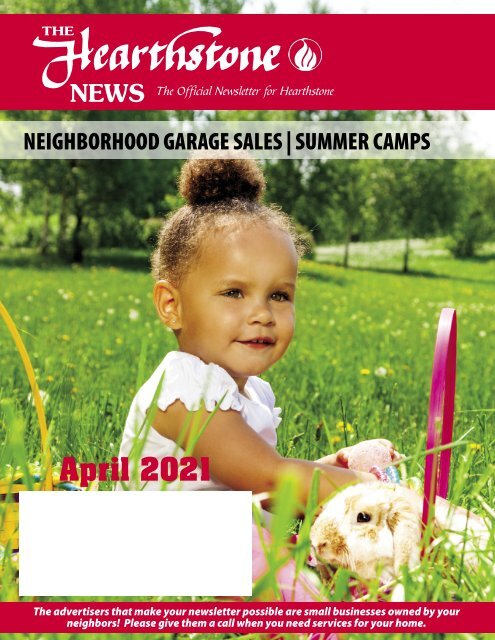 Create successful ePaper yourself
Turn your PDF publications into a flip-book with our unique Google optimized e-Paper software.
NEIGHBORHOOD GARAGE SALES | SUMMER CAMPS

April 2021

The advertisers that make your newsletter possible are small businesses owned by your

neighbors! Please give them a call when you need services for your home.

Hearthstone | April 2021 1
---
Listing of the Month

14114 N. Suddley Castle St.

SALE PENDING

Experience the Difference

Call Us When You Are Ready to Buy or Sell!

Steve Johnston

713-826-2197

steve_johnston51@yahoo.com

Linda Johnston

281-782-5023

lirda@sbcglobal.net

Hearthstone Resident Since 1991

Your Bottom Line Is our Biggest Concern

For all your Home Selling or Buying Needs

Hearthstone HOA, Inc.

Sections 1, 2, 3, 4, 5, 6 & 7; Hearthstone Green,

Sections 1, 2, 3 & 4; Avila Ct. Estates, Hearthstone Meadows.

BOARD MEMBERS

President, Terry Gingell 281-703-8184

Vice President, Scooter Cantrell 281-220-9160

Secretary, Virgil Hydes 281-859-0438

Treasurer, Mike Looney 281-550-7010

Director, Bob Comeaux

Director, Lester Leger

Director, Tina Bailey

MANAGEMENT COMPANY - INFRAMARK

2002 West Grand Parkway North, Suite 100, Katy, TX 77449

Office: 281-870-0585 | Mobile: 281-371-4154

Customer Service: 281-870-0585 | www.inframark.com

Manager: Katie Ivanics

Katie.Ivanics@inframark.com

I am here to assist you with all your HOA questions and concerns. Please

feel free to contact me at any time.

COMMITTEES

Architectural Control - Virgil Hydes

Community Relations - Terry Gingell

Security - Scooter Cantrell

PUBLISHED BY: KRENEK PRINTING

www.krenekprinting.com • 281-463-8649

ALL SECTIONS OF HEARTHSTONE

Hearthstone Garden Club hearthstonegardenclub@gmail.com

President - Christine Kalmbach 832-755-2954

Children's Co-op: Nicole Allen 610-248-4745

hearthstonemoms@gmail.com

Swim Team Hugh McKinney 713-822-5490

Hearthstone Country Club 281-463-2201

SCHOOLS

Horne Elementary School 281-463-5954

Owens Elementary School 281-463-5915

Labay Middle School 281-463-5800

Truitt Middle School 281-856-1100

Cy-Falls High School 281-856-1000

www.cfisd.net

TRASH/WATER

Water District Spencer Rd PUD 281-469-5740

WCA (Waste Corportion of America) 281-368-8397

IMPORTANT NUMBERS

Fire/Ambulance 911

Harris County Constables 281-463-6666

Sheriff 713-221-6000

Poison Control 800-222-1222

Animal Control 281-999-3191

Texas Wildlife Rehabilitation 713-941-8972

Mosquito Control 713-796-6900

Children's Protective Svs 713-394-4000

DPS Sex Offenders website

http://records.txdps.state.tx.us

Harris Co. Public Health & Envir 713-439-6000

Street Light Repair (give pole #) 713-207-2222

www.centerpointenergy.com/outage

To report gas leaks 713-659-3552

Street Repair 281-463-6300

INFORMATION ON BUSINESS ADS: ads@krenekprinting.com

NON-PROFIT ARTICLE REQUESTS: news@krenekprinting.com

2

April 2021 | Hearthstone
---
Providing Better Options for

HEART & VASCULAR CARE

in Northwest Houston

Through specialized programs, clinical trials and a commitment

to challenging conventional thinking, our comprehensive team of

cardiovascular specialists is improving outcomes and providing

better options for heart and vascular care in your community.

HARGRAVE RD.

CENTERFIELD DR.

Our doctors specialize in treating a wide spectrum of

cardiovascular diseases and disorders, including:

• Atrial fibrillation and

heart rhythm disorders

• Coronary artery disease

• Heart failure

• Valve disease

• Vein and artery disorders

Willowbrook

HOUSTON METHODIST

WILLOWBROOK HOSPITAL

249

WILLOW CHASE BLVD.

And, you can be confident that we are taking every necessary

precaution to keep you safe throughout your visit.

To find a doctor or schedule an appointment, visit

houstonmethodist.org/debakey/willowbrook or call 713.DEBAKEY.

Hearthstone | April 2021 3
---
HEARTHSTONE GARAGE SALE

SATURDAY, APRIL 17, 2021 | 7 AM-2PM

MARCH YARD OF THE MONTH

March is here and spring is in the air! After the devastating winter storm and hard freeze, the

Yard of the Month committee had a difficult adventure to find a yard with something green

and growing. Yard after yard was brown, barren and withered by the freeze... until our quest

brought us to 14310 Scotney Castle St., home of Teresa and Dan Reissig!

Packed with feathery evergreen juniper bushes, neatly trimmed holly shrubs and expertly

manicured boxwood: This yard is not only alive but thriving! The combination of freezehardy

shrubs was enhanced by bright flower beds of color: Tulips, pentas, petunias,

snapdragons and dusty miller. Scotney Castle is an easy street to overlook; it's a small culde-sac

off Blenheim Palace Ln. and our winner's yard is tucked into a corner, but this is a yard

worthy of pursuit!

HEARTHSTONE GARDEN CLUB NEWS

Have you been isolated because of the pandemic, gotten ill, down in the dumps with all the

negative news or overwhelmed with life in general? How about joining the Hearthstone

Garden Club? We are a small group of dedicated people that love the outdoors and showing

beauty in God's creation! Our theme this year has been Gather, Grow, Give & Go - Let us

Gather together, Grow our souls, Give to our community & Go show beauty every day! You

can join us in person for some events and online as well! We are all about community! Let us

do life together and make it beautiful!

April 5 th -9 th - Texas Garden Clubs 93 rd Spring Convention - San Antonio, Texas - more info at

https://texasgardenclubs.org/

April 20 th - General Meeting at Hearthstone Country Club 7615 Ameswood Drive, Houston,

77095 at 6:30 PM. Please RSVP to hearthstonegardenclub@gmail.com by April 13 th .

May 15 th - "Hope Blooms" HGC Flower "Horticulture" Show - hosted outdoors at a member's

home. Horticulture, Botanical Arts and Photography entries will be accepted.

May 18 th - HGC General Meeting - Officer Installation Dinner at Hearthstone Country

Club 7615 Ameswood Drive, Houston, 77095 at 6:30 PM. Tickets are $25. Please RSVP to

hearthstonegardenclub@gmail.com by May 4 th .

June 7 th -11 th - National Garden Club Week - HGC is planning a special event for this and

more details will be forthcoming!

In order to join or if you have questions please contact President Christine Kalmbach at

832-755-2954 or via email at hearthstonegardenclub@gmail.com or go to our website

hearthstonegardenclub.com/ for more information!

MESSAGE TO ALL HEARTHSTONE RESIDENTS FROM THE

HEARTHSTONE COUNTRY CLUB

Incidents of trespassing on the golf course have recently had a dramatic increase.

Accordingly, the club has posted new signs at all areas of access that address the trespassing

issue. No one, whether members or non-members are to be on the club property at any

time, day or evening, unless you are registered with the Pro shop. No walking or jogging,

no dog walking, no bike riding, no fishing. The club has asked the Constables to assist in the

enforcement of this violation. Please be a good neighbor and respect the club's property.

4

WEBSITE

Hearthstone Board is excited to announce that

Hearthstone HOA has partnered with a technology

company NabrNetwork to bring to you Townsquare,

which has been selected as our official, Boardapproved

communication tool/website for

Hearthstone HOA! Accessible via mobile phone,

tablet and desktop - and completely private. A

Townsquare welcome letter was recently sent out

to all homeowners. If you didn't receive the letter

please follow these steps to sign up.

1. Access townsquare at https://inframarkims.com/

what-we-do/association-management/

2. Click on townsquare in the right-side menu

3. Confirm your zip code and select "I live in

Hearthstone HOA"

4. Select "I am an owner"

5. Enter your unique Account Number

If you don't have your account number please call

281-870-0585 or email Katie.Ivanics@Inframark.

com to assist. Please note moving forward this

will be the new website and the old Hearthstone

website will no longer be used.

HOUSTON WEST FAMILY

GENEALOGY SOCIETY

Meets the 2 nd Thursday of each month, September-

May, from 12:30-3 PM, see website for instructions

on our Zoom meetings each month, live TBD. More

info, www.houstonwestfamgen.org.

GOLF CART OPERATORS IN

HEARTHSTONE:

Parents, please remember that all operators

of golf carts on both public streets and at the

Hearthstone Country Club must be at least 16 years

old and have a valid TX Operators license. We have

recently noticed many underage operators driving

through the community. Underage drivers subject

both themselves and their parents to citation by

the Harris County Constables Office. Should an

underage driver cause any damage to a person

or property, most insurance companies will not

cover the loss leaving the parents open to civil

litigation. Please parents, if your child is underage

and operating your golf cart, ask them to stop. If our

Constable on patrol continues to observe underage

drivers she/he will have no choice but to stop the

driver and call the parents. Let's take care of this

issue on our own. Thanks!

April 2021 | Hearthstone
---
LEASH LAW:

Please be mindful of the Harris County Leash Law and be certain that

your pets are on a leash when not confined to your home or backyard.

DO'S AND DON'TS OF DEED RESTRICTIONS

Deed restrictions or often called "restrictive covenants" (especially in

the context of homeowners associations) are restrictions contained in

incorporating documents that limit how a property can be used or what

can be built on it. Subdivision developers create these restrictions in

order to keep size, quality and nature of housing consistent in an effort to

maintain market value of the subdivision. For the most part, Hearthstone

residents abide by our deed restrictions. Yards are kept clean and neat.

Home exteriors are washed and unsightly mold is removed. Our neighbors

file the required ACC forms when making changes to their home exteriors

or adding a room or other structure. Trailers are not parked in driveways or

on the street for extended periods of time and commercial vehicles are kept

in garages. However, there are always a few who, from time to time forget

or are not well informed about to do's and don'ts of our deed restrictions.

We need your help. We need everyone to follow the deed restrictions.

If you aren't familiar with them, they can be found in the documents

section of our website. If you're not sure, call the management company.

Our management company inspects the community once a month

checking for violations. There are times when they will miss something. If

you have a neighbor who is a continuing violator, call the management

company. If you want to remain anonymous call Katie Ivanics directly and

let her know. Moving forward, the Board has instructed the management

company to continue to inspect closely for violations and follow up with

notices allowed by law.

SPRING SPECIALS ON EQUIPMENT

• Annual

Maintenance

Programs

281-394-0340

$25 off

any

repair

Expires 4/30/21

Free estimate or 2 nd opinion

License TACLB 24777E and Insured

FREE

Wi-fi thermostat

w/ equipment purchase

• All repairs

guaranteed

• Serving area

since 1994

0% Interest

financing available

Expires 4/30/21 WAC Expires 4/30/21

IdealAirServices.com

MEMBER

Greater Houston

1) The first notice is a courtesy letter.

2) If the violation is not cured within 30 days a second letter is sent.

3) If the violation continues another 30 days it is referred to our attorney

and a third letter is sent. The attorney letter results in a $302.50 charge to

the homeowners account.

4) Continuing violations and/or non-payment of a homeowners account

can lead to a notice of foreclosure.

For the good of all of our homeowners in Hearthstone, let's keep our

community clean and neat. Thanks to all of you who already abide by

the rules and thanks in advance to those few who will strive to do better!

STOP THAT BARKING

Many dogs left alone all day get lonely, bored and restless. Many find

relief in barking. Some respond noisily to any and all activity. But, nothing

is as annoying as incessant barking - even for dog lovers. If your dog is a

yapper or a yowler, please consider some of these bark-abatement ideas

to keep the noise down in your area. Your neighbors will thank you!

• Training. Always the first recommendation for any behavioral problem!

Help is as close as the Yellow Pages. Training not only helps your dog,

you'll be surprised how much it helps you, too. You may get some insight

into why your dog barks so much or what it is trying to communicate.

• Citronella collars. A humane alternative to the electric-shock, antibarking

collar and costs about the same. Available on the web and in

pet stores.

• Confinement. Sometimes simply bringing an outspoken dog indoors

or confining it to a crate can cut down on the disturbance to neighbors.

• For inside dogs, reduce stimulus. Close drapes to help muffle street

noise or leave a radio on to mask it.

• Companionship. Dogs are pack animals; they need companionship

- a cat, bird or another dog. Consider a mid-day visit from a pet-sitting

service or drop your pooch off at a friend's place or a day-care facility

once or twice a week.

Keep in mind that dogs who bark from loneliness or boredom, may not

do it when you are home. Meanwhile, your neighbors may be getting

serenaded while you are away.

MPL#40046

Low Price Guarantee

Licensed and Insured

Follow me on Angie's List

For all of your plumbing needs, call...

'

Any job

over $95

info@petersplumbingtx.com

*

Sewer Camera Inspection and Drain Cleaning

Garbage Disposal and Faucet • Water Heater • Repipe

Sewer Repair • Pipe Repair • Toilet Installation

*Cannot be combined with any other offers

ONE CALL DOES IT ALL!

Hearthstone | April 2021 5
---
A MESSAGE FROM YOUR

HARRIS COUNTY CONSTABLE

The Harris County Constable's Office, Precinct 5 is now offering a class

on Rape Aggression Defense (RAD). RAD is one of the best women's selfdefense

courses available. It's a program based on realistic self-defense

tactics and techniques. It is a comprehensive self-defense course for

women that begins with awareness, prevention, risk reduction and

avoidance, while progressing on to the basics of hands-on defensive

training. If you're interested in more information and signing up, go to

this link:: https://constablepct5.com/index.php/rad

Make sure if you or your family goes on vacation to put in a "Vacation

Watch" with our department. That way you'll know your house is being

watched by our patrol deputies. You can fill out a vacation watch form

online here:

https://constablepct5.com/index.php/vacation-watch/

https://constablepct5.com/index.php/special-watch/

Or you can call our dispatch at 281-463-6666.

HEARTHSTONE STREETLIGHTS

The Hearthstone HOA coordinates maintenance of all the streetlights

throughout the community. This includes the "cobra head" lights like

you see along many streets and highways, as well as the decorative light

poles along Huffmeister and in some of the neighborhoods. Cobra head

streetlights need to be reported to CenterPoint, using the pole number,

which is the "address" for the light. It is a six digit number facing the street.

You can report streetlights that are not working or staying on during the

day at http://cnp.centerpointenergy.com/outage (Google streetlight

outage) or give us the pole number and we will do it for you. Outages or

problems with decorative streetlights should be reported to Inframark at

281-870-0585. Please note the exact intersection or closest address. The

association has a contractor doing a monthly nighttime inspection for

lights that are out, but if you see a problem, please report it, so we can

achieve our goal to keep all the lights on all the time.

TRASH DAYS

Trash days are Tuesdays and Fridays with recycling pickup on Fridays. If

you have questions, call 281-368-8397.

BOARD MEETING

Board Meetings are now bi-monthly, usually on the 3 rd Wednesday at 6

PM. Hearthstone Country Club.

LOST & FOUND PETS IN HEARTHSTONE

Folks in Hearthstone are very helpful in getting lost pets reunited with

their owners, but all dog owners should ensure that there is a tag on each

dog with their name, address and phone number. Local pet stores have

machines that make tags like this while you wait. At least that would help

found dogs get back home quicker and with less trauma.

HEARTHSTONE HOA EMAIL ALERTS

Just register at the site using "Join our Mailing Lists" on the opening page.

You will be automatically added to the email group.

This group will be used to quickly but sparingly, get information out to

members between newsletters. If you would like these messages sent to

more than one email address, just register again with each address you

want included in the group.

The addresses will not be sold, distributed or used for any purpose other

than association business. Your address will not even be shared among

group members. Messages sent to the group will be limited to those

authorized by the HOA Board of Directors.

If you have already joined the email group, you do not need to do so

again.

6

HEARTHSTONE EXTERIOR MODIFICATIONS

When making any changes to the exterior of your home, please keep

in mind that you must first submit an application and receive written

approval. An application can be obtained by sending a request to

customercare@inframark.com.

The call center main number is 281-870-0585. The hours are 7 AM to 6 PM

Monday through Thursday and 7 AM to 5 PM on Fridays.

"THE HEARTHSTONE NEWS" IS AVAILABLE ONLINE

The Hearthstone Newsletter can be viewed (in color), online at

krenekprinting.com. Go to www.krenekprinting.com, Click on

newsletters, Select Highway 6, Select Hearthstone and Click to read.

HEARTHSTONE MOM'S CO-OP

ATTENTION MOMS!

If you've ever considered joining a mom's group, look no further! Located

right here in Hearthstone, our group is designed to celebrate our kids

and of course... ourselves! Each year we host several events for the moms,

kids and families to get to know our neighborhood pals. Events include

a Spring Festival, Summer Splash Bash, Back to School Talent Show, Fall

Festival & Hot Momma Chili Cook-off, Bad Mom's Christmas Dinner &

Ornament Exchange, Holiday Market and Santa Visits. Dues are $30 for

the year and cover the cost of all planned events for the kids. Contact

Nicole Allen at 610-248-4745 or email hearthstonemoms@gmail.com

for more information. Please also check out our website at https://sites.

google.com/view/hearthstone-moms-co-op/home.

TEENAGE JOB SEEKERS

If you are between 12 and 18 and would like to be added to the

teenage job seeker's list, please fill out the form on our website (www.

krenekprinting.com, click submissions and choose Jobseekers) with your

name, birthdate (mo. & yr.), phone number, year you will graduate and

the name of your newsletter/subdivision. Check the list of jobs you want

on your form. Please make sure your email is correct, we send emails

in the summer to make sure all the info is still good and that you want

to stay on the list. If we do not hear back from you after 3 tries, we will

remove you from the list until we do. Must have parent(s) permission.

DISCLAIMER

Neither the subdivision, nor Krenek Printing is responsible for those listed

on the Teenage Job Seeker List. Please ask for and check out references

if you do not personally know those listed. This is just a list of teenagers

from the subdivision who wish to find part time jobs. Responsibility for

any work done by these teenagers is between those seeking helpers and

the teens and their parents.

CODE KEY:

B - BABYSITTING, CPR - CPR CERT., FAC - FIRST AID CERT., RCC - RED

CROSS CERT., SS - SAFE SITTER, SL - SWIM LESSONS, PP - PET/PLANT

SITTER, P - PET CARE ONLY, H - HOUSE CARE, L - LAWN CARE, C- CAR

CARE/DETAILING, T - TUTORING

TEENAGE JOB SEEKERS

NOT AVAILABLE ONLINE

April 2021 | Hearthstone
---
Happy Easter to My Hearthstone Neighbors

SOLD

SOLD

SOLD

Waller, TX: 30087 Round Up - $505k Cypress, TX: 15819 Rock Squirrel - $485k Bedias, TX: 1824 Lake Irene - $475k

Reneé Baker

Hearthstone Resident 34 Years

40 Years Real Estate Experience

713-562-5944

reneebakerhomes@gmail.com

Call me with your Real Estate Needs!

Ask about my Move Up Program!

Your Neighbor &

Realtor for 34 years!

• Painting: Interior and Exterior all types

• Drywall, Textures

• Pressure Washing

• Hardi Plank Siding

• Install Doors and Windows

• Bathroom and Kitchen Remodels

• Electrical: Install Receptacles,

Light Fixtures, Ceiling Fans

• Decking and Fences

• Professional Pressure Washing

• Replace Water Heaters,

Faucets, Toilets

PLUMBING

REPLACEMENT

* References

Available in

Your Area

Call for Honest,

Reliable &

Prompt Service

Call Wallace at:

281-686-4827

Same phone number since 2001

wallacelpiper@gmail.com

Hearthstone | April 2021 7
---
Cy-Fair ISD

www.cfisd.org

IMPORTANT DATES

April 2nd - Student/Staff Holiday

"We work as unto

the Lord"

RESIDENTIAL &

COMMERCIAL

VICTORY PAINTING

& WOOD ROT REPLACEMENT

PR O MPT - RELIABLE - AFFORDABLE - SINCE 1993

Interior & Exterior Painting • Storm Damage Repair

Siding Replacement • Custom Woodwork

Extensive References • Free Estimates

Will Meet or Beat Competitor's Prices • Satisfaction Guaranteed

www.VictoryPaintingTx.com • VicNewman@Mail.com

281-853-4575

Custom built is our specialty!

Golf Cars • Utility Vehicles • Sales • Service • Parts

Trade-Ins

Welcomed

100% Financing

Available

Gary Conway, "Your golf car guy"

713-GOLF-CAR

Cell 713-703-3818 • 281-702-3000

gconway@wallercountygolfcars.com

GEYER ROOFING

Specializing in

Re-Roofing

Ron Geyer

713-462-3898

REMODELING

• Kitchens • Bathrooms • Windows / Doors • Floors • Hardi Siding

• Rooms Additions • Complete Renovations • Patio Covers

Rob Geyer

281-477-3456

SCHOOL CALENDAR

To download the 2020-2021 school calendar, visit

the CFISD website at www.cfisd.net/en/calendar.

CFISD STUDENTS' WORK SELECTED TO HOUSTON

RODEO SCHOOL ART AUCTION

Three student artists had their artwork selected to advance to the

Houston Livestock Show and Rodeo (HLSR) School Art auction.

Cypress Woods High School freshman Magdalena Baughman (Bridger

& Poco), Jersey Village High School junior Amy Muery (Laying Hen) and

Hamilton Middle School eighth grade student Ravine Cohen (Sunkissed

Stallions) each had their work chosen to advance.

"Having student artwork chosen as the top entry for the Houston

Livestock Show and Rodeo is already a huge achievement, but to have

it selected for auction is an added bonus and rare opportunity," said

Lee Carrier, CFISD coordinator of visual arts. "I am proud of our CFISD

art students for receiving this honor. I would like to thank the HLSR

School Art Committee for continuing to support CFISD's K-12 th grade art

students. I would also like to thank art teachers of the auction students

for providing this contest opportunity at their campuses."

Since 1965, the HLSR has recorded more than 9.4 million entries to

its School Art Program. HLSR provides students the opportunity to

earn scholarships, visit workshops and a chance to have their artwork

displayed at the Hayloft Gallery during the Rodeo itself.

To learn more about the Houston Livestock Show and Rodeo's School

Art Program, visit their website: www.rodeohouston.com/Educational-

Support/School-Art-Program#ArtGallery.

MENTAL HEALTH INTERVENTION TEAM EARNS

SCHOOL SAFETY AWARD

The CFISD Mental Health Intervention Team (MHIT) will be honored by

the Texas School Safety Center (TxSSC) and receive the Positive School

Climate and Prevention Programs Award of the center's School Safety

Spotlight Program. The MHIT will be featured in the center's upcoming

quarterly newsletter as well as the TxSSC social media platforms.

The School Safety Spotlight Program is designed to recognize and

promote schools, districts and individuals that foster education and

learning through safe and secure campuses. Categories include

Collaborative Community Partnerships, Staff Development and Training,

Positive School Climate and Prevention Programs, Student-Led Groups

or Programs and Outstanding Individual Service. Submissions and

nominations are reviewed based on knowledge, creativity and originality,

engagement, impact and evidence-based practices.

The TxSSC recognizes the top-scoring submissions from each category.

8

April 2021 | Hearthstone
---
CFISD's Mental Health Intervention Team promotes and supports the

mental health and well-being of students, families, staff and community

members through prevention, intervention and safety. Established during

the 2018-2019 school years by the Board of Trustees and Superintendent

Dr. Mark Henry, the MHIT is a collaborative and partnership among three

departments-Guidance and Counseling, Psychological Services and

the CFISD Police Department. The team is comprised of four licensed

professional counselors, two licensed psychologists and two mental

health police officers.

All nominations submitted through the third (Nov. 1, 2020 to Jan. 31,

2021) and fourth quarters (Feb. 1-April 30, 2021) will be considered for

recognition at the TxSSC School Safety Conference, to be held June 27-

July 1, 2021 in San Marcos.

STUDENTS EARN REGIONAL

2021 SCHOLASTIC ART & WRITING AWARDS

More than 250 CFISD students were among the numerous regional

winners from Harris County school districts in the 2021 Scholastic Art &

Writing Awards, hosted by the Harris County Department of Education

(HCDE).

MPL#40815

Water Heaters • Drain Problems

Faucet Installation & Repair

Gas Test • Water Leaks & Much More

35+ Years Experience

832-890-8449

info@tonysplumbingtx.com

www.tonysplumbingtx.com

Always there for you!

$30 off

any Job

Over $95

Low Price Guarantee

Licensed & Insured

YOUR NEIGHBORS LOVE US!

Trust Us With Your Home Comfort!

Hearthstone Resident

The Scholastic Art & Writing Awards provide student artists and writers

from grades 7-12 the opportunity to showcase their work for a national

audience and foster their careers. Students were recognized with Gold

Key, Silver Key and honorable mention awards. Of the total awards won

in Harris County, CFISD students won more than 300 awards. Art and

writing professionals, both local and national, volunteered to judge the

competition.

CFISD artists received 51 Gold Key awards and their work advanced to

the national competition. In addition, students were awarded 96 Silver

Key awards and 159 honorable mentions.

The complete list of Gold Key, Silver Key and honorable mention winners

can be found on our website: www.cfisd.net/en/news-media/district/

students-earn-regional-2021-scholastic-art-writing-awards.

CLASS OF 2021 GRADUATION DATES ANNOUNCED

CFISD has announced graduation dates for the 2020-2021 school year.

All graduation ceremonies will be held at the Berry Center (8877 Barker

Cypress Road). The graduation schedule is as follows:

Thursday, May 27, 2021

Cy-Fair - 8 PM

Friday, May 28, 2021

Cypress Creek - 8 PM

Saturday, May 29, 2021

Cypress Falls - 8 AM

Cypress Lakes - 8 PM

Sunday, May 30, 2021

Cypress Ranch - 8 PM

Monday, May 31, 2021

Cypress Ridge - 8 AM

Cypress Springs - 8 PM

Tuesday, June 1, 2021

Cypress Woods - 8 PM

Wednesday, June 2, 2021

Jersey Village - 8 PM

Thursday, June 3, 2021

Cypress Park - 8 PM

Friday, June 4, 2021

Bridgeland - 8 AM

Langham Creek - 8 PM

HAPPY

EASTER!

Professionalism f

• Responsiveness • Quality Workmanship • Exclusive Warranties

W HEATING & AIR

CONDITIONING

EST. 1987

License #

TACLA26986E

"I would highly recommend using Marcos A/C. It was an

outstanding experience and our new A/C unit works

great! Mike was awesome! He helped us through the

entire process and demonstrated professionalism,

thorough knowledge of the product, and was super

friendly. Alex and his team of installers were very

efficient and friendly on the day of installation as well.

Overall, an excellent experience! ~ Nick P.

713-467-HVAC (4822)

Call today for a FREE in-home

Consultation & System Evaluation

UP TO $2,000

INSTANT REBATE

ON SELECT HIGH EFFICIENCY EQUIPMENT

Some restrictions may apply. Call for details

Offer expires 4/30/2021

0% FINANCING FOR

UP TO 72 MONTHS

Some restrictions may apply. Call for details. Offer expires 3/31/2021

Excellent

Online Reviews

www.MarcosAC.com

Law Offices Of

candace L. Kunz-freed, PLLc

9545 Katy Freeway, Ste. 400 • Houston, TX 77024

713.467.1060 FAX: 713.467.9191

www.FREEDLAWYER.COM

Do You Have An Estate Plan?

A well-designed and up to date estate plan can

provide peace of mind for you and your family.

CALL FOR A CONSULTATION TODAY!

ESTATE PLANNING AND ADMINISTRATION

WILLS, TRUSTS, PROBATE, TRUST ADMINISTRATION, GUARDIANSHIP, ASSET PROTECTION, ESTATE & GIFT TAX PLANNING,

HEIRSHIP, MEDICAL DOCUMENTS, LIVING WILLS, BUSINESS ENTITY FORMATION AND SUCCESSION PLANNING

Hearthstone | April 2021 9
---
Caramel Popcorn with

Marshmallow

You could make this on National Caramel Popcorn Day April 6th!

INGREDIENTS:

23 large marshmallows

2 cups brown sugar

1/4 cup light corn syrup (such as Karo®)

1 cup butter

1 teaspoon vanilla extract

2 (3.5 ounce) packages microwave popcorn, popped

DIRECTIONS:

Cook and stir the marshmallows, brown sugar, corn syrup, butter

and vanilla extract together in a pot over medium-low heat until the

marshmallows are completely melted, 5 to 7 minutes.

Put the popcorn in a large bowl; pour the marshmallow mixture over the

popcorn and gently stir with a big spoon to coat.

http://allrecipes.com

Oatmeal Raisin Toffee Cookies

You could make this on National Oatmeal Cookie Day April 30th!

INGREDIENTS:

1 cup butter, softened

1 cup brown sugar

1/2 cup white sugar

2 eggs

1 teaspoon vanilla extract

1 1/2 cups all-purpose flour

1 teaspoon baking soda

1 teaspoon ground cinnamon

3 cups rolled oats

1 cup raisins

1 cup crushed toffee candy

DIRECTIONS:

Preheat oven to 350 degrees F (175 degrees C). Grease cookie sheets.

In a large bowl, cream together the butter, brown sugar and white sugar. Beat in

the eggs, one at a time then stir in the vanilla. Combine the flour, baking soda and

cinnamon, stir into the creamed mixture. Blend in the oatmeal, raisins and toffee

bits. Drop by rounded spoonfuls onto the prepared cookie sheet. Bake for 8 to 10

minutes in the preheated oven. Allow cookies to cool on baking sheet for 5 minutes

before removing to a wire rack to cool completely.

http://allrecipes.com

10

April 2021 | Hearthstone
---
April Gardening Tips

Mulch - If possible, buy Bagged Mulch. Bagging helps eliminate a great

many pests that die from various causes while in the bag. When you buy

'loose' mulch that is trucked to your home, you are also buying ants,

roaches, termites, etc…" Spend a little more on bagged material and save

lots of future pest problems. Keep your mulch at least 4" - 6" below the top

of your homes exposed foundation edge/side. This will aid in minimizing

pests in your home and allow for quick and accurate termite inspections.

Shrubs, Flowers and ground covers - Trim all shrubs/plants at least 12" -

18" back from your home. Do your best to create a plant free zone that is

18" - 24" wide around your home. The exception is your lawn - it can grow

up next to the slab as long as you keep it 4" - 6" below the top of the slab.

The most conducive to termite infestation are groundcover plantings,

growing high against your homes exterior or (especially) ivy that grows

on your walls.

Trees - Spray your trees at least twice annually. The spring spray

eliminates overwintering pests and fungi while preparing trees to resist

the pest onslaught of summer with residual pesticides. The fall spray also

kills pests from the summer, prevents most fungi from occurring over the

winter and puts your valuable asset off to a healthy winter's dormancy.

Lawn - Spring is the perfect time to do a fungicide treatment to stop

brown patch in its tracks along with other fungi. If your lawn is thin and

weak in some areas, here are some important fundamentals: a) lawn

aeration" b) fertilization" c) weed control.

Most important is proper watering:

• Water once per week (unless you get a 1/2" rain or more - then do not

water.)

• Water heavily (1" - 2") for total lawn coverage.

• In severe drought, water every 5th day.

• Water from 5 AM to 7 AM in the morning - NOT AT NIGHT.

• A heavy deep weekly watering makes the turf grow deeper, stronger

and more drought resistant roots.

• Less watering also saves you money!!

WHEN IS EARTH DAY?

This observance always falls on April 22 nd . On Earth Day, enjoy the tonic

of fresh air, contact with the soil and companionship with nature! Walk

through the woods in search of emerging wildflowers and green moss.

Go outside, no matter what the weather!

Ever wondered how Earth Day started? This observance arose from an

interest in gathering national support for environmental issues. In 1970,

San Francisco activist John McConnell and Wisconsin Senator Gaylord

Nelson separately asked Americans to join in a grassroots demonstration.

McConnell chose the spring equinox (March 21, 1970) and Nelson chose

April 22 nd . Millions of people participated and today Earth Day continues

to be widely celebrated with events on both dates.

The most common practice of celebration is to plant new trees for Earth

Day. Other Earth Day activities and ideas are: Plant wildflowers, Go

native! Plants thrive when they're natural to your area, bring nature into

the garden with plants that attract butterflies, try an organic vegetable

garden and conserve water.

Source: The Old Farmer's Almanac

Call

our

experts

rts for

• Panel Upgrade / Replacement

• Ceiling Fan Installation

• Smoke Detectors

• Troubleshooting

• Generators

Residential & Commercial Service • Family Owned & Operated • Licensed & Insured

24-Hour Emergency !

Service

*5-Year

Warranty,

Satisfaction

Guaranteeded

713 -467-1125 | wiredes.com

generatorsbywired.com

s a v e $25 OFF

YOUR NEXT SERVICE

CALL IN APRIL!

Not to be combined with any other discount or

offer. Not valid on generator maintenance.

Expires 5/1/21

L.P. Roofing and Gutters

Generation Owned

• Modified & TPO Membrane

Roof Systems

• Ridge & Soffit Vents

• Gutter Installation & Leaf Guard

• Brick Restoration

• Flat Roofs

don't wait until

it's too late!

all of your

electrical & generator

needs!

• Indoor/Outdoor Lighting

• Surge Protection

•!

Flat Screen TV Installation

• Recessed Lighting

• Code Compliance

Master #100394 TECL # 22809

• Chimney & Flashing

• Blow in Insulation for Attic

• Solar Power Vents

• Torch Down

• Skylight Replacement

• Repair of Seamless Gutters

10 Years Experience,

and Hundreds of

Satisfied Customers!

ALL TYPES OF

ROOFING REPAIRS

• Metal Roof Installation

• Sheetrock & Paint

• Metal Roof Restoration

• Siding

• Pressure Washing Driveway

$ 50 OFF

Any

Roof

Repairs

Not valid w/ any other offer.

FREE ESTIMATES

5707 Addicks Satsuma Rd, Suite D • Houston, TX 77084 281-861-4495

lproofingandgutters.com

Hearthstone | April 2021 11
---
Family & Cosmetic Dentistry

Caring Professionals for over 35 years in the Bear Creek Area!

16100 Cairnway, Suite 285

PUSH

281-859-5637

SPRING SPECIAL

$

75 Off for New Patient Exams

$

25 Off Dental Treatment for (existing patients)

(Not valid with any other offer. EXPIRES 4/30/21. Must present

coupon at the time of service. Valid for only one use per patient)

• Advanced Laser Dentistry

• Digital X-Rays for reduced Radiation

• Affordable, Flexible, No interest payment options.

www.CAREYDENTISTRY.com

BUTTON GARAGE DOORS

• Broken Springs

• Flipped Cables

• Bent Tracks

• Tune Ups

• Replace Rollers

• Damaged Sections

• Repair/Replace Door Operator

• Repair or Replace Gate Operator

713-690-3667

Family

Owned &

Operated

Since 1994

www.pushbuttongaragedoors.net

A "SUPER" TRICK FOR GARDEN SUCCESS

BY SANDRA GRAY, FORT BEND COUNTY MASTER GARDENER

You might think master gardeners spend countless hours making our

gardens the envy of all that behold them and, to be honest, some master

gardeners do. However, one of the great things about being a master

gardener is learning tricks that make us more successful in our gardens

with less work. Who wouldn't like that? Let me tell you about one of my

favorite tricks.

One of the best things you can do to ensure garden success is to choose

the right plant for the right place. Sounds easy but there are so many

amazing plants to choose! The solution to this problem is a wonderful

Texas A&M AgriLife program called Texas Superstars®. These plants have

been tested by university horticulturists and master gardens and proven

to be winners throughout a variety of locations in Texas. What do I mean

by "winner?" Hardier, more pest and disease resistant, more flowers,

bigger flowers, more fruit, tastier fruit and a "wow" factor is what I mean.

In other words, these plants are more likely to thrive in your garden and

dazzle you at the same time. Also, to be designated a Texas Superstar, a

plant must be easy to propagate so the plants can be mass-produced for

consumers at reasonable prices.

Since the program's inception more than 20 years ago, many types of

plants have been recognized as Texas Superstars®, including annuals,

perennials, trees, roses, shrubs, vegetables, fruits, vines and more.

The criteria for choosing a Texas Superstar® are simple: beauty; special

characteristics such as larger blooms, more fruit or attractiveness to

fauna; outstanding Texas performance; pest and disease resistance; easily

mass-producible for reasonable pricing and, attractive in the container

for ready sales.

An example of a Texas Superstar® is Duranta, also known as Golden

Dew Drop. This deciduous shrub has masses of blue or purple flowers

from spring through fall and golden berries in late fall. It attracts bees,

butterflies, hummingbirds and other birds. If you are still not sold, it's

drought resistant, too!

Another example of a Texas Superstar® is the Dwarf Cherry Surprise

Tomato, which produces a bounty of cherry tomatoes that are considered

four times as sweet as other cherry tomatoes. It's resistant to most

common tomato diseases and is highly recommended for home and

school gardens.

New Texas Superstars® are added from time to time as they are tested and

approved, the newest being an evergreen vine called the Yellow Butterfly

Vine. It has delicate yellow flowers but its name comes from the salmoncolored

seed pods that resemble butterflies. It is drought-tolerant and

thrives in hot sunny locations.

The value of choosing Texas Superstars is more than just their beauty or

your increased probability of success. If you choose plants that will thrive

in your garden, you save money that might have been wasted on plants

that die before their time. You also save time and energy in nurturing

plants that will be successful. Just remember to plant and care for them

according to directions.

If you are interested in more information about these plants, visit http://

texassuperstar.com. This site includes detailed plant descriptions,

growing tips and where plants can be purchased. You can also look for

plants with Texas Superstar® labels.

For answers to your specific gardening questions, contact the Fort Bend

Master Gardener Hotline at https://fbmg.org/contact. The Texas Nursery

and Landscape Association and Texas Department of Agriculture ("Go

Texan" Program) partner with Texas A&M faculty, Agrilife Research and

Agrilife Extension to spread the word about Texas Superstars®!

12

April 2021 | Hearthstone
---
Sudden Changes To Their Environment. A sudden change in the

surrounding environment may affect a person with autism. The could be

a loud noise, a change in intensity of lighting or even a change in smell.

Speech. Speech can be affected in people with autism. 'Echolalia' is a

typical speech symptom in which the person repeats words and phrases

that they hear. The speech tone of an autistic person may be monotonous.

Where symptoms are more extreme, the person may not speak.

The first National Autism Awareness Month was declared by the Autism

Society in April 1970. The aim of this month is educate the public about

autism. Autism is a complex mental condition and developmental

disability, characterized by difficulties in the way a person communicates

and interacts with other people. Autism can be be present from birth or

form during early childhood (typically within the first three years). Autism

is a lifelong developmental disability with no single known cause. People

with autism are classed as having Autism Spectrum Disorder (ASD)

and the terms autism and ASD are often used interchangeably. A wide

spectrum disorder, people will autism have set of symptoms unique to

themselves, no two people are the same.

Increasing Awareness About The Common Characteristics Of Autism

Whilst no two people with autism will have the same set of symptoms,

there are common characteristics found in those with this complex

disability. Briefly, these characteristics include: Social Skills. People with

autism have problems interacting with others; autistic children do not

have adequate playing and talking skills. Mild symptoms on one end of

the spectrum may be displayed through clumsy behavior, being out of

sync with those around them and inappropriate or offensive comments

being made. At the other end of the spectrum an autistic person may not

be interested in others.

Changes To Behavior and Routine. People with autism often display

repetitive behavior in which they repeat the same action many times

over. For example, a person with autism may repeatedly pace around a

room in a certain direction. Any change to their behavior or routine can

be unsettling for them. This could be a reordering of daily activities such

as when a person brushes their teeth, takes a shower and has breakfast

when they get up in the morning. Other characteristics of autism include

an unpredictable learning rate, obsessions and physical tics.

Autism Is Widespread, Awareness About This Condition Is Not

In the United States, autism affects 1 in every 110 children. National

Autism Awareness Month aims to make the public more aware about this

widespread disability and the issues which arise in the autism community.

As about 1 in 150 people in America have autism, the chances are that

you know someone with this disability. A better informed public will be

more empathetic and supportive towards people with autism.

This month is backed by the Autism Society of America ,which undertake

a number of activities to raise awareness about autism. The Autism

Society has local chapters throughout the United States, which hold

special events throughout April. The 'Puzzle Ribbon' is the symbol for

Autism Awareness and is promoted by the Autism Society as means of

supporting awareness for autism. The Puzzle Ribbon may take the form of

a pin attached to clothing, a fridge magnet or a sticker and are available

to purchase from the Autism Society website.

Empathy. Empathy is the ability to recognize and understand the feelings

of another person. People with autism find it harder to show empathy to

others although they can be taught to acknowledge the others feelings.

Physical Contact. In some cases, autistic people do not like physical

contact such as hugs, tickling or physical play with others.

STEVE TOUCHY

Attorney At Law

Serving Businesses and Families Since 1983

Copperfield/Cypress

• Wills • Trusts • Probate

• Divorce • Employment

• Adoption • Consumer Law

• Incorporation • Collections

• Partnership • Liens

• Real Estate • Commercial Law

281-858-0700

stevetouchy@yahoo.com

15840 FM 529, Suite 280

Houston, Texas 77095

Located in the Chase Bank Building on FM 529

L#31423

FYI

Electrical Services

For All Your Electrical Needs!

FREE

Surge Protector

With Any Breaker Box Replacement

$350 value

$

50 OFF

Any Job Over $ 150

www.fyi-electricalservices.com

713-319-7456

info@fyi-electricalservices.com

FREE Estimates | Bonded & Insured

Always on time!

The Autism Society of America also run a year long campaign through

their 1 Power 4 Autism initiative, in which people are encouraged to hold

events to raise awareness and support for those affected by autism. For

more information on National Autism Awareness Month visit the Austism

Society's Awareness Page.

Source: What Health - Healthy Living for Everybody

Hearthstone | April 2021 13
---
FREE GUTTER CLEANING WITH

ANY ROOF MAINTENANCE

FREE ROOF INSPECTION - Schedule Now!

All Type of New Roof, Re-Roof & Roof Repair • Composition, TPO, Mop Down & Torch Down

Standing Seam & "R" Panels Metal Roof • 5" & 6" Aluminum Seamless Gutter & Leaf Guard

Expanding Blow in Attic Insulation & Radiant Barrier • Hardie Siding Replace & Carpentry Repair

Pressure Wash Driveway, Exterior Roof & Siding • Brick Restoration

OVER 24 YEARS OF EXPERIENCE • PROFESSIONAL WORK-FULLY INSURED

832-683-4175

5707 Addicks Satsuma, Houston, Texas 77084

www.houstonroofingngutters.com

GARAGE SALES

COPPERBROOK GARAGE SALE

First Saturday in April, April 3 rd from 7 AM-2 PM, rain date will be the

following Saturday, April 10 th . Located West Rd - east of Hwy 6

COPPER VILLAGE SPRING GARAGE SALE

The Copper Village Spring Garage Sale will be held on Saturday, April 3 rd

from 7 AM to 12 Noon. Located West Road - between Hwy 6 & Queenston

EASTON COMMONS SPRING GARAGE SALE

The Easton Commons Spring Garage Sale will be held on Saturday, April

10 th from 7 AM until 3 PM.

SOUTHDOWN SPRING GARAGE SALE

The Spring Garage Sale will be held on Saturday, April 10 th from 7 AM

until 3 PM. Located in Copperfield off of Longenbaugh near Hwy. 6

HEARTHSTONE GARAGE SALE

SATURDAY, APRIL 17, 2021 | 7 AM-2PM

WESTCREEK VILLAGE SPRING GARAGE SALE

The Spring Garage Sale will be held on Saturday, April 17 th from 7 AM

until 3 PM. Queenston between FM529 & Longenbaugh.

ABERDEEN GREEN NEIGHBORHOOD WIDE GARAGE SALE

SATURDAY, APRIL 17, 2021

Located near Telge and West as well as Tuckerton and Telge.

CELEBRATING OUR 21ST ANNIVERSARY!

Nationally Accredited by the Tree Care Industry

• Tree Pruning

• Tree Removal

• Tree Healthcare

• Tree Planting

• Stump Grinding

Our services include:

• Pre-Construction Site

Surveys

• Emergency Service

• Fully Insured Workers'

Compensation Insurance

$50 Discount on

All Tree Services

With a minimum of $500 • Expires 4/30/21

Must mention code KSPRING2021 when scheduling appt.

20% OFF ALL

DEEP ROOT FERTILIZATION

with tree pruning over $400 • Expires 4/30/21

Must mention code KSPRING2021 when scheduling appt.

For a complimentary consultation please call 281-469-0458

WWW.JONESROADTREESERVICE.COM

MIDDLEGATE VILLAGE SPRING GARAGE SALE

The Middlegate Village Spring Garage Sale will be held on Saturday,

April 17 th from 7 AM until 3 PM. Located in Copperfield between

Longenbaugh and West Rd.

NORTHMEAD VILLAGE SPRING GARAGE SALE

The Northmead Village Spring Garage Sale will be held on Saturday,

April 17 th from 7 AM until 3 PM. Located in Copperfield off of West Road.

STONE GATE SPRING GARAGE SALE

Saturday, April 17th from 7 AM until 12 PM. Located at Houston

National Golf Club, Queenston between Tuckerton & Barker Cypress -

follow the signs.

VILLAGES AT LAKEPOINTE COMMUNITY GARAGE SALE

SATURDAY, APRIL 17, 2021, 8 AM TO NOON

Located off of West Little York (north side) and east of Eldridge.

YORKTOWN COLONY COMMUNITY YARD SALE

APRIL 23 RD AND 24 TH West Little York between Eldridge and Hwy 6

14

April 2021 | Hearthstone
---
MESSIAH: A LUTHERAN FAITH COMMUNITY

CAMP HOPE

Encounter the Unexpected with Jesus

Dates:

• Week 1: July 5-9, 2021

• Week 2: July 12-16, 2021

• Week 3: July 19-23, 2021

9:30 AM-3:30 PM

SUMMER CAMPS

Camp Hope is our three week, day camp for children ages 5 years-old through

6 th grade. It is an adult-mentored, student-led ministry. Each day children will

hear a new bible story, learn what it means to their life by eating a snack, playing

a game and experiencing the story through the arts, STEM and worship.

Camp Hope is a day camp that is passionate about growing leaders. This is one

of the reasons that Camp Hope is one of the BEST ways to develop youth leaders.

It's a vital part of what Camp Hope is all about!

Parents are invited to register their children online at www.messiahlc.org/camphope.

For more information, call 281-890-3013.

A.D. PLAYERS ACADEMY

REGISTRATION IS NOW

OPEN FOR SUMMER CAMPS!

Join A.D. Players Academy as we "Cruise the Sea" this summer

and are joined by many literary friends to support our

development as actors: Nemo, Swimmy, Peter Pan, Moana,

the Muppets and even the Magic School Bus Under the Sea

characters! We have half day or full day camp options, each

focusing on a different area of the performing arts - dance/

movement, physical acting/pantomime skills and acting

technique.

Click the links below for details on dates and offerings for ages

3-18!!

Summer Camps:

www.adplayers.org/2021-summer-academy

Performance Camps:

www.adplayers.org/2021-summer-academy/?_

ga=2.117799305.12545770.1615325283-

2049281078.1576079014#summer-performance-camps

Messiah Lutheran Church is a congregation of the Evangelical Lutheran Church

in America (ELCA). Messiah is located at 11522 Telge Road, ½ mile north of

Highway 290. For more information, 281-890-3013 or www.messiahlc.org.

A.D. Players Performing Arts Academy

adplayers.org - 713-439-0181

Saint Street Studio - 2613 Saint St. Houston, TX 77027

Hearthstone | April 2021 15
---
PUTTING FOR A PURPOSE

1ST ANNUAL CHARITY

GOLF TOURNAMENT

Benefitting Amanda's Army

EVENT DETAILS

Enjoy a great day of golf for a great cause!

All golfers have access to facility, 50/50 raffle, silent auction,

and more!

WHEN:

Monday, April 26

Registration: 12 pm

Shotgun Start: 1 pm

Reception: 6 pm

ENTRY FEE:

Individual - $125

Includes green fees, golf cart,

lunch & awards dinner

Foursome - $500

Includes green fees, golf cart,

lunch & awards dinner

WHERE:

Sterling Country Club

16500 Houston National Blvd.

Houston, TX 77095

All 2021 tournament proceeds will be

donated to the Jill Smith Team Foundation

benefitting Amanda's Army. Donations in

kind and cash will also be accepted.

In the event of rain, the tournament will not

be rescheduled, but we are grateful for your

donation to the foundation which benefits

Amanda's Army.

About Amanda's Army - The Jill Smith Team is raising money for our teammate and fellow

16

April 2021 | Hearthstone
---
GOLF TOURNAMENT

1ST ANNUAL CHARITY GOLF TOURNAMENT

BENEFITING AMANDA'S ARMY

ENJOY A GREAT DAY OF GOLFING FOR A GREAT CAUSE!

WHEN: MONDAY, APRIL 26, 2021 AT 1 PM

WHERE: STERLING COUNTRY CLUB

About Amanda's Army: The Jill Smith Team is raising money for our

teammate and fellow Realtor®, Amanda Lefebvre who was recently

diagnosed with bilateral breast cancer. As a successful self employed real

estate agent, Amanda will not be able to maintain her earnings while going

through her treatments. Before becoming a Realtor®, she proudly served in

the United States Army for 7 years. Amanda was the first female Corporal

Jumpmaster in the 82 nd Airborne with over 50 jumps. She is a University of

Houston Graduate with a Bachelor of Arts Degree in Psychology. Amanda

is very active in the Stone Gate community and is the current Tournament

Director for the Ladies Golf Association at Sterling Country Club. Please

help us in our efforts to raise money. Thank you for your donation.

Entry Fee Individual - $125 Includes green fees, golf cart, lunch

& awards dinner

Foursome - $500 Includes green fees, golf cart, lunch

& awards dinner

All 2021 tournament proceeds will be donated to the Jill Smith Team

Foundation benefitting Amanda's Army. Donations in kind and cash will

also be accepted. Register: www.jillsmithteam.com/events/2021/2/10/

putting-for-a-purpose-registration-form

SPONSOR OPPORTUNITIES AVAILABLE: Contact Todd Smith 281-253-

9017 or email todd@jillsmithteam.com

FUN RUN

SUPERINTENDENT'S FUN RUN

VIRTUAL EVENT - RUN TOGETHER FROM WHEREVER

Although the start and finish lines of this year's Superintendent's Fun Run

won't be in the Berry Center parking lot, we can still run together from

wherever.

LOU'S PAINTING, Ltd.

• Interior - Exterior

• Power Washing

• Sheetrock & Texture

• HardiPlank ® Replacement

• Minor Repairs

Your home is an expensive investment!

Painting beautifies &

preserves that investment!

Free Estimates

O 281-492-2643 C 281-844-4338

"Doing business from the same location since 1978"

ONE COMPANY.

OMPAN

ONE AGENT.

GENT.

Let me help you save time and money.

Protecting more of your world with Allstate makes your life easier.

And it can put more money in your pocket. Bundle your policies and

you can save even more. Why wait? Call me today.

Warren Sloan

(713) 464-4442

1400 W. Sam Houston Pkwy. N #130

Houston

warrensloan@allstate.com

Subject to terms, conditions and availability. Savings vary. Allstate Property and Casualty Insurance Co., Allstate Fire

and Casualty Insurance Co., Allstate Insurance Co., Allstate Texas Lloyd's, Allstate Indemnity Co., Allstate Vehicle and

Property Insurance Co. Northbrook, Illinois © 2011 Allstate Insurance Co.

87877

We look forward to seeing you in fun run t-shirts running or walking

wherever! Virtual participants will receive photo trims to highlight run

photos on social media with #CFISDfunrun on May 1, 2021.

VIRTUAL EVENT INFORMATION

The eighth annual CFISD Superintendent's Fun Run is set for May 1, 2021.

Online registration began March 15 th . Visit the Fun Run webpage: www.

cfisd.net/en/fun-run.

THEATER/FINE ARTS

A.D PLAYERS AT THE GEORGE THEATER

5420 Westheimer Rd, Houston, TX 77056

Box Office: 713-526-2721

Hours: 10 AM-6 PM, Monday-Friday

We have done everything we can to try and reopen our doors, including

becoming the first theater in the country to install hospital grade UV

lights in our air filtration system. We even offered a safe and distanced

indoor concert as well as an indoor offering from our educational touring

unit this past fall. And when those projects proved financially challenging

and COVID numbers spiked again, we created "Light Up the Lot" and

moved all our programming outdoors.

We've never given up. We never will give up. But due to circumstances

beyond our control, we find ourselves needing to pivot once more.

Which brings us to the announcement of our virtual season. Go to www.

adplayers.org for all the information.

LANDSCAPE, L

, LAWN L & POOL

P

Lawn Service

STARTING AT JUST

PER VISIT

Basic to Full Service Packages Available

Pool Service

STARTING AT JUST

Call Now for your FREE ESTIMATE!

www.pristinelawn.com

PER VISIT

Complete Pool Service

Also available: Mulching & Yard Cleanups • Lawn Aeration • Sprinkler &

Drainage Systems • Tree Pruning & Removals • Sod/Grass Planting

Pressure Washing • Fencing

(281) 861 - 0962

Hearthstone | April 2021 17
---
18

THEATER/FINE ARTS

THE LANDING THEATRE COMPANY LAUNCHES

THE ONLINE 2021 NEW AMERICAN VOICES

PLAYWRITING FESTIVAL

The Landing Theatre Company, the Houston-based arts organization

dedicated to American playwriting, is celebrating its 10 th annual New

American Voices Playwriting Festival, which will once again be presented

online. The festival, presented April 24 th -May 2 nd , showcases four

winning new plays from outstanding American playwrights and will

also include four online panels with top industry professionals. Selected

from over 350 blind submissions, the 2021 winners are: A SERIES OF

INELASTIC COLLISIONS by Eugenie Georgia Carabatsos (Hanover, NH),

THE FORGOTTEN LANGUAGE OF THE HANDSHAKE or THE TORSO PLAY by

Rachel Bykowski (Chicago, IL), THE BASEBALL GODS by Spencer Huffman

(Chicago, IL), AZTEC PIRATES, A LATINX FANTASIA ON NATIONAL THEMES

/ PART ONE: THE INSIGNIFICANCE OF LIFE ON MARS by David Davila (New

York, NY)

All readings will be followed by a live talkback with the playwright,

director and cast. And this year a new design element has been added.

Each play is assigned a design team for scenery, costumes, lighting

and sound design. They will create and present concepts for an actual

production of each of the selected plays using an actual theatre in

the Houston area as the production's conceptual location. After the

reading talkback, audiences are invited into the Design Room for a live

presentation of the designs and concepts, with the designers, playwright

and director.

ABOUT THE FESTIVAL

• All Events are Online

• All Events are Open Access, however Registration is Required

• TICKETS may be reserved on Eventbrite: 2021 New American Voices

Playwriting Festival

• MORE INFORMATION about the plays, playwrights, panels and panelists

can be found at: www.landingtheatre.org

THEATRE SUBURBIA

4106 Way Out West Dr. Houston, Texas 77092, 713-682-3525

Fridays and Saturdays at 8:30 PM, Sunday matinees at 3 PM

Reservations are strongly encouraged. Tickets: $18 Adults, $15 Students

& Seniors and $16 Sunday Matinees. Cash, Check and all Major Credit

Cards are accepted in payment. For reservations, call 713-682-3525 or

reserve seats online at www.theatresuburbia.org. Theatre Suburbia is

Northwest Houston's longest running all volunteer playhouse. We are

currently celebrating our 58 th season and have now produced nearly 400

shows. Throughout the years, we have endeavored to provide quality,

live theatre to the Houston area. Theatre Suburbia is funded in part by

the City of Houston through the Houston Arts Alliance.

A.D PLAYERS AT THE GEORGE THEATER

5420 Westheimer Rd, Houston, TX 77056

Box Office: 713-526-2721

Hours: 10 AM-6 PM, Monday-Friday

We have done everything we can to try and reopen our doors, including

becoming the first theater in the country to install hospital grade UV

lights in our air filtration system. We even offered a safe and distanced

indoor concert as well as an indoor offering from our educational touring

unit this past fall. And when those projects proved financially challenging

and COVID numbers spiked again, we created "Light Up the Lot" and

moved all our programming outdoors.

We've never given up. We never will give up. But due to circumstances

beyond our control, we find ourselves needing to pivot once more.

Which brings us to the announcement of our virtual season. Go to www.

adplayers.org for all the information.

STAGEWORKS THEATRE

10760 Grant Road, Houston, TX 77070

Fridays and Saturdays at 7:30 PM

Sunday matinees at 3 PM

Website: www.stageworkshouston.org.

MILDRED'S UMBRELLA THEATRE COMPANY

ANNOUNCES 2020-2021 SEASON

Chelsea Market Theater, 4617 Montrose Blvd. #100, Houston, TX 77006

TOOTH AND TAIL: full production - March 18-April 3, 2021, Deluxe Theater,

3303 Lyons Ave, Houston, TX 77020

Keep an eye on our website, www.mildredsumbrella.com for ticket sales

and developments. For more information, call 832-463-0409 or send an

email to info@mildredsumbrella.com.

CYPRESS CREEK FACE

Box Office: 281-440-4850, 6450 Louetta Rd, Suite 200, Spring, Texas

77379

www.CypressCreekFACE.org

COMMUNITY EVENTS

CRIME STOPPERS OF HOUSTON CONTINUES

ITS 40TH ANNIVERSARY CELEBRATION

AND WILL HOST ANNUAL HOUSTON'S

HEROES AWARDS LUNCHEON ON MAY 4TH

Celebrating its 40 years of service to Houston and Texas, Crime Stoppers

of Houston will host its annual Houston's Heroes Awards Luncheon on

Tuesday, May 4, 2021 from 11:30 AM-1 PM at the Royal Sonesta Houston

Hotel to honor outstanding individuals and organizations who have

given exemplary service to make Houston a safer place to live, work, learn

and play. Due to the public health threat from Covid-19 and the current

health and safety protocols, we will offer both an in-person event with

limited seating as well as virtual access for sponsors and supporters to

participate from home. While Crime Stoppers had to cancel this event

last Spring due to the pandemic, the organization is unable to do so this

year and reminds the community that it relies on this event for funding.

Eight distinguished awards will be awarded at this annual fundraiser that

raises funds to keep our communities safe.

For the second year, Crime Stoppers of Houston will reveal the winner

of the Dave Ward Media Excellence Award. This unique award will honor

an entity or individual who has exhibited media excellence and will be

selected by Houston's Media Icon Dave Ward himself, along with support

from a small committee of his constituents at Crime Stoppers of Houston.

For 40 years, Crime Stoppers of Houston has focused on solving crime

through the famed Tip Line, 713-222-TIPS and reducing overall criminal

activity by preventing it through educational community programming.

The non-profit, which fundraises year-round will directly benefit from

the luncheon's proceeds to help further advance the Crime Stoppers'

mission. Attending the 2021 Houston's Heroes Awards Luncheon is one

easy way to support Crime Stoppers and public safety. The event is open

to participation by all. Individual tickets start at $175 and sponsorship

opportunities are available.

Please note: Due to Covid-19, the event will be a hybrid event and we

are urging the community to still get involved. To purchase tickets, visit

https://crime-stoppers.org/get-involved/2021CSLuncheon. For more

information about the event, contact Paige Hollek at phollek@crimestoppers.org

or 713-842-7224.

April 2021 | Hearthstone
---
Happy Easter!

Diana Alderman

713-858-7789

Richie Anderson

281-460-9016

Linda Johnston

281-782-5023

Steve Johnston

713-826-2197

Maria Roberts

281-650-7755

Brian Cantrell

281-220-9160

Lester Leger

713-819-0920

713-858-7789

Hearthstone Realty Agents strive to provide the best full service real estate to their

Clients in the HEARTHSTONE Subdivision, plus real estate located in Metro Houston,

Harris, Montgomery and Fort Bend Counties. Hearthstone Realty Agents are also

experienced in the selling of Farms and Ranches throughout the State of Texas.

Hearthstone | April 2021 19
---
Plumbing Problems?

Call 346-209-2155

Our Services: Emergency Service Available 24/7 at Regular Prices

• Water Heaters

• Clogged Drains

• Toilets

• Tankless Water Heaters

• Sewer Line Service

• Faucets & Sinks

• REPIPE & REPAIRS • Water Line Service

• Garbage Disposals

• Hydro-jetting

• Maintenance Agreements • Backflow Prevention

• Gas Leak Detection/Repair • Tree Root Removal

• Trenchless Repairs

• Video Inspection

• WHOLE HOUSE WATER FILTRATION AND TREATMENT

$40 OFF

Not Valid with any other offer

$125 OFF

Not Valid with any other offer

Any Job

over $100

Water Heater

Install

Call today for your free estimate. Financing Available

Best Warranty in the Business • Bonded, Insured & Licensed Plumbers

www.bluefrogplumbingnwhouston.com

RMP41368

Specializing in Residential

Home Improvement Projects

TACLB85061E

EARLY BIRD

SPECIAL

A/C Check

$47 00

WITH MENTION OF THIS AD. Exp. 4/30/21

Hearthstone Residents Only

Family Owned & Operated

Hearthstone Resident

15+ Years' Experience

832-906-6113

✓ Residential & Commercial

✓ Service All Makes & Models

✓ Guarantee All Work

✓ Certified, Licensed & Insured

WORRY-FREE

financing

√ 0% Interest Available

√ No Down Payment

√ Payments as low

as $40/month

WAC

• Wood Fences

• Arbors/Decks

• Painting Int/Ext

• Pressure Washing

• Siding Replacement

• General Home Repairs Int/Ext

713-416-79 81

www.shaffer.cc

Serving your community for over 20 years!

832-906-6113

Rated #1 on

www.becoolachouston.com

This Month - Let's Celebrate Spring, Selling or Buying Your Home!

COMING SOON!

ACTIVE

SALE PENDING

HAPPY HOMEOWNER

Hearthstone- 14822 El Miranda Dr.

5.65 Acres in Fredericksburg

Maravilla - 9520 Seawall Blvd. #133

Galveston, TX

It's also my birthday month...

Fairfield Village - 15114 Blue Thistle Dr.

Helping People Find Their Way Home

713.557.7676 direct

McLaughlin.TexasAgent@gmail.com

20

April 2021 | Hearthstone