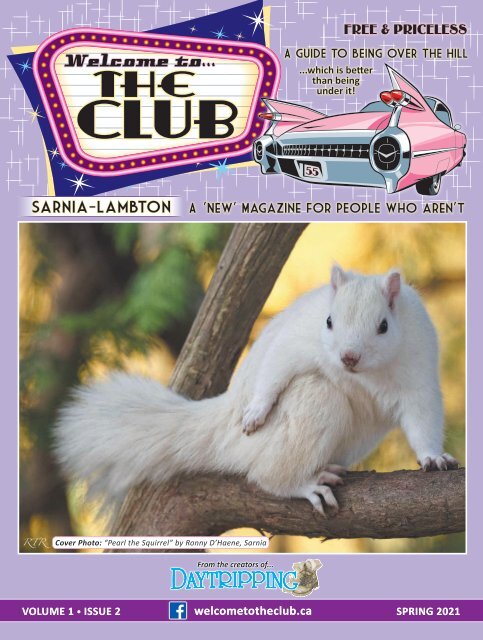 Welcome to The Club Spring 2021
A Magazine for 55+ Like No Other! Welcome to The Club features timeless articles and anecdotes including many from the archives of Daytripping Magazine. It's online at www.welcometotheclub.ca and is also distributed free in Sarnia-Lambton, Ontario.
A Magazine for 55+ Like No Other!
Welcome to The Club features timeless articles and anecdotes including many from the archives of Daytripping Magazine. It's online at www.welcometotheclub.ca and is also distributed free in Sarnia-Lambton, Ontario.
SHOW MORE
SHOW LESS
You also want an ePaper? Increase the reach of your titles
YUMPU automatically turns print PDFs into web optimized ePapers that Google loves.
Welcome to ...

THE

CLUB

...which is better

than being

under it!

FREE & PRICELESS

A GUIDE TO BEING OVER THE HILL

Sarnia-Lambton

A ''New' Magazine for PEOPLE who aren't

Cover Photo: "Pearl the Squirrel" by Ronny D'Haene, Sarnia

From the creators of...

welcometotheclub.ca

VOLUME 1 • ISSUE 2 SPRING 2021
---
Welcome to ...

THE Club

Welcome Back, your dreams were your ticket out.

Welcome to ...

SPRING 2021

2020 Meals on Wheels Team

Volunteer Opportunities

Transportation • Home Maintenance

Meals on Wheels • The Peer Program

Friendly Visiting • Fitness Classes

Diners Club • Bingo

Due to COVID-19, volunteer

opportunities are limited. For

Volunteer Inquiries – please email

volunteer@leohelps.ca

Become a Volunteer

March 2021 marked the one-year milestone for COVID 19. Throughout this past

year, there have been countless learning opportunities that many of our agencies

have encountered, which in the end, will learn from and be better for. An

important recognition is how much of an impact our volunteer services have on

the successful operations of our services here at LEO. Our volunteers are the

heartbeat of our agencies. They arrive, without hesitation to support the critical

services that many of our older aged clients require to safely remain at home.

They recognize the gift of giving and many of them share their stories of how

important their work is for them as well as the individuals they are meeting with.

As the restrictions grew, our ability to fully engage with our volunteers was

reduced, and we know that it has had an affect on many of our clients, especially

those who are shut in and have benefited from programs such as "Friendly

Visiting." We are grateful to be engaged in the vaccination roll out in Sarnia

Lambton, and hope that soon, through these efforts, our volunteer program will

return to a viable and fully functioning team who once again will complement the

efforts of our LEO staff.

Paula Reaume-Zimmer, CEO

2019 Volunteer Banquet

Volunteer Appreciation

How We Can

Help You Live

at Home

Transportation

Non-Urgent Stretcher Van

Meals on Wheels

Home Maintenance

Personal Care

Home Help

Care Giver Respite Support

Crisis Intervention

Housing Support

The Peer Program

Friendly Visiting

Diners Club

LEO Scored 98% Exemplary Standing

for providing Quality Services

Funded in part by the United Way of Sarnia-Lambton

and Jackpot City, Sarnia

Lambton Elderly Outreach • 1-800-265-0203 • www.lambtonelderlyoutreach.org

P A G E

2

The bottom borders in this issue contain MOM & DAD quotes & proverbs.
---
Welcome Back, to that same old place that you laughed about.

Welcome to ...

THE Club

101 Indian Rd. S., Sarnia • 519-464-4000 • www.lambtonford.com

Its not just a Ford it's a

Lambton Ford !!!

SPRING 2021 "Of all the rights of women, the greatest is to be a mother." (Lin Yutang)

P A G E 3
---
Welcome to ...

Pat Smits

Financial Advisor

12 Mac Donald Street

Forest, ON N0N 1J0

519-786-4924

THE Club

Open the door to your

financial well-being.

www.edwardjones.ca

Well, the names have all changed, Since you hung around.

Deer Tick Warning

I hate it when people give you

bogus warnings...

but this one is real,

and it's important.

So please inform everyone

you know:

If someone comes to your front

door saying they are conducting

a survey on deer ticks and asks

you to take your clothes off and

dance around with your arms up,

DO NOT DO IT!!

IT IS A SCAM;

they only want to see you naked.

I wish I'd gotten this yesterday.

I feel so stupid now.

Welcome to ... SPRING 2021

Unique Gifts & Greeting Cards

Home & Garden Decor

Sun & Skin Care Products

Purses, Scarves & Jewellery

*Free Delivery in Lambton Shores

* Some restrictions apply

View our flyer at

pharmasave.com

Mon-Fri 9-6, Sat 9-5

Sun & Holidays 10-2

19 King St. W, Forest • 519-786-5161

• Safety Braces & Support

• Mobility Aids

• Wheelchairs, Walkers & Canes

• Compression Stockings

• Herbal Products & Supplements

VIRTUAL WALK-IN CLINIC

Seniors Save *15% Every Wednesday

Certified Stocking Fitter

Digital

Photofinishing Kiosk

Wednesday-Saturday 10-2

29 King St. W, Forest • 226-520-0054

Sign, Sign, Everywhere a Sign

On a Mechanic's

Wall...

LABOUR $55/hr

$65/hr if you watch

$75/hr if you worked on it first

Affection:

Appreciation

of Others:

Family:

Potty

Time:

• I know it hurts, but I will not kiss your butt.

• Of course it stung you; wasps don't like to be petted.

• Please stop kissing the worms.

• I know you love all of the rocks, but we can only take one

into the store today.

• Even if someone hugs it out of you, you should say,

"Excuse me" after passing gas.

• No honey, her face is not melting. Those are called wrinkles.

• Yes, that is a nice drawing on her shoulder.

• Sometimes your breath stinks, too.

• People can see even if they have blue eyes.

• No, he doesn't have a baby in his tummy.

• Don't hit your brother when he is sleeping.

• Please get your feet off of your grandmother's head.

• You can't marry Daddy; I got him first.

• Take that funnel out of your sister's ear.

• Put Grandpa's teeth back where you found them.

• You can't pee in just anybody's yard.

• Yes, it makes me very happy when you make poop.

• Only boys stand up when they potty.

• If you wipe your bottom, it won't be itchy.

An Old Fashioned Country Store with a Modern Twist!

• Collecbles & Giware • Kids secon

• Fudge • Maple Buer Tarts & Baking

• Williamson Farms Beef & Local Pork, Cider,

Cheese & Maple Syrup • Gi Baskets

Wednesday is

SENIORS DAY!

Numerous Savings for 55 & over

Shop Online www.williamsonfarmsmarket.com

Curbside Pickup is always available • Ask us about delivery!

14 King St. W., FOREST • 226-520-0144

Tues to Fri 9am-5pm • Sat 10-4

P A G E

4

"Some people don't believe in heroes, but they haven't met my Dad." (unknown)
---
But those dreams have remained and they've turned around.

The learning curve!

By Mark Moran, Publisher

Thanks to readers like yourself and a

great collection of local businesses, our

first issue, released earlier this year, was

a huge success.

Now we all start to ask ourselves,

and you, where we should be going next

as far as the style of this magazine. We

don't wish to dive into politics or get

tangled up in controversial issues, but

I do wonder if Welcome To The Club

can advocate for older people in Sarnia

Lambton, inform you of changes that

may affect your every day life, or just

celebrate who we are and where we live.

We were thrilled to see a number

of readers take us up on our offer to

contribute to this new magazine with

articles, recipes, constructive comments

and many replies to a questionnaire that

was published in the first issue. Your

thoughts are always welcome. I'm a

phone call away and I answer the phone

when I'm in the office.

We're hoping to cross paths with

people in our community who are

acutely aware of issues facing the older

generations, have their finger on the

pulse of what is important to them and

the desire to use this magazine to get

that message across. Quite frankly, I've

started a senior's magazine but don't

know a whole lot about what it is to be

a senior. I'm 55 and will get there, God

willing, but your advice is needed and is

welcome. We are in the mood to learn

from your experience.

Seniors is a strange term. It's a little

too all-encompassing and has been the

hardest part for us to wrap our heads

around while publishing "The Club,"

which is officially for those 55 and up,

all the way up. That's a big age group

to define with one word. As you well

know, there are young old people, and

some old young people too. They're not

all seniors and most sure don't want to

be called that (Unless it comes with a

discount, right?). Please keep us on our

toes in this regard.

Having published Daytripping

Magazine for 26 years I am quite sure

"We are safely open and ready to help your health"

Book your Appointment t 519-339-8999 ext. 2

or Shop Online at www.tywc.ca

Plan your Foot Cleanse,

Aqua Massage, HRV Scan,

Biofeedback, X'Tract Cleanse,

or Low Level Light Therapy

We are Excited

to Serve You!

141 Mitton St. South, Sarnia

that "The Club" will find a home in

Lambton communities and a way into

your hearts. Like the "Daytripper" this

magazine offers an honest, feel good

read, a bit of fun, and is something

you'll hopefully keep hanging around

your house for a few weeks or even a few

months. Hopefully you'll pass it on to a

friend instead of throwing it away. Many

of the articles are from the Daytripping

archives and we make a donation to

charity for every one we reprint.

Another thing that struck me while

working on this is the bounty of

incredibly talented photographers that

we have locally. There are a few Facebook

sites like "You Gotta Love Sarnia" and

"Lambton County Photography" where

photographers are showcasing their

latest works and showing a lot of love

and support for each other. We're looking

forward to having some of their striking

photos on the covers of the magazine

but might also incorporate more inside

the paper. It's a shame to have only four

covers in a given year and to only show

four out of the thousands of terrific pics.

Check out the Milestones and

Memories on page 32. This is a way

for you, for free, to send us a picture of

someone over 55 who has celebrated

a milestone birthday or anniversary

(ones that end in a 5 or a 0), a recent

retirement, a significant award or some

other achievement. Don't be shy! Our

next issue will come out at the start of

July so we'll need to have photos in by

June 10th please.

Lastly, please consider supporting

our local advertisers and take note of

their presence in this magazine — it

wouldn't exist without their advertising

dollars and their confidence in us. If you

know of a business that offers something

to, or does a great job for those 55+

please mention "The Club" to them, as

they may want to advertise. If you own

a business that fits that description, our

number is on this page.

Thanks and take care,

Mark Moran

All COVID Guidelines are in place

Welcome to ...

Welcome to ...

THE

THE Club

CLUB

VOLUME 1, ISSUE 2 • SPRING 2021

You'll find

current and

nostalgic

articles

throughout

The Club.

Milestones & Memories 32

Postcards from the Past 15

Trivia 27

Word Search 29

Recipes 13

Other Stuff 1-36

"Pearl the Squirrel" by Ronny D'Haene

Ronny D'Haene, e, Cathy Dobson, o Lee Michaels, John

Gardiner, A. C. Stone, Doris M. Johnston, Lyn

Tremblay, Barb Day, Corrina Austin, Alice Gibb,

Agnes Burroughs, Wendy Nienhuis, Chris Treftlin,

John Carroll, Jeanette Paddon, Marion Clouse,

Helen Lammers-Helps, Janet Collier, Henriette

Trautman, Barbara Bryant, Sipkens Nurseries, and

all the Recipe and Milestones &

Memories submissions.

Mark Moran - Publisher, Ad Sales & Design

Carla MacGregor r - Advertising in

Sales

Carrie Ann Timm - Office fice

Manager ager

& Design

From the publishers

of Daytripping Magazine

The Club Features

The questionnaire winners from our first issue are:

Shelley Waller & Carol Guerette get $50. Thank to all who replied.

On the COVER of the CLUB

YOUR CONTRIBUTORS

CLUB STAFF

P.O. Box 430 • Brights Grove, ON • N0N 1C0

519-491-1676 • info@welcometotheclub.ca

www.welcometotheclub.ca

A Magazineg

for 55+

like no other!

SPRING 2021 "Mothers are the most instinctive philosophers." (Harriet Beecher Stowe)

P A G E 5
---
Welcome to ...

THE Club

Who'd have thought they'd lead you, Back here where we need you?

Gardeners Try Harder

Retail Store on the Farm

Produce Fresh From Our Fields

4622 London Line, Reeces Corners • 519-845-3482

www.zekveldgardenmarket.ca

(C through D)

Canada: 51 weeks of winter, one week hockeyless summer.

Cauterize: Made eye contact with a woman.

Charm: Getting a "yes", without having asked any clear question.

Cheap: Much less expensive than ones selling for up to twice as much.

Chirpes: A canarial disease, no tweetment.

Choconiverous: Biting off the head of the chocolate Easter bunny first.

Cinemuck: Popcorn and candy that covers the floors of movie theatres.

Conservative: A liberal who has just been mugged.

Constipation: Teeth marks on the toilet seat. Diplomacy:

Counterfeiter: Kitchen cabinet installer.

The art of

Deliberation: Examining one's bread to determine letting someone

which side it is buttered on.

else have

Drug: A substance that, when injected into a rat, your way.

produces a scientific paper.

Dumbwaiter: One who asks if the kids would care to order dessert.

PICK YOUR OWN

• Strawberries • Apples

• Pears • Pumpkins

(in season)

Open

Monday-Saturday

(hours vary)

Closed on Sundays

Children Welcome

Welcome to ... By Agnes Burroughs, Dorchester From Daytripping May-June 2014

It never fails. A plant or shrub, lovely

to look at, fully in bloom and just perfect

for the right spot, is going home with a

gardener who really does not have room

for any more plants in this particular

area. There is no room. Something must

go before this shrub can fit into the

right spot and go on to lead a long life

of beauty and renewal. The very worst

question a customer can ask is, "Can't I

just trim it to keep it small?"

Well of course you can trim it, but the

plant will never reach it's full potential

of beautiful and arching branches when

trimmed down each and every spring

or fall. When pruned of course, the plant

actually becomes adapt at sending out even

more branches from the pruned areas, and

becomes more dense and compact with

even more branches to prune.

If you love the plant as much as we

do, dig a new flower bed so the plant will

have lots of room to grow and flourish

as nature intended. You will be even

prouder when you see the plants overall

elegance and it will be a real credit to

your garden. Since you have now made

another flowerbed, why not add just a

couple more plants to keep the first one

company? Be sure to choose plants that

are compatible as far as sunlight needs,

or shade, or water. If it needs a lot of

water, don't put it in the bed farthest

away from the tap, or you will be hauling

water three times a week

in the heat of summer. If

it needs a lot of

sunshine don't

plant it on the

north side of the

house—that's the place

for hostas, astilbes and

most hydrangeas, who love

the dark side.

The little tags that come

with plants are invaluable. If

the tag is bright

yellow, with

is planted in

a big bright

the conditions

sunshine

available.

SPRING 2021

symbol that means the plant does best

in full sun. If the tag is orange with half

the sun blocked out, that means partial

shade and some sun. If the tag is purple

with the sun symbol filled in dark, this

means the plant does best in full shade,

and would suffer in the sun. Some

brilliant scholar once said, "Grow where

you are planted." I'm sure he meant

people, because a plant in the wrong

spot—no matter how much you love it

there—does not necessarily want to be

there, and will do poorly.

The tags will also give you the overall

size that the plant could potentially

achieve in it's lifetime. If it says 10 feet

high by 10 feet wide—that's not the first

year or the second—in ten years you

could have this huge and lovely plant to

enjoy. Sit back and enjoy the show that

Mother Nature has planned for you and

this plant. If you have planted the shrub

in the spot indicated on the tag and

given it reasonable care, water, fertilizer

etc. and it still doesn't look happy just

give it a little time to adjust to it's new

surroundings. Don't go yanking it out

and moving it again. If after the third

year it still is not living up to it's potential

then perhaps it was a dud and you should

look for a new plant.

Nothing kills a plants potential like

amending the little hole you have dug

with wonderful fertilizer, water etc. It's

like feeding a teenager on the couch—

they will never leave home if you continue

to do so. The hole for a shrub should

be 3 times as wide, and only

the same depth as

the original pot, so

that the roots can go

outwards and keep

it strong and upright. Use

the original soil with some

amendments, but the

tree must learn to

grow where it

Green County Ebikes

and

Mobility Scooters

New • Used

Parts • Sales • Service

Ebike &

Mobility Scooter

Batteries

638 Broadway Street, Wyoming • 519.333.8313 • www.greencountyebikes.com

TUES. TO SAT.

9AM - 5PM

P A G E

6

Fathers should remember that his son will follow his example, not his advice. (unknown)
---
Yeah, we tease him a lot 'Cause we got him on the spot. Welcome back!

Goodbye 2020:

The Year of the Breakdown

Coping with a pandemic for the past

year has been a lesson in patience by

itself, but because of breakdowns, it's

really been put to the test in the Michaels

household. They haven't been of the

mental variety, although the resulting

expenditures may drive me into the the

looney bin.

We had to purchase a new vacuum

cleaner, choosing to do so from a small

locally run business on Mitton Street in

Sarnia. The reason? I could get down on

my hands and knees and probably suck

up more with my mouth than the old, oft

repaired one could. Decided to go with a

top rated Miele. How can one go wrong

when the only thing a company makes is

vacuum cleaners? Paid more for it than I

did my first car. (A 1976 Vauxhall that I

had to crawl into through the passenger

side because the driver's door wouldn't

open. The rubber mat hid the pavement,

you could see through the holes in the

floor and my then boyfriend had to

attach a wooden block to the brake

and the gas pedal because the seat was

welded in one position and I couldn't

reach the pedals).

Next up: a new blender because the old

one started to smell like the motor was

burning every time we used it. Bought

a new Kuradori from a nearby small,

locally owned hardware store. Who knew

blenders now cost close to $100? It's so

big you could bathe a newborn in it.

Then we decided to finally cave in

and buy a new stove because the broiler

element on the 15-year-old Kenmore no

longer worked and a new part, if I could

find it, would cost over $100 plus labour.

Didn't feel comfortable having a repair

guy in. Used to be the low rider, buttcrack

revealing jeans were the deterrent.

Now it's the human air exchange I worry

about. Ordered a new stove from another

great small

locally-owned

and operated

appliance shop

on Cathcart Blvd.

Had to wait eight

weeks because

simple ranges (not

the type you have

to have a PhD

in Stove-ology to operate) were in very

short supply, as are all major appliances

over the past 12 months. (Friends

ordered one of those new-fangled fridges

that lets you see what's inside from the

outside. They waited FOUR MONTHS to

get it. Never did figure out why people

pay so much to see what's inside their

fridge when all you have to do is open

the door.) But I digress. There's no

glass top to break on our new stove, no

fancy schmancy push-button computer

keyboard, but it still burned up $1,000

from the banking account. Now my

baking, previously burnt on the bottom,

raw in the middle because of uneven

By Lee Michaels, Sarnia

cooking temperatures, no longer goes up

in smoke.

Then the seven-year-old Amana

washing machine spun its last cycle.

There was something wrong with the

"lid lock" button. It would flash during

the rinse cycle, indicating the lid was

not locked, when in reality, it was. End

result: the motor runs, but the agitator

does not. Why does a washing machine

always fail when you have a heavy load

of towels or flannelette sheets inside and

you have to wring the soaking wet, ice

cold mass out by hand? Hung them out

on the clothesline in the dead of winter.

They were so heavy they were touching

the ground. They froze into a solid mass

and I had to drape them over every chair

and table in the house to dry them off. All

I needed was the cobwebs and my house

would have matched the Munsters. I wish

I would have kept the previous 32-yearold

Kenmore. The only reason we had

to get rid of the old warhorse is because

the hose to the washtub was more duct

tape than rubber following leaks and

splits and they didn't make that type of

hose any more. Now they build washing

machines to last seven years, or to two

days beyond your warranty expiration

date, whichever comes first. Another

grand down the wash pipes. The washing

machine eventually arrived on the same

day as the stove. Asked if I could get a

2-for-1 delivery rate (free). I'll let you

guess the answer to that one.

Oh yeah, and then I decided to buy a

battery operated hedge clipper. The old

electric one weighed 18 pounds and is

getting too heavy for this old broad to

trim 150 feet of shoulder-high hedge.

The new one, a Dewalt guaranteed to cut

through branches 5/8ths of an inch thick,

didn't live up to the hype. I could more

easily trim the hedge with nail clippers

because the $185

non-working

breed didn't cut

squat and had

about a ten minute

battery life. The

good news? Home

Depot staff didn't

bat an eyelash

when I returned

it and gave me a refund without issue.

The bad news? I have to start the entire

process again this year, because the old

one, which ran like a charm, fell over

onto the cement, cracked its handle and

discombobulated the spring mechanism

which works in tandem with the hand

press. Dead in the water.

The saving grace was that no longer

wintering in Cuba resulted in a breakdown

replacement fund to pay for

everything. Hopefully the fridge and

dryer will last until the money tree I

planted in the backyard starts to bloom.

If 2020 was a cocktail, methinks it

would be a colonoscopy prep.

Welcome to ...

THE Club

• Manicures • Pedicures

• Waxing • Electrolysis

• Independent

Hair Stylists

a getaway from the everyday

635 Broadway Street, Wyoming

226-307-0772

623 Broadway St., Wyoming • 519-845-9915 • VillageFireplaceShop.com

663 Broadway Street

Wyoming, ON N0N 1T0

519-845-3212

beth@bethhackettins.ca

Great Local Service

AUTO • HOME • FARM • INSURANCE

MARLEY PHARMACY

59 Years Y of f Service S i e to t Wyoming W i & The Surrounding S unding d i

n

Community!

C mu

i

!

"Where Good

Friends Meet!"

Diabetes

Education

Blood Pressure

Testing

Meds Review

Easy Prescription

Transfers

Get your

flu shot here

607 Broadway St., Wyoming 519-845-3341

SPRING 2021 "A little girl, asked where her home was, replied 'where mother is.'" (Keith L. Brooks) P A G E 7
---
Welcome to ...

THE Club

You must be 55 or over to read this magazine.

Welcome to ...

SPRING 2021

395 Fletcher St

Petrolia, Ontario

226-738-0665

blackgold.beer

SARNIA

519-337-3713

OIL SPRINGS

519-834-2833

Petrolia's Alternative Fuel

HOGAN

P•H•A•R•M•A•C•Y

Beautiful Gift Shop

• Wedding • Birthday

• Baby • Home Decor

4177 Petrolia Line, Petrolia • (519) 882-1840

ITALIAN

3G CUSTOM APPAREL & MORE

T-shirt & Sweater Pressing

FUNDRAISERS WELCOME

Six feet of earth

make us all equal.

The second thought

is always the best.

Good is good,

but better beats it.

Everyone thinks their own cross is heaviest.

Half a brain is enough for the person who says little.

Good company on the road is the shortest of short cuts.

A doctor and a clown know more than a doctor alone.

By asking for the impossible,

the best possible is obtained.

Full Service Pharmacy

Full Service Cosmetic Department

Full Service Home Health Care Dept.

It may be quieter to sleep

alone, but not warmer.

A meal without wine is like a day without sunshine.

A person who laughs too much is hiding their grief.

Tell everybody your business and they will do it for you.

It is the smallest expenses that empty your purse.

If a person deceives me once, shame on them.

If a person deceives me twice, shame on me.

A person who knows little quickly tells it.

The rich never have to seek out their relatives.

Old truths, old laws, old friends, old books,

and old wine are best.

Mon-Fri 9-6, Sat 9-6, Sun10-5

OPEN

TUES-SAT

11-8

4110 Petrolia Line

Petrolia • 519-882-1212

Once upon a time, it was a pretty

common practice to drop off unwanted

kittens in the heart of Petrolia. Many

in this neighbourhood have given

sanctuary to those homeless souls in

the past. Thankfully that practise has

diminished, in fact, almost gone entirely

in recent years.

So, when on a freezing October

day, a beautiful, tiny, black kitten

with four white paws and a white

throat, mysteriously turned up in our

neighbour's driveway, needless to say, it

was love at first sight.

Posters were put up, but no one

claimed the tiny fellow.

He was given the name Elvis by the

family that found him and became an

instant favourite in the neighbourhood.

His distinctive looks and his adventurous

nature kept us all entertained. He was

often found in photos not directed

at him. He loved to follow us around,

curious about all his surroundings and

poking his nose into everything.

He claimed his own rocking chair

on our front porch and would sit there

often with one of us watching his

surroundings or just snoozing. He loved

to lay on the warm rocks surrounding

the pond, dipping his paw and watching

the fish, and his own handsome

reflection. Having fallen in a time or two

didn't deter him.

Bird watching, another of his

favourite pastimes was done

with much fascination. I'm

pretty sure he never caught

or even attempted to catch

either fish or fowl.

He remained an

outdoor cat, often found

sleeping under a bush

in the garden on a warm,

sunny, summer day, but he

always returned home to his

family for his supper.

When one evening he didn't

return, his family became

concerned. When he didn't

show up after several days,

By Janet Collier, Petrolia

• AUTO • HOME • FARM

• TENANTS • COMMERCIAL

1-800-265-7506 • www.cam-ron.ca

The Cat Came Back

everyone who knew him became

worried and sad, including his many

animal friends at home.

The word and photos went out on

social media that Elvis was missing.

Many friends offered suggestions and

gratefully, shared the post.

Seven days passed since anyone had

seen Elvis and we had begun to accept

the fact that we might never see him

again.

Strangely, a call from the Sarnia

Humane Society informed Elvis's family

that he could be there. Two of their

employees had seen the photo on social

media and thought a cat that was in

their care and scheduled to be put up

for adoption in three days time could be

Elvis.

Excited, and hoping it was Elvis but

wondering how he could have possibly

gotten all the way to Sarnia, his family

went immediately to check out the

kitten.

Sure enough, it was our dear Elvis.

He was found in Sarnia in the Sherwood

Village area and taken to the Humane

Society.

How Elvis got to Sarnia will likely

forever remain a mystery. Some feel

he may have been taken by someone

wanting to keep him and with all

the social media posts they became

frightened and took him to Sarnia and

dropped him off.

I like to think that a very social cat

climbed into a warm car, unnoticed

by its driver and when the

car reached its destination he

climbed out still unbeknownst

to its driver.

So ends the tale of our twice

deserted Elvis, microchipped

and home safely, reunited

with his family. His

adventurous spirit is

finding being an indoor

cat a little tedious but

perhaps love and security

will eventually prove to

be worth his confinement.

Welcome to The Club is published four times annually by Moran Advertising, Brights Grove, Ontario. The publisher reserves

the right to reject, discontinue or omit any advertisment without notice or penalty to either party. No portion of this

publication can be reproduced in whole or in part without the permission of Moran Advertising. The content of this

publication does not necessarily represent the opinions of the publisher. The content of this publication has not been deemed

by the publisher to be correct and accurate. The advertiser agrees that the publisher shall not be liable for damages arising

directly or indirectly from errors occuring in this publication beyond the amount paid for the space actually occupied by that

portion of the advertisment in which the error occurred, whether such error is due to the negligence of its servants or

otherwise, and there shall be no liablity for non insertion of any advertisment beyond the amount paid for such advertisment.

Use of Material: submitted articles, letters, and other works or materials may be used, published, distributed and stored by

Moran Advertising, Welcome To The Club, and Daytripping Magazine, in whole or in part, in print or by any other means.

P A G E

8

A father is a banker provided by nature. (French proverb)
---
Most of the articles in here have been written by people like you.

With Every Good-Bye

There's a New Hello

You can collect a lot of memories

in forty-five years and we had over

collected. Every thing was going to be

used "someday" but that day hadn't

come and now I (no longer we) had to

be ruthless. It was time to give up the

past and its treasures and get on with

the present.

Like all new widows I tried to fill up

the lonely hours. I did some decorating,

but it wasn't very satisfying when there

was no one to share it with. I joined a

senior's group and participated in their

many activities, but found that if I left a

spare hour, I was just rattling around in

what seemed to be heart-empty rooms.

I loved this place we used to call our

"happy house," but now it didn't feel

like home. It was time to move on.

The day the FOR SALE sign went up, I

armed myself with a green garbage bag,

a duster, and some cartons and went to

the basement to see what I should pack

and what I should throw away.

Suddenly I thought back to the day

we had moved in. I could still see the

huge piles of earth filling the back yard.

Our house had been moved from across

town and set on a new foundation.

There had even been a picture of it in

the local paper, with the men on the

roof, ready to lift any over hanging

wires that might be in the way.

That night we stood

at the back door

watching the moon

rise over the trees

and bushes at the

bottom of the yard.

They looked

mysterious

and the earth

hills resembled

pyramids. I

envisioned what

we could do with

such a jungle and

had gone to bed

tired and content.

The first winter

came and snow covered the hills. Our

children—six, three and two years old—

had enjoyed tobogganing on their very

own mountain.

In the spring we had the earth

removed, then we cleared the bushes,

levelled the ground and planted grass

seed. Our neighbours on either side

(dear kindly souls) rejoiced with us that

the mountain, which had become a

weed-infested eyesore, had gone. They

had never complained, and instead

had brought gifts of roses and other

perennials for my new garden.

The children thrived. Our garden was

big enough to accommodate twenty

or more of them and from the noise

generated there, probably did, quite

often.

Two more children joined the family.

by Doris M. Johnston, London

From Daytrippig Magazine May-June 2001

The walls must have stretched to fit

them in, for no one ever grumbled that

the house was too small.

As the girls grew, they frequently

had a friend or two sleep over. There

was no spare room so they all crowded

into the double bed and talked and

laughed the night away until finally the

bed collapsed. We replaced it with our

first and last king-sized bed. The boys,

less conventional and more noisy, used

sleeping bags when they entertained

their friends overnight.

I stopped reminiscing and picked up

an old coffee pot. How could I throw

away the past? We'd used that pot in

our first home. Now it was dented and

brown with age. Why had I saved it? Or

the car bed that our oldest child had

slept in so comfortably on our short

trips; it would never be used again, not

safe by today's standards.

My treasures wouldn't be treasures

to anyone else but me. Even my own

children didn't want their piles of faded

drawings from kindergarten and up.

"Just junk, toss them," was their advice

to me. Then I came to the saucers, at

least two dozen. The first one I picked

up belonged to a four cup tea service.

The boys had broken all four cups the

day they played basketball in the

kitchen. They had saved

their allowances for weeks

to replace them. I

dropped them one by

one into the bag. They

broke, reminding me

of what my son said

the day he broke

the neighbour's

window. "Oh

mum, it made

such a good

smashing sound.

But I was sorry."

Now I was sorry.

How could I

leave these memories

behind? Our first patio, surrounded

by flowers; my husband loved it. The

wood stove in the family room, so

cosy to sit by while we ate popcorn

and played scrabble. The skylight—will

I ever find another house with such a

beautiful view of the clouds?

My recollections of those years in the

"happy house" won't fade away and I

don't want them to. But now I am in a

new house and I know it's going to be

just as happy. Different, yes, but happy.

The flowers are blooming in profusion

and the perfume of the roses is just as

sweet. The cats have made themselves

at home on their leashes under the big

maple, just as if they had always lived

here. They feel at home and so do I.

Here I'll enjoy the present, dream of

the past and create new memories for

the future.

• Fresh Produce

• Fresh Meat

• Party Trays

• Bakery

• Deli

Welcome to ...

"Big or Small, JohnnyRemax

Sells T hem All"

John A. McCharles, Broker

Re/Max Sarnia Realty Inc. Brokerage

519-383-4812

johnnyremax@bellnet.ca

Our

Readers

Are

Our Writers!

WRITERS

WANTED

Send us your stories,

recipes & photos!

The Club • P.O. Box 430,

Bright's Grove, ON N0N 1C0

info@welcometotheclub.ca

THE Club

• Bulk Food

• Seasonal

Merchandise

• Flower

Market

Every Tuesday is SENIORS DISCOUNT DAY

10% OFF for age 60 and over (must tell cashier)

Doesn't apply to tobacco, lottery or gift cards

Use our easy

ONLINE

SHOPPING

SERVICE

www.yourindependentgrocer.ca

We'll bring your groceries to your car!

4136 Petrolia Line,

Petrolia • 519-882-2211

www.yourindependentgrocer.ca

SPRING 2021 Problems were invented to give mothers a reason to make soup. (unknown)

P A G E 9
---
Welcome to ...

THE Club

My Ordinary Life

By Old Farts - For Old Farts!

by John Gardiner

Welcome to ...

SPRING 2021

P A G E

10

A father carries pictures where his money used to be. (unknown)

The following is an excerpt from the soon-to-be-released memoir, My Ordinary Life, by

Wallaceburg writer John Gardiner, who grew up and came of age in Hanover, Ontario during

the 1950's and 1960's. In My Ordinary Life, Gardiner tells the story of his growing-up years

with a series of colourful anecdotes about the way life used to be. More of the writer's work

is available at www.johngardinerstories.com and he can be contacted at gardiner@kent.net.

Money Was Always a Problem

Money was always a problem for

kids back in the old days….most of our

parents were working stiffs and most of

our Dads toiled in the furniture factories

for fairly low pay. So, there wasn't a lot of

money for the kids other than what the

kids could figure out how to scrape up on

their own. I was immensely lucky when

I was a kid because my Dad managed

to get me a job as a Toronto Star paper

boy. I earned 2 ½ cents for every paper

I delivered, and the Star wasn't the most

popular paper in town, so I had a modest

route of about 25 dailies. Saturdays were

a whole lot busier because the Star had a

great magazine called the Star Weekly

and lots of people liked it because

of the TV Guide and comics

and the extended sports

coverage. So I had over 50

Saturday Onlys and it was a

busy time.

Then, the newspaper had

a big contest to increase

circulation. They took all

of the newspaper boys and

partnered us up with an

older high school kid. And

the high school kid took us

around and tried to sell

subscriptions. And the

team of high school kid and

newspaper boy that got the

most new subscriptions,

won fabulous prizes, like

the newspaper boy could

win an English racing bike

and I think the high school kid

got some money for college or

whatever. Anyway, my particular

high school kid was what you would call

a real go-getter. He was supposed to stick

to the area where my route was already

located, but instead he saw the whole

town as his oyster…and he set out to win

the contest.

And I must say that he did. When the

contest ended, I had over 60 dailies and

about 155 Saturday papers. It was like –

Wow – what could I say. I won an English

racing bike and the high school kid won

the money. And then they forgot about

me. And I had to deliver and collect for

155 Saturday papers every weekend. In

the good weather, I used my bike and

newspaper carrier and with about four

trips out from home could do it by maybe

eight at night. In the winter, when I was

hauling the toboggan, it would take me

until ten or eleven at night to get the job

done….Holy crap, did I work like a dog

for a while. I darned near killed myself for

2 ½ cents a paper. But, man, was I rich.

And I must admit that the newspaper

boy story leads directly to the donut story

and another valuable lesson I learned

in life as a boy. Even at 2 ½ cents per

paper, the money started to pile up.

Before I knew it, my Dad was telling

me that I'd built up about $300 in the

Guarantee Trust. And I was well on my

way to gathering up my first million and I

was barely ten-years-old….One winter's

night, though, it was particularly stormy

and snowy and I was out collecting for

the paper and I'd missed my supper and

I ended up walking past Schultz's Bakery

at about the time I was feeling particularly

hungry and tired and worn out. And the

big front windows of the bakery were all

steamed up and a woman came out the

front door as I passed, and it was like out

came this amazing aroma with her and it

stopped me in my tracks.

Now, technically, I had no actual

money even though the change purse I

was carrying was full of the stuff. That's

because the money in the change purse

sort of belonged to the Toronto Star

and only a small cut of it

was mine. My money was

in the Guarantee Trust.

All the same, I was drawn

in through the front door

of Schultz's and was soon

standing in front of a huge

rack of honey dipped donuts

and a vast array of other

baked delicacies. A lady in

a white apron approached

on the other side of the counter

and asked me what I'd like. I was

nervous and blurted out the first

thing that came to mind….."Honey

dipped donuts"……when she asked how

many I wanted, I immediately replied "A

dozen," because that's how many donuts

people always got. And soon, I was back

outside in the cold and stormy winter,

but I was holding a whole box of donuts

that were all mine…..Not like back at

home where these donuts would be

spread around among six people – these

were mine.

So, as I walked the rest of my route,

I gorged myself on the donuts. I ate the

whole dozen and totally and completely

enjoyed myself while doing it. They were

likely the best donuts I've eaten to this

day – and I've eaten a lot of donuts over

the years. And when I finished, I got rid

of the evidence – the empty box – and

made my way home. And I had learned

my lesson. Saving was fun but spending

was even more fun. And once I got into

the spirit of it, there was no stopping me.

I started buying things at a feverish pace

and soon I was pretty well broke. And I've

stayed broke pretty well right to this day

but have somehow been able to avoid

living in the street or under a bridge….

and that's mostly because people have

been kind to me and because of my

loveable and charming personality.
---
The magazine is distributed in most of Sarnia-Lambton, and it's free!

Welcome to ...

THE Club

A shop for both the modern

& classic Quilter!

4247 oil heritage rOad,

petrolia • 519-918-2226

• fabrics • patterns • classes

now an authorized Dealer for:

Open tuesday to Saturday 10 am - 5 pm

Shop on our website too... www.stitcharie.com

Jogging

The article in the

magazine I

picked up in the

doctor's office

claimed that age

should not be a

barrier to a regular exercise program.

The author cited examples of people in

their forties, fifties and even sixties who

dramatically improved their physical

condition by adopting a regular routine

of weight lifting, calisthenics or jogging.

The article was so convincing that when

the doctor finally called me in I asked

if he thought my old body could still

handle the rigors of physical exertion.

After thirty years of doing little more

than exercising my options, I wondered

if it could handle a little jogging.

He liked the idea. "Exercise will

do you a world of good," he said. "Of

course you'll have to take it easy at first,

but there is absolutely no reason why

you shouldn't exercise, and every reason

why you should."

I went back to the waiting room, reread

the article, and decided to give it a

shot. At the very least, if I timed it right,

it would get me out of helping with the

dishes.

The first night was a disaster. About

half a mile from home my leg muscles

decided they'd had enough, wound

themselves into tight, little balls and

quit functioning. I had to pay a kid with

a wagon to haul me home. It would

have been less humiliating to call an

ambulance.

In three days the muscles had relaxed

By A.C. Stone, Windsor

From Daytripping Magazine March-April 2002

a little and with effort, I could walk

almost normally. I decided to try again.

This time I waited for dark. I'll admit I

walked further than I ran, but at least I

completed the eight block course I'd laid

out for myself. The only problem was

fighting off the dogs which objected to

me invading their territory.

Within a week I had become a real

pro. When a car slowed down to marvel

at my progress I just ignored it. I found I

could take a healthy kick at any dog that

got close enough without even missing a

stride. And I discovered an advantage to

jogging at night.

Once a week most people put out

their garbage. Now I don't believe in

collecting somebody else's junk, but

you'd be surprised at how much really

good stuff people throw away. Getting

around there at night not only gave me

first crack at it, but in the dark, who's to

know? That's how I got the radio.

I'd finished the first lap of the trip and

was heading back home again when

I spotted it; an old table model radio

about eighteen inches long and a foot

high. All it needed, I told myself, was a

battery and it was just the thing for my

work bench in the garage. I'd never have

to miss another ball game. Since I was

on my way home anyway, it wasn't all

that far to carry it so I put it under my

arm and kept on jogging.

When the car passed me I was

running under a street light so I wasn't

really surprised when it slowed down. In

fact, I didn't even look up until it stopped

fifteen feet in front of me. Two of the

Country Yarns

Everything for

your Kning,

Crocheng,

Cross Stch &

Needlepoint

Needs!

- Menon this ad for a 15% discount -

2776 LaSalle Line, PETROLIA • 519-882-8740

(BETWEEN MANDAUMIN & WATERWORKS)

Wed.10-5 • Thurs.10-6 • Fri.10-5 • Sat. 10-3

www.country-yarns.com

biggest cops I've ever seen uncoiled from

the front seat and blocked my route.

"Now, just what is it we have here?"

"Hi officers. Just getting a little

exercise."

"I can see that, but if you want music

while you run you should buy yourself a

Walkman."

"Oh, the radio? Just a piece of junk

that I picked up off the street back there.

Somebody had thrown it out."

"I'll bet you have a lot of luck that

way. You often find things before they

get lost?"

"Aw, come on fellows. All I'm doing is

a little jogging."

"Oh, you're a jogger, are you? Does he

look like a jogger to you, Bill?"

"Hey, I don't know...but if he's a

jogger shouldn't he be wearing one of

those suits of baggy underwear and have

running shoes with stripes on them?"

"That's what all the joggers I've ever

seen looked like."

"Maybe you'd like to jog down to

the station and explain to the sergeant

why you're running around a nice

neighbourhood, in the middle of the

night, carrying a radio under your arm.

I'm sure he'd be interested."

And so I got a free ride to Police

Headquarters. Naturally, when my wife

arrived to explain that I always jogged

in regular street clothes and the radio

refused to pick up even the local stations,

I was released with an apology.

"With all the break-ins in your area

lately, we can't be too careful, you know."

The next day I switched to calisthenics.

At least if I exercise in the house all I have

to put up with is my wife's comments...

and now I can drown them out by

turning up my radio.

Established in 1978,

Lambton Pharmacy continues to

provide caring, professional pharmacy

services to residents of the beautiful

town of Petrolia and Lambton County.

4130 Glenview Rd, Unit 2, Petrolia

519-882-0650

Danielle Edgar, B.Sc., PharmD

Pharmacist

Monday–Friday 9–6

Saturday 9–12

Do you want to reach

our age 55+ readers?

advertise

in the club

Call 519-491-1676

info@welcometotheclub.ca

The

An elderly couple was

attending church services.

About halfway through she

leans over and says

to her husband,

"I just let out a silent fart,

what do you think

I should do?"

He replies,

"Put a new battery in your

hearing aid."

Retirement

Village

Downtown Retirement Living

in a Quaint Victorian Town

www.albanyretirementvillage.com

Call to Book a Tour:

423 Albany Street

Petrolia, ON

519-882-3157

Enjoy Friends | Enjoy Independence | Enjoy Life

SPRING 2021 "All that I am or ever hope to be, I owe to my angel mother." (Abraham Lincoln)

P A G E 11
---
Welcome to ...

Call to

book a

tour!

THE Club

As we wave goodbye to our younger years we must also

wave goodbye to some of the fads we loved.

The following combinations DO NO T go together

and should be avoided...

1) A nose ring and bifocals

2) Spiked hair and bald spots

3) A pierced tongue and dentures

4) Mini skirts and support hose

5) Ankle bracelets and corn pads

6) Speedo's and cellulite

7) A belly button ring

and a gallbladder surgery scar

8) Unbuttoned disco shirts

and a heart monitor

9) Midriff shirts and a midriff bulge

10) Bikinis and liver spots

11) Short shorts and varicose veins

12) In-line skates and a walker

13) Thongs and Depends

70 Duke Street, Wallaceburg

WallaceburgRetirementResidence.com

519-627-0719 • generalmanager@wallaceburgretirementresidence.com

If you know where you were on Dec. 8th, 1980 - this is for you!

A Father's Love

By

This is a true story from my doll repair

experience.

A few years ago, an elderly lady

called me to tell me she had a doll that

needed repair, and wondered if I

could pick it up for her as she had

no transportation. The following

day, I went up to her apartment

to pick the doll up. The lady was

very welcoming and, after a few

words, she went and got a

package from the bedroom

that was carefully wrapped

and she placed it on a little

table in the living room.

As she unwrapped the precious

bundle, she told me it was her

daughter's doll and she wanted it

restrung as the old elastic had let

go a long time ago. It was going to be

a surprise for her daughter to have it

restored.

Then as I prepared to rewrap it for

transit she asked me to please take

good care of it as it's a very special doll.

As I looked up at her I could see her

Henriette Trautman,

Ruthven

from Daytripping May 2012

memories coming back as she told me

that her husband had served in World

War Two, and they were expecting

their first child as he was shipped out.

When he got the news that he was

the daddy of a sweet little girl, he

went into a little town in France

and bought a doll for his new little

daughter. He proudly showed it to

all his buddies and carried it in his

knap-sack.

Sadly, he was killed in a

battle in which he was badly

disfigured and had lost his

dog-tags.

When he was carried back to

camp, identification seemed almost

impossible until they looked in the

knap-sack which was still strapped

to his back. They found the doll and

remembered the day he'd bought it for

his little princess.

And so a father's love is still

remembered so many years later. As

we all know love never dies, it lives on

in all of us.

Welcome to ... SPRING 2021

P A G E

12

My father taught me to work, he did not teach me to love it. (Abraham Lincoln)
---
As you may have guessed by now, it's for people 55+

Welcome to ...

THE Club

Recipes

Send Us

Your u

Recipes!

e c

es

!

We'll be bringing you recipes from Club contributors

and from local fundraising cookbooks we've collected

over the last quarter of a century.

You're welcome to send your own recipes, or on behalf

of an organizaon that has a new cookbook, and we

can help promote those cookbooks for free.

Rhubarb Dream Bars

2 cups flour

1 cup buer

1/4 cup powdered sugar

4 eggs, large

2 cups sugar

1/2 cup flour

1/2 tsp. salt

4 cups diced rhubarb

By: Janet Collier,

Petrolia

Mix the first 3 ingredients and press into 10 x 15 pan. Bake 350 degrees,

for 15 mins. Beat remaining ingredients, and sr in rhubarb and spread

on hot crust. Bake another 40-45 mins.

All Inclusive Suites & Apartments with kitchenettes.

CUSTOM MENU OPTIONS • ACTIVITIES • 24HR CARE

Call for a personal tour.

WALLACEBURG • 519-627-9292

Rhubarb Coffee Cake

By: Adrianne Bruce,

Camlachie

Bake at 350 degrees for 50-55 mins. in a 9x13 inch glass or metal

baking dish (sprayed or buered).

TOPPING - Combine and reserve 1/2 cup white sugar, 3/4 cup chopped

walnuts or pecans, 2 Tbsps. so buer, 1 tsp. cinnamon.

CAKE - Cream together 1 1/2 cup brown sugar, 1/2 cup (1 sck) soened

buer, 1 tsp. vanilla. Add 1 egg and beat l fluffy.

In separate bowl: Mix 2 cups all purpose flour, 1 tsp. baking soda,

1/2 tsp. fine table salt.

To creamed mixture: Alternate dry ingredients with 1 cup original

sour cream (mixture will be sff).

Add to combined cake: 2 cups fresh cut rhubarb cut in 1/2 inch pieces.

Pour baer into prepared baking dish. Top with reserved topping and

press down gently (I cut topping slightly into cake for an internal crunch).

Bake 350 degrees for 50-55 mins. Cool in pan on wire rack.

Great alone or with whipped topping of choice.

quotes

"Golf is like chasing a quinine pill

around a cow pasture."

-- Winston Churchill

"Golf is a game in which you yell

ʻfore', shoot six, and write down five."

-- Paul Harvey

"It took me seventeen years to get 3,000 hits in baseball. I did it in

one afternoon on the golf course."

-- Hank Aaron

"Columbus went around the world in 1492. That isn't a lot of

strokes when you consider the course."

-- Lee Trevino

"Give me the fresh air, a beautiful partner, and a nice round of

golf, and you can keep the fresh air and the round of golf"

-- Jack Benny

Springtime Lemon

Dessert

3/4 cup buer

1 1/2 cups flour

1 cup chopped pecans

2 Tbsps. white sugar

By: Nicole Font

from Brigden Fall Fair

2010 Cookbook

8 oz. pkg, cream cheese

18 oz. Cool Whip

1 cup icing sugar

1 large pkg. lemon pie filling (not instant)

Layer #1: Buer, flour, chopped pecans and white sugar. Mix together

with pastry blender and press into 9x13 inch pan. Bake at 350 degrees

for 15 mins. Cool.

Layer #2: Cream cheese, 1/2 carton (9 oz.) Cool Whip, icing sugar. Beat

cream cheese and icing sugar. Add Cool Whip and spread on base.

Layer #3: Lemon pie filling (not instant) or lemon meringue pie filling for

10 inch pie. Prepare, cool and spread on Layer 2.

Layer #4: Spread with remaining Cool Whip. Refrigerate unl ready to

serve.

Send Your Recipes to info@welcometotheclub.ca

info@welcometotheclubca

o club ca

"You can make a lot of money in this game. Just ask my ex-wives.

Both of them are so rich that neither of their husbands work."

-- Lee Trevino

"Golf is not a game, it's bondage. It was obviously devised by a

man torn with quilt, eager to atone for his sins."

-- Unknown

"These greens are so fast I have to hold my putter over the ball

and hit it with the shadow."

-- Sam Snead

"Toward the end of one of his infamous

high-volume, temperamental, club

throwing rounds, asked his caddie for a

club recommendation for a shot of

about 155 yards. His caddie said: ʻI'd

say either a 3-iron or a wedge, sir' ʻA

3-iron or a wedge?' asked Bolt. ʻWhat

kind of stupid choice is that?'

ʻThose are the only two clubs you have

left, sir!' said the caddie." -- Tommy Bolt

SPRING 2021 "A mother can perform the jobs of several air traffic controllers with ease." (Lisa Alther)

P A G E 13
---
Welcome to ...

THE Club

Submit local photos as well for the magazine, possibly the front cover

Welcome to ...

SPRING 2021

BOB BAILEY

MPP – Sarnia-Lambton

Building A Better Sarnia-Lambton

Discussing mental health issues

with Bluewater Health President

& CEO Mike Lapaine (right),

alongside the Associate Minister

of Health & Addictions.

Congratulating Pathways Health

Centre on reaching their

$1.6 million Therapeutic Pool

fundraising goal, which included

$148,500 in support from the

Ontario Trillium Foundation.

Presenting virtually to the

Michigan Senate in March

about the importance of Line 5

to Sarnia-Lambton, Ontario, and

the entire Great Lakes Region.

Touring Creative Education

of Canada in Point Edward,

which has transitioned from

a costume designer to an

Ontario-based provider of face

masks and surgical gowns.

With the arrival of spring, everyone I've been speaking with lately has

been in a more positive frame of mind. As we get set to spend more

time outside, plant our gardens, fire up the barbecue and enjoy many

of our other normal spring-time activities, I'm hoping that you and

your immediate family are all staying safe and healthy.

This has been an unprecedented year in everyone's lives. With the

ongoing pandemic concerns, this past winter may have felt much

lonelier than usual. Having said that, even in the bleakest moments,

every day I heard of an act of generosity or human kindness that

made me prouder than ever to live in Sarnia-Lambton.

As we begin a second year of battling COVID-19, our government

continues to make historic investments in health care, long-term

care, and other sectors that are critically important to those of us

who are 55 and older. That includes rolling out the much-needed

COVID-19 vaccines, beginning with our most vulnerable citizens

and, ultimately, ensuring that all adults receive their first doses by the

start of summer.

Although it has taken longer for vaccine supplies to arrive than some

of us might have hoped for, it's also important that we remember

how truly miraculous it is that we already have several safe, effective

approved vaccines to combat this deadly virus - developed, tested,

approved and distributed in record-setting time. Amazing!

With more and more people being vaccinated every day, we all have

reason to hope that better times are on the way. Combined with the

spring-like weather, the opportunity to spend more time safely with

our families, and the gradual reopening of our economy, there is

plenty of reason for optimism. Stay well!

Announcing $1.3 million in

joint provincial/federal funding

to create 24 new affordable

rental housing units for

seniors in Sarnia.

Supporting arts and culture

at the Judith & Norman Alix

Art Gallery with the Minister of

Heritage, Sport, Tourism and

Culture Industries.

Announcing $2,843,400 in

provincial funding to expand

the Community Paramedicine

for Long-Term Care program

in Lambton County.

Joining the Minister of Labour

and Parliamentary Assistant

to the Minister of Agriculture

in announcing SWIFT funding

to deliver rural broadband

services in Lambton County.

CONSTITUENCY OFFICE

805 Christina St. North, Suite 102

Point Edward, ON N7V 1X6

Contact Bob Bailey

Tel.: 519-337-0051

Fax: 519-337-3246

E-mail: bob.baileyco@pc.ola.org

Website: bobbaileympp.com

P A G E

14

Any man can be a father but it takes someone special to be a dad. (Anne Geddes)
---
In this difficult time, thank you for continuing to shop locally!

Welcome to ...

THE Club

POSTCARDS

of

SARNIA-

LAMBTON

See the Dave Burwell

Postcard Collecon at

sarniahistoricalsociety.com

Chipican Grill 1970's

Sponsored p

o

dBy:

A Better Place For You®

F. Filia & Associates Ltd.

2-565 Murphy Road, Sarnia Franco Filia

519-332-5400 I franco_filia@cooperators.ca Advisor/Owner

Photos from the Krom-o-graph collecon.

Aerial view of the bluewater bridge in the 1940s.

Lake Huron Hotel in the 1900s. near Colborne and Lakeshore

Pesha: The Federal Building

and local post office.

Located at the corner of S-E

corner of Davis and Front.

The Sarnia Ferries that docked at

Ferry Dock Hill on Cromwell and

Front Street would ferry cars and

people to the Port Huron, USA side.

Canatara Beach

The Heritage of My Hands

By Lyn Tremblay, Simcoe • From Daytripping Magazine September-October 2001

There is a "memory" room in our

home where I go to visit some very special

people who are no longer in my life. It is

filled with objects that were so much a

part of their lives that I can caress each

one and feel as if I am holding hands with

my past. An old sewing machine sits in

the corner—when I touch its smooth oak

surface I am back in the kitchen of my

childhood. My mom is bent over it guiding

yards of fabric under the click, click, click

of the tiny needle, the wheel whirs as her

foot works the treadle back and forth. I

have a special memory of matching red

skirts with tiny kittens around the hems,

made for my two sisters and I. Without

trying very hard, I can smell the wood

burning in the cookstove and I can see

loaves of homemade bread, rising like

puffy clouds, sitting on the top of the

warming closet.

In my memory room, the bed

is draped with a "Dresden plate"

patterned patchwork quilt. I can hear my

grandmother's giggle as she tells a story,

while her fingers automatically push a

needle pulling thread in and out, tracing

the edges of each design. Now I look at

those same patches and I remember a

blouse that covered an ample bosom

and arms that rocked countless babies.

Some of my pillowcases are

trimmed in intricately "tatted" lace and

embroidery. Nearby, a photograph of a

prim and proper lady with lace-edged

collars reminds me that this is the work

of one of my great-grandmothers. An old

tin box is filled with large dark buttons,

the kind you would find on heavy woolen

"mackinaw" coats. My other greatgrandmother

knew a tougher life—her

creations kept her children warm. They

both died long before I was born, but I

feel I know them.

A tiny basket sitting on the windowsill

holds other reminders. A crocheted pincushion

belonged to great-aunt Francis,

we called her Aunt Fanny. When I think

of her, I am a little girl, brushing long

hair that hung to her knees before she

braided it into a neat halo that wrapped

around her head.

The basket also contains a small

wooden crochet hook whittled by my

great-grandfather. It is the only reminder

of hours spent carving with only his

touch to guide him. He could not see. I

can smell his pipe.

Canatara Beach

A rug hook made from a

spoon belonged to my great-great

grandmother—the crevices of the

engraved handle are dark with age. I am

told she loved to create her own unique

designs, working long into the night by

the light of a coal-oil lamp.

There are other things that I cherish

perhaps even more than all of these.

Delicate crocheted cotton doilies spread

out on dresser tops are reminders that

once, not so long ago, other fingers—

spotted with age and swollen with

arthritis, worked the tiny knots flawlessly

day in and day out. These are the works

of art created by my grandmother. These

small webs of cloth are a reminder of her

passion.

She too is gone now, but my memories

of her have not had time to dim. She was

my inspiration and part of the wonderful

legacy that my own hands have inherited.

SPRING 2021 Motherhood is an act of endless forgiveness. (unknown)

P A G E 15
---
Welcome to ...

THE Club

HELPING HANDS

HEALTHCARE SERVICES

Providing care & assistance to clients of all ages and their families & caregivers

Jennifer

• Home Care & Respite Care • Companionship

• Light Housekeeping • Personal Care

• Help with any age/impairment/disability

• Alzheimer's & Dementia • Rehabilitation

• Transfers & Ambulation • Meal Prep

• Medication Assistance

• Grocery Shopping • Transportation

Call JENNIFER 519-402-0374

Palliative / PSW

Free Consultation

helpinghandssarnia@gmail.com

We're all getting older - we may as well laugh about it!

Owen R. Wyrzykowski

WYRZYKOWSKI & ROBB

Barristers and Solicitors

Whether you are buying or selling real estate, or need to

update your estate planning, we provide personal service

to help you through the legal process.

Welcome to ... SPRING 2021

This FREE Magazine is made possible by the

companies you see adversing in these pages.

Please consider them when making your

purchasing decisions, and please let them

know that you saw their ad in...

Welcome to...

THE

THECLUB

The role of technology in assisting

seniors in maintaining independence

cannot be overstated and keeping it all

straight can be a challenge. The challenge

comes as a result of the pace and number

of technological advances in the past few

decades. The changes can be dizzying.

There was a time in the not too distant

past when all we talked about was

medical alert systems. You remember the

commercial: "Help me, I've fallen and I

can't get up!"

Of course, that is still available, however

there is much, much more that a senior

and their families can take advantage of.

For our purposes I will divide the current

tech advances in four main categories:

Life Safety, Telehealth/Remote Care,

Medication Dispensing, and Geo-location.

As the phrase implies, Life Safety is

about the senior's ability to live in their

space, secure in the knowledge that

should they need help, all they have to

do is press a button. That option remains

for sure, and so much more. Typically,

the individual wears a

pendant on a lanyard around

their neck. Tucked away

under their shirt or blouse,

this pendent can be easily

accessed should the person

come into distress. I have

also seen them on belts and

wrists. Whatever works best

for the individual.

This system has advanced

to include a fall detection

option. There is, built

into most pendants, the

technology to sense a fall

and send the signal to the

responding call-centre

without requiring the person

to press the button.

Owen R.Wyrzykowsk

Wyrzykowski

y

ki

519-336-6118

6118

orw@wrlawoffice.ca

722 Lite Street, Point Edward

Technology and the Senior Advantage

By Chris Treftlin, Shine at Home, Sarnia

Call-Centres are the next piece of the Better still, because of the ease-ofuse,

Life Safety puzzle. With the advancement

the number of readings (points of

of hands-free two-way calling, a live data), can increase exponentially. With

call is activated by the pressing of the more data the care team can better

button, or the fall notification. Now the manage the chronic illness. And it gets

person initiating the call will be live with even better, by layering onto more data

a trained responder who can assess and the addition of "Diagnostic

take the appropriate action. This may Analytics" (DA) aka

include telephoning people on a call-out Predictive Analytics (PA).

list provided by the client, family, friends, Diagnostic Analytics uses

or neighbours. It may include calling EMS. and leverages the massive

Either or both, the call-centre makes it power of today's computers

happen, and stays with the caller until with the vast amount of

someone arrives to address their need(s). data. The outcome is a

Newer technology assisting people with system that can predict with

independence is the advancements made a high degree of accuracy

in Telehealth/Remote Care. Systems have the positive and potentially

been developed to monitor and track negative outcomes of any

patient data, then send this data to the given patient.

patients care team.

Here is an example. A senior is

Stay with me. Many seniors are dealing dealing with hypertension and Type 2

with chronic medical Diabetes. As they monitor and faithfully

"Falls are the most conditions. Hypertension, send in their readings a few times a day

common cause of injury diabetes, cardiovascular, the Predictive Analytics is detecting an

among older Canadians. COPD issues are some of the almost imperceptible change. These

Every year, it is big ones along with others. changes are reported and the care team

estimated 1 in 3 seniors Previously an older person responds. Without PA the patient goes

aged 65 years and older dealing with these issues unchecked for months. As our healthcare

are likely to fall at least would be asked to make system gets more demands from an

once. ... According to the regular visits to the doctor for aging population Telehealth/Remote care

Public Health Agency a simple monitoring session. will be required as one tool to assist in

of Canada, over onethird

Under the Telehealth/ maintaining our high standards of care.

of seniors who are Remote Care model a Medication Dispensing is seeing

hospitalized as a result doctor's patient can sit at the positive effects that technology is having

of a fall are placed in PC and do their own blood on medication compliance and the older

long-term care." pressure, blood oxygen, and person. In a recent 2016 study over

Source: https://

blood glucose readings and half of the seniors in the study (55%)

www150.statcan.gc.ca/n1/ more. The system stores the had moderate to poor compliance. Put

pub/82-624-x/2014001/ data and the care team can another way, over half did not take their

article/14010-eng.htm

review on-demand.

meds effectively. Now we are not talking

• Real Estate Purchases & Sales

• Mortgages & Credit Lines

• Wills & Powers of Aorney

• Estate Planning & Administraon

30 Years Experience

about a pill here or there, heck I do that.

We are talking about medications that

maintain the same chronic conditions

I wrote about earlier. New systems on

the market can remind, dispense, and

monitor the elder person's taking of said

medications. The system also notifies.

If the medications are not taken then a

notification goes out to the call-centre

or an individual responsible for care.

Further, reports can be generated that

analyze medication compliance.

A few words on the affect dementia

and Alzheimer's disease have had on our

society and technologies response. In a

recent Q&A with Sandra Shields, Philip's

Lifeline Community Representative,

she stated that one of the biggest tech

advances in recent years is a program

called "GoSafe." Shields stated, "Go

anywhere in Canada with six locating

technologies, check-in service, wandering

device, and it is all waterproof" Do not

underestimate the importance of this

advancement to a family dealing with

their loved one's disease.

There is a lot of help out there from

and through technology with reports that

more is coming, at least one per year.

Used properly it can be a positive part of

a senior's independence strategy.

P A G E

16

A truly rich man is one whose children run into his arms when his hands are empty. (unknown)
---
Thank you to all the local advertisers you see thoughout the magazine.

Welcome to ...

THE Club

Lambton County's oldest

& only independent

family shoe store.

Exemplary customer service, a safe

and friendly environment to shop

519-383-0588

Celebrang 50 years 1971-2021

1

•

Orthotic Friendly

•

Fashion Forward

• Men, , Women, , Children

Open

e

Monday-Friday o d

10-5

Saturday 10-3

Russell Street

Family owned and operated in Sarnia!

We take great pride in

our workmanship

and customer service!

- SHOWROOM HOURS -

Monday to Friday, 10 am to 4:30pm

Family Owned

and Operated

Since 1989.

1781 London Line • Sarnia

519.491.8888

beehivewindowsanddoors.com

WORDS

OF ADVICE

... from the Pessimist!

• Never play leapfrog with a unicorn.

• A Smith & Wesson beats four aces.

• There is always one more bug.

• Nature always sides with the hidden flaw.

• Celibacy is not hereditary.

• All warranties expire upon payment of invoice.

• Never eat prunes when you are famished.

• In any hierarchy, each individual rises to his own level of incompetence, and

then remains there.

• Where you stand on an issue depends on where you sit.

• Friends come and go, but enemies accumulate.

• If you try to please everybody, nobody will like it.

• A short cut is the longest distance between two points.

• You will remember that you forgot to take out the trash when the garbage

truck is two doors away.

• There's never time to do it right, but there's always time to do it over.

• When in doubt, mumble. When in trouble, delegate.

• Anything good in life is either illegal, immoral or fattening.

• It is morally wrong to allow suckers to keep their money.

• A bird in hand is safer than one overhead.

• Golden Rule: Whoever has the gold makes the rules.

• Everything east of the San Andreas Fault will eventually plunge into the ocean.

• Never sleep with anyone crazier than yourself.

• Beauty is only skin deep, ugly goes to the bone.

• The light at the end of the tunnel is the headlamp of an oncoming train.

• To know yourself is the ultimate form of aggression. (Freudian Psychology)

• If everything seems to be going well, you obviously don't know what's going on.

• If more than one person is responsible for a miscalculation, no one will be at fault.

• In case of doubt, make it sound convincing.

• Never argue with a fool, people might not know the difference.

120 Russell Street North, Sarnia • 519-383-0688

Spring is

in the Air!

Stop In & See The Difference An Independent,

Locally Owned Business Can Offer!

• Fashionable designer frames

at compeve prices

• Durable, high quality brands

• Personal aenon to your vision needs

• Honest opinion on your frame fit & style

• Value brands available to fit your budget

• Offer direct billing to most vision plans

... A Frankly Optical Experience!

It's the perfect me

to freshen up your look

with new eyewear!

Beth Kolthoff

With Beth's 30 years of

experience she is dedicated

to helping you find

just the right pair

from her great selecon

of eyewear including

sunglasses & contact lenses!

Walk in or book a one on one appointment time!

147 N. Mion St., Sarnia • 519-337-4060 • TheEyeGuySarnia.com

SPRING 2021 "A mother who is really a mother is never free." (Honoré de Balzac)

P A G E 17
---
Welcome to ...

THE Club

CASH IN ON CLEAN UP!

Recycle your scrap metal for CASH!

ELECTRONIC WASTE RECYCLING

Copper • Brass • Aluminum • Lead • Stainless Steel

Batteries • Scrap Appliances • Aluminum Pop Cans

WE BUY & RECYCLE

ALL SCRAP METAL

Container rental and C&D garbage disposal also available

SUPERIOR SERVICE, SUPERIOR VALUE! OPEN TO BUSINESSES & PUBLIC

1279 Plank Road, Sarnia • 519-337-3779 • www.trijan.ca • Mon-Fri 8-4

Seniors

SAVE 20%

Every Thursday!*

*Discount applies to

regular priced merchandise

Do you remember being 19... neither do we!

Available with a PC Optimum card at

the following Shoppers Drug Mart stores:

510 Exmouth Street, Sarnia

123 Mitton Street South, Sarnia

420 Lyndoch Street, Corunna

Welcome to ...

SPRING 2021

Where Did the Romance Go?

By John Carroll, Petrolia

I say "Welcome to the Club" is an

excellent magazine! I speak as a regular

visitor to Canada from the UK since

1982, and a more regular and longer

stay visitor of recent years, because our

daughter married a Canadian.

I was interested in reading the article

in the first edition by John Gardiner of

Wallaceburg about the "Best of Times to

Grow Up" in Canada, and how when he

was a teen they were well served with

dances (although unlike John, I would

say I never aspired to being a musician

and consequently, not a member of a

band!).

I can relate to John's comment that

it's only natural to feel that your own

generation had the best music (amongst

other things), and I am no exception. I

was born in the generation preceding

the baby boomers, and I am filled with

nostalgia when I think about the times

in which I grew up and came of age.

In December 1952 (when John

Gardiner was born) I was serving in

the Army, my mandatory two years

UK national service. I was due to be

demobbed in September 1953, which

meant I was 'roped in' at the age of

eighteen in September 1951.

Prior to my army days the only

dances I had been to were the company

dinner dances (where I started work at

fifteen years old), usually a full band

plus singer—typically a 'posh' do and

you danced with people you knew. The

other style of dance was the youth club

dance—usually to records—current

'hits' and again people or young 'uns in

your group and not much dancing done

due to shyness and inexperience!

So the only dancing of any

consequence at that time that would

help you to meet the opposite sex,

was of course ballroom dancing: waltz,

quickstep and foxtrot, (I can hear some

saying "What the heck are they?"), and

not the jitterbugging or jiving we only

saw in post war American movies.

Ballroom dances were a different

experience altogether I would say to

John the baby boomer, until Bill Haley

and his Comets hit the airwaves with

"Rock around the Clock" in July 1955.

(We went to the cinema at the time

and all of Wolverhampton young 'uns

must have been waiting for it, and went

mad!).

About four months before I was

due to be demobbed, my family

moved from North Eastern England

to Wolverhampton in the Midlands,

a much more highly populated town.

My first visit to Wolverhampton was

early September 1953, three weeks

before demob. My sister and a female

work colleague decided to go to the

Civic Hall Saturday night Civic Dance,

accompanied by her colleague's

younger sister, my two younger brothers

and myself, if I arrived on leave and if I

wanted to go, which of course I did.

I can well remember that September

1953 night: a great atmosphere with the

band playing, ten or twelve musicians

and singer, the warmth in the air, and

the buzz of conversation. There must

have been about a thousand people, all

youngish up to about thirty years old?

Guys looking for girls and girls looking

for guys, groups all around, laughter,

plenty of DA's ('Ducks' Arses'—am I

allowed to say that?—hairstyles), drape

suits and 'brothel creepers' (excuse the

expression) or crepe soled shoes about.

A really special atmosphere only

found in a public venue. Not what I

had been to before, especially after two

years in the Army—and the majority

of that time in Germany earning the

princely sum of one pound and ten

shillings per week to spend! (about

$1.75). An atmosphere that youngsters

Continued next page...

From

BABY BOOMER

to Empty Nester

Maybe it's time to downsize

We can help

Text DOWNSIZE to 85377

not intended to solicit

clients under contract

EXIT REALTY TWIN BRIDGES

Brokerage - Independently Owned and Operated

519-542-1000

P A G E

18

Be more than a father, be a dad. Be more than a figure, be an example. (Steve Maraboli)
---
Laughter is the best medicine - here's to your health.

Romance... Continued from previous page

do not get now (or so I imagine), and

records or discs can't compete with that

live, big band sound.

Introductions were made all round

our little group and our visitor's younger

sister was beautiful and I jumped

in "Would you like to dance?" The

proffered hand is taken and so starts

an experience that is so special, it can

be a beautiful experience or a complete

disaster.

You arrive on the edge of the dance

floor and other couples are passing

you in a large circle. The M.C. (Albert)

is moving up and down the centre of

the crowd signaling "keep moving" and

"hands up" where he can see them—

making sure everyone is behaving!

Your partner turns to face you arms

open – her right hand goes to your left

hand, her left hand is poised ready to

rest on your right shoulder, you slide

your hand around her waist and you

step close and make eye contact. Try

this anywhere else and you could get a

right-hander!

The next thing is you are thigh to

thigh…now I don't think even now you

could get yourself in a situation like this

with a female that you do not know and

have never met before. Now the banal

conversation starts or could do, but you

are trying to say something original –

unless it is "sorry" when your first step

gets it wrong.

If your first sentences have the right

effect, and she smiles and acknowledges

that you are there and is listening to you

and answering – she is interested. The

temperature starts to rise depending

on if it is a waltz or quickstep and

you can actually feel the interest. This

will be confirmed when, as soon as is

possible, you make it plain you would

like to dance with her again. If you can

manage to commandeer virtually all of

her dances for the night—that is when

it can become "Romantic." Now where

did that word go?

The perfume, the music and the

atmosphere are having their effect. The

outstretched left and right hands are

pulled in slowly over a period of time

and are allowed to twist a little and

the pace slows down over a number

of dances as you get to know each

other—the magic of romance starts.

The conversation starts to flow and you

have time to think and the questions

come: "Do you come here regularly?"

(with your sister/boyfriend?), "Any

other places like this in town?" "Where

do you live?" "How did you get here?"

"How are you going home tonight,

and when?" and so it goes on. Your

cheek touches hers and is allowed to

stay there, even though you are both

beginning to sweat!

If you are really smitten (and I was,

and this trip only here for a couple more

days and not back for about two more

weeks before final release), you try to

cover the future: "I will be back," "Can I

take you home tonight?"

This can't happen now can it? In

or at the disco/bar/club or any other

venue with its ridiculous decibel count,

flashing lights, unable to hear yourselves

speak, standing on one spot shaking like

someone out of control, hardly making

physical contact or showing off how you

won a gold medal at gymnastics! Where

did the romance go? I ask again!

Those old days will never be back—

BUT—we live in a changing world. I

realize that we have to change and our

kids and their kids (bless them all) make

it with a different recipe now, and the

magic works for them. So I will just sit

back and count the stars or something

equally absorbing.

By the way, the girl I offered my hand

to in this narrative became "the light of

my life" for sixty married years—gone

but not forgotten just over three years

ago. Petrolia became our second home

through the years, need I say more?

For those readers who don't really

know much about ballroom dancing.

Some study its intricacies for years

and become very skilled, especially in

competition. At the other end of the

spectrum, if you as a pair can avoid

trampling on and tripping over each

other's feet, this ability will be with you

for years enabling you to dance with

your loved one anytime and anywhere,

whenever the special music plays.

Welcome to ...

• Home Sleep Apnea Tesng

- In your home, no wait list, professionally

analyzed & sent to your doctor in 1-2 weeks

• Ambulatory Blood Pressure Monitoring

- 24 hr tesng, detailed interpreted report

THE Club

SLEEP HEALTH

SERVICES &

CPAP SUPPLIES

• CPAP Masks & Supplies

- Nasal & Full Masks,

Tubing, Pillows, Filters,

and many other items

SoClean

CPAP Cleaner

and Sanizer

for sale

481 London Rd, Sarnia • 226-776-8891 • www.RestwellSarnia.ca

Make this magazine Your Own!

Welcome to ...

THE

CLUB

The Club • P.O. Box 430,

Bright's Grove, ON N0N 1C0

info@welcometotheclub.ca

WELCOME TO THE CLUB is written by you, OUR READERS.

Send in articles to be published here and possibly in Daytripping Magazine.

Keeping our 55+ audience in mind, you may want to write about:

• Long gone hangouts i.e. Kenwick on the Lake, Tab's Drive-In, the Campbell St. Staon

• Local things that will never be the same - Local things that will never change

• A local champion from the past or present that deserves recognion

• A great local concert. Elton John? Johnny Cash? Alice Cooper? Bayfest?

• Hidden gems in Sarnia-Lambton, whatever they may be

Send us

your stories,

ideas & photos!

• An in depth look at a local charity, event or movement

• Growing up in this area in the 40's, 50's, 60's, 70's, 80's

• A first hand account of a trail/route in Lambton County

• A personal story that you're willing to share (and tell us how we're doing)

SPRING 2021 "I can't think of any need in childhood as strong as the need for a Father's protection." (S. Freud)

P A G E 19
---
Welcome to ...

THE Club

Putting the "Old" back in "Damn You're Old"

Welcome to ...

SPRING 2021

Weekly Deliveries

on Sundays

Easy Order by Phone

519-491-5797

Fresh Meals to Your Door

All Homemade & Prepared Just For You!

Shepherds Pie • Quiche

Roast Beef with Mashed & Veggies

Beef Stew • Lasagna

Pork Chop with Baked & Veggies

Roast Chicken with Mashed & Veggies

Penne with Meat Sauce

Meatloaf with Mashed & Veggies

Salisbury Steak with Baked & Veggies

Turkey with Mashed, Veggies, Stuffing, Gravy

1/2 Pound Portions - $6.00

Full Pound Portions - $9.95

SOUPS: Chicken Rice, Vegetable,

Beef Vegetable & Texas Style Chili

500 ml - $5.55 • 1 litre $7.99

www.phillycheesejakes.com

SARNIA

Auto Centre

GET YOUR

VEHICLE

SUMMER

ROAD

READY!

and more reputable brands.

Be prepared with

Summer Tires and a

Complete Oil Change.

24 HOUR EMERGENCY TIRE SERVICE

519-383-1000

1341 4 Plank a k

Road, a ,

Sarnia

a a

Wallaceburg ac Location: on:

JACK'S TIRE

7966 6

McCleary c

a

y Line • 519-627-3335

9

-333

335

35

SARNIA

Auto Centre

www.tirecraft.comw.ti i

c f

"Big or Small, JohnnyRemax

Sells T hem All"

John A. McCharles, Broker

Re/Max Sarnia Realty Inc. Brokerage

519-383-4812

johnnyremax@bellnet.ca

Square Foot Gardening

By Helen Lammers-Helps, New Dundee from Daytripping May 2011

Are you looking for an easier way to

grow fresh vegetables and herbs?

Twenty-five years ago, Mel

Bartholomew sold his civil engineering

business and took up vegetable

gardening as a hobby. After some dismal

failures with traditional row gardening,

Bartholomew applied his efficiency

expertise to vegetable gardening and

developed the Square Foot Garden (SFG)

system of growing vegetables. Realizing

that traditional row gardening was a hold

over from agriculture where long rows

made it easy to work the fields with a

donkey or tractor and other equipment,

Bartholomew started from scratch and

developed a new system which he dubbed

square foot gardening. Bartholomew has

released a second book, All New Square

Foot Gardening, where he describes his

methodology in great detail.

Bartholomew's method eliminates

the walkways between the rows. This

reduces the area required by 80% and

therefore also reduces the area needed to

be weeded and tilled by 80% for a huge

time and labour savings. Bartholomew

recommends growing the square foot

garden in a wooden box 4' x 4' by 6"

deep and open on the top and bottom.

He found that this size allowed people

to reach in from all sides. A one foot

by one foot square grid is laid on top of

the box using twine or strips of wood.

The number of plants or seeds planted

inside each square foot is based on the

maximum size of the plant.

To make it easy, Bartholomew has

divided each type of plant into different

categories by size. For extra-large plants,

grow one plant per square foot. These

are peppers, cabbages, broccoli and

cauliflower. Large plants are planted four

to a square foot (6" apart) and include

leaf lettuce, Swiss chard, parsley and

marigolds. Medium plants are spaced 4"

apart (9 to a square foot) and include bush

beans, spinach and beets. Finally, small

plants such as carrot, radish and onion

are planted 16 to a square foot (3" apart).

The grid makes it easy to see how many

plants should go in each square foot.

Another advantage of the boxes over

one large single garden is that the boxes

can be placed strategically. Put one by

the back door for herbs for convenient

picking while making dinner, one in partshade

for lettuce, spinach and other crops

that do better without intense sun and

heat, one in the sunniest part of the yard

for sun-loving tomatoes and peppers, etc.

This also makes it easier to stagger the

harvest by staggering plantings and by

re-planting to a new crop once an early

crop such as lettuce or peas has finished

producing.

Another advantage of this system is

that there is no traffic on the planted areas

which means there is no compaction and

subsequent yield loss.

By using the box method, ideal soil

can be used in the box which is much

easier than trying to improve heavy

clay, droughty, stony or other poor soil.

Bartholomew recommends a mix of onethird

each peat, vermiculite and compost.

Finally, by using boxes with plywood

bottoms drilled with holes for drainage

and raising the boxes onto a table at

waist height, those in wheel chairs or

with back problems are able to garden.

If you're growing lots of vegetables

for home canning, square foot gardening

may not make sense but if you just want

to enjoy some fresh veggies without all

the work of a big, traditional row garden,

it may be a good fit.

For more information on square

foot gardening, go to Bartholomew's

website at www.squarefootgardening.com.

Check it out! There is also an excellent

description with simple how-to steps at

http://www.albertahomegardening.com/

how-to-make-a-square-foot-garden.

P A G E

20

My father didn't tell me how to live – he lived, and let me watch him do it. (Clarence B. Kelland)
---
It's the advertising that makes a magazine like this possible, for free!

Home

of the

REAL SANDWICH!

No Fancy, Schmancy

Just An Honest, Wholesome,

REAL BIG, REAL GOOD

REAL SANDWICH!

LONDON LINE (DRIVE THRU) • 519-542-6121

Welcome to ...

NOW AVAILABLE

If You're

Gonna

Have One...

THE Club

Gotta be

a Global

Donut!

Join us by the Lake!

• Authentic Hickory Smoked Ribs

• Genuine Broasted Chicken

• Seafood, Sandwiches, Wraps

PRIME RIB

TUESDAY

NIGHTLY

H

Y

SPECIALS

P L

S

AYear Round Garden Centre, Gi

Shop &Bouque!

Extraordinary selecon

of Plants & Unique

Decoraons & Poery

for enhancing your indoor

Reserve er e for r panoramic c views

s

of Lake a e Huron from our r

patio!

• Take k

Out •Lakeside k

parks k

& benches nearby

2713 Old Lakeshore Road • Brights Grove

519-869-2794 • www.skeeterbarlows.com

The

Wisdom of...

Proud Member of...

OPEN Monday to Saturday

(Rd. 22)

East of SARNIA

519-542-8353

USA

Sarnia

N

Bright's

Grove

From

26

London

401

22

From

SIPKENS

Wallaceburg

NURSERIES

... And Four To go!

"See that woman over there? She's been married

four times - once to a millionaire, once to an actor,

then to a minister and now to an undertaker!"

"Wow, four times - I wonder why?"

"I know why she married each one! One was for

the money, two for the show, three to get ready and

four to go!"

Phyllis Diller

We spend the first twelve months of our children's lives

teaching them to walk and talk, and the next twelve telling

them to sit down and shut up.

You know you're old if your walker has an airbag.

I'm eighteen years behind in my ironing.

What I don't like about office Christmas parties is looking for

a job the next day.

The only time I ever enjoyed ironing was the day I accidentally

got gin in the steam iron.

I've been asked to say a couple words about my husband,

Fang. How about short and cheap?

His finest hour lasted a minute and a half.

Old age is when the liver spots show through your gloves.

My photographs don't do me justice—they just look like me.

I asked the waiter, "Is this milk fresh?" He said, "Lady, three

hours ago it was grass."

Tranquilizers only work if you follow the advice on the

bottle—keep away from children.

You know you're old if they've discontinued your blood type.

Kern

water

Home Water

Treatment

Mon–Fri 9 am–6 pm • Sat 8 am–2 pm

1804 London Line, Sarnia

519-542-4211

kernwater.com

Better Water

for Better

Health

Water softeners,

whole house filters

and drinking

water units

Benefits

Water Treatment:

• Improved taste and clarity

• Removes contaminents

• Environmentally friendly

• Cost-effective

Water Softener:

• Healthier hair, skin

and nails

• Preserve appliance life

• Cleaner/shinier silverware

and glassware

• Softer clothes that last

longer

SPRING 2021 "An ounce of mother is worth a pound of clergy." (Spanish Proverb)

P A G E 21
---
Welcome to ...

THE Club

The heart

smiles through

the eyes no

mask can cover.

• Sleek, Stylish

Masks in

20 Styles

• Home Decor

• Gis • Plants

• Fresh Flowers

• Jewellery

1362 Lambton Mall Rd., Sarnia

519-542-3301

Closed Sundays

www.mysecretgarden.ca

Over 500

people...

should ...You

too!

Affordable Rates • All Work Guaranteed • 25 Years Experience

GENERATION PAINT COMPANY

Interior & Exterior Painting and Makeovers

All types of

painting,

feature walls,

wallpaper

15% Seniors

DISCOUNT

PLUS HANDYMAN SERVICES:

• Repairs • Waterproofing (caulking)

• Maintenance • Renovations

Call Mark 519-330-4424 or email 1863989ontarioinc@gmail.com

This magazine comes with a free, built-in, old-fashioned fly swatter!

The Naked Truth

My little city has a wonderful library.

I was walking past it last night, and

I happened to glance, as is my

usual custom, at

the statue erected

near the entrance.

It is called "Mother

and Child," and is

carved from some type

of shiny black rock. The

mother is looking down

with what I have always

interpreted as great

fondness at her

little stone child,

and grasping him by the arms as he

reaches up to her.

The statue was always a subject

of some interest to my children when

they were small. This was likely due to

the fact that both of the figures in the

statue are completely nude.

Although I have never been

uncomfortable with the subject

of nudity and always dealt with

their "body" questions with what I

considered matter-of-fact answers, all

four of my children made no secret

of the fact that they found the statue

disgusting. They started out by asking

why the sculptor would want this pair

to be naked? What was the point? Why

should they have to look at that? After

repeated exposure to the sculpture as we

went past the statue and up the library

steps, their comments eventually were

pared down to a mumbled, "Ewww."

Apparently, they were not satisfied

with my explanations and displeasure

still needed to be expressed.

by Corrina Austin, St. Thomas

from Daytripping May-June 2004

That statue was around

when I was a kid. I must

confess, I was mildly

repulsed by it, too. It

was not the nudity that

offended me. It was just

that I thought the mother

was, well... fat. Her

stomach was paunchy,

and her buttocks wide

and big. Although she

was made of stone,

she looked awfully

"soft" to me.

It's funny how

my perception of her has changed over

the years. All those years of baking in

the sun have not made her any worse

for wear, and she has bravely suffered

through the months she has had to

spend with her bare feet shoved into

snow drifts (a misfortune I could never

have abided). The fact that her son

has not grown an inch has left her

seemingly unperturbed. But she must

have lost some weight.

After I had my first couple of

babies, I recall thinking, as I went past,

How could I ever have thought she

was fat? She's just a little overweight.

Nothing serious.

After two more kids, I looked up

at her with real consternation. This is

weird. She looks fine. She's not fat at all!

Now that I am in my forties, it's

even worse. Now, I tend to think, Shoot!

I wish I had a body like hers!

And lately, I seem to notice a

change in her expression, too. She

looks almost smug.

Welcome to ... SPRING 2021

"IT'S NOT JUST ABOUT THE MONEY,

IT'S ABOUT WHAT IT MEANS TO YOU"

Jodi diD

Dark C.F.P. CFP R

Financial Advisor

Providing solutions

for all your investment needs.

Financial By Design

1315 Michigan Avenue,

Suite D102, Sarnia

519-332-5050 • 1-888-231-3583

Scan the

QR Code to go

to our website

P A G E

22

Life doesn't come with instructions… that's why we have fathers. (unknown)
---
Some of the articles are from the archives of Daytripping Magazine

Welcome to ...

THE Club

Coaste ler r

Corona Rol

Thinking back but looking ahead... a humorous take on the virus.

• Coronacoaster: noun*- the ups and downs of a pandemic. One

day you're loving your bubble, doing workouts, baking banana

bread and going for long walks... the next you're crying, drinking

gin for breakfast and missing people you don't even like.

• They celebrated the end of the plague with wine and orgies. Does

anyone know if there is anything planned when this one ends?

• I'm getting tired of being part of a major historical event.

• If 2020 was a math word problem: If you're going down a river at

2 MPH and your canoe loses a wheel, how much pancake mix would

you need to re-shingle your roof?

• For those entering our store without a mask, we'll have to take

your temperature. (P.S. We only have rectal thermometers)

• If 2020 were a piñata, it would be a massive beehive.

• It's the first time in history we can save the human race by

lying in front of the TV doing nothing. Let's not screw it up.

• Pandas feed for about 12 hours a day, same as adults during

quarantine. Hence the word PAND-emic.

• 2020 - the year my garbage bin went out more than me.

• Can we all agree that in 2015 when asked "where do you see yourself

in 5 years?" nobody got the answer right?

SPRING 2021 A mother is a sheltering tree in a strange forest. (unknown)

P A G E 23
---
Welcome to ...

To Our Valued Customers,

THE Club

HOGAN

P•H•A•R•M•A•C•Y

This last year has been one of challenges, fear, sadness and isolaon.

For many, this virus has had devastang consequences. As vaccines

start to roll out, there is at least light at the end of the tunnel.

I wanted to take this opportunity to first thank my staff for all their

support, compassion and unwavering dedicaon to servicing our

customers. They truly are an incredible group of individuals. I also

wanted to thank all the front line and essenal workers for going to

work each day and connuing to provide those needed services for

our community. And lastly, I want to say thank you to all of our

customers who connued to support the Hogan family. There have

been many challenges throught the year and your understanding,

support and patronage will not be forgoen. We look forward to

connuing to service you and hopefully, as vaccines start being

distributed to pharmacies, we will be able to help bring back some

normalcy to all our lives.

Living life to the fullest (until about 9:00 p.m.)

Everyone has one. The drawer you

dread to open, but that gets opened

more than any other. It's a tangled

eyesore. One day you will sort and purge,

but it's always the last thing on the to-do

list. It's the junk drawer. It's the biggest

drawer in the kitchen, and it's a jungle

in there. Elastic bands are wound around

the potato masher. Paper clips are caught

on the egg beater. There's a broken icecream

scoop and one beater for the

mixer. What happened to the other

one? There are old bottle openers with

logos of companies long gone and fridge

magnets that attach themselves to other

items. There's always a pack of matches

from a wedding. Who the hell are Carrie

and Don anyway?

What is that little contraption? I think it

peels an orange. There are several knives

that are so dull they could not even peel

an apple. Maybe the orange peeler thinga-ma-bob

could peel the apple. There

Spring Cleaning

By Barb Day, Paris

From Daytripping May-June 2014

are loads of old batteries. A, AA, AAA.

Someday I'll see if they work or not.

What the heck is that thing? Better not

throw it out; it's a part for something or

other. Maybe it is just a part for a longgone

appliance, but better not take any

chances. Wait! There's the warranty to

my kettle I was looking for last week.

Never mind, it was the warranty for two

or three kettles ago. They sure don't

make things to last anymore.

Screws and nails have all navigated to

the fridge magnets. There are important

notes like a doctor appointment on June

22, 1993 and oil change reminders. Good

thing cars these days remind you right

on the dashboard. Is that a cassette tape?

Holy cow, I'm old. A Happy Anniversary

card…please! I left that guy ten years ago.

I really need to put this junk drawer

organizing higher up on the to-do list.

Maybe I'll get to it after I weed the

rhubarb bed and clean the garage. But

first I think I'll pour myself a tall glass of

lemonade and sit in the sun. I wouldn't

want to waste a perfect spring day

messing around with a junk drawer.

Welcome to ...

SPRING 2021

WE MAKE

Beautiful Smiles

~ Are you unhappy with the way

your Dentures make you look or feel?

~ Are your Dentures loose?

~ Sore spots?

~ Not eating the foods you love?

~ Are they over five years old?

WE ARE HERE TO HELP YOU!

Call to book your

FREE CONSULTATION today.

Since 1972, our family has made thousands of dentures for our patients.

Ask your dentist to refer you to us or call yourself for your free consultation.

We are adhering to strict Covid guidelines to keep you safe.

519-336-6580

1200 Lambton Mall Road, Sarnia

www.feigedentureclinics.com

P A G E

24

A father is someone you look up to no matter how tall you grow. (unknown)
---
You're welcome to send articles and help us buld this new magazine.

Welcome to ...

THE Club

1981

Billboard Hits

TOP 10

1 Bette Davis Eyes Kim Carnes

2 Endless Love Diana Ross & Lionel Richie

3 Lady Kenny Rogers

4 (Just Like) Starting Over John Lennon

5 Jessie's Girl Rick Springfield

6 Celebration Kool & the Gang

7 Kiss on My List Darryl Hall & John Oates

8 I Love a Rainy Night Eddie Rabbitt

9 9 to 5 Dolly Parton

10 Keep on Loving You REO Speedwagon

Source:

www.billboard.com

Moving? Downsizing?

Discover issues in advance!

Home Inspections

www.OvationHomeInspections.ca

226-343-2265

10% OFF O with

mention of this ad

GIFTWARE & UNIQUE HOME DÉCOR

SHOWCASING MANY LOCAL ARTISANS

TUESDAY-FRIDAY 10-5 • SATURDAY 10-3

Home of Just-A-Nuff Antiques

850 Colborne Street @ Exmouth Street

Northgate Plaza, Sarnia • 519-336-3838

Country Songs

Happiness Is Just A Flush Away

Almost everyone has one special

childhood memory. It might be when

the stork delivered a red-faced baby

sibling or that first shaky ride on a

two-wheeler. For this writer, it was

that momentous day when the flush

toilet arrived.

When our family moved into an

old farmhouse on the St. Clair River

in 1953, it was like the adage, "Water,

water everywhere, but not a drop to

drink." We were right across the street

from some of the most brilliant blue

waters in the world. You could swim,

fish and even sail on the St. Clair – but

a wise man would never swallow its

waters. While residents of the larger

town nearby enjoyed purified Lake

Huron water piped right into their

homes, our only supply of water was

in an old cistern beside the house. It

was fine for laundry, and even baths

– but certainly not for drinking. Our

drinking water, even in the 1950s,

arrived in plastic containers.

Many decades later, I still have

flashbacks of taking a bath BF (before

flush). A big laundry tub would be

hauled up from the basement and

placed in the middle of the kitchen

floor, before the stove. Water was

heated, dumped into the tub, and you

did your utmost to be the first bather.

When my parents bathed I have never

discovered – it remains one of those

unanswered family secrets.

In warmer weather, the tub was

Source:

playback.fm

1 No Gettin' Over Me Ronnie Milsap

2 I Don't Need You Kenny Rogers

3 Love In The First Degree Alabama

4 Step By Step Eddie Rabbitt

5 The Sweetest Thing Juice Newton

6 Key Largo Bertie Higgins

7 Through the Years Kenny Rogers

8 Feels So Right Alabama

9 Blessed Are The Believers Anne Murray

10 Seven Year Ache Rosanne Cash

Movies

Raiders of the Lost Ark

Superman II

Nine to Five

Stripes

Arthur

The Cannonball Run

For Your Eyes Only

The Fox and the Hound

The Four Seasons

Source:

the-numbers.com

moved outside where we were

sheltered by an alcove near the back

porch. But even as a five-year-old, I

could never quite relax while enjoying

my splash in the tub. What if some

unsuspecting neighbour – or the

kids from the back street – should

suddenly appear when I was in my

altogether?

Now if bathing was inconvenient,

using the outhouse was positively

scary. The traditional two-seater

was discreetly hidden behind the

garage, close to our tiny orchard.

A nighttime visit entailed braving

quivering shadows, armed only with

a flashlight. Bats would swoop down

out of the orchard and I tried not

to think what was crawling up the

walls of the outhouse. In short order

(well, likely on my mother's order),

a chemical toilet was installed under

our basement stairs. Unfortunately,

before his untimely demise, a river rat

took up residence in the adjoining root

cellar. That cellar was separated from

the toilet by a collapsing brick wall,

with old stuffing filling

a former chimney

vent. Each night as

I reluctantly used the

chemical toilet before

bed, I convinced

myself that an entire

nest of rats was hovering

just above my head.

But the greatest BF

By Alice Gibb, London

from Daytripping

July-Aug. 2006

(before flush) adventure

belonged to my mother.

One afternoon, our

family set out on the

river in my father's

homemade sailboat.

An eerie calm settled

over us, the sail went limp and the

next thing we knew, a cousin was

frantically towing us to shore with

his powerboat. Ominous-looking

clouds were collecting to the west.

As we reached the house, my mother

had to heed the call of nature and

headed for the outhouse. The storm

touched down just as she reached

her destination. The outhouse door

slammed shut with a bang – and

jammed. While we huddled in our

basement my mother rode out the

storm in much more cramped and far

less fragrant quarters.

In the mid-1950s, the Lake Huron

pipeline was extended to our little

hamlet. I still remember that special

day when I jumped off the school bus,

rushed in our back door and headed

upstairs. There sat the sparkling

flush toilet – and a beautiful white

enamel bathtub. No more fears of

rats, or bats or bathing in public. My

father still enjoyed the outhouse

for many more years but now

I was an AF (after flush) like all

my friends. Sometimes keeping

up with the Joneses isn't such a

bad thing.

You've wanted

one of these for

50 YEARS!

Why

Wait?

430 Exmouth Street, Sarnia

519-344-7740

pickersalley.com

Taylor

714ce

V-Class

SPRING 2021 One father is more that a hundred schoolmasters. (George Herbert)

P A G E 25
---
Welcome to ...

THE Club

Visit our online store... Praillsgreenhouse.com

Spring is

in the Air!

Great

Selection of...

• Annuals

• Perennials

• Hanging

Baskets

• Nursery Stock

• Garden Decor

& More!

1508 Blackwell Rd.

-5

- SARNIA -

519-542-3371

Favourite Food Memories

By Jeanette Paddon, St. Thomas

from Daytripping March 2016

I was the second youngest of six

children and grew up on a farm in the

1950's. Dad spent most of his days in

the fields, or tending to the cows, pigs,

chickens, and turkeys. Mom took care

of the children, the house, the laundry,

which always happened on Monday, the

ironing and mending which of course

happened on Tuesday, and the cooking

which must have seemed non-ending

for her.

Blessed with a mother who seemed

to have a natural ability for cooking

so many different foods, meant that

our family always looked forward to

Annual SPRING Landscape Sale

MAY 3-8 SAVE 15%

mealtimes. However, Friday night's

supper was our favourite meal of the

week, for Friday was the day Mom

baked enough bread to last the family

for the following week. I still remember

the huge mixing tub used for the task.

As we stepped off the school bus, the

delicious aroma of bread baking, led

us straight to the kitchen. Our eyes fell

upon the big pot of baked beans keeping

warm on the back of the stove, and

the numerous loaves of freshly baked

bread cooling on the counter top. We

were ready for our Friday night feast!

Gathering around the table, we filled our

plates with steaming beans in tomato

sauce, eaten with thick slices of warm

bread slathered with homemade butter.

We could easily eat two or three loaves

of bread at this meal. Sometimes, and

usually during the winter, Mom saved

some of the dough, which she cut into

small pieces and deep-fried for a few

seconds in hot oil. This was a real treat

for us as children.

My mother was famous for her pies.

The pastry literally melted in your

mouth as it was so tender and flaky.

Before

I'd write something better here but I forgot to!

Tired of having

short lashes or no lashes?

TORI

BELLE

Try Magnetic Lashes & Liner!

Safe, Easy, lasts 30+ wears!

FREE GIFT FOR NEW CLIENTS!

Natural look - lots of styles & lengths

Call Karen at 519-362-7067

FOOT ORTHOTICS

For slippers, shoes, boots, and sandals

ON SITE SHOE ALTERATIONS

For comfort,

support, circulation,

balance & fatigue

After

Julie Munday, Certified Pedorthist

www.soledecisions.com

30+ YEARS

EXPERIENCE!

303 Davis Street, Sarnia • 888-971-6345 Help with 3rd party claims

These pies went into the freezer, ready

to be baked for dessert, or freshly baked

and served with a cup of coffee when

company stopped by. We all went berry

picking so Mom could make strawberry,

raspberry, blueberry, and Saskatoon

berry pies. Rhubarb pie was a favourite

also. We loved it when Mom used the

leftover pastry to make little cinnamon

pinwheels for an after school snack.

A huge vegetable garden made an

appearance each year. Leaf lettuce,

green onions, and radishes were

always the first to grow which made a

delicious salad that we "dressed" with

fresh cream. To this day, I do not know

whose idea this was, however we could

not have enjoyed any other dressing

more. Mouth-watering soups full of

baby carrots and peas, and green and

yellow beans were often served at the

noonday meal which we called dinner

JEN'S

SALON

571 ERIE ST, WYOMING

519-845-3596

rather than lunch. Later on, Mom would

spend entire days canning all these

vegetables, plus sweet and dill pickles,

and pickled beets. She even canned

chickens in a simple broth, which was

delicious served chilled.

Sunday night supper meant roast

beef, pork, or fried chicken served with

mashed or baby roasted potatoes, along

with gravy and vegetables. We certainly

never went to bed hungry!

Many warm Sunday afternoons were

spent making ice cream in our hand

crank ice cream maker. We took turns at

the old crank, until finally, anticipation

sparkled in our eyes as the frozen treat

was nearly ready. Mom would then

pour in a generous amount of wild

strawberries or raspberries, and soon

we were savouring the best ice cream

ever made! Ahhh…the memories of

childhood!

No matter

what happens...

We'll straighten

it out!

Welcome to ... SPRING 2021

• Landscaping Materials

• Interlocking Stone

• Beach Pebble & River Rock

• Large Decorative Boulders

• Retaining Wall

• Outdoor Fireplaces

• Flagstone

...Much More!

1189 Confederation Street, Sarnia • 519-337-2334 • www.patene.com

Family-owned business

built on hard work,

integrity and superior

customer service.

You can trust CSN

St. Clair!

Proudly serving Sarnia-Lambton and surrounding area for 60 years.

856 Confederation St., Sarnia • 519-337-3842

P A G E

26

Though everyone has a mother, each is still a rare treasure. (unknown)
---
We'd like to hear your honest opinions on how you like the magazine.

Welcome to ...

THE Club

Welcoming

New Patients

SARNIA PHARMACY

Corunna Pharmasave

• Pharmacist available 24/7 for our paents

• FREE Delivery • FREE Compliance Packs

• $2.00 Co-Pay waived on elegible ODB Prescripons

• 10% discount on otc items every Tuesday & Friday

Open Monday-Friday 9-6, Saturday 9-2, Sunday Closed SARNIA: 206 Maxwell Street • 519-337-3215

MEDICATION MANAGEMENT • AWARENESS • COMPLIANCE CORUNNA: 409 Lyndoch Street • 519-862-2020

Because all women

deserve to feel beautiful...

Every day!

184 N. Christina St., Sarnia

(beside Maran Fashions)

519-491-5256

5256

www.lilithboutiquesarnia.ca

Professional Bra Fitting

Mastectomy Fittings & Products

Stylish Sleep & Loungewear

Swim & Cruisewear

New Spring,

Summer & Swimwear

Arriving Weekly!

Floors for life.

Hardwood • Tile • Laminate • Carpet

Luxury Vinyl Tile and Plank & More!

532 CHRISTINA ST. N., SARNIA • 519.344.8855 • CARPETONE.CA

® Trademarks of AIR MILES International Trading B.V. Used under license by LoyaltyOne, Co., and Custom Floors Carpet One Floor & Home.

Driving

TRIVIA

Selected

After Hours

questions from

Annual Trivia Night

"The Daytripper" has a team entered every year, but we have yet to win.

Answers Below

1. Fill in the lyric: "You've gotta be cruel to be kind, in the right

measure. Cruel to be kind, it's a very good _____________."

2. In what year did Elijah Harper, a Cree from Red Sucker Lake,

Manitoba, become the first "Treaty Indian" in Manitoba to be

elected as a member of the Legislative Assembly of Manitoba?

a] 1982 b] 1983 c] 1980 d] 1981

3. Which is the only country in the world that sports the Bible on its

national flag?

4. What humorist observed: "Few things are harder to put up with than

the annoyance of a good example."?

a] Mark Twain b] Margaret Atwood

c] Jerry Seinfeld d] Jimmy Fallon

5. What coach came off the bench to play for his team in the Stanley

Cup finals?

a] Wayne Gretzky b] Toe Blake

c] Dick Irivn d] Lester Patrick

6. In Greek mythology the dove is associated with Aphrodite, goddess

of love. What sign did the sighting of the dove give to Noah in a

biblical incident?

7. What animal's fur, along with that of the beaver, is found in a Stetson

hat?

8. The Commander and his wife, Serena Waterford, refer to their

handmaid by what name in The Handmaid's Tale, a novel by

Canadian auther Margaret Atwood?

9. In what year was the Nicotine patch introduced?

10. In what year were 63 Americans taken hostage in the American

Embassy in Iran?

a] 1977 b] 1978 c] 1979 d] 1980

11. What was Mary, Queen of Scots, the first to employ on a golf course?

ANSWERS:

1. Sign; 2. 1981; 3. Dominican Republic; 4. Mark Twain; 5. Lester Patrick, Rangers in

1928; 6. The floods were beginning to receed; 7. Rabbit; 8. Offred;

9. 1992; 10. 1979; 11. A caddy.

563 Front St. N., Sarnia

519-337-9998

GlassAndPillarSpa.com

A Senior

Moment

An elderly couple had dinner at

another couple's house and after

eating, the wives left the table

and went into the kitchen. The

two men were talking, and one

said, "Last night we went out to a

new restaurant and it was really

great. I would recommend it

very highly." The other man said,

"What is the name of the

restaurant?" The first man

thought and thought and finally

said, "What is the name of that

flower you give to someone you

love? You know... the one that is

red and has thorns." "Do you

mean a rose?" "Yes," the man

said. He turned toward the

kitchen and yelled, "Rose, what's

the name of that restaurant we

went to last night?"

Be Ready for Sandal Season

Trendy mani-pedi

colour combos to

try this Spring!

We have the highest

safety protocols in place!

No appointment needed to shop the boutique

Life Happens...

Yarn Helps!

Heaven is

Handmade

"A Yarn Boutique"

ue"

Everything

you need for

knitting & crochet

250 North Christina Street

Sarnia • 519-491-9276

www.HeavenIsHandmade.ca

Do you want to reach

our age 55+ readers?

advertise

in the club

Call 519-491-1676

info@welcometotheclub.ca

SPRING 2021 The most important thing a father can do for his children is love their mother. (unknown)

P A G E 27
---
Welcome to ...

TAKE HOME!

THE Club

A new magazine, for people who aren't! (new that is)

Lunch With The Girls

Sent in by Wendy Nienhuis

Welcome to ...

SPRING 2021

Fresh Made Comfort Food

A tradition since 1992!

105 MICHIGAN AVENUE

PT. EDWARD • 519-344-2855

Bright

&

Unique

Lighng

Ideas

For Your

Home

116 Michigan Ave

POINT EDWARD

(519) 344-3535

Mon-Fri 9am-5pm

www.twinbridgelighng.com

NORTH END APPLIANCE

Serving Sarnia-Lambton Over 30 Years

519-336-7676

635 Cathcart Blvd., Sarnia

northendappliance.ca

BUTTONS

&

Bows

A group of 15-year-old girlfriends

discussed where to meet for dinner.

They finally agreed to meet at the

Dairy Queen, next door to the Lake

View restaurant, because they had

only $6.00 among them and Brad

Johnson, the cute boy in social studies,

lived on that street.

10 years later, the same group

of 25-year-old girlfriends discussed

where to meet for dinner. They

finally agreed to meet at the Lake

View restaurant, because

the beer was cheap, the

restaurant offered free

snacks, the band was good,

there was no cover charge

and there were lots of cute

guys.

10 years later, the group

of 35-year-old girlfriends

discussed where to meet

for dinner. They finally

agreed to meet at the Lake

View restaurant, because

the cosmos were good, it

was right near the gym and,

if they went late enough,

there wouldn't be too many

Ladies Clothing

& Accessories!

From size 2 to 22!

Tuesday to Friday 10am to 5pm

Elegance

Saturday 10am to 3pm

at its finest!

www.buttons-and-bows.ca

131 Michigan Ave., Point Edward • 519-491-1412

What Does Love Mean?

4 to 8 year old kids were asked

this important question -

Here are some of their responses

whiny little kids.

10 years later, the group of 45-yearold

girlfriends discussed where to

meet for dinner. They finally agreed

to meet at the Lake View restaurant,

because the martinis were big and the

waiters wore tight pants and had nice

buns.

10 years later, the group of 55-yearold

girlfriends discussed where to

meet for dinner. They finally agreed

to meet at the Lake View restaurant,

because the prices were reasonable,

the wine list was good, the restaurant

had windows that opened (in case

of hot flashes), and they served fish

which is good for your cholesterol.

10 years later, the group of 65-yearold

girlfriends discussed where to

meet for dinner. They finally agreed

to meet at the Lake View restaurant,

because the lighting was good and

the restaurant had a senior citizen

discount.

10 years later, the group

of 75-year-old girlfriends

discussed where to meet

for dinner. They finally

agreed to meet at the Lake

View restaurant, because

the food was not too spicy

and the restaurant was

handicapped-accessible.

10 years later, the group

of 85-year-old girlfriends

discussed where to meet

for dinner. They finally

agreed to meet at the Lake

View restaurant, because

they had never been there

before.

Do You Have Arthritis

in Your Knees or Hips?

GLA:D Canada is an 8-week

education and exercise program for those with stiff and/or painful knees

and/or hips, or those with knee and/or hip osteoarthritis. Research from GLA:D® in

Denmark shows participants report less pain, reduced use of painkillers, fewer

indiviudals on sick leave, and being more physically active.

GLA:D CANADA IS MADE UP OF 3 PARTS:

• 2-3 Education Sessions

• 12 Neuromuscular Exercise Sessions

• Data Collection for Quality Monitoring

Cross Works Physiotherapy is proud to present the

GLA:D program at Ironworks Fitness.

For more information please contact 519-491-7273

Covered Under Extended Health Care

• "Love is when you tell a guy you like his shirt, then he wears it every day."

• "Love is when mommy sees daddy sitting on the toilet and she doesn't

think it's gross."

• "You shouldn't say 'I Love You' unless you mean it - but if you mean it,

say it lots, people forget."

• "I let my big sister pick on me because my Mom says she only picks on me

because she loves me. So I pick on my baby sister because I love her."

• "During my piano recital I was on stage and scared. I looked at all the

people and saw my daddy waving and smiling. He was the only one

doing that. I wasn't scared anymore."

Jamie Easter

Reg. Physiotherapist

Jayme Davies

Reg. Physiotherapist

519-491-7273

611 St. Clair Street, Point Edward

Jenny Lindsay

Reg. Physiotherapist

Reves Henderson

Reg. Physiotherapist

Ryan Cross

Reg. Physiotherapist

www.crossworksphysio.ca

P A G E

28

A mother's love comes and grows, never ebbs and always flows. (unknown)
---
Your next issue will come out around July 1st

PRIVATE BRANCH

Support is just a phone call away.

226-216-2485

eriestclairprivate@bayshore.ca

Let Us

Help You

With

Your Day!

Our caregiver can arrive bright and early to help your loved one start their day.

We can assist with getting out of bed, personal grooming and getting dressed.

Need help making breakfast? Leave that to us. And we can help with feeding, if

required. After morning care and breakfast, we'll offer physical and mental

stimulation programs – let us know what your loved one enjoys – crosswords,

puzzles, scrap booking, flower arranging, chair yoga, or playing cards or bingo. We

can make and serve a nutritious lunch and then offer virtual programming during

the afternoon. Before our caregiver leaves for the evening, they'll assist with dinner

and get your loved one ready for bed. Overnight care is also available if needed.

Services that support continued care at home include:

Transportation

Housekeeping

Grocery/Prescription Pickup

Personal Support

Medication Reminders

Meal Preparation

Nursing

Dementia Support

Palliative/End of Life Care

24/7 Services

Terri Snell

Care Manager

www.bayshore.ca

Welcome to ...

THE Club

"Your Feet Will Be In Good Hands"

Contact Julie Today!

Are your feet f sore r

and a n

d

keeping i

you o

from

r m

doing i the things that t you u love?

Cerfied Cerfied Master t

Pedicurist ist - Julie Coulombe

ombe

will give you the best experience and the

professional aenon your feet need!

ADVANCED FOOTCARE

Diabecs, Ingrowns, Corns, Warts,

Fungus & other common foot problems

519-466-5853 • Julie@athomespa.ca

At Home Spa @ Mara Surgical Clinic

704 Mara St. Point Edward, Unit 106

Serving

Sarnia

Since 2006

Courtesy of

Sipkens Nurseries,

Sarnia

Spring Garden Checklist

It's officially spring and the gardening

season couldn't have come soon

enough. I can almost hear the collective

sigh of relief from gardeners everywhere

as the temperatures begin to rise, the

scent of soil floats through the crisp

spring air and the first signs of new life

pop up out of the ground—seemingly

overnight. It feels like we wait all year

for this season and then it's "Gardeners

start your wheel barrows!" with a race

to fit as much gardening and outdoor

living into one season as we can.

With so many gardening activities

to set your sights on over the next few

months, I thought it would be more

manageable to focus on something

bite-sized in this article, such as edible

gardening! (See what I did there?)

Growing your own food is incredibly

rewarding and fun for the whole family.

You not only get to tend a garden

outdoors in the sun, you also get to reap

the rewards and delight in the fruit of

your labours—literally!

If you're new to edible gardening,

you may feel overwhelmed or not know

where to start. Not to worry! There are

plenty of ways to grow your own crops

on a smaller scale or to suit your needs.

You can start with a small 4' x 6' raised

bed for veggies like carrots, peppers

and beets or a patio vegetable planter

with smaller items like lettuce, herbs or

strawberries.

Take a look at your yard throughout

different times of day and see where

and when the sun falls—you will need

about 6-8 hours of sunlight for veggies

to thrive. Another smart way to start

is by looking at your current grocery

list. What do you buy? What does your

family like to eat? Grow what you know

and you will really see the value of

having your own food in your backyard.

Maybe try the watermelon next year

when you've nailed down strawberries.

Then again, it's your garden—grow,

baby, grow!

Checklist:

❏ Improve the soil in veggie beds and

containers with peat moss, compost

and natural fertilizer.

❏ Transplant seedlings and/or sow

seeds into the garden based on the

instructions on the seed packet,

good advice from friends or from

your favourite garden centre.

❏ Plant cold-loving veggies early April

(onions, radish, snow peas and

perennial herbs).

❏ In mid-April to May, plant potatoes,

broccoli, cauliflower and carrots.

❏ Plant tender veggies after the frost

free date (usually by Victoria Day)

such as tomatoes, peppers, cucumber

and melon.

❏ Water vegetables and fruit often and

consistently.

❏ In June, start to reap the rewards by

picking early crops like leafy greens,

radishes, and strawberries.

SPRING 2021 Genetics explain why you look like your father, and if not, why you should. (6th grader)

P A G E 29
---
Welcome to ...

Kern

water

kernwater.com

Mon–Fri 9 am–6 pm • Sat 8 am–2 pm

THE Club

1804 London Line, Sarnia

519-542-4211

U-Fill

Water

Delivery

Service

Reverse

Osmosis

and Alkaline

Growing old is inevitable, but growing up is optional

Seniors

Save

Young @

Heart

Earn Free

Rewards

on almost

everything you

buy at Pharmasave.

20%

OFF

Regular Priced

Items In-Store

Every Thursday of every month!

Welcome to ...

SPRING 2021

We Are Here to Serve You

6-1000 Finch Drive,

Sarnia, Ontario

N7S 6G5

519-383-6600

marilyn.gladu@parl.gc.ca

www.mpmarilyngladu.ca

What Mothers Know

4 YEARS OF AGE - My Mommy can do anything!

8 YEARS OF AGE - My Mom knows a lot! A whole lot!

12 YEARS OF AGE - My Mother doesn't really know everything.

14 YEARS OF AGE - Naturally, Mother doesn't know that, either.

16 YEARS OF AGE - Mother? She's hopelessly old-fashioned.

18 YEARS OF AGE - That old woman? She's way out of date!

25 YEARS OF AGE - Well, she might know a little about it.

35 YEARS OF AGE - Before we decide, let's get Mom's opinion.

45 YEARS OF AGE - Wonder what Mom would think about this?

65 YEARS OF AGE - Wish I could talk it over with Mom.

Bayview Chrysler Dodge Ltd.

Bayview

Chrysler • Dodge • Jeep • Ram

www.bayviewchrysler.com

State of the Art Collision Center

that deals with all insurance

companies as well as a

Full Detailing Department

for cleaning vehicles.

255 Indian Rd. South, Sarnia

$10.00 OFF

(or more)

Redeem this coupon

for 10% OFF

ANY SERVICE, PARTS

and/or DETAILING JOB

of over $100.00

before tax.

Sales, Service & Parts:

519-337-7561

FREE SHUTTLE SERVICE in Greater Sarnia Area!

LONDON ROAD PHARMACY

Locally Owned and Operated

www.londonroadpharmacy.com

* Every surface & product is disinfected daily for your safety!

The Wellness Corner

by Marion Clouse, M.Ed from Daytripping Sept-Oct 2003

Positive Thinking Can Change Your Life

Imagine you are sitting in a plane

somewhere over Canada, and an engine

falls off. How would you want the pilot to

react? Would you want him to say: "Stay

calm and buckle up! This will be a bumpy

ride, but we'll find a way home?" or would

you want him running up and down the

aisle yelling: "We'll all be killed! We'll all

be killed?" Which person is more likely

to get you down safely? Now think about

your every day life where you are the pilot.

Which approach is most likely to solve your

problems? This is what positive thinking is

all about. It doesn't guarantee that your life

will be problem free and smooth sailing,

but it gives you a better chance. Negative

thinking is "what-if" thinking. We have

about 50,000 thoughts a day and most of

them are negative. If you are running a

few minutes late for work what thoughts

usually go through your mind? "What-if I

catch every red light and get all slow drivers

on the road and then I'll be really late!"

"What-if this is the day the boss will be in

the reception area and sees me coming

in late?" What-if thinking has a snowball

effect, and those negative thoughts lead to

negative behaviour that can sabotage your

health and life. Negative thoughts such as

"I'll be the one let go if there are cutbacks!

I'm so stupid, I'm not good at anything,

I've got a bad memory, Nothing I do ever

works!" can effect your relationships with

other people, influence how you act, and

affect your whole life. The exciting thing

is that because you have control over your

thoughts, you can change your what-if

thinking to positive thinking. It will take

some practice and hard work, but by using

the three "R's," Recognize, Replace and

Reinforce, you can change your thinking.

Recognize – Become aware of your

thoughts. When you start thinking

negatively, say "Stop" or "No" to yourself,

and picture those words in big red letters.

You can also keep a small note pad with

Tammy Maure

1249 London Rd

519-491-6778

you to write down those what-if thoughts.

Writing them down helps you slow down

and identify those negative thoughts, for

it's easy to miss the negative thoughts as

there are often so many of them. Once you

identify those negative thoughts, you can

make some changes.

Replace – If many of your what-if

thoughts are focused on one thing, change

your thoughts to something positive. "I

am so stupid" can be replaced by "I am

not perfect, but I have a great sense of

humour and I'm a really good listener."

Your replacement thoughts need to be

for now and not for tomorrow, such as

"I am smart, I will play a good game, I

am getting better every day." Also focus

on what you want, not what you don't

want, "I will have the opportunity to try

a career change, instead of I'll never find

another job!"

Reinforce – Once you have chosen your

new belief, say the new thought a couple

of times a day with feeling, "I am a good

person, I feel good, I am a good friend, A

great job is waiting for me." Believe that it

is true, even if only for a moment. Think

it. Say it aloud. Write it down. Just like

any other habit, the more you practice,

the sooner it will become second nature

to you.

Being positive for one day won't change

things. Strengthening your mind is

like strengthening your body. If you do

twenty push-ups, and then race over to

the mirror, you won't see any difference.

Similarly, if you think positive for 24

hours, you will see little difference. But

discipline your thinking for a few months

and you will see bigger changes in your life

than you will ever see at the gym. Cleaning

up your thinking is lifelong work. Try to be

a positive pilot in your life journey.

For more information, or to find a

Canadian Mental Health branch near you,

visit www.cmha.ca.

P A G E

30

A mother is the inspiration for all acts of creation. (unknown)
---
If your business offers anything to people 55+, you can advertise too!

Welcome to ...

THE Club

Remembering the Pond

by Barbara Bryant, Ingersoll from Daytripping Sept.-Oct. 2002

Although no longer there, it was a

beautiful place ... a truly tranquil, beautiful

place. I appreciated it then, some thirty

years ago ... and I still love to think about

it now and can still even envision it in my

mind's eye. It was the one place in the

whole world where my dad and I could

experience some never-to-be-forgotten

time together, tender, non-threatening

moments of emotional peace.

You see, I never really knew my dad in

the normal sense of the meaning of a

father and daughter relationship. He was

so impatient with me. I never did things

right. I reacted too slow to his questions.

Yet I don't know if the right terminology

is 'too slow' or whether I was just too

nervous to act naturally around him. It

was certainly not uncommon for me to

get all tongue-tied whenever he asked me

a question. Yet whenever he took me on

one of his nature hikes he seemed more

relaxed and less demanding. In fact, his

whole demeanour seemed to soften and

he was so knowledgeable about things.

I couldn't believe how much he knew

about birds, bugs, butterflies, and wild

flowers especially since he was a man

who claimed to hate reading. How had

he managed to become so astute in

such areas? I know he loved to look at

the National Geographic magazine but

he always said he wasn't interested in

reading.

It wasn't until recently that I started

to wonder if perhaps since he had left

school at seven years old, he had never

learned to read. How very sad that

would have been. But then how had he

managed to acquire so much knowledge

about nature and conservation? However,

I never quizzed him about it and he never

discussed it.

Going on field trips with my dad

were very special occasions for me. I

eventually got used to being dragged

literally, over and under fences, across

streams, and through boggy terrain.

As a girl, I usually wasn't dressed for

such activities, however, I soon learned

that long pants (even though they were

frowned upon at the time lest one give

the impression of being a tomboy) were

ultimately the way to go. Thistles on bare

legs certainly didn't tickle nor did tall

weeds and other fauna.

My dad would explain to me about the

monarch butterfly and its attraction to

milkweed. He told me about the family

of butterflies known as sulphurs, the

beautiful black and pink-edged yellow

butterflies that were so common in our

particular area of the country. There

was the alfalfa variety, and the common

variety. Some preferred open spaces

while others preferred brush or scrubby

areas. My dad explained to me about

swallowtail butterflies, especially the

tiger swallowtails that were frequently

seen floating on gentle breezes in our

field looking for Joe-Pye-weeds. The

lovely mourning cloak butterfly with

its soft, medium brown wings, blue

eyelet design and pale yellow edging.

The many varieties of brush footed

butterflies, wood nymphs and crescents,

so many different types. They were all so

hauntingly beautiful.

My father knew all about sounds too.

He could tell a tree toad from a bird call

and a grasshopper from a cricket. He

could recognize all different kinds of

things, the scurrying of an animal in the

underbrush, the soft rather high-pitched

whistle of a near-by wood turtle. He could

tell a dragonfly from a damselfly and the

sound of a bull frog from that of a blue

jay. My favourite birds have long been

red-winged black birds and warblers.

My dad could mimic these and more. He

had a real ear for the sounds of crickets

singing their songs from somewhere

in the sweet smelling damp earth, and

the clicking of tiny tree toads as they

lent their voices to the melodic pond

symphony from some inconspicuous

location usually close by.

While I had long known how to recognize

a jack-in-the-pulpit, I had no idea it was

also called a wild turnip, marsh pepper,

bog-onion, brown dragon, starchwort,

wake-robin, dragon-root or cuckoo - but

my dad knew. He also knew that cattails

are also called, flags, cat-o-nine-tails,

marsh beetles, candlewicks or cossacks.

I still love the scent of Queen Anne's Lace

but until he told me I hadn't known it

was a member of the parsley family, nor

had I noticed the tiny purplish red seed

in the very centre of the flower. I was

fascinated too at the number of varieties

of milkweed. Although we don't have all

the varieties here in Ontario, we do have

several kinds. There are purple, swamp,

four-leaved, common, poke, butterflyweed,

green, desert, whit-flowered,

antelope-horn, blood-flower and A.

uncials. Here in Ontario I believe we have

swamp, purple, and common types.

Nature was certainly my dad's element.

Yet how he ever got pigeon-holed into

strenuous factory work was something

I never understood. Frankly I think that

is what made him so bitter because

he grew up in a period when the man

was the head of the house and solely

responsible for supporting his wife and

children. So whatever work he could get

back when he was young was the type

of work he ended up doing his entire life,

and with little if any education, what little

choice that left as far as employment was

very little I'm afraid.

I really miss knowing the man he might

have been. Yet it's still a comfort to me

every time I smell the sweet scent of a

Queen Anne's Lace and wild phlox or

see a butterfly floating serenely across a

meadow. I think of my dad and remember

the times we spent together, him teaching,

me learning. These are without a doubt

some of the fondest moments of my life

and memories I'll truly never forget...

Remembering the Pond.

You can be anywhere in the world and sll read

Welcome to The Club

Subscribe for FREE on our homepage and

we'll simply email you a link to each new issue.

The online version may not be as "Priceless"... but it's just as FREE!

www.welcometotheclub.ca

SPRING 2021 The older I get, the smarter my father seems to get. (Tim Russert)

P A G E 31
---
Welcome to ... THE Club

Don't put this down! You'll have to bend over to pick it back up!

Wyoming-based singer-songwriter

also recognized Joan for outstanding

JOAN SPALDING

achievement entertaining online

during the pandemic.

"I think it's incredible what she's

First Lady of

done," said Mayor Lonny Napper. "Joan

raises people's spirits with her music

Bluewater Country

and is giving back to her community."

Even Joan can't believe she's been

By Cathy Dobson

performing her daily shows for more

than a year.

in one sitting.

the highest honour from the Rotary "I have a little ESP and I knew I'd be

"We were staying with my uncle in Foundation. It was presented for doing it for a long time," she chuckled.

Detroit and my Dad woke me up late at her determination to help the wider "People tell me they look forward to

night to meet a big band leader named community through the pandemic hearing me every day.

Don Pablo who had come to the house. and came with a $1,000 donation in "But you know the truth is these

"I was in my pajamas and he showed her name to help with humanitarian friends and my music are keeping me

me C, F and G. He told me I had to efforts around the world.

going and I look forward to it every day

learn that or nothing was going to click. The Town of Plympton-Wyoming too."

"So I watched him play and I tried

it over and over on an old Silvertone

guitar until my fingers were bleeding.

But I have a photographic memory and

I learned it."

Not only did she master the rhythm

guitar, Joan went on to learn multiple

instruments including the double reed

harmonica, bass guitar, mandolin and

four-string banjo. For good measure,

she learned how to yodel too.

In the mid-1970s, inspired by

country stars like Tammy Wynette and

Patsy Cline, Joan was the three-time

winner of the Canadian Open Country

Singing Contest in Simcoe Ontario.

She remembers the first time she

was invited on stage to sing in front of

a crowd at a union hall in Sarnia.

"I sang Delta Dawn that night and

everyone got up to dance. That's when

I knew I could do it," said Joan.

Her first gig at age 21 was at the

Oil Rig in Petrolia. After that, she Rotarian Jamie Pole presents Joan Spalding with the Rotary's highest honour, the Paul Harris

Fellow Award, for her musical achievements during the pandemic. Photo Credit: Mary Pole.

performed regularly, eventually

recorded in Nashville and released

several songs.

We donate $25 for each article we

Joan's Foggy Mountain Band has

Welcome to

gone through numerous iterations, but

...

reprint from the archives of

THE

Daytripping Magazine.

started with her brother Gary Wade

$650 has been donated since Jan. 2021

on banjo, sister Donna on piano and

CLUB

the late Bill Alexander on fiddle. Often

The recipient for this issue is the

Joan's father Harold Wade joined in on

Forest Kineto Theatre

the harmonica.

Send arcles to info@welcometotheclub.ca

She's released seven albums

including "Joan Spalding & Doug

The Club • P.O. Box 430, Bright's Grove, ON N0N 1C0

Springstead Live at the Bridge Tavern"

in 2012. An eighth album with a

Cover mixture of original and cover songs is

CLUB

...slightly less cool than the

Cover of the Rolling Stone,

but we're working on that!.

in the making and will be released as

soon as there's studio time, she said. Our local cover photographer is Ronny D'Haene

For a short period in …after a pipeline accident in 2000 I kind of lost my way for a while. Not my hope,

the 1980s, Joan lived in not my faith but to be honest my way. Three years later I felt moved to take up nature

Ottawa. Otherwise she photography. Since I couldn't read anything without massive headaches or even

has always called Sarnia- watch tutorials it was a long road to learning my craft. Two friends helped me move

Lambton home and lives from Auto Focus to using Manual and it all changed for me. They were able to explain

in Wyoming now. She

it simply without giving me a headache and my craft improved steadily from there.

I have loved the journey and still do.

raised three kids, Crystal,

What I love more is sharing and

Deb and David. David was making folks smile with my work.

the drummer in The Foggy Especially this last year with all of us

Mountain Band for about dealing with all the negative news with

10 years and Joan credits Covid.

Crystal for assistance with promotion I enjoy capturing the vast variety of

wildlife in Southern Ontario and it is

and "being my right arm."

my hope to continue to find, click and

This year, while performing every

share this journey with folks.

single day online, Joan received The Yours truly, Ronny D'Haene

Paul Harris Fellow Award, which is A.k.a. Ronny the Rooster

SPRING 2021

Joan Spalding isn't going to let a little

thing like a pandemic stop her from

playing for her fans.

"I was put on this earth to play music

and keep people happy," she says. "If

I'm not playing, I feel like I'm not doing

anything."

So when the pandemic shut down

her busy gig schedule last year, it didn't

take long for Joan to figure out how she

would reach her audience another way.

"It came to me in a dream," she

explained. "There I was on a computer

performing a song. It didn't make a lot

of sense at first because I know so little

about computers but the next day I

thought I'd try an online gig."

That's how much she missed her

fans.

After 47 years playing in bars, clubs

and dancehalls – often two or three

times a week – her fans feel like friends

and family.

Joan performed online for the first

time April 1 2020 and hasn't missed a

day since, exceeding the one-year mark

with no intention of stopping.

"That first day, I only played one

song, Mama Spanks, and it got 90 likes

and 589 views. Of course, I cried," she

said. "It felt so comfortable."

Her virtual Facebook shows are live

every day at 3:20 p.m. and generally

include five or six songs. Joan's "people"

as she likes to call them, comment or

report on how they're doing, requesting

songs and thanking her.

"People have told me I make their

day. They call me their sweet angel. I

don't know about that but it makes me

happy to share what's going on in their

lives," she said.

When it's possible amid covid

restrictions, Joan is joined on Fridays

by bass player Doug Springstead.

Doug, who lives in Petrolia, has played

with Joan and The Foggy Mountain

Band for years and appeared with her

at Point Edward's Bridge Tavern where

she headlined for well over a decade.

"Joan is very dedicated and has

great people skills," says Doug. "We

have faithful fans because we play the

old classic country that people want to

hear.

"She's done a very, very good job

going online every day," he added.

"It's a blast, really. It's like going on live

television."

Growing up in

Mooretown, Joan can't

remember a time when

country music wasn't a

big part of her life.

She's been told

that at four years old,

she walked over to a

neighbour's and sang,

then announced to

them that she was going to be a star.

By age 11, she already played the

piano, then learned the guitar while on

a trip to Detroit with her father.

As she tells it, she learned to chord

P A G E

32

"There is no way to be a perfect mom, but a million ways to be a good one." (Allison Bradley)
---
Please tell our advertisers that you saw their ad in this new magazine!

Welcome to ...

THE Club

IT'S FREE TO HAVE PHOTOS PUBLISHED!

Send dusaphoto ofsomeone o e who has celebrated ebrated amilestone a e birthday or anniversary

ar

y

(ending in 5 or 0), a rerement, an award or if they just deserve recognion.

The main person must be 55 or over and the photo must be of good quality.

Photos are not guaranteed to run.

info@welcometotheclub.ca • Box 430, Bright's Grove, ON N0N 1C0

Lisa Wyrzykowski &

Tracey Michieli

Clark twins

Lisa (le) & Tracey (right)

celebrated 55 years

on March 8th

Sharon Higgins

turned 70 on March 11th

Lisa

Tracey

Sandy & Keith Heimpel

celebrated their

55th Wedding Anniversary on March 19th

Herb Donkers

turned 60 on March 20th

George g

Cooper

C o

joined The Club when he

turned 55 on March 11th

Al Belanger

(with his wife Hilda) of

Lake Valley Grove, Lambton Shores

celebrated his 70th birthday on March 15th.

SPRING 2021 My fingers may be small but I can still wrap daddy around them. (unknown)

P A G E 33
---
Welcome to ...

THE Club

Sometimes, no news really is good news.

Welcome to ...

SPRING 2021

Life is Better

When

You're Home

Seniors live at home -

independently,

comfortably & happily.

Mom!

You can get meals,

housekeeping, and

door-to-door

transportation!*

Love Jen -

P.S. for much less than

a retirement home!

It doesn't matter how old you are, life is always better

when you're home. There's a deep comfort that comes

from being in familiar surroundings, sleeping in your own

bed, and living under a roof that belongs to you.

Established in 2010, Shine at Home serves seniors who

wish to live in full independence. Since our earliest

beginnings we have learned that with just a little help,

people can remain in their homes for many years safe

and free in the knowledge that a dedicated team is

there for them.

Housekeeping

Transportation

Companionship

and Care

"All the staff go out of their

way to make life easier for our

Mom when we aren't able to

be there everyday! We

definitely recommend Shine at

Home to others looking for

excellent care for their elderly

parents"

Heather – Daughter of Client

"The lady who does my

housekeeping is so nice and

efficient and always fits in

special requests"

Ruth Ann - Client

Call today and find out how

Shine at Home can help you:

519-336-9898

shineathome.com

FUNNY

SQUARESAnswers

Peter Marshall: When you pat a dog on its head

x

xhe will usually

wag his tail. What will a goose do?

Paul Lynde: Make him bark.

Peter Marshall: True or false, George...experts say there are only

seven or eight things in the world dumber than an ant.

George Gobel: Yes, and I think I voted for six of 'em.

Peter Marshall: If you you were pregnant for two years, what

would you give birth to?

Paul Lynde: Whatever it is, it would never be afraid of the dark.

o

Peter Marshall: According to Ann Landers, is there anything wrong

with getting into the habit of kissing a lot of people?

Charley Weaver: It got me out of the army!

Peter Marshall: According to Better Homes and Gardens, Is it a

good idea to give your yard a little sprinkle?

Michael Landon: ...well, if you can't make it to the house, I mean...

Peter Marshall: While visiting China, your tour guide starts

x

shouting "Poo! Poo! Poo! What does that mean?

George Goebel: Cattle crossing.

Peter Marshall: Who stays pregnant for a longer period of time,

your wife or your elephant?

Paul Lynde: Who told you about my elephant?

P A G E

34

Motherhood means steering a child's ship until he has learned how to swim. (unknown)
---
Thanks again - keep this copy or pass it on to a friend please.

Welcome to ...

THE Club

LAMBTON COUNTY ARCHIVES

Visit the Archives to:

» Discover the local history and

families of Lambton County

» Trace your ancestral roots

using our family histories.

» Uncover unidentified photos

in our X-Files photo collection

» View our website for

upcoming events &

workshops.

Discover · Preserve · Connect

787 Broadway Street, Wyoming lambtonarchives.ca 519-845-5426

SPRING 2021 Blessed indeed is the man who hears many gentle voices call him father. (Lydia Maria Child)

P A G E 35