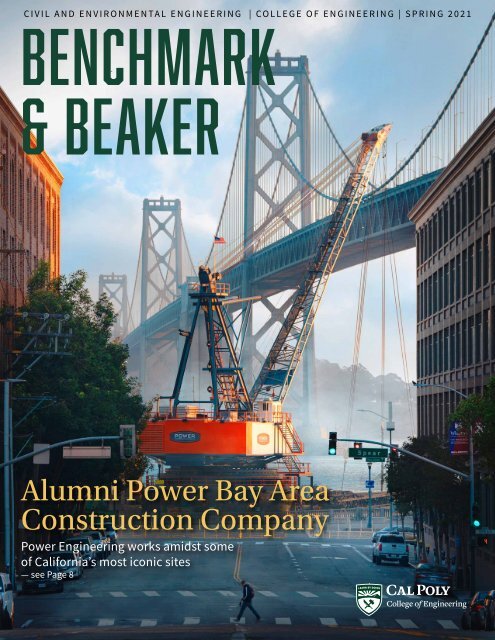 Create successful ePaper yourself
Turn your PDF publications into a flip-book with our unique Google optimized e-Paper software.
CIVIL AND ENVIRONMENTAL ENGINEERING | COLLEGE OF ENGINEERING | SPRING 2021

benchmark

& beaker

Alumni Power Bay Area

Construction Company

Power Engineering works amidst some

of California's most iconic sites

— see Page 8
---
enchmark

& beaker

INSIDE

03 FROM THE DEPARTMENT CHAIR

04 CE/ENVE CLUB UPDATE

06 ALGAE RESEARCH STATION

08 POWER ENGINEERING

10 NEW PARTNERS SCHOLARS

12 CLASSROOM RENOVATION

14 NEW FACULTY

15 STUDENT BOARD | SUMMIT

▲ Civil engineering student

Adam Monroe works on using

nanoparticles to detect microbes

in drinking water during his undergraduate

research project sponsored

by the Industrial Partners

Program (See Page 10).

2 | CIVIL AND ENVIRONMENTAL ENGINEERING
---
From

The Department

chair

Department chair Charles Chadwell

shows work in progress in the Trophy

Room, long used as the department's

showcase for its many club victories,

as it converts to one of the most hightech

rooms on campus with money

provided by the Platinum Partners.

(See article on Page 12).

▲

While we're all excited about the prospect of inperson

classes returning to campus in the fall,

I'm also incredibly proud of what our faculty and

students achieved during this extremely challenging time.

To cite just a couple of examples, recently, a team of

students guided by Professor Hani Alzraiee won first

place in the Virtual Design & Construction category at

the Associated Schools of Construction (ASC) Student

Competition, and Professor Stefan Talke's important

research on "nuisance flooding" was widely publicized,

including stories in Popular Science, Wired and the BBC.

Alzraiee and Talke are two of the six faculty members

taking part in the exciting new Partners Scholars

program, which pairs freshmen students with faculty

research exploring relevant, real-world topics. The

Partners Scholars is one of several initiatives funded by

our successful Industry Partners Program (IPP), both of

which you can read more about in this newsletter.

This year, the department was once again named one

of the top three of its kind by the U.S. News & World

Report, and part of that success can be attributed to

the incredible support we get from industry, alumni

and friends. Like our IPP, which funds a wide array of

initiatives, our donor-supported discretionary fund helps

us address a variety of needs that surface —including

unexpected ones. When the pandemic forced us to

abruptly pivot to virtual classes, we were able to use

our discretionary funds to purchase needed server

systems. And once we do return, we will now have a new

department van that will come in handy for a multitude

of projects.

Of course, our rankings are also heavily influenced by our

top-notch faculty, and this year, we've welcomed two new

assistant professors, Shams Tanvir and Long Wang. Both

have been actively involved in research, and they have

already involved students in those endeavors. Both Tanvir

and Wang participated in the Partners Scholars program.

Club activity in our department serves many functions

— providing social and industry connections and skills

that further our signature Learn by Doing approach

to learning — and as you'll see here, our clubs have

remained active even during the pandemic. But, of

course, the rhythmic sound of students sanding a

concrete canoe will never sound so good when the

activities we've come to love return to campus.

It won't be long. Until then, we wish you well. And, as

always, we thank you for your support — be it with

dollars, mentorship, jobs or a good word.

Sincerely,

Charles Chadwell, Ph.D., P.E.

Department Chair

SPRING 2021 | 3
---
enchmark & beaker

clubs

zooming

ALONG

▲ Members of Cal Poly's Institute of Transportation Engineers

met for their Western District Panel Session

Forced to go the virtual route by the

pandemic, clubs continue to inspire

Despite a global pandemic forcing all Cal Poly

club activities to be virtual, student clubs

in the Civil and Environmental Engineering

Department continued to provide important

career connections and professional development

opportunities.

Toward the beginning of winter quarter, the Society

of Civil Engineers (SCE) and Society of Environmental

Engineers (SENVE) co-hosted the Civil and Environmental

Engineering Winter Career Fair. The event, held via Zoom,

lasted six days, with scheduled time blocks for students

to speak with companies.

Despite Zoom bombers crashing the event one day, the

career fair was a success, said SCE President Nadime

Younan.

▲ Members of Cal Poly's Society of Civil Engineers met in the fall

for Welcome 2020.

"The most important part of the career fair was always

giving students the opportunity to network with potential

employers, and we were still able to provide that service,"

Younan said.

SCE and SENVE also foster connections through virtual

social, professional and community service activities.

The clubs provide different opportunities that encourage

involvement among members. SCE and SENVE host

game nights where students compete against each other

in games like Cards Against Humanities or Codenames.

They also promote membership engagement through

mentorship programs or meetings with industry

speakers.

"It has been difficult to keep making events that are as

engaging as the in-person events we would normally

have, but SENVE has addressed

that difficulty by planning high

quality events but with less

frequency," SENVE President

Keon Feldsien said.

Cal Poly's Chi Epsilon, the civil

engineering honors society,

hosted the 33rd annual Pacific

District Conference (PDC) this

past quarter. The PDC is an

annual leadership conference

that aims to develop students' professionalism, connect

4 | CIVIL AND ENVIRONMENTAL ENGINEERING

4 | CIVIL AND ENVIRONMENTAL ENGINEERING
---
Chi Epsilon with industry and develop bonds within the

community.

When in-person, the PDC allows students from different

Pacific District chapters to socialize and participate in

activities, workshops and competitions.

Planning the first virtual PDC presented many unique

challenges for the Chi Epsilon PDC committee.

The PDC typically takes place over a long weekend, but

this year, it was held virtually for six days. The conference

included mock speed interviews, a virtual career fair,

networking opportunities, student committee meetings,

project and professional development presentations and

a closing ceremony. According to Vice President and PDC

Chair Meagan Chan, the committee "wanted to make

events that would provide the opportunity for attendees

to network while

also spurring the

competition to win

the PDC Cup."

student chapter of the professional organization, has also

adapted to the virtual learning environment and taken

advantage of its opportunities.

Within a month, ITE hosted two fully virtual Student

Leadership Summits (SLS) in winter quarter. The first,

held in January, connected students within the Western

District. The second SLS hosted 14 student chapters,

which attracted over 270 students representing 90

universities worldwide.

According to ITE President Katherine Lee, organizing

virtual conferences is easier in some respects over inperson

ones. Lee said they ease responsibilities like travel

restrictions and food and venue costs. ITE committee

members also learned the capabilities of Zoom and found

creative solutions for transitioning to virtual events.

The PDC Cup is

awarded to the

chapter with

the most points

from conference

events like chapter

projects and

presentations,

committee reports,

industry quizzes

and other fun

activities.

The conference

surpassed

expectations with

200 participants

from 14 other

chapters within the Pacific District. The PDC committee

chose "Unity" as the conference theme.

▲ Members of the Cal Poly Chi Ipsilon, the civil engineering honor society, hosted the 33rd annual Pacific District Conference.

"During this year of adversity, we believe that it is critical

to reconnect and unite so that the Chi Epsilon chapters,

members, and community will continue to thrive, grow,

and succeed as we continue our professional journeys,"

Chan said.

"The virtual format of this [SLS] conference allowed our

committee members to really think outside the box and

experiment various ways to make 'traditional' events...

into something more interactive," Lee said.

ITE committee members worked together to overcome

virtual restrictions.

The Cal Poly chapter was the provisional winner of the

33rd annual PDC and PDC Cup holder.

The Cal Poly Institute of Transportation Engineers (ITE), a

"The conference is not meant to be a one-man show

and relying on each other makes organization less

overwhelming," Lee said. "With great communication and

teamwork, everything is achievable!" n

SPRING 2021 | 5

SPRING 2021 | 5
---
enchmark & beaker

6 | CIVIL AND ENVIRONMENTAL ENGINEERING
---
Green DAYS

Algae research adapts and

grows despite pandemic

"Give us water and sunshine and we'll

find plenty of things to do."

— Tryg Lundquist

Although the coronavirus pandemic

has limited activities at the

Sustainable Utilities Research and

Education Field Station for more than

a year, environmental engineering professor

Tryg Lundquist says research opportunities

continue to flourish at the facility located

on the edge of the City of San Luis Obispo

wastewater treatment plant.

Lundquist said about half of the usual 50

students per quarter are currently doing

research inside three on-campus algae labs

and outside at the field station, which has

the tiny green aquatic plants growing in 20

biological treatment tanks each holding

260 gallons of wastewater.

"Our numbers are down but, fortunately, we

have a lot of lab space and we are adapting,"

he said. "We are wearing masks at all times

— even outdoors — and face shields when

they have to work close together. Plus,

everybody's got their own lab coat and their

own safety glasses, so none of the PPE is

shared. Even with COVID, the work and project

development continues!"

Lundquist said most of the current research

projects are a continuation of ongoing studies

involving nature-based water treatment

practices and the development of algae

biofuels. One current study, dubbed the

"Phos Project," examines how algae treats

wastewater by removing excess phosphorus,

an element that affects the oxygen levels in

water.

▲ Cal Poly students Allie Ahern (environmental engineering), above, and Kai Nakahara

(marine science), left, work at the Sustainable Utilities Research and Education Field Station

located at the City of San Luis Obispo wastewater treatment plant.

Another project on the horizon is the creation of a public educational

display for riders and walkers on the Bob Jones City to the Sea Bike

Trail which borders the facility.

"I would say there is about 150 feet of trail in front of the station and

we want to put up informational signs along the fence to let the public

know that the City of San Luis Obispo and Cal Poly are participating in

advancing water and energy research."

Lundquist added with a laugh: "We have a rare opportunity to have

the general public get very close to all the action." n

SPRING 2021 | 7
---
enchmark & beaker: COVER

On the

waterfront

Cal Poly graduates help Bay Area company design

and build at some of the most iconic West Coast sites

As soon as the divers at Power Engineering

Construction Co. slip beneath the ocean surface,

they begin multi-tasking, performing skilled

construction while battling currents, monitoring

oxygen levels and struggling to see in low-visibility

conditions.

"The ocean is not kind," said Ken Lindberg (Civil, '79),

one of four co-owners of the company, which specializes

in marine and civil projects. "It's cold, and it's a tough

environment."

The Pacifica native knows about that first-hand, having

been a diver for decades.

"My dad put a tank on me when I was 11, and I probably

weighed all of 70 pounds," he said.

Lindberg's underwater experience was crucial to the

success of Power, which he co-founded in 1986. Since

then, the company has significantly invested in heavy

equipment, which allows it to perform a wide variety of

work, in and out of the water.

"We don't limit ourselves to a certain type of project,"

said Brian Shalk, a project manager and 2010 Cal Poly

alumnus. "We really feel like we can build anything. One

day you can be working on a beach restoration project,

and the next day you can be working on structural repairs

for a pipeline 60 feet under water."

When the Alameda company was launched by Lindberg,

Brian Stitt and Danny Reynolds, work typically came from

clients with complex projects others wouldn't consider.

Many projects entailed work in surf zones, featuring rip

tides and breaking waves.

In company photos, Lindberg can be seen diving for

some of those projects, using his water and engineering

experience to the company's advantage.

8 | CIVIL AND ENVIRONMENTAL ENGINEERING
---
Power Engineering is working with the Water Emergency Transportation

Authority to expand and improve facilities at the Downtown San Francisco

Ferry Terminal.

▲

"Not everyone wants to get beat up by the water," he said.

"But robots can't do everything down there."

In the early years, the company amassed a growing list of

impressive projects, including a seismic upgrade to San

Francisco's Pier 1, the construction of four cofferdams at

the Veterans Bridge in Sacramento and various repairs to

Pacifica's seawalls, bridges and piers after it was damaged

by El Nino storms in 1998.

After joining the Pile Driver's Union in 1997, the company

aggressively pursued larger projects and began investing

in its own future. The biggest investment was the construction

of two huge barges in 2012 and 2018 — the 90-ton

derrick barge, DB Alameda, and the 250-ton crane barge,

DB Pacific, the biggest of its kind in the West. The massive

tools, which are delivered to sites via tugboats, greatly

expanded the scale of projects the company could tackle.

"We can drive whatever we need," Lindberg said. "We

always had to subcontract that portion of the work."

The floating cranes are custom-made for the company's

line of work, Shalk said, including pile driving and heavy

lifting.

"Having this special equipment gives us the access and

opportunity to pursue projects that others cannot," he said.

Today, the company's 75 employees (three of the four

current co-owners are Cal Poly graduates) include both

engineers and construction workers, allowing them to

both design and build.

"What's unique about Power is that we do a lot of the

work ourselves," said Lauren Rodriguez, a 2020 Cal Poly

graduate, who began working as a project engineer last

August.

Many of the company's projects have taken place in the

shadow of the Golden Gate Bridge, a marine engineering

coup completed 84 years ago.

"It's mind-blowing how they built that," Rodriguez said. "I

think about it all the time."

A resident of the city's Russian Hill neighborhood, she has

plenty of opportunities to see the city's famous bridges,

visiting Power projects in the city. Recently, she spoke

from one of those job sites – the Ferry Building, where the

company was performing under-deck repairs.

▲ Ken Lindberg (civil engineering, '79) co-founded Power Engineering Construction

Co. Three of the company's four co-owners are Cal Poly graduates.

"I never thought I'd be a city person," said Rodriguez,

a Palm Springs native, who landed the job through the

Heavy Civil Career Fair at Cal Poly. "It's so interesting to be

in such an iconic place."

While safety and cost effectiveness are always major

considerations, working on projects in an internationally

known tourist destination has added responsibilities.

"Not only does it have to function well, but it also has to

look good," Lindberg said.

Anyone traveling the Bay Bridge into the city will see the

ferry terminal, located next to the historic Ferry Building

on the Embarcadero. Power used its two barges and a

slew of other equipment for a highly visible terminal

expansion.

In addition to aesthetics, the company also has to

consider protecting nearby structures, like the Ferry

Building, which was completed in 1898.

"If a historic building is adjacent to a project, we may

install seismic and settlement instrumentation to monitor

the building during disruptive construction activities,"

Shalk said. "This gives peace of mind to us, our clients,

and any onlookers."

With projects involving divers, massive equipment and

iconic locations, the company's work provides plenty of

highlight reel action. And it's no surprise that employees

like Lindberg, Rodriguez and Shalk all enjoy water sports.

Shalk was even certified to dive – a company perk.

"Most of our engineers are pretty adventurous and want

to live life to the fullest," Rodriguez said. n

SPRING 2021 | 9
---
enchmark & beaker

Seeking

New

solutions

Partners Scholars

Program pairs freshmen

with faculty on relevant

research projects

When an octopus was found in a flooded

Miami parking garage four years ago,

it was one of many ongoing signs that

rising sea levels have impacted Sofia

Barale's home community in troubling — and at

times bizarre — ways.

So when Barale saw that one of the Partners

Scholars projects specifically looked at how human

developments might be contributing to South

Florida flooding, the Key Biscayne native was eager to learn

more.

"It makes me feel informed and a bit scared, honestly," she

said. "Studying how sea level rise is affecting my community,

why it may be happening and experiencing it myself is

affecting how I think about where I live."

Similar to the College of Engineering's Summer Undergraduate

Research Program, the new Partners Scholars program pairs

10 | CIVIL AND ENVIRONMENTAL ENGINEERING
---
Environmental engineering professor Amro El Badawy

works with civil engineering student Adam Monroe on

conducting undergraduate research using nanoparticles

to detect microbes in drinking water.

▲

freshmen Civil and Environmental Engineering students

with faculty research projects. This year, 13 students

received a $500 stipend to work directly with faculty

members that are addressing real-world issues.

Funded by the Industrial Partnership Program, Partners

Scholars lasts a quarter, though students can continue to

work with the faculty once the ten weeks has concluded.

"They get to interact with our faculty, and it gives them a

taste of research and problem solving," said Department

Chair Charles Chadwell.

Barale worked with Stefan Talke, who has spent years

studying how human alterations — including dredging

and the construction of jetties and piers — have

contributed to tidal changes that sometimes cause

"nuisance flooding." Barale's roles included digitizing old

bathymetric maps of Miami Harbor.

"The maps show that the approach to the harbor of

Miami is completely different today than it was around

1900," said Talke, an associate professor, who has

analyzed tidal changes dating back to the 1820s. "Back

then, one took a circuitous route around the barrier

islands, through shifting sands. Today, there is a giant

15-meter channel cut directly through the barrier island."

While both of Talke's Partners projects involve tidal

research, Amro El Badawy's two projects also involve

water — but in a different way. His research seeks to

support ongoing efforts to diversify water resources and

to develop a cost-effective sensor that would detect

pathogens in water.

For these projects, students reviewed existing literature,

developed spreadsheets to track information and

conducted lab work.

"They learned technical skills — for example, operating

laboratory equipment, using wet chemistry techniques

to manufacture nanomaterials or reverse osmosis

membranes, analyzing information from the literature

— as well as non-technical skills, including critical

thinking, collaboration and independence," said El

Badawy, an assistant professor. "They recognized that

we do not always obtain the desirable results from a

research experiment. However, we learn from the failed

experiments to improve the outcomes of the next trials."

Partners Scholars Participants

Thirteen students and six faculty members

participated in the first Partners Scholars projects.

They include:

Students:

Gurtaj Khera

Anubhav Dawadi

Adam Monroe

Grant Robinson

Sofia Barale

Philip Le

Thomas Burt

Abbie Wong

Steven Sturkie

Tong Hui Goh

Ryan Young Trainor

William Francis Killmond

Jessica Mcarthur

Faculty:

Amro El Badawy

Stefan Talke

Hani Alzraiee

Shams Tanvir

Long Wang

Anurag Pande

Both projects seek to expand drinking water availability.

"I was interested in this project with Dr. El Badawy

because I felt the project had a high potential for impact

on the world with the importance of finding clean water

sources," said Grant Robinson, a student who assisted El

Badawy. "The Partners Scholars program interested me

because it was an opportunity to do something beyond

classes during my time at Cal Poly."

Like Robinson, Barale picked up technical skills, learning

about new software programs and how to use them to

analyze data.

"In addition, I learned how to look at a situation in

different ways and how there could be multiple factors

that cause an event like rising sea levels to happen," she

said.

While the experience gives students a nice resume boost,

it also helps the faculty conduct important work. Talke's

students performed important information gathering that

helps test hypotheses and learn more about nature and

long-term changes.

"It takes some grit to stick with some of these tasks,

which are clearly within the 99-percent perspiration part

of the equation," Talke said. "However, in the end we

hope to have gained new insights into how flood risk

in bays and estuaries is changing with sea-level rise.

The more we know, the closer — hopefully — we are to

solutions." n

SPRING 2021 | 11
---
"This opens up a whole new avenue

of not just bringing in our industry

partners, but also excellent instructional

collaborators from around the globe in

support of student success."

— Charles Chadwell

Trophy Room

Transformed

Department's long-time showcase

to be both a high-tech classroom

and an industry meeting room

The Trophy Room, long used as the

department's showcase for its many

club victories, is about to become one

of the most high-tech rooms on campus.

Funded with money from the Platinum

Partners (see side story), the Partners

Distance Learning Lab will serve both as

a place for industry to virtually connect

with students and a high-tech classroom,

complete with digital whiteboards, a

surround sound audio system and noisecancelling

microphones.

Alumni will remember the room as a

landing spot for past concrete canoes

and scores of trophies — hence the name

Trophy Room. But even before COVID-19

created a greater demand for virtual

interactions, Department Chair Charles

Chadwell was working to transform the

room into a place where industry members

from major markets could connect with

prospective employees.

"The thought was that rather than the

having the companies make the trek here

to give a one-hour talk to a club or our

students, it would be great to be able to

beam them in using Zoom and have them

be able to give a presentation to a group

of students in an environment that's very

interactive," Chadwell said.

When campus was shut down due to

county-wide sheltering orders in March of

2020, another potential purpose came to

mind.

"Then it became, wow, this is actually the

perfect room for a digital, remote learning

environment," Chadwell said.

12 12 | | CIVIL AND AND ENVIRONMENTAL ENGINEERING
---
With a facilitator and teacher's aide

in the classroom, remote lecturers

would have access to multiple screens

and touch-screen technology that will

greatly enhance virtual teaching. The

room itself has a capacity for roughly 80

people.

"This opens up a whole new avenue

of not just bringing in our industry

partners, but also excellent instructional

collaborators from around the globe in

support of student success," Chadwell

said.

A similar room currently exists in the

School of Education.

Currently, the design phase has been

completed for the $150,000 room, and

equipment is being delivered so the

room can be ready this spring. n

The department's Trophy Room is being renovated

and converted to a high-tech classroom and meeting

room. At left, environmental engineering professor

Tryg Lundlquist works under one of the new

projectors in the classroom.

▲

Partnership Program Continues

to Grow, Benefitting Students

While the economy has experienced setbacks during

the COVID-19 pandemic, the Industrial Partnership

Program has continued to grow, benefitting student

clubs and facilitating key industry connections.

The program lost one partner during the pandemic but gained

four. That reflects the appeal of both Cal Poly students and the

market for jobs in the industry, said Department Chair Charles

Chadwell.

"The need for infrastructure and growth in California doesn't

stop just because of the pandemic," he said. "The demand on

engineers is still there. And partners realize the strength of our

Day One Ready engineers."

The Partners Program, Chadwell added, supports that Day One

readiness through systemic lab upgrades.

Chadwell revitalized the

partnership program when

he became chair. Partner

companies that join choose

between one of four

commitment levels (bronze,

silver, gold and platinum), with

support ranging from $250 a

year to $5,000. For partners,

membership builds their brand

on campus and opens recruitment avenues.

"Partners realize

the strength of our

Day One Ready

engineers."

— Charles Chadwell

For students, the IPP funds a host of items, including

competitions; conferences; projects; Certificate of Excellence

student awards; startup funding for an Environmental fee-forservice

learning lab; and the annual Partners dinner (returning

soon), where partners connect with college and department

scholarship award recipients.

The IPP has recently provided funding for the Partners Scholars

program (see story, Page 10), the Partners Distance Learning

Lab, graduation gifts and Professor Tryg Lundquist's research

using algae to treat wastewater (see story, Page 6), which has

involved several students.

The program, which raised $24,000 in the 2017-18 academic

year, had raised $140,000 by February of this year. There are

currently 49 partners, and 23 of those are in the platinum

category. n

SPRING

SPRING

2021

2021

| 13

13
---
enchmark & beaker

New Faculty

Shams Tanvir and Long Wang add research

skills while encouraging student participation

Encouraging students to

assist them in research, the

department's newest faculty

members have backgrounds

in the area of sustainable mobility

and the intersection of structural

engineering, material science and

data analytics.

Shams Tanvir joined the

Transportation Engineering team,

while Long Wang joined the

Structural Engineering team, both as

assistant professors.

Tanvir's research, which focuses

on sustainable mobility, explores

the carbon footprint of emerging

transportation technology.

"As the number one polluter in the

U.S., transportation plays a very vital

role in climate change," he said.

Long Wang

His research explores possible

mitigating factors, including selfdriving

technology, electric cars,

and shared mobility options — such

as Uber and Lyft — as possible

efforts to decrease pollution. His

interests encouraged him to come

to California, because the state is a

leader in sustainable mobility and

technology.

Tanvir earned his bachelor's and

master's degrees in civil engineering

from Bangladesh University of

Engineering and Technology and

his Ph.D. in civil engineering, with

a focus on transportation systems

engineering, from North Carolina

State University. He finished his

postdoc fellowship at the University

of California Riverside's Center

for Environmental Research and

Technology.

Wang is interested in developing

multifunctional smart materials, such

as nanomaterials and polymers, that

can be integrated with structural

systems for simultaneously bearing

loads, actuating and monitoring

structural performance.

Like Tanvir, he offers students

valuable experience as research

assistants.

"My research will help create a

more collaborative environment

for faculty and students across

different backgrounds and will

create more visibility for the Civil

Shams Tanvir

and Environmental Engineering

Department," he said.

He earned his bachelor's degree

in port, waterway and coastal

engineering from Dalian University

of Technology in China, his master's

in civil engineering and mechanical

and aerospace engineering at the

University of California Davis and

his doctorate at the University of

California San Diego, where he

also completed his postdoctoral

fellowship. n

14 | CIVIL AND ENVIRONMENTAL ENGINEERING

SPRING 2021 | 14
---
CE/ENVE student advisory board

engages students for 3rd year

The CE/ENVE Student Advisory

Board hopes to get students

engaged with department

opportunities soon after they become

Cal Poly students while promoting

events like Engineering Week, Open

House and Academic Day.

Now in its third year, the board,

a consortium of various club

representatives, also shares

student concerns and needs while

collaborating with the department on

events and initiatives.

"Our board meets regularly all-year

with the department to discuss

various department businesses and

bring up concerns of the students

to create solutions," said Meagan

Chan, who heads the board. "Over

the year, we have discussed topics like

department fundraising and providing

more resources for students."

The current board is comprised of 15

representatives from the following

groups: CalGeo, CE Transfer Students,

Chi Epsilon (XE), Concrete Canoe,

Engineers Without Borders (EWB),

Engineers for a Sustainable World

(ESW), ENVE Transfer Students,

GeoWall, Graduate Students, Institute

of Transportation Engineers (ITE),

RainWorks, Steel Bridge, Society of

Civil Engineers (SCE), and Society of

Environmental Engineers (SENVE).

Recently, Chan said, the collaboration

between the board and department

has experimented with methods to

help students feel more engaged and

represented within the department.

That has included promoting early

exposure to opportunities within the

department.

Meagan Chan

"During the 2020 – 2021 academic

year, the board had successfully

organized, hosted, and represented

the department at various events,

such as Academic Day, Open House,

and the quarterly Open Discussion

Forums," she said. "Additionally,

we hosted a series of events for

Engineer's Week." n

future of Engineering discussed at first summit

The future of civil and

environmental engineering,

graduate school and virtual

networking were some of the topics

covered in the department's first

Emerging Leaders in Engineering

Summit, held in October.

The virtual event, which included

speakers, plenary talks and panel

discussions, was offered free for

students and alumni. Meanwhile,

Zoom recordings from the summit

can currently be viewed online.

The keynote speaker was Jim

O'Brien, a West Point graduate,

who teaches at George Mason

University and works at the ASCE

Foundation, which support students

in engineering.

O'Brien discussed strategies for

leadership in engineering. Addressing

the challenges in the world, O'Brien's

topics included the value of diversity,

succeeding through failure and

change.

"We have to get ourselves into a

position where we're ready to change

as change is happening," he said.

With panelists from industry and

moderators that included faculty

and students, sessions touched

upon those topics and more,

including non-traditional engineers,

engineering ethics and graduate

school.

The summit was sponsored by the

Industrial Partnership Program. n

"We have to get

ourselves into a

position where we're

ready to change as

change is happening."

— Jim O'Brien, keynote speaker

15 | CIVIL AND ENVIRONMENTAL ENGINEERING

SPRING 2021 | 15
---
California Polytechnic State University

1 Grand Ave.

San Luis Obispo, CA 93407

Platinum Donors

Gold Silver Bronze

h Blois Construction h Wallace Group

h Arcadis

h DeSilva Gates

h BNB Builders

h Avila Traffic Safety

Construction

h Diablo Engineering

h Carollo

h Huitt-Zolars

h Fehr and Peers

h Churchill Cost

h Mott McDonald h Gannett Flemming

h Condor Earth

h Murphy Structural

Engineering

h Kittleson & Associate h Diversified Project

Services International

h Stratus Engineering

h DKS Associates

h Truebeck Construction

h ENGEO

h FTF Engineering

h HNTB

h

h

h

h

h

h

h

h

h

Montgomery & Assoc.

MSD Professional

Engineering Inc.

NMG Geotechnical

Parisi Transportation

Consulting

Pet Doors

RJA-GPS

Van Sande Engineering

W.E. O'Neil

W-Tran

SPRING 2021 | 16