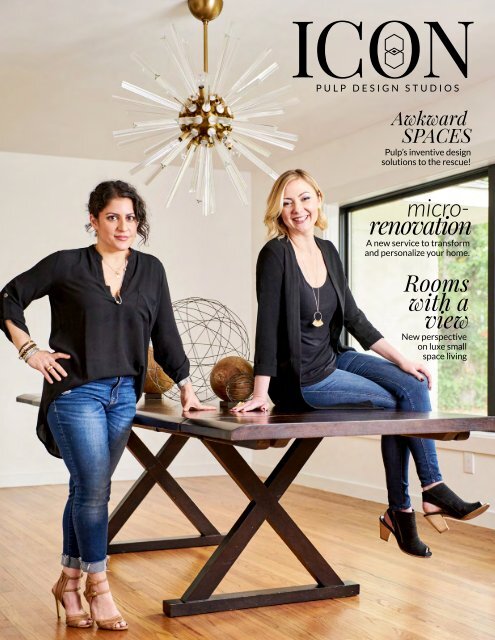 Pulp Design Studios | ICON | Issue 7
This issue of ICON is all about New Perspectives. Read about ways to improve your home through micro-renovations, the perfect shelf styling, at-home wellness and what we are excited about as we return to the new normal.
This issue of ICON is all about New Perspectives. Read about ways to improve your home through micro-renovations, the perfect shelf styling, at-home wellness and what we are excited about as we return to the new normal.
SHOW MORE
SHOW LESS
Create successful ePaper yourself
Turn your PDF publications into a flip-book with our unique Google optimized e-Paper software.
ICON

PULP DESIGN STUDIOS

Awkward

SPACES

Pulp's inventive design

solutions to the rescue!

microrenovation

A new service to transform

and personalize your home.

Rooms

with a

view

New perspective

on luxe small

space living

1
---
2

3
---
CONTENTS

10

TREND

WATCH

IN this

ISSUE

ON THE COVER

Photo by Stephen Karlisch

FOUNDERS' LETTER 6

FOUNDERS' FIVE 8

TREND WATCH 10

ROOMS WITH A VIEW 12

THOSE AWKWARD SPACES 30

CURVES AHEAD 34

MICRO-RENOVATION 36

12

ROOMS WITH

A VIEW

Blending two design

styles made this

Seattle-area house

the perfect home

36

DEFINING

A MICRO-RENOVATION

PATTERN PLAY 42

WELLNESS @ HOME 46

THE PERFECT SHELFIE 48

THE GREAT OUTDOORS 52

TAKING FLIGHT 56

HOW DO YOU PULP ? 58

ASK PULP ANYTHING 59

BEHIND THE SCENES 60

A DIRTY TWIST 62

CLASSICS WITH A TWIST

PLAYLIST 63

THE LAST WORD 64

EXTERIORS
---
OUNDERS' LETTER

FOR S. HARRIS

CONTRACT and

RESIDENTIAL FABRICS

We're beginning to see some signs that a return to

"normal" might be just around the corner. But even if

everything does readjust back to something close to

what life was like before March 2020, our houses and

our lifestyles will be forever changed by the year of Covid and our

lockdowns at home.

That's why we're focused on new perspectives and ideas in this

issue of ICON. It's a different way of looking at interior design, like

embracing new technologies and unique ideas to make our homes

work for us and what we need now.

From a small space perched high above a cityscape to new ideas for

those awkward spaces in your house, the Pulp team is showcasing

its expertise for unique and stylish solutions.

We've even developed a new design service called a micro-renovation

that helps us respond quickly to our clients' needs. You can

learn more about how it works further in the issue.

And because we're looking forward to summer (so much!), we're

also focusing on wellness, outdoor rooms, and fantastic finds that

we're buying to get us ready to re-emerge from our homes!

6

BETH DOTOLO AND CAROLINA GENTRY

PULP DESIGN STUDIOS

Dallas | Seattle | Los Angeles pulpdesignstudios.com @pulpdesigns 214.504.2606
---
FOUNDERS' FINDS

Pulp Design Studios' co-founders select 10 of the things they most need for breaking out of lockdowns!

6

CAROLINA'S PICKS

post-covid

READY!

1I love my stylish Peloton

weights, and the entire

Peloton brand for that

matter. My bike and the

strength workouts are

getting me post-COVID

ready!

I'm can't wait to visit

friends and family,

and this light throw

from Jonathan Adler

is the perfect hostess

gift! Love the fun

embroidery detail.

sandal

WEATHER

BETH'S PICKS

I pre-ordered the

sneakers from this chic

collab Khaite x Adidas and

I can't wait to sport them!

2

10

7I'm ready for a pedicure

and sandal time! These

fabulously strappy shoes

from Tod's will show off

my new nail color.

3

9

4

I love this clean

mascara from Goop

for that no-makeup

makeup look.

5

8

8

Left on Friday - my

favorite high-waisted

bathing suit! The only

bikini I will wear after

being indoors for a year.

I love this woven

leather bag for an

airplane carry-on.

I cannot wait to travel

in style again!

I'm still a tiny bit stressed about reentering

the world, but my favorite oil burner from

Aesop will keep things chill. It's stylish,

rather than over powering.

Love the simplicity of this

multifunctional container

from Nude. It's perfect

for a coffee table, vanity,

or nightstand.

Love this hair oil

from Oribe for my

curls and it's great

for that summer

hair care! Gotta

keep my hair fresh

as I head back out

in public!

9
---
TREND WATCH

10

1 2

5

Art for a modern age

is full of pattern and

promise, with designs

that are both complex and

comforting. We're seeing

those artistic themes

in fabrics, lighting, and

accessories, allowing us

to create artful moments

in interior design.

1.ANCIENT INSPIRATION.

Mighty Jungle is The Vale London's

modern take on Mesoamerican

cave paintings, with influences

from Cubism and folk art traditions.

2. CLEARLY COLORFUL.

Art-driven lighting from Gabriel

Scott Lighting comes in colorful

glass designs, with samples shown

in these smoky spheres.

6

7

3. COMPLEX HUES.

Dusty mauves and pinks aren't

going anywhere, but they have

taken a complex turn, like in this

lovely mohair from Kerry Joyce.

4. TEXTURAL GEOMETRICS.

Carvings in geometric shapes

highlight a textural art movement.

It's both tactile and appealing to the

eye, like in this vintage box.

9

5. TAKING A NEW DIRECTION.

Diagonal patterns are entering the

spotlight, like this architectural design by

India Mahdavi for Pierre Frey. We love the

movement and new slant for these stripes.

6. MODERN PLAIDS. A traditional

pattern offers a painterly twist that makes

it both modern and comforting. Marcel

Boussac designed this look in dreamy

wool, mohair, and alpaca.

8

7. FIGURATIVE SCULPTURE.

These figures are rough and symbolic

rather than realistic, and they continue

the textural story we're seeing. We love

this raw bust by artist Kevin McLean.

8. THE WARMTH OF SPRING.

It's a sign of the times that we crave

comfort and calm, so spring colors are

definitely in our future, like this quietly

warm fabric from S. Harris.

3

10

4

9. TONE + TEXTURE.

Layers of neutrals and textures define

a tweed-inspired pattern on the Navigli

Fabric, part of our collection for S. Harris.

10. ART-DRIVEN WALLS.

Why hang art on your walls when the walls

themselves can be the art? New wallpaper

designs, like this one from Porter Teleo,

give a gallery look to interiors.

11
---
Rooms with a

VIEW

Pulp Design Studios Creates a High-Rise

Parisian Pied-à-Terre on the Pacific Coast

Home is where the heart is, and when these Pulp clients had to

leave their Seattle hometown for their careers, they knew they

still needed a small place in their favorite city to come back

to. So they purchased a high-rise penthouse, with views of the

Puget Sound, downtown Seattle, and the Seattle Art Museum.

And while the views were spectacular, the interiors were dated and

didn't fit our clients' personalities at all. For their pied-à-terre, they

wanted the look of a chic Parisian getaway, but on the Pacific Coast.

Although it is a secondary home, the Pulp team wanted it to feel special

and bring a jewelbox quality to it.

The clients love to entertain, so we created a guest-friendly study that

can accommodate the homeowners' love of reading but would also host

friends and family when necessary. We also took advantage of every inch

of space in order to bring larger-than-life luxury to small-space living.

Pulp customized furnishings, fabrics, and wallcoverings to ensure that

the interiors would be just as stunning as the exterior views.

Pacifc Pied-a-Terre

Interior Design: PULP DESIGN STUDIOS

Photographer: JOHN GRANEN

Location: SEATTLE, WA

12

A chic wallcovering by

Kravet pays a chic homage

to the Pacific Coast location.

13
---
ROOMS WITH A VIEW

"There are artful moments throughout the project,

giving the penthouse the feeling

of a Parisian gallery.

"

Beth Dotolo

PULP'S OWN EXCLUSIVE STARBURST

Hardware makes a bright statement

against cherry red cabinetry that offers

extra storage, critical to small-space living.

14

A bright red pocket door slides back to reveal the chic primary

bedroom (see page 22 for more). Chairs by Vanguard, chandelier

by Visual Comfort, and table is by Highland House.

15
---
ROOMS WITH A VIEW

16

Each room

OPPOSITE

flows into

PAGE:

the next, creating

the illusion

The

of

Vanguard

a much larger

coffee

space.

tables blend perfectly in the rustic modern setting of the great room, while the

Bernhardt sectional and CR Laine swivel chairs soften the mood.

In the living room, sofa by Highland House, coffee

table by Made Goods, and chair by Century.

17
---
ROOMS WITH A VIEW

"The most successful small spaces have

moments that surprise and delight both our

clients and their guests!

"

Carolina V. Gentry

The study, located beyond the living room and kitchen, plays double duty. It houses the clients' books as a library by day and

it transforms into a guest room as needed at night. Sleeper sofa by American Leather, ottomans by Highland House, chair in

the foreground by Century Furniture. Pillow on the chair covered in the Echion fabric from Pulp's collection for S. Harris.

18

19
---
20

The kitchen is sleek and chic, with

organic influences from the Pacific

Northwest setting. The malachite

wallpaper in the entry beyond the

kitchen is by Osborne & Little.

21
---
ROOMS WITH A VIEW

Thr primary bedroom is revealed behind a bright red pocket door in the

dining room. It's a chic jewelbox of a room, but with a lot of function, too.

Bed from Bernhardt, nightstands from Vanguard, lamps by Mr. Brown,

Chinese dragon fabric on pillows by Schumacher.

22

23
---
ROOMS WITH A VIEW

24

The desk in the primary bedroom allows this to be a live/

work space that takes advantage of every square inch in the

penthouse. Chair by Century, lamp by Visual Comfort.

Opposite page: Mirror by Highland House, console table by Mr.

Brown, stool by Oly Studio.

"We added a lot of

functional elements to

the principal bedroom,

making the most of a

smaller footprint.

Beth Dotolo

" 25
---
ROOMS WITH A VIEW

FROM THE BEGINNING...

Thanks to our client's love of Seattle, art, and entertaining, we knew exactly where to start with this

gorgeous project. As you can see in the photos above, the design scheme immediately started with the

Pacific Northwest location, including inspirations from the coastline and the mountains. But we also

wanted to stick to our signature style of unique and chic looks. Since this is a pied-à-terre, we wanted to

add a jewelbox quality to it as well, with high-design and art-forward style. And, like the iconic Louboutin

look, we highlighted a pocket door that leads to the principal bedroom with a bright red lacquer.

26

Opposite page: In the guest bath, the wallcovering from

Schumacher offers a moody homage to the Seattle skyline.

Mirror by Arteriors.

27
---
FURNISHINGS

& ART CURATION

DESIGNED

Just for

You

The Pulp team designs spaces

that are stylish workhorses for

our client's everyday life. Expertly

customized & curated furnishings,

art, and accessories that are interesting

and unexpected, designed for

each unique client, is a Pulp specialty.

.

Visit pulpdesignstudios.com to tell us

about your project!

FINE ART PHOTOGRAPHY

FOR YOUR INTERIORS

KEVINDOTOLOCREATIVE.COM/SHOP

KEVIN DOTOLO

PHOTOGRAPHY

Dallas | Seattle | Los Angeles pulpdesignstudios.com @pulpdesigns 214.504.2606

29
---
NEW IDEAS

NEW IDEAS for those

AWKWARD

SPACES

Even in a new build project, you can sometimes have "leftover" space – that area under the stairs, the other

side of a closet, a weird passthrough. And in older homes, there are all sorts of niches and awkward spaces

that you just don't know how to reconfigure. That's where the Pulp design team comes to the rescue – we

love creating inventive design solutions to provide both function and fabulous looks!

30

A ROOM WITH NO PURPOSE

Even our co-founder Beth Dotolo had an awkward space in her home's basement.

This small room didn't have a purpose, and it was too small for a guest room or family

area. So she turned it into her home office and personal sanctuary! It's still a work in

progress, but we love the moody vibe she has going in this seating nook. We also are

obsessed by the art from her photographer husband Kevin Dotolo!

THAT WEIRD NICHE

Sometimes there are strange niches in a house

that made sense at one point, but are just weird

problems now. We love the old telephone

nooks, the areas that once held art or even

an ironing board, and other fun architectural

head-scratchers. And some just don't make any

sense. In this Texas home, we filled a useless

niche in a hallway to the dining and living room

with a functional custom bar. It has a builtin

Thermador pull-out refrigerator, freezer

drawers, and a Sub-Zero wine fridge. Our clients

are thrilled with how this space functions now,

and it definitely looks purpose-built.

31
---
NEW IDEAS

THE UNUSED ATTIC

So many homes have bonus space or attic space that just isn't

being used. With lots of angles in a roof line, people often

throw their hands up rather than try to tackle that space. In

the new build project above, the home's upstairs attic area

was originally planned to be unused space. But the Pulp team

developed the idea for a media room with a built-in bar. Now

it's one of the family's favorite spaces! We took advantage of

all the odd angles, instead of being limited by them.

THAT SPACE UNDER THE STAIRS

Usually, the space under the stairs becomes a small

closet or storage area with a weird little door. The Pulp

team likes to maximize space and make it as functional as

possible, so we designed a chic pass-through in the home

below. Now a hidden door leads to a wine cellar. It looks

amazing and works perfectly for our clients!

32

33
---
product FOCUS

CURVES ARE AHEAD - BUT THESE AREN'T DANGEROUS,

THEY ARE JUST DANGEROUSLY GORGEOUS

During times of stress, we tend to look for comfort. Psychologically, seeing soft curves rather than sharp

corners and lines helps reduce stress and calm our fears. So it's no wonder that we're seeing more arched

shapes and rounded corners in the home. Here are some of our favorite looks that take a new direction!

PULP FOR S.HARRIS SAHARA FABRIC

Waves of blue and green offer images of

sweeping sand on our own Sahara pattern,

part of our fabric collection with S.Harris.

BERNHARDT AMARA SOFA

Curved sofas are all the rage, and we love the

Amara design with its shaped back that swoops

down into softly drawn arms.

AMBELLA HOME BOOMARANG SOFA

In a room of straight lines and corners, we added this gorgeously curved sofa

from Bernhardt to soften the look. It offers the perfect chic counterpoint.

ROMAN PLYUS NAUTILUS CHAIR

Bent metal and wood frame swooping

curves on a unique chair design.

FOUR HANDS DINING ROOM

The Pace dining chairs feature soft curved backs in

burnished oaks. And plaster is molded into circular

shapes in the Grano dining table.

34

35
---
microrenovation

How Pulp's Unique Service Offers Big Design with Small Change

after

MICRO-RENOVATION

The Pulp team's work ranges from new construction to down-to-the-studs renovations. But we also love to do

micro-renovations! What's that, you ask? Those are smart home refreshes and furnishings packages that offer a

nip-and-tuck approach to updating a home. In a micro-renovation, we work with fantastic contractors and trades

to make small improvements that pay off big time! You can get a whole home update that suits your personailty

without tearing down walls. Let's take a look at how we do micro-renovations.

NIP AND TUCK

after

THE POWER OF PAINT

This home office received a major transformation with paint.

We covered the room in a bright white, added new furniture

and textiles, and curated an art package that our clients loved.

And look at how incredible the reworked room is above!

The clients who own the home pictured above had purchased this beautiful house in a

sought-after Dallas neighborhood. It had great bones and well-appointed hard finishes,

but it didn't reflect their personal style. Rather than a major renovation, the house just

needed a simple lift with paint, lighting, and a furnishings package. This micro-renovation

gave our clients a home that is now a complete reflection of their personality and style!

36

37
---
MICRO-RENOVATION

SMALL CHANGES, BIG IMPACT

Right off the foyer, the living room entry is framed with

fabulous glass panes, allowing a lot of light into this room. But

it was a long room that needed updating and personality. We

gave the fireplace a facelift and added two seating areas to give

this family a lot of entertaining spaces for family and friends.

The result is a much more defined and inviting space.

TRANSFORMING TILE

In another Dallas home for a family of 5, our team planned

minor renovation projects and a furnishings package that

would transform this home on a very tight deadline. Small

improvements that don't involve structural changes can

still completely transform a space. Just look at what a bit

of tile did for the room below!

after

after

38

39
---
MICRO-RENOVATION

after

after

FURNISHINGS PACKAGE

WALLPAPER REWORK

Wallpaper also makes a huge difference in transforming a room. Below, we

used a painterly design to showcase the creativity of our clients. Pulp also

brought in unique furnishings to tell the edgy and modern style story that fit

the clients. The result is a fashion forward and playful modern residence that

the homeowners are proud to call home.

In the Seattle home above, Pulp created a warm furnishings

package to complement the contemporary architecture and

finishes. The result highlights the best of the architecture and

design, but also adds much-needed softness and balance.

40

CONTACT US TO SCHEDULE YOUR MICRO-RENOVATION

41
---
7 tips for

PATTERN PLAY

The Pulp team are experts at using multiple patterns in a room, but it can be tricky!

Here are our top ideas for making that magic mix in your home.

2Mix the Scale

Select different scales of

patterns for the best mix. You

can see that the wallpaper in

the bedroom Pulp designed is

the largest-scale pattern in the

room. Then the rug and large

pillow are a mid-sized scale,

and finally the smaller pillow

has a tiny dot pattern. There

should be a transition between

teh sizes of the patterns.

PULP

tips

1Choose just a few

Using 3 to 4 patterns creates the perfect balanced mix. If you use more than that,

you can create visual confusion, especially in a small space. In the room we designed

below, there are four patterns: the wallpaper, the throw, the pillows, and in the rug.

3Switch up your Style

If you have a very traditional

pattern, like the rug in this

study, try a modern pattern

for balance. The wallpaper is

the focal point here, of course,

and its contemporary design is

a great complement to the rug.

42

43
---
PATTERN PLAY

PULP

tips

6

4Make a color connection

To keep a room from being too visually chaotic,

try using color as a throughline to tie everything

together. You can monochromatic, like

we did in the bedroom we designed above, or

use just one or two complementary colors.

Remember Texture

Texture can also create pattern, like in tile or fabrics. So

keep the scale and color of those patterns in mind, too!

5Blend simple and complex

The mix is the key to success, and at Pulp we like to

combine simple patterns with more complicated motifs.

In this dining room, the rug has an intricate pattern, as

does the wallpaper. But the two chairs have much more

simple designs. That gives your eye a place to rest.

7Less is more

The most important rule is to

keep things balanced. Animal

prints are fantastic, but you

usually only want one per

room. The subtly patterned

wallpaper in this room lets

the faux zebra draw your eye.

44

45
---
WELLNESS

@HOME

NEW PRODUCTS OFFER A FRESH TAKE ON WELLBEING AT HOME

Air and water are not only elemental, they're essential to our wellbeing. In-home saunas are

gaining popularity for their ability to detoxify, increase circulation, and to boost immunity.

Using water rather than dry heat, a steam shower reduces stress, boosts skin health,

and loosens stiff joints. And if you want to ensure the air you breathe at home,

new and innovative air purifiers break down pollutants at a molecular level,

including VOCs, bacteria, mold, viruses, and allergens.

FOR S. HARRIS

NEW BUILD

DESIGN

MOLEKULE AIR PRO

LUGANO DYNAMIC SAUNA

YOUR

Forever

HOME

MR. STEAM

Pulp team partners with amazing

architthects and builders to create

beautiful interiors that define your

personal style and support your

lifestyle. Pulp expertly designs

new construction homes that

are innovative, wow-worthy, and

perfectly suited to our clients.

.

Visit pulpdesignstudios.com to tell us

about your project!

46

Dallas | Seattle | Los Angeles pulpdesignstudios.com @pulpdesigns 214.504.2606
---
HOW TO GET

the perfect

SHELFIE

The most fabulously styled shelves look effortless, but they do take some finesse.

Here are the must-have items for the perfect Pulp shelfie!

SHAPE UP

Use shapes that balance and fill

the spaces. Taller items can be

placed next to a horizontal stack;

rounder shapes should be near

linear pieces. You want to create

a sense of harmony and an overall

symmetry on the shelves.

PULP

tips

BACK IT UP

Remember that the back of the

shelves give you a great opportunity

to show some personality. Use

wallpaper or a fabulous paint color

to create a fabulous backdrop for

your books and art.

BETTER HAVE BOOKS

Yes, this one seems obvious, but you should have books on your shelves. You don't have to pack every

surface, but put in a few here and there. They not only add interest, but they can also let people know

a bit more about you and what you love. So select books that definitely give clues into who you are.

And choose hardcovers , they won't look as messy as paperbacks do.

48

49
---
PULP

tips

THE SHELFIE

REMEMBER WHITE SPACE

Don't crowd as much as you can onto every

shelf. That creates a confused and cluttered

look. Open things up with some white space or

air between objects and stacks. It looks more

purposeful and planned.

ADD TEXTURE

A spiky paperweight, a spiral shell, or a woven

basket all add needed texture. It's important to

have visual interest and the contrast between

smooth and rough forms.

LAYER THE LOOK

It takes some trial and error, but layer in each of your items. Create stacks, place smaller

pieces in front of larger items, mix art with books. Then step back to see how all of the shelves

look as a whole unit. Layering gives you the most visual interest and balance.

50

FOR MORE GREAT DECORATING IDEAS, GO TO PULPDESIGNSTUDIOS.COM

51
---
GREAT OUTDOORS

the

great

OUTDOORS

It's spring and we're ready to return to living outdoors! No matter what style you love, you can find

incredible furniture designs to create your personal outdoor oasis. Here are some of our faves!

Lounging never looked lovlier! The modular

seating from B&B ITALIA's Ribes collection gives

you a lot of options for your outdoor room.

With the gorgeous Havana

collection from SUMMER

CLASSICS, you'll feel the

tropical breezes, even if your

patio happens to be far from

the ocean. The open-weave

caning is inspired by designs

from the 1950s.

We designed this outdoor deck in Seattle with plenty of seating from FOUR HANDS. We love the linear look, with plenty of built-in comfort.

Teak is a great material for ourdoor

living, and this collection from

GLOSTER showcases a laid-back

look inspired by mid-century

modern design.

52

53
---
GREAT OUTDOORS

The Senja collection from JANUS

ET CIE is a cloudlike look supported

by teak and metal frames.

The top on the Sanibel table from BERNHARDT is made with on-trend terrazzo, which we love!

And it makes a perfect pairing with the Sarasota chair in woven wicker.

Tips for Outdoor Spaces

Take a Seat

Be sure you have plenty of seating, for both

lounging and for dining. Buy the best cushions you

can. They'll make the seats super-comfy and they'll

last longer. The important thing is to ensure you and

your guests will want to hang out for hours in your

outdoor spaces.

Eat, Drink, and ...

An outdoor dining area is fabulous for

cookouts and entertaining. Especially when

we're all still trying to keep the pandemic

at bay. Consider a long table with plenty

of chairs, a tall bistro set with stools, or a

round table for just a few guests.

PULP

tips

Table It

Speaking of tables, you need plenty of them around

your seating, just like you do indoors. Everyone will

appreciate a place to set their drink, a book, or a snack

plate. And it's also a great place for plants, candles, and

other accessories. So offer lots of surfaces for your

family and guests.

Light It Up

Extend the life of your outdoor spaces with

festive string lights, outdoor lamps, candles,

and more. You want to create a gorgeously

cozy space so your guests and family will stick

around even after sundown. And don't forget

outdoor speakers for great tunes!

54

We could spend all day on the Oscar daybed from BROWN JORDAN. Designed by Ann Marie Vering, the rope-on-metal

design was inspired by the 1940s designs in the company's archives.

Indoor to Outdoor

Let your indoor decor inspire the style of your outdoor spaces, especially if they connect through a door or

sliding glass. There are so many styles of outdoor furniture now that you'll be able to find the perfect look.

55
---
project

in FOCUS

Creative Design Takes Flight

The most successful projects are when clients really let us design for them and have

unrestrained creative fun. That's what it should be! In our modern Lake Washington project, our

clients were drawn to Pulp Design Studios because they (like us!) are not afraid of color, pattern,

or taking a risk. We showcased this project before in ICON, but there was one design element

that came in after the full installation that helped this interior really soar.

With the room divider fully

extended, it becomes an

incredible work of art on its

own and the perfect backdrop

for the room's design.

This gorgeous house has a great flow with rooms opening

onto each other. Beyond the living room, as you can see

here, is a fabulous art studio that can be transformed into

a guest space. But sometimes, especially with guests, the

room needs a bit more privacy. So there is a hidden room

divider behind that wall you see to the right.

You can see another view here, including just a few pieces

of our client's incredible collection of art. But the Pulp team

knew that we didn't want to just see a blank white expanse

when the door was pulled across and the rooms were

divided. And we found our inspiration in our clients' art.

We worked with Phillip Jeffries, an

incredible wallcovering company, to

help us take "Flight" with a stunning

custom art concept. You can see the

strike off here – it's a sample that

allows us to carefully check the color

and pattern to be sure it's exactly

what we envisioned for the project.

56

57
---
A perfect mix of complementary colors

highlights the beautiful blue in Old

Cairo's Lagoon colorway, shown in a

space by REAL DESIGN PROS.

QASK

PULP

ANYTHING!

"What is the easiest way to mix wood

finishes in a room? I have a modern rustic

home and I want to have a good balance

between all of the wood in the room."

David Wray

HOW do

YOU PULP?

TINA RAMCHANDANI designed beautiful

drapery from Old Cairo, which perfectly

complements the dark shelves in the study

she designed.

What's one of the most popular fabrics in our Pulp

Design Studios collection for S. Harris? As you can

see in this collection of photos, designers love our Old

Cairo pattern in the Lagoon colorway!

58

TRACEY CHAGNON used a

practical vinyl on the front of this

dining bench, showcasing Old Cairo

on the back for a punch of color.

ISABEL SCHULTZ DESIGN used

Old Cairo to highlight the turqouise

swivel chair in the bright and

cheerful living space..

We love to see how our fabrics, hardware, Kismet

Collection, and luxury candles inspire your projects

and homes! Want to see them in ICON? Tag us on

Instagram with @pulpdesigns to be featured.

SEND YOUR QUESTIONS TO ICON@PULPDESIGNSTUDIOS.COM

A59

Mixing wood finishes can be tough! In one of our projects, we went through over 15 samples before we

found the perfect look for the room. The key is to remember that wood finishes have undertones just

like paint colors do. You want to find a color in your finishes that will tie them all together. As you can

see in the glass house below that we designed near Seattle, we had to work with the ceiling, the floor,

the table, the chairs, and the cabinetry in the kitchen. That's a lot of wood tones! But if you look at the

space as a whole, you definitely can see that the undertones are all working together perfectly. Our

best advice is to experiment with your finishes in the room with all the samples together at one time.
---
BEHIND the SCENES

An Inside Look at How Pulp Works

There is nothing we love more than creating design presentations for our clients. Here are some inside looks

at schemes and ideas we've put together for upcoming projects. Stay tuned for the finished rooms!

@PulpDesigns

See more insider photos on Instagram!

STARBURST

HARDWARE

AVAILABLE IN

FOUR FINISHES

Bringing the heat for a color-loving client Soft blues and gorgeous art in the mix @carolinavgentry takes it to the wall

@bethdotolo lays it all out for a new client

Wall covering install in the works

Custom wallpaper strike off - this one will be

a big hit!

60

@PulpDesigns

Dallas | Seattle | Los Angeles pulpdesignstudios.com @pulpdesigns 214.504.2606
---
STIR it UP

Martini with a Subtle, yet Dirty Twist

This take on a classic dirty martini

with a Pulp twist adds an that extra

touch to the taste buds. Bright and

briney is how we like it.

INGREDIENTS

1.5 oz. gin

.5 oz. dry vermouth

.5 oz. olive brine

1 twist of lemon

1 olives

ice

EQUIPMENT

Nick and Nora glass

mixing glass

bar spoon

A DIRTY TWIST

INSTRUCTIONS

Add gin, vermouth, and olive brine

to mixing glass. Fill mixing glass 3/4

full with ice and stir with bar spoon

for 20 seconds. Use hawthorne

strainer and and fill glass. Squeeze

lemon rine over glass and rim the

edge with peel. Garnish bamboo

pick with lemon twist and olive.

Serve up, relax and CHEERS!

The Stir

Mix-up?

Stirring a martini adds the

proper dilution and perfect

clarity. Shaking adds texture

an aeration changing the

feel and balance

of the drink

CLASSICS WITH A TWIST

PLAYLIST

DALLAS

Satisfaction, Otis Redding

Skinny Love, Birdy

Everybody Wants to Rule the World, Weezer

SEATTLE

Such Great Heights, Iron & Wine

Creep, Arlo Parks

Stand by Me, John Lennon

LOS ANGELES

Addicted to Love, Florence + The Machine

Let My Love Open the Door, Rouge Wave

Crazy in Love, Daniela Andrade

62

Find more Pulp Design Studios

playlists on Spotify! Shout out to our

resident DJ @TheSextonReview

63
---
THE

LAST

WORD!

Hey, Beth &

Carolina:

Which artists

do you turn

to for a new

perspective?

WILLIAM MCLURE

"Beth and I both love modern art.

William McLure's paintings and

drawings really speak to me. I love the

lines and swirls he creates. We were

lucky to commission his largest-ever

canvas for a client!" — Carolina

AMY OPSAL

"Of course I'm always inspired by my

husband's work (photographer Kevin

Dotolo). But I love Amy Opsal's art so

much. It's thoughtful, balanced and

has a calming quality. I own a couple

of her pieces myself!" — Beth

64

Dallas | Seattle | Los Angeles pulpdesignstudios.com @pulpdesigns 214.504.2606
---
NEW MICRO-

RENOVATIONS

MAKE YOUR

HOME SUIT

You

Pulp's micro-renovation service

gives your home a personalized

transformation in less time than

a full-renovation through Pulp's

strategic nip-and-tuck approach

to smartly renovating a home.

Visit pulpdesignstudios.com to tell us

about your project!

Dallas | Seattle | Los Angeles pulpdesignstudios.com @pulpdesigns 214.504.2606