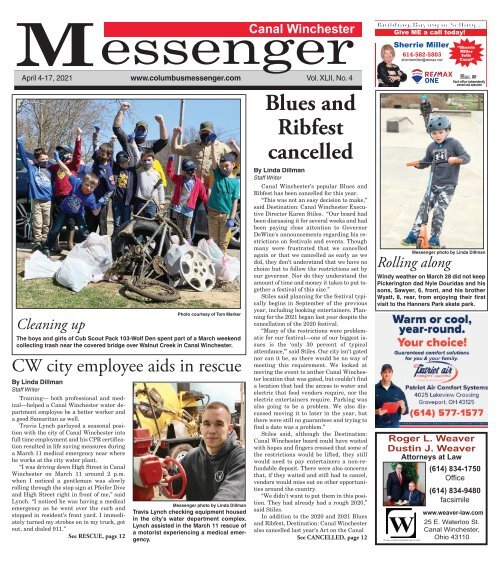 Canal Winchester Messenger - April 4th, 2021
You also want an ePaper? Increase the reach of your titles
YUMPU automatically turns print PDFs into web optimized ePapers that Google loves.
Messenger

Canal Winchester

April 4-17, 2021 www.columbusmessenger.com Vol. XLII, No. 4

Cleaning up

Photo courtesy of Tom Marker

The boys and girls of Cub Scout Pack 103-Wolf Den spent part of a March weekend

collecting trash near the covered bridge over Walnut Creek in Canal Winchester.

CW city employee aids in rescue

By Linda Dillman

Staff Writer

Training– both professional and medical–helped

a Canal Winchester water department

employee be a better worker and

a good Samaritan as well.

Travis Lynch parlayed a seasonal position

with the city of Canal Winchester into

full time employment and his CPR certification

resulted in life saving measures during

a March 11 medical emergency near where

he works at the city water plant.

"I was driving down High Street in Canal

Winchester on March 11 around 2 p.m.

when I noticed a gentleman was slowly

rolling through the stop sign at Pfeifer Dive

and High Street right in front of me," said

Lynch. "I noticed he was having a medical

emergency as he went over the curb and

stopped in resident's front yard. I immediately

turned my strobes on in my truck, got

out, and dialed 911."

See RESCUE, page 12

Messenger photo by Linda Dillman

Travis Lynch checking equipment housed

in the city's water department complex.

Lynch assisted in the March 11 rescue of

a motorist experiencing a medical emergency.

Blues and

Ribfest

cancelled

By Linda Dillman

Staff Writer

Canal Winchester's popular Blues and

Ribfest has been cancelled for this year.

"This was not an easy decision to make,"

said Destination: Canal Winchester Executive

Director Karen Stiles. "Our board had

been discussing it for several weeks and had

been paying close attention to Governor

DeWine's announcements regarding his restrictions

on festivals and events. Though

many were frustrated that we cancelled

again or that we cancelled as early as we

did, they don't understand that we have no

choice but to follow the restrictions set by

our governor. Nor do they understand the

amount of time and money it takes to put together

a festival of this size."

Stiles said planning for the festival typically

begins in September of the previous

year, including booking entertainers. Planning

for the 2021 began last year despite the

cancellation of the 2020 festival.

"Many of the restrictions were problematic

for our festival–one of our biggest issues

is the 'only 30 percent of typical

attendance,'" said Stiles. Our city isn't gated

nor can it be, so there would be no way of

meeting this requirement. We looked at

moving the event to anther Canal Winchester

location that was gated, but couldn't find

a location that had the access to water and

electric that food vendors require, nor the

electric entertainers require. Parking was

also going to be a problem. We also discussed

moving it to later in the year, but

there were still no guarantees and trying to

find a date was a problem."

Stiles said, although the Destination:

Canal Winchester board could have waited

with hopes and fingers crossed that some of

the restrictions would be lifted, they still

would need to pay entertainers a non-refundable

deposit. There were also concerns

that, if they waited and still had to cancel,

vendors would miss out on other opportunities

around the country.

"We didn't want to put them in this position.

They had already had a rough 2020,"

said Stiles.

In addition to the 2020 and 2021 Blues

and Ribfest, Destination: Canal Winchester

also cancelled last year's Art on the Canal

See CANCELLED, page 12

Building, Buying or Selling...

Give ME a call today!

Sherrie Miller

614-582-5803

sherriemiller@remax.net

"Sherrie

Miller

Sells

Canal"

Each office independently

owned and operated.

Messenger photo by Linda Dillman

Rolling along

Windy weather on March 28 did not keep

Pickerington dad Nyle Douridas and his

sons, Sawyer, 6, front, and his brother

Wyatt, 8, rear, from enjoying their first

visit to the Hanners Park skate park.

Roger L. Weaver

Dustin J. Weaver

Attorneys at Law

(614) 834-1750

Office

(614) 834-9480

facsimile

"A name you know, Experience you can trust"

www.weaver-law.com

25 E. Waterloo St.

Canal Winchester,

Ohio 43110
---
PAGE 2 - MESSENGER - April 4, 2021

Ohio Inspector General annual report

Ohio Inspector General Randall Meyer has released the Office

of the Ohio Inspector General 2020 Annual Report.

The report outlines the mission and responsibilities of the

Inspector General's Office; examines the office's complaint and

investigative processes and related statistics; and cites summaries

of several notable investigations released from Jan. 1,

2020, through Dec. 31, 2020. As required by statute, the annual

report has been presented to the governor and each member of the

Ohio General Assembly. During the last 30 years, the office

received and evaluated 8,906 complaints and completed and

released over 1,500 reports of investigation.

The annual report is available free of charge to the public at:

watchdog.ohio.gov/Portals/0/annualreport/2020AnnualReport.pdf

www.columbusmessenger.com

Messenger photo by Linda Dillman

Canal Winchester Urban Forester Dick Miller enjoys some of the natural beauty of a trail winding its way

along Walnut Creek near Canal Winchester.

A nature walkabout

God Bless Everyone

& Stay Safe at Home

Malek &

ATTORNEYS AT LAW

Malek

WORK INJURIES

WORKERS'

COMPENSATION

SAFETY VIOLATIONS

WRONGFUL DEATH

PERSONAL INJURY

SLIP & FALL INJURY

DOG BITE INJURY

Douglas, Ed, Jim

and Kip Malek

Ben Churchhill

"Hablamos Español"

FREE Initial Consultation

www.maleklawfirm.com

614-444-7440

1227 S. High St., Columbus, OH 43206

By Linda Dillman

Staff Writer

On April 17, Canal Winchester Urban Forester

Dick Miller will lead a leisurely walkabout on a trail

through the woods near Walnut Creek.

Miller will share his knowledge of the flora and

fauna in the local area from 9-11 a.m. in the George

Baeris Nature Preserve. Participants will meet in

the north paved parking area on Parkview Drive

leading to the nature preserve in the Canal

Winchester Walnut Creek Park.

Parking is available north of the middle school.

The event will be held rain or shine, but cancelled if

there is lightning in the immediate area.

"Weather providing, we may traverse two miles

in two hours talking about the watershed, the

human relationship to nature and possibly identifying

a few birds along the way," said Miller.

Topics include the Canal Winchester's designation

as a Tree City, people and their association

with nature, the wetland at the middle school,

stormwater in central Ohio, the recovering riparian

woodland and invasive species management.

"Bring binoculars if you have them, a raincoat,

bug spray to spray long pants from the knee down

and old tennis shoes to possibly get muddy or wet,"

said Miller. "It is not a perfect world in the woods so

be prepared to spray your pant legs to prevent ticks

from using you for a mid-morning brunch."

The walk is appropriate for anyone of any age

who can walk two miles in two hours and if you are

not worried about getting wet or muddy. There are

no registration requirements. All local health

orders, including social distancing and facial coverings

are required.

"We are combining this with our annual arbor

day celebration," said Miller.

Walnut Creek Park features hiking trails, soccer

fields, a seasonal portable restroom, creek access

and 50 parking places. It is open 6 a.m. to dusk and

is located next to the Canal Winchester Middle

School on Parkview Drive along Lithopolis Road.

Celebrating National Library Week

The Columbus Metropolitan Library will celebrate

National Library Week from April 4-10 with virtual

events, plus a Checkout Challenge encouraging CML

customers to achieve 100,000 checkouts that week.

Starting April 4, each person who checks out one

item or more will be entered into a drawing to win a

$100 gift card from Kroger. One winner will be notified

from each of CML's 23 locations after National Library

Week. One entry per person. All CML locations will be

closed on April 4 for the Easter holiday. Customers can

still check out digital materials that day to be entered

into the drawing. CML is celebrating with these virtual

events:

•April 5 - Book Buzz: Preview of Spring/Summer

2021 Book Releases, 7 p.m.

•April 6 - Staff Picks Live! Historical Fiction, 7 p.m.

•April 7 - Library Giving Day — Sponsored by the

Columbus Metropolitan Library Foundation. Virtual

Author Talk with poet Marcus Jackson, noon.

•April 8 - Local History Panel Discussion: African

Americans in Greenlawn Cemetery, 6:30 p.m.

•April 9 - Virtual Family Storytime, 10 a.m.

•April 10 - Last Day of the Checkout Challenge.
---
www.columbusmessenger.com

April 4, 2021 - MESSENGER - PAGE 3

Art on the Canal Art Stroll

The 2021 Art on the Canal Art Stroll

will be held May 15 from noon to 6 p.m. in

downtown Canal Winchester. According to

Destination Canal Winchester, because

2020 was a difficult year for small businesses

including artists and fine crafters,

participants this year will not be charged.

Visit www.destinationcw.org/artStroll.

Disc golfers

Messenger photo by Pat Donahue

Flying objects were spotted at Area 51 Disc Golf Course in

Obetz as Dylan Knecht of Groveport nails the putt while his

fellow Cruiser to his left, Noah Graham, and Seth Collins of

Obetz, look on. The three avid disc golfers were found at

Area 51 taking advantage of the nice March weather. Knecht

has been enjoying the sport for less than a year, but he plays

often. Graham has played for a dozen years, and Collins,

twice that long. They play year round and usually come

armed with a variety of discs, sometimes as many as 20 to

30, for various situations and multiple shots.

To advertise in the Messenger,

call Doug Henry at 614-272-5422.

Messenger photo by Pat Donahue

Wind not a problem

Construction has begun on the new Fresenius Kidney Care

facility in Obetz. The breezy weather didn't bother the truss

setting crew on March 11. The new central Ohio location will

be at Froehlich Boulevard and Dixon Parkway just behind

the Ohio Health Emergency Care.

columbusmessenger.com

OH License #20692

FRANK'S

MARKET

FISH AND SEAFOOD

NEW 2 ND LOCATION

2410 Hilliard-Rome Road

OPENING MID - APRIL

• 5x's Bigger Than Original Location

• Double Wine Selection

• More Items to Choose from

Frank's Fish and Seafood

Market to open

second superstore

If you like seafood, you will love this news!

Frank's Fish and Seafood Market, 5251

Trabue Road, is known for its frozen lobster

tails, King Crab legs, Snow Crab clusters,

orange roughy, lake smelts, fresh chopped

clams, squid tubes and tentacles, caviar, salted

baklava, fresh cod, fresh eel, octopus, fresh

lump crabmeat (non-pasteurized), Florida stone

crab claws, snow crab cocktail claws, and

special order only live lobsters.

Now owner Frank Gonzalez is opening a

second retail superstore at 2410 Hilliard-Rome

Road in mid-April that will give customers more

opportunities to purchase and enjoy great

seafood.

According to Gonzalez, the new superstore

(which will not include a restaurant) will be five

times bigger than the original store.

"We will be able to serve customers better

and offer more items. Plus we will have double

the wine selection," said Gonzalez, who added

the business also supplies 250 stores and

restaurants.

The new superstore is open seven days a

week. Hours are Monday through Saturday from

8 a.m. to 6 p.m. and Sunday from 8 a.m. to 4

p.m.

The existing store hours are Monday 8 a.m.

to 5 p.m. and Tuesday thru Saturday 8 a.m. to 6

p.m., closed Sunday.

Visit both locations to enjoy the finest in

fresh fish and seafood to be found in Central

Ohio.

For information call 614-878-3474 or visit

franksfishandseafoodmarket.com.
---
PAGE 4 - MESSENGER - April 4, 2021

Farm has new hours

Metro Parks' Slate Run Living

Historical Farm, 1375 State Route 674

North, Canal Winchester hours are:

Tuesday, Wednesday, Thursday, and

Sunday 9 a.m. to 6 p.m. and Friday and

Saturday from 9 a.m. to 7 p.m. The farm

is closed on Monday.

Letters policy

The SOUTH MESSENGER welcomes

letters to the editor. Letters cannot

be libelous. Letters that do not have

a signature, address, and telephone

number, or are signed with a pseudonym,

will be rejected. PLEASE BE

BRIEF AND TO THE POINT. The

Messenger reserves the right to edit or

refuse publication of any letter for any

reason. Opinions expressed in the letters

are not necessarily the views of the

Messenger. Mail letters to: SOUTH

MESSENGER, 3500 Sullivant Avenue,

Columbus, OH 43204; or email eastside@columbusmessenger.com.

eastside

Messenger

(Distribution: 16,822)

Rick Palsgrove................................South Editor

eastside@ columbusmessenger.com

Published every other Sunday by

The Columbus Messenger Co.

3500 Sullivant Ave., Columbus, Ohio 43204-1887

(614) 272-5422

Keep tabs on the news in Canal

Winchester and Hamilton Twp.

Look for South Messenger on

Become a fan!

I was never much of a football player as a

kid, but I do know one thing about the sport -

it's a lot more fun played in the snow of a

neighborhood backyard with your neighborhood

buddies.

Back in my days of youth, my older brother

organized regular pick-up football, baseball,

and basketball games among all the

neighborhood kids. At first we usually used

our backyard for these contests.

In fact, we played so much baseball there

that we wore out the grass in the yard to the

point that it looked like a real baseball diamond

with patches of dirt at home plate, the

pitcher's "mound," and the bases. I remember

my dad being unconcerned about the worn

out turf. He said of the grass, "It'll grow

back."

As we kids all grew a bit older, we moved

our football and baseball games from our

backyard to a nearby larger vacant lot. The

ground on this lot was lumpy, but no matter.

Whenever a fresh snowfall blanketed our

playing fields, the football came out, no matter

the month or day of the week or low temperature.

We would all gather at the field,

pristine with fresh snow, and then proceed to

track it up with action.

Football in the snow meant one could slide

Special Olympics

column

Football in the snow

A local chapter of Special Olympics Ohio formed in the

Groveport/Canal Winchester area. The mission of Special

Olympics Ohio is to provide year round sports training and competition

in a variety of Olympic type sports for intellectually disabled

individuals.

For information contact local coordinators Penny and

Cassandra Hilty at groveportspecialolympics@gmail.com or at

(614) 395-8992 or 395-6640.

Donations may be sent to Groveport Special Olympics, P.O.

Box 296, Groveport, OH 43125.

Editor's Notebook

Rick

Palsgrove

and glide several feet

in the snow when hitting

the ground. It

meant bundling up in

warm coats or sweatshirts

that served as

extra padding to

absorb hits when tackled

(nobody wore

equipment in these

games, just your regular

clothes). It meant

getting cold snow

down your back and in

your face, which actually

cooled you off as you worked up a sweat

playing. It meant hearing the crunch of snow

under your feet and also when a ball carrier

and tacklers mushed to the ground in a pile.

It meant going out for a pass and faking out

a defender then watching them slip and slide

in the snow. It meant precision was meaningless.

It meant being cold and wet. It meant

showing the cold weather that it could not

stop you from playing ball. It meant you were

www.columbusmessenger.com

alive. It meant having fun!

I think that memories like this pop up for

people whenever they see a rare college or

NFL game being played in the snow. It

prompts folks to remember playing in the

snow themselves and how much fun it was.

It also makes the usual machine-like

nature of college and pro football games,

mostly played on sterile looking fields, revert

back to the game's roots of playing in the

snow and mud when everyone was on equal

footing. I bet the pro and college players like

playing in the snow, too.

Those snowy football games we played in

our youth ended when we either finally got

too cold, the sun set, or it was time for dinner.

We'd gather up the wet football, brush the

snow off our clothes, and head home to the

warmth of our family homes, tired, but

happy.

I don't see kids out in their yards much

these days playing football in the snow or

making snowmen or having snowball fights

or cracking the thin ice on mud puddles just

to feel it and hear it give way under our feet.

They don't know what they are missing.

Rick Palsgrove is managing editor of the

Messenger Newspapers.

pets of the week

Hattie is ready to find a calm retirement community

where she can lounge by the pool and

sip on ice cold water. When she arrived at the

shelter, she was pretty thin, so a medical team

has worked to get her on the road to a healthy

recovery. If you've been looking to adopt a 7-

year-old dog, then Hattie might just be the perfect

fit. Schedule an appointment at the Franklin

County Dog Shelter to meet her.

FYI: www.franklincountydogs.com

Lady is an 8-year-old beagle. She is a naturally

playful, curious, and trusting canine. She would

love to go out for daily walks then spend the

evening cuddling with her people. She is a sweet

pooch looking for a loving forever family. She is

up for adoption at the Franklin County shelter.

FYI: www.franklincountydogs.com

Barelli is a sweet 7-year-old who will actually let

you pet her belly. Miss Barelli is a shy girl though.

You'll likely catch her napping up high during the

day. She was dumped at a barn last fall and now

she needs a patient forever home. She is up for

adoption through Colony Cats and Dogs.

FYI: www.colonycats.org

Ruthie B is a 2-year-old pitbull. She is super

friendly with people and loves to play. She's got

a high prey drive so a home without cats is

appropriate. She likes to play with dogs but she

doesn't understand their signals. She does well

with dogs who are not over reactive. Ruthie B is

housebroken, spayed, microchipped and up to

date on vaccines. She can jump really high so a

six-foot fence would be needed to keep her contained. Adopt Ruthie B

through Colony Cats and Dogs.

FYI: www.colonycats.org
---
www.columbusmessenger.com

April 4, 2021 - MESSENGER - PAGE 5

Taking it to the track: driver in his first truck race

By Rick Palsgrove

Managing Editor

Aaron England is ready to get behind

the wheel for his first professional truck

race.

"I've been a student of motor sports

since 2000," said England, a 2010 graduate

of Groveport Madison High School. "I primarily

follow NASCAR, but am well-read

in most forms of motor sports throughout

the world. I have wanted to race vehicles

competitively my entire life. This is my

first opportunity to do so with the CRS

Truck Series Event in June."

England will drive a Chevrolet

Silverado late model race truck, owned by

Billy Streihle, in the 50 lap event in the

CRS Truck Series on June 19 at the

Shadybowl Speedway in Degraff, Ohio.

"The vehicles' bodies are fiberglass and

aluminum and the truck weighs about

3,100 pounds," said England. "Average

speeds on track are over 80 mph and top

speeds well over 100 mph."

England is known online as AJ Appeal

(Twitter.com/ajAPPEAL), where he hosts a

motorsports syndicated podcast and he is

editor of RacingRefresh.com.

"I currently have over 15,000 followers

on my social media accounts and host a

weekly motorsports podcast called Racing

Refresh," said England. "We are attempting

to crowd fund this effort. Donors can

contact our show to get their name on the

truck. We are eager to promote business

sponsors who are interested in sponsoring

the truck. Their branding and logos will be

on our uniforms, website, and the racing

vehicle, and they can contact me at

info@racingrefresh.com with interest."

When asked why he enjoys racing,

England said, "I find great things in racing.

A race team is a sport, a hobby, and a business

all at once. There is tremendous competition

in motorsports, whether the race

ends side-by-side or is dominated by a single

competitor. Add to that the high speed

and adrenaline, and you've got a perfect

combination for fans of all ages."

England feels well prepared for his first

race.

"I have a lot of knowledge on the science

behind racing," said England. "I've spent

hundreds of hours on motorsports simulators

and watched every form of racing. I am

not sure how I will contend against competition

that has more experience than I

have, but I am confident I will take great

care of the vehicle that I'm driving. I'll

learn more that I hope I can apply to future

events. The ultimate goal is to finish every

lap, and, hey, If I can compete for the win,

I'm sure I can make somebody really

proud."

The race England will participate in is

known as a short track race. He said short

track racing refers to race tracks that are

typically a half mile or less in length.

"While speeds are faster than most

everyday drivers operate their vehicles,

they are not as fast as major events such as

the INDY 500 or famed NASCAR races,"

said England. "Due to the lower speeds,

short track racing relies much less on the

aerodynamics and horsepower of the vehicles

and more on the talent set of the competitors

in the field."

Motor racing has historical roots in the

Groveport and Obetz areas as the

Columbus Motor Speedway once flourished

in Obetz for many years.

"I was fortunate to live in Obetz growing

up and attend events at Columbus Motor

Our Pictorial Past by Rick Palsgrove

Photo courtesy of the Canal Winchester Area Historical Society

Rails replace canal

Pictured here (at left) is a locomotive hauling building materials during the construction

of the Scioto Valley Traction Line interurban electric railway in downtown Canal

Winchester circa 1904. The water in the foreground is the Ohio and Erie Canal, which

by this time had fallen into relative disuse. The buildings in the background are

downtown business buildings on Canal Winchester's South High Street. The interurban

opened in Canal Winchester. Groveport and Central Ohio in 1904 and operated

until the 1930s.

Aaron England with the Chevrolet Silverado race truck.

Speedway," said England. "It wasn't as

often as I would have hoped. I recall

attending 'Night of Champions' with my

uncle Matt. I saw NASCAR legends Kenny

Wallace, Jerry Nadeau, Matt Kenseth, and

Kerry Earnhardt all in one event."

BETHANY

LUTHERAN

CHURCH, LCMS

1000 Noe-Bixby Rd., Columbus, OH 43213

Telephone: 614-866-7755

Traditional Worship Service:

9:00 a.m. Sunday

Visit us on Facebook or visit our website at:

bethanylutheranchurch@weebly.com

Messenger

South

England said a goal of the June 19 race

is "to promote our podcast, learn to race,

and emphasize the importance of grassroot

racing to fans who are only aware of

NASCAR or INDY car racing they see on

television."

Please visit the

South/Canal Winchester

Church of your choice.

List your Worship

Services here.

For info. call 614-272-5422

Be a Part of Our Local Worship Guide

Our Worship Guide is geared toward celebrating faith and helping readers connect

with religious resources in our community. Make sure these readers know

how you can help with a presence in this very special section distributed to more

than 19,000 households in the South area.

Contact us today to secure your spot in our Worship Guide.

614.272.5422 • kathy@columbusmessenger.com
---
PAGE 6 - MESSENGER - April 4, 2021

Spring Fling

A free CW CommUNITY Connect Spring

Fling will be held April 10 from 11 a.m. — 8

p.m. at Westchester Golf Course, 6300 Bent

Grass Boulevard, Canal Winchester. About

12 Canal Winchester organizations are volunteering

to mingle and let others in the

community know everything that Canal

Winchester offers. The schedule:

•11 a.m.—1 p.m.: Canal Winchester Steel

Band; Events by Maddy — balloon artist;

•Noon —6 p.m.: Bounce houses;

•1—5 p.m.: DJ — Capital City Sound;

•5—7:30 p.m.: Live band - Heindog &

Stadz;

Other activities include: corn hole; kids

games; and the CW golf team will teach putting

skills.

Due to the ongoing pandemic, all social

distancing protocols will be observed during

the event.

Parking will be limited, so walking, riding

a bike, riding a golf cart, or ride sharing

is encouraged.

Local organizations involved include:

RED has committed volunteers; Brockstrong;

Canal Winchester CommUNITY

Closet; Canal Winchester Human Services;

Canal Winchester Chamber of Commerce;

Canal Winchester Joint Vocational Recreation;

Canal Winchester Tomahawks; Canal

Winchester Rotary; Canal Winchester Lions

Club; Canal Winchester Performing Arts;

Canal Winchester Schools; Canal Winchester

Golf Club; Evelyn's Foundation; Canal

Winchester Historical Society; Canal Winchester

Boy Scouts); Canal Winchester Art

Guild; and VFW.

Tax filing deadline extended

SUMMER BLAST!

ELVIS

featuring

The Ohio Department of Taxation extended

the deadline to file and pay Ohio individual

income tax for tax year 2020, from

April 15, 2021 to May 17, 2021. As a result,

the municipal income tax filing deadline for

individual taxpayers has been automatically

extended to May 17, 2021 as well.

Late filing penalties and late payment

penalties and interest will not be imposed

for the period of April 15, 2021 through May

17, 2021 for these extended filings and payments.

The payment due date for the tax year

2021 first quarter estimated tax payment,

and the filing and payment due dates for

business net profit taxpayers, are not impacted

by this extension. However, RITA

will not impose late filing penalties, or late

payment penalties and interest for the period

of April 15, 2021 through May 17, 2021

for first quarter 2021 estimated tax payments

or business net profit filings and payments.

Township opposes gas hike

Residents of Madison Township participating

in the Volunteer Energy Services,

Inc. natural gas aggregation program may

see increased rates on their February and

March natural gas bills.

The Madison Township Trustees believe

the rate increases are unfair and are not

permitted by the contract. The trustees are

working with the township's attorneys and

its gas aggregation consultant, Scott Belcastro

at Trebel Energy, LLC to ensure that

residents are treated fairly and their rights

under the aggregation contract with VESI

are protected.

There will be a special meeting of the

Madison Township Trustees on April 6 at 7

p.m. via Zoom for anyone who wishes to

learn more. There will be a presentation by

natural gas aggregation consultant, Trebel

Energy, LLC, followed by a question and answer

period.

Details on the Zoom link will be posted

on the Madison Township website.

Trailer storage prohibited

Canal Winchester City Council approved

an ordinance prohibiting storage of trailers

and other non-motor vehicles within the

city's public right of way. The parking limitation

amendment states that storage of

such vehicles has a negative impact on community

aesthetics and parking availability

for the motoring public.

www.columbusmessenger.com

CW Farmers' Market

The 2021 Canal Winchester Farmers'

Market will begin on Saturday, May 29 and

run through Saturday, Sept. 25. For information

visit www.thecwfm.com.

PAID ADVERTISING

2021 is the

time to buy or

refinance your

home

By Alexandra Hager

Team Lead of Residential Mortgage Lending

at Telhio Credit Union

Whether you're looking to relocate, buy your

first home or refinance, there is no better time than

now.

Our advice for buyers is to go in with an aggressive

offer. You are competing with a lot of

other buyers, and if you like the home you're looking

at make a really strong offer because the price

will be even higher on the next one.

The current housing market is also good for

homeowners who want to refinance. These recordlow

interest rates may save you thousands of dollars

over the lifetime of your loan - or put cash in

your pocket now. So if you're looking to refinance,

do so in 2021.

So if you have not yet looked into refinancing,

what are you waiting for? Rates won't go much

lower since the Federal Funds Rate is already

nearly 0%, and while we don't believe rates will

go up any time soon, once they go up, they will go

up quickly. At Telhio, we're happy to help you understand

your options and find the right rate and

term for you.

Contact me today to learn more about loan and

refinancing options at 614-221-3233 ext. 8149.

Mike Albert

and the Big E Band

Saturday

June 12, 2021

VILLA MILANO

1630 Schrock Rd.

Dinner/Show Tickets $ 55.00

Tables of 10 Available

Tickets by Phone: 614-792-3135

Still Good Seats Available

Visa • Mastercard • Discover

NO REFUNDS
---
www.columbusmessenger.com

April 4, 2021 - MESSENGER - PAGE 7

Moses-Mouser Eye Care

Dr. Joshua Morris is an Optometrist who grew

up in Bellville, Ohio. He completed his undergraduate

degree at the University of Akron, where

he graduated magna cum laude with honors.

Dr. Morris attended The Ohio State University

College of Optometry and graduated cum laude

with honors to receive his Doctor of Optometry Degree in May 2019. After

completing his studies, he was awarded the "Primary Vision Care Clinical

Excellence Award", in 2019.

Dr. Morris is a member of the American Optometric Association, the Ohio

Optometric Association, and The Ohio State Alumni Association. He is

excited to practice full scope optometry, diagnosing and treating a variety

of ocular disorders and diseases in patients of all ages, but has a special

interest in contact lenses and ocular disease.

On a personal note, Dr. Morris and his wife Tess, enjoy spending time with

their family, friends, and their Bernese Mountain dog Maverick, cheering

on The Ohio State Buckeyes, trying new foods, and exploring Columbus

breweries.

Q: What are floaters and what causes them?

A: Floaters are small dark shapes that move across your vision. They can appear

as dots, threads, squiggly lines, or even like cobwebs. Most floaters are caused

by normal changes in the eye. As you age, small strands of vitreous (gel-like fluid

that fills your eye) can clump together and cast a shadow on your retina (the

light-sensitive tissue at the back of the eye). Those shadows appear as floaters

that drift across your vision. You may notice floaters more when you look at a

bright background, like a computer screen or a blue sky.

Q: How often should someone with new

floaters get an eye exam?

A: Someone experiencing new floaters, a large increase in the number of floaters,

or flashing lights should see an eye care professional immediately. Sometimes

floaters have a more serious cause, including: infection, injury, inflammation,

bleeding, retinal tear or retinal detachment.

Someone with a few stable floaters should see an eye care professional at least

once a year for a comprehensive dilated eye exam.

Schedule your comprehensive eye exam

today with Dr. Morris

6441 Winchester Blvd. E., Canal Winchester, OH 43110 614-963-3827
---
PAGE 8 - MESSENGER - April 4, 2021

www.columbusmessenger.com

entertainment

Odenkirk saves film from being unwatchable

What does it take to be a believable action star?

Well, if we're looking at cinematic examples of the

past, all it really took was being a male with a mountain

of muscle and a spot-on oil game to highlight the

tan or that strategically shorn tuft of hair on an otherwise

smooth chest.

Throughout the years, however, those characteristics

of a believable action star have changed, allowing

a new wave of people (women, even!) with less buffed

and bronzed physiques to share a place on that mantle.

That evolution had been met by resistance by some

— I guess watching a lean human who was not chosen

by a higher power or bitten by a radioactive spider

take down a mob of people is not as believable as if

they were more massed — but I have been enjoying this

change as it allows more actors to play against type.

The latest example of an actor playing against type

and donning the glistening cape of a potentially new

action star is the great and underappreciated Bob

Odenkirk. With his background in comedy and his

most known role being the morally dubious attorney

Saul Goodman in the "Breaking Bad" universe,

Odenkirk has never been given many opportunities to

be a man of physical action. After all, with his slight

frame and sweet face that seems like it would break

out into a sweat if he lied, he doesn't exactly scream "I

can mess you up." But he was given that chance with

"Nobody" and you can tell he really relished the opportunity.

Taken as a whole, "Nobody" is not a great film.

There is little substance and the secondary characters

are paper thin, but the presence of Odenkirk is what

makes it watchable. He plays his role with vulnerability,

gravitas and slyness, giving the audience a wink

that while he is serious about this role, he knows

you're watching him and thinking "this is the guy they

chose for this role?" But that is what makes the film

somewhat compelling — he plays it so well that if any

other actor, especially a known action star with muscles,

had said yes it would be largely unbearable.

In this film, Odenkirk plays Hutch Mansell, an

ordinary man living an ordinary existence. A montage

shows that every day is exactly the same — he wakes

up, jogs, passively aggressively does chin-ups near a

billboard with his wife's face on it, rides a bus to work,

and stares at spreadsheets for multiple hours while

working alongside his father-in-law and obnoxious

brother-in-law. It's a normal life, minus the chin-up

thing, and he is mostly OK with how quiet and simple

it is.

But all of that changes one night when Hutch interrupts

a home invasion. After startling the two robbers,

one man and one woman who seem nervous and

unsure of themselves, he calmly tells them to take

The Reel Deal

what they want and leave. In their

mad dash, they take a handful of

loose cash and items in a fruit bowl

and his watch, but as they are

demanding his ring his teenage son

(Gage Munroe) tackles one to the

ground and chaos ensues. Rather

than unleash a smack down that

you know is bubbling under the

surface, Hutch allows them to

escape, drawing the scorn of his

son, his wife, his neighbor, and

the police officer who responded

Dedra

Cordle

to the scene. "If that was my family…" he states.

Knowing that his actions, or lack thereof, were correct

for the situation at hand, he soaks in the ridicule

from his wife's family and accepts it at face value. "I

did the right thing." But then, when his daughter indicates

that the robbers stole her beloved Kitty Cat

bracelet, he snaps and goes looking for trouble.

Unlike most characters in similar movies, Hutch

isn't a man with a past who is pulled back into the mix

after a series of unfortunate events. Instead, Hutch is

a man with a past who willingly goes back into the mix

after a series of unfortunate events. And despite however

ridiculous his motives are, the movie is all the better

for it because it allows Odenkirk to shine — and give

shiners, among other things.

But despite however much enjoyment is taken from

watching Odenkirk get his action game on (no oil here

though he does break out into an attractive sweat after

dispatching some baddies), the movie itself does not

live up to the potential of his presence. The writers and

the director have a genuinely great actor on their

hands, one willing to go just about anyplace they want

(even the close quarters of a bus for a tense and prolonged

fight sequence) but the material itself with its

odd Russian drug lord side plot and paper-thin building

of the Mansell family does him a disservice.

Overall, "Nobody" is not a film that takes itself too

seriously, which is always a bonus in relation to action

films, and it does feature some excellent fight choreography.

But if the creators (who also created "John

Wick") want to make the transition into a franchise,

they're going to have to get material better suited to fit

the talent of the actors and the audience starved for an

action film that is not completely convoluted.

Grade: C

Dedra Cordle is a Messenger staff writer and columnist.

"Working: A Musical" at CATCO virtually April 29-May 9

CATCO focuses on work and the people behind the

jobs in its upcoming production of, "Working: A

Musical," April 29-May 9.

Based upon Studs Terkel's 1974 bestseller,

"Working: People Talk About What They Do all Day

and How They Feel About What They Do," the musical

shares actual workers' words from the book and gives

voice to their hopes and aspirations.

Truckers, waitresses, stay-at-home moms, hedge

fund managers, laborers, millworkers, project managers,

delivery people and other workers tell their stories

through music written by songwriters Craig

Carnelia, Micki Grant, Lin-Manuel Miranda, Mary

Rodgers, Susan Birkenhead, Stephen Schwartz and

James Taylor.

The musical has undergone several revisions since

its premiere in 1977 and on Broadway in 1978.

CATCO will present the 2012 version.

Directing "Working: A Music," is Daniella Wheelock

and the music director is Jeremy Ramey.

Tickets (one per device) are $20 each, and are available

at www.catco.org/working/

Visit catcoistheatre.org for information.
---
wwww.columbusmessenger.com April 4, 2021 -- MESSENGER - PAGE 9

MORPC projects

The Mid-Ohio Regional Planning Commission now

has available a list of 12 proposed, new transportation

projects set to receive more than $77 million in federal

funds during state fiscal years 2022 to 2027.

Among the 12 projects from around central Ohio,

two are local and include:

•Brice Road, from Chantry Drive to south of

Channingway Boulevard, $15 million; and

•Rickenbacker Area Mobility Center, $3.37 million.

"MORPC received more than $220 million in

requests for funding of new transportation projects

from throughout our transportation planning area,"

said Thea Ewing, MORPC director of transportation &

infrastructure development.

Every two years, MORPC solicits projects to receive

federal transportation funding in the MORPC transportation

planning area of: Franklin County; Delaware

County, Bloom and Violet townships in Fairfield

County; New Albany, Pataskala and Etna Township in

Licking County; and Jerome Township in Union County.

Examples of the types of transportation improvements

eligible for funding include highways, public

transit, bikeways, pedestrian facilities, bridges and

traffic signal upgrades.

MORPC's Attributable Funds Committee is also

proposing to recommend continued funding for 27 projects

and programs to which MORPC had previously

committed funds. More than $211 million in future

funding commitments is being proposed.

Printed copies of the draft listing are available upon

request by calling MORPC at 614-228-2663.

MORPC will consider final approval of the funding

commitments on May 13 and they will be incorporated

into the Transportation Improvement Program for the

appropriate fiscal year. The Transportation

Improvement Program is a financially balanced listing

of federal, state and locally funded projects that are

scheduled for some phase of implementation or development

in a fouryear period. COTA and Delaware

County Transit Program of Projects are part of our

public involvemen process.

Plastics recycling

The Solid Waste Authority of Central Ohio and its

partners at Rumpke Waste and Recycling announced

they are expanding their plastics recycling program to

include polypropylene tubs and yogurt containers.

In recent years, central Ohio's residential plastics

recycling program has only allowed for the recycling of

plastic bottles and jugs which feature a neck smaller

than their base. This recent announcement expands

the existing recycling program to include a wide variety

of plastic tubs such as butter, cottage cheese, and

sour cream tubs, fruit, pudding, and applesauce cups

and all yogurt containers.

These items need to be empty and clean before

being they're put in the recycling cart. Lids and labels

can be left on but the foil tops that sometimes come on

yogurt containers should be removed and not recycled.

Like most businesses, recycling is commoditiesbased.

Taking care to recycle correctly is an important

act we can each make to support the businesses which

make it possible for us to recycle our unwanted materials.

In order to expand the plastics recycling program,

Rumpke has secured several long-term buyers and users

of recycled plastics. In addition to securing end users,

Rumpke is also investing in new equipment and the necessary

workforce to separate and sort these materials at

its Material Recovery Facilities (MRF). Once separated

at the MRF, these materials are baled and shipped to

businesses, many of which are in Ohio, to become new

products — like water bottles and plastic lumber.

What's not accepted

Items on the 'no-no' list include disposable plastic

cups such as party cups, and plastic take out and

clamshell containers like those used for strawberries

and blueberries. If you aren't able to avoid using these

items, the only current options for disposing them are

to either reuse them or put them in the trash where

they'll be safely disposed at the landfill.

For information visit RecycleRight.org.

Messenger photo by Linda Dillman

Spring in bloom

Spring daffodils herald the arrival of spring and these

blooms lead the way to the Canal Winchester Historical

Society's Queen of the Line depot.

CLASSIFIED ADS

Deadlines: Groveport and West editions, Wednesdays at 5 p.m., • South/Canal Winchester, Grove City, Madison editions, Tuesdays at 5 p.m.

All editions by phone, Tuesdays at 5 p.m. • Service Directory, Tuesdays at 5 p.m.

INFORMATION

Want to Make Millions

in Selling?

Want to Make People Really

WANT

Your Product?

Learn human

communication secrets

at the

Personal Efficency Seminar

614-221-5024

1266 Dublin Rd.

Columbus, OH 43215

Are you limited by your

past experience? Find

out. BUY AND READ

Dianetics The Modern

Science of Mental Health

by L. Ron Hubbard. $25.

Call 614-221-5024 or

come to 1266 Dublin

Road, Columbus, Ohio

ASSOCIATION ADS ASSOCIATION ADS ASSOCIATION ADS

Life Alert. One press of a

button sends help fast

24/7! At home and on

the go. Mobile Pendant

with GPS. Free first aid

kit (with subscription).

877-537-8817 Free brochure

Elminate gutter cleaning

forever! LeafFilter, most

advanced debris-blocking

protection. Schedule

Free Estimate. 15% off

Purchase. 10% Senior

& Military Discounts. Call

1-855-995-2490

The Generac PWRcell, a

solar plus battery storage

system. SAVE money,

reduce your reliance on

the grid, prepare for power

outages and power

your home. Full installation

services available. $0

Down Financing Option.

Request a FREE, no obligation,

quote today. Call

1-855-900-2894

DISH TV $64.99 FOR 190

Channels + $14.95 High

Speed Internet. Free Installation,

Smart HD DVR

Included, Free Voice Remote.

Some restrictions

apply. Promo expires

7/21/21. 1-855-270-5098

Attention oxygen therapy

users! Inogen One G4 is

capable of full 24/7 oxygen

delivery. Only 2.8

pounds. Free info kit.

Call 877-929-9587

DISH TV $64.99 190

Channels + $14.95 high

speed internet. FREE installation,

Smart HD DVR

included. Free Voice Remote.

Some Restrictions

apply. Promo Expires

7/21/21. 1-833-872-2545

SELL YOUR ANTIQUE

OR CLASSIC CAR.

Advertise with us. You

choose where you want

to advertise. 800-450-

6631 visit macnetonline.

com for details.

Pest Control

Find Pest Control Experts

Near You! Don't let

pests overtake your

home. Protect your loved

ones! Call to find great

deals on Pest Control

Services - 833-872-0012

New authors wanted!

Page Publishing will help

self-publish your book.

Free author submission

kit! Limited offer! 866-

951-7214

AT&T Internet. Starting

at $40/month w/12-mo

agmt. 1 TB of data/mo.

Ask how to bundle &

SAVE! Geo & svc restrictions

apply. 1-888-796-

8850

HughesNet Satellite Internet

- Finally, no hard

data limits! Call today for

speeds up to 25mbps as

low as $59.99/mo! $75

gift card, terms apply. 1-

844-863-4478

ASSOCIATION ADS

Attention Active Duty &

Military Veterans! Begin a

new career & earn a

Degree at CTI! Online

Computer & Medical

training available for

Veterans & Families! To

learn more, cal 888-449-

1713.

Wesley Financial Group,

LLC Timeshare Cancellation

Experts Over

$50,000,000 in timeshare

debt & fees cancelled in

2019. Get free info

package & learn how to

get rid of your timeshare!

Free consultations. Over

450 positive reviews. Call

844-909-3339

ATTENTION DIABETICS!

Save money on diabetic

supplies! Convenient

home shipping for

monitors, test strips,

insulin pumps, catheters &

more! To learn more, call

now! 877-810-063

EASTER GREETING

EASTER GREETING

WISHING OUR READERS

A VERY HAPPY EASTER!!

We'd like to thank you for being

such kind and generous customers.

Please accept our warm and sincere wishes

for a wonderful Easter holiday,

decorated with peace, love, friendship and joy.

FROM:

The Classified Department of

The Columbus Messenger

Newspapers

ASSOCIATION ADS

Eliminate gutter cleaning

forever! LeafFilter, the

most advanced debrisblocking

gutter protection.

Schedule a FREE LeafFilter

estimate today. 15% off

Entire Purchase. 10% Senior

& Military Discounts.

Call 1-855-791-1626

ASSOCIATION ADS

DENTAL INSURANCE-

Physicians Mutual Insurance

Company. Covers

350 procedures. Real

insurance - not a discount

plan. Get your free

dental Info kit! 1-888-

623-3036 . www.dental50plus.com/58

#6258

EASTER GREETING
---
PAGE 10 - MESSENGER - April 4, 2021

www.columbusmessenger.com

CLASSIFIED ADS

Deadlines: Groveport and West editions, Wednesdays at 5 p.m., • South/Canal Winchester, Grove City, Madison editions, Tuesdays at 5 p.m.

All editions by phone, Tuesdays at 5 p.m. • Service Directory, Tuesdays at 5 p.m.

xLegal Notice

xEmployment

Notice of Availability of a

Draft Environmental Assessment for the

Proposed Cargo Campus Development at the Rickenbacker Global Logistics Park

and Notice of Public Hearing

ACTION: The Columbus Regional Airport Authority (CRAA) is preparing an Environmental Assessment (EA) to

address the Proposed Cargo Campus Development at the Rickenbacker Global Logistics Park (RGLP) and

associated improvements south of Rickenbacker International Airport (LCK). The EA is being prepared to

comply with the National Environmental Policy Act of 1969.

PUBLIC HEARING: The CRAA will conduct a Virtual Public Workshop and Public Hearing related to the EA for

the proposed improvements at the RGLP. Due to the recommended precautions to stop the spread of

COVID-19, this Public Workshop/Hearing will be conducted online. The Workshop/Hearing will be held from

5:30 p.m. to 7:00 p.m. on April 20, 2021. Pre-registration is required to attend the Virtual Public Workshop/

Hearing. Register in advance and submit comments at www.airportprojects.net/lck-campus-ea.

Comments received at the Public Hearing will become part of the final EA document to be submitted to the

Federal Aviation Administration (FAA) for review.

The CRAA has published a Draft EA document and copies will be available for public review beginning March

22, 2021 at the following locations:

Columbus Regional Airport Authority

John Glenn Columbus International Airport

Administrative Offices

4600 International Gateway

Columbus, OH 43219

Please call (513) 818-0617 to set up an appointment.

Columbus Metropolitan Library Southeast Branch

3980 S. Hamilton Road

Groveport, OH 43125

Phone: (614) 645-2275

Website:

www.airportprojects.net/lck-campus-ea

Comments on the Draft EA may be submitted to: Chris Sandfoss, 4445 Lake Forest Drive, Suite 700, Cincinnati,

OH 45242; or by email to: LCK EA@landrumbrown.com. All comments must be received by May 5, 2021.

If special accommodations, such as audio or visual assistance, are required to participate in the online meeting,

or if internet access is not available, please contact (513) 818-0617 by April 16, 2021.

TO ADVERTISE

YOUR LEGAL/

PUBLIC NOTICES

CALL KATHY

AT THE

COLUMBUS

MESSENGER

NEWSPAPERS

614-272-5422

Legal Notice

Rickenbacker International Airport

Administration Building

Operations Department

7250 Starcheck Drive, Suite 100

Columbus, OH 43217

Please call (513) 818-0617 to set up an appointment.

ASSOCIATION ADS

Donate your car to kids!

Fast free pickup running

or not - 24 hour response.

Maximum tax

donation. Help find missing

kids! 877-831-1448

Wants to purchase minerals

and other oil and gas

interests. Send details to

P.O. Box 13557, Denver,

CO. 80201

Directv Now. No Satellite.

$40/mo 65 Channels.

Stream news, live

events, sports & on demand

titles. No contract/

commitment. 1-866-825-

6523

Pickaway County Library

Floyd E. Younkin Branch

51 Long Street

Ashville, Ohio 43103

Phone: (740) 983-8856

ASSOCIATION ADS

Train online to do medical

billing! Become a

Medical Office Professional

at CTI! Get trained

and certified to work in

months! 888-572-6790.

(M-F 8-6 ET)

Thinking about installing

a new shower? American

Standard makes it

easy. FREE design consulation.

Enjoy your

shower again! Call 1-

833-769-0995 today to

see how you can save

$1,000 on installation, or

visit www.newshowerdeal.com/mac

ASSOCIATION ADS

HOME BREAK-INS take

less than 60 SECONDS.

Don't wait! Protect your

family, your home, your

assets NOW for as little as

70¢ a day! Call 866-409-

0308

VIAGRA and CIALIS

USERS! 50 Generic pills

SPECIAL $99.00 FREE

Shipping! 100% guaranteed.

24/7 CALL NOW!

888-445-5928 Hablamos

Espanol

Attention: If you or aloved

one worked around the

pesticide Roundup

(glyphosate) for at least 2

years and has been diagnosed

with non-Hodgkin's

lymphoma, you may be

entitled to compensation.

855-341-5793

Local New Construction

Plumbing Contractor

seeking experienced

Rough & Finish Plumbers.

Please visit our website for more information

and to apply on line at:

http://plumbingsolutionscolumbus.com/employment/

or call, 614.235.6007

ASSOCIATION ADS

HEARING AIDS!! Bogo

free! High-quality rechargeable

Nano hearing

aids priced 90% less

than competitors. Nearly

invisible! 45-day money

back guarantee! 833-

669-5806

Looking for auto insurance?

Find great deals

on the right auto insurance

to suit your needs.

Call today for a free

quote! 866-924-2397

GENERAC Standby

Generators. The weather

is increasingly unpredictable.

Be prepared for

power outages. FREE 7-

year extended warranty

($695 value!) Schedule

FREE in-home assessment.

1-844-334-8353

Special financing if qualified.

Employment

WANTED

SW CITY SCHOOLS

SCHOOL BUS DRIVERS

The South-Western City School

District is currently hiring drivers

for the 2020-2021 school year

$16.55/HR

Available positions are for substitute drivers

that can develop into "Regular" positions with

benefits. Interested individuals should submit

an application on our website at swcsd.us.

Follow the employment link. Applicants should

have an excellent driving record and must

submit to drug, alcohol, and background

screening. A high school diploma or equivalent

is required.

EOE

INDEPENDENT

CONTRACTORS

NEEDED:

Deliver The Columbus Dispatch in the

surrounding areas.

Requires early hours, ability to work on

your own. Dedication and

dependable transportation needed.

Make up to $200-$350 weekly

FOR MORE INFORMATION:

Call, text (614-715-7002) or

email sroush@dispatch.com

DO YOU NEED

SEASONAL EMPLOYEES?

Call KATHY to ADVERTISE

and reach over 35,000 homes in the

South/Canal Winchester & Groveport Messengers

614-272-5422

kathy@columbusmessenger.com
---
www.columbusmessenger.com

xCome & Get It!

April 4, 2021 - MESSENGER - PAGE 11

xClassified Services

COME AND GET IT

Deadlines are Tuesdays by 5 pm.

Call For Publication Schedule 614-272-5422

Need to Get Rid of Something Fast - Advertise It Here For FREE!

FREE Garden Straw for gardens or bedding. Call for appointment for pickup.

Circle S Farms, 9015 London-Groveport Road, Grove City, 43123

Grove City - 614-878-7980

. Come and Get It! is a bi-weekly column that offers readers an opportunity to pass

along surplus building materials, furniture, electronic equipment, crafts, supplies,

appliances, plants or household goods to anybody who will come and get them - as

long as they're FREE. NO PETS! Just send us a brief note describing what you want to

get rid of, along with your name, address and phone number. Nonprofit organizations

are welcome to submit requests for donations of items.

Send information to The Columbus Messenger, Attention: Come and Get It, 3500

Sullivant Ave., Columbus, OH43204. Deadline is Tuesdays by 5 pm for following

Mondays publication. Messenger Newspapers is not responsible for any

complications that may occur. Please contact us when items are gone. 272-5422

ASSOCIATION ADS

Protect your home w/home

security monitored by

ADT. Starting at $27.99/

mo. Get free equipment

bundle including keypad,

motion sensor, wireless

door & windows sensors.

833-719-1073

The Generac PWRcell

solar plus battery storage

system. Save money,

reduce reliance on

grid, prepare for outages

& power your home. Full

installation services. $0

down financing option.

Request free no obligation

quote. Call 1-855-

270-3785

HEARING AIDS!!

Buyone/get one FREE!

Nearly invisible, fully rechargeable

IN-EAR

NANO hearing aids

priced thousands less

than competitors! 45-day

trial! Call1-877-436-0234

Want Faster & Affordable

Internet? Get internet

service today with

Earthlink. Best internet &

WiFi Plans. Call us Today

to Get Started. Ask

about our specials! 866-

396-0515

NEED IRS RELIEF

$10K-$125K+ Get Fresh

Start or Forgiveness.

Call 1-844-431-4716

Monday through Friday

7am-5pm PST

READY TO BUY, SELL

OR RENT YOUR

VACATION HOME OR

HUNTING CAMP?

Advertise it here and in

neighboring publications.

We can help you. Contact

MACnet MEDIA @

800-450-6631 or visit our

site at MACnetOnline.

com

VIAGRA & CIALIS! 60

pills for $99. 100 pills for

$150 FREE shipping.

Money back guaranteed!

1-844-596-4376

Come & Get It!

ASSOCIATION ADS

BATH & SHOWER UP-

DATES in as little as

ONE DAY! Affordable

prices - No payments for

18 months! Lifetime warranty

& professional installs.

Senior & Military

Discounts available. Call

855-761-1725

READER

ADVISORY

The National Trade Association

we belong to has

purchased the following

classifieds. Determining

the value of their service

or product is advised by

this publication. In order

to avoid misunderstandings,

some advertisers do

not offer "employment"

but rather supply the

readers with manuals, directories

and other materials

designed to help

their clients establish mail

order selling and other

businesses at home. Under

NO circumstance

should you send any

money in advance or give

the client your checking,

license ID or credit card

numbers. Also beware of

ads that claim to guarantee

loans regardless of

credit and note that if a

credit repair company

does business only over

the phone it's illegal to request

any money before

delivering its service. All

funds are based in US

dollars. Toll Free numbers

may or may not

reach Canada. Please

check with the Better

Business Bureau 614-

486-6336 or the Ohio Attorney

General's Consumer

Protection Section

614-466-4986 for more

information on the company

you are seeking to

do business with.

ASSOCIATION ADS

GENERAC Standby Generators

provide backup

power during utility power

outages, so your home

and family stay safe and

comfortable. Prepare

now. Free 7-year extended

warranty ($695 value!).

Request a free

quote today! Call for additional

terms and conditions.

1-855-465-7624

IMPORTANT

NOTICE

The following states: CA,

CT, FL, IA, IL, IN, KY,

LA, MD, ME, MI, MN,

NE, NC, NH, OH, OK,

SC, SD, TX, VT and WA

requires seller of certain

business opportunities to

register with each state

before selling. Call to

verify lawful registration

before you buy.

INSURANCE

Low Cost Insurance

lowcostburialsolutions.com

WANT TO BUY

We Buy Cars & Trucks

$300-$3000.614-308-2626

We Buy Junk Cars &

Trucks. Highest Prices

Paid. 614-395-8775

WANTS TO Purchase

minerals and other oil &

gas interests. Send details

to: P.O. Box 13557,

Denver, CO 80201

WE BUY JUNK CARS

Call anytime 614-774-6797

VACATION RENTALS

Englewood, Florida

Palm Manor Resort

Within minutes of white

sand Gulf beaches,

world famous Tarpon

fishing, golf courses, restaurants/shopping,

Bush

Gardens. 2 BR 2 BA

condos with all ammenities,

weekly/monthly, visit

www.palmmanor.com

or call 1-800-848-8141

INFORMATION

NEED

SOMETHING

DONE THIS

SPRING?

CHECK OUT OUR

CLASSIFIED

SERVICES!

FOR

ADVERTISING

INFO. CALL

(614) 272-5422

THE COLUMBUS

MESSENGER

AIR CONDITIONING

AIR CONDITIONING

Complete System

Clean & Check

$49.95

APPLIANCE REPAIR

Washer, Dryer, Stove &

Refrig. Repair 875-7588

BASEMENT

WATERPROOFING

Walker's Basement

Waterproofing. LLC

614-359-4353

INFORMATION

BASEMENT

REMODELING

4/11 A

Free Electronic Leak Testing

All Makes • All Models

45 Yrs. Exp. • Senior Discount

614-351-9025

ONLY

$50.00

For This Ad In Our

South & Groveport

For Info Call

272-5422

AFFORDABLE

BASEMENT

REMODELING

Get the Quality

you deserve

at a price

you can afford.

Call Now

3/28 A

For a Free Est.

614-302-4603

BLACKTOP

SANTIAGO'S

Sealcoating & Services LLC

Quality Materials Used

SPRING IS HERE!

Driveway Seal & Repair!

Top Seal Cracks!

Residential & Commercial

Mulching, Edging & Clean-ups

"Ask for whatever you need."

BBB Accredited-Fully Insured

Call or text for Free Est.

614-649-1200

CLEANING

Looking for Mrs. Clean?

For excellent cleaning serv

at reas. rates w/great refs,

dependable. 10% Senior

Disc. Free Est. Gwen

614-226-5229

CONCRETE

4/11

A&M

CARPET CLEANING

DIRT BUSTERS

SPRING SPECIAL!

Any 5 areas ONLY $75.

614-805-1084

Specializing in Pet Odors

ALL-CITY CUSTOM

CONCRETE

All Types Concrete Work

New or Tear Out-Replace

39 Yrs. Exp.

(614) 207-5430

Owner is On The Job!

Buckeye City

Concrete & Excavating

* Concrete * Foundations

* Waterlines * Drains

*Catch Basins

614-749-2167

buckeyecityconcreteand

excavating@yahoo.com

EDDIE MOORE

CONSTRUCTION

Quality Concrete Work

Lt. Hauling & Room Add.,

Block Work & Excavation

Stamp Patios,

Bsmt. Wall Restoration

35 Yrs Exp - Lic & Ins.

Free Ests. 614-871-3834

AJ's Concrete,

Masonry

Good Work - Fair Prices

Block Foundations

Driveways • Sidewalks

Epoxy/Overlay Floors

Bonded-Ins. • Free Ests.

614-419-9932

www.hastingsnsons.com

Driveways & Extensions

Patio & Walkways,

Porches & Steps,

Garage/Basement Floors

Hot Tub/Shed Pads,

Stamped/colored concrete

Sealing of new &

existing concrete.

Contact Adam

614-756-1754

hastingsandsons.

columbus @gmail.com

4/11 A/M

4/11 A

HAULING

DEAN'S HAULING

614-276-1958

HOME

IMPROVEMENTS

KLAUSMAN HOME

IMPROVEMENT

Siding-Windows-

Doors-Roofing-Soffit-

Fascia-Gutters-Trim

Earn FREE Seamless

Gutters with Siding Over

1000 Sq. Ft.

FREE Shutters with

Soffit & Trim

EPA Certified

Member of BBB

Financing Available

Over 20 yrs exp. • Free Est.

Licensed-Bonded-Insured

Owner & Operator

James 614-419-7500

SINCE 1973

Phil Bolon Contr.

Windows & Siding

Decks, Kitchens, Baths

Room Additions,

Flooring, Roofing

Bsmt Waterproofing

Deal With Small Non-Pressure Co.

47 Yrs. Exp. - Refs. Avail.

Lic.-Bond-Ins.

Free Est. - Financing Avail.

Member BBB Of Cent. OH

O.C.I.E.B. ID #24273

614-419-3977

or 614-863-9912

C&JHandyman

Services LLC

Minor Plumbing

& Electric

Install Hot Water Tanks,

Dishwashers & Disposals

Also Fencing &

Interior/Exterior Painting

Free Est. ~ 18 Yrs. Exp.

CDC/EPA Approved Guidelines

614-284-2100

HOME

MAINTENANCE

JOE'S HOME MAINT.

Home Repairs, Roofing,

Siding, Gutters, Soffits,

Misc. Int. Repairs

Int. Painting

Call Joe 614-778-1460

37 Years Exp.

HOME

REMODELING

Handyman Remodeling

Over 35 yrs exp.

Larry 614-376-7006

LAWN CARE

Lawnmasters and

Landscaping

Give us a call for your

yards that need mowing,

Spring clean-up, weed

control, paver patios, etc.

Free Estimates

614-378-1237

PEST

CONTROL

Classified Services

4/11

A/M

4/25 A

4/25 A

TERMITE & PEST CONTROL

3093 W. Broad St., Cols.

614-367-9000

TERMITES? PESTS?

BED BUGS?

$100 OFF New Termite Services!

With This Ad

Monthly & Quarterly Pest Services

Great Prices!!

Licensed & Insured

Free Termite Inspection

LAWN CARE

GOOD NEIGHBORS

LAWN CARE

• Weekly Mowing starting at

$25 for Residential Lot

• Spring Clean-Ups

start at $99

• Gutter Cleaning - $75

for Single Family Home

Res. / Comm.

Lic./Ins. BBB Member

614-238-9237

614-937-0658

Accepting New Clients

Spring Cleanup,

Lawn service, mulching,

plant & shrub trimming &

planting, fertilization,

Free Estimates. Contact

Patrick 614-301-3575

LET US MAINTAIN

YOUR LAWN & GARDEN

FOR YOU

Summer, Spring,

Winter or Fall

WE DO IT ALL!!!!

Lawn Cuts, Edging,

Trees & Shrubs, Garden,

Mulching, Hauling,

Garden Pond &

Home Maint.

Free Ests. Low Rates

$20 & Up

Kevin - 614-905-3117

MOVING

Aaron Allen

Moving

Local Moving since 1956

Bonded and Insured

614-299-6683

614-263-0649

Celebrating

over 60 yrs

in business

PAINTING

A Job Well Done Again

A lic. General Contractor

Some Skilled Services

Incl: Painting • Stucco,

Repair•Carpentry•Exterior

Drainage & Home Maint.

Call Today! 614-235-1819

Walker's Interior Painting

Free Est. 614-359-4353

4/11 E/SE

4/11 A&M

PEST

CONTROL

PLASTERING

DRYW

YWALL &

PLASTER

4/25

A&M

REPAIR

Textured Ceilings

614-551-6963

Residential/Commercial

BIA

PLUMBING

ALL IN ONE

PLUMBING LLC

"One Call Does It All"

$25 OFF LABOR

4/25

With This Ad A

614-801-1508

All Major Credit Cards Accepted

All About Drains & Plumb.

Will snake any sm drain

$125 + tax. 614-778-2584

CHRIS'

PLUMBING

"Plumbing & Drain Professional

That You Can Count On"

24 Hrs., 7 Days/Week

No Overtime Charges

24 Yrs. Exp. in Plumbing &

Drain Cleaning Field

Call For A Free Phone Estimate

$100.00 For Any Small Drain

614-622-4482

30% OFF with AD

ROOFING

Robinson roofing & repairs

30 yrs. exp. Lifetime Cols.

resident. Lic./bonded/Ins.

Reas rates. Member of

BBB. Dennis Robinson

614-330-3087, 732-3100

TREE SERVICES

BURNS TREE SERVICE

Trimming, Removal &

Stump Grinding.

614-584-2164

Brewer & Sons Tree Service

• Tree Removal

• Tree Trimming 4/25

A&M

• Stump Grinding

• Bucket Truck Services

Best Prices • Same Day Service

614-878-2568

4/25 A/M
---
PAGE 12 - MESSENGER - April 4, 2021

Dr. Bender Scholarship

Canal Winchester City Council announced two $1,000 scholarships

will be awarded in honor of the late Dr. John Bender, a former

council member for 17 years. Graduating seniors may review eligibility

requirements and submit applications online at www.canalwinchesterohio.gov.

Applications will also be available in the

guidance offices at Canal Winchester High School and Bloom-Carroll

High School. Completed applications and materials are due by

4:30 p.m. on May 28. Recipients of the Dr. John Bender scholarship

will be recognized at the June 21, Canal Winchester City Council

meeting.

Kindergarten registration

Online registration for Canal Winchester Schools' 2021-22

kindergarten be will be April 5 to May 7. Your child must be age 5

on or before Aug. 1, 2021 to be eligible to attend kindergarten for

the 2021-22 school year. Go to www.cwschools.org and click on the

"Kindergarten Registration 2021-22" link for instructions. Online

registration must be completed by April 7 for your child to participate

in Kindergarten Round Up. Kindergarten Round Up will be

May 12-14 at Indian Trail Elementary, 6767 Gender Road. For information

call (614) 837-4533.

RESCUE

Continued from page 1

While Lynch was on the phone with 911,

other pedestrians at the scene tried to get inside

the victim's truck to check on his condition,

but the doors were locked. Lynch said

the man appeared unresponsive. The homeowner

of the yard where the truck stopped

came out with a large pipe wrench and gave

it to Lynch to gain access to the truck.

Spring cleaning

"I was able to break out the passenger

back window," said Lynch. "We were able to

get the doors unlocked, and a lady was able

to get the gentleman out of the truck. As we

waited for EMS to arrive, we were trying to

get the man to become responsive. EMS arrived

shortly after. This was a team effort

with everyone involved. Thankfully, there

CANCELLED

Continued from page 1

Art Stroll and its Reindeer Run due to

the ongoing coronavirus pandemic.

"We want to host events that bring people

to our city and see all that Canal Winchester

has to offer," said Stiles. "We also

love being able to provide the people of

Canal Winchester fun things to do. As an organization,

it's terribly frustrating to have

to limit what you host."

The city's Blues and Ribfest originally

started in Pickerington many years ago. According

to Stiles, when Pickerington no

longer wanted to host the event, they approached

Canal Winchester to see if it

would be interested in moving the festival

to Canal Winchester. Mayor Mike Ebert

spoke with Bruce Jarvis, the director of Destination:

Canal Winchester at the time and

Jarvis agreed to take over the event.

The first Canal Winchester Blues and

Ribfest was held in 2010 and has grown

steadily with free live entertainment on two

stages, over 25 food vendors–rib vendors

included–a large beer garden and a kids'

area filled with activities.

"I can't tell you how often entertainers

have told me this is one of their favorite festivals

because they love our community and

the people who attend are fantastic," said

www.columbusmessenger.com

On March 27, the Canal Winchester Lions Club, along with the Cub and Boy Scouts, coordinated a clean up

of the Gender Road/U.S. Route 33 interchange as well as a portion of the bike trail. O'Charley's provided

lunch at the David Evangelical Lutheran Church shelter. "Thank you to all of the participants. Roads are

looking much cleaner now," said Kelly D. Hogrell of the KD Insurance Group.

were multiple people assisting and multiple

people played a part in helping the gentleman."

In 2015-16 Lynch went to the Ohio Fire

Academy, where he received Firefighter

1&2 certification and an EMT-Basic certification.

Those certifications have since expired,

but he is CPR certified.

Lynch started working for the city in the

street department as a seasonal employee

right after high school in the summer of

2015. He and his twin brother–who now

works in the city's Urban Forestry department–eventually

became part time employees

with the city. In 2017, they both

were hired as full time employees.

Before being transferred to the water department

in 2020, Lynch worked three

years in the street department. An Ohio

Water Supply Operator class 1 license is required

to work for city water department

and with the help of his co-workers, he was

able to pass the operator's test.

"It is required through the EPA that you

have 12 months experience, so I am considered

an 'operator in training' until my 12-

month mark here at the water plant in

mid-April and then I will be eligible to receive

my license," said Lynch. "Passing the

certification test enables me to perform my

everyday tasks within Ohio EPA's standards.

Having the certification shows that I

am knowledgeable and capable of performing

water supply duties."

Stiles. "They ask to come back. How wonderful

is that."

The festival now attracts an average of

36,000 attendees each year.

"Due to the success, we've made many

changes that help make the festival more

enjoyable," Stiles said. "One of the first

changes we made was to bring in national

rib vendors that tour the country doing fairs

and festivals. This change was made because

these rib vendors are able to go from

one food line to seven in the blink of an eye.

This certainly helps people get their smoked

ribs, brisket or chicken more quickly. We

also greatly increased the size of the Beer

Garden to accommodate our much larger

crowd. In 2019, for the first time, we

brought in a much larger main stage. This

places the entertainment a bit higher to

make it easier for all to see the performers

on stage and to enjoy that energy."

Stiles said when her board cancelled the

festival in 2020, they never dreamed they

would cancel it again in 2021.

"I don't think anyone believed that we

would, as a nation, still be battling this pandemic,"

said Stiles. "I have to believe we will

be back next year."