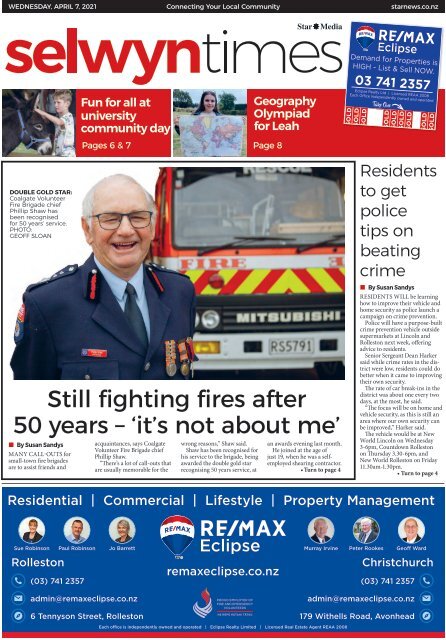 Selwyn Times: April 07, 2021
Create successful ePaper yourself
Turn your PDF publications into a flip-book with our unique Google optimized e-Paper software.
WEDNESDAY, APRIL 7, 2021

Connecting Your Local Community

starnews.co.nz

Fun for all at

university

community day

Pages 6 & 7

Geography

Olympiad

for Leah

Page 8

Demand for Properties is

HIGH - List & Sell NOW.

03 741 2357

Eclipse Realty Ltd | Licensed REAA 2008

Each Office Independently owned and operated

SOLD

SOLD

SOLD

Take One

SOLD

SOLD

SOLD

SOLD

SOLD

SOLD

DOUBLE GOLD STAR:

Coalgate Volunteer

Fire Brigade chief

Phillip Shaw has

been recognised

for 50 years' service.

PHOTO:

GEOFF SLOAN

Still fighting fires after

50 years – 'it's not about me'

• By Susan Sandys

MANY CALL-OUTS for

small-town fire brigades

are to assist friends and

acquaintances, says Coalgate

Volunteer Fire Brigade chief

Phillip Shaw.

"There's a lot of call-outs that

are usually memorable for the

wrong reasons," Shaw said.

Shaw has been recognised for

his service to the brigade, being

awarded the double gold star

recognising 50 years service, at

an awards evening last month.

He joined at the age of

just 19, when he was a selfemployed

shearing contractor.

• Turn to page 4

Residents

to get

police

tips on

beating

crime

• By Susan Sandys

RESIDENTS WILL be learning

how to improve their vehicle and

home security as police launch a

campaign on crime prevention.

Police will have a purpose-built

crime prevention vehicle outside

supermarkets at Lincoln and

Rolleston next week, offering

advice to residents.

Senior Sergeant Dean Harker

said while crime rates in the district

were low, residents could do

better when it came to improving

their own security.

The rate of car break-ins in the

district was about one every two

days, at the most, he said.

"The focus will be on home and

vehicle security, as this is still an

area where our own security can

be improved," Harker said.

The vehicle would be at New

World Lincoln on Wednesday

3-6pm, Countdown Rolleston

on Thursday 3.30-6pm, and

New World Rolleston on Friday

11.30am-1.30pm.

• Turn to page 4

Residential | Commercial | Lifestyle | Property Management

Sue Robinson Paul Robinson Jo Barrett Murray Irvine Peter Rookes Geoff Ward

Rolleston

(03) 741 2357

remaxeclipse.co.nz

Christchurch

(03) 741 2357

admin@remaxeclipse.co.nz

admin@remaxeclipse.co.nz

6 Tennyson Street, Rolleston

Each office is independently owned and operated | Eclipse Realty Limited | Licensed Real Estate Agent REAA 2008

179 Withells Road, Avonhead
---
2 Selwyn Times Wednesday April 7 2021

from the editor's desk

GENERAL INQUIRIES Ph 379 7100

CLASSIFIED ADVERTISING Ph 379 1100

Star Media, a division of Allied Press Ltd

PO Box 1467, Christchurch

starmedia.kiwi

THAT'S A pretty good

innings from Coalgate fire

chief Phillip Shaw on our

front page today.

Shaw, 70, has been

recognised for 50 years

service with the volunteer

brigade. Retirement is

not even on the horizon, he

says.

Volunteer firefighters are

vital in any small community,

and those in the Selwyn

district are among New

Zealand's finest.

They fight major out-ofcontrol

scrub fires to small

domestic blazes, attend

vehicle crashes from the

horrific to the minor and are

often the first responders to a

medical incident.

In a small community

like the Coalgate area the

volunteers are likely to know

the victims of the call-outs

they attend. Mentally that

can be very tough.

The community needs

more people like Phillip

Shaw.

– Barry Clarke

NEWS

Susan Sandys

Ph: 021 914 742

susan.sandys@starmedia.kiwi

ADVERTISING

Lynette Evans

Ph: 364 7434

lynette.evans@starmedia.kiwi

community events

Take a virtual tour

Head along to Selwyn Libraries on Thursday and try out the new

headsets. Suitable for ages 13 and over.

Page 27

The best-read local newspaper,

delivered to 20,926 homes

every week.

Ladbrooks • Tai Tapu • Leeston • Lincoln

Southbridge • Prebbleton

Rolleston • Burnham • Kirwee

West Melton • Darfield • Arthur's Pass

drivesouth

Head for the hills in Hyundai

Hyundai's new Santa Fe will keep the family happy with its gadgets

and high level of comfort. It will take seven people and all their

belongings.

Page 28

Hear For You,

Selwyn

Your local hearing expert, Brenna

Sincock, is here to help you

hear all the sounds on the job.

Don't wait to get the quality care

you deserve. Call today to start

your journey with better hearing

knowing you'll see the same

audiologist - every time.

Hearing Tests

Ear Wax Removal

Custom Earplugs

Tinnitus Support & Advice

Hearing Aid Fittings & Maintenance

Call 03 390 2332

Shop 40 Rolleston Square,

9 Masefield Drive, Rolleston

Rolleston | Darfield | Leeston | Lincoln

Local Selwyn Audiology
---
Wednesday April 7 2021 Selwyn Times

• By Susan Sandys

HISTORY BUFFS are lobbying

the district council for more

support, to the tune of up to $2

million. They want the council

to fund heritage preservation

through a district-wide rate.

Selwyn Heritage and Historical

Network represents the 16

groups in the district.

Chairman Grant Clausen

said members worked countless

hours to collect and catalogue

the images and stories of their

areas, as well as maintain and

improve heritage buildings.

The current level of council's

commitment, encompassing

annual grants and contestable

funding streams, was not enough

to undertake larger projects outside

of day-to-day costs.

"Fundraising sausage sizzles

and raffles will not raise the

money required to fulfil this

task," Clausen said.

"Many volunteers are getting

older, the meaningful stuff is going

to get lost."

Members wanted buildings

and display areas made fitfor-purpose

to properly house

historical items. They also

wanted to develop a heritage trail

throughout the district, and have

an appointed council staff member

to liaise with groups and

promote the district's history.

Big-ticket items requiring

funding included about $500,000

Latest Canterbury news at starnews.co.nz

More heritage funding called for

for turning a building at the Ellesmere

Heritage Park into a museum,

complementing a restored

1870s cottage and the 1870s

Southbridge Gaol at the site.

Others included turning the

Hororata Hall into a historical

society, shifting the nationallyrenowned

Burnham Military

Museum from the military

camp to Rolleston, developing

a woolshed on the 19th century

Terrace Station at Hororata into

an educational and display space,

and securing the future of the

1959 Arthur's Pass National Park

visitor centre.

Clausen urged members of the

public to submit to the long-term

plan to support increasing heritage

funding. The consultative

document released last month

had not included any funding

for this, in spite of the network

lobbying for it.

Council group manager community

services and facilities

Denise Kidd said the council supports

heritage through the Selwyn

Heritage Fund, which provided up

to $73,000 a year for specific heritage

protection projects.

"On top of this, the council

provides funding to heritage

groups through the Selwyn

Community Grants Fund for

various events and projects. The

council's Creative Communities

Fund has also funded heritagerelated

projects," Kidd said.

PAST

PRESERVATION:

Selwyn Heritage

and Historical

Network

chairman Grant

Clausen (right)

and Jack Pearcy

of the Ellesmere

Historical

Society discuss

restoration

of the 1870s

Southbridge Gaol.

PHOTO:

GEOFF SLOAN

Additionally, the council

developed and enforced rules for

the protection of buildings and

areas of historical significance

under the District Plan.

Council staff had met with

network members last month and

outlined the council's existing

plans and projects related to heritage

within existing funding budgets.

And prior to this, the council

had encouraged heritage groups to

consider what proposals they wold

submit to the long term plan.

•HAVE YOUR SAY: Should

a district-wide rate be

introduced to fund more

heritage projects. Email

susan.sandys@starmedia.

kiwi

NEWS 3

In Brief

TREE TRIMMER BLAZE

Kirwee Volunteer Fire Brigade

members responded to a fire in

a tree topper on Monday

morning last week. Chief Stuart

Jones said the machine was

extensively damaged in the

blaze, which was caused by a

mechanical fault in the engine.

The topper was in operation at

the time, trimming a hedge along

Homebush Rd. The brigade had

another call-out on Wednesday

about 6pm. A power transformer

on Highfield Rd had caught fire,

setting alight a small area of

vegetation underneath.

LONG TERM PLAN

Residents can find out more

about the district council's

Long Term Plan 2021-2031

consultation document this

week and next week at drop-in

sessions. Sessions are planned

for 3-6pm tomorrow at Darfield

Library community room, and

3-6pm, April 13, at Rolleston

Library, and 3-6pm, April 15,

Lincoln Library.

Submissions on the 10-year

planning documnet This Way…

2031 close 5pm, April 30.

The council is encouraging

residents, ratepayers and

stakeholders to make sure they

have their say. The average

proposed rates increase for the

2021-2022 year (starting July 1)

is 4.9 per cent, which is a total of

$138, or $2.65 per week.
---
DuneDin's fooD

truck scene

Low on fuss,

high on fancy

Selwyn Times Wednesday April 7 2021

4

NEWS

Many call-outs are to acquaintances

• From page 1

Today aged 70 and retired,

Shaw remembers vividly the reason

behind wanting to become a

firefighter. It's the same reason he

plans to continue in the brigade

today.

"You just do your things for

your community. It's not about

me, it's about the brigade," Shaw

said.

He has lived in Coalgate most

of his life, attending Glentunnel

School and Darfield High School.

He said being a firefighter for

a small town brigade meant that

most call-outs were to incidents

that affected friends and acquaintances.

"The chances are very high if

we get a call to an MVA (motor

vehicle accident), it's someone we

will know.

"We have known people who

have been deceased and that's

pretty hard."

The same was true for calls to

medical situations. Firefighters

sometimes faced trying to resuscitate

a patient, only to lose them.

"I can think of three or four

just sitting here now, people I

know quite well you are performing

CPR on."

Shaw said he always looked

out for fellow members of the

brigade, wanting to ensure they

were doing okay as they coped

with such trauma. For himself,

he found a quiet beer and debrief

back at the station with other

firefighters helped.

He said discussions following

any such event were valuable

at a professional level as well,

allowing firefighters to look at

ways they could improve their

response at similar call-outs in

future.

Memorable call-outs included

house fires, as well as a fire at the

Glentunnel garage, and the arson

of the Glentunnel Hall in 2003.

News reports of the latter incident

describe fire crews bringing

the blaze under control within

15 minutes after arriving to find

the entire building engulfed in

flames.

Shaw said call-outs drew a response

from Coalgate firefighters

Latest Canterbury news at starnews.co.nz

COMMUNITY INVOLVEMENT: Fire callouts for Coalgate Fire

Station vary each year from about 25 to more than 40.

which encompassed their wider

roles as community members.

"Members if possible rally

around, give a hand, clean up

afterwards. We are not just there

to do our job and go home, they

will be around there with a digger

and a tractor," Shaw said.

Shaw said the brigade's 19

firefighters, comprising 18

men and one woman, were

enthusiastic and contributed

much to the brigade in terms

of their expertise and training.

The number of brigade call-outs

each year varied from about 25 to

more than 40.

"We have a really good group

who can turn out very, very

quickly, and that's what it's

about," he said.

Police rely heavily on

community patrols

• From page 1

"We will be looking

at visiting other towns

in the district in the

next few months,"

Harker said.

Harker said he had

recently attended a

meeting with Selwyn

Community Patrol,

where he had been

pleased to see several

new volunteers had

signed up. The Selwyn patrol

and Malvern Community Patrol

acted as the "eyes and ears" of

police, reporting any unusual

activity.

He urged anyone interested to

join, as both groups sought new

members.

"Police heavily rely on community

patrols throughout New

Zealand, and our local patrols

do a fantastic job," Harker said.

Selwyn patrol chairman Errol

Wood said the recent intake of

volunteers had been successful.

The organisation had about 50

members, each undertaking

about one shift per month.

He hoped to add more

members, particularly those

who did not mind working past

midnight.

He said many of the current

members were retirees, who

liked to finish their shifts about

11pm, meaning the patrol was

often not operating at the same

time criminals were active.

Wood had been a resident of

Lincoln for 38 years, and in that

time there had been an increase

in petty crime. Extending the

hours the patrol operated would

help combat this increase.

"We would probably observe

more of that behaviour," Wood

said.

The patrol has the use of a

modern car marked with community

patrol signage, made

possible with funding from local

charities and businesses. The

district's growing population

would most likely necessitate

adding a second vehicle in future,

he said.

The patrol covers Lincoln,

Prebbleton, Rolleston, West

Melton and other towns.

WRITTEN BY MART CROWLEY. DIRECTED BY DOUG CLARKE

7-16 APRIL

Produced by special arrangement with

Play Bureau / Samuel French

THE DRAMA THEATRE, RANGI RURU GIRLS' SCHOOL

TICKETS $25. SEE WEBSITE FOR PERFORMANCE TIMES

TO BOOK PHONE: 338 4699 OR VISIT:

WWW.RICCARTONPLAYERS.CO.NZ

november 2020

november 2020

for the love of local

Make an

entrance

Looks to steaL

the show

Hitting the

sweet spot

Life in a

cake shop

Doughnuts in

a Zephyr

DuneDin's fooD

truck scene

Make an

entrance

Looks to steaL

the show

Your dinner

party menu

Low on fuss,

high on fancy

for the love of local

Hitting the

sweet spot

Doughnuts in

a Zephyr

Life in a

cake shop

Your dinner

party menu

november 2020

november 2020

03 322 4548 | Easy Parking

17 Lillian Street, Halswell

Open Mon-Fri 9.30am - 5.00pm

Saturday 10.00am - 1.00pm

www.style.kiwi | @StyleChristchurch

LAYBY WELCOME
---
Sell-out expected

for Selwyn Sounds

10 APRIL • LINCOLN

Wednesday April 7 2021 Selwyn Times

On Sale Now

FINAL TICKETS

www.selwynsounds.co.nz

• By Matt Slaughter

"IT'S GOING to be a full house."

That is the message from Selwyn Sounds

promoter David Parlane ahead of the event

on Saturday.

International travel restrictions mean

that this year the event is "keeping it Kiwi,"

said Parlane.

The expected crowd of about 10,000 will

be treated to an all New Zealand lineup

featuring Stan Walker, Jordan Luck Band,

Zed, Elemeno P, Annie Crummer, The

Chills, Hello Sailor, Lady Killers and Automatic

80s.

Selwyn Sounds was scheduled for

last month, but was delayed due to the

Covid-19 alert level rise.

Parlane said holding it this month will

add a new feel, as it will be the first time

Lincoln Domain transcends into full darkness

during the event.

The venue will be illuminated by an impressive

lighting system, which will bring a

whole new excitement to the performances

filled with classic Kiwi hits.

Said Parlane: "The last three acts of the

evening at that time will be Zed, Jordan

Luck [Band] and Stan Walker. Stan puts on

a pretty spectacular stage show, especially

with his lighting, and so does Jordan Luck,

who really wants to bring it to Selwyn."

Parlane is excited for every artist who

is performing, but said Jordan Luck

Band and Hello Sailor will be personal

highlights.

"I'm particularly looking forward to

9.30am – express pass gates

open

10am – general admission

gates open

10.55am – Hello Sailor

12.05pm – The Chills

1.15pm – Lady Killers and

Annie Crummer

2.15pm – Automatic 80s

3.30pm – Elemeno P

4.30pm – Zed

5.45pm – Jordan Luck Band

7.30pm - Stan Walker

Jordan Luck [Band]. His show this year

around the country has been exceptional

. . . they [the band] said they haven't

peaked yet, they're peaking for Selwyn

Sounds.

"Hearing Gutter Black [by Hello Sailor]

going across Lincoln Park is going to be a

pretty special moment."

Parlane said Selwyn Sounds staff have

put together a great event in spite of the

challenges Covid-19 has posed.

He said the event has recently secured

its future and has been granted resource

consent to run for the next 11 years.

There are still a few tickets left for Saturday's

event and Parlane urged people not

to miss out.

To buy tickets, visit: selwynsounds.co.nz

STAYING KIWI: Jordan Luck Band and a stacked lineup of other New

Zealand musicians will perform at Selwyn Sounds on Saturday.

PHOTO: RNZ

Event Permitting

Masterclass

Tuesday 13 April, 4–6pm

Weedons Pavilion

FREE

This class will provide an overview to the events permitting process and what is

needed for successful permit applications. It is aimed at event organisers.

Topics that will be talked through are:

What information is required for event permits?

· Health and Safety Management Plan

· Drone applications

· Food and liquor licenses

· Traffic Management plan

· Building consents

· Site plan

· Resource Consents

· Parks and Reserves

Light refreshments provided. RSVP Eventbrite.

selwyn.govt.nz
---
Selwyn Times Wednesday April 7 2021

6

NEWS

Latest Canterbury news at starnews.co.nz

Crowds flocked to the Lincoln University Community Day. Attractions

included face-painting, food trucks, a sheep shearing demonstration,

and a petting zoo, while MulletMan wowed the crowd with his juggling

and unicycling skills. The annual event aims to connect people living in

the district with the university.

Stephanie Nixon of Colour Me In works on a unicorn theme

for Rosie Pham, 4.

Richard Clark watches his children Isobelle, 4, and Jack, 9, devour candy floss.

Lincoln University Diploma

of Agriculture student, Josh

Devane, showcases his

sheep shearing skills.

Sisters Lily,10 (left) and

Summer van Ameyde, 9,

groom a miniature horse.

CHECK OUT THESE...

EGG-CELLENT DEALS

$35.99

EACH

$15.99

EACH

Jim Beam Gold

CC Premium

7% 330ml 6pk cans

$29.99

EACH

Cody's

7% 18pk cans

$36.99

EACH

$18.99

EACH

Southern Comfort 375ml 10pk cans

Jack Daniel's 6pk 330ml bottles

Jack Daniel's 8pk 330ml cans

$31.99

EACH

Woodstock

7% 250ml cans

5% 330ml bottles all 18pks

Barrel 51

5% 12pk bottles

$36.99

$39.99

EACH

EACH

Long White

15pk bottle range

$19.99

EACH

NEW

15 PACKS

HOT

PRICE!

$39.99

EACH

$21.99

EACH

Cruiser

12pk bottle range

$9.99

EACH

Hardy's VR

1L range

$41.99

EACH

$21.99

EACH

Jim Beam & Cola/CC

(incl zero) 4.8% 10pk cans

Jim Beam Gold 7% 8pk cans

$10.99

EACH

Taylors Promised

Land range

$46.99

EACH

$12.99

EACH

$21.99

EACH

Villa Maria Private

Bin range (ex PN/Syrah)

ODD Company

10pk can range

$49.99

EACH

$12.99

EACH

Stoneleigh

Marlborough /Lighter

ranges

Jack Daniels & Cola

Double Jack

250ml 10pk cans

$52.99

EACH

$21.99

EACH

$14.99

EACH

19 Crimes

range

$53.99

EACH

Effen Vodka

10pk bottle range

$23.99

EACH

$19.99

Jules Taylor

range (ex PN)

EACH

$23.99

EACH

2 FOR

$25.00

Canterbury

Cream

TWO FOR

$72.00

Billy Maverick

12pk cans

$25.99

EACH

Smirnoff Ice DB Guarana

7% 12pk cans

$34.99

EACH

Blackheart /

Woodstock 1L

$35.99

EACH

Malibu / Kahlua

(incl salted caramel) 1L

Gordons Pink /Sicilian

Lemon 700ml

Gordons & Smirnoff 1L

Teachers / Russian

Standard / Stolen

Dark Rum all 1L

Absolut/ Ballantines

Beefeater 1L

Beefeater 24 700ml

Jim Beam

1125ml

Canadian Club

(incl spiced) 1L

JB Devils Cut / JB Black 1L

Makers Mark 700mls

Malfy 700ml range

Jameson 1L

Appleton 1L

Haku Vodka /

Roku Gin

700ml

Jack Daniels (lncl Honey, Fire &

Apple) El Jimador range (ex Anejo)

Old Forester all 700ml or $37.99 each

Chivas Regal 12yr $49.99

Chivas Regal 15yr $74.99

Chivas Regal 18yr $89.99

all 700ml

$22.99

EACH

$23.99

EACH

$24.99

EACH

$24.99

EACH

$25.99

EACH

$29.99

EACH

$36.99

EACH

$39.99

EACH

$40.99

EACH

Somersby

12pk bottle range

Monteiths Batch Brewed

(ex classics range) 12pk range

Carlsberg

15pk bottles

Heineken

12pk bottles

Export 33

15pk bottles

$26.99

EACH

Tui/Export Gold/ Extra /

DB Draught 15pk bottles

Lion Red / Waikato /

Speights / Summit or Low Carb

24pk bottles

Promotion period between 1/04/2021 to 30/04/2021. While stocks last. Promotion only available at participating stores – please contact your local store to confirm

whether they are participating in the promotion and check the pricing in-store prior to purchase. Online pricing will vary.

585 SPRINGS RD, PREBBLETON

03 349 6031

THIRSTY LIQOUR STORES

1147 WEST COAST RD, WEST MELTON

03 347 8460

Haagen

24pk bottles

45 SOUTH TERRACE, DARFIELD

03 317 9499

Steinlager

24pk 330ml bottles

114 RAILWAY TERRACE, RAKAIA

03 302 7973

thirstyliquor.co.nz

TWO FOR

$40.00

Tiger / Tiger Crystal

12pk bottles

ASK ABOUT

LOYALTY CARD

BENEFITS &

GIFT VOUCHERS

Asahi

24pk bottles
---
Wednesday April 7 2021 Selwyn Times

Twins Jinfang, left, and Jinping Leng, 6, make friends

with Cubby the sheep.

Latest Canterbury news at starnews.co.nz

Noah James, 8, pats a donkey.

Woolly play for Mather

siblings from left,

Emelia, 9, Izabela,

4, and Tom, 7, at

the sheep shearing

demonstration.

• By Susan Sandys

THE DISTRICT council is

stepping into the future as it

plans to add two electric vehicles

to its fleet by the end of the year.

It is the start of leaving behind

fuel-powered technology for the

council as it meets its requirements

under the Zero Carbon

Amendment Act.

The council

currently has 61

cars, including two

hybrid vehicles. Its

fleet will remain the

same size, as the

two electric vehicles

will be replacements.

It also has four more

hybrid vehicles on order, also

replacement vehicles, for the

coming five months.

The council passed a resolution

at its meeting last week to add the

two electric vehicles.

Group manager property

Douglas Marshall said the council

was committed to reducing its

own carbon footprint as part of

its climate change policy.

"When we had our carbon

footprint mapped last year,

transport, including contractor

transport, was identified as the

NEWS 7

More electric

vehicles to be added

to council fleet

Douglas

Marshall

biggest area of council emissions,"

Marshall said.

"Reducing our emissions is

part of our determination to lead

the change, to be the best stewards

we can be for Selwyn. Caring

for the district's environment

and people, and making as many

of our cars as is feasible electric,

is one step we can take to doing

this," he said.

"At this stage we're starting

with two electric vehicles. It's

inevitable with the changing

technology for cars and our

requirements under the Zero

Carbon Amendment Act we will

need to convert more of our fleet

to electric, but we're only at the

start of that process."

The council was still confirming

the costs for the initial electric

vehicles and the set-up costs.

In a report before council

at the meeting, Marshall said

staff would be considering what

charging systems would need to

be in place at either council sites

or at individual staff properties.

As well as the installation of

charging stations, extension of

the vehicle compound on the

northern end of the headquarters'

building would be required.

Te Whariki

OPENING SOON!

Construction is nearly complete for our new

childcare centre in Southfield Drive, Te Whariki.

Catering for children up to 6 years old, your child

will explore and play in an environment

developed for their age and ability.

Complete with large outdoor areas,

BestStart Te Whariki will provide the very

best education and care for your child.

Our centres are for families who want more from

Early Childnood Education. Safe, nurturing and

educationally focused, we're committed to

growing caring people with curious minds.

FOR MORE INFORMATION:

0508 BESTSTART

info@best-start.org | www.best-start.org
---
Selwyn Times Wednesday April 7 2021

8

NEWS

Latest Canterbury news at starnews.co.nz

Geography whizz Leah gets to

compete against best in the world

• By Susan Sandys

WHEN IT comes to geography,

Darfield High School student

Leah Hamilton-Cross is one of

the best in the country.

In August, the 17-year-old,

who lives in Hororata, will get

her chance to compete against

other top students from across

the globe, at the International

Geography Olympiad 2021.

The Olympiad is an annual

competition for 16 to 19-year-old

geography students, chosen to

represent their countries from

thousands who participate in

their own national geography

olympiads.

After being cancelled last year

with Covid-19 border closures, it

was planned this year for Istanbul,

Turkey.

However, organisers recently

decided the August event will

be held online instead due to

the continuing Covid-19 uncertainty.

The New Zealand team of

four will compete together from

Wellington.

Leah said while she had

travelled to many places around

the world with her family, she

had never been to Turkey. After

researching the country, she had

been keen to go there.

However, it had been no

surprise when the event moved

online. She remained just as

excited about representing her

country and meeting up with her

teammates.

Leah believed that she and her

fellow three competitors had a

chance of winning, which would

see New Zealand named the

champion of the prestigious and

highly-competitive event.

"It's a lot of pressure representing

New Zealand, and I hope we

will do well," the school prefect

said.

"I think it's such a great opportunity,

and I'm excited for where

it is going to take me," she said.

She had been "super excited"

when she found out she had

come through the gruelling selection

process, which included

writing an essay and an interview,

to be named in the top four

in the country.

Her career goal is to become

a scientist or researcher in the

fields of environmental management

or geography.

The iGeo will be a written test,

a multimedia test and substantial

fieldwork requiring observation,

leading to cartographic

representation and geographical

analysis. The programme also

includes poster presentations by

teams.

Leah said she is looking forward

to being asked all sorts of

questions around topics such as

climate change, ocean processes,

shore dynamics, earthquakes,

the hydraulic cycle and society

development.

"I love geography,

it's

my favourite

subject," she

said.

Leah is

grateful to the

community for

helping her get

to the Olympiad.

Malvern Lions Club

contributed $400 and

Malvern Community

Board put in $500

from the Malvern Ward

Discretionary Fund.

TOP STUDENT: Leah

Hamilton-Cross will

compete in the

International Geography

Olympiad in August.

Smooth-Air

Ventilation Equipment Suppliers

to

trade

&

Smooth-Air has a wide range of

ventilation equipment to bring

fresh air into your home.

Domestic

Commercial

Industrial

retail

MEARES WILLIAMS

LAWYERS

ROLLESTON OFFICE

78 Rolleston Drive, Rolleston

Over 10 Years

in Selwyn

Kieran Heenan

Anita Molloy-Roberts

Belinda Ferguson

Emma-Jane Moore

Kate Warren

W: www.meareswilliams.co.nz

T: (03) 374 2547

E: reception

@meareswilliams.co.nz

Offices also located at:

43 Gerald Street, Lincoln

225 Papanui Road, Christchurch

Remote Extraction Fans

"Exclusive"

Ravelli ULEB Wood Pellet Fires

Ceiling Mounting

Wall Surface

Mounting

Wall or Ceiling

Mounted Fans

0800 SMOOTH

(0800 766 684)

sales@smooth-air.co.nz

264 Annex Rd

Riccarton

Christchurch

03 343 6184

Monday - Friday

7.30am - 5pm

www.smooth-air.co.nz

Pellet and Wood Fire Specialists

472 Blenheim Road

Sockburn

Phone: 03 343 1651

Open 8:30am - 5pm

Sat 10am - 1pm

www.heatstore.co.nz
---
Wednesday April 7 2021 Selwyn Times 9

Check out our latest

deals

HOT DEAL!

$

39 99

LONG WHITE VODKA Range

15 x 320ml Bottles, 4.8%

Includes Apple & Pear, Lemon & Lime, Raspberry

NEW

SIZE

15 pack

HOT DEAL!

$

34 99

each

KAHLÚA, BELL'S Original, SMIRNOFF RED, JIM BEAM White Label or GORDON'S Gin 1 Litre GORDON'S Premium Pink Gin, GORDON'S Sicilian Lemon Gin,

JOSE CUERVO Especial Gold or JAMESON 700ml Also available: Kahlúa Salted Caramel 1 Litre, Jose Cuervo Silver or Jameson Cold Brew 700ml

2 for

2 for

$ 40

HOT DEAL!

$

27 99

CORONA EXTRA

12 x 355ml Bottles

$ 20

Single bottle

$10.99

$ 25

Single bottle

$14.99

2 for $ 50

MAC'S Range

2 for

12 x 330ml Bottles

Includes Mac's Cloudy

Apple Cider

Single pack

$27.99

HOT DEAL!

$

39 99

each

WOLF BLASS

YELLOW LABEL

Range

750ml

WITHER HILLS

Range

750ml

Excludes Pinot Noir

PEPPERJACK Range, MADAM SASS

CENTRAL OTAGO Range,

JULES TAYLOR Range, RUA BY

AKARUA CENTRAL OTAGO Pinot Noir

or DANIEL LE BRUN

750ml

STEINLAGER

PURE,

STEINLAGER

CLASSIC,

ASAHI or

DB EXPORT 33

24 x 330ml

B ot tl e s

Shop local with

AMBERLEY, ASHBURTON, BARRINGTON, BELFAST, BRIGHTON, BURNSIDE,

COLOMBO ST, EDGEWARE, ELMWOOD, FERRYMEAD, HALSWELL, HANMER

SPRINGS, HORNBY, ILAM, KAIAPOI, LEESTON, LINCOLN, METHVEN, OXFORD,

SHOP LATEST DEALS at WWW.SUPERLIQUOR.CO.NZ

NATIONWIDE PICKUP & DELIVERY NOW AVAILABLE

PAPANUI, PEGASUS, RANGIORA, SEASIDE, WOOLSTON

Exclusions may apply on some brands advertised. Offers end close of trade 11th April 2021, while stocks last. Available at participating stores only. Multi Deal only available in store. Varietals may

vary by store. Limits may apply. Wholesale (other liquor retail banners) not supplied. Terms and conditions may apply. Available 29th March - 11th April 2021 inclusive. Please see www.superliquor.co.nz for details.

SUP2182_C1
---
10 Selwyn Times Wednesday April 7 2021

FLASH

SALE

ENDS 5 TH APRIL

STYLE & QUALITY FOR LESS

WAS $1769

$

1659 Manatee

Extra Section Available $299

WAS $2809

$

2599

Calla Sofa Bed Chaise

Includes Storage Ottoman

WAS $1799

$

1599

Vana 3 + 2

Vana 3 Seater $999 $899

Vana 2 Seater $899 $799

Swivel

Chair

Storm

Charcoal

WAS $2229

$

2069

Blue

Raisin

Valley Corner

WAS $3299

$

2999

Fabrice

3RR + R + R

WAS $1929

Luna Corner Suite

$

1789 Luna 3 Seater $859 $799

Luna 2 Seater $719 $669

WAS $789

$

739

FURTHER

AMAZING

REDUCED

FURTHER

DEAL

Raglan Egg

Chair

REDUCED HUGE

SAVINGS

Marley /

Cove Chair

WAS $1999

$

1399

Willis Chaise

Outdoor Set

WAS $599

$

429

WAS $1999

$

1359

Tekapo

3 + 1 + 1 + Table + Bench

Outdoor Set

WAS $149

$

79

Maple

Collection

Desk $439 $399

Tallboy 4 Drawers $559 $519

Lowboy 3 Drawers $509 $469

Lingerie Chest 5 Drawers $489 $449

Lennox

Collection

Buffet Small $629 $589

Coffee Table $219 $199

Hall Table $199 $189

Lamp Table $169 $159

Round Dining Table $389 $369

3 Year Warranty

3 Year Warranty

5 Year Warranty

5 Year Warranty

Comet

Mattress

FROM

Single $229 $219

King Single $249 $229

Double $279 $259

Queen $319 $299

Melody

Mattress

FROM

Single $299 $279

King Single $349 $329

Double $399 $369

Riviera

Mattress

$

219 $ FROM

279

$

349

$

459

Queen $439 $399

King $469 $439

FROM

Single $369 $349

King Single $419 $389

Double $499 $469

Queen $549 $509

King $599 $549

California King $709 $659

Chateau

Mattress

Single $499 $459

King Single $589 $549

Double $709 $649

Queen $759 $709

King $839 $779

California King $1009 $939

5 Year Warranty

Continuous Wire

Spring Unit, Firm

Mattress & Quilt Fibre

5 Year Warranty

Pocket Spring,

Euro Top, Quilt Fibre,

Wave Foam & Comfort Foam

5 Year Warranty

Zone Pocket Spring,

Mini Pocket Topper,

Plush Fabric, Quilt

Fibre & Wave Foam

FROM

$

489

Chiro Mattress

Queen $519 $489

King $579 $539

FROM

$

499

King Single $539 $499

Double $679 $629

Queen $759 $709

Cloud Rest Mattress

King $839 $779

FROM

$

519

Super King $899 $839 King Single $559 $519

Queen $809 $749

Indulgence Mattress

King $869 $809

Super King $879 $819

FREE

CARPARKING

SOUTH CITY

BATH ST

WE ARE

HERE

255 MOORHOUSE AVE

REBEL SPORT

COLOMBO ST

MON-FRI 9:30AM – 5:30PM

SAT-SUN 10AM – 5:30PM

0800 268 264

www.affordablefurniture.nz
---
Friends of West Melton School raised an impressive $45,000 from the

biennial West Melton Country Fete. The funds will be used for outdoor

education spaces, permanent shading and seating areas at the school.

About 7000 visitors enjoyed a wide range of entertainment and attractions,

including more than 100 stalls.

Held on March 28, the fete was generously supported by sponsors. Part

of the money raised will be donated to a charity chosen by the school's

student executives.

11

An evening with the

Wednesday April 7 2021 Selwyn Times

26th June at the

Lincoln Event Centre

ON SALE

NOW

www.liveinlincoln.nz

PEAD-M60

Cooling 6.0kW | Heating 7.0kW

$7,499

Unobtrusive Ducted

Heating and Cooling

for 3 – 4 Bedrooms

INSTALLED

Conditions apply.

Call for your FREE quote!

ROLLESTON

ASHBURTON

TIMARU

SEE HOMEPLUS

FOR ALL YOUR

HOME

PRODUCTS

Measured, made

and installed by our

team of experts.

5 year warranty.

AWNINGS & BLINDS BALUSTRADES FENCING & GATES INSECT SCREENS LOUVRE ROOFS SECURITY SCREENS SHOWERS WARDROBES & DOORS

88 Gasson St, Sydenham | 03 379 3740 | www.homeplus.co.nz
---
12 Selwyn Times Wednesday April 7 2021

WANTED WANTED WANTED WANTED

GOLD•COINS•WATCHES•BANKNOTES•ANTIQUES•PAINTINGS • COLLECTABLES

SCRAP GOLD

& Broken Jewellery

Gold coins, Gold trophy cups, Alluvial gold, Dental gold, Jewellery

STERLING SILVER

Any sterling silver items. Cutlery canteens, Tea Service, Candle Sticks,

Trays, Trophies etc.

(LOOK FOR THIS MARK)

No silver plate or EPNS please.

GOLD JEWELLERY

- Cash in broken or unwanted items. Chains, Cufflinks, Bracelets,

Brooches. Fob watches etc. 9ct, 14ct, 18ct, 22ct

COINS & BANKNOTES - collections, Silver, Gold Sovereigns, pre 1940 coins, Proof coins & sets

WE BUY UNWANTED &

BROKEN JEWELLERY

WANTED ANY ROLEX - any condition, going or not

MEDALS & BADGES

- military, service, bravery,

or agricultural, etc

- Any NZ pre 1947, Australia

SILVER COINS pre 1966, USA pre 1964

ROLEX

SUBMARINER

ROLEX

SEA-DWELLER

ROLEX

EXPLORER

ROLEX

GMT MASTER

ROLEX

DAYTONA

ANY OMEGA, IWC, HEUER, PATEK PHILIPPE, etc

GOLD & SILVER BULLION

- bars, coins, granules, etc

SEAMASTER SPEEDMASTER 125 CHRONO DIVERS 600

POCKET WATCHES

OLD WATCHES

SEIKO DIVERS

AUTO

- mechanical in any condition,

for parts (no quartz please)

JAPANESE CHINESE ANTIQUES

WANTED GOLD &

SILVER BULLION

Carvings, Netsuke, Jade, Porcelain,

Satsuma, Samurai Swords,

Figurines

WE BUY

ASIAN ANTIQUES

GOLD•COINS•WATCHES•PAINTINGS•ANTIQUES•COLLECTABLES

Family not interested? Have you stopped collecting? Downsizing or moving?

Lying in a cupboard unused? Unwanted jewellery? Would cash be more useful?

If yes to any of these questions, then please see our buyers this week. We will buy single items or complete collections.

The recent lockdown has seen many of us take the time to sort items we no longer require or simply want to turn into cash.

We are currently very short of stock and keen to buy any of these or similar items.

BUYING NOW AT A VENUE NEAR YOU

DEAL WITH THE SPECIALISTS

Goldco Antique Buyers - Member NZNDA. www.goldco.co.nz email: hamishwalsh@xtra.co.nz

TEL 0800 105 228 Security supplied by

GOLDCO International
---
Wednesday April 7 2021 Selwyn Times 13

WANTED WANTED WANTED WANTED

GOLD•COINS•WATCHES•BANKNOTES•ANTIQUES•PAINTINGS • COLLECTABLES

ARTEFACTS

Maori, Pacific Island, Fiji, Tonga, Samoa, Tahiti, Tiki, Feather Cloaks, Weapons,

Fish Hooks, Clubs. Any Maori items 1960's or older

ANTIQUES

Sterling silver • Old clocks • Instruments • Art Deco • Art Nouveau • Nautical Models

• Old Maps • Asian • Old toys • Tools • Georgian or NZ furniture • etc

WE BUY

ARTEFACTS

NZ CONTEMPORARY ART

Gretchen Albrecht, Don Binney, Jenny Dolezel, Frizzell, Fomison,

Clairmont, Fong, Siddell, White, Carl Maughan, Brent Wong, etc

CHINA • GLASS • POTTERY

- Worcester, Clarice, Wedgewood Lustre, Moorcroft, Keith Murray,

Daum, Galle, Lalique, Scandinavian items, NZ Glass, etc

PAINTINGS & ART - NZ, contemporary, McCahon, Hotere, Esplin, Colonial, Hoyte, Gibb, Baker, etc

NZ POTTERY & GLASS - Crown Lynn, Len Castle, Barry Brickell, Ann Robinson Glass

LIMITED EDITION PRINTS

Contemporary prints by Pat Hanly, Ian Scott, Ralph Hotere,

Michael Smither, Colin McCahon, Bill Hammond, Don Binney. Etc.

CLOCKS & BAROMETERS

- especially metal or enamel, moonphase, calendar, bracket, silver, etc

MILITARIA

Swords, bayonets, War diaries, Journals

NZ 1940'S - 1960'S KIWIANA - travel posters, Maori themes, china, wood, anything unusual or kitsch OLD TOYS - tin toys, Lehmann, Fun Ho!, Matchbox, marine models, etc PENS - old fountain pens

WE BUY

KIWIANA & TIN TOYS

MONDAY 12 APRIL

PAPANUI

9am - 11am

Chapel Street Centre

Cnr Harewood Rd & Chapel St

We are at 3 locations each day. See us at a venue near you. Please check the times and dates carefully.

TUESDAY 13 APRIL

BECKENHAM

9am - 11am

St Peters Church Hall

11 Fisher Avenue

WEDNESDAY 14 APRIL

RANGIORA

9am - 11am

John Knox Centre

Crn High & King Streets

THURSDAY 15 APRIL

AMBERLEY

9am - 11am

St John Hall

66 Carters Road

FRIDAY 16 APRIL

BARRINGTON

9am - 11am

St Nicholas Church Hall, Cnr

Barrington & Frankleigh Sts

SATURDAY 17 APRIL

RANGIORA

9am - 11am

Dudley Park Pavilion

45 Church Street

ROLLESTON

12noon - 2pm

Rolleston Community Centre

94 Rolleston Drive

LINCOLN

12noon - 2pm

Lincoln Event Centre

15 Meijer Drive

FENDALTON

12noon - 2pm

Fendalton Community Centre

170 Clyde Road

REDWOOD

12noon - 2pm

St Lukes Church Hall

Crn Main North & Daniel Rds

AVONHEAD

12noon - 2pm

Avonhead Baptist Church Hall

102 Avonhead Road

ILAM

12noon - 2pm

Waimari Community Centre

166 Waimari Road

RICCARTON

3pm - 4.30pm

Riccarton Community Centre

199 Clarence Street

KAIAPOI

3pm - 4.30pm

The Kaiapoi Club

113 Raven Quay

HALSWELL

3pm - 4.30pm

Te Hapua Halswell Library

341 Halswell Road

Goldco Antique Buyers - Member NZNDA. www.goldco.co.nz email: hamishwalsh@xtra.co.nz

SUMNER

3pm - 4.30pm

The Sumner Centre

14 Wakefield Avenue

MT PLEASANT

3pm - 4.30pm

Mt Pleasant Community

Centre

3 McCormacks Bay Rd

TEL 0800 105 228 Security supplied by

UPPER RICCARTON

3pm - 4.30pm

Upper Riccarton Library

71 Main South Road

GOLDCO International
---
Selwyn Times Wednesday April 7 2021

14

NEWS

Area response manager

Senior Sergeant Dean

Harker talks about police

activity in the district

THIS MONTH we will focus

on hunting during the roar, and

poaching.

As most country will be aware

the hunting period known as

the roar is well underway and

most hunters will be busy trying

to secure a trophy stag over the

next few weeks.

Always remember alcohol and

firearms do not mix, only consume

alcohol once your hunting

is over for the day and your

firearms are locked away.

Make sure you have advised

family or friends about your

hunting intentions including

routes and expected return date

and times. If possible, take a

PLB. If you don't have one, a

number of hunting stores and

sporting good shops sometimes

hire them out.

The most important thing

is to always follow The Seven

Firearms Safety Rules:

• Rule 1: Treat every firearm as

loaded.

• Rule 2: Always point firearms

in a safe direction.

• Rule 3: Load a firearm only

when ready to fire.

• Rule 4: Identify your target

beyond all doubt.

• Rule 5: Check your firing

zone.

• Rule 6: Store firearms and

ammunition safely.

• Rule 7: Avoid both alcohol

and drugs when handling firearms.

Poaching and the police

Some local farmers may

Latest Canterbury news at starnews.co.nz

Follow the safety rules when handling firearms

Dean Harker

Selwyn Police

experience poaching over the

next month so here is a friendly

reminder.

Police have wide legislative

powers available to them to

counter this type of offending.

A range of powers are found

in the Wild Animal Control Act

1977 which controls the spread

of harmful wild animals and,

as part of this, legislates against

illegal hunting.

Under the act it is an offence

to hunt, kill or possess wild animals

without the express authority

of the owner or occupier of

the relevant land. The maximum

fine is up to $100,000 plus two

years imprisonment.

Charges can also be brought

under the Forest and Rural Fire

Regulations 2005 for being in

an exotic forest without the required

permit. An exotic forest is

defined as one made up solely or

mainly of non-indigenous trees.

Offenders thinking about

committing crime in our area

should also be warned that any

hunting relates to items including

firearms, knives, dogs, GPS

units and vehicles may be seized

and forfeited.

Poaching can be the catalyst for

other crimes, such as damaging

machinery and the theft of fuel.

Police will also be alert to any

attempts to steal stock.

Preventing crime

Security options for farmers

to consider include installing

CCTV or wireless alert system

which can activate an alarm

in your house to alert you that

someone is in your shed by

alarm or light sensors.

These devices are highly effective

and can even work in areas

across some distance, where

there is no cell coverage.

There are also satellite GPS

devices available that can be

installed covertly on items such as

quad bikes and other machinery

which can be tracked if they get

stolen. Satellite devices also do

not require cell coverage to track.

Crime prevention

signage

Two crime prevention signs are

available to help deter unlawful

hunters and trespassers.

Both signs can be bought

through Neighbourhood Support

as part of a joint initiative

with police.

• Sign 1 – Hunters be Aware

• Sign 2 – Camera Operating

Both signs are printed on 4mm

white aluminium composite

material with a UV resistant

anti-graffiti laminate. Sign size is

an A3 – 297mm W x 420mm H.

The estimated lifespan for

these signs is 15 years.

Both signs have six holes for

easy installation. Price – $16.30

excluding GST.

To place an order, contact

Kelsey@neighbourhoodsupport.

co.nz.

You can view the signs at

http://www.neighbourhoodsupport.co.nz/post/new-ruralcrime-prevention-signs-provingpopular
---
Wednesday April 7 2021 Selwyn Times

CHARITIES are benefiting

to the tune of more than

$200,000 after the success

of a charity house project

in Rolleston.

The new Launch

Foundation and Freedom

Built home construction

company combined their

efforts on the project, while

subcontractors contributed

by donating labour and

materials.

The subcontractors were

recently treated to a viewing

of the recently-sold

house, on Hepburn Pl in

Goulds subdivision.

Driver of the initiative

and Launch Foundation

trustee Cole Askew said

the foundation wanted

to help people access the

resources they needed to

grow and develop.

"I had a great upbringing

as a child, which allowed

me to pursue my passions,

but not everyone is that

fortunate," Askew said.

Grant recipients included

the Graeme Dingle

Foundation, which runs

programmes to build

resilience and life schools

Latest Canterbury news at starnews.co.nz

in pupils at decile 1 to 3

schools, Pillars, which

provides wrap-around

services for families and

whanau of prisoners, and

Aviva, which provides

specialist services to

support children and

adults to live a life free

from family and sexual

violence.

Karen Askew of Freedom

Built said the company

and the foundation

were already seeking

offers for any qualified

subcontractors who would

like to contribute products

or services for a second

charity build.

She would like to

see the charity-build

model replicated by

other companies as new

subdivisions opened.

"The Rolleston

community has watched

and engaged with

the various donating

contractors, who have been

able to strengthen their

brand recognition (through

signs on fences, and posts

on social media)," Askew

said.

NEWS 15

$200,000 from charity house

project to benefit community

GOOD DEED: Cole Askew

of Launch Foundation

thanks contributors to

the charity house project,

which fundraised about

$200,000.

Join The

Rolleston

Warriors

in 2021!

We have

teams for

Nursery,

6s, 7s, 8s,

9s, 10s, 12s

@RollestonRugbyLeague

@RollestonWarriors

NUMBER ONE SUPPLIER

TO THE NZ JET BOATING

COMMUNITY FOR OVER

50 YEARS

• Part Boats & Hulls

• Turn Key Packages

• New Jet Units

• Custom Fabrication

• Expert Advice

SERVICING

Peter Tonkin

03 962 0505

peter.tonkin@hamiltonjet.nz

• Spare Parts Retailer

• Jet Unit Refurbishment

• Engine Tune-Ups

• Insurance Repairs

• Impellor Reconditioning

FINAL TICKETS

on sale now

10 APRIL

LINCOLN

2021

Get your Tickets now

www.selwynsounds.co.nz

SUPPORTED BY
---
16 Selwyn Times Wednesday April 7 2021

This way…

Our map for the next 10 years

Over the next few weeks we'll be highlighting eight big decisions

we need your help with as part of the Long-Term Plan consultation.

BIG DECISION 4

Maintaining our roads (2021–31)

Every year people travel over 520 million kilometres on our roads. In the

past 10 years usage has increased over five percent each year.

OUR PREFERRED OPTION

Sustainability at heart

of Te Ara Ātea

The anchor of the new Rolleston Town Centre has been designed with sustainability at its core.

Te Ara Ātea – which will house the Rolleston Library, along with other community spaces and

experiences – is on track to open in November. It has an innovative design to help the building be

sustainable and provide a great experience for people.

Wherever possible locally sourced sustainable materials have been used in the construction and

all the timber in the building has been sustainably sourced.

It has also been innovatively designed to reduce energy use in lighting, heating and cooling.

For heating and cooling the building has been highly insulated and designed to maximise the use

of the natural conditions, along with a smart low-energy heating system with sensors that respond

to the temperature of the building to avoid unnecessary energy use.

The lighting combines the use of the large windows and low-energy, long-life LED lights placed to

use the minimum number of lights while still providing ample brightness.

These systems will be controlled by a high-tech building management system, using energy

metres and other sensors to analyse what parts of the building are in use, light levels,

temperature, humidity, energy consumption and weather and adjust settings such as shading,

lighting, heating and cooling. It will also identify maintenance issues earlier, reducing energy use,

maintenance costs and time when things are offline or services are unavailable.

The building has also been designed to be flexible in the way it can be used, with the layout able

to change to meet a wide variety of different activities and functions into the future, reducing the

need to build further buildings.

Sitting at the Tennyson Street entrance to the new town centre, the northern end of Te Ara Ātea

will be surrounded by kai gardens and the sensory experience with its many gardens and trees.

It is part of a design that intends to have well vegetated thresholds at each entrance to the town

centre to ensure a green path into the area.

Masterclass offered on getting great events going

Getting great events running in Selwyn is the focus of two Council workshops in coming months,

starting next week.

The Council is running an Event Permitting Masterclass on Tuesday 13 April to help event organisers

with the ins and outs of permits, what you might need and why.

The workshop will give an overview on the process for applying for permits to run an event in Selwyn and

what is needed for successful permit applications, and Council staff will be available to answer questions.

It is the first of two workshops from the Council in April and May to support and encourage events in

Selwyn, Council Events and Funding Coordinator Cristene Trenuela-Chan says.

"It's to help encourage events and good events for Selwyn. The permitting masterclass helps us take

the scary component out of setting up at event. It's helping people understand both what permits they

need to run an event and why they need them. It also lets you meet the people involved and helps us to

support you in your event."

It will be followed by the Get Set Go workshop at the end of May for people who have an idea for an

event and want to learn about how to get started with the basics of planning and running it.

"We know there are people out there with great ideas that can bring some fun, build community, and be

a part of making Selwyn a good place to live. We want to encourage that and help people run the best

event possible for everyone coming along."

ON THE

ROADS

On the Roads

Pavement repairs are taking place on Days Road between Ellesmere Junction Road and

Collins Road, and on Wards Road between Kerrs Road and Sandy Knowles Road. Traffic

management is in place for these works.

Increase general rate-funded maintenance above the level funded

by NZTA

This option means a higher level of funding by ratepayers. This would

let us do additional work to lower the risk of our roads deteriorating

further and needing even more costly repairs at a later stage.

Cost

$1 million per year additional

Impact on rates

Rates would increase based on property's value. For a property with

capital value of $550,000 this is estimated at $30 a year.

OTHER OPTION Fund maintenance at the level supported by NZTA

Under this option no additional maintenance funding would be

provided above what NZTA provides. This option would have no

additional cost or impact on rates or debt.

BIG DECISION 3

Developing a new wastewater system in Darfield and

Kirwee (2021–2026)

Following consultation in 2019 and 2020, we've agreed to develop

a reticulated scheme in Darfield and Kirwee. We are now asking for

feedback on our proposals for how it is to be developed and funded.

OUR PREFERRED OPTION

Connect to the Pines wastewater treatment plant in Rolleston

This would provide connections for central Darfield and growth

areas of Darfield and Kirwee, and capacity for the existing

residential properties over time. This option provides the best

environmental and public health benefits, and will better provide for

ongoing population growth.

Cost

$38 million (Note: This will initially be funded by borrowing and by a

one-off Government stimulus grant of $10 million – which reduces

the cost per house by about $5,000.)

Impact on rates

A. For existing properties

A share of the cost of the capital

works, plus connection to the

treatment plant

Property owner's own cost

to connect their property to

the scheme.

Approximately $17,360 in

2025/26 (loan rate of $751

per year)

Approximately $5,000 for

most properties; $20,000 for

some properties set further

back from road

B. For new properties

Land developers in Darfield and Kirwee will be able to connect to

the new scheme by paying a development contribution.

OTHER OPTION Status quo – keep septic tanks

Under this option property owners would meet the cost of any new

septic tank, plus operating and maintenance costs.

Have your say now – go to selwyn.govt.nz/thisway2031

Come to one of our LTP drop-in sessions:

Darfield Library: Thursday 8 April, 3–6pm

Rolleston Library: Tuesday 13 April, 3–6pm

Lincoln Library: Thursday 15 April, 3–6pm

Council Call

Selwyn District Council

Norman Kirk Drive, Rolleston

Ph 0800 SELWYN (735 996)

Rolleston Library

Rolleston Drive, Rolleston

Ph 347 2880

Darfield Library & Service Centre

1 South Terrace, Darfield

Ph 318 8338 or 347 2780

CC070421
---
Wednesday April 7 2021 Selwyn Times 17

Notices

INTENTION TO GRANT A DEED OF LEASE – BEALEY PIT

Pursuant to Section 61 of the Reserves Act 1977, notice is hereby given of an intention to issue a

Deed of Lease to Southern Screenworks Limited for the term of seven years with two rights of renewal

of seven years each, over approximately 2.9ha of land, being a Local Purpose Reserve legally known

as Reserve 1038, held in Certificate of Title 923359, commonly known as Bealey Pit, for the purposes

of industrial yard.

Any person objecting or submitting to this proposal can do so in writing until 5pm Thursday, 13 May

2021. To make a submission or objection, or to find out more about this proposal please contact the

Acquisitions, Disposals and Leasing Department by e-mail to property@selwyn.govt.nz or post to PO

BOX 90, Rolleston 7643.

Meetings

Public Forums: Council,

Community Board and local

committees meetings are open

to the public. Time is available at

the start of meetings for people

to speak on matters of concern.

Please notify Therese Davel or

Bernadette Ryan if you wish to

speak at the Council meeting

at least five days before the

meeting.

Township, Hall and Reserve

Committee meetings: To list or

make changes to meeting details,

email meeting.changes@selwyn.

govt.nz or phone 0800 SELWYN

(735 996) by 9am Wednesday the

week before publication.

COUNCIL & COMMUNITY

BOARD MEETINGS

Audit & Risk Subcommittee*

Wednesday 7 April 9.30am

Rolleston Council Offices

Representation Review

Subcommittee*

Wednesday 14 April 10am

Rolleston Council Offices

Council Meeting*

Wednesday 14 April 1pm

Rolleston Council Offices

*Livestreamed on the Council

website and YouTube channel

DISTRICT COMMITTEE

MEETINGS

Selwyn Gets Ready

Emergencies can happen at any time, but with

winter on the way and the added risk of storms,

flooding and bad weather, now is a good time to

check that you're prepared.

Selwyn Gets Ready is a free Civil Defence

alerting system offered by the Council, which

sends text and email alerts to subscribed

households in the event of an emergency such

as wildfire, boil water notifications or if extreme

weather is forecast.

Following an earthquake, the system will be used

to communicate important safety information, as

soon as communications networks are operating.

Sign up to Selwyn Gets Ready for free at

selwyn.getsready.net.

Coalgate Township Committee

– informal meeting to discuss

Long Term Plan

Tuesday 13 April 7.30pm

Coalgate Fire Station

Doyleston Community

Committee Triennial meeting

Wednesday 7 April 7.30pm

Doyleston Hall, Osborne Park

Killinchy Community

Centre Committee

Monday 12 April 7.30pm

Killinchy Community Centre

Kirwee Community Committee

Monday 19 April 7.30pm

Kirwee Hall, A&P Showgrounds

Kirwee Recreation Reserve

Management Committee

Monday 12 April 7.30pm

Pavilion, Kirwee

Recreation Reserve

Lake Coleridge

Community Committee

Friday 16 April 7pm Lake

Coleridge Community Hall

Leeston Community Committee

Monday 12 April 7.30pm

Leeston Library

Lincoln Community Committee

Monday 12 April 7pm, Fitzgerald

Room, Lincoln Event Centre

Prebbleton Public Hall

Society Inc.

Monday 12 April 7.30pm

Prebbleton Hall

Rolleston Residents'

Association Inc.

Monday 18 April 7pm

Rolleston Community Centre

Sheffield-Waddington

Community & Township

Committee

Thursday 15 April 7.30pm

Sheffield Hall

Southbridge Advisory

Committee

Monday 12 April 7pm

Southbridge Town Hall

Springston Committees

Wednesday 21 April 7.30pm

Errol Tweedy Pavilion,

Springston Reserve

Tai Tapu Community

Association Inc.

Wednesday 7 April 7.30pm

Tai Tapu Hotel Function Room

Weedons Reserve Committee

Monday 12 April 7pm

Weedons Community Centre

West Melton District

Residents' Association Inc.

Wednesday 14 April 7.30pm

West Melton Community &

Recreation Centre

Whitecliffs Township &

Domain Committee

Monday 12 April 7.30pm

Glentunnel Community Centre

Sign up now

to receive

emergency

alerts

Flooding at Coes Ford 2019.

Selwyn Events

THURSDAY

8APRIL

SATURDAY

10

APRIL

SUNDAY

11

APRIL

MONDAY

12

APRIL

Writers Group

Lincoln Library, 6.30–7.30pm

A group for writers, and those

interested in the craft of writing.

Meets on the second Thursday of the

month. A guest author will be invited

each term to run a special workshop.

Suitable for teens and adults. Free.

Bookings not required, please RSVP if

you wish to receive a reminder email.

Craft Time – Little Planters

Rolleston Library 11am–12pm

Drop in to Rolleston Library for a

different craft activity each week

for school aged children. This

week's theme is Little Planters: Pot

Decorating for Kids. Create your own

uniquely decorated pot. Free.

Community Recycling and

Bulky Waste Drop-Off Day

Hawkins Pit Darfield, 10am–4pm

Clean up your garage, shed and

garden and drop-off your bulky waste,

garden waste, scrap metal, tyres, child

car seats and e-waste. Charges apply

for some items. Strict acceptance

criteria applies. Go to selwyn.govt.nz/

recyclingday for more information.

Hui Mātua

Darfield Library, 10am–12pm

An informal drop-in session for

people looking to connect with

other caregivers, access parents

education opportunities or learn

about community supports. Hosted

by Birthright – a not-for-profit

organisation specialising in working

with families, including one or twoparent

families, blended families,

mātua whāngai and grandparents.

Free. Bookings not required.

Interested in low-cost

prepaid broadband?

Skinny Jump gives you 60GB for just $5 a month.

· Free modem to take home

· No contracts

· No credit checks

Talk to us to find out more. Pop in or call Darfield Library

on 03 318 7780, Leeston Library on 03 347 2871.

selwynlibraries.co.nz

TUESDAY

13

APRIL

Discovery Time

Leeston Library, 3.30–4.30pm

Come along to our weekly sessions

to discover new knowledge, and get

creative through our hands-on play and

activity-based learning. Bookings not

required. Drop in.

For information on listing a community event visit

selwyn.govt.nz/councilcall

Leeston Library & Service Centre

19 Messines Street, Leeston

Ph 347 2871

Lincoln Library & Service Centre

Gerald Street, Lincoln

Ph 347 2876

for joy

0800 SELWYN

www.selwyn.govt.nz

SelwynDistrictCouncil

From $5

a month

Free modem with

first 30GB free

No contracts –

top up as you go

No credit

checks
---
Selwyn Times Wednesday April 7 2021

18

LETTERS

favourite fashion store

Fashion Quarterly april 2021

the days are getting shorter and summer

has left us for autumn to take a turn.

With cooler months on the horizon it is time

to think about your autumn/winter closet.

our autumn Winter stock is arriving with

plenty in store, with a great selection of

knits and coats available.

a good quality knit will last more than a

few seasons and keep its shape if cared for

correctly, with some great quality knits from

Z&p and Vassalli. Z&p have some fun style

knits which have been flying out the door

so don't miss out as we can't reorder these.

pictured is the Fun plaited Knit from Z&p

$175, 5% cashmere 95% cotton, Clover Knit

Jersey from Vassalli $149 60% cotton 40%

Viscose

Winter coats are arriving in store and we

have gorgeous full length to puffer vests

and we are loving the faux fur look.

picture is the Coop Coated in love Coat

$369, has a subtle silver thread running

through it, Faux Fur Jacket in latte from

holmes and Fallon $189 and the elm

petra puffer Vest navy, it has a collar and

removable hood $129.95

Charlo pre autumn and Ketz Ke autumn

have arrived in and once again they are

both popular collections with some styles

already sold out.

new Denim styles have arrived and the

Mavi ivy Cargo in antler twill are the star

here $169.99

new ltb denim jackets have arrived, these

are one of our best selling jackets two styles

available pictured is the Destin patriot $249.

a new label for us is anyone's Daughter

and it is another popular label with our

customers with styles selling out fast this is

a new Zealand made label pictured is the

loaded top black/white $179

Make sure you take a look at the tops in

from Mi Moso these are perfect with denim

and an affordable price.

Many styles are great for trans seasonal

and can be dressed up for evening wear

with ankle boots, or a casual look at the

weekend teamed up with sneakers and a

cute denim jacket.

new footwear in store including ankle

boots, heels, sneakers and more new

arrival is the Movil leather ankle Boot navy

$249 from Django & Juliette.

stella royal ladies stella autumn collection

is in store and Jess has done a fantastic job

with fabrics, colours and style!

We thank all our customers who shop with

us and we hope you love your purchases.

Our web site is continually updated with new arrivals, you

can shop online 24/7 and we can have your purchase either

couriered (free shipping) or you can select pick up in store option.

Free shipping for orders over

$50 New Zealand wide

We have LayBuy and Zip online and instore,

buy now and spread the payments over 6 weeks.

www.vivalamoda.co.nz

Like us on

Facebook

Readers respond to

last week's Selwyn

Times article about

zoning plan changes

I see that a developer

wishes to develop a subdivision

outside what is

known as the Rolleston

Zone and opposite the

current sewage plant and

rubbish centre.

I will be willing to bet

that in their submission,

there will be the usual

promises to ensure that

BACKYARD CRITTERS

the development will

not be affected by those

established facilities and

all remedial measures will

be in place.

Then in the future when

people start to complain,

the council will be asked

to move and/or provide

expensive remedial measures

to ensure that the

now residents can have

the trouble-free lifestyle

that the developers had

promised.

Time to say no and tell

the developers to move

on. Develop what is inside

the proposed sequential

development scheme as set

out. – Gary Doyle

How can they possibly

be considering a new

subdivision in Lincoln of

2500 new houses when

there is not enough water

currently to go around?

I think new builds

should be required to have

a rainwater collection

tank, this would make

a huge difference to

demand. – Anna Leslie

Mike Bowie is an ecologist who specialises in entomology

(insects and other invertebrates). Each week he introduces a

new species found in his backyard at Lincoln. His column aims

to raise public awareness of biodiversity, the variety of living

things around us. Check out the full list of invertebrates found

at www.inaturalist.org/projects/backyard-biodiversity-bugs-inmy-lincoln-section

THE COTTON tipworm

moth (crocidosema

plebejana) appears to be

first recorded in New

Zealand around the 1980s,

but the species now seems

well dispersed around the

country.

It is also found in Europe,

the US, North America,

Australia, India and South

Africa.

The forewing length

of the moth varies from

5.3mm to 8.5mm, and

colours vary with sex.

Males are dark brown

to black with an obvious

white dorsal patch, whereas

females are lighter brown

to tan with a dark basal

patch.

The larvae feed on a large

range of species including

several types of mallow,

cotton, pumpkin, okra,

eucalyptus, wheat, corn,

hollyhock and hawthorn.

Females lay eggs singly on

both upper and lower leaf

surfaces, laterals and buds.

Smaller larvae forage

on leaves under webbing.

Fully-grown larvae can

reach 10mm long and vary

greatly from whitish to

dark red-brown in colour.

The revolution in heat pumps is here now!

Say hello to Fujitsu's latest lifestyle range

HEAT PUMPS FROM $1999 inc GST INSTALLED!

2020

Heat Pumps

NEW ZEALAND'S FAVOURITE AIR ®

Fujitsu's Catechin Filters are approved by the

Asthma and Respiratory Foundation NZ's

Sensitive Choice ® programme.

Shop 12, Rolleston Square, Rolleston. Phone 347 1151

03 381 6950

info@powersmart.co.nz

powersmart.co.nz

FREE consultation

from your local

Accredited Heat

Pump Expert
---
Wednesday April 7 2021 Selwyn Times 19

RURAL | LIFESTYLE | RESIDENTIAL

FINAL NOTICE

DARFIELD 77 Bleakhouse Road

Versatile Cropping and Grazing Property

This 139.1857 hectare property offers excellent soils and is located in

the highly sought after Racecourse Hill area.

The older four-bedroom home was renovated in 2007 and is situated

in an established and sheltered setting. The property has been used

for cropping, lamb fattening, and cattle grazing in recent years.

The property has the potential to be supplied with approximately

30l/sec of irrigation water from CPWL Sheffield Scheme (subject to

availability).

This is a wonderful opportunity to secure a well-established property

in a fantastic location.

DEADLINE PRIVATE TREATY

Plus GST (if any)

(Unless Sold Prior)

Closes 2.00pm, Friday 9 April

VIEW By Appointment Only

Sam Davidson

M 027 488 8269

E sdavidson@pggwrightson.co.nz

Mark Clyne

M 027 531 2964

E mark.clyne@pggwrightson.co.nz

pggwre.co.nz/CHR33854

More Great Property

RURAL LIFESTYLE RESIDENTIAL

This autumn the choice is yours.

With a national team of local experts who understand their regional market, as well as being connected

to a national network, we have rural, lifestyle and residential properties for sale throughout New Zealand.

Choose the property that fits you.

To view your options online, including our national publications, go to www.pggwre.co.nz.

PGG Wrightson Real Estate Limited, licensed under REAA 2008

Helping grow the country

1 Robin Mann Place, CHRISTCHURCH

Phone: 03 341 4301 | Email: christchurch@pggwre.co.nz

For more great listings, visit www.pggwre.co.nz

PGG Wrightson Real Estate Limited, licensed under the REAA 2008

Helping grow the country
---
Selwyn Times Wednesday April 7 2021

20

SPORT

Latest Canterbury news at starnews.co.nz

Robertson lifts lid on coaching future

• By Christopher Reive

CRUSADERS COACH Scott

Robertson has made it clear

where he stands in discussions

around re-signing with New

Zealand Rugby, amid talk of

other nations having him in

their sights.

Robertson, who is open about

his ambitions to coach at the

highest level, has been linked to

several coaching roles overseas,

most recently as a potential

successor to Eddie Jones at the

helm of the English squad.

The 46-year-old is off contract

with NZR and the end of the

year and, in discussions with

the organisation about the

future, Robertson and his agent

Warren Alcock wanted some

answers around both career

opportunities as well as whether

or not the Silver Lake deal will

go ahead.

"The next couple of days is

pretty big around the Silver Lake

deal. We are getting close, but

the Silver Lake deal is a pretty

important part of re-signing,"

Robertson said on Wednesday.

"Like I've said before, with

the agent, he's a pretty patient

type, it's a long game for him just

around what's happening with

New Zealand Rugby, just making

sure the timing is right."

NZR is in the process of

UNCERTAIN: Scott Robertson has been linked to coaching roles overseas. PHOTO: GETTY

working towards a $465m deal

with the American technology

investment company that

would see them sell a 15 per

cent stake in their commercial

rights to Silver Lake. While the

New Zealand Rugby Players'

Association has come out in

opposition of the sale, NZR chief

executive Mark Robinson was

confident a "transformational"

deal would get the backing of key

stakeholders.

When pressed on exactly

why the Silver Lake deal added

to calculations, Robertson

said: "Just see what it [the deal]

means, if it is or isn't [accepted],

and what does it look like on

the side of that with the next All

Blacks role coming up?"

Although Robertson missed

out on the All Blacks head

coaching role in late 2019 to Ian

Foster, many have tipped him as

an All Blacks coach of the future.

However, now in his fifth year as

the head coach of Crusaders and

with four Super Rugby titles in

as many campaigns at the helm

of the team, Robertson is wary of

making the right decision for his

family and his career.

"It's pretty clear; if I sign a

couple more years, I'll have done

the Crusaders for seven years –

which I love doing – but what

does it mean for the next step

after that? How does that line up

around the 2023 World Cup if

this coaching group stays on? So,

there's a lot of things going on; a

lot of answers to come back.

"I've been really patient here.

I've been coming down to Rugby

Park since 2008 in some role as a

coach. We've got a great lifestyle,

but I'm also ambitious career

coach.

"So, for me to have the

opportunity, if it's here or

elsewhere, you always keep

looking at those opportunities."

Robertson has already received

a glowing reference from Sir

Clive Woodward in relation to

the top job in England, should it

become available.

The former English captain

told Newstalk ZB's Martin

Devlin that he would love to play

for Robertson.

"This guy Robertson I don't

know, but crikey I just get a

really good feeling about him,"

he said.

"Clearly, he's a winner, he's

successful, he's very good with

people. Would I like to play for

him? Yes, without even knowing

him, just from seeing the way his

team plays.

"That would be really

interesting on so many fronts."

– NZ Herald

NEW JAGUAR F-PACE

HARD TO FORGET

The new Jaguar F-PACE is available now. A performance SUV unlike any other, now restyled to be even more assertive, even

more distinctive. The all-new premium interior features the best in contemporary design, and next generation infotainment

system includes the latest connected technologies. The extensive new engine range now includes Plug-in Hybrid Electric Vehicle

and Mild Hybrid Electric Vehicle. Every journey can feel extraordinary. The new Jaguar F-PACE. Easy to love, hard to forget.

To book a test drive, please contact Archibalds.

Archibalds | 38 Tuam Street, Christchurch | 021 907 961 - Darren Griffith

archibalds.co.nz

*Terms and conditions apply. The standard Scheduled 5 Year Servicing is included. Speak to Archibalds for more details or visit www.archibalds.co.nz.
---
Wednesday April 7 2021 Selwyn Times 21

Love the

Community

Ready to relax in a worry free home?

Summerset homes are warm, modern and designed

with everything you could need for the perfect

retirement lifestyle.

There's no need to worry about maintenance and upkeep.

You have the freedom to choose if you want to make your

garden your own, or if you'd prefer us to take care of it.

Like to holiday? Lock up and leave your home, knowing

everything is safe while you enjoy your next adventure.

It's all about loving the life you choose.

Think Summerset living sounds like you? Visit Summerset

at Avonhead or Summerset on Cavendish during

our Open Weekend, Saturday 10 and Sunday 11 April,

between 10am and 3pm.

Christchurch

Open Weekend

Saturday 10 April

Sunday 11 April

10am - 3pm

Summerset at Avonhead

120 Hawthornden Road,

Avonhead

Summerset on Cavendish

147 Cavendish Road,

Casebrook

We'd love to take you on a tour of our beautiful villages

and show homes. We have plans and pricing available to

view and we're sure you'll meet some of our wonderful

residents along the way!

Show homes open to view!

For the latest criteria and information on visiting our villages please call the village,

or visit summerset.co.nz/covid-19

SUM2967_FP
---
22 Selwyn Times Wednesday April 7 2021

SELWYN RURAL LIFE

Reminders of Targeted

Stream Augmentation aims

A passionate ecologist gave members

of the Selwyn Waihora Water Zone

Committee a reminder of their role

in overseeing the Targeted Stream

Augmentation Project.

Environment Canterbury's Brett

Painter described the story of the

Targeted Stream Augmentation Project

including the project's connection to the

collaborative nature of the Canterbury

Water Management Strategy and the role

of the zone committee.

Dr Painter described how the first

Selwyn Waihora Zone Committee were

clear in their Zone Implementation

Programme Addendum (ZIPA) and

in using managed aquifer recharge or

targeted stream augmentation to help

increase base flows in lowland streams.

He said that committee "was also

clear in the view that projects must

be for the wider good". The Zone

Implementation Plan Amendment (ZIPA)

recommendation for regional planning

was written to ensure that these options

would be possible in the future, he said.

Dr Painter described the different

investigations and trials that had started

and what their environmental goals have

been. Zone committee minutes say it was

"agreed Dr Painter would bring more

information to the committee regarding

monitoring being undertaken, to ensure

there were no adverse effects from the

project".

The committee "briefly discussed their

governance role with the project". Dr

Painter explained that the committee's

role over time has been to explore the

ideas of managed aquifer recharge and

targeted stream augmentation, write the

ZIPA to enable trials of these types of

projects, receive updates and guide the

project during construction phase and

sign off the governance group regular

reports.

The committee was also charged

with receiving final technical reports,

attending blessing or opening ceremonies,

joining planting days and communicating

the project to the public

In a 2018 paper, Protection of

groundwater dependent ecosystems in

Canterbury, New Zealand: the Targeted

Stream Augmentation Project, Dr Painter

said the region's native aquatic species

habitat has significantly declined over the

last century, mainly because of land use

change and climatic influences.

In Selwyn Waihora, "the semi-arid

climate, significant demand for irrigation

water and the up-gradient aquifer

pressure provided by a coastal lake

provide significant aquifer management

challenges in this zone." In response, the

local CWMS committee recommended

that managed aquifer recharge trials

to improve groundwater dependent

ecosystems start in a highly targeted

manner before gradually increasing the

distance from recharge site to the target

spring/s.

A highly targeted pilot trial showed

that the flow, temperature and nutrient

concentration benefits for the target

surface ecosystem. Lessons learned to

that point include the importance of

keeping engagement processes ahead of

technical assessments. High-level scoping

assessments should also be done before

the start of detailed investigations and

pilot projects, Dr Painter wrote.

Firewood & Coal

Coal

20 kg bags or

500kg bulk bags

Firewood

Pick up or deliver

(delivery charges apply)

Free delivery to Darfield township when

3 cubic metres or more is ordered.

Landscape Products

Now Available!

• Forest Mulch

• Bark Mulch

• Bark Nuggets (10/20mm)

• Premium Organic Compost

• Screened Soil

• Landscape Rocks

• Paparoa Red Rock available in 3 grades

• Railway Sleepers (2.1 Lengths)

• Kindling Wood

• Unscreened Bark

Delivery fees apply.

417 Creyke Road,

Darfield

Phone 03 975 4502

Eftpos now available

Open Monday to Friday 6am-6pm, Saturday 8am-1pm or after hours by appointment

3 TRUCKS

3 CARS

3 LUBES

3 SERVICING

3 FLEET WORK

3 BOATS

3 DIESEL INJECTOR &

PUMP SERVICING

3 ENGINE TUNING

Mon-Fri 7am-5pm

Sat 8am-12pm (WOFs only)

3 BRAKES

3 MAXXIS TYRES

3 WHEEL

ALIGNMENTS

3 BATTERIES

3 WOFs

3 CAMBELTS

AND MUCH MORE!

839 Jones Road, Rolleston P.O. Box 16 Rolleston

Phone Simon on 347 7110 or Mobile 027 272 9213
---
Wednesday April 7 2021 Selwyn Times 23

SELWYN RURAL LIFE

Water management

ties grow stronger

A Selwyn water management group has

signed up to an urban water charter.

Community Waterways Partnership is

an agreement to improve the ecological

health, biodiversity, and recreational value

Christchurch's waterways.

In notes to the charter announcement,

Environment Canterbury says urban

water quality varies considerably across

and within catchments and monitoring

identifies the areas that need to be

improved.

"Municipal stormwater treatment

infrastructure alone will not address this

water quality problem, especially in the

older part of the city where it is lacking.

Therefore, it also needs communities

to actively prevent pollution in the

first place. Achieving this will require

communities to be aware of both the

issues and the actions that they can

undertake."

Environment Canterbury Chair Jenny

Hughey said the charter complimented

work already being done by councils and

community groups. "This partnership will

take it to the next level and is a significant

step towards improving water quality. We

are looking forward to creating a strong

partnership between community groups,

businesses, researchers, and local and

central government," she said.

A signing event for the charter was

attended by a variety of community

participants as well as signatories

from Christchurch West Melton Water

Zone Committee, Christchurch City

Council, University of Canterbury,

the Department of Conservation, and

numerous community groups, schools

and businesses.

Kevin Brown, chair of the Christchurch

West Melton Water Zone Committee,

said "it's a no-brainer that we need to give

them some serious attention" and he was

encouraged by charter members' show of

commitment and collaboration.

"Sharing ideas and collaborating

is a key aspect of the Charter and

the Christchurch West Melton Zone

Committee is pleased to be able to provide

a platform where groups with an interest

in water management can have their

voices heard. By encouraging awareness,

and long-term behaviour change, I think

some really positive outcomes can come

from this," he said.

In October 2018 the Christchurch West

Melton Zone Committee organised a

workshop with representatives of local

government including the city council,

Ngāi Tahu, universities and community

groups. The workshop was aimed at

creating a community agreement to

improve urban stormwater and waterway

health in Christchurch. The meeting gave

impetus to the Community Waterways

Partnership Charter.

The regional council expects the charter

to gain momentum as more projects

are identified and more groups and

organisations have the chance to sign up

to the partnership.

The work of the Christchurch West

Melton Water Zone Committee is tied

to the establishment of the Canterbury

Water Management Strategy (CWMS) in

2009. The CWMS sets a framework for

a collaborative approach to managing

freshwater in Canterbury and the

Christchurch West Melton Water Zone

Committee and Banks Peninsula Zone

Committee implement the CWMS

strategy in the city area.

Selwyn Auto

Canterbury Ltd

• Quotations for water system designs and water testing

• Pipes, valves, fittings sales

• Filtration supply and installation

• Pump service, repairs and maintenance

• Bore flush and development

• Bore pump sales, servicing and maintenance

• We also sell, service and repair most pump

brands including sewage pumps

551 Halswell Junction Road

0800 GRUNDFOS / 0800 478 633

For sales and service or

after hours service call

Jason 021 649 944

or Mike 021 560 044

www.pumps-filters.co.nz

ALL YOUR MOTORING NEEDS

› WOF's › Diagnostics

› Repairs › Servicing

› Batteries › Tyres

› Courtesy Cars Available

Phone 329 5841 | 132 Leeston Road, Springston

www.selwynauto.com | office@selwynauto.com

The Right Fence at the Right Price

Roundwood

Farm Posts

Deer Fencing

Post and Rail Fencing

YOUR LOCAL TIMBE R M E RCHANT

Yarding Timber

Oregon Rails

Oregon Gates

Sheep & Deer

O PEN

Mon-Fri 7.00am - 5.00pm

Saturday 8.00am - 12.00pm

C O N TACT: JASON PESTER

P 03 347 7465 F 03 347 7032 jason@cthl.co.nz 167 MANION ROAD, WEEDONS 8441, CHRISTCHURCH

Netting

Gallagher

Strainrite Fencing

Systems

Visit us via our

New

Entrance on

167 Manion

Road

167

GET YOUR RURAL

BUSINESS NOTICED

When you advertise your rural business in the Rural Life feature

in The Selwyn Times, your ad will reach 20,600 rural and

residential households across the ENTIRE Selwyn District.

The Selwyn Times is delivered FREE each Wednesday, covering

the latest local news and information with digital editions also

available to view online at www.starnews.co.nz.

CALL Lynette TODAY to discuss how she can help

PROMOTE YOUR BUSINESS to local Selwyn readers,

or to the entire Canterbury district.

Don't forget to ask about our "Support Local" packages to

assist the Covid Business recovery. We're here to help!

Contact Lynette DDI: 03 3647434 Mobile: 021 222 7831 Email: Lynette.Evans@starmedia.kiwi
---
Selwyn Times Wednesday April 7 2021

24

GARDENING

Latest Canterbury news at starnews.co.nz

Perfect time to pop in some colour

• By Henri Ham

AUTUMN IS the perfect time to

pop some pretty colour into your

garden.

Flowers like polyanthus,

primula and viola can easily revitalise

a weary garden, and thrive in

the cooler months. And planting

them now, before the temperature

drops, gives them time to really

get established, bringing you a

prolonged blooming season.

Polyanthus, primula and viola

are easy to grow and flourish in

garden beds, as borders, or in

pots. Polyanthus and voila are

petite blooms (about 10-15cm

high), while primula has a bit

more height (30cm) – ideal for

planting in behind smaller plants,

for a fuller garden effect.

Primula comes in several

shades of pink, red, white and

mixed. It's a dainty flower, and

when picked makes a cute winter

posy arrangement for your

kitchen. Primula also copes well

growing in the shade.

If you're not into the primula

pinks, violas have a bolder look

and come in range of blues, yellows

and oranges. To really make

these colours pop, when planting

try thinking about your complementary

colours – if you've got a

terracotta orange pot, try planting

blue blooms. Alternatively, if

your pot (or house colour) is blue,

VIVID: Primula lavender is a dainty flower, also available in many other colours. Polanthus

look pretty in a pot on a table.

try the citrus or orange violas,

to really make them stand out.

Purple and yellow flowers will

also complement each other, and

really stand out in a pot together.

Polyanthus has a smaller bloom

(framed by its leaves) appearance.

There are blue, red, pink, white

and yellow polyanthus – so you're

bound to find something you like.

They look pretty in a pot on a

table, and you'll often see polyanthus

in perfectly planted borders

at public gardens.

When getting ready to plant

your seedlings, choose a spot that

receives some sun, and has good

drainage. If your garden is looking

a bit tired after summer, turn

over the soil, and dig through

some organic compost or fertiliser.

Once this is done, dig holes for

your flowers, 10-20cm apart. You

want the holes to be large enough

so the roots of the seedlings don't

get squashed. Place the seedlings

in, and press soil firmly down

around it.

Your plants will benefit from a

good initial watering, and adding

a layer of mulch around them.

This will help retain moisture,

soften the frost, and repel the

weeds.

If you've flower seedlings left

over, an old favourite of mine is

to pack them into a low hanging

basket. Pop your primula, polyanthus

or violas in, and add some

lobelia to really soften the sides.

And, as we leave summer behind,

I also like that baskets aren't so

labour intensive with minimal

watering required.

In six to eight weeks, you'll start

to see colour popping through,

all set for your coming cooler

months. And remember – as with

most flowers – to pick the off the

deadheads to encourage more to

bloom.

Are you ready to grow?

Kiwi Gardener is your practical guide

to gardening in New Zealand.

growing with you Issue 503 | April 2021 | 100%

The rules

of division

How to multiply your

plants for free

Rose Remedies

Identify and solve

common issues

$8.00 incl. GST

9 416770 121318

Superfood in

the garden

Beetroot, silver Beet

coriander & more

SubScribe From

$

20

In the name

of good taste

The last apricot orchard

on the Port Hills

ViVe la Volunteers!

The growing force

behind our botanic and

community gardens

oN sAle Now!

Now only

$35.80

Plus $5 P&H per copy

AvAilAble from stAr mediA:

Level One, 359 Lincoln Road

Addington, Christchurch

Phone 379 7100

Making your great outdoors greater

HIre equIpment

1.7 ton Digger 3 buckets

and 2.5 ton electric tip trailer

Plate compactor

Log splitter

Concrete mixer

Lawn Dethatcher

Barreto rotary hoe

3" Water Pump

Wheel barrows

Hand tools

Concrete ball float/Screeds

Electric concrete vibrator

Check out the rest of our landscape supplies online

www.mainscapegardensupplies.co.nz

Contact us

mon - Fri

1543 Springs Road, Lincoln 8:00am - 5:00pm

021 241 7908

Saturday

sales@mainscape.co.nz 8:00am - 3:00pm

STOP leaveS

birds, snow, hail & vermin from

blocking up your spouting

Quality materials: BHP Colorbond steel mesh with unique patented louvre

will even keep out pine needles. Will not rust or sag with age or load.

10 year warranty, range of colours.

Proven in Australia & New Zealand over the last 15 years.

FOR SAFE, PURE DRINKING WATER

FROM YOUR ROOF.

NOW AVAILABLE: STAINLESS STEEL MICO MESH

SubScriptionS Freephone

0800 77 77 10

www.Gardener.kiwi

Call Rohan anytime Mon-Sat for a

no-obligation assessment & quote

03 982 8850 0800 486532 www.gumleaf.co.nz
---
THE COOLER temperatures of

autumn have arrived, and so too

has the beautiful colourful display

of leaves on deciduous trees.

It's another busy month in the

garden as we prepare our gardens

for the colder winter months.

Planting winter vege

seedlings

April is the favoured month for

planting winter vegetable seedlings.

Add fresh compost to the

vege plot before planting broad

beans, broccoli, cabbage, cauliflower,

lettuce, onions, peas, radish,

spinach, swedes and turnips.

It's a good idea to stagger your

plantings (called succession planting)

every two to three weeks so

you have a continuous harvest

throughout winter.

If temperatures are dropping at

night, put jars or plastic bottles

over seedlings to protect them

against early frosts – this also

helps keep snails and slugs at bay.

Remember to remove any covers

in the morning.

Growing winter veges in

containers

If you are short on space in the

garden, grow your veges in containers

and/or pots. Try silverbeet,

spinach, broccoli, peas and winter

lettuce. Use fresh potting mix and

make sure your pots/containers

have good drainage holes. Place

them in a warm sunny, north

facing, position, away from strong

winds. Add a layer of mulch on

top to protect the soil.

Planting flowering winter

annuals

Summer flowering annuals are

just about finished. Remove old

plants into the compost bin and if

you haven't already, prepare beds

for planting with fresh compost.

Winter annuals to plant in this

month include; alyssum, aquilegia,

calendulas, cineraria, cornflower,

lobelia, lupins, nemesia,

pansies, primulas, snapdragons,

status, stock, sweet pea, sweet william,

violas and wallflowers.

Plant up pots and containers

for colourful displays on decks

and balconies – they will provide

Latest Canterbury news at starnews.co.nz

a real lift over the dreary, cold

winter months.

Preparing the strawberry

patch

May is the preferred time for

planting strawberries so use this

month to prepare your strawberry

patch for planting. Prepare the

soil and mound areas for planting

above the existing ground level,

adding fresh compost and compacting

the soil. Remove 'runners'

from last seasons strawberry

plants and keep them in a large

container filled with fresh potting

mix until they are planted next

month.

Fruit tree harvesting

Feijoas and early kiwifruit are

ripening. Leave feijoas to fall to

the ground before collecting the

fruit. All stone fruit trees can be

given an end-of-season spray with

a copper compound towards the

end of April. Peach and nectarine

tree pruning can start as their leaf

fall has begun. Lemons will be

colouring later in the month and

can be harvested then.

Ornamental shrubs

The first of the winter flowering

shrubs such as camelias will begin

blooming. Garden centres will

have new season plants in stock

next month, so prepare new gardens

for planting now by adding

plenty of compost.

End of the rose growing

season

Just a few rose varieties such

as iceberg will be flowering into

May. In general, roses are near the

end of their growing season and

sadly, look their least attractive.

GARDENING 25

Preparing your garden for winter weather

NOURISH: Add plenty of compost into your existing soil.

Wednesday April 7 2021 Selwyn Times

MAINTENANCE:

Snip off

strawberry

runners ready for

planting in May.

Although it may be tempting to

start pruning, it's still a little early

as a warm spell can bring about a

burst of new growth which could

then be damaged by frosts. Continue

good garden hygiene such

as removing all fallen leaves and

dead flowers to help prevent overwintering

fungal diseases like rust

and blackspot.

Last month for lawn care

A great month for tackling

major work renovating existing

lawns or laying a new one. It

may sound a bit repetitive, but

preparation really is the key to

success in growing a healthy

lawn. With new lawns (or even

lawn repair), only import clean,

top quality topsoil or lawn soil.

Always seek advice about the

best lawn type for your

property. For existing lawns,

apply lawn fertiliser in early

April to encourage strong, even

growth.

In the Garden

with iNtelligro

Winter gardens start in autumn, so get those

veggies in ready for harvesting through winter.

Lawn maintenance is near the top of the list, both

preparing new ones and sprucing up existing.

Fertilise on an overcast day, preferably with rain

on the forecast. New lawns can be sown now too.

eDible gArDeN

Plant seedling such as cabbage, cauliflower, broccoli,

carrots, kale, beetroot, silver beet and radish.

Flower gArDeN

Bulbs can be planted now; daffodils, freesias,

tulips, anemone to name a few.

New iN store

Birdies Garden Beds are

now available both in store

and online! Made with high

quality steel, these beds are

built to last. They come in 3

different sizes, and colours,

and are super easy to put

together. Come and see our

display beds in store and get

your collection started today!

Fun and exercise

all year round

Lagoon Pools import and install quality fibreglass swimming pools. To compliment the pools

they supply good quality equipment including salt water chlorinators, heat pumps, pool lights,

fountains and water features, swim turbines, spa jets, robotic pool cleaners and a range of covers

and roller systems including hidden and automated.

Imported from Leisure Pools in Australia, their Vinyl Ester pools are strong with six layers including

protective armour. Each pool is strength tested and has a lifetime structural and osmosis warranty.

Lagoon Pools owners Julie and Warren are dealers for Leisure Pools in the North Canterbury to

Southland area, and agents for the Elite Hideaway Roller system.

Call Lagoon Pools on 0800 927 282 or 349 2160, email info@lagoonpools.co.nz or visit:

www.lagoonpools.co.nz They are open by appointment only.

oPeN 7 DAYs 261 Manion Road, Weedons

P: 03 347 9012 | www.igro.co.nz @igro.co.nz

PATIos - ouTDoor AreAs - CAr PorTs

Shadecraft is a locally owned company who specialise in shade and weather

protection products to enhance your homes design and use of outdoor areas.

Louvres – sHADe sAILs – uMBreLLAs – ALL WeATHer CANoPIes

www.lagoonpools.co.nz

03 349 2160

0800 92 72 82

ShadeCraft (SI) Ltd

0800 742332 • Cell 0274 981239 • www.shadecraft.co.nz
---
26 Selwyn Times Wednesday April 7 2021

CHRISTCHURCH MITSUBISHI

386 Moorhouse Avenue, Christchurch

Tel: 03 379 0588 | christchurchmitsubishi.co.nz

THE ALL-NEW NAVARA IS HERE

Stock available for immediate delivery

AGILITY MEETS SMARTS

AVAILABLE FROM

$33,990 *

STOCK AVAILABLE NOW

*Price shown is for the Nissan Qashqai ST excludes on road costs of $1,250 which includes registration,

WoF and a full tank of fuel.

CHRISTCHURCH NISSAN, 380 Moorhouse Avenue, Christchurch

Ph: 03 595 6820

www.christchurchnissan.co.nz

The New Nissan Navara is HERE.

It's tougher and more rugged than ever

before with an enhanced level of safety,

comfort and advanced technology.

Models available to drive away today!

Contact us today to book in a test drive.

*Model shown is Pro4X arriving late April

christchurchnissan.co.nz
---
Wednesday April 7 2021 Selwyn Times 27

Email devon.bolger@starmedia.kiwi

by 5pm each Wednesday

Employment Zone Clinic

Thursday, 9.30-11.30am

Delivered by the Ministry of

Social Development, this free

series of drop-in clinics across the

Selwyn District aim to support

people into work and help

employers with staffing needs.

Free, bookings not required.

Leeston Library

Writers' Group

Thursday 6.30-7.30pm

A group for writers, and those

interested in the craft of writing.

Meets on the second Thursday

of the month. A guest author

will be invited each term to run

a special workshop. Suitable for

teens and adults. Free, bookings

not required.

Lincoln Library

Cubing Club

Friday 3.30-5pm

Stretch your brain at the

Lincoln Library's drop-in Cubing

Club at Lincoln Library. Suitable

for ages 10 and over. Take your

own cube or challenge yourself

with one of those available at this

event, held fortnightly.

Lincoln Library

Drop-In Games

Saturday 1.30-3pm

Drop in to Rolleston Library to

play a variety of exciting games at

this regular event.

Rolleston Library

Malvern Community

Recycling and Bulky Waste

Drop-Off Day

Sunday 10am-4pm

Bulky waste, garden waste,

scrap metal, tyres, child car seats,

e-waste, cardboard. Entry off

Cullens Rd, east of Bangor Rd.

Hawkins Pit, Darfield

Event Permitting Masterclass

Tuesday 4-6pm

This class will provide an

overview to the events permitting

process and what is needed for a

successful permit applications. It

is aimed at events organisers.

Topics cover – health and safety

management plan, fees and time

frames, food and liquor licences,

traffic management plan, building

consents, site plan.

West Melton Community and

Recreation Centre

Rolleston Business

Networking

Tuesday 9-10am

Attend two free meetings to

see if the Rolleston Networkers

are a good fit for your business.

Network members have

discovered that people who

choose to live and do business

in the Rolleston-Selwyn region

Kayak with the penguins in Antarctica, fly to the international space station and

experience zero-gravity, complete the Beat Saber challenge, or even tour Anne Frank's

house. Don't miss these virtual reality drop-in sessions to test out the new Selwyn Libraries

headsets. Thursday, Leeston, 2-4pm; Darfield, 3.30-5pm; Lincoln, 3.30-5.30pm. Suitable for

ages 13 and over.

are passionate about their

community, strongly integrated

within it and have a desire to

enhance and add value to it. Go

to the table with your passion,

experiences, questions and

opportunities and we're sure

you'll find someone to connect.

The Pedal Pusher, 55 Faringdon

Blvd, Rolleston

Selwyn Library at Tawera Hall

Tuesday 2.30-4.30pm

Selwyn Libraries is bringing

the library to you. Go along

and choose some new reading

material off the Edge Connector

Vehicle, build something with

the Lego®collection, or create

an artwork using light pads and

watercolour pens. Children

under 8 must be accompanied

by a parent. Free, no bookings

required.

Springfield Memorial Hall

Markets

Rolleston Farmers Market:

Sunday, 9am-12.30pm, 96

Rolleston Drive

Darfield Market: Saturday,

9am-1pm, opposite Challenge

Darfield, South Tce.

Market@254: Saturday,

9.30am-1pm, rain or shine, 254

Lawford Rd, West Melton.

Lincoln Farmers and Craft

Market: Saturday, 10am-1pm,

Gerald St

'Famous for their roasts!'

RESTAURANT & CAFÉ

Kid's SPECIAL

Two courses

Seniors SPECIAL

Two courses

$13

We are family friendly. Great Kids menu plus designated play area.

Soup/Roast or

Roast/Dessert

Special available lunch only

Monday - Saturday 12pm - 2.30pm

$23

Start your

day with us

We are open from 6.30am

Cooked

breakfasts

$19

Check out our extensive

breakfast menu from

Continental to Cooked

The

RACECOURSE HOTEL

& Motorlodge

118 Racecourse Rd, Sockburn,

Christchurch. Ph 03 342 7150

www.racecoursehotel.co.nz

HEAT PUMP

SALE NOW ON!

Amazin' autumn Specials!!

90%

SubSidy

Warmer KiWi HomeS

Programme

*Eligibility criteria apply

• We will offer you the best quality brands and

option of heat pump for your home/business

• Providing Heat Pump solutions for over 19 years to Cantabrians

• We personally guarantee all our products & installs for 5 years

(providing annual maintenance has been completed)

Phone us today for your free consultation & quote

41A SHAKESPEARE RD, WALTHAM

PHONE 03 366 0525

www.enviromaster.co.nz

"A local team for local people"

ATTENTION BUSINESS OWNERS

Do you sell products or services that enhance outdoor spaces?

You could feature in the Innovative Outdoor Living Area

at the 2021 Star Media Home and Leisure Show this July

and reach over 10,000 attendees across 3 days!

Louvre System • Bbqs • Heating • Hammocks • Trampolines • Spas • Pools • Decking

Pizza Ovens • Shade Systems • Water Features • Outdoor Furniture • Fencing

If this sounds

like you,

Contact Lisa now on

021 800 809 or email

lisa.lynch@starmedia.kiwi

for a no obligation quote.

Payment options available.

Terms & Conditions apply.
---
2013 Volkswagen

Tiguan TSi

h tp: /kaywa.me/8aVDQ

Download the Kaywa Qr Code reader (A p Store &Android market) and scan your code!

my Kaywa Qr-Code

w.valuecarswarehouse.co.nz

CELLULAR

See page 5 for more info!

2

h tp: /kaywa.me/8aVDQ

Download the Kaywa QR Code Reader (a p Store &android Market) and scan your code!

REVERSE CAMERAS

My Kaywa QR-Code

w.valuecarswarehouse.co.nz

PARKING SENSORS

0800 212 777

Ce l 021 855 884

GPS/TRACKING

motor vehicle purchase

See our ad on page 2

28 Selwyn Times Wednesday April 7 2021

Huge load space in Hyundai Santa Fe

MY SON recently purchased

a new television, a giant 65in

model.

The key question I asked

the salesperson at the time of

purchase was: "Would I be able

to transport it home in a sport

utility vehicle?'' He answered yes,

if it was a big wagon.

Well, I was driving one of the

biggest mainstream SUVs in the

market – Hyundai's new Santa

Fe – and although it was a bit of a

squeeze we did manage to get the

new TV home.

That's one of the benefits of

the modern SUV concept, they

are adaptable with a multitude

of uses, and the new Santa Fe

Limited with its 2.2-litre diesel

engine is a class act. Well, I guess

it needs to be, at almost $90k it is

an SUV that commands a serious

financial outlay.

Of course, there are other model

options – seven variants make

up the new range which starts at

$62,990 for a 2.5-litre four-cylinder

petrol model, and there's also

a V6 petrol in the line-up.

The new Santa Fe is exactly

that, it is an all-new shape and

sits on an all-new platform, what's

more it gets a new diesel engine,

and while the cubic capacity is

much the same as the previous

generation model, it's an allaluminium

unit which is smooth,

quieter, more powerful and efficient

than before.

CAPABLE: Up to 1625-litres of cargo can be transported

beneath the Santa Fe's tailgate.

HYUNDAI SANTA FE LIMITED: Plush, luxury SUV with a choice of engines.

The Limited model gets the

new diesel, although, as mentioned,

you can get it with petrol

power as well, but the V6 Limited

doesn't have drive to all four

wheels.

That aside, the four-cylinder

turbocharged diesel is rated at

148kW (3800rpm) with 440Nm

of torque available from 1750rpm

to 2750rpm.

Not only are these outputs

impressive in terms of flexibility

and outright grunt, it is one of

the smoothest oil burners you are

ever likely to find in a vehicle of

this type.

It is hooked to a recently-developed

eight-speed dual clutch automatic

transmission, something

that is shared with Hyundai's

partnership with Kia. Interaction

between the engine and gearbox

is smooth and seamless, and the

gear ratios are structured so that

they work efficiently with the

engine's power and torque bands,

especially so the mid-range rev

spread.

In this form, the Santa Fe is relatively

quick for a vehicle which

weighs in at almost two-tonne.

According to my stopwatch it will

make 100km/h from a standstill

in under 9sec.

As you would expect in the

new-age SUV, the Santa Fe

is fitted with the latest drive

technologies, it has all-corner

propulsion which can be activated

by the driver at the turn of

a dial through a complex series of

modes and functions. Because of

the driveline mechanicals there is

a lot of suspension complexity.

Mostly, though, there is feel

and grip that the driver can use

with confidence and reassurance.

The ride is also quiet, and a lot

of that has to do with the quality

of the tyres – the big Continental

rubber (255/45 x 20in) has a firm

road feel and transports messages

to the steering wheel in a solid,

communicative way.

The Santa Fe is a fine touring

vehicle, and after years of development

the ride/handling balance

is as good as you would get in any

SUV, least of all one that sits in

the large luxury segment.

I presented the evaluation

car with a tight set of corners

between Darfield and Burnham,

the Santa Fe leans a little bit, but

such are the spring and damper

rates body movement isn't excessive

and the occupants shouldn't

be disappointed with the in-cabin

comfort levels.

Add in a vehicle that weighs in

at around 1900kg, there is a lot

of vehicle to get through a tight

corner, yet it does so with dignity

and purpose.

That's one of the reasons why

SUVs have become so popular,

they perform admirably and,

in the Santa Fe's case, it is also a

plush luxury car which impresses

• Price – Hyundai Santa Fe

Limited, $89,990

• Dimensions – Length,

4785mm; width, 1900mm;

height, 1710mm

• Configuration – Fourcylinder,

four-wheel-drive,

2151cc, 148kW, 440Nm,

eight-speed automatic

• Performance –

0-100km/h, 8.9sec

• Fuel usage – 7.5l/100km

with its refinement.

Major items of specification include

full leather trim with electrically

adjustable seats up front

(also heated). There is head-up

display, paddle-shift gear selectors

and new display graphics which

change face when the indicator

stalk is activated, side views of the

vehicle give the driver clear vision

of what is happening outside.

Also, it must be mentioned the

Limited model also gets remote

starting and movement, should

the driver's door be hard to access,

such as a tight car park, the

vehicle can be driven forward or

reversed using the remote key.

Hyundai has upped the ante in

terms of fuel use. The Santa Fe

returned some interesting fuel usage

information during my time

with the test car. At 100km/h

in top gear the big diesel sips

fuel instantaneously at around

4.5-litres per 100km, turning over

at just 1600rpm. A test average of

7l/100km is respectable for vehicle

weight, and compares well to

Hyundai's combined cycle claim

of 6.1l/100km.

Although the television wasn't

heavy, it was bulky and claimed a

fair hunk of space made easy by

the clever seat folding system. In

terms of figures, the load area can

claim up to 547-litres, 1625-litres

with the rear second row of seats

folded. Yes, the Santa Fe is a useful

seven-seater.

I was scheduled into Hyundai's

new Santa Fe just before Christmas,

however, a shipping mix-up

meant it wasn't dispatched to

Christchurch.

Fast forward two months and

the range-topping Limited arrived.

The wait was really worth

it, it's sophistication speaks

volumes, the Santa Fe is a model

that sits on the outer periphery

of the luxury wagon market, yet

it competes admirably with all of

the big names.

However, its biggest competition

will come from Kia's new

Sorento; the two South Korean

companies are partners, yet battle

each other fiercely, especially in

terms of pricing.

The new Sorento, with a similar

driveline, has an advantage

there, how it all plays out in

the marketplace will be very

interesting to watch.

has motoring covered!

Incorporating

ISSUE 667 | FrIday 20 novEmbEr 2020

iggest range of vehicles

location!

2011 Jaguar

XF Premium

$18,999

See inside for this week's

4WD feature!

sherborne st, edgeware

se Ave | P: (03) 366 7768 | www.valuecarswarehouse.co.nz

See page 4 for more info!

free

best motorbuys

Incorporating

ISSUE 668 | FrIday 27 NovEmbEr 2020

275 Colombo street, Christchurch

For more see their advert on pages 6 & 7

Ce l 021 855 884

Incorporating

ISSUE 669 | FrIday 4 dEcEmbEr 2020

See inside for this week's

Classic Car feature!

PH 03 web

www.drivesouth.co.nz

One Owner!

40 Years Finance

Experience

Cannot be Beaten!

• Talk to us about finance for your next

motor vehicle purchase

Specialising in Finance for Private Purchases

Very quick approvals, sensational interest rates

• From no deposit (terms & conditions may apply)

Hiace spares

Cnr Main South Rd and Epsom Rd, Christchurch

Ph: 03 348 4129 | avoncityford.com

2015 IsuZu D-mAX

4WD Ls D/CAb

NZ new, 3.0 intercooled turbo/dsl,

auto, rare flatdeck with ladder/pipe

racks, reverse cam, service history.

$34,995 $192pw

For more see their advert on page 31

free

best motorbuys

www.drivesouth.co.nz

See inside for this week's

marine feature!

free

best motorbuys

The South Island's leading motoring resource,

filled with news, reviews and dealer listings.

From family cars to work trucks, and supercars

to SUVs. No matter what you're looking for,

you can find it all with Drivesouth.

Magazine available for FREE every Friday

at a convenient pick up point near you!

The biggest range of vehicles

in one location!

Now Available @ NZ Van Spares

www.drivesouth.co.nz

2.4 auto, alloys, ABS, twin airbags.

2005 toyota rav

$20,999

$9,990

40 Years Finance

2008 bmW 320i

2.0lt Petrol, 5 Dr Station wagon,

Climate Control, ABS Braking,

.nz

CAR AUDIO

AUDIO VISUAL

CAR SECURITY

32 Moorhouse Ave | P: (03) 366 7768 | www.valuecarswarehouse.co.nz

MOBILE INSTALLATION SERVICE

RADAR DETECTORS

DASH CAMERAS

Cannot be Beaten!

$10,974 NoW $7,974 + orC

Experience

Automatic. $34.63pw.

AERIALS

• Talk to us about finance for your next

Specialising in Finance for Private Purchas

• Very quick approvals, sensation

• From no deposit (term
---
Wednesday April 7 2021 Selwyn Times 29

ATTENTION

BUSINESS OWNERS

Do your services make homes

warm and cosy?

You could feature in the Cosy Zone at the 2021 Star

Media Home and Leisure Show this July and reach over

10,000 attendees across 3 days!

Central Heating • Diesel Heating • Fires • Curtains

+ Blinds • Underfloor Heating • Double Glazing • Solar

Bedding • Merino • Heat Pumps • Airflow Solutions

If this sounds like you,

contact Lisa now on 021 800 809 or email lisa.

lynch@starmedia.kiwi for a no obligation quote.

Payment options available. Terms & Conditions apply.
---
30 Selwyn Times Wednesday April 7 2021

Animals Livestock/

Supplies

ROOSTERS to give

away, born Nov 30 2020,

small to medium breed,

2 back and white spec, 2

white, ph or txt 021 861

732

Boating Accessories

& Equipment

BOAT

SERVICING

& REPAIRS

Mercruiser & Volvo

New Parts,

Repairs & Sales

Phone 027 433 7431

Cars Wanted

$$ CASH PAID $$

Buying cars & trucks for

wrecking. Ph / txt Zac 021

1056 797.

Classifieds Contact us today Phone our local team 03 379 1100

Firewood

Funeral Directors

Gardening

& Supplies

ellesmere

lions

Pea straw

now available

DELIVERING NOW

Small bales $6

Medium squares

(equivalent of

10 small bales)

$50

Contact

alex Hayward

03 324 4094

MACROCARPA

burns hotter

for longer

Kent: 021 325 661

SUPPLIES LIMITED

Free

ROOSTERS to give

away, born Nov 30 2020,

small to medium breed,

2 back and white spec, 2

white, ph or txt 021 861

732

kent@macrocarpasupplies.co.nz

21 Manion Road, Rolleston

No Service Cremation $2,000

Family Funeral with Cremation $3,950

Chapel - 35 people, casket, hearse, cremation fees

Full Funeral options and

Burial options available

Just Funerals, a family owned and

operated company with qualified,

registered and experienced staff.

Phone 0800 804 663 - 24 Hour Availability

Email: info@justfunerals.co.nz

christchurch.justfunerals.co.nz

SHELTERBELT TRIMMING

Boundary

Trimming

Call Tony Dempsey

Phone 03 325 3256

Mobile 0274 323 943

Free

ROOSTERS to give

away, born Nov 30 2020,

small to medium breed,

2 back and white spec, 2

white, ph or txt 021 861

732

Health & Beauty

CHANG WELLNESS MASSAGE

Professional Chinese Massage

Please txt Ali Chang on 02108733809

facebook.com/Chang-Wellbeing-Massage

Faringdon, Rolleston

Bookings

Essential

Heating

Log Fires

Pellet Fires

Heat Pumps

Sales

Service

Installations

Free Quotes

03 343 1651

472 Blenheim Rd

www.heatstore.co.nz

Lost & Found

MOTORBIKE GLOVES

found on road in Rolleston.

Ph 0274 984 663

ADD SOME

COLOUR

TO YOUR ADVERT!

Select Services

Specialising in:

Driveways

Outdoor Areas

Patios, Pathways,

Residential

& Commercial Floors

Professional Advice

Free Quotes

Frank McWatt

03 423 9344

027 274 0342

allwaysconcrete@gmail.com

www.allwaysconcrete.nz

ADD SOME

COLOUR

TO YOUR ADVERT!

Select Services

COMING SOON!

TAX RETURN TIME!

Tax returns for

Companies, Trusts,

Rentals, Individuals,

Non For Profits

Ideal time to think

about migrating

to a new payroll or

accounting system.

Xero Certified Advisor

ICNZB Certified Member

Sue Thomas

027 283 3448

businessroundup.co.nz

/businessroundup

Need a hand?

✤ Lawns & Edges

✤ Landscaping

✤ Gardening

✤ Hedge Trimming

✤ Handyman Jobs

✤ Casual or One Off

Phone Mike Lineton

022 341 8848

Your local

Selwyn District

GARDENER/

HANDYMAN

Selwyn

Carpet

Binding

Have your carpet off

cuts bound by us

2 Villa Mews,

Rolleston

Phone or text

021 254 4465

Mon-Thur 9-2.30

Select Services

Hedge Trimming

& Landscaping

• Hedge Trimming/Garden Maintenance

• Trees and Shrubs Topped Shaped or Removed

• Arborist

• Trenching and Digging Buckets

• Landscaping/Water Systems

• Cleanups Available for Small and Large Hedges

• Wood Splitter for Hire

• Fully Insured

• Hedge Trimming/Garden Maintenance

• Trees & Shrubs Topped Shaped or Removed

• Arborist

• Trenching & Digging Buckets

• Landscaping/Water Systems

• Cleanups Available for Small & Large Hedges

• Wood Splitter for Hire

• Fully Insured

HEDGES

AND

MORE.

Stu Reid Owner Operator

Ph: (03) 325-4664 Mob: 021-500-519

hedgesandmore.co.nz

Select Services

DRIVEWAYS

HARRIS

BULLDOZING LIMITED

• Driveways

• Car Parks

• Lifestyle Blocks

• Site Clearing

& General

Earthmoving

Mark 021 345 571

or Paul 021 705 996

Email harrisbull@xtra.co.nz

www.harrisbulldozing.co.nz

All Work Guaranteed

Please phone for a free quote

LANDSCAPING

Call Aaron &

the team today!

For the Outdoor

Space of your

Dreams...

Paving, Irrigation,

Lawns, Planting,

Fences, Pergolas,

Water-features,

Outdoor fires,

Raised Vege beds,

Decks, Artificial

grass & more...

Phone: 03 347 4422

or 021 542 402

Email: Aaron@theoutdoorspace.co.nz

www.theoutdoorspace.co.nz

STOP BIRDS

hail, leaves, snow & vermin from

blocking & damaging your spouting

Quality materials: BHP Colorbond steel mesh with

unique patented louvre will even keep out pine needles.

Will not rust or sag with age or load. 10 year warranty,

range of colours.

Proven in Australia & New Zealand over the last 15 years.

FOR SAFE, PURE DRINKING

WATER FROM YOUR ROOF.

NOW AVAILABLE: STAINLESS STEEL

MICO MESH

Call Rohan anytime Mon-Sat for a

no-obligation assessment & quote

03 982 8850 0800 486532

www.gumleaf.co.nz

To Let

RENT ME!

Ideal as an extra

bedroom or office.

no bond required

Fully insulated and double glazed for warmth.

Three convenient sizes from $80 a week:

Standard 3.6m x 2.4m

Large 4.2m x 2.4m | Xtra-large 4.8m x 2.4m

Visit our website

www.justcabins.co.nz

for display cabin locations

www.justcabins.co.nz

Tours

Reid TouRS

Leader Valley Autumn Colours

- Wed 21st April, $25

Mt Cook - Sat 10th April, $55

Waipapa Station

- Sat 24th April, $45

Call Reid Tours 0800 446 886

Email: reidtours@xtra.co.nz www.reidtours.com

ReId TouRs

Hokianga Cape Reinga

Bay of Islands

9 days - Departs 15th May

$2250 pp including flights

Chatham Island

2nd to 9th November

Call Reid Tours 0800 446 886

Email: reidtours@xtra.co.nz www.reidtours.com

Trades & Services

Ph Mike: 027 272 8058 OR 03 324 4323 A/H

sales@gmcontracting.co.nz

www.gmcontracting.co.nz

• Driveways

• Trenching

• Section Clearing

• Demolition

• Tree/Stump Removal

• Truck/Digger Hire

• Post Driving

• Section/Lifestyle Block Development

C O N T R A C T I N G

Phone: 329 7165 or 027 616 1761

NEED A PROFESSIONAL

PLUMBING SERVICE?

Call us at Think Water Canterbury for all your

plumbing needs. Certified Plumber Available Now!!

Our services include:

• Residential Plumbing Services

• Installation & Upgrades

• Hot Water Installation & Repairs

• Leaks & Blockages • New Piping & Repairs

22 Station St, Leeston. Ph: 03 324 3880

Trades & Services

PEST CONTROL

SPIDER PROOFING

ALL OTHER PESTS

Office: 03 337 9553

Scott Warlow: 021 168 6118

Established 1987, Qualified

& Experienced Professionals

Member of Pest Management

Association of NZ

PROTEKT

SERVICES

Bellamy's

Furniture

Furniture made to

order and restoration

by tradesman with

35yrs experience.

PH Stephen

021 073 2624
---
Wednesday April 7 2021 Selwyn Times 31

Classifieds Contact us today Phone our local team 03 379 1100

Trades & Services

Trades & Services

Trades & Services

Trades & Services

Trades & Services

Advanced Service,

Advanced Upholstery

Auto & Marine Upholstery

• Auto restoration

• Boat upholstery

• Caravan & motorhome

squabs & awnings

• Authorized agents for Cvana awning

• Machine, truck & ute

covers

• Farms Covers

• & Much More!

3967 West Coast Road (between Waddington & Darfield)

Tue/Wed/Fri: 8am – 4.30pm • Thur: 8am – 6.30pm

Sat: 8.30am – 12noon • Closed: Sun & Mon

Ph 03 318 7378 www.advancedupholstery.co.nz

GLAZING

TWISTY GLASS &

GLAZING LTD

• Mirrors • Pet Door Specialists

• Splashbacks • All Broken Windows

THE CAT DOOR MAN

Phone Cushla or Darren Twist

027 352 6225

Driveways

SWAINS

KIWI KERB

(Since 2005)

Over 22 Years Experience

Quality

Workmanship

• Driveways

• Kerb &

Channel

• Garden Edging

Trades & Services

DECORATORS

New Paint • Repaints

Wallpapering • Fences

Feature Walls

Floor & Roof Painting

Spray Painting

Light Commercial

Restoring Timber

* Finance available (T's & C's apply)

Selwyn based but service the whole of Canterbury

www.andertondecorators.co.nz

www.facebook.com/andertondecorators

027 724 6846 027 PAINTIN

Freephone: 0800 081 400

swainskiwikerb@gmail.com

GARAGE DOORS

The Genuine

Custom Made Garage

Door Professionals

0800 661 366

info@custommade.co.nz

Auckland, Christchurch, Wanaka

www.custommade.co.nz

SCRAP METAL

Dominion Trading Co Ltd

Trades & Services

• Scrap metal buyers

• Canterbury owned & operated

• Top prices paid $$$

• Open Saturday morning

Open Mon-Fri 8am – 4.30pm Sat. 8.30am-12.30pm

www.happyscrappy.co.nz

03 343 9993 333 Blenheim Rd

Re Roofing

Roof Repairs

Spouting

Approved Age Concern provider

Over 30 years experience

Licensed Building Practitioner

N A BARRELL

ROOFING LTD

Ph: 0275 389 415

Email: nabroofing@xtra.co.nz

landscaping

Landscape

Construction and

Garden Maintenance

You can have your gardens, trees,

shrubs, plants and lawns maintained to look their best

all year round, for a great price.

Residential & Commercial Landscaping

• Maintenance • Pruning • Reconstruction & Rejuvenation

• Rental Property and Commercial Maintenance

• Pre-Sale Tidy-Ups

New Home Landscaping

Lawns • Gardens • Decks • Paving • Water Features

• Quality • Value for money • Experienced • Punctual

• Professional • Flexible • Knowledgeable • Reliable

Call Ross Legg - 027 222 0388

Email ross@revivelandscaping.co.nz

www.revivelandscaping.co.nz

Division of Tuffnell Drainage Ltd

14 Centrum Lane, Rolleston

We:

• Unblock Drains

• High pressure waterblasting

• CCTV

• 24/7 Service

Call us now - 03 974 3561

WINDOW TINTING

tintawindow

advanced film solutions

99% uv block

fade protection

heat control

reduce glare

25 Years Experience

privacy films

frosting designs

non-darkening films

Workmanship Guaranteed

Lifetime Warranties on Most Films

UV

block

Free Quotes Canterbury and Districts

03 365 3653 0800 368 468

Trades & Services

LifestyLe

BLock

fencing

new fencing, post driving,

repairs, maintenence.

Quality workmanship

& advice.

Phone Allan 021 049 6151

allan@agrifencenz.com

Facebook: agrifencenz

FOR ALL YOUR

★Garden Clean-ups

★Pruning

★Lawn Mowing

★Garden Maintenance

Call us today for a FREE quote

PH 0800 4 546 546

(0800 4 JIMJIM)

BUTCHER

SERVICE

Book now for

mobile slaughterman

Watkins Home Kill

Processing Beef, Pigs,

Sheep, Deer & Fish.

Smoking Bacon, Ham

and small goods.

124 Burdons Rd, Burnham

Phone Tim 347 6693

Trades & Services

Lawn mowing

Hedge trimming

Gardening

Weed eating

Spraying

and much more

Call Todd

0212059543

toddmc.greenacres@gmail.com

Selwyn

Accounting

For all your

Accounting &

Tax Needs

03 741 1783

027 332 8086

brian@

selwynaccounting.co.nz

EST.

1979

Arthur's

Roof & Property

Moss Kill & Proof

Silicone Sealing

Roof Repairs

Gutter Clean/Repairs

Pest Control

Butynol Roof Repairs

Bird Proofing

03 347 2635

arthursroofandproperty.co.nz

UDI PAINTING &

DECORATING

For all painting and

decorating services.

Fully Qualified

• Interior &

Exterior Painting

• Wallpapering

• Plastering

• Roof Painting

Quality Services

FREE QUOTES

Contact Udi Aale

Ph. 021 074 2075

BATHROOM TILER

wet area waterproofing,

underfloor heating, soap

boxes, old to new, for best

results, call Devon on 021

375-888 or 03 329 5511

BUILDER QUALIFIED

Decks, T & G Flooring,

Villa Restoring, New

Homes, Weatherboards.

Free Quotes. Bennet &

Sons Ltd Sam 027 496-

9362 or Tony 027 224-

0374

CARPET LAYING

Exp. Repairs, uplifting,

relaying, restretching.

Phone John on 0800

003181, 027 240 7416

jflattery@xtra.co.nz

Bellamy's

Furniture

Furniture made to

order and restoration

by tradesman with

35yrs experience.

PH Stephen

021 073 2624

LANDSCAPING

Paving, Lawns, Irrigation,

Decking, Fencing.

Kanga & small digger

services. Check out Squire

Landscaping on facebook.

FREE QUOTES. Ph

Arthur 347-8796, 027

220-7014 Edwin 027 220-

7154

POWER CABLE

Our Cable or yours,

phone-fibre-water installs,

COC supplied, trenching

and cable locatingservice,

owner operator

FREE quote ph

Gerard 0272379742

POWER TOOLS

REPAIRS

Parts & Sales for over 40

years. All main brands

serviced. Grossman Trade

Tools,23 Watts Road,

Christchurch. Ph 389 9230

RJB PLUMBING

Renovations, New Houses,

Hot Water Cylinders,

Kitchens Bathroom

Upgrades, Laundries,

General Maintenance ,

Water Filters. Phone Mark

0278690026

STUMP GRINDING

Best price guarantee Tony

0275 588 895

TILING

Flooring - Splashbacks -

Wall incl tile removal, reg

master tiler, ph Dave 027

334 4125

Vehicles Wanted

WINDOW CLEANING

Brown & White Ltd.

Family owned since 2001.

Ph Paul 027 229 3534

Situations Wanted -

Jobs Wanted

Elderly Sitter

Ex manager & nurse

of elderly available

for daytime sitting

week days. Spouses

& family's of elderly

needing time for

appointments or

catch ups with

friends in the

Rolleston, West

Melton & Darfield

areas please ph/txt

Colleen 0274389250

Public Notices

CAR REMOVALS

$$CASH PAID$$

CARS, VANS, UTES

& 4X4 WANTED

NZ OWNED

AND

OPERATED

FOR

24 YEARS

We use world class vehicle

depollution systems

0800 77 80 80

www.pickapart.co.nz
---
32 Selwyn Times Wednesday April 7 2021

Don't miss

out - sale ends

monday!

NOW ON. ENDS 12.4.21.

ALL LOUNGE, ALL BEDROOM, ALL DINING, ALL OUTDOOR, ALL MATTRESSES - ON SALE!

Rivo

2 Seater Recliner NOW $ 1999

3 Seater Recliner NOW $ 2199

Dallas

Queen Bed

WAS $

449

NOW

$

349

Carson 5 Piece Dining Set

W120 – Black or White Chairs

WAS $

829

NOW

$

599

Duke PU

Dining Chair

WAS $

165

NOW

$

125

Seychelles

Queen Mattress

Soft Feel

NOW $

449

ALL MATTRESSES

ON SALE!

Majorca

Queen Mattress

Medium Feel

NOW $

499

Grenada

Queen Mattress

Firm Feel

NOW $

599

Kate Sofabed

WAS $

499

NOW

$

399

JUST LANDED!

VIVA

LIVING & DINING

RANGE

Viva Coffee Table

WAS $

449

NeW!

WATSON

DINING RANGE

NOW

$

399

Shop

Online

Nationwide

Delivery

Finance

Options

PLUs HeAPs more super deals online & in store!

EASTER STOREWIDE SALE ENDS 12.04.21.

250 Moorhouse Ave, Christchurch

Ph: 0800 TARGET (0800 827438)

targetfurniture.co.nz

Offers and product prices advertised here expire 12/04/21.

Sale Excludes Accessories.
---
Wednesday April 7 2021 Selwyn Times 33

Autumn

sale starts

this weekend.

Great deals on thousands of

trees and shrubs. 8 days only!

At least

20%

off all plants

Sat 10th April to

Sun 18th April

Visit our great plant centre - Open 7 days at 1002 Robinsons Road - Between Templeton & Rolleston 0800 800 352 southernwoods.nz
---
34 Selwyn Times Wednesday April 7 2021

At least 20%

off all plants.

The Southern Woods Autumn Sale

begins this Saturday. 8 days only.

It's nearly planting time again! Autumn is an ideal planting season,

and we've got you covered with a great selection of expertly grown

trees and shrubs, all on sale from this weekend.

Great Garden Colour

Our team have been busy stocking up our great plant centre, in the

middle of the Southern Motorway between Templeton & Rolleston.

We pride ourselves on expert advice, an extra-friendly team, and

Canterbury's largest range of plants.

Come down and say hello!

In addition to 20% off plants, you'll receive 15%

off tools, planting accessories & pots and a huge

selection of Red-Tag Super Specials

Specimen

New Zealand Natives

Heaps of

Red-Tag

Great deals on thousands of

trees and shrubs. Specials

Sat 26th October to

Sun 3rd November

See what we're up to:

/ southernwoodsnu

Visit our great plant centre - Open 7 days at 1002 Robinsons Road Between Templeton & Rolleston
---
Wednesday April 7 2021 Selwyn Times 35

Sale on

Every Day

Usual Opening Hours

Sat 10th April to

Sun 18th April

Open 7 Days

Ferns & Shade

Loving Plants

Trees

sery

Thousands of plants to

pick from...

We supply to residential, rural and

commercial customers. With the whole

plant centre on sale, there's sure to be

something to get you growing!

We've got great red tag specials on:

• Tough New Zealand natives

• Hedging Plants

• Farm Shelter

• Olives & Fruit Trees

• Ornamentals

• Oaks & Birches

• Forestry Species

• And plenty more!

* All specials instore at the plant centre only,

Discount is off the Retail unit price. Excludes Vouchers.

Bring your plans

(and the puppy)

We've got an expert team on hand to help

out with any plant questions you might

have. Our plant centre is child and dog

friendly, with great display gardens and

plenty of parking.

Open 7 days

your local plant

specialists

0800 800 352 southernwoods.nz
---
36 Selwyn Times Wednesday April 7 2021

You can't miss us!

Where SH1 meets the new motorway, between Templeton & Rolleston

New Motorway

SH1 to Christchurch

1002 Robinsons Road

Robinsons Road underpass is now open. Easy access from Jones

Road, West Melton and beyond.

Coming from Christchurch? Use Berketts Road exit

Alex & Devin

Expert tool models

15% off all

tools, pots

and planting

accessories

We stock an awesome range of top quality tools and

premium planting accessories. Plus, we'll give you great

advice on how to get the most out of them.

There's also 15% off decorative pots, fertilisers, compost and

everything else you'll need for your plants this season.

* All specials instore, plant centre only,

Discount is off the Retail unit price. Excludes Vouchers.

Visit our great plant centre - Open 7 days at 1002 Robinsons Road Between Templeton & Rolleston 0800 800 352 southernwoods.nz
---
PUBLiSHeD eVeRY WeDneSDAY

THe BeST PRoPeRTieS AcRoSS

THe SeLWYn DiSTRicT

INSIDE

Week commencing WeDneSDAY, 7TH APRiL, 2021

Crafting the

perfect loan

for you.

Sharon Hunt - Mortgage Advisor

0274 339 752

www.loancraft.co.nz

Choices, Options and Opportunities

We are so excited to share with you this modern, builders

own home and lifestyle property presently offering not

just the opportunity to enjoy the stylishly renovated and

extended home on 6.29 acres with 3 stables, tack room, 2

bay haybarn (with mezzanine for storage) but could allow

potential for subdivision in the future. All this so close to

Prebbleton and only 10 minutes to the city - how's that

for a total package!

But the appeal is far greater than just the potential. You'll

quickly discover a fabulous backdrop for entertaining

thanks to the elegant kitchen and the generous living

spaces which open out to the patio. Here you are nestled

in the manicured garden for outdoor dining with access

to the cosy alcove space for the spa. Living enjoys a log

fire (with heat transfer) and heat pump while all four

bedrooms are genuine doubles. A separate laundry and

storage room complete the picture.

Thanks to crisp paintwork, quality carpet and rich solid NZ

oak wood flooring, internal décor is fresh and ready for

your personality, while outside the contemporary feel is

continued with a plaster finish.

The numerous outbuildings offer so many uses; work

from home (3 phase power to the pump shed), a home for

your horses or simply perfect storage.

471 Springs Road – Prebbleton

This property is a rarity with so many options you could live

and enjoy, land bank for the future or make a home for your

lifestyle!

It is a must view.

Deadline Sale: Plus GST (if any).

All offers presented Wednesday, 14th April at 4pm

(unless sold prior).

harcourtsfourseasons.co.nz/LN3325

Jan Green

Contact:

Mobile: 027 222 8736

Email: jan.green@harcourts.co.nz

Ross Mitchell

Contact:

Mobile: 027 222 9495

Email: ross.mitchell@harcourts.co.nz

THE THREE WISE AGENTS

Jan, Ross and Mary's combined years and knowledge of the real estate industry, will focus

on making your decision a stress-free and enjoyable experience.

ADVERTISEMENT

Whether your interest is in residential, sections, lifestyle or rural, they are your local and

'most trusted' team helping you make your next move.

"Call either of us now to book in your complimentary market appraisal or for a friendly

chat to see what we can offer you so you can move on with the next chapter in your lives."

Jan Green

Licensed Sales Consultant

027 222 8736

jan.green@harcourts.co.nz

Ross Mitchell

Licensed Sales Consultant

AREINZ

027 222 9495

ross.mitchell@harcourts.co.nz

Mary Edwards

Licensed Sales Consultant

Four Seasons Realty

03 662 9933 6 Gerald Street, Lincoln

021 557 731

mary.edwards@harcourts.co.nz

harcourtsfourseasons.co.nz

Four Seasons Realty 2017 Ltd | Licensed Agent REAA 2008

¥ ¥

Zealanders

Zealanders 2018-2020 ★

New by

Voted

Voted ¥

2018-2020

2018-2020

★

Real Estate Sales
---
2

Four Seasons Realty
---
3

Hornby

Office

Rolleston

Office

Your local &

most trusted

real estate

team

Lincoln

Office

★

Zealanders

Zealanders ¥ ¥

New by

2018-2020 ★

Voted

Voted ¥

2018-2020

2018-2020

Real Estate Sales

LIVING LOCAL, SELLING LOCAL

Properties wanted in all price ranges for residential & lifestyle.

Harcourts Four Seasons Realty has a formidable presence in the Selwyn

district with 40+ sales consultants working out of three offices.

Contact your local and most trusted real estate experts to help you with your next move.

We've got you covered.

Your local offices

Hornby Office

03 349 9919

hornby@harcourts.co.nz

395 Main South Road, Hornby

Lincoln Office

03 662 9933

lincoln@harcourts.co.nz

6 Gerald Street, Lincoln

Rolleston Office

03 347 4711

rolleston@harcourts.co.nz

Unit 13, 70 Rolleston Drive, Rolleston

Your home for local property

Four Seasons Realty 2017 Ltd | Licensed Agent REAA 2008

Four Seasons Realty
---
4

Doyleston 426b Drain Road

A variety of sizes available!

Doyle's Corner Estate is the latest boutique subdivision on offer in Doyleston, being within 2 minutes' drive of all the

amenities of Leeston and only 25 mins drive to Hornby.

Sections are priced by negotiation over $160,000 and ranging in size from 600sqm to 955m2.

Doyles Corner Estate can accommodate a variety of plans and lifestyle demands encompassing first home buyers, families

and downsizers.

Offering an escape from the hustle and bustle of big city life, but close enough to access everything you need, these sections

will be highly sort after, and quick action is advised.

Titles are expected approx. September 2021

For Sale By Negotiation

View By appointment

Web pb.co.nz/ROU82228

Angela Hunt

M 021 548 777

Holly Siddons

M 020 4153 5251

E angela.hunt@pb.co.nz

E holly.siddons@pb.co.nz

Dunsandel 1 Highfield Avenue

Rolleston 2 Goldie Place

Deadline Sale

Deadline Sale

Size, space & stunning views!

This beautiful family home is situated in a quiet cul-de-sac within

walking distance to Rolleston's shopping hub & Clearview Primary

school. It features a spacious kitchen/dining with a large log burner to

keep you toasty in the winter months, separate living with feature

ceiling & Bi-fold doors, 4 generous bedrooms & 2 modern bathrooms.

Sit back on the North facing patio in your fully fenced private yard &

relax in the sun whilst you watch the kids play in their own built-in fort!

With secure off-street parking for the boat or camper, this all-round

family home ticks all the boxes for space & comfort.

3 2 2

Deadline Sale closes Thursday 15th

April, 2021 at 3.00pm, (unless sold

prior)

View Sun 11 Apr 11.00 - 11.30am

Web pb.co.nz/ROU85001

Angela Hunt

M 021 548 777

Holly Siddons

M 020 4153 5251

Family sized all-rounder!

This beautiful family home is situated in a quiet cul-de-sac within

walking distance to Rolleston's shopping hub & Clearview Primary

school. It features a spacious kitchen/dining with a large log burner to

keep you toasty in the winter months, separate living with feature

ceiling & Bi-fold doors, 4 generous bedrooms & 2 modern bathrooms.

Sit back on the North facing patio in your fully fenced private yard &

relax in the sun whilst you watch the kids play in their own built-in fort!

With secure off-street parking for the boat or camper, this all-round

family home ticks all the boxes for space & comfort.

4 2 1 2

Deadline Sale closes Wednesday 14th

April, 2021 at 5.00pm, (unless sold

prior)

View Sun 11 Apr 1.00 - 1.30pm

Web pb.co.nz/ROU83663

Angela Hunt

M 021 548 777

Holly Siddons

M 020 4153 5251

Property Brokers Ltd Licensed REAA 2008 | pb.co.nz

Proud to be here
---
5

Templeton 22 Colchester Place

Hororata 84 Derretts Road

Deadline Sale

Amazing opportunity, act now!

• Fabulous Kitchen

• Four bedrooms

• Two living areas

• Bathroom and separate toilet

• Internal laundry and double garage

Great Indoor outdoor flow to fully fenced outside entertaining area

with loads of room for the children and pets to play.

Don't delay call me today.

4 1 2 2

Deadline Sale closes Thursday 15th

April, 2021 at 1.00pm, (unless sold

prior)

View Thu 8 Apr 5.30 - 6.00pm

Sun 11 Apr 3.00 - 3.30pm

Web pb.co.nz/ROU82675

Karen Harper

M 027 444 1436

Comfortable lifestyle living

If you are looking for privacy, space and country comfort, all while

staying within an easy drive to the city, this is the property for you.

This spacious family home features four bedrooms, master with

ensuite and walk-in robe. We also have a study that can be used as a

fifth bedroom if required. The open plan kitchen offers ample storage,

dishwasher, and double wall oven. Flowing through to an open plan

dining/living allows the chef of the family to interact with family and

friends whilst creating magic in the kitchen.

An adjoining separate living area gives you a nice adult retreat to

enjoy the afternoon sun or you can tuck the kids away with their

activities.

5 2 2

For Sale Buyers $720,000+

View By appointment

Web pb.co.nz/DFL85028

Grant McIlroy

M 027 345 9262

Jannetta Thomas

M 021 256 6295

Congratulating

our Top Agents

Top Listing Sales Consultants*

Amy Jones Residential/Lifestyle Sales Consultant

M 021 077 9945 | E amy.jones@pb.co.nz |

Shar Simôn Residential/Lifestyle Sales Consultant

M 027 555 0654 | E shar@pb.co.nz |

Top Selling Sales Consultant*

amyjonespropertybrokers

sharsimonpb

Angela Hunt Residential/Lifestyle Sales Consultant

M 021 548 777 | E angela.hunt@pb.co.nz | angelahuntrealestate

*February 2021

If you want results, then talk to your

award winning local Sales Consultants today

Property Brokers Ltd Licensed REAA 2008 | pb.co.nz

Proud to be here
---
2

6

[Edition datE]

Fix those

minor defects

Start out front, cleaning, clearing and

decluttering the yard to make a good

impression on buyers.

It's a rare house that doesn't have defects.

Even newly renovated ones can have

features that detract for buyers. But there

are ways for sellers to deflect attention

from them without pretending they're not

there. The three main ways of dealing with

defects are:

1. Fix them.

2. Draw the eye away from them.

3. Use them as a selling point.

Simple defects can be fixed easily. Start

out front. Overgrown bushes can be

trimmed, or replaced with a few matching

plants, old fences and front doors can be

painted or stained, and the paths cleaned.

Do this even if a property is a do-up.

You want to give the impression that

buyers can move into the house and chip

away at the work in their own time

If you have time and money, paint sills

and eaves using accents.

Inside, the first thing buyers see is the

hallway, which can be brightened up with

a lick of paint. The neutral paint trick can

also be used to paint over dated wallpaper,

completely changing the look and feel of a

tired house.

Bathrooms and kitchens are important to

buyers, and the eye settles on vanities and

benches. These can be resurfaced relatively

quickly to give a modern look.

If the seller can't repaint or tile the

bathroom bring in high quality matching

towels, which become a feature in the

room and draw the eye from the less than

desirable walls and features. Nice vases and

flowers will do the same.

Replacing handles and knobs to draw

attention away from the units themselves.

This reduces the number of "I have to do

this" thoughts in potential buyers' minds.

Drawing the eye away from a multitude

of sins is exactly the thing to do.

If you see an empty house the eye always

goes to marks on the carpet and walls and

this will lower the price expectation."

Drawing the eye to the furniture and

furnishings, creates better flow, and de

cluttering makes buyers feel the home

would be a nice place to live in.

The other way to handle the property's

defects is to raise them with the buyer

before they see them.

If the carpet is bad, for example, you

can say: "Hey, they were going to replace

the carpet but they decided to leave it to

you to choose a new carpet and priced it

accordingly."

Finally, good old fashioned elbow grease

is essential in all properties to remove

those sins that are simply cleanable.

Looking for a new

place to call home?

Property Brokers Ltd Licensed REAA 2008 PB048729

I'm thrilled to announce my new

position as a Residential/Lifestyle Sales

Consultant at Property Brokers.

My quality service is backed by regional

knowledge, expert training and tools -

everything you need to make informed

property decisions.

If you are looking to buy or sell,

call me today!

Justin Le Lievre

Residential/Lifestyle Sales Consultant

M 022 628 1306

E justinl@pb.co.nz
---
7

NEW LISTING

Hororata 823 Rockwood Road

Acres of options

This high-producing 86-hectare property in a sought after, picturesque location has it all. Fully irrigated with fertile

soils, there's a range of possibilities for the new owner. Suitable for various uses, the property is well equipped with

sheep and cattle yards, plus a woolshed and implement shed. In use as dairy support and cropping, previously

utilised to winter dairy cattle on fodder beet and kale. With this grazing history and the added benefit of cover under

the Central plains water schemes nutrient umbrella, this property is well placed to continue dairy support. The sunfilled

character house is tucked away amongst beautiful mature gardens and perfectly combines a warm and cosy

retreat with a practical farming family home. Entertaining friends and family or dining outdoors to enjoy the

spectacular views is a cinch with the welcoming open plan layout.

bayleys.co.nz/5514844

4 1 1

Deadline Sale (unless sold prior)

12pm, Thu 29 Apr 2021

3 Deans Avenue, Chch

View by appointment

Ben Turner 027 530 1400

ben.turner@bayleys.co.nz

Craig Blackburn 027 489 7225

WHALAN AND PARTNERS LTD, BAYLEYS, LICENSED UNDER THE REA ACT 2008

ALTOGETHER

BETTER

Ben Turner

027 530 1400

Chris Jones

027 220 5043

Jo McIntosh

027 384 4279

Kevin Jenkins

027 577 4232

We're extremely proud of our talented Selwyn Team.

The highly skilled salespeople that we have across all areas

of property means we are confident in promising the best

service and skills to all clients in the area.

Selling your property? Contact your local Bayleys expert.

Adrienne Goodeve

021 977 877

Bianca Davidson

027 322 9055

Craig Blackburn

027 489 7225

Emma Groom

027 555 1075

Bayleys Darfield 03 975 4559

Bayleys Leeston 03 375 4700

bayleys.co.nz

WHALAN & PARTNERS LTD, BAYLEYS, LICENSED UNDER THE REA ACT 2008

Evan Marshall

027 221 0910

Haley Smith

027 341 3846

John Bailey

027 893 0234

Nathan Collett

027 826 1535

Sam Sidey

027 346 3500

Suzy McPherson

027 695 0519

Tim Dyer

027 495 0979

Urszula Bedggood

027 338 7889

Residential / Commercial / Rural / Lifestyle

bayleys.co.nz
---
8
---
9
---
10
---
11
---
A large, quality home sited in a private and established

5021m 2 park-like se ting in the sought after Claremont

Estate on the boundary of Christchurch City.

The home features four bedr oms (master with

en suite and walk-in robe), open-plan kitchen, dining

and living along with formal dining, lounge and

conservatory. Great ind or outd or flow to a large

sheltered deck set in sprawling lawns and easy care

gardens with automated watering. Triple car garaging,

security gates, ducted heating, solar energy and

security system are just a few of the many extras on

offer with this property. There is a separate standalone

spacious office/studio that gives options for

those who require a dedicated work from home space

or alternatively, r om for a dependant relative.

Set amongst other quality homes on larger sections,

this property maintains a semi-rural f el whilst being

a short, easy commute into the city or ou to Ro leston.

Selwyn Times

Auction (unless sold prior)

Thursday 19 October, 2pm

411 Blenheim Road

www.pggwre.co.nz/DAR26164

Karen Hennessy

Contact:

Phone: 03 341 4301

Mobile: 027 967 0186

karen.he ne sy@p gwrightson.co.nz

W ek commencing Tuesday, 3Rd ocToBeR 2017

Brand new 'show stopper' with 4 car garaging

As always, this builder has finished his latest new build to

perfection, incorporating a l the 'must haves' and more for

the discerning buyer. Situated on a 12 0m 2 section, with

an established backdrop, the substantial 315m 2 fl or plan

provides the ultimate in family living options. The su ny &

spacious open plan living r om boasts a designer kitchen

with 90cms oven, stone bench tops & a walk in pantry,

together with define dining, living & study spaces that

The formal lounge als opens to the landscaped garden

& has a boxed high stud ceiling with sound speakers. A l 4

bedr oms are fabulously proportioned qu en sized r oms,

with the master suite providing the perfect parents' retreat

featuring an amazing dre sing r om with fu l wardrobe

system, a ditional storage & a beautiful tiled ensuite with

double tiled shower, fr estanding bath & twin vanities. The

family bathr om is equa ly elegant with a tiled shower &

twin vanities. Cosy up in front of the log burner, k ep your

toes warm with the under tile heating in the bathr oms &

k ep c ol or warm, as required, a the push of a bu ton with

2 heat pumps.

The home's practical layout also includes a walk-in linen

r om, a substantial separate laundry, a tic storage with

la der a ce s and last, but certainly not least, hugely sought

after 4 car garaging. From the moment you a proach this

premium property, you wi l a preciate what a privilege it

would be to be able to ca l it 'home'.

www.flemington.co.nz

DeaDline Sale:

Closing 4pm on Monday

11th June 2018

(unless sold prior)

rwro leston.co.nz/RLL23148

Town & Lifestyle Real Estate Ltd

Licensed (REAA 2 08) - West Melton

Sarah Booth

Contact:

Mobile: 027 527 8258

Brendan 'Big Red' Shefford

Contact:

Mobile: 027 224 4733

Lincoln - 03 325 7299

Ro leston - 03 347 9988

West Melton - 03 347 9933

THe BeST PRoPeRTieS AcRo S

W ek commencing WeDneSDAY, 23RD mAY 2018

Town & Lifestyle Real Estate Ltd

Licensed (REAA 2 08)

2

12

[Edition datE]

Show homes

the ultimate way to shop around

Across the selwyn district, we are blessed with an

extensive array of very good quality show homes.

Building companies build show homes

to demonstrate their workmanship,

display innovative design ideas and

present a snapshot into a new and

luxurious lifestyle, featuring all the

latest in materials, fittings and fixtures.

A show home can inspire you in a way

nothing else can. You can absorb the

ambiance they present and admire the

innovative techniques, new materials

and technology.

You can ask questions, take notes

and compare. You can see at a glance

features you would love to emulate or

would avoid when building your home.

Best of all, you ;will see the building

companies' attention to detail.

Show homes are the perfect way to get

a good idea of pricing, discover good

quality and value, learn about superior

use of space, future-proofing, ongoing

maintenance and long-term returns.

So what are you waiting for? Check

out our maps, grab a notepad and

pencil and begin the exciting project of

building your own home.

2

[Edition datE]

Building blocks

to a new home

When building a new home, here's a reminder

to pay attention to some of the fine details...

Darfield 6 Mulholland Drive

In a league of its own

Expansive 2.1801ha (approx.) lifestyle block and

immaculate 244sqm (approx.) home. Four double

bedrooms (master with ensuite/WIR), family

bathroom and separate toilet. Open plan kitchen with

island bench. Open plan dining/living, separate living

room with vaulted ceiling. Kwila deck with louvre,

patio/BBQ area. Double glazed, log burner, heat

pump. Double, internal access garage, separate

laundry, generous storage. Separate 3-bay shed,

wood shed, garden shed, tunnel house, four paddocks

and water race at rear of the property.

bayleys.co.nz/5514848

4 2 2 2

Auction (unless sold prior) 12pm, Thu 29 Apr 2021

3 Deans Avenue, Chch

View by appointment

Jo McIntosh 027 384 4279

jo.mcintosh@bayleys.co.nz

Emma Groom 027 555 1075

emma.groom@bayleys.co.nz

WHALAN AND PARTNERS LTD, BAYLEYS, LICENSED REAA 2008

Anyone intending to build a new home

should have the builder's contract checked

out by an experienced lawyer.

A payment schedule can also minimise

financial risks. Issues that you may have to

deal with include:

the deposit, guarantees and warranties

If you want to compare building

companies, it's important to get down

to finer details such as how many power

points there are per room, the type of

windows you are having or which paint

finishes are included.

Questions to ask builders include:

• Do you have a

completion guarantee

and how does it work?

• Is there a loss of

deposit guarantee?

• Is the company a

Registered Master

Builder and does

it use third-party

written guarantees?

• What is the schedule

for payments?

• How are the deposit

and progress

payments

administered?

• Are they held in a solicitor's trust fund?

• Will the master franchisor complete

the build if the franchisee goes out of

business

• What are the exact specs?

• Are the prices fixed?

• What is excluded from the build?

• Are there any restrictions on

driveways or any other connections?

• Can you speak with clients who have

just completed a build?

Do your homework before you decide on a

building company and you will have a less

stressful time once the building process

starts.

PUBLiSHeD eVeRY WeDneSDAY

THe SeLWYn DiSTRicT

INSIDE

Quality Home, Private Setting, Sought After Location

extend through sliding d ors to a large deck & covered 'al

fresco' entertaining area.

63 Rossington Drive, West Melton Open Home: Sunday 2.00pm - 2.30pm

EVERY WEDNESDAY inside Selwyn Times

Address: 19 Devine Drive, Templeton Open Home: Sunday 8 & 15 October, 1pm - 1.45pm

Get the power

of three offices

working for you

Your section hunt

starts here

New Falcon's Landing sales office open, 17 Branthwaite Drive, Ro leston,

Ray White Rolleston,

Lincoln & West Melton

Sales - Property Management - Loan Market

Residential - Lifestyle - Commercial

Thursdays, Fridays and Sundays from 1-3pm. Come, visit and share in our vision

for Ro leston. Or ca l us anytime 03 741 1340. Email enquiries@yoursection.nz

Get your messages into homes throughout

the Selwyn District.

Delivered to every home & rural letterbox

(also available at selected pick up points).

For full information on placing your

advertising call:

Lynette Evans

Ph 021 222 7831 | email: lynette.evans@starmedia.kiwi

Printed on

high impact

Gloss!

Selwyn Times dedicated to getting you outstanding results & making our district a better place to live.
---
13

Your guide to all things Real Estate

in the Selwyn District

Hot real estate market dictates

buyers be smart and aware

Tall

Poppy

Owner,

Michael

Seymour

We're heard it all before: Selwyn's the fastest growing

area, it's never been a better time to buy and well,

etcetera, etcetera. But here are some real stats that

Michael Seymour, owner of Tall Poppy Real Estate,

was keen to talk about. Stock levels are down

44% on last year. Average expected sale price has

increased by 23% to $750,000, and property is selling

25 days quicker in an average of just 41 days. In

short, the few houses available for sale are selling

fast and at higher prices.

In 2020 the market was a little blasé, but right

now—the market is hot. Three bedrooms/two

bathrooms houses are still in high demand and

most buyers are coming from Christchurch

City following the national trend of rising

property prices, flexible working conditions

and less need to be central to the city. It's

also getting much harder to find a slice of

land to build on.

Be smart and do your research

Michael says with so many buyers

out there it can be deflating. People are

anxious and everyone is bidding on

everything. His advice to buyers is to

see every single listing in your area.

Be smart—have daily alerts set up for

Trade Me and other real estate sites

and when they come through, enquire

immediately. And to sellers, do your research. Go to

as many open homes as you can. See the different

styles and standards of the agents out there and

look for someone with a personality that you're

comfortable with. A good track record of past

sales numbers isn't the only indicator of the best

person to work with.

Selwyn's tall poppy

Helen Lee came to Selwyn from the UK and has

been living in the area for fourteen years. She loves

our community, and the many residents she meets

who are on their own real estate journey.

With a background in banking and

stockbroking, Helen is comfortable with

financial assets and negotiating for the

best result; she's professional and an

expert in the local area. Helen recently

won the Rate My Agent, Agent of the

Year Award for the suburb of Lincoln

and was also #89 in the Agent of

the Year Awards for New Zealand.

Something to be proud of, especially

when they were based on client

feedback.

If you're considering selling

your home sometime soon, you

can reach Helen Lee on 027 503

9219 or helen.lee@tallpoppy.co.nz

Helen

Lee,

Lincoln

Agent of

the Year

108 Tauhinu Avenue

Lincoln 4 2 3 2

Tall Poppy brings you New Zealand's #1 FREE marketing package.

Helen Lee has proven results in Selwyn.

ANOTHER SOLD ANOTHER SOLD ANOTHER SOLD ANOTHER SOLD

Tweedy Court

Lincoln

Othello Drive

Rolleston

Stanford Way

Rolleston

Strauss Drive

Rolleston

Helen Lee

Sales Consultant

027 503 9219

helen.lee@tallpoppy.co.nz | tallpoppy.co.nz/helen-lee

Thinking of selling?

Let's talk.

BULSARA T/A TALL POPPY LICENSED UNDER REAA 2008
---
14

ATTENTION

BUSINESS OWNERS

Do you sell products or services that

enhance outdoor spaces?

You could feature in the Innovative Outdoor Living Area

at the 2021 Star Media Home and Leisure Show this July

and reach over 10,000 attendees across 3 days!

Louvre System • Bbqs • Heating • Hammocks

Trampolines • Spas • Pools • Decking Pizza Ovens • Shade

Systems • Water Features • Outdoor Furniture • Fencing

If this sounds like you,

contact Lisa now on 021 800 809 or email lisa.

lynch@starmedia.kiwi for a no obligation quote.

Payment options available. Terms & Conditions apply.
---
This Week's

15

Wednesday 7 Th april

7.30pm – 8.00pm 14 Frame Crescent, Rolleston

Ray White Town & Lifestyle

Thursday 8 Th april

11.00am – 11.30am 9 James Street, Lincoln

Ray White Town & Lifestyle

12.00pm – 12.30pm 54 Payne Court, Lincoln

Ray White Town & Lifestyle

12.00pm – 12.30pm 17 Samuel Street, Hoon Hay

Ray White Town & Lifestyle

12.00pm – 12.30pm 7 Franklin Crescent, Lincoln

Harcourts Four Seasons Realty

1.00pm – 1.30pm 29 Cathcart Crescent, Prebbleton

Harcourts Four Seasons Realty

5.30pm – 6.00pm 22 Colchester Place, Templeton

Property Brokers

11.30am – 12.15pm

11.45am – 12.30pm

12.45pm – 1.15pm

1.00pm – 1.30pm

1.00pm – 1.45pm

11.00am – 11.30am

11.00am – 11.30am

11.00am – 11.30am

11.45am – 12.15pm

saTurday 10 Th april

642 Old West Coast Road, West Melton

Harcourts Four Seasons Realty

25 Blake Street, South New Brighton

Harcourts Four Seasons Realty

184 Brookside Road, Rolleston

Harcourts Four Seasons Realty

22/169 Fitzgerald Ave, Christchurch City

Harcourts Four Seasons Realty

6 Ashgrove Court, Lincoln

Harcourts Four Seasons Realty

sunday 11 Th april

9 James Street, Lincoln

Ray White Town & Lifestyle

17 Samuel Street, Hoon Hay

Ray White Town & Lifestyle

1 Highfield Ave, Dunsandel

Property Brokers

22/169 Fitzgerald Ave, Christchurch City

Harcourts Four Seasons Realty

1.00pm – 1.30pm

1.00pm – 1.30pm

1.00pm – 1.30pm

1.00pm – 1.45pm

1.00pm – 1.45pm

1.30pm – 2.00pm

1.45pm – 2.15pm

2.00pm – 2.30pm

2.00pm – 2.30pm

2.15pm – 2.45pm

2.30pm – 3.00pm

2.30pm – 3.00pm

29 Cathcart Crescent, Prebbleton

Harcourts Four Seasons Realty

2 Goldie Place, Rolleston

Property Brokers

14 Frame Crescent, Rolleston

Ray White Town & Lifestyle

6 Ashgrove Court, Lincoln

Harcourts Four Seasons Realty

25 Blake Street, South New Brighton

Harcourts Four Seasons Realty

6 Hungerford Drive, Rolleston

Ray White Town & Lifestyle

22 Delamare Way, Rolleston

Ray White Town & Lifestyle

54 Payne Court, Lincoln

Ray White Town & Lifestyle

20 Spackman Avenue, Springston

Bayleys Canterbury

19 Hardwell Way, Rolleston

Ray White Town & Lifestyle

6 Vasari Grange, Rolleston

Ray White Town & Lifestyle

1/469 Cashel Street, Linwood

Property Brokers

Friday 9 Th april

1.00pm – 1.30pm 29 Cathcart Crescent, Prebbleton

Harcourts Four Seasons Realty

12.00pm – 12.30pm

12.00pm – 12.30pm

12.45pm – 1.15pm

372 Dunns Crossing Road, Rolleston

Property Brokers

7 Franklin Crescent, Lincoln

Harcourts Four Seasons Realty

184 Brookside Road, Rolleston

Harcourts Four Seasons Realty

2.30pm – 3.15pm

3.00pm – 3.30pm

3.00pm – 3.30pm

642 Old West Coast Road, West Melton

Harcourts Four Seasons Realty

22 Colchester Place, Templeton

Property Brokers

7 Kingsley Street, Rolleston

Ray White Town & Lifestyle

For full details of all

Open Homes, please

contact the Real

Estate companies

RAY WHITE

Rolleston 03 347 9988

www.rwrolleston.co.nz

West Melton 03 347 9933

www.rwwestmelton.co.nz

Lincoln 03 325 7299

www.rwlincoln.co.nz

PROPERTY BROKERS

www.propertybrokers.co.nz

Rolleston 03 929 0306

Darfield 03 975 4506

Leeston 03 929 0306

Lincoln 03 595 6954

HARCOURTS

www.fourseasons.harcourts.co.nz

Harcourts Hornby 03 349 9919

Harcourts Rolleston 03 347 4711

Harcourts Lincoln 03 662 9933

MATSON & ALLAN

www.marealestate.co.nz

Rolleston 03 347 9949

Darfield 03 318 8204

Leeston 03 324 3704

BAYLEYS CANTERBURY www.bayleys.co.nz 03 375 4700

SELLING YOUR HOME?

Potential buyers are

likely to be living in your

neighbourhood, it's an

area that they already love

and are actively seeking

to stay in. That's why it

makes sense to advertise

your property in the

Selwyn Property Guide.

We are the only media

that reaches across the

entire Selwyn District.

73

Arthur's Pass

1

77

Springfield

Glentunnel DarfieldTempleton

Rolleston

Burnham Lincoln

Dunsandel Tai Tapu

Leeston

For cost effective, highly

targeted advertising that delivers

results, contact a local Real

Estate Company that advertises

in the Selwyn Property Guide.
---
16

M-A

MATSON & ALLAN

REAL ESTATE LIMITED

'The

Selwyn

Experts'

Residential

Lifestyle

Rural Property

Licensed REAA2008

NEW LISTING

DARFIELD - Creyke Road

TORLESSE ESTATE – STAGE 2 SECTIONS NOW SELLING

PREBBLETON - 10 Farthing Drive

ENTERTAINMENT PAD IN PRETIGIOUS PREBBLETON

• 1 4 Prime Sections ranging 2100m² to 8600m²

• Priced from $245,000

• Power, telephone, fibre and town water to the

boundary

• Restrictive covenants in place to protect your

investment

• Close to all Darfield amenities

For Prices, Covenants and Further Terms of

Sale please go to:

www.propertyfiles.co.nz/property/TorlesseEstate

View: www.marealestate.co.nz/MA0851

Chris Flanagan

027 433 4657

chris@marealestate.co.nz

• High quality 256m² four bedroom Prebbleton home

• Tiled kitchen features butlers pantry & large

freestanding oven with induction cooktop

• Master bedroom includes a tiled double shower,

twin vanity and huge walk in wardrobe

• Light, open-plan 70m² living area with 2.7m stud

• Expansive stacking sliders in the spacious living area

open onto sunny patio

• Established, beautifully landscaped 700m² section

offers raised vegie gardens and a spa pool

• Keep warm with two heat pumps, gas fire and under

tile heating

• Located in quiet Sterling Park subdivision

Deadline Sale. All offers to be presented

on or before 1pm, Thursday 29 April 2021

(unless sold prior)

Amelia Nisbet

027 376 3868

amelia@marealestate.co.nz

NEW LISTING

NEW LISTING

LEESTON - 85 Dunsandel Brookside Road

MAKE THIS YOUR VERY OWN PIECE OF RURAL PARADISE

LEESTON - 53 High Street

LAST CHANCE!

• 4.1 Ha Lifestyle property

• Large family home in mature setting

Price: Neg Over $799,000

View: www.marealestate.co.nz/MA0865

• Three bedroom home with separate living

• New carpet and paint throughout

Price: Neg Over $399,000

View: www.marealestate.co.nz/MA0867

• Four bedrooms plus study

• Insulation subfloor and ceiling

• Two large living areas

• Heating by way of Logburner and Heatpump

• Renovated kitchen with WIP

• Separate garaging and shed

• Log burner and two heatpumps

• 743m² section

• Several handy sheds and garaging

• An easy walk to town centre

• Established woodlot with renowned duck pond

Stephan Knowler

027 229 9522

stephan@marealestate.co.nz

Stephan Knowler

027 229 9522

stephan@marealestate.co.nz

ROLLESTON PH: 03 347 9949 LEESTON PH: 03 324 3704 DARFIELD PH: 03 318 8204 www.marealestate.co.nz

Chris Flanagan

027 433 4657

Andrew Taylor

027 435 5930

Jackie Derrick

027 636 3576

Amelia Nisbet

027 376 3868

Stephan Knowler

027 229 9522

Cameron McRae

027 769 6696

Bronwyn van der Pol

022 073 7757