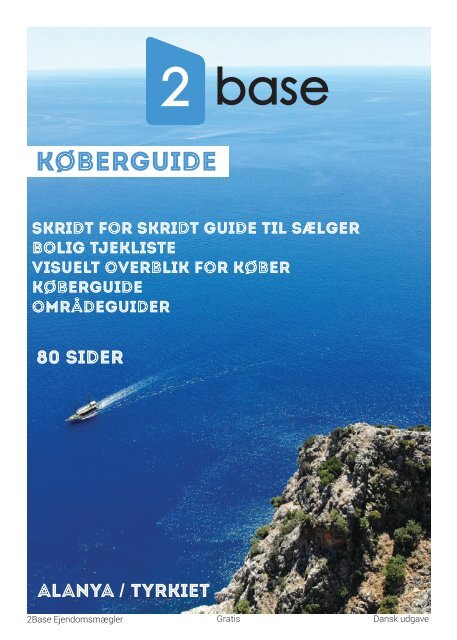 Køberguide til bolig i Tyrkiet & Alanya - 2Base Ejendomsmægler (Dansk)
You also want an ePaper? Increase the reach of your titles
YUMPU automatically turns print PDFs into web optimized ePapers that Google loves.
Køberguide

Skridt for skridt guide til sælger

Bolig tjekliste

Visuelt overblik for køber

Køberguide

Områdeguider

80 sıder

alanya / tyrkiet

2Base Ejendomsmægler Gratis Dansk udgave
---
CONTENTS

3

Skridt for skridt guide til sælger

Til at guide dig sikkert gennem

salgsprocessen har vi lavet denne

guide til dig som ønsker at sælge.

10

Bolig tjekliste

Denne tjekliste giver dig

adgang til alle boligens

relevante informationer.

6

Visuelt overblik for køber

Vores visuelle overblik hjælper dig til at

forstå købsprocessens forskellige trin.

Dette gratis

boligmagasin

er udgivet af

2Base Ejendomsmægler

med henblik på

at give dig den

bedste og nyeste

information

med relation

til det tyrkiske

boligmarked.

Kontakt os

gerne i fald du

har spørgsmål.

14

Køberguide

Vores køberguide er det

bedste sted at starte for dig

der overvejer at investere i

en bolig i Tyrkiet.

26

Områdeguider

Læs mere om de forskellige områder,

opdag nye steder og få inspiration i vores

detaljerede områdeguider.
---
Køb af feriebolig i Tyrkiet har siden 2003

været en populær måde for mange

danskere at kombinere en økonomisk

investering med en investering i familien

og livsglæde.

Tyrkiet er et fantastisk land og ingen andre

steder findes et så varieret udbud af

kulturelle oplevelser, gæstfrihed og et

fantastisk klima.

Læg dertil et prisniveau der er langt under

både det danske og hvad andre ferielande

kan tilbyde samt muligheden for både at

rejse fleksibelt og billigt.

Så har du den blanding, der gør Tyrkiet til

det perfekte sted for en investering, som

rent faktisk kan bruges til noget...

Denne boligguide forholder sig til alle

væsentlige spørgsmål før, under og efter

handlen.

Samtidig giver vi gode tips og råd til overvejelser,

du som boligkunde i Tyrkiet skal gøre

dig.

Husk også, at den bedste rådgivning ofte er

den personlige.

Tøv derfor aldrig med at kontakte os.

Forberedelse

er nøglen

til en

succesfuld

investering,

og i denne

guide får

du adgang

til værdifulde

informationer

og indsigt

om emnet

Bo Thygesen

CEO & Partner

2Base Ejendomsmægler
---
Skridt-

INDLEDENDE OVERVEJELSER

• Kontakt og møde med 2Base

• Evaluering af boligen

• Vilkår og betingelser

• Udkast til formidlingsaftale

4

for-

skridt

guide

BESLUTNINGEN TAGES

• Formidlingsaftale underskrives

• Udlevering af relevante

dokumenter

• Udlevering af 2x keys

til

sælger

MARKEDSFØRING

• Fotos

• www.2base.com

• Nyhedsbreve

• Boligportaler

• Månedlig email opfølger
---
FREMVISNINGER

• Fremvisninger: Sådan fungerer de

• 2Base fremvisninger

• Lokale partnere fremvisninger

INTERESSEREDE KØBERE

• Boligen fremvises flere gange

• Forhandling

• Vilkår og betingelser

• Udkast til købsaftale

SALGET

• Underskrivelse af købsaftale

• Deponeringskonto

• Første rate deponeres

• Fuldmagt fremsendes

FINALIZING

• Fulde købesum modtages

• Skøde udstedes

• Refusionsopgørelse

• Kommission overføres

• Købesum frigives

At sælge sin bolig

er en stor

beslutning og

kræver en aktiv

mægler, I kan

stole på

Processen fra

de første

indledende

tanker om at

sælge til

dagen hvor

salget

afsluttes,består

af

mange skridt

For at guide Jer

sikkert gennem

processen har

vi lavet denne

skridt-for-skridt

guide til Jer der

ønsker at sælge
---
Et boligkøb

i udlandet

er en stor

beslutning,

og foregår

selvfølgelig

en smule

anderledes

end et

boligkøb

i Danmark

A) FØRSTE FREMVISNINGER

1-5 dage

1-Fremvisning af udvalgte

boliger

2-Fremvisning af alternativer

3-Testdrive af interessant

lejlighed

4-Fremvisning af de meste

interessante boliger igen

b) Yderligere fremvisninger

1-3 dage

1-Udpege den mest

interessante bolig

2-Gennemgå lejlighedens

checkliste

c) Afslutning af boligkøbet

1-5 dage

1-Udkast til kontrakt samt

betingelser og vilkår

2-Underskrivelse af købsaftale

3-Køber og sælgers fuldmagt

4-Lån

5-Betaling af første deponering
---
D) Skødet

2-15 dage

1-Skødeprocessen startes

2-Sidste betaling

3-Skøde udstedes

4-Refusionsopgørelse

5-Udlevering af nøgler

e) Efter skødet

2-5 dage

1-Registrering af beyanname

2-Registrering af el

3-Registrering af vand

4-Informere ejerforening

om ny ejer

5-Indboforsikring

F) service

1-Aftersales service

2-Spørgeskema

Vi har derfor

lavet en

visuel oversigt

over de

forskellige

trin i

købsprocessen.

På den måde

kan I bedre

forstå og

følge med i

hvert enkelt

skridt på vejen

mod at blive

boligejer

i Tyrkiet
---
3 måder at

komme til Tyrkiet

Køb af en feriebolig er en individuel beslutning

Vi har derfor sammensat tre forskellige

forslag til hvordan du kan komme til

Alanya for at se på boliger

Test-drive

Vil du prøve at bo i en

feriebolig inden du

beslutter dig for at købe?

Du kan således prøve at

bo en uge i præcis samme

type bolig som du påtænker

at købe. På den måde kan

du være sikker på at jeres

beslutning bliver helt rigtig.

Flybilletter betaler du selv,

mens lejen af ferieboligen

blot er et symbolsk beløb,

som dækker forbrug af vand,

el og rengøring.

Dette tilbud gælder

derfor for dig, som er

oprigtigt interesseret i

køb af en feriebolig.

Charter Rejse

Tag på en uges

charterrejse, og

kombiner sol, strand

og pool med boligjagten.

Her vil der både være tid til

at opleve Alanyas

seværdigheder, nyde

det gode vejr og se

på drømmeboligen.

Udnyt ligeledes fordelen

ved at bo på hotel og den

service det indebærer.

Vi henviser gerne til

de bedste og billigste

danske rejsearrangører.

Ved køb refunderes

billetprisen i fald dette

aftales på forhånd.
---
9

Besigtigelsestur

Tag på en af vores populære besigtigelsesture.

Vi har afgange fra både Billund, København og Hamburg.

Turene er af 3-4 dages varighed, og er for dig som ønsker

en tur hvor fokus er 100 procent på at finde den rette bolig.

Før afrejse planlægges turens forløb, således at i vil få

præsenteret de boliger der dækker jeres behov.

Vi vil ligeledes præsentere de forskellige områder.
---
Ejendom

Inventar

Internet

Garantier

Nuværende ejer

Kompleks

Elevator

Internet

Fjernsyn/ satellit

Nationaliteter

Garanti

Byggeår

Forvaltning

Opsynspersonale

Administrations

firma

Formand

Referater

Generalforsamling

Blandt vores

vigtigste

opgaver er

at sikre os,

at I som

boligkøbere

har let adgang

til alle vigtige

og relevante

informationer.

Registreringer

Elmåler

Vandmåler

Kommune,

begenname
---
Dette er

vi er meget

opmærksomme

på, og vi har

derfor lavet

denne grundige

tjekliste til Jer.

Forbrugsudgifter

Vand

Elektricitet

Rengøring

Lufthavnstransfer

Opsynsservice

Flybilletter

Papirarbejde

Skøde

Ferdi iskan

Ön iskan

Forsikring, kompleks

Forsikring, ejendom

Salgsopstilling

Årlige udgifter

Ejerforeningsbidrag

Ejendomsskat

Forsikring

Financielle tal

Off entlig vurdering

Købsomkostninger
---
12

VORES KUNDER SIGER

Jens Scheffmann

Jeg har benyttet 2Base til køb

af bolig samt efterfølgende

service og opsyn.

Ligeledes bor jeg i et

kompleks hvor 2Base er

administrator.

Servicen har altid været god.

Dorthe & Jonny Petersen

Børge Høgh

Er fuld tilfreds både med køb

igennem 2base, og den gode

service vi nu får hos jer, selv

da jeg for nogle år tilbage

havde brug for at kommet

på sygehuset der nede var

der stor hjælp at hente, kan

kun give jer mine varmeste

anbefalinger.

Rigtig god service og når

man ringer eller skriver tages

der altid "action". Transfer

service fungerer super og

i kommer altid som aftalt.

Altid imødekommende når

man kommer på besøg på

kontoret.

Jeg kan kun give

mine bedste

anbefalinger.

Helle Rydahl Munch

Er fuld tilfreds både med

køb igennem 2base, og den

gode service vi nu får hos

jer. Selv da jeg for nogle

år tilbage havde brug for

at kommet på sygehuset i

Alanya var der stor hjælp at

hente.Kan kun give jer mine

varmeste anbefalinger.

Helle Holm Pedersen
---
Michael Vældegaard

Vi har tilbage i 2005 købt lejlighed i

Alanya gennem 2Base. Alt gik godt så

selvfølgelig valgte vi igen 2Bas da vi

i 2018 ville købe en ny lejlighed. Igen

gik alt som det skulle. Desuden bruger

vi 2Base til at holde opsyn med vores

lejlighed når vi ikke er der, samt betale

vores regninger og rengøring før vi

ankommer. Så vi er fuld tilfredse og

giver 5 stjerner.

Rita Hee

Et rigtigt godt og

meget hjælpsom

ejendomsmægler.

Gennem årene har jeg brugt

2Base Ejendomsmægler

til at købe og sælge bolig

i Alanyaområdet. Jeg har

altid været tilfreds med

firmaet, som er troværdigt,

hjælpsomt og professionelt,

så jeg giver mine bedste

anbefalinger.

Caren Hendrik DuJardin

Et meget professionelt

firma hvor alt er

gennemskueligt og effektivt.

Jeg var specielt tilfreds

med atituden, og

serviceniveauet er af

højeste niveau. 2Base

arbejder effektivt og med en

skandinavisk tilgangsvinkel

og tankegang. I firmaet tales

der mange sprog, og du

kan tale på dit

modersmål.

Et meget transparent,

tillidsskabende firma

som er let at arbejde

med. Deres hjemmeside

er blandt de bedste og

servicen er god.

De kan anbefales både til

at købe og sælge bolig.

13

Henrik Voss

Alexander Vinokurov
---
At stille sig selv de rigtige spørgsmål er

en nøglefaktor, når der skal investeres i en

feriebolig.

Husk at være ærlig overfor dig selv, når du

besvarer disse spørgsmål og realistisk omkring

såvel økonomi samt behov
---
Tiden fra de første spæde overvejelser til den dag kontrakten

skrives under er en proces. For nogle en længere, og for andre en

kortere. Lige gyldigt hvor i processen i befinder jer, står vi altid

parate med rådgivning og gode råd.

Et boligkøb skal være velovervejet og godt gennemtænkt. Derfor

er det også vigtigt at du som interesseret køber gør dig de rigtige

overvejelser.

Beliggenhed TYPE Prisniveau

Hvor er den økonomiske

smertegrænse?

At forelske sig i en bolig som er for

dyr er en dårlig ide. Vær realistisk

med dit budget og respekter det.

Lejlighed, penthouse eller villa?

Dette er som regel et spørgsmål

om investeringens størrelse. Som

hovedregel ligger villaer lidt mere

afsides beliggende i bjergene end

lejlighed/ penthouse.

Til gengæld vil det ofte være en

mere rolig beliggenhed. Med en

lejlighed eller penthouse får du ofte

adgang til gode faciliteter og mange

kvadratmeter for pengene.

Beliggenhed i byen, tæt på strand

eller et omligt område?

Det mest populære er en

kombination af ovenstående. Det

vil sige en beliggenhed uden for

centrum i forstæderne til Alanya.

På den måde opnås en rolig

beliggenhed med nem adgang og

transport til strand og centrum.

Størrelse

Faciliteter

Hvor mange soveværelser?

Langt den overvejende del af alle

boliger bygges som såkaldte 2+1

boliger, det vil sige med to soveværelser

og kombineret stue/køkken. Det er

også klart den mest populære type hos

boligkøberne. Dog findes der også både

boliger med ét soveværelse (1+1) eller

3 soveværelser (3+1).

Ønskes mere end 3 soveværelser bør

en penthouse overvejes. Penthousen

er den øverste bolig i et kompleks

i to etager, hvor den øverste etage

ligger under taget. Dette giver oftest

fantastisk udsigt og adgang til

tagterrase.

Hvilke faciliteter ønskes?

Langt de fleste komplekser har pool.

Herud over findes der mulighed for

boldbane, basketball, bordtennis,

motionscenter, indendørs pool, vand

rutchebaner, vagtservice, pool bar,

vicevært, internet og meget mere.

Overvej hvilke faciliteter i stiller som

et krav, og hvilke der gerne må være,

uden at det er et absolut krav.

15
---
16

Invester først i en bolig efter at have besøgt

den flere gange samt foretaget en nøje

gennemgang af alle relevante dokumenter
---
Inden fremvisningerne vil vi sammen blive

enige om, hvilke emner der skal besigtiges.

Alt afhængt af antaller af emner, vil dette

tage fra et par timer til en halv dag.

I forbindelse med fremvisningen af vores

boligemner vil al relevant information blive

lagt frem. Dette inkluderer:

Handlens udgifter og dens omkostninger:

- Boligens pris: Den aftalte pris mellem

køber og sælger.

- Registrering af el og vandmålere

- Udgift til eventuel fuldmagt

- Indflytningstilladelse (ferdi iskan): En

tilladelse som den enkelte lejlighed skal

have.

- Forsikring: Jordskælvs- og indboforsikring

tegnes separat.

- Ejerforening: Dækker omkostninger til

ejerforeningen der tager sig af driften af

fællesområderne såsom pool, haveareal,

trappeopgange, elevatorer etc.

- Udvidet opsyn: Vi anbefaler alle boligejere

at tilmelde sig vores opsynsservice. 2Base

betaler herefter dine regninger, sørger for

forsikring, udluftning af lejligheden og meget

mere.

- Ejendomsskat, renovationsafgifter etc. i

Tyrkiet: Disse skatter her generelt meget

lave i Tyrkiet.

Inkluderet i handlen:

Ofte er for eksempel hvidevarer, klimaanlæg,

myggenet eller møbler inkluderet i prisen.

Vores salgsopstilling viser dette klart og

tydeligt.

Estimat over årlige driftsudgifter:

I forhold til hjemlige boliger er driftudgifterne

på en feriebolig i Tyrkiet meget små.

Vores salgsopstilling giver et estimat over

udgifterne på hver enkelt bolig.

Iskan - byggeriets og boligens tilladelser

Information om status på ön iskan og ferdi

iskan.

Ofte et overset emne, men ikke desto mindre

er handlens vel nok næstvigtigste papirer

efter skødet.

17

Fremvisning af boliger
---
18

Once you have received the title deed on the

property, You are to be considered as the legal

owner of the property.

We of course assist you in the process of

obtaining all relevanat papers on your property
---
All administrative formalities listed above and mentioned in this buyers guide

are arranged and taken care of by 2Base Estate Agency.

You will the refore not spend valuable time sorting out formalities - we

simply do it for you.

The process for obtaining your title deed in

Turkey:

- An approval to sell the apartment must

be issued by the authorities, who will check

that the apartment or villa is located in an

area where foreigners may acquire property.

It is for example not allowed for foreigners

to acquire property next to military bases, in

village areas, on archaeological sites etc...

All properties listed with 2Base Estate

Agency are located in areas where foreigners

can acquire property.

The approval takes only a couple of days to

get and personal presence is not required for

this application.

- Proxy, setting up a local bank account if

needed, getting local tax number: This takes

half a day and is done together with one of

our team.

Once the approval to sell the apartment

has been issued, we inform the local land

registry office, who will then start the last

procedures in order to do the actual title

deed transfer.

This final preparation at the land registry

office usually takes 2-5 days.

You as a buyer will be represented by 2Base

Estate Agency via the given proxy and your

personal presence is not needed.

Purchasing process
---
No one likes to take risks!

That is why we always aim at providing all

our customers with a financial secure deal

20
---
FINANCIAL SECURITY

To invest in a holiday home at 2Base Estate Agency is safe.

This means that you do not risk any financial loss, even if

something suddenly goes wrong.

21

We ensure that you do not run any financial

risk. We do not work with installment

payments or "half payment upfront, last part

with title deed" concept.

We when ever possible always offer an

economical secure payment plan.

Often this can be done by securing the

buying amount in a closed bank account

until the title deed is handed over.

Although holiday homes in Turkey are

available for a fraction of the price compared

to an equivalent property in Europe, it is after

all still a lot of money.

2Base Estate Agency has sold holiday

homes in Turkey ever since the market was

opened in 2002-03.

We therefore have the experience and

expertise needed.

As an interested buyer you should never

forgot that although the local hospitality, the

smiles, and promises made in Turkey are

often very big, the differences in mentality is

at least twice as big.

Always use an experienced estate agent,

who speaks the same language as yourself.

A broker, who understands you, that you

understand and with whom you share the

same mindset and mentality.

This can save you from many

disappointments and negative experiences,

not to mention the negative economic

consequences this may save you from.
---
22

Vi sælger ikke bare boliger -

efterfølgende yder vi også markedets

bedste og mest effektive service
---
I forbindelse med overdragelsen af boligen

sørger vi for alt det praktiske i forhold

til registrering af boligen, forsikringer,

kopiering af nøgler, indkøb og levering af

møbler med videre.

Ligeledes har du mulighed for at tilmeldige

dig vores opsynsservice. Her holder vi øje

og opsyn med din bolig og sørger for at der

betales regninger.

Via vores online shop kan du også bestille

forskellige services såsom rengøring, vask

af lagen, transport til og fra lufthavnen og

meget andet brugbart.

Vores online system giver dig også

mulighed for at få et overblik over boligens

driftsøkonomi, og du kan let se hvilke

regninger og udgifter der betales.

23

Overdragelse og service
---
24

Det er vigtigt at vide hvad du kan

forvente. Læs her mere om

kvaliteten af en tyrkisk feriebolig
---
Kvaliteten på en tyrkisk bolig er måske noget af det mest diskuterede.

For hvordan bygges der, og hvillke materialer bruges der.

Badeværelser

Køkken

Stuk

Kan som oftest sammenlignes med

nye danske badeværelser. I Tyrkiet er

der et stort udvalg af pæne fliser og

klinker, ligesom kvaliteten på haner,

elementer, brusekabiner etc. er helt på

højde med den danske standard.

Ligeledes findes alle moderne

bekvemligheder som spa-bade

og gulvarme. Ofte er tyrkiske

badeværelser en tand størrer end

tilsvarende danske.

Over og underskabe laves af standard

mdf med enten malet/ lakeret

overflade eller den billigere laminering.

Easy-luk er ikke specielt udbredt, men

kan efterfølgende monteres let og

billigt.

Bordpladerne er som regel enten

marmor eller granit, og fremstår både

flotte af høj kvalitet.

De fleste boliger har eksklusive

stuklofter med spots og belysning.

En lækker detalje som giver boligen

et ekskusivt og lækkert look.

Mure TSE

Gulve

Døre

Tyrkisk Standard Institut

Alle byggematerialer skal overholde

retningslinierne fra TSE, Tyrkisk

standard institut.

Ligeledes er alle boliger

jordskælvssikrede og alle

byggerier inspiceres løbende under

byggeperioden af et rådgivende

ingeniørfirma der arbejder på licens

fra staten.

Simpel sten mur med forskellige

lag puds og silikone maling. Ingen

decideret isolering.

Som regel lyse klinker men kan også

være laminat, travertin eller marmor.

Frontdør i stål og inderdøre i mdf/

presset træ med udsmykninger.

Balkondøre og vinduer i pvc-plastik

med multi åbne-lukke funktioner og

dobbelt glas.

25
---
ALANYAS CASTLE

IS A PEACEFUL

DISTRICT COMPARED

TO ITS

NEIGHBOUING AREAS

Om

26

Alanya Castle is one of the most unique

districts of Alanya and put under

protection of Unesco's world heritage

list. The peninsula divides the town

into a Western and Eastern part and

the castle itself dates back to the 13th

century. It is mainly a quiet area, with

outstanding views of the

turquoise Meditteranean sea and

Taurus mountains.

Besides some mini markets and

restaurants there arn't many facilities

in the area, you would need to travel to

the centre of Alanya or to other districts

of Alanya to acquire most of your daily

needs.

CASTLE
---
Several

famous

attractions

are

nearby

27
---
28

Activities Shopping

There are a few mini markets to

accommodate your daily needs.

You would need to travel down to

the centre of Alanya to go grocery

shopping etc.

Fortunately, the centre of Alanya is

only a few minutes of travel away

and has all the different stores you

need to supply for yourself, meaning

it's only a mild inconvenience.

Around and inside the castle itself

you will find many souvenir stalls for

tourists.

Walking the old ruins of the ancient

castle that are literally just outside

your door is a must do.

After making it to the top you

can jump into the cable car that

will quickly take you down to the

Cleopatra beach. You will also find a

yoga school here.

TRANSPORT

There is a bus(number 4)that goes to

this area specifically, and it goes hourly

until early evening (at time of writing).

The bus will take you to the castle, or to

the centre of Alanya.

There are of course taxis available

anytime.

Alternatively, you can use the steps built,

or the roads to travel down to the centre.
---
Food

In the Alanya castle (Kale) area there

are a few small cafes and restaurants

(offering some of the best Turkish

breakfasts)which are really delightful

to visit.

Many of them are located on the cliffs

of the peninsula offering amazing

views over the town and sea.

The castle area is particularly famous

for its breakfast tables and romantic

evening dinners.

nearby

Alanya's centre is located just at the

foot of the peninsula and castle area.

In Alanya's centre there are numerous

shops, cafes and restaurants, and it is

the busiest area of Alanya.

Several famous tourist attractions

are also nearby the castle such as

the ancient shipyard, the Red Tower,

Cleopatra beach and the Damlatas

dripstone cave.

Wrap up

All in all, Alanya's castle is a peaceful

district compared to its neighbouring

areas. Even though there aren't any

daily needed facilities, the area

offers outstanding views of both the

Mediterranean Sea and the Taurus

mountains.

Though an important note to keep

in mind, this district has many level

changes, lots of steps and getting

around by yourself requires a good

physique.

ALANYA CASTLE
---
TOSMUR IS AN

IDEAL PLACE FOR

PEOPLE WHO HAVE

A LOVE FOR NATURE

Om

30

Tosmur is a quiet, residential area in the

east of Alanya and you are close to the

Dim River; a famous tourist attraction.

The local Turks have for many years

sought refuge by this river when the

summer became too

hot – the reason for this is the

temperature of the river is only about

15 degrees.

The beautiful scenery of the Taurus

mountains, and Mediterranean sea

makes a pleasurable experience to

walk along the seaside, or in the

Taurus mountains.

Tosmur will also cater your daily needs

successfully, and will provide you with

good transportation towards other

districts of Alanya.

TOSMUR
---
Tosmur

is home

to the

fantastic

Dim river

31
---
Activities

Those who love to walk in nature, or

appreciate the natural beauty around

them will enjoy Tosmur very much.

As you are able to go on long walks

in the Taurus mountains and forests.

If you would like to take a dip into

the Dim river, you can do so safely at

the Dim picnics north of Tosmur, in

Dimcay.

During your visit to those picnics, you

can also feast on Turkish cuisine,

whilst sitting on a floating raft above

the Dim river, surrounded by nature.

If you would like to do something in

the residential area of Tosmur the

natural choice would be heading for

the beach.

32

Shopping

Tosmur will provide you with shops

and supermarkets to cater for your

everyday life.

There are a few well-known Turkish

supermarkets in the area, where

many people do a lot of their grocery

shopping in.

Apart from these supermarkets,

Tosmur has a few butchers,

bakeries, 24/7 convenience stores,

and produce shops as well as the

weekly

"Thursday Market' which is a

traditional Turkish market that

is outdoors, sells produce, dairy

products, and clothes at good prices.

TRANSPORT

Everything in Tosmur is quite compact

when it comes to daily needs, thus

meaning you wouldn't need to go on

buses, cars or taxis etc.

Although, those who wish to, or need

to go to Alanya or other areas, can take

the daily buses that come quite often,

or alternatively order a taxi.
---
nearby Wrap up

Tosmur is an ideal place for people

who have a love for nature. You will

not find any troubles when living here

when it comes to your daily life.

All the stores are in walking distance,

along with bus stops, making it easy

to catch a bus to Alanya.

The area is mainly quite and peaceful

with access to nice beaches and

infrastructure.

Another great site nearby is

the dim cave.

In brief, the Dim Cave is one of

the largest caves open to the

public in Turkey, and has an extremely

unique look to it.

Finally Tosmur is located within very

short distance to surrounding areas

such as Kestel, Oba, Cikcilli and even

Alanya city center.

Food

There are a few restaurants, and

cafe's in Tosmur.

Most of the restaurants will serve you

Turkish food, or in contrast, some will

serve you European cuisine.

In Tosmur most cafes and

restaurants are family owned which

makes for a great and more personal

atmosphere.

ALANYA TOSMUR
---
THE CENTRE

OF ALANYA IS A

BEAUTIFUL PLACE WITH MANY

ACTIVITIES TO PARTICIPATE IN

AND NUMEROUS SHOPS

Om

34

Alanya Centre is the very heart of Alanya.

Numerous flashy coffee shops, and

clothes shops adorn the streets, with

restaurants that serve a variety of

cuisines from all around the world.

It is the most populated area of Alanya

and even behind the main streets, and

shopping districts, it is busy with the

hustle and bustle of vibrant, Alanya.

The main attractions located here are

the harbour (with all the beautiful motor

sailing pirate ships), Red Tower (an old

fortress), Alanya Castle with its splendid

history and the historical ancient

shipyard all accompanied by wonderful

sandy beaches.

CENTRE
---
This is

the very

heart of

Alanya

35
---
TRANSPORT

Public transportation in Alanya

is easily accessible. Buses go by

frequently, and many buses passing

through the busy streets, as part

of their route will take you out to

other parts of Alanya. The number 1

(101)bus travels the whole length of

greater Alanya close to the sea and

beaches.

On the other main shopping street

there are many buses including

the number 2 (202a or 202B)which

take you along many kilometres of

Greater Alanya. You are able to book

services to Antalya with ease in the

centre of Alanya and also find taxis

(metered) which are always present

here.

36

Activities

Shop 'til you drop and then go out

for a bite of food and some drinks.

These must be among the main

attractions of the city center.

Besides that you have beaches,

sights, cinemas and literally

everything else within arms length

Shopping

There are many shopping areas in the

centre of Alanya, with modern clothes

shops on the main streets and dazzling

jewellery stores, dotted around Alanya's

centre. Stores are seen everywhere

ranging from beauty stores to hardware

stores.

There are many world-wide known

stores in the centre of Alanya.

We have also still got the streets

with butchers, small grocery shops,

pharmacies, hardware stores, alongside

colourful family owned clothes

businesses which seem to be on every

corner, all hidden behind the busy main

streets of Alanya.
---
Food

nearby

In the centre, there is a vast amount of

cafes and restaurants and fast food

outlets offering a variety, of cuisine

including Asian and European dishes.

There are cafes and restaurants in

nearly every street in the centre of

Alanya.

Many are the small popular family

owned businesses, which serve

Turkish tea, and small delicious

Turkish meals alternatively there are

the large Turkish chain restaurants

which are extremely popular amongst

the local population.

Even behind the busier streets of

Alanya, in the quieter residential

areas, there are small cafes and

restaurants all offering affordable

food and drinks.

The centre of Alanya is near to the

world famous Damlatas beach,

Alanya Cable car, Damlatas Dripstone

cave and the castle area. Alanya's

centre is also near to Oba, a residential

area, and Bektas - which is a more

rural part of Alanya on the rising

roads going towards the mountains.

This is the north of the city. Think of

Alanya as the bulls eye, in the center

of everything, and everything else is

close in proximity to it.

is a beautiful place with many

activities to participate in.

There are numerous shops to visit,

and many places to dine at. The

aesthetic looking centre is near the

famous tourist attractions.

It is a well kept area of Alanya, with

many parks, small gardens, and

roads planted with trees, flowers and

colourful shrubs, but also busy and in

fact, a place that never sleeps.

WRAP UPIn rounding up, the centre of Alanya

ALANYA CENTRE
---
THE NORTH HAS

STUNNING VIEWS OF

THE TAURUS MOUNTAINS

AND THE MEDITERRANEAN SEA

Om

38

Alanya North is the zone between

town and countryside.

The southern part of Alanya North

is still relatively close to the town

centre,

whilst the northern part is a little

away from the town.

From the area there are exceptional

views of the Mediterranean Sea and

the Taurus mountains.

NORTH
---
The

northern

part of

Alanya is

still close

to the sea

39
---
Activities

Here you will find excellent opportunities

for hiking in the mountains and pine

tree forests.

The area is also great for biking,

although some of the hills are quite

steep.

There are also several picnic areas and

viewpoints here with the new "Alanya

Devlet Bahceli" park being the biggest

and most popular.

Shopping

This northern part of Alanya does have

grocery shops and other daily facilities

needed.

Just remember that the further you

get up on the hillside, the less shops

are available.

TRANSPORT

A few buses do go to the north quite

frequently, although for personal

convenience it's easier to either use

taxis, or your own vehicle to move

about.

If you are on a budget, you can walk,

or use a bike etc or go on the free

pick up services offered by many

restaurants and beach clubs.

40
---
Food

From the lower parts of Alanya north

you will have plenty of restaurants,

cafes and bakeries to choose from.

Most of these are found around the

D-400 main road which also marks

the beginning of Alanya north.

Higher up the mountain side only a

few options are available.

nearby

The northern part of Alanya is still

close to the sea, and centre of Alanya,

meaning you have easy access to

many activities.

Wrap up

The north of Alanya, in short has

stunning views of the Taurus

mountains and the Mediterranean

sea. It is surrounded by greenery,

and is close to Turkish village life.

In overall, the north of Alanya would

be suited for those who wish to live

in tranquility, yet also be relatively

close to the centre.

ALANYA NORTH
---
THE EASTERN

PART OF ALANYA IS

OFFERING A RELAXED CITY LIFE

Om

42

This district was built as a

continuation of the central part of

Alanya and therefore is only minutes

away from the city center. At the

beach road the eastern part of

Alanya is very

busy while normal quite life

continues peacefully further up the

back.

Generally the area is residential but

with a few hotels on the beach side.

EAST
---
The

beach is

good for

children

43
---
Activities Shopping

Larger food stores and smaller

minimarkets are located throughout

the area.

At the 25m road (Hasan Akçalıoglu

Cad.) there are plenty of shops

available selling everything from

clothes to daily accessories and

white goods.

At the eastern beach the sea is

relatively shallow, it is therefore good

for children and other who needs

easy access to the water.

In the area there are several gyms

and the beach promenade is good

for being active.

TRANSPORT

In the east transportation is among the

best in Alanya. Buses come by every five

minutes, and will easily take you to any

other area.

There are also taxis around at any time.

44
---
FoodIn the east of Alanya there are many

modern cafes and restaurants, some

of them are well known Turkish food

chains. There are of course Turkish

restaurants and cafes that will serve

you Turkish beverages and cuisine.

At the beach road you will find the

more upscale choices, several of them

located directly on the beach offering

amazing views and sunset dinners.

Cheaper and less fancy options are

available at the back streets.

nearby

The busy city center, castle area and

even Oba can be reached easily, even

by foot.

This makes Alanya east one of the

most central and well connected areas

of Alanya.

WRAP UP

The eastern part of Alanya is offering

a relaxed city life. In the east there

are many facilities such as gyms,

shops, and others and the beach is

nearby.

There are many activities you can

part-take in the east as there are

many parks, and easy access to the

greener parts of Alanya.

ALANYA EAST
---
IN THE WESTERN

PART OF ALANYA THE

LIFESTYLE IS QUITE RELAXED

Om

46

Alanya's western part is a popular

area and many different nationalities

gather here creating a good

atmosphere.

It is close to the sea and the world

famous Cleopatra beach, and the

coast line is several kilometers long

and is the main attraction of Alanya

west.

Besides that Alanya west offers a

mix of both touristic places and more

local and low key places.

WEST
---
There are

plenty of

restaurants

and cafes

47
---
Activities

Alanya west offers almost any

activity available in Alanya.

At the beach all kinds of water

sport and beach activities are

available,there are also very modern

Beach clubs offering many facilities

including evening concerts.

The beach promenade is great for

walking or running or even just sitting

enjoying the ambience. Alanya

indoor Olympic sized swimming hall

is located here and several gyms are

also located in the area.

Are you the adventurous type?, then

the paragliding trips also start from

here. For the kids we recommend a

trip to the outdoor tivoli Luna Park.

48

Shopping

A lot of smaller and a few bigger

super markets are available for food

and daily necessities. Yeni hal - the

covered market area - is also a great

place for fresh fish, meat, vegetables

and other food items with Tuesday

being the big day for fresh produce.

Some other shops selling clothes

and other items are found but not so

many as in the city center.

TRANSPORT

The transportation in the west is the

most diverse in Alanya and public

transportation is available within close

reach to take you to the city center or

other areas of Alanya.

This is also the place for the main long

haul bus terminal, from where you can

literally reach any other places in Turkey

by bus.

Finally taxis are available from almost

every street corner.
---
FoodIn the western part of Alanya the

lifestyle is quite relaxed and people

enjoy the warm waters of the

Mediterranean sea.

Everything here is nearby and there

are plenty of activities to choose from.

There is a very good choice of

transportation and it is therefore easy

to reach other areas without too much

trouble.

nearby

From Alanya west you can easily reach

the city centre of Alanya.

The New Yacht harbour, Ulas beach

and Konakli are also relatively nearby.

For the more adventurous the ancient

city of Hamaxia is just a few kilometers

away.

WRAP UP

There are plenty of restaurants and

cafes in this area.

The more touristy ones are located

at the hotels and on the beach road,

while the more local ones can be

found a bit further from the beach

walk.

Fish lovers will be able to find several

nice options here.

ALANYA WEST
---
OBA IS A MODERN

PLACE LOCATED RIGHT AT THE

SEVERAL KILOMETER LONG

BEACH PROMENADE

Om

50

Oba is a remarkably modern

residential area in the east of Alanya

where tourism and local life goes

hand in hand.

The summer here is quite busy with

the winter period being a lot calmer.

It is near the sea, and is close to

many main parts of Alanya including

the city centre, Cikcilli, and Tosmur.

In Oba, everything is placed

conveniently to provide ease for

residents, thus you will not find any

problems in your daily life.

There are also many shops and it is

a great place just to walk around and

enjoy the ambience and maybe stop

for a coffee or other drink that you

enjoy.

There is a several kilometer long

beach promenade to enjoy which

has palm trees and other colourful

plants the entire length.

It has a designated cycle lane too so

easy for the cyclist who wants a long

flat route to the city. You can in fact

cycle to Mahmutlar and Kargicak on

the sea front.

OBA
---
A great

place for

water

and beach

activities

51
---
52

Activities Shopping

There are numerous shops all around

Oba such as butchers, convenient

stores, small-turkish-chain shops,

pharmacies, produce shops, and

some larger grocery shops. Along

with that, there is also a touristic

bazaar area which sell clothes and

souvenirs, held on a Monday.

At the main road north of Oba all

larger furniture, electronic shops and

super markets are located.

The proximity to the beach makes

Oba a great place for all kinds of

water and beach activities.

The area also has several gyms,

tennis- and football courts.

Finally the beach promenade is a

great place to cycle, run or walk.

TRANSPORT

In Oba the public transportation system

is one of the best in the region. The

reason for this is that Oba is located

in the middle of everything and almost

every bus passes by Oba no matter

where it is heading.

Along with the public transportation,

you're able to order a taxi anytime.
---
are numerous restaurants in

Oba serving a wide variety of food

from all over the world.

Here you will find a great mix of small

FoodThere

local restaurants and more touristy

restaurants with dancing waiters,

disco lights and big screen televisions

showing football.

nearby

Oba is in the ideal spot of Alanya, with

the city to the west side, and with the

quieter areas of Tosmur, Kestel and

Mahmutlar, located to the east.

Right behind it is the 35 meter

road, which has many shops, and

restaurants along the road such as

Koctas, Migros, Metro, Tahtakale

Spot, Vatan Computers and Alanyum

shopping center.

Oba is right by the seaside, which

means easy access to the beach and

beach activities. There are many very

good beach cafes/barssome serving

delicious food.

WRAP UP

Oba is a modern place right at the

beach and it is said to be the ideal

place to stay in Alanya when it

comes to how convenience.

Alanya center, Cikcilli, Tosmur, and

Mahmutlar are only a mere 10

minutes away by car or bus.

Along with that, all the shops for both

daily and entertainment purposes

are in walking distance.

ALANYA OBA
---
IN KESTEL THE

BEACHES ARE SECLUDED

AND IN GENERAL THE AREA

IS VERY CALM

Om

54

Kestel is a residential area located

between Mahmutlar and Tosmur. It

offers several kilometers of unspoiled

and often empty beaches. The area

is still under development and is very

different to

different to other more busy

areas at the coast.

Besides the more laid back features,

Kestel still has everything you will

need for daily life.

KESTEL
---
Kestel

is very

different

to other

areas

55
---
Activities

Go to the beach, take a stroll on the

beach promenade, work on your sun

tan and swim in the crystal clear

Mediteranian sea.

For the active people put on your

hiking boots or your mountain bike

and explore the hilly areas behind

Kestel.

You can also cycle from Kestel to

the east through to Kargicak and the

west as far as the New Yacht Marina,

nearly all on a level, designated cycle

track.

Also the Dim cave is located not too

far from Kestel

56

Shopping

Several supermarkets, bakeries,

butchers and coffee shops are

making sure that all of your daily

needs are catered for.

For shopping other than daily

necessities Mahmutlar and Alanya

center is nearby.

TRANSPORT

From the beach road busses run in every

direction towards Mahmutlar and Alanya

city center.

Taxis are as usual available from almost

every street corner.
---
ig coffee shops and bakery

stores have branches in Kestel. Besides

that there are many nice restaurants

to choose from.

FoodSeveral

At the beach a few beach clubs and

fish restaurants offer you the ultimate

"beach dining" experience.

Behind Kestel several small and

local run restaurants offer authentic

breakfast with a view.

nearby

Both Mahmutlar to the west and

Tosmor, Oba, Cikcilli Alanya city center

to the west are easy to reach by bus or

even bike.

The famous Dim cave and Dim River is

also very close.

WRAP UP

Kestel is different to any other area

located at the seaside, since it is still

very quiet and has very little tourism.

Beaches are secluded and in general

the area is very calm.

The area has everything needed for

daily life and there is easy access to

other more busy and vibrant areas.

ALANYA KESTEL

@gazipaşa #natural stone pools
---
TOSMUR IS AN IDEAL

PLACE TO ENJOY BOTH

THE ACTION OF TOWN AND

NATURE AT ITS BEST

Om

58

Konakli is situated west of Alanya.

It is a residential area, with many

hotels along the coastline.

It has a town centre where there are

many cafe's, and restaurants, along

with a shopping mall.

In many ways Konakli is like a

miniature version of Alanya with

a great mix of both local life and a

touristic hot spot.

There beaches with sparkling clear

water just waiting for you to swim.

Konakli isn't only based near the

coastline like many other areas of

Alanya, it actually stretches a few

kilometers north near to the Taurus

mountains.

Here you will find a good local village

atmosphere due to the many farms

in the area up north.

KONAKLI
---
Konakli

is like a

miniature

version of

Alanya

59
---
Activities

North of Konakli there are many

activities available for nature lovers

as your are able to take hikes up the

pine tree forests and enjoy nature at

its best.

The shopping is also great with both

shopping malls and more bazaar like

options. On a Wednesday there is a

big outdoor street market where you

can buy many "copy" items as well

as very fresh fruit and vegetables.

Party lovers should surely go to

Summergarden, a well-known open

air late night disco.

Finally the beach offers everything in

beach life and water sports.

60

Shopping

Konakli is quite a popular area, and

therefore has numerous butchers,

bakeries, and hardware stores. Along

with small grocery stores common

in Turkey. There are a few clothing

stores that are locally owned and

there are more well-known clothing

shops in the small shopping mall.

The shopping centre is situated next

to the main coastal highway, and is

a place where many locals spend

some part of their weekends. The

out door market is also close by.

TRANSPORT

There are many buses that come to

Konakli. A bus comes around every 10-

15 minute that will take you straight to

Alanya's city centre.

There are of course Taxis also available

at any time. Konakli also has excellent

transport opportunities to Alanya and

Antalya, where the airport is situated,

since the main coastal road runs through

the town.
---
nearby WRAP UP

Konakli in overall is a very active town,

with both a local town center and they

more touristic areas at the sea.

It is an ideal place to enjoy both the

action of a town and nature at its best.

You are able to enjoy the many

activities provided for you in Konakli, by

either shopping in the shopping mall,

hike the forests or just hang out at the

beach or at one of the many cafes.

Close to Konakli you find several

cultural ruins such as Hamaxia, the

ruins of a fortress that dates back to

the first century in the local village

Elikesik.

North of Konakli there are several nice

areas for picnicing and both Alanya

and Avsallar are easy to reach from

Konakli.

offers a wide range of dining

areas. A lot of them are Turkish,

but there are numerous European

restaurants as well.

FoodKonakli

There are also many well known

food and cafe chains in Konakli, also

of course many local cafes, which

serve drinks and meals up to a good

quality for the price you pay.

ALANYA KONAKLI
---
MAHMUTLAR IS A

PEACEFUL AREA WITH

A GOOD MIX OF RESIDENTIAL

AREAS AND TOURISM

Om

62

Mahmutlar is one of the more

peaceful districts of Alanya.

The whole district itself is nestled

in-between the long beach

promenade and the Taurus

mountains, with views of the

famous banana plantations,

and mountains.

The district is approximately 10

kilometers from Alanya's city centre,

and is a serene, easy going area.

Mahmutlar is recommended for

people who want a holiday in quiet

and peaceful surroundings, together

with natural beautiful green scenery.

MAHMUTLAR
---
The local

community

is

friendly

and multi

lingual

63
---
64

Activities Shopping

In Mahmutlar, you will find small

shops scattered around the area,

though most of the main and varied

stores such as butchers, bakeries,

and hardware stores are in the centre

of Mahmutlar. Small Supermarkets

are scattered throughout the whole

area.

Mahmutlar centre hosts the Saturday

market, also at the eastern end of

Mahmutlar is the place where the

Tuesday market is hosted, between

the two main roads, Barbaros Cadde

and Ataturk Cadde.

In Mahmutlar the sea offers easy

access to water sports, beach

activities and fishing.

Several gyms and hamams

are located in the city and the

surrounding areas are perfect for

biking and hiking.

TRANSPORT

Since Mahmutlar stretches over several

kilometers, it has its own local buses to

get around inside the city and the part

that is connected to Kargicak.

Buses that go in the direction of Alanya

run every 10 minutes approximately,

and return with the same frequency. As

everywhere else in the Alanya area, taxis

are available from almost every corner.
---
nearby WRAP UP

Mahmutlar is a peaceful, quiet area of

Alanya with a good mix of residential

areas and tourism.

The local community is

easy-going and international. The

place has beautiful views, and is located

beside the turquoise Mediterranean/

Akdeniz sea with several kilometers of

seemingly endless beach promenade.

All daily requirements such as shops,

and gyms readily available.

Mahmutlar you will find Kargıcak and

Kestel.

These two areas are a lot less busy

than Mahmutlar and the beaches

offers crystal clear water with very few

people.

Behind Mahmutlar the majestic Taurus

mountains are a great place for taking

a hike or a picnik.

Food

You will be able to find small, family

owned cafes nearly everywhere in

Mahmutlar.

Just like the people living here the

restaurants offer a great mix of

cuisine between local and touristic.

There are also several well-known

Turkish and international restaurant/

cafe chains to be found.

ALANYA MAHMUTLAR
---
KARGICAK IS AN IDEAL

PLACE FOR THOSE WANTING

AN EASY GOING LIFESTYLE

AND EASY ACCESS TO ALL

DAILY NECESSITIES

Om

66

To the East of Alanya, Kargicak tempts

with its lovely coast line and an

impressive lush green landscape.

It is a popular area amongst tourists

and locals due to its clean beaches,

and property.

Kargicak is surrounded by farmland,

and is the place where many of the

well known hotels are. Its beaches are

always clean, and the water is clear.

In some parts of the shore, it is rich with

aquatic life making it a great place to go

scuba diving.

Kargicak will additionally be able to

provide you with your daily necessities,

and places to dine out. It is always

being improved as many more people

are starting to live there.

KARGICAK
---
At the

beach there

are several

fish

restaurants

67
---
Activities Shopping

In Kargicak most of the shopping will

be able to be done in small grocery

shops, butchers, and produce

markets.

There are a few clothing stores near

or in Hotels, though most people go

to more populated areas of Alanya

to do their seasonal shopping such

as Mahmutlar or Alanya.

Outdoor activities is what Kargicak

is all about. Hiking, biking, swimming

or horseback riding just to mention

a few.

For other kind of activities nearby

area of Mahmutlar or Alanya center

must be visited.

TRANSPORT

Buses come by quite frequently to

Kargicak. The city buses numbers 1,

2 and 3 now run to Kargicak centre.

The journey from Kargicak to Alanya is

around twenty minutes. The buses also

take you right to the centre of Alanya.

Taxis are also available if need be.

68
---
nearby WRAP UP

It is an ideal place for

someone looking for an easy going

lifestyle, that still provides all the daily

necessities needed.

It has a small centre where restaurants,

bars and cafes are located. It has

spectacular, picturesque views of

Alanya Castle rock, the Mediterranean

sea and the Taurus mountains.

You are able to visit the amazing

beaches, or hike in the pine tree forests

nearby.

Near Kargicak there are two areas that

neighbour it, Mahmutlar, and Demirtas.

Kargicak is relatively near to the Dim

cave and Dim river, and would make

for excellent afternoon and half day

trip.

Also just around the corner the Antique

city of Syedra can be visited.

are numerous restaurants in

Kargicak. Most are Turkish, but near

hotels, you may find a few European

restaurants.

FoodThere

Most of the cafes are family owned,

and will serve you good quality hot

beverages and small meals popular

in Turkey.

At the beach several nice beach

clubs and fish restaurants are

located.

ALANYA KARGICAK
---
DEMIRTAS ER STADIG UBERØRT

AF DET MODERNE BYLIV OG

DERFOR MEGET ANDERLEDES

ANDRE OMRÅDER

Om

70

Demirtas er et område med en helt

special lokal atmosfære og ligger langt

væk fra byens trængsel og larm. Det

er et sted hvor de lokale bor omgivet

af natur samt de lækre strande med

krystalklart badevand.

Området har stort set ingen hoteller,

der kan forstyrre den dejlige fred, ro og

afslappede livsstil i området.

I og omkring Demirtas er der store

områder med landbrugsjord som

dyrkes af de lokale. Det er også muligt

at gå flotte ture i skovområderne samt

Taurusbjergene.

DEMIRTAS
---
Stranden

er ren,

pæn og

ofte helt

mennesketom

71
---
Activities Shopping

Her foretager du stort set alle dine

indkøb i lokale småbutikker, som

foreksempel den lokale slager,

grønthandler eller bager.

Der er ingen vestlige tøjbutikker

eller lignende i Demirtas, kun lokale

butikker.

For at handle i store og moderne

butikker skal du således til et af de

nærliggende områder.

Strand- og naturelskere vil have

rigeligt at gå i gang med. Området er

godt at svømme i, solbade, skovture,

cykling, gåture med videre.

Ud over disse findes der kun ganske

lidt menneskeskabt underhold og

aktiviteter i Demirtas. Så for fest,

farver og underholding må du tage

til et af de nærliggende områder.

TRANSPORT

Buses come by frequently in Demirtas,

and the journey takes around forty

minutes, and they take you right to

the centre of Alanya. There are taxis

available, though you won't be needing

them to get around in Demirtas.

72
---
nearby

are a few restaurants in

Demirtas, all offering delicious "home

cooked" Turkish cuisine, the European

ones can be found in surrounding

FoodThere

areas of Demirtas such as Mahmutlar

and Kargicak.

Along with the restaurants, there are

friendly, family owned cafes where

they serve Turkish tea and small

popular meals that are popular in

Turkey.

You can sit and drink Cay and watch

the world pass by.

On the very clean beach side, a few

and nice beach clubs/ restaurants

can be found.

Here also you will be treated very well

as service is so good.

The neighbouring areas of Demirtas

are Kargıcak and Mahmutlar and it

will take you 15-20 minutes to reach

them

by car or bus.

From Demirtas the Sapadere Canyon

and neighbouring city Gazipasa is

also easy reachable, but generally

speaking the nearby areas of Demirtas

is mostly farm land, beaches and the

Taurus mountains.

Another thing worth noting is that

Gazipasa airport is located just 20km

from Demirtas.

WRAP UP

Overall, Demirtas is highly

recommended for people who wish

to surround themselves in nature,

and want to pursue a quiet life out of

the hustle and bustle of towns and

cities. It makes an interesting place

to stay in as you are able to freely

take hikes up the Taurus mountains

or pine tree forests.

Along with having full access to clean

beaches where virtually no people

swim.

It is a place nearly untouched by

civilization and still has the sense

of adventure in it unlike many other

areas of Alanya.

ALANYA DEMIRTAS
---
CIKCILLI ER ET ROLIGT

BOLIGKVARTER MED LET

ADGANG TIL BUTIKKER

OG RESTAURANTER

Om

74

Cikcilli er et moderne område nordøst

for centrum af Alanya og kan anbefales

for alle, som ønsker at bo lidt væk fra

byens larm og støj.

Her er der ingen hoteller, og området

har stort set ingen turisme.

Livs og boligkvaliteten er høj, og i

nærområdet er der let adgang til alle

daglige indkøb og nødvendigheder.

CIKCILLI
---
Shoppingcenteret

Alanyum

ligger i

Cikcilli

75
---
Activities

Shopping må siges at være den

største attraktion som Cikcilli kan

byde på.

I området ligger nemlig det store

"Alanyum" shoppingcenter som

med mere end 250 forskellige

specialbutikker, mange restauranter

og et legeland til børnene byder på

noget for enhver smag.

Ligeledes findes der flere

motionscentre samt en bowlingbane

i Cikcilli.

76

Shopping

Cikcilli har alt i butikker, både store

og små.

Her findes slagter, bagerier,

apoteker og store landsdækkende

supermarkeder. Nogle har endda

åbent 24 timer i døgnet.

De fleste butikker er beliggende

omkring det "gamle" Cikcilli, hvor

også det ugentlige lørdagsmarked

finder sted.

Også shoppingcenteret "Alanyum"

samt en stor "Tahtakale" butik er at

finde i Cikcilli.

TRANSPORT

Den offentlige transport til og fra

Cikcilli er god, og der kører busser i alle

retninger.

Holdepladser til taxi findes på hvert

andet gadehjørne, og infrastrukturen er

i det hele taget meget god i Cikcilli.
---
yder på mange cafeer

og restauranter. De mest populære

ligger ved hovedvejen og ved

shoppingcenteret "Alanyum".

FoodOmrådet

Mange af de mindre steder i Cikcilli

er ejet af lokale familier og deres lave

priser kombineret med atmosfære og

god kvalitet gør dem populære.

nearby

Cikcilli er primært et område for

beboelse og der er ingen strand i

området. Heldigvis ligger både Oba

og Tosmur tæt ved, ligesom der heller

ikke er langt ind til Alanya centrum.

Hertil kan du komme på ganske få

minutter via hovedvejen som løber

forbi syd for Cikcilli.

WRAP UP

Cikcilli er et fredeligt og forholdsvist

nybygget område. Herfra er der let

adgang til butikker, restauranter og

alt andet nødvendigt.

Fra området er kort afstand til

stranden og centrum af Alanya, og

Cikcillis gode infrastruktur gør det

let af komme rundt.

ALANYA CIKCILLI
---
AVSALLAR ER ET OMRÅDE

HVOR DE FLEST AKTIVITETER

FOREGÅR I NATUREN

Om

78

Avsallar er et meget populært

område både hos de lokale og

blandt udlændinge. Dette skyldes de

fantastiske udsigter, rene og skønne

strande samt de grønne omgivelser.

Den dejlige Alaraflod løber tæt på

området og Avsallar er omkranset af

dejlige sandstrande med krystalklart

vand og de flotte Taurusbjerge.

Alt dette gør området til et af de

flotteste områder overhovedet.

Avsallar er meget kompakt og hver

eneste butik er indenfor gåafstand.

Avsallar kan derfor anbefales til dig som

værdsætter naturskønne omgivelser og

ønsker fredelige omgivelser.

AVSALLAR
---
Den

offentlige

transport

til og fra

Avsallar

er god

79
---
Activities

Beliggenheden ved de store grønne

skovområder gør Avsallar til et perfekt

sted for gå- og piknikture. Ligeledes

kan der dykkes fra strandene og der

er rig mulighed for alle former for

vandaktiviteter.

De fleste steder er der gode

badeforhold, og det forholdsvis lave

vand gør havet let at bade i.

For de mere eventyrlystne kan en

tur til toppen af Alarahanborgen

anbefales og kombineres med et

besøg ved det antikke kervansaray af

samme navn fra det 13. århundrede.

Tæt på Avsallar findes der også rig

mulighed for ture på firehjulede ATV

motorcykler samt paintball.

80

Shopping

Avsallar er et meget kompakt

område, hvilket betyder at stort set

alle butikker ligger i samme område.

Her finder du købmandsbutikker,

grønthandlere, slagter, bager,

apotekter, lokale tøjbutikker og

meget andet.

Ved hotellerne sælges der mere

turist- og basar orienterede varer.

For de som ønsker at handle mere

vestlige ting skal turen gå ind til

Alanya.

TRANSPORT

Den offentlige transport i Avsallar

fungerer godt. Hovedvejen som løber

igennem Avsallar fører dig direkte til

Alanya mod øst og Antalya mod vest.

Ligeledes kører der både såkaldte

dolmusbusser og private busser mellem

byerne.

Heller ikke taxier er der mangel på.
---
nearby

Naboområderne til Avsallar hedder

Türkler og Incekum, som begge er

mere turistede end Avsallar.

I Incekum findes der et dejligt piknik-,

strand- og campingområde helt nede

ved vandet og gemt lidt væk i skoven.

Her mødes de lokale for at svømme

og grille mens de diskuterer stort og

småt.

Tæt på Avsallar er der også flere

udendørs vandlande. For dig som

spiller golf tager det en lille time at køre

til golfmekkaet Belek.

FoodI Avsallar er de fleste spisesteder ejet

af lokale som serverer tyrkisk mad.

Tæt på hotellerne langs vandet

findes også mere vestligt inspirerede

restauranter.

WRAP UP

Avsallar er det perfekte sted at

opleve naturen, leve i fred og ro og

nyde en afslappet livsstil.

Butikkerne er i gåafstand og

området er en fryd for øjet. De fleste

aktiviteter foregår udenfor i naturen

og området kan nydes og bruges

året rundt.

Området er omkranset af dejlig grøn

pinjeskov, Taurusbjergene er tæt på

og Alarafloden løber forbi.

Avsallar er for dig som er naturelsker

og nyder at tage den med ro og nyde

en kop kaffe med din nabo.

ALANYA AVSALLAR

@türktaş-Avena mountain boutique hotel
---
2BASE TEAMET

Bo Sparsø Thygesen Brian Martens Candemir Özdemır

bo.thygesen@2base.com

+45 65 74 00 10

+90 505 783 56 63

+90 505 783 56 63

Olesya Solovey

ru@2base.com

+90 541 665 20 68

+38 044 383 47 93

+90 541 665 20 68

dk@2base.com

+45 36 96 05 32

+90 505 783 56 64

+90 505 783 56 64

Sari Syrjälä

fi@2base.com

+358 923 163 999

+90 505 783 56 66

+90 505 783 56 66

tr@2base.com

+90 242 511 78 99

+90 555 665 20 68

+90 555 665 20 68

Gülüzar Kanmaz

service@2base.com

+90 242 511 78 99

Kenan Kölüş

service@2base.com

+90 242 511 78 99

Fırat Uzel

accounting@2base.com

+90 242 511 78 99

Ozan Demir

service@2base.com

+90 242 511 78 99
---
feel

the

fresh air
---
2Base

Ejendomsmægler

Çangal Sokak no/12

07400

Alanya/Antalya

Turkey

+44 20 8123 1918

+90 242 511 78 99

+358 923 163 999

+45 36 96 05 32

+38 044 383 47 93

www.2base.com

contact@2base.com

Udgiver

2Base Ejendomsmægler

/ Sunsearch Turizm Ltd

Design

Ozan Demir

Fotos

Ozan Demir

Bo Thygesen

2Base billedkatalog

Copyright

Alle rettigheder tilhører 2Base

Ejendomsmægler. Indhold må

ikke gengives hverken helt eller

delvist uden forudgående tilladelse

fra udgiver eller tydelig

kildeangivelse.