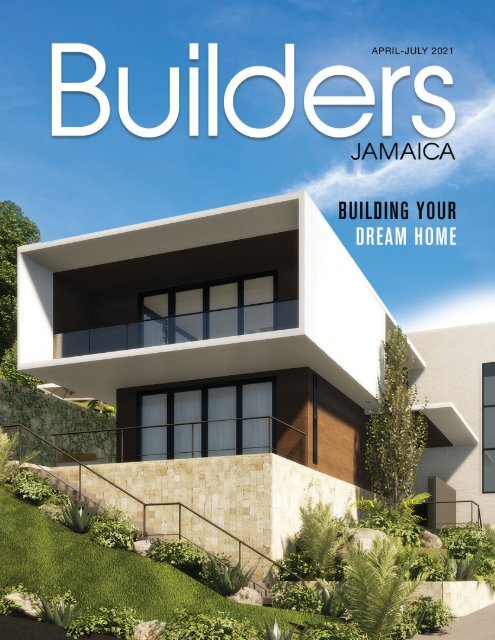 Builders Jamaica April-July 2021
Builders Jamaica is a B2B publication focused on the latest developments within the construction industry. The editorial will be distinct in the way it conveys information on architectural trends, interior and exterior décor, the latest building technologies and projects across Jamaica. Builders Jamaica is designed to be informative and educational. We will make it easy for the reader and consumer to choose from different products and services whenever planning, developing, or renovating.
Builders Jamaica is a B2B publication focused on the latest developments within the construction industry. The editorial will be distinct in the way it conveys information on architectural trends, interior and exterior décor, the latest building technologies and projects across Jamaica. Builders Jamaica is designed to be informative and educational. We will make it easy for the reader and consumer to choose from different products and services whenever planning, developing, or renovating.
SHOW MORE
SHOW LESS
Create successful ePaper yourself
Turn your PDF publications into a flip-book with our unique Google optimized e-Paper software.
MHURECC's Note

Ministry of Housing, Urban Renewal, Environment and Climate Change

ideas, in a more collaborative way, on how best to address

the housing crisis and to envision a housing market suited for

the next decade, and the next generation.

Priorities of the Housing Portfolio of MHURECC

The Honourable Pearnel Charles Jr., MP

Now more than ever, construction is vital to the Jamaican

economy. The PIOJ recently reported that in the last

quarter of 2020, the construction industry grew by 6.2

percent—against the backdrop of a 10.2 percent overall

decline in the Jamaican economy when compared with

2019.

Many other industries have not been as fortunate. The

construction industry is critical to national GDP and a major

employer of local labour. These critical factors make this

industry well-positioned to help Jamaica's economy to

build back stronger in a post-COVID-19 world.

Public-Private Cooperation for Housing Supply

As construction practitioners, you are essential to building

homes and communities that make up the fabric of our

nation. A home is one of greatest single investments

most of us will ever make in our lives. It is the physical

representation of the legacies we will pass on to our children

and our loved ones. But for far too many Jamaicans, the

need for safe, quality, and affordable housing is either

unmet or under-served.

The partnership and innovation of developers and

construction industry professionals is essential to our efforts.

We have made significant strides over the past few years,

and now we raise our ambitions to build and deliver more

housing to Jamaicans. As a government, we have committed

to achieving 70,000 housing starts over the next five years.

This is in a bid to ensure that more Jamaicans have access

to safe, legal, and affordable housing solutions. Our multipronged

approach to the provision of affordable housing

includes pointed policy interventions and prioritizes public

private partnership arrangements.

The Housing Agency of Jamaica (HAJ) has accomplished

many successful projects through joint venture agreements

with private partners. Two of the Agency's most recent projects

include the development of 754 units at Edmund Ridge

Estates (formerly Rhyne Park) and 1,650 housing solutions at

Catherine Estates in Bernard Lodge, St. Catherine.

I encourage developers to continue investing in Jamaica,

especially now—even as it has not been easy to adjust

operations and face setbacks in the midst of the pandemic.

I am proud to collaborate with this esteemed group of

construction industry experts who work with excellence,

diligence and to the upliftment of the profession and for

the enhancement of the lives of Jamaicans, and support this

nation to recover: faster, stronger, better.

The Honourable Pearnel Charles Jr., MP

Minister of Housing, Urban Renewal, Environment and

Climate Change

We have an immense task before us as a nation to address

the housing crisis—a challenge that will require the

collaboration of Government with the private sector. The

recent national conversations around affordable housing

has given us the welcomed opportunity to exchange

4
---
EDITOR'S

NOTE

Welcome to the second issue of Builders Jamaica magazine. Before I

do anything else, I want to express my gratitude to everyone who has

taken the time to read our inaugural issue published last December.

The response has truly been overwhelming. We have received many

phone calls, emails, and texts thanking us for putting out such a highquality

publication at this pivotal time for the building and construction

industry. We heard from readers that Builders Jamaica is a great tool to

provide information to players in the industry on best practices and new

ways of doing things while also bringing industry news to the forefront.

Again, we thank you for your support and look forward to bringing you

more exciting, engaging, and informative content with each new issue.

Castelle Barnes

One of the overarching themes for this edition is the concept of building

your dream home. In addition to our cover story, which explores some of

the components that make a house a dream home, we explore the pros

and cons of modular construction as a potential solution to the housing

shortage in Jamaica. Also tying into the theme, our contributors explore

other elements that developers should consider as they plan their projects

and that buyers should look for as they contemplate a potential purchase.

These include the incorporation of smart home technology, proper tile

installation, and choosing the right windows. We also speak to the value of

having a registered architect and a land surveyor involved in the process.

In that vein, we also celebrate the work of various professionals in the

industry with profiles of some of the architects, surveyors, and contractors

who have helped and continue to help change the face of Jamaica. This

includes the winner of the 2020 Jamaica Institution of Engineers (JIE)

Project of the Year award, Port Royal Cruise Ship Development Project.

The vision behind Builders is to make the magazine the main source

of building and construction-related news and content in Jamaica.

Globally, the industry has weathered a very challenging 2020 and

it was no different locally. However, building and construction is a

resilient sector that will continue to adapt to the pace of change,

with many interesting stories arising. We look forward to chronicling

some of these stories in future issues of the magazine.

On that note, I want to thank the contributors who have come on the

journey with us so far. Your outstanding work has helped to get Builders

Jamaica off to an auspicious start. Here's to the next steps ahead!

Kind Regards,

Castelle Barnes

Editor-in-Chief

Builders Jamaica

castelle@buildersjamaica.com

6
---
TIMELESS

FINISHES

UNMATCHED

PROJECTS

SHOP THE WIDEST

SELECTION OF TILES &

BATHROOM FIXTURES

Visit us at 84 Constant Spring Road, Kingston 10

or online at
---
8
---
Boooollld Coooollllllaabooooraatioooon.

AA

TTToooooooottttttttaaaaaaaallllllll KKKKOOOHHHHHLLLEEEEERRRR®®® HHHHHoooooooommmmmmmmeeeeeeee pppppppprrrrrrrrooooooooggggrrrrrrrraaaaaaaammmmmmmm sssssssseeeeeeeeeeeeeeeekssssssss ttttttttoooooooo bbbuuuuuuuuiiiiiiiilllllllldddddddd ccccccccoooooooollllllllllllllllaaaaaaaabbboooooooorrrrrrrraaaaaaaattttttttiiiiiiiivvvveeeeeeee rrrrrrrreeeeeeeellllllllaaaaaaaattttttttiiiiiiiioooooooonnnnnnnnsssssssshhhhhhhhiiiiiiiippppppppssssssss

TTThhhhhhhheeeeeeee

BE1EFIIIIITTT6

PPPPrrrrrrrroooooooojeeeeeeeecccccccctttttttt PPPPrrrrrrrriiiiiiiicccccccciiiiiiiinnnnnnnngggg DDDiiiiiiiissssssssccccccccoooooooouuuuuuuunnnnnnnnttttttttssssssss......

EEEEExxcccccccclllllllluuuuuuuussssssssiiiiiiiivvvveeeeeeee

Byy: TTTiiiiiiiilllllllleeeeeeee CCCiiiiiiiittttttttyy & HHHHHoooooooommmmmmmmeeeeeeee CCCeeeeeeeennnnnnnnttttttttrrrrrrrreeeeeeee

TTOOOTTAALL KOOOHHLLEER HHOOOMEE

wwwiiiiiiiitttttttthhhhhhhh ddddddddeeeeeeeevvvveeeeeeeellllllllooooooooppppppppeeeeeeeerrrrrrrrssssssss wwwhhhhhhhhoooooooo sssssssshhhhhhhhaaaaaaaarrrrrrrreeeeeeee oooooooouuuuuuuurrrrrrrr ccccccccoooooooommmmmmmmmmmmmmmmiiiiiiiittttttttmmmmmmmmeeeeeeeennnnnnnntttttttt ttttttttoooooooo ddddddddeeeeeeeessssssssiiiiiiiiggggnnnnnnnn eeeeeeeexxcccccccceeeeeeeelllllllllllllllleeeeeeeennnnnnnncccccccceeeeeeee......

TTTOOO QUUAAAALLLIIIIIFYY

HOOOW

aaaaaaaa mmmmmmmmiiiiiiiinnnnnnnniiiiiiiimmmmmmmmuuuuuuuummmmmmmm ooooooooff 100000000 rrrrrrrreeeeeeeessssssssiiiiiiiiddddddddeeeeeeeennnnnnnnttttttttiiiiiiiiaaaaaaaallllllll uuuuuuuunnnnnnnniiiiiiiittttttttssssssss ppppppppeeeeeeeerrrrrrrr yyeeeeeeeeaaaaaaaarrrrrrrr aaaaaaaannnnnnnn dddddddd/oooooooorrrrrrrr ppppppppuuuuuuuurrrrrrrrcccccccchhhhhhhhaaaaaaaasssssssseeeeeeee

Buuuuuuuuiiiiiiiilllllllldddddddd

*

aaaaaaaatttttttt lllllllleeeeeeeeaaaaaaaasssssssstttttttt $$10000000000000000,,000000000000000000000000 UUSSSDDD iiiiiiiinnnnnnnn KKKKOOOHHHHHLLLEEEEERRRR®®® pppppppprrrrrrrroooooooodddddddduuuuuuuucccccccctttttttt......

EEEEExxcccccccclllllllluuuuuuuussssssssiiiiiiiivvvveeeeeeee Afftttttttteeeeeeeerrrrrrrr SSSaaaaaaaalllllllleeeeeeee SSSuuuuuuuuppppppppppppppppoooooooorrrrrrrrtttttttt......

Geeeeeeeetttttttt uuuuuuuupppppppp ttttttttoooooooo $$6,,000000000000000000000000 UUSSSDDD iiiiiiiinnnnnnnn Frrrrrrrreeeeeeeeeeeeeeee

TTTrrrrrrrraaaaaaaaiiiiiiiinnnnnnnniiiiiiiinnnnnnnngggg aaaaaaaannnnnnnndddddddd RRRReeeeeeeessssssssoooooooouuuuuuuurrrrrrrrcccccccceeeeeeeessssssss......

**

KKKKOOOHHHHHLLLEEEEERRRR®®® PPPPrrrrrrrroooooooodddddddduuuuuuuuccccccccttttttttssssssss......

RRRReeeeeeeeccccccccooooooooggggnnnnnnnniiiiiiiittttttttiiiiiiiioooooooonnnnnnnn oooooooonnnnnnnn KKKKoooooooohhhhhhhhlllllllleeeeeeeerrrrrrrr wwweeeeeeeebbbssssssssiiiiiiiitttttttteeeeeeeessssssss......

PPPPrrrrrrrroooooooommmmmmmmoooooooottttttttiiiiiiiioooooooonnnnnnnnaaaaaaaallllllll aaaaaaaannnnnnnndddddddd EEEEEvvvveeeeeeeennnnnnnntttttttt SSSuuuuuuuuppppppppppppppppoooooooorrrrrrrrtttttttt......

Annnnnnnndddddddd mmmmmmmmuuuuuuuucccccccchhhhhhhh mmmmmmmmoooooooorrrrrrrreeeeeeee!

CCCoooooooonnnnnnnnttttttttaaaaaaaacccccccctttttttt uuuuuuuussssssss ffoooooooorrrrrrrr mmmmmmmmoooooooorrrrrrrreeeeeeee iiiiiiiinnnnnnnnffoooooooorrrrrrrrmmmmmmmmaaaaaaaattttttttiiiiiiiioooooooonnnnnnnn

*Conditions Apply. Qualifying partners will not be allowed to use products manufactured by competitors of Kohler within specified project.

**Marketing benefits may be paid in value only if pre-approved with the local Sales Manager. Speak to your local Kohler representative for more details.

BUUIIIIILLLD@TTTIIIIILLLECCCIIIIITTTYYJAAAAMMAAAAIIIIICCCAAAA.CCCOOOMM

9
---
OPINIONS

Roles and Responsibilities for

Effective Strata Management

By Real Estate Board

12

Being responsible for a piece of real estate is a big deal.

Strata properties can be complicated to manage, so

it's not unusual to employ experienced professionals

to handle the everyday logistics for the comfort of all

residents. In this article, the Real Estate Board Inspectorate

explains why proper strata management is important and

the roles and responsibilities of those put in charge.

The day-to-day management of a strata is the responsibility

of what is called an executive committee. While not

explicitly stated or legally mandated, best practice suggests

that the executive committee members should be honest,

communicate well, have some level of administrative

competence and experience, possess adequate financial

management aptitude, and most importantly, have the wellbeing

of the proprietors at heart. The executive committee

is elected at an annual general meeting (AGM) and consists

of at least three proprietors and may have a maximum of

nine members.

The executive committee is responsible for managing

and administering the common areas for the benefit

of all proprietors. The committee is also charged with

keeping minutes of meetings, keeping proper accounting

records, presenting accounting records at AGMs of monies

collected, and facilitating the inspection of the accounts

by a proprietor or any other authorised person/entity,

including the Commission of Strata Corporations.

The execute committee is also responsible for the filing of

annual returns to the Commission within 120 days of the

end of a financial year. Annual returns include presenting

to the Commission audited financial statements or a copy

of the accounts prepared in accordance with generally

accepted accounting principles for the entire financial

period just ended, minutes of general meetings, and

proof of insurance coverage or a unanimous decision not

to insure. The Commission may also be contacted where

needed to provide guidance in the various areas of strata

management.
---
OPINIONS

Just as important as the role of the executive committee

is the role of individual unit owners. The payment

of contributions or maintenance is one of the main

responsibilities and ongoing costs associated with owning

a strata property. The exact amount is usually informed by

an agreed budget presented at a general meeting. This

contribution should be paid monthly, whether or not the unit

is occupied for an extended period of time, as it is mainly

used to maintain the outer/common areas such as the

roof, walkway, elevators, driveways, and recreational areas.

When an owner fails to pay his or her contribution, it puts

pressure on the others to make up the gap to be able to

meet its expenses. It's worth noting that when a proprietor

fails to pay all or a part of the established contribution for

a period exceeding 30 days, the strata corporation has the

power to apply to the Commission to issue a power of sale

certificate for the property to be sold for the recovery of the

amount owed.

Unit owners should also have the interest of their fellow

proprietors at heart. They should consider how their

individual actions such as the non-payment of fees or breach

of by-laws can negatively affect the ability of others to enjoy

common areas as well as their personal space. In essence,

a sense of pride in personal ownership in tandem with an

abiding community spirit should make for effective strata

living and management for all parties.

Other considerations and responsibilities of owners include

the following:

general by-laws set out in the Registration (Strata Titles) Act.

If not provided, owners should ask the developer or seller of

the unit to provide a copy of the by-laws that apply to the

property.

Finally, developers, prior to the handing over of the units,

must take steps to set the foundation for the long-term

success and viability of the property. The developer should

ensure that the first annual general meeting for the strata

corporation is held within 90 days of registration of the

property. It's critical that at this meeting, the following are

done:

1. Presentation of a budget outlining the proposed

maintenance charges apportioned according to unit

entitlement (or ownership share)

2. Presentation of peril insurance coverage quotations for

the corporation to vote on insurance coverage and provider

(otherwise there must be a unanimous vote not to insure)

3. Election of an executive committee

4. Ensure that the minutes of the meeting are taken.

If the various parties involved play their respective roles,

acting in good faith and in accordance with the law, it

should make for sound strata management and harmonious

strata living.

1. Permitting the corporation, at all reasonable times

and on notice (except in cases of an emergency), to

enter his or her strata lot for the purpose of inspecting

and making necessary repairs or maintenance to wires,

ducts, cables, and pipes within that unit which may affect

other units or the common property.

2. Repairing and maintaining his or her strata unit and

keep it in a good condition.

3. Using and enjoying the common property in a manner

that does not unreasonably interfere with or inconvenience

other proprietors.

Additionally, a proprietor should not use his or her unit

for any purpose which may be illegal or harmful to the

reputation of the property; make undue noise in his or

her unit or common area; or keep any animals in the unit

or common area, contrary to a decision of the executive

committee not to allow the keeping of animals.

Real Estate Board

www.reb.gov.jm

Unit owners must, therefore, familiarise themselves with

the by-laws that govern the particular property and/or the

13
---
lead story

Sandals Overwater Bungalows

Photos: Wepro Construction

Wepro Construction Limited

When Israel Carmet landed in Jamaica from Spain in

2007, he had one main task at hand: to successfully

manage the construction of two new five-star hotels—

Secrets St. James and Secrets Wild Orchid—being built at

Montego Bay Freeport. As the project manager for Seawind

Key Investments, the company funding the resorts, he

oversaw the completion of the five-star, 700-room sister

hotels (350 rooms each), which feature a combined total

of nine restaurants, nine bars, a theatre, a convention

centre, a gaming lounge, a spa, and other facilities. After

the hotels opened with much fanfare in April and May

2010, Carmet had a decision to make: move on to the next

Seawind project or stay in Jamaica and take the leap into

entrepreneurship, using everything he had learned over

the course of his 11-year career in construction. He chose

the latter path and in October 2010, Wepro Construction

Limited was born. The number and scope of successful

projects Wepro has completed in the ensuing decade

proves Carmet made the right choice.

Wepro started off with small jobs in the hospitality sector,

with its first project being the construction of a restaurant

at the Grand Palladium Jamaica Resort & Spa. Things

really took off in 2012 when the company was awarded the

Karisma Hotels & Resorts bid to transform the former Sandy

Bay Beach Resort in Negril into a premier all-inclusive

property with two pools, four specialty restaurants, a spa,

spaces for various activities and entertainment, and a kid's

club.

"We basically rebuilt the structure using the same bones.

It was a huge transformation but it was challenging

because the timeline was very tight and when we

started demolition, we found a lot of structural issues,"

recalled Carmet. The biggest of these issues was the fact

that some sections of the old structure did not have proper

foundations. After correcting this problem, Wepro worked

with a construction team comprising mostly Negril locals

to complete the project, which is now part of the Azul

Sensatori Hotel. They initially had four months to complete

the transformation, but the drastic change in the scope of

work saw the timeline extending to nine months.

Since then, Wepro has gone on to cement itself as a

preferred construction partner in the tourism, commercial

development, and specialty residential marketplace in

Jamaica. The company has racked up an impressive list of

credits, including creating the new swim-out pools at Hyatt

Ziva Rose Hall; refurbishing the Club Mobay VIP Lounge,

check-in terminal, and public bathrooms at the Sangster

International Airport; building the U.S. Ambassador's

signature residence in Jack's Hill, St. Andrew, and

constructing three sections (office, warehouse, and utility

buildings) of the new JPS plant in Old Harbour Bay, St.

Catherine. However, the most glittering gem in its crown

is the 17-unit, over-water villas and bungalows project

constructed for Sandals Royal Caribbean, right off the

property's private island.

Over-water accommodations have been the hallmark

of vacation and honeymoon hotspot the Maldives for

decades, but it wasn't until 2016 that they came to the

Caribbean, the fruition of a long-held dream for Sandals

Resorts International CEO Adam Stewart. Wepro was the

company chosen to manage general contractor duties. The

spectacular luxury accommodations were completed in

two phases, starting with five villas, a concierge building,

and a facilities building perched on a deck floating above

14
---
lead story

MBJ Check-in Terminal

Hospiten

15
---
lead story

JPS Power Plant

16

the turquoise waters of the Caribbean Sea, connected by

an over-water walkway. The villas boast see-through glass

floors for ocean viewing, over-water hammocks, soaking

tubs for two out on the water, and private infinity pools. The

second phase consisted of 12 palapa-style bungalows and

a housekeeping building joined by a heart shaped walkway.

Each expansive patio features a soaking tub for two, an overthe-water

hammock, an outdoor shower, and a suspended

patio with a swim-up platform, while the interiors also boast

sea-through glass floors and spacious, spa-style bathrooms.

Another major win for Wepro was Hospiten Montego

Bay, a modern, private hospital offering health security

for the local tourism industry—the second city has the

nation's highest concentration of resort properties—and

also serving the local community. Carmet and his team

oversaw the construction of the 27-bed, high-end facility

which features two operating theatres, a five-bed intensive

care unit, seven emergency boxes, a labour room, eight

outpatient offices, and all needed departmental offices.

"They had started operating a little clinic in Half Moon

Rose Hall. We actually fixed that clinic for them and built

another clinic for them at the historic Falmouth Cruise

Port. There was already a previous relationship and when

they decided to build the hospital, we did the tender and

won," said Carmet. "It was a very interesting project, very

technical, as you can imagine. The theatres have their

own isolated and very specific ventilation system. All the

mechanical and electrical systems are very sophisticated."

The project was developed in collaboration with Hospiten

and their technical team and engineers in Spain. Carmet

stated that it was challenging because of the technical

considerations that had to be adhered to for a health

facility, but everyone rose to the occasion and completed

the build in 16 months. "As a resident of Montego Bay and

Ironshore, I'm very happy that we now have a high-end

hospital in the neighbourhood," he added.

Over the years, Wepro has kept true to its guarantee of

providing the highest standards of quality construction

solutions by utilising new and innovative techniques on

the island. For instance, they have been using shotcrete to

build swimming pools and help complete other projects

in a more timely and efficient manner. They first used this

method when creating the pools at Azul Sensatori. They

have also been using helical piles to provide foundational

support for building projects, especially those close to the

sea. Four years ago, they acquired their own equipment for

this purpose. "We try to be more efficient and to get better

quality work done. We are now starting conversations with

an overseas company on doing precast concrete," said

Carmet.

Precasting offers advantages of both quality and speed,

which will help Wepro be better able to compete against

other local contractors and international players in the

industry.

Today, Wepro is constantly growing and evolving, even

as the industry changes. Carmet noted that 2020 was a

slow year, but the company is "reinventing and starting

to focus more in other areas." These include moving into

the premixed concrete business under the name Wepro

Industrial, which already has two operative batching plants,

and a carpentry business focused on doors and furniture

under the name Madera Wood.

The company is also currently working on the forthcoming

five-star Grand Luxury Princess Hotels and Resorts in Green

Island, Hanover. Over in the nation's capital, Wepro is also

busy managing the refurbishing of the former Oceana

Hotel, which will reopen as ROK, Kingston in the near

future. "I think Wepro is now in a place where I am very

comfortable, so I see us in a similar place but with bigger

projects," he stated. "We are not abandoning our villas and

residential projects. I like it and it's a very stable market,

along with the bigger commercial projects. I am pretty

confident that if we are creative and innovative, we will be

able to survive and grow."
---
COVER STORY

Photo: Andrew Grey / Atelier Vidal

Building Your

Dream Home

Admit it: you have a Pinterest board exclusively

dedicated to pictures of what you want your dream

home to look like. Pinterest not your thing? How

about the countless hours you've devoted to drinking

in everything HGTV has to offer, or testing out your

renovating skills on the Design Home app? Even if you've

never done any of these things, you've definitely pictured

it in your mind—your dream home. That wonderful oasis

you would build or buy if you got a sudden windfall

or that you long to call your own after years of saving.

Kitchen: Atelier Vidal

It may be a huge, two-storey mansion in the hills with an

awe-inspiring view out to the Caribbean Sea, or a more

rustic abode that puts a contemporary spin on your

grandmother's board house in the country. Perhaps it's

a sleek, edgy urban condo tricked out with all the latest

smart home technology or a posh villa-style residence near

the ocean. You know exactly how you want your dream

home to look and all the basics and add-ons that will truly

make it your castle. We hope you find some inspiration

from these photos.

Nothing Boring About These Basics

There are standard rooms that every home, let alone

a dream home, must have. These include a kitchen,

living area, master bedroom/suite, and bathroom.

It's your dream home, so you get to have the best

and most stylish of everything for these essentials.

Kitchen

Kitchen: Cenitech Engineering Solution

It's the heart of the home and good food—the way to your

heart—is lovingly prepared there. Make it sumptuous! If

18
---
COVER STORY

clean lines and modern finishes are your thing, then

these kitchens done by Vidal Atelier (top) and Cenitech

Engineering Solutions (bottom) should definitely inspire

you.

Living Room

It's where family and friends gather to relax, so make it

comfy and welcoming. You can go bold with traditional

furniture and finishes, or select sleeker, streamlined

pieces if you prefer contemporary or modern styles. And

if your taste is more eclectic, there's nothing wrong with

mixing and matching elements from your favourite styles

to create your signature look. That's what dreams are

made of!

Master Bedroom/Suite

This is your personal oasis, so go all out! Plush, comfortable

bedding? Check! A sitting area where you can kick

your feet up for conversations? Check! Elegant drapery

to create a stunning backdrop (or blinds, if you prefer)?

Check! A chandelier for a touch of sparkle and glam? By

all means! Colourful artwork to add the finishing touch?

Go right ahead! Wall-to-wall carpeting or a specially selected

area rug? It's up to you! This is your world, after all.

Your dream bedroom suite isn't complete without a massive

walk-in closet, is it? Even better, his-and-hers closets

so no one can accuse you of hogging all the space. If

you're building your dream home from scratch or doing

a renovation, you can work the closet(s) into the design.

Otherwise, you can customize this essential storage

space by working with an interior designer to create your

desired look and layout.

Walk-in Closet: Exotic Stones

19
---
Bathroom: Proper Construction

Bathroom

If the master bedroom is your oasis, then the master bath

should be your personal spa. This massive bathroom done

by Proper Construction provides some inspiration. Start

with a nice, deep tub so you can get your soak on—whether

it's sleek and modern in both style and shape, jetted, or

traditional clawfoot is up to you. You can go all out with the

shower, too—think rain shower head or go big with multiple

jets. If you're a techie, install a smart shower system, too.

Why not?

Enjoy the 'extras.' You've earned it!

Swimming Pool

What's a dream home in Jamaica without a pool, right?

Splash out, man! A lap pool is a great way to cool off on

hot days. You can get creative with the shape, or go for a

dramatic effect with an infinity edge style. You can also take

your design cues from the overall aesthetic of your home.

This pool at the COCOSAN villa is Port Antonio mirrors the

warm, tropical modern style of the outdoor space.

Photo: Andrew Grey / Atelier Vidal
---
Industry news

NHT's Guaranteed Purchase

Programme for Developers

By National Housing Trust

Photos: National Housing Trust

In 2018, investment watchdog Bloomberg, declared

the Jamaica Stock Exchange (JSE) as the best

performing stock market in the world. The financial tech

conglomerate, indicated that the country's main index

experienced a 29 percent increase in U.S. dollar terms

with stocks catapulting by 300 percent, outperforming

the 500 companies listed on the Standard and Poor's

index; a first for the island. That's a big deal.

While this nascent economy still experiences some

obscurity when compared to other investment markets,

the recognition has done quite a bit to get the attention

of global investors who are now looking to dock their

capital on our banks. As a result, consumer confidence in

the Jamaican market has improved and the demand for

housing has tripled in the last decade where Jamaicans

both at home and abroad have been clamoring to

own 'a piece of the rock'.

While some housing developers have already taken

advantage of the increase in demand, others, based on

size and slow moving inventory have not yet tapped into

the market.

In response, the National Housing Trust (NHT), introduced

the Guaranteed Purchase Programme (GPP) in November

2018. A groundbreaking approach to housing development,

the GPP augments the mandate of the Trust to provide

23,000 housing starts by 2021 while creating opportunities

for investment for private developers.

It's a viable opportunity that allows developers to focus on

conceptualising and executing their development plans

while the NHT absorbs the market risk, by purchasing all

the units in the development or part thereof. By doing

this, the NHT is able to leverage the efficiencies within

the private sector to deliver housing projects at lower

costs, within faster timeframes and with the private partner

assuming most of the implementation risks.

22
---
Industry news

• Delivery Schedule

costs, within faster timeframes and with the private

partner assuming most of the implementation risks.

The developers have sole responsibility for

designing, implementing, maintaining and closing

out the projects. The completed units will be made

available to NHT contributors using NHT financing

options for which they have to be qualified.

What does this mean in simple terms? You build, we buy.

It's really that simple. As at June 2020, 44 developments

were either approved or are being evaluated for suitability

by the NHT. The parishes of St. Thomas, Portland, St. Ann,

St. James, Hanover, Westmoreland, and St. Elizabeth,

Manchester, Clarendon and St. Catherine are home to

these projects.

NHT contributors have much to gain from this

Programme. They' ll be able to access these modern,

diverse and attractive privately developed units using

the NHT's 100 percent financing facility for scheme

purchases, coupled with other NHT value propositions to

include our low interest rates and grants.

So whether you're well-established or a small

developer, the GPP presents a guaranteed opportunity

to invest in housing while creating possibilities

for home ownership for thousands of Jamaicans.

NHT, a pillar of partnership and investment…and always

the key to your home.

Criteria for Approval of GPP Proposals

Status of development (designs, approvals and/or

construction)

Copy of Registered Certificate of Title for the project lands

Building designs:

• Floor plans indicating room sizes, fixtures and finishes

• Elevations

• Expansion plans

Proposed selling prices to NHT:

• For each delivery, if done in phases conditions of price

adjustment (if any) and basis of same

• Particulars of developers including: address of developer

• Directors and key shareholders Certificate of Incorporation

of Company

• Registration with the Real Estate Board

• Current Tax Compliance Certificate

For more information on NHT's Gauranteed Purchase

Programme (GPP) contact the National Housing Trust.

How Do I Get My Proposal Approved?

To facilitate the assessment of each proposal, the

following minimum information must be included:

• Project name

• Scope

• Duration

• Phasing

23
---
PROFESSIONS

Architects 26

Land Surveyors 33

Quantity Surveyors 35

Construction & Contractors 38

Engineers & Developers 42

Legal 48
---
ARCHITECTS

26

Virtuoso Architect

Man is a part of nature. That is one of the central

tenets that guides the design ethos of Virtuoso

Architect Limited, helmed by architects and directors

Hugo Matthews, Euhon Darling, and Sheldon Morris. The

principle is demonstrated in their commitment to honouring

the environments in which their projects are built as well

as their signature Jamaican tropical modern aesthetic. It's

as sleek and chic as anything you might find in first world

urban centres but also captures the vibrancy and warmth

of Jamaica in the materials and textures used, as well as

an emphasis on creating unexpected spaces for communal

interaction.

"What drives a lot of developments is profits,

but what we find is that architecture is really

about people and we like to design for the

people,"

said Matthews. "With all our designs, we focus on the

common areas and spaces as much as possible."

Matthews and Darling met as first-year students of the

Caribbean School of Architecture at the University of

Technology, Jamaica. Morris was a year ahead of them in

Photos: Virtuoso Architect

the same programme. There, they engaged in discourse

on what constitutes Jamaican and Caribbean style and

eventually perfected the aesthetic for which they have

now become known. "Myself and Euhon have a similar

expression of what is modern architectural style in the

Caribbean. That's how everybody started to describe it,"

said Matthews. "Sheldon's style was a little different but still

very clean. When we started the firm, we approached him

and asked if he would like to join us. Our styles complement

each other and we work well together."

Since its establishment in 2014, Virtuoso has left its mark

on several key areas in Kingston and St. Andrew and St.

James, with more than 24 projects either completed or in

the works. To say they started with a bang would be a bit

of an understatement, considering the fact that their very

first project was 20 South, a $1.2 billion undertaking that

caused quite a stir, being the first high-rise to be erected

in the busy South Avenue corridor. The 10-storey luxury

complex consists of 79 apartments, each with solid wood

kitchen cabinets, quartz countertops, porcelain floors,

and nine- to 10-foot high ceilings. Each unit also boasts

aluminum powder coated casement windows, providing

panoramic views of the city. High-end amenities include
---
ARCHITECTS

a rooftop entertainment area, an infinity

edge pool, and a mini-golf green. Safety

is another important feature, and 20 South

is an earthquake-resistant building that can

also withstand hurricane winds of up to 200

mph.

Once 20 South became a reality, other

projects started coming along in quick

succession. There were projects to design

and implement as well as others to manage,

from residential to commercial. These

include Valley Vista, a 38-unit townhouse

spread in Stony Hill and Parkhurst One,

another luxury high-rise in the same vicinity

as 20 South. Virtuoso also worked on 76

Half Way Tree, the sleek business process

outsourcing (BPO) company invested by

Usain Bolt; the edgy, new Bert's Auto Parts

building on Molynes Road, and the stateof-the-art

Fontana Pharmacy commercial

complex at the intersection of Waterloo

Road and West Kings House Road.

The company currently has two residential

projects in development that are again

generating quite a buzz and pay homage to

their signature style in all its glory. First up

27
---
is Spyglass, an upscale, multi-family complex consisting of

apartments and townhouses located on approximately six

lush hillside acres along Tavistock Terrace in St. Andrew. The

development will consist of several six-level blocks. While

the complex will have a communal pool, each townhouse

will also have its own pool. There will be a gazebo for

activities like yoga, along with outdoor entertainment areas

that take advantage of the immaculate views out to the

Kingston Harbour.

The design of Spyglass had to take several factors into

consideration, including the fact that Tavistock Terrace is

already an established residential area, so the panoramic

views long enjoyed by other residents on the hillside could

not be disrupted. "What we did was ensure that the highest

level of the apartment blocks is still below the level of the

roof of the house behind it. So somebody from their house

standing on their deck will be able to look over the tops

of the apartments," explained Matthews. "And if you're

coming up on Tavistock Terrace, you'll be able to see the

sign that says Spyglass but you won't be able to see the

units because they're so far pushed back and properly

landscaped that it seems forested."

He continued, "We also chose the colours wisely: muted

colours that blend in with the surroundings. You're in the

hills and it must feel lush like the hills, so even though it's

a very modern design, we used features like verandahs,

gazebos, water, trellises, stone, and wood textures—a lot of

the things we love—to really mould these modern buildings

into a Jamaican tropical aesthetic."

The next project is 39 Wellington, in the Old Hope Road/

Mona Road area. The look of this building is a bit more on

the ultra-modern end of the spectrum—"almost as if you

can pluck it out of Jamaica and put it into any first world

country," according to Matthews, but it is still built with

Jamaica in mind.

39 Wellington consists of two six-storey blocks connected

by two bridges. There are the customary communal areas

such as the pool, but the real standout feature is the canopy

area that meets in the middle of the two blocks, connected

by the lower bridge. "The whole experience of moving

through the building is modern, holistic living. Amenities

abound, connected in a way that allows interaction and

connection. It's not just moving through dead space to

get to your apartment," explained Sekou Samuels, lead

architect on the project. "Our philosophy has always been

to bring nature into the building, not just on the ground

floor, but all floors so all the residents in the building have

access to nature. In Jamaica, we live in nature."

The Virtuoso team has other projects in the pipeline,

including their first foray into the wider Caribbean market

with a build in Guyana. Plans are also afoot to develop a fullservice

design/build firm. Looking further into the future,

Matthews has his eyes on even bigger things: tackling

urban planning with a city-wide design. "I want to be able

to put all the elements into a city—a massive planning and

execution project, instead of just designing one lot or two

lots separated by miles," he shared. "It would be wonderful

if we could actually design an entire city—acreages of

planning, so once you drive into this new city, you can see

all the different architectural elements working together:

residential, recreational, streets, education zones, and so

on. We want to be able to design for a city-wide plan to

ensure that the designs, once they're implemented, are

easily expandable and it works for the citizens and people

of Jamaica."
---
ARCHITECTS

Is Your Architect Registered?

By The Jamaica Institute of Architects

30

Recently, it was revealed that a major public project was

facing considerable financial overrun, unbeknownst

to the client. When inquiries were made as to the

nearly 65 percent increase, no one could advise him

where the extra money had been spent. The building,

still unfinished and considerably over budget, was now

saddled with questions as to the cause of this inflation.

After due investigation, it was revealed that an architect was

not engaged on the project. But why is this of significance?

An architect's primary role is to ensure that a building

project is designed and built to specifications determined

by the client and professional team, and that the project

stays within the approved budgetary restraints. Additionally,

architects operate by a professional code of integrity,

technical competency, artistic ability, and business capacity.

An architect is trained and licensed to provide you with a

building design that is functional, fail-safe, and full of flair.

Here are four ways working with an architect is beneficial.

• Architects are Registered and Legal

• Architects Keep the Job on Target

• Architects Keep The Job on Budget

• Architects Keep Contractor's In-Check

Architects are Registered and Legal

Just like doctors and lawyers, every architect in Jamaica

is issued a certificate and registration number as proof of

their legal eligibility to practice. They are also provided with
---
ARCHITECTS

a stamp and seal. If the person isn't licensed to practice,

they're not legal and there are considerable risks involved in

working with them. As a potential client, you can ask for proof

of their registration and license to practice architecture.

Being licensed also means that any act of fraud such as not

completing the work agreed to after accepting money from

a client, can result in that architect receiving disciplinary

actions such as fines or being removed from the register,

rendering them unable to practice.

The laws of Jamaica also protect the title 'architect,' so much

so that people who pretend to be architects and are caught

can be fined or imprisoned for up to a year. This particular

law, called the Architect's Registration Act, was first ratified

in 1987 with subsequent amendments made to safeguard

the profession.

In 2004, in an act of Parliament, the title 'architect' was

declared protected, limiting the use only to persons

registered as such by the Architects Registration Board of

Jamaica (ARB) and stating that, "no person, unless he is a

Registered Architect shall, in Jamaica – carry on the practice

of architecture."

Architects are also required to maintain their license and

each year, must earn Continuing Professional Development

(CPD) points. The aim of the CPD points is for architects

to maintain and improve on their existing skills as well to

broaden their knowledge in areas relevant to architecture;

ensuring that they not only evolve with the changing

technology and practices, but that they also maintain a high

level of competency.

ensuring that the building adheres to the design, approvals,

time schedule, and cost. The architect will undertake regular

visits to guard the client against any defects and deficiencies

in the works and keep them continually apprised of the

project during construction. Should further changes be

required, the architect is on hand to provide detailed

instructions. And perhaps most critically, the architect serves

as the conduit between the client and contractor. They are

unbiased and facilitate the timely delivery of the project as

designed and agreed upon.

So, Are You Ready to Use An Architect?

IIn the coming weeks, the ARB will be publishing a list of

persons licensed to practice architecture in Jamaica. The

list of more than 100 architects represents those who are

qualified and licensed to practice for 2021, and possess a

range of expertise from residential to commercial buildings

to sustainable design.

So now that you know what architects do, the efforts to

attain and maintain their registered status and licensure,

as well as the ethical code they are bound by, ensure that

you go for the real deal or don't settle for an impostor. Do

source an architect who is a registered professional before

attempting any construction development or face the risks

by putting your project in the hands of someone completely

unqualified to undertake that task.

From the initial design to construction management,

architects ensure not only a high quality of service but also

a quality product.

Architects Keep The Job on Target and Within

Budget

Architects are trained to recognize and understand the

fiscal and contractual implications of the decisions taken

throughout a project.

Remember that unfortunate client with the public building

now significantly over budget? After construction began,

he was advised that severe weather conditions had resulted

in flooding—a major contributor to the cost overrun and

delays on the completion of the building. The due diligence

of a licensed architect requires them to make observations

and apprise the clients of potential risks, especially such as

building in a flood prone area. Architects don't just design

"fancy" buildings, they design functional buildings that take

into consideration all environmental and economic factors.

Architects Keep Contractor's In Check

Architects do more than just draw plans. During construction,

the architect serves as the administrator of the contract—

31
---
Land surveyors

Timothy A. Thwaites CLS

The Surveyor's Seat at the Table

The building and construction industry appears to have

weathered this COVID-19 affected year better than

many. Several theories and explanations for this have

been posited with varying levels of hard evidence and

anecdote. The one thing beyond debate, however, is that

the phenomenon is real, and all industry players will be

doing their best to maximise on this stability in an otherwise

unstable economic environment.

All development projects require the input of several professionals

throughout its lifecycle, and in many instances the

involvement of a land surveyor has tended to be restricted

to the specific functions required under law and statutory

process. We could speculate as to whether this is to manage

costs and budgets, or to limit the numbers of 'cooks' in the

proverbial kitchen, but at the end of the day, there's likely to

be limited value in micro-analysing how this came to be the

default situation.

Land surveyors are regularly described as being the first in

and last out on the project site. However, with many critical

intermediary steps taking place without their input or

involvement, the surveyor needs to be there in the middle

as well!

Having been the first in, the surveyor has traversed the

entire site, seen it, and absorbed nuanced characteristics

that cannot be captured in spatial datasets, or gleaned

from cursory site visits. The surveyor will also have a very

intimate and practical understanding of the restrictions and

encumbrances of a Certificate of Title that may burden a

development site.

Many surveyors have had the experience of receiving a

set of approved plans to carry out fieldwork on site and

immediately seeing that something is wrong. They can

identify something 'designed in breach' of a restrictive

covenant, recognise that a legal boundary was inadvertently

disturbed in a drawing, or pick up on a design component

that would be better placed elsewhere on the site because

of something in an adjacent property.

This in-depth understanding of both the physical and

legislative aspects of a development means a surveyor

can mitigate against costly and time consuming redesigns,

impractical and unimplementable land use expectations,

inaccurate bills of quantity, etc. The value proposition is

clear, and it's to everyone's benefit that the surveyor has a

more consultative role right throughout the process, outside

of the traditional tasks and deliverables.

Possibly the greatest justification for the consultant surveyor

is the fact that in developments for eventual sale, the

surveyor's identification report is the last adjudicator of

whether there are any problems. At this point, any such

problem is likely cast in concrete and difficult or expensive

to remedy. No one wins in these entirely avoidable

situations, but unfortunately, they're quite common.

We're ready to take a seat at any table alongside the

developers, contractors, engineers, architects, and other

stakeholders to ensure that we all maximise benefits and

better serve the public as our industry pushes on through

these challenging times.

33
---
quantity surveyors

Robert Wan

Photos: Robert Wan

Robert Wan - Wan Mears & Associates Ltd

After almost 40 years in the quantity surveyor field as an

employee, partner, mentor, and entrepreneur, Robert

Wan is a well-known, no-nonsense figure who has no

qualms with calling a spade a spade. "I'm the contentious

member of the construction team that gets the job done.

I am where I am now because of my belief in how things

are to be done," said Wan, co-founder and director of

Wan Mears & Associates Limited. However, he's more than

just a tough nut in an equally tough industry. Wan has a

soft spot for mentorship and the transfer of knowledge

to the younger generation of quantity surveyors.

Crucial to that is his teaching history at the University of

Technology, Jamaica from 1981 to 1987, where countless

graduates benefitted from his tutelage. Fortunately, some

are paying it forward to keep the profession alive. He still

maintains a good relationship with the institution and

trains students who have to do internship programmes to

complete their degrees. This transference of knowledge is

what grounds him as he wouldn't have gotten to where he

is without the help of others. That was embedded in him

since his days at B.G.W. Cawston & Partners and as a past

president of the Jamaican Institute of Quantity Surveyors.

As a mentor, he gives his mentees as much as they need

to know, including the discipline and dedication necessary

to thrive in the profession and not be led astray. "The

construction industry has its fair share of inexperienced

persons practicing in various professions, and I do not want

the quantity surveying graduates to end up doing all kinds

of ad-hoc work without the professional practice experience

which a quantity surveying firm can impart," explained Wan.

It has always been about professionalism and competence,

which is evident in his 32-year tenure at B.G.W. Cawston

& Partners, of which 26 years was as a partner. Although

he flourished and developed an astounding level of

respect from staff and his colleagues, the itch to steer

his own ship eventually won out. He and Michael Mears,

a co-worker at the time, decided in 2015 that it was

time to form their own company that is now Wan Mears

& Associates Limited, a quantity surveying and project

management consultancy firm. They offer construction

project budgeting, cost estimating, contract arrangements,

and management services for residential, commercial, and

public developments. The list of projects in which Wan

has been involved throughout his career is quite dazzling.

35
---
quAntity surveyors

On his own, he has been involved in more than 20 major

projects, many of which are essential buildings that serve

the nation. The University of the West Indies Basic Medical

Complex, Falmouth Hospital redevelopment, Cornwall

Regional Hospital renovations, G-West Medical Centre,

Port Authority, Montego Freeport factory buildings,

Holland Estate housing development, Green Pond housing

development, several luxury villas in Rose Hall, Texaco

service stations across the island, and the Sam Sharpe and

Westgate branches of the Bank of Nova Scotia are only a

few of his nation-building contributions.

Upon forming Wan Mears & Associates, there was no

slowing down. Even world-renowned hotspots like

Palmyra, Jewel Grande Montego Bay, Half Moon Oleander

development, Sandcastles Hotel, Jamaica Grande

Hotel, Hilton Rose Hall restoration, and Rick's Café were

lucky enough to get the Wan treatment. Most recently,

his handiwork was involved in the quantity surveying

of Sagicor's Millenium Mall in Clarendon, Sovereign

South Shopping Complex in Portmore, Sovereign North

Shopping Complex, and the FosRich Commercial Complex.

And if you've ever enjoyed the Appleton Estate Visitor's

Centre and rum tour and the Long Pond Distillery, you

would have also benefited from his professionalism.

The list goes on and on, but long before starting his own

company, Wan began his journey at UTech, formerly

the College of Arts, Science and Technology (CAST) and

continued his studies on a scholarship in quantity surveying

at the Polytechnic of Central London (now University of

Westminster), England, graduating in 1981. A part of his

scholarship agreement was to return to his alma mater and

pass on what he learned. As time progressed, he used his

platform to help transform the industry as a whole. Serving

on several committees, he most notably contributed to the

revision of the second edition of the Jamaican Standard

Method of Measurement of Building Works and the

Standard Form of Building Contract for use in Jamaica.

When all is said and done, Wan believes his most

important work is ensuring that those who pass through

his mentorship are equipped with the necessary training

to function properly in the industry. After that, they can go

out and practice the work of being a quantity surveyor with

the hope of having even half his longevity, professionalism,

leadership, and integrity.

36
---
CONSTRUCTION & CONTRACTORS

38

Could Modular Homes Help Solve

Jamaica's Housing Deficit?

For many Jamaicans, owning a home is one of their

most important life goals. Unfortunately, this remains

an out-of-reach dream for most people due to the

steep cost of properties in housing developments and

apartment complexes. Others prefer the idea of buying

their land and building their home block by block, but

that is no less expensive in the long run and is often

hampered by poor planning and unforeseen challenges

and costs. There is a real need for more affordable

housing solutions if Jamaica is to close the housing

deficit, which would require the construction or repair

of 17,400 homes per year, according to a 2016 study by

the Inter-American Development Bank (IDB), The State of

Social Housing in Six Caribbean Countries. One potential

solution is a concerted move toward modular homes.

Modular or prefabricated buildings are constructed in

sections or modules away from the building site, under

controlled factory conditions, using the same materials

and designing to the same codes and standards as those

built on-site. The modules are then transported to the

homeowner's site and installed on a foundation that has

been prepared to meet the specifications of the home.

Modular construction is not a new concept. In fact, it's

already extremely popular in countries such as Japan,

Germany, and Sweden. Locally, the move towards modular

construction can be traced back to the 1960s, with

companies like Leonard I. Chang Developments Limited

and the Jamaica Building and Development Company in

the forefront. Gore Developments and Matalon Homes are

other companies that have also utilized the prefab model

over the years. There are many examples of modular

homes in Jamaica, most notably in Portmore, St. Catherine.

The perception in the 1960s, which still remains, was that

these prefab homes were cheap and low-quality. However,

as building and construction technologies, methods, and

standards have evolved, so have they. Today's prefab

homes are more customizable, easier to assemble, and

include a greater variety of features and materials. Many of

them can even rival the look and quality of some custom,

site-built homes.

The Pros

Lower Overall Cost – The cost of building a modular home

can be relatively more affordable than a traditional home

construction—up to 15 percent less, according to U.S.

figures. This is typically because the homes are made by

the same manufacturer so there is less possible downtime

and all costs are factored into your budget before the

project begins.
---
CONSTRUCTION & CONTRACTORS

Reduced Labour Costs – With the home already

constructed, prospective homeowners won't need to pay a

cadre of builders to get the job done.

High Quality – Since a modular home is built in a factory

setting, the building process is done under intense quality

control. Modular structures are built to meet or exceed the

same building codes and standards as site-built homes,

using the same materials as conventionally constructed

buildings: wood, concrete, and steel. Structurally, modular

buildings are generally stronger than site-built construction

because each module is engineered to independently

withstand the rigors of transportation and craning onto

foundations.

Saves Time – A modular house takes a shorter time to

build because of automation, greater teamwork, and

repeatability. Factors that can cause delays and drive up

cost like bad weather and shortage of materials are also

avoided. Construction of modular buildings also usually

occurs simultaneously with site work, which enables

projects to be completed in half the time.

Better for the Environment – According to a recent U.K.

study, modular building produces up to 90 percent less

material waste.

The Cons

'Cookie-cutter' Look – Although modular homes can

be designed in a variety of configurations, you won't

receive the same level of customisation as you would with

traditional construction. However, some modular homes—

especially single-family units—are designed in such a way

that owners can build add-ons, which gives them more

customisation options.

Few Suppliers – Locally, there aren't any manufacturers

producing prefab homes for one-off purchase. They're

generally part of a housing development and can only

be purchased through the developer.

Land and Zoning Restrictions – If Jamaica does get to the

point where prefab homes become available for purchase

outside of planned developments, buyers would have to

consider the fact that some areas may not want or allow

modular homes. This is related to the perception that

modular homes are inferior and would drive down the

property value of other homes in the area. Buyers would

have to ensure the area where they intend to erect their

modular units allow and are properly zoned for it.

Low Resale Value – Also related to the low-quality

perception is the concern that homeowners wouldn't be

able to sell their houses at a good price point. This might

be a major hurdle in Jamaica as many people equate value

with block houses, so a prefab home would be seen as a

poor compromise.

Another important factor to consider in the Jamaican

context is whether the modular structure can withstand a

hurricane. This is often listed as a con for prefab homes,

despite the fact that they're built with the same materials

as traditional concrete structures. However, as mentioned

earlier, the quality of prefab homes has improved over time

and those built for hurricane-prone areas are constructed

with storm resistance in mind.

It's clear that modular construction is beneficial in certain

circumstances and would be a great option for some

buyers. However, it's not without challenges and won't

meet the desires of every prospective homeowner. Since

prefab construction is on the rise and represents a viable

alternative, it could be beneficial to invest in producing

these homes locally and making more options available

outside of planned development.

39
---
CONSTRUCTION & CONTRACTORS

Best Practices for

Keeping Construction

Workers Safe on Site

Occupational health and safety has always been a top priority in the

construction industry, where accidents have the potential to be

life-threatening. The onus is on both employers and employees

to ensure safety. The local Occupational Safety and Health Act, 2017

stipulates that it's the duty of the employer to provide information,

instruction, supervision, assistance, and training to workers in support of

the occupational safety and health programme. Although the Act also

prescribes duties for workers to ensure their own safety and wellbeing

while on the job, as well as their right to refuse unsafe work, the overriding

emphasis is on the duties of employers as they control the work

environment, which puts the responsibility on them to manage the safety

and health risks. Following are eight ways in which construction bosses

and workers can reduce workplace accidents and promote site safety.

1. Make Site Inductions a Priority.

40

Every single worker on a construction site should be made aware of the

risks associated with the job and how to prevent them. This should be

done before the worker is allowed to start any tasks. Inductions allow

employers to provide workers with the site-specific health and safety

rules and requirements and any particular hazards of which they need
---
CONSTRUCTION & CONTRACTORS

to be aware. Ignorant workers are perhaps the biggest

dangers in any industry, as their unknowing mistakes

endanger them and everyone else on site. Understanding

the potential dangers at hand and having a keen sense

of alertness can help prevent accidents. Workers should

also be mindful to request an induction if none is offered.

2. Put up Safety Signs.

In addition to proper site inductions, construction safety

signs should be placed at strategic points throughout

the site so workers can have constant reminders. Workers

should be careful to always pay attention to signs.

3. Provide Proper PPE and Safety Gear and Insist on

their use.

Employers should never allow workers to be onsite without

the necessary personal protective equipment (PPE) such

as hard hats, N95 respirators, work boots, goggles, highvisibility

vests, and any additional PPE required for the task

being carried out. Workers should ensure they wear their

PPE to protect themselves in the event of any accidents but

also from common work hazards such as dust particles and

chemical fumes, falling objects, or slip-and-fall situations.

PPE has also taken on added significance in light of

COVID-19. Masks should be mandatory for anyone who

works on the site or visits the premises to help prevent the

potential spread of the virus if someone is unknowingly

infected.

4. Ensure Scaffolding Safety.

All scaffolding should be assembled and disassembled by

competent persons. It should also be carefully inspected

before the start of work each day to ensure that it's safe

for use. According to the Occupational Health and Safety

Act (OHSA) in the United States, scaffolding should be

erected on solid footing, fully planked and at least 10 feet

away from power lines. Scaffolding should be erected with

guardrails, midrails, and toeboards to protect employees

working on, under, and around scaffolding. Workers should

ensure they wear hard hats, non-skid boots, and tool

lanyards when working on, under, or around a scaffold. This

helps protect them in the event of a fall and also protects

workers below.

nets, and personal fall arrest systems. Workers should

familiarise themselves with all potential fall hazards on

a job site and ensure they don't work in areas where fall

protection systems have yet to be installed. If they need

to use personal fall arrest systems, they should inspect

them before each use to ensure they are in good working

condition.

6. Provide Proper Tools and Equipment.

Without the proper equipment, you can't have construction

site safety because there will always be an opportunity

to get injured or injure someone else using the wrong

tools and equipment. Employers should ensure that each

piece of equipment on the job site is ideally suited to the

task at hand and that all machinery and material are well

maintained. Workers should also report any equipment

that's not working properly and file the necessary incident

reports if any accidents or near misses occur as a result of

faulty equipment.

7. Keep a Tidy Site.

Never leave tools, equipment, or materials such as wires

and ropes lying about as they could become trip and

slip hazards. Also, ensure that access and escape routes

are kept clear of materials in case of an emergency that

necessitates speedy movement.

8. Provide Proper Supervision.

Every site must have a strong supervisor who's willing

and capable of enforcing safety standards with no

exceptions. This person must keep tabs on all employees

throughout the day, correct those who fail to commit to

proper construction site safety procedures, and make the

necessary reports in the event of any problems.

5. Ensure Fall Protection Measures are in Place.

Employers are required to provide fall protection systems

to protect their workers on scaffolding or surfaces with

unprotected edges or sides that are six feet above a

lower level. Fall protection can include guardrails, safety

41
---
ENGINEERS & DEVELOPERS

Engineering Project of the Year 2020

Driven by the need to improve upon the built

environment in the most efficient and innovative

ways possible, the engineering world is constantly

producing seminal projects worthy of celebration. Every

year, the Jamaica Institution of Engineering (JIE) members

dust off their best black-tie ensemble to recognise

individuals and projects that highlight engineers and their

achievements throughout that year, and 2020 were no

different. Attracting a rich vein of entries that produced

outstanding systems and solutions, Builders got some

insight from the Project of the Year Committee Chair

on last year's standout project and why it was chosen.

The JIE stands by the mandate of "engineering a

sustainable Jamaica." As such, it came as no surprise that

the Port Royal Cruise Ship Development Project copped

the 2020 Project of the Year Award. "The committee looks

for projects that utilise innovative and unique techniques

that minimise damage while simultaneously enhancing the

environment," says Project Committee Chairman, Colin

Porter. The Port Royal project actualised the best blend of

the two criteria and included several engineering solutions

geared toward the preservation of the sensitive Palisadoes

ecology as well as supporting social and economic

intervention initiatives. Consultants Westech Limited and

Omni Services Company and contractors SeaWalk, Orion

Marine Construction Limited, and ZDA Construction didn't

miss a beat fulfilling the criteria set out by the JIE.

Photo: ZDA Construction

Photos: Port Authority of Jamaica

42
---
ENGINEERS & DEVELOPERS

The other nominees in the category also constructed

impactful works, but procuring such a vast network of local

partnerships and the high level of local design input was

what pushed the Port Royal Project over the edge. The

majority local engineering team carried out continuous

consultation with Port Royal residents and it was agreed

that the Port Royal Ferry Pier had become dilapidated,

unsafe, and in need of rehabilitation. The solution included

selecting a mooring site that would eliminate the need

for dredging and selecting a piece of technology that

mitigates the impact of a berthing infrastructure through

the use of a floating pier (SeaWalk) technology. From the

committee's perspective, this technology was intended to

bring economic opportunities with the improved cruise ship

pier. "The Port Authority of Jamaica (PAJ) always wanted

to bring back cruise shipping and decided Port Royal is

the best location based on the historical and heritage

importance of the area," revealed Porter. Those factors also

attracted considerations that contributed to the stand-out

features of the project.

Considerations for the geotechnical, archaeological,

and environmental aspects of the area to determine

the sensitivity were also key to settling on this solution.

By route of the Scandinavian Peninsula, home to the

cruise and Viking ships of Norway, the breakthrough

technology was the perfect fit for the former 'pirate city.'

SeaWalk complements without overwhelming the fragile

environment of historic Port Royal. As a first of its kind

in the Americas, the technology involves the use of a

250m long walkway and a 4.2m wide steel construction,

comprising three bridges. The bridges are 72m, 72m,

and 84m in length and sit on 10 floating pontoons

inclusive of two link pontoons to facilitate folding when

not in use, and a hinged landing section. The selfpropelled,

floating articulated pier mechanism facilitates

the berthing of cruise ships without the need to dredge

and the extensive infrastructural work typically required

to construct a conventional berthing system. As one

can imagine, a cruise ship is a huge vessel that needs a

deep berth to dock, and the new pier can accommodate

vessels up to a maximum of 350m in length.

The committee had not seen anything like it on this side

of the world and thought it novel and different, especially

that it unfolds to meet ships offshore and extends the

wharf out into the sea. It would be nearly impossible

to dock against the landmass without disrupting the

sensitive mangroves, protected sites, and underwater

artifacts. The Port Royal Cruise Ship Project avoided the

disruptive development route with this construction—a

major reason for their win. Another reason was the

heavy involvement of non-engineering professionals

in tutoring residents with the necessary skills to make

the best use of the technology. Through the Tourism

Product Development Company (TPDCo), Jamaica

Business Development Corporation (JBDC), Ministry of

Culture, Gender, Entertainment and Sport, and the Port

Authority of Jamaica (PAJ), several residents received

entrepreneurial training under the Team Jamaica

programme. The training supports the non-engineering

and post-project activities as they prepare for the

potential economic opportunities.

Normally, technologies of this magnitude would create an

eyesore, but the retractable design makes the SeaWalk

aesthetically pleasing. It also protects the technology

43
---
ENGINEERS & DEVELOPERS

Photos: ZDA Construction

Photo: Port Authority of Jamaica

from hurricane damage and remains out of the way of other

vessels.

Founded in 1977, the JIE has hosted its Awards show for

more than half of its lifetime. The 40-year-old organisation

always looks forward to celebrating engineering excellence.

In addition to recognising engineering projects, the

organisation highlights top students from the various

universities and individual engineers.

START DATE: November 2017

END DATE: April 2020

CONTRACT SUM: $37,134,135.91

FINAL CONSTRUCTION COST: $37,134,135.91

CONTRACT PERIOD: 29 months

44
---
ENGINEERS & DEVELOPERS

HTG Engineering Consultants

Photos: HTG Engineering Consultants

46

H

ugh Gordon, managing director of HTG Engineering

Consultants Limited, managed to create a formidable,

technology-forward entity in one of the most technical

professions in the construction industry. His 11-year-old

engineering practice carved out its own lane by fulfilling

code-compliant mechanical, electrical, plumbing, and

fire (MEPF) services for its clients, with a stellar record

to match. The Kingston-based company develops

sustainable, energy-efficient designs—a distinct quality

in all their developments—by deploying the likes of

thermal imaging and ground penetrating radar detection

to execute sound structural and mechanical engineering

projects. Long before he got to where he is now, Gordon

knew he was destined to do well in the industry. "From

a tender age, I was a tinkerer. I mean, most kids are,

but my mind always wanted to solve problems as they

arose," he said. "I took apart a remote control car my aunt

gifted me one Christmas and put it back together. She

was not amused at the time but look where it got me!"

Gordon eventually matriculated from tinkering to

University of Technology, Jamaica graduate, sharpening

his skills at several summer jobs before settling into a

10-year stint with LIMCO Engineering Company as a

mechanical engineering consultant. In January 2010, he

announced his intention to start his own business, and

fortunately, by that time, a few past clients were willing

to work with him based on their previous relationship.

After 11 years at the helm of HTG Engineering, Gordon

can attest that it was the right decision. He meticulously

steered the company into the vision of becoming a large

organization while being a flagbearer of what collaborative

development and technology-based or adaptable structural

systems and processes can look like. "It came from a desire

to build my own and to hone the skills I had learned," he

says. With this foundation, the fully registered and PERBapproved

firm has engaged large entities like First Rock,

Sygnus Capital, Proven REIT Limited, and Mussons Jamaica,

producing efficient, innovative, and robust designs that

ensure the delivery of best-in-class MEPF service. The end

product is a roster of satisfied clients, many of whom remain

loyal because they value HTG's input and work ethic.

Most Significant Projects to Date

One of the projects Gordon is most proud of is the Total

building (next to Chillitos), located near Liguanea in St.

Andrew. The standout features of that building were the

air conditioning, electrical, and fire elements. The 10,548

sq. ft. building is equipped with a robust electrical system,

integrated generator, and an air conditioning design that

utilizes VRF technology. These elements made the building

energy-efficient, as well as facilitate occupant comfort.
---
ENGINEERS & DEVELOPERS

Looking ahead, Gordon is excited about an upcoming project

that will reflect how construction can evolve with the times by

adapting the design to current standards and protocols while

anticipating future change. The property, located off Belmont

Road, will be unique because of the elements built-in with the

intention to combat the spread of COVID-19 or other airborne

diseases. The design focuses on an infrastructure that allows

unhindered movement of airflow and foot traffic. "We're

talking air exchange throughout the building and provisions for

infrared thermal cameras that monitor foot traffic for heightened

temperature. In that case, the person will be isolated by

the security team or prevented from going further into the

building by automatically locking the doors," he explained.

That element will also serve as an added boost to the overall

security system throughout the building. Another champion

amid these features will be the fire detection and suppression

system that will monitor carbon monoxide levels in the

underground parking lot, prevent smoke from entering the

stairwells in the event of a fire, and allow unfettered movement

around the building during an emergency. The advanced fire

suppression system, pressurized staircases, and four elevators

are additional features that make the design as functional

and adaptive as it is attractive. And speaking of attractive,

the facade will include panels, cladding, and lights—lots

of them. "When you see it in a year and a half, it will be

one of the most elegantly lit buildings around. It will look as

lovely at night as it does during the daytime," he beamed.

Applying Advanced Techniques

Securing the opportunity to work on these big projects means

offering services that are often both efficient and cuttingedge.

"I would attribute a huge chunk of our success

to our willingness to incorporate technology that

works well with our clients' vision. One of the newer

devices we've added to our operations is the ground

penetrating radar (GPR)," said Gordon. The device

records the reverberation from subsurface objects by

emitting a pulse into the ground. The main benefit of

the device is its ability to detect buried materials. That

gives a good indication of where not to drill or dig and

avoids damage to reinforcing bars, post-tension cables,

and embedded conduits buried deep underground.

"We often don't know the geophysical makeup of a site

before construction, and this device will save a lot of time

and heartache. It's like our own NCIS forensics tool that

solves construction mysteries," he added. The company

is keen on utilizing the device more in the future because

of its mapping, detecting, and data recording/analysis

abilities—a value-added benefit to construction projects.

Approach to Business

Running a sought-after company is serious business that

needs the right approach in order to retain that status.

The transitional and macro-managing style feeds into

their operations and has worked best for them since the

beginning. "When I started out, about a year in, Kidroy

Smith, now a director of the company, came on board

to help steer the ship in a way that encourages our

team to feel empowered to make suggestions as well

as build their character," explained Gordon. "I prefer

not to micro-manage people and am keen on passing

on the knowledge so they can thrive in their roles.

Gordon Hall, an owner at Arel Limited, taught me this.

It is admirable how he can balance running a company

while being down in the trenches with his team to help

resolve challenges. That was the ethos behind my hiring

a mechanical engineer to replace me instead of carrying

out both roles as well as delegating more and recognizing

how much growth it takes to employ more staff."

HTG's approach to business has also involved creating

an equitable work environment. In such a maledominated

industry, there was a conscious effort to

ensure, irrespective of gender, each potential employee

was reviewed without bias. "I want to have that variety in

thought processes based on the technical mind of each

team member, and different perspectives on a project

can make a good project great," he said. "But no matter

what, I constantly stress the importance of transferring

knowledge and empowering the team around me. I am

always open to suggestions, and if they don't work, we

fix them together."

47
---
LEGAL

The Court Can Review

and Strike Down

Development

Approvals

By Jalil S. Dabdoub

Attorney-at-Law,

Managing Partner,

Dabdoub, Dabdoub and Company

48

In planning for a property development, you would have

of course applied to the relevant authorities for the

various approvals and permits required to undertake

your development. Separate and apart from the possible

modification of restrictive covenants, approval from

the various local authorities is a critical "ingredient" of

the cocktail of items needed in your planning process.

However, having the necessary approvals in place is not

enough. Developers must be mindful of and adhere to the

applicable laws related to building and construction or run

the costly risk of having construction halted by the court.

When reviewing applications for approval of proposed

developments, the local authorities—the Kingston and

Saint Andrew Municipal Corporation (KSMAC) for these

two parishes and the local parish councils along with the

National Environment Planning Agency (NEPA) for other

parishes--are empowered under various acts. These acts

include the Town and Country Planning Act, The Building

Act, The Local Improvements Act, The Natural Resources

Conservation Act, the Land Development and Utilization

Act and the Restrictive Covenants (Discharge and

Modification) Act. Section 5(2) of the Town and Country

Planning Act defines a development as follows:

"the carrying out of building, engineering, mining

or other operations in, on, over or under land, or

the making of any material change in the use of

any buildings or other land…"

Section 5(2) makes clear that building and land

development activity falls for the consideration of the local

authority in its capacity as the Local Planning Authority.

In this regard, the local authorities must consider the

construction of buildings, their number, area, height, mass,

suitability to the locality or neighbourhood, design and

external appearance, and impact on neighbouring lands

It is important to note that the powers the local authorities

have are only derived pursuant to these acts. As a result,

the various acts not only empower the local authorities,

but also sets limits on those powers. The acts come

together to provide, amongst other things, safe buildings

and construction together with proper development, with

the objective of safety and usefulness for all users and the

society as a whole.

While all the various approvals are a necessary prerequisite

to commence your construction, let's not be fooled. The

approvals, permits or licenses of the local authorities, as

the case may be, do not guarantee that your development

is in keeping with the law! The local authorities' approval

is not a bulletproof vest against future challenges to any

development.

Many developers are of the mistaken view that once these

approvals are in place, then it's an automatic all-clear and no

further challenges or impediments are possible. However,

under our legal system, our Courts are empowered to

review the decisions of these local authorities in certain

circumstances.

Any person, group or body who has sufficient interest in the

subject matter may make an application to the Supreme
---
LEGAL

Court of Jamaica for Judicial Review. Through this process,

an interested person can challenge the decisions of the

local authorities, such as the granting of applications for

development and/or building approvals.

For example, in December 2020, in the matter of Young

and others vs KSAMC, NEPA and NRCA and Wamh

Developers Limited [2020) JMSC Civ 251 the Court

quashed the approvals and permits granted by the KSMAC

and NEPA, and ordered Wahm Developers to take steps to

halt all construction on the said premises.

At paragraph 111 of its judgment, the Court made clear

that it is incumbent on developers to comply with all

statutory requirements when conducting a development

and that even the local authorities are bound by and will be

held accountable for compliance with all the relevant laws.

"This court agrees that the general purpose of the

Town and Country Planning Authority is to ensure that

developments are undertaken in an orderly manner,

hence the requirement for Development/building permits.

Nevertheless, there are other material considerations that

are important if not more important. It is to be borne in

mind that as a part of its remit the NRCA must ensure that

Jamaica's natural resources and its physical environment

are conserved and protected. The ultimate consideration,

therefore, is protection of the environment as mandated in

section 9(5) of the NRCAA. Would be developers such as

WAMH must not, therefore, be allowed to ride roughshod

over the provisions of both statutes, neither should an

Authority seek to thwart the law in the name of "good

administration" or merely for the sake of expediency.

The court went on to say at Paragraph 245 that:

"In these circumstances, I find that the planning

authority in this case, the KSAMC, was in breach of

its statutory duties and that they failed to follow the

procedural rules provided in the Town and Country

planning Act. I also find that it had no jurisdiction

to grant an application where there were several

breaches of the 2017 Provisional Development

Order. National Environment Planning Agency,

who is the agent of the other relevant authority

National had no power to grant an environmental

permit retrospectively and I have found that the

environmental permit granted to WAMH in this case

is null and void. Consequently the construction at

17 Birdsucker Drive is not supported by any legal

authorization. "

This recent judgement makes clear that, despite the fact

that developers may hold all the necessary approvals and

permits required by law, approvals are not a guarantee

that the development is in keeping with the relevant laws.

A court can stop a development, resulting in considerable

loss to the developer.

It is imperative, therefore, that persons seeking to engage

in property development contract the services of the

various professionals engaged in property development.

This includes architects, engineers, Attorneys-at-Law and

land Surveyors. These professionals would be familiar with

the necessary laws to be complied with in a development.

The engagement of such professionals will minimize the

risks of a development being halted by the court despite

the fact that the relevant approvals and permits are in

place.

Tel: (876) 926-3155

Dabdoub, Dabdoub and Company

49
---
BUILDING SYSTEMS

Doors & Windows 52

Kitchen 55

Bathroom 58

Ceilings & Partitions 64

Lighting 66

Electrical 70

Floors 74

Safety & Security 76
---
DOORS & WINDOWS

Choosing the Right

Windows for a

Renovation

Selecting the right windows is like choosing the perfect pair

of shoes to complete an outfit: they are stylish, accentuate

the fit, and pull everything together. Similarly, the right,

well-placed window adds architectural interest and value to a

space. Installing multiple windows transforms your fortress into a

beautifully framed home and could be your best investment yet.

But for starters, figure out the function, style, colour, material,

and size of window that'll work best for the area it's being put in.

not-so-sunny days, parts of the home may require

windows that can withstand heavy rains and high

winds.

What's your style? From casement windows to

the hung series windows, local retailers can help

you select the right style based on your needs.

You may want to invite the outside into a living or

dining room, and bay windows with their curved

design provide a broader view of the outside. Add

elegant black frames for a pop of personality.

Renovating with Window Styles

Now that you're renovating (or planning to), here are some

window styles to consider for your home.

Function. We often reference the importance of location for the

property itself, but window location is critical to its function. For

instance, working from a home office may require peace and

quiet. The windows for your office would need to have noise

prevention glazing to control sound pollution. Large windows in

east-facing rooms greet the majestic glow of the morning sun

and make them brighter and most likely energy efficient. On

52
---
DOORS & WINDOWS

Casement Windows

Also known as awning windows, the casement style

accentuates a clean, modern kitchen area. The top-tobottom

design makes them open like a door allowing

maximum air circulation and unobstructed views. Opening

along its entire length, you'll have no issues with fresh

air or ventilating hard-to-reach places like over a kitchen

sink. Matching these windows with other accessories,

like cabinet handles, creates a stand-out scene that adds

appeal to your newly renovated kitchen.

Hung Series Windows

Sliding Windows

The classic lines and two sashes that open vertically

are what characterise the hung windows. A made-over

bathroom would benefit from this style that can remain

open, allowing air and light, even during rainfall, without

letting water in. That beautiful little DIY reading nook is

also a good setup for hung windows as you nestle in with a

side of afternoon tea to enjoy an engaging book.

French Windows

The quintessential French window is no stranger to new

or renovated interior décor. This elegantly styled window

is definitely the throw open type that adds drama to a

balcony, terrace, or garden. Giving the illusion of a bigger

space, French windows provide a charming architectural

detail to complete either an old world or modern

minimalist aesthetic. The one-sided hinged system set in

wooden frames will always be visually attractive due to its

sophisticated, unique style.

Sliding windows really open up a room. These windows

are well-matched for renovating ideas as they are a

popular choice for contemporary styled homes, especially

for tight spaces and rooms in need of extra ventilation.

The sleek, contemporary sliding window glides open

smoothly, welcoming a cool coastal breeze or the imagery

of rolling ocean waves without hesitation. If you have a

scenic landscape, why not make the most of it? Go big

for effect or get creative with decorative grilles and dark

trims. A freshly renovated home with sliding windows

commands attention and further captures the best light

and optimal views.

There's no doubt that the right windows make a world of

difference when renovating. Striking a balance between

the aesthetics and functionality of your window choice

will have your home looking and feeling brand new. Many

local retailers supply the windows mentioned above, so

happy hunting!

53
---
KITCHEN

What's your countertop style?

What's Your

Countertop Style?

Whether your kitchen style is traditional, modern,

vintage, industrial, or farmhouse, one thing is certain:

you'll need to have countertops. The material you

choose is not only about aesthetics but functionality and

durability. You don't want something that looks good

but can't stand up to the wear and tear of hot pots and

pans, cutting and chopping, spills, and innumerable wipedowns

with wet cloths. Cost is also another factor, as some

options are much more expensive than others. Luckily,

there are numerous options to choose from, so there's

something you'll like, whatever your taste or budget. Let's

take a look at some of the most popular ones today.

Granite

This natural stone has been top of the heap in countertop

choices for years, and for good reason: it's a strong,

durable prep surface and offers a desirable high-end look.

As a natural material, granite typically features variations

in the stone's pattern. This adds to its appeal for many

customers but it also makes it tricky to match up the

slabs. Another downside is that granite is porous, which

means liquids can seep through the surface and cause

staining or become a breeding ground for dangerous

bacteria. To help your granite countertops maintain their

appeal and cleanliness, wipe up all spills quickly, and seal

with a nonporous sealant—typically once a year.

Quartz

This stone is another favourite among consumers and

comes in both natural and engineered form. Natural

quartz, while beautiful, is not as strong as granite,

so most of the quartz countertops you'll encounter

are of the engineered variety—a mix of the original

stone and various additives. Engineered quartz has

one major upside to granite: it's nonporous, meaning

it won't be stained from liquids and doesn't need to

be sealed. It's also impervious to acids and scratches

and stands up very well to heat. Like granite, there

are numerous colours and patterns to choose from.

Marble

Marble is the high-end countertop material du jour in

the design world. Many designers and customers are

enamoured with the gray-toned veining in the most

55
---
KITCHEN

56

popular types, Carrara and Calacatta, which isn't only

aesthetically appealing, it also helps to disguise wear and

hide light stains. Its timeless appeal also gives any kitchen

a high-end look. Similar to granite, marble is porous and

requires regular sealing as well as special care with heat and

anything acidic to prevent etching.

Soapstone

Highly stain- and bacteria-resistant, soapstone is another

great option if natural stone is your preference. It doesn't

have the same variety of colours as the others (it's only

available in grays from light to dark), but like marble, it

features veining in shades of black, white, and green. It's

also nonporous and doesn't require yearly sealing, but

regular applications of mineral oil will help to add sheen,

disguise nicks and scratches, and deepen the stone's colour

over time.

Honed vs. Leathered vs. Polished Finishes

Granite, quartz, marble, and soapstone all lend themselves

well to various types of treatment finishes. Polished is the

most popular finish, but honed and leathered textures are

rising in favour. Honed offers a matte finish with little to no

shine. The overall look will vary depending on the type of

stone, but it works especially well with marble, since it's lack

of shine helps conceal any flaws or scratches.

The leathered finish is a newer style of treatment that has

become more popular in recent years. It has a soft sheen

instead of the high gloss of a polished finish and has a

different feel. The leathered finish retains the stone's natural

colour, giving it a more sophisticated look than honed. It

also hides fingerprints and water spots very well, which is a

definite plus.

Tile

Tile countertops are a great choice if you want an

inexpensive material that's easy to maintain. It's simple to

coordinate or mix and match with different design styles.

You can use the same ceramic and porcelain tiles from your

construction or opt for tiles made from or mimicking any

of the natural stones you prefer. Best of all, installation is a

DIY project you can tackle in one weekend, if you're feeling

handy.

Laminate

If you're on a budget, laminate is the best option. It also

helps that the material is enjoying a resurgence in popularity.

If you're thinking of the Formica in your grandparents'

kitchen, you're on the right track. However, today's

laminates feature myriad patterns that resemble natural

stone or wood, allowing you to have a high-end look at a

fraction of the cost of those materials. And if you do like

that colourful, retro look, those styles are also available.

Wood

The butcher-block style is another popular option,

especially for customers who want a warm, 'homey' look.

Both decorative and functional, this surface is ideal for food
---
KITCHEN

prep once it's properly sealed. It's even sanitary for

chopping meat. Wood is also highly heat-resistant,

so you can't damage it with hot pots and pans.

Stainless Steel

Stainless steel is the way to go if you love a modern,

industrial look. The metal surface coordinates with

any colour and is one of the easiest countertop

materials to clean—just wipe it down with a wet

cloth and soap. Stainless steel also inhibits bacterial

buildup, making it the most hygienic option available.

Concrete

Concrete is a trendy option, especially among

the younger crowd. It's tough and durable and

complements the modern aesthetic very well.

Countertops can be customized with pigments or

embedded objects, but like natural stone options,

it's porous and will need to be sealed regularly to

protect against staining and bacterial buildup.

57
---
athrooms

Expert Tips

for Creating

a Luxurious,

Eco-Friendly

Bathroom

KOHLER by Tile City & Home Centre

World Water Day was recently observed on March 22, and

with every passing year, our global water consciousness and

conscientiousness only continues to grow. When it comes to

water conservation, we take our role very seriously and have chosen to

work with a range of partners to make our products more sustainable

and environmentally friendly. And when it comes to each individual's

personal footprint, the bathroom and kitchen are typically the biggest

consumers of water and energy for the majority of households.

Our contributions, no matter how small, have an impact. If we simply

remember to turn off the water when we brush our teeth, we are

helping. If we plant native, drought-resistant gardens, we are making

a difference. And if we trade in inefficient bathroom products—toilets

using 1.6 or more gallons of water and showerheads using 2.5 gallons

per minute, we're really having an impact. It truly is up to us to make

a difference.

And thanks to human ingenuity—that beautiful thing—comfort and

conserving water are not mutually exclusive. Design continues to move

forward in smart, efficient ways, so we don't have to choose between

stunning style, great performance and doing our part.

Here's how you can make small changes in your bathroom to save

water and make a design splash.

58
---
athrooms

Trade Your Toilet for a Newer Model

Believe it or not, toilets are the biggest offenders in the

home when it comes to wasting water. Chances are, if you

haven't upgraded your toilet in the past 10 years, it's less

efficient than it should be. To give you a sense of the current

state of affairs: in California alone, the state with the most

advanced guidelines, only 5.5 percent of toilets are highefficiency

using 1.28 gallons per flush (gpf) or less. So, if

you're unsure whether or not your toilet wastes water, it

probably does. It makes sense then to swap your toilet for

a high-efficiency toilet that can save up to 16,500 gallons

of water each year, reducing water use by up to 20 percent

over a 1.6-gallon toilet.

Here are some things to note if you're considering a trade:

• Look to swap older 1.6- to 3.5-gpf toilets for water-saving

toilets with a 1.28-gpf or less.

• Choose between a single-flush toilet (what most of us

have) and a dual-flush toilet that lets you choose between a

half or full flush.

• Don't limit yourself to white—choose from water-saving

toilets in a wide variety of colours.

• Coordinate the design of your toilet with the look of your

room, from classic to contemporary lines and details.

59
---
Swap Your Showerhead and Save

At first glance, tinkering with a shower you're happy with

seems kind of crazy. Unless…the new shower will be even

better, for you and the world. Showering technology has

evolved over the past few years to make it possible to

combine an incredible spray experience, even music,

with saving water. In fact, today, whether you opt for a

single-function showerhead with great rinsing power or

a multifunction showerhead that adds massaging and

restoring sprays, you can go from a 2.5 gallon-per-minute

(gpm) showerhead to a 2.0-gpm or less and save up to 40

percent more water.

Some extra reasons to make the change:

• Swapping your showerhead or handshower out couldn't

be easier: unscrew the old model and screw on the new.

• Explore rockin' upgrades, like a water-saving showerhead

that features a wireless speaker. Take it to the next level with

a digital system that allows you to pre-set the duration of

your shower to save water.

Dump Your Leaky Faucet

Certainly, it makes sense to change out your faucet

when it's leaking, but upgrading to a new faucet can

save a significant amount of water each year, up to 30

percent over a 2.2-gpm faucet. Plus, choosing a new

style or finish can give your bathroom a new look.

Why it makes sense to switch:

• Say goodbye to your leaky faucet or your standard 2.2-

gpm faucet and install a 1.5-gpm.

• If your faucet is leaking around 60 drops per minute, it's

wasting up to 2,304 gallons per year.

• Match your faucet design with your bathroom style, from

traditional to modern, or choose a contrasting faucet design

to make a statement.

• Think about how the finish you select—like rose gold or

matte black—can warm up or cool down the look of the

room.

At Kohler, we believe great design is form and function

in perfect harmony with the environment. This means

designing products that don't just look beautiful and

perform exceptionally well, but also use significantly less

water. Because lowering your water usage shouldn't mean

lowering your standards. Visit our showroom today at 114

Constant Spring Road, Kingston to explore more watersaving

solutions.
---
A NEW CARPENTRY

CONCEPT.

QUALITY AND EXCELLENT DESIGNS ARE OUR LEGACY

BEDROOM

KITCHEN

LIVING ROOM

683 Half Moon Street, Montego Bay

Madera_Wood.ltd www.maderawoodltd.com

8769533061 info@maderawoodltd.com
---
athrooms

Photos: Moen

Transforming Your Bathroom

Experience with Technology

One of the last places you would expect to find Alexa is in

the bathroom, but here we are in the midst of the digital

era and the most sacred place in the home is becoming

smarter. With voice-activated showerheads that pre-prepare

showers on command, there are not many things better

than a customised, aromatherapy type shower experience.

U by Moen Smart Shower provides the best of both

customisation and intelligence. The smart shower luxuriously

rinses away those exhausting workdays, especially those

endless Zoom calls and meetings. The shower experience is

Wi-Fi/cloud-based and a "thoughtful, beautifully designed

product creating exceptional experiences with water," said

Delphine Francois Chiavarini, vice president of global brand

marketing for Moen. Ultimately, every bathroom can be

transformed with this exquisite shower design.

How U by Moen Smart Shower Works

Showers are usually the final frontier when it comes to

incorporating technology. It may be because showering

isn't the most arduous of tasks and it's assumed that most

people at least like to do it anyway. While that is true,

technology has caught up and the U by Moen Smart

Shower is more than buttons and digital timers. This smart

shower operates like a personalized eco-system throughout

the home so you could be checking the latest news while

your smartphone finds the desired water temperature.

Your shower will be the perfect temperature faster than the

twist of a knob. Speaking of knobs, there are none. The

U by Moen comes with a sleek digital LCD touchscreen

that controls water temperature and feels futuristic and

62 62
---
athrooms

luxurious. In addition to being showered in luxury, the

thermostatic control has built-in limits so you always get

the desired temperature as well as prevent any possible

scalding accidents. The smart water technology can also

be controlled through voice activation and an in-shower

controller. With voice assistance, you can remotely start and

stop the shower, create personalized pre-set settings, and

activate those preferred settings using voice command. This

feature is not only cool but efficient and the U by Moen

offers three ways to shower in style using voice assistants.

"Hey Siri, start my post-workout shower" is a command you

probably never knew you needed, but thanks to Apple, you

do. This voice assistant starts the shower from anywhere in

the home from Apple devices including your iPhone, iPad,

Watch, Mac and HomePod. But if you're not one of the

legion of Apple devotees, then Google Assistant or Amazon

Alexa will also get you that feel-good experience. They even

stepped it up with an integrated network of smart home

interactions. Imagine being able to start the shower at the right

temperature, adjust the lights in your bedroom, and open

the blinds at the same time all from a pre-set voice command.

And since we're leaning on our homes for comfort more than

ever, adding a few orchids, peace lilies, and ferns multiplies

the aromatherapy aesthetic of the U by Moen smart shower

experience.

63
---
ceilings & partitions

Keeping It Cool with Ceiling Fans

64

Beyond helping to regulate cooling needs throughout

the house, there are many benefits to having ceiling

fans in your home. With warm weather all year round,

ceiling fans are relatively low energy users and inject

comfort and versatility into your space.

Bonus: They make a great decorative lighting alternative

that delivers functionality and completes the aesthetics of

a room.

Maximises Comfort

Being in a room that feels suffocating is grossly

uncomfortable. By circulating the air, ceiling fans regulate

the temperature and cools the skin. Adversely, if it's too

cold, changing the blade direction clockwise creates an

updraft and redistributes the heat in the room.

Design tip: Maximise comfort by selecting ceiling fans with

wide blades that can easily change direction and move a lot

of air around.

Saves on Energy Usage

We live in a predominately warm country, so the good

news is that ceiling fans work all year round. Even better,

they consume way less energy than air conditioning. Unlike

air conditioning, which uses a great deal of energy to cool

the entire room, ceiling fans spinning in a counterclockwise

direction pushes air down and creates a wind-chill effect

that cools your skin. Not cooling the entire room can help

save up to 40 percent in energy usage. Nowadays, smart

fans are incorporating modern technology like Google

Assistant, Alexa, and LED lights to operate more efficiently.

Design tip: Source Energy Star-rated fans. They are up to

60 percent more efficient than conventional fan and light

units.

Adds Style

Ceiling fans can also add pizzazz to a room by serving as

statement pieces or the focal point in a room. In addition

to their functionality, they are now available in a variety of

interesting, sculptural models as well as sizes, styles, and

finishes to complement any interior style. Combining a
---
ceilings & partitions

Photos: Big Ass Fans

few in an open-concept area or on vaulted ceilings pulls

the eyes up and creates a welcoming and contemporary

aesthetic.

Design tip: Interchangeable blade sets gives the option

to easily revamp the design to fit any preference without

replacing the entire unit.

All-round Versatility

Many designers suggest having ceiling fans in every living

area of the home. In large primary bathrooms, compact

ceiling fans whisk away humidity while a smaller ceiling

fan in wood finish would be perfect for a child's bedroom,

and an industrial-inspired fan works well in home gyms to

stay cool. Outdoor areas can benefit too and as visitors

approach your door an installation on the verandah can be

a conversation piece.

Provides Beautiful and Functional Lighting

Choosing ceiling fans with integrated lighting contribute

to the layered lighting design that gives a room character.

Fans with light kit compatibility or built-in lights provide that

layered effect and steps beyond basic overhead lighting.

The ambient lighting dresses up any room and creates a

cohesive and functional lightscape.

Design tip: Choose a light kit that coordinates with the

fixtures and appliances in the home.

Design tip: Consider ceiling height before installing fans in

different areas of the home.

65
---
LIGHTING

Choosing The Best Lighting for

Industrial and Commercial Spaces

66

Among the many different elements that go into the

planning and design of a commercial or industrial space,

lighting tends to be the one most overlooked. Many

people associate commercial lighting with installing the

brightest, most glaring lights possible, but that can actually

be counterproductive and harmful for the people using the

space. That's where even a basic understanding of lighting

ergonomics comes into play. This focuses on the relationship

between the light source and the people in the space and

aims to design and arrange light sources so that people can

work and interact in the safest and most efficient manner.

As human beings, our need for light is biological. The right

quantities of both natural and artificial light can positively

impact both our physical and mental health. The type and

amount of light that people are exposed to impacts their

moods, circadian rhythms, productivity, and creativity.

With millions of people spending at least a third of their

waking hours in commercial spaces for work, and millions

more traversing these spaces for other reasons, it's vital

to plan and design with the appropriate lighting in mind.

Lighting and Productivity

The right lighting helps enable people to function optimally

and better focus on the task at hand. According to the

International Labour Organization (ILO), proper lighting

ergonomics can increase productivity by up to 10 percent.

Optimal performance is what you want from the people who

will utilise your commercial space, whether it's an office suite,

a factory, or a medical facility. The ILO report also showed

that good lighting reduces errors by approximately 30

percent. Proper visibility is important overall, but especially

for industrial spaces like factories where machinery is being

operated and workplace accidents can be life-threatening.

The Right Temperature

When designing the lighting for your commercial

space, it's important to strike a balance and not just

go for the brightest lights you can find. While lighting

that's too dim can cause eye strain and make you feel

drowsy and tired, lighting that's too bright can be

harsh on your eyes and trigger migraine symptoms.

Another important factor to consider is the colour

temperature of the light source. Mid-range and high

colour temperature lights tend to appear cool white or

blue-white and are sometimes called 'daylight colours.'

These cooler lights have been shown to increase

alertness and reduce fatigue, so they're the ones you

want in your production areas where people are actively

working or brainstorming, and in conference rooms.

Warmer lights, which create a sense of comfort and

relaxation, can be used in break rooms and cafeterias.
---
LIGHTING

Natural Light

Exposure to natural light is also beneficial to workers,

whether morning or evening. A 2018 study by the

Department of Design and Environmental Analysis at

Cornell University found that employees who were

exposed to natural light in the workplace reported an 84

percent drop in eye strain, headaches, and blurred vision.

Research from the American Academy of Sleep Medicine

also showed that exposure to natural light helps regulate

hormones and keeps your circadian rhythm properly

regulated. This means your team is likely to sleep better at

night and be able to work more productively the next day.

Lack of natural light throws off the body's natural rhythms,

which leads to tiredness and listlessness. Since most

commercial spaces don't have complete access to natural

light, it's best to have a mix of appropriate artificial lighting and

natural light. Ways to bring in natural light include numerous

windows—preferably large ones—and skylights. Another

option is to use glass in lieu of drywall where possible, to

allow any natural light coming into the space to be diffused.

Also, if you have the means and if it would be appropriate for

the kind of work being done in your commercial space, you

can also consider programmable lights that can mimic the

typical changes of natural light over the course of the day.

These will move from cooler and brighter in the mornings

and early afternoons to slightly warmer tones in the evenings.

Getting it Right

potential than lighting for some other settings like homes.

Considering cost and the other factors already covered,

it's definitely a plus to talk with an experienced lighting

professional to determine the right fit for your needs.

Some of these considerations could include the following:

Fluorescent vs. LED — Fluorescent technology is

more commonplace as it's been around for more than

100 years. It's generally viewed as a high-efficiency

way to provide lighting over a vast area, in comparison

to incandescent bulbs. In recent years, LED (lightemitting

diode) technology has proven to be a better,

more energy-efficient alternative to fluorescent lights.

While LED lights may be a bit more expensive, when used

in an office, they've proven to save a company money in

the long term. This is because LED lights typically have a

longer lifespan—up to 50,000 life hours before needing

replacement, compared to a maximum 36,000 hours for

fluorescent bulbs. They also don't use excess energy in

the form of infrared radiation the way fluorescent lights do.

Styles — There are many different styles of lighting out there

and the ones you choose can help to elevate the overall

aesthetic of your space. For instance, if your commercial

space is a factory or warehouse with high ceilings, high

bay lights may be best whereas panel lights and troffers

are great for office spaces and medical facilities. Of course,

you can also include pendant lights or chandeliers in spaces

such as the lobby, which also requires good visibility but can

also use something aesthetically appealing.

Commercial lighting tends to be expensive initially, when

you factor in the cost of the light fixtures themselves and the

number of them that may be needed to properly illuminate

the space. However, these lights are designed to be longer

lasting, are more durable, and have better energy saving

67
---
ELECTRICAL

Is Your

Home

Smart?

70

there was a time not too long ago (give or take about 20

years) when the idea of a smart home was purely in the

realm of science fiction, or just nebulous thoughts in the

brains of true tech 'geeks.' The world wide web wasn't as

'worldwide' as it is today, of course, so the Internet of Things

(IoT) phenomenon was truly a thing of the future. Sci-fi also

tended to paint bleak pictures of automated houses that

eventually took on minds of their own and caused chaos, so

average Joes and Janes were probably a little leery of living

in a home 'controlled' by technology. However, as software

and devices evolved, so grew people's acceptance of and

interest in the idea, leading to the explosion of smart home

technology we've seen over the past decade—especially

the last five years. We haven't quite reached the stage of

widely available full-scale home automation but we're well

on our way. Thanks to Wi-Fi and an ever-growing number of

smart home apps and devices, we can now control various

aspects of our homes with a voice command or the swipe

of a finger across our smartphone or tablet screens. Let's

explore some of the ways smart home technology can make

your life at home easier and better.

Smart Assistants

In the same way a good executive assistant keeps a busy

CEO's workday running smoothly, a smart assistant can help

ease your day from start to finish—after all, you're the CEO

of your home. Apple's Siri, Amazon's Alexa, and Google
---
ELECTRICAL

outdoor security cameras from a computer screen to

being able to set and disable home alarm systems from

a smartphone app remotely. There are many brands on

the market that feature a range of products that include

motion-detecting lights and security cameras, video

doorbells, and smart locks that can be activated and

monitored remotely using their hubs or apps on your

phone. Some also have sensors that help protect homes

from environmental threats like fires and floods. Popular

brands include Ring, SimpliSafe, Wyze, and Abode.

Assistant are the most widely known brands, and their

associated hubs, devices, and systems—HomeKit, Echo, and

Nest, respectively—can be configured to monitor and control

just about every aspect of your home. For many consumers,

setting up these systems is often the first step in their smart

home journey. After getting set up, all you have to do is give

the appropriate voice commands and you're good to go.

Security

This is perhaps the most widely used smart home technology

around the world, but it has evolved from simply monitoring

Lighting

Gone are the days of flipping a switch to turn lights off

or on, or turning a dial to control brightness. Now you

can use smart bulbs, such as the Philips Hue, Yeelight, or

Wyze Bulb, that you can control from your smartphone.

Another option is the use of smart switches to control

the lights already built into your house. Some home

technology systems like Google Assistant even allow you

to control your lights via voice command. Real estate

71
---
Photo: Nest Learning Thermostat

developers can kick-start a buyer's smart home journey

by installing smart switches from the construction stage.

Temperature

Smart thermostats like Nest, Ecobee, and Sensi allow you

to adjust the temperature of your home from your phone or

via voice command. Now you can turn on your A/C before

you get home so it's nice and cool when you arrive.

Entertainment

Smart home entertainment systems give you complete

control of all of your media and devices through voice,

app, and remote control wherever you are in your home.

Now you can tell your smart home assistant to turn on

your TV or start your favourite music playlist. Connect your

smart speakers for a redefined sound experience. Dim the

lights to recreate the atmosphere of a night at the movies.

Systems like Amazon Echo and Google Nest are at your

beck and call.

Chores and more

Not in the mood to pull out the vacuum cleaner? iRobot

has you covered with Roomba (sweeping) and Braava

(sweeping and mopping). Another option that does both is

the Deebot Ozmo. Close or open smart window shades with

the touch of a button. You can also whip up an Instagramworthy

meal with smart kitchen appliances—even while

you're away. Smart plugs and outlets help you monitor and

control energy usage via voice command. Outdoors, you

can keep your lawn in tip-top shape with a smart sprinkler

and a cordless robotic lawnmower.

Pros and Cons

Home automation has gone from a far-fetched, distantfuture

idea to a living reality for many people, whether it's

a simple security camera setup or a house chock-full of

programmed gadgets and devices. There are many benefits,

including more comfort and convenience, improved safety,

and better energy efficiency. Another benefit homeowners

will love is the increased value of your property. In the

U.S., according to American Family Insurance, a home

integrated with smart features greatly appeals to potential

buyers, which can lead to higher resale value. Real estate

developers can also increase the appeal of their properties

by integrating smart home features during the building

process.

On the flip side, it can become an expensive undertaking,

depending on how deep you want to go with the

automation. There are so-called bargain options, but the

more comprehensive systems run into the hundreds of U.S.

dollars. You also have to consider the fact that technology

evolves pretty swiftly, which means the version you purchase

this year may go out of style by this time next year. Be sure

to carefully weigh the pros and cons before making the

investment.
---
FLOORS

The Truth About Installing Ceramic

and Porcelain Tiles

Builders Jamaica sat down with Home & Things Jamaica

Limited to go through a tested and proven guide on

how to properly install porcelain and ceramic tiles to last

a long time. As one of the largest distributors of porcelain

and ceramic tiles in the country, Home & Things provides

manufacturer-specific guides for the brands they carry

and decided to share some of these tips with us. With this

expert advice, developers can benefit from reinforcing and

improving their knowledge on the stages of the process

that are, at times, overlooked or neglected.

Ceramic vs. Porcelain Tiles

At first glance, it's tough for a layman to tell the difference

between porcelain and ceramic tiles. The truth is, porcelain

and ceramic tiles have quite a few similarities, so to

the untrained eye, they can look the same. The major

differences lie in the material composition, manufacturing

process, and durability.

Ceramic Tiles

These are made from clay with a mixture of metal oxides

for colour and ground glass for a hard surface. Although

glazing makes them versatile in terms of colour and

design options, they are generally not as hard-wearing as

porcelain. That makes them more suitable for residential

developments and interior domestic spaces as opposed to

high traffic areas that require harder surfaces.

Porcelain Tiles

The clay used to make porcelain tiles has a much denser

composition than the one used for ceramic tiles. This means

they absorb less water and are less susceptible to wear and

tear. Porcelain tends to outperform ceramic in high traffic

areas in both long-term appearance and durability.

The installation process for both types of tile, though not

difficult, is very technical. Yet, neither the chromatic range

of a ceramic floor or the contemporary richness of freshly

laid porcelain has had too many opportunities to shine

uninterrupted. Major missteps from not knowing how the

chemicals being used interact to underestimating the inconvenience

of high water tables and consistent rainfall reveal

an area of ignorance for some developers and contractors.

By paying attention to the manufacturer's guides and specifications,

botched tiling work can be a thing of the past.

The following is not the standard chronological list of steps

in the installation process. Rather, think of it as a peek into

an experienced analysis from the professional journal of an

industry elite that lists key elements of the proper installation

flow and why they are crucial.

A Guide to Installing Porcelain and Ceramic Tiles

Step 1

It's mandatory to read the manufacturer's guide and

installation specifications. Before any work starts, the guide

74
---
FLOORS

should be consulted and the necessary materials prepared.

The most basic thing the guide will advise is the type of

thin set mortar and grout joint space required and the area

of usage for the tile. Large retailers like Home & Things

can help with the correct thin set to tile pairing—polymer

or latex modified thin set pairs better with porcelain. It is

essential to know the grout joint size from early. Tiles are

made to have varying degrees of distance between them

and the manufacturer's guide will provide details on which

grout joint size to use.

Step 2

It's still the preliminary stage and the next recommended

step is mixing tiles from different boxes. Again, this is based

on the manufacturer's advice. Developers or contractors

will not want to be using too many variations in tone and

calibre in the same area. That is because there will be some

variation, no matter how minute, in the tone, shade, and

calibration of the tiles being laid and organizing them

in groups encourages an organized, seamless process.

Sometimes the difference is easily identifiable, other times,

not as much. But once the tone and calibre are consistent

and the grout joint size and type of thin set is known,

installation can begin.

Step 3

We now get into the physical aspects of installation. First,

double check to ensure the subfloor is level and structurally

sound. The quality of the installation will depend on this.

Common knowledge? Maybe. However, it is revealed that

nine out of 10 times that is not the case. The general rule is

if the level of the floor requires the use of more than a half

or quarter inch of thin set, there's a problem. At that point,

excess thin set shrinkage could leave a hollow spot at the

back of the tiles causing them to break or pop up easily.

If there is a need to level the subfloor, it's best to do so

with a proper mix of concrete and sand. Next, wait at least

one to two weeks until the concrete adequately dries out

before actually laying tiles. Any less and you run the risk of

having hollow spots and popping up of tiles. As an extra

precaution, experienced contractors will want to check

the water tables and rainfall levels in the area. More water

means a longer drying period. Essentially, the success of

this step is heavily predicated on levelling and drying out

the raw concrete floor before laying the tiles.

Step 4

The previous steps cover about 70 percent of the process.

Once the levelled floor can only accommodate a quarter

inch of thin set, then you are ready to go. In the process of

installing, never buck the tile up against the wall. Tile the

area to the walls up to the size of the grout joint, leaving

a broken space. That allows for any minor tile movements

or expansion and reduces the possibility of cracking or

popping.

Step 5

Use the manufacturer's recommended joint size spacer and

avoid laying tiles based on personal style. The tiles may

not be designed for that particular look based on their

bendability/warpage, so be guided.

Now that the tiles are installed, don't rush to grout

immediately. A three- to five-day wait is recommended, but

rainy conditions may extend the wait time. This time allows

for the evaporation of as much moisture from the thin set

as possible. If not, trapped moisture in the grout space may

lead, depending on the tile, to damaged or discoloured

tiles.

Developers and contractors who incorporate this flow

into their installation process will have smoother and less

problematic results.

75
---
safety & security

Looking into

Access Control

Systems

The practice of tapping a card reader or using

some kind of access control to get through the

front door of corporate, multi-use, and apartment

buildings is becoming a frequent occurrence as the

desire for bulletproof security increases. Builders

Jamaica sought to find out more about these systems

and the pros and cons of using this technology.

What is an Access Control System?

In its simplest form, access control systems are automated

entry systems that ensure only authorized persons can

enter a building. Being granted access is predicated

on who is authorized, or not, and an additional layer

of security is built in to protect the lives and assets

of those who are authorized. They make traditional

keys feel archaic and frankly, cumbersome. Though

developers have been opting for keyless features for

some time, other touchless access options using mobile

devices and other biometric systems are available.

Emerging Access Control Systems

Smartphone access control

Typically paired with cloud-based systems, entering

a building would require the use of an app from your

smartphone to confirm that you're not an intruder. We

know developers are always considering their bottom

line and smartphone access is a cost-effective solution

for efficiently managing identification credentials that,

in times of security concerns, increases value without

throwing off project budgets.

They often utilise bluetooth low energy (BLE) technology

to secure bluetooth connection from a few feet away.

This ease and convenience make mobile access control

an undeniably promising alternative to older technology

like keycards and miles ahead of physical keys.

Photo: Kaadas

76
---
Recorded Entry History. You hear it all the time: having a

record of things may save you in the long run. Well, it's the

same with access control. It records each entry, which means

you can always search for proof of infringement if needed.

When it comes to safety and livelihood, that's a big plus.

Contact Tracing. Our new norm demands contact tracing

as a responsible course of action for any multi-use building.

By recording each entry, building owners and managers can

trace breakout origins with ease. As a preventative feature,

utilising touchless systems significantly reduces the chance

of contamination from handling keys and knobs.

Biometric Access Control

With all types of biometric applications available,

developers will have no problem finding something that

suits their design, budget, and clientele. This system uses

face, eye, fingerprint, and even voice to identify who is

requesting entry and is said to be incredibly accurate.

While other systems have to consider the possibility of

stolen data or tokens, biometric access is done with a

unique code—making it 10 times harder to compromise.

This futuristic-sounding option adds a modern interest

and high-scale feel to developments.

Advantages of Access Control Systems

Extra safety. They eliminate the common anxiety of being

harmed while entering your building. There is a sense of

peace and security knowing only those who belong in the

building will be granted access.

No Lost/Copying Keys. Lost or unauthorized copies of

your key floating somewhere out there is stressful. Using

a biometric reader or smartphone instead means no keys

to lose. If compromised, it can easily be cancelled and

reissued without the hassle of changing locks.

Disadvantages of Access Control Systems

Hacking. Yes, these systems can be hacked. When it is,

personal information can be manipulated without being

caught. Despite increasing security, there is still a chance

that they can be tampered with.

Pricey. Biometric access control can be particularly costly

with all the advanced touchless technology being used.

The Occasional Alien. Occasionally, there will be

instances where a fingerprint biometric system won't work

for certain individuals. If they handle chemicals or do heavy

construction work for instance, their fingerprint might

degrade making it difficult to identify. Here, a contactless

reader such as facial recognition would be a better

alternative.

Developers incorporating these systems into their projects

should consider scalability, user friendliness, customer

support access, and how well they integrate with other

systems in the building. Either way, it more than likely will

come down to the desired level of security and how much

you want to pay.
---
Concrete Admixtures

Epoxies

Anchoring

Waterproofing

Repairs

Sealants

Quick-Set Mortars

Grouting

691 Spanish Town Road, Kingston 11,

Jamaica, W.I. | 876-765-3663 / 3120
---
MATERIAL

Cement & Concrete 80
---
cement & concrete

ADVERTORIAL

Allcrete Brings Construction

Solutions to Jamaican Builders

Allcrete Surfacing Limited, a name synonymous with

durable and show-stopping floors in Jamaica, was

born (like all great things) out of necessity. The

principals of Allcrete's parent company, high-end real

estate developer Matalon Homes, repeatedly found

themselves facing the same problem on each construction

site: they wanted better quality finishing materials but

couldn't source them locally. With no alternative, Matalon

Homes decided to solve the problem themselves.

In 2011, Allcrete began providing stamped, metallic,

and stained concrete floors and surfaces across Jamaica.

Everyone, from owners of chic boutique hotels and large

all-inclusive resorts to industrial car showrooms, was thrilled

they could get quality stamped concrete locally. Allcrete

provided decorative concrete surfaces for Matalon Homes'

projects as well as for independent contractors. They were

pleased to discover the demand for quality decorative

concrete products was through the roof in Jamaica.

"Stamped concrete surfaces can last a lifetime if installed

correctly," explains Andrew Matalon, CEO of Allcrete

Surfacing Limited. "Commercial properties, especially places

like hotels, were very interested in our stamped concrete

surfaces. We use Increte Systems, the industry-recognized

best single-source solution for decorative stamped concrete.

Our team was well-trained and efficient. Clients were

pleased with our work, so one job always led to another."

The further Allcrete got into the world of construction

products, the more they realized there was room for

expansion. They discovered the construction industry

in Jamaica was in dire need of a reliable provider of

construction and masonry products. Hungry to expand

their product line, Allcrete partnered with Euclid Chemical

Company in Cleveland, Ohio, the leading manufacturer

of concrete and masonry construction products in North

America.

Allcrete trusted Euclid because that's where they procured

their materials to install their stamped concrete surfaces.

"We felt confident about Euclid's quality because that's

what we worked with every day on site," continued

Mr. Matalon. "We liked how innovative Euclid was with

their product lines. Since Allcrete is passionate about

bringing the best quality building products to Jamaica,

we became the distributor for Euclid in Jamaica."

80
---
cement & concrete

that all Euclid products are verified through ISO 9001

certification. Euclid offers complete solutions for every

concrete project, and Allcrete delivers those solutions to

Jamaican builders.

"We started with concrete surfaces, but we've grown a lot

in a short time," explains Mr. Matalon. "We understand the

importance of innovation and professionalism. We supply

top-quality products because we believe in building a

better Jamaica. We partner with the best, because we

believe Jamaica deserves nothing less."

Although Allcrete dove further into the world of concrete,

they didn't forget their roots: flooring. In 2016, Allcrete

became the distributor and certified installer for STONHARD

in Jamaica. STONHARD, a brand known for its seamless,

long-lasting, easy-to-clean flooring systems, is a major slice

of Allcrete's product pie. Engineered for both industrial

and commercial markets, Stonhard effortlessly joins form

and function in any tough manufacturing environment.

"Companies in Jamaica were looking to increase the

exportation of their products and that required adhering

to certain global health qualifications. STONHARD

floors meet those qualifications through many of their

certifications, HACCP being one of the main certifications

companies needed. The name STONHARD speaks for

itself as these floors are basically indestructible. Just as all

of our other products, STONHARD is of the highest caliber

and hands down the best option for high performance

flooring," says Mr. Matalon.

Despite the challenges of the past year due to COVID-19,

Allcrete continues marching forward. They remain a young

and hungry contributor to Jamaica's construction industry.

"We are focused on being the best at what we do. When

it comes to stamped concrete and industrial surfaces, we

ensure that our installers are well-trained, efficient and

always give 110% on every job. When it comes to our

products, our suppliers are the best to fill the needs of

the local market as they arise. We are always focused on

building our name in the industry and growing to meet the

challenges as they come," says Mr. Matalon.

Allcrete might have been planted in concrete, but they've

shown that their nature is more akin to water. They remain

an adaptable, transparent force of nature in the everchanging

world of Caribbean construction. "Allcrete

knows that ingredients matter. We supply the best, use

the best and produce the best. At the end of the day, a

satisfied customer is all that matters to us."

Through Euclid, Allcrete is able to distribute top quality

concrete admixtures, epoxies, anchoring, waterproofing,

repairs, sealants, quick-set mortars and grouting to builders

across Jamaica. Jamaican developers can rest easy knowing

81
---
SERVICES

Ground Engineering 84
---
GROUND ENGINEERING

Unlocking the

Full Potential of

your Waterfront

Property

BY JAMEL BANTON, M.SC., P.ENG.

2. Cove Beach. If your property is iron shore (a rock platform

along the shoreline), you can excavate some of this rock to

create a pocket beach or cove. For this to be feasible, your

shoreline should ideally be less than 3m above sea level.

Abeach can double the value of your waterfront

property" says Rory Marsh of Keller Williams

Jamaica.

Whether you own a resort, a villa, or a piece of

untouched waterfront land, intelligent investments in

your shoreline—like creating a beach—can open new

doors. People choose the Caribbean for what the

industry calls '3S Tourism': sun, sea, and sand. What if

your property is only missing the sand?

Cove beach excavated from an ironshore at Sparkling Waters

of Hanover, a 5-bedroom villa in Jamaica

3. Breakwater Reef. If you have an existing rocky shorefront

with pebbles, a breakwater structure (reef-like structure made

of large boulders) may provide a sustainable sandy beach. Reef

breakwaters are most attractive when submerged below the

sea surface and, over time, become home to different kinds of

coral and colourful tropical fish.

When someone asks me, "Can I build a beach on

my property?" my answer is always the same: "Yes,

but that depends on how much you appreciate

the value a beach will bring to your property."

The general rule is that if you don't have a sandy

beach along your shoreline, it's because nature

won't allow it without proper intervention. Beach

creation is a science that becomes a work of art only

after you understand and respect nature and the

environment. Complex waves and seasonally varying

tides, hurricanes, and climate change are among the

forces of nature that will influence the success of your

beach. Here are the key steps to follow.

84

Step 1: Discover the possibilities with your

terrain. Here are some options:

1. Perched Beach. You don't always need a beach

that touches the water; a dry beach—one that's

perched away from the water—is possible. If there's

a ledge or even a cliff at your shoreline, sand can

be placed at the top of the cliff to create a sandy

lounging area.

Royalton St Lucia shoreline after construction of breakwater

and groynes

4. Move Seaward. If you have limited space on land, it's

possible to reclaim part of the sea with a beach. This kind of

intervention will require structures to hold the reclaimed sandy

area in place.

5. Offshore Island. If the nearshore area is shallow, there

might be an opportunity to create a beach island close to the

shore. This is usually a visually appealing feature that becomes

a destination for guests to swim or wade out to.
---
GROUND ENGINEERING

Palmyra property (now Jewel Grande Montego Bay Resort and Spa) before and after beach creation, which involved

moving the shoreline seaward

Offshore island created for Holiday Inn,

Montego Bay

6. Beach Nourishment. This involves placing

sand on the beach and is needed in all the

options described above. There are different

kinds of sand that can be used. Natural

marine sand is the best but can be difficult

or expensive to source. Crushed limestone

has been used as it's less expensive, but the

quality of this manufactured product can vary.

7. Ecosystem Strengthening. All the

approaches described above must be done

in a way that supports the natural ecosystem,

but too often we don't pay enough

attention to maintaining the natural systems

Thrilled guests watch a coordinated turtle release at Half Moon Resort

in Montego Bay

85
---
Suction dredge offshore

De-watering dredged sand

Spreading the dredged sand on the beach

that protect our beaches. We should avoid cutting

vegetation and natural dunes and instead protect the

habitat of endangered species such as sea turtles.

Step 2: Design, Planning and Permitting

You will need a permit to create a beach. Despite the red

tape, one of the many benefits of the permitting process

is that it helps you avoid creating adverse impacts to yours

or your neighbors' property. The permitting process will

require that your design be prepared or at least vetted by a

professional to ensure its viability and sustainability for you

and the environment.

Ready to Unlock New Value from your Waterfront Property?

Owning waterfront property is a blessing and a responsibility.

Why not expand the rewards of owning such a property

with a beach that will stand the test of time? Whether for

you and your family or to please visitors, you can add tremendous

value to the property when you acknowledge and

take these steps. With hope and optimism for the future of

travel and tourism in the Caribbean, you're only a beach

away from unlocking the real value of your waterfront property.

Step 3: Building Your New Beach

Building a beach is not like building a house. Marine construction

experts are rare. This is a highly specialised business

due to the high levels of risk in working in and around

the sea and protecting the environment. Your permit will

come with conditions for you to guarantee this is done

properly.

86

When it's all done, an important part of your mindset must

be daily maintenance. A beach is like a garden, needing

care to be kept beautiful and well-manicured.

Jamel Banton, a Coastal Engineer, has been designing and

building beaches at Smith Warner International since 1997

and is now the Managing Director.
---
DISCOVER

THE WORLD'S BEST BRANDS

UNDER ONE ROOF.

BUILD@TILECITYJAMAICA.COM

114 Constant Spring Road • Ferry, Mandela HWY