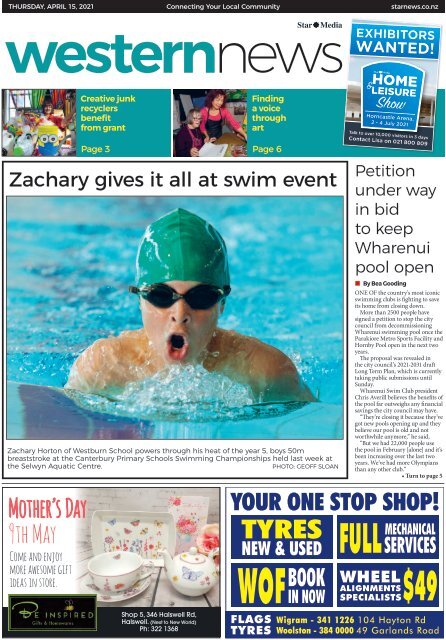 Western News: April 15, 2021
Create successful ePaper yourself
Turn your PDF publications into a flip-book with our unique Google optimized e-Paper software.
THURSDAY, APRIL 15, 2021

Connecting Your Local Community

starnews.co.nz

Creative junk

recyclers

benefit

from grant

Finding

a voice

through

art

Talk to over 10,000 visitors in 3 days

Page 3 Page 6

Zachary gives it all at swim event

Zachary Horton of Westburn School powers through his heat of the year 5, boys 50m

breaststroke at the Canterbury Primary Schools Swimming Championships held last week at

the Selwyn Aquatic Centre.

PHOTO: GEOFF SLOAN

Contact Lisa on 021 800 809

Petition

under way

in bid

to keep

Wharenui

pool open

• By Bea Gooding

ONE OF the country's most iconic

swimming clubs is fighting to save

its home from closing down.

More than 2500 people have

signed a petition to stop the city

council from decommissioning

Wharenui swimming pool once the

Parakiore Metro Sports Facility and

Hornby Pool open in the next two

years.

The proposal was revealed in

the city council's 2021-2031 draft

Long Term Plan, which is currently

taking public submissions until

Sunday.

Wharenui Swim Club president

Chris Averill believes the benefits of

the pool far outweighs any financial

savings the city council may have.

"They're closing it because they've

got new pools opening up and they

believe our pool is old and not

worthwhile anymore," he said,

"But we had 22,000 people use

the pool in February [alone] and it's

been increasing over the last two

years. We've had more Olympians

than any other club."

• Turn to page 5

Mother's Day

9th May

Come and enjoy

more awesome gift

ideas in store.

Shop 5, 346 Halswell Rd,

Halswell. (Next to New World)

Ph: 322 1368

YOUR ONE STOP SHOP!

TYRES

NEW & USEd

WoF

FLAGS

TYRES

bOOk

IN NOW

FULL MECHANICAL

SERVICES

WHEEL

ALIGNMENTS

SPECIALISTS$49

Wigram - 341 1226 104 Hayton Rd

Woolston - 384 0000 49 Garlands Road
---
2 Thursday April 15 2021

Latest Canterbury news at starnews.co.nz

GENERAL INQUIRIES Ph 379 7100

CLASSIFIED ADVERTISING Ph 379 1100

Star Media, a division of Allied Press Ltd

PO Box 1467, Christchurch

starmedia.kiwi

NEWS

Bea Gooding

Ph: 021 911 576

bea.gooding@starmedia.kiwi

ADVERTISING

Alana Powell

Ph: 962 8753

alana.powell@starmedia.kiwi

Your local community news

delivered to 24,894 homes

within The Star each week.

Templeton • Islington • Hei Hei • Broomfield

Halswell • Oaklands • Westlake • Hornby • Ilam

Wigram • Sockburn • Church Corner • Avonhead

Hyde Park • Russley • Riccarton Park • Riccarton

what's on

this week

JP Clinic

Thursday, 9.30am-12.30pm, at

Hornby, Saturday, 10am-noon, at

Fendalton, Tuesday, 10am-1pm, at

Halswell and Upper Riccarton

Fendalton, Hornby, Halswell and Upper

Riccarton libraries

A justice of the peace will be available

to members of the community

to witness signatures and documents,

certify document copies, hear oaths,

declarations, affidavits or affirmations

as well as sign citizenship, sponsorship

or rates rebates applications. This

service is free.

Knit 'n' Yarn

Thursday, 10.30am-2.30pm,

Tuesday, 1-3pm, at Upper

Riccarton, Thursday, 2-3.30pm,

at Fendalton, Saturday, 1-3pm, at

Halswell, Tuesday, 10am-noon, at

Hornby

Fendalton, Halswell, Hornby and Upper

Riccarton libraries

Take your knitting, crochet, stitching

or any other handcraft and enjoy

the company of others. Share skills

and be inspired.

Citizens Advice Bureau

Thursday, Friday, Monday, Tuesday,

Wednesday, 9am-5pm

Hornby Library

Citizen's Advice Bureau provides

free, confidential advice to everyone.

They take the time to listen and equip

you with information, options and

support that fit your needs. Free,

phone 349 5236 for more information.

GenConnect

Thursday, 1-1.45pm

Upper Riccarton Library

If you have questions about your

smartphone or tablet, ask an expert

for advice. Free, no bookings required.

Free Legal Advice

Thursday, 6.15-8.15pm

Hornby Library

A lawyer will be available to answer

your legal questions. Take relevant

documents. Free. No bookings required.

WESTERN NEWS

Stained Glass

Leaves, Monday,

10.30-11.30am, Te

Hāpua: Halswell

Centre. Catch the

sun and create a

colourful leafy

craft to hang in

your window.

Free, no nookings

required. ​

Technology Help Drop-In

Sessions

Monday, 2-3pm

Hornby Library

These free drop-in sessions are

available to help you with specific issues

including using email, searching

the internet, using the library catalogue,

using electronic resources and

any other general computer-related

queries. Go along with your laptop,

tablet, smartphone or use one of the

desktop computers if you need help

with anything digital.

Family History

Wednesday, 11am-1pm

Upper Riccarton Library

A volunteer from the Riccarton

branch of the New Zealand Society of

Genealogists will be available to help

you with finding your family history

online. Meet at the family history

computer.

Mah-Jong Group

Wednesday, 1-3 pm

Upper Riccarton Library

If you are interested in playing

Mah-Jong, go along whether you are a

beginner or an advanced player.

Not-for-profit organisations

can send their What's On

listings to western@starmedia.

kiwi
---
WESTERN NEWS Latest Canterbury news at starnews.co.nz

Thursday April 15 2021 3

Junk recyclers to benefit from grant

GAIL CARSON literally has

a "feel" for creating a valuable

resource from discarded junk.

For more than 20 years, she

has picked over the items on offer

at non-profit recycling space

Creative Junk to put together

tactile books for blind and lowvision

children.

She said that the craft items

"are not junk at all," describing

the organisation as "a wonderful

place where resources are recycled

and reused."

"I visited Creative Junk for

more than 20 years, having run

a volunteer group that makes

tactile - feel and touch - books

for local blind and visually impaired

children."

Creative Junk, which saves

a huge range of potentially

landfill-bound items for recycling,

has recently benefited

from a $9750 grant from the city

council's Strengthening Communities

Fund.

Now retired and a volunteer,

Carson said she "spent a lot of

time searching the shelves for

anything to help make the tactile

books."

"I was always looking for

red leather for animal tongues

or green leather for frogs," she

said.

"Buttons, corks, feathers,

fine corrugated card, magnets,

musical cards, sheep's wool,

textured wallpaper – my list

was endless. I never knew

what we would need until

a book was being prepared.

Now that I have retired, I have

recently joined Creative Junk

as a volunteer to help sort the

tremendous amount of resources

donated."

For 40 years, the organisation

has promoted the importance of

recycling through creative and

imaginative use.

Children, early childhood

education centres, schools and

recreations groups and those

with disabilities all make the

most of the space and on-site

activities.

Co-ordinator Christine Gayton

said that the charity "shows

people how to create heaps of

wonderful things and even potentially

grow a business while

developing their skills."

"It is amazing how many

people can benefit from Creative

Junk," she said.

"We are often out in the community,

working with people

to show how they can use our

recyclable material to create

incredible things.

SUSTAINABILITY:

Co-ordinator

Christine Gayton

sorts through a

range of colourful

items at Creative

Junk.

PHOTO:

NEWSLINE

"Our space users not only

find an outlet for their creative

tendencies and a cost-efficient

and waste-friendly option to

the creative process, they can

also connect with others who

have a similar passion, and build

friendships through regular

craft events.

"We only make a small portion

of our income through the

sale of resources and rely on the

generosity of the community to

remain open – so the council

grant is very valuable for day-today

costs and many communityfocused

activities,'' Gayton said.

New chaplain

appointed at

St Margaret's

STEPHANIE CLAY has plenty

of experience behind her as

St Margaret's College newest

chaplain.

The reverend will provide spiritual

and well-being

support for the

students, staff and

community and

joins the college

from the Anglican

Parish of Amberley

where she has

been vicar for five

years.

Facilitating

Stephanie

Clay

positive growth in a holistic way

through love, care, compassion and

encouragement is something Clay

said she feels passionately about

and is looking forward to achieving

this through worship, relationship

building and outreach.

The college's executive principal,

Diana Patchett said the role of

chaplain was at the heart of the

school.

"Our college was founded 111

years ago by Bishop Julius and

while the Anglican faith remains at

the heart of who we are, the work

of the Chaplain far exceeds that of

spirituality.

Clay will join St Margaret's

College in July.

Special Pricing

for the

Weekend

Lunch and Dinner

Extra

buffet items...

Roasted Beef Ribeye

Whole Salmon

Beef Sirloin on the BBQ

Oysters

Lamb

Aromatic Spiced Duck

plus a Glass of

Bubbles and a treat

for Mum!

Terms & Conditions: Please contact your nearest

Valentines Restaurant for Pricing. No discounted

offers can be used during this promotional period

BOOK NOW 0800 VAL BUFFET valentines.co.nz
---
4 Thursday April 15 2021

Latest Canterbury news at starnews.co.nz

WESTERN NEWS

Kirkwood Intermediate

School of Choice

Celebrating Kirkwood

House Captains for 2021

Year 7 Camp

Our Year 7 pupils have recently

attended a camp at Purau Bay.

This is a great way for the children

to get to know each other.

Swimming in the

ocean on the first day of

camp and picking up rubbish

in Governors Bay, for left over

chocolates, was my favourite part

of camp.

I learnt that Rippa Island existed,

and I learnt the island's past uses.

I also learnt a lot more about

the Māori culture in and

around Ripapa.

From the left: Blake, Indianna, Varley, Connor, James, Marcella, Niamh

and Oscar

House Captains for Mansfield/Hillary

Varley C - Ex Springston School

The things I like about Kirkwood Intermediate School are swimming and

technology. This year I would like to inspire other students and take on new

opportunities. The reason I wanted to be a House Captain was to gain more

confidence in speaking to others and to try new things.

James B - Ex Springston School

I like Kirkwood Intermediate School for the sport opportunities that it offers.

This year I would like to be the best sports boy. The reason for wanting to

become a House Captain is that it will test and improve my leadership skills.

My favourite part of camp

was the abseiling because

it was fun basically walking

down a cliff.

On camp we learnt how to

turn the canoe.

House Captains for Sheppard/Freyberg

Marcella C - Ex Lincoln Primary School

I like Kirkwood Intermediate School for the opportunities that the school has

to offer, for example, extension opportunities and the sports options. This

year I would like to run fundraisers to improve the image and enjoyment of

school. I wanted to be a House Captain to gain more confidence in myself

and to make a difference by sharing my opinions.

Connor C - Ex Hoon Hay School

Kirkwood Intermediate School gives you many opportunities to try new

things. This year I would like to make Kirkwood Intermediate School a better

place. I wanted to become a House Captain so I could help people and it

gives me a good chance of trying something new.

House Captains for Britten/Te Kanawa

Indianna M - Ex Clearview Primary

One of the things I like about Kirkwood is the old fashion feel, I also love

that all the students get many opportunities offered to them. This year my

goal was to become a House Captain and now that I have achieved that my

new goal is to be a great leader so all of the students will have a great year.

The reason for becoming a House Captain is because it would boost my

confidence, encourage me to become a better person and be a good role

model for others.

Abseiling was my favourite

part of camp because it was

fun, challenging and a new

experience. I thought that I

wouldn't go the whole way

down but I did!

My favourite part of

Purau Bay Camp was when

we played 'Kick the Can'. It was

really funny watching people run

in other people's clothes and the

seeker was so confused.

I learnt how to canoe, put on

the abseiling harness and

how to wash dishes.

Blake N - Ex Dunsandel Primary School

I like the range of subjects available at Kirkwood Intermediate School. This

year as a House Captain I want to make the school a better place. I would

like to help people and do my best to make a difference to the school.

House Captains for Rutherford/Batten

Niamh L - Ex Burnham Primary School

I enjoy Kirkwood Intermediate as there are many opportunities you can

take part in, for example, EPro8 (Inter-school Science and Engineering

Competition), Science badges and much more. I would like to organise

more fun days and sports days so this year can be memorable. I wanted to

become a House Captain to gain more confidence and improve my public

speaking. I am also a great leader.

Oscar M - Ex South Hornby

The part I like about Kirkwood Intermediate is that it is bigger than my

previous school and it has great staff. This year I want to make it a happier

place and make it exciting for those new to Kirkwood, especially those who

are quieter. I have not taken on many opportunities in the past. The teacher

I had last year said I would make a good leader so I thought I would take on

this opportunity.

OPEN DAY/NIGHT

Instead of our traditional Open Day/Night this year we are hosting groups

by appointment. Details on how to book a time will be posted on our

website mid-April. If you are unable to access our booking system then

please contact the school office by phone on 348 7718 or

email: school.information@kirkwood.school.nz

We look forward to seeing you!

Please visit our website www.kirkwood.school.nz to view our

Prospectus for further information and to download an enrolment form.

Alternatively, you may contact the school office 348 7718.

Phil Tappenden, Principal

260 Riccarton Road, Christchurch

Email: school.information@kirkwood.school.nz

Phone 03 348 7718 Fax 03 348 1085

www.kirkwood.school.nz
---
WESTERN NEWS Latest Canterbury news at starnews.co.nz

Thursday April 15 2021 5

Closing pool will impact community

• From page 1

Averill disputed what the city

council forecasted it would cost

to stay afloat, consisting of about

$700,000 a year over the next

decade "just to maintain it."

The club wanted to run the

pool themselves instead or

lease pool lanes at Parakiore.

"I don't understand how

that's possible. I'm confident

we can get it down to $1.5 million

in the next 20 years," he

said, as supposed to $7.7 million

in the next 10 years.

The swim club is one of the

oldest in the country. The

Wharenui Amateur Swim

Club was founded in 1911 and

was constructed as a memorial

to the coronation of King

George V.

It has taught more than

200,000 Cantabrians how to

swim through its successful

Learn to Swim programme.

In its more than 100-year

history, the club has produced

many New Zealand representatives

in swimming.

Most recently it was Matt

Hutchins at the 2016 Rio

Olympics.

Said Averill: "But our pool

is focused on being a community

pool, not so much for

high-performance swimmers.

We cater to the community

AFLOAT: Wharenui Swim Club president Chris Averill

is concerned about how plans to decommission

Wharenui pool will impact the wider community.

PHOTO: GEOFF SLOAN ​

and ethnic groups – we have

Wharenui School right next

door, and we have a huge

involvement with the Muslim

community.

"Our community are low

decile, they walk to the facility

and don't want to catch multiple

buses to go to elsewhere. A

lot of them see how busy and

crowded council pools are,

so they would miss the quiet,

community atmosphere."

Riccarton Ward councillor

Catherine Chu has since met

with the club and also supports

its bid to stay open.

"I've met with the general

manager and with one of our

residents and totally support

them," she said.

"This facility has a history

of over 100 years embedded

in this community and it

would be a great shame for it

to close."

City council recreation and

sport services manager David

Bailey said the pool would

reach the end of its life from

2020 and needed replacing or

decommissioning as identified

within a 2006 Aquatic Facilities

Plan.

It was reviewed three times

in the years that followed

before plans to build the $21m

Parakiore metro sports facility

were decided.

It would be the country's

largest aquatic facility; only

a matter of kilometres away

from Wharenui pool and other

nearby pools.

"The new facilities of

Parakiore and Hornby will

provide additional challenges

to the financial sustainability

the Wharenui club has experienced

since the earthquake,"

said Bailey.

"Council staff will continue

working with the Wharenui

Swim Club to ensure the

services available to the community

in the Wharenui pool

will continue to be available at

Parakiore and/or the new pool

at Hornby."

Draft Long Term Plan

submissions close on Sunday.

The petition will be presented

at a city council meeting in the

coming weeks.

HAVE YOUR SAY:

Should the city council

decommission Wharenui

Swimming Pool? Email

your views to bea.

gooding@starmedia.kiwi

Christchurch

Bridge Club

Do you enjoy cards, like challenges

& want to stay mentally alert?

….then discover Bridge with the

Christchurch Bridge Club.

11 FREE Beginner

Bridge Lessons

Wed 5 th May at 7.30pm

Phone: 366-1516

21 Nova Place, Christchurch

Email: office@chchbridge.co.nz

www.chchbridge.co.nz

For everything

AUTO ELECTRIC

CARS • BOATS • TRUCKS

CARAVANS • TRAILERS • 4WDS

ELECTRIC & HYBRID VEHICLES

• Starter Motors

• Alternators

• Central

Locking

• electric

Windows

• ABS & Airbags

• Stereos/

Alarms

• Batteries

• tuneups

• engine

Management

Amazing

Auto USUALLy

AAE Electric SAMe DAy

ServiCe

65 Coleridge St, Sydenham

Phone 03 379 4250

www.amazingautoelectric.co.nz

STAYING SAFE

A FREE COURSE FOR OLDER DRIVERS

Tuesday 20 April, 10am-2.30pm

Riccarton Racecourse Bowling Club,

171 Racecourse Road

In conjunction with Wendy Fox from Age Concern and the

NZ Police we invite you to join us for a Staying Safe Driving

Course for Seniors. Recommended by NZ Transport Agency

the course provides strategies to assist in keeping ourselves

and others safer on the roads. Numbers are limited and

booking is essential.

Morning tea and lunch will be provided.

For more information and to RSVP, call Wendy

RICCARTON PARK VILLAGE

25 Steadman Road, Riccarton Park, 342 4755

rymanhealthcare.co.nz
---
6 Thursday April 15 2021

Latest Canterbury news at starnews.co.nz

WESTERN NEWS

Teacher finds her voice through art

• By Bea Gooding

ANH QUE CHU knows a thing

or two about how it feels to not

be able to communicate what's

on her mind.

As an art teacher for people

with intellectual disabilities at

the Art for Life Trust, she understood

how much of a barrier

language can be.

Not knowing a word of English

when she first moved to New

Zealand in 1982 as a refugee following

the Vietnam War made

tasks such as getting a job that

much more strenuous.

But through art, she was able

to find her voice and has enabled

others to do the same.

Said Chu: "When I first

came here I couldn't speak

English, so I went to Teachers'

College in the hopes of getting

a full-time job. But my English

wasn't good enough at the time,

so I was very depressed. I just

wanted to have a full-time job,

but I couldn't.

"The only thing I was good at

was practical art and demonstrations

on how to paint."

When teaching in schools did

not go to plan, she drew on her

strengths by selling off drawings

and paintings.

She later graduated from

Ara Institute of Technology in

2000 with a Bachelor of Art and

Design.

After landing a full-time job

privately teaching children and

adults at Your Studio Trust for a

number of years, Chu established

the Art for Life in 2013.

It provides art tuition to people

of all ages who live with an intellectual

disability.

It did not matter if students

had autism, Down's syndrome,

or attention deficit hyperactivity

disorder – anyone could learn

how to make art using acrylic

and watercolour paint, ink pens

or charcoal.

At the end of year exhibition,

it was also a chance to generate

their own income by selling

pieces they made.

Art enabled them to express

themselves and to learn more

about colour therapy, but it was

a safe and inclusive place to

make friends while developing

confidence, self-esteem and pride

in their work.

Teaching art in other places

STRENGTHS:

Anh Que

Chu (right)

with student

Wendy

Blackler at

the Art for

Life Trust,

which

teaches

people with

intellectual

disabilities

how to find

their voices

through art.

PHOTO:

GEOFF

SLOAN

like high schools often meant the

end goal was to make students'

art stand out, but at the trust, it

was a different story.

"Here, that's not the goal –

show them that you love them,

care about them, and help them

express their feelings," said Chu.

"A lot of students here can't

talk or hear, so you have to find

a way to understand and help

them communicate."

Becoming a teacher was something

Chu fantasised about as a

teenager, but she never expected

to do so in another country.

Chu was a 25-year-old art student

when her family was forced

to flee Hanoi, Vietnam, in 1979,

four years after the Vietnam War

ended.

External tensions stemming

from the country's dispute with

Cambodia and China in the

years that followed caused a mass

exodus of nearly 800,000 people

– most of Chinese descent, just

like Chu's family.

After seven days of being

crammed in a boat with 396

other refugees, they eventually

made it to a refugee camp in

Hong Kong.

It was where she met her future

husband, a New Zealander, who

was working at the camp with

the Salvation Army.

Art has been a constant in

her life since her teenage years.

During the war, she was inspired

by an encounter with two art

students, who encouraged her to

study at Hanoi Arts School.

Now, Chu gets to live out her

teaching dream in a field she

is most passionate about while

making a colourful impact

within the disability community.

"A good teacher follows the

student. Usually, you try to get

the students to follow you, but

here, you follow them."

Be part of the magic

customer Service

attendant required

Part-Time/Casual

Friday, Saturday, Sunday:

10.30-3.30pm (Alternate weeks possible)

Must be:

• Customer service oriented

• Friendly with an energetic

personality

• Be able to interact with our

customers while selling upgrades

and wash subscriptions

• Assist customers with menu

options and payments

• Provide customers with

information and benefits of our

Weekly Wash Club

• Address all customer queries in a

professional, polite, and helpful way

This position may suit a retired

person.

Looking for a couple of people so

rostered days can alternate/vary.

Vehicle groomer/

customer attendant

Full time/Casual

Must be:

• Customer service oriented

• Friendly with an energetic

personality

• Be able to interact with our

customers, selling upgrades and

wash subscriptions

• Address all customer queries in a

professional, polite, and helpful way

• Work under pressure and

physically fit

• Able to work with a team and

follow instructions

Tunnel Wash - is the most

technologically advanced

car wash operation in New

Zealand, and is looking for

the best, join a the team and

work for the #1 liked car

wash in Christchurch.

Purchase a

shower and

receive FREE

Enduroshield

coating

contact: Elliot Dowie, Branch Manager

phone: 0800 5333 555 or 0275 530 530

email: elliot@tunnelwash.co.nz

530b Sawyers arms road, harewood
---
WESTERN NEWS Latest Canterbury news at starnews.co.nz

Thursday April 15 2021 7

Decorate

your own

Animal Mask

FREE SCHOOL

HOLIDAY

ACTIVITY!

19 – 23 APRIL

11AM – 2PM

LOCATED IN THE TENANCY BY

MAJESTIC TEA BAR
---
8 Thursday April 15 2021

Latest Canterbury news at starnews.co.nz

WESTERN NEWS

Our kitchens have

conventional ovens

because you can't

bake biscuits in a

microwave.

Parkstone. The space to be yourself.

Come and see a retirement village where the communal garden is

big enough to feed the community, where a lap of the pool isn't the

same as a width, and where the cinema is not just a big telly.

Come to Bupa Parkstone where you have the space to be yourself.

Situated in Ilam this new development is ready to move in now.

Call Debbs on (03) 344 1422 or 027 247 4250 to book a tour.

2 Athol Terrace, Ilam

bupa.co.nz/parkstone
---
WESTERN NEWS Latest Canterbury news at starnews.co.nz

Thursday April 15 2021 9

SCHOOL OPEN DAYS

New Marian College plans

have community buzzing

"WOW, WOW, WOW" was the common reaction from

students, parents, and the wider community when Marian

College unveiled the design of their new school due to open in

Papanui in 2023.

Marian College's Catholic special character is front and

centre of the design with a beautiful chapel, garden, and

a prayer walk. It includes 26 full-sized flexible classrooms

designed to promote innovative teaching, including specialist

technology, music and performing arts areas.

The grounds will be planted with native trees, shrubs, and

edible gardens - reflective of the former Papanui Forest which

once existed on the site.

You are invited to learn more about what Marian College can

offer at our Open Day on Tuesday, 11 May from 4pm to 7pm.

Please visit our website or contact the team at Marian

College to enrol your daughter for 2022 and beyond.

Enrolment applications for Year 9 2022 close on Friday, 30 July.

Marian College, 122 Barbadoes Street, Christchurch,

phone 03 385 8449, email: exec@mariancollege.school.nz

www.mariancollege.school.nz

St Michael's Church School

An independent school education is a

precious gift that doesn't have to break the

bank.

St Michael's is your school at the heart

of the city, where we've been nurturing the

children of Christchurch for 170 years.

At the heart of the St Michael's are the

essential life values of Christian faith and

good citizenship.

Our small classes offer your

child outstanding specialist and

individual attention. Your child has

a sense of identity and place at St

Michael's.

Traditional foundations in

English and Maths are assured.

This academic rigour underpins

our wider curriculums in Science,

History, Geography and languages.

IT literacy is taught, not assumed,

and computer use is measured. We

like teaching and talking to our

pupils!

St Michael's cultural and sports'

programmes further develop your

child's foundation. Specialist Art,

Music and PE classes are enjoyed

weekly. Most pupils play a musical

instrument, and our Choirs, Stage

Band and Orchestra offer early

steps in ensemble performance.

Academic and Music

Scholarships are offered. Registrations are

being accepted for our next Scholarship

Day from pupils currently in Years 4-6, on

25 May.

Our senior programme, Parare,

advances our Year 7&8 education outside

the box, from financial literacy to outdoor

education, leadership challenges to new

sports, citizenship and civics to art and

Aidanfield Christian School

Working together with families in the South West of Christchurch. Our students

benefit from our specialist teaching with emphasis on pastoral care and our

special focus on personal character development and learning.

Application Closing Dates for 2022

Years 7-10: 18 June 2021

Years 1-6: 20 August 2021

For more information, contact us on (03) 338 8153 or

enrol@aidanfield.school.nz

Artist's impression of the new Marian College.

technologies.

Nestled on the banks of the Avon, our

extended campus is spectacular: the art

gallery, museum, library, theatres and

Hagley Park are only minutes away.

You and your child are warmly welcome

to discover our purposeful, wholehearted

and inclusive prep school. Every Day is

Open Day!

✓ Co-educational, Years 1-8

✓ Small classes

✓ Specialist teachers

✓ Traditional classrooms;

academic rigour

✓ Musical excellence

✓ Christian values

✓ Before & after school care:

7.30am - 5.30pm

✓ Central city location

Haere mai! Talofa lava!

Welcome!

You are invited to

Marian College

Thursday 11 May 4 - 7pm

Principal's welcome at

4.15pm and 5.30pm

122 Barbadoes St, Christchurch

Wilsons and street parking

available

For more details visit

mariancollege.school.nz

facebook.com/mariancollegechch

St Michael's

Your school at the heart

of the city since 1851

EVERY DAY IS OPEN DAY

www.saintmichaels.school.nz 249 Durham Street 379 9790
---
10 Thursday April 15 2021

Latest Canterbury news at starnews.co.nz

Open Evening

Wednesday 12 May

6pm - 8pm

WESTERN NEWS

SCHOOL OPEN DAYS

Hornby High School

There will be an opportunity

to meet the staff and have a

guided tour of our new school.

Commitment, Achievement,

Resilience, Respect.

180 Waterloo Road, Hornby

Ph 03 349 5396

www.hornby.school.nz

When choosing the right school for

our tamariki we often go by the 'feeling'

we have when we visit, as much as by the

programmes that schools have on offer.

The world demands fewer people who can

do repetitive tasks and more people who

can think creatively and critically. That's

why our vision, our aspiration, as a school

is to be 'A centre of creative excellence'

in everything that we do, whether visual

arts or chemistry, volleyball or music,

management or curriculum organisation.

In doing this we haven't forgotten the

importance of the strong relationships

that we build with all of our students, and

the importance of individualising learning

pathways so that we come as close as we

can to meeting every individual student's

needs. Hornby High School's feeling is

one of positive relationships that support

learning. Students often comment that

we feel like whānau, like family. Visitors

without exception comment on the calm

learning focussed environment that they

see and feel when they visit our learning

spaces. This all takes place within our

amazing new facilities that are allowing

us to develop a new curriculum crossing

old subject boundaries and catering for

individual needs, that support student

passions, and help our students to grow

their heart for their community. On top of

that students always comment on the wide

range of sporting and other activities that

are on offer for them during their time at

school. We emphasise our values, promoting

the ethos of kindness, of manaaki. I

personally invite you to come along and

meet with our skilled staff, and the amazing

young people who make Hornby High

School such a wonderful place to be.

Robin Sutton, Tumuaki
---
WESTERN NEWS Latest Canterbury news at starnews.co.nz

Thursday April 15 2021 11

SCHOOL OPEN DAYS

Christian Integrated Schools

Working together for the good

of students and families has been

a successful recipe for Christian

Integrated Schools in Christchurch.

The Christian School Network

has been in existence for over ten

years. Aidanfield Christian School,

Emmanuel Christian School, Hillview

Christian School and Middleton

Grange School decided in 2005 that

there was much to be gained by

working together cooperatively. They

recognised opportunities to share

successful teaching practice, curriculum

development initiatives across a wide

spectrum of school operations as well as

cooperatively strengthening their special

Christian Character. They recognised

that their ability to serve students

and families was greatly enhanced by

working together in a close and trusting

relationship.

The success of the network has seen

other schools wanting to join in. Early

in the piece Rangiora New Life School

became part of the network. The schools

joined together to support the genesis

of Ashburton Christian School and also

culminated in the start up of a brand

new school in Rolleston in 2015.

The schools have developed

interlocking enrolment schools which

assists in providing transparent pathways

in Christian education from new entrant

through to Year 13.

A further strength has been a

cooperative engagement with the

Ministry of Education who have

been pivotal in assisting the networks

successful development.

Papanui High School

Preparing students

for their future

"Our aim is simple... to provide the best

education possible for every student"

Giving students the opportunity to

study from an innovative and broad curriculum

is critical to providing each student

a pathway that meets their individual

needs. We allow for a greater range

and flexibility in subject choice including

the utilization of the secondary/tertiary

interface. This reinforces the philosophy

underpinning personalised learning and

is strongly supported by understanding

our students' interests, passions, talents,

and ultimately their career aspirations.

We understand that for effective

learning to take place, it has to be implemented

in such a way that students will

be highly engaged. The school does this

in a 'forward thinking' way by creating

learning environments that allow our

students to see value in what they do

and achieve. Papanui "PRIDE" is what

we represent and we demonstrate this

by having young adults leave our school

as confident learners who have gained

the appropriate qualifications and social

skills to become valued contributing

members of society.

All that we do here is reinforced by

positive relationships, an ethos of caring,

cultural responsiveness, inclusion, and

high expectations – what we call "Our

Full service Model". The school highly

values the connectedness of curricular

and co-curricular learning. We have a

philosophical understanding that the

holistic development of the student is

critical to their individual success.

The school has worked hard to consolidate

recent initiatives to ensure sustained

and continuous improvement. You

are invited to view our website, school

charter, ERO report, and/or contact the

school for more information.

Open Night:

Tuesday 25th May 6.30pm

Enrolments due:

Friday 30th July

PAPANUI HIGH SCHOOL

Our aim is simple….to provide the best education possible for every student

OPEN NIGHT

Tuesday 25th May 6.30pm

The evening will consist of an address from the principal and student

representatives, followed by guided tours of the school's facilities.

Phone: 03 352 6119

30 Langdons Road

PO Box 5220

www.papanui.school.nz

Applications for enrolment are due by

Friday 30th July

My School, My Success, My Responsibility - Tōku Kura, Tōku Tiketike, Tōku Haepapa

Hillview Christian School

Yr 1–10

Middleton Grange School

Yr 1–13

Emmanuel Christian School

Yr 1–10

Aidanfield Christian School

Yr 1–10 Yr 1–8

Open Days: 18 & 20 May

Contact

school

for details

p: 332 6923

e: office@hillview.school.nz

w: www.hillview.school.nz

Open Days: 25 & 27 May

Contact

school

for details

• High quality affordable Christian education

• Qualified teachers who are committed Christians

• High standards of academic achievement and behaviour

p: 348 9826

e: office@middleton.school.nz

w: www.middleton.school.nz

Open days: Viewing by appointment

Contact

school

for details

p: 359 3595

e: office@emmanuelchristian.school.nz

w: www.emmanuelchristian.school.nz

p: 338 8153

e: enrol@aidanfield.school.nz

w: www.aidanfield.school.nz

A network of non denominational Christian Schools offering limited places in 2022

• Co-educational and State Integrated

• New Zealand Curriculum delivered from a Biblical perspective

• Christian virtues modelled and encouraged

Open days: Viewing by appointment

Contact

school

for details

Open days: Viewing by appointment

Contact

school

for details

p: 550 2653

e: office@rcs.school.nz

w: www.rollestonchristian.school.nz

• Strong partnership and shared vision between home and school for God's calling

on the life of the child

• Pathways for pupils from Aidanfield, Emmanuel, Hillview and Rolleston to

Middleton Grange School at Senior College level
---
12 Thursday April 15 2021

Latest Canterbury news at starnews.co.nz

SCHOOL OPEN DAYS

Selwyn House

WESTERN NEWS

Selwyn House School is the only school in

Christchurch offering a girls' only education

from years 1 through to 8. We believe that

combination, of a girls' only education that

takes students from their earliest school years

right through to high school, is what gives our

students the strongest start to their secondary

education.

Our carefully crafted programme focuses

on developing 'the total girl', who has the

confidence, resilience, foundational knowledge,

creativity and compassion to succeed and lead

in the future. We help students identify their

own strengths and talents and tap into each girl's

unique potential so that they leave this school

with the self-confidence and skill-set they need

to thrive at secondary school and beyond.

At Selwyn House we believe leaders are made,

not born, and that is why we put a particular

focus on leadership in the Senior School. In

comparison to other intermediate or middle

school high school programmes, our Year 7 and

8 students have the distinct advantage of being

the senior students in their school. Every girl

has the opportunity to serve in leadership roles

and the high number of Selwyn House students

that then go on to assume leadership roles

in their secondary schools, and later in their

careers, speaks for itself.

We understand girls at Selwyn House and

we know how important it is for our students

to feel supported and encouraged as they work

through those crucial development stages

between Years 1 and 8. Our students are able to

negotiate these formative years within a safe and

nurturing environment, where they are able to

be themselves, safely challenge themselves, and

develop a strong sense of self-worth.

Learn more about what makes a Selwyn

House School education the best start to

school by attending our Open Day on Monday

3 May, 9am - midday.

SCHOLARSHIPS AVAILABLE FOR 2022. APPLICATIONS CLOSE 4PM, 14 MAY 2021.

OPEN DAY: MONDAY 3 MAY

9AM TO NOON, 122 MERIVALE LANE, CHRISTCHURCH

phone (03) 355 7299 email office@selhouse.school.nz

122 Merivale Lane, Merivale, Christchurch

An International

Baccalaureate School

WWW.SELWYNHOUSE.SCHOOL.NZ
---
WESTERN NEWS Latest Canterbury news at starnews.co.nz

Thursday April 15 2021 13

SCHOOL OPEN DAYS

Villa Maria College

Villa Maria College is a state integrated

Catholic secondary school for girls

in Years 7 to 13. The foundation for

everything we do is our Catholic faith,

which we express through our Mercy

charism. Villa Maria College offers

spiritual formation and pastoral care

in the tradition of Catherine McAuley,

the founder of the Sisters of Mercy, who

established the College in 1918.

Our Mission is to: "Empower each

young woman to determine her

potential, live Gospel values, confidently

embrace life-long learning and as a

Mercy woman be inspired to make a

difference".

We have a proud academic history,

achieving academic results that are

among the best in the country. Girls are

encouraged to stretch themselves and

work towards individual goals, so they

fulfil their potential. A good education

has balance, and our strong academic

programme is combined with varied cocurricular

activities, encompassing sport,

cultural and musical programmes.

We invite you to attend our Open

Day on Wednesday 19 May 2021 and

experience our special character for

yourself. You will also find a wealth

of information on our website – www.

villa.school.nz

St Bede's College

Founded over 100 years ago, St Bede's

College is the South Island's most

established Catholic Boys' Boarding

School. Our vision is to create Catholic

Marist leaders of the future who serve

with a Catholic heart, mind and hands.

Our teaching and learning programmes

are an important component of this, with

programmes designed to ensure each

boy engages with, and receives a holistic

education that reflects their individual

needs, interests, hopes and aspirations.

We further support this vision with a

deliberate focus on educating the whole

person through high quality pastoral and

guidance systems, servant leadership

programmes and positive psychology

frameworks.

Sport at St Bede's is characterised by all

students achieving personal excellence

through their commitment to challenge

themselves whilst being supported by

high quality coaching and first-class

facilities. We are proud that over 85% of

our young men are engaged in any of our

33 co-curricular activities for sport.

We offer a broad Arts and Culture

programme inclusive of drama, music,

dance, debating, visual arts, Polyfest

and Kapa Haka. Whatever the area of

ability, all students at St Bede's College

are encouraged to develop and use their

God-given talents for the good of others.

We have a long-standing tradition

of providing quality boarding school

education, with spacious grounds and

many facilities available to use and

benefit from. The strong culture of St

Bede's College encourages a sense of

community that extends beyond current

students to include all past and present

students and staff, and their families,

enriched through global connections in

faith, learning and culture.

Wednesday 19 May 2021, 9am - 3pm

Villa Maria College is a

state integrated

Catholic secondary

school for girls in years

7 - 13.

We extend a warm

invitation to

prospective parents

and students to join

us throughout the day

and see our College in

action.

Meet our staff and students and find out

what makes Villa Maria College such a special place.

Principal Deborah Brosnahan and our student leaders will address

visitors in the Auditorium at the following times: 9am and 1pm for

Year 9 intake, and 11am for Year 7 intake. Visitors are then invited to

take a guided tour of the College. We look forward to seeing you.

2021 Student Leaders

21 Peer St, Christchurch

Ph: 348 4165

www.villa.school.nz

T E W H A R E O M E R I
---
14 Thursday April 15 2021

Latest Canterbury news at starnews.co.nz

HOME & HEATING

Zone Control for your

Ducted heat pump

Ducted heat pumps are a highly efficient

way to heat (or cool) your home. The

air from the heat pump is ducted to

several rooms or zones in your house.

Using a zone control system makes your

ducted heat pump even more efficient, by

specifying the amount of heat required

in each area, so not wasting energy to

overheat or overcool any room.

The AirTouch4 zone control system

from Smooth-Air takes ducted heat pump

air zoning to a whole new level of comfort

and energy efficiency.

AirTouch4 - The Ultimate Zone

Control

Have total control of your comfort zone:

AirTouch4 lets everyone enjoy a different

level of conditioned air in the room they

are in.

Save money on the power bill, without

compromising on comfort, by only

running the heating or cooling where

you need it with Smart Zoning. Plus with

runtime tracking, energy and airflow

management technology, you can enjoy

greater efficiency and savings from your

family's ducted heat pump.

The AirTouch4 can also connect to

Google Home and Amazon Alexa.

Not every home is designed equal. Not

60

every room is either. %

Temperatures can

often fluctuate from one room to the next

because of sunlight, room activity or other

factors.

With AirTouch4's Individual

Temperature Control Technology (ITC),

the AirTouch monitors temperatures

and smartly adjusts airflow as needed

around your home with the aid of multiple

wireless temperature sensors instead of a

single sensor in one location. When some

rooms get too hot or cold, the AirTouch

will adjust airflow to maintain your desired

temperature, without wasting conditioned

air on rooms already comfortable.

Contact Smooth-Air on 0800

SMOOTH or sales@smooth-air.co.nz

for more information on the AirTouch4

zone control.

Get the balance

right this winter

Enviro Master has been helping

Cantabrians get the balance right when it

comes to choosing the perfect heat pump or

air conditioning system for their home or

office since 2002.

Their team of expert sales people, qualified

electricians, heating and refrigeration

engineers, help to supply and install

Christchurch's widest range of heat pumps,

and because they have no affiliation with any

one brand, you can be assured their advice

on the benefits and differences between each

product is unbiased.

They will recommend the most energyefficient

and cost-effective system for your

individual situation, and will have you

regulating the heat in your home or office in

no time.

Nowadays, customers are often wanting

whole home solutions to be able to maintain

even temperatures throughout the home both

in Winter and Summer. This can be achieved

by using ducted systems or multi systems

and Enviro Master are experts in designing,

installing and commissioning these systems.

Help is currently available with a

government subsidy covering 90 per cent of

the cost of a new heat pump up to $3000.

The subsidy is part of the Warmer Kiwi

Homes initiative and is available to Home

owner/occupiers with a Community Services

Card, a SuperGold combo card or who live in

a low-income area as determined by deciles

WESTERN NEWS

8-10 on the New Zealand Deprivation Index.

The applicant's home must also have been

built before 2008, have insulation up to code

(insulation subsidies also available) and have

no fixed heating in a living area, such as an

existing operational heat pump or fireplace.

With new regulations coming in for

Landlords to provide heating in rentals,

now is a great time to beat the deadline.

Inadequate heating and ventilation can lead

to mould growth and dampness in your

property, leading to costlier maintenance

and an unhealthy living environment.

Providing a fixed heater with a higher heat

output and lower running costs, like a heat

pump, will enable your tenants to heat the

area effectively. Enviro Master are well

experienced with the Tenancy Services

software to ensure that you are meeting your

requirements.

To ensure you choose the right system for

your home or business, one of Enviro Master's

experts will visit to assess your individual

situation, offer advice and answer any

questions you may have. This consultation

is at no cost to the customer and is always

provided before a heat pump is installed.

Anyone wondering about their eligibility

for a subsidised heat pump are welcome to

get in touch for details and help with the

application process. To find out more, call

Enviro Master on (03) 366 0525 or visit

their website www.enviromaster.co.nz.

Smooth-Air

Ventilation Equipment Suppliers

totrade

retail

Adapt your home to

YOUR IDEA

OF COMFORT

&

Ducted Heatpump zone control

www.airtouch.co.nz

HEAT PUMP

SALE NOW ON!

Amazin' autumn Specials!!

90%

SubSidy

Warmer KiWi HomeS

Programme

*Eligibility criteria apply

• We will offer you the best quality brands and

option of heat pump for your home/business

• Providing Heat Pump solutions for over 19 years to Cantabrians

• We personally guarantee all our products & installs for 5 years

(providing annual maintenance has been completed)

Phone us today for your free consultation & quote

41A SHAKESPEARE RD, WALTHAM

PHONE 03 366 0525

www.enviromaster.co.nz

"A local team for local people"

Adapt your home to

YOUR IDEA

OF COMFORT

OFF

60 23º

% OFF

75 %

80 % 50 %

100 21º

%

60 % OFF

100 %

18º 80 % 50 22º

%

OFF

75 20º

%

Adjust the airflow around your home in 5% increments so everyone enjoys their own comfort zone.

SMART

INTEGRATIONS

INTELLIGENT &

WITHOUT WASTAGE

INTELLIGENT &

WASTAGE

WITHOUT WASTAGE

INTELLIGENT

& WITHOUT

Save money on

your power bill

ATTACK RISING DAMP

Adjust the airflow around your home in 5% increments so everyone enjoys their own comfort zone.

0800 SMOOTH

(0800 766 684)

sales@smooth-air.co.nz

264 Annex Rd

Riccarton

Christchurch

03 343 6184

Monday - Friday

7.30am - 5pm

www.smooth-air.co.nz

T. 03 376 4608 E info@foamconcrete.nz

W. www.foamconcrete.nz
---
WESTERN NEWS Latest Canterbury news at starnews.co.nz

Thursday April 15 2021 15

Readers respond to a

proposal to close two

Metro bus lounges on

Riccarton Rd

Why on earth is the city

council thinking of closing

the Metro bus exchanges on

Riccarton Rd?

With winter ahead of us

they are always used at all

hours

I use buses daily and am

grateful for a warm place to sit

and wait for buses.

What was the point of

spending money on new buses

and bus lanes if people can't

access a place to feel safe and

warm to use the buses?

Seriously, these councillors

Fall in love

need to park up the expensive

cars they drive and use what

everyday people rely on daily.

How pathetic to cut a

service for people who rely

on buses to get to from work,

school etc.

I was so mad when I first

read this and re-reading it

infuriates me more.

Sharpen up councillors. –

Kelly Fraser

I agree with the view of Andrei

Moore and have made a

submission to the city council

against closing the Riccarton

Rd bus lounges, especially the

larger one on the south side

where the buses stop.

There is no sheltering verandah

there. This affects older

people like myself and handicapped

people who welcome

the shelter the lounge provides

when the weather is cold and/

or wet and windy. – Alan

Tunnicliffe

I don't believe the city council

should close these lounges

as it is very beneficial to young

people, the elderly and people

with disabilities.

If the council really need to

save, then perhaps just close

one – Dao Trieu

WOF

only $50

• Courtesy cars • Transmission flush

service

• Oil changes

• Tyres & batteries

• Full mechanical repairs

• Petrol & diesel

• Brake & clutch repairs servicing

fitzgerald motors

Phone: 03 349 7813

Unit 8, 193 Waterloo Road, Hornby

before

with your favourite

furniture all over again!

• Recover your chairs and couches

and save money!

• Excellent range of fabrics

• Quality workmanship guaranteed

• Free quotes available

• Over 30 years experience

Somerfield Upholstery welcome you to email a

photo for a quote online: somerfielduph@gmail.com

after

Somerfield Upholstery Ltd

FURNITURE RECOVERY SPECIALIST

6/47 Sonter Road, Wigram | Ph 021 251 6200 | 349 0456

Sign up to a contract today for

Special fixed LPG gas prices,

12 months free rental

and Flybuys!

Call us today to find out more!

0800 4 ELGAS 0800 435 427

New Zealand

Classifieds Contact us today Phone our local team 03 379 1100

Trades & Services

Trades & Services

Trades & Services

Wanted To Buy

Situations Vacant

Accountant

Debra Jowsey & Karla Kilner

Ph 03 382 3470

We help with all Tax returns for the

salary & wage earner, self employed, rental,

business, farm, GST, pay day filing, rental returns

Trades & Services

Selwyn

Accounting

For all your

Accounting &

Tax Needs

03 741 1783

027 332 8086

brian@

selwynaccounting.co.nz

House & Garden

Property services Ltd

Tree & hedge

trimming

& removal

Stump Grinding

CALL us 021 405 277

Trades & Services

ROOF

PAINTING 24/7

Rope & harness

a speciality,

no scaffolding

required,

30 years of

breathtaking

experience.

FREE QUOTES

20% OFF other

roof quotes

Exterior staining,

exterior painting,

water blasting.

Moss and mould

treatment $300.

Phone Kevin

027 561 4629

BATHROOM

Renovations, complete

service from start to finish,

free quotes, ph Dave 027

334 4125

WINDOW TINTING

tintawindow

advanced film solutions

99% uv block

fade protection

heat control

reduce glare

25 Years Experience

Towing

For safe, damage free

car transportation

call Ashley's Tow Taxi

Special care for special cars

ASHLEY'S TOW TAXI

Breakdown & Relocation

0800 TOW TAXI • 0800 869 8294

privacy films

frosting designs

non-darkening films

Workmanship Guaranteed

Lifetime Warranties on Most Films

UV

block

Free Quotes Canterbury and Districts

03 365 3653 0800 368 468

BRICKLAYER

George Lockyer. Over

40 years bricklaying

experience. UK trained.

Insurance work, EQC

repairs. Heritage

brickwork & stonework

a speciality. No job too

small. Governers Bay.

Home 329 9344. Cell

027 684 4046. E mail

georgelockyer@xtra.co.nz

CARPET LAYING

Exp. Repairs, uplifting,

relaying, restretching.

Phone John on 0800

003181, 027 240 7416

jflattery@xtra.co.nz

PAINTING

Indoor / Outdoor, over 30

yrs exp, same day quotes,

ph Steve 021 255 7968

ROOFING REPAIRS

Fully qualified, over 40

yrs experience. Ph John

027 432-3822 or 351-

9147 email johnchmill@

outlook.com

STUMP GRINDING

Best price guarantee Tony

0275 588 895

TILING

Flooring - Splashbacks -

Wall incl tile removal, reg

master tiler, ph Dave 027

334 4125

TILING

Flooring - Splashbacks -

Wall incl tile removal, reg

master tiler, ph Dave 027

334 4125

VHS VIDEO TAPES

& all camera tapes

converted to DVD or

USB. Video taping

special occasions, www.

grahamsvideo.co.nz ph 03

338-1655

AAA Buying goods

quality furniture, beds,

stoves, washing machines,

fridge freezers. Same day

service. Selwyn Dealers.

Phone 980 5812 or 027

313 8156

TOOLS Garden,

garage, woodworking,

mechanical, engineering,

sawbenches, lathes, cash

buyer, ph 355-2045

PART TIME: BOOK-KEEPER/

DATA ENTRY PERSON:

APPROX 6-8 HOURS PER WEEK

(times/days negotiable – can fit in with

school holidays)

Prebbleton/Lincoln area

Need proficiency in:

• MYOB AccountRight and Xero

• Payroll and myIR paypday filing

• GST returns (payment basis)

• Microsoft Office–Outlook, One Drive,

Excel, Word

Phone for details – 027 22 111 63 or send

cv to: vanessa@checkbooks.co.nz

ADVERTISE YOUR

BUSINESS HERE

Phone for further details

(03) 379 1100
---
16 Thursday April 15 2021

Latest Canterbury news at starnews.co.nz

WESTERN NEWS

TONY'S

top tips

ON HOW TO CHOOSE

YOUR REAL ESTATE

AGENT

In a market like this, you could be forgiven for assuming anyone

will buy your home at a good price. But there is a big difference

between a good price and a great price and that normally comes

down to your agent.

Here are my top three tips on why choosing a Harcourts

Holmwood agent is the best way to sell your home:

1. SELL FOR A PREMIUM. It is VERY important to choose the

right real estate agent to represent you and achieve the best

for you in either buying or selling a home. Analysis by the Real

Estate Institute of New Zealand (REINZ) show that selling your

property through a real estate agent achieves a premium of

15% above those selling privately.

2. ACCESS TO BUYERS. Every agent will have several buyers they

are working with, and if you work with a Harcourts Holmwood

agent in particular, you don't just get their database, you get

the buyer database of more than 500 agents who form part

of the Harcourts network. In addition, their list of connections

will include strong relationships with other real estate agents,

mortgage specialists, as well as the many other parties involved

in the real estate industry.

3. NEGOTIATION SKILLS. As a seller you want to sell your home

for a premium price, and the buyer wants to buy your home for

a bargain price. Your agent is there to bridge that gap, and it is

not as easy as we make it seem! At Holmwood we provide our

agents weekly negotiation training and have secured mentoring

from international experts in negotiation techniques, to make sure

our team are the best in the business. This, combined with a great

management team who are always available to assist, ensure the

best results are achieved for our clients.

These are just a few of the reasons why enlisting the help of a

real estate agent is a more effective option when it comes to

selling your biggest asset. It is true that no one has a crystal ball to

predict the future, but I can guarantee, if you do your research you

will agree that choosing a Holmwood real estate agent will bring

you the best results.

I'm immensely proud of our people and their exceptional service

to our clients. If you are thinking of making a real estate decision,

give me, or one of our agents a call today!

TONY JENKINS

CEO

0274 322 896

holmwood.co.nz

DO YOU NEED REAL ESTATE ADVICE? THE HOLMWOOD TEAM IS HAPPY TO HELP!

FENDALTON 03 355 6116

fendalton@harcourts.co.nz

MERIVALE 03 355 6677

merivale@harcourts.co.nz

ILAM 03 351 6556

ilam@harcourts.co.nz

ST ALBANS 03 377 0377

stalbans@harcourts.co.nz

ILAM 2 03 351 3002

ilam2@harcourts.co.nz

COMMERCIAL 03 377 0377

holmwood.commercial@harcourts.co.nz