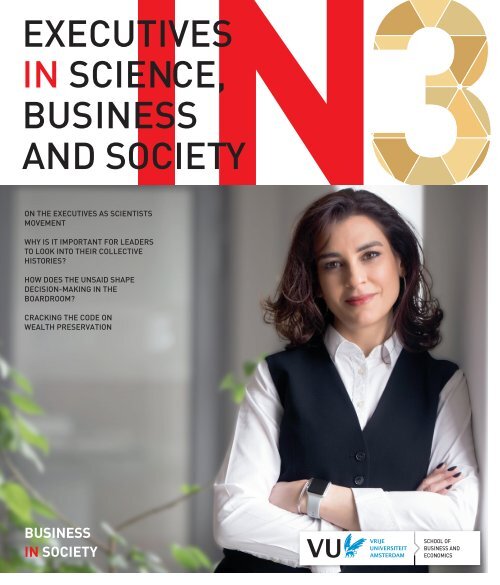 Executives in Science, Business and Society 3
Do you know the secret to free website traffic?
Use this trick to increase the number of new potential customers.
EXECUTIVES

IN SCIENCE,

BUSINESS

AND SOCIETY

ON THE EXECUTIVES AS SCIENTISTS

MOVEMENT

WHY IS IT IMPORTANT FOR LEADERS

TO LOOK INTO THEIR COLLECTIVE

HISTORIES?

HOW DOES THE UNSAID SHAPE

DECISION-MAKING IN THE

BOARDROOM?

CRACKING THE CODE ON

WEALTH PRESERVATION

PAGE

1

BUSINESS

IN SOCIETY
---
PAGE

2

4 INTRODUCTION

Svetlana Khapova and Niki Konijn

6

8

ON FINDING PURPOSE

IN A COMPLEX WORLD

CRACKING THE CODE

ON WEALTH PRESERVATION:

It is not about money

11 LEADERSHIP

AND BOARDS

12

HOW DOES THE UNSAID

SHAPE DECISION-MAKING

IN THE BOARDROOM?

19

21

24

26

ON SIMPLE RULES

WHY IS IT IMPORTANT FOR LEADERS TO

LOOK INTO THEIR COLLECTIVE HISTORIES?

PAST HEROES, FUTURE LOSERS:

Critical leader behaviours

and transformation in

the banking industry

ARE ALL LEADERS RISK TAKERS

BY DEFINITION?

28 INDIVIDUALS

31

THE DIMINISHING

RETURN

OF HAPPINESS:

What if the good life

doesn't feel

that good, anymore?

EMPOWERING PEOPLE

IN ORGANZIATIONS

EMOTIONS

IN THE BOARDROOM:

Handling the hot

and cold of strategic

decision making

16

32

34

PERSONAL ENERGY AT WORK,

A SOURCE FOR SUCCES

COLO

PHON

EDITORIAL STAFF

Svetlana Khapova

Niki Konijn

CONTACT

Amsterdam Busines Research Institute (ABRI)

VU School of Business and Economics

De Boelelaan 1105, 1081HV Amsterdam

Room HG 4A-91 / 020-5985667

s.n.khapova@vu.nl

n.m.konijn@vu.nl

www.abri.vu.nl

www.abri.vu.nl/executives

Amsterdam in Science,

Business and Society, vol. 3

©Vrije Universiteit

Amsterdam

ISSN: 2405-7878
---
36

TRANSFER OF TRAINING:

The Achilles heel of

the training process

41INSIGHTS

42

39

RESEARCH CENTRES

HOW CAN THE IT FUNCTION ADAPT

TO THE RISE OF DIGITAL ECOSYSTEMS

45 THE

DARK

SIDE

OF LEAN

54

SHOOTING FOR

GOALS IN

COACHING:

Are we missing

the goal?

57

53

COACHING

PROFESSIONAL

IDENTITY

DEVELOPMENT

OF EXECUTIVE

COACHES

59 PUBLICATIONS

60 BOOKS

48 RECENT

DISSERTATIONS

50

A CONVERSATION: The value

of corporate partnerships

52 EMOTIONAL

LEGITIMACY

PHOTOGRAPY

ABRI, contributing authors,

Vrije Universiteit Amsterdam,

Shutterstock

CONCEPT, DESIGN AND LAYOUT

COPPER DESIGN, Houten

PRINT

NPN drukkers, Breda

ABRI - Amsterdam Business Research Institute
---
ON

THE 'EXECUTIVES AS

SCIENTISTS'

MOVEMENT

Dear Readers,

PAGE

4

You are holding a very special issue of the journal 'Executives in

Science, Business and Society'. It is born in response to countless

discussions about what academic institutions can do to bridge

business and science. Various academic institutions have come

up with their own interpretations of how to go about this. Vrije

Universiteit Amsterdam's School of Business and Economics has

also developed several approaches, including the launch of new

executive education programmes and in-company leadership

development projects. Additionally, there are our start-up

and scale-up initiatives carried out in partnership with Zuidas

multinationals. One business and science project of which we are

particularly proud, but received little attention over the past years,

is VU's Executive PhD programme in Business and Management

Studies. This special issue of the journal is fully dedicated to it.

In 2014, the Amsterdam Business Research Institute (ABRI) at the

School of Business and Economics launched the Executive PhD

programme: This is a 4-year, structured PhD training programme

that equips professionals and executives with the knowledge and

tools to conduct high-impact academic research. Although the

programme targets an executive audience, it is not practically

oriented like a DBA or MBA programme. In other words it shares

the same rigour and objectives as ABRI's renowned full-time PhD

programme, the only differences being that the classroom consists

of executives and the training offered is on a part-time schedule

with more structure and guidance.

The results stemming from the Executive PhD programme have

been surprising. What started with the simple goal of helping

executives finalise their PhD projects, has grown into an

international community of changemakers who bring science

to practice through their research journeys. Today, our

community consists of more than 70 participants who live
---
editorial IN SCIENCE,

BUSINESS

AND SOCIETY

and work in countries such as Armenia, Austria, Germany, Hungary,

Japan, Latvia, Netherlands, Oman, Romania, Russia, Spain,

Switzerland, USA, and counting. We are extremely proud of this

international community of 'Executives as Scientists'. It is for these

reasons that we also have chosen to rename our research journal

'Executives in Science, Business and Society' (replacing 'Amsterdam

in Science, Business and Society') and focus on the Executive PhD

programme in Business and Management Studies in this special

issue.

Given the calibre of our 'Executives as Scientists' and their research,

we decided to share some our insights and discoveries about this

unique research community. One such finding is that executives

work on highly innovative, novel, and societally relevant topics that

contribute to the domains of leadership, strategy, management,

marketing, entrepreneurship, and more. Executives' many years

of work experience allows them to identify unique topics that drive

their scholarly investigations. When compared with our more

junior PhD candidates, who may initially be more methodological,

the Executive PhDs seem better positioned to make theoretical

contributions. Furthermore, our experience shows that experienced

executives are often already prolific writers, which may be partly

explained by their passion and commitment to their topics.

We are also learning that 'Executives as Scientists' is becoming

an important movement within Amsterdam Zuidas. Zuidas not

only functions as the hub for many multinational headquarters

based in the Netherlands, but it also serves as a growing learning

community. Changing how multinationals do business, and how

they serve society, is not simple. It requires a multidisciplinary

perspective, complex thinking, and scientific rigour in order to

consider all relevant evidence and account for all applicable

stakeholders—all of which is taking place at Zuidas. We are

very proud of what the 'Executives as Scientists' community has

demonstrated they can accomplish within this context.

When looking towards the future, we hope that this publication

marks the beginning of this societally relevant project. The global

pandemic has only intensified a need for more evidence-based

leadership. Scientists no longer sit in their ivory towers at the

university, instead collaborate across institutional boundaries.

Not only business schools, but also businesses are invited to join

science-based collaborations.

It is our sincere hope that you enjoy reading this special issue, and

that you too will be inspired to join our 'Executives as Scientists'

movement!

PAGE

5

Another discovery is that executives' scientific research helps

them professionalise and advance their areas of work while also

innovating within their organisations. Indeed, some of our Executive

PhD candidates have become influential speakers in their areas

of expertise while others have switched careers and become

academics. What they share is their ability to ask highly relevant

questions and approach issues from a complex perspective. We

strongly believe that this enterprising mindset is exactly what

propels business and society forward.

Prof. dr. Svetlana Khapova

Head of the Department of Management & Organisation

Programme Director ABRI Executive PhD programme

Niki Konijn

Head of Operations at the Department of Management & Organisation

Programme Coordinator ABRI Executive PhD programme

ABRI - Amsterdam Business Research Institute
---
ON FINDING

PURPOSE

Luc Glasbeek is an assistant

professor in the Department of

Management & Organization.

From 1995–2010, he held several

roles in MNOs in the areas of

IT system development, project

management, organisational

learning, and business operations.

Between 2010 and 2019, he

worked as an entrepreneur,

focusing on professional services

delivery. In 2015, Luc joined the

ABRI Executive PhD Program;

he defended his dissertation

successfully in May 2020.

IN A COMPLEX

WORLD

DR. LUC GLASBEEK

VRIJE UNIVERSITEIT AMSTERDAM

PAGE

6

Society cannot function without

human collaboration. For

example, producing just a

classic, yellow pencil requires

graphite mining , clay mining,

the transport, mixing and

heating of graphite and clay;

wood harvesting, cutting,

waxing and impregnation;

pencil assembly, packaging,

marketing, transportation and

distribution; all before the

product is even displayed in a

shop. By the time a child buys

the pencil and starts drawing,

it will have passed through

the hands of countless people

collaborating, managing,

organising, leading, and

venturing out (Friedman,

1980). Thus, it is impossible

for even a simple pencil to

come into existence without

management, organisation,

and entrepreneurship.

Although these behaviours

are integral to our existence

as a human species, they are

understood quite differently

(and often poorly) among

management practitioners and

researchers. To date, debates

continue around what kind

of management is 'best' for

different organisational forms,

or even whether management is

necessary altogether.

Furthermore, our perceived

understanding decreases

substantially as the complexity

of what we aim to accomplish

proliferates. Envisage, for

instance, the managerial

challenges of a human mission

to Mars - which I hope we will

witness in the coming decades

- or, more contemporaneously,

the development of a COVID-19

vaccine that is safe, effective,

affordable and extensively

deployable. Teasing apart the

Gordian knot of the necessary

management, organisation, and

entrepreneurship - whilst better

understanding its component

strands - presents a daunting

task for scholars. However,

it must be done, particularly

for the benefit of subsequent

generations.

Young people, more

than anyone else, face

unprecedented, compound

global challenges such as

poverty, resource scarcity and

environmental degradation.

Addressing these issues will

not only require a supreme

scientific understanding of the

workings of nature (i.e., the

hard sciences) but also demand

new and sophisticated forms

of management, organisation,

and entrepreneurship: business

studies.

History has shown that, even in

the most scientifically advanced

environments, a lack of effective

management practices can lead

to disastrous outcomes. NASA

is a case in point. In the 1990s,

its Hubble Space Telescope

was one of the most advanced

scientific instruments ever built,

which has positively and radically

advanced our understanding

of the universe. Nonetheless,

its first production version was

expensive and a total failure,

which scholars have attributed

to a range of managerial issues

(Capers & Lipton, 1993; Quinn &

Walsh, 1994).
---
key perspectives IN SCIENCE,

BUSINESS

AND SOCIETY

Likewise, when Richard

Feynman, a Nobel Laureate

in Physics, investigated the

1986 Space Shuttle Challenger

disaster, he found that

"the management of NASA

exaggerates the reliability

of its product, to the point of

fantasy" (Feynman, 1986, p.

284). Of course, the issue was

that management was bearing

enormous responsibilities,

and thus overlooked the

necessity to have the checks

and balances in place to

develop a comprehensive view

of the actual risks involved,

risks which they had so

dramatically underestimated

(Vaughan, 1997). Why was that?

Business researchers should

methodologically examine such

tough questions and pass on

their knowledge to university

students before they join the

labour force.

This basic operating model

came to life in the last year of

my doctoral studies when

I started supervising masters

students with their final thesis.

Over the previous four years,

I had steadily internalised

an array of academic tools,

concepts, frameworks, and

values that I could now draw

on in my conversations with

students. However, I only

realised how valuable my

academic knowledge and

skills had become, especially

when coupled with extensive

practical experience, when I

started engaging with students,

who are typically in their early

20s. This was a profound

experience that coincided with

my formation of a new identity

as an academic (Conroy &

O'Leary-Kelly, 2014). Aside

from my rather intuitive (yet

admittedly vague) motivation

that doctoral research is

"interesting," I had finally found

a clear and compelling reason

REFERENCES

Capers, R. S. and E. Lipton (1993).

Hubble error: Time, money and

millionths of an inch. The Academy

of Management Executive 7(4): 41.

Conroy, S. A. and A. M. O'Leary-

Kelly (2014). Letting go and

moving on: Work-related identity

loss and recovery. Academy of

Management Review 39(1): 67-87.

Feynman, R. (1986). Report of

the presidential commission on

the Space Shuttle Challenger

accident. (Appendix F).

for conducting PhD research:

To use my newfound knowledge,

skills, and ways of thinking

to help other people become

better professionals and

researchers. And that feels

pretty awesome!

Friedman, M. (1980). I, pencil.

Free to Choose, PBS. 01.

Quinn, R. E. and J. P. Walsh

(1994). Understanding

organizational tragedies: The case

of the Hubble Space Telescope.

The Academy of Management

Executive 8(1): 62.

Vaughan, D. (1997). The Challenger

launch decision: Risky technology,

culture, and deviance at NASA.

Chicago, University of Chicago

Press.

PAGE

7

ABRI - Amsterdam Business Research Institute
---
PAGE

8

CRACKING THE

CODE ON

WEALTH PRESERVATION:

IT IS NOT ABOUT MONEYDR. MAARTEN DE GROOT

VRIJE UNIVERSITEIT AMSTERDAM
---
key perspectives IN SCIENCE,

BUSINESS

AND SOCIETY

The wealthy are

heavily criticised

and often find

themselves the focus

of discussion, debate,

and controversy. In recent

years, the public narrative

on this topic has become

deeply polarised. Research

has shown that wealthy people

derive most of their wealth

from active ownership of family

enterprises and are different

from the stereotypical rich and

famous as featured in popular

lists. In effect, enterprise

families have a major impact

on our society, contributing

significantly to global economic

growth, employment,

philanthropic capital, startup

finance, technological

innovation and even the

performance of capital markets.

Moreover, those families with

a transgenerational orientation

are likely to contribute even

more to society and the

economy. Given the public

debate and the importance of

such families to the economy,

it seems counterintuitive that,

in the field of family business

research, where the family is

the crucial variable, theoretically

distinguishing family businesses

from other firms, the literature

has so far neglected the

family itself as a constituent

determinant, and has instead

focused overwhelmingly on the

business system.

LESS THAN 15% OF

THE FAMILIES IN THE

FORBES 400 WERE

STILL LISTED ONE

GENERATION LATER.

In my dissertation, I set out to

study wealth preservation in

enterprise families that share

ownership of multiple assets

(e.g., investments, real estate)

and multiple entities (e.g., family

businesses, family offices and/or

family philanthropic foundations)

across generations. I explore

why so many enterprise families

fail to secure transgenerational

monetary prosperity. Several

theoretical perspectives have

contributed to our understanding

of family business and wealth

creation through business

venturing. However, very little

is known about how enterprise

families preserve wealth, and, in

particular, what happens at the

familial level.

MY RESEARCH LIFTS

THE VEIL ON A HIGHLY

SECRETIVE UNIT OF

ANALYSIS.

To explore this in more detail,

I first conducted a conceptual,

theoretical study from which

three clear concepts emerged:

family governance (how families

make decisions together); family

social capital (relationships

and cohesion); and a nascent

topic, the family office (an

entity with the goal of wealth

preservation). I subsequently

opened a theoretical black

box by conducting a qualitative

exploratory study to investigate

the origins of family social

capital. My multi-case study

focused on seven enterprise

families with legacies going back

more than 100 years - families

with up to 300 members and

assets worth billions of dollars.

Next, I tested my findings with

a quantitative empirical study

and a moderated mediation

framework. I contacted 1,020

global enterprise families and

worked with 175 of them. The

oldest family enterprise dates

back to the early 1700s, and the

largest spans 12 branches and

has more than 1,000 members.

Gathering data was difficult

(access), intrusive (privacy)

and costly (travel). My 25-year

experience as a strategist, board

member, and CEO in the wealth

management sector and my

present positions as the CEO of

a family office and co-chair of a

global research institute enabled

me to gain access to these

families.

REGARDLESS OF

COUNTRY, TAX LAWS,

OR ECONOMIC CYCLE,

70% OF THE FAMILY

ENTERPRISES FAIL.

Regarding the issue of how

enterprise families can

preserve their wealth for

multiple generations, this

research makes three main

theoretical contributions. First,

my dissertation contributes to

family business research by

shifting the analysis from the

family business to the family

itself. Second, I theorise that

collective family action towards

wealth preservation is reinforced

by effective family governance,

substantial familial social capital

and a family-office emphasis on

non-financial services. Third,

this research helps to unpack

the black box of the origins of

relationships within families and

the role of family governance in

social capital.

WEALTH PRESERVATION

COMES WITH A

DIFFERENT SET OF

CHALLENGES THAN

GROWING A FAMILY

BUSINESS.

Based on these theoretical

contributions, this dissertation

also has several practical

implications. Enterprise family

wealth preservation requires

collective action and, therefore,

breakdowns in trust must be

avoided. My findings emphasise

the fact that enterprise families

should develop strong decisionmaking

capabilities and establish

effective mechanisms for

family governance. In addition,

these families should develop

high-quality family learning

programmes to prepare the

rising generation for their

PAGE

9

ABRI - Amsterdam Business Research Institute
---
'I FEEL LIKE I AM

PUT OVER MY FATHER'S

KNEE, BEING SPANKED

WITH ONE HAND

AND FED CAKE

WITH THE OTHER.'

(RISING-GENERATION ENTERPRISE-FAMILY MEMBER)

'I DO NOT KNOW

IF HE IS GOING

TO BE PRESIDENT,

OR IN PRISON.'

(FIFTH-GENERATION ENTERPRISE-FAMILY

COUNCILMEMBER)

REFERENCES

1. Habbershon, T. G., & Pistrui,

J. (2002). Enterprising families

domain: Family-influenced

ownership groups in pursuit of

transgenerational wealth. Family

Business Review, 15(3), 223–237.

2. Nason, R. S., Carney, M., Le Breton-

Miller, I., & Miller, D. (2019). Who cares

about socioemotional wealth? SEW and

rentier perspectives on the one percent

wealthiest business households. Journal of

Family Business Strategy, 10(2), 144–158.

3. White, B. (2017). What family firms need to

ensure longevity. Retrieved October 21, 2019, from

INSEAD website: https://knowledge.insead.edu/

family-business/what-family-firms-need-to-ensurelongevity-7751

4. Williams, R. O., & Preisser, V. (2003). Preparing heirs: Five

steps to a successful transition of family wealth and values. San

Francisco: Robert D. Reed Publishers.

PAGE

10

'FAMILY TALENT WILL

SHOW, BUT IDIOTS

WILL BE IDIOTS.'

(FAMILY-OFFICE KEY EXECUTIVE, NON-FAMILY MEMBER)

roles in the future-enterpriseowner

group. Bolstering family

identity and strengthening

family members' perceptions

of belonging to the family social

group further enhances collective

family action to preserve wealth.

The principles, programmes and

entities associated with those

structures, procedures, and

behaviours have an important,

positive impact on the enterprise

family's crucial social capital. The

role of the single family office is

instrumental in magnifying these

effects and also in balancing

the financial and non-financial

considerations of the enterprise

family.

FROM SHIRTSLEEVES

TO SHIRTSLEEVES IN

THREE GENERATIONS.

Many enterprise families have

the objective of sustaining

themselves into the future for

multiple generations. They

have to navigate challenges

and embrace change while

responding to environments

full of volatility, uncertainty,

complexity and ambiguity. While

multigenerational enterprise

families like the Rockefeller

family (now in its seventh

generation) show that successful

family governance, substantial

social capital and effective

family offices are achievable

across several generations,

many others have been much

less successful at doing this. I

theorise that the key driver of

family wealth preservation is

relational, as opposed to being

purely financial, and posit that

wealth preservation is not about

money.

These quotes, by three

enterprise family insiders,

represent different points of

view relating to the arduous

task of preparing younger

family members for their future

roles in the family enterprise.

The preparation of the rising

generation is one of many

aspects of wealth preservation.

How can enterprise families

with differing and unique

geographical, historical and

cultural contexts overcome the

barriers that prevent family

wealth from being passed down

successfully over multiple

generations?
---
21

19

16

12

Marilieke Engbers

HOW DOES THE UNSAID SHAPE

DECISION-MAKING IN THE BOARDROOM?

Marie-Claire Dassen

EMOTIONS IN THE BOARDROOM

Radu Atanasiu

ON SIMPLE RULES

Lara Tcholakian

WHY IS IT IMPORTANT FOR LEADERS TO LOOK

INTO THEIR COLLECTIVE HISTORIES?

LEADERSHIP

AND

26

24

Edson Hato

PAST HEROES, FUTURE LOSERS:

CRITICAL LEADER BEHAVIOURS

Julia Vitte

ARE ALL LEADERS RISK TAKERS BY DEFINTION?

PAGE

11

BOARDS

ABRI - Amsterdam Business Research Institute
---
PAGE

12
---
DR. MARILIEKE ENGBERS

VRIJE UNIVERSITEIT AMSTERDAM

HOW DOES

leadership and boards IN SCIENCE,

BUSINESS

AND SOCIETY

THE UNSAID SHAPE

DECISION-MAKING

IN THE BOARDROOM?

Recent corporate

governance scandals

have drawn significant

attention to what happens in

the boardroom, raising many

questions with regards to why

boards of directors, those responsible

for monitoring firms, were unable to

prevent the scandals. Why do boards fail

so often? How come boards of directors

that are responsible for monitoring and

safeguarding their firms were unable to

prevent such scandals? While boards of

directors are of institutional importance,

scholars have a limited understanding of

boardroom processes 1 . How do directors

(or non-executives) and executives make

strategic decisions together and, in

particular, how do directors monitor the

organisation and its executives?

To uncover the black box of board decisionmaking

requires direct observation of what

goes on in the boardroom, which produces

many methodological challenges. A first

methodological challenge concerns the

gathering of data about the decisionmaking

process from these boards. Boards

are considered closed systems, as board

decision-making involves the exchange

of highly sensitive information. A second

methodological barrier relates to the

analysis of sensemaking and decisionmaking

processes. How do we measure

and offer validated theories about the

ways in which individual board members

make sense and influence each other's

sensemaking before coming to decisions?

Studying dynamic (sensemaking) processes

that unfold between people is not easy. How

does the researcher's involvement shape

the data? This is one of the key questions

that need to be answered when researching

processes qualitatively.

APPROACH

In our recent study on how the unsaid

shapes decision-making in the boardroom,

we explore this black box. However, the

purpose of this study was not to merely

justify a theory but to develop additional

theories that explain what happens in the

boardroom 2 . Moreover, in this study, we

did not put the 'said' front and centre but,

instead, the 'unsaid', focusing on what is

thought and felt but not expressed 3 .

During this study, I observed the board

meetings of 17 boards and interviewed

119 board members about what happened

during those meetings. More specifically, I

explored how board members responded

'in action' and and how they consciously

or 'pre'-consciously chose to silence

their thoughts and feelings. Preconscious

thoughts and feelings are taken for granted

at a particular instance but easily become

conscious upon reflection 4 . Therefore,

preconscious thoughts and feelings can

be observed retrospectively. All board

members (executives and directors or

non-executives) who were present during

a meeting were asked after the meeting

to reflect on four questions: 1) what were

you thinking and feeling, but not saying,

and when, 2) what kept you from saying it,

3) what do you think others were thinking

and when, and 4) what do you think kept

them from saying it? During interviews of

roughly 1 hour in length that took place

within two weeks from the meeting, board

members reflected upon these questions.

Putting the unsaid, instead of the said,

front and centre meant exploring the

difference between what is said and what

is thought, and, therein, how blind spots,

incongruities, and perceived incongruities

shape board decision-making. Moreover, I

also positioned myself as an interpreting,

knowing actor rather than an objective

observer 5 , reflecting upon and making notes

of what I thought was not said during the

interviews 6 .

1

Bainbridge, 2002; Forbes & Milliken, 1999;

Gabrielsson & Huse, 2005; Garg & Eisenhardt,

2017; Veltrop, Hermes, Postma, & de Haan,

2015; Westphal, 1999; Westphal & Bednar, 2005;

Westphal & Zajac, 2013

2

Locke, Golden-Biddle, & Feldman, 2008

3

Engbers M., Khapova S., Loo vd E., 2020a.

4

Javel,w 1999

5

Cunliffe, 2011

6

Argyris & Schön, 1974; Argyris, Putnam & McLain

Smith, 1985; Putnam, 1991; Senge, 1997

PAGE

13

ABRI - Amsterdam Business Research Institute
---
PAGE

14

Marilieke Engbers (1969)

combines her lectures on strategy

realisation for the VU Finance and

Control Program with consulting

work for Reconsulting on board

effectiveness, self-evaluations,

strategy and leadership. During

her PhD, Marilieke was assigned

by the Housing Associations

Authority to research how

boards monitor the risks of

long-tenured CEOs. She

published the report

'Kracht en Tegenkracht'

in 2019.

Iterating between

a) what individual board

members shared in the

interview, b) a comparison

of those reflections with the

tape-recordings of the meetings,

c) a comparison of accounts per role

and board, and d) academic theories

that explained the data, new theories

emerged. Moreover, by presenting these

preliminary theories, I also explored to

what extent these theories resonated with

the boards that participated in this research

and with the 120 individual board members

who were present.

THEORETICAL IMPLICATIONS

First, this study offers an emergent

theory explaining how preconscious,

taken-for-granted, and automatic sociocognitive

processes and communicative

events between board members and their

stakeholders shape boards' decisionmaking

7 . Since the theory conceptualises

how micro-processes between board

members shape macro-processes, an

institutional perspective is warranted.

Second, this study theorises that board

members who consider their governance

to be paradigm-objective and who are

considered paradigm-attached, cause a

ripple of unspoken communication, or

a 'spiral of the unsaid' when they try to

manage silent conflicts through informal

decision-making 8 . The data reveals that

the three different roles of CEO, chair and

non-executive risk eliciting seven types

of paradigm-attachment conflicts. When

a heated situation is enacted due to the

spiral of unsaid, it is managed through

scapegoating and ostracising the board

members through the least-dominant

minority paradigm. Third, this study

conceptualises how four silence climates

shape four different levels of cohesiveness

and cognitive conflict towards board

effectivenes 9 . A board silence climate is

characterised by how a board maintains a

dynamic equilibrium between cohesiveness

and cognitive conflict through different

silence strategies. The data suggests that

since a cognitive conflict always risks

eliciting a relationship conflict, boards

constantly adjust through voice and silence

when encountering conflicts. Four different

board climates are distinguished, each

with different silence strategies that shape

four different levels of board effectiveness

and show how silence strategies shift

in response to tension reconciliation.

Fourth, through reflecting on this research

approach, the study suggests that being

aware of different levels of consciousness

is required for the research of assumptions

Director 2 Director 3

Director 1

Director 4

Secretary /

CFO

Researcher

CEO

Chair
---
leadership and boards IN SCIENCE,

BUSINESS

AND SOCIETY

that are taken for granted (Engbers,

2020). Moreover, it also highlighted that

perspective-taking is key when conducting

such intersubjective research.

REFERENCES

Argyris, C., Putnam, R., & McLain Smith, D.

(1985). Action Science: Concepts, Methods

and Skills for Research and Intervention.

Javel, A. F. (1999). The Freudian antecedents

of cognitive-behavioral therapy. Journal

of Psychotherapy Integration. https://doi.

PRACTICAL IMPLICATIONS

This study offers three practical

implications for board members, inspectors,

board consultants and other stakeholders

that work with or for boards. First, this

study explores the ambiguity of how to

manage and decide when and about what

requires conscious deliberation rather than

an automated response. Unspoken and

presupposed, but differing, assumptions

about governance can negatively impact

decision-making in the boardroom. This

suggests that these differences and the

effects of these assumptions on decisionmaking

warrant exploration and reflection.

Second, informal conversations within

a sub-group should be limited, as they

influence decision-making and cannot be

monitored. Thus, although committees are

often perceived as efficient governing bodies

and decisions made in these sub-groups

are not considered informal, what takes

place in these meetings and how these

conversations unfold (the tone of voice)

should be consciously and deliberately

monitored. Third, role-expectations should

be reflected upon consciously to limit false

attribution bias and silent speculation

emerging between board members. In

particular the differing expectations of

chairs, CEOs and new directors should be

avoided.

Database Systems for Advanced

Applications. https://doi.org/10.1007/978-3-

642-14589-6_4

Bainbridge, S. M. (2002). Why a board? Group

decision making in corporate governance.

Vanderbilt Law Review. https://doi.

org/10.2139/ssrn.266683

Cunliffe, A. L. (2011). Crafting qualitative

research: Morgan and Smircich 30

years on. Organizational Research

Methods, 14(4), 647–673. https://doi.

org/10.1177/1094428110373658

Engbers M., Khapova S., Loo vd E. (2020) The

spiral of unsaid known and preconscious

decision-making in the boardroom. Under

review

Engbers M., Khapova S. (2020) How

paradigm-attachement enacts a spiral of

unsaid in boards. Working paper

Engbers M., Khapova S. (2020) Silence

Climates in the boardroom. Working paper

Engbers M., (2020) Researching the unsaid

and decision-making. Under review

Forbes, D. P., & Milliken, F. J. (1999).

Cognition and corporate governance :

Understanding boards of directors as str ...

org/10.1023/A:1023247428670

Locke, K., Golden-Biddle, K., & Feldman,

M. S. (2008). Making doubt generative:

Rethinking the role of doubt in the research

process. Organization Science. https://doi.

org/10.1287/orsc.1080.0398

Putnam, R. (1991). Recipes and Reflective

Learning:"What Would Prevent You From

Saying It That Way?" In The Reflective Turn:

Case Studies in and on Educational Practice.

Senge, P. m. (1997). The fifth discipline.

Measuring Business Excellence. https://doi.

org/10.1108/eb025496

Veltrop, D. B., Hermes, N., Postma, T.

J. B. M., & de Haan, J. (2015). A tale of

two factions: Why and when factional

demographic faultlines hurt board

performance. Corporate Governance:

An International Review. https://doi.

org/10.1111/corg.12098

Westphal, J. D. (1999). Collaboration in the

boardroom: Behavioral and performance

consequences of ceoboard social ties.

Academy of Management Journal. https://

doi.org/10.2307/256871

Westphal, J. D., & Bednar, M. K. (2005).

Pluralistic Ignorance in Corporate Boards

PAGE

15

Management.

and Firms' Strategic Persistence in

Response to Low Firm Performance.

Gabrielsson, J., & Huse, M. (2005). "Outside"

Administrative Science Quarterly. https://doi.

Directors in Sme Boards : a Call for

org/10.2189/asqu.2005.50.2.262

Theoretical Reflections. Corporate Board:

Role, Duties & Composition. https://doi.

Westphal, J. D., & Zajac, E. J. (2013). A

org/10.22495/cbv1i1art3

Behavioral Theory of Corporate Governance:

Explicating the Mechanisms of Socially

Garg, S., & Eisenhardt, K. M. (2017).

Situated and Socially Constituted Agency.

Unpacking the CEO-Board relationship: How

The Academy of Management Annals.

7

Engbers, Khapova, vd Loo, 2020a

strategy making happens in entrepreneurial

https://doi.org/10.1080/19416520.2013.783

8

Engbers, Khapova, 2020a

firms. Academy of Management Journal.

669

9

Engbers, Khapova, 2020b

https://doi.org/10.5465/amj.2014.0599

ABRI - Amsterdam Business Research Institute
---
EMOTIONS IN THE

BOARDROOM:

HANDLING

THE HOT AND

COLD OF STRATEGIC

DECISION MAKING

PAGE

16 MARIE-CLAIRE DASSEN

VRIJE UNIVERSITEIT AMSTERDAM

Strategic decision-making lies at the heart

of executive boards' responsibility. To

make such decisions, these teams need a

solid rational basis: reliable data, relevant

experience and in-depth knowledge of the

topic at hand.

But that is only part of the story.

Research shows that individual emotions and

group dynamics have a substantial impact on

how decisions are made. For example, too much

enthusiasm can make teams less open to relevant

information, whereas, a tense group dynamic can

detract from the actual decision-making itself.

This is particularly true in the context of boards,

where stakes are high, information is ambiguous

and stakeholder demands are often conflicting.

Therefore, strategic decision-making is not just

'cold' and rational, but also 'hot' and emotional, and

executive boards need to integrate the strategic

content of their discussions with the tensions and

emotions inherent to their context.

But how does that play out in the day-to-day

practice of executive boards? How do they navigate

these two sides of their strategic work? And what

conditions make it easier or more difficult for them

to do so?
---
leadership and boards IN SCIENCE,

BUSINESS

AND SOCIETY

To engage these questions, we conducted a

one and half year study in which we closely

observed the executive board of a notfor-profit

organisation. To complete our

research, we conducted formal and informal

interviews with board members about how

they experienced their team's decisionmaking,

and we attended and audio-recorded

the board meetings themselves.

THE SLIPPERY TABLE OF STRATEGIC

DECISION-MAKING

In our data, we identified two dynamics in how

the executive board dealt with issues that

came to their attention. In the first dynamic,

the board discussed the content of the issue

and explicitly integrated team and individual

emotions into their exchange. After such

integration, teams came to a conclusion

and moved their strategic decision-making

forward. For instance, in a conversation about

a sizable technological investment, none of

the available options appeared to guarantee

an unequivocally sustainable result. The

board's discussion began to develop into

a circular and irritated exchange until

team members started openly addressing

their feelings of uncertainty and doubt

about unpredictable future technological

developments. Once the board acknowledged

these feelings and integrated them into their

reasoning, with expressions such as "We

want to make a no-regret decision, but we

really can't oversee this now, so we have to

deal with this uncertainty", their discussion

moved forward again. Emotions rose, but the

executive board remained actively in charge

of its decision-making process.

We also identified a second, more reactive

dynamic, which appeared under one or two

conditions: either when the team's emotional

intensity was very low (for example, when

topics didn't "get the juices flowing" as

one team member described it), or when

the intensity was very high, such as when

team members became very agitated and

irritated with each other. In these conditions,

issues that came to the table seemed to

slide off the agenda, a phenomenon we

genially dubbed the "slippery board table".

Decisions were taken half-heartedly or

were repeatedly postponed. Even though

emotions were clearly present, they were not

integrated into discussions, but suppressed,

cut off or simply ignored. However, these

emotions did not disappear; they remained

unresolved and were carried over into

subsequent discussions, sometimes with

increased intensity. This steered the team

toward a vicious cycle in which emotions

kept resurfacing and affecting their decisionmaking.

It subsequently became increasingly

challenging for the board to switch from this

reactive to a more active dynamic.

PAGE

17

ABRI - Amsterdam Business Research Institute
---
EMOTIONS IN THE BOARDROOM

REFERENCES

Ashkanasy, N. M. (2003). Emotions in organizations: A multilevel

perspective Multi-level issues in organizational behavior

and strategy (pp. 9-54): Emerald Group Publishing Limited.

Dassen, M.C., & Khapova, S.N. (2020). 'Hot' strategy in TMTs.

[Unpublished doctoral dissertation chapter]. Vrije Universiteit

Amsterdam

Healey, M. P., & Hodgkinson, G. P. (2017). Making strategy hot.

California Management Review, 59(3), 109-134.

Hodgkinson, G. P., & Healey, M. P. (2011). Psychological

foundations of dynamic capabilities: reflexion and reflection in

strategic management. Strategic Management Journal, 32(13),

1500-1516.

Kisfalvi, V., & Pitcher, P. (2003). Doing what feels right - The

influence of CEO character and emotions on top management

team dynamics. Journal of Management Inquiry, 12(1), 42-66.

Sanchez-Burks, J., & Huy, Q. N. (2009). Emotional aperture

and strategic change: The accurate recognition of collective

emotions. Organization Science, 20(1), 22-34.

Vuori, T. O., & Huy, Q. N. (2018). Shaping Top Managers' Moods:

Board Emotion Regulation in the Strategy-Formulation Process.

Academy of Management Proceedings, 2018, 12389.

PAGE

18

TEAM EMOTIONAL BANDWIDTH: HOW CAN

YOUR BOARD HANDLE THE HEAT?

How can we explain these different dynamics?

How can executive boards increase their

chance of remaining actively in charge of their

decision-making? And how can they avoid

becoming caught in a vicious reactive cycle

where emotions are too hot to handle or too

cold for care?

For this, we need to look at what we labelled

the team's emotional bandwidth, the team's

capacity to integrate rational and emotional

aspects into their strategic decision-making.

We propose that the broader a team's

emotional bandwidth is, the more likely

the board can remain actively in charge of

integrated decision-making. Based on our

findings and earlier research, we suggest that

three factors shape the emotional bandwidth

of a team.

- Emotional susceptibility, or how individual

board members and the board as a whole

respond emotionally to the tensions

inherent to their strategic decision-making

situations;

- Emotional awareness, or how skilled the

board is at recognising emotions and their

impact; and

- Emotional ability, or how skilled the board is

at discussing and managing emotions.

Executive boards seeking to broaden their

team's emotional bandwidth could work on

these three factors. Assessing the team's

emotional susceptibility can give a better

idea of how much emotion comes to the

table in the first place. When evaluating

this, it is important to keep in mind that

different members might respond differently

to the same situation and that emotions

are contagious. Strong emotional reactions

from one or two team members can raise

the emotional intensity of the whole board.

Similarly, when several team members are

uninspired or too much at ease, the entire

board may be drawn into that mood and

become overly complacent.

Emotional awareness and emotional ability

are skills that can be trained, for example, by

actively and collectively reflecting on questions

like: How are we doing as a team? What

is happening underneath the surface of our

discussion? How does that affect our decision

making? This way, emotions are brought into

conscious awareness, where the board can

actively deal with them instead of letting them

unconsciously dictate discussions.

Such reflection can be difficult, and can evoke

uncomfortable emotions in and of itself. Yet,

developing these skills can help executive

boards navigate the full spectrum of their

strategic decision-making, from the 'cold'

rational to the 'hot' emotional.
---
RADU ATANASIU

VRIJE UNIVERSITEIT AMSTERDAM

ON

SIMPLE

RULES

"THE ROLE OF THE

CEO IS TO CREATE

SYSTEMS THAT WORK

AND TO COMMUNICATE

THEM IN WAYS THAT

MAKE PEOPLE VIBRATE,

UNDERSTAND, AND APPLY

THEM DAILY."

INTERVIEWEE

"EVERY INTERNAL TEAM

SHOULD BE SMALL ENOUGH

THAT IT CAN BE FED WITH

TWO PIZZAS."

PAGE

19

JEFF BEZOS, FOUNDER OF AMAZON

Managers learn mainly from

failure (Bingham and Haleblian,

2012) and often they distil their

learning into simple rules that are

easy to remember and share. These

simple rules (Eisenhardt and Sull, 2001;

Bingham and Eisenhardt, 2011) often take

the form of catchy managerial proverbs.

Jeff Bezos, for example, uses his famous

two-pizza-rule for organising Amazon's

workforce. Financial investors approach market

uncertainty with simple rules such as "sell in May and go

away" that sometimes prove more accurate than complex

algorithms. In his best-seller, Principles, billionaire-hedgefund-manager-and-philanthropist-turned-managementguru

Ray Dalio reveals the many simple rules (principles) he

devised for life and work.

"I don't have such simple rules. I always envied leaders who

have them. For me, reality was always too complex to be

simplified in clear rules, but I appreciated their value when

I saw them in others." (interviewee who discovered during the

ABRI - Amsterdam Business Research Institute
---
leadership and boards IN SCIENCE,

BUSINESS

AND SOCIETY

PAGE

20

interview that, in fact, she did have

a clear set of simple rules)

While the uses and outcomes of

simple rules have been well studied,

little attention has been paid to how

managers distil them, urging me to

research this process. After interviewing

a few dozen CEOs, the first interesting

thing we discovered is that despite initial

doubt (see the quote above), all CEOs realised

that they actually have a personal set of lessons

learned that they have distilled into simple rules.

Not only this, but they consider these rules crucial

to their role, their growth, and the growth of their

organisations. We have compiled a list of 126 such rules,

some guiding the relationship with clients, others dealing

with strategy, but most of them related to managing people

and teams.

"If you come to me with a problem, you must also bring three

alternative solutions."

"A good expert with a big salary is worth more than three

average employees with half that salary."

"For a good relationship with the team, the ratio between

praise and criticism must be 3 to 1."

These three examples (which all make use of the number

three) make for a short guide of distilled managerial

wisdom. We found that simple rules are born out of an

unexpected problem which induces tension, giving the

manager cause to search continuously for a solution.

Eventually, an external cue (a later observation, a

conversation, something read in a book) acts as a clarifier

and catalyses the finding of a solution in an insight

accompanied by a feeling of relief, like an epiphany. This

constitutes a triple insight, consisting of identifying and

unlearning a flawed assumption, learning a new lesson, and

then generalising a simple rule to be applied in all similar

situations, as illustrated in the example below:

The CEO of a marketing company was confronted with

a puzzling problem: strategic projects, agreed and

communicated at the beginning of the year, were lagging

behind (unexpected problem). She investigated the matter

and observed (clarifier) that the team was only working

on these projects at the end of the day, and only if current

daily tasks were completed. This led to her triple insight:

first, she identified and unlearned the flawed assumption that

just labelling projects as "strategic" does not make people

prioritise them; then, after reflecting on a solution, the

CEO learned the lesson that strategic projects need daily

attention; she then distilled it into a simple rule to be applied

in the future - "Strategic projects need to be integrated into

processes so that everybody can contribute daily."

"When I share a rule, I also share its story, especially the

mistakes I made. If shared without its story, the rule would be

ignored, but when the team finds out how I discovered it and

how I bumped my head, they pay more attention and remember

it better."

While the process described so far has an important

intuitive component, the next, more analytical phase

involves testing, articulating, and refining the simple rules.

When appropriate, personal rules are shared within the

organisation. Many studies have positively linked simple

rules shared at the organisational level with various aspects

of management, such as strategy (Bingham and Eisenhardt,

2011), innovation (Manimala, 1992), organisational learning

(Bingham and Haleblian, 2012), monitoring and even the

survival of family firms (Pieper et al., 2015). However, in the

words of another interviewee, the problem with sharing is

that "such rules are easy to hear and hard to implement". A

way to bypass this problem is to share the simple rule along

with its whole narrative, making it easier to remember and

to adopt. This principle was discovered (and even turned

into a simple rule for sharing simple rules) by another

respondent, quoted in the vignette above.

So, how can managers use our research? First, by

acknowledging that there is value in clearly articulating

the simple rules they learned from experience. Managers

can start identifying and writing down their portfolios of

managerial proverbs. One way they can approach this is

to imagine that they have been promoted and are telling

their competent but less-experienced successor, "Listen,

my years on this job taught me a few rules that you can never

find in any book. They are:" and end the sentence. Secondly,

managers can use these simple rules as coordination

tools in their teams and organisations by sharing the rules,

always accompanied by their determinant stories.
---
WHY IS IT

IMPORTANT FOR

LEADERS TO LOOK

INTO THEIR

DR. LARA A. TCHOLAKIAN

VRIJE UNIVERSITEIT AMSTERDAM

COLLECTIVE

HISTORIES?

PAGE

21

Can a leader's collective trauma shape their leadership

values and behaviour? Numerous studies indicate how

an individual's formative upbringing can shape leadership

qualities, but there is little focus on the role of historical

legacy or historical collective traumas in leaders and

leadership.

Our research sought to investigate what shapes leaders, and, more

specifically, if there could be a transgenerational inheritance of values

from historical legacies, such as collective traumas. We conducted

two studies. The first study consisted of 40 board members, CEOs and

executives who were third and fourth generational descendants of the

Armenian genocide, but raised in different geographic backgrounds

and upbringings. The second study concerned a group of 60 leaders

and executives who are descendants of an amalgam of collective

traumas such as the Greek genocide, WWII, the Holocaust, the

Singapore racial riots, Apartheid and the Sikh riots.

By studying these samples of leaders and executives, we learned how

individuals with similar and different collective histories identify

ABRI - Amsterdam Business Research Institute
---
values and behaviours associated with their historical narratives.

For leaders, the use of history was a pertinent way for them

to connect, interpret and build expectations in relation to their

professional actions and decisions. This learning process

allowed them to critically engage in self-reflexive processes

that cultivated and sensitised them to human practices of

management, encouraging them to make better use of their values

and assumptions in the development of teams, strategies, and

organisational processes.

At a time when there is an increasing existential crisis and a call

for a human turn in leadership (Petriglieri, 2020), our research

identified three key questions that were raised throughout the study:

What is awakened in leaders when they take a historical turn? How

can a historical turn help leaders become more conscious? What is

the relevance and practical implication of historical consciousness

in leader development?

WHAT IS AWAKENED IN LEADERS

WHEN THEY TAKE A 'HISTORICAL TURN'?

There are claims that despite the immense research conducted

in leadership studies, it is still unclear what leaders are, do and

need (Alvesson & Einola, 2019). The reason for these challenges

is that leaders, like all of us, are unique individuals that cannot be

generalised or categorised. Assuming that leaders are individuals

in positions of influence (but not necessarily positions of power),

they are then also in positions to inspire and motivate change and

innovation. To inspire requires self-inspiration and self-awareness,

and this demands reflective and reflexive practices.

for the future and to draw the course of action that

will guide their corporations and organisations in

directions that will lead to improved operational

results, competitive edge and innovation in the

market. Despite numerous popular articles

and years of scientific research that identify

what constitutes good or bad leadership,

we have yet to understand the role and

importance of conscious leaders, and

its relevance in today's market and

society as a whole.

The behaviours of leaders

and executives are shaped

by internal and external

forces; the former

touching upon

conscious and

unconscious life

experiences,

and the latter

PAGE

22

Taking a historical turn does not constitute a merely cognitive

process (i.e., having historical literacy or knowing historical facts),

but rather helps to initiate a process of making sense of one's

own historical narratives, which in turns allows the development

of personal and professional narratives (Ahonen, 2005). The

participants in our study, regardless of their own historical

collective traumas, made use of new or unused lenses and

senses that helped them identify leadership values that

were inherited or developed through the transmission

process of narratives from their ancestors. Many

of our participants did not identify negative

repercussions of remembering collective traumas

of their forefathers, but rather, felt that there

was meaning and purpose for the values

that they had developed in their own social

contexts.

CAN TAKING A 'HISTORICAL TURN'

HELP LEADERS BECOME MORE

CONSCIOUS?

Leaders are generally encouraged

to look ahead, to have a vision
---
WHAT IS THE RELEVANCE OF HISTORICAL

CONSCIOUSNESS IN LEADER DEVELOPMENT?

The process of historical consciousness lays the

groundwork for a self-reflexive discourse, to better

understand how the past may have shaped the present and

make sense of one's role and behaviours in the future.

Collective traumas and historical narratives are not just forgotten

or placed in the past but involve a symbiotic process that allows

leaders to develop critical questions of their own conditioning their

realities and their worldview. This, in turn, allows them to interpret

and humanise their roles as organisational actors and decisionmakers.

As such, leader development not only undertakes tangible

formative elements (such as family, education, environment,

and socio-economic upbringing) but also the taken-for-granted

relational elements that may have been passed on from former

generations, through stories, events, rituals, and traditions.

pertaining to

elements of one's

social systems such

as family, community,

environment, culture

and education (Tcholakian,

Khapova, van de Loo, &

Lehman, 2019). But one thing

that is overlooked is the role of

the transgenerational inheritance

of historical and collective events.

Historical consciousness offers a critical outlook on the ethical

dimensions of management life because it allows leaders and

executives to understand how their assumptions and realities are

shaped by their collective past, to consciously interpret the choices

and actions they take, and to question how their inherited values

affect organisational processes and stakeholder management.

Thus, historical consciousness, historical narratives and memory

become complementary means to advance our understanding, not

only of leaders and executives but also the underlying motivations

that are associated with their behaviours and actions.

PAGE

23

Taking a historical turn opens access

for leaders and executives to question the

assumptions related to their historical and

collective memory (or cultural memory as

some define) and be receptive to questioning

their identities. In our study, this process, defined

as critical historical consciousness, stimulated

gateways for leader participants to critically consider

and interpret their inherited histories and traumas,

and to bridge the narratives of their histories into their

present. Leaders became aware of their sensitivities

and awareness not only related to their lived experiences,

but the experiences of their ancestors transferred through

said and unsaid narratives, thought and unthought emotions

and beliefs. This process of historical consciousness allowed

our leader participants to develop their own narratives about

their leadership values for the present (such as equity, justice, and

empathy) (van de Loo, Tcholakian, & Lehman, 2020) and their visions

of what they hope to achieve and develop in the future – both for

their personal and for their professional lives.

REFERENCES

Ahonen, S. (2005). Historical consciousness: A viable paradigm for

history education? Journal of Curriculum Studies, 37(6), 697-707.

Alvesson, M., & Einola, K. (2019). Warning for excessive positivity:

Authentic leadership and other traps in leadership studies. The

Leadership Quarterly, Article in press.

Petriglieri, G. (2020). Are our management theories outdated?

Harvard Business Review.

Tcholakian, L. A., Khapova, S. N., van de Loo, E., & Lehman, R.

(2019). Collective traumas and the development of leader values:

A currently omitted, but increasingly urgent, research area.

Frontiers in Psychology, 10, 1-13.

van de Loo, E., Tcholakian, L. A., & Lehman, R. (2020). How

leadership can emerge from the trauma of history. Retrieved from

https://knowledge.insead.edu/leadership-organisations/howleadership-can-emerge-from-the-trauma-of-history-13031

ABRI - Amsterdam Business Research Institute
---
PAST HEROES,

leadership and boards IN SCIENCE,

BUSINESS

AND SOCIETY

PAGE

24

FUTURE LOSERS:

CRITICAL LEADER

BEHAVIOURS AND

TRANSFORMATION

IN THE BANKING

INDUSTRY

EDSON HATO

VRIJE UNIVERSITEIT AMSTERDAM

Leaders affect the environments in which they

operate. Wells Fargo's drive for cross-selling led

to the creation of millions of fraudulent savings

and checking accounts on behalf of their clients.

Their purpose was to charge fees and provide

unrequested credits. The manipulation of Libor

and Euribor interest rates at Rabobank culminated

in a €774 million fine and the departure of its

CEO, Piet Moerland. The Dutch banking giant

ING was fined €775 million for failing to spot

money laundering activities; compounded by the

embarrassing discourse around its CEO's proposed

salary increase, vehemently opposed by the Dutch

political establishment and society. These and

other examples from the banking industry illustrate

the individual and collective inability of leaders to

adapt quickly to changing business and societal

contexts. These 'malpractices' are symptoms of a

bigger 'disease,' begging the question:

'How can banking-industry-leader behaviours

change to drive real transformation?'

For the past 20 years, leader-behaviour research

in financial institutions has been focused on a

narrative with the leader as the heroic 'star' in the

movie called 'leadership', an attribution based on

hierarchy, status, years of tenure and the leader's

ability to socialise, manage politics and network.

Leaders were fashioned as 'stars' because of

their ability to achieve economic efficiency and

maximise shareholder value. A contrasting

perspective to this view of leadership is the view

that leader behaviours part of the context and the

intended, needed results to be achieved (Osborn

et al., 2002). The elements of this contrasting

perspective, namely the context and the intended

results, are complicated by the somewhat

diverging and competing technological, legislative,

institutional and community demands placed on

the banking industry. Thus, we need to move the

focus of leadership and leader behaviours from

the individual—the hero—to a focus on leadership

and leader behaviours that is distributed across a

system that has influence both inside and outside

organisational boundaries. We must integrate the

idea that this system is in a state of constant flux,

demanding the critical leader behaviours needed

for transformation.

Unsurprisingly, leader behaviour research has

mainly focused on causal mechanisms of leader

behaviours: the leader as a hero, the perception of

their leadership, and leadership effectiveness in

a stable context. The results of a literature review

of 99 articles on leader behaviours in financial

institutions from 2000 until 2020 shows that:

82 articles are focused on 'heroic' leader

behaviours in financial institutions;

72 articles implicitly or explicitly assume a stable

organisational context for research;

64 articles are focused on leader behaviour

research through the lens of bureaucracy; and

64 articles are based on the Leader-Member-

Exchange theory;

Moreover, research has proven that measuring

what it is to have a successful career vs having

an effective team are totally unrelated. (Luthans

et al., 1988). Currently, this reality is persistent

in the banking sector and directly linked to

the behavioural ability of the leader and a

cohort of leaders to incorporate contemporary
---
contextual sentiments into their daily responsibilities. This

demonstrates the need for a more contemporary leader

behaviour research agenda in the banking industry.

In an era of technological progress, sustainability demands,

and hyper-interconnectedness, leaders need to reinvent

themselves as hierarchy, status and outdated management

practices become insufficient. Our economic reality is

changing rapidly; individuals, customers and employees

are not at the receiving end of information and decisions

anymore. Leaders are being held accountable not only for

what happens within the confines of their business, but also

for what happens in the value chain and the societal context

in which they operate. Leader behaviours increasingly

need to enact the paradigm shifts from shareholder-value

maximisation to stakeholder-value maximisation; from

individualism, hierarchy and control to community building,

continuous creation and knowledge capturing; from short

term financial gains to focus on long term sustainability.

This would add a level of complexity to business unequal to

the industrial era and Fordism.

Our literature review indicates that only about 9 per cent of

the articles have been designed to:

expansion 'complex adaptive systems' (Uhl-bien et al., 2007),

or the 'ecosystem economy'. The attribution of leadership to

a specific individual in a suggestion of heroism (bureaucratic

leadership) needs to expand to include leader behaviours

and leadership qualified as:

1. distributed leadership: referring to the aggregate

leadership of an organisation dispersed among some, many

or all of the members;

2. adaptive leadership: referring to adaptive, creative

and learning actions that emerge from the interaction of

complex adaptive systems as they strive to adjust tensions;

and

3. enabling leadership: working to catalyse the conditions

in which adaptive leadership can thrive and managing

the entanglement between bureaucratic and emergent

functions of the organisation (Gronn, 2002).

To conclude, companies solely pursuing shareholder value

maximisation are in danger of becoming socio-economic

pariahs. Leader behaviours need to be distributed, adaptive,

and enabling to the emerging ecosystem economy. When

adopted, past heroes might remain future winners.

PAGE

25

show that leader behaviour research in financial

institutions needs to shift from a perspective based on the

industrial economic era to the age of connectivism;

show that research based on causal mechanisms needs

to be changed to research driven by the notion of complex

dynamic systems;

show that research done under the assumption of a stable

organisational context needs to be changed to research

conducted in a dynamic and ever-changing context;

show that research based on the notion of leadership

attributed to the individual needs to be changed to

research based on the notion of leadership as part of a

collective.

Based on the findings of the review, we propose that leaders

will play a much broader role in a more expanded context

than before. Prominent systems scholars will call this

REFERENCES

1. Luthans, F. Successful vs. effective real managers.

Academy of Management Executive. 1988, 2, 127 – 132.

2. Osborn, Richard; Hunt, James G.; Jauch, Lawrence R.

Toward a contextual theory of leadership. The Leadership

Quarterly. 2002, 13, 797n- 837.

3. Gronn, Peter. Distributed leadership as a unit of analysis.

The Leadership Quarterly. 2002, 13, 423 – 451.

4. Uhl-Bien, Mary; Marion, Russ; McKelvey, Bill. Complexity

Leadership Theory: Shifting Leadership form the

industrial age to the knowledge era. The Leadership

Quarterly. 2007, 18, 298 – 318.

5. Kaiser, Robert B.; Hogan, Robert; Craig, Bartholomew

C. Leadership and the Fate of Organizations. American

Psychologist. 2008, 63 (2), 96 – 110.

ABRI - Amsterdam Business Research Institute
---
leadership and boards IN SCIENCE,

BUSINESS

AND SOCIETY

ARE ALL LEADERS,

BY DEFINITION,

RISK-TAKERS?

Think about taking a risk. What is the first thought that comes to your mind?

Your friend, an entrepreneur, who took a risk and has been praised for their

success? Or, an action movie hero who risks their life to save the world?

Within business environments, as well as outside of them, risk-taking is

celebrated. It is possible that risk-taking is becoming culturally valuable,

and it has already become synonymous with status.

PAGE

26 JULIA VITTE

In everyday life, risk-taking is everywhere. I am

VRIJE UNIVERSITEIT AMSTERDAM fascinated by how people take risks. I am especially

interested in how groups make risky decisions and

how group leaders affect those decisions. Since

the 1960s, researchers studying group dynamics

have agreed that if a group doesn't have a clearly

appointed leader, then the individual who actively

talks and expresses their opinion is perceived as more

influential and has a higher status among the other

group members. Later, in the 1980s, research found

that groups expect high-status individuals to make

more valuable contributions to the discussion than

lower-status members. To put it simply, if an individual

expresses their opinion more, the rest of the group

perceives them to be of a higher status and expects

them to contribute more. In terms of risk-taking, the

willingness to take risks is associated with higher

professional ability. So, the more risk one is willing

to take, the more capable they are perceived of being

and they become more valuable to the group. In other

words, the higher one's risk preference, the higher

their status within a group.

If individuals who take more risks are perceived as

more valuable, then are those who are willing to take

the lead, risk-takers by definition? Research indicates

this to be true; making decisions, in and of itself,

is risky because the outcome of those decisions is

uncertain. In other words, success is never guaranteed

and some decisions may result in failure. In the face of

such uncertainty, determining which direction a group

should take is risky, and will inevitably lead to both

influence and vulnerability.

Considering the above, the next question to explore

is: "When working in groups, are leaders being

unreasonably risky only to ensure our own status?"

While studies must explore this question further,

looking at industry examples indicates that this might

well be the case.

Amba Zeggen, Lead Risk Culture and Behavior at

Probability & Partners, has 20 years of experience

working with teams on various aspects of risk culture.
---
PAGE

27

When asked whether or not leaders inherently seek

out risks, and if so, do groups resultingly take too many

risks, she says:

"I have used the risk type compass assessment for

assessing risk behaviour and, the bottom line is,

we see different patterns for different professions,

gender, age and position within in an organisation. For

instance, air traffic controllers have a very distinct risk

profile—perhaps not surprisingly—they have a more

coolheaded and organised way of thinking.

Leaders often exhibit elevated [levels of] risk-taking,

scoring high on "open to new things", "big picture

instead of details" and "high-level view". While we

should not pass judgement on these behaviours as

"good" or "bad", what is important is to be aware of

possible blind spots. Of course, not all leaders are the

same. For example, pension fund boards, including

chairmen, are, in general, more risk-averse—after

all, the board has a significant responsibility for the)

financial future of many households."

Overall, while there are trends observed in practice,

and there is a partial consensus in the scientific

community that leaders, indeed, tend to take more

risks, the question still demands further research.

This topic is one of our interests at Amsterdam

Business Research Institute (ABRI), which we are

planning to explore in the coming years.

ABRI - Amsterdam Business Research Institute
---
INDIVIDUALS

PAGE

28

DR. CHRISTOPHER WICKERT

/ CHRISTOPHER.WICKERT@VU.NL

ASSOCIATE PROFESSOR IN ETHICS & SUSTAINABILITY;

ASSOCIATE EDITOR JOURNAL OF MANAGEMENT STUDIES

Christopher Wickert has been Associate Professor of Ethics

& Sustainability in the Department of Management & Organization

at VU Amsterdam since 2013. His passion is investigating corporate social

responsibility (CSR) and sustainability and, overarchingly, the broader relationship

between business and society by drawing on various organisation and

management theories.

In his research, Christopher explores different patterns of globally integrated

companies' CSR implementation. Beyond this, Christopher has studied: the

evolution and diffusion of CSR standards; the influence of 'organisational identity

orientation' on the implementation of CSR practices; the prevalent mismatch

between CSR 'talk' and CSR 'walk' in small and large firms; and how business

firms might address pressing, societal challenges, such as climate change and the

Sustainable Development Goals (SDGs). Christopher is also interested in Critical

Management Studies (CMS), philosophy of science, business ethics, and social

entrepreneurship. In 2019, he published a book with Cambridge University Press,

'Corporate Social Responsibility (Elements in Business Strategy)', which provides a

practitioner-oriented critical introduction to contemporary CSR approaches.

Christopher's research has appeared in various leading international journals.

He is currently an associate editor of the Journal of Management Studies,

promoting impactful research with practical, societal relevance.

Also, Chris is the co-coordinator of the third year of ABRI's Part-time PhD

programme.

DR. SAEED KHANAGHA

/ S.KHANAGHA@VU.NL

ASSOCIATE PROFESSOR OF STRATEGY

Saeed Khanagha is an Associate Professor of Strategy in the

Department of Management and Organisation at VU Amsterdam.

He obtained his PhD in 2015 at the Erasmus University Rotterdam.

His research focuses on understanding the factors determining an

organisation's success in adopting emerging digital technologies at the

individual, team, organisational, and ecosystems levels. This focus demands

various qualitative and quantitative data methods, including single case study,

multiple cases studies, survey, and experimental design. His ongoing research

mostly explores the different dimensions of strategising for digital technologies,

particularly digital platforms and ecosystems. He has a particular interest in the

social implications of emerging technologies.

Saeed's research has been published in outlets such as the Journal of

Management Studies, Long Range Planning, and R&D Management. He currently

serves as an organiser and guest editor of a Long Range Planning special issue,

entitled 'Strategizing in a Digital Era'.

Alongside his research, Saeed also supervises several PhD candidates in topics

within his specialisation.

PROF. DR. IR. HANS BERENDS

/ J.J.BERENDS@VU.NL

PROFESSOR OF INNOVATION AND ORGANIZATION; VICE-DEAN

OF RESEARCH OF THE SCHOOL OF BUSINESS & ECONOMICS

With his colleagues in the KIN Center for Digital Innovation, Hans

studies the development of collaborative digital innovations,

both within and across organisations. Digital transformation brings new

types of products and services, from simple apps to digital platforms, from

connected products to self-learning robots, each connected in a network of

digital products and services. The development of digital products demands the

constant advancement of innovation processes. This might mean open-ended

experimentation, platform-centred distribution across actors, or industrial

collaboration, and, sometimes, disruption.

Hans and his colleagues' research includes collaborative innovation across

technology platforms and innovation ecosystems; digital technology-enabled

collaboration, such as in crowdsourcing or 3D printing communities; and the

changing nature of innovation processes for digital products and services,

thriving on experimentation, learning, and generativity.

In most of his research, Hans takes a process research approach, exploring

how innovation and collaboration develop over time. This differs from merely

identifying the conditions that help or hinder innovation. Instead, Hans and his

colleagues aim to understand how innovators make progress despite initially

unfavourable conditions and ultimately lever the conditions they face.

Together Hans and his colleagues contribute to organisations that collaborate

effectively, creating value through digital technologies. If you are interested in

working with them, they invite you to reach out and get in contact!

DR. JOST SIEWEKE

/ J.SIEWEKE@VU.NL

ASSOCIATE PROFESSOR, PROGRAMME DIRECTOR OF THE EXECUTIVE

MBA: LEADING WITH PURPOSE

Jost's research interests lie at the intersection between

organisation, management, and leadership. He has a broad

research portfolio, ranging from research on the legitimacy of inequality to

errors in organisations and the influence of culture on the use of consulting

services. Recently, he has developed an interest in the effects of leaders. In his
---
PRESENTING

ABRI

RESEARCHERS

work, he found that team leaders have a considerable influence on the number

of errors committed by their employees and how their followers learn from

mistakes. He is also interested in the effect of leaders and leadership teams on

organisational and individual performance. For instance, he analyses the impact

of diversity within the top management team on organisational performance,

focusing on gender diversity. Additionally, Jost is also interested in exploring

differences in the ability of leaders to improve follower performance. Whenever

possible, Jost tries to combine his hobby (sports) with his research, sometimes

using sports data to answer research questions.

Jost's research is mainly quantitative. Recently, he has developed a special interest

in how to infer causal relationships from observational data. He exploits natural

experiments, such as the 2008/2009 financial crisis, to estimate causal effects.

Jost is also the co-coordinator of the third year of the Part-time PhD programme.

DR. EVGENIA I. LYSOVA

/ E.LYSOVA@VU.NL

ASSOCIATE PROFESSOR OF ORGANIZATIONAL BEHAVIOR,

DIRECTOR OF THE VU CENTER FOR MEANINGFUL WORK

Dr. Evgenia Lysova's research primarily concerns career calling,

meaningful work, corporate social responsibility (CSR), and

sustainability. She is especially interested in understanding how to create

conditions that enable individuals to experience greater meaningfulness in

their careers and organisations. In turn, these individuals can make meaningful

contributions to their organisations and society as a whole. She focuses

specifically on how individuals healthily sustain their experiences of meaningful

work in the long-term.

Dr. Lysova's research has been published in several prestigious peer-reviewed

journals, including Human Relations, the Journal of Vocational Behavior, Personnel

Psychology, and the Journal of Business and Psychology. She currently serves

on the Journal of Vocational Behavior and the Journal of Career Assessment's

editorial review boards. For her academic work, she has been awarded the

Emerald Literati Network Award for Excellence (CDI, 2016) and the Best

Reviewer Award (2013, 2014, 2015, 2016, & 2018).

Additionally, she is the coordinator of the Qualitative Learning Line in ABRI's

Part-Time PhD programme.

DR. MARIA TIMS

/ M.TIMS@VU.NL

ASSOCIATE PROFESSOR OF HUMAN RESOURCE MANAGEMENT AND

ORGANIZATIONAL BEHAVIOUR; ABRI DIRECTOR OF DOCTORAL EDUCATION

Maria Tims is an Associate Professor of Human Resource

Management (HRM) and Organizational Behaviour (OB) with a

Work and Organizational Psychology background. She obtained

her PhD from Erasmus University Rotterdam.

Maria's research focuses on the proactive behaviours that allow employees

to optimise their work environment, which, in turn, enables them to work and

perform well in a healthy and motivating way. Extending this research topic

from the individual perspective to the team perspective has generated strong

business interest as working in teams can be inspiring and efficient, but

sometimes daunting. By taking into account how individuals proactively craft

their jobs within teams, Maria's research illustrates how to achieve a strong

individual-team fit.

As ABRI's Director of Doctoral Education, Maria's mission is to use this

knowledge to guide PhD candidates in their trajectories, creating an inspiring

and supportive research community. Maria also teaches second-year Executive

PhD students how to conduct their (first) quantitative study during five

intensive 2-or-3-day modules spread across the year. In both her research and

teaching, Maria hopes to contribute insights into how to create healthy work

environments to maintain happy, motivated workers.

PAGE

29

ABRI - Amsterdam Business Research Institute
---
Executive MBA:

Leading with

Purpose

Join a community of

purpose-driven

change-makers

Welcome to the Executive MBA: Leading with Purpose

People, businesses, and society are looking for change and answers in an uncertain world. At VU, we help

pioneering leaders dig deep to uncover their purpose, their ambitions, and use that energy to transform the

world for the better. Because, like you, we stand on the side of progress and are committed to helping you

take the next step.

PAGE

30

Breaking free from conventional approaches, our

Executive MBA: Leading with Purpose is all about

collaborative knowledge creation and working

together to ask the big, challenging questions and

going deeper into the issues of today and tomorrow.

In doing so, the programme will help to accelerate

your development into a more forward-thinking and

purpose-driven leader. Here, you will gain the skills,

knowledge, and the confidence needed to tackle

some of the biggest challenges facing us today.

You will develop the mindset to prepare you for what

is to come tomorrow and become a forward-thinking,

purpose-driven leader.

We hope you join us!

Key characteristics

Duration

18 months (part-time)

Degree

MBA

Start

Each year in September

Tuition fee

€43,500 (scholarships available)

ee.sbe@vu.nl

vu.nl/mba-leadingwithpurpose
---
36

34

32

Sue der Kinderen

THE DIMINISHING RETURN

OF HAPPINESS: WHAT IF

THE GOOD LIFE DOESN'T FEEL

THAT GOOD, ANYMORE?

Sandra Klijn

PERSONAL ENERGY AT WORK

Jolanda Botke

TRANSFER OF TRAINING:

THE ACHILLES HEEL OF

THE TRAINING PROCESS

EMPOWERING

PEOPLE IN

PAGE

31

ORGANIZATIONS
---
SUE DER KINDEREN

THE DIMINISHING

RETURN OF HAPPINESS:

WHAT IF THE GOOD LIFE

DOESN'T FEEL THAT GOOD,

ANYMORE?

VRIJE UNIVERSITEIT AMSTERDAM

On many levels, the COVID-19 pandemic has encouraged

a critical look at what we do and why we do it. The

pursuit of immediate gratification, or 'happiness' in

our modern world, appears unsustainable - hedonism is

going out of fashion and eudaimonia is making its entrance.

Eudaimonic well-being, happiness that encompasses

meaning, positive relationships and personal growth, may

not provide instant gratification, but it ultimately contributes

to our health and the experience of a 'full life' [1].

PAGE

32

Whether we 'live to work'

or 'work to live', we have an

opportunity to examine employee

well-being as 'an end in itself'

instead of 'a means to an end',

which regularly translates

into achieving organisational

profit or success at the cost of

employee well-being. Power is

shifting from the organisation

to the individual, and it is the

individual who increasingly

determines the quality and

quantity of both his/her work

and private time [2]. Sustainable

well-being is being shaped by

these individual behaviours

and attitudes and gaining more

relevance in the field. At the same

time, organisations and leaders

are seeking new strategies to

shape employee behaviours that

contribute to both performance

and functioning in the workplace.

Eight hundred peer-reviewed,

empirical studies show that the

'hedonic well-being' framework is

primarily used to explore positive

well-being at work. This means

that the majority of research on

well-being at work that has been

conducted so far has focused on

the experience of being happy

and/or satisfied with one's job.

These hedonic elements of

well-being have proven difficult

to influence and shape over time.

We appear to have a 'set point' at

which we're hardwired to return

to while the resulting hedonic

treadmill requires increasingly

more input in order to sustain

our feelings of happiness [3].

Eudaimonic well-being has only

been examined in 5% of the

studies. Through the eudaimonic

well-being lens, we can move

beyond feeling good and, instead,

learn to capture and influence

well-being reflected in our

behaviours and thoughts, such as

having a purposeful life, fostering

positive relationships, striving for

personal growth and achieving

mastery over our environment

[4,5]. These elements have not

only proven to be more pervasive

over time and to contribute to

long-term well-being [6]yet each

may contribute to wellbeing in

different ways. We conducted

four studies (two correlational,

one experiencesampling, and one

intervention study, but they are

also more likely to be influenced

by an individual's environment.

The question remains whether

we have the courage to walk the

lesser-known path of eudaimonic

well-being—to integrate these

elements of meaning, personal

growth, relationships and striving

into our understanding of, as well

as our shaping of, employee wellbeing

at work.

Our first study, conducted with

employees in a large mental

health care organisation in the

Netherlands, provides evidence

for the role of the organisational

context in shaping and eliciting

the 'mutual gain' of individual

well-being and work performance

[7]. Findings show that servant

leadership practices, which

encourage the empowerment of

employees, support subordinates

in using skills to succeed and

emphasise ethical behaviour

and the value of relationships,

is related to eudaimonic

well-being, as well as to work

engagement and performance.

However, this positive influence

is conditional on a positively

perceived psychosocial work

climate. This implies that efforts

of organisations to invest in

leaders, as a means of eliciting

the mutual gain of well-being

and performance, is wasted if the

same effort is not made to attend

to the wider work climate in which

the investment in leaders takes

place.

The next phase of our research

will focus on better understanding

the actual behaviours that elicit

psychological well-being and

whether these behaviours can
---
e encouraged, supported and

facilitated within a work context.

We define behaviours that are

true to eudaimonic well-being as

behaviours that are aligned with

our values, that encourage us

to do things we find worthwhile

and that allow us to experience

our true self. Three categories

of eudaimonic well-being

behaviours at work are being

proposed:

1. The Pursuit of Purpose –

Behaviours that align with

values, meaningful goals and

beliefs in such a way that they

involve active, purposeful

striving for what is viewed as

inherently worthwhile and

meaningful to oneself and

society as a whole. These

range from more passive

behaviours, such as reflecting

on values, goals and strengths,

to more agential actions in

which we engage in worthwhile

activities.

These eudaimonic well-being

behaviours make explicit our

efforts to become our true

selves and pursue worthy

goals. On an individual level,

we expect these behaviours to

foster flourishing, individual

experiences of meaning, and

to enhance self-worth. Also,

we expect these behaviours to

result in positive work-related

outcomes such as employability,

proactive behaviours and work

engagement. As behaviours can

be encouraged or discouraged,

increased or decreased, observed

and monitored, we bring wellbeing

out of abstraction into

an objective light where both

individuals and organisations can

utilise a tangible measure and

framework to shape long-term

psychological well-being and not

just temporary happiness.

REFERENCES

1. Peterson, C.; Park, N.; Seligman,

M. E. P. Orientations to Happiness

org/10.1177/1523422318756954.

3. Sheldon, K. M.; Lyubomirsky,

S. Revisiting the Sustainable

Happiness Model and Pie Chart:

Can Happiness Be Successfully

Pursued? J. Posit. Psychol. 2019,

00 (00), 1–10. https://doi.org/10.10

80/17439760.2019.1689421.

4. der Kinderen, S.; Khapova,

S. N. Positive Psychological

Well-Being at Work: The Role

of Eudaimonia. In The Palgrave

Handbook of Workplace Well-

Being; Dhiman, S., Ed.; Springer

International Publishing: Springer

Nature Switzerland. https://doi.

org/10.1007/978-3-030-02470-

3_79-1.

5. Ryff, C. D. Happiness Is

Everything, or Is It? Explorations

on the Meaning of Psychological

Well-Being. J. Pers. Soc.

Psychol. 1989, 57 (6), 1069–1081.

https://doi.org/10.1037/0022-

3514.57.6.1069.

6. Huta, V.; Ryan, R. M. Pursuing

Pleasure or Virtue: The

Differential and Overlapping Well-

Being Benefits of Hedonic and

Eudaimonic Motives. J. Happiness

Stud. 2010, 11 (6), 735–762.

https://doi.org/10.1007/s10902-

009-9171-4.

7. der Kinderen, S.; Valk, A.;

Khapova, S. N.; Tims, M.

Facilitating Eudaimonic

Well-Being in Mental Health

Care Organizations: The Role

of Servant Leadership and

Workplace Civility Climate. Int. J.

Environ. Res. Public Health 2020,

17 (4). https://doi.org/10.3390/

ijerph17041173.

and Life Satisfaction: The Full

2. Positive Relationship

Behaviours – Interpersonal,

trusting, empathic behaviours

that go beyond instrumental

support to show intrinsic

interest and concern for

connecting with others through

actions such as engaging in

meaningful conversations,

giving and receiving support or

acting as a relational catalyst

for thriving.

Life versus the Empty Life. J.

Happiness Stud. 2005, 6 (1), 25–41.

https://doi.org/10.1007/s10902-

004-1278-z.

2. Rigby, C. S.; Ryan, R. M.

Self-Determination Theory

in Human Resource

Development: New

Directions and Practical

Considerations. Adv.

Dev. Hum. Resour.

2018, 20 (2), 133–

PAGE

33

147. https://doi.

3. Personal Growth Behaviours

– Behaviours that exhibit selfrealisation

of potentials and an

openness to new knowledge

and experiences. These range

from one's awareness of their

own strengths and gaining

perspective and wisdom to

intentionally seeking out

challenges or opportunities to

grow.

ABRI - Amsterdam Business Research Institute
---
SANDRA KLIJN

VRIJE UNIVERSITEIT AMSTERDAM

PAGE

34

PERSONAL

ENERGY AT

WORK,

A SOURCE

FOR SUCCESS

In this constantly changing,

competitive world, work demands

can be high and fluctuating.

Therefore, employees who are able

to adapt and learn at work, as well as

feel energised, have become valuable

resources for organisations. In addition, the

literature shows that energised employees

are more productive. Personal energy at work

is like the fuel that keeps organisations running

successfully and is, consequently, a significant

resource.

Having personal energy at work is highly valuable

to employees and employers, especially since

an absence of personal energy leads to fatigue

and stress among employees. An increase

in occupational stress and burnout is related

to an insufficient level of individual employee

resources—such as feeling energised—that do not

match the demands of the organisation.

Given how much feeling energised at work impacts

employee performance, Human Resources (HR)

scholars and practitioners could benefit from

knowledge on how to increase the personal energy

of employees. To achieve this, there needs to be an

understanding of why some people feel energised

under specific conditions while others burn out.

To begin, there needs to be a common

understanding of the meaning of personal energy

at work. Personal energy at work has been studied

using different terminologies and concepts,

resulting in a lack of construct clarity. Without a

clear understanding of the construct of personal

energy at work, including its antecedents and

boundaries, HR researchers and practitioners will
---
Eempowering people IN SCIENCE,

BUSINESS

AND SOCIETY

be limited in developing adequate interventions to

improve employee energy and, with this, will also

lack the ability to improve company success.

In order to advance our knowledge of the personal

energy of employees, we brought together

evidence on this topic derived from different fields

by conducting a systematic literature review. We

analysed 193 papers to create an overarching

definition of personal energy and developed a

theoretical model of personal energy at work

that highlights its dimensions, antecedents and

boundary conditions.

Findings on personal energy at work

We propose a new definition of personal energy at

work, based on the four dimensions of personal

energy found in the literature review: physical,

emotional, mental and spiritual energy. Integrating

the four energy dimensions with Quinn and

Dutton's (2005) definition brings us to the following

proposed definition: personal energy at work is

described as the feeling that a person is physically and

mentally capable of and emotionally and spiritually

eager to engage in a particular behaviour or to

undertake a task (Klijn, 2020).

We have identified six antecedent themes and three

moderator themes that are associated with the way

individuals experience personal energy at work.

Overall, this allowed us to develop a theoretical

model of personal energy at work. This theoretical

model of personal energy at work is currently

under review to be published and will be presented

during the EURAM conference. In addition, we

are currently validating the construct of personal

energy at work, including its health and productivity

outcomes, based on a survey of 256 participants.

The first round of results shows an adequate

model fit, indicating that personal energy at work

is indeed a construct consisting of the four distinct

dimensions of physical, emotional, mental and

spiritual energy.

In sum, personal energy at work is a state that

grows by enhancing the four energy dimensions,

whereas personal and contextual factors influence

feeling energised in each of the dimensions.

Contextual factors and the processes of stress

and recovery, moderate the relationship between

an individual's personal antecedents and personal

energy at work.

The implications for business and

management practices

The theoretical implication of the model is that

it allows Human Resource Management (HRM)

scholars to explain why— when given similar

work—some employees feel energised, and

others do not. The difference depends on the work

context that the employer offers, the personal

characteristics of the employees and each

employee's use of stress and recovery processes

to enhance their personal resources.

The model of personal energy at work can serve as

a foundation for researchers interested in further

exploring personal energy at work in a consistent

way and, further, it can be applied by professionals

when developing people management practices

so that they stimulate personal energy at work.

Ultimately, this model could support HRM in

achieving sustainable performance by maintaining

and stimulating the personal resources of

employees, even during critical times when work

demands are high.

References

Quinn, R. W., & Dutton, J. E. (2005). Coordination as

Energy-in-Conversation. Academy of Management

Review, 30(1), 36–57. https://doi.org/10.5465/

amr.2005.15281422

Klijn, A.F.J., Tims, M., Lysova, E.I. & Khapova, S.N.

(2020). Personal energy at work: a systematic review.

Under review

PAGE

35

ABRI - Amsterdam Business Research Institute
---
PAGE

36

Transfer of training refers to the

effective application and use of skills

acquired from training during work.

Research has shown that more than 80

per cent of the training outcomes in terms

of knowledge, skills and abilities are not

applied in the real workplace (Patterson et al.,

2012). The transfer of soft skills, in particular,

is found to be problematic (Botke et al., 2018).

The limited transfer of soft skills training results

from a lack of clarity around how and when to use

those skills, leaving trainees unsure of how to apply

what they have learnt in training (Laker & Powell, 2011).

Noticeably, when trainees fail to use these new skills, training

resources have effectively been wasted, and business results

are unrealised (Ford et al., 2018). Therefore, to optimise the

results of soft skills training, we unravelled the (so-called) transfer

process. Our study focused on a self-leadership training programme

at the Dutch Police Academy. In this article, we would like to share our

findings and lessons learnt.
---
TRANSFER

OF TRAINING

Eempowering people IN SCIENCE,

BUSINESS

AND SOCIETY

THE ACHILLES HEEL OF

THE TRAINING PROCESS

JOLANDA BOTKE IS LECTURER

AT TILBURG UNIVERSITY AND

EDUCATIONAL ADVISOR AT PE-

LIKAAN PERFORMANCE ADVIES.

SHE IS WORKING ON HER PHD

AT THE VRIJE UNIVERSITEIT

AMSTERDAM.

MIRANDA LUTTIK IS HEAD

OF SECTOR AT THE POLICE

ACADEMY.

Not every situation allows the equal use of skills

Transfer studies usually focus on either what happens

when trainees return to the workplace after having

completed a training (steps in the transfer process)

or focus on increased performance resulting from a

training (Botke et al., 2018). In our current research, we

utilised both approaches to gain a complete overview

of the transfer of soft skills. In our first study (Botke et

al., 2019), we collected quantitative data of 155 crime

scene investigators who participated in training on

self-leadership skills. To investigate how and when

a transfer occurs, we included two performance

measures in our study and we measured transfer

results in two different work situations. We found that

the trainees started using the self-leadership skills at

work after the training. However, participants reported

using the new skills more often in individual work

situations compared to team situations. This indicates

that employees may feel less confident using new

skills in a team situation. Additionally, we only found

a relationship between the use of new skills and the

performance measure 'keeping detached concern' (i.e.

the participants indicated that using the skills from the

training helped them to gain a better balance between

emotional involvement and professional distance in

critical work situations). The use of self-leadership

skills did not seem to impact our other performance

measure, 'dealing with large workloads'. Thus, a

transfer may vary depending on work situation and

performance measures. Therefore, if organisations

are not specific about where and how to use skills

from training, transfer of these skills may take place

in a different situation than expected and their use in

situations where they are crucial may lag behind.

FACTORS THAT ENHANCE OR DISABLE TRANSFER

To find out why the transfer of skills may be delayed,

we included two important requisites for transfer

in our study: motivation to transfer and supervisor

support behaviour. We found that motivation to transfer

is crucial to start using new skills after training. If

trainees are not motivated to transfer the skills from

the training, they will not use the skills during work.

Earlier research shows that motivation to transfer is

highly related to the content validity of the training

(e.g. Van der Locht et al., 2013). If participants feel

the content of the training does not reflect their

job, they will not start using the skills. Since the

motivation to transfer was relatively low in our study,

we explored the content validity and found that the

trainers sometimes used work situations that were not

applicable to the trainees. For example, the trainers, in

illustrating a significantly challenging situation in which

police professionals may use self-leadership skills,

focused on using their gun. However, not all crime

scene investigators carry a gun, and those trainees

will need other examples to see how they may benefit

from using self-leadership skills during work. The

motivation to transfer increased when trainers were

made more aware of the importance of content validity.

Additionally, we found that if supervisors reward

trainees when they use new skills after training, the

rate of transfer increases.

Training increases the level of detached concern

In a second study (Botke & Van Woerkom, 2020), we

compared the performance of a trained group to a

non-trained group. This non-trained group included

professionals who would participate in the self-leader-

PAGE

37

ABRI - Amsterdam Business Research Institute
---
PAGE

38

ship training at a later date. For this study, we collected

quantitative data of 233 staff professionals working for

the Dutch Police. The trained group reported higher

levels of detached concern compared to the nontrained

group, indicating that a short self-leadership

intervention can help increase the detached concern of

police professionals. We also found that the lower the

self-efficacy was of the participants before their training,

the more effect the training had on improving the

performance of the participants following training. This

indicates that individual performance results following

training may differ based on an individual's feelings of

competence beforehand. Organisations could make

use of such knowledge to spend their training budgets

more effectively.

TAKEAWAYS FOR THE POLICE ACADEMY

The Police Academy implemented the results of the

research in several ways. First, the specific selfleadership

training in this study was redesigned

with a focus on the work context of each specific

target group, which increased the rate of transfer.

Additionally, other courses will be redesigned to use

a more transfer-focused design. The new policy of

using a behaviour-focused approach, rather than a

learning-focused outcomes approach, will support

this movement towards performance-based learning.

Second, although most training at the Police Academy

combines learning at school with on-the-job-training,

which helps avoid significant content validity issues,

the results of this study were fuel for the discussion

on whether training prepares professionals for their

current jobs or their future jobs. In other words,

research should address what training needs to

include to ensure that the transfer of skills is also

focused on tomorrow's work.

REFERENCES

Botke, J., Jansen, P. G. W.,

Khapova, S. N., & Tims, M. (2019).

Transfer of Soft Skills in Mission-

Critical Work Situations. Academy of

Management Proceedings, 2019(1),

15022.

Botke, J., Jansen, P., Khapova, S.,

& Tims, M. (2018). Work factors

influencing the transfer stages of

soft skills training: A literature review.

Educational Research Review,

24(March), 130–147. https://doi.

org/10.1016/j.edurev.2018.04.001

Botke, J., & Van Woerkom, M.

(2020). The Effect of a Self-Leadership

Training on Detached Concern

and Proactivity of Human Service

Professionals. Article in Preparation.

Ford, J. K., Baldwin, T., & Prasad,

J. (2018). Transfer of Training: The

Known and the Unknown. Annual

Review of Organizational Psychology

and Organizational Behavior,

5, 201–225. https://doi.org/10.1146/

annurev-orgpsych

Laker, D. R., & Powell, J. L. (2011).

The Differences Between Hard

and Soft Skills and Their Relative

Impact on Training Transfer.

Human Resource Development

Quarterly, 22(1), 111–122. https://

doi.org/10.1002/hrdq.20063

Patterson, G. T., Chung, I. W., &

Swan, P. G. (2012). The effects of

stress management interventions

among police officers and recruits.

The Campbell Collaboration, 8(1),

1–53. https://doi.org/10.4073/

csr.2012.7

Van der Locht, M., Van Dam, K.,

& Chiaburu, D. S. (2013). Getting

the most of management training:

the role of identical elements

for training transfer. Personnel

Review, 42(4), 422–439. https://doi.

org/10.1108/PR-05-2011-0072

BUILDING A LEARNING CULTURE

Findings on the role of supervisors raise important

questions on how to facilitate learning among

Dutch Police professionals. Of course, leadership

programmes should train supervisors to support

learning and transfer; however, the Police Academy

is experimenting with new ways to increase learning

and transfer by using coaches on the work floor.

These coaches aim to help professionals apply

what they were taught in training, or otherwise,

on the job. Finally, the results make us

aware of the importance of a safe learning

environment— a work environment where

professionals feel free to use their skills

and increase their self-efficacy. Such

a safe environment does not come

naturally within the context of the Police.
---
RESEARCH

CENTRES

Management & Organization (M&O)

The Deparment of Management and

Organization (M&O) is the biggest academic

department of the School of Business and

Economics. M&O draws on scientific evidence to

challenge contemporary management thinking to

help organisations build superior competences,

attain their objectives and successfully transform.

Building on expertise centres, including Board

Dynamics, Feedback & Learning, Leadership and

Change Management, M&O members, guided by

the values of Vrije Universiteit Amsterdam to be

responsible, open and personally engaged, work

to support the delivery of our common mission:

to make knowledge on leadership, change

management, and cross-cultural management

relevant and accessible for business and society.

https://sbe.vu.nl/management

KIN Center for Digital Innovation

KIN Center for Digital Innovation studies the

development of digital innovations and the

intended and unintended consequences of using

digital technologies in organizations.

LOOK BEYOND THE HYPE

Our mission is to help organizations navigate

the multiple challenges they face in our rapidly

changing digital world. We deliver services for

companies in close interaction on topics like;

smart technologies in ecosystems, changing work

practices under the influence of AI, crowdsourcing

through online platforms, and the changing role

of the IT organization. Are you looking for a way

to broaden your perspective on digital innovation?

Please contact us at kincenter.sbe@vu.nl.

PAGE

39

VU Centre for Boards and

Executive Leadership Development

The VU Centre for Boards and Executive

Leadership Development aims to contribute to

a deeper understanding of factors influencing

the decision-making of boards. Some of

these factors include board member and CEO

characteristics, behavioural patterns, governance

structures and regulatory requirements. With

a mission to create knowledge that can help

top-management teams more effectively develop

and lead contemporary organisations, we explore

the interplay of multiple factors that shape the

performance of boards and top executives within

boards, looking at leadership effectiveness, sociocognitive

and communicative behaviours and

leadership teams in general.

VU Centre for Feedback Culture

The VU Centre for Feedback Culture is a

centre of expertise that aims to be a platform

for research to examine how feedback

culture can be cultivated in organisations in

different fields and across different countries.

As a research platform, the centre offers

opportunities for research and executive

education collaborations among scholars and

practitioners who are interested in the topic.

Specifically, the Center aims to bring researchers

and practitioners together by organising sessions

where practices and insights can be shared to

further enhance our understanding of this topic.

The VU Centre for Feedback is led by experienced

researchers and practitioners in the field.

ABRI - Amsterdam Business Research Institute
---
MBA in

International

Business

Become the international

leader the world needs

Welcome to our MBA in International Business

Progressive, collaborative, and future-focused, our MBA in International Business takes a different

approach to get you where you want to go. Focusing on new knowledge, entrepreneurial thinking, and

holistic perspectives, this programme develops leaders who truly understand the impact of their actions.

PAGE

40

In today's world, realities change fast and conventional

ways of leading will not cut it. So, we break

free. Working together, you will gain the skills and

knowledge needed to tackle some of the biggest

challenges facing the world of international

business today.

You will also be equipped with the mindset of a

leader who embraces opportunities and overcomes

challenges to shape a successful and responsible

future. More than a programme, this is both an

opportunity and a challenge to join a genuinely

progressive community and become an ambitious

change-maker equipped to move the world forward.

We hope you join us!

Key characteristics

Duration

18 months (part-time)

Degree

MBA

Start

Each year in September

Tuition fee

€35,000 (scholarships available)

ee.sbe@vu.nl

S

vu.nl/mba-IB
---
52

50

45

42

Joaquim Ribeiro

HOW CAN THE IT FUNCTION ADAPT

TO THE RISE OF THE DIGITAL ECOSYSTEMS

Willem Salentijn

THE DARK SIDE OF LEAN

Brian Tjemkes and Edson Hato

A CONVERSATION:

THE VALUE OF COPRORATE PARTNERSHIPS

Yves Marien

EMOTIONALISATION AS

A LEGITIMATION STRATEGY

IN CROWDFUNDING

IGHTS

PAGE

41

ABRI - Amsterdam Business Research Institute
---
HOW CAN

THE IT FUNCTION

ADAPT

JOAQUIM CARVALHO RIBEIRO PROF. DR. BART VAN DEN HOOFF

VRIJE UNIVERSITEIT AMSTERDAM VRIJE UNIVERSITEIT AMSTERDAM

TO THE RISE OF

DIGITAL ECOSYSTEMS

PAGE

42

As digital ecosystems increasingly drive

innovation across the economy, CIOs are

facing a new challenge of transforming

the IT function into an innovation engine

by becoming a technological leader or

innovation partner. If they don't, they risk

irrelevance.

This IT function evolution can assume different

forms, which are not mutually exclusive and

include: becoming a technological leader or

innovation partner. As a technological leader,

the IT function's role could be to identify new

innovative business opportunities and to

develop completely new business strategies

based on emergent technologies that can

be exploited within the IT function. As an

innovation partner, the IT function could work

with line managers to understand business

opportunities, co-design new offers, and

choose the best innovative solutions from the

available technological options.

The choice of which role to pursue will depend

on the industry in which the organisation

operates, the type of innovation it wishes

to pursue and the ecosystems it wants to

engage with. However, IT functions across

organisations need to evolve to support

product and service digital innovation, or

they will simply act as a support function that

could find themselves outsourced to external

parties.

Conversely, organisations are also likely to

suffer if their IT functions cannot take on a

digital innovation role. IT has become a key

Digital innovation process in the context of digital ecosystems

Choosing

Technology

Matching

Technology

Executing &

Co-creating Innovation

(with Digital Ecosystems)

Realising Customer

Value

(with Digital Ecosystems)

Digital Innovation Governance

(with Digital Ecosystems)

Inside the Firm

External Market

& Digital Ecosystems

[Wheeler 2002]

[Tarafdar and Gordon 2007]

[Svahn, Mathiassen, Lindgren 2017]

[Gregory, Kaganer, Henfridsson and Ruch 2018]
---
insights IN SCIENCE,

BUSINESS

AND SOCIETY

PAGE

43

driver of digital

innovation—a

phenomenon that

is apparent in the

proliferation of the

API business, cloud

technologies, software-asa-service,

and the demand

for seamless interoperability

of products, services and

information flows, all of which

are increasingly central to business

strategy and its operations.

In parallel, digital ecosystems (defined

as a collective of firms that is interlinked

by a common interest in digital technology)

are also proliferating. O-RAN is an example

of a digital ecosystem where members and

ABRI - Amsterdam Business Research Institute
---
PAGE

44

contributors have committed to evolving

telecommunication radio access networks

around the world, based on a foundation

of software base/virtualised network

elements, white-box hardware and open

and standardised interfaces. In such

ecosystems, value will be, by definition,

co-created. To elaborate, the value created

by these ecosystems will often arise through

'generativity', a process through which

digital infrastructures bring about change

by connecting diverse constituencies and

supporting open exchanges among

these groups. The result is innovative

activity that would have been difficult

to predict beforehand. At the same

time, the re-programmability of

digital devices, which breaks the

tight coupling between form

and function, further fuels

this unpredictability. Visa

acquired Plaid, a financial

service API's developing

firm, in January

2020 for 5,3 billion

dollars precisely

because of Plaid's digital infrastructure and

the capability it provides in expanding VISA's

services by connecting to a rich array of

Fintech API's and information.

NEW ROLE, NEW CAPABILITIES

In this new ecosystem-orientated era, IT

innovation governance is one of four IT

capabilities that are particularly important.

The others are external relationship

management (working with suppliers,

outsourcers and customers), scanning and

sensing (detecting promising technological

opportunities and potential threats) and

the search and acquisition of ecosystem

resources (locating and harnessing external

capabilities from digital ecosystems that

are valuable for the pursuit of the desired

innovation).

In reinventing the IT function, CIOs will need

to build/develop their teams to create these

additional capabilities. The next step will be to

actually deploy these capabilities. That can be

achieved through five basic steps:

1) choosing technology, 2) matching

technology, 3) executing & co-creating

innovation, 4) digital innovation governance

and 5) realising customer value. As shown

in the diagram below, the latter three steps

typically involve interaction with digital

ecosystems.

DIGITAL GOVERNANCE AS A KEY ACTIVITY

As the custodian of digital infrastructures,

the IT function is a crucial factor in this

digital innovation process. Yet, to contribute

and capture customer value, the IT function

must strengthen its digital innovation

governance activities. Digital innovation in

the context of digital ecosystems leads

to a fundamental transformation in

IT governance, from functional IT

governance to platform-based,

digital governance.

fully controlled by the firm. With this focus,

the scope of IT governance was solely

within a firm, relying on formal processes

and relational mechanisms to achieve

coordination among multiple internal

stakeholders supported, usually, by a complex

IT organisation.

In light of digital innovations, it is necessary

to expand the focus of IT governance beyond

the current emphasis on proprietary and

sourced IT assets to include the use, reuse

and combination of diverse digital services

from digital ecosystems. A secondary need is

the replacement of the increasingly outdated

goal of achieving coordination among multiple

internal stakeholders with the alternative goal

of achieving automated coordination among

internal and external stakeholders through

the use of digital infrastructure.

In summary, the participation of the IT

function in the digital innovation process

needs to be carefully planned and executed.

When IT becomes involved, it can support

firms in leveraging loosely coupled, dynamic

digital ecosystems to enrich digital innovation.

Evaluating the health and fit of ecosystems

is generally a tougher challenge than simply

choosing a partner or an alliance based on

their expertise. CIOs will have to rise to this

challenge, as ecosystems look set to drive

digital innovation for the foreseeable future.

Based on our research, 'Technology Leader

or Innovation Partner: How can the IT function

participate in digital innovation leveraging

digital ecosystems'.

Traditionally, the primary

focus of functional

IT governance was

proprietary and

sourced IT assets

FOR FURTHER INQUIRIES ABOUT THE

LITERATURE REVIEW PAPER, PLEASE

CONTACT JOAQUIM CARVALHO RIBEIRO

OR PROF. DR. BART VAN DEN HOOFF
---
insights IN SCIENCE,

BUSINESS

AND SOCIETY

WILLEM SALENTIJN

VRIJE UNIVERSITEIT AMSTERDAM

JIJU ANTONY

HERIOT WATT UNIVERSITY

THE DARK SIDE

OF LEAN

PAGE

45

Lean—you either like it or you don't. For whoever missed it, Lean

is concerned with reducing all types of waste and originated with

Toyota around the time of the Second World War and further

developed in the years afterwards. In the West, we learned

about Lean after the bestseller ´The Machine that Changed

the World´ was published in 1990. Since the introduction of

Lean, there have been proponents and opponents amongst

both scholars and practitioners. The proponents focus on

how Lean results in shorter delivery times, less waste,

lower operational costs and satisfied customers and

employers. The opponents are concerned with the

dark side of Lean, including stress, burnout and

the diminishing creativity of workers.

Research has provided evidence supporting

both sides. There are cases of engaged

workers and more efficient and effective

processes after the implementation

of Lean, as well as cases of

worker stress and a decrease

in productivity. So, what is

true? From a practitioner's

perspective, it is important

to understand how Lean

contributes to achieving

the goals of a business.

PAGE

45
---
LEAN REQUIRES

PROCESSES

TO BE

ORGANISED

IN A

DIFFERENT WAY

PAGE

46

From a scientific perspective, it is imperative to understand which

factors in Lean mediate business outcomes.

After the introduction of Lean in the popular literature by the

bestsellers 'The Machine that Changed the World' (1990) and 'Lean

Thinking' (1996), research has focused on performance outputs

primarily defined by the cost of production and quality of goods. The

reason companies choose to implement Lean is primarily from the

perspective of reducing costs. Still, even today, most Lean projects

are financially-driven. The distrust of Lean often arises when, after

its implementation, more work has to be completed and often by

fewer people. However, at Toyota, which is the gold standard for

Lean, no one has been fired as a result of more effective and efficient

processes.

themselves and on social outcomes, including workers' engagement.

The dark side of Lean concerns negative influences on social

outcomes, and, currently, there is a gap in our understanding of the

human factors involved in the existing literature. Therefore, research

on this dark side of Lean, in particular these human factors and how

they cohere with social outcomes, are subject of the study.

In our literature review, 59 factors were found, of which 24 are

considered 'hard factors' and 35 are considered 'soft factors'. The

literature defines soft Lean factors as those concerning people

and relationships, such as small group problem-solving, employee

training in multiple tasks, supplier partnerships, customer

involvement and continuous improvement. In contrast, hard Lean

factors are the tools and practices that seek to structure work using

technical and analytical methods.

So, it seems there are two versions of Lean. In the Japanese version,

there is a focus on the long-term, while, in the Western version,

the primary focus is often on the current and sometimes next

accounting year. In the short term, it is easy to get results when

implementing Lean as there are points of waste such as waiting time,

overprocessing and extra inventories in any non-Lean organisation.

In the long term, it is about at least maintaining the results after

implementation and even improving them. This is known as Kaizen or

continuous improvement.

Lean requires processes to be organised in a different way. Principles

such as Just-in-Time, visual management, mistake-proofing

processes are some of the hard factors applied to facilitate a Lean

workplace. Yet, little is known about the effects of Lean on workers

The five most mentioned Lean factors mediating business outcomes

are:

1. Just-in-Time: Having the right material and information in the right

place at the right time. The material and information are neither

too early nor too late and are neither more nor less than what is

needed.

2. Eliminating Waste: Eliminating common points of waste such as

Transport, Inventory, Motion, Waiting times, Overprocessing,

Overproducing and Defects.

3. Training. Training workers (continuously) in their work.

4. Kaizen/Continuous Improvement. Actively participating in

improvement activities.

5. Empowerment. Involving employees in participation and decision

making for being in control of the work.
---
insights IN SCIENCE,

BUSINESS

AND SOCIETY

PAGE

47

Of these factors, the first two are typical 'hard factors', involving

the structure of work, while the last two are typical 'soft factors'

concerning people. The third, training, can be organised in a 'hard

way', such as collecting certificates and it can also be organised in a

'soft way', such as developing competences.

Both the empirical and theoretical groundings for soft factors and

how they relate to business outcomes is thin. There seems to be a

general understanding that Lean is about job characteristics and

job design, including visual management, the close involvement of

employees in work practices and worker autonomy in their tasks and

jobs. However, the question remains as to why, when implementing

Lean, the soft factors have either positive or negative results.

Over the years, the interest in soft factors has increased, enabled

by research into Lean failures and case studies describing the 'dark

side' of Lean. While previous research on Lean has predominantly

focused on the hard factors, this study demonstrates that the social

outcomes of Lean are also mediated by soft factors. This not only has

implications for professional practice but also for our understanding

of how social outcomes are influenced by various factors. Future

research is needed to build upon this.

ABRI - Amsterdam Business Research Institute
---
RECENT PHD DISSERTATIONS

PAGE

48

LUC GLASBEEK

Department of

Management & Organisation

SOCIAL ENTERPRISES

WITH EXCEEDINGLY

TIGHT RESOURCES:

IMPLICATIONS FOR

WORK AND LEADERSHIP

This dissertation examines how

social enterprises and their

leaders function when they have

extremely limited resources and

the contextual circumstances

are changing rapidly and radically.

Greece was selected as the

source of empirical data because

this country was in a protracted

economic recession during this

research and, therefore, offered

meaningful opportunities for

studying social entrepreneurship

under resource constraints.

This study first investigates the

academic foundations of social

entrepreneurship and subsequently

considers how social

enterprises function with scarce

resources. Next, it examines the

way in which social entrepreneurs,

i.e., individuals, manage

their businesses. It subsequently

investigates the theme

of uncertainty, focusing on tacit

unknowns. Finally, this study

produces practical advice for social

entrepreneurs on such topics

as building symbiotic relationships

with regular businesses.

MARILIEKE ENGBERS

Department of

Management & Organisation

HOW THE UNSAID

SHAPES DECISION-

MAKING IN BOARDS:

A REFLEXIVE EXPLO-

RATION OF PARADIGMS

IN THE BOARDROOM

Despite board of directors are of

institutional importance, scholars

still have a limited understanding

of boardroom processes. Uncovering

the black box of board

decision-making requires direct

observation of what goes on in

the boardroom and overcoming

many methodological challenges.

This abductive subjective account

reflexively explored board's

decision-making, not through

what is said, but through the

unsaid. The author observed 37

board meetings of 17 boards and

interviewed 119 board members

about what happened during

those meetings. The author more

specifically explored how board

members responded 'in action',

what they had not said and why

and when they consciously or

'preconsciously' chose to silence

their thoughts and feelings.

Putting the unsaid, instead of

the said, front and center, meant

exploring the difference between

what is said and thought, and

thus how blind spots, incongruities

and perceived incongruities,

shape board decision-making.

This dissertation offers an emerging

explanation of 1) how taken

for granted and automatic, sociocognitive

processes between

board members shape board

decision-making; 2) how board

members who consider their

governance paradigm objective

- and therefore, are considered

paradigm-attached - enact a

spiral of unsaid when they try to

manage silent conflicts through

informal decision-making 3) how

four silence climates shape four

different levels of cohesiveness

and cognitive conflict towards

board effectiveness and 4) how

being aware of different levels of

consciousness and perspective is

required to investigate 'taken for

granted assumptions' as well as

automatic behavior in boards.

EMILIA BUNEA

Department of

Management & Organisation

LEADING AND LEISURE:

HOW SERIOUS LEISURE

INFLUENCES LEADERS'

DEVELOPMENT AND

EFFECTIVENESS

Being a leader can be central to

one's sense of self. Yet one is never

only a leader, but also maybe

a parent, a spouse, a friend.

These nonwork selves, especially

when one identifies with them

strongly, influence the leader

one. But what happens when one

of the leader's strongest nonwork

identities is moonlighting as

a DJ, volunteering as a running

guide, being an amateur but passionate

painter? This dissertation

explores how such "serious

leisure" pursuits can influence

leaders' development and their

effectiveness in the leader role.

Its findings reveal that serious

leisure can not only provide important

resources to the leader

role, such as stress management

and valuable skills, but is also a

source of "diversification" from

the overpowering leader identity

that threatens to engulf how

one defines oneself. Moreover,

leaders with serious leisure

create numerous connections

between the values, qualities

and "philosophy" expressed by

their nonwork passion and those

desirable in their leadership role,

making their leader identity not

just richer, but also more layered

and interesting. This thesis

also examines when serious

leisure can negatively impact the

leader identity, such as when it

is practiced at obsessive levels.

For leaders and HR departments,

this is a message that passion
---
ent employer changes, self-employment, or gig

fessional impression – personal branding – has

dge about what it is and what career outcomes

question may be puzzling, yet, today, the answer

of this thesis is to provide greater clarity around

ine its predictors and outcomes. It is the first

g conceptual clarity of the personal branding,

structs. Furthermore, this thesis reports on the

ding and personal brand equity, which, hopefully,

ults firmly establish personal branding in the field

s to a wide array of positive career outcomes.

perience, Sergey Gorbatov delivered results in

like AbbVie, PMI, and Shell. Sergey earned his

nd Intercultural Communication at Orel State

nted with an MBA from IE Business School in

peaks and writes about the complex science

le keeping it simple. His most recent book is

owerful Feedback".

AMSTERDAM ABRI

IN AMSTERDAM SCIENCE, BUSINESS RESEARCH INSTITUTE

BUSINESS WWW.ABRI.VU.NL

AND SOCIETY

42

SERGEY GORBATOV

The role of directors' multi-level frames in the governance

decision-making process in the boardroom

This doctoral dissertation studies the adoption of governance practices on not-for-profit hospital boards as

perceived by the individual board members. A series of qualitative studies were performed to investigate how

these hospital directors use multi-level frames to legitimize their decision-making process of implementing

governance practices to their respective organizations. By drawing on the board governance and practice

implementation literature, the empirical chapters investigate how cultural, organizational and individuallevel

frames influence the implementation process of governance practices in the perspective of the

board members. At the country-level, with cultural frames this study investigates the taken-forgranted

realities and the definition of good governance in a certain culture. At organizational-level,

frames are shared systems of meanings about what good governance entails within a given

organization and how these frames can manifest in internal bylaws and governance practices.

At the individual–level, frames reflect on the mind set and tautology of the individual board

members and their influence on the individuals' decision-making process. As decisionmaking

on governance implementation happens in the boardroom, decisions could not

be made solely by individual directors. Besides looking at the frames of the individual

directors, this dissertation also sheds light on the influence of group dynamics in the

overall decision-making process on practice implementation.

ISBN 978 90 3610 578 1

About the author

Agota Szabo is a University Lecturer in board governance and organizational

behaviour at The Hague University of Applied Sciences. Next to this position,

Agota was a Ph.D. candidate at the Faculty of Economics and Business

Administration, VU University Amsterdam. She holds a Master's degree

in International Business Administration from Rotterdam School

of Management, Erasmus University and a Bachelor's degree in

European Studies. Her research interests lie in board behaviour

and good governance practices of the boardroom.

AMSTERDAM ABRI

IN AMSTERDAM SCIENCE, BUSINESS RESEARCH INSTITUTE

BUSINESS WWW.ABRI.VU.NL

AND SOCIETY

38

AGOTA SZABO

SERGEY GORBATOV

PERSONAL BRANDING

outside of work can encourage

and enrich passion for one's

leadership work.

SERGEY GORBATOV

Department of

Management & Organisation

PERSONAL BRANDING:

SELF-PRESENTATION IN

CONTEMPORARY CAREERS

ADOPTION OF GOVERNANCE

PRACTICES IN HOSPITALS

PERSONAL BRANDING:

SELF-PRESENTATION

IN CONTEMPORARY

CAREERS

In the modern labor environment,

more people opt for

frequent employer changes,

self-employment, or gig work.

Creating, positioning, and maintaining

a desired professional

impression – personal branding –

has become an essential career

competence, but our knowledge

about what it is and what career

outcomes it leads to is limited.

What is your personal brand?

This question may be puzzling,

yet, today, the answer is vastly

consequential for your career.

The objective of this thesis is to

provide greater clarity around

the concept of personal branding,

as well as examine its predictors

and outcomes. It is the first comprehensive

attempt in science at

establishing conceptual clarity of

the personal branding, personal

brand, and personal brand equity

constructs. Furthermore, this

thesis reports on the development

of the measures of personal

branding and personal brand

equity, which, hopefully, will spur

AGOTA SZABO

ADOPTION OF GOVERNANCE PRACTICES IN HOSPITALS

further research in the area. The

results firmly establish personal

branding in the field of career

studies, demonstrating how it

leads to a wide array of positive

career outcomes.

AGOTA SZABO

Department of

Management & Organisation

ADOPTION OF GOVERNANCE

PRACTICES IN HOSPITALS:

THE ROLE OF DIRECTORS' MULTI-LEVEL FRAMES

IN THE GOVERNANCE DECISION-MAKING

PROCESS IN THE BOARDROOM

ADOPTION OF GOVER-

NANCE PRACTICES IN

HOSPITALS: THE ROLE

OF DIRECTORS' MULTI-

LEVEL FRAMES IN THE

GOVERNANCE DECISI-

ON-MAKING PROCESS IN

THE BOARDROOM

This doctoral dissertation

studies the adoption of governance

practices on not-for-profit

hospital boards as perceived by

the individual board members.

A series of qualitative studies

were performed to investigate

how these hospital directors use

multi-level frames to legitimize

their decision-making process

of implementing governance

practices to their respective

organizations. By drawing on the

board governance and practice

implementation literature, the

empirical chapters investigate

how cultural, organizational and

individual- level frames influence

the implementation process of

governance practices in the perspective

of the board members.

At the country-level, with cultural

recently published IN SCIENCE,

frames this study investigates

the taken-for-granted realities

and the definition of good

governance in a certain culture.

At organizational-level, frames

are shared systems of meanings

about what good governance

entails within a given organization

and how these frames can

manifest in internal bylaws and

governance practices. At the individual–level,

frames reflect on

the mind set and tautology of the

individual board members and

their influence on the individuals'

decision-making process. As

decision-making on governance

implementation happens in the

boardroom, decisions could not

be made solely by individual

directors. Besides looking at the

frames of the individual directors,

this dissertation also sheds

light on the influence of group

dynamics in the overall decisionmaking

process on practice

implementation.

LARA A. TCHOLAKIAN

Department of

Management & Organisation

ON BECOMING HISTO-

RICALLY CONSCIOUS

LEADERS: EXPLORING

THE UNDERLYING

EFFECTS OF TRANS-

GENERATIONAL

TRANSMISSION OF

COLLECTIVE TRAUMAS

BUSINESS

AND SOCIETY

This doctoral thesis investigates

how leader identity and values

are shaped by historical collective

traumas. Drawing on the

phenomenon of transgenerational

transmission of trauma, we

analyze the role of historical narratives

and historical consciousness

in leader development. The

study sheds light on three areas

related to leader development

from a historical perspective.

First, the study explores the role

that historical narratives and

collective memories play for

leaders, and how the process of

historical consciousness becomes

a basis for their sense of

self, their motivations, and identities.

Second, the study explores

how historical inheritances offer

a lens on ethnicity and ethnic

inheritances, whereby leader

participants identify their ethnic

and historical inheritances as

components of their way of seeing

the world. Finally, the study

examines how management and

leadership executive learning

programs can help incite historical

consciousness by introducing

the topic of transgenerational

transmission of collective traumas

as a pertinent instrument

for participants to critically engage

in self-reflexive processes.

Overall, this thesis contributes

to extending the study of leaders

and leadership and the role that

historical collective traumas

and historical narratives play in

the general make-up of leaders,

their identities and their values,

consequently attaining a deeper

understanding of leadership in

organizational ecosystems.

Section intro Coaching

PAGE

49

ABRI - Amsterdam Business Research Institute
---
BRIAN TJEMKES

ASSOCIATE PROFESSOR STRATEGY & ORGANIZATION

B.V.TJEMKES@VU.NL

EDSON HATO

CORPORATE LIAISON

E.A.HATO@VU.NL

A CONVERSATION:

Leadership is transitioning from simply commanding the

internal organisation to orchestrating the broader ecosystem.

Moreover, leadership entails directing transformation, requiring

a developed understanding of know-what and know-how.

VU School of Business & Economics (SBE) collaborates with

organisations to enact science with purpose, and together,

build a thriving community of change-makers. Below, read a

conversation with Dr. Brian Tjemkes and Edson Hato, who both

advance corporate partnerships at the SBE's Management &

Organization Department.

PAGE

50

Q1: WHAT IS THE VALUE OF A CORPORATE

PARTNERSHIP WITH SBE?

For us, the value we deliver for our corporate partners lies in the

alignment of our joint ambition to contribute to innovative leadership

development. And specifically innovative leadership development that

connects company strategy to real business challenges and creates

symbiotic connections between the organisation's inner world with

the needs and wants of the external world, facilitating the continuous

development of contemporary (leader) behaviours and organisational

culture.

Our unique selling point is the alignment of ambitions between

SBE and our partners, and to jointly deliver leader development

interventions with impact. Our programmes are embedded in

companies' real-time wants and needs, incorporating market

expectations, and catering to society's demands and challenges.

Through our programme, these connections and learnings are built

with 'spot on' delivery, grounded in science.

Q2: WHAT DOES 'SPOT ON' DELIVERY MEAN, AND

HOW DO YOU GROUND THIS IN SCIENCE? IS IT

NOT THE GENERAL BELIEF THAT SCIENTIFIC

RESEARCH ALWAYS LAGS BEHIND REAL-LIFE

DEVELOPMENTS?

There is value in interrogating a development, crisis, or shift's before,

during, and after. We are active in all three arenas. However, when

offering interventions, we pride ourselves in our real-life behavioural

approach to leader development. Human beings learn by building

awareness, experimenting, and experiencing a 'new' prototyped

reality. Through this process, we innovate new capabilities. With

our partners, we practice collaborative knowledge creation to build

innovative learning realities, supporting their change processes, and

the need to shift organisational perspectives and acknowledge biases.

In this process, we use state of the art research, either historic or

current, to experiment with transformation, innovation, and inclusion.

We deliver new capacities, related to the business challenges,

that are immediately practised through real-life, business-driven

experimentation. Together with our corporate partners, we create

real, practical change instead of merely advising change.
---
THE VALUE OF

CORPORATE

PARTNERSHIPS

PAGE

51

Q3: WHAT WILL THE FUTURE LANDSCAPE OF

CORPORATE-ACADEMIC PARTNERSHIPS

LOOK LIKE?

At SBE, we believe in collaborative knowledge creation,

contextualisation, life-long development, and a focus on everevolving

career paths and choices. As change and transformation are

increasingly prevalent, we need to connect and exchange ideas. We

believe that organisations that 'go it alone' will eventually miss out on

an academic-corporate partnership's competitive advantage. Alone,

organisations will be less equipped to ride the wave of transformation

with such speed and determination. Our present reality demands

life-long, continuous development. The only way to guarantee this is

by establishing strong industry relations and collaborative knowledge

creation, building in-company educational programmes, conducting

joint research projects, and including practitioners in teaching.

Q4: WHAT ARE SOME OF THE EXCITING PROJECTS

YOU ARE WORKING ON?

SBE currently offers multiple in-company leadership projects. Clients

include large organisations, such as ABN AMRO bank, mid-size

public and private organisations, and start-ups. In our projects,

we frequently collaborate with our network partners to ensure we

have a constant influx of innovative ideas and a sustained impact

on leadership development interventions. For example, for ABN

AMRO we deliver a leadership development programme to the top

450 executives aimed at sustainable transformation and strategy

execution.

Would you like to learn more about how we support organisations

and society? Stay tuned, as we are currently busy preparing a series

of webinars and podcasts on leadership development with C-Suite

executives in order to build a community of change-makers.

ABRI - Amsterdam Business Research Institute
---
insights IN SCIENCE,

BUSINESS

AND SOCIETY

PAGE

52

EMOTIONAL

LEGITIMACY

Crowdfunding focuses on collecting small investments over the Internet from a wide variety

of supporters. What initially began as a novel way of acquiring resources, is gradually

gaining acceptance as a valid fundraising method within mainstream entrepreneurship.

However, with every successful crowdfunding campaign, questions arise about how the

project garnered support from its backers. In a sense, while crowdfunding has become more

popular, so has the gap in research about the methods behind crowdfunding. In particular,

the role of the campaign pitch in legitimising new ventures remains underexplored. This

need for legitimacy is critical because crowdfunding projects have to justify the intake

of financial resources that investors could otherwise allocate to other (more deserving)

ventures. Although research acknowledges that a personal appeal contributes to the success

of crowdfunding campaigns, deliberate emotional legitimation strategies have never been

examined. In contrast to the literature on organisational legitimacy, our study argues

that creating an emotional connection is an essential part of the legitimation process of

crowdfunding campaigns.

YVES MARIËN

VRIJE UNIVERSITEIT AMSTERDAM

We studied the campaign text and videos of 180

successful reward-based, crowdfunding campaign

pitches. Unlike other types, such as lending- or

equity-based, reward-based crowdfunding provides no

financial or other 'hard information'. Entrepreneurs

can only present themselves as legitimate by sharing

information through their campaign narratives.

We collected data from one of Europe's largest

crowdfunding platforms and compiled a data set

that includes projects from six different categories:

innovation, charity, community, environment, business

and social enterprise.

Our study has several consequences. First, in

crowdfunding campaign pitches, legitimacy is conveyed

through multiple 'modes'. Legitimation is no longer

limited to textual project descriptions. Campaign

pitches, instead, use multimodality or a combination of

modes such as written language, still pictures, moving

images and sound. In business communications,

writing has traditionally been the primary mode.

However, with computer and phone screens being

the dominant medium, the written word has become

less effective than images and video. Consequently,

in today's digital society, solely using textual project

descriptions is no longer an option. Secondly, videos

humanise the campaign pitch through the emotive

C

practice. Videos show campaigners telling their stories

power of the human voice and facial expressions,,

making videos an exceedingly useful communicative

in an impassioned and personal way. Overall, textual

rhetoric is less effective, shows less enthusiasm and

is most likely less crucial to pitches than the emotive

and human message of videos. Finally, we argue that

emotions are an undeniable part of the legitimation

process in the context of a multimodal environment

characterised by both text and video. Our study

identifies three distinct emotionalisation strategies.

The first form is Connecting, which describes how the

pitches focus on creating relationships with others,

making people want to help each other. The second

form is Creating, through which the pitch is framed

around how the product(s) or service(s) is making

a breakthrough or is uniquely solving a problem.

Creative solutions make funders want to do something

different and try new approaches to solve problems. A

final form of emotionalisation is Challenging. A pitch

utilizing this form describes a protagonist succeeding

against an 'enemy'. In the pitch, obstacles initially seem

impossible to deal with; however, funders are inspired

by the appeal to their appreciation for perseverance

and courage.

In conclusion, we are witnessing the growing impact

of emotionality in investor decision making. This

legitimisation of emotions is a fundamental shift in the

expectations of funding pitches. Essentially, traditional

offline resource acquisition occurs in the past tense.

An entrepreneur has a business idea, writes the

funding application and presents it to a small number

of professional investors. Online (crowd)funding has

moved this to the present tense. Entrepreneurs show,

in real-time, what is happening while it is happening.

There is no longer a middle-person between

entrepreneurs and the crowd, just a powerfully

emotional story.
---
OACHING

57

54

Tuende Erdoes

SHOOTING FOR GOALS

IN COACHING:

ARE WE MISSING THE GOAL?

Charlotte Goedmakers

PROFESSIONAL IDENTITY

DEVELOPMENT OF

EXECUTIVE COACHES

PAGE

53

ABRI - Amsterdam Business Research Institute
---
PAGE

54

SHOOTING

TO SCORE

IN COACHING:

ARE WE MISSING

THE GOAL?

At its core, coaching is a goal-directed

change intervention. The over-arching

goal is to narrow the gap between clients'

current situations and their desired end

states. Therefore, we know coaching has

been successful when clients have reached

their goals. This global understanding is

based primarily on outcome research that

focuses on linear explorations, as well as

explanations of goal attainment with only

two measurement points: one at the outset

of coaching and one upon completion of the

coaching engagement.

What we would like to further understand is:

a) To what extent are goals self-directed

rather than 'should' goals. Or in other

words, are the goals self-concordant and

in alignment with clients' true personality.

b) The mechanisms by which clients attain

self-directed goals during the coaching

process.

So, we chose to explore clients' authentic

self-development as the over-arching

goal of the coaching enterprise. Authentic

self-development is important, as it

expresses how well we actualise our sense

of self, without which we fail to meet our

three basic human needs: autonomy,

competence and relatedness as expressed

forms of self-determination (Deci &

Ryan, 1985). In coaching, the result is

that clients experience a relapse once the

coaching engagement is over. We see this
---
coaching IN SCIENCE,

BUSINESS

AND SOCIETY

phenomenon unfold in other areas of life as

well—earning multiple academic degrees

or top salaries or finding fame and fortune

through significant achievements often leave

individuals with a sense of yearning for more

or a sense of void.

Therefore, our study explored how clients'

personalities (based on the Big Five

personality model) predicted their capacity

to attain goals that are aligned with their

intrinsic interests, needs, values and

motivations. We also explored how clients'

capacity to regulate positive and negative

affect (i.e., mood) influenced the relationship

between personality and authentic selfdevelopment

from session to session and

beyond the full coaching engagement.

The longitudinal quantitative process study

was conducted from November 2018 to

August 2019. The research population was

176 pairs of professional coaches and real

clients who engaged in up to 10 coaching

sessions. Sessions lasted a minimum of

60 minutes, as is standard in coaching.

Coaches were recruited from 31 countries,

which reflects participants' culturally

diverse backgrounds, from which we can

draw solid generalisable conclusions.

Clients completed one pre-coaching

questionnaire, post-session questionnaires

after each session, and one post-coaching

questionnaire three months after completing

the coaching engagement.

The study revealed the following:

a) The Big Five trait levels of Agreeableness,

Conscientiousness, Emotional Stability,

Extraversion, and Openness, as well as

the psychological components of these

traits (i.e., ABCDs: Affect, Behaviour,

Cognition and Desire), both predicted

three out of four aspects of authentic selfdevelopment:

higher levels of perceived

competence, goal commitment and goal

self-concordance. They did not predict the

fourth, goal stability;

b) The overall affect balance over sessions

rather than the change in affect balance

explained the direct relationship between

personality and two aspects of authentic

self-development: perceived competence

and goal commitment, but not selfconcordance

and goal stability.

These findings imply that:

a) While clients' affect balance increases

across sessions over time, coaching as

a change intervention in and of itself has

a self-regulatory influence on clients.

Each coaching session forms more

than the sum of its individual parts.

What seems to be important for clients'

authentic self-development is 'how well'

rather than 'how much more or less'

they arrive at regulating their emotions

across sessions and over time. This may

explain why a change in affect balance

is not found to explain the relationship

between personality and authentic selfdevelopment.

PAGE

55

ABRI - Amsterdam Business Research Institute
---
TUENDE ERDOES

VRIJE UNIVERSITEIT AMSTERDAM

PAGE

56

For instance, if you have a conscientious

personality, your change in mood does not

explain why you stay committed to a goal.

Instead, your average increased capacity

to balance your moods may determine

how well you can stay committed to goals

over time.

b) From a humanistic perspective, goal

stability is a X) way of developing

continuity and coherence across

potentially contradictory behaviours

and the Y) capacity to integrate our

inconsistent behaviours into a coherent

self-concept. Contradictory behaviours

may imply that goals are malleable

depending on complex situational factors

(i.e., clients feel safe in the coach-client

relationship). They may also depend

on the extent to which our aspirations,

motivations and intentions evolve over

the course time. So, clients' capacity

to develop authentically may be about

maintaining their stability of goal-directed

functioning rather than the stability of a

goal per se.

c) Coaching functions as a complex selfregulatory

engagement. It serves as the

key contextual factor in which clients

show up as self-determined individuals

to adjust goals in concordance with their

true selves. Repeated goal-orientation and

task-setting are likely to foster clients'

'continued adjustability' in how they

pursue their goals. Therefore, clients'

continued adjustability rather than goalstability

will support their 'becoming one'

in line with their personality during a

coaching engagement.

d) Clients experience coaching as a learning

process in which they can attain goals

with minimal pressure and compulsion

(i.e., they feel more 'self-concordant' in

their goal pursuits) when coaching is in

line with their personalities. For instance,

clients whose goals match their implicit

personalities will feel a strong conviction

and will be interested in pursuing their

goals in line with their true self, which

implies that self-concordance does not

require any self-regulatory resources

through affect balance in coaching.

Based on these findings, authentic selfdevelopment

is formulated during the

process of becoming a continuously

congruent self with contradictory

behaviours, most probably against someone

else's taste in a social context. Coaching, as

a social context, illustrates a unique selfregulatory

intervention that supports clients

in their process of 'becoming one'.

For leadership, which requires key coaching

competencies, the findings imply that

leaders need to:

a) foster authentic self-development among

their staff as the ultimate means to

sustained outcomes,

b) engage with their staff's self-perception

of competence, goal commitment and

goal self-concordance towards 'becoming

one' at work,

c) adopt a leadership style that sustains

their staff's balanced affective, cognitive,

behavioural and motivational aspects of

their personalities while on their paths to

goal attainment,

d) integrate coaching competencies that

support staff's self-regulatory resources

(i.e., affect balance) to support their

attainment of self-congruent goals,

e) apply leadership as a contextual factor

that has the potential to influence staff's

capacity to self-regulate beyond their own

self-regulatory resources.

Ultimately, leadership as a coaching

capability is a contextual factor that

influences how staff can attain goals in

congruence with their true self, which

ultimately impacts how organisations reach

their own goal of sustained success and

organisational development.
---
coaching IN SCIENCE,

BUSINESS

AND SOCIETY

CHARLOTTE GOEDMAKERS

VRIJE UNIVERSITEIT AMSTERDAM

YVONNE BURGER

VRIJE UNIVERSITEIT AMSTERDAM

MANON RUIJTERS

VRIJE UNIVERSITEIT AMSTERDAM

PROFESSIONAL

IDENTITY

DEVELOPMENT

OF EXECUTIVE

COACHES

We know, from practice and academic research, that executive

coaches are highly successful in helping their clients grow into

their role at work and to develop in demanding, complex and

changing work contexts [1]. In a conversation based, one-on-one,

dyadic relationship, developing trust and achieving a deep level of

psychological reflection and understanding between a coach and

their client are the criteria for success. The effectiveness of coaching

is strongly related to the strength of the working alliance between a

coach and their client. It is also related to the personality of the coach

and common factors such as honesty, authenticity, empathy, warmth,

respect, and trustworthiness [2].

To make coaching work, executive coaches have, on the one hand,

the freedom and autonomy to do their complex work in their own

way. On the other hand, similar to other professionals, they want

to do good work and deliver quality to systems of clients and their

organisations. Further, they want to also contribute to other systems

by being critical to the development of their professional communities

and society in general. In other words, 'noblesse oblige' or choosing

to contribute to all those systems with different relationships and

interests at stake, brings forth the responsibility of remaining

professional by continuously reflecting on one's own being in one's

specific role [3].

The concept of professional identity can provide guidance [4].

Although the coaching industry is professionalising [5], the concept of

professional identity is not very explicit in the research on executive

coaching and the coaching profession is absent in the research on

professional identity. Little is known about the journeys of executive

coaches in terms of their professional identity development.

Reviewing the existing literature on professional identity in other

'helping professions' shows an agreement that identity in the context

of work, can be seen in (at least) three dimensions: the personal,

the relational in interaction with others and the collective in terms

of sharing a common purpose, meaning, joint action and belonging

to the same group. Professional identity development has been

researched in, for instance, medical and teaching professions that

are characterised by uniform schooling, training and career paths;

however, the coaching profession is characterised by more diversity.

We discovered four different, but connected, perspectives related to

professional identity development that will be helpful in introducing

systematic research to the field of executive coaching.

Occupational or vocational identity refers to the question of what it

means to be an executive coach. This relates to the aforementioned

collective dimension of identity, in which reflection on the profession

in general—its background, origin and history, the dos and don'ts, the

shared beliefs and values and the common body of knowledge are

central. Informed by this collective identity, an individual executive

coach might ask themself, 'What does it mean for me to be a coach

and what stance do I take?' This brings the second perspective,

Professional identity, to the fore. This perspective is used to refer to a

set of attributes, beliefs, values, motives and experiences, or a mental

PAGE

57

ABRI - Amsterdam Business Research Institute
---
'mini-theory' based on the

knowledge and practical

experiences that affect the

attitudes, affect and behaviour

in work that makes an individual

coach recognisable, despite changes

in circumstances and time. Instead of

a state of being, the third perspective,

Identity Work, represents a dynamic or

process view by referring to the cognitive,

discursive, physical and behavioural activities

that professionals undertake with the goal of

forming, repairing, maintaining, strengthening,

revising, or rejecting collective, role and personal

self-meanings within boundaries of their social

contexts [6]. An interesting question in this respect is,

'What is at stake for me as a person in my role and how

do I (re-)act?'. The fourth perspective, Identity Workspaces,

can best be illuminated by asking the question, 'What do

I need, as an executive coach, to ensure a safe setting for

identity work?'[7]. A holding environment for identity work

might be offered through either the form of trusted supervision

or safe spaces provided during training programs; however, other

possibilities remain to be explored [8]. Since the coach-client

relationship is the main contributor of success in their work, the

question of how executive coaches make use of this relationship as a

workspace for their professional identity development is a challenge

to explore.

As a test, we analysed the recent work of Burger [9], reflecting on

her practice of coaching and concluded that these four perspectives

are notably different, but related ways to continuously develop her

professional identity. Those four perspectives will guide empirical

research on how executive coaches develop their professional

identity. Apart from contributing to academic research in the field

of professional identity development and executive coaching, this

research is helpful for practitioners to gain more insight in how to

engage and develop professional identity, in how to continuously

develop as a professional and in how to maintain quality of service

in an ever-changing world. Educational institutions and professional

bodies will gain more insight in how to further facilitate executive

coaches in their continuous growth and professional development, as

well as how to further profile the profession of executive coaching to

their clients.

REFERENCES

The theory and Practice of

nobco.nl/over-nobco; https://

Leggett, R., James, J. (2016).

1 Longenecker, C., McCartney, M.

Relational Coaching: Complexity,

www.lvsc.eu/over-lvsc

Exploring the benefits of a Coach

(2020). The benefits of execu-

Paradox and Integration. New

6 Caza, B., Vough, H., Puranik, H.

Development Process…on the

tive coaching: voices from the

York: Routledge.

(2018). Identity Work in organiza-

Coach. International Journal of

PAGE

58

C-suite. Strategic HR review, Vol.

19, No.1, pp. 22-27.

2 De Haan, E., Grant, A.M., Burger,

3 Simons, P.RJ., Ruijters, M.C.P.

(2004) Learning Professionals:

Towards an integrated Model. In

tions and occupations: Definitions,

theories, and pathways

forward.

HRD Practice, Policy and Research,

Vol. 1, No.2, pp. 55-65

Moore, L., Koning, J. (2016).

Y., Erikson, P-O. (2016). A large-

Boshuizen, H.P.A., Bromme, R.,

Journal of Organizational Beha-

Intersubjective identity work and

scale study of executive and

Gruber, H. (eds), Professional Le-

vior, Vol. 39, pp. 889-910.

sense making of adult learners

workplace coaching: the relative

arning: Gaps and Transitions on

7 Petriglieri, G., Petriglieri, J.L.

on a postgraduate coaching

contributions of relationship, per-

the Way from Novice to Expert.

(2010). Identity workspaces: the

course; Finding the balance in

sonality match, and self-efficacy.

Dordrecht: Springer Netherlands,

case of business schools. Aca-

a world of dynamic complexity.

Consulting Psychology Journal:

pp. 207-229.

demy of Management Learning

Management learning, Vol. 47,

Practice and Research, Vol. 68,

4 Ruijters, M.C.P. (ed), (2015) Je

and Education, Vol. 9, pp. 44-60.

No.1, pp. 28-44.

No.3, pp.189-207.

Binnenste Buiten: Over profes-

8 Carroll, M. (2010). Supervision:

Passmore, J., McGoldrick, S.

Shoukry,H., Cox, E. (2018).

sionele identiteit in organisaties.

Critical Reflection for Transfor-

(2009). Supervision, extra-vision

Coaching as a social process.

Deventer: Management Impact,

mational Learning (part 2). The

or blind faith? A grounded theory

Management Learning, Vol. 49,

Vakmedianet.

Clinical Supervisor, Vol. 29, No.1,

study of the efficacy of coaching

No.4, pp. 413-428.

Ruijters, M.C.P., Van Luin, G.E.A.,

pp. 1-19.

supervision. International Coa-

De Haan, E. (2019). A systematic

Wortelboer, F.Q.C. (eds), (2019).

Gray, D.E. (2010). Towards the

ching Psychology Review, Vol. 4,

review of qualitative studies in

Mijn Binnenste Buiten: Werken

lifelong skills and business

No.2, pp. 143-159.

the workplace and executive coa-

aan je professionele identiteit.

development of coaches: An

9 Burger, Y. (2020). Reflecties

ching: the emergence of a body of

Amsterdam: Management Im-

integrated model of supervision

over coaching- Werken met

research. Consulting Psychology

pact, Boom uitgevers.

and mentoring.

individuen, teams en jezelf. Neer:

Journal: Practice and Research,

5 https://coachfederation.org/why-

Coaching: An International

Uitgeverij Kloosterhof B.V.

Vol. 71, No 4, pp. 227-248.

icf ; https://www.emccglobal.org/

Journal of Theory, Research and

Cavicchia, S., Gilbert, M. (2019).

about_emcc/# ; https://www.

Practice, Vol. 3, No.1, pp. 60-72.
---
RECENT PUBLICATIONS BY EXECUTIVES

RECENT

PUBLICATIONS

BY EXECUTIVES

Gorbatov,

S., Khapova, S. N., Oostrom, J. K., & Lysova,

E. I. (Accepted/In press). Personal brand equity: Scale

development and validation. Personnel Psychology.

https://doi.org/10.1111/peps.12412

Botke, J. A., Jansen, P., Khapova, S. N., & Tims, M. (2018).

Work factors influencing the transfer stages of soft skills

training: A literature review. Educational Research Review,

24, 130-147. https://doi.org/10.1016/j.edurev.2018.04.001

der Kinderen, S., Valk, A., Khapova, S. N., & Tims, M. (2020).

Facilitating eudaimonic well-being in mental health care

organizations: The role of servant leadership and workplace

civility climate. International Journal of Environmental

Research and Public Health, 17(4), 1-17. [1173].

https://doi.org/10.3390/ijerph17041173

Ghaempanah, B., & Khapova, S. N. (Accepted/In press).

Identity play and the stories we live by. Journal of

Organizational Change Management.

https://doi.org/10.1108/JOCM-07-2019-0238

PAGE

59

Schinagl, S., & Shahim, A. (2020). What do we know about

information security governance? "From the basement to

the boardroom": towards digital security governance.

Information and Computer Security, 28(2), 261-292.

https://doi.org/10.1108/ICS-02-2019-0033

Gorbatov, S., Khapova, S. N., & Lysova, E. I. (2019). Get

Noticed to Get Ahead: The Impact of Personal Branding on

Career Success. Frontiers in Psychology, 10, [2662].

https://doi.org/10.3389/fpsyg.2019.02662

Bouland-van Dam, S. I. M., Oostrom, J. K., De Kock, F. S.,

Schlechter, A. F., & Jansen, P. G. W. (2020). Unravelling

leadership potential: conceptual and measurement issues.

European Journal of Work and Organizational Psychology,

1-19. https://doi.org/10.1080/1359432X.2020.1787503

ABRI - Amsterdam Business Research Institute
---
MANAGEMENT

BOOKS

PAGE

60

DOET MARKETING ERTOE?

Ruud Frambach

Is marketing misleading and a

waste of money? This impression

can certainly arise if marketing

is used incorrectly. A price is

always paid for this, in the long

term also by marketing itself.

This undermines confidence

in the profession and limits

the important and especially

valuable role that marketing

can play. When used properly,

marketing can create value

for customers and at the

same time realize value for

companies, shareholders and

society. There is still much to

be gained, both for experienced

marketers and for organizations

where marketing hardly plays

a role. From a strong focus

on practice and based on the

latest scientific insights, this

book shows how marketing

can offer demonstrable value

for organizations and their

stakeholders.

Dutch | EAN: 9789024418725

HOW TO SURVIVE THE

ORGANIZATIONAL REVOLUTION:

A GUIDE TO AGILE CONTEM-

PORARY OPERATING MODELS,

PLATFORMS AND ECOSYSTEMS

Ard-Pieter de Man,

Pieter Koene,

Martijn Ars

Today companies face a bewildering

choice of new organizational

design options. Information technology

enables the emergence of

new organizational forms that go

beyond traditional business unit

and matrix structures. This book

is the first complete overview of

these new organizational forms

that underpin the information

economy. It provides practical

descriptions of Holacracy, open

source organizations, the Spotifymodel,

platform organizations,

multidimensional organizing and

ecosystems. It contains a user

guide, showing when managers

may use them and when to avoid

them. In addition it discusses

implementation strategies,

governance issues and the dark

side of new organizational forms.

Many practical cases illustrate

the ideas.

English | ISBN13: 9789063695217

RIDING THE WAVES OF

CULTURE, FOURTH EDITION:

UNDERSTANDING DIVERSITY IN

GLOBAL BUSINESS

4TH EDITION

Fons Trompenaars,

Charles Hampden-Turner

Riding the Waves of Culture,

Fourth Edition retains its

in-depth exploration of the

underlying cultural frameworks
---
that affect leadership,

effectiveness and innovation

across cultures. With new

information and evidence-based

insights on critical business

matters, it offers insight on

the effects of immigration,

generational differences to the

development of multi-cultural

societies, and more. Also new in

this edition: access links to more

information and online tools―

including country culture scores

for research purposes.

The most thoroughly researched

and highly respected resource

of its kind, Riding the Waves of

Culture does more than help

you stay afloat in today's diverse

work environment; it provides

the knowledge you need to seize

the advantage and compete for

the long run.

English | EAN: 9781260468649

Researchers confirmed that the

less facetime employees have

with their managers, the more

impact seeking and receiving

feedback will have on their

performance. Gorbatov and Lane

propose a simple, systematic

approach to giving fair and

honest feedback, in ways that

improve performance and prove

that, if done properly, feedback

simultaneously improves

performance while engaging and

developing employees.

English | ISBN13: 978-

1912555093

and use, and changes in work.

Using a combination of existing

literature and thorough practical

examples they make four

recommendations for WISE

management of AI. This means

that managing AI requires Workrelated

insights, Interdisciplinary

knowledge, Socio-technical

change processes, and

Ethical awareness. These

recommendations for managing

AI provide the reader a unique

insight into the roles and

responsibilities of management

in this process and provides clear

guidance on how to shape this

process in your own organization.

Dutch | EAN 9789490463809

success.

If you are

a manager,

consultant, or

counselor the

authors show how

you can support

other people's careers,

enabling them to define

and meet their career goals

and aspirations.

The book unfolds in two parts,

first encouraging reflection and

then turning to action. In Part

One, you will come to grips with

your own intelligent career

experience to date.

In Part Two, you will learn

how to create and leverage

new opportunities offered

by the contemporary work

environment.

English | EAN: 9780190866310

PAGE

61

S.L.I.M. MANAGEN VAN

AI IN DE PRAKTIJK:

HOE ORGANISATIES

SLIMME TECHNOLOGIE

IMPLEMENTEREN

AN INTELLIGENT CAREER:

TAKING OWNERSHIP OF

YOUR WORK AND YOUR LIFE

FAIR TALK: THREE STEPS TO

POWERFUL FEEDBACK

Sergey Gorbatov,

Angela Lane

Employees around the world

are deprived of honest objective

feedback, and the higher you

go in the organisation, the less

feedback you are going to get.

Lauren Waardenburg,

Marleen Huysman,

Marlous Agterberg

The authors describe how

eight organizations deal with

the implementation and use of

artificial intelligence (AI). They

identify the following four key

challenges of implementing

AI: organizing for data, testing

and validating AI, creating

bridges between AI design

Michael Arthur,

Svetlana Khapova,

Julia Richardson

Using examples and insights

from around the globe, the

authors explain how you can

take stock of your career;

combine assets such as your

commitment, experience and

relationships; determine future

action; and earn greater career

ABRI - Amsterdam Business Research Institute
---
EXECUTIVES

IN SCIENCE,

BUSINESS

AND SOCIETY

For more information visit

www.abri.vu.nl

Application deadline

December 1

Start

January

(each year)

PAGE

62

PART-TIME PhD IN BUSINESS

THE ULTIMATE DEGREE

FOR BUSINESS LEADERS

Join us to attain the highest level of professional development

and to generate business innovations that will move your

organization and your career forward.

Embrace a stimulating scientific environment, and

learn to leverage your expertise and extant scholarly

knowledge to make original contributions at the

frontiers of business and management practice.
---
PAGE

63

CONTACT

Do you have a question for the editorial

team, do you want to learn more about

collaborating with VU, or would you

like to get in contact with one of the

contributing authors?

We invite you to contact the editors:

Prof. dr. Svetlana Khapova

Professor of Organisational Behaviour

Head of the Department

of Management & Organisation

VU School of Business and Economics

s.n.khapova@vu.nl

Niki Konijn

Head of Operations,

Department of Management

& Organisation

VU School of Business and Economics

n.m.konijn@vu.nl

ABRI - Amsterdam Business Research Institute
---
AMSTERDAM

IN SCIENCE,

BUSINESS

AND SOCIETY

AMSTERDAM

BUSINESS

RESEARCH

INSTITUTE

The Amsterdam Business Research Institute (ABRI), established in 2009 by Vrije Universiteit

Amsterdam, is one of the largest institutes of business and management research in Europe.

Located in the midst of the business and financial district of Amsterdam – the Amsterdam

Zuidas – the distinct expertise of ABRI lays in the business performance and management of

professional and financial services. With a specific focus on this sector, ABRI's researchers

conduct research and offer doctoral (PhD) education in six areas:

1. Accounting & Financial Management

2. Information & Innovation Management

3. Logistics & Operations Research

4. Marketing

5. Organisational Behaviour & HRM

6. Strategy & Organisation

Dozens of public and private organisations, among which are ABN AMRO,

Deloitte, and KPMG, collaborate with ABRI in research and business

intelligence and in addressing today's business and management

challenges. These business-science partnerships are aimed at

delivering rigorous and relevant contributions not only to better

business practices and processes within organisations in the

Netherlands, but also to contribute to a stronger European

economy.

Visit our web-site www.abri.vu.nl to learn about recent research

findings concerned with business and management, and

to initiate a new collaboration to benefit your organisation!