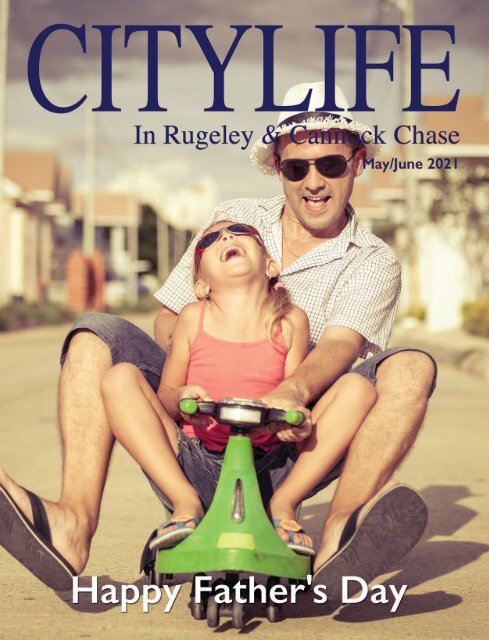 Citylife in Rugeley and Cannock Chase May June 2021
Our May and June 2021 Rugeley and Cannock Chase edition is heading out towards the joys of Summer and also celebrating Father's Day! We have the usual mix of local news, recipes, competitions, history features - and with plenty of ideas for those essential gifts for Dad, Grandpa, Step-Grandpa or even Great Grandpa! So sit back, relax, pour yourself a chilled orange drink - or something stronger! - and read our lovely early Summer local magazine!
Our May and June 2021 Rugeley and Cannock Chase edition is heading out towards the joys of Summer and also celebrating Father's Day! We have the usual mix of local news, recipes, competitions, history features - and with plenty of ideas for those essential gifts for Dad, Grandpa, Step-Grandpa or even Great Grandpa! So sit back, relax, pour yourself a chilled orange drink - or something stronger! - and read our lovely early Summer local magazine!
SHOW MORE
SHOW LESS
Create successful ePaper yourself
Turn your PDF publications into a flip-book with our unique Google optimized e-Paper software.
3
---
Welcome to

CITYLIFE

Welcome to CITYLIFE in Rugeley & Cannock Chase, a

monthly magazine bringing you our pick of the area's news,

events and stories. Each month CITYLIFE in Rugeley &

Cannock Chase is delivered to businesses and homes in

Rugeley, Cannock Chase, Heath Hayes, Ravenhill,

Etchinghill, Slitting Mill, Armitage, Handsacre, Colton,

Hamstall Ridware, completely free of charge; bringing

you the best that the area has to offer.

Each issue features heritage stories exploring the rich

history of our area, plus competitions, interviews and the

latest in fashion and style.

Got a story or charity event you want to share with our

readership? Think you've snapped an image that captures

the spirit of the region? We want to hear from you!

CITYLIFE Contacts

Editor - Kristen Lackajis 07885 380632

kristencitylife@gmail.com

Features - Jono Oates 07785 757201 jonocitylife@gmail.com

Inside...

12 A Window on the Past

A look at the history of Rugeley Guides

.............................

16 The Disappearance of Handsacre Hall

Jono Oates takes us back in time

.............................

24 Simply Pawfect!

The best local places to board, walk and

groom your furry friends

.............................

30 Tastes of the Season

Simon Smith cooks up an alfresco treat

Advertising -

Steve Brown 07740 166497 stevebrowncitylife@gmail.com

Rebecca Hill 07970 513144 rebeccahillcitylife@gmail.com

Production Design - Helen Smith 07967 154187

helencitylife@gmail.com

Citylife In Lichfield Ltd

PO Box 7126 LICHFIELD WS14 4JS

CITYLIFE in Lichfield and CITYLIFE in Rugeley magazines

are not connected to any other publication or publisher, and are

wholly owned by CITYLIFE in Lichfield Ltd.

Citylife In Lichfield

www.citylifeinlichfieldltd.co.uk

Citylife in Lichfield Ltd does not endorse any business or organisation

appearing in these pages, and the publication of any advertisement,

editorial, event listing or advertising editorial does not constitute an

endorsement by Citylife in Lichfield Ltd.

Your Local Magazine

Notice of Correction

Citylife in Lichfield Ltd wishes to point out that an advertorial item on page 21 of the

December 2020/January 2021 issue of Citylife in Rugeley & Cannock Chase omitted the

declaration of 'advertising feature.' The publication of any advertisement, editorial, event

listing or advertising editorial does not constitute an endorsement by Citylife in Lichfield Ltd.
---
Cannock

Women's

Institute

By Jill Gooch

........................

April is our Annual

Meeting month where

the new committee was

voted in and outgoing

President, Di Jones,

welcomed in the new

President, Meena Khiroya.

The Annual Competition

winner was Janis Lomas

who was presented with

the Eileen Boden Badge, a

certificate and £10. The

Surprise Raffle prize will

Presentation of a Bay Tree to

outgoing President Diana Jones

by committee members

be delivered by Clare, to include a socially distanced

and protected doorstep chat.

It is also time to reflect on the year's events and report

back to members. So, under President Di's calming, caring,

and competent leadership; and with the guaranteed

support of a wonderfully committed committee who

have responded to lockdown challenges it is amazing just

how much we have managed to achieve.

We have been pro-active, inclusive, acted on

suggestions from members, engaged individuals to share

their skills in competitions, responded to appeals for PPE

and embraced the ideals of the wider WI community with

'Show the Love' campaign. With a weekly Zoom Chat

Room, and regular Newsletter's sharing members stories,

we hope members feel that the committee has kept them

informed, offered friendship, provided opportunities to

make new friends, participate and socialise, despite Covid

restrictions. If so, then the committee have had a

successful year, ensuring a vibrant, inclusive and

interactive Club that have kept abreast of challenging

times.

To thank members for renewing their membership the

committee put together a "Meeting in a Bag" containing

gifts of a cake, chocolate egg, free invitation to an

Afternoon Tea, raffle ticket, bookmark and lots of

information. Six of us met at Shoal Hill to share out the

items into goody bags. But it was also a good excuse to

have cake and a flask of coffee. Then it was off to do

doorstep deliveries to delighted members.

Our W.I. meetings are on the second Thursday of the

month 10.30am at St Luke's Church Centre, Cannock.

Visitors are always welcome to come and join us for

refreshments and a chat- but not for a while – wait for

the 'all clear'! Follow us on Facebook for updates. You are

also welcomed to join by Zoom: get in touch!

Email cannockwi@gmail.com or find us on Facebook

@oakleafstlukes.

5
---
LOCAL NEWS

Bridge Over

Troubled Water

Local resident Dave Edwards sent in these two

fantastic photographs he took of an old bridge

at High Fall on Sant's Brook. The brook runs

alongside the Heritage Trail from Hagley Field

to The Horn's Pool, located just behind The

Horns Inn, Slitting Mill.

art competitions.

The art auction took place on Facebook, with a

page dedicated to the auction of the 45 items

already donated. The pieces ranged from art

created by students to pieces of art donated by

professional artists.

The auction ran from Monday 15th March at

9am until Sunday 18th April at 4pm.

...........................................

Bird's Eye View of

Abbots Bromley

of the plans.

The new trails will also be used as a venue for

the mountain bike races during the Birmingham

2022 Commonwealth Games.

Staffordshire County Council has provided

£50,000 towards the costs of the project.

...........................................

Cannock Walker's

Charity Fundraiser

...........................................

Local School Holds

Online Charity Art

Auction

Chase Grammar School students got creative

with their fundraising plans this year through

holding an online charity auction in aid of two

charities: Mind UK and Cancer Research UK.

Each year, students at the school pick two

charities to support, engaging in a wide range of

fundraising activities across the year. This year,

students and staff have had to think even more

creatively whilst continuing to raise money

during lockdown.

Students had already begun fundraising, taking

part in a range of socially-distanced activities

including online quizzes, fitness challenges and

6

Citylife reader, Simon Wilberforce, sent in this

fantastic image of Abbots Bromley from the air!

Have you snapped an image of the local area

you wish to share? Send it to

kristencitylife@gmail.com for consideration in

the next issue of Citylife.

...........................................

New Biking Trails to

Boost Tourism

Cllr Victoria Wilson with Gary Kelsey, Forest Centre

Manager for Cannock Chase Forest, and Richard

Scott, District Civil Engineer for Forestry England.

New mountain biking trails being built on

Cannock Chase Forest will boost the local

tourism economy and help more people stay

active.

The project, being developed by Forestry

England, will see the construction of a highquality

off-road mountain bike trail. A family

bike play facility and a new regional centre of

excellence for safe, off-road cycling are also part

A local lady donned her walking boots and

raised more than £300 by walking for charity.

Tina Hart Prieto, of Lichfield-based business

Capture 24 Photography, recently undertook

the 10,000 steps a day challenge in February in

aid of the charity Brain Tumour Research.

This involved walking a total of 10,000 steps

each and every day throughout February, and

Tina enjoyed strolls across Cannock Chase, as

well as walks in her hometown of Lichfield.

Tina set out to raise money for the cause

following her friend's diagnosis of inoperable

brain tumours in 2018 and, although she took

on the challenge by herself, there were many

others across the country who decided to walk

Brain Tumour Research.

Throughout the month, Tina covered a total of

325,062 steps and raised a total of £315.

...........................................

March

Competition

Congratulations to S Woods and

S Prince who both receive a

copy of Kim Nash's latest novel,

Moonlight Over Muddleford

Cove.

Well done!
---
Advertorial

Does Your Garden

Need Some Love?

Billy's Borders is

run by Debbie, a lady

gardener who offers

fully insured garden

services and is

certified by the Royal

Horticultural Society.

Her services include

weeding, pruning and

planting - but that's

not all! You can also have your garden designed and planned

out to suit your needs and requirements by Debbie,

whether it's redesigning a new garden, having a revamp, or

trying to find ways to attract more wildlife.

Debbie is a local self-employed gardener with a passion

for all things horticultural and can assist in making your

shrubs shapely, your borders beautiful and your lawn feel

loved again. Available as a regular service, or one-off tidying

and planting job, Debbie's reasonable rates have something

to suit all budgets.

Billy, her beloved canine companion, doesn't actively join

in with the work but provides valuable back up and final

inspection if required!

So if your garden is in need of a little TLC this year, give

Debbie (and Billy!) a call on 07760 296192 or visit Billy's

Border Control on Facebook and see how this dynamic duo

can help you!

7
---
LOCAL NEWS

8

Local Beauty Spots

Receive Funding

Cannock Chase and Chasewater Country

Park are set to receive £450,000 funding to

improve and develop facilities, enhance the

visitor experience and increase tourism to the

area.

The funding comes after Staffordshire

County Council allocated funding from the EU's

European Agricultural Fund for Rural

Development and committed money raised

from car parking fees at the two local parks.

Lichfield District Council is also contributing

towards improvements at Chasewater Country

Park.

Amongst the developments, there will be new

areas for children to play plus exciting new

walking, path improvements and upgrades to

the visitors' centres.

The country parks will also see new

interpretation panels, multi-media displays

inside the visitors' centres and a new walking

route linking the two.

...........................................

New Health

Improvement

Programme Launching

Cannock Chase Can will

launch across the District

this summer to help

people improve their lives

by making healthy lifestyle

choices.

The Council is working

closely with the

Community Wellbeing

team at Inspiring Healthy

Lifestyles (IHL) and other

partners to launch this

Impression of how

the app will look

on a mobile

exciting new programme which will focus local

efforts on supporting the Government's Child

Obesity Action Plan. It will help address poor

health and obesity by changing behaviour and

attitudes towards better lifestyle options.

The focal point for the programme will be the

new Cannock Chase Can mobile app which will

enable residents to sign up and create personal

profiles including target weight, personal goals,

and individual wellness journeys.

It will also provide information about healthy

eating, physical activity, and advice about how to

make healthier lifestyle choices. It will host a

variety of wellness challenges which can be

undertaken as an individual, group or family.

If you would like further information about this

programme

email

cannockchasecan@cannockchasedc.gov.uk

...........................................

Grant for Local

Cultural Services

The Museum of Cannock Chase

Cultural Services in Cannock Chase have been

given a financial 'lifeline' from the second round

of the £1.57 billion Government's Culture

Recovery Fund.

Inspiring Healthy Lifestyles, which manages the

Prince of Wales Theatre, Museum of Cannock

Chase and Arts Outreach service, has been

awarded £174,930 of funding to support

reopening and recovery. Inspiring Healthy

Lifestyles is among more than 2,700 recipients

to benefit from this latest round of awards.

The funding will allow the Prince of Wales

Theatre to welcome audiences back for socially

distanced shows with details, soon to be

announced, of local amateur group

performances in June. The Museum of Cannock

Chase plans to reopen its doors on 20th May, in

line with Government guidance, with family

activities to do on site each Saturday, as well as

a programme of workshops and outdoor trails.

...........................................

Local Artist's

Tribute to Son

A local artist, based in Colton and specialising in

female figurative oil paintings, has chosen to

rebrand his artwork and his company as a

lasting legacy of his late son, who passed away at

the age of 34 in August 2020.

Now known as Sterling Lee Fine Art, a new

website has recently been built reflecting this

rebrand and is the ideal place for visitors to find

out more about the artist as well as purchase

high-quality, original pieces.

The company is open to commissions and

offers worldwide postage. It is also a supporter

of charities Cardiac Risk in the Young and the

Woodland Trust.

Visit www.sterlingleefineart.com to find out

more.

...........................................

Jono Marches

the Month!

Our very own feature writer, and local

historian, Jono Oates took part in the March

the Month campaign to raise money for charity.

Jono, of Jono's Tourism, Lichfield, participated in

the walking challenge, which saw him covering a

minimum of 11,000 steps every day throughout

the month of March, on behalf of Prostate

Cancer Research UK.

Over the 31 days of March, Jono walked a total

of 375,245 steps and raised more than £800 for

the charity.
---
9
---
10

A Mouseman dining table and chairs.

Tom Winterton setting up the annual

Garden Sale.

Home Sweet

Home

...............................

By Tom Winterton

Setting up your own home is one of life's defining moments.

Securing your own space, your own floors, walls and doors for the first

time expands and redefines the old saying 'home sweet home'.

But it also usually provides the new occupant with the ultimate blank

canvas – and that can be just as exciting or daunting whether they're a

first-time buyer, renting anew or a serial doer-upper, repeatedly

renovating and moving in a perpetual quest for property perfection.

From painting or papering the walls to prepping the floors, there's

always so much to do. And we haven't even talked about the garden!

Putting one's own stamp on a new abode can be incredibly exciting –

and financially frustrating.

Yet there is a wonderful world of furniture widely available at auction,

spelling both tremendous variety and affordability, with reasonable prices

to suit all pockets.

Plenty of antiques of course, but also mid-century design classics in

teak, up-to-the-minute modern oak and retro statement pieces.

Our furniture department is an ever-revolving Aladdin's cave of home

and interior inspirations.

From Victorian dressers to designer dining suites, modern light oak to

much-loved mahogany, vintage vinyl settees and leather sofas to 18th

century stools, marble-topped tables to metalwork chairs, all rooms are

covered.

There's also plenty of scope for upcycling too, reusing resources and

breathing new life into well-loved but now rather 'distressed' items

through restoration and renovation.

In fact, the whole concept of the wonderful world of auctions sits bang

on trend with the ethos of recycling.

The quantity and quality of furniture we catalogue never ceases to

amaze me.

From 1960s and 1970s designs, with its signature clean lines by wellknown

names such as Robin Day for Hille, John and Sylvia Reid, Ib Kofod-

Larsen, McIntosh and G Plan to high quality modern reproduction style

furniture such as that crafted by Titchmarsh and Goodwin, it is, as they

say, all there.

Auctions are great place to pick up superb desks and that perfect

office chair, plus other practical equipment, if you're working from home

rather more these days.

And of course we all have a soft spot for the fine art furniture, which

just makes you go 'wow' when you check out the level of work and

detail.

Modern light oak furniture

such as this sideboard comes up

regularly at auction.

This oxblood leather

armchair sold at auction for

£210.

Even ultra-modern homes can accommodate carefully chosen period

antiques from Georgian through to Victorian and Edwardian times.

Just with personal interior design taste, everyone has their favourite.

It goes a little further than furniture, too – wave goodbye to those

blank walls and choose from a huge selection of pictures ranging from

original oils and limited edition prints to vintage posters and decorative

art.

Whatever your vibe or colour scheme, you can find a unique piece at

auction which will make you smile every time you look at it.

Mirrors of all shapes and sizes and superb quality rugs can be picked

up reasonably at auction along with other home furnishings such as

vases, dinner services and canteens of cutlery.

In fact, pretty much anything you would find in someone's home is

being sold at auction nowadays.

It's a clean sweep which even covers the bathroom – one of our

auctions last month included an array of boxed vanity units, basins, taps,

sinks, shower trays and doors, panels, toilets, a roll top bath and lighting

mirrors.

We won't be leaving out the kitchen either – we sell white goods of

all shapes and sizes, often in superb condition, including fridges, freezers,

tumble driers, washing machines, vacuum cleaners and power tools along

with other electricals such as televisions, vintage record players and

modern hi-fi sound systems.

And we PAT test them all.

It's perfectly possible to pick up a nearly new Samsung, LG or Sony

LED TV at auction for just £100.

As we're talking entertainment, the furniture department also handles

pianos from the most prestigious grand to homely uprights.

Recent sales have featured table football, bagatelle boards and a

brilliant foldaway bar billiards; a full-size billiards table sold earlier this

year and we've handled games tables incorporating chess, backgammon

and even a roulette wheel.

As this magazine was going to press our current auction included an

ingenious convertible pool/dining table – which allows players to have

their cake and eat it! – and even a couple of rocking horses.

And still we haven't even talked about the garden!

Let's step through our imaginary conservatory – yes, we handle all the

furniture you need for in there, too! – and survey the outdoors.

From maintenance of your lawn and borders to decorating the patio,

you can access it all at auction.

We feature outdoor items throughout the year in addition to an

annual spring sale dedicated to the garden.

Our latest Garden Sale included more than 20 lawnmowers, benches,

garden tables and chairs, statues, stoneware, ladders, tools – even

beehives!

So auctions really do have it all, from antiques to apiaries.

After all, there's nothing like home sweet home!

For furniture enquiries, email tom@richardwinterton.co.uk. For

bidding, auction and house clearance enquiries, email

office@richardwinterton.co.uk or telephone 01543 251081. For

upcoming sale dates, check www.richardwinterton.co.uk.
---
11
---
A Window on the Past

Rugeley Guides

In March 1918 a group of people met to form the first

local Guide Association. Guiders were trained for the 1st

and 2nd Rugeley companies and the first Rugeley Guides

were enrolled just seven months later. Among those first

guides was Dora Harris (soon to be followed by her

younger sister, Cecile). Dora went on to become Captain

of the 2nd Rugeley Company and later District Secretary.

In 1942 they started fundraising for a building of their own

and in 1954 the new District Headquarters in Brewery

Street was opened. This was later replaced by a building in

Sheep Fair.

1. The 2nd Company Rugeley Girl Guides Patrol that won

the Stafford Division Guides Cup in June 1925. Dora Harris

holds the Cup.

2. The Misses Sylvia, Dora and Cecile Harris in 1986. All

three sisters were founder members of the Trefoil Guild in

1955. Sylvia had been Rugeley Scouts Cubmaster for 10

years from 1916.

3. Programme for the 1959 pantomime performed by the

Rugeley Grammar School Girl Guide and Sea Scout groups.

4. Sixty trees were planted in Elmore Park and Western

Springs Road in 1960 to commemorate the Golden Jubilee

of Guiding. Fourteen of them were planted as a tribute from

the Rugeley Girl Guides to the Girl Scouts of Western

Springs, Illinois.

2

1

3

The Landor (local

history) Society is a focus

for those who wish to

learn more about the

history of Rugeley and its

surrounding parishes. It

was founded in 1953 and

was named in honour of

Walter Noble Landor,

local and county

historian, who became the

Society's first President.

More information is

available at www.landorlocalhistorysocietyrugeley.btck.co.uk

4

12
---
Fitters,

templaters

required

please apply

to the email

below

Win a Granite Chopping Board

If you require our services please do not hesitate

to call us on 01785 711096 or email your quote

request to stef@justgranite.ltd.uk

With the largest variety of natural stones in the Midlands, the

solid slabs are kept on-site and are available for a virtual viewing

from 9am-5pm on Monday to Friday. Located at The Stone

Works, Pillaton Hall Farm, Penkridge, ST19 5RZ.

We've got a bespoke Chopping Board (in the

colour of your choice) to give away! To be in

with a chance of winning this magnificent prize,

simply answer the following question correctly:

OPEN TO THE PUBLIC

Our showroom and stock barn is now fully open to our customers. You're welcome to call us on 01785 711096, or

email jgladmin@justgranite.ltd.uk, to arrange your visit. This will allow us the time to fully show you around and for

you to take in the varied materials and textures available.

Appointment times available are between 9am-5pm on weekdays and 9am-12pm on Saturday.

We are all really looking forward to seeing you again and getting back to normal as safely as possible!

Where does the supply

of granite come from?

a) Spain

b) Italy

c) Germany

To enter, just send your name, contact details and answer to Just

Granite Competition at competitioncitylife@gmail.com or post your

entry to Citylife in Lichfield Ltd, PO Box 7126, Lichfield WS14 4JS by

the closing date of 23rd June 2021. One entry per household.

Multiple entries will be disqualified. No cash equivalent. Please note

you must be 18 or over to enter. All entrants' information is

processed in line with GDPR Data Protection Regulations and our

Privacy Policy (available at citylifeinlichfieldltd.co.uk).

Full t&cs on page 34.

13
---
Designer Outlet's Long-

Awaited Opening!

............................................................

The highly-anticipated McArthurGlen Designer Outlet West

Midlands opened its doors to customers at 10am on Monday

12th April, providing shoppers across the UK with one of the

country's finest open-air retail and leisure experiences. Located in

Cannock, the £160 million centre offers up to 80 iconic brands in

its first phase, with year-round savings of up to 60 per cent.

Underlining the centre's excellent fashion credentials is a collection of

sought-after international names, including Coach, Kate Spade, Hugo

Boss, Levi's, Lacoste, Tommy Hilfiger, Guess, Calvin Klein, Ted Baker, Reiss,

Kurt Geiger, Gant, Radley and Joules, all set in an exceptionally designed

shopping environment.

Completing the line-up of leading sportswear and athleisure brands

are Adidas, Under Armour and Skechers, while Starbucks and Five Guys

are the first much-loved food and beverage brands to open, with their

restaurants overlooking the Mill Green Nature Reserve. Shoppers can

also look forward to a host of exciting arrivals in the coming weeks,

including the openings of Nike, Wagamama and Asics.

To ensure that all customers enjoy a memorable day out when visiting,

the centre features a one-of-a-kind children's adventure playground

that's adjacent to the nature reserve, as well as luxury guest amenities,

a dancing fountain, a bespoke sculpture and a Changing Places facility.

Commenting on the opening, Centre Manger, Mike Thomas, said:

"We're open! It's been a long time coming, but we're up and running, and

we are thrilled to welcome visitors from the local community, the

region and even further afield. The pandemic has affected every aspect

of life, so I'm delighted to be here today, seeing people start their new

jobs, seeing visitors safely shopping and enjoying a day out, and seeing

the start of what is going to be a shopping and leisure destination that

provides our customers with one of the finest retail experiences

around."

To create a greener, more sustainable retail destination for customers

to enjoy, the centre includes around 400 newly planted trees, along with

solar panels, on-site beehives, a wormery, electric car charging points

and bicycle parking. It also provides direct access to the adjacent nature

reserve and its network of footpaths, encouraging local shoppers to visit

on foot.

The centre is Bureau Veritas Safeguard Covid-19 certified, with a wide

range of health and safety measures in place to keep customers safe and

enhance their wellbeing. These include hand sanitiser stations

throughout the mall, complimentary face masks available in guest

services, social distancing signs in the centre, queue management

systems and store capacity limits, as well as increased cleaning rotas.

Spanning 285,000 square feet in total over two phases, the centre will

create 1,000 new jobs and support around £20 million of employment

income each year. A partnership with Walsall College for a new training

academy has helped connect local people to job opportunities with the

various brands.

Bob Kean, Acting Managing Director for Cannock Chase Council, said:

"Despite the global pandemic, McArthurGlen Designer Outlet West

Midlands is open! It looks amazing and we're immensely proud to have

this designer outlet in our District. We look forward to the ongoing

benefits it will bring to residents, the area and the local economy."

Designer Outlet West Midlands is McArthurGlen's seventh British

centre, joining its leading destinations in Ashford, Bridgend, Cheshire

Oaks, East Midlands, Swindon and York, and it is the group's 26th

location across Europe and in Canada. The arrival of the landmark

shopping centre is a significant moment for McArthurGlen, as it marks

the group's first UK opening in over 20 years as well as a return to the

market where it introduced the concept of designer outlet retailing in

Europe with Cheshire Oaks in 1995.

The centre has been brought to life as a joint venture between

McArthurGlen, Aviva Investors and the Richardson family.

14
---
15
---
Handsacre Hall 1890s Francis Forster owner of Handsacre Hall 1890s Handsacre Hall 1930s

The Disappearance of

Handsacre Hall

By Jono Oates

............................

By a housing estate, just off Shropshire Brook Road in

Handsacre, is a small wooded area heavily overgrown with

bushes and nettles and surrounded on three sides by murky

water. Easily missed as cars travel along the road to Armitage, the

trees and bushes mask the former location of one of Staffordshire's

most historic and imposing family estates… Handsacre Hall.

An information board on the Manor Court Drive side of the woods

provides some background to the Hall and also has diagrams showing

what it looked like during its heyday. During the winter months, when the

foliage dies back, it is possible to see some of the crumbled remains of

the former moated manor house which dates back to the 14th century.

A building had been on the site since before the Domesday Book in the

11th century and the first person to assume the name of the Manor was

Hubert de Handsacre, a knight at the time of King Henry I. The Manor

passed to several generations of the Handsacre family and at the end of

the 14th century the lord of the manor was Sir William Handsacre. In

1403 the King, Henry IV, was being challenged for the crown by the rebel,

Sir Henry 'Hotspur' Percy. Handsacre supported Henry Hotspur but his

near neighbour, and fierce rival, Sir Robert Mavesyn, supported the King.

The two rivals mustered their troops and were marching to meet-up

with their respective leaders when they fell across each other close to

Shrewsbury. In the resulting skirmish Sir Robert killed Sir William and at

the Battle of Shrewsbury Sir Robert was himself killed. The rift between

the two Staffordshire families was later healed however when Sir

William's son, also William, married Margaret, a daughter of Sir Robert.

The Hall remained in the ownership of the Handsacre family until the

middle of the 15th century when it became home to several families. At

the end of the 19th century the Hall was owned by Sir Francis Villiers

Forster, 3rd Baronet, and long-time Master of the South Staffordshire

Hounds. Forster also owned nearby Longdon Grange and used that as his

main residence while Handsacre Hall and grounds became a farm, loaned

out to tenants. For many years the farm was run by Mrs Fanny Boycott

and her sister, Miss Sarah Harvey, on behalf of Sir Francis. The farm was

exceptionally well run by the two sisters and the farm tenancy was then

taken on by two brothers, Ernest and Oswald Smallwood. When Sir

Francis died in 1930 the two brothers purchased the Hall and the farm.

In July 1931 Neville Wood, a writer for the Staffordshire Advertiser

newspaper, visited Handsacre Hall as part of his 'More Nature Notes'

16

Site of

Handsacre Hall

today

column, when he spoke about the beautiful effect of the irregular gables

as illustrated in the photograph taken at the time and stated that it was,

in his opinion, the 'finest home in the immediate neighbourhood'. He

described the ducks playing merrily in the waters of the former moat and

the fact that the fourth side of the moat had been replaced by the

entrance drive and the foundations of the farm buildings. At that time the

farm consisted of 125 acres, with 40 acres under plough, and its primary

function was milk production.

Ernest Smallwood continued to farm at Handsacre Hall until October

1961 when he retired from farming. It was purchased by another local

farmer but the Hall quickly fell in to a state of disrepair and was subject

to large scale vandalism. In March 1973 Lichfield Rural Council granted

permission for it to be demolished leaving only a scattering of the original

foundations behind.

Today the moated area is a Historic England scheduled monument but

the Hall itself can no longer be seen. In July 1931 Neville Wood

summarised his visit to the Hall by saying that 'Handsacre Hall is in good

hands, and here is one little treasure that certainly will neither be spoilt

nor lost to the nation for a considerable number years at any rate'.

Unfortunately, Neville's prediction did not stand the test of time and a

mere 40 years later this once magnificent, and ancient, manor house had

disappeared from the Staffordshire skyline for ever.

Sources: www.historicengland.org.uk; www.armitagewithhandsacre-pc.co.uk;

The British Newspaper Archive; Ridware History Society website
---
17
---
Cannock & District

Ladies Probus

By Alison Cardy

....................

Many social clubs are either folding or in abeyance until

lockdown restrictions are eased but meeting through Zoom.

In April, ladies from Cannock & District Probus Club met, to be

entertained by speaker Neil Weyham, giving an amusing

entertaining talk entitled Tales of a Carpet Cleaner (not quite

Confessions of a Window Cleaner but he spared our blushes!)

Neil relayed snippets from his many experiences with Chem-Dry

since he joined them in 1991. Explaining his background, as owner of

Chem-Dry, he also works on match days at West Bromwich Albion and

Aston Villa, a snooker coach, Steward at Edgbaston Cricket Club and

Magistrate at Birmingham's Magistrates Court. However going back 43

years to 1978, joining Reckitt and Coleman, he regaled us with

memories of products of days gone by.

Redundant after 13 years, Neil next ventured into Chem-Dry and

shared amusing anecdotes. An unusual job was to clean two 2-seater

sofas, and whilst chatting Neil asked if they had been bought locally but

was told they were from London off the Set of Good Morning with

Holly and Phil so many celebrities had sat on them over the years!

Neil who, at 6ft 5 inches tall is known as the Jolly Clean Giant, was

thanked for his talk for which payment was donated to his chosen

charity of St Giles Hospice.

Should any retired or semi-retired professional or business ladies

wish to join Cannock & District Ladies Probus to share friendship,

particularly in these difficult times, the club normally meets on the first

Thursday of each month at The Chase Golf Club at 12 noon. New

members are always welcome. Annual membership is £16. Further

information can be obtained from Membership Secretary Barbara on

01889 882166 or Chairman Anne on 01922 418037.

New Businesses

Grants

....................

Cannock Chase Council has extended the range of businesses

who are eligible for its discretionary grant scheme known as

Additional Restrictions Grants (ARG).

It follows the Chancellor's budget statement in March which promised

further support from April to those businesses continuing to be affected

by lockdown measures and means grants will become available to selfemployed

businesses from 30 April.

The Government has allocated £2.9m to the Council to be used at

the Council's discretion to help local businesses severely restricted by

trading restrictions during the lockdown and for longer-term skills and

training initiatives in the District.

The new grants for self-employed people and small businesses

operating from home will be a one-off grant of £2,000 to businesses

who do not have commercial premises and have suffered a loss of

income of 30% or more due to the trading restrictions.

Full details can be found at www.cannockchasedc.gov.uk in

Coronavirus and Council Services on the homepage then `Business,

Employers and Employees`. This section has details of all support

available including ARG.

18

Cannock & District

Soroptimists

By Trish Mellor

................................

Amanda Milling MP at the meeting

SI Cannock & District marked International Women's Day 2021 in

March by featuring 12 local women on their social media, their

website and by inviting them to a special evening conducted on

Zoom. The theme this year was #ChooseToChallenge – gender

equality.

These women have chosen to challenge stereotypes by going into

careers traditionally thought of as male roles. Cannock Soroptimists

approached a firefighter, prison officer, a Sky technician, a local councillor,

an MP, and CEOs of local organisations to ask them to share their

experiences, both positive and negative, of having a successful career in

what might be seen as mainly a man's world. They also wanted to highlight

how working mothers have coped during the pandemic, juggling working

from home with home schooling, alongside running a home and all that

entails.

Seven of the women were able to accept the invitation to join the

meeting to mark International Women's Day 2021 – the others were

working or at pre-arranged meetings. They were joined by Soroptimists

from other clubs in the Midland Chase area and from Port Talbot, Wales

and Harrisburg, USA: 41 in all!

The women were asked to say a little about ways they have handled

gender discrimination. They had all found different ways of doing this, but

the main theme that ran through their responses was that having

confidence in their abilities gave them the strength to carry on despite

some often major setbacks. They also found that proving those abilities

often meant that they received the respect they deserved from their male

colleagues.

They were also asked about what advice they would give to younger

women thinking of embarking on similar paths to theirs – it was a

resounding 'Go for it!' What was obvious with all of the answers our

women gave was the desire they had to 'bring others with them' on their

journey to achieving success in their chosen careers. They advised that the

ability to empathise with those they work with was key to a harmonious

working environment. Another feature of everyone's answers was the

importance of role models whether that be family or school.

Before the meeting ended, everyone held a hand up high to show our

commitment to choose to challenge and call out inequality.

Cannock Soroptimists can be contacted by email

cannock.soroptimists@gmail.com, found on website

www.sigbi.org/cannock-and-district, or on Facebook

www.facebook.com/SICannock.
---
Twilight WI

Cannock

By Kim Nash

........................

Twilight WI Cannock held both their annual general

meeting and celebrated their one-year anniversary on

Thursday 8th April. Clare Davies was elected as

President for the year ahead and would love to invite

new members to come along and join the group.

The Women's Institute is based on the idea of establishing

a strong female community, providing women with

educational opportunities and the chance to make a

difference in their communities.

Our programme for the year ahead includes gin tasting, a

visit from a chocolate shop and a talk about how we can live

a greener life.

Twilight WI Cannock meet on the second Thursday of the

month at 7.30pm until 9.30pm. Meetings are currently held on

Zoom, but when back up and running, physical meetings will

take place at St Luke's Church Centre, Cannock. Parking is

available at the venue.

If you'd like to find out more about Twilight WI Cannock

please contact cannocktwilightwi@gmail.com or find us on

Facebook at www.facebook.com/groups/WI.Twilight.

19
---
LDEP, or Lancashire

Dynamo Electronic products

to give its full title, was a

major employer in Rugeley in

the 1950s and 60s before

becoming Thorn Automation

in 1967. It owed its origins to

a company called British

Electronic Products (BEP),

which became part of

Lancashire Dynamo and

Crypto of Trafford Park when

finance was required to

purchase the drive motors

for a contract to build the

control equipment for a

Pickle Line in Pontypool,

South Wales.

My connection to LDEP

began in 1956 when the

company was expanding and

were happy to take on exservice

personnel with some

knowledge of electricity or

radio and train them on the

job. I started in the Test

Department testing small

timers under the supervision

LDEP

By Cyril Cooper of The Landor

(local history) Society

..........................

Ravenhill House the original home of BEP.(2)

Office block built by LDEP in 1961,

demolished in 2008

of a mentor, Sidney Boughey, later progressing to working on small drives and large

control systems.

These large systems included an advanced control system for a company called

Harland Drives which specialised in paper mill control systems. We also had a large

contract for equipment for a complete rubber tyre factory for installation at

Dnepropetrovsk in the USSR. This included witness testing under the observation of

Russian engineers. Large DC motors were tested at Trafford Park as the Rugeley test

bed did not have sufficient capacity.

LDEP was a pleasant place to work with a very good company atmosphere as we

all felt we were working towards a common goal. The works' director, Mr Burr-Sid,

had his office within the works and was often to be seen out and about. If you were

working very late, he often popped in to see that all was well. Sometimes someone

had not told their Mum they were working late and Mum had rung Sid, who had the

company night line, to find out where their child was. I remember him saying to

Roland W: "Roland, please tell your Mum what you're doing!"

Mr Wood, the works' manager, added a bit of style by arriving to work in his open

Alvis sports car.

At this time LDEP had designed and were suppling sophisticated power supplies for

computer manufacturers. When the Government introduced the Clean Air Act, LDEP

were quick to manufacture smoke density equipment to measure smoke going up a

flue, record the value and sound an alarm if the smoke exceeded a set level. All said,

a happy company at the forefront of what was then current control technology.

My Month in

Parliament

By Amanda Milling MP

........................

It has been a year since we

entered the first

coronavirus lockdown, and as

we enter into another spring

with coronavirus still in our

minds, we can be proud of

local efforts taken over the

past year to fight the virus

and support our neighbours

and wider community.

In the coming months, we all

look forward to seeing more of Rugeley open up and a

return to normal life. The latest changes to social

restrictions (which allow more outdoor contact) will

be very welcome to so many, as well as the prospect of

being closer to a much-needed haircut!

The local testing and vaccination efforts across

Cannock Chase have remained very impressive and I

would like to thank everyone involved in this huge

national effort. I would like to particularly congratulate

the Rugeley and Great Haywood PCN for topping the

region's tables in terms of vaccinating cohorts one to

nine. This is a huge achievement! We do need to remain

vigilant to the virus. We still have to do our bit to stop

the virus being transmitted in order to protect our

family and friends.

Meanwhile, as your MP, I have been undertaking many

of my normal day-to-day activities, such as holding

surgeries, having meetings and running events, however

these are all done virtually. As the restrictions have

started to be relaxed, it has been great to be out

delivering leaflets ahead of the local elections on

Thursday 6th May – it's a good way to enjoy some great

weather as well as shed some lockdown pounds!

We have a bumper crop of elections coming up with

the Police, Fire and Crime Commissioner election,

Staffordshire County Council elections and some

Cannock Chase District Council seats up for election

too. Don't forget that if you can't make it to the polling

station, you can always register for a postal vote or

proxy vote. Also, this year, emergency proxy votes will

be available for anyone who has Covid or has to selfisolate.

To find out more please go to

www.cannockchasedc.gov.uk/council/elections-voting.

As always, if you have any issues you need my help

with, please email me on

amanda.milling.mp@parliament.uk, call 01543 877142

or visit www.amandamilling.com/contact.

20
---
Whats on

May/June

........................

Free Countryside Course

Free countryside course with animals, plants and

creativity for people recovering from mental ill health.

Courses are for Staffordshire residents. Support with

transport available. No prior knowledge required but

must be willing to commit to 27 hours of the course.

For more information contact Carol on 07814

237211/email: umra.cic@gmail.com

........................

Ingestre Orangery

and Gardens

'Moving into the Light' Art Fair, a celebration of

Spring 22nd - 31st May, 10am until 4pm. In partnership

with Gallery at 12, Eccleshall, exhibiting a range of arts,

ceramics, glass, woodwork and jewelry in the beautiful

setting of the Orangery. Free entry. Booking via

www.ingestreorangery.co.uk

21
---
22

The Mysterious Case

of the Chasewater

Drowning

By Jono Oates

............................

In February 1974, Wolverhampton businessman Ronald Milhench

emerged from the waters of Chasewater, near Brownhills, having

swum to the bank after his car had crashed into the lake. There

was, however, no sign of his wife who had been in the passenger

seat of the car. His wife's lifeless body was later recovered from the

lake, starting a series of events that involved police investigations,

court appearances and the forgery of one of Britain's Prime

Ministers. For the following 12 months, Ronald Milhench and

Chasewater were very much front-page news in the local and

national press.

On Wednesday 27th February 1974, Ronald Milhench, an insurance

broker, had been water skiing at Chasewater with friends from the

Chasewater Power Boat Club. Later in the day he returned to the club

with his wife, Kathleen, to look for some equipment he had left behind.

Driving a hired car, Milhench allegedly lost control of the vehicle and it

powered in to the lake submerging the occupants below the wintry icycold

waters. Ronald managed to escape from the vehicle, was unable to

locate his wife, and swam to the water's edge before running half a mile

to raise the alarm. Rescuers could not locate her though and the

following morning when light came police divers eventually found her

body under 25 foot of water.

During the inquest, which was held on 14th March, a number of

surprising issues emerged which added intrigue, and the attention of the

media, to the tragedy of the incident. The hired Toyota car had caused

problems previously and had been checked by the garage a few days

before the incident. Mrs Milhench had described the car as a 'veritable

death trap' when it had surged uncontrollably across the road as she was

reversing out of their drive. It also emerged that she was planning a trial

'marriage' with her lover, although Ronald described their own

relationship as amicable and he was aware that she may leave him to live

with her lover on a trial basis. It was then disclosed that Milhench, a few

weeks before the fatal drowning, had doubled the insurance value on

Kathleen's life – from £20,000 to £40,000.

Despite this potentially damning information the resulting inquest

ruled, by a majority verdict, that Kathleen's death had resulted from

accidental drowning

although the coroner

did express the

concern that the car,

even with a potential

mechanical issue, had

had enough velocity to

surge over a bank at

the side of the lake and

then be carried a

significant distance

across the water.

Milhench was

therefore a free man

and was able to claim

the £40,000 life

insurance pay out.

However, this was not the end of Milhench's story as in April 1974 he

was arrested and charged with numerous forgery and firearms offences

dating back to 1973. Milhench had become involved in a land

development case, regarding the purchase of 90 acres of land at Ince-in-

Makerfield, near Wigan, to provide a housing estate which would, he

estimated, net him a £1,500,000 profit over seven years. When the

project looked as though it might fail, Ronald obtained some officiallyheaded

notepaper and forged the signature of the then Prime Minister,

Harold Wilson. The letter indicated that Wilson was giving his full backing

to the venture, which Milhench hoped would sway the outcome of the

deal in his favour. He then, bizarrely, attempted to sell the forged letter to

a newspaper journalist for £25,000 and his plot was subsequently

uncovered.

In November 1974 Ronald Milhench was sentenced to three years

imprisonment at Stafford Crown Court for eight offences including

forgery, deception and firearms, one of which was the ownership of a

sten machine gun. News of his conviction made the national press as well

as local newspapers, and the case was even featured in the New York

Times.

Milhench was released on parole in March 1976, having served 16

months of his sentence, and in 1979 he headed off to Manila in the

Philippines to set up a water sports centre.

The Milhench case was a very unusual, and mysterious, one and the full

truth behind the accidental drowning and the court cases that followed

will probably never be known – but for a short period in the middle of

the 1970s the eyes of the country, and the national press, were firmly

fixed on the usually peaceful and tranquil lakes of Chasewater.

Sources:

The British Newspaper Archive; BBC Home On This Day website
---
23
---
Simply Pawfect!

Simply Pawfect!

......................................

As the world slowly opens up

again, there's plenty of our furry,

four-legged friends who will be

needing a haircut, a walk or somewhere

to stay this summer! Find your pawfect

pet solution in our guide to the best

local pet services in the area.

K9 Pastures

Located in a secluded spot near Hixon,

surrounded by rolling countryside, K9 Pastures

offers a safe, secure, stress-free space that you

and your canine friends can enjoy together.

Available for private and individual hire, K9

Pastures is ideal for dogs of all sizes to enjoy their

freedom, or for owners to train new or young

dogs.

For further information and booking details, visit

www.k9pastures.co.uk or call 07718 751406.

K9 ACRES LTD

A rural safe haven for your dog! K9 acres is a large

purpose-built secure dog field facility, based in

Longdon, available for private individual hire. With

two dedicated fields, 'Country' and 'Meadow',

there's no better way for your four-legged friend to

enjoy the countryside!

To find out more, or to book, visit

www.k9acres.co.uk or call 07968 550006.

Chasewater Dogs

Started by Stewart in 2019, Chasewater Dogs

offers experienced handling of dogs. Stewart

uses his passion and 10 years' worth of

experience as an ex-British army dog handler

to help and assist dogs of any breed,

temperament and situation. Chasewater Dogs

has packages to suit all needs, and offers

nutritional advice and support too.

Find out more at www.chasewaterdogs.co.uk

or contact Stewart on 07367 466519.

Square House Boarding Kennels

Square House Boarding Kennels & Cattery is

located on the B5012 between Cannock and

Penkridge. We provide a boarding service for

dogs and cats, as well as doggie day boarding.

Viewing by appointment only. Open 10am-6pm,

364 days a year.

www.squarehousekennels.co.uk

Tel: 01543 466 880

Email: info@squarehousekennels.co.uk

Old Barn Boarding Kennels

Established over 12 years ago, Rugeley-based Old Barn Boarding Kennels is run by husband and wife team,

Steve and Debbie. Prices for boarding start at £20 per pet per night, or £25 for luxury log cabin

accommodation. Stays include twice daily walks in the three-acre paddock, plus a doggie collection and

delivery service is also offered.

Visit www.oldbarnkennels.co.uk, find them on Facebook or telephone 01889 504181 for more information

and to book.

24

Houndspeak

Houndspeak is a professional and personal dog

training and walking service which is passionate

about creating an unbreakable bond between

you and your four-legged friend. Using ethical,

reward-based training techniques, which are

grounded in a sound scientific understanding of

canine behaviour, Houndspeak can help you and

your dog communicate with each other more

effectively. Also offers dog walking services to

nervous, reactive and rescue dogs, to help build

confidence. For more information, visit

www.houndspeak.co.uk.
---
Simply Pawfect!

Citylife's

Cutest Pets

.....................................

Have you snapped a great photograph of your pet during

lockdown? Do you think your pet has what it takes to

be a magazine model? We're looking for the cutest pets

in the area, so send your photos through to

petscitylife@gmail.com, along with your name and your pet's

name, and we'll print our favourites in the next issue!

Animals at Home

Jeff and Donna offer a complete range of pet

care services to meet all your needs. They

offer a great alternative to a kennel or cattery,

providing dog home boarding, and cat home

visits. Along with dog walking and housesitting,

they also provide a 24 hour pet taxi/animal

ambulance service. Whether you have a

routine vet appointment, or a more urgent

emergency, they can help! For more

information call 07973 827821

Doggy Easter Raffle

Paulie and Ruth from Rugeley

Welfare for Dogs would like to

thank everyone who supported

their Easter Raffle this year, and

thank Sam Macgregor for

donating two of the fabulous

prizes.

A total of £330 was raised overall

from the raffling of the Easter

hampers - this will go towards the

cost of keeping the rescue dogs

along with their vet bills.

Ash Brook Dog Walking Field

Ash Brook Dog

Walking field is set

across two acres of

beautiful countryside

and is available for

you to hire on an

individual basis, seven

days a week.

Enjoy hassle-free walking knowing your dog is

secure with 6ft high fencing and a double gate

coded entry system.

Booking is via the website at

www.ashbrookdogwalkingfield.co.uk.

25
---
Two years into Transforming

the Trent Valley

By Louise Morris

........................

The Trent Valley is a special landscape.

For millennia it has been an

industrious region. From farming the

rich fertile soils of the floodplains to

navigating the river; from extracting the

cool, sweet ground water for beer

brewing, to the mills and factories that

sprung up during the industrial

revolution, the Trent Valley has a long

history connected to its river.

It is the people and their communities

that form the beating heart of the Trent

Valley. This is a landscape in which people

have always lived, worked and relaxed. The

landscape has changed continually through

time and continues to do so. Mineral operations are leaving their mark on

the landscape and climate change is leading to an increased frequency of

highly damaging flood events. New transport links are scything through the

countryside and development is increasing pressure on our natural

resources.

'Transforming the Trent Valley' is a scheme that is embracing the

challenges and opportunities presented by this landscape. The Trent Valley

is peppered with a rich cultural and natural heritage that we are setting

out to celebrate and explore. Two years since our launch, and despite a

global pandemic, we have some exciting achievements under our belts.

We are working with the natural processes of the river to reconnect

the River Trent with its floodplain, and we are working with communities

supported by statutory agencies to improve flood resilience and restore

our natural habitats. Our singing success is the reconnection of an old

river channel at Cherry Holme, near Catholme, where a large river island

has been re-established, restoring much needed habitats for wildlife.

We will be improving access through the valley for walking, cycling and

paddling and have made great headway through upgrading some of the

worst sections of towpath along more than 5km of the canal network.

Our family activities, paused during the lockdowns, have moved online

with videos, worksheets and bookable zoom events keeping families

connected with nature. A broad spectrum of 'Trent Talks' have been

launched covering topics from bird ringing to recycling to dog walking and

attracting audiences across Staffordshire, the Midlands and even as far

afield as Japan! Community groups have been supported with over

£35,000 awarded to some great local initiatives with our Community

Grant Scheme.

Finally, we are supported by a large team of volunteers, each helping us

in their own unique way. Survey volunteers are contributing to our

knowledge of the heritage features in the landscape including Stop Line 5,

a relic of the Second World War that is delineated by more than 70

pillboxes. Photography volunteers are capturing images and footage of the

valley to illustrate its transformation through time, and our Wildlife

Recording volunteers are supporting us in generating valuable biological

records.

For more information about 'Transforming the Trent Valley', our projects,

our people and our partners, visit our website www.thetrentvalley.org.uk

Tales of a Private Chef

By Simon Smith

.........................

Some four years ago I was asked to join a friend of mine who was

the chef on the superyacht 'Lady Feryal' to help for a week at

the Monaco Grand Prix.

There would be 12 crew members to feed plus 12 guests who were

staying on board but, in addition, there would be 80 day guests changing

on a daily basis. The yacht had been chartered by an event's company for

the week and was moored end on to the track with spectacular views of

the cars coming out of the tunnel. The resident guests had paid £12,500

each for four days and the day guests had paid £3,500 each for as much as

they could eat and drink. To some people that was seen as a challenge and

by midday they were crashed out and never saw a car.

One major issue that arose was that the event's company hadn't told

the resident guests that the yacht would be full of day guests for three

days. There were all sorts of arguments and upsets between the two

parties!

Resident guests were to have breakfast, lunch, afternoon tea and a fourcourse

dinner. Day guests were to have a running buffet between 11am

and 5pm. The galley of course was only designed for the 12 crew and 12

guests as was the fridge space, so the logistics were a nightmare. In

addition, all the roads were closed between 6am and 6pm as they were

the racetrack! As a result, we couldn't go shopping so had to order all the

food through an agent (which added 30% to the food cost) and it was

delivered across the harbour by tender at 4am in the morning.

While these yachts all look very pretty and spacious from the outside

the crew quarters are always very 'cosy.' As I was an extra crew member

with no allocated cabin space, they found me a sunbed mattress and I slept

on the floor of the engine room for the week.

Providing a 5-star service is difficult where staff numbers are restricted

by space and logistics, and the expectation is that you work at any time of

the day or night. Although these jobs seem glamorous (and they often are)

the work is really demanding and flexibility is all important.

26
---
Opportunity

for a Sales

Executive

Citylife in Lichfield

Ltd is expanding!

We currently have an opportunity

for a Sales Executive to work on our

two magazines – Citylife in Lichfield

and Citylife in Rugeley & Cannock

Chase. You must be self-motivated

and comfortable speaking to clients

on the phone as well as face-to-face.

The post is commission only and a

car is essential.

For further information and a full

job description, please email

helencitylife@gmail.com

J HOWELL &

DAUGHTERS

FUNERAL DIRECTORS LICHFIELD

LICHFIELD'S LONGEST ESTABLISHED INDEPENDENT,

FAMILY RUN FUNERAL DIRECTORS.

SECOND GENERATION BUSINESS HERE TO ASSIST YOU

AND YOUR FAMILY.

24 hours a day

We are proud to be Lichfield's longest established family run funeral directors offering a wide range of

choices to suit all requirements. Horse drawn hearse, non religious ceremonies, floral tributes and

memorials are but a few of the services we offer.

Pre-paid funeral plans are also available.

For a truly personal service please call

01543 255776

Private Chapel of Rest 116 Netherstowe,

Lichfield, Staffs. WS13 6TS

27
---
The Great Outdoors

...................................................

Now the sunny weather is finally here, it's time to throw the doors open wide and embrace the

beauty of our outdoor spaces! Whether you have a wild, natural garden; a perfectly honed

landscape; or a modern entertaining space, there's never been a better excuse to enjoy the

fresh air. We've put together a few of our favourite items from local retailers to help make your

garden area the perfect haven for a relaxing summer.

Need a home office? More space? Or just a

peaceful haven? Why not add an extra room in

the garden with Roundpeg Outdoor Buildings?

With more than 30 years of combined

experience, Roundpeg can work to all budgets

to design and create your perfect garden room.

Visit www.roundpegoutdoorbuildings.co.uk or

call 07377 633735.

Belgio Perla Porcelain Paving Slabs are

reminiscent of Belgian limestone, which is

renowned for its consistent colours, contrasting

with embedded marine fossils. Belgio is an

enduring classic oblivious to fashions or trends,

it has been used unceasingly for generations.

Priced at £42.59 per m2 inc VAT. Available from

www.tippers.com

Need a home office? More space? Or just a

peaceful haven? Why not add an extra room in

the garden with Roundpeg Outdoor Buildings?

With more than 30 years of combined

experience, Roundpeg can work to all budgets

to design and create your perfect garden room.

Visit www.roundpegoutdoorbuildings.co.uk or

call 07377 633735.

Have a go at growing your own vegetables this

year! Choose from the wide selection of fruit

and vegetable plants which are now ready at

Piper Nurseries & Plant Centre, Watling Street,

A5, Gailey. You can also find a huge variety of

bedding plants and accessories to ensure your

garden is blooming this year!

Dine alfresco in style with the Hopetown

Bistro Set, manufactured using 100% aluminium

powder coated frames which ensures rust will

not occur at any time, and round Textelene

Rope. All seat cushions are zipped to allow for

machine washing at 40°C. Available from The

Range, Cannock.

www.therange.co.uk

The Weber Master-Touch GBS C-5750 grill

combines the traditional sense of a charcoal

grill with new innovative features and a dose of

convenience.With the included Gourmet BBQ

System grill, you can cook breakfast, roast a

joint, or bake a crispy pizza out in the open.

Priced at £279 and available from

www.PavingPlace.co.uk

28
---
29
---
Tastes of the Season

By Simon Smith

BBQ Beauties!

We are, at last, into BBQ season. There are so

many choices with a BBQ whether it be a

traditional charcoal, a big green egg which

comes with a hefty price tag, or a gas one

which, again, range in price from the

affordable to a whole outdoor kitchen! My

least favourite are the portable ones where

the food is so close to the charcoal that it's

bound to burn.

The biggest problem with cooking on a BBQ

is burning the outside but still having the

inside raw. Another problem is the 'flare up'

where the fat dripping out of the meat

catches fire. This is a particular problem with

larger joints. I did a shoulder of lamb last

week (before the snow came and ruined

everything!) I marinated it in a curry paste for

24 hours. I then cooked it slowly in the oven

for three hours on a cooling rack so all the

fat dripped out. I finished it on the BBQ for

30 minutes so that you still get the taste but

no fat dripping and flaming. I would use that

same system for a rack of ribs. It always pays

to keep a squirty bottle of water by the side

to damp down the flames if things go wrong.

There are also those who like to sprinkle

herbs on the wood to infuse the meat and

give a nice smell to the area. Another method

is to use rosemary stalks as skewers.

A marinade will always be good for meat or

fish and although you can buy many different

ones in the shops it's fun to make your own

as you can choose all your favourite

ingredients. You don't need a vacuum machine

as you can just do it in a plastic bag. Put the

meat or fish in the bag, add some olive oil

(flavoured if you wish) and any number of

ingredients such as garlic, chilli, fresh herbs,

citrus zest and juice, ginger, curry leaves, or

balsamic vinegar. I would generally leave for 24

hours and then drain off the excess oil before

cooking. Start the cooking over a lower flame

to give the food a chance to cook all the way

through. Finish off over a hotter part of the

BBQ to give a caramelised outside. Bear in

mind that if you are cooking on a gas BBQ

with the lid down the temperature will

rocket.

30

The recipe I'm doing this month is a

Vietnamese-style chicken skewer which is low

in fat so both healthy and easy to cook. I'm

also doing a salmon dish which takes just

minutes to prepare.

Chicken Skewer (serves four)

4 x chicken breasts (skinless)

1 x chilli

1 x lime, zest and juice

2ozs fresh ginger

1 x tbsp fresh chopped coriander

1 x tbsp fresh chopped basil

1 x clove crushed garlic

Salt and pepper to season

Method

Roughly chop the chicken breasts and put

into a food processor. Chop the chilli and add.

Peel and grate the ginger and add. Add the

rest of the ingredients and season. Whizz

together quickly. I try not to purée the

chicken so that you still have some bite to it

rather than a mush. Take out and form into

kebabs, either round a rosemary skewer or a

BBQ skewer.

Cook on the BBQ. Time will depend on how

big you have made them and what sort of

BBQ you are cooking on.

BBQ Salmon

4 x salmon portions or ½ side

1 x bunch spring onions

1oz pickled ginger (Normally found in the

International section of a supermarket) or use

fresh ginger

2 x tbsp soy sauce

1 x tbsp Lemon flavoured olive oil

1 x fennel bulb

Method

Finely slice the fennel bulb and put in some

folded tin foil. Lay the salmon on top. Finely

chop the ginger and spring onion and sprinkle

on top. Top with the soy sauce and oil and

sprinkle with some sea salt. Close the tin foil

over the top of the salmon. This whole

package can then be cooked on the BBQ in

the foil for 10 minutes. When you open the

foil all the ingredients will have steamed

together and you won't have a messy griddle

to clean.

Simon Smith runs a catering business from his

production kitchen in Lichfield, providing bespoke private

dinners plus wedding, corporate and event catering.

Simon also undertakes cookery demonstrations around

the country and with local businesses such as Arthur

Price and Tippers. During the summer months Simon

works for private clients both on superyachts and in

villas in St Tropez and Europe. If you are looking for

catering or a day of cookery skills go to

www.simonsmith-chef.com

*Please take extra care when preparing and handling

hot foodstuffs. Go to www.food.gov.uk for further details.

**Please take extra care as bones may be in the fish.
---
31
---
Something

Special for Dad

.....................................

Father's Day is on Sunday 20th June this year, but what do

you get the man who has everything? We've compiled a

guide of unique gifts and creations from some of our

favourite local retailers to ensure that Dad feels extra-special

this Father's Day.

Lichfield city illustrated A4 print available in

blue, pink or yellow. Unframed £10 or framed

£20. www.etsy.com/uk/shop/MBDesignsEngland

Based in Burntwood and specialising in quality

bespoke homemade cakes, bakes and fudge, Tina's

Temptations and Fudging Lovely has something for

everyone. Ranging from luxury celebration cakes

to treat boxes comprises of a variety of different

tasty items, you'll find the perfect nibbles to help

you celebrate Father's Day in style!

Find out more on Facebook

www.facebook.com/tinastemptationscakes.

Man's best friend! At £14 this British-made

pewter keyring is the perfect gift for Dad this

June (other designs available). With so many

items of jewellery, gifts and minerals to choose

from, Odonata Studios really is a little shop full

of treasures. Located in Middleton Hall

Courtyard, Tamworth. www.odonatastudios.co.uk

"If music be the food of life, play on" (Orsino,

Twelfth Night, Shakespeare)

Naturally hand crafted, the beautifully designed

MI SQUARE pocket Bluetooth speaker really

packs a punch. In solid natural wood with a

rechargeable battery, it delivers exceptional

sound quality. Take your travel music seriously.

Available from At The Cedars, Rear of 48 Main

Street, Barton under Needwood.

www.atthecedars.co.uk

Upcycled Floor Tom Drum Drinks Table

Stands on four chrome legs with a choice of

your pictures on top. Priced at £60.

All products are hand finished and are all

completely unique. Collection available in person

from Brownhills or can be delivered for cost of

fuel. Take a look at more items on Facebook and

Instagram @rockhardupcycling.

32

Treat Dad to a unique piece of artwork this

year, such as this beautiful piece entitled Relaxing

by the Pool, which is painted on a stretched box

canvas so there is no need for a frame. Size is

40cmx40cm and is priced at £250. Available from

www.sterlingleefineart.com

A beautiful piano, such as this upright model, is the

ideal addition to any home! All pianos are sold

guaranteed with free local home delivery. There's

lots of different models to choose from at Lichfield

Piano Centre, Curborough Craft Centre, Watery

Lane, Lichfield.

www.lichfieldpianocentre.co.uk
---
33
---
CLASSIFIED

To Advertise please

contact our classified

team on

07970 513144

This ad...

£35 plus VAT

Competition and Prize Draw - Terms and Conditions

1.Entrant's details will be held and processed in line with Citylife in Lichfield Ltd's Privacy Policy, which in turn adheres

to GDPR Data Protection legislation. For a copy of our Privacy Policy please email kristencitylife@gmail.com

2.By entering the prize draw/competition, you agree to the terms and conditions stated.

3.The closing date is stated on each individual prize draw or competition.

4.Entrants' details will be securely held by Citylife in Lichfield Ltd in accordance with our Privacy Policy. Details will be

held only until the closing date of the competition. After this date entrants' details will be securely destroyed/deleted.

Winners' contact details will be securely stored only until the winner has been informed of their win/prize. After this

details will be securely deleted/destroyed.

5.Entrants' details will never be shared with any third party. The only exception to this is the name (and if the prize is to

be posted) address of Competition/Prize Draw winners that will be communicated to the competition partner to allow

winners to securely claim their prize, after which all details will be securely destroyed. The initial and surname of

winners will be printed in our magazines – no other details will be published.

6.By entering the competition/prize draw, entrants agree to Citylife in Lichfield Ltd using or publishing materials provided

by the entrants (but not address or contact details apart from initial and surname) in any of their publications and online.

7.Citylife in Lichfield Ltd accepts no responsibility for any breach of copyright or breach of any other legislation entailed

by entrants in their creation or submission of materials.

8.Only one entry per prize draw/competition, per reader.

9.Except in the case of cash prizes, no cash equivalent will be offered and the prize is non-transferable.

10.All prizes are subject to availability and the prize suppliers' terms and conditions.

11.No purchase necessary.

12.Prize draws and competitions are only open to UK residents aged 18 years or over (unless otherwise stated).

13.Competitions and prize draws may not be entered by any employee of individual associated with any employee,

agent or third party of Citylife in Lichfield Ltd.

34

14.Winners will be selected at random in the case of applicable prize draws and competitions, or by an independent

judge in the case of photographic/art competitions from all entries received.

15.Winners will be notified by Citylife in Lichfield up to 28 days after the closing date of the competition/prize draw by

the contact details provided by the entrant.

16.A list of the surnames and county of residence of the winners will be available by writing to Citylife in Lichfield Ltd no

earlier than six weeks after the competition closing date.

17.When the prize draw/competition winner has been selected, this decision is final and no correspondence will be

entered into.

18.Citylife in Lichfield Ltd accepts no responsibility for the prize being lost, damaged or delayed in transit. When the

prize is provided by a third party, Citylife in Lichfield Ltd accepts no responsibility for any change to the prize, or for the

quality of the prize provided.

19.Competitions may be amended or withdrawn at any time.

20.By entering the competition or prize draw, you agree to having your name, (photograph, where stated) and city or

county of residence published in any of Citylife in Lichfield's publications and online.

21.Unless otherwise stated, the promoter is Citylife in Lichfield Ltd, PO Box 7126, Lichfield, WS14 4JS.

22. Citylife in Lichfield Ltd do not express any warranty or endorsement of any competition prize, information, service or

product provided in connection with a competition by printing or otherwise publicising any competition.

23.To the full extent of the law, Citylife in Lichfield Ltd shall not be liable for any loss, claim, punitive, indirect, incidental

or consequential damages of any kind incurred as a result of entering this prize draw or competition.

24.By submitting photos, text or artworks as part of competition/prize draw entries you agree that you own these photos

text or artworks, that it is your original work to which you own all rights to distribute, and that your entry is accurate,

moral and legal.
---
35