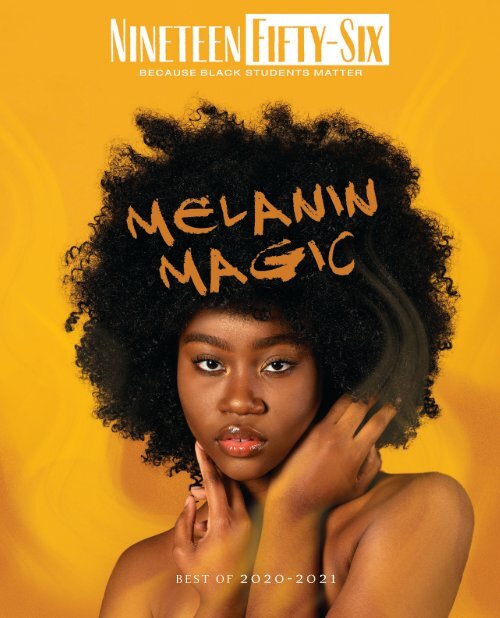 Nineteen Fifty-Six Best of 2020-2021 Melanin Magic
This is the first ever print edition of Nineteen Fifty-Six entitled Melanin Magic. This special issue features stories compiled from September 2020 to March 2021.
This is the first ever print edition of Nineteen Fifty-Six entitled Melanin Magic. This special issue features stories compiled from September 2020 to March 2021.
SHOW MORE
SHOW LESS
You also want an ePaper? Increase the reach of your titles
YUMPU automatically turns print PDFs into web optimized ePapers that Google loves.
BEST OF 2020-2021
---
You do matter. The numerous achievements and talents of Black

students deserve to be recognized. As of Fall 2019, 10.50% of students

on campus identified as Black or African American. Black students are

disproportionately underrepresented in various areas on campus. Nineteen

Fifty-Six is a Black student-led magazine that amplifies the voices within

the University of Alabama's Black community. It also seeks to educate

students from all backgrounds on culturally-important issues and topics in

an effort to produce socially-conscious, ethical and well-rounded citizens.

1 NINETEEN FIFTY-SIX MAGAZINE
---
COVER FROM VOLUME 1 ISSUE 1

The name 'Nineteen Fifty-Six' came from the year that Autherine Lucy Foster was officially

allowed to enroll at the University of Alabama. Although, she wasn't allowed to stay and finish, she

ultimately led the way for other Black students to be able to enroll and attend classes.

SPRING 2021 2
---
EDITORIAL STAFF 2020-2021

EDITOR-IN-CHIEF

MANAGING EDITOR

VISUALS EDITOR

ASST. VISUALS EDITOR

PHOTO EDITOR

VIDEO EDITOR

Tionna Taite

Bradley Coats & Bhavana Rhavala

A'Neshia Turner

Ashton Jah

Alexis Blue

Zahrea Small

CULTURE AND LIFESTYLE EDITOR

ASST. CULTURE AND LIFESTYLE EDITOR

FEATURES AND EXPERIENCES EDITOR

ASST. FEATURES AND EXPERIENCES EDITOR

Farrah Sanders

Reena Miller

Haley Wilson

Sala Bandele-Jackson

ENGAGEMENT EDITOR

ASST. ENGAGEMENT EDITOR

WEBSITE MANAGERS

FACULTY ADVISORS

DIGITAL MEDIA MANAGER

ASST. ADVERTISING DIRECTOR

DIRECTOR

Nickell Grant

Taylor Garner

Jeffrey Kelly & Javon Williams

Monique Fields & Mark Mayfield

Terry Siggers

Julie Salter

Jessie Jones

CONTRIBUTORS

WRITERS

PHOTOGRAPHERS,

VIDEOGRAPHERS &

DESIGNERS

SOCIAL MEDIA &

MARKETING

SPECIAL THANKS

Rachel Parker, Javon Williams, Kayla Bryan,

Elizabeth Evans, Jasmine Hollie, Jeffrey Kelly,

Ashlee Woods, Michaela Alexander, Kenya

Harris, Shamiel Moore, De'Yonica Daniels,

TaKyla Bates, Madison Pettway, Joseph King,

Chalise Macklin, Derrick Thomas

Cameryn Robertson, Donovan Harris,

Madison Carmouche-Soward, Tayla K. Bonner,

Joelle Dzizienyo, Vu Le, Andrew Dodson ,

Autumn Williams, Shaquala Courtland,

Lexi Hall

Kende'lyn Thompson, Mallory Westry, Ma'Kia

Moulton, Cassidy Burrell, Madison Davis,

Karris Harmon, Kaela Robinson, Tyala Bonner,

Asia Smith, Kierra Thomas, Nia Anderson,

Sydney Reese, Gabby Adams, Jolencia Jones,

Armyll Smith, Asia Anderson, Taeja Rogers,

Vanessa Thraen, Breona Winn

Toni Taite and Kim Taite

COPYRIGHT

Nineteen Fifty-Six is published by the Office of Student Media at The University of Alabama. All content and design are produced

by students in consultation with professional staff advisers. All material contained herein, except advertising or where indicated

otherwise, is copyrighted © 2020 by Nineteen Fifty-Six magazine. Material herein may not be reprinted without the expressed,

written permission of Nineteen Fifty-Six magazine. Editorial and Advertising offices for Nineteen Fifty-Six Magazine are located at 414

Campus Drive East, Tuscaloosa, AL 35487. The mailing address is P.O. Box 870170, Tuscaloosa, AL 35487. Phone: (205) 348-7257.

3 NINETEEN FIFTY-SIX MAGAZINE
---
A LETTER FROM THE EDITOR

APRIL 2021

W

hen looking at campus

publications, I realized

something was missing. There

was a void in terms of magazines

that told the stories of present and

past Black students at the University

of Alabama. This realization came

to me over the summer after I

completed my freshman year of

college. Nineteen Fifty-Six has since

grown to be an influential platform

on campus with the hardwork and

dedication of numerous students

here at the university.

Over 60 students ranging from

freshman to doctorate students have

contributed to this magazine in

more ways than one. From the stories

that were told to the creative ideas

that were shared, Nineteen Fifty-

Six is a collective of Black students

from various walks of life. Each

magazine issue touched on relevant

and important topics that relate to

the Black community on campus and

outside of campus.

Truly, Nineteen Fifty-Six serves

as proof that Black students at the

University of Alabama are magical.

55,455 words were typed. 14,486

people were reached. 1,568 photos

were captured. 54 stories were

written. This all took place during

a pandemic and the very first year

of the magazine's creation. These

numbers are evidence of our ability

to persevere and rise over any

obstacles that come our way.

This year Nineteen Fifty-Six released

five magazine issues and one special

edition issue. I am pleased to present

our final magazine issue of the

year entitled Melanin Magic. It has

been a blessing to work with such

talented and dedicated students on

this historical magazine. I hope this

magazine issue leaves you inspired

and reminds you of just how magical

you are.

"

Black girl magic means we

can do anything we want

to do. We are natural born

leaders and we persevere

through everything and

when somebody says "no,"

we smile and keep it moving.

- Tika Sumpter

"

TIONNA TAITE

SPRING 2021 4
---
1 1

15

17

19

21

23

25

27

Marching with Mindfulness

When Sports Fell Silent

The Art of Kicks

Battle of the Ballot

Dating in College

Breaking the Chain

Bloody Tuesday

Too Good to be True

09 C U L T U R E

5 NINETEEN FIFTY-SIX MAGAZINE
---
LIFESTYLE

29

3 1

35

37

40

43

47

49

51

Activism

Black Excellence on Screen

Equity on a Spectrum

The Melanin Marketplace

Disapora Dining

Black Like I Never Left

Black History

Watch Party Eats

SPRING 2021 6
---
53

F E A T U R E S

55

57

59

Building Bridges to a Lasting Legacy

Black Techies

Path to the Olympics

7 NINETEEN FIFTY-SIX MAGAZINE
---
63

64

67

69

73

75

Discomfort Around Us

Residential Segregation

Recreating the Path

The Exploitation of Black Athletes

Misogyny Madness

Closing From Editorial Staff

61

EXPERIENCES

SPRING 2021 8
---
CULTURE

9 NINETEEN FIFTY-SIX MAGAZINE
---
VIVIAN MALONE JONES

She was the first African American graduate from the University of Alabama.

SPRING 2021 10
---
11 NINETEEN FIFTY-SIX MAGAZINE
---
JEFFREY KELLY

MARCHING WITH

MINDFULNESS

F

or five months, the United

States has been entangled in

a turbulent relationship with

the COVID-19 pandemic while also

witnessing countless reprehensible

acts caused by systemic racism

within the justice system.

For students of color, the already

complicated situation has become

more complex with a new semester

on the horizon. Now, while trying

to assimilate to a "new normal" on a

global scale, students have been met

with another on an academic one.

However, students of color don't

have to confront these stressful

situations alone.

She said having to leave campus and

deal with loss of all kinds abruptly

has created an environment where

"people aren't maybe coping at

their best."

"Then we started to have the

protests and being a Black

identifying woman myself; I know

how stressful that's been for me,"

Turner said.

To combat that stress, Turner helped

create a virtual support group

within the Counseling Center called

"Coping with a time of growth and

change: a support group for Black

and African American identified

students."

"I know a lot of us are balancing

school, work, and then everything

with the systemic racism, so

having someone to vent to is really

important," said Jamaria Hill, a

junior at The University of Alabama

and the vice president of My Mind

Matters, a student organization

on campus that focuses on the

mental health and wellness of Black

students.

Hill said the organization was

created to allow Black students to

have a safe space to have essential

discussions about mental health.

"Students are dealing with a lot

right now," said Jennifer Turner, the

Coordinator of Clinical Services at

UA's Counseling Center.

The support group will touch on

emotional health, social health, role

expectations and more.

Though these discussions about

mental health are needed, they

don't always happen as often as

possible.

According to the Health and Human

Services Office of Minority Health,

Black Americans are 20% more

likely to experience serious mental

health problems than the general

population.

Furthermore, according to The

Washington Post, anxiety and

depression symptoms in African

Americans have tripled since 2019,

rising from 8% to 34%.

SPRING 2021 12
---
13 NINETEEN FIFTY-SIX MAGAZINE
---
But despite these very

real mental health concerns,

the combination of socioeconomic

disparities, inequality of care and

social stigma prevents most Black

people from getting the treatment

they need.

"I think we may not have these

conversations because of the

negative outlook that the Black

community sometimes has when it

comes to mental health," Hill said.

Hill said to fix anything, you have

to have conversations with people

who understand what you're going

through.

However, before learning how to

cope with a mental health issue,

individuals must first acknowledge

the problem and understand that

everyday things can be triggers.

Although it has been vital in

spreading news and the important

narratives of activists during

protests, for some people social

media is triggering. With many

videos circulating platforms

depicting Black people being

murdered, violent encounters at

protests, biased reporting from

news outlets and more, some have

difficulty staying informed while

also staying in the right mind

frame.

"We've seen enough videos of people

dying," Turner said.

She said she avoids videos like that

and prefers news outlets like NPR

because they usually do not engage

in sensationalism.

"That's a way I protect myself,

and that's a way I have to protect

myself," Turner said.

Hill and Turner both agreed

that curating a positive feed is

essential for

maintaining mental

health on social media.

Hill said to benefit her mental

health, she sometimes dials back

her social media consumption and

takes a personal day.

"Every now and then, it's kind of

needed," she said.

Lux Murray, a lead organizer of

T-Town Freedom Marches, uses

what he sees as fuel in the fight for

change.

"Currently, with everything going

on, I get tired of seeing the things

that have been happening for so

long. That's why I continue to throw

protests because I want to see a

change in this country," Murray

said.

While protesting can be fuel for

some, it might not be the best idea

for others, but there are still ways

to help.

Turner said because of a preexisting

injury, it was not safe for

her to attend protests, so instead

she bought masks for the protestors.

She recalled a friend who could not

participate in protests either but

decided to help with bailout funds.

"Figure out what you can do," she

said. "It is just as important as

being on the front line; you have to

provide respite for those who are on

the front line."

Turner said at times, people feel

guilty for doing what they need to

to stay healthy, but people have to

do what's right for them "so that

you can go out there and deal with

anti-Blackness and racism."

Whether you are on the front lines

or just offering support, mental

health is still an important part

of living a happy life while also

fighting for change.

"It's okay to take a day every now

and then," Hill said. "It's okay not to

be okay."

Hill said it is important to take

mental health seriously before

it gets to the point where it's

overwhelming because moods like

that can be hard to get out of.

"Mental health is very important to

me. Your mind is important. If you

need to take time to yourself to get

your mind together, then do so,"

Murray said. "I'm going to continue

the fight, and so whenever they

get their mind together, then they

can come back and join us but take

care of your mind before you worry

about anything else."

Regarding the importance of mental

health, Turner recalled the words of

a friend who said, "I'm not someone

who can go out and march currently,

but I'm raising my children to be

joyful, and that's radical."

"If you think about it, it is," Turner

said. "The people who don't care for

us and do not love us do not want

to see us be joyful and be happy,

and I think that's important as well

as getting out and exercising your

right to vote."

SPRING 2021 14
---
F

FARRAH SANDERS

WHEN

SPORTS

E

L

originally scheduled for that day. Various teams

made public statements, affirming the central

message that racial injustice is a deep issue in this

country. Two-time Grand Slam tennis champion,

Naomi Osaka, swiftly followed by announcing

that she will be withdrawing from the Western &

Southern Open. She later resumed play in the U.S.

Open but wore face masks with the names of Black

people who had lost their lives to acts of police

brutality. This sent shock waves throughout the

nation. We had never seen such a bold and polarizing

move of solidarity in the sports world that caused

regularly scheduled games to be postponed.

L

SILENT

S

ports have culturally served as one of America's

favorite pastimes. It can be viewed as a welcoming

break from the outside world. A world that is filled

with struggling economies, constant conflict, and

systemic inequalities. During times of controversy or

unrest, it appears as though the two seemingly separate

worlds of sports and advocacy collide. But are they truly

separate? We have seen this happen repeatedly over the

course of organized sport. History has recorded on-field

activists such as Moses Fleetwood in 1883, Gertrude

Ederle in 1926, Tommie Smith and John Carlos in 1986,

and many more.

All of these integral moments in sports were directly

related to social and civil injustice issues happening

at the time. They tend to be heavily politicized while

gaining national attention.

The death of George Floyd and Breonna Taylor has sparked

recent national outrage. Protests and demonstrations

spread across America and have maintained a strong

presence for nearly 4 months. On Aug. 23, 2020, a video

of Jacob Blake being shot seven times in the back by a

Kenosha Police Officer went viral. As conversations and

tension quickly grew, professional sports decided that

their power was in their silence.

On Aug. 26, 2020, players from the WNBA, NBA, MLB,

and NHL decided that they will be postponing games

While others threw support behind them, some

expressed discontent. They mentioned the need

for athletes to stay out of the political sphere.

They wished for life to return to "normal". But

the first domino had already fallen. Soon after

professional sports resumed, college teams began

their own acts of protest. Football teams from The

University of Texas, Boston College, Mississippi

State University, and more canceled practices and

released statements of solidarity.

On Aug. 31, 2020, the Athletic Department of The

University of Alabama, led by the football team

and head coach Nick Saban, marched from the Mal

Moore Athletic Complex to Foster Auditorium.

Athletes gathered and socially distanced in Malone-

Hood Plaza, facing the same area that became

famous for the Stand in the Schoolhouse Door.

Head coach Nick Saban, athletic director Greg

Byrne, University police chief John Hooks,

University president Dr. Stuart Bell and vice

president of Diversity, Equity, and Inclusion Dr.

G. Christine Taylor shared words on behalf of the

administration.

"I've learned through talking with our studentathletes…

there are things I never had to think

about or talk to our boys about, such as what to

do if they got pulled over. I never had to worry

about them getting followed by security while out

shopping. Or potentially be in danger while going

out for a jog," Byrne voiced. Nick Saban recognized

the influence that those in sports can have.

"Sports has always created a platform for social

change... I think we have a responsibility and an

obligation to do that… and create positive change,"

Saban said.

15 NINETEEN FIFTY-SIX MAGAZINE
---
Najee Harris, Chris Owens, and Jarez Parks shared

sentiments on behalf of the athletes.

"The past few months have brought focus to issues

that have been prevalent in society for years," Harris

expressed. "Black men and women have been the

undeserving victims of racism in many ways including

police brutality and hate crimes."

He then asks one of the most important questions in

the conversation about social change. "What next?"

Najee and supporting athletes affirmed the need to

do more within the community and collaborate with

service organizations. They also called for holding law

enforcement accountable, asking that local police forces

begin re-training officers. This is in an effort to foster a

more equitable space for members of the community.

According to Dr. Meredith Bagley, Associate Professor

at The University of Alabama, whose research centers

around sports, power, and rhetoric, what we're beginning

to see in sports culture is slightly different than what

we've seen before.

"We're seeing more variety in the high profile athletes

who take a more prominent role. We're also seeing levels

of sport and types of sport that we don't usually think of

as activists. It's this level of resistive politics," Dr. Bagley

said.

Resistive politics is one of two forms of widely used

politics. Status Quo politics is the unnamed, yet prevalent,

other half. Dr. Bagley describes organized sport over

the past century as becoming more aligned with Status

Quo politics. For example, Collegiate and professional

teams that win their leagues national title get to visit

the White House. According to a report released by late

former senator John McCain and senator Jeff Flake, the

Department of Defense spent $6.8 million dollars from

2012-2015 on events before professional sports games,

including but not limited to, the honoring of military

members, displaying the American flag and reenlistment

ceremonies. This was justified by the department as a

part of their recruitment strategy.

"The dominant voices that shape American culture are

also shaping sports. We don't recognize that as politics

because that's the way our everyday world is running.

Those who are more likely to recognize that as politics

are on the edges or underside of that status," Bagley

clarified.

Essentially, those who belong to communities that have

been marginalized due to these structural rules and

shapings are the ones to recognize those very rules.

These are women athletes who don't receive equal pay

despite having major success. These are Black women

being accused of drug use because of their natural talent

and strong physical features. These are athletes of color

recognizing the duality of being respected for their

athletic talent yet silenced for their views of society

as a person of color. Those who do not experience the

margin, do not see how sports and politics have been

closely aligned for some time now.

"What we're seeing now is a potentially unprecedented

and sustained form of Resistive Politics in sports. We're

seeing this interconnectedness of different leagues

forming organized protests," Bagley remarked.

Resistive politics hinges upon challenging the status

quo. Bagley likened it to a dinner table conversation of

current events. Opinions are welcomed so long as they

are in agreement with the main beliefs of the house.

Introducing an opinion that challenges those beliefs are

met with the response, "Don't bring politics into this."

But, the politics were already there.

That push back is most notably seen in the "shut up and

dribble" responses. The Alabama protest was met with

mixed reviews. Some loudly supported. Some claimed

that they will no longer support the team because of

their stance.

Especially during challenging times, people may view

these resistive acts as a burden. Sports to them used

to be a welcoming break from a long work week or a

needed pause in the middle of a hectic pandemic. The

issue lies in the fact that they're asking for a break from

something that the very athletes they praise endure

without relent. Black athletes are not afforded a break

from institutionalized racism, no matter the talent or

status. It can be fair to say that no one's comfort level

should be placed above those seeking basic human

rights.

As we continue down this path of sustained resistive

politics in organized sport, we must continue to

ask ourselves the same question that Najee Harris

posed. "What now?" What can we do to continuously

press forward toward positive change? Allowing the

marginalized to lead the charge and have necessary

conversations is the only way to navigate the path of

progress.

SPRING 2021 16
---
KS

TA'KYLA BATES

THE ART OF

KICKS

KS

KICKS

J

ordan, Nike, Adidas, Yeezy are

all big shoe brands society is

obsessed with. You would be

considered very lucky if you own a

pair of OG Jordan 1s High. But why

is society so fascinated by sneakers?

Sneakers are a status symbol for

most people according to "The Rise

of Sneakerhead Culture" by Michael

Lishnevsky. Sneakers are very

popular among Millenials and Gen

Z culture. Usually, if you have

some rare sneakers you might

be considered a Sneakerhead.

Sneakerheads are people who

collect shoes, sometimes

sell them and have almost

an obsession with sneakers.

Before we dive into the culture

of kicks, we have to learn about the

history of sneaker culture.

Sneaker culture began to surface

in the 1970s when people wanted

a demand for athletic shoes. The

80s was a major turnaround for

the sneaker game because of one

man, a basketball legend, Michael

Jordan. In 1984, Nike was struggling

to sell shoes. Nike had the timeless

Air Force 1, however the basketball

scene was still stuck on Converse.

Michael Jordan just began his

NBA career in '84 and had

a decision to make. Michael

Jordan wanted Adidas but Nike

wanted Michael Jordan. As history

would have it, we know how that

story ends. The Air Jordan 1 was

the game-changer in basketball and

street fashion. In 1985, a year after

the debut, the Jordan 1 would retail

at $64.99. Now in 2020, the retail

price is $160.

Sneakerheads can be a business'

dream or worst nightmare. A

nightmare because resellers buy

shoes in bulk at retail price and sell

them for hundreds or thousands of

dollars. The same sneaker that was

sold for $65 in 1985 is now being sold

on resell websites like GOAT.com

and StockX.com for 10 times that

price.

According to Leigh Steinberg

of Forbes, the sneaker market is

expected to be worth about "$95.14

billion by 2025." Resell websites are

a major contributor to the sneaker

market. Popular culture is another

large influence. In 2015, Rapper

Eminem did a collaboration with

Jordan to make his own shoe. There

were only ten of these shoes made in

the world. The Eminem X Carhartt X

Jordan 4 is listed as high as $45,000.

It is unbelievable that people would

pay so much money for a pair of

shoes. Yet, that is just how the shoe

game works. Many athletes, rappers

and celebrities have collaborated

with sneaker brands such as Travis

Scott, Pharrell, Cardi B and Tyler

the Creator.

17 NINETEEN FIFTY-SIX MAGAZINE
---
KICKS

KI

So how do people get access to

such rare sneakers? The answer is

sneaker dealers. One of the most

famous sneaker dealers is 21-yearold

Benjamin Kickz. Benjamin had

always loved sneakers and he started

selling them at the age of 15. He sells

to world-renowned celebrities like

DJ Khaled, who was the first celebrity

to buy shoes from him. Sneakers

are something that is relevant in

Black culture. We can see this from

Will Smith rocking different types

of Jordans on The Fresh Prince of

Bel-Air to documentaries about the

growing number of shoe fanatics

called sneakerheads. Sneakers

are a way for people to express

themselves. Sneakers can also be a

way to connect people all around the

world regardless of race. Because

let's face it, cool sneakers are

attention grabbers and sometimes

even conversation starters.

SPRING 2021 18
---
KENYA HARRIS

BATTLE OF THE BALLOT

Freedom and justice cannot be parceled

out in pieces to suit political convenience. I

don't believe you can stand for freedom for

one group of people and deny it to others.

- Coretta Scott King

T

he United States was founded

on principles of democracy

and anti-monarchist

ideology. So, it is ironic that a

country built 'for the people' has a

longer history supporting rhetoric

that only gives power to the few.

Alas, the fight for voting rights has

been a recurring issue throughout

American history- and elitist

ideology, hegemonic patriarchical

structuring and white supremacist

doctrine are the guiding principles

for restricting access to voting.

This is voter suppression, and its

past is extensive.

IN THE BEGINNING

After much debate about whether

or not the pool of eligible voters

should be expanded in 1787, the

Founding Fathers turned the

issue over to the states' discretion.

Article One, Section Four of the

Constitution states that: "The

Times, Places and Manner of

holding Elections for Senators

and Representatives, shall be

prescribed in each State by the

Legislature thereof; but the

Congress may at any time by Law

make or alter such Regulations."

This seemingly harmless passage

gave way to horrific unintended

consequences that would continue

into the 21st century. This laissezfaire

attitude gives states the

power to invoke exclusionary

legislation that denies citizens

access to voting through the guise

of protection. Furthermore, the

repercussions of this language

perpetuate the divorcing of

citizenship and its ties to voting

rights.

The aftermath of this clause would

prove to be horrendous. By 1800,

each state in the union took legal

action to reinforce systemic racism

by disenfranchising Black people.

Some states officially documented

a white-only policy. In 1802, every

state except Maine adopted

legislation banning Black people

from voting. New Jersey's previous

declaration that gave voting rights

to all citizens of the state, made

changes to exclude women and

Black men. Maryland even banned

Jewish people from voting until

1828, and Native Americans would

not be considered as citizens for

another century.

These instances of voter

suppression were analyzed further

during the period after the Civil

War and the Reconstruction

Amendments- which included the

13th, 14th, and 15th amendmentsensured

the freedom and

protection of civil rights of all

formerly enslaved people— or

they were supposed to. The

reaction to these amendments

across the nation was one of

ridicule. At this time, Black

political participation increased

at an astronomical rate all across

the South, so much so, that the

Black voter registration rate

surpassed white populations'

voter registration rate in

Louisiana, South Carolina

and Mississippi. Over 700,000

Black people voted in the 1868

election, according to the 2018

statutory report "An Assessment

of Minority Voting Rights."

This led to many multiracial

governments all over the south

and particularly Mississippi,

where two Black senators were

elected. The growing political

influence of the Black community

was met with an intimidation

campaign from white

politicians and citizens alike

that demolished any control or

political influence Black people

obtained. After power was

ceased, white Democrats held

a state convention where they

openly admitted to trying to

find ways to get around the 15th

amendment. A few years after

this instance, the Compromise

of 1877 pulled federal troops out

of southern states, diminishing

any accountability to conform to

the new amendments.

THE SOCIAL DEATH

Their circumventing actions

experimented with possible

factors that would make Black

voters ineligible and resulted

19 NINETEEN FIFTY-SIX MAGAZINE
---
in the creation of a poll tax and

a literacy test. These tools were

successful obstructions that by

1892 would drastically reduce the

amount of qualified Black voters

in Mississippi from 90 percent to

6 percent. Mississippi established

a precedent that many southern

states would quickly follow by

adopting their own versions of

restrictive laws, known as Jim

Crow laws. This code combined

with racial violence continued for

another 70 years.

By the 1960s, citizens all over the

country would have participated in

persistent protests for more than

a decade. Non-violent protests

were confronted frequently

with murderous violence that

was televised globally. The

general public was appalled and

the federal government would

be forced to ratify the 24th

amendment, forbidding poll tax.

A year later, the Voting Rights Act

prohibited the residual tactics

that reinforced voter suppression

and the act established federal

oversight over areas that had a

history of voter discrimination.

More policies would be produced

to ensure the protection of voting

rights- but to no avail. Federal

oversight had less agency to hold

states accountable, and after

party realignment occurred,

many states instituted new

restrictions- except this time they

offered less transparency like in

the past, and instead have coded

the language so much so that it

seems to mitigate election fraud.

This is where dog whistle politics

began to rear its ugly head.

CODED LANGUAGE

TODAY

The power of the federal

oversight clause of the Voting

Rights Act was reduced in 2013 by

the U.S. Supreme Court which would

have intervened with the voter

registration regulations. These

states with majority republican

legislatures, created a variety of

qualifications including having

tangible identification or proof of

citizenship, frequently purging lists

of inactive names from registration

polls, shortening voting periods of

time, and limiting access to absentee

ballots and mail in voting. Sound

familiar yet?

Although Trump believes mail-in

voting will increase voter fraud

and advantage Democrats, Stanford

University researchers have released

the The Neutral Partisan Effects of

Vote-by-Mail assessment that asserts

there is no partisan advantage for

either party. Furthermore, even

after being told by many experts

that election fraud in the U.S. is rare,

Trump established the Presidential

Advisory Commission on Election

Integrity to investigate voter fraud

which was disbanded in 2018 after

they found no evidence to support

any claim to election fraud. Trump's

opposition to additional funding for

the USPS proved problematic when

the COVID-19 pandemic hit the U.S.

The postal service company was not

given any funding in the original

stimulus bill text and their bailout

request was rejected by the white

house. Shutting down operations

was beginning to look like reality.

Because of the pandemic, many

states have changed their procedure

for absentee ballots, so more citizens

can mail in their vote. Without

the USPS, this could severely limit

access to voting on a national level.

Even with all of this information,

it begs the question if any form of

restrictive laws are interconnected

with voter suppression. The

Assessment of Minority Voting

Rights Access comprehensive report

would answer yes and that these

laws "have a disparate impact on

voters of color and poor citizens."

The study goes on to critique

voter identification laws as placing

an undue burden on citizens by

requiring them to pay fees in order

to obtain these credentials. This

is supported by the correlation

of states with voter identification

laws also having an increased gap

between white and minority voters.

The report also investigates the

reduction of early voting and how

it creates long waiting periods that

directly limit minority citizen's

access to the polls. This coupled

with the closing of polling stations

in areas that have higher minority

populations is suspect. Think about

how Georgia's 2018 gubernatorial

race between Stacey Abrams

and Brian Kemp made headlines

everyday. It was a disastrous display

of voter suppression with a bus

full of Black senior citizens being

blocked from voting, as one of the

most incredulous instances. Brian

Kemp was able to use his position

of Secretary of State to enact last

minute regulations that suppressed

Georgian votes, thus securing

his victory. The Minority Voting

Rights Access report urges the U.S.

Congress to restore the federal

oversight clause to the Voting Rights

Act. Seeing as "racial discrimination

in voting has been a particularly

pernicious and enduring American

problem." It is safe to say that voting

rights will continue to be an ongoing

issue. Although legislation may aid

in the protection of these rights, the

persistent nature of systemic racism

and white supremacy will continue

to morph into legislation and legal

doctrine that are conceptually

unrecognizable, but produce the

same outcome where minorities are

exploited.

SPRING 2021 20
---
KAYLA BRYAN

DATING IN COLLEGE

21 NINETEEN FIFTY-SIX MAGAZINE
---
CULTURE

I

s dating in college a good idea?

For some, dating in college is the

best decision they have ever made.

While others regret every moment

they spent "dating" someone. The

term can have multiple meanings

but, the two mainstream terms of

dating would be casual dating or

in a relationship. Casual dating are

attachments you pursue for fun, not

for commitment. Then relationship

dating is when individuals in a

committed relationship tend to be

monogamous. In other words, you do

not "date" other people.

College is a place filled with

new adventures, friendships,

opportunities, and so much more.

Before coming to college many

students had the idea that college

would be like the 2000s movies we

all learned to love. The perfect boy

would come in out of nowhere and

swoop the pretty girl up off her feet

and they lived happily ever after.

However, for many, that was not

the case. Some students have never

experienced any sort of dating prior

to college and that is the milliondollar

catch right there.

Oftentimes when it comes to a first

relationship there is always one

person who becomes a bit more

involved than the other. This leads

to distraction, unnecessary stress,

or changes your overall college

experience in a negative light. On

the flip side, many students have

experienced dating prior to college.

They head into college with a

perspective of what dating is really

like. Even though one may already

have a perspective on what dating in

college looks like this can still lead to

a negative college dating experience.

A poll of ten college students at

the University of Alabama was

conducted on whether or not dating

in college is a good idea. The poll

was split right down the middle.

What was interesting to see was

that the ones who thought dating

in college was a bad idea had no

prior dating experience. Three out

of the five mentioned how they or

their significant other was entirely

too much involved in a relationship.

In the process of dating in college,

they lost valued friendships, grades,

and half of their college experience.

Just because someone seems perfect

be sure to remember that everyone

is not always who they portray

themselves to be.

"Oh, it is not fun dating in college.

I really wish I had spent more time

with my friends doing spontaneous

things rather than sitting in a room

with someone who was just on their

phone. I wish I was able to do more,"

said Kennedy Chase, a senior at the

University of Alabama.

One thing about college is that the

friends you make can follow you for

the rest of your life. Take it from

people who have graduated and are

in the real world. One thing they will

always speak about when it comes to

college is the friendships they made.

However, the friendships you make

could also be the person you are

dating.

"My boyfriend is my best friend.

I am so happy to have met him. We

really do enjoy each other's company.

Definitely one of the best decisions

I have made so far in college. We

support each other a lot," said Jamie

Jones, a junior at the University of

Alabama.

There are a few important things to

remember when it comes to dating

in college. Date who you want to

regardless of what others have to

say. People can be friends without

having to date. It can be hard dating,

especially when being a minority at

a PWI. The most important thing to

remember when it comes to dating

in college is to remember you are in

college. While it is okay to have fun,

do not let twelve years of school,

countless tests, scholarships, and

loan applications go to waste over

someone else. This goes for anyone

who is madly in love or just casually

hanging out. Always remember that

college is the place to find the you

that you want to be.

It is clear that dating in

college can go one of two

ways. You can either love

it or hate it. Whether one

loved dating in college

or hated it, you learn a

life lesson either way.

It really is true that

people are in your

life for a lesson or a

blessing. As a college

student, make your

decision about dating

carefully.

SPRING 2021 22
---
ASHLEE WOODS

BREAKING THE CHAINS:

MOVING PAST

STORIES OF

SLAVERY

F

or several years, stories of Black

people have centered around

the struggles and trauma we

have endured by the hands of white

people and slavery. Films, television

shows, and other forms of media

constantly remind Black people

of the pain and suffering their

ancestors went through. While the

telling of these stories are necessary,

a shift of focus is needed. Through

different film genres, commentary

is now being made on the Black

experience and its importance to

film.

Slave narratives--- the stories of

enslaved Africans in the Americas---

tell the trauma enslaved people

endured in great detail. The

authenticity of the accounts

allow people to understand the

dehumanizing effects of slavery. For

instance, in Solomon Northup's, 12

Years A Slave, Northup describes

the violence he had to suffer at the

hands of his owners. One account

includes where he was whipped and

forced to accept his new identity as

an enslaved man.

"As soon as these formidable whips

appeared, I was seized by both of

them, and roughly divested of my

clothing. My feet, as has been stated,

were fastened to the floor […]. With

the paddle, Burch commenced

beating me. Blow after blow was

inflicted on my naked body. When

his unrelenting arm grew tired, he

stopped and asked if I still insisted

I was a free man. I did insist upon

it, and then the blows were renewed,

faster and more energetically, if

possible, than before," Northup said.

Northup uses his story to show

the unrelenting violence enslaved

people went through. The pain

23 NINETEEN FIFTY-SIX MAGAZINE
---
CULTURE

and suffering he felt is viewed as

seemingly unbearable to many.

Yet, Black people are asked to

repeatedly play in these types

of roles. One of the effects slave

narratives have on the readers or

viewers is the authenticity of the

accounts. In order to capture that

properly, actors must be willing to

bear that pain. In an interview for

the Black Girl Nerds blog, Michelle

Jackson, writer and director of

Another Slave Narrative, discusses

the trouble Black actors go through

when depicting these characters.

"One of the reasons why I wanted

to use non-Black actors which I've

gotten some criticism about from

viewers who don't appreciate that,

which I respect, but one of the

reasons why I did use non-Black

actors was because there are some

Black actors that I approached to

do this project, who expressed real

fatigue at doing slave narratives as

an actor," Jackson said.

Jackson would continue to say

that Latarsha Rose, one of the

actors considered, said that for a

period of time, a great deal of her

auditions were for slave narratives.

For so long, just Black actors were

expected to carry the weight and

pain of their enslaved ancestors

and to only depict these events.

The limited amount of diverse

roles takes a true toll on actors

asked to play them. The stories of

Black people are not limited to the

enslavement of Africans, but rather

stem from the pain and sorrow the

enslaved felt. The desire to create

new stories has pushed creatives

into other film genres and has now

allowed the complexity of Black

stories in this society to shine

through a different lens.

The rise of the Black horror genre

has been a slow journey that took

off with Jordan Peele's box office

hit, Get Out. The premise of the

plot is that Chris Washington,

played by Daniel Kaluuya, is

meeting his girlfriend's family for

the first time. As the story develops,

viewers learn that the Armitage's

are seeking Black men and women

to use them for exploitation.

The genius behind Peele's Get

Out is how he used different

horror tropes--- more specifically

voyeurism and surveillance---

to create a commentary on the

racism that still exists today.

Across the horror genre, the idea

of being watched is something

the protagonist struggles with

throughout the movie. In reference

to Get Out, Chris uses his camera

to help viewers visualize what it

is like to be ogled at and judged

because of the color of your skin.

Beyond the racial and political

metaphors, Get Out gave the genre

of Black horror a newfound rise. In

an article entitled "Re-centering

the Black experience in the horror

genre, from 'Beloved' to 'Get Out',"

writer Noah Berlatsky discusses

why Get Out is so important to the

horror genre.

"Get Out is important because

it turned Black horror from

an underground niche into a

commercially viable genre. But

more than that, its genius was in

showing that the Black experience

had always been central to the

horror genre," Berlatsky said.

In order to break the cycle of only

slave narrative pieces, the film

industry must see how important

Black people's stories are to other

genres. The misrepresentation of

Black people and their experiences

in film allowed for a gross and

false characterization of who

Black people are. Peele's Get Out

is a clever and authentic movie

discussing the struggles Black

people go through, but in a lens that

does not cause trauma to the actor

nor the viewer. Removing the need

to constantly depict traumatizing

Black experiences allows Black

actors to tell all kinds of stories, not

just ones of oppression.

Slavery is an important topic

for people to be educated about.

However, it is not the only story

Black people have to share. With

movies like Get Out and Marvel's

Black Panther, Black culture is now

becoming centralized to other

literary and film genres. Diversity

in the film industry will not only

help actors remove the pain and

fatigue of playing enslaved people,

but also create avenues to tell the

stories of Black people today.

SPRING 2021 24
---
JASMINE HOLLIE

BLOODY

TUESDAY

WHAT A DIFFERENCE A DAY MAKES

I

t's been 57 years since a group of peaceful

protestors planned to march from the First

African Baptist Church to the Tuscaloosa

County Courthouse on June 9, 1964. Their purpose:

stand against segregated drinking fountains and

restrooms at the county courthouse. Protestors

barely made it out of the church before they were

attacked by awaiting officers and angry white

citizens. This historic day in Tuscaloosa is known

as "Bloody Tuesday." Most of us are familiar with a

similar civil rights march named "Bloody Sunday,"

which occurred the following year in Selma,

Alabama. The 1964 march in Tuscaloosa received

little recognition compared to other documented

civil rights movements. However, this brave act

from young students, activists and leaders made a

great impact on the city.

Segregation was the norm in the state of Alabama

during the 1960s. It was also encouraged by former

state Gov. George C. Wallace as he once famously

stated: "segregation now, segregation tomorrow,

segregation forever." In June of 1963, just one year

prior to the courthouse protest, Wallace temporarily

blocked the entrance of Black students at The

University of Alabama. Since this day, community

members and leaders have continued to fight

and advocate for change while taking small steps

towards equality.

Harrison Taylor, former Tuscaloosa city council

president, was a foot soldier in the civil rights

movement of 1963-1964. He was only 17 years old

when "Bloody Tuesday" took place. Taylor stood

amongst other community leaders and students

to march from First African Baptist church to the

Tuscaloosa County Courthouse. The Tuscaloosa

native is now 73 years old and stands proud of all

that Tuscaloosa has accomplished since that historic

Tuesday. Taylor said he believes Dinah Washington's

rendition of "What a Diff'rence a Day Makes" should

be dedicated to the city of Tuscaloosa.

"I'm proud of my hometown, we've come a long way,"

said Taylor. "The march changed Tuscaloosa not just

for Blacks, but for fair minded Whites too."

Taylor reflected on his historic journey from

marching alongside great leaders like Rev. T.Y.

Rogers Jr. to becoming the first Black city council

25 NINETEEN FIFTY-SIX MAGAZINE
---
CULTURE

president. During his time on the city

council, Harrison continued to enforce

changes within City Hall to improve

diversity. He served as a member of the

Tuscaloosa city council for 24 years and as

president for 12 years. So far, there has yet

to be another Black city council president.

"I've been a few firsts in things, but I don't

care about being the first, as long as I'm not

the last," said Taylor.

Since "Bloody Tuesday," Tuscaloosa has

slowly become a more diverse and inclusive

city. People of color started to hold positions

of power within the city council. They also

broke barriers and became state attorneys,

lawyers, judges and officers. However, racism

and injustice remains an issue in the state of

Alabama and across the country. Taylor said

he is proud of the activism and leadership

shown by the younger generation. National

movements like Black Lives Matter have

changed the impact of protests by utilizing

smart phones and social media.

"I think the Black Lives Matter Movement

is needed. That's one movement where I've

seen young Whites come out and join right

away," Taylor said. "TV made a big difference

across this country because people were able

to see injustice for themselves."

SPRING 2021 26
---
RACHEL PARKER

TOO GOOD

TO BE TRUE?

COLLEGE ATHLETES &

COMPENSATION

The return of EA Sports' NCAA Football series has set the video game world on fire. Many

fans have patiently waited for it's return while others are concerned about one of the

main reason it left: The Name, Image, & Likeness dispute. Do college athletes deserve to

profit off of their NIL like their institutions do?

T

he debate over college athletes

receiving compensation has

been a hot topic for quite some

time. From NBA player LeBron James

to Senator Bernie Sanders, the issue

has been brought up by athletes as

well as politicians. The influence

that is associated with a player's

jersey number or name becomes

synonymous with the university

team and sometimes even a brand

by itself. As the likeness of athletes

is distributed to thousands or even

millions of fans through collegiate

merchandise, the student-athletes

themselves receive no monetary

reimbursement.

This is explained in greater detail by

former NBA player Jerome Williams

in a 2020 Vox article.

"For years, student-athletes, especially

those from minority communities,

have been disadvantaged from

monetizing their image, or what we

call 'player intellectual property,'

said Williams. "There's an ongoing

revenue stream college athletes are

not a part of."

During April of 2020, the NCAA

Board of Governors announced their

support concerning the rights to

name, image and likeness for college

athletes along with the athletes

being able to take advantage of these

rights. As outlined in an article from

CBS Sports, within the guidelines

college athletes would be able to

receive payment from endorsements

by social media, third-party product

27 NINETEEN FIFTY-SIX MAGAZINE
---
promotion, autograph signing, meet

and greets, and their own business

endeavors.

Along with the guidelines come

restrictions that prohibit athletes

and third parties from using

school or conference logos in

their endorsements. The school

or conference can not seek out

endorsements on the athletes behalf,

make endorsement payments, nor

allow outside involvement (boosters)

to utilize endorsements to pay for

athlete enrollment.

Additionally, the NCAA emphasizes

the importance of student-athletes

"maintaining the priorities of

education and the collegiate

experience." The addition of payment

would be the next logical step for

student-athletes who have already

established brands for themselves

in connection with their respective

university.

Athletes bring in large revenue for

their schools. They are often the

driving force for school spirit and

sometimes draw in more students

or fans. Without compensation

they merely contribute to a campus

culture that views and treats them

as indispensable until their college

career is done. The cycle then

continues when they are replaced by

another group of athletes who are

given almost identical treatment.

Out of the top three athletic

divisions, many athletes have a

greater probability of earning a

college degree than leveraging

their college athletic career into

the professional field. As presented

in a 2020 NCAA report, graduation

success rates are 86% in Division I,

71% in Division II and 87% in Division

III. Athletes are steadily excelling

academically while receiving the

education promised to them when

they first committed. However, they

still encounter roadblocks regarding

compensation for the use of their

likeness and name.

Many students agree that studentathletes

should be paid salaries. In

a 2019 CNBC article, College Pulse

surveyed 2,501 students about their

stance on student-athletes being

compensated for their likeness.

77% were in favor or strongly

favored payment being given. When

surveying student-athletes, 81% were

in favor or strongly favored payment

being given.

In the College Pulse survey, racial

demographics were also included. An

estimated 61% of Black students said

they favor or strongly favor paying

student-athletes a salary, followed

by 56% of Asian students, 52% of

Hispanic students, and 51% of white

students.

The highest percentage coming

from Black students is not

surprising, considering Black

student-athletes make up the

largest percentage of athletic teams.

Their images are typically the most

prominent amongst fans and media

consumption. A 2019 NCAA report

states that Black male and female

student-athletes comprise 60% to

68% of college teams in football and

basketball alone.

With Black students often composing

the majority of a university team in

a high-earning revenue sport, their

talent and value as student-athletes

goes beyond winning championships.

Attaining a quality education with

scholarships to cover tuition and

additional school expenses should not

be the sole form of reimbursement

for student-athletes.

Additional compensation for their

image and likeness adds the icing

on the cake and begins to cover the

layers of race, gender and economic

reasoning. Athletes contribute

to the economic success of their

university's sports programs. Yet,

without compensation they rarely

ever receive a slice of the cake.

SPRING 2021 28
---
LIFESTYLE

29 NINETEEN FIFTY-SIX MAGAZINE
---
DIANNE KIRSKEY

She was the first African American to be on the Homecoming Court and a

founding member of the Black Student Union.

SPRING 2021 30
---
ASHLEE WOODS AND JASMINE HOLLIE

Activism:

A Detailed Guide on How to Use Your Voice

B

ecoming an activist seems like a daunting task.

With so many issues and organizations needing

assistance, it may seem overwhelming to get

started. The first step is easier than most think. It all

starts with the desire to help. We interviewed four

members of The University of Alabama community

and asked them to give us their tips on how to become

an activist.

The first step for all activists is being inspired to

help their community. That inspiration can come

from many places. For Teryn Shipman, a University

of Alabama alumna, her inspiration was what she saw

during her time here at the Capstone.

"I never really

experienced the

whiteness before like

it is here at UA," said

Shipman.

Being exposed to

things like the

confederate flag and

controversial names on

the school buildings

gave her something to

fight for. Growing up

around mainly African

Americans, reading

and hearing about

how people of color

fought for change like

that also inspired her

to do something like

that on campus. She

saw that there was a

need for change here

at the University. From that point on, her time at the

University has led her to fight for issues like voter

rights and the prison-industrial complex. If the desire

to help better the UA campus, community or the world

is not a driving factor, you will get easily discouraged.

The desire to make a change is a great start, but how do

you turn your passion into action? UA senior Mikayla

Wyatt advocates for networking yourself and your

plan to other people on campus or in the community.

"Always network and make sure to meet at least two to

three people that can advance the plans that you have.

There are definitely students out there who have the

same mindset as you," said Wyatt.

Finding people to help you on this journey of

activism is just one part of putting your words and

passion into action. Another aspect Teryn points

out is creating genuine relationships with the

connections you have in

your community or on

campus.

"We can use each other's

experience to build upon

our relationships with each

other," said Shipman.

Shipman would also state

that having genuine

conversations about your

experiences creates a

support system for you to

lean on. She also stated to

do your research on the

issue you're passionate

about. The willingness to

learn more about activism

and ways to help your

community is vital to your

growth as an activist.

When pursuing activism,

there will be times where the work being done in the

community or on campus seems like it is for naught.

How does one deal with that doubt or fear? UA Junior,

Sterling Dozier, acknowledges the validity of having

that fear when branching out into activism. But he

31 NINETEEN FIFTY-SIX MAGAZINE
---
COVER FROM VOLUME 1 ISSUE 2

USE YOUR

Voice

SPRING 2021 32
---
stated that people should learn how to embrace the

resistance that comes with speaking out for or against

something.

"The resistance you get is definitely a testament to

the work you're doing," said Dozier.Shipman echoed

that sentiment and said knowing your why [for

getting into activism] can help ease that fear as well.

While she understands why someone may be nervous,

Shipman added that being nervous is ok. Like Dozier,

she advises people to embrace their nervousness and

fear and turn those emotions into action.

Protecting your mental health is crucial when fighting

for change. Dozier and Shipman stated creating a

support system and leaning on organizations for

positivity helped ease their worries and kept them

grounded. How can one create this group of supportive

people? For Shipman, she relied on campus resources

like the Counseling Center here at the University.

There are organizations like My Mind Matters, a

group Dozier is a part of, that promotes bettering the

mental health of Black students here at the University.

Protecting the mental health of people is not limited

to campus. Community leader JacQuan Winters started

the Kristen Amerson Youth Foundation, designed to

prevent suicide among youth. It was named after his

sister, who tragically committed suicide at the age of

11.

"The objective is to keep Kristen's memory and legacy

alive," Winters said. "Not only that, but to also make

sure no other child or family has to go through what

my family had to go through."

Tapping into resources like these can better your wellbeing

as you continue to advocate for change.

Activism does not look the same for everyone. For

some, it's creating posts and petitions. Others may

organize protests or do community work. Some may

just educate themselves and have conversations.

Whatever your particular area is, Wyatt states that

people should be bold when stepping out for change

while remembering who and why you are pursuing

activism.

"An activist is the person that's in the community

doing great things on the behalf of other people,"

Winters said. "It's someone who advocates for those

that don't have a voice."

All four activists and community leaders push for

knowing your reasons for doing community work. For

at the end of the day, the fight for change is about

helping the people who have no other outlet.

Teryn Shipman is an alumna of the University. She

majored in Political Science. Currently residing in

Atlanta, Georgia, she is a first year law student at

Southern University. She is the creator of "For Black

Girls Who Have a Lot To Say," a blog highlighting

issues that affect Black women and the community. She

uses her blog to educate her readers on issues that she

cares about and ways they [her readers] can support.

She is an advocate for voter rights, eradicating gender

violence, and the abolishment of the prison-industrial

complex.

Mikayla Wyatt is a senior at the University. She is

majoring in Political Science. She is from the state of

Georgia. She is the Opinions Editor for the Crimson

White. She organized a protest for the resigning of

Dr. Jamie Riley, former Dean of Students in 2019.

Sterling Dozier is a junior at the University. He is

majoring in Finance and Economics. He was born and

raised in Baltimore, Maryland. Dozier is a member of

Phi Beta Sigma Fraternity, Inc., and is the treasure of

the University's chapter of the National Pan-Hellenic

Council. He also started the Black Business Student

Association, which is a group intended to help the

Black students enrolled in the Culverhouse College

of Business. He is also a member of My Mind Matters,

an organization intended to promote improved

mental health among minority students at UA and

destigmatize proper mental health.

JacQuan Winters is a native of Tuscaloosa, Alabama. He

graduated from the University of West Alabama with

a bachelor's degree in Criminal Justice and master's

in Education. He is the director of Kristen Amerson

Youth Foundation.

33 NINETEEN FIFTY-SIX MAGAZINE
---
LIFESTYLE

SPRING 2021 34
---
35 NINETEEN FIFTY-SIX MAGAZINE
---
SPRING 2021 36
---
TAKING OVER FOR THE 90'S AND THE 2000'S

JAVON WILLIAMS

FOR MILLENNIALS... OR IS IT GEN Z?

Grown-ish is a spinoff of the show Black-ish with

stars Yara Shahidi, Diggy Simmons, Chloe and Halle,

and Trevor Jackson. The show follows Shahidi's

character, Zoey, as she goes through her college

career and learns that the college life is way more

than she expected.

Places to Watch: Hulu, FreeForm, and ABC

Created by a Black female director, Issa Rae, Insecure

follows a middle-aged Black woman and her friend

as they try to figure out adult life in Los Angeles.

While trying to tackle their professional appearances

they also deal with mental health, finances, and

relationships.

Places to Watch: HBO Max

The show Atlanta follows Donald Glover (also known

as Childish Gambino) as he tries to reclaim himself

in the eyes of his family and ex-girlfriend. The show

also follows "Paper Boi", an underground rapper.

Places to Watch: FX on Hulu

Played by twins Tia and Tamera Mowry, Sister, Sister

is about two identical twins that were separated at

birth that accidentally found each other at a mall and

reunited 14 years later. Tamera's adoptive dad allows

Tia and her mother to move in with them so that the

girls would not remain separated.

Places to Watch: Netflix

Michael Kyle, played by Damon Wayans, wants

nothing short of a normal, traditional life for

his family but as days go by it seems like a nearly

impossible task. Kyle owns a trucking company and

does everything to properly support his family, even

when things get weird.

Places to Watch: Amazon Prime Video

This show follows Kenan and Kel, who are high school

students that go through a lot of crazy situations

and encounters at the hands of Kenan who does any

and everything to avoid any trouble with his parents,

teachers, and boss.

Places to Watch: Amazon Prime Video

Starring Logan Browning, Dear White People

follows multiple Black Ivy League students as they

tackle racial and political issues.

Places to Watch: Netflix

This show focuses on Nikki Parker and her daughter,

Kim, as they attend college together. Since Nikki had

to drop out due to having Kim she waited until Kim

was older to return. The mother-daughter duo goes

through the show overcoming obstacles within a

college student's life.

Places To Watch: Netflix, Sling TV

37 NINETEEN FIFTY-SIX MAGAZINE
---
THE OG'S

IT'S THE NECESSARY DRAMA FOR ME

This show follows Will Smith, originally from

Philadelphia, going to live with his rich uncle and

aunt in Bel-Air. In the show, Smith is a spiffy teenager

who likes to bend the rules and be of influence to his

cousins Hilary, Ashley, and Carlton.

Places to Watch: HBO Max

A Different World was a spinoff from The Bill

Cosby Show that tackled the many issues no one in

television was doing at the time. The show follows

Denise Huxtable, daughter of Cliff Huxtable, who

has a white roommate at a predominantly Black

college, Hillman College. The producers of the show

approached the issues of race and class relations,

equal rights HIV/AIDs all in a college setting.

Places To Watch: Netflix, Amazon Prime Video

House Party stars popular Hip-Hop duo Kid n Play

who has plans to throw the biggest party of the

school year at Play's house because his parents are

out of town. Although Kid's dad forbids him from

going to the party he still manages to unsuccessfully

sneak out of the house and cause a whole lot of

trouble. The House Party series has a total of four

movies.

Places to Watch: Netflix, Amazon Prime Video

Starring Jodie Turner-Smith and Daniel Kaluuya,

Queen and Slim is about a Black couple that goes

on the run after killing a police officer at a traffic

stop. The movie is based on current police brutality

headlines.

Places to Watch: HBO Max, Hulu, Amazon Prime

Video

Brothers Shawn and Marlon Wayans live in Harlem,

New York, and work at a newsstand that Shawn owns.

Throughout the show, the brothers go through many

misfortunes but always find their way from them.

The show includes the deceased, John Witherspoon,

who plays the brothers' dad.

Places to Watch: Amazon Prime Video

Starring Janet Jackson and Tupac Shakur, Poetic

Justice is introduced by a mutual couple of friends,

Chicago and Iesha, who then take a trip. On the

journey the four individuals take Jackson and Shakur

to learn more about themselves.

Places to Watch: Hulu, Amazon Prime

In Living Color was a sketch comedy show created

by the Wayans Family that included short skits,

music, and dancing. The show aired between 1990

- 2006.

Places to Watch: Rent DVD through Netflix

Directed by Jordan Peele, Us tells the story of a girl

who had a supernatural encounter while on vacation

with her parents in 1986. In present-day, the girl who

is now a woman goes on a vacation with her husband

and two children and her encounter comes back to

haunt her...literally.

Places to Watch: Amazon Prime Video, Hulu, Netflix

SPRING 2021 38
---
JEFFREY KELLEY

EQUITY ON A

SPECTRUM

W

ith kindness and light in her

heart Marsha P. Johnson, a

Black trans woman, and gay

liberation activist helped march

the gay rights movement forward

during the 1960s. Yet, though she

was a pivotal figure in history, it

seems that her story has been swept

under the rug and known only by

those who seek it out.

That sentiment of

underrepresentation is something

the 39% of LGBTQIA people who

identify as people of color grapple

with every day.

According to a study by the UCLA

Williams Institute, LGBTQIA people

were nearly four times more likely to

experience violent victimization. In

addition, according to the Southern

Poverty Law Center, the number of

anti-LGBTQ hate groups rose from

49 to 70 in 2019.

Also, in 2020, according to the Human

Rights Campaign, 30+ transgender

or gender-nonconforming people

were murdered, with the majority

of them being Black and Latinx

transgender women.

These statistics, along with constant

bigotry online or in real life, made it

apparent to most LGBTQIA people

of color that the fight for equity

was not over. "Being of LGBTQ and

a person of color right now in this

moment, we are very underrated,"

said Jay Love, a Black gendernonconforming

UA senior majoring

in African American studies.

Love said they felt like it's a constant

fight to "prove a point" that LGBTQIA

people of color deserve the same

privileges and acceptance that the

majority take for granted.

This fight for acceptance is

something Faith Wamble, a Black

bisexual junior at the University of

Alabama majoring in environmental

engineering and specialist in the

army, understood immensely.

She said it was a fight that had seeped

into many facets of her life. While

at work, she experiences occasional

hostility when customers made

the wrong assumption about her

sexuality. And though her immediate

family was welcoming to her, she

also faced some opposition from her

relatives while coming out.

Wamble said she even experienced

these moments of opposition in the

military. "I'm already looked down

upon, so to speak, because I'm female,

and on top of that, I'm Black," Wamble

said. "And on top of that if I'm like I'm

gay; they're like 'oh no she can't do

this,' and it's like there's no reason

that it should be held against me in

a sense."

She said moments like that made

her feel like she had to validate

herself to other people continually.

"I try not to because I am who I am.

I don't really have to explain myself

to you, but sometimes I find myself

in a position where they aren't

trying to be bigoted. They just

don't understand," Wamble said.

"And there's only so much I can do

to help them understand. Like look,

just because I'm this way doesn't

mean it changes how I can be with

you."

In the search for acceptance and

equity, these educational moments

are essential because ignorance

and fear are breeding grounds for

hatred and stigma.

Yet while trying to educate others,

people of color and Black people in

particular are sometimes met with

even more hatred and stigma.

Love said when Black people speak

out about an issue, they are painted

as "an angry Black [person]," making

it hard to truly educate and even

harder for Black people to reach

toward equity.

That's something Stephen Shol, a

gay biracial junior communications

39 NINETEEN FIFTY-SIX MAGAZINE
---
LIFESTYLE

studies major at the University of

Alabama, recognized.

Shol said as a biracial person who

can sometimes be "white-passing,"

he had to realize that he had some

privileges that weren't afforded to

Black people, and because of that,

speaking out was necessary.

"I have to use my privilege to talk

about what's going on for other

people, specifically for Black people

in America," Shol said. "We know

that there is a problem, and there's

been a problem for a long time,

and I feel like especially now it is

so important for everybody to use

their voice."

Pedro Reyes, a gay Latinx sophomore

majoring in political science and

criminal justice, also recognized

that his experience as a person

of color and LGBTQIA member

was different and at times more

privileged than others. Yet, with

that privilege, he works to dismantle

these stigmas and educate others on

them.

However as those who identified

with the two marginalized groups

fought against stigmas, they

acknowledged that the fight was

happening inside the communities

too.

Tyler Samples, a Black gay senior

majoring in political science and

public relations at The University

of Alabama, said he has seen

discrimination against LGBTQIA

people within the Black community,

and it confuses him.

"We'll march, and we'll protest, and

we'll say Black Lives Matter, which

obviously Black Lives Matter but

some people don't account that all

Black Lives Matter. It doesn't just

stop at Black straight [cisgendered]

men," Samples said.

He said he found it a "very

interesting situation" that people

tend to separate Black LGBTQIA

lives from the Black Lives Matter

movement.

"I think it is very hypocritical to

try to demand justice, but within

your own community, you're still

blatantly discriminating against

people," Samples said.

He said it was counterproductive to

fight for equity and inclusion but be

exclusionary within the community.

Reyes agreed with this sentiment

relating it to his experience within

the Latinx community.

"Historically, the Latin community

is very rooted in homophobic

values and ideals, so whenever it's

this Latin pride, it's not the same

when we're talking about [Latinx

LGBTQIA members]," Reyes said.

"It's very saddening, but I also

think it reflects the hardships

that the African American and

Latin community have had to go

through. They've always had to

mold themselves to be so perfect to

be accepted by white people."

These stigmas weren't limited to

racial identities either; within the

LGBTQIA, there lies prejudice

disguised as "preference."

"There is so much discrimination

within the LGBTQ community,"

Samples said. He discussed

how some gay men within the

community discriminated against

"feminine" men and transgender

women and men due to internalized

homophobia. He said they disguised

their prejudices behind preferences,

specifically on dating apps.

"People will say 'Oh, it's just a

preference,' when I feel like they're

being discriminatory, but they're

using [preference] to justify it, and

that's still not correct," Samples

said. "It's an ongoing issue."

Shol said he's seen many gay

men "go unchecked" for harmful,

misogynistic, or racist behaviors

just because they are gay. He said

it happened, especially on social

media and dating sites.

Reyes furthered the discussion

by saying that these weren't just

preferences.

"It's not a preference because if it

happened in the real world outside

of hook-up culture, it would be seen

as something completely different,"

he said.

He said regardless of what minority

group someone is a part of, they

should be held accountable for their

harmful actions.

"There's a lot of problems within

the LGBTQ+ community, and white

supremacists still exist in the

LGBTQ+ community," Reyes said.

"You don't just get an excuse just

because you're already in a minority

group. There are racist people in

the LGBTQ+ community."

Shol recalled times in high school,

where he saw his Black LGBTQIA

friends going through different

experiences because of prejudices.

"I would have friends who I felt like

would have to work harder to be

accepted by both their family but

also by their romantic partners, and

that's not okay," he said.

For Love, as someone who identifies

as gender nonconforming, they

said they felt like there wasn't any

acceptance for a person like them in

the LGBTQIA community because

of a lack of understanding.

SPRING 2021 40
---
And in moments like that where

a person doesn't feel like they

belong, it becomes easy to try to

conform instead of continually

fighting against so many stigmas and

stereotypes. Yet, in those instances,

Samples encourages others to take

back their narrative and be whoever

they want to be.

"If you like something, you should do

that and do it to its fullest extent,"

he said. "As long as it's bringing you

comfort or bringing you joy, I don't

think you should question that."

That sentiment was something Love

learned as they came into their own.

"I wasn't made to fit in," they said. "I

was made to be myself. I was made

to find out who I was as a person

and grow and build and inspire as

that person and become something

greater than what others feel like I

should be."

always "stand out and bring new

perspectives and ideas to the table

when you're struggling."

Yet new perspectives and ideas are

hard to have without compassion,

which Samples encouraged students

to have. He said UA students should

try to be open, patient, kind and

loving with one another.

Though in the end, it comes down to

the individual to accept themselves

and live freely. "The most important

person in your narrative is yourself,"

Shol said. "So once you realize that

you don't really owe anybody else

an explanation because you have to

live your life in the way you want to,

we're only here for a short amount of

time, honestly."

Wamble said she never understood

why people placed such a stigma

around someone else's selfexpression.

"They can do what they want to do

and be just as powerful, but [then]

they're comfortable," she said.

Yet, in the end, Love said regardless

of who someone is, all they wanted

anyone to do was spread love and

have respect for one another.

"Don't try to beat someone down

because you're not as comfortable

in your skin," they said. "There's too

much hate in the world."

Reyes said the prejudices and

moments of opposition reminded

him of how important it is to

41 NINETEEN FIFTY-SIX MAGAZINE
---
THE MELANIN MARKETPLACE CONSISTS OF LOCAL BLACK BUSINESSES RUN BY

STUDENTS AT THE UNIVERSITY OF ALABMA.

The Melanin

Marketplace

Simone-alexander

WHO

Taylor Jones is from Birmingham, AL

and is a senior studying Public Health

and minoring in creative writing.

Jones hopes to be a Certified Nurse

Midwife one day while also running

her business.

WHAT

"Simone-Alexander Company is a small

boutique offering vegan cosmetics

and luxury, yet affordable accessories.

Currently, are products are vegan

lipglosses, unisex sunglasses and

cruelty-free mink lashes. Soon to be

much more!"

WHEN

"I have wanted to start a business of

my own for a little over a year now. I

knew for years that I would have some

sort of project or business to brand

myself in the future, but about a year

ago was when I decided to take the

necessary steps to make it all happen.

So, here we are today!"

WHY

"My motivation for my business is my

family and friends. My mother is a

jack of all trades herself, so I've always

known that it was my goal to insert

myself into multiple industries. Being

a college student I know how hard it

is for my peers and I to find affordable

accessories and beauty products

that allow us to express ourselves

authentically."

SHOPSIMONEALEXANDER

SPRING 2021 42
---
IVERSITY OF ALABAMA. THE MELANIN MARKETPLACE: LOCAL BLACK BUSINESSES RUN BY STUDE

N BY STUDENTS AT THE UNIVERSITY OF ALABAMA. THE MELANIN MARKETPLACE: LOCAL BLACK B

CAL BLACK BUSINESSES RUN BY STUDENTS AT THE UNIVERSITY OF ALABAMA. THE MELANIN MA

ELANIN MARKETPLACE: LOCAL BLACK BUSINESSES RUN BY STUDENTS AT THE UNIVERSITY OF AL

IVERSITY OF ALABAMA. THE MELANIN MARKETPLACE: LOCAL BLACK BUSINESSES RUN BY STUDE

N BY STUDENTS AT THE UNIVERSITY OF ALABAMA. THE MELANIN MARKETPLACE: LOCAL BLACK B

CAL BLACK BUSINESSES RUN BY STUDENTS AT THE UNIVERSITY OF ALABAMA. THE MELANIN MA

ELANIN MARKETPLACE: LOCAL BLACK BUSINESSES RUN BY STUDENTS AT THE UNIVERSITY OF AL

IVERSITY OF ALABAMA. THE MELANIN MARKETPLACE: LOCAL BLACK BUSINESSES RUN BY STUDE

N BY STUDENTS AT THE UNIVERSITY OF ALABAMA. THE MELANIN MARKETPLACE: LOCAL BLACK B

CAL BLACK BUSINESSES RUN BY STUDENTS AT THE UNIVERSITY OF ALABAMA. THE MELANIN MA

ELANIN MARKETPLACE: LOCAL BLACK BUSINESSES RUN BY STUDENTS AT THE UNIVERSITY OF AL

IVERSITY OF ALABAMA. THE MELANIN MARKETPLACE: LOCAL BLACK BUSINESSES RUN BY STUDE

N BY STUDENTS AT THE UNIVERSITY OF ALABAMA. THE MELANIN MARKETPLACE: LOCAL BLACK B

CAL BLACK BUSINESSES RUN BY STUDENTS AT THE UNIVERSITY OF ALABAMA. THE MELANIN MA

ELANIN MARKETPLACE: LOCAL BLACK BUSINESSES RUN BY STUDENTS WHO AT THE UNIVERSITY OF AL

IVERSITY OF ALABAMA. THE MELANIN MARKETPLACE: LOCAL BLACK BUSINESSES RUN BY STUDE

N BY STUDENTS AT THE UNIVERSITY OF ALABAMA. THE MELANIN Joshua Bibbs MARKETPLACE: was born and raised LOCAL In BLACK B

CAL BLACK BUSINESSES RUN BY STUDENTS AT THE UNIVERSITY OF ALABAMA. THE MELANIN MA

Birmingham, Alabama and is a senior

ELANIN MARKETPLACE: LOCAL BLACK BUSINESSES RUN BY STUDENTS AT THE UNIVERSITY OF AL

IVERSITY OF ALABAMA. THE MELANIN MARKETPLACE: LOCAL majoring BLACK in African BUSINESSES American Studies RUN BY STUDE

N BY STUDENTS AT THE UNIVERSITY OF ALABAMA. THE MELANIN and minoring MARKETPLACE: in Theatre. Bibbs LOCAL BLACK B

CAL BLACK BUSINESSES RUN BY STUDENTS AT THE UNIVERSITY is also the OF founder ALABAMA. of the student THE MELANIN MA

ELANIN MARKETPLACE: LOCAL BLACK BUSINESSES RUN BY organization STUDENTS Redefining AT THE UNIVERSITY Societies OF AL

IVERSITY OF ALABAMA. THE MELANIN MARKETPLACE: LOCAL BLACK BUSINESSES RUN BY STUDE

Vision & Purpose (R.S.V.P.).

N BY STUDENTS AT THE UNIVERSITY OF ALABAMA. THE MELANIN MARKETPLACE: LOCAL BLACK B

CAL BLACK BUSINESSES RUN BY STUDENTS AT THE UNIVERSITY OF ALABAMA. THE MELANIN MA

ELANIN MARKETPLACE: LOCAL BLACK BUSINESSES RUN BY STUDENTS AT THE UNIVERSITY OF AL

IVERSITY OF ALABAMA. THE MELANIN MARKETPLACE: LOCAL BLACK WHAT

BUSINESSES RUN BY STUDE

N BY STUDENTS AT THE UNIVERSITY OF ALABAMA. THE MELANIN MARKETPLACE: LOCAL BLACK B

CAL BLACK BUSINESSES RUN BY STUDENTS AT THE UNIVERSITY OF ALABAMA. THE MELANIN MA

"I AM, was created to empower, to

ELANIN MARKETPLACE: LOCAL BLACK BUSINESSES RUN BY STUDENTS AT THE UNIVERSITY OF AL

IVERSITY OF ALABAMA. THE MELANIN MARKETPLACE: LOCAL uplift, BLACK to motivate BUSINESSES and to make the RUN BY STUDE

N BY STUDENTS AT THE UNIVERSITY OF ALABAMA. THE MELANIN buyers feel MARKETPLACE: special. The brand takes LOCAL BLACK B

CAL BLACK BUSINESSES RUN BY STUDENTS AT THE UNIVERSITY back to the OF say ALABAMA. " I am who I say THE I am". MELANIN MA

ELANIN MARKETPLACE: LOCAL BLACK BUSINESSES RUN BY From STUDENTS the biblical AT aspect THE I UNIVERSITY am the OF AL

IVERSITY OF ALABAMA. THE MELANIN MARKETPLACE: LOCAL BLACK BUSINESSES RUN BY STUDE

Great I am, not comparing myself to

N BY STUDENTS AT THE UNIVERSITY OF ALABAMA. THE MELANIN MARKETPLACE: LOCAL BLACK B

CAL BLACK BUSINESSES RUN BY STUDENTS AT THE UNIVERSITY God but letting OF ALABAMA. people know THE I won't MELANIN MA

ELANIN MARKETPLACE: LOCAL BLACK BUSINESSES RUN BY let STUDENTS society define me. AT I THE hold the UNIVERSITY pencil OF AL

IVERSITY OF ALABAMA. THE MELANIN MARKETPLACE: LOCAL to create BLACK my story BUSINESSES and my pencil has RUN BY STUDE

N BY STUDENTS AT THE UNIVERSITY OF ALABAMA. THE MELANIN an eraser." MARKETPLACE: LOCAL BLACK B

CAL BLACK BUSINESSES RUN BY STUDENTS AT THE UNIVERSITY OF ALABAMA. THE MELANIN MA

ELANIN MARKETPLACE: LOCAL BLACK BUSINESSES RUN BY STUDENTS AT THE UNIVERSITY OF AL

IVERSITY OF ALABAMA. THE MELANIN MARKETPLACE: LOCAL BLACK BUSINESSES RUN BY STUDE

N BY STUDENTS AT THE UNIVERSITY OF ALABAMA. THE MELANIN MARKETPLACE: WHEN LOCAL BLACK B

CAL BLACK BUSINESSES RUN BY STUDENTS AT THE UNIVERSITY OF ALABAMA. THE MELANIN MA

ELANIN MARKETPLACE: LOCAL BLACK BUSINESSES RUN BY "When STUDENTS I saw the AT need THE for Joy, UNIVERSITY I saw OF AL

IVERSITY OF ALABAMA. THE MELANIN MARKETPLACE: LOCAL BLACK BUSINESSES RUN BY STUDE

the need for strength. I wanted to

N BY STUDENTS AT THE UNIVERSITY OF ALABAMA. THE MELANIN MARKETPLACE: LOCAL BLACK B

CAL BLACK BUSINESSES RUN BY STUDENTS AT THE UNIVERSITY build a brand OF that ALABAMA. didn't just cater THE to MELANIN MA

ELANIN MARKETPLACE: LOCAL BLACK BUSINESSES RUN BY physical STUDENTS appearance AT but THE it also UNIVERSITY caters OF AL

IVERSITY OF ALABAMA. THE MELANIN MARKETPLACE: LOCAL to spiritual BLACK and BUSINESSES mental aspects." RUN BY STUDE

N BY STUDENTS AT THE UNIVERSITY OF ALABAMA. THE MELANIN MARKETPLACE: LOCAL BLACK B

CAL BLACK BUSINESSES RUN BY STUDENTS AT THE UNIVERSITY OF ALABAMA. THE MELANIN MA

ELANIN MARKETPLACE: LOCAL BLACK BUSINESSES RUN BY STUDENTS AT THE UNIVERSITY OF AL

IVERSITY OF ALABAMA. THE MELANIN MARKETPLACE: LOCAL BLACK BUSINESSES RUN BY STUDE

N BY STUDENTS AT THE UNIVERSITY OF ALABAMA.N BY STUDENTS AT WHY THE UNIVERSITY OF ALABA

IVERSITY OF ALABAMA. THE MELANIN MARKETPLACE: LOCAL BLACK BUSINESSES RUN BY STUDE

N BY STUDENTS AT THE UNIVERSITY OF ALABAMA. THE MELANIN "A change, MARKETPLACE: to be the light in the dark LOCAL BLACK B

CAL BLACK BUSINESSES RUN BY STUDENTS AT THE UNIVERSITY OF ALABAMA. THE MELANIN MA

where people felt there was not any. I

ELANIN MARKETPLACE: LOCAL BLACK BUSINESSES RUN BY STUDENTS AT THE UNIVERSITY OF AL

IVERSITY OF ALABAMA. THE MELANIN MARKETPLACE: LOCAL wanted BLACK to allow BUSINESSES people to understand RUN BY STUDE

N BY STUDENTS AT THE UNIVERSITY OF ALABAMA. THE MELANIN their worth, MARKETPLACE: understand their LOCAL BLACK B

CAL BLACK BUSINESSES RUN BY STUDENTS AT THE UNIVERSITY purpose." OF ALABAMA. THE MELANIN MA

ELANIN MARKETPLACE: LOCAL BLACK BUSINESSES RUN BY STUDENTS AT THE UNIVERSITY OF AL

IVERSITY OF ALABAMA. THE MELANIN MARKETPLACE: LOCAL BLACK BUSINESSES RUN BY STUDE

N BY STUDENTS AT THE UNIVERSITY OF ALABAMA. THE MELANIN MARKETPLACE: LOCAL BLACK B

CAL BLACK BUSINESSES RUN BY STUDENTS AT THE UNIVERSITY ITS.JLOVES OF ALABAMA. THE MELANIN MA

ELANIN MARKETPLACE: LOCAL BLACK BUSINESSES RUN BY STUDENTS AT THE UNIVERSITY OF AL

IVERSITY OF ALABAMA. THE MELANIN MARKETPLACE: LOCAL BLACK BUSINESSES RUN BY STUDE

ELANIN MARKETPLACE: LOCAL BLACK BUSINESSES RUN BY STUDENTS AT THE UNIVERSITY OF AL

IVERSITY OF ALABAMA. THE MELANIN MARKETPLACE: LOCAL BLACK BUSINESSES RUN BY STUDE

N BY STUDENTS AT THE UNIVERSITY OF ALABAMA. THE MELANIN MARKETPLACE: LOCAL BLACK B

SINESSES 43 RUN BY STUDENTS AT THE NINETEEN UNIVERSITY FIFTY-SIX OF MAGAZINE ALABAMA. THE MELANIN MARCAL BLACK B

The Melanin

Marketplace

I Am.
---
NTS AT THE UNIVERSITY OF ALABAMA. THE MELANIN MARKETPLACE: LOCAL BLACK BUSINESSES

USINESSES RUN BY STUDENTS AT THE UNIVERSITY OF ALABAMA. THE MELANIN MARKETPLACE:

LIFESTYLE

RKETPLACE: LOCAL BLACK BUSINESSES RUN BY STUDENTS AT THE UNIVERSITY OF ALABAMA. TH

ABAMA. THE MELANIN MARKETPLACE: LOCAL BLACK BUSINESSES RUN BY STUDENTS AT THE

NTS AT THE UNIVERSITY OF ALABAMA. THE MELANIN MARKETPLACE: LOCAL BLACK BUSINESSES

USINESSES RUN BY STUDENTS AT THE UNIVERSITY OF ALABAMA. THE MELANIN MARKETPLACE:

RKETPLACE: LOCAL BLACK BUSINESSES RUN BY STUDENTS AT THE UNIVERSITY OF ALABAMA. TH

ABAMA. THE MELANIN MARKETPLACE: LOCAL BLACK BUSINESSES RUN BY STUDENTS AT THE

NTS AT THE UNIVERSITY OF ALABAMA. THE MELANIN MARKETPLACE: LOCAL BLACK BUSINESSES

USINESSES RUN BY STUDENTS AT THE UNIVERSITY OF ALABAMA. THE MELANIN MARKETPLACE:

RKETPLACE: LOCAL BLACK BUSINESSES RUN BY STUDENTS AT THE UNIVERSITY OF ALABAMA. TH

ABAMA. THE MELANIN MARKETPLACE: LOCAL BLACK BUSINESSES RUN BY STUDENTS AT THE

NTS AT THE UNIVERSITY OF ALABAMA. THE MELANIN MARKETPLACE: LOCAL BLACK BUSINESSES

USINESSES RUN BY STUDENTS AT THE UNIVERSITY OF ALABAMA. THE MELANIN MARKETPLACE:

RKETPLACE: LOCAL BLACK BUSINESSES RUN BY STUDENTS AT THE UNIVERSITY WHO OF ALABAMA. TH

ABAMA. THE MELANIN MARKETPLACE: LOCAL BLACK BUSINESSES RUN BY STUDENTS AT THE

NTS AT THE UNIVERSITY OF ALABAMA. THE MELANIN MARKETPLACE: Ruth LOCAL Tolen, a junior BLACK from BUSINESSES

Birmingham,

USINESSES RUN BY STUDENTS AT THE UNIVERSITY OF ALABAMA. THE AL, majoring MELANIN in marketing MARKETPLACE:

on a premed

track.

RKETPLACE: LOCAL BLACK BUSINESSES RUN BY STUDENTS AT THE UNIVERSITY OF ALABAMA. TH

ABAMA. THE MELANIN MARKETPLACE: LOCAL BLACK BUSINESSES RUN BY STUDENTS AT THE

NTS AT THE UNIVERSITY OF ALABAMA. THE MELANIN MARKETPLACE: LOCAL BLACK BUSINESSES

USINESSES RUN BY STUDENTS AT THE UNIVERSITY OF ALABAMA. THE MELANIN MARKETPLACE:

RKETPLACE: LOCAL BLACK BUSINESSES RUN BY STUDENTS AT THE UNIVERSITY WHAT OF ALABAMA. TH

ABAMA. THE MELANIN MARKETPLACE: LOCAL BLACK BUSINESSES RUN BY STUDENTS AT THE

NTS AT THE UNIVERSITY OF ALABAMA. THE MELANIN MARKETPLACE: LOCAL BLACK BUSINESSES

"I provide the services of hairstyling

USINESSES RUN BY STUDENTS AT THE UNIVERSITY OF ALABAMA. THE MELANIN MARKETPLACE:

RKETPLACE: LOCAL BLACK BUSINESSES RUN BY STUDENTS AT THE and UNIVERSITY doing others OF makeup ALABAMA. . As a TH

ABAMA. THE MELANIN MARKETPLACE: LOCAL BLACK BUSINESSES RUN hairstylist BY STUDENTS I specialize in AT lace THE and

NTS AT THE UNIVERSITY OF ALABAMA. THE MELANIN MARKETPLACE: custom LOCAL wig units. BLACK They're BUSINESSES

typically

USINESSES RUN BY STUDENTS AT THE UNIVERSITY OF ALABAMA. THE used MELANIN to give the illusion MARKETPLACE:

that the hair

RKETPLACE: LOCAL BLACK BUSINESSES RUN BY STUDENTS AT THE UNIVERSITY OF ALABAMA. TH

is coming from your scalp. It's perfect

ABAMA. THE MELANIN MARKETPLACE: LOCAL BLACK BUSINESSES RUN BY STUDENTS AT THE

NTS AT THE UNIVERSITY OF ALABAMA. THE MELANIN MARKETPLACE: for LOCAL those who BLACK suffer from BUSINESSES

alopecia,

USINESSES RUN BY STUDENTS AT THE UNIVERSITY OF ALABAMA. THE going MELANIN through chemotherapy, MARKETPLACE: or

RKETPLACE: LOCAL BLACK BUSINESSES RUN BY STUDENTS AT THE those UNIVERSITY who simply OF want ALABAMA. to feel dolled TH

ABAMA. THE MELANIN MARKETPLACE: LOCAL BLACK BUSINESSES RUN up. As BY far as STUDENTS my makeup services AT THE go. I

NTS AT THE UNIVERSITY OF ALABAMA. THE MELANIN MARKETPLACE: LOCAL BLACK BUSINESSES

provide natural or glam looking make

USINESSES RUN BY STUDENTS AT THE UNIVERSITY OF ALABAMA. THE MELANIN MARKETPLACE:

RKETPLACE: LOCAL BLACK BUSINESSES RUN BY STUDENTS AT THE for UNIVERSITY those who want OF an extra ALABAMA. "umph." TH

ABAMA. THE MELANIN MARKETPLACE: LOCAL BLACK BUSINESSES RUN BY STUDENTS AT THE

NTS AT THE UNIVERSITY OF ALABAMA. THE MELANIN MARKETPLACE: LOCAL BLACK BUSINESSES

USINESSES RUN BY STUDENTS AT THE UNIVERSITY OF ALABAMA. THE MELANIN MARKETPLACE:

RKETPLACE: LOCAL BLACK BUSINESSES RUN BY STUDENTS AT THE UNIVERSITY OF ALABAMA. TH

WHEN

ABAMA. THE MELANIN MARKETPLACE: LOCAL BLACK BUSINESSES RUN BY STUDENTS AT THE

NTS AT THE UNIVERSITY OF ALABAMA. THE MELANIN MARKETPLACE: LOCAL BLACK BUSINESSES

USINESSES RUN BY STUDENTS AT THE UNIVERSITY OF ALABAMA. THE "I always MELANIN knew I MARKETPLACE:

wanted to be an

RKETPLACE: LOCAL BLACK BUSINESSES RUN BY STUDENTS AT THE entrepreneur UNIVERSITY since OF kindergarten. ALABAMA. I TH

ABAMA. THE MELANIN MARKETPLACE: LOCAL BLACK BUSINESSES RUN was naturally BY STUDENTS good at hair and AT makeup THE

NTS AT THE UNIVERSITY OF ALABAMA. THE MELANIN MARKETPLACE: LOCAL BLACK BUSINESSES

and decided to capitalize off it upon

USINESSES RUN BY STUDENTS AT THE UNIVERSITY OF ALABAMA. THE MELANIN MARKETPLACE:

RKETPLACE: LOCAL BLACK BUSINESSES RUN BY STUDENTS AT THE my UNIVERSITY arrival to college." OF ALABAMA. TH

ABAMA. THE MELANIN MARKETPLACE: LOCAL BLACK BUSINESSES RUN BY STUDENTS AT THE

NTS AT THE UNIVERSITY OF ALABAMA. THE MELANIN MARKETPLACE: LOCAL BLACK BUSINESSES

USINESSES RUN BY STUDENTS AT THE UNIVERSITY OF ALABAMA. THE MELANIN WHY MARKETPLACE:

RKETPLACE: LOCAL BLACK BUSINESSES RUN BY STUDENTS AT THE UNIVERSITY OF ALABAMA. TH

ABAMA. THE MELANIN MARKETPLACE: LOCAL BLACK BUSINESSES RUN BY STUDENTS AT THE

NTS AT THE UNIVERSITY OF ALABAMA. THE MELANIN MARKETPLACE: "I LOCAL am motivated BLACK because BUSINESSES I love

MA. THE MELANIN MARKETPLACE: LOCAL BLACK BUSINESSES RUN watching BY STUDENTS things grow. AT My THE business

NTS AT THE UNIVERSITY OF ALABAMA. THE MELANIN MARKETPLACE: is helping LOCAL me BLACK get closer BUSINESSES

to achieving

USINESSES RUN BY STUDENTS AT THE UNIVERSITY OF ALABAMA. THE long MELANIN term goals. Such MARKETPLACE:

as getting my

RKETPLACE: LOCAL BLACK BUSINESSES RUN BY STUDENTS AT THE UNIVERSITY OF ALABAMA. TH

degree —it helps fund me through

ABAMA. THE MELANIN MARKETPLACE: LOCAL BLACK BUSINESSES RUN BY STUDENTS AT THE

NTS AT THE UNIVERSITY OF ALABAMA. THE MELANIN MARKETPLACE: college." LOCAL BLACK BUSINESSES

USINESSES RUN BY STUDENTS AT THE UNIVERSITY OF ALABAMA. THE MELANIN MARKETPLACE:

RKETPLACE: LOCAL BLACK BUSINESSES RUN BY STUDENTS AT THE UNIVERSITY OF ALABAMA. TH

ABAMA. THE MELANIN MARKETPLACE: LOCAL BLACK BUSINESSES RUN CONSTRUCTEDBYRUTH

STUDENTS AT THE

NTS AT THE UNIVERSITY OF ALABAMA. THE MELANIN MARKETPLACE: LOCAL BLACK BUSINESSES

USINESSES RUN BY STUDENTS AT THE UNIVERSITY OF ALABAMA. THE MELANIN MARKETPLACE:

RKETPLACE: LOCAL BLACK BUSINESSES RUN BY STUDENTS AT THE UNIVERSITY OF ALABAMA. TH

ABAMA. THE MELANIN MARKETPLACE: LOCAL BLACK BUSINESSES RUN BY STUDENTS AT THE

NTS AT THE UNIVERSITY OF ALABAMA.N BY STUDENTS AT THE UNIVERSITY OF ALABAMA. THE

ABAMA. THE MELANIN MARKETPLACE: LOCAL BLACK BUSINESSES RUN BY STUDENTS AT THE

NTS AT THE UNIVERSITY OF ALABAMA. THE MELANIN MARKETPLACE: LOCAL BLACK BUSINESSES

USINESSES RUN BY STUDENTS AT THE UNIVERSITY OF ALABAMA. THE MELANIN MARKETPLACE:

USINESSES RUN BY STUDENTS AT THE UNIVERSITY SPRING 2021 OF ALABAMA. THE MELANIN MARKETPLACE: 44

The Melanin

Marketplace

constructed by ruth
---
Diaspora Dining

Sweet Plantains

from the

Caribbean Islands

This delicious dessert hails from

countries closer to the Equator.

Plantains, often confused with

bananas, are the popular fruits'

savory cousin. This easy recipe will

take you to the islands of Jamaica

where this food is a popular side

dish. It's also referred to as dodo in

Nigeria!

FARRAH SANDERS

INGREDIENTS:

4 yellow ripe plantains

2 tablespoons butter

2 tablespoons oil (vegetable or

canola)

1 - 2 tablespoons sugar

¼ teaspoon ground cinnamon

DIRECTIONS:

M

any communities rest inside the African diaspora. While we have

many unique experiences and qualities from our own micro-cultures,

we still share many common beliefs. Food is seen as a way to bring

family, feuding parties and other groups together. Even though it may

be difficult to physically come together in fellowship, these recipes will

always bring us to the worldwide table. No reservation needed.

1. Cut off the ends of the plantains.

Then, use a knife to slice into

the skin along the length of the

plantain. Don't slice too deep in,

just deep enough to slice the skin.

Remove the peel in strips with

your finger. Cut the plantains into

1-inch-thick slices.

2. Heat oil and butter in a large

skillet over medium-high heat.

3. When the butter is melted, place

the plantains slices into the skillet.

Fry until the plantains begin to

turn golden brown, then turn

over, and continue frying, about 2

minutes per side.

4. Reduce heat to low. Sprinkle

plantain with sugar and cinnamon.

Cover the skillet and cook,

turning them over once, until the

plantains are tender, and they have

caramelized, about 8 - 10 minutes.

5. Serve immediately as a side dish

to any entrée.

45 NINETEEN FIFTY-SIX MAGAZINE
---
LIFESTYLE

Jollof Rice from West Africa

Jollof rice is a staple dish widely known in West African

countries such as Nigeria, Ghana, Cameroon, Liberia and

Sierra Leone. Nigerians refer to this as their party rice,

served at ceremonies and celebrations. Others regard it as a

necessary part of a great home-cooked meal.

INGREDIENTS:

1/3 cup oil (vegetable/canola/coconut, not olive oil)

6 medium-sized fresh plum/Roma tomatoes, chopped, OR a

400-gram tin of tomatoes

6 fresh, red poblano peppers (or 4 large red bell peppers),

seeds discarded

3 medium-sized red onions (1 sliced thinly, 2 roughly

chopped), divided

1/2 to 1 hot pepper, or to taste (yellow Scotch bonnets are my

favourite)

3 tablespoons tomato paste

2 teaspoons (Caribbean/Jamaican-style) curry powder

1 teaspoon dried thyme

2 dried bay leaves

5 to 6 cups stock (vegetable, chicken, or beef) or water,

divided

2 teaspoons unsalted butter (optional), divided

4 cups uncooked converted long-grain rice or golden sella

basmati, rinsed

Salt, to taste

Black and white pepper, to taste

DIRECTIONS:

1. In a blender, combine tomatoes, red poblano (or bell)

peppers, chopped onions, and Scotch bonnets with 2 cups of

stock, blend till smooth, about a minute or two. You should

have roughly 6 cups of blended mix. Pour into a large pot/

pan and bring to the boil then turn down and let simmer,

covered for 10 - 12 minutes

2. In a large pan, heat oil and add the sliced onions. Season

with a pinch of salt, stir-fry for 2 to 3 minutes, then add

the bay leaves, curry powder and dried thyme and a pinch

of black pepper for 3 - 4 minutes on medium heat. Then

add the tomato paste - stir for another 2 minutes. Add the

reduced tomato-pepper-Scotch bonnet mixture, stir, and set

on medium heat for 10 to 12 minutes till reduced by half,

with the lid on. This is the stew that will define the pot.

3. Add 4 cups of the stock to the cooked tomato sauce and

bring it to boil for 1 - 2 minutes.

4. Add the rinsed rice and butter, stir, cover with a double

piece of foil/baking or parchment paper and put a lid on the

pan—this will seal in the steam and lock in the flavour. Turn

down the heat and cook on low for 30 minutes.

5. Stir rice—taste and adjust as required.

6. If you like, add sliced onions, fresh tomatoes and the 2nd

teaspoon of butter and stir through.

SPRING 2021 46
---
Southern Shrimp & Grits

from the United States

This recipe hails from the Gulf Coast. The southeastern

region of the United States holds so much history for

African Americans. Stories, family lineage and history are

often passed down by word of mouth. Popular recipes like

shrimp & grits have traveled through generations the same

way. This dish can be found in restaurants all over the world

but it will always be birthed by the bayou.

INGREDIENTS:

GRITS:

4 cups chicken broth

1/2 cup whipping cream

1 cup quick cooking grits

Salt and freshly ground black pepper

1 tablespoon butter

1/4 cup Parmesan

SHRIMP:

2 tablespoons butter

1/2 medium onion, chopped

2 cloves garlic, minced

1 green bell pepper, chopped

1/2 pound smoked kielbasa sausage, sliced

2 pounds uncooked large shrimp, peeled and deveined

1 (14.5-ounce) can diced tomatoes

Chopped chives, for garnish

DIRECTIONS:

1. In a heavy-bottomed saucepan, bring the chicken stock,

and whipping cream up to a low simmer. While simmering

whisk in the grits and a pinch of salt. Stir constantly and

return to a low simmer. Cook until thickened, stirring often,

about 5 minutes.

2. Stir in the butter and Parmesan cheese. Season, to taste,

with salt and pepper. Heat a large saute pan over mediumheat.

3. Melt butter and saute onion, garlic, and green bell pepper.

Saute until tender and translucent, and add the sausage.

When the sausage has cooked, add the shrimp and saute for

about 2 minutes.

4. Add white wine and diced tomatoes. Bring to a boil, about

5 minutes. Season with salt and pepper.

Serve over the Parmesan cheese grits. Garnish with chopped

chives.

47 NINETEEN FIFTY-SIX MAGAZINE
---
Quindims from Brazil

Brazil is home to the largest group of people with African

heritage outside of the continent of Africa. Their culture

is rich and so is their food. Quindim is a custard dish with

coconut. This sweet dish is made with simple ingredients

and is a country wide favorite.

INGREDIENTS:

1 muffin tin

1 pan or dish for holding hot water

8 egg yolks sieved

½ cup sugar

3 tablespoons butter melted

½ cup coconut milk

1 cup grated or shredded coconut fresh or dry

FOR THE BOTTOM OF THE TIN:

2 tablespoons butter soft

1/3 cup sugar

DIRECTIONS:

1. Place the coconut in a large bowl and pour the coconut

milk on top. Mix well and let stand for 5 minutes.

2. In a blender, add the sugar, butter, coconut mixture and

egg yolks. Mix for 2 minutes.

3. Preheat the oven to 350°F / 175°C.

4. Generously apply butter in each mold of the tin and cover

the bottom and edges with sugar edges. Add a little more

sugar at the bottom.

5. Pour the mixture into the molds and let stand 10 minutes

at room temperature. Pour hot water in a pan and sit the

muffin tin in the water. Place in the oven for 50 minutes.

6. Allow to cool before unmolding.

Diaspora Dining

SPRING 2021 48
---
Black Like I Never Left

JAVON WILLIAMS

E

veryone has heard

of hand-me-downs

from older siblings or

family members but what

about hand-me-downs

from a whole generation

of fashion? Many fashion

statements from the

late 20th century are

returning to our closets

and shining down the

streets of modern fashion.

Black young adults are

embracing and enhancing

their features with these

fashionable blasts from

the past that are 'Black

like they never left'.

49 NINETEEN FIFTY-SIX MAGAZINE
---
LIFESTYLE

AFROS

Although our natural crowns have

always been with us, this extravagant

hairstyle gained its popularity in the

1960s. Both men and women rocked

this hairdo on the dance floors and

in the streets all over the world. Now

there are even more men and women

enhancing and rocking their 'fros.

HOOP EARRINGS

In the 1960s, hoop earrings were

brought to the forefront of fashion by

celebrities such as Diana Ross, Angela

Davis and Donna Summer. These

earrings embraced the Afro-Centric

look and made a shifting statement

for Black women. The trend has since

resurfaced and is rocked by Black

women both young and old.

BUCKET HATS

These cool hats are known to be the

fashion piece that can go with anything!

Bucket hats were made popular by

hip-hop artists such as LL Cool J and

Run-D.M.C. in the 1980s as one of their

signature looks. Bucket hats are an

essential accessory for throwback and

retro outfits in the modern fashion

world.

TURTLENECKS

In the 1920s, turtlenecks trended as a

professional and sleek piece that pulled

together any outfit. In today's fashion,

turtlenecks can be easily dressed up

or dressed down with a skirt or some

slacks. Adding a nice chain with some

hoop earrings to a turtleneck is like a

match made in heaven!

ADIDAS

Adidas has always been a popular

athletic brand, but the company was

best known for its street fashion in the

1980s. Run-D.M.C. was the first music

group endorsed by an athletic brand

and created the hit song "My Adidas"'

in 1986. Adidas still hasn't gotten old

and continues to dominate the fashion

world with their shoes and clothing.

FANNY PACKS

Popularized in the 1990s, fanny packs

became the most convenient and

fashionable accessory. Although the

trend died down in the early 2000s, the

packs are back and as stylish as ever.

Today, many of our favorite brands

release their own styles of fanny packs.

BAGGY/CARGO PANTS

The trend of baggy pants began in the

1930s. Yet, the trend really took off in the

1990s and was listed as number seven

in the 90 best trends. Throughout the

90s and early 2000s, artists like Aaliyah

and Ciara rocked this trend. Now, our

generation has decided to bring this

fashion trend back.

BIKER SHORTS

Biker shorts were made popular in the

1980s. During that time, celebrities

such as Madonna and Princess Diana

rocked these shorts. Today, biker shorts

are an essential fashion piece that is

still trending. The sleek shorts can be

paired with anklets, slides, and so much

more.

AIR FORCE 1'S

These popular shoes hit the streets in

1982 and still have all the buzz. White

forces can be matched with anything

and fit all styles. Even when creased or

dirty by wear, these OG shoes are here

to stay.

FILA

FILA, an Italian fashion brand created

in 1911, became a popular brand in the

late 1980s. During that time, many

athletes wore FILA jogging suits

as pre-game outfits and even street

fashion. In today's fashion world, FILA

has remained relevant by releasing

Disruptors, one of their most popular

shoes.

SPRING 2021 50
---
TIONNA TAITE

BLACK HISTORY

ABSENT FROM THE

ALABAMA K-12

CURRICULUM

T

he Alabama State Department of Education's K-12 curriculum does not

include Black history. The exclusion of Black history from the curriculum

diminishes the numerous contributions of African Americans

throughout the past and present. Historically, school curriculums initially

upheld the ideology of white supremacy. Current school curriculums

resemble the past system that allowed unjust notions of racial superiority

to persist. Tara Dean taught at Monroe County Public Schools for 18 years.

Dean, a tenth grade teacher, explains most of her students do not have a

thorough understanding of Black history outside of slavery and the civil

rights movement. If Black history was a requirement in the Alabama K-12

curriculum Dean believes "more people would value Black lives and Black

students would have role models they could identify with."

CURRENT CURRICULUM

The Alabama State Department of

Education's K-12 curriculum guide lists

social studies standards and

instructional objectives:

Kindergarten – Self and Family

First Grade – Exploring Our

Community and State

Second Grade – Exploring Our

Nation and World: People

and Places

Third Grade – People, Places and

Regions: Geographic

Studies

Fourth Grade – Alabama Studies

Fifth Grade – United States

Studies: Beginnings to 1877

Sixth Grade – United States

Studies: 1877 to the Present

Seventh Grade – Citizenship;

Geography

Eighth Grade – World History to

1500

Ninth Grade – World History: 1500

to the Present

Tenth Grade – United States

History to 1877

Eleventh Grade – United States

History: 1877 to the

Present

Twelfth Grade – Economics;

United States Government

REMNANTS OF SYSTEMIC

RACISM

The curriculum guide does not

incorporate Black history

into any of the grade levels.

Alabama school curriculums created

during segregation were built on a system

of oppression and white supremacy.

Therefore, the creation of white false

heroes was prevalent within textbooks

and school lessons. The current Alabama

school curriculum still contains remnants

from past curriculums.

Alaceia Taylor is a recent graduate from

Montgomery Public Schools. "Most

Alabama school curriculums revolve

around American history," Taylor says.

"Everything has been changed in a way

so that white history is the dominant

history and if it didn't pertain to white

Americans it wasn't a requirement."

History books in the Alabama curriculum

idealize and glorify white oppressors

such as Christopher Columbus. Columbus

murdered and enslaved millions of

Indigenous people and was not the first

person to discover America. Historical

evidence proves Columbus was among

the last

explorers to reach America. So, why is

he one of the first explorers students

learn about in history classes? "Most

lessons [were] misconstrued to make

sure caucasians were painted as savior[s].

Growing up we were taught that

Christopher Columbus was the greatest

man on Earth but in reality he started a

mass genocide," says Taylor.

51 NINETEEN FIFTY-SIX MAGAZINE
---
LIFESTYLE

BEHIND THE SURFACE

"Schools never digged deeper into

Black history. Typically we learned

about Dr. Martin Luther King and

Malcom X," Taylor says. "Black history

was not deemed important based on

societal standards in America." From

elementary school to high school,

students can not recall instances

where Black historical figures were

referenced in history classes. There

are numerous notable Black people

who typically are not acknowledged

in schools. Richard Allen, Robert

Abbott, Benjamin Davis Sr.,

Katherine Johnson, Matthew Henson

and Charlotte E. Ray are a few of the

numerous Black historical figures in

American History. Olaudah Equiano,

Queen Charlotte, Chevalier de

Saint-Georges and Allan Glaisyer

Minns are just a few of the Black

historical figures who notably

impacted European History. This

has only touched the surface of the

vast amount of Black history school

curriculums do not include nor teach.

"I grew up in the Alabama school

system and I was not properly

educated on African American

history. It is extremely detrimental

to the education of brilliant minds,"

Aniyah Fleets-Giles says. "Education

is power. Those in power know that

history will hold us accountable...

without such knowledge, people are

more likely to remain bound."

BLACK HISTORY MONTH

ISN'T ENOUGH

Alabama schools attempt to justify

the lack of Black history in the

curriculum with Black History Month.

President Gerald Ford officially

recognized Black History Month in

1976, calling upon the public to "seize

the opportunity to honor the toooften

neglected accomplishments of

Black Americans in every area of

endeavor throughout our history."

Taylor explains her experience at

school during Black history month.

"Most of my classmates did not

appreciate Black History Month,

especially in high school. Many

students and teachers voiced the

Black History Month program was

'too much' or racist," Taylor says.

"They often questioned why an

entire month had to be dedicated to

African American history. There was

unnecessary animosity towards the

one thing that Black students had

to look forward to –Black History

Month." The lack of Black history in

the Alabama K-12 school curriculum

allows for the pervasiveness of

racially insensitive students. "Last

year a student went viral for saying

that George Floyd and other Black

people deserve to die because we

commit more crimes. He actually

tried to use statistics to back up his

information," Taylor says. "He also

told me that I have no right to be

upset about slavery and segregation

because I didn't live in that era. But

my grandma who is very much still

alive lived through segregation and

she tells me about all the backlash

she faced during that time."

TIME FOR A CHANGE

Students turn to alternate sources

to learn about Black history that

is absent from the Alabama K-12

school curriculum. The internet and

social media are a few of the sources

students seek out. "Surprisingly

TikTok can be very informative. I've

learned so much from TikTok about

history in a couple of months than

I learned in my four years of high

school." Taylor says. The education

system is one of the tools Alabama

can use to build a future where racial

injustice is not tolerated. Students

must be accurately informed about

the contributions of Black historical

figures from around the world. The

lack of Black representation in the

Alabama K-12 school curriculum is

an issue we must address and push

to be reformed because Black history

matters.

SPRING 2021 52
---
KAYLA BRYAN

WATCH

PARTY

EATS

I

t's March and you know what

that means…March Madness!

For those of you who don't know,

March Madness is the NCAA Division

I basketball tournament. It is a singleelimination

tournament of 68 teams

that compete in seven rounds for the

national championship. The final round

is known as the Final Four, so only four

lucky teams are left.

Of course here at The University of

Alabama, we're a championship school.

Therefore, we have to celebrate. March

Madness isn't March Madness without

some delicious game day eats. Food

options will vary at every socially

distanced watch party. Chicken wings

and fries are the popular food option

for many; however, it never hurts to try

something new. Let's dive into some

tasty and fun recipes that you can make

with your family and friends. Even if

cooking isn't your specialty, trying

new recipes can offer new and exciting

memories.

Here are some game day recipes that

can easily be whipped up in the kitchen!

BUFFALO CHICKEN DIP

The first thing on the menu is buffalo

chicken dip. This dip is perfect for

game days. It's hot, cheesy, and spicy.

What more could you ask for?

DIRECTIONS:

First, preheat the oven to 425°F. Then,

get some shredded rotisserie chicken.

Mix the shredded chicken with cream

cheese, sour cream, cheddar cheese,

scallions, and — of course — buffalo

sauce. Once that is all good, place it

in the oven until it is nice and bubbly,

taking no more than ten minutes.

HOMEMADE QUESO OR

GUACAMOLE

The next dip on the menu is queso

or guacamole. These two recipes are

virtually the same, one just has cheese

and the other just has guacamole.

53 NINETEEN FIFTY-SIX MAGAZINE
---
LIFESTYLE

Pre-made guacamole and queso from

the store are easy and just as good,

but nothing is better than a fresh dip.

Pre-made guacamole and queso from

the store are easy and just as good, but

nothing is better than a fresh dip.

DIRECTIONS:

For the queso, you'll want some

cheddar cheese, green onions, garlic,

diced tomatoes, cayenne pepper, and

cilantro. Sautee everything first to get

the most of your seasoning then add in

the cheese. Mix well until the cheese

melts.

For the guacamole, you'll want

avocados, lime juice, cilantro, tomatoes,

garlic, and cayenne pepper. Get all

those ingredients and mash them up

together until it is a nice paste.

Now to the real food. Watch parties

come with a variety of different meals

depending on the appetites of the

people attending. Finger foods are the

best food option because you can eat

and still socialize while watching the

game. Some good recipes include pizza

and of course chicken wings.

HOMEMADE PIZZA

When it comes to pizza, feel free to

add whatever toppings you or the

crowd likes. The best part about

making pizza from scratch is everyone

can come together to help out. Pizza

dough is also pretty simple to make,

surprisingly!

DIRECTIONS:

Follow this step-by-step recipe to get

the best results.

Combine bread flour, sugar, yeast,

and kosher salt in the bowl of a stand

mixer. While the mixer is running, add

water and two tablespoons of oil. Beat

until the dough forms into a ball. If the

dough is sticky, add additional flour in

one tablespoon increments until the

dough forms into a solid ball. If the

dough is too dry, add additional water

in one tablespoon increments. Scrape

the dough onto a lightly floured surface

and gently knead into a smooth, firm

ball.

After your dough is all good to go,

grease a large bowl with the remaining

2 teaspoons of olive oil, add the dough,

cover the bowl with plastic wrap, and

put it in a warm area to allow it to

double in size for about an hour. Lay

the dough onto a lightly floured surface

and divide it into 2 equal pieces. Cover

each piece with a clean kitchen towel

or plastic wrap and let them rest for 10

minutes.

Add the pizza sauce and toppings then

pop it into the oven at 475°F for 10-15

minutes.

CHICKEN WINGS

Chicken wings are also easy to make,

especially if you own a fancy air fryer!

You just need some frozen chicken

wings and seasoning of your choice.

DIRECTIONS:

If you want breaded wings, get some

eggs and flour. Then, dip each wing in

that mixture and drop the wings in oil

or stick them in an air fryer.

Traditional (non-breaded) wings are

typically the watch party favorites.

Follow the steps above without adding

eggs or flour. Once the wings are golden

brown and crispy, it's time to eat.

Regardless of your plans for March

Madness, these recipes are sure to

come in handy! They are fun and easy

to cook and will also make your taste

buds smile. As always, you can add your

own twist to any of these recipes. Just

make sure to enjoy the good times.

SPRING 2021 54
---
FEATURES

55 NINETEEN FIFTY-SIX MAGAZINE
---
JAMES HOOD

He was one of the first African Americans to integrate the University of

Alabama.

SPRING 2021 56
---
R A C H E L P A R K E R

BrIdGeS To A

LaStInG LeGaCy

BuIlDiNg

T

he University of Alabama has always been embroiled

in controversy. Campus buildings were reconstructed

after being burned by Union troops in 1865, and in

1893, the first female students were enrolled into the

university thanks to lobbying from Julia S. Tutwiler. Just

as these events showed the indomitable spirit of the

institution, there were also moments that showcased its

ugly side. The most famous of these is the "Stand in the

Schoolhouse Door", when Gov. George Wallace tried to

physically block the entrance to Foster Auditorium to

prevent African American students Vivian Malone and

James Hood from enrolling at the University.

Even before this moment, the enrollment of Autherine

Lucy Foster as the first African American student at the

University of Alabama in 1956 ended after a mere three

days due to racist mobs threatening her safety. Although

Autherine Lucy Foster could not complete her time at the

University then, she returned to pursue a master's degree

and graduated in 1992 with a master's in education at the

same time her daughter, Grazia Foster, graduated with

her bachelor's in corporate finance. Furthermore, the

university awarded Foster with an honorary doctorate

degree, Doctor of Humane Letters.

Stories such as these have

become enshrined as a part

of UA history, especially the

story of Dr. Autherine Lucy

Foster. From the campus

marker in front of

57 NINETEEN FIFTY-SIX MAGAZINE
---
Graves Hall to the Autherine Lucy Clock Tower, Foster's

legacy is present throughout campus and remains even

more impactful for young women. Her influence is seen

in the program Lucy's Legacy. Lucy's Legacy is a livinglearning

community for first-year female students,

named in honor of Dr. Autherine Lucy Foster and housed

in John England Jr. Hall. The program, highlighting the

experiences and history of women of color on the UA

campus, is open to all first-year women and functions as a

way for freshmen to transition to college life academically

and socially.

speaks to the care and development of young Black

women and women of color, there is also an organization

that speaks to young Black men and men of color known

as BRIDGE. BRIDGE also began in the Fall of 2019 with

goals of creating a legacy at the University by supporting

men of color through creating a vision plan, forming

a community and learning about being a UA student.

The involvement of Asst. Director Kiara Summerville

along with UA faculty and staff formed the BRIDGE

committee that worked together to enhance the young

mens time at UA as both productive and enjoyable.

Lucy's Legacy first began in the Fall of 2019 and is the

brainchild of Kiara Summerville, Assistant Director of

First Year Experience. Summerville says, "The creation

of this community was a way to continue the legacy of

Autherine Lucy's pathways that she created for women,

particularly women of color to attend the university."

Continuing this pathway, the women are required to

take a Women's Studies 200 course to highlight the

intersections of being both Black and a woman, and

they navigate campus life alongside their living-learning

community. Composed of current Lucy's Legacy members

and their mentors, the program includes women from

both in and out of state serving as a connection on

campus.

These sentiments are echoed by Lucy's Legacy alumna

and mentor, Arianna Morse, "You really build community

and connection and family, sisterhood," she said. Morse,

a sophomore majoring in Secondary Education English,

is from Auburn, GA and was initially interested in

the program because coming from out-of-state to a

predominantly white institution complicated the normal

difficulties of making friends and adjusting to campus

life. Being a part of the first class of Lucy's Legacy helped

to solidify relationships with fellow community members

beyond the program that are replicated through the

current freshman class and their own connections.

Just as Morse questioned the idea of community and how

that would look for her, another out of state student and

current Lucy's Legacy member, Jazzmine Burge, had

similar questions. "Some students before they hit their

first year at UA, they hear like, you know, maybe rumors

or myths or horror stories about, the state of Alabama

and being an African American woman or male," she

said. Rumors and stories aside, Lucy's Legacy placed

the UA campus in a different light for Burge with the

living-learning community playing a large role in that

perception. "I was actually going to be able to be around

people of my color or people that have the same mindset

of me," Burge said.

Similarities have formed the foundation for connection

among Lucy's Legacy members. Just as this organization

Both of these programs hold a special place for

Summerville, as she said, "I always tell people, BRIDGE

and Lucy's Legacy for me is a way of reaching back

into my own undergraduate experience. So, I was very

involved as a student leader, but I can't say that I had

access to a large number of, Black faculty or staff, to

support me. I had faculty and staff support, but they

were not necessarily, people of color, some of them

were, but not all the time."

Support from like-minded individuals is shown through

BRIDGE members' participation in the program, as

demonstrated by current member, freshman Thomas

Rodgers. Following advice from his sister, a current

Lucy's Legacy mentor, and his friends led to his interest

in BRIDGE. "It was an amazing way for us to learn that

we are not alone here on this campus and for us to like,

just remember that, we're here for us basically, and

this is the place where we can keep our paths going,"

Rodgers said.

Being a support system for one another is a prominent

part of BRIDGE and applies to both BRIDGE members

and mentors, known as BRIDGE Builders. As a BRIDGE

Builder, this relationship is discussed through terms

of accountability by current mentor, Brekeese Pierce.

"Being able to hold me accountable, having that

representation, seeing other men of color, who are

driven just as much as you are, who are doing big

things in the community and have a clear purpose and

vision. I think that's very imperative," he said. Pierce, a

junior from Huntsville, AL, elaborates on this through

comments about the importance of seeing fellow Black

men as confident and as an uplifting image against

negative stereotypes.

Programs such as Lucy's Legacy and BRIDGE are

communities of connection through friendship and

support that extend beyond campus grounds. Despite

being young organizations, their work will leave a

lasting impact for generations to come and allow

students of color to form their own stories in bridging

historical divides.

SPRING 2021 58
---
When you think of Birmingham,

Alabama there are a few things that

initially come to mind: the civil

rights movement, football, music

or maybe even crime. Regardless of

what springs to mind first, the last

thing people typically think of is

technology. Niesha White is shifting

that culture with Birmingham Black

Techies.

Niesha White is currently a frontend

web developer at Altech LLC

in Birmingham, Alabama. In late

2019, White began Birmingham

Black Techies as a Facebook group

to connect with more African

Americans involved with technology

in and around the Birmingham area.

"I'm like I know there are Black

people in tech here. There are a

lot of Black people in Birmingham,

so I know there are Black people in

tech here, but I don't know any of

them except for the people from

my job," White said. As a native of

Dothan, Alabama, White said she

believed it was more difficult for

her to find African Americans in

the field of technology because

she didn't know where to look in

Birmingham.

"I think if I had been from

Birmingham, it wouldn't have been

so tough, I would've known where to

look," White said.

The 28-year-old got her start in

technology a bit unexpectedly.

After two universities and three

majors, White discovered her

love for technology. "First

of all, I started at UAB

[University of Alabama

at Birmingham] and

I was a broadcast

journalism major.

Then I moved to

Troy, because it

was closer to home and it was just

a lot cheaper," White said. At Troy

University, White changed her major

to music, then graphic design and

ultimately computer science. "At that

point I switched to a music major,

because I've always loved music and I

wanted to get into management and

songwriting and publishing... Also,

technology because I was interested

in the production too," White said.

Once White switched her major

to graphic design, her passion in

technology began to "click". White

realized music, graphic design,

and art in general have a common

denominator, technology. By this

time, she discovered her love for

computers, web design and web

development. In addition, White

had more responsibilities which

led to her working as a bank teller

while earning her computer science

degree online.

White traces her background with

HyperText Markup Language,

better known as HTML, and web

design to her middle school and

high school days. Like most teens

during this time period, White

played around with Myspace and

Tumblr. "At that time, I didn't really

consider it coding, it was just fun

making a website look different and

look cool," White said.

White has many plans for

Birmingham Black Techies. She

intends for Birmingham Black

Techies to provide mentorship

to young African Americans in

Birmingham that share the same

interest she had at a young age. She

wants this to become the platform

that local African Americans in

technology use to support each

other while climbing the ladder of

professional success. White believes

59 NINETEEN FIFTY-SIX MAGAZINE
---
FEATURES

Birmingham is "on the come up"

in regards to technology and she

doesn't want African Americans to

be caught off guard or left behind. "I

feel like people don't realize how up

and coming our tech scene is. Which

is why I think Birmingham Black

Techies is really important right

now, because we want to be a part of

what's happening," White said.

This past February, Apple CEO

Tim Cook paid Birmingham a visit.

Cook announced that Apple will be

partnering with Education Farm, an

initiative to improve learning and

teaching through technology. This

partnership will be an extension of

Apple's Everyone Can Code program.

"I think Apple coming down here is

just the beginning, because people

follow suit. They see that kind of

stuff happening, then they'll pay

attention to what we are doing and

that there is a lot going on here,"

White said.

Technology is not limited to coding.

There are multiple aspects of the

tech scene and White wants to

emphasize that, "I want people to

know that being in tech doesn't

mean you have to code. That's one

small part of technology. You can

be a product manager, you can be

a scroll master, you can go into

management," White said.

Although the numbers are

relatively small now, White believes

Birmingham Black Techies has the

potential to grow into something

more. Not ignorant to the difficult

conditions of 2020 and the

COVID-19 pandemic, White is aware

of the difficulty in maintaining the

momentum an organization in its

early stages faces. Birmingham Black

Techies gained some momentum

earlier this year, but will they be

able to keep that up moving into the

next year?

"I don't have a solid community yet,

so it's like if I don't get it together

people's momentum will go away,"

White said.

Amid the COVID-19 pandemic, the

future of Birmingham Black Techies

seems bright. Due to the limited in

person contact and the emergence

of Zoom calls, people in the United

States are at home with not much

to do. This allows the opportunity

for people in technology to be more

engaged and social since everyone

is online during the pandemic.

"Socializing, of course, it's been

easier I think now since we're doing

everything online," White said.

Although socialization is an

important aspect of Birmingham

Black Techies, White doesn't want to

limit Birmingham Black Techies to

social meet ups and curated Spotify

playlists. White intends for the meet

up group to host different webinars,

workshops and provide a space for

networking and presentations, "We

are very much in the stages of giving

out surveys and finding out what

people want. So far, they do want

networking opportunities, they do

want peer presentations, but they

also want workshops," White said.

SPRING 2021 60
---
TIONNA TAITE

PATH TO THE OLYMPICS:

Q&A WITH SHELBY

MCEWEN

O

riginally from Oxford, Mississippi,

Shelby McEwen began as a basketball

player at Northwest Mississippi

Community College. Along the way, he

realized his growing passion for track and

field, particularly when it came to high jump.

After enrolling as a student-athlete at the

University of Alabama, he became a First

Team All-American, SEC champion, and First

Team All-SEC for both indoor and outdoor

high jump.

He is now an alumni with big plans for his

future. In 2019, he signed a pro contract with

the goal of taking his talents to the Olympics

after making the world team.

In this Q&A, McEwen offers insights into his

background, inspirations, future goals and so

much more.

Q: When did you first begin competing in track

& field?

I started track & field my sophomore year of high school.

Q: What event(s) do you compete in?

I competed in High Jump, Long Jump, and 300 Hurdles

in high school. But, I strictly compete in High Jump now.

Q: Who was your biggest supporter growing

up?

My parents were my biggest supporters. They were at

every game and track meet. I can count on one hand how

many competitions they missed, if they missed any.

Q: When did you realize track & field was

something you wanted to do for a career?

After my two years of playing junior college (juco)

basketball, I started jumping at track meets unattached

to a team. I was beating college competitors even though

I had no training or coach at the time. I knew then I

wanted to further my career in track and field.

61 NINETEEN FIFTY-SIX MAGAZINE
---
FEATURES

Q: How did you work to become a better

athlete?

I did the right things on and off the track. Rest is

key to a good performance. I also focused on the

small things to be successful when the big track

meets and other things came. I've always been

open to fixing things in my track and field event

to make me better as an athlete and person.

Q: Who are your role models and

sources of inspiration?

I would most definitely say my mom. She motivates

and pushes me to be great at everything I do.

Mom always tells it how it is. She lets me know

if I'm complaining and making excuses. She just

can talk to me in general about whatever.

Q: Do you have any particular song(s)

you play to get hype before your events?

I don't really listen to music before competing,

but if I do I'll listen to Lil Durk, Meek Mill, and

some gospel music.

Q: What goals do you have moving into

the future?

Moving into the future I have goals of opening my

own business with my clothing brand, Superior

Marks, which is currently going pretty good.

Another goal is making the 2021 Olympic team,

winning a medal at the Olympics, and winning

other major championships in the future!

Q: What has been the biggest lesson

you've learned so far?

The biggest lesson I've learned is to always work

hard and never give up on your dream. It's left up

to you to go and make it happen. Relax, have fun,

and there's no pressure. The older you become

the more mature and wiser you get.

Q: Is there anything else you would like

people to know about you?

Basketball was my first love. In 2014, I was the

champion of Michael Jordan's First to Fly High

School Dunk Contest.

SPRING 2021 62
---
EXPERIENCES

63 NINETEEN FIFTY-SIX MAGAZINE
---
WENDELL HUDSON

He was the first African American athlete to receive a scholarship at the

University of Alabama.

SPRING 2021 64
---
A'NESHIA TURNER AND DERRICK THOMAS

DISCOMFORT AROUND US

To feel like an outcast in a world not so kind.

To work twice as hard yet still feel far behind.

After the year 1956 we thought it would guarantee,

That Black people earned the right to more than a degree.

The problem transcends Tuscaloosa, it is worldwide.

How are we expected to not run and hide?

We follow the laws and are told to be submissive.

Yet when we talk of poverty and pain, they appear dismissive.

They claim we are insane, changers of historic values.

But they would never walk a day in our busted shoes.

A lot of can'ts and disapprovals.

A subjective justice system in place to handle our removal.

We are Black and we don't need your validation.

We just want a better nation.

65 NINETEEN FIFTY-SIX MAGAZINE
---
zLS

ENTIAL

EGATION

TIONNA TAITE

RESIDENTIAL SEGREGATION

STILL IMPACTS MONTGOMERY

PUBLIC SCHOOLS

IMPACTS

TGOMERY

IC aaa

T

he effects of residential

segregation can still be

observed in Montgomery

Public Schools. This fact may come

as a surprise; nevertheless, it is a

persisting problem in Montgomery.

Residential segregation is the

discriminatory act of covertly

separating two racial groups

into different neighborhoods.

Wait, segregation is illegal right?

So, how does this issue still

exist?Residential segregation is

upheld by misinforming individuals

and intentionally denying services

relating to realty and financing. In

this way, minorities are limited to

residing in neighborhoods that lack

racial diversity.

This issue can be traced back to

the Civil Rights Era. During that

time, policies were established

in Montgomery to make sure

predominantly Black neighborhoods

experienced drastic economic

decline after white residents

left the area. Remnants of these

policies still exist today through the

institutionalization of residential

segregation.

Minorities are significantly affected

by residential segregation. Minority

students often suffer academically as

a result of this issue.

Priscilla Collins worked at traditional

public schools in Montgomery for 22

years.

"The racial demographics of my

current school are approximately

95% Black, 3% Hispanic and 2%white,"

Collins says. The "nearest school

plan," more commonly known as

"school zoning," leads to traditional

public schools with higher dropout

rates, lower standardized test scores

and discipline issues.

SPRING 2021 66
---
OPPORTUNITIES

"There are several opportunities presented to magnet

[students] that traditional students are lacking. Magnet

students receive more invitations to extracurricular

activities and social engagements. They have more

community connections and alumni support," Collins

says. "There is inequity of supplies and low parental

involvement to name a few [for traditional schools]."

Opal Khotsombath attended magnet schools in

Montgomery for nine years. Khotsombath details the

notable differences between magnet schools, traditional

schools and private schools.

"Magnet schools generally offer a more challenging

curriculum . . . [including] AP courses that allow students

to earn college credit. Private schools definitely have

easier access to more resources," Khotsombath says. "I

have family members who attended traditional schools

that lacked a school staff to properly educate them about

future opportunities such as how to afford attending

college or who to consult to get such information."

Some zoned students are denied the ability to attend

magnet schools even after applying. Students who are

denied often can not afford to attend private schools.

Therefore, the only option they have for an education

is to remain at a traditional school. In the Montgomery

Public School system, 11 traditional schools are classified

as failing by the Alabama Accountability Act.

Nick Powell attended traditional schools in Montgomery

from first grade through tenth grade. He initially

DISPARITIES

applied to a magnet school in response to criticism about

his grades.

"People said I couldn't make good grades at a magnet

school," Powell says. He frequently dealt with people

making assumptions about him solely because he

attended a traditional school.

"There was an almost indescribable difference between

traditional [schools] and magnet [schools]," Powell says.

"Administration was even vocal about it, saying several

times that 'we do this for you all because y'all are magnet

and we know y'all are worth it'."

Powell went into detail about his stark experience at a

magnet school after previously attending traditional

schools.

"I don't remember speaking to anyone from any college

while at Lee [High School] & Lanier [High School], but

I would need both hands and feet to count how many

schools came to talk to us at Brewbaker Technology

Magnet High School," Powell says. "I vividly remember

them stressing the importance of standardized testing

and internships, but I don't remember any mentioning of

it at my previous two schools."

Residential segregation directly impacts Montgomery

Public Schools in the form of school zoning. "School

zoning is not fair," Collins says. "Zoning is the catalyst

for impoverished schools."

67 NINETEEN FIFTY-SIX MAGAZINE
---
EXPERIENCES

IMPACT

Residential segregation must be stopped in its tracks.

This problem is leading to areas with concentrated

poverty, crime and failing schools in Montgomery. The

community must make an effort to address residential

segregation to ensure the future safety and well-being

of students and residents.

"I am very aware of the impact residential segregation

has on Montgomery Public Schools. Traditional schools

in less funded areas of the city or in parts of the city

[with] a lower income range are less able to provide

a well-rounded and nurturing education system."

Khotsombath says. "Over the years as a student, I don't

believe I saw any increase in attention or extra aid for

these schools."

Over time, residential segregation will affect more

citizens of Montgomery directly or indirectly. One of

the indirect effects is Montgomery Public Schools'

accreditation being under review. If accreditation is

lost not only are students in failing traditional schools

affected but also those in magnet schools.

NEXT STEPS

Rather sooner than later, residential segregation must

be taken off the back burner and dealt with. Resolving

this issue requires time and preparation because this

type of segregation is deeply rooted into Montgomery.

People living in neighborhoods with significantly less

poverty rates may not realize residential segregation

is still a problem in Montgomery. The public must be

educated about residential segregation and how it

affects their community.

Steps must be taken to make housing more accessible.

Cities such as Chicago distribute housing vouchers

to combat residential segregation. Housing vouchers

help families move to safer neighborhoods with more

opportunities. Through the distribution of aid from

the government the affordability of better housing

can become a reality.

Housing vouchers and additional aid from the

government are effective in other cities battling

residential segregation. These methods may also be

instrumental in overcoming residential segregation

in Montgomery. Completely ridding Montgomery of

residential segregation requires time and diligence.

SPRING 2021 68
---
ASHLEE WOODS

RECREATING THE PATH:

THE PLIGHT, PATH AND PROGRESSION OF BLACK MEN

Black men in the United States face a

unique set of issues in life. The path

to success for Black men is thwarted

by a multitude of obstacles, ranging

from racial profiling to the lack of

education resources."The Plight, Path

and Progression of Black Men" was a

seminar held by the Black Faculty and

Staff Association (BFSA).

"The Plight, Path, and Progression

of Black Men" was just one webinar

in a series of programs the BFSA has

facilitated since the start of March.

The discussion was led by Pastor Kris

Erskine and Dr. Chance Lewis, coauthors

of the book "The Dilemmas of

Being an African American Male in the

New Millennium." The book highlights

several issues and solutions to help aid

Black men in the United States. When

recreating the path of a better life

in the United States, Pastor Erskine

discussed the separation of Black males

from their families and communities.

Erkskine first stated that the typical

household changed after the Baby

Boomer generation, mentioning how it

slowly became more normal for there

to be single-parent households. Erksine

continued stating how the government

also pushed for the separation of Black

families, through tactics like higher

incarceration rates.

"You have a government that has

perpetuated the removal of the

Black male from the house and the

community," Erskine said.

Erskine continued to say that removal

of Black men from their homes has

torn the fabric of Black communities.

Young Black men have less positive

male figures in their life to give them

support and uplift them. Many of them

eventually surround themselves with

groups of men that directly inhibit

their success.

"Your associations will also give you

assimilations. It will always assign you

to a lane of life," Erskine said.

We must work to change those

preconceived notions. In turn, families

can be put back together in the Black

community and relationships damaged

by systemic separation can start to

rekindle.

Although the repairing of relationships

are important, many of the monetary

and career related issues Black

males face stem from inequalities in

education. This country values the

pursuit of higher education and a

profitable career, yet Black males face

several roadblocks in gaining access to

quality higher

69 NINETEEN FIFTY-SIX MAGAZINE
---
EXPERIENCES

education. Dr. Chance Lewis discusses

the problem of Black men being

taught by high school teachers who

lack degrees in the subject they are

teaching. According to the data from

the National Urban League Dr. Lewis

used, 21.9% of Black men are taught by

teachers that have not been educated

at the collegiate level in the subject

they are teaching.

"We tell students 'go to school, pay

attention, get a good education' but

look at what's happening," Lewis said.

Black men are also at a disadvantage

because they are being taught by

teachers with limited in-classroom

experience. Black men are expected to

reach the highest levels of education

available in this country with a lack

of quality educators supporting

them. Black men cannot reach their

educational goals nor have a chance at

a higher level of income because the

system set in place constantly gives

them obstacles nearly impossible to

overcome by pushing the goal line

further away.

What are the next steps? How can the

community around our Black men

step up and support them? Dr. Lewis

listed several different solutions

that people can use to recreate the

path of a successful life for Black

men in the United States, one being

the enhancement of the Black man's

experience during college while

ensuring graduation.

"I'm willing to bet and I'm pretty sure

you know what I mean when I say this,

every Black male at the University of

Alabama does not have the same kind

of experience," Lewis said.

Lewis said the University of Alabama

should focus on ensuring Black men

receive the support they deserve.

With the problems these Black men

had to face in order to reach a fouryear

university, the University has a

responsibility to prepare them for

success and not be a hindrance. How

can the University of Alabama and the

people connected to it use its resources

to change the outlook of a Black man's

experience at the University? Dr. Lewis

challenged UA students and faculty

attending the event to keep this in

mind.

While the experience for Black men

on campus is important, their view of

the school before becoming a student

is vital as well. One of the solutions Dr.

Erskine gives is exposing Black males

to daily life as a college student.

"Why don't we walk them through

what it looks like to be a student at the

University? What is the real campus

like, the rigor on the day to day basis?"

Erskine said.

Once our Black men see the campus

outside of any extracurricular

activities, they can begin to forge

their path to success at a university.

This exposure to campus allows them

to form their own ideas and thoughts

about a four-year university without

outside influence.

Throughout this discussion, both

Dr. Lewis and Dr. Erskine centered

their arguments around the fabric of

community. Specifically, the role the

Black community and people outside

of it has in ensuring that Black males

are afforded the same opportunities

as others. Black men cannot do this

alone. They are not given the support

or resources to fight the systems

holding them down by themselves,

nor should they have to. Through the

Black community working together to

recognize the issues Black men face,

having discussions about them and

working together to solve the issues,

we create a better and more equitable

system. This makes it possible for

Black men to progress freely in life and

choose their rightful path to success.

SPRING 2021 70
---
ASHLEE WOODS

THE EXPLOITATION OF BLACK

ATHLETES FOR WHITE DOLLARS

C

ollege athletics provide an outlet

for students of color to continue

their educational journey while

also playing the sport that they love.

Or so they are told.

Behind the mask of education and

athletic paradise is a dark history of

using Black athletes for monetary

gain. Black students from different

backgrounds are lured into a system

that seldom looks different than the

slavery that existed in this country

hundreds of years ago. American

universities and colleges preach

about being diverse, equitable and

inclusive. Yet their words don't match

their actions.

Their money is not put where their

mouth is, either.

For far too long, Black athletes have

been used for revenue at the expense

of their body, mind and soul. The

issues that they face are not cared for

like their nonminority counterparts,

and Black dominated sports are often

the first to be defunded if the river

of revenue is not flowing.

Athletes are now speaking out. From

creating social media movements

to protesting at their respective

schools, these athletes are pushing

their grievances to the forefront.

With this, they have challenged their

respective institutions to face a past

of exploitation and work to a future

of support.

A DARK PAST

The recent demonstrations of Black

athletes from the University of

Alabama to UCLA reflect a history

of struggle dating back to the

1960s. Since the integration of Black

athletes into previously all-white

collegiate sports, Black students have

pushed back against the exploitative

system they were in.

The first known instance of this

was in the late 1960s. Black athletes

were used for their athletic talent,

but were still excluded on campus

and no faculty within the athletic

departments looked like them. These

athletes began airing grievances

about the hostile environment

they were put in. Simply put, Black

athletes did not want to be regarded

as token symbols. They were people

that were dealing with real issues.

The landscape of collegiate sports

has changed dramatically since the

1960s. Yet, the problems still remain.

Nevertheless, Black athletes are

poised to shift the culture around

college athletics. With the power

of social media, athletes across the

globe can connect and fight together

with a simple hashtag. Black athletes

are understanding the depth of

their power and are using it to push

back. With the complexities around

college sports expanding to TV deals

and sponsorships, it is now more

critical than ever for athletes to

fight for their true worth. They must

establish themselves as students at

a university, as the title "studentathlete"

suggests. Their worth is not

just reduced to their athletic abilities

and labor.

The question is are colleges and

universities willing to see their true

worth?

Recent actions suggest otherwise.

WE WANT TO PLAY

The statement "We Want To Play"

gained notoriety leading up to the

2020 NCAA Football season. Several

athletes--- including former Alabama

quarterback Mac Jones--- pushed

NCAA officials to let the season

happen.

This statement can hold a different

weight when it comes to Black

athletes.

A few hours north in Clemson,

South Carolina, Athletic Director

Dan Radakovich announced the

removal of Clemson University's

Men's Track and Field Program after

the 2020-2021 season. The sport

produced several Olympic athletes

and medalists.

The sport also consisted of

predominantly Black athletes.

In an open letter, Radakovich

discussed the reasoning behind the

decision.

71 NINETEEN FIFTY-SIX MAGAZINE
---
EXPERIENCES

SPRING 2021 72
---
"After a long period of deliberative

discussion and analysis, we concluded

that discontinuing our men's track

and field program is in the best longterm

interests of Clemson Athletics,"

Radakovich said. "While this decision

comes during the significant financial

challenges due to the ongoing

pandemic, those challenges are just

one of many factors that led to this

decision. We will continue to honor

all student-athlete scholarships and

provide them with support as they

work towards earning their degrees."

Radakovich also stated that the

$2,000,000 saved from cutting this

program will help the university

financially for the future and will be

invested in other athletic programs.

During a global pandemic, Clemson

University decided that saving money

was more important than fostering

the goals of their Black athletes in the

men's track and field program. Clemson

also limited the outlets to create

diversity within their athletic program

by cutting a diverse program that did

not generate enough revenue to please

the athletic department.

In order to promote a diverse

environment, a University should

create avenues for students from

different backgrounds to do what

they love. Getting rid of this program

signaled to Black athletes that they

were expendable at Clemson. They

were only seen as tokens to cash in

more money for the university.

The athletes did not appreciate that.

Shortly after, athlete turned activist

Russell Dinkins started a movement

called #SaveClemsonXCTF. The

movement included a core team of 11

people and several others around the

country working to garner support

for the cause. The unionized feel

of this movement is something the

sports world rarely saw. Typically, the

difficulty to come together under one

cause in NCAA sports squandered any

hopes of bonding together.

This time was different.

After Radavokich's announcement,

Dinkins stated how this move shows

how Clemson feels about Black athletes.

"You're taking away admissions

opportunities you're taking

away admissions slots, and those

opportunities can be life-changing

especially from those who come from

backgrounds where they otherwise

may not have that opportunity,"

Dinkins said.

Dinkins, along with his band of

supporters, filed a complaint against

Clemson, citing racial bias.

A movement like this was prevalent

across the country. Athletes everywhere

were fighting for not only the privilege

to compete, but also for their values as

students on campus to not be reduced

to what they contribute through

athletic labor. The foundation laid by

Black athletes in the 1960s is now being

used to build pillars for the future.

A LOCAL BATTLE

Last August, athletes at the University

joined together to protest against racial

injustice issues in America. Former

Alabama running back Najee Harris

stated the purpose of this march on his

Twitter account days before the event.

"We want our voices to be heard as we

strive to enact social change and rid

our world of social injustices," Harris

said.

The march happened. Students and

residents came out to show their

support for these athletes. Tears were

shed.

But what happened after that day?

Some student athletes appreciated that

the athletic department was showing

support for Black issues. One student

athlete said that they liked how the

march created conversations.

"I liked that it opened a conversation on

social media," one student athlete said.

"It's actually more than just sports. You

can't just sit here and shout 'Roll Tide'

but then go be a racist. That's not how

it works."

The struggle of Black athletes to be

seen as more than just objects for

entertainment has existed for years.

The march at first seemed to be a

turning point at the University to

create lasting change for Black athletes.

Then, nothing else happened.

The Alabama football team completed

a historic season in 2020. Soon, other

athletic programs got their season

underway. The conversation that

started in August seemed to end just

as it began and the excitement around

the conversations quickly dissipated.

There lies the issues.

In order for change to happen, pressure

must be consistently applied. Black

issues do not go away with a simple

march to Foster Auditorium. There

must be transparency and authenticity

to the movements on campus.

Otherwise, the cycle just continues.

73 NINETEEN FIFTY-SIX MAGAZINE
---
SPRING 2021 74
---
T

he NCAA has kicked off their annual

basketball tournament, which is

famously referred to as March

Madness. The tournament generates

great attention and excitement from

sports fans across the country. However,

the highly anticipated tournament had

a rocky start as the NCAA encountered

a brief backlash in the media. On

March 18, 2021, Stanford University

sports performance coach Ali Kershner

posted a photo on her Instagram page

showing the distinct differences in

weight room amenities at the NCAA

tournament.

In the post, Kershner shared her

thoughts on the women's weight

room in comparison to the men's

weight room. Kreshner pointed out

that the two weight room setups were

noticeably different. The men's teams

were supplied with almost triple

the amount of workout space and

equipment compared to the women's

teams.

Following Kershner's post, Sedona

Prince, a current member of the

University of Oregon's women's

basketball team, posted a viral TikTok

speaking on the unequal weight

rooms at the NCAA tournament. In a

follow-up Twitter post on March 19,

2021, Prince reposted the TikTok with

a tweet acknowledging the irony of

the weight room situation occurring

during Women's History Month.

"If you aren't upset about this problem,

then you're a part of it," Prince said in

the viral TikTok video.

The news quickly spread across social

media with both female and male

athletes expressing their disapproval

of the NCAA's negligence. NBA players

like Kyrie Irving and Steph Curry

came to the women's basketball team's

75 NINETEEN FIFTY-SIX MAGAZINE
---
defense and said that the unequal

treatment at the NCAA tournament

was "unfair" and "unacceptable."

Vannessa Bryant, wife of the late NBA

star Kobe Bryant, also shared the

controversial story on her Instagram

while asking for helpful ways she could

get involved.

The University of Alabama's women's

basketball team has been gearing up

for their own competitive season. The

team provided their input on the NCAA

tournament weight room situation in

a pre-game press conference before

they played against North Carolina on

March 22, 2021.

According to Kristy Curry, head coach

of Alabama's women's basketball team,

she and her team often have open

discussions regarding basketball and

how their team can help promote

positivity and inclusiveness. Curry

also said that the girls are focused on

keeping their heads in the game.

"There are some areas [in which] we

need to improve and we need to be

on an equal playing field with men's

basketball," Curry said. "We want to

focus on the things we can control,

but we will also continue to speak and

create a platform for every little girl

who wants to be treated exactly the

same [as their male counterparts]."

The conversation about men's

basketball in comparison to women's

basketball arose again in a post-game

press conference on March 23, 2021.

Alabama women's basketball players

Jordan Lewis and Hannah Barber

gave their thoughts on whether they

believe women's basketball receives

less attention in the media compared

to men's basketball during March

Madness.

"In my opinion, I think it's just how

you look at it [considering] the

things that have been talked about on

social media," Lewis said. "The most

important thing is to come here and

win games and continue to strive to

be the best you can be. I think as we

continue to perform on the court the

awareness will grow and more people

will want to watch."

Barber agreed with Lewis' views by

adding that performing well on the

court will ultimately result in good

feedback from fans and media.

"By putting good product on the floor,

[we're] going to attract more fans and

spectators," Barber said. "So, that's

what we're really focused on— just

continuing to play hard, bringing a lot

of energy, and putting on a good game

out there for people to watch."

The unfair treatment at the NCAA

tournament extended beyond the

weight rooms as more pictures surfaced

online. The viral photos compared

other accommodations between the

two teams, such as prepared and

catered food, swag bags and more.

The NCAA has since released a public

statement apologizing for initially

"dropping the ball" in their recent

accommodations for the women's

basketball team.

"We fell short this year in what we've

been doing to prepare in the last

60 days for 64 teams to be here in

San Antonio, and we acknowledge

that," said Lynn Holzman, NCAA vice

president of women's basketball.

The NCAA upgraded the women's

weight room amenities shortly after

the backlash.

NCAA senior vice president

of basketball Dan Gavitt

also apologized for

the organization's

error in the

following

statement:

" W e

h a v e

intentionally organized basketball

under one umbrella [at the NCAA] to

ensure consistency and collaboration.

When we fall short of these

expectations, it's on me," Gavitt said.

"I apologize to women's basketball

student-athletes, coaches and the

women's basketball committee for

dropping the ball on the weight rooms

in San Antonio."

The NCAA weight room controversy

has since sparked a greater

conversation surrounding sports,

gender and equality. It has now become

even more apparent that inequality

still remains an issue in sports and

must be addressed sooner than later.

SPRING 2021 76
---
EDITORIAL STAFF 2021

Tionna Taite Bradley Coats A'Neshia Turner

Ashton Jah Alexis Blue Zahrea Small

NICKELL GRANT

Reena Miller

Javon Williams

77 NINETEEN FIFTY-SIX MAGAZINE
---
MELANIN MAGIC

SPRING 2021 78
---
STAY CONNECTED

1956magazine.ua.edu

@1956magazine

@1956magazine

1956 Magazine

1956 Magazine
---
SPINE IMAGE

DO NOT PRINT PAGE

Vol. 1 Best of 2020-2021 1956magazine.ua.edu