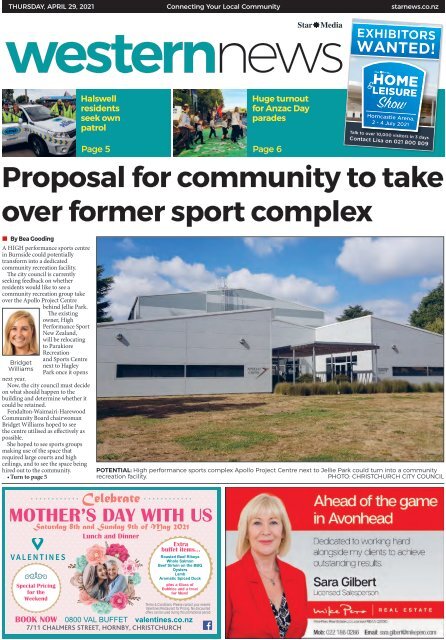 Western News: April 29, 2021
You also want an ePaper? Increase the reach of your titles
YUMPU automatically turns print PDFs into web optimized ePapers that Google loves.
THURSDAY, APRIL 29, 2021

Connecting Your Local Community

starnews.co.nz

Halswell

residents

seek own

patrol

Huge turnout

for Anzac Day

parades

Talk to over 10,000 visitors in 3 days

Page 5 Page 6

Contact Lisa on 021 800 809

Proposal for community to take

over former sport complex

• By Bea Gooding

A HIGH performance sports centre

in Burnside could potentially

transform into a dedicated

community recreation facility.

The city council is currently

seeking feedback on whether

residents would like to see a

community recreation group take

over the Apollo Project Centre

behind Jellie Park.

The existing

owner, High

Performance Sport

New Zealand,

will be relocating

to Parakiore

Recreation

Bridget

Williams

and Sports Centre

next to Hagley

Park once it opens

next year.

Now, the city council must decide

on what should happen to the

building and determine whether it

could be retained.

Fendalton-Waimairi-Harewood

Community Board chairwoman

Bridget Williams hoped to see

the centre utilised as effectively as

possible.

She hoped to see sports groups

making use of the space that

required large courts and high

ceilings, and to see the space being

hired out to the community.

• Turn to page 5

POTENTIAL: High performance sports complex Apollo Project Centre next to Jellie Park could turn into a community

recreation facility.

PHOTO: CHRISTCHURCH CITY COUNCIL

Special Pricing

for the

Weekend

Lunch and Dinner

Extra

buffet items...

Roasted Beef Ribeye

Whole Salmon

Beef Sirloin on the BBQ

Oysters

Lamb

Aromatic Spiced Duck

plus a Glass of

Bubbles and a treat

for Mum!

Terms & Conditions: Please contact your nearest

Valentines Restaurant for Pricing. No discounted

offers can be used during this promotional period

BOOK NOW 0800 VAL BUFFET valentines.co.nz
---
2 Thursday April 29 2021

Latest Canterbury news at starnews.co.nz

GENERAL INQUIRIES Ph 379 7100

CLASSIFIED ADVERTISING Ph 379 1100

Star Media, a division of Allied Press Ltd

PO Box 1467, Christchurch

starmedia.kiwi

NEWS

Bea Gooding

Ph: 021 911 576

bea.gooding@starmedia.kiwi

ADVERTISING

Alana Powell

Ph: 962 8753

alana.powell@starmedia.kiwi

Your local community news

delivered to 24,894 homes

within The Star each week.

Templeton • Islington • Hei Hei • Broomfield

Halswell • Oaklands • Westlake • Hornby • Ilam

Wigram • Sockburn • Church Corner • Avonhead

Hyde Park • Russley • Riccarton Park • Riccarton

what's on

this week

JP Clinic

Thursday, 9.30am-12.30pm, at

Hornby, Saturday, 10am-noon, at

Fendalton, Tuesday, 10am-1pm, at

Halswell and Upper Riccarton

Fendalton, Hornby, Halswell and

Upper Riccarton libraries

A justice of the peace will

be available to members of the

community to witness signatures

and documents, certify document

copies, hear oaths, declarations,

affidavits or affirmations as well as

sign citizenship, sponsorship or rates

rebates applications. This service is

free.

Knit 'n' Yarn

Thursday, 10.30am-2.30pm,

Tuesday, 1-3pm, at Upper

Riccarton, Thursday, 2-3.30pm,

at Fendalton, Saturday, 1-3pm, at

Halswell, Tuesday, 10am-noon, at

Hornby

Fendalton, Halswell, Hornby and

Upper Riccarton libraries

Take your knitting, crochet,

stitching or any other handcraft and

enjoy the company of others. Share

skills and be inspired.

Citizens Advice Bureau

Thursday, Friday, Monday,

Tuesday, Wednesday, 9am-5pm

Hornby Library

Citizen's Advice Bureau provides

free, confidential advice to everyone.

They take the time to listen and equip

you with information, options and

support that fit your needs. Free,

phone 349 5236.

GenConnect

Thursday, 1-1.45pm

Upper Riccarton Library

If you have questions about

your smartphone or tablet, ask an

expert for advice. Free, no bookings

required.

Free Legal Advice

Thursday, 6.15-8.15pm

Hornby Library

A lawyer will be available to answer

your legal questions. Take relevant

documents. Free. No bookings

required.

Autumn Tea Lights

Friday, 10-11am

Hornby Library

Upcycle a jar with fairy lights and

other decorations to create some

autumn ambience. Take your own

glass jar. Free, no bookings required.

Wā Kōrero-Storytimes

Monday, 10-10.30am, at Upper

WESTERN NEWS

Book Nook Dioramas for Families, Thursday, 9.30-11.30am, Te

Hāpua: Halswell Centre. Spend some family time creating a magical world

to display on your bookshelf. For ages 5 and above with an adult helper.

Free, no bookings required. ​

Riccarton, Tuesday, 10.30-11am,

at Fendalton, Wednesday, 10.15-

10.45am, at Hornby

Fendalton, Hornby and Upper

Riccarton libraries

Storytimes is an interactive

programme including books, songs,

rhymes and play.

Recommended for children 2-yearsold

and up. No bookings required.

Family History

Wednesday, 11am-1pm

Upper Riccarton Library

A volunteer from the Riccarton

branch of the New Zealand Society of

Genealogists will be available to help

you with finding your family history

online. Meet at the family history

computer.

Mah-Jong Group

Wednesday, 1-3 pm

Upper Riccarton Library

If you are interested in playing

Mah-Jong, go along whether you are

a beginner or an advanced player.

Not-for-profit organisations can

send their What's On listings to

western@starmedia.kiwi

Sign up to a contract today for

Special fixed LPG gas prices,

12 months free rental

and Flybuys!

Call us today to find out more!

0800 4 ELGAS 0800 435 427

New Zealand
---
WESTERN NEWS Latest Canterbury news at starnews.co.nz

Thursday April 29 2021 3

Safe link between schools likely

• By Bea Gooding

ILAM MP Sarah Pallett's efforts

in lobbying the Ministry of

Education to keep a safe access

way between three schools

appears to have been successful.

Since meeting with Pallett, the

ministry is now

keen to work

with Cobham

Intermediate,

Burnside

Primary and

Allenvale

Sarah Pallett

schools on

keeping an

access way after

the current one is closed.

It comes after Pallett raised the

issue at a Fendalton-Waimairi-

Harewood Community Board

meeting last month, as the path

keeps children, pedestrians

and cyclists off the road when

moving between schools.

In its original plan, the

ministry, which owns the land,

initially did not include the path

due to the nature of the schools'

new building layout.

The schools are being

rebuilt as part of a $1.3 billion

Christchurch Schools Rebuild

Programme, involving the

rebuild or redevelopment of 115

earthquake-damaged schools.

Said Pallett: "I have since

For everything

AUTO ELECTRIC

CARS • BOATS • TRUCKS

CARAVANS • TRAILERS • 4WDS

ELECTRIC & HYBRID VEHICLES

• Starter Motors

• Alternators

• Central

Locking

• electric

Windows

• ABS & Airbags

• Stereos/

Alarms

• Batteries

• tuneups

• engine

Management

Amazing

Auto USUALLy

AAE Electric SAMe DAy

ServiCe

65 Coleridge St, Sydenham

Phone 03 379 4250

www.amazingautoelectric.co.nz

In last week's issue it was reported Ilam

MP Sarah Pallett had not responded to

questions from Nor'West News over the

pathway issue.

This was incorrect. Questions had not

been put to Pallett, so she was unaware

Nor'West News was seeking comment

LOBBY: Ilam MP Sarah Pallett's efforts to get the Ministry of

Education to keep safe access between three schools has

been met with success.

met with MoE staff and I am

pleased to report the ministry is

keen to work with the schools,

community board, council and

other stakeholders to actively

consider options for a new

access way.

HORNBY SOUTH

FAMILY STORE

"Due to the of the schools'

redevelopment, the access

way would need to be moved.

The move cost-effective and

appropriate options are being

considered."

In addition to their rebuilds,

Te Ope Whakaora

pRELOVEd qUALiTy cLOTHiNG,

FURNiTURE & HOUSEHOLd iTEmS

We can arrange

pick-up of

donations simply

by phoning us.

VOLUNTEERS REqUiREd

wOULd yOU LikE TO SUppORT yOUR cOmmUNiTy?

Cnr Columbia Ave & Halswell Junction Rd

Ph 344 2530

Hours Mon - Fri 9am - 4.30pm

Sat 9.30am - 1.30pm

from her. It was also inferred in the

article the Fendalton-Waimairi-Harewood

Community Board had instigated the

bid to save the pathway.

In fact it was Pallett who had instigated

the bid and it was she who had gone to

the community board for support.

Cobham and Burnside, which

share the same site, will soon

host Allenvale School as it is

building a satellite school there,

along with another new base in

Belfast.

The pathway is currently

closed to allow for construction

work. The reinstatement is likely

to come near the end of the

project, which is scheduled for

completion by late 2023.

Pallett's immediate concern

in the meantime was keeping

pedestrians and cyclists off

school grounds during school

hours, while allowing for them to

safely continue to move through

the site outside school hours.

"I will be talking with

[Cobham] principal Eddie

Norgate on the best way to

achieve this for the duration of

the redevelopment," she said.

Last week, community

board deputy chairman David

Cartwright told Nor'West News

keeping cyclists safe was a "No 1

BECAUSE YOUR

FEET MATTER

• General Foot Care

• Biomechanical

• Orthotics

• Ingrown Toenails

• ACC Registered

• Diabetic Foot Care

priority" for the ward, especially

at the path as it is used by dozens

of pupils and the public every

day.

In discussions with Pallett,

the ministry agreed with

the importance of the

reinstatement.

Although it was technically not

within their remit, the ministry

also indicated that it was open to

funding the reasonable costs of

relocating the walkway.

Said Pallett: "The ministry

agrees that the walkway is of

considerable benefit to the

community, and officials have

been receptive to my suggestion

that a combined funding

approach be considered.

"In short, the suggestion

that I put to them was that

the walkway itself be funded

by the ministry, with lighting

being provided either by the

community board or council.

"I personally feel that this is a

very pragmatic and fair solution

that will be of enormous benefit

to our community."

Pallett has not yet brought

these suggestions to the

community board and city

council.

She will raise the option with

the board in a letter, along with

an update on her discussions

with MoE.

40 years

combined

experience

45 Merrin Street, Avonhead

Ph: 03 357 0155

E: info@footmatterspodiatry.co.nz

Book Online! No referral required.
---
4 Thursday April 29 2021

Latest Canterbury news at starnews.co.nz

WESTERN NEWS

Shopping is easy at...

wonderful new books releases

MADE RIGHT HERE IN NZ WITH

Avonhead Shopping Centre

Phone 358 8598

MONDAY - SATURDAY 9am - 5pm

SUNDAY 10am - 4pm

facebook.com/missbondclothing

The Last Reunion

by Kayte Nunn

Burma, 1945. Bea, Plum, Bubbles,

Joy and Lucy: five young women

in search of adventure, attached

to the Fourteenth Army, fighting a

forgotten war in the jungle.

Sparks Like Stars

by Nadia Hashimi

An Afghan American woman returns

to Kabul to learn the truth about

her family and the tragedy that

destroyed their lives in this brilliant

and compelling novel

The Zookeeper of Belfast

by S. Kirk Walsh

A heart-stopping WW2 historical

novel based on an incredible

true story

Shop 1, Avonhead Mall

Corner of Merrin Street & Withells Road, Avonhead

Ph: 358 4835 | www.piccadillybooks.co.nz

Two Shakes of a Lamb's Tail

by Danielle Hawkins

Two Shakes of a Lamb's Tail is the

funny, illuminating diary of a year in

the life of a New Zealand farm vet

REMINDER

MAY- It's tIME foR

YouR NExt 3 MoNth

DosE of buccAlINE

Have you immunised yourself and your family

against the bacterial complications of colds?

I love you Mum

this

Say...

(

Mother's Day

with flowers or a gift

from Andreas

PROTECT YOUR FAMILY NOW!

One course of Buccaline can give

three months protection

Available from

Avonhead Mall, Withells Rd/Merrin St, Christchurch, Phone (03) 358-5449

Avonhead Shopping Centre

Phone 358 9458
---
WESTERN NEWS Latest Canterbury news at starnews.co.nz

Thursday April 29 2021 5

Halswell residents seek

own community patrol

• By Bea Gooding

HALSWELL residents believe

their suburb should have a

dedicated community patrol as

the area's population continues

to grow.

Residents have expressed

concerns to Halswell-Hornby-

Riccarton Community Board

members about a lack of a

dedicated patrol for the area,

following a spate of crimes in the

last month.

But Hornby Community

Patrol secretary Ann Smith said

there was no need, as Halswell

was already an area that the

Hornby and Christchurch South

patrols monitored.

"There are two patrols over

in Halswell already, but if we

had local Halswell people join

our patrol, like Christchurch

South, then they'd have greater

coverage," she said.

"There are plenty of

opportunities for additional

patrols if [more] people were

prepared to join."

An increase in vehicle thefts,

car and home break-ins, graffiti

and broken glass caused by people

drinking in public places has

been a cause for concern.

Community patrols have since

CONCERNS: The Hornby Community Patrol believe

Halswell should not get its own dedicated patrol as the

area is already monitored by Hornby and Christchurch

South patrols.

increased their patrol activity in

Halswell and will continue to do

so in the next few weeks.

The need for a dedicated

community patrol has been

brought before the board in the

past as Halswell's population

continues to rise, but the recent

crimes were another reminder of

why the need was initially raised.

Smith believed it was not a case

of starting a new patrol, but that

more Halswell residents should

join existing patrols as they knew

their neighbourhood best.

At least 20 volunteers were

needed to run a patrol, otherwise

PHOTO: GEOFF SLOAN

it "won't achieve anything".

"Where in Halswell would

they like us to go? They are big

areas, our cars are not out every

day and we only go where we

know to go," she said.

"It's not easy to set up a patrol,

a lot of work goes into police

vetting, uniforms, vehicles and

training – it doesn't happen in

five minutes."

•HAVE YOUR SAY: Should a

new dedicated community

patrol for Halswell be

established? Email your views

to bea.gooding@starmedia.

kiwi

Submissions sought

•HAVE YOUR SAY: What

should the Apollo Project

Centre at Jellie Park be

used for once the existing

owners relocate to another

site? Email your views to

bea.gooding@starmedia.

kiwi

• From page 1

Said Williams: "It's about making

use of the space as effectively

as possible. Giving back to the

community is fantastic, but it's

about making sure this particular

facility is not going to come to

the expense of ratepayers, and if

the community organisation has

the capacity to pay for it."

The 2300 sq m centre was

originally intended to be a

temporary building to provide

training facilities for high

performance athletes and teams

after the February 22, 2011,

earthquake.

If the community supports

it, a recreation group will take

full responsibility for the facility,

which includes a full-sized

indoor netball court, a strength

and conditioning gym, a 40m

running track, showers, offices

and meeting spaces.

The city council has recently

completed an initial request for

proposal process, where early

submissions were received from

interested community recreation

groups.

It could not disclose which

groups had applied as the city

council was still considering

their applications.

As determined by the Jellie

Park Management Plan, groups

could include basketball, netball,

gymnastics, cultural, accessibility

groups, or sports and fitness

providers.

Once public consultation

closes next month, submissions

will be analysed.

Potential users and an overview

of feedback will be considered

by the Fendalton-Waimairi-

Harewood Community Board. It

will decide whether the process

should be continued.

Following this process, a

public notice with names of

interested parties will be issued

and residents will be able to

provide feedback on if they want

that particular group.

If no objections are received,

the lease will be awarded.

Residents can discuss the

project with city council staff

on Tuesday at the Apollo Centre

entrance off Ilam Rd, anytime

between 4-6pm.

To make a submission by

May 13, visit https://ccc.govt.

nz/the-council/consultationsand-submissions/haveyoursay/

show/406

bespoke, upscale & personalised care

The reassurance of quality is built in to everything we do at The Russley Village. However, nowhere

is the requirement for reassurance more important than within our new Ashley Suites Care Facility

– setting new standards in care, comfort and security. Our highly appointed care suites offer private

ensuite and a kitchenette with refrigerator, microwave and refreshment making facilities –

providing a sense of residence. This boutique facility is truly unique, and offers personalised rest home

and hospital care within an elegant residential setting.

rest home & hospital level care
---
6 Thursday April 29 2021

Latest Canterbury news at starnews.co.nz

WESTERN NEWS

A huge turnout of people gathered for Anzac Day services across the city.

Here are some of the scenes from Halswell, Hornby and Templeton

JOIN US NOW!

See website for details

Turn your

Ooh Oow

into

Ooh WOW

Fashionable • Functional • Footwear

With our new Ziera Boots

now in store

Unit 3, 355 Riccarton Rd, Upper Riccarton

P. (03) 929 0927 E. info@theshoeroom.co.nz

www.theshoeroom.co.nz

FASHIONABLE FUNCTIONAL FOOTWEAR

Treat your

mum from our

huge selection

of mother's

day gifts.

Sign up to Smart Deals & be in the monthly draw for a $100 Dress-Smart gift card!

Open 10am-5pm, 7 Days 03 349 5750

CHRISTCHURCH 409 Main South Road, Hornby

www.dress-smart.co.nz

Shop 5, 346 Halswell Rd,

Halswell. (Next to New World)

Ph: 322 1368
---
WESTERN NEWS Latest Canterbury news at starnews.co.nz

Thursday April 29 2021 7

Our kitchens have

conventional ovens

because you can't

bake biscuits in a

microwave.

Parkstone. The space to be yourself.

Come and see a retirement village where the communal garden is

big enough to feed the community, where a lap of the pool isn't the

same as a width, and where the cinema is not just a big telly.

Come to Bupa Parkstone where you have the space to be yourself.

Situated in Ilam this new development is ready to move in now.

Visit our Open Day this Saturday at 10am-2pm, for a free morning

tea, and see if Bupa Parkstone is right for you.

Call Debbs on (03) 344 1422 or 027 247 4250 to book a tour.

2 Athol Terrace, Ilam

bupa.co.nz/parkstone
---
8 Thursday April 29 2021

Latest Canterbury news at starnews.co.nz

WESTERN NEWS

With the vaccine,

it's all possible

Our immunity against COVID-19 is incredibly important.

Because it brings more possibilities for us all.

Possibilities like keeping our way

of life intact; our kids being able

to learn without worrying about

interruptions; or being able to

plan gatherings with whānau,

or team trips away, without fear

of them getting cancelled.

Immunity can bring us all this,

as well as more certainty in our

jobs, and more confidence in our

businesses. With the strength of an

immune system made up of all of

us, together we can, and will, create

more freedom, more options, and

more possibilities for everyone.

The COVID-19 vaccine is a

triumph of modern science

Creating the COVID-19 vaccines

took a global effort. The world

united to take on the challenge,

with medical professionals and

scientists from across the planet

working thousands of hours to

bring it to us quickly and safely.

Our Pfizer vaccine works by teaching

your immune system to fight off the

virus. Once you've had both doses

of the vaccine it has been shown to

be up to 95% effective at stopping

you from catching COVID-19. It also

greatly reduces symptoms if you

do catch COVID-19 – making it far

less likely that you'll fall seriously ill,

or pass it on to others.

Along with our existing actions like

scanning QR codes with Bluetooth

turned 'on', and staying home when

you're sick, getting the vaccine is

the best way to protect Aotearoa

against COVID-19.

Find out which vaccination group

you're in, and what you need to

know, at Covid19.govt.nz/myvaccine

The stronger our immunity,

the greater our possibilities.

Covid19.govt.nz/vaccines
---
WESTERN NEWS Latest Canterbury news at starnews.co.nz

Thursday April 29 2021 9

Classifieds Contact us today Phone our local team 03 379 1100

Wanted To Buy

Trades & Services

Trades & Services

Trades & Services

AAA Buying goods

quality furniture, beds,

stoves, washing machines,

fridge freezers. Same day

service. Selwyn Dealers.

Phone 980 5812 or 027

313 8156

TOOLS Garden,

garage, woodworking,

mechanical, engineering,

sawbenches, lathes, cash

buyer, ph 355-2045

TOOLS Garden,

garage, woodworking,

mechanical, engineering,

sawbenches, lathes, cash

buyer, ph 355-2045

Trades & Services

ROOF

PAINTING 24/7

Rope & harness

a speciality,

no scaffolding

required,

30 years of

breathtaking

experience.

FREE QUOTES

20% OFF other

roof quotes

Exterior staining,

exterior painting,

water blasting.

Moss and mould

treatment $300.

Phone Kevin

027 561 4629

BATHROOM

Renovations, complete

service from start to finish,

free quotes, ph Dave 027

334 4125

Selwyn

Accounting

For all your

Accounting &

Tax Needs

03 741 1783

027 332 8086

brian@

selwynaccounting.co.nz

HALSWELL

GLASS & GLAZING 2017 LTD

THE PET DOOR SPECIALIST

• PET DOORS

• NEW GLAZING

• FRAMELESS SHOWERS

• MIRRORS

• INSURANCE CLAIMS

• RETRO GLAZING

• BALUSTRADING

ALL SUBURBS COVERED FOR

ALL YOUR GLAZING NEEDS

PHONE GAIL ON

322 7999 OR 021 CAT DOOR

(228 3667)

BRICKLAYER

George Lockyer. Over

40 years bricklaying

experience. UK trained.

Insurance work, EQC

repairs. Heritage

brickwork & stonework

a speciality. No job too

small. Governers Bay.

Home 329 9344. Cell

027 684 4046. E mail

georgelockyer@xtra.co.nz

Accountant

Debra Jowsey & Karla Kilner

Ph 03 382 3470

We help with all Tax returns for the

salary & wage earner, self employed, rental,

business, farm, GST, pay day filing, rental returns

CARPET LAYING

Exp. Repairs, uplifting,

relaying, restretching.

Phone John on 0800

003181, 027 240 7416

jflattery@xtra.co.nz

GUTTER CLEANING

Gutter cleaning special

from $99 plus gst for a

whole house clean"".

Free Quotes, call Morgan

Thomas today 022 375

8506

PAINTING

Indoor / Outdoor, over 30

yrs exp, same day quotes,

ph Steve 021 255 7968

PAINTING

Indoor / Outdoor, over 30

yrs exp, same day quotes,

ph Steve 021 255 7968

PROFESSIONAL

GARDEN SERVICES

Regular garden

maintenance, pruning,

spraying, weeding,

mowing, planting, garden

makeovers. Qualified

with over 40 yrs exp. Ph

Richard 0274 918 234 or

349 4022

ROOFING REPAIRS

Fully qualified, over 40

yrs experience. Ph John

027 432-3822 or 351-

9147 email johnchmill@

outlook.com

STUMP GRINDING

Best price guarantee Tony

0275 588 895

STUMP GRINDING

Best price guarantee Tony

0275 588 895

TILING

Flooring - Splashbacks -

Wall incl tile removal, reg

master tiler, ph Dave 027

334 4125

TILING

Flooring - Splashbacks -

Wall incl tile removal, reg

master tiler, ph Dave 027

334 4125

VHS VIDEO TAPES

& all camera tapes

converted to DVD or

USB. Video taping

special occasions, www.

grahamsvideo.co.nz ph 03

338-1655

DRIVEWAYS

Exposed Aggregate

Stamped Concrete Plain

Concrete Resurfacing

Things we offer...

Competitive/affordable pricing

Attention to detail

Professional service

free quotes/insurance scopes

Cell 0278 145 848

www.drivecrete.co.nz

WINDOW TINTING

tintawindow

advanced film solutions

99% uv block

fade protection

heat control

reduce glare

25 Years Experience

privacy films

frosting designs

non-darkening films

Workmanship Guaranteed

Lifetime Warranties on Most Films

UV

block

Free Quotes Canterbury and Districts

03 365 3653 0800 368 468

ADVERTISE YOUR BUSINESS HERE

Phone for further details

(03) 379 1100

Our Representation

Review is underway

Great Coaches

Great Facilities

Best Fun

Join the Panthers today !

Contact Sally 021 129 5885

We're proposing some tweaks to the city's

ward boundaries – including moving all of

Wigram into the Hornby ward.

We need your feedback:

How well does this represent your local

community? Have we got it right?

Read more and have your say at:

ccc.govt.nz/repreview

Read local

Read local
---
10 Thursday April 29 2021

Latest Canterbury news at starnews.co.nz

WESTERN NEWS

Hornby's Home of Hearing Care

When it comes to caring for your senses, you want to know you are

in good hands. So, when you, or your loved ones start to have

problems with your ears or your hearing, there is a team of

passionate professionals who will give you the very best service.

Hear Again have been delighting the Hornby community from their

bright, purpose made clinic at the Hub, for the past 4 years.

Offering everything from Ear Wax removal by gentle microsuction,

through to the fitting of the most advanced hearing aids offered by

the world's leading manufacturers, the team are happy to help.

Neil Hardisty, NZAS

Audiometrist, has been

expertly overcoming hearing

difficulties for residents of

Christchurch since 2009. Neil

is frequently praised for his

limitless patience, wonderful

caring nature and ability to

solve problems which other

clinicians have deemed

impossible. Neil is never

satisfied until you are.

In New Zealand, one in six people have some degree of hearing

difficulty. Over the age of 60, more than half the population are

living with a significant hearing reduction. This invisible condition

can be incredibly frustrating, as conversation on a one to one basis

can be ok, but social situations become very uncomfortable indeed.

Background noise can make conversation almost impossible to

follow causing some sufferers to remove themselves from the

conversation, or even avoid going to the social function completely.

Other early signs of hearing difficulty are a creeping up of the

volume control on the TV, frequently asking family and friends to

repeat themselves, or accusing people of mumbling when they

speak. With hearing loss recently being linked to the early onset of

Dementia in studies throughout the world, these early signs are not

to be ignored. Early detection of this is paramount.

Hear Again are the highest rated hearing clinic in Christchurch,

offering FREE no obligation 30 minute initial hearing assessments.

If you, or any of your loved ones have noticed any difficulties with

your hearing, this can be quickly and professionally checked for you

at The Hub, 418 Main South Road, Hornby. If you already have

hearing aids from any manufacturer, they will give them a FREE

clean and check to ensure they are in tip top condition for you.

Shop 125, The Hub, Hornby www.hearagain.co.nz 03 9741658

Are your ears feeling blocked?

Ear wax and other blockages can be safely and easily

removed using the very latest microsuction techniques.

Ear wax production varies hugely from person to person,

some ears keep themselves very clean, but others are

like little wax production factories!

For only $45 you can get quick, instant relief and

get back to enjoying the sounds of life again!

Come visit the highest rated hearing clinic in Christchurch

Check out all of our 5 Star Google reviews. Here is a small selection:

Wow,need help quickly, and Hear Again provided quick service. The team were very friendly and Neil

was very conscientious. Great job!

Happy to recommend. Friendly, professional service from Neil and team. Will definitely be returning

for any future requirements.

I can HEAR AGAIN ! I popped in to see Neil and his team on the way to the pharmacy to get an ear

cleaning product as it sounded like I was underwater. The Hear Again team saw me on the spot as

they had a free appointment. Ears 100% clear. Many many thanks Neil, will see (and hear) you again
---
THURSDAY, APRIL 29, 2021

Connecting Your Local Community

starnews.co.nz

OPEN DAY AT

OUR NEW

LIVING WELL

CENTRE

10AM – 2PM, SUNDAY 2 MAY 2021

Arvida Good Friends

at Park Lane

47 Whiteleigh Avenue

Addington

0800 20 41 20
---
SEMINARS

SEMINARS

& TALKS

& TALKS

ANNABELLE WHITE

Come along to this free event

and see Christchurch's newest

community centre designed

to support older Cantabrians

live well.

Cookbook author,

food and travel TV

& radio personality

DR DOUG WILSON

Enjoy cooking demonstrations,

tastings and $5 deals at Natter Café

with Head Chef, Josh Monaghan.

Try out yoga, boxfit, and balance and

strength exercises in our state of the art

gym with exercise physiologist, Laura Organ.

Freshen up with special offers at

Gorgeous George Hair, Nails and Beauty

Salon. Plus, there are prizes, giveaways

and so much more. Make a date to

come along with your good friends.

Throughout the day, you'll be able to

hear from a handful of special guests

who help make our community great.

Director of On

the Go Physio and

the Older Adults

Health Collective

2021 Senior

New Zealander

of the year

As well as a special workshop

from the Christchurch Symphony

Orchestra, showcasing their

music therapy for dementia.

See the full programme

and book your spot at

goodfriends.co.nz/whats-on

or call 0800 20 41 20.

JESSIE SNOWDON