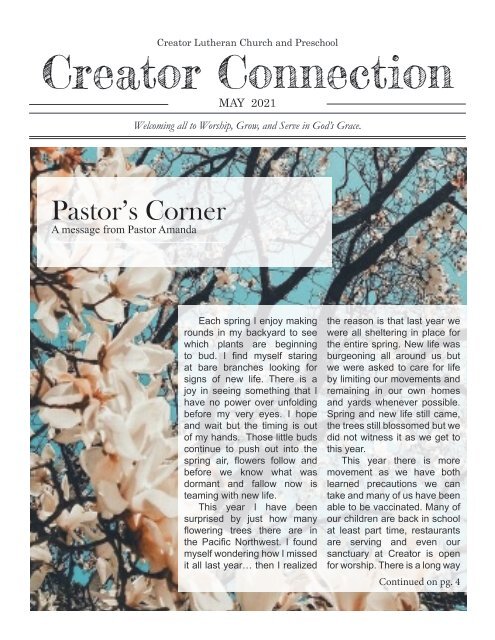 05.2021 Newsletter
The official newsletter of Creator Lutheran Church and Preschool.
The official newsletter of Creator Lutheran Church and Preschool.
SHOW MORE
SHOW LESS
You also want an ePaper? Increase the reach of your titles
YUMPU automatically turns print PDFs into web optimized ePapers that Google loves.
Creator Lutheran Church and Preschool

Creator Connection

MAY 2021

Welcoming all to Worship, Grow, and Serve in God's Grace.

Pastor's Corner

A message from Pastor Amanda

Each spring I enjoy making

rounds in my backyard to see

which plants are beginning

to bud. I find myself staring

at bare branches looking for

signs of new life. There is a

joy in seeing something that I

have no power over unfolding

before my very eyes. I hope

and wait but the timing is out

of my hands. Those little buds

continue to push out into the

spring air, flowers follow and

before we know what was

dormant and fallow now is

teaming with new life.

This year I have been

surprised by just how many

flowering trees there are in

the Pacific Northwest. I found

myself wondering how I missed

it all last year… then I realized

the reason is that last year we

were all sheltering in place for

the entire spring. New life was

burgeoning all around us but

we were asked to care for life

by limiting our movements and

remaining in our own homes

and yards whenever possible.

Spring and new life still came,

the trees still blossomed but we

did not witness it as we get to

this year.

This year there is more

movement as we have both

learned precautions we can

take and many of us have been

able to be vaccinated. Many of

our children are back in school

at least part time, restaurants

are serving and even our

sanctuary at Creator is open

for worship. There is a long way

Continued on pg. 4
---
Table of Contents

Ministry

Pastor's Corner...............................................

Terri's Two Cents...........................................

Pastor's Corner cont. .....................................

Fellowship

Mental Health Awareness Month..................

Church in Society..........................................

Church Council Highlights............................

Thoughts on Stewardship..............................

Children, Youth, and Family

VBS, Prayer Chain, Sunday School.............

One on One...................................................

Children's Program, Affirmation of Baptism

Children's Book of the Month.......................

Preschool

Preschool News..............................................

News and Education..............................

Birthdays and Reminders.......................

Calendar............................................................

1

3

4

5

6

7

8

9

10

11

12

13-17

18

19

Staff

Pastor:

Amanda Olson de Castillo

pastoramanda@creatorlutheran.net

Children, Youth,

& Family Director: Terri Heckroth

creatorterri@comcast.net

Office Ministry: Donna Reynolds

office@creatorlutheran.net

Communications Coordinator:

Marion Gil

communications@creatorlutheran.

net

Bookkeeper: Marcie Reid

creatorbooks@creatorlutheran.net

Custodian: Leslie Noborikawa

Nursery Attendants: Debbie

Eikland and Cynthia Lowe

Sunday School Coordinator:

Terri Heckroth

creatorterri@comcast.net

Preschool Director:

Andrea DeDominces

Preschool Teachers:

Andrea DeDominces, Ragan Allen

& Cheri Farrer

Baptism Coordinator:

Briana Halaas

Funeral Coordinator:

Janee Theleman

2

Ministry teams and program leaders, please think ahead about what is coming up and

submit information, pictures or stories of impact to office@creatorlutheran.net by the 20th

of each month. Our Office Ministry Coordinator, will collect, format, and get the newsletter

out to the congregation by the first of each month. If you have any further questions,

please feel free to call the office (253) 862-7700.
---
Terri's Two Cents

Have you ever had one of

those PERFECT days? You know

the ones. Nothing goes wrong,

the sun is shining, and you feel

absolutely happy. Those days

are few and far between during

a global pandemic, but I just had

a beautiful day yesterday.

After a long uninterrupted

(that almost never happens)

eight hours of sleep, I woke to

the purring of my playful, yet

cuddly cat. The sun was already

shining through the blinds in my

bedroom. I was excited about

the reopening of the church

nursery, so I hurried to church.

There, I reconnected with some

of my friends whom I hadn't seen

in a while. Although no families

used the nursery, it looked

beautiful. It was so good to see

Cindy and Debbie back and

waiting for children. The sermon

was amazing and inspirational

as usual.

After church, I had some

time to relax in the sunshine on

our back deck before my older

daughter and her family came by

for a visit. They brought lunch and

a million smiles. After a very long

13 months, the four grandkids

ran into my house excited to get

hugs and kisses. The four of

us adults are vaccinated now,

so we felt comfortable being

together inside the house. Oh,

how I relished those hugs! I had

a difficult time letting the kids

out of my embrace long enough

for them to go to the playroom.

"When times are good, be happy; but when times are bad,

consider this: God has made the one as well as the other"

-- Ecclesiastes 7:14

The grandkids had a great time

playing with all the toys they

hadn't seen in over a year. To

them, the toys seemed new.

They told me it was just like

Christmas.

Andy and I were in heaven!

We loved the slow-paced meal

and discussion between adults

and the fast-paced play of the

children. After our "Goodbyes"

and promises to spend more

time together now that we are

vaccinated, I cleaned up and

took some time to thank God for

all the love and joy I have in my

life.

That evening, I met with the

high school youth for a special

worship service led by Pastor

Amanda. The students were

thrilled to see each other in

person again after many months

of Zoom Bible Study meetings.

We enjoyed a deep discussion

stemming from the story of

Stephen, the martyr. None of us

wanted the evening to end.

At the end of the day, I

remembered that I am truly

blessed by God. I don't have

many of those PERFECT days,

but the ones I do experience

remind me that I was created

by God to love and to be loved.

Thank you, Good and Gracious

God, for the wonderful people,

pets, plants, air, etc. you have put

in my life for me. Thank you for

the perfect days and the difficult

days. But, please help me get

through the difficult days so that I

am able to enjoy the good days.

Amen.

3
---
Ministry

Continued from pg. 1

to go before all that has been

dormant reopens but we have

seen the beginning. Just as we

look for new buds on trees, we

look for these signs with hope

and expectation.

Spring continues to bring

transitions as petals from the

flowering trees will one day soon

fill the air with a shower of color

due to a brisk wind, heavy wind

or simply when the time comes

for them to drop to the ground.

Spring is a fleeting season, yet it

is a season that embodies hope

and God's provision.

Easter is a season in which

we rejoice in the new life that

Christ's death and resurrection

brought us and continues to bring

us, life through the forgiveness

of sins and God's grace. God's

kingdom comes without our

prayer — just like those buds

come without my work or yours

— but we pray that it comes to

us as well. We are in need of

spring's hope, of the breath of

new life in our lives. We are in

need of the resurrection.

As we wait with anticipation,

we live into the now/not yet

reality of the kingdom of God.

We have hope in the kingdom of

God even while we wait for the

freedom that resurrection has

given us to be fully visible to us.

The timing is out of our hands,

which is at times frustrating. It is

frustrating because even though

we are an Easter people we need

to have the promise reposted for

us again and again due to our

impatience and our lack of faith.

Matthew 6:25-27: "Therefore

I tell you, do not worry about your

life, what you will eat or drink; or

about your body, what you will

wear. Is not life more than food,

and the body more than clothes?

Look at the birds of the air; they

do not sow or reap or store away

in barns, and yet your heavenly

Father feeds them. Are you not

much more valuable than they?

Can any one of you by worrying

add a single hour to your life?"

We are an Easter people,

but we are also a Good Friday

people who need God's Word.

God brings the spring to you.

God provides and will continue

to provide for your life. God give

you the kingdom. God brought

you Easter and will continue

to bring you Easter — bringing

to the fallow and lifeless parts

of your life the newness and

blossoming of spring. A spring

that frees you and sends you

free into the world to share the

good news with others.

Peace be with you,

Pastor Amanda

"Therefore I tell you, do not

worry about your life, what you

will eat or drink; or about your

body, what you will wear. Is not

life more than food, and the body

more than clothes? Look at the

birds of the air; they do not sow

or reap or store away in barns,

and yet your heavenly Father

feeds them. Are you not much

more valuable than they? Can

any one of you by worrying add a

single hour to your life?"

Matthew 6:25-27

4
---
Ministry

Mental Health

Awareness Month

From him the whole body,

joined and held together by every

supporting ligament, grows and

builds itself up in love, as each

part does its work. Ephesians

4:16

We are over one year into a

global pandemic. We have had

many transitions this past year

and everyone has experienced

isolation to some level. Most

of us are feeling some level

of stress and worry. We know

that our mind, body, and spirit

are all connected and impact

each other—for better or for

worse. We also know negative

emotions lower immunity. We

need to be intentional about

engaging our minds in healthy

ways and staying connected as

a community of faith. Try some

of these strategies to promote

mental health:

• Limit the time you spend

on social media and

television for COVID-19

updates. Go to trusted

sources for your

information, especially

when you are online.

• Change the scenery

around you. Go for a walk.

Moving your body and

being in nature are both

good medicine for when

you feel overwhelmed!

• Reach out to a friend

or neighbor by phone,

especially those who

are more vulnerable.

Everyone feels better

emotionally when we all

connect.

• PRAY! Who better to trust

with our anxiety and fears

than God who created

us and has control over

every detail of our lives?

• Connect with the world

around you and yourself.

5 things you can see

4 things you can touch

3 things you can hear

2 things you can smell

1 thing you can taste

• Watch a morning Creator

Devotion provided by

Pastor Amanda and

posted on Facebook and

our YouTube channel

(CreatorLutheran).

• Surround yourself with

God's promises in

scripture

Top 10 Scriptures of

Resilience

1) Psalm 121

2) Isaiah 41:9b-10

3) Matthew 11:28-20

4) Psalm 46:1-7

5) Psalm 23

6) Isaiah 43: 1-3a, 5-7

7) Romans 8:31-35,

37-39

8) John 14:27

9) Ecclesiastes 3:1-8

10) John 11:25-26

If you feel like you need

professional help for mental

illness, do not hesitate to call

your county's crisis mental health

line, available 24 hours a day.

Pierce County Crisis Line:

800-576-7764 (TTY: 711)

King County Crisis Line:

866-427-4747 (TTY 206-461-

3219)

Additional Creator Resources

Pastor Amanda and staff are

here for you and can be reached

by phone or email.

Church Office

253-862-7700

office@creatorlutheran.net

Pastor Amanda

253-470-6924 pastoramanda@

creatorlutheran.net

Creator Cares Team

In these uncertain times we

are living, the Creator Cares

team is here to listen. If you

would like to be connected with

a member of the Creator Cares

team let Pastor Amanda or the

office know.

Now may the God of peace

himself sanctify you completely

and may your whole spirit and

soul and body be kept blameless

at the coming of our Lord Jesus

Christ. He who calls you is

faithful; he will surely do it. 1

Thessalonians 5:23-24

5
---
Fellowship

Church

In Society

Mathew 25:40 The King will reply,"Truly I

tell you, whatever you did for one of the

least of these brothers and sister of mine,

you did for me." NIV

The month of April was a renewal of many

things. Our congregation was most generous by

donating over $3600 during the Lent services which

CIS designated to agencies that assisted families

who needed shelter and other necessities. It was

also a time to greet each other with "Alleluia" as

we shared the renewal of Christ in our lives during

our Easter Sunday celebrations. On April 23rd,

Peace Lutheran Community Center was gifted

a dinner from Creator. Ten church volunteers

gathered in the narthex and whipped up over

75 hearty sack lunches which were delivered to

Peace Lutheran by Cathy Coleman. Our brothers

and sisters of the Hill Top received the meals

by drive through service. We long for the day

when we once again will be able to serve them

hot meals in their cafeteria and be able to gather

together in thanksgiving.

In May, the annual Emergency Food Network

Hunger Walk takes place all month. While Creator

isn't organizing a team of walkers this year because

of the Covid 19 Pandemic, you can still donate to

this very worthy cause that supports food banks

and food assistance programs throughout Pierce

County for those in need.

To donate online, please follow this link:

https://runsignup.com/creatorlutheranchurch.

Cash and check donations are also accepted and

can be mailed to or dropped off (the office is open

M-F 8am – 4pm) at the EFN office at 3318 92nd

St. S, Lakewood, WA 98499. For checks, please

include "Hunger Walk" and "Creator Lutheran" in

your memo line so that EFN can accurately log

their donations.

EFN is also hosting a small drive-through food

and fund drive at their office (same address as

their office listed above) on Saturday, May 1st at

10am – 11:30 am. You can drive by to drop off

food or fund donations. If you have any questions

please contact the church office.

Donations for the month of April are as follows:

Offering from Lenten services:

• Exodus Housing: $1000

• Plateau Outreach Ministries: $1000

• Helping Hands House: $1000

• Praire Ridge Coalition $300

• White River Community Outreach: $300

April's Benevolence:

• Sumner Family Food Bank; regular: $200

Backpack program: $300

• Bonney Lake Food Bank- regular: $200

Backpack program: $300

• Emergency Food Network: $300

As always we are very thankful for your

generosity towards our communities.

The Church in Society Team

6
---
Fellowship

Church Council Highlights

Following are highlights from our Council meeting held on Tuesday April 20,2021. These are

not the official meeting minutes, but a brief summary to aid communication. Approved minutes

will be posted on the bulletin board across from the office.

Council Reports:

From Treasurer

• Jochen Funk reported that

the General Fund balance

at the end of March is

$109,827.46

• Expenses were -$ 30,180.33

• Contributions/Givings were

$33,926.13

• Council approved Local

benevolence of 6%-

$2,035.56

• 4% to Synod -$1,357.04 be

paid in March.

Synod Assembly Representatives Needed

Creator needs two people to represent our community at

the 2021 southwestern Washington Synod Assembly. The

session is dubbed "Moving Forward with Hope and Vision."

The assembly will be on Friday June 14th and Saturday June

15th Via Zoom. We are looking for one female and one male

representative. If you can represent our congregation, please

contact the church office or anyone on Church Council.

From Pastor Amanda

Teri and Amanda are working on ways to welcome young

families back to worship as hopefully we return to somewhat

normal services. They are also working on a Godly Play

activity for after services that kids can be engaged in. The

goal is to get back eventually to an in-person community.

We have had a lot of positive feedback on the prayer

stations giving people a way to reflectively engage,

particularly with having stations.

Congregational Meeting Coming Up June 13th

The big annual congregational meeting is coming up

to have your voice heard and to elect new Church Council

Members. We are looking to hear from you then!

A Few Repairs

Now that the roof is repaired from storm damage, we have

a few other repairs in the works. We will be fixing the water

damage in the multipurpose room, some damage outside

the storage closet, some more roofing that needs attention,

some fascia board that needs attention, and the weathered

bench in the front of the church.

7
---
Fellowship

Thoughts on

The subject of tithing comes

up on occasion at Creator,

however it seems to be

presented with much care and

caution so as not to pressure

anyone. Conversations can

get a little messy when we call

tithing any amount given to the

church. Tithing is specific and is

one tenth of our earnings. The

Old Testament references tithing

in several places, which was

obligatory in the time of Moses,

yet we are no longer under the

law in the same way through

Christ's death and resurrection.

Contemplating tithing today

is certainly something to pray

about, but why consider it?

Proverbs 3: 9-10 reads-

Honor the LORD with your

wealth, with the first fruits of all

your crops; then your barns will

be filled to overflowing, and your

vats will brim over with new wine.

Creator has never been a

church to preach prosperity, so

what are other reasons to tithe

besides helping the church?

For some it is stepping out

in faith, believing that God will

provide and honor our giving

when we put him first in our

finances, and blessings will

follow. To be honest, if we look

at our bank statement as the way

to decide, or the bills piling up,

8

we may just say "that's cringe,"

which is a phrase many teens use

these days. If we know people

who tithe, it is interesting to hear

their rationale. Some churches

expect it, even mandate it, but

this is not the case at Creator.

It is clearly something between

you and God.

Historically Creator has been

faithful in the benevolent giving

with tithings of 4% to the Synod

and 6% to the local community

(example the Food Banks,

Exodus Housing, Sumner School

District/Community Resources).

During the time between Pastors'

things were quite tight, and for

a few months the decision was

made to cut back on giving for

the first time, and to the dismay of

several in leadership positions.

Once Pastor Amanda was hired,

tithing was resumed, yet not

too long after we experienced

Covid 19! Again, finances have

been limited at times, yet both

Council and Finance Committee

remained committed to tithing

in our benevolent giving, and

this was especially important

because so many resources in

our area really needed our help.

Sometimes the blessings of

tithing are noticed in retrospect.

During Covid, there have been

reduced monthly expenses

without some personnel for

example. However since we

have been primarily worshiping

virtually, with decreased giving,

making the monthly expenses

was still difficult. Creator

was eligible for a special loan

offered to churches during the

pandemic, which helped bridge

the various gaps, and we have

now become eligible for loan

forgiveness. Hallelujah! Giving

during February was really down

and gave great concern. March,

Continued on pg. 13

Honor the LORD

with your wealth,

with the first fruits

of all your crops;

then your barns

will be filled to

overflowing, and

your vats will brim

over with new

wine.

Proverbs 3:9
---
Children, Youth, and Family

Vacation Bible School 2021 VBS will look a little different this

summer. Normally, Creator is

bursting with excitement as over

200 children, youth, and adult

staff fill the building for a week

in the summer. In consideration

of the health and safety of all

the families in our community

during this unusual year, VBS

will be presented to families

via Facebook live, email, and

YouTube.

During the week of July 26-

30, 2021, our VBS leadership

team will email and post Bible

story skits, craft ideas, and

upbeat songs to families to use

in a home style Vacation Bible

School. Using Facebook live

and Creator's YouTube channel,

Bible lessons will come to life

through skits, music, and crafts.

Craft supplies for the entire week

will be available to pick up on

Monday, July 26.

Registration will open May 24.

Please sign up so we will know

how many craft kits to make up.

Our Confirmation and High School

Students are constantly praying! If you have

a specific prayer you would like to include in

our prayer chain, please email Terri Heckroth

creatorterri@comcast.net. We will attach it

to the growing paper prayer chain hanging in

the sanctuary.

Creator Sunday School

Is Back!

Creator's Family Sunday School is Virtual!

We will be emailing Sunday School lessons with

video stories and links to music videos every

week to our Sunday School families. If you

know of any family who would like to added to

the distribution list, please let Terri know. We will

follow the narrative lectionary so you can enjoy

a family discussion after Sunday School and

Worship. Some videos will be saved on Creator's

YouTube channel. We are also sending by email

Family Daily Devotions for Lent throughout this

season.

9
---
Children, Youth, and Family

Name: Monica Hurley

Profession: Executive Director/

Multicare Good Samaritan

Foundation and South King

Health Foundation

Birthday: October 11

What are your hobbies? Skiing, wine

tasting, traveling

What is your favorite food? Seafood! I'd

be a prescatarian if I could convince JJ to eat

more fish.

Who is one person who has influenced

your life decisions? Kurt Mayer: mentor,

friend, and Holocaust survivor, passed away

in 2013.

What three things do you value the most?

Breath: ability to find oxygen in physical and

metaphorical ways. Learning: if we're not

learning and changing, we're not growing.

Purpose: although as Lutheran's we believe

salvation is achieved through faith, not deeds,

I value having purpose, adding meaning to

living.

10

One on One

May 2021

A monthly interview with one of

our church members to help get

to know each other

What do you like most about Creator?

The way the people here have always

loved my kids.

Where do you see God in your life?

I see God when all seems dark and then

there is a pinprick of light - like a giggle

that you catch and hold and allow to grow.

I see God also in the joy of my daughter's

laugh and smile; and in the incredibly

responsible and loving young man my son

is becoming.

What is the biggest challenge you face?

Time. Making the most of "Our Daily 24"...

and particularly, taking time for rest. I hold

tight to:

Philippians 4:13 "I can do all things through

Christ who strengthens me."

Ecclesiastes 3:1 "To everything there is a

season, and a time to every purpose under

heaven."

Matthew 11:28-29 "Come to me, all you

who are weary and burdened and I will

give you rest. Take my yoke upon you and

learn from me."

Continued on pg. 13
---
Children, Youth, and Family

High School

Bible Study

Welcome to High School

Bible Study! This fun-loving

group of 9th-12th graders meet

every Sunday evening from 7-8

through Zoom. We gather for

prayer, fellowship, and faith

discussion time. For more

information call 253-862-7700

or 253-312-7219.

Children's

Book of

the Month!

Affirmation

of Baptism

The following young

people will be making their

Affirmation of Baptism on

Sunday, May 2, 2021:

• William Robert Halaas

• Ava Kathryn Parkhurst

Pastor Amanda and

son Juaquin recommend

the book series, The Land

of Stories. These are

books about kids falling

into a popular story setting.

They use their friendships,

problem solving skills and

adventurous spirit to make

their way back home.

These are good for upper

Elementary grade level

readers.

11
---
Preschool

Preschool News

May 2021

Every year as we approach

the end of another year of

preschool, we are amazed

at how quickly it passed.

And we are so thankful and

blessed for our wonderful

families and the opportunity

to be part of your lives as you

are part of ours. This has been

an unusual year, but we have

focused on the blessings and

joy your children have brought

to our school and we hope

your children feel the same.

During the month of May,

we will be learning about

butterflies and how they grow

and change. We will be talking

about our moms and dads

and summer vacations. Our

numbers will be 9 and 10 for

the younger classes and 19

and 20 for the older classes.

Our shape is the diamond, our

color is blue and our letters

are W,w, X,x, and Z,z.

There will be no school

on Monday, May 31st for

Memorial Day.

Thursday, June 3rd and

Friday, June 4th will be our

last class days. At the end

of class, approximately the

last 30-45 minutes, we will

enjoy an 'informal' graduation/

moving up event. At this time,

we are waiting to see what

phase Pierce County will be

in. This will determine how

many people can attend this

event. More details will follow

as we know more.

Thanks for a great year!

We know you have blessed

our lives and hope we have

blessed yours.

Andrea (Mrs. D), Cheri (Ms.

Farrer), and Ragan (Mrs.

Allen)

12
---
however, was one of the highest

in ten years. In 2013, when

giving was highest in March,

this included Easter. Right

now, Creator's finances are

solid. We will be ready to hire

the missing positions we have

gone without, and potentially

do some needed projects or

repair in places that have been

neglected and are overdue. We

are extremely grateful at Creator.

Our little church continues to be

recognized and appreciated in

this community for its generosity,

and we are all part of this.

Creator has a big heart, with big

faith.

So what do we conclude from

Creator's tithing experience?

Does this mean everyone should

jump into tithing, if you are not

already, and expect financial

blessings and provision? Tithing

is an individual decision between

you and your relationship with

God. It begins with gratitude,

and focuses on what we are

thankful for, including finding

the good in life. Expanding our

giving comes most naturally from

a place of gratitude.

If you get a chance to tune

into Pastor Amanda's morning

devotions, she is sharing

from the book "Grateful: the

transformative power of giving

thanks," by Diane Butler Bass.

News and Education

Thoughts on Stewardship cont.

Continued from pg. 8

One on One cont.

Our heart opens when we focus

on gratitude. Even during Covid

we can all find good things that

have happened or that we've

experienced. For many, it has

been increased family time. The

widespread use of technology

has allowed many to connect

with family and friends on a more

regular basis, when prior to the

pandemic busy schedules and

over commitment often interfered.

Pause and contemplate the

witness of Creator in their faithful

commitment to tithe. Watch and

observe the many ways you

are blessed as you trust God to

speak to your heart. What we

know to be true is God is faithful.

Continued from pg. 8

Who do you admire the most? I have

many people I admire both living and dead.

For a church article I should say Jesus; well,

don't we all. And I could name a bunch of

theologians; they've shaped why we all pay

attention to the church! I try to see the good

in people - and as poet Mary Oliver says,

"Pay attention, be astonished, tell about it."

So, to say admire 'most' is a pretty big fit.

One thing I learned from my mom: find good

in everyone. From my dad: always be kind

even when people are absolutely terrible to

you - and he and our family have experience

there. So, to answer the question - finally -

and picking only one on the fly; someone

living...I'd say former ambassador from

Norway to USA, Tom Eric Vraalsen. If

you want to learn about compassion and

care for humanity - his work in Sudan was

bold and brave. His capacity to hear about

small things never failed. Even in the midst

of negotiating a peace accord, he always

wanted to hear about the PTA, my kids and

what was going well.

Who is your favorite Super Hero?

Wonder Woman. I like the old one, the new

one and I really want to figure out how to

get an invisible jet, although I'd prefer to

skip dodging bullets and using those cool

bracelets, but if I had to, I'd do the wrist, wrist,

thing and use the shield too. Sometimes in

this world it feels like we have to do a lot of

that - and she keeps smiling. I like that part!

13
---
News and Education

Nominating

Committee

is Seeking

Leaders

Nominating Committee is

seeking Creator members who

are interested in serving in the

following leadership roles:

President-Elect, Secretary-

Elect, Treasurer-Elect, Council

Communicator-Elect for council

We are also currently

reaching out to the current

ministry team leaders to see if

they would like to lead again.

If you are interested in joining

these teams you are always

welcome to join them:

Property, Worship and Music,

Church in Society, Education,

Youth and Family, Invitation and

Welcome, Fellowship

The following teams are

appointed by council:

Finance, Personnel,

Nominating and Audit Team

If you are interested in

serving on council or on a

ministry team please contact

Cynthia Winchell ckwinch@

gmail.com or the church office

office@creatorlutheran.net.

New Members received in April

2021

• Bob and Susan Thompson

• Mark Thompson

14

2021 Graduates

- Adult Section

Do you know of any

Creator members who

are graduating from High

School or Post High School

programs this 2021 year?

Please give any information

to Terri as soon as possible

so we can congratulate them

on Graduation Recognition

Sunday on June 13. I also

include them in the June/

July Newsletter, so please

include any information about

scholarships, awards, or

special achievements.

This year will be very

different for our High School

seniors. They are grieving

the loss of their graduation

ceremony, their Prom, their

awards ceremonies, Senior

Breakfast, and final days of

sports. So, we would like to

honor them in a special way.

All congregation members are

invited to share a blessing,

words of advice/wisdom for

these graduates. Templates

for heart, star, or graduation

caps will be emailed to you.

Please fill the shape with your

kind words, sign, and send

back to Terri. You can scan

and email to creatorterri@

comcast.net. Deadline to

return these is June 6, 2021.
---
News and Education

Daily Devotions

Morning Prayer will continue

throughout the month of January at

9:00am. You are invited to watch

the recordings which are posted or

consider joining us at 9:00am via

zoom. Pastor Amanda turns off the

recording after her reflection on

the reading and we have a time of

discussion and connection with one

another.

Join Zoom Meeting https://zoom.

us/j/633840757

Meeting ID: 633 840 757

One tap mobile

+12532158782,,633840757# US (Tacoma)

All worship services and devotions will be

posted after completion on both YouTube

and the creator website: https://www.

youtube.com/user/CreatorLutheran and

www.creatorlutheran.net

Adult Education

I Love to Tell the Story

Pastor Amanda will be posting a

short video each week diving into

the Bible Narrative and specific

readings for the upcoming Sunday.

The videos will be posted on

Facebook, YouTube and linked

to our website. If you have any

questions or comments about the

bible study please send them to

pastoramanda@creatorlutheran.

net.

15
---
News and Education

Thursday

Morning

Bible Study

Join us for Thursday Morning

Bible Study via Zoom from

10:00am—11:30am. We will

continue with our study on

Exodus. Our first meeting we

will start with a little fellowship

and lesson on using Zoom and

then start a review of lesson 1.

If you need to order the Exodus

Study book, let us know.

Join Zoom Meeting

https://us02web.zoom.us/j/9668

069876?pwd=MlAvSUcxeFpUa

nlFdWJKekNHemZvUT09

Meeting ID: 966 806 9876

Passcode: 1DMKSi

One tap mobile

+Dial by your location

+1 253 215 8782 US (Tacoma)

Meeting ID: 966 6 9876

Passcode: 419391

16

Monday Evening Women's Group

This is a time for connection, catching up and sharing prayer requests.

During Covid we are meeting virtually on zoom the first and third

Mondays of the month at 7 pm. Please contact Janice Pendergast at

janicepend@yahoo.com for more information.

Men's

Fellowship

During "All things Covid"

the Wednesday night

Men's group has been

using Zoom. The meetings

start at 7:00 PM and get

over by 9:00PM. If you

are interested in joining

the meeting please contact

Scott Perkins with your

email address and he will

send you a link for Zoom.

Scott.perkins@hotmail.

com or 253-230-3416
---
Theology

on Tapps

Theology on Tapps for 2021 will continue our

on-going discussion of Racism. Discussing ELCA's

anti-racism pledge. We will be meeting every third

Thursday of the month at 7pm via Zoom

Join Zoom Meeting

https://zoom.us/j/96120001197?pwd=dmgxKzVyNW

5qVWJmRUczekVLVXh6QT09

Meeting ID: 961 2000 1197

Passcode: 930701

One tap mobile

+12532158782,,96120001197#,,,,,,0#,,930701# US

(Tacoma)

Meeting ID: 961 2000 1197

Passcode: 930701

News and Education

Adult Bible

Study via

Zoom

Join us on the second and fourth Monday of

each month for fellowship and faith discussions.

We are currently studying "whatever strikes

our fancy" (direct quote from Andy Heckroth).

Most of our Bible studies come from the ELCA

resources.

All are welcome! Terri and Andy Heckroth-

Hosts. Contact Terri for Zoom numbers.

Creator's Ladies

Night Out

Save the date for our 5th Annual Creator Ladies

Night Out: Saturday, June 12, 2021 at 7pm. At

this time we are planning to meet on Zoom. We

will be creating marbleized note cards during our

time together. The cost will be $10 per kit. Watch

for more information and sign-up information.

Please contact Lisa Wire (253-312-7523/lewire@

yahoo.com) for questions.

May 27 noon on Zoom

Queen Hereafter: A Novel of Margaret of Scotland

by Susan Frazer King: The life of Margaret Queen

of Scots in the 11th century. She was a devoted

Christian, Queen and mother. Many of her children

ruled after her.

June 24 noon on Zoom

Anxious People by Fredrik Backman: An

ingeniously constructed story about the enduring

power of friendship, forgiveness, and hope—the

things that save us, even in the most anxious

times.

Join Zoom Meeting

https://us02web.zoom.us/j/86408796620?pwd=Z

zVEZFBwT3ZHT2N2UHJWVlNIajZjQT09

17
---
Birthdays and Reminders

Remote Worship

Worship will continue to be live-streamed on Facebook Live and

Zoom. To join via Zoom, follow the link below:

https://us02web.zoom.us/j/89375602512?pwd=M3hPK0pIMGIz

Z2M0eEhmTitoM3NQdz09

Meeting ID: 893 7560 2512 Password: 435230

One tap mobile:

+ 12532158782,,89375602512#,,,,0#,,435230# US (Tacoma)

Call in option: Zoom offers the option to call in to listen to the

service. Call into worship while it is open - usually a minimum of

five minutes before 9:30am until 11:00am - +1 253 215 8782 and

enter the meeting number: 89375602512 when prompted. You

will be able to hear the worship service.

Pastoral Emergency Fund

Creator has a fund available to be used at the discretion of Pastor

Amanda to support congregation members and the community

as needed. If you or a member another member of the Creator

Community has a particular financial need at this time, please

reach out to Pastor Amanda for support. We are here for one

another at this time. This fund is also open for additional

donations from the congregation.

Don't throw away those printer cartridges or used cell phones.

The Youth will recycle them for you. It's good for the

environment and the youth program receives a small concession.

Just deposit old cartridges in the drawer in the narthex.

18

Recycle Your

Ink Cartridges

May Pentecost Celebration

We will be celebrating Pentecost on May 23rd. Come ready to

celebrate the Holy Spirit with whimsy, bubbles and confetti. The first

50 to come to worship will receive a surprise. If you are worshiping

from home, come by church the week before May 23rd to pick up your

celebration materials to join in on the party from home.

May

Birthdays

01 - Maxine Huffman

02 - Kristen Nelson

04 - Danielle Reid

06 - Sara Heineman

10 - Lena Kronlund

11 - Chris Grigg

11 - Monica Hurley

11 - Chelsea Linggi

13 - Susan Serdahl

15 - Rich Heineman

15 - Brian Hinkley

15 - Gary Leaf

16 - Addy Nelson

17 - Terry Hoffner

20 - Brynn Feroy

21 - Janice Pendergast

23 - Katie Wire

24 - Jim Rutkosky

25 - Suzara Kraus

25 - Damien Littell

26 - Donna Lovin

28 - Jake Berg

31 - Stephen Bone

31 - Kendra Brown
---
May

Sunday Monday Tuesday Wednesday Thursday Friday Saturday

1

2

9:30am

Affirmation of

Baptism

9:30am Sunday

Worship Online and In

person w/Communion

3 9am Morning

Devotions

7pm Monday

Evening Women's

Group

4

9am Morning

Devotions

5 9am Morning

Devotions

7pm Men's Fellowship

6 9am Morning

Devotions

10am Thursday

Morning Bible Study

6pm Missional Church

Team Meeting

7

8

9 9:30am Worship

Online and

In person w/

Communion

7:00pm High School

Bible Study via Zoom

10 9am Morning

Devotions

7pm Adult Bible

Study

11 9am Morning

Devotions

6pm Finance

Team Meeting

12 9am Morning

Devotions

7pm Men's Fellowship

13 9am Morning

Devotions

10am Thursday

Morning Bible Study

14

15

9:30am Worship

16

Online and

In person w/

Communion

7:00pm High School

Bible Study

23 Palm Sunday

9:30am Worship

/30

Online and

In person w/

Communion

17 9am Morning

Devotions

7pm Monday Evening

Women's Group

24 9am Morning

/31 Devotions

7pm Adult Bible

Study

18 9am Morning

Devotions

6pm Church

Council Meeting

25

9am Morning

Devotions

19 9am Morning

Devotions

7pm Men's Fellowship

26 9am Morning

Devotions

7pm Men's Fellowship

20 9am Morning

Devotions

10am Thursday

Morning Bible Study

7pm Theology on

Tapps via Zoom

7pm CYF meeting via

Zoom

27 9am Morning

Devotions

10am Thursday

Morning Bible Study

12pm Creator Book

Club via Zoom

21

28

22

29

19
---
Creator Lutheran

Church and Preschool

Welcoming All to Worship, Grow, and Serve in God's Grace

creatorlutheran.net (253) 862-7700 office@creatorlutheran.net

Office Hours: Mon-Fri 9:00AM - 3:30PM

16702 South Tapps Drive East, Bonney Lake, WA 98391