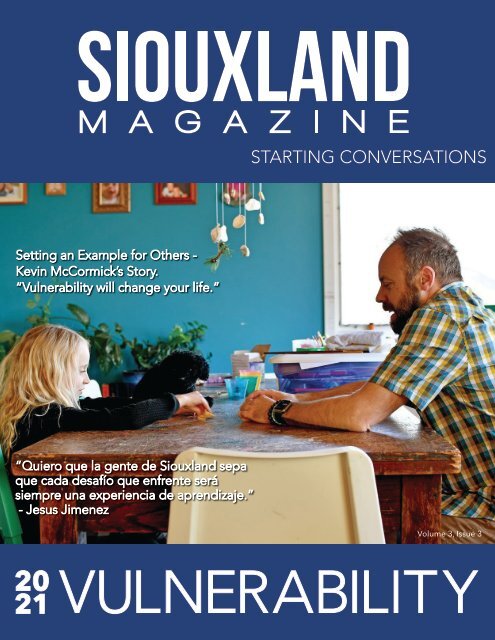 Siouxland Magazine - Volume 3 Issue 3
Create successful ePaper yourself
Turn your PDF publications into a flip-book with our unique Google optimized e-Paper software.
STARTING CONVERSATIONS

Setting an Example for Others -

Kevin McCormick's Story.

"Vulnerability will change your life."

"Quiero que la gente de Siouxland sepa

que cada desafío que enfrente será

siempre una experiencia de aprendizaje."

- Jesus Jimenez

Volume 3, Issue 3

20

2Vulnerability

21

Volume 3, Issue
---
EXPANDED CARE for

healthy hometowns.

We wake up every day to serve in the towns and places you call home. We've expanded

our innovative care, expertise and access to always keep you moving. Because forward

is the only direction we know.

CNOS.NET | 605-217-2667
---
Welcome to Siouxland Magazine

It's in these pages we educate and inspire. Even more importantly, we

create a community that thrives on connecting with one another. At our

core, we all want to connect. When we seek to understand, by listening

more intently, we find that our relationships deepen and our community

strengthens as a result. With appreciation for the power of connection

through meaningful conversations, it only made sense to name the

b u s i n e s s Empowering Conversations.

Siouxland Magazine | Vulnerability / 3

Stacie Anderson, Owner

It all starts with a conversation; with a desire to learn;

to see things from another perspective; to seek

truth. The truth is, we have more in common than we have

differences. Well, maybe it would be more accurate to say, what

brings us together is stronger than anything that divides us.

We would never want to marginalize our differences. We love the words of Audre Lorde,

"It is not our differences that divide us. It is our inability to recognize, accept, and celebrate

those differences." We are unique in vast and complicated ways. It's our hope that we can

come together with our unique strengths, perspectives and ideas to build a community with a

powerful narrative of "us."

Through this humble publication, we will start having conversations. This is an ambitious and

beautifully optimistic attempt to shine light on all the things that make our community strong,

but also discuss, in a productive and compassionate manner, the challenges we face.

We are doing our small part in building a cohesive community by creating conversations

that refocus our attention on our similarities. We are bringing people together; replacing

judgment with understanding. Perspective is powerful.

We want to hear from you. At Siouxland Magazine, we feel it is imperative to understand what

the community wants and needs. Share your vision and dreams for Siouxland.

We want you to lean into the conversation and participate in the discussion.

connect@empowering-conversations.com

Facebook @siouxlandmag

E m p o w e r i n g

Conversations, LLC

siouxlandmagazine.com
---
Vulnerability

Converse22

Be Vulnerable. It Will Change Your Life.......................................................8

Conversation About Vulnerability...................................................................10

Young Fighter with a Heart of Gold......................................................12

Inclusive Peek................................................................................................................................14

Seek Out the Quiet Ones for the Best Convos............16

Attracting Business and Industry to

Our Community........................................................................................................................17

Grow

Balance

Show Up Social.............................................................................................................................24

Build a Business with a Heart..........................................................................27

Beautification Pays!..................................................................................................................28

Give a Good Look to Siouxland...................................................................29

2020-2021 Graduating Class of Leadership

Siouxland..................................................................................................................................................31

Shopping Local...............................................................................................................................33

Your Business Being Vulnerable....................................................................35

What Makes Us Vulnerable to Dis-ease?......................................38

The Vulnerable Heart.........................................................................................................40

Ask the Therapist........................................................................................................................4 2

Access Mental Health Through the Body..................................44

"To share your weakness is to make yourself vulnerable; to make yourself

vulnerable is to show your strength."

– Criss Jami
---
"It's very hard to have ideas. It's very hard to put yourself out there,

it's very hard to be vulnerable, but those people who do that are the dreamers,

the thinkers and the creators. They are the magic people of the world."

– Amy Poehler

Inspire

Vulnerability Is Key To Building Relationships.......................18

Experiencing Human Connection Through

Vulnerability...........................................................................................................................................20

The Brightside Café.............................................................................................................22

At our core, we all want to connect. When we

seek to understand by listening more intently, we find

that our relationships deepen and our community

strengthens as a result. That's what our Siouxland

Magazine is all about! We can't wait to talk to you

and truly connect with you and your audience. If

you are interested in learning more about how to

advertise with us, download the media kit on our

website at siouxlandmagazine.com. Always feel free

to reach out to us via phone, email or Facebook.

We promise to not disappoint. We're creating a

magazine you won't want to put down.

Want to be included in our July issue?

Contact us soon!

Deadline to reserve space is

June 11th!

Media Kit at siouxlandmagazine.com

explore

Sioux City Farmers Market Manager................................................46

Vulnerability Is.....................................................................................................................................48

Les Vulnérables................................................................................................................................50

Saving Summer for Later..............................................................................................52

Market Experience................................................................................................................54

JOIN US!

You won't want to miss...

Siouxland Magazine's Facebook

Spotlights

Monday @ 7:30 pm,

Small Business Spotlight

Wednesday @ 7:30 pm,

Nonprofit Spotlight

ON THE COVER

Photography by Jetske Wauran.
---
Siouxland Magazine writers

CONVERSE

Jetske Wauran,

People of

Siouxland -

Portraits of the

Extraordinary.

INSPIRE

Dr. Cyndi Hanson,

Executive Director for

Northeast Community

College's Extended

Campus.

GROW

Stacy Orndorff,

Entrepreneurial

Community

Navigator &

Stacy O. Speaks.

Tony Michaels,

KSUX Morning

Show Host with

Candice Nash.

Michelle Lessmann,

Fully Licensed Office

Professional in Keith

Bales Office of Thrivent.

Todd Rausch,

SBDC Regional

Director at

WITCC.

EXPLORE

Alex Watters,

Sioux City Council.

University of

Nebraska – Lincoln

Nebraska Extension

Educators.

Up From the

Earth Leadership

Team.

BALANCE

Hali Benson,

Certified Holistic Nutrition

and Wellness Practitioner

& Owner Blossom Services

Dr. Meghan Nelson,

Licensed Physical Therapist,

Professional Yoga Therapist &

Co-owner of Lumin Therapy.

Gladys Smith,

Licensed Independent

Social Worker &

Co-founder of Soul

Creek Nature Therapy.

Grace Nordquist,

Business

Development

Coordinator for

Downtown Partners.

Nolan Shook,

Marketing Board

Chair for Sioux

City Growth

Organization.

Peggy Smith,

Executive Director

for Leadership

Siouxland.

Adrian Kolbo,

Host of the Webseries

Sioux City

Foodie and Local

F&B Fanatic.

Dr. Nesrin Abu Ata,

Family Medicine

Physician, Integrative

Psychiatrist & Yoga

Instructor.

Erika Hansen,

Lifelong

Siouxland

Resident &

Model.

Emily Larson,

Licensed Massage

Therapist & Private

Yoga Instructor.

Kari Nelson,

Graphic Designer.

Starting Conversations in our Community

Align your business with Siouxland Magazine.

Advertise your business in a publication

commited to improving our community.

Visit SiouxlandMagazine.com

And by the way…

…we want to hear from you.

Send us your stories.

Visit our website and click on article submission.
---
Editors Note

"It is not the critic who counts, not the

one who points out how the strong

man stumbled or how the doer of

deeds might have done them better.

The credit belongs to the man who

is actually in the arena, whose face

is marred with sweat and dust and

blood; who strives valiantly; who errs

and comes short again and again; who

knows the great enthusiasms, the great

devotions, and spends himself in a

worthy cause; who, if he wins, knows

the triumph of high achievement;

and who, if he fails, at least fails while

daring greatly, so that his place shall

never be with those cold and timid

souls who know neither victory nor

defeat." - Theodore Roosevelt

To those who dare to put themselves out there, to be vulnerable

and honest, I applaud your brave hearts. This issue celebrates you.

Let's be honest, it is hard to open up and share personal things.

The concern of being judged or rejected is deep-seated. It is not

our initial inclination to divulge our innermost feelings, thoughts,

or even life experiences. It is, however, one of the most effective

and powerful ways to connect to another human being.

Through our shared humanity, we see each other, or maybe

better put, that we see parts of ourselves in others. This expands

our understanding, and ultimately, strengthens our compassion

and empathy. We relate to one another in new ways. It is through

this connection that we can heal, grow and even thrive.

It certainly isn't easy, but it is worth it. Allowing yourself to be

vulnerable can promote healing, provide access to support and

encouragement, create a sense of belonging, and even deepen

the intimacy in our relationships. Allowing ourselves to show up

authentically is liberating.

I encourage you to explore how vulnerability plays out in your life.

When and with whom do you open up, and what parts of yourself

do you let them see? It is a delicate balance of trust. Trust in the

timing, in the relationship, and trust in yourself. Over time, it does

become easier, and the rewards become greater.

This publication has been instrumental in my exploration of

vulnerability. I have always been fairly transparent in sharing

my struggles with those close to me, and over the years with

those I knew I could help with my story. I have felt the power of

vulnerability and connection.

Now, through the magazine, I am experiencing it on another

level. I am putting myself out there on a larger scale and in front

of people I have never met. At times I feel very exposed, but more

often, I feel embraced. This community has been overwhelmingly

supportive and embraced my vision. This is a passionate endeavor,

and my heart is on my sleeve.

As with anything, there will always be critics, but I have found

that they are few and far between. It's those that express their

appreciation and share how stories within the magazine resonated

with them that carry me forward. It's those that stand in the arena

with me, that dare to get vulnerable, to get dust on their face

and roll up their sleeves for the betterment of others. It's those

individuals that hold my attention and have my eternal gratitude.

Siouxland Magazine | Vulnerability / 7

Stacie Anderson

Owner of Empowering Conversations LLC & Siouxland Magazine

Certified John Maxwell Speaker, Trainer & Coach

Passionate about Leadership & Communication

Siouxland Magazine is owned and published by Empowering Conversations, LLC. All materials contained in this magazine (including text, content, and photographs)

are protected by United States copyright law and may not be reproduced, distributed, transmitted, displayed, published, broadcast or modified in any

way without the prior written consent of Empowering Conversations, LLC or in the case of third party materials, the owner of that content. You may not alter or

remove any trademark, copyright or other notice from copies of this content.
---
VULNERABILITY

transparent

courageous

Kevin McCormick with his family.

Be Vulnerable. It Will Change Your Life.

By Jetske Wauran

From a very young age, men are taught that

opening up is a sign of weakness. Even more

so, being vulnerable to others.

The societal pressures of masculinity have hindered

many men from displaying their true emotions and

feelings. For centuries, men all over the world have

been facing a set of standards to keep up with, from

gladiators to samurais, to super jocks and modern-day

"bros"....boys simply don't cry.

After all, a man's world is meant to be an emotionally

stoic place, where vulnerability is not only unfavorable,

it is unwelcome.

But that is not the case for former Sioux City Police

Officer Kevin McCormick. In his eyes, vulnerability is a

sign of strength and empowerment. And he is a living

testament of that.

"You have to experience it in order to know what

strength feels like."

Rewind to the afternoon of April 29, 2013. McCormick

was performing a routine traffic stop when a suspect

jumped out of a vehicle's passenger side and opened

fire at him.

(Quote pulled directly from dashcam video) "Christ.

Shots fired, shots fired. Holy Sh*t.....I think I've been

shot in the f*cking head*..."

McCormick had been shot, suffering from a gunshot

wound just above his right eye.

"The guy gets out and starts shooting as I back up. At

the 8 or 9th round, I could tell the bullet went through

the windshield."

McCormick said as he recalls that day like the back of

his hand.

"I felt so good. I wanted to stay in the fight pretty bad,

and if I had been on a little longer, I would've done

things differently, but I was only on for a year and a half

at that point. But I was told not to continue."

But while the scar is not clearly visible to the naked

eye, the scars of those most critical moments after the

shooting stayed with Kevin and eventually took a toll

on his mental health. McCormick was struggling with

stress and anxiety for several months.

"It really didn't take long for me to recover. I went back

to work 12 days later. I showed up every day with my
---
open

trustful

confident

evolved

game face on, with that cop mentality where you just

have to act like nothing bothers you. Everything's fine,

and you can handle all that stuff you see day in and

day out."

McCormick struggled in silence and didn't address his

issues to anyone, keeping the challenges and feelings

to himself.

"I was playing this game for months like I was okay,

and eventually, it caught up to me. I could not do it

anymore. I couldn't fake it anymore. I finally said,

'guys, I'm messed up,' and then started crying. It was

one of those stops you couldn't stop either. But all of

a sudden, it felt like a huge weight had been lifted off

my shoulders. Then I started being myself again, and

I wanted to take it to the next level. I know you don't

have to get shot in the head to get messed up in this

job. So, when I look around in roll call and see this

guy just responded to a nasty accident, a drowning,

whatever, I just know they're messed up. They're doing

what I did and hiding it."

McCormick couldn't keep up with living in this spiral

of self-doubt and struggle. He stepped up for himself

and began meeting with a therapist regularly.

"I would get on the radio and say J-2 and announce that

I was headed to Omaha to see my doctor. Everybody

knew when they heard that McCormick was going to

see a therapist down in Omaha. I wanted them to hear

it because I was hopeful that maybe one other person

would be inspired to see a therapist too. As open as I

am about my feelings, I can tell you that for a long time,

I wasn't willing to go that far for fear that I would lose

this sense of manliness or lose the ability to take care of

this situation."

McCormick would go every two weeks, then once a

month for three years. He said, seeking therapy was

not only an eye-opening experience for the 43-year-old

father of one, but it was also most definitely a rewarding

one that shaped him into who he is now.

"More empathetic, more understanding, healthier and

happier."

Therapy helped him to improve in all areas of his life,

from expressing emotions better to thinking more

positively.

"Let your guard down and put it all out there.

I do believe to get to the next level, you

do need to open yourself up completely,"

McCormick said.

"I think every single time that I have put myself out there,

it has made me into a better person."

While the journey wasn't easy, it was absolutely worth

it, he said. It took years in the making, and McCormick

made it happen. His willingness to be open with others

inspired him to develop self-care actions, as he learned

the tools to help him in all areas of his life. And because

of vulnerability, McCormick says, he's become a better

husband, father, and stronger man.

"Be vulnerable. It will change your life."

In November 2019, McCormick retired from the police

force after serving for nearly eight years. He is now a

Family Services Coordinator at Habitat for Humanity, a

nonprofit organization that helps families build and

improve places to call home. He and his wife Jessica

have been married for 16 years. Together they have a

beautiful daughter, Wren, and a dog, Trooper.

Jetske Wauran, People of Siouxland - Portraits of the

Extraordinary.

Kevin McCormick with his daughter reading.

Photo Credit Jetske Wauran
---
Siouxland Magazine | Vulnerability / 10

Christine

Peggy

Conversation About Vulnerability

In this issue, our Conversation participants are

Peggy DeBoer and Christine Cappetta. Each

woman will respond to the same questions, providing

you an opportunity to hear different perspectives and

continue the conversation with your circle of friends.

Peggy DeBoer is an ARNP certified in Adults and Geriatrics

and has been involved in healthcare since 1979. She

currently works with the Siouxland elderly to help them

continue to live in their own homes as independently and

healthy as possible. She is also an adjunct professor at

Morningside College in their Graduate Nursing program.

Christine Cappetta is the Lead Pastor at ARK United

Methodist Church in North Sioux City, SD. She has a BS in

Youth Ministry and Biblical and Theological Studies from

North Park University, Chicago, and is currently getting her

MDiv through Sioux Falls Seminary. She is wife to Matthew,

a foster, adoptive, and bio mom to six kids volunteers as

a Client Advocate at Her Health Women's Center in Sioux

City, and an aspiring chicken homesteader leaning on the

grace and hope of God amidst life's messes.

Siouxland Magazine (SM): The theme for this

month's magazine was inspired by Brené Brown.

She states that only through allowing ourselves to

be vulnerable to rejection do we open ourselves

to acceptance, love, and belonging. What are your

thoughts on this?

Christine Cappetta (CC): We all desire to be known,

loved, and belong as we fully are. Until we allow others to

see "the good, the bad, and the ugly" in us, we won't know

if they truly love us completely or just the parts they see.

Unfortunately, some people will choose to walk away when

life gets difficult or when there is a rift in the relationship.

If we never risk having someone walk away, we also never

have the chance to have relationships with true acceptance,

love, and belonging.

Peggy DeBoer (PD): I think allowing yourself to be

vulnerable to rejection is the gold standard of solid mental

health. In working with older people, I have noticed they

have a difficult time showing vulnerability by asking for

help when they need it. Many times, they think if they ask

for help, it will lead to losing their independence or their

family rejecting them as being a burden. Most times, it has

the opposite effect, and they receive what they need to

keep their independence, and their family will make more

effort to help them maintain their independence.

SM: Facing vulnerability takes enormous courage.

How have you faced your own vulnerability in life?

PD: When I lost my first husband, I found myself in a very

dark place. My pride prevented me from asking for help

because I didn't want to look weak or wasn't capable of

doing things on my own. I also didn't want to look like I

had lost my faith or no longer trusted God, because as a

Christian, faith and trusting God is important to me. Once
---
I accepted my problem and reached out for help, my

situation and my mental health greatly improved.

CC: I think two of the most important times to be vulnerable

are when you need to express an emotion or a need (to

express love, to ask for help, etc.) and when you have an

opportunity to help someone else. I have experienced

postpartum depression (PPD). When I had my first child

nearly 11 years ago, I had never heard anyone talk about PPD

except in a clinical setting. After my second child was born,

I knew I was suffering from PPD, but I was too embarrassed

to say anything. I suffered with it for three months before I

overheard another mom casually talking about having PPD

and how her doctor helped. Her vulnerability to talk about

her experience gave me the courage to be vulnerable with

my husband and my doctor so that I could seek treatment. I

don't want others to feel shame or embarrassment about

mental health struggles, so I often share my experience to

try to help normalize it and to simply tell others, "I see you."

SM: What do you say to people who are consumed

with what others think of them?

CC: It takes a lot of energy to worry about what others think

of you. I tell people that it is important to focus on what is

important to them and their goals, and they will be happier,

and the people who matter will see you.

PD: I tell people that it is a waste to let others rent space

in their heads for free and kick them out. I think age has a

lot to do with whether you are consumed with what others

think of you. I have noticed younger people today are more

self-confident and not as consumed with what others think

of them. Older generations would never leave the house

until they looked proper and were very concerned about

whether others would approve of them. Many thought that

if they looked put together, people would think everything

was okay, even though it might not have been..

SM: In a world that currently seems very polarized,

how can we embrace the vulnerability of sharing

thoughts or opinions that might differ from the

majority (or loudest) voices? Is this important? Why?

PD: I think it is important to share our thoughts, even if

they may be different from others, as long as we do it in

a manner that is not demeaning, mocking, belittling or a

personal attack on the individual. It is only through open

and honest, face-to-face conversations conducted in a

civilized manner with those who have opposite opinions

that we can find common ground. When we have more of

those conversations, we can truly understand where the

other person is coming from, why they think what they think

and feel what they feel. Without that, we can only assume

what they think and feel, and we can be completely wrong.

CC: Sometimes, the most vulnerable thing we can do

is admit we don't know everything. During a polarized

conversation, stating, "I don't know everything about this

topic," "I am trying to learn," or "I have never thought about it

that way before," can relax the conversation enough so that

a dialogue can happen. We also need to recognize that not

every conversation is helpful or even necessary. We don't

always need to share our thoughts and opinions, especially

with someone who is unwilling to be open to listening or

if it is an unsafe place (whether physically or emotionally).

Photo Credit Britton Hacke Photography (Christine), Photo

Contributed by Peggy DeBoer (Peggy).

Siouxland Magazine | Vulnerability / 11
---
converse

curious

Cultivating Meaningful

Powerful narrative of "us"

truth seekers

Young Fighter with a Heart of Gold

By Jetske Wauran

Born in 2005, Molly Sek is a mixed-martial

artist and Judoka. She has won more than

70 medals from local, state, to national Judo

competitions. Molly became a Judo champion,

earning back-to-back golds in the Iowa State games

and Sioux City Judo Championships.

This North High School freshman just completed her

first season of wrestling. She discovered her passion

for martial arts when her dad introduced her to the

sport at a very young age. A powerful athlete, Molly

has bravely dived into unknown waters, defeating

some of the strongest competitors, mainly boys,

since she started Judo approximately eight years

ago. She is resilient and knows how to stand up for

herself; however, she's also very compassionate to

others and especially her family.

As a Cambodian-American, Molly said it is a great

honor to be of mixed races. Her dad arrived in the

U.S. from Cambodia in 1985 to escape the war and

to pursue a better life for his family. Fast forward to

the future. It was more than two decades later that

Molly's parents would be married in July of 2017.
---
strengthening our community

Conversations exploring perspectives

coming together

open minded

focused on common good

"Representing our country is everything.

Representing my family is even more important.

My dad gave everything for me to be who I am and

worked so hard to be here. Representing where I

come from is something I keep close to me," said

Molly.

Today, you can find Molly teaching Judo to aspiring

fighters and kids in Siouxland, teaching them not

only the ancient techniques of "the gentle way"

(Judo), but also the art of accomplishing your

biggest dreams.

"Don't let people stop you from what your goal is,"

said Molly

Photo Credit Jetske Wauran

Collage Photo of Molly Sek Contributed by Kien &

Alexis Sek

Hello, I'm Jetske Wauran and I am so excited to team up with Siouxland

Magazine! This team effort will serve as an avenue to share my passion

project, "People of Siouxland - Portraits of the Extraordinary." I launched

this in September 2020, in hopes of inspiring and uplifting others in the

most trying of times. As a visual storyteller, my mission is to highlight

people who have made a profound impact in our community and write

stories about the underrepresented individuals and hidden gems within

Siouxland. It is an honor to share their unique and remarkable stories with

you. Stories that are worth encouraging, enjoying, and celebrating.

Jetske Wauran is a community activist, professional photographer, and

Emmy award winning journalist.
---
Siouxland Magazine | Converse / 14

Inclusive Peek

What challenges have you experienced living

in Siouxland? When I first moved to Siouxland,

my parents brought my brother and me. My brother

was four and I was six years old then. I had to skip

kindergarten and start first grade, which was very

difficult for me at first because I needed to learn to

read and write English. It was a very scary situation

not knowing what to do because I didn't understand

what people were saying to me. I spent the majority

of my elementary school years catching up in English

as a Second Language classes. Things would become

easier over time and I was able to overcome those

first challenges.

How has Siouxland been Welcoming?

Siouxland is a welcoming community in the number

of groups and activities you can be involved in. I've

had the pleasure of being a part of Leadership Dakota

County. Participating in Leadership has shown me

around the community that I have grown up in. I was

fortunate enough to attend all of the seminars and

was able to visit new places and learn new information

throughout Dakota County. I would encourage

anyone who is wanting to be involved and meet new

people, to join a group or activity in the community.

What do you want the people of Siouxland to

know?

I want the people of Siouxland to know that every

challenge you are faced with will always be a learning

experience. Those experiences you will be able to

Jesus Jimenez

look back on and reflect. Whatever the outcome negative

or positive will not determine your future, because you will

always have the ability to change it and learn from it.

Inclusive Peek – En Espanol

¿Qué desafíos ha experimentado viviendo en

Siouxland?

Cuando me mudé por primera vez a Siouxland, mis

padres nos trajeron a mi hermano ya mí. Cuando mi

hermano tenía cuatro y yo seis. Tuve que saltarme

el jardín de infancia y empezar el primer grado,

lo cual fue muy difícil para mí al principio, porque

necesitaba aprender a leer y escribir en inglés. Fue

una situación muy aterradora sin saber qué hacer

porque no entendía lo que la gente me decía. Pasé

la mayor parte de mi primaria poniéndome al día en

las clases de inglés como segundo idioma. Las cosas

se volverían más fáciles con el tiempo y pude superar

los primeros desafíos.

¿Cómo ha sido la acogida de Siouxland?

Siouxland es una comunidad acogedora en la cantidad

de grupos y actividades en las que puede participar. He

tenido el placer de ser parte de Leadership Dakota County.

Participar en Leadership me ha mostrado la comunidad en

la que crecí. Tuve la suerte de asistir a todos los seminarios

y pude visitar nuevos lugares y obtener nueva información

en todo el condado de Dakota. Animaría a cualquiera que

desee participar y conocer gente nueva a unirse a un grupo

o actividad en la comunidad.

¿Qué quiere que sepa la gente de Siouxland?

Quiero que la gente de Siouxland sepa que cada desafío

que enfrente será siempre una experiencia de aprendizaje.

Podrás mirar atrás y reflexionar sobre esas experiencias.

Cualquiera que sea el resultado negativo o positivo, no

determinará tu futuro, porque siempre tendrás la capacidad

de cambiarlo y aprender de él.
---
Inclusive Peek – In Somali

Maxaa looltan ah oo kula soo gudboonaaday intii

aad ku noooleyd Siouxland?

Markaan u soo guuray Siouxland waalidiintay waxay

keeneen aniga iyo walalkay.

Walaalkay markii uu jiray 4 sano, waxaan jiray 6 sano,

waxaan kabooday wax barashada xanaanada, waxaana

bilaabay heer ka koowaad taas oo aad iigu adkeeyd

markii hore.

Siouxland Magazine | Converse / 15

Sababtoo ah waxaan u baahnaa in aan barto sida

wax loo aqriyo iyo loo qoro Ingiriiska. Waxay ahayd

xaalad aad u cabsi badan, adoon garaneeyn waxa aad

samaykarto adoon fahmayn waxa dadku idhahayaan.

Waqtiga intiisa badan waxaan ku qaatay ischoolka

hoose si aan olaqabsado luuqada ingiriiska fasalada

lagubaro luuqada labaad. Tani waxay noqon kartay mid

iifududeysa waqtiga soo socda waxaana awooday inaan

kagudbo caqabadahaas.

Sidee Siouxland kuu soo dhawaysay?

Siouxland waa bulsho soo dhawayn leh koox ahaan iyo

wax qabad ahaan ba, waana kaqeyb qaadan kartaa.

Waxaan aad ugu farax sanahay inaan ka qaybqaato

hogaanka dagmada Dakoda county.

Kaqeyb qaadashada hogaanka waxay itusisay bulshada

aan ku soo dhexkoray. Nasiib wanaag ayay ii ahayd inaan

kaqayb galo dhamaan tababarada, waxaana booqan

karay goobo cusub iyo inaa barto warbixino cusub guud

ahaan dagmada Dakota County. Waxaan ku dhiiri galin

lahaa qofkasta oo doonaya in uu ka qayb galo lana kulmo

dad cusub, kasoo qayb gal oo kamid noqo koox da wax

qabadka bulshada.

Maxaad rabtaa in dadka Siouxland ay ogaadaan?

Waxaan rabaa in dadka Siouxland ogaadaan caqabad

kasta oo aad wajahdo, waa dhacdo aad wax kabarato.

Dhacdooyin kaas waxaa awood u yeelan doontaa inaad

gadaal ufiirisid waxa ay katarjumayaan.

Waxkasto oo natiijadu tahey midqaldan iyo mid saxsan,

ma go aamin doonaan mustaqbal kaaga sababtoo

ah markasta waxaad awood u leedahay inaad wax

kabadasho waxna kabarato.

Photo Credit Jetske Wauran.
---
Siouxland Magazine | Converse / 16

Seek Out the Quiet Ones for the Best Convos

By Tony Michaels

If you are a regular reader of Siouxland Magazine

and have seen my previous articles, you are well

aware I am a big fan of genuine conversations.

There are so many tremendous viewpoints represented

in this publication. I try my absolute best to mirror those

authentic chats with listeners on the radio every weekday

starting at 5 a.m. Some of those conversations are 100%

fueled by caffeine and curiosity.

When you dive into the way-back machine, and the

outcome is 1995, radio broadcasting had a distinctly

different feel to it. Bombastic shock jock personalities

like Howard Stern, Mancow, and Bubba the Love

Sponge were making waves with outrageous gimmicks

and R-rated material. Hey, it was fun. If I ever decided

to clean out the storage room in my basement, I'm sure

I'll come across many greatest hits cd's from those radio

stars. If you are under the age of 20, CDs are just like

digital streams that you can throw like a frisbee. Don't

get me started on cassettes.

When I shared my desire to work in radio with my coworkers

at the horse racetrack I worked with way back

then, they openly mocked my dream and told me I was

way too quiet to ever become a shock jock. They were

right.

The best conversations on the radio and in life happen

when you LISTEN and share the vulnerable moments in

life. The big, boisterous individual usually gets the early

attention in a room, but how exhausting can that be? The

best convos at a mixer (that's a 2019 term) happen when

there is some give-and-take in the mutually pleasant

dialogue.

One of my favorite on-air moments was far from some

outrageous prank like was seen in the movie "Private

Parts." It was a Wednesday morning and surrounded a

pre-planned interview with a volunteer from a charity

walk…a segment that would never appear on a Stern

broadcast. Her name was Trisha, and she shared with

me before the live interview, she was scared to death to

go on the radio, but the committee she was on said she

would do great sharing their mission and goals. That day

I was amazed by her compassion and storytelling. She

talked about her love for her daughter, how proud she

was of her overcoming struggles with her challenges,

and how important it is to be part of the solution and

simply join the walk on a spring Saturday morning. At

the end of the segment, she was teary-eyed, and I would

remember that moment when my oldest had his own

challenges with autism. Hopefully, some listener that

day shared in her drive and compassion as well. It was

an inspiring moment on the KSUX airwaves. It was also

rooted in fear and vulnerability to share her heart openly

on-air. Not an easy task.

Trey has a big interest in seeing a picture of his father and

grandpa in the last issue of Siouxland Magazine.

It takes more courage to be vulnerable than it does to be a

bombastic and outrageous voice on the radio.

If only I could find all those co-workers at the horse track

in 1995.

Tenderhearted radio dude on KSUX / Author

of the book "Tacos and Beer Atmosphere."

Photos Contributed by Tony Michaels.

Paid advertisement.

Like Us on Facebook

and

Share our Facebook Spotlights

Making a Difference for Small Businesses & Nonprofits
---
Attracting Business and Industry to Our Community

By Alex Watters

Having served on the City Council for the

last four years, I hear from many constituents

regarding their hopes for the future, frustrations,

and occasionally, things that are going well.

Some of the conversations that I enjoy most are

brainstorming about what our future could look like and

what businesses, restaurants, stores, or even housing

options they would recruit or incentivize to come to

Sioux City. However, one thing I have learned is that it

is never that easy. Economic Development uses several

tools to attract business and industry to our community;

here are some examples.

Siouxland Magazine | Converse / 17

• Shovel-ready sites - Land that is ready for development

and fully served by infrastructure (e.g., roads, water,

sewer, electric, gas, etc.) is more attractive to a company

and expedites the location selection process. Shovelready

sites have been instrumental in attracting and

retaining large-scale developments in Sioux City like

Seaboard Triumph Foods and Sabre Industries.

• Tax Increment Financing (TIF) - TIF is the City's most

versatile and helpful tool for encouraging economic

development. The increase in taxes generated by a TIF

district project can be captured by the City for use in

financing public improvements. Examples in the city

where a TIF has been used to accomplish significant

commercial developments include Lakeport Commons

and Sunnybrook Plaza and construct the industrial

infrastructure needed in each of the City's business

parks. TIFs have also been used to assist developers

with the revitalization of historic buildings downtown,

leading to renovated storefronts for new retailers and

restaurants to locate. TIF can also provide the flexibility

to offer such incentives as property tax rebates and

other creative scenarios to meet the unique needs of a

specific project or company.

• Workforce Housing Tax Credit Program - This State

program provides tax benefits to developers who

create housing in Iowa communities and focuses

primarily on projects that use abandoned, empty or

dilapidated properties. Several projects in Sioux City

have received funding through this program, including

Virginia Square, Bluebird Flats, Urbane 1220, and The

Summit at Sunnybrook, to name a few. Currently, there

is a $13 million backlog of projects statewide, and the

Governor is proposing to add $50 million into this

program annually for three years. These tax benefits

are essential to keep the housing costs down and

continue housing development in Sioux City.

• Façade Improvement Program- The Façade

Improvement Programs are in place to improve

the aesthetic appearance of the exterior façades of

buildings and businesses in the project areas, to restore

W. 7th St. recently got an entire makeover. A number of

businesses took advantage of the façade improvement

program. Lessman Lighting's improvement is a great

example!

the unique character of buildings in the area as much

as practicable, and to encourage private investment in

properties and businesses. The property owner must

provide a 25% match to the funding award and sign

a promissory note and mortgage, which forgives the

loan amount over five years. For example, if a property

owner has a project to replace exterior windows, repair

brickwork, and improve accessibility to the building

at a total cost of $30,000, the city would participate in

the project at $22,500 in the property owner would be

responsible for $7500!

Our community has experienced tremendous growth

and expansion in recent years, earning a number one

ranking in 2021 for small-size metro areas with the most

economic development projects happening for the eighth

time since 2007. Incentivizing businesses and industries

to come to our community can be a complicated dance,

but I'm optimistic for our future. In my opinion, we must

continue to diversify and recruit varied industries, stores,

and restaurants. If you have business and industry ideas

that you would like to see expand into Sioux City, please

reach out!

Alex Watters, City Council of Sioux City

awatters@sioux-city.org.

Photos Contributed by City of Sioux City.
---
Inspire

Lessons learned from stories in our community.

Rachelle Rawson and family

Vulnerability Is Key To Building Relationships

By Michelle Lessmann

Many young people in Siouxland grow up in

something other than fairytale conditions. Some

of them are frequently hungry or live in homes with

absent parents; others live in households with domestic

violence and are looking for a safe place to go or are a

combination of these. These children are considered "atrisk"

youth, which means they are less likely to transition

into adulthood or reach their full potential successfully.

Rachelle Rawson works with many of our at-risk youth

through Siouxland Youth for Christ, the Crittenton

Center, Juvenile Detention, and the Rosecrance Jackson

Center in Sioux City. Rachelle describes herself as a

"crazy, people-loving nerd," and anybody who knows

her can attest to that proclamation. Rachelle's official

title is Juvenile Justice Ministry Director at Siouxland

Youth for Christ. She is willing to be vulnerable, honest,

and "messy" as she opens herself up to the youth she

works with. She also operates a neighborhood teen

center called City Life, where kids can hang out, have a

family-style sit-down dinner and play games, then do a

character-building lesson.

Brené Brown inspired the theme for this month's

magazine. She says that it is important for us to

allow ourselves to be vulnerable because you

"cannot selectively numb emotions . . . you can't

numb hard feelings without numbing the other

affects and emotions – joy, gratitude, happiness,

etc." What are your thoughts on this? Have you

found it true in your life?

It has been true in my life. I have discovered that I would

rather let people in and get hurt than have the absence

of any emotions, which I believe would be far worse than

feeling vulnerable. To make connections and build rapport,

I need to show vulnerability with the youth I work with and

let them know that life is hard and that good came from

their struggles. I tell them that I was in foster care, too, and I

know what it is like to feel rejected and unloved. I tell them

about all the holes in my heart and that I felt extremely

lonely. Then I tell them that I am well and explain what

worked to get me well.

She also said, "I did not learn about vulnerability

and courage and creativity and innovation from

studying vulnerability. I learned about these things

from studying shame." What relationship do you

think shame and vulnerability have?

They are absolutely tied together. Shame is a lie, and when

we believe that lie, we are more open to the false narrative

that we need to keep our past hidden from others. When

we feel shame for something in our past, we want to keep

what happened in the darkness and not bring it to the

light to share it with others to help them. But when we flip
---
non-profit

community

family

small business

people

that vulnerability and choose to turn it into something

good, we can use our stories to help others. This also

helps create more conversations where others can

share what is happening to them when they know that

you have gone through something similar.

How has allowing yourself to be vulnerable – by

showing you care or sharing some past mistakes

– made a difference in your professional life?

Many of the youth that I work with are going through

similar things to what I faced when I was their age.

Growing up, I lived in 6 different foster homes and

went to 10 different schools in Kindergarten through

4th grade. It wasn't until I was 21 before I was legally

adopted. I let them know that I made mistakes in my

past that I am not proud of, but I have now been in

recovery for over seven years. I tell them about having

an amazing, loving husband and five wonderful

children of my own. Hearing this gives them hope that

they can do it too. I tell them that their past explains

everything but excuses nothing, so they need to take

ownership of their actions and want to make the

changes they need. These kids want to hear "me too"

and want to be able to share their stories. By being

vulnerable, I can build that connection to help them

tear down their walls they have built. If I were not

vulnerable with them, they would not trust me; they

would think I am just another adult there to judge

them. You need a connection with people. If people

know that you care about them, they are more likely to

listen to what you have to say.

How has being vulnerable made a difference in

your personal life?

I used to be terrified of public speaking because of the

lies I believed, like I'm not smart enough, I'm boring,

nobody will listen to me. My love for people is greater

than my fear, so I push myself to be heard and make a

difference. I eventually realized it is not about me and

got over myself. I have also gotten over the feeling that

I needed everyone to like me. My thoughts now are

you don't need to like me, but I'm still going to love

you. People have told me they don't like me because

I'm too happy or "too much." I haven't changed, and I

continue to be vulnerable to what other people think

of me. I live for an audience of one, and I have nothing

but the best intentions. I'm not going to please

everyone, and I'm okay with that.

Rachelle Rawson

What do you think we can do in our community

to help the vulnerable, at-risk youth to have the

biggest impact on their futures?

We have developed an adult advocacy program for these

at-risk youth to help them build healthy relationships,

especially when they come out of long-term placement

or Juvenile Detention. I help train adults in advocacy and

trauma-informed care, then match them up with one of

our youths where they work together once a week for at

least a year. Evidence-based studies show that having an

adult from the community, from outside of their family,

to mentor and walk alongside them for at least a year

greatly increases their chance for a successful transition

into adulthood. We are always looking for community

members who are willing to be vulnerable and have

open communication with our youth to help with this

program. Anyone who is interested in more information

can contact me at Siouxland Youth for Christ.

Rachelle can be contacted at 712-899-0920

or rachelle@ siouxlandyfc.org.

Michelle Lessmann, Fully Licensed Office Professional in

Keith Bales Office of Thrivent.

Photo Credit Katie Taylor Photography.
---
Siouxland Magazine | Inspire / 20

The HOPES program helped Deidra and her family learn what to expect as the children grew. With their support they've had the

patience, practice and determination to parent differently.

Experiencing Human Connection Through Vulnerability

By Dr. Cyndi Hanson

Allowing yourself to be vulnerable and finding

yourself in a vulnerable situation are two entirely

different things, yet Crittenton Center is there

to support people in either circumstance. "Most

people don't realize we have four programs and employ

80 people," stated Executive Director, Leslie Heying .

"We have a whole spectrum of programs that support

individuals, families, and children."

The Crittenton Center operates Supervised Apartment

Living (SAL), H.O.P.E.S education program, The Resource

Center, and four child care centers. "The SAL is a huge

success," said Heying. "We are one of only a few programs

in the state to work with kids who are aging out of foster

care. They are 16-1/2 years old and need to learn how to

live independently or they end up homeless. We teach

living skills – how to do laundry, find a job, cook meals,

clean their apartment and take care of themselves."

"We kind of become family to some of these young people,"

said Tracy Feathers, Manager of Major Gifts. Listening to

Heying and Feathers share the stories of those they have

helped, it is clear the program has impacted lives.

The education programs support parents who are learning

parenting skills. Healthy Opportunities for Parents to

Experience Success (HOPES) begins with meeting parents

in the UnityPoint Birthing Center. The new parents have

the option to enroll their newborn up until they turn

3-months old. Crittenton Center staff then provide personal

support, education, and encouragement up to the child's

fifth birthday. "We've been able to help parents identify

hazards they didn't recognize themselves, like a child eating

paint chips or a baby drinking iced tea instead of milk,"

explained Feathers. Heying continued, "We really get to

know the families. It takes courage for a new parent to ask for

help! These are people who have allowed themselves to be

vulnerable, acknowledging they don't have all the answers

and need some help."

The Resource Center is similar in that parents can come in to

ask for help or be referred by social services. The Resource

Center provides incentives for parents to participate in

learning activities. "They can earn diapers, formula, or other

things," said Feathers.

"Our Child Care Centers cover the entire city," said Heying.

"We have the West High Infant Center, the preschool at Liberty

Elementary, Stella Sanford Center, and we just opened our

Morningside location in March." The Morningside location is

a partnership with the Sanford Center and something that

progressed to fruition despite the pandemic. "Partnering

with another non-profit is a risky proposition," explained

Heying. "We had to make ourselves vulnerable to sharing

mission and resources. It's not always easy to do that, but we

knew it made sense, and it's working well." The Crittenton

Center provides care for children birth to five years old, and

the Sanford Center provides before and after school care,
---
and transportation, to school-age kids. The shared location

allows both organizations to provide service in an area of

Sioux City that is underserved with child care resources.

The Crittenton Center is continuously evaluating services

provided and those needed. Sometimes that means

making tough decisions. Recently, they closed the doors

on their emergency shelter for children. The landscape

of child welfare has changed significantly over the years.

Instead of caring for kids who had recently been removed

from their homes, or kids from the local community, the

shelter provided services to more clients from outside

the community. These clients also had multiple health

diagnoses and histories of physical and sexual aggression.

Maintaining and hiring appropriate staff for the 24/7 facility

became impossible.

"Closing a program is never easy; however, we remain

stronger and more committed than ever to serving

children and families. The Crittenton Center is actively

engaging in conversations with local partners to reimagine

our shelter space so we can continue fulfilling our mission

and serve children in the area in a new capacity. We are

excited about being part of the solution on the prevention

side and rethinking how we deliver services in the shelter

facility," said Heying.

In discussing this month's magazine theme of vulnerability,

Heying and Feathers see many applications to the

Crittenton Center. They recognize that vulnerability is really

an opportunity to experience human connection. Together

they share the story of Cheyenne.

Cheyenne first came to Crittenton Center's emergency

shelter when she was two years old. For the next 14 years,

Cheyenne lost count of how many times she returned to

the emergency shelter. "She experienced physical, sexual,

and emotional abuse," explained Heying. "She came to see

the staff here, at Crittenton, as her family since it was the

only place she was safe." Eventually, Cheyenne aged out

of the system, but she has learned to be independent with

the help of the SAL. She graduated high school, is getting

a job, and thinking about a future. "She's someone who

Preschool and Childcare is the key to a child's success and

vital to parents, so they can provide for their families.

knows her vulnerability,"said Heying. "She acknowledged

what she's overcome and that she has a lot to overcome in

the future, too. That vulnerability and her resilience makes

her one of the most courageous people I know."

Feathers expanded the conversation by explaining,

"Research shows it takes generations to change the cycle of

abuse, poverty, or neglect. That's a lot of intentional effort,

and who's there to support it when previous generations

don't know how? We are!"

"The best ways readers can support us is with the old adage

– time, treasure, and talent," said Heying. Feathers added, "A

lot of people want to donate goods, like clothes or toys. We

don't have a place to store these. And some of our youth

have never had anything new. So when we can utilize our

partners and monetary donations to purchase something

new, they realize they are valued and important." Heying

enthusiastically added, "A few months ago, a young lady

came to us with just the clothes on her back. It wasn't her

first time interacting with Crittenton Center. She was always

in oversized hoodies pulled low over her face. After she got

a new outfit that she picked out, I almost didn't recognize

her. Her head was up. Her hair was combed. She had some

self-confidence. Those things we take for granted are really

important."

Time and talents are also greatly appreciated by Crittenton

Center. "We always need activities for kids. If you have a

talent to share – crafts, sewing, games – we would love to

have you come do that with our kids or parents. Volunteers

are needed for all kinds of tasks and are greatly appreciated.

Just stop into the office (located in the Ho-Chunk Center

downtown Sioux City) or call us." Heying says. "Allow yourself

to be vulnerable and connect to these young people who

greatly need someone to care."

Siouxland Magazine | Inspire / 21

Erin is a mother of 3 who has defied all odds. Through the

Resource Center Program, Erin was able to rekindle her

relationship with her older kids and learn all she needed to

know about parenting.

Ways you can support the Crittenton Center:

• Donate funds

• Donate gift cards for department stores

• Volunteer

• Share a talent

Dr. Cyndi Hanson, Executive Director for Northeast Community

College's Extended Campus.

Photos Contributed by Crittenton Center.
---
Siouxland Magazine | Inspire / 22

Juan and Riley Munoz in front of Brightside Café.

The Brightside Café

By Dr. Cyndi Hanson

Bathed in a bright yellow and emblazoned

with quotes of encouragement and positivity,

Brightside Café is designed to be a light in

downtown Sioux City. "From the beginning, the

concept was to be a positive spot in downtown Sioux

City, the heart of the city, where we can give back to

the community," recalls owner Juan Munoz.

"We wanted this restaurant to be a gift

to downtown Sioux City."

Opening day for the restaurant occupying the iconic

location at the corner of 4th and Nebraska streets was

3 short years ago – May 21, 2018. "My dad wanted to

open a restaurant with his friend, a chef in California.

My brother and I were just going to help out. Then

two weeks before we were set to open, circumstances

changed and we took over entirely," says Juan. "Because

I already have another business (he's a chiropractor),

my role was to set up the business end of operations,

my brother Erik managed the day-to-day."

The two brothers have managed to balance their

talents and stay focused on the vision for Brightside.

Today, Erik focuses mainly on marketing and Facebook

promotion. This summer he will be responsible for the
---
launch of their food truck. "Our goal was always to

add a food truck, three years after we started, I guess

we are right on track!" declares Juan. The food truck

will feature the same burritos, breakfast items, and

some sandwiches as the brick-and-mortar location.

"The menu will be a little smaller, but it will be the

same great food and positive experience," adds

Juan.

Starting a business, especially a restaurant, requires

a bit of vulnerability. "You have to put yourself out

there to really see a change or make a difference,"

says Juan. "When we began, we knew we had this

iconic location, that downtown didn't have a place

for breakfast or the types of lunch options we

provide. We saw an opportunity there. Then we

asked how can we make this a gift to Sioux City –

that's really what we want, to support and give back

to the community."

Siouxland Magazine | Inspire / 23

The answer to the question was the Feed It Forward

program. The program allows any customer to opt

to add $7.49 to their bill to purchase a meal for

someone in need. The purchaser is given a notepad

that details the menu items included and space to

write a note to the recipient. Then when a person

in need arrives, the note is retrieved, and a meal

provided. "It took some courage to launch this

program," Juan says. "It hadn't been done in Sioux

City, but we felt it was needed. We educated the

whole staff about what to expect. We might have

people come in who had challenges, but we wanted

them to feel welcomed."

What you'll find at 525 4th Street every day of the week

begins with bountiful, delicious breakfast, brunch, and

lunch and results in truly a little more brightness in your

day. Be on the lookout for the Food Truck bringing the

Brightside side to you!

Dr. Cyndi Hanson, Executive Director for Northeast Community

College's Extended Campus.

Photo Credit Britton Hacke Photography

There is a zero-tolerance alcohol policy at the Café.

Individuals receiving meals in the Feed It Forward

program need to be sober. "We often develop

relationships with the ones who are regulars," Juan

explains. "We have Richard who is usually across the

street with a big shopping cart. We talk to him when

he comes in, find out what he needs and care about

him. We've been worried this spring because we

haven't seen him for quite a while."

It's that sense of caring that the Munoz family and

their staff take carrying into every aspect of their

lives. "We are all trying to better ourselves," Juan and

his wife explained. "Some of the staff have had hard

lives. We've three or four who were felons, including

one who was a regular Feed It Forward recipient.

These are people trying to restart their lives and we

want to give them a chance."

That positive attitude literally surrounds you at

Brightside Café. As you sit and enjoy a quality meal,

you are surrounded by quotes of positivity and

inspiration. "There were just collected over time,"

Juan responds when asked about them. "Some are

from people who've inspired us or favorite authors.

Others we kind of stumbled upon. It continues to

grow – we just added 4 more this year."

Watch for

Sioux City Progress

in the July issue of

Siouxland Magazine!
---
grow

Don't fear failure. Embrace it. It's where the learning happens.

No risk. No reward.

Show Up Social

Iowa's West Coast Initiative Feature

Short description of your business:

Show Up Social is a monthly subscription to more

than 16 social media caption prompts, national days

to celebrate, and DIY marketing training. Our social

media prompts are for entrepreneurs who manage

their own social media accounts and want to have

complete control over their brand's voice online.

Clients begin with our Getting Started Guide, where

they fill in adjectives, verbs, and other relevant

information to their business. They then receive the

monthly issues where they fill in the blanks. It's like

Mad-Libs for their image captions.

What motivated you to start your business?

What motivated this start-up was hearing other

entrepreneurs say, "I know I need to be joining the

conversation on social media to move my business

forward, but I don't know what to say most of the

time" I knew I could help. I have spent a great deal

of time learning about the psychology of marketing

and using that to create a social media marketing

formula.

What drives me each day is knowing that this

business will have a creative impact on each of its

customers, and that could start a chain reaction of

growth.

What's unique about your business?

Social media prompts aren't anything new. I drew

my inspiration from a marketing company in Orange

County, California. What sets this business apart is that

the prompts have been tailored to be relevant to any

small business. Our prompts are formatted explicitly

for small businesses such as florists, restaurants, coffee

shops, breweries, travel agents, boutiques, antique

shops, food trucks, insurance agents, accountants,

garbage companies, plumbers, electricians,

photographers, and much more!

We created the product with small business owners,

who are DIY marketers, and each of our monthly

issues with the latest information revolving around

social media and online marketing.

What has been your greatest reward?

The greatest reward in this has been knowing that I

have the formula to help small businesses stand out in

a very crowded online world. I feel like it's our purpose

in this world to learn what we can, master it, and then

use that knowledge to help someone else.

How have you benefited from the startup

community in Sioux City and the region? What

resources did you use?

The greatest benefit from the Siouxland startup scene

has been inspiration. It's nice to be surrounded by

people with an entrepreneurial mindset like me.

Iowa's West Coast Initiative's networking programs

have helped me connect with other people that aspire

to grow as I do.
---
personal growth

leadership

determination

business development

influence

Why is it important for the community to support

startups and small businesses? What more can be

done to help them?

Entrepreneurship can be

a very lonely world. We

spend most days stuck

in our own heads with

an abundance of ideas

flowing. It's important

for us to have a likeminded

community to

connect with and places

to work that foster

creativity and inspire

ideas. Some of the best

business ideas come

from attempting to solve

other business owner's

problems. If we can all

stay connected and have

organizations that foster

those entrepreneur

relationships, we can

essentially keep building Jess Carrier

and growing.

What is one thing you know now that you wish you

knew when starting your business?

I have now co-owned 4 very successful businesses. The

biggest thing I have learned is to always have a very particular

person in mind when developing a product or service. They

can test your product for you and provide valuable feedback.

Chances are there are around 7,000 people in the world just

like that person (That is if they are one in a million). With this

technique, you will know exactly who you are marketing to,

then you show up where they are looking for your services

(Facebook, Instagram, Tik Tok, Etc.). This saves a lot of time

and marketing dollars.

What advice would you give to someone looking to

start a business?

This isn't my advice, but it's the best advice I ever received:

If someone wrinkles their nose at your idea, then you are

probably on to something.

What are some future goals for your company?

My plan this year is to continue to add value to the product

without adjusting the price. I have pretty big ideas for where

to take this program, but I'm still ironing out all of the details

and fine-tuning the process.

Photos Contributed by Jess Carrier.

IAWESTCOAST.COM I 712.224.5500

Entrepreneurs and small business owners now have

access to an information specialist who can assist you

in finding solutions to your most pressing questions by

facilitating connections to the right people, data, and

resources.

IASOURCELINK.COM I 866.537.6052

IASourceLink is the premiere business resource in Iowa

for entrepreneurs and small business owners. Free

business webinars, expert advice, and a searchable

directory of organizations that assist Iowa businesses can

all be found on IASourceLink.

IOWASBDC.ORG I 712.274.6454

Do you need free, confidential and customized business

counseling? Contact SBDC for advice on developing a

successful business plan.

SIOUXLANDEDC.COM I 712.279.6430

Siouxland Economic Development Corporation offers

financial assistance programs and services to assist

small and medium sized businesses in getting started or

expanding.

iowaeda.com/innovate/ I 515.348.6159

The Iowa Economic Development Authority offers

funding to demonstrate proof of concept for an

innovative technology, develop and bring new concepts

to market, accelerate the pace of market development

and expand product lines.

SPRINGBOARDCOWORKING.COM I 515.809.0052

Springboard Coworking offers shared office space in

downtown Sioux City for entrepreneurs that combines

the best elements of cafe culture with a productive,

functional, and affordable work environment.

ISUSTARTUPFACTORY.ORG I 515.296.6532

ISU Startup Factory is designed to help businesses bring

new products to the market and work with companies to

make them attractive to outside capital investors.

VENTURENETIOWA.COM I 515.471.1300

VentureNet Iowa connects ideas to resources,

management, and investors, to create jobs and build

businesses in Iowa. If you have a business idea in the

areas of Biosciences, Advanced Manufacturing, Value-

Added Ag, or Information Technology, you may qualify

for assistance through VentureNet Iowa.

Did you use one of these great resources? We

want to share your story! Visit our website at

siouxlandmagazine.com, fill out the form and connect

with us today!
---
Would Your Organization

Lose Thousands of Dollars

if Your Systems Were

Down for a Day?

How much is your data worth to you? Some feel it's priceless—we agree.

Let RTI focus on your IT while you focus on building your business.

Contact us today for a free IT assessment

of your business or organization!

Visit: www.1RTI.com/SiouxlandMag/ or

Call: 866.804.4388 and mention that you saw this ad!

RTI understands the stress and change that go along with running a business. We are an IT

provider based right here in Siouxland, but we work with small and large businesses nationwide.

Our in-house, U.S.-based technicians and engineers have countless years of experience,

certifications, and expertise to ensure your business IT systems are stable and secure. Despite

today's unique circumstances, RTI has remained a strong partner, serving our current clientele

and many new clients who trust us to ensure their IT systems are available and secure.

We provide national expertise

with a local touch. Ask us how

we can help you take your

business to the next level!

Contact Us Today!

866.804.4388

www.1RTI.com/SiouxlandMag/

The average cost of downtime is

$

8,851

PER MINUTE

Source: Cost of Data Center Outages by Ponemon Institute
---
Build a Business with a Heart

Start by engaging your own heart. Connect at a deeper level with those you serve.

By Linda K. Krei (ActionCOACH ExcelEDGE)

Is the human touch getting lost in our current

age of digital communication, automation, and

artificial intelligence? Put yourself in the customer's

shoes, where one size does not fit all, at least not

comfortably. The customer experience often gets

defined by standardized email responses, scripted virtual

assistance, and programmed chatbots. Connecting with

and talking to a real person has become more of a novelty,

often absent of any personal touch. Systemizing business

is an essential element of growing your business, yet it

needs to be focused on what the customer wants in their

experience; something more significant than a simplified

impersonal exchange relationship.

Consider these recent customer

statistics (SmarterHQ)

Other ways to humanize your business with heart:

• Add photos of real people to your marketing (with

permission, of course).

• Engage your employees as advocates for your

business.

• Show your playful side as well as your business side

online.

• Write personal notes as handwritten correspondence.

• Create online communities to discuss issues and

share ideas, utilize user content.

• Send welcome or thank you gifts to loyal or new

customers.

• Be vulnerable and learn from it. Don't be afraid to talk

about setbacks or failures.

• Rewrite emails to be more conversational and less

sanitized.

• Insert names and customer-specific information in

your marketing outreach.

Siouxland Magazine | Grow/27

• 80% are more likely to purchase a product or service

from a brand that provides personalized experiences.

• On average, 71% feel frustrated when their shopping

experience is impersonal.

• 63% stop purchasing products and services from

companies who offer poorly executed personalization.

• Personalization can reduce acquisition costs by as

much as 50%, lift revenues by 5–15%, and increase

marketing spend efficiency by 10–30%.

Get the heart of your organization pumping. Once

you have the pulse on your client and customer needs,

you can adapt to meet those needs more effectively and

personally with an authentic heart.

Take Action Today.

Contact Coach Krei for your Complimentary

Strategy Session to get you started.

Shift your thinking. You might think making changes

to your marketing or business operations are too

costly, yet ask yourself about the lifetime value of a

customer who feels cared for and intentionally served.

Think of it as an investment in a long-term relationship.

Shifting your culture must extend to all levels of your

organization. Involve your team members to transform

the journey of your customers. Share ideas openly and

reward risk-taking to foster a sense of connection and

real engagement within your organization.

Our Head Knows this, and our Heart needs to be

engaged. "A better customer experience generates

loyal customers who recommend you to colleagues,

friends, and family. Adding a human touch at every stage

of the customer's journey requires an objective evaluation

of your current situation. Everything should be driven by

your customer's data which provides clues and insights

you need to stay informed about purchasing behaviors.

Then focus on transforming your processes, policies, and

actions, so your organization appropriately adapts. Since

customers have more options than ever before, stay

relevant, authentic, and top of mind. As a former CEO

often stated, "The customer may not always be right, but

they are still the customer…we need to focus on their

experience with us, or they will vote with their feet."

As an award winning, globally

recognized, Certified Executive

Business Coach and Facilitator,

Linda would love to help you take

your leadership to the next level.

Linda Krei, ActionCOACH Excel Edge

712.251.7189

E: lindakrei@actioncoach.com

https://lindakrei.actioncoach.com
---
Siouxland Magazine | Grow/28

Beautification Pays!

By Grace Nordquist

According to 'The 20 Ingredients of an Outstanding

Downtown,' by Destination Development, "Besides

word of mouth, shoppers typically have only curb

appeal to help determine whether or not a shop

is worth visiting. Curb appeal can account for 70% of

new visitor sales at restaurants, retail shops, and hotels and

lodging."

Your business's curb appeal matters, and Downtown

Partners wants to help ensure it draws people in instead

of pushing them away. There are many things you can

do to help make a great first impression. For example,

consider removing any dark tint from your front windows.

Tinted windows do not allow customers to see into your

store, instantly creating a sense of skepticism. If the sun is a

problem, consider a canopy or sunshades.

Downtown Partners Storefront Grant was created to help

enhance existing downtown spaces. Funds can be used

towards storefront improvements and start-up business

needs. Grant funding is available for a 50% match, up to

$2,500, of the owner or tenant's investment. For example,

if owner or tenant investment is $2,000, the project would

qualify for a Storefront Grant award of $1,000 (50%);

projects more than $5,000 could be eligible for a maximum

Storefront Grant award of $2,500.

Check out our latest summer events list that includes things like

litter pick-up dates, outdoor concerts, food trucks, and more.

Are you a downtown owner or resident, and want to be more

involved or get a rundown of what has been happening at

Downtown Partners? Join us for our annual Board of Directors

meeting on June 15th, at 7 p.m., to learn more about things like

the storefront grants, events, other projects, and how you can

play a part in creating a vibrant and expanding downtown Sioux

City. Email info@downtownsiouxcity.com for your invitation.

Before

After

The storefront grants can be used for various updates

like signage, windows, murals, outdoor seating, security

cameras, lighting, and more.

For more information on our storefront grant or to apply,

visit our website downtownsiouxcity.com. While visiting our

website, make sure you know when events are happening

downtown so your business can capitalize on the foot traffic!

Midtown before and after storefront.

Downtown Partners is a non-profit organization that works

with downtown stakeholders to create a vibrant, expanding

downtown. To learn more about Downtown Partners

and stay up to date on downtown projects and events,

visit www.downtownsiouxcity.com.

Photo Contributed by Downtown Partners.

Financing as low as $65/mo

Rebates up to $1,800 on a new system

Get a FREE quote today

712.252.3007
---
Give a Good Look to Siouxland

By Chris McGowan

Siouxland has a great deal to be proud of, and

the last few months have indeed served as a

platform for our community to highlight some

excellent news. That said, we also have some work to

do on our regional image, and it has never been more

critical than right now as we are welcoming first-time

visitors from all over the United States.

On the good news side, Site Selection magazine of

suburban Atlanta recently recognized our Metropolitan

Statistical Area (MSA) as first in the nation for economic

development in our population category. Additionally,

the Milken Institute just published their analysis

entitled, "Best-Performing Cities 2021; Foundations for

Growth and Recovery," and the Siouxland MSA jumped

a remarkable 43 spots from 122 in 2020 to 79 in 2021

among Tier 3 sized cities.

Furthermore, in the last year or so, we have added the

Siouxland Expo Center, United Sports Academy, and

the Arena to our list of impressive local sports facilities.

These entities are bringing unprecedented numbers of

visitors from out of town for youth athletic competitions.

Coupled with the significant number of athletes,

coaches, and families traveling to the NAIA national

championships in women's volleyball and basketball at

the Tyson Events Center, it quickly becomes apparent

that there are countless opportunities for our community to

make a strong first impression.

Of course, if we do not step up and make every effort

to showcase what makes Siouxland a truly exceptional

community, a less favorable impression could be planted

with our guests. For this reason, on April 6th, representatives

of both the public and private sectors came together to

discuss the importance of a long-term plan to address

litter control and clean-up in Siouxland. The response to

attend this initial meeting was so overwhelming; it had to

be relocated from the offices of the Siouxland Chamber of

Commerce to an alternative location.

This group actively engaged the entire tri-state area in

focusing on a region-wide plan to develop a strategy to

effectively remove litter in problematic areas, especially

those traversed most frequently by our new visitors and

their families. It was an excellent example of what we can do

when working together to achieve a common goal.

Many recognize that a "spring cleaning" is always in order

after winter. There are some very effective programs,

volunteers, and efforts already underway in our metro area.

Still, as we welcome new visitors, we need to develop and

maintain an effective litter mitigation plan to show the rest of

the world our true colors.

Chris McGowan, President, Siouxland Chamber of Commerce.

Siouxland Magazine | Grow/29

Let the Chamber work for you!

Learn Network Promote

Small Business Education Series

Community Enhancement

Transportation

Government Relations

Retail Roundtable

Entrepreneur Hour

Connect 101

New Member Coffee

Rush Hour Connect

Annual Dinner

Chamber Golf Classic

WMN Mentoring & Networking

Ribbon Cuttings

Newsletter Advertising

Post Your Job Openings, Events,

Sales & Services

Chamber Event Sponsorships

Post Your News Releases

Call to become a member today! 712.255.7903

www.siouxlandchamber.com
---
Start Your

Day With

Gourmet coffees, hot breakfast

sandwiches and bakery goods make

your morning just right. For lunch,

choose from steaming soups, tasty

sandwiches, and fresh salads.

Eat in or grab and go!

Order ahead

for pick up!

Text "coffee"

to 474747 to

download the

joe app.

3RD LOCATION

OPENING MAY 2021

FLATWATER

CROSSING

SOUTH SIOUX CITY

Sioux City • Ho-Chunk Centre

South Sioux City • Flatwater Crossing

Winnebago • Ho-Chunk Village

"Vulnerability is not winning

or losing; it's having the

courage to show up and

be seen when we have no

control over the outcome.

Vulnerability is not weakness;

it's our greatest measure of

courage."

– Brene Brown

sweetwatercafe.net
---
Siouxland Magazine | Grow/31

2020-2021 Graduating Class of Leadership Siouxland.

2020-2021 Graduating Class of Leadership Siouxland

By Peggy Smith

Do you know how to manage change

effectively? Have you ever participated in a "Privilege

Walk"? Do you truly love yourself and understand how

important self-love and self-care are to your mental

and physical health? Are you aware of how economic

growth and development really work? Do you realize

that 83,570 minority patients die annually due to

healthcare disparities? How many non-profit agencies

in Siouxland can you not only name but explain their

mission? Do you understand the different styles of

leadership and which style to employ and when? Are

you aware of your own personal talents and how to

turn them into strengths?

If you are intrigued by the questions and want to

learn more, Leadership Siouxland is for you. All of

those items are things the thirty-three professionals

who will graduate from Leadership Siouxland in

May learned during the 2020 – 2021 community

leadership development program. The nine-month

curriculum provided the class the chance to learn

about themselves, their community, and to form

lasting relationships with other professionals.

This year's program was structured differently due

to the constraints of the Pandemic. The majority of

the classes were offered virtually, and community

projects were replaced by "connection circles". This

change in structure did not affect the engagement or

enthusiasm of the participants or the speakers. We all

learned together that challenges stretch us and make

us stronger.

The graduates are now poised to add value and make

positive differences in their community. The graduates and

their sponsoring organization/business are: Willy Bass,

Danielle Gutierrez, and Dulcie Greene, sponsored by Ho

Chunk Inc; Amanda Brophy and Erich Erdman, sponsored

by Sunnybrook Community Church; Aaron Christensen

and DeAnna Pennings Faris, 185th Refueling Wing; Kelly

Greenfield Joe Hofmeyer, Gary Main, Nick Morgan, Preston

Nibaur, Keri Poeckes – Wells Enterprises, Inc.; Veronica

Guzman, Wayne State College; Victoria Halloran, SIMPCO;

Justin Huffman, Long Lines; Jenny Joaquin and Ashley

Powell, Gelita; Damon Magstadt, Premier Bankcard; Sara

Matthews and Tyler Tigges, Great West Casualty; Teresa

McElroy, WITCC; Brenda Meyer, NW Arkansas Community

College; Deborah Moore and Billy Vogt, Goodwill of the

Great Plains: Leticia O'Kane , Great Southern Bank; Paula

Parmelee, Foot and Ankle Associates of Siouxland; Heidi

Reinking, Siouxland Chamber of Commerce; Pat Rosacker,

Central Bank; Krista Roscovius, D2 Worldwide; Stacey

Selk, Unity Point St Luke's; Bre Willems, Target; Leo Woods,

KCAU Nexstar Media.

If you are searching for your passion and how to make a

positive difference, reach out to info@leadershipsiouxland.

org or contact the Executive Director at 712-898-8594.

Photos Contributed by Leadership Siouxland.

Leadership Siouxland is an organization dedicated to

developing diverse, informed leaders who shape our

community for today and tomorrow.
---
Siouxland Magazine | Grow/32

Yesterday.

Today.

Tomorrow.

A Station for You.

A Station for Everyone.

Join the Conversation.
---
Shopping Local

By Nolan Shook

It has been more than a year since the

pandemic started, and it has affected a lot

of locally owned businesses. We have seen

multiple family-owned businesses go under this

year. Twenty percentof small businesses fail within

the first year, and 50% fail by their fifth year in

business. While many bigger businesses may be

able to ride out a recession, small businesses do

not always have the resources necessary.

It is important to shop locally and support your

local neighborhood store. Maybe it's a local coffee

spot other than Starbucks, a family-owned diner

instead of a chain restaurant, or buying clothing

from a local boutique rather than a chain store

at the mall. Many people like to say they support

small businesses, but when was the last time

you went more than a week without shopping at

Walmart?

As our stores begin to reopen, think twice about where

your dollars are going. Due to quarantine, many people

have gotten into the habit of buying from Amazon.

Although buying local may cost a little more, keep in

mind that you are supporting your community members

rather than stockholders and CEOs. We are supporting

the people we live and work with in our community.

While small businesses may be extra vulnerable right

now, let us show them our support by buying our

products from them and giving our money and support

to local businesses.

Sioux City Growth Organization welcomes progressive

and innovative ideas. As a group, we work to put these

ideas into action and build the momentum to take Sioux

City into the future.

Nolan Shook, Marketing Board Chair for Sioux City Growth

Organization, Owner of Shook Handyman Service, and a

Realtor for Keller Williams.

Siouxland Magazine | | Grow/33 / 39
---
Siouxland Magazine | Grow/34

joint relief

WitHoUt

SUrGerY

712-276-STEM

"It was a very easy procedure

- didn't take very

long at all. I stayed off

my feet for the weekend

and then went back to

work on Monday and

was fine. I'm definitely

glad I made this decision.

It's made a world of

difference on my knee."

– Colette G. (knee)

find out how to receive a free Pain relief treatment and Consultation.

Scan from smartphone camera or visit website.

SIOUXCITYSteMCellS.COM
---
Siouxland Magazine | | Grow/35 / 39

Your Business Being Vulnerable

By Todd Rausch

We all know the negative connotations of

being "vulnerable." Our business would have

gaps in security or risk management that may put us

at risk of the dangers of a predatory world. It could be

catastrophic for any business.

What if there were a positive state of vulnerability for

our business that would draw customers. Not only

draw them but get them to be our security and our

defenders. What if there were a way to be vulnerable

and still be secure without putting the company at

risk.

The answer is, of course, there is a way. It is simply

to be open and honest at all times with our potential

customers. It means doing the right thing even when

it may hurt us financially. It may even seem foolish to

the rest of the world, but it allows us to maintain our

integrity.

What am I talking about? When I used to teach

college business classes, one of my favorite stories to

share was about Sam Walton. He understood people!

It appears that back in the 80s, Sam Walton had a

habit of visiting his stores unannounced. This time he

came to customer service to find a manager having

an argument about tires the customer supposedly

bought there and wanted a refund. The customer was

insistent on getting a cash refund. Mr. Walton caught

on right away and ordered the full cash refund for

the tires. The customer walked away with $400 in his

pocket. When he was gone, the manager turned to

Mr. Walton and said, "but Mr. Walton, we don't sell

tires!" In response, Sam Walton replied, "I know that,

and the customer will realize that, but he will tell

everyone how we treated him today."

Sam Walton, at that time, was about getting lifelong

customers. He realized that the customer who just left

with a refund from the store for tires he never even bought

there would be loyal for life.

We don't have to be so brave, but we can be honest and

open in our dealing with our customers and make them

feel appreciated and valued. I have always advised owners

to make sure the customer leaves with a smile. If they do,

they will come back and be sure to tell everyone how they

were treated. If they don't, they won't come back and will

tell everyone how they were treated.

Our vulnerability is just about treating every customer

as we would want our grandma to be treated. It is that

simple. Often, people are very gracious to me when I do

not understand something, or I simply cannot seem to

grasp an idea or concept. The same should go for every

customer we have.

In our area especially, those who seem not to have a penny

to their name from their look may very well be the largest

landowners in the county. You can't tell a book by its cover

or a person's circle of influence by their appearance in

our area. There are times we take risks with customers

simply because it's the right thing to do. We may never

see a direct payback, but we will reap what we sew, and

in business, excellent customer service leads to the best

payback of all… a good report to others who will come

and be our customer. We can't all be Sam Walton, but

we can be the best we can be and treat everyone like we

would want them to treat our grandma.

Todd Rausch, Regional Director for the Small Business

Development Center at Western Iowa Tech Community

College. | 712-274-6454 | Todd.rausch@witcc.edu

America's SBDC Iowa provides free, confidential,

customized, professional business advice and consulting

in all 99 Iowa counties to entrepreneurs.
---
Siouxland Magazine | Grow /36
---
Siouxland Magazine | Grow/37

Siouxland Magazine is proud to host the

10th annual 2021 "10 Under 40"

competition! The highly anticipated issue comes

out in September, featuring young professionals

in Siouxland who are making a real difference in

our community. Nominations will be open starting

June 1 and the form can be found on our website

at siouxlandmagazine.com.

2020 Winners

Here is what we look for in Siouxland's 10 Under 40.

Look around to your co-workers, employees, bosses, friends, colleagues, and think about who meets the

following criteria:

• Under the age of 40 as of December 31, 2021 (Yes, you may have to ask, but he/she will be

honored you are thinking of them for an award!)

• Is a business owner or high executive/manager/director (or has experience in this area) within their

organization (this can be a large corporation, small business, or non-profit organization).

• Must be in their current position or have had experience in a managerial role for at least one year.

• Lives and works in the Siouxland area (approximately a 60-mile radius around Sioux City.)

Has a history of displaying:

• Vision and Leadership

• Innovation and Achievement

• Growth/Development Strategy

• Community Involvement/Contribution

• Consistent display of excellent character and ethics
---
alance

Inside and out.

Placing a bowl of fresh fruit on your countertop creates an invitation.

What makes us vulnerable to dis-ease?

By Hali Benson

The truth is, this is a difficult question to answer

with so many factors effecting our health daily.

Many things we face environmentally have the most

significant effect on the health problems we face. These

include the air we breathe, the water we drink, the food

we eat, and the homes, buildings, and neighborhoods

where we live and work. All of these may contribute,

sometimes by disrupting how the body works.

We become vulnerable to our environment in

various ways:

• Air Pollution: From car exhaust to wildfires, ozone,

both natural and human-made substances, can

wreak havoc on the body.

• Smoke: A single cigarette can carry hundreds of

chemicals such as lead, formaldehyde, and arsenic.

• Pesticides, Herbicides, and Insecticides: The toxins

they use to kill the critters eating our food are

also extremely toxic to humans' health containing

carcinogens, endocrine disruptors, and slowly

affecting our health, but in the long term has

detriment.

• Unclean Water: City water alone can have hazardous

microbes, heavy metals like arsenic and lead, as well

as chlorine.

• Chemicals: ranging from the perfumes we wear, the

cosmetics, cleaning agents, body care products,

disinfectants, some of the foods we eat.

Freedom of expression, an act of creation.
---
eathe

clarity

nutrition

flexibility

Although some of these factors are much bigger than

we can take on for a change, there are a few ways that

you can take charge of your health easily with resources

that are right in our city!

Your Lymphatic System

Taking care of this key system year-round is essential

for healthy immune responses to our environment. A

few things you can do to support a healthy lymphatic

system is drink plenty of water, exercise to get the blood

flowing (dancing is my favorite way to move), eat lots

of alkaline foods (lemon/lime, most fruits, leafy greens,

and some legumes), cold exposure (cold showers, ice

baths, or a Tabata of both hot/cold shower)

Eat Real, Whole Foods

I cannot say this enough, what you eat 80% of the time

will either give us life or feed dis-ease. You get to choose

this aspect of your life, and I see that most people will

put this on the bottom of their list of priorities. I said 80%

because we need balance in life, and if we can maintain

a healthy eating pattern 80% of the time, the 20% for

mere pleasure allows us to enjoy life guilt-free. Make

this a fun and creative part of your life, buy vegetables

you do not usually cook with, and remain playful as if an

art form is being created.

Drink Clean Water

Water is a fundamental need for humans, and polluted

water is not just dirty; it is also deadly. Having access

to clean water should be a basic human right but is

not an option for some. Contaminated water can host

many pathogens and heavy metals, causing dis-ease

like chronic diarrhea and disrupted gut microbiome.

Something simple you can do is purchase a water

filtration system to clean the basic metals and chlorine

out of your water. You can find a place to buy fresh

spring water near you like findaspring.com or boil your

water before drinking it.

Shop Local

When we purchase from online sources, we are

keeping the cycle of environmental toxins going.

Shopping local can keep the exhaust from trucks down,

support your city by keeping the dollars within your city

(where your money goes, energy flows), and we have

some amazing options here in Siouxland that can truly

benefit us all. Since Aldi has popped up in our city, we

have access to fresh organic produce at a portion of

the cost of what some of our other stores offer. If you

are looking to stay on a budget, this is a great option.

Post Cold Exposure.

Next to Nature is where you can go locally for high-quality

supplements, herbs, and non-toxic home care products. A

place where you can find a Mind-Body-Spirit approach is

MindBody Connection with herbal tinctures, bodyworkers,

and various TCM classes.

As you progress towards your goals of becoming healthier

in every aspect of your life, remember to take your time,

build yourself up to be strong in one area at a time, and

fuel yourself on the cleanest ingredients you can. If I can

recommend for anyone looking to make changes, begin

drinking plenty of clean water throughout your day. Eat

fresh fruits and vegetables — as much as you can consume

in each meal. And when you get those two things down,

begin incorporating a good practice of moving your body,

supplementing, and enjoying a massage to release toxins

from the body.

Hali Benson, a certified Holistic Nutrition and Wellness

Practitioner helping clients heal through nutrition,

yoga and spirituality. You can find her under the name

of Blossom Services at https://blossom-services.

webflow.io/.

Photo Credit Hali Benson.
---
Siouxland Magazine | Balance /40

The Vulnerable Heart

By Dr. Meghan Nelson

It is important to consult your physician or physical

therapist before beginning any new physical activity.

Always listen to your body and respect any warnings you

hear.

"We are never so vulnerable as when we love."

– Sigmund Freud.

To be human is to be vulnerable. It's rooted in

our primal need to belong. And that belonging is

grounded in the dynamics of the relationships that fuel

our lives and give them meaning. No one is immune.

And this is why we practice—not to avoid the hurt and

pain that come from being vulnerable, but rather, to

embrace it, to open our hearts to it, and to welcome

it as the guest "clearing us out for some new delight"

(Rumi).

This isn't a metaphor. My husband and I just sold the

first house that we purchased 11 years ago to the day.

The perfect home to which we brought each of our

three babies home from the hospital, the one guarded

by our late and great dog, Bear, the place with the best

neighbors you could imagine. So many memories. So

much love. That's why it hurt so much to leave…even if

we were literally busting at the seams.

onward through these heart-opening poses. I invite

you to find the heart opener pose, which is most

compassionate for you at this moment. Breathe in

thoughts on forgiveness, acceptance, and 100% pure

unconditional love, releasing fear, anger, or pain

through the exhale. Stay grounded in these poses and

reflect on how life is hard, full of challenges, and full

of tasks—and how wonderful it is to have this chance,

this opportunity to learn and grow. Trust your heart to

lead, and know it is okay to wail and cry because it's

hard. We've all been there. Let us just sit together at

this moment in support of each other with love and

forgiveness.

Heart-openers can physically bring an openness to

space where we tend to store hurt feelings of pain and

fear from disconnection. Take the risk! A broken heart's

pain only tells us that the love that exists within is great

and powerful. It will always be worth experiencing

hurt and pain to know that we have that connection of

sharing the entire array of feelings with all of humanity.

Cramped into temporary housing, we know we are

not the only ones who have been in this situation.

A friend laughs, "we lived with my in-laws for six

months when we first moved to town. My father-inlaw

still says it was the longest eight years of his life!"

As we hear rumors of houses coming up, my spouse

and I drive by, imagining the layouts, admiring the

landscape, scanning the neighborhood. At one spot, I

discuss how I'd like to change the color of a house to

something dark but to keep a white or light-colored

trim. "Yes," my husband says, "you have to have the

dark, to see and appreciate the light."

I know he is talking much deeper than just the outdoor

paint and trim.

We see it in our kids too. My oldest boy just lost his

championship basketball game in overtime. It was a

heartbreaker. There were many tears from the boys

(and mothers) as they felt the pain of loss, as they

witnessed their goals and dreams slip away before

them. It's a hard lesson when you give your all and still

come up short, and yet an opportunity too—to redefine

success by opening our hearts up to failure, to loss,

and yes, eventually, to renewal.

Being vulnerable allows us to experience what all

humanity faces—loss, pain, and hurt. Let us embrace

the risk of pain and hurt as we move upward and

Heart Opener (Chair): Firmly root feet and sits

bone, lift heart-center onward and upward. Many

options for arms, go where it feels right: rolling

shoulder blades and upper arms backward, grasping

seat or back of the chair, or opposite wrists or elbows

behind the back. Be mindful of the low back as the

core is engaged, spine lifted. As you exhale into this

pose, relax your head back comfortably, protect your

spine by lengthening the back curve of your neck.
---
Siouxland Magazine | Balance /41

Heart Opener (Partner): Rotate arms back

towards partner, who firmly grasps forearms. The

front partner will open heart, draw shoulder blades

together, lead with an open heart, and trust the

partner's support in back. The back partner should

keep firmly grounded with knees bent or staggered

stance, tall spine, strong core, and equally open

heart and lean back to match the partner's strength.

Neither partner is trying to overpower the other but

to fall into the support of open hearts.

Camel Pose: Start in a high kneeling position,

knees lined with hips and ankles. Focus on

maintaining core engagement with the tailbone

tucked under to protect low back. Move slowly,

draw hips forward, while heart center lifts upwards.

Shoulder blades draw towards each other while

arms spiral backward. Options of hands: on hips,

pelvis, or low back for support; or grasping heels

or ankles. If comfortable, gently allow the head to

release backward slowly and safely to protect your

neck.

As you come out of these poses, move out slowly

in reverse. Pause in stillness in a mindful seated

posture. Just notice the exhilarating effects

throughout the body when we tear away the armor

of fear or hate by bursting the heart space open

to love and acceptance. The reward will always

outweigh the risks.

Dr. Meghan Nelson, a licensed physical

therapist and professional yoga therapist with a

passion for using yoga as medicine for optimal

health, injury prevention, and overall health

and wellness. Meghan is co-owner of Lumin

Therapy, which provides integrative healing of

the mind, body, and spirit through the practice of

physical therapy, medical therapeutic yoga, and

mindfulness.

Photo Credit left page Meghan Nelson. Heart

Opener (Partner) Photo Credit Sarah Gil. Heart

Opener (Supported) Photo Credit Amy Focht.

Camel Pose Photo Credit Meghan Nelson.

Heart Opener (Supported): Find a supported tall

kneeling or seated posture where the assisting yogi

can encourage hips and heart-center up and forward

while serving as support for the head and neck of the

practicing yogi.
---
Siouxland Magazine | Balance /42

Ask the Therapist

By Gladys Smith

Question: Over the course of the pandemic,

I've lost touch with the family and friends

who had been an important part of my life.

Although I miss them and want to reconnect

with them, thinking about doing so makes

me feel anxious and afraid. How do I deal

with this lingering fear of connecting with my

loved ones again?

Response: The COVID pandemic has brought

about the need for social distancing, quarantine,

and isolation to protect the health of our vulnerable

populations. Unfortunately, this isolation has created

what Michael L. Stallard, and Katherine P. Stallard,

2020, refer to as an "epidemic of loneliness". The

Centers for Disease Control and Prevention report

that loneliness can contribute to an increase in stress

and anxiety. According to the Stallards, we shouldn't

ignore our "primal human need for social connection

as it appears to improve our performance of the

cardiovascular, endocrine and immune systems,

which can help reduce the risk of contracting

COVID-19". The neuroscientist, Matthew Lieberman,

refers to connection as "a superpower that makes

humans happier and more productive".

In an article entitled, "How to Be Sensitive to Your

Mental Health During COVID-19", 5/21/20, licensed

therapists Lindsay Potts and Trisha Palencer, state that

it's important to understand that anxiety is a normal

response to the pandemic. With the vast amount of

changes we've had to process and deal with, it can

leave one feeling overwhelmed. The social isolation

and lack of connection to others can exacerbate

these feelings.

The American Psychological Association's 2021

"Stress in America" report states that "nearly half

of Americans say they feel uneasy thinking about

in-person interaction once the pandemic ends".

Fortunately, there are steps you can take to manage

your feelings of loneliness and anxiety and move

towards reconnecting with others. Potts and Palencer,

2020, state that one of the first steps you can take is

acknowledging your feelings and realizing that they

are a normal response to the changes brought about

by the pandemic.

Taking small steps and using caution when

reconnecting with others can be helpful in managing

your anxiety and fears. In his article entitled, "Why

We're Scared for the Pandemic to End,"Dastagir,

2021, states that the worse thing we could do is

completely avoid things causing us anxiety because

Send Your

Questions to

the Therapist.

avoidance can work in the short term but it impairs us in

the long run". When avoidance becomes our go-to for

dealing with anxiety, it can actually reinforce feelings of

fear and anxiety.

As a way to manage your fear and anxiety, it's helpful to

develop and adhere to a daily routine. Having a routine

in your life adds structure and a measure of predictability.

Predictability contributes to feelings of safety, relaxation,

and calm. Don't forget to include in your daily routine

eating a healthy diet, getting some exercise (preferably

outdoors), staying hydrated, and practicing good sleep

hygiene. Although getting good sleep is difficult when

experiencing stress and anxiety, it's a critical function in

managing those feelings. I find it helps to try different

ways to relax before bedtime. Many benefit from the

use of aromatherapy products, especially lavender, as it

has a natural calming effect. There are also phone apps

you can listen to at bedtime that promote feelings of

relaxation and aid in falling asleep.

In our quest to stay updated on what's happening

around us, we're often glued to our televisions, phones,

computers, etc. With all the negative things we come

across while staying informed, allowing your brain to

unplug and take breaks can help quiet your feelings of

anxiety and stress and cultivate more positive feelings.

You can do this by taking meditative walks outside while

focusing on how your five senses are experiencing

nature. If you're artistically inclined, try using your talent

in this area to express your feelings. I often recommend

journaling to both express and process feelings as this

can lead to new and creative ways to address our present

situation.
---
Making a concerted effort to reach out to friends and

family in other ways can help mitigate feelings of

loneliness and anxiety and move you closer to venturing

out to reconnect. The use of social media can offer

new and creative ways to have the meaningful human

connection we crave. I feel it's important to use those

sites that offer ways for you to not only see your loved

ones but to also hear their voices. Although texting is

a convenient way to communicate with others, it lacks

the essence of that human connection. Using Zoom

or Facetime can offer the kind of connection that you

need to feel closer to your loved ones as you can see

and hear them in real-time. You may want to develop

a consistent schedule to spend time with your loved

ones this way as it offers you something to look forward

to. Don't hesitate to be creative when using these sites.

You could plan a game night, a cooking event, or an

exercise session as a way to make connections with

others. Attending church services and support groups

online are additional ways you can connect with and get

support from others.

If you continue to struggle with the level of stress, anxiety,

and loneliness that inhibit you from truly participating

in your life and in the lives of your loved one, seeking

professional help is a viable option. Allowing yourself

to be vulnerable enough to ask for help is a strength – a

strength that can offer an opportunity to heal from the

losses inherent in our new normal.

You can send your questions for "Ask the Therapist"

to gladyss@mentalhealthassoc.com. Please put

"Ask the Therapist" in the subject line.

Gladys Smith, a Licensed Independent Social Worker

with Mental Health Associates, who has over 35

years of clinical experience in inpatient, outpatient,

and residential settings. Although she provides

therapy to adults and families, she specializes in

working with adolescents who are struggling with

mental health, behavioral and substance disorders.

Gladys is a co-founder of Soul Creek Nature Therapy

that focuses on offering peace and healing through

a connection with nature.

Photo Credit Carolyn Goodwin Photography.

Siouxland Magazine | Balance /43

GIVE US A CALL TODAY!

712.277.2424

ibcins.biz

HEALTH

INSURANCE

MADE EASY

________
---
Siouxland Magazine | Balance /44

The Hakomi method integrates well with many forms of therapy, including massage.

Access Mental Health Through the Body

By Emily Larson

The world in which we live today is changing.

We are becoming more and more aware of the

continued growth in complexity and persistence of

the constant stimuli outside our own bodies from long

to-do lists, colorful advertisements, and seemingly

endless streams of information and opinions to subtle

yet complex forms of communication from loved ones

and lessons in parenting from our greatest teachers,

our children.

As these stressors mount, they can feel heavy and

overwhelming, but from deep within they are calling

us to turn inward and see the landscape of our being

in its beauty as well as its dark, unexplored valleys we

may want to avoid. However, this last year or so of

compounding, collective stress highlights the need

for loving attention to the self. Navigating its vastly

complex aspects, including physiological, emotional,

spiritual, and psychological, can most certainly require

assistance.

Taboos, misconceptions, and misinterpretations of

"mental healthcare" can create barriers to proper

and complete assistance for many people. The

vulnerability necessary to take a closer look can reveal

a real solution because it comes with the realization

that the self requires more than just "mental help". The

Hakomi Method is one of these real solutions because

it is a body-centered form of therapy that combines the

scientific and the spiritual to address the human being as

a whole. It helps people access the "core material" held

deep within the subconscious that shapes their unique

behaviors, perceptions, and beliefs about themselves and

the world, some of them self-expressing and some of them

self-limiting. Thus, a Hakomi practitioner does not assert

his or her own agenda but follows each of Five Principles

and the intelligence of the client's own body to discover

and explore their core material and transform the material

that is limiting.

Attentive, compassionate contact guides the client

through her own inner experience.
---
The 5 Principles of Hakomi

• Mindfulness is a meditative state accessible by any

human, in which one takes notice of his or her own

inner experience. These days, the arena of our

conscious thoughts can feel chaotic, pinging with

worry, habitual thought patterns, and to-do lists.

Mindfulness practices usually begin by teaching a

person to simply notice and observe these thoughts

rather than become attached and carried away with

them. Taking this role as the observer is a valued

tool in the practice of Hakomi, as it leads to a path of

discovery of the truest and wisest inner self.

Siouxland Magazine | Balance /45

• Nonviolence. Exploration of the inner world of

the self usually encounters some resistance or

learned defense systems that have developed in

response to trauma or chronic stress. Hakomi aims

to meet resistance with compassion, knowing that

these defenses do not have to be "knocked down",

pulverized, or defeated. It fully accepts the existence

of these defense systems and respects them for the

teachings held within.

• Unity. This principle helps a person see the many

layers of the self with the understanding that

everything living exists as a whole made up of many

interconnected parts. For example, the cells of the

body are microscopic parts that make up the whole

tissues, and the tissues are parts of whole organ

systems. This thread continues through the whole

body, the community, the planet, and the entire

Universe. Hakomi methods help a person to follow

this thread within and get to know him or herself on

emotional, psychological, spiritual, physiological and

many other levels interwoven. Thus, the unification of

all parts as one whole is integral to the self-exploration

process involved in Hakomi.

• Organicity. Each person has unique parts to their

whole person along with unique barriers, blockages,

and defenses. Thus, the Hakomi method recognizes

that each person will have a unique process of

discovery and transformation of this resistance. The

practitioner has no agenda of his or her own, but

works together with clients in their unfolding, trusting

their unique direction and inner wisdom.

• Mind Body Integration. Hakomi deeply recognizes

and utilizes the mind-body connection because

it is through this connection that we feel, know,

and express ourselves. The beliefs we host about

ourselves and the world are the source of this selfexpression.

With various methods, Hakomi explores

the mind-body connection to discover core beliefs,

how they were created, and helps the client integrate

transformation of their belief systems when necessary.

Hakomi relies on somatic (bodily) feedback from the client.

By integrating every one of these principles, the Hakomi

practitioner honors his or her client's wholeness, even the

pieces they have wished to leave unexposed. Stepping

into this vulnerability occurs in a safe space where the

client can address their shadow, being guided by the

wisdom of the body. For more information, please visit

the website for the Hakomi Institute. To book a session

locally, please call the Mind & Body Connection in Sioux

City, Iowa. (712) 252-1157

Emily Larson, Licensed Massage Therapist, Private

Yoga Instructor, Bachelor of Science in Kinesiology

& Human Performance, Co-teacher of Anatomy for

massage therapy students at the Bio-Chi Institute,

mother to Noah.

Photos Contributed by Emily Larson.
---
explore

Enjoy Your Life.

Adventurous

Sioux City Farmers Market

Sioux City Farmers Market Manager

The 2021 season of the Sioux City Farmers' Market

promises to safely bring together locals from all

walks of life to enjoy the bounty of locally grown

produce, artisanal baked goods, and hand-crafted

items. Each item featured at the market is grown locally or

handmade by the seller. With nearly 20 area farmers selling

fresh produce and others offering a wide array of locally

roasted coffee, savory snacks, sweet treats, and even live

local music, you're bound to find something to enjoy at this

year's market. Located just west of the Tyson Events Center

in downtown Sioux City at the corner of TriView Avenue

and Pearl Street.

Market Season: May 5, 2021 - Oct 30, 2021

Market Hours: Wednesdays & Saturdays, 8 a.m. - 1 p.m.

Becky Barnes has been with the Siouxland Farmers Market

for five years and has played an integral part in managing

operations, as well as the market's steady growth in

popularity year over year. The 2020 season brought about

some significant challenges for local farmers' markets

throughout the country. I had the pleasure of sitting down

with Becky for a discussion about this year's market season

and what to expect from this beloved Sioux City staple.

You are five years into your role as Market Manager,

how do you feel things went for the 2020 season,

and is there anything new we can expect for 2021?

Going back to last year, the 2020 season, we weren't really sure

if we were going to be able to open for the year. Everything

was shutting down and then the state came out with protocols

we had to follow in order to open. We ended up opening

the market on May 5, as originally planned, but we were only

allowed to have produce and food vendors. Vendors were

spaced apart and items were roped off like a "point and pick"

shop where vendors would then bag items for patrons after

they made their selection. We [increased] our handwashing

stations with 6 of them located throughout the market. We

also received a grant from the Iowa Delta Dental Association

that allowed us to build hand sanitizer stations, and then we

purchased sanitizer from a local distillery Century Farms, and

used that throughout the market. All vendors wore masks

and gloves, and we asked the community to help us out by

wearing masks and socially distancing as well.

Going forward for this year for the 2021 market, we are

still going to provide hand washing stations and sanitizing

stations and we will ask patrons to socially distance and wear

masks. When you come down this year vs. last, it will look a

little different as we will place all of the vendors back together

and implement that patron social distancing as we move

through the season.

Interesting, so expect masks and social distancing

again this year but otherwise the market is fully open

to all vendors and patrons?

That is correct.
---
Community

Entertainment

Nature

Appreciation

Indulge

In welcoming back vendors this year to the market,

have you seen an increase in interest from new

growers, vendors, and artisans, or has it been fairly

consistent?

In 2020, we kept that option up to the vendor and their

business. If they wanted to vend they certainly could and we

are thankful for those who came back. We also had some

businesses that sat out just because of the whole situation

that was going on. So last year our vendor count was down

to 33, which is about half of what we normally see each

year. Normally we see 56-60 vendors come through. The

vendors that were there in 2020 all had reported that their

sales had increased significantly, which just goes to show

how important and essential a farmers market is to get that

fresh produce and other items.

As of right now, the majority of vendors are returning and

I've had about 12 new businesses interested in vending, so

the market is really getting noticed and it is healthy and will

continue to grow.

With all of the growth do you find that there are

any space constraints there near the Tyson Events

Center?

Back in 2019, there was a waiting list for vendors to get in

because during our peak season of June, July and August

the whole parking lot is full. I had new businesses that were

waiting to get on the list, so there are sometimes restrictions

on space. But as far as the infrastructure goes, we have all

of our electricity there and the amount of parking to the

south really helps out a lot. So, yeah, if I could take the

curbs and push them back just a little bit, I certainly would.

Did the building of the new parking garage at Hard

Rock cause any challenges for market patrons and

vendors or have there only been positives from that

new construction?

Not at all, we really welcome any amount of parking that

we can get down there. In previous years we have had the

carnival come in and other visitors in the south parking lot

that does take up space normally used by our patrons. So

we welcomed that parking lot with open arms!

After 5 years of managing the market, what are a

few things that you're always excited about each

year as the farmers market is starting up again?

My number one thing is getting to see everybody because

you are with them for 6 months and then you don't see

them for 6 months. It's like, "I really miss you guys!" We're

all just like a big family down there. Not just the vendors

but the patrons, the kids that come down as well - and the

puppy dogs, they are always my favorite too. So just that

atmosphere of community and bringing people together,

that's what I look forward to each year.

Puppy dogs really do make everything better. How

about live music and special entertainment for patrons?

Yep! We are excited to have live music back this year and

actually secured a sponsor for our music tent for this year

and next. So the live music will go on.

Where can people go to stay "in the know" with all

of the happenings each week at the market?

Our website is a great resource where you will find

information on our vendors, our board members, and

contact info as well for any interested vendors. Go to www.

farmersmarketsiouxcity.com, and you can also follow us on

Facebook.

Spotted at the SCFM: fresh local produce, fruits &

berries, honey, ready to eat foods from local small

businesses, handcrafted items, yard ornaments,

soaps, and so much more!

Hi! I am Becky Barnes, Market Manager for the Sioux City

Farmers Market. I have lived in Siouxland my entire life; I

love the MidWest and the seasons here. This will be my

fifth year with the market as a Market Manager. The market

is like a big family to me and I can't imagine living without

it. When you come down, be sure to say hello. I am onsite

every Wednesday and Saturday and would love to talk

with you. In addition to the Market, I teach at Western Iowa

Tech Community College and also work as a freelance

graphic designer. Hope to see you soon!

Photos Contributed by Sioux City Farmers Market.
---
Siouxland Magazine | EXPLORE /48

The collection by Mina, designed for Omaha Fashion Week, Fall 2020.

Vulnerability Is.

By Erika Hansen

I'm not sure there is anything we can do to rid

ourselves of vulnerability. It just…is.

The great thing about vulnerability, though, is EVERYONE

feels it. In that sense, we should think of it as an emotion

that unifies us, not separates.

But realizing that every person in the room also has

insecurities is a game-changer.

When you find yourself in a vulnerable position, my

advice is to talk to those around you. When I do that, I

find companionship, solidarity, and understanding. It's

But that doesn't make us feel any better, does it?

When we feel vulnerable, we feel completely alone and

isolated.

Lately, I've found myself in this position frequently.

I've been pushing myself to try new things, meet new

people, and take advantage of opportunities that come

my way. But all of it comes with an oversized helping of

vulnerability.

The fashion industry is one of the most vulnerable

industries imaginable. For designers, putting their very

personal creations out to the public for criticism and

critique is a vulnerable process. And for models, just

showing up is a vulnerable process.

If you want to feel completely and totally self-conscious,

walk in a runway show at age 46. When the rest of the

girls and guys are in their late-teens or early-20s, trust

me, you become VERY AWARE of every flaw you have,

real or imagined.

Selfies with a few of the beautiful girls backstage.
---
incredible to imagine some of the young, gorgeous

models I talk to having insecurities, but across the board,

it's universal. We've all heard we're hardest on ourselves,

and wow – is it ever true. When a group of flawlesslooking

girls and women are standing backstage at a

runway show comparing the tiniest of details about their

bodies, or their height, or their walk, it's not because

they're superficial. It's because they too feel vulnerable!

They're trying to figure out how to fit in with the group,

meet expectations, deliver an anticipated image.

And we all do that, every day. We come up with a

story about what's acceptable in whatever situation

we happen to be in, and we try to mold ourselves to

fit. Are we in a business meeting? Then we should

look professional, competent. Are we showing up at a

party? We should appear fun, carefree, magnetic. And

if we're about to walk a runway, we should be flawless,

aspirational, perfect. And if we're less than any of those

things, we feel vulnerable. Oddly, sometimes even

when we are radiating our best, we still feel vulnerable

because of our deep-seeded fears about what others

might be thinking.

Siouxland Magazine | EXPLORE / 49

When I'm in a vulnerable place, physically, or emotionally,

I try to get to the root of what's bothering me. Because

it's never what we think. It's never (and I mean NEVER)

because we're too thick around the middle or because

our arms are too flabby. Most of the time, my insecurities

are based in fear. And when I concentrate my energy to

focus on love instead, the fear can't survive. When I look

at the women around me and appreciate and support

what I see, instead of comparing and contrasting, I feel a

camaraderie that somehow makes me feel better.

Because, at our core, we're all the same. We worry about

different things. But we're all the same.

If one woman wishes she weighed less, another woman

is self-conscious about her skinny legs. If one woman

feels irrelevant or out-of-date because she just turned

40, another feels invisible and unimportant because

she's only 20.

I'm thankful the fashion industry has come so far in not

only accepting, but celebrating women of every shape,

size, age, and ethnicity. There is still much work to do.

But compared to where things stood when I started

modeling at age 17, it's astounding how inclusivity now

permeates every aspect.

And that naturally gives room for vulnerability because

it gives room for each individual person to be fully seen.

And while that can be scary, it's also comforting. It puts

us all on an even playing field. And it gives us permission

to be creative and playful.

I love what BrenBrown says about vulnerability:

The designer, Charmaine Miranda, fitting a model.

Yet we too often lose sight of the fact that vulnerability

is also the birthplace of joy, belonging, creativity,

authenticity, and love."

The next time you feel vulnerable, realize the same

energy is pulsating through those around you, and

understand it can be used to fuel you rather than drain.

And it can always, without exception, be used to bring us

closer together, instead of further apart.

Curious about exploring the connection between

outward appearance and inner power? Erika is

passionate about showcasing accessible style, and

fostering a spirit of inclusion with no limits on age or

body type. You can find more of Erika's journey on

Instagram, @erikahansen.official.

Erika Hansen, a professional model, influencer, and

lifelong lover of fashion.

Photo Credit (left page) Erika Hanson. Photo credit

(right page) Charmaine Miranda.

"In our culture, we associate vulnerability with emotions

we want to avoid such as fear, shame, and uncertainty.
---
Siouxland Magazine | EXPLORE /50

Beautiful basil eager to be transplanted.

Les Vulnérables

By Lisa Cox

In 1862, Victor Hugo penned a one hundred and

twelve-word preface to Les Misérables. There the

narrator states that as long as society as a civilization

continues to diminish its men through poverty, women

through hunger, and children through abuse, there will

always be the need for books such as his. One hundred

and fifty-nine years later, our society still experiences

hunger, poverty, and abuse of both genders and

children. Unfortunately, because there is darkness in

society, many forget to seek light and celebrate or join

the good. Here at Up From The Earth, we celebrate the

light, and we applaud the hero, the underdog, the one

who steps up and surfaces through their own restrictions

of vulnerability. We often see this journey as the story of

the seed.

According to Dr. Brené Brown, in her book Daring

Greatly, "Vulnerability is the birthplace of innovation,

creativity, and change." This is a perfect narrative for a

gardener. Every winter, we go wild. We pull out the seed

catalogs and start choosing our favorite old reliable and

some new "experimental vegetables." You know the

kind; tomatoes we haven't grown before, a new type

of bean, or even onion sets that might end up smelly!

This loosening of control is a bit out of our comfort

zone and sets up for, as Brown says, "uncertainty, risk,

and emotional exposure." These variables are difficult,

especially since we think we have mastered the old tried

and true.

However, annually, gardeners around the world and in

Siouxland take the risk. They plant the seeds. Some wait

and plant their seeds directly in the ground and see

what will happen. Others open their hearts to the frailty

of the seed and the seedling as early as February to see

the struggle up close and personal with seed trays and

domes.

For some, the young seedlings vulnerability can be

considered a microcosm of our existing social structure.

The seedlings encapsulate in general our society's

characteristics in miniature. Often, they are susceptible to

many negative factors beyond the gardener's immediate

control and imagination, but not beyond the realm of

possibility. For example, some gardener's gardens are

foraged by "pesky wabbits." Who knew that rabbit-proof

fence so diligently constructed would be breached by a

simple snuffling of a snout?

For the seedling, the basic needs are many to reach

their full potential. Like people, they require light (sun),

warmth, water, and nutrition. They need protection from

adverse winds and temperatures and protection from

pests and trauma, especially when trying to harden

them off. Many gardeners remember the day they were

accidentally trampled by exuberant grandchildren.

Likewise, the planned summer vacation that left the

garden unattended. In all situations, there were variables

that altered the growth of the seedlings. Ultimately,
---
the plants either adapted or were vulnerable to their

environment.

Hardening Off is the process by which transplants

are toughened up so they can withstand nature's

stresses as they grow.

9 Things You Can Do to Help Harden Off Your

Plants for Outdoor Planting

• Read your seed packets.

Siouxland Magazine | EXPLORE / 51

• Think about temperature. Wait until it is at least

45-50˚, depending on the seedlings, to move

plants outdoors to a shady, protected spot.

• Start with seedlings in a shaded, sheltered

location for two to three hours.

• Shelter from the wind, kids, and pets too!

• Increase the amount of sunlight gradually that

the plants receive over two weeks. The end

goal is the last two days the plants can spend

the whole day and night outside. (This too is

common sense – judge the size of your plant

and nurture.)

• Back off on your watering, but do not allow

the plants to wilt. This helps trigger rapid root

development in the plant.

• Use common sense. Avoid putting your

seedlings at risk outside.

• Seek appropriately structured shelter. If you

do not have a cold frame, there are nice shelter

places that can be sought out on a porch for

protection.

• Be prepared. Like any good scout, if the forecast

looks iffy, bring in your seedlings before

heading out. Know your Siouxland weather.

We, as humans, are also susceptible to many negative

factors. Of Maslow's three first-level necessities for

existence, food, clothing, and shelter, food often

becomes the most critical common denominator.

The vulnerability of those facing food insecurity,

defined as not knowing regularly where your next

meal is coming from, and therefore their susceptibility

to increased difficulties, endangerments, and threats

must be met with understanding, compassion, and

vision not unlike the young seedlings, to meet their

full potential and expectations.

This is why we at Up From The Earth strive to encourage

new and knowledgeable gardeners alike to take that

risk into the uncomfortable growth zone and Plant,

Greenhouse carts created last year, as, necessity is the

mother of invention, due to COVID.

Grow, Share this 2021 growing season. Maybe your

positive venture is a squash arch. Maybe, it is starting

seeds indoors. Maybe, it is just stopping by our website

or a collection site for the first time. The seed has been

planted; the next step is yours. Vive les legumes!

Happy Gardening!

Visit us at our Facebook page:

https://www.facebook.com/upfromtheearth

Or the UFTE Website:

https://upfromtheearth.wixsite.com/siouxland

Randy Burnight, an avid gardener for more than 40 years,

is the founder of Up from The Earth and an ISU Extension

Master Gardener.

Lisa Cox, also an ISU Extension Master Gardener, loves

to combine her passions of gardening and education

through Up From The Earth.

Up From The Earth exists to connect extra produce

from home gardens to people in need.

Photo Credit Lisa Cox (left page). Photo Credit Lisa Cox

(this page, left column).
---
Siouxland Magazine | EXPLORE /52

Fresh assorted tomatoes.

Saving Summer for Later

By Carol Larvick

As the days are getting longer and warmer, I love

getting outside. Sometimes I just take a walk, but I am

itching to begin working in my garden. Last fall, I planted

some spinach seeds, and this spring, I keep going out to

see how they are doing. Early March, when we had a bit

of warmth, they sprouted. I cannot wait till it is time to eat

the spinach. Every year I look forward to saving some of

my garden produce to eat in the winter.

During 2020, both gardening and preserving food at

home grew by 600%. No wonder it was hard to find

supplies like canning jars and lids. The prediction is for it

to be as popular this year as last year.

If you canned last year for the first time, or the hundredth

time, there is always something more to learn.

Tomatoes are a popular item to preserve. They work well

frozen, canned, or dried. Frozen is an easy option if you

have only a few extra tomatoes and freezer space. It can

be as simple as rinsing them in water and cutting the

core out, then putting them in a freezer bag. With any

product you preserve to use later, it is always a good

idea to think about how you will use it when that time

comes. Frozen tomatoes for example would work well in

soups, stews, casseroles; think of anywhere you would

use cooked tomatoes. Once frozen, they will not work to

put on a tossed salad.

I also fix tomatoes for the freezer by roasting them with

a bit of olive oil and some spices. When finished, I cool

them and package them up with a label that includes the

date, the word tomatoes, and what I did to them, so I will

remember months later when I am hunting in my freezer.

Have you ever thought about drying tomatoes? A friend

was telling me after they dry the tomato slices, she uses

a coffee grinder (that has not had coffee in it) to make

the tomatoes into a powder and uses them in place of

tomato paste. I think that is a great idea and plan to dry

some tomatoes this summer.

Tomatoes can be canned in various ways – tomato sauce,

stewed tomatoes, tomato juice, spaghetti sauce, and

salsa. One important thing to remember is to follow a

research-tested recipe if you are canning tomatoes or

any food product.

What is the difference between a research-tested recipe

and one from a blog or on a website? After COVID, we all

know about things we cannot see but can make us sick.

For long-term storage of home canned food, they must

be heated. But what temperature and how long we heat

them is based on the acidity and the density of the food

inside the jar. A research-tested recipe does just that; it

tests the recipe to make sure it will keep without having a

microorganism grow.
---
Foods higher in acid, like fruits, pickled foods, jams,

and jellies don't need as much or as high of heat to

keep them safe, we can process them in a boiling water

canning. But foods like meats and vegetables that

are naturally lower in acid need temperatures above

boiling, a pressure canner, to kill the bacteria that

causes Botulism.

Tomatoes vary in their acid content and are right on

the boarder between a high acid and low acid food.

Research has shown that we can safely add acid to

tomatoes and process them at home as a high acid

food. Vinegar, bottled lemon juice and citric acid are

what we use to add acid to the tomatoes. A researchtested

recipe will tell you the proportions of each of

these to add to your canned tomatoes. My favorite is

citric acid, it is found in powder form in the canning

aisle at the store. It does not change the flavor of the

tomatoes and is easy to use.

Another factor we need to remember is that water

boils at a lower temperature at higher elevations. In

Siouxland, most of us are above 1000 feet in elevation.

Most all home canning recipes need to be adjusted for

this elevation. Again, a research-tested recipe will tell

you how to adjust to your elevation.

Home canning is not the place to use diseased,

bruised, or overripe produce. Canning will not improve

the product. Produce that is diseased or bruised

may be lower in acid and may contain a high about

of microorganisms. If you want to keep this produce,

freezing is a safer method to preserve it. With tomatoes

select disease free, preferably vine-ripened tomatoes

that are firm. Do not home can tomatoes from dead

or frost killed tomato vines. A safer way to keep these

tomatoes is to freeze them.

Have you ever tried to peel a tomato? Some canning

recipes want the skin removed. An easy way to do that is

to dip tomatoes in boiling water for a couple of minutes,

then immediately dip them into ice water. The skins

easily slip off the tomato.

If you are interested in canning, now is the time to be

checking the stores for canning jars and canning lids. I

have seen both in Siouxland this spring; you just need to

keep checking. You can also look online. Purchase high

quality lids for best results.

A couple of things to remember when canning.

• Use a research tested recipe and follow the

instructions.

• Plan enough time, canning does take time.

• Start with clean counters and enough room to

work.

• Use a plastic or silicone knife to get air bubbles

out of the filled jar before putting the lid on it.

• Make sure to wipe the rim of the jar off with a

clean wet dishcloth or paper towel, so no food

is in between the jar and the lid.

• Do not start counting processing time until

your canner water is boiling for a boiling water

canner, or with a pressure canner the air has

escaped, and the steam has built-up pressure

in the canner.

• Never quickly cool a canner or the jars after

processing. Allow them to cool naturally and

away from drafts.

• Always lift jars straight up when they are filled

with food, so the food does not come in

contact with the lid.

Siouxland Magazine | EXPLORE / 53

Carol Larvick is an educator with Nebraska Extension.

She canned, froze, and dried food with her mom

growing up and continues to do all of them now with

help from her grandkids. Besides helping people learn

how to properly can to keep food safe, she teaches food

safety to anyone who will listen.

Up From The Earth exists to connect extra produce

from home gardens to people in need.

Freshly-canned-tomatoes.

Photo Credit Carol Larvick.
---
Siouxland Magazine | EXPLORE /54

Stacey Selk, Director Children's Miracle Network announcing the Carlson Group at RE/MAX as Siouxland first "Miracle

Agents" and outlining the impact "Miracle Homes" will have on Siouxland area kids.

Jeff and Rachel Carlson, Owners and

Realtors at the Carlson Group – RE/

MAX Preferred, have partnered with the

UnityPoint Health – St. Luke's Children's

Miracle Network to become Siouxland's

first Miracle Agents.

"We are so excited to be the first Miracle Agents

in Siouxland," says Jeff. "We personally know so

many families whose lives have been impacted by

the Children's Miracle Network and we couldn't be

prouder to partner with them."

This partnership means that a portion of every

transaction the Carlson Group – RE/MAX Preferred

makes will go to the Children's Miracle Network.

Rachel adds, "When you list a home with us, you will

get our standard 'for sale' sign in the yard, but it will

also have an addition at the bottom that says 'Miracle

Home' – letting everyone who passes by know that

a portion of the sale of your home will go toward

supporting local kids here in Siouxland."

Stacey Selk, Director of the Children's Miracle Network

here in Sioux City expands upon just how exciting this

partnership is.

"RE/MAX Corporate has been a wonderful sponsor of

the National Children's Miracle Network for some time

now," says Selk. "Having this local office partner with us

means that more dollars can stay right here in town and

support the children in our local community. It's just
---
such a blessing and we are so grateful for Jeff and

Rachel's support!"

Children's Miracle Network treats more kids with

more afflictions than any other children's charity,

raising more than $300 million each year for

hospitals serving kids.

"A partnership with the Carlson Group at RE/MAX

will open so many doors and directly impact kids

in our community," stated Selk.

Siouxland Magazine |EXPLORE/ 55

"A portion of every Carlson Group real estate

transaction, including residential and commercial,

will go directly to the CMN in Siouxland. Listings are

considered "Miracle Home" featured here."

"Kamdyn Krull was the 2018 St. Luke's Children's Miracle Network

Champion. The Carlsons met Shantel Krull through her work at

Chiropractic 1st. Her family's story had a tremendous impact on

Carlson's desire to become Miracle Agents. Kamdyn was born

with Charge syndrome and has heroically persevered through

many surgeries in his young life."

To learn more about your local Children's

Miracle Network visit unitypoint.org. To learn

more about The Carlson Group – RE/MAX

Preferred, visit preferredsiouxland.com.

"Miracle Mattison Twins, this year's St Luke's Children's Miracle

Network Champions."