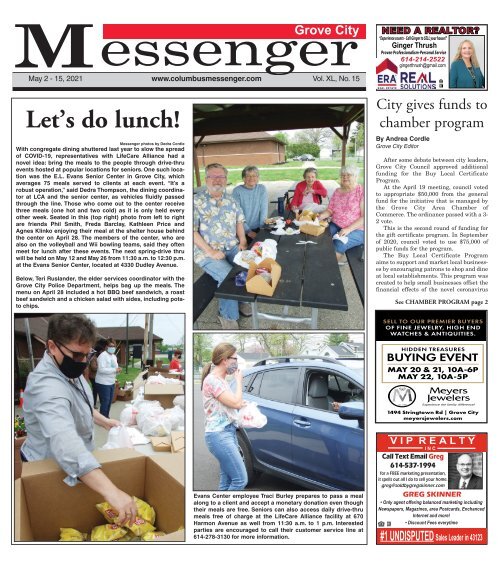 Grove City Messenger - May 2nd, 2021
Create successful ePaper yourself
Turn your PDF publications into a flip-book with our unique Google optimized e-Paper software.
Messenger

Grove City

May 2 - 15, 2021 www.columbusmessenger.com Vol. XL, No. 15

NEED A REALTOR?

REALTOR?

Ginger Thrush

Call Proven Professionalism-Personal Ginger Thrush Service

614-214-2522

"Experience counts - Call Ginger to SELL your house!"

gingerthrush@gmail.com

Let's do lunch!

Messenger photos by Dedra Cordle

With congregate dining shuttered last year to slow the spread

of COVID-19, representatives with LifeCare Alliance had a

novel idea: bring the meals to the people through drive-thru

events hosted at popular locations for seniors. One such location

was the E.L. Evans Senior Center in Grove City, which

averages 75 meals served to clients at each event. "It's a

robust operation," said Dedra Thompson, the dining coordinator

at LCA and the senior center, as vehicles fluidly passed

through the line. Those who come out to the center receive

three meals (one hot and two cold) as it is only held every

other week. Seated in this (top right) photo from left to right

are friends Phil Smith, Freda Barclay, Kathleen Price and

Agnes Klinko enjoying their meal at the shelter house behind

the center on April 28. The members of the center, who are

also on the volleyball and Wii bowling teams, said they often

meet for lunch after these events. The next spring-drive thru

will be held on May 12 and May 26 from 11:30 a.m. to 12:30 p.m.

at the Evans Senior Center, located at 4330 Dudley Avenue.

Below, Teri Ruslander, the elder services coordinator with the

Grove City Police Department, helps bag up the meals. The

menu on April 28 included a hot BBQ beef sandwich, a roast

beef sandwich and a chicken salad with sides, including potato

chips.

City gives funds to

chamber program

By Andrea Cordle

Grove City Editor

After some debate between city leaders,

Grove City Council approved additional

funding for the Buy Local Certificate

Program.

At the April 19 meeting, council voted

to appropriate $50,000 from the general

fund for the initiative that is managed by

the Grove City Area Chamber of

Commerce. The ordinance passed with a 3-

2 vote.

This is the second round of funding for

the gift certificate program. In September

of 2020, council voted to use $75,000 of

public funds for the program.

The Buy Local Certificate Program

aims to support and market local businesses

by encouraging patrons to shop and dine

at local establishments. This program was

created to help small businesses offset the

financial effects of the novel coronavirus

See CHAMBER PROGRAM page 2

SELL TO OUR PREMIER BUYERS

OF FINE JEWELRY, HIGH END

WATCHES & ANTIQUITIES.

HIDDEN TREASURES

BUYING EVENT

MAY 20 & 21, 10A-6P

MAY 22, 10A-5P

est. 1966

Meyers

Jewelers

Experience the family difference!

1494 Stringtown Rd | Grove City

meyersjewelers.com

Evans Center employee Traci Burley prepares to pass a meal

along to a client and accept a monetary donation even though

their meals are free. Seniors can also access daily drive-thru

meals free of charge at the LifeCare Alliance facility at 670

Harmon Avenue as well from 11:30 a.m. to 1 p.m. Interested

parties are encouraged to call their customer service line at

614-278-3130 for more information.

V I P R E A L T Y

I N C

Call Text Email Greg

614-537-1994

for a FREE marketing presentation,

it spells out all I do to sell your home.

greg@soldbygregskinner.com

GREG SKINNER

COMMERCIAL, INDUSTRIAL, HIGH QUALITY RESIDENTIAL

• Only agent offering balanced marketing including

Newspapers, Magazines, area Postcards, Enchanced

Internet and more!

• Discount Fees everytime

#1 UNDISPUTED Sales Leader in 43123
---
PAGE 2 - GROVE CITY MESSENGER - May 2, 2021

The Big Splash will open for the 2021 swim season on

Saturday, May 29.

Several policy changes have been enacted to promote

public safety. Those changes include:

• The Big Splash is available only to season pass holders.

Season passes are sold individually online starting

May 1. A pass is not required for a child younger than 3

www.columbusmessenger.com

The City Beat

The Big Splash to open, but with restrictions for safety

God Bless Everyone

& Stay Safe at Home

Malek &

ATTORNEYS AT LAW

Malek

WORK INJURIES

WORKERS'

COMPENSATION

SAFETY VIOLATIONS

WRONGFUL DEATH

PERSONAL INJURY

SLIP & FALL INJURY

DOG BITE INJURY

Douglas, Ed, Jim

and Kip Malek

Ben Churchhill

"Hablamos Español"

FREE Initial Consultation

www.maleklawfirm.com

614-444-7440

1227 S. High St., Columbus, OH 43206

Blood drives in Grove City

The American Red Cross will host several blood drives

in Grove City. The events include:

•May 2 - 1 to 7 p.m. at the Grove City Kingston

Center Community Drive, 3226 Kingston Ave.

•May 7 - 10 a.m. to 4 p.m. at Drury Inn and Suites,

CHAMBER PROGRAM

Continued from page 1

years accompanied by a season pass holder age 16 or older.

• To use the facility, pass holders schedule a time block

or "wave" up to 48 hours before their intended visit. Three

waves of two hours and 45 minutes are offered each day

with 45 minutes between each wave reserved for cleaning.

Wave times are: 11 a.m. to 1:45 p.m., 2:30 to 5:15 p.m., and

6 to 8 p.m.

• No day passes will be sold in 2021 to ensure as

many season pass holders as possible can enjoy the

facility.

• The Big Splash is open daily Saturday, May 29

through Monday, Sept. 6 except when the South-

Western City Schools District is in session (June 1-

4; Aug. 25-27, 30-31; and Sept. 1-3).

• A season pass may be purchased by a resident

of Grove City or unincorporated Jackson Township

for $50. Non-residents may purchase a pass for

$100.

• By purchasing a season pass, patrons agree to

adhere to all rules and regulations presented by the

city of Grove City including those put in place to

limit exposure to COVID-19 (i.e., mask wearing

and social distancing) as well as other communicable

diseases such as crypto.

Swim lessons will be offered at The Big Splash starting

June 12 in a variety of skill levels, days and times.

Participants are not required to be season pass holders.

Those interested can register as one would for a traditional

class offered by Grove City Parks and Recreation.

Registration opens on May 10 along with other June-July

Parks and Recreation Department activities.

For more information, visit www.grovecityohio.gov.

community events

4109 Parkway Centre Drive

•May 11 - 1 to 7 p.m. at the YMCA, 3600 Discovery

Drive

•May 13 - 12 to 6 p.m. at Covenant Church, 4178

Buckeye Pkwy.

To schedule an appointment, call 1-800-448-3543 or

visit www.redcrossblood.org.

pandemic. Consumers purchase a buy one, get one certificate

from the chamber and receive a specific certificate

up to $25.

Grove City Mayor Richard "Ike" Stage said the program

has been a success. He said he spoke with several

small business owners who reported that the certificate

program helped to bring in new customers.

According to the legislation, 25 businesses participate

in the program and in just eight business days,

approximately 700 people bought nearly 1,700 gift certificates

amounting to $50,000.

"Businesses were hurt by the pandemic," said councilman

Ted Berry. "We have funded grants for Town

Center organizations. This branches out and focuses

on small businesses."

While councilman Randy Holt supported the legislation,

he had an issue with the amount of money that

was to be set aside for administration fees and marketing.

The original ordinance appropriated $40,000 for

the certificates with $10,000 going to administration

and marketing. The first round of funding for the initiative,

in 2020, included $50,000 for the certificates

and $25,000 for marketing and administration fees.

Council did vote to amend the ordinance to specify

that $45,000 be used for the gift certificates while

$5,000 can be set aside for marketing. Council also

amended the legislation to use federal stimulus dollars

to reimburse the city should the program be eligible for

anticipated rescue plan funding.

Not all council members were on board with funding

the program.

"I'm not a fan of using tax dollars for private businesses

that are members of the chamber," said councilman

Aaron Schlabach.

He compared it to a members-only club.

"It's like a membership drive for the chamber. It

just doesn't seem right," he said.

According to Shawn Conrad, the executive director

of the Grove City Area Chamber of Commerce, there

were six new businesses that joined the chamber to

participate in the program. She also said it costs

approximately $160 a year for a small business (with

one to three employees) to be part of the chamber.

Any independent brick and mortar business that

sells goods directly to consumers, who employ 20 associates

or less are eligible to participate in the certificate

program. Businesses must operate within the

Grove City boundaries and must be members in good

standing with the chamber of commerce.

Council president Christine Houk also voted

against funding the program.

"I am a supporter of the chamber, but this is not a

good use of government dollars," she said.

According to Houk, most of the funds used for this

program have gone to just a handful of businesses.

"It may not have reached the businesses that needed

it the most," she said.

Houk said she would prefer the buy local certificate

program be funded and administered through a nonprofit

organization.

Per the legislation, the chamber will give the city a

list of members who participate in the program. The

chamber will also provide weekly or monthly receipts

to the city so officials can keep track of money spent.

For more information on the Buy Local Certificate

Program, visit www.gcchamber.org.
---
www.columbusmessenger.com

May 2, 2021 - GROVE CITY MESSENGER - PAGE 3

SELL TO OUR PREMIER BUYERS

OF FINE JEWELRY, HIGH END WATCHES & ANTIQUITIES.

HIDDEN TREASURES

BUYING

EVENT

MAY 20 & 21

10A-6P

MAY 22, 10A-5P

MEET WITH RENOWNED, NATIONAL

APPRAISERS TO FIND OUT WHAT YOUR ITEMS ARE WORTH.

JEWELRY, WATCHES, GEMSTONES, DIAMONDS, COINS, PAPER MONEY, STERLING SILVER & MORE

Your health is our priority, all safety precautions in place and practiced by our staff, including masks, gloves, and hand sanitizer.

1494 Stringtown Rd,

Grove City, OH 43123

(614) 594-0230

meyersjewelers.com

est. 1966

Meyers

Jewelers

Experience the family difference!

THURSDAY, FRIDAY & SATURDAY

MAY 20 & 21-10A-6P

MAY 22, 10A-5P

All Prices Based On Rarity And Condition.
---
PAGE 4 - GROVE CITY MESSENGER - May 2, 2021

By Dedra Cordle

Staff Writer

The percentage of students who have a

connection to the English Language

Learners program has hit a record high in

the South-Western City Schools District.

At the April 26 board of education meeting,

program coordinator Ed Kennedy

shared compiled data that shows roughly

25 percent of the student body population

now falls under that ELL umbrella.

"For the 2020-21 school year, we had

3,404 enrolled students who have been

identified as English Language Learners,

and we also had just under 1,800 students

who have recently exited the program," he

said.

For the past several years, the district

has been hovering around the 21 to 22 percent

mark, but the steady increase of students

enrolling year after year has now

pushed it to 25 percent.

Kennedy attributed that steady increase

to great "word of mouth" from parents

whose children are new to the English language.

"They know that our ELL program has a

strong reputation," he said in a post-meeting

interview. "Our district has a program

that really works to help kids become proficient

and we have a number of support services

to help them and their families during

this transitional phase as well."

Traditionally, the areas that have seen

the greatest amount of growth in the ELL

population is the Franklin Heights and

Westland corridors, but Kennedy said that

has slowly started to shift.

"Those areas and their feeder schools

are still seeing a tremendous amount of

growth, but Central Crossing High School

and the Grove City corridor to a lesser

extent are seeing a rise in their own ELL

population."

Spanish continues to be the number one

language with EL students at 71 percent

www.columbusmessenger.com

In Education

South-Western sees increase in ELL student population

JEFFREY P. COMPTON

ATTORNEY AT LAW

General Practice

Personal Injury • Domestic

Probate • Wills

Power of Attorney

Healthcare Documents

FREE CONSULT & PARKING

614-875-7233 Fax: 929-474-9475

1665 London-Groveport Rd., Grove City

www.jeffreypcompton.com

Email: jcompton@jeffreypcompton.com

with Somali and Arabic following at 12 percent

and 8 percent, respectively.

Kennedy said Ukraine had been coming

in at number four but was recently surpassed

by Hakha Chin with 4 percent.

In totality, there are 84 languages and

dialects spoken by students in the district.

Kennedy said that when students enroll

in the program, a majority are doing so

when they are at the pre-functional or

basic level of learning the English language.

He added that it takes one to two years

for students to have a proficient grasp on

conversational skills, while it takes five to

seven years to become proficient with their

reading and writing skills. He said the curriculum

largely focuses on their basic interpersonal

communication skills first and

then transitions to their cognitive academic

language proficiency skills.

"You have to have an understanding of

basic oral skills before you can begin to

read and write and listen proficiently."

For the past three years, the district has

been a recipient of a Striving Readers

Comprehensive Literacy Grant through

the Ohio Department of Education.

Kennedy said those funds have allowed the

district to purchase reading materials and

create professional development opportunities

for their educators.

He said some of those reading materials

that were purchased included graphic novels

which allows students to read the text

and comprehend that corresponding action

with the visual graphics.

"Graphic novels have been a huge help

with their comprehensive skills and keeping

their interest in the material," he said.

In fact, Kennedy reported that the

opportunities created from the grant have

helped raise the reading level average by

1.2 grade levels for all EL's in grades 7-12

and assisted with a 5.4 percent increase in

the number of 7-12 EL's scoring proficient

or higher on state EL assessment tests.

"It feels like a lot of progress has been

made," he said.

In related news, Kennedy said the district

will once again host a summer program

for EL's, though it will primarily target

grades K-8. He said the district is in the

process of identifying students who may

benefit from the program and information

will be sent out to parents and guardians

soon. He added that it will be virtual but

there will be an opportunity for in-person

Friday events where students can participate

in cultural awareness festivities and

book fairs.

DON'T HAVE

CURBSIDE

RECYCLING?

NEED CARDBOARD RECYCLING OPTIONS?

SWACO makes recycling easy with

drop-off sites that accept: plastic bottles,

tubs and jugs, metal cans, carton

containers, glass bottles and jars,

paper & cardboard.

Find your nearest recycling

site at recycleright.org.

RecycleRight.org

Awarded for

efforts in IT

South-Western Career Academy

Cyber Security student Kolten

Hossfeld has been awarded the

Ohio Department of Higher

Education Choose Ohio First (COF)

Information Systems Technology

Scholarship at Columbus State

Community College. As a COF

scholar, Hossfeld will receive fulltuition

coverage as well assistance

with fees and books as he pursues

an associate of applied science in

cybersecurity starting in the fall.

The scholarship program will also

support Hossfeld with a small,

tightly-knit cohort of IT students,

membership in several clubs, a

career-oriented speaker series,

career services training, and

access to a paid apprenticeship

opportunity in his second year

through CSCC's IT Flexible

Apprenticeship program. Hossfeld

is the cyber security class president,

a multiple-time placer at state

competitions, and is participating

in a national competition in computer

security after placing fourth

this year at the state level.
---
www.columbusmessenger.com

Opinion Page

May 2, 2021 - GROVE CITY MESSENGER - PAGE 5

Vigilance required when walking your furry friend

As emotionally draining as the drawn

out pandemic days have been, there have

been a few bright spots. But being harpooned

by my second Covid vaccine needle

and the myriad of reactions I got from it

most certainly does not qualify as one of

them. No, not complaining, it does beat the

risk of the alternative. I haven't had chills

like that since I got stuck in a sub-zero

North Dakota blizzard many years ago.

One bright spot does stand out for me.

I rarely watch the PBS channel, just too

much culture for my crude existence to

absorb. I stumbled upon "Masterpiece" and

was excited to see its new adaptation of the

series, "All Creatures Great and Small,"

the story of a 1930s veterinarian, James

Herriot, set in Yorkshire, a historic county

in England. Loved reading the books it was

based upon years ago. The new series was

truly excellent, better than the original,

and I was glad to see it will be back for

another season. Watching it turned back

the pages many years to my college days

when I lived and worked at a veterinary

clinic, much like the one portrayed in the

books and TV series.

The veterinarian I worked for was very

much like James Herriot. His practice was

split about 80 percent small and 20 percent

large animal. His life was his work; he was

totally dedicated to it as many vets were in

those days. There were no after-hour emergency

clinics in those days. He or the associate

he brought in, was on call 24/7/365. It

was not unusual for me to get a middle of

the night call in my downstairs clinic

apartment to assist with an emergency

ranging from going out with him to a dairy

farm for a calving or milk fever case, to

surgeries in the clinic for dogs hit by cars or

removing quills from a dog that tangled

with a porcupine. A recent dog walk triggered

a flashback to one specific emergency.

We'd just locked up the clinic after a

As far as sports go, basketball has

always been my first love.

I played basketball for years and I have

always maintained an interest in the game,

which combines a variety of physical and

mental skills to play, and, well, it's just fun.

But in my youth I had a second sports

love and that was baseball. But, while basketball

has never let me down, baseball

broke my heart.

In the 1960s my favorite baseball team

wasn't a team from the major leagues, it

was the minor league Columbus Jets of the

International League.

I would often listen to Jets' games on the

radio in the kitchen of my family's Main

Street home as they battled teams like the

Toledo Mud Hens and Rochester Red

long day. I was back in my tiny apartment,

just gotten through de-doggyfying myself

with a long shower. The clinic intercom

rang. "Dave, got a dog emergency coming

in, going to need you." His house was

attached to the clinic, just like Herriot's

was.

Within minutes we were back in the

clinic and the dog arrived. I went out to the

car to assist carrying it in. It was a very

heavy, full grown Saint Bernard. He was

bleeding profusely from multiple areas.

The owner said another dog was being

walked by his house and he lunged after it

through his big living room window, shattering

the glass and sustaining several severed

veins and arteries and tissue injury

from the sharp glass. He was in bad shape

and I could see the concern in the doctor's

eyes when we set him down inside.

Surgery lasted for quite some time, but

the doctor got him sewn back together and

the bleeding stopped. His loyal clinic resident

dog, a docile Chesapeake Bay retriever

named Lancer, graciously chipped in by

donating some much needed blood as he'd

been called upon to do a few previous times

while I lived there. The dog beat the odds

and went on to recover.

Memories of that night came back as I

walked my dog and went by a house that

always worries me. It has two large breed

dogs that stand on top of the living room

couch and literally lunge repeatedly at the

big window with their front feet clawing,

barking like guard dogs as we walk by.

When there's full sunlight, you can see the

glass move. I always take a deep breath

with a sigh of relief when we get by. So far,

the window has held. But who knows, both

lunging with all their weight hitting the

window at the exact same time a certain

way…..? They're needlessly tempting fate.

I can't understand why the owners continue

to ignore the obvious ominous risk.

That situation happens more than you'd

think. But it's usually the smaller breeds,

so I don't worry as much. Many dogs (and a

few neighbors) let us know we're not welcome

as we walk by, that's natural and

fine, so long as they're contained. Some

even wag their tails in friendship and

whine at the front door. A few others have

managed to burst out the front door and

come at us, not in friendship. Years ago,

one came at my dog and I got tangled in the

leash and pulled down. Luckily, we were

able to get things under control without

any damage to me or the dogs.

It all comes down to responsibility and

anticipation. If you're a responsible dog

owner, you anticipate and assess situations

and react accordingly to prevent obvious

risks. If you're not and do neither, things

can happen, sometimes bad things. I'm still

having to live remembering a 1987 jury I

sat on, where we had to listen to the case of

a little girl being mauled by two dogs who

found a way to escape from their poorly

secured apartment back porch area. It was

a senseless tragedy that a littler forethought

could have prevented.

When I walk about the area, I keep my

eyes far ahead. If I see a situation that

might present a problem, often a loose dog,

I try to avoid it by either waiting or changing

my route. There are times I can't avoid

it and try to prepare myself. Controlling my

large dog can be difficult. Sometimes I

must yell at a loose rapidly approaching

aggressive dog at the top of my lungs and

at the same time drag my large dog with all

my might to keep moving until we get

away, leaving me exhausted and my dog

puffing and panting.

Dogs have Houdini genes in them and

can be incredible escape artists. It's natural

for some to answer the distant call of the

wild, especially if they're bored or not regularly

exercised. They find ways to get out of

their fenced, too often insecure, enclosures.

The owners sometimes don't even realize

When you're a Jet, you're a Jet all the way

Wings. I'd sit close to the radio by a window

and watch lightning bugs flash on and off

outside in our backyard as the announcer

gave the play-by-play of the game: "It's a

line drive, base hit by Patek down the left

field line" or "It's a high fly ball to deep left

center field. Way back, way back, it's gone,

a home run by Bob Robertson."

The next morning I would grab the

Citizen-Journal newspaper to read the

paper's account of the game and to peruse

the box score and standings.

Once in a while my dad would take me

and my brother to Jet Stadium to see a

game in person. Jet Stadium was a beautiful

pastoral place and I still remember how

vividly green the outfield and infield grass

looked the first time I entered the place.

In the first game I saw the Jets play in

Jet Stadium they beat the rival Mud Hens

5-1 behind the strong pitching of Bob

Moose. Robertson homered and Patek, a

shortstop who was one of my all-time

favorite Jets, beat out a perfect bunt down

the first base line for a base hit.

The Jets were always competitive, but

in spite of that, attendance dwindled as the

1960s wore on. The team's last year in

Columbus was 1970 before it moved to

Charleston, West Va., to become the

Charleston Charlies. (What a ghastly

name!)

I was a teenager by then and already

developing a sense that the world could do

unforeseen unpleasant things and that

what we cherished in our youth was not

Guest Column

Dave Burton

they're gone for hours as the dog runs precariously

about, dodging cars, not always

successfully, creating havoc and chaos with

other dogs in its own neighborhood or farther

away. When the owners hopefully get

them back, they ignore taking time to fix

the escape route and the jail break scenario

soon happens all over again. Sometimes it's

the same dogs that are seen galavanting

about and you read a response on the website

from a concerned poster for a dog spotted

wandering down a major road, "Oh,

that's my neighbor's dog, it's always out

loose."

A popular neighborhood website is

always filled with dog notice postings: lost,

found, two large dogs seen running down…

Has anyone seen.., etc. It's disconcerting

how many active posts there are, but also

encouraging how fast helpful responses

come in from concerned neighbors. They

often result in happy endings that leave

you smiling. But sometimes the posts

remain unresolved and sometimes

resolved, but on a sad note.

Situations arise with dogs, things happen,

and they will get loose. That's understandable

and acceptable under the

assumption the owner recognizes it shouldn't

and deals with it. Maybe that's the root

of the problem. Perhaps a few just don't

realize things can happen or refuse to deal

with it. We've all asked the question before,

"why do they even have a dog." Some folks

just shouldn't have one. They just aren't

prepared to accept the responsibilities and

apparently just aren't able to comprehend

the far-ranging risks.

Dave Burton is a guest columnist for the

Columbus Messenger Newspapers. He

lives in Grove City.

Editor's Notebook

Rick Palsgrove

permanent. Still, it was hard to believe the

Jets were gone.

The Jets leaving town shook my faith in

baseball and I never really fully felt the

same about the game again. I liked it, but

no longer loved it. I did follow the

Cleveland Indians off and on over the

years, but it wasn't the same. When the

Columbus Clippers came to town in the

late 1970s I tried to rekindle that old fire.

But it was gone. It left when the Jets flew

out of town.

Rick Palsgrove is managing editor of the

Columbus Messenger Newspapers.
---
PAGE 6 - GROVE CITY MESSENGER - May 2, 2021

www.columbusmessenger.com

Community Focus

Summer Sizzle Concert Series entertains in a new location

Jump start your summer weekends

Friday evenings beginning late June with

open-air concerts in the Town Center.

The free Summer Sizzle Concert Series,

sponsored by the Grove City Parks and

Recreation Department, features live

entertainment by some of the best acts in

central Ohio. The concerts kick off at 7

Looking for a small,

friendly church experience? Try

First Presbyterian Church

of Grove City

4227 Broadway, Grove City

Worship Service 10:00 a.m.

In-Person and live Facebook

www.fpcgc.org

p.m., Friday, June 25 at a new location,

Town Center Park, 3387 Park St., the site

of the old library, across from the safety

complex. Please bring a chair or blanket

and enjoy the performance.

2021 Summer Sizzle

Concert Series Schedule

•June 25, Lee Gantt Band (country,

Share your Compliments

Brighten a business owner's day

by sharing your positive experience

Businesses in our communities have been

though tough times. If you have had a good

experience and would like to share your

compliments it would be much appreciated.

Email Compliments to:

compliments4biz@gmail.com

Compliments may be printed in upcoming Messengers

EMMANUEL LUTHERAN

CHURCH

80 E. Markison Ave., Columbus, OH 43207

elclife.org

SUNDAY WORSHIP SERVICE

8:30 am & 11:00 am

BIBLE CLASS

Adult and Youth (K-5)

9:45 am

*11:00 service includes a radio broadcast

in our parking lot on FM 87.9

Be a Part of Our Local Worship Guide

Our Worship Guide is geared toward celebrating faith and helping reader connect with religious

resources in our community. Make sure these readers know how you can help with a presence in

this very special section distributed to more than 22,000 households in the Southwest area.

Contact us today to secure your spot in our Worship Guide.

614.272.5422 • kathy@columbusmessenger.com

rock & roll)

•July 9, Rezes-Hall Band (classic rock &

roll)

•July 16, Lords of Literature (classic

rock)

•July 30, The Usual Suspects (blues,

Southern rock, Motown and jazz)

•Aug. 6, The Conspiracy Band (R&B,

rock roll and jazz)

•Aug. 13, Marquis 66 (classic rock &

roll)

Jackson Township

offers bulk trash drop-off

The Jackson Township Bulk Trash

Drop-off for all Jackson Township, city of

Grove City and village of Urbancrest residents

will be open weekdays from 8 a.m. to

4 p.m., May 3 through Sept. 24 at the

Jackson Township Administration

Building, 3756 Hoover Road. The service is

not available Memorial Day, Independence

Day and Labor Day. Residents must check

in at the Jackson Township

Administration office prior to unloading.

Accepted items include: residential bulk

trash, tires (limit of four) and scrap metal.

The following items are not accepted: batteries,

motors, light bulbs, hazardous

waste (chemicals, oils, paints), TVs and

monitors.

Throughout the year, residents can drop

off electronics or e-waste at the Jackson

Township Administration Building, 3756

Hoover Road, weekdays, 8 a.m. to 4 p.m.,

except holidays.

The list of accepted items includes: computer

components, laptops, tablets and

iPads/PDAs, cell phones, wireless routers,

cable modems, chargers and cables, VCRs,

Dish and Direct TV receivers stereos and

speakers.

PRIDE Soccer Club (PSC) is thrilled to be

celebrating 17 years of developing soccer players

and people! PSC has over 600 players on

40 different teams, ages 6-18. Tryouts and

team formation for the 2021-2022 season will

look differently this year. PSC will be offering

opportunities for new players to join team

training sessions in May instead of only attending

an open tryout. All interested players need

to register online for tryouts to be considered

for a team and contact the PRIDE SC Boys or

Girls Director if they want to attend a team session.

Open tryouts begin June 1st.

How do I register and get more information?

Go to www.pridesoccerclub.com, click

login/register in top right, find 2021-2022 tryouts.

community events

All attending must wear face coverings,

maintain social distancing and follow event

protocols.

For additional information, visit

GroveCityOhio.gov or call the Grove City

Parks and Recreation office at 614-277-

3050. Weather-related cancellation information

is available on the Grove City

Facebook and Twitter pages or call the

weather hotline at 614-277-3060 the day of

the event.

Monitors and TVs are not accepted.

For additional information, call the

Jackson Township offices at 614-875-2742.

Gardens at Gantz Sale

Join the Gardens at Gantz volunteers

as they celebrate the 28th annual Gardens

at Gantz Herb and Perennial Plant Sale

from 8:30 a.m. to 2:30 p.m., May 8 at Gantz

Park, 2255 Home Road. This is a rain-orshine

event.

Browse a wide variety of culinary and

landscape herbs, native perennials, raingarden

plants and more. Volunteers are

available to answer gardening questions.

Cash, checks and credit cards ($15 minimum)

are accepted.

The sale is in the Gantz Farmhouse

parking lot. Participants must wear face

coverings, maintain social distancing and

follow event protocols.

Proceeds benefit the Gardens at Gantz

Farm volunteers, celebrating more than 28

years of dedication and cultivation to garden

improvements, youth and adult education

including donations of books to area

schools.

For more information, call 614-277-

3058 or 614-871-6323.

PAID ADVERTISING

Taking PRIDE in developing soccer players

At what age can players join?

Players can join at U7 (2015 birth year) and

play U8.

What is the difference between PRIDE

SC and recreation soccer?

PSC provides a more developmentally

focused program that will better help prepare

players for the next level than a recreation program.

This is accomplished by a professional,

licensed coaching staff in a competitive environment

with 3 times as many training opportunities.

Where are training/games?

PSC trains and hosts home games in Canal

Winchester, Groveport, Ashville and Grove

City. League games and tournaments are

mostly in Central Ohio but can be throughout

Ohio depending on the age and level of the

team.
---
www.columbusmessenger.com

May 2, 2021 - GROVE CITY MESSENGER - PAGE 7
---
PAGE 8 - GROVE CITY MESSENGER - May 2, 2021

www.columbusmessenger.com

Jackson Township purchases new medic and plow trucks

By Dedra Cordle

Staff Writer

It is out with the old and in with the new at the fire and

road departments in Jackson Township.

In April, the board of trustees authorized the purchase

of one new medic for the fire department and two new plow

trucks for the road department. The former was approved

as a part of a planned replacement cycle, while the latter

was approved due in part to grant funding.

According to Deputy Fire Chief Shawn Quincel, the

department will replace a 13-year-old medic that has

approximately 250,000 miles on it. Because of its age, it

Jeffrey E. Buskirk

& Associates

Attorneys At Law

4178 Broadway, Grove City, OH 43123

Serving the Community for over 30 years

Social Security, Wills,

Estates, Probate

614-875-7220

jbuskirk2125@yahoo.com

614-875-0480 Fax

Pick-Up &

Delivery

has been used as a last resort.

"It is not assigned to any of our four stations," said

Quincel. "It is typically reserved for use when our frontline

vehicles are out for repair or preventative maintenance or

when the other backup medics are out on runs or at community

events."

He said this medic is not cost effective to maintain.

"At this point, we will save more money by replacing it

with a new medic than we will by making repairs."

The new emergency service vehicle will be manufactured

locally by Horton Emergency Vehicles. It will cost

the township roughly $315,000 and it will be completed

and delivered to Station 201 on Grove City Road next year.

This purchase marks the third time in as many

years that the department has ordered a new medic

for its fleet. Unlike the past two purchases, the

township will pay the entirety of the cost rather

than a portion or nothing at all.

In 2019, the township announced that it had

come to an agreement with the city of Grove City

regarding Beulah Park Tax Increment Financing

plans. Under the terms of the agreement, the city

would purchase two emergency service vehicles for

the township within the next five year. The city

went on to purchase one that year, and it will purchase

the second in 2025.

Late last year, the city allocated a portion of the

funds it received through the Coronavirus Aid,

Relief and Economic Security Act to the township.

The township paid approximately $40,000 for a

new medic, while the city funded the remainder of

the cost.

Quincel said the township's partnership with

the city has been invaluable to the fire department.

C.M.T

MOWER REPAIRS

Authorized Dealers for BOBCAT Mowers

6446 HARRISBURG PIKE, ORIENT, OH 43146

614-875-5830

www.cmtmowerrepairs.com

"We have the lowest price in town!"

GENERAL MAINTENANCE SERVICES

Push Mowers $49.95 • Riding Tractors $159.95

Zero Turn Mower $159.95

Parts are additional on all units

PICK-UP & DELIVERY AVAILABLE $60.00

CHECK OUT THESE GREAT DEALS!!

• ZT 2000-42... $ 4,100.00

• ZT 2000-48... $ 4,300.00

• ZT 2000-52... $ 4,600.00

• ZT 3500-61... $ 7,700.00

ZT 6000-61........... $ 10,200

ZT 6100-61........... $ 10,600

ZT 7000-72........... $ 13,300

0% Interest

Financing up to

48 months (if qualified)

"We are very appreciative of the support they have

given us," he said.

With the 13-year-old medic set to be phased out next

year, the oldest vehicle will then be an 11-year-old medic.

Quincel said the department is on a 10-year replacement

cycle.

"The first five years of a medic will be spent as a frontline

vehicle," he said. "After those five years are up, we

have to order a new one and then they become our backup

medics."

He said medics have to be replaced often as they garner

a tremendous amount of wear and tear.

"Replacing the medics on a planned replacement cycle is

a necessity," he said. "Our public depends on us to assist

them when they are in need and those vehicles need to be

in the best shape they can be in."

The road department will also be replacing its oldest

plow trucks as they were selected to be a recipient of a

Volkswagen Diesel Mitigation Trust Fund Grant.

According to township administrator Shane

Farnsworth, the road department will be able to replace a

2004 model and 2006 model plow truck with two new environmentally

friendly vehicles. He said the township will

pay approximately $250,000 for the plow trucks, while the

Ohio Environmental Protection Agency will cover 30 percent

of the cost, or roughly $83,000.

He said they will be specially outfitted and delivered to

the department in the summer.

"They will be ready to go come the next snowfall," he

said.

The 2004 and 2006 trucks will be decommissioned. The

department will have four plow trucks on hand, one of

which is a smaller model to access cul-de-sacs and subdivision

roads.
---
www.columbusmessenger.com

May 2, 2021 - GROVE CITY MESSENGER - PAGE 9

Active Lifestyles

A bi-monthly feature celebrating the

wisdom, experience and contributions of our community's senior citizens

PAID ADVERTISING

How to memorialize a lost loved one

A memorial tells the story of your loved ones

to future generations. The experts at Hannigan

Memorials, part of the Modlich Monument

Company, have tips on choosing just the right

monument.

Plan ahead

Aim to purchase a memorial before the emotional

time of losing a loved one. Even with cremations,

there are memorial options, such as

burying cremains and erecting a monument; creating

a cut-out in a monument and sealing the cremains

inside; or using a decorative urn inside a

mausoleum.

"A memorial takes time to complete and place

in the cemetery," said Chad Sothard, branch manager

of Hannigan Memorials. "We deliver and

install every monument we build, making sure

everything is just right for our customers."

Match the memorial to your lot

Some cemeteries restrict the size, shape or

material used for memorials. "We have experience

working with a variety of budgets and different

cemeteries to help ensure your final memorial

choice fits your personal taste, budget and cemetery

regulations," said Sothard.

Personalize your memorial

"We believe a memorial is as unique as the life

it commemorates," Sothard said. "Our craftsmen

can create any type of memorial, with stones in

any type, color, shape or size." Customers can

choose their engraving, from standard sandblasting

to hand diamond-etched portraits. Hannigan

also provides computer-generated scale drawings,

so customers can easily visualize their memorial.

PAID ADVERTISING

COAAA partnering with new

online caregiving platform

Central Ohio Area Agency on Aging

(COAAA) is partnering with Trualta, a free easyto-use

online platform that equips caregivers with

the knowledge and skills needed to manage care

for a loved one in the home. Trualta is tailored to

meet the caregiver's learning style through articles,

tip-sheets, quick five-minute videos, and

professional-level trainings.

The online platform, which can be accessed

from a computer or any mobile device, offers

practical caregiving tips and techniques, links

caregivers to local resources and assistance, connects

caregivers to other caregivers, and covers

many topics that caregivers may experience,

including personal care, brain health, safety, selfcare,

and working with memory issues or dementia.

Trualta is for caregivers who live in COAAA's

eight-county area – Delaware, Fairfield, Fayette,

Franklin, Licking, Madison, Pickaway, and

Union. Registration is required to access the platform.

COAAA's Trualta Support Specialist,

Maddie Huggins, can answer questions about eligibility,

assist with registration, help with device

accessibility, and help individuals navigate the

Trualta website. To learn more about Trualta,

contact Maddie Huggins at mhuggins@coaaa.org

or call 614-645-7445.

Even rocket scientists

ask for help!

Virtual 'Medicare for

Beginners' Workshops

Registration is required. To register,

email Andy Haggard at

ahaggard@coaaa.org.

Are you new to Medicare?

Do you need help understanding your options?

Central Ohio Area Agency on Aging's (COAAA) FREE virtual 'Medicare

for Beginners' workshops through Zoom provide down-to-earth

unbiased information to help you make informed decisions. At this

time, all presentations are virtual. Please note varying times.

Upcoming 'Medicare for Beginners' Workshops

May 19 at 2:00 p.m.

June 9 at 5:30 p.m.

Visit www.coaaa.org/medicare for a complete

'Medicare for Beginners' workshop schedule.

COAAA does not represent

or sell insurance products.

Funded in

part by:

800-589-7277 www.coaaa.org
---
PAGE 10 - GROVE CITY MESSENGER - May 2, 2021

Active Lifestyles

www.columbusmessenger.com

Alzheimer's Association to host virtual educational programs

Screenings at Evans

Amity Care Home Health Services provides

a nurse at the E.L. Evans Senior

Center in Grove City to do free diabetic

screening and blood pressure testing every

first and third Wednesday of the month

from 11 a.m. to 1 p.m. For more information,

call Amity Care Home Health at 334-

6800.

Wellness services for seniors

LifeCare Alliance provides a nurse at

Grove City Church of the Nazarene in

Grove City weekly to provide free foot care

and other wellness services for seniors. For

more information, call the wellness office

at 614-437-2878.

news and notes

The Alzheimer's Association will hold

virtual educational programs from May 4

through May 26.

These presentations cover a variety of

topics and occur at different times during

the day and early evening via videoconferencing

to allow individuals to participate in

the convenience of their homes. They will

discuss topics such as what is Alzheimer's

disease, warning signs to look for, activities

to do at home, and how to have those difficult

conversations. The programs are helpful

for anyone experiencing signs of memory

loss, their family members who may be

concerned, and the community member

looking for more education.

All programs are free and open to the

public. Registration is required. To register

for the program, call 800-272-3900. The

programs include:

•May 4 - Effective Communication

Strategies at noon.

•May 5 - Understanding Alzheimer's

and Dementia at 3 p.m.

•May 10 - Dementia Conversations at

10 a.m.

Volunteers sought at food pantry

The Grove City Food Pantry is looking

for volunteers. The pantry is located at

2710 Columbus St. in Grove City. It serves

about 250 families each month in Grove

City, Orient, Harrisburg and Galloway. It

is open Monday through Friday from 2 to 4

p.m. and on the third Saturday of the

month from 10 a.m. to noon. Volunteers

are needed to work various times and days.

Food donations are also needed. Those

interested in volunteering for the Grove

City Food Pantry or making a food or monetary

donation can email

managers@grovecityfoodpantry.org.

•May 11 - Effective Communication

Strategies/Activities at Home at 2 p.m.

•May 12 - 10 Warning Signs of

Alzheimer's at 1 p.m.

•May 17 - Understanding Alzheimer's

and Dementia at 10 a.m.

•May 17 - Living with Alzheimer's

Early Stage part 1 at 3 p.m.

•May 18 - Dementia

Conversations/Getting Through the Tough

Times at 2 p.m.

•May 19 - 10 Warning Signs of

Alzheimer's at 10 a.m.

Hope you and your family are doing well.

Medicare decisions are as important now as ever,

if you are new to Medicare (turning 65) or losing

your employer coverage – and have questions, I

can provide you with detailed answers. My name

is Terri Curcio, I reside in Franklin County - and

not an operator in a call center Also, I am a member

of the Grove City Chamber of Commerce. $0

cost for my consultation and enrollment services.

You are welcome to contact me directly at

614-460-0601 or TerriLCurcio@gmail.com. I

work with the major carriers in Central Ohio, not

•May 19 - Living with Alzheimer's

Early Stage part 2 at 1 p.m.

•May 20 - Living with Alzheimer's

Early Stage part 3 at 1 p.m.

•May 20 - Understanding Alzheimer's

and Dementia at 5 p.m.

•May 25 - Legal and Financial at 11:30

a.m.

•May 26 - 10 Warning Signs of

Alzheimer's at 7 p.m.

Visit alz.org or call 800-272-3900 for

more information.

PAID ADVERTISING

Let me help you with

Medicare plans

just one or two select plans. I have over 20 years'

experience, and believe it is best if we are reviewing

the plan documents together. After getting

your verbal permission, I can mail to your residence

a complete enrollment kit or we can review

in person. You will be able to select a plan that fits

your needs and lifestyle. Some of the plan options

may include dental, vision, and a fitness program

as well as hearing coverage. A few plans for 2021,

include a diabetic program with low predictable

insulin copays. You should be confident in your

decision!

Are you or a loved one approaching

Medicare Decisions

Soon?

M ed icare Annual Enroll

ment Period

Oct. 15

th

Dec. 7

• I hear on TV about dental, vision, hearing benefits are offered.

Are they available to me?

• Help you understand how your plan and benefits work!

• Do I qualify for Low Income Subsidy (LIS) to reduce my Rx copays?

You may apply anytime during the year, I can help.

Call me t today... $0 Consultation n $0 Fee

Call me t

Consultatio

$0 Fee

Terr Terri ri

Curcio Curcio 6614-460-0601

460 060

01

Terri

Curcio

614-460-0601

0601

Resident

of Ohio, a representative that i

an 800#! I can mail

you

Local repre your esentative, choice of carrier(s) I can mail

information you your preferre or we can ed carrier(s) meet via Zoom information call.

And, to review. I can enroll

Also, a

I can enrol client l a without client without a face-to-fac a face meeting to face meetin or sched ngdule or schedule a personal a mee one-on-one eting if you meeting prefer. if

you prefer.

OHIO IN. #43449 Available year round to answer questions, or

to help resolve an

issue. NO FEE

Offering different types of plans with top-rated carriers. I will work for you to find the

plan that

Review

fits your

different

needs

types

and

of lifestyle, Medicare

while

plans

offe

with

ring top-rated

the lowest

carriers

copays.

. I work for you to

find the plan that fits your needs and lifestyle,

while offering low

copays.

OHIO IN. #43449

Do I qualify for

Low Income Subsidy (LIS) to reduce my Rx copays?

Turning 65 and new to Medicare

Or over 65 and

still working

needing answers.

Grove City Chamber Member

th
---
www.columbusmessenger.com

Active Lifestyles

May 2, 2021 - GROVE CITY MESSENGER - PAGE 11

Franklin County Board of Commissioners: Commissioner Kevin L. Boyce, President • Commissioner Marilyn Brown • Commissioner John O'Grady

The Franklin County Board of Commissioners and The Franklin County Office on Aging join with the Messenger Newspaper in providing this update on aging issues in Franklin County.

Older Americans Month

Every year in the month of May, we celebrate Older Americans

Month. Older Americans Month, or OAM, was established in the

year 1963, with a goal of bringing awareness to the needs of older

American citizens living within the United States. The Administration

for Community Living, or ACL, is responsible for spearheading

the national observance of Older Americans Month and creating an

honorary theme. In years past, themes have included "Engage at

Every Age", "Connect, Create, Contribute", and most recently last

year, Make Your Mark". For May 2021, the monthly theme just so

happens to be "Communities of Strength".

"Older adults have built resilience and strength over their lives

through successes, failures, joys, and difficulties. Their stories and

contributions help to support and inspire others. This OAM, we will

celebrate the strength of older adults and the Aging Network, with

special emphasis on the power of connection and engagement in

building strong communities".

Over the past year, older Americans have had to face several

challenges including the COVID-19 pandemic. Social isolation,

personal and family illnesses, and financial hardship, are just a few

of what older Americans endured and to do so, takes immense

amounts of strength. The Franklin County Office on Aging has been

with these older Americans every step of the way. Through

providing free home-delivered meals for most of 2021, to providing

free transportation to COVID-19 vaccine appointments, to finally

continuing to provide their existing support programs and services

to Franklin County older adults. The community in which the

Franklin County Office on Aging serves, is a diverse group of

individuals who love to stay involved and participate in strength

building programs.

There are a few ways that older Americans and their family or

friends can continue to develop their strength and to stay connected

as a community.

-Utilize social media: Many of us have social media application,

whether that be Facebook, Twitter, Instagram, or LinkedIn. Social

media allows for you to connect with others and stay informed about

the lives of loved ones. Most social media accounts are free to join,

and if you decide to create one, make sure to follow the Franklin

County Office on Aging on Facebook, Twitter and/or LinkedIn.

-Create Zoom meetings: Create Zoom meetings: We all miss seeing

others face to face, however with COVID-19 still present we want to

make sure you have safe interactions with others. A popular way of

doing so is by creating Zoom video call groups. You can simply call

one another to chat, you could create a weekly or monthly book

club, or even have a movie night or painting event. The creative

ideas you can come up with are endless.

-Self development and sharing: There are many people who would

love to add an additional skill to their list. Perhaps that is cooking,

drawing, taking up yoga, or maybe even learning a new language.

By continuously learning, you cannot only build up yourself, but

you can share your newly acquired skills with your family, friends,

or acquaintances. You strengthen others, when you strengthen yourself.

This pandemic has taken a lot of enjoyable moments, loving individuals,

and amazing memories from so many of us. However, if we

stick together as a community, we will come out stronger than ever.

If you are an older adult age 65 or over or know of an older adult that

may need any of the programs or services listed above, please contact

the Franklin County Office on Aging at (614) 525-6200.
---
PAGE 12 - GROVE CITY MESSENGER - May 2, 2021

OhioHealth and Cancer Support Community Central

Ohio are partnering on a free series of virtual support

groups for newly diagnosed cancer patients and their families.

The six-week sessions will run six times during 2021

and will cover a variety of topics including:

•First Steps After You're Diagnosed: Learning a New

Language

•Resources to Partner with Your Healthcare Team

•Communicating with Your Family Through Cancer

•Coping with Side Effects

•Proper Nutrition and Staying Active

•Managing the Emotions of Cancer

Participants are welcome to join the group at any point

and can join missed sessions during another series. The

groups are led by a licensed social worker from Cancer

Support Community Central Ohio with the support of an

OhioHealth cancer nurse navigator.

"We are thankful to Cancer Support Community

Central Ohio for partnering with us to provide this important

service to our cancer patients," said Lisa Ahonen,

OhioHealth system program director, supportive cancer

care. "Receiving a cancer diagnosis is an emotional experience

that comes with many questions for the patient and

their family. Joining a support group, such as this

series, can help them find answers and connect

with people who are experiencing the same thing

they are."

www.columbusmessenger.com

Virtual support groups offered for newly diagnosed cancer patients

Spring cleanup in Pleasant Twp.

Pleasant Township will host a spring cleanup from

7:30 a.m. to 5 p.m. on Friday May 14 and from 7:30

a.m. to 4 p.m. on Saturday May 15. Residents can drop

off unwanted items at 5373 Norton Road. Hazardous

waste will not be accepted. For more information, visit

www.pleasanttownship.com.

Hydrant flushing

The Pleasant Township Fire Department will be

flushing hydrants from May 3 through May 7. Hydrant

flushing may cause water to become rusty and to

appear discolored. Although the water is not harmful

to drink, it can cause discoloration of laundry.

"We are pleased to be partnering with OhioHealth to

provide this series of support and education programs for

newly diagnosed cancer patients and their families," said

Bev Soult, president and CEO, Cancer Support

Community Central Ohio. "The best cancer treatment

combines medical treatment with support and education to

help address with the emotional and behavioral concerns

that accompany a cancer diagnosis. We applaud

OhioHealth for its commitment to delivering exceptional

care for cancer patients and their families to achieve a better

quality of life."

The series is free, but those interested in joining must

register to get a secure Zoom link for each event.

Registration is available by visiting

cancersupportohio.org/ohiohealth or calling 614-884-4673.

news and notes

Arts Council to host spring

bazaar to benefit art projects

Grove City Arts Council will host its annual outdoor

spring bazaar from 9 a.m. to 3 p.m. May 8 at Bethel

Lutheran Church on Hoover Road. The rain date is

May 22. Proceeds help to support a grant program for

community art projects. For those interested in booth

space, contact creative64@rocketmail.com.

Grove City Arts Council

The Grove City Arts Council meets the third

Tuesday of each month at 6:30 p.m at Storypoint on

Orders Road. For more information, call 670-2926.

SUMMER BLAST!

ELVIS

featuring

Mike Albert

and the Big E Band

Saturday

June 12, 2021

VILLA MILANO

1630 Schrock Rd.

Dinner/Show Tickets $ 55.00

Tables of 10 Available

Tickets by Phone: 614-792-3135

Still Good Seats Available

Visa • Mastercard • Discover

NO REFUNDS

Pictorial Past

Back in the early 1900s on the streets of Grove City and other area small towns,

automobiles were not welcome on public roads because horse enthusiasts were

reluctant to share the road. Early automobiles would frequently backfire, causing

a horse to bolt. Pedestrians caused another problem. People would walk into the

street expecting the cars to stop the same as a horse. As interest in automobiles

grew, motoring became a favorite leisure activity. The photos and information in

the Pictorial Past are provided by Don Ivers, curator of the Grove City Welcome

Center and Museum.
---
www.columbusmessenger.com May 2, 2021 - GROVE CITY MESSENGER - PAGE 13

First win of

the season

At right, Calvin Lin serves up a win for

the Comets. The Central Crossing

senior took home straight set victories

coming out on top 6-1 and 6-0 helping

the Comets to a 3-2 win at Groveport.

Below, Central Crossing senior Bogdan

Semchishin has his eye on the ball and

a win, taking straight sets 6-0 and 6-2 in

an April 27 match up at Groveport.

Messenger photos by Pat Donahue

Going around Central Crossing sophomore Jeremy Paquette proved easier than

going over him as his strong net game helped he and doubles partner, Jesse

Nlemchi to a third set tie breaker against Groveport's Casey Humphrey and Jason

Robertson who took the 15-13 victory in the April 27 match up at Groveport High

School. It was the first win for Central Crossing. The team now has a 1-5 record.

Moses-Mouser Eye Care

Dr. Joshua Morris is an Optometrist who grew

up in Bellville, Ohio. He completed his undergraduate

degree at the University of Akron, where

he graduated magna cum laude with honors.

Dr. Morris attended The Ohio State University

College of Optometry and graduated cum laude

with honors to receive his Doctor of Optometry Degree in May 2019. After

completing his studies, he was awarded the "Primary Vision Care Clinical

Excellence Award", in 2019.

Dr. Morris is a member of the American Optometric Association, the Ohio

Optometric Association, and The Ohio State Alumni Association. He is

excited to practice full scope optometry, diagnosing and treating a variety

of ocular disorders and diseases in patients of all ages, but has a special

interest in contact lenses and ocular disease.

On a personal note, Dr. Morris and his wife Tess, enjoy spending time with

their family, friends, and their Bernese Mountain dog Maverick, cheering

on The Ohio State Buckeyes, trying new foods, and exploring Columbus

breweries.

Q: What are floaters and what causes them?

A: Floaters are small dark shapes that move across your vision. They can appear

as dots, threads, squiggly lines, or even like cobwebs. Most floaters are caused

by normal changes in the eye. As you age, small strands of vitreous (gel-like fluid

that fills your eye) can clump together and cast a shadow on your retina (the

light-sensitive tissue at the back of the eye). Those shadows appear as floaters

that drift across your vision. You may notice floaters more when you look at a

bright background, like a computer screen or a blue sky.

Q: How often should someone with new

floaters get an eye exam?

A: Someone experiencing new floaters, a large increase in the number of floaters,

or flashing lights should see an eye care professional immediately. Sometimes

floaters have a more serious cause, including: infection, injury, inflammation,

bleeding, retinal tear or retinal detachment.

Someone with a few stable floaters should see an eye care professional at least

once a year for a comprehensive dilated eye exam.

Schedule your comprehensive eye exam

today with Dr. Morris

1600 Gateway Circle, Grove City, OH 43123 614-963-3820
---
PAGE 14 - GROVE CITY MESSENGER - May 2, 2021

Home Buyers

Guide

Kim A VanDerk

ar

3703 Broadway, Grove City

, OH 43123

Pam Brown

614-975-9462

25 Years Experience

Thinking about

selling your home?

Call An Experienced Realtor!

40 Years of "Service with a Smile"

GREAT SELLING MARKET!

3656 Broadway, Grove City, OH 43123

614.871.1000 • www.era.com

Terri Ehmann

REALTOR ® Direct: (614) 216-7977

Fax: (614) 875-0889

terri.ehmann@herrealtoers.com

herrealtoers.com/TerriEhmann

Next Edition

May 16th

Deadline May 11th

Contact Doug Henry:

614-272-5422

doughenry@columbusmessenger.com

Dog license deadline extended

Franklin County Auditor Michael Stinziano announced an

extension of the dog licensing deadline. The new deadline, based

on COVID-19 relief passed by the General Assembly, is July 1.

This extension will allow dog owners more time to purchase or

renew a license without a penalty.

"Your auditor's office wants to ensure that everyone can get

their dog license free of penalty," Stinziano said. "Licensing your

dog is required by the state of Ohio, and I want to make dog

licensing easy and accessible for all Franklin County residents

throughout the COVID-19 pandemic. One goal since I took office

as your Franklin County Auditor has been to increase the rate of

licensed dogs and encourage responsible pet ownership."

The 2020 licensing season saw 99,795 licensed dogs in

Franklin County.

The cost to license a spayed or neutered dog is $18 for one year,

$54 for three years, or $180 for a permanent license. For a nonspayed

or neutered dog, the cost is $35 for one year, $105 for three

years, or $350 for a permanent license.

In addition to being required by state law, dog licensing

ensures that any lost dog is returned quickly to their owners.

Most funds generated from dog licensing support the Franklin

County Dog Shelter and Adoption Center. Dog licenses can be

purchased at doglicense.franklincountyohio.gov.

Messenger photo by Pat Donahue

Bonding time!

This father bald eagle appears to be having a talk with his

little one. Maybe dad is giving the eaglet some flying

instructions. The bald eagle's nest is located in

Newcomerstown, Ohio.

Share your Compliments

Brighten a business owner's day

by sharing your positive experience

Businesses in our communities have been

though tough times. If you have had a good

experience and would like to share your

compliments it would be much appreciated.

Email Compliments to:

compliments4biz@gmail.com

Compliments may be printed in upcoming Messengers

www.columbusmessenger.com

Pets of the Week

Snoopy has been

on the adoption

floor for a few days

waiting to meet his

Charlie Brown. This

4-year-old is known

as the "fun police" in

playgroup and

would do best with

another calm dog in

the home. Snoopy is available for adoption

through the Franklin County Dog Shelter.

Schedule a time to meet this handsome

guy.

FYI: www.franklincountydogs.com

Lily is an 11-yearold

hound mix who

is a bit of a wallflower.

This shy yet

charming girl is

searching for a

patient owner with a

relaxed lifestyle. Lily

needs gentle guidance

to help her

come out of her

shell. This senior gal is up for adoption

through the Franklin County Dog Shelter.

FYI: www.franklincountydogs.com

Sweet Pea is an 8-

year-old calico. This

gal is just the sweetest.

She wants a

human buddy that

will shower her with

a lot of attention.

Sweet Pea is a loveable

lap cat who just

wants a home to call

her own. If you

would like to meet her, contact Colony

Cats.

FYI: www.colonycats.org

Bridget is 6-

months-old and a

tad ornery. She

loves to zoom

around the house

and be in charge.

Bridget needs a

younger feline playmate

around her

own age to keep her

company. She currently

lives with

dogs, but avoids them, so a mellow canine

family member would be best. Bridget is up

for adoption through Friends for Life

Animal Haven.

FYI: www.fflah.org
---
www.columbusmessenger.com May 2, 2021 - GROVE CITY MESSENGER - PAGE 15

In Entertainment

"Mortal Kombat" is like a gut punch

I have never thought of myself as a violent person,

but I have to admit that I began to question my preferred

method of confrontation by using passiveaggressiveness

and snark thanks in large part to

"Mortal Kombat."

While a casual player of the video game that irate

parents and Congressional leaders swore would corrupt

the youth of the world, it was the live-action adaptation

of 1995 that reeled me into the web of imagined

fisticuffs. Upon watching this version for the first time,

I became obsessed with the skill and power of the characters,

wishing that one day I too would be able to competently

wield harpoon-like spears attached to the

length of a rope like Scorpion or snap necks with my

knees while in a handstand like Sonya Blade.

In the years that followed, I did not rack up a body

count, or even learn how to do a handstand, but I did

parse out that what I was feeling whenever I thought

of "Mortal Kombat" was something called nostalgia.

Like a fist, or foot, or ice spike, nostalgia can be powerful.

It burrows into you, making you feel vaguely irritated

when someone makes fun of what you like, and

it brings forth a feeling of protectiveness when someone

tries to remake something you love.

When I heard that Warner Bros had decided to

reboot this franchise, I felt that inkling of irritation but

I thought would give it a chance because it's "Mortal

Kombat." It's supposed to be stupid fun and that is

something we can all use in our lives. But this latest

version largely turns down that aspect in favor of stupid

without the fun. While it's not awful enough to

make you want to inflict Sub-Zero levels of violence, it

is bad enough to make you want to give its new creators

a powerful stink-eye.

It begins with an effective prologue taking place in

17th century Japan where skilled assassin Bi-Han (Joe

Taslim) has found the guarded woodland home of rival

Hanzo Hasashi (Hiroyuki Sanada). After killing his

wife and child, the two warriors face off in the film's

most exquisitely choreographed fight scene, expertly

blending moves only found in the video games and

martial arts movies of yore. When this sequence is

over, however, so too is most of the film's promise.

The film then jumps forward to the Outworld where

sorcerer Shang Tsung (Chin Han) is delightfully planning

Earthrealm's destruction. Knowing that they only

need one more win at the Mortal Kombat competition

to take over this "pathetic" realm, he sends his greatest

assassins to find their warriors and eliminate them

before the competition can take place. At first, not

much urgency is given to this mission, but he then discovered

a prophecy that foretells their defeat should

the Hasashi line unite the champions. This bit of news

is a surprise to all the baddies of that realm as they

thought Bi-Han and the Lin Kuei assassins killed

them all centuries ago. Whoopsie.

That whoopsie turns out to be Cole Young (Lewis

Tan), a character created specifically for this movie

universe. Born with a dragon tattoo (seriously), he is a

down-on-his-luck MMA fighter who knows nothing of

his lineage or Mortal Kombat and the hell that is about

to be unleashed upon him and his family.

While out for dinner one night, Cole and his wife

and daughter are attacked by a specter who has the

ability to generate and control ice. Knowing that they

are no match for this Cryomancer, they hesitantly

accept the help of stranger Jax Briggs (Mehcad

Brooks) who tells them to seek out Sonya Blade.

When Cole finds her, Sonya (Jessica McNamee)

explains to him what Mortal

Kombat is, who the people are

who also share in his dragon tattoo,

and when this fight to the

death might take place. She

then encourages him to follow

her on a quest to find the location

of Lord Raiden (Tadanobu

Asano) who could help train and guide them as they

prepare for this world's greatest death match.

When they reach Raiden's lair, the film slows to a

crawl as the fighters try to unlock their "arcana," or

special power that could help them not have their

spines ripped out of their body or smashed to a bloody

pulp by Prince Goro, the Outworld's last champion who

is a multi-limbed half-human, half-dragon creature.

There is a lot of exposition in these scenes, a lot of Cole

(and Sonya, to a degree) wondering who they are and

where they fit in this world, and not enough combat.

But the latter point is one of the biggest issues with

this film — there is little Mortal Kombat in "Mortal

Kombat." There are mortals in this film, and there is

combat in this film, but there is no true Mortal Kombat

in "Mortal Kombat."

With the lack of the tournament itself, this film can

only be described as a prequel, as a way to introduce

the audience to this weird world. It teases with one-onone

fights in the end (Max Huang is a true delight as

the razor-hat wearing Kung Lao, who definitely has

the best fatality of the film), but it really is a set up for

potential sequels even though the studio has not committed

to making said sequels.

There is also a big issue with the ambiance of the

film — it just takes itself too seriously. While it tries to

say it's the opposite with high levels of gore or overthe-top

fatalities, its dialogue and plotting say something

else altogether, and usually in a monotone voice.

Should potential sequels go forward, there is some

hope that things can be salvageable with better pacing,

a better script and maybe some acting lessons in emoting

for its core actors. But until then, I say to fans that

this version is not a flawless victory for the franchise,

but it's also not a fatality either.

Grade: C

The Reel Deal

Dedra Cordle

Dedra Cordle is a Messenger staff writer and columnist.

Messenger

southwest

(Distribution: 22,500)

Andrea Cordle...................................Grove City Editor

southwest@ columbusmessenger.com

Published every other Sunday by the

The Columbus Messenger Co.

3500 Sullivant Ave., Columbus, Ohio 43204

(614) 272-5422

The Columbus Messenger Co. reserves the right to edit, reject or cancel any advertisement or

editorial copy at any time. The company is not responsible for checking accuracy of items submitted

for publication. Errors in advertising copy must be called to the attention of the company

after first insertion and prior to a second insertion of the same advertising copy.
---
PAGE 16 - GROVE CITY MESSENGER - May 2, 2021

www.columbusmessenger.com

CLASSIFIED ADS

Deadlines: Groveport and West editions, Wednesdays at 5 p.m., • South/Canal Winchester, Grove City, Madison editions, Tuesdays at 5 p.m.

All editions by phone, Tuesdays at 5 p.m. • Service Directory, Tuesdays at 5 p.m.

xEmployment

NOW HIRING

Transportation Security Officers

Full- and part-time positions starting at $17.08 per hour*

WANTED

SW CITY SCHOOLS

SCHOOL BUS DRIVERS

The South-Western City School

District is currently hiring drivers

for the 2020-2021 school year

$16.55/HR

Available positions are for substitute drivers

that can develop into "Regular" positions with

benefits. Interested individuals should submit

an application on our website at swcsd.us.

Follow the employment link. Applicants should

have an excellent driving record and must

submit to drug, alcohol, and background

screening. A high school diploma or equivalent

is required.

EOE

INFORMATION

WANTED

Catchers / Pitchers

for Men's Adult

BASEBALL League

18+ & 25+ Yrs. old

Call/Text

614-316-9600

Want to Make Millions

in Selling?

Want to Make People Really

WANT

Your Product?

Learn human

communication secrets

at the

Personal Efficency Seminar

614-221-5024

1266 Dublin Rd.

Columbus, OH 43215

TSA Ohio

Recruiting

Event

Columbus Airport Marriott

1375 N Cassady Avenue

Columbus, OH 43219

Tuesday, May 11, 2021

9 a.m. – 3 p.m.

Wednesday, May 12, 2021

9 a.m. – 3 p.m.

Text "CMH" to 95495

for more information

and to RSVP

Please bring two forms of ID.

Face masks required.

Social distancing and COVID-19 health

and safety protocols will be observed.

Completion of all components

may take three to five hours.

The Transportation Security Administration (TSA) has open

positions at John Glenn Columbus International Airport and

Rickenbacker International Airport. TSA is a great place to start

a rewarding career. Stability. Growth potential. Great benefits.

Get competitive pay and paid on-the-job training—plus, TSA is offering a

$1,000** sign-on bonus at John Glenn Columbus International Airport.

Learn more at jobs.tsa.gov/events

U.S. citizenship required. Equal opportunity employer. *Pay rate varies by location. **Some conditions apply.

5/9 A/M

ASSOCIATION ADS

Looking for auto insurance?

Find great deals

on the right auto insurance

to suit your needs.

Call today for a free

quote! 866-924-2397

Never pay for covered

home repairs again!

Complete Care Home

Warranty covers all major

systems & appliances. 30-

day risk free. $200.00 off

+ 2 free months! 1-866-

395-2490

DISH TV $64.99 FOR 190

Channels + $14.95 High

Speed Internet. Free Installation,

Smart HD DVR

Included, Free Voice Remote.

Some restrictions

apply. Promo expires

7/21/21. 1-855-270-5098

DO YOU

HAVE

A

POSITION TO FILL?

ADVERTISE IT!

CALL

Kathy

At The

Columbus

Messenger

272-5422

For More Info

ASSOCIATION ADS

The bathroom of your

dreams for as little as

$149/month! BCI Bath &

Shower. Many options

available. Quality

materials & professional

installation. Senior &

Military Diiscounts

Available. Limited Time

Offer - FREE virtual inhome

consultation now

and SAVE 15%! Call

Today! 1-877-540-2780

Become a Published

Author. We want to Read

Your Book! Dorrance

Publishing Trusted by

Authors Since 1920 Book

manuscript submissions

currently being reviewd.

Comprehensive Services:

Consultaion, Production,

Promotion and Distribution.

Call for Your Free Author's

Guide 1-866-482-1576 or

visit http://dorranceinfo.

com/macnet

BATH & SHOWER UP-

DATES in as little as

ONE DAY! Affordable

prices - No payments for

18 months! Lifetime warranty

& professional installs.

Senior & Military

Discounts available. Call

855-761-1725

NEED IRS RELIEF

$10K-$125K+ Get Fresh

Start or Forgiveness.

Call 1-844-431-4716

Monday through Friday

7am-5pm PST

Want Faster & Affordable

Internet? Get internet

service today with

Earthlink. Best internet &

WiFi Plans. Call us Today

to Get Started. Ask

about our specials! 866-

396-0515

• Full-Time Warehouse Associates - All Shifts

$15/Hr & Shift Diff.

• Maintenance Technician, 2nd Shift

• Inbound Supervisor, 2nd Shift

WHAT YOU CAN EXPECT

• Weekends off and paid holidays

• Incentive bonuses and shift differential

• Medical, dental, vision, and company-matched 401(K)

• Tuition reimbursement

Due to current safety guidelines,

ALL candidates are encouraged to apply on-line at:

jobs.mscdirect.com

Applicants must successfully pass a background check and drug screen.

Equal Opportunity Employer: minority, female, veteran, individuals with disabilities, sexual orientation/gender identity.

NOW HIRING

J & P Caulking, Inc.

3858 Alum Creek Drive

Columbus, OH 43207

Caulkers, Pointers, Cleaners

Swing Stage Experience

Please Call

Ph. 614-491-0658

Email: jpcaulking3@hotmail.com

Employment
---
www.columbusmessenger.com

May 2, 2021 - GROVE CITY MESSENGER - PAGE 17

xEmployment

BE YOUR OWN BOSS!

INDEPENDENT

CONTRACTORS

WANTED

If you have a reliable

car and would like to

earn extra money,

then why not deliver?

• Deliver 1 or 2 days a week

• Flexible delivery hours

• Work close to home - often

in or near your neighborhood

CONTACT US

1-888-837-4342

www.thebag.com

NOW HIRING

Receptionist for Busy

Grove City Pet Salon

Exp. in pet/breed knowledge is a plus.

Also Hiring Professional

Pet Stylist Assisant

Exp. preferred but willing to train.

Immediate Opening for

Professional Stylist

1 Yr. Exp. Needed

All Positions Open for Advancement

Competitive Wages

CALL 614-991-0130

or stop by

3899 Grove City Road

WANTED

Host/Hostess • Back-Up Cooks

Grill • Servers • Dishwashers

You Can Work 29+ Hrs. Based on

Your Availability & Performance

Immediate Full/Part-time Openings

We Offer:

• Weekly Pay

• Paid Training

• No Tip Sharing

• Paid Vacation

• Employee Meal Discount

• Position/Salary Advancement Plan

• Discount Purchase Plan

Apply online at crackerbarrel.com/careers for

Grove City Location 614-871-1444

ASSOCIATION ADS

Wants to purchase minerals

and other oil and gas

interests. Send details to

P.O. Box 13557, Denver,

CO. 80201

Train online to do medical

billing! Become a

Medical Office Professional

at CTI! Get trained

and certified to work in

months! 888-572-6790.

(M-F 8-6 ET)

AT&T Internet. Starting

at $40/month w/12-mo

agmt. 1 TB of data/mo.

Ask how to bundle &

SAVE! Geo & svc restrictions

apply. 1-888-796-

8850

Attention Active Duty &

Military Veterans! Begin a

new career & earn a

Degree at CTI! Online

Computer & Medical

training available for

Veterans & Families! To

learn more, cal 888-449-

1713.

HOME BREAK-INS take

less than 60 SECONDS.

Don't wait! Protect your

family, your home, your

assets NOW for as little as

70¢ a day! Call 866-409-

0308

HughesNet Satellite Internet

- Finally, no hard

data limits! Call today for

speeds up to 25mbps as

low as $59.99/mo! $75

gift card, terms apply. 1-

844-863-4478

ATTENTION DIABETICS!

Save money on diabetic

supplies! Convenient

home shipping for

monitors, test strips,

insulin pumps, catheters &

more! To learn more, call

now! 877-810-0063

Directv Now. No Satellite.

$40/mo 65 Channels.

Stream news, live

events, sports & on demand

titles. No contract/

commitment. 1-866-825-

6523

• Deliver 7 days a week

• Delivery before dawn

• Work close to home - often

in or near your neighborhood

CONTACT US

614-461-8585

www.dispatch.com/delivery

ASSOCIATION ADS

New authors wanted!

Page Publishing will help

self-publish your book.

Free author submission

kit! Limited offer! 866-

951-7214

The Generac PWRcell, a

solar plus battery storage

system. SAVE money,

reduce your reliance on

the grid, prepare for power

outages and power

your home. Full installation

services available. $0

Down Financing Option.

Request a FREE, no obligation,

quote today. Call

1-855-900-2894

Attention oxygen therapy

users! Inogen One G4 is

capable of full 24/7 oxygen

delivery. Only 2.8

pounds. Free info kit.

Call 877-929-9587

HEARING AIDS!!

Buyone/get one FREE!

Nearly invisible, fully rechargeable

IN-EAR

NANO hearing aids

priced thousands less

than competitors! 45-day

trial! Call1-877-436-0234

HEARING AIDS!! Bogo

free! High-quality rechargeable

Nano hearing

aids priced 90% less

than competitors. Nearly

invisible! 45-day money

back guarantee! 833-

669-5806

The Generac PWRcell

solar plus battery storage

system. Save money,

reduce reliance on

grid, prepare for outages

& power your home. Full

installation services. $0

down financing option.

Request free no obligation

quote. Call 1-855-

270-3785

Employment

BETTY'S

Elderly Care

Has Openings for

Part-Time Caregiver

Working With the Elderly

Transportation, Experience

& References Required. Drug Test.

Good Wages.

Call: 614-777-5850

ASSOCIATION ADS

DENTAL INSURANCE-

Physicians Mutual Insurance

Company. Covers

350 procedures. Real

insurance - not a discount

plan. Get your free

dental Info kit! 1-888-

623-3036 . www.dental50plus.com/58

#6258

Pest Control

Find Pest Control Experts

Near You! Don't let

pests overtake your

home. Protect your loved

ones! Call to find great

deals on Pest Control

Services - 833-872-0012

Eliminate gutter cleaning

forever! LeafFilter, the

most advanced debrisblocking

gutter protection.

Schedule a FREE LeafFilter

estimate today. 15% off

Entire Purchase. 10% Senior

& Military Discounts.

Call 1-855-791-1626

ASSOCIATION ADS

Donate your car to kids.

Your donation helps fund

the search for missing

children. Accepting trucks,

motorcycles & RV's too!

Fast free pickup - running

or not - 24 hr response -

maximum tax donation -

Call 888-515-3813

SELL YOUR ANTIQUE

OR CLASSIC CAR.

Advertise with us. You

choose where you want

to advertise. 800-450-

6631 visit macnetonline.

com for details.

GENERAC Standby

Generators. The weather

is increasingly unpredictable.

Be prepared for

power outages. FREE 7-

year extended warranty

($695 value!) Schedule

FREE in-home assessment.

1-844-334-8353

Special financing if qualified.

SCHOOL BUS DRIVERS

Jefferson Local Schools is seeking

conscientious and safety oriented

individuals to fill both regular and

substitute bus driver positions.

Regular positions start at $17.89/hr.

plus benefits &

Substitute positions at $16.00/hr.

We will provide training for the

right candidate!

Come join the Roughrider team!

Applications are available online at

www.west-jefferson.k12.oh.us or at

906 W. Main St.

West Jefferson, OH 43162

Contact 614-801-2195

with any questions.

ASSOCIATION ADS

DENTAL INSURANCE

from Physicians Mutual

Insurance Company.

Coverage for 350 plus

procedures. Real dental

insurance - NOT just a

discount plan. Do not wait!

Call now! Get your FREE

Dental Information Kit with

all the details! 1-877-553-

1891

www.dental50plus.com/

macnet#6258

ASSOCIATION ADS

Wesley Financial Group,

LLC Timeshare Cancellation

Experts Over

$50,000,000 in timeshare

debt & fees cancelled in

2019. Get free

informational package &

learn how to get rid of

your timeshare! Free

consultations. Over 450

positive reviews. 888-965-

0363
---
PAGE 18 - GROVE CITY MESSENGER - May 2, 2021

www.columbusmessenger.com

xPreschool/Daycare

xPublic Notice

xFocus on Rentals

holding His hand and theirs for over 30 years…

NOW ENROLLING – Call (614) 875-1917

Conveniently located on Hoover Road (between Route 665 and Stringtown Road)

Infant, toddler, Pre-K, School Age (virtual & blended learning assistance)

and summer day camp.

Breakfast, lunch and afternoon snack provided - Open 6:30am to 6:00pm.

childcareinfo@grovecitychristianchildcare.org

www.grovecitychristianchildcare.org

Visit us on Facebook or Instagram

Preschool/Daycare

xAdult Care

VISITING ANGELS

Senior Home Care

by ANGELS

We send you the Best Home Caregivers

1 Hr. up to 24 Hr. Care

Prepared and Ready but still operating COVID Free.

Rates as low as $15.21 an hour!

"We Do Things Your Way"

614-80-ANGEL (614-802-6435)

Call or text for info. www.v-angels.com

Adult Care

xCome & Get It!

COME AND GET IT

Deadlines are Tuesdays by 5 pm.

Call For Publication Schedule 614-272-5422

Need to Get Rid of Something Fast - Advertise It Here For FREE!

FREE Garden Straw for gardens or bedding. Call for appointment for pickup.

Circle S Farms, 9015 London-Groveport Road, Grove City, 43123

Grove City - 614-878-7980

. Come and Get It! is a bi-weekly column that offers readers an opportunity to pass

along surplus building materials, furniture, electronic equipment, crafts, supplies,

appliances, plants or household goods to anybody who will come and get them - as

long as they're FREE. NO PETS! Just send us a brief note describing what you want to

get rid of, along with your name, address and phone number. Nonprofit organizations

are welcome to submit requests for donations of items.

Send information to The Columbus Messenger, Attention: Come and Get It, 3500

Sullivant Ave., Columbus, OH43204. Deadline is Tuesdays by 5 pm for following

Mondays publication. Messenger Newspapers is not responsible for any

complications that may occur. Please contact us when items are gone. 272-5422

LEGAL NOTICE

The Grove City Police Department has recovered

numerous bicycles, tools, electronic equipment, clothing

and monies over the course of several months.

The bicycles are of various types and models, as are

the tools and electronic equipment. All properties are

held in a secured police facility at all times. If you

believe you have claim to any of the property and have

proof of ownership for the property, you may call the

Grove City Police Department Property Room at

614-277-1757. A review and release of any and all

property is by appointment only. All items not claimed

will be sold at public auction, turned over to the Law

Enforcement Fund, or destroyed according to Ohio

Law.

CHARITABLE DONATION

Qualified organizations may be eligible to receive

bicycles as charitable donations from the City of

Grove City. Qualified organizations must have a valid

ruling or determination letter recognizing the taxexempt

status of the organization, pursuant to Internal

Revenue Code Section 501(c)(3) or (c)(19).

Representatives may call the Grove City Police

Department Property Room at 614-277-1757 to

inquire about the donation process.

Public Notice

ASSOCIATION ADS

VIAGRA & CIALIS! 60

pills for $99. 100 pills for

$150 FREE shipping.

Money back guaranteed!

1-844-596-4376

Thinking about installing

a new shower? American

Standard makes it

easy. FREE design consulation.

Enjoy your

shower again! Call 1-

833-769-0995 today to

see how you can save

$1,000 on installation, or

visit www.newshowerdeal.com/mac

READY TO BUY, SELL

OR RENT YOUR

VACATION HOME OR

HUNTING CAMP?

Advertise it here and in

neighboring publications.

We can help you. Contact

MACnet MEDIA @

800-450-6631 or visit our

site at MACnetOnline.

com

VIAGRA and CIALIS

USERS! 50 Generic pills

SPECIAL $99.00 FREE

Shipping! 100% guaranteed.

24/7 CALL NOW!

888-445-5928 Hablamos

Espanol

Attention: If you or aloved

one worked around the

pesticide Roundup

(glyphosate) for at least 2

years and has been diagnosed

with non-Hodgkin's

lymphoma, you may be

entitled to compensation.

855-341-5793

Elminate gutter cleaning

forever! LeafFilter, most

advanced debris-blocking

protection. Schedule

Free Estimate. 15% off

Purchase. 10% Senior

& Military Discounts. Call

1-855-995-2490

ASSOCIATION ADS

Life Alert. One press of a

button sends help fast

24/7! At home and on

the go. Mobile Pendant

with GPS. Free first aid

kit (with subscription).

877-537-8817 Free brochure

READER

ADVISORY

The National Trade Association

we belong to has

purchased the following

classifieds. Determining

the value of their service

or product is advised by

this publication. In order

to avoid misunderstandings,

some advertisers do

not offer "employment"

but rather supply the

readers with manuals, directories

and other materials

designed to help

their clients establish mail

order selling and other

businesses at home. Under

NO circumstance

should you send any

money in advance or give

the client your checking,

license ID or credit card

numbers. Also beware of

ads that claim to guarantee

loans regardless of

credit and note that if a

credit repair company

does business only over

the phone it's illegal to request

any money before

delivering its service. All

funds are based in US

dollars. Toll Free numbers

may or may not

reach Canada. Please

check with the Better

Business Bureau 614-

486-6336 or the Ohio Attorney

General's Consumer

Protection Section

614-466-4986 for more

information on the company

you are seeking to

do business with.

ASSOCIATION ADS

DISH TV $64.99 190

Channels + $14.95 high

speed internet. FREE installation,

Smart HD DVR

included. Free Voice Remote.

Some Restrictions

apply. Promo Expires

7/21/21. 1-833-872-2545

IMPORTANT

NOTICE

The following states: CA,

CT, FL, IA, IL, IN, KY,

LA, MD, ME, MI, MN,

NE, NC, NH, OH, OK,

SC, SD, TX, VT and WA

requires seller of certain

business opportunities to

register with each state

before selling. Call to

verify lawful registration

before you buy.

Donate your car to kids!

Fast free pickup running

or not - 24 hour response.

Maximum tax

donation. Help find missing

kids! 877-831-1448

Protect your home w/home

security monitored by

ADT. Starting at $27.99/

mo. Get free equipment

bundle including keypad,

motion sensor, wireless

door & windows sensors.

833-719-1073

GENERAC Standby Generators

provide backup

power during utility power

outages, so your home

and family stay safe and

comfortable. Prepare

now. Free 7-year extended

warranty ($695 value!).

Request a free

quote today! Call for additional

terms and conditions.

1-855-465-7624

WEDGEWOOD

VILLAGE

1, 2 and 3 BR Apts.

Rent Based on Income.

Call 614-272-2800 or visit us

at 777 Wedgewood Dr.

TTY/TDD 711

EQUAL HOUSING OPPORTUNITIES

APARTMENT MANAGERS!

Did This Catch Your Eye?

ADVERTISE YOUR APARTMENT

COMPLEX IN THIS SPACE

And Get Results!

Call Kathy For More Info & Rates

The Columbus Messenger

614-272-5422

Rentals

CHILD CARE

OFFERED

Depend. Quality Child care

in loving hm. Exp. Mom, n-

smkr, hot meals, sncks,

playroom, fncd yd. Reas.

rates. Laurie at 853-2472

HELP WANTED

Short Term Booth Rental

avail. during the month of

June for Barbers &Hair

Stylists. Call Cyndi if

interested 614-239-1976

Bartenders Needed that

are willing to work. Also in

need of a Weekend

Janitor. Private Veterans

Club. Call Bernie or Jody

at 614-539-4748

PTLawn Care, Clean-up,

Paint, etc to do various

tasks. No Exp. necessary,

no tools needed. Call or

text 614-598-4985.

Landscape Company

looking for drivers and

non-drivers. Wage negotiable

depending on exp..

Call 614-456-9980,

Espanol 614-648-8424

DATED SALES

IRISH HILLS

Community Sale

Friday, May 7th,

Saturday May 8th,

9am opening time.

Approx 1 mile south of

Clime Rd on Demorest

Rd. Posted Signs

INSURANCE

Low Cost Insurance

lowcostburialsolutions.com

WANT TO BUY

We Buy Cars & Trucks

$300-$3000.614-308-2626

We Buy Junk Cars &

Trucks. Highest Prices

Paid. 614-395-8775

WANTS TO Purchase

minerals and other oil &

gas interests. Send details

to: P.O. Box 13557,

Denver, CO 80201

WE BUY JUNK CARS

Call anytime 614-774-6797

ANTIQUES

WANTED

Victrolas, Watches,

Clocks, Bookcases

Antiques, Furn.

Jeff 614-262-0676

or 614-783-2629

MISCELLANEOUS

FOR SALE

Gas Lawn Mower,

works like new - $50.00.

614-465-7763

VACATION RENTALS

Englewood, Florida

Palm Manor Resort

Within minutes of white

sand Gulf beaches,

world famous Tarpon

fishing, golf courses, restaurants/shopping,

Bush

Gardens. 2 BR 2 BA

condos with all ammenities,

weekly/monthly, visit

www.palmmanor.com

or call 1-800-848-8141
---
www.columbusmessenger.com

May 2, 2021 - GROVE CITY MESSENGER - PAGE 19

xClassified Services

AIR CONDITIONING

A/C

Charge Up

$89.95 up to l lb.

R-22 410A 402B

Free Leak TestingT

Limited Time Only

45 Yrs. Exp.

614-351-9025

AIR CONDITIONING

Complete System

Clean & Check

$49.95

Free Electronic Leak Testing

All Makes • All Models

45 Yrs. Exp. • Senior Discount

614-351-9025

APPLIANCE REPAIR

Washer, Dryer, Stove &

Refrig. Repair 875-7588

BASEMENT

WATERPROOFING

Walker's Basement

Waterproofing. LLC

614-359-4353

BLACKTOP

AGM OHIO

ROOFING &

SEALCOATING

Free Estimates

Cell 614-512-1699

5/9 A

SANTIAGO'S

Sealcoating & Services LLC

Quality Materials Used

SPRING IS HERE!

Driveway Seal & Repair!

Top Seal Cracks!

Residential & Commercial

Mulching, Edging & Clean-ups

"Ask for whatever you need."

BBB Accredited-Fully Insured

5/9 A/M

Call or text for Free Est.

614-649-1200

CITY WIDE

ASPHALT &

CONSTRUCTION

Blacktop & Concrete

Licensed/Bonded

Quality Work

Competitive Prices

6/6 W/gc

Since 1981

Call Craig Lantz

614-374-6217

citywideasphaltand

construction@gmail.com

BBB A+ Accredited Contractor

5/9 A

CARPET CLEANING

DIRT BUSTERS

SPRING SPECIAL!

Any 5 areas ONLY $75.

614-805-1084

Specializing in Pet Odors

CONCRETE

GALLION

CUSTOM CONCRETE LLC

Specializing in Custom Colors &

Custom Designs of Concrete.

Including Remove & Replace

43 yrs exp & Free Est.

Licensed & Insured

Reputation Built

On Quality

Ronnie

614-875-8364

See Us On Facebook

www.gallioncustom

concrete.com

EDDIE MOORE

CONSTRUCTION

Quality Concrete Work

Lt. Hauling & Room Add.,

Block Work & Excavation

Stamp Patios,

Bsmt. Wall Restoration

35 Yrs Exp - Lic & Ins.

Free Ests. 614-871-3834

Buckeye City

Concrete & Excavating

* Concrete * Foundations

* Waterlines * Drains

*Catch Basins

614-749-2167

buckeyecityconcreteand

excavating@yahoo.com

ALL-CITY CUSTOM

CONCRETE

All Types Concrete Work

New or Tear Out-Replace

39 Yrs. Exp.

(614) 207-5430

Owner is On The Job!

www.hastingsnsons.com

Driveways & Extensions

Patio & Walkways,

Porches & Steps,

Garage/Basement Floors

Hot Tub/Shed Pads,

Stamped/colored concrete

Sealing of new &

existing concrete.

Contact Adam

614-756-1754

hastingsandsons.

columbus @gmail.com

INFORMATION

NEED SOMETHING

DONE THIS SPRING?

CHECK OUT OUR

CLASSIFIED SERVICES!

FOR ADVERTISING

INFO. CALL

614-272-5422

THE COLUMBUS

MESSENGER

5/9 W/SW

5/9 A/M

FENCING

EAZY FENCE

Chain Link - Wood

No Job Too Big or Small

All Repairs ~ Free Est.

Insured. 614-670-2292

GUTTERS

Bates & Sons

GUTTER CLEANING

5 ★ Google Reviews

614-586-3417

HAULING

DEAN'S HAULING

614-276-1958

HOME INSPECTIONS

Home Inspections

"Welcome Home"

Inspection Services

Licensed

InterNACHI/CPI

Certified

Full Inspections

from $185.00

Cell 614-316-9600

INFORMATION

ONLY

$50.00

For This Ad In Our

West & Grove City

For Info Call

272-5422

HOME

IMPROVEMENTS

SLAGLE

HOME REMODELING

Baths, Kitchen,

Plumbing and Electrical.

All your Handyman needs

No Job too Big or Small

Over 30 Yrs. Exp. Lic.-Bond-Ins.

Jerry

5/9

SW/W

614-332-3320

Handyman - outdoor &

indoor. Reasonable Rates

614-634-2244

C&JHandyman

Services LLC

Minor Plumbing

& Electric

Install Hot Water Tanks,

Dishwashers & Disposals

Also Fencing &

Interior/Exterior Painting

Free Est. ~ 18 Yrs. Exp.

CDC/EPA Approved Guidelines

614-284-2100

5/9 A

5/23 A

HOME

IMPROVEMENTS

Quality is our #1 Priority

HELMS' CONTRACTING

Call For FREE ESTIMATES

New Kitchens & Baths

New Replacement Windows

Basement Remodels

Room Additions • Roofs

More than 25 Years Experience

Licensed • Insured • Bonded

Bill Helms 614-296-0850

or 614-801-1801 5/9

W/SW

SINCE 1973

Phil Bolon Contr.

Windows & Siding

Decks, Kitchens, Baths

Room Additions,

Flooring, Roofing

Bsmt Waterproofing

Deal With Small Non-Pressure Co.

47 Yrs. Exp. - Refs. Avail.

Lic.-Bond-Ins.

Free Est. - Financing Avail.

Member BBB Of Cent. OH

O.C.I.E.B. ID #24273

614-419-3977

or 614-863-9912

KLAUSMAN HOME

IMPROVEMENT

Siding-Windows-

Doors-Roofing-Soffit-

Fascia-Gutters-Trim

Earn FREE Seamless

Gutters with Siding Over

1000 Sq. Ft.

FREE Shutters with

Soffit & Trim

EPA Certified

Member of BBB

Financing Available

Over 20 yrs exp. • Free Est.

Licensed-Bonded-Insured

Owner & Operator

James 614-419-7500

HOME

REMODELING

Handyman Remodeling

Over 35 yrs exp.

Larry 614-376-7006

LAWN CARE

5/9

A/M

The Lawn Barber

Cut, Trim, Blow away

Hedge Trimming, Edging

Garden Tilling

614-935-1466

LET US MAINTAIN

YOUR LAWN & GARDEN

FOR YOU

Summer, Spring,

Winter or Fall

WE DO IT ALL!!!!

Lawn Cuts, Edging,

Trees & Shrubs, Garden,

Mulching, Hauling,

Garden Pond &

Home Maint.

Free Ests. Low Rates

$20 & Up

Kevin - 614-905-3117

Accepting New Clients

Spring Cleanup,

Lawn service, mulching,

plant & shrub trimming &

planting, fertilization,

Free Estimates. Contact

Patrick 614-301-3575

5/23 A

LAWN CARE

Lawnmasters and

Landscaping

Give us a call for your

yards that need mowing,

Spring clean-up, weed

control, paver patios, etc.

Free Estimates

614-378-1237

MOVING

Aaron Allen

Moving

Local Moving since 1956

Bonded and Insured

614-299-6683

614-263-0649

Celebrating

over 60 yrs

in business

MOWER REPAIR

LAWN MOWER DR.

"House Calls Only"

Overall Checkups

Oil Change & Filter,

Spark Plug &

Blades Sharpened

MINOR REPAIR

John

PAINTING

Painter Over 30 Yrs Exp.

Free Est. Reas Rates

Daniel 614-226-4221

Moyer Construction LLC

Specialing in Painting

Insured - Free Estimate

614-378-3568

A Job Well Done Again

A lic. General Contractor

Some Skilled Services

Incl: Painting • Stucco,

Repair•Carpentry•Exterior

Drainage & Home Maint.

Call Today! 614-235-1819

Walker's Interior Painting

Free Est. 614-359-4353

PLASTERING

DRYW

YWALL &

PLASTER

REPAIR

Textured Ceilings

614-551-6963

Residential/Commercial

BIA

PLUMBING

ALL IN ONE

PLUMBING LLC

"One Call Does It All"

$25 OFF LABOR

4/25

With This Ad A

614-801-1508

All Major Credit Cards Accepted

Classified Services

5/9 A&M

5/23 A

614-395-7909

johnellis0333@sbcglobal.net

AMOS PAINTING

Insterior/Exterior Painting

Powerwashing

Call Jim 614-323-7819

5/23

A&M

TERMITE & PEST CONTROL

3093 W. Broad St., Cols.

614-367-9000

TERMITES? PESTS?

BED BUGS?

$100 OFF New Termite Services!

With This Ad

Monthly & Quarterly Pest Services

Great Prices!!

Licensed & Insured

Free Termite Inspection

All About Drains & Plumb.

Will snake any sm drain

$125 + tax. 614-778-2584

CHRIS'

PLUMBING

"Plumbing & Drain Professional

That You Can Count On"

24 Hrs., 7 Days/Week

No Overtime Charges

24 Yrs. Exp. in Plumbing &

Drain Cleaning Field

Call For A Free Phone Estimate

$100.00 For Any Small Drain

614-622-4482

30% OFF with AD

SHOP THE CLASSIFIEDS!!

Only $1 per line

columbus

❏ Check for one additional FREE week.

Telephone: _________________________________________________________

Print Your Name:____________________________________________________

Last

First

Print Your Address:___________________________________________________

Print Your City:__________________________ State:_______ Zip:____________

West ___ Southwest ___ East ___ Southeast ___ Madison___

Print Your Ad Below…

One word each space. BE SURE YOUR TELEPHONE NUMBER OR ADDRESS is included in your

advertisement. The lessor of 4 words or 22 characters per line. We reserve the right to use abbreviations

when actual space exceeds amount purchased.

1. __________ __________ __________ __________

2. __________ __________ __________ __________

3. __________ __________ __________ __________

4. __________ __________ __________ __________

5. __________ __________ __________ __________

6. __________ __________ __________ __________

Columbus Messenger

3500 Sullivant Ave. • Columbus, Ohio 43204

614-272-5422

classified@columbusmessenger.com

$

PEST

CONTROL

PLUMBING

5/23 A/M

Not Valid for Garage Sales

PEST

CONTROL

PEST CONTROL

GOT TERMITES?

Anthony Pest Control

Affordable!

614-600-8841

Please leave message

POWER WASHING

MRS. POWERWASH

Any house wash $149+tax

Single deck $69+tax

2 Tier deck $99+tax

Best Wash in Town

Over 45,000 washes

Ashley 614-771-3892

❏ Cash

❏ Check

❏ Money Order

❏ VISA ❏ MC

5/9 A&M

Bates & Sons

Soft Wash & Powerwash

5 ★ Google Reviews

614-586-3417

Robinson roofing & repairs

30 yrs. exp. Lifetime Cols.

resident. Lic./bonded/Ins.

Reas rates. Member of

BBB. Dennis Robinson

614-330-3087, 732-3100

BURNS TREE SERVICE

Trimming, Removal &

Stump Grinding.

614-584-2164

Brewer & Sons Tree Service

• Tree Removal

• Tree Trimming 4/25

A&M

• Stump Grinding

• Bucket Truck Services

Best Prices • Same Day Service

614-878-2568

Credit Card

Information

___

__________________________

Credit Card Number

____________

POWER WASHING

MDB POWERWASH

We Specialize In Decks.

Clean, stain, reseal,

revitalize any deck.

Quality work at fair prices.

Guarantee All Work 3 Yrs.

25 Yrs Exp. Free Est.

614-327-9425

ROOFING

TREE SERVICES

__(___)__

Exp. Date 3 digit code

Minimum Charge $5.00

5/9 A
---
PAGE 20 - GROVE CITY MESSENGER - May 2, 2021

www.columbusmessenger.com

Happy Mother's Day

MAY 9, 2021

MOTHER'S DAY

FAMILY BUFFET

e Friendliest Little

Jewelry Store in Grove City

Sunday, May 9

www.jpsbbq.com

ORDER BY 5-5-2021

(Serves Approx. 4-6)

$ 99 95

Pick Up Cold to Reheat or Hot and Ready To Eat!

614-878-7422 (Ask For Carol)

INCLUDES:

* 3 BLEND SALAD * * AWARD WINNING RIBS *

* BBQ CHICKEN * * 3 SIDE SELECTIONS *

* SWEET DESSERT TREAT PLATTER *

(Slaw / Potato Salad / Au Gratin Potatoes / Bake Beans

Chunky Apple Sauce / Macaroni Salad / Green Beans) Rolls & Butter

• Weather Permitting Patio Service Available or

Reserve a Table in our Event Space

2000 Norton Rd. Phone: 614-878-7422 Fax: 614-878-7429

Can You Take a

Good Ribbing?

Want to give Mom a break from cooking? Take

her out to eat for her special day.

JP's BBQ at Bolton Field offers a wide variety

of mouth-watering starters. They are known for

their award-winning barbecue ribs.

The Mother's Day Family Buffet will be a

Mother's Day experience she won't soon forget!

Looking for that perfect Mother's Day gift? Show your mom how much

you appreciate her with jewelry.

Precision Jewelers started in 2001. This family-owned and operated

business is a full-service jewelry store that takes pride in precision quality

done in a timely manner by one of our master goldsmiths.

If you have your eye on a special item in the store, but aren't quite ready

to buy, we offer a wish list. When you're ready to make the purchase,

Precision Jewelers will be there to help. Our friendly, knowledgeable staff

will be attentive to help with all your shopping needs, including preparing

your wish list.

For more information or for gift ideas for Mother's Day, contact

Precision Jewelers at 614-317-7755 or visit www.precisionjewelersllc.com.

Mother's Birthsto

ne ne Family

On Sale

e

Give The The Perfect

G

ift

ift

For For The Perf

ec ec ct ct MOM

4

4

5033

5754

One low price for

up up to to 55 Synthetic Stones!

Availabl

lable in in Gold & Silver.

5288

5288

by by Aamari

®

2752 London-Groveport 2752 London-Groveport Rd., City, Rd. Ohio 43123

Grove City, Ohio 43123

614-317-7755

614-317-7755

Tues.-Fri. 10am - 6pm Sat. 10am - 3pm Sun. -Mon. Closed

www.precisionjewelersllc.com

www.precisionjewelersllc.com